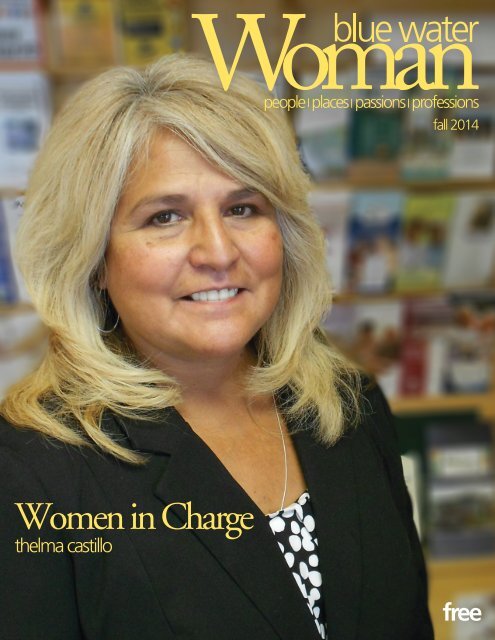 blue water woman--fall 2014
You also want an ePaper? Increase the reach of your titles
YUMPU automatically turns print PDFs into web optimized ePapers that Google loves.
fall 2014

Women in Charge

thelma castillo

free
---
I

from the editor

I've spent the greater part of my adult life being in charge of an army of one: Me.

Because I've spent the majority of my adult life -- up until fairly recently -- single,

every decision I have ever made was all about moving my little army, small as it was,

forward. This has particularly been the case with my working life. Though I spent

the first 20 years of my career as an employee working for Da Man, at the end of

2002, I left Corporate America to work for myself.

When I made this decision, I didn't have to answer to a board of directors. I didn't

have to explain to a spouse any of the details -- the good, the bad and the ugly -- of

what I earned versus what I spent.

I feel very fortunate to have survived the sometimes bumpy road of selfemployment.

As a marketing consultant, I help other businesses. There can be no greater joy, in

my line of work, than creating something that helps another business or organization

move forward. I am a creative person who is able to work in a creative field doing

work that I enjoy.

There can be no greater agony

than waking up at 3 a.m., sorting

through my finances in my head

and worrying about paying the bills

next month or the month after.

Anyone out there who is selfemployed

can relate.

However, through the ups and

downs of financial worry and gain,

self-employment has been good

for me. I've stretched farther than

my fingertips can reach. I've been

braver than I thought possible in

my little Patti-Cocooned World.

The longer I work for myself, the

more certain I am that it would be

very difficult for me to return to

work in a corporate job. The only

exception I ever consider would

put me in charge -- of everyone

there. I would get to be Da Man.

That is what this issue of Blue

Water Woman is all about: Women

who lead their organizations. I have

dream it and do it! you, too, can climb a

mountain! editor patti samar hiking in zion

national park, utah, summer of 2013. no

longer an army of one, photo was shot

by her partner in crime, husband dale

hemmila.

so much respect for the wisdom

all three of them have. Some are

outgoing personalities, others are

shy, quiet and reflective. What they

prove to me is that leadership does

not have to come with bravado

and splash. It comes by providing

gentle guidance. It doesn't come

from huffing and puffing and blowing the house down. It comes from allowing staff

-- no matter how big or small -- to be empowered to make decisions.

Most of all, true leaders know themselves well and understand their strengths and

their weaknesses. They are brave enough to allow themselves to be vulnerable and

strong enough to listen to what others have to say.

So whether you are in charge of your own little army of one or you are Da Man

(or maybe you want to be Da Man), buck up, be strong, stand up and stretch. That

is the only way your fingertips will ever reach the stars.

Peace,

content

Thelma Castillo 5

Denise Klieman 6

Susan Bennett 8

advertise

in Blue Water Woman!

it works! just ask our advertisers!

The ad deadline for the next issue of Blue Water Woman

is October 1, 2014.

Prices start at just $125 for a business card sized ad!

Our most popular ad size is a quarter page at just $250;

sign a one-year contract and it becomes just $225 a quarter!

What a deal!

For more information, contact Patti Samar at 810-987-1256

or email her at pjsamar@aol.com

volume 4, number 3 fall 2014

Blue Water Woman is published quarterly by The Write Company,

3155 Armour Street, Port Huron, MI 48060. Circulation 7,500.

Editor & Publisher: Patti Samar, owner, The Write Company

Advertising: Patti Samar at 810-987-1256 or pjsamar@aol.com

Subscriptions: To receive Blue Water Woman at home, mail $25 to:

Blue Water Woman, 3155 Armour Street, Port Huron, MI 48060

News releases can be emailed to pjsamar@aol.com

Questions or comments?

Call Blue Water Woman at 810-987-1256

Mission: Blue Water Woman is the premiere publication

for women living, working and playing

in the Blue Water Area of Michigan.

Its stories and features are written and designed

to be inspriational, motivational and encouraging.

www.BlueWaterWoman.com

© Blue Water Woman is the property

of Patti Samar of The Write Company

The Write Company is a writing, graphic design and marketing

consultation firm. View our online portfolio at:

www.TheWriteCompany.net

Patti Samar

Editor & Publisher

Blue Water Woman

2 fall 2014 BlueWaterWoman.com
---
Faces you know.

Physicians you trust.

Primary care, specialty care

and convenient walk-in clinics

where you need them,

when you need.

Lisa Scheel, D.O.

Michele Raymond, D.O.

www.PhysicianHealthCare.com

t Physician HealthCare Network, we know that not all healthcare needs can be scheduled in

advance.

That is why we offer the community three walk-in clinics and two offices with extended hours.

Our offices are located in your neighborhood, close to home.

We also offer specialty care physicians who provide a continuum of care for you and your

family. New patients are always welcome. We believe: Healthy living. Happy family.

Family Practice

Children's Health Care

Specialty

Fort Gratiot

Family Practice/

Walk In Clinic

(810) 989-7770

Ira Township

Family Practice/

Walk In Clinic

(586) 716-1371

Marysville

Family Practice/

Walk In Clinic

(810) 364-4000

Port Huron

Family Practice/

Same-Day appt/

Extended Hours

(810) 984-5700

Lexington

Family Practice/

Same-Day appt/

Extended Hours

(810) 359-2605

St. Clair

Family Practice

(810) 329-2350

East China

(810) 329-6710

Fort Gratiot

(810) 385-9559

Marysville

(810) 364-9916

Behavioral Health

(810) 364-9600

Port Huron

(810) 984-1000

Yale

(810) 387-9612

Gastroenterology

(810) 982-8742

Pulmonology

(810) 987-5500

Infectious

Disease

(810) 966-1993

Surgical

(810) 982-1111

fall 2014 BlueWaterWoman.com 3
---
professions

thelma castillo, port huron

When Thelma Castillo moved to the Blue Water Area in the spring

of 2013, she was looking for a lifestyle change. She didn't know then

that, within a year's time, she would be responsible for one of the most

visible organizations in the community.

In April, Castillo took the helm as president and CEO of the Blue

Water Area Chamber of Commerce. Castillo, who previously lived in

the metro Detroit area, last year moved to Sanilac County with her

husband to be closer to his family.

"I came up here knowing I didn't have a job," she said. "I came here

because we were making a life decision change."

After years of living in an urban setting, the couple -- he is a Detroit

firefighter -- decided that a slower pace of life in a country setting was

appealing.

Fast forward to this past spring when Castillo -- who previously spent

18 years working for the Detroit Regional Chamber of Commerce

-- took the helm at the Blue Water Area Chamber.

"Chamber work is fun, exciting and passionate work," she said.

During her tenure at the Detroit chamber, she was exposed to many

facets of the industry. A lawyer, Castillo initially began her career at

the chamber working in human resources and operations. She was also

involved in advancing technology and lobbying.

4 fall 2014 BlueWaterWoman.com

Building relationships

by Patti Samar

Since she has taken the helm, Castillo has spent a lot of time

building relationships with individuals and other organizations in the

community that help foster a healthy economic climate in the area.

"People have been very open and wanting to work with the

chamber," she said of her initiation into the community. "I've made

some in-roads that will help move the region forward."

She has been working closely with the Economic Development

Alliance of St. Clair County to help build a skilled workforce.

"If you don't really have a good talent skill level within the

community, it is hard to attract businesses to come here," she said.

"This is a great destination in terms of tourism, but we need to do more

in terms of attracting people who want to move here to work and live

and play here."

She said that the Blue Water Area Chamber has an excellent

foundation, built on a strong membership that likes to be involved.

"We have great volunteers that really support the chamber," she said.

"We have a good core membership and I want to work on capturing

more like them.

"And most of all, I really want the state to know what we have to offer

in the Blue Water Area."
---
fall 2014 BlueWaterWoman.com 5
---
professions

denise klieman, fort gratiot

caring for

the community

by Patti Samar

6 fall 2014 BlueWaterWoman.com

It was inevitable that Denise Klieman would end up working in a field

that specializes in helping people.

The daughter of a Detroit firefighter and a nurse, Klieman didn't

choose a direct path into healthcare as her mother did, but she grew up

to become the chief operating officer for Physician HealthCare Network,

the largest independent physician practice in the Blue Water Area.

Klieman took the helm at PHCN in 2012 when she was promoted

from manager of financial services to chief operating officer. She has a

strong work ethic and she leads by example. She believes in rolling up her

sleeves and getting in the trenches with her staff.

"You have to be in the weeds with them," she said. "You have got to be

in there working with the people who work for you."

Klieman, who has a bachelor's degree in accounting, has always enjoyed

working with numbers.

"I knew I wanted to be an accountant since tenth grade," she said.

"Accounting was easy for me. I could just do it."

She moved to the Blue Water Area in 1984 after marrying her husband

who was from the area. She raised three daughters while working and

going to school to finish her degree. Her ability to multi-task and juggle

the various components of her life and her job have served her well since

taking the lead with a large healthcare organization, particularly during

this era of great change in the healthcare industry.

"As a practice manager, you cannot just oversee it all now," she said.

"You have to learn about every aspect of the business. There's human

resources, there is accounting…there is so much more to being a practice

manager now. The healthcare industry is constantly changing."

Klieman is very proud of the fact that PHCN has earned two

prestigious designations from Blue Cross Blue Shield of Michigan in

the past several years. Ten of the PHCN practice sites have been named

Patient-Centered Medical Home sites and most recently were awarded

the Organized Systems of Care designation.

Patients should understand that those designations mean the practice

management has proven its ability to manage a patient's continuum of

care, said Klieman. This is important so that a patient does not get lost in

the shuffle.

"We do very well with Organized Systems of Care," she said. She

credited the medical staff at PHCN with making that a priority to ensure

the highest level of patient care. "We have very, very good doctors. They

care. They approach their patients by thinking, 'That's my family in

there.'"

Though she takes great pride in her organization's ability to manage

patient care, she noted with the implementation of the Affordable

Care Act, consumers have a responsibility to take charge of their own

healthcare, as well.

Because everyone can now be insured and the Affordable Care Act calls

for coverage of many significant preventative health measures, Klieman

noted that healthcare is shifting from reacting to illness to preventing

illness in the first place or managing it before it becomes significantly

detrimental to a patient's health.

"Patients have to be responsible for their care and their health," she said.

"With the new healthcare, you're paying for your insurance coverage, so

you should get the service you deserve."

Quiet and reflective, Klieman is passionate about helping others by

providing a health system in the community that will work for them and

provide a strong continuum of care.

"I do believe in the concept of a multi-specialty medical group," she

said. "Healthcare is not about the paycheck. It's about helping people.

And we have doctors who believe in that."
---
fall 2014 BlueWaterWoman.com 7
---
professions

susan bennett, port huron

living history

by Patti Samar

Chat with Susan Bennett for just five minutes and she will gush on

and on about the wide variety of activity taking place at the Port Huron

Museum and its satellite locations at the Huron Lightship, the Fort

Gratiot Light Station and the Thomas Edison Depot Museum.

And in the next five minutes she will heap praise upon the museum's

board of directors, its volunteers and its staff and keep none of the credit

for herself.

Bennett has been employed with the museum since 2009 and now

serves as its executive director. A key to her success in her leadership role is

that she thrives on the energy and enthusiasm of the museum staff and its

volunteers.

"Our board is incredible and supportive," she said. "We have only six

full-time staff members, so they are very busy people."

As the executive director, Bennett is responsible for the museum's

financial stability, its marketing and fundraising, among many other varied

duties.

"I love the variety in the job," she said. "Every phone call is a new

project. I'm either finishing up a newsletter or a postcard, or I'm shopping

at Joann's for items needed for a special event."

No one is more surprised than Bennett that her career landed her in a

position at a museum. She spent much of her professional career serving as

a manufacturer's representative in the retail industry. Though she doesn't

have a professional background in all things historical, her appreciation for

the museum's mission is obvious.

"The museum is human contact with our past," she said. "As a society,

we worry about technology taking over. You visit a museum and you're

looking an expert in the eye and that interaction can be sadly lacking in

other areas of our lives.

"We're storytellers…we tell stories and sometimes we have great pieces of

old stuff to help tell our story."

Bennett notes that, in terms of her leadership at the museum, she is most

proud of the fact that, under her guidance, the museum has weathered

-- and survived -- some very difficult financially turbulent times.

"I'm most proud of the fact that we're solvent and that we accomplished

that without major upheaval," she said.

She noted that the two events of which she is most proud include the

"Storm of 1913" anniversary that the museum produced on its own in

2013, and Sandfest, which took place at the Fort Gratiot Light Station in

2013 and 2014.

"The Storm of 1913 was a wonderful collaboration with other

organizations that helped us tell our story," she said. "It brought more than

10,000 visitors over four months. We had descendants here from as far

away as Tennessee. It was such a great story and it was our story to tell."

Sandfest, she noted, was produced primarily by the Friends of the Fort

Gratiot Light, as a fundraiser. The event brought visitors from across the

state of Michigan and beyond. "The committee handled all of it," she said.

"It is something to be really proud of. To build that from nothing is an

indication of their dedication.

"It brought all of these 'new friends' here and I'm sure many of them will

be back to visit the Blue Water Area."

Though "economic development" is not in her formal job description,

Bennett understands the impact the museum has on the local economy

and embraces that part of her job, along with every other facet.

"I'm incredibly lucky," she said. "I never don't want to come to work."

8 fall 2014 BlueWaterWoman.com
---
fall 2014 BlueWaterWoman.com 9