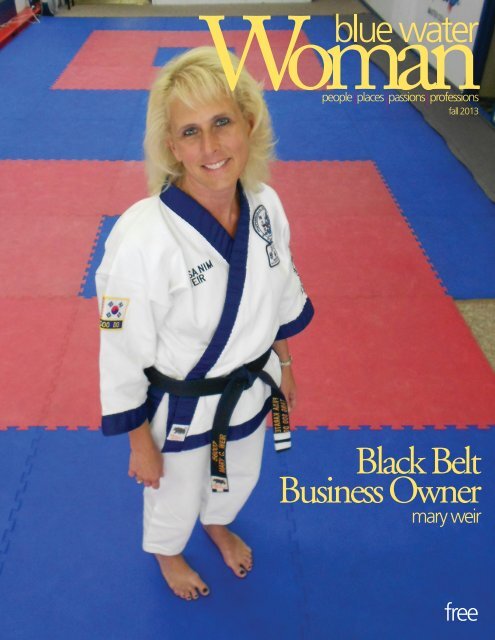 blue water woman--fall 2013
You also want an ePaper? Increase the reach of your titles
YUMPU automatically turns print PDFs into web optimized ePapers that Google loves.
Woman

Black Belt

Business Owner

mary weir

free
---
a slow business

schedule in the

summer allows

editor/business

owner patti

samar to enjoy

all the blue

water area has

to offer, such as

sailing on the

great lakes.

from the editor

It was 10 years ago this past December when I quit my security-filled, salary-paying, paidvacation-providing

job in Corporate America to venture into relatively unchartered territory

as a full-time self-employed business owner.

Not only did I quit my all-time favorite job (serving as marketing director at St. John River

District Hospital) working for my all-time favorite boss (Frank Poma, who continues to serve

as the hospital president), but I had no real back-up plan in the event that, well, I failed.

While I had some money banked, it was more of a security blanket than a landing pad.

So what in the heck was I thinking?

I was thinking that I wanted something more than just a paycheck and security.

This issue of Blue Water Woman is dedicated to the hard-working self-employed women in

the Blue Water Area. A couple of stories are about women I have encountered whose stories I

found compelling and a number of stories are dedicated to those women who have regularly

advertised in Blue Water Woman since its first year of inception. I am so grateful for their

advertising support. Without them, there would be no Blue Water Woman magazine. I've

enjoyed getting to know all of them over the past two years and am proud to showcase them

in this issue of the magazine.

So why work for yourself? For me, it was about tradeoffs. First, I am afforded an incredibly

flexible work schedule that has changed my life dramatically. A year ago, I married a most

incredible man…who lives 500 miles away from Port Huron. He resides in my hometown

in the Upper Peninsula and we've been friends for almost 30 years. Would I have started

dating a man so many miles away if I had just a limited amount of vacation time dictated

by Corporate America? Maybe, maybe not, but building a relationship would have been

much more difficult if one of us didn't have the flexibility of self-employment. I can, and do,

regularly work from his home.

Such flexibility is the upside of self-employment. The downsides include working many

more hours than I ever did working for someone else. In my last two "real" jobs, I was a

salaried director of a department and, depending on the work at hand, regularly found myself

working 50-hour (or more) work weeks.

Self-employment has shown me that a 50-hour work week would feel like a vacation during

certain times of the year. My fall and winter months are generally the busiest and I often work

seven days a week and many of those days are spent working well into the late night hours.

The flip side is that business is slower during the summer months, so I am able to take a lot

of time off and I am able to enjoy the very best of both Michigan peninsulas.

But: less business also equals less income. Cash flow is a constant concern for small business

owners. There are months when I tell myself it would be so much easier to once again get a

job with a steady, reliable paycheck and paid vacation. But the thought of giving up my yearround

work wardrobe of flip flops and blue jeans and once again dressing up in suits and heels

Every. Single. Day. kind of makes my stomach feel a little queasy. I'm probably not suited for

that life ever again for a wide variety of reasons.

The fact of the matter is I'm free-spirited and kind of a loner at heart. Self-employment

feeds both of those facets of my being. And nothing beats wearing flip flops to work in

January.

content

passions

Mary Weir 4

professions

SaraThomas 6

Vickie Burgett 6

Cathy Wilkinson 7

Kim Judge & Tammy Hutchinson 7

Sonja Schunk 8

Trista Bourdeau 8

volume 3, number 3 fall 2013

Blue Water Woman is published quarterly by The Write Company,

3155 Armour Street, Port Huron, MI 48060. Circulation 7,500.

Editor & Publisher: Patti Samar, owner, The Write Company

Advertising: Patti Samar at 810-987-1256 or pjsamar@aol.com

Subscriptions: To receive Blue Water Woman at home, mail $25 to:

Blue Water Woman, 3155 Armour Street, Port Huron, MI 48060

News releases can be emailed to pjsamar@aol.com

Questions or comments?

Call Blue Water Woman at 810-987-1256

Mission: Blue Water Woman is the premiere publication

for women living, working and playing

in the Blue Water Area of Michigan.

Its stories and features are written and designed

to be inspriational, motivational and encouraging.

www.BlueWaterWoman.com

© Blue Water Woman is the property

of Patti Samar of The Write Company

The Write Company is a writing, graphic design and marketing

consultation firm. View our online portfolio at:

www.TheWriteCompany.net

Patti Samar

Editor & Publisher

Blue Water Woman

2 fall 2013 BlueWaterWoman.com
---
fall 2013 BlueWaterWoman.com 3
---
passion

mary weir, port huron

Strong-willed

determination

by Patti Samar

4 fall 2013 BlueWaterWoman.com

JJust inside the front entrance of the PKSA Karate School in

downtown Port Huron there hangs a pair of sparkly ruby red slippers

just like Dorothy wore in the Wizard of Oz.

In the movie, Dorothy thought the ruby red slippers were magical,

but in the end, she discovered they were just another pair of shoes and

everything she accomplished came about as a result of her own will and

hard work.

The ruby red slippers hang in the karate studio as a daily reminder to

Mary Weir, co-owner of the karate school, and to all of her students,

that just as Dorothy discovered, everyone has exactly what they need

in life inside of them. Accomplishing goals is just a matter of exercising

personal will.

Weir is no stranger to accomplishing goals as a result of strong-willed

determination. Just a few short years ago, she and her husband might

have laughed if someone had suggested they would someday own a

karate school.

But what started as a family-oriented goal turned into a business

opportunity that began when her son, then just nine-years-old,

expressed an interest in taking a six-week karate class. Weir and

her husband thought it would be good for him to get involved in a

confidence-building activity, so they enrolled him. Parents were allowed

to learn alongside their children, and Weir became hooked.

"I looked at my husband and said, 'What if we did this and we got

our black belts as a family? That would be cool,'" she said.

Almost immediately, Weir, her husband Mike, and their son and

daughter were all enrolled in karate and on their way to earning black

belts. That eventually led to Weir and her husband opening their Port

Huron and St. Clair karate studios, PKSA, which is a karate school

franchise.

Deciding to start the business was not difficult because Weir knew she

had the passion for karate and a strong desire to teach others all that she

had learned from it. Additionally, as a franchise, PKSA –Professional

Karate Schools of America – provided a structure that helped the

business establish itself in the community slowly, which allowed Weir

and her husband/business partner to learn about running the business.

"He's the best person I've ever known in my entire life," Weir said of

her husband, "but working together has been the biggest challenge of

our marriage. But there's nobody else I would rather do this with."

Weir, who met her husband while both were enlisted in the Air

Force, adapted well to the structure provided by the study of karate and

found she enjoyed teaching others about the martial arts in a positive

environment that also provided the usefulness of self protection.

"Watching their sense of accomplishment is just unbelievable," said

Weir of her students. "I really enjoy helping people feel safe. My whole

passion is I want to be safe myself and I want my family to be safe and I

want to teach others to be safe.

"My goal is this: I want every person with ill will or bad intentions to

think twice before trying to hurt someone because the person they are

targeting might know karate."
---
award-winning writing & design work.

advertising design & strategy.

publication/newsletter design. writing & editing. graphic design.

website design.

patti samar. owner.

(Also Editor & Publisher of Blue Water Woman)

810. 987. 1256 www.thewritecompany.net

"like" us on Facebook & view our online portfolio on our website!

fall 2013 BlueWaterWoman.com 5
---
Healthy habits

by Patti Samar

Sara Thomas wants to help women become healthy.

As the owner and operator of a Curves franchise located in Fort

Gratiot, Thomas has helped numerous clients over the years.

"I love the clientele I have," said Thomas. "We are a very social

environment and we're all here for the same reasons: to be fit and

healthy."

A mom to two children and two dogs, Thomas enjoys the flexible

schedule that self-employment brings. "I have a very flexible schedule

because I have a great staff," she said.

Thomas worked for other businesses in the fitness industry prior to

owning her Curves franchise.

"I found there was a market for this type of clientele," she said,

noting that Curves is a program designed to provide women with a

comfortable workout environment.

Her advice to other women interested in starting a business of their

own is to follow their passion.

"Follow your heart and make sure you are passionate about your

work," she said. "Your heart has to be in the business."

The Curves franchise recently partnered with the Cleveland Clinic

to design a weight loss program for Curves members. "We are not

just a fitness center anymore; we are a weight loss center," she said,

noting that members are provided with a nutritional program to help

them meet their weight loss goals.

"I am not in this business to become wealthy," she said. "I am in

this to help women become healthy in a comfortable environment.

Helping women become healthy is important to me."

Believing in

downtown

by Patti Samar

6 fall 2013 BlueWaterWoman.com

Vickie Burgett is a Port Huron gal through and through. That

is why, for more than a decade, she has operated her business,

Victoria's Hair and Tanning Studio, in downtown Port Huron.

"I like being downtown," said Burgett. "I love the people walking

by and I love my neighbors. I love to look out the window and see

the people."

Burgett said self-employment has provided her with a lot of

flexibility in her life, though, as with many small businesses, she

noted that the hours can be long. "As the owner of the business,

you put in more hours, but it is still flexible.

"Working for yourself is great if you are not worried about

money, but as a female, you grow more by working with other

women and you grow as a human being," she said.

Her advice to those thinking about starting a business is "just do

it. If you aren't afraid of your finances, it's the best thing you can

do for yourself."

Victoria's offers hair and nail services to both men and women,

and tanning. "We are a full service salon," said Burgett.

A lifelong resident of Port Huron, Burgett enjoys the great things

she sees happening in the community. "I believe in Port Huron.

It's just where my heart is."
---
Achieving

financial goals

by Patti Samar

Ask Cathy Wilkinson what she would do if she could do anything

else for a living and here is the answer: "Nothing. This is it. I'm very

blessed. I feel we do a very good job for our clients and we help them

achieve their goals."

As a self-employed Edward Jones financial advisor, Wilkinson

enjoys the benefits of being an entrepreneur with the support

provided by the parent company.

"Edward Jones offers an entrepreneurial environment and all of

the tools we need to service our clients," she said. "I have always

been very goal-oriented and I feel I have the self-discipline and the

initiative needed to be self-employed."

Key to Wilkinson's success is her long-time assistant, Kim Petho.

The two have worked together almost 20 years.

A world traveler in her spare time – she has visited the

Mediterranean, France, Hawaii and Alaska, among other

destinations – Wilkinson says she loves getting up in the morning

and going to work each day. "I help people manage their wealth

and with Edward Jones, I can take my clients in the direction that

best suits their needs, whether that is investing, working toward

retirement, or spending in retirement.

"I love helping clients achieve their goals."

by Patti Samar

Fateful friendship

It must have been fate.

Just a few years ago, Tammy Hutchinson and Kim Judge were both

working in advertising sales for different print publications. Both were

originally from Sanilac County. Both lived in the same condominium

complex and both were single and contemplating new careers.

And they didn't know each other.

Once the two met, though, they realized there was a comfortable

chemistry between them and Hutchinson, who took the plunge into

the world of insurance sales at the urging of her stepfather, convinced

Judge to do the same in a shared office space.

Now, each is an independent agent for Farm Bureau Insurance. As

independent agents, both enjoy the flexibility self-employment brings,

but both acknowledge that working for themselves entails long hours

and hard work.

"I started with nothing, knocking on doors and pounding the

pavement," said Hutchinson.

"There is a preconceived notion that insurance agents just go

golfing and have a lot of money," said Judge with a laugh. However,

Judge does acknowledge that networking is key to her success. "It

takes so much time to get your name out there," she said. "You've

got to get to know people and it takes time to build that trust. It's so

important."

Though the hours may be long, both women acknowledge that

selling insurance brings personal satisfaction and gratification, too.

"When I was selling ads, I didn't feel a lot of gratitude," said

Hutchinson. "I wanted to do something to feel like I was making a

difference and helping people in their lives."

fall 2013 BlueWaterWoman.com 7
---
Accidental owner

by Patti Samar

Sometimes, Sonja Schunk is still surprised – and rightfully proud

–of the fact that she owns her own business, Sonja's Hair Salon, in

St. Clair.

"Someone will say, 'You own your own salon!' and I'll say, 'I do,

don't I?'" she said with a laugh.

When she became a cosmetologist, it wasn't her intention to

establish her own business, but eventually it appeared to be fate.

"At the salons where I worked, I would just take charge of stuff

anyway," she said. Now, after working for herself for 10 years, she

cannot imagine it any other way. She has learned a lot along the way.

"It is a lot of work to be able to organize everything, such as

supplies needed," she said. "I would recommend women who

are starting a business start small and grow into it and do a lot of

research first. You need to learn everything, like how a cash register

works and how money is handled, and maintaining supplies and

figuring out what works and what doesn't.

"And, if something breaks, who is going to fix it?"

Having great employees has helped her business grow and thrive,

as well.

"Everybody works together, so it's not like I have to be 'the boss',"

she said. "I really appreciate my employees and my clients."

And what keeps her work life interesting after all of these years?

"I think it is putting a smile on someone's face, whether it is a

totally different look or something they are just totally ecstatic

about," she said. "That is rewarding."

8 fall 2013 BlueWaterWoman.com

Family tradition

by Patti Samar

Even if she didn't know it right away, Trista Bourdeau Kolcz was

destined to go into the family business.

As the owner/manager of the Blue Water Area branch of her family

insurance business, Al Bourdeau Insurance Agency, Kolcz has worked

in the family business in some capacity since 1986 when she first

started going to the office after school to file.

Established in 1921, the Bordeau agency is one of the largest

independent insurance agencies in the state of Michigan. The

business has maintained a strong family presence, with Kolcz and her

cousins and uncles operating all of the branches.

"We're all very close and everyone is just very closely connected,"

said Kolcz. "We all spend a lot of the holidays together and we get

together as often as possible."

And business mixes well with pleasure?

"It just kind of gels," she said. "We very much promote family

within the business. It is just a strong point of the agency. It just

seems to really work well.

"There are a lot of advantages to owning your own business," she

said. "You get more time to prioritize your own life." She noted that

having that flexibility and ability to create her own schedule has been

helpful as she raised a family – she and her husband, Brad, have four

children.

She also knows her success is not an individual accomplishment and

she is appreciate of the great employees who work with her every day.

"We have a great team," she said. "We really do have great

employees. We've been really fortunate for the quality of employees

that we have been able to attract."
---
fall 2013 BlueWaterWoman.com 9