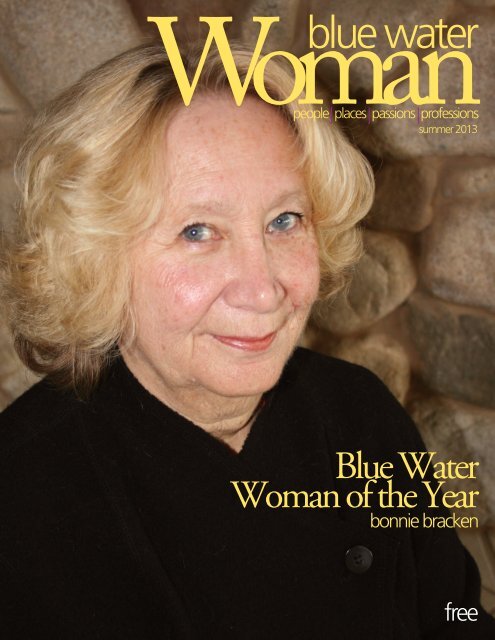 blue water woman--summer 2013
You also want an ePaper? Increase the reach of your titles
YUMPU automatically turns print PDFs into web optimized ePapers that Google loves.
Woman

blue water

Blue Water

Woman of the Year

bonnie bracken

free
---
amy clickner, left,

president of the lake

superior community

partnership of

marquette county,

a recipient of the

evergreen award

(marquette's version

of woman of the

year), a cheerleader

for me professionally,

and a great personal

friend. amy serves as

one of three judges

-- all from the Upper

Peninsula -- for the

Blue Water Woman

of the Year Awards.

from the editor

Can't we all just get along?

I have been fascinated with the hub-bub surrounding the recent publication of Sheryl

Sandberg's new book, Lean In: Women, Work and the Will to Lead. Sandberg, of course, is the

current chief operating officer at Facebook. For years she has survived and thrived working in

the world of high-tech, which is also famously highly male.

No matter your politics, nor your views on feminism, nor whether or not you believe women

should stay at home with small children or instead believe they should work or be assertive at

work or take time off to have children or whatever, I think the fact that this book generates

mean-spirited controversy makes me sad because that overshadows Sandberg's positive message

and instead rather pits women and their differing life philosophies against one another instead

of pulling them together.

And if I've learned anything in my almost 50 years of walking the planet, it is this: women

are the glue that hold the world together.

I admire Sandberg's desire to open the discussion regarding women and their place in

the working world and how our personal lives and choices affect career and professional

aspirations. The only way to invoke change is by opening the discussion.

But some of the criticism of Sandberg's discussion has become vitriolic and mean-spirited.

There is no need for that.

Something I've learned in the past couple of years as I've interviewed and written about

women in the Blue Water Area is that all have struggled and overcome obstacles. The women

in our community have become successful by learning about themselves and what makes them

tick; moving forward using their strengths; and by learning to compensate for their personal or

professional weaknesses.

Thus is the case with the women whose stories are told in this issue of the magazine. They

are the recipients of the second annual Blue Water Woman of the Year awards. I am so

very honored to share their stories with you. All are more than exceptionally deserving of

recognition.

All have been motivated and inspired by others in their lives: family members, friends,

mentors.

I think it is particularly important that all of us – and I mean each and every one of us

– finds a way to mentor, encourage, motivate and inspire other women around us. We are

the glue that holds so very, very much in this life together. And by reaching out and offering

assistance, a pat on the back, a "Way to go!" email or a thoughtful conversation we can and we

will make a positive influence on the lives of other women in our community.

Women are stereotyped as being catty. But let's just stop that right now. Let's check our

egos at the door and welcome other women into business meetings, into our circle of friends

and into our hearts and our homes with open arms and open minds. Everyone must find their

own way in the world and it is not up to us to judge others, but instead, it is up to us to be

there, offering an ear or a hand, supporting the decisions made by our mothers, our sisters, our

daughters, our friends and our colleagues.

Be the glue and be supportive of other women. There is no other reward quite like it.

content

people

Bonnie Bracken 5

professions

Erin Potts 6

Jackie Hanton 10

passions

Tracy Willard 8

places

Veronica Heitz 12

volume 3, number 2 summer 2013

Blue Water Woman is published quarterly by The Write Company,

3155 Armour Street, Port Huron, MI 48060. Circulation 7,500.

Editor & Publisher: Patti Samar, owner, The Write Company

Advertising: Patti Samar at 810-987-1256 or pjsamar@aol.com

Subscriptions: To receive Blue Water Woman at home, mail $25 to:

Blue Water Woman, 3155 Armour Street, Port Huron, MI 48060

News releases can be emailed to pjsamar@aol.com

Questions or comments?

Call Blue Water Woman at 810-987-1256

Mission: Blue Water Woman is the premiere publication

for women living, working and playing

in the Blue Water Area of Michigan.

Its stories and features are written and designed

to be inspriational, motivational and encouraging.

www.BlueWaterWoman.com

© Blue Water Woman is the property

of Patti Samar of The Write Company

The Write Company is a writing, graphic design and marketing

consultation firm. View our online portfolio at:

www.TheWriteCompany.net

Patti Samar

Editor & Publisher

Blue Water Woman

2 summer 2013 BlueWaterWoman.com
---
summer 2013 BlueWaterWoman.com 3
---
Woman

Earlier this year, Blue Water Woman asked the community to nominate very special women who are deserving

of recognition as we prepared to present the second annual Blue Water Woman of the Year awards.

We then sent the nominations to a far away, cold and snowy place known as the Upper Peninsula, where

a very distinguished panel of women from Marquette County sequestered themselves for an evening and

emerged with five very deserving award recipients. "The selection process was very, very difficult as you truly

have so many very distinguished women in your community," said Chief Judge Amy Clickner, CEO of the

Lake Superior Community Partnership, Marquette County's joint chamber of commerce and Economic

Development Corporation.

Indeed, we are very fortunate in the Blue Water Area to be surrounded by so many thoughtful, smart and

compassionate women.

So in this issue, Blue Water Woman is pleased to honor five of the very best:

Bonnie Bracken

Blue Water Woman of the Year

Erin Potts

Blue Water Woman Educator of the Year

Tracy Willard

Blue Water Woman Nonprofit Executive of the Year

Jackie Hanton

Blue Water Woman Young Professional of the Year

Veronica Heitz

Blue Water Young Woman of the Year

4 summer 2013 BlueWaterWoman.com
---
lue water

woman of the year

bonnie bracken, fort gratiot

A Born

crusader

by Patti Samar

D

During Bonnie Bracken's 30-year career within the Michigan

Department of Human Services, she met with quite a number of

welfare recipients. They would often lament to her: "But you don't

know what it's like to be in my shoes."

But Bracken, who retired from public service in 2009, knows exactly

what it is like to be in their shoes.

When, at age 30, Bracken found herself a single mother with children

to raise and no child support coming through, she was the recipient of

public assistance for five years.

It was during that time that she began the steps necessary to pursue a

degree and a career in public service that is a compassionate reflection of

her personal commitment to helping others who are in need.

Her combined professional career and personal volunteerism for

numerous worthy causes in the Blue Water Area have earned Bracken

the title 2013 Blue Water Woman of the Year.

"Bonnie has the qualities required of a leader and an innovator,

such as selflessness, initiative, high energy, compassion for others,

creativity and tenacity," said Kathy Swantek, executive director of Blue

Water Developmental Housing, Inc. (BWDH), where Bracken is a

board member. "Bonnie adheres to the idea that if someone in the

community needs help and she has the means to make a difference,

then she will. For Bonnie, it is not a matter of if, but how, can I help."

Bracken attributes her desire to help others and "do the right thing"

to her upbringing. "I think we're all sort of born with a spirit and that,

coupled with a Christian background, was probably the impetus to

wanting to give and share with others," she said. "Not that I was an

angel."

When Bracken, who had been working as a hairdresser part-time,

found herself a single mother and the recipient of welfare, she actively

pursued making her life better. She began taking classes at Macomb

Community College and it was her welfare caseworker who suggested

that she apply for the state civil service exam when there was a job

opening in human services.

Bracken jumped at the opportunity for a job with a steady income.

"My motivation was my children," she said.

When she interviewed for the job, she told her interviewers: "I don't

just want this job…I need this job. I need to take care of my kids. So

they hired me." She added with a chuckle: "How could they not?"

She continued to pursue her education – she went on to earn

associate, bachelor's and master's degrees – and moved along up the

career ladder. Her first position with the Human Services Department

moved her to Port Huron – she is a native of Utica – and she adopted

the Blue Water Area as her home.

Even in retirement, Bracken continues to serve the community,

stepping up as a board member for several organizations, including

BWDH, and Sanborn Gratiot Memorial Home, one of the facilities

managed by BWDH.

"I'm a worker-bee for a cause," she said. "I have no interest in being a

board president. I want to sit at the table and say, 'what do we need to

do?' I do want to be at the table."

Though she doesn't need a title to inspire her volunteerism, she does

recognize that she has a gift for bringing the right people together to get

a job done.

"I'm a born crusader…It's something that the Lord gave me," she

said. "I try to rally the troops. The passion for the cause takes over. I can

think outside of the box and what I bring to the table is inspiration."

summer 2013 BlueWaterWoman.com 5
---
educator of the year

erin potts, marysville

A

Teaching

life lessons

by Shawn Starkey

Ask Erin Potts to describe success and she pauses thoughtfully

before giving her answer.

"Success is only measured by the feeling you get after a day well

done," she said. "You can't really measure it by money…

"You have to make a difference in someone else's life to be

successful."

Potts definitely makes a difference in the lives of the students she

teaches and the basketball players she coaches at Marysville High

School, according to her colleagues.

That's why she's being honored as the 2013 Blue Water Woman

Educator of the Year.

Potts, 26, of Marysville teaches Advanced Placement U.S. History

for sophomores and World History for juniors and seniors. She's

head coach for the freshmen girls' basketball team and assistant coach

for the varsity girls' track team. She also wears countless volunteer

hats assisting with junior varsity and varsity basketball, summer

youth basketball camps, travel basketball teams and Saturday

morning basketball skills clinics.

Potts played basketball at Utica Ford High School and played on

intramural teams while earning her bachelor's degree in education

with a double major in history and English at Central Michigan

University.

"I love basketball, so coaching is just a thrill for me," she said,

noting it helps her to connect with girls who need good role models.

"I like coaching ninth grade because it's just as much about life skills

as it is about basketball."

Her goal is to empower her players so they can see what they can

accomplish.

One significant accomplishment, which involved all six of the high

school's basketball teams, is what led fellow teacher Christine Shigley

to nominate Potts for the award.

The event, a "Pink Out" fundraising night of basketball games in

January, raised awareness and money for cancer research. The charity

had particular significance for Potts, whose father lost his battle with

cancer just months before she began her teaching career.

Potts was amazed by the support and enthusiasm from the

community for the fundraiser. "We wanted to sell a few pink T-

shirts and raise maybe $1,500," she said. But, as Shigley described

in her nomination letter, that was before local corporate sponsors

jumped on board and other donations poured in.

"When all was said and done, we had raised almost $6,000," Potts

said. "I thought we would sell maybe 100 shirts, and we sold 400

shirts."

That taught her students and players numerous invaluable life

lessons.

"When you're passionate about something, it makes every minute

of it rewarding," she said.

For Potts and her students, that education is a two-way street. She

completed her master's degree in educational leadership at Saginaw

Valley State University in December but has trouble picturing herself

eventually leaving the classroom.

"I just love the daily interactions that are so spontaneous," she said

of her students. "Every day I learn something from them. That's

what I hope to still be doing in 20 years. I hope to still be learning

how to reach people."

6 summer 2013 BlueWaterWoman.com
---
summer 2013 BlueWaterWoman.com 7
---
nonprofit executive

of the year

tracy willard, fort gratiot

S

A Calming

influence

by Shawn Starkey

Spend time with Tracy Willard – and her infectious, colorful giggle

– and you might find it odd that her favorite color is gray.

"It's calming," she said. "It's what I'm all about, wanting to be calm

and peaceful and provide that for others."

She co-founded Hunter Hospitality House to offer that kind of

respite to families of seriously ill patients at nearby Port Huron

Hospital.

Those efforts are among the reasons Willard is being honored as

2013 Blue Water Woman Nonprofit Executive of the Year.

"Tracy works tirelessly in getting the word out about Hunter

Hospitality House and to attain volunteers and donations," wrote

volunteer Pamela Leslie in her nomination of Willard. "It has only

been opened over a year and it is so impressive."

Willard, 45, of Fort Gratiot is executive director and vice president

of the board of directors for the organization she co-founded with her

husband, Jeff. The bed-and-breakfast-style home is named in memory

of their son, Hunter Eldon Willard, who was born two months

prematurely Dec. 7, 1991, and died 16 days later after spending time

in and out of the hospital. The idea for the hospitality house grew

from the Willards' experience. It opened in 2011, on what would

have been Hunter's 20th birthday.

Since then, 140 people have stayed at the home. But Willard

considers the community's involvement her biggest accomplishment.

"So many people were willing to help us, even before we opened,

when it was just a plan," she said. "The whole premise captured so

many people's hearts."

Willard's community involvement goes beyond the hospitality

house. She is completing her third year on the board for the Port

Huron Town Hall Lecture Series; is founder and past president

of Woman's Life Insurance Society Chapter 807 in Port Huron;

serves on the planning committee for the Community Services

Coordinating Body's Community Resource Fair; is a member of the

Community Baby Shower Committee; and is active at Cornerstone

Church in Clyde Township.

"Your community is where it's at," said Willard, who graduated

from Port Huron High School and St. Clair County Community

College before attending Wayne State University.

When she takes time for herself, Willard enjoys going out for

sushi; playing Scrabble; watching "way too much TV," especially

competition shows such as Shark Tank and Chopped; and spending

vacations with sons Garrett, 22; Cullen, 20; and Parker, 18.

Back at work, Willard hopes to continue growing Hunter

Hospitality House so she can spend more time with its guests.

"My favorite part is just being here sharing cookies and coffee with

a guest and listening as they tell their story," she said.

Among those stories is that of an Ohio woman named Sharon,

who found herself at the hospitality house after her husband, a truck

driver, suffered a heart attack while driving through Port Huron.

"We were able to give her a place to stay, so she could be right at her

husband's side," Willard said.

Stories like those are the legacy for which Willard said she wants

Hunter to be remembered. "Every life is important, no matter how

long it lasts."

8 summer 2013 BlueWaterWoman.com
---
summer 2013 BlueWaterWoman.com 9
---
young professional

of the year

jackie hanton, kimball

Giving

back

by Shawn Starkey

People may know about Jackie Hanton's volunteer work with

any of a half-dozen organizations. Or they may know about her job

with Talmer Bank. They may even know about her weekends spent

pursuing a law degree. So what don't they know about Hanton?

"Not a lot of people know I grew up country," Hanton said with a

laugh. But, she explained, growing up as an equestrian and showing

cattle, serving in leadership positions with 4-H and Future Farmers

of America, and her first job – working on a farm caring for 18

horses -- all provided the groundwork for the volunteer roles she has

today.

"That really gave me the foundation to want to be involved

throughout my life," she said, "because I met so many great people

and learned."

Her community involvement is a key reason Hanton is being

honored as 2013 Blue Water Woman Young Professional of the

Year.

For Hanton, 30, of Kimball Township, involvement includes

being co-founder and vice president of Blue Water Young

Professionals; serving as board chair for Blue Water Safe Horizons;

serving as vice president of the Rotary Club of Port Huron; serving

on the board of trustees for the Community Foundation of St. Clair

County; and on serving on the board of directors for the newly

organized MainStreet Port Huron.

A typical weekday for Hanton begins at 5:30 a.m. Her first stop

is usually the gym. She'll squeeze in a coffee appointment at 7:30

or 8 a.m. for one of her volunteer commitments and likely reserve

lunchtime for another volunteer-related meeting. Her workday at

Talmer Bank, where she is the associate managing director and trust

officer, ends by 6 p.m. Then, it's off to a meeting or the gym. She

spends the rest of her evening, until about 11:30 p.m., studying for

her classes at Thomas M. Cooley Law School. Hanton, who spends

weekends at Cooley's Auburn Hills campus, earned a bachelor's

degree in organizational communications from Michigan State

University and expects to complete a law degree in August.

"I know that I am biased, but there are times when I don't know

how she does it," her husband, Mark Hanton, wrote in his award

nomination. "She rarely complains about a lack of sleep or personal

time but gets so energized when talking about the possibilities that

are coming alive in Port Huron that it seems to give her more and

more energy to give back."

Hanton said she learned from her paternal grandmother, Betty

Davenport, who is actively involved in her Florida community and

politically. Hanton credits Donna Niester of the James C. Acheson

Foundation with being "an amazing professional mentor." Hanton's

mom, Jeannine Qualman, who has fought multiple sclerosis for

years while working and raising a family, has left the most indelible

impression. "If my mom can battle this and can still get up and go

to work every day, then what do I have to complain about?" Hanton

said.

Hanton reminisces about the associate degree she earned in

equine studies at the University of Findlay in Ohio when she was

considering a career as a veterinarian or horse trainer. She still loves

to throw on her jeans and go riding.

"Hopefully one day I'll get horses back in my back yard."

10 summer 2013 BlueWaterWoman.com
---
summer 2013 BlueWaterWoman.com 11
---
young woman of the year

veronica heitz

Well-balanced

by Patti Samar

Veronica Heitz is one extremely well-balanced young woman.

She is completely at ease wearing her blue jeans and getting down

and dirty in the barn with the pigs, lambs and chickens she raises for

4-H, but she is equally at ease lacing up her figure skates and hitting

the ice as a member of the Port Huron Figure Skating Club.

With a laugh, she acknowledges that her two worlds – country

farm girl and ice skating girly-girl – could not be farther apart:

"There's not much overlap."

It is Heitz's ability to move comfortably in and out of a wide

variety of settings, in addition to being an academic standout and

a community volunteer that have earned her the title of 2013 Blue

Water Young Woman of the Year.

"Veronica is a fine example of how a young woman can impact

others," said Mary Patrick, campus minister at Cardinal Mooney

Catholic High School, where Heitz is a senior. "She uses her free

time to assist others, volunteering for a number of organizations

around the area. She recently spearheaded a successful community

wide blood drive."

To Heitz, pitching in and helping others comes naturally. She

noted that her mother, a home health care nurse, is her role model

and inspiration.

"Both of my parents donate blood and as soon as I learned there

was such a need for it, I wanted to motivate other people to do it,"

she said. She used good organizational skills to publicize the event

and obtain donations as door prizes.

Heitz obtained a sense of responsibility at a young age when she

joined 4-H at age 8 and began participating in events and raising

farm animals for show.

"I've always like being a part of 4-H," she said. "It's a really good

community of people. Everybody is really responsible and helps

everyone else learn. It's like a big family."

Heitz noted that Theresa Whitenight, one of her 4-H leaders, has

also been a good role model, as well. And Whitenight is impressed

with Heitz.

"Veronica is a terrific role model and is viewed with respect by all

of the members of our club," said Whitenight in a letter of support

for Heitz's nomination. "Many of our activities are physically

and mentally stressful, but Veronica always maintains her calm

composure and positive attitude."

Heitz's plans for the future include a desire to continue on a career

path that will help her help others. "I want to be a speech therapist,"

she said. "I really enjoy working with kids and I'd like to work in a

school district."

She has earned a full-ride scholarship to Oakland University in

Rochester and she was recently admitted to the honors college there.

Following graduation, she envisions herself living in a more rural

setting and has even contemplated moving to the Upper Peninsula.

"I'm open to anything besides the city," she said.

Quiet and soft-spoken, Heitz turns to her figure skating when she

needs to express herself.

"It's been my sport and I like it," she said. "With the music, it's a

good way to express myself."

12 summer 2013 BlueWaterWoman.com
---
award-winning writing & design work.

advertising design & strategy.

publication/newsletter design. writing & editing. graphic design.

website design.

patti samar. owner.

(Also Editor & Publisher of Blue Water Woman)

810. 987. 1256 www.thewritecompany.net

"like" us on Facebook & view our online portfolio on our website!

summer 2013 BlueWaterWoman.com 13