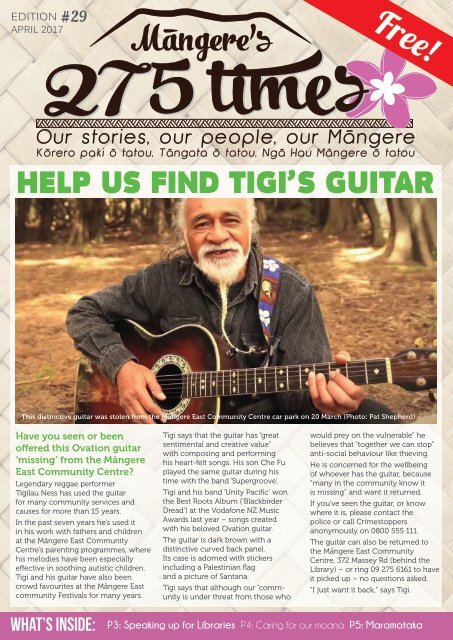 275 Times April 2017
Mangere community news - 275 Times
Mangere community news - 275 Times
SHOW MORE
SHOW LESS
Create successful ePaper yourself
Turn your PDF publications into a flip-book with our unique Google optimized e-Paper software.
EDITION #29

APRIL 2017

275

Māngere's

times

275 times

Free!

Our stories, our people, our Māngere

Kōrero paki ō tatou, Tāngata ō tatou, Ngā Hau Māngere ō tatou

HELP US FIND TIGI'S GUITAR

This distinctive guitar was stolen from the Māngere East Community Centre car park on 20 March (Photo: Pat Shepherd)

Have you seen or been

offered this Ovation guitar

'missing' from the Māngere

East Community Centre?

Legendary reggae performer

Tigilau Ness has used the guitar

for many community services and

causes for more than 15 years.

In the past seven years he's used it

in his work with fathers and children

at the Māngere East Community

Centre's parenting programmes, where

his melodies have been especially

effective in soothing autistic children.

Tigi and his guitar have also been

crowd favourites at the Māngere East

community Festivals for many years.

Tigi says that the guitar has "great

sentimental and creative value"

with composing and performing

his heart-felt songs. His son Che Fu

played the same guitar during his

time with the band 'Supergroove'.

Tigi and his band 'Unity Pacific' won

the Best Roots Album ('Blackbirder

Dread') at the Vodafone NZ Music

Awards last year – songs created

with his beloved Ovation guitar.

The guitar is dark brown with a

distinctive curved back panel.

Its case is adorned with stickers

including a Palestinian flag

and a picture of Santana.

Tigi says that although our "community

is under threat from those who

would prey on the vulnerable" he

believes that "together we can stop"

anti-social behaviour like thieving.

He is concerned for the wellbeing

of whoever has the guitar, because

"many in the community know it

is missing" and want it returned.

If you've seen the guitar, or know

where it is, please contact the

police or call Crimestoppers

anonymously on 0800 555 111.

The guitar can also be returned to

the Māngere East Community

Centre, 372 Massey Rd (behind the

Library) – or ring 09 275 6161 to have

it picked up – no questions asked.

"I just want it back," says Tigi.

WHAT'S INSIDE:

P3: Speaking up for Libraries P4: Caring for our moana P5: Maramataka
---
WORLD MASTERS GAMES 2017

The 9th World Masters Games

kick off in Auckland this month.

Sports massage therapist and

Māngere resident, Toni Helleur

(who is the owner and director

of ReleaseWorks), and Māngere

physiotherapist Heiner Otumuli

(manager of the Physio Rehab clinic),

have been chosen to support the

'mature' athletes during the games.

Toni told 275Times that: ​"We

were approached directly by the

sport representative organiser we

will be helping – which for me is

basketball. Heiner will assist the rugby

players. It was our professionalism

and the experience we have

that gave us the opportunity."

275Times: The World Masters

Games encourages "participation

in sport throughout life."

What advice would you give to

'mature' would-be athletes who are

thinking about taking up a sport for

the first time, or returning to a sport

after a few years – even or decades?

Toni: Sport is something for anyone

young or old, physically abled or

not – there is no discrimination.

For our 'mature' athletes, due to

normal body wear and tear, I fully

encourage you to sort any 'niggly'

injuries you may have before you

get active again. This is where both

Supporting mature athletes: Māngere's Toni Helleur (above) and

Heiner Otumuli (inset) will be providing on-site health services to

competitors at the World Masters Games 2017.

physio and massage work well.

Physio will help with strengthening

areas that are weak, where massage

can help realign muscles and

release tension, which helps with

improved movement and reduces

chances of further injuries.

Stretching would be my second

piece of advice. Before and after your

activity is a must. It's like an older

car – you have to warm it up a bit

before you use it! These two steps

will prepare you well for any sport.

The World Masters Games 2017

run from April 21 to 30 at venues

throughout Auckland. Learn more at:

www.worldmastersgames2017.co.nz

Members of Māngere College's Cook Island

group celebrate their win at ASB Polyfest 2017

Māngere College Shines at Polyfest

By Ernestina Maro

At the ASB Polyfest last

month, Māngere College

was the overall winner

of both the Samoan and

Cook Island stages – a

great accomplishment

for the high school

and the community.

The school's Samoan

group became back-toback

winners – taking

out the competition

for the second year in

a row, while the Cook

Island group returned

to first place with their

incredible Kaparima

(action song), drum dance

and Imene Tuki (singing).

Polyfest gives our

high school students

an opportunity to

embrace and share their

homegrown talent. It's

a way to help build our

young people into noble

leaders who carry their

roots in everything they

do and believe in – which

will inspire them to

achieve their aspirations.

We are very grateful

to see our awesome

community connect

with the youth that

participate in this event,

as well as the parents

and families of these

talented young people.

We look forward to seeing

what Māngere College has

in store for Polyfest 2018!

2
---
Naomi Lange (left) with other members

of Māngere East Library's knitting group

Speaking up for our libraries

Since the recent announcement

of plans to 'restructure' Auckland's

libraries without any community

consultation, long-time Māngere

East community advocates Naomi

Lange and Roger Fowler have

expressed their concerns to the

Māngere-Ōtāhuhu Local Board.

Although library staff have been

instructed not to talk about it,

the cost-cutting plan has already

seen over 70 staff take voluntary

redundancy. The remaining

staff will be forced to 'reapply'

for 1009 positions across the

Auckland region – 142 fewer staff

than the current level of 1151.

Following these cuts, it is understood

that staff are likely to be shunted

around the regional libraries. It is

feared that these moves will have

a negative impact on the quality

and continuity of services and

open up the possibility of further

cuts and even library closures.

At the Local Board meeting, Roger

said that libraries are "an integral part

of our community" and predicted

that Māngere people will "strongly

resist any detrimental changes." He

called for the Board, councillors,

library staff and the community

to work together to safeguard

and enhance library services.

Naomi talked about the knitting

group at the Māngere East Library

that has been encouraged by

library staff who have a strong

rapport with users. She explained

that although Māngere East is a

vibrant community, there are "some

vulnerable people," and that the

library provides a vital "safe haven."

"I would not like to see our

permanent library staff, several of

whom are local, being moved from

library to library with no continuity

for the library users," she said,

adding; "I fear these changes are like

operating a bank, not a community

service, and are detrimental to

our Māngere East people."

Meanwhile, a growing city-wide

campaign has emerged. The 'Love

our Libraries' Facebook group

encourages library users to show

their "aroha and appreciation"

for Auckland's libraries and

librarians, and "demand input"

into the planned changes.

Find out more at 'Love Our

Libraries' on www.facebook.com.

UPSOUTH INSPIRES

CREATIVE THINKING

A new crowd empowerment

platform that gives people a place

to respond to local challenges

by sharing original ideas – and

earn money – is gathering

momentum in South Auckland.

Developed by The Southern

Inititative (TSI), UPsouth aims

to tap into users' creativity and

develop "a network of young

people who lead together, support

one another's development

and is both entrepreneurial and

altruistic," explains TSI Social

Intrapreneur Fiona Cunningham.

Different organisations and groups

use UPsouth to make a request or

'callUP' for ideas – all of which earn

micro-payments from the funding

attached to each callUP, with some

receiving more significant amounts.

UPsouth's first callUP – asking

people to design a logo for the

platform – inspired a vast range

of imaginative creations from

young South Auckland designers.

Three of the creators who receive

$500 for their efforts are from

Māngere: Ken Vaega, a 23-yearold

dancer, choreographer and

mentor with Affirming Works,

and secondary school students

J'me Li Tuhega and Petra Jelitto.

"TSI was absolutely delighted by

the awesome response to our

logo call-up, and choosing six

to receive a $500 payment was

difficult to say the least," says

Fiona."The quality was so high we

paid another 20 artists $50 each

and we will use all 26 fantastic

logos in a variety of ways."

Anyone can join UPsouth, but

to earn money you need a New

Zealand bank account and an

IRD number. Check out upsouth.

nz to contribute your ideas to the

existing callUPs and keep your eye

on the platform for new ones.

Above: Māngere student Petra

Jelitto's winning design for the

UPsouth logo competition.

3
---
CARING

FOR OUR

MOANA

It was no accident that the

first migrants to Aotearoa

made their home around the

Manukau Harbour. Teeming

with bird and sea life, fed

by freshwater springs and

surrounded by land with

rich volcanic soils, the

harbour was an ideal place

for whānau, hapū and iwi

to sustain themselves.

4

By Justine Skilling

Talking Rubbish

ME Family Services

Māngere Mountain Education Centre's

Waimarie McFarland describes

the area around the harbour as a

"thriving food bowl for those who

made it home." She tells the story of a

possible origin of the harbour's name,

when the Tainui waka was carried

from the Tāmaki River via Ōtāhuhu.

The captain asked one of his men,

Taikehu, to see whether there were

any people on the harbour, as they

could hear loud chattering. "E hara i te

tangata he manu kau," came his reply

("There aren't any people, only birds").

Kaimoana for all

As recently as Waimarie's

grandfather's time, kina, mussels,

flounder, mullet, scallop and

oysters could be harvested near

Puketutu Island. Tuna (eels)

and īnanga (whitebait) could be

gathered from the Oruarangi

River and from a freshwater well

in his backyard at Ihumātao.

This was all to come to an abrupt and

devastating end in the mid 1900s,

with the relocation of Auckland's

sewage treatment plant from Ōrākei

to Māngere. In the early days, raw

sewage was dumped directly into the

harbour, putting an end to the ability

of local iwi and other residents to

collect kaimoana from the harbour.

Development & degradation

The growth of industry, agriculture

and residential development around

the harbour over the past couple of

Above: Students from

Māngere East Primary

help clean up the Māngere

Bridge foreshore.

Right: Some of the

14,000 litres of rubbish

collected around the

Manukau Harbour

during the Sustainable

Coastlines Love Your

Coast Clean up in March.

hundred years have also taken their

toll on the health of our moana.

Although there have been vast

improvements in sewage treatment

processes, and restrictions on

dumping industry waste into

the harbour, the picture is still

far from rosy for New Zealand's

second largest harbour.

"THE MANUKAU IS AN

AMAZINGLY BEAUTIFUL

HARBOUR WITH

INCREDIBLE BIRDLIFE."

Auckland Council deems the harbour

safe for swimming in but Waimarie

still wouldn't recommend gathering

shellfish from the Māngere area.

Auckland Regional Public Health

Service advises against eating

shellfish gathered in any urban areas

because of the risk from "illegallydumped

contaminants, animal waste,

road runoff, industrial discharges,

leachate from buried materials

and sewage overflows." Litter and

illegal dumping has also become

a big issue around the harbour.

Helpers get hands-on

This year, the international

environmental organisation

Sustainable Coastlines has selected

the Manukau Harbour as the focus of

its Love Your Coast campaign for a

second year running. "The Waitematā

Harbour gets lots of attention,

but the Manukau is an amazingly

beautiful harbour with incredible

birdlife," says Sustainable Coastline's

Programme Manager, Fletcher

Sunde. "It's become really degraded

compared to the other harbour.

People have turned their backs on it."

Sustainable Coastlines has been

giving educational presentations

to schools on the effects of marine

litter on wildlife throughout the

past month, and has worked with

Māngere East Primary, Auckland

Seventh Day Adventist College, De

La Salle College, Te Kura Māori o

Ngā Tapuwae and Viscount School
---
to do beach clean-ups at Māngere

Bridge, Favona and Ihumātao.

During the Māngere East Primary

School clean-up on the Māngere

Bridge foreshore, teacher Malo

said "We're teaching good habits

here. This is everyday learning

for the kids. Hopefully it's

transferred to home as well."

The children were excited to be

outside, hoping to find treasure.

"You shouldn't litter because it

might get into the sea and kill the

sea creatures," said one student.

"Then, there'd be no more kaimoana

to eat. The sea is important to life."

Making an impact

The clean-ups ran throughout

March, but the tally of rubbish

collected at the time of writing was

already an astounding 14,000 litres!

Sustainable Coastlines will audit

and analyse the rubbish and report

back to participating schools to let

them know what was picked up.

During the 2016 clean-up,

over 78,000 pieces of rubbish

(from takeaway food and drink,

households, construction and

fishing) were picked up by

nearly 1,500 volunteers.

Waimarie's grandfather's vision was

to one day see his descendants able

to sustain themselves through food

sourced from the harbour again.

That vision is what drives Waimarie

and others of her generation, who

are fighting to hold on to what's

left. "We need to all be mindful that

we are just as dependent on the

harbour as it is on us. We (humans)

are only one part of the picture –

and the rest of nature also has a

role to play. We need to value our

moana for the life it gives us."

HOW CAN YOU HELP

CARE FOR OUR MOANA?

ÍÍAlways put your rubbish in

the bin and pick up any litter you

see around the streets. (Street

litter goes down our storm water

drains and out into the harbour.)

ÍÍJoin future clean ups at http://

sustainablecoastlines.org/

ÍÍVisit the Māngere Mountain

Education Centre to find out

more about the Manukau

Harbour and its history.

ÍÍJoin the SOUL campaign

to protect Ihumātao http://

www.soulstopsha.org/

DE LA SALLE COLLEGE CLEANS UP

In March, all two hundred Year

7 & 8 students from De La Salle

College took part in a Love

Your Coast Beach Clean-up.

Following a presentation from

marine biologist Fletcher Sunde,

the boys took a bus to Māngere

Bridge for the practical part: a

treasure hunt for rubbish.

Armed with bags and gloves, the

enthusiastic students found an

amazing collection of dumped

waste, including a laptop computer,

a flat screen TV, a muffler, and

a vacuum cleaner, as well as

religious icons, tyres and car seats.

Providing service to the community

is a compulsory part of education

at De La Salle. The Beach Cleanup

gave the boys an opportunity

to contribute their time and

energy to the community while

also learning a great deal.

Above: Students from De La Salle College

collect rubbish under Māngere Bridge.

MARAMATAKA:

April 2017

by Ayla Hoeta

Kia ora tātou,

we're now in Matiti

Rauangina – the last

phase of summer.

The identifying star

for this period is

Whānui (Vega).

We notice the temperature

cooling and 'te

angina' – the rhythmic

dance of the leaves

as they swing and

fall from the trees.

Berries and fruit start

to fill the ngahere

(forest) and we prepare

our jars for preserving

jams, pickles, relishes

and sauces.

For all their hard work the

200 students were awarded

three service-hours each – a

total of 600 service hours

in the local community.

The most important lesson was

developing an understanding of

how to look after our harbour

and how precious it is.

When we leave litter lying around,

it travels out to sea through drains,

streams, estuaries and rivers. Once

in our oceans, rubbish harms

and kills sea creatures, who get

caught in it or mistake it for food.

Toxins from plastics poison our

seafood, and rubbish on land makes

a perfect home for mosquitos

to breed and spread disease.

The students and teachers of De

La Salle College would like to thank

Fletcher Sunde, the volunteers from

Sustainable Coastlines and the

Ōtara-Papatoetoe Local Board, who

assisted the school in this valuable

community service programme.

Key days and activities

include: Te Rākaunui

– the highest energy

day (10 April); Te

ra Oike – a day for

weeding the garden (13

April); and Tangaroa

a mua, Tangaroa a

rotoa and Tangaroa

kiokio – the best

fishing and planting

days for the west

coast (17 – 19 April).

Now I want introduce

you to another day

from the maramataka:

Te ra Whiro (24 April).

The best activity for

Whiro is rest and

reflection. It's a day

for getting rid of the

old and preparing

to bring in the new

energy promised by

the strengthening

moon phases. It's

pitch black at night

so take care and carry

a light if you have to

be out in the dark.

If you'd like a maramataka

dial, please

message 275 Times

on Facebook or email

me: ayla.hoeta@

aucklandcouncil.

govt.nz

5
---
TWR000874

6

Hospitality

Barista

Welding

BUILDING &

CARPENTRY

Forces

Pre-Entry

Recreation

& Sport

NCEA

Level 2

Warehousing &

Forklift Operations

Automotive

Don't

just dream it.

BECOME IT!

FREE

Learners or

Restricted Licence

(conditions apply)

ZERO FEES &

TRAVEL SUBSIDY

FOR 16-19YRS

FREE SELECTED

PROGRAMMES FOR

20+ YEAR OLDS

Fitness &

Exercise

Foundation

Skills

HANDS ON

TRAINING

Conditions apply.

59 TIDAL RD, MANGERE

(09) 257-5732

Text 021 740 807

Registered and Accredited with NZQA

NZQA provider rating: Category 1, 'Highly Confident' in both

Educational Performance and Capability in Self Assessment

"I'm just a young Pacific

Islander fulfilling a lifelong

dream of writing,

creating and producing

music and travelling the

world 'cos of it." – Swiss

by Shirl'e Fruean

Lately I've been hearing

a lot of positive feedback

about this influential

musician, so it's only right

that we shed a bit of light

on the 2013 Pacific Music

Awards' Best Male Artist:

Swiss (Pepa Manu).

Swiss first gifted us with

his enchanting reggae/R&B

melodies while signed to

Dawn Raid Entertainment,

releasing songs such as

'She's Mine', 'Slow Wind'

and a cover of 'Blue

Bayou' – to name a few.

You may have caught

him live at One Love,

Raggamuffin, Island Reggae

(San José, USA) or Riddim

Fest in Hawai'i. And you

might just find yourself

subconsciously singing

along to his songs on the

radio, too. That's because

his music captivates us

and makes us feel good.

I first met Swiss at a music

event a couple of years

ago. He came across as

respectful and down-toearth

– and of course

when he sang he definitely

knew how to get the

ladies on the dance floor.

Growing up with a sporty

and religious background

didn't stop Swiss from

pursuing his dreams to

make it big in the music

industry, and because of

his determination, he's

had many opportunities.

Even so, he's stayed

grounded. Humbly residing

in Māngere, Swiss says

the greatest blessings

in his life right now are

his four-month old son

Asher, and his wife of two

years, Tree Vaifale Mau.

His favourite hangout is at

home with his son; Niue is

his favourite destination;

and his favourite food is

my fav' too. (Although I

haven't tried his mum's

ota (raw fish), which

he says is "the best").

He's also working hard.

Tree says: "As CEO of our

company he oversees all

the artists – making sure

projects are planned out in

the best way from promo to

release, studio sessions are

run smoothly and everyone

is accounted for – as well

as running the label, and

preparing for a world tour."

As he balances his music,

career, marriage, and

church life with being a

first-time dad, Swiss feels

blessed to have great family

support from both sides, as

well as an understanding

and supportive wife.

Without her he doesn't

know where he'd be.

His five-year goal is to

build his Big 'Lil Kids record

label. Then he hopes to

"hang the mic up and

build on his family."

Recently returned from

performing in Darwin,

Swiss is now prepping

for a show at Rainbows

End's Summer Nights. He'll

be releasing brand new

music this month too.

Add Swiss' social media sites

to keep in the loop about

his upcoming events!
---
FONUA: TURNING THE TIDE ON CLIMATE CHANGE

by To'asavili Tuputala

Edited by Gabriel Faatau'uu

I laughed when my friends Gabe

Faatau'uu and Carmel-Maria

Savaiinaea asked my friend Viola

Johansson and me to join the

Whanui: Fonua theatre show choir.

Viola and I are writers, and

it's a known fact among our

friends that neither of us can

sing to save our lives.

A few weeks later, Gabe asked if I

was interested in writing poetry

for Fonua. This time, I jumped at

the opportunity. I'd been a fan

of co-director Troy Tu'ua's work

and felt honoured to work with

him. We discussed the poetry I'd

be writing for the production,

and I started researching and

presenting to the cast.

The Fonua cast was made up of

both first time performers and

professionals. Rehearsals were

more than just learning moves

and lines – we broke surface,

immersed in the history of our

ancestors. We discussed the poetry.

We were in deep – we were the

sand bags, the king-tide waves,

the poetry – we were a cast.

After one rehearsal, Gabe told

me he had a vision of me centre

stage, performing my poetry.

I quickly changed the subject,

telling him that I would be writing

for the show and that was it.

Then, two weeks before the live

production, Troy asked me to

perform. I panicked and tried to

find a way out. I've done open mics

and poetry slams; never theatre. But

support poured in from everywhere

– especially from Siosaia Folau, the

musical director. So I stepped from

behind the scenes and onto my own

little island, cast as the older spirit

of Meleseini Tuai, watching her

mother (played by Doreen Huni),

waking to rebuild the seawall.

I can't begin to tell you how many

doubts I had about taking the role,

but I listened to the calling and

responded with the poetry I wrote

and collaborated on with Viola.

To'asavili Tuputala (top left), on stage

with other members of Fonua's cast

(Photo: Mishelle Muagututi'a)

The experience was both scary and

exhilarating, but completely worth

it. When you have your loved ones

telling you after the show that

they've always heard about climate

change, but never really understood

it until seeing Fonua, you can't

help but feel like you did your job.

We, as the cast, gave our hearts to

the performance. We even gave

up nights with family to serve this

message. Knowing that people

walked away aware of climate

change and the rising sea levels

doesn't only let me know we did

our job, it gives me hope that as a

nation, we are capable of change.

Get going

by bike

FREE CYCLE SKILLS TRAINING FOR ADULTS

Come along to our beginner bike and

maintenance drop-in session. You can

learn to ride, improve your skills and

confidence plus learn a few tips to keep

your bike in good condition.

Thursday 13 April,

6pm - 8pm

Mangere Community House

141 Robertson Road, Mangere East

Bikes are available for you to use

AT.govt.nz/cyclingevents

7
---
Community Notices

BOGGUST PARK CULTURAL & EASTER FESTIVAL

The Boggust Park community is hosting its first Cultural

& Easter Festival. Come along and meet your neighbours,

experience the richness of Māngere's cultural diversity,

enjoy some delicious ethnic food and plenty of colourful

entertainment. Saturday, 8 April, 2pm – 5pm, at Boggust Park,

4 Grangewood Close, Favona, Māngere. For more info contact:

Terisa – ph. 021 022 69307 or talavouandt@gmail.com; or Jois –

ph. 022 340 8913 or josinalvanobre85@gmail.com

MOVIES IN PARKS – THREE WISE COUSINS

See 'Three Wise Cousins' for FREE on Saturday, 8 April at David

Lange Park, Bader Drive, Māngere. Family activities start at

5pm and the movie starts at sunset (approximately 6pm). BYO

blankets, cushions and bug spray!

WASTE-FREE PARENTING WORKSHOP

A fun, inspirational workshop about reducing waste. Learn

about modern cloth nappies, as well as waste-free parenting

ideas and tips. Monday, 10 April, 7pm – 9:30pm at the Farm

Education Building, Ambury Regional Farm, 43 Ambury Road

(right at the end of Māngere Bridge). Cost: $10 (+ booking fee)

individual or couple. Attendees get a waste-free parenting pack

that includes cloth nappies valued at $90. Bookings essential!

Ph or text Kate on 027 2211 242 or visit thenappylady.co.nz

EASTER EGG HUNT & PICNIC

Easter Sunday is a day of celebration! Come and join the fun at

Massey Homestead and bring a picnic (hopefully the weather

will be good). Sunday, 16 April, 11:30am –12:30pm, Massey

Homestead, 351 Massey Road, Māngere. This FREE event is

hosted by Church in Progress MCC.

FREE CLASSES IN MANGERE EAST

The Māngere East Community Centre runs FREE and lowcost

community education classes in te reo Māori, Samoan,

English, sewing, literacy and numeracy, korowai and tukutuku,

drivers licence theory, tai chi, zumba – and more! Visit www.

mangereeast.org, email: fiona@mangereeast.org, ph. 09 275

6161 or drop in to the Centre at 372 Massey Road, Māngere

East to find out more.

INCREDIBLE YEARS PARENTING PROGRAMME

Friday mornings 10am – 12:30pm at Māngere East Community

Centre, 372 Massey Road, Māngere East. Starts 20 April. FREE.

Taking referrals now. Email admin@ohomairangi.co.nz, or ph.

09 263 0798.

COOKING SOUL FOOD WITH JOSEPH FINAU

Low carb cooking for families. Tuesdays from 10:30am to

12:00pm at ME Family Service Centre, 7 Hain Ave, Māngere

East. FREE – all welcome. Runs until 18 April.

MANGERE EAST HOLIDAY PROGRAMME

Tuesday 18 April – Friday 28 April, 7:30am – 6pm. Cost: $35 a

day. WINZ subsidies available. Awesome excursions including:

movies, wheels day, MOTAT, party day and mystery trips!

Suitable for 5- to 13-year-olds. Enquire today! ph. 09 275 6161,

mob. 029 773 0146 or email oscar@mangereeast.org

MANGERE BRIDGE LIBRARY

The theme these holidays is 'Construction Wizards'. Activities

include: Wizardry and magic: Are you a fan of Harry Potter?

Make your own special wand to test your skills. (Thu 20/4, 11am

– 12pm). Minecraft Club: Bring your device (or use one of ours)

and join in with other like-minded gamers and swap tips and

tricks. (Fri 21/4, 3:30 – 4:30pm).

All things paper: Drop in during the day and enjoy constructing

with paper. (Sat 22/4, 10:30am – 3pm).

Fun with coding: Do you know how to write your name in

coding language? Join us and turn your name into something

special. (Mon 24/4, 10:30am – 12pm) future

Children under the age of 8 must be accompanied by a

caregiver. To book, or find out more, ask at the library, print call 09

636 6797, search @MangereBridgeLibrary on Facebook or email

mangerebridge.library@aucklandcouncil.govt.nz

Maliu and Sabrina Aiturau love cycling, and

remind drivers to "Look Twice for Bikes."

MANGERE CYCLING ACTION IN APRIL:

Learn to Ride: The next learn to ride and bike maintenance

drop-in cycle training day for adults is from 6pm – 8pm on

Thursday 13 April at the Māngere Community House, 141

Robertson Rd. If you don't have a bike – one can be provided!

Easter Hunt on Bikes Day: Meet at Moana-nui-a-Kiwa Pools,

Māngere Town Centre on Good Friday, 14 April at 6pm for a

fun circuit around Māngere's Future Streets, looking for Easter

eggs along the trail. FREE for all ages. Bikes and helmets can be

provided if needed.

School Holiday 'Breakaway' programme: For 11- to 17-yearolds

at the Māngere Community House, Robertson Rd from

11am to 3pm, 18 – 28 April. Bike rides and cycle maintenance.

Complete the nine-day programme and receive a bike! Call the

Māngere Community House on 09 275 4920 to register.

Sunday Morning Bike Rides: Meet 7:30am each Sunday at the

bus stop opposite Fresh Choice store in Māngere Bridge – open

for all ages.

CONTRIBUTORS WANTED

We'd love to hear from local writers, photographers and anyone

else interested in contributing to the 275 Times. Get in touch at

www.facebook.com/275times or email 275Times@gmail.com

Community notices are FREE for non-profit organisations.

Send us details of your group or event for the next issue!

275 times

275

Māngere's

times

Design: Belinda Fowler Editor: Roger Fowler

Publisher: Māngere East Community Centre

275times@gmail.com

www.facebook.com/275times

www

www.275times.com 09 275 6161

Contact: Tuhin Choudhury

Unit 7/17 Airpark Drive