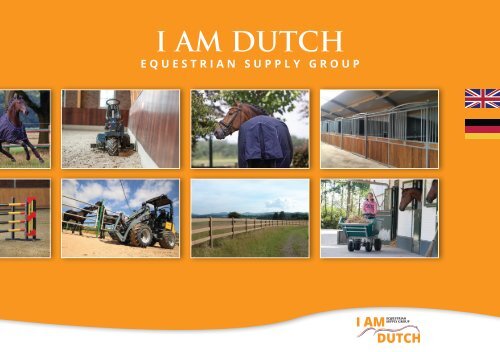 Folder | I am Dutch | 2017 | Zonder snijtekens
Create successful ePaper yourself
Turn your PDF publications into a flip-book with our unique Google optimized e-Paper software.
I AM DUTCH

EQUESTRIAN SUPPLY GROUP
---
Location of our partners

Standorte unserer Partner

ABOUT US

Five Dutch top equine industry suppliers have joined forces in 2016

to create I AM DUTCH, an unique brand which is destined to become

synonymous with only the highest quality Dutch equestrian products

and services.

By working together, these companies share and utilize not only their

expertise in engineering, innovation, efficient production and quality

control, but also offer an immense combined experience in both local

and international trade, logistics and communication.

Whether you are a hobbyist, or looking to build a state of the art

equestrian centre, our partners are prepared to realize your dreams.

2 3

4 5

1

ÜBER UNS

Fünf Niederländische Hersteller aus der Pferdebranche haben sich in

2016 zu der Organisation 'I AM DUTCH' zusammengeschlossen um unter

dieser Marke konsequent nur die höchste Qualität an Niederländischen

Reitsportprodukten und Diensten anzubieten.

In dieser Zusammenarbeit teilen und nutzen diese Unternehmen nicht nur

ihre jeweilige Erfahrung im Ingenieurwesen, in der Innovation, der Effizienz

in Produktion und Qualitätskontrolle, sondern bieten vereint auch ein

beindruckendes Know-How im nationalen- sowie internationalen Handel,

Logistik und Kommunikationswesen. Egal ob Sie Privat etwas brauchen, oder

ein State of the Art Reitsportzentrum bauen wollen, unsere Partner sind in

der Lage Ihre Träume zu verwirklichen.

1

2

3

4

5

Dominick

Equitrend

Geert & Henk Trading

TOBROCO-GIANT

Heritage Products

ADVANTAGES

● Premium Dutch brands

● International experience

● Trusted partners

● Combined freight

VORTEILE

● Top Niederländische Marken

● Internationale Erfahrung

● Vertrauenswürdige Partner

● Kombinierte Fracht

visit us online

Besuch uns online

www.iamdutch.org

info@iamdutch.org
---
HORSE RUGS

Dominick's solution to create rugs that allow the horse to have

maximum freedom of movement is simple but effective. The design

has utilized the Dominick Liberty System which shapes the rug to the

contours of the horses body to keep the rug straight and prevent it

slipping backwards.

Dominick rugs will provide the horse with maximum comfort, eliminate

rubbing and allow unlimited freedom of movement all day. The various

models offer you the opportunity to choose the rug that best fits your

needs: while not sacrificing fit or durability.

DOMINICK

Lange Akkers 34

5563 BV Westerhoven

The Netherlands

+31 (0)40 204 7632

info@dominick.nl

www.dominick.nl

PFERDEDECKEN

Mit ihrem speziellen Design liefern Dominick Pferdedecken maximale

Bewegungsfreiheit ohne zu verrutschen oder zu scheuern. Mit dem Dominick

Liberty System ist die Decke passend zu den Konturen eines Pferdes

geschnitten und liegt somit immer gerade ohne seitwärts oder nach hinten

zu verrutschten.

Dominick Pferdedecken geniessen einen ausgezeichneten Ruf, da sie den

Pferden totalen Komfort und uneingeschränkte Bewegungsfreiheit erlauben.

Eine große Auswahl an verschiedenen Modellen gibt Ihnen die Möglichkeit,

die perfekte Decke für Ihren Bedarf zu finden.

Dominick rugs will provide

maximum comfort

Mit Dominick Decken zum

maximalen Pferdekomfort

DOMINICK

I AM DUTCH
---
PRODUCTS AND MACHINES FOR THE HORSE BUSINESS

Production and sales of equipment and machinery for the horse

business. We manufacture equipment and machines that simplify work

at horse farms! From big tipping wheelbarrows to electric trolleys,

from hoof path plough to arena levellers, from small to big sweeping

machines; we have it. Because of our experience we gained in the work

itself on a horse farm, for almost 25 years, we know what is working or

not. Quality and service we deliver; ask our clients.

PRODUKTE UND MASCHINEN IM PFERDEBEREICH

Der Name Equitrend steht für die Produktion und den Verkauf

von hochqualitativen Maschinen und Ausrüstungen. Von großen

Kippschubkarren bis zu Geräten mit Batterie-Antrieb von Hufschlag- bis zu

Reitbahnplaner, und von sehr großen bis zu sehr kleinen Kehrmaschinen -

unsere Ausrüstungen machen die Stallarbeit einfach.

Mit 25 Jahren Erfahrung, die wir in unserem eigenen Pferdebetrieb

gesammelt haben, verstehen wir genau, was in verschiedenen Situationen

gebraucht wird, und wir sind sehr stolz, dass wir uns mit unserer top

Qualität und Kundendienst bei unseren Kunden einen ausgezeichneten Ruf

erarbeiten konnten.

EQUITREND

Dorshout 6D

5462 GL Veghel

The Netherlands

+31 (0)413 355 746

info@equitrend.nl

www.equitrend.nl

Equitrend delivers equipment and

machinery for the horse business

Equitrend liefert Geräte und

Maschinen im Pferdebereich

EQUITREND

I AM DUTCH
---
HORSE STABLES

Whether you need 512 outdoor stables, as we built for Dutch Gold

Medal winner, Jan Tops, a single standard stable, or a luxury stainless

steel stable - you are at the right company. With over 10 years of

experience, a rapidly growing business and recognised know-how, Geert

& Henk Trading is your partner in building housing for your horses. We

would like to welcome you in our showroom to experience the quality

of our stalls for yourself. From designing in AutoCAD to building your

stables anyplace in Europe, you have come to the right place: Geert &

Henk Trading will be at your side when you realise your dreams!

GEERT & HENK TRADING

Achterdijk 58

5451 NN Mill

The Netherlands

+31 (0)485 470 868

info@geertenhenk.nl

www.geertenhenk.nl

PFERDEBOXEN

Ob es sich um 512 Außenställe für den niederländischen

Goldmedaillengewinner Jan Tops, eine einzelne Standard Vorderwand, oder

um Luxus Edelstahl Boxen handelt, mit Geert & Henk Trading sind Sie an

der richtigen Stelle. Mit über 10 Jahren Erfahrung und einem wachsenden

Geschäft ist Geert & Henk Trading der richtige Partner mit Know-How in

der Pferdehaltung. Wir würden Sie gern in unserem Showroom begrüßen,

damit Sie sich vor Ort ein Bild von der Qualität unserer Pferdeboxen machen

können. Vom Entwurf im AutoCAD bis zum Aufbau bei Ihnen in Europa,

Geert & Henk Trading stehen an Ihrer Seite um Ihre Träume zu realisieren.

We are here to realise

your dreams

Wir sind hier um Ihre Träume

zu realisieren

GEERT & HENK TRADING

I AM DUTCH
---
MACHINES AND ATTACHMENTS

TOBROCO-GIANT has a wide range of machines and attachments that

are perfect to use for the horse industry. GIANT machines are designed

to operate in tight spaces and on rough terrain. Those benefits come

in handy when working in and around stables. Despite the compact

sizes and low service weight, the machines are capable to deliver a high

pulling force and to carry heavy loads. TOBROCO-GIANT has a specific

range of attachments which make a lot of activities in the equine

industry easier and less time consuming. You can do all your jobs with

just one machine!

MASCHINEN UND ANBAUGERÄTE

TOBROCO-GIANT hat ein großen Angebot von maßgeschneiderten

Maschinen und Anbaugeräten für die Pferdeindustrie. GIANT Maschinen

wurden entwickelt, um auf kleinem Raum und unwegsamen Gelände zu

arbeiten. Diese Vorteile lassen sich ausspielen beim Arbeiten in Stallungen

und deren Umfeld. Trotz ihrer kompakten Abmessungen und eines geringen

Eigengewichtes besitzen diese Maschinen eine hohe Zugkraft und sind fähig

schwere Lasten zu transportieren. GIANT hat eine Reihe von Anbaugeräten,

welche viele Arbeiten in der Pferdeindustrie einfacher und zeitsparender

machen. Sie können alle anfallenden Arbeiten mit nur einer Maschine

erledigen!

TOBROCO-GIANT

Industrielaan 2

5061 KC Oisterwijk

The Netherlands

+31 (0)135 211 212

info@tobroco.com

www.tobroco-giant.com

One machine for all jobs in the

equine industry

Eine Maschine für alle Arbeiten

in der Pferdeindustrie

TOBROCO-GIANT

I AM DUTCH
---
FENCES

We produce the best and safest fences and dressage and jumping

products for horse owners. Heritage Products is an innovative and

forward thinking company that is well known for their white polymer

fences and Grand Prix dressage arenas. We also offer durable and

low maintenance jumping equipment, woodalike polymer fences and

electric fences. The products of Heritage Products are a perferct blend

of beauty, safety and functionality. All the products share the most

important features; they are representative and safe. But also durable

and low in maintenance.

HERITAGE PRODUCTS

Radioweg 7

5836 CD Sambeek

The Netherlands

+31 (0)485 575 920

info@heritage-products.nl

www.heritage-products.nl

ZÄUNE

Ein Pferd verdient das Beste. Deshalb entscheiden sich viele Pferdebesitzer

für Qualitätsprodukte von Heritage Products. Diese sind sicher, dauerhaft

und sehen dazu noch gut aus. Produkte die nicht nur repräsentativ und

wartungsfreundlich sind, sondern vor allem auch sicher und langlebig.

Heritage Products baut auf den guten Eigenschaften von hochwertigen

Kunststoffe auf und verarbeitet das Material auf stilvolle Weise in

Zaunsysteme, Dressurvierecke und Hindernisse. Dank dieser einzigartigen

und innovativen Sichtweise wurde Heritage Products mit mehreren Preisen

und Nominierungen ausgezeichnet.

Safe, durable and low

maintenance horse equipment

Sicher, langlebig und wartungsfreundliche

Produkten

HERITAGE PRODUCTS

I AM DUTCH
---
INFO@IAMDUTCH.ORG

WWW.IAMDUTCH.ORG