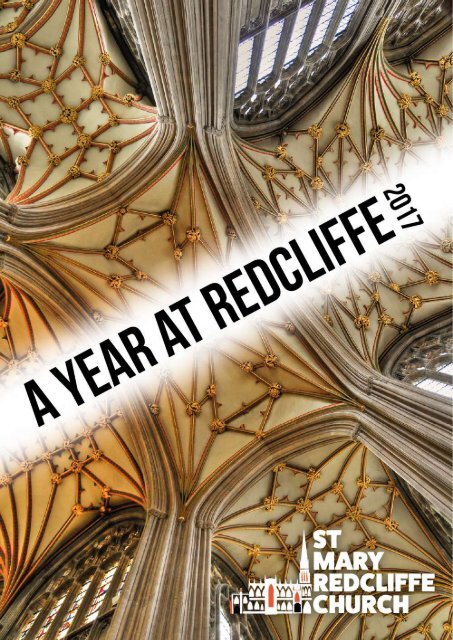 St Mary Redcliffe Church - A Year at Redcliffe
Create successful ePaper yourself
Turn your PDF publications into a flip-book with our unique Google optimized e-Paper software.
1
---
Welcome 2

LEADERSHIP

Vicar's Review 3

Associate Vicar's Review 5

From the Senior Churchwarden 7

From the Junior Churchwarden 8

CHURCH GOVERNANCE

Electoral Roll 9

PCC Annual Review 10

Financial Report for Year to December 2016 12

Accounts Summary - Simplified 13

Resources Committee 15

Stewardship Sub-committee 16

Church Lands Charity 17

Diocesan Synod 18

Deanery Synod 19

DEVELOPMENT

Development Project 20

Neighbourhood Development Forum 21

ADMINISTRATION and SUPPORT

Operations Manager 22

From the Parish Administrator 24

Health and Safety Sub-committee 25

BUILDING and FABRIC

Fabric Committee 26

The Vestment Team 30

The Canynges Society 32

WORSHIP and CHURCH GROUPS

Readers, Intercessions and Offertory 33

Servers 34

Administrants 34

Guild of Ringers 35

Sidesmen 36

Tea and Coffee 37

Flower Arrangers 37

WELCOMING ALL

Stewards 40

Vergers 41

Inclusivity 42

Doors Open Day 43

Treefest 44

DISCIPLESHIP

Discipleship Committee 45

Seekers: Escape from the Pew! 46

Vocations Group 47

Bible Reading Fellowship 48

EDUCATION and YOUNG PEOPLE

Sunday School 49

From the Education Officer 51

Primary School 52

St Mary Redcliffe and Temple School 53

OUR CHURCH COMMUNITY

Safeguarding 54

Social Committee 55

Christian Meditation 55

Christmas Puddings 56

Journey into Science 57

Lunch & Social Club 59

Church Magazine 60

Mothers' Union 61

Pot Luck Lunches 62

OUTREACH and SOCIAL ACTION

Social Action Committee 63

From the Community Development Worker 64

Christmas Day Lunch 65

Faithspace 66

The Arc Cafe 67

Food Banks 68

Parish Christmas Cards 69

January Night Shelter 69

Contacts

back

MUSIC

From the Director of Music 38

Friends of the Music at St Mary Redcliffe 39

1
---
elcome to A Year at Redcliffe 2017, our annual review of life at St Mary

Redcliffe Church.

This booklet includes updates from the many groups, committees and

organisations associated with the church, and reflects the diverse and

fascinating life of this community and the magnificent building we call home. We hope you

find it enjoyable as well as informative.

If you'd like to keep up to date with everything that's happening at the Church, why not sign

up to receive our e-newsletter by visiting http://bit.ly/smrnewsletter

St Mary Redcliffe Church

April 2017

2
---
St Mary Redcliffe is steeped in history and the people are rightly

proud of that heritage but they are equally clear about where they're

going. People blossom in front of you when they talk about their

faith, and are passionate about the networks of groups they are

involved with far beyond the church. The church is focussed on

things that really matter, on issues that affect the poor and

marginalised, whilst those things that often clamour for attention

are given their proper place amongst competing priorities. There is

a real sense of working together towards a clear goal amongst the

different elements of a complex church. More than that, the church

is actively seeking out and working with other faith and community

groups to tackle all kinds of social, economic and environmental

problems, some around the corner and others around the world. Congregations are growing in

number and in commitment to the purpose of the church, and it is evident that individuals and

groups way beyond the bounds of the church understand why St Mary Redcliffe exists, what it stands

for and are grateful for its positive impact upon their lives.

or those who have been at SMR for the last four years you may be aware that I always start

these annual letters with our vision statement. It seems right to return to these words on

a regular basis and to check that they still have 'life' within them and that are actions are

aligned to those words. From your perspective, can you see these words coming to life

within SMR? For those who have been here for four years we also know that we are spending a lot

of time (and quite a lot of money) on three enormous projects: each one is big enough in its own

right, but to keep our eyes on all three at the same time is, to say the least, ambitious. The main

event of the year was the architecture competition that we ran and, as I am sure you know, we

appointed the local firm Purcell to work with us on our development plans.

Those of us who are seeking to check the balance between potential building projects with growing

better disciples, developing pastoral care, offering vocation conversations and increasing our

engagement in the parish, to say nothing of maintaining the fabric of our built (and non-built)

heritage and sustaining the liturgical life of the church know that this balance is deeply important.

It is important for this generation, as we want to nurture those who come to church and those who

live in the parish; and it is important for the next generation who will live and work and worship

in and around SMR. We regularly 'take stock' of where we are, of how things are balanced, of how

well we are keeping our eyes on the kingdom of God as articulated in our vision statement; and we

are always ready to give account for our decisions and to talk through any questions or concerns

that arise.

3
---
Comings & Goings

In the autumn we bade farewell to Pat Terry in her role as Parish Administrator. Many of you will

know that she is still working in the parish office, but on reduced hours and changed

responsibilities. Pat has been leading the work in the parish office for a dozen years, got to know

every nook and cranny of SMR life and was central to the way the office ran. Pat's decision to take

this change in role enabled us to appoint an Operations Manager. The need for this new role came

out of conversations I had with my SMR colleagues. When Peter Rignall started working for us at

the end of October, the plan was that he would be supported five days a week, with Pat working

one day and Ros Houseago working the other four day as she has for the last decade. Sadly, Ros

went off sick in August and, as I write in March 2017, has only recently come back to work on a

phased return programme. We were pleased to appoint Anne-Marie Rogers on a temporary basis

in the autumn but she leaves us at the beginning of April. So Pete did not get five days of well

known, fully grounded, up to speed support. Instead he has found himself with one day of well

known, fully grounded, up to speed support and, on the other days, having learn for himself and

to teach Anne-Marie how SMR functions! I bring this to your attention partly because I know a

few things have slipped through the net, for which we apologise, but mainly to ask for your

continued forbearance as we seek to resolve this situation and to ask you let us know of things you

think have been missed.

Revd Dan Tyndall

Vicar

4
---
It is a huge privilege and pleasure to work alongside a

large number of skilled and dedicated staff and

volunteers. A lot of my work is supporting them in

making things happen, which is exactly as it should be –

an important part of the calling of clergy is to help enable

others in their service of God. You will be able to read

elsewhere in this report about a lot of the work I have been

involved in during 2016 as I have encouraged, supported

and overseen others. I line-manage two staff members –

Sarah Yates in her education work, and Hannah Current

in the community. I also support Becky Macron in her

very gifted leadership of our flourishing Sunday School. I chair the Social Action Committee and

am a member of the Discipleship Committee.

Faithspace, our partnership mission project with the Methodist Church.

5

I support Sarah James in her leadership of

Highlights of the year that you will be able to read more about elsewhere include joining the girls'

choir on their trip to Center Parcs, the Lent Appeal with Changing Tunes, the Queen's Birthday

Garden Party, working with the Discipleship Committee to prepare five children for baptism and

nine children and two parents for admission to Holy Communion at our patronal festival, and

seeing new connections and partnerships made at the monthly Redcliffe Workers' Lunches

organised by Hannah Current.

But there are some highlights that perhaps won't be mentioned elsewhere. One of the biggest

steps of faith I took in 2016 was to say yes to our church being part of the Bristol Churches Winter

Night Shelter. Although the shelter didn't open until January 2017, most of the planning took

place over 2016. Having volunteered in a similar project in my previous parish I was convinced

that this was something SMR should be part of. So, in consultation with Dan, with no idea of how

much support the church would offer, we said yes. Thankfully it wasn't long before Keith

Donoghue was on board as the co-ordinator so once again I found myself in a supportive role, but

I was hugely impressed at the generous response this project has drawn from our wider church

family.

Another project that properly began in 2016, but will bear fruit in 2017, is the Parish Weekend. It

was, again, a step of faith to start planning this, but before the end of the year we achieved a critical

mass of participants. If the weather is anything near as lovely as it was on our site visit in July, it

will be a perfect spot for a weekend of discipleship, worship and getting to know one another better.
---
Over the course of 2016, at the invitation of the Diocese, I attended training in work consultancy

(a discipline on a spectrum with coaching and mentoring!). This has had benefits for my own

management of a diverse and complex workload here, and my line-management of staff and

volunteers, as well as enabling me to offer support to clergy colleagues in other parishes.

I had the pleasure of supervising two people training for ministry on placement with us over the

summer. James Taylor was an ordinand from Trinity College who spent a month with us, and

Mark Mitchell a trainee Licensed Lay Minister. For both of them, our tradition and style of

worship was beyond their usual experience, and it is always fruitful to be reflecting on what is so

natural for me with others who have a different perspective.

In October, I led an evening session on prayer, using various creative approaches and encouraging

people to experiment with different styles. To start off Advent I led a quiet day in our Lady Chapel,

drawing on the images in the beautiful stained glass to inspire advent themes. It was a very peaceful

and prayerful start to the season.

In December I was invited to teach a GCSE RE session to 200 students from SMRT – definitely a

first for me! The session was on 'the church and its role within the community' and I was very

proud to present to them what our church does. The students were attentive and I hope had some

useful case studies to include in their exam work.

Once again it has been an amazingly diverse year, and I am hugely blessed by, and grateful to, all

those I have worked with to make so much happen in the service of God and our neighbours.

Revd Kat Campion-Spall

Associate Vicar

6
---
Collecting the articles for this edition of "A Year at

Redcliffe" has been like completing a jigsaw puzzle. It

has given me great pleasure to see the picture of St Mary

Redcliffe emerging and to appreciate just how much effort is put

in by so many to make our church welcoming, effective and

dynamic. I am most grateful to Adam King who so readily

agreed to create this booklet to tell our story.

As others have described more fully this year has been very

interesting. The Development Project, with its highs and lows,

the exciting introduction of Communion after Baptism and before Confirmation, taking part in

the Bristol January Night Shelter Scheme and initial preparation for the Parish Weekend in July

2017 have been highlights for me. I continue to be appreciative of the input, both monetary and

in expertise, made by the Church Lands Charity (the Vestry), the Canynges Society, Temple

Ecclesiastical Charity and the Colston Society.

As my tenure draws to a close several people have asked whether I have enjoyed the Churchwarden

role. My reply has been that some of it has been wonderful, bits were painful and most of it like life

itself, just a question of keeping going. I shall particularly miss the meeting and greeting of

individual members of the congregation, new and old, and learning more about the work of our

different organisations. I shall be glad to have finished with so many meetings, particularly in the

evenings, so many duties at services and struggling to understand some of the terminology relating

to fabric and finance. It will also be good to have additional free time to spend with friends, to do

much-needed de-cluttering at home and to see some more of the world.

I will be continuing with some of the occasional jobs that I have taken on as Churchwarden and I

remain a member of the Pastoral Team. I have recently also become a member of the Treefest

Committee. In November I shall put on a Sidesman's badge again after a very long gap and I will

also continue to help with counting large collections.

My photo was chosen because, metaphorically, I want to raise a glass to say "Thank you" to

everyone for all the help and cooperation from which I have benefitted during the past four years

and for the affirmation I have received, often from unexpected sources.

Marion Durbur

Senior Churchwarden

7
---
There are many good things happening at SMR:

numbers at Sunday school have been growing strongly

and thought will need to be given to transition to the

main service, attendance at services is increasing and having

new members of the congregation assisting as worship leaders

will greatly strengthen the team. Treefest and the Lent Appeal

have been well supported, the Night Shelter scheme offered a

warm bed and a meal to those without homes in January. The

Seekers group offers good company and moments of serious

discussion; a parish weekend away is planned. Church music is of a very high standard, the Vestry

works hard to ensure that the fabric is well maintained and the PCC is functioning well with both

good discursive debates and business decisions. There is much to be grateful for and many thanks

to all those, both staff and volunteers, who make this possible; this collective input enables the

church at St Mary Redcliffe to be both a beacon and a sanctuary.

The development project has taken a temporary step back with an initial rejection on the resilient

bid for work leading to a full Heritage Lottery Fund bid. Personally I see this as an opportunity to

re-examine plans, to temper them to better reflect what might be possible and to reconsider the

needs at St Mary Redcliffe. It is increasingly likely that developments around the Church at

Redcliffe Way, Redcliffe Quay and along Prewett Street will move ahead, so not to be part of this

would be a huge lost opportunity. Dan bears the brunt of this work, and its nature means that there

are, and will be, setbacks. Please rally around to offer ongoing support and ensure that the much

needed improvements to the facilities at SMR can go ahead.

Church life ebbs and flows, but overall the trend is positive. With our Lord's guidance let us work

together to continue to make good progress in the year ahead.

Richard James

Junior Churchwarden

8
---
The Electoral Roll is required as it governs who can vote at the APCM. It also is the church's

only official register of members. The rules that govern the Electoral Roll are the Church

Representation Rules which can be found online in book form. As well as laying out exactly

how the Electoral Roll is formed, updated and displayed it also deals with the PCC, Deanery Synod,

Diocesan Synod, General Synod – all important but very soporific stuff.

Under these rules the Electoral Roll was created anew in 2007 and then every six years after that

(2013, 2019, etc). In between years we just update the roll. 2017 is therefore the 4th year of this

cycle and an in between year so we've displayed the roll and asked for updates, of which there have

been various. Two points to particularly note:

Couples getting married are not required to be on the Electoral Roll – their qualifying

connection is checked in a different way. This change came in almost two years ago.

The Parish Share (the amount we as a church pay to the Diocese so it can continue its

important work of supporting local churches) is not connected to the Electoral Roll.

The numbers for last year (2016) were: 271 on the roll with 40 in the parish.

The numbers for this year (2017) are: 296 on the roll with 41 in the parish.

Date Total Residents

1990 507 61

1991 536 60

1992 565 58

1993 588 56

1994 608 50

1995 580 50

1996 309 39

1997 381 41

1998 380 40

1999 425 44

2000 426 42

2001 442 34

2002 260 35

2003 323 51

2004 335 52

2005 354 51

2006 376 54

2007 257 31

2008 286 33

2009 318 33

2010 337 32

2011 336 32

2012 358 53

2013 233 25

2014 243 24

2015 263 34

2016 271 40

2017 296 41

700

600

500

400

300

200

100

Total In Parish 3rd yr trend

0

1990 1995 2000 2005 2010 2015

Chris Duncan

Electoral Roll Officer

9
---
The Parochial Church Council of the Ecclesiastical Parish of St Mary, Redcliffe.

Registered Charity No. 1134120

Another busy year for the PCC – 9 meetings held, 5 business meetings and 4 Discursive.

The PCC has welcomed a number of visitors to their meetings this year including:

Purcell: Niall Philips & Dan Tawkes the architects who provided an excellent

overview of the work they will be undertaking and their vision for the future of the

church.

Sarah Yates – Education Officer: who provided an overview of the work she has been

undertaking with schools, designing bespoke visits to support the school curriculum.

The Project Board: provided an overview of work in progress, structure and workstreams

Blue Fin – SMR insurance providers – who came to discuss terrorism policies

All Day Breakfast – who provided an overview of their artist in residence proposals

An important part of the PCC is to vote on various proposals. The list is extensive, some of the

highlights are below:-

Foundation Governor at St Mary Redcliffe & Temple School

The PCC approved for Peter Farr to be re-appointed as Foundation Governor at SMRT School

Parish Holiday

The parish weekend proposal for 2017 was approved and will take place between 14-16 July. This

will include conference elements – as we will be at a critical point in the SMR development and we

will have a clearer idea about whether heritage funding has been secured.

Communion before Confirmation

2 adults and 10 children received their first communion, before confirmation during the Patronal

service on 17 July.

Development Project

Purcell were appointed as the architects for the development and attended a meeting to provide an

overview of the work they will be undertaking and their vision for the future of the church. Regular

updates have also been provided to the PCC about the development. The Heritage Lottery

"resilient heritage" bid was unsuccessful, however work continues to progress with the

development project and the bid to secure HLF funding.

10
---
Children's Champion

Leanne England had resigned as Children's Champion due to family commitments. The PCC

approved the appointment of Rebecca Macron to take her place.

Safeguarding

A number of people reached the point in the SMR safe recruitment procedure including DBS,

where they are able to take up duties with our children and young people. The PCC formally

acknowledged various excursions and visits that were undertaken by the young people of the

church; this was done for safeguarding and insurance purposes.

C1 Safeguarding course

PCC members and people working with children, young people and adults who may be vulnerable,

have attended the course.

PCC Budget

The proposed 2017 PCC budget was been discussed, including the TreeFest income, fees for

weddings and funerals and the cost for the replacement FaithSpace window.

PCC Fees

An increase of 1% for fees for weddings, funerals, burials, hire of the undercroft and tours of

Church, was agreed. Fees for the hire of the church are being investigated by the Operations

Manager and thus will remain the same for the time being.

Collections at Advent and Christmas

Until the new Policy for Giving is in place the PCC approved the following: for the collections at

Advent and Christmas: to donate 100% of the respective collections to The Children's Society and

The Salvation Army, holding nothing back to cover expenses; and to retain the collections at our

Advent and Christmas carol services

Worship leaders

The Area Dean can license people to lead worship locally. PCC agreed to investigate this further.

Inclusive Church

A group has met to discuss inclusive church a revised inclusivity statement. The PCC agreed to

adopt the revised statement. A small working party has now been established to take forward and

explore ways in which SMR can actively help people to feel welcome and included when they visit.

Jo Hardwick

PCC Secretary

11
---
At the time of writing, PCC accounts to 31 December 2016 were available in draft form

only. The finalised accounts will be available for inspection and will be published on the

Charity Commission website after independent examination and approval by the

Trustees.

Underlying income and expenditure was in line with budget and with recent years.

The Resources Committee set an ambitious but realistic target for Voluntary Giving for the year,

slightly higher than last year, and the congregation just managed to exceed this figure.

Running costs were also slightly lower than last year.

St Mary Redcliffe continues to support the mission of the church in Bristol, which is our

contribution to the Parish Share. This funds Diocesan educational work and training of new clergy.

The Diocese has been under some financial pressure, and this year undertook an overall review of

its Parish Share policy. The good news for us is that St Mary Redcliffe is considered to be 'pulling

its weight' and has not been asked to increase its contribution for next year.

Reserves continue to be managed downwards in line with the PCC desire to ensure that maximum

resources are directed to our mission to the Parish. Our major exceptional items this year have

been PCC support for the Architecture Competition, and SMR support for the infrastructure of

Faithspace.

The PCC continues to work with the Church Lands Charity (CLC) to simplify the relationship as

far as possible while meeting the objectives and legal obligations of both. This is quite complicated,

particularly as the charities have different financial years. These adjustments will be seen in the

accounts. One of the main adjustments is that money from the telephone mast will be coming

directly to the PCC, and in return the PCC has picked up some extra responsibilities around

funding work in the parish office. Another change that will be noted is that the Churchwarden's

Subscription Accounts (money from collection boxes for exceptional items) is now shown in the

PCC accounts.

Overall this has been a healthy financial year. The clergy, PCC and CLC continue to work together

to strengthen the management structure to meet the challenges being presented by ongoing

developments.

Jon Greenwood

PCC Treasurer

12
---
Please note that this is an 'abstract' of the accounts, intended to highlight some of the key points.

It is not an official statement. For this please refer instead to the published formal Annual Report

and Financial Statements as filed with the Charity Commission.

St Mary Redcliffe

Simplified Accounts Presentation 2016 2015

Voluntary Giving

Planned Giving 81,061 73,176

Collections (open plate) at all

services 19,042 17,123

Static box collections 12,942 15,381

Other 23,659 26,392

136,704 132,072

Temple Ecclesiastical Grant excluded

from this figure

Other Income

Telephone Mast Income 8,972 0 PCC/CLC interactions being updated

Investment Income 2,820 4,083

Church Fees (Net) 11,060 15,172

Vestry Grants 13,000 16,500 PCC/CLC interactions being updated

Church Centre Grant 0 5,000

Linkage Events 0 2,057

Other 24,433 25,558

60,285 68,370

Expenditure

Diocesan Quota (Parish Share) 117,500 117,500

Office Costs 29,404 28,172

Charitable Giving 3,000 3,000

Salaries (Education Officer /

Redcliffe Care) 6,958 4,742

Other 44,604 50,786

201,466 204,200

Temple Ecclesiastical Grant excluded

from this figure

13
---
Reserves 2016 2015

Reserves Brought Forward 88,430 92,001

Total Income 196,989 200,442

Total Expenditure

-

201,466

Architecture Competition -10,000

-

204,200

Church Centre (FaithSpace) -11,691

Other -510 -187

Reserves (At Year End) 62,772 88,430

Shown in accounts as Transfer to

Restricted Funds

Shown in accounts as Transfer to

Restricted Funds

Churchwarden's Subscription

Account 22,910 0 Unrestricted Designated

Development Costs (Restricted

Income)

Canynge Society 40,000

Temple Ecclesiastical 15,000

St Mary Redcliffe CLC 60,000

St Mary Redcliffe PCC 10,000

Other 108

85,108 40,000

Development Costs

(Expenditure) 64,186 35,577

14
---
The Resources Committee is one of the strategic committees of the PCC. Its remit is

primarily financial, although it is concerned with all the resources of the PCC.

Two of the committee's main jobs are, under the guidance of the treasurer, to keep the

income and expenditure under regular review, and to set a budget for the following year.

Management Accounts are produced quarterly and reviewed against the annual budget to track

income and expenditure and to address variances and anomalies. Throughout the year,

expenditure has been broadly on track, with a Parish Share commitment of £117,500 being the

largest single item.

Income has been boosted by a generous response to the Stewardship Campaign, enabling us to

meet the ambitious target set in last year's budget. The increase allowed the PCC to continue the

employment of Hannah Currant as a part time Community Worker during the year, without

external grants.

An abridged summary of the annual accounts to 31 st December 2016 appears on the previous two

pages.

Tal Singh added the role of Planned Giving Recorder to his existing responsibilities as Gift Aid

Officer, bringing the two roles together for the first time in many years. I would like to thank John

Steeds, outgoing Recorder for his help and support.

Rob Tyley

Chair

15
---
The Stewardship Sub-committee ran a successful Supporting Redcliffe campaign in the early

Summer of 2016, focussing on the work on our Redcliffe Care worker, Hannah Currant,

and the architecture competition, resulting in an increase of approximately £7,000 pa in

regular giving commitments to the PCC and around the same figure in single donations. This was

considered a very positive outcome, but it was also recognised that the result could be even more

positive if some aspects of administration were improved. We became aware through various

comments that some follow-up work which had been intended was not completed owing to

limitations of information flow and the need for a consistent church database, and some givers

were not thanked because they were not identified to us as having given or increased their giving.

Let me therefore take this opportunity of thanking all who Supported Redcliffe last year, whether

or not you were thanked at the time. Your gifts were truly wonderful and most welcome.

We were also pleased to welcome our new Gift Aid Officer and Planned Giving Recorder, Talvir

Singh to the sub-committee during the year, and his contribution to better information will prove

invaluable in reducing our shortcomings in future.

Ken Petrie

Chair

16
---
Registered Charity No. 211109

Reflecting on this past year as Chair of the Vestry, I would like to thank the 15 dedicated

Trustees for their enormous support, many of who are regular worshippers at St Mary

Redcliffe, and others who worship elsewhere or bring their particular expertise and skill

to this long established charity. At the Easter Vestry, Andrew Morgan stepped down as Chair,

having led us so ably for the past two years, and Stuart Burnett retired as a Trustee after giving so

generously of his time and considerable expertise, and joined the Greater Vestry. I was appointed

Chair and Rob Tyley, Vice Chair.

The Vestry's financial year starts on 6 th April and the first meeting is usually the Easter Vestry when

the Trustees meet to confirm internal appointments and its professional advisors.

During the year, three full Trustee meetings were held (normally it's four), and the Vicar and

Churchwarden are invited to attend. The Vestry Clerk attends full meetings and records the

minutes. Each meeting has particular focus; in July, the annual accounts were approved, in

November the emphasis is on the Fabric and other expenditure, in January the emphasis is on

income and in March the budget is set for the coming year. There are a number of committees,

and each Trustee serves on at least one committee or sub-committee. The Finance & General

Purposes Committee and Investment Committee are Trustees only, and within these there are subcommittees.

Insurance, Personnel and Fabric committees are joint committees with the PCC. In

addition there have been additional meetings with the PCC to deal with cross funding, and as Chair

I am invited to attend the regular Development Project Board meetings. The role is fairly time

consuming, but attending the meetings assists in seeing the overall picture.

A small group of Trustees is currently reviewing our working document "The Way we Operate"

and we are working towards a formal constitution with the assistance of our specialist charity

lawyer. A much smaller operating manual will then be envisaged.

Trusteeship and succession planning is another priority in the coming year, to ensure the charity

can continue its valuable work within its objects and continue to support St Mary Redcliffe in the

future.

Mary Nichols

Chair

17
---
The Church of England, it is said, is Canonically Led and Synodically Governed. There are

four levels of synods, or councils: 1. The General Synod - the national governing body of

the Church, which meets three times a year, for about three days per meeting, in London

and York. 2. The Diocesan Synod. There are 42 dioceses in the Church of England, and each

diocese has a synod. The synod meets three times per year, (for a Saturday morning or occasionally,

for a day-long meeting), and is re-elected or appointed every three years.

Both of the above types of synod have three houses: bishops, clergy and laity. There are several

deaneries in a diocese: ours has seven in it, and each deanery has a synod as well, which meets three

or four times per year, usually in an evening.

At the most local level, each Anglican church has a Parochial Church Council (PCC).

The diocesan synod agrees the budget for the diocese, so that it can spend its money each year. It

also receives reports from the diocese, about education and parish share, (the money which

churches donate to the diocese for services received), for example. It agrees to diocesan strategies:

the current one is entitled Creating Connections - connecting with God, our communities and

each other, by growing leaders, making disciples and engaging with younger generations. Anything

which the diocese wants to do has to be voted for by a majority at Diocesan Synod. The executive

committee of the Diocesan Synod is the Bishop's Council.

Synods are very interesting, and I feel privileged to be involved with the diocesan one, but, although

efforts have begun to be made to address the matter, we still need to increase diversity on all synods,

and encourage people to socially integrate better in committee circles - that is to say, getting people

to talk to those whom they do not know, so please do get involved.

NB membership of any synod includes membership of the synod(s) below it, and of the Church

Council.

Auriol Britton

Diocesan Synod Representative

18
---
New Area Dean

2016 was the year the outgoing Area Dean, Revd Gwyn Owen, Vicar of Stockwood, stepped

down and was replaced by Revd Canon Nick Hay, from St Paul's Bedminster. This

inevitably led to a period of reflection on the direction of the Deanery, added to by the

changing relationship between Deaneries and the Diocese as the latter prepared for the possibility

of succession and opening opportunities for alternative future management styles. 2016 was

therefore a year of transition and thoughtfulness.

Synods

This was particularly evident at Nick's first Synod as Area Dean which was devoted mainly to

considering "What are our hopes and dreams for the church in South Bristol?" Discussion in small

groups ranged over ways the parishes could work together, the need for support in growing

younger people, confidence in God and his word, the Holy Spirit, evangelism courses, waiting and

prayer and the need to concentrate resources on the right targets to avoid becoming too thinly

spread. St Francis fed back about its Christian Aid prayer walk (which it will repeat this year). St

Augustine's talked about The Bridge, its prayer and counselling service for those in and beyond its

parish. Nick talked about his vision for the Deanery, starting with his own testimony about how

he came to Faith as a young man and the ongoing need to reach younger people who are missing

from many congregations.

This emphasis on young people continued at the October Synod, which concentrated on

Children's work, with input from Dan Jones, Diocesan Youth and Children's Adviser. He spoke of

the priority of engaging younger generations as congregations aged and became increasingly

detached from the concerns of the young. In the discussion that followed concern was expressed

that many churches are too small to do much on their own and there is a need to pool resources to

pray and work together across the Deanery. Many points were raised and there is clearly a lot of

scope for improvement in this area if people could maintain the necessary momentum.

2017 is the year of Deanery elections, so if you believe God might be calling you to serve him at

Deanery level, this is your chance to put it to the test.

Ken Petrie

Deanery Synod Representative

19
---
This has been another eventful year with significant progress being made in our

preparations for a large-scale development of the church's facilities.

During the first part of 2016, the church was involved in planning the final stages of our

competition to appoint a team of architects with whom to work. As reported in last year's update,

the church received around 50 applications from teams of architects around the world, a number

that was eventually whittled down to five high quality proposals. The church was very lucky to

attract a highly experienced and knowledgeable competition Jury drawn from the fields of heritage

and the arts, that took part in an intensive and rigorous selection resulting in the appointment of

Purcell architects, the most local of the various shortlisted teams, with offices on King Street.

Purcell was chosen because its team produced an innovative and original scheme which clearly

responded to the church's stated aim of becoming a beacon for the community, answering the

needs of local people, visitors to the church and members of the congregation.

Since the competition, Purcell has been working with the church to develop the brief for the

proposed new buildings, taking into account practical issues such as the positioning of facilities

and relationship between the various aspects of church life. Purcell have also been helping the

church to prepare for a Round 1 Bid to the Heritage Lottery for a major Heritage Grant that, it was

initially envisaged, would be submitted in November 2017.

A decision was taken to delay this bid due to the fact that, in the autumn, the church was alerted

to the launch of a new HLF funding scheme called Resilient Heritage, which provides grants of

£3,000-£250,000 to help organisations to strengthen and build the capacity of staff and volunteers

to better manage heritage in the long term. It was agreed that, if it was to receive Resilient Heritage

funding, the church could undergo a period of organisational analysis and strengthening that

would help it to better prepare for the planned major bid to the HLF. Accordingly, Purcell helped

the church to draw up a programme containing a number of work streams, which it was felt would

fulfil HLF objectives and put the church in a much stronger position in the long run.

Unfortunately, the church was unsuccessful in its bid and will be speaking to the HLF during the

next month to discuss the reasons why. Luckily, due to generous support from various charities

associated with the church, such as The Vestry, The Canynges Society and Temple Ecclesiastical

Charity, not to mention financial support from the PCC, the church is able to carry out most of

the work identified by Purcell, despite the decision from the HLF.

Accordingly, in recent weeks the church has undergone a tendering process to appoint consultants

to carry out, amongst other things, a heritage asset review, a heritage interpretation strategy and a

community consultation on behalf of the church. These pieces of work will help to clarify thinking

20
---
about key issues such as the overall scale of the project and whether the church should attempt to

rehouse William Hogarth's altarpiece as part of the scheme. It is intended that this work will be

carried out during the next six months in time for a likely November 2017 bid for major grant

funding.

Rhys Williams

Research Assistant

Meanwhile, Redcliffe Neighbourhood Development Forum received a recent boost from

news that Bristol City Council has appointed a consultant to begin work to find

potential development partners for the areas around Redcliffe Way, meaning that the

wider redevelopment of the area around the church is now more likely to take place than ever

before. The Forum is currently working on a new version of its Neighbourhood Plan, based on

feedback from last year's public consultation and will continue working to ensure that the

principles embedded in the plan – such as affordable housing, high quality architecture and the

provision of green spaces - are taken account of when the development process begins.

Rhys Williams

Research Assistant

21
---
The Operations Manager's role is still very much in its infancy having been in place since

the end of October 2016. The role is developing and evolving as the months progress trying

to adapt and move with immediate operational demands at the same time planning to

achieve longer term effective efficiencies within the organisation.

The immediate demands of maintaining an effective Parish Office have at times diverted attention

away from bringing in efficiencies in other areas of our operation. But coming out of this process

has been the opportunity to consider how we work, the structure we work within, the standards

we apply and the roles and responsibilities needed to help us achieve our mission.

I'm confident the role of Operations Manager is even now beginning to demonstrate some small

improvements if only in how we work together as a team, bridging gaps between teams working

hard to achieve for SMR, bringing them together using resources to accomplish even more and

brining in approaches that both support and positivity challenge the way we work.

Examples of this can be seen in our Christmas 2016 review evening, planning for Treefest 2017,

repairs to the South Aisle roof, personal safety and security as a result of recent unfortunate

incidents in church.

At the moment the Operations Manager role is about the future, how we get from where we are

now to where we want to be in a year, three years, five years and beyond. Looking at how we meet

our obligations with confidence and, make informed and effective decisions. How we exploit

opportunities to the fullest extent with integrity and for the benefit of SMR. How we develop, equip

and build teams of people that enjoy, are confident, respected for their contribution to SMR and

eager to bring about improvements and growth.

Some of these areas are:

Organisational strategy – how we get from here to there, what we focus on and how we

measure our success

Legislative and policy compliance -

o Health and Safety policies, process and training

o Finance

o Employment policies

Financial effectiveness and growth – Better use of how we make and manage money

o Improved ordering and payment processes

o Procurement and contract management

o Donations and Giving strategy including developing relationships to raise funds

22
---
o Defining our retail, hospitality and event offers to help to bring in more money

o Visitor experience improvement

Administrative efficiencies – process development and management, New Church

Database

People development and engagement –

o Better and valuable communication,

o Training and development,

o Performance management

My time so far at SMR has been both interesting and fulfilling not least due to the passionate and

caring people that I've had the pleasure to work with and be amongst. I hope I can, in a small way,

continue to help the SMR community achieve and fulfil its potential as we move forward towards

our mission. I look forward to working with and meeting more of you in the coming year.

Peter Rignall

Operations Manager

23
---
The Parish Office continues to be ever busy and at the heart of the SMR community. The

year under review has seen a number of changes in the Parish Office. In June it was agreed

that I would step down as Parish Administrator as the start of a phased retirement and that

a new position of Operations Manager would be created, in order to prepare for the planned

Development Project. It was agreed that I would take on a new role of Office Associate, working

on Mondays to cover the office in the absence of Ros, who works from Tuesday until Friday. Ros

unfortunately became ill at the end of July, and was away from the office for several months, but I

am very pleased to say that she is now back at her desk and we are all very glad to see her. My

thanks must go to Joy Huntington, Faithspace Administrator, who stepped into the breach and

made a very valuable contribution to the smooth running of the office during the absence of Ros.

Peter Rignall joined as Operations Manager at the end of October and has settled into his new role

very quickly. I am sure his involvement with SMR will be as much of a joy to him as it has been to

me over the past fourteen years. You never know what is coming your way next, so there is never

a dull moment nor time to be bored!

I have very much been supported in the last two years by Marion Durbur as Churchwarden and

this made my life a lot easier whilst Ros was away and for that I am truly grateful.

Thank you to everyone who sent me their good wishes for the future. I am looking forward to

making full use of my National Trust membership in the coming summer months (one of the items

I spent my monetary gift on).

Pat Terry

formerly Parish Administrator, now Office Associate

24
---
The Health and Safety sub-committee of the PCC has met formally 4 times during the

2016/2017 term of the Council; there have also been a number of informal consultations

to consider specific matters relating to the safety of all who come to St Mary Redcliffe

Church, the Churchyards, the Parish Office, whether they be staff, volunteers, or visitors.

The following matters have been discussed and acted upon:-

The visibility of the North and South Choir Ambulatory steps

The implementation of a Stewards Emergency Action Plan

Personal Emergency Evacuation Plans for those who would need help

A Sunday School Emergency Evacuation Plan

The replacement of dangerously worn carpet in the clergy, vergers', and churchwardens'

stalls

The re-positioning of alarms in the tower with new provision, and also the addition of

visual as well as aural alarms

Under current consideration is a Risk Assessment for the Tower – steps, ringing chamber, bell

chamber and above.

The sub-committee regularly reviews Accident, and Adverse Incident reports.

The Parish is very grateful to the Health and Safety Officer (Dr Carys Underdown), successively to

the Parish Administrator (Mrs. Pat Terry) and the Operations Manager (Mr. Peter Rignall) for

their help in these and other matters. Thanks, too, to the Council Members serving this year on

the sub-committee.

Bryan Anderson

Chair

25
---
Fabric Report, 6th March, 2017

Completed Fabric Projects April 2016 - March 2017

Item no Item

Cost

estimate

Final Date

Total Cost finished

Urgent now Urgent soon Desirable

Budget approved

Comments Ref.s Funding

15/17a Breeches Bible £150 £150 Jul-16 Restored by Bristol Bound (Rachel James)

Donation

15/17b New Breeches Bible Display Cabinet in £500 £425 Aug-16 Construction of a cabinet on the north

revised position

ambulatory sanctuary wall.

Donation

14/7a Lighting System Updating - Phase 1 Side £17,000 £23,000 Jul-16 1st phase Side Aisles & Lady Chapel. 13 Church Lands

aisle uplighters

12/22b VDU Screen notice system £2,000 £2,200 Aug-16 Display unit delivered & installed.

12/2a St John's Chapel - Windows

(conservation and isothermal glazing)

£5,500 £5,500 Jul-16 Further trial of less reflective glass

14/16a Update & Improve CCTV surveillance £5,000 £5,000 Sep-16 Some mods were made in 2014, more will

system

follow this year.

15/13 Refurbishment of the Lord Mayor's £5,000 £5,000 Oct-16 Bush & Berry refurbished and returned the

Sword board

board. It will be rehung in March.

15

15/16 Wood Plaques in Lady Chapel £200 £20 Sep-16 Non reflective glazing was unsatisfactory.

Rehung but left as they are at present.

15/6 Ongoing Masonry repairs? £5,000 £5,000 Feb-17 Combined with 16/1 below. Architect has

issued Specifications.

16/1 Repoint south transept, Remove dry £10,000 £10,000 2017/18 Sally Strachey - Rope Access - started in

riser, repair stair windows.

October?

3,12

PCC

Canynges &

grants & appeal

Church Lands

Canynges

Church Lands

Church Lands &

Ist Lord D

Church Lands

£50,350 £56,295

Projects Currently in Hand

Item no Item

Cost

estimate

Faculty

Status

Date

/priority

Comments Ref.s Funding

14/6 Lead Replacement Works in the South £80,000 List B

Aisle and repairs elsewhere.

Approved

15/5a Replacement of rainwater sump guards £1,000 not

and access hatch cheeks

required

14/18 Repairs to Textiles - copes, frontals etc. £5,000 Faculty

and siverware maintenance.

received

16/3 Replacement of 3 stopcocks, 2 on north £1,500 not

side & 1 in south churchyard

required

Mar-17 Preliminary site meeting held. Work should

has recently started.

10

Mar-17 NE lower roof currently being done.

2015-17 The textiles project has been authorised to

continue for at least the next year.

Feb-17 2 northern stop cocks have been replaced.

Standpipe on south side still to be done.

10

Church Lands &

Ist Lord D

Church Lands

Church Lands

Church Lands

Priority Item

£87,500

Projects Planned for this Financial Year 2016/17

12/2a St John's Chapel - Windows

(conservation and isothermal glazing)

15/4 &

14/11a

Cost

estimate

Faculty

Status

£75,000 Faculty &

Planning

Approved

South Porch & Priest's room rooflights & £5,000 Faculty

high roof vent work

received

£80,000

Date

/priority

Comments Ref.s Funding

Jun-17 Quote accepted. £1865 All Churches Grant

received January 2017.

2016/17 Quotations being sought.for repairs and

repainting

3,12

Canynges? other

grants & appeal

Church Lands &

Ist Lord D

26
---
Priority Item

Next Financial Year 2017/18

Cost

estimate

Faculty Status Date

/priority Comments

17/1 Quinquennial Inspection and £6,000 not required Sep-17 Last quinquennial was in late 2012.

Report

17/4 Electrical system testing £2,500 not required Jul-17 In support of Qq

15/14a Bellframe and wall mounting £20,000 List B

refurbishment and painting

Approved

15/5b Replacement of rainwater sump

guards on LC & South lower roofs

14/18 Repairs to Textiles - copes, frontals £5,000 Faculty

etc. and siverware maintenance.

received

13/11b Welcome - Interpretative Signage £6,000 Faculty

received

2016/17 Quote from Taylors accepted.

Order sent to Taylors. Will start in

August. 16

£3,000 not required Sep-17 As on High roof & north lower roof.

LC first & S when lead has been

replaced.

2015-18 The textiles project has been

authorised to continue for at least

the next year.

When

???

Text has been produced and edited

- artwork and sign production in

hand?

14/7a Lighting System - Side Aisles £33,000 required Sep-17 Proposal expected in March from

downlighters & Emergency

Paul Albone of Brunel Industries.

Lighting

13

14/7b New Lighting control panel in vestry £10,000 required Oct-17 Allowing better more flexible control

of new lighting. Included in P Albone

proposal.

13

14/7c Lighting System Updating - to

reduce energy usage

£50,000 required 2017/18 3rd phase of program. High level

nave and chancel lights.

13

Ref.s Funding

10

Church Lands

Church Lands

Church Lands

Church Lands

&

Ist Lord D

Church Lands

Canynges 2013

& Church

Lands

Church Lands

Canynges

agreed

Feb 16

Church Lands

17/2 Decorative Repairs to ceilings £10,000 not required 2017/18 After South lower roof re-leading Church Lands

& Canynges

17/3 Handrail for lectern steps. £2,500 not required 2017/18 Iron and brass to match pulpit steps

handrail - attached to wooden

platform.

15/6 Ongoing Masonry repairs £20,000 May be

required

16/4 New chest of drawers for textiles £6,000 Faculty

Rejected

2017/18 To include highest priority items

identified in the quinquennial.

2017/18 To replace the rejected modified

altar

Church Lands

Church Lands

&

Ist Lord D

Church Lands

16/2 Replacement and repair of rest of £10,000 required 2017/18 Replacement of doors in oak, as

high level external doors.

and when necessary (as per spec

from architect in 4

£184,000 May 2009)

Church Lands

Priority Item

Awaiting HLF bid later in 2017/18 ??

ROM Cost Faculty Status Date Comments

estimate

/priority

17/2 Facilities fit for the future / north £5,000,000 required 2015

side redevelopment ????

onwards

If and when City external

redevelopment plans progress

01

16/3a Cleaning of North and East faces of £100,000 required 2017/18 If there are north side

the Church - 1st yr of 2 year

redevelopment plans this work

project?

would follow

15/12 West end Gate, Paving and steps £5,000 not required 2015/16 Preliminary Study of possible West

end remodelling (leads into HLF

bid)

12/7 Toilet for Disabled - planning, £5,000 not required 2015/16 Detailed designs will be drawn up

(&11/9) design and spec. for 2017 build?

when location is identified & funding

agreed.

12/7

(&11/9)

Toilet for Disabled £20,000 required 2015/16 Assuming detailed designs are

drawn up in previous year.

Ref.s Funding

Major Appeal

Church Lands

Church Lands

&

Ist Lord D

Canynges &

Church Lands

Canynges &

Church Lands

27
---
13/7 Planning of S Churchyard £10,000 not required 2014/15 Preliminary survey completed and Canynges &

Landscaping & Paving

Statement of Significance received. 10 Church Lands

14/1 South Churchyard Landscaping & £105,000 required 2015/16 Identified as in a poor state by the

Paving

DAC and the Quinquennial Church Lands

10

15/8 North Porch cleaning and £50,000 required 2017/18 Church Lands

Conservation work

& Canynges

15/9 Repairs to Chatterton roof medieval

door –

16/2 Further Tiling and/or Paving repairs £5,000 may be

required

14/4 Display of ex situ north porch

carvings

£2,000 May be 2017/18 Specialist conservation joiner

required

required.

2017/18 Recent history suggests this is

likely.

£1,000 may be 2014/15 Canynges Society may assist with

required?

funding.

2

14/3 Lapidarium in south churchyard £1,000 may be 2014/15 Lapidarium is only a possible future

required?

project.

2

£5,304,000

10

Church Lands

&

Ist Lord D

Church Lands

Church Lands

& Canyges?

Church Lands

Priority Item

page 3

Fabric Projects - Longer Term 2018/19 onwards

Cost Faculty

estimate Status

Date

/priority Comments

Ref.s Funding

13/9 Revise Conservation Plan £2,000 not required 2017/18 Architect advised in 2014 that

Part 1 Setting Part 2

apart from adding recent

Church

survey reports, this can be left

until at least 2017. 10

16/3b Cleaning of North and East £50,000 required 2018/19 If there are redevelopment

faces of the Church - 2nd

plans this work would follow

phase of 2 year project?

16/2 Replacement and repair of £10,000 required 2017/18 Replacement of doors in oak,

rest of high level external

as and when necessary (as per

doors.

spec from architect in May

2009) 10

£62,000

Church Lands

Church Lands

Church Lands

12/2b St John's Chapel

refurbishment: Glazing

in arches - if approved?

Projects on Hold

Awaiting other developments and

decisions

£40,000 required 2017/18 Canynges Soc. may assist

Church Lands

& Canynges?

13/13 New Pricket Stand £3,000 not required Design yet to be agreed. Cadbury

Donation?

13/12 Armoire conservation

dendrochronology,

study & restoration

paint

12/6 Means to hide, disguise or £2,000 Faculty

camouflage waste bins

expired

£5,000 not required? 2014/15 Hugh Harrison report Oct 2009

>>> PCC and staff to decide on

use and future location before

any restoration 7

£48,000

Projects Abandoned

12/18 Storage Screens (Movable

Wooden Screens for area in

N transept, NW corner)

£5,952 Faculty

received

Mar 2013

28

2014/15 Included in S churchyard

faculty in 2011 which has now

expired. 6

Some design details and

revised quotation received Nov

2013 (for

simplified version)

12

ERF

Church Lands

Church Lands
---
12/22a Internal Notice Boards Triple £2,886 Faculty

fold design

received

Mar 2013

Some design details and

revised quotation received Nov

2013 (for simplified version).

Canynges?

& PCC ?

13/17 Air curtain at undercroft door, £420 Rec'd AD's

or alternative solution?

Licence

14/8 Installation of Solar panels on

high roof. £720 spent on

report.

15/14b Possible sound reduction

doors in belfry

£50,000 Faculty &

Planning p'n

required

16/4 Modification of Lady Chapel £3,000 Faculty

Altar to provide 8 drawers for Rejected

textiles

2013/14 Quote received from Roland

Bell.

2015/16 New tariffs for LPW give 12 yr

pay back so viable. Revised

quote £47000 rec'd.

£10,000 The weatherproofing in 2014

has reduced the sound

enough.

£69,258

Public Notices have been

displayed. DAC not

favourable! Applied to the

Chancellor. Faculty refused.

PCC

Undercroft

Fund

Church Lands

Church Lands

Church Lands

Fabric References (Revised 2016)

No.

01 St Mary Redcliffe Conservation Plan

Part One – The Setting Part Two – The Church

02 Ex situ carvings from the North Porch and other displaced stone fragments, etc

Michael Drury Architects

03 Condition Survey – medieval glass in St John's Chapel Stephen Clare, Holy Well

Glass Limited, April 2009

Date

2003/4

Jun-08

Apr-09

04 Replacement & Remedial Work to External High Roof Doors Michael Drury, May-09

05 Independent Condition Survey – roof timbers

Jun-09

Ridout Associates, Environmental Monitoring and Research

06 Outline Report on the Southern Churchyard

Michael Drury, St Anne's Gate Architects

Sep-09

07 Armoire Report

Hugh Harrison, Consultant in Conservation of Joinery and Polychromed Timber

Oct-09

08 Topography Report for the South Churchyard (& Footpaths) Jul-10

09 Floodlighting Report - South Churchyard

Aug-10

Paul Covell, Theatre and Lighting Consultant

10 Quinquennial Report 2012

Oct-12

Marcus Chantrey

11 Structural Report, Spire Report and Electrical Report for Qq All included in the

Qq as Appendices I, II and III.

Oct-12

12 Report on the medieval glass in St John's Chapel after light cleaning Holy Well Glass Limited,

Nov 2012

13 St Mary Redcliffe Church - Lighting Survey

Mike Ludgow - Lighting Services

14 Energy Audit for St Mary Redcliffe Church

Matt Fulford - Inspired Efficiency

15 Yeoman's (Lord Mayor's) Sword Board

Bush & Berry Conservation

Nov-12

Oct-13

Jan-14

Mar-15

16 Bell Frame Inspection Report 2016 Nov-16

Andrew Waring

Alan Roberts

Fabric Officer

29
---
We continue to meet on Monday

mornings and work in the Lady

Chapel, it is a lovely, peaceful place

to work, it provides us with good light for most

of the year but this year we were forced to buy

an additional light to use during the very dark

winter months.

The team remains the same and we have enjoyed

a lot of fun as well as progressing with the repair

and conservation of the vestments.

One of our major objectives this year has been to inspect and repair the altar frontals. A major

problem has been the way in which the super frontals fit, if they do not fit properly it causes

considerable wear on the delicate fabrics. We have found that by simply adding a little tape and

some curtain rings we are able to improve the look, fit and the wear of the super frontals. We are

currently working on the super frontal and frontal that will be used in the Lady Chapel for Easter.

Another objective has been to complete the survey and conservation of the copes. Many of the

copes have been professionally conserved because there was so much damage to them, however,

Julie and Pauline have also done considerable work netting damage and improving the fit to those

less damaged. There is just one left to do.

We have done a preliminary survey of the banners and found that considerable work is necessary

on some of them, this we hope to put into our schedule for next year.

The problem of storage is still with us and we are investigating the possibilities of finding some

space in the Ambulatory so that we can remove the stoles from the damp atmosphere of the

Canynges Kitchen.

Bernice has been very busy transferring our records so that we have a digital record of everything,

this should mean that there will be easier access for more people and also that the record will be

permanently safe, telling the story of the work that we have done, where the items are stored and

any previous work done on the item. It is important to remember all these details because, although

we are very familiar with all the vestments and maybe even take them for granted they are a

nationally important collection and form a very important part of our heritage.

Jane Ashman

Co-ordinator

30
---
It is nearly five years since the completion of the last quinquennial inspection and report and

over this period the church has completed a considerable number of projects of various sizes.

However the largest of these projects is the south aisle roof recovering and at the time of going

to print these works should be nearing completion. This section of roof was re-leaded last in the

1930s and the lead has performed well particularly given its exposure to the sun and shadows cast

by the flying buttresses. The patterns of warming and cooling put the lead under thermal stress

and in the last few years, multiple fatigue cracks had begun to appear in the lead. Periodically these

were temporarily patch repaired on a rolling basis but ultimately the leadwork needed to be

replaced. New sand cast lead has been sourced with the old lead melted down and recycled. The

slope of the roof has been subtly remodelled to introduce a mid-length step to mirror the same

detail that exists elsewhere and to meet current recommended lead bay sizes. Localised timber

repairs have been undertaken where timber decay was found and new access hatches have been

installed to provide access into the roof voids where all the wiring is located.

The relighting of all of the aisles was completed in early summer last year and 116 new fittings have

now been installed. The fittings have had their bases fabricated to match the fittings they replace

both for ease of installation and to avoid drilling unnecessary new holes in the fragile medieval

stonework. Each fitting includes a 6W LED fitting and these have replaced 35W halogen bulbs.

This change will lead to a significant reduction in the energy needed to light the building but a

further benefit is the greater life expectancy of the bulbs thereby reducing the need for replacement.

Stonework repairs and localised repointing has been recently completed and this work has

included the removal of the dry riser from the outside of the south transept as the fire authority

will no longer consider using this apparatus. Roped access conservators continue to remove any

vegetation and to locally repoint the high level masonry. Meanwhile at the base of the tower, where

there is some of the earliest stonework in the building, repointing works have been necessary due

to the relentless water splashing from the gargoyles high up on the tower.

Further trials for the St John's Chapel window protective glazing have been completed and

consents for both Faculty and Planning Permission have now been secured. This summer will see

a focus on undertaking the quinquennial inspection and this represents an opportunity to reflect

and review all of the works carried out over the last five-year period. It is a privilege to continue to

be involved in the care of the fabric of this wonderful building.

Marcus Chantrey

Church Architect

31
---
Registered Charity No. 242231

The Society have made or agreed several grants this year, not only towards projects subject

to past Presidential appeals, but also aiding the Heritage Lottery bid. The 2015 appeal

focused on the replacement of the current lighting system that hadn't been upgraded in

almost two decades. The incoming President has also made lighting the subject of his appeal so

within the next two years all the work should have been completed.

The 2016 appeal was for funds to bring parts of the church which have little if any public access

back into use. Thanks to the generosity of those who gave the target has been surpassed and it is to

be hoped that work will begin soon. Work continues finding the correct isothermal glazing to

protect the St John's Chapel window and that should be completed this year. The restoration of

the Lord Mayor's Sword Board has been completed and it is now back in situ. The Society have

also made a recent grant towards the South churchyard landscaping and paving.

Assessment of the conservation work needed on the North Porch that was subject to the 2014

appeal remains a priority and will be subject to more grants in coming years. The Society has been

asked to make a substantial grant towards the Heritage Lottery bid and this has been approved.

The Society view the bid as essential for the continuing restoration of the Church. In December,

the Society held a performance of Charles Dickens' A Christmas Carol in the Church. It was

supported by over a hundred people and was a great success. Mathew Laws is the incoming

President for 2017.

Robin Shellard

President, 2016

32
---
On every Sunday throughout the year lay people read the lessons at the 9.30 am Sung

Eucharist Service and 6.30 pm Evensong as well as a smaller number who prepare and

lead intercessions. Over the year this means that about 80 people read lessons, 15 prepare

and lead the intercessions and approximately 80 people, individuals, families and church groups

form the offertory procession. Recently a significant number of people have been added to the

offertory procession list and children from the Sunday School will be reading regularly at the 9.30

service in the months to come.

A rota is prepared twice a year, the first from Advent until Easter and the second from after Easter

until the Sunday before Advent. Even if someone is listed at the beginning of the rota it is likely

that there will be six weeks' notice and for many people it will be several months more. The rota

is emailed or put in the pigeon holes for collection for those without email. In order that people

know what they will be reading in advance they receive a copy of the reading by email/post (midweek)

and people who intercede receive a copy of the pew leaflet by email on Friday. A practice

with microphones can be arranged.

We welcome new people to the rota so If you would like to read, prepare and lead intercessions or

be involved in the offertory procession please do be in touch; you can call me on 01275 543890.

Denise Reynolds

Co-ordinator

33
---
The team of servers here at Redcliffe, essentially exist to provide support to the clergy and

congregation with their worship. It is very pleasing to start by saying we have increased

our number to 26 this year having recruited 1 new member. All the more pleasing is that

in the very near future we are adding a further 6 new young members from the Sunday School to

our team and I look forward to welcoming and training them.

Our social gatherings this year have included a Fish & Chip supper at the Salt & Malt at Chew

Valley Lake and a tour of the Wills Memorial Building, where amongst other things, we were

invited to ring the Great George bell - a task superbly executed by Ben from the choir.

If you feel you may be interested in serving and would like to know more please either speak to

any existing server (those strange looking characters dressed all in white) after any of our services

or contact me on 0117 9099862 or deanpatb@gmail.com

Dean Barry

Head Server

We have a team of 20 lay administrants who assist in worship at the two communion

services each Sunday with some undertaking duties as Deacon and Sub Deacon at the

9.30 am Sung Eucharist Service. Duties are organised on a rota basis, each rota

covering a two month period. A small number of administrants assist at the Thursday service for

wholeness and healing.

Denise Reynolds

Co-ordinator

34
---
Service Ringing

Sunday ringing has been well supported once again and we were pleased to be able to ring for

almost all Sunday and special services. Once a month, the Sunday morning ringing is

organised to include the most able ringers from both our guild and other city towers, in

order to give the best Bristol ringers a chance to ring together.

Practice Nights

Our Thursday night practices continue to be busy. We ring from 7pm to 9pm each week and have

rung Avon Delight Maximus, Newgate Surprise Maximus, Bristol Surprise Maximus, Spliced

Surprise Maximus and Erin Cinques in the past year to name but a few of our methods.

Peal and Quarter Peals

In total twenty one quarter peals, each lasting about an hour, have been rung on the bells. These

give guild members a chance to ring for a longer, unbroken period of time and so help to improve

their overall standard of ringing. Five full peals, each lasting about four hours, have also been rung

on the bells this year.

Striking Competitions

The Redcliffe band represented the Bristol branch of the Gloucester and Bristol in the six bell

striking competition held in the Cheltenham branch and were placed first!

Redcliffe were placed third in the Bristol six bell striking competition held at Pip 'n' Jay. Bristol

also entered a team in the National Twelve Bell Striking Competition; six members of the team of

twelve were Redcliffe ringers. The final was held at Aston, Birmingham. This competition is the

most prestigious in the ringing community and the team from Bristol were placed second.

Redcliffe Ringing Outing

A very successful outing was held in September to the Hereford area and we had the privilege of

ringing at Hereford Cathedral and Malvern Priory as well as 3 other churches in that area.

Tower Tours

Once again, the doors open event was a big day for the ringers. The tower was packed with visitors

all day long. Visits to look at the bells, chiming and ringing demonstrations were all very well

received. Approximately 350 people visited the bell chamber.

35
---
Social Events

Twenty-seven of our ringers enjoyed a Christmas meal at the Lansdown pub in Clifton.

Tony Bulteel

Ringing Master

At present we have 34 sidesmen, assisted by the Vestry, to cover all services, baptisms,

weddings, funerals and concerts throughout the year.

The church is widely used for many events, thus putting the resources of the sidesmen to

a level which is becoming hard to maintain. We are constantly in need of more volunteers,

especially men, who we are finding it difficult to attract! Training sessions will be given, plus

ongoing support. Duties are organised on a rota basis for the whole year but we are flexible if only

certain services can be covered.

The role of a sidesman is very rewarding and enjoyable, welcoming people attending an event or

visiting the church. Training is also given in first aid, fire drill and evacuation exercises. Several

social events for sidesmen are also held.

If you feel you could assist us in this role please wither contact Graham Marsh or Jean Langley

(Head Sidesmen) or any of the existing sidesmen so that we can continue to preserve this service

to the church.

Graham Marsh & Jean Langley

Head Sidesmen

36
---
Serving of tea and coffee after the 9.30 Eucharist continues to go from strength to strength.

We are self-sufficient, even making a small profit thanks to donations made in our little

dishes each week. It is also good to see everyone talking and getting to know each other. We

have an excellent team who are willing and helpful, not only on Sundays but also on other

occasions.

We provided refreshments for the Queen's Birthday Party, but had to retreat from the south

churchyard into church because the weather was against us. Pop-up cafés during Lent 2016 and

Treefest were most successful. We are grateful to all those who help in any way especially the

occasional cake-makers who produce extra treats for us to enjoy some Sundays.

Christine Bush

Co-ordinator

The flower arranging team had a very busy 2016. In addition to the usual Redcliffe "special

days" – Christmas, Easter etc., we were asked to arrange flowers for six weddings, one of

which gave us special joy because it was for Andy (one of our Vergers) and Charlotte. Pew

ends were very popular and we were very pleased to have Liz Scott and Anita Herod to help on

these occasions. We had our usual happy band of posy arrangers and herb strippers for Rush

Sunday – what would we do without you all! Also it was good to have Jane Lomas and Sarah

Tyndall with us for Harvest. There is one thing we must not forget, a big "Thank you" for the

donations made by the congregation.

St Mary Redcliffe needs little embellishment, the flowers just add something extra. Hopefully 2017

will be less busy although we do get a rest during Lent and Advent!

Wendy Roberts and Mildred Ford

Flower Arrangers

37
---
Here are some of the musical highlights from April 2016 to April 2017:

Singing from the Nave roof for May Day (which was on a Sunday)

Girls CD recording sessions at 'Real World Studios' and at SMR

3 RSCM Gold Awards, 2 Silver and 5 Bronze achieved by our choristers.

A memorable Evensong in Bath Abbey in October sung by the boys/adults

An excellent long weekend at Hereford Cathedral with girls/adults.

Two Advent Carol services, sung by the separate choirs.

Treefest with daily musical offerings

Raising over £1200 for British Red Cross at Carols at Lunchtime

Carol singing at Tyntesfield in aid of National Trust and choir funds.

Weekend at Longleats Centerparcs with our Boys Choir in January 2017

Tuesday evening Compline sung by the boys in November and Lent

Newe Vialles Concert and Evensong accompanied by the Viol Consort

There have been up to 20 boys, 20 girls and 18 adults singing in our choirs during this year,

as well as 16-20 members of the Redcliffe Occasional Choir. I would like to take this

opportunity to thank the Organists, choristers and their families and the Church Lands

Charity (Vestry) for their support of the music at the church. It has been an exciting year with lots

of different events in addition to our regular Sunday services.

Recruitment to all the choirs remains a priority – we have spaces for more boys, girls and adults.

During the year we said farewell to boy choristers: Henry James, Miles King, Jack Marsh, Simon

Watson, Ivan Luc and Charlie Wills; to girl choristers Eve Taylor, Lily Butler, Emily Rodman and

adults: Bill Barwell, Fergus Cullen and Stanley Wilshire. We thank them all for their valuable

contribution to the music-making. We also welcomed Keith Donoghue, Gareth Craddock and

Adam Lloyd to the back rows along with six new boys, and four new girls.

Andrew Kirk

Director of Music & Organist

38
---
Registered Charity No. 1077720

Weekly lunchtime recitals on the restored Harrison & Harrison organ continued during

term time. As well as our own music staff, visiting organists from far and wide

provided a great variety of programmes and styles, demonstrating the huge versatility

of the instrument. We have a regular band of supporters, but it would be great to see more people.

Volunteers to help serve tea and coffee are particularly welcome.

Recitals start at 1.15pm on Thursdays and admission is free, with a retiring collection.

The Friends of the Music provides ongoing financial support for SMR choirs, including the cost of

specialist vocal training for boys and girls.

A range of CDs featuring the church organ and choirs, and an excellent booklet about the history

of Redcliffe's organs are available from the church shop.

Rob Tyley

Chair

39
---
ell, we have had a bit of a change over the past twelve months!

It was a great honour to be asked to become Head Steward in the Spring of last

year. I was a little nervous to take over the great job Cecile Gillard had done over

previous years but with her help and a bunch of very keen stewards to work with

I learned to "step up to the mark"!

With the help of Dan we started with homemade cakes, tea and coffee. We all got a chance to say

"Hi" and I introduced myself properly. Within weeks we were preparing for Doors Open Day

which was a very proud day for all the stewards! We went on to have the best Treefest ever,

followed by Christmas – a very busy time of year and a great celebration of the birth of Christ. All

stewards made this a very happy time for visitors and parishioners alike.

Now that Easter is upon us and the stewards are all back after a well-deserved winter break, with

their help the back of church is full of smiles and chat again, along with the most wonderful warm

feeling. Easter at St. Mary Redcliffe will be amazing.

I have always believed that stewards are the front line of SMR where visitors meet the type of people

who help keep this church alive and kicking. I am very proud to be part of a great bunch of loving

people and I can't wait for next year. With the help of our beautiful stewards St. Mary Redcliffe

will always be a warm, loving and wonderful place to visit whether you're a tourist or a parishioner.

Andy Carruthers

Head Steward

40
---
016 has proved to be a rewarding but challenging year of change for the vergers'

department. Andy has consolidated his popular position as head steward, while obtaining

a new pair of gnashers which make him look somewhat like a Hollywood celebrity. Carys

Underdown continues to make great strides keeping us all safe in her role as health and

safety officer. Sally Trivett our church cleaner continues to make the church sparkle and

shine. While polishing the brasses, clearing up candle wax and the less savoury tasks that

sometimes are deposited around the place.

Last Christmas also saw the arrival of our new operations manager Peter Rignall. Peter and I have

spent quite a bit of time orientating him into the ways of St Mary Redcliffe both in terms of how

the church runs from day to day and also, how the acts of worship and services we deliver here fit

alongside.

We have welcomed and dealt with a myriad of people over the year from the less pleasant aspects

of threats to safety and security to supporting those in need, recently helping a migrant worker

return to his family in Transylvania.

We have seen a change in the community in and around the church, finding an increase in dealing

with and supporting those with drug-related issues and the results of their activity, while seeing a

drop in the number of those with drinking problems.

Over the year, we have welcomed and supported more than 30 evening events from exhibitions

and seminars, through Treefest to choirs, orchestras and the major event that was the Salvation

Army concert at Christmas.

We continue to try to explore how we can improve on all aspects of our responsibilities not only

within acts of worship but also in our welcome to visitors and how we support and provide the

best experience to those hiring and using SMR as a venue for concerts and events.

We recognise the opportunities we have as a team to help SMR make a difference not only in the

coming year but five/ten years ahead as both the building and the community changes. We look

forward to working with you all to help us improve and achieve in these exciting and changing

times.

Matthew Buckmaster

Head Verger

41
---
Over the past year the PCC has had a number of discussions on the subject of Inclusivity -

specifically wondering how welcoming St Mary Redcliffe feels to people who for one

reason or another may identify themselves as part of various different kinds of minority

groups.

We have developed the following statement on Inclusivity to appear on our website and elsewhere:

The current generation of SMR is a diverse community: old and young, rich and poor, diverse in our

relationships and family circumstances; Bristol-born and migrants to the city; Redcliffe through-andthrough

and newcomers to the church. We are diverse in our ethnic backgrounds and cultural

identities, in our levels of physical and mental health and ability, and in our understanding of gender

and expression of sexuality identity. As a diverse community we do not share a single understanding

on theological debates, but at the heart of our faith we believe that every person is made in the likeness

of God and reflects the image of God. We do our very best to welcome and include each and every

person in the name of God who made us and loves us for who we are.

We have also formed a working group to consider the questions: What happens when someone

comes into SMR for the first time, do we make them feel welcome? How can we actively explore

what it means to welcome and include, are there ways we could do this better? How do we know

we are doing our very best, in the context of the above statement?

Anyone who would like to contribute to this process is very welcome to email me on

bph@phyrecat.com

Bea Purser-Hollard

PCC Inclusivity Working Group

42
---
Words can hardly do justice to the busyness, excitement and sheer joy of the day, or to

the dedication, enthusiasm and hard work of the amazing volunteer team. Thank you

to everyone who visited, we were delighted to welcome you. Thank you also to

everyone who helped these most welcome guests explore, enjoy, reflect and wonder in this holy

place.

Experiencing what it's like to chime a bell.

Some prospective new bellringers, perhaps?

Gareth explains to a tower tour group how

bells are rung.

A family enjoying brass rubbing, courtesy of our

Sunday School team.

(We use models of brasses, to avoid any damage

to the precious original historic brasses.)

Around 2400 – 2500 people visited the church, about 1000 of them went to the Chatterton Room

(above the north porch) which is a record for visitor numbers to that part of the church on a Doors

Open Day.

41 volunteers worked their proverbial socks off, to give our visitors an unforgettable day out. All

of you were brilliant however special merit mention for the small team of bellringers, who worked

non-stop all day (please tell the rest of us where you get your energy and stamina from - ringing?),

43
---
and for the two furthest travelled volunteers, Cora Scott (Bridgwater) and Michael Doble

(London).

Bristol Doors Open Day 2017: Saturday 9th September is the date for your diary

A celebration of the city's history architecture and culture, with unique opportunities to discover

hidden treasures and, in some cases, visit places that are not usually open for public access. Events

take place across the city from Thursday 7 – Sunday 10 September 2017.

www.bristoldoorsopenday.org.uk

Andy Carruthers/Cecile Gillard

This was the third year of Treefest, which can now claim to

be a regular event in the church calendar, and indeed in

the calendar of the city of Bristol. Treefest 2016 was even

more successful than in 2015, raising £6,000 for charity, and

attracting nearly 5,000 visitors.

Our chosen charity this year was Mothers for Mothers, a local

charity which provides support for mothers who suffer from postnatal

depression. They also won the competition for the best tree.

Half of the money raised was allocated to St Mary Redcliffe's own

outreach projects, such as Faithspace and Redcliffe Care.

Sponsorship was generously provided once again by Hollis

Morgan, and also by Smith & Williamson.

We had slightly fewer exhibitors this year, but there was no reduction in creativity or innovation:

the displays were eye-catching and colourful. The music programmes organized by Andrew Kirk

go from strength to strength and our thanks go to him for persuading some excellent musicians to

perform during Treefest. The café in church serving refreshments raised £1200: our thanks go to

Christine Bush and her team for manning this. The event is a real team effort, and our thanks go

to all of those who participated so enthusiastically to make it such a success: all who provided and

decorated a tree; the stewards who gave willingly of their time to man the doors and welcome

visitors; the team in the ARC café; the Parish Office; the vergers, the choir, and all who made it all

happen.

44

Sue Hartley

Treefest Committee
---
It was decided that the Education Committee should be re-named the Discipleship Committee

to reflect the fact that our concern is for the development of Discipleship throughout the

whole age-range within the congregation. Each meeting begins with updates from individual

committee members about the Sunday School, our Choirs, Safeguarding, Seekers: Escape from the

Pew! and the Vocations Group.

These are followed by forward-planning for the major festivals, Patronal, Harvest, Advent,

Christmas and Easter. Having learned about clergy plans for these, ideas are then shared about

appropriate activities for the involvement of our groups.

After our policy on Communion after Baptism and before Confirmation had been approved by

Bishop Mike, 5 baptisms took place then 1 adult and 9 children were admitted to Communion

during our Patronal Festival Eucharist on 17th July. (1 adult and 1 child were also admitted on

24th July).

Members of the Committee were among those who attended a Prayer session on Monday 10th

October during which Kat Campion-Spall gave guidance, ideas and encouragement for our prayer

lives.

An Advent Eve Quiet Day was also led by Kat Campion-Spall in the Lady Chapel on Saturday 26th

November and members of the Committee were among the attendees who were given the

opportunity to experience many practical ways to enrich our prayer lives.

A Discipleship Committee tree which told the story of Zaccheus (who became one of Jesus'

disciples) was designed and constructed by Becky Macron for exhibition at Treefest.

The Christingles Service was held on 17th December 2016 and a Family Carol Service at which

there were 800+ in the congregation (ranging from tiny babies to very elderly relatives) took place

on Christmas Eve afternoon.

It has given me great pleasure to chair this committee because it is concerned with several of our

current growth areas. The enthusiasm of all the members is infectious and we get through full

agendas at each meeting with decision-making happening easily and practically.

Marion Durbur

Chair

45
---
Seekers: Escape from the Pew! is a faith group set up by myself and Revd Dan Tyndall to help

bring the congregation together to explore faith in a social setting. 2016 has been a fantastic

year to build on the foundations of the group and cover a wider range of topics. We meet

one Thursday every month, usually at the Vicarage to discuss a variety of topics suggested by the

group at the beginning of the year.

We began the year looking at the topic of Hope, which is quite a fitting topic for the beginning of

the year as we are often in a mindset of reflection around this time, thinking about the year gone

by and what we hope to achieve in the coming year. I encouraged everyone to write a new year's

resolution letter to themselves with a religious and secular goal they would like to achieve in 2016.

I gave the letters back later in the year so the writer may be able to reflect on how far they have

come with their goals.

We have gone on to explore a variety of topics such as, "the Holy Spirit", "women of the Gospels"

and "how we assess the value of something". We even took a wonderful trip to Folly Farm to enjoy

the lovely scenery while discussing Christian charity. To top it off we finished the year with a good

old fashioned, Christmas themed Pub Quiz.

I would like to thank everyone who has supported the group, whether it was by joining in the group

discussions or taking on the task of running a session. Each person has bought valuable insight

and perspective to the group. What I love about Seekers is that it has given everyone opportunity,

to not only explore their faith but also build relationships with others in the congregation and build

a stronger community.

It has been a wonderful year to not only learn about my faith but to have a brilliant opportunity to

learn about others experiences with the Christianity and understand what they believe and why.

This sharing of faith experiences is what helps us to grow spiritually and build our relationship

with God as well as each other.

So if you haven't already tried it, why not give Seekers a go in 2017? We would love to welcome

you and learn from your experiences. You may also be pleasantly surprised what you learn about

your faith! God Bless everyone and here's to another great year in 2017!

Nadine Aujla

Co-ordinator

46
---
The group has continued to meet (usually at the Vicarage, sometimes at the pub) regularly,

if not frequently. Some members are seriously contemplating the possibility of being called

into an ordained ministry within the Church of England; others are exploring a vocation

to lay ministry within St Mary Redcliffe; and still others are just exploring.

One of the more "public" manifestations of the group this year was the eight (!) people who

responded to Dan's invitation to preach the sermon at evensong on Sundays after Easter. Another

has been members of the group serving as deacon or sub deacon on Sunday mornings, and another

the commissioning of four members as worship leaders, to serve alongside Denise, Alison and

Bryan, who were also commissioned among a total of some forty folk from across the Deanery at

a wonderful service held at SMR this February.

In September the Revd Helen Collins, Diocesan Director of Ordinands, came to speak, and less

public developments have included the attendance of more than one member of the group at

diocesan information evenings and on the "Am I Called to Be Ordained?" course, as well as

ongoing one-to-one conversations.

But one of the purposes of the group is to encourage others who may feel they, or someone they

know, might be being called in some way. As Dan said in the Vocations Group Preaching Series

leaflet:

"However, I feel certain that there are other people in the SMR community with a similar calling on

their lives. Again, for some it might be to ordained ministry, whilst for others it will be a pathway to

a lay role within the church.

"If this initiative stirs something with you please do let me know.

"More than that, if this initiative makes you wonder whether another member of our church might

have a vocation please do talk with them and with me!"

Simon Goodman

47
---
Since the sad loss of Archdeacon David Banfield whose wisdom was invaluable, we have lost

other members from demise or infirmity. We remain an enthusiastic group of about six and

would welcome new members. Please phone 0117 9264931 if interested.

Maurice Scofield

Co-ordinator

48
---
Over the past year, life at Sunday School has been eventful and fun. Since September, we

have welcomed more families to our Sunday School community, bringing our total to 48

(with 89 children on our register). Ideally, we would benefit from a purpose-built church

hall to accommodate such numbers! However, I firmly believe that it is not so much "what we

have, but what we do with it" that is important. To this effect, we constantly reflect on our practice

and facilities to provide the best service for our children and families. We have reinstated our

fourth group, Sparks, to ensure that group sizes are manageable and have adapted our "layout" in

the Undercroft to suit the needs of our children, We strive to create a safe, positive and "enabling"

learning environment in which each member of our Sunday School family can grow in love and

faith.

Our statistics show that a lot of our children are aged 4 and under. As such, parents in this age

range are required to remain in sessions with their children which accounts for a significant

number of adults being present in Sunday School. Parents of

older children are encouraged to stay in church and many take

this opportunity to enjoy quiet worship. Others opt to stay with

their children. Ultimately, we are providing a service for the

people and it is my aim to ensure their needs and desires are met

and respected. What cannot be questioned is the commitment

and dedication of all the Sunday School families to our activities

and events, and to our church.

During a service, we are separated physically from the rest of the

congregation. However, we are all part of the same church

community and this physical separation does not impede our

endeavours to integrate with the rest of the church family. Since

joining Redcliffe, many of our families have taken big steps on their faith journeys – either through

baptism, confirmation or admittance to communion. More recently, Sunday School families have

taken on new roles within the church as servers and readers.

To date, Treefest has been the most popular Sunday School event. However, our recent "Prayer

Day" based on the themes from The Magic Faraway Tree has just overtaken this event. With a

record number of children in attendance (42), we explored different ways of communicating with

God through a variety of prayer activities. The Backpack Appeal 2016 and our fundraising events

for the Lent Project have also been met with huge enthusiasm. Along with the congregation, we

donated a record total of 88 backpacks to Mary's Meals and our fundraising events have been

equally well-supported.

49
---
It is always great fun to organise special events. However, something "special" can only be "special"

if it remains unique: when there are always biscuits in the tin, biscuits are no longer fun.

frequency of "special" activities in the lead up to Christmas almost took this uniqueness away,

causing us to reflect on the organisation of our calendar. Although charity work is a fundamental

part of our discipleship, we must not overlook our main role as a Sunday School: to learn about

Jesus, so that he can "teach us all we know", "to follow him along the way", to "be our guide in all

we do" and "to help us all learn more" from him as outlined in the prayer the whole congregation

says before we leave the 9.30 Eucharist. Most of our sessions come from our lectionary-based

resources, Roots. However, we sometimes supplement these with other activities, and where

possible, we aim to weave outside events into our lessons, such as European Day of Languages.

What remains most important to us is that our lessons are fun, engaging and purposeful.

The people tasked with the important role of teaching our children are the Sunday School Leaders.

To meet the demands of our growing numbers, the Sunday School team has also expanded,

welcoming new leaders from our parents and congregation. It certainly is a pleasure to work with

such experienced and dedicated practitioners, and to draw on their talents and enthusiasm. I am

very grateful to the Sunday School team for their continuous efforts and support. Without them,

it certainly would not be such a success.

During the past year, we have introduced social events for families outside of Sunday School; our

first parents' night out was just a small affair. However, the second meeting was well-attended and

we now hope to organise these on a regular basis. We are now looking for new ventures to provide

more opportunities for our families, such as a parent and toddler mornings and a family

"champing" (camping in church) night (to be held in the summer holidays).

The role of Sunday School Co-ordinator is certainly a busy role and there is always plenty to do.

However, it is a role that brings a lot of pleasure and fulfilment and I would not change it for the

world.

The

Rebecca Macron

Sunday School Co-ordinator

50
---
We are nearing the end of our third year of the Education Work at St Mary Redcliffe

Church. It has been another interesting twelve months which has seen our

relationships strengthening with local schools and other schools visiting for the first

time.

For the first time this year we went into St Mary Redcliffe Primary School to run a Christmas art

workshop which made decorations for our Christmas tree at Treefest. Our tree was based on the

children's story: Little Owl and The Star.

Because of the success of this venture we are planning more art workshops on the theme of

Pentecost which will lead to an exhibition in church in June and July.

Another first this year was to run a session for teachers from a village school in the Mendips on

one of their in-service training days. This has led to the school booking several trips already.

We have done many tours about the history of the church and its significance in Bristol. As well

as workshops, such as:

What are the elements of a church building?

The brasses in the church

We have also done many Religious Education workshops with themes such as:

Stories of Outcasts: The Ten Lepers, The Good Samarian

Why is a church building special for Christians?

Forgiveness – The Prodigal Son

Why is Christmas special for Christians? – Little Owl and the Star

The meaning of the Christmas story – Jesus' Christmas Party

Why is Jesus important to Christians?

The Easter Story

The work could not be done without our wonderful volunteers who give their time to work with

the children. The work takes place in the church on Tuesdays, so if anyone would like to be

involved, please get in touch with Sarah in the Parish Office or email

sarah.yates@stmaryredcliffe.co.uk

51

Sarah Yates

Education Officer
---
The school's playground has always been remarkable – space for a miniature United Nations

(440+ children from all corners of the world). In response to the national campaign to

encourage physical activity and creative outdoor play, there is now a spectacular range of

playground equipment - climbing walls, ropes, wooden boats, hopscotch squares and ball games –

and the school still offers diverse after-school clubs for sports and creative activities despite tight

budgets. Recent surveys confirm the children love coming to school and many are performing well

vis-à-vis Age Related Expected Attainment in Reading, Writing and Mathematics.

Nevertheless, as many of you know, in Autumn 2016, Ofsted found that the "gap" between the

performance of Pupil Premium Children (disadvantaged children for whom extra funding is

awarded) and their peers, had not been sufficiently closed and so, combined with poor progress in

mathematics and some inconsistencies in the effectiveness of leadership and teaching, SMRP was

put into Special Measures again.

As a consequence, it will become an Academy under the aegis of DBAT, the Diocese of Bristol

Academies Trust. This move to DBAT has been positively accepted by the school staff and by

parents. At a public meeting many of the latter paid tribute to the hard work and commitment of

all staff at the school – justifiably - as they very quickly tweaked their teaching and assessment

methods to address the issues raised by Ofsted.

The subject reports submitted at the February governors' meeting by the Geography Lead teacher

and the Religious Education and Collective Worship Lead teacher epitomise the essential moral,

social and academic ethos of the school. SMRP aims for an enriched curriculum (not one focusing

merely on the 3Rs) so Geography is a whole-school-living curriculum. E.g. a huge map in the lobby

marks all the countries from where the children originate. This helped the school earn its Bristol

Sanctuary Award for offering refuge to all comers.

As for Religious Education and Collective Worship, the school continues to develop a sensitive

approach towards Christian distinctiveness as many of the children are of other religions,

including Islam and Judaism. The most telling feedback comes from the children themselves who

say they appreciate Collective Worship for the quiet time it gives them for reflection and that "It's

like being part of a big family."

Angela Hogg

School Governor

52
---
School and church have worked together successfully for over 400 years. Each year though,

there are new situations and priorities. We were delighted to be chosen as one of 'Ten

Leading Schools' on Spiritual Development in the country. A researcher spent some

significant time in the school and met students, staff, parents and carers, governors and members

of the community. We will publicise the book when it's published there is a chapter on each school

and they all have something interesting to contribute. One aspect of school life that was highlighted

was our partnership with Ikoba, a Church of Uganda School near Masindi. It was the tenth

anniversary of our partnership and we celebrated with quite a lot of cake and a major fundraising

drive called @ikobaTENsmrt which raised money (over £10,000) for a new, level sports pitch and

the first brass band at the school. We also welcomed Headteacher Faith Kahuma back to Bristol.

We are enormously grateful for the hospitality and encouragement of the SMRC staff and stewards

when we worship in the church and that worship underpins our daily life. The Vergers provide for

our services back in school with great diligence and organisation. We really appreciate those

members of the church who give unstinting wisdom and energy to their role as school governors

and especially those like Pete Farr and Rachel James who chair committees. School admissions,

both to Y7 and to Y12, take up a lot of time and Rachel and Claire Alsop have given unstintingly.

We enjoy our collaborations, for example the Lunch Club, Christmas party, Colston Day and the

fabulous Treefest. We've enjoyed getting to know about and being more involved in the over-55

activities. We will continue to seek new ways of being school and church as the year progresses

and as Joey Mitchell, our Chaplain, Hannah Currant and Kat Campion-Spall continue to bring

new ideas into the mix.

Finally, we thank Revd Dan Tyndall for his personal support and commitment to the school, our

occasions and our spiritual development.

Simon Stevens

Assistant Head Teacher

53
---
Safeguarding is changing and developing all the time, is a consideration in all that we do in

the church and is the responsibility of every member of the church's community.

To quote our policy: "St Mary Redcliffe Church PCC is committed to promoting the wellbeing

of all those who visit, work and worship here. As part of this commitment we will ensure that we

have robust systems in place to protect children, young people and vulnerable adults from harm. This

responsibility is shared by each member of the community and policies and procedures, whilst

essential, cannot alone protect children and adults who are at risk. All members of the community

need to be aware of potential risks to children, young people and vulnerable adults and know what

action to take should they have concerns".

It is important for everyone to keep themselves well informed about safeguarding in the church

and this can be done by accessing the Diocese of Bristol website 'Safeguarding' section where all

Church of England and Diocesan policies and guidance can be found.

At St Mary Redcliffe we have a Safeguarding Committee which consists of the Incumbent,

Churchwarden, PCC Secretary, Safeguarding Officer, the four Children's Champions, an Adult

Champion and a representative from the Lunch Club and it oversees the care and protection of

children, young people and adults who are vulnerable. Like all churches in the Diocese St Mary

Redcliffe has its own safer recruitment procedure which is in line with national Church of England

and Diocesan policies and guidance and, when the duties within a role meet the specified criteria,

an Enhanced Disclosure from the Disclosure and Barring Service (DBS) is sought.

On behalf of the PCC the committee undertakes risk assessments for activities within the church

and has responsibility for checking the detailed arrangements, including risk assessments, for all

off-site visits by groups of children and young people.

The Safeguarding Committee has just undertaken the 2017 review of the St Mary Redcliffe

Safeguarding Policy and the updated policy was adopted by the PCC on 27 March 2017. The

policy, with links to specific national and diocesan policies and guidance, is available in the

Safeguarding section of the St Mary Redcliffe website.

Denise Reynolds

Safeguarding Officer

54
---
The Social Committee organised the refreshments after the Rush Sunday Service and

provided most enjoyable lunches after our Patronal Festival and Harvest Festival Sung

Eucharists.

Tony Bulteel

Chair

The Christian Meditation Group met weekly on Tuesday evenings throughout the year in

the Faithspace Community Centre in Prewett Street. We thank Sarah James for her

continued support there.

Christian Meditation gives us the opportunity to 'be' in the presence of God's love in our own

hearts.

word or mantra.

This we reach through a period of stillness and silence while simply repeating (silently) a

The group follows the teaching of John Main who was inspired by the work of

The Desert Fathers. He founded The World Community for Christian Meditation and there is a

lot of information on their website - www.christianmeditation.org.uk

Newcomers are always welcome. We meet every Tuesday at 6.30, and start our 30 minutes

meditation at 6.45.

If you would like to learn more about this spiritual journey just come to the

Faithspace Community Centre or speak to one of us - lewis-joan@talktalk.net or 0117 9255763

Lewis and Joan Semple

Co-ordinators

55
---
About 13 years ago, in the heyday of the Fundraising Committee, a well-known member

of the SMR congregation pointed out to me that profit could be made from an unusual

venture. Dorothy Mills, bless her, had spied an article in the Three Crowns advertising a

family firm in the Lake District who made Christmas Puddings only for Fortnum & Masons and

Charities, refusing to make them for the Supermarket chains.

The Ultimate Plum Pudding Co. was duly contacted, sending samples of their ware for the PCC to

try, who pronounced the puddings delicious! It was subsequently discovered that if we designed

our own label we earned extra discount and if we ordered and paid, in September, we earned even

more discount. So, John Pickard designed the label, an order was dispatched in time for Doors

Open Day 2003 and the congregation encouraged to try these reputedly delicious Christmas

puddings.

The following year there were numerous requests to repeat this venture, as the puddings were so

delicious and were microwaveable too. These puddings have now become a feature of the

Christmas season at St Mary Redcliffe and as usual this year, the customary sales table was present

near the north door on Doors Open Day. The Ultimate Plum Pudding Company have added an

individually sized pudding, to their range, identical in the attractive red wrapping and label, and

perfect for a souvenir of the visit to St Mary Redcliffe on Doors Open Day or as a gift at

Christmastime.

All sizes of puddings sold out by mid-afternoon this year and a number of "regular customers"

were disappointed, having omitted to reserve their hoped-for purchase. To get maximum discount

and, therefore, increase the profit for SMR, the puddings have to be ordered in July so, if anyone

thinks that a pudding may be desired for Christmas 2017, please let me know by the end of June at

the latest. There is no obligation to purchase a reserved pudding as, if circumstances change, the

pudding can be sold on Doors Open Day.

Sue Pickard

Organiser

56
---
Journey into Science began life in the late 1990s with the vision that a church like St Mary

Redcliffe standing at the heart of a city like Bristol should be as much a beacon for the public

appreciation, engagement, discussion, and pondering of the sciences as it is of the arts, most

notably at St Mary Redcliffe of music, and that all should illuminate our journey through God's

world.

Our Chaotic Pendulum – profound science?... kinetic art?... prompter for pondering? – has

meanings on many different levels. Devised by the late Professor Sir Brian Pippard FRS for his

inaugural lecture as Cavendish Professor of Physics in Cambridge, he helped bring it to our church

in 1997. He was so proud to have it here, the only functioning version on public display anywhere.

The chaotic pendulum continues to attract a lot of visitor interest and is also an important witness

that our church embraces a scientific understanding of the world. Again we thank Maurice

Scofield, Kumyul Albone, Rob Knight (who constructed the chaotic pendulum all those years ago)

and the vergers for all they have done in the year to keep the pendulum functioning so well. In

particular we thank Maurice who has supported us over many years but for whom advancing years

has meant he has had to step down.

Back in the late 1990s we also obtained a Royal Society and British Association Millennium Award

which kick-started a very active programme of science related activities, discussions, debates, talks,

drama with the wider public and with schools (I have our report from those days if anyone would

like to see it) and over the years we have done much, attracting audiences including people who

would not otherwise have entered our doors. We can learn much from that early experience.

Presentations

Things have slackened off a little since then. However in the past year we have run an outstanding

event in St Mary Redcliffe with Christians in Science and the British Science Association, namely

the presentation to a capacity audience by Professor Keith Ward, Regius Professor Emeritus of

Theology at Oxford entitled "Why Stephen Hawking is nearer to God than he thinks". Keith Ward

did not refer to conversations with Stephen Hawking, but rather to what he has written, pointing

out that much of his writing is in fact essentially theological rather than scientific. If you want to

make your own mind up, the sound recording of the event is available on the St Mary Redcliffe

Church website.

In the past year we were also involved in a panel discussion organised by the British Science

Association "Science and Religion, Exploring the Spectrum- Why does the clash between science

and religion persist in science and the media?" Last November we had a very interesting open

discussion with an ethnically mixed listening audience at the Trinity Centre in Lawrence Hill

57
---
where much light was shed - just the kind of thing we need to do more of. Another link is with the

Society of Ordained Scientists and in early April we are hosting their Southern Chapter again at

Mary Redcliffe, where one of our members, Revd Dr Geoff Turnock will be discussing the topic of

Gene Editing. As well as being a forum for discussion, SOSc is also a Fellowship, and not everyone

is ordained… I for example am an Associate Member. If anyone in SMR is interested in knowing

more, please let me know.

Journey into Science has huge potential, particularly as St Mary Redcliffe is developing its new

vision at the heart of the community, and this is just the time when we need new blood and new

ideas. If you would like to be involved (or even are thinking about it), please let me know. There

is no need to be a scientist… just interested in moving the vision forward.

We will not be so alone in the future. It transpires that at least one very active church in London

is thinking of collaborating along these lines too.

Eric Albone

Convenor

eric.albone@gmail.com

58
---
We meet on Wednesdays between 12 noon and 2 p.m. in the Faithspace Centre in

Prewett Street. A hot meal (cooked by the local Hilton Hotel) is followed by

entertainment. Friendship and companionship are the basis of the Club and we do

our best to give a listening ear and any advice asked for.

Entertainment varies, including slide shows and talks (often provided by members of SMR

congregation for which we are very grateful), musical entertainment, Bingo, quizzes etc.

Each week 4 students from SMRT School come to help. They collect monies, sell raffle tickets,

serve at table etc. They are always popular with our members, spending time talking with them,

calling Bingo numbers and generally getting involved, even by dancing and exercising. It is good

to see the interaction between young and old and I believe this to be advantageous to both age

groups.

Easter and Christmas are times for celebration and we have Jenny Martin to thank on these

occasions. Our tables at Easter are decorated with Spring flowers, Hot Cross Buns and Easter eggs.

At Christmas once again Jenny excels with festive table decorations, crackers, sweets and presents

– everything to make for a special Christmas lunch. This is a free meal, funded by a grant from the

John James Charity.

Throughout the year we receive help from our local ASDA store. Mrs. Brenda Wright (ASDA

Community Champion) is a regular welcome visitor, often bringing goodies. She will also help

with entertaining and arrange special events e.g. strawberry cream teas. At Christmas we enjoy

tins of sweets, mince pies and cream and raffle prizes together with a gift for everyone. We thank

Brenda and ASDA for their continued support.

One of the most significant aspects of the Club are the people working in the kitchen. With Jenny

Martin as our mainstay our priority is to obtain the highest rating of Food Hygiene and we have

passed all the necessary tests. Unfortunately we do not see some of our kitchen helpers face-to-face

as they are so busy for the 2 hours that we are open, but without their hard work we could not

continue.

Our club is run solely by dedicated volunteers and I would like to thank everyone involved because

we could not manage without them. Please ask yourself if you feel able to join us for an hour or so

each week (mainly term time). I can assure you that you will make new friends and enjoy helping

others. We really do need you.

Bobbie Bewley

Co-ordinator

59
---
n the past year the magazine has evolved into a more compact publication with fewer pages.

News of so many developments, events, reflections and community initiatives are generated

by SMR that very few contributions are brought in from outside (even the Bishops hardly

get a word in edgeways). Priority is given to items which directly relate to life in and around

SMR, are generally written by SMR people and are, we hope, specifically useful to the SMR

congregation. The mag is directed to a niche market.

New trends: What goes on at Sunday School (Becky Macron) is becoming more prominent – often

running to 2pp including pics. The same goes for local Redcliffe news: (1) SMR Development

Updates (Rhys Williams) and (2) Redcliffe neighbourhood activities (Redcliffe Gardening Club,

Play Out, Peco Story Telling, Redcliffe Voice newsletter). Another fairly recent addition is Seekers

Escape from the Pew - Nadine Aujla.

The March 2017 (Lent) issue is fairly representative of the magazine's contents over the past year:

- The items cited above, Reflection by one of the Vicars, Soundbites by Andrew Kirk (who

invariably submits a perfect page at least a week or so ahead), PCC report (and periodically Synod),

listings for imminent church festivals, (e.g. Christmas, Lent, Easter, Treefest), night shelter

reflections (Keith Donoghue) adverts for new positions (this issue – Church Charity), celebration

of feats (this issue – Betty Morris), World War 1 Voices (Lester Clements), Parishioner to

Parishioner and finally the Lectionary, Diary etc. which have no by-line but are faithfully produced

by Carys Underdown, Pat Terry, Ros Houseago, and in an emergency, Pete Rignall and Anne-

Marie Rogers. This month – poetry and prayers were missing - our loss. And then at the 23rd hour

an unmissable piece from Seekers …. So last minute cutting and pasting. That's usually when the

typos happen.

So much for evolutionary changes and trends since 2012. If revolutionary change is required, so

probably is a new editor. Any offers?

Angela Hogg

Editor

60
---
In 2016 we celebrated 140 years of Mothers' Union. "All things are possible through prayer"

was Mary Sumner's vision and it all started in her living room. Now there are nearly four

million members around the world. Our MU Prayer Diary helps us to understand all the

needs and the work which the Mothers' Union does.

We continue to supply tea, coffee, biscuits etc., to the Friends of Parents at Bristol Children's

Hospital and we also make a donation towards the cost of the daffodils for Mothering Sunday at

SMR.

We had a variety of speakers in 2016 which included John Pickard's "My garden through the

seasons", Liz Mitchell on being a dancer at the Olympic Ceremony in London and part two of his

talk by the Revd Davis Hardy, Chaplain to the Railways.

In addition we held three services of Holy Communion during our meetings presided over by the

Revd Kat Campion-Spall which was welcomed by members and we will continue this practice in

2017.

The Annual Dinner took place in the Undercroft, provided by Pat Jones and her helpers, and the

lovely meal was enjoyed by all those present.

Our branch meets in the Faithspace Centre on the second Wednesday of each month (with the

exception of January).

A copy of the 2017 programme is on the Mothers' Union notice board in church.

Hilda Watts

MU Branch Leader

61
---
Ladies Who Lunch are the envy of some,

but you could join us, so why not come

to the Pot Luck Lunches held every month?

The occasional week is given the oomph

if it's inconvenient, but that's quite rare

as another venue is found somewhere.

Normally held at John and Sue's,

Sharing food and the latest news.

Gentlemen are not excluded,

If well behaved, - may be included!

First Monday in the month we meet

Just to chat, relax and eat.

What we eat is oft substantial,

Or it may be light and circumstantial

to the offers in the shop,

Asda, Tesco, or the Co-op.

Sandwiches or fruit for two,

All are welcome – and that means you!

Sue Pickard

Organiser

62
---
In 2016 the Social Action Committee has had a dual focus – continuing to support the excellent

social action already happening in and through SMR, and taking seriously our role as a

strategic sub-committee of the PCC by working towards a strategy for social action.

A highlight of the year was the Lent Appeal, in partnership with Changing Tunes. There was a

strong sense of faith in action, and of our whole church community engaging with the themes and

issues of Changing Tunes' work with prisoners and ex-prisoners. There was a fantastic level of

involvement from members of the congregation in fundraising activities; we had a concert with a

scratch choir from the congregation, Changing Tunes staff and ex-prisoners, and elsewhere; a

special evening service with Bishop Mike; members of the congregation visited prisons; and the 40

days of Lent booklet enabled individuals to engage at home while our preaching and Lent Groups

aligned with the themes of the booklet. We also raised over £7,000 which was an impressive

achievement.

In June was another highlight, the Queen's birthday garden party. This was, despite the weather,

a wonderful event, involving local community groups running stalls and activities alongside

church members – there was a wonderful sense of partnership between church and community.

Other social action that continued in 2016 was October's illumination of the church in support of

modern slavery charity Unseen, this time even brighter, thanks to Adam King, who also oversaw

the parish Christmas card delivery to every home in the parish. The Christmas Day Lunch was

once again co-ordinated and hosted by Chris and Lorraine Legg, with grateful thanks for their

dedication and hard work. Hannah Current's work in the community, the Redcliffe Lunch Club

and our partnership with Faithspace continued, of which more elsewhere.

In 2016, the Committee recommended that the £3,000 from the PCC budget allocated to charitable

giving was shared between CMS (£1,000), USPG (£1,000), Oxfam REFUGEE CRISIS: Emergency

response (£500), Sisters of the Church (£250) and Julian Trust (£250).

Work in progress that will start to bear fruit in 2017 is the appointment of our artist(s) in residence,

and the development of a new youth worker post for the community.

While all this was going on we have also been trying to listen to God and draw out our strategic

priorities for Social Action, which has highlighted a strong focus on the parish. We hope to present

to the PCC in 2017 and feed in to wider strategic planning for the church.

Revd Kat Campion-Spall

Associate Vicar & Committee Chair

63
---
With a reduction in hours to one day a week, I have moved away from 'on the ground'

delivery to working at a more strategic level, to support and advocate for the

communities of Redcliffe. This is a sample of some of the things achieved in 2016:

A community newsletter – (Redcliffe Voice). Ensuring that local residents have access to

information about what's going on within the local area. Designed and edited by local volunteers,

and produced and delivered into 2000 local homes on a quarterly basis. A PDF version is also

available on the website.

A Redcliffe community workers' lunch is held once a month for those working in the community

to share what's going on, network and develop ideas together. This includes representatives from

the following organisations: SMR Church, SMRT School, Redcliffe Children's Centre, The Police,

Faithspace, Growing Support, BCC community development Team, BCC Public Health Team,

Redcliffe House, phoenix place, BCC learning communities team, Playing Out, PeCo Theatre

Company and other parties or agencies wishing to engage with local groups and organisations.

I also identified and arranged for some training for local workers around signposting for mental

health provision from CASS.

Lunch Club, Film Club and the Gardening Group all continue to receive support.

I have also worked hard to ensure that the local community has a voice in the Church

Development programme, recruiting a panel of local residents to partake in the Architectural

competition, and hosting a public event for local residents and workers to find out more about the

Development, and advocating for the local community to be at the heart of all development

considerations and planning.

I have been involved in developing a proposal for a youth worker for the area, and contributed

towards fundraising efforts for a new post.

As a community development worker I provide an essential networking for agencies, projects and

people to link up within the community. She also advocates for more public health promotional

activity to take place, more youth work and more support from Community development where

available. Also responding to requests from local residents and action groups for support and input

where possible.

64
---
PeCo Theatre Company successfully bid in partnership with SMR for some money from BAB

(Bristol Ageing Better) to deliver a series of workshops exploring the hidden histories of

Redcliffe, with older residents of the area which has run for the 1st quarter of this year (2017).

This list is not exhaustive, but gives an idea of the kind of things going on one day a week on behalf

of St Mary Redcliffe and Redcliffe Care.

Hannah Currant

Community Development Worker

Another very successful Christmas Day Lunch was hosted at Faithspace (the Prewett Street

Anglican-Methodist Church Centre) in 2016. Numbers increased significantly this year,

with more guests from the immediate neighbourhood of the Church, partly as a result of

outreach and increased visibility of Faithspace and partly through the activities of Hannah

Currant. We welcomed participation from Phoenix House, adjacent to the Church, some of whose

residents joined us for lunch, while others enjoyed "take-aways".

A total of 46 meals were served, and excellent seasonal food was once again provided by the

DoubleTree Hilton, supplemented by pre-lunch snacks and after-lunch cakes and biscuits

prepared by volunteers or purchased by Redcliffe Care. Pre-lunch transport was generously

provided by volunteers from the congregation and elsewhere, and a discounted taxi service was

provided by Bedminster Cabs to take guests home after the lunch. The whole event went smoothly

and was enjoyed by all the guests and volunteers, the latter including the Rev Henry Lewis and his

wife, plus one of our vergers.

Chris Legg

Organiser

65
---
Community Hub: This year we have more than doubled our bookings with 28 regulars.

New arrivals include: health Improvement, Maths/ English courses, Local Councillors'

Advice Surgeries, Community Arts, fundraising for Ladies Swimming and an American

Thanksgiving supper!

Space for a home from home: Along with our neighbours, we have had good attendance for

seasonal parties. We now have Quarterly Messy Church for children and parents, next one April

2 nd 3.00pm. Faithspace Play for an hour after school 3.30-4.30pm. Starting: 30 th March and 6 th

April. For Parents/Carers and children up to ten, to meet friends, make snacks and play games.

We are keen to have new volunteers for all the above; Tea-Makers and friendly-faces always

needed, please let me know!

What we are all about: The homeless shelter ran through January, one night a week on a rota with

SMR and other churches across Bristol. Good home-cooked meals, better company and amazing

card games! Bed & breakfast provided. Our Tuesday Coffee morning and 'Needles and Natter'

have grown with the same sense of hospitality, where people are known and belong. Those present

hold the doors open in true respect and charity and a Christian love that is palpable, for our guests

to come and simply be- That's what we at Faithspace are all about. So we become that home from

home; care and acceptance found here in opportunities to meet Christ in the Stranger and make

him our guest!

What happens when we work together: There is a sense of things beginning to gel at Faithspace

as local people help with Messy Church, an active group is forming around a buzz of activity and

the Spirit feels ever present. Especial thanks to all those who pray and help make good things

happen here and to the Committee and both Churches for the emergency loan to mend the Chapel

window – it looks great!

So come and see what's happening, make a difference locally, join in the excitement of God's

mission!

Sarah James

Faithspace Missioner

66
---
The ARC Café is continuing to provide a welcome and much appreciated venue for visitors

and members of the church alike. It is pleasing to note that it will soon be achieving its

5th Anniversary since opening in July 2012.

Its continued success is due in no small measure to the efforts of its two stalwarts – Derek (Del)

and Steve Priest (an appropriate name for someone working in church surrounds). It is due to

their efforts together with Chloe Diamond, now working with ARA that various initiatives have

been established and achieved, namely:-

A donation of £1000 received form the "Friend of the ARC café" scheme

Links being forged with another charity – BDR (Bristol Drugs Project) who run cookery

courses to find new chefs

St. Monicas's chefs worked voluntarily for a fund-raising event in April

Del has set uplinks with UWE students and is planning a Murder Mystery Night (one

Thursday – date TBA)

All in all, thanks to the staff, visitors, members of SMR and outside well-wishers, a very pleasing

summary of events in the ARC café. Long may it continue.

One final happy piece of news is that Steve was married on 30th March. Best wishes to him and

his bride, Lucy.

Jim Morgan

PCC ARC Café Co-ordinator

67
---
Regular collections of dry and tinned food and toiletries, donated by the congregation, have

continued throughout the year. These are delivered on alternate weeks to the Refresh

food-bank in Bedminster and to the Sisters of Charity in St Pauls. Both food-banks report

increased demand in 2016. They struggle to meet this demand, partly because routine donations

from some supermarkets have decreased during the year. The food-banks express their gratitude

for the continuing generous support of St Mary Redcliffe. We also provide extra gifts at Christmas

and Harvest for distribution by the Sisters of the Church.

Chris Legg

Volunteer

68
---
Itook on the challenge of co-ordinating the delivery of Christmas cards to the parish last year

after many years' sterling work by Martin Lee. Not living in the parish and not having grown

up in Bristol I found it to be quite a struggle to get my head round, so for 2016 I took on a

more 'technical' approach!

Using a parish boundary map and a handy online tool I obtained a list of postcodes within the

parish, and married it up with a detailed street map to produce a full plan of the area. Then I

obtained on behalf of the church a free licence to use the Royal Mail's database of all 27 million

registered addresses in the UK (this comes supplied as a single downloadable text file of some

1.2GB). I filtered this down to only the postcodes within the parish, and removed the majority of

commercial addresses. This left 4,404 addresses to which we need to deliver cards! I then grouped

the addresses into 55 deliverable chunks and produced wrapper sheets for the card bundles.

Thanks to the time generously given by a veritable army of deliverers, we were able to spread a

Christmas message of peace and goodwill (as well as advertising our seasonal services) to the vast

majority of addresses in the parish. A returnable sheet with each bundle also enabled deliverers to

feed back to me any difficulties or successes they had with accessing secure buildings, which will

ensure we maximise the reach of the cards in 2017. Thank you to everyone who helped with this

important piece of outreach work.

Adam King

Co-ordinator

Back to "normal"

Ilocked up "Faithspace" around nine on Saturday 3 rd February having bade farewell to our

eleven guests at the Bristol Churches Winter Night Shelter for the last time. I was on my way

home and returning to my normality, probably to return to my warm bed for a few hours

more sleep.

But, as I drove back to Westbury Park I realised that my personal understanding of "normal" had

changed irrevocably in the past four weeks. Here I was in my warm car while eleven men were

69
---
trudging through that same rain, waiting for the Central Library to open and hope that they would

be able to dry out a bit.

Seven churches across the City Centre had risen to the challenge of providing "night shelter"

accommodation but in truth, having been asked if I would "co-ordinate" Redcliffe's response to

the request to provide accommodation for one day a week, I approached the task with considerable

apprehension. I suspect that I was not alone in feeling that although it was the right thing to do I

was uncertain how I would react. Soon, however, the mechanics of the provision set in and anxiety

was diverted by the preparation of food and blowing up of mattresses. In the event, on that first

evening, we had but one guest although to have saved even one person from what proved to be a

particularly cold night was, we were reminded, quite sufficient.

Over the following weeks we built up to receive eleven guests and, in those weeks, came to learn

something of their stories. In many cases they were of misfortune that could have befallen any one

of us and we understood ourselves to be in the company of people who had skills and qualifications

which they found it impractical to exercise or who were prevented from doing so by their being

without accommodation. What was most appreciated was the opportunity for conversation,

friendship and companionship so that energetic card games and fiercely competitive Scrabble

occupied the hours before sleep and any sense that time might have to be "filled" was quickly

dispersed.

In discussion between the volunteers we all agreed that the insights we had received not so much

into our guests' but into our own responses to them had made the whole experience one that we

had greatly valued. We all appreciated the opportunity to meet and work with each other and

expressed our sadness that the scheme was not running for longer whilst understanding that its

initial success and willingness of people to volunteer their assistance was probably because if its

initial restricted scope.

So now our attention turns to what we can offer next year by building on the experience gained

over the four remarkable weeks. Each of us who has had the humbling comments of our guests'

gratitude left ringing in our ears will have nothing but determination to extend the time for which

hospitality is offered in 2018. The greatest joy would be the opportunity to accept the offer of one

guest to volunteer next year. Certainly, nothing will ever be normal again.

Keith Donoghue

Co-ordinator

70
---
Registered Charity No. 1134120

Parish Office

12 Colston Parade, Bristol BS1 6RA – 0117 231 0060 – parish.office@stmaryredcliffe.co.uk

Vicar

Revd Dan Tyndall

0117 231 0067

07769 296220

dan.tyndall@stmaryredcliffe.co.uk

Twitter: @DanTyndall

Assistant Clergy

Revd Canon John Rogan

Revd Canon Michael Vooght

Revd Canon Neville Boundy

Revd Peter Dill

Operations Manager

Peter Rignall

0117 231 0073

peter.rignall@stmaryredcliffe.co.uk

Community Development Worker

Hannah Currant

0117 231 0071

hannah.currant@stmaryredcliffe.co.uk

Education Officer

Sarah Yates

0117 231 0072

sarah.yates@stmaryredcliffe.co.uk

Office Associate

Pat Terry

0117 231 0063

pat.terry@stmaryredcliffe.co.uk

Administrative Assistant

Ros Houseago

ros.houseago@stmaryredcliffe.co.uk

Associate Vicar

Revd Kat Campion-Spall

0117 231 0070

kat.campion-spall@stmaryredcliffe.co.uk

Senior Churchwarden

Marion Durbur

0117 942 2196

marionatberkeley@talktalk.net

Junior Churchwarden

Richard James

0117 966 2291

richard@bristolbound.co.uk

Vergers

Matthew Buckmaster (head)

Carys Underdown

Andy Carruthers

0117 231 0061

verger@stmaryredcliffe.co.uk

Director of Music and Organist

Andrew Kirk

0117 231 0065

andrew.kirk@stmaryredcliffe.co.uk

Assistant Organists

Claire and Graham Alsop

Research Assistant

Rhys Williams

0117 231 0068

rhys.williams@stmaryredcliffe.co.uk

Cleaner

Sally Trivett

1