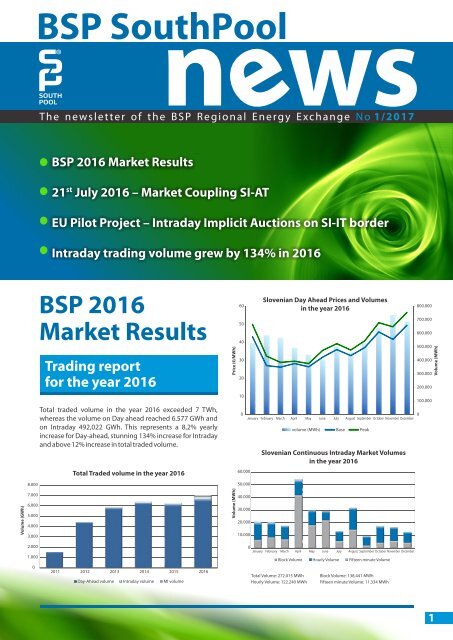 BSP SouthPool News March 2017
The newsletter of the BSP Regional Energy Exchange March 2017
The newsletter of the BSP Regional Energy Exchange March 2017
SHOW MORE
SHOW LESS
You also want an ePaper? Increase the reach of your titles
YUMPU automatically turns print PDFs into web optimized ePapers that Google loves.
BSP SouthPool

n w

T h e n e w s l e t t e r o f t h e B S P R e g i o n a l E n e r g y E xc h a n g e N o 1 / 2 0 1 7

BSP 2016 Market Results

st

21 July 2016 – Market Coupling SI-AT

EU Pilot Project – Intraday Implicit Auctions on SI-IT border

Intraday trading volume grew by 134% in 2016

8.000

BSP 2016

Market Results

Trading report

for the year 2016

Total traded volume in the year 2016 exceeded 7 TWh,

whereas the volume on Day ahead reached 6.577 GWh and

on Intraday 492,022 GWh. This represents a 8,2% yearly

increase for Day-ahead, stunning 134% increase for Intraday

and above 12% increase in total traded volume.

Total Traded volume in the year 2016

Price (€/MWh)

60

50

40

30

20

10

0

60.000

50.000

Slovenian Day Ahead Prices and Volumes

in the year 2016

January February March April May June July Avgust September October November December

volume (MWh) Base Peak

Slovenian Continuous Intraday Market Volumes

in the year 2016

800.000

700.000

600.000

500.000

400.000

300.000

200.000

100.000

0

Volume (MWh)

Volume (GWh)

7.000

6.000

5.000

4.000

3.000

Volume (MWh)

40.000

30.000

20.000

10.000

2.000

1.000

0

2011 2012 2013 2014 2015 2016

Day-Ahead volume Intraday volume MI volume

0

January February March April May June July Avgust September October November December

Block Volume Hourly Volume Fifteen minute Volume

Total Volume: 272.015 MWh Block Volume: 138.441 MWh

Hourly Volume: 122.240 MWh Fifteen minute Volume: 11.334 MWh

1
---
BSP

n

SouthPool

w

50.000

45.000

40.000

Slovenian Auction Intraday Market Volumes in the year 2016

Positive start in 2017

In the first two months of 2017 BSP noticed an

increased trading activity, especially on Intraday

trading segment with almost 160 GWh traded. In

comparison to the whole trading volume on BSP

for the same period, that reached 1,33 TWh,

Intraday segment currently represents 12% of

the trading volume.

Volume (MWh)

35.000

30.000

25.000

20.000

15.000

10.000

5.000

0

June July Avgust September October November December

MI2 Trading Volume MI5 Trading Volume

(Note: Intraday Implicit Auctions MI2 and MI6 were opened for trading in June 2016).

BSP in 2016

BSP now coupled on

Austrian & Italian borders

In 2016 we witnessed a finalization of Market Coupling on

our northern and western borders. This project has brought

some fresh liquidity and also price stability to the market.

Consequently the trading volume reached more then 7 TWh,

with record volumes on daily, weekly and monthly levels.

Bilateral project of Intraday

Market Coupling on the

Slovenian-Italian border

The project was successfully completed on the 21st of June

2016, when we started the project with the operational

implementation. As a pilot project on an European scale, this

project serves as a model project for the allocation of

Intraday cross-border transmission capacity at European

borders with positive results.

Cross Border IntraDay

Market Coupling - XBID

1. 1. 2011

21. 6. 2016

21. 7. 2016

XBID Timeline

Intraday trading

on BSP

Intraday MC

Day-ahead MC

In the segment of Intraday trading, after the model of Price

Coupling of Regions, a project of Cross-Border Intraday

Market Coupling (Cross Border Intraday - XBID) came to life.

The founding members of the XBID project (exchanges APX,

Belpex, EPEX, NPS and OMIE and 16 System Operators),

joined the rest of the European Designated Operators

joining electricity markets (NEMO) and System Operators in

February 2016.

Auction for the purchase of

energy to cover losses on the

transmission system in the

years 2017, 2018 and 2019

In June 2016, BSP in the cooperation with Deutsche Boerse,

managed to upgrade the Intraday continuous trading

application M7 to a new version. The upgrade has improved

access to the trading application for market participants and

its consistency with the versions that are in use in the

neighboring markets. These improvements also contribute

to growth in the volume of trading in this segment.

Compared with 2015, the trading volume on the Intraday

and Balancing market in 2016 increased by 134 percent.

In November 2016, System Operator ELES in cooperation

with BSP, organized an auction for the purchase of energy to

cover losses in the transmission network in 2017, 2018 and

2019. The auction was held between 8 am and 10 am on the

Euromarket trading application, which provides automated

trading system for all participants and providing market

participants functionalities that are also used for Day-ahead

trading. At the auction there were following marginal prices

achieved: for delivery in 2017 38,39 €/MWh, for delivery in

2018 36,73 €/MWh and for delivery in 2019 36,73 €/MWh.

32
---
BSP

n

SouthPool

w

Training courses

and workshops

In 2017 BSP SouthPool offers Training courses

a n d Wo r k s h o p s f o r t r a d e r s a n d o t h e r

professionals who would like to obtain new

knowledge. We have prepared, in the following

section, outlines of the topics presented at the

workshops, but we remain flexible to suit

applicants further inquiries. Some of the most

interesting workshops are:

New members

on BSP:

Members from 14 different

countries now trade on BSP.

EPS - Serbia

Exchange Trader Training Course –

focusing on Day-Ahead and Intraday Markets,

Trading Rules and Auction Trading.

Tailor-made Workshop for Companies

– this workshop is prepared for companies

outside of the electricity industry, which would

like to learn about trading, market structure,

electricity prices and the ways in which

electricity contracts are concluded.

JWM Energia - Poland

All information about Training Courses and

Workshop is available on our web page

www.bsp-southpool.com.

The newsletter is published

by BSP Regional Energy Exchange LLC.

Editor in Chief

Anže Predovnik

Completed in March 2017, No 1/2017

Address: BSP Regional Energy Exchange LLC,

Dunajska 156, SI-1000 Ljubljana, Slovenia

Telephone number: + 386 1 620 76 76

Fax number: + 386 1 620 76 77

Website: www.bsp-southpool.com

E-mail: info@bsp-southpool.com

Copyright © 2008 - 2017 – BSP d.o.o.

All rights reserved

BSP Regional Energy Exchange

Your energy choice.

3