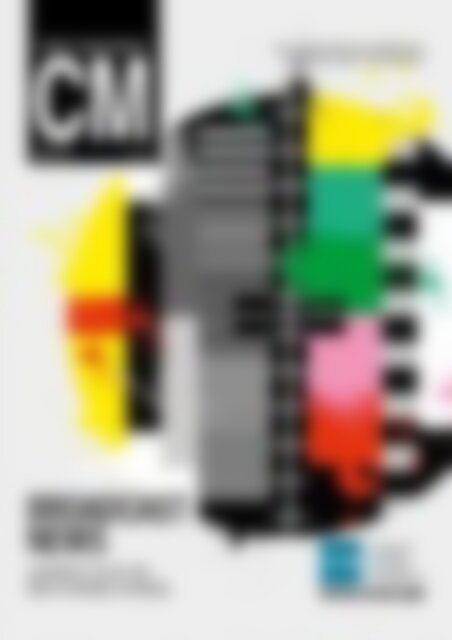 Credit Management magazine May2017
THE CICM MAGAZINE FOR CONSUMER AND COMMERCIAL CREDIT PROFESSIONALS
THE CICM MAGAZINE FOR CONSUMER AND COMMERCIAL CREDIT PROFESSIONALS
SHOW MORE
SHOW LESS
Create successful ePaper yourself
Turn your PDF publications into a flip-book with our unique Google optimized e-Paper software.
CREDIT MANAGEMENT

CM

MAY 2017 £10.00

THE CICM MAGAZINE FOR CONSUMER AND

COMMERCIAL CREDIT PROFESSIONALS

BROADCAST

NEWS

LENDERS FOCUS ON

NEW FUNDING CHANNEL
---
Wherever

you fit...

92%

of members are likely to

recommend CICM to

non-members

we're here to help at every

stage of your career.

Membership benefits:

• Customer risk assessment & take-on

• Credit terms & funding

• Relationship-building & sales growth

Qualifications

& training

• Sales transaction processing

• Invoicing & dispute resolution

• Collecting payment & cash allocation

Resources &

Industry updates

Networking events

• Debt recovery

• Litigation

• Insolvency

Credit Management

magazine

The Recognised Standard

Join online today at

www.cicm.com

or call 01780 722900
---
CONTENTS

MAY

2017

www.cicm.com

REGULARS

4 Editor's column

6 News

16 CICMQ news

24 Legal Matters - DWF

28 International Trade

48 HR Matters

50 Forthcoming Events

54 New members

59 Cr£ditWho? directory

63 Crossword

FEATURES

14 INSOLVENCY

David Kerr MCICM looks at the similarities between

Walt Disney and George Best.

10 COVER FEATURE

32 23 CONSUMER INTERVIEW CREDIT

XX

23 INTERVIEW

18 SINK OR SWIM

Triggering Article 50 could have many

consequences for businesses, but what are the

potential impacts for individuals. David Rankin

takes a closer look.

21 EXERCISING MINDS

Sean Feast speaks to Karen Penney from American

Express about her passion for small businesses

and planking.

27 TRADE TALK

The latest IOE Export Survey shows real signs

of optimism. Lesley Batchelor summarises the

findings in her regular column.

30 POOL PARTY

Stuart Hopewell dips into the Pre-pack Pool's

recently published annual report.

35 GAME CHANGER

The rules surrounding recovering debts of less

than £5,000 have significantly changed in Scotland.

Stephen Cowan examines the amendments.

CICM GOVERNANCE

40 FIT FOR PURPOSE

Les Clisby delves into the world of fitness and

finds a sector trying to walk a fine line between

collecting overdue membership and customer

service.

42 BEATING BLACK MONEY

With just two percent of the population paying

taxes in India, Richard Hurwitz of Tungsten

discusses how it is helping to reverse the trend.

46 EDUCATION

Discover what apprentices are saying about

their experience and training within the credit

profession.

18 OPINION

PRESIDENT

Stephen Baister FCICM

CHIEF EXECUTIVE

Philip King FCICM CdipAF MBA

EXECUTIVE BOARD

Laurie Beagle FCICM – Chair

Glen Bullivant FCICM

Sue Chapple FCICM

Larry Coltman FCICM

David Thornley FCICM(Grad) – Treasurer

Pete Whitmore FCICM – Vice Chair

ADVISORY COUNCIL

Laurie Beagle FCICM

Jason Braidwood FCICM(Grad)

Glen Bullivant FCICM

Sue Chapple FCICM

Larry Coltman FCICM

Kim Delaney MCICM

Victoria Herd FCICM(Grad)

Edward Judge FCICM

Christelle Madie MCICM(Grad)

Debbie Nolan FCICM

Bryony Pettifor FCICM(Grad)

Allan Poole MCICM

Phil Rice FCICM

Charlie Robertson FCICM

Chris Sanders FCICM

Richard Seadon FCICM

David Thornley FCICM(Grad)

Debra Weston FCICM

Pete Whitmore FCICM

The recognised standard

www.cicm.com May 2017 3
---
CREDIT MANAGEMENT

CM

THE CICM MAGAZINE FOR CONSUMER AND

COMMERCIAL CREDIT PROFESSIONALS

THE

EDITOR'S

COLUMN

PLUNGING INTO THE

PRE-PACK POOL

PRE-packs are constantly in the news.

Only very recently, a report in the

Financial Times was once again

touting stories of woe and accusing

firms of dumping almost £4 billion of pension

liabilities through Pre-pack arrangements.

In the trade press too, Jones the

Bootmaker was being accused of leaving its

creditors high and dry following a Pre-pack

sale by KPMG to the private equity firm,

Endless. Quite frankly, Pre-packs make great

bad news stories.

In certain sectors, such as print, there

have been calls for greater engagement.

Charles Jarrold, Chief Executive of the British

Printing Industries Federation (BPIF), was

one of a number of business leaders voicing

support for the Pool, but was concerned

that the number of referrals was too low.

He has a point, and in fairness to the

Directors of the Pre-pack Pool, they are

disappointed too. Just over one in four

(28 percent) eligible Pre-packs were

referred to the Pool in the first 14 months

of its existence. While this was a lower

proportion than was hoped for, it was still

'encouraging for a new, voluntary step in

a long-established insolvency procedure',

according to the authors of the Pool's 2016

Annual Review.

There are some mitigating statistics:

the total number of administrations has

fallen significantly in recent years, down

from 2,835 in 2010 to 1,689 for the period

between 1 November 2015 and 31 December

2016. The total number of Pre-packs has

especially plummeted, down from 769 to 371

for the corresponding periods/years. In short,

there is less to go for.

The Review states that the Pool is a key

part, but not the only part, of the post-Graham

reforms and 'widespread use of the Pool may

help to reassure creditors about the Pre-pack

process and help protect the procedure's place

in the insolvency framework.' It concludes:

'Hopefully, referrals to the Pool will increase in

2017 as stakeholders become more familiar

with the way it works and the reassurance it

provides.'

Creditors take note. The Pool is there to

assist. If it is not used it may be taken away.

CM MAGAZINE | CONTACT AND PUBLISHING DETAILS: ISSN 0265-2099

Publisher

Chartered Institute of Credit Management

The Water Mill

Station Road

South Luffenham

OAKHAM

LE15 8NB

Telephone: 01780 722910

Fax: 01780 721333

Email: editorial@cicm.com

Website: www.cicm.com

CMM: www.creditmanagement.org.uk

Managing Editor

Sean Feast

Deputy Editor

Alex Simmons

Art Editor

Andrew Morris

Telephone: 01780 722910

Email: andrew.morris@cicm.com

Editorial Team

Tom Berger, Imogen Hart and Iona Yadallee

Advertising

Anthony Cave

Telephone: 0203 603 7934

Email: anthony.cave@cabbell.co.uk

Printers

Warners (Midlands) Plc

2017 subscriptions

UK: £90 per annum

International: £115 per annum

Single copies: £10.00

View our digital version online at www.cicm.com Log on to the Members'

area, and click on the tab labelled 'Credit Management magazine'

Credit Management is distributed to the entire UK and international CICM

membership, as well as additional subscribers

Reproduction in whole or part is forbidden without specific permission. Opinions expressed in this

magazine do not, unless stated, reflect those of the Chartered Institute of Credit Management. The Editor

reserves the right to abbreviate letters if necessary. The Institute is registered as a charity. The mark 'Credit

Management' is a registered trade mark of the Chartered Institute of Credit Management.

4

May 2017 www.cicm.com

The recognised standard
---
0101100

1101010
---
CMNEWS

A

round-up

of news stories

from the world

of consumer and

commercial

credit.

By Sean Feast and Alex Simmons

KING CHALLENGES LABOUR

ON LATE PAYMENT PROPOSALS

Philip King

PHILIP King FCICM has challenged

proposals from the Leader of the

Opposition to fine firms who persistently

pay their suppliers beyond terms.

Speaking on BBC Radio 4's The World

at One last month, Philip said that what was

needed was greater recognition of the Prompt

Payment Code, and to encourage more

challenges by those who feel they have been

poorly treated.

"For businesses to hold onto cash that

belongs to somebody else is fundamentally

wrong," he told presenter Martha Kearney.

"It stops businesses growing and it stifles the

economy, which has to be a bad thing for all

of us. So we need to fix this, and the Prompt

Payment Code is part of that drive to change

culture."

Jeremy Corbyn claimed at an FSB meeting

that big businesses were holding back some

£26 billion each year from small suppliers, by

paying their invoices late. He named certain

firms including BT, Vodafone and Marks &

Spencer as being among the worst offenders.

"The figures that Jeremy Corbyn spoke

about don't stack up with the figures I get

when I talk to businesses," Philip added.

All three firms similarly denied any

wrongdoing, M&S even going so far as to

say that it paid over 99 percent of its supplier

invoices on time.

In calling late payment a 'national scandal',

Mr Corbyn said that Labour would require

companies bidding for public sector contracts

to pay suppliers within 30 days if it wins the

next election.

But Philip King pointed out that such terms

are already a condition of large numbers of

public sector contracts. "The current Public

Sector Procurement Regulations that came

into place in 2015 do require public contracts

to be on 30 days and for contractors to ensure

the same 30 day terms apply down the supply

chain," he said.

The Shadow Business Minister, Bill

Esterson, appeared confused when he was

challenged on his assertion that the UK

should follow the Australian lead by using

arbitration. He appeared unaware that the

Australians were actively looking at the UK's

Prompt Payment Code as best practice – a

conversation in which the CICM is playing an

active part alongside its counterparts in the

Australian Institute of Credit Management.

The MP did, however, admit that there

were good examples of payment practice

as well as bad: "I want to publicise the good

practice because I think you can then get

consumers to vote with their feet and support

those businesses that do the right thing."

In support of the argument, Labour

researchers took the data from a report by

Experian, but the credit reference agency said

it should not be used as an 'overall barometer

of how a company pays suppliers'.

"For businesses to hold onto

cash that belongs to somebody

else is fundamentally wrong. It

stops businesses growing and

it stifles the economy, which

has to be a bad thing for all of

us. So we need to fix this, and

the Prompt Payment Code is

part of that drive to change

culture."

>GONE IN A FLASH

THE Cheque and Credit Clearing Company (C&CCC)

has launched an industry-wide image-based cheque

clearing system that it claims will speed up cheque

processing significantly for customers across the UK.

The new system will go live with some banks and

building societies from 30 October 2017.

By the end of 2018 it is anticipated that all of the UK's

banks and building societies will clear all cheques via

the image-based system. chequeandcredit.co.uk

>FACE-TO-FACE

EQUIFAX, the consumer and business insights expert, has launched a bespoke

Document Verifier solution to provide faster identity authentication for financial

product applications using facial recognition. The firm says that the solution can

verify whether an applicant is genuine in a matter of seconds by comparing a live

image of the applicant with a photograph of their passport or driving licence, both

taken on a smartphone or webcam-enabled device. The automated technology can

recognise potential tampering or anomalies on official documents from over 200

countries. It also employs enhanced 'liveness' detection that detects even the slightest

movement when the applicant is taking a photo of their face, ensuring fraudsters are

unable to create a match using a static image of an applicant. equifax.co.uk

6 May 2017 www.cicm.com

The recognised standard
---
CICM WINS APPROVAL IN

NEW APPRENTICESHIP DRIVE

Dr Debbie Tuckwood

THE CICM has been approved by the Skills

Funding Agency as an Apprenticeship

Assessment Organisation (AAO) for

the Industry's new Level 3 Trailblazer

Apprenticeships.

The world's largest recognised body for

credit professionals already acts as an AAO

for the industry's Level 2 Apprenticeships,

and the announcement is an extension of the

CICM's existing approval/status. As such, it

will offer the End Point Assessment (EPA) to

FCA PROPOSES NEW

RULES FOR CREDIT CARDS

THE FCA is proposing new rules to help

customers who are in persistent credit card

debt, following a study of the UK credit card

market that found significant concerns about

the scale, extent and nature of the problem of

credit card debt.

Credit card customers are considered to

be in persistent debt if they have paid more in

interest and charges than they have repaid of

their borrowing, over an 18-month period.

The FCA estimates that around 3.3 million

people are in persistent debt, with over half

(1.8 million) for two consecutive periods of 18

months. The proposals require firms to take

steps to help customers repay their balances

more quickly and to offer further assistance to

those who can't.

Andrew Bailey, FCA Chief Executive, says

the issue needs to be tackled: "Persistent debt

can be very expensive, costing customers on

average around £2.50 for every £1 repaid, and

it can obscure underlying financial problems."

Firms will be required to prompt debtors to

make faster repayments if they can afford to

do so. If the debt continues, firms must take

steps, such as proposing a repayment plan,

to help customers to repay their outstanding

balances more quickly. Customers who do not

respond, or who confirm that they can afford to

repay faster but decline to do so, would have

the higher-level apprenticeships.

Dr Debbie Tuckwood, Head of Education

and Professional Development at the CICM,

says it demonstrates the prominence and

significance the CICM places on apprentices:

"These apprenticeships are perfect for training

new and young talent as well as up-skilling

current teams to provide a clear route of

development and career progression for all.

"Funding is available regardless of age

and high-quality training is led by industry

experts," she says.

Those that pass their Level 3 (or equivalent)

qualifications through the CICM will also be

awarded with ACICM, Associate Membership

of the Chartered Institute, and will have

the opportunity to gain its professional

qualifications to further build technical

knowledge.

The CICM has been integral to the

development of the new style credit

management apprenticeships both for credit

controllers/collectors and advanced credit

controllers/debt collection specialists. It

has worked closely with the Credit Services

Association (CSA) to ensure new apprentices

develop the technical knowledge, skills and

behaviours required for the demanding roles.

Successful CSA Level 3 apprentices are also

eligible for CICM Associate member status.

their ability to use the card suspended.

The FCA also proposes that where a

customer cannot afford any of the options

proposed, firms must take further steps

to assist them to repay the balance in a

reasonable period, for example by reducing,

waiving or cancelling any interest or charges.

It is expected that firms would normally

suspend use of the customer's card during

this period.

By 2030, the FCA expects savings to

customers would reach a total of between £3

billion and £13 billion, depending on how firms

and customers respond. The FCA expects

that the savings would peak in the first few

years of the proposed rules being in place, at

between £310 million and £1.3 billion per year,

before reducing as fewer customers get into

debt over time.

The FCA is also proposing to require

earlier intervention by firms in response to

signs that customers are in financial difficulty,

building on an existing rule that requires

firms to monitor a customer's repayment

record for signs of actual or potential financial

difficulties. Under these new proposals, it is

expected that firms would do more to use the

extensive amount of data available to them

to identify customers in difficulty and take

appropriate action. fca.org.uk

>NEWS IN BRIEF

BIBBY RESTRUCTURES

STEVE Box, International Chief Executive, is

to leave Bibby Financial Services as it restructures

its global executive team. As a result

of the re-structure, the international division

of BFS will cease to operate, and Edward

Winterton will become Chief Executive,

UK, moving from his current position of UK

Commercial Director. Ian Watson will become

Chief Executive, North America, while Richard

Carter will move into the newly created role of

Chief Executive, Europe and Asia.

bibbyfinancialservices.com

ACCESS ALL AREAS

THE Access Group has completed the

acquisition of Safe Computing in a deal that

its CEO, Chris Bayne, calls a 'game changer'.

Safe Computing becomes Access' biggest

acquisition to date, with revenues of £18 million

and around 500 customers. Safe Computing

adds to Access' existing recruitment sector

capabilities and will be an extension of

its Tempest 'Pay and Bill' solution. Safe

Computing's other products in Human Capital

Management and Financial Management

Systems complement the existing Access

portfolio. theaccessgroup.com

SENIOR PROMOTION

FREETHS has promoted Graeme Danby to

Director. He joined Freeths in 2013 to head up

and develop the National Creditor Services

team, and has significant experience in volume

recovery, advising creditors in relation to their

position when affected by insolvency and

providing advice to creditors on implementing

effective credit control strategies.

freeths.co.uk

CYBER INSECURITY

THE uptake of cyber insurance by UK SMEs

has grown from 2.1 percent in 2014 to 13.7

percent in 2016, although this is still a relatively

low figure compared to other commercial

products, according to research and consulting

firm GlobalData. The company's latest report

suggests that in a world where UK businesses

are more dependent on the digital space, and

crime is moving online, there is a greater need

for cyber insurance.

globaldata.com

ANTI-SOCIAL SHARING

THE FCA has fined former investment banker,

Christopher Niehaus, £37,198 for sharing

client confidential information over WhatsApp.

The FCA found that Niehaus failed to act with

due skill, care and diligence while he was

Managing Director in the Investment Banking

division at Jefferies International Limited.

fca.org.uk

NEW ICAEW BRAND

ICAEW has launched a new brand to ensure

it remains modern and relevant to all of its

audiences. The re-brand aims to be strong

and distinctive to differentiate ICAEW from its

competitors in a global marketplace.

icaew.com

The recognised standard

www.cicm.com May 2017 7
---
News in Numbers – provided by the Money Charity

THE.news . IN

NUMBERS

£4.9

BILLION

RISE IN TOTAL NET LENDING TO

INDIVIDUALS BY UK BANKS AND

BUILDING SOCIETIES IN FEBRUARY

£56,460

average

TOTAL DEBT PER HOUSEHOLD, INCLUDING

MORTGAGES, IN FEBRUARY

248

PEOPLE

ARE DECLARED INSOLVENT OR

BANKRUPT EVERY DAY

£744

PER

SECOND

GROWTH IN GOVERNMENT

DEBT IN FEBRUARY 2017

2.3%

inflation

RATE IN FEBRUARY

33 YEARS

FOR SOMEONE ON AN AVERAGE

SALARY, SAVING THE AVERAGE

AMOUNT, TO SAVE A NORMAL

FIRST-TIME BUYER DEPOSIT

1,282

GROWTH

IN THE UK'S POPULATION

EVERY DAY

1,272

people

A DAY REPORTED BEING MADE

REDUNDANT BETWEEN NOVEMBER

AND JANUARY

FCA APPOINTMENTS

THE FCA has appointed Nick Stace as a Non-Executive

Director. The appointment, made by HM Treasury, is for

an initial three-year term. Nick Stace is currently Chief

Executive of the Royal College of Veterinary Surgeons.

He has held executive leadership positions in consumer

organisations as Deputy CEO of Which? (UK) and CEO

of Choice (Australia), and has served as Director of

European consumer affairs organisation, BEUC, and

Director of Consumers' International.

Also at the FCA, Chairman, John Griffith-Jones, has

appointed Craig Errington as the new Chair for the

FCA's independent Smaller Business Practitioner

Panel. The Panel is an independent statutory body that

represents the interests of practitioners of firms of small

or medium size within their sector across the range of

FCA-regulated activities. Panel members are recruited

to represent both their own sector and the industry as a

whole, rather than individual firms fca.org.uk

ALTERNATIVE VOICE

ALTERNATIVE finance firms Invoice Cycle, Merchant

Money and Reward Finance Group, have joined the

Association of Alternative Business Finance (AABF). The

trio join founder members Capify UK, Catalyst Finance,

Credit4, Fleximize, Liberis, The Just Loans Group and

YesGrowth. The Association is looking to give the

alternative finance sector a voice and maintain the best

standards of practice.

invoicecycle.com / merchantmoney.co.uk /

rewardfinancegroup.com

OLA MELANIA

PHILLIPS & Cohen Associates has opened a new

operation in Spain. Headquartered in Madrid, the

business will be managed by Melania Sebastian Marino.

Melania has over 12 years' experience leading major

companies in the Spanish collection and debt purchase

industry. She also served as Chairperson of the Spanish

credit industry trade association, Angeco, where she

was instrumental in driving forward the code of conduct,

aimed at promoting greater self-regulation within the

industry.

phillips-cohen.co.uk

PERSONAL PESSIMISTS

THE number of British adults concerned about their

future financial health has been increasing since June

2016, according to a new survey of over 2,000 British

adults by R3 and ComRes. Almost one in five (19

percent) adults think their personal financial situation

will worsen over the next six months, up from 16 percent

in September 2016 and 14 percent in June 2016. Men

and women worry about their future personal finance

situation at similar levels (20 percent and 18 percent

respectively).

r3.org.uk / comresglobal.com

CICM IN BRIEF

THIS month's briefing gives

details on the Government's new

Apprenticeship Funding Scheme and

the Apprenticeship Levy, notice of the

CICM's AGM on 8 June 2017, and a

call for members to join the CICM UK

Credit Managers' Index panel.

8 May 2017 www.cicm.com

The recognised standard
---
NEWS

CREDIT WEEK PROMOTES

IMPORTANCE OF GOOD CREDIT MANAGEMENT

PHILIP King, FCICM Chief Executive

of the CICM, has praised the success

of the first Credit Week in helping to

promote the importance of best practice

credit management and credit professionals.

Organised by Credit Strategy and officially

supported by the CICM, the Week included a

series of conferences, meetings, debates and

industry networking events.

The event started with a Parliamentary

reception hosted by Julian Knight MP and

included a welcome speech by the Minister

for Small Business Margot James MP, who

explained the 'real material effect' that the

Prompt Payment Code (PPC) is having:

"Signatories to the PPC pledge to keep to

the highest standards, a commitment which is

integral to driving the change in UK payment

culture that we want to see," she said.

"We are a nation of small businesses –

there are 5.5 million at the latest count, and

you in the credit industry have all played a

big part in helping many of them to grow and

thrive. That's the strength of good credit policy

and of a reliable credit industry."

Philip, who Chaired the Trade Credit and

Credit Risk streams at the Credit Summit,

hailed the Week as a great success: "In the

credit industry, we are passionate about

supporting the growth of businesses and the

economy through healthier cashflows.

"The week has helped to emphasise that

the principles behind supplying credit, whether

to businesses or consumers, are essentially

no different. Professional credit management,

acting responsibly, and treating customers

fairly are fundamental to achieving better

outcomes for all."

SME MARKET GROWING

RESEARCH from Hampshire Trust Bank

conducted alongside the Centre for

Economics and Business Research (CEBR)

suggests that the number of SMEs is growing

and that the biggest rise comes in the

technical and professional sector.

There are almost 40 percent more legal

services SMEs, architects and vets than there

were in 2010, while other strong growth areas

include information and communication (33

percent), business services (25 percent) and

transport and distribution (22 percent). The

slowest rise in SMEs were those entering

the retail and construction sectors, but these

industries have higher numbers of SMEs

overall.

Elsewhere, almost a third of small

businesses that commit to technology show

significantly improved growth compared to

those who don't. The claim comes from a

whitepaper entitled Tech savvy businesses do

it better, commissioned by Sage.

The research shows more than half

(56 percent) of small businesses have yet

to adopt digital technologies, preferring

to maintain their business with traditional

methods. However, where businesses did

adopt technology the benefits were clear;

32 percent of SMEs focused on digitally

innovating their business reported growth of

more than ten percent in the last year.

htb.co.uk

The recognised standard www.cicm.com May 2017

9
---
LIGHTS,

CAMERA,

ACTION?

Sean Feast reports on how the Broadcast sector is being

targeted by both traditional and alternative lenders.

BARCLAYS announced last month

that it has launched a £100 million

fund to provide UK TV production

companies improved access to

finance and enhance their ability to compete

internationally.

The fund, the bank claims, is the first of

its kind from a major UK bank and has been

established with new, innovative financing

products that are designed to meet the

evolving needs of the TV sector.

The rise in popularity of streaming video

on demand (SVoD) services led the Barclays

Media team to consider how it could

improve the types of funding provided to

better support its TV clients. Conventional

TV production loans are repaid as the

content is delivered, with the broadcaster

paying the production company and funder

simultaneously. With SVoD, revenues are often

spread over a much longer term, which can

present funding challenges.

As part of the new £100 million fund,

Barclays has developed Barclays SVoD

Financing to more closely match the funding

requirements of companies working with

SVoD distributors. The product allows these

companies to borrow money over a longer

period, enabling them to use the funds to

develop more ideas and programmes, which

in turn supports more sustained employment

and helps them to grow more quickly. It

also means that broadcasters and SVoD

distributors can manage their cashflow more

efficiently.

CREATIVE INDUSTRIES

Lorraine Ruckstuhl, Head of Media at Barclays

Corporate Banking, is particularly excited by

the launch: "The creative industries in the UK

are world famous due to the range and quality

of content they produce. The TV industry

specifically is in a really exciting place and

is evolving at pace, with more than 250,000

people in the UK employed in the sector.

"We've been supporting TV production

with a dedicated media team for over 30

years, and know that to meet the needs of our

clients we have to adapt with them and with

the viewing habits of the public. That's why

we created this fund and developed Barclays

SVoD Financing, to help UK SMEs continue

to compete both in the UK and internationally,

support increased employment, and create

even more great programmes."

One of the first companies to benefit from

the new fund is Roughcut Television, the UK's

leading independent comedy production

company responsible for bringing shows

such as Trollied, Cuckoo and People Just do

Nothing to our screens.

The new funding through Barclays SVoD

Financing involved the bank purchasing

Roughcut's Netflix receivable, giving the

company the upfront cash benefit of the

multi-year contract for the streaming of their

BAFTA-nominated comedy Cuckoo.

Roughcut's Commercial Director, Tim

Sealey, says Netflix is notorious for paying

over a long period: "Our arrangement with

Barclays enabled us to get access to the cash

much earlier which meant that we could put it

to work by investing in further development.

Another side benefit is that it improves our

relationship with the writers and artists as they

10 May 2017 www.cicm.com

The recognised standard
---
NEWS EXTRA

Dominic Saville, Group CEO

"Whether you're a large Hollywood

studio or a smaller niche production

company like ourselves, acquiring

funding can be difficult"

get their royalties quicker too."

Barclays, however, is by no means the first

to spy an opportunity in Broadcast. Some

have been supporting the sector for several

years already.

When successful documentary maker 3DD

Productions needed funds to make more

programmes more quickly, it decided to look

beyond the 'traditional' high street lenders.

PEER-TO-PEER

It opted instead for the 'alternative' market,

and Peer-to-peer (P2P) funding specialists

F&P. Now, three years on, 3DD has halved film

editing time by bringing the process in-house,

increased gross profit margins by ten percent

(from 38 percent to 48 percent), and almost

doubled its annual programme output to

more than 70 hours. And its success

continues.

The initial challenge was to identify an

asset against which funds could be secured.

F&P recognised there was significant value

in 3DD's back catalogue, which it owned

outright. This proved ample security for

lenders, and the first round of funding was

over-subscribed.

Since then, 3DD has secured a further

11 rounds of funding, helping it to introduce

greater capacity and often running as many as

three series' production in parallel. It is one of

many success stories within the F&P portfolio

of more than 250 businesses who have

secured £100 million in funding to help them

prosper and grow.

Camden-based 3DD Productions produces

historical and biographical non-fiction

programmes, including Murder Maps which

is currently airing on Yesterday and Netflix.

For many years, it relied on a rolling credit

facility to finance its programmes, but with the

credit squeeze post-2008, Dominic Saville,

Group CEO, was obliged to look elsewhere:

"Whether you're a large Hollywood studio

or a smaller niche production company like

ourselves, acquiring funding can be difficult,"

he explains.

"Our customers (ie: the channels that

buy our programmes) often have extended

payment terms, and more than three quarters

are overseas. So although these are billion

dollar companies, our contracts require

extensive due diligence and our bank was

not comfortable with the risk."

Dominic turned to F&P for support:

"Not only has F&P helped in replacing

our former banking facility, it has also

become a strategic partner for growth. By

independently assessing the value of our

archive, F&P has secured several rounds

of funding through their preferred P2P

platforms, and continue to provide support

and advice along the way."

Despite the general perception that P2P

is more expensive than other 'traditional'

routes including private equity, Dominic says

that he maintains control of the business and

its future: "F&P has a superb understanding

of our business and our customers," he

concludes.

"It is a relatively straight forward process,

and we have built up a good relationship

based on trust. We've established a welloiled

creative machine made possible by

F&P's sponsorship."

The recognised standard

www.cicm.com May 2017 11
---
NEWS

CONSUMERS AT RISK

OF SHARING INFORMATION ONLINE

FEWER than one in three people (31

percent) check the terms and conditions

when sharing their personal information

online in return for a service, according

to a new poll for Payments UK. This passive

approach lags far behind how customers

choose to manage their data privacy on

social media – half (51 percent) of people say

they always check the privacy settings when

sharing information on their social media

accounts.

The findings highlight the need to build

customer understanding of how data is used

at a time when regulatory and legislative

changes are set to transform their options

for allowing their personal information to be

shared. A range of new payment services are

being developed to take advantage of this

data revolution that will deliver real benefits

for customers, ranging from smarter money

management products to faster cheque

clearing.

The research coincides with the

publication of a new report by Payments UK

– Changing Payments Landscape – which

focuses on payments data and looks at key

developments in data usage and storage, and

the implications for the payment services of

the future.

Maurice Cleaves, Chief Executive of

Payments UK, says new ways of storing,

sharing and manipulating data have the

potential to transform payment services in

the UK: "It is vital that developments in this

area put the customer first – the risks around

holding and sharing data do not stand still,

so customer confidence and trust will be

key. There is also work to be done to ensure

changes don't exclude customers who are

unwilling or unable to share their data from

these new products and services."

The survey also found that the way data is

used is changing – almost seven out of ten (68

percent) people surveyed agree that 'providing

personal information is an increasing part

of modern life', while a similar number (60

percent) feel 'there is no alternative than to

provide personal information for services'.

However, this is matched by concern

about how data is used – eight out of ten

(83 percent) expressed concern that some

companies share their personal data with

other companies.

"The next couple of years will fundamentally

alter the way that data is used in financial

transactions. Decisions will be made about

how payment account data is accessed and

shared securely, the impact of the new data

Changing Payments Landscape

How 2017 will change the way we pay for good

A Payments UK Report

January 2017

protection laws, and the delivery of open data.

New financial services will be developed and

new financial service providers will emerge,"

Maurice concludes.

paymentsuk.org.uk

>NEWS IN BRIEF

FINANCIAL FILLING

METRO Bank has provided a dental practice,

Haven Green Clinic, with over £3 million

funding for the construction of a new

surgery in Ealing, London. The new clinic

includes ten patient treatment rooms, stateof-the-art

digital equipment and a team

of experienced and highly trained dental

professionals. metrobankonline.co.uk

PSR PUBLISHES

ANNUAL PLAN

THE Payment Systems Regulator (PSR) has

published its Annual Plan and Budget for

2017/18 outlining its work programme for

the year ahead. The plan includes a trio of

new exploratory projects: the implications

for consumers of a changing payments

sector; the increasing use of payments data;

and changing competitive dynamics. The

PSR says that its budget for 2017/18 will be

£12 million. psr.org.uk

BRITISH BUSINESS BANK MERGER

THE British Business Bank has merged with

Government-backed lender the Start Up

Loans Company. Both organisations will now

collaborate to support microbusinesses and

deliver the Government's manifesto pledge to

provide 75,000 start-up loans by 2020.

The merger follows news that the Start Up

Loans Company had surpassed £300 million

of lending to businesses since launching in

2012.

Keith Morgan, CEO of British Business

Bank, says that the merger is a natural next

step: "The bank has been working closely

with the Start Up Loans Company for several

years and this merger will bring the two

organisations – which already have a shared

sense of purpose and complementary skills

– closer together. It means we can deliver a

better service for smaller businesses."

The British Business Bank has provided

advice to the Government on the Start Up

Loans programme's funding, objectives

and performance – as well as overseeing

the programme on its behalf – since 2014.

The merger will allow both organisations to

share their expertise, improve clarity for the

small business community and combine their

approaches for providing support.

A transition period will now be in place

while operations are brought together, with

completion expected by 1 July 2017. Both

organisations will stay in their current offices

and retain all existing branding with no

changes to frontline services.

Tim Sawyer, CEO of Start Up Loans

Company, added: "This merger recognises

how successful our partnership with the bank

has been and helps us improve our support

for businesses who struggle to access other

forms of finance. Providing more than 46,400

loans to businesses across the UK is a

testament to the drive and ambition of people

throughout the country."

british-business-bank.co.uk / startuploans.

co.uk

"The bank has been

working closely with the Start Up

Loans Company for several years

and this merger will bring the two

organisations closer together."

12 May 2017 www.cicm.com

The recognised standard
---
Notall credit

collection

systems

aresmart!

See into the future with Alloc8 collect.

Alloc8 Collect credit management software allows your collections team to focus on

creating value and chasing the customers that need chasing, not spending time gathering

data from spreadsheets, sales ledgers and calling customers that do not need calling. Alloc8

Collect changes the way you think about technology within the collection environment.

• Ajoined up Order to cash solution allows areal time view from cash receipt

(or remittance receipt)

• Automated segmentation to makesure you only need to takeaction against

the right customer at the right time

• Huge efficiencies (one customer doubled their collections by making only 50% of

the calls they used to make!)

• Fast ROI and transparent pricing in asimple to install cloud delivery

Forecast

Cash Allocation

World class cash

allocation solution

with unrivalled match

rates andfastROI.

Cash Forecasting

Intelligent Payment

Behaviour

Driven Cashflow

Forecasting.

CreditManagement

Alloc8 Collect's

predictiveanalytics

enable fastand effective

decision making to

increase value call out.

Cash Reconciliation

Automated self-learning

bank reconciliation

softwarewith

unrivalled benefits.

E-Commerce

Reconciliation

Works in anycountry,

using any payment

typeand currency.

Bookademonstration...

01527872123

enquiries@rimilia.com • www.rimilia.com

Follow us:
---
INSOLVENCY

RUIN – CELEBRITY

BANKRUPTS

David Kerr MCICM ponders what Walt Disney and George Best have in common.

YES, you guessed it – they

both suffered the ignominy

of personal bankruptcy. The

process may no longer carry

the stigma that it once had, but when the

famous go bust there's no escaping the

publicity.

Where did it all go wrong? – as one

waiter is reputed to have said to Best,

having interrupted him in a hotel room

with the Miss World of the day and his

£50,000 cash winnings from one of

his better gambling forays. Best was

renowned as much for living the high

life as he was for his fantastic footballing

skills, but the Inland Revenue (as it was

then) caught up with him and presented

him with a tax bill of £18,000 that he

couldn't afford to pay in full, having

dissipated most of his earnings and

winnings; as he put it, in answering a

question on his downfall, 'I spent money

on wine, women and gambling. The rest

I squandered.' Of course, footballers in

Best's day didn't earn the money that

his equivalents do now; in the modern

Premier League a George Best would

probably command a salary of c£200,000

per week!

Best is the latest of a long line of celeb

bankrupts whose stories are told by

Patrick Hartigan in his newly published

book The Road to Ruin – the latest, that

is, of those selected by the author on his

criteria which he told me included by

necessity (for his own protection and

financial well-being) the passing of the

personalities; all but Lord Lucan are

certainly dead, and therefore unlikely

to take offence at the poetic licence

and fun poked at them. There are some

notable absences even amongst the

deceased – Michael Jackson and Marvin

Gaye for example (I heard it through the

grapevine)! More recent (and alive) wellknown

bankrupts include Kerry Katona

(I'm a Celebrity twice).

Pat Hartigan's stories are based partly

on public records but also interviews

with leading trustees of the day, and that

gives him a unique insight into some of

the cases, and in particular the assettracing

and other peculiarities of the

later cases. That, and his own knowledge

as a long-time practitioner in his own

right, and one-time president of the

Insolvency Practitioners Association.

Good examples are Pat's tales of:

• The trustee's claim to half the proceeds

of Best's testimonial match in Belfast in

1988 to pay his creditors

• Collection of royalties from Lionel

Bart's work (such as the Bond title song

From Russia With Love)

• A possession order against the

mansion of Dorothy Squires (singer

and one-time wife of Roger Moore) and

subsequent legal battles and RSPCA

involvement in dealing with some

neglected horses

'I spent money on wine, women and gambling.

The rest I squandered.' Of course, footballers in Best's day

didn't earn the money that his equivalents do now; in the

modern Premier League a George Best would probably

command a salary of c£200,000 per week!

• John Poulson's public examination

that led to the resignation of the Home

Secretary

•'Model bankrupt' Max Wall who paid

his creditors 100p in the £.

The stories quoted include those of

Walt Disney and Oscar Wilde, and go

right back to Rembrandt; there are 22

in total, spanning nearly 400 years. It

explains how some found themselves

in a financial mess and offers a few

cautionary tales, and Pat takes the time

to educate the reader along the way

with reminders about the definition

of insolvency, main purposes of the

bankruptcy process – debt forgiveness

and asset collection for creditors – and

the trustees role.

For the last 30 years, trustees have

needed to have a licence to do this

work, and the Association Pat headed

up is now one of the leading licensing

bodies and regulators. Last year it was

one of the first to license some personal

insolvency practitioners who specialise

in bankruptcies and Individual Voluntary

Arrangements (IVAs) under a new

partial licensing regime. I wonder how

many celebs featured in the book would

have taken advantage of an IVA process,

had it been available at the time of their

bankruptcies? None – as they all went

bankrupt before 1986 when IVAs found

their way onto the statute book.

The Road to Ruin by Patrick Hartigan

is a 2017 publication by Austin Macauley

in hardback, paperback and e-book

available from Amazon.

David Kerr MCICM is the Chief Executive of

the Insolvency Practitioners Association (IPA).

14 May 2017 www.cicm.com

The recognised standard
---
THE B2B DEBT RECOVERY SPECIALISTS

The complete commercial

debt recovery service.

From outsourced 'Early Arrears Collections'

through to expert Litigation, all handled

in-house by amulti-award winning law firm.

• 24hour turnaround for bulk LBA distribution

• Dedicated client teams with legally qualified case

handlers -even for 'pre-legal' chasing

• Online case management system with real-time

reporting on all debt cases

Download your free

Credit Management &

Debt Recovery Toolkits

Our set of 5toolkits, produced by our team

of debt recovery legal experts, are clearly

written and easy to understand to assist you

with compliance in your business.

www.fbdebt.co.uk/toolkits

• Highest customer service standards with aNet

Promoter Score of 100%

• Flexible charging structures to suit

• Over 180 lawyers and support staff

For more information, visit our dedicated

debt recovery website: www.fbdebt.co.uk

Contact us for anexploratory discussion or

to benchmark our results against your

in-house team or your current provider.

0800 044 8120

CCR

credit

excellence

awards2015

in association with

WINNER
---
A new credit management programme

at Ingram Micro, which distributes and

helps businesses to maximise the value of

technology, has helped in taking its ten-strong

credit team through CICMQ re-accreditation

for the first time.

The value of collections that the team is

responsible for is steadily increasing in line

with the wider business' sales, despite the

team size remaining the same. Rachel Hewitt,

Credit Manager, says its monthly target is now

rarely lower than £100 million: "Our ethos is

one of continual improvement and CICMQ

TEAM SEES 'HUGE' IMPROVEMENT

ensures we rank well alongside our peers

and gives us external and expert validation

of our work," she explains. "To facilitate this,

we have introduced a project to improve

working capital and that has resulted in a

DSO improvement of six days."

In achieving this the team has

implemented a new dunning letter cycle

focused on aged debt, re-classified its

customers, has an individual on the sales

floor every day, and has a member that

specialises in training and works with the

sales team to deliver credit training to new

and existing employees.

On top of this, and one of Rachel's first

acts as Credit Manager, was setting a query

team: "This was to ensure renewed focus on

dispute resolution and has enabled our query

volume to remain at an excellent level."

These efforts were certainly reflected in the

Assessor's report, which explains the 'huge'

improvements the team has made since its

initial accreditation in 2014: 'The team has

come together and, along with the great

results it is producing, knows how to have fun

in the process.'

CICMQ SUCCESS ONCE AGAIN FOR SYNSEAL

SYNSEAL Group has had a busy few years

expanding its product range to encompass

well-known brands in the fenestration

industry including Masterdor, Sheerframe and

Village Glass – the latter following its latest

acquisition at the end of 2016.

Supplier of window, door and

conservatory systems, Synseal Group is

focused on investing across its operations

including in logistics improvements, staff

development and training.

Its 13 credit professionals have achieved

three-time CICMQ accreditation, recognising

a commitment to quality, continuous

improvement and best practice in credit

control.

"CICMQ accreditation is a well-respected

asset and we are very proud to be the only

company in the fenestration industry to hold

this accreditation, which is a great advantage

for our customers," explains David Hughes,

Senior Credit Manager.

The Assessor's report described a

determined team that has overcome

challenges and 'continues to be recognised

as a best practice department.' One

example highlighted in the report was the

department's introduction of a new matrix

– the Exposure, Risk and Reward (ERR)

process, which evaluates the profitability of

high-risk customers.

"The assessment process always

provides us with valuable feedback on

our status and future visions and helps us

to plan ways we can continually enhance

our management control systems," David

continues.

"Ultimately, CICMQ is a pat on the back

that our hard-working employees deserve,

and it acts as a conduit for discussing further

development with the wider organisation, our

stakeholders and our customers."

PROMISE-BASED CREDIT SUCCESS FOR IMPELLAM

AFTER reducing overdue debt to 6.85

percent, credit professionals at the Impellam

Group have ensured that it joins the two-time

accredited ranks of CICMQ businesses.

The company provides managed services

and specialist staff and claims to be the

second largest in the UK and sixth largest in

the world. Its credit department is based in

Luton, and has 42 employees in six teams to

support the Group's UK brands.

Billing and Credit Services Manager,

Beverly Sage, says that since its initial

accreditation in 2014, the team has placed

a high priority in reducing overdue debt:

"Impellam introduced promise-based

management, with teams promising to

complete a certain action," she explains.

"Our team's promise was to reduce debt by

over eight days overdue to less than seven

percent – and we achieved it."

This is in no small part because of the

overall team effort, Beverly continues:

"Accreditation is a team accolade and the

whole team has to come together to achieve

it. We take pride in the fact that we have

formal recognition for the work we do."

And this was highlighted in the Assessor's

report, which complimented the team as

engaged, organised and professional: 'People

and cash are at the heart of this business,

with full focus on the welfare of its people,

service to customers and the effective

collection of cash.'

Since 2014, the team has seen eight

members obtain their Certificate in Credit

Management, with more employees looking

to continue their training and others planning

to start in 2017. "There is definitely a much

better team spirit, with the teams working

extremely well together and with improved

communication," Beverly concludes.

16 May 2017 www.cicm.com

The recognised standard
---
WEIGHING UP THE ACCREDITATION

WEIGHTMANS LLP, the Liverpoolheadquartered

law firm that has over 1,400

employees including 180 partners, has

achieved CICMQ accreditation for the first

time.

Christine Griffiths MCICM, Credit Manager,

joined in late 2015 and says she has been

able to share her experience and knowledge

in achieving CICMQ with a previous company:

"We have implemented many changes,

including credit checking new commercial

clients to ensure they are creditworthy – a big

cultural change."

This, Christine adds, has had far reaching

benefits: "Lawyers are protective of their

clients and tend not to like discussing

finances. Running credit checks gives

us a level of comfort that new clients are

creditworthy," she says. "Once clients' credit

limits are reached the relevant lawyers are

notified – a useful process should that client

require further work."

While the team was preparing for the

assessment day it rolled out a new firmwide

financial system: "This delayed our

assessment day but we had to ensure

everyone was fully compliant and understood

the new system's inner workings before our

assessment."

Jane Morrey ACICM joined Weightmans

in January 2016, and had also gone through

the process previously. The Assessor's report

supported the role of the team, explaining:

'The team is gaining credibility around the

business, and as it becomes more established

the results will continue to improve…this is

only the beginning.'

Now Weightmans possesses the

accreditation it will continue to promote the

importance of credit management internally:

"We will share results within the firm on a

monthly basis and continue to develop and

raise the standard of our procedures, creating

and evolving a manual to become a useful

'go-to' tool for new employees," Christine

concludes.

ACCREDITATION

HAT TRICK FOR

MORETON SMITH

DEBT recovery agent Moreton Smith

has achieved its third successful CICMQ

accreditation, following its recent

acquisition by Marston Holdings and

multiple process changes.

Increased investment and process

improvement initiatives have enabled the

team to meet the standards required to

retain the accolade.

"We are in the middle of a recruitment

process to help support our strategic

direction," John O'Donnell, Managing

Director, explains, "and we're leveraging

group resources to find more efficient and

effective ways in continuing to support

our clients in seeking domestic and

international debt recovery services.

"The acquisition has strengthened

our desire to retain CICMQ accreditation

because of our group level commitment

to best practice", he adds. "Together

with our recent accreditation to ISO

27001 Information Security Management

standard, CICMQ accreditation helps us

confidently attest to being experts in UK

and International debt management.

"The benefits of the process are far

reaching and go well beyond the actual

accreditation itself."

NPOWER Business Solutions' Debt and

Risk department of 65 employees has now

achieved three-time accreditation.

The business is one of the UK's largest

energy providers, and its credit department,

which is based across two sites in the UK,

includes various teams that undertake

the credit risk, collections, litigation and

insolvency functions.

In a heavily regulated industry, one

that is increasingly in the public eye, the

department has to be on the front foot and

receptive to change, according to Debt and

POWERING THROUGH TO EXCELLENCE

Risk Manager, Sharon Brimfield.

She says the team is always looking

to improve: "The past two years has seen

a growing number of collections tools

available to our employees, more products

available to customers, and we have

designed and built a new debt management

system that will be implemented this year."

Sharon adds that one of the central

changes since the department was initially

accredited six years ago is the increased

pressure: "Our targets get harder but we

have the same expectation and each year

we identify one significant area that we can

improve on."

This seems to have paid off, and the

Assessor's report describes the team as

a 'prime example of one such department

that continues to make a difference and

contributes to the outstanding performance

of the business.'

Finally, Sharon says the accreditation

motivates the department: "Certainly any

recommendations that we receive are taken

very seriously as they help us to further

improve towards best practice."

The recognised standard www.cicm.com May 2017

17
---
SINK OR SWIM

As we head into the unknown, credit professionals must understand what's on the

horizon for their customers, says David Rankin, Director of Insolvency at Creditfix.

18 May 2017 www.cicm.com

The recognised standard
---
OPINION

DESPITE much speculation, nobody

really knows what impact Britain's

decision to leave the EU will have on

the economy and personal finances.

While many are predicting a major upheaval,

it is impossible to say whether the country will

ultimately be in a stronger or weaker position

than before.

A year ago, few could have imagined

that the Prime Minister would have officially

begun negotiations for Britain's exit from the

EU. Due to happen no later than April 2019,

the process is likely to be highly complex and

it is not absolutely clear what the economic

repercussions will be, either in the short- or

long-term.

As no member state has ever left the EU,

there is no precedent to follow. Of course, it

could all be smooth and relatively pain-free

– but equally, we need to brace ourselves for

the lengthy legal battles that might ensue. No

longer subject to European directives, Britain

will have to redefine some of its own laws,

including regulations for credit agencies and

financial services.

Furthermore, it must forge new bilateral

trade deals with countries both on the

continent and across the globe. With the 2008

economic crisis still fresh in people's minds,

there are fears that Britain will be plunged into

another recession, with poor job prospects,

squeezed household incomes and lack of

credit. On the other hand, leaner times can

encourage entrepreneurship and innovation in

business.

It is extremely difficult to make long-term

economic forecasts, particularly when dealing

with so many unknowns, however we can

examine some of the possible outcomes for

consumers and how they will affect the credit

industry.

EMPLOYMENT

While the latest Government figures show

that unemployment is at its lowest since

1975, some commentators are predicting

an economic slow-down once the Brexit

negotiations get underway. The Bank of

England estimates that as many as 250,000

jobs could be lost in the coming years,

although some sectors will be worse hit

than others. In a precarious jobs market,

banks may be more reluctant to lend, while

borrowers could have difficulty paying off

credit cards and loans, causing the economy

to contract.

Take manufacturing, for example, where

the UK currently ranks ninth in the world

for output. A weak pound makes it more

expensive to import component parts,

resulting in squeezed margins and potential

job losses. Post-Brexit trade deals could

also lead to new export trade tariffs – indeed,

the car industry, which employs more than

800,000, has already warned that jobs may be

lost if taxes are introduced.

But a slump in sterling isn't necessarily

bad news as it could help firms to become

more attractive to overseas buyers. Mergers,

acquisitions and investment from outside the

EU could bolster manufacturing, safeguarding

future employment.

Within the private services sector, 60

percent of people are employed by SMEs.

At the moment, lending remains high so

companies have been able to retain and

even grow their workforce. Predicting what

will happen in the fast-paced world of retail

is notoriously difficult. In the immediate

aftermath of the referendum spending was

buoyant, but the first quarter of 2017 saw a

noticeable slow-down. Rising inflation, caused

by a weak pound, and lower consumer

confidence have been blamed for the drop in

spending.

Another area of concern is financial

services, which last year contributed more

than £124 billion in gross value added (GVA)

to the UK economy. While some of the major

banks, including HSBC, have indicated that

they could move their operations to Paris,

London seems as strong as ever – although

that might change if the cost of obtaining

a licence from the European Central Bank

(ECB) proves too costly. The loss of financial

institutions would be a major blow to the

economy, not just in terms of job losses but

also on the wider availability of credit for both

businesses and consumers.

FINANCES

Linked to employment, Brexit is also expected

to have a dramatic impact on household

finances, although it remains to be seen

whether the country will ultimately emerge

stronger.

Periods of uncertainty typically lead

to lower consumer confidence so people

may put off larger purchases, like a car or

house. Banks may also be reluctant to offer

mortgages and credit so the economy is in

danger of flatlining – but there are likely to be

opportunities too. With the jobs market still

strong, consumers with available income may

look to take advantage of low interest rates

to pay down their mortgages in case they

rise after Brexit. We could also see people

scramble to secure low interest, fixed rate

deals.

With interest rates at an all-time low of

0.25 per cent, borrowing seems attractive,

although if the country sees large-scale job

losses, we could see personal debt spiral out

of control. With the average household debt

now standing at around £13,000 excluding

mortgages, people may look for less secure

sources of credit, notably pay day loans.

For many, the repayments are unsustainable

and the consequences could be disastrous.

There is a chance that bankruptcies will

become more common, although consumers

are increasingly looking at alternatives like

Individual Voluntary Arrangements (IVAs).

Low interest rates are never good for

savers and, at least for the moment, there is

no indication that they will increase. If the UK

experiences an economic crisis after leaving

the EU, the Bank of England will no doubt keep

rates down, adding little value to savings. If

this continues, traditional financial institutions

may lose out if people decide to invest their

cash elsewhere, for example in property, peerto-peer

lending schemes or small businesses.

Pensions are another grey area and the

impact will differ depending on when someone

comes to draw it. Low interest rates can

drive down the final value of pensions for

those approaching retirement age, however

it is impossible to say how it will affect those

who have only just begun to save. The state

pension is currently under review and there

are already concerns that people may have to

work until they are 70 if immigration falls and

there is a labour shortage.

When it comes to cost of living, shoppers

have already seen higher prices in the

supermarket because of rising inflation

therefore reducing their disposable income.

Once new trade deals have been negotiated,

everyday goods could cost even more

because of tariffs. But this could be countered

by the fact that the UK is a net importer so

deals with Europe could work in our favour as

other countries do not want to lose this key

market. British farmers and producers could

also see benefits as they can trade tariff-free

– although, of course, they will also lose EU

subsidies.

In other areas, the weak pound is also

pushing up the price of petrol, overseas

holidays and energy bills and those who are

already struggling with the cost of living will

inevitably bear the brunt. As well as reducing

their overall expenditure, they may be forced

to use their credit card for essentials like food

and bills rather than luxuries.

Looking more broadly at the economy

however, a weak pound results in better

exchange rates for overseas visitors who can

help fuel the tourist market.

Until the negotiations get underway and

the details of trade deals are ironed out,

there is no way of knowing just how people's

finances will fare. Following the referendum,

some economists believed that Britain was

teetering on the edge of another recession

but their fears have so far proved unfounded

and the economy is in fact continuing to grow.

Whether this will still be the case over the

coming months and years remains to be seen,

making it all the more important for everyone

in the credit industry to keep a close eye on

developments.

David Rankin is Director of Insolvency at Creditfix

The recognised standard

www.cicm.com May 2017 19
---
THE

CREDIT CONTROL

RECRUITMENT

SPECIALISTS

www.portfoliocreditcontrol.com

Portfolio Credit Control are committed to supporting the CICM

and the Credit Control industry, not by just recruiting the

best credit controllers in the market but providing Credit

Managers and teams with the tools to ensure they

can attractand retain the best talent in the industry.

Portfolio Credit Control have compiled afreedefinitive

detailed salaryguide for 2017/2018 for London and

the Home Counties to help you when benchmarking

salaries within your team or for when recruiting your next

vacancy. Please contact one of our specialist consultants to

request acopy of the guide today.

Call the Credit

Control Specialists

today to receive

YOUR FREE COPY

of our 2017/2018

salarysurvey.

We look forward to hearing fromyou.

Give us acall on 020 7650 3199

or email recruitment@portfoliocreditcontrol.com

www.portfoliocreditcontrol.com
---
INTERVIEW

EXERCISING

MINDS

Sean Feast speaks to Karen Penney, VP and GM Commercial

Payments and Small Business Services UK at American Express

about the importance of small businesses, cashflow, and planking.

K

AREN Penney had always wanted to be a

teacher, until the metaphorical bright lights,

bustle and business suits of The City captured

her imagination and ultimately led her to a

successful career in financial services.

"I was one of those annoying children who actually

enjoyed school," she laughs, "and was always asking

questions, especially in English. At first I wanted to

be a teacher too, but my father moved into finance

after playing professional football, and I remember

emerging from Bank Station one day and experiencing

how exciting it all seemed and thinking 'this is where I

want to work'."

Originally from north London, Karen was educated

locally before winning a place at an independent

school (Haberdashers Askes for Girls) which proved a

route to Oxford (Jesus College) and a degree in English

Literature. Careers advice, she recalls, was all-but nonexistent:

"It was a cupboard at the end of a corridor

filled with brochures and university prospectuses," she

smiles.

On leaving Oxford she joined a graduate training

programme at a high street bank from which she

learned much, both good and bad: "I enjoyed the actual

training, but came up against an 'old school' manager

who'd taken 15 years to attain a level that I had reached

in two, and he resented it. It was a first business lesson:

it showed me that the people you work for are often

more important than the job you actually do."

We take a 'solutions-driven' approach: a

customer tells us what they are trying to achieve,

and we tell them how we can help them achieve

it. We call it 'working capital optimisation'.

REWARDING ABILITY

Seeking a job that recognised and rewarded ability above

length of service, she ultimately joined The Bankers

Trust, and spent a happy period working hard, often long

into the evening, on projects that both challenged and

interested her, and allowed her to travel across Europe

and the US. This was undoubtedly a 'happy time' for Karen,

which made her return to the business after maternity

leave all the more disappointing when her role – and her

department – were made redundant.

As is so often the way in life, however, from adversity

came opportunity, and through outplacement support she

was introduced to a senior executive about to become

general manager of Diners Club, and thus began a career

in the cards and credit industry that continues to this day.

Not surprisingly, perhaps, Karen's skills were much

in demand, and a position at Air Miles (the precursor

to Avios) to manage its relationship with a bank client

proved a tempting offer.

Karen found that her previous experience proved an

advantage, and it was not long before she was running

the whole of Air Miles' sales and account management

operation. A change in management, however, led to a

change in culture and a catalyst to look elsewhere, and

that is when Karen took up an opportunity with American

Express in business development.

In 15 years at American Express, Karen has risen

through the ranks to now head up the UK's (Commercial

Payments) team, engaged with all aspects of the

business including sales, account management, risk,

credit, marketing and product development, all of which

ultimately feed into sales.

"Everything we do centres around helping our

customers to streamline indirect expenses, get better

visibility and generate savings," she explains.

continues on page 22 >

The recognised standard

www.cicm.com May 2017 21
---
INTERVIEW

continued from page 21

>

MANAGING CASH

She also has specific responsibility for developing the

company's small business offering: "Business owners

are increasingly looking at how they manage cash,"

she says, "and how they can expand their credit lines

through non-traditional lenders as they tell us that it is

difficult to obtain the funding they need from the banks.

We take a 'solutions-driven' approach: a customer tells

us what they are trying to achieve, and we tell them how

we can help them achieve it. We call it 'working capital

optimisation'."

It is an approach that is certainly working. Westcoast

and Aggregate Industries are just two firms who have

benefitted from American Express' working capital

solutions, the latter being recognised with a CICM

UK British Credit Award in 2016. (SEE BOXED OUT

SECTION)

Wider take-up of the American Express approach

to SMEs is partly hampered, ironically, by the strength

of its brand that historically suggests a global client

interest. To this end, the company is, in a subtle way,

re-inventing itself with much closer engagement

with organisations such as the British Chamber of

Commerce and, of course, the Chartered Institute of

Credit Management (CICM). It is a regular contributor

to the CICM's events, and an active supporter of its

awards.

It is also pushing its international payment

credentials, an area that Karen sees as a significant

growth opportunity driven by a clear customer

demand. Companies of all sizes in the UK who import

from North America and the Far East, for example, and

have to pay overseas suppliers can look to American

Express for tailored solutions that suit their business.

LEAN-IN CIRCLES

Both inside and outside of work, Karen is a keen

advocate of women's issues, and encouraging more

women to assume senior management roles. While men

and women at work are equal in many respects, Karen

concedes that men tend to be better at networking:

"Women need to be better at finding sponsors," she

explains, "and so we organise mentoring sessions

and cluster meetings to help women build their own

networks, and also encourage 'Lean-in Circles' (as

devised by the CEO of Facebook, Sheryl Sandberg).

It is important for women to have good women role

models from whom they can learn and be inspired."

Karen is also a firm believer in team building, and

seeing her colleagues progress. She also likes to

exercise, having recently entered a half marathon, and

has found that running and sport in general is a great

leveller: "Regardless of what sport or exercise you do, it's

very inclusive," she says. "Colleagues speak to you in the

lift about a run they've just done or a match that they've

played and it's a tremendous way of getting people

together."

So what next for American Express, and what next for

Karen? "We want to do more of what we're doing," she

says, "to continue to listen to and understand the needs

of the SME community, and to help our customers grow.

American Express is an exciting place to work, and has

so far been a very interesting part of my career where

I've had the opportunity to develop, to work on different

projects and with different teams, and benefit from great

leaders."

Who knows what the future holds but for the present,

Karen is preparing for a team 'Plank Off', in which team

members will compete against each other to see who can

hold a plank position for the longest amount of time: "It's a

bit of light-hearted fun for our next team meeting, but I'm

aiming to win!" she laughs.

"Women need to be better at

finding sponsors, and so we

organise mentoring sessions and

cluster meetings to help women

build their own networks, and also

encourage 'Lean-in Circles' (as

devised by the CEO of Facebook,

Sheryl Sandberg). It is important

for women to have good women

role models from whom they can

learn and be inspired."

AGGREGATE

INDUSTRIES

IN an industry where geographical location has a

strong influence over choice of supplier, Aggregate

Industries was looking for ways to create competitive

differentiation within the building materials sector. It

needed an innovative and flexible payments solution

that would accelerate cashflow, drive growth, and

give potential customers another driver to choose

Aggregate Industries over its competitors.

Working with American Express, Aggregate

Industries devised a programme that enabled it to

extend payment to 90 days for selected customers,

considerably longer than the conventional

arrangements it already had in place. This additional

line of credit and increased flexibility helped create a

differentiator that grew existing business and attracted

new customers. It also accelerated cashflow by a

full calendar month. The solution required no set-up

costs or major process changes for either Aggregate

Industries or the customer, making it easy to market

and implement. Sales to customers on the scheme saw

a significant monthly increase compared to the same

periods in the previous year.

22 May 2017 www.cicm.com

The recognised standard
---
"We want to do more of what we're doing, to continue to listen to

and understand the needs of the SME community, and to help our

customers grow. American Express is an exciting place to work, and

has so far been a very interesting part of my career where I've had

the opportunity to develop, to work on different projects and with

different teams, and benefit from great leaders."

The recognised standard

www.cicm.com May 2017 23
---
LEGAL MATTERS

THE PRE-ACTION

PROTOCOL FOR DEBT CLAIMS

After years of consultation, the Pre-Action Protocol (PAP) for Debt Claims will finally

come into force on 1 October 2017.

DD +44 (0)113 261 6124 E jeffersen.gledhill@dwf.law W www.dwf.law/recover

Jeffersen Gledhill

INTENDED to apply to any business

(including sole traders and public bodies)

claiming payment of a debt from individuals

(including sole traders) the PAP describes

the conduct that a Court will normally

expect parties to take prior to commencing

proceedings.

PRE-ACTION PAPERWORK

As a minimum creditors will need to send:

1. A Letter of Claim, including specific details

of the 'basis of claim'

2. An up-to-date Statement of Account,

including interest, administrative and other

charges

3. The Information Sheet, which includes

'signposting'

4. The Reply Form, see below on Pre-Action

Process for further details

5. A Financial Statement Form, such as the

Standard Financial Statement (SFS).

All-in-all, the correspondence and standard

form enclosures will run to a minimum of 12

sides of A4.

While previous provisions for a copy of the

PAP and any written contract to be included

have now been discarded, the Letter of Claim

will need to confirm that a copy of the written

agreement can be requested from the creditor,

which will create delay.

PRE-ACTION PROCESS

A debtor will have 30 days to respond to

the Letter of Claim (though creditors should

account for 'the possibility that a reply was

posted towards the end of [that] period').

Using the Reply Form, they can pay in full or

reply to state whether they owe the debt, if

they need time to pay, whether they intend

to get debt advice, and if they need more

documents or information.

Whatever the reply (even if only partially

completed), creditors must attempt to engage

with a debtor. An indication that they require

time to pay should be met by a creditor trying

to agree affordable sums for repayment,

paying regard for the SFS. Should they seek

extra time to obtain advice then the creditor

must consider whether it would be reasonable

to allow for that, in the circumstances. Finally,

if a request for further documentation is made

then the creditor must respond to that request,

providing the documentation (or otherwise

explaining why it will not be provided), within

30 days.

In the event of dispute, Alternative Dispute

Resolution should be considered. If this fails,

a further 14 days' notice should be given of a

creditor's intention to start court proceedings.

PRE-ACTION PENALTIES

Compliance with the PAP will be considered

when the court gives any directions and when

making orders for costs. So far as creditors

are concerned, where the court decides that

there has been a failure of compliance it may

order that proceedings are 'stayed' (which is

to say put on hold) or sanctions are applied.

Sanctions may include an order:

‣To pay the costs of the proceedings,

possibly on an 'indemnity basis' (which will

usually result in more costs being recovered

than on the 'standard basis')

‣To deprive interest entirely, or award it a

lower rate than sought.

PRE-ACTION PROPORTIONALITY?

We note that the PAP:

Applies to public bodies, who are not

necessarily operating in business context, yet

seeks to protect individuals who are operating

in that context, such as sole traders

Aims to encourage early engagement

and communication between the parties.

However, it is questionable whether this will

be achieved, when the latest civil justice

statistics demonstrate that a consistently high

percentage of claims result in Judgments

'in default' (86 percent), indicating that the

defendant has failed to even acknowledge

service in response to a Claim Form

Aims to avoid court proceedings, including

by agreeing a reasonable repayment plan.

However, the same statistics demonstrate that

only nine percent of Judgments are entered

'on admission'

Aims to encourage parties to act in

a reasonable and proportionate manner

(avoiding running up costs), yet will place a

significant burden on creditors in terms of

time and expense, at a time when they are not

getting paid.

Nevertheless, now is the time to raise

corporate awareness of this significant change

for debt claims and prepare for 1 October,

2017.

Jeffersen Gledhill is Legal Recoveries and

Operations Manager at leading law firm DWF.

This information is intended as a general discussion

surrounding the topics covered and is for guidance

purposes only. It does not constitute legal advice

and should not be regarded as a substitute for

taking legal advice. DWF is not responsible for any

activity undertaken based on this information.

AS A CICM MEMBER YOU CAN RECEIVE FREE LEGAL ADVICE FROM DWF

VISIT THE CICM WEBSITE AND CLICK ON THE FREE ADVICE LINE.

24 May 2017 www.cicm.com

The recognised standard
---
We could pay you on your customers'

behalf within as little as 5 days, at the

same time providing them with up to 55

days to pay us back. Similarly, we could

accelerate payments to your suppliers

and provide you with longer payment

terms.

Our working capital solutions are flexible

and innovative, so your business can free

up cash to fund growth.

It's a win-win solution.

For more information, visit:

americanexpress.co.uk/supercharge

Terms and fees apply.

WORKING CAPITAL SOLUTIONS

American Express Services Europe Limited is authorised and regulated by the Financial Conduct Authority.
---
ANNUAL GENERAL MEETING

The third Annual General Meeting of the Chartered

Institute of Credit Management will be held on

8 June 2017 at the offices of Moore Stephens,

150 Aldersgate Street, London EC1A 4AB at 13:00

(or at the rising of Advisory Council from its

preceding meeting, whichever is later).

By order of the Executive Board

Philip King FCICM

Chief Executive

To read the Notice, visit:

http://www.cicm.com/about-cicm/governance/

CICM MEMBER

EXCLUSIVE

Your CICM lapel badge demonstrates your

commitment to professionalism and best practice

TAKE PRIDE IN

WEARING YOUR BADGE

If you haven't received your badge

E: cicmmembership@cicm.com

26 May 2017 www.cicm.com

The recognised standard
---
TRADE TALK

EXPORT OPTIMISM

Lesley Batchelor OBE FCICM reports from the Institute of Export and

International Trade's latest export survey, which shows high level of

optimism for global trade.

AS part of the Institute's charitable

remit we regularly survey our

members to ask their views on

issues of the day. In our most recent

survey the issue we were most interested

in was 'optimism'. We found that despite a

myriad of political risks – fears of a growing

protectionist agenda in the United States,

whether national elections across Europe will

upset the status quo, and Britain's potentially

fractious divorce proceedings from the

EU – the Export Optimism survey showed a

strong energy for growth, with 97 percent of

respondents expressing optimism for global

trade opportunities.

We set out an optimism ranking (out of

five) for opportunities in the main markets and

weighted the average. The greatest optimism

was for global trade and trade with the EU –

93 percent of respondents said they remain

optimistic for export opportunities in the EU.

Despite the protectionist rhetoric from

the White House since President Trump took

office, respondents expressed a moderate

level of optimism for trade opportunities in

the US.

Respondents showed caution for trade

opportunities with India and China, while 21

percent indicated that they saw no optimism

for opportunities in Russia – a view no doubt

affected by the economic and financial

sanctions imposed by the EU, the US and a

number of other countries – punishing Russia

for its aggression in Ukraine.

To provide a balance the survey also asked

how much trade businesses thought they

would lose when we leave the EU trading

bloc, and the results showed that 87 percent

of respondents thought there would be a

loss of trade. However, the majority thought

this loss would be less than 20 percent. 13

percent of respondents expressed confidence

that we would not lose any trade.

Despite these assertions uncertainty

surrounding Brexit remains, with early

indications of relocation to maintain

a competitive edge. One respondent

commented that 'relocation to mainland

Europe will allow us to maintain and grow our

business with our nearest trading partners,

which is vital to our business going forward.'

This amount of change needs to have new

investment priorities, so we asked businesses

what their priorities would be for 2017; 30

percent are prioritising extending their markets

overseas.

Additionally, 19 percent are planning to

invest in marketing, 15 percent are looking

at developing new products, and a further

12 percent plan to invest in plant and/or

machinery or extend their premises.

In terms of opportunities for 2017, 54

percent of respondents stated that extending

of their markets overseas was the single

biggest opportunity for their company in 2017.

We asked whether businesses had

contingency plans and found two thirds (61

percent) of respondents do, mainly in terms

of foreign exchange risk, and just over half

(52 percent) have a plan for credit risk. While

half of respondents have a contingency plan

for cyber-attacks, only 30 percent have any

plans to avoid the risks involved with customs

compliance.

The importance of businesses managing

currency risk is a fundamental part of ensuring

profitability when trading in international

markets. Results indicate that 60 percent of

businesses have plans in place to manage

currency risk. This is significant but all

businesses need a plan in place to manage

this particular risk. In practice, learning to use

forward contracts and matching of currency

payables and receivables are the most

frequently used methods of managing currency

risk.

Members of the Institute have told us that

transactions outside EU are 90 million and rising

– almost overnight and assuming we continue

to keep our EU customers – to 300 million

transactions that are treated as international.

This means paperwork for traders and HMRC

border control-based issues may impact on

trading as vital border controls may, if we're

not prepared, begin to impact on our delivery

timing. It is worth noting that best practice

has HMRC randomly checking four percent of

the cross border trade to ensure security and

veracity of loads – yet another factor for our

logistics planning.

As usual we too are optimistic, but repeat

our adopted mantra from Albert Einstein, 'first

learn the rules of the game; then go out and

play it better than everyone else!' Our courses

are seeing the busiest time yet and we urge you

to find out more about these issues and how it

may impact on your business. To quote another

famous man, Baden Powell, 'be prepared!'

Lesley Batchelor OBE FCICM is Director General

of The Institute of Export and International Trade

The recognised standard

www.cicm.com May 2017

27
---
INTERNATIONAL

TRADE

MONTHLY ROUND-UP OF THE LATEST STORIES

IN GLOBAL TRADE BY ANDREA KIRKBY.

THE SKY'S THE LIMIT?

AEROSPACE hasn't been the best

performing sector for a while, but it's

begun to motor in 2017 and

should deliver good revenue growth

and even better growth in profits. Lower

oil prices have given airlines profit margins

that enable them to invest, while defence is

growing fast even without factoring in Trump's

increase in US defence spending.

But there are storm clouds on the horizon

even so. Deloitte notes that there's already

been some consolidation in the supply chain

– but expects even more, as airlines continue

to try to drive down costs. Larger companies

could try to reduce the number of their

suppliers, and some smaller players could be

squeezed out. That suggests exporters need

to be careful not to over-commit themselves

to customers in the middle of the value chain

– if your contract's not with Airbus or Boeing,

but with one of their suppliers, keep a close

eye on their order book and revenues. If

there's going to be turbulence ahead, it does

help if you're strapped in before it starts!

DRAGHI TALKING ABOUT A RISE

MORE news continues to emerge of upwards

pressure on interest rates. The Fed has now

raised rates from 0.75 percent to one percent

– markets had already priced this in, but some

strengthening of the dollar is likely. Meanwhile,

European Central Bank chief Mario Draghi

seems to have been talking about positive

economic trends, with an implicit suggestion

that a rate rise could be on the cards even

though core inflation is subdued. Bonds sold

off on his comments; the market evidently

expecting interest rates to rise.

Is the threat of deflation over? The sagging

oil price, now back below $50, could soften

inflation figures – it was surging commodity

prices that were behind much of the recent

uptick. But it does seem that the likely next

direction of rates is up. The big question is

just how soon that will be – at the moment the

market is saying 'don't hold your breath', with

two more rises from the Fed expected to be

paced over the rest of 2017, but things could

change very quickly indeed if economic figures

don't match expectations.

28

May 2017 www.cicm.com

The recognised standard
---
MOTHER'S RUIN

BRITISH booze is breaking records – exports

of gin have risen 32 percent in the last five

years and should hit £500 million this year.

New distilleries with differentiated and

artisanal products are leading the field, many

of them small businesses. The European

and US markets have now become highly

competitive, but markets like Korea – where

younger, more adventurous consumers are

breaking with the country's whisky habit –

are seeing huge growth and have, to date,

been under-supplied. Proof that picking and

choosing your markets is crucial for success!

Although more unusual styles of gin are

becoming popular, I have to say I'm quite glad

no one in the UK is currently making it out of

insects, as far as I know. Unlike Australians,

who make Green Ant Gin with real ants

(oecophylla smaragdina, if you're interested).

That's one tipple I find quite easy to resist.

MONGOLIAN BAIL-OUT

MONGOLIA has just agreed an IMF bail-out

together with a creditor package, to avoid

a credit crunch as a large debt repayment

looms. High debt levels and low commodity

prices have left metals-rich Mongolia looking

cash-poor, and Credendo has left the country

on the highest level of political risk.

But a huge mining sector and a young,

well-educated population give exporters

significant opportunities. Currently, Brits do

IS THE PENDULUM

SWINGING BACK?

THE Dutch elections are over, and it seems that voters didn't fall for

Geert Wilders' right-wing charms. In fact, GreenLeft was the party

that really surprised, claiming a vastly increased representation in

parliament.

The euro did well from a relief rally – but political uncertainty

is far from over. One thing the Dutch election did show was

that people are fed up with the mainstream parties. They want

a change. Whether that's a GreenLeft style, progressive, pro-

EU change, or a right-wing change such as that represented

by Marine Le Pen in France, remains to be seen. The

French elections will dominate the news for the next six

weeks (or more, assuming there's a second round),

and then it's Germany's turn – while all the time, there

are bubbling cauldrons of economic nastiness in Italy

(banking crisis) and Greece (bail-out time again?).

So, keep your eyes on the euro/sterling rate. I think

there are going to be quite a lot of wobbles – and

they won't all be Brexit-related.

ROMANIAN PROMISE

ROMANIA is currently seeing the strongest

growth in central and eastern Europe, with

GDP up five percent in 2016 and likely to grow

even faster this year. If you're exporting to

Romania, the figures look even better, since

imports are rising at nine percent a year. EU

infrastructure spending has created good

prospects in construction, energy, water and

waste treatment, and there's plenty of money

going into improving healthcare in both public

and private sectors, while the large automotive

well supplying mining machinery and vehicles,

but the country also has a huge livestock and

meat processing sector, and the developing

economy offers opportunities in education,

consultancy, and consumer goods. Really

brave exporters might note that Mongolia has

secured advantageous trade deals with both

China and Japan – so it could be used as a

regional hub – but you'll need to keep a very

careful eye on any credit you extend.

sector could also be a target for components

and machinery suppliers.

And while a BBB-/Baa3 credit rating

might not be the best in the world,

Romania's ratings have been broadly stable

for the last couple of years, with Moody's

giving the country a positive outlook.

Growth within Europe is not all that easy

to come by at the moment, so give Romania

a thought if you're looking to expand your

short-haul export markets.

NEWS IN BRIEF >

TOPPING PIES!

THE Topping Pie Company of Doncaster has

found success exporting its pork pies to New

Zealand, working with food exporter Smylies,

which sources and exports British food. British

expats wanting a taste of home provide a base

market, but Kiwis too are now getting acquainted

with the pies.

Smylies has a Queen's Award for international

trade, and well deserves it for its job in making

exports so much easier for smaller food

manufacturers. It provides bespoke labelling and

expert distribution – enabling customers to stick

to their knitting, or rather, their cooking!

BANGLADESHI SUCCESS

COVENTRY Chemicals has been off to

Bangladesh, exhibiting at the World Poultry

Science Exhibition. Bangladesh has a growing

food production sector, and the need for more

protein means more chickens and more eggs

are needed, never mind which came first.

That's a great opportunity for biosecurity and

disinfectants – and a useful niche for Coventry

Chemicals.

While we often think about the big

opportunities – major industries in big countries

– sometimes smaller niches can provide better

hunting grounds. Don't overlook the potential

for growth from countries and industries that are

undergoing rapid change – even if they don't

seem like the most obvious place to start looking.

CURRENCY UK

FOR THE LATEST

EXCHANGE RATES VISIT

CURRENCYUK.CO.UK OR

CALL 020 7738 0777

Currency UK is authorised and regulated

by the Financial Conduct Authority (FCA).

HIGH LOW TREND

GBP/EUR 1.1781 1.1398 Up

GBP/USD 1.26052 1.2125

Up

GBP/CHF 1.2594 1.2221 Up

GBP/AUD 1.6682 1.5924 Up

GBP/CAD 1.6871 1.6315 Up

GBP/JPY 140.398 136.585 Down

The recognised standard www.cicm.com May 2017

29
---
OPINION

POOL PARTY?

The Pre-pack Pool recently published its Annual Review for 2016.

Stuart Hopewell FCICM, one of the Pool's Directors, reports on progress to date.

AS previously reported in Credit

Management, The Pre-pack Pool

started taking referrals on 1 November

2015. It issued its first Annual

Review on 31 March 2017 for the period to

31 December 2016 to coincide with that of

The Insolvency Service, hence the 14-month

period.

With an initial roster of 19 (now 18)

reviewers and an Oversight Group consisting

of all the major Recognised Professional

Bodies (RPBs) and other stakeholders,

including the CICM, the Pool was formed in

response to recommendations in the Graham

Report into Pre-packs.

In its first 14 months, it has reviewed

53 applications, with all but six receiving

a positive response (34 'positives' with

no qualification and 13 where a 'qualified

positive' was given). Six were rejected as

'case not made'.

Using data provided by the various

insolvency RPBs (mainly ACCA, ICAEW, IPA

and ICAS), the Pool received referrals from

approximately one in four of all Pre-packs,

a somewhat disappointing ratio. Given the

limited number of referrals then, has the

Pool met the objective of the Graham Report

in reassuring creditors that Pre-packs are

'reasonable' and 'fair'?

As our objective is to give an independent

opinion to 'interested parties', we are reliant

on pressure from creditors and suppliers for

directors and owners to make referrals, as the

entire process is voluntary.

CREDITOR ENGAGEMENT

While there is support for the process from

the CICM, feedback to the Pool from creditors

connected to the referred cases indicated that

they either hadn't heard of it or, if they had,

did not take the time to read an Administrators

report.

The concept of the Pre-pack Pool was to

reassure creditors of the failed company that

the Pre-pack deal was reasonable and give

them confidence to supply the new entity. If

creditors are seen to take little interest in the

process, then directors and their advisors

may see little benefit in going through the

process.

I believe that the Pool has a positive

contribution to make, but only if it's seen to

be an essential part of the insolvency process

by both creditors and prospective applicants.

Currently referral is voluntary, but the

Government does retain reserve powers to

make it compulsory or ban connected party

sales up until May 2020. I feel this would

be a retrograde step, however, and could

lead to more liquidations and more losses to

creditors.

If most connected party Pre-packs

continue to go ahead without reference to the

Pool and creditors continue to supply, then is

it 'essential'? Perhaps only time will tell.

I believe that the Pool has a positive

contribution to make, but only if it's

seen to be an essential part of the

insolvency process by both creditors

and prospective applicants.

Key Facts

53 – the number of referrals made to the Pool

34 – the number of opinions to say the Pre-pack was

not unreasonable

13 – the number of cases where the Pre-pack was not

unreasonable but limited evidence was provided

6 – the number of opinions to say the case for the

Pre-pack had not been made.

30 May 2017 www.cicm.com

The recognised standard
---
DO YOU

KNOW THE

TRUE

IDENTITYOF

YOUR

CUSTOMERS?

Our AML check will confirm it in 5seconds!

Business checks take longer; 1-2 minutes

Sanction &PEP screening is automatically included in

our AML service. Wealso include daily monitoring with

automated enhanced due diligence atno

additional cost.

Call us now to book afree demonstration on:

0113 333 9835

THE ONLY AML RESOURCE YOUNEED

Or vist us online:

SMARTSEARCHUK.COM

SmartSearch delivers UK and International Business checks, plus Individual checks along with

Worldwide Sanction &PEP screening, daily monitoring, email alerts and full enhanced due

diligence intelligence.
---
CONSUMER CREDIT

"Unfortunately, changes to the law in 2014

have failed to protect people in debt from

poor practice, and we continue to see

widespread problems with the behaviour

of bailiffs and bailiff firms."

32 May 2017 www.cicm.com

The recognised standard
---
OUT OF CONTROL?

The advice sector is adamant that enforcement reform is failing the

vulnerable. Heather Greig-Smith finds debate raging over measures

taken in 2014 and the action needed now.

SEVEN financial advice charities recently

came out swinging at the enforcement

industry. They claim bailiff reform

introduced three years ago is failing to

protect those in financial difficulty from unfair

treatment.

AdviceUK, Christians Against Poverty,

Citizens Advice, Money Advice Trust,

StepChange Debt Charity, The Children's

Society and Z2K launched a report Taking

Control and a national campaign for reform in

parliament.

Their recommendations include: the

establishment of an independent regulator

for the sector; a free complaints procedure; a

universally applicable procedure to suspend

action; fee reform;, a framework for agreeing

affordable repayments; and procedures

to identify the vulnerable and action from

creditors.

"Concerns over the impact of the bailiff's

knock at the door have long been raised

by debt advice charities, based on the

experiences of our clients week in, week out,"

said Joanna Elson OBE, Chief Executive of the

Money Advice Trust.

"Unfortunately, changes to the law in

2014 have failed to protect people in debt

from poor practice, and we continue to see

widespread problems with the behaviour of

bailiffs and bailiff firms. In its three-year review,

the Government now has the opportunity to

deliver the fundamental bailiff reform that is

needed."

GOVERNMENT REVIEW

It is not clear if the Government intends to

publish a three-year review as it is yet to

publish a one-year review promised at the

same time. However, the one-year review is

now thought to be with ministers.

An HM Courts and Tribunals spokesperson

confirmed that it does intend to publish

a review of the impact of the reforms:

"The Government is clear that aggressive

enforcement action is not acceptable.

Protecting the rights of the public is our top

priority, which is why we've introduced robust

rules on what goods an enforcement agent

can or cannot take, how and when they

can enter premises and what fees they can

charge."

Andrew Wilson, Chairman of the High

Court Enforcement Officers Association, said

he does not expect the one-year report to find

significant issues.

"My understanding from meeting with the

review team is that the reforms are considered

to be broadly successful and that, as far as

High Court enforcement is concerned, there

are no unintended consequences from the

reforms which require further legislation at this

time," he said.

Amir Ali, Chairman of the Civil Court

Users Association (CCUA), added: "(Taking

Control) is urging for reform in areas where

Government has clearly decided against most

of the solutions suggested. The CCUA would

welcome an independent assessment of

whether the policy intentions intended by the

reforms have been achieved."

Yet charity StepChange said it would be

"surprising" if the MoJ were to report that little

or no change was needed as charities have

been highlighting problems for some time.

LOCAL AUTHORITY PERSPECTIVE

Trade body the Civil Enforcement Association

(CIVEA) has surveyed local authorities –

heavy users of enforcement services – on

their views of the 2014 regulations. Director

General Vernon Phillips says 104 authorities

responded, with 96 percent saying the new

regulatory regime has improved standards and

professionalism.

Almost all (99 percent) feel the reforms

have simplified the enforcement process for

debtors. More than four-fifths (86 percent)

report that the reforms have reduced the

number of door-step visits.

Phillips says enforcement agents should

not be sent to vulnerable people. "If the

enforcement agent is the first person to

discover there is a vulnerability then the

system prior to us has failed in some way."

Yet StepChange says nine out of ten clients

(90 percent) who had been visited by bailiffs

in the previous two years were identified as

having some level of vulnerability, beyond their

financial difficulty. Of those clients who had

been contacted by bailiffs, 22 percent had an

ongoing mental health condition, 57 percent

said they had depression and 66 percent

stress or anxiety.

Phillips points out that people in debt

do go into denial and stop responding to

creditors in the hope the problem will go

away. "Where the person has fallen through

the local authority's net, it can be that it is the

enforcement agent who is the first person to

discover there is vulnerability."

EVIDENCE-GATHERING

The enforcement sector has expressed

frustration with the evidence collected by the

advice agencies.

"We have a report trotting out the usual

unverified anecdotal case studies as though

they were complete evidence," says Ali. "For

instance, it states that nearly half of customers

who responded to a StepChange survey

received an 'intimidating doorstep visit',

although the survey question published asked

only whether a visit was made, not whether

the customer found it intimidating.

"A further conclusion drawn is that the

requirement to send statutory notices has

been broken because 'the bailiff' who later

visited didn't personally get in contact first."

Phillips says the sector is prepared to act

if the evidence is provided. "We have said if

they have specific evidence of malpractice

by enforcement agents we want to know

about it. We can only act if they give us the

evidence."

He adds that queries are sometimes

erroneously logged as complaints by the

advice sector. The agencies say that the

plethora of complaints avenues for different

enforcement agencies and debts is confusing.

"We believe that if anything there is an

under-reporting of bailiff complaints," says

Alison Blackwood, StepChange Senior

Campaigns and Policy Advocate. "This report

highlights the complexities people have

in complaining, and as debt charities we

are often dealing with the most vulnerable

borrowers and as a result are not seeing all

complaints."

CLIENT CONTROL

Research conducted for the launch of Taking

Control found that, of 1,400 people who had

been visited by a bailiff in the last six months,

nearly a quarter (24 percent) had tried to

arrange repayment over the phone but found

the bailiff visited anyway.

The sector points out that enforcement

agents are bound to act on client instructions

and local authority practices vary. "They will

sometimes insist our people go and see the

debtor," says Phillips. "It's sometimes done

with the best of intentions to find out the true

situation."

continues on page 34 >

The recognised standard

www.cicm.com May 2017 33
---
CONSUMER CREDIT

continued from page 33

>

Last year, Lord Justice

Briggs conducted a

review into the structure

of the civil courts. While

acknowledging that

legislation would be

needed, he recommended

unifying the currently

fragmented system of

enforcement. It could

significantly cut costs and

is something the MoJ is

said to be looking at.

The minimum notice period is seven days

but in the private sector 14-30 days' notice is

commonly given. There is also wide variation

across local authorities and CIVEA says in

some areas of the country 40-60 percent of

cases are resolved over the phone.

Responding to the report, Cllr Claire Kober,

chair of the Local Government Association's

Resources Board, said councils have a

responsibility to collect taxes so they can pay

for public services.

"We agree that bailiffs should only ever

be used as a last resort. Before the situation

reaches a stage where bailiffs are involved

several letters should have been written,

people should have been encouraged to apply

for financial support, and efforts should be

made to arrange new payment plans or to

attach the debt to a salary."

INDEPENDENT REGULATOR

One of the key recommendations made in the

advice sector's report is for an independent

regulator. Advice agencies believe many of

the reforms introduced in 2014 are being

contravened in practice. For example: visiting

outside the 'reasonable hours' of 6:00am-

9:00am, continuing action despite the

agreement of a repayment plan and entering

the property when only children are present.

Phillips says the sector would welcome an

independent regulator but that the stumbling

block for many years has been cost. "In

principle there is no objection whatsoever but

if you want the industry to pay then the money

has to come from somewhere."

Perhaps the answer lies in more radical

change. Last year, Lord Justice Briggs

conducted a review into the structure

of the civil courts. While acknowledging

that legislation would be needed, he

recommended unifying the currently

fragmented system of enforcement. It could

significantly cut costs and is something the

MoJ is said to be looking at.

Blackwood is clear that this may not be

sufficient. "Whether or not there is a case

for the proposals put forward in the Briggs

Review is something that would need to

be looked at in more detail. But any major

changes to the enforcement industry would

have to be on the pre-condition that the bailiff

industry is brought under control," she says.

"What this report shows is that there is a

systemic problem with the bailiff industry. This

is not simply a case of a few bad apples and

not simply a case that a few firms need to be

brought under control."

34 May 2017 www.cicm.com

The recognised standard
---
TECHNICAL BRIEFING

GAME

CHANGER

STEPHEN COWAN EXAMINES CHANGES TO COURT

PROCEDURES IN SCOTLAND WHEN RECOVERING DEBTS

ON the 28 November 2016, Scotland's

court procedure to recover debts of less

than £5,000 was radically altered. The

old Summary Cause and Small Claims

procedure has been swept away by new, more simple

rules, with unrepresented litigants in mind. The new

rules will allow the Sheriff to 'take an interventionist

approach to identify the issues, assist partied to settle if

possible, and to determine how the case progresses.'

The genesis of the rules are contained in the Courts

Reform (Scotland) Act 2014. The Scottish Civil Justice

Council is responsible for developing the rules of Court

for the new procedure. And to make the most of the

new rules, which are easy to read and use, advantage is

to be taken of the new IT system for online interaction

with the Court. This is being developed by the Scottish

Courts and Tribunals Service.

With the statutory instrument that introduced the

rules running to over 250 pages a cursory glance

may lead to an early conclusion that the foregoing

objectives have not been achieved. However, the bulk

of the instrument is taken up with court forms that have

to be used. There are, in fact, only 65 pages of rules

which are short and straightforward to read.

So, from what can be seen, the impact on legal

debt recovery will focus on defended litigation.

The rules will also provide an opportunity to

'flush out' irrelevant defences. This will potentially

lead to an early resolution of a disputed claim

far earlier in the Court process than is currently

possible, to the benefit of the creditor.

SIGNIFICANT CHANGE

Much of the new procedure will be very familiar.

Innovation is, however, introduced in part 1 of the rules,

setting out their principle objective. Those participating

in a simple procedure case will be expected to adopt

this philosophy. By way of an illustration Rule 1.2

provides:

(1) Cases are to be resolved as quickly as possible, at

the least expense to parties and the Courts.

(2) The approach of the Court to a case is to be as

informal as is appropriate, taking into account the

nature and complexity of the dispute.

(3) Parties are to be treated even-handedly by the

Court.

(4) Parties are to be encouraged to settle their disputes

by negotiation or alternative dispute resolution, and

should be able to do so throughout the progress of a

case.

(5) Parties should only have to come to court when it is

necessary to do so to progress or resolve their dispute.

Further, in terms of Rule 1.11, the Sheriff is required

'to encourage cases to be resolved by negotiation or

alternative dispute resolution where possible and in

circumstances where this is not possible then the Sheriff

'must decide the case'.

So, from what can be seen, the impact on legal debt

recovery will focus on defended litigation. The rules

will also provide an opportunity to 'flush out' irrelevant

defences. This will potentially lead to an early resolution

of a disputed claim far earlier in the Court process than is

currently possible, to the benefit of the creditor.

UNDEFENDED ACTIONS

With the vast majority of court actions being undefended,

it is worthwhile exploring how the creditor (known as the

'claimant') actually achieves the Court's award. And for

those who remember this as the decree, creditors will

now have to get used to the new terminology with the

claimant making an 'Application for Decision' as opposed

to 'minuting for decree'.

To commence the action the claimant completes a 12-

page 'Claim Form'. This is sent to the appropriate Sheriff

Court (there are 39 of them), usually the Court where the

respondent lives or carries out business. The claim form

should contain the following information:

(1)

(a) The identity of the claimant, including the claimant's

address and whether the claimant is an individual, a

company or another type of organisation.

(b) The identity of the respondent, including the

respondent's address (where known) and whether the

respondent is an individual, a company or another

type of organisation.

(c) The essential factual background to the dispute.

(d) What the claimant wants from the respondent if the

claim is successful – for debt recovery payment

actions this will be the sum due along with interest and

expenses?

(e) Why the claim should succeed?

(f) What steps the claimant has already taken (if any) to

try to resolve the dispute with the respondent? This

will no doubt detail what pre-sue activity has taken

place between the creditor and debtor.

continues on page 36 >

The recognised standard

www.cicm.com May 2017 35
---
TECHNICAL BRIEFING

continued from page 35

>

(2) The claimant must list in the Claim Form any

documents or other evidence that the claimant

thinks support the claim. Creditors should note that

there does not appear to be an obligation to actually

produce copy invoices. Merely listing what there are

should suffice.

(3) The claimant must list in the Claim Form any

witnesses (other than the claimant and the

respondent) that the claimant thinks support the

claim.

After the claimant's solicitor sends the form to the

Court, the Court checks that the form accords with the

rule's requirements and sends the claimant a timetable.

The timetable sets out the last date for service of the

claim on the respondent (not less than 21 days) and

the last date for the Response Form to be sent by the

respondent to the court.

The Respondent can respond in three ways by:

• Admitting the claim and settling the claim before the

last date for a response.

• Admitting the claim and asking the court for time to

pay.

• Disputing the claim - the least favourable situation for

the claimant.

DISPUTES

If the respondent disputes the claim the following must

be set out in the Response Form:

(a) Which facts (if any) set out in the Claim Form the

respondent agrees with.

(b) Which facts (if any) set out in the Claim Form the

respondent disagrees with and why.

(c) Why the respondent thinks that the claimant should

not get what is being asked for in the Claim Form,

or why the claimant should only get some of what is

asked for in the Claim Form?

(d) What steps the respondent has already taken (if any)

to try to resolve the dispute with the claimant?

OUT WITH THE OLD

This is where the new procedure differs from the

old. This is because the starting point requires that

the Sheriff has to consider the case in private if the

Respondent disputes the claim. Thereafter the Sheriff has

to send parties 'first written orders' within two weeks from

the date the court has received the Response Form.

The first written order may do one of five things: refer

the parties to alternative dispute resolution; arrange a

case management discussion; arrange a hearing; if the

Sheriff thinks that a decision could be made without a

hearing, indicate that the Sheriffis considering doing so;

and use the Sheriff's powers to dismiss a claim or decide

a case under the rules.

It is, perhaps, this last option that will be attractive

to claimants if they are faced with a wholly irrelevant

defence. The rules provide that 'if a response obviously

will not succeed because it is incompetent, the Sheriff

may decide a case...at any time.'

The corollary to this is that if the claim has obviously

no prospect of success, or it is incompetent, then the

Sheriff may also dismiss it. Accordingly, it will be

incumbent upon claimants, or their solicitors, to ensure

that their Claim Form details a relevant case. As such

it should refer to productions (such as copy invoices,

statements and contracts) and details of witnesses who

can 'speak' to the claim in the event of its being disputed.

Failure to do so could result in the claim being dismissed

in the event of the respondent disputing it.

As mentioned, the Sheriff, can decide to hold a

'case management discussion' as an option. At such a

discussion, the Sheriff may:

(a) Discuss the claim and response with the parties and

clarify any concerns the sheriff has.

(b) Discuss negotiation and alternative dispute resolution

with the parties.

(c) Give the parties, in person, guidance and orders about

the witnesses, documents and other evidence which

they need to bring to a hearing.

(d) Give the parties, in person, orders which arrange a

hearing.

In addition, the Sheriff may refer parties to dispute

resolution. The Court's wide ranging powers are amplified

by the rules which provide that 'the Sheriff may do

anything at a case management discussion that can be

done at a hearing, including making a decision in a case

or part of a case.'

Claimants will be pleased to learn that the case

management discussion can take place in Court, by video

conference, conference call or in any other form ordered

by the Sheriff. This is where development of the new IT

systems should benefit litigants.

HARD OF HEARING

Whether to hold a hearing, and what sort of hearing

should take place, is entirely at the Sheriff's discretion.

Indeed, as already stated, the Sheriff is empowered to

propose that a decision should be made without any

hearing at all. Also, the Sheriff can refer the dispute to

mediation. It will, of course, depend upon the nature and

complexity of the dispute.

It is likely that the Sheriff will either order a case

management discussion or a hearing with evidence. If it

is decided to hold a hearing, the purpose of which will

be to resolve the dispute, then it will be critical for all

documentary evidence to be lodged timeously with the

court. This has to be done at least two weeks before the

Hearing. If productions are lodged after that date the

sheriff may refuse to consider them.

36 May 2017 www.cicm.com

The recognised standard
---
SHERIFF'S ROLE?

The Sheriff has four options to resolve the

dispute at the hearing. The Sheriff's role

at the hearing is interventionist. This is

articulated by the Sheriff having to identify

what the dispute is, both legally and factually

as well as establishing the parties' attitude

towards settling matters.

Accordingly:

• The parties may be referred to alternative

dispute resolution.

• The parties should attempt to negotiate

settlement if this is possible.

• If negotiation is not possible then the Sheriff

must resolve the dispute by deciding it at

the hearing.

• The sheriff can continue the hearing to

another day without the dispute having

been resolved but only if it is necessary to

do so. If evidence is to be given then the

Sheriff must explain to the litigants the way

in which the Sheriff has decided the way in

which evidence has to be given. This power

will generally be used where the litigants

are unrepresented. So, for example, the

sheriff may explain that he will expect the

claimant to lead evidence and to justify

why he is entitled to what is being asked

for in the claim. Thereafter the Sheriff will

probably explain to the Respondent that

he can question the claimant once the

claimant's evidence has been led. The

rules provide that the Sheriff may impose

conditions on how witnesses are questioned

as well as setting time limits on how long

witnesses may be questioned. The Sheriff

is also empowered to ask questions to the

parties or to witnesses.

DECISION TIME

Whilst the Sheriff may make the decision

at the end of the hearing failing this it must

be made within four weeks from the date

of the hearing. In all cases the Sheriff's

decision must be set out in a 'Decision Form'.

The decision may be appealed within four

weeks from the Decision Form being sent. If

either of the parties want to appeal then an

Appeal Form has to be completed and sent

to the Court as well as to the other party. The

Form must detail the legal points which the

applicant wants the Sheriff Appeal Court to

answer.

EXPENSES

Once the decision has been made the Sheriff

will make an expenses order. As one would

expect, expenses follow success so as a

general rule will be that expenses will be

awarded to the successful party. However,

normally the amount of expenses will be

limited as follows:

• If the claim's value is £200 or less there will

be no award of expenses

• If the claim's value is between £200 and

£1,500 the maximum expenses awarded

will be £150

• If the claim's value is between £1,500 and

£3,000 the successful party will be awarded

ten percent of the claim's value

• Claims over £3,000. These expenses are

block fees set by the Court and are fairly

generous to the claimant. If the claimant

instructs a legal representative and

expenses are awarded in favour of the

claimant then if the sum claimed is less than

£3,000 it is unlikely the expenses will cover

the costs of legal representation.

ENFORCEMENT

Whilst this article is not concerned about

Scottish judgment enforcement Simple

Procedure has introduced a new step which

will be required before enforcement can

commence. This will not affect the Scottish

Pre-Judgment remedies the provision

of which is fully addressed by the rules.

Accordingly, before a decision for payment

of a sum of money can be enforced the

successful party must formally serve a

'charge' on the party. The Charge must

demand payment within two weeks if the

party is in the UK. Once this time has elapsed

then Sheriff Officers may be instructed to

enforce the decision. It is slightly puzzling

why there is reference to the charge because

this is what creditors have been doing

anyway,

CONCLUSION

It is likely that the new procedure will have

its greatest impact when there is a dispute.

The new rules should provide greater

opportunity for matters to be resolved at an

earlier stage in the court's process rather

than for cases to 'trundle along' aimlessly

without resolution at an increased cost.

Much in the rules has to be commended,

particularly the objective for the Sheriff

to have matters resolved without the

requirement to have evidence being led.

The issue will be that with there being 39

Sheriff Courts will all the Sheriffs be singing

the same tune despite them having identical

hymn sheets?

The Sheriff has four options

to resolve the dispute at the

hearing. The Sheriff's role at

the hearing is interventionist.

This is articulated by the

Sheriff having to identify

what the dispute is, both

legally and factually as well

as establishing the parties'

attitude towards settling

matters.

The recognised standard

www.cicm.com May 2017 37
---
PAYMENT TRENDS

EVERYTHING IS (SORT OF)

UNDER CONTROL

Jason Braidwood FCICM(Grad), Head of Credit and Collections at Creditsafe Group,

analyses the latest monthly business-to-business payment performance statistics.

7 6 5 4 3 2 1 0 0 1 2 3 4 5 6 7 8

AS we reached the end of Q1 2017

we had much more to celebrate than

just the clocks going forward and

Getting Better

the arrival of spring – as welcome

as that is. We saw Scotland the industry-wide -3.9average

for bill paying reach its lowest score since

we started publishing North West our data back -1.6in the

beginning of 2014 – reaching an all-time low

of 11 days beyond terms +1.0 (DBT). To give that

some context, this is a 20 percent decrease

West Midlands -0.8

on the same time last year and a 48 percent

decrease on two years ago.

East Midlands -1.5

Driving a culture of better payment practice

is something that East all Anglia industries are -1.5 striving for,

but none more so than the credit profession.

It operates in a field of Wales rules and -2.4 relationships,

as well as a consistently shifting economic

landscape. That South keeps West things interesting -2.6 but

also means that outcomes are hard to predict

South East -1.7

and control.

This month, however, we find ourselves

London -0.8

in a situation where the headline is

overwhelmingly positive +0.4 – bills are being

paid and the promptness of that payment is

improving. Getting Worse

The message at the start of 2017 was slow

and steady, with cautious optimism at some

surprisingly good figures. While it is still early

days, the pace has now been set and there's

much to be hopeful for as we shift gears shift

into Q2.

Yorkshire & Humberside

Northern Ireland

the sector's 2016 average.

The award for consistent improvement

this month goes to the Education sector.

The sector has sat in pole position of our top

five prompt payers list month-after-month,

probably without the due credit it deserves

(sorry!). This month that changes, because

the Education sector has reached its lowest

DBT score to date and the lowest score ever

recorded by our audit across all sectors. While

it is an odd sort of plaudit to see a sector

paying its bills on time, in the grander scheme,

it's a significant achievement.

There is also reason to put the bunting out

for the IT and Comms sector, which has seen

its DBT drop by over a third this month. In a

sector that has the pressure to be nimble and

innovate at high speed, it's good to see that

its payment strategy is following suit.

And while most sectors have got their

payment under control – there is one that

has fallen fairly spectacularly off the wagon.

The International Bodies sector reported a

Sector

Sector

60 percent decrease in DBT last month, but this

month has piled its weight back on, shooting

payment back up to 17 days.

REGIONS

The South West is firmly in control and the only

region that can wave the 'single figures' flag this

month as it drops down to nine DBT – 20 percent

under the regional average. For the past year, the

South West has averaged at the 12 DBT mark so

it's great to see it dropping by a third this month.

Alongside the South West, East Anglia proved

to be second best performer, paying its bills on

average ten DBT – it's lowest since August 2016.

Yorkshire and Humberside was the slowest

paying region in March, with businesses paying

their bills on average 13 days beyond agreed

terms. In close succession was Scotland, which

also had an average DBT of 13, followed by the

North West, London, Northern Ireland, the West

Midlands and the South East with a 11 DBT

average.

That said, the South East has earned itself a

place in our top five prompter payers given that

it has seen a 13 percent decrease on payment

terms from last month and its lowest since April

2016. Maybe we can put that down to a record

1,800 hours of sunshine for the region in March!

INDUSTRY SECTORS

In the early part of Q1, the Finance and

Insurance sector appeared to be on

something of a downward spiral, jumping

from an average of 16 DBT to 20 and 26 days

in January and February respectively. The

good news for the sector is that March has

seen a significant shrink in DBT, back down

to 15 – meaning it is now enjoying the top

spot in our 'getting better' table, the ultimate

accolade! Let's hope this is the promise of

even better things to come, perhaps even a

return to a figure around the 12-day mark –

Getting Better

Getting Worse

Financial

& Insurance

-11.1

International

Bodies

+10.5

Top Five Prompter Payers

IT & Comms

-4

Water

& Waste

+4.2

Education

-3.8

Construction

+0.6

Public

Administration

-3.5

Mining &

Quarrying

+0.5

Health

& Social

-3.2

Entertainment

+0.2

Bottom Five Poorest Payers

Sector Mar 17 Change on Feb 17

Sector Mar 17

38 May 2017 www.cicm.com

The recognised standard

Education 2.1 -3.8

International Bodies 17.8
---
e

0South 1West 2 3 4 59.3 6 7-2.6

8

Getting Better Financial

Bottom Five Poorest Payers

& Insurance IT & Comms

Bottom Five Poorest Payers

-3.9 -11.1 -4 -3.8

-0.8

-1.5

-1.5

-2.4

-2.6

-1.7

-0.8

Sector

Getting Better

Bottom

International

Getting Worse Five Poorest Payers

Bodies

Top Five Prompter Payers

Region

Financial

Northern Ireland

North West

+1.0

West

& Insurance

Midlands

IT & Comms

-0.8

-11.1 -4

East Midlands -1.5

Bottom Five Poorest Payers

East Anglia

+10.5

Wales

London

Top Five Prompter Payers

+0.4

-1.6

25

8 7 Region

6 5 4 3 2 1 0

Yorkshire & Humberside

20

Water

& Waste

-1.5

+4.2

-2.4 Scotland

Education

-3.8

17 Sector Mar 17 Change on Feb 17

d

4 5 6 7 8

berside

International Bodies 17.8 10.5

Water & Waste 17.0 13.2 DBT

4.2

Financial and Insurance South West 15.6 -2.6-11.1

Manufacturing 14.3 0.0

South East -1.7

Public Administration 14.3 -3.5

Sector Northern Mar 17 Change on Feb 17

Ireland

Education Getting 11.5 DBTWorse2.1 -3.8

North West

Entertainment 7.6 0.2 11.9 DBT

IT and Comms 8.5 -4.0

Real Estate 8.7 -1.8

Agriculture, Forestry and Fishing 8.8 -0.4

Top Five Prompter Payers

-0.8

Top Five Prompter Payers

Construction

+0.6

Public

Administration

-3.5

-3.5 Top Five -3.2 Prompter Payers

Getting Better

Region Mar 17 Change on Mar 17

Region

Mining & Entertainment

South Quarrying West Scotland9.3 -2.6

+0.2

Getting Worse

East Anglia 13.2 DBT10.1 -1.5

East Midlands 10.6 -1.5

Wales 10.8 -2.4

South East 11.0 -1.7

Northern

Ireland

11.5 DBT

Region -3.2 10

Mining &

Quarrying

+0.5

Health

& Social15

5

Entertainment

Scotland

0

+0.2

North West

South West

South East

Wales

10.8 DBT

+1.0

West Midlands

North West

11.9 DBT

West

Midlands

11.1 DBT

South West

9.3 DBT

Scotland

0 1 2 3 4 5 6 7 8

13.2 DBT

15.7 15.8 16.2 16.1 16.0

Getting Better

-0.8

East Midlands -1.5

Bottom Five Poorest Payers

East Anglia -1.5

London

-3.9

Jan Northern Feb Mar Apr May Jun Jul Aug Sep

Ireland

11.5 -1.6

DBT

North West Yorkshire &

11.9 Humberside

DBT

International Bodies 17.8 10.5

Wales -2.4

Water & Waste 17.0 4.2

Financial and Insurance 15.6

-2.6

-11.1

Manufacturing 14.3 0.0

Public Administration 14.3 -3.5

Yorkshire & Humberside 13.5 DBT

West

Midlands

Sector Mar 17

Wales

Change on Feb 1711.1 DBT

10.8 DBT

-1.7

-0.8

+0.4 Northern Ireland

Financial

Bottom Five Poorest Payers

& Insurance IT & Comms Education

Getting Worse

-11.1 -4 -3.8

Region

Yorkshire &

Humberside

13.5 DBT

East

Midlands

10.6 DBT

London

11.6 DBT

South West

9.3 DBT

London

Getting 11.6 DBT

Better

Region Mar 17 Change on Mar 17

Region South East

Mar 17 Change on Feb 17

South West

11.0 DBT

Yorkshire and Humberside 13.5 1.0

9.3 DBT

International

Water

Construction

Getting Worse Scotland Bodies 13.2 & Waste -3.9

East Anglia 10.1 -1.5

East Midlands 10.6 -1.5

Wales 10.8 -2.4

South East 11.0 -1.7

Northern Ireland

Wales

10.8 DBT

Yorkshire &

Humberside

13.5 DBT

West

Midlands

11.1 DBT

tting Better

Region Mar 17 Change on Feb 17

Yorkshire and Humberside 13.5 1.0

International

Water

tting -1.6 Worse Scotland Bodies 13.2 & Waste -3.9

North West +10.5 11.9 +4.2 -1.6

Yorkshire London & Humberside 11.6 -0.8

Northern Ireland 11.5 0.4

The message at the

start of 2017 was

slow and steady, with

cautious optimism at

some surprisingly good

figures. While it is still

early days, the pace has

now been set and there's

much to be hopeful for

as we shift gears shift

into Q2.

Education

Construction

+0.6

Public

Administration

East

Midlands

10.6 DBT

+0.5

East Anglia

10.1 DBT

+10.5

+4.2

North West 11.9 -1.6

London 11.6 -0.8

Northern Ireland 11.5 0.4

Health

& Social

+0.6

17.4 17.3

East Anglia

10.1 DBT

South East

11.0 DBT

East

Midlands

10.6 DBT

London

11.6 DBT

Public

Administration

-3.5

17.1 16.9

Mining &

Quarrying

+0.5

25

20

15

10

5

East

10

South

11.0

Health

& Socia

-3.2

Financ

Bottom Fiv

& Insur

0

-11

Yorkshire and

Scotland

North West

London

Northern Irela

The recognised standard

www.cicm.com May 2017 39
---
OPINION

"We have an excellent reputation

and need to work with partners who

understand us, and who understand the

leisure industry"

FIT FOR PURPOSE

Les Clisby reports on how one of the UK's best-known fitness

brands is managing overdue members' fees.

MANAGING the expectations of

members of one of the UK's leading

health and fitness groups, David

Lloyd Clubs, is a daunting challenge.

Giving exceptional levels of member service

and continually demonstrating value for

money are critical not only to attracting new

members, but also to retain the existing

membership numbers.

With 83 clubs in the UK, more than

486,000 members, collecting fees can be a

delicate balance, especially when a payment

becomes overdue.

Finding this balance becomes more

delicate still once a payment moves from

being overdue to an actual debt that requires

recovery, and the need for third-party support.

Steve Empson, Group Central Membership

Manager, is the man tasked with satisfying the

Group's commercial needs, without adversely

impacting its reputation.

Steve set up the collections team from

scratch, using credit industry trade shows to

gain insight into the latest collection methods,

technologies and techniques and establishing

new processes to be deployed in-house.

For the first 30 days, outstanding debts

are managed within his team, before being

outsourced to a specialist provider,

ARC (Europe), with whom Steve has worked

for more than ten years.

"The accounts we outsource have already

gone through our collection process, and

any disputes identified, so the ARC team

receives a 'clean' list that helps to avoid

any misunderstandings or the likelihood of

complaints," he says.

"Although our debt is not regulated by the

Financial Conduct Authority, we benchmark

our own in-house team and our external

partners by the standards the FCA has set

in terms of offering forbearance and Treating

Customers Fairly (TCF), and this similarly helps

keep complaints to a minimum."

Importantly, Steve explains, his team has

a much wider role than just debt recovery,

and therefore a much wider appreciation

of customer engagement. Membership

satisfaction and retention is of the utmost

importance to David Lloyd Clubs and in

working with ARC, he similarly expects that

same level of positive interaction, re-engaging

and re-habilitating members wherever

possible.

"Debt management in a members focused

business like David Lloyd Clubs needs to be

dealt with sensitively. Sometimes a debt is the

result in a change in the individual's personal

circumstances, but it might also be that they

have moved address without telling us, and

we have been unable to connect. In all cases,

we are transparent: members are informed that

they will be contacted by our administrative

partners, ARC, and sometimes the intervention

of a third party in itself is enough for a payment

to be received."

Steve measures both his in-house team

and external providers using a balanced

scorecard and recording all calls. They also

meet in person at regular intervals, to review

best-practice and share common experiences.

In exceptional cases, a further tier of doorstep

collections can be used, and even litigation,

but only ever as a last resort.

In terms of his relationship with ARC, Steve

says that the key to their longevity has been

trust: "We have an excellent reputation and

need to work with partners who understand

us, and who understand the leisure industry,"

he continues. "Because ARC also works with

banks, and is FCA authorised, we have been

able to benefit from the new standards being

demanded.

"Working with ARC means that our

members are being given the same fair

treatment they would receive from my own

team, and we are able to maintain one of the

best retention rates in our industry."

Les Clisby is a freelance business writer

40 May 2017 www.cicm.com

The recognised standard
---
SECTOR REVIEW – FITNESS AND SPORTS FACILITIES

The following data, compiled exclusively for Credit Management

by dun & bradstreet, is drawn from two primary industry

sectors – Fitness Facilities and Sports Facilities. (Additional

commentary by CICM Think Tank member, Mark Preston

MCICM.)

For March 2017 there were 1,377 businesses in this database

– the analysis covers the period April 2016 to March 2017 and

volumes are in the range 1,200-1,400 each month (representing

businesses with sufficient payment data to count).

Businesses with 25 or less employees pay more promptly than

larger businesses. About 1,000 of the 1,377 in March 2017 (73

percent) had prompt payments between 35 and 40 percent. This

compares to larger businesses with over 250 employees making

prompt payments averaging about 15 percent. This seems to

support the understanding that small businesses generally pay

better than larger businesses and the consequent issues that

this can cause the smaller suppliers.

In general, across the 12 months, smaller businesses

outperform their larger counterparts by making payments

promptly significantly more often (over double the percentage).

At a regional level, Yorkshire and the North outperforms the

rest of the UK, with the West Midlands, Greater Manchester and

Northern Ireland making the fewest percentage of payments

promptly.

Overall across the Gym and Leisure Industry the last 12 months

has seen a decline in the percentage of prompt payment by

nearly nine percentage points, with Fitness Facilities performing

more poorly than Sports Facilities. This seems to be a general

trend not limited to the larger businesses.

"Although our debt is not

regulated by the Financial

Conduct Authority, we

benchmark our own

in-house team and our

external partners by the

standards the FCA has

set in terms of offering

forbearance and Treating

Customers Fairly (TCF),

and this similarly helps

keep complaints to a

minimum."

"Working with ARC

means that our members

are being given the same

fair treatment they would

receive from my own

team, and we are able to

maintain one of the best

retention rates in our

industry."

The recognised standard

www.cicm.com May 2017 41
---
TECHNOLOGY IN ACTION

BEATING

BLACK MONEY

Richard Hurwitz, CEO of Tungsten Network, discusses how

financial technology is helping to tackle tax evasion in India.

Richard Hurwitz

FOLLOWING a seven percent growth

rate in the final quarter of 2016, the

Indian economy is predicted to continue

growing throughout the first half of 2017,

maintaining the country's position as one of

the fastest growing economies in the world.

As the initial side effects of demonetisation

begin to fade and activity returns to prenote

ban levels, India's economic growth is

expected to keep on climbing at a prolific rate.

India faces several issues, however,

that are preventing the country from fully

capitalising on this upward curve. The

black money saga continues to dominate

news headlines, with India having recently

approached Switzerland for the details of at

least ten persons and entities suspected to

have kept untaxed money in Swiss banks.

The issue is not helped by the fact that

only a small proportion of the population

contributes through taxation. Out of 37 million

citizens who filed tax returns last year, 10

million were exempt, leaving 27 million – or

just two percent of the population – paying

taxes. A growing community of corporate

analysts, consultants and technocrats have

tax contributions directly withheld from their

salaries, whereas non-salaried workers who

may earn more can often end up paying

nothing at all.

Taxation in business also remains an

issue and this is where technology can help.

Infrastructure systems in India are being

upgraded to sustain the country's growth and

to ensure equity across the board. The Indian

Government, therefore, is pursuing digitisation

efforts to speed up business processes,

reduce fraud and tackle its black economy.

As such, India is embracing technology

at an accelerated pace. One such adoption

and step in the right direction is the

implementation of compliant digital invoicing.

The move from a cumbersome paper-based

approach to a digital model is good news

for any business looking to trade with Indian

vendors. Tungsten's expansion into the

country will enable fast, efficient processing

and a reduced risk of fraud for businesses on

the network who trade from and with India,

as well as creating legal invoices for goods

in Chandigarh, Delhi, Himachal Pradesh,

Karnataka, Maharashtra, Punjab, Rajasthan

and West Bengal. These represent the leading

regions in business growth and potential.

Already, several countries around the

world have embraced e-invoicing to fight

fraud and tax evasion. For India to become

compliant, the Government, at both a national

and state level, has legally permitted the use

of digital signatures to prove the authenticity

of an invoice. The Tungsten Network provides

an encrypted code that is attached to an

electronically transmitted document to verify

its contents and the sender's identity; in this

way, it is ensured that important information

and documentation will not be compromised.

Our Indian product adapts to the different

rules and regulations relating to goods invoices

of all eight states. Behind the scenes each

variation needs to be accounted for, but

Network members now have seamless access

to a frictionless future in India. They can

access e-invoicing and e-archiving services

similar to those they use elsewhere in the

world.

Compliant e-invoicing requires diligent

attention to local regulatory and tax changes

and we have worked closely with PwC and

TrustWeaver in this regard. In anticipation of

the introduction of the Goods and Services Tax

regulations (GST) in India later this year, we are

staying close to developments in this area.

The digital processing of invoices enables

businesses across the globe to improve the

efficiency of their accounts payable systems.

Tungsten's mission is to help its members to

compete to win by removing friction from their

procure to pay processes.

Now is an exciting time to be doing

business with India. There is a myriad of

opportunities for businesses buying or selling

and undertaking trade agreements with the

fast-growing firms in the country. Technology

is changing the landscape and the document

exchange systems and processes that have

become established elsewhere in the world are

being adopted and embraced. We're looking

forward to being part of that journey.

Richard Hurwitz

42 May 2017 www.cicm.com

The recognised standard
---
THE PERFECT VENUE FOR THIS YEAR'S

CICM FELLOWS'

LUNCH 2017

This year we are inviting you to a truly unique experience at the most

exclusive private members club in London. Join us for a spot of luxury with

a magical mix of 18th century splendour and 21st century avant-garde.

Home House is the perfect venue for this year's Fellows' Lunch.

WEDNESDAY, 7 JUNE 2017

Arrival drinks served at 11:30

Tickets are £128.00+VAT per person

To book your seat, please email fellowslunch@cicm.com

HOME HOUSE, 20 PORTMAN SQUARE,

MARYLEBONE, LONDON W1H 6LW
---
ENFORCEMENT AGENTS

TIME TO PROVE YOUR CONTINUOUS

PROFESSIONAL DEVELOPMENT

Taking Control of Goods CPD package is the cost-effective way to remind yourself

of enforcement law and best practice regardless of how you initially qualified.

Access the definitive TCG Guidance, fully updated and

endorsed by CICM, HCEOA, LACEF and CCAA to ensure you

cover all important areas. Test yourself anytime, anywhere

and produce a CPD Certificate to prove to a judge that you

have kept up to date when you renew your certificate to act

as an enforcement agent. £53 + VAT. The 60 multiple choice

questions are also perfect if you are preparing for the TCG

qualification required for your first certificate. CICM runs a

one-hour monthly online exam for the Level 2 Award in Taking

Control of Goods in many towns and cities throughout the UK

to reduce work downtime. Find a convenient time before or

after work. Results on the day.

Visit www.qualifications.cicm.com to find out more and book.

'This is the definitive guide for CPD and

to passing the exam.'

Barrie Minney. Chair, Local Authority Civil Enforcement Forum.

Senior Enforcement Agent, Brighton & Hove City Council

'HCEOA are proud to have developed this Best Practice

Guidance for the industry and robust qualifying exam

which can be easily accessed near home or work.'

Andrew Wilson. Chair, High Court Enforcement Officer Association & Solicitor

'With HCEOA, CEAA and LACEF input, this CPD package provides perfectly balanced guidance

and the CICM Award will be seen as the qualification to study for if you want to become an

Enforcement Agent.'

James Bond. General Secretary, Civil Enforcement Agents Association

High Court Enforcement

Officers Association

LACEF

The Local Authority

Civil Enforcement Forum
---
CICM EDUCATION

CONFERENCE 2017

22 June 10am-4pm

Education, Education, Education! Book now for CICM's

unmissable, annual Education Conference being held in

Birmingham on Thursday 22 June.

Reserve your place at this popular free event to discover

from education specialists and senior credit and collections

managers about 'Inspiring the future: next steps for credit

professionals'.

With a programme packed with forward-thinking and

inspirational speakers, the conference will quickly bring

you up-to-date with the new credit controller/collections

apprenticeships and help progress your professional

development and CICM qualifications.

A focus this year will be on professional identity and senior

managerial roles. Find out about the skills required for senior

roles and the value of the CICM Level 5 Diploma and MBA

degrees. A range of workshop sessions will suit you and new

learners, and give plenty of opportunities to ask questions

and meet like-minded credit professionals.

Meet the first credit controller apprentices and their employers

Find out how to get started and progress with CICM qualifications

Improve your Level 5 assignment writing skills

Discover from others about the skills required for senior managerial roles

We expect this event to be very popular and places are limited so to

avoid disappointment, email educationconference@cicm.com or call

Becki Sharpe our CICM events co-ordinator on +44(0)1780 722902

The recognised standard

www.cicm.com May 2017 45
---
EDUCATION

WHAT THE

PEOPLE SAY

EXPECTATIONS

Credit Management has definitely lived up to my

expectations. When I first started at Aggregate

Industries I was expecting a very hands on

experience, directly dealing with customers as well

as having my own responsibilities which tick the

boxes for me as they were the reasons I wanted to

pursue a role in credit control rather than staying

on at school. I still wanted to gain qualifications

whilst working and luckily Aggregate Industries

and the Chartered Institute of Credit Management

allow me to do so which is exactly what I was

looking for.

"Credit has loads of exciting roles to

cater for all types of people, which

allows you to enjoy work, a key factor

when it comes to deciding which career

you wish to pursue"

TRAINING

During my apprenticeship within credit services

I have had training at the front end of credit,

dealing with creating accounts with the New

Business Opportunities Team. I have learnt how to

manage major accounts. I have also worked with

the Surfacing and Contracting Team which deal

with the huge contracts Aggregate Industries have

with other large organisations as well as training

on admin elements within different roles. FWD

Training provides coaching and I have regular

virtual CICM classes to cover best practice credit

management principles.

WHAT I DO

My day-to-day work can vary massively, which is

another thing I love about my job. Different roles

can provide different tasks, for example, one day I

will be processing applications at the front end of

credit control and another day allocating millions

of pounds to certain contracts. At the moment

I look after a major account which entails a lot

of admin based Search Results reconciliations,

allocations, dealing with query resolutions and not

to forget chasing payments.

I love the interaction as I like to see a result

with the work I have completed. I really enjoy

dealing with massive accounts that take a lot of

work and concentration to complete and the end

product of having a clear ledger with a massive

multi million pound credit limit is the sort of thing

I live for. I also love having my own responsibilities

and because of the wide range of interesting and

exciting roles that credit has to offer, everyone

has the opportunity to take ownership and

responsibility for everyday tasks which I think is

amazing.

ACHIEVEMENTS

My most recent success is that I reconciled many

child accounts that linked to one customer.

After sending the reconciled accounts to them,

I received an email telling me that thousands of

pounds worth of invoices had been passed for

payment, which in my eyes is a great achievement.

ADVICE TO OTHERS

Get into the job as fast as you can! I think credit is

a great career to pursue because not only does it

allow you to encounter new tasks everyday, it also

allows you to meet so many great new people as

well as gaining loads of new skills. Credit has loads

of exciting roles to cater for all types of people,

which allows you to enjoy work, a key factor when

it comes to deciding which career you wish to

pursue.

BRADLEY ABBOT.

CREDIT SERVICES APPRENTICE

AGGREGATE INDUSTRIES

EXPECTATIONS

Since I started in my role at Smiths News as a

Credit Controller I have discovered that Credit

Management, as a whole, is quite complex. It has

lived up to my expectations completely; it has

been challenging to grasp, but equally rewarding,

as I see myself implementing the knowledge I have

gained from my lessons in my work practices on a

day-to-day basis.

"If you are looking for a technical role that

also is very hands-on and involves a lot of

customer interaction then you couldn't go

wrong with working within Credit Control"

TRAINING

I have had a lot of hands-on training within the

Credit Control department. I get feedback in my

one-to-ones with my supervisor, where we discuss

how I've been performing and any ideas we both

have about optimising my performance in the

workplace, as well as with my CICM studies. As

the CICM Apprenticeship is completely new the

Credit Control Manager has been supporting my

learning so that everyone is informed as to what is

expected of me.

WHAT I DO

I have quite a few tasks to handle daily. My main

area of responsibility is chasing up customers

who are late with payment of invoices. This is

usually the side of things that is visible to people

outside of credit control, however, there are many

other jobs that I do to support our customers and

ensure they have everything they need to process

invoices in a timely fashion. I match remittances

and clear incoming payments from customers,

then follow that up and chase for any outstanding

invoices. I send out spreadsheets to customers

detailing costs of the supplies they have received

from us each week, and when the month ends,

issue a monthly statement of their account. I

send out invoices both by post and email at the

start of the week to make sure customers know

what has been applied to their account for the

previous week. In my role there are many aspects

I love, but the overall interaction between myself

and my customers is something I enjoy more

than anything else; it allows me to be on an equal

level to the people I deal with on a regular basis,

which gives me the chance to build relationships

between us.

ACHIEVEMENTS

I have had a few successes I am proud of, but I

would say the first time I was able to undertake

my tasks without supervision made me feel much

more confident in my capabilities.

ADVICE TO OTHERS

It's not for everyone, but if you are looking for

a technical role that also is very hands-on and

involves a lot of customer interaction then you

couldn't go wrong with working within Credit

Control.

LEWIS PACE, CREDIT CONTROLLER APPRENTICE

SMITHS NEWS

46 May 2017 www.cicm.com

The recognised standard
---
Discover what apprentices are saying about their

experience and training within the credit profession.

We have gathered some case studies from different

companies to showcase their work and training.

EXPECTATIONS

I didn't actually know about credit management

before I found out about the role through my

sister, it is a job that not many people know about

when leaving school. Since working in credit I have

really enjoyed it.

TRAINING

Training started with an introduction training

day, where I was taught about Adecco and how

everything works. It was good to get to know more

people at Adecco, not just in my office but people

from all over the country. I have also had training

on how to chase clients in the correct way for

example over the phone or via email. Chris Shaw

at FWD Training provides support and coaching

and I learn more about the theory of credit control

and business communications in regular CICM

virtual classes.

WHAT I DO

My job involves chasing clients to pay, but on my

team (High Risk/91+ Debt Team) an account will

only come to us if it has an invoice overdue by

91 days. I either chase this client through email,

phone or arrange a meeting if necessary. Also

if there are problems with an invoice it is my

responsibility to get that invoice put into query

where a different team will solve that problem.

SUCCESS

I have been with Adecco for two months and I

achieved my target this month. It is also the first

time I have had my own ledger of accounts to deal

with.

"It is a job that not many people

know about when leaving school"

ADVICE TO OTHERS

I didn't know about credit management when I left

school, but credit management is an interesting

job which never gets boring as you are coming

up against new challenges all of the time. Also in

credit you can do a lot of different roles, you are

not stuck in one specific role. I would recommend

to any young person considering credit to

definitely give it a go as I have really enjoyed my

time so far in credit.

REECE CARROLL

APPRENTICE CREDIT CONTROLLER

ADECCO GROUP

EXPECTATIONS

I didn't know that credit management was a career

route and was not aware of the role of a credit

controller until I stumbled across the job advert.

It is a lot more sophisticated than you would first

think.

TRAINING

I have attended numerous workshops/ training

sessions organised by Adecco specifically for

apprentices. The workshops included team

building, telephone and email etiquette and how

to perform huddles. I also have regular review

sessions with Chris Shaw at FWD Training and

virtual classes with a CICM teacher.

WHAT I DO

Tasks include:

• Calling clients to chase for payment dates

• Allocating cash

• Resolving certain queries

• Liaising with branches to resolve issues

• Email clients copy invoices, statements.

"It is a lot more sophisticated

than you would first think"

I prefer interaction with clients, instead of seeing

names and numbers on screens and tapping my

keyboard. I am able to interact with my clients and

branches and this keeps me interested in my job

as one day is never the same. You do have the odd

client that choose to be difficult, however being

professional, stern and following protocol normally

resolves issues and acquires payments.

SUCCESS

I had a situation recently where a client that I have

been contacting for nearly a month eventually paid

all the outstanding invoices. My perseverance and

professionalism paid off.

EXPECTATIONS

Credit control wasn't what I was expecting when I

first started. I didn't realise how big credit is for the

majority of companies. Also, I didn't realise how

many people were behind ensuring that credit

gets paid in certain businesses. Now that I am six

months into the apprenticeship I am more aware

of what credit management is and its importance.

The work is more enjoyable than I first imagined.

The ledgers that we are given bring a massive

incentive to reach that target and when a big

payment comes in or an account that you know

has been difficult is finally paid, I have a great

sense of joy and relief.

TRAINING

CICM have provided me with lots of training. We

have had a number of lessons to help us develop

our skills and pass our end point assessments.

Jules Eames, the CICM Tutor is outstanding in

the way that she presents lessons and also

adapts them to us. It has helped the group

understand key areas of our course. Adecco

Group has also provided us with training from

one of the members of the training team. These

training sessions have varied from Huddle board

presenting to communication methods. These

have seemed to have been very beneficial over the

months that I have worked at the company.

WHAT I DO

In my role I prefer it when I receive a challenging

client or issue regarding an invoice. This is just

because it involves me thinking about a resolution

and allows more of a challenge to be put on

my shoulders. This is what personally I believe I

strive for and within this role plenty of challenges

appear.

"I didn't realise how big credit is"

ACHIEVEMENTS

I have managed to hit the majority of my targets

since I have started. With a target of nearly

£500,000 it isn't the simplest of things to do.

I have only ever missed two targets and that was

at Christmas due to bank holidays and days off.

RYAN COTON

APPRENTICE CREDIT CONTROLLER

ADECCO GROUP

ADVICE TO OTHERS

Always be confident, research what a role requires

and never give up regardless of the circumstances.

Also, always ask questions if you're not sure about

something.

HASSAN AMAR

APPRENTICE CREDIT CONTROLLER

ADECCO GROUP

The recognised standard www.cicm.com May 2017

47
---
HR MATTERS

THE STATUS

OF WORKERS

Gareth Edwards explores what status an employee has depending

on his contract and what rules he is subject to.

BUSINESSES using the services of self-employed

consultants may need to question whether they

need to change their working model following

the Court of Appeal's decision in Pimlico

Plumbers Limited and Charlie Mullins v Smith.

Gary Smith worked for Pimlico Plumbers as a

plumber from August 2005 until May 2011, when he

was dismissed following a heart attack in January 2011.

His original contract with Pimlico Plumbers referred to

him as a 'sub contracted employee' and incorporated

Pimlico's company procedures and Working Practice

Manual.

This manual set out extensive rules for the provision of

Smith's services including that he had to wear company

uniform at all times; his normal working hours were a

five-day week in which he should complete a minimum of

40 hours; he must always be available during his shift to

take on-call work; and there were detailed requirements

for timesheets, invoices, estimates and additional labour

charges.

This contract was replaced by a more detailed

agreement in September 2009, which referred to Smith

as a 'self-employed operative'. This stated that the actual

days he provided his services would be agreed from

time to time; he had to correct any errors free of charge

or cover the cost of correcting them; his fee would be

paid against his invoices and set at 50 percent of the

cost charged by the company; he was responsible for

his own taxes and had to provide his own equipment

and materials; and had to follow ten 'personal conduct'

guidelines.

In practice, Smith decided his own working hours.

Pimlico Plumbers had no obligation to provide work

on any particular day. If there was not enough work,

none would be provided and he would not be paid. He

had discretion whether to negotiate on price, covered

substantial costs of materials himself, provided his own

protective clothing and used his own accountant to file

his tax returns.

Following his dismissal, Smith brought claims against

Pimlico Plumbers for unfair and wrongful dismissal

and against its Managing Director, Charlie Mullins, for

disability discrimination.

After consideration, the Employment Tribunal held

that Smith was not an employee for unfair dismissal

purposes because there was no legal obligation on

Pimlico Plumbers to provide him with work. The judge

also felt the company's right to withhold payment if

its customer had not paid and his obligation to rectify

problems in the work at his own expense were also

inconsistent with an employment relationship.

The judge did, however, hold that Smith was 'in

employment' for the purposes of his discrimination

claim and a worker. She felt that Mr Smith had sufficient

obligation to provide his services personally to be a

worker and held that he was under an obligation to

provide work personally (and not substitute someone

else) for a minimum number of hours per week on the

days agreed with Pimlico Plumbers.

Both parties appealed the elements of the Tribunal's

decision that went against them.

The Employment Appeals Tribunal upheld the

decision on employment status saying that the

relationship simply did not look anything like a contract

of employment. It also supported the decision on

worker status.

The case went to the Court of Appeal as Mullins and

Pimlico Plumbers appealed the decisions on worker

status and being in employment for discrimination

purposes. However, their appeals were unsuccessful.

The Court of Appeal conducted a thorough review

and offered comments on the right of substitution. It

held that Smith had a personal obligation to provide his

services. It also held that he had acknowledged he had

a contractual obligation to work a normal 40-hour week,

even if that was not enforced by Pimlico Plumbers, and

even though Pimlico Plumbers had no corresponding

obligation to offer him work if there was none to offer

him. He was therefore a worker.

Despite the series of recent cases in which

individuals have been held to be workers even though

their contracts stated that they were self-employed

contractors, there is still scope for the self-employment

contractor model to operate without engaging either

employee or worker status. However, businesses

seeking to engage individuals on this basis must

take care to ensure that the individuals providing the

services genuinely meet the necessary criteria such as

exercising a genuine right of substitution.

It will also be interesting to see whether this area

will be significantly affected by the forthcoming Taylor

review and the updated Employment Status Review

recently published by the Department for Business,

Energy and Industrial Strategy (BEIS).

Gareth Edwards is a partner in the employment team

at Veale Wasbrough Vizards. gedwards@vwv.co.uk.

48 May 2017 www.cicm.com

The recognised standard
---
OPINION

CELEBRATING

CREDIT PROFESSIONALS

ALL YEAR ROUND

Recognising and celebrating the work that credit professionals

do is something that Hays got really involved with during Credit

Week, supporting the CICM as a Premium Corporate Partner.

WITHIN Hays Credit Management,

we wanted to dedicate the Week

to supporting credit professionals.

They have a vital role in helping

organisations to succeed, enabling companies

with cashflow and working capital, to

report healthy profits and grow and attract

investment.

The Week also gave us a good opportunity

to recognise how vital our own credit team at

Hays is in supporting the UK business. The

team bills and collects £1.8 billion per annum

and was recognised last year with CICMQ

accreditation, which helps identify best

practice and best-in-class credit teams.

SUPPORTING PROSPEROUS JOB

SEARCHES

Credit management is currently one of

the most in-demand job sectors in the

accountancy and finance sphere in the UK.

Legal, retail, manufacturing, media and

property are where demand lies most at

present.

Appetite for new talent is high and to

support those looking for a new role, we

shared our top tips for creating a truly

effective CV to help credit professionals

achieve internal promotion as well as ensure it

stands out against any external competition.

Set out a plan for your

whole recruitment process,

and know when you need

to fill your role by, it's also

best to be explicit with

requirements, and realise

what you are looking for in a

candidate to avoid losing out.

For credit professionals, we recommend

targeting your CV for a sector specific role,

highlighting specific achievements as well as

providing details of live accounts and the size

of ledgers worked on. It needs to demonstrate

achievement of things like cash collection

targets – how much, over what period of time,

and the part you played if a team collectively

achieved the target. Additionally, while

appearing very basic, checking for spelling

mistakes, grammatical errors, formatting and

consistency are all a vital part of the process.

Karen Young, Director at Hays Credit

Management, presented to our own credit

team at our Finance Shared Service Centre

in New Malden on how to build your own

personal brand via LinkedIn by sharing

content across social media. This skill is

also particularly pertinent for job seekers, as

credit professionals can help share and thus

demonstrate their expertise and knowledge of

the field through their social media feeds.

ADVICE FOR EMPLOYERS

Throughout the Week, we also discussed the

market demands in credit management as well

as advice for employers who are looking to

recruit this year. Kabir Gulabkhan, Manager at

Hays Credit Management, offers tips for hiring

managers when competing for talent: "Set

out a plan for your whole recruitment process,

and know when you need to fill your role by,"

she says. "It's also best to be explicit with

requirements, and realise what you are looking

for in a candidate to avoid losing out."

BEING PASSIONATE ABOUT CREDIT

Two members of our own credit team at

Hays, based in New Malden, visited our Hays

Cheapside office in Central London to share

their thoughts with the sales team on how

they can work with our Credit Consultants to

improve the service our customers receive.

Discussing the qualities of a Credit

Controller, or Manager, the team highlighted

some core strengths needed to succeed in

the industry including being commercially

aware, understanding operations as well as

good people management skills. We also

shared findings from our DNA of a Credit

Manager report, which reveals the top three

skills needed to be a Credit Manager; the

ability to manage people, solid commercial

understanding and the ability to manage risk.

The Shared Service Centre also celebrated

the week with a number of activities for

Credit Week, including raffles, quizzes, and

competitions. All activities raised just over

£330 for our charity partner Together for Short

Lives.

INTERNATIONAL CHALLENGES IN CREDIT

Our London office also took the chance to

host a forum based on credit risk with an

international focus in mind, alongside Chris

Sanders, Head of Accreditation - CICMQ

at CICM, who welcomed clients including

Snapchat and Ink Global Publishing to our

London Cheapside office.

The forum looked at the top five elements

needed for managing risk in today's credit

landscape. Attendees also enjoyed a

discussion around upcoming risks and issues

in credit, including the implications of Brexit

when staff are placed internationally, as well as

credit scoring.

We'd challenge all those working within the

credit industry to celebrate their input into the

profession, and look forward to celebrating

Credit Week next year.

For more information on Hays Credit

Management, visit hays.co.uk/credit-control.

The recognised standard

www.cicm.com May 2017 49
---
FORTHCOMING EVENTS

Full list of events can be found on our website: www.cicm.com/events

CICM EVENTS

4 MAY

CICM WEST MIDLANDS BRANCH – ANDREW

RIPPON MEMORIAL GOLF DAY

BROMSGROVE

Day commences with Tea/Coffee and Bacon Roll on arrival

Complimentary bucket of range balls. 18 Holes of Golf

One course evening meal on completion of round

First tee off time: 11am and 8 minute intervals thereafter.

CONTACT : To reserve your place please contact Susan

Byrne FCICM, Branch Treasurer at E: sue@kjwatkin.co.uk or

T: +44(0)1922 452881

VENUE : BROMSGROVE GOLF CENTRE OLD STRATFORD

RD, BROMSGROVE, B60 1LD

11 MAY

CICM YORKSHIRE RIDINGS BRANCH –

THE FUTURE OF CREDIT MANAGEMENT

(4 CPD HOURS)

LEEDS

Hays Credit Management are delighted to announce that

they will be sponsoring a major CICM event to be held in

May focusing on the future of Credit Management. The

event will include: An exhibition and lecture style event with

an interactive panel discussion. Education/ Apprenticeships

Future Proofing Careers People in Credit The Future of Credit -

in uncertain times, how can credit professionals adapt?

CONTACT : This is a free CICM event sponsored by Hays

Credit Management. Please register your interest now by

email to yorkshireridingsbranch@cicm.com and a formal

event invitation will follow.

VENUE : THE WELLINGTON SUITE, ROYAL ARMOURIES

LEEDS, 5 ARMOURIES DRIVE, LEEDS, LS10 1LE

12 MAY

CICM SHEFFIELD AND DISTRICT BRANCH –

THE SHEFFIELD ASSAY OFFICE TALK AND

TOUR (2 CPD)

WHERE

As one of only four Assay Offices in the UK, you are

invited to come along to the Sheffield Assay Office where

Curator and Librarian Emma Paragreen will talk to us

about the 244 year history of the assaying and hallmarking

of precious metals in Sheffield and will give us a tour of

the production area to show us both stamp and laser

hallmarking. You will also be able to view items from the

silver collection.

Networking and continental breakfast at 08:30. Illustrated

talk at 09:00. Tour at approx. 09:40. Finish at approx. 10:30.

CONTACT : To reserve your place/s please contact

E: sheffieldanddistrictbranch@cicm.com

VENUE : GUARDIANS' HALL, BEULAH ROAD,

HILLSBOROUGH, SHEFFIELD, S6 2AN

15 MAY

PERSONAL SKILLS WORKSHOP

LONDON

As the second in a series of personal skills masterclasses,

this CICM workshop looks at how to cope with the

workload challenges of a busy credit and debt professional.

From managing objectives and setting realistic goals,

through to top tips and tools to better time management,

this workshop will share experiences and offer practical

solutions.

CONTACT : Reserve you place, email events@cicm.com or

call T: +44 (0)1780 722902.

VENUE : HAYS 107 CHEAPSIDE, LONDON,

EC2V 6BT

18 MAY

CICM NORTH WEST AND MERSEYSIDE &

NORTH WALES BRANCH – CREDIT CONTROL

360 DEGREES

ST HELENS

Come along to what promises to be a great morning

looking at the whole credit journey with key speakers

including: Colin Sanders of Graydon - Risk Assessment

and Fraud Hans Meijer of Atradius - Credit insurance and

Debt Recovery David Waite of Knights Professional Services

- Litigation Options Peter Gent of Equita Ltd - High court

Enforcement

CONTACT : To Book your place, please Contact David

Thornley Branch Secretary - T: +44 (0)1282 687117,

E: dthornley@fortvale.com, or contact any branch

committee member at E: northwestbranch@cicm.com /

merseysideandnorthwalesbranch@cicm.com

VENUE : MERCURE HAYDOCK HOTEL, PENNY LANE,

HAYDOCK, ST HELENS, WA11 9SG

6 JUNE

CICM THAMES VALLEY BRANCH –

BREWERY TOUR

MARLOW

The tour includes: Includes:

Access to the evening / Rebellion Logoed glass / 6-8

different beers to sample. / Pop-Up bar with cider and wine

by the glass/bottle in exchange for tokens / Brewery talk

by the owners on a social, historical and political view of

brewing and our brewing methods

Cost: £13.00 for entrance + 5 drink tokens, £6.50 for

entrance + 2 drink tokens or soft drink option for drivers

(pay on the door).

CONTACT : To book your place please email:

thamesvalleybranch@cicm.com

VENUE : CHILTERN HILLS AONB, BENCOMBE FARM,

MARLOW BOTTOM, MARLOW, SL7 3LT

7 JUNE

FELLOWS' LUNCH 2017

LONDON

This year we are inviting you to a truly unique experience at

the most exclusive private members clubs in London. Join

us for a spot of luxury with a magical mix of 18th century

splendour and 21st century avant-garde – Home House is

the perfect venue for this year's Fellows' Lunch.

Arrival drinks served at 11:30.

Tickets are £128.00+VAT per person

CONTACT : To book your seat, please email:

fellowslunch@cicm.com

VENUE : HOME HOUSE, 20 PORTMAN SQUARE,

MARYLEBONE, LONDON, W1H 6LW

TRAINING DAYS

5 MAY

CICM WEBINAR - TELEPHONE COLLECTIONS

VENUE : ONLINE

5 MAY

CICM WEBINAR - TIME MANAGEMENT

VENUE : ONLINE

9 MAY

INTRODUCTION TO CREDIT RISK ASSESSMENT

VENUE : LONDON

10 MAY

ESSENTIAL TELEPHONE COLLECTION TECHNIQUES

VENUE : LONDON

10 MAY

NEGOTIATING AND INFLUENCING SKILLS

VENUE : LONDON

11 MAY

CREDIT RISK ANALYSIS

VENUE : LONDON

12 MAY

CICM WEBINAR - CREDIT MANAGEMENT IN A NUTSHELL

VENUE : ONLINE

OTHER EVENTS

14-16 MAY

ICTF'S INTERNATIONAL CREDIT

PROFESSIONALS SYMPOSIUM

KRAKOW, POLAND

For full details visit: http://www.ictfworld.org/events/

EventDetails.aspx?id=909576&group=

CONTACT : info@ictfworld.org

VENUE : SHERATON GRAND KRAKOW HOTEL

7 POWISLE STREET, KRAKOW 31-101, POLAND

16 MAY

FORUMS INTERNATIONAL – EXPORT/

INTERNATIONAL CREDIT FORUM (ECF & ICF)

LONDON

CONTACT : For more information email:

ecf@forumsinternational.co.uk

VENUE : MOORE STEPHENS, LONDON

18 MAY

FORUMS INTERNATIONAL – GOLF DAY

TOWCESTER

Golf day

CONTACT : TBC

VENUE : WHITTLEBURY PARK GOLF CLUB, NR.

TOWCESTER, NORTHAMPTONSHIRE,

23 MAY

FORUMS INTERNATIONAL – FRAUD &

CYBERCRIME FORUM (FCF)

WHERE

CONTACT : For more information email:

darren.hodder@fraudconsulting.co.uk

VENUE : TBC

23 MAY

CORPORATE PARTNER, DUN & BRADSTREET,

WEBINAR – GENERAL DATA PROTECTION

REGULATION: WHAT DOES IT MEAN FOR YOU?

WEBINAR

TBC

CONTACT : TBC

50 May 2017 www.cicm.com

The recognised standard
---
EXAM RESULTS

Congratulations

Congratulations to all of the following, who successfully

achieved Diplomas in Credit Management.

LEVEL 3 DIPLOMA IN CREDIT MANAGEMENT (ACICM)

NAME MAIN ORGANISATION LOCATION

Adina Alexe Office Depot Romania

Jo-Anne Armstrong Jewson Limited Coventry

Gillian Armstrong HSC Business Services Organisation Omagh

Steven Bramhall Anixter Ltd Sheffield

Catherine Brear Zurich Insurance Southampton

Jodie Capewell Jewson Limited Coventry

Andrew Cook MBNA Chester

Teresa Duddy HSC Business Services Organisation Omagh

Rachel Fairhurst Chaucer Credit Risk Services Ltd Wigan

Rosie Fitzsimons Saint-Gobain Delegation UK & Ireland Loughborough

Natasha Fitzsimons JSP Ltd Witney

Emma Fryer

Patricia Gosden Hibu (UK) Ltd Reading

Antony Hall WYG Group Ltd Leeds

Leanne Higginbottom Capital Properties (UK) Ltd Manchester

Susan Hughes Charles Wells Ltd Bedford

Ann Hutchison Jungheinrich UK Ltd Milton Keynes

Ryan Kerr Britvic Soft Drinks Ltd Solihull

Rachel King Ansys UK Ltd Sheffield

Joanne Lunn Tarmac Ltd Solihull

Elise Manthorp Yoplait UK Ltd Uxbridge

Colin McAleer HSC Business Services Organisation Omagh

Lorna Midwood Jewson Limited Coventry

Christopher Mudd Informa UK Ltd Colchester

Lee-Anthony New AGCO Finance Ltd Kenilworth

Michael Noble Jewson Limited Coventry

Roisin Oliver SIG Trading Ltd St Ives, Cambs

Amy Pickersgill Contract Natural Gas Ltd Harrogate

Leona Robertson Heriot Watt University Edinburgh

Ranju Sharma Jewson Limited Coventry

Zahoor Suleman xoserve Ltd Solihull

Noah Tetley EDF Energy Exeter

Nicola Turnbull Jewson Limited Coventry

LEVEL 3 DIPLOMA IN MONEY AND DEBT ADVICE (ACICM)

NAME MAIN ORGANISATION LOCATION

Emily Armer StepChange Debt Charity Newcastle upon Tyne

Emma Bowen StepChange Debt Charity Leeds

Melissa Bramwell StepChange Debt Charity Leeds

Neill Casson StepChange Debt Charity Newcastle upon Tyne

Huw Davies StepChange Debt Charity Leeds

Lisa Edmondson StepChange Debt Charity Leeds

David Gilbert StepChange Debt Charity Leeds

Stephen Glover StepChange Debt Charity Chester

Guy Griffiths StepChange Debt Charity Cardiff

Haddon Hunter

Charlotte Isherwood StepChange Debt Charity Chester

Jack Johnson StepChange Debt Charity Chester

Linsi Jolly StepChange Debt Charity Leeds

Tina Jones StepChange Debt Charity Leeds

Simon Kendall StepChange Debt Charity Leeds

Laura Meer StepChange Debt Charity Leeds

Emily Moore StepChange Debt Charity Leeds

Ian Nicholls StepChange Debt Charity Leeds

Emma Pierce StepChange Debt Charity Chester

Andrew Shaw StepChange Debt Charity Leeds

Adrian Soltan StepChange Debt Charity Halifax

Rebecca Stainton StepChange Debt Charity Chester

Charysse Watson StepChange Debt Charity Leeds

Rachael Wilkinson StepChange Debt Charity Leeds

Matthew Woodward StepChange Debt Charity Leeds

The recognised standard

www.cicm.com May 2017 51
---
MEET THE

THEY'RE WAITING

Hays Credit Management is the award winning national specialist

division of Hays Recruitment, dedicated exclusively to the recruitment

of credit management professionals in the public and private

sectors. Whether you are looking to further your career in credit

management, strengthen your existing team, or would simply like an

overview of the market, it pays to speak to the market leaders.

hays.co.uk

We specialise in company information with

extensive company coverage, financial risk metrics

and comprehensive corporate structures. Our

Credit Catalyst combines our international,

standardised financial data with a bespoke credit

platform, so you can work more efficiently, make

better quality decisions and spot risk quickly.

• Assess financial risk and corporate stability

• Get insight on the financial health of individual

companies and across your portfolio

• Manage your data more efficiently

bvdinfo.com

Sanders Consulting is a niche consulting firm

specialising in improving Credit Management

Leadership & Performance for our clients.

We provide people and process focussed

pragmatic solutions, consultancy, strategy days and

performance improvement workshops and we

are proud to manage and develop the CICMQ

Programme and the Best Practice Network on

behalf of the CICM. For more information please

contact: enquiries @chrissandersconsulting.com.

chrissandersconsulting.com

Key IVR provide a suite of products to

assist companies across Europe with credit

management. The service gives the end-user

the means to make a payment when and

how they choose. Key IVR also provides a

state-of-the-art outbound platform delivering

automated messages by voice and SMS. In a

credit management environment, these services

are used to cost-effectively contact debtors and

connect them back into a contact centre or

automated payment line.

keyivr.co.uk

CreditForce by Innovation Software is the leading

Collections and Working Capital Management

Systems used globally in over 26 countries and by

over 20 percent of the Top 100 Global Law Firms.

Our systems improve cash flow, reduce DSO,

automate cash allocation, control risk, automatically

generate intelligent workflows and tasks, speed up

query resolution and manage the entire end-toend

collections cycle. Fully integrated with over 40

leading ERP and Accounting systems and delivered

locally or through Microsoft-Azure's secure cloud

solutions.

www.creditforceglobal.com

American Express is a globally recognised provider

of payment solutions to the business sector

offering flexible collection capabilities to meet

company cashflow objectives across a range of

industries. Whether you are looking to accelerate

cashflow, create a competitive advantage to drive

business or looking to support your customers

in their growth American Express can tailor a

solution to support your needs.

www.americanexpress.com

Credica are a UK based developer of specialist

Credit and Dispute Management software. We

have been successfully implementing our software

for over 15 years and have delivered significant

ROI for our diverse portfolio of customers. We

provide a highly configurable system which enables

our clients to gain complete control over their

debtors and to easily communicate disputes with

anyone in their organisation.

credica.co.uk

For further information and to discuss the opportunities of entering into a Corporate

Partnership with the CICM, contact Peter Collinson, Director of Business Development

and Marketing on 01780 727273 or email peter.collinson@cicm.com

52 May 2017 www.cicm.com

The recognised standard
---
PARTNERS

TO TALK TO YOU...

Safe's Credit Control module manages the entire

credit lifecycle, from credit checking through to

cash collection and beyond, providing detailed

analysis of performance. Safe's single, intuitive and

easy-to-use application seamlessly brings together

the necessary data and tools you require to

achieve your objective of creating a profit centre

culture within your credit control function.

safe-financials.co.uk

Dun & Bradstreet grows the most valuable

relationships in business. Whether your customer

portfolio spans a city, a country or the globe, Dun

& Bradstreet delivers the data, analytics and insight

to grow your most profitable relationships and

obtain a global, unified view of your customer

relationships across credit and collections.

www.dnb.co.uk

Rimilia provides award winning Cash Application

& Cash Allocation software products that deliver

industry leading tangible benefits like no other.

Having products that really do what they say

is paramount – add to that a responsive and

friendly team that are focused on new and

ongoing benefit realisation and you have the

foundations for successful long term business

relationships.

rimilia.com

Data Interconnect provides integrated e-billing

and collection solutions via its document delivery

web portal, WebSend. By providing improved

Customer Experience and Customer Satisfaction,

with enhanced levels of communication between

both parties, we can substantially speed up your

collection processes.

datainterconnect.com

Graydon UK provides its clients with Credit

Risk Management and Intelligence information

on over 100 million entities across more than

190 countries. It provides economic, financial

and commercial insights that help its customers

make better decisions. Leading credit insurance

organisations, Atradius, Coface and Euler Hermes,

own Graydon. It offers its seamless service

through a worldwide network of offices and

partners.

graydon.co.uk

Think Inspire and Create Ltd - No Ordinary

Consultancy. The newly-launched consultancy

offers an inspired service that supports businesses

and encourages their people to embrace change.

We are committed to sharing our passion and

experience in credit management, Performance

management and Process improvement.

Our vision is to make sure that the changes you

create are sustainable and enduring.

www.thinkinspireandcreate.com

Tinubu Square is a trusted source of trade

credit intelligence for credit insurers and for

corporate customers. The company's B2B

Credit Risk Intelligence solutions include the

Tinubu Risk Management Center, a cloud-based

SaaS platform; the Tinubu Credit Intelligence

service and the Tinubu Risk Analyst advisory

service. Over 250 companies rely on Tinubu

Square to protect their greatest assets: customer

receivables.

tinubu.com

DWF is one of the UK's largest legal businesses

with an award-winning reputation for client service

excellence and effective operational management.

Named by the Financial Times as one of Europe's

most innovative law firms and independently

ranked first of all top 20 law firms for quality of

legal advice and joint first of all national law firms

for service delivery and responsiveness.

www.dwf.law/recover

M.A.H. is a global leader in Export Debt

Collection & Trade Dispute Resolution Services.

Headquartered in Switzerland, we specialise in

resolving cross-border cases swiftly and amicably.

Our mission is to ensure that all creditors receive

full payment for products or services sold out of

the UK without expensive and lengthy litigation.

Having recovered payments from 112 countries,

we rank as first choice among major international

exporters, export credit insurers, governmental

organisations, and other B2B customers in all

industries.

mah-international.com

The Recognised Standard

www.cicm.com May 2017 53
---
NEW CICM MEMBERS

THE INSTITUTE WELCOMES NEW MEMBERS

WHO HAVE RECENTLY JOINED

MEMBER

NAME

David Wynd

Angela Smith

Peter Courtnage

Louise Weston

COMPANY

Myoffers Ltd

Time Products Ltd

Alphabet (GB) Ltd

Vow Europe Ltd

AFFILIATE

NAME COMPANY NAME COMPANY

Fatiha Mozazi

Antoine Cadjo Boua

Gillian Norris

Sarah Yarney

Patrick Linnane

Cordelia Benjamin

Matthew Noble

Natalie Leek

Paul Freakes

Anna-Marie Crossingham

Krystian Hobson

David Smith

Carl Lancaster

Elizabeth Lack

Katie Rogers

Gemma Payne

Nathan Thompson

Jemma Woodworth

Richard Allum

Jimmy Phiri

Stuart O'Reilly

Karan Wilkinson

Michael Bates

Michael Coldicott

Christopher Caygill

Natalie Mills

Katie Harris

Nigel Parry

Martin Fox

Emma Wiles

Carly Watson

Pauline Brookman

Luke Tomlinson

Anna Wagstaff

Arfan Afjar

James Bedford

Nicola Rowley

Rachel Jagger

Rajesh Singh

Chris Scott

Graham Hull

Jessica Labiak

Richard Young

Sean Hasell

Christina Coates

Courtney Parr

Javaad Hanif

Dr Martens

Premier Foods

AVIVA Health UK Limited

Barbon Insurance Group Limited

Peregrine Livefoods

Millgate Computer Systems Ltd

Peninsula Business Services Ltd

Hobart Leasing & Finance

Suez Recycling & Recovery UK Ltd

Marston Group Limited

Bank Leumi

Brabners LLP

Telefonica (Tesco Mobile)

Zambia National Building Society

GCE Fluid Power Ltd

Sunderland City Council

Sunderland City Council

StepChange Debt Charity

StepChange Debt Charity

StepChange Debt Charity

PropertyRabbit

StepChange Debt Charity

StepChange Debt Charity

StepChange Debt Charity

Parkinson Bailiff Services

Biomarsh Environmental

StepChange Debt Charity

StepChange Debt Charity

StepChange Debt Charity

StepChange Debt Charity

StepChange Debt Charity

StepChange Debt Charity

StepChange Debt Charity

StepChange Debt Charity

StepChange Debt Charity

StepChange Debt Charity

StepChange Debt Charity

Stepchange Debt Charity

Stepchange Voluntary Arrangements

StepChange Debt Charity

Jane Lennon

Lewis Phillips

Mark Illingworth

Gordon Foster

Jodie Webber

Sophie Hooper

Andrew Levine

William Daynes

Jayne Robinson

Katrina Williams

Christopher Hulse

Ferdinand Salah

Catherine Brennan-Doyle

Mihael Mihaylov

Jamie Linnett

Sandra Rosario-Ochtaras

Sara Green

Amy Watkins

David Cunliffe

Calum Nobes

Mohammed Bashir

Wasim Alam

Lindsey Greenslade

Shaoni Banerjee

Jeannette Schutz Pambou

Lee Madigan

Sharon Smith

Andrew Kyriacou

Michael Parker

Laura Kellman

Daniel Leahy

Michelle Vinyu

Benjamin Lewry

Lisa Moody

Rachel Harker

Ann Marie Weber

Tracey McManns

Jenna Cannon

Catriona Mackechnie

Wendy Keeble

Michele Rinaldi

Oliver Neale

Hardev Tumber

Humberto Lucena

Catherine Richardson

Mark Stevens

Peter Stennett-Green

Musgrave Distribution Ltd

University of Surrey

Firstport

Firstport

StepChange Debt Charity

Radius Payment Solutions

Gordon Rhodes & Son

Dexter Bell Associates Ltd

Radius Payment Solutions

Biffa Waste Services Ltd

Biffa Waste Services Ltd

Biffa Waste Services Ltd

Biffa Waste Services Ltd

Biffa Waste Services Ltd

Runwood Homes

UK Fuels Limited

Speedy Asset Services Ltd

Stepchange Debt Charity

Stepchange Debt Charity

StepChange Debt Charity

Speedy Asset Services Ltd

Bookatable

Weatherford Oil Tool Middle East Ltd

Axtell

Servest Building Services Limited

Shoosmiths Services Ltd

Shoosmiths Services Ltd

nGAGE Recruitment Ltd

Titans Security Limited

Eden Farm Ltd

Wear Referrals

AG Barr plc

AG Barr plc

AG Barr plc

AG Barr plc

Wendy Keeble Ltd

Lincoln Electric (UK) Ltd

Marston Group

stevensdrake Solicitors

Lincoln Electric (UK) Ltd

Lincoln Electric (UK) Ltd

Lincoln Electric (UK) Ltd

Clearwater People Ltd

54 May 2017 www.cicm.com

The recognised standard
---
BRANCH NEWS

60SECONDS

WITH

NORTH EAST BRANCH

DEFINING YOUR PERSONAL BRAND

IMMEDIATELY preceding our AGM,

we were suitably prepped and primed

thanks to a presentation on Defining Your

Personal Brand by Adrian Storrie, Trainer/

Learning Facilitator at adelearning. Adrian

specialises in the provision of training in

insolvency and corporate recovery, basic

accounting / bookkeeping, and other skills

such as business writing and presentation

techniques.

The subject matter certainly caught

everyone's imagination. We've all been there;

in meetings / conferences for the dreaded

'round the table introductions' – how to sum

THE West Midlands Branch held its annual

Awards night on 1 March 2017, at the

Crowne Plaza Hotel in Central Birmingham,

to celebrate its members' exam successes

from 2016. The evening was sponsored by

Hays – who also sponsored the Accountancy

prize – and Coltman Warner Cranston, who

sponsored the Legal prize.

There were over 30 winners, most of who

were accompanied by partners or business

colleagues, and the Branch was delighted to

welcome the CICM's Chief Executive Philip

King to present the Awards. Philip gave

a most uplifting talk on a career in credit

management as well as the salary benefits of

up yourself (and your reason for being in

the room) in a catchy, sparky and dazzling

few seconds…not easy! So once we'd been

round the table, Adrian got everyone thinking

about what defines us – and did we get

that across? Almost certainly not. So how

to do it better? By thinking about our own

characteristics and experiences. The second

'round the table' was markedly different and

we all came away with positive feedback

from our fellow attendees. Thoroughly

entertaining and rewarding!

Author: Angie Deverick, Branch Chair

WEST MIDLANDS BRANCH

ANNUAL AWARDS EVENING

SUCCESS

CICM qualifications.

The overall winner and 'West Midlands

Student of the Year' was Lee New of Agco

Finance, who retains the Silver Shield for a

year. Those in close contention include Amber

Edwards, Michelle Whitby, Cheryl Grieve,

Joanne Shenton and Claire Daniel.

It was a fantastic event with more prizes,

more attendees and an ideal venue. Despite a

setback when time was very tight, the evening

went smoothly, and a special thanks to Kim

Delaney-Bowen, a valued committee member

of CICM (West Mids).

Author: Peter Cartwright

FULL NAME

Anthony Kirke-Reynolds

CURRENT JOB TITLE

Senior Credit Controller

CURRENT COMPANY NAME

Canal and River Trust

NUMBER OF YEARS IN CREDIT

MANAGEMENT

Two years

HOW DID YOU GET INTO CREDIT

MANAGEMENT?

Via my current role and commercial debt

collections that I've done for many years.

WHAT IS THE BEST THING ABOUT

WHERE YOU WORK?

Team support and engagement in the

process.

WHAT MOTIVATES YOU?

Customer service and debt collection

targets.

WHAT IS YOUR FAVOURITE MEAL?

Burgers with sweet potato fries.

WHAT IS YOUR FAVOURITE HOLIDAY

DESTINATION?

Spain - blood sausages and sunshine.

NAME THREE PEOPLE YOU WOULD

INVITE TO A DINNER PARTY AND

WHY?

Eric Kim, Stephen Hawkins and Stephen

Fry. Overall they would cover my

interests, intellect and sense of humour

but hopefully share my love of burgers!

WHAT IS YOUR FAVOURITE PASTIME/

RELAXATION ACTIVITY?

Street photography.

IF YOU WERE TO HAVE ONE SPECIAL

POWER, WHAT WOULD IT BE AND

WHY? The ability to not need sleep, I

would accomplish many things.

WHAT IS THE BEST/WORST QUALITY

IN A LEADER?

Listening and, likewise, not listening to

your team.

WHO IS YOUR BUSINESS OR PERSONAL

HERO?

Theo Paphitis and Eric Kim, I couldn't

decide so have to choose both.

WHAT CAN'T YOU LIVE WITHOUT?

A voice.

WHAT WAS THE LAST THING YOU

WASTED MONEY ON?

Magazines.

WHAT'S YOUR FAVOURITE QUOTE OR

MOTTO?

"Do a job that you love and you will never

work another day in your life".

IF YOU WEREN'T WORKING IN CREDIT

MANAGEMENT, WHAT WOULD YOU BE

DOING?

Counselling and street photography.

The recognised standard

www.cicm.com May 2017 55
---
TAKE CONTROL

OF YOUR CREDIT

CAREER

LEGAL CREDIT CONTROLLER

PROVIDE EXCEPTIONAL SERVICE

City of London, £35,000 + bonus

An experienced legal credit controller is required to join

one of the most prestigious law firms. The firm has an

international presence, with offices across the world

and a meticulous reputation reflected by its high-calibre

lawyers and outstanding level of service. Joining the

Credit Control team, you will liaise with partners and fee

earners to chase outstanding debt and ensure all debt

is kept to a minimum. To be considered, you will have

experience working as a credit controller within the

legal sector.

Ref: 2995005

Contact Radhika Parmar on 020 3465 0020

or email radhika.parmar@hays.com

SENIOR CREDIT CONTROLLER

WORK IN A STAND-ALONE ROLE

Manchester, up to £28,000

This vibrant, fast-paced insurance firm is rapidly

expanding its Manchester based operations in line

with the company's ongoing expansion. Working as

the stand-alone onsite credit controller, you will report

into the London based Head of Credit and have a

considerable amount of autonomy. You will be working

to continually improve and critique processes and

policies in place as well as improving the cash position

of the business. This is an exciting opportunity to work

for a leading organisation who have a significant focus

upon improving and developing its staff. Ref: 2997389

Contact David Busfield on 0161 236 7272

or email david.busfield@hays.com

TEMPORARY INTERNATIONAL MEDIA

BILLING ANALYST

GAIN MEDIA EXPOSURE WORLDWIDE

West London, up to £32,000 equivalent

An excellent opportunity has arisen at a leading UK

media company for a highly-motivated commercial billing

analyst. The role will focus upon raising invoices, dealing

with international clients, obtaining and amending PO

numbers and reconciliations. You will be in charge of

your own ledger, working as part of large team of billers

reporting into the Billing Manager. This role requires an

analytical mind and experience in within a previous billing

role. This is a fantastic opportunity where you can achieve

results and be rewarded accordingly. Ref: 2844854

Contact Summer Mostafa on 020 3465 0020

or email summer.mostafa@hays.com

CREDIT CONTROLLERS

LEAD FINANCIAL SERVICES

Chelmsford, up to £26,000

After a recent relocation of this successful global business,

it is looking for three credit controllers to join its team.

The role has a strong emphasis on building relationships

with brokers to ensure debt is collected in a timely manner

to reduce risk. You will also allocate incoming cash and

report on all outstanding debt on a monthly basis. You will

be someone who enjoys working as part of a team, but

is also autonomous and will take ownership of your role.

This is an excellent opportunity that comes with many

benefits and the chance to progress.

Ref: 2969414

Contact Gemma Booty on 01245 782131

or email gemma.booty@hays.com

hays.co.uk/creditcontrol

56 May 2017 www.cicm.com

The recognised standard
---
ACCOUNTS RECEIVABLE ADMINISTRATOR

GERMAN AND ENGLISH SPEAKING

Stockton-on-Tees, £24,000

A global manufacturing company has a rare opportunity

for a highly motivated and ambitious German speaking

accounts receivable administrator. This role will focus

on providing high quality cash allocation to enable

the international business segments to meet the

required processes in accurate cash postings. You will

be responsible for performing daily cash reports, resolving

various payment types as well as assisting controllers

in chasing customers for details relating to unallocated

payments. An analytical mind as well as strong decision

making skills are essential. This is a fantastic opportunity

to progress your career with a global company where the

possibilities are endless. Ref: 2988678

Contact Elizabeth Enright on 01642 226716

or email elizabeth.enright@hays.com

CREDIT CONTROLLER

MANAGE KEY ACCOUNTS

Horwich, £17,500-£18,000

An exciting opportunity has arisen for a credit controller

to join a leading medical reporting company based

in Bolton. Joining an existing team of six you will

be responsible for chasing both aged and new debt,

dealing with your own key account of customers,

reducing debtor days, working to various payment

terms and dealing with all account queries via telephone

and email correspondence. To be successful within this

role you will have previous credit control or collections

experience, however other accounts based experience

will also be considered.

Ref: 2973931

Contact Hayley Massie-Warhurst on 01942 303990

or email hayley.massie-warhurst@hays.com

CREDIT CONTROLLER

FLUENT GERMAN AND ENGLISH

Bradford, £17,000-£22,000 + excellent benefits

This leading global brand is a $10 billion global

product distributor of chemicals, speciality

consumables, pharmaceuticals, food ingredients and

cosmetics who serve more than 80,000 customers

across 100 countries. Working from its financial head

office, you will be required to be fluent in German and

have credit control experience. You will also be able

to provide a high level of customer service and take

ownership of your work. Experience in SAP is desirable

but not essential as full training will be given. In return,

the role offers excellent benefits including 4% pension,

life assurance and store benefits, buy and sell holiday

and cycle to work. Ref: 2928347

Contact Aisling Cornally on 01274 731666

or email aisling.cornally@hays.com

SALES LEDGER MANAGER

LEAD YOUR EXPERT TEAM

Hull, £negotiable

This industry leading organisation works closely with

instantly recognisable brands, both nationally and

internationally. You will be responsible for creating

a supportive and engaging environment for the team,

whilst ensuring all other tasks are completed in a

timely fashion. Other responsibilities include the full

management of the team, sales ledger and credit control

function. Recent or relevant experience of working

within a sales ledger or credit control, as well as staff

management experience are advantageous. This is

a fantastic opportunity where you can achieve results

and drive continuous improvement. Ref: 2996114

Contact Will Small on 01482 225955

or email will.small@hays.com

This is just a small selection of the many

opportunities we have available for credit

professionals. To find out more email

hayscicm@hays.com or visit us online.

The recognised standard

www.cicm.com May 2017 57
---
View our digital version online at www.cicm.com

Log on to the Members' area, and click on the tab labelled

'Credit Management magazine'

Just another great reason to be a member

CREDIT MANAGEMENT IS DISTRIBUTED TO THE ENTIRE UK AND INTERNATIONAL

CICM MEMBERSHIP, AS WELL AS ADDITIONAL SUBSCRIBERS

www.cicm.com

CICM Credit Community @cicm_hq CreditManagement

The Recognised Standard

www.cicm.com | +44 (0)1780 722901 | editorial@cicm.com

58 May 2017 www.cicm.com

The recognised standard
---
Cr£ditWho?

CICM Directory of Services

FOR INFORMATION,

OPTIONS AND PRICING

PLEASE EMAIL:

anthony.cave@cabbell.co.uk

COLLECTIONS

Controlaccount PLC

Compass House, Waterside

Hanbury Road, Bromsgrove

B60 4FD

T: 01527 549522 (Sales dept)

E: sales@controlaccount.com

W:www.controlaccount.com

Controlaccount has over 30 years of Credit Management and

Debt Recovery experience, helping National and International

SMEs and blue chip organisations, across a wide range of sectors.

We provide a fast, proactive collection service on a no-collection,

no-fee basis, and for some clients a zero cost option,

utilising the late payment act to fund collection procedures. Our

trained collectors take into account your need to recover debts,

whilst maintaining your reputation and preserving customer relationships.

If we can't recover your outstanding debts through our

collection process, then our service won't cost you a penny; and

with our additional in-house legal & Trace service as well as our

credit reporting and corporate monitoring services we are ready

to help you every step of the way.

Blaser Mills LLP

Rapid House

40 Oxford Road, High Wycombe,

Buckinghamshire. HP11 2EE

T: 01494 478660/478661

E: Jackie Ray jar@blasermills.co.uk or Gary Braathen

gpb@blasermills.co.uk

W: www.blasermills.co.uk

Established in 1888, leading multi-disciplinary law firm Blaser

Mills specialises in services for businesses and individuals.

The Firm has particular expertise in Dispute Resolution and

Debt Recovery working with experienced credit managers and

finance directors providing solutions to both contested and

uncontested claims.

Blaser Mills provides an experienced team including CICM

qualified legal representatives and the Firm is cited in the

Legal 500 law directory based on quality of work and strong

client feedback.

Offices in Aylesbury, London (Central), London (Harrow), Old

Amersham, Rickmansworth, Staines-on-Thames.

Think Inspire and Create Ltd

T: 0844 414 6056

E: info@thinkinspireandcreate.com

W: www.thinkinspireandcreate.com

Think Inspire and Create Ltd - No Ordinary Consultancy

The newly-launched consultancy offers an inspired service that

supports businesses and encourages their people to embrace

change. If you want to drive forward sustainable change in your

business, Think, Inspire and Create Ltd can optimise the way you

deliver your strategy.

Using a unique Think, Create and Inspire ethos the team works with

businesses, embedding cross-skilled consultants within companies,

to facilitate creative thinking, set goals and find enduring solutions

to challenges.

Think, Inspire and Create Ltd is committed to sharing its passion and

experience in the following areas:

• Credit management • Performance management • Operational

design & Management • People Engagement • Process Change

Management • System design and deployment • Organisation

design.

Our vision is to make sure that the changes you create are sustainable

and enduring. Find out more www.thinkinspireandcreate.com

COURT ENFORCEMENT SERVICES

Premium Collections Limited

Office 3, Caidan House Business Centre, Canal Road,

Timperley, Altrincham, Cheshire, WA14 1TD

T: 0161 962 4695.

F: 0333 121 3843

E: enquiries@premiumcollections.co.uk

W: www.premiumcollections.co.uk

Premium Collections Limited has the credit management solution

to suit you. Operating on a national and international basis we

can tailor a package of products and services to meet your

requirements. Staffed by dedicated professionals with over 60

years combined experience of handling virtually every type of

debt issue, the company was formed in December 2002 and

is owned by our Managing Director, Paul Daine FCICM. Paul's

particular areas of expertise are the motor finance, insurance

and international debt collection sectors. Services include B2B

collections, B2C collections, international collections, absconder

tracing, asset repossessions, status reporting and litigation

support.

COLLECTIONS LEGAL

STRIPES SOLICITORS LIMITED

St George's House, 56 Peter Street, Manchester, M2 3NQ

W: www.stripes-solicitors.co.uk

T: 0161 832 5000

95percent success rate in disputed

litigation cases over several decades

Stripes technical excellence, tenacity and commercial insight has

led to this 95 percent success rate over several decades. We have

been particularly recommended as a leading law firm by the Legal

500 in the litigious field for representing clients with significant and

complex issues.

Our specialist commercial debt recovery and insolvency team work

with businesses ranging from SMEs to larger PLCs recovering

business debts on a no cost or fixed fee basis and often

recovering debts within days. We aim to understand your business

and tailor our services to suit your requirements. Our online service

provides you with 24/7 access to manage your account, to upload

new debtor cases and to generate new legal instructions.

CONSULTANCY

Court Enforcement Services

Wayne Whitford – Director

M: +44 (0)7834 748 183

T : +44 (0)1992 663 399

E : wayne@courtneforcementservices.co.uk

W: www.courtenforcementservices.co.uk

High Court Enforcement that will Empower You!

We help law firms and in-house debt recovery and legal teams to

enforce CCJs by transferring them up to the High Court. Setting us

apart in the industry, our unique and Award Winning Field Agent

App helps to provide information in real time and transparency,

empowering our clients when they work with us.

• Free Transfer up process of CCJ's to High Court

• Exceptional Recovery Rates

• Individual Client Attention and Tailored Solutions

• Real Time Client Access to Cases

CREDIT INFORMATION

Lovetts Solicitors

Lovetts, Bramley House, The Guildway, Old Portsmouth

Road, Guildford, Surrey GU3 1LR

T: +44(0)1483 457500 E: info@lovetts.co.uk

W: www.lovetts.co.uk

Lovetts has been recovering debts for 30 years! When you

want the right expertise to recover overdue debts why not use a

specialist? Lovetts' only line of business is the recovery of

business debts and any resulting commercial litigation.

We provide:

• Letters Before Action, prompting positive outcomes in more than

80 percent of cases • Overseas Pre-litigation collections with

multi-lingual capabilities • 24/7 access to our online debt

management system 'CaseManager'

Don't just take our word for it, here's recent customer feedback:

"...All our service expectations have been exceeded..."

"...The online system is particularly useful and is extremely easy

to use... "...Lovetts has a recognisable brand that generates

successful results..."

The recognised standard

Sanders Consulting Associates Ltd

T: +44(0)1525 720226

E: enquiries@chrissandersconsulting.com

W: www.chrissandersconsulting.com

Sanders Consulting is an independent niche consulting firm

specialising in leadership and performance improvement in all

aspects of the order to cash process. Chris Sanders FCICM, the

principal, is well known in the industry with a wealth of experience

in operational credit management, billing, change and business

process improvement. A sought after speaker with cross industry

international experience in the business-to-business and businessto-consumer

markets, his innovative and enthusiastic approach

delivers pragmatic people and process lead solutions and significant

working capital improvements to clients. Sanders Consulting are

proud to manage CICMQ on behalf of and under the supervision

of the CICM.

CoCredo Limited

Missenden Abbey, Great Missenden, Bucks, HP16 0BD

T: 01494 790 600

E: helpdesk@cocredo.com

W: www.cocredo.co.uk

We provide live online company credit reports and related business

information within the UK and overseas. We have direct feeds from

Dun & Bradstreet, Companies House and other premium providers.

We provide business information on over 256 million companies

across 221 countries. Our information is updated over 500,000

times per day and we have some excellent tracking mechanisms

which provide proactive daily monitoring of changes in the global

information on record. We can offer a wealth of additional services

including XML Integration, D.N.A portfolio management, CoData

marketing information, Companies House documents, Consumer

and Director Searches. We pride ourselves in delivering award

winning customer service, offering you unrivalled support and

analysis to protect your business.

www.cicm.com May 2017 59
---
Cr£ditWho?

CICM Directory of Services

FOR INFORMATION,

OPTIONS AND PRICING

PLEASE EMAIL:

anthony.cave@cabbell.co.uk

Company Watch

Centurion House, 37 Jewry Street, LONDON. EC3N 2ER

T: +44 (0)20 7043 3300

E: info@companywatch.net

W: www.companywatch.net

What would happen if one of your key customers failed? Do

you rely on company information that is up to 18 months' old?

Company Watch provides a credit management system that's

predicted around 90 percent of company failures. Not only

that, our interactive system allows you to input more up-to-date

accounts, and to stress-test company financials to generate an

instantly updated analysis of a company's financial health. With

a portfolio and email alert system, and a user interface showing

5-year trends along with everything you need to know at a

glance, Company Watch is an invaluable resource in the credit

management process.

CREDIT INFORMATION

Graydon UK

66 College Road, 2nd Floor,

Hygeia Building, Harrow,

Middlesex, HA1 1BE

T: +44 (0)208 515 1400

E: customerservices@graydon.co.uk

W: www.graydon.co.uk

Graydon UK is a specialist in Credit Risk Management and

Intelligence, providing access to business information on over

100 million entities across more than 190 countries. Its mission

is to convert vast amounts of data from diverse data sources into

invaluable information. Based on this, it generates economic,

financial and commercial insights that help its customers make

better business decisions and ultimately gain competitive advantage.

Graydon is owned by Atradius, Coface and Euler Hermes, Europe's

leading credit insurance organisations. It offers a comprehensive

network of offices and partners worldwide to ensure a seamless

service.

EFCIS Limited t/as ICBA UK

Specialist Trade Credit Insurance Broker

The Office, Mill House Farm, Mill Street, Hastingwood,

Essex, CM17 9JF

T: 01279 437662

E: amoylan@efcis.com

W: www.efcis.com

EFCIS Limited - Trade Credit Insurance, Debt Collection, Dispute

Resolution and Legal action for small/medium & multinational

businesses. EFCIS secures limits for clients where the financials

alone do not support the full limit. We are tenacious when

negotiating settlement of claims, securing full payment for claims

and proactively working with our clients in claims avoidance.

We are the industry's only Broker to develop policy compliance

software to ensure client's maximum benefit and protection

from the policy. We believe that a well-managed ledger supports

business growth within increased profit and an improved return

on investment.

CREDIT MANAGEMENT SOFTWARE

Creditsafe Business Solutions

Bryn House, Caerphilly Business Park, Van Rd,

Caerphilly, CF83 3GG

T: 0292 088 6500.

E: ukinfo@creditsafeuk.com

W: www.creditsafeuk.com

Creditsafe is Europe's most used supplier of credit & business

intelligence. Creditsafe have helped over 60,000 customers

across Europe and the USA with a range of products which

includes our UK, European and International Company Credit

Reports, which reach over 129 countries and 90m companies;

customer and supplier Risk Tracker and our 3D Ledger product

which has captured over 35 million Trade Payment Data

Experiences since its launch in 2012. All of which will help

companies manage their exposure to risk, make informed

decisions in relation to credit limits whilst looking at how you

can identify gaps within your sales ledger to prioritise collections

and leverage sales.

Top Service Ltd

2&3 Regents Court, Farmoor Lane, Redditch,

Worcestershire, B98 0SD

T: 0152 750 3990.

E: enquiries@top-service.co.uk

W: www.top-service.co.uk

Top Service is the only credit reference and debt recovery

agency to specialise in the UK construction sector. Top Service

customers benefit from sector specific information, detailed

payment history intelligence and realtime trade references in

addition to standard credit information. There are currently

3,000 construction sector companies subscribing to the service,

ranging from multi-national organisations to small family firms.

The company prides itself on high levels of customer service

and does not tie its customers into restrictive contracts. Top

Service offers a 25 percent discount to all CICM Members as

well as four free credit checks of your choice.

BUREAU VAN DIJK

Northburgh House,

10 Northburgh Street,

London,

EC1V 0PP

T: +44 (0)20 7549 5000

E: bvd@bvdinfo.com

W: www.bvdinfo.com

We specialise in company information with extensive company

coverage, financial risk metrics and comprehensive corporate

structures.

Our information helps you make better quality decisions.

•Assess financial risk and corporate stability

•Get insight on the financial health of individual companies and across

your portfolio

•Manage your data more efficiently

Our Credit Catalyst combines our international, standardised financial

data with a bespoke credit platform, so you can work more efficiently,

make better quality decisions and spot risk quickly.

•Comprehensive coverage of companies across the globe

•Standardised reports so you can benchmark and compare companies

•Financial strength indicators from a range of providers

CREDIT INSURANCE

Arthur J. Gallagher

Insurance Brokers Limited

7 Floor, Temple Point, 1 Temple Row

Birmingham B2 5LG

T: 0121 203 3127

W: www.ajginternational.com

With the risk of default by customers still a major threat to UK and

Global companies there has never been a better time to consider

trade credit insurance. Arthur J. Gallagher's Credit and Surety team,

which now includes the 2014 – CICM award winning 'broker of

the year' team, has considerable experience and market influence

and recognises the unique nature of the credit insurance market.

Our team of experienced professionals deal with a wide range of

businesses, from SME to large corporate and global risks. Please

contact us to discuss how a specifically tailored trade credit solution

can benefit your business

Innovation Software

Innovation Software, Innovation House,

New Road, Rochester, Kent, ME1 1BG.

T: +44 (0)1634 812300

E: jay.inamdar@innovationsoftware.uk.com

W: www.creditforceglobal.com

Innovation Software are the authors of CreditForce, the leading

Collections and Working Capital Management Systems. Our solutions are

used in over 26 countries and by over 20 percent of the Top 100 Global

Law Firms.

Our solutions have optimised Accounts Receivables processes for over

20 years and power Business Intelligence, with functionality to:

• improve cash flow • reduce DSO • control risk

• automate cash allocation • speed up query resolution

• improve customer relationship management

• automatically generate intelligent workflows and tasks

• manage the entire end-to-end collections cycle.

Fully integrated with over 40 leading ERP and Accounting systems,

including SAP, Oracle, Microsoft Dynamics and product partners with

Thomson Reuters Elite we can deliver on either your own computing

infrastructure or through Microsoft Azure's award winning and secure

cloud service.CreditForce remains the choice solution for world class

businesses.

Book a demonstration by calling T: +44 (0)1634 812 300 or visit

www.creditforceglobal.com for more information.

Co-pilot Limited

73 Flask Walk, London, NW3 1ET

T: +44(0) 20 7813 2182

E: info@co-pilot.co.uk W: www.co-pilot.co.uk

Credit Managers who manage large or multiple ledgers have come to

realise that they need to use specialist software to achieve or maintain

performance improvement – be that risk, collections or both.

For many Credit Managers a key question is where to start. How do

you examine and evaluate the options? How and when do you start the

budgeting process? What are the steps?

Co-pilot has advised on credit management software for a number of

years. We have good knowledge of the available solutions, what's good,

how they work and what type of solution best fits given situations. We

combine this with considerable experience of credit management Best

Practice so that you can pull everything together into one place and

achieve a flexible and sustainable position going forward.

We work with you through a structured evaluation process which is

designed to enable you to have a clear view of what you can achieve

going forward, what is practicable, the business case implications,

the preferred supplier(s) and what the implementation process would

sensibly look like (in our opinion, there is no such thing as "Plug and

play").

60 May 2017 www.cicm.com

The recognised standard
---
Cr£ditWho?

CICM Directory of Services

FOR INFORMATION,

OPTIONS AND PRICING

PLEASE EMAIL:

anthony.cave@cabbell.co.uk

Prof. Schumann GmbH

innovative information systems

Weender Landstr. 23, 37130 Göttingen, Germany

T: +49 551 38315 0 F: +49 551 38315 20

E: info@prof-schumann.de W: www.prof-schumann.de

Our Credit Application Manager (CAM) is a leading credit risk

management solution for major corporations, as well as insurance,

factoring and leasing companies. In their daily work, CAM allows

credit and sales managers to call up all the available information

about a customer or risk in a few seconds for decision support: realtime

data from wherever they are. CAM keeps an eye on customers

whose payment behaviour stands out or who have overdue invoices!

CAM provides an up-to-date forecast of customers' payments.

Additionally, CAM has automated interfaces for connecting to

leading suppliers of company credit data, payment record pools and

commercial credit insurers. The system is characterised by its great

flexibility. We have years of experience in consulting and software

support for accounts receivable management.

Safe Computing Limited

20, Freeschool Lane, Leicester, LE1 4FY

T: 0844 583 2134

E: info@safecomputing.co.uk

W: www.safe-financials.co.uk

Designed to manage your customer credit accounts effectively,

Safe Credit Control enables your credit management team to:

• Improve cash flow

• Reduce debtor days

• Increase customer service

• Cut the cost of cash collection

• Eliminate manual processes

• Speed up the query resolution process

Safe's unique approach is centred on changing the perception

of the credit control function from a series of reactive processes

to proactive ones. Credit controllers are traditionally regarded

as an essential element in business to chase late payments

and respond to customer queries. Safe Credit Control has taken

the concepts of customer relationship management (CRM) and

applied it to the credit control function, providing a softer,

service orientated team of customer service representatives.

The recognised standard

Credica Ltd

Building 168, Maxell Avenue, Harwell Oxford,

Oxon. OX11 0QT

T: 01235 856400

E: info@credica.co.uk

W: www.credica.co.uk

Our highly configurable and extremely cost effective Collections and

Query Management System has been designed with three goals in

mind:

• To improve your cashflow

• To reduce your cost to collect

• To provide meaningful analysis of your business

Evolving over 15 years and driven by the input of 1000s of Credit

Professionals across the UK and Europe, our system is successfully

providing significant and measurable benefits for our diverse

portfolio of clients.

We would love to hear from you if you feel you would benefit from

our 'no nonsense' and human approach to computer software.

STA International

3rd Floor, Colman House,

King Street , Maidstone , ME14 1DN

T: +44(0)844 324 0660.

E: enquiries@staonline.com

W: http://www.stainternational.com

GETTING BUSINESS PAID

STA is an award winning B2B and B2C debt collection, confidential

credit control and tracing supplier. ISO9001 quality accredited, and

with the CSAs Collector Accreditation Initiative, duty-of-care is as

important to us as it is to you. Specialising in international debt, in the

past 12 months we've collected from 146 countries worldwide. "Your

Debts Online" gives you transparent access to our collection success

and detailed management information, keeping you in control of your

account. We look forward to getting your business paid.

Tinubu Square UK

Holland House,

4 Bury Street, London

EC3A 5AW

T: +44 (0)207 469 2577

E: uksales@tinubu.com

W: www.tinubu.com

Tinubu Square offers companies across the world the appropriate

SaaS platform solutions and services to significantly reduce their

exposure to risk, and their financial, operational and technical

costs. Easy to implement, our solutions provide an accurate

picture of a customers' financial health through the entire

order-to-cash cycle, improve cash flow, and facilitate control

of risk across the organization whether group-wide or locally.

Founded in 2000, Tinubu Square is an award winning expert in

the trade credit insurance industry, with offices in Paris, London,

New York, Montreal and Singapore. Some of the largest

multinational corporations, credit insurers and receivables

financing organizations depend on Tinubu to provide them with the

means to drive greater trade credit risk efficiency.

Data Interconnect Ltd

Unit 7, Radcot Estate, 7 Park Rd, Faringdon,

Oxfordshire. SN7 7BP

T: +44 (0) 1367 245777 F: +44 (0) 1367 240011

E: sales@datainterconnect.co.uk

W: www.datainterconnect.com

Data Interconnect provides integrated e-billing and collection

solutions via its document delivery web portal, WebSend. By

providing improved Customer Experience and Customer Satisfaction,

with enhanced levels of communication between both parties, we

can substantially speed up your collection processes.

Rimilia

Corbett House, Westonhall Road, Bromsgrove, B60 4AL

T: +44 (0)1527 872123

E: enquiries@rimilia.com

W: www.rimilia.com

Rimilia excels in the design, development and implementation of

Intelligent Finance Solutions that drive value from existing manually

intensive finance processes associated with accounts receivable,

cash allocation, credit management, bank reconciliation and cash

forecasting. Based in the heart of the UK, our operations extend to

Europe, USA and Asia. Experienced in the field of technology and

accounting, our approach to business revolves around integrity

and enabling organisations to unlock their full potential though

innovation. Rimilia is proud to be a leading innovative supplier of

finance solutions that make a positive change to the blue chip clients

it supplies.

DATA AND ANALYTICS

Dun & Bradstreet

Marlow International, Parkway Marlow

Buckinghamshire

SL7 1AJ

Telephone: (0800) 001-234

Website: www.dnb.co.uk

Dun & Bradstreet grows the most valuable relationships in business.

By uncovering truth and meaning from data, we connect our

customers with the prospects, suppliers, clients and partners that

matter most, and have since 1841. Whether your customer portfolio

spans a city, a country or the globe, Dun & Bradstreet delivers the

data, analytics and insight to grow your most profitable relationships

and navigate credit risk. By combining your insights with our own,

Dun & Bradstreet facilitates a global, unified view of your customer

relationships across credit and collections.

FINANCIAL PR

Gravity London

Floor 6/7, Gravity London, 69 Wilson St, London, EC21 2BB

T: +44(0)207 330 8888. E: sfeast@gravitylondon.com

W: www.gravitylondon.com

Gravity is an award winning full service PR and advertising

business that is regularly benchmarked as being one of the best

in its field. It has a particular expertise in the credit sector, building

long-term relationships with some of the industry's best-known

brands working on often challenging briefs. As the partner agency

for the Credit Services Association (CSA) for the past 13 years,

and the Chartered Institute of Credit Management since 2006, it

understands the key issues affecting the credit industry and what

works and what doesn't in supporting its clients in the media and

beyond.

www.cicm.com May 2017 61
---
Cr£ditWho?

CICM Directory of Services

FOR INFORMATION,

OPTIONS AND PRICING

PLEASE EMAIL:

anthony.cave@cabbell.co.uk

LEGAL MATTERS

DWF LLP

Neil Jinks FCICM – Director

M: +44 (0)7740 179 515

T: +44 (0)121 516 7462

E: neil.jinks@dwf.law

W: www.dwf.law/recover

Described by market commentators as "blazing a trail", DWF is one

of the UK's largest legal businesses with an award-winning reputation

for client service excellence and effective operational management.

Named by the Financial Times as one of Europe's most innovative

law firms and independently ranked first of all top 20 law firms for

quality of legal advice and joint first of all national law firms for service

delivery and responsiveness. DWF offers a full range of cost effective

debt recovery solutions including pre-legal collections, debt litigation,

enforcement, insolvency proceedings and ancillary services including

tracing, process serving, debtor profiling and consultancy.

PAYMENT SOLUTIONS

American Express

76 Buckingham Palace Road,

London

SW1W 9TQ

T: +44 (0)1273 696933

W: www.americanexpress.com

American Express is working in partnership with the CICM and is

a globally recognised provider of payment solutions to businesses.

Specialising in providing flexible collection capabilities to drive a

number of company objectives including:

•Accelerate cashflow

•Improved DSO

•Offer extended terms to customers

•Provide an additional line of bank independent credit to drive

growth

•Reduce risk

•Create competitive advantage with your customers

As experts in the field of payments and with a global reach,

American Express is working with credit managers to drive growth

within businesses of all sectors. By creating an additional lever

to help support supplier/client relationships American Express is

proud to be an innovator in the business payments space.

PROFESSIONAL BODIES

Chartered Institute of

Credit Management (CICM)

The Water Mill, Station Road, South Luffenham,

OAKHAM, LE15 8NB

T: 01780 722910 E: info@cicm.com

W: www.cicm.com

The Chartered Institute of Credit Management (CICM) is Europe's

largest credit management organisation. The trusted leader

in expertise for all credit matters, it represents the profession

across trade, consumer, and export credit, and all credit-related

services. Formed over 70 years ago, it is the only such organisation

accredited by Ofqual and it offers a comprehensive

range of services and bespoke solutions for the credit professional

(www.cicm.com) as well as services and advice for the

wider business community (www.creditmanagement.org.uk).

PROFESSIONAL BODIES

CICMos (CICM Online Services)

WWW.CICM.COM

T: 01780 722 907.

E: training@cicm.com

W: www.cicmos.com

CICMOS has been designed to help busy credit managers by

providing them with a suite of online tools to support and

quickly develop their teams. The virtual learning centre is an

open platform system, accessed via the website, which is

easy to use, modular and each module is completely optional,

which means the system can be tailored to suit specific

requirements and time constraints. This wide ranging system

is more than just a training tool it is easy to set up and use

and can be accessed securely via the CICMOS website for a

low annual subscription.

RECRUITMENT

PORTFOLIO

CREDIT CONTROL

Portfolio Credit Control

Portfolio Credit Control, New Liverpool House,

15 Eldon Street, London, EC2M 7LD

T: 0207 650 3199

E: recruitment@portfoliocreditcontrol.com

W: www.portfoliocreditcontrol.com

Portfolio Credit Control, solely specialises in the recruitment of

permanent, temporary and contract Credit Control, Accounts

Receivable and Collections staff. Part of an award winning

recruiter we speak to and meet credit controllers all day everyday

understanding their skills and backgrounds to provide you with tried

and tested credit control professionals. We have achieved enormous

growth because we offer a uniquely specialist approach to our

clients, with a commitment to service delivery that exceeds your

expectations every single time.

Hays Credit Management

107 Cheapside, London, EC2V 6DN

T: 07834 260029

E: karen.young@hays.com

W: www.hays.co.uk/creditcontrol

Hays Credit Management is working in partnership with the CICM

and specialise in placing experts into credit control jobs and

credit management jobs. Hays understands the demands of this

challenging environment and the skills required to thrive within

it. Whatever your needs, we have temporary, permanent and

contract based opportunities to find your ideal role. Our candidate

registration process is unrivalled, including face-to-face screening

interviews and a credit control skills test developed exclusively

for Hays by the CICM. We offer CICM members a priority service

and can provide advice across a wide spectrum of job search and

recruitment issues.

ANTI MONEY LAUNDERING

THE ONLY AML RESOURCE YOU NEED

SmartSearch

Harman House, Station Road,

Guiseley, Leeds, LS20 8BX

T: 01132387660

F: 0113 238 7669

E: info@smartsearchuk.com

W: www.smartsearchuk.com

ATTENTION

KYC, AML and CDD all rely on a combination of deep data with

broad coverage, highly automated flexible technology with an

innovative and intuitive customer interface. Key features include

automatic Worldwide Sanction & PEP checking, Daily Monitoring,

Automated Enhanced Due Diligence and pro-active customer

management. Choose SmartSearch as your benchmark.

PRODUCT AND SERVICE PROVIDERS

You can connect with them all now by having a listing in CreditWho.

For just £1,247 + VAT per annum:

- your business will be listed in Credit Management magazine, which goes out to all our members and

subscribers and has an estimated readership of over 25,000.

TO BOOK YOUR LISTING IN CREDITWHO CONTACT:

ANTHONY CAVE ON 020 3603 7934

For even greater exposure to our membership and a closer association with CICM, why not

enquire about becoming a Corporate Partner.

To find out more contact Peter Collinson (07584 993548).

CICM Corporate Partners now get CreditWho included.

62 May 2017 www.cicm.com

The recognised standard
---
MONTHLY PRIZE CROSSWORD

CREDIT CONUNDRUM

FOR ALL EMAIL ENTRIES FOR THE CROSSWORD PLEASE EMAIL: ANDREW.MORRIS@CICM.COM

Puzzle by © 2012 Mirroreyes Internet Services Corporation. All Rights Reserved - CROSSWORD May 2017

NAME ....................................................................................................................................

ADDRESS ..............................................................................................................................

...............................................................................................................................................

POST CODE .................................. TELEPHONE NUMBER .....................................................

The CICM is registered with the UK's Information

Commissioner under the Data Protection Act 1998

(the "Act"). All the data contained on this form, is

held and processed electronically in accordance

with the Act.

The Institute holds and processes your personal

data in order to give you the full benefits of being

a member and for administrative purposes.

We might from time to time notify you by post or

email of details of CICM events or other similar

CICM services or products which we think

September be of interest to you. If you do not wish

to receive such notification please tick here q

If you subsequently decide that you do not wish

to receive such notifications please email the

Institute at unsubscribe@cicm.com or write to the

Data Controller at the address given below.

The Data Protection Act gives you the right at any

time to see a copy of all the data that we hold

about you. If you would like a copy, please send a

letter requesting this information together with a

cheque for £10 payable to :

The Chartered Institute of Credit Management

to: Data Controller, CICM, The Water Mill,

Station Road, South Luffenham, OAKHAM,

LE15 8NB.

£20 CROSSWORD PRIZE

THERE WILL BE THREE PRIZES OF £20 EACH FOR

THE FIRST THREE NAMES DRAWN EVERY MONTH

ACROSS:

1. "The Hobbit" hero Baggins

6. Whip mark

10. Torture device

14. Notions

15. Wings

16. Black, in poetry

17. Toothpowder

19. Dossier

20. A Christian celebration

21. Bamboozle

22. False god

23. Kino gum

25. Concerning (archaic)

26. A bitter quarrel

30. Quell

32. Plunge

35. Climb awkwardly

39. Edible viscera

DOWN:

1. Remain

2. Bright thought

3. Focusing glass

4. Insulation

5. Willow

6. Armed conflict

7. Bring out

8. Terse

9. Adolescent

10. Purification

11. Put up with

12. Part of the large intestine

13. Genuflected

18. To and ___

24. South southeast

25. Siren

26. Fleshy sweet fruits

27. Send forth

28. Part of an ear

40. Ring around the nipple

41. Impassive

43. Tumbler

44. Agency

46. Tall woody plant

47. Sometimes, works with lions

50. Chasm

53. Back

54. Mistake

55. Breakdown

60. Greek letter

61. Snow thrower

63. Make a sweater

64. Char

65. Swedish money

66. Feudal worker

67. Countercurrent

68. Bottoms of shoes

29. Careful

31. Whip

33. Happen again

34. Celebrity

36. Wild hog

37. If not

38. Be worthy of

42. Acquired the knowledge

43. Chap

45. Overseas

47. 3-wheeled vehicle

48. Long times

49. French for "Morning"

51. Weep

52. Broods

54. Being

56. Lawn mower brand

57. Absent Without Leave

58. Heredity unit

59. Historical periods

62. Ironic

CLOSING DATE: 12 MAY

CROSSWORD WINNERS

Angie Deverick MCICM, Andy Thornton MCICM and Bridget Cocking.

For the chance of winning £20, forward your completed solution to:

Art Editor, Andrew Morris, Chartered Institute of Credit Management,

The Water Mill, Station Road, South Luffenham, OAKHAM, LE15 8NB.

The recognised standard

www.cicm.com May 2017 63
---
WorldClassCredit Management Software

Powerful

Features

Trusted

Globally

Intuitive

Design

Cloud

Solutions

Proven

Results

Rapid

ROI

In an environment that

constantly changes can you

afford to stay off thepulse?

Our state of the art

software systems are

proven to improve Cash

Flow and reduce risk

whateveryour business.

With clients in over 26

countries and integration

with over 40 of the world's

leading ERP systems, you

can have confidence in

making CreditForce the

centre of your revenue and

collections management

processes.

Book ademonstration

+441634 812 300

info@innovationsoftware.uk.com

Learn more

www.creditforceglobal.com