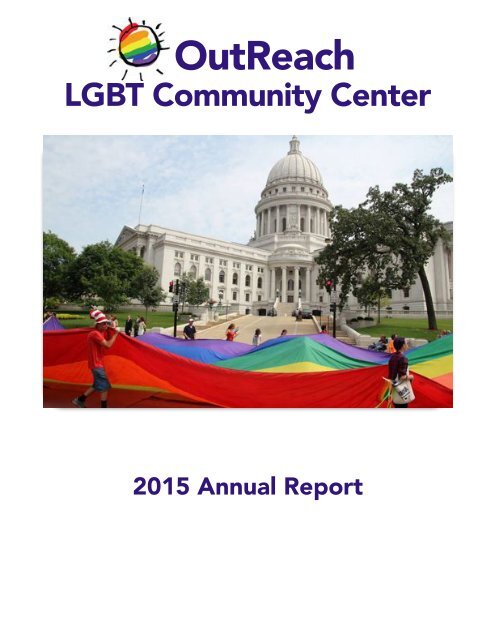 You also want an ePaper? Increase the reach of your titles
YUMPU automatically turns print PDFs into web optimized ePapers that Google loves.
OutReach

LGBT Community Center

2015 Annual Report
---
OutReach mission statement:

To promote equality and quality of life for LGBT people.

2015 was a very successful year for OutReach LGBT Community Center!

In 2015, we served 2,731 clients, for whom we provided 5,167 services. These numbers

serve as a reminder that our clients

continue to need us, even as the political

climate around LGBT issues has begun to

shift.

Similarly, we have continued our

commitment to provide supportive peer

groups for LGBT people of all ages, from

the OutThere program for those aged

18-24 to the LGBT Senior Alliance, which

had its 15th anniversary in 2015. We are

proud to help provide the infrastructure

for over 20 support groups, which

combined held over 250 meetings in 2015, and had over 2000 attendees.

In addition to our ongoing services and group meetings, we also put on events that are

more one-off in nature. From celebrations to conferences to Speakers' Bureau panels,

OutReach hosted dozens of exciting and impactful events this year, reaching a wide

audience of people.

We also continue to work with an ever-growing list of partners to ensure that our

programming can reach as many members of our diverse community as possible. For

example, this year we collaborated with the Wisconsin Coalition Against Sexual Assault to

host the third annual Paths to Healing conference, focusing on male survivors of sexual

assault.

Part of this mission of collaboration is recognizing others working towards our same goals:

we were honored to present awards to Rev. Everett Mitchell, Z! Haukeness, the LGBT

Campus Center, and others at our annual awards banquet to recognize the inspiring work

that they did in 2015. We look forward to honoring similarly passionate and effective

individuals and organizations at the 2016 banquet.

Steve Starkey

Executive Director, OutReach Community Center

2015 Annual Report 2
---
Program Highlight: Willma's Fund

LGBT individuals are disproportionately likely to

experience homelessness. One study from UCLA's

William's Institute showed that up to 40% of homeless

youth identified as LGBT. Family rejection and gender

identity are two the main obstacles facing LGBT people

in need of permanent housing. One in five transgender

people has experienced discrimination based on their

gender identity when looking for housing.

Additionally, agencies serving the homeless are often illprepared

to meet the specific needs of LGBT people. As

a result, LGBT clients are at higher risk of experiencing

violence and discrimination. This is especially true for

transgender clients, who are more likely to be turned

away based on their gender identity, housed in facilities

that do not align with their gender, or abused.

Through Willma's Fund, OutReach is working to keep LGBT individuals off the streets and

to educate homelessness service providers about the needs of LGBT people.

Willma's Fund

Willma's Fund is a fund dedicated to supporting clients who are at risk of

becoming homeless. In 2015, Willma's Fund provided $9,400 in small

grants to 26 clients who sought support. These funds were used to keep

them in housing or to help them get off the street. Those clients were

also connected to counseling and other social service agencies. Many of

them were subsequently able to find jobs and permanent housing.

Willma's Fund

provided $9,400 in

small grants in

2015

Over 100

people attended

the conference on

homelessness

Willma's Fund conference on homelessness

In 2014, OutReach hosted a day-long conference on the topic of LGBT

homelessness to educate community partners on the specific issues

faced by LGBT individuals. Over one hundred participants attended. The

feedback received was very positive and over 98% of participants rated

the conference as either "worthwhile" or "very worthwhile." OutReach

held a second successful conference on LGBT homelessness in April

2016. While the first conference was focused on educating community

partners on the issues faced by homeless LGBT people, the 2016

conference emphasized helping community partners create concrete

action plans to better support their LGBT clients.

2015 Annual Report 3
---
2015 By The Numbers

274

support group

meetings

2,000+

support group

attendees

3,500+

volunteer hours

2,700+

clients called or

stopped in seeking

services

12

events

46

Speakers Bureau

speaking events

2015 Annual Report 4
---
2015 Financials

$400,000.00

Recent Revenue and Expense Trends

$300,000.00

$200,000.00

In 2015, OutReach

spent 80% of its

budget on direct

services!

$100,000.00

$0.00

2013 2014 2015

Revenue

Expenses

2015 Revenue by Source

2015 Events Revenue By Type

11%

19%

29%

29%

42%

71%

Donations

Grants (Government and Foundation)

Events

Publication and others

Corporate

Individual

2015 Annual Report 5
---
Long Term Planning

340,000

Historical Revenue

297,500

255,000

212,500

170,000

2005 2006 2007 2008 2009 2010 2011 2012 2013 2014 2015

Reserve fund

In 2015, OutReach started a reserve fund to help ensure the

financial sustainability of the organization in the short term.

The reserve fund contained $14,099 at the end of 2015.

Endowment

In 2014, OutReach started an endowment to begin planning

for longer term financial security. As of December 31, 2015,

the endowment stood at $12,577.

2015 Annual Report 6
---
OutReach Board of Directors

Executive Board

Other Board Members

Roger Hansen

President

Angie Alcorta

Darla Lannert

Ginger Baier

Vice President

Tom Neal

Larry Kneeland

Treasurer

Katherin Parsons

Paul Garza

Secretary

Ryan Schroth

2015 Annual Report 7
---
2015 Corporate Event Sponsors

Banquet

Diamond ($5,000)

Madison Gas & Electric

Wartmann Chandler

()Appraisal Assoc.

Platinum ($2,500)

Alliant Energy

Gold ($1,000)

First United Methodist

()Church

Meriter Health Services, Inc.

Gateway Associates

UW Health & Unity

Dean & St. Marys

WORT FM Radio

Diverse & Resilient

BMO Harris Bank

Silver ($500)

Journey Mental Health

First Choice Dental

Summit Credit Union

CUNA Mutual Group

David Bohnett Foundation

Our Lives Magazine

Community Shares

Woof's

Bronze ($250)

Car Care Clinic

State Farm, Patrick Marsden

QTI Human Resources

Balisle & Roberson, S.C.

Plan B

Gordon Flesch Company

ACLU Foundation

First Congregational UCC

Think Ink & Design

Boardman & Clarke

State Farm, Jim Hartman

Wegner CPAs

New Harvest Foundation

Michael's Frozen Custard

Five Nightclub

Collingwood Design

Pride

Diamond ($3,000 or more)

Five Nightclub

Madison Gas & Electric

New Harvest Foundation

Woof's

Our Lives Magazine

Platinum ($2,000)

Wisconsin Gazette

Isthmus

Gold ($1,000)

Capitol Centre Market

Diverse & Resilient

Shamrock Bar & Grille

Greater Madison

Convention & Visitors

Bureau

Madison Area Sports

()Commission

ARCW

Best Western Inntowner

WORT FM Radio

US Bank

Silver ($500)

Visuwil

Pride cont.

Bronze ($250)

Fred Astaire Dance Studio

First United Methodist

First Congregational UCC

PFLAG

The Old Fashioned

OPEN

Madison Media Institute

Friends of Pride ($100)

The Kitchen Gallery

BID

Think Ink

Opus Lounge

Dykes on Bikes

Cardinal Bar

Whole Foods

Bandung Restaurant

Blue Lotus

Shoo

Roast

It'Sugar

VOX

American Family Insurance

Delta Airlines

Goodman Jewelers

2015 Annual Report 8