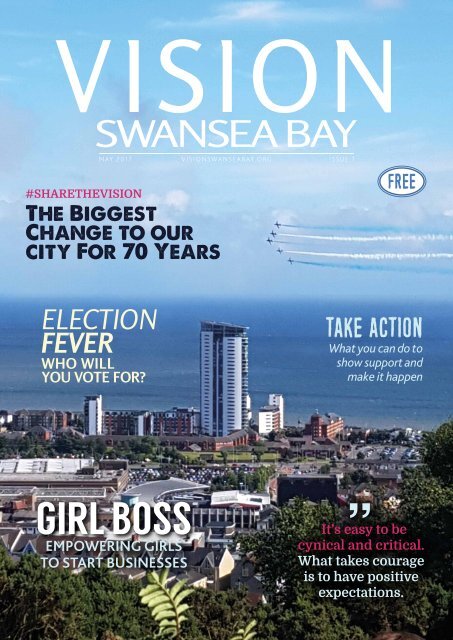 VISION Swansea Bay - Issue 1
Welcome to Issue One of VISION, an independent publication for Swansea that aims to share the vision of Swansea as a vibrant, ambitious and successful waterfront city.
Welcome to Issue One of VISION, an independent publication for Swansea that aims to share the vision of Swansea as a vibrant, ambitious and successful waterfront city.
SHOW MORE
SHOW LESS
You also want an ePaper? Increase the reach of your titles
YUMPU automatically turns print PDFs into web optimized ePapers that Google loves.
VISION

SWANSEA BAY

MAY 2017 VISIONSWANSEABAY.ORG ISSUE 1

FREE

ELECTION

FEVER

WHO WILL

YOU VOTE FOR?

TAKE ACTION

What you can do to

show support and

make it happen

GIRL BOSS

EMPOWERING GIRLS

TO START BUSINESSES

"

It's easy to be

cynical and critical.

What takes courage

is to have positive

expectations.
---
Believe

you can

and you're

halfway

there.

Theodore Roosevelt

An Attractive

City Centre with

More Green Space

The vision for Swansea City Centre

is to create a more attractive

environment, with more green

space, and more reasons for people

to spend time in the city centre.

Swansea should be somewhere

you want to take a walk, let the

kids play, relax over coffee, catch

a movie, take in an exhibition or

have a meal. Somewhere nice to go

just for a 'day out'. We can't

depend on retail alone to bring

people into town. It's right

to have higher aspirations

for what our city centre can

offer, in terms of lifestyle,

leisure, culture, and events.

Swansea Council's plan is

to create an urban park

along the south-facing

side of the Kingsway, transforming a

tired, busy, unattractive street into

a green lung for the city.

In Castle Square, the Council has

made clear its intention to retain

ownership of the land and

maintain it as a public space –

a greener and more attractive one.

More green spaces will be opened

up around St Mary's Church as well.

And then of course our greatest

asset, our stunning beachfront that

is within a few minutes walk of the

centre. The demolition of the old

Civic Centre will enable us to create

a destination and make the most of

our world class beach.

Maximising the potential of our world-class beach

In all, the future is bright for the city

centre if we hold fast to the vision.

With the signing of the City Deal,

Swansea Council has released a

3D flythrough that provides an

inspiring vision for our city centre.

The proposals deserve your

wholehearted support. They offer

a real chance to create a more

inspiring place to spend time, a

thriving local economy, and a new

identity for Swansea, as the city

and the region enters a new era

of investment and opportunity.

Against the backdrop of Brexit

and Austerity Britain, Swansea is

choosing to focus on the future -

and we can too.

Sure, the council is not perfect and

we all have our gripes. But the role

of leadership is to put forward a

compelling vision for the future,

and this Labour council has done

that. With collective buy-in and a

sense of shared vision, we have the

opportunity to transform our city

and our own fortunes.

It's easy to be cynical and critical.

It takes zero effort to point out all

the reasons the plans won't work,

to bitch and moan about everything

that's wrong with the place. What

takes courage is to have hope. To

have positive expectations for the

future, and to keep working at them

until they materialise. That's an

empowering choice, and it's ours to

make.

"

I love living in Swansea

and I'm excited about the

future of the city.

Dawn, Uplands

So, let's stop talking down our city

centre. Talk about the future, see

the potential, and focus on the

good things that are happening. As

residents we can help generate the

buzz and the business needed for

the city centre to thrive.

+

+

+

+

+

+

+

+

The biggest change to

our city in 70 years is

happening now

A vibrant cultural and

creative community on

the High Street

A leisure destination that

capitalises on our worldclass

beach front location

More green spaces in the

city centre and and a nicer

environment

A digital city with a Tech

Arena & Digital Districts

More people living and

working in the city centre

Celebrating culture and

the arts with a City of

Culture bid

Investing in the growth

sectors of the 21st century

The City Deal: Creating Opportunities

The central idea of the Swansea Bay City Region City

Deal - a deal which is touted as being worth £1.3bn

to the regional economy – is to focus resources on

key sectors which have been identified as offering the

best potential for growth and opportunity. These are

Energy, Health & Life Science, Next Generation Digital

Services and Smart Manufacturing – things that we can

all recognise are going to be central to the economy of

the future.

One of the highest aspirations we can have is to

provide young people across Swansea Bay with access

to interesting and rewarding careers. They have been

short-changed by the decline of industry and the rise

of call centres, distribution centres and zero hours

contracts. As more jobs are taken over by computers,

the problem will get worse.

We need to invest in and train a generation of young

people for careers in the industries of the future, and

the City Deal will now enable us to do this.

#sharethevision

Watch the 3D Flythrough of Swansea at www.visionswanseabay.org

#sharethevision

Learn about the Swansea Bay City Deal at www.swanseabaycityregion.wales
---
Teresa May is taking her time

to make a final decision about

the Lagoon that would enable

the project to start. There are

now fears that the snap general

election will set the start date

back yet another year. It's proving

to be a frustrating journey - but

the outcome is one worth fighting

for. Not only will it help save

the planet, attract thousands

of visitors, and provide another

brilliant leisure amenity for

residents. It could also be the

start of a £15bn new industry.

Part of the vision is to create a

Turbine Manufacturing Facility

in Swansea that would go on to

provide the turbines for future

lagoon projects across Britain and

beyond, whilst making our name as

a hotspot for new types of energy

generation. Let's hope it comes off.

+

+

+

+

It's a £1.3bn project

It will power 155,000

homes

It will create 2000 jobs

It will cost 30p per

household per year

Whether

you think

you can, or

whether

you think

you can't -

either way,

you are

right.

Henry Ford

Swansea Bay

Futures is a not-forprofit

organisation

that connects and

promotes business,

education and

development in

Swansea Bay.

Subscribe to their

monthly roundup

of good news from

across the region at

www.abayoflife.com

Talent Bank offers

distinctively

different education &

training to 16-19 year

olds, aligned with the

needs of industry.

It equips young

people with the

skills & experience

necessary for a

rewarding career

in Health & Life

Sciences. Visit

www.talentbank.wales

Swansea University's Bay Campus is still expanding

When we're thinking about the

future of our region, it's worth

acknowledging that Swansea

has a major asset in our two

Universities. Swansea University

turns over in excess of £170m, and

makes a £600m impact on the

regional economy every year. It

brings new people into Swansea,

and it showcases the city to the

world. The new Bay Campus on

Fabian Way was the largest capital

investment project in Europe, and

demonstrates the scale of the

University's ambition.

Swansea University has a vision: to

be among the UK's leading research

universities (currently ranked 26th),

to extend its global reach, and to

transform the regional economy

through its research and innovation.

The University is a major player in

the plan to deliver on the promises

of the City Deal - namely, economic

success in emerging new industries.

The University's pioneering research

and in particular its collaborations

with industry, will be key to

generating the investment and the

high quality jobs this region needs.

THIS IS A

CALL TO

ACTION

1Choose to believe in the

vision of what Swansea can

be, choose to be hopeful and

optimistic. It's too easy to

be cynical, this takes zero effort.

But you can choose to focus on the

positives rather than the negatives,

the future rather than the past, the

possibility rather than the risk. It's

a powerful choice that is yours to

make.

2Speak positively and

knowledgeably about the

proposals, help to create a

positive buzz and a sense

of confidence in the vision. Inspire

others to see what a time of

opportunity this is for our region.

Start by sharing this issue of Vision,

and joining our positive Facebook

community.

3Look for the opportunity

with your name on it. Ask

yourself, how can I play

my part? Whether it's the

opportunity to make a difference

in your community, to train for a

different job, to grow a business or

start a business, to pitch a new idea,

to invest in something. Think about

your own hopes and aspirations, and

look for ways to make them happen.

4

Help design the right

solutions. If you think

you know what's needed

to transform your

community or improve your life,

look for opportunities to have your

say. Attend public consultation

meetings, complete questionnaires

and write to the decision-makers.

Make your voice heard. You've

got good ideas and a unique

perspective: put it out there.

5Give the council time to

deliver on their ideas. The

leader of Swansea Council is

Labour's Rob Stewart, and he

has put forward a strategic vision.

He is up for re-election on the 4th

May 2017, and by voting Labour we

can ensure he is re-elected with a

strong mandate to deliver results.

6

Support new initiatives with

your custom. Events in the

city need people to support

them, just as new and

existing businesses need customers

to keep coming in. Vote with your

feet, your time and your money, by

becoming a customer, a visitor, an

audience member and a cheerleader

for local businesses, events and

organisations.

7

Explore the region, not

just Swansea, and discover

what Carmarthenshire,

Pembrokeshire and Neath

Port Talbot have to offer. People

from all over the UK and around

the world come here on holiday,

but we've got it all on our doorstep.

Improve your own well-being and

strengthen regional links at the

same time, by getting out and about

in Swansea Bay.

8

Talk to your kids about their

futures. Raise a generation

with high aspirations, who

believe they can achieve

things and make a difference. Let

them think big about their options.

We get what we expect in life, so

let your kids expect the best for

themselves.

#sharethevision Join our positive community on Facebook www.visionswanseabay.org/facebook

#sharethevision Join our positive community on Facebook www.visionswanseabay.org/facebook
---
ELECTION FEVER

WHO WILL YOU VOTE FOR?

Local and National Elections

are coming up in May and June.

"The first general election in a generation

in which we have a real choice."

4th

May

LOCAL ELECTION

#SHARETHEVISION

8th

June

GENERAL ELECTION

IN THE RED CORNER...

What's their voting record

on key issues?

CORBYN

MAY

Taxing Bankers Bonuses For Against

Bedroom Tax Against For

Climate Change Measures For Against

Gay Marriage For For

Gay Rights For Mixed

Human Rights Bill For Against

Hunting Ban For Against

Increasing Top Rate of Tax For Against

Iraq War Against For

Lower Voting Age For Against

Mansion Tax For Against

Privatisation of Royal Mail Against For

Raising Tuition Fees Against For

Raising Welfare For Against

Reducing Corporation Tax Against For

Reducing Welfare Against For

Re-Nationalising the Railways For Against

Restricting Legal Aid Against For

Trident Against For

VAT Increase Against For

SWANSEA COUNCIL IS

BUILDING THE FIRST

NEW COUNCIL HOMES

IN A GENERATION

Work is under way on a new

energy efficient council housing

development in Penlan, with

another set for Birchgrove.

These are the first new council

homes in Swansea for a

generation. Swansea Council

wants to rapidly expand its

housebuilding programme.

Cllr Rob Stewart said: "We are

working on a new housing delivery

model that will see the council

become a major house builder in

Swansea, providing energy efficient

affordable homes for Swansea

people which will be funded directly

with income from council house

rents - not from council tax."

The plan is for the Council's

corporate building and property

services team to carry out the

building work themselves, which

will boost people's skills and lead

to more apprenticeship and work

experience opportunities for

Swansea residents in future.

Labour councillor Rob Stewart is

currently leader of the council

IN SWANSEA...

When it comes to the local

elections, we can put national

politics to one side, thankfully. Here

in Swansea, a change in leadership

at this point in time could jeopardise

the vision that has been put forward

for a revitalised city centre and a

thriving regional economy.

Having worked hard with the

leaders of the other three councils

in Swansea Bay to secure the City

Deal, Labour councillor Rob Stewart

needs to be re-elected on 4th May,

if he is to deliver the plan.

"It's time to get

excited about the

vision for Swansea City

Centre. But a change

in the leadership of

the council at this

point could change

everything. Let's give

our current Labour

council a mandate

to deliver on their

promises by voting

Labour on 4th May."

With no friends in the mainstream media, Jeremy

Corbyn polarises opinion. Even some on his own side

fear he can't win an election, despite the fact that as

an MP he's won his seat at every vote since 1983, and

in the last two years he's won two bitter leadership

contests. He has inspired a new generation to take an

interest in politics, and wants to put power into the

hands of people, not the financial elite. He is driven by

firmly held principles and wants opportunity for all. So,

seriously, what's wrong with Jeremy Corbyn?

When you consider his policies, how many of these do

you actually disagree with?

Ban companies based in tax havens bidding

for government contracts, and clamp down on

corporate tax dodging

£10 minimum wage for all workers over the age of

18, and a ban on exploitative zero hours contracts

Free school meals, based on proof that free school

meals lead to significantly improved grades

Scrap student tuition fees - education should be

seen as an economic investment not an expense

Invest in a programme of housebuilding, and

ensure that half of these are social housing

Re-Nationalise and protect the NHS, investing in

mental health and social care services

End the public sector pay freeze - austerity is a con

that punishes low paid workers

Combat inequality with progressive policies to

reduce the gap between the highest & lowest paid

A National Investment Bank to invest in services,

infrastructure, businesses, low carbon energy and

regional development projects

P.S. Don't misunderstand Corbyn's stance on Brexit. Even if you voted

to remain, it's true that outside the EU we will have greater power to

transform the UK into a progressive, more equal society where people's

rights are protected, while negotiating ongoing European relationships

based on what's best for the majority, not the elite.

Think Jeremy Corbyn is a loser?

Oh dear, you've been brainwashed.

"If you think Jeremy Corbyn is unelectable, or

that his policies won't work in the real world, it

could be too late for you – you've already been

brainwashed by a handful of foreign billionaires

who control 80% of our media.

They've already told you what to think on a

multitude of issues. You think you made up your

own mind, and you think you're right. But, you

didn't, and you aren't. Whichever way you vote,

just remember to ask yourself the question;

Have I really made up my own mind?"

Robert Owen, www.thelondoneconomic.com
---
THINK

POSITIVE,

& POSITIVE

THINGS

ARE

POSSIBLE

GIRL BOSS

EMPOWERING GIRLS

TO START BUSINESSES

Who me? No, I could

never run my own

business!

If you think you're the only one who

struggles with self-doubt and selfconsciousness,

and that this means

you could never make a success of

your ideas, you are 100% wrong.

Women at all levels are plagued by

their inner critic and the voices that

say, you can't do this, you're an idiot,

you'll look stupid. The difference

between those that go after success

in life, and those who settle for

less than their potential, is not the

absence of fear, it's the decision to

feel the fear and do it anyway.

Do What You Love

Is there something you're really

good at, and which you love, but

which you don't think you could do

as a real job? Perhaps you'd love to

organise events or help people get

healthy? Maybe you want to make

a living from your creative work?

Are you good with computers?

Do you dream of working with

kids or animals? What about your

community – can you see a need

that isn't being met, a way to make

a difference, an opportunity to help

people? You can create a business

out of what you love - there are

enough examples out there to

demonstrate that you can make a

living out of virtually anything, if

you're smart about it and prepared to

work for it.

A World of Opportunity

The internet makes it possible to

reach an ever wider audience, so

that here in South West Wales we

are not limited by our location.

There really are no barriers to what

you can achieve, other than your

own limiting beliefs. The truth,

although it's sometimes hard to

believe around here, is that there's

an abundance of wealth out there,

and plenty of people with money

to spend. Believing this is the first

step. Figuring out how to reach

them – that comes later.

Time is Precious

Money isn't the scarce resource –

it's Time that is truly precious. We

spend our time every day, year in

and year out, and yet we can never

earn it back. Your time is precious,

so you owe it to yourself not to put

your dreams on hold, waiting for the

perfect time: that time is now.

The Aspiration

Foundation provides

mentoring and small

grants to help girls

and young women in

Swansea aspire to more

and take control of their

lives. Find out more at

aspirationfoundation.uk

VISION is independently

published by local

residents sharing a

positive vision for the

future of Swansea. If

you'd like to know more,

suggest a story or support

the magazine, please go

online to:

visionswanseabay.org

VISION is independently published by an association of local residents. www.visionswanseabay.org Please write to feedback@visionswanseabay.org