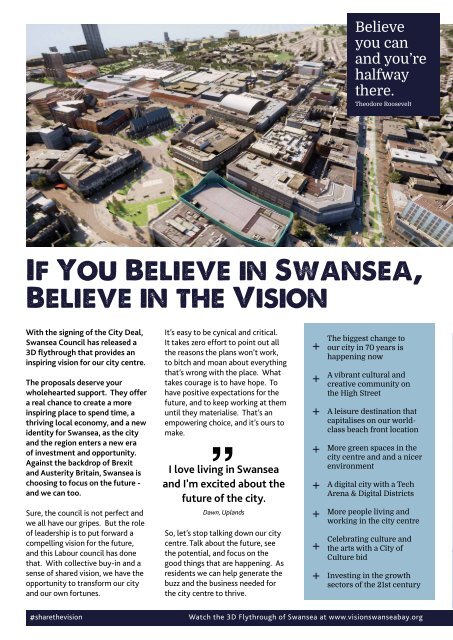 VISION Swansea Bay - Issue 1
Welcome to Issue One of VISION, an independent publication for Swansea that aims to share the vision of Swansea as a vibrant, ambitious and successful waterfront city.
Welcome to Issue One of VISION, an independent publication for Swansea that aims to share the vision of Swansea as a vibrant, ambitious and successful waterfront city.
SHOW MORE
SHOW LESS
You also want an ePaper? Increase the reach of your titles
YUMPU automatically turns print PDFs into web optimized ePapers that Google loves.
Believe

you can

and you're

halfway

there.

Theodore Roosevelt

An Attractive

City Centre with

More Green Space

The vision for Swansea City Centre

is to create a more attractive

environment, with more green

space, and more reasons for people

to spend time in the city centre.

Swansea should be somewhere

you want to take a walk, let the

kids play, relax over coffee, catch

a movie, take in an exhibition or

have a meal. Somewhere nice to go

just for a 'day out'. We can't

depend on retail alone to bring

people into town. It's right

to have higher aspirations

for what our city centre can

offer, in terms of lifestyle,

leisure, culture, and events.

Swansea Council's plan is

to create an urban park

along the south-facing

side of the Kingsway, transforming a

tired, busy, unattractive street into

a green lung for the city.

In Castle Square, the Council has

made clear its intention to retain

ownership of the land and

maintain it as a public space –

a greener and more attractive one.

More green spaces will be opened

up around St Mary's Church as well.

And then of course our greatest

asset, our stunning beachfront that

is within a few minutes walk of the

centre. The demolition of the old

Civic Centre will enable us to create

a destination and make the most of

our world class beach.

Maximising the potential of our world-class beach

In all, the future is bright for the city

centre if we hold fast to the vision.

With the signing of the City Deal,

Swansea Council has released a

3D flythrough that provides an

inspiring vision for our city centre.

The proposals deserve your

wholehearted support. They offer

a real chance to create a more

inspiring place to spend time, a

thriving local economy, and a new

identity for Swansea, as the city

and the region enters a new era

of investment and opportunity.

Against the backdrop of Brexit

and Austerity Britain, Swansea is

choosing to focus on the future -

and we can too.

Sure, the council is not perfect and

we all have our gripes. But the role

of leadership is to put forward a

compelling vision for the future,

and this Labour council has done

that. With collective buy-in and a

sense of shared vision, we have the

opportunity to transform our city

and our own fortunes.

It's easy to be cynical and critical.

It takes zero effort to point out all

the reasons the plans won't work,

to bitch and moan about everything

that's wrong with the place. What

takes courage is to have hope. To

have positive expectations for the

future, and to keep working at them

until they materialise. That's an

empowering choice, and it's ours to

make.

"

I love living in Swansea

and I'm excited about the

future of the city.

Dawn, Uplands

So, let's stop talking down our city

centre. Talk about the future, see

the potential, and focus on the

good things that are happening. As

residents we can help generate the

buzz and the business needed for

the city centre to thrive.

+

+

+

+

+

+

+

+

The biggest change to

our city in 70 years is

happening now

A vibrant cultural and

creative community on

the High Street

A leisure destination that

capitalises on our worldclass

beach front location

More green spaces in the

city centre and and a nicer

environment

A digital city with a Tech

Arena & Digital Districts

More people living and

working in the city centre

Celebrating culture and

the arts with a City of

Culture bid

Investing in the growth

sectors of the 21st century

The City Deal: Creating Opportunities

The central idea of the Swansea Bay City Region City

Deal - a deal which is touted as being worth £1.3bn

to the regional economy – is to focus resources on

key sectors which have been identified as offering the

best potential for growth and opportunity. These are

Energy, Health & Life Science, Next Generation Digital

Services and Smart Manufacturing – things that we can

all recognise are going to be central to the economy of

the future.

One of the highest aspirations we can have is to

provide young people across Swansea Bay with access

to interesting and rewarding careers. They have been

short-changed by the decline of industry and the rise

of call centres, distribution centres and zero hours

contracts. As more jobs are taken over by computers,

the problem will get worse.

We need to invest in and train a generation of young

people for careers in the industries of the future, and

the City Deal will now enable us to do this.

#sharethevision

Watch the 3D Flythrough of Swansea at www.visionswanseabay.org

#sharethevision

Learn about the Swansea Bay City Deal at www.swanseabaycityregion.wales