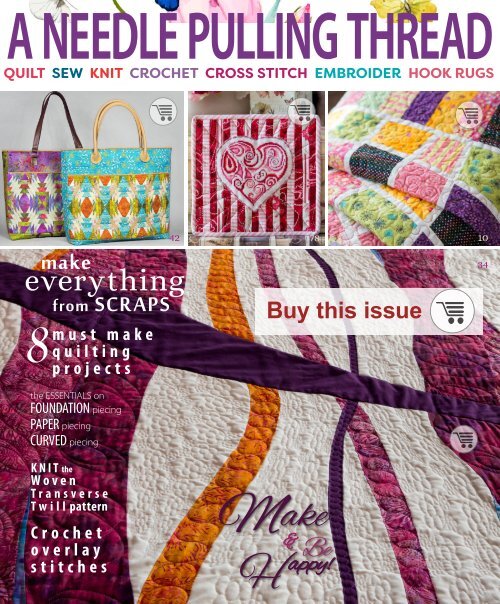 A Needle Pulling Thread Spring 2017 Sampler
The theme of this spring issue is using scraps and you'll be stunned at the amount of techniques covered in this stellar issue. See 4 ways to create captivating quilt blocks using foundation piecing, string piecing, paper piecing and curved piecing, using step by step pictures to show you these rather easy quilting techniques, that offer a lot of punch! Explore all 8 sensational quilting projects. Furthermore see how to make a charming rug using rare crochet stitches that looked layered! Knit the Woven Transverse Twill pattern to add real interest to your knitting projects using scraps. In My Heart is a gorgeous cross stitched heart that will inspire you to use your creativity to finish cross stitch projects to really make them your own. And did I tell you? Audrey Hepburn is in this issue too...check it out! There's so much more.
The theme of this spring issue is using scraps and you'll be stunned at the amount of techniques covered in this stellar issue. See 4 ways to create captivating quilt blocks using foundation piecing, string piecing, paper piecing and curved piecing, using step by step pictures to show you these rather easy quilting techniques, that offer a lot of punch! Explore all 8 sensational quilting projects. Furthermore see how to make a charming rug using rare crochet stitches that looked layered!

Knit the Woven Transverse Twill pattern to add real interest to your knitting projects using scraps. In My Heart is a gorgeous cross stitched heart that will inspire you to use your creativity to finish cross stitch projects to really make them your own. And did I tell you? Audrey Hepburn is in this issue too...check it out! There's so much more.
SHOW MORE
SHOW LESS
You also want an ePaper? Increase the reach of your titles
YUMPU automatically turns print PDFs into web optimized ePapers that Google loves.
A NEEDLE PULLING THREAD

QUILT SEW KNIT CROCHET CROSS STITCH EMBROIDER HOOK RUGS

make

everything

from SCR APS

must make

quilting 8projects

42

78

Buy this issue

10

34

the ESSENTIALS on

FOUNDATION piecing

PAPER piecing

CURVED piecing

KNIT the

Woven

Transverse

T w i l l pattern

C r o c h e t

overlay

stitches

Make

&

appy!

Be

H
---
epertoire

Editor's letter

Scraps are Treasures

It's safe to say that the majority of quilters and

knitters have a hard time throwing out leftover

fabric and yarn. As quilters and knitters, it's love

at first sight when we see that particular fabric

and yarn, and that love continues well after the

project is done. The leftovers are loved just as

much as when we first bought the whole piece

of fabric or the whole skein of yarn.

What's more is that I have different see-through

boxes to store leftover fabrics, keyword being

'see-through', as I walk by it, the love for these

scraps grows and my heart is happy. I also have

a very, very large glass jar with a lid on it where

I store my beloved leftover yarns. Little balls,

medium balls, are so adorable in that glass

jar by the family picture frames. People find

it funny I should use yarn as a piece of decor,

and usually it's someone I haven't managed to

engage in the needle arts!

It's interesting to consider how leftovers will

be used, or matched up with other scraps

left from other cherished projects. The sense

of anticipation and wonder, and really we're

scoping out and thinking what that project

could possibly be, is half of the excitement!

Wonder no more. I've asked our contributors

to make up projects using leftovers and it's

stunning what they've come up with. And they

have shared useful techniques to accomplish

great needlework.

This issue is a little special since mom and I

have collaborated in a project called

In My Heart, a cross stitched project finished as

a quilt block and as an ornament. This is a great

example on how a project can be finished

differently to make it your own. Never again to

look at an inspiring needlework project and try

to duplicate it - make it your own by finishing it

exactly as YOU wish it in your heart.

Scraps ARE treasures, even when we realize

we'll never use these again, we don't throw

them out, we find them a better home, passing

them on to another quilter or knitter.

Cheerfully,

MAKE & BE HAPPY

A NEEDLE PULLING THREAD ● spring 2017

3
---
32 26 38

94

84

spring 2017

22

18

14

88

CONTENTS

66

68

FREE

72

4

64
---
10 Brampton Sew N Serge

Doreen G. Teasdale

quilting

I Am Scrapped!

14 Cathy McClean

quilting

Scrappy House Placemats

18 Lynn Swanson

quilting

The Scrap Buster Tote

22 Jackie White

quilting

A Walk Back in Time Quilt

32 Elaine Theriault

quilting

A Stitch in Time Quilt

34 The Quilt Store

Clodah Coker

quilting

Spring Curves Quilt

38 Nancy Devine

paper piecing

Thinking Outside the

Paper Piecing lines

42 Lucy Garvin

foundation piecing

Tote-ally Awesome

58 Cynthia MacDougall

knit together

Scrap Happy

60 Cynthia MacDougall

knitting

Afghan Scraps Cushion Tops

64 Denise Powell

knitting

Something from (Almost) Nothing

66 Jacqueline Grice

knitting

Cabled Leftovers Neck Roll

68 Red Heart, Michele Wilcox

crochet

Take-a-long Blue Tote

72 Ruth I. Forbes

crochet

Serene Rug

78 Carla A. Canonico

Delfina Canonico

cross stitch

In My Heart

84 Joanne Gatenby

cross stitch

Possible

88 Sue Davies

embroidery

Fun with Pyramids

94 Kim Beamish

embroidery

Odds and Ends Tags

74

special

features

26 Elaine Theriault

String Quilt Block Using

Foundation Piecing

90 Judith Marquis

Fabric Ratios for Smocking

90

37

in

every

issue

26 52

3 Editor's Letter

6 Mark Your Calendars!

6 Advertiser Index

8 Hooked on Books

The latest in needlework books

63 Knitting

Standard Abbreviations & Terms

98 Business Directory

Artist Review

17 Valerie Garnett

Memories of a Tin Mine

37 Debbie Smith

Christ Church, Kettleby

60

In the Loop

52 Canadian Quilters' Association

54 Oakville Fibre Artists

74 From Sheep to Stitches - The Irish Tourism Group

17

54

A NEEDLE PULLING THREAD ● spring 2017

5
---
MARK YOUR CALENDARS!

To list your event in this space please call 1.866.969.2678.

April 29-30, 2017

Toronto Knitters Frolic

Organized by the Toronto Knitters Guild

Japanese Canadian Cultural Centre,

6 Garamond Crt, Toronto, Ontario M3C 1Z5

Workshops: Sat 9am-4:30pm, Sun 9am - 12pm.

Marketplace: Sat 9am-4:30pm. Admission $7.

Frolic Spring Social: Sun 1pm-4pm

2017 marks our 20 th Frolic and we are excited

to present two days of Workshops, our

fabulous yarn and fibre Marketplace featuring

50 vendors from across Canada and our

new for 2017 Frolic Spring Social! For more

information visit frolic.torontoknittersguild.ca.

April 28-29, 2017

Creativ Festival

International Centre

6900 Airport Rd, Mississauga, ON L4V 1E8

Two-day interactive experience, where shopping,

inspiration & creativity flourish! Get in-theknow

and stay on top of what's hot, new and

next in the world of sewing, knitting, quilting,

beading, needlework, paper crafts, embellishing

and other creative art forms. Design it! Create

it! Embellish it! Make it YOU! For more info:

www.creativfestival.ca or call 1.855.723.1156.

April 28 - 30, 2017

Ontario Hooking Craft Guild (OHCG)

51 st Annual Conference, Workshop & Rug Show:

"Images of Canada"

(Traditional and primitive rug-hooking)

Best Western Cobourg & Cobourg Community Centre

The OHCG celebrates the traditional art and craft of

rughooking with wool fabric & yarn, while embracing

new and creative ways to hook rugs. The OHCG

Annual Conference & Rug Show celebrates Canada's

150 th in picturesque Cobourg. See hundreds of

wonderful rugs on public display Sunday April 30 th .

Admission $10.

For more information visit www.ohcg.org.

May 25 - June 3, 2017

Saskatchewan Stitches Conference

St. Peter's Abbey, Muenster, Saskatchewan

The Saskatchewan Stitches Conference offers creative

classes with renowned fibre and needle work

artists and attracts participants from across Canada

who love to sew, knit, quilt and rughook. Forms and

details at www.saskstitches.ca or call 1.800.344.6024.

QUILT MAGIC

NO-SEW WALL HANGING KITS

So much fun and EASY to do!!!

Quilt Magic is just

like painting with

numbers, except

that you use fabric

instead of paint!!

Sandpiper

Creations Canada

1-800-671-2272

■ No sewing

■ No gluing

■ No special tools

■ Instructions

included

brandor

Order Securely On-line at:

www.sandpipercreations.ca

www.quiltmagic.ca

website!

6 ●

A NEEDLE PULLING THREAD spring 2017

Saturday May 27, 2017

Prince Edward County FibreFest

Picton Arena and Prince Edward Community Centre

375 Main St, Picton Fair Grounds, Picton, ON K0K 2T0

Over 50 diverse vendors from all over Ontario

and Quebec carrying fibre, felted garments,

hand dyed wool, fleece, yarns and so much

more! Classes in felting, spinning, knitting, button

making, and more. Visit fuzzy fibre friends

including alpacas, sheep, and rabbits. Sheep

shearing demonstrations. Local food trucks. $5

admission. Children 12 & under free. For more info

visit www.fibrefest.ca or email info@fibrefest.ca.

June 23-24, 2017

Sew Much to Celebrate Eh! Quilt Show

Presented by Queen's Bush Quilters, Markdale

Markdale Arena, 75 Walker St,

Markdale, ON N0C 1H0

Friday 10am-6pm, Saturday 10am - 4pm

Over 100 new quilts, quilt raffle, draws,

tea room, merchant mall, vintage quilt

display, and special guests Grey Highlands

Hooking Craft Guild! Admission $8.

For more information visit us on Facebook

at facebook.com/QueensBushQuilters, or

email thequeensbushquilters@gmail.com.

September 16-17, 2017

Harvest of Quilts Show and Sale

Presented by Settler's Village Quilters

Bobcaygeon Curling Club,

49 Mansfield St, Bobcaygeon, Ontario K0M 1A0

Sat: 10am-5pm, Sun: 10am-4pm. Also featured

will be a Merchants Mall, Demonstrations,

Members Boutique, Quilt Raffle with

refreshments available on site. Admission $5.

Saturday October 14, 2017, 9am to 5:00pm

Woodstock Fleece Festival

The Woodstock Fairgrounds,

875 Nellis St, Woodstock, Ontario N4S 4C6

Our annual event invites fibre artists and others to

join together in an atmosphere of appreciation,

learning and camaraderie. ​The show incorporates

workshops and demonstrations from top

instructors. Exhibition booths sell everything

from raw fibre to quality finished goods. It is

also a great place to have lunch! We showcase

spinning, weaving, rughooking, felting, & knitting

with natural fibres. Workshop pre-registration

is available on our website. In addition, we offer

on-going demonstrations and live fibre animal

displays. Admission: Adults: $8; 15 & under Free.

For more info visit www.fleecefestival.com or

contact Catherine Stark at 519.458.8631.

Showguides Unlimited, an extensive listing

of the year's best shows including art and

craft (juried and non-juried), needlework,

woodworking, festivals and bazaars throughout

Ontario; also craft show tips, etiquette and

useful planning calendar; available at $24.99 plus

$5.00 S&H. For more info or to order online visit

www.ontarioshowguide.com, or call 1.800.671.2272.

Advertiser Index

97 BF Designs

99 Brother

98 Business Directory

63 Canadian Guild of Knitters

25 Canadian Quilters' Association

41 CreativFestival

97 Crochet Designs by NanaRuth

97 Embroidery Association of Canada

100 Gütermann Creativ

97 Harebrained Happenings

51 Haus of Stitches

77 Irish Tourism

PUBLISHER, EDITOR-IN-CHIEF, ART DIRECTOR

Carla A. Canonico

carla@ANPTmag.com

PUBLISHER, ADVERTISING SALES

John De Fusco

john@ANPTmag.com

PHOTOGRAPHERS

John De Fusco, Carla A. Canonico

QUILTING CONTRIBUTOR

Elaine Theriault

KNITTING CONTRIBUTOR

Cynthia MacDougall

cynthia@ANPTmag.com

PROOFREADER

Erica Killins

GRAPHICS ASSISTANT

Sondra Armas

SOCIAL MEDIA

Alessia De Fusco

Website : www.ANPTmag.com Facebook : ANPTmag

Toll Free: 1.866.969.2678 Ravelry : ANPTmag

SUBSCRIPTIONS

A Needle Pulling Thread (ISSN 1715-4650) is a quarterly publication.

Subscribe online, by phone, or by mail.

In Canada:

A Needle Pulling Thread

Subscriber Services

1025 Rouge Valley Dr

Pickering, ON L1V 4N8

In the USA:

A Needle Pulling Thread

Subscriber Services

PO Box 197

Niagara Falls, NY 14304-0197

Subscription rates for 4 quarterly issues:

PRINT: Canada : CAD$29.95/year USA : USD$29.95/year.

DIGITAL: Canada : CAD$19.95/year USA : USD$16.95/year.

PRINT + DIGITAL : Canada : CAD$35.90/year USA : USD$35.90/year.

Applicable taxes extra. For back issues please visit our web site or call

us for availability. Also available on iTunes and Google Play.

RETAILERS

If you are interested in carrying A Needle Pulling Thread in your

store, please call 1.866.969.2678 or email john@ANPTmag.com.

EDITORIAL

Designers and other contributors who would like to be considered

for future issues please email Carla with a brief description

of your work and your proposed project for the magazine.

SPECIAL THANKS TO

All the contributors, Rosalie I. Tennison, Alessia and Adriano, mom.

A Needle Pulling Thread ® is a registered trademark. No part of this publication

may be reproduced without written permission from the publisher.

©2017 A Needle Pulling Thread. All rights reserved. Volume 12 Issue 1.

All designs, patterns, and information in this magazine are for

private, non-commercial use only, and are copyrighted material

owned by their respective creators or owners.

Made possible with the support of the Ontario Media Development

Corporation.

We acknowledge the financial support of the Government of Canada

through the Canada Periodical Fund (CPF) for our publishing activities.

51 Lowery Workstands

87 MarNic Designs

71 Mary Maxim

57 Northcott Fabrics

25 Ontario Hooking Craft Guild

02 Husqvarna Viking

69 Red Heart

97 Rypan Designs

06 Sandpiper Creations

07 Unique Knitting & Crochet

13 WonderFil Threads

87 X's & Oh's
---
7
---
hooked on books

Dyeing to Spin & Knit

Felicia Lo

"Unapologetic" is how Felicia Lo always describes her

obsession with colour and craft. In Dyeing to Spin

and Knit, Felicia, founder and creative director of

SweetGeorgia Yarns and highly sought after teacher

and lecturer, provides clear and accessible guidance

for creating gorgeous hand-dyed yarns and spinning

fibers and an understanding of how dyeing affects

knitted yarn and handspun yarn.

Complete with detailed photographs from Felicia's

own dyeing studio, Dyeing to Spin and Knit offers a

master class in preparing hand-dyed yarns and fibers.

Ignite your love of colour – unapologetically!

162 Pages, ISBN 978-1-63250-410-4

Interweave

interweave.com

Bath Knits

Mary Beth Temple

Pamper yourself with knitted bathroom style! Create

a spa-like-feel in your own bath with luxurious

knitted towels and accessories. These designs offer

a clean, modern look in contemporary colours

and fibers. Most patterns are easy to intermediate

in skill level and are quick knits that will have your

bathroom looking its best in no time.

Looking to knit the perfect gift? These items make

thoughtful housewarming or hostess gifts and are

also great for recent grads and new moms. Features

30 original knitting patterns and instructions, like

washcloths and mitts, a robe, slippers and pedicure

socks and it includes bathroom décor accessories.

80 Pages, ISBN 978-0-8117-1657-4

Stackpole Books

stackpolebooks.com

Rainbow Quilts for Scrap Lovers

Judy Gauthier

You'll actually be hungry for more leftovers

Are you swimming in fabric scraps from sewing

garments, bags, and quilts? Learn to rescue and

reuse fabric leftovers with 12 stunning, colourful

quilt patterns for scrap lovers. Judy Gauthier teaches

you her indispensable system for cutting usable

squares from real, oddly shaped scraps, not just strips

or precuts! Cut scraps into 3½", 4½", and 5½" squares,

a magical combination for both beginning quilters

and more advanced piecers, using traditional rotary

cutting or Judy's fast2cut Simple Square Templates.

Judy's clever organizing and quilt-assembly tips will

help you uncover hidden treasures from your stash.

96 Pages, ISBN 978-1-61745-461-5

C&T Publishing

ctpub.com

Visual Guide to Free-Motion Quilting Feathers

Natalia Bonner

Put a feather in your quilting cap

Take the fear out of quilting feathers! Explore 68

modern feather designs with step-by-step guidance

from award-winning quilter Natalia Bonner. Quilt

stunning feathers on a variety of blocks and borders

with this beginner-friendly, visual guide. Unlike

traditional feather quilting, which relies on exactness

and precision, Natalia's ideas will help you break

away from perfection and find creativity in your

quilting practice. Use your home sewing machine or

a longarm to free-motion feathers with confidence,

adding a truly elegant finish to today's modern quilts.

144 pages, ISBN 978-1-61745-506-3

C&T Publishing

ctpub.com

Artful Log Cabin Quilts

Katie Pasquini Masopust

Take the first steps to becoming an art quilter with

popular teacher and best-selling author Katie Pasquini

Masopust. Starting with an inspiration photo or

painting, choose fabrics to create your own artistic

log cabin quilts. Learn to navigate visual pathways

and composition, applying easy techniques and

experimenting with colour. Student work is presented,

showing that anyone can create an art quilt! Design

and make your masterpiece with freeform log cabin

blocks using this versatile method.

80 pages, ISBN 978-1-61745-450-9

C&T Publishing

ctpub.com

New York Beauties & Flying Geese

Carl Hentsch

Dramatic curves and angles for today's

adventurous quilter

Become a skilled foundation piecer with New York

Beauty blocks and arcs of Flying Geese that amaze! Carl

Hentsch simplifies a technique loved by many with his

straightforward approach to curved piecing, foundation

piecing, and simple machine applique. Stitch your

way through 31 architectural block patterns, ideal for

advanced beginners and intermediate quilters. Then it's

time to practice on 10 full-size quilts and 27 bonus pillow

projects with lively colour combinations to provide

movement and drama.

96 pages, ISBN 978-1-61745-176-8

C&T Publishing

ctpub.com

8 ●

A NEEDLE PULLING THREAD spring 2017
---
hooked on books

Knit Blankets & Throws with Madmoiselle Sophie

Mlle Sophie

Mlle Sophie brings her clean, modern look and international

flair to this collection of blankets and throws

for the home and family. Her designs have a timeless

vibe that works well in any decor; just change the

yarn colour to suit your favorite palette. The 18 funto-knit

patterns are suitable for beginners but have

just enough detail to keep the knitting interesting

and give each piece a unique allure.

Blankets make wonderful, heartfelt gifts, too! Send

off a recent grad to college with a throw in school

colours. Cuddle a baby in fluffy softness. Warm a

home with an elegant new afghan. This is a book

that you will turn to for years to come.

124 Pages, ISBN 978-0-8117-1791-5

Stackpole Books

stackpolebooks.com

True Blue Quilts

Annette Plog

Sew 15 Reproduction Quilts Honoring 19th-

Century Designs

The blue-and-white quilt is one of the most desired

antiques, and many can still be found in good

condition. Learn the history of blue fabrics used

during the 19th century, from the first production

of indigo fabrics through the invention of the

sewing machine, and up to the development of

synthetic dyes in the late 1800s. Get inspired to

design and create your own heirlooms, stitching

up 15 historically accurate reproduction quilts from

traditional blocks.

80 pages, ISBN 978-1-61745-340-3

C&T Publishing

ctpub.com

Wonderful One Patch Quilts

Sarah Nephew and Marci Baker

A new angle on classic quilt designs

What can you sew with a 60° ruler and a simple,

repeated shape? The possibilities are endless!

Favorite authors Sara Nephew and Marci Baker are

back with 20 beautifully bold one-patch quilts made

from triangles, half-hexagons, diamonds and more.

With their eye-catching colour placement and clever

pieced units like half-triangles and quarter-hexagons,

no two quilts look alike. For even more variety, pick

your favorite method – working from scraps or strip

piecing yardage – to create an array of quilts from

wallhangings to full-size beauties.

128 pages, ISBN 978-161745-467-7

C&T Publishing

ctpub.com

Robin Vizzone's Peculiar Primitives

Piecing, Appliqué, Quilting & More

Robin Vizzone

Stitches that tell a story

Primitive lines harken back to our American roots,

reminding us of simpler times. Embrace the beauty

of hand stitching with whimsical, age-worn designs.

From wall quilts to table toppers and primitive dolls

to pincushions, you'll sew 12 handcrafted projects

with eccentric flair and distinct character – ideal for

both beginners and more experienced sewists. Your

stitches are meant to tell a story, so put perfection

to the side as you create memories with felted wool,

distressed cottons, and embroidery thread.

80 pages, ISBN 978-1-61745-484-4

C&T Publishing

ctpub.com

Sew Small

19 Little Bags

Jennifer Heynen

Pretty and practical organizers to sew

Sew 19 simply embellished projects including a card

holder, coin purses, earbud holder, small wallets,

pouches and organizers. These cute and useful bags are

perfect for holding and organizing all of your little things.

Personalize the organizers with adorable embellishments

and appliqués and use up your scraps, trims, and

other odds and ends in the process! Whip one up in

an afternoon or bring your handwork with you – small

pieces make these projects fun and easy to work on

anywhere. Great to give as gifts or keep for yourself, these

tiny bags will bring a smile to anyone's face.

112 pages, ISBN 978-1-61745-433-2

C&T Publishing

ctpub.com

Stitching with Beatrix Potter

Michele Hill

Bring Beatrix Potter's delightful stories to life

This book gathers together 10 easy yet elegant

projects celebrating the life and talents of Beatrix

Potter. With 10 appliqué and 6 embroidery designs,

even beginning stitchers can work with hexagons

to create a beautiful embroidered quilt, stitch up a

cushion based on The Tailor of Gloucester, appliqué

a wool storage box, and construct a beautiful

wedding quilt based on one from Beatrix Potter's

home. Plus, all-of-the designs can easily be adapted

– just add a dash of imagination to create bags,

appliquéd pinafores, or embroidered gifts.

64 pages, ISBN 978-1-61745-610-7

C&T Publishing

ctpub.com

A NEEDLE PULLING THREAD ● spring 2017

9
---
13
---
Scrappy House Placemats

It's time to play with your sewing machine!

Since we so often go to our sewing rooms with a specific task or project in mind, we often

forget to make the time to experiment. But did you know that the very best way to get the

most of your sewing machine is to play with different stitches and techniques that you have

never used? Why not try decorative threads, decorative stitches, using twin needles, and/or

placing multiple threads through the eye of one needle? You just might land on a technique

or look that becomes a fast favourite for your subsequent projects.

14 ●

A NEEDLE PULLING THREAD spring 2017
---
The Scrap

Buster

Tote

18

●

A NEEDLE PULLING THREAD spring 2017
---
22

A Walk Back in Time Quilt
---
June 14 to 17 • The International Centre • Toronto

Join us to celebrate

Canada's Birthday!

· Workshops · Lectures · Merchant Mall

· Daily Demos · Big Quilt Bee · Food Court

· Over 400 quilts on display including:

· National Juried Show · Quilts of Valour

· Cantik Batiks Youth Challenge

· Trend-Tex Challenge · Fibre Art Network

· Newfoundland WWI Commemorative Quilts

· Guild Rosette quilts and so much more!

Big Quilt Bee

2016 National Juried Show:

Excellence in Midarm/Longarm Quilting

Michaela Byrne, Kelowna, BC

Volunteer!

Interested in volunteering

at Quilt Canada?

We need your help!

Contact Volunteer Coordinators

for more information:

quiltvolunteer17@gmail.com

For more information visit:

www.canadianquilter.com

Canadian Quilters' Association/Association canadienne de la courtepointe

canadianquilters cqaacc canadian_quilters @cqaquiltcanada

app store:

quilt canada

Diane Ayles

Jane Fournie

Yvonne Meriam

Ontario Hooking Craft Guild

www.ohcg.org

Facebook:

Ontario Hooking Craft Guild

email:

ohcgmultimedia@gmail.com

25
---
A

Stitch

in

Time

table topper

1

2

4

3

Center blocks layout

32

A NEEDLE PULLING THREAD

●

spring 2017
---
38

A NEEDLE PULLING THREAD

●

spring 2017

Thinking

outside

the paper

piecing lines

A while ago, I embraced paper piecing as a way

to use up all the threads of my most precious

fabric scraps.

Before long, hexagons joined forces to create

flowers to applique onto projects. Pentagons

banded together to create soft balls, perfect

for kids to play with, or joined together to

create fabric snow people. See the blog post

called Paper-piecing Percy the snowman on

QUILTsocial.com for more about that project.

As I churned out both kinds of shapes while

watching a PVRed marathon, I idly wondered

how both shapes would combine.

In theory, a pentagon will create a sphere when

12 of them are joined together. Hexagons

will create fields of flowers when they are

sewn together. But what would happen if the

hexagon took center stage surrounded by

pentagon petals?

And, what if instead of being pieced around

paper, the pieces were formed around Peltex,

an ultra-firm interfacing, normally used to

create firm bottoms for bags or foundations

for things like stationary folders.

The answer is a pretty sweet bowl that can

be used as a catch-all or to place at your door

filled with wrapped sweets to welcome guests.

My version is reversible. You can fussy cut

some holiday fabric for one center hexi and

use year-round fabric for the other side. When

the holidays are over, you can turn the bowl to

the other side around for all-year display.

Best of all, the whole project is done by hand,

so bring on those TV marathons!
---
TORONTO FALL

– with –

oct 26-28

2017

International

Centre

Entrance 5

1-855-723-1156 | www.creativfestival.ca

41
---
Tote Half

9

16

11

6

1

Tote-ally

Awesome

Half Block

(print 4)

5

10

15

18

Lowery Workstands

The Strong Steel Workstands from England

www.workstands.com

Available in

Canada from

Tygarth

Enterprises at

519-956-9632 or

email to:

tygarth@cogeco.ca

626 Main Street

626 Main Street

Humboldt

Humboldt

306-682-0772

Saskatchewan

Stitches

Conference

Proud

Proud

Sponsors

Sponsors

Authorized Dealer For For

&&

May 31 - June 9, 2018

St. Peter's Abbey, Muenster

for more information call

1-800-344-6024

www.saskstitches.ca

S W I S S D E S I G N

S W I S S D E S I G N

306-682-0772

Fabric and yarn you won't find just anywhere!

A NEEDLE PULLING THREAD ● spring 2017

51
---
57
---
Afghan Scraps Cushion Tops

Last fall, after 3 years, I finally

completed an afghan that was made

in "crayon colours". When it came to

the outside border, I added more yarn

for the border so I could make better

use of the fabulous center colours by

incorporating a customized colour-block

design. When I still had yarn scraps

in all of the colours left, I wanted to

keep going. So, I created these crayoncoloured

cushion tops.

In my early June blog posts on

KNITmuch, I made several samples of

the afghan design I made for the Fun

with Flags series. The main afghan was

red and gold, but one of the samples

was made in blue and gold. This colour

combination was admired by all who

saw it, so I decided to try out the stained

glass cushion top on the scraps of blue

and gold yarn as in these pictures.

60

A NEEDLE PULLING THREAD

●

spring 2017
---
Are you a Canadian knitter?

read about knitting

learn about knitting

join Canada's knitting community

When you join, receive

» 4 issues of A Needle Pulling Thread magazine

» entries into Random Acts of Knitting draws

» access to the Knitting Accreditation Program

PO Box 20262

Barrie, Ontario L4M 6E9

www.cgknitters.ca

A Needle Pulling Thread

Standard abbreviations & terms

alt = alternate

approx = approximately

beg = begin(ning)

BO= bind off

CC = contrast colour

ch = chain

cm = centimetre(s)

cn = cable needle

CO = cast on

cont = continue, continuing

dc = double crochet

dec = decrease(s), decreasing

dpn = double-pointed needle(s)

foll = following

g = gram(s)

inc = increase(s), increasing

in(s) = inch(es)

k = knit

kf&b or kfb = knit into front and back of st

(increase)

k2tog = knit 2 sts tog (right-leaning decrease)

K3tog = knit 3 sts together (double rightleaning

decrease)

M = marker

m = metre(s)

M1 = Make 1 stitch: pick up the horizontal

strand between 2 stitches from front to

back and knit it tbl (lifted increase)

MC = main colour

mm = millimetre(s)

oz = ounce(s)

p = purl

p2tog = purl 2 sts tog (decrease)

patt = pattern

pfb = purl into front and back of stitch (increase)

pm = place marker

psso = pass slipped stitch over

RS = right side

rem = remain(ing)

rep = repeat

rev = reverse

rnd = round

sc = single crochet

sl = slip

skp = slip one st, knit next st, pass slipped st

over knit st (dec)

ssk = slip, slip, knit: slip 2 sts knitwise, 1 at a

time, insert left-hand needle into front of

both sts and knit them tog (left-leaning

decrease)

Sssk = Slip next three stitches individually,

knitwise. Insert tip of left needle from

front to back into the fronts of these three

stitches and knit them together (double

left-leaning decrease)

st(s) = stitch(es)

St st = stocking stitch

tbl = through back loop

tog = together

tr = treble crochet

WS = wrong side

yo = yarn over

A NEEDLE PULLING THREAD ● spring 2017

63
---
Something from (almost) nothing

When you've been a knitter for a while, you usually develop a stash of

leftover yarns; half a ball of this, a few dozen meters of that - too much

to throw away, but not enough for a new project.

My usual solution to this is to make hats! Some go to friends and family,

but most to a local organization that distributes warm clothing in the

autumn to anyone that needs it.

This is the recipe for one of my favourite styles of hat or headband, great

for using leftovers. The headband took only 35g total and each row took

less than 3 meters (3¼yds), so you can use quite small lengths of scrap

yarn. The hats weighed 51g (pink/white) and 67g (green).

All yarns used are Universal Yarn Deluxe Worsted Superwash, left over from

my project in the Winter 2016 issue, Snowflakes and Evergreens Cardigan.

The pattern used is a circular variation of the Woven Transverse

Herringbone from A Treasure of Knitting Patterns by Barbara G Walker.

64
---
Cabled Leftovers

Neck Roll

What to do with leftover yarns? One of my favourite

ways to used up leftover yarn is to combine it with a

skein of yarn I wasn't able to resist at my local yarn

shop. Adding leftover yarn is fairly easy as a concept, but

finding the right pattern can sometimes be a challenge.

I approach the challenge intuitively. I set my mind free

and explore stitches. I choose a stitch, cast on with any

weight yarn then add other stitches to it. It truly is

amazing what can come of this.

To create this neck roll pillow I used different weights of

yarn in several colours of yellow and included some grey.

I had a neck roll form laying around the house that I was

happy to put to good use.

66 ●

A NEEDLE PULLING THREAD spring 2017
---
Take-a-Long

Blue Tote

FREE

One of the

characteristics of

crochet is the ability to

form a tight weave in

a myriad of decorative

stitches, which are

useful when making

practical items such as

totes and bags of all

kinds. – Carla

68 ●

A NEEDLE PULLING THREAD spring 2017
---
Superbly

Cozy

Crocheted from the center

out with Super Saver®,

this design features a

creative combination of

cluster & shell stitches.

17-016 © 2017 Coats & Clark. All rights reserved. Coats & Clark is a registered trademark.

LW5278

Out-of-the-Box Throw

Super Saver® has been the

favorite choice of blanket

& throw makers since first

introduced over 30 years ago.

Over 3,000 free patterns available at redheart.com

69
---
Since 1954

Mary's Home Solutions • Creative Projects • Yarn • Needlework

Latch Hook • Quilting • Gifts • Puzzles • Beads • Colouring Books!

Ridged Wrap

Bold & Beautiful in

Mary Maxim Studio

Call for a

complimentary

catalogue

When requesting

catalogue,

please quote

CODE 121

Canadian Locations

marymaxim.ca

Paris, ON 1-888-442-2266

London, ON 519-963-1490

USA Location

marymaxim.com

Port Huron, Michigan

1-800-962-9504

71
---
Unlike the canvas

artist who can mix

colours as required,

I rely on yarn

manufacturers for

tones, shades and

tints for

my work.

In 1979, yarns

with such beautiful

gradation were

available and

I created items with a

liveliness that danced

right out of my hands.

Hence, the

Serene Rug.

rug

S erene

72 ●

A NEEDLE PULLING THREAD spring 2017
---
Ireland

Knitting Tours & Luxury Knitting Retreats

9 Night Knitting Tours: Choose to discover knitting & craft in the North & Northwest

of Ireland or the South and West of Ireland. Both tours include workshops and craft

based sightseeing as well as general sightseeing.

New! 6 Night Luxury Retreats: Featuring four nights in the stunning Parknasilla

Resort Hotel in Kerry or the beautiful Harvey's Point Hotel in Donegal! Spend four days

with an experienced knitting instructor. Optional tours included.

Limited Availability, Book Now to Secure your Place

www.irishtourism.com/knitting

Toll free 1877 298 7205

Local | Flexible | Trustworthy

77
---
84

POSSIBLE
---
Inspired by life as it

unfolds around me.

- Maria Gollek

MarNic Designs

Counted cross stitch patterns from the

beginner to the advanced skill level

xxxxxxxxxxxxxxxxxxxxxxxxxxxxxxxxxxxxxxxxaspiring to inspire before I expire

www.MarNicDesigns.com

xxxxxxxxxxxxxxxxxxxxxxxxxxxxxxxxxxxxxx

A NEEDLE PULLING THREAD ● spring 2017

87
---
Fun with

Pyramids

The stitches used in the

samples are common, but the

beauty of these little treasures

is that it allows us to explore

other stitches with quick

gratification and very little

risk. Make your own design,

perhaps a little cottage, a

miniature garden, or little fish,

whatever it is – make it your

own and have fun!

Template

88 ●

A NEEDLE PULLING THREAD spring 2017
---
Brenda Franklin

519.638.9958

help@bfdesigns.on.ca

Brenda Franklin designs more

than just realistic cross stitch. Also

available are beaded knits, bead

stitch, intarsia and needle felting.

Check out www.bfdesigns.on.ca

for the complete line of books,

patterns and kits.

Rypan Designs

416.247.1993

www.rypandesigns.com

NEW! Downloadable Patterns!

Maria Rypan is an international

designer, researcher & instruction

book publisher recognized for her

'Gerdany' beadwork and projects

for many publications. Since 1995

Maria teaches, produces a kit line and

presents on beading & global folk arts.

Harebrained Happenings

416.282.9949 or 416.284.7924

www.harebrainedhappenings.com

Harebrained Happenings is the

brain-child of two talented ladies

who have come together with

their love of crafts, and folk art. Our

company incorporates the love

we have for our pets with design

patterns for quilting, tote bags, and

wall hangings.

Crochet Designs by NanaRuth

416-754-0998

www.NanaRuth.com

NEW! Downloadable Book!

Main focus is traditional designs in

crochet and knit for children.

All garments are designed and/

or handmade with discerning

attention to comfort and finishing.

Baptismal sets, dresses, suits,

blankets and shams, cardigans, hats

and other items.

Embroiderers'

Association of

Canada, Inc.

Check us out at

www.eac.ca

Join Us: membership@eac.ca

You'll be glad you did.

Membership gives you:

Annual Seminar with National

and International Teachers

Embroidery Canada Magazine

published quarterly

Correspondence Courses at all

Levels

Chapter Programmes

Extensive Library

A NEEDLE PULLING THREAD ● spring 2017

97
---
BUSINESS DIRECTORY To list your business in this space please call 1.866.969.2678.

Brenda Franklin Designs

7570 Mapleton SR 18 RR 1, Alma, ON N0B 1A0

519.638.9958 bfdesigns.on.ca

help@bfdesigns.on.ca

More than 500 charts available for counted

needlework, latch hook rugs, beadwork, beaded

knits and knitting patterns. Mail/fax order or ask

for our products at your local shop. Contact us for

custom designs or needle felted sculpture.

Brampton Sew & Serge

289 Rutherford Rd S, Unit 7, Brampton, ON L6W 3R9

905.874.1564 sewnserge.com

monique@bramptonsewnserge.com

Welcome to Your One Stop Sewing Centre! We are

authorized dealers of Baby Lock, Husqvarna Viking,

and Singer sewing machines and sergers. We also

offer a full schedule of sewing classes for everyone.

Bytowne Threads - Ottawa, ON

1.888.831.4095 bytownethreads.com

mlj@bytownethreads.com

Featuring AURIfil® thread from Italy. Extra-long

staple Egyptian cotton threads: 12wt, 28wt, 40wt &

50wt - 252 colours. Bobbin threads, black & white:

60 and 80wt. Polyester threads 240 high-sheen

colours. Wool threads 180 colours.

Country Concessions

1 Dufferin St, Cookstown, ON L0L 1L0

705.458.4546 or toll-free 1.888.834.4407

countryconcessions.com

quilting@countryconcessions.com

Visit our lovely and unique quilt shop in the quaint

village of Cookstown. We have over 7000 bolts of

cotton fabrics plus a wide selection of patterns, books

& notions. You will be so glad you came for a visit.

Evelyn's Sewing Centre / The Quilt Store

17817 Leslie St, Unit 40, Newmarket, ON L3Y 8C6

905.853.7001 or toll-free 1.888.853.7001

thequiltstore.ca

Evelyn's Sewing Centre in Newmarket is your Quilt

Store Destination! The staff here at Evelyn's is always

on hand to provide Quilt Wisdom, Quilt Inspiration

and most of all we pride ourselves as the place to

make... All Your Quilt Dreams Come True!

Gitta's

271 Lakeshore Rd E, Mississauga, ON L5G 1G8

905.274.7198 gittas.com

questions@gittas.com

Gitta's, named after owner Gitta Al-Basi, nestled in

the east village of Port Credit, is the place where

stitchers meet with their stitching friends, shop for

stitching supplies and see the new stitching designs

from Europe and the United States.

Hardanger House

4708 52 St, PO Box 1223, Stettler, AB T0C 2L0

403.742.2749 or toll-free 1.866.742.2749

tnplisting.com/hardanger-house.html

Patterns from Canadian, American and European

designers, linen and evenweave fabrics from Zweigart,

DMC pearl Cottons, Caron Collection threads, and

all the related stitching accessories are kept in stock.

Many additional items can be special ordered.

Haus of Stitches

626 Main Street, Humboldt, SK S0K 2A0

306.682.0772 or toll-free 1.800.344.6024

hausofstitches.ca

Our one of a kind store offers everything you need

for sewing, quilting, knitting, rug hooking and

needlework. Authorized dealers for Janome and

Elna.

Impressions Embroidery & Engraving

#8-449 Mayor Magrath Dr S, Lethbridge, AB T1J 3L8

403.942.3934 impressionslethbridge.ca

impressions22@shaw.ca

Our shop does embroidery and laser engraving.

Laser engraving is a beautiful process for fabric,

as nothing cuts cleaner and more precisely than a

laser. We now carry a nice array of fabric as well to

compliment the abilities of the laser.

Joyce's Sewing Shop

325 Wortley Rd, London, ON N6C 3R8

519.433.5344 joycessewingshop.com

joycesewingshop@bellnet.ca

Our mission is to make sewing fun by providing

professional training to teach the benefits of sewing,

to provide excellent service and quality products

to make your sewing easier and to provide friendly

customer service to make you a happy sewer.

My Sewing Room

148-8228 MacLeod Trl SE, Calgary, AB T2H 2B8

403.252.3711 mysewingroom.ca

Queenofeverything@mysewingroom.ca

Canada's Largest Independently Owned Quilting

Store with fabric, patterns, kits, notions, sewing

machines and more! My Sewing Room boasts over

10,000 bolts of 100% cotton fabric from designers

and manufacturers from around the world.

Needles & Knits

15040 Yonge St, Aurora, ON L4G 1M4

905.713.2066 needlesandknits.com

Fabulous selection of yarns. Extremely

knowledgable and expert help. Cozy and friendly

atmosphere. Classes. Guild night every first Tuesday

of the month. Tea with Tove, the owner, every

Thursday from 6-8pm.

Pine Ridge Knit & Sew

17477 Hwy 2 PO Box 68, Trenton, ON K8V 5R1

613.392.1422 pineridgeknitsew.com

yvette@pineridgeknitsew.com

We have knitting machines by Artisan and Silver

Reed, embroidery machines by Husqvarna/Viking

& White. Sewing notions and supplies, books and

software. Hands-on lessons and classes. Wide variety

of yarns, threads, dress and pant zippers.

Rosalie I. Tennison, Quilt Appraiser

Certified by American Quilters' Society 2005

Newmarket, ON

905.953.1441 R.Tennison@sympatico.ca

What if something happens to your treasured quilt?

Do you have written proof of its value for your

insurance company? Get an appraisal now.

Ruby Pearl Quilts

500 King St W, Suite 8, Oshawa, ON L1J 2K9

905.436.3535 rubypearlquilts.com

joy@rubypearlquilts.com

We are your full service source of professional quilting

equipment, products, & courses. Led by 44 years of

sewing experience & more than 20 years of quilting

experience, we have the experience necessary to help

you push your hobby to the next level!

Ruti's Needlebed

10 Thomas St, Mississauga, ON L5M 1Y5

905.821.9370 ruti.ca

Mississauga's Finest Quilting and Knitting Store!!

Come see our huge selection of yarn, fabric, supplies,

sewing machines and knitting machines…a local

store for all your quilting, sewing, knitting needs! We

offer a wide variety of classes.

The Yarn Guy

15 Gower St, Toronto, ON M4B 1E3

416.752.1828 or toll-free 1.800.836.6536

theyarnguy.com info@sewknit.ca

See us on Facebook, follow us on Twitter!

Knitting machines, sewing machines, repairs, parts

for Passap, Studio, Singer, Silver Reed, Superba,

White. Sewing notions and supplies, books, ball

yarns, coned yarns, TAMM yarns, Paton's yarns,

Bernat yarns, Phentex yarns, Bernat kits & crafts.

Sew Fancy Inc.

Guelph, ON

519.824.4127 sewfancy.com

sales@sewfancy.com

Your Premier Canadian Source for Specialty Sewing

Supplies including Smocking, Heirloom Sewing,

Goldwork, Silk Ribbon Embroidery, Needle Tatting,

Swarovski Crystals, Sashiko, Quilting and more. Visit

the website for the latest in sewing supplies.

Stitch-It Central

189 Thames Street S, Ingersoll, ON N5C 2T6

519.303.1563

stitchitcentral.ca sales@stitchitcentral.ca

Stitch-It Central is a store to satisfy all your cross

stitching needs. We have everything such as

notions, books & magazines, project kits, charts,

gift collections & certificates, papers & accessories,

fabrics and linens, and so much more.

That Sewing Place

16610 Bayview Ave #10, Newmarket, ON L3X 1X3

905.715.7725 thatsewingplace.ca

jaret&liana@thatsewingplace.ca

Introducing That Sewing Place as your sewing

source and Authorized Dealers for Bernina and

Brother machines. Jaret & Liana focus on placing

your sewing needs first, providing outstanding

support, service, and training.

The Stitching Corner

#2, 185 First St E, Cochrane, AB T4C 2E9

403.932.3390 stitchingcorner.ca

nygabe@telus.net

Your Needlework Shop in Cochrane.

The Stitcher's Muse

99 Commercial Street, Nanaimo, BC V9R 5G3

250.591.6873 thestitchersmuse.com

info@thestitchersmuse.com

A divine little shop with supplies for all your hand

stitching needs! Friendly, knowledgeable, helpful

staff. Cross stitch, canvaswork, needlepoint,

embroidery, counted thread, lace making and

more. Books, patterns, fabric, threads, tools.

Ultimate Sewing Centre

191 Bloor St East, Oshawa, ON L1H 3M3

905.436.9193 ultimatesewing.com

ultimatesewing@bellnet.ca

For all your sewing needs be sure to call Durham's

largest one stop shop: Janome and Elna Sewing

Machines, Sergers, & Embroidery machines,

over 3000 bolts of first quality cottons, Floriani

Embroidery supplies, the latest notions, books, &

patterns, year round classes, and so much more!

Upper Canada Quiltworks

PO Box 64, Brockville, ON K6V 5T7

613.345.3956 Fax: 613.342.3327

uppercanadaquiltworks.com

Visit us online for a wide selection quilt patterns

and books. Techniques include felted wool, fusible

appliqué, punchneedle, rag quilting and printing

photos on fabric.

98 ●

A NEEDLE PULLING THREAD spring 2017
---
Luxury in every detail

Introducing THE Dream Machine 2. Enhanced, fine-tuned and graced with refined new features giving

serious enthusiasts like you, an incomparable sewing, embroidery and quilting experience. Dream big!

INDUSTRY FIRST

INNOVEYE ® 2 TECHNOLOGY - For precise positioning. It's like having

a built-in camera and scanner.

ENHANCED MY DESIGN CENTER - New design capabilities to make

your projects unique, all without a PC.

10.1" LARGE LCD SCREEN - 10.1" built-in high definition LCD.

EXCLUSIVE

DISNEY IS IN OUR DNA - Only THE Dream Machine 2 has the

magic of 166 Disney embroidery designs built right in.

Visit your Brother authorized dealer, or

go to www.brother.ca to discover more.

INSPIRING CREATIVITY FOR GENERATIONS

Photos are for illustration purposes only. The XV8550D shown in this ad has been manufactured by Brother Industries, Ltd, under a licensing agreement with Disney Enterprises, Inc, through which Brother has permission to use Disney

images. The embroidery designs built into this embroidery machine are for personal use within the home only and may not be used for business or industrial purpose. Brother and its logo are trademarks of Brother Industries, Ltd., Japan.

All specifications are subject to change without notice. All registered trademarks referenced herein are the property of their respective companies. The Best Buy Seal and other licensed materials are registered certification marks and

trademarks of Consumers Digest Communications, LLC, used under license. For award information visit ConsumersDigest.com. ©2017 Brother International Corporation (Canada) Ltd. 1, rue Hôtel de Ville, Dollard-des-Ormeaux, Québec,

H9B 3H6. ©Disney 04/2017 - 91658

99