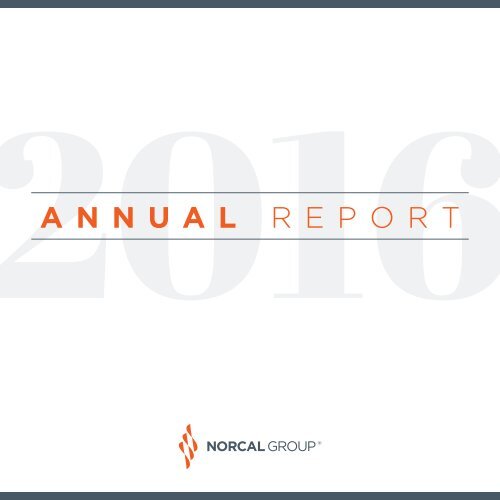 NORCAL Group 2016 Annual Report
Create successful ePaper yourself
Turn your PDF publications into a flip-book with our unique Google optimized e-Paper software.
ANNUAL REPORT
---
OUR MISSION

To provide our policyholders the highest quality medical professional

liability insurance products and services at the lowest responsible cost,

while maintaining a financially sound company.

To anticipate and influence changing industry and policyholder trends

and respond to those trends in a manner which allows NORCAL Mutual to

maintain its financial stability for the benefit of the policyholders.

2016 ANNUAL REPORT | 3
---
A MESSAGE FROM THE

CHAIR & THE CEO

In 2016, NORCAL Mutual entered our 41st

year as a leader in medical professional

liability (MPL) insurance. As we celebrate

and reflect on those four decades, our

history becomes a powerful reminder that

our philosophy of being a policyholderowned

mutual company is at the heart of

our longevity, and serves as the foundation

of our Mission: to always serve the best

interest of our policyholder-owners.

JAAN SIDOROV, MD, MHSA, FACP

Chair

SCOTT DIENER

President & Chief Executive Officer

4 | 2016 ANNUAL REPORT
---
The healthcare industry's dynamic changes

continued to influence our evolution — from

market fluctuations and demographic and regional

shifts, to tort reform, changes in the healthcare delivery

model, and many others. Amid these sweeping changes

and uncertainty, NORCAL's deep experience, prudent

decision-making and financial stability have enabled us

to continue to navigate a complex environment with a

balance of strategic growth and operational improvement.

We began 2016 with the integration of Florida's FD

Insurance, expanding our national footprint in the

Southeast and bringing a well-respected and financially

strong company into the NORCAL Group. We then closed

the year with a definitive agreement to acquire PPM

Services, which resulted in a partnership with Preferred

Physicians Medical (PPM), the only anesthesiology-specific

MPLI carrier in the nation, insuring anesthesia practices in

over 40 states with premiums approaching $40 million.

While we leveraged strategic opportunities for growth, we

also made significant progress on improving operations

to drive efficiencies and lower our operating costs. Our

financial results reflect solid achievement in an extended

soft market, with premiums remaining steady and posting

surplus at the highest level in our history at $705 million.

Additionally, the designation of an A.M. Best "A" (Excellent)

rating for the 33rd consecutive year is something we are

very proud of.

The roll out of NORCAL Mutual's Health Care Professional

(HCP) policy continued into 19 new states, bringing an

enhanced uniform policy to the vast majority of our

markets. We also created a dedicated Custom Accounts

team, focused on complex and multi-state practices, to

address the level of flexibility needed by more and more of

our policyholders. As the needs of medical practices and

challenges of the MPL market become even more complex

in 2017 and beyond, NORCAL will continue to look for

new ways to provide innovative offerings at the lowest

responsible cost, always keeping our focus squarely on

you, our policyholders.

The numbers throughout this annual report tell an

important part of our story; our history and longevity

tell another. Together, our financial strength and stability

enable us to remain what we've always been — 100%

committed to you.

Thank you very much for your business and for your

confidence in our company. We look forward to serving

you for many years to come.

2016 ANNUAL REPORT | 5
---
NORCAL'S 2016

NATIONAL FOOTPRINT

WA

CA

OR

NV

ID

UT

MT

WY

CO

ND

SD

NE

KS

MN

IA

MO

WI

IL

IN

MI

KY

OH

WV

NY

PA

MD

VA

ME

VT

NH

MA

CT

RI

NJ

DE

DC

AZ

NM

OK

AR

TN

SC

NC

MS

AL

GA

TX

LA

AK

FL

HI

48 Admitted States + District of Columbia

NORCAL Group includes NORCAL Mutual Insurance Company, Medicus Insurance Company, FD Insurance Company and NORCAL

Specialty Insurance Company.

6 | 2016 ANNUAL REPORT
---
A YEAR IN REVIEW

BEYOND THE NUMBERS

The strength of the NORCAL Group of companies goes beyond the financial

numbers we provide in the annual report. It builds from the 30,000 physician

insureds across 35 states who entrust their practices to NORCAL Mutual,

Medicus, FD Insurance and NORCAL Specialty. We also draw strength from

our network of agents who represent the NORCAL Group in local markets,

the defense counsel who support and defend you through the stresses of

litigation, and the diverse board of directors you have elected to help guide

the company.

In 2016, NORCAL continued its multi-year strategic plan

to bring all NORCAL Group policyholders under a single

banner, including policyholders from FD Insurance

who joined the NORCAL Group at the beginning of the

year. As part of this work, the NORCAL Mutual Health

Care Professional policy was introduced into 19 additional

states. The company now operates four regional offices

throughout the country to better serve you across every

time zone.

We'll continue to strategically grow without losing the

personal service and support you've come to expect; and

continue to evolve and transform to keep pace with a

changing industry without losing sight of our rich history.

Our numbers may change, but our focus will remain

squarely on you.

2016 ANNUAL REPORT | 7
---
UNDERWRITING

WE TREAT YOU LIKE OWNERS — BECAUSE YOU ARE.

This is just one reason why our insureds choose to stay with NORCAL. NORCAL's national

underwriting team is dedicated to staying ahead of trends affecting the healthcare industry and

the practice of medicine to craft the best coverage terms at the lowest responsible cost for each

of our policyholders. Our experienced team understands the complexities of different practices,

specialties and locales, and diligently works to deliver innovative coverage options to protect our

insureds and their practices from emerging risks — like cyber liabilities and data breaches. Our

specialized Custom Accounts team also works with complex and multi-state accounts offering

flexible coverage options when needed.

References to being 'owners' of the Company apply only to NORCAL Mutual Insurance Company policyholders.

8 | 2016 ANNUAL REPORT
---
%

WITH

OF INSUREDS RENEW

NORCAL EACH YEAR *

*Average over five-year period 2012-2016 for all NORCAL Group companies.
---
A MESSAGE FROM THE CFO

GROWTH & STABILITY IN

A CHANGING MARKET

The NORCAL Group of companies closed a solid financial year with a healthy balance sheet

reflecting the steady efforts to maintain expenses to balance the effects of the continuing

soft market. In 2016 NORCAL completed the acquisition of FD Insurance Company

and ended the year entering into a definitive agreement to purchase PPM Services.

Consolidations throughout the market, from medical practices to agencies to carriers,

continually changed the landscape of healthcare.

NORCAL Mutual, along with its subsidiaries Medicus Insurance Company, FD Insurance

Company and NORCAL Specialty Insurance Company, were once again affirmed an A.M.

Best "A" (Excellent) rating for the 33rd consecutive year for its stability and financial

strength. NORCAL's diligence in identifying and committing to operational efficiencies

and sound underwriting and claims practices resulted in the highest policyholders'

surplus of $705 million in the company's 41-year history.

NORCAL remains in a strong position to uphold its mission to

provide quality MPLI to its policyholders for years to come.

MARK D. JOHNSON

Senior Vice President & Chief Financial Officer

10 | 2016 ANNUAL REPORT
---
STATISTICS FROM 2014-2016

BY THE NUMBERS

TOTAL ADMITTED ASSETS

remained stable at $1.5 billion over the

past three years.

2016 $1,577M

2015 $1,560M

2014 $1,565M

DIRECT WRITTEN PREMIUM

remained steady as soft market

conditions continued into 2016.

2016

$293M

2015

$290M

2014

$293M

$705M 30,256

$670M 27,736

$642M 27,390

POLICYHOLDERS' SURPLUS

continued to grow to $705 million due to sound

business practices and solid investment returns.

2016

2015

2014

POLICYHOLDER COUNT

has exceeded 30,000 with the expansion

into new markets and new products offerings.

2016 ANNUAL REPORT | 11
---
NORCAL GROUP CONSOLIDATED

FINANCIAL RESULTS

NORCAL Group financial results remained stable through 2016, navigating the fluctuations in the market. Reflected in the

2016 financial statement are the results of the acquisition of FD Insurance Company. Together NORCAL Group closed the

year with $290.3 million of direct written premium. We remain well-capitalized with $1.57 billion in total admitted assets

and $705 million in policyholders' surplus.

STATUTORY-BASIS INCOME STATEMENTS 2016 2015

INCOME Net premiums earned 290,096 304,224

Net investment income 33,935 39,495

Net realized gains on investments 4,957 18,317

Other income 3,881 4,440

Total Income $332,869 $366,476

EXPENSES Losses & loss adjustment expenses incurred 223,157 240,105

Other underwriting expenses 39,310 43,825

Acquisition costs, net 31,312 32,230

Total Expenses $293,779 $316,160

Income before dividends & federal income taxes 39,090 50,316

Dividends declared to policyholders, net (76) 35

Income before federal income taxes 39,166 50,281

Federal income tax expense 4,314 9,512

Net Income $34,852 $40,769

Dollars in thousands, as of December 31

12 | 2016 ANNUAL REPORT
---
STATUTORY-BASIS BALANCE SHEETS 2016 2015

ADMITTED ASSETS Debt securities 1,105,157 1,107,711

Equity securities 250,001 230,521

Cash, cash equivalents & short-term investments 39,814 68,329

Other invested assets 23,333 46,165

Total Cash & Investments $1,418,305 $1,452,726

Investment income receivable 11,599 11,826

Premiums receivable 62,711 63,759

Reinsurance recoverables 9,132 2,427

Deferred tax assets 29,538 33,782

Other admitted assets 46,167 52,981

Total Admitted Assets $1,577,452 $1,617,501

LIABILITIES Losses & loss adjustment expenses 639,785 668,110

Unearned premiums 136,725 144,247

Premiums collected for future renewals 26,082 27,412

Dividends payable to policyholders - 1,241

Reinsurance premiums payable 2,552 2,842

Federal income tax payable 1,174 1,291

Funds held under reinsurance treaties 2,492 9,905

Notes payable - 37,017

Other liabilities 63,537 55,288

Total Liabilities $872,347 $947,353

POLICYHOLDERS'

SURPLUS Unassigned surplus 705,105 670,148

Total Policyholders' Surplus $705,105 $670,148

Total Liabilities & Policyholders' Surplus $1,577,452 $1,617,501

Dollars in thousands, as of December 31

2016 ANNUAL REPORT | 13
---
% WITHOUT

OF FORMAL CLAIMS CLOSED

INDEMNITY PAYMENT *

*2016 number for all NORCAL Group companies.
---
CLAIMS

PROTECTING YOUR REPUTATION IS WHAT WE STAKE

OURS ON.

NORCAL insures some of the top physicians and medical practices in the country, but even the best

physicians may find themselves named in a lawsuit. Our team of claims specialists understand the

high levels of stress that being sued can cause. Guiding our policyholders through the claims process

from the moment a claim is filed, our team counsels and supports you through every stage. NORCAL

works with the industry's leading defense counsel with a very favorable case win rate. We take the

stress out of the process so you can focus on your practice, your patients and your life.

2016 ANNUAL REPORT | 15
---
RISK MANAGEMENT

PREVENTING A CLAIM BEFORE IT HAPPENS

IS ONE WAY WE BETTER PROTECT YOU.

We believe well-prepared health care professionals are better equipped to recognize and address

risks before they become issues. NORCAL's risk management experts stay at the forefront of current

and emerging trends to create a variety of robust educational programs to help protect the practice

of good medicine. This year through the MyNORCAL mobile app, CME webinars, live presentations

and the award-winning monthly Claims Rx publication, our team awarded 31,099 CME certificates,

leading the way among peer medical liability carriers. NORCAL's program has earned the highest

level of accreditation — Accreditation with Commendation — from the Accreditation Council for

Continuing Medical Education for the past three consecutive reaccreditation processes.

16 | 2016 ANNUAL REPORT
---
MORE THAN

thousand

CME CERTIFICATES AWARDED
---
NORCAL MUTUAL'S 2016

BOARD OF DIRECTORS

JAAN E. SIDOROV,

MD, MHSA, FACP

Chair — Internal Medicine

SANDRA L. BERETTA, MD

Vice Chair —

Obstetrics & Gynecology

REBECCA J. PATCHIN, MD

Secretary of the Board —

Anesthesiology

ALICE H. GANNON,

FCAS, MAAA, CPCU

Actuary

FABIOLA COBARRUBIAS,

MD, MBA

Hospitalist

ROGER M. HAYASHI, MD

Vascular Surgery

18 | 2016 ANNUAL REPORT
---
SPECIALTIES REPRESENTED

ACROSS THE INDUSTRY

M. DIANE KOKEN, JD

Legal Consultant

PATRICIA A. DAILEY, MD

Anesthesiology

STEVEN PACKER, MD

President & CEO,

Community Hospital Foundation

SCOTT C. SYPHAX

President & CEO,

Nehemiah Corporation of America

SCOTT DIENER

President & CEO, NORCAL Mutual

2016 ANNUAL REPORT | 19
---
NORCAL'S 2016

SENIOR MANAGEMENT TEAM

SCOTT DIENER

President & Chief Executive Officer

JULIE L. BURNS

Senior Vice President & Chief Human Resources Officer

MARK D. JOHNSON

Senior Vice President & Chief Financial Officer

KARA M. RICCI

Senior Vice President, Chief Legal Officer, Corporate Secretary & Chief Compliance Officer

RONALD C. RUMIN

Senior Vice President & Chief Business Development Officer

TIM C. SMITH

Senior Vice President & Chief Claims Officer

ANDRE J. STEWART

Senior Vice President & Chief Underwriting Officer

20 | 2016 ANNUAL REPORT
---
OUR VISION

We will be a top-tier national medical professional liability company by

being a dynamic organization whose commitment to innovative products

and services keeps us an integral part of healthcare delivery.

2016 ANNUAL REPORT | 21
---
COMMITTED TO YOU
---
560 Davis Street, Suite 200 | San Francisco, CA 94111-1974 | 844.4NORCAL | norcal-group.com

TM

SM

©2017 NORCAL Mutual Insurance Company. All rights reserved. ng0764