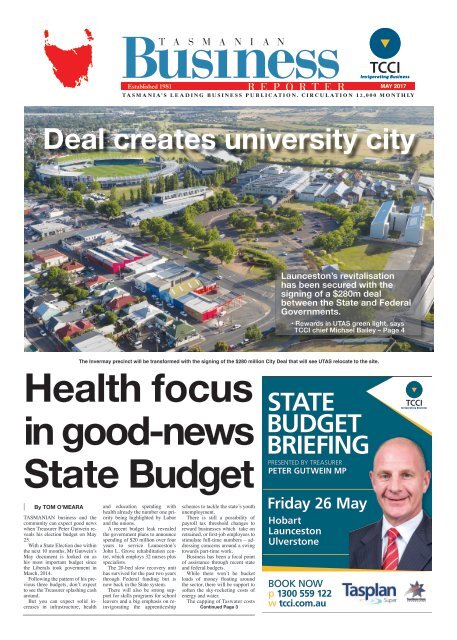 Tasmanian Business Reporter May 2017
This month we take a look at the Federal Government's green light for university development in Launceston and predict a strong health focus for the upcoming Hodgman Liberal Government budget. We also hear from the Minister for State Growth on progress at the ever topical Macquarie Point site along with success stories from leading Tasmanian companies, Cumulus Studio and Haywards steel.
This month we take a look at the Federal Government's green light for university development in Launceston and predict a strong health focus for the upcoming Hodgman Liberal Government budget.

We also hear from the Minister for State Growth on progress at the ever topical Macquarie Point site along with success stories from leading Tasmanian companies, Cumulus Studio and Haywards steel.
SHOW MORE
SHOW LESS
You also want an ePaper? Increase the reach of your titles
YUMPU automatically turns print PDFs into web optimized ePapers that Google loves.
MAY 2017

T A S M A N I A' S L E A D I N G B U S I N E S S P U B L I C A T I O N . C I R C U L A T I O N 1 2 , 0 0 0 M O N T H LY

Deal creates university city

Launceston's revitalisation

has been secured with the

signing of a $280m deal

between the State and Federal

Governments.

• Rewards in UTAS green light, says

TCCI chief Michael Bailey – Page 4

The Invermay precinct will be transformed with the signing of the $280 million City Deal that will see UTAS relocate to the site.

Health focus

in good-news

State Budget

By TOM O'MEARA

TASMANIAN business and the

community can expect good news

when Treasurer Peter Gutwein reveals

his election budget on May

25.

With a State Election due within

the next 10 months, Mr Gutwein's

May document is looked on as

his most important budget since

the Liberals took government in

March, 2014.

Following the pattern of his previous

three budgets, don't expect

to see the Treasurer splashing cash

around.

But you can expect solid increases

in infrastructure, health

and education spending with

health already the number one priority

being highlighted by Labor

and the unions.

A recent budget leak revealed

the government plans to announce

spending of $20 million over four

years to service Launceston's

John L. Grove rehabilitation centre,

which employs 32 nurses plus

specialists.

The 20-bed slow recovery unit

has survived for the past two years

through Federal funding but is

now back in the State system.

There will also be strong support

for skills programs for school

leavers and a big emphasis on reinvigorating

the apprenticeship

schemes to tackle the state's youth

unemployment.

There is still a possibility of

payroll tax threshold changes to

reward businesses which take on

retrained, or first-job employees to

stimulate full-time numbers – addressing

concerns around a swing

towards part-time work.

Business has been a focal point

of assistance through recent state

and federal budgets.

While there won't be bucket

loads of money floating around

the sector, there will be support to

soften the sky-rocketing costs of

energy and water. ​

The capping of Taswater costs

Continued Page 3

STATE

BUDGET

BRIEFING

PRESENTED BY TREASURER

PETER GUTWEIN MP

Friday 26 May

Hobart

Launceston

Ulverstone

BOOK NOW

p 1300 559 122

w tcci.com.au
---
2 Tasmanian Business Reporter - MAY 2017

NEWS

Healthy choice to

build a business

Confidence in steel

TIME, commitment,

sacrifice, effort, and

challenges are all words

synonymous with starting

and running your

own small business.

So why would you

bother? For Sophie Kuncio,

owner and manager

of Health Vibrations, it

was for the freedom.

After eight years

working as a personal

trainer and group

fitness instructor, just

over a year ago Sophie

branched out to begin

developing her own fitness

brand, Health Vibrations.

"The main reason I

started my own small

business was, in short,

freedom," Ms Kuncio

said.

"The freedom to

be my own boss and

practise exactly what

it is I believed in.

"After working in the

health and fitness industry

for eight years,

I knew the next step to

Sophie Kuncio of Health Vibrations

fulfilling my potential

was going out on my

own.

"I wanted to show people

what I had to offer

which is often hard to do

under somebody else's

business structure.

"I can now use my

skills and knowledge

to provide clients with

a unique range of programs

through various

types of group fitness

classes, personal training

and dietary advice in the

way I see best."

Sophie said going out

on her own was a daunting

prospect but so far it

had been an incredibly

rewarding experience.

"I'm at the happiest

and healthiest point

of my life today, and I

think it's important to

realise happiness and

health go hand in hand,"

she said.

"This is why I love

this industry, it changed

my life. I would not be

where I am today without

my health.

"I'm currently still

running my business

part-time while also

working my office job,

but I've been able to find

a really good work-life

balance.

"It's taken a lot of hard

work however I can now

see how Health Vibrations

can grow to a point

where it will become my

sole job."

For anybody thinking

of starting their own

business, Sophie says the

best piece of advice she

can provide is to start

slow – slow and steady

really does win the race.

"I have learnt lots of

important lessons since

deciding to start Health

Vibrations.

"You should always

be real with yourself and

your customers.

"At the end of the day,

honesty is the most important

aspect of any relationship,

whether it is

with a client or a business

opportunity."

State Growth Minister Matthew Groom, Haywards managing director

Steve Edmunds and chairman John Lord.

HAYWARDS Steel has

opened its new Margate

workshop, with the State

Government labelling it

a welcome investment

and vote of business

confidence in Tasmania.

The new state-of-theart

workshop facility

will strengthen Haywards'

ship repair and

building capacity significantly

and has seen a

direct local investment

of more than $9 million.

This new workshop

will allow Haywards

to grow at Margate

and will provide a new

level of support for

local industries and jobs

through their ship building

and civil construction

work.

The workshop upgrade

has provided new

opportunities for local

industry, and their subcontractors

in plumbing

and painting trades, and

will continue to do so.

The workshop upgrade

has resulted in a

first-class facility for

ship repair and building

projects, primarily servicing

the expansion of

the aquaculture industry.

Since forming in

1961, Crisp Bros. &

Haywards have grown

to employ about 250

full-time equivalent staff

across four main sites

around the state, injecting

tens of millions of

dollars into the Tasmanian

economy.

T A S M A N I A' S L E A D I N G B U S I N E S S P U B L I C A T I O N . C I R C U L A T I O N 1 2 , 0 0 0 M O N T H LY

e dition

Tasmanian Business Reporter can now be delivered directly to your inbox. With our 30,000-strong monthly print

readership, our new up-to-date digital distribution will keep Tasmanians abreast of the all latest in local business

news. From this month we will distribute electronic editions of the Tasmanian Business Reporter as we go to print.

To confirm your copy sign up to our mailing list via

tbreditorial@fontpr.com.au

Tasmania's business newspaper is published

monthly by the Tasmanian Chamber of Commerce

and Industry. It is distributed to businesses in

Tasmania as well as key decision-makers.

Circulation: 12,000

Managing Editor: Tom O'Meara

Ph: 0418 135 822

Editor: Becher Townshend

Ph: 0418 370 661

Special Projects: Gil Sellars

Ph: 0448 901 371

gil@thetrustedmediaco.com.au

Advertising: 0401 252 586

www.tasmanianbusinessreporter.com.au

Editorial & Advertising email:

TBReditorial@fontpr.com.au

Publisher:

Tasmanian Chamber of Commerce and Industry

309 Liverpool St, Hobart, TAS 7000

Ph: 6236 3600 Fax: 6231 1278 admin@tcci.com.au

TFGA House, 194-196 Cimitiere St, Launceston TAS 7250

Ph: 6331 1144 laun@tcci.com.au

Production:

aldridge.media

Ph: 0431 241 775

aldridge.media@iinet.net.au

Printer: The Mercury

Level 1, 2 Salamanca Square, Hobart, 7000

Health focus of election budget

From Page 1

to consumers during the

Government's takeover

of the scheme to complete

a 10-year plan within

five years, will also

benefit business and the

broader community.

The budget will again

provide a surplus without

denting the Treasurer's

war chest to ensure future

opportunities can be

supported.

There's no doubt that

the genesis of the turnaround

of Tasmania's

economic position was

Mr Gutwein's first budget

in August, 2014, after

taking government in

March.

The unique August

timing of the budget allowed

the Treasurer to

have an accurate understanding

of the state's finances.

With a $266.9m 2013-

14 deficit from the previous

government, the

2014-15 budget took

the "don't-spend-more

-than-you-earn" approach

for the next four years.

A Public Service wage

freeze was key to the cost

reduction which took the

government down a sixyear

road to surplus.

When there was no

support from the Legislative

Council and

unions, the wage freeze

was scrapped and the alternative

of cutting 800

Public Sector positions

was enacted along with

the 700 positions already

earmarked to go.

The savings became

obvious in the 2015-16

budget where there was a

$227.1m turn-around.

Expensive growth was

held at 1.1 percent while

income increase was 2.8

percent.

Pay increases were

capped at two per cent

and there were no new

taxes or increases.

But Mr Gutwein was

at pains to highlight the

additional funds were

not to reinstate the lost

public servants but ensure

front-line services

were maintained and

improved.

Last year's budget

continued the theme of

a slow and steady rebuilding

of the state's

finances which resulted

in a planned surplus of

$77.3m.

This was despite

huge challenges – including

$100m from

the energy crisis and

$30m from summer

bushfires.

There were record

amounts allocated to

the major sectors of

health and education

but Treasury still followed

the disciplined

approach of expenditure

of 1.6 percent with

revenue 2.3 per cent.

The unemployment

rate was expected to

be 6.75 per cent for the

next three years.

While there has been

some changing in the

balance between fulltime

and part-time employment,

the unemployment

rate is now

5.8 per cent.

Yes, it will be an

election budget with

wins for all.

However, the consistent

and disciplined

approach will ensure

expenditure will still

be sensible and responsible

and without an

overdraft.
---
Tasmanian Business Reporter - MAY 2017 3

NEWS

$3b boost to hydro power

TASMANIA is set to become

the "renewable energy battery

of the nation" with over $3

billion worth of projects being

tested.

The projects could add an

extra 2,500MW into the system

and provide enough additional

power for 500,000

homes, further strengthening

the case for a second Basslink

interconnector..

Prime Minister Malcolm

Turnbull visited the Trevallyn

Power Station last month to

make the announcement, saying,

in effect, the state could

be Australia's power saviour

- providing other states with

reliable and cost-effective

power.

The Australian Renewable

Energy Agency (ARENA) is

in the process of a $2.5million

assessment of applications

from Hydro Tasmania to

support feasibility work into

replacing one of the state's

oldest stations, Tarraleah in

the Central Highlands, and

enhancing Gordon Power

Station..

Hydro Tasmania CEO

Steve Davy welcomed the

news, which the government

says will rival the post-war

golden era of Hydro development..

"These proposals are an

exciting product of discussions

we're having with the

Tasmanian and Federal Governments

on ways to boost

Tasmania's renewable energy

generation and contribution

to the National Electricity

Market (NEM)," Mr Davy

said.

"We've discussed upgrading

and adding to Tasmania's

hydropower network, as well

as the potential for new private

wind farm development

The Tarraleah Power Station will have a major upgrade.

and pumped storage opportunities.

"Hydro Tasmania has the

skills, experience and passion

to help lead Australia

through the challenging transition.

"We have nation-leading

expertise in integrating renewable

energy into the grid in a

stable and affordable way.

"We've done that innovatively

and successfully in

Tasmania, and it's the very

challenge mainland

Australia is

starting to grapple

with."

The Tarraleah

Power Station

was commissioned

in 1938

and produces

about 550GWh

of renewable energy

each year -

about six per cent

of Hydro Tasmania's

total production.

The Tarraleah

replacement proposal

would extend

the station's

operating life by 80 years, and

involve constructing a 17-kilometre

long underground

tunnel from Lake King William.

There has been no commitment

to a second interconnector

but Energy Minister

Matthew Groom said it would

be important to maximise the

benefits of increased Hydro.

"A significant further expansion

of Tasmania's Hydro

capacity will only strengthen

the case for a second interconnector

which is why

the Tasmanian Government

is partnering with the Commonwealth

Government to

fully realise its potential," Mr

Groom said.

"Tasmania is one of the few

places on Earth that is almost

entirely powered by renewable

base load energy.

"We do it better than anyone

else, anywhere else.

"The Prime Minister's visit

confirmed that and it is our

challenge to become the renewable

energy battery of the

nation, a challenge that the

Hodgman Government well

and truly accept."

Cumulus Studio's horizon cloud-free

TASMANIAN-based architecture

firm Cumulus Studio

has been identified as an industry

leader for architecture

and design worldwide.

The jury for the 5th Annual

Architizer A+ Awards have

selected its work on Devil's

Corner as the recipient of the

WE'LL BEAT ANY QUOTE *

& creative

Call Richard 0427 337 118

richard@devdesign.com.au

Commercial Mixed Use category

award.

With more than three

million monthly views, the

A+Awards at Architizer.com,

are the largest and fastest

growing online awards program

celebrating the year's

best architecture and design.

With over 20 years

experience in marketing,

advertising and graphic

design, Dev Design provide

high quality design at a rate

that won't break the bank!

• Logo creation, branding

and corporate identity

• Magazines, catalogues

and corporate reports

• Website design

and development

• Social media and

digital graphics

...big or small, we design it all!

• QUALITY DESIGN

• FRIENDLY SERVICE

• AFFORDABLE RATES

• FAST TURNAROUND

devdesign.com.au

* Written quotes supplied by registered design companies

or similar obtained in 2017

Located on the scenic drive

along Tasmania's East Coast,

the Devil's Corner Cellar

Door and Lookout sits within

one of Tasmania's largest

vineyards.

Cumulus Studio co - director

and architect Peter Walker

said it was an exciting project

Call out to

women

business

leaders

Tasmanians are urged

to consider nominating

outstanding local business

women for the Telstra

Tasmanian Business

Women's Awards.

Now in their 23rd year,

the awards recognise innovative

and exceptional

business women and

help to raise the profile

of women in business.

Anyone can nominate

a business woman they

admire and business

women can nominate

themselves.

Nominate online at or

call 1800 816 536.

for Tasmanian Tourism.

"This award recognises the

role that innovative architecture

can play in our tourism

industry. We are extremely

grateful to have had a great

team to work with on the

project and a client who was

prepared to take a bit of a

risk on something new".

This project for Brown

Brothers seeks to amplify

the experience of this iconic

view to create a new tourism

experience on the East Coast.

"We really thought carefully

about the placement of the

shipping containers, to allow

Printing Technology

and Tradition.

more than just fine printers.

p. 03 6332 1400

www.footandplaysted.com.au

99-109 charles street launceston tasmania 7250

visitors to visually explore

the landscape within and

around the vineyard and to

curate framed views towards

The Hazards beyond."

Cumulus will be presented

with their trophy at a Gala

Cocktail event in New York

on Thursday, May 11.

Here's just some of the things we do regularly...

• Books • Magazines • Newsletters • Catalogues • Annual Reports

• Business Cards • Letterheads • Posters • Flyers • Corporate Branding

• Logo Design • Packaging • Wine Labels • Stickers • Swing Tags

• Mail-Outs • Folders • Forms & Invoices • Variable Data Printing

• Language Translation • Web Design • Proof Reading

• Copywriting • Large Format Signage & Display

Whatever your needs, get in touch.

We're here to help.
---
4 Tasmanian Business Reporter - MAY 2017

THOUGHT LEADERSHIP

www.tcci.com.au

Rewards in UTAS green light

Michael

Bailey

TCCI Chief Executive

SEEING a green light for

the development of the

UTAS Inveresk campus

and the Launceston City

Heart project is one of

the most rewarding projects

that I can recall.

While the signing of

the financial agreements

with Prime Minister,

Malcom Turnbull, Premier

Will Hodgman and

Launceston Mayor Albert

van Zetten was impressive,

this is much

more than just money

to fund the $280 million

project.

Yes, the construction

stage of the new Inveresk

campus will require at

least 500 tradesmen and

the expanded university

degrees relevant to

the region and the state

will have the capacity

of 10,000 additional students,

history will show a

far greater reinvention of

the North.

The birth of Tasmania's

true university

city will cultivate a new

era of education for the

North and the state and

will stimulate the learning

and research to create

and grow business in the

region.

I can't stop thinking of

other opportunities created

by Oxford University,

the UK's best university

according to the world

university rankings.

Here we have a city

built around a university

with a history starting

in 1096 so you'll understand

we have some

catching up to do, but

what a terrific blue print

we have to work with.

Apart from being a

bustling cosmopolitan

town, the ancient university

is now home to

hi-tech community and

business is now inextricably

linked into the university

and vice versa.

Business, big and

small, will support university

research to create

new techniques, systems

and even new business

ideas.

The development of

students and business is

a hand-in-glove relation.

And for those who

have been to Oxford,

it's staggering to see the

tourists soaking up the

heritage, shopping and

ambience of a vibrant

university city.

Yes, we have a long

way to go, but the behind

the scenes research

by the Federal Government's

City development

unit, is amazing.

The picture created by

the Federal unit is quite

mind boggling with the

data and research available.

The goal is to ensure

that not just the CBD

but suburbs around the

Launceston area benefit

from the UTAS and city

development. Having

been involved in seminars

with the Federal

Unit, the approach is extraordinary

and the recommendations

will help

explain the on-going opportunities

for all.

I know we talk about

the impact of MONA and

other potential developments,

but I'm sure the

footprint created by the

UTAS development will

be admired for generations.

Having supported the

Prime Minister for his

foresight investing into

the Launceston project,

I'm not so sure about his

Premier Will Hodgman, left, Prime Minister Malcolm Turnbull and Launceston Mayor Albert van Zetten sign the $280

Launceston City deal that will see the relocation of UTAS from Mowbray to Inveresk.

Deal creates true university city

LAUNCESTON'S revitalisation

as a university city has

been secured with the signing

of the $280 million City Deal

between the State and Federal

Governments.

The relocation of UTAS

from Mowbray to Inveresk,

promised as an election commitment,

is the largest single

infrastructure investment in

Launceston's history and is

projected to create 2,760 new

jobs, including up to 500 new

announced changes of

the 457 visa agreement

which allows people from

around the world to fill

Australian jobs which

are unfilled by Australian

workers. The 457 system

is also linked to migration

with a pathway to residency

for the skilled people

paid by business and

not government handouts.

This system was created

to fill the unfillable

roles locally, particularly

in regional areas – enabling

regional areas to

have doctors, chefs, specialist

agriculture workers

and so on.

The visas are a signal

of the problem, they are

not the problem.

Let's get some smart,

direct jobs during construction.

The deal is expected to be

delivered in its entirety by

2022, with business welcoming

the injection of funds as a

game-changer that will encourage

more private investment.

Other components of the deal

include:

• $2 million immediately for

a Tamar Estuary Management

Taskforce to oversee the development

of a River Health Action

Plan this year, investigate

and determine the solution and

funding options for upgrading

Launceston's combined sewerage

and stormwater system;

• A new army cadet facility in

Launceston's northern suburbs

to help younger members of the

community develop resilience

and leadership skills;

• a regional economic development

strategy to identify the

next wave of economic opportunities

for the North to compliment

the City Heart project and

the Inveresk university campus

development;

• a cultural study to enrich

local culture, activities and

events, promoting Launceston

as a year-round visitor destination;

and

• a $4 million Launceston

hub of the National Institute of

Forest Products Innovation to

develop innovative ideas in areas

like forest management and

advanced manufacturing.

researched and consultative

policy to address

skills and rebuild a culture

of enterprise in this

nation and not put politics

first.

Time to plan for export development grants

IT IS now time to start

planning the preparation

of your Export Market

Development Grant

claim for the 2016-2017

grant year.

The Australian Government's

EMDG

scheme has been around

in various formats for

more than 40 years.

It has assisted more

than 45,000 Australian

exporters and is now

more important than ever

to obtain maximum benefit

from our Free Trade

Agreements with China,

Japan and Korea.

To be eligible for the

EMDG, businesses must

Sally

Chandler

Tradestart Adviser

have received less than

$50 million income in

the grant year and have

spent more than $15,000

on eligible export expenses

in the grant year.

First time applicants

can combine two consecutive

years' expenditure

to reach the minimum

expenditure threshold.

For the 2016-2017

grant year, which mirrors

a financial year, the

claimable expenses category

has changed slightly

and the following export

promotion expenses

can be claimed under

eight categories:

1. Overseas representatives

– an overseas

representative acting on

your behalf on a longterm

basis to market

your product or service

but it does not include

the cost of commission

and non-promotional activities.

2. Marketing consultants

– the cost of engaging

an arms-length

consultant to undertake

export market research

or marketing activities.

3. Marketing visits

– the cost of air travel

during the marketing

visit and an allowance of

$350 per day to help offset

daily expenditure.

4. Free samples – the

cost of providing free

samples.

5. IP registration and

related insurance.

6. Trade fairs, seminars

and in-store promotions

– costs directly

related to participating in

such events.

7. Promotional literature

and advertising.

8. Overseas buyers –

the cost of bringing potential

buyers who are

non-residents to Australia

for an eligible export

promotion purpose.

Some categories have

maximum expenditure

limits. The maximum

grant is $150,000 and

is subject to available

funds because the grant

scheme is capped.

Up to 50 per cent of eligible

export promotion

expenses are reimbursed

above $5000 provided

the $15,000 minimum

expenditure threshold is

reached. All expenditure

must have been paid or

incurred by the applicant

during the grant year.

Each eligible applicant

is able to receive eight

grants and they do not

have to be in consecutive

years.

The 2016-2017 grant

year application will be

online through the Austrade

website and unless

an applicant is using

an approved EMDG

Consultant to lodge the

claim, all grants must be

received by Austrade on

or by 30th November,

2017. If an EMDG Consultant

lodges the claim

on the applicant's behalf,

the deadline is extended

to the 28th February,

2018.

For international

trade and investment

assistance

contact the TCCI's

TradeStart Adviser,

Sally Chandler, at

sally.chandler@tcci.

com.au or phone

1300 559 122.
---
THOUGHT LEADERSHIP

EMPLOYING an apprentice

or trainee, particularly

the first, is a

huge step for any small

business.

The Hodgman Government

realises that

taking on a trainee is an

enormous commitment,

which is why we have

released a program to

guide small businesses

through the process of

taking on an apprentice.

We want to help more

small businesses take on

a trainee or apprentice,

which will give more

Tasmanians a start in

their first job, and help

them build a future career.

The Supporting Small

Business with Apprenticeships

and Traineeships

Program is our latest

initiative to support

Tasmania's small business

community.

Through this initia-

Help to hire new employees

Apprentice support

tive, five new business

support providers will be

available across the state

to help small business

owners navigate the process

of taking on a new

apprentice or trainee.

Small businesses are

the engine room of Tasmania's

economy, comprising

96 per cent of

business in Tasmania.

The Supporting Small

Business with Apprenticeships

and Traineeships

Program is just

one way we are ensuring

businesses have the people

they need to grow,

while opening new career

paths to young Tasmanians.

The new support services

will provide tailored

assistance to small

businesses with fewer

than 20 employees to

make it easier to employ

an apprentice or trainee.

Services are free to el-

Minister for Small Business Roger Jaensch outlines the Government's

apprenticeship program to small business operators.

igible businesses and include:

• assistance to obtain

business advice on the

feasibility of employing

an apprentice or trainee;

• support to recruit the

right person for the business;

• planning the apprentice

or trainee job role

and workplace training

requirements: and

• ongoing mentoring

and advice for the business

and apprentice or

trainee.

Any business considering

taking on an apprentice

or trainee is

encouraged to take advantage

of this service

by contacting a provider

directly.

Further information

on the Supporting

Small Business with

Apprenticeships and

Traineeships Program

is available at www.

skills.tas.gov.au

Tasmanian Business Reporter - MAY 2017 5

www.tcci.com.au

Rules on work

in tight spaces

By CRAIG

HORTLE

CONFINED spaces are

generally areas not designed

for people to

work in.

They may have poor

ventilation and a hazardous

atmosphere.

Risks are:

• loss of consciousness

due to lack of oxygen;

• fire or explosion

from flammable containments;

• difficult to rescue

and treat workers due to

poor access and atmosphere.

The WHS regulations

describe a confined

space as not designed or

intended primarily to be

occupied by a person or

is designed or intended

to be, at normal atmospheric

pressure while

any person is in ​the

space.

Such a space is or

is likely to be a risk to

health and safety from:

• an atmosphere that

does not have a safe oxygen

level; or

• contaminants, including

airborne gases,

vapours and dusts, that

may cause injury from

fire or explosion, or

• harmful concentrations

of any airborne

contaminants, or engulfment.

For the purposes of

the WHS regulations a

confined space is not a

mine shaft or the workings

of a mine.

If a workplace is intended

for human occupancy

and have adequate

ventilation, lighting and

safe means of entry and

exit such as offices and

workshops they are not

considered a confined

space.

Some enclosed places

may have harmful

airborne contaminates

but are designed for a

person to occupy – for

example a spray booth

is not considered a confined

space.

There are other instances

that an enclosed

place may not be classed

as a confined space.

More information is

available in the code of

practice Confined Space.

In the next article

we look at who has duties

under the act when

working in confined

space.

Information: Craig

Hortle or Janelle

Whitehouse on 1300

559 122 or safety@

TCCI.com.au

Low participation spoils improved job figures

THE latest CommSec

State of the States Report

shows Tasmania remains

in fourth spot on

the national economic

rankings.

We are ahead of

Queensland, the Northern

Territory and South

Australia but trailing

first-placed New South

Wales, the ACT and Victoria.

It is a fair snapshot

of how our economy is

going, with some obvious

bright spots but also

some big challenges.

We've made ground

when it comes to unemployment

with the rate in

Tasmania now down to

5.8 per cent, but unfortunately

it doesn't tell the

full story.

The participation rate

is stubbornly low – it's

at 59.7 per cent and has

been below 60 per cent

for more than a year.

It was Treasurer Peter

Gutwein himself who argued

that when a participation

rate is below 60

per cent it means people

have given up looking

for work. He also argued

a low participation rate

makes the unemployment

rate look better than

it actually is.

That's why we have

been urging the Government

to address the

challenges we are facing

on top of rightly

recognising the positive

signs in the economy.

We've seen a significant

trend away from

full-time employment

to casual and part-time

work.

Comparing now to last

year, we've lost 4100

full-time jobs, despite the

fact total employment is

up.

The latest Deloitte Access

Economics report

says there are fewer fulltime

jobs in Tasmania

now than 10 years ago.

The first step to a fix

is acknowledging it. The

benefits of more full-time

jobs across the state are

obvious.

Tasmanians are telling

us they want to earn

enough to look after

their families without the

stress and pressure of living

from one pay day to

the next.

We want to talk to

employers about what's

needed to convert parttime

and casual jobs into

full-time employment

and to hear from Tasmanian

businesses about

their opinion of the current

economy and what's

influencing their employment

decisions.

Small business sales boom is coming

HERE is an interesting

statistic for you.

There are about 5.5

million Baby Boomers,

aged between 53 and 71,

in Australia today.

That huge group of

post-war individuals

own about 420,000 small

businesses, which is

more than half of small

to medium enterprises

(SME) in the country.

With many "Boomers"

retiring in the next 10

years, and most having

inadequate superannuation

balances to sustain

their retirement lifestyle,

those that own businesses,

are relying on a sale

to supplement retirement

nest eggs.

Dean

Demeyer

Business Broker

Without selling for a

good price and in a timeframe

necessary, those

self-employed business

owners will be looking at

a financially stressful retirement

which does not

adequately reward them

for the years of effort and

risks associated with being

in business and employing

people.

The key for these entrepreneurs

is to sell their

business for a good price

at the time they are ready

to retire.

The scary thing to consider,

according to a recent

report, is 75 per cent

of Australian SME businesses

will be for sale in

the next five to 10 years,

and only a quarter will

successfully sell.

That is a worry for

more than half of the

small business owners.

Selling a business

... takes more than

listing it for sale on

the internet

Unfortunately, selling

a business is not easy.

It takes more than listing

it for sale on the internet.

It requires a combination

of a good business

with a healthy cash flow,

a realistic price expectation,

a well thought-out

marketing strategy, a

proven sales process, and

most importantly, excellent

brokerage skills.

If you are Baby Boomer

business owner and

need to supplement your

retirement nest egg, I

strongly recommend you

see a professional business

broker as soon as

possible to ensure you

obtain the best deal in the

fastest possible time.

Be ready and plan

ahead.
---
6 Tasmanian Business Reporter - MAY 2017

THOUGHT LEADERSHIP

www.tcci.com.au

Year of action at Mac Point

By MATTHEW GROOM

State Growth Minister

THIS will be a defining year for

Macquarie Point.

After the Government's announcement

late last year that it was

going to reset the vision for Macquarie

Point and the launch of MONA's

blueprint to rejuvenate site, the momentum

has really started to build.

So far this year the team at the

Macquarie Point Development Corporation

has made strong progress

in a number of areas focussing on

kick-starting building developments

and opening up the site to the public.

The key to unlocking the site

ahead of the major investment and

development phase is to celebrate

some of the historic buildings on the

site.

The Hobart Brewing Company

was one of the first businesses to see

the potential of the site and their remodelled

brewery, bar and beer garden

has recently celebrated its first

birthday and has been a runaway

success.

The next building phase focusses

on the goods shed next door. Work

has already started on taking an under-utilised

building and transforming

it into an exciting, vibrant community

hub, which can be used for

markets, events and exhibitions.

Later this year, the refurbished

shed will play host to everything

from bridal expos to rock concerts.

There is exciting work under way

to increase transport options to and

Macquarie Point is evolving as a development of national significance.

from Mac Point, which can support

businesses in the area.

For example, we are working with

Hobart City Council to extend the

inter-city bike path into the site.

We are also working with local

hotels and aviation businesses to explore

opportunities for helicopters to

use the site as a landing point.

While it will take time to fully realise

the vision for Macquarie Point

as a community focal point, we have

made significant progress this year

to open up the site and to invite the

community in.

The site will remain the home for

Dark MOFO's Dark Park and the

Sunday food truck market has been

a resounding success.

We are currently looking at offering

site tours given the high level of

interest in the area and we are also

engaging with the creative industries

sector to create a broad program of

events for the site, such as pop-up

workshops and street art festivals.

It is also imperative that we continue

the conversation with groups

that have long-standing links to our

working Port.

The Antarctic Precinct is a vital

part of the Government's vision for

Macquarie Point and we are working

with groups like the Tasmanian

Polar Network and others to make

sure that Hobart continues to have

a working port that can support our

links to Antarctica and ocean research.

More broadly though, we are also

talking to institutions like TMAG

and the Eden Project to see how we

can celebrate our links to Antarctica.

We also see Macquarie Point as

the ideal home for scientific research

to complement our Antarctic

and oceanic research links.

It is also imperative

that we continue the

conversation with

groups that have

long-standing links

to our working Port

And of course, we need to foster

new links with the Aboriginal community.

The Government remains committed

to consulting with the Aboriginal

community and the broader community

in relation to this important opportunity.

By the end of this year, Macquarie

Point will be a very different place.

It will feature refurbished buildings

and spaces, new activities all

with a community focus.

It will also herald the evolution of

iconic Tasmanian development of

national significance.

New shipping surcharge looms large

CAREFUL Tasmania,

the desire to meet at a

coffee shop to discuss

bright futures can be

tainted by the lower sun

and the falling leaves

around our feet.

Our vitamin D levels

drop and we risk looking

inward instead of outward.

The transition from

craft beer and sauvignon

blanc outside to whiskey

and pinot by a fire inside

can be difficult for

Brett

Charlton

Agility Logistics

some – it will take some

adjustment, but remember

that the world is still

spinning.

Alas however, I do

have some trying news

that traders need to be

aware of.

It is easy to glance at

some recent announcements

from our northern

neighbors and discount

these occurrences as not

relevant to us, but we

rely on the northern ports

and indeed the ramifications

do extend to us one

way or another.

One new surcharge

that will hit Tasmanian

exporters and importers

that use shipping lines

that employ the stevedores

DP World is a

wharf infrastructure surcharge.

Shippers can expect

to pay about $32.50 to

$40 (depending who is

invoicing the surcharge

and accounting the

charge based on administration

etc) per container.

The reason for this

charge is an increased

cost on rent, land taxes

and council rates and

also to allow the stevedore

to invest in critical

infrastructure (this is in

Melbourne and Sydney).

At time of writing the

fee was due to come into

effect on April 17, 2017

– there are a number of

industry bodies opposing

the fee and the way

it is being rolled out, but

most see it as inevitable

and the approach of DP

World is "take it or leave

it" – effectively inviting

port users to switch to

lines using other stevedores

(such as Patricks)

although there is perception

that if DP World

Port charges are set to increase to cover infrstructure costs.

can get this into standard

charges, then other stevedores

will follow suit.

Another change that

will have an impact on

domestic traders in suburban

Victoria is the increase

of road tolls of

125 per cent.

All transport companies

will be passing

these charges on by way

of surcharge or increase

in cartage base costs.

It is frustrating that

in an environment

where we finally have

some space to grow

(increased competition

in Bass Strait and international

shipping,

increased capacity, favourable

exchange

rates, free trade agreements

and freight

equalisation for export

cargoes), that there always

seems to be someone

coming up behind

to throw a spanner into

the works and add to

costs or compliance.

But don't let them get

you down.

Pour another glass of

pinot, throw another log

on the fire and value add

to accommodate the additional

costs if you can.
---
Tasmanian Business Reporter - MAY 2017 7

FOCUS ON BUSINESS

Cost effective IT solutions not costly

RBCIT Services

Tasmania

PEOPLE'S time is precious and one

of the most important factors customers

flag when discussing their

technology requirements with us is

using technology in a way that saves

both time and money, while providing

a more streamlined process to

everyday business tasks.

This article is designed to save

you, the reader, time.

Rather than have paragraph after

paragraph of information to read

through I thought being concise and

to the point might be appreciated, so

here goes.

IT Landscape

Smarter IT does not necessarily

mean a major investment.

The right people and technology

means your IT issues can be resolved

quickly.

You may already have the right IT

configuration, but you are not getting

the best out of what you have.

Cost effective IT does not have to

cost a lot. Functionality and cost effective

services and products are at

the core of our business.

Let us show you how you can get

the best value for money.

Who we are

We are a locally-owned Tasmanian

IT business, which employs

local Tasmanians. As a business we

have a strong belief in our state and

helping business grow with technology.

Here's what we offer our clients,

large and small – statewide

Fairly much anything technology

based in the business environment

– from network servers, to workstations,

cloud solutions to business

process management software that

will reduce a reliance on paper.

We will look after your business

technology so you can concentrate

on running your business. Plus, our

affordable rates make it a good partnership.

Why RBCIT?

Each client and business is

unique and our team delivers reliable

"best practice" advice on the

latest technologies, tailored to suit

your business requirements.

We aim to continue to build long

standing relationships with current

and new customers based on trust

and collaboration.

Do you need us?

Struggling to find sound reliable

IT advice or IT professionals who

deliver on what you are promised?

Or maybe you often wonder if

there is a better, smarter way to

manage your business but do not

want to be hit by a hard sell…....

whatever the reason, our team is

happy to chat.

RBCIT Services' Jono Delany discusses an IT issue with PCYC staff member Georgie Martin.

Testimonial

"Our club provides recreation activities and youth

intervention programs in Launceston.

While we aim to be a best practice business, we

have a lean budget and a slim staffing resource, so we

can't afford IT down time. We want solutions to be delivered

professionally, time-efficiently, cost-effectively,

and in a language we can understand.

We are not a big client on Ricoh's scope, but they

make us feel like their most important client.

We cannot speak more highly of the exceptional service

they deliver, but even better, the outstanding solutions

they have suggested for fine-tuning our business

which has delivered massive advantages.

This, along with their friendly, customer focused

service delivery, are key reasons we are absolutely

privileged to provide this testimony for RBCIT.

In fact the service is so good, it's like we have our

own IT department. We simply couldn't be happier!"

Kath Hawkins Club Manager,

PCYC Launceston, March 2017.
---
8 Tasmanian Business Reporter - MAY 2017

FOCUS ON BUSINESS

Community

support a

healthy

philsophy

By CHRIS WILLIAMS

ST.LUKESHEALTH CEO

ST.LUKESHEALTH has a long and

proud history of supporting our local

community.

We follow the simple philosophy

that reinvesting in the community

contributes to building healthy relationships

and can provide opportunities

to those less fortunate or simply

means we can give a hand when it's

needed.

When done properly from a genuine

altruistic desire to help others,

the result can be improved staff morale,

enhancement of your business

reputation and it can provide your

team members with valuable personal

development opportunities.

These things should however not

be the objective or goal of your business,

they can only be considered a

positive benefit that come about because

of your team's desire to help

others.

The aim should not be to give

back for the sake of giving back, it

should sometimes be spontaneous,

particularly where you can support

your team in their own passions and

community interests. I often hear of

over formal policies dictating for

example how many hours' staff can

contribute or the simple wasting of

money to encourage staff engagement.

The real message is lost in this

circumstance and it can be hardly a

wonder why staff wouldn't engage.

I am proud and humbled by the

commitment of St.LukesHealth Staff

in their efforts to give back to the

community.

For almost 17 years, team members

from St.LukesHealth have participated

in Relay For Life, a great

cause where efforts raise awareness

of cancer and all money raised goes

to the Cancer Council to support research

prevention as well as support

services.

St.LukesHealth staff bring with

them the needed resources, skills

St.LukesHealth Chairman Chris Dockray presents a St.LukesHealth sports grant to Soccer Coaching

Tas Coach Coordinator, Alby Hooper.

and advice to make such events successful

through their own contribution.

Our staff also run their own Charity

'Foundation 33'. This group aims

to work with local businesses and individuals

to raise money for a wide

range of causes. Big and small, one

person or many.

If you're interested in supporting

Foundation33, visit www.foundation33.org.au

and contact the team.

Sometimes the result of supporting

your community is a reward of

its own. Most recently I was touched

by a note sent in from a young Tasmanian

cyclist as result of the support we

had provided to the Tasmanian cycling

community. This young man had recently

beaten cancer and described how he

had "hope to return to medal winning

form" and was proud to put on the Tasmanian

colours.

We must of course balance our resources

in business and this sometimes

means we must say no to a lot of worthy

requests.

This year St.LukesHealth, I am proud

to say, is fully committed as ever to engage

with our local communities.
---
Tasmanian Business Reporter - MAY 2017 9

FOCUS ON BUSINESS

Efficiency the driving

force in farming

By SAM TRETHEWEY

Do you ever think about your business

and ask yourself… how efficient is it?

It's one of the most critical questions a

farmer can ask themselves.

As long as the sun rises in the east and

John Deere will be green, free markets

will reward efficiency.

That's exactly what they do, and Australian

farmers need to grasp this.

The more efficient our business is, the

more we will be rewarded; I believe this

is one of life's small certainties that we

need to embed into our minds.

It is therefore no surprise that the most

financially fit and commercially sustainable

farmers who I have worked with

around the world and across Australia

get it.

As a result, they are the best business

managers.

Their ability to calculate risks and dissect

their financial spreadsheets, all while

analysing macro-economic and climate

forces which push and pull prices, is

crystal clear.

Consequently, I have seen healthier

farms, high yielding stock, hefty harvests,

happy families, and not to mention,

higher profits.

It is glaringly apparent that the low

hanging fruit in increasing efficiency

starts with financial tools like accounting,

tax and superannuation, to name a few.

This is vital to remember as competition

and the pursuit for efficiency will

require more and more scale in Australian

farming.

Family farmers in particular need the

right advice from a network of expertise

to ensure they're building a legacy worth

handing over to the next generation.

So, it's also time to ask yourself… how

efficient can my business become if I am

equipped with the right advice and the

right tools?

Sam Trethewey is a third

generation farmer who

grew up in Tasmania.

He is the General Manager

of SproutX, Australia's

first Agtech innovation hub.

SproutX is a joint initiative

between Findex & Crowe

Horwath, and the National

Farmers' Federation.

You can meet Sam at the

upcoming Agfest at site 315

in Third Avenue.

Where our family meets yours

■ One trusted point of contact

■ A team of dedicated specialists

■ Oversight of your strategic financial position

■ Cost effective options tailored to your needs

We're at Agfest!

Come visit us at site 315 and test

your agri knowledge to win a

weekend away for two.

62 Paterson St

Launceston TAS 7250

(03) 6323 1222 Audit | Tax | Advisory | Financial Advice
---
TASMANIA'S LEADING BUSINESS PUBLICATION. CIRCULATION 17,000 MONTHLY

10 Tasmanian Business Reporter - MAY 2017

APPOINTMENTS AND ANNOUNCEMENTS

Young Achiever awards recognise future leaders

DR Jessica Manuela

has been named the Premier's

Young Achiever

of the Year.

The indigenous Tasmanian

is a dentist dedicated

to raising oral

health awareness.

In addition to running

her own business, she

volunteers her time to

speak with school students,

to run community

information evenings,

and to hold education

sessions to help improve

oral health within indigenous

communities.

The category winners

from the state event,

held on April 8 were:

Jacob Prehn, Colony

47 Young Indigenous

Achievement Award;

Tyler Richardson, The

Coffee Club Arts and

Fashion Award;

Mohammad Nourouzi,

Heather & Christopher

Chong Community

Service & Volunteering

Award;

Dr Jessica Manuela,

St Lukes Health Healthier

Communities Award;

Shai Denny, TADPAC

Print Service to the Disability

Sector Award;

Ariarne Titmus, Motors

Tasmania Sports

Award; and

Caitlin Cashion, University

of Tasmania,

Faculty of Education

Teaching Excellence

Award.

Speaker of the House

of Assembly Elise Archer

said this year's

event recognised the

achievements of 23 finalists

across seven categories.

"It's important that

we recognise tomorrow's

leaders and their

contributions, and encourage

them to pursue

their goals," Ms Archer

said.

Speaker

Elise Archer

and

Premier Will

Hodgman

with

Tasmania's

top young

achievers.

Rebrand for

City Mission

HOBART City Mission

has been providing vital

services in Southern

Tasmania since 1852 but

recent research showed

it was not a household

name with strong brand

recognition.

Market research found

46 per cent of people did

not recognise the logo.

"As a major organisation

it is important for us

to be recognisable", Hobart

City Mission CEO,

John Stubley said.

"At Hobart City Mission,

we offer an expansive

range of services

and programs to a wide

Hobart City Mission

CEO, John Stubley

range of people so to find

so many didn't recognise

our logo or have knowledge

of our services was

very concerning."

Hobart graphic designer

Zane Pinner from

Studio Luck Dragon has

Thinking of selling or

buying a business?

Australia's largest specialist

business broker network is

now in Tasmania.

Call Dean Demeyer on

0419 382 359 for a FREE, no

obligation assessment

of your business.

designed a new logo

that focuses on Hobart's

largest icon, kunanyi/Mt

Wellington.

The Star of Bethlehem

acknowledges Hobart

City Mission's history as

an organisation founded

on Christian values.

Hobart City Mission's

Op Shops have also received

a face lift.

"In a time where imagery

and media is so important,

we hope that the

re-branding will help to

put Hobart City Mission

in the forefront of Southern

Tasmania's mind" Mr

Stubley said.

IN BRIEF

New ethics head

RICHARD Bingham has been

appointed Chief Executive Officer

of the Integrity Commission.

Mr Bingham has served as Secretary

of the Department of Justice,

Chairman of the Tasmanian

Electoral Commission and most

recently as the Queensland Integrity

Commissioner.

He will oversee all financial

and administrative operations for

the commission, which plays a

crucial role in improving the standard

of conduct and ethics within

public authorities.

Blast for charity

TWO Tasmanian businessmen

are embarking on a journey with

a difference.

Charles Beaumont of The Importer

Tasmania, and TBR columnist

Brett Charlton, General

Manager of Agility Logistics

and Chairman of the Tasmanian

Logistics Committee, are raising

funds for cancer research and having

an adventure of a lifetime at

the same time.

The pair is piloting a 1984

Ford econovan with more than

516,000km on the clock. They

will be attempting to get from

Tasmania to Adelaide and then

via the Oodnadatta Track and

Plenty Highway through the mid-

WANTED

Business

movers and

shakers

• Promotions

• Appointments

• Awards

• Celebrating

success

Share the news

with the

Tasmanian

business

community

Brett Charlton, left, and Charles Beaumont with the Shitbox car

and Errol the surfing Devil.

Picture: Paul Scambler

dle of Australia to Cairns (over

4000kms) in the Shitbox Rally.

The team is called "42 Degrees

South Baby!" and the car is decked

out as a devil with the iconic sign

of the Midlands as their logo.

"Like most people on the planet,

we've lost family and friends to

this terrible disease and when the

opportunity arose to contribute to

the plight of finding a cure coupled

with having an adventure - the

stars aligned," Charlton said

"Errol the surfing devil – a

sculpture by Folko Kooper that

will accompany us on the top of

the car was recently purchased at

an auction by the Purchasing Manager

of Muirs Engineering, Peter

Upton.

Donate at https://shitboxrally-

au-2017.everydayhero.com/au/42-

degrees-south-baby

WP - Advert Feb17 - Proof 4.pdf 1 24/02/2017 9:08:21 AM

SOLUTIONS

IN PRINT

your print specialist for over 90 years

New standards for

Stornoway

STORNOWAY'S Launceston

quarry is now accredited to Australian

Standards for safety, quality

and environment.

"The accreditation confirms that

we are now working to best practice

standards across operations,"

Chief Executive Officer Brad

Johnson said

"Our quarry has always operated

within a strict production control

framework that assures quality,

product specification and environmental

compliance, and zero

harm," he said.

"The accreditation reflects this

commitment to delivering high

quality products and services to our

customers, with an absolute focus

on safety and the environment."

Full Off-Set,

Digital and

Wide Format

Capabilities

Binding and

Finishing

Variable Data

and Mailing

Warehousing

and Distribution

Online Ordering

and Inventory

Management

www.finnbusinesssales.com.au

Send your news

snippets, with a

high quality photo,

to TBReditorial@

fontpr.com.au

6391 8481

sales@paperstat.com.au

www.woolstonprinting.com.au
---
Tasmanian Business Reporter - MAY 2017 11

EVENTS NEWS

LEFT: TCCI Chair Susan Parr with Stephen Carey of Defence

Reserves Support.

ABOVE: TCCI Director Neil Thomas with Lisa Jeffrey

from CGU Insurance

BUSINESS leaders

from around

the nation mingled

with members of the

Tasmanian business

community before a

unique Tasmanian

dinner at MONA on

April 5.

The Business Leaders

Dinner was the

highlight of the Australian

Chamber of

Commerce and Industry's

quarterly board

meeting in Hobart for

the first time.

Delegates applauded

the TCCI for

hosting the national

event, which included

boat trip to MONA.

LEFT:

Major General

Steven Smith

from Defence

Reserves

Support with

TCCI

CEO Michael

Bailey.

LEFT:

Mark Stone

from the

Victorian

Chamber of

Commerce and

Industry with

ACCI director

Jeremy

Johnson.

What: Hobart Chamber of Commerce and

Industry Business After-Hours Networking

Event

Where: Southern Cross Austereo Hobart

When: Wednesday April 19, 2017

LEFT: Ross Graham, left, and Rina

Graham of Streetwise Innovation and

Grant Mullen of Supersalescoach.com

ABOVE: Mark Johnson, left, and

Allan Cameron of 7HOFM.

ABOVE: Buti Sello, left, and Jessica Sello of

Sello Group and Hank Petrusma of

EIS Property.

ABOVE: Sarah Morrison, left, and Cate

Hutton of 7HOFM.

ABOVE LEFT: Rosie Saville, left, and Ken Saville

of Innerspace Wardrobes and Ally Bradley of

Southern Cross Austereo.

LEFT: Ben Harrison, left, of Southern

Cross Austereo and Stephen Giles of TDT.

AVOVE: Col Taylor from the Chamber of

Commerce and Industry , left, and Helen Stewart

of 7HOFM.
---
PROPERTY MATTERS

Tasmanian Business Reporter - MAY 2017 12

Overseas interest in tourism

Scott Newton

Property Matters with

Knight Frank

John Blacklow, Knight Frank Tasmania's specialist

consultant for the tourism and leisure sector, gives

an overview of this market and what we can expect

in the near future

IN 2016 we welcomed a record

number of nearly 1.2 million interstate

and overseas visitors which

was an increase of 4 per cent over

the previous year.

It would appear that Tourism Tasmania's

goal of attracting 1.5 million

visitors by the year 2020 is well

within reach.

The runway extension at Hobart

Airport will enable direct flights to

and from South East Asia and China,

so this will be a major catalyst in

providing much easier access.

The exciting proposed cable car

development will provide another

"must do" activity to further enhance

the state's reputation as a

tourism hot spot.

Knight Frank continues to dominate

the tourism and leisure market

with recent sales of the following

properties: Lemonthyme Wilderness

Resort, Fox & Hounds Inn, Hamp-

den Road Apartments, TRC complex,

City Park Grand Hotel, Tahune

Airwalk, Irish Murphy's building,

The Sanctuary, Elphin Villas, Killynaught

Cottages, Old Bakery Inn,

and Mews Motel.

In Hobart, Knight Frank has sold

four city sites for hotel developments

and we are currently negotiating

a deal for a fifth site.

There are currently nine major

hotel developments for the Hobart

city area of which three have commenced

construction and are due to

open in 2017.

These developments and proposals

will add around 2,216 rooms to

Hobart's accommodation inventory.

From the shortfall of 1,226 rooms

by 2020 as outlined by BDA, it

would appear Hobart could absorb

most of these projects. It remains

to be seen if some of the proposals

eventuate.

Knight Frank believes these new

hotels will create a new level of competition

which has not been seen for

more than nine years.

While occupancy rates for the peak

tourist season should hold at 80 per

cent plus, the off season will present

challenges to older established properties.

Whether they can maintain their

share of the corporate market or

whether their business customers will

move to the newer hotels remains to

be seen.

While accommodation properties

City Park Grand Hotel in Launceston was recently sold.

are attracting strong interest from

overseas buyers, our pub industry

remains fairly stagnant with only a

small number of transactions throughout

the state.

In 2023, the Federal Group's monopoly

on gaming machines ends so

the State Government has six years to

determine the future of this industry.

It is likely hotels with gaming machines

could benefit from any new

arrangement so we expect most hoteliers

will retain their pubs until more

is known about which direction the

government will take.

Knight Frank believes

these new hotels will

create a new level of

competition which

has not been seen for

more than nine years

PROPERTY VIEW

MAY 2017

For sale by Expressions of Interest

OCCUPY, INVEST, DEVELOP

94 Grove Road, Glenorchy

For sale by Expressions of Interest

GROUND FLOOR SUITES

Units 4 & 135/13 and 5/13 Gladstone St, Battery Point

Outline indicative only

• Large holding; land size 1.7ha (approx)

• 4,615sqm (approx) building area over all

tenancies

• Stoneman's lease 3 years remaining + 2

options of 5 years - long standing tenant

leasing 40% of the site

• Opportunities for remaining site include

retaining existing month-by-month tenant,

part or full owner-occupancy, further

development (STCA)

• Two street frontages to Grove Road

Richard Steedman 0408 559 046

Ian Reed 0419 670 501

View at KnightFrank.com.au/3582342

Outline indicative only

• Rare opportunity to purchase a ground

floor commercial suite within the highly

sought-after Salamanca precinct

• Buy one or both. Together they provide

1,200sqm (approx) of ground floor

accommodation and 13 car parks

• Parcel 1: Units 4 & 135 - Ground floor

commercial suite - 305sqm (approx); lower

ground utility area - 49sqm (approx) and 6

secure car parks

• Parcel 2: Units 5 - Ground floor

commercial suite - 884sqm (approx) and 7

secure car parks

Matthew Wright 0458 290 588

Richard Steedman 0408 559 046

View at KnightFrank.com.au/3596433

For sale by Expressions of Interest

ROSNY INVESTMENT OPPORTUNITY

Unit 3, 10 Bayfield Street, Rosny Park

Sold

CENTRAL BUSINESS DISTRICT

168 Collins Street, Hobart

• A superb opportunity to purchase a low

maintenance, quality investment in the heart

of Rosny

• Whole floor (545sqm approx) of two level

strata building, currently leased to Mission

Australia

• Net rental approximately $107,000 plus GST

• Recently upgraded fit-out internallly plus new

lift for disability access

SOLD

Knight Frank is pleased to present this

exceptional property to the market. Features

include:

• Central CBD position

• Attractive fit-out to remain

• Outstanding street presence

• 9 secure undercover parking spaces

• Leaseback until 1 July 2017

• NLA: 836sqm (approx)

• Land area: 379sqm (approx)

Outline indicative only

Matthew Wright 0458 290 588

Richard Steedman 0408 559 046

View at KnightFrank.com.au/3601429

Scott Newton: 0409 186 261

Hayden Peck: 0412 766 395

View at Knightfrank.com.au/3306446

5 Victoria Street, Hobart 41 York Street, Launceston Shop 6a, 48-54 Oldaker Street, Devonport

P: 03 6220 6999 P: 03 6333 7888 P: 03 6333 7888