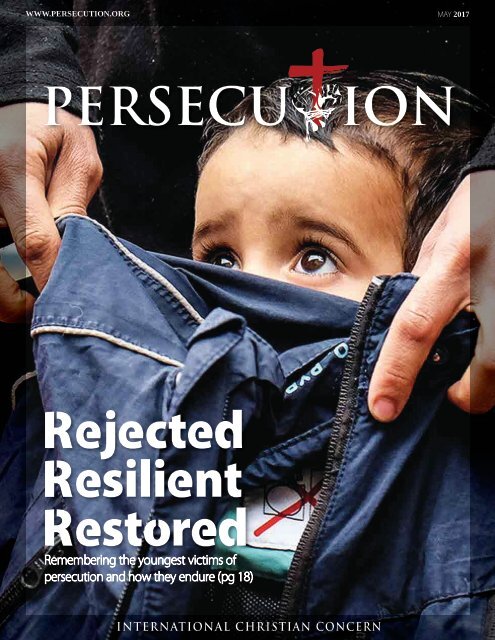 May 2017 Persecution Magazine
Create successful ePaper yourself
Turn your PDF publications into a flip-book with our unique Google optimized e-Paper software.
WWW.PERSECUTION.ORG

MAY 2017

PERSECU ION

Rejected

Resilient

Restored

Remembering the youngest victims of

persecution and how they endure (pg 18)

PERSECU ION.org

INTERNATIONAL CHRISTIAN CONCERN
---
Table of Contents

In This Issue:

FEATURE

16 | 2017 Bridge Conference

Speaker Announcement

Join ICC this June 2-3 for the annual

conference on the persecuted Church.

FEATURE

18 | "What Will You Remember

Most?"

Why serving the needs of persecuted

Christian children across the world is

so important.

INTERVIEW

22 | Choi: The Accidental

Defector

A North Korean defector tells ICC

how he accidentally defected from

North Korea, and what he is doing to

free the oppressed still at home.

INTERVIEW

24 | Lee's Story

Escaping North Korea and finding

Christ, Lee shares her powerful testimony

with ICC.

FEATURE

26 | How the US Can Help

Rebuild Communities in Iraq

ICC's advocacy efforts push for relief

and reconstruction for Christians in

Iraq and Syria.

Regular Features

4

16

18

4 Letter from the President

A few words from ICC's president, Jeff

King, on the last words of the martyrs.

6 World News

A snapshot of the persecution that

impacts our brothers and sisters daily, in

every corner of the world.

10 Your Dollars at Work

Learn how your gifts are providing

comfort, relief, Bibles, education and

vocational training to the persecuted.

14 Impact Report

See this quarter's statistics of how

ICC's funds are helping the persecuted

across the globe.

22

25 26

2 PERSECU ION.org

MAY 2017

INTERNATIONAL CHRISTIAN CONCERN
---
972

CHILDREN

HELPED

Through Kids Care Fund

PERSECU ION.org

INTERNATIONAL CHRISTIAN CONCERN

3
---
President's Letter

Greater

Love Has. . .

The following is adapted from a chapter of a soon-to–be-released book from ICC's president, Jeff King, entitled, "Last Words of the

Martyrs."

The initial reports of persecution I receive are news-oriented, often

only the cold hard facts; who, what, when, and how. Drill down

with me on any attack to the individuals affected, their loved ones,

their community, and their churches and you will see and feel the

massive personal tragedy that each long prison sentence or murder

represents.

Over the years, I've been able to speak directly to Christians

affected by persecution and I get very personal updates from our

field staff. These are extremely helpful for me to keep in front of

me the true cost and emotional impact of persecution as it occurs.

In March 2015, in Youhanabad, Pakistan, two suicide bombers

simultaneously attacked two different churches with devastating

effect. Nineteen were killed and another 80 were seriously wounded.

One of my staff was just around the corner when the bombs went off

and rushed to the scene with his camera and recorded the devastating

impact of the attack. Frankly, it was a scene out of a horror movie.

The bomb's shrapnel did its intended job and shredded anything in its

path, whether concrete or flesh.

One of his pictures haunts me. A mother was holding the body of

her dying son while her spared son sat next to her. Abishey, 10, lay

on the ground, his lower extremities gone. His abdomen was opened

up and he was bleeding out, barely conscious, and fading quickly.

His mother was holding him with her face pointed to heaven, tears

streaming down her face and she was crying out in a grief that you or

I will probably never experience. The healthy son, his face also twisted

by shock and grief, covered in tears, was looking left. The pain and

incomprehension expressed were undeniable and heart-wrenching.

Abishey died because he had left the church to buy candles to

light during the prayer time. He was just outside the church when the

bomb went off.

One of the priests from the church told us that horror was enough

to drive some of his people mad.

In contrast to the horror I saw in that picture was the story of heroics,

courage, and sacrifice, demonstrated by two brothers from the

church, Akash and Sikander. The Christian community and churches

had been rocked by several suicide bombings and these two brothers

from the church volunteered to act as security at the church gate

to prevent any suicide bomber from entering. Another of the church

security volunteers told us what these brothers had done.

"When the bomber tried to enter the church gate, Akash and

Sikandar threw the metal door (of the gate) closed and it hit the

bomber. He fell down, but got back up and tried to enter through the

gate again, but Akash held him, holding down his arms, and pulled

him away from the church."

Akash held the bomber while Sikander slammed the heavy church

gate closed again when the bomber ignited his bomb. Sikander was

restraining him when the bomb went off.

The death and injury toll, while terrible, would have been incredible

if the bomber had made it into the church.

Radical Islamists celebrated this suicide bomber and all the others

as martyrs for sacrificially killing so many "infidels" that fateful

Sunday. Parents of suicide jihadists even comfort themselves with

promises that their children received a martyr's reward in eternity.

The shock that the bombers must experience as they enter eternity

often haunts me. I know they are murderers, but they are deceived

and so sincere in their willingness to please Allah that they will

extinguish their own lives and murder hundreds around them because

their religion is telling them to oppose those who resist Islam. They

didn't just come up with this crazy idea but were taught this lie by

Muhammad, Islam's holy books, and his living adherents.

So the bomber pays the ultimate price to gain paradise but after

death awakes to reality and finds that everything he was taught about

God was a lie and that he had been obeying Satan.

Furthermore, he realizes that he has killed 19 innocents and that his

fate is sealed; captured by Satan, he will be in torment for eternity.

4 PERSECU ION.org

MAY 2017

INTERNATIONAL CHRISTIAN CONCERN
---
President's Letter

THE REAL MARTYRS

Of course, the real martyrs are not the killers, but the victims, especially

Akash and Sikander. When Akash was killed, his soul was immediately

taken to heaven where he received the crown of life, an eternal

reward that will never perish, spoil, or fade. Akash's mother spoke with

ICC some time after the bombing and spoke to this point.

"We [have] two feelings," she said. "We are depressed because we

have lost our son. But we are also proud of his sacrifice. He saved hundreds.

I am happy that God has given him the crown of martyrdom."

Akash wasn't a pastor, missionary, or saint. He was like you and me.

He aspired to live like Jesus but probably failed miserably on a day-today

basis. Yet, by laying down his life for others, he became Jesus to

the many in St. John's Church who lived that day because one deceived

follower of Satan couldn't get to them. Because of Akash's sacrifice

and death, they lived.

Jesus said, "Greater love has no one than this: to lay down one's life

for one's friends" (John 15:13 NIV). While the suicide bombers died

in the fire and violence of hate, Akash and the other security guard laid

down their lives in one supreme act of selflessness and sacrifice.

A FLAWED STRATEGY

There's a lot of propaganda coming from our government and echoed

by uninformed sheep that Islam is a religion of peace. Most in the

leadership of our government involved in fighting Islam know this isn't

true. Muhammad wasn't peaceful. He personally led 35-70 raids where

many were killed. He was preaching and evangelizing for a decade with

only a few followers to show for it when he said that Allah gave him a

new revelation. This revelation would radically change his religion and

would cause the number of his followers to explode.

What was this new revelation? He said Allah showed him that he

could kill those who opposed him. He could also take their gold, their

homes, their wives and their children and do anything he wished with

them. He could make them his "wives" or sell them as slaves. This was

Allah's will that had just been revealed to him.

Muhammad even had to urge his followers to attack and kill others

since your average person doesn't want to be involved in this

kind of "worship."

"Fighting is ordained for you (Muslims) though you dislike it, and it

may be that you dislike [something] that is good for you. Allah [knows

best]" (Quran 2:216).

THE CONUNDRUM

The conundrum our leaders face is that they fear if they tell the

truth and openly condemn Islam, it will only become more violent

and millions more young Muslim men around the globe will stand

up to defend their religion and flow into the ranks of Islamic terror.

So they have come up with a very flawed and increasingly incongruous

campaign to put a wedge between the moderates and radicals

of Islam through sloganeering ("Islam is a religion of peace").

The only problem is that they are fighting against the holy books

of Islam, Muhammad, as well as the Saudi and other Gulf states that

have spent 200 billion dollars or more in the last 40 years radicalizing

the world's Muslims.

When I get weary of the resulting massive flowing sewer of

Islam's victims, when the countless stories of planned mass

and individual murder and violence weigh me down (and

they do), I take refuge in the fact that those who died for

Christ have stood before our Father and cried out to Him.

PERSECU ION.org

INTERNATIONAL CHRISTIAN CONCERN

"And I saw the souls of those who had been beheaded for their

testimony about Jesus and for proclaiming the word of God."

- Revelation 20:4 (NLT)

" 9 I saw under the altar the souls of all who had been martyred

for the word of God and for being faithful in their testimony.

10

They shouted to the Lord and said, "O Sovereign Lord, holy

and true, how long before you judge the people who belong to

this world and avenge our blood for what they have done to us?

11

Then a white robe was given to each of them. And they were

told to rest a little longer until the full number of their brothers

and sisters—their fellow servants of Jesus who were to be martyred—had

joined them."

- Revelation 6:9-11 (NLT)

These are the last words of the martyrs we see in the Word and if this

was the end of the story, I would take some comfort in the fact that they

were heard and were to be rewarded from the ultimate source of justice

but I would still be naturally left wanting.

Our souls are wired to desire justice and we have been left wanting in

our culture. One day, justice will be delivered completely and in full by

our hero. He will save the day and all evil will be defeated and judged.

All tears will be wiped away and death and evil will be swallowed up

(Revelation 21:4).

The most important last words for martyrs like Abishey, Akash, and

Sikander, though, will not be the words they speak but rather the ones

they will hear. . .

"Well done, good and faithful servant … Come and share your

master's happiness!"

- Matthew 25:23 (NIV).

Jeff King

President

International Christian Concern

www.persecution.org

Jeff King, President

International Christian Concern

5
---
News

2

7

1

3

5

6

4

Sudan Orders

Church

Demolitions

Christians fleeing the violence in El-Arish.

Christians Flee Sinai after

Violent Attacks

1 | EGYPT On February 22, the bodies of two Coptic

Christian men were found behind a school in El-Arish,

Egypt. Saad Hakim Hanna was found with a bullet wound

to the head, while his son, Medhat, appears to have been

burned alive. A local priest reported that three masked

men showed up on the doorstep of the father and son's

home, before killing them and burning the house.

Unfortunately, this is only one incident in a string of

several attacks against Christians in El-Arish. A trader

was killed in his shop in front of his wife and son. A veterinarian

was shot in the head. A Christian plumber was

shot multiple times in front of his wife and five children.

The killings were revealed to be part of a militant hit list.

In response to the violence, more than 150 Coptic families

have fled the city in a state of panic, worried that their

family may be next. These families are now rebuilding

their lives from nothing as they attempt to protect their

loved ones from execution.

Pastor Wins Discrimination Lawsuit

2 | UNITED STATES In early February, the State of

Georgia agreed to pay Dr. Eric Walsh $225,000 to

settle his religious discrimination lawsuit. Dr. Eric Walsh

was hired in May 2014 as a district health director for

Georgia's Department of Public Health. One week after

his hire, he was asked to submit sermons to his employers,

which he had previously delivered during his time as

a lay-pastor. Only two days later, he was fired.

After Walsh lost his position, First Liberty Institute filed

a lawsuit on his behalf against the Georgia Department of

Public Health in a religious discrimination case, arguing

that he was fired on account of his faith. After three years

of legal battle, the matter was finally put to rest when the

State of Georgia agreed to the settlement. Senior Counsel

for First Liberty Institute, Jeremy Dys, stated, "This is a

clear and resounding victory for religious freedom."

Thankfully, Walsh's case came to a positive conclusion,

but others in similar

cases have not been

so fortunate. While

Christians in the United

States certainly do not

face persecution to the

same degree as those

in many other countries

do, we must stand up

for all Christians who

are losing their rights

to practice their faith

freely, or religious freedom

will slowly begin

to chip away.

3 | SUDAN It is no

secret that the government

of Sudan

is seeking to keep

Christians from freely

practicing their

faith. Through a

series of imprisonments,

church demolitions,

and countless

incidents of harassment,

Sudan rightfully

earned its designation

as a Country of

Particular Concern

by the US State

Department.

Most recently,

authorities in Sudan

ordered the demolition

of at least 25

Christian church

buildings near

the capital city of

Khartoum. The

government issued

a letter detailing the

names and locations

of the churches designated

for destruction.

While the letter noted

that the churches

were built on grounds

designated for other

purposes, local

Christian leaders

stated that mosques

built in the same

area didn't face the

same repercussions.

The churches that

were targeted cover

a broad spectrum of

Christian denominations

and the majority

are located in residential

areas.

6 PERSECU ION.org

MAY 2017

INTERNATIONAL CHRISTIAN CONCERN
---
China and Christianity

Despite China's persecution

of Christians, it is expected to

be the world's 'most Christian

nation' within 15 years.

Christian Woman in China Accused of Cult Activity

4 | CHINA A Christian woman from China, Tu Yan, has been accused of "using an evil cult to undermine law enforcement" for her involvement in

ministry. She was initially arrested last October and continues to be detained, despite mass outcry from the public. Under the guise of a crackdown

on cult activity, the Chinese government continues to persecute and imprison China's growing Christian population.

Christian in Coma After Mob Attack

5 | INDIA In India, a Christian evangelist named Dr.

Kusuma Anjeneya Swamy slipped into a coma shortly

after being harassed by a group of Hindu radicals. Dr.

Swamy was distributing New Testaments in a park,

when he was surrounded by the group of radicals who

were shouting violent threats. The mob then led Swamy

to the police station where he endured further harassment

from the authorities. Although there was no visible

evidence of physical violence, Swamy suffered a brain

hemorrhage and slipped into a coma shortly after leaving

the police station.

Since the rise to power of Prime Minister Narendra

Modi (pictured) in 2014, Christians in India have experienced

a sharp uptick in persecution due to the impunity

that Hindu radicals enjoy.

President Modi of the right-winged BJP party.

PERSECU ION.org

INTERNATIONAL CHRISTIAN CONCERN

New Law

Could Protect

Christians

6 | VIETNAM A

recently ratified

law in Vietnam,

which will go into

effect in 2018, could

potentially protect

Christian groups.

The law will give

religious organizations

the opportunity

to obtain legal status,

which Christians

hope will also give

them legal protections.

However, until

the law is fully implemented,

its impact

remains unclear and

there could be both

positive and negative

ramifications. Yet

Christians are hopeful

that this is a step

forward for religious

freedom in Vietnam.

Congress Demands Release of

Christian Pastor Held in Turkey

7 | TURKEY On February 15, 78 members of

Congress, including 37 senators, wrote a letter to the

president of Turkey on behalf of Andrew Brunson,

an American pastor imprisoned in Turkey who leads

a church in the coastal city of Izmir. The bipartisan

letter requested that Pastor Brunson be "immediately

released and deported" on account of a lack of evidence

in his case. The letter was sent four months

after Brunson and his wife, Norine, were arrested

after being accused of terrorist activities. Norine was

released after 12 days of detention, but, at the time

of writing, her husband remains in jail, despite the

absence of evidence supporting his imprisonment.

Andrew Brunson and wife, Norine.

7
---
News

3

2

6

1

5

4

"God changed

the heart of the

judge and he set

me free."

Supreme Court of Pakistan. Wikimedia photo.

Prosecutor Offers Imprisoned Christians

Freedom if They Convert to Islam

1 | PAKISTAN In March, ICC learned that a deputy district

prosecutor in Pakistan was blackmailing 42 Christians

who have been imprisoned since 2015. The prosecutor

offered the Christians their freedom on one condition: that

they abandon their Christian faith and convert to Islam.

When this deal initially came to light, the prosecutor

denied ever making such an offer. However, once it was

revealed that the accused had video evidence of him making

the offer, he changed his story. He then stated that he

was simply offering them a choice. Worse still, this is not

the first time that he has offered such a deal. The prosecutor's

office attempted to blackmail the Christians in the

same way six months prior. However, the Christians clung

tightly to their faith and refused the offer. According to a

human rights activist involved in the case, one prisoner

went so far as to say that he would rather be hanged than

convert to Islam.

Adding to the injustice of the case, many of the 42 men

had been arbitrarily detained following a biased inves-

tigation and shoddy

police work. ICC has

investigated and interviewed

several people

involved in this case

and it is evident that

there are several innocent

people suffering

in prison, solely

because they are not

a part of the Muslim

majority.

With a government

bent on pushing their

own religious agenda,

Christians in Pakistan

are often denied

the justice that they

deserve as authorities

ignore the rule of

law and overstep due

process procedures.

Prisoners should not

have to fear whether

or not they will receive

an impartial investigation

simply because of

their religious identity.

Unfortunately, as

authorities continue

to prioritize their religious

beliefs above

the law, religious

minorities, including

Christians, will continue

to suffer the

consequences.

Syrian Man Gives Testimony of ISIS

Kidnapping and Torture

2 | SYRIA As ISIS continues its campaign of violence

throughout the Middle East and beyond, personal stories

of violence and abuse continue to pour out of the

region. Meghrik (name changed for security) recently

came forward with a testimony of such abuse.

Meghrik was stopped by militants at a checkpoint

while travelling by bus. Meghrik is a Christian name;

however, he never professed to be a Christian or

believe in the religion of his parents. Unfortunately

for Meghrik, his name was enough to condemn him

in the eyes of these ISIS militants and they forced him

off the bus.

An ISIS judge sentenced him to death and he was

later told that he would be spared only if he converted

to Islam. With a struggling faith, Meghrik called out

to God in desperation. After ten days of death threats,

torture, and forced conversion, he was finally released

and permitted to return

home. According to

World Watch Monitor,

Meghrik proclaimed,

"God changed the

heart of the judge and

he set me free." As

statistics and news

updates continue to

flood our news stations,

let us not forget

to pray for the individual,

such as Meghrik

who reclaimed his

faith in the most horrendous

of circumstances.

8 PERSECU ION.org

MAY 2017

INTERNATIONAL CHRISTIAN CONCERN
---
Boko Haram Attacks Near Christian Town of Chibok

3 | NIGERIA In February, Boko Haram carried out yet another attack near the Christian town of Chibok, Nigeria. The attack killed one and seriously

injured another, a young boy whose hands were broken. Boko Haram has targeted Chibok several times in their violent campaign to rid

the region of Christianity. In April 2014, Boko Haram militants carried out a mass kidnapping, abducting more than 270 primarily Christian

schoolgirls, most of whom are still missing.

Boko Haram militants in Nigeria

60+ Churches Destroyed in Myanmar since 2011 Christian Teen Remains Imprisoned in Pakistan

4 | MYANMAR According to reports from Christian Solidarity

Worldwide, at least 66 churches have been burned down in Myanmar

since 2011, in addition to hundreds of villages being destroyed. In

2011, the Burma Army broke a longstanding ceasefire and more

than 100,000 have been displaced by the ongoing conflict. Although

their constitution promotes religious freedom, the government openly

favors Buddhism, leaving religious minorities, including Christians,

vulnerable to conflict in an already tense environment.

5 | PAKISTAN In September 2016, Nabil Masih, a Christian teenager in

Pakistan, was accused of blasphemy for "liking" a photo on Facebook

that allegedly blasphemed against Islam. Masih's supporters report that

this is impossible because Masih is illiterate and does not use social

media, suggesting that the account was fake. Although Masih maintains

his innocence, reports suggest that police assaulted the teen until

he confessed. At the time of writing, Masih has been denied bail and

continues to suffer in prison.

Iranian Christian Prisoners Go on Hunger Strike

6 | IRAN Two Iranian Christians, Hadi Asgari and Amin Afshar, went on a

hunger strike following six months of imprisonment without charge. The

Christians are victims of the Iranian authorities' all too common practice of

indefinitely detaining prisoners of conscience without adequate medical care

or legal attention. While the men suffer in Iran's notorious Evin prison, their

families have been rejected any attempt to learn more about their loved ones'

cases. In previous cases, similar periods of confinement have caused prisoners

lasting physical and emotional damage. Meanwhile, the accusers are granted

more time to gather false evidence to condemn the already detained prisoners.

Unfortunately, one of the prisoners fell seriously ill. Finally, after receiving

promises of better medical aid and attention to their case, the men decided to

end their strike.

PERSECU ION.org

INTERNATIONAL CHRISTIAN CONCERN

Hadi Asgari (left) and Amin Afshar

9
---
Your Dollar$ at Work

Education and Assistance after Al-Shabaab Attack

Community Rebuild

In 2014, al-Shabaab attacked the Joy in Jesus

Church in Mombasa, Kenya, killing seven

people, including a preacher, and leaving

many more injured. The militants stormed

into the church building through the back

doors, shooting sporadically.

Three families were particularly and permanently

affected. Dennis Odongo, Austin

Ouma and Diana Ouma were all severely

injured during the gunfire. Each has been

undergoing medical treatment for their injuries

though none have been able to work

since 2014.

Florence Ochieng, whose husband was

killed in the attack, worked diligently to keep

the family's motorbike business afloat, but

sadly was unable to carry the load alone.

The children in all of these families have

been in and out of school in the last three

years as their parents have been unable to

maintain a sustainable source of income.

These kids have been slighted in the worst

way as their opportunity to be educated is

slipping away.

Thanks to your generous donations, we

were able to step in and help these families

both physically and financially. ICC

funded a full year of school tuition for each

of the children in these three families so

they could continue their education without

worry.

"I would like to thank ICC greatly for

paying my children's school fees since this

was the most stressing part to me as a single

mother. It hasn't been easy at all, but glory to

God, He sent you people my way and I count

this as a miracle," Florence told ICC.

While we have been able to provide educational

assistance, the work is not done. These

families need continued prayer and trust in

God for healing, comfort, and provisions in

the months and years to come.

10 PERSECU ION.org

MAY 2017

INTERNATIONAL CHRISTIAN CONCERN
---
Food Assistance

in Koraput, India

Community Rebuild

Persecution is nothing new in the Koraput

district of India. During the 2008

Kandhamal riots, Christians faced severe communal

violence which resulted in damaged

houses, livestock, and crops. Some were also

forcefully reconverted to Hinduism under dire

circumstances, including severe beatings. The

entire Christian communities of Talagumandi

village of Narayanpatna block in Koraput

were forced to reconvert or leave the village.

Christians were strong-armed out of the

village by Hindus, and, after eight years, have

not been able to return home. Originally, all

120 Christian families went to an internally

displaced persons (IDP) camp. Over the years,

all but 29 have moved elsewhere in the country.

The remaining families, however, have no

jobs or income and little food. ICC located the

29 families, and with your help, funded a food

aid package for each family. ICC will continue

looking for ways to serve these families.

PERSECU ION.org

INTERNATIONAL CHRISTIAN CONCERN

Wrongfully

Accused Pastor in

Mali Assisted

Underground Pastor

The Muslim father of a converted Christian

daughter falsely accused a Malian pastor

of kidnapping and forcibly converting

his minor daughter in 2016. The father also

accused a local Christian counselor to the

mayor of creating and signing a false identification

card for the daughter to hide her age as

a minor child.

Following the false accusations, both

the mayor's counselor and the pastor were

imprisoned. The counselor is on provisional

release; however, both families are in need

of food assistance as their breadwinners

are unable to work. In response, ICC delivered

several food assistance packages to the

families of the counselor and the imprisoned

pastor. These food packages included rice,

milk powder, and oil. The families expressed

gratitude for God's faithfulness during this

difficult time.

Assistance for

IDPs in Kaduna,

Nigeria

Hand of Hope

Fulani militants attacked several villages

in the Kaduna state of Nigeria from

October 15-17, 2016. They destroyed crops,

burned down hundreds of home, killed

approximately 30 people, and injured 326.

The attack forced 27,000 people to flee to

Kafanchan or other neighboring communities

for refuge.

With your help, ICC has been able to

bring immediate relief to some of the refugee

families in the Kafanchan internally

displaced persons (IDP) camp. The most

immediate needs included food and clothing.

ICC provided food packages for 110 families

and clothing for each person in the family -

approximately 1,035 people.

The food packages will provide enough

food for a month, while the clothing will

protect individuals from the harsh elements.

This is the direct result of your gifts!

11
---
E

arlier this year, ICC funded a persecution preparedness training

program for rural pastors in the Nalgonda district of Telangana,

India. The program taught 23 pastors proactive techniques to use

against persecution and sustain their work.

In the last two years, Telangana's Christians have suffered more

persecution than any other state in southern India. Local pastors and

Christian workers have been assaulted by neighboring religious extremists

on more than one occasion. Rural Christians are, unfortunately,

uninformed about India's religious freedom laws. This shortcoming has

played a major role in the constant attacks because Christians do not

know how to present their cases to the authorities.

ICC's training program assists these pastors in two ways. First, pastors

learned how to advocate for themselves using the religious freedom

law. Second, the training involved sensitizing the participants on the

Indian penal codes and criminal procedure codes.

Telangana Christian JAC, a human rights group, collaborated with

ICC by coordinating with pastors in the area. They also hosted the

training and provided lunch to the attendees. With six mainline denominations

and several independent churches in attendance, pastors comprised

the majority of the training participants.

ICC requests prayer for the safety of all of the pastors, as they face

the constant threat of persecution. In addition, pray that these pastors

will be able to respond and report persecution as the first step of fighting

for justice and religious freedom.

Your Dollar$ at Work

'Persecution Preparedness

Training' in India

Underground Pastor

Business Development

for Iraqi Christian

Community Rebuild

A

t 16, Samer is the youngest in his family. Samer is also the

breadwinner for his family since his father is in prison. His

father used to be a technical manager at a Mosul dam, but the chief

accountant became angry at the government for giving this position

to a Christian. Consequently, the accountant attacked Samer's father

with a knife.

In an act of self-defense, Samer's father pushed back on the

accountant, knocking him to the ground. The man hit his head on his

way down, landing him in the hospital where he would later die of

the injury. Samer's father was arrested and has been imprisoned for

the last six years.

Samer's family previously lived in Qeraqosh until ISIS' attack in

2014 forced them to flee. He took his family to Erbil, but had no way

to support them.

Samer wanted to start a barbershop; he even had a location. But

he did not have the money to fund the startup costs. With help from

your donations, ICC provided the materials necessary to start this

small business, including dryers, clippers, scissors, and towels. With

these essentials, he will be able to provide for himself and his family.

"Thank you so much, it seems like we will be here...for a long time so

it's good to have a job here," Samer said.

12 PERSECU ION.org

MAY 2017

INTERNATIONAL CHRISTIAN CONCERN
---
PERSECU ION.org

INTERNATIONAL CHRISTIAN CONCERN

Your Dollar$ at Work

Jos IDP School in Nigeria

Suffering Wives and Children

C

hristian communities in Nigeria have long suffered the weight of terrorism. Boko Haram

and others have displaced thousands of families, forcing them to flee into internally displaced

persons (IDP) camps in the country. In Bukuru-Jos, hundreds of families are living far

from their homes. Children and young adults have been slighted as their educations have been

completely disrupted through this crisis.

In January 2017, ICC was able to establish and open a new school within the borders of the

Jos IDP camp to ensure that children could continue their education. In addition to the school

building, ICC provided textbooks and established curriculums for math, science, and English.

Because of your donations, ICC purchased, delivered, and distributed the books and learning

resources for teachers and 28 children living in the camp.

Please keep these children and their families in your prayers as they have many emotional

barriers to overcome in their new homes. Having been uprooted, these families must start

over. Furthermore, pray for the children's interest and enthusiasm in their educational and

learning experience.

Rebuilding After Taliban Attack

Community Rebuild

I

n September 2016, the Pakistani Taliban attacked the Christian community in Peshawar,

Pakistan. The attack left one Christian dead and nine homes damaged. Household goods

were destroyed and families' quality of life became severely limited. One family even

expressed that everyone was "tense and worried for purchasing all the stuff again…"

To best help this community, ICC first conducted a survey of the neighborhood to

determine the level of damage and the types of goods most needed to help the victims

return to normality.

After the survey, ICC purchased the appropriate household items for each family. Some

families received mattresses, washing machines, and an iron. Others needed sheets, clothes,

and food aid. Blankets, cookware, and juicers were other items that ICC provided.

The victims expressed their gratitude for the "extraordinary support" shown by ICC

and believe that such support demonstrates the "real message of Christianity and fantastic

method of preaching Gospel of Jesus Christ...." Continue to pray for Christians in Pakistan

who experience daily persecution and attacks.

Aiding Pastors in Indonesia

Underground Pastor

C

hristians in Indonesia face persecution for their faith every day. Many church members take

risks simply by attending church. The risks for pastors, however, are even greater. Two of

the main issues underground pastors face in Indonesia are a lack of funds to support their families,

and the risk of being attacked for sharing the Gospel in a conservative Islamic environment.

This tension is no more obvious than on the island of Sulawesi in Indonesia. The risk is so real

that the city where they work was once dubbed "The Missionary Graveyard."

In February 2017, ICC traveled to Indonesia to meet with these pastors and hear their concerns.

One of the main issues they face is that the community immediately becomes suspicious

when the pastors arrive without a valid "reason," and begin to question them regarding their

presence in the community.

To help address this issue and provide a "cover story" for these underground pastors, ICC

funded a small business project to give underground pastors small goods to sell while they evangelize.

Working under the cover of "small business owners" gives pastors access to communities

without suspicion. With your help, ICC is also working on expanding a broader network to

provide similar assistance to underground pastors throughout Indonesia.

13
---
Impact Report

WHERE MOST

NEEDED

FUND BALANCE:

SUFFERING WIVES

and CHILDREN

FUND BALANCE:

COMMUNITY

REBUILD

FUND BALANCE:

low medium high

low medium high

low medium high

2016 Q4 2016 Q4 2016 Q4

PROJECTS PROJECTS PROJECTS

• After years of relentless advocacy efforts,

ICC's hard work culminated with the

unanimous passage of the Frank R. Wolf

International Religious Freedom Act in

December 2016. This act has been hailed

as the most important religious freedom act

in nearly 20 years. Among other provisions,

it requires all US Foreign Service Officers

to receive mandatory training on religious

freedom. It also gives the US the ability to

sanction non-governmental groups, such as

ISIS or Boko Haram, for religious freedom

violations, designating them as "entities of

particular concern." Previously, it was only

possible to sanction entire countries.

• At the end of 2016, ICC launched an intensive

campaign on behalf of persecuted North Korean

Christians. Our advocacy efforts included a

petition calling on China to cease the deportation

of refugees back to North Korea where

they face death or torture. We also focused

on Korean Christians in two of our monthly

magazines. We interviewed and featured

almost 20 defectors and North Korea experts.

Additionally, the 2017 Bridge Conference

will focus on the prison state of North Korea.

• In November 2016, ICC travelled to northern

Nigeria to interview victims of recent Fulani

attacks, verify attacks, and begin the planning

process of how to effectively alleviate the

victims' suffering.

• Last year, Christians celebrating the Easter

holiday in a public park were attacked by

a suicide bomber in Lahore, Pakistan.

Twenty-one Christians were killed in this

attack and 40 more were injured, leaving

many families without a breadwinner.

In addition to providing immediate aid,

ICC has helped several families affected

by this attack set up small businesses so

that they do not have to worry about daily

expenses.

• Following a deadly al-Shabaab attack in

Kenya, a Christian woman was left widowed,

with the responsibility of caring

for her five children alone. After paying

for her husband's funeral, the woman was

low on finances and in need of immediate

assistance. ICC provided her with enough

food to feed her family for a month while

they grieve their devastating loss.

• In April 2014, more than 270 primarily

Christian schoolgirls were abducted in

Chibok, Nigeria, by Boko Haram. Since

the abduction, ICC has worked closely

with the Chibok community, providing

long-term assistance and encouragement

to those affected by the attack. Most

recently, ICC provided several of the

victims' families with food packages and

medical care as they struggle to establish

a new life.

• As ISIS carried out a campaign of violence

throughout the Middle East, countless

Christians were forced to relocate,

losing both their homes and their

livelihoods. One such man became so

depressed because of the displacement

that his son was forced to find a way

to support the family. ICC provided the

equipment needed for him to start a car

wash business. He now has the tools

necessary to financially support his entire

family and hopes to one day continue his

education.

• Christians in Egypt are often denied

many of the educational and occupational

opportunities that their Muslim counterparts

receive, forcing them into the lower

rungs of society. In order to break this

cycle, ICC opened a Hope House in Egypt

to offer after-school education (computers

and English) for Christian kids. These

students receive language and computer

training, which will help them obtain jobs

more easily upon graduation.

• In 2016, a church in Tamil Nadu, India,

was set on fire, severely damaging

the building and other materials. In

response, ICC provided the church

with the necessary construction materials

for them to rebuild their church

building.

14 PERSECU ION.org

MAY 2017

INTERNATIONAL CHRISTIAN CONCERN
---
Impact Report

KIDS CARE

FUND BALANCE:

UNDERGROUND

PASTORS

FUND BALANCE:

BIBLES

FUND BALANCE:

low medium high

low medium high

low medium high

2016 Q4 2016 Q4 2016 Q4

PROJECTS PROJECTS PROJECTS

• In 2008, children throughout Orissa,

India, were left orphaned due to a massive

outbreak of violent, anti-Christian

riots. In response, ICC started an

orphanage to care for these children with

food, clothing, medical care, shelter, discipleship,

the best education. This past

Christmas, ICC provided the children

with gifts, new clothing, and a television

for the orphanage.

• In 2014, two suicide bombers devastated

Pakistan's Christian community by

attacking All Saints Church in Peshawar.

When the dust settled, more than 130

people were killed in the attacks. Among

the most vulnerable of victims were children

who lost both parents or lost their

family's breadwinner. In response, ICC

continues to supported these children on

a regular basis by providing them with

the resources necessary to obtain a quality

education.

• In Upper Egypt, Christian children are

often denied the educational resources

that they need in order to thrive in

adulthood. In order to help put them

on the path to success, ICC provides

necessities such as food, medical care,

school supplies and, most importantly,

the Gospel.

PERSECU ION.org

INTERNATIONAL CHRISTIAN CONCERN

• ICC provides monthly financial assistance

to several pastors in Somalia in order to

help them further the Kingdom and provide

for their churches in this incredibly

dangerous nation. Without this support,

these pastors would be forced to take on

one or more jobs which would severely

curtail their spiritual work.

• In 2016, a pastor in India was attacked by

a group of Hindu radicals while returning

home from leading worship. Pastor Rao

survived the attack, but lost his hearing.

Doctors recommended a costly ear

surgery that he could not afford on the

limited income of a rural minister. After

Pastor Rao was forced to borrow the funds

to pay for the surgery, ICC repaid his

debt, relieving him of the heavy financial

burden and enabling him to continue the

work of the ministry.

• Christians in Pakistan, particularly Muslimbackground

believers (MBBs), must operate

with extreme caution as they share the

Gospel with their communities. One MBB

works with a team of fellow evangelists to

distribute Christian literature in their community.

As a result, they have been beaten

and have received several violent threats.

ICC provides this evangelist with monthly

support as he continues this important, yet

dangerous, work of street evangelism.

• In Madhya Pradesh, India, pastors and

churches are often attacked. Due to the

poverty that Christian pastors in the

region face, they often cannot afford to

replace the destroyed materials. Thanks

to the help of generous donors, ICC was

able to provide more than 200 Bibles to

eight pastors in the area to distribute in

their communities.

• Muslims in Zanzibar are turning to

Christ at an incredible rate thanks to

the faithful work of Christian pastors

sharing the Gospel across the island.

Unfortunately, financial difficulties

prevent many from distributing the

written Word of God. ICC assisted

with this need by providing six pastors

with a stockpile of Bibles to distribute

in their communities and build

disciples.

• With the rise of the house church

movement in China, there is an increasing

demand for the Gospel. ICC provides

DVD kits that we call "church

in a box" to communities throughout

China. Thousands of these DVDs

have been distributed and include a

Chinese Bible, worship songs, the

JESUS Film, and other resources in

order to support these believers as they

grow in their faith.

15
---
PAUL GI HONG HAN

SENIOR PASTOR OF GRACE

MINISTRIES INTERNATIONAL

TED CRUZ

US SENATOR & 2016

PRESIDENTIAL CANDID

FRANCIS CHAN

BEST-SELLING AUTHOR OF

"CRAZY LOVE" AMONG

OTHER BOOKS

ED ROYCE

CONGRESSMAN, CHAIR,

HOUSE FOREIGN

AFFAIRS COMMITTEE

JOSEPH KIM

NORTH KOREAN DEFECTOR

AND RIGHTS ACTIVIST

ICC'S

THE BRIDGE

THE ANNUAL CONFERENCE ON THE PERSECUTED CHURCH

POLICY DAY: MAY 24

MAIN CONFERENCE: JUNE 2-3

WASHINGTON DC

SADDLEBACK CHURCH, SoCal

WWW.THEPERSECUTIONCONFERENCE.ORG FOR MORE INFO

16 PERSECU ION.org

MAY 2017

INTERNATIONAL CHRISTIAN CONCERN
---
ATE

HANNAH SONG

CEO OF LIBERTY IN NORTH

KOREA (LiNK)

BRUCE KLINGNER

CIA'S FORMER DEPUTY

DIVISION CHIEF KOREA

JEFF KING

PRESIDENT OF ICC

RICK WARREN

LEADING PASTOR AND AUTHOR OF

"THE PURPOSE DRIVEN LIFE"

PERSECU ION.org

INTERNATIONAL CHRISTIAN CONCERN

17
---
"What

Will You

Remember

Most?"

Why serving the needs of persecuted Christian

children across the world is so important.

By William Stark

18 PERSECU ION.org

MAY 2017

INTERNATIONAL CHRISTIAN CONCERN
---
For the past five years, I have

had the unique opportunity

of serving the persecuted

Church around the world.

This service has, quite

literally, taken me across

the globe. From the rural

jungles of Bangladesh to

the urban chaos of Cairo,

the ocean of memories I

have will stick with me for the rest of my life.

Often, I am asked by friends and family,

"What will you remember most?"

When I actually take the time to think about

it, there are memories that are more vivid than

others. Possibly because these memories are

more cherished. Among the first memories

to come to mind are the many projects I have

been a part of that focused on serving the

needs of children affected by persecution.

Often, when people think about persecuted

Christians, they tend to focus on the immediate

victim – those directly affected. The

parishioner killed in a church bombing. The

evangelist beaten for bringing the Gospel to

a closed village. The pastor imprisoned for

leading a community considered illegal by

their government. Unfortunately, the children,

whose lives depend on those parishioners,

evangelists, and pastors, are often overlooked,

making them the unseen, but no less affected,

victims of persecution.

I remember this vividly in the days and

weeks following the bombing of All Saints

Church in Peshawar, Pakistan, in 2013. As

many organizations, churches, and individuals

rushed to provide medical assistance and

other forms of initial support to the Christians

injured or families who had a member killed

in the bombing, few were looking to the needs

of the Christian children whose parents were

affected in the bombing.

In light of this, ICC committed to providing

primary and secondary education for those

children whose parents were either killed

or handicapped in the bombing. This vital

program, which is going into its fourth year,

not only helped stabilize over 30 Christian

families, it also helped ensure that the persecution

did not have a generational effect on

the Christian community of Peshawar.

When I visited the Christian community

of Peshawar a few years after the bombing,

I remember being pulled aside by one of the

city's church leaders. He pointed to one of

PERSECU ION.org

INTERNATIONAL CHRISTIAN CONCERN

19
---
Feature Article

" It is only because

of the support you

are giving that will

allow these children

to pursue these

dreams."

– PESHAWAR CHURCH LEADER

"My father was the main breadwinner for the

family, so with his death we were unsure how

we would continue my education."

the students in our program and said, "You

see that child there? She wants to become a

doctor." He pointed at another student. "You

see that child there? He wants to become an

accountant. It is only because of the support

you are giving that will allow these children

to pursue these dreams."

Can you imagine the impact that had on

me? The honor, the incredible sense of humility,

and the sense of responsibility that came

with that heartfelt expression is to be shared

with you, our donor.

For I am only the feet or hands of you, our

partner, that delivers your aid to the victims.

Without us working together after the blast,

these kids would have had to drop out of

school. So instead of a doctor, accountant, or

educated Christian professional, we would

have had kids who would have dropped out of

school and become common laborers.

I recently caught up with the one of the

students this church leader pointed out to me.

Joyce William is a bright 18-year-old girl

who lost her father, older brother, and sister

in the All Saints Church bombing. Joyce's

mother was also badly injured and she still

has not fully recovered. Although Joyce has

graduated from ICC's education program,

she still remembers the vital support that ICC

provided her and her family.

"After the bomb blast, what was left of

our family was (facing disaster)," Joyce

explained. "My father was the main breadwinner

for the family, so with his death we

were unsure how we would continue my

education. In the midst of all these challenges,

ICC supported us and helped with financial

support and provided for my school

fees and other expenses," Joyce continued.

"ICC also arranged programs to help with

the psychological effects of the blast for the

children affected."

"After graduating from ICC's program,

I was able to gain admission at Edwards

College in Peshawar where I am now a student,"

Joyce reported. "I am currently studying

in the medical program and am planning

to take the medical exams so I can become a

doctor."

Across the world, I have witnessed similar

stories of tragedy and perseverance from the

children of the persecuted. I have always

found that, somehow, children have a unique

ability to bounce back from persecution if

simply given the opportunity and resources.

In Nigeria, I remember arriving at a camp

where Christians displaced by Boko Haram

had been living for nearly two years. As we

drove to the camp, the camp manager painted

me a grim picture as to the camp's conditions

and those living there.

When we arrived, the excitement and joy

I witnessed, especially from among the children

living in the camp, felt completely opposite

from what I was expecting. As I entered

20 PERSECU ION.org

MAY 2017

INTERNATIONAL CHRISTIAN CONCERN
---
ICC Kids

Care

Top Left

Internally displaced

children in Nigeria

will receive a

chance at an

education thanks

to ICC's donors.

Top Right

ICC proudly

supports young

Pakistani students

who lost family

members in the

2015 Youhanabad

bombings.

Bottom Left

A Pakistani girl

works on her

homework. Her

family was severely

affected by the

2015 Youhanabad

bombings.

Bottom Right

A young girl living

internally displaced

in Nigeria. Her

family fled their

home when radical

militias stormed

their village.

"I have found that, somehow, children have a unique ability to bounce

back from persecution if simply given the opportunity and resources."

the camp, all the children, literally hundreds,

lined up to greet us.

In spite of living in an internally displaced

persons (IDP) camp and being out

of school for years, these children still had

dreams for the future. The persecution they

were experiencing had not taken their sense

of hope in the future. When the camp manager

asked Alheri, a young Christian child

in the camp, what he wanted to do when

he grew up, Alheri shouted, "I want to be

a pilot! I want to drive a plane in the air!"

Since our initial contact with this IDP

camp, ICC has established a school for the

PERSECU ION.org

INTERNATIONAL CHRISTIAN CONCERN

kids still living there. This way, children like

Alheri have the opportunity to pursue their

dreams of building a brighter future for themselves

and their community.

This is where the importance of working

with these "unseen victims" of persecution

really comes forward. These children,

although often not the direct victims of

persecution, are the future of their communities.

One day, they will take on roles of

leadership and will likely still face many of

the same challenges faced by their parents

because of their faith.

It would truly be a tragedy if we only

focused on serving the present needs without

keeping an eye to the future. Ultimately, this

would allow persecution to have a compounding

and devastating generational effect on

Christian communities across the world.

For me at least, this is one reason why

I am not only willing, but excited, to

travel to countries like Pakistan, Nigeria,

Afghanistan, Iraq, and the many other places

Christians are persecuted. The memories

I make today, especially while working with

these Christian children, I hope will one

day be the beginning of a brighter future for

them and their communities.

21
---
Interview

Choi Jung Oon: The Accid

A North Korean

defector tells ICC

how he accidentally

defected from North

Korea, and what he

is doing to free the

oppressed still at

home.

By Daniel Harris

Choi Jung Oon talks with ICC staff at his organization's office in Seoul, South Korea.

In 1975 a boat of South

Korean fishermen was

abducted by North

Korea. The fishermen,

along with their

captain, were taken to

North Korea and forced

to integrate into North

Korean society. In a

single day, the course of

their lives was radically changed.

Swallowed up by North Korea,

their families never heard from

them again.

Fast forward to 2006, Choi

Jung Oon, a former military officer

and a government official

in North Korea, was informed

by the North Korean government

that his funding was to be cut and

he would have to find alternative

means to pay his employees.

To compensate, he began

taking trips to China for trade.

On his tenth trip into China, he

heard about a woman who was

offering $10,000 to anyone who

could find her father and bring

him back home. She said she

was the daughter of the captain

of the abducted ship. She had

no pictures. She didn't know

where he was…all she had was a

name: Choi Wook Il. Armed with

only a name and a desire to earn

$10,000, Choi Jung Oon began

travelling through North Korea

looking for the captain. It took

him three months, but he found

him. He was married to a North

Korean woman and had children.

His wife was essentially a North

22 PERSECU ION.org

MAY 2017

INTERNATIONAL CHRISTIAN CONCERN
---
ental Defector

In that moment everything changed for Choi Jung Oon. He went to

sleep as a government official and woke up a fugitive. Choi had no

choice but to defect.

Korean spy tasked with reporting

on his every movement.

Choi pleaded with the captain's

wife and promised he would

bring the captain back if she

would let him visit his daughter

in China. She conceded.

Choi and the captain set off

westward, crossing into China

on Christmas day in 2006. But

when they saw the captain's

daughter for the first time, it

was not his daughter at all…it

was his wife. Thirty-one years

had passed without a word. The

captain was 36 the day he disappeared;

he was now 67.

Choi told ICC, "Watching their

meeting was so hard." He said they

wept so much, "they cried like

animals…it was not the sound of

people." Choi stood there watching,

and for the first time he wondered

what kind of country could do this

to someone. For the first time in

his life he questioned what he and

his country stood for. That night, as

they slept, the captain and his wife snuck away.

They ran straight to the South Korean embassy.

When they arrived, they published a press release

detailing his 31 years in captivity, how he escaped,

and who helped him escape. They named names,

including Choi Jung Oon.

In that moment, everything changed for

Choi Jung Oon. He went to sleep as a government

official and woke up a fugitive. He could

never go back, as the North Korean government

was furious and executed everyone

even remotely connected to the escape. By

8:00 a.m., even the border guards had been

executed. Choi had no choice but to defect. He

found a way to call his family and they begged

him to not try to come home.

As for many North Korean defectors, it

took Choi more than a year to make his way to

South Korea. Defectors making their way to

South Korea must dodge Chinese policemen

PERSECU ION.org

INTERNATIONAL CHRISTIAN CONCERN

Part of the Korean Demilitarized Zone

and North Korean spies, all the while bribing

officers or hiring agents to get them into South

Korea...all without a job and without knowing

the local language. To be caught means automatic

repatriation to North Korea where they

will face torture at a minimum, long imprisonment,

or execution.

With the help of an agent, Choi reached

South Korea on December 31, 2007. After

being interrogated to make sure he was not a

North Korean spy, he found a job as a reporter.

He worked as hard as he could to save his

money and hire agents to sneak his family out

of North Korea, one-by-one. In 2011, he had

snuck out every family member except his

youngest brother. Because Choi had written an

article that incensed the North Korean government,

his baby brother was executed.

The death of his brother still haunts him

today. It is what drives Choi to do the work

he does. Now, Choi works for

a radio station that beams news

into North Korea about the outside

world and the truth about

the North Korean regime.

They tell North Koreans that

there is hope outside of North

Korea and the truth about what

their country is doing. They

broadcast North Korean songs

rewritten with words from the

Gospel. As a side project, Choi

works to smuggle USB sticks

filled with news, media, or

the Bible into North Korea.

It is a dangerous task with

people risking their lives at

night to cross the border. But

Choi is one of the most active

and passionate leaders in the

fight against the North Korean

regime.

Life for Choi after the

escape has not been easy.

North Korean spies are

everywhere and it is difficult

to know who to trust. Some

defectors who ICC met with have had as

many as eight attempts on their life since

escaping North Korea. In 2012, North

Korea sent a spy to befriend Choi and kill

him. They told the spy that they would execute

her son if she did not follow through

with it. Luckily, she was identified and

captured before she could get to him. For

Choi, and for many defectors, the sad truth

remains that they may never truly escape

the reaches of North Korea's cruelty.

ICC is working to support Choi's work.

We are also inviting Choi to speak at The

Bridge Conference at Saddleback Church

on June 2-3. We hope you will join us

in supporting the work Choi is doing to

change North Korea and to help the persecuted

and the oppressed. To find out

more about the conference, go to www.

thepersecutionconference.org.

23
---
Interview

Lee's Story:

Escaping North Korea

and Finding Christ

By Sandra Elliot

Over the last 20

years, ICC staffers

have had the privilege

of listening

to the first-hand

testimonies of persecuted

Christians

around the world.

Widowed mothers,

fatherless

children, and underground pastors are just a

few of the interviewees we have spoken with.

Recently, while visiting the persecuted in

Southeast Asia, we sat down to hear the heroic,

and often horrific, stories of North Korean

defectors who escaped their hellish lives in

the prison state.

Lee and her mother, JungAe, are two defectors

who we met in South Korea this year.

It was 1999 when North Korean officials

discovered that JungAe had illegally maintained

contact with relatives in South Korea.

JungAe had seen her family split as a child

during the Korean War, with half staying

in North Korea and the rest claiming South

Korea as home. In 1999, JungAe and Lee

knew they had to flee North Korea for their

own safety, despite knowing they would have

to leave Lee's brother behind. While Lee's

father had already died, her brother was still

enlisted in the North Korean army.

At just 17 years old, Lee crossed the border

into China to restart her life in a new world.

After three years of living in daily fear of

repatriation, the two decided they must go further

to find permanent safety. They had heard

that, if they make it, South Korea would grant

them immediate citizenship.

Communicating through a translator, Lee

explained how dangerous it is for multiple

people to travel to South Korea from China.

They decided it would be safer for Lee to

travel first, then JungAe would follow. As

with many North Korean defectors, Lee and

her mother connected with a non-governmental

organization (NGO) during their years in

China. The group armed her with a fake passport

and sent her by ship to her newer, safer

home in South Korea.

She arrived within days and was welcomed

with citizenship and enrollment at a local

university. She was 19 when her life finally

began to look normal.

Unfortunately, good fortune would not last

long.

"I had never prayed until my mother was

caught," Lee told ICC. Her only experience

with prayer were scenes from a Korean War

documentary depicting American soldiers

on their knees before an unseen God. It

"I had never

prayed until

my mother was

caught."

seemed the right thing to do when facing

impossible odds.

JungAe was surely facing impossible odds.

Police tracked her down and repatriated her

outside of the South Korean embassy the

same day she was set to leave China. She was

picked up along with another North Korean

defector, a young woman named Sarah.

According to Lee, Sarah never should

have been caught. The young woman actually

turned around to help Lee's mother

when she could have easily escaped the

authorities' notice.

Sarah and JungAe had a cordial relationship

before they were arrested. Sarah was an

outspoken Christian evangelist living with

Chinese missionaries in the area. JungAe was

just a woman she had shared the Gospel with.

It didn't make sense for Sarah to sacrifice herself

for such a stranger. But she did.

Upon re-entry, both women were sent away

to a prison camp. Officials send people to

the Korean gulags, as prison camps are often

called, to die. Slowly. It was here that JungAe

learned how to pray. Much like her daughter

did when faced with the impossible, JungAe

turned to this unknown God for help. She

watched Sarah do it every day from their cell,

so she learned the mannerisms and adopted

the habit.

Both JungAe and Sarah were severely beaten

by prison guards. Age and gender offered

no mercy to their cause. Throughout the time

spent in the North Korean gulag, JungAe

watched as Sarah proudly proclaimed her

24 PERSECU ION.org

MAY 2017

INTERNATIONAL CHRISTIAN CONCERN
---
"It didn't make

sense for Sarah

to sacrifice

herself for such

a stranger. But

she did."

faith and refused to deny her Savior, though

tortured. Sarah would eventually pay the ultimate

price for her boldness in this camp, but

she never revealed that JungAe had become a

new believer.

Back in South Korea, Lee found refuge in

a church group and came to know the Lord

through their love and support. They never

stopped praying for JungAe, as they understood

what North Korean prisoners suffered.

Lee had no idea that her mother was finding

comfort in the same God so far away.

With help from those around her, Lee transferred

funds to secure her mother's release and

safe passage into South Korea.

"Money would not have been enough to free

my mom," she reminisced, "but God was at

work the whole time."

The two were finally reunited in South

Korea, embracing one another and their newfound

faith together. Lee now works with an

organization dedicated to the rescue and rehabilitation

of North Koreans in South Korea.

"I want to help people like me."

While together again, Lee and JungAe still

bear the scars of their story, one being the

heartbreak of leaving Lee's brother behind.

They learned that he was sentenced to a gulag

several years previously, but they have no idea

if he is alive or dead. They can only hope and

pray as they did for one another. They have

hope because of Christ, but they carry a burden

most of us will never understand.

Lee Han Byeol escaped North Korea with her mother in 1999.

PERSECU ION.org

INTERNATIONAL CHRISTIAN CONCERN

25
---
Feature Article

How the US Can Help Rebuil

Displaced Iraqi Children

In 2015, ICC traveled to Iraq

to help with aid distribution

and project development.

ICC Advocacy: Our efforts to push

for relief and reconstruction for

Christians in Iraq and Syria.

By Sandra Elliot

On March 14, 2017,

Congress passed

House Resolution

75 which declared

the Islamic State

in Iraq and Syria

(ISIS) as responsible

for genocide

against religious

minorities, namely

Christians, Yazidis and Shia Muslims. Days

later, the State Department released a concurring

statement highlighting the atrocities of

the group and once again leveling the 'crime

of all crimes' against them.

By nature, the term 'genocide' merits the

most immediate and extensive response. This

is why the US has been so hesitant to use it

in the past. Yet, even now, over a year since

we tagged the greatest crime to the actions of

ISIS, the most vulnerable victims continue to

suffer unnecessarily because they lack access

to proper aid and assistance. We have labeled

the perpetrator and named the crime; yet, as

a country, we have done little for the victims.

The situation in Iraq is desperate as displaced

persons, Christians in particular, struggle

with the daunting decision of emigration

or rehabilitation. For three years, they have

lived homeless, jobless, and, often, hopeless.

The Islamic State committed unspeakable

atrocities against women and children, while

executing fathers and recruiting brothers into

forced service.

Three million people have been displaced in

the conflict. Kurdistan and much of Baghdad

have become landing places for these people

over the last few years, while millions of others

have fled altogether. Still, a year after the

26 PERSECU ION.org

MAY 2017

INTERNATIONAL CHRISTIAN CONCERN
---
d Communities in Iraq

The Islamic State in Iraq and Syria

Pastor Edward Awabdeh on Capitol Hill

HR 390

"provide[s]

emergency

relief to victims

of genocide,

crimes against

humanity, and

war crimes in

Iraq and Syria,

and provide[s]

accountability

for perpetrators

of these crimes,

and for other

purposes."

declaration of genocide, minimal has been

done on behalf of these populations.

International Christian Concern has aided

thousands of families in their time as internally

displaced persons (IDPs). We have

built homes, provided heaters and coats

for winter, and provided microfinancing to

establish small businesses to provide sustainable

incomes. But it's not enough. Individual

projects will not solve the wider issue at

hand.

In March, ICC launched an advocacy

tour on behalf of these suffering believers,

pushing for a new House resolution that

"provide[s] emergency relief to victims of

genocide, crimes against humanity, and war

crimes in Iraq and Syria, and provide[s]

accountability for perpetrators of these

crimes, and for other purposes."

PERSECU ION.org

INTERNATIONAL CHRISTIAN CONCERN

This two-fold resolution serves both the

immediate and long-term needs of Christian

communities in Syria and Iraq. Emergency

relief will service the pressing physical necessities

of IDPs and others, while accountability

for the perpetrators will ensure punishment

for those responsible and state-wide recognition

of the atrocities committed.

Accountability is more than just a blame

game; it is justice for the victims and a sense

of future security for the displaced. By outlining

the specifics of a wrongdoing and trying it

accordingly on the world stage, you reaffirm

the suffering of the victims, while at the same

time dissuading future perpetrators from carrying

out their crimes.

As a guest on our tour, we invited Pastor

Edward Awabdeh, the president of the

Evangelical Alliance Church of Syria and

Lebanon, to share his testimony on Capitol

Hill. Pastor Edward has led his congregation

and denomination in Syria through six

years of civil war, never once entertaining the

thought of leaving.

His work is one of many that we are

proud and excited to support, but we are

also working toward a greater solution - to

see the US government step up its care for

Christian victims.

ICC will continue to provide relief aid to our

brothers and sisters in Iraq, but we will also

continue to advocate for a bigger and more

permanent solution to the crisis at hand.

Would you consider giving to the persecuted

in Iraq and Syria? If so, you can

note 'Iraq/Syria' on your check or credit

card donation.

27
---
You Can Help Today!

PERSECU ION.org

INTERNATIONAL CHRISTIAN CONCERN

SEND DONATIONS TO:

ICC

PO BOX 8056

SILVER SPRING, MD 20907

OR ONLINE AT

WWW.PERSECUTION.ORG

OR BY PHONE

800-ICC-5441

GIVING TO ICC VIA

YOUR WILL

Provide now for a future gift to ICC

by including a bequest provision in

your will or revocable trust. If you

would like more information on giving

to ICC in this way, please give

us a call at 1-800-ICC-5441.

© Copyright 2017 ICC, Washington, D.C., USA.

All rights reserved. Permission to reproduce all

or part of this publication is granted provided

attribution is given to ICC as the source.

International Christian Concern (ICC) is a nonprofit 501(c)(3) (all donations tax-deductible).

ICC makes every effort to honor donor wishes in regards to gifts. Occasionally, situations

arise where a project is no longer viable. ICC will then redirect those donated funds to the

fund most similar to the donor's original wishes. ICC uses 7.5 percent of each restricted

donation to carry out the mission of its segregated funds.

facebook.com/persecuted

@persecutionnews