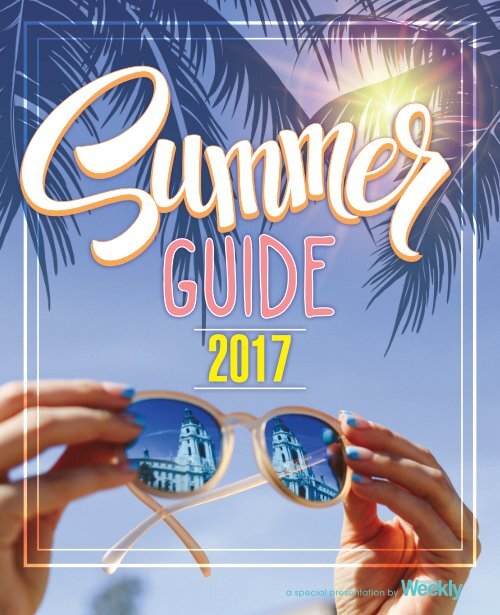 Create successful ePaper yourself
Turn your PDF publications into a flip-book with our unique Google optimized e-Paper software.
GUIDE

2017

a special presentation by
---
Eat See Hear at

Pasadena City Hall

May 6 th , June 17 th ,

July 8 th and Aug. 5 th

5 GET WET!

LA COUNTY OFFERS MANY AQUATIC VENUES TO HELP BEAT THE SUMMER HEAT

BY REBECCA KUZINS

11 HOT SUMMER FUN

FROM FOOD FESTS TO COUNTY FAIRS, SUMMER IS THE SEASON FOR THE BIGGEST

OUTINGS OF THE YEAR

BY CARL KOZLOWSKI

17 SOUNDS OF SUMMER

THE ARROYO SECO WEEKEND FEST HIGHLIGHTS A BLOCKBUSTER SEASON OF MUSIC

BY CARL KOZLOWSKI

25 TAKE A HIKE!

ENJOY SOME OF THE MOST SCENIC TRAILS SOUTHERN CALIFORNIA HAS TO OFFER

BY CHRISTOPHER NYERGES

31 SUMMER OUTDOORS

KIDS BUILD KNOWLEDGE, CONFIDENCE AND SELF-ESTEEM DURING THEIR TIME

AT CAMP

BY SHEILA MENDES COLEMAN

35 GREAT READS

NEW BOOKS BY KAREEM ABDUL-JABBAR, AL FRANKEN, WILLIAM SHATNER, LINDA

CASTILLO, DANIELLE STEEL, AL ROKER, JONATHAN KELLERMAN AND MANY OTHERS

DUE OUT THIS SUMMER

BY TERRI SCHLICHENMEYER

39 IT'S A DATE

A VARIETY OF MUSICAL GENRES FILL SUMMER CALENDARS

BY JOHN SOLLENBERGER

ON THE COVER: PHOTO CAPTURED FOR LIFESTYLE BLOG, PASADENA CHARM

(@PASADENACHARM) BY KATELYN WANG (@KWANGPHOTOS)

EDITOR Kevin Uhrich

DEPUTY EDITOR André Coleman

ART DIRECTOR Carla Cortez

ASSISTANT ART DIRECTOR Stephanie Torres

PRODUCTION DESIGNERS Rochelle Bassarear,

Richard Garcia

WRITERS Sheila Mendes Coleman, Carl Kozlowski,

Rebecca Kuzins, Christopher Nyerges, Terri Schlichenmeyer

ADVERTISING DIRECTOR Dina Stegon

SALES AND MARKETING Lisa Chase, Brenda Clarke,

Leslie Lamm

OFFICE ASSISTANT Ann Turrietta

HUMAN RESOURCES Andrea E. Baker

BUSINESS MANAGER Linda Lam

CONTROLLER Kacie Cobian

ACCOUNTING Alysia Chavez, Sharon Huie

PUBLISHER Jon Guynn

SOUTHLAND PUBLISHING

V. P. OF OPERATIONS David Comden

PRESIDENT Bruce Bolkin

CONTACT US

PHONE (626) 584-1500

FAX (626) 795-0149

MAILING ADDRESS

50 S. De Lacey Ave.

Suite 200

Pasadena, CA 91105

©2017 Southland

Publishing, Inc.

All rights reserved.

SUMMER GUIDE 2017 PASADENA WEEKLY 3
---
GET WET!

LA COUNTY OFFERS MANY AQUATIC VENUES

TO HELP BEAT THE SUMMER HEAT

BY REBECCA KUZINS

Whether they take a dip in a pool, run a shower in their bathroom,

go boating in a lake or visit an area waterpark, local

residents will be seeking some form of water — the wetter

the better — for relief from the summer heat. Fortunately, there is

a wide variety of water resources in and around Pasadena where

people can beat the heat, including the following:

Rose Bowl Aquatics Center: If you don't have a pool of your own

you can use the two Olympic-size swimming pools at this nonprofit

aquatics and fitness center located in Brookside Park, near the Rose

Bowl Stadium. The two pools, two hydrotherapy spas, diving well,

therapy pool and dry-land facilities are the site of year-round programs

for kids, families and seniors, including swimming lessons,

lap and recreation swimming, diving lessons and water aerobics;

the center also sponsors teams that compete in swimming, diving

and water polo. This summer the center will operate its annual Anderson

Adventure Camp H20 from May 20 through Aug. 25, offering

13 one-week co-ed sessions for children entering the first through

seventh grades.

Parents and their children can enjoy a family swim from 2:30-5

p.m. and 7:30-8:30 p.m. Monday through Friday, and 2:15-4:45 p.m.

Saturday and Sunday, at a cost of $2 for adults (age 18 or older) and

$17 for children (age 17 and under). All children under the age of 8

must be accompanied by an adult.

Rose Bowl Aquatics Center: 360 N. Arroyo Blvd., Pasadena

(626) 564-0330; rosebowlaquatics.org

Eaton Canyon Falls: The falls are one of the most popular places

to cool off on a hot day. Hikers — many dressed in bathing suits —

climb 3.5 miles from the Eaton Canyon Nature Area to reach the

40-foot waterfall, which descends into a wide pool where hikers can

wade in waist-deep water or relax while sitting on a boulder or log.

The hike is free and can be traversed by dogs on leash. But beware:

some parts of the trail are rugged, the slippery rocks make it difficult

to cross the stream, and a large number of hikers can crowd the

trail on weekends and summer days. Additional information about

the falls is available at Hikespeak.com.

Eaton Canyon Nature Area: 1750 N. Altadena Drive, Pasadena

(626) 398-5420; ecnca.org

Glendale Park Splash Pads: While swimming pools can pose

risks for young children, splash pads provide a safer place for them

to play. These pads have no standing water but are equipped with

nozzles that eject water in an upward direction; kids can stand

underneath the sprays to get wet. The city of Glendale has installed

splash pads at the Pacific Community Center and Park and at

Cerritos Park. From June 15 through Sept. 16 kids can enjoy daily

splashes between 12 and 6 p.m.; from Sept. 17 through Oct. 16 the

pads will operate during the same hours but only on Saturdays and

Sundays.

Pacific Community Center & Park: 501 S. Pacific Ave., Glendale

(818) 548-4098

Cerritos Park: 3690 San Fernando Road, Glendale

(818) 548-2000

Raging Waters: Touted on its website as "California's largest water

park … with more rides than any other water park in Southern

California," this 60-acre facility in San Dimas offers numerous

attractions, including some designed for families and children.

Aqua Rocket, a combination roller coaster and water ride; Thunder

Rapids, a flume propelling a five-person raft; and Drop Out, a sevenstory

water slide that sends riders on a four-second 40-miles-perhour

descent, are among the rides and slides. Raging Waters will be

open from May 20 to Sept. 24; visit its website for more information

on hours, directions and prices of tickets and season passes.

Raging Waters, 111 Raging Waters Drive, San Dimas

(909) 802-2200; ragingwaters.com

Echo Park Pedal Boats: If you want a less dramatic – and less expensive

– water ride than the ones at Raging Waters the Echo Park

pedal boats may be the right vehicle for you. In addition to the pedal

boats, boaters can board five-man Hawaiian canoes, while couples

can rent a gondola for a romantic view of Echo Park's lotus beds and

the nearby downtown skyscrapers. It costs $10 per adult, and $5 for

children who are at least 2 years old, to rent a boat for up to an hour;

canoes can be rented for the same price, while gondola trips can be

reserved for $75 or are available without reservations on a firstcome-first-served

basis for $50.

Echo Park Pedal Boats: 751 N. Echo Park Ave., Los Angeles

(213) 481-8577; fastkayak./com/echo/html

continued on page 6

SUMMER GUIDE 2017 PASADENA WEEKLY

5
---
continued from page 5

Whittier Narrows Recreation Center: Echo Park is not the only

place to ride a pedal boat; people who prefer the San Gabriel Valley

can have this boating experience at Whittier Narrows Recreation

Center, a 1,492-acre county-operated park located in South El Monte

on both sides of the Pomona Freeway at Rosemead Boulevard

and Santa Anita Avenue. Whittier Narrows provides a wide variety

of activities and facilities, including an archery range, equestrian

and bike trails, a rifle range, tennis courts, the American Military

History Museum, a sports field for dogs and three lakes. Wheel Fun

Rentals provides the pedal boats needed to cruise these lakes at

a cost of $20 an hour for a single pedal boat and $30 an hour for a

double. The boating concession operates from 10 a.m. until sunset

Saturday, Sunday and holidays until June 15; from June 16 until

Labor Day the boats are available from 11:30 a.m. to 6:30 p.m. Monday

through Friday and from 10 a.m. until 7:30 p.m. on Saturday,

Sunday and holidays.

Wheel Fun Rentals, Whittier Narrows Recreation Area: wheelfunrentals.com/Locations/South-El-Monte

Whittier Narrows Recreation Area: 750 S, Santa Anita Ave.,

South El Monte (626) 575-5526; http://parks.lacounty.gov/wps/

portal/dpr/Parks/Whittier_Narrows_Recreation_Area

Santa Fe Dam Recreation Area: Wheel Fun Rentals also

provides pedal boats, as well as single and double kayaks (for $12

and $20 an hour, respectively) and aluminum fishing boats ($30 an

hour) at Santa Fe Dam Recreation Area in Irwindale. More serious

boaters can ride a motorized or non-motorized boat or go fishing

at the area's 70-acre lake. Water is also on tap at the swim beaches

and children's water play recreation area. Boating and fishing is

available year-round. Swim beaches will be open on weekends beginning

May 28 and on Thursdays through Sundays after June 19;

beaches will be closed Monday through Wednesday throughout the

summer and on Labor Day weekend. The park's website contains

additional information about activities and fees.

Santa Fe Dam Recreation Area: 15501 E. Arrow Highway, Irwindale

(626) 334-1065; lacounty.gov/wps/portal/dpr/Parks/Santa_Fe_

Dam_Recreational_Area

Santa Fe Dam Recreation Area: 15501 E. Arrow Highway,

Irwindale (626) 334-1065; lacounty.gov/wps/portal/dpr/Parks/

Santa_Fe_Dam_Recreational_Area

Wheel Fun Rentals, Santa Fe Dam Recreation Area: wheelfunrentals.com/Locations/Irwindale

Santa Monica Beach: Swimming pools, lakes and waterfalls

help beat the heat, but they pale before the immensity of the Pacific

Ocean. For many people the area's beaches are the best places to

cool off during the summer. But battling the traffic to get to the

beach is anything but cool. Since last year, however, area residents

have an easier way to get to Santa Monica Beach. The Expo Line,

part of the county's Metro subway system, terminates three blocks

away from the Santa Monica Pier, a long-time gateway to the beach.

Pasadena residents need to board three different trains to arrive

at this location and the trip can be longer than driving to the beach

in your car. Despite these drawbacks the Expo Line still delivers a

relatively frazzle-free day at the beach. ■

Metro Maps & Timetables: metro.net/riding/maps/

6 SUMMER GUIDE 2017 PASADENA WEEKLY
---
SUMMER GUIDE 2017 PASADENA WEEKLY 7
---
8

SUMMER GUIDE 2017 PASADENA WEEKLY
---
SUMMER GUIDE

—DIRECTORY OF OPTIONS—

626 Night Market

626 Night Market is back! Presenting LET'S PLAY Summer 2017, the original and largest night

market returns with hundreds of food, merchandise, arts, crafts, and entertainment options for one

of the grandest food festivals of the year. Welcome back old favorites and a lineup of new vendors

to satisfy your palate, browse our merchandise, art and crafts vendors, and enjoy live entertainment

with friends and family. Admission is only $3 on Fridays & Sundays and $5 on Saturdays. Free for

kids ages 6 and under. Parking is free. Save the dates: June 30-July 2, July 21-23, August 11-13, and

September 1-3 (Labor Day Weekend).

Santa Anita, 285 Huntington Dr., Arcadia

A Plus Adventist Children's Center

(Founded in 1981) is a year-round, non-profi t preschool committed to providing a safe, secure loving

environment where children ages 18-months through 5 years of age can learn and explore and we

have summer camp for ages 5-9 years old. We believe that a lower student to teacher ratio provides

a better education by allowing more individual attention. As a church-based Christian school, A

Plus stresses intellectual, physical, emotional and spiritual development. We offer a fun, stimulating

environment where children learn through play and hands-on experience. The mission of A Plus

Adventist Children's Center is to serve the Glendale Community by providing a loving Christian

atmosphere where our children can be nurtured as they grow.

234 N. Isabel St., Glendale (818) 241-9353 – aplusadventist.com

All Saints Church

All Saints' mission is to make God's love tangible through spirituality, community and peace and justice.

Those who experience All Saints Church find parishioners joyfully and energetically challenging

one another and the church at large to live into Jesus' central message of compassion for all and to

respect the dignity of every human being. Whoever you are, and wherever you fi nd yourself on your

journey of faith, there is a place there for you. Join us!

All Saints Church, 132 N. Euclid Ave., Pasadena. Visit allsaints-pas.org or call (626) 796-1172.

Aloha Mind Math

Ask about our "National Math Challenge", this annual competition offers up to $10,000 prize for the

winner. Aloha Mind Math is an Abacus-based math learning system, which focuses on Mental Arithmetic

a proven age-old technique for total development of the brain & for academic excellence. Mind

Math helps in brain development & also improves visualization and listening skills in children. As a

result, there is complete coordination of the brain, vision and hearing. Our program is divided into

two parts Junior & Senior for children ages 3 to 12yrs. We also offer a Reading & Writing program,

which covers all areas of language development from basic spelling & vocabulary to grammar & reading

comprehension as well as writing development. Contact us for a free session with no obligation.

324 E Foothill Blvd., Suite 101, Arcadia (626)263-0340 arcadia@aloha-usa.com

Altadena Library

DISCOVER ALTADENA LIBRARY DISTRICT!

Altadena Library District is dedicated to bringing PEOPLE + IDEAS together by providing free and

equal access to information, ideas, technology, and spreading the joy of reading to educate and

empower our diverse community. Enjoy our vast collection of books, music, DVD's, CD's, and magazines

for all ages! We also have Summer Reading Programs (for adults, teens, & children), regular

story times for toddlers and children, Teen DIY/Technology workshops, and community events,

including live concerts and educational seminars.

Main Library - 600 E. Mariposa Street, Altadena, Hours: Monday-Tuesday 10AM-9PM,

Wednesday-Saturday 10AM-6PM; Bob Lucas Branch Library and Literacy Center - 2659 N.

Lincoln Avenue, Altadena, Hours: Monday-Tuesday 10AM-6PM, Wednesday-Thursday 10AM-

8PM, Friday 10AM-6PM

Arroyo Pacific Academy

APA offers summer courses for high school students including Credit Recovery, AP course preparation,

College Readiness Series (SAT, College Essay, and College Choice), Media Blitz Program, and

other elective courses. Middle school students may join our Media Blitz Program, High School Readiness

courses (Math, English, Organizational & Study Skills), or other elective courses. Summer

School runs from June 14th-July 20th. Programs vary in price.

41 W. Santa Clara Street, Arcadia (626) 294-0661 admissions@arroyopacifi c.org arroyopacific.org

ArtCenter College of Design

ArtCenter College of Design has been a global leader in art and design education for more than 85

years, currently offering 11 undergraduate and seven graduate degrees across a spectrum of visual

arts, communications and industrial design disciplines. In addition to its top-ranked academic programs,

the College also serves members of the Greater Los Angeles region through a highly regarded

series of open enrollment art and design programs for kids, teens and adults at all skill levels who

want to explore art, design and the creative process while being exposed to career possibilities and

new ways of thinking. Degree courses and public programs are offered year round.

artcenter.edu/possibilities - Hillside Campus (1700 Lida St.) and South Campus (870-950 S.

Raymond Ave. and 1111 S. Arroyo Pkwy) in Pasadena.

Barnhart School

With summer quickly approaching, Barnhart School provides the perfect solution to your search for

a summer program for your children. Designed and implemented by a team of dedicated specialists

and educators, Barnhart offers a wide range of stimulating and engaging options at a competitive

price. Digital Photography, Jazz Dance, Kids Songs, Research and Writing, Middle School Math, and

Volleyball Camp are only a few of the many exciting courses being offered to cater to children with

a variety of interests and pursuits. Camp runs from June 12th to June 16th from 8:00AM to 4:30PM

with a second round from July 31st to August 4th. Academic and enrichment courses take place

between June 19th to July 7th and July 10th to July 28th.

For further information including pricing look us up online at barnhartschool.org or contact

Julia Chavez, Summer School Director at jchavez@barnhartschool.org

Bishop Alemany

Founded in 1956, co-ed since 1970, Bishop Alemany is a beautiful, sprawling campus with a diverse

student population of 1,350. Offering a full Honors and AP curriculum in addition to college-prep

(including 4-year Engineering and 4-year Biomedical Science programs), we are one of only two

schools in the LA Archdiocese with AP Capstone distinction, and hold the honor of being 13-time

Academic Decathlon Regional Champs. We maintain a perfect blend of study and athletics, generating

Division 1 level sports programs which include Pac 5 Division Football. On-site facilities include

multiple ball fi elds and courts; a swimming pool; gym; a 3,000 sq. ft. dance studio; a student art

gallery and an engineering machine shop (opening Fall 2017). Our commitment to excellence is built

upon a community of faith and devotion to service.

11111 N. Alemany Drive, Mission Hills (818) 837-5222 alemany.org admissions@alemany.org

Burrito Express

If you are looking for a quick meal that is made fresh and tastes delicious, stop on by. We've been

serving up delicious food since 1978. We still use the same tried and true recipes since the beginning.

We have been fortunate to win Pasadena Weekly's Best Of in the Burrito category many times. In the

summertime we sell Shave Ice after 5:00 to keep you cool during those hot summer evenings.

1597 E. Washington Blvd., Pasadena (626) 798-0844 burritoexpresspasadena.com

Camp Fox

EXPERIENCE THE MAGIC OF CAMP FOX - CATALINA ISLAND

Since 1926 the Glendale YMCA has conducted youth camps at Camp Fox. Campers enjoy a

multitude of activities: stand-up paddle boarding, Kayaking, Ocean Swimming, Fishing, Hiking,

Snorkeling (use of mask- fin-snorkel –wetsuit provided), Volleyball, Soccer, Archery, Climbing Walls,

Ropes Course, Aquariums, nightly Campfires with songs-skits plus special activities during each

week. DON'T MISS OUT on the greatest week away from texting and social media, A life enriching

adventure with friends and new friends - EXPERIENCE FOX.

glenymca.org (818) 696-2581

Center for the Arts Eagle Rock

Summer Arts Camp

Center for the Arts Eagle Rock is delighted to welcome children ages 6-12 to our summer arts camp to

discover their creativity and explore visual art, performance, sculpture, writing and more. We offer unique

camp projects taught by contemporary artists in weekly camp sessions from June 12 - August 11, 2017.

See you this summer! cfaer.org

Chalk Preschool

Chalk Preschool – coming soon to Pasadena!

CHALK teachers provide inspiration to students as they discover the world around them. The teachers

and staff focus all activities and experiences on the children. We support the development of the

whole child across emotional, social, physical, and cognitive domains.

CHALK teachers provide the students with individually developed and designed classroom environments.

It is within these spaces that play becomes learning. Teachable moments happen all of the

time. Our skilled teachers capture and take advantage of those moments every day.

CHALK believes that the family is a child's first and most important educator. It is the preschool's

responsibility to support families in raising children by providing education and encouragement.

Family involvement is an important part in the success of your child's preschool experience.

chalkpreschools.com/pasadenacalifornia/ - (626) 578-7300

Chandler School

Summer@Chandler offers children ages 5 through 14 a balanced variety of educational, recreational

and social activities, providing them with an enriching and memorable summer experience. The

Camp Program offers half-day, full-day, weekly and extended care enrollment options. Each oneweek

Camp session has daily themes throughout the 5 days, with activities including crafts, sports,

outdoor play and fi eld trips. The Enrichment Classes, which are offered in two 3-week sessions this

year, are taught by Chandler faculty members. They feature courses that can help sharpen students'

academic skills in Math, Science, Social Studies, Language Arts or explore new extra curricular

frontiers. Students will feel nurtured, engaged and safe while enjoying a customized Summer@

Chandler adventure!

For more information, visit chandlerschool.org or call (626) 795 - 9310.

Child EducationalCenter

The Child Educational Center's (CEC) ten-week Exploration Day Camp offers themed activities, arts

and crafts, science, and sports for children entering grades one through six. Each week includes

at least one fi eld trip and a visit from a special guest. The CEC also features a specialty camp at

Descanso Gardens, Descanso Discoveries, and before- and after-summer school care for children

continued on page 16

-ADVERTISEMENT-

SUMMER GUIDE 2017 PASADENA WEEKLY

9
---
10

SUMMER GUIDE 2017 PASADENA WEEKLY
---
Masters of Taste

Hot SUMMER Fun

FROM FOOD FESTS TO COUNTY FAIRS, SUMMER IS THE

SEASON FOR THE BIGGEST OUTINGS OF THE YEAR

BY CARL KOZLOWSKI

There's a magic to summer that makes it the best time of year

for outdoor celebrations of all stripes. From county fairs

to food fests and plenty of prime opportunities to enjoy all

manner of libations, we've picked some of the tastiest and most

entertaining offerings to be found in Southern California.

The season kicks off with the return of the summer-long event

series Eat See Hear, which combines the Los Angeles area's top

food trucks, a concert by a hot rising band, and a giant screen

showing of beloved hit movies for a full evening packed with

three times the fun of most outings. Its prime Pasadena location

is Centennial Square at Pasadena City Hall, where they'll screen

"Mean Girls" (May 6), "La La Land" (June 17), "Singin' in the Rain"

(July 8), "Airplane!" (Aug. 5), and "Harry Potter and the Sorcerer's

Stone" (Sept. 9). But the biggest night of their entire summer is

sure to be a screening of the iconic concert film "Depeche Mode:

101" inside the Rose Bowl, where it was shot, on Aug. 25. Visit

eatseehear.com.

The luxury food and beverage festival Masters of Taste

returns for its second annual edition May 7 on the field of the

Rose Bowl. Featuring more than 40 master chefs and restaurants,

handcrafted cocktails from master mixologists, and tastings

from more than two dozen spirit bars, wineries and local craft

breweries, Masters also raises money for a great cause, donating

all proceeds to Union Station Homeless Services. Visit mastersoftastela.com.

Health fanatics looking to indulge in drinks while maintaining

an ultra-healthy diet will find the perfect combination at

Eat Drink Vegan on May 27 at the Rose Bowl. Nearly 200 craft

breweries, wineries, and purveyors of nonalcoholic komubucha,

cold brews and teas, and craft sodas will offer unlimited pours,

teaming up with 100 vegan restaurants and food trucks to offer a

full day of ethical enjoyment. Visit eatdrinkvegan.com.

continued on page 13

PHOTO: Courtesy of Masters of Taste

SUMMER GUIDE 2017 PASADENA WEEKLY

11
---
12

SUMMER GUIDE 2017 PASADENA WEEKLY
---
Santa Anita Park

Pasadena Chalk Festival

continued from page 11

Those who prefer drinking local craft beers and whiskeys

while surrounded by exciting horse racing action can head over

to Arcadia's Santa Anita Park on May 27 for the California Gold

Rush Beer & Sour Festival. Ten three-ounce beer tastings and

four three-ounce sour tastings are included with a souvenir

pint glass and racing program for the $35 admission fee. Visit

santaanita.com.

The biggest foodie event of the summer is the LA Food Fest,

which returns for its eighth year on the LA Coliseum field on

June 10. Each $65 ticket includes the chance to enjoy samples

from more than 100 restaurants and celebrity chefs, plus beer

gardens, craft cocktail bars, an iced coffee lounge and even an

ice cream social featuring some of the top sweet frozen treats in

the city. Visit lafoodfest.com.

The world's largest street painting festival returns to the

Paseo June 17-18, as the Pasadena Chalk Festival celebrates its

25th anniversary with more than 600 artists using over 100,000

sticks of chalk to create elaborate sidewalk paintings observed

by more than 100,000 attendees. It's not only a great way to see

innovative art as it's created, but also a fundraiser for its coproducer,

the Light Bringer Project, as it works to spread arts

education in schools. Visit pasadenachalkfestival.com.

The 9th Annual L.A. Beer Week offers dozens of events across

Los Angeles for alcohol aficionados to enjoy from June 17-25.

More than 75 craft breweries and 150 brands of beer will take

part in its Kickoff Festival alone on June 17 at the Los Angeles

Center Studios, but the rest of the brew-packed fun will be scheduled

and posted in the coming weeks at labeerweek.org.

continued on page 14

SUMMER GUIDE 2017 PASADENA WEEKLY 13
---
626 Night Market

LA County Fair

continued from

page e1

13

14

SUMMER GUIDE 2017 PASADENA WEEKLY

If you're craving a wide array of Asian cuisine, Arcadia should

be your destination, as the city hosts the 626 Night Market on

June 30-July 2, July 21-23, Aug. 11-13 and Sept. 1-3. The 626 is the

largest Asian night market in the US, with more than 150 local

restaurants, food vendors, artists, musicians and nonprofits

on the grounds of Santa Anita Park's Paddock Gardens. Visit

626nightmarket.com.

The Orange County Fair offers a full month of food, classic

rock, pop and country music concerts and California's biggest

wine competition, all from July 14-Aug. 13 at the county

fairgrounds in Costa Mesa. Among the highlights are the B-52s

backed by the Pacific Symphony and a stop on what Kenny Rogers

says will be his final world tour. Visit ocfair.com.

The Nisei Week Japanese Festival returns for its 77th year

Aug. 19-27 in downtown LA's Little Tokyo, offering plenty to

entertain people beyond the offbeat allure of the World Gyoza

Eating Championships. An Asian fashion show, taiko drummers,

martial-arts displays and showcases of Japanese pop culture all

come together for a distinctive week celebrating one of the city's

most vibrant communities.

Finally, summer goes out with a bang with the LA County Fair

from Sept. 1-24 in Pomona. Countless carnival rides, tasty food

stands and near-nightly concerts by favorites in every genre of

popular music all provide the perfect way to close out memorypacked

season in the sun. Details on concerts and other events

are still to come, but visit lacountyfair.com for all the updates. ■

PHOTO: (top) Brent Navarro; (bottom) Nancy Newman
---
SUMMER GUIDE 2017 PASADENA WEEKLY 15
---
DIRECTORY OF OPTIONS (continued from page 9)

enrolled in Assistance League of Flintridge or Pasadena Educational Foundation. Extended Summer

Fun accommodates various school start dates and is for children entering Kindergarten through

grade 7. Children have the opportunity to swim, play outdoors with friends, and participate in indoor

activities and clubs. Full- and part-time camp schedules run from June 5 through September 1.

Reserve your space today at cec.campbrainregistration.com/ or view the full Summer Exploration

Camps brochure, schedules, and payment options at ceconline.org/summer-exploration-camp.

For questions, please call the CEC School-Age offi ce at (818) 354-3418

Clairbourn School

Clairbourn's Summer Advantage Program

Now enrolling preschoolers through sixth-graders for summer learning! The Preschool and Kindergarten

half or full-day programs are designed to help young people be confident, successful learners.

The 1st-6th Grade Advantage Program also offers 30 academic, developmental, and creative

workshops. Give your child an advantage today! Program runs from June 19 to July 14. Register on

line by May 15 at clairbourn.org/summer

8400 Huntington Drive, San Gabriel, (626) 286-3108.

CodeRev Kids Summer Tech Camps

We've all heard it. "Why should I learn math or science? When will I ever use this?"

CodeREV Kids answers this question by providing a curriculum that excites and ignites students

while they explore STEM in a way they never knew existed before. Their tech camps are the ultimate

camp experience in education and fun. Whether learning to write code, 3D model and animate,

develop the next great app or game, or mod in Minecraft, your kids and their friends will love sharing

in the confidence-boosting experience of creating with technology as they explore and develop their

multimedia STEM skills. CodeREV's curriculum was developed with support from education technology

specialists at Stanford University, MIT, and Harvard. Sign up now at a location near you!

CodeRev Kids Summer Tech Camps (310) 450-4984 · coderevkids.com/pas

Coleman Chamber

Sundays with Coleman Concert Series

The Coleman Chamber Music Association presents its 114th concert season themed Storytellers

of our Hearts. The 2017-2018 season will celebrate the return of the Juilliard String Quartet and the

Schubert Ensemble. Other highlights will include the Jerusalem Quartet performing the music of Mozart,

Janacek and Beethoven. The season will conclude with the special collaboration of the Brentano

Quartet with Dawn Upshaw, soprano. All Coleman concerts are presented Sunday afternoons at 3:30

pm in Caltech's Beckman Auditorium. Parking is free.

For additional information and to purchase tickets, please call (626) 793-4191 or e-mail krfccma@aol.com

Color Me Mine

Color Me Mine is Pasadena's premier paint-your-own ceramics studio, with hundreds of different

items to paint ranging from banks to flower pots to mugs and cool kitchen items and everything in

between. Our friendly and helpful staff will help you create your masterpiece! Perfect for parties for

all ages, scout badge programs, fundraisers, and more! Open 11:00am - 9:00pm daily.

81 S. Fair Oaks Ave., Pasadena (626) 298-6765 pasadena.colormemine.com

Columbia Memorial Space Center

The Columbia Memorial Space Center brings the wonder and excitement of science and innovation

to visitors of all ages. It is a hands-on space museum and activity center that strives to be the

most accessible science-based experience in the Los Angeles area. While acknowledging the rich

aerospace history of Southern California, the Space Center focuses on the future, working to be the

hub of innovative science learning throughout the region by reaching out to all of its communities

with activities focused on critical thinking, creativity, technology and science.

12400 Columbia Way, Downey (562) 231-1200 columbiaspacescience.org

The Counter Burger

We want to challenge the way people think about burgers. We're about creative construction. We

think life is about experiences. Trying Stuff. Learning. Stretching. Being Inventive. So we've searched

for ingredients, chosen meats, created sauces, baked buns, melted cheeses and crafted shakes that

shout fl avor. Take them and create something special.

140 Shoppers Lane, Pasadena (626) 440-1008 thecounterburger.com

Crestview Summer Academy by Parker-Anderson

Crestview Summer Academy, offered by Parker-Anderson Enrichment, welcomes students entering

grades K-6. For six weeks of summer, we provide activities that enthuse, educate, and excite! We

offer fl exible schedules to allow students to take advantage of a wide variety of offerings which can fi t

into their unique summer schedule. Crestview Preparatory School,

140 Foothill Blvd., La Canada - parker-anderson.org (818) 650-8676

Destination Science

Altadena, Arcadia, La Canada, Pasadena, San Marino

The Fun Science Day Camp where curious kids ages 5-11 have "Aha!" moments of creativity and

discovery while building and experimenting with unique take-home toys, astonishing gadgets,

and fantastic gizmos. Our top notch, enthusiastic educators and leaders make STEM learning an

adventure! Science Detectives, Roller Coasters, Robot, Mars Rovers, Chemistry, Contraptions & Fort

Engineering!

(888) 909-2822 DestinationScience.org

Fairplex

Welcome to Cheers. A celebration of award-winning wine, spirits, beer and extra virgin olive oil from

the Los Angeles International Competitions, Cheers brings the best producers and artisans to pour

for veteran and amateur tasters alike. Set in the rustic backdrop of the fi ve-acre organic urban garden

The Farm at Fairplex, Cheers is a night of festivity, friends and fun. The surroundings are reminiscent

of the many fl avorful organic ingredients used to make the drinks in which guests will imbibe. Enjoy

the region's best food trucks - pair the best wine, spirit or beer to go with delectable dishes from each

truck. Admission to Cheers includes beer, wine and spirits tastings, $10 in food truck bucks and a

souvenir wine glass.

For more information, visit tlcfairplex.org/cheers .

Foothills Mathematics Group

Foothills Mathematics Group recognizes that every student is unique in their ability and it's important

to approach them on their own, individual terms. Our student-centered method brings one-on-one

tutoring to the comfort of the student's home, minimizing distraction, maximizing retention and understanding.

Each client is evaluated personally and partnered with a teacher based on our assessment of

their individual needs, making for the utmost compatible learning experience. FMG offers specialized

tutoring in a broad range of subjects including Math, Science, and Foreign Language at all levels of

study. The goal of every tutoring session is to cultivate a better grasp of information, placing our

students on a trajectory for success. We invite you to give us a call or visit our website to learn more

about how we tailor education for our students!

(888) 784-1639 - foothillsmathgroup.com

Full Circle Thrift Shop

Known for it's attractive boutique-style shop with thrift store prices, Full Circle Thrift offers a

great selection of women's, men's, children's, and house and home merchandise. Located in

the beautiful and historic two story Substation #8 in Altadena, Full Circle Thrift provides a great

thrift shopping experience. Full Circle Thrift is located at 2245 Lake Ave. in Altadena. Ample

parking is available in the lot directly next to the store.

For more info visit facebook.com/FullCircleThrift or call (626) 639-3051. Open 10am - 6pm

Monday - Friday and 10am - 5pm Saturday.

Galileo Innovation Camp

GALILEO INNOVATION CAMPS FOR PRE-K—8TH GRADERS: CHANGEMAKERS START HERE

At Galileo, we believe that kids can change the world (and have a blast while they're at it). That's why

we combine a mindset-shaping, innovation-based approach with crazy, summertime fun--and run

captivating camps that kids love. Watch what happens when the "I can't"s, the "I don't know how"s,

and the "I quit"s are replaced with creative confidence, a spirit of collaboration, and the bold innovator

inside. Our programs for 2017 include Camp Galileo (pre-K—5th graders), Galileo Summer Quest (rising

5th—8th graders). Over 60 locations in the Bay Area, SoCal, and Chicagoland. Extended care from

8am to 6pm. Optional healthy lunch program. Changemakers start here—only at Galileo.

Visit us at galileo-camps.com or call 1-800-854-3684.

Gamble House

The Gamble House in Pasadena, California, is an outstanding example of American Arts and Crafts

style architecture. The house and furnishings were designed by architects Charles and Henry Greene in

1908 for David and Mary Gamble of the Procter & Gamble Company.

The house, designated a National Historic Landmark in 1978, is owned by the City of Pasadena and

operated by the University of Southern California. One-hour docent-led tours are available to the public

Thursday-Sunday. Tours begin at 11:30am Thurs.-Fri. and 12noon Sat.-Sun. We also offer in-depth

tours focusing on features of the house not covered in a one-hour tour.

The Gamble House is located at 4 Westmoreland Place, Pasadena, CA 91103

Visit gamblehouse.org for tour, event, and membership info.

(626) 793-3334 info@gamblehouse.org

Gerrish Swim and Tennis Club

Your child deserves our best! We stress safety and technique from the very first day your child is in

the water. Gerrish Swim School offers swim lessons to children three years old and older. Initially,

we focus on safety skills such as breath control, rolling over, and floating. As your child develops

confidence and competence, we progress to basic strokes and kicking, then onto competitive strokes

and technique. Our goal is to develop safe, confident, and profi cient swimmers!

2713 New York Drive, Pasadena (626) 798-9909. Visit us at gerrishswimandtennis.org

Glendale Adventist Academy

Founded in 1907, Glendale Adventist Academy is a K-12 college preparatory school dedicated to empowering

young men and women with spiritual commitment, strong academic preparation, and leadership

skills. We provide a Christ-centered learning environment where students, parents, and teachers

can experience the presence of God in a spirit of affirmation. Our progressive curriculum challenges

and fosters the highest academic development, and our values-laden, ethically driven focus involves

students in service and a commitment to their local and global communities. The curriculum maintains

a rigorous program of college preparatory courses, religious education, community outreach, art,

music, athletics, drama, and enrichment opportunities, promoting a life-long love for learning. The

school is fully accredited by the Western Association of Schools and Colleges (WASC). Now offering

Transitional Kindergarten.

(818) 244-8671 - glendaleacademy.org

The Gooden School

Gooden School - Summer classes on the beautiful campus of The Gooden School in Sierra Madre

provide students in kindergarten through eighth-grade with opportunities for creativity and new

experiences, such as playing the ukulele, creative writing, STEAM classes, iMovie production, sewing,

and more. A valuable class in ISEE and HSPT test preparation will also be offered for middle school

students. "We continue to offer new and exciting classes each year through the creativity of our

talented teachers," said Laurie Tortell, Director of the Summer School Program at The Gooden School.

Gooden's summer program is offered in two sessions, June 19 through June 30 and July 10 through

July 28, Monday through Friday. Before and after class childcare is also offered.

For more information visit goodenschool.o0rg or call (626) 355-2410

Halstrom Academy

Since 1985, Halstrom Academy has helped more than 16,000 students in grades 6-12 achieve educational

success. Halstrom Academy's innovative program offerings, student-centric focus, 1:1 student

teacher ratio, and fl exible scheduling options differentiate them from the traditional school model.

Halstrom believes students can reach their full potential with personalized instruction that instills

confidence, character, and a lifelong love of learning. Halstrom's students benefi t from highly customized

learning plans and one-to-one instruction enabling them to learn based on their individual needs

and pace. Halstrom Academy is WASC Accredited, UC/CSU Certifi ed and NCAA Approved. Halstrom

is fi fteen campuses strong and committed to providing education solutions for families throughout

California. Halstrom Academy is now enrolling for Summer School and Fall Semester.

Visit halstromacademy.org or call (866) 590-7548.

continued on page 19

16 SUMMER GUIDE 2017 PASADENA WEEKLY

-ADVERTISEMENT-
---
Tom Petty & The Heartbreakers

SOUNDS

OF SUMMER

THE ARROYO SECO WEEKEND FEST HIGHLIGHTS

A BLOCKBUSTER SEASON OF MUSIC

BY CARL KOZLOWSKI

PHOTO: Mary Ellen Matthews

Pasadena has long held a stellar reputation for live outdoor

music, but this year the summer scene is definitely stepping

things up a notch. With the huge new Arroyo Seco Weekend

fest making its debut outside the Rose Bowl, four of the planet's

biggest acts playing inside the hallowed stadium, the Pasadena

POPS paying tribute to Broadway and MUSE/IQUE honoring the

legends of Motown, this season has something to please the ears

of just about anyone.

The biggest news is the June 24-25 launch of the Arroyo Seco

Weekend, a massive two-day concert featuring nearly 30 bands

on three stages headlined by Rock & Roll Hall of Famers Tom

Petty & The Heartbreakers on Saturday, and folk-rock favorites

Mumford & Sons on Sunday. Also on the bill are power-pop veterans

Weezer and blues-rock powerhouse Alabama Shakes, with an

impressive array of other genres as well.

Among Saturday's highlights will be blues pioneer John Mayall

and a double dose of classic acts from New Orleans, with the

Preservation Hall Jazz Band and The Meters respectively offering

hearty servings of jazz and funk. Sunday will also feature a fresh

mix of talents with the neo-soul of Fitz and the Tantrums, the

innovative violin-based pop of Andrew Bird and local alternativerock

favorites the Mowgli's on the bill. Add in 17 of Southern California's

most popular restaurants dishing out their best cuisine

and this becomes one weekend to remember.

The Rose Bowl plays host on May 20-21 to two dates of a tour

with a heavy sense of historic import, as U2 celebrates the 30th

anniversary of its breakthrough album "The Joshua Tree" with

shows centered upon the band performing it for the first time ever

in its entirety. Then, just one week apart, the Bowl will feature two

acts that couldn't be further apart on the pop culture spectrum,

with heavy-metal legends Metallica shaking the stadium on July 29

and Justin Bieber bringing his Top 40 pop p to the

stage on Aug.

5.

continued on page 18

SUMMER GUIDE 2017 PASADENA WEEKLY 17
---
Christine Saffran

continued from page 17

18

SUMMER GUIDE 2017 PASADENA WEEKLY

Closing out the stadium's

summer is Green

Day, which will be playing

the final date of their epic

Revolution Radio world

tour on Sept. 16.

A completely different

kind of musical legend,

Oscar and Tony Awardwinning

superstar Liza

Minnelli, will help the

Pasadena POPS ring in

its summer concert series

with "Broadway: The

Golden Age" on June 17.

The show pairs her with

her "Cabaret" co-star Joel

Grey in an evening that

spotlights the best of classic

show tune composers

Rodgers & Hammerstein,

Kander & Ebb, Cy Coleman,

Frank Loesser and

Liza Minnelli

Julie Styne.

The POPS will also feature "The Music of Jersey Boys and

Beyond!" starring four members of the original Broadway cast

of "Jersey Boys" on July 15. Principal POPS conductor Michael

Feinstein will take his annual turn in the spotlight by celebrating

Frank Sinatra's Rat Pack with "Michael Feinstein Sings and

Swings" on July 29, before closing the season with a "Gershwin &

Friends" concert Aug. 19 and a run through the history of Universal

Studios' greatest theme songs from "The Bride of Frankenstein"

through "E.T." on Sept. 9.

Before that series starts, the POPS will perform its annual

free "Music Under the Stars" concert in front of Pasadena City

Hall on June 3, celebrating the Great American Songbook with

the JPL Chorus and soloists Kiki Ebsen, Valerie Perri and Christine

Saffran.

continued on page 20
---
DIRECTORY OF OPTIONS (continued from page 16)

High Point Academy

Keep your child enthralled this summer with more than 50 exciting and unique offerings from High

Point Academy's Summer of Enrichment and Fun program! The fi ve-week summer camp invites students

in grades 1-8, while the two- or fi ve-week Kinder Ready program options are designed to ease

preschoolers into kindergarten. The Summer Camp for grades 1-8 (Extended Care available) boasts

all-new classes in drone-building, musical theater performance, computer-game programming

and so much more: Children can "time-travel" through history; explore science, technology and

the wilderness; become published authors; ace their study or sports skills; even learn to be a chef!

High Point Academy's warm and nurturing environment has "awakened the joy of learning" for more

than 50 years. Your child will make new friends while spending a memorable summer immersed in

stimulating exploration!

For more information, please visit our website highpointacademy.org or call (626) 798-8989.

Holy Family High School College Preparatory Summer School 2017

Holy Family High School College Preparatory offers a co-educational summer school program

for academic advancement. If your child is interested in advancement classes, then they can take

Algebra I, Physical Education, or Health. They must take both semesters of Algebra I and pass with

a C or better, and then they will take Geometry their Freshman year. Classes are also offered for

remediation in various subject areas/classes.

June 19 – July 7 (Semester A) Mornings: 8:00AM-12:40PM - Afternoon: 1:00PM-3:10PM

July 10 – July 27 (Semester B)Mornings: 8:00AM-12:40PM - Afternoon: 1:00PM-3:10PM

Freshmen Readiness Course July 5 – 27, 2017 from 8:00AM-12:40PM

This non-credit course is open to ALL incoming Freshman students. Classes will focus on your summer

reading assignment, writing, math preparation, and technology skills necessary at HFHSCP.

400 East Lomita Ave., Glendale (818) 241-3178 and FAX: (818) 241-7753 hfhsglendale.org

Holy Family School

Holy Family School, South Pasadena is very pleased to offer a comprehensive summer program

to all students in our community entering kindergarten through grade fi ve. The program offers a

variety of classes including kindergarten readiness, reading, writing, math, science, and art. A fullday

program including aftercare is also available. The Holy Family School summer program will take

place on the Holy Family campus from June 26 through July 20.

Please visit our website, http://school.holyfamily.org/summer-school or email summer@

holyfamily.org for additional information about the program.

Idyllwild Arts Summer Program

The Idyllwild Arts Summer Program has taught people of all ages and abilities for over sixty years.

The wooded campus sits a refreshing mile above sea level in the San Jacinto Mountains, just a

couple of hours from Pasadena. The Summer Program draws on a rich tradition of teaching by

masters like Ansel Adams and Pete Seeger. Their example inspires three hundred artists who teach

dance, film, music, theatre, creative writing, fashion design, visual arts, and more, attracting two

thousand children and adults to their hands-on classes every year. The Summer Program also

honors the Native American people who have lived for centuries in the San Jacinto Mountains.

Workshops in numerous traditional and contemporary Native art forms offer an unparalleled immersion

in Native American culture.

idyllwildarts.org/summer

Immaculate Heart High School & Middle School

Immaculate Heart High School will offer a coeducational program for students in 9th to 12th grade.

The enrichment classes include "Hiking & Orienteering" with a focus on wilderness safety; "Voice

Overs," which will equip students with voice acting techniques; and "A Century of Cinema: Film

History Decade by Decade" for film buffs. The high school program will run from June 19 to July

21, with two- and fi ve-week courses available. For girls entering 4th to 8th grade, Immaculate Heart

Middle School will offer an ecletic mix of summer classes, including "Arabic Language," "Art of

Animation," and even a "CSI/Forensic Science" class. The middle school program will run from June

19 to July 14, with one-, two-and four-week courses available. See Immaculate Heart's website for

all class offerings!

5515 Franklin Ave., Los Angeles, 90028 immaculateheart.org (323) 461-3651

Institute for Educational Advancement

Institute for Educational Advancement (IEA) provides unique programs that give bright young

students a place to thrive and grow academically and personally. Academy provides challenging

enrichment classes for rising 1st-8th graders focused on exploration and application of knowledge

in a variety of subjects. The Explore Program links high school students with mentors who advance

each participant's skills through real-world experiences. The Caroline D. Bradley Scholarship awards

7th graders with a four-year scholarship to a high school that fi ts their individual needs. Yunasa

camps unite highly able youngsters with gifted experts to teach campers balance. IEA believes that,

whatever their background, children should be challenged and encouraged to grow. Financial aid is

available for all IEA programs.

For more information, visit www.educationaladvancement.org or call (626) 403-8900.

Institute for Girls Development

Girls, register now for empowering summer workshops! InstituteForGirlsDevelopment.com

Stand Up! Stretch Out! (For girls grades 3-5 and their adult kin) Prepare for a fun time of yoga,

stretching, positive mindset exercises, & journaling as we connect with one another & our bodies. A

great workshop to share with family and/or close friends. May 7.

Stand Up! Speak Out!®: Empowering girls' friendships (Entering grades 3-5) Come join us for 5

fun afternoons of arts, crafts, games, skits, role play, journaling, mindfulness activities, & more!

You'll gain tools for growing friendships that are healthy & enjoyable. Included in your daughter's

week-long summer workshop is an evening parent presentation – Cliques, Conflicts, & Connections:

Helping Your Daughter Navigate Her Social World. June 26 – 30.

95 N. Marengo Ave., Suite 100, Pasadena, (626) 585.8075 ext 108

iTennis

iTennis Summer Camps are designed for Beginner, Novice or Advanced players of all abilities who

are ages 6-16, and each day features lots of fun, exercise, improvement and camaraderie! A typical

daily schedule includes a morning session filled with on-court tennis activities, instruction and

game play taught by Certifi ed Tennis Pros, followed by an afternoon of off-site adventures including

bowling, golf, ice skating, laser tag, movies and more. To accommodate busy summer calendars,

campers may sign up for convenient individual one-week sessions which start June 5th and end

August 25th. iTennis Summer Camps are available at Rose Bowl, South Pasadena, Arcadia and

West Hollywood locations. Summer's just around the corner so don't delay, sign up today!

Visit i-tennis.com or call (323) 258-4178 for more information.

Justine Sherman & Associates

Justine Sherman & Associates serves the speech-language and educational needs of individuals

throughout the greater San Gabriel Valley community. We design customized treatment plans with

personalized measurable goals achieved through individual therapy sessions or classes conducted

by our certifi ed and licensed speech-language pathologists and supervised aids. Our collaborative

relationship with families, educators and health care professionals ensures the best opportunity for

client success and supports our philosophy of holistic treatment.

justineshermanslp.com or (626)355-1729

Kids Klub

Camp Kids Klub is coming to Sierra Madre!!

Camp Kids Klub is so excited that our renowned full day camp program will be held at La Salle High

School's historic campus! Camp Kids Klub empowers your child to explore from the mountains to

the sea and everything in between! Camp Kids Klub at La Salle School offers 10 fun-filled themed

weeks. Each week, campers attend fi eld trips, swim lessons, and exciting activities! We also offer

different 1 week specialty camps: paintball camp, go-kart camp, science camp, a horse academy

and so much more!

Camp Kids Klub's full day program compliments parents' busy schedules with camp hours from

7:30AM-6PM and extended morning and evening options. Our fun-filled camp days are all inclusive

and include breakfast, lunch, and snacks! There are also specialty camps and optional sleepovers

that you do not want to miss!

For more information on our schedule and program please call (626) 795.2501 kidsklubcdc.com.

Los Angeles Children's Chorus

First Experiences in Singing

Los Angeles Children's Chorus's First Experiences in Singing (FES) classes introduce children to joyous

vocal expression appropriate for the children's age and developmental stage. These classes are

non-auditioned, non-performing groups that introduce six- to seven-year-old boys and girls to the

fundamentals of singing. No prior musical experience is required. LACC developed this three-level,

sequential course to impart the foundational elements of musicianship and bel canto choral technique,

while engaging the whole child in fun, interactive musical learning. Classes prepare children

for auditions for LACC's core ensembles.

For more information, visit us at lachildrenschorus.org/fes

L.A. County Arboretum

Arboretum Summer Nature Camp

The natural wonder of the Arboretum is the perfect place for your children this summer. In our

adventure-packed camp sessions, children, ages 5 to 11, discover nature, plants and animals at the

127-acre Los Angeles County Arboretum and Botanic Garden. We focus on outdoor science, art

and gardening with new activities every day of the summer. Kids explore nature through interactive,

hands-on science activities such as observing, counting and measuring bugs, plants and animals.

They also create art from natural materials found in the garden. Our small counselor-to-student ratio

ensures each child experiences summer fun in a safe and personal environment. Weekly sessions

June 5 through August 11, full, half day and daily sessions; extended care available.

301 N. Baldwin Ave., Arcadia, For fees and details, arboretum.org or (626) 821-4623.

Los Angeles Writing Project's Summer Camps 2017

The Los Angeles Writing Project is a non-profi t organization affiliated with the National Writing Project.

Located at Cal State LA, we are in our 16th year of offering quality enrichment activities, with

this summer promising to be another fun camp experience for all students. Our teachers are highly

trained in creating safe and rich learning environments, ensuring that every summer, students leave

with the confidence they can use their newly acquired knowledge, strategies, skills, and creativity in

their lifelong journey of writing, reading, math, STEAM, and theater.

Visit our website at calstatela.edu/lawp to learn more about our summer camps.

La Salle High School

2017 Summer Academy & Sports Camp

La Salle High School is dedicated to excellent student performance in academics, arts and athletics.

La Salle Summer Academic Institute is for 5th to 12th graders from June 19 to July 20. Courses

provide opportunities to hone skills and to learn new concepts in the more relaxed environment of

summer. Students earn high school academic credit in some courses, and many courses satisfy UC

standards. Sports camps are available throughout the summer for student athletes.

Call (626) 351-0275 lasallehs.org

Mentor Avenue Preschool

Located in the heart of Pasadena, Mentor Avenue Preschool students are engaged in the joy of

discovery. Everywhere there is fun and excitement while learning through art, science, music, cooking,

games and other activities. Our loving staff encourages independence in the younger students,

especially in the area of potty training, along with healthy eating habits and good table manners.

Class projects involve team work in order to build good social skills. Our innovative approach to the

outdoor classroom inspires a natural learning environment. Mentor Avenue Preschool is a Christian

Preschool dedicated to providing quality early childhood education, while nurturing Christian

Values, to prepare children for kindergarten and beyond.

308 N. Mentor Ave., Pasadena (626) 396-7008 mentoravenuepreschool.com

Monrovia Association of Fine Arts

Everyone's welcome to our popular Summer Art Walk on Saturday evening, July 29 from 7 to 10 pm

on Myrtle Ave in Old Town Monrovia. Stroll the summer evening away, chatting with friends, attending

our artist gallery reception at 418 S. Myrtle Ave., and exploring the work of local artists as they

display, demonstrate and sell their work. And stop by our booth near the Krikorian Theater—The

-ADVERTISEMENT-

continued on page 23

SUMMER GUIDE 2017 PASADENA WEEKLY

19
---
continued from

page e1

18

Meanwhile, another of Pasadena's prime orchestras, MUSE/

IQUE, focuses its own Summer of Sound series around the theme

of "Motown/Miracle" with three shows conducted by founder

Rachael Worby on the Great Lawn in front of Beckman Auditorium

at Caltech. "Gospel/Truth" will kick things off on June 24,

followed by "Harlem/Renaissance" on July 22 and "Hitsville/

USA" on Aug. 26.

Two long-running, free music events also return this summer

in neighboring cities. First, South Pasadena's 9th Annual Eclectic

Music Festival & Arts Crawl brings headliner Ozomatli and 40

other music acts from the worlds of zydeco, bluegrass, pop, jazz,

calypso and indie rock together on stages and in stores across

the city on May 6.

Glendale also gets into the groove by hosting the 24th Annual

Glendale Cruise Night on July 15, featuring a fireworks spectacular

closing out the night after sets by Jimmy Buffett, Creedence

Clearwater Revival and Rod Stewart tribute acts, all surrounded

by hundreds of classic cars.

Finally, the Levitt Pavilion brings Pasadenans yet another

summer of free shows in a relaxed atmosphere in Memorial Park.

Among the highlights are the wild New Orleans-style jazz group

Vaud and the Villains, the classic soul band the Chambers Brothers,

and Jimmy Webb, who wrote the classic Glenn Campbell

country song "Wichita Lineman." Perennial favorite blues singer

Barbara Morrison returns once again to close out the season on

Sept. 3. ■

The Rose Bowl is located at 1001 Rose Bowl Drive, Pasadena. For Arroyo Seco

Weekend tickets, visit arroyosecoweekend.com. For all other concerts, call

(800) 745-3000 or visit ticketmaster.com.

Pasadena POPS performs its summer series at the Los Angeles County

Arboretum and Botanical Gardens, located at 301 N. Baldwin Ave., Arcadia. Its

"Music Under the Stars" show will be at 8 p.m. June 3 at Pasadena City Hall,

100 Garfi eld Ave., Pasadena. Call (626) 793-7172 or visit pasadenasymphonypops.org.

MUSE/IQUE performs on the Great Lawn at Caltech, 1200 E. California Blvd.,

Pasadena. Call (626) 539-7085 or visit Muse-ique.com.

The 9th Annual Eclectic Music Festival, which is from 3 to 10 p.m. on Saturday,

May 6, features 40 acts performing on fi ve main stages and dozens of shops

throughout South Pasadena. The main stage, with maps provided to other

locations, is at the city's Metro Gold Line station, 907 Meridian Avenue, South

Pasadena. Visit theeclectic.rocks.

The 24th Annual Glendale Cruise Night takes place from 5:30 to 10:30 p.m.

Saturday, July 24, on Brand Boulevard, between Broadway and Milford Street,

in Glendale. Visit glendalecruisenight.com.

Levitt Pavilion Pasadena is located in Memorial Park, directly behind the

Pasadena Senior Center, 85 E. Holly St., Pasadena. Call (626) 683-3230 or visit

levittpavilionpasadena.org.

20

SUMMER GUIDE 2017 PASADENA WEEKLY
---
SUMMER GUIDE 2017 PASADENA WEEKLY 21
---
22

SUMMER GUIDE 2017 PASADENA WEEKLY
---
DIRECTORY OF OPTIONS (continued from page 19)

first 100 people to sign up as a MAFA Friend for free on our website at the booth get a free cupcake

from Merengue Bakery! All year long our all-volunteer group provides opportunities for artists, student

artists, kids, families and local merchants to create, exhibit and support the arts.

Find out more at monroviafi nearts.org

Mountain and Sea

Catalina's Premier Floating Sea Camp. Experience adventure, friendship, team building, character

building, leadership, stewardship, and live like a true biologist aboard the premier Catalina Island Floating

Sea Camp. During their amazing week aboard our ship "Enhydra," students will be immersed in

marine biology adventures including snorkeling, kayaking, hiking, surfing, paddle boarding and much

more! They will also have the opportunity to participate in the following Summer Ocean Adventure

Challenges: Marine Science, Oceanography, Deckmanship, Snorkel and Scuba Diving, Water Safety,

and Environmental Stewardship. Floating Sea Camp offers a unique environment of a maximum of

40 participants per week. Counselor camper ratio is 1 to 8 or 9 children. During waterfront periods, 2

lifeguard-certifi ed staff will be present to teach & monitor campers. 3, 7, 14 day programs in June, July

& August.

Email: offi ce@mountainandsea.org, mountainandsea.org

Neon Retro Arcade

Retro fun for all ages! Neon Retro Arcade is a reboot of the classic American arcade in the heart of beautiful

Old Pasadena. Their carefully curated collection of 50+ classic video games and pinball machines

spans decades -- think Pac-Man, Donkey Kong, Centipede…all the greats! Leave your quarters at home

because Neon's games are set to "Free Play" so that guests can enjoy unlimited games for the price

of hourly admission. With 80s & 90s music setting the stage for a trip down memory lane, Neon has

perfected the formula for returning guests to a time when life was simpler. Whether you are looking for a

fun family outing or a unique date spot, Neon has something for everyone to enjoy. Game NOT over!

28 S. Raymond Ave, Pasadena (626) 568-2924 – neonretroarcade.com

Ojai Wine Festival

From its humble beginning in 1987, the Ojai Wine Festival has grown into a leading regional event attracting

about 5,000 people from throughout the central coast and southern California. The festival has

played a role in introducing people to the bounty of Ojai, which has been named by Sunset Magazine

as one of the top fi ve "Food and Wine Havens in the West." The Ojai Wine Festival has made its home

at beautiful Lake Casitas Recreation Area event site and always falls on the second Sunday in June.

General admission includes unlimited tastes of wine and beer and an elegant crystal keepsake wine

glass. Don't miss out on all the fun at the Ojai Wine Festival! Voted as one of the Best Wine and Food

Festivals in Ventura County.

Ojaiwinefestival.com

Pasadena Dance Theatre's Conservatory of Performing Arts

This summer, Pasadena Dance Theatre's Conservatory of Performing Arts is offering two dance intensive

programs under the artistic direction of Cynthia Young, who has led Pasadena Dance Theatre to its

position as San Gabriel Valley's foremost ballet school. Its comprehensive summer curriculum offers

various dance forms. The four-week Open Level Program runs July 10 to August 4 and is for students

from 8 to 18. This course culminates in a performance, Summer Showings, which demonstrates the

students' progress in a friendly, family-orientated environment in the Conservatory's Studio Theater.

The two-week Advanced Program run June 19 to 30 and is designed for experienced students of age

14 and up.

For details, call PDT's Conservatory at (626) 683-3459 or visit their pdtconservatory.org/summerintensive.

Pasadena Educational Foundation

The Pasadena Educational Foundation's Summer Enrichment Program returns in its 14th year of

providing a fun and engaging opportunity for kids to explore, create, and learn. The program mixes

academic subjects with creative hands-on projects. Choose from over 100 classes including: Hip Hop,

French, Drama and Plays, We the Kids, and Career Exploration just to name a few! Classes available for

incoming K-12 grade. All elementary sites host Introduction to Kindergarten and First Grade classes,

which are available in English, French, Spanish and Mandarin. High school students can take preparatory

classes, our popular Graphic Design class, or serve as a Volunteer Classroom Assistant.

Register now through May 26 online at pased.org/summer!

Pasadena Certified Farmers Market

Tuesdays -Villa Parke Center

Saturdays - Victory Park

Enjoy fresh local fruits, vegetables and farm products! If you have never been to a Farmers Market, you

are in for a real treat. You'll love the experience of buying directly from the farmer that grows the food.

What you'll love even more is the fresh, delicious taste of locally grown, nutritious fruits, vegetables

and farm products. Our certifi ed vendors only sell what they grow. Or, to put it another way, they won't

sell you anything that they did not grow. You know where your food came from and who grew it for you!

ATM for market's tokens on site and EBT accepted. Open rain or shine.

Call (626) 449-0179 or visit pasadenafarmersmarket.org.

Pasadena Language Center

Learn a new language and discover a new culture with Pasadena Language Center's summer classes

for adults and children. Choose from 30 different languages. Our interactive programs include: Weekly

classes, Intensive classes, Weekend Intensive classes, Full Immersion classes, Kids Language

Summer Camp, Private classes, Language Tutoring. Our instructors are native speakers with a vast

experience in teaching their language. Affordable prices.

46 Smith Alley, Suite 240 Pasadena, (626) 844-5003 pasadenalanguage.com

Pasadena Laundry

PASADENA LAUNDRY has been a community favorite Laundromat and Drop Off Fluff and Fold store

for over a decade. Winning Reader Recommended "Best of Pasadena". It has recently been expanded

and upgraded. It's bigger with many more state of the art washers and dryers. It has always offered

free WiFi, large new TV's, plenty of parking, and friendly attendants. No quarters needed, it's a laundry

card store. Try the professional and convenient Fluff and Fold service. It is proudly owned by a local

family. 6am – 10pm – 7 days –

2585 E. Colorado Blvd., Between Altadena and San Gabriel (626) 744-2948

Pasadena Piano Academy

At Pasadena Piano Academy, we focus on musical education through piano (and vocal) study. We

provide classes for varying age groups with the intent of giving our students a strong foundation in piano

(performance), understanding music theory, and developing the musical ear. Our intimate class sizes

and individual focus makes us stand out from other music schools, giving our students a more personal

music intensive approach. We provide a family friendly atmosphere and fun learning environment that

allows our students to thrive while they learn new musical concepts. Here at the Academy, our main goal

is to reach each student's full potential. In order to accomplish this, we recognize each individual student's

specific needs, individualities, and well-being in both group and private lessons.

44 W. Bellevue Drive Suite #3 Pasadena (626) 657-8718 PasadenaPianoAcademy.com

Pasadena Pops

Join Principal Pops Conductor Michael Feinstein and the Pasadena POPS for their popular summer

concert series at the Los Angeles County Arboretum. The 2017 Sierra Auto Summer Pops series, on

June 17 with Broadway: The Golden Age, paying tribute to the legendary Liza Minnelli and sing-along

favorites with the Music from Jersey Boys and Beyond! July 15, Michael Feinstein picks up the microphone

to pay tribute to Sinatra, Bobby Darin, Dean Martin, and Sammy Davis Jr. Michael Feinstein

Sings & Swings on July 29, transports you into the world of one of the greats with Gershwin & Friends

on August 19. Season closer on September 9 salutes the movie magic of Universal Studios Favorites.

Don't miss the best outdoor dinner party in town with these fi ve concerts.

Buy your tickets today at PasadenaSymphony-Pops.org or call (626) 793-7172.

PCC Flea Market

The PCC Flea Market is known for selling antiques and collectibles, with products ranging from highend

antiques to rummage sale type items. Over 450 vendors located in parking lots along the east side

of campus (Bonnie Ave. from Colorado to Del Mar) and in the lot located on the West side of campus at

the corner of Hill and Del Mar. Visit the best record show in SoCal with over 70 record vendors, music

ranging from the big bands to present day performers, located in the 4th floor of the parking structure.

The market is held on the first Sunday of the month from 8:00AM- 3:00PM - FREE admission. Parking

can be found for $2 in the parking structure located on Del Mar. Proceeds from every Pasadena City

College Flea Market benefi t student scholarships and student activities.

1570 E. Colorado Blvd., Pasadena

Performing Arts Workshops

Performing Arts Workshops, voted the BEST camp in LA Parent Magazine. Kids can spend their

SUMMER DAYS in any of PAW's award-winning camps, including: Musical Theater, Guitar, Filmmaking,

Stage F/X Makeup, Magic, or Photography! Campers are led by nurturing, skilled instructors who work

together to bring out the best in each child. All a child needs to join us is a curiosity and a joy for performing,

whether they are novices or seasoned thespians. This year, kids will perform: FOREVER ANNIE,

SOUND OF MUSIC, BEAUTY AND THE BEAST, WESTSIDE SUPER STORY, and SNOW WHITE. PAW

truly is the ultimate "Arts" experience for kids ages 5-15, from rehearsal to performance. Each show is

free and open to family and friends. Locations include Pasadena, Studio City, Northridge and LA!

(310) 827-8827 PerformingArtsWorkshops.com

Rayuela School

Rayuela Summer Camp 2017, Spanish Immersion Program. Playing, cooking, dancing, singing, music,

arts, crafts, science, fi eld trips in a beautiful and quite space. ALL in Spanish. Rayuela serves children

3 years old and up! Great location in Mariposa and Lake, walking distance from the Altadena Public

Library. Morning, afternoon and full day programs. We are also a preschool all year round, with a day

program in Spanish for kids from 2 to 6. Our mission is to teach Spanish through an innovative and

alternative method where the power of knowledge is achieved through fun and the love for learning. We

empower children to join the second largest language community of Spanish speakers with over 400

million people in the world.

(626) 365-1222 - 850 E. Mariposa St., Altadena, rayuelaschool.org rayuelaprogram@gmail.com

Sequoyah Private School

Develop your mind, spirit & independence at Sequoyah Summerhouse

Discover Your Summer: Our summer classes are unique, challenging and rewarding. From Astrology to

Mask-making, and Dance to Social Justice Mathematics, these classes have you covered.

Explore Learn new skills, deepen understanding, and get to know our community in the Summerhouse

Day Program. Rotating activities include cooking, coding, and crafting. Between activities and weekly

walking trips, you'll gain a new perspective on your world.

Expand Summerhouse Crew-in-Training is a four-week leadership program where students can

develop responsibility and as part of a working team. Participants will learn lifelong skills like conflict

mediation and First Aid/CPR working side-by-side with Summerhouse Crew.

Discover Put it all together to discover what YOU can do at Sequoyah Summerhouse.

https://k8.sequoyahschool.org/sequoyah-summer/

Spartan All Star Camp

Spartan Allstars is a co-ed sports camp for kids 6-14 years old with full day and half day options. It

introduces campers to a broad range of sports and activities, teaches children the value of cooperative

team sports and sportsmanship, and encourages individual excellence in an atmosphere of healthy

competition. Expert staff modify activities to enhance the individual skill level of both the novice and

experienced campers.

Camp location: La Canada High School, call (818) 473-0050 for more information or visit our

spartanallstars.com Or email us at spartanallstarcamp@gmail.com

SPEF Summer Camps

A.C. GREEN BASKETBALL CAMP-Campers will be challenged on and off the court, practicing basketball

skills, as well as participating in leadership and character development.

NEXT GENERATION CODING CAMP - A coding boot camp that gives students an introduction to the

world of computer science.

GOLF ACADEMY CAMP - learn the fundamentals of golf as well as advanced skill building for more

experienced golfers.

SPEF ART CAMP - spend a week exploring your artistic side while working with a variety of materials

and styles.

MANDARIN & SPANISH IMMERSION ART CAMP - students continue their Spanish language developcontinued

on page 29

-ADVERTISEMENT-

SUMMER GUIDE 2017 PASADENA WEEKLY

23
---
24

SUMMER GUIDE 2017 PASADENA WEEKLY
---
ECHO MOUNTAIN

Take a Hike!

ENJOY SOME OF THE MOST SCENIC TRAILS SOUTHERN CALIFORNIA HAS TO OFFER

BY CHRISTOPHER NYERGES | PHOTOS BY STEPHANIE TORRES

IT'S SUMMER. YOU'VE BEEN COOPED UP WAY

TOO LONG IN THE ARTIFICIAL WORLD OF YOUR

CUBICLE. YOU NEED TO GET OUT. YOU NEED

TO BREATHE FRESH AIR AND REDISCOVER THE

NATURAL WORLD ALL AROUND US. WHERE CAN

YOU GO?

From Pasadena, there are plenty of trails and places to explore

the outdoors, all more or less under 45 minutes of driving,

depending on where you live. Here are some options.

CRYSTAL LAKE

Travel east on the 210 Freeway to Highway 39, and then head

north into the mountains. Crystal Lake is about 10 miles up.

There you can hike, camp, and even rent a cabin.

CHANTRY FLATS

Drive all the way up Santa Anita Avenue through Arcadia,

through Sierra Madre, and up to Chantry Flats. On the weekends

this is one of the most popular places in the local mountains,

so try to visit during the week when it's less crowded. You

can hike down into the canyon and see some of the century-old

cabins, then hike up to the Sturtevant waterfall in approximately

a mile and a half. Signage is found along the

trail heads.

[Steep and strenuous in sections]

continued on page 26

SUMMER GUIDE 2017 PASADENA WEEKLY 25
---
MILLARD CANYON

CHANTRY FLATS

continued from page 25

LITTLE SANTA ANITA CANYON

Travel north on Baldwin Avenue to Mira Monte Avenue (a block

from the very top), and turn right. Park wherever you can and

hike up Mt. Wilson Trail Drive. This is a steep trail in sections,

with a great view. There's a place called First Water where you

can go to the stream and relax. You can continue on the trail all

the way to the Mt. Wilson road if you're ambitious. [Steep at the

beginning]

BAILEY CANYON

Drive north on Baldwin Avenue in Sierra Madre to Carter Avenue,

go left, and proceed about a half-mile to Bailey Canyon Park.

You could actually just stroll around this smallish park and have

a good time. It's been planted with many of the native plants. You

can hike up behind the dam into the canyon, and about two miles

up switchbacks where you'll see the foundation of an old cabin.

Great view, but bring water. [Easy, but steep in sections]

COBB ESTATE & ECHO MOUNTAIN

Drive to the top of Lake Avenue and park where you can on the

street. Hike behind the wrought iron gates and you can stroll

around the grounds of this former estate that is now full of native

plants and some surviving ornamentals. [Easy]

From here, you can also travel directly east and take the

switchbacks for about three miles through chaparral to the

historic site of Echo Mountain, where there was once a popular

resort some 70-plus years ago). [Moderate]

MILLARD CANYON

From Loma Alta Drive in Altadena drive up Chaney Trail to the

high point, and then drive down into the river bottom. You can

park and hike upstream (to the waterfall) or downstream where

you view the old cabins and a great selection of native plants.

This is a pleasant spot to spend a summer day, though parking is

limited. [Easy]

From the high point of Chaney Trail you could also park along

the road, then hike up the road all the way — about four miles —

to the historic Mount Lowe Camp. [Moderate]

ARROYO SECO

You can park anywhere around the Rose Bowl and hike as long

as you wish up the east or west side of the Arroyo Seco. There

are horse trails on both sides, and though you'll see plenty of

people along the way, don't underestimate such "backyard"

walks. [Easy]

To get to the upper Arroyo, drive north on Lincoln Avenue,

then west on Altadena Drive. Park wherever you can at the end of

Altadena Drive (it's a residential area). Hike down the horse trail

and head north. There's a lot of variety as you hike north, and numerous

side trails you could take for little explorations. [Easy]

ANGELES CREST HIGHWAY JOSEPHINE PEAK

From the 210 Freeway, exit on Angeles Crest Highway and head

north. In about 10 miles you'll arrive at the Clear Creek Station

at this junction. Park where you can and find the trail at the

26

SUMMER GUIDE 2017 PASADENA WEEKLY
---
northeast section of the junction. Follow this all the way to the top

— about three miles — and you'll end up at Josephine Peak where

there once was a fire lookout station. There's a fantastic view at

the top. [Moderate]

MOUNT WILSON

Continue up the Angeles Forest Highway to the Red Box junction.

Here you can park and use a bathroom and stretch. The Gabrielino

Trail passes through Red Box, directly to the east and west, and

you can explore a bit of it. [Easy]

Or, just continue all the way up to Mount Wilson where the view

is incredible, and you can walk around the site. If your timing is

right, you can purchase some snacks at the pavilion there. [Easy]

GRIFFITH PARK

Griffith Park is one of the largest urban parks in the US, with a

hundred miles of hiking trails if you stretched them all out. Travel

east on the 134 Freeway from Pasadena and follow the freeway

signs to Griffith Park and the Zoo as you approach the 5 Freeway.

Once at Griffith Park, go to the ranger station and get a map and

inquire about the current trail conditions.

ORCAS PARK

Drive west on the 210, and exit on Osborne in Lake View Terrace.

This is barely a 30-minute drive west of Pasadena. Go north on

Osborne, then east on Foothill until you come to the entrance of

Orcas Park. Park in the parking area and then you can explore the

entire wash, which is part of the Hansen Dam area. You could actually

have an invigorating hike by doing a perimeter walk around

this basin. [Easy]

TRAIL GUIDE

Get a book or map before you go and study the trails and your

options. I strongly recommend John Robinson's "Trails of the

Angeles" for the local trails mentioned here.

A daily parking pass is required for all locations in the Angeles

National Forest. The pass costs $5 ($25 for a year pass). The

local Forest Service office is at 701 N. Santa Anita Ave. in Arcadia,

(626) 574-1613. For trail information, check fs.usda.gov/angeles, or

contact a local ranger.

Always be prepared when you take a hike. Dress comfortably

for the season, with a hat if necessary. Carry water since many of

the trail sites don't have any. ■

Christopher Nyerges teaches survival and hiking skills at Pasadena City College and through

the School of Self-Reliance. He is the author of "Enter the Forest," "How to Survive Anywhere,"

"Guide to Wild Foods" and other books. Visit christophernyerges.com.

SUMMER GUIDE 2017 PASADENA WEEKLY 27
---
28

SUMMER GUIDE 2017 PASADENA WEEKLY
---
DIRECTORY OF OPTIONS (continued from page 23)

ment while having fun with theater arts, visual art, and dance

SOCCER CAMP- work on your soccer skills while getting outside and working off that summer energy.

Footwork, positioning, offense and defense strategies and scrimmaging will be included.

Online registration now available! For information go SPEF4kids.org or call (626) 441-5810

x1163.

SPEF Summer School

Have fun, stay engaged and help prevent summer learning loss at SPEF's popular K-12 Summer

School program. Elementary and Intermediate has over 100 classes available and students can

choose up to 5 classes a day in areas such as Robotics, Science, Reading and Writing, Sports, Arts,

Theater, Math and more. High School can gain advanced credits in classes such as Health, Graphic

Design, Photography, Driver's Ed, Band, Computers, PE, Psychology, Biology as well as History,

Civics, and Economics. Recover grades in Math I Algebra I & II, Geometry and Math Analysis, English,

Biology and U.S. and World History. Prepare for classes such as Prep for AP Chemistry, Math I and II,

Academic Decathlon, and Algebra II.

Online registration is now available! Classes start June 19. For information go SPEF4kids.org or

call (626) 441-5810x1163.

St Andrew Catholic School

Facing the famous Pasadena bell tower, St Andrew's continues a tradition of academic excellence that

extends beyond the classroom. Annual competitions in spelling, math, science, and robotics inspire

confidence. And, a robust sports program, thriving fine arts curriculum and a children's choir personalize

the learning experience for each student. St Andrew School is proud to partner with the Armory

Center for the Arts for a unique learning experience. For 10 weeks, artists partner with teachers to

infuse arts education into every subject. St Andrew Catholic School welcomes students from every

neighborhood and proudly graduates students to top-performing Catholic and private high schools in

Pasadena and beyond. If you have not looked at St Andrew Catholic School for your family, now is the

perfect time to come for a tour!

(626) 796-7697 - saspasadena.com

Summerkids Camp

Celebrating our 40th Summer! Summerkids Camp offers three programs, for campers ages 3-15, on

our own safe and secure campground in Altadena, a site that is rich in natural beauty and completely

fenced. Family-run and in operation since 1978, our #1 rule is to "have fun"! Campers choose each day

from as many as 80 activities, including swimming, archery, hiking, gardening, crafts, cooking, sports

and more. Every summer we joyfully welcome back many returning campers and the children (and,

now, grandchildren) of our former campers and counselors. We'll be at camp this summer from June

12 to September 1.

For more information on Summerkids, SK-PreK and Summer Challenge and a complete list of

our sessions, please visit our website at summerkids.net

Summer of Surf

Summer of Surf is a small beach camp serving the Altadena and Pasadena area for ages 7+ for the

past 5 years. We provide transportation to and from Santa Monica where we offer an array of beach

activities including Boogie-boarding and Surfing. Our focus is on providing a safe and supportive

atmosphere for your child to grow and develop their skills in the ocean, whether they are brand new to

the ocean or they are an experienced surfer. We also wanted to provide a space where kids could enjoy

their Summer break at the beach with friends. We pride ourselves on having a dedicated team that

provides the highest quality personalized experience in the safest conditions possible.

(818) 433-2694 summerofsurf.com

Tutu School

The founding principle of Tutu School is that every child should know what it feels like to dance to the

strains of Tchaikovsky and Bach. That motor skill development is infinitely enhanced by moving like

a bunny rabbit, a dolphin, or a horse, and that young imaginations benefi t immensely from exploring

the enchanted worlds of swans and sugarplums, or firebirds and fairies. Tutu School offers classes for

children 18 months to 8 years old, as well as Ballet Birthday Parties, and Tutu Camp!

696 E. Colorado Blvd., Suite 6 Pasadena (626) 657-8889

Videotheque

Vidéothèque, a curated collection of 30,000 DVD's and Blurays for rental and sale. A fi lm lover's

wonderland and an unrivaled browsing experience. Foreign, classic, documentary, rare cinema, television,

family, music, new release titles & many unavailable on Netflix. You'll also find new & used vinyl,

cinema posters, books, T-shirts and gifts. On Mission Street in South Pasadena. Highly-rated by yelp!

Voted Best Video Store by Pasadena Weekly readers.

1020 Mission St. South Pasadena (626) 403-6621 vidtheque.com

Young Stars Theatre Summer Musical Theatre Camps

An immersive musical theatre experience, with training from audition to performance.

3 camps: "Kids on Broadway"- one week, concluding with a showcase of

scenes/songs from shows you love. "Willy Wonka Jr."-2 weeks, 2 weekends of

performances, and "The Music Man" - 3 week camp, 2 weekends of performances.

Dates: Session 1: June 12-18, Session 2: June 19-July 9, Session 3: July 24-August 20, Times: 9am-

3pm M-F, Tuition: $250 a week (discounts for multi week camps), Registration Deadline: Until Full

1000 Fremont Ave., South Pasadena 91030 (626) 269-3609 Email: yst@musicandtheatre.com

youngstarstheatre.org

YWCA Pasadena

Our all-girls summer camp builds self-esteem and new friendships, develops fresh skills, and

empowers girls to dream big! This unique camp allows girls to have experiences that will expand their

possibilities, especially in the areas of STEM, higher education, and social justice. Activities have

included college tours to Caltech and Cal Poly Pomona, museum visits to The Getty Villa and Norton

Simon Museum, beach trips and swim days, empowerment workshops, culinary lessons, and an endof-session

trip to Knotts Berry Farm! Girls will also get to study and explore the Octavia Butler exhibit

at the Huntington Library & Gardens every Thursday.

50 N. Hill Ave., Pasadena (626) 296-8433 jliu@ywca-pasadena.org ■

-ADVERTISEMENT-

SUMMER GUIDE 2017 PASADENA WEEKLY

29
---
30

SUMMER GUIDE 2017 PASADENA WEEKLY
---
SUMMER

OUTDOORS

KIDS BUILD KNOWLEDGE, CONFIDENCE AND SELF-ESTEEM

DURING THEIR TIME AT CAMP

BY SHEILA MENDES COLEMAN

Perhaps like no other activity, summer camp gives young

people the opportunity to be social in an environment not

solely centered around behaving according to rules and

restrictions that come with the classroom environment.

Through summer camp, they become more comfortable with

challenges they might not have sought out when surrounded by

the familiar. Camp allows young people to shine and manage

situations and people outside their comfort zone.

According to the American Camp Association (acacamps.org),

which offers a wealth of information on all things camping-related,

"Whether children are playing, exploring nature, conquering

new heights, or becoming part of a camp family, they are creating

memories that will last a lifetime."

Inevitably, along with those memories comes a greater sense

of self. The timid, shy, introverted student blossoms upon being

exposed to new surroundings and new friends oblivious to

their social status or circumstances at home.

Children gain a positive sense of who they are when they

have a feeling of accomplishment or produce something

through their efforts. Kids can achieve this type of feeling

through school work, community service, sports and at camp,

experts say.

Summer camps also allow children to unplug from technology

and plug into the world around them, according to Parent

Guide News (parentguidenews.com).

"Today's children spend more than 7.5 hours a day engaged

with technology, which often takes the place of vital hands-on

activities and socialization opportunities," writes PGN. "The

majority of summer camps ban most technology, including ing TV,

continued on page 32

SUMMER GUIDE 2017 PASADENA WEEKLY

31
---
32

continued from page 31

smartphones, tablets t and personal computers. Taking a break

from technology over the summer allows children to communicate

face to face."

Connecting with friends and interacting with nature is

also beneficial to developing healthy behaviors. Camp is also

important for developing life skills needed to become successful

adults.

"The skills necessary to become successful adults are communication,

collaboration, creativity, leadership, socialization

and problem solving," writes Parents Guide. "All of these areas

are fostered in the camp environment."

In fact, according to the online magazine, "Camp offers one

of the most powerful learning environments and can be a place

where a child's social education takes place. It provides children

with the opportunity to try new activities."

Along with building self-esteem, "Children also build social

skills and problem-solving skills by being part of a supportive

community and partaking in activities together."

In addition, camp can bring out another side to a child, allowing

him or her to reinvent themselves, or their images, to others.

Camps also promote independence.

SUMMER GUIDE 2017 PASADENA WEEKLY

Quoting the American Academy of Pediatrics (AAP), "Free

and unstructured play is healthy and essential for helping children

to reach important social, emotional, and cognitive developmental

milestones," PGN reports. "It also helps kids manage

stress. Traditional summer camps give children plenty of play

time, which leads to healthy emotional and social development."

Today, there are camps that accommodate students with

cognitive or developmental issues, in addition to those designed

for young people managing physical challenges, past traumas,

abuse and serious or terminal illnesses.

Theme or specialized camps are valuable options for gifted

children or those with special interests because they combine a

child's affinity for a particular subject or skill with an additional

physical component, thus promoting more balance between

educational and recreational interests.

For the child with special needs, camping provides a chance

for safe participation in activities normally unavailable to them.

The perfect summer camp is mostly about presenting options,

allowing children to experiment in a nurturing, accepting

environment, achieve, connect with others and enjoy outdoor

recreation in an empowering way. ■
---
SUMMER GUIDE 2017 PASADENA WEEKLY 33
---
34

SUMMER GUIDE 2017 PASADENA WEEKLY
---
Great

Reads

NEW BOOKS BY KAREEM ABDUL-JABBAR, AL FRANKEN,

WILLIAM SHATNER, LINDA CASTILLO, DANIELLE STEEL,

AL ROKER, JONATHAN KELLERMAN AND MANY OTHERS

DUE OUT THIS SUMMER

BY TERRI SCHLICHENMEYER

Vacation is just days away and you're already planning on

what to pack — so don't forget a book or two.

OUT IN MAY

Get ready for your Memorial Day with new novels by Scott

Turow, Dorothea Benton Frank, Lincoln Child, Michael

Crichton, Clive Cussler and Graham Brown, Lee Child and

Nora Roberts.

For the sports-minded, Kareem Abdul-Jabbar has a new

book out on Coach John Wooden, or try the new book by Lou

Pinella. History buffs will want Dan Hampton's new book on

the Lindbergh flight, a new book on Apollo 8, a book about the

creation of the US Army, and a new book about Winston Churchill

and George Orwell.

There's also a new look at the last half-decade of Rolling Stone

magazine, a book about how we buy food, stay healthy, lose weight

continued on page 36

SUMMER GUIDE 2017 PASADENA WEEKLY

35
---
Brad Thor

Tess Gerritsen

36

continued from page 35

and cook right. Also look for Al Franken's new biography, and a

new book about horses by William Shatner.

OUT IN JUNE

Start out your official summer with new novels by Brad Thor,

Lisa Wingate, Dean Koontz, Jane Green, Linda Greenlaw,

Gena Showalter, Eric Van Lustbader, Karen Robards,

Joseph Finder, Adriana Trigiani, Edward Kelsey Moore,

Sharyn McCrumb, Janet Evanovich, Diana Palmer, Danielle

Steel and Diana Gabaldon.

There's a new book due out for coffee lovers who want to lose

weight, a new book on cheese, and a new cookbook for salad lovers.

Readers who love history will want a new book about two female test

pilots who worked for the Third Reich, or a book about stock market

crashes in history. There's also a new book about Robert Smalls, who

escaped from slavery and became a "Union Hero."

Look for "Sea Power," a book about the history and politics of

the ocean, one about JFK and MLK, a new book for weird people

and "Failures" who want a career that fits them specifically. There's

a biography about Joni Mitchell and one about Van Halen, a look at

the LGBT community and the Catholic Church, Sherman Alexie's

new memoir, a book about the science of change, a "secret history"

of the iPhone, and a book about how fake news affects you.

OUT IN JULY

Halfway through the summer and there's still more …

Your vacation will be happier with novels by Julie Garwood,

Daniel Silva, Susan Mallory, Joshilyn Jackson, Suzanne

Brockmann, Kathy Reichs, Linda Castillo, Alexander

McCall Smith, M.J. Rose, Ace Atkins, Iris Johansen,Roy

Johansen and C.J. Box.

Ben Mezrich looks at how science is trying to "de-extinct" the

wooly mammoth. There's a new biography due on Sarah Vaughn

that you can find in July. This month, you can read about the air

we breathe, learn about Jews who escaped Nazi Germany and

SUMMER GUIDE 2017 PASADENA WEEKLY

returned to fight against Hitler, and you can find out how to best

become an "angel investor." You'll find several new books for your

summer cookout, books to make you beach-ready, and a new book

for fans of Archie comics.

OUT IN AUGUST

Hey, there's still a lot of summer left, and a lot of books to read!

Enjoy the season with new novels by J.R. Ward, Fiona Davis,

Sherrilyn Kenyon, Sgt. Jack Coughlin, Susan Wiggs, Debbie

Macomber, Stuart Woods and Parnell Hall, Sandra Brown,

Karin Slaughter, Tess Gerritsen, Andrew Gross, Robin

Cook, T. Jefferson Parker, Erica Spindler, Sue Grafton's "Y

is for…", Jonathan Kellerman and Jesse Kellerman, Danielle

Steele and Louise Penny.

Look for Heather Harphum's new book on happiness. There's a

book due out about a college athlete and her tragic suicide, and one

about a female code-breaker in World War II. Look for a new book

on how to use your liberal arts degree. You'll find a new book about

Buddhism this month, also, a book about Alzheimer's, one about how

a father saved his son from ISIS, one by NFL team players about their

first coaches, and a business book on succeeding by American counterintelligence

expert Robin Dreeke (with Cameron Stauth).

Also look for a book on scandals at America's elite colleges, a new

book by Al Roker on the Johnstown Flood, and a book about how

wonderful it is to be an adult who reads children's literature.

And on that note, there are many, many new releases for the

kids and the kid in you!

BEFORE YOU HIT THE BOOKSTORE….

Remember that this isn't a final list, nor is it cast in stone. Releases

may be canceled or rescheduled. If you're excited about any of

these titles, check with your favorite bookseller or librarian — they

know what's up and helping you find exactly what you need is what

they do best.

Happy Vacation, and Happy Reading! ■
---
SUMMER GUIDE 2017 PASADENA WEEKLY 37
---
38

SUMMER GUIDE 2017 PASADENA WEEKLY
---
Amanda McBroom

It's A

Date

A VARIETY OF MUSICAL GENRES FILL

SUMMER CALENDARS

BY JOHN SOLLENBERGER

Boston Court Performing Arts Center

70 N. Mentor Ave., Pasadena

(626) 683-6883

bostoncourt.com

May 12—100th Birthday Celebration of Lou Harrison and

His Music

May 13—Cantamos en Español

May 19—Pasadena City College Latin Jazz Ensemble

May 20—Microfest: Arthur Omura

May 26—Amanda McBroom

May 27—Danny Holt: The Piano-Percussion Project

June 2—Friction Quartet

June 3—Synchromy Trios

Boston Court DuoFest Summer Music Festival

July 8—Heidi Duckler Dance Theatre

July 9—Piano Spheres: Ray/Kallay Piano Duo

July 10—Composer/Performer Speed Dating Workshop

w/Synchromy

July 11—Aperture Duo and Autoduplicity

July 12—Student Composer Readings Workshop and

Open Master Class w/Synchromy

July 13—Panic Duo and Aronson & Valitutto

July 14—Eva Soltes & Friends

July 14—Indian Dance Workshop w/Harrison House Music,

Arts and Ecology

July 15—Ludwig Van

continued on page 40

SUMMER GUIDE 2017 PASADENA WEEKLY 39
---
Moira Smiley & VOCO

continued from page 39

California Philharmonic

Walt Disney Concert Hall

111 S. Grand Ave., Los Angeles

(323) 850-2000

calphil.com

June 25—Wagner at the Movies

July 9—Rogers, Hammerstein and the Organ

July 30—A Night in Old Vienna, Music that Makes You

Happy

Aug. 13—Shakespeare in Love

Aug. 20—World's Best Marches

Descanso Gardens Music on the Main

1418 Descanso Drive, La Cañada Flintridge

(818) 949-4200

descansogardens.org

June 15—Yuko Mabuchi

June 22—Dr. Bobby Rodriguez

June 29—Kathleen Grace

July 6—Gina Saputo

July 13—Lolly Allen

July 20—Lado B. Brazilian Project

July 27—Spencer Day

Aug. 3—John Altman

40

SUMMER GUIDE 2017 PASADENA WEEKLY

Descanso Gardens World Rhythms Series

June 2—Moira Smiley & VOCO

July 4—Aditya Prakash Ensemble

July 11—Cambalache

July 18—Ballet Folclorico do Brasil

July 25—Music of Bali

Aug. 1—California Feetwarmers
---
Pete Escovedo

Descanso Gardens Summer Songs

The third and fourth Wednesdays of June through August

feature the Flashdance Deejays spinning all-vinyl sets

June 21 through Aug. 23.

Aug. 30—The End of Summer Festival features Flashdance

Deejays spinning tunes

Levitt Pavilion Summer Concert Series

Memorial Park

85 E. Holly St., Pasadena

(626) 683-3230

levittpavilionpasadena.org

Free concerts featuring a wide array of musical styles

run June 26 through Sept. 24, Thursdays through Sundays

through Aug. 21, Fridays through Sundays thereafter.

June 29—Bob Baker Marionettes

July 1—Vaud and the Villains

July 2—Pete Escovedo

July 7—Hillbenders

July 8—The Suffers

July 9—Dean Torrance

July 15—Mariachi Divas

July 16—Louis Cruz Beltran

July 20—Steve Songs

July 30—Chambers Brothers

Aug. 5—Joel Rafael & John Trudell Band

Aug. 10—Lucky Diaz & the Family Jam Band

Sept. 2—Jimmy Webb

Sept. 3—Barbara Morrison

continued on page 42

SUMMER GUIDE 2017 PASADENA WEEKLY 41
---
Michael Feinstein

continued from page 41

Pasadena Symphony & POPS

Los Angeles County Arboretum and Botanic Garden

301 N. Baldwin Ave., Arcadia

(626) 793-7172

pasadenasymphony-pops.org

June 17—Broadway: The Golden Age

July 15—Music from Jersey Boys and Beyond

July 29—Michael Feinstein Sings and Swings

Aug. 19—Gershwin and Friends

Sept. 9—Universal Studios Favorites

42

SUMMER GUIDE 2017 PASADENA WEEKLY

Sheriff's Support Group of Altadena Summer Concert

Series

Farnsworth Park

568 E. Mount Curve Ave., Altadena

(626) 798-6335

altadenasheriffs.org

July 8—The Saline Fiddlers Philharmonic

July 15—The Down Beat Express

July 22—Bleeding Harp

July 29—Who's Next Who Tribute

Aug. 5—The Tuners Tribute Band

Aug. 12—Upstream

Aug. 19—Keys of 88 Keyboard Artist Tribute

Aug. 26—Nowhere Man Beatles Tribute

Sept. 9—Hot August Night Neil Diamond Tribute ■
---
SUMMER GUIDE 2017 PASADENA WEEKLY 43