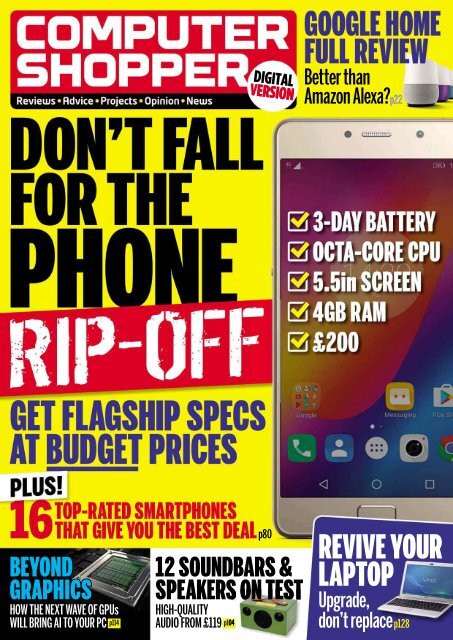 Computer Shopper - July 2017
You also want an ePaper? Increase the reach of your titles
YUMPU automatically turns print PDFs into web optimized ePapers that Google loves.
DIGITAL

VERSION

Betterthan

AmazonAlexa?p22

Lp80

REVIVE YOUR

BEYOND

12 SOUNDBARS & LAPTOP

GRAPHICS

SPEAKERS ON TEST

Upgrade,

HOWTHENEXTWAVEOFGPUs HIGH-QUALITY

WILLBRINGAITO YOURPC p114 AUDIO FROM£119 p104

04 don'treplacep128
---
WELCOME PAGE

Welcome!

I REMEMBER THE fi rst batteries, which makes it even harder to

handset I owned, a bright squeeze extra life out of your handset, as

yellow Nokia 5110 – I say this is often the component that will fail fi rst.

'owned' but it was actually With this in mind, we've carried out a

borrowed from my mum, thorough analysis and testing of the most

as paying a phone

recent smartphones, as well as digging out

contract as a student some slightly older models that were highly

teacher in the late nineties rated at launch, to identify the handsets

just wasn't going to happen. But I loved that that give you the best value and the best

phone and pinched it as often as I could, and chance of longevity (page 80).

it was in the family for many years.

Some might salivate over the latest

Fast-forward 20 years, and the idea of a fl agship models such as the Samsung Galaxy

teenager not owning their own smartphone, S8 (page 42) or iPhone 7 Plus. But this is

or sharing a phone with anyone, seems more about fi nding budget models that are

laughable. As does the idea of using a

able to package up an impressive array of

handset for more than a couple of years – features at incredibly low prices – see our

well, that's if the smartphone manufacturers cover star, the Lenovo P2; older devices like

have anything to do with it.

the Google Nexus 5X and Samsung Galaxy

Apple and Samsung might be taking S6, which have seen significant price drops

steps to be more environmentally friendly since release but still offer slick performance;

with their sourcing of materials and recycling and handsets that still retain the rare

programmes (see Rants & Raves, page 12), swappable battery, such as the LG G4.

but neither fi rm has taken the equally

As an iPhone 6 user, I'm paying close

important step of producing hardware that attention to the results to decide which

has a more eco-friendly lifespan.

phone to go for next. After all, my current

Apple, for example, admits that its

model came out in September 2014, meaning

iPhones have only a three-year lifespan, it has less than six months left before it

meaning a cost of at least £1,500 if you want conks out, based on Apple's assertions.

to equip yourself with the cheapest SE

Happy reading!

model for the next decade.

Several readers have recently written in Madeline Bennett, Editor

about the trend away from replaceable

madeline@computershopper.co.uk

QUESTION OF THE MONTH

Which smartphone feature would you

most like to see invented?

Madeline Bennett

A reverse-charges system

for spam calls that I get a big

cut from.

David Ludlow

A background noise generator

so you can pretend you're at

work or on the train home when

you're in the pub.

Nathan Spendelow

Curved screens are nice and

all, but it would be nice to have

a battery that lasts more than a

few hours.

James Archer

Chassis designs where

the whole thing is one big

fi ngerprint sensor.

MEET

THE

TEAM

Dave Neal

Really, really, really long-life

battery. Also a small fan for

warm days. Plus a car horn.

Roland Moore-Colyer

A module that analyses my

hangover, then injects me with

all the vitamins and nutrients

to remove it.

Simon Handby

A breathalyser I have to

pass before being allowed on

social media. And maybe a

self-healing screen.

CONTACT US

Editor Madeline Bennett madeline@computershopper.co.uk

Reviews Editor James Archer james@computershopper.co.uk

News Editor Dave Neal daveneal@computershopper.co.uk

Contributing Editor David Ludlow david@computershopper.co.uk

Contributing Editor Roland Moore-Colyer

roland@computershopper.co.uk

Staff Writer Nathan Spendelow nathan@computershopper.co.uk

DESIGN & PRODUCTION

Design Bill Bagnall

Production Editor Steve Haines

Production Executive Maaya Mistry

Network Production Manager Kerry Lambird

CONTRIBUTORS

Lee Bell, Jonathan Bray, Mel Croucher, Kay Ewbank,

Darien Graham-Smith, Simon Handby, Vaughn Highfield,

Christopher Minasians, Ben Pitt, Adam Shepherd, Clive Webster

ADVERTISING

Email ads.shopper@dennis.co.uk

Group Advertising Manager Charlotte Milligan 020 7907 6642

Senior Sales Executive Joe Teal 020 7907 6689

COVER GIFT CONTACT

Chris Wiles support@creativemark.co.uk

SUBSCRIPTIONS

Tel 0844 844 0031 / 01795 592905 Web www.subsinfo.co.uk

UK £44.99, Europe £70, Rest of world £90

PHOTOGRAPHY

Michael Pheasant

LICENSING AND SYNDICATION

Ryan Chambers 020 7907 6132 Ryan_Chambers@dennis.co.uk

Anj Dosaj-Halai 0207 907 6132 anj_halai@dennis.co.uk

MANAGEMENT

Tel 020 7907 6000

Managing Director John Garewal

Group Advertising Director Julian Lloyd-Evans

Newstrade Director David Barker

Group CFO/COO Brett Reynolds

Chief Executive James Tye

Company Founder Felix Dennis

PRINTING

Printed by Wyndeham, Bicester, Oxon

Distributors Seymour 020 7429 4000

LIABILITY

While every care was taken preparing this magazine, the publishers

cannot be held responsible for the accuracy of the information or

any consequence arising from it. All judgements are based on

equipment available to Computer Shopper at the time of review.

'Value for money' comments are based on UK prices at time of review.

All prices include VAT unless otherwise stated. Computer Shopper

takes no responsibility for the content of external websites whose

addresses are published in the magazine.

COMPUTER SHOPPER INCORPORATES UPGRADE SHOPPER,

GAMES SHOPPER, INTERNET SHOPPER, MOBILE SHOPPER,

PC SHOPPER, PORTABLE SHOPPER AND SOFTWARE SHOPPER

A DENNIS PUBLICATION

Computer Shopper is published by Dennis Publishing Ltd, 30 Cleveland

Street, London W1T 4JD. Company registered in England. All material

© Dennis Publishing Limited licensed by Felden 2017, and may not be

reproduced in whole or part without the consent of the publishers.

ISSN 0955-8578

© Copyright Dennis Publishing Limited

SUBSCRIBE

AND SAVE

CALL 0844 844 0031

OR SEE PAGE 122

ISSUE 353 | COMPUTER SHOPPER | JULY 2017

3
---
CONTENTS

Issue 353 July 2017

Contents

p22

p80

p114

Regulars

6 Letters

Your monthly missives of wit and wisdom,

tips and tricks, and moans and groans

8 Mel's World

He was never really cut out for designing

skyscrapers for rich Middle Eastern

despots, but Mel Croucher believes

the sky's the limit when it comes to

3D-printed buildings

10 Cyber Insider

As governments around the world demand

ever greater access to our personal data,

Cyber Insider provides some timely tips

on how to maintain privacy in the face of

official – and unoffi cial – snooping

12 Rants & Raves

Has the tech industry fi nally developed

an environmental conscience? Recent

announcements from Samsung and Apple

would seem to suggest that it has

138 Zygote

You no longer have to make your bed and

lie in it – well, you'll still have to do the

reclining bit yourself, but a computerised

duvet can do all the hard work for you

Features

Learn

p104

p128

114 Pixel Pushers

Roland Moore-Colyer investigates how the

next wave of graphics processing units will

bring VR and artificial intelligence to your PC

124 Business Help

Our expert answers your soft ware queries

126 Helpfile

Your hardware and Windows problems solved

128 Advanced Projects

Give your old laptop a new lease of life with a

cheap and easy upgrade and Clive Webster's

expert advice

132 Multimedia Expert

Everyday household items make for great

percussion instruments. Ben Pitt makes some

noise around the house

News

All the latest news and views from the

technology world, including:

14 Need to Know

With everything from augmented-reality in-car

navigation systems to intelligent pet monitors,

the Wearable Technology Show is the place to

be for the very latest smart devices

18 Globe Trotting

We round up some of the offbeat tech

stories that you may have missed from

around the world

19 The Lowdown:

State-sponsored

Espionage

As accusations about

Russian interference

in the US election

and the EU

referendum continue

to grow, we investigate

the scale of the problem

20 From the Lab

All the latest developments from the world of

science and space

21 Retro: IBM 5150

With its 16KB of

RAM and dual 160KB

disk drives, the IBM

5150 revolutionised

personal computing.

Join us on a trip

down memory

lane to celebrate the

iconic PC without which

we wouldn't be heree today

4 JULY 2017 | COMPUTER SHOPPER | ISSUE 353
---
p80

p128

p132

Reviews

22 Hot Product

Hello Google, goodbye Alexa? Google Home is the latest attempt at a

digital assistant-powered smart speaker, and its clever voice responses

more than make up for a lack of third-party hardware support

24 PCs

The powerful GeForce GTX 1080 Ti is here, and

the Chillblast Fusion Portal (p26) has tamed it

28 Components

The Ryzen 7 1700 is another Intel-rivalling chip

from a resurgent AMD, and a great candidate

for overclocking

30 Printers

Luckily for Canon's £150 TS8050, it delivers the

quality you'd expect from such a pricey inkjet

32 Laptops

Asus's ZenBook UX310UA is a pleasantly

affordable ultrabook, while the Dell XPS 13

2-in-1 trades power for a fl ipping touchscreen

36 Displays

At over £600, AOC's curved AGON AG352QCX

is a high-end monitor for high-end gaming

38 Networks

Google joins the mesh wars with its impressive

Google Wifi system

42 Handhelds

Fast and beautiful, Samsung's Galaxy S8 is the

fi nest Android smartphone to date

46 Storage

The Kingston SSD Now UV400 Upgrade Kit is a

complete and straightforward way to upgrade

your PC or laptop capacity

48 Video

The combination of smart streaming and

Freeview helps the Humax H3 Espresso,

but the lack of apps hurts

50 Audio

Unbalanced sound and an uncomfortable fi t

let down the otherwise well-made Master &

Dynamic MH40 headphones

52 Photography

The compact Panasonic DMC-G80 triumphs at

still photography and video capture alike

54 Wearables

Built-in 4G on the Huawei Watch 2 lets you

leave your smartphone behind

56 Best Buys

Looking for the best kit we've reviewed

recently? It's all in our Best Buys section

72 How We Test

Our tests, ratings and awards explained

Group Tests

80 Smartphones

Don't get ripped off paying

a fortune for a fl agship

phone – follow our

bargain-hunter's buying

guide and snap up one of

the 16 top-spec, low-price

handsets on test this month

104 Soundbars and Speakers

Whether you're watching a fi lm or playing

tunes, a new soundbar and speaker will

transform your listening experience.

We sound out 12 of

the best

models

74 Your Software*

Create your own professional-looking

animations with the powerful but

easy-to-use CrazyTalk Animator

6 FULL

PACKAGES

* FREE SOFTWARE

EDITION ONLY

ISSUE 353 | COMPUTER SHOPPER | JULY 2017

5
---
LETTERS

Letters

The Windows 10 Creators Update may not be all it's cracked up to be,

if one reader's frustrating experience is anything to go by

letters@computershopper.co.uk

Creator storm

The Windows 10 Creators Update came

on rather suddenly and, despite my

natural curiosity (which would have made

me install anyway), seemed to offer no

way of averting installation (I

knew that Microsoft account

would lead to no good).

So far my desktop has not

seen any issues but those with

laptops, and in particular with

pre-Creative Cloud Adobe

products, should keep well away.

Immediately Photoshop CS6 (part of

CS6 Production Premium) just crashed on

launch. Despite uninstalling CS6 and

re-installing, uninstalling and re-installing

numerous Microsoft Visual C++ versions,

moving various DLLs around, and

uninstalling and re-installing Nvidia drivers

(the laptop has a 960M GFX processor),

nothing worked.

Finally, after about 15 hours' work

trying to fi x it, I thought I would resort to

re-installing Windows 10 Creators Update

and keep my apps. It doesn't work or isn't

available, as it comes back with

the

usual dumb Microsoft

message saying nothing.

Next stop was to roll back to

a previous version of Windows

10

(1607, I think), which

happened very quickly, and

everything worked fi ne.

It's pretty clear that

Microsoft needs to fi x the

Creators Update as it offers little and kills

much. There was no value in installing it for

me. Also be warned: if you encounter error

0xc000007b, then you're banjaxed.

Ian Douglas

Thanks for the warning, Ian. Hopefully other

readers have avoided similar problems.

Network coverage needed

You've covered anti-virus applications

and given us data about the good and

the bad. You've also covered the best cloud

services and given us articles about the best

backup services. I have been thinking about

using a VPN to protect my privacy and to

make my systems more secure, but I haven't

seen an article in Shopper about this subject.

How about an article about the best VPN

services, what they can and can't do and, as

home users, do we even need them? Is it

worth buying into what our anti-virus

vendors are trying to sell us or is it just

scare-mongering? How do we set up a VPN?

Stephen Hill

As luck would have it, Advanced Projects in

the next issue (354) will cover this very topic.

We'll be revealing some low-cost and free VPNs

to keep you safer when you're surfing, and

explaining why they're worth having.

Star letter

Price comparison slight

I have just read the article on

compact system cameras (CSCs) in

Shopper 352. I am considering replacing

my aged Canon G9 (not the current G9)

and have been reviewing the fi eld at about

the £500 mark.

The reason that I am writing is to

enquire as to why the Canon PowerShot

SX720 HS was included. At £269, you are

comparing it with a Fuji which is more than

fi ve times as expensive. I realise that there

has to be some price differential, but

query why it should be that much.

Surely a more appropriate Canon

could have been included, such as the G7

X Mk II at £549, the G5 at £609 or the G9

Mk II at £449. Or how about the Canon

M3, which offers the option of

interchangeable lenses as per the Fuji?

Your article has nonetheless given me

food for thought, as I will now add the Best

Buy-winning Panasonic Lumix DMC-LX15

to my list, which is currently the Canon G7

X MkII and Panasonic DMC-TZ100.

Incidentally, I have

only recently become a

subscriber to Computer

Shopper, and I

wondered whether it is

possible to access past

tests, as your article

refers to the Fuji X-T1, Sony a6000

and Sony RX 100 IV in previous issues.

Alec Bushell

Thanks for picking up the mag. You're right

that the SX720 is much cheaper than the other

cameras in the group test – maybe making

❱❱ Write in and win

direct comparisons

with it is a little

cheeky, but we like to

cover a range of

price points, so all

our readers know

what to expect

regardless of their

budget. Of the ones you've mentioned,

the Canon G7 X Mark II is our pick, and if

you want to read the original reviews of the

Fuji X-T1, Sony a6000 & Sony RX 100 IV,

they've all been posted on our sister site,

Expert Reviews (www.expertreviews.co.uk).

Do you wish your computer was faster when booting and loading

applications? Thanks to Crucial, you can achieve your dream

of a faster PC or laptop with the MX300 SSD. The writer of

our Star Lett er will be awarded one of these solid-state devices,

which can be installed in a desktop PC or a laptop.

This SSD is six times faster than a hard disk, and will make your

computer boot incredibly quickly and your applications load faster. With

525GB

of storage, there's plenty of room for Windows and all your apps, too.

STAR

PRIZE

525GB

SSD

6 JULY 2017 | COMPUTER SHOPPER | ISSUE 353
---
LETTERS

Irreplaceable replaceables

It was interesting to see the letter from

Paul Morris on battery issues (Shopper

352). I'd been meaning to write in about this

myself so he beat me to it. I did want to add,

though, that in my experience phone

batteries don't really last more than a year

before they rapidly degrade, and for this

reason I wouldn't even consider buying a

phone without a replaceable battery.

My current model is a Samsung Galaxy

S4. It's on its second battery now and I've

owned it just over a year. My only future

upgrade option is the Galaxy S5

Neo, but as my needs are

quite simple I'm in no rush.

Looking further ahead, if

there is no significant

improvement in battery

durability, what options will

be available? I don't believe

in spending more than £600

on a new unit, but the

second-hand market will, as

Mr Morris points out, be

awash with phones whose batteries

you can't replace and therefore can't trust.

Keith Briffett

We agree the trend for non-replaceable

batteries makes choosing a new handset

problematic. Part of the thinking behind our

guide to the best-value smartphones (page 80)

was to identify our pick of the current and

previous-generation models that offer excellent

value for money and plenty of longevity, so the

battery degradation isn't such an issue.

Cracked Windows

Just writing in to agree with Richard

Collier's letter regarding Windows 10

and Linux (Shopper 352). I too have tried

Windows 10, and do not like it, for various

reasons. My fi rst frustration was with

Recent Places, which I use all the time in

Windows 7. It had vanished from Windows

10, and Recent Items was the closest I could

get back after some Googling and then

Windows 10 tweaking. Why am I having to

tweak something as fundamentally useful as

Recent Places in a brand new operating

system, I asked myself. Edge I hated, and it

didn't work with a number of websites. And

a host of other things irked me. So back to

Windows 7 I went, with no regrets.

I wrote to you quite a while back

regarding an article you had on making

Windows 10 better, to which the main point

of my reply was: I have, simply by reverting

back to Windows 7.

So, one thing's for sure: if Windows 10 is

the last operating system from Microsoft ,

my relationship with it might come to an

end, most likely when the date passes where

Microsoft no longer supports Windows 7.

I have, like Richard, been using Linux on

an old machine as I start my search for a

new OS, well in advance of the day Windows

7 dies. I would therefore really like to see

much greater coverage of Linux in Shopper.

I suspect Richard and I are not alone in our

dislike of Windows 10 and are thinking

what next in terms of what OS we might be

using in fi ve years' time.

For now, I've stopped dabbling with Linux,

as Windows 7 is on my main machine, and

it's a hassle setting up my old desktop so I

can use it. More articles in Shopper might

see me setting up my old machine on

another desk and getting more familiar

with it. I look forward to your coverage.

Jim

Thanks Jim, we have some more Linux

content planned for future issues.

Hyper critical

I read your response to Colin Walker

(Helpfi le, Shopper 352) and was a bit

surprised you didn't mention before your

walkthrough for using Hyper-V that it's only

available in Windows 10 Pro. You can do

something similar with Oracle VM VirtualBox

in Windows 10 Home, and unless Colin has

made a point of buying Pro, a pre-installed

Windows 10 will probably be Home.

Neil Packwood

You're right, Neil - it's only available in 64-bit

versions of Windows 10 Pro and Enterprise,

which we omitted to mention. As Colin

upgraded his own PC, there's a fair chance he

bought Windows 10 Pro, or was upgraded to it

from a qualifying earlier release, so hopefully

our advice worked for his particular problem.

Keep politics out of it

I was a little surprised with

the political comments on

the Welcome Page in the June

edition (Shopper 352). I thought

you would be mentioning the

Creators Update for Windows

10. I thought magazines should

be neutral in political matters.

Remember the readers of the

magazine are of many different persuasions.

Please keep to your brief in case you offend.

Always look forward to the next edition.

Best computer magazine available

Elvin Rose MBE

Thanks for the feedback, Elvin, great to

hear you're a Shopper fan. The comments on

government IT weren't aimed at supporting

or criticising a particular political party, more

to highlight how the UK public sector has a

pretty poor track record when it comes to

big technology projects. Shopper is defi nitely

party-neutral and politics-free, although we

would defi nitely like to see the UK government

– whoever is forming it –applying our principles

of acquiring the best technology available with

the best value for money.

In the next issue

❱❱ £500 PCs

on test

Sett ing up a

home office, or

just want some

extra power out

of your home

PC? Don't spend too much on a fl ashy

gaming system or high-end workstation –

we'll be testing out a range of budget

desktops to fi nd out how much power,

memory and storage you can get for £500.

❱❱ Don't forget to pack your tech

Whether your summer holidays are a British

staycation or a jet-setting jaunt around the

world, these are the devices to pack in your

carry-on bag and the apps you should

download before you depart.

❱❱ Stream everything

Our complete guide to the world's biggest

media streamer, Kodi, shows you how to

use it – and, most importantly, how to stay

within the law.

COMPUTER SHOPPER ISSUE 354 ON SALE IN NEWSAGENTS FROM 15th JUNE

ISSUE 353 | COMPUTER SHOPPER | JULY 2017

7
---
MEL'S WORLD

Tall storeys

He helped kick-start the high-rise building boom in Dubai in the 1970s, and now the

visionary Mel Croucher has seen the future of construction again, and it's in 3D

MEL CROUCHER

Tech pioneer and all-round good egg

letters@computershopper.co.uk

I BECAME AN economic migrant

more than 40 years ago, when I

was unable to fi nd work in my

own country. My nation's

economy had collapsed, the

electricity supply had failed,

schools and hospitals were in

chaos, piles of rotting fi lth fi lled

the streets and the dead could

not be buried. My country was

called England. I was an architect.

The country that gave me

refuge was a dusty backwater in

the Middle East. It was called

Dubai. They had begun to extract

oil from shallow-water rigs just

offshore, and they needed

workers to build stuff for the

immigrants that were expected

to come fl ooding in.

My employer was an old

beardy bloke with a big nose and

sunglasses. He was called His

Highness Sheikh Rashid bin

Saeed Al Maktoum, and he was

the ruler of the place. He ordered

me to build him the fi rst high-rise

I never did figure out how to work that computer for

designing buildings, but after only a year I got it to

play a pretty good version of Pong

structures in his little kingdom,

which he named after himself, in

a street also named after himself.

I had never built anything taller

than a bungalow back home, but

he didn't seem to mind, as long

as what I built was higher than

anything his neighbouring

despots had thrown up. And I

didn't mind, seeing as he was

paying cash, and I was desperate.

WHAT A CAD

My structures started off nine

storeys high, but in the

boomtown that was 1970s Dubai,

I was told to add a few more

fl oors using the power of magic

to compensate for my ignorance

and inexperience. That magic was

called 2DCAD, which stood for

two-dimensional computer-aided

design, and it ran on a machine

that looked like Darth Vader's

severed head grafted on to a

typewriter. I never did fi gure out

how to work that computer for

designing buildings, but after

only a year I got it to play a

pretty good version of Pong.

Last month, I fl ew back into

Dubai 40 years on. Everything I

ever knew had gone, replaced by

insane, gigantic structures. My

buildings had been demolished

years ago for being hopelessly

ancient and insignificant. And to

think, I used to worry that

structures over nine storeys were

hazardous, because back then

the fi re brigade consisted of a

Lebanese window-cleaner with a

ladder and a bucket. But as my

British Airways silver bird

shuddered into the city of today,

I could see that the buildings

have become so tall only

Superman could tackle a blaze.

Many of today's architectural

monsters boast over 100 fl oors,

and one skyscraper is 163 storeys

high. And now a company called

Cazza is about to dwarf the lot

by constructing the world's fi rst

3D-printed skyscraper.

HEIGHTS OF MADNESS

The proposed megalith looks as

though it's been designed not

by computers but by a billion

giant termites from the planet

Bonkers, on hallucinogens, in

zero gravity, with knobs on.

Cazza's construction

philosophy is a bit more

ambitious than mine used to be,

and the fi rm has recently spoken

about the son and heir of my old

boss in the following terms:

"We admire His Highness

Sheikh Mohammed bin Rashid Al

Maktoum's 10-times vision. We

came here to change the world,

and that's what we're doing."

How very true this is. In my

day I had to make do with

2DCAD and a basic knowledge

of ALGOL programming, but

thanks to modern computer

technology today's economic

migrants will be using robot

cranes as printers, specially

adapted for building at superhigh

speeds, at super-high levels,

at super-high profi ts, because

printing a building is vastly

cheaper than getting a bunch of

workers from Tamil Nadu to build

it using muscle power. As well as

plastics and alloys, the cranes

can print concrete and steel

reinforcement, all of which will

sway about in the Arabian winds

looking down on the miles of

surrounding arid nothingness.

Oh brave new world, that has

such madness in it.

COR BLIMEY

Earlier this year, a company

called Apis Cor printed a

complete detached house in 24

hours, using a mobile 3D rig on

one of its Russian building sites.

It cost £8,145, and is reckoned to

have a lifespan of 175 years. I

must confess that it's a very nice

little house too, miles better than

the bungalow I managed to inflict

on the world all those years ago.

And so, from the smallest of

dwellings to the most gigantic

structures the planet has ever

seen, this is just an indication of

how robots are going to affect

construction sites and the fate of

those of us who used to work on

them. Let alone the environment

we will all inhabit. It will be a

revolution far greater than the

replacement of the horse and

carriage by the automobile, and

it has already begun.

As for me, I trousered the

loot and eventually made it back

to England in 1977 to start up a

video-games company. But that,

as we high-rise experts say, is

another storey.

8 JULY 2017 | COMPUTER SHOPPER | ISSUE 353
---
CYBER INSIDER

Private principles

Tough new laws and the threats from open networks can ruin your privacy.

Cyber Insider is here to help

DATA SECURITY USED to be

easy. You'd just have to install

some internet security soft ware

on your computer, and you'd

be done. Today, with the

proliferation of smartphones,

laptops and wireless hotspots,

protecting your data has become

incredibly hard. It's made even

harder by progressively tougher

surveillance laws, both at home

and abroad. It makes sense that

for this Cyber Insider, I should

talk about ways to legally protect

your data whether you're at

home, out and about, or abroad.

First, let's look at the US.

Thanks to President Donald

Trump, privacy seems to be a

thing of the past. Now, ISPs

have the rights to sell users'

browsing history without

consent, and visitors can have

their phones seized, with

Homeland Security requesting

security PINs so that all data

can be copied.

And it gets worse, with the

US now thinking about

requesting social media account

names and login details so that

a person can be vetted before

being allowed into the country.

The trick is to mitigate any potential

damage. Turning on two-factor

authentication is a good starting point

Currently, the US is targeting

people from seven Muslim

countries, but you have to

wonder how long this will last.

Indeed, there's already talk

about the same checks being

performed on visitors from the

UK, France and Germany.

Certainly, no visitor arriving at

the US border is entirely safe

from being asked to hand over

their phone. Where the US leads,

other countries often follow or

react, so similar draconian

practices may start appearing

at other borders.

There's a huge legal question

about whether any of this is

strictly allowed. But it makes

little difference if you've been

dragged off to a little room to

have a chat about your phone.

So what can you do?

ENTRY LEVEL

There's not much you can do

about having to hand over data.

Clearing your phone of data and

apps is a no-go, as that's a red

fl ag to immigration and could

result in you being denied entry.

The trick, then, is to mitigate

any potential damage. Turning

on two-factor authentication is

a good starting point. That way,

your accounts can't be accessed

with the password alone, should

you have to hand over that bit

of information. Instead, you

also need an automatically

generated code, which can be

created by an app or sent via

text message to your phone.

It's easy to argue that two-factor

authentication is a common

technology designed for security

in case of any tricky situations

with immigration officials.

I also recommend using a

temporary password for all

accounts. That way, if you have

to hand over the information,

you can change the password at

a later date, reducing damage.

Likewise, change the PIN on your

phone for a temporary one for

travelling: if your phone has to

be searched, you can hand over

the PIN, safe in the knowledge

that you can change it back

again later. Ultimately, that's

about all you can do, and if you

really don't want to hand over

any information, the best advice

is not to travel to the US.

BROWSER PRESS

A second threat comes from

when you browse the internet.

As we've seen, US ISPs can

collect a lot of data on you, but

then again so can the UK

government. Even worse, Wi-Fi

hotspots can be notoriously

insecure, with unencrypted

communication easy for hackers

to spy on. There have even been

cases of hackers setting up fake

Wi-Fi hotspots for the sole

purpose of stealing login details.

You can't take any chances. If

you think you're in a potentially

insecure area, it's best to protect

your internet traffic immediately.

That means using a virtual private

network (VPN). With a VPN, your

network traffic is securely

encrypted and sent across the

internet to a secure endpoint

where it pops out as normal.

Using a VPN has two

advantages. First, your internet

traffic can't be snooped on;

second, the endpoint masks

your real location so any

service you visit can't work out

where you're located.

EXPRESS DELIVERY

With a proper VPN, such as the

excellent ExpressVPN (www.

expressvpn.com), you can choose

which country you want to

appear in. For example, if you

were in the US, you could tell

ExpressVPN to use one of its UK

endpoints, making it look as if

you're at home. This way, you

avoid any potential snooping in

the place you're currently

located, and you can access local

UK services, such as BBC iPlayer.

There is no technology

greater for protecting your

security and privacy than a

VPN. After security soft ware,

the VPN is the next most

important tool that you can

have. VPNs are perfectly legal

technology and have a strong

security reason for being used,

should you need to justify it.

While we can't completely

fi ght back against governments

or protect data entirely, we

shouldn't take threats to security

or privacy lying down. Bigger

changes need to made, and it's

worth voicing your opinion to

your MP to get the government

to address concerns both at

home and abroad.

10 JULY 2017 | COMPUTER SHOPPER | ISSUE 353
---
RANTS & RAVES

The tech industry is fi nally going green, but it's not as green around the gills

as the government when it comes to encryption

Madeline Bennett

THE TECHNOLOGY INDUSTRY has not been the greatest

friend to the environment. The huge global appetite for laptops,

tablets, mobile phones and so on has led to electronic devices

becoming cheaper and more disposable.

This is bad news for the planet, as it means more plundering of

the earth's natural resources, and more discarded items being sent

to overflowing landfill sites. According to a United Nations report,

in 2014 less than 16% of global e-waste was recycled. The UN also

revealed that e-waste volumes from small products, such as mobile

phones and PCs, will rise globally to 50 million metric tons or more

every year in 2017, representing a huge waste of resources and a

source of contamination from hazardous chemicals.

But things could be about to change, as a couple of the big

names in the technology industry are highlighting the sustainability

issue with some eco-friendly plans.

Samsung has announced it will be responsibly

disposing of all the recalled Galaxy Note 7 handsets

– admittedly after pressure from Greenpeace, but

at least the fi rm is fi nally doing the right thing.

It has committed to a number of steps, including

refurbishing the recalled phones, detaching

salvageable components such as semiconductors and

camera modules for reuse, and extracting metals using

environmentally friendly methods. Seeing as the product

recall involves a whopping 4.3 million handsets, this will have a big

impact on preventing a whole load of new e-waste being dumped.

Not to be outdone by its arch rival, Apple has pledged to stop

mining the earth for the manufacture of its devices. Rather than

extracting metals and rare materials from the ground to make

iPhones, iPads and MacBooks, Apple aims to produce devices

entirely from recycled materials such as aluminium, copper and tin.

Although Apple has yet to commit to a timetable or fl esh out

concrete details of how it will achieve this green goal, the fi rm has

thrown down the gauntlet to the tech sector to start including

protection of the environment as part of the product development

process. That in itself is to be commended.

And who knows, perhaps the next step will be to make products

that have a longer lifespan and are easier to repair. Here's hoping.

David Ludlow

ONCE AGAIN, THE UK government has proved it has no idea

how technology works and has called for the impossible or – bestcase

scenario – the stupid. Following the attack on Westminster

Bridge, where the terrorist was said to have used WhatsApp for

communication, Amber Rudd, the home secretary, has called for a

backdoor to allow government agencies to snoop on messages.

"It used to be that people would steam open envelopes or just

listen in on phones when they wanted to fi nd out what people were

doing, legally, through warranty," Rudd told the BBC.

"But in this situation, we need to ensure our intelligence services

have the ability to get into situations like encrypted WhatsApp."

Comparing communication in the real world to encryption in the

virtual world is just plain stupid for many reasons. Encryption uses

well-defi ned mathematics to protect communications.

You just can't change the maths to suit a government

mandate: inserting a backdoor fundamentally

weakens encryption, allowing other people to break

it.

In short, there's no safe way to provide a master

key

for encryption without breaking it for all.

The government also wants to ban end-to-end

encryption, such as that used by WhatsApp. With

this form

of encryption, the service provider physically

has no access to the sent messages. Banning end-to-end

encryption, so the

service has to store messages in the middle, would

give government agencies a way to read our communications.

Again, this method reduces security, as an attack on the servers

in the middle can reveal information. It also doesn't address the

problem that end-to-end encryption exists, so terrorists could

switch to other services or use open-source tools instead. Do the

police or ISPs have the resources to check all internet traffic, PCs and

smartphones to ensure no end-to-end encryption is being used?

Ultimately, the government is attacking a useful technology it

can't understand. Rather than breaking encryption and eroding

our privacy, traditional policing methods are the answer to

stopping terrorism.

12 JULY 2017 | COMPUTER SHOPPER | ISSUE 353
---
The biggest stories from the tech world, and what they mean for you

Wearable Technology Show

London is the destination for the latest smart devices

THE WEARABLE TECHNOLOGY Show brings together a diverse

range of companies operating in the wearables space, from the more

traditional fi tness bands and in-car navigation systems to newer

products such as smart rings and intelligent pet monitors.

Madeline Bennett went along to the Spring show to see which

might take off and which are just a gimmick. Here, she rounds up her

favourites from the dozens on display,

which might just make your

life that bit easier, or at least help you stand out from the crowd.

Navdy

£600 from www.amazon.co.uk

Navdy is an in-car driving device that uses

augmented reality to project information

as a transparent image directly in the

driver's line of sight. You can choose to

have information such as maps, calls,

messages, notifications, email, music and

car diagnostics data directly in front of

you, so you can stay connected while

keeping your eyes on the road.

We had a quick test of the system in

Navdy's demonstration vehicle at the

show, and can vouch for the transparent

view not being too distracting from the

road ahead. Navdy has a built-in GPS chip

and local storage of maps, so you don't

have to worry about losing your way if you

lose network coverage.

You can use hand gestures to accept a

phone call, so you don't need to try to

locate a certain button, and you can access

Siri or Google Now through the system to

take advantage of voice control. It also

connects to your car with Navdy Dash to

show your speed and automatically

recommend nearby petrol stations when

your fuel level is low.

While car makers such as BMW have

been offering these kinds of in-car

systems for a while, Navdy has the

advantage that it's portable, and so

can be carried around from car to

car – ideal for business travellers, or

for sharing among a family, for

example. The device can be easily set up

and mounted in any car with Navdy's

magnetic mounting system.

Navdy is available from Amazon for £600.

It's compatible with iOS 9 and above, and

Android KitKat 4.4 or newer.

Tapdo

€129 (around £108) from tapdo.io

This mini smart button lets you control

technology services with single-touch,

personalised biometric interactions. The

built-in fi ngerprint sensor button can hold up

to 26 different functions across one hand.

You just have to scan all the different parts

of your fi ngers, and then give each part of

each digit a function. You might set up one

fi nger as a music controller, for example, with

play/pause at the top of the fi nger, and up/

down in the middle part. Then just press away

on the button with the relevant bit of your

fi nger to carry out your

desired action.

When the Tapdo

launches in September,

it will support around

20 applications,

including controlling

Spotify, Kodi and Philips

Hue bulbs, tweeting a

current location, and

taking a photo.

You can attach the

button via the included

clip, attach it to your

watch, or use the Tapdo

rubber wristband.

Tapdo is being

funded via a Kickstarter

campaign, which went

live in March. The buttons

will start shipping in September and will be

available in Europe, the US and Canada.

Kerv

£100 from kerv.com

This smart payment ring can be used

anywhere that takes contactless payments

– you just tap the card reader with your ring

and you've paid, saving you getting out a

credit card or your smartphone.

No setting up is required, and the ring

doesn't need charging. You get an activation

code once your Kerv arrives through the post

and you're ready to go. The ring only supports

MasterCard though, so you need to pre-load

a Kerv ring account with cash to use it.

The Kerv is scratch-resistant and

waterproof. It's available in 14 different colour

options and 13 sizes, all priced at £100.

14 JULY 2017 | COMPUTER SHOPPER | ISSUE 353
---
Petcube Play

£159 from petcube.com

It wasn't just us humans catered for

at the show. Our beloved four-legged

friends also have their own smart

devices, aimed at keeping them

entertained while we're out and

letting worried pet owners keep an

eye on their cat or dog.

Petcube Play is an indoor home

pet camera that lets you check in on

your pets from your smartphone via

the associated app. It consists of a

small cube, which contains a 360º

camera with night vision and 1080p

HD wide-angle video. The cube has

a built-in speaker so you can call

your pet to come over when you

want to see what they're up to – great

for dogs, who tend to come when

they're called; get ready to have lots

of blank footage, cat owners.

But the company has catered for

felines with the addition of a laser,

which cats, as anyone who's owned

one will know, just love chasing.

The camera has a motion sensor, so

the sound of a dog barking or a cat jumping in

front of it will trigger the camera so you can see

what's going on. You can also share the footage

with friends, family or the public.

Petcube also donates the cameras to animal

shelters to help with rehoming unwanted animals,

which gets a big thumbs up from us. The Petcube

goes on sale in May, priced at £159.

The company also has the Petcube Bites, which

offers the same camera functions, but with the

added bonus of being a treat dispenser – just click

a button on the Petcube app and it will throw out

a biscuit for your furry friend. This goes on sale in

September for £199.

Princess Cruises

Ocean Medallion

www.princess.com

Travel company Carnival was at the event to show

off its new Ocean Medallion smart token, which will

launch on its Princess Cruises line later this year.

The Ocean Medallion is about the size of a

10 pence piece, and has no discernible technology

to it – there's no on or off switch or user interface.

But once a customer has booked their cruise,

Carnival hopes that the Medallion will become

the only device they need to carry around while

on board, replacing their smartphone, credit card

and any other devices.

The token can be worn on a wristband or chain

or carried in a pocket or purse, and will be used

for everything from checking on to the ship

and unlocking the guest's cabin door as they

approach the room to paying for goods.

Once on board, guests

will be able to use the

accompanying mobile app

to make reservations or

pre-order drinks for a show

later – and as soon as they

approach the location, the

token will alert staff so they

can be seamlessly checked in

and served. The housekeeping team

will also be alerted when guests are out of the

cabin so the cleaning crew can do the daily

servicing without disturbing them.

Princess Cruises has installed 122km of cable,

7,000 sensors and 650 readers to enable this

seamless experience, but the fi rm sees this as a

worthwhile investment for establishing a larger

base of cruise fans.

Tony Roberts, vice-president UK & Europe at

Princess Cruises, told attendees: "The cruise

market is about 2% of the travel market and the

idea here is how do we enhance the guest

experience so much that people are thinking

about a cruise holiday rather than beach holiday.

"We're providing guests with the most

personalised experience so they really do get

to make the best of their time on holiday. We

think this is how people will enjoy their holidays

in the future, with that level of personalisation

they've come to expect when they're shopping

on the internet."

▶ For the den

Last year's XPS 12 was a vexing

failure – how could such a

close relation to the excellent

XPS 13 get it so wrong? Wisely,

Dell has stuck much closer to

its fi nest clamshell for the new

XPS 13 9365 2-in-1, which

adopts a rotating hinge in

place of a detachable one.

We still prefer the standard

laptop version, but the XPS 13

9365 is a lovely convertible,

with its gorgeous InfinityEdge

display, ultra-thin chassis and

much-improved battery life

over the XPS 12. It's powerful

enough to get some light work

done, before fl ipping the

screen into tablet mode for

some sofa-based relaxing.

(Page 34)

▶ For the shelf

Looks aren't everything, as

the Master & Dynamic

MH40 shows perfectly.

This premium set of

over-ear headphones looks

great, incorporating both

cowhide and lambskin,

but it's hampered by an

uncomfortable fi t for

anyone without a

sufficiently small head

or ears. Sound quality

isn't very refi ned for the

price, either.

(Page 50)

▶ For the wallet

We've long been fans of Asus's

ZenBook ultra-portables – in

fact, much of this magazine

was produced on a ZenBook

UX305CA. The latest ZenBook

UX310UA continues the streak,

offering a brilliant 13.3in

display and impressive

portability, all for hundreds of

pounds

less than

most

similarly

slim laptops.

(Page 32)

ISSUE 353 | COMPUTER SHOPPER | JULY 2017

15
---
1

Operating

1

AGA

BOOTING UP

system

quality

Microsoft has fi nally stopped supporting

the much-maligned Windows Vista OS,

10 years after its release.

2Clean pavements

The Watchdog 1 drone locates dog

poo and then alerts the Patroldog 1

robot, which rolls in to clean up.

3 PowerPoint

Celebrating its 30th birthday.

Expect reams of meta-presentations

on the occasion.

4Russian linguists

MI5 is seeking Russian speakers to

help protect the UK from hackers.

cookers

Complicated, toast-burning,

talking points, Aga ovens can be hacked.

So you can forget any plans you had for

perfect eggs.

Samsung reveals green Galaxy Note 7

recycling plans

SOUTH KOREAN HARDWARE

fi rm Samsung has come to

agreeable terms with the

environmental group

Greenpeace over the massive

Galaxy Note 7 product recall.

Greenpeace said that the

Samsung reaction followed

strong public concern, and

showed there was a clear

interest in the need to properly

dispose of electronics.

"People around the world

signed petitions, emailed

Samsung's CEO, demonstrated

in cities around the world, and

fi nally Samsung has listened.

This is a major win for everyone

that took action, and a step

towards shifting the way we

produce and dispose of

electronics," said Jude Lee,

global senior campaigner at

Greenpeace East Asia.

Samsung has made a number of

promises about tackling the kindling-like

Note 7, and has recalled the whole lot of

them for real safety reasons. It promised to

recycle any units that can be recycled, and

will strip down the rest for any usable parts

and electronics.

Once the handset maker has

stripped the hardware for all the

parts it wants, it will throw them

open to any interested parties.

"Regarding the Galaxy Note 7

devices as refurbished phones or

rental phones, applicability is

dependent upon consultations

with regulatory authorities and

carriers as well as due

consideration of local demand.

The markets and release dates

will be determined accordingly,"

explained the fi rm.

"For remaining Galaxy Note 7

devices, components such as

semiconductors and camera

modules shall be detached by

companies specialising in such

services and used for test

sample production

purposes. Finally, for

left over component

recycling, Samsung shall

fi rst extract precious

metals, such as copper,

nickel, gold and silver by

utilising eco-friendly companies

specialising in such processes."

Just as long as they aren't stored near any

petrol or matches, this should all go fi ne.

Get packing: Vodafone kills roaming

charges in 40 locations

2Travelling laptops

Good luck moving hardware

through the air because of politics.

3Watching a movie

with a millennial

There is a 50% chance that it's a pirate

copy, according to a recent study.

4 Imagination

Technologies

People are putting the fi rm down

following a failed Apple licensing deal.

Shares fell like rotten apples.

CRASHING

GET OUT the beach towels and the suntan

lotion once again, British people – roaming is

very much back on the travel itinerary.

Service provider Vodafone has got up early

and rushed out to put roaming towels on

sunbeds in 40 locations, providing

holidaymakers and travellers overseas with

no roaming charges, but exactly the same

terms that they enjoy at home.

The 40 locations include a number of

popular European holiday destinations.

including Greece, Spain and Turkey.

"Customers have told us they want us

and the rest of the industry to change.

They want life to be simpler and for us

to remove the things that make life

stressful so they can live their lives,

uninterrupted by these concerns," said

Nick Jeff ery, Vodafone UK CEO.

"Our new programme will do that over

the next few years and will prove our

commitment to letting our customers

talk, text or stream for a great price,

wherever in the world they may be."

Ernest Doku, telecoms expert at the

price comparison site uSwitch.com,

congratulated Vodafone on its timing.

"With EU roaming charges due to be

abolished for UK customers as of 15th June

and with uncertainty over what Brexit will

mean for roaming charges in the longer term,

Vodafone is fi ring the starting gun ahead of

time, keen to steal a march on its rivals and

put its current customers at ease," he said.

However, the perk is only offered to new

customers or those upgrading an existing paymonthly

contract, so not all users will benefi t.

16 JULY 2017 | COMPUTER SHOPPER | ISSUE 353
---
Loyal broadband customers ripped off

by huge price hikes

RESEARCH FROM THE UK Citizens Advice

organisation has found that consistent and

reliable customers get a raw deal when it

comes to renewing their broadband prices.

In fact, they actually get penalised by their

provider, sometimes having to face price

increases of up to 43% when one contract

ends and another automatically begins.

The advice bureau says that this can work

out as an average price rise of £113 a year,

which seems iniquitous, particularly when

these fi gures are culled from the average

prices of the most basic packages at the big

fi ve service providers.

BT and Sky make the biggest hikes, treating

users to 67% and 53% increases respectively.

Over four years, consumers are paying a

loyalty penalty of up to £594 (BT), depending

on where they take their services from.

Virgin Media looks the best bet, with no

increases on a £32.50 monthly tariff over a

four-year renewing period, and TalkTalk

shuffles in at second best with a 'mere'

£132 penalty reward.

Citizens Advice

recommends that you shop

around. "Loyal broadband

customers are being stung

by big price rises once

their fi xed deal ends.

People often choose their

broadband deals based on

the price that works for

them – but our evidence

shows that many do not

realise the price will rise

after the end of the fi xed

deal. With people staying

with their supplier for an

average of four years,

these extra costs can run

into hundreds of pounds,"

said Gillian Guy, chief

executive of Citizens Advice.

"Older customers and those who have less

money are more likely to stay with their

supplier for longer, meaning their loyalty

penalty could reach over a thousand pounds.

"The government has rightly put energy

fi rms on warning for how they treat loyal

customers – the actions of broadband fi rms

warrant similar scrutiny. Extra protections for

vulnerable consumers are also a must."

8%

The projected decline in tablet

and eReader sales by 2022

2 46%

MILES DRIVEN THROUGH

GREENWICH BY A NEW

DRIVERLESS SHUTTLE BUS

UK businesses hit by acyber

attack over past12months

87%

25- to 34-year-olds who

use internet banking

340

The position thatcolourful anti-virus

26%

64%

The position that colourful anti-virus

OVER 65s WHO pioneer John McAfeeearnedearned in a

BANK ONLINE newfamous person list

50

Hours of virtual-reality

content watched to set a new

Guinness World Record

PROJECTED

INCREASE IN

SALES OF FITNESS

BANDS AND

SMARTWATCHES

BY 2022

ISSUE 353 | COMPUTER SHOPPER | JULY 2017

17
---
California

Apple hits

the road

Apple is the latest

company to enter

the self-driving cars race. It has received a

permit from the California Department of

Motor Vehicles to test out autonomous

vehicles on the US state's roads.

Apple has remained secretive about its

plans, but told federal regulators that it had

turned its attention to "machine learning and

autonomous systems".

Rumours that Apple was interested in

autonomous cars began two years ago, after it

fi led a patent for soft ware called 'Collision

Avoidance of Arbitrary Polygonal Obstacles'.

Maribor, Slovenia

Rest in pixels

A Slovenian cemetery has created a vandaland

weather-proof digital tombstone that can

stand as a testament to a life, but perhaps

with some concerns

about blue screens

of death in death.

The fi tt ing, or

fl ickering, memorial,

is designed to last.

"The tombstone has a sensor so that when

nobody is around it only shows the person's

name and the years of their birth and death.

This saves energy and the screen itself, and

helps extend the tombstone's lifetime," said

the outfit behind the technology.

China

Government gets strict on privacy

China plans to impose the world's strictest

digital privacy rights rules against fi rms such

as Facebook and Google by requiring them to

obtain user permission before sending any

data about them outside the country.

The rules oblige large data companies to

go through an annual security assessment.

The law also prevents the transmission of

economic, scientific

or technological data

outside the country

if the government

decides it poses a

threat to security or

public interest.

Middle East and North Africa

I know that face

UK surveillance outfit Digital Barriers has won

the contract to provide facial-recognition

technology to Careem, an Uber-like taxi

service that dominates the Middle East and

North African market, across locations

including Saudi Arabia, the UAE, Egypt,

Pakistan, Morocco and Kuwait.

"When customers rely on a ride-hailing

service or any other mode of

transportation to go from

point A to point B, they are

also placing their trust in

the service provider for

their safety and security,"

said Magnus Olsson,

co-founder of Careem.

India

Watchdog welcomes e-voting hackers

India's election watchdog has invited hackers

to target its e-ballot boxes, following demands

for an investigation into the security of the

country's electronic voting machines.

After recent elections, there were calls for

the electronic voting machines to be ditched

and replaced with paper ballots.

While the Indian government

rejected calls for a return to paper

slips, the watchdog said it

will organise a hackathon

to probe the boxes.

The 10-day competition

invites anyone to subvert

the voting machines and

the back-end systems.

Australia

eBay threatens to

block Oz shoppers

Auction company

eBay is threatening

to block Australian

customers if the

government enacts laws to collect Goods and

Services Tax (GST) from internet sales. The

fi rm claimed proposals to tax all goods sold

by overseas businesses were "unworkable and

would harm Australian consumers".

Sales of under $1,000 currently aren't taxed

but the government plans to remove this

threshold for businesses with sales of $75,000.

Treasurer Scott Morrison said it would

mean Australian businesses "do not continue

to be unfairly disadvantaged".

18

JULY 2017 | COMPUTER SHOPPER | ISSUE 353
---
State-sponsored espionage

Mostly from Russia without love

THE LAST YEAR has seen a swathe of political

changes, some radical election results, and some

scandalous talk of election manipulation. The US

in particular has accused Russia of perpetrating

attacks against its cyber systems, especially in

the run-up to the 2016 presidential election.

Buried deep in this is the problem of

state-sponsored espionage, which has been a

problem for industry and infrastructure for some

time, and is now fi rmly on the political agenda

and at the front of politicians' minds.

OH. THIS HAS NOTHING TO DO

WITH ME THEN…

It might seem like faraway stuff, and the kind of

thing that concerns the plot of modern James

Bond movies, but this type of state-sponsored

cyber spying is widespread and could have an

impact on us lowly citizens.

In the last six months of 2016, around 40%

of all industrial computers faced a cyber attack

of some kind, according to the Russian security

fi rm Kaspersky Lab, which said that industrial

systems and computers were becoming

increasingly embattled.

Infections were most commonly caused

by internet-based attacks, removable storage

devices and email attachments. These are the three evil musketeers

of malware, and they could easily be used to disrupt national

infrastructure and industry.

Such tools are already being used for mayhem and mischief.

In the US, two Russian spies, one Russian hacker and a lone

Canadian have been charged with stealing the sensitive personal

information of 500 million Yahoo! users. This huge attack on a

massive American corporation was a real shocker and revealed

a very soft security underbelly.

IS THIS THREAT LEVEL MIDNIGHT?

Speaking about the Yahoo! incident,

Tim Matthews, vice-president at security

fi rm Imperva, warned: "This case is

disturbing on many levels, but enterprises

should take note. Organisations may have

been under the false impression that

state-sponsored hacking was aimed at other

governments – or at worst, political parties.

Now we have learned that elite teams of

state-sponsored conspirators and hackers

are also seeking access to corporate data.

"What's more, the state-sponsored conspirators of this cyber war

are, as in ancient times, giving the spoils of this war to their hacker

combatants. In this case, after collecting the data on their political

targets, which includes employees of commercial entities in

transportation and fi nancial services, the hackers were given free

rein with the spoils – the data from 500 million Yahoo users."

Here, we imagine Matthews will have paused for a shake of the

head, before adding: "If a nation state hacked Yahoo!, who is to

know what other companies may have been or will be hacked?

Those who don't carefully monitor their networks today may well

regret it down the road."

"The anonymity of web-based

attacks means nation states can

achieve ethically questionable

aims via puppet actors"

HOW EASY IS IT TO PROVE GOVERNMENTS ARE BEHIND THIS?

Security fi rm ThreatConnect suggests that the relationship between

state and hacker works both ways, and that both make the most of

the mystery of their trade. It is possible that the fi rst thing a victim

will know about their own attack is when it becomes obvious that

data is leaving or that traffic is unusual.

"State-sponsored hackers are the big dogs. The anonymity of

web-based attacks means that nation states can achieve their more

ethically questionable aims via puppet actors, making it extremely

difficult to prove links between individual

hacks and state-sponsored campaigns,"

the fi rm noted.

"However, state-sponsored hackers are

sometimes identifiable by their attack

patterns and dedication to a specific target.

They're a tenacious breed; if you think

you're being targeted by a state-backed

hacker you should be ready for a long

struggle to throw them off."

HAS CYBER ESPIONAGE PEAKED?

Unfortunately not. There were scandals in the US election, and talk

of some manipulation in the UK's EU referendum. And we now

have a snap general election coming up in June, which could open

the fl oodgates for a whole new load of cyber manipulation and

interference. A lot of fi ngers get pointed at the Russian government,

and perhaps with good reason. It has been found to be the source

of a heap of sophisticated attacks, and to be keen on pushing

forward with the development of proven tools.

Turla, one of the most infamous malware groups said to be borne

out of Russia, has recently updated its main attack, according to ESET,

dubbing it Carbon and hurling as many as eight active versions out into

the wild. 2017 is a bad year to be a target, that much is for sure.

ISSUE 353 | COMPUTER SHOPPER | JULY 2017

19
---
The F1 car is the easy-to-assemble star

3D PRINTING has arrived in the

fast-paced world of motor racing.

McLaren has announced that it is

printing Formula 1 racing car parts

during the race. Quick 3D trackside

printing is expected to give the

fi rm an edge over the competition

as it should be able to make

modifications to parts on the fl y.

The team produced its fi rst parts at

the Bahrain Grand Prix in April.

"We are consistently modifying and improving

our Formula 1 car designs," said Neil Oatley, design

and development director, McLaren Racing.

"So the ability to test new designs quickly is

critical to making the car lighter and, more

importantly, increasing the number of tangible

iterations in improved car performance.

"If we can bring new developments to the car one

race earlier – going from new idea to new part in only

a few days – this will be a key factor in making the

MCL32 [car] more competitive. By expanding the use

GRAPHENE, THE SEEMINGLY do-everything

revolutionary technology, is helping to make salt

water, which takes up most of the planet, into

drinkable water where it might be most needed.

The process is discussed in the Nature

Nanotechnology journal, and says that a graphenebased

oxide sieve could be used to form a barrier

that efficiently cleans water as it passes through.

The process is a new one because researchers

struggled to produce large enough quantities of

single-layer graphene. They turned to 'simple

oxidation' to solve the puzzle.

Dr Rahul from Manchester University explained:

"Graphene oxide can be produced by simple

oxidation in the lab. As an ink or solution, we can

compose it on a substrate or porous material. Then

of Stratasys 3D printing in our

manufacturing processes, including

producing fi nal car components,

composite lay-up and sacrificial

tools, cutting jigs, and more, we are

decreasing our lead times while

increasing part complexity."

McLaren is partnering with UK

fi rm Stratasys and using its uPrint

SE Plus machine on site.

"Formula 1 is one of the world's

best proving grounds for our additive manufacturing

solutions," explained Andy Middleton of Stratasys.

"As the official supplier of 3D printing solutions

to the McLaren-Honda Formula 1 team, we are

working closely together to solve their engineering

challenges in the workshop, in the wind-tunnel, and

on the track.

"We believe that this, in turn, will enable us to

develop new materials and applications that bring

new efficiencies and capabilities to McLaren Racing

and other automotive designers and manufacturers."

Graphene steps in to sieve salt from the sea

BOEING IS ALSO embracing the 3D

printing revolution for its latest aircraft. raft.

The aerospace company has turned

to Norway-based Norsk Titanium to

provide it with fl ight-authorityapproved

3D printed parts for its

massive 787 Dreamliner.

Boeing is expecting to save

millions of dollars in manufacturing

and material costs by adopting

Norsk's proprietary Rapid Plasma

Deposition titanium production

method for wire-based materials.

This plan did not take fl ight overnight, and

the project is only going ahead after a period of

rigorous testing and inspection, which saw Norsk

we can use it as a membrane. In terms of scalability

and the cost of the material, graphene oxide has a

potential advantage over single-layered graphene."

The paper is called 'Tunable sieving of ions using

graphene oxide membranes', and describes the

process in glorious detail. Dr Rahul told the BBC

that the knack is getting the holes in the graphene

small enough to stop the salt getting through.

These are much simpler terms.

"To make it permeable, you need to drill small

holes in the membrane. But if the hole size is

larger than one nanometre, the salts go through

that hole," he said.

"You have to make a membrane with a very

uniform less-than-one-nanometre hole size to make

it useful for desalination. It's a really challenging job."

Boeing turns to 3D printing to shave

millions off the 787 Dreamliner

awarded FAA certification. Boeing is

confident it's the right move.

"From the outset, the 787 has

been the hallmark of innovation

and efficiency," said John Byrne,

vice-president, airplane materials

and structures, supplier

management at Boeing

Commercial Airplanes.

"We are always looking at the

latest technologies to drive cost

reduction, performance and value to

our customers and Norsk Titanium's RPD

capability fi ts the bill in a new and creative way."

Boeing hopes to save between $2m and $3m off

the cost of each plane by 3D printing the parts.

SOUND

BYTES

Now I know that if

you're trying to

catch terrorists it's really

tempting to demand to

be able to break all that

encryption, but if you

break that encryption,

then guess what – so

could other people.

And guess what – they

may end up getting

better at it than you are"

Tim Berners-Lee offers some advice to

governments looking for backdoors

PowerPoint does

something that

many people want to do:

expressing a sequence of

ideas, one after another

in order, using all kinds of

graphics and language"

PowerPoint inventor Robert Gaskins

on the 30th birthday of his venerable

meeting-improving soft ware

We saw it as a

technology to

essentially punch through

that fourth wall… it's a

cool way to connect

directly with our guests"

Burger King explains why an advert for

recycled meat had to mess with Google

Home in people's homes

We have now

investigated an

issue which meant some

Virgin Media customers

were intermittently not

able to access Facebook

and Instagram. Our fault

has now been fixed and

we apologise for any

inconvenience caused"

Virgin Media reopens the cat-pic

fl oodgates after a period of downtime

Over time I think

we will probably

see a closer merger of

biological intelligence

and digital intelligence…

It's mostly about the

bandwidth, the speed of

the connection between

your brain and the digital

version of yourself,

particularly output"

Elon Musk explains how the

connected you might work in real life

20 JULY 2017 | COMPUTER SHOPPER | ISSUE 353
---
IBM 5150

The revolutionary PC that kicked off the whole home computing boom in 1981

LADIES AND GENTLEMEN, what we have

before us here is a dinosaur. The IBM 5150,

the sort of stone-age piece of hardware that

makes young people pick up sticks and start

poking at it.

It was born in 1981, which is eight years

after this author, and has been loved ever

since. The big grey box was embraced in

classrooms and by early tech aficionados.

Big Blue saw it as a replacement for the

multimillion-dollar huge-array computing

machines that industry was using, but one

that was built and priced for the home.

IBM remembers the thing fondly; in fact,

you'd have to go some distance to fi nd

anyone who doesn't. "When the IBM Personal

Computer (IBM 5150) was introduced to the

world 25 years ago, it was dramatically clear

to most observers that IBM had done

something very new and different," explained

IBM about itself when marking the 5150's

quarter-century anniversary.

"Here you had a large company, steeped

in tradition, that had been willing and able to

set aside its 'business as usual' methods to

produce in volume a highly competitive, tiny

computer of top quality, intended for both

consumers and businesses. And IBM was

able to do all that and roll out its fi rst PC in

just one year."

ELEPHANT IN THE ROOM

IBM might now have a reputation for being a

safe pair of hands, but at the time this was

revolutionary stuff. When IBM fi rst began

speaking about the machine, one analyst

was dismissive, saying, "IBM bringing out a

personal computer would be like teaching

an elephant to tap dance".

IBM did it, though, announcing the 5150

on 12th August 1981. "This is the computer

for just about everyone who has ever

wanted a personal system at the office,

on the university campus or at home," said

CB Rogers Jr, IBM vice-president.

"We believe its performance, reliability and

ease of use make it the most advanced,

affordable personal computer in the

marketplace," he enthused.

The claims at launch will have been mind

blowing, but now they are less so. Even IBM

admits that the machine could only store as

much data as a large cookbook. IBM wasn't

really comparing like for like though, as the

computers of the 1960s required two fl oors of

their own just to exist on. The 5150 was

perhaps best compared against the IBM

5100, which came out in 1975 and had low

consumer appeal, or perhaps the zippy little

5322 or Datamaster, though that was more

of a word processor.

By 1981, however, IBM was giving a leg up

to Microsoft by embracing a modified version

of its Basic language for the 5150. This later

became PC-DOS and then, when safely

ensconced at Microsoft , MS-DOS.

IBM sold the 5150 for between $1,500 and

$3,000, and for the highest price tag a

shopper could get a maxed-out box with a

monitor, RAM options scaling up from 16KB

to a maximum 256KB, an 11.5in screen, dual

160KB 5.25in disk drives, and a cassette and a

keyboard. Put yourself back into 1981, doesn't

that all sound so appealing? Looking at it now,

we can see how its design has dated, but it

remains incredibly neat. The full package,

complete with everything from monitor to the

brace of disk drives, still wouldn't look out of

place in some circumstances. Even if those

circumstances are a shelf in a shed.

FANFARE FOR THE COMMON PC

We began with an intro from IBM, so we'll

allow the fi rm to play its creation out with a

fanfare: "The introduction of the IBM Personal

Computer a quarter of a century ago set a

worldwide personal computing standard and

helped establish a multibillion-dollar industry."

Let us all agree that IBM is proud of the

5150, and that it did indeed begin the home

computing revolution.

ISSUE 353 | COMPUTER SHOPPER | JULY 2017

21
---
REVIEWS

YOUR TRUSTED GUIDE TO WHAT'S NEW

SMART HOME ASSISTANT

GOOGLE Home

★★★★★

£130 • From madeby.google.com

VERDICT

A very smart home assistant that's easy to converse with,

but third-party support lags behind the Echo for now

THE AMAZON ECHO (Shopper 347) and Echo

Dot (Shopper 349) proved people were keen

to have an always-listening voice assistant in

the home, with both devices selling in droves.

It's no wonder, then, that Google has decided

to get in on the act with its rival product, Home.

As with the Echo, Home is a small speaker

powered by a personal assistant that can

answer questions, play music and control your

smart home devices. Home is an attractivelooking

device, looking more like a funky light

than a traditional speaker. Although it ships

with a basic white base, you can buy various

material or metal replacement bases (from

£18) to match your Home to your interior

decor. In many ways, the choice of bases

makes Home more fl exible than the Echo,

which is available only in black or white.

Home has a single button on it: a

microphone button at the back that stops

the device from listening to you. The top is

touch sensitive, and you can press and hold to

activate listening mode, if the wake-up phrase

"OK Google" doesn't work. We never had

trouble with this, as the far-fi eld voice

technology picked up our speech from across

our biggest room. The use of a two-word

wake-up phrase meant we never

triggered Google Home by accident;

the Echo will quite often wake up when

it thinks it hears you say "Alexa".

TALKING POINTS

The touch-sensitive top of the Home

also lets you change volume by

swirling your fi nger around. A neat

graphic appears on top to show the

current setting. Alternatively, you can

just use your voice and ask Home to

set itself to a particular volume.

The big difference between

Google's and Amazon's devices is the

personal assistant. While Amazon uses its

Alexa service, Home has the Google

Assistant, which has appeared on several

recent Android phones. As the Google

Assistant ties into the company's other

services, including Maps and search, Home

certainly has an advantage on paper.

It's an advantage that's carried over in

practice, too, as the Google Assistant is the

smartest assistant we've used, as well as the

most natural to interact with. Part of its

beauty is that the Assistant is context aware,

so you can continue a conversation with it.

Ask, "What's the weather like tomorrow?" and

you get an up-to-date forecast; you can then

follow up with, "And at the weekend?", and

Google understands that you want a further

weather update. Alexa isn't that smart, and

each interaction has to be carefully

worded to get the right answer.

Likewise, you can ask Google Home

where the nearest supermarket is,

and then follow up by asking when

it shuts. It's a far more natural

experience than dealing with other

personal assistants. The Google

Assistant is also better at fi nding

answers than Alexa, and we found it

hard to stump Home completely.

Google Assistant tends to be a bit more

accurate, too. Ask what the weather is like in

Falmouth, for example, and Home understands

that you're talking about the UK; Alexa starts

telling you what the weather is like in the US.

LEARNING CURVE

Google can also pull in the information that it

knows about you. For example, ask what the

traffic is like on the way home, and the Google

Assistant gives you the correct information.

Home can also provide you with details

from your calendar, as well as pulling

information from Gmail, such as upcoming

bookings and fl ights. Sadly, however, Home

can only integrate with a single Google

Account at the moment. An update rolling

out soon will let Home detect different

voices, giving them their information from

their own Google account.

Google Home also ties into other services.

Netflix and Chromecast support is neat, as

you can use your voice to ask Home to play

content on your TV. While it's arguably more

useful to browse for content on your phone,

Home's advantage is that you can use your

22

JULY 2017 | COMPUTER SHOPPER | ISSUE 353
---
voice to pause and resume playback, rewind, turn

on captions and skip episodes. It's a far quicker

interaction than having to whip out a phone,

switch to the Netflix app and hit the pause button

when the phone rings.

Spotify and Google Play Music support is built

in, letting you play streamed music directly on the

Home. There's also TuneIn, so you can quickly play

your favourite radio station, too. Unlike the Echo,

though, there's no Bluetooth support.

Remove the Home's base, and you'll see the 2in

high-excursion speaker and dual 2in passive

radiators. In a high-excursion speaker, the cone

moves further than on regular speakers, giving a

The Google Assistant is the smartest

assistant we've used, as well as the

most natural to interact with

greater frequency range. Compared to the full-size

Echo, Home's audio quality is similar: we found

that Home has more bass, but the Echo goes a

little louder. There's very little in it, though, and

both are capable, quality music devices.

JOIN US

Beyond the baked-in features, Google Home is

expandable via third-party add-ons. One of the

biggest uses is smart home control. For example,

you can turn on, dim and control the colour of

your Philips Hue lights. Home uses a similar set of

commands to Alexa for smart home control, and

we found little difference between the two devices.

This hands Echo the advantage, as Alexa

currently has far more smart home skills available

for it than Home. In particular, Alexa has support

for a wider range of smart thermostats and lighting

systems. Google Home's biggest support is from

Nest (a Google company), SmartThings and Philips

Hue. We expect Home's support to grow in future,

as more companies develop for the platform.

Once you add a Home control service, found

devices can be organised into Rooms. You can then

control an entire Room, say turning everything off

at once. It's a similar idea to Alexa's Groups.

For smart home control, it's likely that you'll

want more than one device so that multiple

Google Homes will play nicely together. When

you speak the wake word, only the closest Home

will respond to your question. Home will override

your Android phone, too, which isn't always that

helpful. Arguably, it would be better for Google

to have different wake words for its Android and

Home products so you can more easily choose

which device you want to interact with.

Kitting out a house can get expensive, which

is where Amazon has the advantage with the tiny

Echo Dot. At £50 a go, adding multiple Echo

devices to your home isn't that costly.

Beyond the smart home, Home supports

third-party news plug-ins, bringing you the latest

news from the BBC, Daily Telegraph, Sky News

and more. In particular, the BBC headlines are

high-quality, with the regular news readers giving

you the latest information.

Home doesn't have the same range of

third-party plug-ins as Alexa. For example, on

our Echo, we've got an Alexa Skill that can tell

us the current status of a Tube line, as well as

one that will tell a bedtime story. There are

thousands (of varying quality) to choose from

on Alexa, and it would be good to see a similar

range of options available for Home. Admittedly,

support for other services is starting to come,

via Conversation Actions.

HOME ALONE

We love the My Day feature, where Home gives

you an overview of your day. You can customise

the information you get, although

the default works well: it tells you the

weather, how your commute is

looking, when your next meeting is,

gives you your reminders and then

ends with the latest news report.

It's a neat thing to start a day with.

In addition, Google Home can do

all the usual things that you'd expect

from a voice assistant, including acting as an

alarm, setting reminders, helping you convert

between different scales (great for cooking),

and answering questions.

Here are the big questions: is Google Home

worth buying, and is it better than the Echo?

The answers aren't that straightforward, and

it depends on what you want to do. As a

standalone product, Google Home is cheaper

than the full-size Echo, and its voice assistant is

more accomplished and a little easier to interact

with. That said, smart home support is more

limited, and Home has fewer skills. It also works

out more expensive to kit out a home with

multiple speakers, as there's no cheaper option

to compete with the Amazon Echo Dot. In short,

we'd pick the Echo for home control at the

moment, and Google Home otherwise.

David Ludlow

SPECIFICATIONS

DRIVERS 1x 2in driver, 2x 2in passive radiators • RMS

POWEROUTPUT Not stated • DOCKCONNECTOR None •

WIRELESS 802.11ac Wi-Fi • DIMENSIONS 143x96x96mm •

WEIGHT 477g • WARRANTY One year RTB • DETAILS

madeby.google.com/home • PART CODE Home

ISSUE 353 | COMPUTER SHOPPER | JULY 2017
---
DESKTOP GAMING PC

BOX Cube Panther

★★★★★

£850 • From www.box.co.uk

VERDICT

The cheapest GTX 1060-based system we've seen yet is an unsurprisingly strong performer

£850 MAY BE a sizable chunk of the average

pay cheque, but in desktop terms, it's a fairly

middling amount – hence why it's particularly

crucial to judge where exactly the budget is

being spent. High-end processor or a fast

SSD? Luxury chassis or expansive

motherboard? With any reasonably priced PC

build, there are big component choices to be

made, even if you're not building it yourself.

With the Cube Panther, Box has focused on

gaming, forgoing higher-end parts elsewhere

to include a GeForce GTX 1060 graphics card.

It's the 3GB VRAM version, rather than a 6GB

model, but that generally only means the loss

of a few frames per second – not a huge issue

when you're already getting high frame rates

at both 1080p and 1440p.

SMOOTH OPERATOR

Indeed, Dirt Showdown running at Ultra

settings was no match for the Cube Panther's

capable GPU. It returned performances of

114fps at 1,920x1,080, 90fps at 2,560x1,440

and even a very playable 51fps at 3,840x2,160.

Dirt Showdown is a very undemanding

game compared to our other test game,

Metro: Last Light Redux, but even here the

Cube Panther runs well. With Very High

settings and SSAA enabled, it averaged 47fps

at 1,920x1,080, which is perfectly fi ne without

the need to tone down any textures or

graphical effects. 2,560x1,440 proved a greater

challenge, as the Cube Panther only managed

27fps (30fps or higher is ideal), but this was

easily fi xed by switching off SSAA, which

doesn't have much of a pronounced effect at

this resolution anyway. Once that's done, it

jumps to a much smoother 44fps.

The frame rate plummeted to 11fps at

3,840x2,160, and turning off SSAA wasn't

enough this time, so we switched to Medium

quality as well. This resulted in a 49fps average

– not bad for a graphics card that wasn't really

intended for 4K gaming in the fi rst place.

Overall, the Cube Panther is broadly on a

par with the more expensive Yoyotech

Warbird G2 (Shopper 351) and Chillblast Fusion

Hubble (Shopper 350), making it an excellent

choice for anyone primarily interested in

games. It even achieved a high score of 7.5 in

Valve's punishing SteamVR Performance Test,

so it's ready for virtual reality as well.

CHIP SERVICE

As we said, everything else about Box's PC is

less impressive. That's not to say it's actually

bad. Take the quad-core, 3.7GHz Intel Core

i5-7500 processor – it's non-overclockable

and would likely limit the performance of

more powerful GPUs, were you to upgrade

in the future, but here it's fi ne enough for

home use, and evidently doesn't bottleneck

the GTX 1060. Together with 8GB of DDR4

memory, it scored (amusingly) 108 in every

single part of our processing benchmark,

naturally including the overall score. You'll

need more muscle for things like video editing

or heavy multitasking with large fi les, but it's

still a respectable performance at this price.

There's also no dedicated SSD, though at

least you're not stuck with a simple hard disk

either. Storage comes in the form of a

decent-sized 1TB hybrid drive – the bulk of

this is traditional mechanical storage, but

there's also an 8GB cache, which can help

speed up your most-used applications.

We do feel it could have

done with a few more full-size

USB ports, mind. There are

only two USB3s on the front

panel plus two USB3 and four

USB2 ports at the rear, which

is about the minimum we'd

expect from a desktop PC.

There are only basic 3.5mm

audio jacks as well, though

some fl ashes of bonus utility

do come via a single USB

Type-C port and a 802.11n

Wi-Fi card, which has two

antenna mounts on the rear

I/O panel. Credit where it's

due, this is not only a useful

inclusion on its own, but if

you have to go wireless

instead of using the Ethernet

socket, it will save one of the limited USB

ports being taken up by a receiver.

A more premium touch is the inclusion of

two M.2 slots on the motherboard, with

support for Intel's new, ultra-fast Optane

drives. Even if you eventually go for a more

basic NVMe SSD, we'd defi nitely recommend

it over another SATA drive, though with three

3.5in, two 2.5in and two 5.25in drive bays,

you've got a fair few options.

MOODY VIEWS

The interior is bathed in a moody red light,

which you have a good view of through the

acrylic side window. Unfortunately, the rest of

the case doesn't look quite as slick, especially

the storm drain grate-looking plastic bars

running across the front fan intake.

Looks aside, this is a competent and quiet

gaming rig that we wouldn't mind keeping

under the desk (though perhaps not on it). It

may lack a huge array of exceptional features,

but not everyone can stretch to the £1,000 of

our current Best Buy, the Chillblast Fusion

Hubble, and as long as you avoid serious

data-crunching or multimedia tasks, this

cheaper system will get things done just fi ne.

James Archer

SPECIFICATIONS

PROCESSOR Quad-core 3.7GHz Intel Core i5-6500 • RAM

8GB DDR4 • FRONT USB PORTS 2x USB3 • REAR USB

PORTS 4x USB2, 2x USB3, 1x USB Type-C • GRAPHICS CARD

3GB Asus Dual GeForce GTX 1060 • TOTAL STORAGE 1TB

SSHD • DISPLAY None • OPERATING SYSTEM Windows 10

• WARRANTY Two years labour inc one year collect and

return and one year parts • DETAILS www.box.co.uk •

PART CODE CU-Pani5GTX10608Win10

Windows overall

Multitasking

Dirt Showdown

Metro: Last Light

0%

-50

108

108

114fps

47fps

Reference +50 +100

See page 72 for performance details

24 JULY 2017 | COMPUTER SHOPPER | ISSUE 353
---
Scan & Win a

SoundblasterX Katana!

T & C apply

CUSTOMIZABLE 24-BIT HI-RES GAMING UNDER-MONITOR AUDIO SYSTEM

A small, beautiful-looking soundbar that

delivers good audio for under £300

For keen gamers who want

something flexible for movies and

music as well, it's a great buy.

- PC Pro (source: issue 271, May 2017)

16.8 MILLION

REACTIVE COLORS

Mid

Mid

Low

POWERFUL 150W PEAK,

HI-RES 24-BIT/96KHZ AUDIO

With integrated sound card/DAC

DOLBY DIGITAL

DECODING

For true-to-life 5.1 channel playback

with clear dialog

DSP POWERED

5-DRIVER DESIGN

2 up-firing midbass, 2 high-excursion

tweeters, 1 long-throw subwoofer

High

Frequency

R L

Mid

Frequency

R L

Low

Frequency

SUB

Optical Aux-in

FLEXIBLE CONNECTIVITY

USB, Optical-in, Bluetooth 4.2, USB

flash drive, Aux-in, Mic-in, Headset

A

A

TRI-AMPLIFIED,

ONE-PIECE DESIGN

For uncompromised clear,

well-balanced, room-filling audio

A

BLASTERX ACOUSTIC

ENGINE FOR PC

Customizable enhancements for

unprecedented levels of audio realism with

7.1 virtual surround and clear cues

http://uk.creative.com/cs

#GAMERSFORLIFE
---
DESKTOP GAMING PC

CHILLBLAST Fusion Portal

★★★★★

£2,000 • From www.chillblast.com

VERDICT

This quirky, GTX 1080 Ti-based PC is hugely

expensive, but you do get what you pay for

IT'S ALWAYS NICE to see something different

amidst the stream of black cuboids that

usually comprise our PC coverage. Chillblast's

Fusion Portal stands out for two reasons, the

fi rst of which is its form. Held aloft by thin legs

on either side, the case (a BitFenix Portal,

hence the name) is one of the most unusual

Mini-ITX cases we've seen, with its rounded,

pill-like shape with grooves cut into the sides,

presumably lest they resemble unacceptably

plain-looking panels of aluminium.

It doesn't open up at the sides either,

another ditching of desktop PC convention.

Instead, you loosen a couple of screws at

the back and, with what is ideally no small

amount of care, pull out a separate internal

chassis, on to which the motherboard and

other components are attached. The whole

thing rolls backwards on a rail, leaving the

outer shell empty until you slide it all back

in again. It's bizarre, and of questionable

practicality, but we did fi nd ourselves grinning

at the audacity of such a design.

Topping it off (literally) is an acrylic window,

which gives you a fi ne view of the Fusion

Portal's second big selling point: an Nvidia

GeForce GTX 1080 Ti, the new king of the

Pascal-based graphics cards.

CUDA, WOULDA, SHOULDA

Selling for £699 by itself, this

GPU dwarfs even the mighty

GTX 1080 in pure specs: it

has 11GB of GDDR5X RAM

running at 11GB/s and a

whopping 3,584 CUDA

processing cores,

compared to the GTX

1080's 8GB of GDDR5X

RAM running at 10GB/s

with 2,560 CUDA cores.

The GTX 1080 has slightly

faster boost and base

clock speeds, but when

the new model has over

1,000 additional cores,

that doesn't exactly

even the odds.

In fact, on paper the

GTX 1080 Ti is closer to

Nvidia's own Titan X, a

12GB card priced at

£1,179 – and intended

for use in things such

as machine-learning

development as

much as high-end

gaming. This ultimately means

two things: one, you probably

shouldn't spend an extra £420

on a Titan X; and two, the Fusion

Portal is a Shopper record-setter

when it comes to real-world

gaming performance.

In our most demanding

benchmark, Metro: Last Light

Redux at Very High settings,

Chillblast's PC managed 107fps

at 1,920x1,080, making it the

fi rst PC we've used to break

100fps at this resolution.

Happily, it also fi nished

over the golden 60fps

mark at 2,560x1,440,

averaging 62fps by the

end of the test. Since

SSAA (anti-aliasing)

isn't as useful here as it

is at lower resolution, we also ran the test with

it switched off, which saw an increase to a

beautifully crisp and smooth 116fps.

At 3,840x2,160 with SSAA back on, the

Fusion Portal produced a slightly jerky 28fps,

but again, disabling edge-smoothing allowed

for a boost up to 59fps with a negligible effect

on overall quality. Compare that to

the GTX 1080-powered PC

Specialist Apollo K-VR

(Shopper 352), which scored

42fps under the same

conditions; 17fps may

not sound like much,

but the difference is

immediately noticeable.

POWER STRUGGLE

Strangely, however, the

Fusion Portal's result in

the 1080p Dirt Showdown

benchmark was lower

than that of the Apollo

K-VR: after multiple runs,

it never averaged higher

than 159fps, a 10fps

defi cit. The Chillblast

system also only managed

2fps more at 1440p

(157fps), fi nally pulling

out a more expected

lead at 4K, where it

produced 113fps to

the Apollo K-VR's

93fps. The Fusion

Portal is absolute

overkill for playing at 1080p anyway, but we're

quite baffled as to how the GTX 1080 Ti lost

out to a GTX 1080 in this one instance.

The bottom line, however, is that this is the

better GPU (and thus the better system) for

maxed-out gaming on a 4K monitor. Since you

also get all the Pascal architecture's VR

optimisations, it won't sweat when paired with

an HTC Vive either. It scored 11 out of 11 in the

SteamVR Performance Test, so gameplay will

be as smooth in a headset as it is on a monitor.

UNLOCK, STOCK AND BARREL

Nvidia's beastly GPU has been combined

with an appropriately capable CPU, the

quad-core, 4.2GHz Intel Core i7-7700K, as well

as 16GB of DDR4 RAM. As per usual with

Chillblast's PCs, the processor doesn't come

pre-overclocked, but since it's unlocked you

can tweak the frequencies yourself if you've

got the know-how.

4K benchmark results were exactly where

we'd expect for an i7-7700K system, which is

to say they were very good indeed: 151 in the

image test, 162 in the video test, 181 in the

multitasking test and 169 overall. Besides

allowing the GTX 1080 Ti to perform unabated,

this shows that the CPU/RAM combo can

cope well with more serious pursuits, such as

video editing or livestreaming.

With powerful parts crammed into a

relatively small space (the BitFenix case is only

411mm long and 395mm tall with the stands),

we were worried about heat build-up forcing

some noisy fans. However, we were pleased to

26 JULY 2017 | COMPUTER SHOPPER | ISSUE 353
---
e proved wrong – the Fusion Portal is

amazingly quiet, barely going beyond a whisper

during the heavy load of our synthetic

benchmarks. Full marks to the Corsair Hydro

Series H80i GT watercooler, a 120mm

closed-loop system, which keeps both CPU

temperatures and fan noise nice and low.

Still, there are sacrifices to be made with a

build of this size. Pulling out the internal

chassis shows just how tightly everything – the

full-size GPU, the watercooler, the power

cables – has been packed in, and the Mini-ITX

form factor leaves little scope for further

expansion. There are no spare PCI-E or RAM

slots on the motherboard, for example, and

while there is one empty 3.5in drive bay, in our

sample it was partly occupied by some cables.

The obvious retort to this criticism would

be that since most of the components

included are top-of-the-line (or near enough),

making upgrades is hardly an urgent concern.

Indeed so – when you can already get 59fps in

Metro at 4K resolution, with practically

maximum settings, adding a second graphics

card would be madness, and 16GB of memory

is more than enough for most uses.

Storage is another high point, with the

huge 2TB hard disk complemented by a 256GB

Samsung SM691 SSD. This is an NVMe drive,

so is even faster than SATA-based SSDs, and

takes up minimal space – crucial when there's

so little room to spare.

CONNECT THE SLOTS

There's no real need to add dedicated sound

or Wi-Fi cards, either: the rear I/O panel

offers up an audiophile-friendly mix of

connectors, including C/SUB and optical S/

PDIF, while the Gigabyte motherboard

provides dual-band 802.11ac Wi-Fi built in.

We're not sure about the bundled antenna,

though – it stands on a fl imsy base and

connects to the rear panel via wires, so you'll

need to fi nd somewhere accessible yet

discreet for it to sit; it can't be placed on top

of the PC itself, due to the rounded top.

We also wish there were a few more (and

better placed) USB ports. At the back, there

are just four USB3 and one USB Type-C ports

(keep in mind you'll immediately lose two of

the former to a mouse and keyboard), while

The Fusion Portal is a Shopper record-setter when it comes

to real-world gaming performance. It's the first PC we've

used to break 100fps at 1,920x1,080 in Metro: Last Light

there are none whatsoever at the front; the

last two USB3 ports are in the middle of the

right side panel instead. We assume this was a

purely aesthetics-based decision, as it makes

them trickier to access than if they'd just

been put up front, and effectively prevents

you from sitting the PC up against a wall,

cupboard, shelf or bed – at least on one side.

On the bright side, there's a great

assortment of video outputs, including three

HDMI ports, three DisplayPorts and one

dual-link DVI-D. There's also a DVI-to-HDMI

adaptor in the box.

NOUVEAU RICHE

Besides a couple of limitations, the Fusion

Portal is a proudly lavish top-end PC, with

the price to match. Is it actually worth it?

We must say that a perusal around the other

big PC builder sites turns up custom GTX 1080

Ti/Core i7-7700K systems, with the same or

similar memory, cooling and storage, from

about £1,800 upwards, so it does look as

though you'd be paying a premium for the

conversation-starter chassis.

For premium gaming, we're also still

tempted by the Apollo K-VR. Its GTX 1080 is

no longer the world champion of graphics

cards, but it will still handle 4K and VR

admirably, and the whole system costs over

£400 less with very few other drawbacks.

And yet, even saying this, we can't shake

the feeling that if we were to spend £1,800

on the latest tech, then £200 on top of that

wouldn't be an outright deal-breaker –

especially if it pays for something a bit

different and interesting.

James Archer

SPECIFICATIONS

PROCESSOR Quad-core 4.2GHz Intel Core i7-7700K •

RAM 16GB DDR4 • FRONT USB PORTS None (2x USB3 on

side) • REAR USB PORTS 4x USB3, 1x USB Type-C •

GRAPHICS CARD 11GB Nvidia GeForce GTX 1080 Ti •

STORAGE 256GB SSD, 2TB hard disk • DISPLAY None •

OPERATING SYSTEM Windows 10 • WARRANTY Five years

labour, including two years collect and return • DETAILS

www.chillblast.com • PART CODE Fusion Portal

Windows overall

Multitasking

Dirt Showdown

Metro: Last Light

169

181

159fps

107fps

0%

-50

Reference +50 +100

See page 72 for performance details

ISSUE 353 | COMPUTER SHOPPER | JULY 2017

27
---
AM4 PROCESSOR

AMD Ryzen 7 1700

★★★★★

£300 • From www.overclockers.co.uk

VERDICT

Cool, efficient and a blazingly fast multitasker,

the cheapest Ryzen 7 is the one to buy

TO PUT IT harshly, the Ryzen 7 1700 is the runt

of AMD's Zen architecture-based processor

family: it has the lowest base and boost clocks

of 3GHz and 3.7GHz respectively and, unlike

the fl agship 1800X (Shopper 352) and 1700X,

its Extended Frequency Range (XFR) boost

– which provides a bit of extra speed when

temperatures allow – is limited to just 50MHz.

It also doesn't have the 1800X's benefi t of

being an incredible bargain. Whereas that chip

sells at half the price of its closest Intel

competitor, the Core i7-6900K, the 1700 is

only around £30 cheaper than its direct rival,

the quad-core Core i7-7700K (Shopper 350).

Still, for that money you're getting twice

the cores and twice the threads than the i7,

which is good news considering the Intel chip's

much faster 4.2GHz base clock and 4.5GHz

boost clock. In practice, it becomes clear that

for everything that the 1800X doesn't pass

down to its cheaper brethren, the 1700 does

at least share its best aspect: outstanding

multithreaded performance.

INTEL OUTDONE

Its score in our imaging benchmark, 124, is 20

points shy of the i7-7700K, likely due to the

latter's greater single-core strength. However,

the 1700 races ahead otherwise, scoring 191 in

the video test, 203 in the multitasking test and

186 overall – all victories by greater margins

than the i7's image test win. As ever, we ran

these tests with 8GB of RAM, swapping in a

compatible Auros AX370 Gaming 5

motherboard and Noctua NH-U12S air cooler.

The Ryzen 7 1700 thus becomes the

highest-scoring sub-£400 CPU we've tested

yet, making it a potentially excellent candidate

for home workstations and media-editing rigs.

It's a ways off the 1800X, with its overall score

of 215 at stock speeds, but there's no shame in

that when it costs nearly £200 more.

Conversely, the i7-7700K remains a better

pick for games. As with all Ryzen chips, the

1700 has no integrated graphics, so we tested

our usual suite of gaming benchmarks with

both our test rig's Radeon R7 260X and a

much more powerful Nvidia GTX 1080

Founder's Edition. At stock speeds with the

260X, the 1700-based system averaged 84fps

in Dirt Showdown running at 1080p, as well

as 33fps at 4K resolution. Switching to the

GTX 1080, these only rose to 107fps and

85fps respectively. For comparison, we've

recorded 169fps at 1080p and 93fps at 4K on

a GTX 1080/i7-7700K system.

SLOW PATROL

There was less of a stark difference in Metro:

Last Light Redux, where the 260X/1700

configuration managed 25fps at 1080p and

6fps at 4K, and the 1080/1700 configuration

recorded 77fps at 1080p and 20fps at 4K.

This fi nal frame rate is actually the very same

as the i7-7700K achieved with the same GPU,

although the Intel processor also squeezed a

little more out at 1080p, scoring 84fps.

There's something peculiar about how

Ryzen struggles with Dirt Showdown in

particular, as the 1800X also tripped up in it

when paired with the same two graphics

cards. We suspect it's because Dirt relies quite

heavily on single-threaded performance,

where neither the 1800X or 1700 as are

strong. It's not that the 1700 is incapable of

The Ryzen 7 1700 is a potentially excellent candidate for

home workstations and media-editing rigs

allowing extreme frame rates in games, as a

quick side-step into Tomb Raider showed that

it helped the GTX 1080 produce 170fps with

Ultra settings at 1080p, but it's also proven

itself inferior to the Intel alternative.

That said, we did note that in every test

with the 260X, the 1700 either matched or

came within 1fps of the 1800X, which is

clocked at considerably higher 3.6GHz

base/4GHz boost speeds – a surprise, to be

sure, but a welcome one.

The 1700 also seems more overclockfriendly

than the 1800X, as well as the

i7-7700K. Using AMD's helpful Ryzen Master

utility, we tweaked core speeds and voltages

up to a stable 3.9GHz – any further caused

crashing during our 4K benchmarks, but this is

still a bigger increase than we could safely

coax out of the Intel and upper-tier AMD

chips with the same Noctua air cooler.

At a consistent 3.9GHz, the 1700 fi nally

matched the i7-7700K's image test score of

144, and its improved video score of 204,

multitasking score of 231 and overall score of

208 put it within spitting distance of the

mighty 1800X itself. Sadly, though, this didn't

do much for gaming; in fact, it didn't really do

anything, as every Dirt Showdown and Metro

benchmark we ran returned identical (to the

nearest fps) results as at stock speeds.

COOL CUSTOMER

More impressive is the 1700's TDP of 65W,

an absurdly low requirement for an octa-core

chip; it certainly puts the quad-core i7-7700K's

91W TDP to shame. AMD's processor also

runs much, much cooler; whereas the i7

fl uttered around 90-100°C during our 4K

benchmarks, even with water-cooling, the

air-cooled 1700 peaked at a mere 54°C at stock

speeds, maxing out at 71°C when overclocked

to 3.9GHz. Idle temperatures were good as

well: 34°C at stock speed, 41°C at 3.9GHz.

While the 1700 doesn't offer the same

value as the 1800X, it stands up to its own

nemesis – the i7-7700K – admirably, claiming

greater multithreading performance, cooler,

more efficient running and easier overclocking.

You should still stick with Intel for a premium

gaming system, but for everything else, the

1700 is the CPU to go for – arguably, even

over the rest of the Ryzen 7 range.

James Archer

SPECIFICATIONS

SOCKET AM4 • CORES 8 • FREQUENCY (BOOST) 3GHz

(3.7GHz) • INTEGRATED GRAPHICS None •

WARRANTY Three years RTB • DETAILS www.amd.com •

PART CODE YD1700BBAEBOX

Windows overall

Multitasking

Dirt Showdown

0%

-50

186

203

84fps

Reference +50 +100

See page 72 for performance details

28 JULY 2017 | COMPUTER SHOPPER | ISSUE 353
---
INKJET MFP

CANON

Pixma TS8050

★★★★★

£150 • From www.amazon.co.uk

VERDICT

The Pixma TS8050 is sleek, swift, fl exible and

produces great creative results – and so it

should, at this price

THE TS8050 IS almost the top model in

Canon's revised range of Pixma inkjet

multifunction peripherals (MFPs), and it has

the price to prove it. For the money you get

a highly specified device with a creative bias:

its scanner can stretch to 2,400 dots per inch

(dpi), capturing four times as much detail as

the more frequently found 1,200dpi, while its

printer has a claimed maximum resolution of

9,600x2,400dpi. That's the highest you'll fi nd

among consumer inkjets.

It's well specified elsewhere, too, with two

paper trays, double-sided (duplex) printing as

standard, Wi-Fi and SD card support, plus a

smartphone-like touchscreen on its glossy

front panel. Alongside is an NFC touch-spot

for easy pairing with mobile devices; we can't

think of anything Canon has left out.

SHADE CONTROL

It's not uncommon for photo-focused inkjets

to have six inks, but the TS8050 has a slightly

unusual setup: it shares the same pigment

black ink as the fi ve-colour models in the

Pixma range, and supplements their dyebased

black, cyan, magenta and yellow inks

with a mid-grey, for better shading control in

photos. Canon says that the dye-based black

and grey are barely used on plain paper, but

running costs still work out at a not especially

competitive 7.8p per A4 page, of which the

black component is a steep 2.7p.

The TS8050 prints on paper held in a slim

tray in its base, but photo paper can only be

loaded into its pull-up rear tray. It won't print

from this until you remember to close the

tiny, hinged feed lid – and it's all too easy to

forget. On plain paper, print speeds are fair.

For this money you'll fi nd plenty of other

inkjets that can beat the 13.3ppm the TS8050

reached on our 25-page black text test, and

quite a few that will beat its 3.9ppm on our

colour graphics test. Photo prints compare

better for speed, with each 6x4in shot

completing in well under two minutes at

the highest available quality.

This MFP has a fairly quick scanner.

Connected via USB it could capture an A4

page at 300dpi in just 14 seconds, and it

completed a 1,200dpi photo scan in just

under a minute. At 12 seconds, mono A4

photocopies were quick, but colour copies

took twice as long.

We were somewhat disappointed with

the TS8050's dark photocopies, and some

lines in our black text prints had a very subtle

horizontal tear, but it's unlikely you'd notice it

unless you were looking very closely. Colour

graphics on plain paper were just a touch less

bold than we'd like, but they were otherwise

extremely good. Photographs were exemplary,

with extremely fi ne detailing, particularly on

With two paper trays, duplex printing, Wi-Fi and SD card

support, plus a smartphone-like touchscreen on its glossy

front panel, we can't think of anything Canon has left out

our black and white test print. Scans were

also excellent, with superb detail and about

the sharpest focus we've seen.

If your home is full of creative types and

you can afford a high-end MFP, the Pixma

TS8050 will more than fi t the bill. It is

expensive, though, and you'll get almost as

good results from mid-range Pixma models.

Unless you need its exceptional scan and

photo quality we'd save some money and get

one of Canon's cheaper models, such as the

Pixma TS5050 (£66 from www.amazon.co.uk).

Simon Handby

SPECIFICATIONS

TECHNOLOGY Thermal inkjet • MAXIMUM PRINT

RESOLUTION 9,600x2,400dpi • MAXIMUM OPTICAL

SCAN RESOLUTION (OUTPUT BIT DEPTH) 2,400x4,800dpi

(24-bit) • DIMENSIONS 139x372x324mm • WEIGHT

6.5kg • MAXIMUM PAPER SIZE A4/legal • WARRANTY

One year RTB • DETAILS www.canon.co.uk •

PART CODE 1369C008

⬅ The Pixma

TS8050 lets

you print

directly from

an SD card

Mono speed

Mixed colour

speed

Mono page cost

Colour page cost

0%

13.3ppm

3.9ppm

2.7p

5.1p

-50 Reference +50 +100

See page 72 for performance details

30 JULY 2017 | COMPUTER SHOPPER | ISSUE 353
---
Ultra Wide-Color

with 4K in an immersive design

Colours like you've never seen before. This brilliant 4K UHD

resolution display with Ultra Wide-Color offers the richest

and most vivid colours wrapped in an immersive curved

design for a your best creations yet.

UltraWideColor

CurvedDisplay

4K

UltraClear 4K Ultra HD

40" 4K curved display

(BDM4037U)
---
Chillblast

sales@chillblast.com

01202 068 333

ULTRAPORTABLE LAPTOP

ASUS ZenBook

UX310UA

★★★★★

£365 • From www.amazon.co.uk

FUSION OUTLAW

PROCESSOR: INTEL PENTIUM G4560

CASE: CHILLBLAST F3

CPU COOLER: INTEL STOCK CPU COOLER

MOTHERBOARD: ASUS H110M-A/M.2

MEMORY: 8GB DDR4 2133MHZ

GRAPHICS CARD: NVIDIA GEFORCE GTX 1050Ti 4GB

HARD DISK:

Seagate 1TB SSHD

POWER SUPPLY: AEROCOOL 80 PLUS 500W

SYSTEM: WINDOWS 10 HOME 64-BIT

FUSION HUBBLE

PRICE FROM £579.99

www.chillblast.com

PROCESSOR: INTEL CORE i5-7600K

CASE: CHILLBLAST SILENT

CPU COOLER: CHILLBLAST 120 WATER COOLER

MOTHERBOARD: GIGABYTE GA-Z270-GAMING K3

MEMORY: 8GB DDR4 2133MHZ

GRAPHICS CARD: NVIDIA GEFORCE GTX 1060 3GB

HARD DISK:

250GB SSD / 1TB HDD

POWER SUPPLY: EVGA 80 PLUS WHITE 600W

SYSTEM: WINDOWS 10 HOME 64-BIT

PRICE FROM £999.99

Terms and conditions are on the website.

All trademarks are acknowledged.

Pictures are for illustration only.

Prices are correct at time of going to press (25-04-17) E&OE

VERDICT

It's no powerhouse, but this highly portable laptop

has a great screen and a practical battery life

THE SLIM, TASTEFUL design of Asus's ZenBook

range calls to mind Apple's now-defunct MacBook

Air, but with a wider range of configurations, and

much more palatable pricing. In this case, the

resemblance isn't purely aesthetic.

Like the MacBook Air, the ZenBook UX310UA is

designed for a specific role. It's a lightweight

travelling companion rather than a desktop

replacement. That much is evident from the

internals. Unlike many Windows-based ultraportables,

The screen is fantastic, with a maximum

luminance of 341cd/m 2

the UX310UA comes with a dual-core Core

i3-6100U processor rather than something from

the Core m series, but the i3 still limits its

multitasking capabilities. We wouldn't call this a

slow system, but with an overall score of 34 in our

desktop benchmarks, plus 20 in the multitasking

test, it's not exactly overpowered either.

GAME'S UP

Gaming capability is limited, too. In our Dirt

Showdown test, running at 720p with High settings,

the ZenBook averaged a just-about playable 29fps.

Note, too, that this ZenBook model comes with just

4GB of RAM, and a stingy 128GB SSD. That's fi ne

for emails and spreadsheets, and a lot more than

you'll get from any Chromebook, but if you

regularly deal with weighty workloads, it could

prove constraining.

Yet the ZenBook has some significant strengths.

Let's start with the one that shines out as soon as

you open the lid: the screen

is fantastic, with a maximum

luminance of 341cd/m 2 .

While it's not quite the

brightest laptop display

around, a superb contrast

ratio of 1,282:1 makes it an

excellent all-round visual

performer. It's also worth

mentioning that the 13.3in

panel has a native resolution

of 1,920x1,080, for a sharp

pixel density of 165ppi.

From a typical operating

distance, text looks

beautifully crisp, and the

matt screen keeps

distracting refl ections to

SPECIFICATIONS

PROCESSOR 2/3GHz dual-core Intel Core i3-6100U • RAM

4GB DDR4 • DIMENSIONS 323x223x18.4mm • WEIGHT

1.4kg • SCREEN SIZE 13.3in • SCREEN RESOLUTION

1,920x1,080 • GRAPHICSADAPTOR Intel HD Graphics 520 •

TOTALSTORAGE 128GB SSD • OPERATING SYSTEM

Windows 10 Home • PARTS AND LABOUR WARRANTY

One year RTB • DETAILS www.asus.com/uk •

PART CODE UX310UA-FC075T

Windows overall

Multitasking

Dirt Showdown

Battery life

a minimum. This isn't a touchscreen, mind you:

with its conventional hinged laptop design, the

ZenBook entirely rejects the hybrid vision.

That's fi ne by us, because the conventional

input methods work very nicely. The backlit

keyboard is comfortably sized, with a good

responsive feel – if a little more spongy than we'd

really like – and the touchpad is luxuriously large,

so you never feel constrained by its edges.

Connectivity is pretty good, too. As you'd hope,

there's 802.11ac wireless and Bluetooth 4.1. You

also get a decent set of USB ports,

comprising USB3, twin USB2

connectors and a USB Type-C

socket, for newer phones and

peripherals. It would have been nice

to use the faster USB3 platform

exclusively, but then this probably

isn't a system that will be regularly hooked up to

multiple high-bandwidth devices.

BALANCING ACT

As for sound, the system's speakers are

pleasingly balanced – predictably, there's not

much in the way of bass, and the maximum

volume won't fi ll a room, but watching videos at

your desk is perfectly agreeable.

A fi nal feather in the ZenBook's cap is battery

life. In our tests, the UX310UA delivered 8h 6m of

video playback on a single charge. Yes, there are

devices out there that will last longer, but those

all rely on ultra-low-power Core m processors.

If you're looking for a more capable Windows

system that will make it through an entire working

day, the ZenBook UX310UA is your answer.

Clearly, even with all this going for it, the

ZenBook's mid-table performance and old-school

design mean it's not for everyone. Yet with its

excellent screen, impressive

battery life and portable

Reference +50 +100

dimensions – it's just

18.4mm thick, and weighs a

mere 1.4kg – we can't deny

the ZenBook's charms.

If we have a caveat, it's

this: the UX310UA

currently uses sixthgeneration

Skylake

processors, but a Kaby

Lake update is due in the

next few weeks. Any

performance benefi t is

likely to be modest, but if

you're not in a rush to buy,

it makes sense to hold out.

Darien Graham-Smith

32 JULY 2017 | COMPUTER SHOPPER | ISSUE 353

0%

34

20

-50

29fps

8h 6m

See page 72 for performance details
---
2-IN-1 LAPTOP

DELL XPS 13 9365

★★★★★

£1,449 • From www.dell.com/uk

VERDICT

Dell's second stab at a hybrid laptop is an

expensive success

BACK IN 2016, Dell inflicted upon us the XPS

12, a dire laptop/tablet hybrid riddled with

shortcomings ranging from battery woes to

fl at-out design faults (see Shopper 341).

Fortunately, the new XPS 13 9365 2-in-1 is a

radical departure. For starters, it's actually a

rotating convertible, rather than a detachable

2-in-1 like the XPS 12. It's also really good.

We'd certainly have hoped so, given the

price: the entry-level model, with its Intel Core

i5-7Y54 processor, 4GB of RAM and 128GB

SSD, costs £1,349, which is £200 more than

the cheapest non-convertible XPS 13 (Shopper

351). We tested the next model up, which has a

Core i7-7Y75 processor, 8GB of RAM and

256GB SSD and costs £1,449, and there are

£1,499 and £1,669 models too.

SPIN DOCTOR

Aside from the chunky 360° hinge, the 2-in-1

looks remarkably similar to the standard XPS

13. The chassis is made of the same aluminium

and carbon-fibre combo, although there's

something extra below the screen: a dual-lens

Windows Hello camera, which lets you log in

using just your face. There's also a fi ngerprint

reader, should the camera be a little fi nicky.

The 2-in-1 is thinner than the regular XPS 13

too. In fact, it's the slimmest XPS ever made,

measuring just 13.7mm at its thickest point

and tapering down to 8mm at its thinnest.

Weighing just 1.24kg, it's ideal for commuting.

However, the slimmed-down design also

means that there aren't any full-size USB

ports. Instead, you get just two USB Type-C

ports, one on either side. Since one port is

needed for charging, it's a meagre provision,

even with the USB3-to-Type-C adaptor

included in the box.

One area where Dell hasn't scrimped is the

display. The familiar 13.3in InfinityEdge panel is

still here, minimal screen bezels and all, and as

always it's a delight to use. No manufacturer

does laptop displays quite like this, and it

makes the 2-in-1 look great, especially in the

fully rotated tablet mode.

Our model was fi tt ed with a 1,920x1,080

panel; the QHD+ version costs £50 more, and

otherwise has the same specs. In our display

tests, the Full HD display covered 85.4% of the

sRGB colour gamut, with a contrast ratio of

1,206:1. That's a smidge below the latest XPS

13 with its 91.9% coverage, but to the naked

eye the difference is hard to make out.

The maximum screen brightness of

253cd/m 2 is also lower than the XPS 13's

289cd/m 2 output, but it's not disastrous.

Overall, it's a beautiful display to gawk at,

with wonderfully vibrant colours – just don't

try to use it in bright sunlight.

RIPE TO TYPE

Too often, the keyboard and touchpad on a

hybrid system feel like an afterthought, but

that's not the case here. In fact, the keyboard

is unchanged from the regular XPS 13. The

keys are nicely spaced, and there's just the

right amount of movement and feedback with

each keystroke. Backlighting still comes as

standard, with adjustable brightness levels.

The touchpad is well sized, too. Windows

10 multitouch gestures worked without any

slip-ups, and it's easy to jump between

applications with ease. We weren't even

tempted to plug in a USB mouse while working

in more demanding applications. Our only

criticism is that it does seem to pick up greasy

fi ngerprints a little too easily.

Having a Core i7 in a slimline

convertible sounds great, but

remember that the Kaby Lake

generation merely rebranded

Intel's low-power Core m chips

to have Core i prefi xes. The

Core i7-7Y75 is one of these

rebranded processors.

Unsurprisingly, this led the

2-in-1 towards the lower end

of our 4K benchmark results,

with an overall score of 31

and multitasking score of

just 8. That's some way

behind the cheaper, yet proper Core i5-

powered XPS 13, which scored 33 in the

multitasking test and 50 overall.

Regardless, this 2-in-1 is plenty powerful

enough for the usual desktop and browserbased

applications, such as Word and Google

Docs. Just don't expect it to whizz through

anything particularly processor-heavy.

With Intel HD Graphics 615, you're limited to

very basic games as well.

In theory, the low-powered chip should at

least deliver a battery life benefi t: the XPS 13

9365 lasted 7h 54m in our continuous video

playback test, so it should more or less deliver

a full day's conservative use. The regular Dell

XPS 13 was just eight minutes behind, though,

so the difference is negligible.

MOST IMPROVED AWARD

Dell has evidently learned from criticism of its

last XPS hybrid. While performance is on the

lightweight side, the XPS 13 2-in-1 is a joy to

use, shining a light on the potential of the

hybrid design. It's a well-balanced device for

however you want to use it.

The issue, as so often, is the price. When

you can pick up an entry-level XPS 13 with a

full-fat, Kaby Lake Core i5 for £1,149, it's hard

to justify paying an extra £200 for a bit of

added versatility. Still, within the convertible

market specifically, there's nothing out there

to challenge the XPS 13 9365.

Nathan Spendelow

SPECIFICATIONS

PROCESSOR Dual-core 1.3GHz Intel Core i7-7Y75 • RAM

8GB • DIMENSIONS 304x199x13.7mm • WEIGHT 1.24kg •

SCREEN SIZE 13.3in • SCREEN RESOLUTION 1,920x1,080 •

GRAPHICSADAPTOR Intel HD Graphics 615 • TOTAL

STORAGE 256GB SSD • OPERATING SYSTEM Windows 10

• WARRANTY Three years RTB • DETAILS www.dell.com/

uk • PART CODE CNX36504

Windows overall

Multitasking

Dirt Showdown FAIL

Battery life

0%

31

8

-50

7h 54m

Reference +50 +100

See page 72 for performance details

34 JULY 2017 | COMPUTER SHOPPER | ISSUE 353
---
35in CURVED MONITOR

AOC AGON

AG352QCX

★★★★★

RECOMMENDED

£605 • From www.ebuyer.com

VERDICT

With its 200Hz refresh rate and accurate

colours, the AOC AG352QCX is a fantastic

curved gaming monitor

IN 2016, AOC released the C3583FQ (Shopper

342), a curved 165Hz monitor running at

2,560x1,080. It had a few issues, including

washed-out colours and, with certain Nvidia

graphics cards, frame skipping at 165Hz.

Now, there's the AGON AG352QCX, a

similar 35in curved monitor that comes

equipped with an MVA panel, 200Hz

maximum refresh rate and built-in support for

AMD's FreeSync technology. Can this new

model fi x its predecessor's problems?

The monitor is extremely well built and

looks striking with its silver and black colour

scheme. Underneath and around the back,

you'll fi nd six LED strips that can be used to

bathe your desk in red, green or blue. They're

a bit silly and can be disabled if you fi nd them

distracting, but can work as mood lighting,

especially when the lights are dimmed.

The stand allows -3° to 15° of tilt and 15cm

of height adjustment, while a handle at the

top of the metal stand allows you to carry it

around – though with a monitor this big, we're

not sure why you'd want to.

NOW HOOK HERE

If you're looking to wall-mount it, you can do

so via the 100x100mm VESA mounts at the

back. In the top left -hand corner, you'll fi nd a

retractable headphone arm, which conveniently

lets you keep your headphones or headset

close to hand without cluttering up your desk.

There are DisplayPort, HDMI, DVI and VGA

video inputs, two sets of 3.5mm input and

output audio jacks and two USB3 ports, one

of which supports quick charge. There's also a

surprisingly effective 5W speaker in the chassis,

which provides a loud output with great

sound quality by monitor speaker standards.

Physical controls are great, especially the

QuickSwitch Controller – a separate dongle

equipped with a series of buttons – which

allows you to fl ick between colour profi les and

navigate around the OSD menu. Even if you

don't use that, though, you should fi nd the

on-monitor joystick controller easy to use. It

provides a far more effective way of accessing

settings than the touch-sensitive buttons

favoured by many other manufacturers.

AMD FreeSync is another fi ne inclusion. If

you have a recent AMD graphics card, the

AG352QCX syncs its refresh rate with the GPU's

output to prevent screen tearing in games.

REFRESH PRICE

The monitor uses a 2,560x1,080 resolution

MVA panel with a native refresh rate of 144Hz,

but through your graphics card's settings, this

can be cranked up to an 'overclocked' 200Hz.

Unlike the C3583FQ, the AG352QCX

doesn't suffer from any frame skipping at

200Hz, but we did notice a gamma shift at this

refresh rate, resulting in washed-out colours.

If you're looking to use the monitor at 200Hz,

you'll have to put up with this, or calibrate it

to compensate. We therefore conducted our

image-quality tests at 144Hz, which in any

case should be enough for most users.

The AOC performs extremely well in sRGB

mode. Colour accuracy is good, with an

average delta-E of 0.59. Its 2,467:1 contrast

ratio is also very impressive, providing

excellent detail in even the darkest scenes.

However, the monitor's colour gamut

coverage is rather disappointing in sRGB

mode. Despite 95.4% sRGB coverage, which

is good, it has below-par 67.4% Adobe RGB

and 70% DCI P3 coverage.

Maximum brightness reaches 260cd/m 2 ,

which is fi ne for use in most environments,

although brightness uniformity is

disappointing. We found a dramatic variation

of 27.29% between the top corners of the

panel and the bottom corners, which is

where the monitor's backlight is located.

That means if you're looking at a dark scene

in a fi lm or game, you might fi nd it brighter in

the top corners than the bottom. Backlight

bleed isn't a deal breaker but is noticeable in

very dark scenes at the top corners.

One benefi t of enabling the 200Hz refresh

rate is that it's buttery smooth in fast-paced

gaming, even if the improvement over 144Hz

isn't very noticeable. Nevertheless, it's ideal for

competitive gaming, and with a low perceived

response time and low input lag, the monitor

fl ew through our tests. Better still, when

adjusting its response time settings, ghosting

overshoot (which typically takes the form of

shadows around objects) was barely visible.

BEND OF THE LINE

The curvature of the screen isn't as deep as

the Samsung CF791, which takes away from

the immersion a touch, but compared with a

fl at-panel ultra-wide monitor, the AG352QCX

still provides a better gaming experience.

Our only real complaint is that the

2,560x1,080 resolution results in games not

looking as crisp as they do on the admittedly

more expensive 3,440x1,440 Samsung CF791.

Despite both the resolution and brightness

uniformity fl aws, there's still plenty to like

about the AOC AG352QCX. In fact, the high

refresh rate, fast response times, low input lag,

good colour accuracy and lovely overall design

make it tough not to recommend.

The price may look high, but there aren't

many ultra-wide monitors on the market that

can provide as good all-round performance for

much less. It comes warmly recommended.

Christopher Minasians

SPECIFICATIONS

SCREEN SIZE 35in • RESOLUTION 2,560x1,080 •

SCREEN TECHNOLOGY MVA • REFRESH RATE 144Hz

native (200Hz maximum) • VIDEOINPUTS HDMI, DVI,

DisplayPort, VGA • WARRANTY Three years repair and

replace • DETAILS www.aoc-europe.com

CONNECTION PORTS

USB3 x2

DisplayPort

HDMI

VGA

DVI

36

JULY 2017 | COMPUTER SHOPPER | ISSUE 353
---
Telecoms and IP Engineering

Solutions for Business since 1988

Brown Hare

[Lepus europaeus]

The Brown Hare is Britain's fastest

land mammal, reaching speeds of

up to 48 miles per hour

FIBRESTREAM ® LITE

FTTC ETHERNET

• £99 per month for up to

20 Mbps Up / 20 Mbps Down

• Options for up to 80 Mbps down

• For Business Quality

Converged Voice / Data

• Low latency and packet loss

• Static IP address included

• Industry Leading Support, SLAs

VSTREAM ®

FTTC FIBRE BROADBAND

• £27 per month for up to

20 Mbps Up / 80 Mbps Down

• For Business Quality High

Bandwidth Data

• Static IP address included

• Free Connection and Router*

• Industry Leading Support

Options

The UK's best value

business Internet access

Whatever your budget, we have a

fast, resilient solution

to suit your business needs.

Ask our sales team about our

range of backup options.

ANALOGUE LINES

• £10 per month

• Competitive call charges

• Industry Leading Support

Options

Order online at

www.spitfire.co.uk

Spitfire Network Services Ltd:

Training TechTalks

Sales 0800 319 6300 • Partner Services 0800 319 6500

Innovative • Flexible • Reliable • Supportive • Cost Effective

HIGHLY

HIGHLY

WINNER

FINALIST

FINALIST

WINNER

COMMENDED

COMMENDED

2010

2011

2012

2013

2013

2014

Service

Provider of

the Year

Inte

ternet Service

Provider of

the Year

Best t Channel

ISP

Best t Channel

ISP

SME Host

sted

Soluo Soluo Soluo Soluo Soluo Soluon

Best t ISP

WINNER

FACILITIES

MANAGEMENT

AWARDS 2016

HIGHLY

Best Corporate Internet

COMME

MMENDED

Service Provider

Best Hosted Platform 2015

Best ISP

2015

SOUTH EAST ENGLAND

www.spitfire.co.uk

*Subject to terms and conditions
---
HOME WI-FI SYSTEM

GOOGLE Wifi

★★★★★

£229 (twin pack) • From store.google.com

VERDICT

Staggeringly easy to configure and with some amazing configuration tools, this is wireless networking made easy

THERE'S NO DOUBTING that whole-home

Wi-Fi kits, which use multiple access points

and a mesh network to give you a rock-solid

wireless connection, are the big thing in

networking. Following the Netgear Orbi

(Shopper 348), Linksys Velop and BT Whole

Home Wi-Fi (both Shopper 351), Google is

now getting in on the act with Google Wifi.

As with the BT Whole Home Wi-Fi system,

Google Wifi is not a router, instead connecting

to your existing network. For the best results,

then, you need to disable your router's

existing wireless, so that Google Wifi

becomes your default.

Google Wifi is sold as either a single unit

(£129) or as a two-unit pack (£229). Given

that this is a mesh networking product, it

makes the most sense to buy two access

points. Google Wifi is comparatively good

value – BT Whole Home Wi-Fi costs £300 for

three units – although adding extra access

points is expensive at £129 each.

NET WORTH

Google has done a good job with the Wifi

access point design. Each one is a small

hockey puck-style unit, which you can place

conveniently out of the way without having to

make too much room. A single white LED

shows each access point's status, although

you can dim or turn this off if the light is

proving to be distracting.

Each unit has two Gigabit Ethernet ports,

which is a step up from BT's single-port access

points. Only one device needs to be physically

connected to the network, with further access

points communicating via a mesh network.

Configuration is extremely simple using

the Android or iOS app; there's no web

configuration option, so you're going to need

a smartphone. Following the app's simple

instructions, we soon had our dual access

points placed in the ideal positions, and our

network name and password set. There's

very little need for any other configuration at

this point, as Google Wifi is designed to be

smart and automatically configure the

optimal network settings.

⬆ The Family Wi-Fi option lets you set schedules

for the kids' internet access

First, as with other products of this ilk,

there's band steering. This automatically

assigns a client to the 2.4GHz or 5GHz band,

depending on signal strength and abilities. It

takes the hassle out of networking, as you

know each device will get the best connection.

HELPING HANDS

Next, there's Google's client steering feature.

Typically, wireless devices will connect to an

access point and then stick to it until the

⬆ You can choose which devices on the network

your guests are able to see

38 JULY 2017 | COMPUTER SHOPPER | ISSUE 353
---
signal drops. With client steering, Google

gently nudges devices to disconnect from

one access point and reconnect to a

stronger one. Indeed, monitoring via

the app, we noticed our devices

would switch from one access

point to another, maintaining

signal strength and speed.

There's no need to configure

wireless channels either, as Google

uses a dedicated sensing radio to

monitor surrounding interference,

changing settings automatically as

required. Cloud-based machine

learning lets Google automatically

create a schedule, changing wireless

channels at set times during the week.

Finally, you don't have to worry

about updates, as Google will

automatically download and install

them for you. Really, Google Wifi is a

brilliantly simple system that you can

just plug in and forget about.

INTERNAL OPPOSITION

Internally, each access point has dual-band

wireless, with 2x2 1,200Mbit/s on a single

5GHz band. In comparison, BT's Whole Home

Wi-Fi has tri-band wireless, with dual

1,733Mbit/s 4x4 5GHz bands. On paper, BT

certainly has the advantage, with a lot more

network bandwidth available.

Using dual Google Wifi access points,

we measured an average throughput of

329.25Mbit/s at close range, 431.06Mbit/s on

the fi rst fl oor and 164.6Mbit/s on the second

fl oor. This is better performance than we saw

from the BT Whole Home Wi-Fi, bar secondfl

oor performance. BT's higher number of

access points and higher bandwidth seemed

to make the difference in this test.

Likewise, testing in the garden, just

outside of the kitchen window – a traditional

dead spot – we found BT to be the winner.

We got throughputs of 153Mbit/s with

Google Wifi and 185.11Mbit/s with BT Whole

Home. At the bottom of the garden, BT

managed to give us 56Mbit/s compared to the

37.7Mbit/s from Google Wifi.

MEDDLING KIDS

Where Google Wifi shines is through the app

and configuration options. Family Wi-Fi is the

best of the bunch, letting you group together

multiple devices and then set schedules for

their internet access. For example, you can let

an older child have more time online with

their laptop and tablet, shutting down a

younger child's tablet earlier. You can also

⬅ Each Wifi access point is equipped with

two Gigabit Ethernet ports

to your Google Wifi; however,

everything connected to Google

Wifi can see your entire home

network. If these last couple of

paragraphs have made alarming

sense to you, Google Wifi won't

present any problems, but if it all

sounds a bit baffling, BT Whole

Home Wi-Fi might be a better fi t

– it simply integrates into your

existing network.

The only way around Google's

configuration issue is to use a single

device in Bridge mode; however, if

you're going down this route, you're

better off buying a dedicated router.

There's no option to configure

the DHCP range of IP address that

Google Wifi hands out, either. That

shouldn't cause too much trouble,

though, and you can use the app to reserve

a device an IP address; effectively, this is a

quick way to give out static IP addresses.

SIMPLER TIMES

Aside from the slightly quirky way in which

Google Wifi works, the system is rather neat,

and the app (and the control it provides) is

the best we've seen. Really, this system makes

wireless networking and device control super

easy. Whether or not it's the right product for

you, though, depends on what you want to do.

BT's Whole Home Wi-Fi is slightly more

expensive (although that said, at the time of

writing it was on sale for just £200), but its

network integration is neater and long-range

performance is better. For larger houses or

ones with a few dead spots, BT's system is

the best choice.

Google Wifi is a brilliantly simple system that you can

just plug in and forget about

⬆ The Google Wifi app provides plenty of

configuration options

manually pause internet access by group, too;

it's a brilliant way to get children's attention.

Google has a built-in guest network, which

is something missing from the BT Whole

Home Wi-Fi. You can select which devices

people on the guest network can see. For

example, you can hide your NAS, but you

could make your Chromecast available so that

guests can stream photos to your TV.

The one downside of Google Wifi is that in

mesh mode, it operates in Network Address

Translation (NAT) mode. This doesn't affect

performance, but it can make configuring

some port-forwarding services, such as for

games, tricky. In effect, you have to set up

port forwarding on your main router and the

Google Wifi, which can break some services.

Access from one device to another can be

confusing, too. A device connected to your

original router can't see a device connected

If you can get by with two access points,

Google Wifi is an excellent, easy-to-manage

alternative. Finally, if you want to replace

your existing router, the Netgear Orbi is an

expensive option, but it's by far the fastest

whole-home Wi-Fi product we've tested.

David Ludlow

SPECIFICATIONS

MODEM Gigabit Ethernet • WI-FI STANDARD 802.11ac •

STATED SPEED Not disclosed (2.4GHz), 1,200Mbit/s (5GHz)

• USB PORTS 0 • WALL MOUNTABLE No •

WARRANTY One year RTB • DETAILS madeby.google.com •

PART CODE Google Wifi

5GHz close

5GHz 1 fl oor

5GHz 2 fl oors

329.25Mbit/s

431.06Mbit/s

164.6Mbit/s

0 200

400

600

See page 72 for performance details

ISSUE 353 | COMPUTER SHOPPER | JULY 2017

39
---
TRI-STREAM WIRELESS ROUTER

LINKSYS

WRT3200ACM

★★★★★

£218 • From www.morecomputers.com

VERDICT

A fast and powerful router, but you can get

similar performance for less

WE'VE SEEN A lot of whole-home Wi-Fi

systems in recent issues of Shopper, all of

which are designed to use multiple access

points to give you better coverage. If you just

want raw speed and don't have a huge house, a

single high-powered router, such as Linksys's

WRT3200ACM, might be a better option.

This heft y router has Tri-Stream 160

technology, which combines three

simultaneous 867Mbit/s streams to give a

total of 2,600Mbit/s on the 5GHz band. The

2.4GHz band is taken care of with a 600Mbit/s

throughput. As a modern router, the

WRT3200ACM supports multi-user MIMO

(MU-MIMO). This enables the router to split

its bandwidth, giving each compatible device

its own dedicated network stream. That's the

good news; the bad news is that there are few

MU-MIMO devices, so you won't necessarily

see the benefi t of this technology today. Even

so, on paper, this is one of the fastest routers

we've come across.

Setting up the router for the fi rst time is

easy, with Linksys's simple wizard taking you

through broadband configuration and Wi-Fi

setup. This router has a single Ethernet WAN

port, so you'll need to plug it into a modem to

get internet access.

BAND TOGETHER

Wi-Fi configuration gives you the option of

splitting the 2.4GHz and 5GHz networks or

joining them under the same network name.

With the latter option, the router uses band

steering to select the best network for your

connecting devices automatically. This is a

good choice for simplicity, but you may want

to leave the networks separated if you want

to choose which band you want to use.

Finally, there's the option of a guest

network. Connected to this, people who visit

you can access the internet, but your other

devices remain protected and hidden.

Once the wizard is complete, the

WRT3200ACM can be configured via the web

interface. It's one of the best, with a clear and

modern look. We like the main page, which

gives you an at-a-glance look at all of the

router's main settings.

CHILD'S PLAY

Linksys has provided all the common options

you'd expect, including dynamic DNS, port

forwarding and parental controls. Using the

latter option, you can set schedules for when

certain devices can use the internet, and you

can also block access to set websites.

Blocking is a manual job, which requires

you to enter each blocked website's address.

As such, you'll want to use proper parental

controls for younger children. We couldn't

fi nd an option to turn on IGMP YouView

support. Without this, our streamed YouView

channels, such as BT Sport, wouldn't work.

Basic settings can be controlled via the

Linksys smartphone

app, and it's nice to

see Alexa support.

Using an Amazon

Echo, you can tell

the WRT3200ACM

to turn on its

guest network or

to give you your

network details.

If you don't like

Linksys's fi rmware,

this router officially

supports DD-WRT

and OpenWRT open-source fi rmware. Flashing

the router with either of these opens up some

more advanced features, such as full VPN

support. You can also run applications, such

as a BitTorrent client, directly on the opensource

fi rmware, making them a good choice

for more advanced users.

JUST PASSING THROUGHPUT

Performance was very good. Using the 5GHz

band, we saw average throughputs of

406.65Mbit/s at close range, 481.21Mbit/s on

the fi rst fl oor and 335.89Mbit/s on the

second fl oor. We found 2.4GHz performance

was just as good, with throughputs of

91.55Mbit/s at close range, 115.58Mbit/s on

the fi rst fl oor and 107.28Mbit/s on the second

fl oor. Only the Netgear Nighthawk X8

(Shopper 345) did better, although that costs

£80 more. Even so, if you want the best

performance and support for BT YouView, the

Nighthawk X8 is the best choice.

Linksys has provided all the options you'd expect, including

dynamic DNS, port forwarding and parental controls

⬅ The web interface is

one of the best, with a

clear and modern look

Alternatively, the TP-Link Archer C3200

(Shopper 345) managed similar performance

to the WRT3200ACM but gives you two

more dedicated 1,300Mbit/s 5GHz options.

The C3200 doesn't have MU-MIMO, but it

supports streamed YouView channels, and

costs just £150, making it the better choice.

David Ludlow

SPECIFICATIONS

MODEM Gigabit Ethernet • WI-FI STANDARD 802.11ac •

STATED SPEED 600Mbit/s (2.4GHz), 2,600Mbit/s (5GHz) •

USB PORTS 1x USB 3.0, 1x USB 2.0 • WALL MOUNTABLE

Yes • WARRANTY Three years RTB • DETAILS www.linksys.

com • PART CODE WRT3200ACM

5GHz 1m

5GHz 1 fl oor

5GHz 2 fl oors

2.4GHz 1m

2.4GHz 1 fl oor

2.4GHz 2 fl oors

335.89Mbit/s

91.55Mbit/s

406.65Mbit/s

115.58Mbit/s

107.28Mbit/s

481.21Mbit/s

0 200

400

600

See page 72 for performance details

40 JULY 2017 | COMPUTER SHOPPER | ISSUE 353
---
FLAGSHIP ANDROID SMARTPHONE

SAMSUNG Galaxy S8

★★★★★

£689 • From www.amazon.co.uk

VERDICT

Pairing speed and power with a sophisticated and attractive

design, the Galaxy S8 runs rings around the competition

THE SAMSUNG GALAXY S8 is one of the

most anticipated phones of all time. Not only

is it the follow-up to one of 2016's best devices,

the Galaxy S7, it also has the unenviable task

of winning back anyone who got burned –

fi guratively or literally – by the ill-fated Note 7.

The standout feature is its screen. The

bezels of the display have been almost entirely

shorn off, leaving a screen that extends to

almost every edge of the device, save for thin

slivers of black glass at the top and bottom.

It thus fi lls virtually all of the S8's front

panel, with just a few millimetres of bezel

banding the top and bottom edge. Curved

edges now come as standard, too; there's still

a larger, pricier Galaxy S8+ model, but

Samsung has dropped the fl at-screened

variant and the Edge moniker with it.

FULL SCREEN MODE

The device is immediately arresting and the

Galaxy S8 looks unlike anything else on the

market. It's essentially a fl at slab of glass, but

there's no way you'll mistake it for any other

phone. It's an absolutely gorgeous device –

instantly striking and breathtakingly beautiful.

It is, without a doubt, the best example of

smartphone design produced to date.

As part of the great bezelpocalypse, the

home button and navigation buttons below

the screen have been replaced, leaving a

soft ware-based navigation bar. However,

Samsung has also included an 'embedded'

home button, which emulates the

feel of a physical button using

technology that feels similar to

Apple's Force Touch. It's very

polished, to the extent that we

almost prefer this style of button

to Samsung's previous approach.

As you'd expect from a

Samsung phone, the display is

pretty much fl awless. sRGB colour

gamut coverage hits 99.9% and

contrast is, unsurprisingly for a

Super AMOLED panel, perfect.

The QHD+ resolution is pin-sharp

and the brightness, which we

measured peaking at 569cd/m 2 , is

absolutely blazing – the maximum

setting actually carries a health

warning. This is also the only

smartphone screen to be certified

by the UHD Alliance to the Mobile

HDR Premium standard.

The use of an unusual 18.5:9

aspect ratio means the Galaxy S8

is taller and thinner than you'd

expect, which makes it much more

comfortable to hold and use

one-handed. It also feels a lot

smaller than it actually is, in a

good way. It may be a 5.8in phablet, but it

actually feels more like a 5in device, easily

fi tt ing into your pocket. It also feels a lot

slimmer than you'd expect, given it's 8mm

thick, thanks largely to its tapered

edges.

One slight issue is that because the

vast majority of video content is

formatted to fi t the more common 16:9

aspect ratio, you'll often end up with

black bars surrounding whatever you're

watching, which somewhat defeats the

purpose of an edge-to-edge display.

There are several viewing options, such

as cropping the content to fi t your

screen, but you'll likely lose the edges

of the picture in the process.

THE POWER OF EIGHT

Performance is spectacular. Samsung

has been all but topping the charts

for speed for recent generations of

its smartphone range, so it's no

shock to fi nd it's still doing the same

here with the S8.

⬅ The Galaxy S8's stunning screen extends

to almost every edge of the device

Packing Samsung's 10nm Exynos 8895

CPU and 4GB of RAM, the Galaxy S8 scored

1,994 in Geekbench's single-core test and

6,629 in the multicore test. The latter is

the highest score we've seen on any

smartphone, and the single-core result is

also the highest on Android; only the

iPhone 7 scored higher, with 3,489.

It's just as powerful in games, achieving a

spectacular 64fps average in the GFXBench

Manhattan offscreen test. By pipping the

iPhone 7's 63fps, that's another new record

for the books.

Networking is similarly speedy, with

Gigabit Wi-Fi and LTE support out of the box.

While Gigabit routers and mobile networks

are still far from widespread, they're defi nitely

on the rise, so it's nice to know that the S8 is

in a position to take advantage of all these

emerging technologies.

BURNING SENSATION

Batt ery life is the only mild disappointment.

The S8 clocked up a score of 16h 45m in our

benchmark tests, and while that's still an

incredibly high score, it's about an hour less

than the S7 and about two hours less than

the S7 Edge. On the other hand, this still

42

JULY 2017 | COMPUTER SHOPPER | ISSUE 353
---
The Galaxy S8 looks unlike anything else on

the market. It is, without a doubt, the best

example of smartphone design to date

places the Galaxy S8 very high up in our

ranking tables, and it's more than enough to

carry you through a full day.

The Galaxy S8's camera is excellent. It

effectively uses the same lens as the S7

(which was already fantastic), but with a

host of soft ware-based enhancements such

as multi-frame image processing to give it an

extra edge. The most impressive of these is

the selective focus feature, which allows you

to fl ick between different depth-of-fi eld

settings on the fl y.

Watching this in action is amazing: each

image takes a couple of seconds to capture,

but once it does, you can switch the focus

between the foreground and background at

will, resulting in supremely impressive photos

with virtually no effort or skill required.

The 'smart' auto focus is also superb,

capturing crystal-clear shots with lightning

speed. The camera initialises almost instantly,

and focuses on your subject just as fast, with

facial-recognition technology to ensure you're

capturing the right parts of your subject.

It has the usual suite of professional

modes as well, offering fi ne-grained control

over settings such as ISO, white balance,

shutter speed and more. There's a nifty

manual focus mode,

too, which uses green

highlights to visualise

exactly what will be in

focus in the fi nal shot.

Photos taken with

the S8 almost invariably

come out looking slick

and attractive, even in

the hands of a rank

amateur. Samsung

claims that its latest

fl agship can serve as a

backup device for

photographers that use

a DSLR camera, and

based on the strength of

our experiences, we'd

say that's not far wrong.

ARTIFICIAL

FLAVOURING

One of the Galaxy S8's

unique features is Bixby,

Samsung's AI assistant.

Similar to Alexa and the

Google Assistant, Bixby

will answer questions,

help plan your day

and interact with your

device. Bixby is tied into

every element of the S8,

and Samsung has even

included a dedicated

button on the side of the device to launch it.

In addition to the usual suite of calendarplanning,

app-launching and phone-searching

functions, Bixby also includes image-searching

capabilities; take a picture of something, and

Bixby can identify what it is and suggest

appropriate actions. If it's a landmark, for

example, it may offer more information via

an internet search. For products, it will

suggest online shopping pages. There's even

a mode for identifying types of wine based

on the label.

Bixby's voice-command functionality

isn't available at launch, but Bixby Vision

and the Bixby app are. The Bixby app is

reasonably helpful – much like Google Now, it

collects useful information such as calendar

entries, reminders, health data and news

headlines on to one screen for easy access.

Outside of this, however, we can't see Bixby

being all that useful. Voice assistants as a

whole haven't really taken off in any major

sense, so it's hard to see this as a particularly

vital feature either way.

Interestingly, the S8 also includes the

Google Assistant – a surprising inclusion.

We would have expected Samsung to shy

away from including support for what is

effectively a competing service, so it's nice to

see that user choice is more of a priority here.

After learning its lessons with previous

generations, Samsung has not skimped on

fan-favourite Android features. IP68 waterand

dust-proofi ng is in attendance, as is

expandable storage up to a limit of 256GB.

Fast-charging and wireless charging are both

present and correct as well, with the fl agship

range fi nally making the jump to USB Type-C.

EYE EYE

As with its last few devices, Samsung has

packed the S8 with biometric authentication

technology. Alongside the fi ngerprint scanner

(now mounted on the rear of the phone),

the S8 includes the same iris-scanning

technology as the Note 7 and brand-new

facial recognition tech, letting you unlock

your phone just by looking at it.

We couldn't get the iris scanner to work

with our peepers, but similarly bespectacled

colleagues had no trouble using it, so it

may just have been our eyes that were the

problem. Regardless, however, the

combination of all three technologies

means that unlocking your phone should be

fast and easy every time.

The Samsung Galaxy S8 is the best

smartphone in the world, pure and simple.

It's one of the fastest devices we've ever

tested, the camera is incredible and it has

the sleekest, snazziest design around by a

country mile. By virtually every metric you'd

care to name, the Galaxy S8 is the best

phone on the market.

You're paying for all that quality, though.

At £689 SIM-free, it's far from cheap, and

contract prices aren't much better – the

cheapest we've found is £46 per month

with £50 up front from Vodafone. However,

the Galaxy S8 justifies its price by being one

of the most impressive smartphones ever

built. It's the perfect confluence of smooth

elegance and raw power, and there's no

other device that comes close to matching

it for capability or attractiveness.

Adam Shepherd

SPECIFICATIONS

PROCESSOR Octa-core 2.3GHz Samsung Exynos 8895 •

SCREEN SIZE 5.8in • SCREEN RESOLUTION 2,560x1,440 •

REAR CAMERA 12 megapixels • STORAGE 64GB •

WIRELESSDATA 4G • DIMENSIONS 68x149x8mm •

WEIGHT 155g • OPERATING SYSTEM Android 7.0 Nougat •

WARRANTY One year RTB • DETAILS www.samsung.com/

uk • PART CODE SM-G950FZKABTU

Battery life

0%

-50

16h 45m

Reference +50 +100

See page 72 for performance details

ISSUE 353 | COMPUTER SHOPPER | JULY 2017

43
---
FLAGSHIP ANDROID SMARTPHONE

LG G6

★★★★★

£650 • From www.carphonewarehouse.co.uk

VERDICT

The LG G6's sprawling display makes it a pleasure

to use, but the Galaxy S8 is even more impressive

THE LG G6 is the fl agship smartphone that

got everyone talking at the recent MWC

show. Besides ditching the G5's modular

design, its 18:9 aspect ratio and almost

bezel-free design adds even more screen

space to a handset that keeps the familiar

dimensions of a conventional 16:9 device.

LG's initial promise of a "very competitive"

price hasn't quite come to pass, as its £650

RRP isn't vastly cheaper than the £689

Samsung Galaxy S8, while both the iPhone 7

and Google Pixel cost even less. Still, there's

no arguing that it oozes premium quality,

with its stylish frame and Gorilla Glass 5 back

panel. It's tough as well, holding the IP68

rating, meaning you can submerge it in water

at a depth of 1.5m for 30 minutes.

The 5.7in front display is protected by

Corning's Gorilla Glass 3 and, due to its 18:9

aspect ratio, the LG G6 screen-to-body ratio is

an impressive 78.6%. The phone isn't too

heavy, at 163g, and despite the size of the

screen, it's still usable one-handed.

TERA OF THE DEEP

The volume rocker sits on the left side, with a

dual-SIM and microSD card tray on the right.

The G6 comes with 32GB of onboard storage

so the latter is particularly welcome, and it

impressively supports cards up to 2TB in size

– such huge cards aren't even on sale yet. To

charge and transfer fi les, you have a USB

Type-C port on the bottom edge, and to listen

to music, a 3.5mm headphone jack at the top.

Of course, the main attraction is the

display. Its 18:9 aspect ratio is a refreshing

step forward for smartphones; it's hard to

appreciate just by looking at product shots,

but the extra bit of

screen genuinely

makes reading the

news, watching fi lms,

taking pictures,

multitasking and

gaming more

enjoyable and

practical than before.

There's also Dolby

Vision and HDR 10

support. Previously

only available on

high-end TVs, HDR

widens the colour

range, producing

blinding whites and

seriously deep blacks.

Obviously, your

content will have to be HDR as

well, but you should be able to

watch both Netflix and Amazon

HDR content as soon as the

mobile apps have been enabled

for the technology.

However, there is some

day-to-day benefi t, too: to meet

these standards, LG has clearly

worked on the screen's contrast

and brightness. We measured

the screen's contrast at a frankly

astonishing 1,678:1 and 2,112:1

depending on screen content,

which is the best we've seen on

a smartphone, ever.

BLACK AND WHITE

SITUATION

With a maximum 492cd/m 2

brightness, the IPS screen is

readable in all but the very

brightest of conditions – we

had no problem viewing the

phone outside – and it also

delivers stunning black level

response. Surprisingly, our black

measurement test result of

0.23cd/m 2 is a very slight

downgrade on the LG G5's (Shopper 341)

0.19cd/m 2 , but it's still up there with the

very best IPS phone screens.

Our only disappointment was that it

covered 93.2% of the sRGB colour gamut.

This is still a high fi gure, but many other

smartphones – especially those with

AMOLED displays – can do better.

The G6 comes with Android 7.1 Nougat,

along with LG's latest

UX 6 overlay. This

soft ware – particularly

its take on splitscreen

multitasking

– is a pleasure to use,

and doesn't seem to

hog too much of the

G6's 4GB of RAM.

That's just as well,

because LG has

decided to go with the

Snapdragon 821 CPU

rather than the newer

fl agship-standard

Snapdragon 835. As

such, its Geekbench

single-core score of

1,777 and multicore

score of 4,137 fall behind those of betterspecced

rivals such as the Samsung Galaxy S7

and Huawei P10. The Exynos 8895-powered

Galaxy S8 comprehensively beats it as well.

GAMING THE SYSTEM

Generally, the G6 does feel slower during

strenuous multitasking than its octa-core

contemporaries. Even the fi ngerprint sensor

feels relatively sluggish to respond, and it

doesn't cope well with moisture, either – a

tiny bit of sweat will force a PIN input instead.

It is, at least, much more competitive in

gaming. In the GFXBench Manhattan

offscreen test, the LG G6 averaged a high

49fps, which actually beats the Galaxy S7

by 11fps, the P10 by 2fps and the Google

Pixel XL by 1fps. You'll have no issue with

demanding 3D games here.

We weren't too thrilled by the battery life,

however. Lasting 12h 53m in our video

playback benchmark, the LG G6 will get you

through a day of moderate use, but is still

rather short-lasting by fl agship standards.

Next to the Google Pixel's 16h 23m or the

Galaxy S7's 17h 48m, it defi nitely loses out.

That said, one advantage of the

Snapdragon 821 is its support for Qualcomm's

44 JULY 2017 | COMPUTER SHOPPER | ISSUE 353
---
Quick Charge 3, which together with the

included fast charger and USB Type-C cable

will net you about 50% charge in 30 minutes.

BETTER THAN ONE

The dual-lens camera on the old G5 was great,

but the G6 has changed things a little: the

resolution has fallen from 16 to 13 megapixels.

It still works in the same way, though, with

one 125º wide-angle lens and the other with a

bog-standard, 71º fi eld of view. As was the

case with the LG G5, the main camera has a

bright f/1.8 aperture, while its wide-angle

counterpart is a smidge dimmer at f/2.4.

The 18:9 FullVision display is a great

companion for camera enthusiasts. You can

separate the display into two squares and

preview the previous shot while snapping the

next one immediately above. It's strangely

satisfying, and means the whole process of

capturing, previewing and taking the next

shot is much quicker than normal.

We were also very impressed by the LG

G6's camera app, which provides a host of

different options and modes. When you

open the app, you'll notice two icons with

trees in them at the top. This allows you to

cycle between the wide 125º and the normal

71º lenses. The transition between the

lenses is seamless, allowing you to quickly

capture two different perspectives at the

touch of a button.

Within the camera app's settings, you

can choose between several different

photographic modes: panorama, 360

panorama, food, popout, snap, slow-mo and

time-lapse. A tap of another menu button

brings up different fi lters.

Then there are the manual photo and

manual video modes. Manual photo mode

gives you control over the white balance,

focus (regular lens only), exposure

compensation, ISO and shutter speed.

FILM STUDIES

The LG G6's manual video mode gives you

even more control, including the ability to

change the mic gain, audio crossover, add a

wind noise fi lter, change the white balance,

manual focus (regular lens only), exposure

compensation, ISO sensitivity and shutter

speed. You can also set the resolution, aspect

ratio and frame rate for videos, and record in

4K 16:9 at 30fps, and in 1080p 16:9, 18:9 and

21:9 Cinema at 60fps. Recording at 720p

grants you 120fps with a 16:9 aspect ratio,

and 60fps at 18:9 or 21:9 Cinema.

It's even possible to lock the exposure

(AE-L) in this pro video mode, which is

fantastic if you want to whack the LG G6 on

a tripod and record professional-looking

footage. Better still, there's focus peaking

under the manual focus option. This fringes

objects in focus in green pixels, just as with a

professional video camera. Unfortunately,

focus peaking disappears when you hit

record, which means it's not all that useful.

When it comes to quality, the LG G6's

dual 13-megapixel lenses are up there with

We measured the screen's contrast at a frankly astonishing

1,678:1 and 2,112:1 depending on screen content, which is

the best we've seen on a smartphone, ever

the very best. It's not the outright best

camera on a smartphone – that accolade

belongs to the Google Pixel and Google

Pixel XL's shared snapper design, closely

followed by the Samsung Galaxy S7 and S8

– but it's fantastic nonetheless.

Images are clear and packed with detail

through both lenses. The difference

between the two is most apparent indoors;

low-light performance is a lot better on the

f/1.8 lens because it lets in more light, so if

you're snapping photos indoors, avoid the

wide-angle lens.

HDR adds a considerable amount of

detail to photographs, with images appearing

more natural. Naturally, you'll get more

objects in your image with the wider lens, but

there is a compromise on quality, with the

f/2.4 lens able to capture less light. It's a

trade-off , but given you have the option to

cycle between the two modes, there's not

much to complain about.

We particularly appreciated the LG G6's

dual-LED fl ash, which doesn't wash the

scene in blue or pink as some phones'

fl ashes are liable to do, and it manages to

maintain good colour accuracy while

eliminating distracting shadows.

GALAXY FARING

The LG G6 is a decent fl agship smartphone

with a great screen, an impressive camera

and a great design. We love the tall, narrow

shape – it provides a slice of extra screen

real estate without making the phone

awkward to use one-handed – and the

thin borders at the top and bottom of

the phone keep its height to a minimum

as well.

However, at £650, the LG G6 isn't that

much cheaper than the Samsung Galaxy S8,

and we think that the extra £39 is worth

paying for a beautifully designed smartphone

with a more colourful AMOLED screen,

a faster processor, more onboard storage

and useful extras such as iris- and facialrecognition

unlocking.

Christopher Minasians

SPECIFICATIONS

PROCESSOR Quad-core 2.35GHz Qualcomm Snapdragon 821

• SCREEN SIZE 5.7in • SCREEN RESOLUTION 2,880x1,440

• REAR CAMERA 13 megapixels • STORAGE 32GB •

WIRELESSDATA 4G • DIMENSIONS 149x72x7.9mm •

WEIGHT 163g • OPERATING SYSTEM Android 7.1 •

WARRANTY Two years parts and labour •

DETAILS www.lg.com/uk • PART CODE H870

Battery life

0%

12h 53m

-50

Reference +50 +100

See page 72 for performance details

ISSUE 353 | COMPUTER SHOPPER | JULY 2017

45
---
SSD UPGRADE KIT

KINGSTON SSDNow UV400 Upgrade Kit 480GB

★★★★★

£155 • From www.ebuyer.com

VERDICT

A great upgrade option for laptop owners, but you can get cheaper standalone drives

ALTHOUGH AN SSD can make a huge

difference to the speed of your PC, increasing

boot speeds and application load times,

installing one can be tricky. That's doubly so

if you want to upgrade a laptop. Kingston

wants to make things easy with this, the

SSDNow UV400 Upgrade Kit.

Inside the box, you get the 2.5in SATA3

drive (available in 120GB, 240GB, 480GB and

960GB versions; we tested the 480GB kit),

plus a full copy of Acronis True Image HD and

everything you need to install the drive. For a

desktop PC, this includes a mount to convert a

3.5in drive bay into an SSD-compatible one,

and a Molex-to-SATA power adaptor.

CLAMSHELL OUT

It's laptop upgraders who really benefi t from

this kit. You get an external USB hard disk

caddy, designed for the SSDNow UV400.

Plugging this into your laptop, you can use the

simple Acronis True Image soft ware to clone

your existing hard disk before you make the

swap and install the SSD permanently.

The height of drives can be an issue with

some laptops, so Kingston also ships the drive

with a foam spacer. This pads out any room

inside the laptop to ensure that the SSD fi ts

snuggly and doesn't jog around. If you don't

want or need all of this, the SSDNow UV400 is

available as a drive only for around £15 less.

While ease of installation shouldn't be

ignored, it's the raw speed that determines if

an SSD should be bought or not. Kingston

uses Triple-level cell (TLC) storage, which

stores three bits per cell. TLC memory delivers

the lowest-cost SSDs but has the slowest

performance. That said, the SSDNow UV400

is a SATA3 drive, which has a maximum

throughput of 600MB/s. With the SSDNow

UV400's maximum read speed of 550MB/s

and write speed of 500MB/s, the drive is

pushing against the maximum bandwidth the

interface offers. In other words, the fact that

it's using TLC storage should have little impact.

SOLIDLY STATED

Our test results showed this to be the case,

too. Copying our huge fi les, we saw read

speeds of 475.4MB/s and write speeds of

482.21MB/s. In our large fi les test, we saw

read speeds of 441.43MB/s and write speeds

of 479.71MB/s. Our small fi les test, which

really pushes the drive to its limits with lots

and lots of fi le operations, slowed the

UV400 right down, producing a read speed of

321.36MB/s and write speed of 439.64MB/s.

In all cases, Windows' caching technology

helps improve the real-world write

performance by buffering fi les. Read speeds

can't be improved, as data has to be pulled

from the drive before it can be cached.

Switching to the CrystalDiskMark

benchmark, sequential speeds showed that

the drive was bang on the money for its

quoted specs: 552.6MB/s read speeds and

506.6MB/s write speeds. Switching to the 4K

fi le test, which pushes SSDs by requiring

thousands of random fi le operations, the

UV400 slowed down considerably: 341.8MB/s

read and 322.7MB/write. These speeds

compare favourably with similarly specced

drives from other manufacturers.

GETTING LAPPED

As to whether the UV400 is worth buying or

not depends on what you want it for. If you're

upgrading a laptop, the entire kit is excellent

value and gives you everything you need for a

quick upgrade. If you just want a bare drive for

a PC, the kit is overpriced and the standalone

drive not quite as good value. For standalone

drives, the Crucial MX300 series is slightly

better value and performed a tiny bit faster in

our benchmarks, making it the better choice.

David Ludlow

SPECIFICATIONS

CAPACITY 480GB • COST PERGIGABYTE £0.32 •

INTERFACE SATA3 • CLAIMEDREAD 550MB/s • CLAIMED

WRITE 500MB/S • WARRANTY Three years RTB • DETAILS

www.kingston.com • PART CODE SUV400S37/480G

Huge fi les

Large fi les

Small fi les

0%

478.80MB/s

460.57MB/s

-50

380.5MB/s

Reference +50 +100

See page 72 for performance details

46 JULY 2017 | COMPUTER SHOPPER | ISSUE 353
---
MEDIA STREAMER

HUMAX H3 Espresso

★★★★★

£80 • From www.currys.co.uk

VERDICT

It's simple to use and control, but the H3

Espresso lacks the fi nesse and app variety of

its main competition

GIVEN THAT THE media streamer market is

dominated by Apple, Amazon and Google, any

competitor has to be better, cost less or do

something different. Humax has decided to go

with the third option and offer something a

little unusual with its H3 Espresso: live TV

streamed over the internet, and integration

with the company's Freeview set-top boxes.

Size- and shape-wise, the H3 Espresso

looks like a slimmed-down Apple TV.

Humax's player measures a similar 95x95mm,

with the same curved corners. However, the

H3 is considerably slimmer than the 35mm

Apple TV, measuring just 18mm.

WOODEN PERFORMANCE

The small size means that it's easy to tuck

the media player out of the way. If you do

have it on display, the wood-eff ect top at

least gives the H3 a different look to its rival

media streamers.

Humax has kitted out the H3 with a decent

range of ports. Around the back, you get

HDMI 1.4, Ethernet (there's 802.11n Wi-Fi

built in, too) and an optical S/PDIF output.

There's also a USB2 port on the side for

connecting external storage directly.

Powering on the H3 for the fi rst time

takes you through a quick setup wizard, which

gets the box connected to your network.

It also takes you through configuring the

companion Android and iOS apps, although

you can stick with the dedicated remote

control. Humax has done a good job with the

remote: it's comfortable to hold and gives you

all the main playback controls you need.

The two main benefi ts of using the app are

that you don't need line of sight to the H3, as

the app works over your network, and you

can use your phone's onscreen keyboard to

enter text. The latter sounds like a good idea,

but it's a little fl aky in practice. Using our H3

box, we found that text entry didn't work

with every app, which is a real shame.

Humax's main interface for the H3

Espresso is a little basic, with simple

thumbnails letting you select and launch

apps. It works well enough, although the

interface is rather functional.

SURFING SEASON

One of the key selling points of the H3 is the

access it gives you to live TV. The easiest

method is to stream from the internet using

the TVPlayer app. This gives you, at the time

of writing, 79 free channels, including every

main terrestrial channel. You also get a

number of additional channels, including QVC,

Bloomberg and CNN International. Using the

supplied code, you get two months of free

TVPlayer Plus access (usually £5.99 a month),

netting you an additional 29 premium

channels – well, if you consider stations

such as MTV, Gold and Cartoon Network as

being premium, that is.

Image quality is very good: better quality

than standard-defi nition Freeview, but not as

good as HD from BBC iPlayer. TVPlayer is also

available on the Apple TV, Fire TV and

Chromecast, though, so there's no clear

reason to buy the H3 Espresso for this app.

However, the H3 has another trick up its

sleeve: it can live-stream content from a

Humax Freeview Play FVP-4000T. This can

either be recorded shows or live TV via one of

the FVP-4000T's three tuners.

While access to live TV is good, ondemand

TV is disappointing. There's no

iPlayer, ITV Hub, All4 or My5. In this regard,

the H3 lags behind its competition.

Other content is also a little lacking, and

only the Netflix and YouTube apps stand out,

both of which use the same familiar interfaces

as they do on other media streamers. That's it

for premium content, as there's no Now TV,

Amazon Prime Video or Spotify.

SLIM PICKINGS

Humax has a simple app store, but the

range of available content is poor. What's

more, apps don't have descriptions, so you

have to guess what add-ons such as 'Know

Yourself' and 'Check Body' do.

The built-in Humax Media Player is useful

for anyone with a media server on their

network, though, letting you stream video,

music and photos. Most formats are

supported, too. If you don't have a media

server, you can just plug in a USB key directly

into the H3 Espresso's side port.

As a basic media streamer or Netflix

player, the H3 Espresso does a good job, but

at the moment, it's painfully lacking in

content and apps. As it stands, the Amazon

Fire TV with 4K Ultra HD (Shopper 350) costs

the same, yet has more content and supports

4K footage. If you want to save money, the

Chromecast or Amazon Fire TV stick cost

less than half the price of the H3 Espresso.

David Ludlow

SPECIFICATIONS

VIDEOOUTPUTS HDMI 1.4 • NETWORKING 802.11n

(2.4GHz) Wi-Fi • DIMENSIONS 95x95x18mm •

STREAMING FORMATS UPnP, DLNA, SMB •

INTERNET STREAMING SERVICES Netflix, YouTube,

TVPlayer • WARRANTY One year RTB • DETAILS

⬆ Other than Netflix and YouTube, the H3 Espresso is somewhat lacking when it comes to apps

uk.humaxdigital.com • PART CODE H3/UK

48 JULY 2017 | COMPUTER SHOPPER | ISSUE 353
---
OVER-EAR HEADPHONES

MASTER & DYNAMIC MH40

★★★★★

£319 • From www.amazon.co.uk

VERDICT

These stylish headphones don't sound as

good as they look

HEADPHONES THAT BOTH look and

sound good are somewhat hard to come by

– a situation that Master & Dynamic is

attempting to rectify with the MH40. This set

of cans screams beauty, design and build

quality, but ultimately it's the sound quality

that makes or breaks any audio product –

including this one.

At £319, the MH40 isn't cheap, and with

more affordable competition from the £280

Bowers & Wilkins P7 (Shopper 348), the

Sennheiser Momentum 2.0 at £200, the

Sony MDR-1A at £120 and even the likes of

the Creative Sound BlasterX H5 at £95, the

MH40 has its work cut out.

In the package, you'll fi nd the headphones,

two sets of detachable cables (a 1.25m cable

with remote and mic, and a 2m standard

cable), a leather cable box, a soft carrying

pouch and a 6.3mm adaptor.

The remote on the 1.25m cable allows

you to adjust the volume on iOS devices,

but unfortunately, this particular function

doesn't work on Android as well. That said,

you can still play/pause tracks, answer and

receive calls, and skip through tracks (by

double- or triple-tapping the middle

button) on both operating systems.

VEGAN UNFRIENDLY

These accessories, OS compatibility

aside, show an attention to detail

that we're happy to say is replicated

on the MH40 itself, which has a

stunning look and distinctive design.

There are a few colours to choose

from; we received the silver

metal/brown leather model for

review, and it looks better in the

fl esh than it does on Master &

Dynamic's website.

The MH40 has "heavy grain

premium cowhide" on the top

of the headband, with soft

lambskin on the earpads

and the inner part of the

headband. Grilles adorn

the exterior of each cup to

complete the retro ham

radio look, but it's important

to note that these aren't

open-back headphones in

the technical sense.

The earcups are in fact

closed, which is good news if

you're planning on listening to

the MH40 in the office or on your

daily commute,

since you can do

so without fear

of annoying

your fellow

travellers.

The MH40

is practical in

other ways,

too. The

earcups pivot

fl at, allowing

you to store

them with

greater ease in

the included pouch.

The earpads attach

magnetically to the metal

housing of each earcup,

making it easy to replace them when they

wear out. The 3.5mm cable is removable,

with a jack on each earcup so you can

choose which side to hang the cable and,

unusually, there's a mechanical mute button

on the right earcup as well.

However, it's not the most comfortable set

of headphones we've ever worn. The

headband is adjustable, but there isn't

much range to the adjustment – if you

have a large head, you might fi nd the

MH40 just doesn't fi t. We also found

the narrow earpads a touch small for

our ears, and with the minimal amount

of padding on the headband, the total

weight of 360g was immediately

noticeable. We're not sure we'd want to

wear these for long periods of listening.

FALLING FLAT

The MH40's other technical

specifications are well up to scratch.

In each earcup is a large 45mm

neodymium driver, and the

overall impedance of the

headphones is 32 ohms.

This means they'll need a

little more volume over your

regular 16-ohm headphones.

Sound quality, however, is

lower than we'd expect from

a set of headphones costing

over £300. First up, there's

the bass, which we found to

lack presence to the extent

that the lowest of low notes

didn't have much rumble to

them. For example, in Usher's Yeah!,

at each chorus the

bass cuts off, leaving

you wanting more.

Its mid-bass slam

was a little

uncontrolled but

did at least have

plenty of oomph.

There are

also better

headphones for

listening to

classical music,

as there's an

over-warm

presentation to the

sound that muddles

fi ne details in the

mid-range of the sound spectrum. Certainly,

compared with the excellent Sennheiser

Momentum 2.0, the MH40 just isn't as

forward-sounding or as clear.

To top it all off, the highs aren't that

impressive, either. For example, in The

Weeknd's Starboy, the recurring electric sound

in the background isn't delivered with quite

enough sparkle for our liking. Everything just

sounds a little soft and indistinct.

JUST A PRETTY FACE

As for soundstage, that's not so bad. The

MH40 has an intriguing soundstage, with a

rather deep but narrow sound. Instrument

separation is acceptable, but again, we would

have liked a bit more refi nement, as when

testing with games the positioning of sounds

wasn't terribly accurate.

The Master & Dynamic MH40 is one of the

most attractive, beautifully designed pairs of

headphones we've laid hands – and eyes – on.

Constructed entirely from aluminium and

leather, they feel like they've been built to last.

However, at £319, they simply miss the

mark in terms of comfort and, most

importantly, sound quality. You'd be better

off considering the Sennheiser Momentum

2.0 or the Creative Sound BlasterX H5, both

of which offer superior sound quality and

are considerably cheaper.

Christopher Minasians

SPECIFICATIONS

HEADPHONES SUBTYPE Over-ear • PLUG TYPE Dual

3.5mm • WEIGHT 360g • CABLELENGTH 1.25m with

remote and mic, 2m standard cable • WARRANTY Two

years repair and replace • DETAILS www.masterdynamic.eu

• PART CODE MH40S2

50 JULY 2017 | COMPUTER SHOPPER | ISSUE 353
---
COMPACT SYSTEM CAMERA

PANASONIC

Lumix DMC-G80

★★★★★

£799 (with 12-60mm kit lens) •

From www.amazon.co.uk

VERDICT

Packed with useful features, the Lumix DMC-G80

is a superb CSC for stills, and even better for video

THE PANASONIC LUMIX DMC-G80 is the

seventh generation in a line that stretches

back to the fi rst ever compact system

camera (CSC), the Panasonic G1. It may be

overshadowed by the fl agship GH series, the

gadget-laden GX series or the budget-friendly

GH series, but then the most unassuming

cameras can sometimes offer the best value,

and the G80 is well placed to repeat the

all-round greatness of the Panasonic G7.

The G80 looks remarkably similar to the

G7, both in the fl esh and in its specifications:

16-megapixel photos, 4K videos, a 3in

articulated touchscreen and a 2.4-million dot

electronic viewfinder. Body-only, it costs £629,

but it makes sense to go with the £799

package, which includes a 12-60mm kit lens –

a big step up from the G7's 14-42mm. Both

the lens and the body are weather-sealed,

which is unusual for a sub-£1,000 camera, and

indicates that Panasonic is aiming this model

at a more demanding type of photographer.

Another key feature is the same sensorshift

optical stabilisation as seen in the GX80

(Shopper 343), something that was missing

from the G7. When a stabilised lens is fi tt ed,

the camera uses both sensor-shift and in-lens

systems in tandem to help cope with shaky

conditions or extremely slow shutter speeds.

TAKE THE CONTROLS

While the G80 is bigger than most CSCs

(being about the same size and weight as a

typical DSLR), this allows for a chunky,

comfortable handgrip and plenty of dials.

The SD card slot has its own compartment

on the side, so is easier to access when using

a tripod than on the G7, and a designed

shutter makes it quieter as well.

There are fi ve customisable buttons dotted

around the camera, plus fi ve further virtual

ones on the touchscreen. Buttons labelled Fn

aren't as quick to learn as those labelled with

specific functions, but it does give you more

fl exibility to set up the camera to your liking,

and you can always apply your own stickers.

In addition, you get dedicated buttons for

ISO speed, white balance, autofocus mode

and AF/AE lock, plus a lever for toggling

between single auto, continuous auto and

manual focus modes. There are also two

chunky command dials on the top plate for

direct access to shutter speed and aperture

in manual exposure mode.

Exposure compensation is accessed by

pressing the Fn1 button on the top plate and

then spinning the rear command dial. We

found this a little awkward, so assigned it

permanently to the rear wheel. It still reverted

to shutter speed in manual exposure mode,

though, with the front command dial

assigned to aperture.

Over on the

other side of

the viewfinder

hump there's a

dedicated drive

mode dial, which

includes the usual

single, burst and

self-timer options,

plus three more

unusual ones.

Interval mode,

for instance,

provides access

to Panasonic's

time-lapse and stop-motion animation modes,

while 4K Photo mode takes advantage of the

8-megapixel resolution of each 4K video

frame to deliver a 30fps burst mode (shots

are limited to JPEG-only, but you can choose

the aspect ratio).

The third option is Post Focus, which

works in a similar way, recording a video as it

sweeps through the focus in a scene. After

capture, you can tap the screen to choose

which part to focus on, and even combine

shots using a technique called focus stacking,

so a larger area or the whole scene is in sharp

focus. It produced slightly odd results when

selecting a range of areas to keep sharp, but

the Auto mode that keeps everything sharp

worked extremely well.

TOUCH AND GO

The electronic viewfinder uses a 2.36-million

dot OLED screen, but it's bigger than on the

G7, with 0.74x rather than 0.7x magnification.

The LCD screen switches off automatically

when the camera is raised to the eye, but it

can still be used as a touchscreen to move

the autofocus point. This feels natural and

is extremely quick, and it's only slightly

upset by accidental nose nudges. Helpfully,

switching it from Exact to Offset mode

(which makes it behave more like a laptop

touchpad) makes nose prods merely

wiggle the autofocus point, rather than

having it veer off course.

After moving the autofocus point, the

command dials can be used to adjust the

autofocus area size, which varies from a

tiny point to almost the entire frame height.

This fl exibility is helpful generally, and

particularly so in very dark conditions where

the camera might struggle to focus on a very

small area. What's also useful is that face

detection focuses on eyes rather than faces,

and the accuracy of both face detection and

52 JULY 2017 | COMPUTER SHOPPER | ISSUE 353
---
touchscreen-powered subject tracking is as

good as we've seen from any camera.

Fast autofocus performance also

contributes towards impressive operating

speeds, with the G80 taking 0.8 seconds from

powering up to capturing a shot and 0.4

seconds between subsequent shots. Burst

shooting was at 9.2fps in our tests, the buffer

is good for over 100 JPEGs, and it showed no

sign of fi lling up. Switching to Raw mode

slowed it down to 7.1fps, and this rate slowed

significantly after 47 frames. After enabling

continuous autofocus, it ran at 6.2fps for

JPEGs and 5.4fps for Raw. There are faster

cameras, but the G80 is quick enough for

most purposes, and the generous buffer

means it has stamina as well as speed.

MOVIE BUFF

Panasonic has led the way for video capture

in recent years, and the G80 continues this

tradition. It records both 4K (3,840x2,160)

and 1080p videos, both of which are packed

with crisp, fi ne details. Sensor-shift, lensbased

and electronic stabilisation can all

be employed simultaneously to deliver

impressively smooth handheld footage, which

is effective enough to use while walking.

Unlike the cheaper G-series cameras, the

G80 also includes the Cinelike D colour profi le.

This produces fl at colours, which make a good

starting point for colour grading. There's also

Zebra stripe peaking, which shows which

parts of the frame are overexposed. You get

a 3.5mm microphone socket, too, but sadly

there's no headphone socket for monitoring.

There are no slow-motion modes, but the

camera's 1080/60p videos could be slowed

to 25p in editing soft ware.

Video autofocus is excellent, with the same

superb subject tracking as per photos and

decisive refocusing when the subject or

camera moves. However, it's not quite up to

professional standards, as there's still some

focus hunting and the occasional error.

Panasonic CSC cameras use Micro Four

Thirds sensors that measure 17.3x13mm.

That's about 40% smaller (by surface area)

than the APS-C sensors found in CSCs from

Sony, Fujifilm and Canon. As such, they're

always likely to be a little behind rivals for

image quality. The G80 bears this out with

a 16-megapixel resolution that's lower than

rival cameras' 24 megapixels, and a little

more noise at fast ISO speeds.

This might be enough to put off some

people, but for us it's not a deal breaker.

The 16-megapixel resolution equates to

278dpi for an A3 print, which is close enough

to the ideal level of 300dpi. Noise levels are

more of an issue, and we'd be tempted to

limit the G80 to ISO 3200 (where other

cameras can be pushed to ISO 6400).

However, with a wide-aperture prime lens it's

rare to need ISO speeds beyond 1600.

ZOOM SERVICE

Taken on their own terms, the G80's photos

are excellent. The new kit lens performed

superbly and its generous 5x zoom range is

much more versatile than the 3x zooms

offered by rivals. Metering and automatic

exposures were hard to fault, with the

camera responding intelligently to moving

subjects by raising the shutter and ISO speed.

Colours were lifelike,

with excellent handling

of subtle textures.

We spotted some

subtle errors on dense

foliage, where the

demosaicing fi lter

couldn't work out what

colour a particular pixel

should be and thus rendered it grey, but it

didn't happen often and was hard to spot.

The G80 is pricier than the G7 was at

launch, but with its weather sealing, larger

viewfinder, sensor-shift stabilisation

and posher kit lens, this feels like a big step

up. Its price puts it somewhere between

entry-level CSCs such as the Canon EOS M3

and high-end models such as the Fujifilm X-T2

(Shopper 351), but in most respects –

ergonomics, controls, performance, features

– it's much closer to the latter, and it

outperforms almost everything for video.

The new Fujifilm X-T20 may be the camera

to steal the show – we'll be reviewing it soon.

For now, though, the Lumix DMC-G80 is the

best sub-£1,000 CSC kit on the market.

Ben Pitt

SPECIFICATIONS

SENSOR RESOLUTION 16 megapixels • SENSOR SIZE

17.3x13mm • FOCAL LENGTH MULTIPLIER 2x •

VIEWFINDER Electronic (2.36 million dots) • LCDSCREEN

3in (1.04 million dots) • OPTICAL ZOOM (35mm-EQUIVALENT

FOCAL LENGTHS) 5x (24-120mm) • 35mm-EQUIVALENT

APERTURE f/7-11.2 • LENS MOUNT Micro Four Thirds •

WEIGHT 715g (with kit lens) • DIMENSIONS 79x137x130mm

• WARRANTY One year RTB • DETAILS www.panasonic.

com/uk • PART CODE DMC-G80MEB-K

Battery life

0%

-50

900 shots

Reference +50 +100

See page 72 for performance details

PORTABLE FOLDAWAY SEAT

SITPACK

★★★★★

£49 • From sitpack.com

VERDICT

A clever, compact seat that you can take (and use) practically anywhere

FOLD-UP CHAIRS might be useful, but

they're a pain to carry around. Wouldn't it

be better if there was a more compact and

fl exible design, giving you a seat for

everything from photography to sitting in a

queue? Now there is: the Sitpack.

The same size as a 500ml can of beer, the

Sitpack is the smallest folding seat you can

get. At 600g, it's also pretty light, although the

compact dimensions make it feel weighty.

When you want to relax, you just fl ip the

sides out to make the base, extend the

monopod leg, and you're done. Using the

Sitpack falls someway between

standing and sitting: the seat's leg should

stand at a 40-degree angle to your legs.

The top telescopic section can collapse, too,

so the Sitpack will suit most heights.

Thanks to the glass fi bre reinforced

polycarbonate build (the same stuff riot

shields are made of), the Sitpack is tough

and durable, able to take anyone up to 100kg

(15st 10lb) in weight.

It's surprisingly comfortable, too, with the

seat taking a lot of stress: using it, only 30%

of your body weight goes on to your coccyx.

That's the science; in actual use, the Sitpack

certainly relieved our tired legs.

The Sitpack is particularly handy for

photographers, giving you a comfortable

stance while you wait to take the perfect shot.

If you're out and about a lot, the Sitpack's

tiny dimensions and comfort make it the ideal

travel companion.

David Ludlow

SPECIFICATIONS

DIMENSIONS 168x66x66mm • WEIGHT 0.6kg • MAXIMUM

WEIGHT 100kg • DETAILS sitpack.com

ISSUE 353 | COMPUTER SHOPPER | JULY 2017

53
---
4G SMARTWATCH

HUAWEI Watch 2 Sport

★★★★★

RECOMMENDED

£325 • From www.vmall.eu

VERDICT

This 4G-ready smartwatch overcomes some

fi tness foibles with the aid of a brilliant OS

HUAWEI'S SECOND CRACK at a smartwatch

comes in a fi tness-orientated Sport version

and a more stylish Classic model. The Classic

has a stainless-steel body and comes with a

leather strap, while the Sport has a plastic body

and strap with a ceramic bezel and stainless

rear – plus the option of 4G connectivity.

The Watch 2 Sport's headline feature is

very much the ability to work independently,

without the need for a phone. Both versions

have GPS so you can go on a run and have it

track your pace and location accurately, but

4G allows you to answer phone calls and reply

to text messages, too. Simply install a nano-SIM

beneath the bottom strap attachment, and the

built-in microphone and speaker can be used

to dial out and answer calls, while Android

Wear 2's new smart replies, dictation and

onscreen keyboard let you answer and send

texts directly from the watch face.

If you'd prefer to exercise in peace, the

non-4G version is cheaper and offers

everything else you need for fi tness tracking,

with built-in GPS and a heart-rate monitor.

Both variants have a circular 1.2in, 390x390

AMOLED display with an ambient light sensor

– it's sharp and colourful, although Huawei's

stock faces look unsophisticated.

WEAR NECESSITIES

The Watch 2 is powered by the 1.1GHz

Snapdragon Wear 2100 processor,

Qualcomm's fi rst dedicated wearables chip,

and its 768MB is plenty for a smartwatch.

Swiping around feels responsive, other than a

few brief pauses here and there. We're hoping

these will be fi xed with fi rmware updates.

Battery life is fi ne: by disabling Wi-Fi and

sticking to Bluetooth, we got nearly two days

out of the 420mAh battery, and ultra-saving

mode helps draw it out in emergencies.

However, it's not quite as good in

this department as the Samsung

Gear S3 (Shopper 350), which

lasts for two to three days

in normal use.

While both the Classic

and Sport models are

attractive, they are quite

bulky, both measuring

12.6mm thick. We also

wish Huawei had gone for

a Gear S3-style rotating

bezel control scheme;

instead, there are just two

push buttons on the right edge,

which is an odd choice considering

the Android Wear 2 OS has

been designed with spinning

bezels in mind.

Screen size is also down,

from 1.4in on the original Huawei

Watch to 1.2in. The makes it harder

to use one of Android Wear 2's

best features, its onscreen keyboard.

Nonetheless, the operating system

remains a big improvement. It's more

intuitive, accessible and user-friendly than

previous versions, and the newfound ability to

install standalone apps solely on the watch

– so you don't need a paired smartphone to

use them – is very handy when you don't

have your phone on you.

This could do with some additional

support; Huawei's fi tness app and Google

Maps both work fi ne, but Gmail and Spotify

still need a handset present. Still, it's a useful

inclusion, as is Android Pay support and

Google Assistant implementation. The former

doesn't seem to work as fast as, say, Apple

Pay on an Apple Watch, but the latter is

beautifully responsive when dictating texts.

NOT WORKING OUT

However, we're not entirely convinced by the

Watch 2 as a fi tness aid – even the Sport

model. Huawei's fi tness app delivers

everything from training plans to guided

workouts, and the watch itself tracks all sorts

of metrics (from heart rate to estimated VO2

capacity) in conjunction with the

heart-rate monitor and GPS

sensor. And yet it falls short

for two key reasons.

First, in our two weeks

of using it, we never got

the watch to sync

successfully with the

Huawei Fit smartwatch

app; hopefully this was

related to the fact that

we were testing it

pre-release. Second, for all

its fancy features, the app

misses out one key thing: it

doesn't make any attempt to

auto-detect fi tness activities.

That's not so much of an issue for distinct,

easily defi ned activities such as going for a run,

but you also want activities like brisk walks to

be detected without intervention, as you

never know when a light stroll will turn into

something more demanding. We often found

that after starting a walking activity in Huawei

Fit, it wouldn't automatically terminate after

Simply install a nano-SIM and the built-in microphone and

speaker can be used to dial out and answer calls

we'd fi nished, and would continue to track for

hours until we ended it manually. That's bad

news for both accuracy and battery life.

Also, while the Watch 2 handles

continuous heart-rate tracking, which it

displays in a nice-looking 'last six hours'

graph onscreen, it doesn't show you your

average heart rate, just your maximum,

minimum and most recent readings.

SECOND LIFE

There are some irritations, then, but on the

whole we like the Huawei Watch 2. It's no Gear

S3, but the battery life is good, both variants

are stylish (if a tad chunky), and it's packed

with all the sensors you could want – even if it

doesn't always put them to the best use.

Special mention goes to Android Wear 2,

which makes it simple to use and adds the

ability to use Android Pay, and despite the

weaknesses of the Huawei Wear app, it is

undoubtedly a boon to be able to go for a

run leaving your smartphone at home.

Jonathan Bray

SPECIFICATIONS

PEDOMETER Yes • HEART-RATE MONITOR Yes •

DISPLAYSIZE 1.2in • RESOLUTION 390x390 • BATTERY

LIFE Two days • WARRANTY Two years RTB • DETAILS

consumer.huawei.com/uk • PART CODE Watch 2 Sport

54 JULY 2017 | COMPUTER SHOPPER | ISSUE 353
---
From Apple to Zeiss,

and everything in between

For exclusive subscription offers and trials, visit:

magazinedeals.co.uk/tech

Whether you're an IT professional or a first time buyer, Dennis technology has a

magazine for you, all of which are written and produced by expert editorial teams.

We cover the whole spectrum of technology news, reviews and features.
---
Choosing a... PC system

A basic PC costing around £350 will

01 be able to run everyday office,

multimedia and education soft ware and will

easily cope with surfing the internet. It might

even be able to run some modern games.

Many PCs can be sold either with or

without a monitor. If you don't like the

display that the manufacturer is offering,

you can always use your current one, or

buy another one separately.

If you want to play games, you'll

02 have to upgrade the graphics card.

Budget cards such as the Nvidia GeForce GTX

950 will cope well with many 3D games, but

to play the latest 3D games smoothly (and

enjoy the best-quality graphics) it's worth

upgrading to a more powerful card such as

the Nvidia GeForce GTX 970.

All modern PCs come with at

03 least a dual-core processor and

are capable of most tasks. Anyone who

regularly undertakes demanding tasks

such as video editing and encoding

should consider a quad-core or even a

hex-core processor.

There are plenty of good reasons to

04 upgrade the PC's memory or hard

disk. If you'll use your PC for gaming, video

editing or other demanding tasks, you'll

need at least 8GB of RAM and a large hard

disk; 1TB should suffice. Many new PCs have

an SSD, which speeds up the time it takes for

your PC to boot and programs to load.

Having plenty of USB ports is

05 always useful, as most computer

peripherals attach to these ports. Most

new PCs come with the latest USB3 ports,

which provide faster data transfers when

used with supported devices than the

older USB2 standard.

Most new PCs now come with

06 Windows 10 pre-installed. Don't

be too easily swayed by the inclusion of

other soft ware, though, as it may be that

you'll never use it.

While most PCs come in cases

07 of a similar size, some have more

compact mini tower or mini PC cases.

These smaller PCs will fi t under your TV

or on your desk more easily, but bear in

mind that they're significantly harder to

upgrade than full-size machines.

PCs

RASPBERRYPi

Zero W

★★★★★

£10 • www.thepihut.com

The Pi Foundation's latest

pocket-sized hobbyist PC is

a big improvement on the

original Pi Zero, thanks to integrated Wi-Fi

and better performance. It's not as fast as

the more expensive Pi 3, nor as generous

with connections and ports, but the bargain

Zero W is perfect for low-power projects.

PROCESSOR 1GHz single-core Broadcom BCM2835 • RAM 512MB • USB PORTS 1x Micro USB

(power), 1x Micro USB OTG • TOTALSTORAGE MicroSD card slot • DISPLAY None •

OPERATING SYSTEM Raspbian • WARRANTY One year RTB • DETAILS www.raspberrypi.org •

PART CODE Pi Zero W • FULL REVIEW Jun 2017

CHILLBLAST Fusion Hubble

★★★★★

£1,000 • www.chillblast.com

One of the fi rst PCs

we've seen to take

advantage of Intel's

latest Kaby Lake processors, the Fusion

Hubble excels at compute tasks thanks

to its overclockable Core i5-7600K.

A GTX 1060 also allows for nippy games

performance, and you get a good-sized

SSD, watercooling and a long warranty

to sweeten the deal.

NEW

ENTRY

PROCESSOR Quad-core 4.6GHz Intel Core i5-7600K • RAM 8GB • FRONTUSB PORTS 2x USB2,

2x USB3 • REAR USB PORTS 2x USB2, 4x USB3, 1x USB3.1, 1x USB Type-C • TOTALSTORAGE 250GB

SSD, 1TB hard disk • GRAPHICSCARD 3GB Palit GeForce GTX 1060 Dual • OPERATING SYSTEM

Windows 10 • WARRANTY Five years labour including two years collect and return •

DETAILS www.chillblast.com • PART CODE Fusion Hubble • FULL REVIEW Apr 2017

PC SPECIALIST Apollo K-VR

★★★★★

£1,645 • www.pcspecialist.co.uk

If you've got the cash for a

truly top-flight gaming

system, look no further

than the Apollo K-VR. Its 8GB GTX 1080

graphics card deft ly handles 4K and VR, while

an Intel Core-i7-7700K and 16GB of RAM

make for swift multitasking. There's potential

for additional overclocking as well.

PROCESSOR Quad-core 4.2GHz Intel Core i7-7700K • RAM 16GB • FRONT USB PORTS 2x USB2, 2x

USB3 • REAR USB PORTS 4x USB3, 1x USB3.1, 1x USB Type-C • TOTAL STORAGE 250GB SSD, 1TB

hard disk • GRAPHICSCARD 8GB Nvidia GeForce GTX 1080 • DISPLAY None • OPERATING

SYSTEM Windows 10 • WARRANTY Three years labour inc. one year parts and one month collect

and return • DETAILS www.pcspecialist.com • PART CODE Apollo K-VR • FULL REVIEW Jun 2017

PALICOMP

AMD Avenger

★★★★★

£500 • www.palicomp.co.uk

It's not the most

stylish or upgradable

PC, but the AMD

Avenger manages astounding frame

rates in 1080p games for a £500

system. It has premium-grade storage,

too, combining a 1TB hard disk with a

speedy 240GB SSD.

NEW

ENTRY

• FRONT USB PORTS 2x USB2, 2x

PROCESSOR Quad-core 4GHz AMD Athlon X4 880K • RAM 8GB • FRONT USB PORTS 2x USB3 •

REAR USB PORTS 4x USB2, 2x USB3 • TOTAL STORAGE 240GB SSD, 1TB hard disk •

GRAPHICS CARD 4GB AMD RX 460 • OPERATING SYSTEM Windows 10 Home 64-bit •

WARRANTY Three years RTB • DETAILS www.palicomp.co.uk • PART CODE KAV3 •

FULL REVIEW Aug 2016

56 JULY 2017 | COMPUTER SHOPPER | ISSUE 353
---
Choosing a... Laptop

A basic laptop costing around £300

01 will run everyday office, multimedia

and education soft ware, but it won't be

suitable for 3D gaming or processor-intensive

tasks such as video editing. Many laptops at

this price have a 15.4in screen and weigh

around 2.4kg, so they're best used around

the house and for occasional journeys.

If you want to play modern

02 games, you'll need a laptop with a

dedicated graphics chip such as the Nvidia

GeForce GTX 960M. Good gaming laptops

tend to have large 17in screens and weigh

around 3kg, so they're best suited to use

at home.

If you want a laptop that you can

03 take everywhere, look for a model

that weighs less than 2kg. For the best

portability, buy one that has an 11in or 13in

screen. In general, the smaller and lighter the

laptop, the more expensive it is, especially if

it has plenty of processing power.

Battery life is extremely important

04 for a laptop, particularly if you'll be

carrying it around. We'd expect all but the

biggest and heaviest to last for at least fi ve

hours on a single charge, but for an ultraportable

that you carry everywhere, eight

hours and above is more desirable.

Laptops use mobile versions of

05 processors to conserve power,

and these lag behind desktop chips when

it comes to performance. For a budget

Windows laptop, an Intel Core i3 processor

will do the job, but if you want better

performance, you should look for an

Intel Core i5 or Core i7 model instead. We

recommend a minimum of 4GB of RAM,

although 8GB is better for multitasking.

Most budget and mid-range laptops

06 use a mechanical hard disk for

storage. You'll want at least 500GB, but

1TB or more is better. Solid-state drives

(SSDs) have faster performance, making

your computer quicker to boot and more

responsive. They have lower capacities,

though. You'll need at least 128GB.

Netbooks are a type of small,

07 low-cost ultra-portable laptop.

They're fi ne for light use, but avoid them if

you want to do complicated tasks.

LAPTOPS

RAZER Blade Stealth

★★★★★

£1,250 • www.razerstore.comre.com

Razer has

stepped away

from its

traditional focus on gaming devices

to create the defi nitive ultra-portable laptop:

it's thin, light, has a vibrant screen and gleans

good performance from its Kaby Lake processor. The Chrome

backlit keyboard is also hands-down the best laptop keyboard

we've ever used.

PROCESSOR Dual-core 2.7GHz Intel Core i7-7500U • RAM 16GB • DIMENSIONS 300x104x43mm

• WEIGHT 1.29kg • SCREEN SIZE 12.5in • SCREEN RESOLUTION 2,560x1,600 • GRAPHICS

ADAPTOR Intel HD Graphics 620 • TOTALSTORAGE 256GB SSD • OPERATING SYSTEM

Windows 10 Home • WARRANTY One year RTB • DETAILS www.razerone.com •

PART CODE Razer Blade Stealth QHD • FULL REVIEW Mar 2017

ACER

Chromebook R 11

★★★★★

£229 • www.tesco.co.uk

The Acer

Chromebook

R 11 is the most

attractive and practical budget

Chromebook you can

buy, with exceptional

build quality, top

processing and a lovely display.

PROCESSOR Dual-core 1.6GHz Intel Celeron N3050 • RAM 2GB • DIMENSIONS 20x295x203mm •

WEIGHT 1.2kg • SCREEN SIZE 11.6in • SCREEN RESOLUTION 1,366x768 • GRAPHICS ADAPTOR

Intel HD Graphics • TOTAL STORAGE 16GB eMMC • OPERATING SYSTEM Chrome OS •

WARRANTY One year RTB • DETAILS www.acer.co.uk • PART CODE ND.20411.07Q •

FULL REVIEW Apr 2016

LENOVO Yoga Book

★★★★★

£450 (Android), £500 (Windows) • www.currys.co.uk

The Yoga Book

is a genuinely

innovative

convertible: the fully virtual

keyboard can give way to a smooth, oth,

fl at writing surface, perfect for

drawing or digitising notes. Both

the Android 6.0 and Windows 10

models include an Intel Atom chip,

and measure just 9.6mm thin.

PROCESSOR Quad-core 2.4GHz Intel Atom x5-Z8550 • RAM 4GB • DIMENSIONS 256x170x9.6mm

• WEIGHT 960g • SCREEN SIZE 10.1in • SCREEN RESOLUTION 1,920x1,200 • TOTAL STORAGE

64GB SSD • OPERATING SYSTEM Windows 10 Home • WARRANTY One year RTB • DETAILS

www.lenovo.com/uk • PART CODE ZG38C01299 • FULL REVIEW Feb 2017

DELL XPS 13 (2017)

★★★★★

£1,245 • www.amazon.co.uk

Powered by an

updated Intel Core

i7-7500U, 7500U, the refreshed

Dell XPS 13 goes from a tantalising

purchase to an essentialential one.

The 3,200x1,800 display still

looks excellent, too, both in itself

and surrounded

by the razor-thin

InfinityEdge bezels.

PROCESSOR Quad-core 2.7GHz Intel Core i7-7500U • RAM 8GB • DIMENSIONS 304x200x15mm

• WEIGHT 1.29kg • SCREEN SIZE 13.3in • SCREEN RESOLUTION 3,200x1,800 •

GRAPHICSADAPTOR Intel HD Graphics 620 • TOTALSTORAGE 256GB SSD •

OPERATING SYSTEM Windows 10 Home • WARRANTY Three years RTB •

DETAILS www.dell.com/uk • PART CODE XPS 13 9360 • FULL REVIEW May 2017

ISSUE 353 | COMPUTER SHOPPER | JULY 2017

57
---
Choosing a... Smartphone

A smartphone's operating system

01 (OS) dictates its basic features and

which third-party soft ware you can install.

There are three main contenders: Apple's

iOS, which is found on the iPhone, Google's

Android, which is used by various handset

manufacturers, and Windows Phone, which

is mainly used on Lumia phones. Apple iOS

and Google Android have the most apps

available but Windows Phone is slowly

catching up.

All smartphones have colour screens,

02but their resolutions vary. Basic

models have 800x480 pixels, but text can be

indistinct. Look for a display that has at least

1,280x720 pixels so it's easy to browse web

pages. Don't worry too much about built-in

media players or Office document editors;

you can always install apps to replace these

with better versions later.

The image quality of smartphone cameras

has improved tremendously in recent years,

and resolutions have increased to as high as

20 megapixels.

Very few modern smartphones have a

03physical keyboard for entering text;

they almost exclusively use touchscreens

now. Physical keyboards can aid heavy

emailing, but today's touchscreen keyboards

work just as well.

Android smartphones and iPhones

running iOS 9 or 10 allow you to install a

variety of custom onscreen keyboards so

you can fi nd one that suits you.

Be careful when choosing a contract.

04 Look for one that includes a large

data allowance if you want to use the

internet regularly or you've set your phone

to synchronise your contacts, calendar and

email through online services.

Built-in Wi-Fi can help you avoid high data

charges by connecting to the internet

through wireless hotspots when you're out,

or your router when you're at home. Android

and iPhone handsets can operate as wireless

hotspots, letting you connect your laptop to

the web over your mobile data connection.

There may be an extra charge for this.

SMARTPHONES

MOTOROLA Moto Z Play

★★★★★

£330 SIM-free • www.amazon.co.uk

Another laudable take on the

modular smartphone, the Moto

Z Play combines excellent

attachments with great base specs, respectable

performance and outstanding battery life of nearly

24 hours in our tests.

PROCESSOR Octa-core 2.0GHz Qualcomm Snapdragon 625 • SCREEN SIZE 5.5in • SCREEN

RESOLUTION 1,920x1,080 • REAR CAMERA 16 megapixels • STORAGE 32GB • WIRELESSDATA 4G

• DIMENSIONS 156x76x6.9mm • WEIGHT 165g • OPERATING SYSTEM Android 6.0 • WARRANTY

One year RTB • DETAILS www.motorola.co.uk • PART CODE XT1635 • FULL REVIEW Mar 2017

APPLE iPhone SE

★★★★★

£379 SIM-free; free on £23.50-per-month contract •

www.apple.com/uk (SIM-free);

www.carphonewarehouse.com (contract)

While it lacks the 3D Touch capabilities of

the more expensive iPhone 6s, this tiny

successor to the iPhone 5s exceeds all

expectations. It's fast, light and includes a lovely 12MP camera.

PROCESSOR Dual-core 1.8GHz Apple A9 • SCREEN SIZE 4in • SCREEN RESOLUTION 1,136x640 •

REAR CAMERA 12 megapixels • STORAGE 32GB/128GB • WIRELESSDATA 4G • DIMENSIONS

124x59x7.6mm • WEIGHT 112g • OPERATING SYSTEM iOS 10 • WARRANTY One year RTB •

DETAILS www.apple.com/uk • PART CODE iPhone SE • FULL REVIEW Jul 2016

SAMSUNG Galaxy S7

★★★★★

£420 SIM-free; free on £29-per-month contract •

www.amazon.co.uk (SIM-free);

www.carphonewarehouse.com (contract)

Samsung's latest fl agship is the best

Android smartphone money can buy. It's not cheap,

but you get superb build quality, an excellent display,

top-tier performance and outstanding battery life.

PROCESSOR Quad-core 2.3GHz Samsung Exynos 8890 • SCREEN SIZE 5.1in • SCREEN RESOLUTION

2,560x1,440 • REAR CAMERA 12 megapixels • STORAGE 32GB/64GB • WIRELESSDATA 4G •

DIMENSIONS 142x70x7.9mm • WEIGHT 152g • OPERATING SYSTEM Android 6.0 • WARRANTY One

year RTB • DETAILS wwww.samsung.com/uk • PART CODE SM-G930F • FULL REVIEW Jun 2016

ONEPLUS 3T

★★★★★

£399 SIM-free • oneplus.net/uk

This replacement for the OnePlus 3 isn't

quite as big a bargain, but it still takes

the 3's place as the best-value handset

on the market, even more capable of taking on premium

fl agships with its Snapdragon 821 processor and a huge 6GB of RAM.

PROCESSOR Quad-core 2.35GHz Qualcomm Snapdragon 821 • SCREEN SIZE 5.5in •

SCREEN RESOLUTION 1,920x1,080 • REAR CAMERA 16 megapixels • STORAGE 64GB •

WIRELESSDATA 4G • DIMENSIONS 153x75x7.4mm • WEIGHT 156g • OPERATING SYSTEM

OxygenOS (Android 7.0) • WARRANTY One year RTB • DETAILS oneplus.net/uk •

PART CODE A3010 • FULL REVIEW Mar 2017

LENOVO P2

★★★★★

£200 SIM-free; free on £18-per-month contract •

www.three.co.uk

NEW

ENTRY

MOTOROLA Moto G4

★★★★★

£145 SIM-free; free on £12-per-month contract •

www.carphonewarehouse.com

It's not the fastest phone in its price

range, nor does it have the best

camera or design. But the P2 is a

reliable jack-of-all-trades handset, with the exception

of its battery life, which is the best we've ever seen.

PROCESSOR Octa-core 2GHz Snapdragon 625 • SCREEN SIZE 5.5in • SCREEN RESOLUTION

1,920x,1080 • REAR CAMERA 13 megapixels • STORAGE 32GB • WIRELESSDATA 4G •

DIMENSIONS 153x76x8.3mm • WEIGHT 177g • OPERATING SYSTEM Android 6.0.1 • WARRANTY

One year RTB • DETAILS www.lenovo.com • PART CODE P2aH42 • FULL REVIEW Jun 2017

The best budget smartphone you

can buy. From its sharp, 5.5in Full HD

display to its slick performance and

high-quality camera, you get much more out of this

handset than its low price suggests.

PROCESSOR Octa-core 1.5GHz Qualcomm Snapdragon 617 • SCREEN SIZE 5.5in •

SCREEN RESOLUTION 1,920x1,080 • REAR CAMERA 13 megapixels • STORAGE 16GB/32GB •

WIRELESSDATA 4G • DIMENSIONS 153x77x7.9mm • WEIGHT 155g • OPERATING SYSTEM

Android 6.0.1 • DETAILS www.motorola.co.uk • PART CODE XT1622 • FULL REVIEW Sep 2016

58 JULY 2017 | COMPUTER SHOPPER | ISSUE 353
---
Choosing a... Tablet

All tablets rely on an operating system

01 (OS) to run apps. You have three main

choices: Apple's iOS, which runs on the iPad,

Android, which Google licenses to various

manufacturers, and Windows 10, which is

slowly becoming more common in hybrid

tablets and convertibles. If you own an Apple

or Google smartphone, you can download

your apps, music and so on to a tablet that

runs the same OS, so it makes sense to stick

with a compatible device.

It's important to pick a tablet that has

02 a good-quality high-resolution screen.

Many budget tablets have 1,280x800-

resolution displays, but better tablets have

Full HD 1,920x1,080 panels, and we're

starting to see tablets that have even higher

screen resolutions. Some are as high as

2,560x1,600 or even 4K. Entry-level tablets

typically use TN panels, which don't have

particularly good viewing angles. The viewing

angles of IPS panels are much better.

If you want to listen to music, watch

03 fi lms and play games, make sure your

tablet has plenty of storage. Many tablets

come with 8GB or 16GB of internal storage,

although some budget models have less.

You'll typically pay more for a higher storage

capacity. Many tablets also have microSD

slots that let you add extra storage, although

you won't fi nd one on an iPad. This is a cheap

way of boosting storage capacity.

Tablets rarely include a SIM card slot.

04 This means you'll have to rely on

Wi-Fi to get online, although some tablets

let you access the internet through your

smartphone. If you want mobile access to

the internet, look for 3G- and 4G-ready

devices. These almost always cost more

than Wi-Fi-only models but they're great

if you use your tablet while commuting

or travelling.

Your choice of tablet determines the

05 apps you can use on it. You may fi nd

that some of the apps you want are available

on iOS but not Android and vice versa.

Windows 10, meanwhile, runs traditional

desktop applications.

TABLETS

LENOVO ThinkPad X1 Tablet

★★★★★

£1,560 • www.pcworldbusiness.co.uk

The ThinkPad X1 Tablet isn't just

another Surface Pro clone; its

attachable modules provide it

with a huge amount of fl exibility, from addingding extra

battery life and connection ports to transforming it into a portable

projector. Even better, it's a fast, attractive 2-in-1 in its own right.

PROCESSOR Dual-core Intel Core m7-6Y75 • SCREEN SIZE 14in • SCREEN RESOLUTION

2,560x1,440 • REAR CAMERA None • STORAGE 256GB • WIRELESSDATA 4G LTE •

DIMENSIONS 291x210x8.6mm • WEIGHT 725g • OPERATING SYSTEM Windows 10 Pro •

DETAILS shop.lenovo.com • PART CODE SP40G76043 • FULL REVIEW Nov 2016

APPLE iPad Pro 9.7in

★★★★★

£549 • www.apple.com/uk

A smaller, more portable form

factor makes the newest iPad Pro

the best yet. With the same great

display and quick A9X processor as its larger

predecessor, its notepad size and compatibiity

with the Apple Pencil make it particularly suitable for artists.

PROCESSOR Dual-core 2.16GHz Apple A9X • SCREEN SIZE 9.7in • SCREEN RESOLUTION 2,048x1,536

• REAR CAMERA 12 megapixels • STORAGE 32/128/256GB • WIRELESS DATA 4G (cellular version)

• DIMENSIONS 240x170x6.1mm • WEIGHT 437g • OPERATING SYSTEM iOS 10 • WARRANTY One

year RTB • DETAILS www.apple.com/uk • PART CODE 9.7in iPad Pro • FULL REVIEW Jul 2016

AMAZON Fire HD 8

★★★★★

£90 • www.amazon.co.uk

This is the budget tablet

to beat. With a build

quality seemingly

beyond its low-cost nature and long

battery life, the Fire HD 8 has plenty

to offer for a mere £90.

PROCESSOR Quad-core 1.3GHz MediaTek MT8163 • SCREEN SIZE 8in • SCREEN RESOLUTION

1,200x800 • REAR CAMERA 2 megapixels • STORAGE 16GB • DIMENSIONS 214x128x9.2mm •

WEIGHT 341g • OPERATING SYSTEM Fire OS • WARRANTY One year RTB •

DETAILS www.amazon.co.uk • PART CODE Fire HD 8 • FULL REVIEW Jan 2017

HUAWEI MediaPad M3

★★★★★

£298 • www.ebuyer.com

Android slates may have fallenlen out

of fashion in favour of 2-in-1s, but

the MediaPad M3 shows they can

still be worth your cash. The Kirin 950 chip delivers

massive processing power, and the sleek design

and vibrant screen deserve your attention as well.

PROCESSOR Octa-core 2.3GHz Hisilicon Kiring 950 • SCREEN SIZE 8.4in • SCREEN RESOLUTION

2,560x1,440 • REAR CAMERA 8 megapixels • STORAGE 32GB • WIRELESSDATA 4G •

DIMENSIONS 124x215x7.3mm • WEIGHT 320g • OPERATING SYSTEM Android 6.0 • WARRANTY

One year RTB • DETAILS www.huawei.com/uk • PART CODE BTV-DL09 • FULL REVIEW Feb 2017

MICROSOFT Surface Pro 4

★★★★★

From £749 (£1,099 as reviewed) •

www.microsoft store.com

The most compelling 'laptop replacement' tablet yet.

Thinner, powerful and equipped with a gorgeous

screen, this is a fantastic Windows 10 tablet. The

Surface Pen and optional Type Cover have been improved as well.

PROCESSOR Dual-core 2.4GHz Intel Core i5-6300U • SCREEN SIZE 12.3in • SCREEN RESOLUTION

2,736x1,824 • REAR CAMERA 8 megapixels • STORAGE 256GB • WIRELESSDATA No •

DIMENSIONS 292x201x8mm • WEIGHT 1.37kg inc Type Cover and power brick • OPERATING

SYSTEM Windows 10 • WARRANTY One year RTB • DETAILS www.microsoft.com/surface •

PART CODE Surface Pro 4 • FULL REVIEW Jun 2016

AMAZON Kindle Oasis

★★★★★

£270 • www.amazon.co.uk

The Kindle Oasis is

expensive by eReader

standards, but you

absolutely get what you pay for: a

well-built, long-lasting device with a sharp

screen and brilliant clip-on cover accessory.

PROCESSOR Not stated • SCREEN SIZE 6in • SCREEN RESOLUTION 1,440x1,080 • REAR CAMERA

None • STORAGE 4GB • WIRELESSDATA None • DIMENSIONS 143x122x8.5mm • WEIGHT 131g •

OPERATING SYSTEM Kindle OS • WARRANTY One year RTB • DETAILS www.amazon.co.uk •

PART CODE Kindle Oasis • FULL REVIEW Aug 2016

ISSUE 353 | COMPUTER SHOPPER | JULY 2017

59
---
Choosing a... Compact system camera

If you're ready to step beyond the

01 basic controls of a compact camera,

or you want greater fl exibility than an

ultra-zoom can offer, a compact system

camera (CSC) is the next logical upgrade.

With interchangeable lenses, manual controls

and stellar image quality, these cameras give

proper digital SLRs a run for their money.

There are three competing types of

02 CSC mount, and the one you buy

determines the number of compatible lenses

and accessories you have available.

Samsung's NX-mount is arguably the most

limited in terms of lens selection, and the

company has confirmed that it's shutting

down its European camera business, so it's

best to avoid these altogether if possible.

Sony's E-Mount has a slightly wider

range, but Micro Four Thirds offers the

widest variety. Both Panasonic and Olympus

cameras use this mount, and the lenses are

interchangeable between manufacturers.

Micro Four Thirds cameras are

03 typically more compact than other

types of CSC because the image sensor is

physically smaller – with a 22mm diagonal,

it's roughly 30% smaller than an APS-C

sensor. The APS-C sensors that Sony and

Samsung use in their CSCs are the same size

as those in traditional digital SLRs.

Like digital SLRs, CSCs come at a

04 wide range of prices. Available from

as little as £200, there's a CSC to suit every

budget. Most come with at least one kit

lens, but if you already have lenses for a

particular CSC mount, you can buy the body

on its own and save money.

05

Once you've settled on a particular

mount, you should pay attention to a

camera's features. Articulating screens and

integrated viewfinders will help you compose

shots, while extra physical controls and a

hotshoe mount will give you fl exibility for

manual shooting.

Touchscreens are great, but they're no

replacement for physical dials when it comes

to changing shutter speed and aperture. An

integrated fl ash is much more convenient

than a detachable one, as you can never

forget to take it with you.

PHOTOGRAPHY

SONY RX100 V

★★★★★

£890 • www.amazon.co.uk

It may be small, but the

RX100 V is seriously fast,

and because it also captures a surprising amount of

light, image and video quality are both top-notch.

SENSOR RESOLUTION 20 megapixels • SENSOR SIZE 13.2x8.8mm (1in) • FOCAL LENGTH

MULTIPLIER 2.7x • VIEWFINDER Electronic (2,400,000 dots) • LCDSCREEN 3in (1,228,800 dots) •

OPTICAL ZOOM (35mm-EQUIVALENT FOCAL LENGTHS) 2.9x (24-70mm) • 35mm-EQUIVALENT

APERTURE f/4.9-7.6 • WEIGHT 298g • DIMENSIONS 60x104x41mm • WARRANTY One year RTB

• DETAILS www.sony.co.uk • FULL REVIEW Apr 2017

FUJIFILM X-T2

★★★★★

£1,399 • www.amazon.co.uk

The X-T2 is a mirrorless

CSC capable of shooting

high-quality images at incredibly high burst speeds,

making it a particularly fi ne choice for wildlife and sports photography.

SENSOR RESOLUTION 24 megapixels • SENSOR SIZE 23.6x15.6mm (APS-C) •

FOCAL LENGTH MULTIPLIER 1.5x • VIEWFINDER Electronic (2.36 million dots) • LCDSCREEN 3in

(1.04 million dots) • VIEWFINDER MAGNIFICATION (35mm-EQUIVALENT, COVERAGE) 0.77x,

100% • LENS MOUNT Fujifilm X Mount • WEIGHT 507g • DIMENSIONS 92x143x51mm •

WARRANTY One year RTB • DETAILS www.fujifilm.eu/uk • FULL REVIEW May 2017

NIKON D3400

★★★★★

£429 • www.johnlewis.com

NEW

ENTRY

CANON G7 X Mark II

★★★★★

£449 • www.e-infin.com/uk

A collection of minor

improvements to battery life,

shooting speed and stills quality

add up to make the D3400 the best entry-level DSLR available.

SENSOR RESOLUTION 24 megapixels • SENSOR SIZE 23.5x15.6mm (APS-C) • VIEWFINDER

Optical TTL • LCDSCREEN 3in (921,000 dots) • OPTICAL ZOOM (35mm-EQUIVALENT FOCAL

LENGTHS) 3x (27-82.5mm) • 35mm-EQUIVALENT APERTURE f/5.25-8.4 • LENS MOUNT Nikon F

Mount • WEIGHT 655g • DIMENSIONS 99x124x135mm • WARRANTY One year RTB •

DETAILS www.europe-nikon.com • FULL REVIEW Jun 2017

CANON G9 X

★★★★★

£298 • www.e-infin.com/uk

A tiny compact that can keep

up with heavier SLRs and CSCs when

it comes to image quality, while squeezing in all the

shooting settings and features you'll need.

SENSOR RESOLUTION 20 megapixels • SENSOR SIZE 1in • FOCAL LENGTH MULTIPLIER 2.75x •

VIEWFINDER None • LCDSCREEN 3in (1,040,000 dots) • OPTICAL ZOOM (35mm-EQUIVALENT

FOCAL LENGTHS) 3x (28-84mm) • 35mm-EQUIVALENT APERTURE f/5.5-13.5 • WEIGHT 207g •

DIMENSIONS 62x101x31mm • WARRANTY One year RTB • DETAILS www.canon.co.uk •

FULL REVIEW Jun 2016

The successor to our

favourite camera of 2015, the

G7 X Mark II is another fantastic CSC. A capable 1in

sensor, a tilting touchscreen, a comfortable grip and a big 4.2x optical

zoom; this has all you need to take great photos even in low light.

SENSOR RESOLUTION 20 megapixels • SENSOR SIZE 1in • LCD SCREEN 3in (1,040,000 dots) •

OPTICAL ZOOM (35mm-EQUIVALENT FOCAL LENGTHS) 4.2x (24-100mm) • 35mm-EQUIVALENT

APERTURE f/5-7.7 • LENS MOUNT Canon EF-S • WEIGHT 319g • DIMENSIONS 64x108x42mm •

WARRANTY One year RTB • DETAILS www.canon.co.uk • FULL REVIEW Oct 2016

NIKON D500

★★★★★

£1,299 (body only) • www.e-infin.com/uk

You'll pay a lot for the D500,

the headline model in Nikon's

cropped-sensor SLR range, but with its

stunning photos, long battery life and heaps of extra features

(including useful wireless upload capability), it's worth every penny.

SENSOR RESOLUTION 21 megapixels • SENSOR SIZE 23.5x15.7mm (APS-C) • FOCAL LENGTH

MULTIPLIER 1.5x • VIEWFINDER Optical TTL • LCD SCREEN 3.2in (2.4 million dots) • LENS

MOUNT Nikon F mount • WEIGHT 860g • DIMENSIONS 115x147x81mm • WARRANTY One year

RTB • DETAILS www.europe-nikon.com • FULL REVIEW Oct 2016

60 JULY 2017 | COMPUTER SHOPPER | ISSUE 353
---
Choosing a... Display

A basic 24in LCD monitor costs

01 around £100. It will be fi ne for typical

Windows work but is likely to have poor

viewing angles, so you'll need to sit straight

on for the best picture quality. Its colour

accuracy may not be very good, either.

A VGA input lets you use the monitor

02 with any PC, but the quality may not

be as good as it is over DVI or HDMI. Both

are digital connections and require a

compatible graphics card but they avoid the

need for digital-to-analogue or analogue-todigital

conversions, which can reduce image

quality. A digital connection achieves the

best picture automatically, so you won't have

to adjust clock or phase settings as you do

with analogue connections.

Many DVI and all HDMI connections

support HDCP, which lets you watch

protected video content, such as Blu-ray

movies. DisplayPort is becoming more

popular, but you'll need a graphics card with

a DisplayPort output (mini or full-size) to

use this input on your monitor.

A larger monitor will be easier on the

03 eye and may have a higher resolution.

Most monitors have a resolution of at least

1,920x1,080 (1080p), which provides lots of

room for working with multiple windows at

the same time. For even higher resolutions,

you'll need a larger display. Some 27in and

30in screens have 2,560x1,600 or even 4K

resolutions. You'll need a graphics card with

a dual-link DVI output and a dual-link DVI

cable or either HDMI or DisplayPort to use a

monitor at these resolutions.

If you want better picture quality,

04 look for a monitor with a high

contrast ratio. The higher the ratio, the

whiter the whites and the blacker the blacks.

You'll also be able to see more fi ne detail in

images with high contrast levels. Viewing

angles are important, as wider angles mean

you don't have to sit directly in front of the

monitor to get the best picture. Wider

viewing angles also allow more people to

view the screen at the same time.

Fast response times reduce ghosting,

but don't be dazzled by the numbers. A

response time of 25ms or quicker is fi ne

for all applications.

DISPLAYS

ASUS VC239H

★★★★★

£127 • www.box.co.uk

It's rare to see IPS

panels on monitors

this cheap, and in

Standard mode, the VC239H

delivers much better image quality

than we've come to expect from budget displays.

SCREEN SIZE 23in • RESOLUTION 1,920x1,080 • SCREEN TECHNOLOGY IPS • VIDEOINPUTS

VGA, DVI, HDMI • WARRANTY Three years RTB • DETAILS www.asus.com/uk • PART CODE

VC239H • FULL REVIEW Mar 2017

IIYAMA G-Master GB2888UHSU

Gold Phoenix

★★★★★

£380 • www.ebuyer.com

It's unusual to consider a £380

monitor a bargain, but that's what

this is: a 28in, Ultra HD display with a mere 1ms

response time and support for AMD's anti-tearing FreeSync tech.

SCREEN SIZE 28in • RESOLUTION 3,840x2,160 • SCREEN TECHNOLOGY TN •

VIDEO INPUTS VGA, 3x HDMI, DisplayPort • WARRANTY Two years collect and return •

DETAILS www.iiyama.com • PART CODE ProLite GB2888UHSU-B1 • FULL REVIEW Aug 2016

PHILIPS Brilliance 258B6QUEB

★★★★★

£367 • www.uk.insight.com

A USB Type-C port doesn't

sound like the most thrilling

feature on a monitor, but it

gives the Brilliance 258B6QUEB a wonderful

fl exibility, allowing you to hook up any laptop, 2-in-1 or Type-C

peripheral. Picture quality is very good, too.

SCREEN SIZE 25in • RESOLUTION 2,560x1,440 • SCREEN TECHNOLOGY IPS • REFRESH RATE

60Hz • VIDEOINPUTS VGA, HDMI, DisplayPort, DVI, USB Type-C • WARRANTY Three years RTB

• DETAILS www.philips.co.uk • FULL REVIEW Mar 2017

AOC Q2781PQ

★★★★★

£315 • www.ebuyer.com

While a touch of

ghosting means it's

not ideal for gaming,

the AOC Q2781PQ combines excellent

desktop picture quality with a gorgeous

thin-bezel design, plus a high resolution for clean multitasking.

SCREEN SIZE 27in • RESOLUTION 2,560x1,440 • SCREEN TECHNOLOGY IPS • VIDEOINPUTS

VGA, HDMI, DisplayPort • WARRANTY Two years collect and return • DETAILS aoc-europe.com •

PART CODE Q2781PQ • FULL REVIEW Nov 2016

AOC AGON AG271QX

★★★★★

£420 • www.overclockers.co.uk

AOC U3477PQU

★★★★★

£530 • www.ebuyer.com

NEW

ENTRY

This is the ideal 27in

monitor for gaming:

smoothing Adaptive Sync,

a resolution that's sharp but not too

demanding, a high 144Hz refresh rate and

minimal input lag. Contrast and colours are generally good as well.

SCREEN SIZE 27in • RESOLUTION 2,560x1,440 • SCREEN TECHNOLOGY TN • REFRESH RATE

144Hz • VIDEO INPUTS VGA, 2x HDMI, DisplayPort, DVI • WARRANTY Three years RTB •

DETAILS aoc-europe.com • FULL REVIEW May 2017

Ultra-wide monitors are

best suited to those who

want to multitask on

two full-size windows at once, but also kick back with a fi lm or game

in the evening. AOC's U3477PQU is the best example we've seen so

far, with an incredible panel and excellent build quality.

SCREEN SIZE 34in • RESOLUTION 3,840x1,440 • SCREEN TECHNOLOGY IPS • REFRESH RATE

60Hz • VIDEO INPUTS DisplayPort, DVI, HDMI, VGA • WARRANTY Three years RTB • DETAILS

www.aoc-europe.com • FULL REVIEW May 2015

ISSUE 353 | COMPUTER SHOPPER | JULY 2017

61
---
Choosing a... TV

A 32in Full HD TV costs around

01 £200 and will suit smaller living

rooms. TVs look much smaller in the shop

than in your home, so measure the space

available before you buy.

Curved TVs are becoming increasingly

more common, but bear in mind that these

typically take up more fl oor space than a

traditional fl at set.

A 1,920x1,080-resolution TV can

02 display a 1080p image. You can still

buy TVs with a 720p (1,366x768) resolution,

but they're no cheaper and the image won't

be as sharp. 3,840x2,560 Ultra HD resolution,

or 4K, TVs are fi nally available at reasonable

prices, although you'll still pay a premium for

one over a 1080p model.

Consider the number of inputs

03 you'll need to connect the rest of

your equipment. Two HDMI ports should be

the bare minimum, but many TV sets come

with four HDMI connectors. You'll need

HDMI 2.0 if you want a future-proof 4K TV,

as this is the only way to get 60fps video

playback from external sources at such

a high resolution.

If you want to plug a PC into your TV,

you'll need to use either HDMI or VGA

inputs. Be aware that some TVs only let you

use a PC on an analogue input, and others

won't display the Windows desktop at the

TV's highest resolution.

The contrast ratio tells you the

04 difference between the darkest

and the brightest shades that the screen

will be able to display. The higher the

number, the darker the blacks and the

brighter the whites. A screen with a high

contrast ratio is more likely to show a

wider range of detail.

HD content is now becoming fairly

05 widespread, but if you want Ultra

HD content your options are more limited.

Most Ultra HD TVs have Netflix built into

their smart TV systems, but only BT is

currently providing live Ultra HD video,

with BT Sport Ultra HD.

Ultra HD Blu-ray players are due to arrive

in 2016, but in the meantime Amazon's Fire

TV set-top box will stream its Instant Video

service at Ultra HD resolutions.

HOME CINEMA

PANASONIC Viera TX-50DX802B

★★★★★

£749 • www.hillsradio.co.uk

The Viera

TX-50DX802B not

only looks great and

comes equipped with an expansive

suite of smart apps, but it also has its own soundbar, allowing for

clearer, boomier movie nights.

SCREEN SIZE 50in • NATIVE RESOLUTION 3,840x2,160 • VIDEOINPUTS 3x HDMI (1x ARC),

component, composite • TUNER Freeview HD • DIMENSIONS 895x559x203mm • WARRANTY Five

years RTB • DETAILS www.panasonic.com/uk • PART CODE TX-50DX802B • FULL REVIEW Apr 2017

SAMSUNG UE49KS7000

★★★★★

£799 • www.cramptonandmoore.co.uk

A good-quality 4K TV

needn't cost the earth,

as the UE49KS7000

proves. In fact, this Quantum Dot

display earned the UHD Alliance's

UHD Premium badge for its rich, detailed visuals.

SCREEN SIZE 49in • NATIVE RESOLUTION 3,840x2,160 • VIDEOINPUTS 4x HDMI • TUNER

Freeview HD, Freesat HD • DIMENSIONS 1,445x908x295mm • WARRANTY Five years RTB •

DETAILS www.samsung.com/uk • PART CODE UE49KS7000 • FULL REVIEW Apr 2017

SONY HT-XT3

★★★★★

£319 • www.superfi.co.uk

The HT-XT3 is a classy-looking

soundbase that delivers great audio,

with its integrated subwoofer helping to

pump out seismic bass. It also provides a degree of future-proofi ng

with its 4K pass-through support, and can be linked together with

other Sony speakers for a multiroom audio setup.

SPEAKERS 2+2 • RMS POWER OUTPUT 350W (total) • DIMENSIONS 750x358x83mm • WEIGHT

10.5kg • DOCK CONNECTOR None • NETWORKING Bluetooth (SBC, LDAC) • WARRANTY One

year RTB • DETAILS www.sony.co.uk • PART CODE HT-XT3 • FULL REVIEW Mar 2016

SAMSUNG UE32J6300

★★★★★

£425 • www.tvsandmore.co.uk

It might look expensive for

the screen size, but the

UE32J6300 is jam-packed with

features, including one of the best smart TV systems

around and every major UK catch-up TV service. It's the ideal

small TV for a bedroom, kitchen or office.

SCREEN SIZE 32in • NATIVE RESOLUTION 1,920x1,080 • VIDEO INPUTS 4x HDMI, component,

composite • TUNER Freeview HD • DIMENSIONS 428x370x91mm • WARRANTY One year RTB •

DETAILS www.samsung.com/uk • PART CODE UE32J6300AK • FULL REVIEW Dec 2015

PANASONIC DMP-UB900

★★★★★

£329 • www.johnlewis.com

Together with the

Samsung UBD-K8500,

this forms the vanguard of a new

breed of Ultra HD Blu-ray players. Samsung's model is cheaper,

but the DMP-UB900 has superior features, particularly where

audio delivery is concerned.

BLU-RAY PROFILE 6.0 • 3D CAPABLE Yes • DIMENSIONS 435x199x68mm •

NETWORKING Ethernet, 802.11ac Wi-Fi • WARRANTY One year RTB •

DETAILS www.panasonic.co.uk • PART CODE DMP-UB900EB • FULL REVIEW Aug 2016

PHILIPS Fidelio XS1 SoundStage

★★★★★

£407 • www.amazon.co.uk

The Fidelio XS1 SoundStageStage

is a beautiful-looking

soundbase with sound

quality that matches its stunning design. There

are plenty of connections, including Bluetooth, and the wireless

subwoofer delivers the lower frequencies with aplomb.

SPEAKERS 3 • RMS POWER OUTPUT 60W • DIMENSIONS 730x331x40mm • WEIGHT 5.3kg •

DOCK CONNECTOR None • NETWORKING Bluetooth (SBC, aptX, AAC) • WARRANTY One year

RTB • DETAILS www.philips.co.uk • PART CODE Fidelio XS1/12 • FULL REVIEW Jan 2016

62 JULY 2017 | COMPUTER SHOPPER | ISSUE 353
---
Thesimpleway

tobuyacar

Buy online and we do the hard work for you

Excellent

monthly

fi nance

packages

available

You buy online

- selecting from

over 40,000 used

cars nationwide

We inspect the

car and supplying

dealer for price

and quality

We deliver the car

to your door with

a 14-day moneyback

guarantee

"Amazing! They are

with you every step"

★★★★★

Lisa, 21 October

SEE OUR REVIEWS ON

"Very impressed and was

smooth and hassle free from

start to fi nish"

★★★★★

David, 9 September

"Thank you and we would

buy through you again"

★★★★★

Clancy, 21 August

"I'm loving my new ride.

I would recommend

this service to anyone"

★★★★★

Tatiana, 8 September

Dennis Buyacar Ltd, 30 Cleveland Street, London, W1T 4JD (GB09151058) (FRN:667368) Is Authorised And Regulated By The Financial Conduct Authority. Buyacar is an independent credit broker and not a lender
---
Choosing a... Bluetooth speaker

Bluetooth speakers come in all shapes

01 and sizes, so you'll need to decide

what you want to do with the speaker before

you buy. If you don't plan to take your music

outdoors or around the house, look for a

wired speaker. These are typically cheaper

than speakers with built-in batteries.

If you do want a portable speaker,

however, pay particular attention to how

much it weighs. Ruggedised models should

be able to survive accidental drops, water

spills and unexpected rain showers.

Many of the cheapest Bluetooth

02 speakers use the lossy A2DP

Bluetooth protocol, which is prone to

compressing your music and discarding

detail compared with the original recording.

It's hard to tell the difference when listening

to pocket-sized speakers, but if you're

looking for a speaker to fi ll a room, an

aptX-compatible device is a better option.

This Bluetooth protocol retains more detail

than the A2DP profi le, although you'll need

to use it with a compatible smartphone in

order to get the benefi ts.

As with any audio product, the

03 number and size of speaker drivers

can have a significant impact on the quality

of sound you get from a Bluetooth speaker.

Typically, the presence of multiple drivers

enables the manufacturer to tune each one

for specific frequencies, directing high-end

sounds towards a tweeter and sending the

mid-range frequencies to the main driver.

Single-driver speakers with larger driver

cones can be just as capable of producing

fantastic audio, however.

04

Most Bluetooth speakers have at

least one auxiliary input for a wired

3.5mm audio jack, in case you want to

listen to music from a device that doesn't

have Bluetooth.

There are other extra features to look out

for, though. Speakers with built-in batteries

may have a USB port for charging your

smartphone, or a built-in microphone to turn

it into a speakerphone when a paired

smartphone receives a call. Not all speakers

have physical controls; many rely on your

paired device's controls for adjusting the

volume or muting playback.

AUDIO

BOWERS & WILKINS P7 Wireless

★★★★★

£320 • www.johnlewis.com

Bowers & Wilkins' second-ever

pair of Bluetooth headphones

are a triumph – they're

exceedingly comfortable and sound superb,

even without any active noise cancelling.

HEADPHONES SUBTYPE Over-ear headset • PLUG TYPE 3.5mm

jack plug (optional) • WEIGHT 323g • CABLELENGTH 1.2m •

WARRANTY One year RTB • DETAILS www.bowers-wilkins.co.uk •

PART CODE FP38954 • FULL REVIEW Feb 2017

PANASONIC SC-All7CD

★★★★★

£319 • www.currys.co.uk

A focus on

good oldfashioned

CDs,

in addition to the usual digital

streaming services, makes the SC-All7CD one of the most versatile

multiroom speaker systems you can buy.

SPEAKERS 2.1 • RMSPOWER OUTPUT 40W • WEIGHT 3.4kg • NETWORKING Bluetooth •

WARRANTY One year RTB • DETAILS www.panasonic.com • PART CODE SC-All7CD •

FULL REVIEW Dec 2016

AMAZON Echo Dot

★★★★★

£50 • www.amazon.co.uk

This shrunk-down

version of the Amazon

Echo loses the 360-degreee

speaker, but retains all the same smart home

functions and excellent Alexa digital assisstant – all

for a drastically lower price.

DRIVERS 1 • RMSPOWER OUTPUT Not stated • WEIGHT 163kg • NETWORKING Bluetooth,

802.11a/b/g Wi-Fi • WARRANTY One year RTB • DETAILS www.amazon.co.uk •

PART CODE Echo Dot 2016 • FULL REVIEW Mar 2017

Q ACOUSTICS M3

★★★★★

£300 •

www.weybridge-audio.co.uk

Although

there's no

subwoofer or Wi-Fi here, the M3 is an awesome

soundbar that looks as good as it sounds. It also improves on the old

Media 4 with HDMI ARC support.

LG SH5

★★★★★

£149 • www.amazon.co.uk

Proof that greatsounding

soundbar and

subwoofer combos don't need to

cost the earth, the LG SH5 is a sleek, stylish 2.1 set

with plenty of modes and features.

SPEAKERS 2.1 • RMSPOWER OUTPUT 320W • DOCK CONNECTOR None • NETWORKING

Bluetooth 4.0 • DIMENSIONS 945x53x85mm (soundbar), 171x320x252mm (subwoofer) • WEIGHT

2.26kg • WARRANTY One year RTB • DETAILS www.lg.com/uk • PART CODE SH5 • FULL

REVIEW Jan 2017

LIBRATONE One Click

★★★★★

£140 • www.currys.co.uk

NEW

ENTRY

SPEAKERS 4 • RMS POWER OUTPUT 80W • WEIGHT 4kg • NETWORKING Bluetooth •

WARRANTY One year RTB • DETAILS www.qacoustics.co.uk • PART CODE QA7440 •

FULL REVIEW Jun 2017

The One Click has one of the

cleverer wireless speaker designs

we've seen; it's surrounded by a

rubber frame with both protective bumpers and a

carry handle/hook. Hang it up or just let it stand, and

you'll get rich, loud sound in 360 degrees.

SPEAKERS 2 • RMS POWER OUTPUT Not disclosed • DOCK CONNECTOR None • WIRELESS

Bluetooth (SBC) • DIMENSIONS 120x41x205mm • WEIGHT 0.9kg • WARRANTY One year RTB •

DETAILS www.libratone.com • PART CODE One Click • FULL REVIEW Oct 2016

64 JULY 2017 | COMPUTER SHOPPER | ISSUE 353
---
Choosing an... Action camera

Action cameras are typically much

01 smaller than a regular camcorder, as

they are designed to be mounted to a bike,

board or car, or worn on your person. As the

name suggests, they are designed primarily

for shooting action footage, but because of

their small size they are ideal for strapping

on to your pet's collar or your children's toys

for a different perspective.

Almost all action cameras will shoot

02 Full HD video, and some will even

shoot 4K, but frame rate is arguably more

important than resolution when it comes to

action video. Higher frame rates will mean

smoother clips, and super-high frame rate

videos can be played in slow motion to

emphasise exciting shots.

Keep an eye out for 4k/30, 1080p/60 and

720p/120 models for the widest possible

choice of resolutions and frame rates.

Most action cameras rely on fl ash

03 memory for storing your video,

letting you swap out memory cards on the

fl y when you fi ll one up with clips. More

expensive devices can have integrated

fl ash memory as well as a card slot, but

it's typically cheaper to buy the basic

version of a camera and pick up memory

cards separately.

Not all action cameras have LCD

04 displays; in fact, many deliberately

don't include a sceen in order to extend

battery life.

If you want to be able to see exactly

what you're pointing the lens at, keep an

eye out for cameras with companion

smartphone apps, or wrist-mounted

viewfinders that also let you start and

stop shooting remotely.

05

Action cameras typically have a huge

range of accessories, with specific

mounts and harnesses for different activities

and sports. If the camera itself isn't water

resistant, a weatherproof case will protect it

from the elements, while a tripod mount will

let you lock it fi rmly in place.

Spare batteries are essential for longer

shoots, and some decent video-editing

soft ware will help you to produce a more

polished result.

VIDEO

AMAZON Fire TVStick

with 4K Ultra HD

★★★★★

£80 • www.amazon.co.uk

This upgraded box has plenty of services your 4K TV

might not have (much more so than the competing

Chromecast Ultra), and you can play games on it, too.

VIDEOOUTPUTS HDMI 2.0 • NETWORKING 802.11ac Wi-Fi, 10/100 Ethernet • DIMENSIONS

115x115x17mm • STREAMINGFORMATS UPnP, AirPlay, DLNA, Plex • INTERNET STREAMING

SERVICES iPlayer, Netflix, Sky News, Spotify, TuneIn Radio, Amazon Prime Instant Video, TVPlayer

• WARRANTY One year RTB • DETAILS www.amazon.co.uk • PART CODE Fire TV with 4K UHD •

FULL REVIEW Apr 2017

NVIDIA Shield TV (2017)

★★★★★

£189 • www.ebuyer.com

A good media streamer/

Android games console hybrid made even better by a

more comfortable controller, a wider range of

streaming sources and smart home integration.

VIDEOOUTPUTS HDMI 1.4 • NETWORKING 802.11ac Wi-Fi, 10/100/1,000 Ethernet, Bluetooth 4.1

• DIMENSIONS 159x98x26mm • STREAMINGFORMATS Plex, Kodi • INTERNET STREAMING

SERVICES Netflix, Amazon Instant Video, Google Play Movies and TV, Google Play Music, YouTube,

BBC iPlayer • WARRANTY Two years repair and replace • DETAILS www.nvidia.co.uk • PART

CODE 945-12897-2505-000 • FULL REVIEW May 2017

PANASONIC HC-VX980

★★★★★

£548 • www.ukdigitalcameras.co.uk

This 4K-capable camcorder

lets you capture 8-megapixel

stills from 4K video. It has

fantastic image stabilisation and its HDR video mode can help

with exposing difficult scenes. The newest model has been updated

with more useful 4K cropping modes and slow-motion features, too.

OPTICAL ZOOM 20x • SENSOR 1 /2.3in BSI MOS • LCD SCREEN 3in, 460,800 dots •

DIMENSIONS 73x65x139mm • WEIGHT 351g • WARRANTY One year RTB •

DETAILS www.panasonic.com • PART CODE HC-VX980 • FULL REVIEW Apr 2016

SKY Now TV Smart Box

★★★★★

£40 • www.nowtv.com

Sky has made its fl agship

media streamer even better,

adding a Freeview HD tuner and a fl exible

range of content passes (including movie and sport packages) to

complement the usual on-demand and catch-up services.

VIDEOOUTPUTS HDMI 1.4 • NETWORKING 802.11n Wi-Fi, 10/100 Ethernet • DIMENSIONS

165x165x21mm • STREAMINGFORMATS None • INTERNET STREAMING SERVICES Now TV,

iPlayer, ITV Hub, All4, Demand 5, TuneIn, Sky News, Spotify • WARRANTY One year RTB •

DETAILS www.nowtv.com • PART CODE Now TV Smart Box • FULL REVIEW Dec 2016

GOPRO Hero 5 Black

★★★★★

£369 • www.amazon.co.uk

At last, GoPro's fl agship

action camera fi nally has

built-in waterproofi ng.

That's the biggest in a sizable list of

improvements over the Hero 4 Black, making this the superior

purchase in spite of its higher price.

SENSOR 1 /2.3in CMOS • SENSOR PIXELS 12,000,000 • MAXRECORDING RESOLUTION 4K (30fps)

• AV CONNECTIONS Micro HDMI • DIMENSIONS 45x62x32mm • WEIGHT 117g • WARRANTY One

year RTB • DETAILS www.gopro.com • PART CODE Hero 5 Black • FULL REVIEW Mar 2017

SONY FDR-X1000V

★★★★★

£300 • www.amazon.co.uk

Sony looks to take on GoPro with

this miniscule action cam capable of

recording 4K video at 30fps. The Hero4

Black wins out on image quality, but image stabilisation and a fl exible

range of shooting modes means Sony's camera still has lots to offer.

SENSOR 1 /2.3in CMOS • SENSOR PIXELS 8,800,000 • MAX RECORDING RESOLUTION 4K (30fps)

• AV CONNECTIONS Micro HDMI, 3.5mm microphone input • DIMENSIONS 24.4x51.7x88.9mm •

WEIGHT 114g • WARRANTY One year RTB • DETAILS www.sony.co.uk • PART CODE

FDR-X1000V • FULL REVIEW May 2016

ISSUE 353 | COMPUTER SHOPPER | JULY 2017

65
---
Choosing an... Inkjet printer

You should be able to buy a decent

01 inkjet printer for less than £40.

High-quality printing is possible on such a

printer, but it will be slow. The actual print

speed of an inkjet can be half the quoted

(maximum) speed for text documents,

and even slower when printing graphics.

Budget inkjet printers such as these are

designed only for light use and can be

expensive to run.

For £60 you can buy a much more

02 capable printer that's either faster and

better built or better at reproducing photos.

If documents are your priority, you'll want a

high minimum speed and low print costs.

Look for inkjets that can handle all your

office media, such as envelopes and labels.

If photos are your priority, speed is

03 less important. Choose a printer that

reproduces subtle tones well. You can't

determine this by looking at the

specifications – only hands-on testing will

do, so remember to check our reviews

before you buy.

Borderless printing (up to the edge of

the paper) should also be possible. Pay

particular attention to running costs:

photos use three times as much ink as

regular colour documents.

Heavy-duty office inkjets can cost

04 up to £1,000 and their build quality

is improving. They use large individual ink

tanks, which can cut running costs.

Printers with automatic duplex (doublesided)

printing or A3 capabilities are now

much more affordable.

Pricier photo printers let you print

05 from memory cards plugged straight

into the printer, so you don't need to use a

PC. An LCD preview screen offers greater

control for this method of printing. Many

inkjet printers now have a PictBridge USB

port, which you can use to print images

directly from most digital cameras.

06

If you're really serious about

photography, consider buying an

inkjet that can produce borderless prints

up to A3 size. The best devices can print

photos that look nearly as good as those

from professional labs.

PRINTERS & SCANNERS

BROTHER HL-L6300DWT

★★★★★

£260 • www.printerland.co.uk

A combination of fast

printing speeds and a good

mix of connectivity and

hardware feature makes the HL-L6300DWT

a fi ne choice for offices. It's quieter than

you might think as well.

TECHNOLOGY Mono laser • MAXIMUM PRINT RESOLUTION 1,200x1,200dpi • DIMENSIONS

420x400x396mm • WEIGHT 17.1kg • MAXIMUM PAPER SIZE A4/legal • WARRANTY One year

RTB • DETAILS www.brother.co.uk • PART CODE HLL6300DWTZU1 • FULL REVIEW Oct 2016

EPSON Expression Premium XP-530

★★★★★

£60 • www.amazon.co.uk

Other than a tiny screen

and slightly high running

costs, the XP-530 is a

welcome addition to Epson's Expression Premium range. It prints and

scans incredibly quickly, while maintaining high quality throughout.

TECHNOLOGY Piezo inkjet • MAXIMUM PRINT RESOLUTION 5,760x1,440dpi • SCANNER

RESOLUTION 2,400x4,800dpi • DIMENSIONS 138x390x341mm • WEIGHT 6.2kg •

MAXIMUM PAPER SIZE A4/legal • WARRANTY One year RTB • DETAILS www.epson.co.uk •

PART CODE XP-530 • FULL REVIEW May 2016

HP Officejet 250

★★★★★

£214 • www.pcworldbusiness.co.uk

A pleasantly portable

MFP, the OfficeJet Pro

250 not only has more hardware features than

you might expect – including a handy adjustable screen – but it

runs cheaply and at respectable speeds, too.

TECHNOLOGY Thermal inkjet • MAXIMUM PRINTRESOLUTION 4,800x1,200dpi •

SCANNERRESOLUTION 600x600dpi • DIMENSIONS 91x380x198mm • WEIGHT 2.96kg •

MAXIMUM PAPER SIZE A4/legal • WARRANTY One year RTB • DETAILS www.hp.co.uk •

PART CODE CZ992A#B1H • FULL REVIEW Dec 2016

XYZPRINTING da Vinci Minimaker

★★★★★

£200 • www.toysrus.co.uk

It's not as fully featured as the da

Vinci Jr 1.0w, but the Minimaker

prints at identical speed and

quality, and costs much, much less. In fact, it's the

most affordable 3D printer we've ever used.

TECHNOLOGY Fused Filament Fabrication • MAXIMUM PRINTRESOLUTION 100 microns •

MAXIMUM BUILD SIZE 150x150x150mm • DIMENSIONS 390x360x335mm • WEIGHT 11.5kg •

FILAMENT 1.75mm PLA • WARRANTY One year RTB • DETAILS eu.xyzprinting.com •

PART CODE 3FM1XXEU00D • FULL REVIEW Apr 2017

CANON Pixma MG5750

★★★★★

£49 • www.currys.co.uk

The MG5750 is good

value with a great

balance of features

and quality. Its strong performance

lets us forgive less-than-perfect controls.

TECHNOLOGY Thermal inkjet • MAXIMUM PRINT RESOLUTION 4,800x1,200dpi •

SCANNER RESOLUTION 1,200x2,400dpi • DIMENSIONS 148x455x369mm • WEIGHT 6.3kg •

MAXIMUM PAPER SIZE A4/legal • WARRANTY One year RTB • DETAILS www.canon.co.uk •

PART CODE 0557C006 • FULL REVIEW Apr 2016

RICOH SP 150SUw

★★★★★

£108 • www.amazon.co.uk

NEW

ENTRY

Buying a mono laser

printer for your home

may sound strange, but

the SP 150SUw's printing speed, quality

and quietness make a lot of sense at this price.

TECHNOLOGY Mono laser • MAXIMUM PRINT RESOLUTION 1,200x600 • SCANNER

RESOLUTION 1,200x1,200dpi • DIMENSIONS 137x350x275mm • WEIGHT 7.5kg •

MAXIMUM PAPER SIZE A4/legal • WARRANTY One year RTB • DETAILS www.ricoh.co.uk •

PART CODE 408005 • FULL REVIEW Jun 2017

66 JULY 2017 | COMPUTER SHOPPER | ISSUE 353
---
Choosing a... Wireless router

Wireless routers each use a number

01 of Wi-Fi standards, so you shouldn't

have any trouble connecting your computer

or phone wirelessly if you get an 802.11n or

802.11ac router. Nearly all routers support

802.11n, so even a cheap model should

provide decent performance.

You can expect a transfer speed of around

40Mbit/s at a distance of 10m from any

modern 802.11n router. The very latest

routers use the 802.11ac standard, which

provides tremendously fast transfer

speeds. Some devices still don't support

the 802.11ac standard, so check the

specifications before you buy.

If you subscribe to an ADSL

02 broadband service, you should buy

a wireless router that has a built-in ADSL

modem. This will cost more than the

equivalent cable router, but it allows you

to connect your router directly to your

broadband connection without having to

use a separate modem.

Most 802.11n wireless routers use

03 the 2.4GHz frequency band. This has

good range but it can be prone to

interference if it's positioned close to a lot

of other 2.4GHz devices, such as other

routers and baby monitors. If you have

trouble getting a consistent signal or you

want faster speeds for video streaming, for

example, it's worth buying a dual-band

router that can use both the 2.4GHz and

5GHz bands.

Alternatively, a high-gain antenna can

boost signals and improve ranges and

throughputs to the entire house. You can

also add a high-gain antenna to a PC's

network adaptor. If wired network speeds

are a priority, you should look for a router

with a Gigabit Ethernet connection.

04

Many routers come with built-in USB

ports that let you connect a USB

drive and use the router as a network storage

device. If you want to share a USB printer

over your network, look for a wireless router

that has a USB print server.

Finally, if you're interested in making voice

calls over the internet, buy a router with

built-in VoIP support (and phone sockets)

because this can save you money.

NETWORKS

TP-LINK Archer C3200

★★★★★

£150 • www.currys.co.uk

Besides being quite

well priced for a

tri-band router, the

Archer C32000 is impressively fast and

has a good-looking, folding six-antenna

design.

WI-FI STANDARD 802.11ac • STATED SPEED 1,300Mbit/s • USB PORTS 1x USB3 •

WALL MOUNTABLE Yes • WARRANTY Three years RTB • DETAILS www.tp-link.com •

PART CODE Archer C3200 • FULL REVIEW Jan 2017

NEST Cam Outdoor

★★★★★

£169 • www.amazon.co.uk

The Nest Cam Outdoor

allows you to set up your

own home security camera

without any specialist wiring knowledge.

Video quality is excellent, and the simple

app makes managing it even easier.

VIDEORESOLUTION 720p/1080p • CLOUDSTORAGE Yes • NETWORKING 802.11n (2.4GHz) •

WARRANTY One year RTB • DETAILS www.nest.com/uk • PART CODE Nest Cam Outdoor •

FULL REVIEW Apr 2017

TP-LINK Archer VR2600

★★★★★

£200 • www.scan.co.uk

While it needs

thus-far-theoretical

4x4 MIMO devices

to reach its best speeds, this is still

among the very fastest routers around,

especially on the 5GHz band.

MODEM VDSL/ADSL • WI-FI STANDARD 802.11ac • STATED SPEED 1,733Mbit/s • USB PORTS

2x USB3 • WALL MOUNTABLE Yes • WARRANTY Three years RTB • PART CODE Archer VR2600

• FULL REVIEW Nov2016

NETGEAR Orbi

★★★★★

£370 • www.maplin.co.uk

The Orbi system employs

both a base router and a

separate satellite router to

effectively boost Wi-Fi speed and stability

throughout your house – a great fi t for

larger homes.

MODEM Gigabit Ethernet • WI-FISTANDARD 802.11ac • STATED SPEED 866Mbit/s (5GHz),

400MBit/s (2.4GHz) • USB PORTS 1x USB2 • WALL MOUNTABLE No • WARRANTY Two years

RTB • PART CODE RBK50-100UKS • FULL REVIEW Feb 2017

BT Whole Home Wi-Fi

★★★★★

£200 • www.shop.bt.com

An excellent

alternative to

the Orbi, BT's

Whole Home Wi-Fi mesh system is designed to work with your

existing router, spreading faster, more reliable Wi-Fi around the

house with three disc-shaped access points.

MODEM N/A • WI-FI STANDARD 802.11ac • STATED SPEED 1,733Mbit/s (5GHz), 800Mbit/s

(2.4GHz) • USB PORTS 0 • WALL MOUNTABLE No • WARRANTY Two years RTB •

DETAILS www.bt.com • PART CODE 181209 • FULL REVIEW May 2017

NETGEAR Arlo Q

★★★★★

£140 • wwww.argos.co.uk

1080p night-vision capability

more than makes up for the

Arlo Q's lack of wireless

cameras, and the system is just as easy to

use as the original Arlo range.

RESOLUTION 1080p 30fps full colour • ZOOM 8x digital • NIGHT VISION Yes •

CONNECTIVITY 2.4GHz + 5GHz Wi-Fi • WARRANTY One year RTB • DETAILS www.arlo.com/uk •

PART CODE VMCC3040-100UKS • FULL REVIEW Jun 2016

ISSUE 353 | COMPUTER SHOPPER | JULY 2017

67
---
Choosing an... Internal hard disk

A basic 1TB internal hard disk should

01 cost around £40. This will be fast

enough for general use and will provide

enough storage for most users.

Make sure the hard disk you choose has

the appropriate interface type for your PC.

Some mechanical hard disks still come with

SATA2 interfaces, but newer models and

most solid-state drives (SSDs) have faster

SATA3 interfaces. You'll need a motherboard

with a SATA3 port if you want to benefi t

from SATA3's faster speeds; SATA3 disks will

work with SATA2 ports but can only transfer

fi les at SATA2 speeds.

SSDs can make the most of SATA3's

02 extra bandwidth for fast fi le transfers.

They use fl ash memory similar to that found

in USB fl ash drives, and although they tend

to provide less capacity than mechanical hard

disks, they're significantly faster.

Buy a hard disk that provides more

03 capacity than you think you need, as

your storage requirements are likely to grow.

A 3TB disk strikes the best balance between

capacity and low cost per gigabyte, but in

general you should aim to buy the largest

disk you can afford.

If you want more disk space or you

04 want to protect your data against

disk failure, think about buying several hard

disks to create a RAID array. These use

multiple hard disks to create one large

logical disk with better performance, or to

duplicate your data for better protection.

RAID arrays require hard disks of the same

size. In theory, they can be from different

manufacturers, but it's better to buy identical

disks if you can.

A hard disk's spindle speed

05 determines how quickly it can

transfer data. A spindle speed of 7,200rpm

is common in desktop drives and is fast

enough for most purposes. Desktop hard

disks with 5,400rpm spindle speeds are

quite slow but use less power and generate

less heat and noise.

To strike the best balance between

speed and storage capacity, use an SSD as

your system disk and store your fi les on a

larger mechanical disk.

STORAGE

SAMSUNG 850 Evo 500GB

★★★★★

£150 • www.ebuyer.com

Samsung's 850 Evo is simply

the fastest SATA SSD around,

and it's available in a wide

range of capacities. The 2TB model might be

expensive at around £590 (from www.ebuyer.com),

but it means saying goodbye to mechanical storage for good.

CAPACITY 500GB • COST PER GIGABYTE £0.30• INTERFACE SATA3 • CLAIMED READ 540MB/s

• CLAIMED WRITE 520MB/s • WARRANTY Five years RTB • DETAILS www.samsung.com/uk •

PART CODE MZ-75E500BW/EU • FULL REVIEW Oct 2015

SYNOLOGY Diskstation DS216+

★★★★★

£224 • www.ebuyer.com

Synology's fast two-bay NAS is

particularly ideal for small

businesses and workgroups,

possessing AES-NI encryption and extensive

support for a range of devices and servers.

3.5in HARD DISK BAYS (FREE) 2 (2) • NETWORKING 1x 10/100/1,000 Ethernet •

DLNA MEDIASERVER Yes • PRINTSERVER Yes • DIMENSIONS 165x108x233mm •

WEIGHT 1.25kg • WARRANTY Two years RTB • DETAILS www.synology.com •

PART CODE DS216+ • FULL REVIEW Jun 2016

TOSHIBA Canvio Connect II 2TB

★★★★★

£81 • www.currys.co.uk

There's plenty of

choice when it comes to

portable hard disks, but

Toshiba's Canvio Connect II has an

excellent bundled soft ware package and

impressive USB3 speeds. Considering the

price, there's no reason not to have one.

,000 Ethernet •

CAPACITY 2TB • COST PER GIGABYTE £0.04 • INTERFACE USB3 • WARRANTY One year RTB •

DETAILS www.toshiba.eu • PART CODE HDTC820ER3CA • FULL REVIEW Nov 2015

WESTERN DIGITAL Red 6TB

★★★★★

£209 • www.amazon.co.uk

The Red 6TB

combines excellent

performance with a

high capacity and special fi rmware to

make a hard disk that's perfect for use in NAS

enclosures. It's guaranteed for three years, too,

which should provide peace of mind.

CAPACITY 6TB • PRICE PER GIGABYTE £0.03 • INTERFACE SATA3 • WARRANTY Three years

RTB • DETAILS www.wdc.com • PART CODE WD60EFRX • FULL REVIEW Nov 2014

ADATA SV620 240GB

★★★★★

£102 • www.amazon.co.uk

If you want an

external, rather than

internal, SSD for your PC or

laptop, the SV620 offers good value. It's fast and

compact, and it's easy to forget about the slightly bendable plastic

casing when there's a three-year warranty.

CAPACITY 240GB • COST PER GIGABYTE £0.43p • INTERFACE USB3 • CLAIMED READ 420MB/s

• CLAIMED WRITE 440MB/s • WARRANTY Three years RTB • DETAILS www.adata.com •

PART CODE ASV620-240GU3-CTI • FULL REVIEW Dec 2016

SAMSUNG 960 Evo250GB

★★★★★

£129 • www.maplins.co.uk

While it's not quite as

quick as the 960 Pro,

the 960 Evo is still the

second-fastest NVMe SSD we've ever

tested, and since it's much more affordable,

able,

it's the one most people should go for.

CAPACITY 250GB • COST PERGIGABYTE 52p • INTERFACE M.2/NVMe • CLAIMEDREAD

3,200MB/s • CLAIMEDWRITE 1,500MB/s • WARRANTY Five years RTB •

DETAILS www.samsung.com • PART CODE MZ-V6E250BW • FULL REVIEW Mar 2017

68 JULY 2017 | COMPUTER SHOPPER | ISSUE 353
---
Choosing a... Graphics card

You really don't have to spend much

01 to buy a decent graphics card that

can drive multiple monitors. The AMD

Radeon R7 250 costs less than £60, for

example, and while it isn't suited to playing

the latest games in Full HD, it is perfect for

watching videos, browsing the web and

playing basic games.

You'll need to spend more money if

02 you want to play the latest games. A

good mid-range gaming graphics card is the

Nvidia GTX 950, which is powerful enough to

play any of the latest games.

High-powered cards tend to be more

expensive, so expect to pay over £300 if you

want to play games in Ultra HD at the highest

quality settings.

Check that your chosen card has

03 the graphics outputs you need.

Only low-end cards now have VGA

outputs, but many come with a DVI-to-VGA

adaptor. Depending on your monitor, you

may also want an HDMI output or even

DisplayPort connection.

Bear in mind that AMD's Eyefi nity

triple-monitor gaming mode requires at

least one DisplayPort monitor, which

means your AMD graphics card must have

at least one DisplayPort output. Nvidia's

Surround three-monitor mode needs only

DVI and HDMI ports.

The amount of memory a card has

04 is important if you want games to

look their best at high resolutions. Get a

card with 2GB of RAM at the very least,

as this should allow you to select the

highest-quality textures in games.

05

A card's size, noise output and

power requirements are the fi nal

considerations. Make sure your PC's case

has enough room to accommodate your

chosen card. Double-slot cards with large

fans tend to be quieter than single-slot

cards with small fans but will block other

expansion slots on your motherboard.

Also check that your power supply

can provide the power the card needs

and that it has the right connectors.

Many cards require a six-pin PCI Express

power connector, and some also need an

additional eight-pin connector.

COMPONENTS

GIGABYTE GeForce GTX 1050 D5 2G

★★★★★

£116 • www.overclockers.co.uk

Nvidia's GTX 1050 is

the best-performing

entry-level GPU, and

Gigabyte has made some nice tweaks

to its own version, including a near-silent fan

cooler. It also sips power, with a tiny TDP rating of 75W.

GPU Nvidia GeForce GTX 1050 • MEMORY 2GB GDDR5 • GRAPHICSCARDLENGTH 172mm •

WARRANTY Three years repair and replace • DETAILS www.gigabyte.com •

PART CODE GV-N1050D5-2GD • FULL REVIEW Mar 2017

INTEL Core i5-6600K

★★★★★

£216 • www.ebuyer.com

The Core i5-6600K is the fi rst

of Intel's latest processor

generation, previously

codenamed Skylake. The unlocked multiplier means you can

push it further when overclocking, and energy efficiency has never

been better, which means less power draw when using your PC.

SOCKET LGA1151 • CORES 4 • FREQUENCY 3.5GHz • INTEGRATED GRAPHICS Intel HD Graphics

530 • WARRANTY One year RTB • DETAILS www.intel.com • PART CODE BX80662I56600K •

FULL REVIEW Nov 2015

ASUS Prime Z270-A

★★★★★

£143 • www.ebuyer.com

New Intel chips mean new Intel

chipsets, and the Prime Z270-A is a

brilliant mid-range companion to any compatible

Kaby Lake processor. Great hardware (including two M.2 slots), a

user-friendly BIOS, RGB LED decoration – it's a superb package.

PROCESSORSOCKET LGA 1151 • DIMENSIONS 244x305mm • CHIPSET Z270 • MEMORY SLOTS

4 • PCI-E x16 SLOTS 3 • PCI-E x1 SLOTS 4 • PCI SLOTS 0 • USB PORTS 4x USB3, 1x USB3.1, 1x

USB Type-C • VIDEO OUTPUTS 1x HDMI, 1x DisplayPort, 1x DVI-D • WARRANTY Three years RTB

• DETAILS www.asus.com/uk • PART CODE Prime Z270-A • FULL REVIEW Apr 2017

NVIDIA GeForce GTX 1060

★★★★★

£275 • www.geforce.co.uk

Based on the same Pascal

architecture as the fearsome

GTX 1080 and GTX 1070, the

mid-range GTX 1060 is unmatched when it

comes to marrying price with 4K and VR-readiness.

It's surprisingly power-effi cient, too.

GPU Nvidia GeForce GTX 1060 • MEMORY 6GB GDDR5 • GRAPHICSCARDLENGTH 250mm •

WARRANTY Three years repair and replace • DETAILS www.geforce.co.uk • PART CODE GTX 1060

Founder's Edition • FULL REVIEW Nov 2016

NZXT Manta

★★★★★

£110 • www.scan.co.uk

A brilliant basis for any Mini-ITX PC

build, the Manta is a versatile case

with plenty of room for fans and

storage drives, plus a distinctive curvy shape. Its

convex side panels leave more room to hide cables, too.

CASE TYPE Mini tower • MOTHERBOARD TYPE Mini-ITX • SUPPLIED FANS 3x 120mm •

MAXIMUM DRIVE BAYS 2x 3.5in, 3x 2.5in • DIMENSIONS 426x245x450mm •

WEIGHT 7.2kg • WARRANTY Two years parts and labour • DETAILS www.nzxt.com •

PART CODE CA-MANTW-M1 • FULL REVIEW Aug 2016

CORSAIR Carbide Series Air 240

★★★★★

£92 • www.box.co.uk

This microATX case is very well

made. It's light and compact,

but its cuboid shape means

there's plenty of room inside for all your

components, so it's easy to work with.

CASE TYPE microATX • MOTHERBOARD COMPATIBILITY microATX, Mini-ITX • SUPPLIED

FANS 3x 120mm • MAX 3½in DRIVE BAYS 3 • MAX 5¼in DRIVE BAYS 0 • DIMENSIONS

320x260x397mm • WEIGHT 5.6kg • WARRANTY Two years RTB • DETAILS www.corsair.com •

PART CODE CC-9011070-WW • FULL REVIEW Apr 2016

ISSUE 353 | COMPUTER SHOPPER | JULY 2017

69
---
SOFTWARE

DIGITALVOLCANO SOFTWARE

Duplicate Cleaner 4.0 Pro

★★★★★

£24 • www.digitalvolcano.co.uk

Deduplicating

software

The free version of Duplicate Cleaner program is

good, and upgrading to the Pro version makes it

exceptional for ridding your PC of duplicate fi les.

OS SUPPORT Windows Vista/7/8/10 • HARD DISK SPACE 20MB •

DETAILS www.digitalvolcano.co.uk • FULL REVIEW Sep 2016

EXPRESSVPN

★★★★★

£13 per month • www.expressvpn.com

Virtual

private network

ExpressVPN allows you to easily dodge region

restrictions on online content while encrypting

your connection, and is fast enough to handle

4K Netflix streaming. Its great soft ware support and huge number of

endpoints makes it the most fl exible service, too.

OS SUPPORT Windows, macOS, iOS, Android • DETAILS www.expressvpn.com •

PRODUCTCODE ExpressVPN • FULL REVIEW Jan 2017

ADOBE Premiere Elements 14

★★★★★

£47 • www.amazon.co.uk

Lots of features to keep advanced users happy and

even more to help new users make the most of it.

It's the consumer video editing package to buy.

MICROSOFT Windows 10

Anniversary Update

★★★★★

Free • www.microsoft .com

Video

editing

OS SUPPORT Windows 7/8/10 • MINIMUM CPU 2GHz with SSE2 • MINIMUM GPU DirectX 9 •

MINIMUM RAM 2GB • HARD DISK SPACE 5GB • DETAILS www.adobe.com/uk • PRODUCT

CODE 65234288 • FULL REVIEW Jan 2016

OS

update

This update adds UI improvments, new features and

apps for stylus users, and a host of bug fi xes, making

Microsoft 's OS even more worthwhile.

OS SUPPORT Windows 10 • MINIMUM CPU 1GHz • MINIMUM GPU DirectX 9 or later with WDDM 1.0

driver • MINIMUM RAM 1GB (32-bit), 2GB (64-bit) • HARDDISKSPACE 16GB (32-bit), 2GB (64-bit) •

DETAILS www.microsoft.com • PRODUCTCODE Windows 10 version 1607 • FULL REVIEW Nov 2016

ABBYY FineReader 14

★★★★★

£249 • www.abbyy.com

OCR

software

MAILBIRD Mailbird Pro 2.0

★★★★★

£10 per year or £36 lifetime • www.getmailbird.com

Email

client

The more feature-rich Corporate edition is expensive,

but FineReader 14 is perfect for turning paper notes

and documents into digital, editable fi les using

optical character recognition (OCR).

OS SUPPORT Windows 7/8/8.1/10 • MINIMUM CPU 1GHz • MINIMUM GPU DirectX 10 •

MINIMUM RAM 1.5GB plus 512MB per additional CPU core • HARD DISK SPACE 2.4GB •

DETAILS www.abbyy.com • PRODUCTCODE FineReader 14 • FULL REVIEW May 2017

While the free version of this email client is good,

upgrading to Pro is even better – you get a unified

view of all your mailboxes, loads of themes and

extensive integration with other apps and productivity soft ware.

OS SUPPORT Windows XP/7/8/8.1/10 • MINIMUM CPU N/A • MINIMUM GPU N/A •

MINIMUM RAM N/A • HARD DISK SPACE 50MB • DETAILS www.getmailbird.com •

FULL REVIEW Nov 2016

GAMING

XBOX One S

★★★★★

£199 • www.amazon.co.uk

HDR support is great,

but it's the 4K Blu-ray

player that makes this

sleeker, smaller Xbox One really stand

out against the competing PS4 Slim.

PROCESSOR Octa-core 1.75GHz Jaguar • RAM 8GB DDR3 • FRONTUSB PORTS 1x USB2 •

REAR USB PORTS 2x USB2 • STORAGE 500GB/1TB/2TB • WARRANTY One year RTB •

DETAILS www.xbox.com • PART CODE Xbox One S • FULL REVIEW Dec 2016

4K 4K gam games

console console

NINTENDO The Legend of Zelda:

Breath of the Wild

★★★★★

£48 • www.amazon.co.uk

NEW

ENTRY

Breath of the Wild's vision of Hyrule is a beautifully

intricate open world – one you have total freedom

to explore right from the off. Charming and

challenging, this is both a brilliant game and the single best reason

to buy a Nintendo Switch.

AVAILABLE FORMATS Ninetendo Switch • DISK SPACE 13.4GB (Switch), 13GB (Wii U) •

DETAILS www.zelda.com • FULL REVIEW Jun 2017

Action

adventure

Doom

★★★★★

£10 • www.cdkeys.com

First-person

shooter

SONY PS4 Slim

★★★★★

£210 • www.zavvi.com

Games Games

console console

A bloody and breathless FPS, Doom is a worthy

entry into one of gaming's most hallowed series.

Open-ended levels, agile enemies and gory but

satisfying takedown moves make every demon battle rewarding.

AVAILABLE FORMATS PC, Xbox One, PS4 • OS SUPPORT Windows 7/8/8.1/10 • MINIMUM CPU

Intel Core i3-550, AMD Phenom II X4 955 • MINIMUM GPU Nvidia GeForce GTX 670 2GB, AMD

Radeon HD 7870 2GB • MINIMUM RAM 4GB • HARD DISK SPACE 55GB • DETAILS doom.com •

FULL REVIEW Sep 2016

Sony has made the

PlayStation 4 even better

with a slimmer, neater

chassis and superior power efficiency. It's as

cheap as the PS4 has ever been as well.

PROCESSOR Octa-core 1.6GHz AMD Jaguar • RAM 8GB GDDR5 • FRONTUSB PORTS 2x USB2 •

REAR USBPORTS None • STORAGE 500GB/1TB/2TB • WARRANTY One year RTB •

DETAILS www.playstation.com • PART CODE B01GVQVQH2 • FULL REVIEW Jan 2017

70 JULY 2017 | COMPUTER SHOPPER | ISSUE 353
---
REVIEWS

How we test

Find out how well products perform with the help of

Computer Shopper's comprehensive tests

COMPUTER SHOPPER'S REVIEWS use some

of the most exhaustive testing procedures

you'll fi nd in any PC magazine. Every product

is subjected to qualitative and quantitative

tests that show how it performs in practical

use. Graphs for performance, battery-life

scores and costs are used in the Reviews

section, as shown on the right. Look in the

'Summary of tests' table (below) for details

of each test we run.

For PCs and laptops, we evaluate

performance using our own custom

benchmarking suite. See below for a brief

description of our benchmarking soft ware

and game tests.

SUMMARY OF TESTS

PC SYSTEMS & GAMING LAPTOPS

Windows overall Average speed across numerous demanding tasks

Multitasking Speed when running simultaneous applications

Dirt Showdown Frames per second at 1,920x1,080, 4xAA,

(1080p) Ultra detail

Metro: Last Light Frames per second at 1,920x1,080, SSAA,

Redux Very High detail

LAPTOPS

Windows overall Average speed across numerous demanding tasks

Multitasking Processor-intensive multitasking test

Dirt Showdown Frames per second at 1,280x720, 4xAA,

(720p) High detail

Batt ery life Run time in minutes for continuous video playback

SMARTPHONES/TABLETS

Battery life Run time in minutes for continuous video playback

PRINTERS AND MFPs

Mono text speed Pages per minute for correspondence-quality text

Mixed colour speed Pages per minute for presentable text and graphics

Mono page cost Running costs expressed as pence per page

Colour page cost Running costs expressed as pence per page

DIGITAL CAMERAS

CAMCORDERS

ROUTERS

Battery life Number of shots from full charge

Battery life Run time in minutes for recording

Laptop 2.4GHz 5m Mbit/s at 5m with 802.11ac laptop on 2.4GHz band

Laptop 2.4GHz 1 fl oor Mbit/s 1 floor up with 802.11ac laptop on 2.4GHz band

Laptop 2.4GHz Mbit/s 2 fl oors up with 802.11ac laptop on

2 fl oors 2.4GHz band

Laptop 5GHz 5m Mbit/s at 5m with 802.11ac laptop on 5GHz band

Laptop 5GHz 1 fl oor Mbit/s 1 floor up with 802.11ac laptop on 5GHz band

Laptop 5GHz Mbit/s 2 fl oors up with 802.11ac laptop on

2 fl oors 5GHz band

NETWORK-ATTACHED STORAGE

HARD DISKS

Large fi les Average MB/s for read/write of 100MB large fi les

Small fi les Average MB/s for read/write of 100MB small fi les

Extra large fi les Average MB/s for read/write of a single 2.5GB fi le

PROCESSORS

Large fi les Average MB/s for read/write of 2.5GB of large fi les

Small fi les Average MB/s for read/write of 2.5GB of small fi les

Windows overall Average speed across numerous demanding tasks

Multitasking Speed when running simultaneous applications

Dirt Showdown Frames per second at 1,280x720, 4xAA,

(720p) High detail

MOTHERBOARDS

Windows overall Average speed across numerous demanding tasks

Multitasking Speed when running simultaneous applications

Dirt Showdown Frames per second at 1,920x1,080, 4xAA,

(1080p) Ultra detail

Dirt Showdown Frames per second at 1,280x720, 4xAA,

(720p) High detail

GRAPHICS CARDS

Dirt Showdown Frames per second at 1,920x1,080, 4x MSAA,

(1080p) Ultra detail

Tomb Raider Frames per second at 1,920x1,080, SSAA, Ultra detail

Metro: Last Light Frames per second at 1,920x1,080, SSAA,

Redux Very High detail

Normal speed

The actual scores in each test are shown

inside each bar

Mono costs

Colour costs

0%

This line represents the performance of a reference product in each

test. All graphs for components and systems are relative to our

reference PC (see below for specifications)

BENCHMARKS

-50

SHOPPER BENCHMARKS

Our benchmark suite uses

open-source soft ware that

runs on Windows, Mac OS X

and Linux systems. This lets

us use objective results to

compare PCs and laptops,

no matter which operating

system they run. It's designed

11ppm

2.2p

6.7p

Reference +50 +100

to test each computer to its limit, using a combination of

intensive image-editing, video-encoding and multitasking tests.

We ran the tests on our reference PC, which has an Intel

Core i5-4670K processor, 8GB of DDR3 RAM and an AMD

Radeon R7 260X graphics card. We normalised our results

so this PC had a score of 100. This makes it easy to draw

comparisons between test systems.

The resulting overall score is shown at the bottom of

every PC and laptop review. As we use the same tests in our

standalone and group test reviews, you can compare the

performance of any computer, whether it's a hybrid,

laptop or desktop, from both sections of the magazine.

3D BENCHMARKS

DIRT SHOWDOWN

Dirt Showdown is a cracking racing game

that makes good use of DirectX 11's

fancy graphical effects. You'll want at

least 30fps for smooth racing.

TOMB RAIDER

With the ultra-demanding Super-

Sampling Anti-Aliasing (SSAA) enabled,

2013's Tomb Raider reboot is a great

indicator of mid-range performance.

METRO: LAST LIGHT REDUX

Our most demanding graphics test

uses tessellation, SSAA and massive

textures to give even high-end cards a

thorough workout.

RATINGS & AWARDS

Avoid

Computer Shopper rates

products out of fi ve:

Below average

Good

Bigger is better for all

bars except the red

ones, which show

running costs

A product hitting the

+100 per cent mark

performed twice as well

as our reference

Very good

Excellent

★★★★★

★★★★★

★★★★★

★★★★★

★★★★★

The best products can win the

following awards:

BEST BUY

Products with outstanding

quality and performance for the

money win our Best Buy award.

RECOMMENDED

Products that don't quite qualify

for a Best Buy award but are still

highly rated by our reviewers.

BUSINESS BUY

The very best products

for work win our

Business Buy award.

72 JULY 2017 | COMPUTER SHOPPER | ISSUE 353
---
PRODUCT INDEX

Product Reviews

Our guide to all the products reviewed

in this month's Computer Shopper

Hot Product

Google Home 22

Displays

AOC AGON AG352QCX 36

130

Reviews

PCs

Box Cube Panther 24

Chillblast Fusion Portal 26

Components

AMD Ryzen 7 1700 28

Printers

Canon Pixma TS8050 30

Laptops

Asus ZenBook UX310UA 32

Dell XPS 13 9365 34

SUBSCRIBE

AND SAVE

CALL 0844 844 0031

OR SEE PAGE 122

Networks

Google Wi-Fi 38

Linksys WRT3200ACM 40

Handhelds

Samsung Galaxy S8 42

LG G6 44

Storage

Kingston SSD Now UV400

Upgrade Kit 480GB 46

Video

Humax H3 Espresso 48

Audio

Master & Dynamic

MH40 50

Photography

Panasonic Lumix

DMC-G80 52

Sitpack 53

Wearables

Huawei Watch 2 Sport 54

Smartphones

Apple iPhone SE 84

Google Nexus 5X 85

Honor 6X 86

HTC One A9 87

Huawei P8 Lite 88

Lenovo P2 89

LG G4 90

Motorola Moto G4 91

Motorola Moto G5 92

Motorola Moto Z Play 93

OnePlus 3T 94

Samsung Galaxy A5 95

Samsung Galaxy S6 96

Samsung Galaxy S7 97

Sony Xperia X Compact 98

Vodafone Smart

Platinum 7 99

Soundbars

Cambridge Audio

TV2 (v2) 106

Creative Labs Sound

BlasterX Katana 106

Orbitsound One P70 107

Philips Fidelio SkyQuake 107

Samsung HW-K850 108

Steljes Audio Erato 108

Speakers

Audio Pro Addon T3 109

Libratone Zipp 109

Panasonic SC-All05 110

Urbanears Baggen 110

Wharfedale Diamond A1 111

Yamaha MusicCast

WX-010 111

ISSUE 353 | COMPUTER SHOPPER | JULY 2017

73
---
Free software guide

It's easy to access your free software. Just go to www.shopperdownload.co.uk/353 and

register with the code from the card insert. Please be aware that you need to have

bought the 'Free Software Edition' and not the '£4.50 Edition' to access the downloads

GETTING STARTED

The download instructions on the card

insert (opposite) show you how to

connect to the download site. Make

sure you type in the web address exactly

as shown. You'll need your coupon code

the fi rst time you log on to the site.

ANY PROBLEMS

If you need help with any of the

soft ware this month, please send an

email to support@creativemark.co.uk.

We check this inbox regularly. Please

include the issue number of the

magazine and your coupon code.

WHY DOWNLOADS

In order to provide us with free

soft ware, publishers now require us to

offer the applications as a download

and require online registration. You

need to use the unique code printed in

the box on the card insert to register

and download the soft ware in this

issue. The unique code means we

stop the deals leaking online, so only

Shopper readers get the soft ware.

NO CODE?

If you don't have the card insert with the

unique code, you must buy the £4.99

'Free Soft ware' print version of the

magazine. If you have this edition and

still don't have a card, please contact

letters@computershopper.co.uk.

REGISTER YOUR SOFTWARE

BY 22nd JUNE 2017

REQUIREMENTS Windows XP, Vista, 7, 8 or

10 32/64-bit, 70MB hard disk space

WEBSITE www.bitreplica.com

NOTES Get your registration code at

bitreplica2.disc.computershopper.co.uk

CrazyTalk Animator 2

Standard Edition

CRAZYTALK IS A versatile

animation suite with the power

to create professional

animations, in particular

applying 3D motions and

effects to 2D characters.

You don't need any artistic

skill or animation experience to

use the program. It comes with

a library of characters and

actions which you can

combine in a few clicks.

Customise a character, place it in your chosen

environment, and make it walk, laugh, sing, applaud,

dance, cry or talk. It's just a matter of choosing the

options you need from a menu, and adding and

updating them as required.

REQUIREMENTS Windows XP, Vista, 7, 8, 10 32/64-bit,

300MB hard disk space

WEBSITE www.reallusion.com

NOTES www.reallusion.com/event/CTA2Std/magazine.html

It's even possible to extract

a face from a regular photo

and apply it to a character.

They'll move realistically, blink,

smile, laugh and talk (with

automatic lip-sync), just like

one of the built-in animations.

You can create and share

custom characters with other

CrazyTalk Animator users, or if

it's just you, there's an option

to render your masterpiece at

any time, exporting it as a video or a series of images.

While the animation is surprisingly

straightforward, CrazyTalk Animator is still a

heavyweight tool. There's a lot to learn before you'll

be producing quality work.

Fortunately, the program comes with some

example projects to get you started. Click File, Open

Projects, browse to the demo folder and select a

project. Click Control, Play to play the animation, then

right-click any character to explore your options.

Auslogics BitReplica 2.1

AUSLOGICS BITREPLICA IS a capable and

straightforward backup tool that makes it easy to

protect your most important fi les from disaster.

The program has a list of predefi ned backup

sources, so if you want to back up your browser

favourites or Documents folder, it's as easy as ticking

a box, although you can add other custom folders.

BitReplica offers a good selection of backup

types: simple backup, exact

backup (obsolete fi les are

removed from the

destination folder), and full,

incremental or differential

backups. A scheduler lets

you run the job manually,

hourly, daily or weekly, and

there are a few useful

configuration options: you

get predefi ned 'exclude' fi le

fi lters; the program is able

to back up alternate data

streams; and you can have specific applications run

before and after the backup job runs.

Your backup can then be saved locally, but you

can also store it on a local drive, upload it to Box.net

or SkyDrive, or even (at extra cost) use Auslogics'

own cloud storage service.

There are a few downsides, though. You can only

choose particular folders to back up, for instance;

it's not possible to select

specific fi les within a folder.

There's no support for

saving your backup to

discs or an FTP server,

nor can you compress,

encrypt or passwordprotect

your archive.

Still, BitReplica is fast

and easy to use, and if

your needs are simple

then it could make an

excellent backup choice.

74

JULY 2017 | COMPUTER SHOPPER | ISSUE 353
---
REQUIREMENTS Windows Vista, 7, 8, 10

32/64-bit, 50MB hard disk space

WEBSITE www.ashampoo.com

NOTES Get your registration code from

within the application

Ashampoo Snap 8

THERE ARE A number of reasons why you might

want to take a picture of the contents of your

desktop. Such images can be useful when putting

together a website, creating tutorials, demos or

manuals, or just to record something for posterity.

Windows makes it easy to create simple screen

captures by pressing the Print Screen key, but

Ashampoo Snap opens up a number of new options.

As well as capturing precisely what you see on

the screen at any given moment, Snap can be used

to capture timed shots from games. These screen

captures can then be joined together to create a

video. Recording can be paused and resumed at any

time, so you can compose your screen to get

everything looking exactly as you want it to.

Snap can be used with a multi-monitor setup so

huge screen captures can be created as easily as

capturing a single window. If you want to highlight a

particular area of a screen capture, resizable shapes,

text and other graphics can be added.

There will be circumstances in which it isn't

possible to compose your screen to show everything

you would like to include in a screen capture, such as

when working with a complex website, for example.

Snap enables you to perform scrolling captures so

such lengthy documents can be captured in their

entirety, meaning you don't have to stitch together

numerous images manually.

With the ability to capture non-standard shaped

parts of the screen, the option of adding voice-over

recordings to your video captures and support for a

range of video codecs, Ashampoo Snap is one of the

most versatile screen capture tools available.

PC Fresh 2017

BUY A NEW PC and it will

generally be fast, reliable, with

everything working just as you

would expect, at least initially.

But as you use the system –

installing, running and removing

programs – so this begins to

change. Performance tails off,

your system might crash

occasionally, and some features

might no longer work at all.

You don't have to live with

this, though. If your system

seems slow, then just install PC

Fresh 2017, and the program will

quickly help you restore your PC

to its original performance.

This starts with PC Fresh

asking questions about your

computer: whether it's connected

to a printer, if Wi-Fi is active,

whether you use Windows

Search, and so on. Answering

these queries helps the

program tailor its advice to suit

your exact needs.

The main PC Fresh console

then allows you to optimise

the system in many different

ways, from configuring which

programs launch on startup to

optimising key Windows

performance settings.

This process is surprisingly

easy, too. Unlike some similar

tools, you're not left alone to

fi gure out what you should do.

PC Fresh will highlight any

problems it's found in a

particular area, and you can

view its recommendations – and

make the changes you need – in

just a few clicks.

The program doesn't stop

there, though. Once you've got

your system running

smoothly again, PC

Fresh 2017 provides

several other tools

to help you tune it

even further, so you

can track down any

large, disk-hogging

fi les, reorganise

your fi les or activate

the Power Now!

mode, which

temporarily turns

off every nonessential

item to

help deliver the best

performance – very

useful if, for example,

you're about to

run a demanding

application such

as a game.

REQUIREMENTS Windows XP, Vista, 7, 8, 10

32/64-bit, 40MB hard disk space

WEBSITE www.abelssoft.de

NOTES Get your registration code from

within the application

ISSUE 353 | COMPUTER SHOPPER | JULY 2017

75
---
REQUIREMENTS Windows XP, Vista, 7, 8, 10

32/64-bit, 50MB hard disk space

WEBSITE www.softorbits.com

NOTES Get your registration code from

within the application

SoftOrbits Easy Photo Unblur

IF YOU HAVE a blurred photo,

you can turn to your image

editor's Sharpen tool, but in most

cases this isn't smart enough to

guarantee a fi x. The typical

algorithm blindly applies the same

fi lter right across your image, and

is just as likely to cause problems

as solve the original issue.

Easy Photo Unblur takes a

more intelligent approach.

The program analyses your

photos, attempts to detect the

type of blur – camera shake,

motion blur, simple focus issues

– and applies the appropriate fi x,

sometimes to the most affected

areas of the image only.

You don't need to understand

or even care about these

low-level details. Simply open

an image, click Reduce Blurring,

Run, and Easy Photo Unblur will

often fi nd and fi x your photo

problems all on its own.

There are some fi ne-tuning

options available, but again the

program does its best to

remain easy to use. You can

select presets from a list,

drag sliders and watch

the effects, or browse the

Help fi le for explanations

of how it all works.

Bonus tools include an

Image Correction panel

where you can manually

tweak brightness, contrast,

saturation, temperature,

tint and gamma, or tap the

'Auto correction' button to

fi x everything at once.

Easy Photo Unblur

even has a Batch Mode for

applying the same fi xes to a

group of photos, potentially

saving you a lot of time.

REQUIREMENTS Windows XP, Vista, 7, 8, 10

32/64-bit, 50MB hard disk space

WEBSITE www.oo-software.com

NOTES Get your registration code at

diskimage10.disc.computershopper.co.uk

O&O DiskImage 10.5

Professional

ANYONE WHO'S EVER experienced the shock of

data loss, or had to spend hours recovering their

system, will know the importance of backing up.

O&O DiskImage Professional provides you with all

the tools you need for backing up both individual

data such as selected fi les and folders, as well as

drive images of entire partitions and drives.

While's it's not a tool for complete beginners, it

does provide some hints and tips to guide you

towards protecting your data, and the latest version

attempts to make things even easier with a

revamped, Windows 8-style interface. For

much fi ner control over creating disk images,

the Options menu lets you set the imaging

method (used or all sectors), destination

format (DiskImage or VHD), image type (full,

incremental or differential), compression,

encryption, exclude fi lters, and a lot more.

Backups will by default be run on demand,

but set them up as a job and they can be run

at defi ned times, particular days of the week,

at regular intervals, or when certain devices

are connected. There are also options to

receive email notifications, run commands

before or after the job, and shut your system

down when it's fi nished.

When it comes to managing your backups,

DiskImage has all the options you need. You

can restore entire images or select individual fi les and

folders, and 'mount' your image fi les in Windows, so

you can browse them like any other attached drive.

DiskImage also allows you to convert drive

images into virtual hard disks, meaning you can

attach them to programs such as VirtualBox or

VMWare Workstation for use as virtual PCs.

DiskImage also supports Machine Independent

Restoration, which lets you tweak backup images so

they can be restored to different computers – a

great way to migrate from an old PC to a new one.

76 JULY 2017 | COMPUTER SHOPPER | ISSUE 353
---
Resources

Chat and Communication

Evernote 6.4.2.3788 Store your

notes, ideas and plans in the cloud, and

synchronise them between computers.

Mailbird 2.3.42

A free desktop email client for Windows.

UPDATED Miranda IM 0.10.68

Chat with friends across multiple

messaging platforms, including AIM,

Facebook, IRC and MSN, all from one

simple interface.

UPDATED Skype for Windows 7.35.0.101 Make

internet voice and video calls for free, and buy

credit to make calls to mobiles and landlines.

Trillian 5.6 Use all your instant-messaging

accounts with one application. Supports

Windows Live!, AIM, Yahoo! and Google Talk.

UPDATED WhatsApp Desktop 0.2.3699 A free

PC and Mac version of the popular messaging

app, allowing you to chat straight from your

desktop instead of using the web app.

Customisation

UPDATED iolo System Mechanic Free

16.5.214 Speed up your system with

Iolo's PC optimisation suite.

Rainmeter 4.0

Customise the desktop with your choice

of tools and shortcuts.

Windows 8 Transformation Pack 9.1

Emulate the look of Windows 8 on an

earlier version of the operating system.

Windows 8 UX Pack 9.1

Get a glimpse of the Windows 10 UI without

committing to a full OS upgrade.

UPDATED Windows 10 Transformation Pack

6.0 Bring some of Windows 10's new features

to your current operating system.

Winstep Xtreme 17.1

Freshen up your system with this suite of

desktop and UI replacement applications.

General

Genie Timeline Free 2016 Protect your

most valuable fi les with this easy-to-use

backup tool.

Paragon Partition Manager 14 Free

Create, format, split, merge and reorganise

all your hard disk's partitions.

UPDATED PeaZip 6.4.0 A tremendously

powerful archive-management tool.

UPDATED Screenshot Captor 4.20.1 Create

and manage screenshots the easy way.

SUMo 5.1.4 Quickly scan your PC's installed

applications and fi nd any updates that are

available for them.

ZipGenius 6.3.2.3116 A fl exible fi lecompression

tool with support for a huge

number of compressed fi le formats.

Internet and Network

CarotDAV 1.13

Manage all your online storage services

with one simple application.

Cyberduck 5.4.0

A powerful but easy-to-use FTP client for

uploading and downloading your fi les.

Easy WiFi 4.0

Find free Wi-Fi hotspots while you're out

and about.

UPDATED FileZilla 3.25.1 A fast and reliable

FTP client with lots of useful features.

NetBalancer 9.9.2

Make the most of your internet connection

by assigning download and upload priorities

to web applications.

UPDATED TeamViewer 12.1.10277

Remote-control your computer from

anywhere in the world.

Tweaking and Performance

CCleaner 5.28 Remove unwanted

information, temporary fi les, browsing

history, huge log fi les and even the settings

that uninstalled soft ware leaves behind.

Defraggler 2.21 Ensure your system is

defragmented properly and improve its

performance.

Finestra Virtual Desktops 2.5.4501 Set up

four or more virtual desktops on your PC.

IObit Advanced SystemCare Free

10.2.0.721 A complete computer security,

maintenance and optimisation suite.

UPDATED Revo Uninstaller Free 2.0.3 Remove

installed applications completely, including all

their folders, system fi les and Registry entries.

Simple Performance Boost 1.0.5 Tweak the

Windows Registry to give your PC a

performance boost.

ISSUE 353 | COMPUTER SHOPPER | JULY 2017

77
---
Award winning

technology, award

winning systems

Custom-made gaming PCs and laptops

scan.co.uk/3XS • 01204 47 47 47
---
Performance

A range of affordable overclocked gaming PCs that feature a variety of Intel Core i5 and i7 CPUs

and NVIDIA GeForce GTX graphics cards.

Custom

options

available

3XS Performance GTK6

• Intel Core i5 7600K Quad Core

• Professionally overclocked up to 4.8GHz

• 8GB Corsair Vengeance DDR4 3000MHz

• 6GB EVGA GTX 1060 ACX 2.0

• 1TB Western Digital Blue HDD

• Microsoft Windows 10 64bit

£1,099.99 INC

VAT

3XS Performance GTX

• Intel Core i7 7700K Quad Core with HT

• Professionally overclocked to 4.8GHz

• 16GB Corsair Vengeance DDR4 3000MHz

• 6GB EVGA GTX 1060 ACX 2.0

• 250GB Samsung 850 EVO SSD & 1TB HDD

• Microsoft Windows 10 64bit

£1,349.99 INC

VAT

Vengeance

A range of high-end overclocked gaming PCs based around the Intel Core i7 CPU and NVIDIA

GeForce GTX graphics cards for the ultimate gaming experience.

Custom

options

available

3XS Vengeance

• Intel Core i7 7700K Quad Core with HT

• Professionally overclocked to 4.8GHz

• 16GB Corsair Vengeance DDR4 3000MHz

• 8GB EVGA GTX 1070 SC ACX 3.0

• 256GB Samsung SM961 M.2 SSD & 2TB HDD

• Microsoft Windows 10 64bit

3XS Vengeance 1080

• Intel Core i7 7700K Quad Core with HT

• Professionally overclocked to 4.8GHz

• 16GB Corsair Vengeance DDR4 3000MHz

• 8GB EVGA GTX 1080 SC ACX 3.0

• 256GB Samsung SM961 M.2 SSD & 2TB HDD

• Microsoft Windows 10 64bit

£1,699.99 INC

VAT

£1,849.99 INC

VAT

Gaming laptops

A gaming laptop is a great alternative to a gaming PC if you have limited space, travel frequently or

go to a lot of LAN parties and gaming tournaments.

Custom

options

available

3XS LG15 Performance GTX

• 15.6" Full HD IPS screen

• 4GB NVIDIA GeForce GTX 1050 Ti

• Intel Core i7 7700HQ Quad Core

• 8GB Corsair DDR4 2133MHz

• 250GB Samsung 850 EVO SSD

• Microsoft Windows 10 64bit

3XS LG15 Vengeance G-Sync

• 15.6" Full HD or 4K screen

• NVIDIA GeForce GTX 1060 or 1070

• Intel Core i7 7700HQ Quad Core

• 16GB Corsair DDR4 2133MHz

• 256GB Samsung SM961 M.2 SSD

• Microsoft Windows 10 64bit

£1,099.99 INC

VAT

£1,359.99 INC

VAT

Scan Computers recommends Windows

Microsoft product images reprinted with permission from Microsoft Corporation. Prices subject to change.
---
POCKET

MONEY

VALUESMARTPHONES

With flagship phone prices going through the roof, you could save hundreds of pounds by hunting for a

better deal – whether it's an up-to-date budget handset that punches above its weight, or a top-flight

model from yesteryear. We round up the 16 handsets that offer high quality at a low price point

80 JULY 2017 | COMPUTER SHOPPER | ISSUE 353
---
CONTENT REVIEWS

Page 84

APPLE iPhone SE

Page 85

GOOGLE Nexus 5X

Page 86

HONOR 6X

Page 87

HTC One A9

Page 88

HUAWEI P8 Lite

Page 89

LENOVO P2

Page 90

LG G4

Page 91

MOTOROLA Moto G4

Page 92

MOTOROLA Moto G5

Page 93

MOTOROLA Moto Z Play

Page 94

ONEPLUS 3T

Page 95

SAMSUNG Galaxy A5

Page 96

SAMSUNG Galaxy S6

Page 97

SAMSUNG Galaxy S7

Page 98

SONY Xperia X Compact

Page 99

VODAFONE Smart Platinum 7

ISSUE 353 | COMPUTER SHOPPER | JULY 2017 81
---
SMARTPHONES

IT SEEMS ALMOST churlish to complain that

premium smartphones come with premium

prices attached, especially when they do make

an effort to earn it: to name just a few, there's

the new Samsung Galaxy S8, with its vast

edge-to-edge display; the incredibly powerful

iPhone 7; and the Google Pixel, which features

the best rear camera on any handheld.

And yet, for anyone who remembers

being able to get the Nexus 6P for £449, the

costs are hard to stomach. The iPhone 7?

Yours for £599, minimum. Google Pixel?

A cool £600 for the base model. The Galaxy

S8 is the worst offender yet, starting at £689

– that's £120 more than the Galaxy S7 when it

launched just one year ago.

Fortunately, while the top end of the

market is exploding, we've been consistently

impressed by a lot of cheaper phones recently

– specifically, how they deliver the kind of

performance, display quality, battery life and

build quality we'd expect from devices costing

a lot more. For some, like the OnePlus 3T, this

is a conscious design goal; others, like the

Motorola Moto G4, just happen to be

excellent pieces of hardware.

We therefore wouldn't hesitate to

recommend a great lower- or mid-range

smartphone over an overpriced fl agship, but

then, that's not your only option. Even with

the never-ending churn of the annual

smartphone release cycle, you can still get

older high-end models new and unwrapped,

and the inevitable price drops that come with

their age mean that it's possible to fi nd these

premium products at heavily discounted rates.

Therein lies the best thing about avoiding

a smartphone rip-off : you've got a huge

amount of choice when it comes to value

handsets. Allow us to make things a bit easier

with this test of 16 possible purchase

candidates – we've skipped any duff phones

and only included those that are at least very

good, so you can be sure that with any of

them, you'll be getting a fair deal.

CORE DRAW

If pure performance is what you're after, it's

generally better to go with an older fl agship

rather than a new budget phone; they might

not be the fastest any more, but the best

processors of 2015 and 2016 can still easily

outpace anything built to sell for peanuts,

especially when it comes to games. For

demanding 3D titles at their best, you're

looking at paying around £330 and up.

Not that cheaper alternatives are

necessarily slow. Hexa- and even octa-core

processors aren't uncommon even in the

£100-£200 range, so it's actually rather hard

to fi nd something that doesn't stay slick and

responsive throughout everyday multitasking.

Special mention goes to the Apple A9

chip found within the iPhone SE; don't be

deceived by the fact that it's dual-core, as

Apple has somehow optimised it to run so

well with iOS that it's one of the bestperforming

phones here.

INCHING FORWARD

It's important that you choose a smartphone

with your ideal screen size, as there's no

single 'best' spec here. The 4in iPhone SE is

wonderfully portable but doesn't offer nearly

as much real estate as, say, the 5.5in Honor

6X, which is arguably better for watching

videos and web browsing but could prove

uncomfortable for small hands.

Many cheaper phones now deliver the kind of performance,

display quality, battery life and build quality we'd expect

from devices costing a lot more

Otherwise, display quality can be measured

in conveniently objective terms. We test for

how much of the sRGB colour gamut a screen

can cover (ideally, at least 90%), plus the

contrast (higher is better) and peak

brightness. A high brightness (over around

400cd/m 2 ) will make the screen easier to read

when exposed to direct daylight, though you

can get away with a lower fi gure if you'll

primarily be using your phone indoors.

82 JULY 2017 | COMPUTER SHOPPER | ISSUE 353
---
SMARTPHONES

As for resolution, 1,920x1,080 is perfectly

fi ne even on larger phablets; anything higher

is nice to have, but it's harder to tell the

difference on such small screens compared to

Full HD vs Quad HD monitors. That said, try

not to settle for anything lower unless the

screen is also smaller than average, as is the

case with the Sony Xperia X Compact.

ELECTRIC BOOGALOO

Battery life is a no-brainer: the longer, the

better. Naturally, a higher milliampere hour

(mAh) count is preferable, but variables

including the processor power, screen size,

and brightness and frequency of use mean

you shouldn't rely on hard specs alone.

That's why we run a benchmark test, which

involves looping a video fi le with the screen

brightness set to 170cd/m 2 and measuring

how long this takes to run a full battery dry.

Most phones fall around the 12-hour mark,

which indicates the ability to make it through

a full day of normal use on a single charge.

LOST IN SPACE

There was an odd period throughout late

2015 and early 2016 in which smartphone

manufacturers seemingly agreed that

expandable storage wasn't actually

that important, and that they just

wouldn't bother with microSD slots

– presumably another 'brave'

decision along the lines of the

iPhone 7's missing headphone jack.

Luckily, sanity has re-asserted

itself, and most handsets these days

adhere to the gold standard of

expandable microSD compatibility.

This is good because onboard

storage can fi ll up at a surprising

rate, particularly if it's a relatively

low capacity such as 16GB.

Our advice would be to aim for a

minimum of 32GB of integrated memory,

ideally with microSD support as a fallback;

any lower and you'll have to be very careful

with saving music and movies.

SENSOR SENSIBILITY

Perhaps the most common pitfall for budget

smartphones is the quality of the camera.

Many models boast of having 12-megapixel,

13-megapixel or even 16-megapixel rear

snappers, but image size is only one aspect,

and the ability to capture fi ne details and

cut down on visual noise are even more

important. Here, a lot of cheaper devices can

struggle, especially indoors.

We'll cover each phone's main camera in

more detail in their respective reviews. To be

fair, there are a few models that do manage to

excel at photography: the Moto G4 is your

best bet at the budget end, while the LG G4,

Nexus 5X and Samsung Galaxy S7 all impress

at higher price points.

The best phones for…

Got something specific in mind besides all-round quality? These are

the great-value handsets that most effectively fi ll their niche

…STYLE

Samsung Galaxy S7

It's the most expensive smartphone in

this group test, but not only is the

Samsung Galaxy S7 still a sizable wad of

cash less than the newer Galaxy S8, it's

also the most luxurious model here.

From its glass and aluminium

construction to its sleek, tapered edges

and gorgeous display

– which is almost

bezel-less on the left

and right edges –

the S7 is a perfect

show-off handset.

It's not just

trading looks for

practicality, either.

That glass – on

both sides – is

highly damageresistant

Corning

Gorilla Glass 4,

and the handset

meets the IP68

standard for dustand

water-proofi ng,

so it will survive a

dunk in any puddle

or sink.

…CUSTOMISATION

Motorola Moto Z Play

The Moto Z Play's versatility is mainly

derived from its modular design. There are

loads of clip-on attachments available, from

simple expanded batteries to booming

speakers and camera grips with added optical

zoom capability. One – the Moto Insta-Share

– even turns the handset into a projector.

It's all very

impressive stuff,

although it's

easily possible to

spend more on

these 'Moto Mods'

than you did on

the actual phone.

Luckily, you can

still add a

personal touch

on the (relative)

cheap with

interchangeable

backplates – these

cost £16 and

come in some

unusual fi nishes,

including nylon

fabric and

oak wood.

…TRAVELLING

Lenovo P2

The P2 is great for a lot of reasons, but

the headline act has to be its incredible

battery life. A gigantic 5,100mAh unit

provides about three days of regular use

between charges, and its result in our

video playback test – 28h 50m – is well

over double what we normally see from

Android smartphones.

For long plane, train

and car rides, its

usefulness is obvious.

Its dual SIM slot is

also a handy bonus

for anyone who

frequently travels

abroad, as it allows

you to keep your main

SIM installed while

you switch to an

international SIM to

dodge roaming fees

– so you don't have to

fi ddle with the tray at

the beginning and end

of the journey, or

worry about the main

SIM getting lost while

you're away.

ISSUE 353 | COMPUTER SHOPPER | JULY 2017

83
---
SMARTPHONES

APPLE iPhone SE

★★★★★

£379 • From www.apple.com/uk

VERDICT

Well built and with a top camera and great battery

life, the iPhone SE is the best 4in phone out there

FINDING AN AFFORDABLE iPhone is

practically impossible if you stick to the main

series of handsets. Even the iPhone 6, which

is now two generations old (having been

replaced by the iPhone 6s and, most recently,

the iPhone 7), goes for about £500 SIM-free.

And that's if you can actually fi nd it new,

among the far more prevalent refurbs.

Hope remains with Apple's smaller 4in

models. For minimum expense, there's the

iPhone 5c, which has fallen well below the

£300 mark, albeit at the cost of a plasticky

build and slow performance.

By contrast, the much more up-to-date

iPhone SE has nailed pretty much everything:

it's got the build quality, it's got the

processing power and it's got the camera, all

packed into a neat metal chassis.

What's more, on the same day we began

work on this group test, Apple announced

that the 16GB and 64GB storage options

would be replaced by 32GB and 128GB

models respectively, addressing our previous

criticism that the cheapest model's capacity

was too low. This update is accompanied by

price rises of between £20 and £40, but

you're still looking at a much cheaper

proposition than any iPhone 6s or 7. All other

hardware remains the same.

Weighing 113g and at 7.6mm thick, the

iPhone SE is exactly the same size as the old

iPhone 5s, and is compatible with the same

range of cases and covers. While the SE is

the lightest iPhone currently available, it's

actually the thickest of the current crop.

This doesn't particularly matter, as it

makes the handset easier to grip, and it

means that the camera sits fl ush with the

rear of the case. Besides, overall the iPhone

SE is comparatively tiny by today's standards,

slipping easily into any pocket.

colour accuracy coverage

of 94.6% of the sRGB

colour gamut goes some

way to make up for it.

Sadly, the SE doesn't

have the fancy 3D Touch

features of recent

fl agship iPhones, but this

cost-saving omission

isn't a deal-breaker as

we could still use iOS

perfectly well without

feeling too hampered.

Apple has fi tt ed a

12-megapixel camera

into the iPhone SE,

the same as in the

iPhone 6s. It's a great

all-rounder, ably

adapting to most

situations to produce

well-exposed shots with

plenty of detail in them.

The HDR mode captures a

particularly excellent dynamic range, without

over-processing the fi nal shots.

There's also a True Tone LED fl ash, which

measures ambient light then fi res the fl ash at

the same colour temperature, reducing the

tell-tale signs of a regular fl ash. You also get

all the shooting modes that the iPhone 6s

has, including panoramic shots and 4K video.

The iPhone SE

absolutely delivers on

battery life, too. Its

1,624mAh battery might

sound pretty tiny

compared to the

3,000mAh+ batteries

found on Android

phones, but its smaller

screen requires a lot less

power. As a result, it

lasted an incredible 16h

46m at a brightness of

170cd/m 2 in our battery

test. This is just shy of

the Galaxy S7's run time,

and 1h 48m longer than

the iPhone 6s lasted.

Since launching with

iOS 9.3, the iPhone SE

has been updated all the

way up to iOS 10.2 – with

10.3 coming very soon, if

it's not out already by the

time you read this. This means it's been able

to benefi t from third-party integration for

iMessage and Siri, redesigned Maps and

Music apps and the Memories feature for

The iPhone SE has nailed pretty much everything: it's got

the build quality, it's got the processing power and it's got

the camera, all packed into a neat metal chassis

sorting images in Photos. Apple Pay support

remains, though the iPhone SE uses an older

TouchID sensor, which isn't quite as fast or

error-proof as on pricier iPhones.

DENSITY SLICKER

Moving back to a 4in screen, Apple has

re-used the iPhone 5s's resolution of

1,136x640. This is one of the lowest-resolution

phones here, not even hitting standard HD,

but the pixel density of 326ppi actually

matches that of the 2015 iPhone 6s, which

has a resolution of 1,334x750. Both phones

are defi nitely sharp enough, and text looks

clear and easy to read.

Image quality isn't quite as good as

Apple's pricier iPhones, but the iPhone SE's

screen performs better than stated: Apple

claims maximum brightness of 500cd/m 2 and

a contrast ratio of 800:1, but we measured it

at 577cd/m 2 with a contrast ratio of 892:1.

While this contrast ratio still isn't great, its

CLOUD A9

Performance is excellent, thanks to the

iPhone SE having the same 1.8GHz A9

processor and 2GB of RAM as the 6s line-up.

In Geekbench, the iPhone SE scored 2,550 in

the single-core test – the same as the iPhone

6s and faster than the 2,115 scored by the

Samsung Galaxy S7. In the multicore test, the

S7 takes the lead with a score of 6,437, but

that's a quad-core device: the iPhone SE has a

dual-core processor and still scored 4,444.

As with all of Apple's phones, the slick

combination of the processor, iOS and Safari

makes web browsing a super-smooth

experience: the Peacekeeper browser

benchmark score of 4,761 is one of the best

we've seen on a smartphone.

MAKE ROOM

As mentioned, the original 16GB (£359) and

64GB (£439) models have been discontinued,

replaced by 32GB (£379) and 128GB (£479)

variants. The price bumps are a shame (bear

in mind these are largely the same phones

that launched back in March 2016) but

otherwise, that's fi ne by us; 16GB isn't much

space at all, especially with the lack of

expandable storage.

The iPhone SE surpassed our expectations

when it fi rst came out, and now the minimum

storage issue has been dealt with, it's become

even better. Really, the only thing it lacks

compared to the iPhone 6s is 3D Touch. For

anyone who still hankers after a powerful 4in

smartphone, it's an amazing choice.

84 JULY 2017 | COMPUTER SHOPPER | ISSUE 353
---
SMARTPHONES

GOOGLE Nexus 5X

★★★★★

£284 • From www.ebuyer.com

VERDICT

It's over a year old, but the Nexus 5X remains a

superb Android handset for a reasonable price

WHILE WE'RE FOND of the Pixel and Pixel

XL, Google's most recent smartphones, they

both went down the ultra-premium route,

abandoning the surprising affordability of the

previous-generation Nexus 6P and Nexus 5X.

Happily, the latter is still an excellent choice.

It doesn't make the best fi rst impression;

made of plastic, it looks like a budget handset,

with utterly featureless side buttons that are

so simple as to appear an afterthought.

It's great to hold, though. The plastic fi nish

provides plenty of grip and, at 136g, it's among

the lightest phones around. The shape is good

too, with the rear panel neatly meeting the

front bezels. The front-facing speakers provide

better audio than any tiny port tucked away at

the bottom of some fl agship smartphones.

POKE'S ON YOU

Underneath the unassuming exterior lies a

powerful smartphone packed with features.

The circular rear fi ngerprint sensor is placed

just below the rear camera, so you may have

to adjust your grip if you're used to holding

your phone by the edges, but otherwise it's

easily accessible. Resting your fi nger on the

sensor switches on and unlocks the phone

almost instantly. It's accurate too, learning

fi ngerprints even quicker than the sensors in

Samsung's fl agship phones, and recognising

them more consistently as well.

There's also a USB Type-C port. It's a little

chunkier and feels sturdier than Micro USB,

and the reversible design helps minimise

fi ddling. However, USB Type-C cables still

aren't exactly common, and Google includes

only a Type-C to Type-C cable in the box.

There's no video output, and data transfer

rates are only at USB2 speeds. Wireless

charging has been dropped, too, but Type-C

allows for fast charging, reaching 50% from

fl at in just 30 minutes.

A 2,700mAh battery is par for the course,

given this is a pretty slim 7.9mm handset. In

our continuous video playback test, it lasted

10h 14m. This is one area where the 5X hasn't

aged well, as many more recent phones beat

this by miles. Lenovo's P2, for instance, lasted

almost three times as long, despite costing less.

Still, the Qualcomm Snapdragon 808

chipset means the Nexus 5X is no slouch. It

consists of two high-performance Cortex A57

cores running at 1.8GHz, and four powerefficient

Cortex A53 cores running at 1.44GHz.

A Geekbench multicore score of 3,489

puts it alongside the similarly specified LG G4.

It's not the best, but in practice everything is

quick and smooth. It's well ahead of the

Moto Z Play's Snapdragon 625, which scored

only 2,599. In terms of gaming, it doesn't run

3D titles as smoothly as most high-end

smartphones, but it played our usual

selection of Android titles without a hitch.

Amidst all that is a decent Full HD LCD

screen. Even at 5.2in across it has a whopping

pixel density of 424ppi and, despite higher

resolutions being available, there's no serious

advantage in day-to-day use. In objective tests,

In most areas, the Nexus 5X may be pretty good,

but its camera is truly excellent

the screen stood up well, covering 94.8% of

the sRGB colour gamut, with 415cd/m 2

maximum brightness, a contrast level of

1,309:1 and a black level of 0.32cd/m 2 .

We've seen brighter LCDs at this price, but

the Nexus 5X nails consistency. It also has a

pleasingly fl at colour output, without the

boosted and garish shades seen elsewhere.

In most areas, the Nexus 5X may be pretty

good, but its camera is truly excellent, coming

out on top against the very capable Samsung

Galaxy S6. Twelve megapixels on a typically

sized 1 /2.3in sensor sounds unremarkable, but

each pixel is bigger than most, measuring

1.55um. By comparison, the S6 reportedly has

1.12um pixels on its 16-megapixel sensor.

The Nexus 5X's photos were packed with

detail, compared to the more smoothed off

appearance of the Galaxy S6's efforts.

Outdoors, you can see great detail in brick

walls and a sharper image overall. Colour

balance was spot on, too, with the camera

matching the output of the S6 almost exactly.

It dealt well with higher-contrast scenes,

eliminating noise from large areas of colour

without removing detail elsewhere. Colours

remained accurate indoors, with great detail in

complex textures and well-balanced exposures

across our various lighting setups.

The Nexus 5X was quick to shoot in HDR

mode, and you can jump straight to the

camera by double-clicking the power button.

Google's camera app is fi ne for basic snapping,

but lacks any manual controls or fancy features.

THE SWEETEST THING

Being a Google device, the Nexus 5X was

among the fi rst smartphones to be updated to

Android 7.0 Nougat. This adds a good few

improvements and new functions to the

already-great Android 6.0, such as native

split-screen multitasking, bundled

notifications and a Data Saver mode, which

can prevent certain apps from munching on

your data allowance in the background.

The Nexus 5X isn't the best-looking phone,

nor the best designed. It isn't the fastest, it

doesn't have the best battery life and the

screen isn't outstanding. Don't be fooled by

the lack of standout features, however – it

also has a distinct lack of weaknesses, and few

handsets can claim the 5X's comprehensive

competence. As such, it's a device that's far

greater than the sum of its parts, and it could

be yours for £100 less than it cost at launch.

ISSUE 353 | COMPUTER SHOPPER | JULY 2017

85
---
SMARTPHONES

HONOR 6X

★★★★★

£225 • From www.amazon.co.uk

VERDICT

With fantastic performance at a great price,

Honor's 6X shouldn't be ignored

REGARDLESS OF WHETHER Honor

appreciates being pigeonholed as a budget

smartphone brand, its latest device – the

Honor 6X – may be its fi nest work yet.

It squeezes a 5.5in, Full HD screen into

an all-metal body with 32GB of integrated

storage and 4GB of RAM. The rear is curved,

so it sits nicely in your hand, and the glass

on the front also tapers slightly at the

edges for a slicker look.

As for connectivity, the 6X has a dual SIM

slot, perfect for travelling abroad or using it

as a dual work/leisure device. There's no USB

Type-C connector for fast charging, with

Honor opting for an older Micro USB port

instead, but you do get an extremely

fast-acting fi ngerprint sensor on the back,

nestled below the twin-lens camera.

The Honor 6X's screen itself isn't an

AMOLED model, but instead a good-quality

LCD unit. It measures pretty well, with a

contrast ratio of 1,694:1 helping it produce

wonderfully impactful images. Its peak

brightness of 502cd/m 2 also means you'll

only have problems reading it in the very

brightest of conditions.

SHOO BLUE

Its colour reproduction isn't quite so good,

unfortunately. The screen covers only 89% of

the sRGB colour gamut, which is far from

brilliant. However, thanks to Honor's new 'eye

comfort mode', which fi lters out blue light in

the evenings, and automatically adjusts

brightness and colour temperature according

to ambient light, it is easy on your eyes.

The Honor 6X is the only phone we've

seen in this price range to include a twin-lens

camera, in this case a 12-megapixel unit with

a 2-megapixel secondary sensor. This allows

it to take wide-aperture shots similar to the

iPhone 7 Plus's bokeh mode, blurring

everything beyond the point of focus. The

effect quality isn't quite on a par with Apple's

phablet (as you'd expect, considering the 6X

is a fraction of the price), but it's still good

enough to give your shots a handy facelift.

There's also the usual suite of shooting

modes, with the rear camera producing some

decent shots packed with detail. Outdoors,

the rear camera produces good-looking shots,

capturing details such as the brickwork on

buildings particularly well.

Indoor image quality isn't so good, with

photos losing vibrancy and gaining graininess,

but generally the 6X still manages balanced,

well-judged exposures in low light, and has a

single LED fl ash to help cut through the

darkness when conditions get really tricky.

It's certainly got a

better rear camera

than that of the

similarly priced

Huawei P9 Lite, as

well as the cheaper

P8 Lite, which we

cover later in this

group test.

If you do feel the

need to tweak your

images, you do get

both Pro still and

video modes for

fi ne-grained control

over every aspect of

your images, allowing

you to tinker with

ISO and exposure

values to your

heart's content.

KIRIN IN THE NAME

The Honor 6X is no slouch in everyday use,

either. There's a 2.1GHz Kirin 655 octa-core

processor inside, joining forces with 4GB of

RAM. With a Geekbench single-core score

of 784 and 3,319 for multicore, the 6X gets

close to the Moto Z Play in terms of

smoothness and responsiveness.

Multitasking also feels surprisingly stable –

Honor claims that its smart fi le system

reduces fi le fragmentation for faster response

times, and it certainly feels that way – though

notably, it still loses out to the ageing Google

Nexus 5X in the Geekbench multicore test.

Nonetheless, the 6X is a great performer

once you crack open some Android games.

The Honor 6X scored an average frame rate of

8.4fps in the GFXBench Manhattan 3 test,

which is perfectly respectable for a phone

at this price, and both Threes! and Angry

Birds 2 ran without a hitch.

A comparatively large 3,340mAh battery is

fi tt ed, and the phone didn't do too badly in

our test, lasting 11h 18m while playing back

video continuously in fl ight mode. For context,

that's roughly an hour longer than both its

predecessor, 2016's Honor 5X, and the Nexus

5X. That said, it lags behind the Moto G4 by

about two hours, and the Lenovo P2 remains

untouchable at 28h 50m.

It's rare to see a

non-Google Android

phone without a bit

of overlay tinkering,

and the Honor 6X

is no exception.

Usually, this is the

point at which we

castigate Honor

for insisting on

preloading its own

onerous launcher

soft ware, but

Honor's EMUI is

nowhere near as bad

as it used to be.

While there's

still quite a bit

of superfluous

pre-installed

soft ware – namely

a handful of naff

games and unnecessary apps – you can at

least get rid of them. The downside is that

the Honor 6X doesn't ship with Android 7.0,

but Honor is promising an over-the-air

update in the coming months.

THE JOY OF 6X

This price bracket is chock full of high-quality

budget smartphones, but the Honor 6X

stands above most of them. Its design,

outdoor camera quality and performance

are great for the money, and battery life

isn't bad either.

The Moto G4 delivers more bang for your

buck, having both better battery life and a

more-pleasant-to-use camera, all while costing

The Honor 6X is the only phone we've seen in this price

range to include a twin-lens camera

less. The Nexus 5X has also price-dropped

into the Honor 6X's territory, and offers

superior processing power. That said, when it

comes to physical design, we do prefer the

6X's bodywork – and getting a dual-lens

camera on to a cheap handset is no small feat.

Still, much like the Moto G4, what's really

impressive about the Honor 6X is that it

holds its own against smartphones that cost

two or three times as much as its £225

asking price. In short, Honor has created a

fantastically capable budget smartphone at

a very tempting price, and it's impossible

not to recommend it.

86 JULY 2017 | COMPUTER SHOPPER | ISSUE 353
---
SMARTPHONES

HTC One A9

★★★★★

£310 • From www.amazon.co.uk

VERDICT

Beautifully designed and with a highly

customisable UI, the One A9 is great value

MUCH OF THE HTC One A9's appeal lies

in its stunning design. Its clean lines and

simple metal chassis may be eerily

reminiscent of Apple's recent iPhones, but

it's a winning combination, particularly

since the subtle ridge on the back of the

handset actually makes it easier to hold

than Apple's phone. The A9 is also very

light for its size, weighing just 143g.

It's a beautiful smartphone, and

immediately more appealing than the

fl agship One M9, not least because of its 5in,

1,920x1,080 AMOLED display. The M9's

display didn't score very highly on colour

accuracy, but the A9's AMOLED panel

rectifies this instantly, covering the full 100%

of the sRGB colour gamut and producing

perfect 0.00cd/m 2 blacks. Its contrast ratio of

infinity:1 also ensures there's plenty of detail

in darker images. Whites are admittedly a

little yellow, but we didn't fi nd it particularly

bothersome. The screen's peak brightness is

also low at 347.19cd/m 2 , but this isn't too

unusual for an AMOLED display.

JUST GOOD SENSE

The One A9 comes with Android 7.0 Nougat,

but it's running HTC's Sense 7 UI on top, so

its overall appearance isn't quite the same as

the vanilla version. This isn't much of a

problem, though, as Sense 7 is one of the

most customisable versions of Android

we've seen. Its Theme Generator is excellent,

as you can change the appearance of your

phone right down to individual app icons,

fonts and the caller ID logo, using either one

of the handful of themes that come preinstalled

or one you've made yourself using

images from your gallery.

Once you've chosen an image, the Theme

Generator analyses the colours present in

the picture and then suggests different

colour combinations for your home screen,

Blinkfeed hub and settings menu, which you

can then tweak to your liking. It's a brilliant

touch, and even photos we took that only

had a few main colours present still gave us

plenty of colour options.

Sense Home is another useful feature, as

this learns which apps you use most in

certain locations, and automatically promotes

them to your main homescreen when you

need them. For instance, it would show Mail,

Google Drive, Calendar and HTC's note-taking

Scribble apps when we were in the office, but

swap those for Google Maps and HTC's

Music and Car apps on the way home.

HTC has included a fi ngerprint sensor on

the One A9 for added security. Located at the

bottom of the handset,

underneath the display,

it's fast and rarely made

mistakes when we used

it to unlock the phone.

Alternatively, the

grooved power button

is another great touch

in the One A9's design.

It sits at an ideal thumb

height and its machined

fi nish makes it easy to

fi nd by touch alone.

On the other side of

the phone, you'll fi nd a

microSD card slot to

expand the phone's

default 16GB of internal

storage, of which

around 10GB is available

to the user.

SNAP HAPPY

The One A9 is powered by an octa-core

1.5GHz Qualcomm Snapdragon 617 processor

and 2GB of RAM. In our benchmark suite, it

showed a significant increase in speed over

older Snapdragon 615 handsets, as its

Geekbench 3 scores of 732 in the single-core

test and 3,050 in the multicore test were on

average around 100 and 800 points faster

respectively. As a result, Android felt silky

smooth and apps were very quick to load.

It's worth noting, however, that even at

this lower price (it launched in late 2015 at

£470), it can be outpaced by the competition;

the Nexus 5X handily beats it on multicore

performance, for instance, as does the latest

Samsung Galaxy A5.

Gaming performance is also lacklustre for

something which once near cost half a grand,

as it only managed an offscreen Manhattan

test score of 411 frames in GFXBench GL,

which equates to roughly 6.6fps. This is by no

means bad, but complex 3D games such as

Hearthstone aren't quite as smooth as they

could be. The same goes for web browsing,

as its Peacekeeper score of 793 is a long

way behind the Galaxy S6's 1,257. As a result,

web pages were often

quite jerky at times,

particularly if they

contained lots of images

or embedded videos.

Battery life is also

underwhelming, but it

does at least scrape into

double fi gures, as its

2,150mAh battery lasted

10h 2m in our video

playback test with the

screen set to 170cd/m 2 .

This should be enough

to get you through the

day, but it's a long way

behind the Galaxy A5

and Lenovo P2.

STRAIGHT SHOT

Thankfully, the A9's rear

camera has received

several improvements over the famously poor

M9. Despite only having a 13-megapixel

sensor (down from the M9's 20-megapixel

snapper), its overall picture quality is much

better, particularly its exposure levels.

Photos are still a fraction dark in places, but

switching on HDR quickly sorts this out.

Indoor photos look great, too. Object edges

can be a tad grainy and over-processed at

times, but colours look nice and punchy, and

there's plenty of contrast. The only major

disappointment was the fl ash, which has a

tendency to turn images rather green.

You can change the appearance of your phone right down to

individual app icons, fonts and the caller ID logo, using one

of the pre-installed themes or one you've made yourself

As a whole, the HTC One A9 looks and

feels like a fi rst-class handset. Sense 7 is a

great interface, and its beautiful design

makes it by far one of the most pleasing and

attractive smartphones at this price.

Speaking of which, time has been kind

to the One A9's overall value. Having shed

£160, it no longer has to compete at the

higher end of the smartphone market, and

so its shortcomings (particularly its

performance and battery life) don't look

so bad next to more modest rivals. More

importantly, the things we liked about it in

the fi rst place still hold up today.

ISSUE 353 | COMPUTER SHOPPER | JULY 2017

87
---
SMARTPHONES

HUAWEI P8 Lite 2017

★★★★★

£182 • From www.csmobiles.com

VERDICT

The updated P8 Lite is a good budget

smartphone but it has stiff competition

IF SUB-£200 smartphones are on your

agenda, Huawei's £185 P9 Lite (Shopper 350)

is worth a look, but we've been more taken

with the 2017 remake of the P8 Lite – it has

a slightly better processor (a Kirin 655 to the

P9 Lite's 650) and, while it originally came

with a higher price, we've actually found the

P8 Lite for less cash post-launch.

That's not all that's good about it, either.

The P8 Lite is a dual-SIM smartphone that

features a 5.2in Full HD display, a fi ngerprint

reader and an octa-core processor, and it runs

on Android 7.0 – not bad for £182, which is

around the same price as the Moto G5.

Speaking of which, competition at this

price is fi erce, from older handsets like the G4

to newer alternatives such as the Honor 6X

and the Lenovo P2. Fortunately for the P8

Lite, it gets off to a good start with its design.

The rounded corners and balanced weight

make it easy to hold, and we appreciate how

the fi ngerprint scanner is placed on the rear

rather than the front, so it's easier to use with

your index fi nger. It's not as slick as the

iPhone 7 it's so obviously emulating, but it's

certainly nice enough for a budget phone.

SCUFF LUCK

It's also good to see Huawei retaining the

3.5mm headphone socket, found here on the

top edge of the phone, with the volume

rocker and power buttons on the right-hand

side, a dual-SIM slot on the left (the second

SIM slot can also take a 256GB microSD card),

and a Micro USB charging port and a single

downward-firing speaker on the bottom.

However, there are some practical issues

as well. The plastic frame surrounding the

screen, for instance, lowers the tone, as does

the standard glass, which appears not to have

been treated with an oleophobic coating,

meaning it picks up fi ngerprints like crazy, and

is shockingly quick to pick up scratches.

We'd suggest a case or protector for

the IPS display, which works out to a

respectable pixel density of 424ppi. An even

bigger strength is its brightness – its test

score of 700cd/m 2 is among the highest

we've seen, and it stays readable in even the

sunniest conditions.

Contrast ratio is pretty high, too, at

1,553:1, with deep blacks and bright whites

contributing to

dynamic images and

video. We'd have liked

to have been able to

disable dynamic

contrast, though: this

boosts brightness

levels when displaying

white or light content

onscreen, which could

hurt battery life.

The display's main

weakness is its colour

representation. With

86% sRGB coverage,

images look slightly

dull and murky

when compared

with the Lenovo

P2's 99.9% sRGB

coverage display.

SPRING CLEANING

Unlike the P2, however, the P8 Lite runs the

latest version of Android, 7.0 Nougat, which is

a fantastic mobile OS, even with Huawei's

Emotion 5 UI (EMUI) skin. This uses extra

RAM, which isn't ideal, but it's far from the

annoyance it once was. We particularly like

its storage cleaner, which quickly frees up

space and wipes your phone's cache, as well

as its added power-management tools.

This refreshed P8 Lite is powered by an

octa-core (four 2.1GHz Cortex-A53 and four

The P8 Lite's screen is among the brightest we've seen,

and it stays readable in even the sunniest conditions

1.7GHz Cortex-A53) Kirin 655 processor.

It also has 3GB of RAM, which was plenty

for our everyday needs.

Looking at synthetic benchmarks, the P8

Lite performs well when compared with its

budget competitors. In Geekbench 4, it scored

3,237 in the multicore test and 780 in the

single-core test, putting it very slightly ahead

of the Moto G4, slightly behind the Honor 6X

and roughly on a par with the Lenovo P2.

Honestly, you'd struggle to see a big

difference in day-to-day use.

Huawei's handset is similarly capable of

gaming. It didn't struggle with any of the titles

we tried, and in the GFXBench Manhattan

synthetic benchmark, it managed 8.4fps.

That's far behind the high-end fl agships, but

is dead even with the Honor 6X.

Battery life,

however, is less

impressive. The

non-removable

3,000mAh unit

lasted a mediocre

10h 24m in our

continuous video

playback test, which

is close to a third of

the Lenovo P2's

superlative 28h

50m. It couldn't

even beat the Honor

6X's 11h 18m.

The phone's

12-megapixel

rear-facing camera

with an aperture of

f/2.0 isn't bad for a

£141 smartphone.

The P8 Lite doesn't

come with phase-detect autofocus or optical

image stabilisation, but that's only to be

expected for a phone at this price point.

It holds its own in low-light conditions,

producing images that aren't riddled with

noise or oversaturation.

White balance is good as well, with

automatic exposures being well judged.

The fl ash doesn't add a blue tinge to photos,

either, which is a common problem with

smartphone cameras.

GOING PRO

Sadly, the camera is also prone to losing detail

at a medium distances, and the HDR mode

proved of limited benefi t, with only minor

improvements in indoor shots and barely any

differences when comparing outdoor HDR

shots with non-HDR shots.

You can help things along by tinkering in

Pro mode, which grants control over white

balance, exposure compensation, ISO and

shutter speed, as well as various metering

and autofocus modes. Still, it's nowhere near

the overall quality of our favourite cheap

smartphone camera, that of the Moto G4.

This captures images that are sharper, have

less image noise in low-light conditions and

look more vibrant.

Ultimately, while the P8 Lite is a very

capable and affordable smartphone (even

more so since we fi rst reviewed it, in the latter

case), it's hard to fully recommend when less

fl awed alternatives exist. If you want the very

best battery life, choose the Lenovo P2; if you

want the best all-rounder with the best

camera, the Moto G4 is the one for you.

88 JULY 2017 | COMPUTER SHOPPER | ISSUE 353
---
SMARTPHONES

LENOVO P2

★★★★★

£200 • From www.three.co.uk

VERDICT

With its monster battery life, the Lenovo P2

will keep on going long after others have died

REMEMBER THE DAYS when your phone

lasted more than a day on a single charge?

As great as it is to have smartphones with

enormous processing power and crisp,

high-res screens, there's no denying these

advancements have made our handhelds

thirstier for juice than ever.

The Lenovo P2, however, heralds at least a

partial return to those glory days: it lasted a

staggering 28h 50m in our continuous video

test. That's a full fi ve hours longer than our

previous longest-lasting smartphone on

record, Motorola's Moto Z Play, and just over

11 hours longer than the top-end Galaxy S7.

It shows some serious stamina in everyday

use, too – anecdotally, after a heavy

weekend's sightseeing fi lled with Google

Maps, selfies and the odd game of Mini

Metro, the P2 never dipped below 70%.

Lenovo achieves this by squeezing a

5,100mAh battery into the P2's metal body

(most current phones are around the

3,000mAh mark), but this still isn't a bulky

phone. It does feel a little fatt er than

super-svelte fl agships such as the Galaxy

S7 Edge, but at 8.3mm thick and weighing

177g, the P2 is only 0.6mm thicker and 20g

heavier than the Samsung.

SCRIMP AND SAVE

A fi ngerprint reader sits below the screen,

with a volume rocker and power button on

the right edge of the device, while the left

side treats you to a dual SIM slot and an

intriguing battery-saving switch. Flick it up

and your P2 enters Ultimate Power Saver

mode, switching off data and disabling apps.

It could be a handy 'Defcon 1' function, but

given the already impressive battery life, it's

unlikely to see much use.

Up front, we're treated to a Full HD, 5.5in

AMOLED display, covering 99.9% of the

sRGB colour gamut. As with all AMOLED

displays, its contrast ratio is effectively

perfect. Some of the darker tones, such as

deeper reds and dark blues, were

oversaturated under the scrutiny our colour

calibrator, but you won't spot this day to day.

One sticking point is the P2's peak

brightness, which sits at a lowly 326cd/m 2 .

While that's fi ne for gloomy days, you'll be

squinting at your phone once the sun fi nally

pokes through the clouds. The Honor 6X is

much better suited to such conditions, with a

peak brightness of 502cd/m 2 .

For the price, the P2 is a surprisingly nippy

performer. Powered by Qualcomm's octa-core

2GHz Snapdragon 625 chip and 4GB of RAM,

overall responsiveness was good. With a

Geekbench 4 multicore

score of 3,130, the P2

bettered the Moto G4

by almost 700 points,

and the new Moto G5

by over 750. It wasn't

far behind the Honor

6X's 3,319, either.

Switching to games,

the phone scored a

10fps average in the

onscreen GFXBench

Manhattan benchmark,

beating the Honor 6X

(8.4fps), Moto G5 (7fps)

and Moto G4 (7.7fps).

Sky Force: Reloaded, a

game that grinds to a

halt on lower-powered

devices, ran without a

single frame drop, even

during those actionpacked

enemy encounters.

KEEP OUT

So far, the P2 has scored near-enough full

marks, but then we come to the camera.

It's not that the P2's 13-megapixel rear

camera is bad; it's just that it loses out

compared with the Moto G4. Outdoor test

shots picked up plenty of colour even under

grey skies, with noise kept at bay reasonably

effectively. Flicking on HDR gave mixed

results, with oversaturation on the orange

bricks in our test shot, but it did help to

balance out exposure levels.

Where it falls down is indoors, especially

in low light. Under close inspection, our test

subjects looked grainy and, while colours

were vibrant enough, noise was apparent.

Try to use the P2's camera outside with

plenty of natural light, if you can.

Lenovo's camera soft ware is also a tad

clumsier to use than its rivals. Navigating

through tedious menus isn't ideal for

on-the-fly photography, and the P2 would

have benefi tt ed from Huawei's one-handfriendly

left and right swipes. At least

Lenovo's Pro mode allows you to delve into

settings such as ISO and white balance.

The fi nal and

relatively minor con is

that there's no Android

7.0 Nougat here; the

phone's operating

system is currently

stuck on Android 6.0

Marshmallow, which

feels a little dated in

comparison. We were

told some weeks ago

that an over-the-air

update is coming in the

very near future, but

such an update still

hadn't rolled out at the

time of going to press.

Either way, our few

criticisms of the

Lenovo P2 fade into

insignificance when

considering what it

does well. That absurd battery life alone is

well worth the price: we repeat, this is the

longest-lasting smartphone we've ever seen.

And it doesn't stop there: the P2's display,

performance and build quality are all top

notch given the price, and it's a worthy

competitor to much more expensive

mid-range phones.

P2 ONE

There is competition; you can buy the Moto

G4 for less, and in return get a rear camera

that's a better performer in low light, while the

Honor 6X is a thinner and arguably betterlooking

handset which costs just £25 more.

We were hoping the Moto G5 would be

The P2 lasted a staggering 28h 50m in our continuous

video test – a full five hours longer than our previous

longest-lasting smartphone on record

another addition to this list of cheap-yet-highquality

handsets, but at best it makes only

very minor improvements to the beloved

Moto G4; at worst, it's measurably inferior,

particularly when it comes to performance.

With that in mind, there's nothing else that

combines the P2's all-round performance with

such amazing battery life. If you want a good

deal on a phone that also ensures you've got

a bang-up-to-date device, rather than an older

model, look no further: this is the newest and

current king of budget smartphones.

ISSUE 353 | COMPUTER SHOPPER | JULY 2017

89
---
SMARTPHONES

LG G4

★★★★★

£319 • From www.amazon.co.uk

VERDICT

With its vibrant screen, versatile camera and surprisingly

comfy leather rear, the LG G4 still holds its own

ALTHOUGH LG DIDN'T stick with the G4's

leather backing for its G5 and G6 handsets, it

was still a fantastic fl agship smartphone when

it launched in 2015 – and now that it's over

£200 cheaper than on release, it makes a

great alternative to newer mid-rangers.

Measuring 149x75x8.9mm, it's not the

slimmest of phones, but the leather cladding

adds a real premium feel. The same goes for

the 5.5in display, which has a 2,560x1,440

resolution producing a crisp 534ppi. LG's IPS

Quantum panel helps out here, showing lovely

rich, vibrant colours and eye-searingly bright

whites. We measured peak brightness as

505.66cd/m 2 , so colours look just as punchy

out in the sun as they do indoors.

Blacks were deep at 0.27cd/m 2 , and the

huge contrast ratio of 1,715:1 stands up to

2017 standards. Its sRGB colour gamut

coverage of 96.3% is also respectable for an

IPS screen, though this does point to LG

overstating the G4's capabilities somewhat –

it was supposedly able to reach 98% of the

wider Digital Cinema Initiative (DCI) colour

gamut, which equates to about 120% sRGB

coverage. This, evidently, was not backed up

by our testing.

The G4's other headline feature is the

16-megapixel camera, which makes it the

fi rst to have a colour spectrum sensor on

the back, which LG says is able to read and

interpret colours in exactly the same way as

your own eyeballs. Indeed, colours looked

very natural in outdoor shots – more so

than its contemporary, the Samsung Galaxy

S6 – and while at times it struggled to

correctly expose some areas of particularly

bright cloud, switching to HDR mode quickly

sorted this out.

ABLE SETTINGS

Manual mode is the star here, though. This

gives you control over white balance, manual

focus, shutter speed and ISO live onscreen,

giving you plenty of fl exible controls to be a

little more creative with your photography.

Photo enthusiasts will also appreciate the

ability to save photos as Raw fi les.

LG has also included a quick launch mode,

so you can take instant snapshots without

having to unlock the phone fi rst. It's certainly

very handy, but we wish it hadn't been

mapped to the rear

lower volume

button, as this is

possibly one of the

least accessible

buttons on the

entire phone,

particularly if you're

trying to shoot in

landscape mode.

Rather than

the Qualcomm

Snapdragon 810

favoured by other

2015 fl agship

phones, the G4

contains the slightly

slower hexa-core

1.8GHz Snapdragon

808 chip, plus 3GB

of RAM. This

showed in our benchmarks: in Geekbench 3,

the multicore result of 2,547 is a long way

behind both old and new high-end

smartphones, from the Galaxy S6 to the

OnePlus 3T. Likewise, the G4's single-core

result of just 692 has even been surpassed

by budget phones such as the Honor 6X –

hardly a ringing endorsement for something

that cost £530 on its release.

The G4 has a colour spectrum sensor, which LG says is able

to interpret colours in the same way as your own eyeballs

However, benchmarks are only part of

the story, and the G4 feels beautifully

smooth when multitasking with different

apps or browsing media-heavy web pages.

It also coped well with games, as it ran

Hearthstone, Threes! and Alphabear perfectly

well, despite its somewhat average

benchmarking results: it only produced 921

frames in the offscreen GFXBench GL

Manhattan test, which equates to 15fps.

SWAP MEET

The G4 has a few more advantages as well: it

actually has removable storage (microSD

support up to 128GB), which the Galaxy S6

and Nexus 5X neglected to include, and the

battery can be removed and replaced,

something you can't do on metal unibody

handsets. The G4's battery benchmark result

of 11h 58m isn't amazing when compared to

more recent alternatives, but you could carry

around spares. We can also see the fi rst

glimpses of the LG

G5 modularity in the

G4's ability to take

larger, third-party

battery packs.

Following an

update from

Android 5.1, the G4

currently runs

Android 6.0 – 7.0 (or

more likely, 7.1) isn't

expected to roll out

on this older model

until later in 2017,

which is a shame.

Whatever Android

version is installed,

it comes with LG's

UX interface over

the top. Unlike most

custom skins, we

quite like this one; its Knock Code feature

offers an effective alternative way to unlock

your smartphone, by tapping out a specific

pattern on the screen, while the Smart

Settings menu can enable things such as

changing the sound profi le once you get

home, or automatically opening Spotify

when you plug in headphones.

Meanwhile, Smart Power Saving will warn

you when apps are using too much power,

and create a Smart Notice prompt to let you

shut them down in order to help save battery.

Likewise, the G4 will put the CPU to sleep

when there's nothing happening on the

display, helping you squeeze a few more hours

out of it when the phone is locked.

AGE BEFORE BEAUTY

The G4 may not be as powerful as other

fl agship smartphones – especially those that

have been released in the past two years – but

it certainly has a wealth of features to help it

stand out from the competition. The leather

back is surprisingly elegant, and we defi nitely

prefer it to the slippery glass of the Samsung

Galaxy range. The G4 camera's unique colour

spectrum sensor also puts it neck-and-neck

with the camera on the back of the S6, and its

display looks just as sharp and punchy as

Samsung's Super AMOLED panels.

It's also an unusually fl exible smartphone;

not to the extent of modular devices such as

the Moto Z Play (nor indeed its successor, the

G5), but the inclusion of a microSD slot and a

removable battery makes the G4 a very

accommodating handset indeed. There are

many faster and longer-lasting alternatives,

but at £319 this is absolutely worth the cash.

90 JULY 2017 | COMPUTER SHOPPER | ISSUE 353
---
SMARTPHONES

MOTOROLA Moto G4

★★★★★

£145 • From www.carphonewarehouse.com

VERDICT

Fast speeds, an excellent camera, long battery

life – the Moto G4 is a budget masterpiece

WE'LL GET TO the newer Moto G5 soon, but

it's worth noting that for over a year now, the

Moto G4 has been the yardstick by which all

other budget smartphones have been judged.

It's only recently that genuine alternatives

such as the Lenovo P2 have arrived, such is its

phenomenal balance of quality and thriftiness.

In particular, its octa-core 1.5GHz

Qualcomm Snapdragon 617 processor and

2GB of RAM give it serious power. In

Geekbench 3, the Moto G4 scored 717 in the

single-core test and a massive 3,107 in the

multicore test, about what we'd expect from

a good mid-range device. Indeed, these

scores are on a par with those of the HTC

One A9, which costs twice as much.

It's lovely to use on a day-to-day basis, and

it's even a pretty capable gaming machine,

too. While its GFXBench GL offscreen

Manhattan 3.0 score of 412 frames (around

6.6fps) can't match, say, the Nexus 5X, we

still managed to play Hearthstone without

too much stutter, and simpler games such as

Threes! worked like a dream.

Web browsing has also been significantly

improved over the 3rd Gen Moto G, its direct

predecessor. Despite a curiously lower

Peacekeeper score (632 to the Moto G's 731),

scrolling through media-heavy pages was

much smoother on the G4, and images,

videos and adverts all loaded faster too.

HOUR SURGE

All this power doesn't come at the cost of

battery life, either, as the Moto G4's large

3,000mAh battery lasted an impressive 13h

39m in our continuous video test. That's

fantastic for a budget smartphone, beating

the much more expensive LG G4 and

Samsung Galaxy S6 (although only by two

minutes in the latter's case).

Be mindful, however, that the Moto G4 is

very much in phablet territory, with its screen

measuring 5.5in diagonally. That makes it

quite a handful, and the fl at back makes it

slightly less comfortable than the previous

Moto G, at least in our hands. Fortunately,

though, it didn't take long to get used to.

Still, the overall design could be better:

the subtle crosshatch pattern on the rear

isn't particularly elegant and it's lost the

3rd Gen Moto G's IP67 waterproofi ng,

though its water-repellent coating should

still provide adequate protection from

splashes or a light rain shower.

Those who like to customise their handset

using Motorola's Moto Maker service might

also be a little disappointed, as the G4's

options are decidedly less fun than those

of its predecessors. It

doesn't cost any extra to

change the colour of the

back panel, but the

shades on offer are rather

more muted than the

bright yellows and searing

limes of yesteryear.

The choice of metallic

accents around the

camera are also rather

uninspiring, but

considering it's free, you

may as well personalise it

as much as you can to get

the look you want.

The only thing you do

have to pay extra for on

Moto Maker is if you

want to upgrade the

Moto G4's storage to

32GB. This costs an extra

£30, but when the G4

comes with a microSD

slot that takes cards up

to 128GB anyway, this

seems like a bit of a waste of money.

VISION ACCOMPLISHED

It's a shame the display (and by extension, the

whole handset) isn't a bit smaller, but at least

Motorola has provided it with a 1,920x1,080

resolution, giving it a sharp pixel density of

401ppi. Our colour-calibration tests showed it

was displaying a respectable 90% of the sRGB

colour gamut, and its contrast ratio of 1,693:1

is most impressive as well. It's also

considerably brighter than its predecessor,

as it's able to reach a peak brightness of

539.51cd/m 2 , making it much easier to see

outdoors in direct sunshine. These are, again,

brilliant results for a budget smartphone, and

its punchy colours look great regardless of

whether you're browsing the web or looking

at photos in your gallery.

Speaking of which, the G4's rear

13-megapixel camera remains our favourite

budget smartphone snapper – and that

includes the one on the Moto G5. Despite

sharing the same resolution as the 3rd Gen

Moto G, the difference

in quality is plain to see,

as the Moto G4 captures

far more detail, and

everything looks that

much sharper.

Outdoors, for instance,

colours looked accurate

and its exposure was

expertly judged. It blurred

the occasional bit of

brickwork, but overall it

produced truly excellent

photos. It looks as if

Motorola has toned

down its HDR mode this

year as well, as rather

than make images

appear overly artificial,

it simply makes them