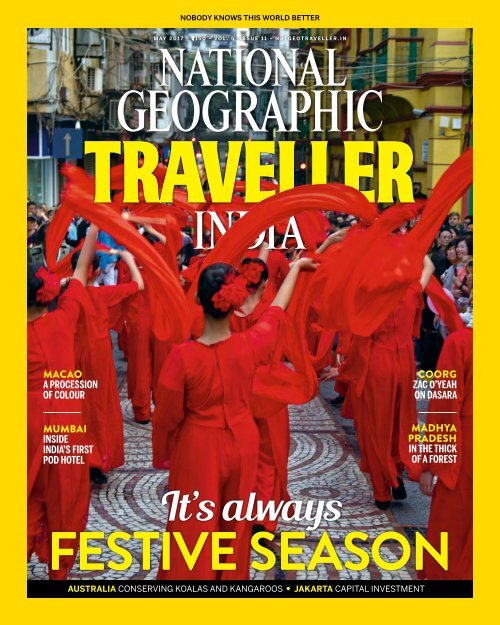 National_Geographic_Traveller_India_May_2017
Create successful ePaper yourself
Turn your PDF publications into a flip-book with our unique Google optimized e-Paper software.
MAY 2017 • ` 150 • VOL. 5 ISSUE 11 • NATGEOTRAVELLER.IN

MACAO

A PROCESSION

OF COLOUR

COORG

ZAC O'YEAH

ON DASARA

MUMBAI

INSIDE

INDIA'S FIRST

POD HOTEL

MADHYA

PRADESH

IN THE THICK

OF A FOREST

It's always

FESTIVE SEASON

AUSTRALIA CONSERVING KOALAS AND KANGAROOS • JAKARTA CAPITAL INVESTMENT
---
national geographic traveller india

MAY 2017

CONTENTS

Vol 5 Issue 11

FESTIVE SPIRIT

JOURNEYS

62

FANTASTIC

BEASTS AND

WHERE TO

FIND THEM

Macao's vibrant

Latin City parade is a

surreal introduction

to its history

By Diya Kohli

70

DANCING IN

THE DARK

Mythology gets crazy,

colourful, and trippy

at Madikeri's Dasara

float parade

Text by Zac O'Yeah

Illustrations by

Charbak Dipta

74

MOVE WITH

THE MOVING

PICTURES

Shrines for cinephiles,

film festivals also offer

the rest of us a bit

of everything

By Kalpana Nair

80

LIGHT AT

THE END OF

THE FUNNEL

Celebrating

Loy Krathong in

Sukhothai, Thailand

By Sugato Mukherjee

104

MY FAMILY

OF OTHER

ANIMALS

From shy bandicoots

to adorable koalas,

Victoria brims with

stories of conservation

and rehabilitation

By Sonal Shah

82

WHEN MAGIC

BECOMES

REALISM

A summer festival in

Denmark brings Hans

Christian Andersen's

world of fantasy alive

By Saumya Ancheri

88

LENS AND

SENSIBILITY

A masterclass on

shooting festivals

around the world in all

their vibrant glory

Text and photographs

by Ashima Narain

94

PLAY WITH

FIRE

Follow the crowds

to these nocturnal

fire festivals around

the world

96

REACHING A

CRESCENDO

From Kolkata to Coorg,

jazz to Indian classical,

these music festivals

around the country are

worth travelling for

By Varun Desai

110

THE JUNGLE

BOOK

Camping in Satpura

Tiger Reserve reveals

wondrous landscapes

and a new perspective

By Kareena Gianani

96

Alibaug, Maharashtra

HIMANSHU ROHILLA

6 NATIONAL GEOGRAPHIC TRAVELLER INDIA | MAY 2017
---
MACAO

A PROCESSION

OF COLOUR

MUMBAI

INSIDE

INDIA'S FIRST

POD HOTEL

MAY 2017 • ` 150 • VOL. 5 ISSUE 11 • NATGEOTRAVELLER.IN

AUSTRALIA CONSERVING KOALAS AND KANGAROOS • JAKARTA CAPITAL INVESTMENT

COORG

ZAC O'YEAH

ON DASARA

MADHYA

PRADESH

IN THE THICK

OF A FOREST

40 118

VOICES

14 Crew Cut

A traveller turns to art for fun and self-discovery

16 Traveller's Check

Can pit stops become destinations too?

18 Wayfaring

Exploring the foundations of faith at a cathedral

in Chennai

NAVIGATE

20 The Insider

Calm meets clamour in Thailand's vibrant capital

28 The Quest

On the trail of the Vikings from Newfoundland

to Norway

32 The Concept

Europe's first underwater museum throws us in

the deep end, Museo Atlántico

34 Off-Season Escape

Soaking in winter-time delights in Sydney

36 Urban Explorer

Derided for being densely populated, Jakarta could

well pull in a crowd

40 National Park

A boat trip through the Sundarbans mangrove

forests yields many secrets

It's always

FESTIVE SEASON

On The COver

Every year in December,

all of Macao hits the

streets for Desfile por

Macao, Cidade Latina

or Macao's Latin City

parade—a celebration of

its multicultural heritage.

Photographer Ashima

Narain captures a group

of dancers making

their way through an

enthusiastic crowd that

has gathered at Tap Siac

Square for the final leg of

the vibrant parade.

REGULARS

12 Editor's Note

122 Inspire

128 Travel Quiz

46 Superstructures

Basaltic formations meet a minimal aesthetic in

Reykjavík's Hallgrímskirkja church

47 Heritage

Secrets on the ceiling of Thiruvananthapuram's

Napier Museum

50 Smart Cities

Futuristic libraries, open-air museums, and avantgarde

restaurants: the Danish city of Aarhus loves to

spring a surprise

52 My City

Discovering traditional cuisine and hidden haunts

in Moscow

54 Road Trip

Coming around the bend in central Oregon, U.S.A.

SMART TRAVELLER

Checking In

56 Cosy up with tiger quolls at Australia's Great

Ocean Ecolodge

58 Spectacular lodges, romantic resorts, and

historic hotels that inspire us to travel

SHORT BREAKS

Stay

118 Camp in style at Jamtara Wilderness Camp

120 Inside India's first pod hotel in Mumbai

RIDDHI MUKHERJEE (TIGER), PHOTO COURTESY: JAMTARA WILDERNESS CAMP (WOMAN)

ASHIMA NARAIN (COVER)

8 NATIONAL GEOGRAPHIC TRAVELLER INDIA | MAY 2017
---
Editor-in-Chief SHREEVATSA NEVATIA

Deputy Editor LAKSHMI SANKARAN

Senior Associate Editor KAREENA GIANANI

Assistant Editor RUMELA BASU

Art Director DEVANG H. MAKWANA

Senior Graphic Designer BRIJESH GAJJAR

NATIONAL GEOGRAPHIC TRAVELER U.S.

Editor In Chief, Travel Media GEORGE W. STONE

Design Director MARIANNE SEREGI

Director of Photography ANNE FARRAR

Editorial Projects Director ANDREW NELSON

Senior Editor JAYNE WISE

Features Editor AMY ALIPIO

Associate Editor HANNAH SHEINBERG

Copy Editor PREETI AROON, LIANE DISTEFANO, EMILY SHENK

FLORY, CINDY LEITNER, MARY BETH OELKERS-KEEGAN, ANN

MARIE PELISH, BRETT WEISBAND

Deputy Art Director LEIGH V. BORGHESANI

Associate Photo Editor LAURA EMMONS

Chief Researcher MARILYN TERRELL

Production Director KATHIE GARTRELL

Digital Director ANDREA LEITCH

Editor/Producer CHRISTINE BLAU

Producers MARIE MCGRORY; LINDSAY SMITH

Associate Producer CAITY GARVEY

Editor, Adventure MARY ANNE POTTS

Senior Photo Producer SARAH POLGER

Associate Photo Producers JEFF HEIMSATH, JESS MANDIA

Editors at Large and Travel Advisory Board COSTAS CHRIST,

ANNIE FITZSIMMONS, DON GEORGE, ANDREW MCCARTHY,

NORIE QUINTOS, ROBERT REID

Contributing Editors KATIE KNOROVSKY, MARGARET LOFTUS,

HEATHER GREENWOOD DAVIS, MARYELLEN KENNEDY DUCKETT

Contributing Photographers AARON HUEY, CATHERINE

KARNOW, JIM RICHARDSON, SUSAN SEUBERT

INTERNATIONAL MAGAZINE PUBLISHING

Senior Vice President, International Media YULIA P. BOYLE

Director, International Magazine Publishing ARIEL

DEIACO-LOHR

NATIONAL GEOGRAPHIC SOCIETY

President & CEO GARY E. KNELL

NATIONAL GEOGRAPHIC PARTNERS

CEO DECLAN MOORE

EDITORIAL DIRECTOR SUSAN GOLDBERG

AD SALES

NATIONAL HEAD AD SALES

Senior Vice President ERIC D'SOUZA

(+91 98200 56421)

Mumbai

Account Director (Print & Online)

RAHUL SINGHANIA (rahul.singhania@ack-media.com)

Key Account Manager PRANUTHI KURMA

(pranuthi.kurma@ack-media.com)

Delhi

Deputy General Manager (Print & Online)

RAJ MANI PATEL (rajmani.patel@ack-media.com)

Key Account Manager AAKANSHA DEOPA

(aakansha.deopa@ack-media.com)

Consultant JASWINDER GILL

(jaswinder.gill@ack-media.com)

Bengaluru

Sr. Account Director (South) S.M. MEENAKSHI

(sm.meenakshi@ack-media.com)

Chennai

Consultant SHANKAR JAYARAMAN

(shankar.j@ack-media.com)

Eastern Region

Authorized Representative JAIN ENTERPRISES

(033 22488257; bcjain@vsnl.com)

Scheduling

Assistant Manager SANDEEP PALANDE

(sandeep.palande@ack-media.com)

ADVERTISING ENQUIRIES TEL: +91 22 49188811, advertise@

natgeotraveller.in

SUBSCRIPTION ENQUIRIES AND CUSTOMER SERVICE

TEL: +91 22 49188881/2/3/4, subscribe@natgeotraveller.in

EDITORIAL ENQUIRIES NATIONAL GEOGRAPHIC TRAVELLER

INDIA

Unit No. 201 & 202, Sumer Plaza, 2nd Floor, Marol Maroshi Road,

Andheri (East), Mumbai – 400 059, India.

letters@natgeotraveller.in

RNI NO. MAHENG/2012/51060

Printed and published by Mr. Anuraag Agarwal on behalf of

Amar Chitra Katha Pvt. Ltd.

Printed at Manipal Technologies Ltd., Plot no 2/a, Shivalli Village,

Industrial Area, Manipal-576104 and Published at Amar Chitra

Katha Private Ltd., Unit No. 201 & 202, Sumer Plaza, 2nd Floor,

Marol Maroshi Road, Andheri (East), Mumbai – 400 059. Published

under license from National Geographic Partners, LLC.

Editor: Ms. Niloufer Venkatraman.

Processed at Commercial Art Engravers Pvt. Ltd., 386, Vir Savarkar

Marg, Prabhadevi, Mumbai-400 025.

ACK MEDIA

Chief Executive Officer ANURAAG AGARWAL

Chief Financial Officer DEEPAK RATHI

Chief Operating Officer M. KRISHNA KIRAN

President SANJAY DHAR

Business Head RITIKA BASU

Manager (Legal & Compliance)

ANIRUDH BHATT

Senior Manager (Subscriptions)

SUREKHA PENDSE

Production Head DEVENDRA SATPUTE

Asst. Manager Production DHANAD PATIL

IBH BOOKS & MAGAZINES DISTRIBUTORS

Director ABIZAR SHAIKH

(abizar@ibhworld.com)

Senior Manager RAJEEV AMBERKAR

(rajeev@ibhworld.com)

Disclaimer All rights reserved. Reproduction in whole or part

without written permission is strictly prohibited. We do our best

to research and fact-check all articles but errors may creep in

inadvertently. All prices, phone numbers, and addresses are

correct at the time of going to press but are subject to change. All

opinions expressed by columnists and freelance writers are their

ownand not necessarily those of National Geographic Traveller

India. We do not allow advertising to influence our editorial

choices. All maps used in the magazine, including those of India,

are for illustrative purposes only.

About us National Geographic Traveller India is about immersive

travel and authentic storytelling that inspires travel. It is about

family travel, about travel experiences, about discoveries, and

insights. Our tagline is "Nobody Knows This World Better" and

every story attempts to capture the essence of a place in a way

that will urge readers to create their own memorable trips, and

come back with their own amazing stories.

COPYRIGHT © 2016 NATIONAL GEOGRAPHIC PARTNERS, LLC.

ALL RIGHTS RESERVED. NATIONAL GEOGRAPHIC TRAVELLER:

REGISTERED TRADEMARK ® MARCA REGISTRADA.

Not saving this issue? Then please recycle.

10 NATIONAL GEOGRAPHIC TRAVELLER INDIA | MAY 2017
---
Editor's Note | SHREEVATSA NEVATIA

OUT OF THE BOX

OUR

MISSION

Before

epiphanies

and selfrealisation,

we believe

travel should

first make

real our

ideas of fun

Years ago, I heard a well-travelled

musician say that men are defined

by the manner in which they pack

their bags. I have since been

obsessive about my boxes. My

shirts are always neatly folded.

My several wires—chargers for iPods and iPads,

phones and Kindles—have their dedicated

pouch. Even my portable speakers have their own

compartment. When put through X-ray machines,

I hope their operators will be stunned by the

symmetry of my packing, but airport employees

unfortunately like keeping their wonderment

to themselves. When journeying to lands and

countries that are unfamiliar, travel can sometimes

seem unnerving, so a precisely packed

bag or case is assuring. You'll

know where things are.

Buying tickets and

planning itineraries leaves

me excited, but only when I

empty my cupboard to make

its contents luggage do I

really start to inhabit two

places at once. While travel

helps disrupt the everyday,

breaking monotony

and habit, it also

makes discovery

possible. Being

foreign can help

us learn who we are

and being away often

gives us a checklist of

what we miss and love

most about home. The

transference of my belongings helps pre-empt this

transition. Departure makes imminent an arrival.

In the last month, we at National Geographic

Traveller India have found ourselves packing

our own little box. Members of a new team, we

have chosen from the abundant experience of

our predecessors their best and most proficient

editorial practices and intent. We have, however,

left some room for the shopping we hope to do

once we dig in our heels. (We're young. We like

things that are new.) In the pages of this magazine,

you'll continue to find maps to places that urgently

demand exploration. As we try and make your trips

more frequent, we'll also ensure your experience

of reading us and our writers will be an escape

in itself. You will get tips on where you can stay,

what you can eat, and what you should do. Your

itinerary will be as neatly packed as our design.

That's a promise we'll always keep.

Since airlines are usually more exacting about

weight than gym instructors, our endeavour

will be to never carry any excess baggage, both

as travellers and journalists. Before epiphanies

and self-realisation, we believe travel should first

make real our ideas of fun. Going to a concert or

a film festival can be as rewarding as witnessing

Loy Krathong, a festival of light in Thailand, or

travelling to Macao for its Latin City parade. In this

month's issue, one we have devoted to festivals

and festivities, we try and blend the traditional with

the contemporary. History fascinates us as much

as culture and it is our eclecticism that gives us

something to celebrate all year

round. More importantly, it

helps us travel light.

Hugh of St. Victor, a

12th-century theologian,

knew how to stay

pertinent a thousand

years later. He had once

said, "The man who finds

his homeland sweet is still

a tender beginner; he to

whom every soil is as his

native one is already

strong; but he is

perfect to whom

the entire world is as

a foreign land." There

is more wisdom than

judgment in Hugh's

assumption. It is, in

the end, our capacity

for wonder which makes travel replenishing and

joyful. We strive to continuously be surprised by

the world, but also by the several homes in which

we live. Since souvenirs have regrettably gone out

of fashion, we intend to bring back stories instead.

Stories that entertain and stories that make the

unknown a touch more accessible. For decades

now, National Geographic has delicately unpacked

the world for us. Its yellow frame helps give the

stories we find at Traveller a perfect box. Our task

is cut out. We'll pack it with care.

National Geographic Traveller India is about immersive travel and authentic storytelling, inspiring readers to create their own journeys and return with

amazing stories. Our distinctive yellow rectangle is a window into a world of unparalleled discovery.

BILLION PHOTOS/SHUTTERSTOCK

12 NATIONAL GEOGRAPHIC TRAVELLER INDIA | MAY 2017
---
Voices | CREW CUT

Down to a

Fine Art

ART ASTONISHES AND ENTERTAINS.

SO DOES TRAVEL. TOGETHER, THEY LEAD

TO SELF-DISCOVERY

Kareena Gianani

is Senior Associate Editor at

National Geographic Traveller

India. She loves stumbling upon

hole-in-the-wall bookshops, old

towns, and owl souvenirs in all

shapes and sizes.

In 2015, I walked into the glass building of Toronto's Art

Gallery of Ontario only because it coolly curved 600 feet

along a street I happened to pass. It was my first day in the

country, and entering some place that resembled a canoe or a

silvery spaceship seemed like the wise thing to do.

Inside, I looked at the works of Emily Carr, a trailblazing

Canadian artist I'd never heard of. But her dramatic paintings

of moist rainforests, brooding cedar trees, and old brave totem

poles told me stories of a Canada we rarely see: a land of rich but

fast disappearing indigenous cultures, way beyond its first-world

shininess. Carr's fierce art protested against European settlers

erasing her homeland's cultures. Slowly, Canada's newness

slipped away and I didn't feel as much of a stranger.

Until late last year, I'd travel for unforgettable places and

people. I savoured the getting away, and the arriving at a place

where foreign tongues fill a bistro during breakfast. I travelled

for boisterous cities, camped in wild forests, or followed a lover

to new lands. But things changed last October, when art began

ruling my itineraries in Paris, Barcelona, and Amsterdam.

From being quarter-day plans squished between long spells of

roaming a city, museums became delightful dawn-to-night

affairs in themselves.

I discovered, for instance, that being in the Louvre building

is like being all over the world at once. One never knows what

one might find. My interactive Nintendo guide took me to a

corner of a room where a marble

sculpture of a woman stretched

out on a mattress, a lone flimsy

sheet wrapped around her left leg.

She was dreaming. The eroticism,

her sinuous grace was palpable;

until I walked over to the other

side and realised that "she" wasn't

a woman. It was the androgynous

figure of Hermaphroditos, carved

as if to half-shock, half-tease a

viewer. It was made between the

third and first centuries B.C., yet

there I was, abashed and amused

by the effect it was having on me.

Someplace else was a painting

of a man dressed in a frilly redand-black

costume. He smiles

mischievously at someone we

cannot see; his eyes are crinkled,

and face flushed. The merriment

exuded by the "Buffoon Holding

a Lute," by Dutch Golden Age

painter Frans Hals can ward off the greyest of moods.

Paris's Musée d'Orsay, on the other hand, is a map of what the

city was like at various points in time. The nightlife and show

business of Paris in the 19th century are brought to life by the works

of Henri de Toulouse-Lautrec. Edgar Degas's "The Ballet Class"

is a window into the moods of Parisian ballerinas once they're

off the stage. One scratches her back absentmindedly, others

only half-listen to their ballet master. Here, centuries collide and

Paris's many histories move about freely. In the evening, strains

of waltz filled this railway-station-turned-museum and at least

80 dancers filled the atrium for a spectacular surprise.

Isn't this what we travel for? To be astonished and entertained;

tickled and thrilled, mostly by people we will never meet? Given

the range of discoveries it entails, art doesn't feel very different

from travel itself. And while it is a great way to see the world,

it is also a way to see myself. Being in Amsterdam's Van Gogh

Museum, for instance, had the most cathartic effect on me. I went

chasing a teenage favourite and found myself wrapped in the life

stories of the artist's hope, tragedy, and great perseverance. In

the Rijksmuseum, watching a local art student sketch Johannes

Vermeer's "The Milkmaid" calmed me as much as the original

painting itself. I also discovered that artists who hang out in

museums make for great conversation: Louvre turned extra

special after I met a Portland-based artist and we sat on a bench

thumbing through his sketchbooks filled with Michelangelos, da

Vincis, and other works I'd never

have checked out if I were alone.

If you, like me, ever feel slightly

daunted by museums, step into

Room 19 of Rotterdam's Museum

Boijmans Van Beuningen. There is

a man's head poking from the floor.

The life-size wax sculpture rises

from a gaping hole in the ground,

looking inquisitively at a roomful

of Dutch Romantics around him.

Fifty-six-year-old Italian artist

Maurizio Cattelan created this

installation because he still feels

like an outsider in the art world.

Yet he breaks new ground, literally.

Travelling for art, above all, is a

reminder of what is most important

to me: to seek beauty and joy, and

to be playful while I can. There is

no such thing as being too happy,

too emotional, or too moved by an

artwork. They are safe places.

PHOTO COURTESY: MAURIZIO CATTELAN, UNTITLED (MANHOLE), MUSEUM BOIJMANS VAN BEUNINGEN

14 NATIONAL GEOGRAPHIC TRAVELLER INDIA | MAY 2017
---
Voices | TRAVELLER'S CHECK

Go Between

LEARNING TO SAVOUR HYPHENATED SPACES

DURING A TRYST WITH A MEDIEVAL ENGLISH TOWN

Debashree MajuMDar

is a freelance writer and editor.

She can often be found plotting

yet another escape.

On my first and only visit to York a little more than a

year ago, I managed a cursory glance at its quaint

medieval magnificence. Ever since, I've been devising

plans of going back. The charm of these in-between

places—tiny towns, quiet cities—that you meet on your way to

longer, well-planned vacations, often linger long after you've

left. With York, the haunting has persisted.

More often than not a modern traveller's itinerary is so

packed with these numerous stops to a carefully picked

destination that a thought is rarely spared about traversing

these sometimes prominent, sometimes nondescript worlds.

They often teem with stories, experiences, and secrets of their

own. In our case it was merely happenstance that led us to York.

We were headed to Scotland for a road trip after a brief stay in

London. York, which falls almost halfway between London and

Edinburgh, sounded like the perfect place to meet a friend who

was set to join us.

These resting places or stopovers rarely get a fair chance. One

checks out of the airport or train station, grabs dinner on the

way to the hotel, and succumbs to exhaustion only to chase that

early exit the next morning. But given a chance, or a few waking

hours, these hyphenated spaces could be mined for insight and

wonder into a world unknown.

The unfamiliar in York unspooled as we made our way to

our address for the night through its residential quarters. A

gust of cold wind and drizzle greeted us at the precincts of the

time-worn walled city. That night the sounds of a heaving river

York, U.K.

were evident. Parking lots lay submerged, a few abandoned

cars disappeared under water. It was November 2015, just

about a month before the Ouse would breach its banks and

wash the whole city away. It would be months before tourists

returned to marvel at its cathedrals and castles. York that

night seemed like a threatening place, its streets deserted,

the wind howling, and its residents visible only through

warmly lit glass windows. Its unique reputation for being

the most haunted European city, which it was awarded

in 2002 by the Ghost Research Foundation International,

seemed accurate.

Stormy weather and eerie warnings notwithstanding, we

stepped out for a peek into the microcosm that York packs

within itself. I hugged myself against the merciless, icy lashes

as we walked through the dimly-lit alleyways that crisscrossed

The Shambles, York's and one of Britain's most iconic

streets. Lined with half-timbered 15th-century dwellings, The

Shambles derives its name from the Saxon shamel, meaning

slaughterhouse. Before the chic boutiques, lace-lined tea

rooms, chocolatiers, and trendy pubs took over, the street used

to be home to butchers who hung their meat for display a couple

of hundred years ago.

It's surprising what an hour's rambling can reveal about a

town. If familiar, in an Indian town for instance, one could step

out for tea or samosa and return with a wealth of information

about life in the neighbourhood following an exchange with the

local chaiwallah. If unfamiliar, and away from home, one could

feel overwhelmed by the revelations of a place that one had

hardly considered including in one's journey. I wandered along

the snickets around the imposing Gothic York Minster, whose

silhouette towered against the inky skies giving it a shadowy,

desolate air. I remember coming to sudden halts, my mouth

agape, staring at the crumbling Tudor dens that appeared to

close in over our heads, stirred with child-like curiosity. The

houses came closest to resembling the tattered lithograph

print-filled books from my girlhood.

On the wintry night we walked down its paths, York revealed

its essence in little bursts—a couple of still open pubs providing

shelter to locals and travellers, and homeless musicians playing

to an invisible audience in the the bitter cold outside. Like all

cities with an enduring character, York is marked by layers

of history and stark contrasts. It's a place where it would

be right to want to "stop all the clocks," much like how its native

W.H. Auden had once written. With its many ghosts of present

and past, it continues to haunt me for not staying, for having

resisted its singular charms. I'm impatient to return to it—

not to dash through it again as a halfway stop but to savour

it as a destination.

G01XM/ISTOCK

16 NATIONAL GEOGRAPHIC TRAVELLER INDIA | MAY 2017
---
Voices | WAYFARING

Room for Doubt

FAITH CAN GIVE A PLACE ITS FOUNDATION, BUT IT IS

CURIOSITY THAT BRINGS ALIVE ITS HISTORY

Sudha Pillai

is an artist, photographer, and

writer. She writes about her

encounters with people, places,

art, and culture.

The best moments in a journey are always unplanned.

Those are the moments that get calligraphed in

travel memes.

After almost a decade I was back in Chennai on work.

I had a few hours to spare before my flight back home. While

bumming around in the hotel room, the leaflet on the nightstand

caught my eye. It was a tract on "sights to see" in the city.

Santhome Cathedral was on the list. On a whim, I got into an

auto and made my way to the Cathedral which stands on the

shores of Marina beach.

The last time I visited the Cathedral, my hair was black

and waist willow. The significance of the Cathedral was

completely lost on a 15-year-old who spent a chimerical summer

reading Thorn Birds. This time around, when I found myself

standing in front of the Cathedral, I was 15 twice over. The hair

was now dyed and the hips wide.

Santhome Cathedral stands atop the tomb of St. Thomas.

There are only three churches in the world that are built over

the tomb of an apostle of Christ, the other two being St. Peter's

Basilica in Rome and the tomb of St. James in Spain.

Amongst all the apostles, St. Thomas, also known as Doubting

Thomas, is my favourite. He was intelligent enough to doubt

and Trojan enough to express those doubts. The search for

knowledge begins with a kernel of doubt. The latter Thomas had

in abundance. Thomas was not present when Jesus appeared to

Santhome Cathedral, Chennai

his disciples after his resurrection. Thomas refused to believe

that the Lord had risen; he would do so only after seeing the

marks of the nails in Jesus's hands with his own eyes. During

his next apparition, Jesus invited Thomas to check His wounds,

which Thomas promptly did before falling to his knees and

crying, "My Lord and My God."

Apostle Thomas came to India in A.D. 52. He was martyred

in then Madras in A.D. 72. When the Portugese arrived in

Mylapore in 1521, the chapel which contained the tomb of St.

Thomas was in ruins. The Portugese rebuilt the church in 1523,

which lasted until the end of the 19th century. The present-day

Cathedral was built in 1853.

The Gothic Cathedral looms large and is almost pastoral in

the middle of a raucous city. The wide teak doors are open to

people from all faiths and walks of life. Inside the 115-footlong

nave, the harsh Chennai sun streams through 36 stained

glass windows creating a psychedelic display of colours. Under

the 155-foot-high steeple stands the statue of Christ with arms

wide open. It tickles me to see that standing on a lotus with two

peacocks for company, the Lord was doing a 'when-in-Rome'.

The underground tomb-chapel, which is built above the place

where St. Thomas is believed to have been buried, is behind the

main Cathedral. This chapel contains a precious relic—a bone

from the tip of St. Thomas's little finger. A caretaker-nun brings

out the relic once every month for a special mass. Looking at the

red and gold box that holds the relic I wonder

what it must be like, for the nun to hold a piece

of a man who walked alongside the Messiah

himself. "I get goose bumps just thinking about

it," says the nun rubbing her arms. "I cannot

express the feeling in words, but it is something

… something …" She gropes for words and fails. I

think I get what she means, though my agnostic

brain cannot shape that feeling into words. The

nun has no doubts in her mind.

There's a pole inside the compound. Locals

call it the Santhome pole. Some believe it was

erected by St. Thomas. But nobody knows for

sure. Legend has it that the sea never crosses

the pole. Even during the Tsunami the sea did

not defy the pole, leaving the church intact

and annihilating the rest in its wake. The place

where Doubting Thomas rests is but a testimony

to the aphorism: Be not faithless, but believing.

Delicious irony!

A few hours later, mid-flight, a teeny-tiny

doubt rears in me: Can faith flourish without

the faithless?

SUDHA PILLAI

18 NATIONAL GEOGRAPHIC TRAVELLER INDIA | MAY 2017
---
NAVIGATE

the quest

On the trail of the Vikings from

28 Newfoundland to Norway

national park

A boat trip through the

40 Sundarbans yields many secrets

superstructures

Basaltic formations meet a

46 minimal aesthetic in Reykjavík

The Wat Arun temple

sparkles on the

Chao Phraya River.

Bangkok Beckons

CALM MEETS CLAMOUR IN THAILAND'S VIBRANT CAPITAL

Bangkok is two-faced. At once

serene and spicy, frenzied

yet romantic, it is the best

of both worlds. The golden

tiles of the temples wink eternal, the

steam from Chinatown hawkers' woks

carries the peppery scents of fragrant

herbs, and down alleys the twisted

arms of aged banyan trees wrap the

gates of rickety wooden homes. At the

same time, baristas hand over lattes

made with Thai coffee beans. Bitters

and Bénédictine line the back bar at

cocktail joints. And when the faded teak

doors of the shophouses roll open in the

morning, you'll find tables stocked by

independent, young designers.

—Jenny Adams

JACK KURTZ, ZUMA WIRE

20 NATIONAL GEOGRAPHIC TRAVELLER INDIA | MAY 2017
---
Navigate | THE INSIDER

BOOK IT

The infinity pool at

Okura Prestige, offers

a stunning view of

Bangkok's skyline.

GO WITH NAT GEO

FOR THE BEACH LOVER

Snorkel around sandy island

shores, kayak along the coast, and

discover watery caves aboard an

iconic long-tail boat on the eightday

National Geographic Journeys

with G Adventures' "Explore

Southern Thailand"

trip ($1,749/`1,12,504 per person

in double occupancy).

Hotel Chic: Thai

Rooms With a View

● Classic

● Trendy

● New

The majority of the rooms in

Siamotif (), a 70-year-old

wooden canal house turned

bohemian boutique hotel, were

hand-painted by a local artist. Amenities

here include balconies overlooking the

canal, bikes for exploring neighbouring

temples, and rotating Thai breakfast

offerings (siamotif.com; doubles from

THB2,800/`5,300). At the colonialchic

Riva Arun (), opened in 2016, the

view steals the show, whether you're

dining on larb ped salad (minced duck

salad) with foie gras on the rooftop or

parting the gauzy curtains of your suite's

floor-to-ceiling windows. The backdrop

is Wat Arun, meaning Temple of Dawn,

even though it's ironically best at sunset

when silhouetted against a bright pink

sky (www.snhotels.com; doubles from

THB3,160/`5,950). To feel like you've

fallen into a James Bond flick, head to

Okura Prestige (). Each of the 240

rooms features a Japanese bidet, rain

shower, and touchpad that controls the

room's lighting. But the infinity pool is

what you'll likely remember most. With

views of the city's skyscrapers, it's 82 feet

long and cantilevered off the 25th floor,

hanging high above the busy streets of

Bangkok (www.okurabangkok.com;

doubles from THB6,375/`12,000).

FOR THE HISTORY BUFF

Listen to Buddhist monks chant

at a traditional temple, visit World

War II spots, and dine in a UNESCO

World Heritage city on National

Geographic Journeys with

G Adventures' eight-day "Thailand

Journey" trip ($1,399/`89,990

per person in double occupancy).

NATGEOEXPEDITIONS.COM

FRANK HEUER/LAIF/VAULT ARCHIVES/REDUX

22 NATIONAL GEOGRAPHIC TRAVELLER INDIA | MAY 2017
---
Navigate | THE INSIDER

SEE IT

Walk Bangkok Like a Local

CRUISE THROUGH THE CAPITAL BY BIKE, THEN TAKE A STROLL

THROUGH A VINTAGE NIGHT MARKET

SPAS

For a quick recharge, head to

Soi Rambuttri street in Old

Town, where kerbside chaiselongue

foot massages are

$5/`325 for half an hour. At

Ruen-Nuad Massage Studio,

inside an 80-year-old house

with gardens, and lemongrassscented

rooms, request its

herbal compress massage,

where tamarind, makrut lime,

and salt are designed to relieve

inflammation (42 Convent

Road; www.facebook.com/

ruennuadmassage; open

10 a.m.-9 p.m.). A pampering

session at the Siam hotel's

Opium Spa is more of an

expensive indulgence, but

includes free transport to

the spa via private boat

(3/2 Thanon Khao; www.

thesiamhotel.com; open

10 a.m.-10 p.m.).

ART GALLERIES

The Bangkok Art and Culture

Centre is home to an array

of contemporary arts, from

design to music, film to theatre

(www.bacc.or.th; Tue-Sun

10 a.m.-9 p.m.). At Dialogue

Coffee and Gallery (533

Phra Sumen Rd.; Tue-Sun

11 a.m.-10 p.m.), the eclectic

coffeehouse and gallery on

Phra Sumen Road, you can

enjoy the attic exhibitions and

also snag an art map of Old

Town Bangkok. It lists nearby

gems like the Foto United

Gallery (519 Phra Sumen

Rd; Tue-Sun 11 a.m.-7p.m.),

with work for sale by local

photographers, and the new

Pipit Banglamphu Museum

(Phra Sumen Rd; Tue-Sun 10

a.m.-6 p.m.), a former printing

facility now dedicated to the

neighbourhood's history.

BIKE TOURS

Many hotels in the city provide

bikes for solo exploration,

but guided bike tour options

abound. Follow Me Bike

Tours has a four-and-a-halfhour

tour of Old Town along

the Chao Phraya River, which

threads through back streets

and includes temple stops and

ferry rides. You also get a link

to photos of your day (www.

followmebiketour.com; bike

tours from THB1,300/`2,430).

If you crave greenery,

Bangkok Bike Adventure will

take you to Bang Krachao,

nicknamed Bangkok's Green

Lung. This thick swathe of

jungle is filled with towering

palms, tropical birds, reptiles,

and ancient canals (www.

bangkokbikeadventure.

com; bike tours from

THB1,300/`2,430).

Chatuchak market

is home to more

than 8,000 stalls.

MARKETS

Start with the sunrise at

Pak Khlong Talad, the city's

premier flower market, where

locals purchase phuang

malai, or garlands made with

frangrant flowers like jasmine

or rose. These are a symbol

of good luck and are offered

at shrines or even given to

special guests. During the day,

the shops along the numerous

alleyways of Chatuchak

market sell everything from

spa products to knockoff

Ray-Bans. After 5 p.m. venture

just outside the city to Talad

Rot Fai, a sprawling, outdoor

night market that focuses on

the nostalgic, such as antique

lamps, vintage clothing, and

'57 Chevys. You can also get

a 10 p.m. shave in the garage

barbershop or sip a beer in a

converted VW-bus bar.

FRANCESCO LASTRUCCI

24 NATIONAL GEOGRAPHIC TRAVELLER INDIA | MAY 2017
---
Navigate | THE INSIDER

EAT IT

IF YOU LIKE

PAD THAI

IF YOU LIKE

PAPAYA SALAD

IF YOU LIKE

TOM YUM SOUP

IF YOU LIKE

CHICKEN SATAY

THEN TRY

Pad Thai Omelette

At the Thipsamai restaurant,

Thailand's most recognisable

dish is nearly unrecognisable

to visitors. A true pad thai

in Bangkok is actually an

omelette with dried shrimp,

tamarind-dressed noodles,

and soft tofu inside an egg

wrapper (313-315 Maha Chai

Rd, Khwaeng Samran Rat;

open 5 p.m.-2 a.m.).

THEN TRY

Pomelo Salad

This salad hails from Nakhon

Pathom Province, but to have

Bangkok's best, head to Issaya

Siamese Club. Its modern

adaptation has pomelo

wedges, hard-boiled eggs, and

fried shrimp in a chilli-lime

dressing (www.issaya.com;

lunch 11.30 a.m.-2.30 p.m.,

dinner 6-10.30 p.m.; bar

closes at 1 a.m.).

THEN TRY

Kuay Teow Neau

Kuay teow neau is Thailand's

rich beef noodle soup. Join

the communal tables at Kuay

Teow Neau Nai Soi on Phra

Athit Road, and dig into the

braised beef and gooey glass

noodles in a lightly spiced

broth with hints of vinegar,

cinnamon, and star anise

(100/2-3 Phra Arthit Road;

open daily 8 a.m.-6 p.m.).

THEN TRY

Pork Satay

Even though chicken satay is

common in restaurants across

India, the pork version is the

norm in Bangkok. Try the

skewers, served upside down

in a plastic sack with spicy

dipping sauce splashed inside,

at the prime place for street

food: Chinatown's vibrant

Yaowarat Road.

Toast this colourful capital city

at The Speakeasy, a rooftop bar

at the Hotel Muse, where the

Wasabi Martini (a mix of green

tea–infused gin, wasabi, elderflower,

and lime juice) comes accompanied

by a small plate of wasabi and grilled

salmon (hotelmusebangkok.com; open

daily 5.30 p.m.-1 a.m.). At the Thai

Skewers of satay (right) are a common sight on Bangkok's streets; One of the special dishes to

try in the city is the beef larb salad (left), that has sticky rice and a fragrant mix of spices.

Three Drinks to Sip in Bangkok

shophouse Smalls, you may fall for Love

Is In The Air, a frothy, hard-shaken blend

of strawberry-infused vodka, sauvignon

blanc, lemon, elderflower, bitters, and

an egg white. This three-storey spot has

an around-the-world menu of boutique

spirits, a penchant for absinthe, and a

menagerie of French antiques on display

(186/3 Suan phlu Soi 1; open daily

5.30 p.m.-2 a.m.). Quince is a warm and

casual space full of brick, dark wood,

candlelight, and opportunities to try

the locally produced Iron Balls gin. It's

the perfect ingredient to the Spitcock

cocktail, which mixes gin with coconut

palm sugar, lime, celery leaves, and fresh

mint (www.quincebangkok.com; open

daily 11.30 a.m.-late ).

CHRISTOPHER WISE (SALAD, SKEWERS), TAMER KOSELI (ILLUSTRATIONS)

26 NATIONAL GEOGRAPHIC TRAVELLER INDIA | MAY 2017
---
Navigate | THE QUEST

Raiders of the Lost Arts

SAGAS, SWORDS, AND SURPRISES ON THE TRAIL OF ALL THINGS VIKING

FROM NEWFOUNDLAND TO NORWAY BY JUDITH FEIN

Flames consume a

Viking ship at the Up

Helly Aa festival in

Shetland, Scotland.

I

always believed that the Vikings

were a bunch of raiders and pillagers

whose only redeeming quality was

that they built sophisticated ships

to carry out their murderous missions.

But one day, at an exhibit in Los

Angeles, I saw elegant jewellery by

Viking goldsmiths, encountered writing

on rune stones, and learned that

Vikings practiced a form of democracy

and that their women had personal

and political power. That's when my

fascination with the eighth-to-eleventhcentury

culture began.

I planned a trip to L'Anse aux

Meadows, in Newfoundland, Canada;

it's the only authenticated Viking site

in North America. There I saw my

first longhouse, built with thick sod

walls and a sod-covered roof. Inside,

historical interpreters recreated

quotidian Viking chores such as

weaving, candle making, and cooking

over an open fire. But what made the

DAVID GUTTENFELDER

28 NATIONAL GEOGRAPHIC TRAVELLER INDIA | MAY 2017
---
Navigate | THE QUEST

deepest impression was learning that

Vikings suffered from lung disease,

caused by smoke from indoor fires. They

were no longer "the Vikings" but, rather,

humans who lived, loved, laughed,

worked, and had lung issues.

I wanted to know where the Vikings

hailed from, and if there were any left,

so I headed to Norway. And I developed

a sort of traveller's tunnel vision. All I

wanted to see were places connected

to the Vikings. On the small island of

Vibrandsøy, I met a couple who were

constructing a 115-foot-long Viking ship

by using the exact building methods

and materials the Norse did.

Inspired by their passion for Viking

vessels, I set off for the Viking Ship

Museum in Oslo, where I saw three

beautiful ships that had carried Vikings

and then carried their bodies. It made

me long to encounter living,

breathing Vikings.

I went on Facebook and connected

to Georg Olafr Reydarsson Hansen,

the director of the annual Viking

Market in Gudvangen. I jumped on a

bus in Voss and rode to an encounter

that transformed my fascination into

an obsession. At the edge of a fjord,

Viking re-enactors came together

as blacksmiths, bards, cooks, runemakers,

and weavers to live the

ancient lifestyle.

My Facebook friend Georg, in a furtrimmed

hat, sailed up to the site on

a Viking ship. He greeted a gaggle of

buff, bare-chested young men who were

flinging each other around in the Viking

sport of glima wrestling. He introduced

me to their coach, Lars Magnar

Enoksen, who gleefully said to me that

even eye gouging was permitted. I

was relieved when Lars explained that

gouging actually meant pressing on an

opponent's eyes—much more civilised.

I was gobsmacked when Lars invited

me to attend his evening sorcery class.

Inside a wooden cabin I sat around

a crackling fire with Lars's students,

learning the fine art of galdurs, or

Viking incantations. Several hours later

we were outside, swilling from a meadfilled

horn, cajoling the powerful forces

of nature with our alliterative galdur.

Once back home, when I would give

public talks, I ended them with an

Old Norse galdur. And the nightstand

next to my bed became a repository for

Icelandic sagas, which are masterworks

Ribe Viking Center, in Denmark, recreates a Viking manor farm circa A.D. 980.

of medieval literature about—what

else?—the Vikings. By night I read and

by day I planned a trip to Iceland.

It was at the National Museum of

Iceland, in Reykjavík, that I saw my first

real Viking sword. A confirmed pacifist,

I was nonetheless mesmerised by a

culture as sensitive as it was violent.

At Viking World I boarded a replica of

a ninth-century ship and then planted

myself in front of videos that explained

the secrets of Viking shipbuilding

and the navigational technology that

allowed them to raid, conquer, and sail

by dead reckoning.

Then I raced to Thingvellir National

Park, the epicentre of the Viking

legal system, where the world's oldest

existing parliament first assembled in

A.D. 930.

Everyone back then was invited to

attend the annual event, where the laws

of the land were proclaimed aloud by a

lawspeaker, who stood at the still extant

Law Rock. Alas, there was no system in

place to enforce the Vikings' subtle and

brilliant legal decisions, so they literally

took matters into their own hands and

used their deadly swords.

Murderers. Sorcerers. Storytellers.

Farmers. Traders. Adventurers.

Inventors. Artists. Lawyers. I am

haunted by this complex culture that

dominated a large chunk of the globe a

thousand years ago. I recently learned

that archaeologist and National

Geographic Fellow Sarah Parcak has

used satellite imagery to try to locate

new Viking sites, which I long to see.

Those fearless ancient mariners speak

to the traveller and explorer in me, and

they have become my mentors, guides,

and inspiration as I set off once again in

their wake.

MORE EVENTS ON

THE VIKING TRAIL

THE ICELANDIC SAGAS

Who said Vikings didn't have a sense of

humour? "Icelandic Sagas: The

Greatest Hits" is a 75-minute

uproarious theatrical show (in

English) in Reykjavík that surprisingly

sums up the ancient tales really well

(icelandicsagas.com; ISK4,900/`2,840;

check website for dates).

UP HELLY AA

Dating from the 1880s, this annual

Viking-themed community event in

Shetland, Scotland, takes place on

the last Tuesday in January. The

highlights are a torch-lit procession

and the burning of a replica Viking

galley (uphellyaa.org; next event on

January 30, 2018).

ROBERT CLARK

30 NATIONAL GEOGRAPHIC TRAVELLER INDIA | MAY 2017
---
Navigate | THE CONCEPT

Under Troubled Waters

EUROPE'S FIRST UNDERWATER MUSEUM THROWS US IN THE DEEP END BY RUMELA BASU

XXXXXXXXXX XXXXXX

Since the installation of sculptures at Museo Atlántico in February 2016, there has been a 200 per cent increase in aquatic biomass in the

steadily growing artificial reef.

Deep in the Atlantic Ocean, on

the southern coast of Canary

Islands' Lanzarote island, lies

an artist's creation amid the

waters' aquatic inhabitants. The Museo

Atlántico is British sculptor Jason

deCaires Taylor's brainchild, one that

took three years to complete. Its exhibits

made with pH-neutral cement are not

only a comment on worldly affairs

but in due time will also create an

artificial reef.

Visitors to this Bahía de Las

Coloradas (Colorados Bay) attraction

have the choice of snorkelling or diving

40 feet to view this underwater world.

Spread over 2,500 square feet, the

museum has 12 exhibits comprising

about 300 figures. Every installation,

from "Los Jolateros", which shows small

boys on flimsy brass boats—a comment

on the fragile future of the world's

children —to "Disconnected," a portrayal

of our unhealthy connection with

gadgets, makes a strong statement.

Hidden within the poignant

works are little details that will aid

in bringing to life the artificial reef.

"The Portal" is an installation of a halfhuman,

half-animal figure looking into

a mirror-like surface that the artist

imagines to be an entry to a different

world. Holding up the mirror is a

platform created by supports that have

little nooks which can be home to sea

urchins, octopus, and small fish. It sits

in the middle of what is known as the

"Hybrid Garden," a collection of cactishaped

sculptures. The pyre of sticks in

"Immortal," also creates little pockets

making it suitable habitat for marine

biomass. The man lying atop the pyre is

made from the cast of a local fisherman.

The local community has been

closely involved in the making of

Museo Atlántico. Many volunteered to

have themselves used as casts for the

figures used in the artwork. In fact,

the centrepiece of the museum, an

installation of 35 figures, is made using

casts of locals. Named "Crossing the

Rubicón," it shows this group of people

walking towards a wall in the middle

of the ocean. Another sculpture is a

circular pile of 200 life-size figures,

known as "The Human Gyre." It is a

dramatic piece of work that evolves

from the idea that all life, including

humans, originated in the ocean. It

also embodies the vulnerability of the

human race when faced with the full

force and power of the ocean. To some, it

could also mean that in the conservation

of oceans they see life coming to a full

circle—you protect what gave you life.

Museo Atlántico leaves lasting images

in the mind of a visitor swimming away

from this underwater world to the one

above the waves.

THE VITALS

Museo Atlántico is located off the

coast of Bahía de Las Coloradas

(Colorados Bay) in the Spanish

territory of Lanzarote in the Canary

Islands. To visit the underwater

museum, one must sign up with

a certified diving company (www.

cactlanzarote.com; diving hours

Mon-Fri 10 a.m.-6 p.m; snorkellers

€8/`550, divers €12/`825).

PHOTO COURTESY: JASON DECAIRES TAYLOR/CACT LANZAROTE

32 NATIONAL GEOGRAPHIC TRAVELLER INDIA | MAY 2017
---
Navigate | OFF-SEASON ESCAPE

Sunny Sydney Up

DISCOVERING WINTER-TIME DELIGHTS IN THE AUSTRALIAN METROPOLIS BY ERIC ROSEN

While many of the sights in Australia's Harbour City are

outdoors, the country's winter (May to September) can still

be a fabulous time to visit, thanks to generally mild weather

and that always-warm Aussie hospitality.

850F

130

mm

60 0

J F M A M J J A S O N D

J F M A M J J A S O N D

Average high temperature

Average rainfall

Sydney's emblematic

Harbour Bridge, as

seen from the water.

ACTIVITY

See Sydney in a New Light

Part outdoor art exhibit, part music festival, and

part symposium, Vivid Sydney is an annual 23-day

event held in May and June that draws innovators

from all over the globe. During that time designers and

artists transform Sydney's urban landscapes into

massive light installations. An extensive programme

of musical performances takes place in venues

across the city, ranging from the Opera House to

electric neighbourhood bars. Visitors can also

purchase tickets to public discussions among some of

the world's top creative thinkers (previous speakers

include Orange Is the New Black creator Jenji Kohan

and Monocle founder Tyler Brûlé).

(www.vividsydney.com.)

DINING

Theatrical Treats

Inside the Sydney Opera House,

seasonal, local ingredients have the

leading role at Bennelong. "Seafood

is best during winter because it's

plump and sweet from the cold

water," says executive chef Peter

Gilmore. Frequently changing winter

tasting menus can include dishes

like roasted John Dory fish with

orache, turnips, native greens, and

umami butter; or quail with plum

jam and macadamia "rubble."(www.

bennelong.com.au; three-course

meals from AUD130/`5,130.)

LODGING

Starry Nights

At the Langham Sydney, which

reopened in 2015 following a

$30-million makeover, each of the

98 rooms blends antique touches,

such as original wooden doors,

with contemporary amenities like

ultra-luxe Dux beds. Be sure to take

a dip in the hotel's subterranean

pool—its famous ceiling depicts

the Southern Hemisphere's night

sky with twinkling fibre-optic

lights for constellations. (www.

langhamhotels.com; doubles from

AUD375/`18,300.)

FRANK HEUER/LAIF/REDUX (BRIDGE), TAMER KOSELI (ILLUSTRATION)

34 NATIONAL GEOGRAPHIC TRAVELLER INDIA | MAY 2017
---
Navigate | URBAN EXPLORER

Invest in this Capital

DERIDED FOR BEING DENSELY POPULATED, JAKARTA COULD WELL PULL IN A CROWD BY BHAVYA DORE

The city's many rooftop bars offer the best

vantage points for a view of Jakarta shimmering

by night; A bronze statue of Barack Obama as a

child (bottom) stands in the yard of the school he

attended during his six-year stay in the city.

Under a bridge outside Glodok,

Jakarta's Chinatown, I

spiritedly tried to bargain

with a taxi driver a little after

sundown. "Two hundred thousand

Indonesian Rupiah (IDR)," he said,

opening the proceedings. I pulled out

my notebook and began scribbling

on the last page. "Fifty thousand

rupiah," I wrote. This went on for

five minutes as we parried using

fingers, ink, and notes of Indonesia's

hyper-inflated currency to

express ourselves. Eventually we

settled on IDR70,000/`345.

The driver was a rider, and the

taxi a bike. In Jakarta they are

slender Bajaj-like bikes known

as ojeks. In the city's famously

congested highways, where traffic

stalls for vast swathes of time,

the ojek is the best way to get

around. Clutching feverishly to the back

of the bike and snaking through waiting

cars, over bridges and through side

lanes—here was a bespoke adrenaline

rush in a sprawling East Asian

megapolis.

Jakarta is panned as an overcrowded,

hopelessly jam-packed

city, but it's still possible to eke out

some good bits from Indonesia's

capital. The beaches are in Bali and

the culture is in Jogjakarta, but if

you're passing through Jakarta,

some fun can yet be had.

The bike is of course a means

of transport rather than a

tourist attraction, yet the ojek

for the ojek's sake certainly has

its moments. (If you really want

to go native, you should buy

an anti-pollution face mask—

now available in dazzling

colours, cutting-edge patterns and often

embossed with movie characters.) The

reason I had needed one in the first

place was because I was just coming

from the city's old town—Batavia—the

former Dutch centre. The hulking ships

lurk near the water's edge, and a whiff of

colonial hangover still pervades the area.

To get to Sunda Kelapa, the old port,

I had to take a cycle taxi from the old

square, perched precariously as the old

cyclist pulled my weight. I deboarded

and took a little ride around the harbour.

"Fifty-thousand rupiah," began the

whiskery boatman, as he tried to lure me

into his little wooden vessel. The port

has none of the grandeur from times

past, but it has a certain gravitas and

character. It's Jakarta's faint nod to its

Dutch past. The boatman ultimately

prevailed, though I only parted with

IDR20,000/`100 for a quick tour of the

HANAFICHI/ISTOCK (CITY), BHAVYA DORE (STATUE)

36 NATIONAL GEOGRAPHIC TRAVELLER INDIA | MAY 2017
---
Navigate | URBAN EXPLORER

very dark grey swampy waters.

The Fatahillah square in Batavia is

somewhat more appealing—it represents

the old settlement established by the

colonisers. The area was once the centre

of the Dutch East Indies and a lively

site of the bustling spice trade that

dominated the 17th and 18th centuries.

The 1.3 square kilometres of the heritage

quarter has a clutch of museums and

places to eat; though even simply

walking around is its own pleasure.

That apart, the city has a few

monuments, many are concentrated

in the centre. Monumen Nasional

(Monas), Jakarta's national monument,

at the spiritual heart is a monument

commemorating the Indonesian

independence struggle, and is

determinedly minimalist. Visitors can

take an elevator to the observation

deck that offers grand views of the

city. Nearby is the impressive National

Museum of Indonesia; covering various

periods of history and showcasing

multiple cultural artefacts. (Monas,

daily 8.30 a.m.- 5 p.m.; closed last

Mon of the month; National Museum,

www.museumnasional.or.id; open

Tue-Fri 8.30 a.m.-4 p.m., Sat-Sun

8.30 a.m.-5 p.m.)

However, one of the things the city is

proudest of is its association with the

former first citizen of the United States.

At a school in the posh Menteng area is

a statue erected in honour of its most

famous student; Barry to schoolmates,

President Obama to everyone else.

"A young boy named Barry," says the

commemorative plaque, "played with his

mother Ann in Menteng area. He grew

up to be the 44th president of the United

States and Nobel peace prize winner

Barack Obama." He spent four years

of his childhood in the country after

his mother married Lolo Sotero, her

Indonesian second husband.

By the time I had arrived at the Barry

pilgrimage halt, I had spent my third day

in the capital, and was ready to hit the

smaller towns outside. But not before

one last stop that evening: the Skye bar

and restaurant. This is one among other

bars in the city lording over everything

The Indonesian rupiah (top left) has been revalued several times due to periods of economic

inflation; The 500-year-old Sunda Kelapa harbour (top) was an important port for the

15th-century Pajajaran kingdom as well as the Portuguese; The best way to navigate Jakarta's

bustling roads is on a motorcycle taxi or ojek (bottom).

from a suitably high vantage point. It's

on the 56th floor, and sits atop a mall.

At night, as the bright lights in the big

city come on, what better way to sign

Orientation Jakarta is a sprawling

megapolis in northwest Java, with a

population of 9.6 million.

Getting There Singapore Airlines,

Malindo, Air India, all fly to Jakarta

from Mumbai and Delhi with a stop at a

Southeast Asian gateway.

Getting Around Blue Bird Taxis are

THE VITALS

off from the capital than with a beer in

hand, from a vertiginously high rooftop?

(www.ismaya.com; daily 4 p.m.-1 a.m.;

beer from IDR60,000/`290.)

reasonable, air-conditioned, ply by meter,

and can be hailed on the spot. Ojeks, the

motorcycle taxis, are a speedy delight,

and can be hailed on the spot as well.

Bargaining might get you a better price.

Visa For Indian tourists, visas can be

obtained on arrival. A 30-day singleentry

visa costs $35/`2,260.

KZENON/SHUTTERSTOCK (BOAT), FIGHTBEGIN/ISTOCK (MEN), DIDIONA.SHUTTERSTOCK (MONEY)

38 NATIONAL GEOGRAPHIC TRAVELLER INDIA | MAY 2017
---
Navigate | NATIONAL PARK

In the Eye of the Tiger

A BOAT TRIP THROUGH THE SUNDARBANS MANGROVES YIELDS MANY SECRETS

TEXT & PHOTOGRAPHS BY RIDDHI MUKHERJEE

The lush mangroves of the Sundarbans

teem with creatures big and small,

like the rhesus macaques and the

brown-winged kingfisher (bottom).

Ever since I read Amitav Ghosh's

The Hungry Tide as a boy,

I've been fascinated with the

Sundarbans. I first visited the

national park in 2015, and have been

back many times since. On Google

Maps, the mangrove forest appears as

a small patch of green along the coast,

crisscrossed by veins of blue. But once

you get to Godkhali Ghat ferry point and

set off in a boat, the Sundarbans emerge

as an immense, mysterious jungle,

a birthplace of myths that is

ruled by tigers.

The boat trip I took

on my last visit to the

Sundarbans yielded

some amazing

wildlife encounters,

thanks to my crew,

especially my guide Mrityunjay Mondal.

On the second day, Mrityunjay

was scanning the forest from the

Sudhanyakhali watchtower with his

binoculars, when he spotted a rare and

elusive leopard cat. We watched the

graceful feline for a few seconds before

it vanished into the forest. I also

managed to photograph the seldom

seen green-bellied malkoha from the

same spot.

Another day, we heard a tiger

growling near the Panchamukhani

Zone while sitting down to lunch.

Ignoring our food, we scanned

every inch of the mangrove

thicket. Suddenly, another

tiger's call pierced the air. My guide

guessed it might be a mating pair. The

tension grew as our boat cruised slowly

forward. Suddenly, about 30 feet away

from us, behind the scraggy trees, was

an immense male Bengal tiger. He let us

photograph him for a leisurely 10 to 15

minutes before ambling into the forest.

Sticking to the middle of the river, we

soon spotted a large female with a tawny

coat, who prowled along the banks

before disappearing into the thicket.

Their intermittent roars continued, and

later in the day we heard them chasing a

group of chital.

Another evening, just as we left

the protected area around teatime,

Mrityunjay spotted two huge saltwater

crocodiles swimming towards us at an

incredible pace. Soon, they were right

beside our boat, swimming behind each

other or side by side. Then, amazingly,

the trailing crocodile gained speed,

40 NATIONAL GEOGRAPHIC TRAVELLER INDIA | MAY 2017
---
Navigate | NATIONAL PARK

catching the other one by surprise. All

hell broke loose and the river turned

turbulent as the titans engaged in a

dramatic fight. I teared up in gratitude

for having witnessed this when it came

time to say my goodbyes to the crew.

EXPLORE

Because of the muddy terrain, the only

way to explore the park is by boat. Due

to safety reasons walking in the forest

is prohibited, except for around the

watchtowers, with a guide as escort.

The forest department issues dawnto-dusk

permits for the forest's various

zones: Sajnekhali, Sudhanyakhali,

Pirkhali, Lebu Khali, Bonbibi Varani,

Panchamukhani, Netidhopani, Dobanki,

Sarakkhali, and Choragaji. It is common

to see many other boats as well in these

open parts of the forest.

The landscape—a blue sky reflected

on dark green waters—does not vary

much between these zones, but each

has its own charm. The Sudhanyakhali

Watchtower is a well-known vantage

point, located about 25 kilometres from

Canning and accessible by boat. Visitors

can catch the sunrise and then pray for

a tiger sighting to the forest goddess

Bonbibi at a shrine located at the tower's

base. At the Dobanki Watchtower, a

canopy walk allows visitors a closer

look at the mangrove vegetation and

habitat. Guided village walks are also

recommended. At sunset, visitors must

return to their resorts or specified

spots where boats can drop anchor for

the night.

WILDLIFE

Though the Bengal tiger is king of the

Sundarbans, there are many other

species of beasts and birds in this rich

habitat. Others felines include the

leopard cat, fishing cat, and jungle cat.

Chital deer, rhesus macaques, and wild

boar hide among the trees, and water

animals include otters, water monitor

lizards, Irrawaddy dolphins, Gangetic

dolphins, and saltwater crocodiles.

There are also elusive snakes and

colourful birds of all sorts.

A dedicated naturalist and wildlife

photographer can make spotting animals

much more rewarding. Way2Wild

organises nature study and photography

tours with experienced trackers and

naturalists (www.way2wild.in; `13,500

per person for a 2-night/3-day photo

A boat safari (top and middle right) in the Sundarbans gets you a front seat to all the action,

be it spotting a red-tailed bamboo pit viper (middle left) at the Sudhanyakhali watchtower, or

watching a vicious fight between saltwater crocodiles (bottom).

42 NATIONAL GEOGRAPHIC TRAVELLER INDIA | MAY 2017
---
Navigate | NATIONAL PARK

Tigers are the main draw at the Sundarbans,

a UNESCO World Heritage Site. Since a large

area of the mangroves is often underwater,

these big cats are expert swimmers and can

survive on fish, crab, and other crustaceans.

tour; includes all meals, jungle cruises,

and transfers to and from Kolkata).

SAFARI TIMINGS AND COSTS

The park is open throughout the year.

August to mid-February are the more

pleasant months to visit, and October

to January the most popular, with

perfect tidal conditions. The weather

gets temperamental from mid-March

to July. Permits can be obtained from

the Sajnekhali forest office. The safaris

usually take place from dawn to dusk.

Boat permit is `400 per person for

all other zones except the interior

Netidhopani zone, which is near the core

area and costs `800. Visitors pay `60-

120 depending on the season. All forest

permits can be obtained from Sajnekhali

forest office which is an hour and a half

from Godkhali.

GETTING THERE AND AROUND

The nearest airport is Kolkata, which

is about 100 km/3 hr north of the

Godkhali Ghat ferry point. From

Godkhali, the rest of the journey is by

boat. Boat charges range from `3,000-

10,000 per day depending on the craft

and the season (Nov-Jan are peak

months). Most resorts can arrange a

boat safari; I recommend Shuvarthi

Guha (98367 11148), Gouranga Mondal

(80177 38940), and Nitai Mondal

(97329 09545, 90910 36626) who have

travelled with many photographers and

understand their pace.

STAY

Boats The best way to enjoy the

Sundarbans is to sit on a boat in the

middle of the river with a hot cup of tea,

listening to the stories of the naturalists

and boatmen. Boats can be hired from

Godkhali Ghat, and most have kitchens,

beds, and bathrooms.

Resorts Besides boat stays, resorts,

too, provide packages that include

accommodation, food, boat safaris,

and village walks. Tora Camp situated

on Bali Island provides an authentic

village experience (www.toraresort.in;

doubles from `5,883). Sundarban Tiger

Camp, also in Dayapur, is an eco-friendly

resort with rooms decorated with locally

sourced materials (www.waxpolhotel.

com; doubles from `4,810). West Bengal

Government's Sajnekhali Tourist Lodge

in Pakhiralaya village is a good budget

option (www.wbtdc.gov.in/Static_

Pages/sajnekhali_lodge.html; doubles

from `2,500).

SUNDARBANS TRIVIA

Sundarbans has been significant

ever since the Mughal era. It was first

surveyed under Akbar's reign and has

since been an important place for

sourcing timber, honey, paraffin, salt

and fish. It was under the governance of

the East India Company since 1756 and

was declared a national park in 1984.

Around 14 per cent of its population

of four million subsists on agriculture.

The others live off the forest and

river and collect honey and fish for

their livelihood.

In the Sundarbans, the Hindus and

Muslims worship the same gods. The

cult of Bonbibi (the goddess of forests)

and Dakshin Rai, the tiger god, are

widely followed here.

44 NATIONAL GEOGRAPHIC TRAVELLER INDIA | MAY 2017
---
Navigate | SUPERSTRUCTURES

Volcanic Passion

BASALTIC DESIGN FORMATIONS MEET A MINIMALIST AESTHETIC IN REYKJAVÍK BY RUMELA BASU

Architect Guðjón Samuel

never saw the completion

of his iconic creation which

now adorns every postcard,

poster, and magnet in Reykjavík,

Iceland. The Hallgrímskirkja church,

at Hallgrímstorg 1, was built in honour

of the saint and poet Hallgrímur

Pétursson, well-known for his work

"Hymns of the Passion", a collection that

is still played on the radio for Lent every

year. The building is not only the city's

most recognisable structure but also the

tallest church in the country.

Samuel was fascinated with the

shapes that formed when lava cooled

down to basalt and envisioned a design

for the city inspired by basalt rocks.

Hallgrímskirkja's facade embodies

this vision. Its long, dark central tower

and sloping sides resemble a gigantic

stalagmite of cooled lava residue, one

that is 245 feet tall.

When it was first proposed, the

unconventional design raised eyebrows.

However, after 40 years in the making

from 1945-1986, it is one of the city's

landmark symbols. The church is visible

from almost every corner of Reykjavík

and hardly any visitor returns without

having visited it.

For its imposing grand exterior,

the interior is rather simple. Tall grey

columns flank the aisle leading to the

altar and seem to curve into pointed

arches creating a canopy punctuated

by large glass windows. In the long

rows of seats, wood and basalt-coloured

upholstery complement each other. The

most eye-catching feature inside is a

pipe organ added in December 1992,

about 50 feet tall and with 5,275 pipes.

The 25-tonne organ made by German

organ builder Johannes Klaishas

featured in pieces by international

concert organist Christopher Herrick.

Visitors enter through stained glassfitted

doors to stand right below it and

then walk towards a small stage

beside which is the altar. The

minimalist interiors are all a reflection

of the Lutheran roots of the

church and give it a distinctly Gothic

design aesthetic.

The Hallgrímskirkja offers an

unparalleled view of the city. And

elevator through its bell tower leads to

an open-air observation deck. From

that vantage point the Hallgrímskirkja

feels like a sentinel quietly watching

over Reykjavík.

A statue of Leifur Eiriksson, said to be

the first European to discover America,

looks out to rooftops of waterfront

homes in the distance. The houses and

lanes stretch out to meet the azure

waters of an inlet of the Norwegian

Sea and to the viewer atop the tower,

Reykjavík spreads out below like a

colourful carpet.

(www.hallgrimskirkja.is; Oct-May

9 a.m.-5 p.m., Jun-Sep 9 a.m.-9p.m.;

Sunday service 11 a.m.; tower entry

adults ISK900/`520, children 7-14

ISK100/`60.)

Every night, lights illuminate

the Hallgrímskirkja church and

the statue of Leifur Eiriksson,

credited for discovering

America almost 500 years

before Columbus.

FOTOVOYAGER/ISTOCK

46 NATIONAL GEOGRAPHIC TRAVELLER INDIA | MAY 2017
---
Navigate | HERITAGE

Culture is Looking Up

MORE THAN ITS ARTEFACTS, THE NAPIER MUSEUM IN THIRUVANANTHAPURAM IS

WORTH VISITING FOR ITS MESMERISING CEILING BY SUDHA PILLAI

The 19th-century design of Thiruvananthapuram's Napier Museum is an amalgam of Kerala, Chinese, Italian, and Mughal architecture.

Summers can be 'hot as Hades'

in Thiruvananthapuram in

God's Own Country, except

in one place in the city—the

Napier Museum with its natural air

conditioning. Right then, though,

standing in the middle of this landmark

building in the city, I could hear my

friend's voice in my head: "Don't forget

to look up at the ceiling," he had said.

When you think of overwhelming

ceilings, you think of the Sistine Chapel

or the Blue Mosque in Istanbul or the

Sensoji Temple in Tokyo. Museums

usually do not feature on the list. The

only deviation is the National Gallery

of Victoria in Melbourne: its 200-footlong

ceiling is made of 10,000 pieces of

hand-cut glass in 50 different colours.

At Napier, I find myself with my mouth

agape at hand-painted frescoes on the

coffered ceiling of one of the oldest

museums in the country.

Situated inside a garden spread

over 55 acres, the Napier Museum

was established in 1857, and in 1880

the old building was demolished and

a new structure built by Ayilyam

Thirunal Maharaja of Travancore. It

I walked around the museum

and discovered art and history

in nooks and corners, roofs,

balconies, and ceilings. It was

like finding forgotten ancestral

treasures in the attic

was designed by the English architect

Robert Chisholm who was sent to

'Trevendrum' by Lord Napier,

the Governor General of the then

Madras Presidency.

Chisholm conceived a museum

based on the local architectural style.

However, Kerala's native architecture

has for long been influenced by the

cultures of its trading partners—

Chinese, Japanese, Arabs, Europeans

and so on. Hence Chisholm's 'native

design' was, in fact, a combination of

Kerala, Chinese, Italian, and Mughal

architecture. It can be seen in the

Gothic roof, minarets, hand-painted

frescoes and extensive ornamentation

of the museum. This dreamy, romantic,

and fusionistic style is known as

TSCREATIONZ/SHUTTERSTOCK

MAY 2017 | NATIONAL GEOGRAPHIC TRAVELLER INDIA 47
---
Navigate | HERITAGE

Napier museum's facade features many interesting minute details like oriel windows that are supported by carved wooden horse corbels (left).

Inside, the historical artefacts (bottom right) battle for attention with the vaulted ceiling adorned with handpainted frescoes (top right).

Indo-Saracenic (Saracenic is derived

from the word Saracen, an archaic

name for Muslims given by the British).

Also known as Indo-Gothic, it was the

style of architecture used by British

architects in late 19th century India.

It drew elements from native Indian

architecture and combined it with

the Gothic revival style favoured in

Victorian Britain. But even with so

many styles and influences in play,

Napier Museum did not end up a

mish-mash of a museum. Only to the

destitute of vision, the museum might

be a garish amalgamation.

Aeons ago, a visitor told a curator

of the Napier Museum: "I suggest

you remove all the artefacts from this

building. Because the building itself is an

elegant object d'art and should be viewed

singularly without any distractions." I

concur. For the next couple of hours,

the rare artefacts, idols, carvings, coins,

and paintings in the museum became

invisible to me. Craning my neck

upwards, I walk around the museum to

discover art and history in nooks and

corners, arches, balconies, and ceilings.

It was like finding forgotten ancestral

treasures in the attic. Riches wrapped

in fables and fantasies, waiting to reveal

themselves to those who come looking.

The museum has three massive halls

connected by long corridors. The walls

are striped—in pink, blue, yellow, and

cherry red. They augment the scalloped

arches in banana yellow colour with

red, white and pink latticework. It is

a cornucopia of colours; as exciting

and eye-popping as a chilled glass of

falooda on a hot summer afternoon.

Wide balconies flank the central hall

at both ends, and they are supported

by wooden corbels that have intricately

carved yalis or dragons. Stained-glass

windows stipple the walls throwing

up magnificent play of light. The ledge

above the doors carries the statues and

carved figurines of goddesses. Floral

motifs embellish the friezes on the

walls. These are interspersed with the

design of Valmpuri shankhu or the

conch shell of Lord Vishnu—the deity

of the royal family of Travancore and

also the royal insignia.

By now, there should be a crick in

my neck. But I don't feel it as I get

SUDHA PILLAI

48 NATIONAL GEOGRAPHIC TRAVELLER INDIA | MAY 2017
---
caught up in all the action above. The

museum's vaulted ceiling has handpainted

panels, beams, and cross-beams

in teakwood with muted gold-coloured

inlays that sparkle in the light. Oriental

frescoes of flowers and leaves in yellow,

red, green and earthy colours contrast

the wooden braggers of dragons

supporting the painted beams. The

colours on the frescoes seem to change

with the light of the day. The frescoes,

which have been painted using natural

vegetable dyes have withstood the test

of time and remain, one of the chief

attractions of the museum.

I wind my way up the dusty, neglected

narrow stairway to the top of one of

the four watchtowers. At the end of

it is a breathtaking aerial view of the

museum and the city beyond. The roof

resembles a well-constructed abstract

work or an exciting board game. A

closer look reveals the ornamental

stone projections of the gable roof. It

is truly an artisan's labour of love.

Otherwise, how does one explain the

decorated railing or cresting along

the ridge of the roof where it is bound

to go unnoticed and unappreciated?

From this vantage point, I could see the

extensively decorated pediments of the

gable roof. There are also bargeboards

or decorative woodwork on the rafters

projecting from the roof. The soffits

are in terracotta, stone, and wood. The

building is dotted with oriel windows,

supported by richly carved corbels

and tassels in the form of mythical

horses. This is a characteristic feature

often seen in Victorian and Arab

(mashrabiyya) architecture.

It is blazing hot outside, but I am

yet to break a sweat while walking up

and down inside the museum. The

famed natural air cooling of Napier

Museum is at work. The museum has

double walls with ventilators, which

trap the hot air, tempering it before

allowing it to flow into the museum,

providing a cooling effect without any

modern air conditioners. Understandably,

footfalls to the museum increase

during the summer season, I am told.

The Napier Museum with its Gothic

structure, high arches, intricately carved

balustrades, hand-painted frescos and

stone ornamentations stands testimony

to a cultural sharing from aeons ago. I

have always wondered why some of the

most famous artworks in the world were

high up on the ceilings of monumental

structures. What was the purpose? I

discovered that the act of looking up

could lead to an uplifting experience.

I am glad I listened to my friend and

"looked up".

THE VITALS

Getting There The Napier Museum

is on L.M.S Vellayambalam Road

in Thiruvananthapuram's Kanaka

Nagar. It is 3 km away from the

Thiruvananthapuram Central Railway

Station and 9 km from the airport.

Open Tuesday, Thursday, Friday,

Saturday, Sunday 10 a.m. to 5 p.m.;

Wednesdays 1 p.m. to 5 p.m.; closed

on Mondays.

Despite soaring temperatures outside, the natural air-conditioning system of the museum ensures the interiors are always cool.

SUDHA PILLAI

MAY 2017 | NATIONAL GEOGRAPHIC TRAVELLER INDIA 49
---
Navigate | SMART CITIES

Maximum City

FUTURISTIC LIBRARIES, OPEN-AIR MUSEUMS, AND AVANT-GARDE RESTAURANTS: THE DANISH CITY

OF AARHUS LOVES TO SPRING A SURPRISE BY ADAM H. GRAHAM

Situated about 160 kilometres

northwest of Copenhagen,

Aarhus has been designated

a 2017 European Capital

of Culture, and both the city and the

central Denmark region received the

title of the 2017 European Region of

Gastronomy. To see it now is to witness

a city undergoing a transformation,

as new food markets, light-rail links,

futuristic libraries, refurbed hotels,

and value-centric restaurants—an

alterna-tive to Copenhagen's exorbitant

prices—have reinvigorated this

Danish city.

But Aarhus's makeover has been in

the works for the past several years. In

2009 it announced plans to go carbon

neutral by 2030, and it has stayed on

track since. The city has evaluated

70-plus new technologies to determine

which will have the biggest impact on

carbon reduction.

Most of all, it's presenting a variety of

ways to experience its charms, both new

and old.

EAT!

Food Fit for Vikings and Visitors

Last August, Aarhus Street Food

market opened in a former bus garage

with around 20 vendors offering options

such as grilled cheese with truffled

vesterhavsost (a Danish Gouda), bao buns

stuffed with beef and kimchi, and spicy

Nigerian stews (aarhusstreetfood.com;

open daily, check website for timings).

Bryggeriet Sct. Clemens restaurant and

brewery, located on the site of a Vikingage

combmaker's workshop, serves

turbot with apple butter and fennel,

dry-aged steaks, and hoppy pilsners

(bryggeriet.dk; turbot DKK295/`2,710;

open daily; check website for timings).

Aarhus has three Michelin-starred spots,

but eco-bistro Pondus was one of two

to receive the Bib Gourmand, awarded

to restaurants serving quality food at

reasonable costs. Daily specials include

goat cheese with lemon and walnut and

silky cod soups (restaurantpondus.dk;

set menu from DKK295/`2,710; open

daily 5.30-11 p.m.).

The 150-metre-long rainbow-coloured

glass walkway known as "Your rainbow

panorama" is not only an architectural

feature but also a permanent art

installation at the ARoS art museum.

JULIAN BROAD

50 NATIONAL GEOGRAPHIC TRAVELLER INDIA | MAY 2017
---
The stairs of the Moesgaard Museum (top left) have seven hominin sculptures depicting the

origin of humans; Hotel Royal (top right), opened in 1838, is one Aarhus's iconic landmarks; The

Salling Tower (middle) offers a 360° view of the harbour and city; At Den Gamle By or The Old

Town, you can ride a horse-drawn carriage (bottom) and see buildings from the 16th century.

STAY!

Coastal Views, Modern Comforts

Rest up on a quiet beach along a stretch of

sandy Jutland coast at Marselis Hotel, a

mid-century Aarhus respite that faces the

calm Kattegat Sea (www.helnan.dk/en;

doubles from DKK1,250/`11,500). For

those who'd rather be downtown, try the

Hotel Oasia, near Rådhusparken (City Hall

Park), where 65 design-forward rooms are

fitted with custom furniture from Danish

makers like Montana and Kjærholm

(www.hoteloasia.com; doubles from

DKK895/`8,235). The newly revamped

First Hotel Atlantic overlooks the city's

bustling harbour and the walled Aarhus

River (www.firsthotels.com; doubles from

DKK1,004/`9,235).

PLAY!

Architectural Amusement Park

Mounted atop a dock at the edge of the

harbour, Dokk1 is a heptagonal library

that opened in 2015. The mixed-use

facility is the largest public library in

Scandinavia and hosts cultural events

ranging from 3-D printing demos to table

tennis meet-ups (dokk1.dk; library open

Mon-Fri 8 a.m.-9 p.m., Sat-Sun 10 a.m.-

4 p.m.). The wedge-shaped exterior of

Moesgaard, an archaeology museum,

protrudes from the ground like an

excavated relic. Its galleries house the

2,000-year-old Grauballe Man, a famed

bog body discovered in Denmark in 1952,

and interpretive displays on the Vikings

and the Bronze and Iron Ages (www.

moesgaardmuseum.dk; Monday closed;

check website for timings; entry 23 Oct-

7 Apr adults DKK120/`1,100, 8 Apr-

22 Oct adults DKK140/`1,290; visitors

under 17 free). And in 2017, ARoS,

Aarhus's massive art museum, will receive

an open dome extension designed by

American artist James Turrell (en.aros.dk;

Monday closed; check website for timings;

entry adults over 28 DKK130/`1,195,

adults under 28 DKK100/`920, visitors

under 18 free).

SHOP!

Cultural and Creative Souvenirs

Den Gamle By is a living recreation of an

old town, playing up several of Denmark's

historical periods. The 1864 Merchant's

House still hawks timber and porcelain,

while 1920s chain store Schous Sæbehus

sells perfumes and washing flakes

(www.dengamleby.dk; open daily; check

website for timings; entry adults from

DKK110/`1,000, children under 17 free).

For one-off designs of divider screens,

tea cozies, and pillows, head to 1+1 Textil,

which sells avant-garde Danish craftwork

(www.1x1textil.dk; Sunday closed; check

website for timings).

JULIAN BROAD (WOMAN), QUINTIN LAKE (TOWER), JULIAN BROAD (RESTAURANT), CHRISTIAN GOUPI/AGE FOTOSTOCK/DINODIA PHOTO LIBRARY (CARRIAGE).

MAY 2017 | NATIONAL GEOGRAPHIC TRAVELLER INDIA 51
---
Navigate | MY CITY

Like Russian Dolls

DISCOVERING TRADITIONAL CUISINE AND HIDDEN HAUNTS IN MOSCOW BY JEFFREY TAYLER

Built in the mid-1500s,

St. Basil's Cathedral in

Red Square is one of

Moscow's most iconic

structures; Delicatessen

(bottom right) is a cocktail

bar and restaurant popular

with young Muscovites.

Seeing the Kremlin at night

always enthralls me, even

after my 23 years in Moscow.

The vista of brick towers and

crenellated ramparts, so magnificent

as to appear unreal, calls to mind an

illuminated print from an old book of

fairy tales.

My sighting of Russia's most famous

(or infamous) fortress comes as my cab

trundles over the Bolshoy Kamenny

Bridge, through air shimmering with a

fierce frost. Gusts of wind stir snowdrifts

along the banks of the Moskva River

below us. No less the seat of power

now, during the era of Vladimir Putin,

than it was in Ivan the Terrible's day

(or Stalin's), the Kremlin evokes, for

me, a mix of dread and majesty—the

emotions I experienced as a child of the

Cold War when I both feared Russia (I

lived in Washington, D.C., aka ground

zero) and marvelled at it. My fascination

led to graduate studies in Russian and

East European history, to my first visit

in 1985, and to a move here for good in

the summer of 1993. In 1999 I married a

Russian. Moscow is the city I call home.

The Kremlin, a walled citadel with five

palaces and five churches, looms on my

right as we shoot past vast Red Square,

presided over by St. Basil's Cathedral,

NADIA ISAKOVA/AWL IMAGES (CATHEDRAL), CEDRIC ANGELES/INTERSECTION PHOTOS (WOMEN)

52 NATIONAL GEOGRAPHIC TRAVELLER INDIA | MAY 2017
---
with its candy cane cupolas. We drive by

the State Duma (parliament), faceless

and modern (and totally subservient

to President Putin). Then comes

Lubyanka Square and another bunker

of a building, today housing the KGB's

successor, the FSB. Here one August

night in 1991, crowds of Russians

cheered as cranes dismantled the statue

of Felix Dzerzhinsky, the blood-soaked

founder of the Soviet secret police.

Those were promising days, when

real democratic change in Russia

seemed possible. These days, Western

sanctions threaten the highest living

standard Russians have ever known.

For all but dollar- and euro-bearing

travellers (feeling blessed by the rouble's

devaluation), now should be a cheerless

time in Moscow. But it's not.

My cab leaves me at a restaurant near

Lubyanka, Ekspeditsiya (expedition).

It's crowded, loud with folk songs sung

by a group of musicians and customers

clinking glasses and toasting. I have

come for lively conversation and

traditional Russian cuisine; since the

fall of the Soviet Union more than

two decades ago, Russian cooking has

become something of a rarity in Moscow,

at least outside people's homes. (Most

top restaurants are international.)

I'm joined by Irina, a Muscovite

friend who staunchly defends Putin.

The evening promises to be interesting.

Over drinks and cedar nuts, Irina

enlightens me.

"Russians," she says, "have always

been conquering wild country. We

are always ready to light out for the

wilderness, even in subzero frosts. We

need difficulties to thrive. That is just

who we are."

Settling wildernesses also meant eating

unpalatable things, including some

"delicacies" on our menus—marinated

moose with cabbage, grilled reindeer

tongue with cowberry sauce. I choose

a safe favourite, pelmeni (dumplings),

specifically Siberian pelmeni stuffed with

deer meat and smothered in delicious

smetana, or sour cream. We wash the

meal down with a half litre of vodka,

which we drink straight, the Russian way.

The next time we meet, it is at Club

Mayak, a restaurant in the middle of

"Old Moscow," a web of lanes winding

between low stucco houses dating from a

century or two ago. Once the dining area

of the Mayakovsky theatre next door,

Supersize matryoshka dolls (top) at Afimall shopping centre are an example of the role art and

design play in this historic city; A temple to gourmet foods since 1901 (and renovated in 2004),

the neo-baroque Eliseevsky emporium (bottom) specializes in caviar and other delicacies.

Club Mayak now serves as a low-key

gathering place for some of Moscow's

best known actors, writers, and

journalists. With a red-walled interior,

careworn furniture, and sepia-tinted

lighting, there are no pretensions here

(www.clubmayak.ru; glass of wine

from RUB200/`230)

Over some wine and a plate of

European cheeses, served despite an

official ban on such goods, I ask Irina

what the future holds.

"We went through World War II and

we won," she replies. "I am not worried."

I'm feeling a bit less sanguine. But

I do know this: Whatever happens in

Russia, its fate will be decided, one

way or another, here in Moscow—a

fact that continues to fuel this city's

indomitable spirit.

JEREMY NICHOLL PHOTOGRAPHY (GIANT DOLLS), FRANK HEUER/LAIF/REDUX (STORE)

MAY 2017 | NATIONAL GEOGRAPHIC TRAVELLER INDIA 53
---
Navigate | ROAD TRIP

The Painted Hills of John

Day Fossil Beds National

Monument illuminate the

central Oregon landscape.

When High and Dry

COMING AROUND THE BEND IN CENTRAL OREGON, U.S.A BY JULIAN SMITH

Oregon in northwest U.S.A.

has more than its fair share

of craggy coastline and

dense, mossy forest. So it's

easy to forget that once you get east

of the snow-capped Cascades Range,

a good chunk of the state is high, dry,

and sparsely populated. This three-day

itinerary out of the city of Bend explores

Oregon's sublime high desert country,

where the vistas are broad and the skies

tell stories all their own.

Rock climbers know Smith Rock

State Park, 42 kilometres north of

Bend, as one of the birthplaces of

modern sport climbing in the United

States. Even if you're a climbing novice,

it's hard not to be impressed with

the cliffs of volcanic tuff and basalt

soaring above the aptly named Crooked

River. There's a walk-in campsite

MARC ADAMUS

54 NATIONAL GEOGRAPHIC TRAVELLER INDIA | MAY 2017
---
Oregon's fiery origins are

etched in its jagged Cascades

skyline—and also in an active

Newberry shield volcano

that's a little smaller

than Delhi

10 Barrel Brewing Company in Bend, Oregon, serves six kinds of microbrews on tap.

and an extensive trail network, the

12.3-kilometre Summit Trail Loop,

open to hikers and bikers, that winds

along the river before climbing almost

a thousand feet. For a closer look

at climbers in action, take the 1.6-

kilometre-long trail up and over Misery

Ridge. Keep an eye out for river otters at

the bottom and golden eagles up high.

In the piny forest 13 kilometres south

of Bend, the High Desert Museum

offers a concise but in-depth overview

of central Oregon's natural and human

history. Resident critters include

porcupines, a bobcat, a Gila monster,

and two river otters. Check the daily

schedule for raptor flight

demonstrations and

activities at the Miller

Family Ranch, where

re-enactors explain life on

the frontier at a model of

a 1904 homestead and an

authentic sawmill.

Oregon's fiery origins

are etched in its jagged

Cascades skyline—and

also in an active Newberry

shield volcano that's

a little smaller than

Delhi. Start your visit

to Newberry National

Volcanic Monument at

the Lava Lands Visitor

Center, 13 kilometres

Lava

Lands

Visitor

Center

97

Deschutes

south of Bend, where you can drive to

the top of the perfect cinder cone of

Lava Butte for views of a 7,000-year-old

lava flow. From there it's a five-minute

drive to Lava River Cave, where a 1.6

kilometre-long trail leads down into the

darkness. (Bring warm clothes for the

underground chill; you can rent lamps at

the trailhead.) Another 45 minutes' drive

south is the 44-square-kilometre caldera

itself, now filled with two large lakes

instead of molten lava. Here you'll find

trailheads to 7,984-foot Paulina Peak

and the Big Obsidian Flow, an under

two-kilometres-long hike sprinkled with

black volcanic glass.

97

Bend

Smith Rock

State Park

High Desert Museum

NEWBERRY NATIONAL

VOLCANIC MONUMENT

Paulina Peak

7,984 ft

2,434 m

Painted Hills

26

10 mi

10 km

Crooked

Thomas

Condon

Paleontology

Center

JOHN DAY

FOSSIL BEDS

NATIONAL

MONUMENT

AREA

ENLARGED

Portland

OREGON

It's a longer drive to the Painted Hills,

137 kilometres northeast of Bend, but

the sight of late-afternoon light on the

kaleidoscopically coloured slopes is

something you'll never forget. They're

one of three scattered units of the John

Day Fossil Beds National Monument,

where 40 million years of plant and

animal evolution have been preserved

in stone and soil. The nearby Thomas

Condon Paleontology Center houses

exhibits and a working lab where

researchers pore over one of the most

complete fossil records on Earth.

A cold brew may seem like a mirage

after the desert, but luckily Bend has

more craft breweries per capita than

anywhere else in this beer-crazy state—

which is about one for every 4,500

residents at last count, and that's not

including distilleries or cideries. The

Bend Ale Trail connects ten breweries

within about a kilometre of downtown,

including two by Deschutes Brewery,

the granddaddy of them all. Most offer

food on site, like the Crux Fermentation

Project, with a wide lawn, picnic tables,

and a taco stand out back. (Their

Doublecross Strong Dark Belgian Ale

packs a tasty punch.) If you would rather

not drive, take a guided tour by bus

or "cycle pub," a 14-passenger, pedalpowered

rolling bar.

With a full day of volcano

hiking and an evening of

sipping local suds, you'll

need to unwind in the hot

tub at the Oxford Hotel, a

26

boutique eco-hotel in the

heart of historic downtown

Bend. All 59 rooms face

south for maximum

sunlight, with French press

coffeemakers and cruiser

bikes available to guests—

they even have loaner

guitars, if you're feeling

so inclined. Some suites

have kitchenettes, steam

showers, and balconies with

views of the Cascades.

THOMAS PATTERSON/THE NEW YORK TIMES/REDUX (BAR), NG MAPS (MAP)

MAY 2017 | NATIONAL GEOGRAPHIC TRAVELLER INDIA 55
---
SMART TRAVELLER

checking in

Exploring an Australian guest

56 58

house with a wild, green heart

checking in

Spectacular lodges, romantic resorts,

and historic hotels around the world

Built using mud brick and timber,

the Great Ocean Ecolodge is off the

grid, drawing energy from the sun,

and harvesting water from the rain.

Conserve Their Energy

COSY UP WITH TIGER QUOLLS AT THE GREAT OCEAN ECOLODGE IN AUSTRALIA | BY SONAL SHAH

I

woke up to sunlight streaming into

my room through large French

windows. Within minutes, a strong

wind buffeted the leaves of a gum

tree outside, bringing with it clouds

rolling in from the coast of Cape

Otway in southern Victoria, towards

the Otway mountains. Moments later,

the sky was overcast, then pouring.

I huddled into my blankets, feeling

as snug as a possum in a hollow—

appropriately the name of my room

at the Great Ocean Ecolodge.

Each room is named for an animal

home, and the ethos of the guest house

is that it should sit as lightly on its

165-acre surroundings as any burrow

or nest. In fact, for owners Lizzie Corke

and Shayne Neal, the rustic lodge is

secondary to the Conservation Ecology

Centre they founded here in 2000, as

recent graduates.

The lodge, which is solar-powered

and runs on rainwater, opened in

2004 to fund the conservation centre's

research, wildlife rehabilitation, and

habitat restoration programmes.

However, nothing about it felt like an

afterthought as I stepped into the cosy

main area full of books and bird's nests.

A wood-stove heated the sitting room,

with a chimney that carried warmth

to other parts of the house. Resisting

the temptation to sit next to the fire, I

followed Shayne outside instead.

The sun shone briefly over a field

behind the lodge, where a mob of

eastern grey kangaroos grazed,

bounding silently towards the cover

PHOTO COURTESY: MARK CHEW

56 NATIONAL GEOGRAPHIC TRAVELLER INDIA | MAY 2017
---
of a stand of trees as we neared. At the

entrance to a forested area, a koala

slept, hugging a manna gum tree

branch. As I followed Shayne into

the forest, it began drizzling again,

the rain dripping off musty brown

stringy bark and messmate trees,

onto the lush undergrowth. Shayne

described the burn cycle of this

ecosystem, and about the erstwhile

Aboriginal fire regime, which created

mosaics of new and old forest,

attracting different species.

The species at the heart of the

centre's recent conservation work is

the tiger quoll, or spotted quoll. The

largest marsupial predator on mainland

Australia, it is a bit smaller than

its island cousin, the Tasmanian devil.

We circled back to an enclosure, which

houses two tiger quolls, both sheltering

from the rain when we arrived. Lifting

up a hollow log, Shayne revealed a large

brown marsupial, with its distinctive

white spots.

Once thought to be to locally extinct

in the Otways, this top apex predator

has been sighted a few times in the

region over the past couple of years.

Well camouflaged, solitary, and mostly

nocturnal, quolls are difficult to study

in the wild. Catching them requires

sedation, as their jaws, second in

strength only to the Tasmanian devil,

could take your fingers off. Instead,

the centre has trained local dogs to

scent quoll scat, using them to find

the animal's communal pit-stops, and

trained dog-owners to gather data

related to sightings.

This also has the effect of spreading

information about tiger quolls, which

helps fundraising efforts. "It is human

nature," Shayne said, "people need

to be able to see them." At the top of

the native food chain, the tiger quoll

was once an important stabilising

force in the local ecosystem, and

could be key to understanding the

population dynamics of its prey, as

well as their herbaceous food sources.

"If you deal with the apex predator,"

Shayne said, "there are follow-on effects

for other species."

Leaving the animals to sleep in

peace, we turned towards the warmth

of the lodge. The fire was roaring, and

breakfast had been laid out, with flaky

croissants, home-made cereals, and

jams. If the tiger quolls feel even half

as well provided for, they'll hopefully

stick around a long time yet.

THE VITALS

Accommodation The two-storey

Great Ocean Ecolodge has five country

chic rooms, some of which have

sundecks. The en-suite bathrooms

are simple but luxurious, and the

rooms have basic amenities like coffee

and tea, and desks (no televisions).

Meals incorporate produce from the

lodge's kitchen gardens. Continental

breakfast is included and other meals

can be booked along with rooms

(greatoceanecolodge.com; doubles

from AUD380/`18,550, minimum

two-night stay; includes breakfast and a

guide walk at dusk).

Getting There The Great Ocean

Ecolodge is located just over 200 km

southwest of Melbourne, a 3.5-hr trip

via the scenic Great Ocean Road, along

the route to the iconic 12 Apostles.

Conservation Ecology Centre - Conservation and Research Assistant

feeding orphaned Swamp Wallaby - credit Mark Watson.

The endangered tiger quoll (top) is distinguished by his spotted tail; Little jars of homemade

jams (bottom right) accompany breakfast at the Great Ocean Ecolodge; The guest house is full

of illustrated nature books and curios (bottom left).

PHOTO COURTESY: LUCIA GRIGGI (TIGER QUOLL), SONAL SHAH (BOOKS & JAM)

MAY 2017 | NATIONAL GEOGRAPHIC TRAVELLER INDIA 57
---
Smart Traveller | CHECKING IN

Making Room

THESE SPECTACULARLY SITUATED LODGES, ROMANTIC RESORTS, REVIVED HISTORIC HOTELS,

AND NEIGHBOURHOOD HUBS NOW INSPIRE US TO TRAVEL | BY ELAINE GLUSAC

EPIC VIEWS

PANORAMIC WINDOWS ONTO

THE WORLD

The canvas domed tents at Asilia's The

Highlands perch on the forested slopes

of a volcano in Tanzania's Ngorongoro

Crater area. The sustainable lodge is

a perfect base for game drives to spot

elephants, buffalo, zebras, and leopards

(www.asiliaafrica.com; doubles from

$430/`27,730; rates vary according

to season; includes all meals, selected

hikes, game drives, and transfers to/

from Manyara airstrip). Shades of blue

saturate the sea-to-sky views from

Le Barthélemy Hotel, on St. Barths'

Grand Cul-de-Sac beach (www.

lebarthelemyhotel.com; doubles from

€576/`39,450; includes breakfast, water

sports, and transfers to/from airport or

harbour). At Amanemu, private terraces

Geodesic tents at Asilia's

The Highlands, in Tanzania offer

the wildest views.

ASILIA

58 NATIONAL GEOGRAPHIC TRAVELLER INDIA | MAY 2017
---
Guests in the Great Room in

Timber Cove, California, can

kick back beside the fireplace

and enjoy their extensive vinyl

record collection.

and onsen hot baths overlook forested

islets and oyster rafts in Japan's "Bay

of Pearls" (www.aman.com; doubles

from JPY1,10,000/`65,116; suites

have private onsen baths). Explora

Valle Sagrado, in Peru, looks up—and

around—to a ring of serrated Andean

peaks (www.explora.com; doubles from

$3,244/`2,10,000 for 3 nights; includes

meals, transfers to/from airport and

railway station, all exploration tours).

On the urban flip side, majestic Table

Mountain fills the floor-to-ceiling

windows at The Silo, in Cape Town,

South Africa (www.theroyalportfolio.

com; doubles from ZAR12,000/`57,500;

includes breakfast and entry to Zeitz

Museum of Contemporary Art Africa

opening September 2017).

REVIVED ROYALTY

GRAND HOTELS WITH

FRESH MAKEOVERS

Timber Cove, a 1963 Frank Lloyd

Wright–inspired lodge, features

new redwood-decked suites

overlooking California's Sonoma coast

(www.timbercoveresort.com; doubles

from $255/`16,450). The Beekman

transformed a 19th-century building

into Lower Manhattan's destination

hotel, thanks partly to the soaring ninestory

atrium lobby (www.thebeekman.

com; doubles from $399/`25,730).

The reopened Hotel Royal Savoy, in

Lausanne, restored its art nouveau

exterior and appended a state-of-theart

Swiss spa (www.royalsavoy.ch;

doubles from CHF350/`22,450). The

historic Pulitzer Hotel, in Amsterdam,

added a courtyard sculpture garden,

giant swings, and themed suites (www.

pulitzeramsterdam.com; doubles from

€314/`21,500).

WHEN IN AMERICA

TRENDY SPOTS WHERE TRAVELLERS

AND LOCALS HANG OUT

The Tilden Hotel, in San Francisco's

Tenderloin district, brings in local poets

and artists for rotating residencies

(www.tildenhotel.com; doubles

from$279/`18,000). Hotel Saint George

shares an address—and a clever vibe—

with the indie Marfa Book Company

in Texas (doubles from $215/`13,900).

Local acts perform at the music club

at the Ace Hotel New Orleans, a

community magnet in the Warehouse

District (www.acehotel.com; doubles

from $112/`7,200). The Williamsburg

Hotel loans bikes for exploring

Brooklyn (www.thewilliamsburghotel.

com; doubles from $18,830 ), while

Chicago's The Robey opens doors to

the arty Wicker Park neighbourhood

(www.therobey.com; doubles from

$195/`12,500). FOUND:RE Phoenix,

which doubles as a gallery for area

artists, embodies the Arizona city's

downtown revival (www.foundrehotels.

com; doubles from $101/`6,500).

LOVERS' CORNERS

HIDEAWAYS FOR ROMANCE

The barrel-vaulted, 16th-century chapel

at Masseria Trapanà, in southern Italy,

provides a cosy setting for making

—or renewing—vows (www.trapana.

com; doubles from). Sandals Royal

Caribbean, in Jamaica, introduces

STACI MARENGO

MAY 2017 | NATIONAL GEOGRAPHIC TRAVELLER INDIA 59
---
Smart Traveller | CHECKING IN

Stay cool at The Robey's rooftop (bottom) in Chicago; Le Barthélemy's pool in St. Barths (top)

luxury South Pacific–style over-thewater

villas—with outdoor showers

and glass floors for viewing marine

life—to the region (www.sandals.

com;doubles from $1025/`66,100).

Casa Laguna Hotel & Spa, in

California's Laguna Beach, offers

colourful, intimate rooms at a 1920s

former artist colony dotted with

palm trees (www.casalaguna.com;

doubles from $229/`14,750; the

Garden rooms have a private curated

library). On an island located in

the Maldives' Noonu Atoll, Soneva

Jani features over-the-water villas

with retractable roofs for stargazing

(www.soneva.com; villas from

$2,088/`1,35,000). In Mexico,

Andaz Mayakoba Resort Riviera

Maya fronts white sands ideal for

beachcombing, with sleek rooms

that look onto tropical gardens,

a clear lagoon, or the Caribbean

Sea (mayakoba.andaz.hyatt.com;

doubles from $350/`22,550).

OLIVIER LEROI/LE BARTHÉLEMY HOTEL & SPA (POOL), NICOLAS SCHUYBROEK ARCHITECTS & MARC MERCKS INTERIORS/COURTESY OF GRUPO HABITA (CITY)

60 NATIONAL GEOGRAPHIC TRAVELLER INDIA | MAY 2017
---
IN FOCUS

62 macao

The city's Latin parade is a

surreal introduction to its history

70 karnataka

Mythology gets colourful and trippy

at Coorg's Dasara float show

82 denmark

The Hans Christian Andersen

festival brings fantasies to life

96

Alibaug, Maharashtra

HIMANSHU ROHILLA

MAY 2017 | NATIONAL GEOGRAPHIC TRAVELLER INDIA 61
---
In Focus | FESTIVE SPIRIT

FANTASTIC

Beasts

AND WHERE TO FIND THEM

Macao's vibrant Latin City parade is

a surreal introduction to its history

By Diya Kohli

XXXXXXXXXXXX (XXXXXXXXX)

62 NATIONAL GEOGRAPHIC TRAVELLER INDIA | MAY 2017
---
■ MACAO

Macao's annual parade sees

over 50 crews from Macao,

mainland China, Latin America,

as well as Europe.

XXXXXXXXXXXX AMIT VAKIL (XXXXXXXXX)

MAY 2017 | NATIONAL GEOGRAPHIC TRAVELLER INDIA 63
---
In Focus | FESTIVE SPIRIT

The Ruins of St. Paul includes a

Jesuit complex as well as the facade

of the 17th-century Mater Dei church,

one of the most iconic structures of

Macao. This forms an apt backdrop

for the theatrics of the parade.

XXXXXXXXXXXX (XXXXXXXXX)

64 NATIONAL GEOGRAPHIC TRAVELLER INDIA | MAY 2017
---
■ MACAO

ANative American

chief complete with his feathered war

bonnet was standing two feet from

me posing for a selfie with a Chinese

grandma, beaming in spite of two missing

front teeth. Across him, two beautiful

boisterous ladies in their big hooped

skirts were bantering with a petite fellow

who had a giant Venezuelan flag draped

over his shoulders. I pinched my arm to

make sure that I was really wide awake

and standing in a hotel lobby in Macao. It

seemed like the perfect surreal beginning

to the day of Macao's Latin City parade.

Macao is a Janus-faced city, with one face turned towards its

past and the other towards a glittering future. Since my arrival I

had done the regulation sightseeing tours, museum visits, even

an obligatory Cotai Strip casino tour. However, it was the parade

that brought it all together for me. The mixed crews with their

vibrant costumes and multitude of languages seemed to be in

sync with the city's multifaceted identity. As the day unspooled

through colour and music, what amazed me the most was the

gusto with which the event celebrated the region's cosmopolitanism

and its Portuguese, Chinese, and Macanese heritage.

A view from the top made the parade look like the sparkly

trail of a giant comet. And as I followed a train of strange and

beautiful creatures, from the ruins of St. Paul's to Tap Siac

Square, I ended up collecting bits of Macao's past like pieces of

confetti saved after the last wedding hurrah.

The Countdown

The Portuguese arrived on Macao's shores in the 1550s and over

the centuries, they left an indelible impression on the region's

cultural identity right up until they finally left in 1999. The

first Desfile Por Macao, Cidade Latina (Latin City parade), was

held in 2011, and has since continued as an annual event that

commemorates the city's handover from Portugal to China.

Interestingly, what the parade celebrates is the melding of the

ASHIMA NARAIN

MAY 2017 | NATIONAL GEOGRAPHIC TRAVELLER INDIA 65
---
In Focus | FESTIVE SPIRIT

two cultures. Performers from Latin American countries as well

as Mainland China and Macao showcase an array of dances,

traditions, costumes, and art forms ranging from the traditional

to the wildly inventive.

I had landed in Macao three days before the event and the

place was already thrumming with impending festivities.

Distant drumbeats and clashing cymbals interrupted my singleminded

focus on food as I queued up for a pork chop bun at a

street kiosk. Exploring the narrow streets around the imposing

Ruins of St. Paul, I spotted girls in spangly costumes and boys

cradling traditional lion head masks like warrior helmets of

yore. There were men at work around Senado Square, setting

up a stage and decorations. This beautiful square with its iconic

Portuguese pavements, skin care boutiques with candy-coloured

displays, pastelarias selling traditional snacks, and fast food

kiosks is a vibrant pinwheel. It is part of the Historic Centre of

Macao which is designated a UNESCO World Heritage Site.

Here, ancient Chinese temples lie cheek by jowl with churches

and western custard-filled tarts get a local eggy spin. In this part

of downtown Macao, East and West do meet, and all around me

there are signs of this synergy between the cultures, right down

to the Portuguese-style mosaic pavement under my feet.

In the run up to the parade, there was a little bit of magic

thrown into the mix. Vividly coloured life-sized models of odd

little creatures graced street corners. These fantastical characters

were drawn from the Chinese fantasy epic Shan Hai Jing

(Classic of Mountains and Seas)—the theme for this year's parade.

They were the brainchild of local artist Un Chi Wai, and

included the Mottled Flying Fish, the Torch Dragon, and the

towering Hairy People.

A post-dinner walk just the night before the parade turned

disastrous as my phone sputtered and died taking with it a

map back to my hotel. After an hour and a half of following my

instinct and limping from a bloody shoe bite, I realised that I

was irrevocably lost. After many wrong turns, it was another

parade icon, the daunting three-headed Qiyu Bird at the corner

of a public square, which helped me finally reorient and return

to my hotel room. And thereafter in my walks around Macao, it

was this motley crew from Shan Hai Jing's universe that helped

guide my way.

Crossing the Time Gate

There are many marvellous places and all manner of imaginary

beasts listed in Shan Hai Jing and I join the thronging crowds at

the foot of the Ruins of St. Paul's, waiting for them to appear. It is

one of those days where the sky is the shade of cornflowers, and

the light is dappled with sunrays streaming through the many

arched windows of the Madre de Deus church's massive stone

facade. This is one of the most notable structures of Macao,

part of the 17th-century St. Paul's Jesuit college complex which

was an important centre of western education and arts in this

part of the world. Although the complex was destroyed in a fire

in 1835, the baroque facade of the church and the stone steps

remained intact and continue to endure as Macao's most iconic

There are numerous tableaux on

parade day and they reference

traditional as well as modern pop

culture. There is a whole gamut of

performances featuring everything

from a herd of zombies to this group

of characters from a Chinese opera.

RAJKUMAR MATHIALAGAN

66 NATIONAL GEOGRAPHIC TRAVELLER INDIA | MAY 2017
---
"

And the quiet afternoon bursts around us like a

thousand piñatas as crew after crew in dazzling

costumes, dance their way down the steps to a

frenetic soundtrack of drums and cheers"

■ MACAO

tourist spot. This complex is flanked by the Mount Fortress

which houses the Macao Museum, an excellent repository of the

life and culture of the diverse communities of the city.

The clock strikes four and VIVA, the mascot of the Macao

parade emerges at the top of the church steps. As he starts

descending, he literally crosses over a time gate—a portal from

21st century Macao to the magical world of Shan Hai Jin. In

his wake, come the paraders from far corners of the world. They

are the dragons, the goddesses, beasts from Africa's savannah,

giant serpents, puppets, acrobats, clowns, robots, and more.

Thousands of onlookers including me are gathered at the head

of the city's Rua de Sao Paulo to witness this moment. And the

quiet afternoon bursts around us like a thousand piñatas as crew

after crew in dazzling costumes, dance their way down the steps

to a frenetic soundtrack of drums and cheers.

The Lions of Senado Square

Meanwhile, there is another prong of the parade that starts at

Senado Square and joins up with St. Paul's brigade. Not wanting

to miss a single moment, I tail a couple of intrepid photographers

who take it upon themselves to weave through the sea of heads

to make their way back to this point. I find myself behind a

line of whistle-tooting girl scouts who have been roped in for

crowd control. The majestic 18th-century Leal Senado building

towers above the stage that has been constructed for the event.

Originally the seat of the Portuguese government, today the

sprawling two-storey neoclassical structure houses a public

library specialising in foreign languages and Portuguese history,

and offices for the Civic and Municipal Affairs Bureau of Macao.

This seems like a good vantage point. Just as I position myself

behind a very accommodating little girl with a smart blue beret,

the magnificent dance of the lions begins. They are green, black,

and white, tall, sinuous, and fierce. Each "lion" comprises two

dancers, the body and the head, who move as a single organism

to the beat of a gong and drums. These energetic band of

multicoloured cats lead the way down from Senado Square

through Rua de Sao Domingos past the cheery yellow baroque

church of St. Dominic, dating back to the late 16th century.

The parade snakes past a lovely little bookshop, the Livraria

Portuguesa, which has a wonderfully curated collection of books

on Macanese history, culture, food, and customs along with

some nifty maps, graphic novels, and souvenirs. I cross at least

ten outlets of the Koi Kei pastelaria and each one is milling with

crowds. This bakery specialises in traditional snacks, and beef

and pork jerky in myriad flavours. Enthusiastic attendants tempt

passers-by with generous samplers of their delicious products.

Case of the Drunken Dragons

Back near the ruins, the drama continues as characters from

a Chinese opera descend the stairs. Young girls dressed as

matadors twirling their red capes with panache follow a train of

adolescent boys carrying a giant serpent. Suddenly the air grows

dank with the sharp smell of rice wine. Old men stumble down

the stairs dancing, or rather reenacting an ancient myth where a

village is saved from the plague by a magical dragon. The group

comprises old men and young boys carrying wooden heads and

tails of dragons, and pots of wine. They drink and spit into the

air to ward off evil spirits and propitiate Lord Buddha. A lot of

the wine clearly makes its way into the gullet of the dancers and

as the parade progresses, their inebriation seems to increase

proportionally. Their dance is clumsy, but completely uninhibited.

I follow them, maintaining a safe distance from the alcohol

EPIC TALES

Meet the magical characters from the Chinese epic Shan Hai Jing that formed the theme of the 2017 parade

MOTTLED FLYING FISH

It can fly as well as

swim and represents an

abundant harvest.

QIYU BIRD

This bird with its three heads

and six tails has a booming

laugh and can chase away

nightmares and evil.

THE HAIRY PEOPLE

The hairy people have thick

fur covering every inch of

them and come from

a distant land.

THE TINY PEOPLE

These people come from

a land where everyone

is very short.

TORCH DRAGON

Half human, half snake, this

god controls weather and

the cycle of day and night.

MAY 2017 | NATIONAL GEOGRAPHIC TRAVELLER INDIA 67
---
In Focus | FESTIVE SPIRIT

Men intersperse their drunken dragon dance with large mouthfuls

of rice wine, which they then spit out creating a haze of alcohol

around them.

sprays, past St. Anthony's church. The current baroque-style

building is on the site of the original wooden structure which

was built in 1558, and subsequently destroyed in a fire. Since

St. Anthony's was a popular venue for Portuguese weddings, it

is also known as the Church of Flowers.

I trail the parade, sometimes on the sidelines, sometimes

joining its raggedy tail, and sometimes using my media access

pass to walk alongside performing groups that I love at first

sight. However, I have to be nimble so that I am not in the way

of photographers or security staff. I have to dodge projectile

props and save myself from being stampeded by energetic

troupes. Sandwiched between graceful Balinese dancers and a

nattily dressed jazz troupe, I make my way down narrow cobbled

lanes, flanked by elegant Portuguese-style manors, old Catholic

churches, and traditional Chinese apothecaries. I take a pause

from the parade to look around this charming historic quarter.

I notice that we pass manicured public squares lined with

heritage lamps, and brightly coloured shop fronts with intricate

Chinese motifs and lettering. Roads are signposted on beautiful

Portuguese azulejo tiles and these blue and white tiles help me

orient myself on the parade route.

We Are the Robots

One such sign informs me that I am in Calçada da Igreja de São

Lázaro. This is the area around the 16th-century St. Lazarus

Church. Among the oldest in Macao, this church was a beacon

of hope, built on the site of a hermitage providing care and

shelter to lepers. As the parade snakes up cobbled streets, I fall

in line with an eccentric looking group from Spain who call

themselves the Robots. Dressed in the motley garb of clowns,

they look straight out of a steampunk sci-fi film with Tin Man

hats, armour plates, and stilts and blades on which they walk,

hop, and jump. They are crowd pleasers and their silver painted

faces crinkle into broad grins as they oblige young 'uns with

selfies, and make little tots laugh with their antics. The moving

is sometimes pretty slow but I enjoy walking with the robots

as they come up with games to keep the crowds entertained.

Occasionally I take a pause from their antics and stop to take

in the neighbourhood. This very European part of Macao with

tree-lined streets has hidden courtyards, art galleries, graffiti

on the walls, a cemetery with marble angels, and a grand old

church presiding over it all. The parade also passes by the

Albergue da Santa Casa da Misericórdia, a set of beautifully

restored 400-year-old buildings set around a courtyard with

two massive camphor trees. Originally a charity and home for

old women, today this is an eclectic arts and entertainment

space: It has art galleries, a Portuguese restaurant, and a lovely

little boutique selling Portuguese crafts and food supplies.

The Great Gig in the Sky

From St. Lazarus, the parade crews take different routes,

finally converging at Tap Siac Square for one last blowout. This

is a fitting place for a finale. Paved with Portuguese tiles, this

erstwhile training ground for soldiers has been transformed into

a central public space in Macao where people gather to relax

and celebrate different cultural events through the year. Tap

Siac Square is where parade mascot VIVA has his "love, peace,

and cultural integration party" and where all the crews present

one last performance. It is a magnificent celebration and one

which all of Macao takes part in as giant inflatable puppets

float above the stage like strange and benevolent gods. Below,

under the strobe lights, fantastic beasts, and creatures big,

small, and weird come together and make merry. On this night in

Macao, history truly feels like a sum of its glorious differences.

Diya Kohli was until recently part of National Geograpic Traveller

India's editorial team. She loves the many stories of big old cities.

For her, the best kind of travel experience involves long walks

through labyrinthine lanes with plenty of food stops along the way.

The Vitals

Macao is a peninsular region in southern

China and was the last European colony in Asia,

governed by the Portuguese until the late 1990s.

The most convenient way to reach there is to fly

to Hong Kong, and get to Macao by ferry. Indian

travellers are eligible for a visa on arrival

in Macao, and must fill a pre-arrival

registration form on www.immd.gov.

hk/eng for a visa-free entry

to Hong Kong.

RAJKUMAR MATHIALAGAN

FACING PAGE: ASHIMA NARAIN (MAN & DANCERS), RAJKUMAR MATHIALAGAN (LION COSTUME)

68 NATIONAL GEOGRAPHIC TRAVELLER INDIA | MAY 2017
---
■ MACAO

Macao's parade is an unforgettable spectacle. The Spanish crew

called Robots perform at Tap Siac Square during the parade's final

performance (top left); Two crew members make up each of the giant

multicoloured lions that perform their dance to drums and gongs

(top right); A group of young dancers form a riveting sight as they

gracefully swirl in their costumes down the streets of Macao (bottom).

XXXXXXXXXXXX (XXXXXXXXX)

MAY 2017 | NATIONAL GEOGRAPHIC TRAVELLER INDIA 69
---
In Focus | FESTIVE SPIRIT

MYTHOLOGY GETS CRAZY, COLOURFUL, AND TRIPPY AT

MADIKERI'S DASARA FLOAT PARADE

XXXXXXXXXXXX (XXXXXXXXX)

70 NATIONAL GEOGRAPHIC TRAVELLER INDIA | MAY 2017
---
■ KARNATAKA

MAY 2017 | NATIONAL GEOGRAPHIC TRAVELLER INDIA 71
---
In Focus | FESTIVE SPIRIT

t is late in the night. The hill town of Madikeri bops and

hops wildly around huge carnival floats that pump out

megawatts of eardrum-blasting disco from onboard sound

systems. Elaborately crafted polychrome superheroes and

heroines—some up to 15 feet tall—try to outdo each other.

This curious sight feels like a mixture of high heaven and the

world's biggest non-alcoholic outdoor religious nightclub.

I'm totally into it. I'm mesmerised by the frenzied dancers and

start shaking my hairy legs to an enticing mix of Kannada pop

and Hindi rap. This must be what it feels like to do the carnival

rumba in Rio de Janeiro. But I'm not in Brazil. I'm in Madikeri,

in the serene and a tad conservative hill station of Coorg

(Kodagu). Not on vijayadashmi night though, when all citizens

head towards the hotspot of the festivities—near the old fort at

the centre of Madikeri. This is the culmination of Dasara, when

good wins over evil, and the gods succeed in their annual battle

against demons.

It is always the same story: morality cancels out immorality.

From a forensic point of view the mythical heroes exterminate

the netherworld baddies, like in the Clint Eastwood or

Amitabh Bachchan movies of yore. It also feels great to

jive all night, as it doesn't get sweaty in the cool October

air and there are ample chilled drinks

and snacks in the stalls around. I've had some

delicious roadside chicken biriyani, spicy gobi

manchurian, and of course Coorgi coffee. That is what

keeps everyone going, because this all-night rave isn't fuelled

by intoxicants—the police have shut down bars and liquor shops

for the day so there's no public drunkenness or misbehaviour.

Instead there's jolly energy in the air. He-hunks do their

ballyhoo ballet before all the young girls sitting on tiered

benches along the street. Even families with kids step out after

dinner and partake in merriment till well into the wee hours.

The main amusement is the grand floats. On one there's a green

monster in yellow shorts, like a fiendish character from some

Xbox game, with guts spilling out of his tummy. On another,

Ganapati with four arms is busy juggling weapons of potential

mass destruction, while on the third Shiva meditates on his

throne, and on the next float Vishnu flies on his Garuda. A tiger

with Viking horns bares his fangs. Another elephant god swings

a sword—but this one has ten arms and rides a peacock—and a

Mother Goddess looks on calmly in the middle of the madness.

Somewhere in the throng there's even a King Kong.

The figures are built on mechanical frames that make the

arms flex and heads turn. Pulled by tractors, the gods enact their

dramas based on various ancient plotlines involving gods and

goddesses, demons and goblins, while semi-epileptic lightshows

and bass-boosted sound effects accompanied by pyrotechnics

make the ground virtually tremble under the audience's feet. A

total of ten floats participate each year, all very elaborately done

up, making the mythology come alive for one boisterous display

of heroic histrionics.

Each float costs between `10,00,000-20,00,000, so put toge-

72 NATIONAL GEOGRAPHIC TRAVELLER INDIA | MAY 2017
---
■ KARNATAKA

ther their budget equals a Sandalwood action movie and yet

they feature only in a one-night, fully-free, sold-out show. The

float teams, all of whom are attached to various temples in town,

consist mainly of localites with creative ambitions, but for certain

hi-tech expertise like sound they bring in audio engineers from

Bengaluru. For fireworks there are pyrotechnical professionals

from Tamil Nadu. In some cases special effects men come from

as far away the U.S.A. to provide the onlookers with an earthshattering

spectacle combining Amar Chitra Katha aesthetics

blended seamlessly with Harry Potter and Hollywood.

*****

adikeri used to be the capital of the erstwhile

princely state of Coorg ruled over by Mudduraja

of the Haleri dynasty, who had come down south

from northern Karnataka to carve out a kingdom

for himself. According to one sign that I find in

the hilltop fort, he named it Muddurajanakeri which was later

abbreviated to Madikeri, misspelled as Mercara by the Britishers.

Circa 1680, Mudduraja built the city's fort from mud. His

descendants ruled for a hundred years until Tipu Sultan came

to conquer briefly. In 1790, Doddaveer Rajendra took over and

his family was in charge until 1834 when the somewhat loony

Chikkaveer Rajendra was exiled (and interestingly enough buried

in London's Highgate cemetery not so far from Karl Marx). From

then on Coorg was developed by the East India Company into a

production centre for the best coffee in the world.

Before the British takeover, the rajas started a tradition of

celebrating Dasara in the early 1800s to purge the city from

plague. The practice of taking the shakthi devathas—or female

goddesses of the town's four Mariamma temples—out for a

procession has continued to this day in order to protect the

people against illnesses. In those days, menfolk apparently

carried deities in palanquins through the streets accompanied by

traditional Kodava music and dance. The spectacle ended in the

market area on the tenth day of Navaratri at the Banni Mantap

with puja and worshipping of the banni (or Indian Mesquite)—a

ritually important tree for warriors and particularly significant to

the people of Coorg with their strong military traditions.

When it lost its royal patronage, rather than remaining a regal

affair like the annual Dasara in Mysuru, this Dasara turned into a

people's party or a janutsava. Local legend has it that one Bheem

Singh came from Rajasthan in 1958 to tweak the festivities with

exotic colour and change it all from a purely religious ritual into

a folksy do. Bheem Singh started using tractors and building

bigger floats with wood instead of bamboo. So today there are ten

motorised hi-tech floats.

And while the majestic Mysuru Dasara is a tourist attraction

with the main events held in the daytime, the Madikeri Dasara

remains a homely all-night affair with no king in the picture and

is therefore perhaps much more fun. The people want innovative

displays every year, which challenges the temple committees to

come up with fresh spectacles.

After a long final Navaratri evening of joyous dancing and a

slow build-up of excitement, when midnight comes each float

will make what is called a "demonstration." This means they will

crank the music up to full blast and ignite the fuses for whatever

bombs have been built into the carriages. This show continues till

around 4 a.m. while judges compare scores and announce prizes

for the most amazing creations.

The winner gets 24 grams of gold and the runners-up are also

awarded. And as the sun begins to colour the eastern horizon,

the floats—or whatever remains of them—reel around dizzily in

the city while the more zealous devotees shimmy in a climactic

delirium. By 10 a.m. or so the energy levels dip and the heat of the

sun hits with force and fells the last revellers.

The morning after the Dasara float parade, I walk about

looking at the residue. Most floats have ground to a halt. Disco

still blasts from a few speakers, but generators low on diesel are

hiccupping. People are sleeping by the roadside, napping on the

pavements and in ditches. They have, with their enthusiasm,

once again helped the gods save the world—and they deserve

quiet quality time now until next year's Dasara.

Zac O'yeah is the author of crime novel Mr Majestic: The Tout of

Bengaluru (Hachette India, 2012). His latest novel is Hari, a Hero

for Hire (Pan Macmillan India, 2015).

charbak Dipta is a Delhi-based graphic storyteller. Reading about

about Faxian and Xuanzang in school fuelled his desire to see the

world. He now travels widely for his art exhibitions.

Getting There

The nearest airport to Madikeri is

Bengaluru Kempegowda International

Airport (280 km/6 hr by road; taxis

charge `6,450). The closest rail junction

is Mysuru (120 km/3hr). Regular buses

go from Mysuru to Madikeri (state

transport buses from `112).

It is possible to plan a trip from Mysuru

to spend the night at the festival and then

return by an early morning bus. Buses run

frequently throughout the night as well.

Stay

Thousands of people gather to

experience the event and Madikeri is a

very small town, so book accommodation

sufficiently in advance if you wish to stay

conveniently near the city centre.

KSTDC Mayura Valley View (www.kstdc.

co; doubles from `3,900) has the best

hilltop views and is near Gandhi Maidan

where the Dasara cultural programme

take place. Coorg International (www.

indoasia-hotels.com; doubles from

`5,000) located away from the main

town is one of the region's oldest hotels.

The luxurious Vivanta (www.vivanta.

tajhotels.com; doubles from `14,000)

offers cooking classes, pottery workshops,

as well as a traditional gudda

bath experience.

Festival

Madikeri's float parade is on 30 September

from 10-11 p.m. Floats pass

through the town's Main Street around

midnight and are best viewed from the

Town Hall, in front of the fort, and near

the Kodava Samaja Shopping Complex.

The event is free and includes a weeklong

programme of dance performances,

musical recitals, magic shows, and

martial art displays at a stage in Gandhi

Maidan. Reach early to grab good seats.

This is a family-friendly festival and

also includes a separate Makkala Dasara

which has a range of activities and

competitions especially for kids.

Many shops stay open later than usual,

so tourists can pick up spices, coffee

powder, honey, and other local produce.

Fast food stalls stay open until the wee

hours as well. The fare on offer includes

the usual churmuri, gobi manchurian,

bhajjis, and delicacies like the local style

non-veg biriyani.

MAY 2017 | NATIONAL GEOGRAPHIC TRAVELLER INDIA 73
---
In Focus | FESTIVE SPIRIT

Move with the Moving Pictures

SHRINES FOR CINEPHILES, FILM FESTIVALS ALSO OFFER THE REST OF US A BIT OF EVERYTHING

By Kalpana Nair

XXXXXXXXXXXX (XXXXXXXXX)

74 NATIONAL GEOGRAPHIC TRAVELLER INDIA | MAY 2017
---
■ WORLD

This month, I am off to Cannes. I like

throwing that phrase around casually.

For a second, it sounds oh-so-glamorous. Right now you are

probably thinking of a montage of scenes centred around yachts,

beaches, and champagne. Please allow me to derail that train of

thought. I am a programmer who attends the Cannes International

Film Festival to scout for films and meet the people who are in the

business of making and selling them. I have never come within

hugging distance of any major Hollywood star there (although last

year I did see the back of Ryan Gosling's head, walking a mere 400

metres from me). The one time I got onto a yacht, I got seasick and

I may have had to get into a staring match with some doormen to

enter the many luxury brand stores that line the Croisette. So when

I say Cannes, the picture in my brain is nothing like the one in yours.

Film festivals are like that. Poised right at the intersection of

cinema, glamour, travel, and food, they are connected to the cities

they inhabit, yet they have their own energy, vibe, and ideology.

I highly recommend trekking to the ones listed here to experience

why thousands of people migrate to them every year, almost like

devotees who find themselves on a pilgrimage.

DENIS MAKARENKO/SHUTTERSTOCK

MAY 2017 | NATIONAL GEOGRAPHIC TRAVELLER INDIA 75
---
In Focus | FESTIVE SPIRIT

Cannes Film Festival Festival de Cannes

Year of Inception

1946

Month

May

Festival Hub

Palais du Festivals

Average no. of

films screened

180+

Average no. of

people attending

30,000+

Cannes is the mother of all film festivals. Every

May, over thirty thousand directors, producers,

writers, journalists, sales agents, and assorted film

professionals descend upon the eponymous town

in French Riviera. They network, walk the red carpet,

pitch films, and try and watch some of the over 180

films that are screened here as part of the official

selection. As a festival, Cannes is so exclusive—some

would say haughty—that you can attend it only if

you're connected to cinema professionally or are a

member of the press. But not to despair, the festival

also has some fantastic sidebars like the Director's

Fortnight (which Anurag Kashyap regularly features

on) and Critic's Week for which the general public can

buy tickets.

If you do manage to swing yourself an accreditation

or place your faith in swinging some last minute film

tickets, Cannes is a town that has much to offer.

During the ten days of the festival, the sleepy town

transforms itself and films take over. The weather is

usually perfect with just enough nip in the air to save

one from being broiled. The beach is only 10 minutes

away. But to experience Cannes in all its glory, one

must set aside hours to stargaze and people-watch.

The best places to do this is right outside the Palais

des Festivals where all the red carpets take place or

in the lobbies of hotels like the JW Marriott, Carlton,

or the Grand Martinez where all the A-listers stay. It's

quite normal to see people dressed from head to toe

in couture, walking casually down the road as they

make their way from the red carpet to the first of many

parties of the night. You might also spot your favourite

art-house filmmaker in one of the many restaurants

opposite the two-kilometre long Croisette. Do try

out some authentic Provençal cuisine and pack your

walking shoes. Cannes is best covered on foot and

cars are prohibitively expensive. Although the Uber

in Cannes does have a helicopter option, so that's

always there. If you're a racing enthusiast, Monaco is

only an hour away. (www.festival-cannes.com/fr.)

TANIAVOLOBUEVA/SHUTTERSTOCK

76 NATIONAL GEOGRAPHIC TRAVELLER INDIA | MAY 2017
---
■ WORLD

Mumbai Film Festival Mami

The Mumbai Film Festival, or MAMI as its popularly

known, is the youngest on this list. Three years ago,

it was about to be discontinued due to lack of funds

when a team led by journalist Anupama Chopra and

filmmaker Kiran Rao stepped in to galvanise support

and money to keep it going. It has since grown by leaps

and bounds. MAMI starts the film festival calendar in

India and only screens India premieres. This means

that every cinephile, writer, actor, assistant director

and filmmaker worth his or her salt in Mumbai takes

a few days off work and braves Mumbai traffic to cram

as many films as possible in one day. Regardless of

what kind of cinema you veer towards, MAMI will have

a section for you. Indie, genre, world cinema, restored

classics, children's films; it's all there. For the more

populist palette there is the Movie Mela. You can also

catch masterclasses with stalwarts like Jia Jhangke,

Cary Fukanaga, and Catherine Deneuve. MAMI has

venues all over the city. There's nothing quite like

watching the latest Asghar Farhadi film with fellow

movie fans in an art-deco theatre like the Regal in

Colaba. (www.mumbaifilmfestival.com.)

Year of Inception

1997

Month

October

Festival Hub

PVR Icon

Average no. of

films screened

200+

Average no. of

people attending

10,000+

Toronto International Film Festival (TIFF

Year of Inception

1986

Month

September

Festival Hub

TIFF Bell Lightbox

Average no. of

films screened

400+

Average no. of

people attending

5,00,000+

Unanimously crowned the "happiest film festival"

Toronto International Film Festival's unpretentious

personality is first made obvious by its friendly

acronym—TIFF. Over the years, the festival has

become a hub for premiering American and Canadian

cinema. It is also one to reckon with come Oscar

season. It's attended by all leading Hollywood studios

and talent. Beyond the movies (which are excellent)

and the glitz (there is a lot of that), TIFF is a festival

that genuinely wants to embrace everyone. That spirit

shines through in the hundreds of festival volunteers.

TIFF also has the coolest festival merchandise that

ranges from brooches to coffee cups to cameras.

While the festival is going on, TIFF converts a section

of King's Street in Toronto to a pedestrian-only zone

called "Festival Street", which is choc-a-bloc with

buskers, pop up shops, and food trucks, and free

concerts. Also recommended is a trip to the Toronto

Islands, which is only a 15-minute ferry ride from

downtown Toronto. (www.tiff.net.)

PHOTO COURTESY: MAMI (MAMI), DOMINIC CHAN/WENN LTD/DINODIA PHOTO LIBRARY (TIFF)

MAY 2017 | NATIONAL GEOGRAPHIC TRAVELLER INDIA 77
---
In Focus | FESTIVE SPIRIT

Berlin International Film Festival Berlinale

Year of Inception

1951

Month

February

Festival Hub

Berlinale Palast

Average no. of

films screened

400+

Average no. of

people attending

20,000+

The Berlinale is another leading film festival in Europe

that becomes a global agent for cinema each year.

Drawing on the legacy and baggage that comes

with Germany, it's carved an identity for itself by

consistently curating cinema that is political and

addresses critical issues like migration, race, refugees

and climate change. In 2015, Ai Weiwei festooned the

pillars of the Konserthauswith with 14,000 refugee

life vests. Last year, German politician Claudia Roth

walked the red carpet wearing a gown that said

"Unpresidented".

Berlin is a city that remembers history. So pieces of

the Berlin Wall which came down in 1989 are framed

all over the city. You can also visit Checkpoint Charlie

which was the most famous crossing point from East

to West Berlin and is still patrolled by actors dressed

as border guards (€1/`70 for a selfie with them). Also

spend some time visiting the Topography of Terror, a

museum that is built on the site that used to be the

headquarters of the Gestapo.

It's not all grim though. Berlin is an affordable city

with a thriving cultural scene. One could spend a

whole day just viewing the incredible graffiti that is

everywhere. The food is cheap and comes from all

over the world. Once you've had the currywurst which

is almost the national dish, check out Johnny's Bar

in Zimmerstraße for the Jamaican fare and Linh Linh

near MGB (Martin Gropius Bau) for some sumptuous

Vietnamese food.

The large Turkish community in Berlin also means

the falafel and the doner kebabs are delectable across

the board. If you're in the mood for some pub hopping,

Berlin has an astounding selection of beer. Hop over

to the hip Kreuzberg district to drink the night away.

Also recommended is the flea market at Mauerpark

that takes place every Sunday. Independent German

artists set up stalls and sell everything from handmade

posters to jewellery at prices. The only downside to all

this is that it is freezing during the festival, so pack

your woollies. (www.berlinale.de.)

DENIS MAKARENKO/SHUTTERSTOCK

78 NATIONAL GEOGRAPHIC TRAVELLER INDIA | MAY 2017
---
■ WORLD

South by South West SXSW

The state of Texas does not immediately seem like

an ideal setting for a film festival. But over the last

30 years, its capital Austin has been countering that

notion successfully with SXSW (South By South West).

It has a unique format with three bifurcations that

focus on film, technology, and music. Led by the spirit

of discovery, SXSW is a great place to see upcoming

films, bands, and technology. The 2007 SXSW was a

turning point for Twitter which got a lot of traction and

came into public awareness there. SXSW has become

a U.S. cultural fixture and former U.S. President Barack

Obama even gave a keynote interview here in 2016.

The festival is also the backdrop for Terrence Malick's

latest film Song to Song. SXSW features sidebars like

the Southwest Invasion which is a three-day concert

series that takes place on the rooftop of a Whole Foods

Store. If you feel like partaking in some local flavour,

try the Tex Mex at Tamale House East and visit the

Rodeo Austin which comes to town during the festival

in March. (www.sxsw.com.)

Kalpana nair coordinates the film programme at the Mumbai Film Festival.

Her work takes her to film festivals all over the world and she moonlights

as a freelance writer when the urge strikes. Her travels are always

sprinkled with generous doses of cinema.

Year of Inception

1984

Month

March

Festival Hub

Austin Convention

Centre

Average no. of

films screened

150+

Average no. of

people attending

85,000

STOCK_PHOTO_WORLD/SHUTTERSTOCK (SXSW)

MAY 2017 | NATIONAL GEOGRAPHIC TRAVELLER INDIA 79
---
In Focus | FESTIVE SPIRIT

In parts of Sukhothai,

it is an age-old tradition to

release paper lanterns, known

as the khomloi, into the sky

during Loy Krathong.

LIGHT AT THE END OF

THE FUNNEL

CELEBRATING LOY KRATHONG IN SUKHOTHAI, THAILAND

TEXT & PHOTOGRAPHS BY SUGATO MUKHERJEE

Last year, I visited Sukhothai, in north-central

Thailand, timing my trip to coincide with

the annual Loy Krathong festival in November,

a festival of light which celebrates the Buddha.

It is celebrated throughout the country, though it originated in

Sukhothai. Here it is associated with the commemoration of a

13th-century battle, during which a Buddha statue allegedly

spoke to the Siamese army, boosting their morale as they fended

off Burmese invaders.

On the advice of my Italian host Paulo, who runs a guesthouse

in Sukhothai with his Thai wife, I travelled to Wat Si Chum,

the temple where Buddhist monks worship the speaking

Buddha from the legend. Few people witness the ceremony

here, which takes place before the larger public procession.

The nondescript temple is located on the northern fringes of

the manicured gardens and old stone Buddhas of Sukhothai

Historical Park, a UNESCO World Heritage Site 10 kilometres

from the city.

I followed a group of orange-robed monks, who entered

through a narrow slit in the temple's wall. Inside was one of the

largest and finest Buddha statues I had ever seen. As the chants

of the monks reverberated in the conical temple, sunrays filtered

80 NATIONAL GEOGRAPHIC TRAVELLER INDIA | MAY 2017
---
■ THAILAND

Traditional Thai clothing and headgear (top left) are sported during the festival parades; The buoyant, decorated baskets called krathongs are

released into water (bottom left) as an offering to Pra Mae Khongkha, the goddess of water. They are believed to carry away one's hatred, anger,

and defilements; According to a Thai legend, the stuccoed Buddha statue (right) inside Wat Si Chum spoke to the Siamese army during a

13th-century battle against Burmese invaders.

through to light up the 13th-century statue's golden fingers.

It was the fifth and climactic day of Loy Krathong. Festivities

had so far involved beauty pageants, basket-making competitions,

food stalls, and musical soirées. In the evening, the city's main

boulevard brimmed with colour and music. A long parade inched

towards the historical park. Women in flowing costumes froze in

elegant poses atop elephants and on palanquins carried by other

revellers. Children darted in and out of the procession to grab

deep-fried delicacies from roadside food stalls.

At the park's main gate, vendors sold incense sticks, candles,

and an array of ornate krathongs, floating baskets made of banana

stalks and meticulously-folded banana leaves and decorated with

flowers and candles. I purchased one, and lighting the candle,

floated the dainty vessel into a small moat along with the crowd.

Then it was time for the laser show, the high point of

Sukhothai's Loy Krathong celebration. The full moon soared atop

Wat Mahathat, a 700-hundred-year-old shrine and the park's

largest temple. The performance began with laser rays piercing

the darkness. The history of Sukhothai unfolded through

superbly choreographed performances by about 200 dancers and

actors. At the end of the extravaganza, thousands of khomloi or

sky lanterns filled the night sky, illuminating the majestic head

of the Buddha of Wat Mahathat, before gradually fading into

inky oblivion.

THE VITALS

Loy Krathong is on 4 November, 2017.

Getting There Sukhothai is 440 km/6.5 hr north of Bangkok.

Buses leave every 30 minutes from Bangkok's Mo Chit Northern

Bus Station (www.sawadee.com/thailand/transfer/bus-north.html;

tickets THB324/`620). Another option is to take a short one-hour

flight (roundtrip from about `6,000).

Getting Around Renting a bicycle (THB50-60 per day) is a good

way to explore Sukhothai. Take a broad-brimmed hat, as it can be

uncomfortably hot even in the middle of November.

Sugato Mukherjee is a Kolkata-based writer and photographer

who loves travelling off the beaten path and experimenting

with local cuisines. His first coffee-table book An Antique Land:

A Visual Memoir of Ladakh was published in 2013.

MAY 2017 | NATIONAL GEOGRAPHIC TRAVELLER INDIA 81
---
In Focus | FESTIVE SPIRIT

When

Magic

Becomes Realism

XXXXXXXXXXXX (XXXXXXXXX)

82 NATIONAL GEOGRAPHIC TRAVELLER INDIA | MAY 2017
---
■ DENMARK

A festival in Denmark brings

Hans Christian Andersen's

world of fantasy alive

By Saumya Ancheri

XXXXXXXXXXXX (XXXXXXXXX)

MAY 2017 | NATIONAL GEOGRAPHIC TRAVELLER INDIA 83
---
In Focus | FESTIVE SPIRIT

Growing

up in the

Bombay

of the 1980s

and '90s,

my make-believe world included characters from Hans Christian

Andersen's fairy tales: a girl so tiny that one of her suitors was

a frog, another girl who proved she was a princess because she

could sense a pea lodged beneath her bed of 20 mattresses.

Andersen's world was ruled by whimsy and magic. I didn't

realise how much of his stories had coloured my imagination

until I walked the streets where he lived in Odense, Denmark.

The first sign that our group of five journalists and our host

were in the 19th-century author's hometown, was the traffic

signal outside the railway station of Odense. The traffic light's

little green and red men resembled Andersen in profile, complete

with coat, top hat, and cane. On the pavement, footprints in the

author's giant size 46 created a trail to Andersen attractions

across the city.

Around a corner marched golden-haired princesses with

wands and crowned princes with sceptres, all singing. Their

invisible pied piper was none other than Andersen, who is

celebrated for a week every August in his hometown. The

Hans Christian Andersen Festival, started in 2013 by a group

of local businesspeople, hosts parades, street performances,

ballet, theatre, and 3D light shows, all inspired by Andersen's

magical world. In keeping with the festival theme of "anything

can happen", drummers banging on trash cans would suddenly

fill up a square, or we'd turn down a street to find a canopy of

umbrellas swaying overhead.

Odense may be Denmark's third-largest city, and just a twohour

train ride from Copenhagen, but it exudes an air of the last

century. As we wandered lanes away from the festival bustle,

we passed pretty half-timbered houses, restaurants serving

traditional Danish food like fried pork belly with potatoes, and

quaint cottages with windowsills displaying porcelain figurines.

We paused by the museum to Odense's other celebrated resident,

Carl Nielsen, and peered down a narrow cobblestoned street

that looked the same 500 years ago. And yet for all its old world

charms, Odense was a hub for robotics, with the national test

centre for drone technology inside the Hans Christian Andersen

Airport. It was mind-boggling.

At 14, Andersen caught a bus to Copenhagen where he

XXXXXXXXXXXX (XXXXXXXXX)

84 NATIONAL GEOGRAPHIC TRAVELLER INDIA | MAY 2017
---
■ DENMARK

Every July, visitors to the Hans Christian Andersen

Museum can sprawl on its lawns and watch a free

performance of "24 Fairy Tales in 24 Minutes".

Previous spread: With its lush parks, heritage

buildings, museums, and traditional cuisine,

Odense makes for a wonderful family day trip

from Copenhagen.

JORDI SALAS/AGE FOTOSTOCK/DINODIA PHOTO LIBRARY

PRIVIOUS SPREAD: PHOTO COURTESY: VISIT ODENSE (PERFORMER, STATUE, AUDIENCE & FOOD), PHOTO COURTESY: ODENSE BYS MUSEER (KIDS, MUSEUM, BUILDING)

MAY 2017 | NATIONAL GEOGRAPHIC TRAVELLER INDIA 85
---
In Focus | FESTIVE SPIRIT

Andersen's fairy tales come alive all over Odense as grown-ups enact them for children (top) across the city; The island of Funen (bottom),

on which Odense is located, is called Denmark's Garden Island for its rolling hills, apple orchards, and fresh farm produce.

PAOLO BONA/SHUTTERSTOCK (PERFORMES), PHOTO COURTESY: VISIT ODENSE (INSTALLATION)

86 NATIONAL GEOGRAPHIC TRAVELLER INDIA | MAY 2017
---
■ DENMARK

spent most of his adult life, but he never really left—we saw

his portrait drawn on a building facade, and his metal likeness

seated outside a hotel. I couldn't imagine what it was like to be

a kid in Odense, reading his stories in school and then walking

by sculptures from his tales on the street. At one street corner

was a larger-than-life statue of Andersen's tin soldier toy, who

literally burned with love for a paper ballerina. As a child, the

melancholic tale made me pull faces, but looking at the soldier, I

couldn't escape its grimness. Andersen's life was far from easy, as

I was about to find out at the Hans Christian Andersen Museum

and Childhood Home.

Large-nosed and taller than average at around 6 feet,

Andersen was considered ungainly; in a way, his life paralleled

his story about an ugly duckling that turned into a swan. But

he loved having his portrait made. Little details like these were

turning a legendary author into a real human being for me. In

Copenhagen, he tried to be a ballet dancer, an actor, a singer,

but had made his mark as a writer. He was a prolific writer of

plays, stories, poetry, and travelogues, and became one of the

most translated authors of all time. But he was also terrified of

dentists, and was so scared of dying in a building fire—a real fear

in the 19th century—that he used to carry a rope with him on his

travels for a speedy escape.

And boy, did he love to travel—to Italy, Germany, the Czech

Republic, Scotland. On my first walk around Copenhagen, I'd

spied the last line of a favourite Andersen quote "To travel is to

live" on a signboard near our hotel in Nyhavn, now a gentrified

waterfront district. During Andersen's time, Nyhavn's charm

was its cheap rent; it used to be frequented by pub-goers, sailors

and women of pleasure. He lived in three different houses

on that waterfront, writing stories like "The Tinderbox", about

a soldier with questionable morals and a bit of magic. Andersen

was so broke that he used to stroll with a dinner napkin in his

pocket, ready to be invited for a meal. At the Odense museum,

we saw his beautiful paper cut-outs of ballerinas, pirates, and

angels. Andersen was known to entertain friends by spinning

a story around his paper art as he worked, finally revealing an

intricate chain of paper figures that he would gift to his host.

Andersen was famous by 30, so much of the details of his life

remain. Even his birthplace is reconstructed at the museum; I

was quite struck by a short bed made for people to sit up and

sleep as a precaution against tuberculosis. A troubled man

emerged from Andersen's correspondence and journals. He fell

for unattainable women, expressed unrequited love to men and

women, and was lonely though he was so well known. It is a side

that most of Andersen's biographers ignore, but it made me better

understand the often unhappy endings of his stories.

It was at The Tinderbox, the children's cultural centre next

door, that the fantasy of Andersen's fairy tales came alive. A

huggable life-size soldier puppet waited by the entrance, while

enormous geese soared against the ceiling, and a tree curled

above us with paper leaves for kids to scrawl wishes on. There

was a large castle where kids could play dress-up, and a costume

room with racks of spangled mermaid tails, fluffy octopus

puppets, and royal costumes. We were tempted to join the kids.

The Andersen trail continued as we headed for lunch by the

River Odense, sipping on store-bought cans of potent Hans

Christian Andersen beer. Close to the museum, we passed the

spot where Andersen's mother, a washerwoman, did laundry;

his shoemaker father died early. At Kramboden, a quaint shop

whose premises were 450 years old, I sampled traditional tart

rhubarb candies. Outside, a wheelbarrow marked the spot where

the teenaged Andersen caught a bus to Copenhagen, a ride that

would change his life forever.

The author's spirit was still alive in Copenhagen, I found

the next day, on a whirlwind Andersen tour with our guide

Richard Karpen. Dressed in a top hat and coat, with a cane in

hand, Karpen was quickly recognised as Andersen and warmly

greeted by locals and tourists. After all, Andersen had helped

put Denmark on the world map—and he was everywhere in

the city. Tivoli Gardens had an amusement park ride named

after him, his statue graced the royal gardens and the City

Hall square, his Little Mermaid character was the city's most

photographed statue.

I had arrived in Denmark looking for a long-forgotten childhood

companion. I had stood outside Andersen's homes, shuffled

by his leafy grave in Assistens Cemetery, gazed up the

Round Tower where he wrote stories. Behind those timeless

tales, I found an intriguing person. At the airport the next day, I

couldn't resist buying a beautifully illustrated copy of his work.

Andersen wrote his fairy tales as much for children as for adults,

I remembered Karpen say. I couldn't wait to re-read them.

Saumya ancheri was until recently Assistant Web Editor at

National Geographic Traveller India. She loves places by the

sea, and travels to shift her own boundaries.

The Vitals

Orientation Odense is on Funen Island,

Denmark's second largest island. The birthplace

of Hans Christian Andersen, it hosts a weeklong

festival every August in his honour. The

Hans Christian Andersen Festival will run

from August 20-27 2017. Details and tickets

on www.hcafestivals.com.

For details on Richard Karpen's Hans

Christian Andersen tour of the old city, see

www.copenhagenwalks.com.

Getting There & Visa Flights from India

to Copenhagen require a short layover in a

European city such as Munich, or a Middle

Eastern hub like Dubai. Travellers to Odense can

take a train, bus, or car for the roughly two-hour

journey from Copenhagen.

Indian travellers to Denmark require a

Schengen visa. A 90-day, multiple-entry visa

costs `5,641 including service charge. Applicants

must have a return ticket, a confirmed itinerary,

and travel medical insurance with a minimum

coverage of €30,000/`21,00,000 valid for

the duration of the visit across EU states. For

application forms and documentation details,

visit dk.vfsglobal.co.in. It is best to apply for

a visa at least 15 days before departure.

MAY 2017 | NATIONAL GEOGRAPHIC TRAVELLER INDIA 87
---
In Focus | FESTIVE SPIRIT

XXXXXXXXXXXX (XXXXXXXXX)

88 NATIONAL GEOGRAPHIC TRAVELLER INDIA | MAY 2017
---
■ WORLD

IMAGE PARTNER

CANON EOS 5D MARK II

APERTURE: F/5.0 • SHUTTER SPEED: 1/200 SEC • ISO: 200
---
In Focus | FESTIVE SPIRIT

CANON EOS 5D MARK II

APERTURE: F/5.6 • SHUTTER SPEED: 1/1000 SEC • ISO: 400

90 NATIONAL GEOGRAPHIC TRAVELLER INDIA | MAY 2017
---
■ WORLD

CANON EOS 5D MARK II

APERTURE: 6.3 • SHUTTER SPEED: 1/320 SEC • ISO: 100

The shamanistic Lai-Haroba Festival is

led by a procession of Manipuri ponies.

The riders bathe the ponies to prepare

for the ritual. I find that these cultural

practices are important but often

neglected in visual documentation of

the festival.

When shooting in bright light and

with water, I like to use a fast shutter

speed, and shallow depth of field

as it helps to eliminate some of the

chaos prevalent when working in a

tight space. My Canon EOS 5D Mark II

shoots almost four frames a second,

so while throwing buckets of water, the

patterns were constantly changing, and

I needed to shoot a lot to get the most

interesting shape.

Hola Mohalla is an annual Sikh festival

that marks the establishment of the

Khalsa Panth (the community's martial

wing) by Guru Gobind Singh. During

the event, pilgrims from the world

over come to pay their respects at the

many gurdwaras of Anandpur Sahib.

The festival culminates in a martial arts

display by the Nihangs (Sikh warriors)

at a crowded stadium. While the performances

are perilous, it is almost as

risky to be a spectator.I wanted to show

the crowds lining the makeshift track

as the young boy gallops down on two

horses, holding the reins in his mouth.

It was important to have the sky as the

background for his arms as it highlights

how exposed he is.

Previous spread: The Latin City parade

was started in 2011 to promote Macao's

multicultural heritage. The parade

moved faster than I expected, and I had

to run ahead to try to get my settings

done before the performers went by.

The AI SERVO auto focus mode on my

Canon EOS 5D Mark II ensured I could

track my subjects, as they moved. The

parade went through many narrow

lanes lined with high buildings, creating

"gorge" like lighting conditions, where

it is hard to balance exposure. Because

of the full-frame CMOS sensor, by

slightly underexposing the RAW

images, I was able to retain enough

information to create clean images

during post processing.

MAY 2017 | NATIONAL GEOGRAPHIC TRAVELLER INDIA 91
---
In Focus | FESTIVE SPIRIT

The Maha Kumbh Mela happens

every 144 years, so it is safe to say

that you will only get one chance to

shoot it. At my first Kumbh Mela, I

was keen to shoot the famous sadhus.

Unfortunately before I reached, there

was rain—a signal for the Sadhus to

move. I was disappointed, but realised

I had an opportunity to create images

that reflected the faith of the people

I had shared space and time with.

The arrangements were thoughtful,

and the mela grounds remained

illuminated through the night, with

policemen on patrol on horses,

boats, and on foot to ensure safe

passage for everyone. As the sun set,

I shot on a tripod with long exposure

and a small aperture to get the star

effect of the lights.

Ashima Narain's photography and

filmmaking has covered a diverse range

of topics that have allowed her to wade

through Mumbai's mudflats in search

of flamingos, hide out in bear caves,

and document sari weavers in Varanasi.

As a former photo editor of National

Geographic Traveller India, she covered

the Portuguese influence on the island

of Diu and an ex-reconnaissance pilot's

solo circumnavigation of the earth by

sea, among other stories. Ashima is

part of National Geographic Creative.

XXXXXXXXXXXX (XXXXXXXXX)

92 NATIONAL GEOGRAPHIC TRAVELLER INDIA | MAY 2017
---
■ WORLD

CANON EOS 5D MARK II

APERTURE: 32 • SHUTTER SPEED: 4 SEC • ISO: 100

KAUSHAL PARIKH (AUTHOR PHOTOGRAPH)

MAY 2017 | NATIONAL GEOGRAPHIC TRAVELLER INDIA 93
---
In Focus | FESTIVE SPIRIT

Fire-breathing dragons

come to life with fireworks

during China's annual

Shangyuan festival.

XXXXXXXXXXXX (XXXXXXXXX)

94 NATIONAL GEOGRAPHIC TRAVELLER INDIA | MAY 2017
---
■ WORLD

Play With Fire

Follow the crowds to these

nocturnal fire festivals

around the world

SHANGYUAN FESTIVAL, China

The Shangyuan festival, or the Spring Lantern

Festival, is celebrated on the 15th night of the

first month of the Chinese new year (February or

March). On this day, towns and villages across the

country bathe in the glow of lanterns. Red paper

globes fly among illuminated butterflies, dragons,

and birds, each written with a riddle—those who

solve them win a prize.

SUMMER SOLSTICE, Glastonbury,

England

Glastonbury Tor (or hill) has been sacred for

millennia, and on Midsummer Eve hundreds

gather on it. Children throw petals, holy water is

sprinkled, and the hill is blessed with fire. It marks

the important celebration of the beginning of

summer, the season of warmth and plenty.

FEAST OF SAN JUAN, Spain

At this June festival, revellers build bonfires that

blaze through the night to welcome summer.

According to tradition, jumping over a fire three

times on San Juan night burns your troubles away.

QUEMA DEL DIABLO, Guatemala

In early December, just before Christmas,

Guatemalans rid their homes and lives of the

devil. Garbage is cleared and homes cleaned, with

special attention paid to nooks and corners and

the area below the bed. All rubbish is then burnt

to celebrate Quema del Diablo or The Burning of

the Devil, and Christmas is welcomed with a clean

heart and home.

DAIZENJI TAMATAREGU SHRINE'S

"ONIYO", Fukuoka, Japan

On the seventh day of the new year, after being

guarded at the temple for a week, the Oniyo or

fire devil is brought out to ward off evil spirits in

a ceremony at the Daizenji Tamataregu Shrine. As

part of a 1,600-year-old Shinto ritual, the flame is

transferred to six 45-foot-tall and three-foot-wide

torches, which are carried by men in loincloths.

Onlookers who have embers or ash fall on them

from the torches are believed to be blessed.

CHI HUNG CHEUNG
---
In Focus | FESTIVE SPIRIT

Reaching a

Music is known as the universal language of mankind.

Outdoor festivals stand testimony to this theory, when

hundreds of pulsating bodies groove to a rhythm in

unison. It's a transcendent experience that can change

your life. Indian festivals have yet to achieve the

grandeur of Tomorrowland and Coachella or be as

XXXXXXXXXXXX (XXXXXXXXX)

96 NATIONAL GEOGRAPHIC TRAVELLER INDIA | MAY 2017
---
■ INDIA

Crescendo

diverse as Glastonbury and the Montreal International

Jazz Festival, but many of them have reinvented

themselves to make India one of the fastest-growing music

destinations in the world. With a choice of over 200

festivals hosted across the country today, here are four

that have proven to be both music and travel hotspots:

BY VARUN DESAI

XXXXXXXXXXXX HIMANSHU ROHILLA (XXXXXXXXX)

MAY 2017 | NATIONAL GEOGRAPHIC TRAVELLER INDIA 97
---
In Focus | FESTIVE SPIRIT

SOUTH

Go:Madras

Mahabalipuram, Tamil Nadu

Since the mid-1990s, Chennai has had a strong connection

to techno music so it was inevitable that their biggest

festival would showcase this genre. Go:Madras began in

2008 on the beaches outside the city. But now it has moved to

the seaside town of Mahabalipuram. The clubbing culture of

the city has been amplified to create an outdoor music experience

that unfolds through the day and moves indoors by night

into a giant reverberating room. Unlike the techno experiences

abroad, which are usually in warehouses and industrial spaces,

this fest is held within the confines of a five-star hotel property.

If you're an energetic dancer Go:Madras promises you many

new friends, as the tempo picks up dramatically through the

evening. Some Chennai punters pride themselves on being on

the floor from start to finish. If you dance with them through the

night, you are promised good company, beautiful seaside spots,

and some of the best seafood in the world.

C

Dates September 2017; Final dates to be announced

Festival tip Be prepared for both rain and shine as the weather in Mahabalipuram is notoriously unpredictable. Remember to

pack your swimming gear in case you want to take a few laps in the sea.

Website www.gomadras.in

BHUVNESH MUTHA

98 NATIONAL GEOGRAPHIC TRAVELLER INDIA | MAY 2017
---
■ INDIA

EAST

Jazzfest

Kolkata, West Bengal

Kolkata welcomes the onset of winters with Jazzfest.

During its historic 40-year-old existence, the iconic

festival has moved around the city from venue to venue

and has played host to jazz legends like Herbie Hancock,

Wayne Shorter, Jonas Hellborg, Kenny Garret, and Shawn Lane.

Currently, the event is held at the Dalhousie Insitute, a

downtown country club. The three days of evening outdoor

shows at the fest usually feature a line-up of six to eight

international bands. Over the last few years, this event has also

become a platform for Indian jazz bands to headline shows.

During the Jazzfest, Dalhousie's grounds are packed with

serious music aficionados, often the most ardent ones taking

up seats in the front as families and groups enjoy the ongoings

from farther behind. Since the programme starts in the evening,

visitors can spend the day exploring the city's cultural offerings,

taking in its bookstores, coffee houses, and restaurants.

C

Dates 8-10 December 2017

Festival tip The seating is open, so reach the venue early to grab a good spot. Also pick up your food and

drink coupons in one go to avoid long queues later.

Website jazzfest.in

SAYAN DUTTA

MAY 2017 | NATIONAL GEOGRAPHIC TRAVELLER INDIA 99
---
In Focus | FESTIVE SPIRIT

NORTH

Magnetic Fields

Alsisar, Rajasthan

Started in 2013, Magnetic Fields has achieved a cult-like

status among festival die-hards. The 17th-century Alsisar

Mahal, a historical Indo-Islamic monument about four

hours north of Jaipur, serves as the backdrop for some far-out

futuristic music. Each day moves from sun scorched reggae

parties on the sands to laser and light-filled live concerts in the

evening, climaxing with sunrise sets on the roof of the palace.

The standout feature of Magnetic Fields is its well-curated

crossover music line-up. European acts rub shoulders with some

established and promising local electronic musicians and bands.

In its initial days, the roster was heavy on house and techno.

Those are still the big-ticket draws, but the festival slate has

become more diverse.

Last year saw the addition of a reggae/dub stage and a

dedicated jazz programme. Expect more musical diffractions

this year along with dazzling visual and light shows.

C

Dates 15-17 December 2017

Festival tip Plan a group trip and opt for a comfortable stay in the palace rooms. Rooms go on sale months in advance and sell out in a

matter of hours leaving only tented accommodation for latecomers.

Website www.magneticfields.in

REBECCA CONWAY

100 NATIONAL GEOGRAPHIC TRAVELLER INDIA | MAY 2017
---
■ INDIA

WEST

Nariyal Paani

Alibaug, Maharashtra

This festival is all about sunshine and music by the seashore.

Exuding a bohemian vibe, it is held at a secluded beachfront,

built to look like a bamboo and teepee village. The

playlist includes live musicians from all over the world, who start

the day with a drum circle under coconut trees, which is followed

by high energy ska and electro-jazz acts in the evening.

For urbanites looking for some respite from their daily grind,

Nariyal Paani offers a vision of community beach living without

them having to actually rough it out. The drinks and food

include both a coastal menu with thaalis and coconut water,

and snackier options like gourmet pizzas and craft beer. It's a

welcome change from the assembly-line fast food and bottled

beer served at more commercially-oriented bigger festivals.

This is the smallest festival of the four, but the prospect of

watching spectacular sunsets while listening to good music

usually brings its fair share of loyal visitors every January.

C

Dates January 2018; Final dates to be announced

Festival tip Taking the boat to and from the festival and staying at the campsite is the easiest way of experiencing the event. If you do plan

to drive in and stay at a hotel be aware that it's peak season so make bookings months in advance.

Website nariyal-paani.com

HIMANSHU ROHILLA

MAY 2017 | NATIONAL GEOGRAPHIC TRAVELLER INDIA 101
---
In Focus | FESTIVE SPIRIT

Get Ear Plugged

Other highlights worth making the journey for

The Big Gig

MUSSOORIE, OCTOBER/NOVEMBER

The Himalayan music festival is

a blend of live shows (including

blues and jazz), trekking,

nature trail walks (organised

in Jabharkhet Nature Reserve

every year), heritage walks, and

open-air film screenings.

www.facebook.com/

biggigfestival

Dover Lane

KOLKATA, JANUARY

A prestigious three-night

cultural do, it features leading

classical exponents such

as Pandit Jasraj, Ayaan Ali

Bangash, Shivkumar Sharma,

Pandit Hariprasad Chaurasia,

and Ajoy Chakraborty.

www.doverlanemusicconference.org/

Varun Desai is a director

of a Kolkata-based event

management company and

a music aficianado, who

loves touring the world as a

music producer and a DJ.

Ruhaniyat

ALL INDIA, NOVEMBER-MARCH

Spiritualists and artists

from all over the country get

together for a slice of serenity

at this sufi and mystic music

festival. Its next edition will be

held in Mumbai, Delhi, Pune,

Bengaluru, and Chennai.

ruhaniyat.com

Sunburn

GOA/PUNE, DECEMBER

India's pre-eminent EDM

festival is the hottest musical

ticket of the year-end calendar,

often attracting international

superstars like Armin Van

Buuren, David Guetta, Afrojack,

and Axwell.

sunburn.in

Ziro Festival

ZIRO, SEPTEMBER

Featuring indie, rock and folk

acts, this festival immerses you

in the native Apatani culture.

The experience is enriched by

the breathtaking scenery of

the Ziro Valley.

www.facebook.com/

zirofestival

Hornbill

KISAMA HERITAGE VILLAGE,

DECEMBER

This event is a prominent

fixture on the North East

cultural circuit, showcasing

Nagaland's inimitable heritage

through songs, food, art,

and dance.

hornbillfestival.com

RIFF

JODHPUR, OCTOBER

Timed to coincide with 'Sharad

Purnima', the brightest full

moon of the year in north India,

RIFF is a folk music extravaganza

held in Jodhpur's Maharaja

Fort. In the past, Mick Jagger

has made an appearance here.

www.jodhpurriff.org

Sula Fest

NASHIK, FEBRUARY

India's wine capital throws

an elaborate party every

year, complete with indie

and electronic music acts,

delectable food (and lots of

vino), and an unforgettable

camping experience.

www.sulafest.net

Storm Festival

COORG, FEBRUARY

A diverse range of artists,

domestic and international,

set the stage on fire at this

event. Along with the music,

visitors can also enjoy a

laidback camping experience

in picturesque Coorg.

www.stormfestivalindia.com

Sankat Mochan Sangeet

Samaroh

VARANASI, APRIL/MAY

The classical music festival

has been celebrated for over

70 years on Hanuman Jayanti.

Past performers include

Birju Maharaj and Pandit

Hariprasad Chaurasia.

www.smssvaranasi.com

PHOTO COURTESY: BIG GIG (THE BIG GIG), IP-BLACK/INDIAPICTURES (DOVER LANE), PHOTO COURTESY: RUHANIYAT FESTIVAL (RUHANIYAT),

SURUCHI MAIRA (ZIRO FESTIVAL ), IMAGES MART/INDIAPICTURES (RIFF), PHOTO COURTESY: STORM FESTIVAL (STORM FESTIVAL),

RAKESH DHARESHWAR/ALAMY/INDIAPICTURES (SUNBURN), VIKRAMJITK/SHUTTERSTOCK (HORNBILL),SULA FEST (SULA FEST),

REDDEES/SHUTTERSTOCK (SANKAT MOCHAN)

102 NATIONAL GEOGRAPHIC TRAVELLER INDIA | MAY 2017
---
JOURNEYS

104

australia

From shy bandicoots to adorable koalas,

Victoria brims with stories of conservation

madhya pradesh

Camping in Satpura Tiger Reserve reveals

110 wondrous landscapes and a new perspective

110

Satpura Tiger Reserve, Madhya Pradesh

PHOTO COURTESY: PUGDUNDEE SAFARIS

MAY 2017 | NATIONAL GEOGRAPHIC TRAVELLER INDIA 103
---
Journeys | INTO THE WILD

The "Penguin Parade" at Phillip Island

gathers a group of enthusiastic viewers

who wait at sunset for a glimpse of little

penguins returning to their burrows.

104 NATIONAL GEOGRAPHIC TRAVELLER INDIA | MAY 2017
---
■ AUSTRALIA

MY FAMILY OF OTHER

From shy bandicoots to adorable koalas,

Victoria brims with heartwarming stories of

conservation and rehabilitation

BY SONAL SHAH

PHOTO COURTESY: PHILLIP ISLAND NATURE PARK/VISIT VICTORIA

MAY 2017 | NATIONAL GEOGRAPHIC TRAVELLER INDIA 105
---
Journeys | INTO THE WILD

The seals at Melbourne Zoo have

become the symbol of its campaign,

"Seal the Loop", that works towards

cleaning Victoria's coastal areas.

As the plane descended, the moon rose, inching across

the sky like the bioluminescent tail of a giant glow-worm.

The land glistened with its light, reflecting off lakes, waterholes,

and muddy riverine slivers. The illuminated, striated hillocks

below, pocked with bush plants, echoed an observation in

the book on my lap—Bruce Chatwin's classic travelogue,

The Songlines—that Australia's "dotted" landscape inspired the

Aboriginal style of painting.

But as we turned towards Melbourne, the moonlight splashed

across the ocean, revealing the crenellated coastline of Victoria,

and the dots gave way to straight lines and squares. Here, unlike

the distant part of the continent Chatwin wrote about, the

scrub had been transformed into pasture and farmland by its

European settlers over the last 180-odd years.

This transformation appeared, complete, by the light of the

next morning, in the staid urban landscape of Melbourne.

Except for an abundance of eucalyptus trees, everything looked

startlingly familiar to me, like the eastern coast of America

transplanted, with elms and oaks, and precise road markers. Of

all the supposed strangeness of the land "down under", there was

no obvious sign.

Yet Australia is still one of the strangest places on the planet,

particularly in terms of the biodiversity of its wildlife. One of

a handful of "megadiverse" countries, the continent has a high

percentage of endemic species. But it also has one of the world's

highest rates of extinction; some scientists estimate a rate of

one or two land animals lost per decade. Climate change is a big

factor, but so are invasive species, such as feral cats and foxes,

introduced by Europeans.

Now, as the descendants of the settlers who irrevocably altered

the landscape work to preserve its particularity, some of their

approaches involve bringing in tourists—typically an invasive

lot themselves—to help fund conservation efforts and raise

awareness. Over the week I spent in and around Melbourne,

discovering a range of these approaches and their effects, the

weirdness of Oz and its unique animal life slowly sunk in.

The Special Ks

"Wowie Kazowie!" yelled Janine Duffy, swerving and slamming

the van to a halt. "That was an eastern blue-tongued lizard!" By

the time I was out of the vehicle and peering into the long grass

that lined the road leading into You Yangs Regional Park, the

skink had slithered away. But Duffy's Level Ten enthusiasm—and

the tenet of animal avoidance she had so forcefully just put into

practice—turned out to be hallmarks of my group day trip with

her company, Echidna Walkabout (www.echidnawalkabout.

com.au).

Founded in 1993, Duffy's company was one of the first to offer

minimally invasive wildlife experiences in Australia. She and

her co-founder also set up a research foundation, specifically to

study koalas. Echidna's guides and researchers are intimately

familiar with each koala around the granite You Yangs range,

PHOTO COURTESY: PAUL PHILIPSON/VISIT VICTORIA

FACING PAGE: PHOTO COURTESY: MARK WATSON/VISIT VICTORIA (PEOPLE), PHOTO COURTESY: ECHIDNA WALKABOUT NATURE TOURS/VISIT VICTORIA (KANGAROO)

106 NATIONAL GEOGRAPHIC TRAVELLER INDIA | MAY 2017
---
■ AUSTRALIA

an hour southwest of Melbourne. In 1998, they discovered a new

way to tell koalas apart from the underside of their nostrils—a

testament to how much time they've spent staring up at them.

Once in the woods, Duffy led us to Winberry, a "dominant"

male, who she called the king of the forest. Despite the crunch of

our feet on the dry undergrowth, he slept peacefully, his cushion

of cartilage keeping him moored to his high perch. Duffy told us

that koalas prefer the moisture-rich new leaves from the tops of

trees, and that climate change, which causes dryer eucalyptus,

has affected their population.

Duffy explained that because Australia's climate is already so

extreme, its flora and fauna are "superheroes", uniquely adapted

to living on the edge. Kangaroos, for example, can survive

10 years of drought, even reproducing for the first six. But

because animals are so precisely calibrated to certain extremes,

their populations decline catastrophically when a larger change,

such as global warming, is introduced, making Australia a

bellwether of climatic disaster.

Duffy's insistence on maintaining a strict distance from

Winberry was in stark contrast to the koala conservation

centre I visited on Phillip Island, about two hours southeast

of Melbourne, where the trees surrounding a boardwalk were

festooned with fresh eucalyptus boughs to draw the animals

to them. However, Echidna does encourage some handson

engagement, and Duffy soon had us hard at work, pulling

up boneseed, an invasive weed that was planted here about a

century ago to pack the soil after a forest fire.

This weeding project began when Echidna's researchers

noticed that koalas avoided the trees that were surrounded by

boneseed, probably because they like a clear view of predators

when ambling from one trunk to another at dawn or dusk.

Partly through the weeding efforts of Echidna's tour groups,

which resonate with traditional Aboriginal land management

practices, the koala population in the park has increased

fourfold in two years.

As the afternoon grew hotter, we ventured out of the shade

of the You Yangs' eucalyptus groves to a field of dry long grass

in the nearby Serendip Sanctuary, which the state purchased

from farmers in the 1950s to breed endangered birds. Serendip's

grazing ground for mobs of wild eastern grey kangaroos became

a stalking ground for us, as Duffy all but belly-crawled between

sparse rows of trees, attempting to sneak up on the skittish

megapods.

Feeling a little foolish, and very sweaty, I was still thrilled

when a kangaroo bounded by, then melted ghost-like into the

grass. The experience surpassed the more up-close and personal

encounter I had with eastern greys at the Melbourne Zoo, where

one can pet the creatures while they feed. But as Duffy said,

"some people need zoos to form the connection."

Trails sheltered by Great Otway National Park's rainforest canopy (top)

are a popular option for hikers; The eastern grey kangaroo (bottom),

Australia's poster child for wildlife, reaches a speed of over 56 kmph.

Hit Parade

If Australia's animals are superheroes, nowhere are these

champions pressed into greater service than at Australia's

oldest zoo. The Melbourne Zoo (www.zoo.org.au/melbourne),

though cosy and colonial, has come a long way from its mid-

19th-century origins. Besides areas like the kangaroo enclosure,

where humans are taught to respect animals within their

spaces, the zoo also runs several campaigns to change people's

habits. One of these is "Seal the Loop", an initiative to recycle

the zoo's plastic into bins for collecting fishing line, which is

MAY 2017 | NATIONAL GEOGRAPHIC TRAVELLER INDIA 107
---
Journeys | INTO THE WILD

The elusive platypus can be spotted on a boating trip on Lake

Elizabeth (top) in Great Otway National Park; The 74-odd-acres of

You Yangs National Park are an ideal habitat for koalas (bottom).

harmful to marine animals. At the fur seal tank, these graceful,

intelligent animals, whose ancestors drew the earliest European

hunters to Victoria's shores, now perform acrobatics while their

keepers talk about Seal the Loop: the grand finale involves a seal

dunking items into a bin.

The zoo's star ambassador is a little penguin named

Miss Wing, who was abandoned by her parents and adopted

by the keepers. During a special backstage interview with the

diminutive bird, she allowed me to touch her iridescent teal

feathers, gargled out a few notes, pecked at my toes, and then

wandered off, wings straining, behind a shimmering dragonfly—

her aspirations towards humanity momentarily abandoned for

an attempt at flight.

Miss Wing's relatives at the nature reserve on Phillip Island

(www.penguins.org.au) were far less tame, though just as

sociable amongst themselves. Since the 1920s, the island's

Summerland Peninsula has hosted viewings of the "Penguin

Parade" at dusk, when little penguins return to their burrows

after a day of fishing. What began as a couple of guys with

flashlights is now a huge viewing area that can accommodate up

to 3,000 people per night.

In a process that involved the state's purchase of a large

housing colony, the peninsula became a conservation and

tourism destination, and its penguin population has grown

steadily, from 6,000 birds in the late 1970s, to 35,000. The

viewing areas are designed to get you very close to the penguins

without disturbing them, and a great deal of work goes into

conditioning human behaviour here—no cameras are allowed,

for example. When a new section opened a year ago, only three

burrows were shifted, and the penguins, who follow the same

path home every night, were carefully taught their new routes.

Though the visitor centre has a regurgitated mass of penguin

merchandise in its gift shop, its informative displays show how

little penguins' powers extend beyond cuteness. Among their

"superhero" skills is the ability to dive into the water up to

1,300 times a day, sometimes to depths of 130 feet.

But as the sun went down, and the foot-high penguins

emerged from the ocean, cuteness was most definitely their

predominant feature. Appearing in small flocks, the penguins

waddled cautiously out of the water, scurried across the exposed

stretch of beach, then ambled slowly—stopping often to socialise

on the rocky shore—towards their burrows.

Unsexy Beasts

Penguins, koalas, and kangaroos are among Australia's most

popular and recognisable animals, but they are not its most

threatened. A priority list of about 20 highly endangered

species includes such timorous beasties as the southern brown

bandicoot and long-nosed potoroo, and marsupial "mice" such

as dunnarts and antechinuses. The eastern barred bandicoot,

already extinct in the wild, is foremost on the list.

This small marsupial is the focus of conservation efforts on

Churchill Island (www.penguins.org.au/attractions/churchillisland),

a smaller island just next to Phillip Island. Churchill

has a preserved early settler "heritage" farm, complete with

livestock, but conservationists are trying to return the underlying

ecosystem of this island to its pre-European state, starting with

the eastern barred bandicoot. I visited Churchill during the

day—the wrong time to commune with this elusive, speedy,

and nocturnal marsupial, but I did meet Donald Sutherland,

PHOTO COURTESY: MARK CHEW/GREAT OTWAY NATIONAL PARK/VISIT VICTORIA (LAKE), PHOTO COURTESY: ECHIDNA

WALKABOUT NATURE TOURS (KOALA)

108 NATIONAL GEOGRAPHIC TRAVELLER INDIA | MAY 2017
---
■ AUSTRALIA

The Open Vehicle Adventure at the

Werribee Open Range area in Melbourne

Zoo lets visitors witness the wildlife of the

African savannah up close.

a researcher involved in its rehabilitation. Sutherland talked

about how a small population of bandicoots was introduced to

Churchill, which has no foxes or cats. With Churchill's bandicoots

now rapidly multiplying, Sutherland hopes the species can one

day be delisted as extinct in the wild.

Getting people to care about such reticent and visually

understated animals as bandicoots is a challenge, but

Sutherland explained that such efforts are key to broader

ecosystem restoration. And the myriad people and institutions

involved in bandicoot recovery—from citizen scientists, to zoos,

to a special fox management team—spells greater collaboration

in conservation efforts across the board.

Sutherland spoke of geographically isolated places like Phillip

and Churchill Islands as conservation hubs. Thanks to the

trapping, baiting, and hunting initiatives of the fox management

team, no foxes have been spotted on Phillip Island for almost

two years. This is good for the penguins there—a single fox can

kill up to 40 birds in a night—but also means that bandicoots

could be reintroduced on a larger scale. "People could go

to Philip Island to see what life could have been like,"

Sutherland said.

Hide-and-Seek

In the Great Otway National Park, along a southern tip of

Victoria's coast, the landscape looked not only pre-European,

but primeval. A rainforest of tall tree ferns and hang-ing mosses

loomed over an enchanting trail at dusk. I followed guide

Bruce Jackson (www.platypustours.net.au), a man as quiet as

the animal he was taking a small group of us to see, down to

Lake Elizabeth for the subtlest wildlife experience of my trip.

It was here that I saw—or did I?—the platypus.

Though the hidden lake looks ancient, it is actually only

about 50 years old. The trunks of dead trees stuck up from

its muddy green surface, casualties of its formation when the

valley flooded. As we paddled across the water in rowboats, the

lake seemed so devoid of life that we might as well have been

searching for the Loch Ness monster. Indeed, the platypus, a

mammal with a bizarre duck bill and habit of laying eggs, was

originally considered to be a hoax in Europe.

Each time Jackson murmured, "12 o'clock, 3 o'clock, to our

left," we whipped our heads around, looking for the fascinating

creature, which not only uses electrolocution to hunt, but also

produces venom from an ankle spur. Was that the glimmer of

a fur-slicked back, or a wet log? The ripple of a swimming fish,

or a diving platypus? After several such ambiguous sightings,

Jackson, presumably deeming the outing a success, brought out

biscuits and a flask of coffee.

I sipped the warm drink, bemused at the capriciousness of

this sort of wildlife "encounter". But even if the platypuses were

not forthcoming, it was enough to know that they were there,

and to drift a while longer, listening to the rustling trees, the

occasional splash of an oar, and the unfamiliar evening birdcalls.

As we rowed towards the shore, the soft, basso grunting of a

koala calling for its mate floated across the water. Its rumbling

gently receded behind me as I walked back through the dark

forest, along a path glittering with glow-worms. Everything was

strange and wonderful.

Sonal Shah is a freelance editor and writer. She formerly edited

Time Out Delhi, and was an associate editor at The Caravan.

PHOTO COURTESY: ZOOS VICTORIA/VISIT VICTORIA

MAY 2017 | NATIONAL GEOGRAPHIC TRAVELLER INDIA 109
---
Journeys | THE ESSENCE

THE

JUNGLE

BOOK

CAMPING IN SATPURA TIGER RESERVE REVEALS WONDROUS

LANDSCAPES AND A NEW PERSPECTIVE

BY KAREENA GIANANI

XXXXXXXXXXXX (XXXXXXXXX)

110 NATIONAL GEOGRAPHIC TRAVELLER INDIA | MAY 2017
---
■ MADHYA PRADESH

Hiking in the territory of tigers

in Satpura is full of small joys,

like savouring silence amid dry

brown grasslands and making

pit stops by gurgling streams.

XXXXXXXXXXXX PRABHAT VERMA (XXXXXXXXX)

MAY 2017 | NATIONAL GEOGRAPHIC TRAVELLER INDIA 111
---
Journeys | THE ESSENCE

Baked by the summer

sun, the leaves of sal

trees crunch like potato chips under my feet. Beyond me are armies

of these tall sentinels the Satpura Tiger Reserve is well known for.

Some trunks lean tipsily towards others. I have left my group behind

for a moment, but I'm far from alone: red ants scuttle up and down

tree trunks, the twitter of drongos and orioles blends with the happy

babble of brooks. Perhaps, I tell myself, I am being tracked by a

stealthy leopard and don't even know it.

This is the core area of the tiger reserve and walking through

it plunges me into the wildest heart of a jungle—any jungle—

I've seen yet. None of that zipping across designated tracks in

the safety of a jeep or returning to a guest house after safaris. I

am here for a two-and-a-half-day camping trip across Satpura

reserve in the Satpura range. The jungle falls in the hill station

of Pachmarhi, which is a five-hour drive southeast of Bhopal.

Pachmarhi is a UNESCO biosphere reserve that boasts of a

variety of medicinal plants and stunning rocky landscapes. Day

1 of my hike begins with the Forsyth Trail, a 15-kilometre walk

that retraces the route British explorer James Forsyth took on

one of his explorations of Central India in the mid-1860s.

WILD SIDE

About 30 minutes into the walk, Chinmay, our tireless

naturalist, points to a large mound. It is unmistakably manmade;

the smoothest of pebbles, stones, and twigs are arranged

and placed on it is a rock "dressed" in red cloth fringed

with silver tinsel. The local Gond tribe has erected this

shrine for their goddess Banjari mata. "They believe she will

protect them from predators while they collect firewood,"

explains Chinmay. I feel a strange comfort in knowing that

these woods, which for me are an escape, a distraction from a

personal predicament, are somebody's home. The Gonds have

long been relocated from the tiger reserve but still consider it

their spiritual abode.

Satpura's landscape changes like a fast cutting montage.

The forest closes in thickly before suddenly opening up into

a yawning ravine. Rocky stretches lead to swathes of tawny

grassland, which then give way to startlingly clear streams. In

minutes, I feel like I've thumbed through Pantone's swatches

of green, yellow, and brown. I relish the quiet, tuning in and

out of conversations. Sometimes my mind rolls to mundane

worries I have outside of this forest. I tell them to wait; perhaps

the wisdom of these trees is rubbing off on me. Inspired by

this centuries-old land that shapeshifts so much, I mentally

compose aphorisms about change (none to be shared publicly).

I watch a sambar in the distance coolly going about its day.

A few metres away, I spot a rhesus macaque peering at me

through leaves before whizzing from one branch to another as if

they were trapezes. In a jungle, spotting animals isn't just about

looking at them in the eye. Ever so often, it is about joining the

dots with the traces they leave behind. Fresh scat of a sloth bear

tells me how it feasted on termites for lunch. Recent gashes

on trees mean that a tiger or leopard could have stood here

minutes ago.

"A nest of weaver ants! They make yummy chutney of them in

Chhatisgarh," announces Chinmay, pointing to a football-sized

cluster of leaves hanging from a mahua tree. They are sewn

together with a white substance. This nest is just one of a few or

even a hundred other such homes which are part of one mega

construction, a seething city built by a weaver ant colony in this

part of the jungle.

I share Chinmay's sense of astonishment when he points

out a tree dying a slow death after being attacked by relentless

termites; or picks up a beautiful beige-and-brown porcupine

quill and tells me how the boys of the local Baiga tribe gift it to

girls they fancy. To him, Satpura is a wild wonderland and his

own open-air botanical laboratory. It dawns on me that my time

in this jungle isn't about keeping eyes peeled for the tiger, but

being attentive to every sigh and secret of this wilderness. And

hiking is also a good way to patrol the area so poachers remain

at bay, says Chinmay.

112 NATIONAL GEOGRAPHIC TRAVELLER INDIA | MAY 2017
---
■ MADHYA PRADESH

A typical day in Satpura Tiger Reserve is spent manoeuvring miles of boulders (top), but nights are reserved

for swapping stories under the star-spangled skies (bottom).

DHARMENDRA (TREKKERS), PHOTO COURTESY: PUGDUNDEE SAFARIS (TENTS)

MAY 2017 | NATIONAL GEOGRAPHIC TRAVELLER INDIA 113
---
Journeys | THE ESSENCE

SATPURA'S LANDSCAPE

CHANGES LIKE A FAST CUTTING

MONTAGE. THE FOREST CLOSES

IN THICKLY

XXXXXXXXXXXX (XXXXXXXXX)

114 NATIONAL GEOGRAPHIC TRAVELLER INDIA | MAY 2017
---
■ MADHYA PRADESH

Come dusk, campsites are set

up in the most picturesque parts

of the forest's buffer zone, like

grasslands or clearings by brooks.

DHARMENDRA

XXXXXXXXXXXX (XXXXXXXXX)

MAY 2017 | NATIONAL GEOGRAPHIC TRAVELLER INDIA 115
---
Journeys | THE ESSENCE

The canopy of trees in the

tiger reserve brims with

birds of every imaginable

hue, like the green Jerdon's

leafbird and sun-coloured

oriole (bottom right); It

is never too silly to grab

hanging roots and imitate

another Satpura resident,

the Rhesus macaque

(middle); A walk through

Satpura's core area means

rare proximity to its grandest

resident, the leopard (top

left). But the experience also

kindles an appreciation for

other creatures, such as the

swift and shy Malabar giant

squirrel (bottom left), and the

hard-working weaver ants

who build complex nests

(top right).

XXXXXXXXXXXX (XXXXXXXXX)
---
■ MADHYA PRADESH

A MOVEABLE FEAST

In the distance, I see a long wooden table and cushy chairs arranged

at a clearing under a tree. It is lunchtime, and a small

team of staff from our lodge, Denwa Backwater Escape, meets

us near a cool shallow pool. We gratefully accept small luxuries:

hand sanitizer is slathered liberally, cold towels are pressed on to

grimy faces, chilled cola cans are popped right and left. I heap dal

and some rice flecked with coconut and raisins on to my plate,

feeling full only after my third helping of crispy bhindi tossed in

spices and aamchur.

The feast has no soporific effect on Chinmay. He tells us that

next up is a steep descent. I'm terrible at them, I want to beseech

shrilly. Yet I tell no one that the last time I trekked down a steep

descent, I rolled down like tumbleweed. I emerged covered in

muck, weeds in my hair, and my pants torn in strategic places.

"Don't think. Don't teeter between rocks. Keep going," says

Manav, a fellow trekker who grew up scaling snowy mountains

in Uttarakhand. I peer at the path below: it's not a trail but a

once-trodden path at best, amid rambling weeds and rocks slick

with wet mud. This, I think dramatically, is Planet Earth. And my

current spirit animal is the Nubian ibex getting down dizzyingly

steep slopes of the Arabian Peninsula's mountains. I have none of

its soft cloven hoofs; one misstep and I'll fall right into the belly

of the valley.

I start gingerly, but slowly I push at the limits of my nature and

try not to think; really not think. I keep my eyes open but don't

linger looking for the best footholds. I wouldn't say I descend with

ease, but I do develop a rhythm. The proof that there's always a

way out is all around me. This jungle may be at the mercy of the

elements, but it puts up a hell of a fight and survives. So, up or

down, there's a path. Always.

That evening, our home pops up at the foot of a hulking mountain

like a magic trick. Khaki tents are kitted out with soft beds.

Makeshift bathrooms are fitted with open-air showers—hot

showers!—for a bath under the skies.

Laltains are placed along this buffer zone campsite like fairy

lights. A bonfire sputters to life. Frogs croak throatily over the

concert of cicadas, and the aromas of seekh kebab and peppery

potato eddy in the air. My legs smart from all the hiking, and the

horror stories we exchange are spookier than the plot of Stranger

Things. But I can't stop grinning every time I look up at the stars

blinking in the night sky like glittered confetti.

CLOSE CONNECTIONS

There's an unmistakable closeness among us when we set out

the next morning. D.K., a Delhi-based businessman, thoughtfully

clears prickly bushes for the person walking behind

him; Manav offers to carry backpacks when he notices someone's

tired. And Chinmay reveals why he became a naturalist

instead of an engineer. He fervently loves snakes, and

grew up spotting them in his hometown of Nashik. But a

few years ago, while rescuing a cobra, its bite almost killed

him. He decided life was too short to crack computer codes

instead of mating calls, so he came to Satpura. "What didn't kill

me made me surer of how I wanted to spend the rest of my life,"

smiled Chinmay.

This day is full of startling discoveries. Or perhaps it is just me

who is more present, tasting every detail. I coo over the delicate

red sundews whose surface is covered in what look like dewdrops.

But these are badass carnivorous plants and the "dewdrops" are

deadly globules that lure insects. I spend some quality time making

faces at a Malabar giant squirrel perched on a tree branch. All

this while, the smallest of rustle tells me that a leviathan of the

Satpura range might be looming large.

And suddenly they are all around: boulders. Fifteen kilometres

of rocks that will put up a fight as we cross them. I am not daunted,

and attribute this cheeriness to the terrain; miles of stunning

pink and purple sedimentary rock that looks like swirling waves

frozen in stone. True, I cross some boulders in the most unladylike

ways: clambering over them on all fours, clutching at plants for

support, even spraining my ankle. But I learn that all that matters

right now is putting one foot after another; not the craggy cliffs I

leave behind, nor the emerald streams that lie ahead.

Our pace isn't adequate, and we cross the jungle in semidarkness

for a full 45 minutes. My mind turns trickster. Shadows

seem like lurking beasts and the quiet feels like a precursor to

doom. For the first time, I see the forest as a brutal place.

Later that night, we huddle around the bonfire for one last

time. We aren't just co-travellers; we trust each other. We hauled

each other up every time someone froze among massive boulders

and steep cliffs. We speak of our childhoods, lost loves, and healing

hearts until we run out of wood for the fire. We are vastly different

people, but tonight in this forest we explored together, we

have the same stories.

Kareena Gianani is Senior Associate Editor at National

Geographic Traveller India. She loves stumbling upon hole-inthe-wall

bookshops, old towns, and collecting owl souvenirs in

all shapes and sizes.

THE VITALS

The best time to camp in Satpura Tiger Reserve is November

to March. The Denwa Backwater Escape lodge organizes

1-3-night luxury camping trips to Satpura. The trek traverses

through its core area, and camps are set up in the buffer

zone. Expect twin beds in roomy tents, hot showers and dry

pit toilets, and delicious meals made from local produce.

Stay The lodge lies in the Madhai area in south Madhya

Pradesh, 60 km/1.5 hr northwest from the entry point of the

Forsyth Trail. Overlooking the backwaters of the River Denwa,

the lodge's 8 cottages and 2 treehouses offer memorable

views of grasslands. All accommodations have large sit-out

areas perfect for curling up with a book and watching the

sunset. (www.denwabackwaterescape.com; doubles from

`18,000; luxury camping from `20,000 per person per night).

Getting There The closest airport to Denwa is in Bhopal

(170 km/ 4 hr northwest). Itarsi railway station (70 km/

2 hr west) is well connected to major cities.

CHINMAY DESHPANDE (LEOPARD & SQUIRREL), DHARMENDRA (LEAVES & PEOPLE), PRABHAT VERMA (BIRD)

MAY 2017 | NATIONAL GEOGRAPHIC TRAVELLER INDIA 117
---
SHORT BREAKS

stay

Glamping and other perks near

118 Pench National Park

stay

Inside India's first pod hotel

120 in Mumbai

Jamtara Wilderness

Camp's Star Beds are a

glamorous twist on the

machans farmers sleep

on in the middle of their

fields at night.

GROOVY GRASSLAND

ROUGH IT OUT IN STYLE AT JAMTARA WILDERNESS CAMP | BY NEHA DARA

Since I was a child, I've considered the

grasslands a sinister place. It's probably

the result of dozens of trips to Jim Corbett

National Park, during which my mother told

stories of tigers and other dangers lurking

among the tall grasses. Unlike trees,

which very obviously have hiding spots,

grasslands are beguiling spaces. They

can usher an animal in with their soft

undulating movements in the breeze,

only to spring a nasty surprise.

So, I was a little taken aback when

my luxury tent at Jamtara Wilderness

Camp, near Pench National Park's Jamtara

gate, turned out to be surrounded by a sea of beige

grasses as high as my waist. I swallowed back the

sudden uneasiness I felt, and followed my husband

down the snaking path that led to our home for

two nights. Ignoring the grass brushing against

my sides, I focused instead on that tree in the

distance from which I could hear a bird whistling,

and gurgle of the stream that ran just beside

the tent.

This was my first experience of

glamping, and I must confess I was

surprised by the number of comforts

that can be crammed inside a

structure that, come monsoon, can be

disassembled and packed away. In one

corner was a wooden desk, stocked with

writing paper and a stack of postcards

with colourful tiger motifs. Besides the bed,

the tent also has a sofa in a corner with an inviting

pile of soft cushions, an antique-style oval mirror,

and bright rugs covering the wooden floor. The

only permanent part of the set-up is the bathroom,

wildlife

``

luxury

relaxation

PHOTO COURTESY: JAMTARA WILDERNESS CAMP

118 NATIONAL GEOGRAPHIC TRAVELLER INDIA | MAY 2017
---
■ MADHYA PRADESH

MADHYA

PRADESH

Jabalpur

Jamtara Wilderness

Camp ì

in which everything is stored during the monsoon.

In the lethargy that crept up on us in the heat of

the afternoon, we flopped on the beds, not asleep

but not quite awake. Small details flitted in and

out of focus. The gleaming slimy underside of a

snail creeping up the tent flap. The loud buzzing of

a bee somewhere beyond it, just out of sight. The

tiny purple flower atop a nodding frond of grass.

A warm wind blew in, rustling through the grass

and carrying indecipherable whispers to our ears.

When I woke up in the early evening, the grassland

seemed like a less intimidating space.

Besides embarking on jeep safaris into

Pench, visitors to Jamtara can stroll through the

village the camp is named after. Plump gourds

grew on vines that climbed up whitewashed walls

and onto tiled roofs of the single-storey cottages.

Their courtyards overflowed with corn cobs

turning into a shade of orange as they dried in the

sun. Our guide from the camp waved out to several

people we passed; many of the men from the

village work as guides and drivers in the national

park. They told us tales of tigers that creep out of

the jungle in the cover of the night, and prowl on

rooftops and back alleys in search of easy prey like

poultry and cattle.

Back at the camp, we settled into chairs

around a bonfire that's organised most winter

evenings. Snacks and drinks made the rounds as

we exchanged stories of animal sightings in the

park with other guests in the light of the dancing

flames. When we went in for dinner, the dining

room's rustic décor caught my eye. The floor is

made from scrap wood, the walls have a rough,

bumpy finish, and the dining table is fashioned

from a long cross-section of a tree trunk, with all

its natural twists.

For a special experience, guests can opt for

a night on the Star Bed, and sleep on a raised

platform under the stars. But honestly, it is not

necessary to opt for anything extra to feel special.

The camp's staff made us feel that way all the time

with thoughtful little flourishes. Like the hot water

bottle tucked into the blankets that awaited us in

the safari jeep, and the candlelit tea they surprised

us with when we returned from an evening walk.

THE VITALS

Getting There Jamtara

Wilderness Camp is

located near Pench

National Park's Jamtara

gate, a 1.5-hour drive

from the park's better

known Seoni entrance.

It is 208 km/4.5 hr

southwest of Jabalpur

and 150 km/3 hr

north of Nagpur, the

nearest airport.

Accommodation

Jamtara Wilderness

Camp has 10 tents

on a 10-acre property

bookended by two

streams. The landscape

is a mix of grassland

and trees. There's

no television, Wi-Fi,

and limited phone

signal, giving visitors

an opportunity to

disconnect from their

routines. Tents are

bright and airy, with

forest-facing porches.

(91906 18805; www.

jamtarawilderness.com;

doubles from `39,501;

including all meals, two

safaris, buffer zone and

village walks; lodge

open mid-October to

mid-May).

Jamtara's luxury tents

(bottom) are a great base

for safari excusions into

Pench National Park

(top left) and strolls into

the neighbouring village

of Jamtara (top right),

after which the camp

is named.

PHOTO COURTESY: JAMTARA WILDERNESS CAMP

MAY 2017 | NATIONAL GEOGRAPHIC TRAVELLER INDIA 119
---
Short Breaks | STAY

I,POD

IN A COMFORTABLE SPACE-AGE COCOON AT INDIA'S FIRST POD HOTEL | BY RUMELA BASU

The 124 Classic Pods at Mumbai's

Urbanpod are cosy, compact,

and equipped with everything a

traveller might need for a night

in. The fact that they resemble

the props of a sci-fi film is only

an added advantage.

I

am an astronaut. Not really, but I feel

like one as I look into the circular mirror

inside my little pod-room in Mumbai's

Urbanpod. I left my shoes in the shoe locker as

soon as I entered the hotel and now I'm crawling

into my bed inside a capsule-like pod. I sit there

taking in my cosy surroundings. There is a lot

of white, from the sheets and the pillow to the

interiors of the pod. The lights are a bluishwhite,

unlike the amber ones usually found in

hotel rooms. It gives an illusion of more space

and makes the pod look a little clinical. I touch

the tiny icon on the console-like set-up to my left

and the ceiling light flickers on. This console is

right below my mirror that looks like the peaceful

cousin of HAL 9000, 2001: A Space Odyssey's

electronic antagonist. There are two USB ports,

a socket for plugging in my devices, another

for the headphones that are hanging on the far

left corner near my head, a digital clock, and

touch-operated controls for all the lights. Tucked

right under this edgy techie display is a small

Godrej locker.

The inner astronaut in me sighs wearily as I

settle back on the pillow and pick up my laptop.

Little blue LEDs along the panel indicate the

brightness of the lights around the mirror and on

the ceiling. I fiddle with it to let my pod be bathed

in a mellow bluish-white glow.

The little world created inside is in sharp contrast

with the one outside the hotel. Urbanpod's

location—the busy area of SEEPZ Andheri, right

beside a bus depot—is as nondescript as can be.

Offices and shops line the bustling road in front

of the building where the hotel is housed. Only

after stepping off the elevator on the first floor

URBAN

`

POCKET-FRIENDLY

PHOTO COURTESY: URBANPOD

120 NATIONAL GEOGRAPHIC TRAVELLER INDIA | MAY 2017
---
■ MAHARASHTRA

and entering through the double glass doors does

the sense of being in a hotel kick in. And one floor

of a building is all that it occupies. The pods are

located in clusters of 12 to 18, most of them in a

large room with one main door and some along

the hallway. Travellers flitting in and out of the

city for work would probably find a comfortable

space here.

At around 7 p.m., I am asked to give my

preference for dinner. The café outside serves

packed meals that come from a kitchen located

a few kilometres away. Simple Indian, Asian,

and European meals with vegetarian and nonvegetarian

options make up the menu. I am

informed that my dinner will arrive in the next

hour and a half or so and I decide to make my way

to the shower. The bathrooms, separated from the

pods, are located in one section at the end of a long

corridor. Since I am put in a ladies special pod—

one in a cluster of 18—my bathroom is within the

same room as my pod.

While I have a lot of privacy, because the

ladies pod is relatively empty, a shared space

like the Urbanpod may not be the best fit for

every traveller. However, if you are a backpacker

and would return to your room only to find some

peace and shut-eye, then the pod may be a good

idea. It also helps that this little cocoon looks

snazzy. Mulling over my next backpacking trip,

I head out to the café for dinner. My Asian meal

of rice and chicken comes in a take-away box,

along with cutlery in a transparent pouch. If I

was airborne, this would feel like a lavish meal

on a flight.

As I crawl into my pod at the end of the day, I

think about whether I'd like to return to Urbanpod.

I live in Mumbai and often feel like getting away

from the din. Most times there is an urge to be

closer to nature and get a room with a view that

soothes the eyes, but once in a while I wouldn't

mind being left on my own.

However, this might not be an experience

suitable for everyone. If you are expecting

24-hour room service, or are over about 6'3", then

you might want to reconsider staying here. One

of my main concerns when checking into

Urbanpod was claustrophobia but I didn't need

to worry as I have almost a foot of headspace

and a lot more leg-space inside. In the beginning

I did consider checking into a private pod, which

is located away from the cluster—a solitary pod in

one room that also has some space outside its

sliding door. I was also given the option of a suite,

with a queen-size bed and a large window. It,

however, seemed only fitting that I give the pod

a shot.

Turning in for the night, I find myself planning a

getaway, or "podation" as I call it. I think about an

upgraded business-class flight experience. It looks

a lot like my pod.

Urbanpod,

Mumbai

MAHARASHTRA

THE VITALS

Getting There

Urbanpod is located

in SEEPZ in Andheri,

Mumbai. The international

airport is about

15 min/5 km south of

the hotel. The closest

railway stations are

Bandra railway station

(30 min/35 km south)

and Chhatrapati Shivaji

Terminus (1.5 hr/35 km

south).

Accommodation

Urbanpod has 140

pods and rooms.

The Classic Pod is a

single-occupancy pod

located within a room

with 12-18 other pods.

Showers are separate.

There are 124 Classic

Pods. Of these, 18 are

only for women and

housed in one room.

The bathrooms are also

accommodated within

the same space. The

second kind, the Private

Pod, is not located in

a shared space and

has some extra space

outside. There are six

of these in all. The 10

suites are regular rooms

with a queen-size bed,

television and locker.

Meals are served at

the café and guests

are advised not to eat

inside the pods. (www.

theurbanpod.com;

pods from `1,800; suite

doubles `3,200.)

Urbanpod's pods (top),

housed in clusters of

12-18 within a large

room, and 10 pod-suites

(middle) are located

on one floor; Meals

packaged like take-aways

are served in the hotel's

sunny café (bottom).

PHOTO COURTESY: URBANPOD

MAY 2017 | NATIONAL GEOGRAPHIC TRAVELLER INDIA 121
---
© d-maps.

600 mi

Inspire | TURKEY

UKRAINE

RUSSIA

Konya

TURKEY

SYRIA

IRAQ

RUMI FESTIVAL

KONYA, TURKEY

Every year more than a

million people from all around

the world, descend on the

Anatolian city of Konya in

Turkey, for the annual Rumi

festival held in December.

It was here that Mevlana

Celaleddin-i Rumi, a well

known 13th-century Sufi

poet and writer, breathed his

last. Despite the passage of

time, Rumi's writings have

mesmerised people from all

walks of life. His philosophy

and thought which show no

bias towards any religion or

race has successfully managed

to win the hearts of many,

including the likes of pop

icon, Madonna.

During the festival, the

brotherhood called Mevlevi,

or whirling dervishes formed

by his followers, dance to

connect with their philosopher

and to their inner selves. The

dervishes dance for several

days but put up the most

spectacular show at the grand

finale on 17 December—the

day that Rumi united with God,

considered to be his wedding

night. Wearing white long robes

meant to resemble shrouds,

black cloaks symbolising their

worldly tombs, and traditional

conical caps their tombstones;

the dervishes dance

themselves into a trancelike

state while onlookers soak in

the mystic atmosphere.

—Chaitali Patel

122 NATIONAL GEOGRAPHIC TRAVELLER INDIA | MAY 2017
---
MAY 2017 | NATIONAL GEOGRAPHIC TRAVELLER INDIA 123

©OLEKSANDR RUPETA/ ALAMY/INDIAPICTURE
---
Inspire | IRELAND

124 NATIONAL GEOGRAPHIC TRAVELLER INDIA | MAY 2017
---
IRELAND

Dublin

UNITED

KINGDOM

CELTIC SEA

BLOOMSDAY

DUBLIN, IRELAND

It was Russian literary

great, Vladimir Nabokov,

who remarked after reading

James Joyce's Ulysses, "How

beautifully the man writes!"

Dubliners certainly echo that

sentiment during a month-long

celebration of Joyce's seminal

work every year.

The festival, which kicks off

on 16 June, is called Bloomsday

after the protagonist of the

novel, Leopold Bloom. What

began as a small event in 1954

has grown into a nationwide

affair with the day now being

observed as a national holiday.

Ulysses follows advertising

professional Bloom's life as it

played out on 16 June, 1904,

from 8 a. m. to the wee hours

the next morning. On the

day, Joyce devotees follow

the journey of Bloom in full

costume complete with straw

boater hats. Fans of the book

go through the streets of

Dublin and visit the places

referenced in the book, from

visiting Sweny's Pharmacy for

lemon soap, to having a lunch

of gorgonzola sandwich with

burgundy just as Bloom did.

The streets come alive with

performances and readings

from the book. Such is the

popularity of the tome and its

characters, that Bloomsday is

celebrated around the world

from San Francisco to Tokyo.

—Chaitali Patel

ZOONAR/P.CREAN/ ZOONAR GMBH RM/ALAMY/INDIAPICTURE

MAY 2017 | NATIONAL GEOGRAPHIC TRAVELLER INDIA 125
---
Inspire | INDIA

PAKISTAN

Jaipur

RAJASTHAN

INDIA

JAIPUR

LITERATURE

FESTIVAL

JAIPUR, INDIA

If you want to catch some of

the biggest names in literature

congregate for an exhilarating

exchange of ideas, then

the place to be is Jaipur in

January. Despite its modest

beginnings, the five-day Jaipur

Literature Festival (JLF) is

now the premier destination

for authors, managing to snag

some elusive invitees like

J.M. Coetzee, Jonathan

Franzen, and Margaret Atwood.

As the sun beats down on the

green lawns and grounds, fans

pack different tents across the

majestic venues throughout

the city in the hope of catching

their favourite speakers. The

setting's elegance and luxury

also attracts trendy socialites

and celebrities, who mingle

with the other guests in the

evenings over cocktails and

dinners. There is plenty to do

outside literature, too, with

music concerts, food stalls

that hawk both haute and local

cuisine and art installations on

offer. In the last few years,

JLF's popularity has soared so

much that the festival has now

gone beyond Indian shores

with an annual event held in

London in May, and another

one held in Boulder, Colorado

every September.

—Chaitali Patel

126 NATIONAL GEOGRAPHIC TRAVELLER INDIA | MAY 2017
---
MAY 2017 | NATIONAL GEOGRAPHIC TRAVELLER INDIA 127

ZOONAR/P.CREAN /ZOONAR GMBH RM/DINODIA PHOTO LIBRARY
---
TRAVEL QUIZ

TEST YOUR TRAVEL IQ

NAME THE COUNTRY WHERE

HÁKARL, A DISH OF SHARK MEAT,

IS CONSIDERED A DELICACY.

IN WHICH COUNTRIES WAS ROGUE ONE — A

STAR WARS STORY FILMED?

3

HOW LONG IS THE GREAT BARRIER REEF?

4

1

WHERE CAN YOU MEET WILD

LLAMAS AND ALPACAS

WHILE TREKKING UP TO

RAINBOW MOUNTAIN?

HOW MANY OF THE SEVEN WONDERS

OF THE ANCIENT WORLD STILL EXIST

AND WHERE CAN WE SEE THEM?

7

2

THIS CITY SITTING BETWEEN THE

SANTA YNEZ MOUNTAINS AND THE

PACIFIC OCEAN IS ALSO KNOWN AS

THE AMERICAN RIVIERA.

8

WHICH IS THE WORLD'S

OLDEST CHINATOWN?

3

WHERE IS THE LARGEST DINOSAUR

FOSSIL SITE IN INDIA?

9

ANSWERS 1. ICELAND 2. U.K., U.A.E., JORDAN, MALDIVES, AND ICELAND 3. 2,300 KILOMETRES 4. PERU 5. SANTA BARBARA 6. GUJARAT 7. ONE. THE PYRAMIDS OF

GIZA, EGYPT 8. BINONDO IN MANILA, PHILIPPINES. IT WAS ESTABLISHED IN THE 16TH CENTURY 9. PETRA, JORDAN

5

6

WHICH ARCHAEOLOGICAL SITE, ALSO KNOWN

AS "ROSE CITY" OR "ROSE-RED CITY", IS

CARVED INTO SANDSTONE CLIFFS?

ANDYKRAKOVSKI/ISTOCK (HÁKARL), DIN_EUGENIO/ISTOCK (FANS), GONZALO AZUMENDI/DINODIA PHOTO LIBRARY (GREAT BARRIER REEF), MONTGOMERYGILCHRIST/

ISTOCK (LLAMAS), TOUCHINGPIXEL/SHUTTERSTOCK (BOATS), STEVEGEER/ISTOCK (DINOSAUR), DIRSCHERL REINHARD/DINODIA PHOTO LIBRARY (PYRAMID), FUMIO

OKADA/DINODIA PHOTO LIBRARY (CHURCH), RAFAEL BEN-ARI/CHAMEL/DINODIA PHOTO LIBRARY (CAMEL)

128 NATIONAL GEOGRAPHIC TRAVELLER INDIA | MAY 2017