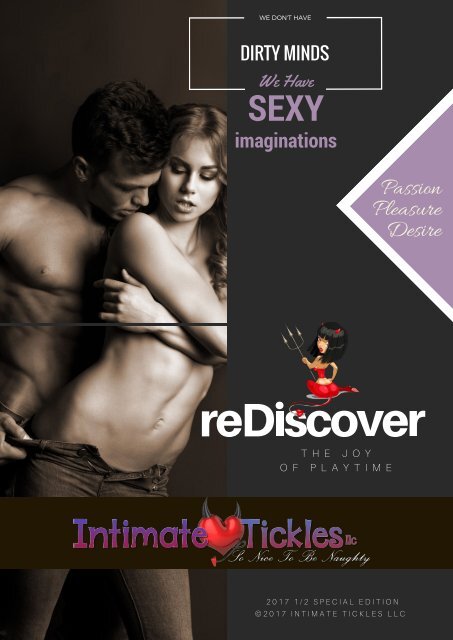 2017 Mid-Year Special Edition V4
Intimate Tickles. Rediscover The Joy Of Playtime. Adult Toy Home Party Catalog. Mid 2017 Special Edition
Intimate Tickles. Rediscover The Joy Of Playtime. Adult Toy Home Party Catalog. Mid 2017 Special Edition
SHOW MORE
SHOW LESS
You also want an ePaper? Increase the reach of your titles
YUMPU automatically turns print PDFs into web optimized ePapers that Google loves.
T H E J O Y

reDiscover

F P L A Y T I M E

O

WE DON'T HAVE

DIRTY MINDS

We Have

SEXY

imaginations

Passion

Pleasure

Desire

2 0 1 7 1 / 2 S P E C I A L E D I T I O N

© 2 0 1 7 I N T I M A T E T I C K L E S L L C
---
WE

ARE

Pleased To Meet You!

In Love, we are Deryk & Virginia. In business we are Intimate Tickles LLC., Adult

Romance Parties .

As a couple with 25 years in the home party plan business, 30 years experience

Mission Statement

in web design and online marketing, 29 years in the law field, 30+ years in

parenting (and still learning!), and almost half a centuries experience in life – we

chose to embark upon the world of adult romance and sex toys party business.

As one of the newest and most elite romance enhancement home party plan companies in the country,

Intimate Tickles is dedicated to providing superior customer service, outstanding business opportunities

and tasteful presentations of our high quality products. We empower our team to have an extraordinary

life, both personally and professionally, while enriching our customers' lives and intimate relationships

through education and sensual products designed to enhance romance and pleasure.

Our Mission Statement

At Intimate Tickles, it's not just that we love what we do; it's what we do for you that keep

us motivated to improve. Our mission has always been to empower people and to give

everyone a safe environment to learn about sexual health, enhancement, and to give

them the permission to learn new ways to take their relationship beyond boundaries,

strengthen the romance, and to encourage open communication. It's these goals that

have made Intimate Tickles one of the premiere adult toy & romance party companies in

the industry.
---
INTIMATE TICKLES

TABLE OF CONTENTS

2017 / 2018

5-8

Bath & Body

9-13

Massage

14-19

Turn Me On

20-21

Lubricants

22-23

All About Her

24-28

Couples Play

29-34

All About Him

35-56

Toys

57-61

Strap It On

62-65

Between The Cheeks

66

Sex In The Shower

Discretion Toys ... 35

Bullets & Vibes ... 36-38

Clitoral ... 39-40

G-Spot ... 41-42

Straight Vibes ... 43-44

Rabbits ... 45-47

Dildos ... 48-51

Luxury Toys ... 52-54

Toy Cleaners & Storage ... 55-56

67-70

71-73

74-78

Creative Play

Sensual Playground

A Little Kink
---
confidence, It's beauty, It's imagination, It's love. It can turn a monster into a prince, a prince

It's

a pauper, a pauper into a king. It is in her eyes, her smile, the flip of her hair, the simplest

into

the lightest whisper. It is the electricity that powers sexuality. It is like a drug. It is that

gesture,

that realizes when someone loves you, the way they say your name is different. You

illusion

that your name is safe in their mouth. We are Intimate Tickles, A Touch Of Class, A Taste Of

know

and we want to ignite your life with Romance.

Naughty,

JOINING US

Ready To Host?

Shopping Spree

Go Shopping For Free! No Joke!

Ask Your Consultant How Much

Shopping You Can Do Based On

Your Party Sales.

Unlock Rewards Book A Date!

Your Party May Qualify For A

Host Of Rewards! Including

Free, Discounted, And Gifts Only

Available To The Hostess

Party Dates Close Fast, So If

You Are Ready To Gather All

Your Friends Together - Book

Your Date Right Now!

THANKS

FOR

Your Intimate Tickles

Romance Consultant

Name Web Address
---
dedicated mission is to empower all couples, men and

"Our

Our goal is to provide a safe, comfortable, and fun

women.

to encourage sexual health, enhancement,

environment

to open your awareness to learn fresh new ways to take

and

and your relationship beyond boundaries and

yourself

your romance."

strengthen

an Intimate Tickles Adult Romance Consultant, you'll share

As

best of bath, beauty, and relationship enhancement

the

through in-home parties. You'll enjoy the unlimited

products

potential and flexibility that comes from being the

earning

is too short to have to worry about when the next

Life

will come in. When you own your own business,

paycheck

call the shots. You determine the number of parties you

you

to hold and how much money you'll make. From $200 to

want

a month or more, you can make as much or as little as

$2000

need you

our exclusive Geo optimized consultants websites, to

From

jam packed education center, and high quality products,

our

Tickles understands that to run any successful

Intimate

you must have the right tools. Among others things,

business,

are well known for our personalized approach to training

we

helping you grow your business.

and

Premier

Adult

ROMANCE PARTIES

REDISCOVER THE JOY OF PLAYTIME

So Nice To Be Naughty

Start Your Own Business

boss.

Get Paid To Party!

Tools You'll Need To Succeed!

It's confidence, It's beauty, It's

imagination, It's love. Welcome to

Intimate Tickles. A touch of

class, A taste of naughty,

and we want to ignite your

life with romance.

EXCLUSIVE REWARDS

Earn

FREE

Stuff!

Invite your friends to get together

for a fun Intimate Tickles adult toy

and romance enhancement party.

As the hostess, you will receive

discounted and free products!

Girls Night Out * Bachelorette * Couples Parties * Co-Ed Parties *

Naughty Nighty * and more
---
Bath & Body

Be Beautiful

TASTE, TOUCH, SMELL

Honey Dust

Flavors: Sweet Honeysuckle, Raspberry Kiss,

Strawberry Dreams, Chocolate Caress

Surprise every kiss with nature's sweetest gift. Dust

these incredibly fine powders onto a lover, leaving a

silky-soft glow, a delicate fragrance and an irresistible

lure.

$39

Treasures of the Sea

Bath Salts

Create a frothy bubble bath with this

blend of nature's most precious gifts –

vitamins, minerals and nutrients from

the sea.

$38

Flavors: Golden Goddess – Honey Vanilla Flavor

Silver Vixen –Honey Vanilla Flavor

Blushing Beauty – Pink Cupcake Flavor

Diva Dust

$17

Lickable & Infused with Pheromones for Sinful

Seduction! Give your skin a Sexy Goddess Glow

and shimmer your way to a romantic connection

with this shimmery body powder. Diva Dust has a

kissable flavor and comes in a sifter jar with a

washable powder puff applicator so you get just the

right amount of dust each time.

It's paraben-free, sugar-free, sulfate-free,

made in the USA, and not tested on

animals.

glow bubbles

$15

5

Bathing has never been

more fun! Pour in, turn

off lights and let the fun

begin.
---
After Shave

Coochy

Powder

Protection

Bath & Body

Be Beautiful

TASTE, TOUCH, SMELL

Coochy

Scents: Blush, Fragrance Free, Original, Pear Berry, Tropical Tease, Frosted Cake

Part 1 of the Coochy Shave System. Coochy Rash -Free Shave Crème is a silky smooth all over

shave crème for women and men. Specially formulated to protect skin and provide a smooth,

moisturizing shave to any part of the body. It is designed for all skin types, including sensitive skin

and this moisturizing conditioner will soften even the coarsest facial and body hair.

4oz 8oz 16oz

$13

$21

$30

$17

Part 3 of the Coochy Shave System.Protect the coochy! This silky

smooth after shaving protection powder forms a protective barrier

between skin and clothing as it moisturizes newly shaven skin.

Pure Instinct

$18 Unisex Body Lotion

Rich, moisturizing formula for sensually-soft skin

Formulated with panthenol, pro-vitamin B6 and

vitamin E to moisturize skin.

Contains vitamin rich enzymes to help keep skin

soft and supple.

Unisex fragrance appealing to both sexes.

Infused with a pheromones.

Coochy After Shave Mist

Part 2 of the Coochy Shave System.

This silky smooth after shaving mist

forms a protective barrier between

skin and clothing as it moisturizes

newly shaven skin. Use as part of

your daily skin care. Used to close

off the pores in the 3 step process.

Pure Instinct

1oz

$8

4oz

$16

Unisex Body Spray

$16

Original - light & sensual - a

succulent blend of

Australian mango,

mandarin, cinnamon and

honey with a well-rounded

base note of white musk.

Infused with pheromones

6
---
Oil

Miracle

Size

Travel

Bath & Body

Be Beautiful

TASTE, TOUCH, SMELL

Body Dew

$19

Scents: Blush, Original And

Tropical Tease

Infused with Pheromones, this Silky

Body Oil Mist awakens the senses

and revitalizes the body. Use after

bath or anytime for soft, seductive

skin.

in Luxury (Silky Sheets)

Love

Scent: Sweet Blush

Create a sensual boudoir with

Pheromone infused Love in Luxury.

Mist the Silky Spray Dry Powder on

your sheets for sexy inviting bedding.

The pheromones provide the added

bonus of heightened sexual behavior

when you hit the sack. Use as a Body

Spray, Room Spray, Clothes Freshener

or anywhere you desire a soft intriguing

scent.

$16

Miracle Oil

Rejuvenate the skin! Hemp Miracle Oil is a blend of

100% natural and essential oils. Featuring three known

natural healants, Tea Tree, Hemp Oil and Vitamin E. The

oil is perfect for cuticles, nails, insect bites, excessively

dry skin areas, minor cuts and burns, stretch marks and

many more skin.

1oz

$18

.4oz

$13

Fresh Breasts & Fresh Balls

Fresh Breasts® was scientifically created to keep you and your "girls" dry and

unchafed so there's no more of those uncomfortable and awkward arm-crossed

encounters. Women can now rest easy; we're replacing "swoobs" – dreaded boob

sweat – with smiles!

Fresh Balls® is specially designed to

deal specifically with the uncomfortable

and unhygienic problems that moisture

and bacteria can cause in those "manregions"

– in an all-natural and clumpfree

way! Step away from the messy

powders!

$22

EACH

7
---
Top off your beauty routine with

a boost of sexual confidence

and smelling oh-so-sexy!

Flirtatious is a scented body

spray infused with genderfriendly

pheromones and

essential oils.

Flirtatious

Nothing is more romantic than

soaking with your sweetie in a

super fluffy bubble bath. Head

over Heels is infused with

arousing pheromones &

essential oils to help put you in

the mood and feel sexy!

Head Over Heals

Created to boost his sexual

confidence & make him

completely irresistible to you.

Top off your grooming routine

with our pheromone infused,

signature scented body mist

that he can wear all day.

Hero 260

Body Mist

Bubble Bath

Male Body Mist

vanilla/sugar/sweet pea

pomegranate/fig/coconut

/plumeria

passion fruit/guava

$18 $20 $18

8
---
Massage

Life Is Good

Let's Put

CANDLES

IN

a whole new

LIGHT

$24

RELAX, ENJOY, REJUVENATE

EDIBLE

Massage Candle

Flavors: Mint, Grape, Peach,

Watermelon, Vanilla, Cherry,

Strawberry

The sexy fun heart-candle that's (by the way) great skincare.

Drizzle this warm massage oil straight out of the tin and onto the

skin! Made with 7 natural oils, light it up and pour it on. Good

tasting and great on the skin. These massage candles are an

aroma candle, a warm moisturizer and massage oil, all in one.

$24

SCENTED

Massage Candle

Scents – Skinny Dip, High Tide, Moroccan

Nights, Guavalava, Wild Surf, Naked In The Woods, Nag

Champa, Lavender, Tropicale, Cucumber Melon, Dreamsicle

Our 3 in 1 massage candles melt

down into massage oil for a

relaxing time.

9

Pure Instinct

Unisex Massage Candle

Multipurpose candle that provides an aphrodisiac scent, sexy ambiance &

works as a massage oil. Soy based. A succulent blend of Australian mango,

mandarin, cinnamon and honey with a well-rounded base note of white musk.

$24
---
Massage

Be Beautiful

RELAX, ENJOY, REJUVENATE

Fuzu Massage Glove

Colors: Purple, Pink, Blue, Green

$18

$20

The Fuzu Glove Massager

from Deeva features nine

360 degree rolling balls that

contour to the body's curves.

Soothes sore muscles & provides

stress & tension relief.

Sliquid Organic

$15

Hot Heart

massager

Oils

Massage

Scents: Rejuvenation, Tranquility, Serenity, Escape

Sliquid Massage Oils are a unique blend of

naturally occurring nut and seed oils, combined

with hand selected, certified organic botanicals

chosen for their natural healing and soothing

properties. 4.2oz

Warm each other's body and

mind for an unforgettable

romantic massage treatment

with the sensual

and relaxing Massager.

Pheromone Infused

$20

Me & You Massage Oil

Relaxing and sensual, our pheromone-infused

luxury massage oil is made of a blend of bodyenriching

moisturizers, and natural, botanical

essential oils that will delight the senses and

caress your body.

Passion Fruit, Pomegranate Fig/Coconut

Plumeria, Grapefruit Vanilla, Sugar /Citrus,

Vanilla Sugar/Sweet Pea

Pheromone Infused

$22

Me & You Massage Lotion

Luxuriously creamy, and made with ultrahydrating

natural oils and body butters

that melt into your skin during a romantic

massage, and leave skin feeling silky soft.

Cucumber Melon, Lavender Vanilla

10
---
RELAX

ENJOY

REJUVENATE

Make massage a sensual

part of Your

Playtime Routine

THE HEALING POWER OF

TOUCH

$20

Fuzu

Massage

Ball

11

Fuzu Massage Ball is a perfectly palm-sized massage

assistant that gently works out tough kinks and knots for

soothing relaxation. Fuzu can be used on its own or with

your favorite massage oils or lotions for a pampering,

spa-like experience.

Colors: Purple, Pink, Blue, Green
---
$99

ROCKIT

Touch-responsive

technology means

Nalone's wand springs

into vibration action at

the lightest contact

against its soft silicone

head, stopping the

second you withdraw

it. Alternatively,

explore the 3 speeds

and 4 patterns for

endless creative play.

$99

ROCK

An innovative design for maximum

satisfaction. This rechargeable

massager has a powerful engine in

his head, which transmits the

vibrations directly to the body. A plus:

it is completely cordless.

ELECTRO

$179

This elegant massager has a

powerful motor and a hidden secret!

Nalone have introduced the

technology of Electro Magnetic Pulse

into the head. This produces an

intense micro current which

stimulates your most sensitive nerve

endings to heighten sensation levels.

The

Pebble

The

Bunny

The Attachments

The

Ripple

$15

Each

These attachments slip right over the head of your chosen massager and

are made of silicone so they are hypoallergenic and easy to clean making

the material safe for people with sensitive skin and severe allergies.

$108

Magic Wand

ORIGINAL

Magic Wand

$210

RECHARGABLE

Known as 'the Cadillac of Vibrators' for over 30 years. The

Magic Wand offers two speeds of strong vibrations to bring

you pleasure from head to toe.

The Magic Wand Rechargeable is now liberated from its

cord to offer soothing stimulating massage nearly anywhere,

anytime in rechargeable form.

12
---
BJ Blast

Flavors: Strawberry, Cherry, Green Apple

It's finally here! The world's only fizzing,

popping, bursting, and exploding ORAL SEX

CANDY! Just sprinkle some in your mouth and

go down for the ride of their life.

$3

Comfortably Numb

Flavors: Cinnamon, Mint Chocolate, Spearmint

Comfortably Numb Mints are a flavored

desensitizing mint specially formulated to

reduce the discomfort associated with oral sex.

$15

$11

Deeply Love You Throat Spray

Flavors: Cinnamon Bun, Chocolate Mint, Butter Rum,

Chocolate Coconut, Salted Caramel

Throat Relaxing Spray - He will fall deeply in

love with you when you use this flavored throat

desensitizing spray that helps relax your throat

muscles and take his love deeper.

13

$18

Lic O Licious

Flavors: Watermelon, Cinnabun, Cotton Candy,

Salted Caramel, Mocha Cappaucicino, Blueberry

Throat coating oral delight cream. This delicious

edible cream is all that you will taste because it

keeps the tongue and throat completely coated .

The sensual oily consistency stays present in the

mouth longer than typical oral gels, allowing you to

take your love deeper than ever before.

Dental Dam

Flavors: Banana, Grape, Mint, Strawberry, Vanilla

Safe and satisfying! The Latex

Dental Dam is made for helping

reduce the risk of oral sex. The

dental dam is flavored to make the

encounter more enjoyable. Simply

place the dam over the place of oral

encounter and have great time!

$3
---
Turn Me On

Make Me Swoon

ENHANCEMENTS & APHRODISIACS

Crazy Girl G-Spot

Achieve Toe-Curling Orgasms,

whether during self-play or with a

partner. Infused with pheromones

to heighten sensual arousal.

.5oz Bottle

$17

Liquid Virgin

Liquid Virgin vaginal contracting

lubricant claims to make every

time feel like the first time by

creating a tight, wet feeling. 1oz

$22

Liquid Sex G-Spot

Cream

Increase G-spot sensitivity with

Liquid Sex® G-Spot Cream for

Her. Use this cream alone, with

a lover, or with adult toys.

Liquid Sex Sensual

Tightening

Use this vaginal tightening cream to

increase chances of orgasm during sex,

enhance your sexual performance, and

grip every inch of your partner.

$20 $19

$13

Cherry Bomb

Flavors: Cherry, Mint, Strawberry, Watermelon, Cupcake

This kissable female arousal crème is a

unique formula that enhances clitoral

excitement and intensifies orgasmic

pleasure.

$32

Shunga Secret Garden

The Secret Garden clitoral gel is a

must-have for women of all ages!

Use it for your own pleasure or to

reach new heights with your lover

and discover new sensations.

Nympho's Desire

Flavors: Flavor Free, Melon, Toasted Coconut

This rich seductive cream is formulated

to heighten sexual sensitivity and

enhance sexual response. 1.5oz tube

with flip top.

Sliquid O Gel

$15

Sliquid Organics Stimulating O Gel

is a 100% vegan friendly clitoral

stimulating gel. 1oz

$26

14
---
Turn Me On

Make Me Swoon

ENHANCEMENTS & APHRODISIACS

$26

On Power Glide For Him

Power Glide is a fast-acting gel that dramatically heightens

sensation for men and increases blood flow. It makes men feel

thicker, firmer, and maximizes their satisfaction. The sensations are

dramatic! Some of the possible sensations men might feel include:

tingling, buzzing, warmth, increased blood flow, and a slight increase

in girth. Every man is different, and what he feels could fluctuate.

On Sex Drive For Him

With ON Sex Drive for Him, men can now regain

their youthful sex drive, as well as increase their

sexual function, performance, and satisfaction. ON

SEX DRIVE helps restore healthy sexual function

without the need of a prescription or over-thecounter

medications. Unlike other supplements

that come in pill form, which lose their potency

almost immediately, ON SEX DRIVE uses

transdermal technology to deliver the active

ingredients directly into the bloodstream.

$35

On Libido For Her

$32

$37

Currently, at least 30 milliion women are experiencing

sexual difficulty such as loss of libido, diminished arousal,

vaginal dryness, or difficulty achieving orgasm.

The new and exciting thing about ON Libido is that

FINALLY there is a product that stimulates a woman's

internal want and desire for sex. ON Libido is formulated to

support a woman's healthy sexual response and desire. It

naturally corrects imbalances that may be robbing a

woman of her desire for sexual intimacy. In other words, it

helps women get their mojo back!

On Arousal Gel For Her

Flavors: Original, Ice, Coffee Cake

This shockingly powerful botanical formula creates a warm and extremely

unique buzzing sensation that awakens the nerve endings, increases blood

flow and makes a woman feel more sensation than ever before! ON for Her

Arousal Gel increases a female's orgasm intensity, duration and frequency,

now in a no mess water base safe formula!

15
---
Keep Her Satisfied

TURN ME

ON

Colt Sta-Hard Cream Max Prolong Spray Stud 100

This high-potency formula will help

you delay your gratification and stay in

the game longer. It's unscented, so no

one will know what you're up to! Bottle

contains 2 oz of smooth slick cream.

Enjoy Longer, Stronger, Sex

Sessions! Max Prolong Is a fastacting,

quick absorption gel which

makes sex an experience you & your

partner will both enjoy! 1 oz spray.

Pleasure your partner all night long

when you use a male genital

desensitizing formula. Sensitivity will

be temporarily reduced for prolonged

sexual intercourse.

$16 $18

$20 16
---
Turn Me On

Make Me Swoon

ENHANCEMENTS & APHRODISIACS

$27

Pure Instinct Man

Masculine cologne that combines with

your body's chemistry to create your own

individual sexual scent. Infused with

pheromones it intensify sex appeal and

attract the opposite sex. Wear it..share it..

thank us later.

Pure Instinct

Pure Instinct is a gender-friendly

fragrance, specifically formulated with

Pheromones to stimulate sexual appeal.

15ml bottle with glass wand applicator.

$27

$22

Pure Instinct Woman

Pure Instinct Woman is a fine fragrance

designed to induce sensual intentions.

Fragrance - An explosive bouquet of bergamot,

freesia, fresh citrus, vanilla, jasmine, and orchid.

Scents: Hypnotic, Renegade

$25

Max Attract Pheromone Cologne

Sex Attractant for Him Infused with pheromones mixes

with each man's natural pH balance & pheromone

output to develop his natural sexual scent.

Finger In The Ace

Anal Eze

Enhance the pleasure of anal

intercourse with desensitizing

lubrication. 1.5 oz.

$15

If you think it might be time to explore

some new places, try this beginner's kit for

anal exploration. 3 finger condoms and 2

samples of anal lube makes it easy &

safe, increasing your likelihood of a

fulfilling anal experience from the very first

time!

Tush Tingle

Tush Eze

Tush Eze your way into backdoor play! Tush

Eze is a Benzocaine, Lanolin-based

desensitizing cream that is used to enhance

the pleasure of anal play. 1.5 oz

$6

$15

17

$21

Delight your derriere with a little tickle! Tush

Tingle is a stimulation gel that provides a fun

way to experiment with new sensations and

heighten the awareness of your body during

anal play. Try a little or a lot, the amount is

up to you. You can also use it during anal

penetration or external play.
---
Max Prostate Gel

Specifically Designed to

Help Arouse the Male 'G'

Spot! Smooth gel formula

allows for increased

lubrication and sexual

intensity.

$28

Max Oral Sex Gel

Make Giving just as

'YUMMY' as Receiving!

Max Head Flavored Oral

Sex Gel provides maximum

satisfaction for both

partners!

$18

Max Pleasure Gel

Increase penile arousal for exciting

sexual pleasure or exciting sexual

pleasure by applying to his

manhood. Gives exciting sexual

sensations.

$20

Flavors: Strawberry, Orange Creamsicle,

Mango Smoothie, Cinnamon Pastry,

Cotton Candy, Green Apple

$18

Flavors, Berry,Sugar Daddy

Handi Pop

$18

Edible handjob massage gel. Let your hands work

their magic to give him a hand massage he will

never forget. Handi Pop was created to give him an

ultra-slippery, extra-long hand-job and at the end of

the massage you can turn him into your favorite

lollipop because this playful potion tastes absolutely

amazing. It will be a pleasure for both of you!

Sizzle Lips

Make your partner blush with

SIZZLE LIPS, the Edible Warming

Gel that feels hot when you blow on

it. Massage it into a small area of the

body, blow on it to get warm and

then kiss and lick it all off! The more

you rub it in, the warmer it feels.

SIZZLE LIPS is an especially great

tasting, glycerin-based gel with no

after-taste!

Flavors

Strawberry, Hot Butter Rum, Caramel Apple

Pina Colada, Salted Carmel

Cinnamon Pastry

Nipple Nibbler

Cool and creamy, Nipple Nibblers will

stimulate more than just your taste buds.

Indulge in the smooth, silky richness on your

lips or nipples. Watch your lover smile as you

both enjoy this tingly, tasty treat!

Flavors

Belgian Waffle, Peppermint Mocha

Pink Lemonade, Strawberry Twist

Melon Madness, Raspberry Rave

$12

18
---
$21

$25

Toko

Aqua Lube

Toko

Organica Lube

This water-based lubricant is made with pure

vegetable glycerin and a natural corn by-product,

both certified organic. In harmony with nature and

sexual well-being, it is perfectly balanced to suit

the sensitivity of the vaginal flora & reproduce the

sweetness of a woman's natural lubrication. 5.5oz

TOKO Aqua is the next generation of personal lubricant,

exclusively formulated to emulate natural lubrication and

facilitate penetration. This ultra-silky, long-lasting waterbased

lubricant enhances bodily sensations. 5.5oz

$31

Toko

Silicone Lube

TOKO Silicone is a revolutionary

lubricant! Its sumptuous velvety touch

will amaze you and its never ending

lubrication will astonish you. 5.5oz

Insane

$27

Wet Fun Flavors

Flavors: Poppin Cherry, Seductive Strawberry,

Tropical Fruit, Watermelon, Passion Fruit

WET Fun Flavors 4-in-1 is a

Stain-Free, Sugar-Free, Warming

Massage Lotion & Flavored

Lubricant! Gently heats on

contact and warms with motion.

$19

4.1 oz

$30

10.7 oz

Flavors Caramel Apple, Cherry Pop,

Cinnabun and Hot Butter Rum

INSANE is the most intense stimulating

personal moisturizer on the market. You'll

experience a relentless heat and then the

sexiest feeling of circular movement inside

the body. Women can feel it internally as

well as externally when it comes

in contact with the clitoris.

19

CHOOSE YOUR BASE:

- Water Based - Silicone Based - Hybrid - Plant Based

CHOOSE YOUR VARIATION:

Natural/Organic - Products made with only natural or organic ingredients.

Flavored - Designed to enhance oral lovemaking and condom safe.

Usually only offered in a water based formula. Can also be used for

penetration.

Stimulating - Designed to increase sensation for both partners. Stimulating

lubes often include active ingredients like menthol or pepper that increase

blood flow and awaken the nerve endings.

Glycerin Free/Paraben Free - Glycerin may also mimic sugar when added

to feminine chemistry & can exacerbate exiting issues in sensitive women &

lead to yeast infections or vaginal irritation. Parabens are a common

preservative found in most beauty products. Some women develop a

sensitivity toward petrochemicals in the form of skin irritations.

Coconut Oil - Can be used as a lubricant or as an ultra-moisturizing

massage oil. It is also non-greasy and soaks into skin quickly.
---
Lubricants

SILKY, WARM, TINGLY

Get Wet

$19

Each

Lube is a little like masturbation. It's a big part of

most people's sex lives, and almost nobody wants to talk

about it. And, like masturbation, there are many ways

to enjoy it. Even if you think you don't really "need"

it, consider that it might just make your play time much

more enjoyable. Aside from the obvious uses, the right

lube may be the accessory that lets you try something

new or take an old favorite to the next level.

Sliquid Sassy

Anal Lube

Sassy Booty Lube is an

$19

4.2 oz

$34

8.5 oz

Sliquid Sizzle

$20

4..2 oz

ultra-thick water based and

water soluble anal gel

lubricant blended to emulate

your body's own natural

lubrication. Latex, rubber,

toy and plastic friendly.

Sliquid Sizzle is a

water base stimulating

personal lubricant.

Sizzle goes on cool

and warms with friction.

Sliquid Swirl

Flavors: Blue Raspberry,

Cherry Vanilla, Green Apple,

Pina Colada, Pink Lemonade,

Strawberry Pomegranate

The water based sugar free flavored lubricant.

The flavors are subtle, and are intended to

enhance your taste, not disguise it. 4.2oz

Pink Silicone

$19

1.7 oz

Exclusive medical grade silicone hypoallergenic

formula. Fortified with Vitamin E and Aloe Vera for

restorative and healing properties. This light, silky,

water resistant formula enhances pleasure and

extends intercourse.

Pink Water

Sliquid Organics

Natural

$28

3.3 oz

A clean and pure

water based organic

natural lubricant.

$13

1.7 oz

$20

4.2 oz

$32

8.5 oz

$20

3.3 oz

A water-based lubricant. Fortified with Aloe

Vera for healing and restorative properties.

Lubricant is light, yet long lasting and very

gentle on your skin and all sensitive areas.

Sliquid H20

$19

4.2 oz

$34

8.5 oz

A clean and simple

water-based

lubricant.

Sliquid Organics

Natural Gel

An ultra-thick water based

luxurious gel lubricant

designed to stay wherever it

is put. Ideal for long-lasting

lovemaking, anal play, or for

use with your favorite toys.

$20

4.2 oz

$35

8.5 oz

20
---
Lubricants

Get Wet

Wet® Organics is a unique Organic Aloe based

Lubricant that is 100% Natural With organic quinoa,

hemp, flax, green tea and oat extracts rich with

vitamins and antioxidants, this lubricant formula

rejuvenates your skin and your senses.

$9

1 oz

$20

3 oz

• pH Balanced

• Optimal Osmolality

• Tremella Fuciformis

• Sodium Hyaluronate

• Gluconolactone

MOISTURIZE, PROTECT, REJUNENATE

Wet® Organics

Wet® Organics is an aloe-based

formula that moisturizes, protects and

rejuvenates your most intimate areas. It

is latex friendly & rinses away easily

with warm water. It will leave your skin

feeling soft, never sticky. Wet®

Organics can be used with most toys.

Wet® Synergy

Basic

$19

3.3 oz

$42

9.9 oz

A soothing cushion of ultra-thick gel transforms into

a silky layer of liquid lubrication. This hydrating

formula delivers long lasting moisture with the easy

clean-up of a water-based gel. It is recommended

for use with toys and rigorous activity! The neat

thing about Synergy is that it is Wet's only lube that

actually changes viscosity when used. It starts out

pretty thick making it easier to apply where needed

but then as it mixes with a woman's natural

moisture it gets much thinner. Now kosher!

Wet® Synergy

Warming

Features all of the benefits of Wet®

Synergy Basic with the added

sensation of warming.

$19

3.3 oz

$42

9.9 oz

Wet® Synergy

Cool Tingle

Features all of the benefits of the

original Wet® Synergy Basic with

added cool tingling sensation. It has

a fresh peppermint flavor and scent.

$25

4 oz

21

Elbow Grease

Original

Elbow Grease is a safe, longlasting

premium cream

lubricant. Specifically

designed to enhance your

personal sensual

experience.

Gun Oil Silicone

High-Tech lube for smooth,

rapid-fire action! Gun Oil is

the premium Silicone

lubricant that keeps a man's

most important weapon well

oiled.

$30

4 oz

Gun Oil H20

This water-based formula is

highly concentrated to stay

slick longer, yet washes off

easily. Gun Oil H2O

provides extra moisture

and is gentle on your skin.

$19

4 oz

$52

8 oz

$33

8 oz

$19

3.3 oz

$42

9.9 oz
---
All About Her

Always A Lady

ALWAYS POSITIVELY BEAUTIFUL

$60

There are plenty of vibrators that claim to fit into a panty out there, but none of

them are made with the quality and value of the PantyVibe. The PantyVibe is a 3

vibration speed, 4 vibration pattern mini-vibe designed to be worn discreetly

under your clothes. It features a specially fitted pocket for the PantyVibe to

comfortably fit into, providing a snug enclosure that will keep the vibrations right

where they need to be! Best of all, each PantyVibe comes with a free pair of

specially designed boyleg style panties.

Sizes

Small/Medium (Approx. 2-6 US)

Medium/Large (Approx. 8-12 US)

Extra Large (Approx. 14-16 US)

PANTY VIBE

Waterproof Silicone Clitoral Pump

The Waterproof Silicone Clitoral

Pump. Waterproof with 3 intense

speeds of vibration.

$52

Inspire Dilator Set

$99

Tap into a variety of health benefit with the Silicone

Dilator Kit. Designed to help women maintain

vaginal health and improve physical comfort during

intercourse, this superior kit offers 5 gradual sizes

that are ergonomically curved and easy to use.

$35

Crystal Kegel Egg

These artistic gems are made from 100%

Borosilicate glass, and are designed to bring

pleasure to PC muscle exercises. 1.75" x 1"

(45mm x 27mm) in size

$33

Colors: White/Lilac, White/Light Violet, White/Light Blue

They are gently looped and feature a leash with jewelry. These

gently looped balls have finger cavity supports for convenient

insertion as well as exchangeable ovals. Waterproof and lead

free, phthalate free body safe silicone.

Tough Love

22
---
ALL ABOUT

HER

$78

PLEASURE

PANTY

The powerful 15 vibration speeds and patterns are activated by the

easy to use remote control for hands free stimulation. The wireless,

almost silent vibrator is discreetly worn inside the included lace panty

with a silky smooth soft-touch silicone coated finish designed and

contoured to fit a woman's curves. Completely invisible under clothing,

wireless and unnoticeable to observers. Panty, Vibe and Remote are

completely submersible making this a one of a kind item

$160

G-Balls 2

The FIRST sex fitness coach for kegel exercises ever

invented. Kegel Balls with an app sex fitness coach.

Multi ultra-sensitive pressure sensors ensure

accuracy of the bio feedback through the app.

Also can be used without the app.

Colors: Pink, Blue

23

$24

Gold Ben Wa Balls

Enjoy incredible vaginal stimulation with these elegant

Ben-Wa Balls. Cast in high-quality metal and handpolished

to perfection, the hygienic finish is sleek,

nonporous, and easy to clean. Their size and weight

make them perfect for vaginal stimulation, and with

regular use, you'll enjoy both improved muscle control

and stronger, more frequent orgasms.

Sizes: Small/Med

Medium/L

Extra Larg
---
Couples That Play

Together

ENHANCING THE ROMANCE

Scorpion

X-treme

Super

Vibe

The Scorpion with Stinger

Anal Vibe has highpowered

motors to promote

super stimulation to both

pleasure zones.

$20

$16

Colors: Red, Purple, Black

Tantus

C-Ring

These Super Soft silicone c-rings from Tantus are

broad for comfort and safety. Great for beginners, too.

Last, but certainly not least; you don't have to put it on

before an erection occurs; the silicone is stretchy

enough you can put it on anytime.

Rare Gem

Colors: White, Purple, Black

Rare Gem is an absolute

classic for couples looking

to share the pleasure. Rare Gem was

ingeniously designed for a perfect fit and

pinpoint stimulation.

$30

$70

Lovers Delight

Colors: White/Chrome, Black/Chrome

The Lover's Delight Cock Ring is USB rechargeable

and features 7 programs to please everyone. Well

thought out, comfortable to wear, ease of operation

and great new features makes this cock ring stand out

from the rest. See why for yourself.

$19

The Big O

The Big O vibrating cock ring

features a two-function motor and a

stretchy and firm erection band that

keeps him harder longer.

Ohare

Colors: Black, Pink

The Ohare turns him into your

favorite rabbit vibe with a comfort fit

erection ring and super-powered 4-

function motor enhanced with soft,

flexible rabbit ears!

$30

24
---
Couples That Play

Together

ENHANCING THE ROMANCE

Rendezvous

Wood Choices: Iron Wood, Wenge

Sizes: 1 1/2" or 1 3/4"

Our functional wooden rings are

smoothed and finished to make them

waterproof and hypo-allergenic.

$60

60 Degrees

$90

Small: 1 1/2" X 1 1/4"

Med: 1 3/4" X 1 1/4"

Large: 2" X 1 1/2"

XLarge: 2 1/4" X 1 1/2"

60 Degree Rings have the perfect angle

for pleasure. Available in 4 sizes.

$45

Steel

Sized: 1 1/2", 1 5/8", 1 3/4"

Designer Series Single

Accent Stainless Steel

Cockring. Made with pride in

the USA, to be worn with

confidence.

Lasso

The fully adjustable enhancers

are comfortable and easily

removed. Made of surgical

grade latex.

$10

25
---
SENSES

THE

EXPLORING

$30

Celebrate intense, toe-curling climaxes

as a duo with the joyous, pulsating toy

we like to call Lingus. What is a Lingus

anyways? We've defined a Lingus as

an incredible, cooing companion for

couples that hums endlessly on her

sweet, sensitive spot as it rivets his

steel-hardness for an enriching

experience, all while leaving couples

lingering for more.

Lingus

$99

Revolutionary and powerful vibrating ring with

remote control (Vibrating sheath and clitoral

stimulator). Created to multiply the sensations

and intensify the arousal. Double stimulation

vaginal and clitoral. It adapts to any anatomy.

Perfect to share with your partner! Regardless of

your sexual preference, the Gladiator was

designed for play for any couple. Simply flip the

toy around and use the small, vibrating end for

prostate stimulation instead of clitoral seduction.

Plug the included USB cord into the Gladiator's

rechargeable battery for 90 minutes to enjoy of

40, exciting minutes of playtime.

Gladiator

26
---
Couples That Play

Together

ENHANCING THE ROMANCE

$50

Play Zone Kit

Imagine if a finger ring only came

in three sizes equivalent to the

circumference of a dime and a

quarter and a dollar coin – how

would they fit? Perfect Fit has

developed the first cock ring

sizing system designed to fit you

without too much pull but with

enough restriction to be truly

effective.

$11

FingO Tips

Colors: Blue, Pink, Purple

FingO Tips micro vibrating massagers

literally put pleasure at your fingertips with

a comfortable strap to keep it in place!

The Button

Color Will Vary

The Button features a powerful motor

in a stretchy and firm erection band

that will keep him harder longer.

$18

27
---
Couples That Play

TOGETHER

Coco

$42

Coco Couple's massager is a mini

massager that couples can enjoy

together (or the woman can enjoy by

herself...) This elegant, small, unique

discreet shape vibrator can be used

whenever you want , wherever you

are...Made of medical grade silicone,

whisper quiet powerful motor, 100%

waterproof. CoCo will not let you down!

Cool Steel

$32

Stay With Me

Colors: Black/Chrome, White/Chrome

Rounded for comfortable use and

features a dynamic and modern

shape. The Stay With Me is

showerproof, whisper quiet and

constructed of lead-free, phthalatefree,

100% body-safe silicone

material.

$21

The Cool Steel Stretchy Vibrating

Support Cage is comfortable and

stretchy enhancer features a removable

and reusable micro-stimulator. Batteries

included (3 watch batteries, 6 included)

28
---
All About Him

Such A Stud

BEHIND EVERY GOOD MAN....

The TENGA 3D Series not only look great, these pleasure sculptures can be inverted

to make the external designs, the stimulating interior details! They boast a

coupling of antibacterial material and a drying/storage stand for hygiene too! The

next revolution in masturbation. Pursuing exquisite design in male pleasure

products, Tenga 3D offers five unique products that are sure to excite. Pick a

favorite, or try them all, Tenga 3D welcomes anyone to challenge the norm and

enhance your pleasure beyond imagination.

$52 Each

Zen Even the most masculine men need the caress of a soft touch every so often. Enjoy a gentle touch with

Zen's silky smooth swirls. If you prefer a slow and steady approach, or enjoy prolonging pleasure for as long

as possible, Zen will massage you to ecstasy.

Polygon Polygon is the ultimate in silky embrace. Just lightly textured for a simply smooth feel, Polygon

will stun you with every turn. With just slightly different feelings at each new angle and edge, Polygon

emulates a realistic and very pleasurable touch.

Pile Pile offers a varying juxtaposition of pleasure triangles for differing feelings for both the head and

base. When slick, Pile's varying textures greatly resemble a realistic squeezing feeling. Pile's genuine feel

will truly impress.

Spiral A luxurious path of twisting curves, the Spiral is an adventure through swirling pleasurable trails.

Perfect for fans of lightly ribbed or textured toys, squeeze Spiral for desired tightness and spinning feeling.

29

Module The Module is a collection of randomly arranged pleasure blocks that simulates a

different feeling with every inch. For those fans of dominance and hard-nosed pleasure,

Module stimulates to get your heart pumping in impeccable fashion.

3
---
$130 Masterbator

ALL ABOUT HIM

Fuzion Rise

Rise is the ultimate combination of

innovation and attitude. Sleek,

sensual curves fuse with cutting

edge engineering to deliver strength

and prolonged pleasure. This 10

Speed Black male masturbation

device is made of Silicone and is

latex free.

Titan Man Tube

$42 Stroker

Titan Man Tube is an

extra-long pleasure stroker

(8.2 inches). With internal

massage beads. This

masturbator is sure to

please.

30
---
$12

Per Egg

TENGA Eggs

BOILED - STRONG SENSATIONS

HARD

Different Strokes from Different Yolks!

The TENGA EGG Series may look small, but their

super-stretchable material can fit men of all sizes!

The external designs of each EGG reflect the

internal details within them.

Surfer Crater Misty

Dip and dive

around these

accentuated nubs

and surprise drops

for a thrilling ride!

Large, cratered

nubs stimulate

from all angles for

a tremulous,

exhilarating

experience!

The microscopic

nubs that adorn its

walls create a veil of

sensations, for a

gradual build-up and

steamy finish!

31

Thunder Shiny Cloudy

The big, strong

vertical ribs that run

up and down its

interior provide

thunderous

sensations!

Radiating ribs and

a big central nub

will put a gleaming

smile on anyone's

face!

$66 Per 6 Pack

Lose yourself in this

cloud of rebounding

sensations – the

thickest of TENGA

EGGs yet!
---
$12

Per Egg

TENGA Eggs

They're not just for breakfast anymore! Enjoy self-pleasure anytime with Tenga Eggs.

Peel the outer layer then crack open the shell to reveal the ecstasy. These egg-shaped

masturbation sleeves offer several unique internal textures.

ORIGINAL - REGULAR STRENGTH

Twister Clicker Silky

A whirlwind of

pleasure squeezes

you all over for a

rippling corkscrew

effect that will drive

you wild!

An omnidirectional

stimulation from

dynamic nubs!

Stroke, squeeze,

and twist for

delight!

Spider Stepper Wavy

The interior web's

grid-like details

provide extra

adherence and a

vivid, 360° sensation!

Bi-directional

wedges stroke

you in tandem on

both upward and

downward

strokes!

Delicately

intertwined ribs glide

over you, with a

caress comparable

to the finest of silken

cloths.

Multiple layers of

large, flexible, wavy

ribs deliver wave

after wave of

ecstasy-inducing

sensations!

$66 Per 6 Pack

32
---
All About Him

Such A Stud

BEHIND EVERY GOOD MAN....

Hydromax X30

Pump

$185

Permanently boost erection size with the Bathmate Hydromax X30. The

hydraulic penis pump uses water rather than air pressure to maximize

engorgement during use, and features 35% more suction power than the

Bathmate Hercules model.

Fleshlight

Renewing Powder

Nothing compares to the lifelike feeling of

the patented Fleshlight Superskin

material. Keep your Fleshlight sleeve

feeling like the first time with this renewing

powder.

$12

Make It A Couples Toy!

Fleshlight

Pink Butt Original

A staple in the Fleshlight line of masturbation

products, the Classic Butt lets your most erotic

desires be fulfilled, allowing you to experience

the joy of entering your partner's most

forbidden area.

$110

$110 Fleshlight

Pink Lady Original

33

The original Pink Lady Fleshlight, now with more

buzz! An ultra-realistic sleeve lined with a plethora of

stimulating nubs lies within a discreet case and is

brought alive with 3 included bullet vibrators for extra

thrilling play!
---
All About Him

Such A Stud

BEHIND EVERY GOOD MAN....

APOLLO

Reversible Stroker

This reversible stroker offers a smooth or

textured stimulation of your choice. Your choice

of The Grip or The Max. Each comes in your

color choice of Blue or Grey.

$35

THE

GRIP

THE

$120

Designed to help you

improve your sexual

stamina and develop a

better understanding of

what your body is capable

of. The twisted octagon

shape creates a

comfortable fit for left and

right handed user and

hands of all sizes.

BlewIt

MAX

$20 Pocket Pleasure

Playmate

Colors: Blue, Flesh

This super stretchy, ultra-soft

jelly stimulation sleeve has an

open-ended design.

The Maven

Masturbator

This masturbator with its new gripper

tip for maximum control during use

and an interior texturing provides

maximum stimulation.

$55

34
---
DISCRETION

toys

I Rub My Duckie

Travel Size

$36

I Rub My Duckie® is the vibrating rubber

duckie that started a revolution in discreet

personal massagers.

$37

I Rub My Duckie

Bondage

35

Walk on the wild side with our

bondage Duckie.

Colore: Red/Black, Pink/White

Neon Nights

Don't worry if it's not your shade

this discreet neon lipstick vibe is so

stylish and sexy!

Colore: Pink, Purple

$21

Mascara Vibe

Mascara Vibe – a chic and discreet

super-powered, multifunction mini

vibrator disguised as mascara.

$18

My Secret Lipstick

My Secret Lipstick is a superpowered,

discreet mini vibe that

looks just like lipstick! With a soft

silicone Flex-Tip, this massager is

angled for smooth, targeted

stimulation right where it counts.

$18

Makeup Brush

Vibe

Give powder-breaks a whole new

meaning with this stylish vibrating

make-up brush!

$21
---
The Arouser

The Toy Chest

Intimate Accessories

BULLETS AND MINI VIBES

Double Trouble

$19

Colors:

Gold

Silver

Pink

Silver Bullet

Colors: Grey, Pink, Purple

Our ever-popular Silver

Bullet vibrator has a variable

speed wired remote.

$10

If there's anything better than one Bullet,

it's got to be two Bullets! Double your

pleasure with two pocket-sized vibrators.

Tickle My Fancy

Colors: Pink, Black, White

$150

Tickle My Fancy is a discrete remote control

bullet with 7 functions and rechargeable.

Awesome remote controlled bullet.

Petite

This 10 function

wireless remote control

bullet is both sleek and

compact, with an ultradiscreet

remote that

can be taken anywhere

without being noticed.

Colors: Black, Pink, Purple

$90

The Tickler

The Silhouette Bullet

$90

All The Stimulation You Need in One Handy Kit! These

comprehensive kits each feature a powerful bullet massager with

three interchangeable sleeves to pamper and please all your

most sensitive spots. USB rechargeable, silicone.

Choose between The Arouser or The Tickler

Colors: Red, Purple

With Sleeves

36
---
BULLETS &

Posh

Compact, featherweight remote unit fits in

your pocket. Beautiful, ergonomic bullet

remains comfortably inserted. Remote

operation is perfect for couple's or solo

play. The range on the remote is 30 feet.

7 programs, waterproof bullet,

showerproof remote, silicone, USB

charging.

Colors: White; Black/Chrome; Purple/Chrome $120

MINI-VIBES

Neon

Luv Touch

Get just the right touch of satisfaction with this Neon Luv

Touch 5-Function Bullet.

Colors: blue, green, yellow, pink, purple

Madam

$35

$30

This silicone mini powerful vibrator

designed to bring you the stimulation

anywhere you want. This powerful mini

butterfly vibrator will give you pleasure

anywhere you go.

Lox

Colors: White, Black, Lilac

37

Use as a couple's ring, finger vibrator, or

added on to a basic vibrator. Removeable

bullet allows for external stimulation.

Tapered design provides maximum

support and versatility. Makes the perfect

couples toy. 15-year warranty included.

$55
---
The Toy Chest

Intimate Accessories

BULLETS AND MINI VIBES

Intro Mini Travel Bullet

Colors: Plum, Blue, Pink

Take pleasure on the go with this slim, finger

bullet vibrator with 3 speeds and 3 modes,

waterproof and battery operated.

$40

Emma

Colors: Blue, Yellow

This extra-long bullet is a perfectly

discreet companion that easily fits

in your purse and delivers powerful

vibrations in 7 wonderful patterns.

$25

Madison

Twisty

Colors: Purple, Pink

This waterproof Silicone Mini Bullet with an

LED light is small in size but big in power.

With its seven pulsating moods and swirl

patterned shaft, it is sure to heat things up.

$25

$85

Point

Colors: Pink, Purple, Black, Silver

A silicone bullet that has it

all - amazingly powerful, 20 functions,

sensual touch and rechargeable!

38
---
CLITORAL

Slick

Surround your most sensitive

areas in sensation with a motor

in each flexible ear. Slick

offers two powerful motors –

one in each flexible ear – for a

double dose of pleasure. Pinch

or squeeze the ears together to

surround your most sensitive

parts in sensation.

STIMULATION

$85

Colors: Blue, Plum, Pink

$115

Manola

39

Powerful bunny vibe with

bendable bullet stimulators that

can be used multiple ways for

maximum pleasure. 12

functions • 100% Silicone with

ABS trim • Requires 2 AAA

batteries

$105

Curve

Colors: Purple, Pink

Curve is a touch responsive

technology with 7 vibration modes

PLUS! endless vibration modes

created with the touch responsive

action, this silicone vibrator gives you

complete control over your pleasure!

Simply press and hold the 'T' button

during any mode to switch from the

standard controls to the touch setting.
---
The Toy Chest

CLITORAL

Intimate Accessories

Free Your Fantasy

$85

Clitoral Hummer

Colors: White, Light Blue, Lilac

Free Your Fantasy with its unique

design and 7 programs will take

you away.

Lady Laya

Colors: Violet/Metallic Violet,

Violet/White, Pink/White

$52

With Lady Laya's 5 programs, this

lay-on vibrator is rounded for

comfortable use and features a

dynamic and modern shape.

Colors: Blue, Pink

Clitoral stimulation like no other!

Scoop tip has a satin finish that

encompasses for full clitoral sensation

with 10 functions, , ergonomic handle,

and a memory chip to recall recent

functions, the hummer will have you

moaning your praise.

$75

Bunny

Colors: Purple, Pink

The bunny was built on 3

idea's...Easy, Powerful and

Convenient to use. One button

to push, 7 powerful settings of

excitement but small, lightweight

and fully submersible massager.

Penelope

$35

Double up on the pleasure with this dual

stimulation vibe. The swirl pattern on the

shaft, combined with ten vibrations, will

send you over the top. Its flexible design hits

even the hardest to get erogenous spots.

The three function, bi-directional rotating

shaft helps you find your spot so you can

stay there till you're totally satisfied. $35

Silicone Butterfly Kiss

Colors: Purple, Pink

The Butterfly Kiss Silicone

has 2 motors to intensify your

experience and 3 powerful

vibration speeds.

$40

$40

Bunny Kiss

Colors: Purple, Pink

Silicone bunny vibrator

features 2 orgasmic motors,

3 speeds, ad an ergonomic

design for g-spot stimulation.

Requires 2 AAA batteries.

40
---
toys

G-SPOT

Ellie G. Ribbed

$76

Ellie G. Twist

The Ellie is bendable to conform to your body for maximum

comfort and pleasure. The contoured top is ideal for G-spot

stimulation, with added soft silicone to enhance sensation.

Bend in any direction from the central pivot, the toy is firm

enough to stay in place without added force. Do not twist or

pull apart from the center, the firm bend and cushion silicone

give you plenty of delicious options. 10 functions requires 2

AAA batteries (not included)

Textures: Twisted or Ribbed

Colors: Pink or Purple

41
---
The Toy Chest

G-SPOT

Intimate Accessories

Allure

Whichever way you hold this wood sculpture, it

is sure to please. The tapered oval point leads

to a series of 3 bulbs which are sensuously

curved. Flowing on from there, a gracefully

arched neck rounds out into a smooth wide ball,

angled perfectly for g/p-spot play.

Wood Choice: Siris, Wenge, Padauk, & Yellow Heart

$240

Seduction

Our wood Seduction G-Spot

Toy is unique in its own right.

The sleek 'S' shaped curves

of this sculpture make this

something you won't want

to hide in the closet.

Wood Choice: Laurel, Wenge, & Yellow Heart

Curve

Colors: Pink, Purple

The Curve has it all! Featuring 20 functions, a

curve that gets right to the point, and a deeply

intense motor designed to create powerful

sensations. The ultra-smooth contours heighten

your sexual pleasure while the easy touch

controls make it easy to use. Also rechargeable

so that it is always ready to go. Exquisitely

smooth, water resistant, and phthalate free.

$105

Tulip Vibe

$20

Velvety soft pleasure products designed for

first time or experienced users. Make it a

memorable experience with the First Time

Collection! This is a perfectly angled G-spot

stimulator. This G-Spot toy is velvety soft,

power-packed, and easy-to-use.

Colors: Pink, Purple

$70

$185

Intro To G-Spot

Deliver powerful vibrations to the right

spot with this curved G-spot vibrator.

Made of silicone with 3 speeds and 3

modes plus waterproof this toy will

sure to please.

Colors: Blue, Plum, Pink

Emily

The Emily stimulator is Ergonomically

contoured to reach the G-Spot. Ensuring a

longer lasting, more stimulating experience.

Simple, one-touch controls allow you to

choose from 5 escalating speeds and 10

different exciting functions.

$69

42
---
STRAIGHT

VIBES

Bunnii

This powerful Bunnii is sure to

please from its 20 functions and

power levels, USB rechargeable

and a memory function. Each

time you turn it on it immediately

returns to the last function you

used. This function allows you to

go straight to your favorite

without having to scroll through

the many functions it contains.

$105

Colors:

Pink

Purple

Teal Blue

Christiane Soul

Colors: Pink, Purple

$66

Artistry, simplicity and functionality meet in this sleek design. Utilizing

ergonomic contours and enticing ripples to create the maximum in

enjoyment and possibilities. 10 functions 2 AAA batteries

Colors:

Rose And Black

$70

Guilty Pleasure

Innovative design and functions make this

a great g-spot massager. Illuminated,

touch-sensitive controls and silicone grip

for ease of use. Soft touch silicone,

rounded tip and gentle taper for a perfect

fit. 15-year warranty included.

43
---
The Toy Chest

STRAIGHT VIBES

Intimate Accessories

Pulse

The Pulse is a unique, one of a kind sound

activated vibrator. The Pulses's design and

super soft silicone body creates the ideal

massager for her. With its 7 vibration

modes, sound activated technology, silky,

soft, medical grade silicone, The Pulse is an

amazing, powerful, quiet vibrator.

$54

Carrie B

Step up your usual routine with the

Carrie B. Twister. Made with a super

soft and silky smooth coating this toy

will leave all others far behind. 12

enticing, escalating functions.

$138

Smoothie

$60

Colors: Pink, Blue, Plum

This classic profile should be a staple in every

bedside drawer and Smoothie's over-sized motor and

unique shape is classic redefined. Its narrow

hourglass figure is curved for comfort – perfect for

those looking for powerful, internal or external

stimulation. Made of medical grade silicone.

Silent Storme

Colors: Black/Gold or Fuchsia/Silver

Dual silicone/abs material provides

unique vibration intensity perfect for

temperature play as well as

independent power level control.

Amore

Aluminum Elegance

Shiny metal vibrator. Super

Power Personal Massager

with Whisper-Quite Motor,

10 stimulation modes, 100%

waterproof.

$90

$85

CiCi

$64

An elegant metal vibrator. The simple

design and luxurious appearance indicate

it's a high-end personal massager. This

vibrator has an extremely powerful motor

that will give you the perfect orgasm! Just

enjoy yourself whenever you want. Play

with it with the silicone sleeve or choose to

take the sleeve off for the cool touch of

metal.

44
---
The Toy Chest

Intimate Accessories

RABBITS

$125

Thumper

Colors: Lilac, Rose

Thumper is a triple motor rabbit

which is sure to please everyone.

Thumper offers 7 programs and a

100% body-safe, waterproof

exterior. whisper quiet and ultrapowerful,

Thumper makes the

perfect couples toy.

Deepest Desire

Beginners Rabbit

Colors: Blackberry/White, Lilac/White, Pink/White

Deepest Desire is a beginner rabbit for the

person just starting out with their first rabbit.

Deepest Desire has a skinnier body, with light

clitoral contact

$85

Buzz Bunny

The new triple motor silicone Buzz

Bunny is sure to please with 7

vibration patterns.

$113

The Wave

This rechargeable rabbit style

vibrator with dual action motors and

rotating beads in the shaft. Seven

vibration modes and the shaft of the

massager also thrusts back and forth

for a more realistic sensation.

My First

Jack Rabbit

Colors: Purple, Pink

45

$58

A pretty, ultra pleasurable vibe that's

absolutely perfect for first timers, the

First Time Jack Rabbit is simple and

user friendly, delivering precise

power and pleasure without tons of

intimidating functions or an

overwhelming design.

$220

$130

Thrusting Jack Rabbit

The original Jack Rabbit now thrusts, in

addition to its 10 super-charged functions

of vibration, pulsation, and escalation!

Every woman needs this complete

pleasure package!
---
RABBIT

toys

$99

Butch Cassidy

Butch Cassidy; the daring seducer that

makes personalization sexy. The soft,

interchangeable sleeves are tailor-made

for intensified, erotic stimulation.

Customize your climax by choosing

from three, titillating experiences

Mini Bonnie $145

The Mini Bonnie is a bad girl with devilishlydelectable

intentions to tease you, but

always please you in the end. This rampant

rabbit hops her way precisely to your G-spot

and clitoris simultaneously for double the

stimulation.

Bonnie and Clyde

Bonnie & Clyde Rabbit Vibrator with

natural waves system. Tickle and tease

with this luxurious silicone rabbit that

rotates, vibrates and satisfies with an

array of titillating functions. As well

boasting a firm shaft, clitoral stimulator

and simple controls, the Bonnie &

Clyde is ultra-quiet. The mischievous

couple is at it again, yet this time,

they're robbing depravity and slaying in

the sexual sector of crime. Bonnie and

Clyde is a rapidly whirling rabbit

vibrator with multiple, moan-filled

settings and offers endless possibilities

of playtime.

$170

46
---
The Toy Chest

RABBITS

Intimate Accessories

$120

Raging Beginner Rabbit

With a beautifully angled tip for G-

spot stimulation, 7 motor functions

and rabbit ears that just will not

stop, you will love the unique loop

holster grip that gives your hands

flexibility of position like you have

never experienced. Waterproof

and completely submersible, this

toy makes water play pure joy and

its luxurious material silky smooth

to touch silicone. USB

rechargeable

Carolina

Let the Carolina Rotating Dual Vibe

swim right into your heart as it swirls

and buzzes its way to total and

complete pleasure. 10 rotating and 10

vibration functions, Silicone and

requires 4 AAA batteries not included

Colors pink or purple

$105

47

Ella

Treat yourself to this twisty take on the

classic rabbit vibrator. Soft silicone coils

create a gently waved shaft and

curvaceous clitoral stimulator - each

perfectly sculpted to caress your sweet

spots with 10 vibration settings.

Colors pink or purple

$70

$165

Wow

Triple

Ecstacy

Three simple letters WOW is the

feeling you get after experiencing

the Wow Triple Ecstasy. Made

from medical grade silicone and

powered by a pair of whisper quiet

Japanese motors. Unlike ordinary

rabbit vies this vibe leaves no

erogenous zone untouched with a

beaded anal teaser for extra

stimulation. Three speeds with

shaft rotation and seven thrilling

functions.

Jessica

Rabbit

The JESSICA Rabbit Rotating

features a variety of

stimulating massage patterns

in the head and shaft that

provide a unique sensation

guaranteed to send you to

ecstasy. You get 4 rotating

speed in the stem and shaft

with 10 special vibration and

pulsation functions that offers

exquisite external stimulation.

$85
---
The Toy Chest

DILDOS

Intimate Accessories

Vortex Turbo

Our Vortex Series made of liquid silicone for the most realistic

feel comes with our Super Turbo technology which allows for the

item to circulate in a full 360-degree motion at a powerful speed.

This is guaranteed to create the most enjoyment experience

ever. 8 powerful vibration modes, and our Super Turbo remote

control will cure all of your lustful desires.

Turbo Shaft

$108

Turbo Rabbit

$138

Turbo Baller

$129

48
---
DILDO

toys

Bull

Bull Black Dildo. Behold the sleek, sensual

beauty of black glass. This double-header

features bulbous balls at both ends for deep

personal pleasure or erotic couples play.

$32

Purple Rain

Purple Rain adds some color to your toy

collection with this translucent purple

ribbed dildo. Ribbed structure provides

added pleasure for vaginal or anal play.

Curved handle for greater control.

$38

Blue Spiral

Blue Spiral Glass Dildo. Glass is always hard. Lube

this beauty up for hours of deep penetration and

pleasure. Raised spiral ridge increases stimulation,

while the bulbous head activates the G-spot.

$32

49
---
The Toy Chest

Intimate Accessories

$42

DILDOS

Sailor Soft Pack

While not designed for penetration, this packer is a

must have product for many people in the trans

community. This packing dildo is perfect for longterm

wearing. Designed to fit comfortably in jockey

shorts, jock straps and packing straps. The Sailor

offers a realistic look and feel for packing. Packing'

is the wearing of a dildo or packer under clothes.

People pack as part of their gender expression in

order to have sex, engage in role play or for drag.

Colors: Coffee, Caramel, Vanilla

Captain

$78

Riley

$70

Ready for gratifying sensations? Discover the silky

smooth swirled pattern served up in exquisite

passion with its medical grade silicone construction.

This luxurious suction cup dong may be the ultimate

sex toy for your collection.

Colors: Black, Coffee, Caramel, Vanilla

The Captain offers a vein-textured

straight shaft and a sculpted head for a

highly realistic look and feel. Perfect for

customers looking for a dildo that

works great in strap on play. 100%

Silicone. 7 1/2" x 1 7/8"

Colors: Marcia Pink, Porpora Purple

Kendell

This luxurious, soft-touch silicone

suction cup dong gives you great

pleasure while delivering intense,

gratifying sensations. Discover the

exquisite passion from the

sumptuously swirl pattern.

Colors: Astral Blue, Porpora Purple

$70

50
---
The Toy Chest

DILDOS

Intimate Accessories

Tantus

SAM

Sam is the largest addition to Tantus' unique

line of vibrating realistic toys in Tantus' O2

Dual Density Silicone. Sam comes with a

waterproof vibrator and suction cup, perfect for

gender fluid strap-on play, or as a favorite toy

on the wall. Bigger than average at 1.8" wide

and 7.3" long.

Colors – Cream, Cocoa, Mocha

$160

Tantus

SILK

The Hattori Hanzo of the dildo world, toy

makers Tantus have united a hard-working

shape with a streamlined form, for amazing

arousal in play. With a smooth curved shaft

and rounded head, it's perfect for beginners,

and is strap on compatible too. Diameter:

1.1" and Length 5.25"

Colors – Black, Purple haze

$67

Tantus

UNCUT

The Uncut #2 is an incredibly realistic

uncircumcised dildo. With a super soft outer

layer and a firm inner core for a little give and

a lot of get. 1.6"x 6.4"

Colors – Cream, Cocoa, Mocha

$150

Tantus

ACUTE

The Acute is a Medium-Sized toy used for

both vaginal and anal play that mimics the

perfect angle for penetration. Made from

Tantus' own unique formula of 100% Ultra-

Premium Silicone. Eco-Friendly,

Hypoallergenic, Hygienic, Boilable,

Bleachable and Dishwasher Safe

Colors – Purple Haze, Midnight Purple

$65

51
---
The Toy Chest

LAP OF LUXURY

Intimate Accessories

Rhythm X2

$199

The Rhythm X2 is a powerful dual motor, rechargeable, whisper

quite vibrator equipped with Bluetooth technology that on top of

its 7 vibration modes, 2 voice activated modes it has the

Bluetooth mode which allows you to connect to your favorite

Bluetooth device, smart phone, ipad, computer, and have your

personal massager vibrate to the rhythm for your liking!

The Corkscrew

Experience the erotic art of glass. Hand-sculpted from molten glass into

pleasurable twists of sleek glass, the Corkscrew is the pinnacle of where

form meets function. Created by our expert artist with over 30 years of

experience, begin your collection and take home this fine, fucking art today.

Each piece includes a beautifully sewn storage bag and care card. (Made

in Berkeley, CA) Since this is a custom hand blown work of art that is

blown at time of order – 3 weeks to receive product from time of order.

$180

Touch 2

$135

A pure silicone outer body and stylish ergonomic

design makes this the most beautiful and attractive

of products. Even more impressive, the touch

sensitive control gives you the ability to command

the intensity of vibrations. This whisper quiet 7

stimulation modes can be customized with the

vibration patterns using the touch responsive panel

for tailored G-spot stimulation.

52
---
toys

LUXURY

We Vibe Sync

Colors: Purple, Aqua

$250

Get closer than ever with Sync's innovative new

features. Sync is designed to be enjoyed with a

partner during sex. She gets powerful stimulation to her

clitoris and G-spot and together, you both share the

vibe. Sync stays in one position so you don't have to.

No two bodies are the same. That's why Sync can be

adjusted to fit your unique shape. There are two

adjustable points to better target the G-spot and clitoris

with more or less pressure. Sync fits comfortably in

place even as you change positions during sex.

EVA

$120

Eva is the first hands-free, silicone, strap-free, nonintrusive

couples' vibrator. With Eva you're free to

focus on intimacy. Eva is designed to provide clitoral

stimulation during intercourse, all while staying

securely in place with the help of two wings. Eva's

flexible wings nestle under your labia for a secure,

comfortable fit. Eva stays in place and out of the way

during penetration giving you that extra stimulation. It

is a wonderful couples toy but can also be enjoyed as

a solo toy! Featuring medical grade silicone, USB

rechargeable with a 3 speed motor and one button

control.

Colors: Lavender, Aqua

$160

Yoru

Kushi

Iroha Plus

Redefining Pleasure for Women with iroha. A new step

forward is born with the iroha+ The iroha brand's defining Soft

Touch material comes paired with a powerful motor with a new

rhythm pattern, in a fully waterproof, silicone design for use in

water. Tease, squeeze and play with the iroha+ and its three

functional designs to experience your body with new-found

intimacy. 5 vibration strengths and 2 rhythm patterns to enjoy.

Tori – Shaped like a bird. Smooth tip for insertable pleasure.

Kushi – Adorned with multiple rips for dynamic sensation.

Yoru – Its open design can be used to tease and squeeze.

53

Tori
---
$89

Satisfyer Pro Penguin

Shaped into smooth curves and featuring

innovative Pressure Wave technology,

Satisfyer's Pro Penguin stimulator

combines a silky scooped silicone treatment

tip with eleven modes of unique undulating

suction, a fully waterproof design and

convenient re-charge potential.

Satisfyer Pro 2

This hands-free multiple orgasm-inducing, clitoral,

"vacuum" sex toy is taking the world by storm. Sexily

shaped into smooth curves featuring innovative

Pressure Wave technology, Satisfyer's Pro 2 stimulator

combines a silky scooped silicone treatment tip with

eleven modes of unique undulating suction, a fully

waterproof design and convenient re-charge potential.

$99

$89

Satisfyer Pro Deluxe

Satisfyer Pro Deluxe is a sleek and sexy addition to the

bedroom when things get hot. This handy little suction vibrator

features an ergonomic oval shape that provides touch free

clitoral stimulation. Use it before or during sex, either way,

you'll have a great time with it. But for even more excitement,

try it in the water!

W500 Pro

Womanizer

Colors: White/Chrome, Black/Chrome, Magenta, & Red Roses

The new womanizer Pro – quieter, easier &

more comfortable to hold and even more

satisfying! It sucks and stimulates through

impulses. The impulses have 8 intensity

levels that are adjusted at the push of a

button. There is an attachable stimulator for

the contactless stimulation of the clitoris.

$250

54
---
Not washing your toy, using the wrong lube, or

storing it incorrectly can all lead to problems,

whether that's a shorter toy life span

or a distortion of your toy or a risk of an

infection for you. Thankfully Intimate Tickles is

here to help keep your sex toys safe, in good

shape, and running as long as possible.

Vespa

$16

$20

Colors: (Black & Red) Large, (Pink) XLarge

Sugar Sak

A sexy designer toy bag

that will keep your bedroom

accessories bacteria free!

Sugar Sak provides you

with the protection of

Bioshield 75. This invisible

coating utilizes exclusive

EPA approved patented

technology to provide a

barrier that inhibits the

growth of bacteria, fungi,

yeast, mold, mildew and

viruses in the bag. Bag up

some fun... the safe and

clean way!

Zappa

Colors: Green, Blue, Purple

Colorful and classic, just like a Vespa, this toy

bag is crafted with Cone Denim. Made 100%

in the USA, the subtle and versatile black

denim is contrasted with a twill base in a

vibrant pop color. It is lined with a waterresistant

nylon, so you never have to worry

about lubes or other liquids escaping. The

generous measurement of 10.5" x 9" and the

double zipper allows for a lock (sold

separately) to keep your toys safe from prying

eyes.

Colors: Blueberry, Camel, Black,

Charcoal, Grape, Lime, Mandarin,

Cinnabar, Chocolate, Navy,

Fuchsia

$25

Practical with pop. The Zappa is the bag to

hold all of your toys, lubes and other

accessories without having to worry about

prying eyes or spills. Measurement in inches:

13.5 x 11

55
---
The Toy Chest

Intimate Accessories

STORAGE AND CLEANERS

Dr Laura Berman

Universal Toy

Cleaner

Makes clean up a snap. The

Berman toy cleaner is specially

formulated with Triclosan, an

anti-bacterial ingredient to keep

you and your toys safe. 6.2oz

$12

Spencer

Colors: Red, Black, Grey

The perfect toy bag for those

discreet men. Measurement in

inches: 14.5 x 5 x 8.5

$45

Before & After

Toy Cleaner

If you own a toy, this Cleaner

is a must. Specifically

formulated to sanitize and kill

bacteria, while keeping your

bedroom toys as good as new

4oz

$13

8oz

$18

Stashe

Colors: Expresso, Black, Aubergine, Merlot

Keep your toys close at hand with

the Stashe Pillow. Measurement in

inches: 15L x 15W x 8H

$54

Moto

Colors: Espresso,

Black, Aubergine, Merlot

Take your toys with you and look

good doing it. It has a velvet

outer layer, genuine leather top

and handle. Measurement in

inches: 13.5 x 8 x 5

$70

56
---
Strap It On

Buckle Up

THIS MAY BE A LONG RIDE

$150

Tantus Bend Over

Beginners Kit

Tantus Bend Over

Intermediate Kit

$160

The Bend Over Intermediate Kit is the perfect

way to continue exploring strap-on sex.

Comes with Silk Dildo Medium and Large.

The Bend Over Beginner Kit was

designed for those who would like a

"starter" kit, so you can pace your

exploration with comfort and safety.

Comes with Silk Dildo Small and

Medium.

$60

Vibrating Thigh

Strap-On

Give lap dances a whole new

dimension with this incredible

Vibrating Thigh-Strap-on.

Tantus Silicone O-Ring

Harness Set

Tantus Silicone O-Ring Harness Set is

compatible with any harness that takes

an O-Ring. Set includes six different

sizes to accommodate the toy of your

choice.

$25

$12

Rubber O-Rings

57

These O-Rings come in

four different sizes.
---
Give your partner the control they want and

the action you need with the I Like it Doggie

Style strap.

I Like it Doggie Style

$26

$65

$165

$205

Tantus Realdoe More

Grey and Black Lace

Corset Strap-On

Red Lace Satin

Corset Strap-On

Sizes: Reg (up to 60" hips)

Plus (up to 70" hips)

Slip into this gorgeous, lace up

corsette style strap-on, made of

plush red lace fabric. Four-way

adjustable straps for up to 70 inch

hips. (Dildo not included)

With all the basic features of the Tantus Feeldoe®, the Tantus Realdoe

More offers an extra inch of length in a dildo 7" long by 1.8" wide. Firm

but textured, the silicone looks and feels like flesh, featuring a life-like

skin tone, corona, and veins. Designed to be held with the PC muscles,

the Tantus Feeldoe design allows a sensual skin on skin penetration of a

partner without the buckles and straps. It also comes with a removable

waterproof bullet vibrator. Color tone may vary slightly.

Slip into this beautiful Grey and

Black Lace Corset Strap-on

featuring satin fabric covered in

black Chantilly lace. Four-way

adjustable straps fit size 12 to 30

and adjusts up to 72 inch hips.

Accommodates dildos with a

flared base (Dildo not included).

2x Double Vibrator

Pretty and powerful in purple, the 2 X has

double the motor for double the play and

double the pleasure! Encouraging you to

share its dual head, this selfless, versatile

vibrator is completely compatible for

couples, making playtime more desirable.

Either enjoy a long, solo act or make it an

erotic game night.

Menage a Trois

The Menage a Trois Double Penetration

Harness and Dildo Set feature an adjustable

harness with two interchangeable O-rings

for double penetration pleasure and is

perfect for use by men or women

$85

$74

58
---
Double

Vibrating

Mega

Delight

Strap It On

Buckle Up

THIS MAY BE A LONG RIDE

Fetish Fantasy Extreme

9" vibrating hollow strap-on

$150

$120

When you're looking for an extreme boost

in size and performance, the 9" Vibrating Hollow Silicone

Strap-On is the ultimate tool for guys who want to be

HUGE! This hollow vibrating strap-on features a massive 9"

silicone dildo, an extra-large hollow opening, a powerful

multi-speed bullet hidden directly in the tip of the vibe, and

super-stretchy adjustable elastic straps.

Fetish Fantasy Extreme

8" Inflatable Hollow Strap-on

$135

The 8" Inflatable Hollow Silicone Strap-On is the most

extreme, most intense, most satisfying hollow strap-on

ever developed! With just a few squeezes of the

medical-style pump ball, the silicone outer sleeve

inflated to epic ass-stretching proportions, giving your

partner an amazing feeling of fullness that no other type

of hollow strap-on can replicate!

Fetish Fantasy

9" Vibrating Hollow Strap- on

with Balls w/wired remote

Colors: Brown, Flesh

Pump up the passion with this incredible

Inflatable Vibrating Double Delight! This

lengthy lover was built for two, with enough

length in between to let you both get as close

as possible. Either side inflates using the

medical-style ball pumps, filling you both with

thick stimulation. Two powerful multi-speed

bullets send incredible vibrations through both

shafts—choose a speed that's right for you

and let the silent vibrations whisk you away!

Stud Everlaster

$87

Now you can have the length and girth

you've always dreamt of and be all the

man you can be. The comfortable

elastic harness easily adjusts to fit most

sizes, while the 9" phthalate-free PVC

dildo will hit just the right spot every

time. It's perfect for men with ED,

premature ejaculation problems, or

anyone looking to simply add a little

something extra to their next encounter.

59

Harness

This Everlaster Harness

is the right Stud for you.

Also includes 1 Hollow

dildo measuring 6.5

inches. Fits hips up to

69 inches

$70
---
The Pete series was created exclusively for soft packing. Team this with the Sailor in our Dildo section.

Almost like going commando.

Freestyle has a thin sheath that covers

the front pouch. The sheath covers the

packer so everything is nicely tucked in

the pouch, and can be adjusted to sit in

a comfortable position. Again the Pete

FreeStyle can be worn alone or

beneath underwear.

Our men's contoured pouch briefs,

much like the classic cut "whitey

tidies". The contoured pouch

allows the packer to sport a

natural bulge even with a small

packer. Pete Briefs have a fourinch

side, and seamless lines

under clothes.

$55 $66 $69

Short, square cut boxer briefs.

Trunks are much like what would

be referred to as "boy shorts", with

the exception that Pete

UnderWear has open fly

access.

TM TM TM

Pete Freestyle Pete Briefs Pete Trunks

SpareParts HardWear Bella

$200

Sizes: Xsmall, Small, Medium,

Large, Xlarge, 2x and 3x

Low waist:

• XS - 26"-28"

• S - 29"-32"

• M - 33"-37"

• L - 38"-40"

• XL - 41"-44"

• 2X - 45"-48"

• 3X - 49"-52"

The unattainable tease, Bella seduces with come-hither

details and a lick of lace. Bella is a distinctly dangerous

blend of sensuality, sophistication, and drama-and the most

intoxicating lingerie harness in our line. The durable O-ring

allows the wearer to choose from single or double dildos in

perfect comfort without losing its shape. Bella's breathable,

barely-there fabric is luxuriously soft and ideal for all-day

wear.

60
---
SpareParts Hardwear Joque

Sizes A and B

Features for Size A:

• Belt adjustable, measures 20-50"

• Leg straps adjustable. Measures 10-16"

• Ring diameter 1.25-2"

• Ring circumference 3.92 – 6.28"

Features for Size B:

• Belt adjustable, measures 35-65"

• Leg straps adjustable. Measures 14-24"

• Ring diameter 1.25 – 2"

• Ring circumference 3.92 – 6.28"

Strap It On

Buckle Up

THIS MAY BE A LONG RIDE

SpareParts Jockey style harness, the original Joque, is quite simply

the most innovative product of its kind. Designed to be the ultimate in

comfort and versatility, the Joque is crafted with multi-layered Nylon

or Poly-Spandex and lined with soft, sensual mesh to provide

breathability for blissful all-day wear. Created with flexibility in mind, the

patented design easily adapts to your unique size and shape, becoming

a virtual "second skin" to provide maximum pleasure for both the wearer

and the receiver. Colors black, passion pink, purple and white

$165

SpareParts Hardwear Tomboi

Nylon

$140

Modal

With a bold attitude and athletic cut, it's hard to say no. This bad boi

smashes the very boundaries of pleasure, from the super-durable O-

ring to the drive-'em-wild mini-vibe pockets. Tomboi slides on and off

smoothly, without any chafing buckles, dangling straps, pinched skin,

or other baggage to get in the way. Lightweight, breathable fabric

means you can wear it all day long, and the hidden inside pocket

stashes away anything from condoms to cash. The Modal is for those

who prefer a cotton or more natural feeling fabric. Nylon is completely

waterproof.

Style: Nylon or Modal

Sizes: Xsmall, Small, Medium, Large, XLarge, 2x, 3x

Nylon Colors: Red/Black, Black/Black

Modal Colors: Black/Black

61
---
Between The Cheeks

Forbidden Pleasure

Mini Butt Plug

Colors: Black, Purple

$52

The Mini Anal Plug has been supremely crafted for

sensational back-door bliss even for beginners! The NU

Sensuelle Mini Plug takes the whisper-quiet motor of the

sensational Joie Bullet and covers it is a well designed soft

silicone sleeve to transform it into the perfect anal plug.

3.5 inches insertable

$60

Tantus

JUICE

Colors: Black, Purple

The Juice has added texture

along the sides. A great plug for

extended wear, made of Tantus'

own unique blend of ultra

premium silicone. The base is

designed to be comfortable, and

to curve with the body. Diameter:

1.4" Length: 4"

These Silicone Plugs all have a tapered tip for easy entry, a bulb

that provides extra sensation, and a narrow neck that allows your

muscles to wrap around and hold it in. Every Anal Fantasy box

features a FREE 5-Piece Prep Kit to help you ease into comfort

and clean up afterwards. The kit includes 2 finger sleeves, anal

desensitizing cream, anal lube, and toy cleaner.

Silicone Plug

SMALL

This Smallest Of The Silicone Plugs

Measures Out To 1.5" wide with an

insertable length of 3.5"

$28

Silicone Plug

MEDIUM

With A Bit More Girth, The Medium

Silicone Plug sized out to 1.75" wide

with an insertable length of 4.25"

$36

At It's Maximum Girth, The Large

Silicone Plug Measures Out To 2"

wide with an insertable length of

4.25"

Silicone Plug

LARGE

$46

62
---
There are a few myths and misconceptions behind

the mystical taboo of Anal Sex. Don't let the

misinformed forbid you from what could be a most

exhilarating experience. Embrace the dark side.

Let's

Put These Myths

Behind Us

Shall We?

THE MYTH: IT WILL HURT.

The truth: Anal sex doesn't have to hurt. It's often just done incorrectly.

Many women and men find it incredibly pleasurable, and some even report

having orgasms with them.

THE MYTH: ONCE IT HURTS, IT WILL ALWAYS HURT.

The truth: So you tried it once and insertion hurt really bad. Most of these

experiences have to do with not adhering to the following instructions: be relaxed,

go slow, graduate in size and use lube.

THE MYTH: YOUR MAN OR WOMAN WON'T RESPECT YOU LATER.

The truth: Most men/women are modern enough to see anal sex as just one component

of a healthy sex life. And because of the taboo of anal sex, it might actually help you feel

closer and more emotionally bonded to your partner.

THE MYTH: YOUR ANUS WILL GET ALL STRETCHED OUT.

The truth: Just like the myth that the vagina gets irreparably stretched out from

childbirth, this is also a misconception. We all know that the vagina accommodates a

wide range of penises, the anus can too — with the right introduction.

63

Your Back Door Requires

Connection - The connection between two

people before play – make sure you both are

mentally, emotional & physical ready. Both C.L.E.A.R.

the Receiver and Giver must communicate

during play at all times.

Lubrication - There is no natural lubrication in the back door whatsoever. A

lubricated condom, lubrication from the vagina or mouth, or water is NOT proper

lubrication. Beginners should look for a thicker water-based lubricant (there are

lubricants specifically made for anal play) while the more advanced can elect to

use a thinner silicone based lubricant.

Education - Do a little research on the subject before experimenting.

Knowledge is power, and will help you to relax.

Attitude - If you think this won't go well, it probably won't. Do research, have

patience, take your time and communication is the key.These are the things that

make a good anal experience.

Relaxation - Take your time. Relax. Receive a massage, nipple and/or clitoral play,

cuddling. If you feel pain, stop - go slower, let the relaxation take hold of you.

Communication
---
Between The Cheeks

Forbidden Pleasure

TIGHT, HOT, TABOO

$75

Rocks-Off

O-BOY

The O-Boy is a must-have toy for prostate play beginners.

Seamlessly click through a variety of speeds and patterns

to enjoy simultaneous prostate and perineum stimulation,

exploring the range of 7 speeds and patterns to your P-

spots content. Once inserted, try rocking back and forth for

a 'look! no hands' multiple orgasm which is sure to have

you moaning "Oh Boy!" in no time.

Ass Kicker

Ass-Kicker is an ultra-enhancing 2-in-1 male tool for

orgasmic stimulation during foreplay and intercourse. With

this anal plug and the cockring wrapped snug you'll stay

harder and stronger than ever before!

$65

Unisex

$34

Douche Enema Kit

This kit includes all the elements

necessary to use as an enema or

refresh the female form.

$199

B-Vibe

Colors: Teal, Black

$38

Remote or manual control

modes. The rimming plug

can be used with or without

the wireless remote control.

The remote works up to 30

feet away. …Which brings a

whole new meaning to the

term "couples play".

$22

Honey Dipper

The perfect choice for the anal enthusiast, our

Honey Dripper Anal Slider is a sleek, durable toy

with an easy grip base and an angled flared

head for deep P-spot stimulation. This toy

can be easily cleaned. Retains heat

and cold for increased stimulation.

Compatible with all lubricants.

First Time Fun Beads

The First-Time Fun Beads flexible shaft

bends with your body's contours to hit

just the right spot, while the sturdy

retrieval handle offers safe and easy

handling.

Prepare to experience the only premium plug that

packs the strength of three powerful motors into a

flexible, medium size plug with wireless remote control.

three motors to offer 8 vibration levels & 9

vibration patterns ranging from soft pulsations

to fast and powerful.

B-Vibe Trio Plug

Colors: Purple, Black

$175

64
---
Elite Vibro Balls

$42

Silky, sensual and absolutely user

friendly, this delectably luxurious set of

excitingly weighted Elite Vibro Balls is a

fantastically pleasurable take on the

classic ben wa ball, geared instead

toward anal bliss.

$55

Between The Cheeks

TIGHT, HOT, TABOO

Forbidden Pleasure

Beginner's

Fantasy Kit

If you've never tried anal play, the

Beginner's Fantasy Kit is just what

you need to explore the amazing

world of anal stimulation. The

Beginner's Fantasy Kit features five

unique pieces perfect for your firsttime

anal encounter.

$70

Renegade Rebel

Vibrating WAnd

Let your inner Rebel yell! The

Renegade Rebel Vibrating Wand will

drive you wild with pleasure and

excitement. This ultimate vibrating

silicone-covered plug delivers 10

varieties of raging, powerful vibrations.

Colt Mega

Somewhere between a prober, a

vibrator and an oversized dong, the

Colt Mega fills more than just a gap

in the market. Boasting a thick

silicone shaft to satisfy and please,

enjoy deep, rumbling vibrations

from its powerful 10 function (and 4

speed) motor.

$105

Colt Hulk

Prop

The Prop is a luxury, remotecontrolled,

rechargeable prostate

massager. The Prop's dual

motors simultaneously stimulate

both the prostate and the

Perineum, delivering an amazing

sensation. Made of body safe

silicone, abs and metal its 7

vibration modes and

wireless remote control makes

this a unique prostate toy.

Blending the best bits of several

toys, the Colt Hulk is the ultimate

vibrating anal toy. With the girth of

an oversized dong, the shape of a

probe and the power of a luxury

vibrator, this giant vibe also

boasts 10 customizable patterns

for total ecstasy.

65

$70

$100

Each

Tantus Vibrating Progressive Beads

Brilliantly designed to help you feel the heights of anal

pleasure. A series of four beads increase gently in size from

¾" to 1¾" and are perfectly spaced for pacing yourself.
---
Sex In The Shower

DISCOVER THE NEW

WET

$25 $22 $21

Dual Locking

Suction Handle

Add instant leverage and

achieve perfect positions in your

shower or bath. Lock-down the

handle on your walls or tiles and

enjoy strong grip and even

stronger waves of pleasure.

Single Locking

Foot Rest

This clever foot rest allows you to

achieve previously impossible

positions in your bath or shower.

With its strong lever-activated

suction cup and smooth waterproof

design, you can have extra

leverage, extra height and extra

sensations within seconds.

Single Locking

Suction Handle

Large handle and a lock-down

suction area to achieve that

perfect, classic position and add

instant leverage.

66
---
Ride 'Em Cowgirl

THE guide to sexual

empowerment for

couples. $16

Tickle His Pickle

You will discover over 50

sizzling techniques

THAN

to master

oral lovemaking. $15

Ultimate Guide to

Cunnilingus

Truly the bible of oral sex for

today, The Ultimate Guide to

Cunnilingus gives excellent

advice, encouragement, and

helpful tips. $25

Anal Sex for Men Guide Book

This book is for all men -

heterosexual, gay, bisexual -

who want to learn how to enjoy

anal sex, with a partner or by

yourself. $25

The Smart Girl's Guide to the G-Spot

The Smart Girls' Guide to the

G-Spot Book 2nd Edition.

XOXO Discover Paddle the is powerhouse a sexy way to of

truly female leave orgasm. your mark. $25 The

paddle has two sides to let you

pick Ultimate your pleasure Guide or to pain. Sex After 50

How to Maintain – or Regain – a

Spicy, Colors: Satisfying Pink or Sex Black Life. Tips, and

helpful resources. $29

67

Best Lesbian Erotica of the Year:

20th Anniversary Edition

Sacchi Green's scorching hot stories

of lesbian sex. $25

nipple

-Play

Ultimate Guide to Fellatio

Famed sexpert Violet Blue

dispels myths and delivers

concise information for going

down on a man. $25

Nipples need love too. Heighten

your sensitivity with these soft

and pliable Nipple Suckers.

Best Gay Erotica of the Year

Hotter than ever and Colors: featuring Pink, Black, the brightest Purple

stars the gay literary galaxy has to offer, this

iconic collection never fails to impress. $25
---
Creative Play

Unleash Desire

What Happens In The Bedroom.....

Let's Fool Around

A romantic card game for two players or a

kinky party game for a group of

uninhibited friends.

$30

$13

Encounters

Intimate

Night

Date

Regardless of how far into your

relationship you are, KEEP DATING with

the Intimate Rewards game.

LOVE IS

Art

$85

Simply put, the LOVE IS ART kit includes everything a

couple needs to craft a one-of-a kind abstract painting

while being intimate with one another. What is left is a

unique painting that represents that special moment.

Choices of Packages: Black, Luvtone Red, Luvtone

Blue, Luvtone Pink, Shades of Grey, Wedding Edition,

Black and Copper, Cosmos Edition

68
---
Here's an imaginative way to lure sweet kisses. Dip the

enclosed brush into our creamy paint and then paint a path to

pleasure on your lover's skin…and let temptation be your

guide on a sensuous adventure.

Flavors: Aphrodisiac

chocolate,

Vanilla & Chocolate,

Strawberries &

Champagne

$18

Lovers

Choices: Sex!, Gay Sex,

Lesbian Sex

International Sex

Body Paint

A Year Of

SEX

Each Sex! card explicitly illustrates either a

foreplay activity or a sexual position. Each

Sex! deck includes three card games.

Foreplay Your Way

Secret VII

$50

Secret VII is entertaining, easy, and fun to play.

Secret VII contains a library of 400 arousing

Pleasure Cards describing a variety of foreplay

acts. These lusty Pleasure Cards are color

coded by level of intensity, ranging from "mild to

wild". Each player chooses seven Pleasure

Cards they secretly wish to have performed on

them. Just roll the dice and let the pleasures

begin! Secret VII is gender and sexual

orientation neutral. Designed to be enjoyed by

ALL adults

$30

$10

$30

BONDAGE

seductions

Would you like to be blindfolded, whipped, or

tied up? Find out! Bondage Seductions allows

you to safely explore the curious world of

restraints, dominance, pleasurable pain, and

submissiveness.

69

SEX

Around The World

Includes 36 unique sexual experiences from cultures across

the world and throughout history. Are you looking to spice up

your sex life? Try an erotic Petrissage massage from France

or worship an Inca phallus. Try early Polynesian sex bartering,

shibari style bondage, the Kama Sutra The Swing position and

much, much more!
---
Creative Play

No Dirty Minds

Just Colorful Imaginations

Color how much you

love sex with THE BIG

COLORING BOOK OF

SEX POSITIONS! What

color you choose for the

afterglow is totally up to

you.

THE BIG COLORING BOOK

OF COCKS is proud to

represent the phallus be it

capped, cut, pierced,

tattooed, crooked, or

bulbous! Color up your

praise of the great phallus!

$25

EACH

THE FETISH COLORING BOOK - A

very NSFW coloring book featuring

bizarre and kinky fetishes of all

kinds. Color in your own fantasy.

Captured in THE BIG COLORING

BOOK OF VAGINAS along with

fun puzzles and games is the

uniqueness of the vagina

beautifully illustrated. Illustrate

these beautiful vaginas with your

imagination and show your love

for what makes your world go

round!

70
---
Sensual Playground

Bold On Purpose

INTIMACY WITHOUT BOUNDARIES

MiPole

$260

360 Dance Pole

Portable AND Professional. Take

your pole dancing to the next

level with the new MiPole 360.

6 Things You Didn't Know About

Pole Dancing

1. Most Pole Dancers, Regardless Of Age, Are In The Best

Shape Of their Lives

Pole dancing is a full-body workout. It is resistance training and

cardio in one. Flexibility is improved as well. It is no surprise, then,

that most pole dancers insist they have never looked or felt better.

MiPole

Professional

Dance Pole

Is a portable pole dancing kit

designed to let you have lots of

fun, work out, and feel sexy at

the same time.

$240

2. There are different types of pole dancing.

While the sexy side is still very present, there are actually three main

branches of pole dancing: sport, art, and sexy.

3. Some are pushing for pole to become an Olympic event.

4. Men can (and do!) pole dance.

The number of men pole dancing continues to grow every

year. Men's natural inclination toward upper body strength makes

them ideal candidates.

5. "Not having upper body strength" is not an excuse to not try it.

Whether you're uncoordinated and can't lift your own body weight or

you're an athlete with gymnastic capabilities, there is always a new

trick or transition to learn with pole dancing.

6. Pole dancing is emotionally healing.

The physical benefits are great, but the feeling you get from

mastering a move or expressing a particular emotion is

indescribable. You can dance out any emotion, whether joyful, angry

or sad.

71

Heavy Shipping Alert

Add $45

Shipping & Handling
---
Sensual Playground

Get Comfortable

IT'S GONNA BE A LONG NIGHT

$135

Liberator

Wanda

Colors: Merlot, Plum

Petite mount for the

Magic Wand.

Experience magic

with your Wand.

22"x8"x8

$135

Liberator

Wedge

Colors: Black, Blue, Red

A little lift can make a big

difference. 20"x9"7"

Position

IS EVERYTHING

$120

Liberator

BonBon

Colors: Black, Merlot, Plum

Treat yourself to something

delicious. Ideal for solo play,

the BonBon

$230

$210

Liberator

Ramp

Colors: Black, Blue, Red

LIberator Ramp offers support

with deep slope elevation.

20"x9"x15"

Liberator

Flip Ramp

Colors: Black,

Espresso, Plum,

Liberator Flip-Ramp can Merlot

accommodate all sorts of interesting

positions. 20" x 9" x 15.25"

Our products enhance intimacy by inspiring

creativity and romantic imagination. We believe

they make the act of love more exciting and

rewarding. Simply put, we think Liberator is the

greatest invention for sex since the bed and we are

inspired to share it with the world.

- Liberator

72
---
Sensual Playground

Fantasy First

SWINGING INTO ACTION

$220

$260

Sex Swing

With the incredible Fantasy Swing® you'll

be swinging your sex life back into action

in no time at all! Black.

$74

Yoga Sex Swing

The world's first ever Yoga Sex Swing.

With the aid of the Yoga Sex Swing, you

can defy the laws of gravity.

Fantasy Door Swing

Turn an ordinary door in your

home into a love swing in just

minutes with this incredible

Deluxe Fantasy Door Swing. .

The deluxe swing requires no

permanent installation or

expensive tools and holds up

to 300 lbs.

73

The sex swing provides several different

unique sexual positions and can help to reduce

the strain and stiffness felt during sexual acts

without the use of a swing. Use your

imagination. Stumped? Imagine This

5 Sex Swing

Positions

1. Oral Sex For Him

2. Oral Sex For Her

3. Him Standing Missionary

4. Him Standing Rear Entry

5. Reverse Cowgirl
---
A Little Kink

Dare To Submit

LOVE AT ITS DARKEST

Grey Silk

Ties

Perfect for beginners,

these beautiful scarfs

become ideal restraints

for binding or gagging

your partner.

The Grey

Tie

Grab your Grey Tie and recreate

your darkest fantasy.

$12

$20

$22

Grey Satin

Blindfold

A luxurious doublelayered

satiny blindfold

with trim and thin dual

elastic-strap for a

comfortable fit.

$9

Tantus

Plunge

Paddle

PADDLE OR PLAY

This paddle is one of a kind. With

a perfectly placed insertable

bullbous head and smooth shaft

at the handle base you choose

your enjoyment.

The Novice

Handcuffs

Wanting to explore the world of

bondage? The Beginner's Handcuff

is a perfect way to get started.

$75

$18

Each

Red

Rope Flogger

Sex and Mischief Flogger

is a great way to try some

playfulness in the

bedroom. Tease and

please with 24 inches of

erotic S & M delight.

$18

Each

Mahogany

Flogger

The flogger has a good

weight and feel to it. The

real wood handle provides

a great counter weight

and decent grip. This

makes a good beginner

flogger.

74
---
FOR THOSE WHO WOULD RATHER BE

TIED UP

THAN

TICKLED

IMPRESS ME

PADDLE

XOXO Paddle is a sexy way to

truly leave your mark. The

paddle has two sides to let you

pick your pleasure or pain.

$18

PADDLE

Colors: Pink or Black

nipple

Suckers

$16

Nipples need love too. Heighten

your sensitivity with these soft

and pliable Nipple Suckers.

Colors: Pink, Black, Purple

75
---
A Little Kink

Dare To Submit

LOVE AT ITS DARKEST

$68

Under The Bed Restraints

keeping couples connected

The perfect bondage product!

This system restrains your

partner's arms and legs from

the sides or bottom of the bed.

$16

Japanese

Dripping Candles

These sleek Japanese Drip

Candles are specially

formulated for the body.

Heart Beat

This sexy Crop is

sure to win you

some hearts with

its flirty heart

shaped crop .

$15

Crop

$45

Rubber Whip

Made of high-quality latex rubber

strands, these whips are a "must

have." Durable, flexible, lovable! 22"

$24

Silk Bondage

Rope

With the super soft rope, you don't have

to be an expert to enjoy the pleasure of

Japanese-style bondage.

Colors: Red, Pink, Black, Purple, White

76
---
A Little Kink

BOUND AND TIED

Dare To Submit

Bondage for beginners! The Manbound Bondage Starter Kit is the

perfect kit for men trying out the bondage experience. This kit includes

four black wrist or ankle cuffs with Velcro straps for comfort, 44" of

connector strap to give you plenty of versatility, and a soft black

blindfold to keep him guessing.

$55

$90

There's something sexy hiding under the

bed. Under The Bed Restraint Gear is

part of the Manbound line from

Sportsheets. This simple system sets up

in seconds and comes with everything

you need to turn your bed into a

bondage playground.

77
---
Pleasure

$12

Colors: Red, Pink, Black,

Purple, White

Put your lover in a sticky

situation with this non-sticky

PVC Pleasure Tape.

TAPE

Midnight Jeweled

A gem encrusted crown and gleaming

handle with strands of delicate chain,

give this regal scepter a small, but

mighty sting

$30

Chain Tickler

Starburst

Tickler

Colors: Black, Red, Violet

Find your partners special

spot! Caress your lover's skin

with a Body Tickler. $11

78
---
are so proud to have played

We

part in helping you rediscover

a

joy of playtime with products, fun,

the

expert advice.

and

a great financial opportunity by

Discover

your consultant about starting

asking

own Intimate Tickles Adult Romance

your

Enjoy more time with family

Business.

friends when you create the freedom

and

set your own working schedule.

to

F U N .

Empower

Your

Best

C O R S E T S

T E D D I E S

G E N T L E M E N ' S W E A R

A N D M O R E

Ask Your Consultant About

Their Extensive Line Of Lingerie

S E X Y .

K I N K Y .

F O R T H O S E W H O

W H I P S

A G S G

L O G G E R S

F

N D M O R E

A

Ask Your Consultant About

Their Extreme Kink Line

W O U L D R A T H E R B E

T I E D U P

T H A N T I C K L E D .

Don't Forget To Book Your Own Party!

Earn Free Gifts And Hostess Rewards

L A D I E S N I G H T

C O U P L E S P A R T Y

C O - E D P A R T Y

T I M A C Y

I

P E A K S I N S O M A N Y D I F F E R E N T L A N G U A G E S

S

B A C H E L O R E T T E

C R E A T E Y O U R O W N !

Copyright 2016-2017 Intimate Tickles LLC | 877-531-5541 | www.IntimateTickles.com