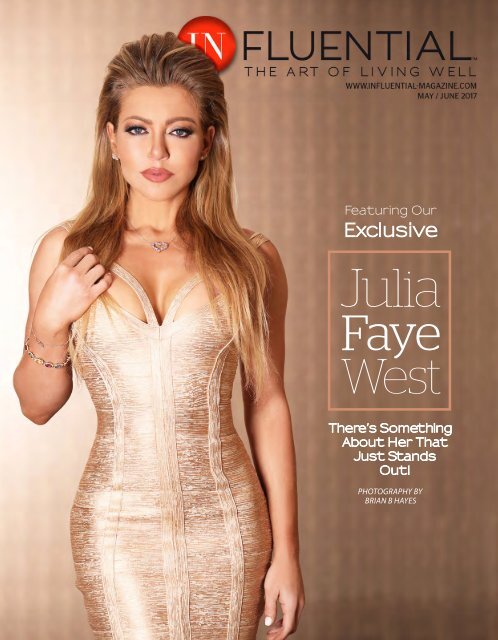 InFluential_Magazine_May_June_2017
Create successful ePaper yourself
Turn your PDF publications into a flip-book with our unique Google optimized e-Paper software.
Featuring Our

Exclusive

Julia

Faye

West

There's Something

About Her That

Just Stands

Out!

PHOTOGRAPHY BY

BRIAN B HAYES
---
CONTENTS

[ ]

FASHION

EDITORIAL

90 | JULIA FAYE WEST

IN FLUENCE

BEAUTY

14 | Smell Your Way to a Better Mood

16 | Tips to Refresh Your Look

18 | Beauty Editor's Picks

CAREERS

20 | Hot or Not? Discover This Year's

Most In-Demand Jobs

GREEN LIVING

32 | 4 Tips for Living Green When the Weather is Warm

34 | 5 Green Home Improvements

That Can Help Sell Your Home for More

36 | Going Green with Natural Stone

38 | Natural Tips to Beat Seasonal

Respiratory Health Challenges

44 | Garden-to-Table Tips for Growing

and Cooking Your Own Produce

46 | Natural Ways to Keep Roses Radiant This Season

HEALTH & WELLNESS

58 | How to Keep Lips Healthy and Hydrated

60 | Is Seaweed the Next Superfood?

62 | Skin Care Secrets During Warm Summer

Months From the Experts

64 | Sunscreen and Sunless Tanner

Recommendations from the Experts

66 | The Ugly Truth About "Base Tans"

LIFESTYLE

74 | Dare to Dream

Add, Functional, Appealing Features for a Desirable Home

76 | 5 Mistakes to Avoid When

Busying Your First Home

78 | The Lowdown on Leasing

80 | Getting to the Root of a Well-Nourished Lawn

82 | Homemade Solutions for Pest Problems

84 | Smart Tips to Prevent Identity Theft

FASHION

88 | Seasonal Tips for Warm Weather Fashions

120 | Presenting Katy Johnson, the Stunning, Actress,

Model, Show Host, and World Traveler

FOOD & BEVERAGE

100 | Cooking Essentials: A Peek Inside

a Professional Chef's Kitchen

102 | 5 Ways to Curb Food Waste

104 | Warm Weather Entertaining:

Sonoma Wine Tasting and Cooking Lesson

TECHNOLOGY

108 | 3 Ways Seniors Can Get

More from Their Smartphones

110 | The Data Dilemma:

How to Choose a Monthly Plan

TRAVEL

114 | A Southeast Asia Experience to Remember

EXCLUSIVE FEATURE

24 | JULIA FAYE WEST

~THERE'S SOMETHING ABOUT

HER THAT JUST STANDS OUT

40 | ROOTS RUN DEEP

FOR AMERICAN GROWERS

50 | GET HEALTHY BY HACKING

YOUR BAD HABITS

68 | EXCLUSIVE INTERVIEW

ROB LAFFAN ~ JUST BECAUSE THEY

CAN'T SPEAK, DOESN'T MEAN THEY

DON'T HAVE ANYTHING TO SAY

IN NETWORK

PEOPLE YOU SHOULD KNOW

126 | Arash Bereliani, MD, FACC

127 | Sandra Cimbricz, PH.D.

128 | Ken Collis

129 | John Fagerholm

IN SOCIETY

132 | Event Guide May

133 | Event Guide June

134 | Seedling's FAB Five 2017

An Evening Gala Honoring Five Local Heroes

Gigi Bryant, John-Michael Cortez, Dan Graham,

Honorable Julie Kocurek, Dick Rathgeber

4 FLUENTIAL MAY / JUNE 2017
---
Spanish

Teen

SALUD

142 | RELLENOS FACIALES

146 | PROTECCIÓN SOLAR

SIN IMPORTAR EL COLOR DE PIEL

148 | DOSIS DE AMOR

152 | PERFECCIÓN SIN INVASIÓN

154 | ALIMENTOS PARA CADA

PARTE DE TU ORGANISMO

158 | CÓMO DETECTAR LA

DIFICULTAD DE APRENDIZAJE

160 | TOP 10 ALIMENTOS PARA

AUMENTAR LOS GLÓBULOS

BLANCOS

162 | VERDE SALUDABLE

MODA LATINA

164 | CECILIA PONT DISEÑO

EN RESINA

254 | CARLOS CAMPOS FW17

MODA

170 | ESTILO URBANO

BELLEZA

172 | SIN RASTROS

176 | FRESCURA PRIVE 2017

180 | BELLEZA SOLIDARIA

182 | SELECCIONES DEL EDITOR

INFLUYENTES

184 | ANNA FUSONI

LA GURÚ DE LA MODA

MEXICANA

194 | FABIANA LIZARRAGA

MÁS ALLÁ DE LA FRONTERA

FASHION EDITORIAL

200 | COLECCION NINGYØ

CHRISTIAN COLORADO

HEALTH & WELLNESS

288 | FRESH WAYS TO ENJOY PIZZA

NIGHT AND MAKE A BALANCED MEAL

BUSINESS

290 | PREPPING FOR

SUMMER INTERNSHIPS

EDUCATION

292 | 3 FINANCIAL MUST-DO'S

FOR COLLEGE-BOUND HIGH

SCHOOL FAMILIES

294 | TIPS TO LAND A COLLEGE

SCHOLARSHIP

296 | 6 TIPS FOR DECODING

COLLEGE FINANCIAL AID AWARD

LETTERS

EXCLUSIVE FEATURE

298 | OUR CONVERSATION WITH

MONIQUE WEINGART

~ FOR HER, WHAT MATTERS MOST

IS LOVE, FAMILY, HARD WORK,

AND GIVING BACK

influential-magazine.com

224 | MONTERREY

MONYK ARREOLA

260 | SELECCIONES

DEL EDITOR DE MODA

ARTE

208 | LA DIMENSIÓN

DE HAVIART

216 | ANTONIO MORA

FUSIONARTE

GOURMET

234 | IVÁN GARCÍA

LA JUVENTUD DEL BUEN COMER

LENTE GLAM

240 | ROCHELLE BRODIN

UN INSTANTE PARA SIEMPRE

248 | NOSTALGIA

POR DARIA BELIKOVA

HExperience

262 | MI CORBATA. TU CORBATA

TECNOLOGÍA

264 | LINKEDIN

266 | BENTLEY,

VELOCIDAD ELECTRICA

270 | TECNOPIC

DEPORTES

272 | ¿CÓMO RESPIRAR

CUANDO NOS EJERCITAMOS?

278 | SPORT PICK

SEXOLOGÍA

280 | FOGOSA

CON ESPOSO FRÍO

AUTOAYUDA

282 | ASUMIR LO

QUE NOS CORRESPONDE

BEAUTY

306 | BEAUTY EDITOR'S PICKS

LIFESTYLE

308 | HOW TO SHOP

FOR ANYONE AT THE LAST MINUTE

310 | MAKE YOUR 2K17

SUMMER BUCKET LIST

312 | 5 TIPS TO HELP

TEENS MASTER THEIR MONEY

314 | 4 TIPS FOR HELPING

PETS IN NEED

316 | HOW TO: INDOOR GARDEN

FASHION EDITORIAL

318 | PRESENTING APM

JEWELRY OF MONACO

TRAVEL

328 | SUMMER IN THE CITY:

WHICH CITY WOULD BE YOUR

PERFECT SUMMER GETAWAY?

POETRY CORNER

330 | A SCRAPED KNEE
---
EDITORIAL CREDITS

influential-magazine.com

CHIEF BUSINESS OFFICER / EDITOR-IN-CHIEF

/ CHIEF CREATIVE DIRECTOR

/ CHIEF REVENUE OFFICER

William Jackson, Round Rock, Texas

EDITORIAL TEAM

InFluential Magazine

Chief Business Officer William Jackson

Editor-in-Chief William Jackson

Chief Creative Director William Jackson

Assistant Creative Director Leonardo D'Almagro

Beauty Editor Kelli Ponce

Jr. Beauty Editor Veronica Hageman

Health & Wellness Editor Ingrid Garner

Technology Editor James Nelson

West Coast Affiliate Gloria Thornton

Business and Fashion Consultant Leonardo D'Almagro

Spanish InFluential

Editor Leonardo D'Almagro

Jr. Editor David Venegas

Jr. Beauty Editor Esteban Casas

Jr. Fashion Editor Fabbiola Palumbo

Sports Editor Marcelo Galvez Leiva

Teen InFluential

Editor Nicole Glenn

Jr. Editor Mia Dedear

Beauty Editor Kelli Ponce

Jr. Beauty Editor Veronica Hageman

WRITING TEAM

Contributing Writers

InFluential Magazine: Kathryn Celeste Durham, MD,

Katy Johnson, Alexandra Paul, U.S. Dermatology Partners

Spanish InFluential

Dulcequibrio, Marcelo A. Gálvez Leiva, Argenis Gudiño,

Harry Levy, Fabbiola Palumbo, Giuseppe Paladino,

Dr.Miguel Sira, Julio Romano, Nixon Ruiz, David Venegas

Teen InFluential

Guest Contributing Writers

InFluential Magazine Veronica Hageman, William Jackson

Spanish InFluential

Marisol Alcalá Pantoja, Irving Agreda,

Alma "Cris" Berlingeri, MD, L.N David Eduardo Girón

Gutiérrez, Dr. Pedro Grajeda López,

Pedro Francisco Márquez, Dra. Herminia Morales

Teen InFluential Mia Dedear, Nicole Glenn,

Veronica Hageman , William Jackson

ART & PRODUCTION

Creative Director William Jackson

Beauty Editor Kelli Ponce

Jr. Beauty Editor Veronica Hageman

Fashion Consultant Leonardo D'Almagro

Creative Services What Taller Gráfico

Argenis Gudino, Jose Luis Venegas Quintero

MODEL

JULIA FAYE WEST

PHOTOGRAPHY

BRIAN B HAYES

WWW.BRIANBHAYES.COM

Members of

W. Jackson & Associates

are BMI affiliates

American Graphic

Design Award

Winning Magazine

Web Design

The MOD Studio

Contributing Photographers

APM Jewlery, Daria Belikova, Rochelle Brodin, Guido Budani,

Eduardo Ceballos, Emmanuelle Choussy, Brian B Hayes,

Hadude, Leandro Justen, Peter Linney, Fabbiana Lizarraga,

ForeverLolaPhotography, Pedro Jacobo López , Katy Johnson,

Jonas Mohr / JME, Gato Rivero, Isabelle Ruen,

Gonzalo Picón, Fernando Sada, Andrés Sánchez

Website Administration W. Jackson & Associates, LLC

SALES & MARKETING

Business Development

William Jackson, James Nelson

Gloria Thornton, West Coast Affiliate

Marketing & Public Relations

W. Jackson & Associates, LLC

For advertising information inquires for InFluential

Magazine and Teen InFluential, please e-mail:

ads@influential-magazine.com.

For advertising and public relations inquiries for

Spanish InFluential, please e-mail:

rpspanish@influential-magazine.com.

LETTERS TO THE EDITOR shall be signed with a full name;

please include a daytime phone number, full mailing address,

or e-mail address. Letters shall be no longer than 300 words.

We reserve the right to edit all submissions. Letters may not be

edited, added to, or changed by the sender once we receive them.

For Letters to the Editors please email:

editor@influential-magazine.com.

For public relations inquiries for InFluential Magazine

and Teen InFluential please email:

pr@influential-magazine.com.

For general information inquiries please email:

info@influential-magazine.com.

For Beauty inquiries please email our Beauty Editor,

Kelli Wilson:

kelli@influential-magazine.com.

For Health & Wellness inquiries please email our Health

& Wellness Editor, Ingrid Garner:

Ingrid@influential-magazine.com.

For Technology inquiries please email our Technology

Editor, James Nelson: james@influential-magazine.com.

Our mailing address: InFluential Magazine, P.O. Box 1307,

Round Rock, TX 78680

All rights reserved. No part of this publication may be

reproduced or transmitted in any form or by any means

without written permission from the publisher. All the rights of

the artwork and photography belong to the publisher.

InFluential Magazine, Spanish InFluential,

and Teen InFluential are Austin owned and operated.

MAY / JUNE 2017

FLUENTIAL

7
---
IN FLUENCE

EDITORIAL UPDATE

T

he article

Featuring

Influential Photographer

Felicia Reed ~ Who is

Felicia? Her Story, From Her

Perspective presenting in

the March / April 2017 Issue,

is complemented

by a photograph of Felicia

Reed, of which applicable

credits were omitted.

An additional photograph

was used in various social

media communications,

of which applicable credits

were likewise omitted.

The omissions occurred

as a result of credit details

not being provided

to InFluential Magazine

by the time of publication.

Photographer

credits are assigned to

ForeverLolaPhotography. l

8 FLUENTIAL MAY / JUNE 2017
---
influential-magazine.com

MAY / JUNE 2017

FLUENTIAL

9
---
ENDEARING WORDS TO OUR READERS

influential-magazine.com

G

It's So Easy Being

"Green"

reetings and salutations to you, our loyal readers, and

welcome to the "Green" Issue of InFluential Magazine.

Having sprung forward into a glorious Spring and preparing

to rock a red hot summer, we're excited to share with you

some incredible ideas for living a green and healthy lifestyle.

Warmer months prove to be a challenge when it comes

to green and clean living with so many temptations

like outdoor barbeques, amusement parks and tubing

adventures. Thanks to our contributing writers, you'll see

how to make delicious summer snacks (check out the

Shaved Brussels Sprouts and Kale Salad recipe by Ayesha

Curry – awesome!), ways to live green at home, beauty tips to

keep you energized and refreshed, and fashion ideas to keep

you cool and comfortable when the temperature spikes.

Most notably, we're excited to have Certified Wellness Coach

Alexandra Paul provide guidance on how to break some bad

habits when it comes to getting healthy.

With much gratitude, I'd like to thank our amazing team of

writers, photographers, and graphic designers for another

outstanding Issue of InFluential Magazine. We're super excited

to welcome Esteban Casas to the InFluential family. He will

serve as Jr. Beauty Editor and will be working closely with our

Business Consultant Leonardo D'Almagro to make Spanish

InFluential more spectacular than ever.

We hope you enjoy our latest publications and will have an

outrageous and green summer!

With warm and joyous blessings,

Ingrid Garner

Health & Wellness Editor for InFluential Magazine

MAY / JUNE 2017

FLUENTIAL

11
---
CONTRIBUTING WRITERS

This Issue would not be possible

without these InFluential people

Kathryn Celeste

Durham, MD

| Austin, Texas

Kathryn "Celeste" Durham,

MD, enjoys working with

patients of all ages from her

U.S. Dermatology Partners

location in Fort Worth, Texas.

Her particular interests include

atopic dermatitis, psoriasis,

acne and skin cancer, and she

is passionate about helping

patients improve their quality

of life with good skin care.

Dr. Durham graduated summa

cum laude from Texas Tech

University with a Bachelor

of Science in biology. She

earned her Doctorate of

Medicine at the University

of Texas Medical School at

Houston. Dr. Durham then

completed her dermatology

residency training at the

University of Texas Medical

School at Houston. Dr.

Durham is board certified

by the American Board of

Dermatology, and has been

published in a number

of journals, including the

prestigious Journal

of American Academy

of Dermatology.

Katy Johnson

Actress, Model, and Show Host

| Los Angeles, California

As an actress, Katy has worked

on a number of films and TV

series. She starred in the South

African unscripted drama

series, "Clifton Shores," as well

as having appeared in USA

Network's "Monk," and ABC's

"Greek." As model, she has

been featured in a variety of

national magazines

and has modeled for clothing

and swimwear brands.

Inspired by her own personal

struggles with body image

and the demands for

'ideal perfection' in the

entertainment industry, she

is beginning work on her

documentary "One Model

Mission," in which she intends

to visit 196 countries and

document 196 definitions of

beauty as defined by each

culture. Her passion for animal

rights is why Katy is a member

of PETA and the National

Humane Society.

You can follow Katy on

Instagram, Facebook,

and Twitter. For the latest

on Katy's documentary,

you can follow her Facebook

page One Model Mission.

Alexandra Paul

Certified Wellness Coach

| Alexandra Paul Wellness

Coaching

Alexandra is a health coach

with clients all over

the world. Her expertise

includes a certification from

Cornell University's plant

based nutrition course

as well as certification from

Wellcoaches School.

She was a certified EMT

for 23 years. As an actress,

Alexandra starred in over

75 films and television

shows, and is internationally

recognized for her role on

the TV series "Baywatch." Visit

AlexandraCoaching.com

for a free 20-minute

consultation via Skype

with Alexandra. Follow her

on Facebook, Twitter,

and Instagram.

U.S. Dermatology

Partners

U.S. Dermatology Partners

is making it easier for

people to connect with

a dermatologist and gain

access to the very latest in

dermatology care for the

entire family and state-of-theart

treatment for diseases of

the skin. As the 3rd largest

physician-owned dermatology

practice in the United States,

U.S. Dermatology Partners

patients not only have access

to general medical, surgical,

and cosmetic skin treatments

through its coordinated care

network, but also benefit

from the practice's strong

dermatology subspecialty

thought leaders and medical

advisory board. To be the

best partners to its patients,

U.S. Dermatology Partners

is fervently focused on

providing the highest level of

patient-first care, and its team

therefore includes recognized

national leaders in subspecialties

including psoriasis

and Mohs surgery.

12 FLUENTIAL MAY / JUNE 2017
---
IN FLUENCE

Beauty

SMELL YOUR WAY TO

A BETTER

MOOD

THOUGH OFTEN TAKEN

FOR GRANTED, SMELL

IS A POWERFUL SENSE,

ESPECIALLY WHEN

A GENTLE SCENT CAN

INSTANTLY TRANSPORT

YOUR MIND TO ANOTHER

TIME AND PLACE.

FROM RETRIEVING

PLEASANT MEMORIES TO

BOOSTING YOUR MOOD,

YOUR SENSE OF SMELL

PLAYS AN IMPORTANT

ROLE IN YOUR OVERALL

WELL-BEING.

14 FLUENTIAL

MAY / JUNE 2017
---
influential-magazine.com

T

he scents you detect

are actually tiny molecules

that interact with

sensory centers in your brain

to elicit responses, such as happiness,

relaxation or stimulation.

For centuries, smell has been associated

with healing practices. Today,

the restorative and uplifting

benefits of smell can be found

throughout everyday life. Next

time you're feeling down or need

to soothe your mind, turn to one

of these aromatic options:

• Light candles with a soft,

calming scent to relax and

unwind. Try lighting the candle

when you walk in the door from a

long day, and by the time you've

changed into some comfy

clothes, the aroma should

begin to fill the air.

• Take a warm shower

and lather up with a

scent-driven body

wash, such as Softsoap

Honey Creme & Lavender

or Blooming Jasmine

& Plum Moisturizing

Body Wash. Inspired

by trending ingredients

and crafted with real extracts

of honey, lavender,

jasmine and plum, these

body washes can create an

invigorating sensory experience

that moisturizes

and cleanses your skin.

• Energize your morning with

a vibrant air freshener in your

car. According to the National

Sleep Foundation, scents like

citrus, rosemary, peppermint and

eucalyptus are stimulants that can

help you shake off sleepiness and

put some pep in your step. In fact,

fruity smells like citrus actually

stimulate serotonin, the brain's

"happy" chemical.

• A fresh bouquet of flowers

is an instant mood-booster, but

not just because of their beauty.

Numerous studies have shown

the emotional benefits of a vase

filled with fresh blooms. Take that

goodwill a step further by taking a

trip to a flower market to purchase

fresh flowers with fragrant

qualities that can brighten your

desk or a room at home.

• It may be the anticipation of a

tasty treat to come, or maybe it's the

connection to childhood memories

with a beloved relative, but few can

resist the smell of homemade treats

baking in the oven. Of course you

can cheat and light a candle or burn

wax or oil that mimics the scent, but

nothing comes close to the therapy

of freeing your hands and mind

to bake and create that delicious

aroma on your own.

Find more scents to move your

mood at softsoap.com. (Family

Features) l

MAY / JUNE 2017

FLUENTIAL

15
---
IN FLUENCE

Beauty

TIPS TO REFRESH

YOUR LOOK

WANT TO UPDATE AND IMPROVE YOURSELF?

A FEW TOP-TO-BOTTOM TWEAKS CAN HELP

YOU LOOK AND FEEL YOUR BEST.

1

Update Staples

Staples and basics don't need to

change with the seasons, however

it's important to update these

elements when they're worn out,

no longer fit, or are simply outdated.

Evaluate your shoes, bags, jackets

with these criteria in mind and

replace any items as needed.

If there are items that you love

that are in disrepair but you can't

imagine parting with, take this

opportunity to re-sole and shine

those shoes and replace that

lost button. You'll improve these

items' usefulness and breathe

new life into them. You'll also look

more put together once these

items are refurbished.

kPHOTOGRAPHY COURTESY OF TAMRYN MILLER

2

Look Back

Refreshing your look doesn't

necessarily mean going ultramodern.

Sometimes a vintage

look can make a bigger statement.

Accessorize with a timepiece that

is elegant, classic and will never go

out of style. It will serve as a nice

complement to any outfit, whether

you're headed to work or going

to a party.

To combine style with precision,

consider the A168WG-9VT from the

Casio Vintage Collection, which has

a sleek gold colored band and a

digital display.

3

Get Groomed

A new haircut can do wonders.

Even if you're growing your hair

long, a trim can make you look

polished and groomed. Not only

that, it eliminates split ends and

keeps hair healthy.

For extra edge, men may want to

consider indulging in a professional

shave while they are at the barber.

4

Follow a Trend

Take a cue from the color experts

and add a few items to your

wardrobe with Pantone's Color

of the Year for 2017, "Greenery."

A yellow-green hue evocative of

spring, this color can add a bright

element to your look and is totally

on-trend.

By looking back and looking

ahead, you can get inspired to

update your look. (StatePoint). l

16 FLUENTIAL MAY / JUNE 2017
---
influential-magazine.com

MAY / JUNE 2017

FLUENTIAL

17
---
BeautykWRITTEN BY VERONICA

Editor's Picks

HAGEMAN, JR. BEAUTY EDITOR

FOR INFLUENTIAL MAGAZINE

1

Anastasia

Beverly Hills

Dipbrow Pomade

Ulta.com

$18.00

Perfectly defined brows

are in! ABH's Pomade

is an all-in-one brow

product. Its smudge free,

waterproof and has

a bendable smooth

texture which allows

you to easily define

and sculpt your

perfect brow.

2

Boscia

Luminizing

Black Mask

Sephora.com

$34.00

This Luminizing black

mask offers a safe

and gently way to use

charcoal to minimize

the appearance of pores.

It is a peel- mask that

will remove black heads

and excess oil and will

leave your skin tight and

smooth. The brightening

formula reduces

hyperpigmentation and

visibly minimizes fine lines

with anti-aging vitamin C

and antioxidants.

3

Stila magnificent

metals

glitter liquid

eyeshadow

"Diamond dust"

Nordstrom.com

$24.00

Perfect for special

events, this lightweight

eyeshadow by Stila

provides beautiful

shimmer that will last

all night. It's lightweight

and dries smoothly

locking in maximum

sparkle for eyes

with a real wow factor.

There are multiple

shades available!

4

Givenchy

LE PRISME

BLUSH Palette

Saksfifthavenue.

com

$46.00

Le Prisme Blush glides

over the skin like a silk

veil, thanks to Givenchy's

exclusive powder

atomizing technology.

Mix the four shades

together to obtain

the perfect combination!

Le Prisme comes encased

in an elegant compact

that flips open to reveal

a side drawer that

contains the powder,

mirror and brush.

5

Dolce & Gabbana

Dolce

Perfume

Saksfifthavenue.

com

$72.00

Smell sweet

with Dolce, the pristine

embodiment of profusely

sweet and floral

extracts of white lily

and white amaryllis.

18 FLUENTIAL MAY / JUNE 2017
---
influential-magazine.com

6

NARS Radiant

Creamy

Concealer

Narscosmetics.

com

$30.00

Check out Nars'

award-winning

concealer that provides

medium-to-full,

buildable coverage

and corrects, highlights,

and perfects.

It works for all skin types,

and can hide

any sign of dark circles

or discoloration,

leaving your skin feeling

comfortable

and hydrated!

7

Foreo

Luna mini 2

"Aquamarine"

Sephora.com

$139.00

This waterproof

cleansing device

is for all skin types

that deeply yet

gently cleanses

for healthier, radiant,

more youthful-looking

skin. Its T-Sonic

pulsations dislodge

more impurities from

the pores, providing

a deep cleanse,

making it a must have

for your skincare routine.

8

CAUDALIE

Glow Activating

Anti-Wrinkle

Serum

Caudalie.com

$52.00

This concentrated

serum is packed

with antioxidant

polyphenols which helps

to protect the skin

and visibly smooths

wrinkles while restoring

a new healthy glow

to the skin.

Its light and watery

texture blends smoothly

into the skin, leaving

no sticky residue.

9

SISLEY

Powerful lifting

and priming

skin care

Sisley-paris.com

$192

You'll feel an immediate

lifting and smoothing

effect on the skin's

surface with this primer.

The face instantly

looks firmed, features

appear lifted

and signs of fatigue

are faded. It's great

for both immediate

and in the long

term results

0

Dry Bar

Whisky Fix

Styling Paste

Nordstrom.com

$27.00

Perfect for all hair

types, this workable

paste provides

texture, definition,

and flexible hold.

Natural beeswax

is the secret to strength

with flexibility,

while the blue

agave nectar nurtures

and supports hair.

MAY / JUNE 2017

FLUENTIAL

19
---
IN FLUENCE

Careers

HOT OR NOT?

DISCOVER THIS

YEAR'S MOST

IN-DEMAND JOBS

WHETHER YOU JUST ENTERED THE CAREER WORLD OR HAVE

BEEN IN THE WORKFORCE FOR YEARS, IF YOU'RE HUNTING FOR A

NEW GIG, IT'S TIME TO DISCOVER THIS YEAR'S HOTTEST JOBS.

kPHOTOGRAPHY COURTESY OF RAWPIXEL.COM - FOTOLIA.COM.

20 FLUENTIAL MAY / JUNE 2017
---
influential-magazine.com

T

he 2017 Hot Jobs report,

recently released by

Randstad US, one of the largest

HR services and staffing companies

in the country, reveals the most

in-demand and emerging jobs across

engineering, finance and accounting,

human resources, information technology

(IT), life sciences, manufacturing

and logistics, office and administration,

and non-clinical healthcare.

"Our experts, along with many

economists, predict a strong economy

in 2017, which is likely to result in

more job opportunities nationwide,"

says Jim Link, chief human resources

officer for Randstad North America.

"It's important to stay in-the-know to

find out which jobs hold the greatest

potential. Job seekers looking for

career growth can improve their

chances of landing these coveted

roles by knowing employer pain

points and packaging their skills and

knowledge as potential solutions."

To help candidates better

understand what type of job market

they face, Randstad is offering tips

for landing a hot job.

• If you have a knack for science

and technology, consider engineering.

The industry continues to

evolve based on market trends and

technical innovation, and the unemployment

rate for the overall field is

well below the national average.

• Interested in finance and

accounting? Beef up your public

accounting and general ledger

software skills to be more competitive.

You'll also have a leg up if you speak a

second language, as the demand for

bilingual candidates continues to rise.

• Passionate about working in

a front or back office role within

the healthcare system? Nonclinical

healthcare is booming, with

emerging jobs like medical secretary

and medical assistant in facilities

needing additional support.

• Discover new opportunities in

life sciences by exploring positions

flush with research and development

funding. With continued innovations

in medical technology, the

changing regulatory environment

and upcoming patent expirations,

the industry requires highly specialized

talent to fill open voids.

• Be the IT guy and consider a

job in Big Data. While IT is an evergrowing

industry, Big Data positions

are critical to increasing productivity,

and innovation is in high demand.

• As office and administration

roles grow, these positions are

starting to look more like middle

management than support staff.

If you possess diverse skills with

experience in project management,

budgeting, marketing and training,

you'll have the upper hand.

• New technology and innovative

production systems are

sparking a rebirth in American

manufacturing and logistics. Job

seekers with previous experience,

higher education, technological

know-how or training will have a

competitive edge.

• As employers seek new talent to

fill all these hot jobs, consider being

the human in human resources.

A field with rapid technological

advancements, professionals with a

digital mindset will lead the pack.

For full study results, visit Randstad's

2017 Hot Jobs report and learn more

about which industry or position is

right for you. (StatePoint) l

MAY / JUNE 2017

FLUENTIAL

21
---
The

J

EXCLUSIVE FEATURE

kWRITTEN BY WILLIAM JACKSON, CHIEF BUSINESS OFFICER OF INFLUENTIAL MAGAZINE, SPANISH INFLUENTIAL, AND TEEN I

PHOTOGRAPHY COURTESY OF BRIAN B HAYES
---
Julia

re's Something

About Her That

ust Stands Out

Faye

West

THERE'S SOMETHING ABOUT JULIA FAYE WEST

THAT JUST STANDS OUT. IN THE FLESH, JULIA IS SO MUCH MORE

THAN BEAUTIFUL. SHE SPARKLES AND IS SIMPLY BREATHTAKING,

YET HER BEAUTY IS NOT THE ONLY QUALITY WHICH SHINES.

SHE EXUDES CONFIDENCE AND A SENSE OF HUMOR

WHICH IS REFRESHING AND ENDEARING.

NFLUENTIAL

MAY / JUNE 2017

FLUENTIAL 25
---
EXCLUSIVE FEATURE

B

orn in Milwaukee, Wisconsin to parents who

were working class students and encouraged a

love of the arts, Julia began acting classes for stage artists

in preschool and kindergarten. She soon found her niche

in elementary school where she participated in plays and

Improv ComedySportz. Her parents divorced when she

was five years old and Julia remained primarily with her

mother. Julia speaks of her parents teaching her tenacity,

"by following their dreams, despite the challenges of

independence and humble beginnings". Her mother

became a national motivational speaker and published

author. Her father became a medical doctor a few years later.

Julia and her mother, while embracing their creative

personalities, co-authored children's and motivational

books. Julia became quite comfortable with public

speaking as she would go on to perform on stage,

television, and radio shows over 100 times as a

motivational speaker with her mom. About the benefits

of being an effective motivational speaker, Julia shares,

"You are sharing ideas with an audience in the hope they

will walk away having gathered tools for utilization in their

own lives". Another valuable lesson she would learn from

growing up on the road with her nationally recognized

mom is, as she goes on to say, "Everyone is the same, hard

working for their loved ones. They want words to which

they can hold, to sustain their hopes and faith. Everyone

enjoys laughter and entertainment found through

mocking the fallible nature of the human condition".

Another effect of life on the road is Julia was home-schooled.

When reflecting on the advantageous of being homeschooled

as compared to a typical classroom setting, Julia

says, "I learned that adaptability is the best survival skill.

To learn in the flow while life constantly changes around

you, keeps you at your sharpest. I've learned to never

compare myself to other artists. I'm the best me I can be

and I use every opportunity as a learning experience".

Throughout her life on the road, Julia continued to

receive steady private coaching with instructors from

The Milwaukee Performing Arts Center. By her late teen

years, Julia was living independently. After a brief time

in Arizona, she relocated to Los Angeles to continue

"

I learned that

adaptability is

the best survival

skill. To learn in

the flow while

life constantly

changes around

you, keeps you at

your sharpest. I've

learned to never

compare myself

to other artists. I'm

the best me I can

be and I use every

opportunity

as a learning

experience

"

26 FLUENTIAL MAY / JUNE 2017
---
influential-magazine.com

her pursuits as a performing artist. She worked various

jobs to support herself while acting on television shows

and feature films. It's also during this time she became a

SAG-AFTRA member. Julia put herself through University

of Southern California at Los Angeles, classes and

coaching by Howard Fine, The Actors Studio West, Actors

Workshop Studios, and Aquila Morong Studio.

The on-the-job training Julia received while on the road as

well as formal training, coaching and education provided

a solid foundation for entrance into the entertainment

industry. Still, it was important for her to be resilient and

patient. When asked about advice she would give to those

who wish to follow their dream of acting, she's is quick to

respond when she emphatically says, "Bravery in the face

of feature and persistence against all odds is necessary.

Acting is like being an athlete. Half of it comes innately and

the other half comes from consistent exercising through

performance. You can never give up. It's very a hard industry".

Julia's next major role is in the upcoming cutting edge

Reality Queens. Actress Denise Richards (Starship Troopers,

Wild Things) and former Heavyweight Boxing Champion

Mike Tyson co-star with Julia, who plays the heiress 'London'

whom the film centers around. The film is co-written and

directed by well-known producer, Steven Jay Bernheim.

Production is currently shooting in Los Angeles. Reality

Queens is a mock documentary comedy focusing on

'London,' whose life is being chronicled by renowned BBC

journalist Diana Smelt-Marlin. Julia's character is focused

on proving she isn't just another irrelevant, pretentious

celebutante, in this hilarious send-up of world famous

personalities like Paris Hilton and Kim Kardashian.

Maintaining regular health, fitness and diet programs is

very important to Julia, who makes every effort to remain

healthy and physically fit. Even those with the busiest

lifestyle can make the time to incorporate exercise and

make healthy food choices. About her regimen, Julia

shares, "I drink a lot of water. I never weigh myself. People

have many reasons why their weight might fluctuate a

few times each month. I go by how my clothing fits me

to determine the strictness of my regimen. I try to make

MAY / JUNE 2017

FLUENTIAL 27
---
"

EXCLUSIVE FEATURE

Happiness is

best experienced

when shared (...)

Being able to

give is the greatest

gift of all

"

28 FLUENTIAL MAY / JUNE 2017
---
influential-magazine.com

sure I'm never too hungry or too full. I eat berries and plain

yogurt, healthy oils and fats like those from coconuts,

avocados, olives, and nuts. I'll always have a day here or

there when I veer from my normal habits and indulge in

comfort foods like chocolate and french fries. I consider

these to be my "free days". It's best not to have more than

one "free day" per week".

As a valuable lesson for others to take note, an

important factor of real success is recognizing the

value of giving and rendering self-sacrificing assistance

to others and doing so consistently. Julia and her

family are very involved in worked directed to easing

human and animal suffering. What prompted her

interest in this important cause? Julia says, "I've always

loved and rescued animals since I was a young child. I

became involved actively after my son was born and

likewise shared my love of helping. My husband and I

met through mutual charity events in which we were

active and we share the same love of animals. I became

Executive Director of The Bernheim Foundation,

whose mission it is to ease animal and human suffering

through the direct action of people who care. It's truly

an honor to assist humans and animals in need".

How does this leading media personality, film and

television actress model, philanthropist, wife, and

mother balance successfully her busy lifestyle? It's Julia's

ability to have a sense of urgency to accomplish much

and instill positive change. The more she exercises her

personal skills and talents, the more motivated she is

to remain driven to move things forward.

There are so many reasons why Julia makes an

impression. She shall continue to be brave enough

to follow the beat of her own drum, while being a

team player. In her own words, "Happiness is best

experienced when shared. Every day that I wake up in

great physical health, is a day to share my appreciation

for all this world has to offer. When I'm able to make

a difference in the well-being of others is when I'm

fulfilled most. Being able to give is the greatest gift of

all". Julia Faye West, we couldn't agree more! l

MAY / JUNE 2017

FLUENTIAL 29
---
IN FLUENCE

Green Living

4TIPS FOR LIVING

GREEN WHEN THE

WEATHER IS WARM

AS THE WEATHER CHANGES, SO DOES OUR LIFESTYLE.

FROM GRILLING TO GARDENING, WE'RE READY TO SHAKE

OFF WINTER AND JUMP INTO WARM-WEATHER FUN. BUT WHAT

ABOUT THE IMPACT THESE ACTIVITIES HAVE ON THE PLANET?

32 FLUENTIAL MAY / JUNE 2017
---
influential-magazine.com

W

ith just a few habit

changes, you can limit

your environmental impact

by reducing waste and energy use

in the spring and summer months.

And as you change those habits,

don't forget to recycle everything

you can, especially batteries.

To prep for the warmer months,

here are some easy tips to make

your spring and summer a little

more eco-friendly:

Tip 2

Bring your own

water bottle.

As the weather starts heating up,

staying hydrated is more important

than ever. Unfortunately, bottled water

is a major contributor to landfill

waste; Americans throw away more

than 60 million plastic water bottles

each day. To live greener, be sure to

bring your own refillable water bottle.

Tip 4

Recycle your batteries.

The warmer months bring a

return to outdoor activities like

gardening. When you head to your

local store to buy tools or plants,

bring along your used batteries

to be recycled. According to

Call2Recycle, Inc., 88 percent

of people in the U.S. live within

10 miles of a battery recycling

location.

Tip 1

Go easy on the AC.

Did you know air conditioning

accounts for nearly 20 percent

of electricity consumption in

American homes? That's as much

electricity as is used by the entire

continent of Africa! To reduce

your system's carbon footprint,

program your AC to reduce output

during the day, and increase the

set temperature by a few degrees.

Bonus: You'll save money on your

energy bills too!

Tip 3

Trade out your charcoal.

Barbecues are a favorite warmwewather

tradition for many, but

most grilling charcoal emits high

levels of carbon dioxide when burned.

To reduce carbon emissions,

swap out your charcoal grill for

cleaner-burning propane option.

Their carbon footprint is about

one-third of standard charcoal.

Drop-off locations include

Best Buy, The Home Depot,

Lowe's, Sears, Staples, and many

other retailers you may already

visit regularly, making it easy to

recycle on-the-go.

Programs like Call2Recycle(R) make

it easier than ever to do the right

thing by collecting and recycling

your batteries. By recycling your

batteries, you not only reduce landfill

waste, but it also gives batteries

a second life as they can be used to

make new batteries, kitchen appliances,

car parts, and more! To find a

recycling location near you, visit

www.call2recycle.org/locator.

(BPT) l

MAY / JUNE 2017

FLUENTIAL 33
---
IN FLUENCE

Green Living

5THAT CAN HELP SELL

YOUR HOME FOR MORE

DEMAND

REMAINS HIGH FOR

ENERGY-EFFICIENT,

ECO-FRIENDLY

HOME FEATURES,

ACCORDING TO

A SURVEY BY

THE NATIONAL

ASSOCIATION OF

HOME BUILDERS.

IN FACT, THE

MAJORITY OF

BUILDERS NOW

PUT ENERGY-

EFFICIENT WINDOWS,

HEATING AND

COOLING SYSTEMS,

THERMOSTATS AND

APPLIANCES IN THEIR

CONSTRUCTION,

THE SURVEY SAYS.

GREEN HOME IMPROVEMENTS

I

f you're selling your home

and hope to compete

with new construction -

as well as set your house apart

from other resales- making green

improvements could significantly

pay off. "Updating your home with

green features can attract more

buyers and even increase your home's

sale price," says Geoff Lewis, president

of RE/MAX, LLC. "Buyers are not only

looking for cosmetic upgrades,

they also want improvements that

will help save them money for as long

as they live in the home."

Some green projects you can easily

accomplish yourself, like replacing

less efficient light bulbs with compact

fluorescent light bulbs or LEDs

throughout the house, or installing

a programmable thermostat. Other

improvements may require professional

expertise but can result in even

bigger payoffs.

Here are five popular green home

improvements that could help boost

your home's resale value, and save

you money until you're ready to sell:

Windows: Replacing older windows

with ENERGY STAR-rated

high-efficiency windows could

lower your annual energy bill as

much as 12 percent, according

to the United States Department

of Energy. What's more, ENERGY

STAR-rated windows may qualify for

a tax credit of 10 percent off the

cost of the windows.

Insulation: Most homes in the

U.S. don't have enough insulation,

according to energystar.gov.

Adding insulation and sealing air

leaks could reduce annual energy

bills by 10 percent. At the time of

resale, adding fiberglass insulation

in the attic could recoup 107

percent of the cost, according to

Remodeling Magazine's Cost vs.

Value report.

Front Door: It's a key part of

your home's curb appeal and the

last exterior feature homebuyers

see before entering your house.

However, a front door needs

to do more than look good.

Replacing an older, wooden door

with an energy-efficient, secure

steel door recoups more than 90

percent of its cost when you sell

your home, according to the Cost

vs. Value report.

34 FLUENTIAL MAY / JUNE 2017
---
influential-magazine.com

Landscaping: With warm weather

approaching, it's a great time to think

about landscaping that has green

value as well as cosmetic appeal.

Adding trees in addition to flowers

can provide shade that will help

keep the home's interior cooler in

summer months. In fact, according

to the National Association of

Landscape professionals, planting

five shade trees can return up to

100 percent of the project cost

when you sell your home.

Water: Most water heaters last

about 10 years, so if your home is

older, a new water heater could

be a big selling point. A tankless

water heater could be even more

appealing; because they only heat

water when it's needed, rather than

consume energy to hold gallons of

water at a set temperature for hours,

tankless water heaters use far less

energy. ENERGY STAR says a tankless

water heater could save you up to

$1,800 over its usable life - which

is twice as long as the lifespan of

traditional tank water heaters.

When you're thinking of selling

your home, you'll probably invest

a lot of time and energy into

staging. Consider saving some

additional budget for energyefficient

home improvements

that may help boost your home's

value. A knowledgeable real estate

agent can advise you on which green

home improvements can get you

the biggest return on investment.

Visit www.remax.com to find a real

estate agent near you. (BPT) l

MAY / JUNE 2017 FLUENTIAL 35
---
IN FLUENCE

Green Living

GOING GREEN

with

NATURAL STONE

G

reenery is a fresh and

zesty yellow-green shade

that evokes the first

days of spring when nature's

greens revive, restore and renew,

according to the Institute, also

noting the soothing effects of the

otherwise energizing color.

"More and more homeowners

are looking to create tranquility

through the use of calming colors

and natural materials like stone,"

said Stephanie Vierra, architect

and president of Vierra Design &

Education Services. "'Greenery' is

not necessarily found in natural

stone, but it is a shade commonly

seen in nature."

Natural stone can, however, be

green in the literal sense, from

emerald granites and marbles to

more subdued hues flecked or

veined with green. For many, using

natural stone is a way to expand

the concept of "Greenery" into their

home design projects.

THE 2017 COLOR

OF THE YEAR, REVEALED

BY THE PANTONE

COLOR INSTITUTE IS

A NEAR-AVOCADO HUE

CALLED "GREENERY."

Not Just for Monuments

Using natural stone for homebuilding

or remodeling makes sense. It

is unequalled for strength and durability.

As stone processing methods

have improved and prices have decreased,

clapboard and brick exteriors

have been supplanted by natural

stone cladding options. Indoors,

stone has vaulted to prominence

over imitation stone materials.

"Natural stone most often lays a

neutral base which complements

the vibrant and striking colors of a

living space," said Eric Osterhout of

Northern Stone Supply. "It resembles

nature, where you might see a bluegray

granite mountain spread with a

deep green and gold forest, or deep

rust and gold river rock crawling

with bright green moss."

In many cases, designs start

with a feature material like stone,

knowing that it will last a long

time, according to Vierra. Natural

materials coordinate well. Trend

colors can be applied to the

design after feature materials have

been chosen.

Natural stone is durable, easy to

maintain and affordable. Combined

with myriad pattern choices,

textures and colors, the demand for

natural stone is understandable.

Sustainability of Stone

To keep pace with demand, stone

suppliers temper their production

with a focus on sustainability. Stone

is nature's original "green" building

material, and the industry is laying

claim to environmental benefits of

its use in construction:

• Stone quarrying practices have

improved and are monitored for

regulatory compliance. Old quarries

are being reclaimed as parks and

recreational areas.

• No energy or power is required

to create stone – it exists

naturally. Power is used for extraction

and processing, but relatively

less as compared to many

other building materials.

36 FLUENTIAL

MAY / JUNE 2017

Photo (Vals quartzite from Switzerland fireplace) courtesy of MIA+BSI: The Natural Stone Institute
---
influential-magazine.com

• Natural stone can be a

permanent building material. It

requires replacement infrequently

and is recyclable.

• Stone contains no substances

toxic to human health, and is a

hygienic and safe food preparation

surface in its raw state. It requires

no special treatments for use as a

building material.

• Though other building materials

require regular upkeep to maintain

their beauty or utility, stone ages gracefully

without losing structural properties.

Natural stone maintenance is

typically neither difficult nor costly.

Nurture Through Nature

Homeowners grow the value

of their home, and their home

environment, by using natural

building products and letting

nature inside – through views,

lighting and stonework.

"With the world's emphasis on

sustainable design, the 'Greenery'

color trend couldn't have happened

at a more perfect time," Vierra said.

"Inspiration to mimic and reflect

nature is easy to achieve with the

combination of 'Greenery' and

natural stone, while also meeting

sustainability goals."

Find more information about

building with natural stone at

usenaturalstone.com.

(Family Features) l

MAY / JUNE 2017

FLUENTIAL

37
---
IN FLUENCE

Green Living

SPRING AND

SUMMER

CAN BE

PARTICULARLY

DIFFICULT

TIMES OF

YEAR FOR

THOSE WITH

RESPIRATORY

HEALTH

CHALLENGES,

WHEN SIMPLE

ACTIVITIES LIKE

GARDENING,

WALKING THE

DOG AND

READING A

BOOK ON THE

PATIO CAN

CAUSE ITCHING,

WHEEZING,

SNEEZING

AND TROUBLE

BREATHING.

NATURAL TIPS

TO BEAT SEASONAL

RESPIRATORY

HEALTH

CHALLENGES

kPHOTOGRAPHY COURTESY OF ANDRII OLEKSIIENKO - FOTOLIA.COM.

38 FLUENTIAL MAY / JUNE 2017
---
influential-magazine.com

"I

t is all about improving

one's immune function in

response to environmental

factors, which can mean the

difference between perpetual discomfort

and a happy, vital spring

and summer," says Kelly Heim,

PhD, senior director of Scientific

Affairs at Pure Encapsulations, a

leading manufacturer of dietary

supplements.

Whether you are looking to

make your garden the envy of the

neighborhood, or you simply want

to stay active and comfortable while

enjoying the outdoors, consider the

following treatments and tips.

Something Sweet

Honey isn't just delicious; it can

be therapeutic, potentially helping

you to alleviate seasonal

symptoms. However, it is important

you select honey produced

in your local area for this strategy

to work. You should also know

that this immunotherapeutic

approach won't protect against

all the causes of respiratory

health challenges.

Dietary Supplements

Your nutritional intake can have a

large impact on the way you feel in

spring. Consider a dietary supplement

designed to support both innate

and adaptive immune response.

For example, Pure Encapsulations

Aller-Essentials with EpiCor contains

a blend of nutrients and herbal

extracts designed to promote healthy

immune function in response to

environmental factors.

Research suggests that it enhances

natural killer cell activation, B cell

and T cell function, and salivary IgA

levels; and that the quercetin, hesperidin

and vitamin C in the supplement

provide additional support

for stabilizing mast cells which can

release histamines and exacerbate

respiratory issues. More information

can be found at PureEncapsulations.com/alleressentials.

Practical Considerations

While building up your immune

response is crucial in the battle

against respiratory problems,

you can make your home a

healthy oasis from with a few practical

considerations. Create a makeshift

mudroom or landing zone in your

foyer. Remove shoes and outer layers

when you get home, and ask your

guests to do the same upon arrival.

Keep your bedroom particularly

protected from the outdoors, for

example, don't toss the same jeans

and clothing that have been on a

picnic blanket on your bedspread.

Wash your hair in the evening

before going to sleep, particularly

after a day in the garden, and

remember to change and launder

your pillows and linens regularly.

Ask a Doctor

When it comes to health, there is

no one-size-fits all solution. Talk with

your health care provider, who can

help you pinpoint the exact source

of your suffering, in order to determine

the best treatment options for

you. With a few lifestyle changes,

you can look forward to a season of

breathing easy. (StatePoint) l

MAY / JUNE 2017

FLUENTIAL 39
---
FEATURE

ROOTS RUN DE

AMERICAN GR

THE TREND OF HOME AND COMMUNITY

GARDENS IS ON THE RISE IN THE U.S. A 2014 STUDY

BY THE NATIONAL GARDENING ASSOCIATION

FOUND 1 IN 3 HOUSEHOLDS NOW GROW

THEIR OWN FOOD TO HELP PUT BREAKFAST,

LUNCH AND DINNER ON KITCHEN TABLES.

40 FLUENTIAL MAY / JUNE 2017
---
influential-magazine.com

EP for

OWERS

W

hile more and more people are helping

to provide for themselves, purchasing

food is the third-highest expenditure in

typical American households, according to the U.S.

Department of Agriculture. This means that while

many people maintain fruitful gardens, farming is still

a major industry in the U.S.

•

Based on recent statistics, the USDA reports:

U.S. growers produce more than $178 billion in

crops per year.

• The U.S. has 2.06 million farms on more than 911

million acres of land.

• The U.S. exported $133 billion in agricultural

products in 2015 alone; 44 percent of those exports

went to Canada, China and Mexico.

• One in 10 Americans work in agriculture and its

related industries.

Do you ever stop to think about the men and women

who help grow the world's food? They come from all

walks of life. Many have spent their whole lives working

on their families' farms, while others can trace their love

of farming back to a high school teacher or college class.

For each of these men and women, agriculture is not

only what they do, but also who they are. To celebrate

the individuals whose agricultural roots are making a

difference in all our lives, Syngenta has launched the

#RootedinAg campaign. Here are a few of their stories:

From the Georgia clay

to the Midwestern Corn Belt

Leon Hunter grew up on a small family farm in

southwest Georgia. He remembers working on the farm

at a young age, helping his father and two uncles operate

his grandfather's farm outside the town of Whigham.

"Agriculture was embedded in me," he says. "Working

on the farm was what my cousins and I did after school

and all summer."

PHOTO COURTESY OF WWW.FACEBOOK.COM/SYNGENTAUS

MAY / JUNE 2017

FLUENTIAL

41
---
FEATURE

"Agriculture was

embedded in me.

Working on

the farm was

what my cousins

and I did after school

and all summer."

Hunter learned the value of hard work from his family

— especially his grandfather, who was an astute farmer

and businessman with strong values. Hunter now uses

those same lessons as he prepares a new generation

of growers in his role as a Syngenta agronomy service

manager. He and his team of 10 agronomists educate,

train and advise colleagues and growers on how to

produce the best crops possible in much of the Corn

Belt east of the Mississippi River.

Read more of Hunter's story here.

Leon Hunter,

Agronomy

Service Manager,

Syngenta.

working toward a doctorate degree in genetics. He

hopes his degree will help him find sustainable ways

to feed the world. In 2015, he won the graduate level

Syngenta Agricultural Scholarship because of his drive

and innovative outlook.

While Roth gained invaluable hands-on experience

working on his family farm, he knows the average

American doesn't have his level of understanding about

agriculture. He believes shrinking that knowledge gap

can help eliminate unnecessary fear of genetic research.

A Passion for Sustainability

Mitch Roth grew up on his family's Michigan farm,

where his parents taught him the value of having a

nutritious meal on the table each night. Today, Roth

is a graduate student at Michigan State University,

"Not everyone can become an expert in agricultural

biotechnology," he says, "but I believe more can be

done to bridge this gap."

Find Roth's full story here.

42 FLUENTIAL MAY / JUNE 2017
---
influential-magazine.com

"In this business,

in agriculture,

the thing that

counts the most

is your reputation.

It's important

you do the best

job that you can."

Vintage Roots

Brenda Wolgamott and her husband, Duane, began

their winemaking business in Lockwood, California, in

1999 after years of working in agriculture and pest control.

The pair created their own label, named after their young

daughter, Marin. Eighteen years later, Marin, who studied

wine and viticulture in college, works side-by-side with

her parents and is now the winemaker for her namesake

vineyard. Both she and her mother agree that working

hard can and will pay off, especially in an industry with

such a close-knit group of people.

Brenda

and Marin

Wolgamott walk

their vineyard

in Lockwood,

California.

"In this business, in agriculture, the thing that counts

the most is your reputation," Brenda says. "It's important

you do the best job that you can."

Share Your Story

These are just a few of the stories that Syngenta is proud

to share through its #RootedinAg campaign. Go to the

Syngenta Thrive website to read more. And if you make

your living in agriculture as a grower, reseller, educator or

adviser, consider sharing your story in the #RootedinAg

Contest for a chance to benefit your community. (BPT) l

MAY / JUNE 2017

FLUENTIAL 43
---
IN FLUENCE

Green Living

GARDEN-TO-TABLE

TIPS FOR GROWING

AND COOKING

YOUR OWN

PRODUCE

Selecting what to grow is your next

challenge. Herb gardens are perfect for

those with limited experience or limited

space. Herbs like basil, cilantro and

chives are easy to maintain. Most herbs

can withstand changing climates,

meaning you can cook with fresh her-

W

ant to know exactly

where your food is

coming from and have the

freshest possible flavors within

arm's reach? Bring "farm-to-table"

dining into your everyday life by

creating your own garden. Follow

these tips to grow and harvest

fruits, veggies and herbs at peak

ripeness to enjoy in simple,

healthful meals.

Room to Grow

When starting a garden, it's

important to have a plan. Find a

spacious area with plenty of sunlight

to help plants take root and flourish

-- whether that's in your backyard or a

nearby community garden. For cooler

climates, raised garden beds are highly

recommended. These allow fruits

and vegetables the space needed to

expand their roots and hold in water.

For hot, arid climates, create an inground

garden, as it holds in moisture

better, requiring less irrigation.

44 FLUENTIAL MAY / JUNE 2017
---
influential-magazine.com

NEARLY 50 PERCENT

OF FRESH FRUITS

AND 20 PERCENT

OF FRESH

VEGETABLES IN THE

US ARE IMPORTED,

ACCORDING TO

FOODSAFETY.GOV.

THIS MEANS THAT

YOUR FOOD TRAVELED

LONG DISTANCES

TO GET TO YOUR

PLATE. TO BETTER

ENJOY FRUITS AND

VEGETABLES, MANY

FAMILIES ARE NOW

GROWING THEIR

OWN AT HOME.

bs year-round, adding them to nearly

any meal to increase depths of flavor

and allow you to "play" with your food.

Farm with Flavor

Having access to a variety of fresh

produce lets you expand your menu

at home while keeping it healthy.

Many items found in simple salads,

like carrots, tomatoes, radishes,

lettuce and other leafy greens are

considered "beginner crops." Certain

berries are also easy to cultivate. If

you've ever tasted a ripe, just-picked

strawberry or a fresh, juicy tomato,

you'll know that it's worth the effort

to grow these items yourself!

Mix it Up

Having a high-quality blender,

like the Vitamix A3500, can make

transforming your harvest into

vibrant meals easy. Vitamix machines

can be used to chop, purée or juice

any ingredients that may come from

your budding garden.

Put new spins on old family recipes.

Next time your kids ask for spaghetti

and meatballs, try Spaghetti with

Roasted Vegetable Sauce. Made with

fresh, garden ingredients, including

Roma tomatoes, carrots and fresh basil

leaves, this robust sauce will become

a staple in your weekly meal rotation.

You might even want to try it on top of

spaghetti squash or zucchini noodles

to take advantage of more nutritious,

fresh-grown produce. Try something

new and create Sweet Potato Soup

with Seared Tomatillos using fresh

jalapenos, poblanos and tomatillos

from your garden. Or dress up a lessthan-exciting

salad with a brightly

flavored Strawberry Vinaigrette, using

fresh strawberries and herbs.

Growing greens (plus reds, yellows,

oranges, purples and blues) gives you

peace of mind in knowing exactly

where your meals come from, and

the pride of nurturing something

wholesome. (StatePoint) l

MAY / JUNE 2017

FLUENTIAL 45
---
IN FLUENCE

Green Living

NATURAL WAYS TO KEEP

ROSES RADIANT

THIS SEASON

T

hey're the most popular

and prized flower in American

gardens, one of the

most-beloved flowers for weddings,

and staples of Valentine's and Mother's

Day bouquets. Americans love their

roses — and so do a host of harmful

pests, including Japanese beetles,

aphids, mites among other insects,

and let's not forget about deer.

Pests can cause a great deal

of damage to roses, especially

considering many varieties have

a reputation for being tenderly

delicate. While some types of

roses are hardier against disease,

no rose alive can fight off an

aphid infestation or fight foraging

deer without some help from

the gardener. However, growing

awareness of the environmental

impact of some common pesticides

may have many rose gardeners

looking for more natural ways to

protect their blooms this season.

Brand-name neonicotinoid

pesticides, commonly used to

keep pests off plants, are

being banned in states

WARM WEATHER

WELCOMES FLOWERBEDS,

GARDENS BURST WITH

COLOR AND FRAGRANCE,

AND IN MANY YARDS,

ROSES ARE THE STARS

OF THE SHOW.

across the country, including Maryland,

Connecticut and Minnesota.

North Carolina is currently

considering a similar ban. This

class of insecticides is believed to

contribute to the devastation and

decline of honeybee populations

across the country. As more states

prohibit the use of neonicotinoid

pesticides, and some garden retailers

remove neonics from store

shelves, many gardeners may have

to start looking for alternative, more

environmentally friendly solutions

to protect their prized roses.

46 FLUENTIAL MAY / JUNE 2017
---
influential-magazine.com

beetles, leafhoppers, greenflies and

sawflies. The product is compatible

with nature, not classified as an

insecticide and is harmless to all

wildlife, pets, birds and people.

4Bobbex Rose also provides

needed moisture retention for

the plant and can reduce the

severity of black spot and powdery

mildew, common problems for

rose gardeners. Continued use will

disrupt browsing habits of deer

while protecting against an assault of

insects in any weather. The product

is actually good for plants since it

contains elements high in nitrogen

and phosphorus; it dries clear and

won't burn plants. Bobbex Rose will

not wash off in rain, or irrigation. Visit

www.bobbex.com to learn more.

Natural Solutions

Fortunately, rose aficionados have

several natural ways to defend their

gardens from pests. These measures

can help protect rose gardens and

the environment:

1Choosing a good location for

your roses is the first step. If you'll

be planting new rose bushes this

season, look for a location that will

help the roses thrive. The healthier

the plant, the hardier it will be in

resisting disease and pests. Roses

should get six to eight hours of sun

per day, and need at least three feet

of space on all sides to flourish. Be

sure to properly prepare the soil,

mulch around the base of the plant,

and regularly fertilize and water.

2Next, keep a careful eye on your

roses. Regularly inspect blooms,

branches, stems, undersides of

leaves and vines for signs of insect

infestation, including the presence

of eggs, grubs and adult insects.

Watch for evidence of deer damage

too; such as ragged bites a foot or

more above the ground.

3Keep pests and deer away

with a natural, environmentally

friendly, dual purpose repellent

like Bobbex Rose Deer and

Insect Repellent. The easy-toapply,

ready-to-use foliar spray

discourages deer foraging through

taste and smell aversion, while

simultaneously repelling insects

such as aphids, mites, Japanese

5Use nature to defend your

roses; hang bird feeders to attract

backyard birds that regularly dine

on insects harmful to roses. You

can also purchase lady bugs, which

eat aphids, to release in your rose

garden. Just be sure to research

the best time and conditions for

releasing lady bugs, or they will fly

away before making any impact.

The fragrance and colors of

roses are among the most

delightful indulgences of the

warm weather season. With a

bit of attention, planning and

effective natural assistance, it's

possible, even easy, to keep your

roses radiantly resplendent while

naturally protecting them and the

environment. (BPT) l

MAY / JUNE 2017

FLUENTIAL 47
---
EXCLUSIVE FEATURE

HABITS MAKE UP 40% OF OUR DAILY LIFE,

SO IF YOU WANT TO FEEL AND LOOK

BETTER, INCORPORATING MORE HEALTHY

HABITS INTO YOUR LIFE IS KEY: SO HOW

CAN WE GET RID OF OUR UNHEALTHY

BEHAVIORS AND REPLACE THEM WITH

ROUTINES THAT IMPROVE OUR LIFE?

kWRITTEN BY ALEXANDRA PAUL

CERTIFIED WELLNESS COACH,

ALEXANDRA PAUL WELLNESS COACHING

PHOTOGRAPHY COURTESY OF

JONAS MOHR / JME

WWW.JONASMOHR.COM

50 FLUENTIAL MAY / JUNE 2017
---
influential-magazine.com

Habit News

Habits are not set in stone, and they are very much in our control if we understand

how they work. So let's begin with some background on habit formation, and then

I will discuss strategies for changing the habits that are holding you back from

instilling new, healthy habits.

A Habit Is A Behavior

A habit is a behavior we repeat regularly and, often, unconsciously. We all generally

have both good habits and bad habits in our daily life. For instance, a good habit

almost everyone shares is brushing our teeth; a common bad habit might be

always choosing a donut at a regular morning meeting. Ideally, the good habits in

our life outweigh the self-destructive ones.

The body loves habits because being on automatic pilot saves mental and physical

energy. Imagine if you had to think about each movement necessary to parallelpark

your car; it would be exhausting and very inefficient. Instead you hardly think

how to turn the wheel, which way to look, and when to apply the brake because

you have done it so often it has become routine.

When the body finds something you do from which it benefits, like clean teeth or

getting into a parking space, it will lay down a neural pathway in the brain that will

remind you to replicate that behavior. This neural pathway will strengthen every

time you repeat the action, until it becomes a default mode and you begin behaving

without much thought; a new habit has been formed. Unfortunately, while this process

yields a helpful habit in the case of parallel-parking skill, the same principle is applied to

the repeated action of reaching for that 500-calorie donut at every morning meeting.

Fortunately, habit formation works both ways: just as a neutral pathway for a certain

behavior gets more entrenched the more that behavior is repeated, if you stop a

GET HEALTHY BY

HACKING YOUR

BAD HABITS

MAY / JUNE 2017

FLUENTIAL

51
---
EXCLUSIVE FEATURE

behavior, the neural pathway weakens over time, as you

consistently resist the habit. This is why it's often hard to

get back into your workout routine after being on a long,

lazy vacation, those neural pathways for your exercise

routine weakened when they weren't engaged regularly.

So, what about those people who seem to find it so easy

to exercise or have only one serving? Are they somehow

wired for healthier habits or stronger willpower? No. What

they have are stronger neutral pathways, established over

years of repeated action, for the behaviors of working out or

eating moderately. In my case, I see this in my long habit of

exercising early in the morning: I go to the gym every day at

5 a.m., and I have for years. As a result, I do so automatically,

without thinking or emotion. While there are certainly

mornings when I wake up and think, Gosh, I'm tired; I really

don't want to exercise, the neutral pathway I have developed

for exercise over the years more persistently reminds me,

You always feel great after you work out.

Cue, Action, and Reward

Habits always present in three parts: cue, action,

and reward. The cue is the signal that prompts you

to engage in a behavior; the action is the habit itself;

and the reward is what you get from engaging in the

habitual behavior.

Usually, if we want to quit a behavior, we focus on the

action by telling ourselves to stop whatever that behavior is:

do not eat pizza for dinner. But researchers believe we can be

more successful if we look instead at the cues encouraging

us to engage in certain behaviors and then tweak them. If

you're trying to avoid pizza, instead of driving home past a

favorite pizza restaurant, change your route to take you past

a juice bar or other healthy option, or make sure you have

fruit or another satisfying healthy snack in your car.

One of my clients has devised a helpful cue for herself to keep

her workouts on track: knowing she needs as few obstacles

as possible on her path to working out, she puts on her gym

clothes as soon as she gets up in the morning. She knows she

is more apt to get her run in if she is already dressed. Once the

gear is on, running is almost inevitable, so being dressed in her

52 FLUENTIAL MAY / JUNE 2017
---
"

Habits always

present in three

parts: cue, action,

and reward. The

cue is the signal

that prompts

you to engage

in a behavior;

the action is the

habit itself; and the

reward is what you

get from engaging

in the habitual

behavior.

"

influential-magazine.com

gym clothes has become a positive cue for her. Rather than

repeatedly tell herself she has to go running, she recognizes

she's already dressed for it and heads out the door. Knowing

what triggers us to engage in a habit gives us control over it

because we can avoid the cues that do not serve us and focus

on those that benefit our long-term goals.

Understanding what rewards we get from a habit is

important so we can find alternatives that reward us in a

healthier way. For instance, if eating soothes you at night

after a stressful day at work, recognizing that will allow you to

substitute a different behavior that calms you and feels like a

treat. One of my clients who loves to read now chooses a good

book over ice cream; another now takes baths to unwind.

While these success stories reflect the healthy

possibilities, it is also important to know your neutral

pathways will resist at first. But by consistently engaging

in healthier, substitute behaviors, you will weaken that

resistance. Once you find something that works for

you, repeat it often to cement it in, and soon when you

come home your first thought won't be What can I eat

to make me feel better? But perhaps When can I cuddle

up with my book? Or Ah, a hot bath.

Self-Discipline Is Important

Changing does take some self-discipline, especially in

the beginning of a new routine, but it is important to

not rely on willpower alone because you will end up

failing. Americans consider willpower a virtue. We believe

we should be able to resist cookies at all times and not

getting out every day to exercise is a character flaw.

The reality is true lifestyle change does not rise from

willpower. Rather it's the result of many consecutive

choices, day after day, prompted by cues that promote

healthy routines and rewards that are life-giving.

The kind of reasonable decisions that result in long-term

change are made in the brain's prefrontal cortex. The problem

with the prefrontal cortex is that it gets tired. When this

happens, self-discipline goes out the window and the more

impulsive part of our brain takes over, causing us to feel out

MAY / JUNE 2017

FLUENTIAL

53
---
EXCLUSIVE FEATURE

of control. Stress, lots of decision-making, low blood sugar,

and being physically tired-all contribute to weakening our

willpower, which is a normal day for most of us.

This is why we are more apt to lose control at night when

it comes to alcohol, our diets, and our good intentions to

exercise. To counter this pattern, consider preempting the

bad decisions that come from fatigue by taking steps like

sneaking in a quick nap and a snack before going out to a

holiday party, where it is easy to overdo it in any number of

ways; or, when you go out to dinner and the waiter asks if

you want bread on the table, say, "No, thanks" right away and

save your prefrontal cortex from having to resist and bargain

for the rest of the meal. Setting up your environment to help

you avoid having to call on willpower (and your prefrontal

cortex) is the smartest way to effect lasting change.

Go For Your Goals

Proper goal setting is another tool to help us stick to

healthy habits: Goal setting is vital if you want to make longterm

changes because it forces you to be clear about what

you want and how to get there. When you set goals, you

make decisions about your behaviors in advance. Studies

show we all overestimate what smart choices we will make

in a situation, so why not set clear goals beforehand about

what to eat, when to exercise, and how to incorporate

other healthy choices so there is no room for debate.

Because my clients come to see me wanting to lose

weight, let's use that desired outcome as an example

of how best to use a goal-setting strategy. Specifically,

let's see about being specific, measurable, actionable,

realistic, and time bound. If you tell me you want to lose

ten pounds, I would ask you: "What are the behavior(s)

you will need to be doing in two months that will get you

ten pounds lighter?" If you say, "I need to exercise more," I

would ask you to be more specific, maybe something like,

"I am running five times a week for at least 45 minutes."

Then I would ask you, "What are the behaviors you can

do this coming week that will help you get to this twomonth

goal?" An example of a clear goal (which should

be even more specific since it's for the following week) is,

"On Monday and Thursday right after work, I run on the

treadmill at the gym for 30 minutes." This goal totally rocks

because you do not have to engage your prefrontal cortex

over this again because you've committed beforehand. It

is also measurable (you know how long you are going

to run), actionable (it is something you can do, instead

of something you don't want to do), and time bound

(scheduled for a certain date and duration).

Our conversation might then turn to food habits. If

you tell me, "I will not eat chocolate," I will respond by

telling you this is neither actionable nor realistic, it is just

a restriction that leaves you with a void in which you

will obsess about chocolate and then end up eating

more than you originally planned. A more constructive

goal in this area might be, "When I crave something

sweet, I will [insert substitute behavior here] instead."

As a final step in our goal-setting conversation, I

would encourage you to write down your desired

outcome and the goals we discussed to help you stay

on track. Each week you can revisit your goals and

prioritize them by scheduling them in your calendar.

Success Can Be Yours

In sum, you can break your bad habits by substituting

them with healthier behaviors, and then strengthen

the neural pathways of the new, healthy habit through

repetition. Be aware of the cues that lead you to undesirable

behavior and avoid those triggers. Understand the true

reward you are seeking through your habit and find a

healthier behavior that will still give you the same reward.

Keep in mind at first your embedded neural pathways

will be pulling you strongly toward your old ways, but

persevere and you will create new pathways that lead

you to better behaviors. Protect your prefrontal cortex so

it helps you make smart choices. Finally, commit to clear

goals to get you to the healthy lifestyle you desire.

You have broken habits before, so I am confident you can

do it again with a habit that is challenging you. Follow these

simple rules and you will get to your desired outcome

more easily than if you haphazardly try to change. l

54 FLUENTIAL MAY / JUNE 2017
---
influential-magazine.com

"

You can break

your bad habits

by substituting

them with

healthier

behaviors, and

then strengthen

the neural

pathways of

the new,

healthy habit

through

repetition.

"

MAY / JUNE 2017

FLUENTIAL

55
---
IN FLUENCE

Health & Wellness

LIPS CAN BE

ESPECIALLY

SUSCEPTIBLE TO

THE ELEMENTS,

LEAVING THEM

DRY AND CHAPPED.

HOW TO KEEP LIPS

HEALTHY AND

HYDRATED

T

o keep your pucker healthy and hydrated,

consider the following tips from the makers of

Carmex lip balms, and Dr. Neil Sadick, M.D., a New York

City-based dermatologist.

kPHOTOGRAPHY COURTESY OF DJILE – FOTOLIA.COM.

• Lower humidity can deplete and dehydrate lips. While

it can be tempting to lick one's lips, unfortunately, this

approach will only make the problem worse -- as saliva

draws moisture out of the lips as it evaporates. Instead, keep

lips hydrated from the inside out by drinking plenty of water.

• Use moisturizing lip balms with ingredients that

will seal in moisture and stay on your lips. If you are

not allergic to sunscreen, use a product with SPF 15 or

higher, such as the Carmex Lip Balm Stick, to protect

from the sun - not just on sunny days, but every day.

Make a habit of applying lip balm three to four times

daily, ensuring that one application is before bedtime.

• Avoid high gloss lipsticks with little-to-no color.

They can be potentially harmful to lips because they

can attract UV rays. Avoid these shades entirely or try a

triple-layer approach for added protection: first apply a

lip balm with SPF, followed by a colored lipstick, then

finish it off with some shine.

• Cover your face, especially on windy days. Use a

scarf to cover your lips when the wind starts blowing.

• When indoors, consider using a humidifier in dry

environments to help moisturize your skin and lips.

More healthy lip tips can be found at mycarmex.com.

There is no reason to suffer through chapped, cracked

lips. Great habits, such as applying a moisturizing lip

balm or lip balm that contains SPF, can help you keep

your lips healthy and moisturized. (StatePoint) l

58 FLUENTIAL

MAY / JUNE 2017
---
IN FLUENCE

Health & Wellness

IS SEAWEED THE NEXT

SUPERFOOD?

S

eaweed may be a hot

new food trend in the

United States, but this

leafy green from the sea has

been used in Asian cuisine for

thousands of years. Not only is

seaweed low in calories and fat,

it's also packed with essential

nutrients like vitamins A, B and C.

Better yet? Research shows it's a

good source of antioxidants and

calcium and can prevent and

reduce inflammation.

You may know seaweed as a

crunchy, salty snack or the wrap

that holds together sushi rolls.

What you may not know is that

THERE'S A NEW

SUPERFOOD IN TOWN.

AND IT'S NOT KALE.

seaweed is an important food

ingredient that improves the taste

of foods, makes them better

for us and benefits the environment.

For example, carrageenan,

an ingredient naturally derived

from red seaweed, makes our

ice cream creamy, keeps chocolate

milk from separating and is

the reason the ground nuts in

our nut milk don't settle to the

bottom of the carton. It can also

be used instead of sodium in deli

meats and to replace fats and sugar

in other foods.

Some sweets, like puddings

and gummy candies, get their

unique texture from gelatin, an

animal-based ingredient. But

what about those who follow a

vegetarian or kosher diet? Have

no fear, seaweed is here! Plantbased

carrageenan can be used

in place of gelatin to make sure

these tasty snacks are vegetarian,

vegan, halal and kosher.

Another way seaweed improves

the foods we eat every day?

60 FLUENTIAL MAY / JUNE 2017
---
influential-magazine.com

Alginates, also a seaweed-based

ingredient, are added to baked

goods, such as bread, and even

your favorite energy bars to make

them taste better and stay fresh

for longer. Alginates are also used

to make beer foamy and replace

the fat in low-fat ice cream. But

seaweed doesn't just benefit the

foods we eat; it's also good for

the environment and the people

who farm it.

Seaweed is one of the most

sustainable and eco-friendly

crops on the planet. It requires

none of the fertilizers, pesticides

or other chemicals that are used

in land-based farming. And

seaweed sequesters carbon

and cleans ocean water of

phosphorus and nitrogen. Some

scientists and researchers believe

seaweed might even be the

biofuel of the future.

More than 75,000 farmers

around the world rely on

seaweed farming to support

their families. Before they started

farming carrageenan seaweed,

many coastal communities lived

at or below the poverty level.

With the income they earn harvesting

carrageenan seaweed,

these farmers are able to improve

their homes, enhance their diets

and send their children to school.

And in some countries, seaweed

harvesting provides a way out of

poverty for women who do not

have access to other jobs.

Seaweed isn't just a healthy snack

or ingredient that makes our favorite

foods better tasting and better

for us. It's revolutionizing dinner

plates and economies around

the world, restoring our oceans

and improving lives. For more information

about the benefits of

seaweed, including how it is used

in foods we love, visit www.foodsciencematters.com.

(BPT) l

MAY / JUNE 2017

FLUENTIAL

61
---
IN FLUENCE

Health & Wellness

SKIN CARE SECRETS DURING

WARM SUMMER

MONTHS

FROM THE EXPERTS

EVER WONDER HOW DERMATOLOGISTS

CARE FOR THEIR OWN SKIN DURING

THE WARM SUMMER MONTHS? YOU'RE

IN LUCK BECAUSE FIVE DERMATOLOGISTS

FROM U.S. DERMATOLOGY PARTNERS SHARED

WITH US THEIR OWN PERSONAL TIPS AND

PRODUCTS THEY USE TO KEEP THEMSELVES

AND THEIR FAMILIES SUN SAFE.

least SPF 30 is an important part of our

summer. When at the pool, we make it

a habit to reapply every 2-3 hours. And

before getting in the water, be sure to

allow the sunscreen to dry for about

10-15 mins prior to jumping in.

Daniel Walker, MD

Grapevine, Texas

Whenever possible, my family

and I try to do our swimming

and other outdoor activities later

in the day (think 4 or 5 pm). The

levels of UV radiation are far less

intense that during midday, and

this greatly decreases your chances

of getting burned. We also love

using swim shirts (also called rash

guards) and hats when we are at the

pool or lake. These clothing items

provide wonderful sun protection

throughout the day, and there's

obviously no need to reapply every

few hours like you would with

sunscreen. Of course, sunscreen of at

Kathryn Celeste Durham,

M.D.

Fort Worth, Texas

My favorite thing is sun protective

clothing with UPF (UV protection

factor). You can find this type of

clothing from brands like Magellan,

Columbia, and Coolibar. Always

put on a lotion based sunscreen 15

minutes before going out in the sun

of at least SPF 50. Any brand is fine,

as long as it has a high SPF.

62 FLUENTIAL MAY / JUNE 2017
---
influential-magazine.com

(UVA comes through car windows!).

Also pay attention to the bottle that

will suggest how often to reapply if you

or your family plans on spending an

extended period of time out in the sun.

Amanda Wolthoff, MD

Uptown Dallas, Texas

I favor sunscreens with zinc oxide or

titanium dioxide. These are ingredients

that work as physical blockers as

opposed to chemical blockers. Physical

blockers physically reflect the sun's UV

rays versus just absorbing them which

still gives an opportunity to damage

skin. The zinc oxides have come a long

way from the neon green and pink

of my era to almost invisible. They are

also less likely to cause an irritation to

the skin as opposed to the chemical

blockers. Overall any sunscreen with

an SPF of greater than 30 that is broad

spectrum (blocks against UVA and

UVB) is important for any member of

the family, even if just driving in the car

Dustin Wilkes, DO

Weatherford, Texas

A sunscreen that my family and

I use to protect us from harmful

UV radiation is Elta MD sunscreen,

which is available in many

dermatologists' offices. As an overthe-counter

alternative we use

CeraVe AM as well. Both contain

zinc oxide, a mineral that protects

from sun damage. Zinc oxide is

often used for diaper rashes so is

safe to use on children, and should

not cause any allergic reactions.

John Biltz, MD

Waxahachie and Corsicana,

Texas

The easiest way to protect my

and my family's skin from the sun

is by seeking shade when possible.

When shade isn't available, we

apply a broad spectrum sunscreen

with an SPF of 30 or higher, and

reapply every two hours and

after swimming or sweating. Our

favorite sunscreen products are

by Elta MD. We also will often wear

protective clothing such as long

sleeved shirts, wide brimmed hats,

and sunglasses. l

MAY / JUNE 2017

FLUENTIAL 63
---
IN FLUENCE

Health & Wellness

SUNSCREEN

AND SUNLESS TANNER

RECOMMENDATIONS

FROM THE EXPERTS

kWRITTEN BY U.S. DERMATOLOGY PARTNERS

64

FLUENTIAL MAY / JUNE 2017
---
influential-magazine.com

OUR FRIENDS AT

U.S. DERMATOLOGY

PARTNERS PUT

TOGETHER THESE

SELF-TANNER PRODUCT

RECOMMENDATIONS

TO HELP YOU

GET THAT SUMMER

GLOW – SAFELY.

Dark Color in a Hurry

Try Fake Bake Flawless or Xen-Tan

Premium Sunless Tan. Both provide

almost immediate color change that

looks like you went to a professional.

A Quick Bronzing

Try St. Tropez Self-Tanning Bronze

or L'Oréal Sublime Bronze Luminous

Bronzer for immediate color that's a bit

more subtle. The L'Oréal option also leaves

behind a bit of shimmer.

Buildable Color

Try Neutrogena Micro-Mist Airbrush

Sunless Tan or Jergens Natural

Glow Daily Moisturizer for a

discrete first impression that you can

build over time. These are also great

options if you're trying out sunless

tanners for the first time.

It may be nerve racking to try a

sunless tanner, but it's much less

risky than exposing yourself to harmful

UV rays. This doesn't mean

you can't continue to enjoy the

outdoors, but rather enjoy it wearing

sunscreen, a hat, and even UV

protective clothing knowing you

got your summer glow safely from

a bottle.l

MAY / JUNE 2017

FLUENTIAL 65
---
IN FLUENCE

Health & Wellness

Y

THE UGLY TRUTH ABOUT

"BASE TANS"

ou and your teenage or

college age children might

think your pale skin could do with

a bit of color and that a trip to the

local tanning bed is just the ticket.

After all, getting a base tan will keep

you from getting a sunburn. Right?

Err… not so fast.

A base tan offers no protection from

the sun. For example, studies show that

college students who got base tans

prior to spring break were slightly more

likely to get a sunburn because they

were less diligent about sunscreen.

So, what can a bit of tanning hurt?

You don't have to worry about

wrinkles, sunspots, and skin cancer

until old age. Right?

The ugly truth is, every time you tan

you damage your skin. Irreversibly.

And it's harmful to you in more ways

than one. The temporary appeal of

a glowing tan unfortunately comes

with permanent consequences to

not only the look of your skin, but

also the health of your skin. Three

reasons to break the bronzing habit:

1Premature aging. Tanning

destroys precious collagen tissue

and prematurely ages your skin. This

MEMORIAL DAY

WEEKEND IS UPON US

AND THE UNOFFICIAL

START OF THE SWIMSUIT

SEASON HAS BEGUN.

kWRITTEN BY KATHRYN CELESTE

DURHAM, MD

holds true if you get a tan from the

sun or a tanning bed. All emit harmful

UV (ultraviolet) rays that penetrate

all layers of the skin. If you think you'll

correct problems later with anti-aging

creams, think again! Topical creams

only treat the skin's uppermost layers.

Not to mention the high cost of antiaging

creams! If you're determined

to sport a tan, reach for a bottle of

bronzer or get a professional spray tan.

2Skin cancer. (Gulp) Research

shows that one person dies of

melanoma (the deadliest type of skin

cancer) every hour. Here's another

shocker: Melanoma is now the most

common form of cancer diagnosed

in adults younger than 30 (especially

women). Experts believe tanning

beds are a major factor behind

this increase. It's estimated that an

astonishing half of top US colleges

provide tanning beds for students on

or near campus. This, despite the fact,

that the American Cancer Society

estimates that over 400,000 cases of

skin cancer in the US each year are

linked to indoor tanning alone.

3Other skin problems. Turns out

that "healthy glow" isn't so healthy. In

addition to causing premature aging

and wrinkles, UV rays cause discolored

areas of the skin called lentigines

(what you mother calls liver spots),

freckles, sallowness (a yellow discoloring

of the skin) and dilation

of small blood vessels

under the skin.

We get it. Tanning feels

good and helps you fit

in with the crowd. Even

though millions of Americans

partake in tanning

every day, joining their ranks

is a risky move. If you want a

lifetime of healthy, glowing

skin, start young and follow

these commonsense steps:

• Slather on broad-spectrum

UVA/UVB sunscreen when you're

outdoors and do it often.

66 FLUENTIAL MAY / JUNE 2017
---
influential-magazine.com

• Perform head to toe skin checks

monthly to spot any suspicious

moles or skin irregularities.

• Stay away from tanning beds (no

exceptions). Using a tanning bed before

the age of 30 increases your risk of

melanoma by 75%! There is nothing

youthful or good-looking about surgical

scars all over your body.

Last, but not least, visit a boardcertified

dermatologist for a skin

screening every year. If melanoma

is recognized and treated

early, it is almost

always curable. l

MAY / JUNE 2017

FLUENTIAL 67
---
EXCLUSIVE FEATURE

68 FLUENTIAL
---
influential-magazine.com

EXCLUSIVE INTERVIEW

ROB

LAFFAN

JUST BECAUSE

THEY CAN'T SPEAK,

DOESN'T MEAN THEY DON'T

HAVE ANYTHING TO SAY

ROB LAFFAN IS THE

FOUNDER AND CREATOR

OF TIPPYTALK, AN APP

THAT HELPS PEOPLE WITH

VERBAL DISABILITIES

COMMUNICATE WITH

THEIR LOVED ONES.

kINTERVIEW CONDUCTED AND WRITTEN BY

WILLIAM JACKSON, CHIEF BUSINESS OFFICER

OF INFLUENTIAL MAGAZINE, SPANISH INFLUENTIAL,

AND RTEEN INFLUENTIAL

ob's young daughter, Sadie, is nonverbal. Fueled

by the need to communicate and understand

what Sadie was thinking and feeling, Rob set out

to discover a way to more effectively communicate

with her. That's when TippyTalk was born. Rob also knew

many other families were facing the same challenges

and wanted to provide them with a better way to come

together. In the last year alone, TippyTalk has helped

MAY / JUNE 2017

FLUENTIAL 69
---
EXCLUSIVE FEATURE

improve the lives of thousands of families. It was inspiring

to learn how Rob's love for his family and appreciation for

technology, have enabled him, and others to develop a

close personal bond with, and enhanced greater love

and deeper understanding of family.

InFluential Magazine: Would you please introduce

yourself and your daughter, Sadie, to our readers?

Rob Laffan: A native of Ireland, I'm the father of Sadie,

my six-year-old daughter who has nonverbal autism

and also the creator of TippyTalk, an app that allows

me to communicate with her. Diagnosed with autism

four years ago, Sadie attends a specific school called

Red Hill. With the help of the app and schooling,

Sadie's communication skills have improved greatly

over the last year. She can now speak 10-12 words

and is on her way to being verbal.

InFluential: What have you learned about the challenges

associated generally with a verbal disability?

Rob: It's more about you as the parent. I learned very

quickly that I had to adapt my life to fit in with Sadie's.

It was upsetting at the start, but once I put my own

self-pity aside I educated myself in the many available

communication methods to try and find one that

would be suitable for Sadie.

InFluential: What was communication like between

you and Sadie before TippyTalk?

Rob: At first, we used 2-D picture cards called PECS

(picture exchange communication system). We found

it helpful at the start, but we only reached a low level

of communication with PECS and my wife and I found

ourselves every weekend printing and laminating the

following weeks batch of PECS images. There was

one upside. The use of PECS images made me realize

Sadie was a visual learner. This is where the idea of the

TippyTalk app really started to take shape.

InFluential: Do you have a technology background? If so,

how did this influence your vision to create TippyTalk?

Rob: When I returned to college in 2012 at age 35,

there was a job shortage in robotic and automation

I'm grateful

for what

I have

right now.

I measure

any success

– professionally

or personally –

through

gratitude.

Rob Laffan

engineers. After my first year of

reenrolling in college, my wife and

I learned Sadie had Autism. I made

a conscious decision then I was going

to combine technology with what I was

learning to help Sadie.

InFluential: How did you develop and test TippyTalk?

Rob: When I made a decision to help Sadie I had to

come up with an idea for my final year project in

college. I had become very proficient at a robotic

programming called SCADA. I imported hundreds of

Sadie's images to this touch screen device call a HMI

(human machine interface.) Within the code, I attached

personalized text messages to be sent for a sequence

of Sadie's images that she would touch.

Testing with Sadie took a few attempts, but once we

reached the interaction stage, Sadie started to send

meaningful communication within two days. From there,

I introduced it to a few other families with Autism in my

hometown and the results were very successful.

The TippyTalk prototype was a rugged device:

big and bulky and not very cost effective. The next

challenge was to figure out how to reduce the cost

and make it readily available to everyone that needed

it. The answer was to take the exact same concept and

develop it into an app.

70 FLUENTIAL MAY / JUNE 2017
---
influential-magazine.com

InFluential: How does TippyTalk

work to breakdown barriers?

Rob: TippyTalk allows for

a person with no voice to

be heard all over the world.

By giving them an instant

messaging service, they can

connect to whomever they wish in any country.

TippyTalk allows our non-verbal loved ones to be

more socially included within our family unit and

the world.

InFluential: What benefits have you and others seen

using TippyTalk? How has the technology enhanced

relationships?

Rob: Personally, it has helped me develop a close

personal bond with Sadie and helped me to love and

understand her little character.

Another TippyTalk user in the UK has found it easier to

express food and drink items to his father, and express

his feelings to his mother. A U.S. user whose parents

have divorced now have a connection because their

non-verbal daughter texts them both and the parents

have begun to speak to each other again.

Just recently, we saw a blind single mom

communicate with her 8-year-old son with the help of

the TippyTalk app. Her phone gets the text message

and then reads the text out

loud so she can serve her

son's needs.

InFluential: If there's one

thing you'd like for people

who are not familiar with

nonverbal autism to know, what would it be?

Rob: Just because they cannot speak does not mean

they don't have anything to say. Treat them just as

you would with any other child. Their intelligence

and comprehension will astound you. Sadie can

complete a 60-piece jigsaw puzzle before I can even

find the corners.

InFluential: What is the greatest moment to date

you've had with Sadie?

Rob: Apart from the day she was born, it was the first

text message she sent me: "Hi Daddy, I want some

chicken nuggets." Followed promptly by: "Hi Daddy, I

want fries." All this happened while I was ordering fast

food two miles away from Sadie while she was at home

with TippyTalk. We finally had a way to communicate,

even when we weren't in the same room.

InFluential: How do you define your success

professionally and personally?

Rob: I'm grateful for what I have right now. I measure any

success – professionally or personally – through gratitude. l

MAY / JUNE 2017

FLUENTIAL

71
---
IN FLUENCE

Lifestyle

DARE TO DREAM

ADD FUNCTIONAL,

APPEALING FEATURES

FOR A DESIRABLE HOME

74 FLUENTIAL MAY / JUNE 2017
---
influential-magazine.com

TURNING YOUR HOME INTO

THE LIVING SPACE OF YOUR

DREAMS TAKES EFFORT AND

COMMITMENT, BUT WHILE

THE WEATHER IS WARM AND

MOTIVATION IS ON YOUR

SIDE, IT'S TIME TO PUT YOUR

VISIONS TO THE TEST.

W

hether you choose to start

your renovation project on

the inside or outside, for fun

or for function, the important part is

committing to getting it done and

doing it right. That includes finding

the right materials and products to suit

your specific needs and style, whether

it's for closet organization, a beautiful

kitchen upgrade, adding features like

skylights or anything in between.

Your dreams and desires for your

home are attainable and within

your reach, so long as you're

devoted and willing to put in the

time. Find more home upgrade tips

and tricks at eLivingToday.com.

Natural Light

and Fresh Air from Above

You can brighten your space in an ecofriendly

way with Energy Star-qualified,

solar-powered fresh air skylights from

Velux America, which provide natural

light and ventilation to reduce energy

costs. Adding solar-powered blinds

can further increase energy efficiency.

The skylights carry a 10-year, no-leak

installation warranty and, along with

the blinds, operate by remote control,

closing automatically when it rains.

Both products, along with installation

costs, qualify for a 30 percent federal

tax credit. To find certified installers, visit

whyskylights.com.

Versatile Home Storage

It's time to get organized. Turn any

closet or area in your home into a

designer-inspired storage showcase

with ClosetMaid's SuiteSymphony

line. This affordable, DIY system is

available in multiple finishes and styles,

and offers accessories such as doors,

drawers, shoe shelves and expandable

hang rods for total customization.

Find free design, inspiration and

organization solutions at closetmaid.

com/suitesymphony.

Functional Furniture

Ideal for enjoying a serene cup of

coffee or welcoming guests for some

outdoor fun, you can liven up your

backyard space with a patio furniture

set to help both aesthetically and

functionally. The right set for your

deck, patio or yard can lend a pleasing

element to the eye and a comfortable

spot to sit and eat, drink or rest after a

friendly game of whiffle ball. Available

in myriad colors and combinations,

look for patio furniture that matches

your style and personal preferences.

Backyard Getaway

Find a comfortable temperature and

enter your most relaxed state at any

time with your own backyard hot tub.

The gateway to a restful opportunity,

a hot tub gives you a chance to close

your eyes and unwind whether it's the

end of a long day or starting out your

Saturday morning. With varying options

like in-ground or above and a multitude

of sizes, plus the ability to tune individual

jets to your liking, a backyard hot tub can

be the perfect personal oasis.

A Finishing Touch

Bring everything together in a kitchen

or bathroom with the subtle feature

that can sometimes be forgotten

– the faucet. Extravagant or simple,

modern or classic, the faucet can

serve multiple aesthetic purposes like

catching attention upon entering the

room or simply complementing the

design elements around it. Adding the

final touch with the right faucet can

be a beautiful way to wrap up a room.

(Family Features) l

MAY / JUNE 2017

FLUENTIAL 75
---
IN FLUENCE

Lifestyle

One option is a home ownership

investment such as the Unison Home-

Buyer program, which typically provides

up to half of the down payment

you need. The money is an investment

in the home, not a loan, so there are no

interest charges or monthly payments.

This new type of financing — which

works in combination with a traditio-

5WHEN L

ike most beginners,

first-time homebuyers

will likely make a few mistakes

as they initially go through

the home-buying process in the

upcoming year. Here are five mistakes

first-time homebuyers often

make, and how to best avoid them.

1Waiting too long

to make an offer

One of the biggest mistakes firsttime

homebuyers will make in 2017

is simply waiting too long to get into

the real estate market, according

to Jay Carr, a senior loan advisr for

RPM Mortgage in Newport Beach,

California. Because the rates look like

they're going to continually increase

over the year, it's important for buyers

to get in as early as they can so that

they can avoid paying more later on. If

you see a home that you're interested

in and you have been thinking about

entering into the market for some

time, don't hesitate too long.

2Trying too hard to

get less than the asking price

Many first-time buyers are

younger, tech-savvy and are

comfortable researching homes on

their own. Overall, these are positive

MISTAKES TO AVOID

BUSYING

YOUR FIRST HOME

BUYING A HOME FOR THE

FIRST TIME IS COMPARABLE

TO THE FIRST TIME YOU

RIDE A BIKE. YOU CAN

LEARN ABOUT HOW IT

WORKS FROM YOUR

PARENTS AND OBSERVE IT

FROM A DISTANCE,

BUT YOU REALLY WON'T

KNOW THE INS AND OUTS

UNTIL YOU ACTUALLY SIT

DOWN ON THE BICYCLE

AND START RIDING.

traits in a buyer. However, because

these buyers are typically selfsufficient

when it comes to other

purchases, they often think they

know best when it comes to what

price they want to offer. "Buyers rely

too much on what they see on the

internet instead of the good advice

of what they would hear from a real

estate agent," Carr says.

Of course sometimes it pays off to

be bold in an offer (in that you get to

pay a lot less than the asking price), but

often it can end up that the buyers are

negotiating themselves out of a deal.

It's important to pay attention to your

real estate agent, who is a seasoned

professional, when it comes to putting

in an offer so you don't offend the seller

and lose the house you want.

3Not exploring

all your financing options

Carr says many first-time buyers

have grown up thinking that they

need to save up for a 20 percent

down payment before they can

enter the housing market. While

it is always great to have as much

money to put down as possible

before you purchase a home, it's

important to consider many of the

new options available today.

76 FLUENTIAL MAY / JUNE 2017
---
influential-magazine.com

nal 30-year mortgage — can offer

greater flexibility and control to the

home buyer. It allows you to cut the

time needed to save for a down payment

in half, lower your monthly payments

and avoid mortgage insurance,

or increase your purchasing power so

you can buy the home you want.

4Wanting the dream

house right away

Everyone has a picture in their minds

of what their first home will look like.

Whether you envisioned a craftsman

bungalow near all your favorite bars

and restaurants or a classic ranchstyle

home with tons of land and no

neighbors, chances are you're going

to have to trade up to that dream

home from your first starter home.

"If you really like the house, you

probably can't afford it. If you think

the house is just kind of below what

you want it's probably right in your

price range. Get in the market rather

than wait to get the dream house,"

Carr says. Carr advises those in the

hunt for their dream home to focus

on becoming homeowners now

and to wait on their dream home

until they have built up equity and

have higher incomes in the future.

The median tenure of a homeowner

in 2017 is about 10 years, but for

the 20-year period before that it was

only six. Believing that this won't

be your last house can take a bit of

pressure off the home being perfectly

suited for you.

5Not having your

own representation

Another mistake a first-time

homebuyer can make is not having

their own representation (meaning

that they use the seller's agent as their

own buyer's agent). While this is not

always a bad situation, Carr cautions

buyers to be careful that they have

selected a good and trustworthy

real estate agent that is looking after

their best interests. In other words,

you don't want to pay an unfair price

because someone is looking after

their own best interest.

To learn more about the Unison

HomeBuyer program and how it

could help you, visit www.unison.

com/homebuyer. (BPT) l

MAY / JUNE 2017

FLUENTIAL 77
---
IN FLUENCE

Lifestyle

THE LOWDOWN ON

LEASING

A

fter all, it seems very attractive

on the surface — so attractive

that leases accounted for onethird

of all vehicles sales nationally

in 2016. Taking a closer look though,

you may be surprised to see there's

more than meets the eye in some

lease offers. So, here are a few needto-know

nuggets about leasing a car.

Cash Up Front is Required.

If you're thinking that leasing gets

you out of needing cash for a down

payment, think again. That low

IF YOU'RE IN THE

MARKET FOR A NEW CAR,

YOU MIGHT BE THINKING

ABOUT LEASING.

monthly payment you're after comes

with upfront costs like taxes, registration,

tags and other fees all due at signing.

This could cost you thousands of

dollars. And, if you want to lower the

78 FLUENTIAL MAY / JUNE 2017
---
influential-magazine.com

monthly payment even further, you'll

have to put additional funds toward

the cost of the lease to get your payment

where you want it to be.

Bells and Whistles Cost Extra.

Just like when you're buying a new

car, the extras cost more. Advertised

lease specials are usually for the

base model — not the one with

the navigation and safety packages

you're probably coveting. Adding

on all the bells and whistles to your

vehicle will mean higher payments

because that raises the price of the

car. Again, you may have to put an

additional deposit down to land the

payment you think you can afford.

Not Owning Means No Asset.

Leasing is basically renting a car for

an extended period of time — three

to five years or so. Unlike buying a car,

you won't have an asset at the end of

your lease. Which means you'll have

a decision to make: pay the residual

value (the value of the car at the lease's

end) to own the car outright, finance

the residual or turn in your leased car

for another. Regardless, you'll again

need the cash for a down payment or

the upfront costs for your next lease —

whereas with buying a car you'll have

a definitive end to monthly payments.

Once your loan is paid off, you can put

that money toward savings or paying

down debt. Or, you can use your car as

a trade-in on another ride or for cash if

you ever need to sell it.

Once You're In It, Stay In It.

If you get halfway through your lease

and decide it's not for you, you'll

be charged for early termination, something

to keep in mind if your financial

lifestyle changes often. In some

cases, you might be required to continue

to pay all regularly scheduled payments

or your credit could take a hit.

Understand Complex Negotiations.

Understanding how a car loan

works can sometimes be difficult

for a first-timer, and things get even

more intricate when you lease.

Here are a few terms you may hear

during

•

lease negotiations:

Capitalized cost: Cost of the

vehicle

•

today.

Lease term: Length of the lease,

•

usually expressed in months.

Residual value: Vehicle's expected

•

value at the end of the lease.

Depreciation: The difference

between the capitalized cost and

residual

•

value.

Lease factor, or money factor:

Cost of leasing, or interest — usually

expressed as a very small number

such as .003. Multiply this number

by 2,400 to get your interest rate. In

this example, that's 7 percent. As a

note, interest rates on leases tend to

be higher than those on auto loans.

If you want to ace your lease

negotiation, you should study the

vocab and have A+ credit, too.

You may not get the best deal if

you're unsure about your credit

score, leasing terminology or the

calculations mentioned above.

Mind Your Miles.

Depending on how often you get

behind the wheel and how far you

go, you could be forced to make

some lifestyle changes if you lease.

Most leases cap mileage somewhere

between 10,000 and 15,000 miles

per year, or a total of 30,000 to 45,000

miles. Driving over this limit could

cost you up to 25 cents per mile.

If you drive 30 miles round-trip for

your commute, you're traveling 150

miles over a five-day workweek.

That's nearly 8,000 miles just driving

to work each year — 24,000 miles

over the course of your lease.

Depending on your limit, that doesn't

leave much wiggle room for things

like road trips, traveling to sporting

events, chauffeuring the kids to

extracurriculars or even grabbing a

bite to eat downtown. Those things

could be taken off the table if you lease.

If the freedom of driving whenever,

wherever is something you enjoy, a

lease may not be the best option.

The Choice is Yours.

Leasing might be for you if you want

to drive a new car every three to five

years, can drive within the limits and

maintain good credit. On the other

hand, today's cars can easily last 10

years if maintained well, and once

fully paid for, allow you to sock away

monthly payments for other things.

There are sites that offer side-by-side

comparisons of buying and leasing

to help you make the right choice. This

calculator from Navy Federal Credit

Union is just one example. In the end,

it's up to you. Armed with the details

on the real deal of leasing and your

buying options, you're on the road to

making the right choice. (BPT) l

MAY / JUNE 2017

FLUENTIAL 79
---
IN FLUENCE

Lifestyle

GETTING TO THE ROOT OF A

WELL-NOURISHED

LAWN

BEFORE YOU BECOME GREEN WITH ENVY

OF A NEIGHBOR'S LUSH-LOOKING LAWN,

REMEMBER THAT BEAUTY IS MORE THAN JUST

SKIN DEEP – EVEN FOR YARDS. FERTILIZING

WITH THE RIGHT BALANCE OF NUTRIENTS

APPLIED IN THE RIGHT QUANTITIES AND AT THE

RIGHT TIME OF YEAR IS A WINNING COMBINATION

FOR A STRONG, HEALTHY LAWN.

W

ith these tips from

Bayer Advanced lawn

and garden expert Lance

Walheim in your back pocket and

the right fertilizer in your spreader,

your lawn can become the belle of

the block.

When to Fertilize

Application timing depends

on the type of grass you have

and where you live, and it should

coincide with natural growth cycles:

80 FLUENTIAL MAY / JUNE 2017
---
influential-magazine.com

• If you have cool-season grass,

such as Kentucky bluegrass, fescue,

bentgrass or ryegrass, the most

important time to fertilize is in

fall and spring when grass begins

"greening up." Avoid fertilizing

cool-season grasses in the heat of

summer, which could weaken the

turf and promote disease.

• For warm-season grasses, such

as Bermudagrass, St. Augustinegrass,

centipedegrass, zoysiagrass,

bahiagrass and carpetgrass, the

most important time to feed is at

the start of spring, following the

second mowing, through the end

of summer.

Most new lawns don't need to

be fertilized until 6-8 weeks after

planting.

How Often to Fertilize

There are a number of factors to

consider about the frequency of

fertilizing, including the type of

grass, the length of growing season,

the type of fertilizer used and

the quality of the lawn you want.

Generally, you should fertilize every

6-8 weeks, but select fertilizers, like

Bayer Advanced Triple Action Lawn

Fertilizer, that have slow-release

forms of nitrogen can feed lawns for

up to 3 months and ensure they are

nourished at all three layers – grass,

roots and soil.

How Much Fertilizer to Apply

First, decide between wet and

dry fertilizer. For most people, dry,

granular lawn fertilizers are easiest

to apply evenly. Before you buy,

determine the square footage of

your lawn and check bag labels

to determine what's best for your

lawn size, keeping in mind that

application rates are based on

pounds per 1,000 square feet.

Remember, extra fertilizer can be

put back in the bag and saved for a

future application.

How to Use Fertilizer

The best way to apply dry fertilizer

evenly is with a properly operating

fertilizer spreader. How much

fertilizer you apply depends on

the type and model of spreader

you use. Each has settings that are

adjusted according to fertilizer label

recommendations. Avoid fertilizing

by hand, as it can be difficult to

apply evenly.

Fertilizer spreaders come in two

basic types:

• Drop spreaders apply fertilizer

precisely in a band directly below

the spreader.

• Rotary spreaders come in

wheeled and hand-held models

and use a whirling mechanism to

spread fertilizer over a wider area.

Typically, they are less precise than

drop spreaders.

With the right strategy, equipment

and work ethic, it's possible to grow

the lawn of your dreams. Find

more solutions, tips and advice

at bayeradvanced.com. (Family

Features) l

MAY / JUNE 2017

FLUENTIAL

81
---
IN FLUENCE

Lifestyle

HOMEMADE SOLUTIONS

for

PEST PROBLEMS

T

THE BATTLE BETWEEN HUMANS AND PESTS

HAS RAGED ON FOR THOUSANDS OF YEARS,

INCLUDING CAVE DWELLERS WHO MAY HAVE

USED CAMPHOR LEAVES AS MOSQUITO

REPELLENT 77,000 YEARS AGO, ACCORDING

TO RESEARCHERS AT SOUTH AFRICA'S

UNIVERSITY OF THE WITWATERSRAND.

he struggle isn't too different

today, as homeowners

still try home remedies with varying

levels of success. Ron Harrison, Ph.D.,

Orkin entomologist, shares these tips

for effective home treatments.

Fire Ants

Fire ants have painful stingers, so it's

no wonder people try to discourage

them with cornmeal, grits, boric acid,

garlic cloves or cayenne pepper.

Unfortunately, Harrison said these

remedies rarely work because they

seldom eliminate the colony. A pest

control professional targets the

whole colony, specifically the queens.

Things you can do at home include:

• Take away attractive food and

water sources. Clean up outdoor

spills, open food containers, and pet

food

•

and water bowls.

Make fire ants uncomfortable because

they seldom return to the same

spot – mowing over a colony can help.

Flies

Science backs up public perception

of flies being dirty: they carry

twice as many pathogens as a cockroach,

breed rapidly and contaminate

the surfaces and food they

land on. Home remedies like suspending

a clear bag of water outside

don't usually deter them.

To cut down on flies, Harrison

recommends:

• Regularly wiping countertops

and

•

cleaning food and drink spills.

Emptying trash cans frequently.

• Installing screens on doors and

windows.

• Turning on fans.

Mosquitoes

Mosquitoes are the uninvited guests

of summer barbecues. Harrison

said the insects are attracted to

perspiration, some perfumes and

some colognes, but are repelled by

other scents, such as citronella. For

citronella to be effective, Harrison said

the amount of scent you would need

would be almost overwhelming.

To effectively deter these biting

bugs

•

from your yard:

Remove standing water from

gutters, buckets and other areas

where

•

mosquitoes can breed.

Change water in bird baths,

fountains

•

and potted plants frequently.

Thin out vegetation where

adult mosquitoes may live and feed.

Wasps

Most people have developed a wellearned

fear of wasps, which can sting

repeatedly and are poisonous to some.

Harrison said that while wasps may

not like the scent of hanging rosemary

bunches, unless you kill the queen,

she'll continue to reproduce and you

won't achieve much of an impact.

82 FLUENTIAL MAY / JUNE 2017
---
influential-magazine.com

A better way to cut down on

wasp encounters is to get rid of

the proteins and sweets they like to

feed

•

on, so Harrison advises to:

Keep your yard clean of ripe or

rotting

•

fruit.

Clean up after barbecues to

remove

•

leftover meat.

Dispose of sugary drinks before

they

•

can attract wasps.

Install a misting system.

Roaches

The sight of a roach scurrying across

the kitchen floor is enough to send

most people reaching for a shoe or

jumping on a chair. Some people

believe putting out cucumber slices

will repel roaches, while others try

catnip or even ammonia. Harrison

said these remedies are a long shot.

Ammonia applied directly to a

cockroach could kill it, but spraying

baseboards with the household

cleaner won't do much because it's

a volatile compound that dissipates.

Instead,

•

try:

Keeping your home clean and

free

•

of moisture and food spills.

Sealing all cracks and crevices

inside the home, as adult cockroaches

can squeeze through a space

as

•

thin as a dime.

Lowering the thermostat to discourage

German cockroaches, which

like hot and humid conditions.

For more pest prevention tips, or

to bring in a professional to assess

your pest activity, visit Orkin.com.

(Family Features) l

MAY / JUNE 2017

FLUENTIAL 83
---
IN FLUENCE

Lifestyle

SMART TIPS TO PREVENT

IDENTITY THEFT

MORE THAN

13 MILLION U.S.

CONSUMERS FALL

VICTIM TO IDENTITY

THEFT EACH YEAR,

ACCORDING TO

JAVELIN STRATEGY

AND RESEARCH,

WITH MORE THAN

$15 BILLION STOLEN.

FORTUNATELY FOR

CONSUMERS, MANY

OF THESE CRIMES

ARE PREVENTABLE.

84 FLUENTIAL MAY / JUNE 2017
---
influential-magazine.com

"F

alling victim to identity

theft can be financially

devastating for many

consumers, a consequence that only

further emphasizes the importance of

safeguarding your personal information,"

says Guy Abramo, president of

Experian Consumer Services.

The identity protection experts at

Experian recommend the following

tips to better protect yourself.

• Protect your home: Your home is

your castle and identity thieves know

this is where your most valuable

possessions are likely stored. Diminish

your vulnerability by using a safe to

store sensitive information, such as

birth certificates, social security cards

and passports. You should also use a

shredder to reduce your paper trail.

Pay and immediately shred utility

bills, credit card statements and

other paperwork that includes your

personal information.

• Be cautious at work: "Familiar fraud"

is common and occurs when a victim's

identity is stolen by someone he or

she knows. At work, store personal

items like wallets and smartphones

in a locked cabinet. Don't copy or

scan sensitive documents, as memory

functions can save your data. At

night, turn your computer off and

sign out of sensitive sites. Change

passwords often. If you have any

concerns with the way your company

stores personnel records, talk to

your employer or human resources

department about their protocols.

• Get smart with your smartphone:

Smartphones and other devices can

be a data goldmine for identity thieves.

Use locking features on all your

devices, including your laptop. Don't

use automatic login features and

always log off when you are finished.

Always keep your computer's anti-virus

software up-to-date and be cautious

when using public wi-fi. Finally,

when upgrading your mobile device

to the latest model, be sure to scrub

all the data from your old device before

switching to your new phone.

• Monitor your credit: Consider

enrolling in a credit monitoring product

such as Experian CreditWorks,

which offers additional peace of mind

through real-time notifications of

any changes to your Experian Credit

Report. Changes to your report are

important to review, as they may be

signs of fraud. The newest CreditWorks

feature, Experian CreditLock, can be

especially helpful in taking greater

control over your credit information.

This product feature allows you to easily

lock and unlock your Experian Credit

Report in real-time without formally

freezing your credit report, which

can be a cumbersome process.

By locking your Experian Credit

Report, creditors no longer have

access to it (except for soft inquiries

from creditors with whom you already

have a financial relationship),

which means criminals can't apply

for credit in your name. This should

help deter identity thieves, as well as

block unwanted inquiries that result

in extensions of credit, which can impact

your credit scores. In addition, if

a creditor or lender tries to access

your report, you'll receive a real-time

alert via email and app notification

so you can take action immediately.

By safeguarding your information

and monitoring your credit, you can

better ward off the threat of identity

theft. (StatePoint) l

PHOTO COURTESY OF WWW.FREEPIK.ES

MAY / JUNE 2017

FLUENTIAL 85
---
IN FLUENCE

Fashion

SEASONAL TIPS FOR

WARM WEATHER

FASHIONS

U

nabashedly girly shades,

such as pinks and

blushes are dominating

the landscape, while creative construction

and soft materials offer a

variety of comfortable options for

all occasions and lifestyles.

Brittany Moeller, women's buyer

for shoe retailer Off Broadway

Shoe Warehouse, shares some tips

on how to wear the latest trends

during the warm weather months.

Embrace Your Feminine Side

Floaty, floral dresses, lace patterns

and new blush shades are all

trending this season, empowering

women to express themselves

through feminine details with the

utmost confidence. Embroidery

and crochet designs can be found

on everything from shoes to jeans,

as well as jackets, blouses and

t-shirts, which is a subtle nod to

inspirational throwback styles.

Not convinced blush is your color?

Not to worry: Neutrals, creams and

tans also provide a sophisticated

color palette to work with this season.

Express Your Casual Side

"Whether you're looking to take

the Bohemian style to the next level

or you love a cool and sporty outfit,

there are so many ways to pull off a

casual look this season - plus plenty

of footwear to choose from," says

Moeller.Cropped jeans, short sleeve

cotton dresses and graphic t-shirts

can all be complemented by the

latest in outdoor-inspired sandals,

sneakers and slides.

Get Comfortable

Selecting pretty and elegant

fashion options doesn't have to

translate to swollen and sore feet at

the end of the day! In fact, footwear

manufacturers have created clever

ways to deliver more comfortable

choices.

•

Consider this:

Block heels and wedges are on

trend,

•

easy to wear and easy to walk in!

Popular materials, such as velvet

and suede, are comfortable and soft

to the touch.

• Hidden construction features,

such as zippers on the back and

Velcro strapping, make a shoe easier

to slip on - rather than a closure

that isn't designed to "give" when

placing over the foot.

"How you define femininity and

stay casual and comfortable is an

individual choice. This season's

fashion footwear choices cover all

the bases," says Moeller.

To find footwear for any occasion

this spring, check out Off Broadway

Shoe Warehouse. With more than

80 locations from coast to coast,

they offer high fashion styles from

top designer and name brands that

meet today's current trends.

Visit offbroadwayshoes.com for

more information on how to venture

into the warm weather in style.

With so many styles trending

right now, it's easy for anyone to

feel great while wearing the latest

fashions. (StatePoint) l

88 FLUENTIAL

MAY / JUNE 2017
---
influential-magazine.com

FROM COOL

AND CASUAL

TO FEMININE

AND EXPRESSIVE,

THE NEWEST

TRENDS IN APPAREL

AND SHOES

ARE GIVING

WOMEN THE

TOOLS TO EXPRESS

THEMSELVES

THROUGH FASHION

THIS SEASON.

MAY / JUNE 2017

FLUENTIAL 89
---
FASHION EDITORIAL

PHOTOGRAPHY ROCHELLE BRODIN

STYLIST NICOLE DEUTSCH

90 FLUENTIAL MAY / JUNE 2017
---
influential-magazine.com

Julia

Faye

West

kPHOTOGRAPHYS COURTESY OF

BRIAN B HAYES

WWW.INSTAGRAM.COM/BRIANBHAYES_PHOTOGRAPHER

JOHN RUSSO

WWW.INSTAGRAM.COM/JOHNRUSSOPHOTO

ROCHELLE BRODIN

WWW.INSTAGRAM.COM/ROCHELLEBRODINPHOTO/

STYLIST NICOLE DEUTSCH

MAY / JUNE 2017

FLUENTIAL

91
---
FASHION EDITORIAL

92 FLUENTIAL MAY / JUNE 2017

PHOTOGRAPHY ROCHELLE BRODIN

STYLIST NICOLE DEUTSCH
---
influential-magazine.com

PHOTOGRAPHY JOHN RUSSO

FLUENTIAL 93
---
FASHION EDITORIAL

PHOTOGRAPHY BRIAN B HAYES

94 FLUENTIAL

MAY / JUNE 2017
---
influential-magazine.com

MAY / JUNE 2017

FLUENTIAL

95
---
FASHION EDITORIAL

PHOTOGRAPHY BRIAN B HAYES

96 FLUENTIAL
---
MAY / JUNE 2017

FLUENTIAL 97
---
IN FLUENCE

Food & Beverage

COOKING ESSENTIALS:

A PEEK INSIDE

A PROFESSIONAL

CHEF'S KITCHEN

FROM SPICES AND

OILS TO GADGETS

AND GIZMOS,

IT SEEMS LIKE

THERE ARE ALWAYS

NEW, TRENDY ITEMS

THAT YOU SHOULD

ADD TO YOUR

KITCHEN. TRYING

TO SEPARATE THE

HANDY FROM

THE HYPE,

HOWEVER, CAN BE

A TIME-CONSUMING

AND EXPENSIVE

PROCESS.

P

rofessional chefs know

not everything is worthy

of space in their kitchens, but

it's not always easy for home cooks

to figure out what they need and

what they don't. That's why Devin

Alexander, New York Times Bestselling

Author and professional chef, gives

a peek inside her kitchen. Find out

what's really worth your while,

as she shares the top items she

uses, as well as recommends to

her clients to maintain a healthy

lifestyle. Chef Alexander's top

kitchen must-have's include:

Reusable oil sprayer: An oil

sprayer allows you to cook with

fats in a healthful and efficient way.

You can fill the sprayer with your

choice of oil - from olive

to canola to whatever

suits your current

taste preference and

cooking needs.

Kitchen scale: You don't have to

weigh everything, but a countertop

scale is a handy tool that can help you

sustain your healthy eating goals. It's

great for measuring portions of lean

meats, seafood and cheeses, so you

can stay in check while whipping up

recipes or prepping snacks.

Truvia Nectar: "My favorite liquid

sweetener is blended with stevia leaf

extract and honey, and has 50 percent

fewer calories than sugar," says

Alexander. "It's twice as sweet so you

only need half as much when you're

adding it to tea or drizzling it on

yogurt. I also love to use Truvia

Nectar in salad dressings, marinades

and cocktails." Learn more at

www.truvia.com/nectar.

100 FLUENTIAL

MAY / JUNE 2017
---
influential-magazine.com

Oatmeal: Oatmeal isn't just a

morning food, but a healthy way

to add texture to recipes. Use it in

meatballs and baked goods for a

tasty, whole-grain boost.

Cinnamon: Cinnamon is an extremely

versatile pantry essential. Sprinkle

the spice here and there to liven up

your favorite beverages and recipes

without too many added calories.

Cocoa powder: "I'm a huge

chocolate lover! Using 100 percent

cocoa powder, which has minimal

calories and some fiber to boot, is a

great way to get your chocolate fix

while staying fit," Alexander says "You

can add it to oatmeal and sauces, but

the possibilities are endless."

Instant coffee: Did you know instant

coffee can be used for more than just

your morning jump-start? It's a quick

and easy way to give your protein

shakes a java-flavored makeover.

Stocking your home kitchen with the

right items is essential for achieving

your healthy eating goals. (BPT) l

MAY / JUNE 2017

FLUENTIAL

101
---
IN FLUENCE

Food & Beverage

5WAYS TO CURB

FOOD WASTE

A LITTLE

EXTRA TIME IN

THE KITCHEN

BEFORE YOU PUT

GROCERIES AWAY

CAN SAVE A TON

OF TIME OVER

THE COURSE OF A

WEEK. RESEARCH

HAS SHOWN THAT

SHOPPERS WHO

MEAL PLAN AND

PREP HAVE LOWER

GROCERY BILLS

AND MAKE FEWER

SHOPPING TRIPS,

RESULTING IN LESS

WASTED FOOD.

T

aking small steps

like these let you prep

and protect the food you

buy to save money, time and the

environment.

1Store food in plain sight.

It can be easy to overlook newly

purchased foods or leftovers when

you can't see them. Use clear

containers in the refrigerator so you

can easily identify the items you

need when you need them.

2Keep leafy produce fresh

longer. Don't rinse or remove the

stem from leafy produce like kale

before storing. Wrap leaves in dry

paper towels and seal in a Glad

Bag, squeezing out as much air as

possible when sealing. Store cut

kale in a sealed container in the

coldest part of the refrigerator,

and keep items like whole Brussels

sprouts in a bowl covered with

ClingWrap with air holes.

3Make ahead and freeze.

Many foods hold quite

well when frozen. You

can prepare and even

cook many perishable

items ahead of time then

freeze them for use at a

later time. This approach works well for

individual ingredients, complete meals

like casseroles and seasoned meats.

4Repurpose foods that are

fading. Remember that many foods

are still quite useful past their prime.

A brown banana may not make for

an appetizing snack, but it's perfect

for a batch of muffins.

5Make salads and sides ahead

of time. When you arrive home

from the store, whip up some of the

dishes you're planning for the week

to ensure the ingredients are fresh

and you don't run out of time later.

An option like this Shaved Brussels

Sprouts and Kale Salad is sturdy

enough to hold in a tightly sealed

Glad container, dressed, for at least

a day without getting soggy.

Find more tips to help keep your

food fresh for days and reduce

waste at Glad.com.

102 FLUENTIAL

MAY / JUNE 2017
---
influential-magazine.com

Shaved Brussels Sprouts

and Kale Salad

Recipe courtesy of Ayesha Curry

on behalf of Glad

Dressing:

• 3 tablespoons lemon juice

• 1 tablespoon

whole-grain mustard

• 1 teaspoon maple syrup

• 1/2 cup extra-virgin olive oil

• small GladWare container

• kosher salt, to taste

• ground black pepper, to taste

Salad:

• 3/4 pound Brussels sprouts,

ends trimmed, outer leaves

removed and sliced thin

• 1 head Lacinato kale, tough ribs

removed and sliced thin

• 3/4 cup coarsely chopped,

roasted, salted almonds

• 1/2 cup dried cherries

• sealable GladWare container

To make dressing: Place lemon

juice, mustard, syrup and olive oil

in small container or jar and shake

vigorously. Season, to taste, with

salt and pepper, and shake again.

To make salad: In mixing bowl,

toss Brussels sprouts, kale,

almonds and cherries together.

Mix in dressing and toss to coat

evenly. Serve immediately.

If making ahead, store dressed

salad in sealed container for

up to 24 hours. (Family Features) l

MAY / JUNE 2017

FLUENTIAL 103
---
IN FLUENCE

Food & Beverage

WARM WEATHER ENTERTAINING:

SONOMA WINE

TASTING AND

COOKING LESSON

WELCOME WARM

WEATHER BY GATHERING

FRIENDS AND FAMILY.

kPHOTOGRAPHY COURTESY OF

MIRKO – FOTOLIA.COM.

104 FLUENTIAL

MAY / JUNE 2017
---
influential-magazine.com

I

f you are looking to create

a memorable evening,

consider entertaining guests

at home with an instructional wine

tasting and cooking lesson.

Wine Tasting

Keep it classic when buying wines

for your tasting. Choose a winery that

produces varietals that best showcase

its wine region and can be enjoyed

by every level of wine drinker.

One great choice is St. Francis

Winery and Vineyards, a leader in

producing top-quality, sustainable

wines from mountain and valley

vineyards in Sonoma County, CA.

Committed to producing the best

wines possible while protecting the

environment, St. Francis Winery has

established eco-friendly farming

practices to create luscious, fruitdriven

wines that highlight the

terroir of Sonoma County.

Select from a range of crisp

whites such as Sauvignon Blanc or

Chardonnay to juicy Merlot or spicy

Zinfandel. If you are looking to treat

your guests, try the 2014 Sonoma

Valley Reserve Merlot (SRP $39.99),

a lush wine with spicy aromas of

berry, licorice and sage.

During the tasting, instruct guests

to swirl, smell and sip wines. They will

be able to pick out certain aromatics

of soil and fruit of the region. "Clean

air and water, rolling hills, diverse

soils and sustainable vineyards are

captured in the wines from Sonoma,

giving your guests a sense of place

while tasting," explained Christopher

W. Silva, CEO and president of St.

Francis Winery and Vineyards.

Cook Together

After tasting wines, show off

your hosting skills by leading a

group cooking lesson. This is an

entertaining way to test your guests'

skills in the kitchen. An easy groupfriendly

recipe is delicious Pizzettas

(mini pizza rolls). Developed by the

St. Francis Winery and Vineyards

Culinary Team. This appetizer pairs

perfectly with the Reserve Merlot.

Pizzettas

(mini pizza rolls)

Serves 6

Ingredients:

• 6 Italian sausages, cooked

•1 package puff pastry

•1 egg, slightly beaten

•1/2 cup marinara sauce

•1/2 cup grated Parmesan cheese

Preparation:

• Preheat oven to 450 degrees.

• On a floured board, roll out the

puff pastry until 1/6 inch thick.

• Wrap each sausage in a piece

of the puff pastry.

• Add a few drops of water to

the egg. Seal the roll and brush

the egg wash over each roll.

• Spray a cookie rack with non-stick

spray. Place rack on a cookie sheet.

• Place the sausages on the rack

and bake in oven for 20 minutes

or until the puff pastry is golden

brown.

• Let the sausage cool to room

temperature. Slice the sausage into

rounds about 1/8 inch thick.

• Arrange slices on a serving platter.

• Place a dollop of the marinara

on the sausage rounds and sprinkle

with Parmesan cheese.

Heat rounds in the oven until

the cheese becomes soft.

Enjoy your special gathering this

season by entertaining guests with

interesting wines and delicious

appetizers to match. (StatePoint) l

MAY / JUNE 2017

FLUENTIAL 105
---
IN FLUENCE

Technology

P

3WAYS SENIORS CAN

GET MORE FROM

THEIR SMARTPHONES

hones these days

aren't what they used to

be -- but that's for the best,

as smartphone technology can

actually improve your life. Here are

three easy ways that seniors can get

more from smartphones:

1"Read" audiobooks.

Whether your hands are tied

up gardening or cooking, or you

simply want to give your eyes a rest,

consider listening to books on your

smartphone. You can purchase

audiobooks a la carte or opt for

a subscription plan, which offers

deals, such as unlimited selections

for a flat monthly fee.

Features like bookmarks and

back buttons make it easy to "flip

through" a digital audiobook.

2Use health apps

to manage conditions.

Well-designed health apps

can help patients manage

their conditions. For example,

ArthritisPower, a free app for

patients with arthritis, allows

users to track symptoms and

treatment outcomes, and share the

information with their doctors.

Created by CreakyJoints, a goto

resource for arthritis patients

and their families, in collaboration

with the University of Alabama

at Birmingham, the app is

also a data-gathering tool for

researchers. Via informed consent,

user data is helping researchers

better understand how different

treatments work for different

people.

"One out of every five U.S. adults of

all ages lives with doctor-diagnosed

WITH THE RAPID

PACE OF NEW

DEVELOPMENTS

IN SMARTPHONE

TECHNOLOGY,

IT CAN BE HARD

TO KEEP UP WITH

ALL THE CHANGES,

ESPECIALLY IF YOU

GREW UP IN AN

ERA WHEN PHONES

WERE ATTACHED

TO A CORD.

arthritis and it's important that

patients actively engage in

managing their own treatment

plan," says Seth Ginsberg, President

and Co-Founder of CreakyJoints

and Principal Investigator of

ArthritisPower.

To download the free app or learn

more, visit arthritispower.org.

108 FLUENTIAL MAY / JUNE 2017
---
influential-magazine.com

3Video chat

with loved ones.

Talk and see grandkids and other

far-flung friends and loved ones

between visits with video chatting.

It's the perfect way to ensure you

don't miss important milestones.

Many such video communications

services are free, even internationally,

and can present affordable

alternatives to placing long-distance

calls on a landline.

Your smartphone is the world at

your fingertips. Make great use of it.

(StatePoint) l

MAY / JUNE 2017

FLUENTIAL 109
---
IN FLUENCE

Technology

THE DATA DILEMMA:

HOW TO CHOOSE

A MONTHLY PLAN

B

uy too little and you

could end up socked with

overage fees, or find your

data speeds slowed significantly.

The average U.S. wireless customer

consumes about 1.8 gigabytes (GB)

of data each month, far below what's

included in many standard wireless

plans. As a result, many carriers are

beginning to shift away from rigidly

structured monthly data allowances.

Consumer Cellular, for instance, offers

no-contract plans tailored to the

50-plus crowd that allow you to change

your data plan whenever you need,

without paying any additional fees.

Whether you're a heavy or a light user,

the data plan you choose represents

a significant part of your investment

in wireless service. By understanding

some of the basics, as well as the potential

pitfalls involved, you're sure to

find the plan that's right for you.

How It's Measured

Anytime you send email,

download a photo, stream video,

HOW MUCH DATA DO YOU

REALLY NEED ON YOUR

MONTHLY CELLULAR PLAN?

BUY TOO MUCH AND YOU'RE

SIMPLY WASTING MONEY.

view a web page, or post on social

media, your phone is sending or

receiving data. A megabyte (MB)

and the larger gigabyte (GB) are the

units used for measuring data.

It's hard to determine exactly how

much data an activity consumes,

since file sizes and download times

can vary significantly. As a general

rule, for most cellphones, one

megabyte of data is typically required

to

•

perform each of these tasks:

Sending or receiving 50 emails,

without attachments;

Streaming 2 minutes of music;

•

Viewing one web page;

Posting three photos to your

Facebook page;

• Watching 30 seconds of video

on YouTube.

One gigabyte, equal to 1,000

megabytes,

•

is consumed by:

Sending or receiving 50,000

emails (without attachments);

Streaming 33 hours of music;

•

Viewing 1,000 web pages;

Posting 2,800 photos to your

Facebook

•

page;

Watching more than 8 hours of

video on YouTube.

Tracking Your Usage

The best way to accurately assess

your cellular data use is to review your

monthly bill, which provides precise

details about your utilization. Most carriers

now even offer mobile account

management apps so you can keep

tabs right from your phone. This will

give you a feel for how much you're

actually consuming, and let you develop

an accurate forecast for the future.

In addition, both smartphone and

iPhone models give you the ability

to track overall usage, as well as the

110 FLUENTIAL MAY / JUNE 2017
---
influential-magazine.com

individual usage of specific apps,

right from the Settings menu on your

phone. You can choose to receive

usage alert notifications from your

carrier, either by text or email. These are

helpful reminders that are triggered

when you've used certain percentages

of your monthly allotment of data. It

helps to eliminate surprises and avoid

running over your plan.

Unlimited Has Its Limits

Regardless of how closely you track

it, your data needs can fluctuate

wildly from month to month. This is

often due more to life events than

technology; you might be in more

places with Wi-Fi access one month

versus the next. As a result, some cellular

companies will push you to sign

up for plans with a higher data cap,

including expensive "unlimited" plans.

Like an all-you-can-eat buffet,

most "unlimited" plans are more

enticing than practical. In fact, some

carriers promising "unlimited data"

will actually limit your high-speed

data to just a couple of gigabytes

per month. Once you use up that

allotment, you'll have unlimited

access, but it's at much slower

speeds. This makes it more difficult

to load pages quickly, or to stream

video, even though you're paying a

premium for "unlimited" access.

The Choice

is Always Yours

Cellular competition is fierce, so

make sure you get what you pay for.

Before you buy an unlimited plan,

shop around. You may very well find

a less costly plan that offers far more

data than you're likely to use.

Ultimately, your choice will be

driven by the type of data user

you are, or at least the one you

plan to be. Invest time in a little

analysis of your current habits.

You'll come away with the

information you need to find the

plan that fits both your needs

and your budget. (BPT) l

MAY / JUNE 2017

FLUENTIAL

111
---
IN FLUENCE

Travel

A SOUTHEAST

AS

114 FLUENTIAL MAY / JUNE 2017
---
influential-magazine.com

HAVING SEEN PHOTOS

OF ANGKOR WAT IN

SIEM REAP, CAMBODIA

I KNEW I HAD TO VISIT.

I'VE BEEN OBSESSED

WITH HISTORY, ANCIENT

CIVILIZATIONS, AND

OLD ABANDONED

TEMPLES, CASTLES,

AND RUINS. IT HAS

FASCINATED ME TO

SEE THE STRUCTURES

AND BUILDINGS,

AND IMAGINE HOW

PEOPLE LIVED IN THEM.

---
IN FLUENCE

Travel

the intricate beauty and precise details of the carvings

and stone work. It's something you must see to really

understand and appreciate. It's still one of the most

fascinating places I've seen.

biggest and best (in my opinion) Wat in Chiang Mai,

Wat Doi Suthep. I explored and found some amazing

treasures at the night markets for next to nothing.

Next on the itinerary, was Cambodia, the place I was

excited most to visit. I'd awaken every day at 4:30 a.m.

to get ready and get to Angkor Wat by 5:30 a.m. for

sunrise; Angkor Wat and the other temples are majestic

at that hour and so mysterious. After exploring every

crevice of Angkor Wat and Angkor Thom, I hired a tuk

tuk driver for the rest of the day to drive me to all the

other temples. Wisely I planned on two full days to see

them all without rushing. I can't describe adequately

Next on the itinerary, a visit to Malaysia for two days

to shop and see the Batu caves. The shopping mall

was incredible as were the twin Petronas towers, but

I was quite disappointed with the Batu Caves and

the rest of Kuala Lumpur as there isn't much else to

see. I recommend dedicated no more than one day

visiting this location and explore the Caves and see

the mischievous monkeys. Watch your cameras and

jewelry as the monkeys will steal anything they can

from you. After Kuala Lumpur, onward to Singapore

to stay at my bucket list hotel "Marina Bay Sands", the

popular hotel with the hugely long rooftop infinity

pool that looks over the Singaporean skyline. This hotel

116 FLUENTIAL

MAY / JUNE 2017
---
influential-magazine.com

MAY / JUNE 2017

FLUENTIAL

117
---
IN FLUENCE

Travel

was pricey but so worth the experience; sadly unless

you're a hotel guest you're not even permitted access

to the infinity pool. I wandered across to "Gardens by

the Bay" to experience its beauty and then back to

Thailand to explore the islands. Singapore was so nice,

clean, and super safe. It's a city to stop through again

for a full day or two. I found it to be the safest and

cleanest city visited.

The islands in the South of Thailand were lovely. I

loved Krabi the most. Phi Phi was so beautiful but you

must go early to avoid the crowds. Monkey Beach

was amazing as you get to play with all the monkeys.

I was onward by flight to the stunning Thai island of

Koh Samui. I recommend staying on the north side

of Koh Samui, as the south is for honeymooners

with a lot less activities to do. You must do the early

morning temple hike. There are stunning views of the

Thai coast, the sunrise is amazing and you may get

lucky and have a little doggy companion to walk up

the 1,200 plus steps with you.

I adored my exploration of lovely sites of Southeast

Asia and can't wait to go back for another thrilling visit

very soon. l

118 FLUENTIAL MAY / JUNE 2017
---
influential-magazine.com

MAY / JUNE 2017

FLUENTIAL

119
---
IN FLUENCE

Fashion

PRESENTING

KATY

JOHNSON

THE STUNNING ACTRESS, MODEL,

SHOW HOST, AND WORLD TRAVLER.

kMODEL KATY JOHNSON

WWW.INSTAGRAM.COM/IAMKATYJOHNSON/

PHOTOGRAPHY COURTESY OF EDUARDO CEBALLOS

120 FLUENTIAL

MAY / JUNE 2017
---
influential-magazine.com

MAY / JUNE 2017 FLUENTIAL 121
---
IN FLUENCE

Fashion

122 FLUENTIAL
---
influential-magazine.com

MAY / JUNE 2017

FLUENTIAL 123
---
IN FLUENCE

Fashion

PHOTOGRAPHY EDUARDO CEBALLOS / SHANDREW PR

124 FLUENTIAL

MAY / JUNE 2017
---
influential-magazine.com

MAY / JUNE 2017

FLUENTIAL 125
---
IN NETWORK

People You Should Know

ARASH BERELIANI,

MD, FACC

Cardiologist & Internist | Beverly Hills Institute for Cardiology

& Preventive Medicine | Beverly Hills, CA. Associate Professor

| UCLA's David Geffen School of Medicine | Los Angeles, California

Who He Is: A well-known Cardiologist who has dedicated his

life to creating a new diagnostic algorithm combined with a very

unique and effective integrative treatment plan to PREVENT as

many heart attacks as possible and to change the demographics

of heart disease as the number one killer. His personal belief is

that no one should die of a heart attack before reaching 100. Ultimately

he hopes to one day eliminate, or at least significantly

reduce heart attacks and strokes around the world.

A Specialized Cardiologist: Unique In His Field: His father and

brother suffered from serious heart diseases, which prompted

him to become a cardiologist. He specializes in PREVENTIVE cardiology

and created a very unique algorithm that can predict a

person's risk of heart attack within the next 5 and 10 years.

Importance Of Research: Because of active research, we can

now identify many genetic causes of heart disease and create

treatments for them. Another great example active research, is

using stem cell technology to reverse and regenerate parts of

the heart that died after a heart attack (in other words, in the

very near future we will be able to reverse a heart attack!).

Knowledge is Key: He teaches and has been very involved in

teaching medical students, residents and cardiology fellows since

2003. He has regular speaking events in communities around

Los Angeles where he educates ordinary people about preventing

heart disease and stroke. Philanthropic endears include

creating a non-profit organization to raise money for low income

families to get proper testing and treatments for heart disease

Rewards: Especially passionate about his new program, called

HAPI (Heart Attack Prevention Institute), created based on 14 years

of research and experience. He considers taking care of patients

a privilege and is extremely fortunate to be able to make such a

profound difference in people's lives. He considers himself extremely

successful judging by his many loyal patients, but more importantly

by the fact in his almost 15 years of practice he hasn't

had one patient under his care who has suffered a heart attack.

126 FLUENTIAL MAY / JUNE 2017
---
influential-magazine.com

SANDRA CIMBRICZ,

PH.D.

Director of Research and Learning Design,

Second Avenue Learning | Rochester, New York

Who She Is: Sandra has built her reputation as a learning

design expert with a specialty in digital learning.

She is known for her efforts to reform educational policy

and practice in K-12 and higher education, as well

as her ability to translate cutting-edge theory and research

into practice.

Passion For Education: Efforts to infuse game-based

learning into instructional design reflect her longheld

commitment to helping learners gain the skills

they need to enhance their lives and our world. Educational

gaming and well-designed interactives feature

learning more in line with what today's learners

value and greatly need – imaginative engagement,

persistence, sustained interest, timely feedback and

frequent collaboration.

Why Now is The Time To Innovate Education:

When it comes to learning, video games and their

powerful interactivity have been 'game changers.'

Current research suggests that learners are 'hardwired'

to learn through play, experimentation and

interactivity. Today's technology provides learners

with a medium that enables interactive learning

and provides reliable data to measure the impact of

the tools they are using. What's clear: Strategic use

of game-based learning is likely to more effectively

engage, excite and motivate learners.

Desired Legacy: Sandra wants her love of fun and

games, but especially learning, to be remembered.

Her legacy will be evident by the solutions she develops

to engender highly-engaged learners and make

greatness attainable by all, especially those who struggle.

For Sandra, her goal is to transform, not merely

change, education.

MAY / JUNE 2017

FLUENTIAL 127
---
IN NETWORK

People You Should Know

KEN COLLIS

CEO | TLK Fusion | Los Angeles, California

Who He Is: Ken is the definition of what most would

want their boss to be. He is kind, energetic, and driven

to not only produce results for his clients, but also his

employees. A rare trait amongst corporate America

where stories of cost cutting abound for the benefit of

already swollen coffers.

Appeal Of The Finance Industry: From years of marketing

experience at Clear Channel to his monumental

success with the development of a partnership

with Authorize.net, Collis has always had an affinity

for building successful platforms for businesses. A

seeker of knowledge, he maintains his edge through

daily self-improvement through reading educational

books pertaining to marketing and business.

Power Of Mentorship: Mentorship could be considered

the keystone to Collis' business management

approach. He invests time each week to spend time

with, and educate his employees to mold them into

more successful individuals. He desires for the improvement

of all of his employees and it shows with the

careful attention he provides to them.

Important To Be Adaptable: Collis' has realized first

hand, the necessity of being adaptable. In a world

traditionally governed by physical marketing and telemarketing,

the digital revolution certainly weeded

out those who were incapable of adapting. His desire

to be on top of things has enabled his company to not

only survive, but thrive in the modern world.

128 FLUENTIAL MAY / JUNE 2017
---
influential-magazine.com

JOHN FAGERHOLM

Employer Defense Attorney | Los Angeles, California

Who He Is: John is an entrepreneur and business

expert with a bar card to practice law, but is most interested

in the business of law. Lessons learned from

the successful practice of law enhance his understanding

of what works and what does not work. Lessons

continue to provide a valuable educational resource

to hone legal and business expertise.

Lessons Learned As Entrepreneur: It's important to

know your clients and understand their habits, and be

adaptable. These attributes are of particular importance

for prospective new business owners who need

to develop a deep understanding of their customer

base, preferably before they start selling. Fagerholm

says, "You can have the best product or service, but if

you have little understanding of your customer, your

selling may not be as effective as it could be".

Importance Of Empathy: Besides making you human,

empathy and sympathy will help connect you to your

customers, employees, partners and anyone else involved

in your business. Fagerholm says, "Outside of business, I

have had countless inspirations from hearing stories from

others about a problem. Applying empathy allows for the

exchange of more data. Often new products and services

are born out of an attempt to solve problems".

Noteworthy Strength: His ability to navigate

through fear. He makes an effort to "Spock" everything

potentially having risk. He removes the emotion and

determines if the reward is worth the risk, and that is

the extent of it. He's not without fear. He is human. He

just understands why it's there and doesn't allow it into

his daily life.

Meaning Of Success: Success means leaving a

legacy of helping others help themselves. Success

means focusing on leaving something good behind

which others can model as a reference to obtain their

success. Success means doing something great with

the time each is allotted on earth.

MAY / JUNE 2017

FLUENTIAL 129
---
IN SOCIETY

EVENT GUIDE

MAY

30

7

S M T W T F S

Native Landscape

Walking Tour

2 – 3 PM

Elisabet Ney Museum

304 E 44th St, Austin,

Texas 78751

14

21

7:30 – 11 PM

Frank Erwin Center

28

1

Cannon + Belle

Presents Texas

Winemaker Series

With Duchman

Family Winery

6:30 – 10 PM

Cannon + Belle

500 E 4th St, Austin,

TX 78701

8

ImprovEd Arts Studio,

10111 Oliver Drive,

Austin, Texas 78737

15

Parade of Home 2017

May 12, 11 AM

May 29, 7 PM

The Peninsula

at Rough Hollow

903 Highlands Blvd.

Lakeway, TX 78738

22

Parade of Home 2017

May 12, 11 AM

May 29, 7 PM

The Peninsula

at Rough Hollow

903 Highlands Blvd.

Lakeway, TX 78738

29

Parade of Home 2017

May 12, 11 AM

May 29, 7 PM

The Peninsula

at Rough Hollow

903 Highlands Blvd.

Lakeway, TX 78738

2

The 2017 iACT

Hope Awards

6 – 9 PM

The Bullock Texas State

History Museum

9

May 3 – Sunday, May

Dry Society Styling

Lounge 10622 Burnet

Rd #200

Austin, TX 78758

16

Various Locations

More information

and other events:

www.austinsocialplanner.com

23

30

3

Doing the Most

Good Luncheon

11:30 AM – 1 PM

JW Marriott Austin

110 E. 2nd St

10

17

24

31

W Austin Hotel

and Residences

2nd Street District,

200 Lavaca St,

Austin, TX 78701

W Austin Hotel

and Residences

2nd Street District,

200 Lavaca St,

Austin, TX 78701

W Austin Hotel

and Residences

2nd Street District,

200 Lavaca St,

Austin, TX 78701

4

11

18

25

1

7 – 10 PM

Dougherty Arts Center

1110 Barton Springs Rd

Austin, Texas

Hot Luck:

Hi, How Are You

6 – 9 PM

Franklin Barbecue

900 E. 11th

Austin, TX 78702

7 – 11 PM

St. David's Episcopal

Church – Bethell Hall

5

12

Various Locations

More information

and other events:

www.austinsocialplanner.com

19

7:30 – 9:30 PM

Private Home in West

Lake Hills - Address will

be emailed to you out of

respect for host's privacy

26

Parade of Home 2017

May 12, 11 AM

May 29, 7 PM

The Peninsula

at Rough Hollow

903 Highlands Blvd.

Lakeway, TX 78738

2

6

Congenial Heart Walk

8 AM – 12 PM

Travis County Expo Center

7311 Decker Lane

Austin, TX 78724

13

Round Rock: The

March of Dimes Run

for Babies

7 AM – 12 PM

Old Settlers Park,

Round Rock

3300 E Palm Valley Blvd,

Round Rock, TX 78665

20

27

Lago Fest: Boats,

Beats, Arts, & Eats

1 – 9 PM

Bar-K Park, Lago Vista, TX

3

132 FLUENTIAL MAY / JUNE 2017
---
influential-magazine.com

EVENT GUIDE

JUNE

28

S M T W T F S

29

30

31

1

2

3

7 – 11 PM

www.leadershipaustin.org

2 – 8 PM

Wimberley Glassworks

6469 Ranch Road 12, San

Marcos, TX 78666

4

5

6

7

8

9

10

Maudie's Moonlight

Margarita Run and

Party

8 – 11 PM

Seaholm Power Plant

AYC Casino Social

(Havana Nights)

6 – 11 PM

Brazos Hall

Leukemia & Lymphoma

Society's Man & Woman

6 PM – 12 AM

JW Marriott, 110 E 2nd St,

Austin, TX 78701

11

12

13

14

15

16

17

Wendy Davis to Headline Young Women's Leadership Challenge

Monday, June 12, 9 AM – Saturday, June 17, 2017, 6 PM

University of Texas at Austin

Solstice Festival

Thursday, 15, 7 PM

Saturday, 17, 2017,

11:55 PM

Pan Am Park

2100 E. 3rd St

Austin, TX 78702

5 – 9 PM

Neofauve Gallery

18

19

20

21

22

23

24

25

26

27

28

29

30

1

More information and other events: www.austinsocialplanner.com

MAY / JUNE 2017

FLUENTIAL 133
---
IN SOCIETY

SEEDLING'S

FAB FIVE 2017

AN EVENING GALA HONORING FIVE LOCAL HEROES

GIGI BRYANT, JOHN-MICHAEL CORTEZ,

DAN GRAHAM, HONORABLE JULIE KOCUREK,

DICK RATHGEBER

kPHOTOGRAPHY COURTESY OF RUBEN MORALES PHOTOGRAPHY (EXCEPT WHERE NOTED).

O

n Saturday, March 25, hundreds of enthusiastic

guests gathered at the Westin at the Domain

in warm and cheerful Austin, Texas to honor

Seedling's FAB Five 2017.

This annual event hosted by Seedling honors five

exceptional people who have had a significant

impact on young people in our community. The

goal for Austin's Fab Five is to raise funds for the

Seedling Mentor Program and build awareness in

the community for children of the incarcerated.

Although Seedling, through its much needed

program, will support over 600 students in grades

K-8 this year, over 150 kids are waiting to participate

1 2

in the mentorship program. Helping to make the

evening memorable was Olga Campos who was the

EMCEE, Yves Rojas (of Survivor fame!) who was the

Auctioneer, live magic from Tina Lenert, hilarious

comedy from Anthony Griffin, and wonderful

opening and closing acts from the ZACH Theater

Elite Performers.

Proceeds from the event will help reduce the waiting

list and provide hope and a future for children who

have lost a parent to incarceration. Learn more about

Seedling Foundation and how you can become

involved by visiting www.seedlingfoundation.

wordpress.com. l

134 FLUENTIAL MAY / JUNE 2017
---
influential-magazine.com

3 4 5 6

9

7 8

10

11 12

1) Members of the FAB 5: John Michael Cortez, Gigi Bryant, Dick Rathgeber

and Dan Graham

2) Member of the FAB5: Judge Julie Kocurek (in the black and crème spotted

top and dress), Clara Sherman, Hasie Sherman, Annie Temple and Ashley Crider

3) Becky Wood and Diana Maldonado 4) Olga Campos, Master of Ceremonies

5) Business Logo (Candid photograph) 6) Mayor Steve Adler

7) Elizabeth Cates and Carlos Gonzales Castanon, Honorary Consul of Spain

8) Bryce & Shelley Meares 9) ZACH Theatre 10) Mary Stone and Joel Stone

11) Mentee Speaker Shavanaka Ross and Seedling Mentor Alvenetta Henry

12) Dan Graham (Candid Photograph)

MAY / JUNE 2017

FLUENTIAL 135
---
evolución

ANNA

FUSONI

FABIANA

LIZARRAGA

JAVIER

SCHANZ

"HAVI"

ANTONIO

MORA

IVÁN

GARCÍA

ROCHELLE

BRODIN

DARIA

BELIKOVA

MÓNICA

ARREOLA

BY SADA

CARLOS

CAMPOS

Christian Colorado

Colección NINGYØ
---
Spanish

Esta revista no sería posible

sin el equipo InFluential

David E. Venegas Q.

Editor Junior Spanish InFluential

Comunicador social

medium.com/@david.ve

@Venegas_D

editorspanish@influential-magazine.com

Mención impreso, graduado

de la Universidad Católica

Santa Rosa en Caracas.

Además de la fotografía y el arte

de la literatura narrativa, se ha

desempeñado en periodismo

gastronómico. Ha realizado

trabajos especiales para revistas

de economía, negocios, publicidad

y mercadeo. Desea, algún día,

convertirse en novelista.

DISEÑADOR

CHRISTIAN COLORADO

facebook.com/christiancolorado.co

@christiancolorado.co

FOTOGRAFÍA

GATO RIVERO

www.gatorivero.com

ESTILISMO & MAKE UP

ROVERT STEVENS

@robertfashionmakeup

MODELO

SMITHSON SMITSON

@smithsonsmith

Edimar Torres

y Alvenis Gudiño

Ingeniero en sistema

y publicista

Fundadores de @dulceequilibrio

Respectivamente, ambos

runners de corazón,

amantes de la cocina saludable

y creen que la mejor receta

para la vida es sonreír.

Twitter:

@EdimarTorres

@AlvenisG

138 SPANISH FLUENTIAL MAYO / JUNIO 2017
---
COLABORADORES

influential-magazine.com

Argenis Gudiño

Diseñador gráfico

Presidente de What Taller Gráfico

agudino@whatgrafico.com

rpspanish@influential-magazine.com

@centaurusve

Empresa dirigida al diseño

editorial y comunicación visual.

Ex profesor universitario

en el área de diseño en

el Colegio Universitario

Monseñor de Talavera.

Amante de la fotografia

de paisajes y de la buena

comida. Fiel creyente

que los seres humanos

atraen su propia suerte.

Nixon Ruiz

Diseñador gráfico

TSU en Mercadeo, artista

plástico, ilustrador y estilista

@briamcute

Nixon.Ruiz

Nick Ruiz Alvarez

Actualmente es maquillador

de Revlon Venezuela, Kiko

(marca italiana de cosméticos),

Peggy Sage (marca francesa

de maquillaje) y Loreal

Paris Venezuela.

Fabbiola Palumbo

Editora Fashion Junior

Spanish InFluential

Consultora y asesora de imagen

@FabbiolaPL

Selección de guardarropas a

Gerentes, CEO´s y sus esposas;

también realiza Styling,

selección del vestuario

en las campañas publicitarias.

Trabaja en Consultores

Neurosales, empresa que

se encarga de cooperar en

la capacitación y construcción

de organizaciones de

excelencia humana a través

del Aprendizaje Transformador.

Giuseppe Paladino

Terapeuta sistémico

y especialista en feng shui

www.giuseppepaladino.com

gpaladinob@gmail.com

Twitter/Facebook/Instagram

@gpaladinob

A través de las constelaciones

familiares realiza consultas

individuales, en grupos o

empresas que están atascados

en problemas o situaciones

que no han podido resolver.

Busca soluciones por medio

de una nueva visión.

Dr. Miguel Sira

Médico cirujano

www.solterosdrsira.com

Egresado de la Universidad

del Zulia. Médico sexólogo,

graduado del Centro de

Investigaciones Psiquiátricas,

Psicológicas y Sexológicas

de Venezuela. Expresidente

de la Sociedad Venezolana

de Sexología Médica, entre

1998 – 2001. Productor Nacional

Independiente y conductor

del programa "Piel Adentro",

transmitido por 92.9FM, desde

el año 2004 hasta la actualidad.

Marcelo Gálvez Leiva

Fitness profesional

@MarceloGálvez

marcelogalvezleiva@gmail.com

Más de 34 años de experiencia

en la práctica y entrenamiento

del wellness, triatlón, running,

ciclismo y life style, vocero

del desarrollo práctico

del wellness training. Ha

competido como corredor de

la Milla Olímpica y el Aerobics

Competitivo de Resistencia.

Triaclonista IM, 70.3 o HALF IM,

triaclonista olímpico y sprint.

Julio Romano

Licenciado en Mercadotecnia

Universidad UVM (Universidad

del Valle de México)

www.studiorm7.com.mx

Director Comercial (StudioRM7)

Coordinación de campañas,

Asesor de campañas

digitales, creación de

estrategias digitales e imagen,

capacitación de ventas,

negociación de medios de

comunicación, Coordinación

de eventos, elaboración

de medios impresos.

MAYO / JUNIO 2017 SPANISH FLUENTIAL 139
---
Spanish

RELLENOS

faciales

A FINALES DEL SIGLO XIX

SE COMENZARON A UTILIZAR MATERIALES

DE RELLENO CON FINES MÉDICO-ESTÉTICOS.

SE DESCUBRE LA SILICONA Y SE EMPLEA

EN DIFERENTES GRADOS DE DUREZA

PARA DIFUMINAR LAS ARRUGAS

Y DAR VOLUMEN A ZONAS

DEL ROSTRO Y EL CUERPO

142 SPANISH FLUENTIAL MAYO / JUNIO 2017
---
SALUD

influential-magazine.com

kPOR DR. PEDRO GRAJEDA LÓPEZ

CIRUGÍA PLÁSTICA, ESTÉTICA Y RECONSTRUCTIVA

CONSEJO MEXICANO DE CIRUGÍA PLÁSTICA

Y RECONSTRUCTIVA

| www.facebook.com/Pedro.GrajedaLopez.3

| drpedrograjeda@hotmail.com

No obstante, las complicaciones inmediatas y

tardías superaron, por mucho, los beneficios

de esta sustancia. Así que, paulatinamente,

se incluyeron otros tipos de rellenos como la

hidroxiapatita y el ácido hialurónico.

Estos elementos pueden clasificarse de acuerdo a

su origen (bovino, porcino y humano), presentación

(gel, líquido o gelatinoso) y profundidad de aplicación

(intradérmicos y subcutáneos). Por otro lado, los

rellenos faciales se pueden ordenar dependiendo a su

permanencia temporal o biodegradable, semipermanente

y permanente. El punto de encuentro es que todos son

productos sanitarios, es decir, no ejercen acción por vía

farmacológica, inmunológica o metabólica.

MAYO / JUNIO 2017 SPANISH FLUENTIAL 143
---
Spanish

Presentamos un resumen con los detalles más

sobresalientes de cada uno.

Biodegradables

• Ácido hialurónico

Es un componente natural de la matriz celular

en todas las especies. Otorga agua y elasticidad en

la piel y, por lo tanto, aumenta el volumen de los

tejidos. Su origen puede ser animal o biológico (a

partir de ingeniería tisular) con el gran beneficio de la

eliminación de impurezas inmunológicamente activas.

El ácido hialurónico es el relleno temporal más usado

con fines estéticos: difumina las arrugas, da volumen

a las regiones malares, los surcos nasogenianos, el

mentón, los labios y otros lugares. Su uso es gratificante

para el paciente y para el cirujano plástico, porque el

porcentaje de reacciones inflamatorias prolongadas

es menos del 3 %. Sin embargo, la clasificación más

interesante responde al tipo de permanencia.

• Colágeno

Constituye entre el 70 y el 80 % de la dermis humana

y proporciona gran fuerza a la misma. Su origen puede

ser humano, bovino o porcino, y al igual que el ácido

hialurónico se utiliza con fines estéticos, produce

resultados naturales y mejora la calidad de la piel. Pero

se debe tener en cuenta que su duración es corta. El

colágeno de origen animal produce efectos agudos o

crónicos a pesar de las pruebas negativas para este fin.

• Agarosa

Es un polisacárido que al entrar en contacto con

el agua, se polimeriza y transforma en un

gel que se inyecta fácilmente. Su uso

es estético y el efecto es más duradero

que los otros elementos

biodegradables. Los

resultados de la aplicación

son más notorios

debido a la gran respuesta

inflamatoria.

Semipermanentes

• Ácido poliláctico

Es un implante cutáneo liofilizado (cristalizado)

reconstituido con agua estéril para ser inyectado.

Después de la aplicación, se activa una fibrosis que

devuelve la densidad al tejido, pues estimula la

producción de colágeno. Esta sustancia es útil en

pacientes con lipodistrofia secundaria a HIV; sin

embargo, suele dejar nódulos palpables pero

no visibles en el sitio inyectado.

• Hidroxiapatita de calcio

Son pequeños gránulos en un vehículo de

gel, agua, glicerina y carboximetilcelulosa.

Su función inicial es rellenar (0-3 meses) pero

luego aumenta el volumen de la zona gracias

a la estimulación de fibroblastos. Está enfocado en

tratar arrugas superficiales y profundas, y aumenta las

144 SPANISH FLUENTIAL MAYO / JUNIO 2017
---
SALUD

influential-magazine.com

mejillas y el mentón. No obstante, produce reacciones

inflamatorias sostenidas, pero tiene una permanencia

entre 18 y 24 meses.

Permanentes

• Poliacrilamidas

Gel hidrofílico que actúa por encapsulamiento y se

inyecta profundamente en la grasa, tejido subcutáneo

o musculo. Se utiliza para aumentar los glúteos y las

mamas, también en lipodistrofias secundarias a HIV.

Los efectos son permanentes, pero cuando se aplica

en las mamas se han reportado casos de infamaciones

de larga evolución y migración.

• Polimetacrilato

Se inyecta en un nivel de subdermis profundo mediante

la técnica de tunelización retrograda. Requiere

de aplicación y remodelación, y se maneja en dos

o más sesiones. Actúa por relleno, encapsulamiento

y fibrosis. Se aprovecha en los labios, en las arrugas,

en los surcos del mentón y en los pómulos. Sus beneficios

son permanentes, pero puede causar inflamación

sostenida, desplazamiento y nódulos en el

tejido circundante.

El material ideal de relleno no existe. En las aplicaciones

se revelan reacciones no deseables en todos los

agentes: en los biodegradables las complicaciones

son leves; en los semipermanentes son moderados,

y en los permanentes son severos, pero raramente

requiere el retiro quirúrgico del producto.

Los riesgos de estos elementos se duplican cuando

son aplicados por personas no entrenadas en esta

disciplina. Los pacientes están en el derecho de

solicitar la certificación del Consejo de Cirugía Plástica

Estética y Reconstructiva y el Consejo de Dermatología.

Estas autenticaciones garantizan la experiencia y los

conocimientos por parte del cirujano que elegirá

el mejor relleno que le conviene a cada paciente y,

además, conoce perfectamente los efectos adversos

de los mismos. l

MAYO / JUNIO 2017 SPANISH FLUENTIAL 145
---
Spanish

LA PROTECCIÓN SOLAR ES

NECESARIA SIN importar

el color de piel

GENERALMENTE, ESCUCHO

CON FRECUENCIA QUE LA GENTE

DE PIEL MORENA O NEGRA SON

INMUNES AL CÁNCER DE PIEL Y, POR

ENDE, NO NECESITAN PROTEGERSE

DEL SOL. ¿MITO O REALIDAD?

kPOR ALMA "CRIS" BERLINGERI, MD

| www.usdermatologypartners.com

Esto, obviamente, es un mito muy peligroso. Es

verdad que la gente de piel blanca tiene mayor

riesgo de padecer cáncer de piel, pero todo el

mundo, sin importar el color de piel, lo pueden tener.

Entonces, ¿de dónde nació este mito? La melanina es

el pigmento que determina el color característico de

la piel y los ojos, pero también protege la tez contra

los rayos ultravioletas, incluyendo el cáncer de piel y el

envejecimiento prematuro.

Aunque la piel morena goza de mayor protección

natural que la piel clara, la gente de todos los colores

y tipos de piel tiene la misma posibilidad de quemarse

bajo el sol. Una quemadura puede ser menos

perceptible en la piel oscura, pero no significa que

sea menos peligrosa o que haga menos daño. Es un

hecho: la gente de piel oscura debe usar bloqueador

solar porque, entre otras cosas, tienen mayor riesgo de

desarrollar melasma, una afección que se manifiesta

con manchas irregulares de color marrón.

146 SPANISH FLUENTIAL MAYO / JUNIO 2017
---
SALUD

influential-magazine.com

Muchas veces las personas de piel oscura no

reciben un diagnóstico de cáncer de piel hasta que

la enfermedad está en las últimas etapas. Según la

Fundación de Cáncer de Piel, cuando la diagnosis

se detecta en una etapa avanzada, la probabilidad

de curación se reduce 26 % en personas de raza

hispánica, comparada con 6 % en la gente blanca

sin raíces hispánicas. Sin embargo, cuando el cáncer

de piel se detecta en las primeras etapas, la tasa de

supervivencia es 98 %. Esta es la razón principal por la

que hay que desacreditar este mito.

El bloqueador solar no es la única manera de

protegernos contra los rayos del sol. Existen

muchísimas opciones y productos para resguardarnos,

incluyendo el maquillaje y las cremas FSP, la ropa FPU

y las gafas de sol con filtros UV.

Alma Criseida Berlingeri-Ramos,

MD, es parte del equipo de U.S.

Dermatology Partners en Tyler, Texas,

Estados Unidos. La Dra. Berlingeri

está certificada por la American

Board of Dermatology y la American

Board of Pathology and Dermatology.

Se graduó magna cum laude en

Biología en la Universidad de Puerto

Rico y luego obtuvo un doctorado

en la Escuela de Medicina de la misma institución.

Además, se dedica a cuidar la piel de sus pacientes y ha escrito

artículos para varias publicaciones médicas.

La estrategia está en crear y promover conciencia sobre

la importancia de la protección solar y los exámenes

rutinarios en la piel. Así difundimos la cultura de prevención

y el diagnóstico temprano de cualquier enfermedad. l

MAYO / JUNIO 2017 SPANISH FLUENTIAL 147
---
Spanish

DOSIS DE amor

LA LECHE MATERNA ES EL MEJOR

ALIMENTO QUE DEBEN RECIBIR LOS NIÑOS

DESDE EL MOMENTO DE SU NACIMIENTO

PORQUE MEJORA SU CALIDAD DE VIDA,

ESPECIALMENTE LOS BEBÉS QUE NACEN

EN UNA CIRCUNSTANCIA ESPECIAL

148 SPANISH FLUENTIAL MAYO / JUNIO 2017
---
SALUD

influential-magazine.com

Resulta increíble que desde hace décadas esta

labor se encuentre saboteada por intereses

económicos, políticos y sociales que ponen

en riesgo la salud del ser humano.

kPOR DRA. HERMINIA MORALES

MÉDICO CIRUJANO / MÉDICO EN EDUCACIÓN PERINATAL

ASESORA E INSTRUCTORA DE LACTANCIA MATERNA

| www.facebook.com/perinatalcancun

| www.twitter.com/perinatalcancun

| herminia_morales23@hotmail.com

Los trastornos del desarrollo, la desnutrición, los

procesos infecciosos y las enfermedades crónicas

representan prácticas de alimentación inadecuadas

que ocasionan la muerte de 5.500 niños día a día.

De igual manera, ha incrementado la incidencia

de enfermedades no transmisibles, crónicas y

degenerativas (obesidad, diabetes, hipertensión) en

niños no amamantados. Por ejemplo, México es el país

latino con mayores registros de obesidad infantil.

Los nutrimentos que ofrece la leche materna son

muy específicos y evolucionan de acuerdo a la

edad, peso y talla del bebé. Además, se adapta a las

necesidades del niño cambiando su composición a lo

largo del día. Por ejemplo, la leche materna contiene

triptófano, un aminoácido que alcanza sus puntos más

altos alrededor de las 4:00 a. m. y, por ende, aumenta

los niveles de neurotransmisores como la serotonina

en el bebé y en la madre.

¿Qué es la serotonina?

Un neurotransmisor que regula el sueño, el bienestar

y el hambre mientras el bebé aprende a diferenciar

el día y la noche para regular sus ritmos circadianos e

inducir emociones como la seguridad, la relajación y la

confianza. Esto, obviamente, genera un poderoso enlace

entre el hijo y la mamá. Por otro lado, durante las 2:00 y

4:00 a. m. la hormona prolactina logra sus mayores picos

y ayuda a producir leche para el día siguiente.

La leche materna contiene proteínas, vitaminas,

minerales y grasas de fácil digestión sobre todo durante

los primeros seis meses de vida del bebé. Las hormonas se

van equilibrando y promueven el desarrollo neurológico.

También genera anticuerpos y otros componentes que

refuerzan el sistema inmunológico.

MAYO / JUNIO 2017 SPANISH FLUENTIAL 149
---
Spanish

La lactancia debe iniciar en el momento del

nacimiento porque facilita la estabilidad fisiológica.

Si la madre tiene dudas, puede solicitar apoyo en el

hospital o centro de salud para recibir información

sobre técnicas de amamantamiento.

¿Por qué la lactancia debe ser

un alimento exclusivo en los primeros

seis meses de vida del niño?

Porque fomenta el progreso nutricional innato. En

este sentido, un estudio realizado en Israel señaló que

los niños amamantados hasta los dos o tres años de

edad no presentaron trastorno de déficit de atención

(THD). Los investigadores asumen que este efecto se

origina en la composición de la leche materna y en el

vínculo madre-hijo que se establece en ese período.

Más que

una leche

es un tejido

líquido e

insustituible

por las

fórmulas

lácteas

Desafortunadamente, la sociedad está perdiendo

la cultura del amamantamiento gracias a la intensa

promoción de las fórmulas lácteas, incentivada,

principalmente, por los médicos pediatras, a pesar de la

existencia del Código Internacional de la Comercialización

de Sucedáneos de la Leche Materna. No amamantar

significa perjudicar al bebé porque no está recibiendo el

alimento exclusivo para su crecimiento y desarrollo.

Las madres necesitan tener disposición para amamantar

por todos los beneficios y bondades que le proporciona

al niño. Deben establecer un espacio y un tiempo para

adquirir confianza en este proceso. Pueden asistir a talleres

o seminarios prenatales y post-natales de lactancia. Pero,

sobre todo, necesitan el apoyo del padre y los familiares

para proteger y promover la lactancia materna. l

150 SPANISH FLUENTIAL MAYO / JUNIO 2017
---
Spanish

PERFECCIÓN sin invasión

EL MERCADO MUNDIAL PARA

LOS PROCEDIMIENTOS QUIRÚRGICOS,

ENFOCADOS EN EL MODELADO CORPORAL,

ESTÁ TOMANDO UNA TENDENCIA MUY

CLARA: LAS INTERVENCIONES NO INVASIVAS

k | www.btlaesthetics.com/es/

Con esta nueva propuesta, se impulsa

el propósito de solventar la demanda

indiscriminada de las cirugías plásticas y

enfrentar los avances tecnológicos con evidencia

clínica. En este sentido, BTL Industries ha desarrollado

varias innovaciones para alcanzar aquellos resultados

que solo las cirugías estéticas podían ofrecer.

152 SPANISH FLUENTIAL MAYO / JUNIO 2017
---
SALUD

influential-magazine.com

BTL Vanquish ME es una tecnología diseñada

para inducir apoptosis de tejido graso subcutáneo

(programar la célula grasa para que muera) a través

de un calentamiento selectivo. Sus efectos no dañan

la piel, los músculos, ni las terminaciones nerviosas

o folículos. Esta ciencia atiende a pacientes que no

son candidatos a ningún tratamiento de modelado

corporal o tratamientos invasivos.

El tratamiento consta de tres a cinco sesiones (una

por semana) y dura entre 45 minutos a una hora. Se

trata específicamente la zona media del abdomen,

un lugar que siempre se resiste a perder esos

centímetros de más.

La comodidad es otra de las ventajas de BTL

Vanquish ME. Los pacientes solo sienten un ligero

calor, muy parecido a una manta térmica. Los

resultados aparecen después de dos semanas con

el tratamiento, pero mejorará luego de 30-40 días de

haber terminado las sesiones.

Para los clientes más exigentes,

BTL Vanquish ME

puede combinarse con

otras terapias de modelado

corporal, como BTL

Exilis Elite y BTL X-Wave.

De esta manera, se aceleran los

resultados en un par de semanas. Por otro lado,

Body by BTL define, tonifica y reduce medidas en menos

de un mes, de hecho, este protocolo es considerado,

a nivel internacional, la mejor alternativa no invasiva

para el modelado corporal. Además, se puede

tratar cualquier zona del cuerpo de manera segura y

con resultados satisfactorios en pocos días.

Nos enfrentamos a una nueva etapa en la medicina,

donde se elimina el dolor y los traumáticos procesos

postoperatorios. Ahora, las personas podrán

obtener por medio de los avances tecnológicos,

las modificaciones estéticas que no pudieron lograr

a través de rigurosas dietas o ejercicios. l

SPANISH FLUENTIAL 153
---
Spanish

ALIMENTOS PARA CADA PARTE

de tu organismo

UNA DIETA VARIADA Y BIEN

PLANIFICADA ES ESENCIAL PARA

MANTENER NUESTRA SALUD

EN SU MÁXIMO POTENCIAL.

TE INDICAMOS LOS INGREDIENTES

IDEALES PARA NUTRIR ZONAS

ESPECÍFICAS DE NUESTRO CUERPO

Cada alimento que consumimos repercute en

nuestro cuerpo, y todo se basa en una relación

científica, un vínculo que se compenetra con

los aportes nutricionales de cada ingrediente, como las

vitaminas, los minerales, las grasas, los carbohidratos,

las proteínas y las fibras.

CEREBRO

El cerebro absorbe el 20% de la glucosa (carbohidratos)

que consumimos, pero no nos referimos a los carbohidratos

de refrescos, pasteles y harinas refinadas,

kPOR L.N DAVID EDUARDO

GIRÓN GUTIÉRREZ

LICENCIADO EN NUTRIOLOGÍA

POR LA UNIVERSIDAD DE CIENCIAS

Y ARTES DE CHIAPAS

MIEMBRO DE LA ASOCIACIÓN

MEXICANA DE NUTRIOLOGÍA A.C

(AMENAC)

| www.facebook.com/NutriologoDavidG

| www.twitter.com/NutriologoGiron

| www.instagram.com/Nutriologo_giron

| Nutri_giron@hotmail.com

sino de los cereales integrales como el arroz y la avena.

De igual manera, los benéficos incluyen los frutos secos

y las frutas frescas. La parte neurotransmisora de

este órgano se activa a través del consumo de tiamina

(vitamina B1), y la podemos conseguir en el pescado y

en algunas semillas como las de girasol. No olvidemos

las grases saludables (omegas 3 y 6) que encontramos

en el aguacate, las nueces y el salmón.

OJOS

La retina es una estructura fotosensible a la luz y tiene

una actividad metabólica muy alta, por ende, los ojos

demandan grandes cantidades de nutrientes.

154 SPANISH FLUENTIAL MAYO / JUNIO 2017
---
SALUD

influential-magazine.com

SPANISH

FLUENTIAL 155
---
Spanish

La vitamina A y los betacarotenos son

esenciales para la visión. Los encontramos

en los tomates, las espinacas, el hígado,

los huevos, la leche y las zanahorias. Estos

componentes ayudan a la regeneración

de la redopsina (proteína transmembranal

que, en humanos, se encuentra en los

discos de los bastones de la retina).

PIEL

Es el órgano más extenso del cuerpo y

necesita vitamina E (aguacate, semillas de

girasol, nueces y almendras), betacarotenos

(brócoli, acelgas y espinacas) y vitamina

C (naranja, mandarina, limón, toronja y

guayaba). Todas estas sustancias ayudan

a formar colágeno y darle firmeza a la

epidermis. Por ultimo, la piel se reforma

constantemente y necesita proteínas

como el pollo o el pescado para apoyar

esta regeneración.

SANGRE

Para evitar deficiencias nutricionales

en la sangre el cuerpo necesita hierro,

ácido fólico y cianocobalamina

(vitamina B12). Estos nutrientes

están en el hígado, las hojas verdes

y las carnes rojas.

INTESTINOS

Para promover un correcto tránsito digestivo

es necesario alimentarnos

con frutas con cáscaras e ingredientes

ricos en fibra como las

naranjas, las mandarinas, los frijoles,

las lentejas, los aguacates,

los nopales, las semillas de chia,

la avena y el arroz integral. También

podemos tomar en cuenta

los laxantes naturales como la papaya,

las ciruelas y las pasas.

HUESOS

Los huesos son el sostén del

cuerpo y están formados por

sustancias como el calcio, el fosforo

y la osteína. Para mantenerlos

sanos debemos consumir lácteos,

frutos secos, sardinas, tofu, espinacas y

jugo de naranja.

El agua, sin duda, es el elemento

más importante para el organismo.

Nuestro cuerpo es 75% agua

y por esta razón debemos

estar bien hidratados para

mantener los órganos en

optimo funcionamiento. l

156 SPANISH FLUENTIAL MAYO / JUNIO 2017
---
Spanish

CÓMO DETECTAR

LA DIFICULTAD DE

aprendizaje

TE PRESENTAMOS ALGUNOS INDICIOS

BÁSICOS PARA DETECTAR Y EVALUAR

ESTE DÉFICIT NEUROPSICOLÓGICO

kPOR MARISOL ALCALÁ PANTOJA TERAPEUTA

| www.facebook.com/marisol.pantoja.750

| solmari26am@gmail.com

Un niño con problemas

de aprendizaje suele

tener un nivel normal

de inteligencia y de agudeza visual

y auditiva. De hecho, el uso de estas

habilidades determina la expresión de su

lenguaje oral y escrito.

Características para descubrir

conflictos de aprendizaje

• Dificultad para entender y seguir

tareas e instrucciones.

• Problemas para recordar

cosas recientes.

• Dificultad para dominar

las destrezas básicas

de lectura, deletreo,

escritura y/o

matemática.

158 SPANISH FLUENTIAL

MAYO / JUNIO 2017
---
SALUD

influential-magazine.com

• Confusión para distinguir entre la derecha y la

izquierda o para identificar las letras. Tendencia a

escribir las letras, las palabras o los números al revés.

• Falta de coordinación al caminar, hacer deporte

o llevar a cabo actividades sencillas como sujetar un

lápiz o atarse el cordón del zapato.

• Facilidad para perder o extraviar material escolar,

• Dificultad para entender el concepto de tiempo,

libros y otros artículos.

confundiendo el ayer, con el hoy y/o mañana.

• Tendencia a la irritación o excitación.

Causas que intervienen

en las dificultades del aprendizaje

de niños en edad escolar

Factores orgánicos: compromete el nivel sensorial,

como la vista y la audición. El funcionamiento glandular

también incide sobre el desarrollo del aprendizaje que

se caracteriza por falta de atención y concentración.

Factores específicos: abarca las alteraciones

perceptivas/motoras, el lenguaje oral y escrito, el

espacio y la lateralidad.

Factores ambientales: las características

de la vivienda, los barrios, la escuela y

los canales culturales condicionan

la cantidad y la calidad de los

estímulos que recibe el niño. l

MAYO / JUNIO 2017 SPANISH

FLUENTIAL 159
---
Spanish

top 10: ALIMENTOS PARA AUMENTAR

LOS GLÓBULOS BLANCOS

kPOR DAVID E. VENEGAS Q. EDITOR JUNIOR SPANISH INFLUENTIAL

CHOCOLATE

NEGRO

CHAMPIÑONES

YOGURT

TÉ NEGRO

VEGETALES

Amamos este alimento

y los científicos día

a día se afanan en

revelar beneficios que

nos hacen más adictivos

al chocolate.

Está comprobado

que este ingrediente

restaura la flexibilidad

de las arterias y,

al mismo tiempo, evita

que los glóbulos blancos

se adhieran a las paredes

de los vasos sanguíneos.

Por otra parte,

el chocolate oscuro

es rico en zinc

y si lo incorporamos

a nuestra dieta,

aumentamos el flujo

de leucocitos y, por ende,

aumentamos nuestra

resistencia inmune.

Desde hace años se

han levantado diversas

investigaciones que

ratifican las propiedades

curativas de los hongos

o setas. Estos productos

naturales disminuyen

la presión arterial,

protegen al hígado

y aumentan el estado

de ánimo de las personas

depresivas. Están

colmados de selenio

y este elemento fortalece

a los glóbulos blancos

para destruir cualquier

infección que se cuele

en nuestro organismo.

En Asia, por ejemplo,

se usan las setas shiitake

para reducir los niveles

de colesterol y evitar

apariciones de tumores;

por eso es infaltable

en la cocina asiática.

En varios estudios

internacionales

se ha demostrado

que las personas

que consumen

probióticos, como

el yogurt o los

encurtidos, gozan

de mayor resistencia

para sucumbir ante

resfriados y contagios

debido al aumento

significativo

de glóbulos blancos,

lo que se traduce

como un sistema

inmunológico

más fuerte.

De acuerdo

con el Centro Médico

de la Universidad

de Maryland, el té negro

posee selenio de gran

calidad y esto le permite

a los glóbulos blancos

combatir con mayor

acción las infecciones.

El estudio que

realizaron demostró

las personas que toman

té negro tienen

un sistema inmune

que reacciona mejor

a la vacuna

contra la gripe.

De igual, manera

la Universidad

de Harvard afirmó

que tomar cinco tazas

de té negro por dos

semanas cuadruplica

las defensas

del cuerpo.

La calabaza,

zanahoria, brócoli,

espárrago, coliflor,

remolacha y espinaca

son medicinas naturales

para aumentar

el recuento

de glóbulos blancos.

El betacaroteno

neutraliza las

toxinas, previene

el envejecimiento

prematuro y resguarda

al corazón de

un ataque cardíaco.

¿Necesitas más razones

para tener una dieta

rica en vegetales asados,

a la plancha, al vapor

o al grill?

160 SPANISH FLUENTIAL MAYO / JUNIO 2017
---
SALUD

influential-magazine.com

LOS LEUCOCITOS O GLÓBULOS BLANCOS SON CÉLULAS SANGUÍNEAS QUE NOS

DEFIENDEN DE AGENTES INVASORES QUE QUIERAN LASTIMAR NUESTRO CUERPO.

CUANDO ESTAS DEFENSAS BAJAN, NUESTRO ORGANISMO ES VULNERABLE

A INFECCIONES QUE PUEDEN DESENCADENAR UN SINFÍN DE ENFERMEDADES.

TE OFRECEMOS PRODUCTOS NATURALES PARA PRODUCIR Y CONTROLAR LA

CANTIDAD DE GLÓBULOS BLANCOS Y ASEGURAR UN SISTEMA INMUNE SALUDABLE

SALMÓN

AJO

PROTEÍNA

MAGRA

FRUTOS

SECOS

VITAMINA C

Gracias a sus generosas

cantidades de ácidos

grasos y omega 3,

el salmón hace que

los glóbulos blancos

se multipliquen y

sean más eficientes

para exterminar a las

bacterias. La idea es

consumir el pescado

totalmente cocido para

evitar la transmisión de

microbios a través de la

carne cruda. Las sardinas

y el atún también son

excelentes aliados para

intensificar la estructura

de los leucocitos.

Superalimento

por excelencia. El ajo

aumenta la producción

de anticuerpos, estimula

el sistema inmune y,

obviamente, promueve

la cantidad de leucocitos.

Es recomendado para

tratar anemia y alergias.

Por otro lado, este

poderoso ingrediente nos

hace longevos y previene

el daño oxidativo

de las células, frenando

la aparición del síndrome

de Alzheimer.

En el boticario de

la abuela siempre está

la receta de miel con

ajo, una combinación

que ofrece efectos

antimicrobianos

y cicatrizantes

que eliminan virus

y aumentan las

defensas

del organismo.

Si nuestro cuerpo

no absorbe suficientes

proteínas, generará

un menor número

de glóbulos blancos.

El doctor Simin

Meydani Nikbin

reveló a CNN

que para aumentar

la proliferación

de células inmunes

se necesitan proteínas

y aminoácidos.

Estos elementos

se encuentran en

las carnes magras

como el pollo, pavo,

conejo, pescado

y algunos cortes

de ternera.

Las almendras,

los manís, los pistachos,

las nueces y las avellanas

están colmadas

de vitamina E,

una sustancia que

estimula la producción

de glóbulos blancos

en la sangre. A pesar

de que los frutos secos

son muy calóricos,

hay estudios que

sugieren que estos

ingredientes ayudan

a perder peso. De igual

manera, reducen

los niveles de colesterol

y triglicéridos

debido a sus ácidos

monoinsaturados

y poliinsaturados.

Los glóbulos

rojos necesitan

vitamina C para

realizar sus funciones

eficazmente.

Merendar fresas,

kiwis, guayabas,

lechosa, melón,

granadas, naranjas

o mangos es una buena

forma de aumentar

la producción

de leucocitos.

Del mismo modo,

se refuerzan

los fagocitos, un tipo

de glóbulo blanco

que envuelve

los agentes patógenos

y los anula.

MAYO / JUNIO 2017 SPANISH FLUENTIAL 161
---
Spanish

VERDE saludable

Llevar una vida saludable no requiere esfuerzos

extremos ni gastos innecesarios de dinero,

todo depende del deseo de quien quiera

adoptar un estilo de vida lo más placentero posible.

Desde el origen del hombre, el planeta provee

el sustento para alimentarnos de infinidades de

ingredientes, pero hay un fruto en particular, cuyo

aspecto simula la forma de una pera hasta un redondo,

y su color varía en matices entre el verde y el negro.

Su nombre cambia de acuerdo a la ubicación

geográfica, pero las propiedades se mantienen sin

importar la latitud. Entre sus bondades encontramos

ácido fólico, vitamina C, potasio, vitamina B5, B6, E

y pequeñas cantidades de magnesio, manganeso,

cobre, hierro, zinc, fósforo, vitamina A, B1 (tiamina), B2

(riboflavina) y B3 (niacina) pero su mayor atractivo es la

alta cantidad de grasas saludables.

El aguacate ayuda a:

• Reducir los triglicéridos en sangre.

• Reducir el colesterol LDL (colesterol malo).

• Elevar el colesterol HDL (colesterol bueno).

Este alimento es muy valioso para

las personas que tienen una dieta

vegetariana o vegana. En la mesa

latinoamericana, el aguacate

destaca por su versatilidad en

gran variedad de platos.

ESTE SINGULAR FRUTO CONOCIDO

COMO AGUACATE, PALTA O AVOCADO,

ES PRODUCTO DE LA NOBLE MADRE

TIERRA Y REPRESENTA UNA DE LAS

FUENTES DE ACEITES GRASOS CON MÁS

BENEFICIOS PARA EL CUERPO HUMANO

kPOR DULCEQUILIBRIO

| www.instagram.com/dulceequilibrio

¿Sabías que la palta es excelente

para hacer smoothies?

Podemos realizar un nutritivo batido con aguacate, leche

de almendras, banana y leche de coco. Esta bebida

aporta a tu organismo la variedad de nutrientes que necesita

para una jornada dinámica. Esta preparación ofrece

aceites grasos beneficiosos para tu piel, fibra para mejorar

tu digestión, vitaminas, minerales y una generosa

cantidad de antioxidantes que protegen tus

células de los radicales libres y retrasan los

signos del envejecimiento. Por su alto

contenido de nutrientes, podrías tomarlo

como un reemplazo de tu desayuno,

pero recomendamos consumirlo

como una merienda entre

tus comidas principales. l

162 SPANISH FLUENTIAL MAYO / JUNIO 2017
---
SALUD

influential-magazine.com

Smoothie de aguacate

Ingredientes

½ aguacate

1 banana grande en rodajas

1 taza de leche de coco

1 cucharada de jugo de limón

1 ½ leche de almendras

¼ cucharadita de canela

1 cucharadita de extracto de vainilla

Preparación

Retirar la pulpa del aguacate y córtala

en varios trozos para que sea más

fácil de procesar. Colocar todos los

ingredientes en una licuadora y

procesar bien. Si notas grumos o una

consistencia muy espesa, agrega agua

o leche de almendras y vuelve a licuar.

Para lograr una sensación más

refrescante, congela el aguacate y la

banana antes de preparar el smoothie.

MAYO / JUNIO 2017 SPANISH FLUENTIAL 163
---
Spanish

Black Look

Gargantilla Ritz

Anillo Camelia

Aros Ritz

DISE

164 SPANISH FLUENTIAL MAYO / JUNIO 2017
---
MODA LATINA

influential-magazine.com

DISEÑADORA

WWW.CECILIAPONT.COM

FOTOGRAFÍAS CORTESÍA

DE CECILIA PONT

CECILIA

PONT

CONFIÓ TANTO

EN SUS PRODUCTOS

QUE NO DUDÓ EN PONERLE

SU NOMBRE Y APELLIDO

A SU PROPIA MARCA

DE ACCESORIOS DE MODA.

ESTA ESCENÓGRAFA

Y DISEÑADORA TEXTIL

HA UTILIZADO LA RESINA

PARA DESARROLLAR LÍNEAS

COMPLETAS DE JOYAS.

SU ÉXITO HA TRASPASADO

FRONTERAS Y HA LLEVADO

SUS PIEZAS DESDE ARGENTINA

POR TODO EL MUNDO

Ñ

Su pasión por los accesorios es un asunto

innato. De niña usaba la bisutería de su

madre y desde temprana edad comenzó a

preparar sus piezas. Con el apoyo de su familia y de

Pablo Piluso, su marido y socio, materializó su sueño

al ganar, durante sus estudios, la primera Mención

de Honor en la edición 2007 del concurso Jeunes

Créateur de Mode. El premio fue el punto de partida

de una historia que todavía se está escribiendo, y

ese mismo año comenzó con su emprendimiento.

EN RESINA

MAYO / JUNIO 2017 SPANISH FLUENTIAL 165
---
Spanish

Pont eligió la resina como un material noble que le

permitiera desarrollar la imaginación y la posibilidad

de jugar con los colores y diversas tonalidades. "Fue

amor a primera vista. La resina es el producto que uso

íntegramente en mis obras. Me encanta trabajar y

crear con mi manos", comentó la diseñadora.

Producir piezas en resina incluye el desarrollo de un

exclusivo método de producción creado en 10 años

de búsqueda, perfeccionamiento y estudio de todas las

posibilidades del material. En el proceso creativo participa

Cecilia y Piluso, quien aporta invaluables conocimientos

en arte y escultura. Las piezas se fabrican a mano en

Argentina, garantizando la originalidad y el carácter

único de este trabajo artesanal de primera calidad.

Cecilia Pont es una marca en plena expansión y con

una proyección internacional. Además, cuenta con

alrededor de 40 productos en su catálogo, clasificados

entre collares largos, gargantillas, brazaletes, pulseras,

cuff, aros y anillos. Cada modelo tiene una gran

variedad de colores, combinaciones y tonos. l

166 SPANISH FLUENTIAL MAYO / JUNIO 2017
---
MODA LATINA

influential-magazine.com

Collar Pétreo Azul

Brazaletes Diamantino

Collar Ribbon Choker con cierre imantado

MAYO / JUNIO 2017 SPANISH FLUENTIAL 167
---
Spanish

Collar Pétreo Carey

Anillo Camelia

Collar Tarsila

Pulseras Matelasse

168 SPANISH FLUENTIAL MAYO / JUNIO 2017
---
MODA LATINA

influential-magazine.com

MAYO / JUNIO 2017 SPANISH
---
Spanish

ESTILO urbano

kPRESENTADO POR ARGENIS GUDIÑO

Damas

Bolso negro Metal Mulisha

Correas de piel y cuero negro.

Arcos laterales de satén negro,

insignia bordada y forro interior

poli negro.

$ 32.55

www.cluburban.com

Zapatillas Denim Stars Lug

Diseño súper chic. Acabado

con una plantilla amortiguada

de fácil deslizamiento al caminar.

33,50 $

www.urbanog.com

Calcetines Minnie de Disney

Colchón Ultra Lite. Cierre

de dedo del pie sin costuras.

$ 24.00

www.cluburban.com

Chaqueta de mezclilla

Hermosa y fresca pieza

bordada con un cuello

puntiagudo con bolsillos.

Bordado intrincado en

la parte delantera,

atrás y abajo de las mangas.

$ 119.00

www.urbanoutfitters.com

170 SPANISH FLUENTIAL MAYO / JUNIO 2017
---
MODA LATINA

influential-magazine.com

Caballeros

Gorra de béisbol

(4 colores)

Estilo casual con correa

ajustable, fabricada en lana

y poliéster.

$ 39.00

www.astrezo.com

Camiseta casual Venq

$ 39.00

www.astrezo.com

DC Shoes Spartan

Zapatos de cuero superior.

Suela de goma enfocada

en la banda de rodadura.

Resistente al agua.

$ 90.00

www.cluburban.com

Pantalón corto

Con diseño llamativo

fabricado en poliéster.

Cómodo short para

los días de primavera y verano.

$ 49.00

www.astrezo.com

MAYO / JUNIO 2017 SPANISH FLUENTIAL 171
---
Spanish

SIN rastros

TRAS UN AGITADO DÍA, LLEGA

EL MOMENTO DONDE TE RELAJAS

Y DEDICAS UN TIEMPO A TU CUIDADO

PERSONAL. UNO DE ESOS INSTANTES

DEBE ESTAR RESERVADO PARA LIMPIAR

TU CUTIS DE TODO EL MAQUILLAJE

kPOR NIXON RUIZ ESTILISTA PROFESIONAL

El rostro es muy delicado, por eso cuando te

desmaquillas debes comenzar por el área de

los ojos, luego los labios y después la cara en

general. Para limpiar el cutis existen diferentes tipos de

productos en bifásico, tollas y cremas. Sin embargo, los

más recomendables son:

ÁREA DE LOS OJOS Y LOS LABIOS

DESMAQUILLANTE BIFÁSICO

Se recomienda el uso de Pureté Thermale de

Vichy, un desmaquillante L'Oréal París o Nivea.

1. El desmaquillante bifásico es un líquido con

una parte líquida y otra grasa. Se recomienda solo

para limpiar el área de los ojos y no para el resto

de la cara.

2. Aplicar el desmaquillante en un pétalo de

algodón.

3. Colocar el pétalo sobre la pestaña y

presionar por medio minuto. Con pequeños

y suaves movimientos, deslizar el pétalo

despacio sobre la pestaña. No levantar el

algodón de su posición original.

4. Después de este tiempo, debes deslizar

el pétalo hacia el pómulo. Retira el resto del

maquillaje con una toallita desmaquillante.

5. Repite si es necesario.

Con esta técnica quitarás la mascara de

pestañas sin perder ninguna pestañita en el

proceso. Recuerda: No frotes el ojo, solo desliza.

172 SPANISH FLUENTIAL MAYO / JUNIO 2017
---
BELLEZA

influential-magazine.com

MAYO / JUNIO 2017 SPANISH

FLUENTIAL 173
---
Spanish

TOALLAS

DESMAQUILLANTES

Se recomiendan los pañuelos

absorbentes de Neutrogena, Pond's,

L'Oréal o Nivea.

1. Abrir el paquete, sacar una toalla y

aplicar directamente sobre la zona a

desmaquillar.

2. En caso de quedar residuos, repetir

la operación.

DESMAQUILLANTE

EN CREMA

Se recomienda el uso de Take The

Day Off Cleansing Balm de Clinique o

Hidra-Total 5 de L'Oréal París.

1. Aplicar el desmaquillante en crema

en un pétalo de algodón o con los dedos

sobre el área de los ojos y pestañas. No

es necesario usar en exceso.

2. Colocar el pétalo sobre la pestaña y

presionar por medio minuto. Con pequeños

y suaves movimientos deslizar

el pétalo sobre la pestaña. El problema

de la crema es que hay que frotar mucho

el ojo y puede generar irritación.

3. Después de este tiempo, deslizar

el pétalo hacia el pómulo y retirar el

resto del maquillaje.

4. Repetir si es necesario.

Recuerda: No frotar el ojo con fuerza,

solo deslizar el pétalo.

DESMAQUILLANTE PARA

TODO EL ROSTRO

Se recomiendan Take The Day Off de

Clinique o Hidra-Total 5 de L'Oréal París.

1. Aplicar los productos sobre

un pétalo de algodón y luego

directamente sobre la cara.

2. Deslizar suavemente el algodón sobre

la piel para remover el maquillaje.

3. Repetir para una segunda eliminación

de restos de maquillaje sobre la piel.

Limpiar todo el rostro con una solución

jabonosa para eliminar los restos de

los productos desmaquillantes. Se

recomiendan: Liquid Facial Soap de

Clinique, Normaderm de Vichy o Deep

Clean de Neutrogena. l

174 SPANISH FLUENTIAL MAYO / JUNIO 2017
---
Spanish

FRESCURA

PRIVE 2017

LA NATURALIDAD

ESTÁ DE MODA.

POR ESTA RAZÓN, NOTAMOS QUE

EN LAS CALLES Y EN LAS PASARELAS

PREDOMINA EL MAQUILLAJE POCO

RECARGADO, SOLO UN TOQUE

BRILLANTE EN LOS OJOS PARA

REALZARLOS, PERO SIN TANTO ÉNFASIS.

LOS LABIALES DE COLORES TAMBIÉN

ESTÁN DANDO DE QUÉ HABLAR Y,

EN ESTA OPORTUNIDAD, TRABAJAMOS

CON TONOS MÁS ARRIESGADOS.

kPOR IRVING AGREDA

ESTILISTA PROFESIONAL

PRESENTAMOS MORADOS

Y OCRES EN REFERENCIA

A LA PRIMAVERA Y,

AL MISMO TIEMPO,

USAMOS SOMBRAS NEUTRAS

Y UN BRONCEADOR DORADO

PARA REPRESENTAR EL BRILLO

QUE EL SOL LE OTORGA

A NUESTRO CUERPO

DURANTE EL VERANO.

176 SPANISH FLUENTIAL MAYO / JUNIO 2017
---
BELLEZA

influential-magazine.com

Xxxxxxxxxxxx

kPOR XXXXX XXXX

xxxxx

xxxxxx

xxxxxxxx l

MAYO / JUNIO 2017 SPANISH FLUENTIAL 177
---
Spanish

178 SPANISH FLUENTIAL MAYO / JUNIO 2017
---
BELLEZA

influential-magazine.com

kFOTOGRAFÍA ANDRÉS SÁNCHEZ @ASanchez88 @laparcafilmsnarts

ESTILISMO Y MAQUILLAJE IRVING AGREDA @irvingagreda

MODELO FERNANDA DE SOUSA @fernandadsousa17 www.sapiosexualsite.com

MAYO / JUNIO 2017 SPANISH FLUENTIAL 179
---
Spanish

BELLEZA solidaria

DESDE HACE ALGÚN TIEMPO,

LOS CONCURSOS DE BELLEZA

HAN VOLCADO SUS ACTIVIDADES

A CAUSAS BENÉFICAS CON EL FIN DE

ESTRECHAR VÍNCULOS CON

LAS COMUNIDADES A TRAVÉS DE ACCIONES

SOCIALES, LOGRANDO QUE LA VISIÓN

DE LA COLECTIVIDAD CAMBIE Y HUMANICE

EL SIGNIFICADO DE QUIENES POSEEN

UNA CORONA DE REINA

kPOR PEDRO FRANCISCO MÁRQUEZ

COORDINADOR DE ASUNTOS INTERNACIONALES

DE RUYALAR A.C.

PRODUCTOR Y CONSULTOR EN TURISMO

| www.asociacionru.com

| www.theperfectmiss.com/

El 22 de abril de 2017 se realizó en el auditorio

Krishna Greens en Delhi, India, el Super

Model International, un reconocido certamen

internacional para jóvenes modelos. Durante 13 días, 34

mujeres de distintos lugares del planeta recorrieron el

país y promovieron una vida sana y las causas sociales.

180 SPANISH FLUENTIAL MAYO / JUNIO 2017
---
BELLEZA

influential-magazine.com

El evento nació en 2011 en Tailandia y tuve el honor de

trabajar en este proyecto. Puedo constatar que surgió

como un evento internacional de intercambio cultural

donde se integra la belleza, el talento, las cualidades y la

comunicación de las candidatas. El objetivo es expandir

el desarrollo cultural y el impulso de la moda para

satisfacer las demandas mundiales de estas áreas.

Antes, las agencias europeas y norteamericanas

organizaban certámenes para elegir a sus nuevos

rostros, pero con el tiempo la industria del modelaje

se catalogó como un sector frío y banal. Por esta

razón, los eventos de este tipo se han transformado

y ahora abarcan otras necesidades. Actualmente una

modelo no solo se limita a posar ante las cámaras y

caminar sobre una pasarela, ahora debe expresarse

correctamente porque es una portavoz de la sociedad.

Las aspirantes del Super Model International

hicieron breves actividades en las calles de Delhi,

donde fomentaron el uso del transporte público con

el propósito de promover una conciencia verde. Por

otro lado, se pronunciaron contra el feticidio femenino

en la India, una práctica que se ha convertido en un

grave problema de la nación. El concurso clamó por

la vida de todas las niñas que diariamente mueren por

aborto selectivo. El programa de las modelos incluyó

presentaciones a la prensa y varios fashion shows que

sirvieron como antesala del concurso final.

La ganadora del Super Model International 2017 fue

la ucraniana Alena Spodynyuk de 18 años de edad

y una estatura de 180 centímetros. Curiosamente,

Spodynyuk participó en la última edición del Miss

Universo, una experiencia que le otorgó destreza y una

ventaja sobre las demás participantes.

El segundo lugar fue para la brasileña Katherine

Strickert. Además, la mexicana Noemi Sánchez logró

estar en el Top 16. Estas chicas fueron las únicas latinas

en avanzar de ronda durante la velada.

Vale recalcar que los gobiernos apoyan este tipo de

eventos porque les sirven para promover una imagen

internacional, atraer mayor flujo turístico y posicionarse

como naciones con líderes ideológicos. l

MAYO / JUNIO 2017 SPANISH FLUENTIAL 181
---
Zoeva Cosmetics

Juego de

brochas clásicas

(Classic Brush Set)

Potencia tu belleza

natural mediante el uso de

herramientas adecuadas para

maquillarte. Este set viene con

ocho cepillos naturales

y sintéticos de alta calidad

para el rostro y los ojos.

Utilízalos diariamente

para una apariencia

natural y audaz.

del

kACCESORIOS DISPONIBLES EN

WWW.ZOEVACOSMETICS.COM

BellezaEditor

Selecciones

$ 76,00

Los costos de los accesorios están sujetos

a cambios a consideración de la e-shop.

Labiales

líquidos mate

Pure Velours Box

Esta caja ofrece

una maravillosa gama

de lápices de labios

líquidos aterciopelados

mate para una apariencia

natural y suave.

$ 80,00

Paleta de sombras

Blanc Fusion

Eyeshadow Palette

Esta irresistible paleta desvela

un repertorio de lujosas

tonalidades de chocolate

blanco infundidas por

los matices de dulce de leche

y los singulares tonos de

las almendras rematadas

con un tinte dorado.

Con su suave y aterciopelada

fórmula, las sombras brillantes

y mates se despliegan con

gracia en el acabado, creando

hermosos looks de maquillaje.

Acabados: mate, satinado,

metálico y perla.

$ 27,00

Blush

Coral Spectrum

Blush Palette

Esta paleta captura

la belleza de los exuberantes

arrecifes tropicales y revela

una fantástica variedad

de cuatro matices, desde

el melocotón claro hasta

el coral rosa. Los brillantes

acabados proporcionan

un alegre estallido

de colores en las mejillas.

La formulación de los rubores

está enriquecida con

vitamina E y está 100 %

libre de parabenos, aceites

minerales y perfumes.

Acabados: mate y satinado.

$ 19,50

182 SPANISH FLUENTIAL MAYO / JUNIO 2017
---
BELLEZA

influential-magazine.com

kPRESENTADO

POR NIXON RUIZ

Correctores

Concealer

Spectrum Palette

Esta paleta oculta

la decoloración y las manchas

alrededor de los ojos.

El kit viene equipado

con nueve tonos fáciles de

combinar. Su textura cremosa

y enriquecida con vitamina E,

mejora la tez y proporciona

un tratamiento sinigual.

Acabados: mate.

$ 27,00

Labial mate

Luxe Matte Lipstick

Elevando el mate a un nuevo

nivel, este labial se desliza

suavemente sobre los labios

con una revolucionaria

punta cuadrada para

una precisa aplicación.

Proporciona un acabado

suntuoso y garantiza

una cobertura uniforme.

La textura es aterciopelada,

cómoda e inimitable.

$ 12,50

Labial en creyón

Lip Crayon + Tender Rose

¡Experimenta la nueva

generación de lápiz labial!

Esta fórmula súper ligera

y cremosa está llena de

un color intenso. Está creada

con polvo de perla, vitamina E,

aceite de jojoba y manzanilla.

Su brillo hace que los labios

sean los más adorables

e irresistibles. La fórmula está

libre de aceitesminerales,

parabenos, parafina y fragancia.

Dermatológicamente

aprobado.

$ 9,80

Delineado de ojos

Cat Eye Pen

Blackest Black

Con esta pluma de tinta precisa

crearás una apariencia perfecta.

Su aplicación es suave y fácil,

creando una línea negra intensa

con acabado sedoso.

La fórmula es muy duradera.

Está dermatológicamente

aprobada y libre deparabenos

y formaldehído.

$ 9,80

MAYO / JUNIO 2017 SPANISH FLUENTIAL 183
---
Spanish

184 SPANISH FLUENTIAL

MAYO / JUNIO 2017
---
INFLUYENTES

influential-magazine.com

Anna Fusoni

La

gurú

moda

de la

mexicana

PARA CONVERSAR SOBRE

LA INDUSTRIA DE LA MODA

SE DEBE TENER UNA PERSONA

CON LAS SIGUIENTES CUALIDADES:

ELEGANCIA, ELOCUENCIA,

OBJETIVIDAD Y CREDIBILIDAD.

ESTOS ELEMENTOS

SE CONJUGAN EN ESTA MUJER

CUYO ESPÍRITU VIVE IMPREGNADO

POR EL GLAMOUR

k POR FABBIOLA PALUMBO

JR. FASHION EDITOR

SPANISH INFLUENTIAL

ANNA FUSONI

Twitter: @AnnaFusoni

Facebook: @afusoni

Instagram: @annafusoni

FOTOGRAFÍA

PEDRO JACOBO LÓPEZ

Facebook: @pjacobolpz

Instagram: @iamjacobo_

ASISTENTE DE FOTOGRAFÍA

YESENIA CORREA VILLA

Instagram: @yescorrea

MAYO / JUNIO 2017 SPANISH FLUENTIAL 185
---
Spanish

Anna Fusoni es una reconocida personalidad

dentro del mundo de la moda en

Latinoamérica. Ella trabaja incesantemente

por conectar todo el sistema de la moda en México:

la industria textil, la confección, los diseñadores y los

consumidores para lograr el desarrollo del sector. En

este oficio lleva más de 40 años, por lo que su voz se ha

convertido en una opinión muy valorada en el gremio.

¿Cómo inició en el mundo de la moda?

"Por casualidad. Estaba estudiando en los Estados

Unidos y en mi último año participé en el concurso Prix

de Paris convocado por la revista Vogue. Constaba de

tres etapas y era más bien un ejercicio de periodismo:

análisis de la revista, redacción de textos, propuesta de

artículos y de más. Al final, quedamos 12 participantes y

nos llevaron a Nueva York para ser entrevistados por las

editoras y… aquí me tienes. El premio fue un internship

durante el cual conocí a fondo todas las secciones de

la publicación y luego me quedé trabajando en el área

de fashion promotion".

¿Siente que su trabajo en desarrollar un sistema

de moda en México ha valido la pena? ¿Cuánto

falta para llegar a formar un verdadero clúster en

Latinoamérica?

"Desde luego que sí… aunque la verdad, el término

de sistema de la moda sigue siendo algo vago; cada

quien y cada gremio lo acomoda a su gusto".

"La palabra clúster está muy de moda y habría que

partir de su propia definición: 'se refiere a un grupo

de empresas que trabajan en un mismo sector y

colaboran entre ellas para lograr beneficios mutuos'.

Esta explicación tiene muchas interpretaciones. En la

moda se podría decir que son empresas integradas

tanto vertical como horizontalmente para producir

bienes de consumo de moda".

"Hoy en día la noción de clúster se aplica a un grupo

de diseñadores y marcas que proyectan una imagen

de moda pero difícilmente veo que pueda aplicarse

a la moda latinoamericana, porque cada país tiene su

"

Me parece

excelente

destacar el

trabajo

artesanal,

siempre

y cuando

se haga una

investigación

profunda.

Para integrar

exitosamente

el aspecto

artesanal

en la moda,

los diseñadores

tienen que

estudiar

a fondo

las raíces

y la identidad.

"

186 SPANISH FLUENTIAL MAYO / JUNIO 2017
---
INFLUYENTES

influential-magazine.com

propia identidad de moda. No hay un clúster de moda

europea; ni siquiera en los Estados Unidos se puede

hablar de un clúster de moda americana".

¿Qué mensaje le daría a las personas que hoy en día

ven el mundo de la moda como algo superficial?

"Que están equivocadas. La moda es y siempre

ha sido una industria y tiene que ser vista como tal.

Brinda empleos en muchos niveles y en muchas

áreas, desde la producción hasta la comercialización.

El problema actual no es si la moda es superficial o

no, el problema está en la explotación laboral, en

la contaminación y en el consumo desmedido que

genera todo tipo de preocupaciones que sí son

superficiales, pero tienen que ver con las actitudes

de los nuevos consumidores. Sin embargo, están

entrando al mercado generaciones más conscientes

de la problemática de la moda y seguramente con sus

nuevas actitudes hacia el consumo, irán generando

cambios benéficos para todos".

¿Cuál es su opinión sobre las tendencias actuales

en Latinoamérica enfocadas en resaltar la memoria

étnica y artesanal?

"Me parece excelente destacar el trabajo artesanal,

siempre y cuando se haga una investigación profunda.

Para integrar exitosamente el aspecto artesanal en la

moda, los diseñadores tienen que estudiar a fondo las

raíces y la identidad. Bordar una blusa con elementos

artesanales o pegarle una tira textil de grecas a una

falda, no convierte a un diseñador en étnico o artesanal".

¿Qué cosas nuevas pueden ocurrir en la moda?

"Todo depende de la personalidad y el humor

del diseñador estrella que esté de turno. Pienso

en Alessandro Michele, que en una temporada

transformó a Gucci y puso de cabeza las tendencias

con propuestas que parecían ir en contra de todo

lo establecido. El consumidor nuevo lo amó. Los

diseñadores modernos ofrecen ideas irreverentes y

frescas, no tienen cortapisas y revolucionan las marcas

para captar y seducir a los nuevos consumidores a los

que entienden a la perfección".

MAYO / JUNIO 2017 SPANISH FLUENTIAL 187
---
Spanish

"Y, desde luego, está el fenómeno de la inmediatez.

See now, buy now. Tratar de responder a esto le resulta

a algunas marcas grandes y poderosas, pero la moda

en general no tiene esa capacidad. Es más importante

que la moda analice el cambio climático y adecue sus

propuestas. Quizá, lo que sigue sea lo atemporal".

Cuando se habla de moda, la referencia siempre

es Europa y Nueva York. ¿Llegará el día en que

Latinoamérica lidere las tendencias?

"Si tenemos la capacidad de entender lo que mueve a

los nuevos consumidores, léase los muy mencionados

millennials y, sobre todo, la generación Z, sin duda

Latinoamérica puede marcar algo de tendencia. Y digo "algo"

porque existen tantas tribus y nichos de mercado que casi

podríamos decir que las tendencias como tal, primavera/

verano, otoño/invierno, han dejado de existir. Ahora lo

importante es qué lleva tal cantante, influencer, blogger

o vlogger. Es por eso que las marcas económicamente

poderosas usan y abusan de las redes sociales. Es una pena

pero la moda, como todo, se mueve con dinero".

¿Cuál es la mayor diferencia que presenta el

mundo de la moda latina vs Europa y Nueva York?

"Quizá seamos más coloridos y desenfadados, y desde

luego, mucho más artesanales. Somos apegados a

nuestras tradiciones y las tratamos con respeto".

Cada día la moda se hace más accesible a todos,

¿esto quiere decir que la moda murió?

"Depende como se entienda la palabra moda. Si la vemos

como lo que todos quieren, compran y lucen, entonces la

moda goza de buena salud. Pero si entendemos la moda

"

"

como lo que diferencia a los consumidores, entonces

está sufriendo. Aquí es cuando el diseño y la propuesta

del diseñador cobran valor".

¿Qué opina sobre el creciente fenómeno de blogueros

y las redes sociales orientadas a la moda?

"Las redes sociales han venido a cambiar todo. El

problema de hoy, a mi criterio, es que todo el mundo se

ha convertido en experto y con el teléfono en la mano

van opinando sobre moda en muchas instancias sin

pensar en lo que están diciendo. Estos pluriexpertos

son estorbosos para los que creemos que la moda es un

tema serio, pero hay que aprender a vivir, sin convivir,

con estos sabelotodo; supongo que eventualmente se

aburrirán y se moverán a otros temas".

¿Qué consejo le daría a los jóvenes diseñadores?

"Que cultiven su educación y perfeccionen las

herramientas de este oficio, sobre todo el patronaje que

es un elemento creativo que les permitirá destacar. No

crean en la fama instantánea, la pasarela es una emoción

pasajera. Si quieren tener éxito, tienen que organizar un

plan de negocios, de lo contrario no sobrevivirán".

Como consumidores, ¿qué podemos hacer para mantenernos

actualizados con las nuevas tendencias?

"Los consumidores actuales tienen muchas ventajas

debido a las redes sociales que ofrecen información

al instante. Con tanta oferta, deben seleccionar

una publicación, una página web, un blogger o un

influencer que vaya acorde a sus gustos y estilo de

vida. Y, desde luego, seguir las colecciones de los

diseñadores que le produzcan emoción y gozo". l

Los diseñadores modernos ofrecen ideas irreverentes y frescas,

no tienen cortapisas y revolucionan las marcas para captar

y seducir a los nuevos consumidores a los que entienden a la perfección

188 SPANISH FLUENTIAL MAYO / JUNIO 2017
---
INFLUYENTES

influential-magazine.com

MAYO / JUNIO 2017 SPANISH FLUENTIAL 189
---
Spanish

190 SPANISH FLUENTIAL MAYO / JUNIO 2017
---
INFLUYENTES

influential-magazine.com

"

A los jóvenes diseñadores

cultiven su educación

y perfeccionen

las herramientas

de este oficio, sobre todo

el patronaje que es

un elemento creativo

que les permitirá destacar.

No crean en la fama

instantánea, la pasarela

es una emoción pasajera.

Si quieren tener éxito,

tienen que

organizar un plan

de negocios,

de lo contrario

no sobrevivirán

"

MAYO / JUNIO 2017 SPANISH FLUENTIAL 191
---
Spanish

Fabiana Lizarraga

SON MUCHAS LAS ANÉCDOTAS QUE LES TOCA VIVIR A AQUELLOS

QUE BUSCAN UN FUTURO FUERA DE SU PAÍS DE ORIGEN.

CONVERSAMOS CON FABIANA LIZARRAGA, UNA MUJER QUE APRENDIÓ

QUE UN FRACASO NO ES EL FIN,

SINO EL INICIO DE NUEVAS OPORTUNIDADES

frontera

Más allá

de la

Esta dama emprendedora nació y creció en

Buenos Aires, pero tiene ascendencia italiana

por su madre y vasca por su padre. En su

infancia se describe como una niña muy creativa que

se sentía a gusto manejando colores, texturas y formas.

"Inventaba mis propios juegos de mesa y a la hora

de elegir un regalo siempre terminaba escogiendo

materiales artísticos. En la escuela siempre me elegían

para actuar en las obras de teatro. De algún modo, el

arte siempre ha sido parte de mi vida", confiesa.

Lizarraga estudió odontología, pero no terminó la

carrera. Muchos años después, cuando se residenció en

Estados Unidos y se convirtió en madre de dos niños,

retomó sus restudios y obtuvo su título de Licenciada

en Diseño con especialidad en arte 3D.

A los 19 años de edad, la contrataron para realizar su

primera campaña publicitaria de trajes de baño para

Pierre Balmain. Sin embargo, al mismo tiempo entró a

un grupo musical llamado Las Guerreras, producido por

Eduardo Pérez Guerrero. "Éramos cuatro muchachas que

bailábamos y cantábamos vestidas con un atuendo muy

sexy y colorido. Fue la primera vez que subí a un escenario

frente a cientos de personas. Y así, sin darme cuenta, viajé

por toda Argentina, Chile, Uruguay y Estados Unidos".

192 SPANISH FLUENTIAL MAYO / JUNIO 2017
---
INFLUYENTES

influential-magazine.com

kPOR ARGENIS GUDIÑO

FABIANA LIZARRAGA

| www.thinkingpanties.com

FOTOGRAFIAS

FABBIANA LIZARRAGA

| www.fabiana.tv/

PETER LINNEY

| www.autofocus.net

GUIDO BUDANI

| www.guidobudani.com/

FOTOGRAFÍA GUIDO BUDANI

MAYO / JUNIO 2017 SPANISH

FLUENTIAL 193
---
Spanish

"

Incluyo el

mágico poder

del humor

en casi todo

lo que hago.

Si puedo reírme

y aprender

de mis

errores,

el resultado final

será fantástico

"

194 SPANISH FLUENTIAL MAYO / JUNIO 2017
---
INFLUYENTES

influential-magazine.com

FOTOGRAFÍA PETER LINNEY

MAYO / JUNIO 2017 SPANISH FLUENTIAL 195
---
Spanish

196 SPANISH FLUENTIAL

MAYO / JUNIO 2017
---
INFLUYENTES

influential-magazine.com

Después de su trabajo en las tablas, las presentaciones

en televisión no tardaron en llegar. Años después,

entendió que el mundo del espectáculo se convertiría

en su estilo de vida.

¿Cuál ha sido el mayor reto que ha enfrentado en

este medio?

"Definitivamente, mi mayor desafío es el acento, tanto

en inglés como en español. Llegué a Estados Unidos

con 22 años y no dominaba el idioma. Me tomó mucho

tiempo, estudio y práctica hablarlo con fluidez".

"Cuando audicionaba para comerciales en español me

di cuenta que tenía el típico acento porteño. Entonces, un

gran amigo y compositor colombiano me dijo: 'chica, si no

te quitas ese acento argentino, no trabajarás en ningún

lado' (risas). Así que decidí invertir mi tiempo mirando

telenovelas y noticieros en español para incorporar,

primordialmente, un acento genérico o neutro".

"Trabajé en doblajes de películas y el talento que

encontraba en cada sesión era, en su mayoría, mexicano, y

estuve muy honrada de aprender al lado de personas con

tanta trayectoria. Sus voces eran limpias y claras, cada vez

que las escuchaba veía dibujos en el aire".

"Todo cambió cuando Blanca Valdez, directora del

Hollywood México-Americana, me dio la oportunidad

de asistir a sus castings. Hoy, 20 años después, sigo

agradeciéndole por confiar en mí".

"De ahí en adelante diseñé un switch en mi cabeza.

Cada vez que trabajaba comenzaba a hablar en

español genérico. En los comerciales televisivos siempre

contratan a actores con acento neutro. Jamás lo tomé a

mal. Es como entrar en una cancha de fútbol con zapatos

deportivos para jugar tenis. Yo cambié mis zapatillas y

salí a jugar mis mejores partidos. Pero mi natal acento

argentino forma parte del resto de mi vida".

El mundo artístico es muy competitivo y existe una

necesidad de renovarse para no diluirse en el tiempo.

¿Cómo hace usted para mantenerse vigente?

FOTOGRAFÍA GUIDO BUDANI

"No hay

nada más

gratificante

que hacer

lo que

uno ama"

"En principio le presto atención a mi imagen, pero sin

obsesionarme. Trabajo en una industria absolutamente

visual. Acepto que los años pasen, así como los roles que

interpreto, y me ajusto a ello. Siempre me doy un tiempo

para aprender algo nuevo y, por sobre todas las cosas, me

comporto con mucho profesionalismo y respeto hacia

mi equipo de trabajo, por muy grande o pequeño sea lo

que me toque desempeñar. Esto último, no me cuesta

esfuerzo para nada, lo que me ha dado la posibilidad de

ser recordada por productores y directores al momento

de elegir talento cuando arriban nuevos proyectos".

Con tantos compromisos, ¿cómo hace para compartir

con su familia?

"Es una muy buena pregunta. A través de los años

se me han presentado oportunidades laborales muy

favorables para mi carrera, pero no para mi vida familiar.

En más de una ocasión he rechazado trabajos que me

demandaban viajar a otras ciudades o países por largo

tiempo. Siempre elegí a mi familia primero y consultaba

con ellos, sobre todo porque mis niños eran pequeños;

hoy, ya son mayores y tengo amplia libertad en participar

en proyectos que antes no hubiera considerado. Con

cada trabajo que llega a mí, lo primero que hago es

compartirlo en mi hogar con mucha felicidad".

En su faceta como diseñadora, ¿cómo surge

Thinking Panties?

"Hace 25 años, cuando vine a vivir a Estados Unidos,

se me dificultaba encontrar calzones o bombachas,

como le llamamos en Argentina, que se ajustaran a mi

figura. Les encargaba a mis familiares y amigos que me

compraran panties y me las trajeran desde Buenos Aires".

"Escojo con mucha atención la ropa interior y lo que

cada diseño y color puede sugerir. La tela es muy

importante. Para mí, nada como una cómoda prenda

de algodón. Sin embargo, Thinking Panties no es una

línea de ropa interior convencional".

"Al ponernos nuestra pantie, cubrimos nuestra zona

íntima, es lo primero que toca la piel a la hora de vestirnos.

Estamos, sin darnos cuenta, conectadas a ella. Esta

prenda nos acompaña todo el día y comparte nuestras

MAYO / JUNIO 2017 SPANISH FLUENTIAL 197
---
Spanish

experiencias. En algún momento de creatividad, pasó por

mi cabeza: 'qué tal si las panties pensaran'. Y… voilà".

"Comencé a desarrollar este divertido concepto e

investigar registros de diseños, pero inclinándome hacia el

humor. El punto más grande de mi marca es la posibilidad

de escribir nosotras mismas el mensaje que queremos

expresar. Podemos colocar algo inocente y simpático o

una idea sexualmente sugerente. Este producto está en

la categoría gif o souvenir. Además, es un obsequio que

no pertenece a una temporada específica. Por ejemplo, si

compras unas panties con burbujas pensantes en forma

de corazón, puedes escribir: feliz cumpleaños, te amo o

gracias por quererme tanto".

"En comparación con la ropa interior que viene

estampada con una escritura en particular, con Thinking

Panties tienes la voluntad de escribir tu dedicatoria en

cualquier momento. Es un regalo dirigido a toda edad.

Las panties son un vehículo fuera de lo convencional

para expresar lo que tengas en la mente".

¿Qué tipo de tecnología utiliza Thinking Panties?

"Thinking Panties está totalmente diseñada y

confeccionada en Estados Unidos. Las panties son

importadas, y en su zona delantera llevan una "burbuja

pensante" estampada a calor. Dicha superficie

permite poder escribir en ella y lo puedes hacer con

un marcador indeleble, lavable, una pluma o con

cualquier lapicero que seque rápido".

¿Qué otras piezas plantea desarrollar con Thinking

Panties?

"El concepto de mi línea recién empieza. Toma

aproximadamente cinco años para que un producto

sea insertado en este mercado. Mis pasos son

minuciosamente estudiados. Soy obsesiva a la hora de

sentarme en mi estudio y crear. Yo he diseñado todo:

desde el logo y empaque, hasta el website y el material

promocional. Del mismo modo, soy muy cuidadosa al

momento de elegir a las personas que me ayudan con

el armado del producto que sale a la venta".

"Actualmente, estoy registrando a Thinking T-Shirts.

Esta firma se enfoca en prendas playeras, chombas

o remeras. También diseñamos gorras. Todo lleva el

mismo concepto: escribes lo que quieras".

198 SPANISH FLUENTIAL MAYO / JUNIO 2017
---
INFLUYENTES

influential-magazine.com

¿Qué le recomienda a los emprendedores que se

inician en este mercado?

"Hay un refrán que me gusta mucho: 'el éxito sucede

cuando la oportunidad se encuentra con la preparación'.

Estados Unidos es un país muy generoso. Más allá de la

política, con la que podemos estar de acuerdo o no, sigue

siendo una nación de oportunidades para quien cree en

sí mismo y está dispuesto a trabajar por sus sueños. Los

latinos tenemos un alto nivel de emprendimiento".

"

Mi estado

más preciado

es cuando

estoy en

plena

creación

"

"Recuerdo el caso de una señora que recolectaba

diariamente cientos de latas de aluminio antes y después de

su trabajo principal. Las vendía y ahorraba el dinero para pagar

la universidad de su hijo. Esa mujer es una heroína latina que

tomó cualquier oportunidad de trabajo para transformarlo

en su american dream: darle a su hijo una educación. Todo

es posible cuando le ponemos amor y dedicación".

"Creo firmemente en el poder de dar gracias. Cuando

somos agradecidos, la suma de esa energía aporta un

caudal universal de bien. Esto atrae bendiciones que, a

veces, se esconden a la vuelta de la esquina". l

FOTOGRAFÍA GUIDO BUDANI

MAYO / JUNIO 2017 SPANISH FLUENTIAL 199
---
Spanish

Colección NINGYØ

Christian Colorado

FACEBOOK.COM/CHRISTIANCOLORADO.CO INSTAGRAM @CHRISTIANCOLORADO.CO

FOTOGRAFÍA GATO RIVERO WWW.GATORIVERO.COM

ESTILISMO & MAKE UP ROVERT STEVENS @ROBERTFASHIONMAKEUP

MODELO SMITHSON SMITSON @SMITHSONSMITH

200 SPANISH FLUENTIAL
---
FASHION EDITORIAL

influential-magazine.com

MAYO / JUNIO 2017 SPANISH FLUENTIAL 201
---
Spanish

202 SPANISH FLUENTIAL

MAYO / JUNIO 2017
---
FASHION EDITORIAL

influential-magazine.com

Colección NINGYØ

Christian Colorado

FACEBOOK.COM/CHRISTIANCOLORADO.CO INSTAGRAM @CHRISTIANCOLORADO.CO

FOTOGRAFÍA GATO RIVERO WWW.GATORIVERO.COM

ESTILISMO & MAKE UP ROVERT STEVENS @ROBERTFASHIONMAKEUP

MODELO SMITHSON SMITSON @SMITHSONSMITH

MAYO / JUNIO 2017 SPANISH FLUENTIAL203
---
Spanish

204 SPANISH FLUENTIAL MAYO / JUNIO 2017
---
FASHION EDITORIAL

influential-magazine.com

MAYO / JUNIO 2017 SPANISH FLUENTIAL205
---
Spanish

206 SPANISH FLUENTIAL
---
FASHION EDITORIAL

influential-magazine.com

MAYO / JUNIO 2017 SPANISH FLUENTIAL207
---
Spanish

LA

DIME

208 SPANISH FLUENTIAL MAYO / JUNIO 2017
---
ARTE

influential-magazine.com

NSIÓN DE

HaviArt

k POR ARGENIS GUDIÑO

JAVIER SCHANZ, "HAVI"

| www.HaviArt.com

SPANISH FLUENTIAL209
---
Spanish

210 SPANISH FLUENTIAL MAYO / JUNIO 2017
---
ARTE

influential-magazine.com

ESTE ARTISTA PLÁSTICO PARECE ESTAR

TOCADO POR LA MAGIA. CADA COLOR,

TRAZO Y LIENZO SE CONVIERTE EN

UNA POESÍA VISUAL BAJO SUS MANOS,

Y EL ESPECTADOR SE SUMERGE EN UN MUNDO

DE EXCEPCIONALES FORMAS Y MATICES

En esta edición nos acompaña un personaje

que rompe esquemas. Su carisma es único y

su trabajo es inigualable e, incluso, su sencillez

contrasta con sus logros. Nos referimos al pintor argentino

Javier Schanz, mejor conocido como Havi.

Su preparación académica lo ha hecho merecedor

de títulos en arquitectura, maestro en color, medios

audiovisuales y arte conceptual de la Universidad

Nacional del Litoral en Argentina. Lleva más de 30 años

ejerciendo como artista, docente, arquitecto, interiorista

y diseñador gráfico.

Su estilo de trabajo está inspirado en las influencias

barrocas que le permiten recrear la iconografía de la

cultura pop. Sus obras han paseado por Argentina,

Panamá, Venezuela, Australia, Reino Unido, Nueva

Zelanda, México y los Estados Unidos. Parte de su

repertorio se exhibe en las reconocidas galerías de

Portofino Tower Penthouse, Seafair Mega Yacht, HaviArt

Wynwood, Carlyle Hotel y Boulevard Hotel Miami.

Havi ha pintado a Pamela Anderson, Daymond

John, Cindy Crawford, Serena y Venus Williams,

Carlos Santana, Bernie Yuman, Muhammad Ali, John

Secada, Sam Champion, Lil' Kim, Diego Torres, Taylor

Armstrong, el presidente de México, Enrique Peña

Nieto y el presidente de los Estados Unidos, Donald

Trump. Además, colaboró con Gloria y Emilio Estefan

para crear un retrato que fue subastado en beneficio

de una ONG y celebridades como Toby Keith, Cindy

Crawford y David Cook firmaron sus propios retratos

en garantía del talento de este artista.

Havi es consecuente con las causas nobles y apoya

a instituciones como la Fundación para el Autismo

Infantil, Lions Club International, Fundación Make-A-

Wish, Unicorn Children's Foundation y campañas sobre

los derechos humanos. Para conocer más sobre este

personaje les invito a entrar en la dimensión de Havi.

¿Cuáles fueron sus primeras influencias con el arte?

"Los viajes representan mi mayor influencia, a través

de ellos puedo apreciar la riqueza arquitectónica

y cultural de un país. Visitar museos y observar

pinturas de artistas famosos de otras épocas son

experiencias que motivan mi proceso creativo. Me

inspiro en las fuertes pinceladas de Vincent van Gogh;

en la dimensión psicológica de Edvard Munch; en la

habilidad de Andy Warhol para explorar la relación

entre el arte y la comunicación, y en el prestigio y

audacia del imperio artístico de Damien Hirst".

¿En qué momento se interesó en la pintura?

"Mi madre me contó que desde los tres años

comencé a demostrar una amplia creatividad.

Ella dice que me gustaba mucho dibujar y pintar.

Luego, durante la primaria, realicé cursos de dibujo

y pintura y aprendí las técnicas básicas que después

desarrollaría profesionalmente".

¿Recuerda su primera obra?

¿Qué era, qué expresaba?

"¡Sí, nunca la olvido! A los cuatro años se me ocurrió

crear caras en servilletas de tela quemándolas con

monedas y pequeños objetos de metal. Mis padres

pensaron que incendiaría la casa".

¿Cuando decide crear utiliza solo una braga y

anda descalzo?

"Sí, me gusta sentirme cómodo cuando pinto.

Anteriormente lo hacía completamente desnudo. Ahora

lo hago con algo de ropa porque constantemente recibo

visitas de clientes en mi estudio. Pero continúo pintando

descalzo porque es una manera de conectarme con la

Tierra y así transmito toda la energía interna que, al final,

queda plasmada en la obra".

MAYO / JUNIO 2017 SPANISH FLUENTIAL 211
---
Spanish

¿Cuál es la obra que más le ha impactado hacer?

"Pintar a Donald Trump. En aquel momento solo

era otra de las celebridades que había retratado. El

impacto de ver mi obra en manos de la prensa nacional

e internacional y del mismo presidente de los Estados

Unidos, me hizo notar la dimensión del desarrollo que

he logrado como artista".

¿Cuánto ha sido el tiempo máximo que ha invertido

en una pintura?

"No tengo un tiempo estipulado para una obra.

Puedo concluir una pintura en un día, en una

semana o en meses. Todo depende del grado de

inspiración y la conexión que tenga con el retratado.

Soy muy perfeccionista y mi obra no termina hasta

que logro plasmar el alma del cliente en el lienzo

con un resultado de alta calidad".

¿Qué estilos y movimientos artísticos se ven reflejados

en sus pinturas?

"Mis antecedentes arquitectónicos están claramente

incluidos en mi trabajo. Mi visión del arte se refleja

de una manera poética mientras que mis pinceladas

capturan las sensaciones y emociones de la gente".

"Cuando pinto a alguien intento retratar su rostro lo más

preciso posible y trato de transmitir las emociones de su

ser interno, por ejemplo: la felicidad, el dolor, la esperanza,

la inocencia, la fuerza, la inseguridad, el miedo y todo lo

que creo puede contribuir a describir a esa persona".

"Desde el comienzo del movimiento arte-pop,

muchos artistas intentan retratar el glamour de

Hollywood pintando figuras icónicas. En mi caso,

me enfoco principalmente en introducir una nueva

interpretación y romanticismo a esos íconos mediante

una visión expresiva, profunda y audaz".

¿Cuáles han sido las dificultades más grandes que

ha enfrentado?

"La carrera de un artista plástico tiene muchos

obstáculos. He tenido que sortear inconvenientes

a través de la creatividad, mucho trabajo y la firme

convicción de que en algún momento llegaría el

reconocimiento de la calidad de mi obra. Mi proceso

ha sido un viaje de descubrimiento interior y es la

transición de mi carrera como arquitecto a lo que es

mi máxima pasión: la pintura".

¿Cómo ve el arte en el mundo contemporáneo?

"El arte actual está muy influenciado por las peticiones

del mercado. Creo que cabalgo esa relación de una

forma muy equilibrada, porque logro producir lo que

el público demanda y, al mismo tiempo, encuentro

espacios para innovar sin comprometer la esencia

fundamental de mi trabajo".

¿Cómo define su método de trabajo y los principales

materiales que utiliza?

"Uso una técnica mixta donde fusiono pinturas

acrílicas de alta calidad con espátula sobre papel

de planos de arquitectura que están previamente

pegados al lienzo".

¿Cómo convirtió HaviArt en una marca?

"Fue un proceso largo, de mucho trabajo y

planificación. Cuando mis pinturas comienzan a

ser reconocidas por la crítica, descubrí que podía

extenderlas a otros rubros del arte. Por ejemplo,

utilizar copias de algunas de mis obras en etiquetas de

botellas de agua, productos para embalaje y una gran

variedad de objetos de decoración. Muchas de estas

piezas están disponibles en mi sitio web y en mi galería

en Wynwood Art District".

¿Cuál ha sido su aporte a la sociedad en busca de la

igualdad de los derechos de la comunidad LGBT?

"Constituí un matrimonio feliz y logre el

reconocimiento social y profesional más allá de

mi tendencia sexual, y creo fuertemente en la

responsabilidad y el compromiso social de ser una voz

referente en este aspecto. Como artista y ciudadano

apoyo los esfuerzos de la comunidad LGBT y respeto

el gran esfuerzo que hacen sus representantes para

promover nuestros derechos y construir una sociedad

mucho mejor para todos". l

212 SPANISH FLUENTIAL MAYO / JUNIO 2017
---
ARTE

influential-magazine.com

MAYO / JUNIO 2017 SPANISH FLUENTIAL 213
---
Spanish

"Mis antecedentes

arquitectónicos están

claramente incluidos

en mi trabajo.

Mi visión del arte se refleja

de una manera poética

mientras que mis pinceladas

capturan las sensaciones

y emociones de la gente

(...) Me gusta sentirme cómodo

cuando pinto.

Anteriormente lo hacía

completamente desnudo.

Ahora lo hago con algo

de ropa porque

constantemente recibo visitas

de clientes en mi estudio. Pero

continúo pintando descalzo

porque es una manera

de conectarme con la Tierra

y así transmito toda la energía

interna que, al final,

queda plasmada en la obra".

214 SPANISH FLUENTIAL MAYO / JUNIO 2017
---
ARTE

influential-magazine.com

MAYO / JUNIO 2017 SPANISH FLUENTIAL 215
---
Spanish

216 SPANISH FLUENTIAL MAYO / JUNIO 2017
---
ARTE

influential-magazine.com

Oriundo de Elche, Alicante, España, este

personaje logra diseñar un mundo paralelo

donde la fantasía y la realidad se conjugan

en una imagen, recreando escenarios que transmiten

diversos sentimientos. "Siempre he creído que el

arte, sobre todo el collage, se retroalimenta y debe

retroalimentarse de sí mismo, siempre que el resultado

sea genuino y original", expresa Mora, un mago del

arte digital y la intervención fotográfica.

kPOR ARGENIS GUDIÑO

ANTONIO MORA

| www.mylovt.com

Sus trabajos han aparecido en prestigiosas

publicaciones dedicadas a la fotografía, el arte y el

diseño, como por ejemplo, Photographize Magazine

(Estados Unidos), Gezgin Photo (Turquía) y Palace Costes

(Francia). Mora ha expuesto sus obras en varias galerías

de Europa y en el Hotel Costes en Rue Saint-Honoré,

Francia. Participó como jurado en la Photo Biennale

de Taskent en Uzbekistán y fue invitado de honor en el

Salón d'Automne en el Palacio Real de París.

ANTONIO MORA

FusionArte

ESTE ARTISTA ESPAÑOL

ES UN EXPERIMENTADO CREATIVO,

CUYO TALENTO SE BASA

EN CREAR RETRATOS DONDE

FUSIONA DETALLES DE LA

NATURALEZA, FORMAS Y ELEMENTOS

ARQUITECTÓNICOS

En SPANISH INFLUENTIAL nos complace entrevistar

a este destacado exponente del arte digital.

¿Cómo fueron sus inicios en el mundo artístico?

"Durante más de 20 años he sido director de arte

y diseñador gráfico. Soy una persona muy visual e

imaginativa, y paulatinamente desarrollé mi trabajo en las

áreas más creativas de mi profesión hasta que finalmente

desemboqué en el arte como una consecuencia lógica

de mi constante proceso de aprendizaje".

MAYO / JUNIO 2017 SPANISH FLUENTIAL 217
---
Spanish

218 SPANISH FLUENTIAL MAYO / JUNIO 2017
---
ARTE

influential-magazine.com
---
Spanish

"Mi parcela en el mundo artístico es el collage digital,

y mi herramienta principal es Photoshop, un programa

que me permite dar rienda suelta a mis visiones más

íntimas. En mis comienzos generaba imágenes más

complejas, con varias capas y técnicas, pero con el tiempo

fui eliminándolas. Ahora me expreso mucho mejor

utilizando dos capas y alguna textura superpuesta".

"Mi manera de percibir el arte cambió cuando vi los

trabajos de Aneta Ivanova, Matt Wisniewski y sobre todo

John Stezaker. Me di cuenta que podía crear imágenes

de gran potencia expresiva. Para mí, el año 2013 fue una

explosión de creatividad, estaba todo el día desarrollando

composiciones. A través de las redes sociales, en especial

Pinterest, mis obras alcanzaron, en muy poco tiempo,

una difusión meteórica y se hicieron virales. Todo este

fenómeno me espoleó a seguir amplificando mi trabajo,

buscando fusiones y temáticas muy variadas, siempre

con el retrato como hilo conductor de mis obras".

¿De dónde proviene la inspiración para crear sus obras?

"Son las propias imágenes las que me inspiran, ellas

me dicen con qué otras quieren fundirse para dar a luz

un nuevo ser. Cuando trabajo libremente me percibo

a mí mismo como un médium entre dos universos

paralelos. Dejo que la inspiración fluya".

"Con los encargos es diferente, porque rastreo la web

en busca de las imágenes que necesito. A veces tardo

minutos en encontrar la respuesta, a veces semanas

y en muchas ocasiones nunca la encuentro. Es una

cuestión de predisposición, de actitud".

¿Cómo ha influido la tecnología en las representaciones

artísticas?

"Sin la tecnología jamás hubiera podido sacar a la luz

mis creaciones. Amo Photoshop como instrumento

creativo. Me provee de todas las herramientas

necesarias para realizar mis collages".

¿Cómo crea sus obras?

"Primero elijo una imagen, un retrato. Luego pruebo

con distintos paisajes o formas arquitectónicas. A

220 SPANISH FLUENTIAL MAYO / JUNIO 2017
---
ARTE

influential-magazine.com

través de Photoshop y sus herramientas de gradación,

elimino los contornos entre el rostro y la imagen

superpuesta hasta que aparece un nuevo ser, un

híbrido entre ambas imágenes".

¿Cuál es el impacto que desea causar cuando

un espectador se detiene a apreciar una de sus

creaciones?

"Supongo que la profundidad y la poesía implícita

en ellas. Una vez alguien dijo que yo soy un poeta de

las imágenes. En el fondo, cada una de mis creaciones

esconde un pequeño poema que cada espectador

lee y siente a su propia manera. Mi mayor ambición

es que mi trabajo perdure en el tiempo, que las

generaciones venideras sigan sintiéndose inspiradas

cuando contemplen mis obras. Como decía Horacio: He

construido un monumento más perenne que el bronce".

¿Qué lo motivo a realizar la transición definitiva

hacia un artista de collage digital surrealista?

"Tuve un grave problema físico que me invitó a

replantear mi futuro profesional. Por otra parte, quería

zafarme de la esclavitud creativa que imponen los

clientes y el target hacia quienes van dirigidos los

trabajos de corte publicitario. Así que decidí dar el

salto y disparar con toda mi potencia creativa".

"Afortunadamente, mi apuesta funcionó y hoy en

día siento un gran orgullo y una satisfacción interior.

Esto es lo que me impulsa a seguir adelante. Mantener

el don de inspirar y sacudir la conciencia de quien ve

mis obras. Explorar ese mundo donde habitan seres

híbridos que pueblan nuestros sueños más profundos

y sacarlos a la luz".

Un artista plasma algo de sí mismo en cada uno

de sus trabajos, ¿qué deja usted en sus piezas?

"Sin duda alguna, algo de mí late en mis obras. Casi

todas coinciden en transmitir una profunda emoción

y un sentimiento nostálgico por algo indeterminado,

una especie de déjà vu que no alcanzamos a descubrir.

Aún sigo buscando qué cosa es esa, y en el camino

dejo pistas acerca de mí mismo". l

MAYO / JUNIO 2017 SPANISH FLUENTIAL 221
---
Spanish

222 SPANISH FLUENTIAL MAYO / JUNIO 2017
---
ARTE

influential-magazine.com

"¿Cuál es el impacto

que causo en un espectador?

Supongo que la profundidad

y la poesía implícita en ellas.

Una vez alguien dijo que

yo soy un poeta

de las imágenes.

En el fondo, cada una de mis

creaciones esconde un pequeño

poema que cada espectador lee

y siente a su propia manera.

Mi mayor ambición

es que mi trabajo perdure

en el tiempo,

que las generaciones venideras

sigan sintiéndose inspiradas

cuando contemplen

mis obras. Como decía Horacio:

He construido un monumento

más perenne que el bronce".

MAYO / JUNIO 2017 SPANISH FLUENTIAL223
---
Spanish

DISEÑADORA

MONYK ARREOLA

Instagram: @monyk_arreola / Facebook: Monyk Arreola

m.editharreola@gmail.com

FOTOGRAFIA

FERNANDO SADA

Instagram: @fernando.sada /

Facebook: Fernando Emmanuel Sosa Sada

MODELOS

PATY ARIZPE

Instagram: @patyarizpef / Facebook: Paty Arizpe

VALERIA CANO

InstagramV @valeriacanooo / Facebook: Valeria Cano

ASISTENTES DE PRODUCCIÓN

MELISSA NOGUEIRA

Instagram: @ittanogueira / Facebook: Itta Nogueira

JEHILY CANO

Instagram: @jehilycano / Facebook: Jehily Cano

ESTILISMO

JOSSCLAUDE & BELLVER MONTERREY

www.jossclaudebellver.com/

MAQUILLAJE

JULISSA MARTÍNEZ / JOSSCLAUDE & BELLVER

Instagram: @ julsmtzlavin / Facebook: Julissa Martínez

PEINADOS

SAÚL GONZÁLEZ / JOSSCLAUDE & BELLVER

Facebook: Saul Gonzalez

VIDEO POSTPRODUCCIÓN

GUSTAVO FARIAS

Instagram: @gustavo_farias_photo /

Facebook: Gustavo Farias V

guchiphotography@gmail.com

224 SPANISH FLUENTIAL MAYO / JUNIO 2017
---
FASHION EDITORIAL

influential-magazine.com

Monterrey...

Monyk Arreola

MAYO / JUNIO 2017 SPANISH FLUENTIAL225
---
Spanish

226 SPANISH FLUENTIAL MAYO / JUNIO 2017
---
FASHION EDITORIAL

influential-magazine.com

MAYO / JUNIO 2017 SPANISH FLUENTIAL 227
---
Spanish

228 SPANISH FLUENTIAL MAYO / JUNIO 2017
---
FASHION EDITORIAL

influential-magazine.com

MAYO / JUNIO 2017 SPANISH
---
Spanish

230 SPANISH FLUENTIAL MAYO / JUNIO 2017
---
FASHION EDITORIAL

influential-magazine.com

MAYO / JUNIO 2017 SPANISH FLUENTIAL 231
---
Spanish

232 SPANISH FLUENTIAL MAYO / JUNIO 2017
---
FASHION EDITORIAL

influential-magazine.com

Monterrey...

Monyk Arreola

MAYO / JUNIO 2017 SPANISH FLUENTIAL233
---
Spanish

iván garcía

LA JUVENTUD DEL

buen comer

COCINERO Y PANADERO.

DESDE LOS 14 AÑOS CONSTRUYÓ

UN VÍNCULO CON EL MUNDO

DE LA GASTRONOMÍA

Y HOY ES EL CHEF

DEL BOSQUE BISTRO & LOUNGE,

UN RESTAURANTE MODERNO

Y CÉLEBRE EN LA NOBLE CIUDAD

DE MÉRIDA EN VENEZUELA

kPOR DAVID E. VENEGAS Q.

CHEF

Instagram @ivangarciah

RETRATO FOTOGRÁFICO

Instagram @heyhadude

FOTOGRAFÍAS DE LOS PLATOS

www.gonzalopicon.com

El Bosque Bistro & Lounge está en el Hotel Belensate.

Av. Humboldt. Urbanización La Hacienda con calle 5.

Estado Mérida – Venezuela.

Horarios: miércoles a sábado 6:00 p. m.

/ 12:00 m, y domingo 10:00 a. m. / 4:00 p. m.

Instagram @elbosquebistro

@hotelbelensate

"Mi familia

siempre

ha estado

ligada al

buen comer

y eso

despertó

mi interés

por el mundo

de la

gastronomía"

Con 22 años de edad, Iván García es el ejemplo

de que el éxito no se relaciona con la edad.

Este merideño realizó cursos de cocina en

su adolescencia, pero cuando se gradúo de bachiller

decidió viajar a Caracas y formalizar sus estudios

gastronómicos en el Instituto Europeo del Pan (IEPAN)

y en el Instituto Culinario de Caracas (ICC). Hoy, ya tiene

seis años en la cocina profesional. "El IEPAN fue mi primer

acercamiento con la panadería y fue genial porque es

un mundo totalmente diferente a la cocina. Se maneja

otra metodología de trabajo, requiere más paciencia y se

labora en horarios distintos. Luego me inscribí en el ICC

y tuve la oportunidad de conocer a muchos cocineros

importantes del país y significó un pilar fundamental

en mi carrera profesional, al igual que la plataforma

Venezuela Gastronómica", explica García.

Realizó sus pasantías en Alto de Carlos García, El

Comedor de Héctor Romero y La Guayaba Verde de

Eduardo Castañeda. Sus conocidos lo llaman "Linguini", en

referencia al personaje principal de la cinta Ratatouille.

Iván es un hombre de grandes propósitos y por eso estuvo

al frente de Sabor a juventud, un proyecto de catering

que fungió como un soporte para incentivar a niños y jóvenes

a sumergirse en la gastronomía. "Era un espacio para

mostrar nuestros conceptos culinarios, pero ahora está detenido

porque El Bosque Bistro funciona como el espacio

físico para que la gente venga a conocer nuestra propuesta.

Sin embargo, en algún momento retomaré este proyec-

234 SPANISH FLUENTIAL MAYO / JUNIO 2017
---
GOURMET

influential-magazine.com

MAYO / JUNIO 2017 SPANISH FLUENTIAL235
---
Spanish

Asado negro,

con polvo de ají dulce,

cebollas moradas,

arroz con sarrapia

y vegetales del vallecito

236 SPANISH FLUENTIAL MAYO / JUNIO 2017
---
GOURMET

influential-magazine.com

to, pero con otro enfoque. Quiero que Sabor a Juventud

rescate a los jóvenes de los vicios y que a través de la gastronomía

puedan progresar y reintegrarse a la sociedad. Es

una idea que está en papel y pronto se hará realidad."

Si no hubiera sido chef, Iván se dedicaría a la arquitectura

o al diseño gráfico. No obstante, estas aficiones las decantó

en la creación de El Bosque Bistro, un lugar que nació con la

misma velocidad de su éxito gastronómico. "No tenía idea

que tendría un restaurante en tan poco tiempo. Durante

una presentación en Venezuela Gastronómica, el dueño

del Hotel Belensate, Richard Vezzani, me propuso encargarme

del restaurante del hotel, pero lo rechacé porque no

me gustaba ese tipo de servicio. Pero él insistió en crear un

concepto nuevo y así nace El Bosque Bistro en noviembre

de 2015", comparte. El local se construyó en dos meses y

está bajo un toldo desmontable en una terraza al aire libre,

y toda la estructura está hecha con madera reciclada.

El equipo de El Bosque Bistro está integrado por

ocho personas y la propuesta es cocina venezolana

contemporánea, donde reúnen los sabores de todas

las regiones del país. Además, el restaurante sirve

como un centro de intercambio cultural gracias a las

visitas de otros chefs como Carlos Hernández, Pedro

Castillo, Sumito Estévez y Juan Carlos Bruzual.

¿Cuáles son los platos más populares

de El Bosque Bistro?

" El asado negro se ha convertido en un estandarte.

Tenemos tres platos con asado negro en distintas

presentaciones. También tenemos una esfera de pastel

de chucho que ha sido muy famosa. En este momento

ofrecemos un arroz con pollo que parece un risotto y

tiene una esencia comfort food; tiene cilantro, chips

de plátano y sabe totalmente a casa. Y en tributo

a Mérida, la ciudad que nos recibe, diseñamos un

delicioso carpaccio de trucha".

Si tuvieras la oportunidad de trabajar con otro

chef, ¿quién sería y por qué?

"Me encantaría cocinar con el chef peruano Virgilio

Martínez, dueño del restaurante Central. Es el mejor

MAYO / JUNIO 2017 SPANISH FLUENTIAL237
---
Spanish

cocinero de Latinoamérica según la lista de los 50

mejores restaurantes. Es muy joven y está muy bien

posicionado. Siento que es un buen ejemplo del trabajo

que se puede realizar indiferentemente de la edad".

¿Cuál es la mayor lección que has aprendido como chef?

"No hay edad para hacer lo que te gusta. Las carreras

convencionales han quedado a un lado, siguen siendo

importantes para el funcionamiento de cualquier país,

pero la nueva conformación mundial nos dice que los

jóvenes tienen que hacer lo que les apasione y por eso

vemos tantos emprendimientos en áreas que antes

eran consideradas tabú. En Venezuela, por ejemplo,

la cocina estaba reservada para las mujeres. La nueva

generación ha lanzado por tierra cualquier prejuicio

que existe sobre cualquier profesión. Eso es parte de

las lecciones que he aprendido en la cocina".

¿Qué tendencia gastronómica se mantendrá en el

tiempo?

"En Venezuela, la tendencia está orientada al producto

local. Años atrás, nuestro país tuvo una bonanza muy

importante que nos permitió tener acceso a distintos

"El Bosque

Bistro

se ha

convertido

en un espacio

obligado

para quien

visite

Mérida"

ingredientes importantes como el salmón. Actualmente,

con la realidad económica nos vemos obligados a mirar

hacia lo nuestro. El venezolano ha entendido que el

producto local es importantísimo para el desarrollo de

nuestra cocina. La tendencia de aquí en adelante será

reconocer y merecer nuestra despensa regional".

¿Cómo es la memoria gustativa del merideño?

"Compleja. El merideño tiene muchos prejuicios

culturales y tiene demasiadas cosas preestablecidas.

Nosotros ofrecemos un concepto que sacude todo lo

que el merideño podría pensar de la cocina venezolana.

Por ejemplo, traemos combinaciones saladas y dulces,

y saladas con picante. Hemos roto con el esquema

de los gustos tradicionales de Mérida donde tienen

matices muy marcados con los sabores dulces y salados.

Queremos integrar al paladar merideño una gama más

amplia de sabores y mostrarles que nuestra comida no es

solo el pastelito, el pabellón y la arepa de trigo, sino que

también tenemos el pastel de chucho, la polvorosa de

pollo y las variedades de sopas del estado Nueva Esparta.

La comida venezolana es una cocina regional y la hemos

introducido a la memoria del merideño".

238 SPANISH FLUENTIAL MAYO / JUNIO 2017
---
Carabinas Trujillanas, de caraotas,

huevo pochado y picante

Esfera de pastel de Chucho, con queso ahumado

del páramo y espárragos

GOURMET

influential-magazine.com

¿Qué comida le hace feliz?

"Me encanta la comida de la calle. Siempre tengo

ganas de comerme una hamburguesa o un perro

caliente. También amo la pizza y la pasta. Pero, sin

duda alguna, la comida que más me hace feliz es la de

mi hogar. En eso puede coincidir cualquier persona".

¿Cuál es el plato que le recuerda su infancia?

"El asado negro. Es una de las recetas que más hemos

intentado perfeccionar en el restaurante, por eso es

tan importante en nuestro código gastronómico. Me

encantan las carnes guisadas y los granos".

¿Un libro de cocina indispensable?

"Mi cocina a la manera de Caracas de Armando

Scannone".

¿Ingredientes favoritos?

"El ají dulce, el cacao y el ron".

¿Una frase que impulse su labor?

"Cocina para todos. Era una de las frases de Sabor

a Juventud".

¿Qué les hace falta a los restaurantes del país

para estar en una lista tan importante como los

50 mejores?

"Los restaurantes venezolanos tienen un alto nivel

a pesar de la coyuntura económica y eso nos hace

merecedores de un puesto en esta lista porque

trabajamos en unas condiciones que ningún otro

país posee. A mi juicio, hace falta un conglomerado

de personas que nos ayuden a potenciar nuestra

cocina y parte de eso le corresponde al Estado. En

el momento en que el gobierno entienda que la

gastronomía es vital para el desarrollo de la economía

y del turismo, entonces muchos restaurantes

pertenecerán a listas importantes. Falta promoción

y apoyo financiero para que podamos viajar y tener

permanencia en los congresos mundiales para poder

difundir nuestra labor".

¿Cuáles son sus próximos proyectos?

"Queremos expandirnos a otras latitudes del país y

mudar nuestro concepto a Caracas y a otras ciudades

más grandes para que mucha gente pueda conocer la

comida de Iván García". l

MAYO / JUNIO 2017 SPANISH FLUENTIAL239
---
Spanish

ROCHELLE BRODIN

un instante

para siempre

Este es el caso de Rochelle Brodin, una mujer que

conoce lo que significa estar frente y detrás de la

cámara. Ella desarrolló ambas facetas, porque en

sus inicios fue modelo y hoy mira el mundo a través de

un lente fotográfico. Su trabajo ha sido reconocido por las

publicaciones más cotizadas en la industria editorial como

People, Fortune, Forbes, Marie Claire, entre otras.

Estudió en la Escuela de Fotografía de Londres y fue Cum

Laude en el Instituto de Moda, Diseño y Merchandising

de Los Ángeles, California. Brodin ha estado presente

en la alfombra roja y en los salones VIP de los Premios

Critics' Choice Awards, los Emmy y el BET Experience.

Estos eventos de alto perfil le han dado la oportunidad

de contribuir para agencias especializadas de fotos como

Getty Images y Wire Image.

Pero más allá de su profesionalismo, Rochelle nos

deja muy claro que tiene un hermoso motivo por el

cual luchar y que representa gran parte de su energía.

Por ello, te invitamos a conocer la esencia de una mujer

emprendedora y familiar.

¿Qué significa para usted poder capturar un momento

y hacerlo perdurable en el tiempo?

"La fotografía es mi modo de vida, mi nueva profesión.

Es diferente estar al frente de la cámara y la fotografía se

ha vuelto mi pasión. Si estoy filmando un trabajo tedioso

y estresante, tomo mi iPhone y me voy de excursión a los

cañones con el objetivo de captar un momento hermoso.

kPOR ARGENIS GUDIÑO

ROCHELLE BRODIN

| www.rochellebrodin.com/

GENERALMENTE, EL MUNDO ALABA

LA IMAGEN DE UNA FOTOGRAFÍA

Y SE OLVIDA DE LA MENTE MAESTRA QUE

LOGRÓ INMORTALIZAR UN MOMENTO

PARTICULAR E IRREPETIBLE

Eso es parte de mi vida. Entre 2011 y 2012 tomé una foto

todos los días con mi cámara réflex".

"Como fotógrafa creo que puedo tener un buen

propósito más allá de las ventas de mis fotos o que mi

trabajo se vea en las redes sociales o se publique en las

revistas. Cuando los artistas muestran su talento, dejan

un legado, por eso espero exhibir mi trabajo y que sea

aprovechado en instituciones de caridad. ¿Quién sabe?

Tal vez mis fotos tengan un impacto en los demás".

Cuando se realiza una sesión fotográfica debe

existir una conexión entre el fotógrafo y el modelo.

¿Qué técnicas usa para que la persona se sienta

cómoda y actúe con normalidad?

"La risa es crucial para romper el hielo y mantener

la energía durante la sesión fotográfica. Hacer que la

240 SPANISH FLUENTIAL MAYO / JUNIO 2017
---
LENTE GLAM

influential-magazine.com

MAYO / JUNIO 2017 SPANISH FLUENTIAL 241
---
Spanish

AMANDA TATARYN @atataryn

242 SPANISH FLUENTIAL MAYO / JUNIO 2017
---
LENTE GLAM

influential-magazine.com

gente se sienta a gusto, es fácil para mí. Fui modelo

y actriz comercial durante 15 años y si algo sé, es

lograr que las personas se sientan relajadas. Soy

muy espontánea y honesta. Cuando terminamos el

trabajo, el modelo me cuenta su historia de vida y nos

abrazamos. Siempre trato de que se sientan felices".

La tecnología avanza rápidamente. Pasamos de

cámaras analógicas a digitales en un lapso de 10

años. ¿Hacia dónde va el futuro de la fotografía?

"Tengo una pequeña confesión: nunca he filmado

con una cámara de cine, ni revelé fotos en un cuarto

oscuro. Sin embargo, fui modelo en una película de

formato medio y se utilizaba un lápiz de cera rojo para

elegir las fotos finales".

"Creo que el futuro de la fotografía va a suceder en

dos partes. Primero: la fotografía en movimiento, por

ejemplo: GIF, drones y un montón de fotos en realidad

virtual. Segundo: las Polaroids volverán a la moda y,

quizá, se reavive el espíritu analógico".

¿Qué es lo que más le apasiona de su profesión?

"Me encanta dirigir. Me apasiona controlar el entorno de

un rodaje y dar instrucciones a los talentos para producir el

video que el cliente pide. De hecho, cuando hago una gran

toma, literalmente me río en voz alta. Eso me hace el día".

¿Cuál ha sido su mayor reto como fotógrafa?

"Mi mayor desafío es no contar con suficiente tiempo

para completar todo lo que quiero hacer. Una parte

de mí quiere trabajar siempre, pero la otra mitad está

en casa tratando de mantener al día mis quehaceres

y mi facturación. Un día espero tener un agente y una

asistente de confianza que haga todo eso por mí. Mi

meta es centrarme en mi familia, la fotografía y la edición".

"La mayoría de la gente desconoce que tengo un hijo de

seis años. Siempre estoy en movimiento y nunca me quejo

cuando lo acuesto a las 8:00 p. m. y enseguida comienzo a

editar un video. Ser madre soltera me impulsa a dar más de

mí. Mi hijo es mi inspiración y la alegría de mi vida". l

BEN NORDBERG @bennordberg

CALEY ALYSSA@caleyalyssa

SADIE BURRIS

MAYO / JUNIO 2017 SPANISH FLUENTIAL243
---
Spanish

244 SPANISH FLUENTIAL MAYO / JUNIO 2017
---
LENTE GLAM

influential-magazine.com

LADYGADA @ladygaga

KELLY HU AND SHAUN ROSS @thekellyhu @shaundross

MAYO / JUNIO 2017 SPANISH FLUENTIAL245
---
Spanish

MEKI SALDANA @mekithappen

LIV JAEGER FOR NOBEL BAGS @livjaeger_

SARAH DEANNA @supermodelyou

246 SPANISH FLUENTIAL MAYO / JUNIO 2017
---
LENTE GLAM

influential-magazine.com

MAYO / JUNIO 2017 SPANISH FLUENTIAL247
---
Spanish

N o sta lgi a

JEANNE MADOU, UNA MUJER

QUE BUSCA EL AMOR PURO

DE UN HOMBRE, ESCAPA

DE LAS PÁGINAS DEL LIBRO ARCO DEL

TRIUNFO, ESCRITO POR ERICH MARIA

REMARQUE, PARA SER FOTOGRAFIADA.

BAJO NUESTRA VISIÓN CREATIVA

NOS INSPIRAMOS EN EL AMBIENTE

DE PARÍS, ANTES DE LA SEGUNDA

GUERRA MUNDIAL, PARA RECREAR

LA IDÍLICA HISTORIA DE AMOR

DE DOS ENTRAÑABLES PERSONAJES:

JEANNE Y RAVIC. BIENVENIDOS

A ESTE BREVE, PERO ROMÁNTICO

FASHION EDITORIAL

248 SPANISH FLUENTIAL

MAYO / JUNIO 2017

+

VESTIDO

HTTP://ALEXANDERARUTYUNOV.RU/

ZAPATOS

WWW.SENSO.COM.AU/
---
LENTE GLAM

influential-magazine.com

+

CHAQUETA Y PIEL

@SFIZIO_OFFICIAL

FOTÓGRAFO DARIA BELIKOVA

WWW.DARIABELIKOVA.COM

ESTILISTA ANNA BAKHAREVA

WWW.BEHANCE.NET/BAKHAREVA

MUA YANA NOVIKOVA @YANO4KAMAKEUP

PEINADOS IRINA PAVLOVA @PAVLOVAMUA

MODELO ELENA TEREKHOVA @MODUSVIVENDIS @LENATEREKHOVA

ASISTENTE DE FOTOGRAFÍA MARGO SEREBRYAKOVA @MARGO4KAS

ASISTENTE DE ESTILISTA ALENA SALNIKOVA @ZAVTRAKNATRAVE

MAYO / JUNIO 2017 SPANISH FLUENTIAL249
---
Spanish

+

CAPA Y VESTIDO

HTTP://MASTERPEACE.RU/

COLLARES

WWW.DIOR.COM

PENDIENTES ESTILISTA PROPIO

ZAPATOS

WWW.SENSO.COM.AU/

+

VESTIDO

WWW.SPORTMAX.COM

SOMBRERO

WWW.LIVEMASTER.RU/LIAGUREEVA

COLLAR

HTTP://ALEXANDERARUTYUNOV.RU/

PENDIENTES

ESTILISTA PROPIO

ANILLO

WWW.DIOR.COM
---
LENTE GLAM

influential-magazine.com

SPANISH

FLUENTIAL 251
---
Spanish

252 SPANISH FLUENTIAL MAYO / JUNIO 2017
---
LENTE GLAM

influential-magazine.com

+

VESTIDO

WWW.ELISABETTAFRANCHI.COM

PULSERAS

ESCADA

ZAPATOS

WWW.SENSO.COM.AU/

+

VESTIDO

WWW.IRBAIEVA.COM/ONLINESTORE

COLLAR

YULIA NIKOLAEVA

ANILLO

WWW.DIOR.COM

ZAPATOS

WWW.SENSO.COM.AU/

MAYO / JUNIO 2017 SPANISH FLUENTIAL253
---
Spanish

CARLOS

CAMPOS

F W17

DISEÑADOR

WWW.CARLOSCAMPOS.COM

FOTOGRAFO

LEANDRO JUSTEN

@LEANDROJUSTEN

ESTILISMO

PABLO TORRES

@PLEONCO

MAQUILLAJE

METRO LOOK

(T. COOPER & DANA ARCIDY)

@METROLOOKNYC

Esta colección representa un estado de ensueño donde todo es posible;

un lugar donde la cultura se fusiona perfectamente con mundos

diferentes. Carlos Campos se inspira en los uniformes escolares, en varias

referencias culturales y en los colores vibrantes que se encuentran en los paisajes

argentinos de Salinas Grandes y el Cerro Siete Colores, donde el sedimento y la

erosión marina crean, capa a capa, una sensacional paleta. Las telas, llenas de

vida, van desde las lanas felted, el algodón ligero y la seda. Los estructurados

pliegues se mueven con un crepé ligero, y los pantalones son más recortados.

Por otro lado, los trajes son deconstruidos con un propósito más casual. Sin duda,

estas prendes híbridas simbolizan la pluralidad de la imaginación. l

254 SPANISH FLUENTIAL MAYO / JUNIO 2017
---
FASHION EDITORIAL

influential-magazine.com

MAYO / JUNIO 2017 SPANISH FLUENTIAL255
---
Spanish

256 SPANISH FLUENTIAL MAYO / JUNIO 2017
---
FASHION EDITORIAL

influential-magazine.com

MAYO / JUNIO 2017 SPANISH FLUENTIAL 257
---
Spanish

CARLOS

CAMPOS

F W17

258 SPANISH FLUENTIAL MAYO / JUNIO 2017
---
FASHION EDITORIAL

influential-magazine.com

MAYO / JUNIO 2017 SPANISH FLUENTIAL259
---
Spanish

SELECCIONES

DEL EDITOR

DE MODA

kACCESORIOS DISPONIBLES EN

WWW.STORE.DOLCEGABBANA.COM

Los costos de los accesorios están sujetos

a cambios a consideración de la e-shop.

Ellos

CAMISA D&G

Está elaborada en popelina

de algodón elástico con

estampado de instrumentos

musicales, tiene un corte muy

entallado y cuello italiano.

Colección primavera - verano

2017. Esta propuesta consigue

transmitir el estilo, la elegancia

y el magnetismo de los clásicos

músicos del Jazz Club.

540 $

SOMBRERO D&G

Estilo trilby con estampado

de lunares y cinta.

Los complementos textiles

de Dolce & Gabbana están

pensados para el hombre

que quiere destacar a través

de pequeños detalles de estilo

que marcan la diferencia.

245 $

MOCASINES

DE CHAROL D&G

Mocasines de la línea Genova

de piel charolada bicolor

de la colección primavera -

verano 2017 donde la música

es el tema principal.

517 $

LLAVERO D&G

De la colección primavera -

verano 2017 llega este llavero

en galvánica con detalles

de notas musicales.

321 $

PAÑUELO DE SEDA D&G

Pañuelo de sarga de seda

con estampado

de instrumentos musicales

y dobladillo cosido a mano.

Colección

primavera - verano 2017.

104 $

260 SPANISH FLUENTIAL MAYO / JUNIO 2017
---
VESTIDO D&G

Vestido con línea A de la

colección Marina primavera -

verano 2017, inspirada en los

clásicos colores de los uniformes

y los símbolos marineros.

2,670 $

MODA

influential-magazine.com

kPRESENTADO POR

FABBIOLA PALUMBO

JR. FASHION EDITOR

ARETES D&G

Colección Marina

primavera - verano 2017.

Zarcillos con elemento

decorativo sobre fondo negro,

cristales incoloros en

el borde y cierre con clip.

376 $

SANDALIA D&G

Sandalia Keira de charol

con estampado de rayas, y

detalles de inspiración marinera.

Tacón de 10,5 centímetros,

cubierto de charol, y cierre

con cinturón pequeño y detalle

de cuerda. Colección Marina

primavera - verano 2017.

735 $

BOLSO D&G

Perteneciente a la línea Sicily

de piel Dauphine

con aplicaciones que evocan

el mundo marino.

Posee una solapa frontal con

cierre de corchete oculto

y placa galvanizada posterior

con el logo, asa en la parte

superior y una correa

regulable y extraíble de piel.

1,960 $

GAFAS D&G

Lentes de sol redondos

con la zona delantera

facetada en acetato

transparente con purpurina

plateada. El puente

y las patillas finas son

de metal color oro pulido

y los lentes tienen un

efecto plateado espejado.

240 $

Ellas

MAYO / JUNIO 2017 SPANISH FLUENTIAL 261
---
Spanish

[ HExperience ]

kPOR HARRY LEVY

@HarryLevyA

Mi corbata.

Tu corbata.

Su origen data de 1660,

cuando jinetes del ejército

croata usaban pañuelos

alrededor del cuello,

anudados en forma

de rosa con dos tiras

que caían sobre el pecho

Hoy en día, la corbata constituye

un complemento para la camisa

y uno de los pocos accesorios

con los que los hombres podemos

jugar y fantasear. Su uso

principal era cubrir los botones

de la camisa, pero para

ello no hacía falta tanto

diseño ni complicaciones.

La moda se ha encargado

de darle un gran valor

a la corbata a través de finas

sedas, colecciones, temporadas,

distintos largos y grosores; incluso hay

accesorios propios para ellas, como los

alfileres o los pisacorbatas. Si nos ponemos

a elucubrar sobre este tema, hace

siglos que la corbata dejó de existir única

y exclusivamente para tapar botones, en

nuestros tiempos rápidos y voraces, es

un grito de personalidad. La corbata se

hace presente, es llamativa, tienes flores,

puntos, texturas, rayas, cuadros, monogramas

y dibujos animados. Sin temor a

equivocarme, puedo afirmar que existen

corbatas de todo, con todo y para todos.

Lo primero es separarlas en dos grandes

clasificaciones: largas y de lazo o

moño. Esta también ha sido versionada

en sus tamaños, proporciones, volumen

de las lazadas, terminaciones, materiales…

el universo es el límite.

También ha pasado de ser un artículo

exclusivamente para caballeros. La

mujeres que han versionado el traje

del hombre, a veces, utilizan corbatas

mas femeninas para aderezar su

atuendo. Se ven poderosas, fuertes,

seguras y sexys.

Quiero repasar junto a ustedes, cómo

vemos a la corbata en algunas situaciones.

262 SPANISH FLUENTIAL MAYO / JUNIO 2017
---
influential-magazine.com

La corbata como regalo

Es simplemente perfecta. No tiene talla

por lo que le sirve a gordos, flacos, morenos,

pelirrojos… ocupa poco espacio y

es un obsequio serio que no compromete

a nadie. Lo malo es que siempre viene

envuelta igual. Por más empaquetado

que esté, siempre sabremos que una

corbata es una corbata y se elimina el

factor sorpresa, pero siempre habrá una

boda o un evento al que hay que asistir

bien vestido y con traje formal.

La corbata en el trabajo

La corbata transmite elegancia y formalidad.

Un hombre con corbata se ve

profesional, proyecta respeto, aunque en

el fondo sea un abogado de maletín o

mal esposo. Cuando vemos un hombre

con corbata sabemos que está vestido

para una ocasión especial o se dedica a

un trabajo "serio". Esos estigmas también

han sido eliminados y reformulados con

el tiempo, porque hoy los hombres mas

ricos y poderosos del mundo se despojaron

de las ropas formales para llevar

un estilo más relajado, llevando un jean

y una t-shirt como indumentaria para

trabajar, cerrar grandes negocios y reuniones

importantes. Pero no olvidemos

que algunas empresas aun exigen este

código de vestimenta para sus ejecutivos

o empleados.

La corbata como arma

de seducción

Si nos dedicamos a buscar contenido

erótico, las primeras conejitas Playboy

llevaban ropa interior, tacones altos, un

cintillo con las codiciadas orejitas, prótesis

de silicón y un corbatín rosado y muy

femenino, casi aniñado a juego con la

cola de conejo. El corbatín era un toque

de elegancia que descontextualizaba

la falta de ropa, el desnudo y la provocación.

Por otra parte, en despedidas

de solteras, los hombres que sirven los

tragos y agasajan a la dama próxima a

casarse, usan muy poca tela para cubrir

sus partes nobles, pero siempre hay un

corbatín. El mismo de la conejita pero

más grande, masculino y negro. La mente

vuela con esta fantasía casi perversa

pero elegante a la vez.

La corbata en los estudios

En algunas universidades prestigiosas,

el uniforme de hombres y mujeres

incluye corbata como símbolo de

respeto a la institución y a los maestros.

Este modelo ha sido repicado en

el cine, ¿recuerdan lo elegante y bien

portado que se veía mi tocayo Harry

Potter y sus amigos encorbatados

mientras preparaban hechizos?

Grandes firmas internacionales se

han encargado de mantener la corbata

como un artículo vigente y deseable.

Las alargan, las comprimen, las anudan

de diversas formas, pero sabemos que

están ahí, combinadas magistralmente

para crear la ilusión perfecta que todos,

aunque lo neguemos rotundamente,

queremos lograr. l

MAYO / JUNIO 2017 SPANISH FLUENTIAL263
---
Spanish

264 SPANISH FLUENTIAL MAYO / JUNIO 2017
---
TECNOLOGÍA

influential-magazine.com

linkedin

TE PRESENTAMOS LA RED SOCIAL

PARA EMPRESARIOS, UNA PLATAFORMA PARA LOS

NEGOCIOS Y PARA EVALUAR Y CALIFICAR TU PRÓXIMO

EMPLEO O POTENCIAR EL ALCANCE DE TU EMPRESA

Compartimos algunos tips para

utilizar este modelo digital, para

ello, dividiremos el contenido en

dos partes: LinkedIn negocios y LinkedIn

empleo. Lo ideal es que te registres con

tu correo habitual, así estarás alerta a la

notificaciones y diversas oportunidades

que ofrece este servicio. Te recomendamos

que revises diariamente la pantalla

de inicio de LinkedIn y navegues varios

minutos para encontrar propuestas que

se ajusten a tus propósitos.

LinkedIn tiene dos tipos de cuentas: gratis

y Premium. La diferencia es que la versión

Premium permite conocer quién ha

visto tu perfil, ofrece más resultados de

búsquedas, puedes colgar presentaciones,

ver estadísticas, estructurar campañas pagadas,

entre otros beneficios. Sin embargo,

esta opción es recomendada para usuarios

que manejen relaciones públicas, ventas y

competencias avanzadas de networking.

LinkedIn empleo

Cuando crees el perfil asegúrate de

ingresar toda tu información laboral.

Anexa tus capacitaciones, diplomados,

talleres, seminarios y cursos. Es importante

que añadas tus últimos cuatro o

cinco empleos, así generarás un perfil

confiable y profesional. A través del

buscador podrás encontrar vacantes

ajustadas a tus preferencias laborales.

LinkedIn negocios

Con esta opción podrás crear una página

empresarial, grupos de interés o

debates, entre otras alternativas. Con

ella puedes contactar a otros empresarios,

mantener un estatus continuo con

clientes, publicar noticias en tu muro,

generar información de ventas e, incluso,

reclutar personal.

Para este perfil empresarial, utiliza

un correo corporativo y asigna a una

kPOR JULIO ROMANO

| www.studiorm7.com.mx

persona que mantenga activa la publicación

de información y el contacto

con proveedores. De hecho, el departamento

de ventas puede utilizar este

perfil para concretar negocios y ampliar

la cartera de clientes.

Al sumar contactos a tu perfil, LinkedIn

creará una agenda para segmentar los seguidores

por ciudad, empresa y otras secciones.

Esto permitirá el orden en tus contactos.

LinkedIn no es Facebook. Es una compleja

herramienta de trabajo y, en esta era

digital, es primordial para los negocios.

Utilizarla de forma óptima garantiza el

crecimiento de la calidad de tu empresa.

Si deseas aprender más, escríbenos a

info@studiorm7.com.mx. Recibirás información

sobre nuestros cursos online vía

Skype, y aprovecharás el máximo impulso

del marketing digital, red o aplicación. l

MAYO / JUNIO 2017 SPANISH FLUENTIAL265
---
Spanish

VELOCIDAD

eléctrica

266 SPANISH FLUENTIAL MAYO / JUNIO 2017
---
TECNOLOGÍA

influential-magazine.com

EXP 12 SPEED 6E CONCEPT

BENTLEY

EL FUTURO AUTOMOTRIZ ES LUJOSO Y ELÉCTRICO.

PRESENTAMOS UNA SOBRESALIENTE MÁQUINA QUE CONJUGA

LA FINA ARTESANÍA CON LAS HABILIDADES MÁS CONTUNDENTES

DE LA TECNOLOGÍA Y LA INGENIERÍA EVOLUTIVA

kPOR DAVID E. VENEGAS Q.

FOTOGRAFÍAS CORTESÍA BENTLEY

www.bentleymotors.com

MAYO / JUNIO 2017 SPANISH FLUENTIAL267
---
Spanish

El Auto Shanghái 2017 fue el escenario escogido

por Bentley para presentar al mundo su nueva

innovación: el EXP 12, un concepto que conjuga

todo el refinamiento de la firma británica con las

renovadas técnicas del lujo automotriz.

"EXP 12 fue creado para demostrar que Bentley es la

definición de los vehículos electrónicos, con la tecnología

adecuada, materiales de alta calidad y altísimos niveles

de calidad", expresó Wolfgang Dürheimer, presidente y

director ejecutivo de Bentley Motors.

La marca enfocó todos sus esfuerzos en crear el auto

del futuro. Una nave que satisfaga las necesidades de

una movilidad de lujo pero, al mismo tiempo,

con estándares que reduzcan el impacto

ambiental, al tiempo que se desarrolla una

economía energética. EXP 12 funciona a

través de carga inductiva y es capaz de

conducir de Londres a París o Milán a

Mónaco con una sola carga.

La experiencia de manejo se intensifica

gracias a la vanguardista y distinguida cabina

principal. Toda la consola central está elaborada

en una sola pieza de vidrio elegantemente

curvado y abarcada por una pantalla OLED de alta

definición. Desde ahí, el usuario puede dominar los comandos

de navegación, entretenimiento y climatización. Del mismo

modo, la casa británica desarrolló el sistema Bentley Dynamic

Drive que permite visualizar las operaciones de propulsión

eléctrica del auto. Además, la palanca de cambios está

recamada en exquisitos detalles en cobre.

Mención aparte merece el diseño exterior. Esta máquina

presenta una compleja geometría 3D y cuando el auto está

en funcionamiento el logo 6e se ilumina en un impactante

blanco perlado. Las superficies son musculosas, pero

mantienen la aerodinámica del espíritu deportivo de Bentley.

Los espejos retrovisores están inspirados en la forma escultural

de los fuselajes de los aviones indetectables por radar. l

Los pasajeros

tienen un panel

especial que les

permite conectarse

a sus redes sociales

y al servicio

de mensajería online

268 SPANISH FLUENTIAL MAYO / JUNIO 2017
---
TECNOLOGÍA

influential-magazine.com

EXP 12 se conecta

a una fuente

de alimentación CA

a través

de un cable auxiliar

MAYO / JUNIO 2017 SPANISH FLUENTIAL269
---
Spanish

TECNOPICKS

SELECCIONES TECNOLÓGICAS

Los costos de los accesorios están sujetos

a cambios a consideración de la e-shop.

Nintendo Switch El sistema de juego portátil que te permite jugar lo que quieras, donde

quieras. La diversión en tus manos. $435.90 www.newegg.com

Drone Phantom 4 Advanced

Captura imágenes nítidas y graba videos a grandes velocidades

gracias al sensor CMOS de 20 megapíxeles. El sistema de vuelo

autónomo le permite sortear obstáculos durante el vuelo.

$1,349.99 www.bestbuy.com

Altavoz con Bluetooth Ofrece sonidos 360° para una cobertura

uniforme. Este altavoz inalámbrico es resistente al agua y fácil de

transportar. Reproduce hasta 16 horas de música. $299.99

www.bestbuy.com

270 SPANISH FLUENTIAL MAYO / JUNIO 2017
---
TECNOLOGÍA

influential-magazine.com

Nikon D5600

4.2MP Sensor CMOS de formato DX, procesador de imágenes EXPE-

ED 4, 3.2 "Pantalla táctil Vari-Angle de 1.037k-Dot, grabación de vídeo

Full HD 1080p a 60 fps, conectividad Wi-Fi incorporada, disparo

continuo hasta 5 fps y sensor AF Multi-CAM 4800DX de 39 puntos.

$899.00 www.42photo.com

Balanceador personal con tecnología Ninebot

Transporte personal con una velocidad máxima de 14 mph. Neumáticos 10.5

y motores de 800 vatios de alto rendimiento. Ligero, portátil, luces LED y un

marco de aleación de magnesio de grado aeronáutico. $ 599.00

www.jet.com

Pulsera fitness para frecuencia cardíaca

La tecnología y el deporte se conjugan en este atractivo producto.

Puedes verificar tus ritmos cardíacos durante los entrenamientos y,

además, evaluar la quema de calorías. $129.95 www.newegg.com

Sistema de seguridad inalámbrica HD

Gracias al sistema de vigilancia de Guardzilla, podrás observar tu

hogar desde cualquier lugar. Transmite video en vivo, activa o desactiva

alarmas y envía notificaciones de alerta a tu dispositivo móvil.

$99.99 www.bestbuy.com

MAYO / JUNIO 2017 SPANISH FLUENTIAL 271
---
Spanish

¿cómo respirar

CUANDO NOS EJERCITAMOS?

kPOR MARCELO A. GÁLVEZ LEIVA

| www.twitter.com/MarceloGalvez

| www.wellnessbreak.cl

272 SPANISH FLUENTIAL MAYO / JUNIO 2017
---
DEPORTES

influential-magazine.com

A TRAVÉS DE LA RESPIRACIÓN

OBTENEMOS EL OXÍGENO

NECESARIO PARA QUE NUESTRAS

CÉLULAS SE LLENEN DE ENERGÍA

Y ASÍ REALIZAR CORRECTAMENTE

CUALQUIER ACTIVIDAD FÍSICA.

COMPARTIMOS LAS TÉCNICAS

ADECUADAS PARA CONTROLAR

Y APROVECHAR EL APORTE

DE OXÍGENO

Respirar es un acto que realizamos desde el

momento en que somos concebidos y, sin

embargo, no reparamos en la importancia que

realmente merece. Tener una buena técnica de respiración

es la base para rendir de buena forma mientras hacemos

ejercicio, ya que si no respiramos bien no recibiremos el

oxígeno necesario y nuestro cuerpo comenzará a fallar.

Durante el proceso de respiración, el aire entra en los

pulmones donde se produce el intercambio gaseoso

entre alvéolos y glóbulos rojos. Cuanto más entrenados

estemos, más rápida será esta difusión. Es una de las

adaptaciones fisiológicas que produce el entrenamiento

en nuestro organismo. Cuando la sangre oxigenada

llega al corazón, es bombeada para que se desplace

a los órganos y músculos activos. Con el ejercicio, el

músculo cardíaco aumenta su tamaño y capacidad,

mejorando la eyección de sangre. Nuestros pulmones

se llenan y vacían de aire como consecuencia del

movimiento de los músculos que están a su alrededor.

Se trata de respirar largo y profundo, usando la amplitud

de los pulmones y exhalando completamente.

Cuando practicamos una disciplina no nos

concentramos en la respiración, sino en las acciones

que llevamos a cabo. Es importante comenzar a

controlar nuestra forma de respirar y saber cuándo es

el momento preciso para tomar aire y expulsarlo.

MAYO / JUNIO 2017 SPANISH FLUENTIAL273
---
Spanish

Tenemos dos vías de obtención de oxígeno: la

nariz y la boca. Lo ideal es absorber el aire a través de la

nariz, pues entrará depurado al organismo, y expulsarlo

por la boca. Cuando estamos ejercitándonos, debemos

inspirar fuertemente por la nariz y llenar los pulmones.

La expulsión de dióxido de carbono debe hacerse

poco a poco y siempre por la boca. De esta manera

aumentaremos el rendimiento de nuestro cuerpo.

¿La capacidad pulmonar influye

en el proceso de la respiración?

La capacidad pulmonar es innata. Es decir, no se

puede incrementar el espacio de los pulmones,

pero sí su eficiencia en la respiración, ejercitando los

músculos respiratorios, principalmente el diafragma.

Muchas personas respiran usando el pecho y haciendo

inspiraciones poco profundas. Si no se usa el diafragma

(encargado de expandir y contraer las costillas) los

pulmones no se llenarán de oxígeno.

Tipos de respiración

Existen muchas formas de respirar, pero hablaremos

de las dos más importantes: la respiración intercostal o

pulmonar, y la diafragmática o abdominal.

La respiración intercostal involucra los músculos

intercostales externos y se identifica por el movimiento

del tórax que al inspirar se mueve hacia arriba y afuera,

mientras que al expirar se mueve hacia adentro y abajo.

En la respiración diafragmática, el abdomen se hincha

al inspirar, llenando de aire la zona baja de los pulmones.

Durante el proceso, es esencial inspirar y expirar por la

nariz y mantener relajada la musculatura abdominal. Se

puede practicar tumbado de espaldas y colocando una

mano en el ombligo para seguir el ritmo de la respiración.

El diafragma es la membrana que separa los pulmones

del estómago. Cuando respiramos, los pulmones se

274 SPANISH FLUENTIAL MAYO / JUNIO 2017
---
DEPORTES

influential-magazine.com

llenan de aire empujando el diafragma hacia abajo y el

abdomen hacia afuera. En la exhalación el abdomen

regresa a su lugar de una forma natural (sin ser empujado).

¿Cómo respiro durante los estiramientos?

En los estiramientos inhalamos por la boca y espiramos

por la nariz. La entrada de aire será relativamente

rápida y la salida más calmada. En calentamientos de

movilidad hay que sacar aire cada vez que lleguemos

al extremo de una repetición. Por ejemplo, en el tope de

una rotación de columna, debemos espirar.

¿Cómo respiro en las diversas

actividades deportivas?

• En actividades aeróbicas continuas

y prolongadas, como por ejemplo el

running, debe mantenerse una respiración

combinada entre intercostal y diafragmática,

utilizando la nariz como acceso de aire siempre que

sea suficiente y no nos resulte muy complicado. Así nos

aseguramos de que el aire llegue a los pulmones, filtrado,

humedecido, y con una temperatura más adecuada.

• En actividades anaeróbicas como musculación (excepto

en ejercicios multiarticulares pesados), en principio,

debemos sincronizar la exhalación con la fase concéntrica

del movimiento, espirando pasado el punto de máximo

esfuerzo de dicha fase, e inspirar al hacer la excéntrica.

Si respiramos antes, se pierde la tensión abdominal.

• En los ejercicios multiarticulares pesados (pesos

muertos, sentadillas, press militar) lo ideal es realizar la

maniobra de Valsalva, que consiste en inspirar con el

diafragma y mantener la respiración hasta pasar el punto

máximo de esfuerzo. Hay quienes hacen varias repeticiones

seguidas para no perder la tensión abdominal, aunque

lo recomendable es practicar esta técnica durante

un par de segundos (una repetición). La zona abdominal

adquiere una gran tensión conocida como IAP o presión

intraabdominal. Esa compresión salvaguarda la columna

durante el ejercicio, y hace que todo el torso se comporte

como un bloque sólido. Tras realizar una repetición, es peligroso

soltar todo el aire al llegar a la posición de bloqueo

de una sentadilla, ya que nuestra columna soportará todo

el peso sin que la presión intraabdominal la respalde.

La maniobra de Valsalva debe estar reservada solo para

personas entrenadas, y sin contraindicaciones cardíacas,

porque durante su ejecución se produce una disminución

del flujo del retorno venoso, pudiendo causar mareos. Esto

es lo que dice el profesor Verkhoshansky y el doctor Stiff:

"Muchos médicos afirman que nunca se debería

mantener la respiración cuando se entrena con

pesas. Este mensaje, aunque es bien intencionado,

no es correcto y puede dar lugar a lesiones serias.

La maniobra de Valsalva incrementa la presión

en el abdomen, soportando la columna vertebral.

Sin esta maniobra, es la columna vertebral,

en particular los discos intervertebrales y los

ligamentos, los que sufren grandes presiones.

Prolongar manteniendo la respiración más

de unos pocos segundos, causa un dramático

incremento en la presión sanguínea, seguido

por una repentina caída de la presión tras la

exhalación, así que no es aconsejable para

cualquiera, sobre todo para sujetos mayores y

aquellos con enfermedades cardiovasculares".

En su lugar, se puede emplear una versión

más suave conocida como Power

Breathing, y que consiste en soltar una

mínima cantidad de aire al exhalar,

como si fuéramos a silbar.

La respiración en el yoga

En esta disciplina la respiración facilita la concentración

y la relajación, además, es una puerta de acceso a la

purificación del cuerpo y la mente. En el yoga, el control

de la respiración se denomina Pranayama. Aquí todo el

proceso de respiración se realiza por la nariz, tanto inhalar,

como exhalar (lo cual es más raro, porque tendemos a

exhalar por la boca). ¿Por qué?

• Para poder filtrar el aire y sus bacterias a través del

vello de la nariz.

MAYO / JUNIO 2017 SPANISH FLUENTIAL 275
---
Spanish

• El aire se humedece por las sustancias segregadas

• Adecuar la temperatura del aire a la del cuerpo,

por las mucosas.

pues el aire se calienta en la nariz por ser una zona muy

vascularizada.

¿Respiro por la nariz o por la boca?

Es más sano respirar por la nariz. El aire que se inspira

por la nariz, pasa por el filtro de la rinofaringe, que calienta

y humedece la respiración, retiene el polvo y purifica el

aire; mientras que el oxígeno que entra por la boca va

directo a los pulmones. Lo que pasa es que llega un

momento en que necesitamos mucho aire y no puede

ser suministrado solo por la nariz, y necesitamos abrir la

boca, tanto para la entrada como para la salida de aire.

¿Se puede entrenar y mejorar el proceso

de la respiración?

¡Sí! Te proponemos un ejercicio creado por el

profesor Zatsiorsky para optimizar la eficacia del

funcionamiento abdominal durante la respiración:

Tras inhalar aire con normalidad, contrae los

abdominales, manteniendo la glotis cerrada y el esfínter

anal contraído (para incrementar la presión interna).

Exhala aire con fuerza en 3-5 segundos. Apretar los puños

te ayudará a mantener las zonas indicadas en tensión.

Realiza tres series de 10 repeticiones todos los días.

Otro ejercicio muy fácil es inflar un globo con soplidos

cortos, fuertes y seguidos. De esta manera trabajamos

la musculatura respiratoria (abdominales, intercostales y

diafragma). Es una práctica recomendada para personas

con afecciones pulmonares (bronquitis o asma).

Respecto a las famosas tiras nasales, que se

empleaban para abrir las aletas de la nariz y permitir

el máximo flujo de entrada de aire, la revista Medicine

& Science in Sports & Exercise demostró que no

mejoraban el rendimiento de los atletas.

Por medio de estas reglas básicas y sencillas,

conseguirás aumentar tu potencia y maximizar los

efectos de cualquier ejercicio. Recuerda que tu cuerpo

funcionará mejor al estar más oxigenado. l

Fuentes

• Pavel Tsaoutsuline: "Power to the people", pág. 64

• Medicine & Science

• Vida Sana

276 SPANISH FLUENTIAL MAYO / JUNIO 2017
---
Spanish

Sport

picKS

1 Balón de Futsal,

tipo 3

• Cubierta de cuero sintético

con laminación de 4 capas

• Máquina cosida

• Bajo rebote

$ 22.95

www.anthem-sports.com

2 Bolso para

implementos

de beisbol con ruedas

• Fabricado en poliéster 600D

• Ruedas en línea

• Máxima durabilidad para

evitar estallidos

$ 79.95

www.anthem-sports.com

3 Guante de boxeo

Everlast

• Para los amantes del boxeo

cómodos guantes para

la practica de esta especialidad

• Material Poliuretano

$36.98

www.athleteshop.com

4 Masajeador de pies

• Balneario para pies con

vibraciones y masaje con burbujas

• 5 niveles de función

• Potencia en vatios: aprox. 400

$129.58

www.athleteshop.com

278 SPANISH FLUENTIAL MAYO / JUNIO 2017
---
DEPORTES

influential-magazine.com

Los costos de los accesorios están sujetos

a cambios a consideración de la e-shop.

5 Pantalones

de compresión Flex

para hombres

• Con tecnología Champion

Vapor elimina el sudor de la piel

para una comodidad más fresca

y más seca. y fabricado con 84%

poliéster / 16% spandex

$10.99

www.champion.com

6 Relajador Manual

• Pequeño y cómodo

masajeador. Ofrece un masaje

profundo o superficial del cuello

y la espalda.

• Aplicaciones sencillas,

funcionales y mejora la

circulación y afloja los músculos

$4.63

www.athleteshop.com

7 Camiseta para damas

• Ideal para realizar actividades

físicas su alta tecnología permite

absorbe el sudor y se seca

rápidamente.

• 100% poliéster

$ 10.99

www.champion.com

8 Sudadera con

capucha para damas

• 80% algodón / 20% poliéster,

tela de lana de 240 g

• Ajuste delgado y contorneado

• Cremallera, capucha ajustable

con cordón

$65.00

www.roguefitness.com

MAYO / JUNIO 2017 SPANISH FLUENTIAL279
---
Spanish

FOGOSA

con esposo frío

kPOR DR. MIGUEL SIRA

MÉDICO SEXÓLOGO

| www.solterosdrsira.com/

preste atención en las primeras de cambio, lograrás lo

que quieres al abordar en distintas oportunidades el

tema. Si eres de las mujeres que les cuesta comunicarse

con su pareja en todos los aspectos, incluso en la

sexualidad, entonces te vas a sentir incomoda al tratar

este tema y la cosa se agravara si tu pareja te elude

todo el tiempo.

Hola Dr. Sira, tengo problemas con mi

pareja debido a que no logramos

entendernos en la intimidad. Tenemos

16 años de matrimonio y esto va de mal en

peor. Soy una mujer muy fogosa en lo que al

sexo se refiere. Mi esposo tiene 44 años y no

despierta en mí la llama de la pasión que haga

feliz nuestra relación como pareja. Siempre va a

lo básico: besos, caricias sin ternura hasta llegar

al coito y ya. Es decir, busca la penetración sin

calentamiento previo, que es lo que siempre le

pido. Debido a esto, no lubrico cuando vamos a

tener relaciones sexuales. Él siempre ha sido así

y ya no sé cómo pedirle las cosas que me gustan.

Yenni, 38 años, Caracas.

Estimada Yenni, debería ser sencillo hablar de sexo

con tu marido luego de cierto tiempo de intimidad,

pero en algunos casos no se da por pena de uno o de

los dos miembros de la pareja. Si tú eres abierta en la

sexualidad probablemente no te cueste exponer tus

puntos e ideas con tu esposo, y a pesar de que no te

Para lograr una apertura con tu pareja debes hablar

lo más natural y espontanea posible; procura ser

amigable y no agresiva. Utilizar astucia e inteligencia

se hace necesario cuando el hombre no acepta

sugerencias ni opiniones. Para hablar de sexo debes

buscar un momento en el que ninguno de los dos se

pueda distraer, puede ser en tu cuarto, en el balcón,

en la sala con la televisión apagada y si tienen niños,

cuando estos estén durmiendo.

La forma como vas a manifestar lo que deseas

debe incluir un "me gustaría" en vez de "quiero"

o "te exijo". Recuerda utilizar tu inteligencia sin

imponer las cosas, pero haciendo sugerencias

atractivas para ambos. Lo más importante es lograr

esa conversación, que se entiendan claramente y

llegar a un acuerdo de cómo van a funcionar en el

futuro en cuanto a su intimidad. l

Para que el Dr. Miguel Sira responda tus preguntas a

través de esta columna, contáctalo por:

| www.facebook.com/miguelsirav

| www.twitter.com/drmiguelsira

| miguelsirav@hotmail.com

280 SPANISH FLUENTIAL MAYO / JUNIO 2017
---
SEXOLOGÍA

influential-magazine.com

MAYO / JUNIO 2017 SPANISH FLUENTIAL 281
---
Spanish

ASUMIR LO QUE

nos corresponde

282 SPANISH FLUENTIAL MAYO / JUNIO 2017
---
AUTOAYUDA

influential-magazine.com

k POR GIUSEPPE PALADINO B.

TERAPEUTA SISTÉMICO

EN CONSTELACIONES FAMILIARES

| www.giuseppepaladino.com

SOLO TÚ

PUEDES FORMAR

TU FELICIDAD,

BIENESTAR Y ÉXITOS.

ERES EL CREADOR

DE TU PROPIA

EXISTENCIA Y ERES

RESPONSABLE

DE LO QUE HAGAS

Y LO QUE OCURRA

CON ELLA

Vivir es un

compromiso.

Cada quien

tiene la

capacidad

de responder

a lo que

quiere ser

y hacer.

Debemos

estar claros

de nuestros

deberes

personales,

familiares

y sociales.

Vivir es un compromiso. Cada quien tiene la

capacidad de responder a lo que quiere ser

y hacer. Muchas veces aceptamos trabajos

o relaciones sin reconocer las consecuencias de no

cumplir con ellas y, en ese momento, evitamos asumir

la responsabilidad de las obligaciones, nos volvemos

irresponsables y culpamos a los demás (pareja, hijos,

compañeros, jefes, amigos) y a otros factores externos

(país, transporte, gobierno, clima) de nuestros

incumplimientos. Debemos estar claros de nuestros

deberes personales, familiares y sociales.

Cuando llegan nuevos proyectos de vida, es

importante conocer sus responsabilidades. En un

trabajo debemos atender diversas funciones, horarios

y competencias; cuando descargamos una aplicación

en la computadora o móvil debemos aceptar los

términos de licencia; cuando nos casamos firmamos un

acta de compromiso y así montones de ejemplos. No

corresponder estos convenios nos hace responsables

de las consecuencias que acarrean.

Debemos ser sensatos con nuestros pensamientos,

intenciones, éxitos y fracasos. Conoce y aprende los

compromisos de tus tareas. Emprender algo nuevo

requiere aprendizaje, experiencia, seriedad y madurez.

Evita estancarte en los compromisos o proyectos que

no dieron sus frutos. Si estás en esta situación, observa

y transforma lo que te duele y no te hace progresar.

Solo a través de la acción podemos iluminar nuestros

cuartos oscuros, evolucionar y desarrollar nuevos

espacios en nuestros ámbitos personales.

Recordemos un pensamiento de Jorge Bucay,

terapeuta gestáltico y escritor argentino: "El verdadero

buscador crece y aprende, y descubre que siempre es

el principal responsable de lo que sucede". l

MAYO / JUNIO 2017 SPANISH FLUENTIAL283
---
WWW.INFLUENTIAL-MAGAZINE.COM

MAY / JUNE 2017

MoniqueWeingart

Featuring Our Exclusive

Interview with

PHOTOGRAPHY BY ISABELLE RUEN
---
Teen

This Issue would not be possible

without these InFluential people

CONTRIBUTING WRITERS

PHOTOGRAPHY COURTESY OF

ISABELLE RUEN / @ISABELLERUEN

REPRESENTED BY

CLAIRE ARNAUD-AUBOUR & SPLASHPR

AGENCY

@SPLASHPRCLAIRE

MODEL

MONIQUE WEINGART @MONIQUEVICTORIA

HMUA

BETH ANN RITTER

DIGITAL TECH / PHOTO ASST

DON ALLEN

LOCATION HÉRITAGE FINE WINES'

ROOFTOP, BEVERLY HILLS

@HERITAGEFINEWINES

Mia Dedear

| Austin, Texas

Mia is a student at the

University of Texas at

Austin, double majoring in

Advertising and Theatre.

Having grown up in an artistic

family, she has devoted much

of her life to the arts, striving

for finesse in violin, dance,

film, and theatre. Ultimately,

she aspires to become

a valuable advocate

for diverse representation in

the arts and media.

Veronica Hageman

Jr. Beauty Editor for Teen InFluential

Veronica is a Beauty Consultant

and certified Makeup Artist

who hails from the Fashion

District of Dallas, Tx. With a

passion for fashion and all things

beauty, she aims to service

her clientele with the latest

and greatest product trends

and techniques on the market

today. A graduate of the CMC

Makeup School, she specializes

in Editorial and Special Events

Makeup Artistry. Her brand

knowledge and expertise keep

her on the cutting edge of the

Beauty Industry. With her warm

personality and intuition, she

brings joy and beauty to every

client she meets.

286 TEEN FLUENTIAL MAY / JUNE 2017
---
Teen

FRESH WAYS TO ENJOY

Pizza Night

AND MAKE

A BALANCED MEAL

You know a balanced

diet that includes

plenty of fruits and

vegetables is best

for your health, but

achieving that can

be a challenge given

everything you have to

accomplish in a day.

Daily meal planning doesn't have

to be such a chore if you turn to

your freezer for a little help. In

fact, starting with frozen prepared foods

as the foundation of your dinner plate

and adding side dishes with fresh fruit,

vegetables, whole grains and/or lowfat

dairy can make it possible to serve a

balanced meal that is quick and tasty. And

that works for pizza night, too! "Eating a

balanced meal doesn't mean you have to

give up favorite foods like pizza," says Bobby

Parrish, Food Network personality and

Today contributor. "It just means you need

to be mindful of portion sizes and balance

out your plate with a nutritious side dish of

fresh vegetables, fruit and whole grains."

Research shows that Americans

struggle with meeting recommended

dietary guidelines. In fact, nine out of 10

people don't get the daily recommended

servings of fruits and vegetables,

the Centers for Disease Control and

Prevention say. A simple way to improve

the mix of foods you're eating is by

supplementing something you already

288 TEEN FLUENTIAL MAY / JUNE 2017
---
influential-magazine.com

HEALTH & WELLNESS

enjoy — like pizza — with side dishes

made up of other food groups.

Nestlé USA's Balance Your Plate educational

program aims to help you put together

delicious and nutritious meals that

incorporate both frozen and fresh foods.

The website www.nestleusa.com/balance

provides information, tips and recipes to

help consumers create easy, balanced meals

that meet dietary guidelines.

By choosing your favorite frozen dishes,

like pizza, as the foundation of your meal,

you can build a more balanced plate

with these tips:

• Make at least half your plate fruits

and vegetables. For example, if you have

a slice of cheese pizza, pair it with a fresh

salad or your favorite vegetable side dish.

• Figure out your portion by looking at the

recommended Serving Size in the Nutrition

Facts label. Here's an easy idea for pizza

portions: picture your hand as a pizza slice

and plan to enjoy one or two hands' worth.

• Don't be afraid to mix vegetables

right into or on top of your pizza. For

example, top cheese pizza with fresh

tomato and basil after it comes out of

the oven.

• Bagged salad greens, spinach or

salad kits are a great, speedy way to add

greens to your plate.

Parrish, who partnered with DiGiorno

to create original side dish recipes,

offers these two nutritious and tasty

salad recipes to pair with your favorite

pizza to create a more balanced meal:

Quinoa and Grapefruit

Herb Salad

Ingredients:

2 cups of cooked quinoa

1 grapefruit

2 tablespoons pistachios, chopped

and roasted (optional)

1-2 small carrots, grated

1 tablespoon each of fresh parsley

and dill, chopped

Zest of 1 lemon

Juice of half a lemon

1/4 teaspoon kosher salt

Couple cracks of black pepper

2 tablespoons extra virgin olive oil

Directions:

Bring 1 3/4 cups of water to a boil

and add 1/2 a teaspoon of salt. Add 3/4

cups of raw quinoa. Stir well, reduce to

a simmer and cook uncovered for 20

minutes. Check the quinoa; the water

should be absorbed and the grain

should be fluffy. If the quinoa has not

unraveled, add another 1/4 cup of water

and cook until the water evaporates and

the quinoa looks cooked. Fluff with a fork

and allow to cool for up to two hours,

or you can make ahead of time and

refrigerate overnight.

Place the cooked, cooled quinoa in a

large bowl. Using a knife, cut away all

the skin from the grapefruit and cut all

segments directly into the bowl. Add all

the remaining ingredients and mix well.

Check for taste; you may need to add

more lemon juice. The salad will keep in

the refrigerator for up to three days.

Shaved Apple and Romaine

Crunch Salad

Ingredients:

2 hearts of romaine lettuce

1 sweet apple, like gala or pink lady

2 tablespoons raisins

1 tablespoon fresh chives, sliced

2 teaspoons sesame seeds

For the salad dressing:

3 tablespoons tahini

2 teaspoons agave nectar or honey

1/2 teaspoon smoked paprika

Zest and juice of half a lemon

1 teaspoon extra virgin olive oil

1 teaspoon freshly chopped parsley

1/4 teaspoon kosher salt

Couple cracks of black pepper

2-4 tablespoons water

Directions:

Use a slicer or mandoline to thinly slice the

apple. Place the slices in a large bowl and

squeeze some lemon juice over the slices to

prevent them from turning brown. Slice the

romaine thinly and add it to the bowl along

with the remaining salad ingredients. Set

aside.For the dressing, add everything but the

water to a small bowl and whisk to combine.

Add enough water to loosen the dressing so

it's able to be poured. Check for seasoning;

you may need a little more salt or lemon juice.

Keep the dressing and salad in the fridge until

ready to serve. Right before you dress the

salad, add 1/4 teaspoon of salt and a couple

cracks of pepper to the romaine mixture. Toss

the salad with just enough dressing to coat

everything, making sure not to over-dress the

salad. Once the salad is dressed, it must be

eaten and cannot be stored in the fridge. For

more recipes, information and meal ideas, visit

www.nestleusa.com/balance. (BPT) l

MAY / JUNE 2017 TEEN FLUENTIAL 289
---
Teen

Summer

PREPPING FOR

INTERNSHIPS

kWRITTEN BY MIA DEDEAR

290 TEEN FLUENTIAL MAY / JUNE 2017
---
influential-magazine.com

BUSINESS

But first, you've gotta land that

internship. Applying to be an

intern can be a daunting task,

but if you prepare well in advance, it'll be

a breeze. Here are some tips on how to

prepare for "internship hunting season".

• Write your resume, refine

it, and refine it again. Resume

templates are easily accessible online.

Generally, you will create about three

to four sections that list your education,

experience, training, awards, and other

relevant topics. Your goal is to showcase

what you've got. Now keep in mind

that that doesn't necessarily mean

putting everything you have ever done

on your resume. If you have extensive

experience, choose the top examples

and use only those, for the sake of

brevity. Your resume should not be

more than one page long. Other than

that, it's mostly up to you. Choose words

that convey your personality, and make

sure to present your strongest traits.

After you finish, hand it over to a teacher

- or, if you're brave or have connections,

pass it to someone in your prospective

field - and ask for feedback. Once you've

passed it through a few "editors," you've

got your resume ready to go.

• Start looking for those

internships. Keep a written list

of everything you are interested in.

Take note of the details of each one,

especially if the listing implies what

they are looking for in a future intern.

There are many ways to find internship

opportunities. You can find them

online through a standard search

engine, or through a website that

specifically connects job hunters with

opportunities. But don't forget to reach

out to the people around you! Teachers,

family friends, friends of friends - ask

them all. Chances are, you've got

connections to someone who would be

able to point you in the right direction,

and possibly recommend you.

• Prepare for an interview.

Your interview could be your "make

it or break it," so make sure you make

it. The key to doing that is dressing

professionally and having answers that

you are confident in. Practice answering

questions; common interview questions

can be found online. Just to get you

started, here are some examples:

"What are your greatest professional

strengths?" "How would you describe

yourself in three words?" "What are you

looking to gain from this position?"

Make sure you clarify your goals and

express why this internship is the

perfect one for you… and why you're

the perfect one for it.

• Ask for follow-up info. Do

this at the end of the interview.

Ask when you can expect to be notified

of their decision. If you don't hear back

for a while, send a follow-up. Don't be

modest about it and shy away from

following up. These people have many

things on their to-do list and sometimes

really do let things slip by without

intending it. A polite inquiry would do

you more good than bad.

And, of course, once you've got that

internship, take it and run with it. Stay

professional, work hard, be grateful…

and the people you work with will favor

you long after summer ends. l

Chances are you're

getting to the

age where you're

thinking about

taking on a summer

job or internship.

Internships are

crucial to your

resume and to gaining

knowledge in your

field of interest.

Of course, it seems

like a boring way to

spend your summer,

but if you truly

are pursuing what

you find interest

in, you will find

it rewarding

and exciting.

MAY / JUNE 2017 TEEN FLUENTIAL 291
---
Teen

3 Financial

Must-Do's

FOR

COLLEGE-BOUND

HIGH SCHOOL

FAMILIES

One challenge

looms large for

many American

families as students

approach high school

graduation: how to

pay for college.

kPHOTOGRAPHY COURTESY OF

ND2000 – FOTOLIA.COM.

Financial planning should ideally

begin several years before college

applications are even due. But no

matter what financial preparation your

family has done, everyone planning

to attend college should take these

concrete measures during senior year of

high school.

• Seek Federal Aid. Complete the

Free Application for Federal Student Aid

(FAFSA) as soon as possible. The FAFSA

is your first step to securing financial aid

for college, including federal student

loans, and most state and institutional aid.

Unfortunately, many students don't realize

they are eligible for such aid, leaving tons

of money (and potential educational

opportunities) on the table. To complete

the FAFSA, visit fafsa.ed.gov.

292 TEEN FLUENTIAL MAY / JUNE 2017
---
• Search for Scholarships.

Because scholarship money typically

does not have to be repaid, it's

important to secure as much of

it as possible. Begin your search

using online scholarship databases,

such as TuitionFundingSources.com,

and meet with your school

counselor to discuss other available

scholarship opportunities. Microscholarships

are another option to consider.

Check out sites like raise.me to learn more

about how you can earn scholarship

money for your high school achievements.

• Understand Family Finances.

Now is the time to have some

important family discussions. Parents

should set expectations about money

with their students, letting them know

influential-magazine.com

EDUCATION

what, if any, portion of college expenses

they plan to pay. Students should find

out if any funds have been set aside for

their education, as well as what their

responsibilities will entail -- whether that

involves holding down a part-time

job or maintaining a particular

grade point average.

• Consider Private Loans.

After exhausting grants, scholarships

and other aid options that don't

require paying interest, private loans

may be worth some consideration

and can, in some cases expand

your educational opportunities

as a college-bound student.

"It's important to keep in mind that

there are often many unanticipated

expenses associated with the college

years -- from taking an extra course to

paying for materials and technology to

spending a term studying abroad," says

John Rasmussen, head of Wells Fargo's

private student lending business, who

cautions against a cavalier attitude

where loans are concerned.

"Whether you take out a private

student loan or leverage other financial

products to pay for miscellaneous

expenses, it's important to understand

the terms of repayment."

More tips, as well as free college

planning resources, can be found at

blogs.wf.com/collegeplanning.

Don't leave the future uncertain. If

you are college-bound, plan ahead to

ensure that you can meet the costs of

your education. (StatePoint) l

MAY / JUNE 2017 TEEN FLUENTIAL 293
---
Teen

TIPS TO LAND A

College

Scholarship

If you are

college-bound or

already enrolled,

experts say it's

worth investing the

time to investigate

scholarship

opportunities - even

if you think you may

not be eligible for

most opportunities.

According to a recent study,

more than a third of college

costs in the U.S. were covered

by scholarships and grants in the 2015-

2016 academic year.

"Scholarship money doesn't have to be

paid back, and it can significantly reduce

out-of-pocket college costs for families,"

says Martha Holler, senior vice president

at Sallie Mae, who also points out that

scholarships are not just for star football

players and valedictorians.

From scholarships for dart players

and vegetarians to filmmakers and

those fluent in Klingon, available

awards run the gamut and extend

well beyond academics or athletics

to a wide range of activities, interests,

and affiliations.

"Have a passion for designing greeting

cards? There's a scholarship for that!

Interested in helping people understand

the perils of texting when driving? There's

a scholarship for that too," says Holler.

With this in mind, Holler and the experts

at Sallie Mae are offering the following

scholarship tips.

• Be thorough. Don't overlook smaller

scholarships. Even a few hundred dollars can

help offset the cost of textbooks and supplies.

• Be proactive. Apply for scholarships

every year. Approximately 50 percent of

available scholarships are for students

already enrolled in college.

• Be diligent. Pay attention to details.

• Be careful. Never pay for scholarships

Follow instructions and proofread carefully.

or for scholarship searches. School

counselors and school financial aid offices

can recommend reputable options. One

such site is Scholarship Search by Sallie

Mae, a free scholarship search tool that is

294 TEEN FLUENTIAL MAY / JUNE 2017
---
influential-magazine.com

EDUCATION

home to five million scholarships valued

at $24 billion dollars. The tool responds

with matches that identify relevant

scholarships and their award amounts,

application requirements, and deadlines,

and it automatically sends updates when

it identifies new matches. Those who

register are automatically eligible to win

the Plan for College Sweepstakes, which

awards $1,000 each month to a winner

selected at random.

• Be on time. Meet deadlines. If

an application can't be submitted

electronically, use certified mail. Stay

organized and ahead of deadlines by

using automated calendar alerts.

For more scholarship tips, visit

SallieMae.com/ScholarshipSearch.

College scholarships come in all shapes

and sizes and billions of dollars are

awarded each year. By applying to all the

scholarships for which you are eligible,

you can be sure you are not passing up

any opportunity to reduce your potential

debt down the line. (StatePoint) l

MAY / JUNE 2017 TEEN FLUENTIAL 295
---
Teen

6 Tips for Decoding

COLLEGE FINANCIAL

AID AWARD LETTERS

Cut through the chaos

with expert tips for

understanding college

financial aid letters.

Whether you're a high school

senior or an adult looking

to change careers, a college

degree can be the key to a bright future.

As acceptance letters arrive in the mail,

another important document is not far

behind: financial aid letters.

"College is a major investment, and many

people require financial assistance to pay for

it," says Harlan Cohen, New York Times bestselling

author and creator of the Naked

Financial Minute. "It's vital to understand

financial aid so you can make informed

choices and avoid surprises in the future."

The average cost of tuition and fees for

the 2016–2017 school year is $33,480 at

private colleges, $9,650 for state residents

at public colleges, and $24,930 for out-ofstate

residents attending public universities,

according to the College Board.

In order to find out what aid you qualify

for, you should start by filing your Free

Application for Federal Student Aid (FAFSA).

After your information is processed, and

you've applied to the colleges of your

choice, you'll receive financial aid award

letters in the mail with the results from

each school where you were accepted.

Not all financial aid letters are the same,

so deciphering and comparing them can

be confusing. To help get you started,

the experts at College Ave Student Loans

share tips and tricks for how to easily

understand your financial aid letter.

• Look carefully at symbols and

terms: College award letters may use

different wording and abbreviations. For

instance, rather than spelling out the word

"loan" you could see "L" or "LN". You might

also see "net price" and "net cost." Look

carefully at how each school calculates

these amounts. Some schools will subtract

loan amounts from these figures. Just

remember that loans need to be paid

back, usually with interest; loans can help

you spread the cost of college over time,

but they don't eliminate the expense.

• Know the difference

between gift aid and loans:

Gift aid is money that is awarded to

qualifying students that isn't expected

to be paid back. Gift aid includes

things like scholarships, grants, and

housing or tuition waivers. Not all

applicants will qualify for gift aid, but

most will be eligible for federal loans.

As a general rule, you should expect

that you'll need to pay loans back,

usually with interest.

• Be aware of the impact

of outside scholarships: If a

student is awarded a private scholarship,

the financial aid letter may list its effect

on the amount of money offered by

the school or in federal aid because

the student's financial need has already

been partially covered. This could

impact gift aid, loan amounts, or both.

• Keep an eye out for

work-study offers: If you indicated

an interest during the FAFSA application,

your financial aid letter may list approval

for a work-study job that provides

money toward your studies and fits with

296 TEEN FLUENTIAL MAY / JUNE 2017
---
influential-magazine.com

EDUCATION

your class schedule. The money you

earn is typically applied directly to your

school expenses.

• Understand your expected

family contribution (EFC):

Depending on your personal

circumstances, there may be a line item

for expected family contribution. This

is the amount of money your family is

expected to contribute toward your

college education based on their tax

and savings information. This will impact

your overall award package.

• Think about additional

costs: Your financial aid letter may not

include all of the costs associated with

going to school. Think beyond tuition

and make sure you have an idea of what

you'll be spending on housing, food,

transportation, books, supplies, additional

fees, and other living expenses.

If you find the amount of financial aid

provided isn't enough (including the

amount offered in federal loans), families

may want to research and explore private

student loans as an option to cover the

additional expenses. Look for competitive

interest rates and flexible repayment

options that match your budget. College

Ave Student Loans also offers a calculator

that showcases how much families

can save with various loan options at

www.collegeavestudentloans.com.

Finally, if you're still unclear about the

terms and conditions of any college

award letter, it's important to reach out

to the school to ask for clarification or

discuss your options. You don't want to

leave any money on the table. (BPT) l

MAY / JUNE 2017 TEEN FLUENTIAL 297
---
Teen

OUR CONVERSATION WITH

Monique

Weingart

FOR HER,

WHAT MATTERS MOST

IS LOVE, FAMILY, HARD WORK,

AND GIVING BACK

kINTERVIEW CONDUCTED AND WRITTEN BY

WILLIAM JACKSON, CHIEF BUSINESS OFFICER OF TEEN INFLUENTIAL

PHOTOGRAPHY COURTESY OF ISABELLE RUEN / @ISABELLERUEN

REPRESENTED BY CLAIRE ARNAUD-AUBOUR & SPLASHPR

AGENCY @SPLASHPRCLAIRE

MODEL MONIQUE WEINGART @MONIQUEVICTORIA

HMUA BETH ANN RITTER

DIGITAL TECH / PHOTO ASST DON ALLEN

LOCATION HÉRITAGE FINE WINES' ROOFTOP, BEVERLY HILLS / @HERITAGEFINEWINES

298 TEEN FLUENTIAL MAY / JUNE 2017
---
influential-magazine.com

EXCLUSIVE INTERVIEW

MAY / JUNE 2017 TEEN FLUENTIAL 299
---
Teen

I make time to get into headstand

"

to meditate every single day.

It has helped me stay balanced

greatly and I'm grateful to have

found yoga/veganism.

"

o

Skirt

Dries Van Noten

Purse

Bottega Veneta

300 TEEN FLUENTIAL MAY / JUNE 2017
---
influential-magazine.com

EXCLUSIVE INTERVIEW

TEEN

FLUENTIAL 301
---
Teen

Monique Weingart, the former star

of America's Next Top Model (ANTM),

has been working diligent

to maintain her positive focus

and healthy lifestyle.

Her thrilling journey since gaining

popularity on the ANTM

has kept her busy and in a

constant mode of learning. But, she

wouldn't change a thing.

We caught up recently with the leggy

brunette and she shared with us pearls of

wisdom on how she strives to live her best

life and what matters most in her life.

Teen InFluential: How many years has

it been since your season of Americas

Next Top Model (ANTM) aired and how

has your career evolved since?

Monique Weingart: I can't believe it's

been six years already since the show. So

much has happened since then, it's been

an amazing ride and I've learned so much.

Teen: How have you changed personally

since the show?

Monique: I was nineteen when I was cast

in the show and just turned twenty six.

While I had been an active Ford model as

a young child and exposed early on to the

fashion world, I was still relatively sheltered

living in a small mid-western village. I'd

say I've changed the most in my eating

habits, what I consume and just a healthier

lifestyle in general. I make time to get into

headstand to meditate every single day. It

has helped me stay balanced greatly and

I'm grateful to have found yoga/veganism.

Teen: So tell us about your journey

since ANTM.

Monique: My experiences living on

the east and west coasts and traveling

all over the world have exceeded my

expectations. I've had so many wonderful

enriching experiences of which to be

grateful for. Living recently in New York

City has been a great challenge for my

modeling career and very different than

living in Los Angeles. I am embracing

the competition and staying balanced

between all the chaos in this city.

Teen: How would you advise a young

model starting out today? How could

they benefit from your experience?

Monique: Well you know we all have

to learn by our mistakes and the new

models will learn their own lessons,

but I'd say modeling, while glamorous,

involves much work. It's a business so

it's important not to let distractions side

track the need to exercise daily, get eight

hours of sleep, eat healthy and work hard

whenever possible.

Teen: What do you do to stay so fit?

You look in amazing shape and seem

to exude such a healthy glow. Can you

share your secret?

Monique: About three years ago I

stopped eating animals and dairy and

while I occasionally eat fish, I eat very

302 TEEN FLUENTIAL MAY / JUNE 2017
---
influential-magazine.com

EXCLUSIVE INTERVIEW

o

Dress

Clover Canyon

Heels

Christian Louboutin

clean and put no processed foods or

chemicals in my body. It's made an

amazing difference.I dropped quite a

bit of weight from when I did ANTM

and have never been more fit or have

had more energy. I practice hot yoga

regularly and am a certified instructor. I

also run whenever I can with my Siberian

Husky Clover who runs like the wind, she

really keeps me in shape.

Teen: What are your career goals at this

point in your life?

Monique: I'm blessed to have many

offers that come consistently my way

and I still love runway and my recent

shoots have been my best so far, so

I'm still growing in my craft and love

to work. But, I have combined recently

my love for modeling with my passion

for teaching and mentoring young girls

just starting out and I've been teaching

all aspects of modeling.

Teen: That sounds amazing Monique,

a great balance of health, giving back

and still growing as a model.

Monique: I've learned much during the

past 26 years, but all in all, it's been a

dream. I thank my family for instilling in

me the right values and never letting me

lose perspective on what matters most:

love, family, hard work and giving back

whenever possible. l

TEEN

FLUENTIAL 303
---
Teen

304 TEEN FLUENTIAL MAY / JUNE 2017
---
influential-magazine.com

EXCLUSIVE INTERVIEW

"Our mistakes

and the new

models will

learn their

own lessons,

but I'd say

modeling,

while

glamorous,

involves

much work."

o

Top

Philip Jim

Jeans

Zara

Heels

Yves Saint-Laurent

o

Dress

Hervé Léger

Heels

Yves Saint-Laurent

Eyewear

Chloe

TEEN

FLUENTIAL 305
---
Beauty

Editor's Picks

Beauty Must-Haves

for this Season

kWRITTEN BY

Bobbi Brown

Lip Balm SPF 15

$22.00

Macys.com

Specially formulated

with Wheat Germ and

Olive Oil, this comfortable,

non-greasy lip balm

immediately goes to work

comforting and protecting

lips. Wear alone for natural

look, with Creamy Lip Liner,

or Lip Gloss. Bobbi Brown

Lip Balm SPF 15 comes

in a sleek and portable

polished silver tin.

Smashbox Iconic

Photo Finish

Foundation Primer

$36.00

Sephora,com

Your makeup will not

budge with Smashbox

primers! This translucent

primer instantly reduces

the appearance of fine lines

and pores while locking

in your makeup. It smooths

skin and blurs flaws-for

makeup that looks

better and lasts longer.

NARS All Day

Luminous

Weightless

Foundation

$49.00

Narscosmetics.com

Get full-coverage with

All Day Luminous

Weightless Foundation.

This foundation is highly

pigmented and leaves

a natural-looking finish.

Its oil free and delivers full,

natural-looking

coverage with one drop,

for 16-hour wear.

Lancome

Blush La Rose

$60.00

Sephora.com

Encapsulated in a '50s

French-inspired Bijou

box – traditionally meant

to house loose powders,

is a new-generation

highlighting luminous

powder. The powder is

evenly dispersed among

rose petals inside the Bijou

box. Use the Kabuki brush

to pick up the perfect

amount of formula for

a perfect, even glow.

Victoria's Secret

Bombshell

Eau de Parfum

$52.00

Victoriassecret.com

This signature

award-winning

Bombshell fragrance

is in a gorgeous

emerald-cut bottle.

The scent is fresh

and floral from the purple

passion fruit and vanilla

306 TEEN FLUENTIAL MAY / JUNE 2017
---
influential-magazine.com

kWRITTEN BY VERONICA HAGEMAN,

JR. BEAUTY EDITOR FOR TEEN INFLUENTIAL

XXXXXXXX

Sonia Kashuk Brow

Gel

$5.99

Target.com

Keep you brows in place

with Sonia Kashuk clear

brow gel. Use with

or without other

brow products to help

define you perfect brow.

It's extremely comfortable

to wear, while giving them

a fresh and natural look.

Fresh Rose

Floral Toner

$40.00

Sephora.com

This hydrating

and soothing mist toner

is great for setting makeup

and refreshing the skin

throughout the day.

Its works on all skin types

and leaves a healthy dewy

complexion, with

a beautiful rose scent.

NYX

Eye Shadow Base

$7.00

Belk.com

Maximize the intensity,

longevity and brilliance

of your eye shadow

statements with our eye

shadow primer pots. Each of

the NYX Eye Shadow Bases

creates a smooth canvas for

color, increases its durability

and prevents fallout. To create

depth, dimension and drama

use our Eye Shadow Base

in black to effortlessly

increase shadow payoff.

Tangle Teezer

Detangling

Hairbrush

$15.00

Sephora.com

The Original Detangling

Hairbrush features a patented

teeth formation that bends

and flexes throughout the hair

without locking into tangles.

It minimizes hair breakage and

cuticle damage while adding

shine. Great for use on all

hair types, it is ergonomically

designed to fit snugly in

your palm for creative styling

and easy handling.

Too Faced Love

Light Highlighters

$30.00

Macys.com

Just in time for the sun,

Too Faced has released

heart-shaped highlighters

with a silky smooth texture.

Using an exclusive

liquid-to-powder formula,

Love Light takes the best

of powder, liquid, baked

and cream formulas to

create unparalleled color

payoff for a pearl radiance

and silky smooth texture

MAY / JUNE 2017 TEEN FLUENTIAL 307
---
Teen

Forgot someone's

birthday or special

occasion? Everyone

needs to find a

great gift in a pinch

from time to time.

But just because

you're shopping

last minute doesn't

mean these

gifts shouldn't

be thoughtful.

kPHOTOGRAPHY COURTESY OF

GOLUBOVY – FOTOLIA.COM.

308 TEEN FLUENTIAL MAY / JUNE 2017
---
influential-magazine.com

LIFESTYLE

HOW TO SHOP

FOR ANYONE AT THE

Last Minute

Here are a few tips to make sure

that presents purchased in

the 11th hour are appreciated

and enjoyed.

Strike the Right Mood

There is good news. You don't need to

break the bank on a day-long shopping

excursion in order to find great items.

Consider simple gifts that create that

special feeling of home, such as American

Home by Yankee Candle. The line features

several candles with different fragrances

for under $20. Jars, tumblers, tea lights and

wax cubes all make warm, thoughtful gifts

and are available at the grocery stores, drug

stores and big box stores you visit every

day, so you can shop conveniently. Visit

YCamericanhome.com to learn more.

Go Gift Cards

Crunched for time? Not exactly sure what

a friend or family member wants or needs?

Opt for a gift card that you can easily email

or print out and put into a card. Many thirdparty

gift card aggregators exist online,

where you can quickly dash to a website

and complete your transaction. Large

online retailers also offer online gift cards to

help you find a present fast -- no matter his

or her personal sense of style or interests.

Sign Them Up

A subscription service is a gift that keeps

on giving all year long. In this regard, you can

think beyond magazine subscriptions these

days. "Subscription boxes," which offer great

products on a monthly basis, are an on-trend

and fun gift that can be purchased in an

instant. Themes for boxes are as eclectic as your

gift recipients themselves and include books,

socks, healthful snacks and beauty products.

Wrap Smart

Having extra materials for quick gift

wrapping just makes sense. Stay organized

with a designated gift wrapping station

that features greeting cards, tape, scissors,

ribbon, wrapping paper, gift bags and tags.

Gift bags and a bit of tissue paper can make

a last minute gift go from flat to festive in

moments, so stock up on these items in a

variety of sizes so you are always ready to

wrap. Don't get stressed about last minute

gifting. Having a few great go-to ideas

means never disappointing. (StatePoint) l

MAY / JUNE 2017 TEEN FLUENTIAL 309
---
Teen

Make Your 2K17

SUMMER BUCKET LIST

Fill in the blanks and get going!

l 1. Pick up a new sport and try

playing a game of _________________.

l 2. Make a splash at _____________

__________________________ pool.

l 3. Watch _______________(movie).

l 4. Pick up the phone and call

______________________________.