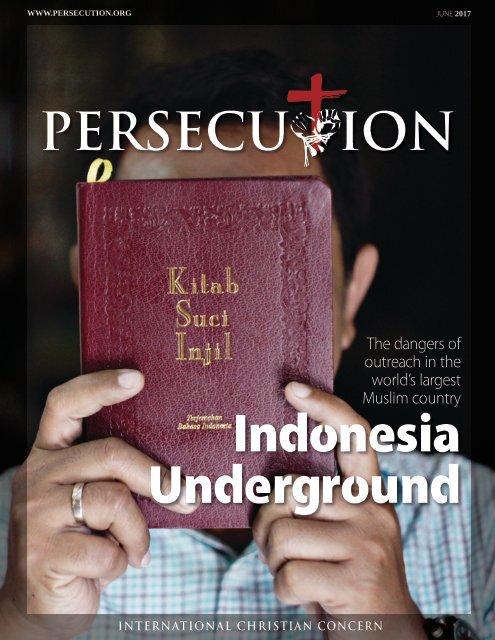 June 2017 Persecution Magazine
You also want an ePaper? Increase the reach of your titles
YUMPU automatically turns print PDFs into web optimized ePapers that Google loves.
WWW.PERSECUTION.ORG

JUNE 2017

PERSECU ION

The dangers of

outreach in the

world's largest

Muslim country

Indonesia

Underground

PERSECU ION.org

INTERNATIONAL CHRISTIAN CONCERN
---
Table of Contents

In This Issue:

FEATURE

14 | Going Underground in

Indonesia

Pastors in Indonesia are forced to

practice their faith in secrecy despite

living in a country with fairly extensive

religious freedoms.

INTERVIEW

18 | In The Eye of the Storm

Pastor Edward Awabdeh of the

Evangelical Christian Alliance Church

of Syria shares his story with ICC.

FEATURE

22 | ISIS Murders Seven Sinai

Christians

150 Christian families have been

displaced after a kill list was carried

out in El-Arish, Egypt.

FEATURE

24 | Rescuing a Lost Generation

in Nigeria

Displaced children in Nigeria are given

a second chance at life with the establishment

of a school.

16

OPED

26 | The National Review

Publishes ICC President's OpEd

on North Korea

ICC urges President Trump to push

China on its policy of repatriating

defectors.

Regular Features

3 Letter from the President

A few words from ICC's president, Jeff

King, on the risks faced every day by

underground pastors around the world.

4 World News

A snapshot of the persecution that

impacts our brothers and sisters daily, in

every corner of the world.

8 Your Dollars at Work

Learn how your gifts are providing

comfort, relief, Bibles, education and

vocational training to the persecuted.

12 West Watch

Faith under threat in the Western world.

19 23

24

2 PERSECU ION.org

JUNE 2017

INTERNATIONAL CHRISTIAN CONCERN
---
President's Letter

I want you to know, brothers, that what has happened to me has really served to

advance the gospel, so that it has become known.... Most of the brothers, having

become confident in the Lord by my imprisonment, are much more bold to speak

the word without fear.

Philippians 1:12-14 (ESV)

If the world hates you, know that it has hated me before it hated you. If they

persecuted me, they will also persecute you ... on account of my name, because

they do not know him who sent me.

John 15:18-25 (ESV)

Jeff King, President

International Christian Concern

I know you are enduring patiently and bearing up for my name's sake, and you

have not grown weary.

Revelation 2:3 (ESV)

Pastor Nur (page 14) is the kind of pastor we love to stand behind.

He is involved in outreach to Muslims in a fundamentalist area of Indonesia. Although Indonesia has laws on its books

regarding religious freedom, these are mostly for show and are rarely enforced or used to protect victims of persecution

from the Muslim majority.

Pastor Nur's work could cost him his life and it already nearly has, but he can't stop.

You see, Nur has found life in Jesus and must share it with his countrymen. This burden of love compels him to push on

even when those who he wants to be saved are ready to kill him.

Nur stands at the frontlines of a hidden battle between the kingdom of God and Satan, and in this space you see heroes that

are familiar to you because you have read about them in the New Testament and the Book of Revelation.

They cry out, "How long, oh Lord," and yet they keep serving.

I don't know about you, but I desperately need them in my life.

Please join with us as we bandage and build His persecuted Church on the frontlines of the battle.

As always, your donations will be used efficiently, effectively, and ethically.

I promise!

Jeff King

President

International Christian Concern

www.persecution.org

PERSECU ION.org

INTERNATIONAL CHRISTIAN CONCERN

3
---
News

5

1

6

2

4

3

Aftermath of the St. George's Church bombing in Tanta.

Two Churches in Egypt Bombed on

Palm Sunday

1 | EGYPT On April 9, Palm Sunday, two suicide bombers

targeting Coptic churches devastated the Christian community

in northern Egypt. The first blast hit St. George's

Church in Tanta, which is located approximately 50 miles

north of Cairo. Several reports indicate that an explosive

was placed under a seat in the church's main prayer hall

before it detonated during the service. Only hours after

the bombing at St. George's Church, another bombing

took place at St. Mark's Church in Alexandria. At the time

of writing, these bombings have killed at least 44 people,

and injured more than 100 others.

Eyewitness reports and video footage of the aftermath

depict a grisly scene. According to an eyewitness of the

St. George's attack who spoke with ICC, "The church

became dark and there were screams everywhere." He

continued, "The blood splattered all over the church."

Egypt's president called for a state of emergency in

response to the severity of the attacks.

In a matter of

hours after the bombings,

ISIS claimed

responsibility for the

attacks on its website.

Unfortunately, ISISled

violence is nothing

new for Egypt's

Christian community.

Last December, a suicide

bomber attacked

St. Mark's Coptic

Orthodox Cathedral

in Cairo. Twenty-five

Christians, primarily

women and children,

were killed in this

incident. ISIS not only

claimed responsibility

for the attack but also

promised to carry

out more attacks on

Christians—a promise

that is clearly being

fulfilled.

These Palm Sunday

bombings are indicative

of the rising violence

facing Egypt's

Christians. Unless

Egyptian authorities

take decisive action to

protect the already vulnerable

Christian community

and their places

of worship, incidents

of this nature will

likely continue. In the

meantime, let us pray

for all of those affected

by these senseless acts

of violence.

Christian Female

'Untouchables:'

A Triple Minority

in India

Christian "Untouchables" Form Group

to Promote Rights

2 | INDIA Although technically prohibited by Indian

law, the class structure of untouchables remains

prevalent throughout India. They are often banished

from normal society.

Untouchables, or "Dalits," qualify for government

benefits, but if they identify as Christians they

lose any benefits associated with their Dalit status.

Unfortunately, more than half of Christians in India

come from a Dalit background.

Dalit Christian women face perhaps the most

discrimination as they are a 'triple minority.' They

are discriminated against for their religion, their

gender, and their low-caste background.

As a result, society treats them as the lowest

outcasts and they often struggle financially and face

various obstacles that make everyday life difficult.

The vast majority of Dalit women in rural India

do not receive a proper education, and are therefore

illiterate. This then forces them into menial work.

Tragically, some succumb to human trafficking

because limited prospects make them vulnerable and

easy targets.

In response, a group of approximately 40

Christian Dalit women have banded together to call

for justice. They have formed a network, called the

Dalit Christian Women for Change, to help prevent

abuse and encourage education among local women.

4 PERSECU ION.org

JUNE 2017

INTERNATIONAL CHRISTIAN CONCERN
---
Indonesian Authorities Ban Three Churches from Meeting

3 | INDONESIA In direct opposition to their declarations of religious freedom, authorities in West Java, Indonesia, have banned three Christian

churches from leading religious services. The churches were told that they are not permitted to meet because "the government cannot guarantee

their safety." The affected churches are Methodist Church Indonesia, Huria Batak Protestant Church, and a group of Catholics who used a

home for both catechism and Sunday school. This ban came about shortly after a radical Muslim group staged a protest, demanding that the

churches be shut down.

Hassan Muwanguzi was falsely accused of human sacrifice.

Evangelist Falsely Accused of Kidnapping and

Human Sacrifice

4 | UGANDA In late February, an Islamic leader in Uganda falsely

accused a Christian evangelist of kidnapping and making a human

sacrifice of his adult daughter after she converted to Christianity.

After converting, the daughter sought refuge with the evangelist

when her father reportedly abused her for leaving Islam. This led to

the false charges and the evangelist's subsequent arrest.

Thankfully, after the plaintiff failed to appear in court twice and

because there were no public witnesses, a judge decided to dismiss

the case. Furthermore, the judge encouraged the evangelist to file a

defamation case over the matter.

Primary school in France.

French Teacher Suspended After Reading Bible

Verses to Students

5 | FRANCE A primary school teacher in central France was recently

suspended from his position after a group of parents anonymously complained

that he read Bible verses to their children. The parents wrote a

letter to the school's headmaster, alleging that the teacher was attempting

to convert the students by promoting his own beliefs. In accordance

with France's strict secularism laws, the headmaster suspended

the teacher while the school board investigates the matter. While the

teacher's suspension has been met with mixed reactions, it is one of

several incidents in which Christianity has been pushed out of the public

school system in both Europe and North America.

Asia Bibi's Anniversary of Arrest

6 | PAKISTAN On June 19, Christians around the world will recognize the beginning

of a painful ordeal for a woman named Asia Bibi. June 19, 2017, marks the

eighth anniversary of the arrest of Bibi. In June 2009, Bibi got into a dispute

with her Muslim coworkers after allegedly drinking from the same water bowl

as them. They claimed that, as a Christian, she contaminated their water. As the

argument escalated, Bibi defended her faith and stated, "What did your prophet

Muhammad ever do to save mankind?"

Shortly after, Bibi was accused of blasphemy and has been sentenced to

death for the crime. Her case has gone through countless obstacles with several

delays along the way, as she continues to wait on death row. Bibi's case

is widely seen as an international example of the danger and potential misuse

of blasphemy laws.

PERSECU ION.org

INTERNATIONAL CHRISTIAN CONCERN

Asia Bibi has been on death row since 2009.

5
---
News

Prime Minister Modi of the right-winged BJP.

India Illegally Destroys Christian Homes

on Church Property

1 | INDIA In yet another act of hostility toward religious

minorities, district officials in India illegally destroyed

the homes of 16 Christians living on church property

who had received permission from the church to

live there. The officials did not give the families any

advance notice prior to the demolition, leaving them with

nowhere to go. Due to the lack of warning, the families

were forced to rely on neighbors to provide shelter for

their young children.

Many human rights activists and local Christians have

spoken out in support of the families and to condemn

the injustice of the demolitions. One activist argued that

there is a Supreme Court ruling that specifically protects

church-owned land and, therefore, it is illegal for the

government to seize the land. Since Prime Minister

Modi's (pictured) rise to power in 2014, there has been

a sharp increase in discrimination and violence against

Christians. Unfortunately, authorities often turn a blind

eye or, in this case, actively engage in the discrimination,

leaving Christians vulnerable to future attacks.

3

2

6

5

7

1

Sudanese Government Condemns

Church Leaders for Speaking About

Persecution

2 | SUDAN As previously reported, 25 churches in Sudan

were notified that their church buildings were marked

for demolition. The government claims that they were

illegally constructed on land zoned for other purposes, but

some church leaders have said that they legally acquired

the land and that the demolitions are part of a broader

crackdown on Christianity in Sudan.

As Christians and human rights leaders begin to speak

out against this injustice, the Sudanese government, as led

by Omar al-Bashir (pictured), is doing everything in its

power to silence the backlash. Sudan's notorious National

Intelligence and Security Services (NISS) has ordered

church leaders throughout Sudan not to speak about the

pending demolitions or Christian persecution as a whole.

After holding a press conference calling for an end

to the church demolitions,

the chairman of

the Sudan Council of

Churches was told to

report to NISS headquarters

daily, along

with a fellow Christian

leader. They are no longer

required to follow

this restriction, but must

obtain official NISS permission

before speaking

about the demolitions in

the future. A key aspect

of Christian persecution

in Sudan is the ability to

operate in secrecy, so it

is more imperative now

than ever to bring attention

to these issues.

4

Sudanese President Omar

al-Bashir

Muslim Mob

Attempts

to Attack

Christian Home

3 | EGYPT Eight

people have been

arrested after a

violent mob began

targeting Christian

homes in southern

Egypt. The conflict

began following

claims from a group

of Muslim villagers

that a Christian

family was holding

its daughter captive

following her conversion

to Islam as a

form of punishment.

However, the family

has denied such

accusations.

Thankfully, police

were able to intervene

and stop the

mob by using tear

gas before they

reached the homes.

However, this led to

a scuffle between the

mob and the authorities

that left four

policemen and seven

Muslims wounded.

Mobs of this nature

have escalated in

Egypt recently, even

leading to death

in some cases, and

caused increased

tension between

local Christians and

Muslims. Although

many of these mobled

incidents do not

end peacefully, it is

a relief to know that

this Christian family

received the proper

protection from

authorities.

6 PERSECU ION.org

JUNE 2017

INTERNATIONAL CHRISTIAN CONCERN
---
Two Pastors Arrested for Helping North Korean Defectors

4 | NORTH KOREA Two South Korean pastors, ages 66 and 42, have been arrested by Chinese authorities for reportedly smuggling North

Korean defectors out of China. These arrests are only a glimpse at the wider crackdown on missionaries in China who risk their well-being

to assist North Korean defectors. Defectors who are discovered by authorities in China are frequently repatriated to North Korea where they

often face unspeakable retaliation.

Mother and Son Arrested for

Converting to Christianity

5 | IRAN Toward the end of February, a Christian

mother and son were arrested in Iran for converting to

Christianity. When their home was raided, authorities

seized Bibles and other pieces of Christian literature.

Aside from unconfirmed reports that the pair may be

facing medical issues, little else is known about the

fate of these new Christians.

The imprisonment of innocent Christians in Iran

continues to rise, with a particularly harsh crackdown

on those who have left Islam and converted to

Christianity. However, by the grace of God and the

faithfulness of those leading the underground church

movement, Christianity continues to grow in this

closed nation.

PERSECU ION.org

INTERNATIONAL CHRISTIAN CONCERN

Mother and

Son Murdered

in Somalia

6 | SOMALIA After

a violent attack in

the middle of the

night, a Christian

mother and son in

Somalia have lost

their lives. During

the attack, Islamic

radicals broke into

the family's home

without warning

and began shooting,

while yelling, "Allah

Akbar." Although

the mother and son

died in the attack,

three of the other

children were able

to escape and find

refuge in a nearby

town, while their

father recovers in

the hospital from a

shot to the chest.

Pakistan Arrests Three People for

Blasphemy on Social Media

7 | PAKISTAN Three people were arrested in

mid-March for allegedly sharing "blasphemous"

content on social media. The accused faced a

trial before an anti-terrorism court and spent

seven days in custody of the Federal Investigation

Agency. In addition, their computers were confiscated

for investigation. In light of these recent

arrests, the Pakistani government has made several

requests to social media sites, including Facebook

and Twitter, that they remove blasphemous content.

Although it has not been confirmed, Pakistan

reports that Facebook complied with their censorship

requests by removing 85% of blasphemous

content, while Twitter has refused to accommodate

their demands.

7
---
Your Dollar$ at Work

Christian

Literature

for Farida in

Karachi

Bibles

Farida is a widow and an evangelist in

Karachi, Pakistan. For years, she sold

Christian literature and items encouraging

Christianity in the area while managing

to support her children…until Muslims

forced her to stop evangelizing in the

streets. They beat her and her children,

threatening them with continued beatings

if they did not quit evangelizing.

Later, a Muslim mob, angered by Farida's

continued spread of Christian materials,

attacked her home. The mob beat Farida

again and damaged almost all of the merchandise

that was to be sold. In response

to the attacks and threats, Farida was

forced to move her struggling family from

the neighborhood.

Farida, the primary breadwinner for

her family, no longer had the resources to

provide for her children. She didn't know

how she and her children would survive.

ICC stepped in to provide financial assistance

in order to initiate a business for

Farida. With your help, ICC provided

materials such as crosses, books, CDs,

DVDs, calendars, and more, so Farida

can provide for her family once again.

The financial gain from this business

will empower her to cover her expenses,

provide for and educate her children, and

encourage her and her family.

Pakistan is notorious for persecuting

Christians and limiting the levels of

free speech in many different situations.

Unfortunately, many Christians

find themselves in Farida's position.

Living in poverty and fear, not knowing

what type of persecution may come

next, these Christians are unable to

live full and free lives. With your partnership,

ICC will continue to provide

practical aid and spiritual encouragement

to those who are suffering unjustly

in Pakistan.

8 PERSECU ION.org

JUNE 2017

INTERNATIONAL CHRISTIAN CONCERN
---
Business to

Iraqi Christian

Community Rebuild

At just 20 years old, Ibrahim has become

the primary income earner for his family.

Ibrahim lost his father years ago and

has since dropped out of school to help

out at home.

In 2014, Ibrahim and the rest of his family

had to flee their home in Qeraqosh, Iraq,

when ISIS attacked. Since then, Ibrahim

has struggled to find work. Unfortunately,

he was treated poorly at his job because of

his faith. Ibrahim does not regret any of

these sacrifices because they have helped

keep his family safe; however, he needs a

more stable income.

To enable Ibrahim to provide for his

family's livelihood, ICC helped him to

obtain a car that he can use as a taxi. He

has done very well with his taxi business

and is now adding delivery services. He is

now able to provide for his mothers and

younger siblings.

PERSECU ION.org

INTERNATIONAL CHRISTIAN CONCERN

Karnataka

Church Repair

Community Rebuild

Hindu radicals attacked a church located

in Kondhapally, inside the Chitradurga

district of Karnataka, India. During the attack,

the radicals destroyed worship items, including

an amplifier, speaker boxes, chairs and

the church's pulpit. Furthermore, intending to

cause "maximum damage" the Hindu radicals

secured gasoline and set fire to the church

building. Once the attack was over and the

incident was reported to police, authorities

instructed the pastor to not conduct worship in

a rental building. With no other options to hold

services, the pastor looked for a tent to rent

every week. However, it was difficult for the

church to maintain the rental expenses.

In response to their plight, ICC was able to

assist the Karnataka church by replacing items

that were destroyed during the attack and provide

a tent for their worship service. Now, the

Karnataka church congregation can worship in

a place that is expense-free.

Taxi Business to

Afghan Pastor

Underground Pastors

M

ost Christians in Afghanistan suffer

from unemployment due to social and

economic discrimination. This persecution

leaves churches and their leaders unsupported.

Pastor Aarif and his church are no exception

to this scenario. The 35-year-old father of five

lost his job and has since been unable to support

both his church and his family. Despite

his lack of employment, Aarif did not stop his

ministry, visiting and teaching the Gospel in

surrounding cities.

In order to assist Aarif, ICC was able to

provide a used car, both to serve his ministry

and business alike. As a business, Aarif can

use the car as a taxi. For his ministry, the car

will quickly and safely transport him to different

churches. The taxi service will ensure that

he and his family have a sustainable income

while also allowing Aarif to shepherd a congregation,

disciple new believers, and even

plant other churches.

9
---
Your Dollar$ at Work

ICC Opens an

Electronics

Store in

Pakistan

Community Rebuild

F

or 20 years, Hasan operated an electronics

store in Pakistan, gaining a reputation for

honesty and outstanding work despite working

in a market dominated by Muslims. People

consistently chose to hire Hasan and shop at

his store rather than some of his Muslim competitors.

Frustration and resentment developed

among his neighbors.

Envious competitors continually asked

Hasan to close his shop on Fridays and join

in Islamic prayers. On some Fridays, they

would force him to close his shop, but he

would not go to the mosque. He refused, saying,

"I cannot betray Jesus." More recently, a

group tried to force Hasan to convert to Islam

or leave his business.

Fearing for his life, Hasan left his successful

business to work as a day laborer. Without

a steady income, Hasan could not reopen

his business and struggled to provide for his

family. ICC recently moved Hasan to a safe

location and provided a microfinance loan to

purchase the necessary equipment for Hasan

to start an electronics shop again, including

lights, light bulbs, testers, fans, safety kits,

switches, plates, wiring, and more. ICC also

provided rent and food aid.

Fulani destruction in Agatu, Nigeria.

ICC Helps

Widow and Her

Six Children

Suffering Wives & Children

I

n February 2016, Islamic Fulani militants

initiated a series of attacks that destroyed

homes, property, and the stability of predominately

Christian Nigerians.

During the attacks, approximately 500 people

were killed, and hundreds of homes, property

and farms were destroyed in a number of

villages in the Agatu Council Area.

The Fulani attack in Agatu village cost one

woman her husband, brothers, home, and

livelihood. As a result, the widow, Laraba,

and her six children were forced to relocate

to an internally displaced persons (IDP)

camp. They were in desperate need of

assistance and shelter.

ICC aided this family by building a sixroom

home for Laraba and her six children,

10 PERSECU ION.org

JUNE 2017

INTERNATIONAL CHRISTIAN CONCERN
---
Your Dollar$ at Work

Church Support in Indonesia

Underground Pastors

I

n 2012, an Indonesian pastor was preaching

in an underground church when a

group of radical Muslims entered and threatened

the church. "Children were crying,

people were so afraid," he told ICC. The

church was forced to leave and they spent the

next two to three years avoiding further persecution,

holding services in various homes.

Now, the church meets on the second floor of

an unmarked building. The entire first floor is

left empty to give no clues as to the use of the

building. It is an expensive building to rent

but it's secluded and church members feel

safe. ICC has helped the church by providing

speaker systems, a laptop, and a projector for

Sunday school lessons.

with plans to also provide a self-sustaining

business. Not only did ICC want to move the

family out of the IDP camp, but also to demonstrate

the compassion and love of Christ,

while encouraging her to trust in the Lord.

ICC plans to rescue other Christian families

like Laraba's who have suffered at the

hands of the Islamic Fulanis.

Please continue to pray that the Agatu

village will be safe from the brutal attacks

of the herdsmen's militia, and that God will

open doors for supplies and resources to

reach the hundreds of other families who

lost their homes during the attacks.

PERSECU ION.org

INTERNATIONAL CHRISTIAN CONCERN

Assistance to the Family of

Blasphemy Victim Ali Masih

Suffering Wives & Children

I

n September 2016, a 16-year-old Pakistani

Christian, Ali Masih, was falsely accused

of blasphemy. He was imprisoned for 'liking'

an image on Facebook that authorities found

to be insulting to Islam. Later, in February

2017, Masih was denied bail and forced to

stay in prison until his hearing.

Throughout Masih's persecution, his family

has suffered severe threats and has been

unable to financially support themselves.

Forced to move from their home neighborhood,

the family had no possibilities for

income. To aid in this situation, ICC provided

the struggling family with a small motorcycle

taxi, a business that is completely mobile in

case they have to relocate again.

11
---
est

atch

Catholic School Brings Suit to Protect Right to Hire Orthodox

Christians as Principals

St. Anthony School and the Roman

Catholic Archdiocese of New York went

to a Manhattan court on March 7 to protect

their right to choose a school principal without

government interference. They were

sued by former principal, Joanne Fratello,

who argues that protecting Christian schools

may aid "potential jihadists."

As principal, Fratello was supposed to

be a religious leader responsible for guiding

and mentoring students in their faiths

as well as their studies. When the school

believed she was no longer effective at

advancing the school's Catholic values, St.

Anthony's chose to not renew her contract.

According to St. Anthony's attorneys at

the Becket Fund for Religious Liberty,

the attorney suing the school on behalf of

Fratello publicly accused churches of being

"dangerous to society," hypothesized about

Russian Orthodox churches "indoctrinating

children with Stalinist communism," and

attacked the Supreme Court's unanimous

decision that churches can choose their religious

leaders without government interference

as an aid to "potential jihadists."

Swedish Court Fails to

Protect Midwife Forced to

Conduct Abortions

T

he

Swedish Appeals Court issued a

decision this week ruling that the government

can force medical professionals

to perform abortions. If they refuse, they

can lose their jobs. Ellinor Grimmark, a

Swedish midwife who holds to the Christian

faith, has been denied employment at three

different medical clinics simply because

she will not perform abortions.

"Participation in abortions should not be

a requirement for employment as a medical

professional. In accordance with international

law, the court should have protected Ellinor's

fundamental right to freedom of conscience,"

said the Alliance Defending Freedom's

International Director of European Advocacy

Robert Clarke. "For that reason, Ellinor is

considering an appeal to the European Court

of Human Rights."

Grimmark lost her initial case in

November of 2015 when a district court

found that her right to freedom of conscience

did not protect her from being discriminated

against for not preforming for

refusing abortions.

Air Force Colonel Subjected to Repeated Investigations

T

he Freedom From Religion Foundation

(FFRF) has brought a suit to remove an

IRS tax exemption which allows religious

clergy to exclude income they receive in the

form of housing allowances. If they win,

thousands of clergy could lose their homes

or be forced to move far away from their

congregations.

"My life's mission is to care for my flock,

which includes our congregation, the community,

and all those in need… I could not do

this without the support of my congregation

through the parsonage allowance," stated

Bishop Ed Peecher of the Chicago Embassy

Church. Bishop Peecher is one of several

C

olonel Michael A. Madrid of the United

States Air Force has been subjected to

scrutiny and repeated investigations after

being accused of making derogatory comments

about homosexuality.

Madrid is a devout Christian who holds to

the teachings of the Bible in all areas, including

sexuality. In 2014, a former colleague, who

was subsequently convicted of several crimes

including drug use, accused him of making

negative comments about homosexuality.

After submitting to a full investigation

into the accusations, Madrid was cleared of

all charges by the Air Force. However, over

two years later, Air Force Maj. Gen. John

E. McCoy unilaterally reopened the investigation

and subsequently served a Letter of

Reprimand to Madrid, putting his career and

sterling record in jeopardy. This reprimand

violates Madrid's rights to due process. He

is now being represented by the Liberty

Institute as he awaits word on whether or not

McCoy will rescind his discriminatory and

unfair punishment.

Freedom From Religion Foundation Targets Pastors in Low-

Income Areas

Chicago area pastors who has joined the

fight against the FFRF suit. This change in

a decades-old statute would hit low-income

areas the hardest, as their pastors are most

likely to depend on the tax exemption.

12 PERSECU ION.org

JUNE 2017

INTERNATIONAL CHRISTIAN CONCERN
---
Art Studio Threatened with Jail

Time over Forced LGBT Support

Phoenix, Arizona, art studio is in the

A appeals stage of their fight to protect

their right to religious conscience. Joanna

Duka and Breanna Koski, owners of Brush

& Nib studio, filed a pre-enforcement lawsuit

in May 2016 against a Phoenix nondiscrimination

ordinance that forces them to

use their business products to promote gay

marriage ceremonies.

The Superior Court of Maricopa County

rejected their suit on September 19, 2016.

Last month, Duka and Koski, represented

by the Alliance Defending Freedom

(ADF), filed an appeal to a higher court

in Arizona which would have the power

to protect the plaintiffs from possible jail

time, if they were to be prosecuted for

running their business in line with their

deeply held religious beliefs.

Jonathan Scruggs, the ADF attorney

leading the suit, issued a press release

stating: "Artists shouldn't be threatened

with jail time and other penalties simply

for making art that is consistent with their

beliefs. That's why we asked the court to

suspend enforcement of the Phoenix ordinance

against our clients while their case

goes forward."

PERSECU ION.org

INTERNATIONAL CHRISTIAN CONCERN

Houston Health Care

Company Fires Catholic

Immigrant Because of

Religious Conviction

A

lexia

Palma, a young Catholic woman

from Guatemala who used to work at

a Houston inner-city health clinic, has been

fired for her beliefs. In her position at the

clinic, she taught several classes, including

a short course entitled "Becoming a Mom."

One of the classes in the course involved

teaching about birth control. Because the

Catholic Church opposes birth control, Palma

asked to show a video instead of teaching the

class so that she would not have to violate her

religious convictions.

This accommodation was permitted for

approximately 18 months until a new manager

told Palma to teach the class or she would

be fired. Even though teaching the class

constituted less than two percent of her job

and other employees were happy to teach the

class in her stead, the new manager denied

religious accommodation and fired her.

On December 21, 2016, Palma's lawyers

at the First Liberty Institute filed a

complaint with the US Equal Employment

Opportunity Commission, charging her

employer, Legacy Community Health, with

religious discrimination.

Street Preachers Face Six

Months in Jail for Quoting

from the Bible

S

treet preachers Mike Overd and Michael

Stockwell were convicted in March by

a court in the United Kingdom for allegedly

acting in a "disorderly" manner and using

"abusive language." Their "abusive language"

consisted of quoting the Bible and discussing

it with passersby.

Andrea Williams of the Christian Legal

Centre, which is funding their defense, said

that an appeal has been filed. "We'll take this

all the way to the European Court if we have

to," Williams told LifeSiteNews. "Today's ruling,

in effect, states that Bible is offensive and

contains illegal speech which should not be

shared in public."

Williams continued, "The Bible and its

teachings are the foundation of our society

and provided many of the freedoms and

protections that we still enjoy today. So it is

extraordinary that the prosecution, speaking

on behalf of the state, could say that the Bible

contains abusive words which, when spoken in

public, constitute a criminal offense."

Anti-Catholic Law Used to

Discriminate Against Christian

Schools

I

n

2012, The Trinity Lutheran Church

Learning Center, a Christian preschool in

Missouri, wanted to improve its playground

surface, which consisted of gravel and grass.

To facilitate the needed upgrades, the school

applied to a state program that provides grants

to use recycled shredded tires to make the playground

surface safer.

Trinity Lutheran submitted a project proposal

to the state, but was denied solely due to the fact

that the school is connected with a church. An

old anti-Catholic law on the books in many states

called the "Blaine Amendment" prohibits the use

of any state funds for projects that may benefit

a religion. However, non-religious organizations

are able to receive funds. The effect of this law is

to penalize taxpayers who happen to be involved

with religious institutions that seek state funds.

The Supreme Court heard the case on April 19,

2017, and will issue its decision later this year.

13
---
Going

Underground

in

Indonesia

Pastors in Indonesia are forced to practice their

faith in secrecy despite living in a country with

religious freedom on the books

ICC's Regional Manager, Daniel Harris

14 PERSECU ION.org

JUNE 2017

INTERNATIONAL CHRISTIAN CONCERN
---
PERSECU ION.org

INTERNATIONAL CHRISTIAN CONCERN

15
---
Feature Article

In February of this year,

International Christian

Concern (ICC) traveled to

Indonesia to meet with numerous

underground church pastors.

We sat with these men,

asking them why they had to

practice their faith "underground"

in a country where it

is not illegal to be a Christian

or even to evangelize. During these

meetings, they openly shared with us the

danger they face in choosing to follow

Jesus in Indonesia.

Every one of the pastors had stories of

persecution. One pastor had to flee an

angry, torch-bearing mob in the middle

of the night by motorcycle. Another

spent days in the jungle hiding from radicals

who were hunting for him. Another

pastor's entire family was beaten and

driven out of their town.

Sharing your faith in Indonesia is

risky. Muslims are becoming increasingly

radicalized by growing religious

conservatism.

Sharing the Gospel is especially dangerous

considering evangelical pastors

and their need for follow-up as they disciple

new believers. These visits alone

often stir up suspicion.

Pastors shared with ICC how they were

often questioned as to their purpose for

visiting a community, or asked why they

were coming so often if they did not have

something to sell or a family to visit.

These men do not pastor house churches

for fame or money. In fact, most of

them are quite poor. One pastor sold

ice cream from a cart. Another drove a

used motorcycle taxi that he rented from

a friend. Another sold crackers on the

street. These pastors share the Gospel

because they believe in it.

One young pastor named Nur shared

his testimony with us. He first heard

about Jesus from his father, who had

been a teacher of the Quran, but found

Christ and became an underground pastor.

Nur's decision to follow in his

father's footsteps has meant significant

sacrifice for himself and his family.

As a casual laborer, he has no regular

income and struggles to financially support

his wife and child. To make matters

worse, Nur has tuberculosis, and is often

unable to afford the medicine he needs.

At the time of our first meeting with Nur,

we had no idea the dangers he would face

within only a few days.

"They stripped my clothes...They forced me to

do so even though they knew I was sick. They

kept punching and kicking me. I counted more

than 30 times they kicked me that night."

Shortly after we met Nur, he was sharing

the Gospel with some friends at their

house. A neighbor asked if he could listen

in on the conversation, to which the

group tentatively agreed. Nur understood

well the risk of allowing such a guest,

but he hoped for the best and trusted

the Lord. Mid-teaching, another three

men entered the home, one of whom was

wearing the garb of a radical Muslim

organization. The three grabbed Nur and

took him outside and began beating him

senselessly.

They punched him in the face and

asked why he would teach "heresy" and

attempt to Christianize a family in their

community. They took his phone and

his wallet and brought him to a local

mosque. When he got there, they stripped

him and locked him in a room.

16 PERSECU ION.org

JUNE 2017

INTERNATIONAL CHRISTIAN CONCERN
---
One of the men made a phone call and

15 more men showed up. Throughout

the night, they would intermittently drag

him out of the room and beat him. They

questioned him and tried to find out the

names of other pastors Nur worked with.

Nur told ICC, "They stripped my

clothes…They forced me to do so even

though they knew I was sick. They kept

punching and kicking me. I counted more

than 30 times they kicked and punched

me that night."

Nur continued, "I thought they would

kill me that night because they even did

not give me any water for me to drink

and take my medicine. I thought, 'This is

it. This could be the end of my life.' I only

PERSECU ION.org

INTERNATIONAL CHRISTIAN CONCERN

Top Left

ICC visits a Christian

family living in the

jungles of

Indonesia.

Top Right

ICC attends a

gathering of underground

pastors in

Indonesia.

Bottom Left

Underground pastors

meet secretly to

encourage each other

in ministry

Bottom Right

ICC visits an underground

gathering of

believers in

Indonesia.

Photos by ICC

Regional Manager

Daniel Harris

pray[ed] that the Lord will release me

from this situation even though it seems

impossible."

The next morning, the men called

the police, but the police did not bring

relief. Instead, they dragged Nur to their

vehicle to take him to the police station.

On the way to the station, one officer

kept Nur's head pinned to the floor with

his foot as they punched and kicked him.

When he got to the station, he was questioned

again.

They accused him of trying to create

"chaos" in the community and demanded

a bribe of 10 million Indonesian

Rupiah (approximately $750 USD) for

his release. They told him that if he could

"Muslims are

becoming

increasingly

radicalized

by growing

religious

conservatism."

not pay, he would be charged with criminal

offenses.

Nur pleaded with them and explained

that there was no way he could ever

pay this much. He told them he was an

unskilled worker and that he had no more

than one dollar in cash on him.

The next day, they allowed him to call

his family and explain his situation, but

his family didn't have the money either.

His sister went from door to door in their

community, asking to borrow money to

get her brother out of jail.

All Nur's sister could gather was 1.5

million Rupiah (approximately $113

USD). She brought it to the police station

and ardently begged them to accept

it. They told her that they could never

accept such a small amount, but she

refused to give up.

Eventually they gave in, realizing it

was all they could get out of them, and

let Nur go.

Nur told ICC that he is still recovering.

Since the attack, he has trouble hearing

and has been suffering with back pain.

Despite tuberculosis, extensive physical

ailment, and emotional fatigue, Nur

says he will never stop sharing the

Gospel in Indonesia.

ICC is proud to partner with and support

pastors such as Nur. If you want to

support underground pastors like Nur,

please call ICC at 800-422-5441 and say

you would like to provide monthly support

to one of our pastors.

17
---
Pastor Edward Awabdeh

In the Eye of the Storm

Pastor Edward displays

the most complete and

impressive composure

I've ever seen in a man.

He speaks of church

work and evangelism in

the midst of war surrounded

by Islamic radicals

with an elegance

and hopefulness that

confound the Western Christian who lives in

peace and safety.

He and his wife have lived in the midst of

war for six years since the civil war began,

yet he and his wife have never considered

leaving Syria.

In 2011, in the wake of the Arab Spring,

Pastor Edward, like most Syrians, thought

the uprising would only last a few months.

It wasn't until international actors like the

US and Russia started getting involved that

he understood the scope of the crisis that

engulfed his country.

In the ensuing years, Pastor Edward stayed

in Syria despite the civil war. Dedicated to his

ministry and in love with his country, he has

served his people and his God with unwavering

faith and resolve.

Pastor Edward and the Evangelical Christian

Alliance Church of Syria and Lebanon have

always had a strategic focus for ministering to

the unreached in Syria and Lebanon.

"The ministry was stable (prior to the

war)," Pastor Edward explained, "Our focus

was on developing different kinds of ministries

and to think and pray and reach out

beyond the community."

Pastor Edward never could have imagined,

though, that a brutal civil war would engulf

his stable country and be the key factor in his

mission to reach Syria with the Gospel —but

that's exactly what happened.

"People were pushed to really think about

their lives," Pastor Edward recalled, "They

had to think about the value of their lives."

Coming face to face with existential danger

and brutality has forced many Syrians to seek

truth, beauty, and goodness. The crisis and

extreme pain that has engulfed Syria is causing

the Church there to morph; the existing

Church is dissipating, but a new Church is

slowly forming.

"The Lord has opened new doors for ministry

that [we] were trying hard to open before

the war. Areas that were very closed to evangelicals

in particular, the Lord opened these

areas [to us]."

Pastor Edward removed his glasses and

placed them neatly on the table in front

of him.

He continued, "We never considered leaving…we

feel we are privileged to be [in Syria]

at such times. We feel the Lord is really doing

"We have to

have the eyes

of Jesus so

we don't see

these people as

enemies."

– PASTOR EDWARD AWABDEH

something [special]. He has in mind a kind

of divine project [that matches] the level and

magnitude of the suffering taking place."

Pastor Edward, his wife, and a small group

of ministers and missionaries believe that

their presence in Syria carries a 'weighty

meaning.' They are a witness to the people

who are doubting Allah, the god of Islam.

They preach the Gospel and see lives

changed, even if it's just one life at a time.

"Whatever we see we feel is a sample of

a larger group that is not yet known," he

told us, "This kind of reasoning is spreading

everywhere."

Despite his almost outrageous optimism,

Pastor Edward has experienced

loss in this war.

In 2015, Islamic State militants raided villages

in northeastern Syria, kidnapping over

250 Christians along the way. Among those

believers was a dear friend and ministry colleague

of Pastor Edward.

"He was one of our people, he was a wonderful

Christian and he opened his home…for

Bible study."

That Syrian doctor, who turned down multiple

opportunities to flee the war, was executed

by ISIS on camera. His final moments

were uploaded to the internet as a prize for

radical Islam.

"I really loved him," Pastor Edward

explained, "He had a great reputation in the

area for his wonderful mercy work."

Having seen the footage of his friend killed

online, Pastor Edward does not hate, but

rather pities the executioners.

"On the one side, they [ISIS] are very evil

in the way they deal with humanity," he told

ICC, "but they have proven to me that there is

a real spiritual battle in the world."

18 PERSECU ION.org

JUNE 2017

INTERNATIONAL CHRISTIAN CONCERN
---
PERSECU ION.org

INTERNATIONAL CHRISTIAN CONCERN

He leaned forward, hands folded in front

of him, "This makes me feel that those

people [ISIS] are the victims…we have to

have the eyes of Jesus so we don't see these

people as enemies."

Pastor Edward is very clear in the way he

speaks, specifically when referring to his

'enemies.' We must, as the Church, distinguish

between the person and the evil that

drives him or her. That is the first step for

a new Syria.

"I hope for Syria and pray that the name of

Jesus will be glorified all across the country,

I pray for peace in the country, I pray to have

an open country with open-minded authorities

with an atmosphere where Christians can

develop and prosper and be free to practice

their faith and tell people about their faith. I

trust that the Lord can do that, but it will take

a long time."

The Evangelical Christian Alliance Church

has been protected time and time again during

the last six years of war. Many close

calls and a handful of tragic losses have not

weakened the faith of this group dedicated to

rebuilding Syria.

Even as we spoke with Pastor Edward, the

worst attacks in over a year were taking place

in Damascus. While confident in his purpose,

it was easy to see his discomfort at being away

from home. He and his wife have dealt with a

lot in these years, but they've always endured

each trial together.

In fact, a well-known story among his

friends and colleagues describes the couple's

perseverance. There was a mortar shell that

once landed on the roof of the Awabdehs'

apartment complex. By some miracle, even

after damaging a fuel tank, the bomb did not

explode. This was the only time either Pastor

Edward or his wife ever doubted their mission

to stay in Syria, even just for a moment.

"My wife said this is a warning from the

Lord… I told her maybe it's evidence from

the Lord that even when a bomb falls on our

heads, the Lord will protect us," he laughed at

the memory, "She loved that one."

19
---
Advocacy: ICC's Syria

Capitol Hill Reception

From left to right: Congressman Chris Smith, ICC Advocacy Manager Nate Lance, US Commission on International Religious Freedom Commissioner

Kristina Arriaga de Bucholz, Pastor Edward Awabdeh and ICC Advocacy Director Isaac Six.

International Christian Concern

has been in this battle a long

time… I think in the counsels of

eternity your efforts will be judged

very favorably. ICC is a group

that I love, honor, respect, and

revere because you've done so

very much."

– Congressman Trent Franks,

Co-Chairman, International

Religious Freedom Caucus

International Christian Concern (ICC)

was honored to hear these words spoken by

Congressman Trent Franks during his remarks

at ICC's Capitol Hill Reception: Iraq and

Syria after ISIS and the Fate of Religious

Minorities event on March 21 of this year.

The purpose of the event was to raise

awareness of the needs of Christians and

other religious minorities who are the victims

of ISIS' genocide in Iraq and Syria, and

also to raise awareness for a bill (HR 390, the

Iraq and Syria Genocide Emergency Relief

and Accountability Act) currently under consideration

by the House of Representatives.

The bill would provide necessary support

and resources to victims of ISIS' genocide in

Iraq and Syria.

Congressman Franks was joined by his

colleague in the US House of Representatives

and author of HR 390, Congressman Chris

Smith; Commissioner of the US Commission

on International Religious Freedom, Kristina

Arriaga de Bucholz; and ICC's guest from

Damascus, Syria, Pastor Edward Awabdeh,

president of the Evangelical Christian

Missionary Alliance Church of Syria and

Lebanon. Comments focused on the current

plight of ISIS victims and the necessary congressional

attention to address their needs.

The event kicked off a larger advocacy

campaign, which included 16 meetings

with congressional leaders in the House

and Senate, the US State Department, the

office of the Speaker of the House, and the

US Commission on International Religious

Freedom, to raise awareness of the issue and

to seek cosponsors for HR 390.

In attendance at the reception were congressional

staffers, other human rights staff, and

media. After the event, Pastor Awabdeh was

interviewed by the Conservative Review, a

DC publication that covers religious freedom

issues as well as politics, on the current situation

of the Christian community in Syria.

Advocacy events such as this are crucial

to advancing ICC's mission to help the persecuted

Church. They are vital in assisting

the advocacy team in fully mobilizing the

resources and influence of the federal government

on behalf of persecuted Christians and

other religious minorities around the world.

20 PERSECU ION.org

JUNE 2017

INTERNATIONAL CHRISTIAN CONCERN
---
HR 390

Explained

On January 10, 2017, Republican Rep.

Chris Smith (NJ-4) introduced HR 390,

the Iraq and Syria Genocide Emergency

Relief and Accountability Act, along

with his Democratic cosponsor Rep.

Anna Eshoo (CA-18). This bipartisan

legislation will provide substantial

funds for the US to identify and address

humanitarian, stabilization, and recovery

needs of individuals and communities

who have been targeted for persecution

or genocide in Iraq and Syria.

Funds will also be given to non-governmental

organizations, including faithbased

organizations that are working to

aid these religious minorities. HR 390

will help identify gaps in US law so

that the American justice system can

prosecute foreign perpetrators of genocide,

crimes against humanity, or war

crimes present in the US, as well as any

Americans who commit such crimes.

1

Furthermore, this bill provides authorization

and funding for the training

and equipping of investigators, judicial

personnel, and lawyers to document

evidence for use in future tribunals

to hold the perpetrators accountable.

PHOTOS

Photo 1

ICC's event was attended by congressional

staff and aid organizations.

Photo 2

US Commission on International

Religious Freedom Commissioner

Kristina Arriaga de Bucholz.

Photo 3

Congressman Chris Smith discusses

his bill, the Iraq and Syria Emergency

Genocide Relief and Accountability Act.

Photo 4

Congressman Trent Franks addresses

Capitol Hill and non-governmental organizations

staff at the March 21 event.

Photo 5

Syrian Pastor Edward Awabdeh interviewed

by the Conservative Review.

PERSECU ION.org

INTERNATIONAL CHRISTIAN CONCERN

2 3

4

5

21
---
Feature Article

ISIS Murders 7 Sinai Christians

Photo by Samuel

Mohsen

Coptic families from

El-Arish are having to

rebuild their lives in

Ismailia, Egypt

In February 2017, ISIS published

a chilling video in Egypt, promising

to eradicate Christians living

in the Sinai Peninsula of Egypt.

Despite the threat, the Christian

population continued life as normal,

since they receive a continual

stream of hateful rhetoric from

fundamentalist Muslims.

Unfortunately, these were not

idle threats. Within a month, seven Coptic

Christians were targeted and killed in the

Sinai. Later reports indicated that militants

were targeting Christians based on a published

hit list.

In all of these attacks, no one intervened

or offered assistance. Witnesses, neighbors,

police – no one. Perpetrators were emboldened

by the inaction of onlookers, and the

seemingly tacit approval signaled by the

inaction of local authorities.

"I was screaming in the street asking

my neighbors to help me, (we are the only

Christians on the street), but none of my

neighbors intervened; they were all afraid,"

Nevin Gamal, Wael Youssef's widow, told

ICC.

As the assassinations continued uncontested,

Christians in El-Arish began to

panic. Many pleaded for justice and aid,

but were ignored. In fact, at one point,

authorities called a meeting for Christians

to inform them that protection would only

be found if they fled the city altogether.

Shehata Hanna Nasim, a Christian resident

of El-Arish, told ICC, "I lived in Arish

more than 32 years, at the last period we

were receiving many daily threats with

death. We resorted to the police asking

them to protect us, they said to us 'Protect

yourself; we cannot protect you'… My son,

my wife and I disappeared (by hiding) 10

days in my home till I found a chance to

flee Arish; we left everything and fled to

Port Said."

With the looming threat of terror and no

hope for government intervention, entire

communities have been pushed out of

El-Arish and forced to restart their lives

elsewhere; many have no intention of

returning home.

22 PERSECU ION.org

JUNE 2017

INTERNATIONAL CHRISTIAN CONCERN
---
Feature Article

Photos by Samuel Mohsen

Top Photo: The oldest Christian in El-Arish was among the 150 families

that fled.

Bottom Photo: Families fled El-Arish with few earthly possessions to

restart their lives in Ismailia, Egypt.

"We will live here in Mit Ghamr and

won't return back to Arish," Mariam

Saad, the widow of Kamel Raouf Kamel

Youssef, explained. "We lost our breadwinner,

our home, everything. I ask people

to pray for us."

An estimated 150 families have relocated

from El-Arish to Ismailia in northern Egypt.

Because of the severity of the situation,

most families fled with little to nothing.

"We left everything in El-Arish. We just

fled with our clothes we were wearing,"

Neama Nabeh told ICC. "We couldn't go to

our home in Arish to take anything from our

home there because I was afraid that they

would kill any one of my children, so we left

everything and fled."

PERSECU ION.org

INTERNATIONAL CHRISTIAN CONCERN

Churches in Ismailia have stepped in

to meet the needs of their threatened

brothers and sisters, providing everything

from moral support, to meals, to

spare apartments.

With the loss of personal belongings

and income, the need for assistance is

huge. Families are in desperate need of the

security and hope that was stripped away

from them.

ICC is in the beginning stages of implementing

both short-term and long-term

projects in order to aid these hurting families.

Satisfying needs such as food, housing,

and small businesses could make all the

difference for families that have otherwise

lost the hope for survival.

THE MARTYRS

Martyr 1: Wael Youssef

On January 30, 35-year-old Coptic

Christian trader Wael Youssef was shot and

killed by masked men in his grocery shop

in El-Arish. The assailants then helped

themselves to soda and chips in front of

Youssef's wife and son.

Martyr 2: Bahgat William

Zkhar

On February 12, a Coptic veterinarian

named Bahgat William Zkhar, 40, was shot

in his car just south of El-Arish, Egypt.

Martyr 3: Adel Shawky

On February 13, another Copt, Adel

Shawky, 57, was shot in the head by masked

men in the same district.

Martyr 4: Gamal Tawfiq

Gares

On February 16, a Coptic teacher named

Gamal Tawfiq Gares, 50, was also shot by

masked men in El-Arish.

Martyrs 5-6: Saad Hakim

Hanna and Medhat

On February 22, the bodies of two

Coptic Christian men were found dumped

behind a school in El-Arish, Egypt. Saad

Hakim Hanna, 65, was shot in the head,

while his son, Medhat, 45, seems to have

been burned alive.

Martyr 7: Kamel Raouf

Kamel Youssef

On February 23, three armed, masked

men broke into the home of Kamel Raouf

Kamel Youssef, a Christian plumber. The

intruders shot the 40-year-old multiple

times in front of his wife and five children.

23
---
Feature Article

Rescuing a Lost Generat

ICC classroom in refugee camp

"They killed many

of my friends. As

we ran, they burned

our houses, schools,

churches, and all our

means of livelihood.

We couldn't return."

-ELIZABETH, CHRISTIAN SURVIVOR

OF FULANI ATTACK

I

was at home, while my

three young children were

at school [when Boko

Haram] invaded my home

in Gwoza, Borno State…I

escaped and found my children

near the schoolhouse.

With only the clothes on

our backs, we left our

home behind."

- Elizabeth, attacked by Fulani

militants in Nigeria

This is Elizabeth's story, but

tragically, it is representative of

the hundreds of thousands of

Christians whose lives have been

disrupted by Boko Haram and the

Fulani militants of northern and

central Nigeria.

Since the turn of the century, these

Islamic terror groups have killed

30,000 to 50,000 people, the majority

of which are Christians, not to

mention the hundreds of thousands

they have turned into internally displaced

persons (IDPs) within their

own country.

They have left a huge trail of

death and destruction behind them

as they have sought to establish an

Islamic state and push Christians out

of northern and central Nigeria.

In fact, Boko Haram alone has

become the second most lethal

terror group in the world, killing

14,000 since 2009 and trailing

only the Taliban.

Both groups kill innocent men,

women, and children, with the

majority of their victims being

Christians, but the Fulanis attack

and destroy entire Christian villages

so survivors can never return home.

Elizabeth highlighted two common

Fulani tactics in her story about

her village's attack, "They were

screaming and yelling while shooting

their guns. They killed many of

my friends. As we ran, they burned

our houses, schools, churches, and

24 PERSECU ION.org

JUNE 2017

INTERNATIONAL CHRISTIAN CONCERN
---
Feature Article

ion In Nigeria

all our means of livelihood, so

we couldn't return."

After the attack, Elizabeth and

her children became refugees and

members of Nigeria's massive

IDP community which is over

2,000,000 strong.

"We spent two months living

in caves without food or drink.

At some places, we found sympathizers

who gave us something

to eat. God helped us survive.

We wandered the night until we

found the path to Cameroon.

Afterwards, we journeyed from

Cameroon to Yola, and then from

Yola to Jos."

Elizabeth and her children

landed in an IDP camp in Jos,

Nigeria, along with 80 other

IDP families.

One of the hidden tragedies

of the massive IDP community

is that their kids are not being

educated in the camps.

It's easy to ignore education,

focusing instead on needs like

food, water, and shelter. But

many parents, like Elizabeth,

desperately want their children

to continue their education

despite their displaced position.

As Elizabeth expressed, "I want

my children to continue school. I

do not want them on the streets. I

do not want them taken by Boko

Haram. When they go to school,

one day, they will also be of help

to others just as others have

helped us."

A UNICEF representative corroborated

Elizabeth's concern,

"When children cannot go to

school, they end up in the streets

and they become vulnerable to all

kinds of things, including being

recruited into and pressed into

service by the armed groups [such

as Boko Haram]…."

ICC visited Elizabeth's

camp in 2015 and was immediately

alarmed by the fact that

the children weren't receiving

any education.

Nigeria's literacy rate is slightly

PERSECU ION.org

INTERNATIONAL CHRISTIAN CONCERN

ICC student solving a problem at

the front of class.

Students gather for the opening

ceremony of ICC's IDP school.

"I want to become a doctor to treat

sick people and work in a hospital."

– JOSHUA, STUDENT AT THE JOS IDP SCHOOL

less than 60 percent, which means

that with just a bit of work, ICC

could get these Christian kids

to stand out and give them the

opportunity and training necessary

to ensure future employment

and a stable income as adults.

In 2016, ICC oversaw the renovation

and expansion of a defunct

school at the IDP camp.

ICC's Nigerian staff recruited

qualified teachers and administrators,

looking for passionate

and capable instructors. ICC

also purchased supplies like

paper, pencils, chalkboards,

desks, computers, uniforms,

books, and backpacks.

The Jos IDP school opened on

March 8, 2017, with a formal

inauguration event. The children,

their parents, an ICC staffer, a

school administrator, and teachers

were all present. Three class

levels, Primary 1, 2, and 3, are

now learning math, social studies,

English, and science.

No, the school will not stop

Islamic militants like Boko

Haram or the Fulanis' reign of terror

or allow the families to return

home and rebuild the decimated

homes and communities—but it

will provide hope for the future

for parents and children alike.

Students, like Joshua, can dream

about life after the IDP camp and

envision a future.

Joshua told ICC, "I want to

be a student because I want to

become a doctor to treat sick

people and work in a hospital."

For two years, his dream was

stalled because there was no

school. Now, he eagerly attends

his classes to catch up on what

he missed.

Continue to pray for Nigeria's

Christians who have lost everything

and struggle to find hope

every day. Pray that Boko

Haram and the Fulanis' terror

will be silenced and that IDPs

can return home.

25
---
National Review

Publishes ICC President's

OpEd on North Korea

On the eve of President Xi Jinping's visit to the US,

ICC's president calls on President Trump to push

China on their policy of repatriating NK defectors.

Wi t h

President

Xi Jinping

of China

visiting

the US

this week,

m a n y

wish they

could be

the proverbial fly on the wall at the Mar-a-

Lago estate as these two world leaders hash

out an array of important issues. President

Trump has made it clear that he is unhappy

with the status quo of the US–China relationship.

For his part, Xi Jinping initially

responded to Trump's aggressive comments

by implying that China may "take off its

gloves" if Trump continues to antagonize

it. Lately, though, Xi Jinping has pivoted to

more-conciliatory comments about the value

of "free trade."

The trade issue and its link to the hollowing

out of the US manufacturing sector (and

jobs) is certainly important. However, there

is a danger that it will crowd out a host of

other issues, including one that I think trumps

(sorry) all others: China's complicity in the

torture and murder of tens of thousands of

human beings.

While China's own human rights record is

more than troubling, its steadfast support for

the Kim regime and its policy of sending back

North Koreans who flee is also unconscionable.

It's well known that one way the Kims

have retained power is through the use of a

massive gulag system in which a sizable percentage

of their own population is imprisoned

and murdered.

Yet Beijing has an almost unique ability

to influence the ultra-repressive "hermit

kingdom" to its east. For decades, China has

provided North Korea (DPRK) with most of

its food and energy supplies and accounts for

more than 70 percent of its total trade volume.

Additionally, Beijing is the provider of

most of the direct aid to the DPRK and serves

as virtually its sole advocate in foreign policy

disputes. In recent years, even China seems to

be growing weary of Kim Jong-un's antics,

but the chances of it seriously addressing

human rights in North Korea seem slim.

North Korea is a military (and ideological)

buffer state that has obvious value for China.

On the economic front, if North Korea falls,

China alone

accounts for

more than

70 percent of

North Korea's

total trade

volume.

millions of refugees are likely to flood across

the Chinese border. The bill for the humanitarian

crisis that would unfold is not one that

China is interested in paying, so it continues

to kick the can down the road and opt for the

devil it knows.

President Trump, in his meetings with Xi

Jinping, has the responsibility to bring to light

China's intolerable support of the world's

most oppressive and murderous regime.

At my organization, International Christian

Concern, we feel a deep and acute sense of

urgency about this issue. Christians are routinely

singled out for exceptionally poor

treatment by the Kim regime. The simple

act of owning a Bible can send you and

three generations of your family to one of

the prison camps where tens of thousands of

Christians have died or been executed over

the past 70 years.

China could drastically change a major

human rights abuse overnight and save thousands

of lives by ending its repatriation policy.

Chinese officials are well aware that once

defectors are returned to North Korea, they

are at the whim of the North Korean government.

Torture, imprisonment, and even execution

of those who are repatriated are common.

The repatriation policy makes China complicit

in the persecution and death of thousands of

North Koreans each year.

China is seeking recognition as a global

power. That presents a prime opportunity

to point out its complicity in human rights

abuses and may make it especially receptive

to criticism on the human rights front.

26 PERSECU ION.org

JUNE 2017

INTERNATIONAL CHRISTIAN CONCERN
---
The United States, while not perfect,

has for decades been the champion of the

repressed and oppressed. Moreover, those

who suffer under despotic regimes have

often looked to us to champion their cause

and denounce their dictators.

I am reminded of the Soviet dissident

Natan Sharansky and his remarks on

President Reagan's denunciation of the

USSR as an "evil empire:"

"It was the great brilliant moment

when we learned that Ronald Reagan

had proclaimed the Soviet Union an

Evil Empire before the entire world.

Finally, a spade had been called a

spade. Finally, Orwell's Newspeak

was dead. President Reagan had from

that moment made it impossible for

anyone in the West to continue closing

their eyes to the real nature of the

Soviet Union.

For us, that was the moment that

really marked the end for them and

the beginning for us. The lie had been

exposed and could never, ever be

untold now."

Each generation witnesses its own

atrocities and unchallenged evils. This

week, President Trump has a unique

opportunity to call out the North Korean

regime for what it is and to challenge

China to end its policy of repatriating

North Korean defectors.

Such a move on the president's part

would find support on both sides of the

aisle, demonstrate moral leadership to

critics and supporters alike, save thousands

from the camps and firing squads of

the Kim regime, and be a bold first step in

building a legacy as a champion of human

rights and freedom. Maybe, if done well,

it could even be another "great, brilliant

moment" and the beginning of the end

for one of the most reprehensible evils of

our time.

PERSECU ION.org

INTERNATIONAL CHRISTIAN CONCERN

— Jeff King has served as the president

of International Christian Concern

(ICC) since 2002 and has traveled

extensively to meet with victims of religious

persecution around the world and

to provide assistance.

27
---
You Can Help Today!

PERSECU ION.org

INTERNATIONAL CHRISTIAN CONCERN

SEND DONATIONS TO:

ICC

PO BOX 8056

SILVER SPRING, MD 20907

OR ONLINE AT

WWW.PERSECUTION.ORG

OR BY PHONE

800-ICC-5441

GIVING TO ICC VIA

YOUR WILL

Provide now for a future gift to ICC

by including a bequest provision in

your will or revocable trust. If you

would like more information on giving

to ICC in this way, please give

us a call at 1-800-ICC-5441.

© Copyright 2017 ICC, Washington, D.C., USA.

All rights reserved. Permission to reproduce all

or part of this publication is granted provided

attribution is given to ICC as the source.

International Christian Concern (ICC) is a nonprofit 501(c)(3) (all donations tax-deductible).

ICC makes every effort to honor donor wishes in regards to gifts. Occasionally, situations

arise where a project is no longer viable. ICC will then redirect those donated funds to the

fund most similar to the donor's original wishes. ICC uses 7.5 percent of each restricted

donation to carry out the mission of its segregated funds.

facebook.com/persecuted

@persecutionnews