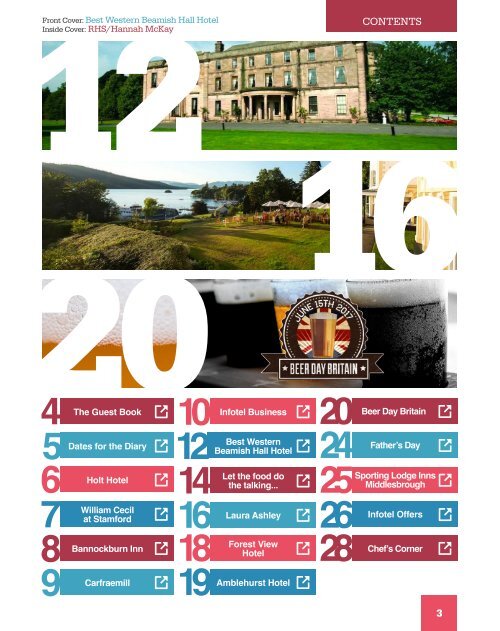 Infotel Magazine | Edition 17 | June 2017 Charm, character and cheers to the beers at Best Western Beamish Hall Hotel! We step inside this 12th century beauty to discover fabulous food, a micro-brewery and meet the new chef. Beer Day Britain beckons so take a tour of one of the many breweries around Britain or relax and unwind in a lovely Laura Ashley hotel, where English countryside charm reigns supreme!
12

Front Cover: Best Western Beamish Hall Hotel

Inside Cover: RHS/Hannah McKay

CONTENTS

20 16

4 10

The Guest Book

Infotel Business

20

Beer Day Britain

5 12

Dates for the Diary

Best Western

Beamish Hall Hotel

24

Father's Day

6 14

Holt Hotel

Let the food do

the talking...

25Sporting Lodge Inns

Middlesbrough

7 16

William Cecil

at Stamford

Laura Ashley

26

Infotel Offers

8

9

Bannockburn Inn

Carfraemill

18

19

Forest View

Hotel

Amblehurst Hotel

28

Chef's Corner

3
More magazines by this user