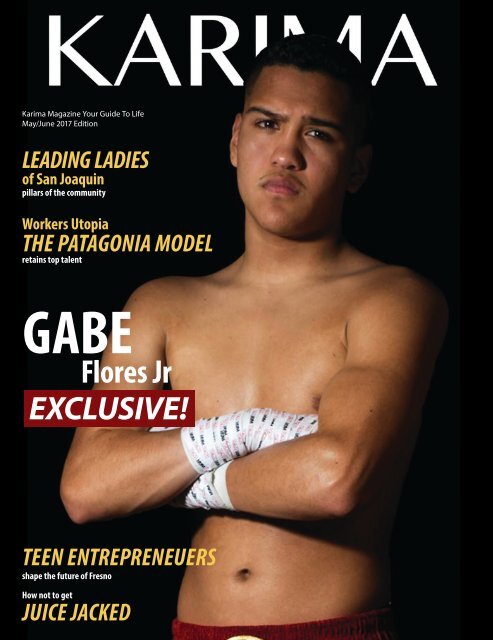 Karima Magazine May-June2107
Create successful ePaper yourself
Turn your PDF publications into a flip-book with our unique Google optimized e-Paper software.
SECTION TITLE

Article Title

Karima Magazine Your Guide To Life

May/June 2017 Edition

LEADING LADIES

of San Joaquin

pillars of the community

Workers Utopia

THE PATAGONIA MODEL

retains top talent

GABE

Flores Jr

EXCLUSIVE!

TEEN ENTREPRENEUERS

shape the future of Fresno

How not to get

JUICE JACKED

1

Karima Magazine.indd 1

5/21/17 5:07 PM
---
The Content of Karima Magazine

may in no way be reproduced

in any fashion without written

constent of the publisher. Karima

Magazine is available at more

than 100 local distribution points

in the Central Valley. Anyone

Inserting, tampering with our

diverting circulation will be

prosecuted. Karima Magazine

assumes no responsibility for

content of advertisements.

For advertising inquiries, please

contact Marie at (209) 425-7834

Publisher/Founder

Angela Karim

Photography

Editorial

Copy/Content Editor

Lan Cheng

Photographers

Jeep Touch

Chris Cannon

Writers

Lan Cheng

James Brickner

Angela Karim

Dalton Roarke

Contributing Photographers

Tim Ulmer

Robert Sanchez

Marie Enright

Barbara Chacon-Smith

Jeff Rostocil

Matt Freeman

To order a paid subscription,

email talk@karimamag.com

Design

Graphic Designer

Alexandra McBride

FIND US ONLINE

www.karimamag.com

Sales & Marketing

Marketing/Account Executive

Lorrie Beausher

2

Karima Magazine.indd 2

5/21/17 5:07 PM
---
INSIDE

MAY 2017

13

1

2

3

4

6

7

8

11

F i r s tO ff

Publishers Note

In the Know

Word on the Street

Business Best

Patagonia Model: Work Utopia

Local: Organic Produce/ In Season

Local: Coffee with a Cause

Fresno's Highschool Entrepreneurs

Tech: How Not to Get Juice Jacked

18 39 4

13

17

18

28

32

35

36

Headliners

Fighting for Stockton y familia:

Gabe Flores Jr.

Highlights: Tubbs & Sanchez

Leading Ladies of San Joaquin

Image Shaper, Destiny Maker:

Lee Neves

Female Ninja: Courtney DuBois

Events

Nor Cal Event Listing

Event Photos

www.karimamag.com

37

40

41

42

44

46

Taste Buds

Local Eats: Taste of Thailand

Recipes: Vegan Tres Leches

Kombucha Your Life

Body Soul & Mind

Healthy Gut, Healthy You

Do Miracles Still Happen?

Advice with Yessi: Facing Family

Karima Magazine.indd 3

5/21/17 5:07 PM
---
FIRST OFF

Publisher's Note

Inspiration All Around

N THIS ISSUE, we have featured a number of inspirational people.

Gabe Flores Jr., is the youngest boxer in the history of Top Rank to

ever be signed and has overcome a lot of hardship in Stockton. We are

anticipating watching his professional career unfold in front of us as he

represents his city and contiunes to fulfill all of his dreams. Then there are

the Leading Ladies of San Joaquin who do so much for the community.

While we couldn't possibly list all of them, we did feature a handful.

We have a piece on a female jujitsu fighter. Courtney Dubois, holds her

own in a male dominated sport and we can expect to see her more and

more about her as she is only beginning. We are also starting a new

feature that will continue on in future issues. You will have the chance

to read up on someone who has made it on our list of the Most Eligible

Bachelors & Bachelorettes in the Central Valley (full list is coming soon)!

This issue, we delve into best business practices, show what's great about

exisiting local businesses, discuss the benefits of entrepreneurship

and how one school in Fresno, California is killing it!

Finally, we list upcoming Nor Cal events, bring you info on how to keep

healthy and all kinds of other good stuff. :-)

Until next time-stay positive, follow wisdom, and live your life to

the fullest.

—Angela Karim

Founder & Publisher of Karima Magazine

1

Karima Magazine.indd 4

5/21/17 5:07 PM
---
FIRST OFF

In the Know

IN THE KNOW

IPHONE FOR THE WIN

According to a recent study done

by Piper Jaffray firm, millenials are

choosing the iPhone over the Android.

Findings state that even if millenial

users do not currently own an iPhone,

their next phone is most likely to

be one.

+ Good if you own stock with this company

- Iphones may not be affordable to all

FIDGET SPINNER TOYS MADE TO STOP WAR

Those fidget spinner toys that kids and kids at heart are playing

with these days were originally made by a woman who wanted to

help give Palestinain Children something that would preoccupy

them. She was hoping they would play with her toy and stop

throwing rocks at soldiers and bystanders. Obviously that did not

work, but 20 years later her toy is now a big hit here in the States.

BIOCONCRETE

Self healing, organic concrete

has been created. It heals

cracks, potholes on it's own

for up to 200 years! Hopefully

California invests.

BEST CAR YET

Start-up company Phinergy,

LLC have created a car

that runs on Aluminum,

Air, & Water. Pretty dope!

www.karimamag.com

2

Karima Magazine.indd 5

5/21/17 5:07 PM
---
FIRST OFF

Word On the Street

What do you think about

the Governor of California

raising our gasoline taxes &

annual vehicle fees ?

WHAT SAY YOU?

FACTS:

Law increases gas by $0.12/gallon

(bringing tax to a total of $0.30/gallon)

Annual vehicle fee will average

$100 extra per vehicle each year @DMV

Electric car owners will pay flat fee of

$100/yr in leiu of tax

Tax monies are earmarked for repairing

roads, bridges, highways, culverts, &

transit projects

David Serrano

Head of Maintenance at

Republic Services

"I think it's all a

game. It's just a way

for our Governor to

makemore money

for himself and his

cronies. It's just a

way to tax the

people and help

make them rich."

"This is bad. More

money for gas & more

money to DMV for 2

years until minimum

wage gets raised! It's

not fair. I work so hard

& barely make enough

to survive as it is. My

wife passed away. I

take care of the kids

myself. I don't care

about a high speed

rail. I'm just trying to

survive and take care

of my family!"

Gerardo Morales

Warehouse Supervisor at

Xelerated Transport Group

Jen Miller

Receptionist at San Tomo

"I think that it's

better than using a

bond and putting

California more in

debt, but we need

to really keep our

elected officials

accountable. We

need to make sure

they are using the

tax monies for what

they say they are

going to use them

for and nothing else."

"It's not like I'm

looking forward to

it (tax hike & higher

vehicle registration

fees at the DMV),

but it's probably

necessary. I mean

when is the last

time we have had

an increase in

those areas?"

Steve Richmond

Advisor at Richmond Financial

3

Karima Magazine.indd 6

5/21/17 5:07 PM
---
BUSINESS BEST

Patagonia Model

PATAGONIA MODEL:

EMPLOYEE UTOPIA

BY LAN CHENG

ACCOMODATING Working Parents

Patagonia seems to know how to hold onto it's best talent and that is by helping their employed parents be the

best they can be to their families.

NYONE RUNNING A BUSINESS knows that

sometimes, good talent is like a mythical unicorn,

illusive and seemingly impossible to find. And

when you do find that coveted prize, the fabled talented

employee, it is best to hold onto them for dear life. So

why then do so many businesses fail to implement

policies that will ensure loyalty from the most up and

coming group of workers, who now comprise nearly

50% of the US workforce?

That's right! I'm talking about the female half

of the population; given such a large group, there is an

increasing need and increasing calls for US businesses to

improve their archaic family leave policies. But, all is not

lost. Among the many businesses able to retain talent by

being more accommodating to mothers (and fathers!),

one company sets itself head and shoulders above the

rest. What is the name of this company, with invaluable

lessons to teach us on how to foster a supportive family

environment? Patagonia.

Patagonia, a popular outdoor clothing company,

has set the golden standard for how to cater to

employees with families. Not only do they offer a two

month, paid maternity and paternity leave, but their corporate

headquarters in Ventura, California and distribution

center in Reno, Nevada both boast on site childcare

facilities. And, it pays! One hundred percent of mothers

working at Patagonia return to work after maternity

leave, and they have the peace of mind of knowing their

kids are close to them.

Patagonia also offers full company sponsored medical

and paid sick leave. "I didn't have to choose between

being with my son and having a job. I'm very loyal to

the company," states Rachel Cantu, VP of supply chain

operations for Patagonia.

4

Karima Magazine.indd 7

5/21/17 5:07 PM
---
SECTION TITLE

Article Title

Pictured on Right: a Patagonia worker spending time

with his son in the company dining area.

5

While, it may be hard for a small

local business to offer onsite child care

or such generous allotments of sick days

and family leave, there are things you

can do to demonstrate to employees

that you care, and, most importantly, retain

that talent!

HOW TO RETAIN YOUR TOP TALENT

Let's start with the most obvious: Start a

dialogue with your employees. Find out

what they like and dislike about working

for your company and what they feel

could use improvement. Critically evaluate

that information. Are their suggestions

relevant or are they something you

could implement with ease?

Then, if you cannot financially

swing having a generous family leave

or sick day policy, consider focusing

more on quality, rather than time. Simply

translated, if your employees are

completing all their tasks and projects

and producing quality work, don't stress

about them meeting the required hours

or if they need the extra hour here or

there to focus on their kids.

And sure, many companies offer

gym memberships, but thinking outside

the box and looking around for local opportunities

may lead to more positive office

morale. For example, it may be possible

to negotiate discount rates for your

employees' children with local childcare

facilities.

Next, evaluate whether your

employees that are parents are treated

the same their non-parent counterparts.

Are they offered the same opportunities

to move up in the business or included

in outside employee get-togethers? Or

are they easily dismissed cause they are

"parents" or is it assumed that they don't

have the time or energy? These are issues

that can lead to talent skipping out

on you for greener pastures

Additionally, consider offering

a late-start day, once a week or once

a month, where employees can come

into work an hour later. For parents, it

could really benefit them to not need to

rush to get kids ready, out the door and

to school. Just that small consideration

could really help improve the relationship

between you and your employees.

Remember: employee loyalty is priceless.

Finally, be flexible. Keep an

open mind and door, and consider if

an employee is struggling to maintain

their work/family balance. Think about

whether they have tasks that could be

done at home. If you can offer them

the flexibility of working from home

some mornings or afternoons, that is

a sure path to retaining talented employees

that will be interested in always

doing their best for the company that

shows how much it cares for them and

their families.

And just remember, when in

doubt, just think WWPD: What Would

Patagonia Do? "All of our employees are

people. They're all human beings with

kids and families and we need to create

a supportive environment for people to

be their best and do their best," emphasizes

Patagonia CEO Rose Marcario.

In Short

1) Dialogue with your employees.

2) Find out what they like and need.

3) Do not micro manage.

4) Find discounts for your

employees that will benefit

their family.

5) Include parents in all

company activites.

6) Consider late start days or

tele-commuting .

7) When in doubt, think, "WWPD:

what would Patagonia do?"

Karima Magazine.indd 8

5/21/17 5:07 PM
---
BUSINESS BEST

In Season

IN

SEASON

LOCAL, ORGANIC PRODUCE

BY LAN CHENG

ELMING a new business takes persistence and

dedication. Eric Firpo, co-owner of nursery,

produce and gift store In Season, has proven

he has both in abundance, waiting three

years to get a lease on the "perfect place," right here

on Alpine in Stockton. Together with partner Julie

Morehouse, the two self-professed plant people,

possess years of farming and landscaping experience,

which they bring with their passion every day at In

Season. In the sort of tale that could have only sprouted

during the Great Recession.

Firpo and Morehouse both found the lack of

jobs as opportunity; according to Fripo, "I got laid off

and went into farming and realized it would be more

profitable if I had a store front." Julie's story is similar,

having previously worked at a local nursery. "So we

decided to pursue our own business venture."

Other than waiting for the perfect location to become

available, setting everything up required a tremendous

amount of work to get it in shape for their September

16th opening. Other challenges involved searching out

suppliers for the nursery, gift shop and locally grown,

organic produce.

In Season offers supplies and gifts in their shop,

as well as an assortment of organic, non-GMO produce.

"We want people to feel good about stuff they're buying

and know that this is super healthy food and they

are helping local growers and the local economy." And

of course, the produce grown by Firpo directly for the

store, "is grown by myself, (so) absolutely no pesticides

are used whatsoever." In addition to educating customers

on the benefits of buying organic and non-GMO

produce, Firpo is also on the continual search for local

suppliers that offer unusual annuals and perennials.

"The response from the public has been

phenomenal, so it's really rewarding," says Firpo. Future

expansions for In Season include a small deli and

eventually a beer garden.

Visit In Season today to learn how to cultivate

and plan your own garden, or to get produce with the

peace of mind of knowing exactly where it comes from.

In Season Organic Produce

215 E Alpine Ave, Stockton, CA 95204

(209) 949-2499

www.karimamag.com

6

Karima Magazine.indd 9

5/21/17 5:07 PM
---
BUSINESS BEST

Coffee with a Cause

COFFEE WITH A CAUSE

Vine & Branches by Leena Karim

Are you craving a great cup of COFFEE

with a warm and welcoming atmosphere,

where you CAN sit back, relax, and dream

about how you can IMPACT the future?

How about drinking a cup of coffee,

knowing that the proceeds benefit

saving SEX TRAFFICKING VICTIMS in the

San Joaquin County?

Big Vision

If any of that appeals to you, then Vine and

Branches is a must see. The noteworthy

shop is located in downtown Lodi, California.

Originally it began as just a Christian

bookstore, but the new owners had a

greater vision. When Lance and Laurie

Coffman found gigantic pictures of

historical Lodi in their newly purchased

shop they decided that they were too incredible

to keep all to themselves. The

pictures were immediately hung on the

walls for all to see. They created a comfy,

yet trendy space with an industrial feel

to sit and linger over a book and if you

wish—a freshly brewed cup of coffee.

Worthy Cause

And that's where it gets interesting. You

see, the proceeds of every cup of coffee

purchased goes toward improving the

lives of sex trafficking victims in San

Joaquin County. Laurie started her own

non profit last year to help some of the

most vulnerable in our society and wanted

to raise more awarness for the worthy

cause. But back to the decor. You will also notice

a portion of a wall in the shop covered

with post-it notes that have been scribbled on

by visitors. At first glance you might think it is

just an interesting art project. However, it is

much more meaningful.

Dream Wall

Visitors are encouraged to write down

their dreams and post them to the

"dream wall." The owners pray over the

dreams aloud on a daily basis with the

expectancy that their agreement will

help the dreams come to life. Vine and

Branches also offers a selection of clothing

apparel, home decorations, jewelry, gifts, music,

and more books.

7

Karima Magazine.indd 10

5/21/17 5:07 PM
---
BUSINESS BEST

Building Tomorrow's

Economic Future

BUILDING TOMORROW'S

ECONOMIC FUTURE: HIGH SCHOOL ENTREPRENEURS

A FRESNO MAGNET SCHOOL HELPS STUDENTS

CREATE THEIR OWN AMERICAN DREAM

BY ANGELA KARIM

NEW TYPE of magnet school in Fresno, California

is changing the way high school students learn

about business, by creating entrepreneurs that

will have launched their own start-up company before

even graduating from the 12th grade. According to

Patino School of Entrepreneurs Principal, Brett Taylor,

the goal is to have "students leave school and have

already started a business."

A big part of how Patino encourages students

to innovate is by doing things a bit differently, starting

with the classroom. On a typical day, classrooms are

vibrant and full of energy: students are getting out of

their seats, writing notes on walls, not about who is

dating who, but about strategy and marketing. They

have their own business groups for collaboration and

connect with each other through affiliations aimed at

enhancing their business acumen.

When Superintendent Michael Hansen of the

Fresno Unified School District first tasked Principal

Taylor with developing such a new type of school,

Taylor knew he needed to do some research. To

accomplish this, he made visits to a number of start-up

8

Karima Magazine.indd 11

5/21/17 5:07 PM
---
BUSINESS BEST

Building Tomorrow's

Economic Future

"WE DON'T HAVE MAJOR INDUSTRIES

IN THE FRESNO AREA. THIS SCHOOL

ONLY HELPS BUILDOUR COMMUNITY

AND HELPS THEM (GRADUATING

PATINO STUDENTS) BE INDEPENDENT.

companies looking for approaches

that would help to foster, produce, and

cultivate young entrepreneurs. "We wanted

to throw out all preconceived notions

and be willing to do something different."

After his visits, he made the decision, that

unlike other traditional high schools, the

Patino school would

be desk free. By

eliminating desks,

students are able

to collaborate as a

team in a collective

space.

However, the advent

of unconventional

ideas didn't

stop with desks

and shared spaces:

as soon as he

had implemented

changes to the

student entrepreneurs' work space, he

went out to find real world business

owners who would be able to serve as

mentors to the students. Taylor initially

reached out to community membersand

the response was overwhelming.

Even though everyone was

very eager to help mentor the aspiring

entrepreneurs of tomorrow, there was one

problem: despite the many business men

and women's accomplishments, they

all worked for someone else. None of them

had the real world experience starting and

running their own business

So, he thanked everyone for their

willingness to support his students and

began to search for others who met the

entrepreneur profile. And eventually Taylor

found the perfect mentors. Some of them

happened to be local, but most were not.

And he describes the search process for the

mentors as a major pay off for the school.

"The day that the students had their first

meeting with the actual entrepreneur

mentors, it became real to them. It wasn't

just a school project anymore." The new

students started to see their visions become

a possibility as they interacted and chose

the mentor they believed would best fit

them. Their confidence began to grow and

their drive became stronger.

The high school students' business

ideas, spurred on by their newly found

confidence, brought them to compete at

San Jose State University's annual "pitch

day." Upon entering, three of the Patino

High School teams qualified to pitch their

business ideas. Two of the teams were picked

to place and one team won a prize of $1,000

dollars for their start-up business pitch.

In addition to phenomenal

mentors, Taylor also attributes the success

of his students to the autonomy that is

given to the children in the decisionmaking

process at Patino. "Every idea

regarding the businesses and start-ups are

all student generated."

The teachers that work with the

children on a daily basis are specially

selected, as well, to help cultivate the

spirit of creativity and entrepreneurship.

"We take the ceilings off for the kids, we

let them know that they can do whatever

they want. We decided early on that we

wanted to create entrepreneurs—not

entrepreneurships." Said Taylor. The

Patino school requires that teachers must

either have a business/entrepreneurship

background, tech experience, or show that

they can be willing to innovate and learn

from their mistakes. According to Taylor

the last trait has proven to be the most

important among his staff.

And as far as disciplinary issues,

the Patino School of Entrepreneurship

has maintained a 0% suspension rate.

9

Karima Magazine.indd 12

5/21/17 5:07 PM
---
BUSINESS BEST

Building Tomorrow's

Economic Future

This was a shock to many observers as it

was quite clear that the incoming Patino

School had accepted children with both

"troubled" backgrounds and suspensions in

their past. But Principal Taylor has a unique

philosophy, "I always think, how would a

business handle this? It's all about the

connection that you make with the kids.

They feel respected here, they matter, we

trust them." Taylor refuses to review the

background files on any of his students. He

wants everyone to have a clean slate and

treats them as his own "peer."

When asked how children are

selected to attend the school, Taylor said,

"There is no lottery system. We allow any

kid who is interested to attend. We realize

that not every entrepreneur is a good

student." And to ensure equity of access

to children in the Fresno area, the Patino

School has made a few changes to the way

the school operates.

School begins later in the day at

9:20am and end at 4pm. This was done to

make sure that all who need to utilize public

transit will be able to arrive on time. The

Patino School also presents the enrolment

opportunity to every single student within

the Fresno School District. "We take these

extra steps, because we soon learned that

you can have an equitable school without

being truly equitable to all."

Taylor stated that the Patino School

of Entrepreneurship was made with the

aim to help strengthen the next generation

and the Fresno economy simultaneously

as many kids go to college, graduate, and

flock to other major cities to apply their

expertise. "We don't have major industries in

the Fresno area. This school only helps build

our community and helps them (graduating

Patino students) be independent."

Kids have the ability to keep their

newly founded business local. And although

"I THINK SO, (THIS IS THE FUTURE OF

EDUCATION), BECAUSE KIDS GET THE

LIFE SKILLS THAT ARE NEEDED NOW.

THEY BECOME PROBLEM SOLVERS."

it sounds ambitious, Taylor makes it sound

a lot like common sense. When asked if he

believes this is the future of education, he

replied, "I think so, because kids get the skills

that are needed now. They become problem

solvers." And what business doesn't have a

problem that needs to be solved?

10

Karima Magazine.indd 13

5/21/17 5:07 PM
---
TECH

Juice Jacking

Learn How to Not Get Juiced Jacked by Dalton S. Roarke

JACKED

11

Juice Jacking happens

anywhere free cell phone

charging is offered. Think

kiosks at airports, concert

venues, libraries, lounges,

malls, car dealerships,

and hotels.

It seems we have been told that the

technological revolution that brought

us into the age of computers, wireless

internet, and chipped credit cards will

make our lives easier and more protected.

And yet nary a month passes where

the media isn't inundated with reports

of wire fraud, hacked email accounts,

and stolen credit card numbers.

In 2013, it was Target's card readers; in

2016 it was Hillary Clinton's server and

Yahoo's email services.

Now, there's a new contender for most

irritating cyber exploitation: Juice Jacking.

Juice Jacking is the theft of your

personal data while you charge your

phone at one of those convenient little

charging stations in the mall, airport,

library, or at the car dealership.

Karima Magazine.indd 14

5/21/17 5:07 PM
---
BUSINESS BEST

Juice Jacking

SPOT

PREVENTION IS KEY

Beware. Data thieves are waiting for you to plug in.

And like credit card reader data theft, thieves

connect their equipment in between the data port

on your phone and an inconspicuously hidden

device. You get your phone charged, and at

the same time, the hidden device drains your

memory – of photos, phone numbers, email

addresses, sticky notes – of anything that dark web

conspirators can use to go for the big money,

like your identity. You'd think that with all these

modern conveniences, the Internet of Things, and

increasing cyber theft, that security of customers

would be a top priority. But alas, the idea that

consumers should be protected from interlopers has

yet to catch on with software companies and their

outsourced programmers.

Juice Jacking, much like

the free Wi-Fi exploits that

were big a few years back,

takes something good (mall

freebies meant to keep you

shopping, price checking, all

while making sure you don't

leave before supporting the

economy) and spoils it by

creating fear and concern.

So, how can you as a consumer

protect yourself from Juice Jacking

and other charger/USB port

invasions while out and about?

ONE

TWO

Bring your own charger— If you plan

to charge your device in a public setting.

(Many of these charging stations

have regular power sockets that aren't

susceptible to hacking.

Purchase a back-up battery or personal

charger. — Or maybe, just maybe,

instead of surfing the internet while

strolling through the mall, we could

all put our collective phones away and

focus a little more on what matters in life:

people and real, human interaction.

12

Karima Magazine.indd 15

5/21/17 5:07 PM
---
HEADLINERS

Gabe Flores Jr.

"I LOVE MY CITY. I'M JUST TRYING TO DO EVERY-

THING THAT I CAN FOR IT...I LIKE TO GO AND TALK

TO THE KIDS ABOUT THE CONSEQUENCES TO THEIR

ACTIONS, LIFE, AND ANYTHING THAT WILL HELP

THEM STAY AWAY FROM JOINING GANGS."

13

Karima Magazine.indd 16

5/21/17 5:07 PM
---
FIGHTING

For Stockton y Familia

Gabe Flores Jr. is no ordinary

teen. By the time he had reached

the age of 12 he had already lost

his uncle and his mother to the

streets of Stockton. Two separate

acts of violence that no one could

really understand, yet he kept

going. With the help of his family

and the help of his Father, Gabe

Flores Sr., he is now the first fighter

to ever be signed by Top Rank

boxing. Meet the young pro who

represents the city of Stockton.

Karima: How long have you been fighting?

I've been fighting since 10 years ago- since I was seven

years old.

Karima: How does it feel to be signed to Top Rank

as the youngest fighter ever in the history of their

organization? I mean, no doubt that's big time. They

have promoted world class fighters like Muhammad

Ali, Oscar De La Hoya, George Foreman, Manny

Pacquiao, Mayweather, and so many more.

Yeah-it feels great. It's something that hasn't ever

happened in history before me. It's somehting new...

it's never been done. I'm just really grateful for the

opportunity that I've been given. And I think that I've

been given this opportunity, because of my skill, yes,

but also because of my life. All of the events that have

taken place and everything that I have had to overcome

so far. You know, the story behind me.

Karima: So, then who is your greatest influence in life?

My Father is my greatest infulence. You know, me and

my Pops have a vision of what we want to do in life and

where we want to go. We remind each other every day.

So, I would have to say that it's him.

Karima: Has your Dad always been your boxing coach?

Always-and it's great. I go to the gym and he's my

coach. I go home and he's still my coach. We share the

same goals, the same accomplishments. So, we have a

great understanding.

Karima: Do you ever disagree with him?

Of course. Anybody will have disagreements, but we talk

it through...just like anything else.

Photo Credit:

Robert Sanchez at the Los Gallos Boxing

Academy in Stockton, Ca.

14

Karima Magazine.indd 17

5/21/17 5:07 PM
---
SECTION TITLE

Article Title

15

Karima: Have you always wanted to do what you're

doing now?

Yeah, ever since I was a kid. I was in Kindergarten and I would

get asked what I wanted to do. I would say, "boxer-I want to

be a boxer." I would get asked to draw it and I would. Ever

since I was little, that's all I can remember. I mean, I did play

T-ball. That was my first sport, but other than that, it was all

about boxing for me.

Karima: Okay, well let's talk about something that you

have had to overcome. It's our understanding that your

Mom was murdered in Stockton a number of years ago

in an act of senseless gang related violence-that she was

in the wrong place at the wrong time. How do you deal

with that?

Uh, you know, just like anything else. I just try to remember

the good memories that we had together. And you know,

I know that she always wanted to see me fight. I know she

wanted me to see me accomplish my dreams. So, I fight for

her, I fight for my city, for the kids, and the kids like me. I

mean, of course it messed me up in my head a little bit, but

I have to be strong minded. I always have my Father to talk

it through with me.

Karima: We know that Stockton is your home. Tell us how

you feel about the city?

I love my city. I'm just trying to do everything that I can for

it. The little things like going over to my former school—

Roosevelt Elementary School. It's on the Eastside of

Stockton. I like to go there and talk to the kids about life,

that there are consequences to their actions, and anything

else that will help them stay away from joining gangs.

Karima: What do you want the people and the youth of

Stockton to know?

I want them to know that there are opportunities out there

for them. Even more than they can imagine. College offers a

lot. And no matter what they want to do, they're

Karima Magazine.indd 18

5/21/17 5:07 PM
---
HEADLINERS

Gabe Flores Jr.

good at something. They just need

to find it. I found what I'm good at

pretty early, but sometimes it takes

time to find it. No matter what, thoughjoining

a gang will get you no where in

life. You've got to live and in order to

live, you have to make sure you eat. You

want to enjoy your life and be happy. You

can't do any of that if you're in a gang. It

gets you no where.

Karima: So, Gabe-what keeps you going?

Just a love for the sport. That's why I

came here in the first place, because I

love boxing. And now I can support my

family from it here and there. It's everything

I want, but most of all I just really

love the sport.

Karima: Do you ever have days, where

you want to just go hang our with your

friends or go to the mall instead of training?

Sometimes...it's rare, though. You got to

know what you want in life. You have to

picture your dream as the most beautiful

thing in life and be willing to make those

sacrifices for it.

Karima: Is there anything else you want

to do aside from boxing or is it all about

the fight life for you right now?

Right now it's all about the fight life and

my family. You know, what I want is to be

one of the greatest, work hard toward it,

and have my family while I'm enjoying it.

Karima: What do you see yourself doing

in 10 years from now?

Ten years from here, I see myself winning

a world title...more than one, actually.

Winning world titles in different weight

classes and probably making it in the Hall

of Fame. And just being an inspiration to

the kids.

Karima: So, let's just say that you

suddenly make your first million

dollars...what's the first thing you

would do?

Make sure my family is okay. Make sure

that they're doing good...my sister and

my brother and make sure that they're

eating, that they don't have any trouble

paying their bills. I mean, if I have a million

dollars, then obviously I'm doing pretty

well for myself. I'm well fed. So, I'll look

out for the ones near me and that's what

I'll do.

Karima: Okay, what's the second thing

you'd do?

I'd probably treat myself. You know, but

who know...because we're not there yet.

But there's not much more I could want

right now. I'm just focused and ready

to win.

Karima: Alright-I have to ask this question,

because I promised one of your fans

that I would. What's your favorite thing

to eat?

I love Mexican food. My favorite dish

is camarones rancheros from Nenas

Mexican restaurant. The tortillas there—

everything there is so good. I just love

everything about Mexican food.

KARIMA: Another fan question, do you

have a girlfriend?

No, I don't

KARIMA: Getting back to boxing...how do

you prepare for your fights? Do you ever

watch videos of your opponents?

Always, always. I look at their mistakes

and how I can capitalize on them. I jump

rope, I shadow box, I hit mits, I hit the

weight bag, I hit the speed bag, I do everything.

I run, because when you are a

boxer-you have to become a runner too.

You got to put all the work in.

KARIMA: Who is you favorite fighter and

why?

Roy Jones Jr., because he is one of the

greatest of all times. I love how he could

fight and how he could show boat-just

everything he did.

KARIMA:Any advice for young aspiring

athletes in Stockton?

At points it's going to feel like you can't

do it. There's going to be times when

you're striving to reach your goals and

you are going to feel like you can't, but

those are the times you need to push

harder. Those are the times that are going

to make you better and really make

you successful.

KARIMA: How can people stay updated

about you and your upcoming fights?

On my social media. Instagram

isg_squad_nation and twitter and

facebook, Rephard.com for shirts.

KARIMA: Thank you, Gabe and congratulations

on your success. We look forward

to seeing more and more of you in the

coming days!

YOU GOT TO KNOW WHAT

YOU WANT IN LIFE. YOU

HAVE TO PICTURE YOUR

DREAM AS THE MOST

BEAUTIFUL THING IN LIFE

AND BE WILLING TO MAKE

THOSE SACRIFICES FOR IT.

Pictured above: Gabe Fores Jr. & Gabe Flores Sr.

walking side by side in their custom Los Gallos

Boxing Academy warm-up jackets.

16

Karima Magazine.indd 19

5/21/17 5:07 PM
---
HEADLINERS

Community Highlights:

Tubbs & Sanchez

COMMUNITY HIGHLIGHTS

Quick Talk with Michael Tubbs, Mayor Of Stockton

By: Marie Enright

Stockton's youngest, first African American Mayor, Michael Tubbs sat down with

Karima Magazine for a quick chat about his plans for the future of the city. In short

he will focus on the following: Help create better educational and work opport

opportunities for all Stocktonians Give greater attention to the "hot zone" areas in

the city (areas which are high in crime and poverty) Work on ensuring violent crimes

are reduced Work with the county to find a housing first solution for the homeless

population in Stockton Economic development A number of years ago Tubbs' cousin

was murdered in Stockton while he was away studying at Stanford University. It was,

because of his loss that he decided he would move back to his hometown. Instead

of taking his degree and passion for politics to some other city, he would remain in

Stockton with the intention of "helping Stockton reach its full potential." The new

mayor also shared with us that he does plan on seeking re-election when his first

term in office is complete. He believes he will need two terms in order to see all of

his plans to come to fruition.

Motecuzoma Sanchez, CEO of SEMILLAS

By: Marie Enright

Director of SEMILLAS nonprofit and community activist, Motecuzoma Sanchez was

recently recognized by Provecto Voz for his work with the Native community in their stand

against the Dakota access pipeline (#nodapl). The Stockton native traveled to North Dakota

with other members of Semillas. The Semillas members took to the front lines with other

protestors. SEMILLAS is a nonprofit which stands for Stockton Educational Movement in

Language Literacy and Scholarship. The mission of SEMILLAS is to increase educational

outcomes through promoting literacy in the San Joaquin Valley. The organization holds

many community events and book drives throughout the year.

What are your thoughts? Tell us what you think! Email us and we will publish your comments

and/or questions. Please direct all communication to: talk@karimamag.com

17

Karima Magazine.indd 20

5/21/17 5:07 PM
---
SECTION TITLE

Leading LEADING Ladies LA-

Article Title

DIES

of San Joaquin

Meet the Leading Ladies of San Joaquin. We profiled these

women, because they not only stood out in their respective

fields of work, but they also lead by example. These women

give of themselves to others and it is clear to us that they

want to make this world, this community to be a better

place for all. They are impressive and we can't wait for you

to meet them. We have also included two younger women

as it is obvious that they are headed down the same path.

So, we say-Ladies, lead the way!

Pictured: Susan Lenz, Mary Elizabeth Eberhardt, Carol Ornelas, Rima Barkett, Ines Ruiz-Huston, Mimi Eberhardt, Laurie Coffman

T. Denise Manning, Liz Blanchard, & Becky Moffitt Photo: Oscar Chow

18 21

Karima Magazine.indd 21

5/21/17 5:07 PM
---
N

Rima Barkett

RIMA BARKETT—Owner/Chef of Bella Vista

Cucina Italiana Restaurant Devoted Wife,

Mother, Founder of Ambassadors of Peace,

other nonprofit organizations. By Angela Karim

All Around Awesome

If anyone has met Rima Barkett, they know that she has a

huge heart and would give you the shirt off of her back if you

needed it. She has continually given back to her community

in so many ways and is a humble soul, who never seeks recognition

for any of her good deeds. What you also know (if

you have ever had the pleasure of meeting her) is that she is

an amazing chef and the food she prepares will make your

mouth water, begging for a second bite…and then another

and another.

Family Traditions

Her grace and culinary skills are by absolutely no happenstance.

She credits her mother for instilling within her the

great values she has and igniting a special passion for cooking

that you will see in every one of her carefully prepared

dishes. She recalls the many days and nights in Tuscany, Italy,

where she grew up, watching her mother create healthy, simple,

and tasty dishes for family and friends. Rima began to

view cooking as a way of expressing love and found it to be

a great vehicle for bringing people together as they enjoyed

a meal.

Cooking Up More Skills

In 2002 she opened her first authentic, northern Italian

restaurant in Stockton, California. Her restaurant, Café Luna

Spaghetteria caught the attention and taste buds of many locals.

As a result she grew a loyal following of many "foodies."

Four years later she moved to Rome with her husband and

daughter, where she would find herself working on the World

Summit of Nobel Peace Laureates. Somehow in between her

busy schedule, she managed to work on perfecting her culinary

skills at the internationally acclaimed Cordon Bleu in

Florence and the Gambero Rosso in Rome. Rima has since

prepared meals for many notable and distinguished guests

inside of her home in Italy. Some of these guests include

George Clooney, Don Cheadle, Jimmy Wayne, and a number

of Peace Nobel Laureates.

Taste of Italy

Now Rima is back in California and has recently opened up

her latest culinary expression. Bella Vista Cucina Italiana

restaurant is located in downtown Stockton next to the Regal

Stockton City Center Stadium 16 & IMAX. Bella Vista Cucina

restaurant has only been open for a very short time and already

receiving rave reviews.

Rima is the founder of Ambassadors of Peace, California,

which the President of Architects of Peace Onius in Rome,

Italy, President of A Tavola Together, LLC, VP of A Tavola

Together Foundation, Stockton, a board member of the

Child Abuse Prevention Council, a trustee for Dameron

Hospital, Vice President of the California State Fair, a board

member of Transitional Learning Center.one, a former executive

and Institutional Relations Officer for the Summit of Nobel

Peace Laureates.

Karima Take Away

Follow your heart and find your passion, give

what you can to others and you will see a reward,

and make sure to foster the gift inside of you, because

the world is waiting on you to enter into

your destiny.

19

Karima Magazine.indd 22

5/21/17 5:07 PM
---
Susan Lenz

Susan Lenz—Devoted Wife, Mother, Business

Woman, Council Woman, Philanthropist

By Lan Cheng

New Leadership

Lenz is a familiar name to many in the city of Stockton. In 1993

she became a business partner with her former professor,

creating the Iacopi, Lenz, and Company Accountancy

Corporation. This last election year she decided to run for

a spot on Stockton's City Council and was elected to the

position. She ran for office not, because she wasn't already

busy. She really wanted to help improve the quality of life for

all Stockton residents. "I feel that our city needs fiscal responsibility.

I believe that my experience will make Stockton a better

place for future generations, " stated Lenz.

She is extremely motivated to help make Stockton become

a city that retains its educated work force. Lenz and her

husband are long time Stocktonians, who have two children

that currently live in San Francisco. "I would love for them to

come back and live here. This city needs to be a place that is

supportive of our young people. I want them to be able to

stay," said Lenz.

Example to Others

Additionally, Lenz has been a member of the Lincoln Unified

School Board for 10 years and is a current member of the John

Mc Candless Stem Charter School Board. In 2007 she was

an Athena Award recipient for her community service and

mentorship with young women in the Stockton community.

Karima Take Away

Be yourself and others will follow your lead. Plant the

seeds that you want to one day see blossom.

Mom to Many

In addition to being a business partner and Stockton City

Council woman, she is a current member of Stockton's Mary

Graham Children's Foundation. In this position she helps

raise college scholarship funding for former foster children

(or those who have just aged out of the system). When asked

why she chose to get involved with this particular cause she

replied, "My heart just went out to the kids. If you hear their

stories and what they have been though in life-some of them

have been through hell and back. I wanted to help them

succeed in life."

Lenz also serves as a life advisor to some of the former foster

children involved with that program. "It really is an honor to

be there for them," said Lenz. "A lot of times they have no

one else that they can go to for life advice, things that a lot

of others take for granted. I love watching them accomplish

their dreams."

www.karimamag.com

20

Karima Magazine.indd 23

5/21/17 5:07 PM
---
Mimi Eberhardt

MIMI EBERHARDT —Devoted Wife, Mother,

Business Woman (Banking), Philanthropist

Advice for those Desiring to Start a Business: Mimi had this wisdom to share with us

regarding anyone who is considering entrepreneurship. "It's the hardest thing you probably

will ever do, but the most rewarding as well. Don't give up!

21

Background

Mimi Eberhardt was a native of San Francisco who moved to

Stockton after marrying her husband. Upon marriage, Mimi

quickly realized that she would play dual roles as she helped

her husband at home as well as in the market place. "I got

into banking when I married my husband, Bob Eberhardt,

who was the 7th President of the Bank of Stockton in its 150

year history, His father was President of the bank before him,

and when I married Bob, I became a banker's wife, and accompanied

him to many conferences, as well as became very

involved in the local community, helping many great causes,"

said Mimi.

Finding Balance & Navigating Tough Times

As the mother of four daughters, Mimi had to had to figure

out how to balance family while continuing to be the face of

the bank with her husband. "Bob was a very busy man, not

only as President of the Bank, but as an avid outdoorsman

who was very involved in Ducks Unlimited, and University of

the Pacific, as well as the Community Bankers Association, to

name just a few. Sometimes it got hectic, but looking back,

those were fun days. The way to overcome difficulties is to

havea positive attitude and keep moving forward." And when

faced with the loss of her husband, she did just that, "We unexpectedly

lost Bob in 1994, and it was very difficult, but my

brother-in-law, Douglass, took the helm to run the Bank of

Stockton, and we moved forward as positively as we could,

and Bob would be very proud of all of us."

A Heart to Help

Mimi's compassion and commitment to her community has

touched countless lives. She was the co-chair of the M*A*S*H

party held at the Stockton airport, which raised money for the

Medi-Flight helicopter at St. Joseph's Hospital. She was the

founding Director of "Hug Me Bears, "which provided teddy

bears for abused children. She was also a founding member

of University of the Pacific's "Orange Aid," a women's group

that assists with community relations and welcomes perspectivestudents.

She is a founding member of Friends of

the Blind Center, she is a co-founder of group that is named

"Ruffled Feathers." It is the ladies auxiliary of Ducks Unlimited

and acquires funding to help maintain and develop habitats

for waterfowl species.

She has also held the position of director of Goodwill

Industries. She is a founding member of Haggin Museum

Junior Women's Group, director of Allen Short Gallery, a director

of "Sunflower", and active at the Children's Home. She

has raised funds for the Easter Seals Society, Special Olympics,

San Joaquin County Parents of Deaf Children, and the

Hanot Foundation.

When asked what inspired her to give so much of herself

to so many amazing causes, Mimi said, "My family and my

husband's family—and my own heart." Clearly Mimi finds

it very rewarding to help others in need. "When you are

involved in the greater good as a significant business in town,

you are called upon to do many things. We can't do them all,

but we sure try to do as many as we can. It's just great knowing

you helpedmake a difference. It takes a village, and no

one can do it all alone—(I suggest anyone wanting to make a

change) get a good group together with a lot of energy and

the help you can give is amazing."

Karima Take Away

A woman wears many hats, keep it going…even in tough

times, get a group of like-minded people together for a

greater cause, follow your heart, and never ever quit.

*Editor's Notes: Only a number of Mimi Eberhardt's commitments to

her community and accomplishments were listed in the above article.

She is truly a gem and if we had mentioned them all, we could have

written a book.

Karima Magazine.indd 24

5/21/17 5:07 PM
---
Mary Elizabeth

Eberhardt

MARY ELIZABETH EBERHARDT— Director

of Community Banking at Bank of Stockton,

Devoted Wife, Mother, Business woman

(banking), philanthropist

Background

Mary Elizabeth grew up in a family of

bankers. "My grandfather was the 6th

president of the bank [Bank of Stockton]

in its history, and my dad was the 7th, and

after he passed away, my Uncle Doug

became the 8th. I grew up in a family of

bank presidents, " said Mary Elizabeth.

Her first job was working as a Clerk Typist

in Operations Installment Loans at Bank

of Stockton. After, she decided to pursue

her education at University of the Pacific,

where she earned her bachelor's degree,

also obtaining a California single subject

teaching credential.

Mary Elizabeth taught physical education

and reading at an area high school.

After a few years of teaching, her Alma

Mater offered her a position as the Director

of Promotions and Coordinator

of Fund Raising for Women's Intercollegiate

Athletics. She accepted. However,

throughout college and her first two

jobs, she maintained her banking position

as the clerk typist. Eventually, Mary

Elizabeth left Pacific to pursue a full time

career in the family business as the Assistant

Vice President of Commercial Loans.

She never left, and currently holds the

position director of community banking.

On Work & Family

When asked how she has managed to

maintain the balance between work

flow and family life she replied, "As women,

it's not always easy to balance work

and family, but the best way to do it is to

have a supportive family at home and a

great husband who helps as well, like a

team. My husband, David, has been a

great dad. Together, he and I have raised

our son, Nevin and the entire time, I've

worked full time and been very involved

in the bank and the community. The

secret is teamwork, and to have great

people around in terms of family at

home, and loyal people at your work that

you can depend on."

Philanthropy

Community involvement is second

nature to Mary Elizabeth. From an early

age, she was encouraged by her family

to give to others and the community at

large. "I was born knowing it was right

to give back to the community. My

family set the example before I was even

a twinkle in their eyes, and we, as the next

generation of Eberhardts, proudly continue

in that tradition of philanthropy,"

said Mary Elizabeth.

Mary Elizabeth is the founder and member

of the Board of Directors of the

Children's Museum of San Joaquin County,

whose goal is to provide safe, fun,

and educational experiences for families

in the surrounding area. She is also an

Advisory Board Member for University of

the Pacific's Educational Equity Program,

which strives to provide the under represented

with access to higher education

and support services that foster endurance

and success. She is a representative

of University of the Pacific's Beyond the

Gates Initiative, which works to improve

the social and economic health of the

local region by educating children and

preparing them for the future. She is

an advisory board member of the Eberhardt

School of Business, which boasts

full accreditation from the AACSB, and

provides students with access top notch

faculty and state of the art technology.

She is a member of University of the Pacific's

"Leading with Purpose" Campaign,

which seeks to provide the very best

educational experience as well as ensuring

students are prepared for "lasting

achievement" and become responsible

leaders in their careers and communities.

Finally, she is a member of the San

Joaquin County Partnership, whose aim

is to attract new businesses to the community.

"It makes us all better people to

give back and help others. It is very gratifying

to be able to do that. I'm proud of

my family history in the community and

look forward to continuing the tradition.

Whether you can give money, time or

talent, everyone has something to give

to help, and together, we can make our

community a better place."

Business Advice

Lastly, Mary Elizabeth had this advice to

give to those who would like to start their

own business, "Go for it! Plan ahead,

write a good business plan, know what

you want and then get a good banker,

one from the Bank of Stockton!"

Karima Take Away

Persistence will open up doors for you

to bigger opportunities, build your

own support system, be a team worker,

everyone has something that they can

give (money, time, or talent).

22

Karima Magazine.indd 25

5/21/17 5:07 PM
---
Ines Ruis-Huston

INES RUIZ-HUSTON—Latina/o Community

Outreach, External Relations/Student Life at

University of the Pacific, Devoted wife, mother,

educator, Social Justice Warrior

23

Favorite Quote:

"Once social change begins, it cannot be reversed. You

cannot un-educate the person who has learned to read.

You cannot humiliate the person who feels pride. And you

cannot oppress the people who are not afraid anymore."

—Cesar E. Chavez

Anyone that has ever met Ines knows that she goes far beyond

her call of duty in order to help others. Her focus is

on developing the next generation and preparing them for

their future. She currently works at University of the Pacific

as the Latina/o Community Outreach Coordinator. "I was always

involved since middle school in student government

and through college. In college, I was involved with the Association

of College Unions-International and other organizations

that believe in social justice. My mentors in college

encouraged me to get my master degree in College Student

Services and Administration. I loved it!'" said Ruiz-Huston.

When she is not helping students at Pacific, she can be found

helping various nonprofit organizations. She is a committee

member of the Reach for the Stars Jose Hernandez Foundation,

which helps educate students and the community

about Science, Technology, Engineering and Math (STEM)

fields. It also aims to ensure that all students will have the

opportunities to pursue their educational and professional

goals regardless of obstacles via scholarships.

She is a member of the League of United Latin Citizens of

Stockton, whose mission is to provide youth leadership,

education, and academic scholarships. She is a committee

member of University of the Pacific's University Wide Diversity

Committee. The committee exists to assist in the development

of programs, projects and policies which will enhance

the diversity infrastructure at the University of the Pacific.

Ruiz Huston is also a National Council de La Raza member.

The council seeks to serve millions of Latinos in the areas of

civic engagement, civil rights and immigration, education,

workforce and the economy, health, and housing. She balances

her work life and family very carefully. "I am blessed to

be married to my other half who helps me with our children

as well as my close friends. I give it my all at work and in the

community as time allows. When I am with my children I try

to ignore everything else so my time is totally dedicated to

them," says Ruiz-Huston.

When asked what inspired her to give back to her community

Ruiz-Huston replied, "I don't forget the past and what our

civil rights leaders have done to open the doors for others

so it is our turn to make sure those doors stay opened and

that we stay involved and help others along the way. I love

our community and it's important to give back and make it

better. Education is key!"

Her professional and community involvement extend beyond

years and years of activity with numerous organizations

locally and nationally. Ruiz-Huston holds a doctorate in Educational

Administration and Leadership. She has been recognized

and honored throughout her career more than 30

times for her achievements. The advice she would like to give

readers is, "Keep you mind open and you will be surprised

where it will take you. Work with your passion and you will

love what you do."

Karima Take Away

Make sure to educate yourself in whatever you plan on

doing, follow your passion and you will find happiness,

invest in others and you invest in yourself.

Karima Magazine.indd 26

5/21/17 5:07 PM
---
Carol Ornelas

CAROL J. ORNELAS—By Anna Sassa

Carol J. Ornelas is a visionary and advocate for providing

quality "affordable housing" for families within the Central

Valley Fresno, San Andreas, San Joaquin, Sacramento, and

Stanislaus. For the past 30 years, she has been the Chief

Executive Officer for Visionary Home Builders of California,

formerly ACLC, Inc.; a non-profit residential development

company headquartered in Stockton, California. A licensed

general contractor and an expert in her field of development,

Carol is highly recognized as a leader within the community.

Her strength is in building and creating partnerships with

citizens of the community, and collaborating with local city,

state officials and other agencies to provide quality "affordable

housing" for the communities she serves. Under Carol's

direct leadership, Visionary Home Builders has built and rehabilitated

more than 1200 units of rental housing and more

than 700 residential homes for first time homebuyers within

San Joaquin, Sacramento, Stanislaus and Merced County.

Through the VHB Homeownership and Rental Center, educational

opportunities are available to members of the community

seeking guidance on purchasing a home, with special

emphasis on financial responsibility, understanding mortgage

and lending, as well as general education for sustaining

a healthy home and lifestyle. The VHB Homeownership and

Rental Center has also assisted thousands of families through

the foreclosure or loan modification process with HUD certified

counselors. Stockton has received national attention

and has been considered "ground zero" of foreclosures. To

help combat this situation, VHB received funding to implement

the Neighborhood Stabilization Program for the City of

Stockton and the County of San Joaquin.

that her organization has the resources to provide quality

housing for the "underserved". This allows her to continue

Visionary Home Builders mission, "to focus on a clear vision

of providing "balanced" communities that incorporate housing

and child development services for its residents". A perfect

example of Visionary Home Builders is its work with the

County of San Joaquin in the development of a community

of 76 units of housing for Farmworker families who live here

all year round. The community includes childcare with an

emphasis on earlydevelopment, social services and a medical

clinic. The project was recently awarded "Best Affordable

Housing Project" in its category in the nation by Affordable

Housing Finance magazine. Through her leadership, she has

been able to bring over $600 million dollars in grants and private

dollars to develop affordable housing in the San Joaquin

Valley.

Carol is very involved within the community and serves on

numerous boards and committees. She is a 1999 Recipient of

the Susan B. Anthony Women Achievement Award was most

recently given with the Athena Award winner of 2016.

Karima Take Away

Turn your passion into your occupation. Hard

work always pays off. Anyone can get it!

Carol is one of 49 leaders nationwide selected for the NeighborWorks®

Achieving Excellence in Community Development

program in collaboration with Harvard University's

Kennedy School of Government. She completed this course

in the fall of 2012.

Carol is passionate about her work and the work that her staff

accomplishes on a daily basis. She takes pride in knowing

24

Karima Magazine.indd 27

5/21/17 5:08 PM
---
T. Denise Manning

T. Denise Manning—Community Engagement

Coordinator & Program Assistant for the Office

of Violence Prevention for the City of Stockton,

US Veteran, Public Service, Entrepreneur, Life

Coach, & Author

Favorite Quote:

"Failure is not an option, success is the best revenge."

Turning Scars into Stars

T. Denise Manning is no stranger to hardship. She was born

to a single mother, where she was raised in one of the most

troubled sides of town in Stockton, California. It was through

her struggle that she dreamed of creating a better life for herself.

She felt strongly that education would be a key factor in

her ability to move forward and as she focused on her goal,

she was able to graduate from high school with honors. Upon

graduation, she enlisted in the military and served a total of

13 years in the United States Army, including a one-year tour

in Iraq (Operation Freedon, OIF 09-10). "The military gave me

an opportunity to pursue my education without any interruptions,"

said Manning. It also afforded her the ability to visit

many different countries, where she was able to put her skills

to use. During her stay in Tanzania, Manning served as a motivational

speaker, advisor to Eco Youth Development nonprofit

and life coached youth to success. While in Sri Lanka and

India, she served as a life coach and motivational speaker for

over 450 youth learning English. Finally, in Japan, she served

as a life coach to military families, but that's not the only thing

that happened while she stayed in the land of the rising sun.

"I had 'thrifted' all over the world and it became a pastime for

me while living in Japan. I've had an entrepreneur spirit my

entire life and I felt a need to open my own thrift boutique

because of my passion for 'thrifting,'" said Manning.

New Business

In February of 2017, she did just that. She opened up her

own upscale thrift boutique right in the heart of downtown

Stockton. " I wanted to offer affordable prices and be able to

engage and empower women," said Manning. In addition to

opening her own boutique, she still remains employed by the

City of Stockton at the Office of Violence Prevention as the

Program Assistant and Community Engagement Coordinator.

She maintains a healthy balance by practicing what she

calls, "self-care." "Self-care is entirely important to me. Many

of my hats bleed over and a huge part of my work is a way of

life for me. It helps that I consider what I'm doing a calling,"

said Manning.

Practical Advice

Manning advises that anyone wanting to start their own business

should do their due diligence and "self-educate yourself

on all matters pertaining to your line of work. Be intentional

and consistent. Try hard to obtain your own funding. I'm

self-funded and I don't rely on anybody but myself for my

capitol." When asked what moved her to do all that she does,

Manning replied, "I decided to relocate back home (Stockton),

because of the need and desire to effect change where

I come from. Obtaining my education, serving in the army for

13 years, traveling the world, and living abroad provided me

with a world view that enables me to think out the box and

develop strategies to assist in the progress of where

Stockton is headed. I was that little girl that grew up on the

south side of Stockton that was told she wouldn't amount to

anything and I want to show others that you can prove them

all wrong and beat the low expectations that others place on

you because of their own limitations."

Karima Take Away

Don't let your past dictate your future. If you can

dream it, you can be it. Your victory is someone's

inspiration.

25

Karima Magazine.indd 28

5/21/17 5:08 PM
---
Liz Blanchard

Dr. Elizabeth (Liz) Blanchard—Devoted to

Family, Friends, & Community. An Educator,

Businesswoman, Leader, Psychologist, and

Living Inspiration.

Dr. Blanchard has been a long time educator in the Stockton

community. Upon retiring from her own psychology practice,

she accepted a post as a professor of psychology and

taught classes at San Joaquin Delta College. She was the

Assistant Dean of bilingual education at University of the

Pacific. Her involvement with her community has always

been remarkable. She is the current president of the Chinese

Cultural Society of Stockton as well as the Cathay Club and

Disabled American Veterans Charities of San Joaquin County.

Whenever help is needed, she is ready to lend a hand.

Blanchard is known for giving wisdom to those in need of

guidance. She is a strong believer that no matter what has

happened to you in life and no matter the family you were

born to, and regardless of life's circumstances- "you write

your own script for life." She advises others not to allow

anything from their past to stop them from achieving all of

their goals and reaching their dreams.

Karima Take Away

Never let your past dictate your future. Be who you want

to be. Write your own story.

She is currently a board member of the following organizations:

Port of Stockton Commission, Chair, San Joaquin

Delta College Foundation, Crime Stoppers of Stockton,

Chinese Benevolent Association (parent of all Chinese family

associations in San Joaquin County), where she also served

two terms as the president. Asian Chamber of Commerce,

American Filipino Educators Association, Filipino American

Lion Club, Central Valley Asian Pacific Islander American

Public Affairs Association, the Community Education

Foundation (APAPA-CEF), American Legion Women Auxilary.

Blanchard has received many awards and honors for her

outstanding service and most recently was nominated for

Stocktonian of the Year.

www.karimamag.com

26

Karima Magazine.indd 29

5/21/17 5:08 PM
---
Becky Moffi tt

Becky Moffitt—CFO of Tuleburg, Life Partner, Mother, Business

Woman, Entrepreneur

Becky Moffitt is originally from Oregon. She moved to Stockton

to attend University of the Pacific. She earned her bachelor

degree and went straight into the work force. "I've always

been in sales, marketing, and business development. I was at

New York Life/NYLIFE Securities for seven years before, Jason,

the CEO of our company, and I joined forces to start our own

firm. I've always wanted to create something bigger than, and

be used for a larger purpose. We have the best team, and serve

the most incredible clients which allows us to use our minds at

the level they are designed to function," said Moffitt.

Managing Self

When asked how she maintains a good balance between work

and family she replied, "I try to maintain positive internal dialogue

that it's okay for me to be out of balance. I don't ever feel

"balanced" and that's me. There are some days I am at the office

far longer that I wish to be, or attend important functions

that keep me away from our kids. Or, I'm too tired to get to

Bikram...OR, I just stay home and hang with my babes. For me,

it's the constant focus (or re-focus) of being present and com-

mitted to what is most important: my family and our company

and those families we are responsible for as a result."

Following in Mom's Footsteps

Moffitt credits her mother for her love for giving back to her

community. "My mom got my sisters and I involved in our

community (in Oregon) at a very young age. My mom has the

most incredible heart and I wanted to grow up and mirror a lot

of her ways. I thought if I cared and gave half of what she did,

then I would be making a difference in this world. I started by

giving my time because that is all I had. I've been fortunate to

work alongside a man who embodies the same philanthropic

beliefs as we continue to build our business in an effort to be

able to give more."

Karima Take Away

Your children are watching you. Be who you want

them to become. Be willing to take calculated risks

in order to achieve your goals.

Laurie Coffman

LAURIE COFFMAN—Director of Hope Initiative-Devoted Wife,

Mother, Spiritual Leader, Business Owner

27

Laurie currently co-pastors Innovation

church with her husband, Lance and

another couple. They have been copastoring

in the Lodi/Stockton area for

the last 17 years. They felt compelled

to show others the same love that they

experienced when they first came to

know God. "We are not perfect, but we

try to love the way that we have been

loved by God and that is with a lot of

grace and compassion,"said Laurie.

Together Laurie and her husband have

three children. Their family recently

purchased the Vine and Branches bookstore

in downtown Lodi from a long time

mentor who is described by the pair

as, "family."

Laurie also launched Hope Initiative,

which is a nonprofit geared toward fighting

sex trafficking in the Central Valley."

The mission and heart of Hope Initiative

is to bring awareness to minors about

the dangers of sex trafficking, to provide

shelter to those who have been trafficked,

counseling, and rehabilitation for

victims of all ages," said Laurie.

Customers of Vine and Branches bookstore

in Lodi are able to contribute to

the Hope Initiative every time they purchase

a beverage from their coffee bar in

the store. "We decided that we wanted

to give a portion of our proceeds from

coffee sales directly to the Hope Initiative.

We call it 'coffee with a cause," said

Laurie. Eventually Laurie would also like

to open up a rehabilitation home that

teaches life skills and offers supportive

services. "I want the survivors to be able

to go to a safe place, where they can

come and begin to heal. I want to build a

place where they can begin to put pieces

of their lives back together, where they

can begin to hope and dream for a better

future life and we (my husband and

I) want to be there to help walk them

through it."

Karima Take Away

Who says you can't do it all?

One door may open up another

door, but you first must walk

through it.

Karima Magazine.indd 30

5/21/17 5:08 PM
---
HEADLINERS

Lee Neeves

IMAGE SHAPER,

& DESTINY MAKER

LEE NEVES, 41

28 31

Karima Magazine.indd 31

5/21/17 5:08 PM
---
SECTION TITLE

Article Title

Talking to a camera man for Fox 40 news.

Lee Neves has made it on our list of

Most Eligible Bachelor's of the Central

Valley. He is a first generation American

from Hilmar, California. Both of his

parents came from Portugal. "My Mom

picked strawberries for fifty cents a

basket and my Dad used to milk cows.

When he would finish, he would go

and help my Mom pick strawberries.,

said Lee.

His parents' great work ethic

paid off as all of their children are doing

well. Lee, who is the middle child runs

Cross Currents, LLC consulting firm with

his partner. His older brother is a police

officer in Turlock and his younger sister

works for Gallo wine.

Lee originally came to Stockton

to attend University of the Pacific, where

he earned his Bachelor of Arts in History

and went on to Mc George School of

Law to receive his Juris Doctor, Law;

Governmental Affairs.

Upon leaving school, he worked in

politics for some time. He was the

Political Director for Dick Monteith's

Congressional campaign, the Executive

Director of the Republican Party of the

Central Valley, and ran political races in

Merced and Stanislaus Counties.

After five years he decided that

he needed a break from politics and

accepted an offer at Barnes & Noble as

thier Community Relations Director.

29

"ONE OF THE KIDS SAID HIS MOMMY TOLD HIM THAT THEY DIDN'T

HAVE ENOUGH FOOD TO EAT BREAKFAST THAT MORNING AND IT JUST

KILLED ME. THAT EXPERIENCE AND OTHERS HELP ME TO SELECT THE

BEST CANDIDATES. I DON'T JUST THINK ABOUT HOW MUCH MONEY I

CAN MAKE. I PICK CANDIDATES WHO ARE DOING THE RIGHT THINGS

FOR THE RIGHT REASON, WHO ARE REALLY HELPING. "

"When you go from law school directly

to politics, it's like you live in a bubble.

I needed a change. That position really

helped me engage with the community

in a way I never had before. It was a

great experience."

We (Barnes & Noble) delivered

10,000 books a year to Stockton kids. I

would sometimes get to read to kids.

I remember one time I had to go to an

elementary school in Stockton and read

to a class. I started off telling the kids that

I had eaten cold pizza for breakfast and

asked all of them what they had eaten.

One of the kids said his Mommy told him

that they didn't have enough food to eat

for breakfast that morning and it killed

me. That experience and others help

me to select the best candidates. I don't

just think about how much money I can

make. I pick candidates who are doing

the right thing for the right reason, who

are really helping.,"stated Neves.

Lee has a long list of clients

whom he has helped get elected. Some

you might be familiar with are San

Joaquin's current District Attorney, Tori

Verber Salazar, San Joaquin County

Superintendent, of schools James

Mousalimas, and a number of Stockton

City Council Members.

In addition, he has recently

worked to get Stanislaus' Monteith

and Merced's Lloyd Pereira elected, an

Orange County Supervisor, the

Auditor/Controller of Alameda County,

and pushed countless initiatives through

in Calaveras County and San Joaquin

County. He has also worked to get

measures passed in Stanuslaus and

Merced Counties.

When asked how it feels to help

shape the image of men and women

who are contending for a political seat,

Karima Magazine.indd 32

5/21/17 5:08 PM
---
HEADLINERS

Lee Neeves

"IT FEELS GREAT KNOWING THAT

I CAN HELP MAKE SOMEONE'S

DESTINY BY SHAPING PUBLIC

POLICY WHEREVER MY CLIENTS

ARE. MY ACTIONS HAVE A DIRECT

EFFECT ON THE WAY A CITY OR

A COUNTY GOES."

Q&A with the Bachelor

Karima: What are you looking for in

a mate?

I am looking for someone who can put

up with me (chuckles).

he replied, "It feels great knowing that I can help make someone's

destiny by shaping public policy wherever my clients are. My actions

have a direct effect on the way a city or a county goes. It does get

stressful at times, but it's fun. I enjoy it. It doesn't feel like work."

Lee's most memorable moment in politics is when he was

consulting for former Senator, Dick Monteith, who was running for a

county supervisor seat. "Election night came and it was almost tied.

It took three weeks to count the votes. I was at a Sacramento King's

game and got a call from Dick's wife. We won by 16 votes! So, next

time someone says their vote doesn't matter, I tell them this story,"

said Lee.

What do you do for fun?

I love UOP basketball and am a rather

large supporter of the team. I am on the

PAF Executive Board & Coach Damon's

Exclusive Circle to help him recruit some

of the best players and make the team

successful. I enjoy wine tasting, visting

the Bay Area and the Central Coast, Big

Sur, and Ventana. I like to go watch SF Giants

games, soccer, spin class.

Are you involved with any charities?

Yes, I am. I am on the Executive Board/

Chair for the March of Dimes, on the

Committee for March of Dimes Signature

Celebrity Chef Auction, I am a former Rotarian,

I have been Santa Claus for the last

3 for Central United Methodist Church.

Cleavland Elementary School and Angel

Families come see me.

Do you like kids?

Yes, I do. I have two nieces and a nephew.

They are great.

What is the most romantic thing you

have ever done for someone?

I wisked a woman away to San Francisco

to go see Phantom of the Opera and after

a dinner at Kuleto's. It was a surprise

and she loved it.

Lee at a SF Giants game with Chris Lynn.

You can only take 3 things to a stranded

island...go.

My phone, Kate Christianson, & a grill so I

could catch fish and grill them.

30

Karima Magazine.indd 33

5/21/17 5:08 PM
---
SECTION TITLE

Article Title

34 31

Karima Magazine.indd 34

5/21/17 5:08 PM
---
SECTION TITLE

Article Title

FEMALE NINJA

COURTNEY DUBOIS

35 32

Karima Magazine.indd 35

5/21/17 5:08 PM
---
Jujitsu is a male dominated sport.

What made you decide to pursue jujitsu?

My father had been training for several years and

his gym decided to start an all women class and he

Is your family supportive?

My family is SOOO Supportive. They train with me,

they attend all of my tournaments, and they even

help me strategize. This goes beyond my parents.

talked me into going. Not even a week later all the I consider all of my teammates to be an extended

other girls stopped Jujitsu showing is a male up dominated and I was sport. forced What to made you family Is your at family Stockton supportive? Jiu-Jitsu and I wouldn't trade

decide to pursue jujitsu?

My family is SOOO Supportive. They train with me,

decide between training with the guys, or not at all

them for the world.

My father had been training for several years and his they attend all of my tournaments, and they even

and I was fascinated gym decided so I chose to start to an learn all women more. class and he talked

me into going. Not even a week later all the other I consider all of my teammates to be an extended

help me strategize. This goes beyond my parents.

girls stopped showing up and I was forced to decide family at Stockton Jiu-Jitsu and I wouldn't trade them

between training with the guys, or not at all and I was for the world

fascinated so I chose to learn more

What are the biggest misperceptions that people Are you afraid to "roll" with the guys?

have about women doing jujitsu?

Never. This is a really big thing for me. Being afraid

What are the Most biggest males that misperceptions enter the gym for the first that time might Are to you learn jiu-jitsu afraid with to men "roll" or women with is crazy the to guys? me.

think that because I am small, and especially, because Yes, men can be stronger but it is all the same. Any

people have about women doing jujitsu? Never. This is a really big thing for me. Being afraid

I am a women that I will be an "Easy" fight for them. time you are put into a submission, or even just a

Most males that What enter people the gym often for forget the is first that time to learn jiu-jitsu with men or women is crazy to me.

Brazilian Jiu-Jitsu spot that makes you feel uncomfortable, all you have

might think that was because designed I for am the small, smaller and opponent especially, to overcome

Yes, to men do is can tap. be Once stronger you tap but you it can is start all the over same. fresh, Any

the larger opponent. With a solid technique, there no harm done. Also it helps you to learn faster how

because I am a women that I will be an "Easy" time you are put into a submission, or even just a spot

really is no reason that a women could not beat a to not be put into those places again. Training with

fight for them. What people often forget is that that makes you feel uncomfortable, all you have to do

man in this sport. It happens on the daily.

the guys I feel also makes you tougher. They don't

Brazilian Jiu-Jitsu was designed for the smaller is tap. want

Once to tap

you to a

tap girl,

you so you

can have

start to work

over harder

fresh, on

no harm

opponent to overcome the larger opponent. With done. your Also technique. it helps you to learn faster how to not be

a solid technique, there really is no reason that a put into those places again. Training with the guys

women could not beat a man in this sport. It

I feel also makes you tougher. They don't want to tap

happens on the daily.

to a girl, so you have to work harder on your

technique.

33

KARIMAMAG.COM

Karima Magazine.indd 36

5/21/17 5:08 PM
---
HEADLINERS

Courtney Dubois

What do your friends think about you being a

kick ass girl?

My friends are extremely supportive of me fighting,

but then again most of my friends are training along

side me everyday.

Tell us about your technique...

So they say in Jiu-Jitsu that everyone develops their

own "game" or "style". If I had to describe my own

style I would say that its very involved. I am constantly

using every part of my body to execute techniques. I

am pulling with my arms and pushing with my feet always.

The great thing about Stockton Jiu-jitsu is that

we have excellent coaches of all body sizes that teach

the same moves from each perspective. No matter

what technique we are learning, I am confident that

our coaches will modify it to fit into my game as well

as all of my other teammates and friends.

What do you plan on doing with your jujitsu skills &

what do you hope to achieve with this sport?

For now I am really interested in competing. I want

to support all of the local tournaments that allow

the sport to keep growing. Other than that, I intend

to keep practicing and becoming better and better

each day.Aside from the belt that I'm after, I also

one day would like to earn a black belt and pass my

knowledge on to other women.

Have you done any fights? What is that like?

I have never done any MMA style fights, or even any

big jiu-jitsu super fights, yet! I actually have a pretty

big one for the WFC approaching and its pretty nerve

wracking but its a good feeling. It really pushes my

training and I can't wait to get out there and show

everyone my jiu-jitsu.

What do you want people to know about jujitsu?

It really is for everyone. Some days you are going to

get beat up, other days you might be the one beating

up others. The most important thing is to stick with it.

Every day that you show up, you improve. Hard work,

focus, and dedication will determine your jiu-jitsu.

To read more on Courtney Dubois go to our

website & read the full interview.

"What people often forget is that

Brazilian Jiu-Jitsu was designed

for the smaller opponent to

overcome the larger opponent."

If you know an athlete that we should profile,

let us know at talk@karimamag.com

34

Karima Magazine.indd 37

5/21/17 5:08 PM
---
EVENTS

NorCal Event Listing

EVENTS

Editor's Picks

JUNE

1 Stockton Food Truck Mania

Located at Regional Oak Grove Park and open to the public.

Will have children's entertainers, balloon artists, face painters,

bounce houses, music and more! Fee is $5.oo per vehicle.

Food trucks accept cash and cards.

4520 W. Eight Mile Rd., Stockton CA/4-8PM/(916) 722-6636

1 Stockton Live Jazz with Randy Sandioli, pianist/

composer @ the Haggin Museum. Performing original pieces

and standards.

Complimentary wine from Weibel & snacks courtesy of Junior

League Women's Group— Adults (ages 18-64): $5/Seniors

(ages 65+): $5 Youth (ages 10-17) and Students (with valid

school ID): Free

1201 N. Pershing Ave., Stockton, CA/6:30-9PM/(209) 943-6315

17 Lodi Craft Beer Festival

@Lodi Lake Park featuring unlimited craft beer tasting from

over 50 tasteful craft brewers, with each brewery bringing at

least two varieties of their best craft brews for your tasting

experience. Also hosting games, food vendors, & live music.

Parking is free. General admission tickets are $35.00 in

advance and $45.00 day of event. Purchase your tickets online

at www.LodiCraftBeerFestival.co 3-7PM/(209) 229-1515

29-July 3 THE MOVING WALL

The traveling half-size replica of the Vietnam Veterans

Memorial is coming to Stockton. The Moving Wall will be on

display and is free and open to the community, 24 hours a

day staffed by Veterans and civilian volunteers, who will

assist in locating names, accompanying individuals or

families to the Wall, helping with taking a "rubbing" of a

name or just being available as a "silent partner" at the Wall.

StocktonTheMovingWall2017@gmail.com.

3 Lodi Taco Truck Cook Off

@Hale Park Featuring up to 12 taco trucks competing for the

people's choice "Best in Lodi" award. All ages welcome.

Hosting art booths, mariachis, folkloric and Aztec dancers.

21+ can enjoy the Beer Garden.

209 E. Elm Lodi, CA/11-2PM/ 209-365-9010

4 Stockton Annual Jewish Food Festival

@Temple Israel featuring live music, traditional Jewish

food, bakery, dancing, Deli Brunches for sale, Judacia shop,

micro brew tasting and more. Free Admission & Free Parking.

5105 N. El Dorado St. Stockton, CA/9:30-2:30PM/

(209) 477-9306

10 Stockton Annual Philippine Independence Day

@Weber Point featuring food booths, entertainment, cultural

dances and exhibits, motorcycle and car displays.

221 N. Center St., Stockton, CA/11-6PM/

info@pidcofcentralvalley.org

35

14-18 San Joaquin County Fair

@the San Joaquin County Fairgrounds in Stockton. Featuring

main stage entertainment, concerts, rides, a carnival,

agriculture, livestock, food, live entertainment, and exhibits.

1658 S. Airport Wy., Stockton, CA/(209) 466-5041

For Full Listing of Events, Please Visit Our Website

WWW.KARIMAMAG.COM

OR every Friday on our Facebook page...

https://www.facebook.com/karimamagazine/

Karima Magazine.indd 38

5/21/17 5:08 PM
---
EVENTS

Event Photos

PHOTOS FROM THE KARIMA LAUNCH PARTY,

WOMEN IN BLUE, AND THE HOSPICE ENGLISH TEA

www.karimamag.com

36

Karima Magazine.indd 39

5/21/17 5:08 PM
---
SECTION TITLE

Article Title

Taste of Thailand

BANGKOK

RESTAURANT

40

Karima Magazine.indd 40

5/21/17 5:08 PM
---
TASTE BUDS

Local Eats

FOODIE BREAKDOWN

As I walked into Bangkok Thai Restaurant in North-

Stockton, I immediately picked up on the subtle scent

of sweet jasmine rice and exotic spices from the East. I

was quickly greeted by a friendly woman

who told me where to be seated. As I looked around

the room I noticed that there weren't many open

tables left and I took that as a good sign. The

restaurant was filled with families and some couples. As

I picked up the menu and browsed through it, I realized

that coud probably use some help figuring out what to

order. The Bangkok menu is not exactly small. I asked

a man who was sitting with his family what he woud

recomend. He told me everything was good. So, I did

what most people would do in my situation. I ordered

my basic pad thai, added shrimp. but I didn't stop

there. I went with everything the waitress told me was

the most popular, called my friends, had them meet

me and we had a feast. And just like the other tables

around us, every one of our plates looked like it had

been cleaned.

PICTURED ABOVE: PAD THAI WITH SHRIMP AT BANGKOK RESTAURANT

HERE'S WHAT YOU NEED TO KNOW ABOUT BANGKOK...

CUSTOMER FAVORITES

Vegan friendly

Stays open from 11am-9pm (we really like that) &

closed Mondays

Your server will ask you how spicy you woud like

to have your food prepared

Child friendly, priced moderate $$

Beef laap

Pad thai

Red curry beef

Basil chicken

Chicken Wings

Hot & sour chicken soup

Peanut butter curry

Green curry

Yellow curry

Spareribs

Casual atmosphere, serves beer, wine, & traditional

Thai drinks

Bangkok Restaurant

3255 W. Hammer Ln, Ste 18, Stockton, CA 95209

(209) 476-8616

38

Karima Magazine.indd 41

5/21/17 5:08 PM
---
SECTION TITLE

Article Title

I L

IACOPI, LENZ & COMPANY

Accountancy Corporation

John T. Iacopi, CPA

Susan H. Lenz, CPA

Michael S. Butler, CPA

Michael D. Luis, CPA

James J. Acosta, CPA

Michael P. Anselmo, CPA

Amber E. Hibbs Bell, CPA

Paula M. Frago, CPA

Constance D. Logan, CPA

James H. LaForest, CPA

Tami K. Horita Louie, CPA

Tax Planning & Preparation

Accounting & Auditing Services

Business Consulting

Budgets & Forecasts

Business Valuation Services

Litigation Support Services

Marital Dissolution Accounting

Evening & Weekend Appointments

Available Upon Request

Dina P. Marasigan, CPA

Kathy L. Morris Marr, CPA

Kathleen M. Solari, CPA

Revo Somersille, CPA

Sunny Y. Williams, CPA

Christina Faria

Patricia Melton

Michael Solari

3031 W. March Lane, Suite 300E

Stockton, California 95219

Telephone: (209) 957-3691

Fax: (209) 957-0841

Website: www.iacopi.com

42

Karima Magazine.indd 42

5/21/17 5:08 PM
---
TASTE BUDS

Recipes

RECIPE

Tres leches Vegan Cupcakes

Spiked Cocunut Whipped Cream & a Cherry on Top

Why is this good? It's not just, because it's vegan/

animal product free. Nope-this is good, because

there are some people who cannot stomach

lactose, which is found in regular milk. This recipe

calls for other milks, one of them being coconut

milk, and it just so happens to be hailed by many

as a super healthy thing to consume. This is also

not your every day, boring kind of recipe. I mean

we could have given you a recipe for cherry

empanadas (which are b sically cherry hand pies),

but we figure that's pretty basic and most likely

you already know how to make those. So, why

not impress your friends with som thing new? And

really—who doesn't love cupcakes especially when

they are spiked with cherry rum....

What You Need:

For the Tres Leches

Cake Batter...

1 cup plain, unsweetened

soy milk

2 tsp vinegar

1 1/2 cups

all-purpose flour

1 tsp baking soda

1/2 tsp baking powder

1/2 tsp kosher salt

1/3 cup vegetable oil

2/3 cup sugar

1 tbsp vanilla extract

1/2 tsp almond extract

For the pour over syrup:

1 cup vegan sweetened condensed milk

1 14- oz . can full-fat coconut milk/

refrigerated overnight

Your favorite Cherry flavored rum

Fresh Cherries with stems in tact.

actual cupcakes!

What you have to do:

In a mixing bowl, stir together the soy milk

and vinegar.

Preheat the oven to 350 degrees Fahrenheit, and prep

your cupcake pan.

In a separate bowl, whis the flour, baking soda,

baking powder, and salt.

Then add the soy milk, oil, sugar, vanilla extract, and

almond extract.

Whisk well to combine. Stir in the dry mixture and mix

until no lumps remain.

Bake in the preheated oven until a toothpick

inserted into the center comes out clean.

(Wait until at least 15 minutes before

opening the oven door at all). Take

cupcakes out of oven when done and

letting them cool. Prep your syrup now

by mixing ingredients.

Make sure to scoop out the cream on

top of the coconut milk and reserve for

whipped topping. Now poke holes in

cupcakes with a tothpick. Now pour milk

mix over cupcakes.

These cupcakes are best served cold, just like revenge.

For topping, whip that cocunut fat and whip it good.

Pour in some azucar, add some cherry rum (to taste of

course), and pipe onto your cupcakes.

Finally, top with a season ripe cherry and viola!

You're done!

40

Karima Magazine.indd 43

5/21/17 5:08 PM
---
TASTE BUDS

Kombucha For Life

KOMBUCHA

FOR LIFE

EASTERN TEA PROVES MUCH MORE THAN

JUST BASIC DRINK

by Angela Karim

Kombucha is available in many different flavors and is easy

to find in case you don't have the time to make it yourself.

A Mango Habanero

KOMBUCHA combination

found at Safeway,

S-Mart, Target,

Smart & Final,

& Walmart.

A ginger flavored

KOMBUCHA tea found at

Winco, Walmart, S-Mart,

Safeway, Target, & Raleys

A Maca Berry flavored

KOMBUCHA tea found at Safeway,

Artesian Health Foods, &

Sonshine Nutrition.

OMBUCHA is a fermented beverage that

consists of black tea and sugar. The sugar

that makes up the drink can come from

any number of sources such as honey, cane

sugar, or fruit. Once the sugar is combined with

the tea, the bacteria and yeast (aka SCOBY)

begin the fermentation process. After the drink

ferments, it becomes carbonated. When it

carbonates, you know magic has happened. The

drink then contains vinegar, b-vitamins, enzymes,

probiotics and a high concentration of acid (acetic,

gluconic and lactic). This is good, because those help

with detoxing, cleansing the body, boosting your

immune system, improving digestion, increasing

energy, losing weight, fighting cancer, and reducing

joint pain. While it only costs under $5.00 to make

your own Kombucha, there are many stores that

carry a number of Kombucha varities. Drink up and

drink to life!

44 41

DIY KOMBUCHA RECIPE

NEED:

Gallon size glass jar

1 cup sugar

13-14 cups of water

2 cups starter tea or white vinegar

a SCOBY (can purchase SCOBY or

ask someone for a baby SCOBY

or make your own)

Fermentation Cover or coffee

filter or thin cloth a

rubber band to secure cover

*traditional recipe calls for black

tea

HOW TO:

1) Combine hot water and sugar

the glass jar. Stir until the sugar

dissolves. The water should be

hot enough to steep the tea but

does not have to be boiling.

2) Place the tea or tea bags in the

sugar water to steep.

3) Let the tea cool to room

temperature (It needs to be

completely cooled down.)

4) When tea is cool, remove

tea bags.

5) Add your starter tea. If no starter

tea then add the vinegar

6) Add an active SCOBY

7) Cover the jar a cover, cloth, or

coffee filter, and secure it with

the rubber band.

8) Then put the jar in a warm

corner of the kitchen 65-85

degrees is the best for the brew.

Let the liquid ferment for 7-10

days out of direct sunlight.

9) Keep your SCOBY and enough

liquid to use as a starter for your

next batch.

* the finished kombucha can be flavored

and bottled, if desired, or enjoyed plain.

Karima Magazine.indd 44

5/21/17 5:08 PM
---
BODY, SOUL & MIND

Healthy Gut, Healthy You

Healthy Gut, Healthy You

MANUKA HONEY & ACV Elixir Recipe by Barbara Chacon-Smith

If you would like to stay healthy all year long, then I've got a great recipe for you that only calls for

four ingredients. It not only tastes good, but will help you keep the cold, the flu, and other sicknesses

away. How, you may ask? By helping you maintain a healthy gut.

INGREDIENTS:

-8oz. filtered water (preferably alkaine water)

-1 Tbsp of Bragg's Apple Cider Vinegar (you want

the Bragg's unfiltered organic brand)

-1 tsp Manuka Honey (purchase at Trader Joe's or

a specialty store)

-1/8 tsp organic Cinnamon

DIRECTIONS:

Pour water into a pot and bring to a boil. In a cup add 1/8

teaspoon of organic cinnamon and 1 tablespoon of Bragg's

Apple Cider Vinegar. Pour the boiled water into cup and then

add teaspoon of Manuka Honey. Stir and enjoy. You can drink

this cider several times a day.

Barbara Chacon-Smith is a

Naturopathic Doctor, a Certified

Health Coach, and a Certified

Colon Hydrotherapist in the

Manteca, California area.

Contact Barbara at:

CoachBarbaraSmith@gmail.com

For more recipes and health

and wellness coaching,

check out her website at:

ActiveAndLiving.com.

Benefits of Raw Apple Cider Vinegar Scientific evidence

proves that apple cider vinegar has been used to improve

the immune system. However, it is important to get the

apple cider vinegar that has the cloudy strands, which are

referred to as Dzmotherdz probiotics. The strands are bits

of live yeast. Yes, they are "alive." The cloudy yeast strands

contain the bacteria that once entered into the body and

they provide various healing benefits. One of the best

brands that I recommend purchasing is Bragg's Apple

Cider Vinegar. It is raw, unfiltered, organic, and is

non-GMO certified.

Manuka Honey Sweet Healer

I added Manuka honey to this recipe, because it provides

a wonderful, sweet taste that will curb the tartness of

the vinegar. However, it is also an amazing healing food.

For example, if you have a cold, flu, or sore throat, then

you would definitely want to add the Manuka honey

to this drink. Research shows that Manuka Honey stops

the growth of sore throat-causing strep bacteria. I prefer

using Manuka honey over other honey as the nutritional

content is up to four times that of normal flower honeys.

Just make sure that when you go to purchase your

Manuka honey, that it has at least a 10+ rating. While you can

always use any other type of honey, it may not be as

potent as the Manuka.

One interesting fact about honey is that the

National Cancer Institute reently approved honey to be

used in healing inflammation in the throat caused by

chemotherapy. The proof is out there folks. Honey is a

natural medicine.

Cinnamon as an Additional Spice Aid

Finally, I added cinnamon to this recipe, because of its

antioxidants and anti-inflammatory effects. Researchers

have identified over seven kinds of flavonoid compounds

alone in cinnamon, which are highly effective at fighting

dangerous inflammation throughout the body.

Helathy Gut, Healthy You Everyday

Studies show that 75% of your immune system is in

your gut, So remember that it is important to keep your

gut healthy all year around. If you slowly begin to make

healthier choices throughout the year and improve

your gut health, then you will be ready for cold season!

Preparation is key to a healthy life! Cheers to a healthy you!

42

Karima Magazine.indd 45

5/21/17 5:08 PM
---
SECTION TITLE

Article Title

46

Karima Magazine.indd 46

5/21/17 5:08 PM
---
DO MIRACLES

STILL HAPPEN?

ONE MAN'S TAKE ON MODERN SPRITUALITY

Two and a half years ago my wife was driving home

late one night from Petaluma, CA with our three

children. They were traveling eastbound on highway

37, a two-lane road connecting Novato and Vallejo, near

Sears Point.

Suddenly, the driver's side front tire blew

at 60 mph, sending the vehicle into a tailspin.

Striking the center- divide, our Chevy Suburban

flipped, rolled, slid and came to an ominous halt

upside-down on the freeway. My wife called out

to the kids from the front seat. They all three were

hanging upside-down in their carseats like little

bats in pajamas. They were awake, frightened but

uninjured. Meljoné had the presence of mind to

instruct them to unbuckle their harnesses and climb

out of any one of the shattered windows of the

vehicle. Bystanders came to the rescue and assisted

them, including two smiling, young men who

helped unbuckle their seatbelts and escort them to

a safe area. Later, looking to thank them, they were

nowhere to be found.

Meljoné crawled out as well only to discover

blood streaming down her left arm. Her body was thrust

against the driver's side window as it slid across the pavement,

ripping open her arm and exposing her tendon.

When I arrived an ambulance was on scene. She had to be

taken to a local hospital where they performed surgery to

remove the glass from her arm and stitch her up. It was a

horrific accident. We were all shaken up, but it could have

been a lot worse. Amazingly, my family walked away from

the accident under their own power. It was miraculous! Or

was it?

Are miracles real or perceived? Are they acts of a

Higher Power or convenient coincidences contrived in the

minds of well-meaning, gullible people?

44

Karima Magazine.indd 47

5/21/17 5:08 PM
---
BODY, SOUL & MIND

Do Miracles Still Happen?

Pictured: Jeff Rostocil (author), Meljone

(author's wife), and their children.

Are miracles real or

perceived? Are they acts

of a Higher Power or

convenient coincidences

contrived in the minds

of well-meaning,

gullible people?

45

Surprisingly, science doesn't rule out what we

might consider a miracle. We know that matter can be

converted to energy. This is easy. Every time we enjoy a

campfire, wood (matter) is being converted into energy

(heat). But can energy be converted back into matter? Science

says yes.

While it would take an astronomical amount

of energy to do so, it is theoretically possible that

energy can be converted into matter. This means, given

the right amount of energy, doctors could grow fingers,

toes, ears and organs if they had the technology and ability

to harness that energy. This is beyond our current medical

capabilities, but imagine the medical possibilities.

So, when my wife's leg grew out on our first date

while I prayed for her. When a deaf mute could hear and

speak her name for the fist time at a prayer meeting in

Lamin, Gambia. When three-month old Katie Metro's organs

came to life in Lodi, CA as we gathered around her

hospital bed in prayer. It all could be coincidence, yes. It all

could be explainable, sure. Or it all could be scientific. Perhaps

just enough universal power was released to make

a leg grow out, cause deaf ears to open and bring a child

back from death's door.

And what about those two smiling young men

who assisted my children out of the wreckage only to vanish

into the night air. Angels perhaps?

Try to say otherwise to my kids. Whether

you are a scientist or an atheist, when you've seen

too many of these coincidences you cannot rule

out the God-factor. Given the evidence, it would be

foolish and unscientific for me not to consider that

maybe there is an all-powerful, universal God who sends

angels and works miracles on our behalf.

Jeff Rostocil travels full-time as a Kingdom communicator speaking

to adults and youth nationaly and internationally. Jeff has written two

books: Unshakable: Living Your Life Anchored To God's Kingdom (2009)

and Bulletproof: Accessing The Favor And Protection Of God In The Secret

Place (2013). He founded SoleQuest International in 2002 and holds a master

degree through Wagner Leadership Institute. He and his wife Meljoné live in

the San Francisco Bay Area with their three children.

Karima Magazine.indd 48

5/21/17 5:08 PM
---
BODY, SOUL & MIND

Q&A with Yessi

Q/A

Working for his parent's American dream

night and day = burn-out

If you would like to ask

Yessenia to give you some

advice with something that

you are facing in life, then

please send an email to the

following address:

talk@karimamag.com

Dear Yessi,

I have a dilemma. My mother and

father own their own business, which

I've been helping them with now since

I was younger. I'm now 33 and have

never taken a vacation, because I'm

always there at the restaurant helping.

Don't get me wrong I love the family

restaurant and I even love to cook, but

I would like to be able to take a few

days off at least. I feel like the restaurant

won't run without me, because they

gave grown dependent on my help. Do

you have any advice for me. I'm also their

only son and their only child.

Signed, Seriously No Time For Anything

Else (from Stockton)

Dear Energizer Bunny,

The company, Energizer would like you

to believe the "Energizer Bunny" keeps

going and going. But, the batteries eventually

will die out and that's why it's important

to take some time to re-energize.

In your case, setting boundaries is going

to be key. You see, most gardens have

fences to keep those pesky animals out

who would love to eat the gardener's

crops.You may not be an actual gardener,

but you do have a garden to tend to

and protect. The garden represents all

the things that are of value to you -your

time, what you enjoy doing, and your

rest. The fence represents a boundary,

a guideline of how you expect others to

treat you and how you respond when

someone crosses the line. The animals

represent people who take advantage of

your time, your skills, and so on. Sadly,

people will walk all over your garden and

destroy it by taking and taking IF YOU

allow them. Boy, it's time you put your

foot down (boundaries) and take care of

your garden! Start by having a business

meeting, wine and dine them (a little

extra on the wine, but don't get crazy *;)

winking). Propose a plan that will ensure

everyone gets some time off and explain

the benefits. If this discussion starts

to appear like a reunion on the reality

show, Love & Hip Hop (if you aren't familiar

with the show look it up online, it's

one of my guilty pleasures, don't judge

me), seek out a mediator or consultant

who can ensure a win-win for everyone.

46

Karima Magazine.indd 49

5/21/17 5:08 PM
---
SECTION TITLE

Article Title

Karima Magazine.indd 50

5/21/17 5:08 PM
---
SECTION TITLE

Article Title

51

Karima Magazine.indd 51

5/21/17 5:08 PM
---
SECTION TITLE

Article Title

52

Karima Magazine.indd 52

5/21/17 5:08 PM