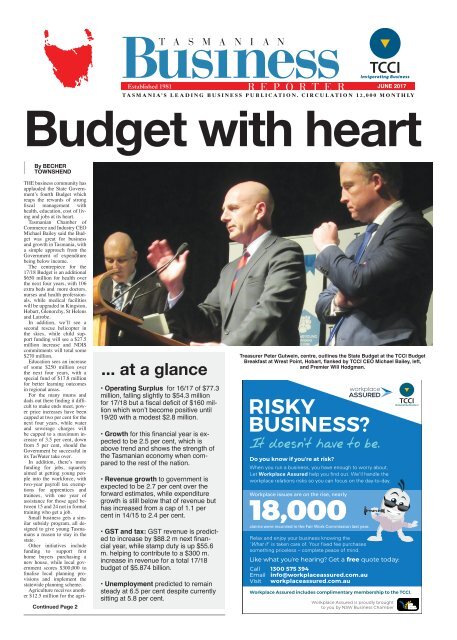 Tasmanian Business Reporter June 2017
This month, former state political journalist and government relations expert, Becher Townshend shares his insight on the fourth Hodgman Liberal Government budget. In an exclusive column for the TBR, Shadow Treasurer Scott Bacon, reveals the opposition's budget reply, spruiking a new correctional facility in the state's north and eight new Industry Advisory Councils.
This month, former state political journalist and government relations expert, Becher Townshend shares his insight on the fourth Hodgman Liberal Government budget.
In an exclusive column for the TBR, Shadow Treasurer Scott Bacon, reveals the opposition's budget reply, spruiking a new correctional facility in the state's north and eight new Industry Advisory Councils.
SHOW MORE
SHOW LESS
You also want an ePaper? Increase the reach of your titles
YUMPU automatically turns print PDFs into web optimized ePapers that Google loves.
JUNE 2017

T A S M A N I A' S L E A D I N G B U S I N E S S P U B L I C A T I O N . C I R C U L A T I O N 1 2 , 0 0 0 M O N T H LY

Budget with heart

By BECHER

TOWNSHEND

THE business community has

applauded the State Government's

fourth Budget which

reaps the rewards of strong

fiscal management with

health, education, cost of living

and jobs at its heart.

Tasmanian Chamber of

Commerce and Industry CEO

Michael Bailey said the Budget

was great for business

and growth in Tasmania, with

a simple approach from the

Government of expenditure

being below income.

The centrepiece for the

17/18 Budget is an additional

$650 million for health over

the next four years, with 106

extra beds and more doctors,

nurses and health professionals,

while medical facilities

will be upgraded in Kingston,

Hobart, Glenorchy, St Helens

and Latrobe.

In addition, we'll see a

second rescue helicopter in

the skies, while child support

funding will see a $27.5

million increase and NDIS

commitments will total some

$270 million.

Education sees an increase

of some $250 million over

the next four years, with a

special fund of $17.8 million

for better learning outcomes

in regional areas.

For the many mums and

dads out there finding it difficult

to make ends meet, power

price increases have been

capped at two per cent for the

next four years, while water

and sewerage charges will

be capped to a maximum increase

of 3.5 per cent, down

from 5 per cent, should the

Government be successful in

its TasWater take over.

In addition, there's more

funding for jobs, squarely

aimed at getting young people

into the workforce, with

two-year payroll tax exemptions

for apprentices and

trainees, with one year of

assistance for those aged between

15 and 24 not in formal

training who get a job.

Small business gets a similar

subsidy program, all designed

to give young Tasmanians

a reason to stay in the

state.

Other initiatives include

funding to support first

home buyers purchasing a

new house, while local government

scores $300,000 to

finalise local planning provisions

and implement the

statewide planning scheme.

Agriculture receives another

$12.5 million for the agri-

Continued Page 2

... at a glance

• Operating Surplus for 16/17 of $77.3

million, falling slightly to $54.3 million

for 17/18 but a fiscal deficit of $160 million

which won't become positive until

19/20 with a modest $2.8 million.

• Growth for this financial year is expected

to be 2.5 per cent, which is

above trend and shows the strength of

the Tasmanian economy when compared

to the rest of the nation.

• Revenue growth to government is

expected to be 2.7 per cent over the

forward estimates, while expenditure

growth is still below that of revenue but

has increased from a cap of 1.1 per

cent in 14/15 to 2.4 per cent.

• GST and tax: GST revenue is predicted

to increase by $88.2 m next financial

year, while stamp duty is up $55.6

m. helping to contribute to a $300 m.

increase in revenue for a total 17/18

budget of $5.874 billion.

• Unemployment predicted to remain

steady at 6.5 per cent despite currently

sitting at 5.8 per cent.

Treasurer Peter Gutwein, centre, outlines the State Budget at the TCCI Budget

Breakfast at Wrest Point, Hobart, flanked by TCCI CEO Michael Bailey, left,

and Premier Will Hodgman.

RISKY

BUSINESS?

Do you know if you're at risk?

When you run a business, you have enough to worry about.

Let Workplace Assured help you find out. We'll handle the

workplace relations risks so you can focus on the day-to-day.

Workplace issues are on the rise, nearly

18,000

claims were recorded in the Fair Work Commission last year.

Relax and enjoy your business knowing the

'What if' is taken care of. Your fixed fee purchases

something priceless – complete peace of mind.

Like what you're hearing? Get a free quote today:

Call 1300 575 394

Email info@workplaceassured.com.au

Visit workplaceassured.com.au

Workplace Assured includes complimentary membership to the TCCI.

Workplace Assured is proudly brought

to you by NSW Business Chamber
---
2 Tasmanian Business Reporter - JUNE 2017

NEWS

Business lauds sound fiscal management

Applause for

Budget jobs,

growth focus

From Page 1

-culture Food Plan,

Forestry Tasmania becomes

Sustainability

Timber Tasmania with

an extra $8.5 million to

support community service

obligations such as

roads and non-commercial

activities.

Infrastructure spending

is strong at $294

million for 17/18, while

local government will

be offered $60 million

in interest free loans to

stimulate the regional

economies.

Tourism sees $11 million

more for marketing,

while the Cradle

Mountain Visitor centre

gets an additional $7

million, with the fighting

fund for the TT-Line

replacement vessels

now at $180 million.

"Overall the State

Government has continued

to manage a simple

strategy of spending

less than it earns and after

four years it is paying

dividends," Mr Bailey

said.

"A $77 million net

operating surplus is

good news, but underlying

fiscal deficit of $160

million and four years

to take this number

into a modest positive,

shows there are still

economic headwinds.

"However, with an $88

million predicted increase

in GST receipts

and $55 million in additional

stamp duty, revenue

has risen by $300

million.

"Along with sound

prudent management

this has allowed the

Treasurer to deliver a

human budget which

was reflected in Tas-

COSS giving it eight

out ten, that shows this

Government has a heart.

"It will go a long way

to helping the State

Government in the lead

up to the election," Mr

Bailey said.

e dition

T A S M A N I A' S L E A D I N G B U S I N E S S P U B L I C A T I O N . C I R C U L A T I O N 1 2 , 0 0 0 M O N T H LY

Tasmanian Business Reporter can now be delivered directly to your inbox. With our 30,000-strong monthly print

readership, our new up-to-date digital distribution will keep Tasmanians abreast of the all latest in local business

news. From this month we will distribute electronic editions of the Tasmanian Business Reporter as we go to print.

To confirm your copy sign up to our mailing list via

tbreditorial@fontpr.com.au

Tasmania's business newspaper is published

monthly by the Tasmanian Chamber of Commerce

and Industry. It is distributed to businesses in

Tasmania as well as key decision-makers.

Circulation: 12,000

Managing Editor: Tom O'Meara

Ph: 0418 135 822

Editor: Becher Townshend

Ph: 0418 370 661

Special Projects: Gil Sellars

Ph: 0448 901 371

gil@thetrustedmediaco.com.au

Advertising: 0401 252 586

www.tasmanianbusinessreporter.com.au

Editorial & Advertising email:

TBReditorial@fontpr.com.au

Publisher:

Tasmanian Chamber of Commerce and Industry

309 Liverpool St, Hobart, TAS 7000

Ph: 6236 3600 Fax: 6231 1278 admin@tcci.com.au

TFGA House, 194-196 Cimitiere St, Launceston TAS 7250

Ph: 6331 1144 laun@tcci.com.au

Production:

aldridge.media

Ph: 0431 241 775

aldridge.media@iinet.net.au

Printer: The Mercury

Level 1, 2 Salamanca Square, Hobart, 7000

Allan Garcia of Infrastructure Tasmania, left,

and Steve Whiteley of Forestry Tasmania.

Speaker

Elise Archer

and

Julian Amos

of Tasman

Management

Services at

the TCCI

Budget

Breakfast

at Wrest

Point Casino

in Hobart.

Peter Skillern, left, and Marcus McShane from the

Tasmanian Farmers and Graziers Association.

Forums aim to build networks

THE Tasmanian Government

delivers a range

of services and programs

to assist Tasmanian

small businesses to start,

grow and create jobs to

stimulate the economy.

The Department of

State Growth provides

access to free business

advisors and mentors as

well as a wide range of

tools and online advice

to help start or grow a

business.

There are about

36,000 small businesses

in Tasmania which

contribute to economic

growth by providing essential

products and services.

Importantly, business

owners create employment

and support for

their local communities.

Through the Getting

Behind and Backing

Small Business policy

the Tasmanian Government

is committed to

supporting small business

to drive investment

opportunities and economic

growth in Tasmania.

During July, the department

is holding forums

across Tasmania

for small businesses to

discover the services

available to them and

learn more about the

small business landscape

in the state.

The forum series will

talk through how to

access a range of Tasmanian

Government

programs and services,

including a look at the

new Business Tasmania

Service online resources,

Enterprise Centres Tasmania,

and the Digital

Ready for Business Program.

The Department recently

commissioned

research into the small

business sector with an

aim to better understand

the sector and to help

inform government services

and programs.

The forums will include

a presentation of

the initial research findings

and will provide an

opportunity to discuss

these findings with small

businesses that attend.

This is a great opportunity

for businesses to

network, learn about the

support available to them

and how the Department

of State Growth can help

drive business forward.

Thinking of selling or

buying a business?

Australia's largest specialist

business broker network is

now in Tasmania.

Call Dean Demeyer on

0419 382 359 for a FREE, no

obligation assessment

of your business.

www.finnbusinesssales.com.au
---
TASMANIA'S LEADING BUSINESS PUBLICATION. CIRCULATION 17,000 MONTHLY

Tasmanian Business Reporter - JUNE 2017 3

Expanded Tasplan in move

TASPLAN Super has

officially opened a

new Hobart head office

to cater for an

expanded operation

as the state's biggest

business by balance

sheet.

The move to new

premises at 188 Collins

St comes as a

result of the fund's

growth after a successor

fund transfer of the

RBF Tasmanian Accumulation

Scheme on

April 1.

Tasplan chair Naomi

Edwards said she was

grateful for the support

of the Tasmanian

Government to enable

the transfer and its

nomination of Tasplan

as the default super

fund for Tasmanian

Boutique weekend boost for arts

A $20,000 Events Tasmania

grant is set to orchestrate

an even bigger boost to the

state's thriving arts scene

- Tasmania's first ever

chamber music festival will

begin on Friday October

27, 2017.

The event will bring

some of the world's finest

musicians to the state's

north for a romantic spring

weekend of fine food, wine

and captivating musical

performance.

Set among the exquisite

halls, churches and barns

of historic Evandale, the

boutique weekend festival

will include recorder

virtuoso Genevieve Lacey,

and the Tinalley String

Quartet, regarded by many

as the finest of their generation.

For festival director

and owner of Handmark

Gallery, Allanah Dopson,

organising a chamber music

festival in Tasmania has

been a long-held dream.

"This is something I have

public sector employees

for the next three

years.

"The RBF Tasmanian

Accumulation

Scheme successor

fund transfer supports

Tasplan's sustainability

and the continued

existence of a Tasmanian

super fund, now

with significant scale

at a national level,"

Ms Edwards said.

The new offices over

three floors allows Tas-

plan's Hobart-based

personnel to work in

the one location.

"Since the Quadrant

Super merger in

December 2015 we

have been operating

out of offices in Macquarie

St and Franklin

Wharf," she said.

Premier Will Hodgman officially opens the new Tasplan Hobart office

with Tasplan chair Naomi Edwards and CEO Wayne Davy.

"At that time, we

established our new

home-grown contact

centre and brought our

previously outsourced

administration services

in-house.

There was a period

remaining on

Quadrant's Macquarie

St lease so we decided

to continue to operate

from the two locations

over the short-term."

With the RBF Tasmanian

Accumulation

Scheme transfer,

Tasplan grew from 86

to 151 employees –

140 based in Hobart.

Tasplan now serves

Chamber music festival director Allanah Dopson at the Harland Rise Barn at Evandale.

always wanted to do in

Tasmania," said Ms Dopson.

"I have experienced

fantastic classical music

events all over Australia,

but there is perhaps no

location more fitting than

the beautiful, Georgian

145,000 members,

16,000 contributing

employers and manages

$7.6 billion.

Despite the fund now

being the state's biggest

business by balance

sheet, Ms Edwards said

members' needs remain

at the heart of Tasplan's

existence.

"It was important to

be able to offer members

a convenient location,

where they feel welcome

and comfortable about

coming to talk to us

about their finances.

"Our research indicates

members highly degree

of value in being able to

talk to someone in person,

so we've tried to create

the best space possible

in which to do that," Ms

Edwards said.

landscape of Evandale.

"We have assembled

not only

talented and passionate

musicians,

but interesting and

engaging

personalities, which

we hope will add to

the overall intimacy

of the weekend.

"With a healthy

supply of our

state's best food

and wine, Tasmania's

first chamber

music festival is

shaping up to be

an unforgettable

experience."

Premier Will

Hodgman said the

festival would add

to the state's thriving

arts and cultural

scene which

attracts thousands.

W

Limited tickets available

via www.taschamberfestival.com.au

NEWS

Poppy

grower

branches

out into

cannabis

TASMANIA is renowned

for its poppy

crops and will soon

add cannabis cultivation

to its medicinal

manufacturing repertoire.

Tasmanian Alkaloids

has recently signed a

Heads of Agreement

to form an exclusive

strategic partnership

with AusCann, which

will see the alkaloid

producer soon growing

medicinal cannabis at

its Westbury site.

AusCann has a cultivating

licence from the

Office of Drug Control

and now needs to

secure a Tasmanian licence

to cultivate and

manufacture the product,

used for managing

chronic pain.

It has just raised $10-

$12 million from investors

to fund its new

project.

Tasmanian Alkaloids

chief executive Doug

Blackaby said TasAlk,

owned by SK Capital

Partners, had been investigating

the move

into the new sphere for

sometime.

"Moving into medicinal

cannabis leverages

the capabilities the

company has in being a

world leader in agricultural

R&D and the extraction

and purification

of high value plant

derived products,"Mr

Blackaby said.

"Tasmanian Alkaloids

is excited to work

with AusCann to bring

another plant-based

medicine to patients."

AusCann is based in

Western Australia and

its share price has more

than doubled since it

floated on the ASX in

February.

WE'LL BEAT ANY QUOTE *

& creative

Call Richard 0427 337 118

richard@devdesign.com.au

With over 20 years

experience in marketing,

advertising and graphic

design, Dev Design provide

high quality design at a rate

that won't break the bank!

• Logo creation, branding

and corporate identity

• Magazines, catalogues

and corporate reports

• Website design

and development

• Social media and

digital graphics

...big or small, we design it all!

• QUALITY DESIGN

• FRIENDLY SERVICE

• AFFORDABLE RATES

• FAST TURNAROUND

devdesign.com.au

* Written quotes supplied by registered design companies

or similar obtained in 2017

WANTED

Business

movers and

shakers

• Promotions

• Appointments

• Awards

• Celebrating

success

Share the news

with the

Tasmanian

business

community

Send your news

snippets, with a

high quality photo,

to TBReditorial@

fontpr.com.au

SOLUTIONS

IN PRINT

your print specialist for over 90 years

6391 8481

Full Off-Set,

Digital and

Wide Format

Capabilities

Binding and

Finishing

Variable Data

and Mailing

sales@paperstat.com.au

www.woolstonprinting.com.au

Warehousing

and Distribution

Online Ordering

and Inventory

Management

WP - Advert Mar17.indd 4

4/04/2017 1:15:54 PM
---
4 Tasmanian Business Reporter - JUNE 2017

THOUGHT LEADERSHIP

Jobs Action Package

Plan to smash

work barriers

THE challenge and impact

of intergenerational

unemployment is not lost

on the Tasmanian Chamber

of Commerce and Industry.

The ramifications are

felt socially and economically

and its hard not to

be touched by the personal

stories of disadvantage

we hear regularly.

Many a program or

plan has been put in place

to help address the issue.

At the TCCI we are

proud to be part of the

latest bid to make real

change, right now.

The Government's

2017 Budget includes

$4.1 million for a program

being implemented

by the TCCI and Tas-

COSS to remove barriers

that stop young people

from getting a job, such

as transport.

The Jobs Action Package

is designed to increase

the number of people

employed in regional

Michael

Bailey

TCCI Chief Executive

areas, plus provide opportunities

to reskill, or

complete qualifications

required to gain employment

in their region.

Regional areas always

have been and will continue

to be a challenge.

By providing greater

support to businesses

to employ and connect

them with local job

seekers, we will see tangible

change.

We know there are

businesses across Tasmania

that want and

need to employ people

but they require assistance.

This package will

help.

It will also provide

provision for a jobs bus

to connect regional communities,

initially in the

Derwent Valley.

The jobs bus will improve

regional transport

issues and dramatically

enhance opportunities,

helping facilitate meaningful

employment.

We think it will also

lead to better health and

education outcomes.

As TasCOSS CEO

Kim Goodes pointed out

– this program is about

real, lasting and significant

change.

Ms Goodes is at the

coalface of the state's

struggle with those individuals,

families and

communities that haven't

had the opportunity

to get out there and

change their lives, and

in turn Tasmania's fortunes,

for the better.

We all want to see

Tasmanians thrive - and

by bringing together

government, community

and business personnel

we are proving that

Tasmania is united in

the push to reduce inequality

and disadvantage.

www.tcci.com.au

Quality on the world stage

LAST month I visited

two food and beverage

trade shows in Hong

Kong and China.

HOFEX 2017 was

held at the Hong Kong

Convention & Exhibition

Centre.

It particularly showcases

food and drinks,

and supplies and equipment

for the food service

sector over an area of

65,000 sqm.

It had about 2,500 exhibitors

from 57 countries

and regions, and

was visited by around

50,000 industry professionals.

SIAL China describes

itself as Asia's largest

food innovation exhibition

and is the fourth

largest food show in the

world.

It is held annually at

the Shanghai New International

Expo Centre.

It boasts 13 halls over

about 149,500 sqm with

3,200 exhibitors from

seventy countries visited

by up to 80,000 industry

professionals over three

days.

Many countries, including

Australia, had

national pavilions at both

trade shows displaying

the highest quality meat,

Sally

Chandler

Tradestart Adviser

seafood, dairy, fruit and

vegetables, nuts, prepared

food, wine, coffee,

tea and other drinks.

Exhibiting at international

"trade only"

events can be a highly

effective part of a company's

international

marketing strategy to

expose both existing and

new products to dedicated

buyers and to attract

interest from potential

agents or distributors.

I encourage exporters

to exhibit as part of a

group of Australian companies

rather than taking

a stand in a general area

of a trade show.

The cost of exhibiting

at trade shows such as

HOFEX and SIAL China

are eligible expenses

Showing off Australia's

wares at a trade show in

Shanghai.

under the Austrade-administered

Export Market

Development Grant

(EMDG) Scheme.

I intend to put together

a group of Tasmanian

exhibitors for the Australian

pavilion at SIAL

China in May 2018.

For international trade

and investment help

contact the TCCI's

TradeStart Adviser,

Sally Chandler, at sally.

chandler@tcci.com.au or

phone 1300 559 122.

Getting behind and backing small business

All your business

needs in one place

At Business Tasmania, our mission is to help you start, run and

grow a small business in the state.

Our service is easy to access, free and confidential. We provide:

• free business advice through Enterprise Centres Tasmania and

personal development opportunities through a range of initiatives,

such as Mentoring for Businesses in Growth

• the latest news about workshops, events and initiatives

to help you and your business grow

• a range of tools, tips and information about running a small

business in Tasmania

• referrals to other relevant support services or government

agencies.

Do you have a question? Email us anytime at ask@business.tas.gov.au

Or call us on 1800 440 026 or contact us

via Facebook @BusinessTasmania or Twitter @businesstas

Department of State Growth
---
Tasmanian Business Reporter - JUNE 2017 5

THOUGHT LEADERSHIP

Working behind the scenes

AS Chairman of the Tasmanian

Logistics Committee

it is my responsibility

to review and

understand the current

issues of the day and do

all I can from the committee's

perspective to

assist in any way possible

to achieving positive

and fair outcomes for all

concerned.

The TLC is a very

strong group of industry

professionals that covers

a broad cross section of

the logistics industry in

Tasmania.

International, ports,

shipping lines, rail, lo-

gistics consulting, freight

forwarding, industry,

transport, education and

distribution all have a

voice in the committee.

It is rare to see our

work out in the open, but

the committee is regularly

briefed on significant

projects or situations by

government or private

enterprise that directly

affects Tasmanian business.

Some recent examples

Workplace info sessions to continue

WE have just completed

workshops on surveillance

in the workplace in

Ulverstone, Launceston

and Hobart.

Some things that were

covered included:

• privacy;

• forms of surveillance;

• when surveillance can

and can't be used;

• steps that can be taken;

and

Brett

Charlton

Agility Logistics

Abbey

George

Workplace Relations

• case examples.

There was a great

turnout and building on

this concept, information

sessions will continue

from June 2017 with a

different topic being covered

each month.

Currie on King Island

of this include the push

for industry to support

the extension to the Tasmanian

Freight Equalisation

Scheme for international

freight.

The next topic will

be social media and details

can be found on the

events page on our website

www.tcci.com.au

Broadly, each session

will be held on a Tuesday

as follows:

• first Tuesday of each

month: Launceston;

• second Tuesday:

Hobart;

• third Tuesday: North

West Coast (Ulverstone/

Burnie/Devonport);

• fourth Tuesday depending

on the month

(remote area eg St Helens/Wynyard/Orford/

Scottsdale).

The sessions will be a

broad overview of each

topic, about 60 to 90

minutes (including questions)

and are free for

members (nominal fee

The significance of

the Australian Government's

$204m investment

over four years

cannot be overstated as a

game changer for Tasmanian

exporters seeking to

access international markets.

On the current King Island

shipping challenges,

the TLC is engaged with

various parties to provide

connections and advice

where possible to assist

with long term solutions.

Separately the TLC is

engaged with the major

stakeholders to address

the concerns raised in the

media regarding the proposed

South Australian

Maritime Tech School

and its potential effect on

the Australian Maritime

College in Launceston.

for non-members).

We always invite feedback

as to any topics or

information that would

benefit businesses and if

you are unsure about any

other employment related

matter contact:

Helpline on 1300 765 123

or the TCCI on 1300 59

122 or workplacerelations@tcci.com.au

www.tcci.com.au

Rules around

small spaces

By CRAIG

HORTLE

WHS regulations include

specific obligations on

a person conducting a

business or undertaking

who has management

or control of a confined

space.

Designers, manufacturers

and suppliers of

plant or structures that

include a space that is intended,

or is likely to become,

a confined space

must eliminate the need

for any person to enter a

confined space.

They must also eliminate

the risk of inadvertent

entry or, if this is not

reasonably practicable,

ensure safe means of

entry and exit and minimise

risks to the health

and safety of any person

who enters the confined

space.

Officers need to take

reasonable steps to ensure

that the business or

undertaking has and uses

appropriate resources

and processes to eliminate

or minimise risks

that arise from entry into

confined spaces.

Workers must comply

with any reasonable instructions

given relating

to confined space entry

permits, risk control

measures and emergency

procedures, and should

carry out work in a confined

space in accordance

with any relevant

information and training

provided to them.

A confined space is determined

by the structure

and a specific set of circumstances.

Entry to a confined

space is considered to

have occurred when a

person's head or upper

body enters the space.

For a confined space

to be declassified as a

non-confined space, it

needs to have undergone

sufficient changes in

structure and use to eliminate

all inherent hazards

that define a confined

space.

For more information please

contact Craig Hortle or

Janelle Whitehouse at the

TCCI on 1300 559 122 or

safety@TCCI.com.au

Printing Technology

and Tradition.

Here's just some of the things we do regularly...

• Books • Magazines • Newsletters • Catalogues • Annual Reports

• Business Cards • Letterheads • Posters • Flyers • Corporate Branding

• Logo Design • Packaging • Wine Labels • Stickers • Swing Tags

• Mail-Outs • Folders • Forms & Invoices • Variable Data Printing

• Language Translation • Web Design • Proof Reading

• Copywriting • Large Format Signage & Display

Whatever your needs, get in touch.

We're here to help.

Be part of the

multi-billion dollar

logistics industry

than just fine printers.

more than just fine printers.

p. 03 6332 1400

www.footandplaysted.com.au

99-109 charles street launceston tasmania 7250

Whether you are looking to begin your

career, or upgrade your skills for career

advancement - the Australian Maritime

College can get you there.

Set yourself up for global career opportunities with our

Maritime Business and International Logistics program,

preparing you for a career in senior management.

Study here, work globally.

Apply now: amc.edu.au/study

CRICOS Provider Code: 00586B
---
6 Tasmanian Business Reporter - JUNE 2017

THOUGHT LEADERSHIP

www.tcci.com.au

Time for small business to get down to business

TASMANIA'S 36,000 small

businesses are the backbone

of our economy, currently

employing about 100,000

Tasmanians.

Over the last three years,

the number of small businesses

in Tasmania has grown,

their confidence has grown

and now they are growing in

size.

The Hodgman Government's

number one priority

is jobs and we want to help

Tasmanian businesses to

grow and employ more Tasmanians.

Our 2017-18 budget includes

a pilot program that

will reduce the cost and risk to

small businesses of employing

an apprentice or trainee

through grants of up to $4000

per position, assisting up to

500 Tasmanians get their first

job in a small business.

This announcement, together

with Federal Government

subsidies and the practical

assistance available to

first-time employers through

Skills Tasmania's Supporting

Small Business with Apprenticeships

and Traineeships

Program, means there has

never been a better time for

Tasmanian small businesses

to employ.

The Government has listened

to small business.

It has heard the stories about

expansion and seen business

owners and training organisations

in the same room finding

solutions for problems that

stand in their way.

From Business Tasmania to

Digital Ready for Business,

the Hodgman Liberal Government

has a suite of assistance

programs to help businesses

reach their full potential.

It's time to seize the opportunity

to make a real investment

in the future of Tasmania.

If you haven't already,

please visit the Business Tasmania

website at www.business.tas.gov.au

You can email the team

at ask@business.tas.

gov.au or call them on

1800 440 026 for information

and assistance.

Labor sets new economic direction

LABOR Leader Rebecca

White responded to this

year's State Budget by handing

down an Economic Direction

Statement.

We know that with the next

election just around the corner,

Tasmanians want to know

what a Labor Government

would do and how we would

fund it.

As the Government has

forecast, our financial statement

details modest but improving

surplus budgets over

the forward estimates.

Our additional spending

initiatives are offset by

a range of sensible savings

measures.

Labor has identified more

than $100 million in savings

to fund the priorities contained

in our Economic Direction

Statement.

Labor's savings total

$109.3 million from 2018-19

to 2020-21.

Our savings clearly and unashamedly

illustrate how we

would redirect limited public

money to priorities like

health, education and child

protection.

Instead of paying dividends

to local councils, Labor will

fund new initiatives to combat

bed block in our major hospitals

and improve the health

of all Tasmanians. Instead of

abolishing suspended sentences

and placing increased

pressure on Risdon Prison,

we will support programs to

reduce reoffending and investigate

and fund a correctional

facility in Northern Tasmania.

This will also give us the

capacity to employ up to 20

new child protection and support

workers.

Labor will abandon the Liberal

Government's ill-advised

plan to send children as young

as three-and-a-half to school

and their nonsensical policy

of paying to close childcare

centres.

This will allow us to build

We look forward to

working with business

on all our policies

more child and family centres,

restore pathway planning

and invest in other strategies

to genuinely engage children

and their families in early

learning.

Expenditure restraint extends

to our own initiatives.

A saving of $12.5 million

from a reduction in spending

on Labor's alternative

fuel transport policy will go

directly into relieving bed

block in our hospitals.

For as long as our hospitals

remain in crisis, health has

to be the number-one budget

priority.

On top of our commitment

to health and other services,

we've announced a range

of policies to stimulant economic

investment. Labor

knows the best way to grow

the economy is through true

partnerships.

We will establish eight

Industry Advisory Councils

across key sectors of the

economy:

Minerals Energy and Advanced

Manufacturing; Innovation

and Information and

Communication Technologies;

Primary Industries and

Forestry; Education, Science

Research and the Antarctic;

Tourism, Hospitality, Festivals,

Heritage (built and natural

environment) and the

Arts; Building and Construction;

Wellbeing, Care and

Community Development

and Employment, Regional

Development and Trade.

The first task of each council

will be the completion of

an industry audit to guide and

develop new programs for

each industry.

Labor believes it is critical

to have the University of Tasmania

working directly with

government and industry to

drive positive economic outcomes

for the state.

We look forward to working

with business on all our

policies.

We are excited about the

prospect of the next election

and looking forward to giving

Tasmanians a genuine alternative.

Supporting small

business in Tasmania

Small business forums

The Tasmanian Government delivers a range of free services and

programs to assist in starting, running and growing a small business

in Tasmania.

The Department of State Growth is holding a series of small business

forums. Discover the services available and learn more about the small

business landscape in the state.

We will also share and discuss our latest research findings on small

businesses in Tasmania, your input will help inform our future direction.

These forums are in seven locations around the state between

Monday, 10 July and Friday, 14 July 2017.

For event details, venue and time information, and to register for

this free event please visit www.business.tas.gov.au/events or call

Business Tasmania on 1800 440 026.

Department of State Growth
---
Tasmanian Business Reporter - JUNE 2017 7

FOCUS ON BUSINESS

Awards calling all innovators

WHEN you are an island at

the bottom of the world you

have to do things differently -

innovatively - to find a place

on the world stage.

That is why Tasmanians

have always been innovative

because, as islanders, we've

always had to find solutions

and depend on our own ingenuity.

That applies in every activity

and walk of life says

Owen Tilbury, the Director of

the 2017 Innovative Tasmania

Awards.

Now in their third year, the

awards seek innovations and

innovators – young and old,

female and male – not just in

products and services but in

processes, start-ups, learning,

regions, communities – and

government.

"We to often talk about Tasmania's

problems yet we are

surrounded by nationally and

internationally recognised innovators

as well as less well

known innovators in every

area of society who are making

a difference by working

innovatively," he says.

Nominations have now

opened and the entry process

has been designed to be easy

and simple.

"Entrants self nominate

and merely write 120 words

It seems that innovators all

speak the same language,

awards like this are about

being around like-minded

people ...

2016 Innovator of the Year Tim Jarosz

regarding why their innovation

or their innovator is worthy

of the award. Then they

add a high resolution photograph

and up to three Powerpoint

slides of support materials.

"The judging process is

innovative too – the nominations

are up-loaded online in

early August and Tasmanians

across the state are invited to

vote for the best in each category.

"Voting is free and voters

can vote in one, more or all 10

categories.

"The award prizes continue

the innovation theme.

"Winners get a TV vignette

shot on their innovation plus

an engraved aluminium trophy,

certificate and set of laurels.

"Winner's vignettes are run

at the end of a Southern Cross

News segment in early December,

reaching more than

half the total Tasmanian viewing

audience. Vignettes and

airtime are worth $4,500."

Mr Tibury said the awards

presentations on Wednesday,

October 4 at Wrest Point in

Hobart are innovative and

fun.

Keynote speaker, Larry Lopez,

Director of Accelerating

Commercialisation in the Department

of Industry, Innovation

and Science's entrepreneurs

program, would set the

scene.

Tim Jarosz, the 2016 Innovator

of the Year said it

was very risky not to be

innovative.

"Innovation's a big

part of everything we've

ever done." he said.

"If someone else is

doing something we try

to steer clear of it.

"The more different

we can be the more

successful we seem to

become.

"It seems that innovators

all speak

the same language,

awards like this

are about being around

like-minded people – they

think the same, they talk the

same – it's a language you can

understand."

2016 Innovator of the Year Tim Jarosz says it is

risky not to be innovative.

WANTED: TASMANIA'S BEST

INNOVATORS & INNOVATIONS

Winning the 2016 Young Innovator of the Year Award has been

"

invaluable to my businesses. The publicity has been fantastic and

has since prompted me to receive a scholarship to The Woman's

Business School in Melbourne. I would highly recommended

anyone thinking of applying to put themselves out there and have

a go.

"

Jodie Snooks,

2016 Young Innovator of the Year

YOU ARE INVITED T O

NOMINATE FOR...

Innovator of the Year, presented by Eaglecrest Technologies

Young Innovator of the Year, presented by University Of Tasmania

Innovative Start-Up Award, presented by Startup Tasmania and TasICT

Innovative Product Award, presented by Dept Industry, Innovation and Science

Innovative Service Award, presented by Tasmanian Broadcasters

Innovative Process Award, presented by Bell Bay Aluminium

Innovative Region Award,presented by TCCI

Innovative Community Award, presented by Anglicare Tasmania

Innovative Learning Award, presented by University of Tasmania

Innovative Government Award, presented by Dept of State Growth.

ENTRY IS SHORT,

SIMPLE & FREE.

Nominations are now open until Sunday 23 July

visit bofa.com.au

The Awards are presented at a gala event with high profile guest

speaker at Wrest Point Tasmania on evening of 4 October.

WIN a professionally produced video vignette that will be

screened on SCTV news plus a trophy, certificate and laurels.

Powered by
---
8 Tasmanian Business Reporter - JUNE 2017

NEWS

William Adams milestone

Berriedale facility

marks half century

Sleep rough for those

who are doing it tough

By RICHARD

GERATHY

Operator of William

Adams, Dale

Elphinstone

THERE is an interesting

statistic that only 1

per cent of businesses

last more than 30 years.

It proves that running

a business is as much

about survival as it is

about selling products

and employing people.

William Adams recently

celebrated operating

from their current

facilities in Berriedale,

Hobart for 50 years, with

a cocktail party for past

and present employees,

customers and friends

at the Berriedale plant.

The company was

founded in 1884, and

first registered for trading

in Tasmania in 1920.

William Adams was

appointed the Caterpillar

dealer for

Tasmania in 1934.

William Adams is one

of the major companies

operated by Dale Elphinstone,

with three branches

in Tasmania and 10

in Victoria, employing

about 600 people.

Mr Elphinstone said

over the years William

Adams sold and

serviced the Caterpillar

machines that literally

built Tasmania.

"Over the past 50 years

we have worked hand

in hand with customers

in the mining, forestry,

construction and infra-

structure industries to

build the state," he said.

"Without Caterpillar

earthmoving equipment

and William Adams staff

selling and supporting

them, the state simply

would not have the standard

of living it has now.

"Over the years we

have employed generations

of Tasmanians

and trained hundreds

of apprentices, making

a huge contribution to

the state's skills base.

"In fact many of our

former employees have

taken the skills and

experience gained at

William Adams to develop

other successful

Tasmanian businesses.

"Tasmania has some

of greatest scenery

in the world, but also

some of the most challenging

working environments,

and Caterpillar

earth moving

equipment was up to

the job of building our

roads, hydro electricity

schemes and cities.

Caterpillar quality and

reliability was backed

up by the William Adams

commitment to service,

and 50 years on,

nothing has changed,"

Mr Elphinstone said.

He added that in the

early 1970s the company

started exploring

supplying and modifying

Caterpillar machines

for the Australian

Antarctic Division.

Since then William Adams

Berriedale has become

one of the world's

specialist hubs to support

the scientific efforts

on the frozen continent.

"Our customer focus

and research and development

efforts have made

us world leaders, supplying

equipment to almost

all of the countries with

operations in Antarctica.

"We have proved

that Tasmanians are

up to the task of competing

with the best,"

Mr Elphinstone said.

CEO of St Vincent de Paul Society Tasmania, Merleen Cronin.

JUST one night sleeping

rough could help Tasmanians

doing it tough.

That's the message

from St Vincent de Paul

Society ahead of the

seventh annual Vinnies

CEO Sleepout on

Thursday June 22 at the

University of Tasmania

Stadium.

St Vincent de Paul

Society Tasmania CEO

Merleen Cronin said

each year she was overwhelmed

by the support

the event received from

Tasmania's business

community.

"The event is open

to all business leaders

across Tasmania, not just

CEOs. We encourage all

business and community

leaders, managers and

small business owners

to rise to the challenge

and register for this

year's event," said Ms

Cronin.

"Over the six years

of the Sleepout, nearly

$801,000 has been

raised to help provide

care and services to people

experiencing homelessness

in Tasmania,"

said Ms Cronin.

Ms Cronin said every

dollar the Sleepout raises

stayed in Tasmania to

help provide crucial assistance

to people experiencing

homelessness,

with the aim of breaking

the cycle.

"More than ever, St

Vincent de Paul Society

is relying on funds raised

through the Sleepout

to support the services

that provide care and

support to the hundreds

of Tasmanians who are

experiencing hardship.

"Participants attending

this year's event will

hear first hand the life

stories of two guest

speakers who have experienced

homelessness."

To register visit

ceosleepout.org.au,

phone 63330822, or

email launceston@

ceosleepout.org.au
---
Tasmanian Business Reporter - JUNE 2017 9

Mine

sector

unearths

female

gems

FINALISTS from

across the state gathered

at Parliament House in

Hobart last month to

celebrate the outstanding

achievements of women

working to shape the

future of Tasmania's

mining and resources.

Hosted by The Tasmanian

Minerals and

Energy Council in

conjunction with the AusIMM

Women in Mining

Network Tasmania,

the awards recognise

individuals and organisations

working to build

a world-class industry

which provides attractive

career opportunities

and enhances the recognition,

participation and

advancement of women

in the sector.

TMECT chief executive

officer Wayne

Bould said the benefits

of gender diversity in

the resources sector

were many, including

improved business performance.

"These awards contribute

to increasing this

diversity by celebrating

the ambassadors,

mentors and role models

instrumental in encouraging

and supporting

women in the sector,"

Mr Bould said.

2017 Winners

Exceptional Woman

in Resources:

Karen Ashley, Management

System

Coordinator, Grange

Resources.

Highly Commended:

Jennifer Bennett,

Vice-President

Operations, South32

TEMCO

Exceptional Young

Woman in Resources:

Rose Lindner, Environmental

Technician,

Bluestone

Mines Tasmania Joint

Venture.

Highly Commended:

Jodie Kilpatrick,

Hydrology Engineer,

MMG Rosebery.

Outstanding Tasmanian

Tradeswoman/

Operator/Technician:

Alana Phegan, Process

Controller, Bell

LEFT: Monica

Henry, left,

Mary-Ann

Seen,

Margaret

Richmond

and Alana

Phegan, all

from Bell Bay

Aluminium.

BELOW:

Karen Ashley

of Grange

Resources

and Lisa

Kavanagh of

the Treasury

Department.

Bay Aluminium.

Highly Commended:

Kayla Williams,

Apprentice Fitter and

Turner, South32 TEM-

CO.

Excellence in Diversity

Programs and Performance:

GHD P/L.

Gender Diversity

Champion:

Rob Lowther, Manager

Tasmania, GHD P/L.

Special Judges

Award:

Beverly Crane,

Executive Assistant,

Copper Mines of Tasmania.

NEWS

Dial for

digging

lowdown

DIAL Before You Dig is

a not-for-profit national

community service that

helps excavators get in

contact with the owners

of underground infrastructure

anywhere in

Australia.

Safety is a fundamental

aspect of any excavation

project therefore

Dial Before You Dig

(DBYD) should always

be the first point of call.

Protecting Australia's

underground assets

is vital in keeping

essential services such

as gas, electricity, water

and telecommunications

flowing to the community.

The process is simple;

the digger needs to advise

where they intend to

excavate. They can lodge

a free online enquiry at

www.1100.com.au available

on web and mobile

platforms, or contact

the call centre on 1100

during business hours.

The details of the excavation

activity are

then sent to infrastructure

owners with underground

assets in the dig

site, who then provide information

on the location

of their pipes and cables

back to the excavator.

Damaging pipes and

cables can lead to service

interruptions, delays to

the project, and costly repair

bills for the excavator

– and hitting gas and

electricity pipes can lead

to injury, or even death.

It is essential businesses

that own underground

assets register infrastructure

with DBYD to keep

them protected.

For further details

contact Simon in the

Victorian office on

0455 188 850 or ssurrao@1100.com.au

Dial Before You Dig is the

Essential First Step in protecting your vital underground

infrastructure.

Log onto www.1100.com.au anytime or dial 1100 during

business hours to request information on underground pipes

and cables - BEFORE you dig.

It's the essential first step of safe excavation.

The Essential First Step.

R

www.1100.com.au
---
10 Tasmanian Business Reporter - JUNE 2017

APPOINTMENTS and ANNOUNCEMENTS

Hydro's help

recognised

All ship shape at Burnie port

IN BRIEF

TRADE through Tasmania's ports

has received a boost with the official

launch of a $2.5 million, stateof-the-art

pilot vessel, the Hellyer.

The Hellyer, pictured, is the

latest vessel to be unveiled as

part of an $18 million Fleet Renewal

Program by the Tasmanian

Ports Corporation (TasPorts).

"TasPorts is committing

to provide a world-class service

to our shipping customers

and the Hellyer

will play a central part in that,"

TasPorts CEO Paul Weedon

said.

This year, more than 100 ships

have called at Burnie and more

than 1.3 million tonnes of freight

has been through the port.

Tasports' 10-year Fleet Renewal

Program will improve service

to customers with an efficient and

reliable fleet including tugs, pilot

vessels and work boats.

Kate Hickey from Hydro Tasmania, left, with the Governor Kate Warner.

HYDRO Tasmania has

once again been recognised

as Tasmania's

leader in employee volunteering

programs.

Presented with the

Tasplan Super Corporate

Volunteering Award

at last month's 2017

Southern Cross News

Tasmanian Volunteering

Awards, the award was

presented to Hydro Tasmania

in recognition of

the quality and impact

achieved through their

program.

Shortlisted as finalists

with RACT and the

University of Tasmania's

"Young Scientists" program,

this is the second

year in a row that Hydro

Tasmania has received

this award.

Hydro Tasmania

Stakeholder and Community

Coordinator,

Kate Hickey said it was

a complete surprise to receive

the award.

Volunteering Tasmania

chief executive Alison

Lai said that the judging

panel was impressed by

Hydro Tasmania's flexible

approach to engaging

volunteers in the community

which allowed

employees to link their

volunteering to their development

plan.

"Volunteering is embedded

as a recognised

employee benefit, and

staff are able to choose

the organisations they

want to support.

"It was also positive to

see the number of hours

Hydro Tasmania allows

their employees to provide

is not limited and

negotiated in consultation

with management,

which is an approach

aligned with current best

practice."

With 800 employees,

Ms Hickey said that Hydro

Tasmania's focus

was to keep increasing

employee participation

in the program and to influence

other corporate

organisations to implement

their own formal

employee volunteering

programs.

"We would love to see

more Tasmanian businesses

introduce employee

volunteering programs,"

she said.

"Over a quarter of our

employees are participating

in our program and

we know that by giving

them the opportunity

to volunteer it increases

their engagement and

improves their skills."

With limited information

available on corporate

volunteering in

Tasmania, Ms Lai said

that research by Volunteering

Tasmania would

shine light on how many

programs were being implemented

and how.

"Information has certainly

been sparse and in

the past few months my

team has undertaken a

comprehensive review of

corporate volunteering

in businesses across the

State," Ms Lai said.

"We have spoken to organisations

across multiple

industry sectors, the

community organisations

that involve their volunteers,

and also the staff."

Volunteering Tasmania's

research will be

released on September

5 to coincide with the

2017 International Day

of Charity.

Road to recycling

TASMANIANS have played a

role in helping the country make

history in the past 12 months by

returning over 3.5 million cartridges

through the "Cartridges 4

Planet Ark" program.

Residents and businesses in

Tasmania alone returned almost

70,000 printer cartridges through

participating stores and councils!

The return rate means Australians

were turning in 13,500 cartridges

every working day, or 386

bathtubs full of cartridges.

Across Australia used printer

cartridges have been recycled into

over 900km of road surfaces and

sealants.

Better banking

systems

MYSTATE Limited has consolidated

its banking platforms into

a single, contemporary core banking

system serving both MyState

and Queensland-based The Rock.

MyState Managing Director

and Chief Executive Officer Melos

Sulicich said the organisation

had embarked on a program of

APPOINTMENTS

Living City arts

appointment

GEOFF Dobson has been appointed

Convention & Arts Centre

Manager as part of Devonport's

Living City development.

Mr Dobson, pictured, currently

Director of the Burnie Arts &

Function Centre and Burnie Regional

Art Gallery, starts in July

technology transformation, improving

performance and risk

management across its banking

operations.

"The consolidated banking system

helps simplify the group's

banking systems, allowing faster

multi-brand banking from a single

platform and unified back- office

operations," he said.

Scheme a bright

spark

THE government has launched

the $10 million Tasmanian Energy

Efficiency Loan Scheme

in partnership with Aurora and

Westpac.

Tasmanian households and

small businesses will now be able

to access interest-free loans of up

to $10,000 to buy energy efficient

appliances like heat pumps, double-glazed

windows, solar panels

and solar hot water systems.

Products can be purchased from

any Tasmanian supplier that has

been operating in the state for 18

months or more.

A full list of eligible products

is available at www.auroraenergy.

com.au

2017 ahead of the expected opening

of the multi-purpose civic

building in mid-2018.

Devonport City Council General

Manager, Paul West, said the

appointment would ensure strong

execution of the delivery and business

development aspects of the

new cultural arts precinct, which

will include the new convention

centre, Regional Art Gallery and

visitor information services.

REB Awards

finalists

A NUMBER of Launceston real

estate agencies are in the running

to claim titles at one of Australia's

most coveted real estate business

awards.

Key2 Property has been shortlisted

as a finalist in the Boutique

Independent Office of the Year,

New Office of the Year and Regional

Sales Office of the Year in

the nationally recognised 2017

Real Estate Business Awards, partnered

by realestate.com.au.

Parry Property has been shortlisted

as a finalist in the Boutique

Independent of the Year

Principal of the Year – Regional

– David Parry, Rising Star – Clint

Pease, Sales Agent of the Year –

Regional – David Parry and Sales

Office of the Year – Regional.

Former winners @home Property

Management are finalists in the

category for six or more property

managers and @home employee

Claudine Church has been shortlisted

in the individual category.

The national awards ceremony

will be held on July 6, in Sydney.

Rapid Response

Reduced Risk

Our Business

Is People

Right Experience
---
TASMANIA'S LEADING BUSINESS PUBLICATION. CIRCULATION 17,000 MONTHLY

Tasmanian Business Reporter - JUNE 2017 11

EVENTS NEWS

EVENT:

Chartered

Accountants

Australia and New

Zealand

Infrastructure

panel.

LOCATION:

Salamanca Inn

LEFT: Ruth Tremayne of Anglicare, left, Sophie Hill of

the Department of Treasury and Finance and

Rebecca Williams of Anglicare.

ABOVE: David Mazengarb of DDMI Consulting, left,

and Paul Patel of Benedict Leung.

DATE:

Thursday, May 4,

2017

LEFT:

Bruce

Debenham of

Perks Banking

and

Finance, left,

Stephen

Cahoon of

Sense–T and

Peter O'Regan

of O'Regan &

Partners.

LEFT:

Stephen

Cahoon of

Sense-T, Allan

Garcia of

Infrastructure

Tasmania,

Damien White

of TasRail and

Tim Gardner of

Stornoway.

ABOVE: Ashlyn Smith of 100F, left, and

Chris May of the Australian Tax Office.

WANTED

Business

movers and

shakers

• Promotions

• Appointments

• Awards

• Celebrating

success

Share the news

with the

Tasmanian

business

community

Send your news

snippets, with a

high quality photo,

to TBReditorial@

fontpr.com.au
---
Tasmanian Business Reporter - JUNE 2017 12

PROPERTY MATTERS

Infrastructure a key driver

Scott Newton

Property Matters with

Knight Frank

In this month's editorial Rob Dixon, Knight Frank

Tasmania's Director - Commercial Sales and

Leasing (North), shares his views on the

opportunities and difficulties facing Launceston's

commercial property sector.

WITH the announcement of the recent

Budget, investors and industry

stakeholders continue to look

through the fine details to see the

benefits that may flow through.

The commercial property sector

is one such industry that can look to

see where the flow-on effects of the

Budget may be felt.

Government infrastructure investment

is an important driver in confidence

levels, and while the Budget

didn't see direct announcements to

benefit Tasmania, the announced

measures of $472 million for a Regional

Growth Fund, which aims to

grow regional productivity by investing

in infrastructure projects,

has the potential to benefit our regions.

The previous commitment of $7.5

million for the "City Heart Project"

in Launceston's CBD will continue

to see much needed investment in

our fledging CBD with the opportunity

to provide and create a shopping

experience to attract shoppers

back to a revitalised city centre.

Knight Frank is seeing firsthand

the impact of these announcements

on the commercial property sector

and the renewed confidence levels

in the market as a result of the government

investment decisions.

The opportunity to offer to the

market some 1,000sqm of retail

space in Launceston's Brisbane

Street Mall (ex Birchalls property)

has seen an extremely strong enquiry

level from both national and local

retailers looking to secure the prime

location in the mall.

These retailers are seeing the

Northern Tasmanian demographics

as an ideal indicator to establish

here, and the investment being made

Launceston's CBD is seeing strong enquiry from national and local retailers.

to revitalise the city centre as further

reasons to be part of the exciting

transformation of the city.

Another area in the CBD which

has suffered and become something

of a "second choice" for retailers is

St John St, between Brisbane and

York Sts.

The City Heart Project has taken

some steps to remediate this area,

however far greater planning needs

to be given to return it to the once

vibrant retail strip.

The proposed investment for this

precinct has seen five significant

commercial retail properties change

hands in the past 18 months, with

other significant assets currently on

the market, and attracting strong interest.

Investors are seeing this as an

ideal opportunity to enter the Launceston

retail market, with the confidence

that government infrastructure

spends will play its role in

revitalising what is currently a neglected

strip.

Knight Frank is seeing a similar

scenario in Devonport with the

"Living City Project" again benefiting

from infrastructure investment.

Stage 1 of this project, the civic

centre, car park and food court already

well under way.

A recent flurry of activity of commercial

sales in the Devonport CBD

can be attributed to the renewed

confidence levels of such government

spend in an area.

The past three months have seen

multiple sales in Rooke St and Best

St, with these properties each realising

well over $1 million.

These projects highlight the need

to continue lobbying for our share of

the infrastructure dollar.

Projects under way in these two

major regional cities are injecting

confidence in many sectors, emphasising

the importance of securing

this funding.

PROPERTY VIEW

JUNE 2017

For sale by Expression of Interest

A HEALTHY INVESTMENT

174 Brighton Road, Brighton

For sale or lease

OWNER-OCCUPIERS OR INVESTORS

96 Derwent Park Road, Derwent Park

Outline indicative only

SOLD

Outline indicative only

• A great opportunity to add a freehold

investment to your portfolio

• Situated in the heart of Brighton, one of

Tasmania's fastest growing suburbs

• Leased to ASX listed Sonic Healthcare,

trading as Hobart Pathology

• Current net income: $71,160 plus GST

• Large flexible floor plan previously used as

medical practice provides upside

• Plenty off-street car parking and positioned in

the heart of Brighton's shopping district

Matthew Wright 0458 290 588

View at KnightFrank.com.au/3648803

Sold

ICONIC SALAMANCA FREEHOLD

85-87 Salamanca Place, Battery Point

Very few opportunities exist to purchase freehold

heritage assets in Salamanca Place — one of the

most sought after locations in Australia.

• Substantial c1830's Georgian heritage

property on Hobart's waterfront

• Five separate strata titles are offered for sale

individually or in one line

• Units 1-4 are high quality, self-contained

apartments; Unit 5 is leased to the Ball &

Chain, one of Hobart's premier restaurants

• Total net income is estimated at $404,236

Scott Newton 0409 186 261

John Blacklow 0418 128 735

View at KnightFrank.com.au/3530784

Outline indicative only

Outline indicative only

• Two separate tenancies, gross floor area

200sqm approx each

• Vacant tenancy includes offices over two

levels, showroom, mezzanine, and

warehouse/workshop

• Second tenancy on month-by-month lease;

comprises high clearance warehouse,

offices, showroom, with access from

warehouse into a secure yard

• Either tenancy available for lease, or

purchase the whole site

• Land area 2,214sqm approx

• Hardstand and parking

Ian Reed: 0419 670 501

View at KnightFrank.com.au/3558989

Tenanted investment

SHIPWRIGHTS ARMS HOTEL

29 Trumpeter Street, Battery Point

• Shippies - a Hobart institution

• Historic, heritage listed hotel successfully

trading since c1846

• Includes public bar, lounge bar, dining

room, 2 function rooms, rear courtyard, nine

rooms, manager's flat, and onsite parking

• Fully tenanted, 4 years from 2015 with four

4-year options

• Land area over 1,460sqm approx, fronting

three streets

• Substantial building over 900sqm approx

gross building area

• Net rent of $234,000 pa

Ian Reed: 0419 670 501

View at KnightFrank.com.au/3405337

5 Victoria Street, Hobart 41 York Street, Launceston Shop 6a, 48-54 Oldaker Street, Devonport

P: 03 6220 6999 P: 03 6333 7888 P: 03 6333 7888