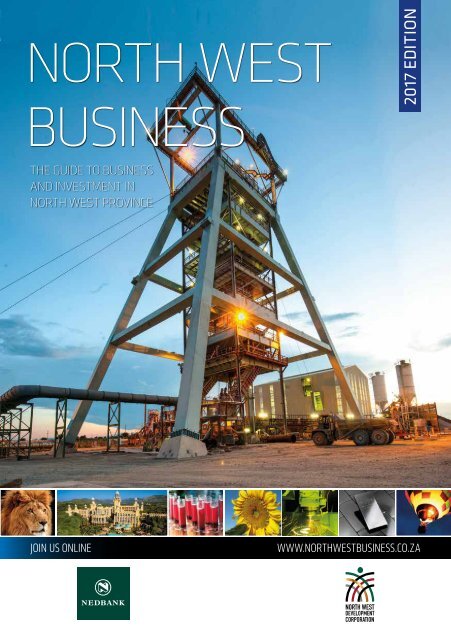 North West Business 2017 edition
The 2017 edition of North West Business is the seventh issue of this highly successful publication that, since its launch in 2009, has established itself as the premier business and investment guide to the North West Province. North West Business includes news and analysis of the most important economic sectors, and interviews with some of the province's active business leaders and investors.
The 2017 edition of North West Business is the seventh issue of this highly successful publication that, since its launch in 2009, has established itself as the premier business and investment guide to the North West Province.
North West Business includes news and analysis of the most important economic sectors, and interviews with some of the province's active business leaders and investors.
SHOW MORE
SHOW LESS
You also want an ePaper? Increase the reach of your titles
YUMPU automatically turns print PDFs into web optimized ePapers that Google loves.
Colour Breakdowns

NORTH WEST

BUSINESS

2017 EDITION

THE GUIDE TO BUSINESS

AND INVESTMENT IN

NORTH WEST PROVINCE

JOIN JOIN US ONLINE US ONLINE

WWW.NORTHWESTBUSINESS.CO.ZA
---
Colour Breakdowns

Your business partner -

The North West

Development

Corporation

C8 M10079Y 28K R169 G17 B44

Pantone 187C

Let the NWDC assist your business to be first!

The vision of the North West Development

Corporation is to be the cornerstone of

sustainable economic development and job

creation in the Bokone Bophirima (North West)

Province. The Province is an ideal investment

destination due to its array of valuable resources

and business opportunities.

During 2013 an enlarged and improved North

West Development Corporation came into being

with the incorporation of trade and investment

promotion agency, Invest North West, as well as

the Mahikeing Industrial Development Zone into

its ranks. All the services offered by the former

bodies such as Invest North West have been

retained and amplified in the NWDC.
---
The NWDC has 10 branches across the North

West Province and its surrounding areas such as

Babelegi and Ga-Rankuwa in Gauteng and the

Northern Cape, offering an extensive range of

services. These services include:

• Property rentals (Industrial, retail and

residential)

• Exporter support

• Investor assistance

• Industry development

• Small business development

• Loan/finance facilitation and;

• CIPC (company) registrations

The NWDC also owns the Dirapeng tourism

subsidiary which holds the resorts of Bakgatla and

Manyane in the Pilanesberg Game Reserve, the

Christiana All Seasons Resort and the Madikwe

River Lodge.

Within its basket of services offered, the NWDC

is committed to assisting producers and

manufacturers of exportable products to grow

as exporters to become export-ready. In doing

so, the NWDC assists these exporters to identify

and secure export markets, and also facilitates

international exposure through various platforms

such as trade shows and international expos.

In addition, the NWDC manages a number of

special projects aimed at growing the local

economies of the province's villages, townships

and small dorpies. Operational projects

include an Alternative Building Material Factory,

bakeries and a laundry.

The NWDC is committed to showcasing the firstmover

advantage of investing in the Bokone

Bophirima Province.

Contact us to explore the myriad opportunities available by:

• Visiting our website www.nwdc.co.za

• Following us on social media; we have presence on Facebook, Twitter and LinkedIn or

• Contacting our Head Office in Mahikeng on 018 381 3663/7

NWDC - We assist you to be first!
---
CONTENTS

CONTENTS

North West Business 2017 Edition.

Introduction

Foreword5

North West Business is a unique guide to

business, investment and tourism in the province.

Special features

Message from the Premier6

The Premier outlines the vision and strategy

for inclusive growth.

Regional overview of North West Province 8

The assets of the North West Province are

many and varied.

Villages and small dorpies are in focus 12

Plans are in place to boost economic growth

in the North West's smaller towns.

Tourism a destination overview 16

Tourism is a key pillar of the North

West economy.

South African economy at a glance 22

Insight into the performance of the

South African economy.

Economic sectors

Mining28

The platinum province is also rich in many

other minerals.

Agriculture32

Grain and beef farming is done on a large

scale in the North West.

Energy34

Generation and manufacturing hold

great potential.

Water35

The City of Tlokwe is a water award-winner.

Manufacturing36

The North West's strong resource base could

underpin a much bigger manufacturing sector.

Education and training 37

The North West education sector covers

high-level research to training for

technicians and artisans.

Banking and financial services 38

Financing for agricultural products is a big

sector in the North West.

Development finance and SMME support 42

Public and private sector funding is available

for entrepreneurs.

Government

North West Provincial Government 46

A guide to the province's government

departments.

North West Local Government 47

A guide to the district and local

municipalities.

Reference

Index48

Maps

North West regional map 11

North West municipal map 11

NORTH WEST BUSINESS 2017

4
---
UIF SAVING JOBS

THROUGH SOCIALLY

RESPONSIBLE INVESTMENTS

The National Development Plan is a blueprint serving as

a guideline to government departments and state entities

on how they can play a role in government wide efforts

of creating decent work, reducing unemployment and

poverty. The Unemployment Insurance Fund is among

the leading state entities in the implementation of the

provisions of the NDP to address the slow economic

growth, unemployment and poverty in South Africa.

The UIF social investment mandate ensures that,

additional to earning good financial returns, investments

must be supportive of long term economic, social and

adhere to sustainable environmental outcomes. The

investments must also yield a good social return for the

country. These investments have sustained 6 860 jobs of

which 3 024 are permanent, 3 836 are temporary/seasonal

and 195 are new jobs created during the financial year

ending in March 2016.

UIF INVESTMENTS IN RENEWABLE ENERGY

The UIF investments are contributing to the energy

requirements of South Africa and the investments in the

renewable energy sector provides a total capacity of 192

megawatt of electricity of which 117 megawatt is solar

energy and 27 megawatt is wind generated electricity.

The De Aar project is a shining example of the UIF energy

investments and this project produces 90 megawatt of

electricity and was completed in April 2016. The solar plant

in the area generates enough electricity to power 15 000

houses. Another mainstay project is the Phakwe Group ran

projects undertaken in the Northern and Eastern Cape.

INVESTMENT IN FOOD SECURITY

The UIF investments in this regard are undertaken under

the banner of the UIF Agri-Fund in partnership with

Futuregrowth and Day Breaker Poultry Project. The UIF

Agri-Fund has invested in 4 farms situated in Mable Hall

in Limpopo. One of the farms is a cash crop farm spanning

450 hectares. The farm in the last financial year produced

235 hectares of white maize, and cotton was planted in an

area covering 28 hectares.

A further three farms are located in the Saron area in the

Western Cape. In this project a total of 178 hectares has

been used to plant grapes, 37 hectares has been used to

pant citrus fruit. Furthermore, there is potential to plant an

additional 92 hectares of grapes. The Daybreaker Poultry

project operates in Gauteng, Limpopo and Mpumalanga

and the combined projects have facilities to grow 1.6

million broiler chickens.

INVESTMENTS IN HEALTH CARE FACILITIES

The UIF concluded two investments in this regard that

include a BEE hospital manager, Busamed to build a

private hospital in Modderfontein and Fund Manager

Razorite Heatlhcare that focus on the provision of

affordable heathcare facilities that include rehabilitation

and sub-acute centres.

The Modderfontein hospital is a 220 hospital bed with subacute

facilities. This hospital is under construction. While

the RH Fund Manager has concluded seven investments

that include:

• Busamed with four hospital facilities

• HealthMed with two facilities

INVESTMENTS IN EDUCATION

UIF has invested in three investments that play a role

to unlock access to education. The investments were

concluded with Eduloan – an organisation that provides

financial support to tertiary students and South Point and

Educor organisations that provide student accommodation.

By March 2016, Eduloan had disbursed about R446 986.64

benefiting 34 047 students, whiles South Point provided

about 10 000 student with accommodation.

UIF INVESTMENTS IN ENTERPRISE DEVELOPMENT

The UIF has concluded two investments with the aim of

supporting small and medium enterprises. In this regard

the PIC on behalf of UIF has concluded investment deals

with Musa Capital and TOSACO.

The investments will support more than 250 SMMEs across

various sectors inclusive of agriculture and affordable

housing. Musa Capital for example has a supply chain of

over 250 SMME's that have facilitated the creation of 2 500

jobs.

TOSACO investments is planning to advance capital to

young black entrepreneurs who aspire to own and manage

Total Filling stations around the country.

For more information:

Call: 0800 843 843 or

visit: www.labour.gov.za
---
FOREWORD

North West

Business

A unique guide to business and investment in the

North West.

The 2017 edition of North West Business is the seventh issue

of this highly successful publication that, since its launch

in 2009, has established itself as the premier business and

investment guide to the North West Province.

North West Business includes news and analysis of the most

important economic sectors and interviews with some of the

province's active business leaders and investors.

To complement the extensive local, national and international

distribution of the print edition of the journal, the full content

can also be viewed online at www.northwestbusiness.co.za.

Updated information on the North West is also available through

our monthly e-newsletter, which you can subscribe to online at

www.gan.co.za, in addition to our complementary business-tobusiness

titles that cover all nine provinces as well as our flagship

South African Business title.

Chris Whales

Publisher, Global Africa Network Media

Email: chris@gan.co.za

CREDITS

Publisher: Chris Whales

Publishing director:

Robert Arendse

Editor: John Young

Online editor: Christoff Scholtz

Art director: Brent Meder

Design: Colin Carter

Production: Lizel Olivier

Ad sales: Sam Oliver,

Gabriel Venter, Jeremy Petersen,

Nigel Williams, Gavin van der

Merwe, Shiko Diala and

Sydwell Adonis

Managing director: Clive During

Administration & accounts:

Charlene Steynberg and

Natalie Koopman

Distribution and circulation

manager: Edward MacDonald

Printing: FA Print

DISTRIBUTION

North West Business is distributed internationally on outgoing

and incoming trade missions, through trade and investment

agencies; to foreign offices in South Africa's main trading

partners around the world; at top national and international

events; through the offices of foreign representatives in South

Africa; as well as nationally and regionally via chambers of

commerce, tourism offices, trade and investment agencies,

airport lounges, provincial government departments, municipalities

and companies.

PUBLISHED BY

Global Africa Network Media (Pty) Ltd

Company Registration No: 2004/004982/07

Directors: Clive During, Chris Whales

Physical address: 28 Main Road, Rondebosch 7700

Postal address: PO Box 292, Newlands 7701

Tel: +27 21 657 6200 | Fax: +27 21 674 6943

Email: info@gan.co.za | Website: www.gan.co.za

ISSN 1996-1022

COPYRIGHT | North West Business is an independent publication published

by Global Africa Network Media (Pty) Ltd. Full copyright to the

publication vests with Global Africa Network Media (Pty) Ltd. No part

of the publication may be reproduced in any form without the written

permission of Global Africa Network Media (Pty) Ltd.

PHOTO CREDITS | COVER: Philip Mostert. Pictures supplied by flickr.

com, Madikwe Game Reserve, Sunimages, Anglo American, Wikimedia

Commons, Mapio, Elverma Nutritions, SATourism, North West Tourism,

and Pixabay.

DISCLAIMER | While the publisher, Global Africa Network Media (Pty)

Ltd, has used all reasonable efforts to ensure that the information contained

in North West Business is accurate and up-to-date, the publishers

make no representations as to the accuracy, quality, timeliness, or

completeness of the information. Global Africa Network will not accept

responsibility for any loss or damage suffered as a result of the use of or

any reliance placed on such information.

NORTH WEST BUSINESS 2017

6
---
Wesvaal Chamber of Business

First Annual Conference on Manufacturing and Renewable Energy

Date: 3-4 November 2017 | Venue: Protea Hotel, Klerksdorp

T

he Wesvaal Chamber of Business is proud to announce

that it will host the first annual regional conference on

Manufacturing and Renewable Energy in Klerksdorp in

November 2017.

As the City of Matlosana moves into the post-mining era,

the possibilities of the vibrant and growing renewable energy

sector are being explored. The City aims to be a Smart City

and present itself as an industrial precinct which is attractive

to local and international investors.

The conference aims to attract investors into the region.

The KOSH area (Klerksdorp, Orkney, Stilfontein and Hartbeesfontein)

already has significant manufacturing capacity and a

workforce with experience in mining, engineering and related

fields. The provincial development agency is keen to attract

manufacturers of solar panels to the North West: this

conference will provide an opportunity to explore these and

other options.

Access to good schools and colleges presents opportunities

for research and development and the closeness of the

area to the big markets of South Africa's economic powerhouse,

Gauteng Province, provides obvious advantages.

Distinguished speakers will address topics such as:

• Energy Efficiency

• Funding for Development

• Manufacturing Incentives

• The Renewable Energy

Manufacturing Sector

• Solar Power: regional impact

For more information about this conference view:

www.wesvaalchamber.org

The Wesvaal Chamber of Business was founded in 1898 and is one of the oldest Chambers in South Africa. It is affiliated to the

South African Chamber of Commerce & Industry (SACCI). Member companies can advertise through the Wesvaal Chamber

Network, obtain certificates of origin and credit reference checks and attend regular seminars and workshops.

A new initiative is the CEO Bosberaad. This meeting provides a chance for business leaders to exchange business

opportunities and explore ways to create a conducive climate for investment in the KOSH area.

Contact details: Telephone: +27 18 468 3750 | Website: www.wesvaalchamber.org

Rustenburg Chamber of Commerce

Striving towards a healthy community and business environment,

economic stability and growth, and becoming a truly world-class city.

The Rustenburg Chamber of Commerce serves as

the voice of business in the Rustenburg area, strives

to create an environment for business to thrive and

offers talks and networking events for members.

The RCOC is affiliated provincially to the North

West Business Forum (NWBF) and the Noord

Wes Afrikaanse Handelsinstituut, and nationally

to the South African Chamber of Commerce and

INDUSTRY (SACCI) and the Afrikaanse Handelsinstituut

(AHI). Representation on both provincial

and national bodies enables the RCOC to escalate

important matters to higher levels when necessary

and distribute important regional, provincial and

national trends and information to our members.

This will require a strong focus on positioning the

Rustenburg business community to meet the challenges

of a changing landscape in and around

Rustenburg and the North West Province now and

in the future.

Vision

A healthy community and business environment

through sustainable economic growth

Strategy

• Unite business leaders

• Empower members and community

• Lead and support economic growth strategies in

Rustenburg Local Municipality

Plan

• Share vision

• Grow membership

• Engage stakeholders

The Tlhabane Chamber has joined the Rustenburg

Chamber Of Commerce as part of our new chapter.

The first event for the chamber in 2017 was a

networking and expo event at Rustenburg Kloof in

February at which the guest speaker was the Chief

Financial Officer of Sibanye Platinum, Mr Justin

Froneman.

Address: 223 Beyers Naude Drive, Rustenburg 0299

Tel: +27 72 171 3686 | Email: info@rcoc.co.za | Website: www.rcoc.co.za
---
MESSAGE

Premier outlines

vision and

strategy

for inclusive growth

Premier Supra Obakeng

Ramoeletsi Mahumapelo

Industrialisation Strategy calls for new factories, private

partners are sought for an ambitious irrigation policy and

a major convention centre upgrade, the Mahikeng Airport

Logistics Hub strategy is attracting interest from foreign

investors, and vast amounts of minerals are yet to be

quantified in the province.

leadership is

the ability to use lessons

of the past to act

"Visionary

in the present such

that there is broad convergence

of thought and action in determining

future history."

In celebrating the centenary

anniversary of the birth of Oliver

Tambo, we draw inspiration from

Oliver Tambo's fearlessness and

focus on the task of dismantling

apartheid and its remaining

legacy of poverty, inequality and

unemployment. We call upon all

the people of Bokone-Bophirima

Province to recommit ourselves

to the project of increasing the

pace of constructing the National

Democratic Society whose foundation

Oliver Tambo guaranteed.

The North West Development

Corporation (NWDC) will be repositioned

to serve as our Provincial

Mining Agenda Implementer to

ensure that mining procurement

takes place in line with the new

envisaged VTSD Preferential Procurement Act. (VTSD is a strategy designed

to improve the economies of Villages, Townships and Small Dorpies.)

Current geological information illuminates vast amounts of minerals

that are yet to be quantified. These include the salt fields that span

Delareyville, the limestone that covers Taung, through Mothibi to

Severn as well as the Morokweng and Lichtenburg, the tigers eye that

spans Mothibi, Severn and Vorstershoop, the untapped alluvial and

alluvial diamond fields, as well as manganese and iron ore.

These initiatives will be coordinated by the Office of the Premier

working together with the national Department of Mineral Resources

through:

• Expanding small-scale mining

• Mining beneficiation

• Mining procurement

• New venture mining.

New interest from investors

The North West Development Corporation working with the Rural,

Environment and Agricultural Department (READ) will implement the

following strategic mandates:

• Acceleration of VTSD Agro-Businesses to build small scale agro-hubs

• Establishment of Special Economic Zones in addition to the existing

one, the Platinum Valley SEZ

• Implementation of the Mahikeng Airport Logistics Hub strategy

will be intensified through strategic partnerships. New interest has

been shown by investors from United Arab Emirates

TOGETHER WE MOVE BOKONE BOPHIRIMA FORWARD

NORTH WEST BUSINESS 2017

8
---
MESSAGE

• Implementation of the VTSD Industrial Hubs in

strategic areas

• Finalisation and implementation of the Provincial

Industrialisation Action Plan.

Our Industrialisation Strategy will use the allocation

for learner support materials to set up a stationery

manufacturing factory in the province to supply

all schools and government departments, working

together with existing retailers. In addition, we will:

• Accelerate the establishment of the People's

Economic Growth Agency (PEGA) through

smooth integration of existing State-Owned-

Enterprises

• Work with the construction industry with a view

to establishing a provincial construction hardware

factory with VTSD branches to support

small enterprises through the housing budget

• Coordinate Local Economic Development efforts

across all municipalities in order to build strategic

partnerships with the private sector.

The Executive Council has mandated the NWDC to

proceed with the implementation of core elements

of the Mahikeng Rebranding, Repositioning and

Renewal Programme, the Government Precinct

and Stadium projects and plans to upgrade the

Mmabatho Convention Centre to international status.

Discussions are at an advanced stage to secure

a strategic partner to invest R10-billion in these

projects.

Agriculture, Culture and Tourism (ACT) represents

the first and the core concrete plan, supported

by mining as a tributary, to drive the economic

policy development and approach of Bokone-

Bophirima Province.

Government is engaging with stakeholders in

the public and private sectors with a view to raising

about R5-billion to implement the Provincial

Irrigation Strategy. Taung College of Agriculture is

the only college in the country accredited to offer

a National Diploma Qualification in Irrigation

Management.

The office of the Premier through the North

West Development Corporation has collaborated

with the North West University and the National

Technology Innovation Agency to host the first

Provincial Innovation competition in the province.

We are engaging with the ICT industry and various

stakeholders who have an appetite to contribute

towards the socio-economic transformation of our

province. As part of this process, we will be hosting

the 1st Annual Energy, Science and ICT Lekgotla in

Tlokwe in March 2017.

A new human settlement delivery approach is

being introduced, called the "Bietjie-Bietjie maak

meer" within the context of the VTSD preferential

procurement strategy. There will be a flexible cap of

50 units per developer, directed specifically at small

contractors at levels 1-4. Appointed developers will

be encouraged to employ local people, including

subcontracting with the objective of transferring skills.

Investment index book

The Premier of Bokone-Bophirima will visit all 18

municipalities in 2017 to engender the culture of

entrepreneurship with special focus on Villages,

Townships and Small Dorpies. This will be done

in partnership with other social partners, Dikgosi,

Business, Labour, NGOs, CBOs, development finance

institutions, FDIs, the Department of Mineral

Resources, etc.

These visits will culminate in the launch of an

Investment and Economic Development Index Book

which will contain full investment and economic

development potential of each village, township

and small dorpie in Bokone-Bophirima.

Road partnerships

We are exploring possible Public Private Partnerships

to deal with the effects of mining haulage or heavy

mining transport machinery on our roads network.

We have to redouble efforts to secure private-sector

funding for the building of roads. No

contractor in the province will be allocated a road

tender which is more than 20km with effect from

the beginning of 2017/18 financial year.

The Adjusted Provincial Allocation for

Infrastructure in the current financial year is

R5.8-billion.

People of this province want progress and are

positive about the direction the province is taking.

TOGETHER WE MOVE BOKONE BOPHIRIMA FORWARD

9 NORTH WEST BUSINESS 2017
---
A REGIONAL OVERVIEW OF

NORTH WEST

PROVINCE

The assets of the North West Province are

many and varied. From fantastic mineral

wealth and sophisticated commercial agriculture

to manufacturing, the province is

also strategically located very close to the

nation's biggest markets.

Known variously as the Platinum Province

or South Africa's 'Texas' because of its big

beef herds, the North West province makes

up 6.8% of the population of South Africa

(3.6-million), 8.7% of the land mass (105 076km²) and

accounts for 5.8% of economic output in terms of

gross value added.

The provincial government of the North West has

adopted the name Bokone Bophirima Province for

the provincial entity which is bordered on the west by

the Republic of Botswana and on the east by Gauteng

province, the engine of the South African economy.

The big four sectors of the provincial economy are

mining, agriculture, manufacturing and tourism.

The Vaal River runs along the province's southeastern

border with the Free State, and the province

also shares borders with the Northern Cape to the

south and Limpopo in the north.

The province's strategic location goes beyond its

proximity to Gauteng: the major roads linking trade on

an east-west axis pass through the province, as does

the major railway line which runs from Cape Town

in the south to Zimbabwe and beyond in the north.

The Mahikeng Airport connects the capital city of

Mahikeng to Johannesburg and the major tourism

hub at Pilanesberg Airport. There are smaller airports

at centres such as Klerksdorp and Rustenburg.

Mining contributes 31% of the region's gross domestic

product. The mineral reserves that still lie

beneath the ground in the province are enormous.

Platinum group metals predominate but there are

significant deposits of gold, uranium, diamonds,

copper, vanadium, fluorspar and nickel. Stone and

limestone are also found in rich quantities.

Mining beneficiation takes place at many places,

with Rustenburg being particularly strong in this

sector. The economy of the town is closely linked to

the fortunes of platinum mining, with the sector contributing

77% of the city's gross geographic product.

The North West is a major producer of maize

and sunflower seeds and many other agricultural

products. About 20% of South Africa's maize comes

from the province, as does 15% of its wheat.

The dry western part of the province is home

to beef cattle, game ranching and hunting. The

normally well-watered eastern and north-eastern

regions can carry many kinds of crops, many of which

find themselves on the tables of the citizens of the

nearby urban centres of Johannesburg and Pretoria.

The agricultural sector also generates largescale

storage and logistics operations, particularly

in Klerksdorp, Vryburg and Brits.
---
Manufacturing capacity is concentrated in the

larger towns in the north-east and eastern regions

of the province. Automotive components firms

are clustered in Brits, which in turn is very close

to the automotive manufacturing hub in Rosslyn

(Pretoria) in Gauteng. Towns like Klerksdorp (agriprocessing

and engineering) and Potchefstroom

(food and beverages) also have manufacturing

capacity.

The province's other great assets include big

tourist attractions such as Sun City, the Pilanesberg

National Park and associated game reserves and the

Hartbeespoort Dam. Two UNESCO World Heritage

Sites are located at Vredefort Dome (where a meteorite

hit the earth about two million years ago) and

Taung, where the discovery by an archaeologist

of a skull in 1924 is regarded as one of the most

significant of all time.

The province's three Technical and Vocational

Education and Training (TVET) colleges and the

well-respected University of the North-West all

have several campuses catering to a wide range of

educational disciplines. The university has a good

reputation as a research institution.

Assets

While the North West province enjoys tremendous

advantages in terms of agricultural and mineral assets,

and it has fine infrastructure in some aspects

of the first economy, it is also true that much of the

population is still rural and remains unconnected to

economic opportunity.

Much of the planning of the provincial government,

development agencies and financing bodies

is aimed at finding ways of helping small businesses

thrive in poorer communities.

Some of the institutions involved in this process

are the Small Enterprise Development Agency (seda),

the Industrial Development Council (IDC) and the

development agency of the provincial government,

the North West Development Agency.

Measures include:

• financial support for small, medium and microenterprises

(SMMEs)

• building infrastructure in rural areas

• finding ways of expanding the value chain in

mining and in agriculture

• directing tourists to new sites which will benefit

communities

The possibility also exists that a totally new sector,

renewable energy, will help to transform the lives of

previously excluded communities. This is already

taking place to a small extent in that the province's

first solar plant is partly owned by the community

in which it operates. There is much more scope for

this kind of partnership, but there is also tremendous

scope for the development of a manufacturing sector

to support the renewable energy sector. A start

has been made to attract solar panel manufacturers

to the Platinum Special Economic Zone in the

Bojanala District Municipality.

Principal towns

Mahikeng

The capital city of the North West Province lies

on the banks of the Molopo River. Situated in the

north-west sector of the province near the Botswana

border, the city has a strong services sector and a

population of approximately 300 000.

The Mahikeng International Airport is served

by SA Express. Flights to and from OR Tambo

International (Johannesburg) and Pilanesberg

Airport (Sun City/Pilanesberg National Park) link the

city with the main economic hub of the region and

to the most visited tourist area.

The city's main growth sectors are financial

services, services, transport and trade. The Garona

District houses the North West parliament and government

buildings. The administrative headquarters

of the BaRolong tribe are located in the city. The

arts are promoted by the Mmabana Cultural Centre,

while the North West Institute of Hotel and Tourism

Management is one of three tertiary institutions in

the city. North-West University's Graduate School

of Business and Government Leadership is located

in Mahikeng, and Unisa has a presence. Other

institutions are the Taletso TVET College and the

International School of South Africa.

The town is well served by hotels such as the

Mmabatho Palms, Hotel and Casino Convention
---
SPECIAL FEATURE

Resort. Mahikeng Game Reserve has white rhino

and giraffe among its fauna.

Tlokwe (Potchefstroom)

The city of Potchefstroom is administered by the

Tlokwe Local Municipality. A large campus of North-

West University and its business school is located

in the city, as is the Vuselela TVET College and the

Potchefstroom College of Agriculture. More than 120

000 people attend the Aardklop Festival every year.

The city has a population of about 173 000.

The sports facilities of North-West University are

world class and have been the base for Spain's soccer

team and Australia's cricket team in world cups.

Tlokwe is a hub for the strong commercial agriculture

of the region and has several food and beverage

manufacturers. Nestlé has recently invested. Some of

the bigger enterprises include fertiliser companies

such as Kynoch, munitions manufacturers, and food

processors like King Food. An army base contributes

to the economy, and the airfield formerly used by

the military is now run by the municipality.

The N12 Treasure Route passes through the city

and holds potential for further development of tourist

highlights such as Boskop Dam and the Mooi

River on which the town is located.

Rustenburg

Rustenburg is close to platinum mines and Sun City,

two of the economic jewels in the crown of North

West Province. The town is also near beautiful parts

of the bushveld, the Magaliesberg Mountains and

the Pilanesberg National Park.

Rustenburg has a varied manufacturing sector,

although most of it is mine-related. Large-scale

platinum smelters operate in Rustenburg.

One of Orbit TVET College's campuses is in

Rustenburg, Unisa has a regional office, and the

Agricultural Research Institute's industrial crops

unit and the Seda Platinum Incubator are located

in the city. Health facilities are good in the city, with

Netcare and Life Healthcare having a presence, in

addition to the provincial hospital. Rustenburg's

population is about 596 000.

Klerksdorp (City of Matlosana)

With a population of over 400 000, Klerksdorp is

an important regional centre and the town where

several important companies' headquarters are located.

These include Senwes, through whose silos a

large proportion of South Africa's grains move every

year, and a number of engineering enterprises which

serve the mining industry.

Matlosana is situated on the N12 Treasure Route

and is marketing itself as a potential logistics hub.

An intermodal facility based in the town's airport has

been developed. The city council has set aside land

for the development of industrial and commercial

enterprises. Break-bulk facilities, storage space and

distribution centres are needed, offering concrete

opportunities for investors in those fields.

Bloemhof

Bloemhof is a centre of maize growing and cattle

raising on the southern boundary of the province,

and DairyBelle has a large milk-production facility

in the town. The Bloemhof Dam is one of the three

large dams on the Vaal River that supply bulk water

to surrounding areas. The Bloemhof Bonanza is the

biggest and most lucrative inland-angling event in

South Africa, with more than 2 000 anglers trying

to win R1.5-million in prize money. The nearby SA

Lombard Nature Reserve has a fine herd of black

wildebeest.

Naledi (Vryburg)

Vryburg is the principal town of the Dr Ruth

Segomotsi Mompati District Municipality. Cattle

auctions held several times a year are among

the biggest and best supported in the country.

Auction time boosts the town's population very

considerably, from the norm of about 70 000. The

Theiler Agricultural Museum and Cattle Centre

is an important research centre for the livestock

sector.

Tiger Kloof Combined School, situated south

of Vryburg, is a Dinaledi school, whereby extra

interventions are made to improve mathematics

and science teaching. It is also one of a handful of

schools identified for upgrading by the national

Historical Schools' Restoration Project. Notable

past pupils include Sir Seretse Khama and Dr Ruth

Mompati. The Leon Taljaardt Nature Reserve has

white rhino, buffalo and zebra.

NORTH WEST BUSINESS 2017

12
---
SPECIAL FEATURE

NORTH WEST PROVINCE

N

Vaalwater

Thabazimbi

Limpopo

Bela-Bela

BOTSWANA

R49

Sun City/Lost City

Vorstershoop

Hotazel

R31

Kuruman

N14

Reivilo

Lykso

Moloporivier

Vryburg

Stella

N18

R 49

Taung

R34

R49

Mmabatho

Delareyville

Schweizer-

Reneke

N4

MAHIKENG

Sannieshof

Ottosdal

Wolmaransstad

Zeerust

R52

Groot-Marico

Lichtenburg

N14

Coligny

Klerksdorp

Swartruggens

R30

Koster

Ventersdorp

Potchefstroom

N12

Orkney

Rustenburg

R30

Magaliesburg

Westonaria

Parys

Brits

Hartbeespoort

Mooinooi

JOHANNESBURG

R59

Carletonville

Vereeniging

N1

R82

PRETORIA

Gauteng

Sasolburg

R57

Heilbron

N1

N3

Sishen

Kathu

Northern Cape

Warrenton

Bloemhof

N12

Christiana

Wesselsbron

Welkom

Kroonstad

Free State

Motorway

Main Road

Railway

Ventersburg

Reitz

Postmasburg

Ulco

Bultfontein

Municipalities in North West Province

Limpopo

BOTSWANA

Ramotshere

Moiloa

Moses Kotane

Bojanala

Madibeng

Moretele

Molopo

Mafikeng

Kgetlengrivier

Rustenburg

Ratlou

Kagisano

Dr Ruth Segomotsi Mompati

Naledi

Ngaka Modiri Molema

Tswaing

Ditsobotla

Dr Kenneth Kaunda

Matlosana

Ventersdorp

Tlokwe

Merafong

City

Gauteng

Mamusa

Maquassi Hills

Northern Cape

Greater Taung

Lekwa-Teemane

Free State

Metropolitan/District Municipality

Boundary

Local Municipality Boundary

District Municipality

Local Municipality

Bojanala

Naledi

13 NORTH WEST BUSINESS 2017
---
SPECIAL FEATURE

Villages, townships and small

dorpies are the focus of

development

Plans are in place to boost economic growth in the North West's smaller towns and areas

previously neglected.

The provincial government of the North West

has announced that one of its five major priorities

will be to boost economic development in

villages, townships and small "dorpies". In every

sector where government influence can be brought

to bear, consideration must be given to how policy

will improve lives in VTSD (villages, townships and

small dorpies).

This scheme is one of five major initiatives which

form part of the larger "Rebranding, Repositioning

and Renewal of Bokone-Bophirima", the Setswana

name for North West. The other four are ACT

(Agriculture, Culture and Tourism); RHR (reconciliation,

healing and renewal); Setsokotsane (comprehensive

and integrated service delivery campaign)

and Saamwerk-Saamtrek (call for unity of purpose

above race divisions). Village development plans are

to be created for each one of the 767 in the North

West. The process has begun across the province's

municipalities.

Creating links within the agricultural economy is likely

to be the best way of making a significant impact, and

the VTSD strategy acknowledges this. Agriculture is one

of the strongest sectors in the North West economy,

so creating added value along the agricultural chain

is an easier task than creating an entirely new sector.

An initiative to create community bakeries has

already kicked off, with Transnet and the National

African Federated Chamber of Commerce (NAFCOC)

supporting the programme. Another project, which

will also go some way to improving food security

and reducing hunger, involves the setting up of

warehouses in each of the province's districts. These

warehouses would make available to local entrepreneurs

basic foodstuffs at a good price that can then

be sold on through tuckshops.

NORTH WEST BUSINESS 2017

14
---
SPECIAL FEATURE

Another way of saying that

opportunity must be created

along the value chain is to state

that better linkages must be created

between towns and rural

areas. Prospective businesses

in rural areas (or small dorpies)

often have no access to finance,

find transport costs prohibitive

and struggle to connect to the

relevant market. Improved infrastructure

can be part of the

problem, whether that is simply

providing better roads, but it can

also be the establishment of food

markets in smaller areas, and the

building of public abattoirs and

silos so that small traders and

entrepreneurs don't have to carry

those heavy costs.

The agri-park scheme that is

being implemented in each of

the province's four districts plays

into that theme. With proper

storage facilities, areas for trading

and even some training available,

farmers and traders can both

benefit from the centralisation of

some functions and exposure to

a broader market.

The same principle applies to clothing and retail.

The province wants to see designers given an

opportunity to show their garments, even if they

themselves don't have a shop front, either in retail

outlets or on some other public platform.

Loan funding for small, medium and micro-enterprises

is something that several agencies are tasked

with, including the Small Enterprise Development

Agency (Seda) and the Industrial Development

Corporation (IDC). Seda has a focus on four sectors:

agri-processing, community tourism and protected

areas, mining and mineral beneficiation, and trading.

All of these are highly relevant to the VTSD strategy

of the North West

There are also private initiatives such as the

Masisizane Fund (Old Mutual), the Shankuka Black

Umbrellas and Anglo American's Zimele initiative

which looks to support small businesses within the

mining company's supply chain.

The provincial government has its own development

agency, the North West Development

Corporation, which has been tasked with seeing

to it that qualifying co-operatives and SMMEs get

loan financing in the R1 000 to R1-million bracket.

The NWDC can also provide infrastructure (offices or

factory space) to help new enterprises.

The provincial government has also committed

to making it easier to do business with government,

in terms of tenders, impact assessment, licensing and

doing away with restrictive by-laws. Electrification

plans are set to focus more on rural areas and small

villages in the years ahead, with 13 422 new households

in 104 villages getting access to electricity in

2016. VTSD will also receive priority in terms of the

allocation of public housing.

Zoning in all villages, townships and small dorpies

is to be amended, so that there is a clear area where

business can take place. It is hoped that this will do

away with the costly re-zoning process that can limit

start-up enterprises.

A concrete way for the provincial government to

boost VTSD is to buy its goods and services, where

possible, from VTSD vendors. The aim is to procure

70% of goods and services from such sources in

2016/17. A start was made in 2016, with R2.5-billion

or 41.6%t being spent in VTSD.

Provincial government is not the only state entity

that can assist in VTSD strategy. The South African

National Defence Force (SANDF) has several facilities

in the North West (artillery, training, intelligence,

infantry, etc) and all of these units spend a lot of

money on resources: the VTSD strategy wants to

see some of that money spent in villages, townships

and small dorpies.

Similarly, the tourism sector is expected to align

its strategy to promote areas that have not received

significant income in the past. A focus on cultural

tourism would allow for a greater focus on some

rural areas that can offer beadworks and pottery or

places like the Mphebatho Cultural History Museum

in Moruleng. The nearby Manyane Resort (in the

Pilanesberg National Park) has recently been refurbished

and should provide local communities with

employment opportunities.

15 NORTH WEST BUSINESS 2017
---
PROFILE

Madibeng Local

Municipality

The strategic location of Madibeng Local Municipality supports a

wide range of economic activities and attracts thousands

of tourists to Hartbeespoort Dam.

The Madibeng Local Municipality lies within the

Bojanala Platinum District between Rustenburg

to the west and Pretoria in the Gauteng province

directly to the east.

The main economic activity in Madibeng is mining

but the town of Brits has significant manufacturing

capacity, particularly in the automotive component

sector. Hartbeespoort Dam is a major tourist attraction

and there are many farms in the Municipality

that produce quality vegetables and fruit for the

Tshwane market.

Madibeng LM is well located in that regard.

Being close to Gauteng's big cities (including

Johannesburg and Krugersdorp) allows for good

access to these large consumer markets and also

makes it easy for local residents to find potential

employment in those centres.

Madibeng can be reached by train and has an airport

for light aircraft. Lanseria Airport is located 40

kilometres from Brits.

Geography

The Madibeng Local Municipality extends over

3 839km² on the eastern edge of the North West

Province. It lies between the Magaliesberg and the

Witwatersrand, 60km from Rustenberg and 50km

north of Pretoria. The Magalies and the Crocodile

rivers feed Hartbeesport Dam, an important source

of water for the province and a very popular tourist

spot. The main towns are Brits, Hartbeespoort,

Marikana and Mooinooi.

Executive Mayor –

Cllr Jostina Mothibe.

Acting Municipal

Manager – Energy

Manaka.

Governance

Madibeng Local Municipality is one of five municipalities

in the Bojanala Platinum District. It is categorised

as a Category B Municipality. An Executive

Mayoral System is in place. Forty-one wards are represented

by 81 councillors (10 of whom are members

of the Mayoral Committee), with a full-time Speaker,

Chief Whip and Executive Mayor.

The Municipality has implemented a Performance

Management System whereby performance is monitored

through conducting performance assessments

on a quarterly, mid-year and annual basis.

Performance audits are conducted by both

the Internal Auditors and Auditor General and

performance reports are also published in the

Annual Report.

On the service delivery front the Municipality

continues to implement service delivery projects

such as the paved cluster roads in areas of Oukasie,

NORTH WEST BUSINESS 2017

16
---
PROFILE

Mothotlung, Hebron, Kgabalatsane and Letlhabile

through the Municipal Infrastructure Grant (MIG).

The Municipality has also upgraded provincial

gravel roads to tar surfaces in areas like Rasai and

Fafung. Water supply infrastrastructure projects are

currently under construction in the eastern parts

of the Municipality such as Itsoseng and Klipgat.

More homes in the areas of Regorogile, Oskraal

and Kgabalatsane have been electrified with the

assistance of Eskom.

The Municipality in conjunction with the National

Water and Sanitation Department is working around

the clock to address the challenge of water supply

with the expansion of the Brits Water Purification

Plant. The current plant produces 60ML per day

while the newly refurbished plant will produce

80ML per day.

Economy

A diverse economy has mining, manufacturing and

tourism as the main employers and contributors

to regional gross domestic product. A third of the

world's chrome comes from this area and there is

a huge resource of platinum group metals that is

mined by several large companies.

In Brits there are several automotive components

manufacturers, like Bosch, who run a sophisticated

plant that makes starters, alternators and braking

systems. Bridgestone make tyres at a recently

upgraded factory and Giflo Engineering and cable

producer, CBI Electric are other companies in

the sector.

Tourism

Madibeng Local Municipality straddles the Heritage

Route which links the Cradle of Humankind (a World

Heritage site in Gauteng) with the Pilanesberg and

Madikwe Game Reserves. Hartbeespoort Dam is

one of the most visited places in South Africa, with a

wide range of activities being offered nearby. More

tempting is the diversity and scenic beauty of the

Hartbeespoort Dam, the Madibeng tourism hub, with

a magnificent view of the Magaliesberg mountains, a

globally recognised biosphere reserve.

Other fun outings can be had to a Cheetah Centre, a

Bush Babies Monkey Sanctuary, a Chameleon Village

Reptile Park, the Hartebeespoort Snake & Animal

Park, the Hartebeespoort Dam Aquarium, the Inyoni

Estate Crocodile Farm, The Elephant Sanctuary and

The Ukutula Lodge & Lion Centre.

The aerial cableway at the dam is very popular, as

is hot-air ballooning. There are any number of adventure

tourism activities on offer. These include:

• zip-lining

• combat paintballing

• horse-riding

• quad-biking

• helicopter flights

• jet-boat cruises

• adventure camps.

Fishing is another very popular pastime and arts

and crafts are very well catered for in the area.

CONTACT INFO

Key personnel: Executive Mayor – Cllr Jostina

Mothibe | Acting Municipal Manager – Energy

Manaka

Key contact person: Tumelo Tshabalala

Address: 53 Van Velden Street, Brits 0250,

South Africa

Postal Address: PO Box 106, Brits 0250, South

Africa

Phone: +27 12 318 9100 | Fax: +27 12 318 9203

Email: customercare@madibeng.gov.za

Website: www.madibeng.gov.za

17 NORTH WEST BUSINESS 2017
---
DESTINATION OVERVIEW

Tourism

Tourism is a key pillar of the North West economy.

SECTOR INSIGHT

Sun City has spent R1-billion

on upgrades.

• Cultural tourism is a new

focus area for the province.

Tourism has been identified by the North West Provincial

Government as a "key pillar" of the economy. In addition to promoting

the already popular game reserves, Hartbeespoort Dam

and Sun City, the provincial planners are targeting the cultural

sector as a potential growth market. The Mahika-Mahikeng Cultural

Festival is expected to grow in significance to the regional economy

as it expands, having been started in 2015.

Arts and culture development centres (Mmabana Centres) are

found in three of the province's districts. Twelve public museums have

been identified together with 400 heritage sites as part of a census

on the province's cultural assets. The long and interesting history

of the Batswana people provides rich scope for commemorations,

memorials, song and dance.

Three tourism strategies (Culture and Heritage; Events and an overarching

regional strategy) are set to inform what the premier of North

West has called the Arts Culture and Tourism (ACT) developmental

agenda for the province. In keeping with the emphasis on small towns

and rural areas, a Rural and Social Tourism strategy is to be charted.

Among other provincial plans is a publication to be produced by

the Department of Tourism to market the province, particularly to

attract potential tourists in SADC countries, in other parts of Africa

and in BRICS countries like China, India, Russia and Brazil. Related

to the SADC theme, is a scheme to develop transnational routes

that would include sites such as

Victoria Falls in Zimbabwe. Direct

flights are being contemplated

to BRICS countries.

The Department of Tourism

in the North West hosted the

Bojanala District lekgotla (public

meeting) where discussions were

held about the way forward for

tourism in the province. There is

a strong belief that the industry

can become a major creator of

jobs and wealth within communities,

if the correct strategies

and products are developed.

Anthropology comes

to the fore at Taung, site of

the first discovered fossil of

Australopithecus africanus.

The North West Development

Corporation (NWDC), has an investment

plan linked to this famous

site, involving a museum,

hotel and spa resort.

The NWDC is also offering

investors the opportunity to

expand the terminal building at

Pilanesberg Airport.

The Treasure Route runs along

the N12 highway and includes

NORTH WEST BUSINESS 2017

18
---
DESTINATION OVERVIEW

wildlife, cultural, scenic, industrial

and environmental tourist attractions.

The "treasure" relates to the

gold mines scattered along the

route. A highlight is the Vredefort

Dome, an enormous 300km crater

left when a meteorite struck the

earth about two-billion years ago.

It is a UNESCO World Heritage Site.

Adventure sports is a growing

section of the tourism sector.

Hot-air ballooning over the

Pilanesberg mountains is a popular

pursuit, as is quad-biking

among the foothills. Canopy

tours in the Magaliesberg are on

offer, with many opportunities for

water sports of every kind on the

province's many water bodies.

Hartbeespoort Dam is the biggest

of these, but there are ample

opportunities for water -lovers

at Bloemhof Dam, Boskop Dam

(north of Potchefstroom) and

Vaalkop Dam (north of Brits). Each

of these dams has great birdlife,

with up to 250 species living at

or visiting the dams.

Hotels, casinos and

resorts

One of South Africa's highestprofile

entertainment complexes,

Sun City Resort, was relaunched

in 2016 after a R1-billion refurbishment

by Sun International.

Between 2014 and 2016 the

project created more than 2 000

new jobs.

The Sun City Hotel has been

re-branded as the Soho Hotel

which comes with a party zone

designed to evoke Las Vegas. A

new events space called Sun Park

offers outdoor and indoor options

for hosting festivals, events and launches. A new Sporting Hall of Fame

has been added to the popular water features and the famous Gary

Player Golf Course. In recent times the format of the annual Nedbank

Golf Challenge was expanded to include a bigger field of players with

more global significance because points won at the event counted

for international rankings.

The provincial capital, Mahikeng, has its own resort in the Mmabatho

Palms Hotel Casino and Convention Resort. As part of the Peermont

group, which has hotels and casinos in six of South Africa's provinces,

the Mmabatho Palms offers eight gaming tables and slot machines.

The Gambling Board falls under the provincial Department of

Economy and Enterprise Development and it has approved 262 Limited

Pay-out Machines and six new bingo operations.

North West's other casinos are at Sun City and the Morula Casino

and Hotel at Mabopane (both run by Sun International) and Klerksdorp

(Rio Hotel Casino and Convention Resort), another Peermont property.

The provincial government has applied to national government to

have a fifth licence granted in the province.

Nature and game reserves

The strategy of the North West Parks and Tourism Board (NWPTB)

includes ramping up investment in the province's 12 smaller parks

with a view to creating jobs in the second economy. This presents an

opportunity for private investors to become involved. An investment of

R43-million has been made in the Manyane Game Lodge in Mahikeng

in partnership with the national Department of Tourism.

Another project is in the form of an ambitious plan to create a

mega-park in the north-western sector of the North West, the Heritage

Park. The idea is to link the existing parks of Madikwe (on the Botswana

border) and the Pilanesberg National Park (a provincial park). Nearly

20 000 hectares of land is being prepared for incorporation, which is

intended in a later phase to become a transnational park. With much of

the targeted land being currently used for marginal cattle farming, it is

expected that the transference of this to the potentially more lucrative

game-reserve option will bring considerable benefits.

As the fourth-largest park in South Africa, Pilansberg covers an area of

55 000 hectares.

ONLINE RESOURCES

North West Development Corporation: www.nwdc.co.za

South African National Parks: www.sanparks.co.za

Tourism North West: www.tourismnorthwest.co.za

19 NORTH WEST BUSINESS 2017
---
PROFILE

Mmabatho Palms is

an entertainment oasis

The destination of choice for gaming and conventions in Mafikeng.

South Africa's and the North West's favourite oasis

resort experience, Mmabatho Palms Hotel Casino

and Convention Resort, is conveniently located in

the historic town of Mafikeng, the capital city of the

North West Province. Perfect for business, weekend

getaways and entertainment, the resort is located

adjacent to the Leopard Park Golf Course.

The elegant four-star Peermont Walmont hotel is

dressed in classic style with every modern comfort

and features 150 rooms and suites. The resort encapsulates

an entertainment oasis with its central

swimming pool shaded by the fronds of Motswedi

Palm trees. A host of other entertainment options

are also available including an additional swimming

pool, mini-golf, tennis, a children's play area and the

18-hole championship Leopard Park Golf Club next

to the resort.

The Motswedi Terrace Restaurant is a chic à la carte

restaurant with a distinctive African theme and offers

a full breakfast and internationally flavoured cuisine.

Guests can also relax at the Motswedi Terrace Bar

next to the pool with a refreshing drink or exotic

cocktail. Gaming at the Mmabatho Palms casino is

an exciting affair with a variety of 155 slots in various

denominations and eight gaming tables offering

Roulette, Blackjack and Poker games.

The Palms Retreat Wellness Spa is a full beauty centre

offering a variety of luxurious treatment options.

The spa has seven treatment rooms and a separate

couples' treatment room to provide the most private

and comfortable of settings. The world-class

convention facilities include four conference rooms

which can accommodate up to 300 guests. There

is also the Boma, perfect for outdoor events with a

seating capacity of up to 120 guests. Venues offer

flexible configuration capacities and state-of-the-art

technology, making them suitable for a variety of

functions from board meetings to team-building

or from weddings to conferences.

Mmabatho Palms is conveniently located near to a

range of must-see sites, nature parks and birding hot

spots. The Botsalano Game Reserve is a short drive to

the west of the city and hosts more than 200 bird species

in wide grasslands and Acacia and Karee woodlands.

One of the world's oldest volcanic craters extends

through the park into Botswana. Mafikeng Game

Reserve is much closer, being on the city boundary. It

is known as "The Home of the White Rhino".

With everything under one roof, Mmabatho Palms is

the perfect destination for a family break, corporate

event, golfing getaway or romantic rendezvous.

Website: www.mmabathopalms.co.za

NORTH WEST BUSINESS 2017

20
---
Break away to Mmabatho Palms Hotel Casino Convention Resort in the historic

town of Mafikeng. This beautiful retreat has something for everyone, with a

four star 150-key Walmont hotel, an exciting casino, the Motswedi Terrace

Restaurant, two swimming pools and loads of fun activities for children.

The exquisite Palms Retreat Wellness Spa offers a variety of luxurious

beauty treatments in peaceful and relaxing surroundings and the 18-

hole championship Leopard Park Golf Club is easily accessible from the

resort. Outdoor sporting and entertainment events are a regular feature

of the full sized soccer field and the convention centre can accommodate

up to 300 delegates in a variety of rooms as well as the outdoor boma.

Live it up, Oasis Style at Mmabatho Palms.

FOLLOW US

To book your stay, call PEERMONT CENTRAL RESERVATIONS on 0860 777 900 (SA only)

or +27 (0)11 938 1928 or book online at www.mmabathopalms.co.za

PEERMONT PROUDLY SUPPORTS THE NATIONAL RESPONSIBLE GAMBLING PROGRAMME.

PROBLEM GAMBLING COUNSELLING TOLL-FREE LINE 0800 006 008. PLAYERS MUST BE 18 YEARS OR OLDER. WINNERS KNOW WHEN TO STOP.
---
INTERVIEW

Strong growth on

North West route

CEO of SA Express Inati Ntshanga talks about the

operating environment for the airline.

Inati Ntshanga

BIOGRAPHY

Inati BIOGRAPHY Ntshanga was appointed

as the Chief Executive Officer of

SA Express in September 2010.

A Harvard University Economics

graduate, Inati has over 18

years aviation experience as

well as senior management

and executive experience in the

private sector.

As CEO of the airline, he also

serves as Executive Director on

the SA Express Board of Directors

and in 2015 was appointed

as the Chairperson of the Airlines

Association of Southern

Africa.

What is the size of the commercial airline sector in the

North West?

Currently, SA Express is the only carrier that flies into Pilanesberg and

we have grown our operations to include Mahikeng. We fly direct from

OR Tambo International on Mondays, Wednesdays and Fridays and

from Cape Town International on Mondays and Fridays.

We have built partnerships with several establishments in the area

to offer competitive and comprehensive packages for passengers

flying SA Express. We have seen strong growth on this route and our

expectation is this trend will continue.

Since being appointed CEO of SA Express, what have

been the primary challenges of running the airline?

External factors such as fluctuating exchange rates, volatile oil prices

and ever-increasing competition mean that as an airline, SA Express

needs to remain relevant by being dynamic and innovative.

Economic factors such as recessions mean that flying is not viewed

as a more of a luxury service. The industry has definitely become more

competitive over the last five years. This is not only been on the major

domestic routes, we have seen new entrants on secondary routes as

well. This has led to reduced yield for the airline, although this has been

offset somewhat by market growth.

Key challenges remain living up to our customers' expectations

and remaining a viable entity in a competitive trading environment.

Which routes are likely to deliver the most growth for

your airline in the next few years?

What we have seen in some markets, is the stimulation of new market

segments by new entrants and this excites us. We intend to grow our

product offering to incorporate this trend. This will primarily be on our

domestic network, although we expect our regional routes to benefit

from a degree of organic growth as well. This is primarily driven by

connecting traffic through our partnership with South African Airways

and our membership of the international Star Alliance.

NORTH WEST BUSINESS 2017

22
---
We Fly North West!

Discovering the best of Bokone Bophirima is now only a flight away.

As an airline of choice to North West Province, we now offer

weekly flights from Johannesburg and Cape Town to Pilanesberg,

and from Johannesburg to Mahikeng, all at your convenience.

Because We Fly for You.

Visit www.flyexpress.aero for domestic flights to Bloemfontein, Port Elizabeth, East London,

Kimberley, Hoedspruit, George, Johannesburg, Richards Bay, Cape Town, Mahikeng, Pilanesberg,

Durban and regional flights to Lubumbashi, Gaborone, Walvis Bay, Lusaka and Harare.
---
SPECIAL FEATURE

South African economy at a glance

Insight into the performance of the South African economy is provided through these

graphical representations of key statistics.

ZIMBABWE

NAMIBIA

BOTSWANA

Limpopo

0.9% (7.1%)

MOZAMBIQUE

North West

-3.6% (6.5%)

Gauteng

2.1%

(34.3%)

Mpumalanga

2.7%

(7.5%)

SWAZI-

LAND

Northern Cape

2.8% (2.1%)

Free State

1.8%

(5%)

LESOTHO

KwaZulu-

Natal

2.3%

(16.1%)

Western Cape

2.0% (13.6%)

Eastern Cape

1.0% (7.6%)

SA GDP: Percentage of growth per province (2014) and percentage

contribution to national GDP (figures in brackets).

SOURCE: STATS SA WWW.STATSSA.GOV.ZA

PROVINCE CAPITAL PREMIER POPULATION (2015) AREA GRP BILLION RAND

Eastern Cape Bhisho

Phumulo

Masualle

6 916 200 168 966km 2 R289.9

Free State Bloemfontein

Elias Sekgobelo

"Ace" Magashule

2 817 900 129 825km 2 R189.1

Gauteng Johannesburg David Makhura 13 200 300 18 178km 2 R1 305.6

KwaZulu-

Natal

Pietermaritzburg Willies Mchunu 10 919 100 94 361km 2 R610.1

Limpopo Polokwane

Stanley

Mathabatha

5 726 800 125 754km 2 R271.5

Mpumalanga Mbombela David Mabuza 4 283 900 76 495km 2 R284.2

North West Mahikeng

Supra

Mahumapelo

3 707 000 104 882km 2 R249.5

Northern Cape Kimberley Sylvia Lucas 1 185 600 372 889km 2 R79.9

Western Cape Cape Town Helen Zille 6 200 100 129 462km 2 R518.1

Snapshot of South Africa's provinces

SOURCE: INSTITUTE OF RACE RELATION'S SOUTH AFRICA SURVEY 2016 AS REPORTED ON BUSINESSTECH.CO.ZA

NORTH WEST BUSINESS 2017

24
---
SPECIAL FEATURE

How South Africa's economy performed in 2015. *

* PRELIMINARY RESULTS | SOURCE: GROSS DOMESTIC PRODUCT, 4TH QUARTER 2015 | WWW.STATSSA.GOV.ZA

SECTOR LP MP GP NW KZN FS NC EC WC

Agriculture 2.5 2.8 0.4 2.1 3.8 4.3 6.0 7.5 3.5

Mining 29.4 24.9 3.3 33.6 1.9 13.3 26.7 0.2 0.3

Manufacturing 2.5 11.5 13.5 4.4 15.8 8.5 2.1 12.2 11.8

Electricity 2.8 5.4 2.4 1.4 2.5 3.1 3.0 1.4 2.0

Construction 2.5 3.3 4.3 2.6 3.0 2.0 1.6 2.1 4.3

Wholesale 10.8 10.3 14.2 9.3 15.5 12.3 9.9 14.7 17.0

Transport 5.4 5.8 8.3 6.1 11.9 7.1 7.8 7.9 9.1

Finances 14.0 10.9 22.8 11.1 16.5 14.2 11.6 18.6 26.6

Personal

Services

Government

Services

3.8 4.3 3.6 7.0 5.8 10.2 8.1 9.1 5.1

16.0 10.5 17.0 12.1 13.3 14.7 12.8 22.0 10.2

Taxes 10.3 10.3 10.1 10.3 10.0 10.3 10.2 10.2 10.0

Gross Domestic Product by province, percentage contribution.

SOURCE: STATS SA WWW.STATSSA.GOV.ZA/?PAGE_ID=735&ID=1

25 NORTH WEST BUSINESS 2017
---
FOCUS

Nedbank partnering

with business for good

Kevin de Beer, Nedbank Regional General Manager, Branch Networks, explains how

Nedbank works with communities to deliver banking solutions.

Nedbank continues to build on its client-centred strategy

aimed at delivering distinctive experiences and channels of

choice for businesses and clients in the North West. This has

seen the bank simplify and enhance its product offering in

line with its value-banking philosophy based on simplicity, transparency

and affordability. Innovation and technological advancements,

as well as training and development of staff, have been key pillars in

achieving the bank's objectives.

Nedbank has also placed greater emphasis on client engagement

to better understand the diverse and individual client needs across

its personal and business banking base. "Innovation is an integral

component of a holistic approach that encompasses our systems

and processes. It is an enabler in delivering distinctive client experiences.

Despite the tough economic environment, Retail and Business

Banking has delivered value to our shareholders while significantly

improving client experience. Through these milestones we are well

geared to weather the persisting macroeconomic environment, and

highly competitive business conditions," says De Beer.

Since 2012 Nedbank has launched several first-to-market innovations,

such as the award-winning Nedbank App Suite, the Home Loans

Online Digital Channel and Market Edge, as well as the "Branch of the

Future" concept in communities locally and nationally. "Working with

communities is entrenched in our values through community development,

skills development, education and job creation, as well as environmental

conservation. These play a vital role in building a sustainable

economy and vibrant society. We believe our fast-growing presence in

communities goes a long way in enabling greater financial inclusion

while contributing towards economic growth," concludes De Beer.

Nedbank has also invested in innovative alternative distribution outlets

through its strategic partnership with Pick n Pay and Boxer stores.

These partnerships, which span over 15 years, enable communities to

get access to financial services every day of the week, even Sundays

and public holidays.

Nedbank provides several communities, including individual and

business clients, with access to products and services through Nedbank's

workplace banking offering through a dedicated banker. This is a unique

service for clients, with financial fitness training a key aspect of the offering.

Our wide range of products and services include the Nedbank

Kevin de Beer, Nedbank

Regional General Manager

Keyona Plus transactional account,

which comprises funeral

cover, a personal loan facility, the

Just Save Account and the Send

Imali money transfer solution,

enabling clients to transact, borrow,

save and take out cover. To

encourage the youth to save and

build their financial fitness from an

early age the Nedbank4me offering,

enabling the youth to transact

and save with the benefit of

earning preferential interest.

For more information call

+27 51 400 5813 or visit

www.nedbank.co.za.

NORTH WEST BUSINESS 2017 26
---
Zooming into

Nedbank's small

business interventions

Nedbank's Regional Manager, Small Business Services, Kim Lawrence,

explains how Nedbank is committed to partnering with businesses for growth.

FOCUS

"

Recognising

that small businesses are the mainstay of the

economy and arguably the best remedy for the country's

unemployment challenges, Nedbank has, over the years,

instituted various interventions aimed at giving support to

the small-business sector. Over and above our small-business services

solutions, we provide small-business owners with support that goes

beyond banking, freeing up their time to truly focus on running their

businesses," says Lawrence.

Nedbank has built a solid reputation as a bank for small businesses

through initiatives such as Small Business Friday, free small-business

seminars and the SimplyBiz.co.za platform – all geared to support

the small- and medium-sized enterprises sector. For example, the

Small Business Friday initiative, in association with the National Small

Business Chamber, seeks to encourage everyone in South Africa to

rally behind and support small businesses. Apart from its name, the

initiative calls on everyone to make a conscious decision to vote small

businesses through their hearts, feet and wallets; not only on Fridays,

but every day.

Supporting small businesses can lead to more sustainable economic

growth, social upliftment and job creation. The biannual Nedbank

Small Business Seminars are free and provide practical advice and

solutions for small-business owners. Inspired emerging entrepreneurs

who attend the seminars benefit from invaluable insight shared by

small-business experts. The seminars are rolled out across the country

and topics include issues such as cashflow planning and turning

strengths and weaknesses into more sales and profits.

SimplyBiz.co.za is a free-to-join value networking portal designed

especially for small businesses. It seeks to help small-business

owners facing unique challenges with valuable insights from

other entrepreneurs and our seminars. Moreover, the online portal

helps small businesses to improve their business administration

Kim Lawrence, Regional

Manager Small Business

Services

skills, keep up with the latest

trends, network with other small

businesses and share ideas.

For more information about

Nedbank's Small Business

Services call Kim on

+27 51 400 5772 or send an

email to KimL@nedbank.co.za.

27

NORTH WEST BUSINESS 2017
---
FOCUS

Nedbank

Whole-view Business Banking

Willie Chavalala, Nedbank Regional Business Head, Pretoria & North West,

explains how they are making the bank relevant to business owners in the North West.

There is good news for North West business owners and entrepreneurs

seeking a unique banking experience: Nedbank Business

Banking has 11 business managers located across the province

specialising in key industries such as retail, commercial, industrial,

manufacturing and the agricultural sector, among others. They are

ready to assist you with professional advice, industry-specific solutions

and a comprehensive range of financial products and services.

"At Nedbank Business Banking we believe that you need a financial

partner who not only understands your circumstances and aspirations,

but also provides you with relevant solutions and a banking experience

that is hassle-free. This allows you to concentrate on what's

most important to you – running your business," says Chavalala.

At the core of Nedbank's offering in the North-West is a relationship-based

model with a business manager dedicated to your business

as the key entry point into the bank. Each business manager is

supported by a team – comprising a credit manager, credit analyst

and services manager with a thorough understanding of the regional

economy and business market, and a genuine interest in the success

of each individual business.

"When you do business with us, you deal with people who know

the area, understand its nuances and are familiar with the various

industries operating here. We encourage you to see money differently

with Whole-view Business Banking TM ," explains Chavalala.

An additional benefit of banking with Nedbank Business Banking

is that your business and your personal financial needs can be

managed in one place.

"Because business owners and their businesses are very often

financially dependent on each other, our client service teams now

also offer individual banking solutions, better advice and a hasslefree

service to you and your staff because we already know and

understand your needs," says Chavalala.

Nedbank provides several communities, including individual

and business clients, with access to products and services through

Willie Chavalala, Regional

Business Head

Nedbank's workplace banking

offering through a dedicated

banker. This is a unique service

for clients, with financial fitness

training a key aspect of the

offering.

For more information about

Nedbank's specialised service

offering please call the

Business Banking team on

+27 12 436 7740 or visit

www.nedbank.co.za.

NORTH WEST BUSINESS 2017 28
---
17264

SEE MONEY DIFFERENTLY WITH

WHOLE-VIEW

TM

BUSINESS BANKING

With Whole-view Business Banking from Nedbank, there's one bank with one view across your business,

allowing us to create unique business and financial solutions together. You'll get partnership advice from

a dedicated local client service team, supported by a team of specialists. By having the full picture we'll

have a deeper understanding of your business, which will take it further than ever before.

Sometimes, a change in approach can change everything. Partner with Nedbank today.

Search Whole-view Business Banking.

Nedbank Ltd Reg No 1951/000009/06. Authorised financial services and registered credit provider (NCRCP16).
---
OVERVIEW

Mining

The platinum province is also rich in many other minerals.

SECTOR INSIGHT

A platinum special economic

zone is being established to

attract investors.

• Sephaku Cement's

Lichtenburg clinker plant

produces 6 000 tons per

day.

• There are new owners

for platinum and chrome

assets.

There are nearly 300 active mines in the North West and the sector

contributes 31.3% of regional gross domestic product. A large

number of families rely on the income earned on mines, with about

18% of total employment in the province coming from mining.

The North West Province is aligned with the Western Limb of the

Bushveld Igneous Complex, a remarkably rich mineral formation. Mines

in the province produce 50% of the platinum produced in the world,

and 65% of South Africa's platinum group metals.

Chromite is the other major mineral mined throughout the province,

and there are several ferrochrome smelters and other processing plants.

Gold and uranium are found along the border of the province with

Gauteng and the Free State (in Klerksdorp and Orkney). Diamonds are

mined at Christiana, Bloemhof and Lichtenburg. Lichtenburg is also the

centre of the cement industry.

Other minerals found in the North West include fluorspar, vanadium,

rhodium, uranium, copper, limestone, slate, phosphate, manganese,

coal and nickel. There are also significant stone and granite operations.

Volatility in global markets has led to the price of platinum dropping

very steeply, leading to large-scale lay-offs at some mines, but analysts

believe that the price will recover in 2017. AngloGold Ashanti, which has

five gold mines on the border of North West and the Free State province,

and employs nearly 25 000

across all its operations in South

Africa, is considering reducing its

workforce.

All companies operating in

South Africa are expected to

register with the Unemployment

Insurance Fund (UIF) so that

NORTH WEST BUSINESS 2017

30
---
OVERVIEW

workers who suffer retrenchment

will receive a pay-out to support

them while they look for new

employment.

The overall picture for platinum

group metals (PGM) looks

rather better, with chrome in

particular rallying in the second

half of 2016. Palladium and

rhodium have also increased

in price.

The results produced by

Royal Bafokeng Platinum

(RBPlat) in 2016 reflected how

things have changed since the

platinum boom of a just a few

years ago. RBPlat (originally a

joint venture between Anglo

American Platinum and Royal

Bafokeng Holdings) turned a

profit of nearly R600-million in

2014 but the lower prices have

pushed back the construction of

the company's Styldrift I Project

and led to reduced production

at the Bafokeng Rasimone mine,

resulting in a loss in 2015.

Royal Bafokeng Holdings is

the investment vehicle of the

100 000 members of the

Setswana-speaking Royal

Bafokeng Nation who live in the

Rustenburg valley.

Another partnership with

a community is the Sedibelo

Platinum mine, where the local

Bakgatla traditional authority

has a 26% stake on behalf of the

community (in the Moses Kotane

Municipality of the Bojanala district).

Main community projects

concentrate on water supply,

roads and bursaries for local students.

A hydroponic farm and a

brickworks have been initiated.

Sedibelo (formerly Platmin),

which received investments

from the Industrial Development Corporation (2012) and Pallinghurst

(2014), has a 100-Moz PGM resource base.

Buying and selling

• Impala Platinum is selling its 65% share in Impala Chrome, an

extraction business which is located in Rustenburg.

• The Evraz Group has sold its 78.8% in Brits-based Vametco, a mine

and plant that produces vanadium. Bushveld Minerals, which is

listed on the Alternative Investment Market in London, is the buyer.

• Rustenburg Platinum Mines Limited (including three mine shafts,

two concentrating plants and on-site chrome recovery plant) has

been sold by Anglo American to Sibanye Gold. This is part of the

broader Anglo American strategy to divest itself of a number of its

assets, and also points to a strong acquisitions strategy that Sibanye

Gold has embarked on since it was established in 2012. With some

other acquisitions, Sibanye now controls about 800 000 ounces

of platinum and uranium as a by-product of its gold production.

With the possibility that it will also buy coal mines, Sibanye Gold

will likely change its name in the near future as it looks more like

a resources company.

SEZ and SPI

The Platinum Valley Special Economic Zone (SEZ) is to be established

at Mogwase in the Bojanala District, north of Rustenburg and east of

Sun City. When fully developed, 200ha of land will be given over to

three infrastructure facilities comprising Logistics, Light Manufacturing

and Heavy Manufacturing. Areas of investment that are expected to

grow fastest include fuel cell technology (in which platinum is a vital

component), machinery for mining, energy generation and renewable

energy component manufacturing.

A range of incentives will be available to potential investors via the

national Department of Trade and Industry (dti). By way of example,

the 121 Tax Allowance Incentive offers capital investment allowances

and training support up to R900-million for new or existing industrial

projects. There are a number of other incentives specific to investors

in an SEZ.

The Seda Platinum Incubator (SPI) is an initiative of the Platinum Trust

of South Africa and is funded by the Small Enterprise Development

Agency (Seda) through its Seda Technology Programme (Stp)

with the support of the North West Provincial Government and

private companies.

Located in Rustenburg, the SPI trains people through the making

of jewellery, chiefly the design and manufacture of platinum group

31 NORTH WEST BUSINESS 2017
---
OVERVIEW

metal (PGM) jewellery. Small PGM jewellery-manufacturing enterprises

and individuals are located at the centre or supported by

email correspondence. A three-year period of incubation is offered

to small businesses.

Chrome

There are 20 chromite mines in North West Province. The mines are

located along a reef running from Brits to Rustenburg and they are

serviced by several ferrochrome smelters. South Africa produces about

70% of the world's chrome, with most of that originating in North

West Province.

Most chromite is processed into ferrochrome, a vital component

in the making of steel. South Africa produces 40% of the world's

ferrochrome.

Diamonds

Diamonds are found in several parts of the North West: Lichtenburg,

Koster and Ventersdorp near the centre, and Christiana and Bloemhof

further south. Rockwell Diamonds sold its Tirisano mine near

Ventersdorp in 2015, to a group of royalty miners who had been

working on the site.

Gold

Several major companies are active in the area where the provinces of

Gauteng, Free State and Gauteng meet: Anglogold Ashanti, Harmony

and DRD. AngloGold Ashanti's Tau Tona operation is located in

North West.

ONLINE RESOURCES

Chamber of Mines of South Africa: www.chamberofmines.org.za

Geological Society of South Africa: www.gssa.org.za

Industrial Development Corporation: www.idc.co.za

Mining Qualifications Authority (MQA): www.mqa.org.za

National Department of Energy: www.energy.gov.za

National Department of Mineral Resources: www.dmr.gov.za

National Department of Trade and Industry: www.dti.gov.za

North West Development Corporation: www.nwdc.co.za

South African Institute of Mining and Metallurgy:

www.saimm.co.za

In 2015, Chinese company

Heaven-Sent acquired the

gold mine of Village Main Reef,

Tau Lekoa near Klerksdorp.

(Buffelsfontein gold mine closed

in 2013.)

Harmony Gold has two

mines in the province: Kal Gold

and Kusasalethu (formerly

Elandsrand). The company

has announced an employee

share-option plan (ESOP) where

about 33 000 employees across

Harmony operations will take up

ownership of just less than 3% of

the company. South Africa's thirdbiggest

gold miner calculates that

a qualifying employee might be

paid out R10 000 for 100 ordinary

shares after five years.

Limestone and cement

Limestone quarries run by G&W

Base and Industrial Minerals in the

Marico District are located next to

a PPC cement factory.

One of the last economically

viable limestone deposits in South

Africa is mined and processed by

Sephaku Cement. Sephaku runs a

6 000-ton per day clinker facility

located near Lichtenburg.

AfriSam, PPC and Lafarge already

have a significant presence

in the Mahikeng/Lichtenburg area,

but Sephaku is confident that its

clinker and cement-production

facilities will be supported by raw

materials for at least 30 years.

Granite and slate are found in

good quantities in the province, as

is dimension stone. There are more

than 20 quarry operations in the

province, with Rustenburg being

the centre of granite mining.

NORTH WEST BUSINESS 2017

32
---
Wesizwe honours commitments

made in social and labour plan

as part of social license to operate

P

art of Wesizwe's strategy in building good stakeholder

relations with the host community is supporting the

development of small medium and micro enterprises

(SMMEs) and continuous engagements with stakeholders.

The company creates strategic partnerships that support

infrastructure development for basic services and needs,

such as education, skills development and health. The

main focus is on ensuring that the company enables,

empowers and supports the host community.

Currently, the largest SLP project so far undertaken by

the company is the housing project for employees. The

objective of this project is in line with the mining charter

requirements on housing. The organization has taken

proactive action in ensuring that the mine does not

contribute to the creation of informal settlements while

the company steps up the provision of formal housing.

The focus is on developing a 2-phased housing scheme:

Phase 1: 801 units and Phase 2: 1 504 units. This will be

an integrated human settlement and to achieve this

Wesizwe has forged strategic partnerships with North

West Department of Local Government and Human

Settlements and the Social Housing Regulatory Authority

(SHRA) in order to fund the development and Moses

Kotane Local Municipality.

Wesizwe Platinum is a public company incorporated in

the Republic of South Africa with its shares listed on the

JSE Securities Exchange (JSE).

For more information on Wesizwe Platinum, visit the website – www.wesizwe.com
---
OVERVIEW

Agriculture

Grain and beef farming is done on a large scale in the North West.

SECTOR INSIGHT

Four district agri-parks will

underpin the creation of

processing plants and agribusinesses.

• A Bonsmara bull was sold

for R90 000 in 2016.

A

concerted effort to establish sustainable agri-processing, to

promote food security and to promote local black businesses

is being made through the establishment of four district

agri-parks across the North West.

The North West Department of Rural Environment and Agricultural

Development (READ) is working together with national departments

to implement the project: Rural Development and Land Reform,

Agriculture Forestry and Fisheries and Department of Cooperative

Governance and Traditional Affairs.

Each of the agri-parks will have a specific focus:

• Springbokpan, grain (Ngaka Modiri Molema District Municipality).

The silo at this site has been renovated and is ready for use.

• Vryburg: livestock, red meat (Dr Ruth Segomotsi Mompati District

Municipality)

• Moretele/Makapanstadt: red meat and horticulture (Bojanala

District Municipality)

• Maquassi Hills: pork and poultry (Dr Kenneth Kaunda District

Municipality)

Various agri-processing plants are under consideration for

the city of Mahikeng: a feedlot and a meat processing plant,

including an abattoir and packaging facilities. In Taung the plan is

to establish an animal feed manufacturing plant.

Variety

North West's distinct climatic regions are home to three very different

types of agriculture. The dry western region is home to large beefcattle

herds, and this is where

the growing game-ranching and

hunting industry has its base. An

Absa Agribusiness study shows

that a R5-million investment in

cattle over six years makes a 4.8%

return, against 27.7% for buffalo

and 45.2% for sable.

The eastern and north-eastern

parts of the province receive relatively

good rainfall and are suitable

for the cultivation of crops.

Grains

Nearly two-million hectares

is planted with summer cereals,

with about 50 000 hectares

given over to winter cereals. The

North West produces about 20%

of South Africa's maize and about

15% of its wheat. The central and

southern sections of the province

are dominated by maize and

wheat farming.

North West's average contribution

to the national maize crop

over the six years to 2015 was about

NORTH WEST BUSINESS 2017

34
---
OVERVIEW

20%. The total yield in 2014 was

14.2 million tons, an exceptionally

good return, but then the

drought brought yields down.

Fully 31% more maize was

planted for the 2017 harvest than

had been possible in 2016. This

amounted to 2.54-million hectares

and represents good news

for consumers. The very bad

national drought had resulted

in maize having to be imported

which caused food prices to

rise; the better planting should

improve things. However, at the

time of going to print there were

concerns about an armyworm

which had been detected in several

parts of South Africa. Early

detection may head off threats to

the crop. The South African market

consumes about 10.5-million

tons of maize.

Other crops

When it comes to sunflower seed,

North West is responsible for 33%

of South Africa's stock, and 23% of

the nation's groundnuts.

The North West supplies 5.4% of

South Africa's potatoes, but parts of

the Kalahari are ideally suited to the

cultivation of seed potatoes.

The province produces about

11% of South Africa's cotton harvest,

which has been getting

smaller for many years. There are

plans to grow the sector again,

particularly in small-scale farming

sector. There are cotton operations

near Sun City in the north

of the province and in the Taung

district in the far south.

The Taung Irrigation Scheme

covers about 36 000 hectares, and

companies like McCain (potatoes), South African Breweries (barley) and

Cotton South Africa (cotton) have standing orders with small-scale

farmers. This water supply will also allow for the cultivation of highyield

crops such as pecan nuts, paprika and olives.

Livestock

The western reaches of the province are sometimes called "South

Africa's Texas" with extensive cattle herds roaming on big farms.

The North West has approximately 1.6-million beef cattle, representing

12% of South Africa's herd. Major breeds include Simmental,

Brahman, Bonsmara and Simbra, a cross between the Brahman and

Simmental breeds.

Auctioneers Proveld Bonsmara achieved an average price of

R34 000 for bulls at its November 2016 auction. One prize bull was sold

for R90 000. A national initiative is promoting Nguni cattle. Vryburg is

the centre of the beef-cattle breeding industry.

Kalahari Red and Boerbok goats are found in large numbers in the

dry west. The goats numbers for the province is estimated at 701 587

which is 12% of South Africa's total goats. There are estimated to be

318 843 pigs, which is 20% of South Africa's total drove.

Companies

One of South Africa's biggest agricultural companies is Senwes. The

company specialises in the storage and handling of grains and oilseeds.

Its extensive silo infrastructure extends across the interior. Its

headquarters are in Klerksdorp. Despite very challenging conditions,

the Senwes Group had a turnover for 2015/16 of R9.2-billion.

Suidwes is based south of Klerksdorp in Leeudoringstad. More than

90% of the shares in the company are held by farmers. Grain handling

is the main business and there are divisions for retail (17 outlets and

one animal-feed depot), mechanisation, finance and research and

agricultural economics (Terratek).

Brits is the location of the headquarters of the MGK Group, formerly

Magaliesberg Graan Kooperasie. Tau company runs five divisions and a

plant that makes fullfat soy, a component in animal feed.

ONLINE RESOURCES

Agricultural Research Council: www.arc.agric.za

National Department of Agriculture and Forestry: www.daff.gov.za

North West Department of Agriculture, Conservation, Environment

and Rural Development: www.nwpg.gov.za/agriculture

35 NORTH WEST BUSINESS 2017
---
OVERVIEW

Energy

Generation and manufacturing hold great potential.

The sun shines in the North West, on average, 300 days of the year. In

addition, the province mines more platinum than any other place on

earth. These two facts combine to present a suite of opportunities

for energy generation and for the manufacture of equipment for

the energy sector.

A start has been made, but the potential for investors is massive. The

provincial unit of the Industrial Development Corporation is in discussion

with the German manufacturer of solar panels who go beyond simply

making the panels, they allow for horticulture under the farms. In this way,

the installation of a solar farm can create 35 jobs per megawatt, instead

of the usual average of 1.6 jobs per megawatt, and make a contribution

to tackling food security.

RustMo1, a 7MW solar farm at Buffelspoort, is already producing energy.

Local company Momentous Energy, in partnership with a community trust

(representing Lapologang and Tsakane) are behind the project which was

installed by German company, juwi Renewable Technologies.

This project is part of the national programme, the Renewable

Energy Independent Power Producer Procurement Programme

(REIPPPP) which aims to add some 6 000MW to the national grid by

2020 (and 13 225MW by 2025).

An opportunity for solar panel market manufacturers is being promoted

by the North West Development Corporation at Mahikeng. Investors

are sought to manufacture and supply panels to farms, housing schemes,

the mining industry and government.

The Potchefstroom campus of the North West University is home to

HySA Infrastructure Centre for hydrogen production, storage and delivery.

onal strategy designed to make use of hydrogen and fuel cell technology,

particularly arising from platinum group metals (PGM).

South Africa's nuclear-research centre is located at Pelindaba near

Hartbeespoort Dam, and is run by the South African Nuclear Energy

Corporation. The Nuclear Engineering Department at North West

University (NWU) is the only one of its kind in the country, and the

ONLINE RESOURCES

National Department of Energy: www.energy.gov.za

North West Development Corporation: www.nwdc.co.za

SECTOR INSIGHT

Fuel cell technology is an

important field of study.

• Manufacturers of solar

panels are showing

interest in investment.

National Department of Science

and Technology granted a chair

in Nuclear Engineering to NWU.

Bioethanol, biodiesel and methane

gas from waste and renewable

resources are among the types of

biofuels being investigated.

As a grain-producing area,

North West Province is obviously

well suited to supplying

feed stock for biofuel projects,

but a new set of national government

guidelines has seen the

emphasis in this nascent industry

shift towards finding fuel stock

from crops that are less likely to

affect food security. These crops

include sugar cane, sugar beet,

canola and sunflower seeds.

A debate is under way about

changing national policy to allow

surplus grain to be used for

energy production.

Sunflower seeds are very

suitable for converting into biofuel,

and the North West has an

abundance of this crop. Sweet

sorghum is a possible feedstock

for processing into bioethanol.

NORTH WEST BUSINESS 2017

36
---
Water

The City of Tlokwe is a water award-winner.

OVERVIEW

The good rains that finally fell in the interior of South Africa in late

2016 came as a great blessing after a long and painful drought.

But in the North West province the rains came even later than

in most places, putting extra strain on agriculture, towns and

businesses. South Africa is a water-scarce country and water management

is critical to economic planning. The western part of North West

Province is particularly dry.

In the eastern part of the province, national government has sent

water tanks to some parts, and has upgraded the treatment plants

upstream from the Hartbeespoort Dam. Infrastructure in some cases

has not been serviced for some time, and leaks and skills shortages in

some municipalities are a problem.

Three of South Africa's six major catchment areas are located in the

province: the Limpopo, the Orange and the Vaal. Within these catchment

areas, only the Vaal River has a strong-enough flow to allow for

significant amounts of water to be taken from it directly to support

irrigation or industry. There are four water-management areas in the

province, three of which are linked to the Vaal River. Water is imported

into the provincial system through transfers between water basins.

The province has 83 sewage-treatment plants, and the national Blue

Drop award system has found most of them need a lot of improvement.

In the period from 2009-2014, the municipalities found to have the

best water systems were City of Tlokwe (Potchefstroom), Rustenburg,

and the City of Matlosana (Klerksdorp). In that period Tlowe averaged

97/100 but several water authorities struggled to make improvements.

Tlokwe is one of only three municipalities in the country that acts

as a water-service authority and as a service provider. The biggest

service providers active in the North West are:

• Rand Water

• Magalies Water

• Sedibeng Water (including Botshelo Water)

ONLINE RESOURCES

Blue Drop Awards: www.ewisa.co.za

National Department of Water and Sanitation: www.dwa.gov.za

SECTOR INSIGHT

Rustenburg has introduced

a digital data management

system to control its services.

• The village of Jericho received

piped water in 2016.

• Midvaal Water Company

supplies water to Matlosana

(Klerksdorp).

The city of Rustenburg has

created the Rustenburg Water

Services Trust (RWST), a specialpurposes

vehicle that runs the

town's relatively new water system.

It was formed with Magalies

Water acting as the public partner

and operator, with Rustenburg

Consulting Consortium (led by

Bigen Africa) providing expertise.

Hartbeespoort Dam is a significant

factor in the water sector of

the North West province. It receives

water from the Crocodile, Jukskei

and Magalies rivers. It also receives

a lot of waste from the surrounding

areas. The storm water that flows

into the dam includes fertiliser

and animal waste. Degraded river

banks and wetlands in the catchment

areas contribute to the problem.

The result has been a build-up

of phosphates in the dam, and various

projects have been launched

to tackle the problem–with

variable success rates.

37 NORTH WEST BUSINESS 2017
---
OVERVIEW

Manufacturing

The North West's strong resource base could underpin a much bigger manufacturing sector.

Brits, Rustenburg, Tlokwe (Potchefstroom), Matlosana

(Klerksdorp) and Mahikeng account for more than half of

the total manufacturing capacity in North West Province.

Mining beneficiation, automotive components and food

and beverages play important roles in the sector, but there is scope

to massively increase the scope for manufacturing in a wide range

of other fields.

The provincial government has pointed out that the share of manufacturing

to the Growth Value Add (GVA) of the province is only 5%

– a figure that must grow if employment is to grow along with the

expanding economy.

A provincial Integrated Manufacturing Strategy has been compiled.

One of the report's findings was that because North West is strategically

located near to the industrial hub of Gauteng, has low input

costs, lies on established trade routes and has easy access to natural

resources, it should make the development of the chemical processing

sector a good bet. This is especially true for phosphate and nitrogenbased

fertilisers.

Another provincial priority is to improve the link between rural and

urban economies, something which a strong focus on agri-processing

will achieve. As one of the country's biggest producers of livestock,

the North West's automotive industry could profitably source hides

for car seats locally. It is this sort of value-added tie-up that economic

planners are looking at, as they aim to get more value out of the

agricultural sector.

The Industrial Development Corporation (IDC) is one of the bodies

that is helping the province to expand (and maintain) the diversity

of its manufacturing sector. The IDC sometimes gives loans

ONLINE RESOURCES

Automotive Industry Development Centre (AIDC): www.aidc.co.za

Centre for Advanced Manufacturing: www.cfam.co.za

Consumer Goods Council of South Africa: www.cgcsa.co.za:

National Department of Trade and Industry: www.dti.gov.za

North West Development Corporation: www.nwdc.co.za

SECTOR INSIGHT

The North West is encouraging

phosphate and nitrogenbased

fertiliser manufacturers

to invest.

• The Centre for Advanced

Manufacturing at North

West University specialises

in extruder technology.

to help businesses weather

bad times, at other times it

extends loans (sometimes in

exchange for equity) to new

enterprises in new sectors.

The Centre for Advanced

Manufacturing (CFAM) is housed

at North West University. The centre

specialises in extruder technology,

an important component

in the food-manufacturing process.

CFAM works with Gaborona

Consulting, the Vaal University of

Technology, Thripp (a dti technology

programme) and ChemCity,

a Sasol initiative.

NORTH WEST BUSINESS 2017

38
---
Education and training

The North West education sector covers high-level research to training for

technicians and artisans.

OVERVIEW

Very advanced research can be found in the laboratories of

North West University into subjects such as astrophysics

and applied molecular modelling. At the same time, provincial

education authorities are trying to overcome huge

challenges at rural schools. An important part of the latter process is

the expansion of boarding schools, to which an amount of R500-million

has been allocated in the medium-term framework.

The North West Provincial Government's broader policy aimed at

uplifting rural areas will see the Department of Education and Sport

Development directing more resources to schools in the villages,

townships and small dorpies (VTSD).

There are 1 465 primary and high schools in the state sector in

the North West. Spending on new infrastructure and on renovations

is set to continue for many years, offering many opportunities

to contractors.

South Africa has more private or independent schools than ever before.

The opening of the PLG Hartbeespoort Academy in 2016 marked the first

investment into the province of the Pembury Lifestyle Group. PLG has 19

schools on seven campuses, mostly in Gauteng. PLG intends listing on the

Alternative Exchange of the JSE in order to raise capital for further expansion.

Curro believes it will be running 200 schools in South Africa by 2020,

double its current number. In the North West there are three Curro

schools, in Rustenburg, Klerksdorp and Mahikeng.

University

North West University (NWU) had 67 000 students registered in 2015,

with about 26 000 of studying by correspondence. The university's

main campus is at Potchefstroom with satellite campuses at Mmabatho

and Vanderbijlpark.

ONLINE RESOURCES

National Department of Basic Education: www.education.gov.za

National Department of Higher Education and Training:

www.dhet.gov.za

North West University: www.nwu.ac.za

SECTOR INSIGHT

A new private school has

opened in Hartbeespoort.

• Taung Agricultural College

received R13.4-million

from a Danish company.

Colleges

North West has three large

TVET colleges. Vuselela TVET

College has its headquarters

in Klerksdorp, where there is

also an accredited trade test

centre. There are a further four

campuses: Jouberton Centre for

Engineering Studies; Matlosana

Campus; Potchefstroom Centre

for ICT; and Taung Campus.

Orbit TVET College has three

sites, Rustenburg, Mankwe and

Brits and in 2015, the total headcount

of students was 15 012.

In 2015, the Taung Agricultural

College received a R13.4-million

donation from Danish catalysis

company Haldor Topsøe The

college had recently been reaccredited

by the Council on

Higher Education (CHE) to offer

the NQF Level 6 Diploma

in Agriculture specialising in

Irrigation Technology.

39 NORTH WEST BUSINESS 2017
---
OVERVIEW

Banking and financial services

Financing for agricultural products is a big sector in the North West.

SECTOR INSIGHT

Miners are getting help to

deal with debt.

• Postbank's full licence is

imminent.

All of the country's major banks and financial institutions

are represented in the North West. Financial services are

available even in small towns, although the bigger cities

like Potchefstroom, Rustenburg and Klerksdorp have a

greater concentration and diversity.

Financial services extend beyond advising rich people on how

to invest their assets, or balance their portfolio. In a province where

there has been some real financial distress brought about by bad

times and retrenchments, something is being done to address this.

A long strike in 2012 created tough conditions for some workers in

the platinum sector. Anglo American Platinum has teamed up with

Summit Financial Partners to help miners manage their debt and plan

their finances better through a scheme called Nkululeko. Garnishee

orders went down among the Nkululeko group by 80% between 2011

and 2016. In 2016, Summit won a Constitutional Court judgement

to the effect that the judiciary must keep an eye on emolument attachment

orders (garnishees) to make sure they are fair. It had earlier

been found by a High Court that some orders were grossly unfair and

exploitative. Summit has an office in Hartbeespoort.

The Association for Savings and Investment South Africa is

behind another initiative called Project Qaphela, a financial literacy

programme aimed at workers in the mining sector. The

curriculum covers budgeting, saving, borrowing, understanding

documents such as payslips and

benefit statements and preparations

for retirement. Partners

in the programme include the

National Union of Mineworkers,

Sanlam and Coronation. In 2015,

822 workers attended 29 workshops

in Gauteng, Limpopo,

Mpumalanga and North West.

Ubank is owned by a trust

that is managed by the Chamber

of Mines and the National Union

of Mineworkers (NUM). It has several

branches in the North West.

The Chartered Institute for

Government Finance, Audit and

Risk Officers trains and rewards

entities such as city councils for

clean audits. Dr Ruth Segomotsi

Mompati District Municipality

won an award in 2016 for risk

management.

In a province with a high

proportion of rural citizens such

as North West, the prospect of

Postbank being upgraded to

a full-service bank is positive

news. In 2016 the bank (part of

the South African Post Office,

SAPO) received a first-level

NORTH WEST BUSINESS 2017

40
---
OVERVIEW

licence. Once a board of directors

has been appointed and a company

formed, the Reserve Bank

is likely to grant the full licence.

The current Postbank focusses

on taking deposits and

savings accounts. Postbank has

secured a R3.7-billion loan to

enable it to open its own loan

book. The large geographical

footprint of the Post Office will

make the bank easily accessible

to even remote parts of

the country.

Finscope's 2014 survey of

South African banking and

financial surveys shows that

between 2004 and 2014 a remarkable

eight-million people

were connected to the financial

system in some way. Overall, the

"financially included" reached

31.4-million (up from 17.7-million

in 2004). In a category called

"formally served" which includes

services other than formal banks

with branch networks, the percentage

of South Africans so

served grew from 50% to 80%;

in the "banked" category (more

traditional but including new

devices), the percentage grew

from 46% to 75%.

With agriculture being such

an important part of the North

West economy, each of the Big

Four banks has specialists in the

province and dedicated units

such as Nedbank Agribusiness.

Focus areas for this unit are

agronomy (grain, oil seeds,

sugar and cotton), livestock

(including game farming), horticulture

(fruit and vegetables,

for example), and secondary

agriculture which covers agricultural

processing and storage.

Standard Bank has a R500-million black economic empowerment

agricultural fund designed to connect farmers who have

received farms in landreform projects to agri-businesses that will buy

their produce.

Another source of funding for farmers is the Land and Agricultural

Development Bank of South Africa (Land Bank), a developmentfinance

institution that falls under the national Ministry of Finance.

The large agricultural companies all have finance divisions.

CertiSure is a joint venture between NWK and Senwes that offers

short-term insurance, crop insurance, financial planning, medical

funds and funeral policies. Senwes Credit is a registered credit provider

which offers asset financing in collaboration with Wesbank.

Temo Agri (a division of Brits-based Magalies Graan Korporasie) and

Noordwes Korporasie (Lichtenburg) have received the backing of

the Industrial Development Corporation (IDC) to enable them to

roll out agricultural credits to emerging farmers.

The Royal Bafokeng Nation, a community of about 150 000 people

living on platinum-rich land north-west of Rustenburg, is a shareholder

in a large banking group and several of South Africa's insurance

companies through its investment company, Royal Bafokeng

Holdings (RBH).

South Africa's "stokvel" (savings club) market is worth about

R44-billion: Sanlam is developing products to tap into that market.

Among innovations designed to reach the unbanked were Teba

Bank's allowing customers to deposit at supermarkets, Pick n Pay

Go Banking (a division of Nedbank), 70% of Absa's new ATMs (400 in

one year) in poorer areas and Absa launched two mobile banks, FNB

also created mobile branches and most of Standard Bank's new sites

were planned for townships. Standard Bank's community-banking

initiative offers a low-cost cellphone-banking service. Retailers can

act as agents for the bank, even in very remote rural areas. Nedbank

has Approve-it, which allows customers to accept or reject an

Internet transaction by cellphone.

ONLINE RESOURCES

Auditor-General of South Africa: www.agsa.co.za

Association for Savings and Investment South Africa:

www.asisa.org.za

Banking Association South Africa: www.banking.org.za

Chartered Institute for Government Finance, Audit and Risk

Officers: www.cigfaro.co.za

Financial Services Board: www.fsb.co.za

Public Investment Corporation: www.pic.gov.za

South African Reserve Bank: www.resbank.co.za

41 NORTH WEST BUSINESS 2017
---
INTERVIEW

Building the economy

and communities of the

North West

Provincial Head Retail and Business Banking Standard

Bank North West, Mr Trevor Holtman, outlines what drives

the bank and its staff in serving their clients in the province.

Trevor Holtman

BIOGRAPHY

Trevor Holtman is the current

Provincial Head of Standard

Bank in the North West Province.

His 23 years of banking

experience began at the very

bottom, and has included various

senior roles in Retail Banking

and Business Banking. His

belief in people and that an organisation

wins when its people

are inspired to win has been the

cornerstone of his leadership.

What is Standard Bank's purpose in South Africa?

Standard Bank Group purpose is "Africa is our home, we drive her

growth". This is a phenomenal purpose that binds all Standard Bankers

together; it talks about us as a bank and bankers being interwoven

into the fabric of the continent. It shows that we are very clear in our

understanding that we need to be instrumental in building the economies

of Africa and helping the people of Africa reach their dreams and

aspirations. We are very proud that we have a brand and a heritage

that extends beyond 153 years and a unique presence in Africa and

beyond – this has earned us our legitimacy and has earned us the trust

of the communities and nations we serve. In the North West Province,

where I serve, this is no different. North West is our home, and as a

consequence we purposefully place ourselves in a position where

we are instrumental in her growth, the growth of the communities

within North West and the growth of our people that we serve. This

is our unifying purpose.

What is your footprint beyond South Africa?

Our footprint in Africa is very extensive; we are represented in 17 countries,

which makes us the bank to talk to about Africa. Furthermore, we

are also represented in Hong Kong, China, Brazil, Isle of Man, Jersey,

Mauritius, United Arab Emirates, United Kingdom and the United States.

In your role of Provincial Head Retail and Business Banking,

what is your strategy regarding Standard Bank's

business in the region?

Our strategy in the North West Province aligns to the Group Strategy,

at the core of which are some building blocks. One building block is

our Vision. Our vision is to be the leading financial services organisation

in, for and across Africa, delivering exceptional client experiences and

superior value. This is what we endeavour to execute in the North West

Province. We do so by ensuring that we hold ourselves to the highest

standards when it comes to service, and by ensuring that management

and leadership of the province are accessible to our customers

and stakeholders. Most significantly, we do so by ensuring that we

NORTH WEST BUSINESS 2017

42
---
INTERVIEW

provide our customers with solutions and services

that meet their needs and help them to reach their

aspirations and dreams.

"WE NEED TO BE

INSTRUMENTAL IN BUILDING

THE ECONOMIES OF AFRICA

AND HELPING THE PEOPLE

OF AFRICA REACH THEIR

DREAMS AND ASPIRATIONS."

Has Standard Bank introduced any new

products and services recently?

We are extremely excited to offer the business

community in the North West Province Ucount for

business. This is our latest offering geared towards

the SME segment. Members can collect rewards by

using their Standard Bank Business Credit, Cheque

or Debit Card to pay for the everyday running of

their operations. We also have another new exciting

offering for our Private Banking clients where

they will have access to Café Blue, Library Lounge

and Connection Hub, which are our own spectacular

airport lounges at OR Tambo domestic airport. This

is just to mention a few. The take up in the province,

although in its infancy, suggests that this offering is

addressing a need. Where we are extremely satisfied

is that we are able to show our customers tangible

appreciation for choosing to partner with us

with respect to their banking needs. Ucount means

exactly that: You! Our customers, count.

What sectors are you finding to be the

most active when it comes to clients

requesting loans to start or expand

businesses?

The sectoral activity in the North West Province is

rather spread, and rightfully so, and we are finding

activity in hospitality, transportation, suppliers

to Provincial Government, retail and franchising,

agriculture, construction, etc.

Is agriculture a focus area for Standard

Bank in the North West?

The farming community is very important to us in

the North West Province and as a bank we work very

closely with this community. We have the necessary

agricultural expertise, support and infrastructure

within the province to assist our agricultural customers

with all of their farming needs and requirements.

We are represented throughout the province and are

readily available to discuss farming and how we can

assist as a bank.

Contact person: Trevor Holtman

Postal address: PO Box 46, Rustenburg, 0300

Physical address: 2nd Floor, Barongwa

Building, cnr Nelson Mandela and Bosch Street,

Rustenburg 0299

Tel: 014 591 6184

Email: Trevor.Holtman@standardbank.co.za

43 NORTH WEST BUSINESS 2017
---
OVERVIEW

Development finance and

SMME support

Public and private sector funding is available for entrepreneurs.

SECTOR INSIGHT

Businesses in the agricultural

chain are popular.

• Elvema Nutritions is exporting

tons of porridge.

Small, medium and micro-enterprises are a key element of

plans to involve more South Africans in the economy. SMMEs

drive growth and create employment. In the North West, the

agricultural supply chain is seen as one of the best ways of involving

rural communities and entrepreneurs in the world of business,

and a number of strategies are being implemented by government

and private enterprise to make this happen.

A centralised supplier database has been established in the North

West and the provincial government wants small businesses to get

registered so they can tender for work.

The North West Development Corporation and the provincial

Department of Finance have held workshops to inform small business

owners about what help is available to them.

There are plans for government to provide surety for stock in warehouses

so that tuckshop entrepreneurs can more easily get supplies.

This plan is linked to trying to fight hunger and poverty, with the stock

available being basic foods. A possible partner in this is the National

African Federated Chamber of Commerce and Industry (NAFCOC) because

it has a good footprint across many areas. NAFCOC and Transnet

have teamed up with the provincial government to help set up 15

community bakeries, most of which are run by women.

The premier of North West, Mr

Supra Mahumapelo, has committed

to a number of measures to

enhance small businesses, especially

in rural areas. He noted the

need for following in the State of

the Province address in 2016:

• getting rid of restrictive

by-laws

• faster awarding of tenders

• faster EIA application

processes

• government offices to be closer

to places where businesses

operate

• improved infrastructure and

government coordination.

Agribusiness and agri-processing

are among the three

sectors that are targeted by the

Masisizane Fund for loan financing.

The others are franchising/

commercial and supply chain/

manufacturing. Over and above

loans that are available, some

training is offered through a

Business Accelerator Programme.

The Industrial Development

Corporation is a strategic lender

and plays a strong role in

NORTH WEST BUSINESS 2017

44
---
OVERVIEW

supporting small and emerging

enterprises in the North West

province.

The Kgatelopele Wellness

Centre in Mahikeng has not only

became a viable business, employing

100 people, but provides

a critical service ranging from

therapy to the treatment of acute

ailments. An initial loan of R34-

million from the IDC helped and

advised a local clinical psychologist

in successfully teaming up

with the hospital management

group CareCure. Jobs that have

been created range from porters

and nursing staff to occupational

therapists.

PrimaBake makes eight kinds

of biscuits in Potchefstroom. The

IDC's initial investment in construction

costs, machinery and

delivery vehicles for this bakery

was strategic in the sense that

the biscuit market is somewhat

dominated by a few big companies.

The IDC has also played an

advisory role for the company.

The Booth Suite Hotel is a family

project that drew the support

of the IDC for a self-catering facility

aimed at the business traveller

in Mahikeng. The Bootha siblings,

Shaah, Farzeen and Saffiyah, two

of whom are chartered accountants,

qualified for the Gro-E Youth

scheme which supports young

entrepreneurs.

The Bio-manufacturing

Industry Development Centre

(BIDC) is a unit of the Council for

Scientific and Industrial Research

(CSIR) which is helping innovators

and entrepreneurs get their

products to market. Elvema

Nutritions instant porridges

and power shakes are made by

entrepreneur Makekele Somo-Tladi at her plant near the Hartbeespoort

Dam. With the help of the BIDC, 31 employees have shipped 500 tons

of porridge to other countries in Southern Africa and a further 250

tons in South Africa. She also makes oils and teas, 300 tons of which

has already been produced.

The Small Enterprise Development Agency (Seda) is a subsidiary

of the National Department of Trade and Industry (dti) and is one

of the most active agencies in supporting entrepreneurs. The Seda

Technology Programme (Stp) helps potential businesses become

trading entities.

Seda has initiated a programme designed to make co-operatives

and jointly owned enterprises stronger. The four key sectors are: agriprocessing,

community tourism and protected areas, mining and mineral

beneficiation, and trading. The agency supports businesses across

a range of sectors, from transport to jewellery design and manufacture.

The North West Development Corporation (NWDC) is the economic

development agency of the province. Among the NWDC's services is

helping SMMEs gain access to funding and providing the infrastructure

(offices or factory space) to help them succeed. The NWDC also helps

start-up businesses identify markets and opportunities.

A private initiative that is creating employment is Anglo American's

Zimele: it has launched more than 900 businesses across the country

with a combined annual turnover approaching R2-billion. There are

small business hubs at Rustenburg, Mogwase and Thabazimbi.

Royal Bafokeng Platinum is supporting a project to boost the

business skills of entrepreneurs. The Micro Enterprise Development

Organisation (Medo) is sending a mobile office to 29 villages within

the Royal Bafokeng Nation.

Shanduka Black Umbrellas has an incubator in Mooi Nooi, near

Marikana. One of the success stories from that area is Montamaisa

Bosigo Transport, which has expanded his business beyond being a

taxi and now does staff transport and courier services. The business

owner credits the training given him by Shanduka for his progress.

ONLINE RESOURCES

Development Bank of Southern Africa: www.dbsa.org

Industrial Development Corporation: www.idc.co.za

National African Federated Chamber of Commerce and Industry:

www.nafcoc.org.za

National Department of Small Business Development:

www.dsbd.gov.za

National Department of Trade and Industry: www.dti.gov.za

National Empowerment Fund: www.nefcorp.co.za

North West Development Corporation: www.nwdc.co.za

Small Enterprise Development Agency: www.seda.org.za

Small Enterprise Finance Agency: www.sefa.org.za

45 NORTH WEST BUSINESS 2017
---
INTERVIEW

David McGluwa

Focussed funding

on youth-owned

businesses is a

strategic priority

Regional Manager for the Industrial Development Corporation

(IDC) in the North West, David McGluwa, expands on

the diversity of projects funded by the corporation, from

tourism and mining, to renewable energy, manufacturing

and agro-processing.

BIOGRAPHY

Having obtained qualifications

in commerce, finance and executive

management, culminating

in a Masters in Business

Leadership, David McGluwa

worked in various financial

fields including trade, debt and

international financing. He has

led the North West office since

2008 and is a member of a national

infrastructure commission,

Strategic Project 8 (Green

Industries).

Most people associate the North West with mining but

the regional economy is in fact quite diverse. Where

should entrepreneurs be looking for opportunity?

Mining remains the key driver of economic growth and job creation

in the Province. However, there are many other sectors that provide

opportunities for investors and entrepreneurs in the North West. The

tourism sector arguably provides the biggest opportunities, with

prominent National Parks Pilanesberg and Madikwe being home to

the big five. Other tourism key points include Hartbeespoortdam,

Sun City, Bloemhof Dam, the Taung Skull and Taung Dam as well as

the city of Mahikeng.

In the manufacturing sector there are opportunities worth pursuing

in automotive components, mining supplies, the localisation of

imported goods and cultural artefacts.

Agriculture is a big feature of the North West's economy and there

are good prospects in processing (sunflower, feed and vegetables)

and in various schemes such as the Taung Irrigation Scheme and

the new concept of Agri-Parks, which will create opportunities for

storage and trade.

Both the green economy and waste management offer business

owners a chance to run sustainable businesses while at the same

time contributing to cleaner energy provision and cleaner communities.

Photo-voltaic solar units can be manufactured and the

opportunities for waste collection, baling, processing and recycling

will always be with us.

What sort of projects has the IDC supported in the

course of funding 52 projects?

We have a diverse portfolio of projects ranging from mining, tourism,

NORTH WEST BUSINESS 2017

46
---
agriculture, manufacturing and healthcare. Youthowned

businesses in the province have recently

received IDC funding of R124-million, which created

109 direct jobs. We also funded a sub-acute

hospital, Care Cure Thaneze in Mahikeng, which is

majority owned by black women, and it is doing extremely

well. IDC also funded Momentous Energy,

a solar farm outside of Rustenburg, 17% of which is

owned by the community around Marikana.

Are there opportunities for entrepreneurs

to get involved in the beneficiation

of mining products?

The Platinum Valley Special Economic Zone (SEZ) will

certainly boost beneficiation initiatives in the province.

Hydrogen South Africa (HySA), based at the

North West University's Potchefstroom Campus, is

working on exciting game-changing initiatives that

will further boost beneficiation. The province is also

host to the country's only platinum incubator, the

Seda Platinum Incubator (SPI) which has produced

many entrepreneurs in jewellery manufacturing. The

IDC is involved in all of these important initiatives,

the SEZ, HySA and SPI.

What is the North West branch doing

to empower youth, women and blackowned

businesses in the province?

The IDC recently set aside R4.5-billion to

INTERVIEW

finance youth-owned enterprises

in South Africa, with

R1-billion of that being offered at

the very attractive lending rate

of prime less 3%. In the last two

years we have approved R124-

million to youth-owned entities.

We have an intentional and focussed

strategy to fund many

more youth-owned entities in

the North West.

The IDC also funded 13 projects

in the province where

women have a significant stake

and we intend to disburse R23-

billion to black industrialists

over the next five years. Black

empowered companies in the

North West Province currently receive R5.6-billion

(90%) of IDC funding.

"THE IDC INTENDS TO

DISBURSE R23-BILLION TO

BLACK INDUSTRIALISTS OVER

THE NEXT FIVE YEARS."

What levels of funding will flow from the

IDC in the near future?

The IDC plans to disburse R100-billion over the next

five years into the South African economy. There is

no set amount allocated per province, it is the responsibility

of each provincial office to ensure that

their province gets its equitable stake. The North

West currently contributes 6% to the SA GDP and

I am confident that we can disburse a significant

amount of funding into the North West economy

over the next five years.

47 NORTH WEST BUSINESS 2017
---
LISTING

North West Provincial Government

A guide to North West Province's government departments. Visit: www.nwpg.gov.za

Office of the Premier

Premier: Supra Obakeng Mahumapelo

3rd Floor, Garona Building, Dr James Moroka Drive, Mmabatho 2735

Tel: +27 18 388 2448 | Fax: +27 18 388 2008

Website: www.nwpg.gov.za

Department of Community Safety and

Transport Management

MEC: Dr Mpho Motlhabane

Safety House 31-34, Molopo Road, Mahikeng 2735

Tel: +27 18 381 9187

Website: www.nwpg.gov.za/public-safety/new

Department of Culture, Arts and

Traditional Affairs

MEC: Ontlametse Mochware

2nd Floor, Gabomotho Building, James Maroka Drive, Mmabatho 2735

Tel: +27 18 388 2809/10 | Fax: +27 18 388 1907

Website: www.nwpg.gov.za/dcata

Department of Education and Sport

Development

Sello Lehari

2nd Floor, Garona Building, Dr James Moroka Drive, Mmabatho 2735

Tel: +27 18 388 2562/2564 | Fax: +27 18 388 384 5016

Website: www.nwdesd.gov.za

Department of Finance, Economy and

Enterprise Development

MEC: Wendy Nelson

2nd Floor, Garona Building,Dr James Moroka Drive,

Mmabatho 2735

Tel: +27 18 388 1363 | Fax: +27 18 388 1704

Website: www.treasury.nwpg.gov.za

Department of Health

MEC: Dr Magome Masike

National Health Office Park, Cnr 1st Street and Sekome Road, Building,

Mahikeng 2745

Tel: +27 18 391 400/1 | Fax: 086 692 9553 (SA only)

Website: www.nwhealth.gov.za/dohnw

Department of Local Government and

Human Settlements

MEC: Fenny Gaolaolwe

3366 Bessemer Street, Telkom Building, Industrial Site, Mahikeng 2735

Tel: +27 18 387 4065

Fax: 086 586 9597 (SA only)

Website: www.nwpg.gov.za/HumanSettlements/Site

Department of Public Works and Roads

MEC: Madoda Sambatha

Ngaka Modiri Molema Road, Old Parliament Complex,

Provincial Head Office, Mmabatho 2735

Tel: +27 18 388 1454

Fax: +27 18 388 1819

Website: www.nwpg.gov.za/publicworks

Department of Rural, Environment and

Agricultural Development

MEC: Manketsi Tlhape

Ground Floor, Agricentre Building, Cnr Dr James Moroka Drive and

Stadium Road, Mmabatho 2735

Tel: +27 18 389 5056

Fax: +27 18 384 2679

Website: www.nwpg.gov.za/agriculture

Department of Social Development

Acting MEC: Fenny Gaolaolwe

Provident House Building, University Drive,

Mmabatho 2735

Tel: +27 18 388 2476

Website: www.nwpg.gov.za/dsdwcpd

Department of Tourism

MEC: Desbo Mohono

1st Floor, NWDC Building, Cnr Provident Street and University Drive,

Mmabatho 2735

Tel: +27 18 387 7995

Website: www.nwpg.gov.za/Tourism

NORTH WEST BUSINESS 2017

48
---
North West Local Government

LISTING

BOJANALA PLATINUM DISTRICT

MUNICIPALITY

Tel: +27 14 590 4500 | Fax: +27 14 592 6085

Website: www.bojanala.gov.za

Kgetleng Rivier Local Municipality

Tel: +27 14 543 2004 | Fax: +27 14 543 2480

Website: www.kgetlengrivier.gov.za

Madibeng Local Municipality

Tel: +27 12 318 9100 | Fax: +27 12 318 9203

Website: www.madibeng.gov.za

Moretele Local Municipality

Tel: +27 12 716 1000 | Fax: +27 12 716 9999

Website: www.moretele.org.za

Moses Kotane Local Municipality

Tel: +27 14 555 1300 | Fax: +27 14 555 6368

Website: www.moseskotane.gov.za

Rustenburg Local Municipality

Tel: +27 14 590 3111 | Fax: +27 14 590 3006

Website: www.rustenburg.gov.za

DR RUTH SEGOMOTSI MOMPATI DISTRICT

MUNICIPALITY

Tel: +27 53 928 4700 | Fax: +27 53 927 2401

Website: www.rsmompatidm.gov.za

Greater Taung Local Municipality

Tel: +27 53 994 9400 | Fax: +27 53 994 3917

Website: www.greatertaung.gov.za

Lekwa-Teemane Local Municipality

Tel: +27 53 441 2206 | Fax: +27 53 441 3735

Website: www.lekwateemane.co.za

Mamusa Local Municipality

Tel: +27 53 963 1331 | Fax: +27 53 963 2474

Website: www.mamusa.gov.za

Kagisano-Molopo Local Municipality

Tel: +27 53 933 0029 | Fax: +27 53 933 0035

Naledi Local Municipality

Tel: +27 53 928 2200 | Fax: +27 53 927 3482

website www.naledilocal.co.za

NGAKA MODIRI MOLEMA DISTRICT

MUNICIPALITY

Tel: +27 18 381 9400

Website: www.nmmdm.gov.za

Ditsobotla Local Municipality

Tel: +27 18 632 5051 | Fax: +27 18 632 5247

Website: www.ditsobotla.co.za

Mahikeng Local Municipality

Tel: +27 18 389 0111 | Fax: +27 18 384 4830

Ramotshere Moiloa Local Municipality

Tel: +27 18 642 1081 | Fax: +27 18 642 3586

Website: www.ramotshere.gov.za

Ratlou Local Municipality

Tel: +27 18 330 7000 | Fax: +27 18 330 7019

Website: www.ratlou.gov.za

Tswaing Local Municipality

Tel: +27 53 948 0900 | Fax: +27 53 948 1500

Website: www.tswaing.gov.za

DR KENNETH KAUNDA DISTRICT

MUNICIPALITY

Tel: +27 18 473 8016

Fax: +27 18 473 2938

Website: www.kaundadistrict.gov.za

City of Matlosana Local Municipality

Tel: +27 18 487 8000 | Fax: +27 18 464 2318

Website: www.matlosana.gov.za

Maquassi Hills Local Municipality

Tel: +27 18 596 1067 | Fax: +27 18 596 1555

Merafong Local Municipality

Tel: +27 18 788 9500 | Fax: +27 18 786 1105

Website: www.merafong.gov.za

Tlokwe Local Municipality

Tel: +27 18 299 5111 | Fax: +27 18 297 0477

Website: www.tlokwecitycouncil.co.za

Ventersdorp Local Municipality

Tel: +27 18 264 8500 | Fax: +27 18 264 8567

Website: www.ventersdorp.co.za

49 NORTH WEST BUSINESS 2017
---
LISTING

INDEX

Industrial Development Corporation (IDC)................................................................ 44, OBC

Madibeng Local Municipality................................................................................................ 14

Mmabatho Palms Hotel Casino Convention Resort........................................................... 18

Nedbank......................................................................................................................... 24 - 27

North West Development Corporation (NWDC)................................................................ IFC

Office of the Premier............................................................................................................... 6

Rustenburg Chamber of Commerce...................................................................................... 5

Standard Bank.............................................................................................................. 40, IBC

SA Express............................................................................................................................. 20

Unemployment Insurance Fund (UIF).................................................................................... 3

Wesizwe Platinum.................................................................................................................. 31

Wesvaal Chamber of Business............................................................................................... 5

NORTH WEST BUSINESS 2017

50
---
The NWDC has 10 branches across the North

West Province and its surrounding areas such as

Babelegi and Ga-Rankuwa in Gauteng and the

Northern Banking Cape, offering an for extensive your range of business

services. These services include:

Standard Bank understands that as a business owner, you would

• Property rentals (Industrial, retail and

prefer to free up your time and focus on running your business. Its

residential)

online banking solutions allow you to do that.

• Exporter support

• Investor assistance

•

We

Industry development

understand that to manage your business you cannot

• Small business be restricted development by banking hours. We also understand that

• Loan/finance managing facilitation your financial and; affairs online can be daunting.

• CIPC (company) registrations

At Standard Bank we have a range of online banking

solutions that enable you as the business owner to do your everyday

The banking, NWDC everywhere also owns you the are. Online Dirapeng banking tourism

convenient, cost effective

and secure. which You holds can the have resorts peace of of Bakgatla mind when andyou transact online.

subsidiary

Manyane in the Pilanesberg Game Reserve, the

Christiana All Seasons Resort and the Madikwe

River How Lodge. does online banking help you manage

Within your its business?

basket of services offered, the NWDC

is • committed It saves you time, to assisting allowing you producers to focus on and running your business

manufacturers • It helps you of exportable to maintain products control to of grow all activity on your

as exporters business accounts to become export-ready. In doing

so, • the It allows NWDC you assists to bank these everywhere exporters you to are identify

and secure export markets, and also facilitates

international What can exposure I do on through online various banking? platforms

such • Pay as trade people shows and companies, and international that is, suppliers expos. or invoices

In • addition, Transfer funds the NWDC to and from manages your business a number accounts of

•

special View projects account balances aimed at and growing download the statement's local history

•

economies

Top-up on

of

prepaid

the province's

services

villages, townships

and small dorpies. Operational projects

More info

include Is it secure? an Alternative Building Material Factory,

To find out more about online

bakeries and a laundry.

• Yes. As the business owner, you will maintain complete oversight banking, contact us anytime

The over NWDC all activity is committed on the to business showcasing account the firstmover

• You advantage are notified every of investing time your in online the Bokone banking profile is accessed

Bophirima • Your confirmation Province. is required (One Time PIN) before beneficiaries

are added or when you change your profile

via the BizDirect Response

Centre on 0860 109 075,

via email bizdirect@standardbank.co.za

or via WeChat

• You are notified when funds leave your account (email or SMS

notification) and you always know your latest balance

(BB_Entrepreneur).

Visit our website to see our

Contact • You can us manage to explore transactions the myriad limits (Electronic opportunities Account available Payment and by: security tips and terms and

• Visiting ATM limits), our minimising website your www.nwdc.co.za

online exposure while giving you control conditions for using Standard

• Following us on social media; we have presence on Facebook, Bank Twitter digital and channels. LinkedIn or

• Contacting our Head Office in Mahikeng on 018 381 3663/7

How do I sign up?

• If you already have access to

the app, you can use the same

login details to sign in to online

banking

What do I need?

• A smartphone, tablet, laptop

or desktop computer

• You must be the director or

owner of your business

• You have a card and PIN linked

to your business account

What are the costs?

• Access is free

• Account management fees,

transactional fees and subscription

fees are as per the

annual Standard Bank pricing

schedule

• Register online or download the NWDC Standard - Bank We assist app form you your to app be store first! www.standardbank.co.za
---
FCB10021862JB/E

Financing

businesses across South Africa's

industrial landscape

The IDC is committed to inclusive and sustainable

industrial development. We finance existing or emerging

businesses that are set to benefit South Africa's economy

and facilitate the creation of jobs for its people. If you're

an entrepreneur and have a business plan that is relevant

to an industry that the IDC supports and require business

finance of R1 million or more. Call us on 0860 693 888 or

visit idc.co.za to enquire about the financing criteria for

the sectors that the IDC supports.