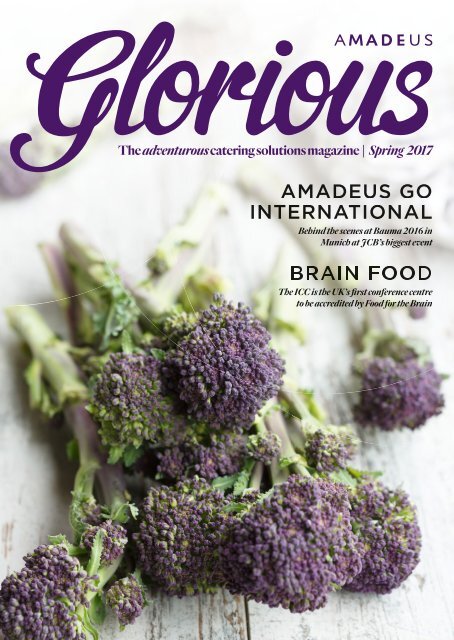 Amadeus Glorious Magazine Issue 03
EP produces Glorious Magazine on behalf of leading foodservice company Amadeus. The magazine is a showcase of adventurous catering solutions and includes the wealth of services the company provides.
EP produces Glorious Magazine on behalf of leading foodservice company Amadeus. The magazine is a showcase of adventurous catering solutions and includes the wealth of services the company provides.
SHOW MORE
SHOW LESS
Do you know the secret to free website traffic?
Use this trick to increase the number of new potential customers.
The adventurous catering solutions magazine Spring 2017

AMADEUS GO

INTERNATIONAL

Behind the scenes at Bauma 2016 in

Munich at JCB's biggest event

BRAIN FOOD

The ICC is the UK's first conference centre

to be accredited by Food for the Brain
---
0121 748 3377

info@contemporaryeventstructures.co.uk

www.contemporaryeventstructures.co.uk
---
Welcome

Spring is a busy time in the catering industry with prime events

taking place across our whole portfolio of venues

It's also a time to implement new seasonal

offers, moving away from winter warmers

to lighter dishes and making the most of

local produce available. On page 10 Jason

Taws, Executive Chef at the Genting Arena

shares his experience of developing new

and exciting menus as part of our Amplify

Hospitality service.

For Amadeus, this spring sees the

mark of new growth and further

success. We have secured a bronze

award for the ICC catering team

in the M&IT awards – a fantastic

accolade, particularly as the

clients themselves vote. We

appreciate every vote and are

delighted that the food has

become such an integral

part of the event

experience! So much

effort goes into the

menus to ensure

delegates get the best

so we are delighted it

is being recognised.

The team are always

thinking of new

ways to add to the

event experience

– read about the

new Food for the Brain menus on page 20. We

are also busy mobilising three new contracts with

two to open before May and one in July. A busy

period for the team! Read all about it in this issue

with a Compton Verney special on page 22 and

snapshot of Delapre Abbey on page 7.

This is a time to reflect on great work of the

last year as we come to the end of our financial

year – one event that really stands out

was the JCB event in Munich. JCB are

a long-standing client but our external

events team – who are used to going to

unusual places – never expected to be

flown to Germany for their biggest

event! An amazing achievement and

a great experience was had by both

the client and the Amadeus

team who pulled it off.

I hope you enjoy this

issue and if you have

any questions please

get in touch!

KEVIN WATSON,

MANAGING

DIRECTOR,

AMADEUS

Kathy McGrath

Marketing Manager

Ellie Rance

PR & Communications Manager

info@amadeusfood.co.uk

0121 767 3329

amadeusfood.co.uk

Follow us...

@amadeusfood

This magazine has been produced in

conjunction with EP and Newhall Publishing Ltd

EP

4 Lombard Street, London EC3V 9HD

020 7933 8760

epmagazine.co.uk

Newhall Publishing Ltd

New Hall Lane, Hoylake, Wirral CH47 4BQ

0844 545 8102

hello@newhallpublishing.com

newhallpublishing.com

Managing Editor

Ben Butler

Production Editor

Anita Comerford

Art Editor

Gareth Evans

Senior Designer

Owen Moran

Picture Editor

Robyn Barr

Account Director

Richard Woolliams

Advertising

Simon Jones

and Dean Brown

01603 821021

Print

Buxton Press

Cover photograph

iStock photo

AMADEUSFOOD.CO.UK 3
---
IN THIS ISSUE READ ALL ABOUT IT

Contents

Issue 03

Spring 2017

Hot

topic!

The adventurous catering solutions magazine Spring 2017

AMADEUS GO

INTERNATIONAL

Behind the scenes at Bauma 2016 in

Munich at JCB's biggest event

BRAIN FOOD

The ICC is the UK's first conference centre

to be accredited by Food for the Brain

REGULARS

06

43

Amadeus – Made the difference

The latest catering news, innovations

and awards from the Amadeus team

Calendar of events

Your guide to what's taking place

during spring and summer 2017

FEATURES

10

16

What I'm loving this season

Glorious

takes time out with Jason Taws,

Executive Chef at the Genting Arena

From bean to cup

Andrew Cope discusses how the

Starbucks redevelopment at the ICC

improves the customer experience

33

4 GLORIOUS
---
READ ALL ABOUT IT IN THIS ISSUE

06

22

20

10

20

Food for the Brain

The ICC becomes the first conference

centre in the UK to be awarded the

Food for the Brain accreditation

22

Compton Verney

New contract at a stunning venue

28

33

50

Anywhere in the world

The first international event for

Amadeus at their Bauma 2016 event

How was it for you?

An insight into the team behind the

contract with Belfast Waterfront

Amadeus made my day

Glorious

talks to William Sutton,

Catering Manager at the ICC

AMADEUSFOOD.CO.UK 5
---
NEWS FOOD INNOVATIONS

Heavy metal

catering

Amadeus delivered the F&B for the last

ever Black Sabbath shows

MOMENTOUS OCCASION

The curtain has come down on what

has been an illustrious, nearly fivedecade

career for pioneers of heavy

metal, Black Sabbath. Hosted by the

Genting Arena, Birmingham, on 2nd

and 4th February, the final shows

proved a winner for hospitality too,

with food and beverage sales from

Amadeus exceeding £255,000.

Beer and cider sales were

at a high, with more than

34,600 units sold by the

Forum Live beverage

outlets and more than

14,800 litres of Amstel

bought. Annie Monnox,

Amadeus General Manager

for the Genting Arena, said:

"Amadeus sold nearly 67,000

products across both evenings,

averaging at 2.5 per person – a

great achievement for us as the

second highest revenue generated

by the team this financial year. In

particular, our sponsors Amstel

and Stowford Press Bars proved

extremely popular with customers,

achieving some of their highest

sales figures to date."

The venue's hospitality business,

Amplify, also faired extremely

well from the two performances,

exceeding more than 1,000

covers in Lakeside, Westside,

Tower Deck and Air, Genting

Arena's four exclusive

restaurants for hospitality

guests. Those who

experienced the Freestyle hospitality

package were treated to pumpkin

velouté with wild mushrooms and

walnut, Gorgonzola tortellini or Brussels

pâté to start, followed by a blade of

beef, pan-fried Scottish salmon or

asparagus tortellini with griddled yellow

courgette, oyster mushroom, shallot

rings and basil cream. The dessert

highlight was the rocky road brownie

and glazed lemon tart duo.

Sally Walder, Manager of Amplify,

added: "It was a real honour to be

part of Black Sabbath's final shows,

and I hope our guests enjoyed the

momentous occasion as much as

we did. It also served us well in

terms of hospitality sales."

"The food

was faultless, the

service exemplary

and the restaurant

boasted a fantastic

atmosphere"

Lauren Foster Amplify Black Sabbath

Review, whatsonlive.co.uk (Midlands)

6 GLORIOUS
---
FOOD INNOVATIONS NEWS

FINALIST IN THE

STREAT FOOD

AWARDS!

Delapré Abbey

launch The Conservatory Café

The café will feature an eclectic menu

of locally sourced produce reflecting

a 'taste of Northampton'.

The Conservatory Café will officially

open to the public in spring and is

part of an overall restoration project to

transform the historic building into a

premier visitor attraction. The café will

offer visitors an eclectic menu of locally

sourced produce in surroundings

inspired by the Abbey's rich history and

locality. Visitors can expect an exciting,

menu including sharing platters with

produce from regional suppliers with

a 'taste of Northamptonshire' theme.

Marc Frankl, Food and Beverage

Director at Amadeus, said: "We know

the catering offer plays a major part

in the visitor experience and when it's

done well, it can help drive customer

satisfaction and bring repeat business.

"We have extensive experience of

working with historic attractions and

understand the importance of reflecting

a venue's history and personality

through its food and beverage. For

Delapré Abbey we have designed

a restaurant setting and menu that

reflects its rich heritage, whilst also

offering quality and value for

money. As a company we are

committed to supporting the

regional economy through our

choice of suppliers. We hope The

Conservatory Café will become

a destination in its own right for

both the local community and

visitors to Northamptonshire."

Rachael Boyd, Director of the

Delapré Abbey Preservation Trust,

said: "The launch of The

Conservatory Café is part of the

wider restoration and development

of Delapré Abbey funded by both

The Heritage Lottery Fund and

Northampton Borough Council."

Amadeus has secured a five-year

contract to run the café and will

also supply all of its event catering

including conferences, meetings,

weddings and a range of seasonal

food events throughout the year.

We are delighted to announce we are a

finalist in the StrEAT Food Awards. This

is the first year of the awards which are

organised by B&I Catering magazine.

They were inundated by entries but

Stuart Garbett's Thai-inspired dish

stood out from the crowd and has secured

Amadeus a place in the final cook off.

These awards are designed to find the

UK's most creative street food chef from

the workplace and event catering sectors.

We presented our street food innovations

because we know our offering beats

customer expectations.

The live final takes place in London at an

all-day event where Stuart Garbett, Deputy

Head Chef at the Genting Arena will battle

with top chefs from around the country.

On the day Stuart will prepare his signature

dish as well as a technical dish. In total

there are 16 finalists and we know he'll

make Amadeus proud.

Delapré Abbey Preservation Trust is an independent charity established to work,

with partners, to manage and care for Delapré Abbey in Northampton. It is a joint

awardee of funding from the Heritage Lottery Fund, alongside Northampton

Borough Council. The Trust's core role is to run a fun, sustainable, mixed-use heritage

visitor attraction, opening the building to the public for the first time in 900 years.

AMADEUSFOOD.CO.UK 7
---
NEWS FOOD INNOVATIONS

WINNERS AT THE

FURNITURE SHOW

REBRANDING

Individual team members at the

NEC were recognised earlier this

year at The January Furniture Show

for their outstanding service and

commitment to the show, and

were awarded with Debenhams

Gift Cards.

Jackylyn Dunn, Amadeus senior team

leader, took home a £50 award for taking

ownership of smoothly running the VIP

Platinum Club area. Jackie made sure the

team was well organised and looking after

customers to their best standard, in addition

to passing a Food and Safety audit with flying

colours on Sunday, the first day of the show.

Many more of the team were recognised by

the show organisers including Gill Burke,

Cheryl Coates, Paschail Keating, Steve

Cartmell , John Nicklin, Martin Coppage and

Anthony Andrews. It was a fantastic gesture

from the show to recognise the personal

effort from members of team NEC who work

together to ensure every event is a success.

IT'S AWARD

SEASON

We are delighted to announce

our new brand proposition,

'Amadeus – Made the Difference'

With over 40 years' experience

catering for the NEC Group's four

million visitors each year, we are an

established conference, banqueting

and hospitality caterer. Over the last

four decades the business has

changed and we are growing at pace,

moving into new markets. Therefore

our new brand proposition has been

created to reflect the changing

business. The new proposition

centres around the idea that our

purpose is to make a difference in

everything we do. How Amadeus as

a ca terer, but also as individuals,

make the difference to a customer's

experience. We do this by:

• Tailoring our approach to become

'one team with the client'

• Focusing on food sourced locally

and made on-site

• Delivering our promises

commercially and experientially

• Delivering memorable experiences

through 'Service that Sells'

• Applying creativity and craft to the

food we prepare.

• Continually improving what we do to

stay ahead of the competition

• Listening to customers to understand

how we can serve them better

The proposition is driven out of a

desire to deliver an outstanding food

service experience in each venue. Our

unique values as a progressive, creative,

passionate and supportive business are

what enable us to say that it 'made the

difference'. We recognise that in a

competitive market, attracting and

retaining the right talent is central to

its ability to grow, therefore putting

culture at the heart of what it does

is vitally important.

You can already see some exciting

changes on our website and each

Amadeus employee has been given a

culture guide to help existing and new

employees become a true Amadeus

brand ambassador. We are very

excited and look forward to sharing

how Amadeus 'Made the difference'.

We are delighted to announce

that we have won Bronze for Best

Food & Beverage Supplier at the

M&IT Awards 2017. Leo Small, Executive

Head Chef at Belfast, has also been

nominated for the Contract Catering Chef

of the Year Award at the 2017 Institute of

Hospitality Northern Ireland awards!

8 GLORIOUS
---
FOOD INNOVATIONS NEWS

CONGRATS TO THE CHEFS

We are delighted to announce that five of our chefs won awards at Salon Culinaire,

the UK's most prestigious chef competition that took place at the NEC's Hospitality

Show in January 2017. It consists of four competition categories – Salon Display, Live

Theatre, Skills Theatre and La Parade des Chefs – and showcases the terrific skills and

talent within the industry.

There were 85 competitions in total and Amadeus chefs were up against hundreds of

national and international chefs from across all industry sectors. Our chefs achieved some

fantastic results with a silver (Martin Hunt), a bronze (Yvette Williams) and three merits (Simon Fisher, Martin Hunt

and Paul Bertram). Congratulations Martin, Yvette, Simon and Paul – the dishes all looked fantastic and we're sure they tasted great too.

Neo Pizza

The Genting Arena and Barclaycard Arena are

given an Italian twist as they boost their pre-show

catering offering with two franchise pizzerias

Brought to the Arenas by Amadeus,

the new Neo Pizza outlets – owned by

Tugo Food Systems Ltd. – are located

in each of the pre-show entertainment

and catering areas of Forum Live

(Genting) and B(eat) (Barclaycard).

The outlets are the latest additions to

the Arenas' ever-expanding F&B offer

and were picked due to the quality of

the product, cooked fresh on site with

premium ingredients. Trading for just

over two months, Neo Pizza is proving

extremely popular at both venues – at

the Genting Arena, catering staff sell

approx. 100 slices per hour, or nearly

400 slices before each show. A sell-out

Barclaycard Arena show will see staff

sell on average 180 slices per hour.

Marc Frankl, Food and Beverage

Director for Amadeus, said: "Since

the Neo Pizza outlets have

opened at the Arenas

they have

proved phenomenally popular – this

is no surprise to us as our food and

beverage options are always tailored to

suit specific audiences and based on

visitor research. We know before a live

event, speed of sale is important, but

they also don't want to compromise

on quality or flavour. Neo Pizza has

strengthened both Arena's offer, adding

to the wide range already available

including Chinese, Mexican and street

food inspired options."

Managing Director of the NEC Group

Arenas, Phil Mead adds: "We endeavour

to provide the ultimate live event

experience for our customers, and this

incorporates everything from the ticket

buying to our Arena facilities."

Alan Peel, Sales Director at Tugo

Food Systems, said: "TUGO Food

Systems Ltd are absolutely delighted

to have been chosen to work with

Amadeus in the design and

implementation of Neo Pizza into the

Genting and Barclaycard Arenas.

Feedback has been great

and we look forward to

continuing our good

work together."

AMADEUSFOOD.CO.UK 9
---
DEVELOPING TALENT MEET OUR CHEFS

What I'm loving

this season

With delicious asparagus and vibrant purple sprouting broccoli

grown down the road in Evesham, Jason Taws is blessed with the

local produce on his doorstep. The Executive Chef looks after the

Genting Arena which holds nearly 16,000 people. Glorious speaks

to the chef who is about to celebrate ten years with Amadeus

Executive Chef Jason Taws oversees

all catering at the Genting Arena, one

of the Midlands' most outstanding

entertainment experiences. Some of

the world's best comedians, musicians,

sportspeople, daredevils, and everything

in between, perform at the venue.

Jason's role as a leader in the kitchen

is to ensure all guests who dine

have a great experience, from the

retail food outlets through to

hospitality dining.

Jason is on the cusp of celebrating

ten years with Amadeus and has

witnessed many great advances

during this time. "When I first

joined I was reporting to an

Executive Chef and now I'm in

that role and working with the

General Manager," says Jason.

"For me personally I have more

control and decide what is on

the menus. In the Arena we

offer a vast array of catering with

a real eclectic mix of food which is

constantly evolving. Amadeus has

grown and come on leaps and bounds during

this time and I've loved every minute. We have

developed from the catering arm at the NEC to

a recognised sister of the group. We've won

major contracts, worked on many external

events and obviously also did the Olympics!

I believe we are now a force to be reckoned with

as we continue to raise the bar and never rest on

our laurels. The food we produce rivals, if not

betters, what our competitors do. It is no longer

the case that one menu suits all, we will

tailor our food to suit the audience

profile and our food concepts are

constantly evolving to keep things

fresh, which in turn energises and

motivates the whole team."

Jason has an enthusiastic

yet calm persona and his

experience shines through

when talking about the

Arena and the team who

work with him. "We can

hold such massive numbers

and although they may

not all dine, we will still serve

thousands of covers during an

event. There are food offers which are

set in stone, for example the fish and

chips and the burger. However at

Amadeus we can get really creative

and produce new concepts. The

recent trend of street food is no

10 GLORIOUS
---
Season's best: Using the finest

local produce in every dish

secret and now we play with this offer and are

always looking at how we create new cuisines

here. It's hard work but great fun at the same

time and truly wouldn't be possible without the

team around me. I have got to where I am today

with the chefs that work alongside me – Chris

Durden, Steve McCarthy, Victoria Bolton and

Stuart Garbett. We can serve 800 covers on

a night across many restaurants."

It's a modest approach from a chef who clearly

cares about his team and the guest experience

when dining. Jason has in the past worked at the

House of Commons and he argues this really

makes you or breaks you. "The House of

Commons is one of those places where some of

the staff has worked there in excess of 25 years.

When you first enter it is very hard to establish

yourself but you have to be persistent and

contribute where you can. You slowly get more

"It is no longer the case that one menu suits all,

we will tailor our food to suit the audience

profile and our food concepts are constantly

evolving to keep things fresh"

Jason Taws, Executive Chef at Genting Arena

Eye-catching: The first bite is with the eye!

AMADEUSFOOD.CO.UK 11
---
DEVELOPING TALENT MEET OUR CHEFS

people on side and then after that it's plain

sailing. The House of Commons and Amadeus

are quite similar in some aspects, but also very

different at the same time. The style at the

House of Commons was classical cooking

with areas for the butchery, the fish, the sauce

– it was all split by area. It's different at Amadeus

with various styles which we adapt depending

on the audience and event profile. We adapt

the style and I know my team and I can turn

our hand to anything. Simply, we cannot be

slotted into a box or pattern!"

Being versatile in the modern kitchen is

now an essential need. Jason argues that the

House of Commons, whilst offering great food,

was the same day in, day out. At Amadeus Jason

and his team will serve over 300 fine dining

hospitality plates and then move onto a fast food

offer. It is different every day and Jason relishes

that difference. His calmness also suggests his

experience allows him to not even feel

challenged by the vast numbers.

Visitors dining at the Genting Arena have a

range of options. Top-notch food at any of the

three Amplify restaurants, the Arena's premium

concert hospitality provider, various levels of

club membership packages and a host of other

great food that ranges from burgers to Mexican.

Jason is in his element during the spring season

and makes sure to use local produce where

possible. "There is delicious asparagus and

colourful purple sprouting broccoli from

a nearby farm in Evesham, fresh mackerel,

micro herbs and also new spring lambs."

Working as a chef can bring pressure, and

Jason has recently started playing walking

football. "When I told the team in the kitchen

they did pull a few faces but I've really enjoyed

it. I play up to three times a week and it's great

for keeping healthy. It's aimed at those over

"Never be scared

and always try and

experiment. If you get

it wrong, keep going

till you get it right"

Jason Taws, Executive Chef at

Genting Arena

12 GLORIOUS
---
Bespoke Design

Elegant décor, lighting & furniture

Clear sides or stylish linings

Award Winning Team

A truly personal service from initial

planning through to installation

Contact us for a private consultation and free quotation on 01527 821789

Fews Marquees @FewsMarquees fewsmarquees.co.uk
---
DEVELOPING TALENT MEET OUR CHEFS

INGREDIENTS (SERVES 4)

4 x 180g Lamb sirloins

4 tbsp pea purée

4 x fondant potatoes – Desiree potatoes

cut into cylinders, cooked in veg stock

and butter

120ml lamb jus

TO GARNISH

1 x Baby gem lettuce cut lengthways

into quarters

20g x pancetta lardons, sautéed until crispy

8 x fresh or dried morels

60g x confit Baby onions, utilising the oil

from the sautéed pancetta lardons

PEA PURÉE

250g fresh peas

100ml vegetable stock

1 x banana shallot, roughly chopped

1 x clove of garlic

1 x sprig of thyme

25g butter

Salt & pepper

40 and in honesty the first time I tried it, after

60 minutes I really wanted the full-time whistle

to blow. I also build and restore original 1980s

BMX bikes to their former glory and collect and

sell 80s and 90s hip hop records. There is a bit

of a pattern here – you could say I am reliving my

childhood! Looking after my two young children

and cycling to and from work in the summer

keeps me occupied the rest of the time!"

Jason believes that the vast number of

cooking shows on television have given some

people a higher expectation of what to expect

when dining. "We try and keep our dishes simple

and let the great flavours speak. Nowadays many

chefs overcomplicate a meal and really it's about

keeping it simple. I know there's a market for

the complicated, but we offer a few ingredients

cooked well. When guests dine at the Genting

Arena we want them to go away thinking the

whole experience was amazing and leave with a

feeling of 'the food exceeded all expectations'."

In the past Jason has cooked bowl food for

over 5,000, has won a cooking competition

with a brand new team (and against the

toughest opponents) and has also been

awarded 'Chef of the Year'. He takes personal

pride in having twice cooked for the BBC

Sports Personality of the Year event, but is

modest and praises those around him at the

same time. "In the past I have done everything

from small dinner parties in people's homes,

green field catering such as RHS Hampton

Court Flower Show and obviously now

arenas and stadiums. It doesn't really matter

on the numbers you are catering for as

the process remains the same. We upscale

production for larger events and as long as

you plan, you can deliver any number."

For future young chefs entering the industry

Jason tells them to take on board all that is

told to them and to really listen to this advice.

"Getting to a head chef position doesn't

happen overnight. Young chefs must get the

years under their belts and they'll have three

or four chefs teach them the same dish with

different methods. They must learn to listen

to all methods and then in the future they can

do it their way. I worked in different venues

and businesses, cruise ships and more. It took

many years of hard work to get to where I am

today. Sometimes you must make sacrifices,

whether family or social life, but never be

scared and always try and experiment. If you

get it wrong, keep going till you get it right."

TO FIND OUT ABOUT

CATERING OR THE

UPCOMING EVENTS

AT THE GENTING ARENA,

VISIT GENTINGARENA.CO.UK

Sweat off the shallot, garlic and thyme in

the butter until soft, add the fresh peas,

cover with the vegetable stock and bring

to a simmer, once peas are cooked, drain off

liquid and set to one side. Place the peas

(keep a few back to garnish the finished

dish) in a blender and blitz, adding a little

stock at a time until the desired consistency

is achieved. Adjust seasoning if required.

Set aside and keep warm.

COOKING THE LAMB

Sear the lamb in a hot pan with olive oil and

a little butter until golden brown on all sides.

Season with salt and pepper, remove lamb

from the pan and add some hay to the pan,

place the lamb on top and cover with more

hay. Place the pan in the oven and cook for

approx. 8 minutes at 180°C or until a core

temperature of between 52-54°C is achieved.

Ideally serve pink. Remove from oven, keep

warm and leave to rest, still in the hay.

TO SERVE

Heat the lamb jus. Sauté off the garnish in

a little butter, adjust seasoning if required.

Drain off excess butter and keep warm.

Place a spoon of pea purée on plate and

pull across the plate using the back of the

spoon. Cut the lamb in half and arrange on

the plate along with the fondant potato.

Add the garnish and finish with a drizzle

of the lamb jus.

14 GLORIOUS
---
NewSeason Hay-roasted

Sirloin of Cotswold lamb

Make the most of what's in season with a beautiful cut of Cotswold

lamb roasted in hay for a more complex flavour. Pair this with pea,

bacon and morels for a true taste of spring
---
FROM VENUE TO MENU STARBUCKS

The revamped Starbucks at the

ICC is already proving to be a big

hit with customers

From bean

TO CUP

Glorious speaks to Brand Manager Andrew Cope following

the completion of a program of refurbishment to three

Starbucks stores across two sites at the NEC and the ICC

The final refurbishment was complete

at the start of 2017 with the ICC

reopening in February 2017 with an

increase of customer seating from 79

to 137, and another coffee bar to

support peak times. Andrew has been

involved in the expansion plans for all

three stores since the very first

drawings and with his experience he

has been a vital part of the process.

While still a young man, Andrew has

13 years' experience with Starbucks

having begun as a part-time barista

aged 16. He worked his way up the

ladder before joining Amadeus in 2012.

Today he oversees the Starbucks offer

in the ICC and the NEC.

Andrew explains why 2017 was the right

time for implementing store designs: "Part of

our licencing agreement with Starbucks

means we need to update our

portfolio every year. Each

location has been doing well

and now we are looking

for further growth. We

approached Starbucks

with our ideas. They

sent their designers and

constructors and

together we put the plan in place for a store

which included improved working areas for

visitors and an area for larger group meetings

or to support local community clubs."

During the project, Andrew worked with

Amadeus and Starbucks to ensure the

branding was correct, the design worked and

it would improve customer experience. "For

me personally during this journey I loved

seeing how the store evolved. Viewing the

drawings and 3D images and then seeing this

brought to life is a great experience – and

now that it's open its great seeing customers

enjoying the space."

Starbucks has always been popular at both

the ICC and NEC Andrew recognises how

trust lies behind it. "People know the brand

and it is especially welcoming for

international visitors who are there for an

event. They may use Starbucks day in, day

out and so trust the food and

beverage on offer. It creates

a customer connection at

the forefront because

they are experiencing

a brand they know.

During a busy day

they can escape to the

store knowing they

There are over 80,000 combinations

of a latte alone so it's important the core

teachings are made during this training

16 GLORIOUS
---
STARBUCKS FROM VENUE TO MENU

AMADEUSFOOD.CO.UK 17
---
FROM VENUE TO MENU STARBUCKS

Above: Images of the ICC and NEC openings that are now complete after a year of refurbishments across the Amadeus portfolio

will receive a level of service that they have

come to expect in a Starbucks."

All staff must go through a two-week barista

training course before they are allowed to work

in the store. "They learn the art of steaming milk,

making patterns and creating the perfect pour.

There are over 80,000 combinations of a latte

alone so it's important the core teachings are

made during this training. They have a practical

hands-on experience and get to interact with

customers. During this time many people get

the buzz for working in a store like this – the first

busy service brings a level of satisfaction and the

feeling of effective teamwork. You then develop

a sense of ownership for your own store and a bit

of friendly competition."

Andrew explains how it can go wrong during

training, but this is natural and a way of learning:

"There's always split milk, coffee sprayed over

the counter, overfilling – it's all

part of the learning parcel.

With the trainer with

them they know

someone can help

when it goes wrong.

That's what the

training is for after

all. When they do

get it all right, it brings happiness and a strong

feeling of knowing you can achieve it." While

clearly enjoying his role, Andrew does miss

being behind the counter sometimes. "When

I see the team working together, I do want to

join them, especially at the new coffee bar."

Each store now has an increased serving

capacity to cope with busy events and in the

ICC the new bar has doubled the number of

customers that are served during busy periods.

Among other new features at the store, some

of the barista team are also participating in

Starbucks Coffee Master Training – recognised

by their Coffee Master black apron. "These

expert baristas can share their coffee knowledge,

passion and skill through pouring demos and

coffee tasting for clients, delegates and coffee

enthusiasts alike."

Starbucks is a real destination across

both venues. "Many visitors use

the Starbucks as a meeting

point and for breakaway

conversations in a

convenient location.

By adding all of these

new features we are

confident that this

Starbucks will

become a destination

store destination for

visitors beyond those

attending conferences."

Both venues

themselves have see

considerable investment

programs over the last year

so it was important that

the store reflected this. The store

at the ICC is part of the venues £14m

investment program set to see various venue

improvements to the 25-year-old building.

Andrew and the team have ensured that this

latest improvement enhances the experience,

but it wasn't without its challenges. "Like any

project there can be ups and downs. During

construction our team were adaptable and

adhered to any changes we needed to make. For

example, we actually moved to night-time

construction to ensure no conferences were

disturbed during the work. This option has to be

taken sometimes and now we have a great

finished product due to this work."

Andrew is clearly very proud of his work with

the Starbucks expansion. He knows that the

customer experience has been enhanced and

now the store looks truly eye catching as well.
---
INNOVATION FOOD FOR THE BRAIN

Food

FOR THE

BRAIN

Nutrition in mental health and well-being has never been more

important, and Managing Director Kevin Watson is delighted to

announce that the International Convention Centre in Birmingham,

where Amadeus is the caterer, is the first conference centre in the

UK to be awarded the Food for the Brain accreditation

It is an exciting time for Amadeus – as

the first caterer to gain this recognition

in a conference centre setting, it reflects

the already high standards and desire to

provide fresh and nutritious food.

The accreditation process was led by Amadeus

at the International Convention Centre (ICC)

in Birmingham and was awarded by Food for the

Brain for the innovative 'focus food' menu.

The process began with multiple site trips

by the appointed Food for the Brain

Accreditation Relationship Manager, David

Titman, over a six-month period. Working

closely with the charity ensured menus were

developed that were nutritionally balanced

for visiting delegates. Fuelling them during

events is essential and we are always making

sure visitors are satisfied and expectations

are exceeded.

It was a rigorous audit and each site visit

involved a new outline of what was expected

from Amadeus. This included highlighting areas

that needed to adapt to ensure the accreditation

requirements were fulfilled. It was essential

that no part was devalued in anyway.

Simon Hellier, Executive Head Chef

at the ICC, created a menu that supported

the philosophy, methodology and nutrition

recommended by Food for the Brain. This

included 'morning fuel' with dishes such as

bio yoghurt, blueberry and toasted oats,

'mid-morning boosters' such as homemade

flapjacks and healthy lunches of 'brain food'

including steamed salmon fillet, lemongrassinfused

broth, shiitake mushrooms, bok choi

or smoky baby aubergines and chickpea tagine,

lemon and apricots. Superfood salads are also

on the menu for lunch with dishes such as lentil,

bean and wild rocket salad, watercress pesto

and shaved radish salad. 'Sweet goodness', the

delicious ending to the menu, includes mango

and passion fruit soya milk panna cotta and

cardamom pod-poached pineapple.

The menu provides a wide range of flavours,

colours and textures that reflect a variety of

nutrients. It was noted during the assessment

that significant effort had gone into ensuring

the key nutrients were provided within the

20 GLORIOUS
---
FOOD FOR THE BRAIN INNOVATION

menu. Amadeus have long known the

importance of benefits of a healthy menu offer

for delegates and it was great to be awarded

recognition from a leading organisation in food

nutrition for that commitment.

During the process, it was essential to train

all the teams, from sales to front of house.

This investment in training makes sure they

understand the reasoning behind the principles

and they can then go on to inform clients and

delegates. By explaining exactly what the

benefits of the dishes are to the delegates'

cognitive function, they can learn how the food

can have a positive impact on concentration.

When assessing Amadeus, David noted that

"the team were knowledgeable and were able to

explain the health benefits of the menu with

myself and delegates".

The conclusion from Food for the Brain

was a 96% score for all aspects of the assessment

criteria and score sheet. While an overall score of

75% or above is required for those operations

wishing to gain Food for the Brain accreditation,

this was surpassed by miles. The accreditation

included an assortment of criteria such as

menu analysis, ingredient provenance and

quality, provision of special diets, production

methods, staff training in nutrition and healthy

eating marketing.

Valuable feedback was received during the

audit from the Food for the Brain relationship

officer, who said they don't usually record

The menu

provides a wide

range of flavours,

colours and textures

that reflect the

variety of nutrients

available

conversations with delegates or organisers

from an observed lunch, but did recall some

stand out quotes such as, "This is the best food

I've had in years at one of these events", "I could

tell it was healthy, but it was really nice" and

"I often struggle to find something I can eat,

but this was lovely".

Food for the Brain Foundation Chief

Executive Jenna Mosimann, said, "Food for

the Brain is delighted to award the ICC our

accreditation. This recognises that the ICC

offers nutritionally balanced menus that

support energy, concentration and

performance, and help promote better

mental and physical well-being."

By approaching this process with enthusiasm

and understanding the importance of nutrition

in mental health and well-being, the initiative

shows how Amadeus and the ICC want to

ensure the F&B offer is the very best.

For the future, Amadeus plans to extend the

menu in line with the Food for the Brain

principles and allow more choice when catering

for events that last a couple of days.

The current 'focus food' menu pack not only

makes the mouth water but lets the organiser

know the nutritional benefits of the food and he

impact it will have on their delegates.

An effective event with catering that

supports mental health and well-being is

increasing in importance. Nutrition and

food, in particular nutrition is very high on

the delegates hierarchy of needs. Amadeus

consistently works to ensure we are meeting

the delegates requirements and the

accreditation emphasizes this commitment.

AMADEUSFOOD.CO.UK 21
---
OUT AND ABOUT COMPTON VERNEY

Art Gallery & Park

COMPTON

VERNEY

Amadeus are adding Compton Verney to

their portfolio, opening in mid-March

Amadeus are thrilled to announce a new

five-year contract with Compton Verney

worth £5m, providing full catering across

the venue, including the restaurant and all

hospitality at the Art Gallery and Park.

This includes providing inspiring menus

for weddings and corporate events at the

beautiful site near Stratford-upon-Avon.

The grounds opened this year as soon as the

first snowdrops popped up and the venue looks

beautiful in the crisp, misty mornings. The Park

was opened earlier this year so visitors could

rediscover the great outdoors and explore the

first signs of spring. When visitors have finished

with the fully equipped pond-dipping platform

and bird hide or would like to take a break from

the park's wildlife, they can move inside to

experience great local dishes at the Compton

Kitchen, prepared and served by Amadeus.

Compton Verney holds exhibitions through

the year including 'Creating the Countryside',

a major display which includes Old Masters and

contemporary artists with work on display

spanning more than 350 years. 'Portrait

Miniatures' displays over 40 miniature paintings

on display. In the past the venue has been

illuminated at night in a light spectacular and

visitors can enjoy tours, talks and workshops.

The venue chose Amadeus because it needed

a caterer to deliver retail and conference and

banqueting catering, and with the Amadeus

headquarters only half-hour away, it made sense.

It is also a welcome return for Amadeus having

looked after the location between 2008 and

2011. The Amadeus team during the contract

negotiations made a real impact when winning

the contract back. The venue also particularly

enjoyed learning how Amadeus is keen to

support the local economy by sourcing local

ingredients and having successfully looked

after the site before, Compton Verney were

confident they could do it again.

The galleries have long drawn an audience

in and Amadeus were keen to provide a food

offering to match the wealth of collections on

show. This includes Chinese galleries containing

one of the top three Chinese art collections in

Europe, as well as a collection of paintings

from Naples that represent a cross-section

of masterpieces from the 'Golden Age' of

Neapolitan art from 1600 to 1800.

Amadeus worked closely with Inox Equip, the

award-winning Kitchen House, which Compton

Verney engaged to redesign the catering area

and give it a whole new look and feel. Inox are

committed to developing a vision and provide

COMPTON VERNEY

WARWICKSHIRE CV35 9HZ

TEL: 01926 645500

WEB: COMPTONVERNEY.ORG.UK

22 GLORIOUS
---
COMPTON VERNEY OUT AND ABOUT

THE COMPTON VERNEY LANDSCAPE RESTORATION PROJECT

This £3.7m capital and revenue scheme

is supported by a £2.5m grant from the

Heritage Lottery Fund together with

significant contributions from a whole

range of other funders.

The project will preserve, restore and celebrate

the outstanding 'Capability' Brown landscape,

Grade I-listed Chapel and restoring this

nationally important heritage, a key objective

is to enliven landscape with eye-catchers and

activities which highlight the site's history of

innovative thinking, art, architectural change

and ecological diversity. The works include:

• Restoring the 'Capability' Brown Chapel

of 1776-9

• Building a Visitor Welcome Centre to tell

the story of the site's landscape, history and

ecology as well as providing visitor facilities

• Expanding learning, engagement and

volunteering opportunities

• Securing and developing the biodiversity of

the parkland and recreate original Georgian

pathways so visitors can view different

habitats while enjoying Brown's sight lines

• Creating two eye-catchers, bridge and

wetland boardwalk in the landscape,

drawing attention to the history of the

site in refreshing new ways

• Using Brown's landscape as a platform to

bring together a range of interests – art,

architecture, landscape design, health and

well-being, music, history, and ecology

– which will enable us to engage with

new audiences in totally new ways

Some of these activities have now been

completed and Amadeus wants to ensure that,

whilst completely separate to this activity, the

catering offered at the venue is perfect for

visitors and for events.

The park's rich

history has a

multitude of activities

for visitors to enjoy

and explore

unique one-off concepts, and worked closely

with Amadeus to deliver this. After visitors

have explored the many pathways and nature

trails they can relax and unwind in the café.

The park's rich history has a multitude of

activities for visitors to enjoy and explore. It

is the result of an ongoing 11-year restoration

project of the landscape to the one that

Lancelot 'Capability' Brown designed in

1768 – an important landscape architect

who was employed to lay out the grounds

in keeping with the taste for more naturalistic

landscape. Today the new Compton Kitchen

design matches this quality offer and appeals

to all visitors, from those taking a Tai Chi

session in the park, to those who have spent

an afternoon cloud gazing or taking a tour. At

the same time, Amadeus also provides the

catering hospitality for events at the venue.

Compton Verney and its stunning

landscaped grounds, beautiful listed mansion

and world-class art collections make the

AMADEUSFOOD.CO.UK 23
---
OUT AND ABOUT COMPTON VERNEY

To match the

location is Amadeus'

quality catering offer,

delicious menus and

tasty drinks work

perfectly against the

stunning backdrop

perfect setting for all manner of events. Set

in the heart of England, the location is easily

accessible from the M40, M42 or M5 and within

easy reach of Birmingham International airport.

Stratford-upon-Avon, Leamington Spa and

Warwick are only a 20-minute drive away, with

rail links direct to London and the rest of the

country. With this sort of location, Compton

Verney is popular for weddings, private parties,

corporate events, filming and photography. The

impressive venue was also named the winner of

Best Events Team in the West Midlands at the

Wedding Industry Awards 2017. Their team can

provide everything from intimate ceremonies

and receptions to a lavish mansion affair. And to

match the location is Amadeus' quality catering

offer – delicious menus and tasty drinks work

perfectly against the stunning backdrop.

Amadeus will also provide catering for

corporate events at Compton Verney. Each

event is tailored to requirements and a bespoke

package is created. The location is ideal for

inspiring aides and colleagues to be creative

and can also include exclusive viewings and

lectures. Amadeus can provide a range of

options for corporate events – whether

sandwich lunches, finger buffet selections or

Above The galleries hold an extensive Chinese

collection and art from the Naples 'Golden Age'

Below The grounds offer many beautiful vistas

banquets. Rachel Davies, Deputy Director

of Compton Verney, is looking forward to

the new partnership. "We are excited to be

working with Amadeus, a caterer with a

reputation for excellence who shares our aim

of giving all of our customers the best

possible experience. A locally-based caterer,

like us Amadeus operates to the highest

national standards in everything it does."

Amadeus are proud to provide the

catering in such an historic landscape. With

wide-ranging activities, highly-acclaimed art

exhibitions and diverse offers, Compton

Verney is truly a unique location. It is an 18th

century country mansion which appeals to

both those seeking an inspiring and cultural

day out and for those holding events. With

a new look and feel catering area, visitors are

sure to appreciate and enjoy the art, ground,

exhibitions and catering offer.

SOUPS, SANDWICHES, SALADS

The delicious menu at the café includes

Homemade soup of the day with artisan

bread, a range of boomer and deli

sandwiches, toasted paninis and a salad

bar – where customers can create their

own salads from a fresh selection.

From the oven there is a choice of

sweet potato, spinach and chickpea

curry or beer-battered sustainable British

fish and more. As well as these tempting

offers, younger guests can pick from

their own menu and light lunches are also

available including the 'Compton Verney

Ploughman's Lunch' – sourdough slices

served with Warwickshire truckle cheese,

pickled onions, celery, cherry tomatoes,

and red onion chutney. Alongside an

extensive drinks menu there is also

a delicious dessert of the day, sponge

cake of the day and fruit scones.

24 GLORIOUS
---
One marketing investment – for all your event & exhibition needs

Change the size & shape for each occasion

One investment is enough. You change your stand according to each specific event &

exhibition requirements. The dye sub print renders your image perfectly and exposes

your message in two directions. The modules are available in different sizes - both straight

and curved – and are easy to connect. The wall modules can also be used stand-alone.

Pack it in your car & use the transport box as a counter.
---
Supporting

Great Festivals

GL events UK | Station Road | Castle Donington | DE74 2NL

01332 850 000 | info@glevents.co.uk

www.glevents.co.uk
---
Temporary Structures, Tiered Seating, Total Overlay

and the Freedom to be Truly Creative.

Bringing People Together for over 150 years.
---
MOBILISATION FOLLOWING THE BRIEF

Anywhere in the

WORLD

Last year Amadeus embarked on a new journey and

successfully managed their first international event

In April 2016 Amadeus, in partnership

with JCB, delivered an experience at

Bauma 2016 – the World's Leading Trade

Fair for Construction, Building Material

Machines, Mining Machines, Construction

Vehicles and Equipment. However,

Bauma 2016 was the first event on

mainland Europe for Amadeus and

so the whole team wanted to really

impress and make a difference.

Amadeus can deliver all types of events

outside of their contracted venues and in any

location; whether Porcelanosa's lavish show

room, JCB's aircraft hangar or simply from

within a marquee in the middle of a field.

This area of the business alone in 2016 had

a budget of £140k and the forecast was in

the region of £330k.

JCB choose Amadeus as their caterer for

Bauma 2016 because they had been impressed

with previous events they had worked on

together. The world leader in construction

machinery is famous around the globe for their

construction and agricultural equipment. It was

a privilege for Amadeus to be chosen by JCB and

provide the catering on their stand which

showcased over 70 years of innovation. JCB is

leading the way with new and exciting machines

and Amadeus are keen to support that journey

with a delicious offer.

Over 3,400 exhibitors were at Bauma 2016

with 63% of these from abroad. Visitors

numbers were staggering and included almost

500,000 people from EU countries,

nearly 50,000 from the rest of Europe, just

over 17,000 from South, East and Central

Asia and another 30,000 were from other

parts of the world. Considered the largest

trade fair in the world, it was a momentous

achievement for Amadeus to start their

European experience. However, with an event

of this size, the team knew what was needed

and they all ensured the very best experience

was delivered.

Following months of fine detailed

arrangements, the core team visited Munich in

March to obtain as much information as

possible. This consisted of Sales Manager Katie

Cabrera, Samantha Bates, General Manager of

External Events and Executive Chef Darren

Proud who looks after the catering at external

events. The trio's site visit to the local area

included finding the best wholesale

supermarkets and investigating popular

German dishes and products, as well as

the best places to source beverages. Katie

explains this process:

"The most important part of this trip was to

understand the food culture of Munich and

Bavaria. We asked the questions – 'Are we

serving the correct dishes?' and 'Do we

understand the presentation of the product?' It

was a valuable opportunity which was needed to

28 GLORIOUS
---
MOBILISATION FOLLOWING THE BRIEF

The lunch menu

included soup, plates

of cured meats and

pickles and the typical

German offering of

Weisswurst with pretzels

and sweet mustard

Left: The Amadeus team showcased their catering

expertise on the world stage at JCB Bauma 2016

ensure we were providing the best experience."

After this reconnaissance trip, the next step was

putting together a central team of chefs and

management from the UK. All other members of

the team were sourced from a local German

staffing agency. "It was a fun experience with the

language barrier, but after the two weeks we

both felt comfortable and some of the team

thought they were nearly fluent!" Katie jokes.

The team loaded trucks with all the

equipment they required for the exhibition. It

was a challenge as operational elements were

changing and there were only seven pallet

AMADEUSFOOD.CO.UK 29
---
MOBILISATION FOLLOWING THE BRIEF

spaces available on the allocated JCB truck.

"This also meant that the equipment wouldn't

return until two weeks after the event, so we

were to be without it for nearly seven weeks,"

Katie explains. "As all equipment was coming

with us from Birmingham we had to ensure we

didn't leave anything behind and could provide

everything needed for the JCB stand." This

included all ovens and necessary kitchen

equipment such as plates, napkins and cups.

During the seven-day event Amadeus served

drinks all day, morning snacks, lunch, afternoon

snacks plus evening drink receptions with beer,

pretzels and sausages. As well as the event

catering and keeping the JCB team fuelled,

Amadeus also had the customer café open daily.

The lunch menu included soup of

the day, plates of cured

meats and pickles and

the typical German

offering of Weisswurst

with pretzels and sweet

mustard. Snacks included pretzels,

Kuchen (selection of cakes) and

Platzchen (cookies). A highlight for many was

a Bavarian buffet offered in the VIP Hospitality

Restaurant with dishes such as veal schnitzel

with lemon and capers and Kaespatzle (potato

noodles with cheese). It was important that

local dishes were offered and the time and

research spent before the trade show was

clearly worth it.

The event was a success and Caroline

Clacher, JCB's Worldwide Events Manager

explains how Amadeus performed as a caterer

and food consultant. "We needed a VIP

dining experience for customers

visiting us at Bauma 2016. Our

previous experience of Amadeus had

left us with the confidence that they

could deliver the brief. Exhibition

builds are always as well planned as

they can be, but working with the

Amadeus team was a successful

partnership that resulted in a very

smooth planning process. They

took time to understand our needs

and made site visits to ensure an

authentic menu was delivered."

The role of Amadeus is to

take care of and event manage all

catering requirements. Looking

after both JCB employees and

customers allowed JCB to

focus their attention on

delivering a successful event. The service

style allowed for 'high-end' meals for VIP

guests and ensured all guests received the

same standard of food. This level of quality

control is what often makes Amadeus stand

out amongst the rest.

Katie's highlight of the event was

working as a team to deliver such

a successful event. "It was a

privilege working on such a

prestigious event and to take

Amadeus on to the continent.

JCB is a great company to

work with and we hope this

is the start of more

worldwide events."

At Bauma 2016,

one of the biggest

As well as the event

catering and keeping

the JCB team fuelled,

Amadeus also had the

café open daily

trade fairs in the world, Amadeus demonstrated

they can provide delicious catering on grand

scales both on home soil and abroad. It was

hard work but the team showed their ability,

skill and the collaboration needed for an

event like this. The future now brings with

it more opportunities to cater at various

international locations.

Over the seven days Amadeus served:

10,974 soft drinks 4,631 snacks

1,228 VIP Lunches

On a peak day in the customer café,

960 bottles of coke were consumed

within a two-and-a-half hour period

30 GLORIOUS
---
NATIONWIDE

TEMPORARY

STAFF

SERIOUS STAFFING SOLUTIONS

Stand out from the crowd

with a first class service

Hospitality staff, exhibition staff, event riggers,

event managers, waiting staff

envisagepromotions.co.uk

@envisagepromote
---
HIRE

THE

BEST

Our portfolio of clients

includes 5* hotels,

catering companies, global

brands, PR agencies,

event production companies,

sports stadiums and

corporations. Every day we

give our staff hundreds of

opportunities to work for

amazing companies.

Like yours. This is why the best

staff come to work for LOLA.

FIND OUT HOW WE CAN HELP

YOU PROVIDE FIVE STAR

SERVICE TO YOUR GUESTS.

VISIT WWW.LOLASTAFFING.CO.UK

OR CALL US ON 0207 0430 652
---
BELFAST WATERFRONT HOW WAS IT FOR YOU?

The event from

every angle

An insight into the team behind the contract with Belfast Waterfront

In spring last year Amadeus secured

a £16 million five-year contract with

Belfast Waterfront and Ulster Hall in

Northern Ireland. The contract includes

the exclusive supply of catering for

all conferences and events at Belfast

Waterfront and its sister venue,

Ulster Hall.

Already well established, the city centre

venues attract a range of business and

entertainment events. With the Waterfront

expansion the number of national and

international conferences is set to grow and the

new catering partnership will bring the benefits

from Amadeus' 40 years of experience.

At the time of the signed contract, Ellvena

Graham, Chair of the Board of BWUH Limited,

which operates both Belfast Waterfront and

Ulster Hall, explained, "Along with the

outstanding food they produce, we value

Amadeus' innovative approach to catering.

They have a wealth of experience in conference

and events, backed up by a talented

management team. Their commitment to

local suppliers and staff was critical in our

selection process and we are very pleased

with the initial arrangements Amadeus have

put in place for this."

Chris Reynolds, Sales Director for

Amadeus said, "I am delighted that Amadeus

has been awarded the contract at Belfast

Waterfront and Ulster Hall. The venue fits

perfectly within our existing portfolio,

enhancing our growth programme, and draws

on our extensive experience of catering at the

NEC Group's convention centres – the ICC

and the recently open Vox in Resorts World

Birmingham. During the last year Amadeus

have set up with new local suppliers and enjoyed

working with them to create fantastic food

offers. Belfast Waterfront's expansion has

created 7,000m 2 of flexible event space, with

the addition of 2 multi-purpose halls, new

breakout and circulation space. Together with

the existing 2,000-seat auditorium and flexible

studio space the new development ensures

a range of facilities capable to hosting

up to 4,500 delegates.

The recruitment process for Northern

Irish talent saw the team expand and strengthen

the existing team, and an experienced

management team from other venues was

brought in to help support the growth

programme. Nearly a year on, Glorious speaks

to Sean Mallon, Food & Beverage Manager

and Christopher Barnes, Conference &

Banqueting Manager, both at Belfast

Waterfront & Ulster Hall, about the location

since Amadeus came on board.

It is an exciting time for Amadeus and both

Christopher and Sean are keen to highlight

why Amadeus is making a difference to the

offer at Belfast Waterfront. They recognise

from their different perspectives that the food

offer is different to anything else on offer in

the country and this is making both Amadeus

and the location stand out.

AMADEUSFOOD.CO.UK 33
---
W www.furnitureonthemove.co.uk

E info@furnitureonthemove.co.uk

T 0845 459 9875

Photo courtesy of Adobe Summit

Designed and managed by Taylor Bennett Partners

▶ Flat rated delivery any

time of day or night

▶ Full installation service

▶ Unique pieces in fantastic condition

▶ New catalogue, showreel and

price list available now
---
BELFAST WATERFRONT HOW WAS IT FOR YOU?

How was it for you

Christopher Barnes

Christopher Barnes is the Conference & Banqueting Manager at Belfast

Waterfront & Ulster Hall. He explains how his first year with Amadeus has

gone and his views on returning to Northern Ireland after ten years away

What were your first impressions of

Belfast Waterfront?

It has an amazing vibrancy and buzz. When I

came for my interview in late February 2016 the

building and new Waterfront extension wasn't

even complete. The operations team were

wearing hard hats in certain parts of the

building, but the buzz was already in the air

from Amadeus and the existing Waterfront

team. I love the Waterfronts individuality

– one part of the building that is completely

different from the other.

Did your expectations of Amadeus

match what you have witnessed?

Yes it did. When I was first interviewed by

Amadeus I researched the company and one

quote I loved from the Amadeus website was

'Every challenge is an opportunity', I can

honestly say that even though there have been

challenges, every day has been an opportunity,

and I have enjoyed every minute.

What has most impressed you so far?

The quality of our food has really impressed

me – especially on Gala nights of 1,000 patrons

or more. Amadeus chefs are consistent and

concise, but most of all the entire team, from

the General Manager to the Multi-skilled

Operatives have a passion for what we are

doing. A team is what makes service excellence

and our team is a family, striving to deliver

excellence daily.

Have you seen areas where Amadeus

has solved any existing problems?

The general food offering has certainly done

this. The one thing I love about Amadeus is the

"I believe Amadeus has the fit right for the new

city feel, especially at the newly marketed

Belfast Waterfront and Ulster Hall"

a "I'm lucky to be able to ta

step back and look over

experienced sure they are team happy and and

ma

type of food we offer. Having returned

home to Belfast from almost a decade of living

around the world, it became apparent that over

the past ten years Belfast has burst into a

cosmopolitan hub of culture, good food and

drink and outstanding nightlife.

I believe Amadeus has the fit right for the

new city feel, especially at the newly marketed

Belfast Waterfront & Ulster Hall. We offer

food and locally sourced produce from across

the four provinces of Ireland and create dishes

which have a continental feel. I believe Amadeus

is setting the scene for other catering teams in

the city to aspire to our level.

Did the existing team welcome

Amadeus and feel a change

was needed?

I think in the beginning everyone was eager to

get started. Operationally I think the existing

team have enjoyed the newness and the upbeat

feel Amadeus brings to Ireland in general.

With contemporary and modern buffet displays

I think agrees that Amadeus offers something

new to Belfast.

How will Amadeus tackle the

challenges that may lie ahead?

Every challenge is an opportunity!

AMADEUSFOOD.CO.UK 35
---
HOW WAS IT FOR YOU? BELFAST WATERFRONT

How was it for you

Sean Mallon

Food & Beverage Manager at Belfast Waterfront & Ulster Hall, Sean Mallon

worked at the venue for nine years before Amadeus came on board. He explains

what impressed him the most during the mobilisation process

What sort of business and

entertainment events take place

at Belfast Waterfront?

We host a range of events at Belfast Waterfront,

from local corporate clients to well established

national and international associations.

Alongside this the Auditorium seats 1,800-plus

and we have a 325-seat Studio that both play

host to some of the biggest acts from around

the world. We recently held The European

Federation of Critical Care Nursing. This is

a two-and-a-half-day event for 445 people

with exhibition and catering in Hall 1. As we

reached the last day of Critical Care Nursing

we move into entertainment for three days with

shows both in the Studio and the Main

Auditorium. This shows the real difference

in events that take place.

What is the biggest difference you

have seen since Amadeus began?

The thing that stands out most for me is the

structure of the company and the process in how

things are achieved compared to the previous

caterer, for example the mobilisation of the

Belfast Waterfront & Ulster Hall. A new venue

in a different country will always prove to have

some problems but the way the mobilisation

was implemented and managed for me was very

professional. As someone who worked here for

nine years I could not envisage how such a huge

change in management would work, but I soon

realised it could work due to the structure put in

place by senior management.

What has impressed you the most?

It has to be the fact that no other caterer that

I know of in the North of Ireland are offering

"No other caterer that

I know of in the North

of Ireland are offering

what Amadeus are

currently offering at

Belfast Waterfront"

what Amadeus are currently offering at Belfast

Waterfront. It's different. They have shown

a lot of faith in me, which I am extremely

grateful for. I look forward to seeing what

more they can bring to Belfast in the future.

What is your favourite thing about

Belfast Waterfront?

The main thing that keeps me interested

is that no two days are the same. I could

be doing a gala dinner for 800 people one

evening which turns over to a conference

the next day, then have a full Auditorium

concert that evening. I love that there is

so much variety.

What do you want the Amadeus

team to learn about the venue?

The main thing would be to see the difference

between the two sides of the business as

I call it, entertainment and hospitality. Once

you understand that, everything else will

make sense.

It's not so much the venue but the city

and the local hospitality industry they need

to learn about. Belfast is a small city and

everyone knows each other, which is very

good in a sense because you are always in

the loop. Knowledge is key.

What food is on offer at the venue?

We operate an 80-seater fine dining restaurant

as well as different stadium catering stands

throughout the building that service all

entertainment events. You could get anything

from a traybake to a burger and chips.

Currently we are putting together some

grab-and-go platter menus that could

work well at different events.

What sort of challenges have

Amadeus overcome?

The main thing I would say is the fact that this

market was relatively new to Amadeus as this

was their first contract in the North of Ireland,

but they have taken to it very well. Of course

there have been some hurdles along the way

but the operation is now in full flow.

36 GLORIOUS
---
Photo Experiences and Creative Events

Photo booth / Selfiebox / Polabox / Photography / Live Events

www.flashmat.co.uk | contact@flashmat.co.uk
---
HOW WAS IT FOR YOU? BELFAST WATERFRONT

Belfast Waterfront

Providing excellence

Sean Mallon and Christopher Barnes are fine examples of the work

taking place at Belfast Waterfront. Their contrasting views as new

and former employees are true visual signs of the impact Amadeus

are having on venue, on employees and the local area

It has been a busy first year but

the team at the Waterfront and

Ulster Hall are providing incredibly

high standards and bring creativity

and a service delivery to each and

every event.

Northern Ireland's premier conference

and entertainment centre is the ideal location

for any conference, exhibition or business

showcase and continues to build on its

reputation for excellence. The versatile space

now offers the fully integrated world class

conference centre boasting 7,000m 2 of

flexible space which is ideal for a variety of

events. Seen as the home of live entertainment

in Northern Ireland, Amadeus has helped

support the premium quality of local and

international rock and popular music concerts,

stand-up comedy, classical music, opera and

ballet, theatre, talks and seasonal showcases.

The local Northern Ireland produce is being

fully utilised and Executive Head Chef Leo

Small is creating delicious, innovative menus.

The highly motivated, experienced and

outgoing chef is on a mission to put

Belfast Waterfront at the forefront of

catering in Northern Ireland and

Sean and Christopher echo this

vision. Leo always tries to source the best

produce and always strives to be honest and

realistic to make sure customers get exactly

what they want. He never compromises on the

quality of food and creates bespoke menus,

sourcing local, seasonal products with full

provenance wherever possible. The Amadeus

team with Leo in the kitchen believe integrity

team with Leo in the kitchen believe integrity

and passion are crucial. They conduct extensive

research and development to really

understand what the customer

wants. It is this that allows

them to constantly deliver

great food and service.

Visitors to Belfast

Waterfront can expect

to see delicious Jacob's

ladder, marinated and

38 GLORIOUS
---
a chef, the limits are you put into the job and whatever only wha

yo

BELFAST WATERFRONT HOW WAS IT FOR YOU?

put in, you will get back"

AWARD

NOMINATION

We are delighted

to announce that

Leo Small, Executive

Head Chef at

Belfast, has been

nominated for the

Contract Catering

Chef of the Year

Award at the 2017

Institute of

Hospitality Northern

Ireland awards!

"The local Northern Ireland produce

is being fully utilised and Executive

Head Chef Leo Small is creating

delicious, innovative menus"

braised for five hours, on the menu. They may

also sport fillet beef Wellington with organic

celeriac and local dauphinoise potatoes. By

setting a new standard of event catering in

Belfast and Northern Ireland, Amadeus has

the drive to succeed in their ambitions and it

is clear this is already taking shape.

In November 2016, Amadeus secured

a £12million contract to operate the catering

function of 4 venues in Belfast. The contract

includes the running of the catering operation

for Belfast Castle, Malone House, Belfast

Zoo and the Stables coffee shop in Sir

Thomas and Lady Dixon Park. Kevin

Watson, Managing Director of Amadeus

AMADEUSFOOD.CO.UK 39
---
HOW WAS IT FOR YOU? BELFAST WATERFRONT

was delighted, "We celebrated our 40th

birthday this year and our vast amount of

knowledge in retail, banqueting and

conference and events catering made us best

placed to deliver this exciting contract in

Belfast. We share Belfast City Council's

aspirations for the visitor sites and we

will be looking to draw more interest to the

venues to support the local economy. At

Amadeus we place the customer experience

at the heart of everything we do. I know

the team already have plenty of ideas

"No day is the same for me.

be working on a wedding, o

the food for a golf event, a

menus for a 300-person f

"We place the customer experience at the

heart of everything we do. I know the team

have plenty of ideas for four venues that

will excite visitors"

for four venues that will excite visitors."

It is an exciting time for Amadeus and to

work in all of these prestigious venues is a

real privilege. The team fully understand the

passion behind locally sourced food and

are already benefiting from established

relationships with Belfast suppliers. With

people like Christopher and Sean working hard,

the future of Amadeus in Northern Ireland is

looking bright for everyone involved.

40 GLORIOUS
---
You dream it...

+44 (0)1892 732157

info@mjexhibitions.com

@mjexhibitions

www.mjexhibitions.com

MJ exhibitions

will build it!

Units 4 & 5, The Nortons Industrial Estate, Collier Street, Marden, Tonbridge, Kent, TN12 9RR
---
ADVERTORIAL TENTICKLE

Inspirational Stretch Tents

Tentickle

Tentickle provides striking and unique stretch tents and

canopies for exclusive events whatever the season.

Jörg Schwarzbach, Managing Director of Tentickle Stretch Tents

UK Ltd, answers a few questions on this innovative product

What is a stretch tent?

A stretch tent is a piece of flexible membrane,

which can be stretched and pulled into many

directions creating wonderful freeform

shapes transforming conceptions of

temporary structures.

How long does it take to put up a tent?

Depending on tent size from one hour up

to four hours.

What colour stretch tents are there?

We stock beige, white and silver, though not in

every tent size.

What types of poles do you have?

Aluminium and wood.

How high are stretch tents?

We can pitch the tent up to 6m, but normally

2.5m to allow a comfortable headspace.

Are they waterproof?

They are 100% waterproof.

What about other weather, sun, wind,

snow, etc?

Our stretch tents are available with a UV filter to

protect from harsh sunlight, which means they

don't get stuffy in summer. The tents are also

incredibly resilient and have been used for years

at one of the windiest points in South Africa,

where the wind coming off the Pacific and

Atlantic Oceans collide!

What size tents do you supply?

We stock different tent sizes to fit the location

and the number of guests. Our largest is a 600

square metre stretch tent that can cater for

parties whether it is a 300 people sit down meal

function to a 1,200 people standing event.

So can I have a stretch tent in winter?

Yes, the sides can be pulled down to create an

enclosed space. Additionally patio heaters can be

used inside the tent to keep you nice and toasty.

Stretch tents are very versatile and can

be configured in many different ways.

Uneven ground makes no difference to

erecting stretch tents, and trees and other

features can be incorporated into the

design of the stretch tent they can handle

this with ease, style and grace.

Our tents are well looked after and

you can be sure that we will provide your

event with well-maintained and clean

stretch tents.

M: +44 7826 84309

W: www.tentickle-stretchtents.co.uk

E: jorg@tentickle-stretchtents.co.uk

Tentickle Stretch Tents UK Ltd

4 Marlpit Rise, Sutton Coldfield,

West Midlands, B75 5LU

Follow us on social media

@TentickleUK

www.facebook.com/tentickleUK

42 GLORIOUS
---
AMADEUS CALENDAR OF EVENTS

CALENDAR OF EVENTS • PUBLIC & TRADE

The comprehensive guide to the upcoming shows and events this season

28•04

Ed Sheeran

24•04

Bruno Mars

21•05

Beauty UK

27•04

Betway Premier

League Darts

28•06

Ricky Gervais

www.thenec.co.uk

www.barclaycardarena.co.uk

www.gentingarena.co.uk

CALENDAR OF

EVENTS

APRIL

1-3

OPTRAFAIR, NEC

4-6

MULTIMODAL

2017, NEC

4-6

TRAFFEX 2017 & PARKEX 2017, NEC

5-6

INTERNET RETAILING EXPO 2017 &

EDELIVERY EXPO 2017, NEC

6-8

WHO DO YOU THINK YOU ARE? LIVE,

NEC

12-16 APRIL Disney On Ice celebrates 100 Years of Magic, Genting Arena

Be charmed by a cast of over 50 unforgettable Disney characters including Mickey Mouse,

Donald Duck, Cinderella, Ariel and Tiana. Relive some of Disney's most magical moments and

leave your whole family captivated with memories that will last a lifetime.

6-8 APRIL

Who do you think

you are? Live, NEC

The world's largest family history show returns to the NEC

with a show that promises to be the biggest and best yet!

6-9

ANTIQUES FOR

EVERYONE SPRING

FAIR, NEC

5-9

GOOD

MOURNING MRS

BROWN, GENTING

ARENA

12

THE WHO,

BARCLAYCARD

ARENA

12-16

DISNEY ON ICE

CELEBRATES 100

YEARS OF MAGIC,

GENTING ARENA

14

HARLEM

GLOBETROTTERS,

BARCLAYCARD

ARENA

14-17

INSOMNIA60 –

THE UK'S BIGGEST

GAMING FESTIVAL,

NEC

AMADEUSFOOD.CO.UK 43
---
CALENDAR OF EVENTS AMADEUS

22 APRIL

Diversity, Barclaycard Arena

After wowing audiences in 2015 with their 31-date 'Up Close and Personal' tour, Diversity once again return to the Barclaycard Arena.

Created by the one and only Ashley Banjo, the new tour, 'Genesis', is the concluding part of their superhero fantasy epic.

15

E3UK LIVE, BARCLAYCARD ARENA

20

FRANKIE VALLI & THE FOUR

SEASONS, GENTING ARENA

20

RICHARD ASHCROFT, BARCLAYCARD

ARENA

22

DIVERSITY, BARCLAYCARD ARENA

24-25

BRUNO MARS, BARCLAYCARD ARENA

24-26

FARM SHOP & DELI SHOW, NEC

24-26

NATIONAL CONVENIENCE SHOW, NEC

28-29 APRIL

Ed Sheeran,

Barclaycard Arena

One of the most highly-anticipated tours of 2017

after delivering a huge musical comeback with two

new singles that took the world by storm.

27 APRIL

2017 Betway

Premier League

Darts, Barclaycard

Arena

The world's top darts stars return to the Barclaycard

Arena to compete for this prestigious title in another

nail biting night of Betway Premier League Darts.

24-26

THE

FORECOURT

SHOW, NEC

25-27

THE 2017

COMMERCIAL

VEHICLE SHOW,

NEC

27

2017 BETWAY

PREMIER

LEAGUE DARTS,

BARCLAYCARD

ARENA

28-29

ED SHEERAN,

BARCLAYCARD

ARENA

44 GLORIOUS
---
XXXXXXXXX HOW WAS IT FOR YOU?

Innovation Award

PROVIDING A PLATFORM TO

SHOWCASE CUTTING EDGE INNOVATION

Amadeus and EP Business in Hospitality are proud to announce a new Innovation Award which

is designed to recognise exceptional innovation in hospitality.

This award will provide a platform to entrepreneurs and SMEs with exciting ideas and concepts they

are keen to bring to the highly competitive hospitality sector. It will identify the best products,

concepts and solutions in the whole hospitality sector. Whether launched in the last month or last year,

Amadeus are keen for all companies to apply. Amadeus places Innovation on the highest priority as

they believe it's what keeps the food industry moving forward.

The chosen winner will have the unique opportunity to work with Amadeus, putting their business

in front of millions of customers every year across the Amadeus venues.

Entries have until 30th September 2017 to apply for the award.

Those entering must summit:

• Description of their company

• Their Business Plan

• How they deliver their concept or product

• Reasons why they would work well in Amadeus

• What makes them unique

An independent panel will select the shortlist who will then be invited to 'pitch' their concept

or company to a select group of judges. Pitches will take place in late October with the

results announced in early November.

This is an incredible opportunity to put a new concept or company in front of an experience

innovative leading company. It is a great way to connect with Amadeus and share ideas

and challenges within the hospitality industry.

SUBMIT ENTRIES VIA EMAIL TO BEN.BUTLER@EPMAGAZINE.CO.UK

AMADEUSFOOD.CO.UK 37
---
CALENDAR OF EVENTS AMADEUS

19 MAY

The Vamps,

Genting Arena

The boys are back in town with their latest arena tour – featuring a gigantic stage with runways and ramps that will take the band to all parts

of the arena floor, it promises to be their best yet. A great lineup of special guests will be joining them, soon to be announced via social media.

MAY

5-6

TAKE THAT,

GENTING ARENA

7

TOY

COLLECTORS

FAIR, NEC

9-11

RAILTEX 2017,

NEC

9-10

WHAT'S NEW

IN ELECTRONICS

LIVE, NEC

10

WWE LIVE,

GENTING ARENA

20 APRIL

Frankie Valli &

The Four Seasons,

Genting Arena

Legendary flasetto Frankie Valli & The Four Seasons will

be in the Genting Arena as part of a six-date UK tour.

Defining the sound of an era, selling over 100 million

records, Frankie Valli is more popular than ever thanks

to the Tony award-winning musical, Jersey Boys.

12

PROFESSOR

BRIAN COX LIVE,

BARCLAYCARD

ARENA

12-14

BODYPOWER

EXPO 2017, NEC

12-13

THE DENTISTRY

SHOW AND

DENTAL

TECHNOLOGY

SHOWCASE, NEC

13

MATCHROOM

BOXING,

BARCLAYCARD

ARENA

15

HARRY

POTTER AND THE

PHILOSOPHER'S

STONE,

BARCLAYCARD

ARENA

18

ARIANA

GRANDE, GENTING

ARENA

18-20

MICKY

FLANAGAN,

BARCLAYCARD

ARENA

18-21

THIS MORNING

LIVE, NEC

46 GLORIOUS
---
AMADEUS CALENDAR OF EVENTS

CALENDAR OF EVENTS • PUBLIC & TRADE

The comprehensive guide to the upcoming shows and events this season

19

THE VAMPS, GENTING ARENA

21

IRON MAIDEN, BARCLAYCARD ARENA

21-22

BEAUTY UK, NEC

21-22

HAIR UK / BARBER UK, NEC

21-22

HOLISTIC HEALTH, NEC

23-24

EDIE LIVE & UTILITY WEEK 2017, NEC

23-25

FIT SHOW, NEC

26

THE SPECIALS PLUS TOOTS & THE

MAYTALS, GENTING ARENA (Outdoors)

12-14 MAY

Bodypower

Expo 2017, NEC

24-25 APRIL

Bruno Mars,

Barclaycard Arena

Celebrating Bruno Mars' eagerly anticipated new album, 24K Magic, this is set to be a

night like no other as the Grammy Award-winning artist touches down at the Barclaycard

Arena with his massive world tour. Tickets are selling fast, so make sure you get yours!

21-22 MAY

Beauty UK, NEC

26-28

THE VAPER

EXPO – THE BIG

WEEKEND, NEC

27

SLAM DUNK

FESTIVAL

MIDLANDS,

GENTING ARENA

28

KISS,

BARCLAYCARD

ARENA

The biggest indoor fitness expo in the world, this

inspirational event is for everyone from enthusiastic

beginners to fully-fledged fitness fanatics.

The largest beauty trade show outside of London, the

NEC will house four shows for a comprehensive offer:

Beauty UK, Hair UK, Barber UK and Holistic Health.

AMADEUSFOOD.CO.UK 47
---
CALENDAR OF EVENTS AMADEUS

JUNE

1-3

MICKY

FLANAGAN,

BARCLAYCARD

ARENA

24 JUNE-25 AUGUST

Dinosaurs in the Wild, NEC

1-4

TAKE THAT,

GENTING ARENA

2-4

UK GAMES

EXPO, NEC

3-4

COLLECTOR-

MANIA 24 FILM

& COMIC CON

BIRMINGHAM, NEC

6-7

COMMERCIAL

KITCHEN 2017, NEC

6-8

SUBCON 2017,

NEC

6-8

AUTOMECHANIKA

BIRMINGHAM 2017,

NEC

7

ELTON JOHN,

GENTING ARENA

7-8

THE BRITISH-

IRISH AIRPORTS

EXPO, NEC

Prepare for the greatest journey you'll ever take! You will climb aboard a time machine and travel back to

witness living dinosaurs, seeing and feeling what it was like to be there, in the Cretaceous period, 67 million

years ago. A stunningly immersive event, Dinosaurs in the Wild has to be experienced to be believed!

9

NASHVILLE, BARCLAYCARD ARENA

12-13

BIRMINGHAM HIGHER EDUCATION

EXHIBITION, NEC

15-18

BBC GARDENERS' WORLD LIVE, NEC

28 JUNE

Ricky Gervais,

Barclaycard Arena

One of the most influential British comedians, Ricky Gervais

returns to the stage for the first time in seven years with his

'Humanity' world tour, set to be one of 2017's hottest tickets.

15-18

BBC GOOD FOOD SHOW, NEC

21

NACFB COMMERCIAL FINANCE EXPO

2017, NEC

23-24

THE AUTISM SHOW, NEC

24 JUNE-25 AUGUST

DINOSAURS IN THE WILD, NEC

28

RICKY GERVAIS, BARCLAYCARD

ARENA

28

RITCHIE BLACKMORE'S RAINBOW,

GENTING ARENA

30 JUNE-2 JULY

THE STITCHING, SEWING &

HOBBYCRAFTS SHOW, NEC

48 GLORIOUS
---
TEAM WORK CATERING MANAGEMENT

made my day

William Sutton is an up-and-coming catering manager

at the International Convention Centre (ICC)

How and did you first become a catering

manager at Amadeus?

I began working at Amadeus in April 2016. I had

been working in catering for ten years previously

– before and after university – and I wanted

an opportunity to work in a bigger place with

better job prospects. I was looking at the NEC

Group website regularly, and when I saw the

job advertised I was really keen to take the

opportunity. I had attended a few concerts

and shows at the NEC and I was sure it

was a company I wanted to work for.

What do you enjoy most about your role?

The opportunity to work on high profile events

such as the Conservative Party Conference and

I also worked at The VOX Conference Centre

on the Sports Personality of the Year event. This

was a particular highlight for me as I was serving

and interacting with some of my childhood and

present-day heroes. The team I work with are

a tight knit group and we all get on really well.

I enjoy everything about it to be honest; every

day is different and I am gaining skills and

knowledge all the time.

How does Amadeus support you

as a young person who is eager to

learn and work hard?

One of my favourite things about Amadeus is

that there are always opportunities to progress

and improve yourself by participating in various

training courses. There are also nationally

recognised qualifications which are extremely

useful wherever you choose to go. You really

do get out of it what you put in.

What's the best thing about working

for Amadeus?

The general excitement and vibe when busy

events are taking place. The atmosphere on

certain functions makes you proud to be a part

of the day-to-day running of the ICC, and

positive feedback makes it all worthwhile.

You are always recognised for your hard work

through the Brilliance Scheme. And the people

you work with make it enjoyable – the banter

definitely keeps morale up!

What position are you aiming

to reach next?

Hopefully in the near future I would

like to be considered for the role of

Conferencing and Banqueting

Manager. The challenges that are

included in this job really appeal to

me. The planning and organising

of events is something I'd really like

to be more involved in and looks

quite exciting. After that the

sky's the limit!

IF YOU WOULD LIKE TO FIND OUT

MORE ABOUT OPPORTUNITIES

AT AMADEUS GO TO NECGROUP.

CO.UK/WORKING-FOR-US

50 GLORIOUS
---
MAKE AN IMPACT & ENGAGE

Celebrating 25 years' supporting

businesses to raise their brand

awareness.

0121 764 3222

hollywoodmonster.co.uk

sales@hollywoodmonster.co.uk

DESIGN CREATE DELIVER