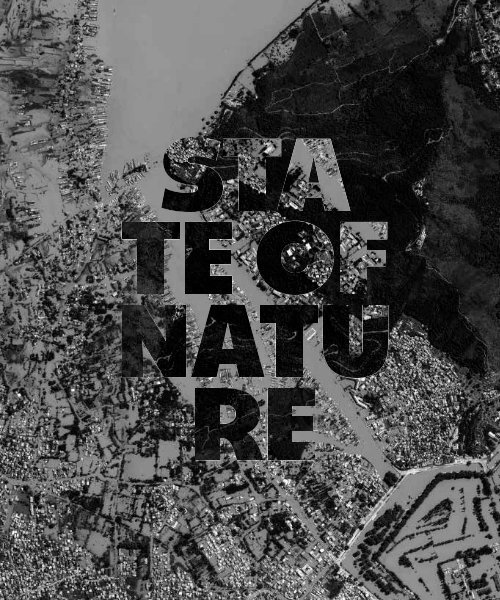 Claudius Schulze: State of Nature
A photobook about climate change, natural catastrophes, and to what extent disaster management became part of our landscape.
A photobook about climate change, natural catastrophes, and to what extent disaster management became part of our landscape.
SHOW MORE
SHOW LESS
You also want an ePaper? Increase the reach of your titles
YUMPU automatically turns print PDFs into web optimized ePapers that Google loves.
Claudius Schulze

NATURZUSTAND
---
DO NO

T TRUST

THE PICT

URESQ

UE!

Oskar Piegsa
---
Many of the photographs in Claudius Schulze's

State of Nature series depict picturesque

landscapes: Sheep grazing on the levees of

the river Elbe. A road winding through the Alps from

the Bernese Highlands to the Valais. Snow-covered

peaks shimmering in Lac de Moiry, a mountain lake

more than two thousand meters above sea level. Some

of these landscapes seem abandoned; others are populated

with vacationers catching some sun, joggers

doing their rounds, and snowboarders dashing through

powder snow.

However, each of these idyllic shots contains imperfections

that catch the eye, sometimes more, sometimes

less: alpine panoramas crisscrossed by snow sheds, the

North Sea coast furrowed by breakwaters and groins.

These are certainly not accidental photobombs, but

rather the protective structures that were Schulze's

subjects. Using a large-format camera and an aerial

work platform, he took photographs in Germany,

England, the Netherlands, and a dozen other European

countries.

These photos are not focused on defining the boundary

between culture and nature. On the contrary: they

THE INVENTION OF THE PICTURESQUE

The prehistory of State of Nature began around 250

years ago: James Cook had just embarked upon a voyage

to search for new continents in the south. Missions

to the Artic would soon commence. The earth

was being explored, conquered, and measured with

unprecedented speed and endurance. Cities grew,

smokestacks shot up from the ground, and wood mills

decimated the forests.

At that time, in the mid-eighteenth century, something

began that scholars now call global change. This

concept includes climate change and goes beyond

it to include transformations on a planetary scale:

warming, erosion, deforestation, ocean acidification,

extinction, and more. 1

Although 250 years is an absurdly short time span

compared to the history of the earth, several scholars

are already talking about a new geological age whose

distinguishing factor is humanity: the Anthropocene.

As the human population grows, so does its impact

on the earth's systems: the global population is estimated

to have been at one billion in 1700; it is now

seven billion and growing. 2

polished and the slightly awry. Gilpin was not fond of

uncontrollable, terrifying nature as implied in the concept

of the sublime. He did not yearn for unspoiled,

primeval nature in today's sense. In his travelogue, he

praised the landscapes along the river Wye as "harmonious"

and "composed." Small villages or farms only

increased the landscapes' appeal. However, William

Gilpin became unforgiving where the emerging industrialization

shaped nature distinctly, for instance,

a river straightened into a canal.

In order for a landscape to please the painter's eye,

it could not be too uniform, nor too wild. It must not

be inhospitable to humans, nor entirely under their

control. William Gilpin searched for the inartificial

that was yet artificial, in fact tamed—neither pristine

nor wild. Gilpin called this the sort of landscape

"picturesque."

THE PICTURESQUE AND ITS IDEOLOGY

In Europe today the picturesque is probably the prevailing

representation of nature. Europeans may be

torn in terms of politics or lifestyles, but they are

united by a shared belief—the belief in picturesque

The picturesque is the domestication of nature into

a landscaped park. The picturesque reduces nature

to the pleasant and consumable. It is no coincidence

that William Gilpin coined this word in a travelogue

inviting the English upper class to a countryside outing.

The very term "picturesque" is indicative: nature

becomes two-dimensional, and is no longer a space

in which we live or struggle for survival, but instead

a picture that spreads out in front of us.

The "beautiful" and the "sublime," as interpreted by

Edmund Burke, reaches us, touches us at our core.

The sublime shocks human certainty that we are the

pinnacle of creation as a species and the center of

the world as an individual. The "picturesque" only

pleases. However, nature occasionally denies to conform

to the image of the picturesque, it violently

breaks out of preconceived images and into our world.

This is what we call a catastrophe.

"NEVER IN THE FIRST WORLD"

The first thing journalist John Jeremiah Sullivan noticed

during his trip to the Gulf of Mexico was the

roadkill. He reported that it was not uncommon in

in the North Sea floods of 1962. The flooding catastrophe

in 1953, referred to in the Netherlands simply

as de Ramp or "the catastrophe," cost more than

2,000 human lives. Those were the last natural catastrophes

of that scale in central Europe. They provided

the impetus for gigantic protective building projects,

many of which can be seen in this book.

Since then there have also been storms in Europe,

avalanches and flooding, including the "flood of the

century" in Germany in 2013. However, the number

of deaths usually remained in the low double digits.

Many more die annually through traffic accidents,

obesity, lack of exercise, stress or drugs. In contemporary

Europe, civilization is deadlier than nature. In

the "First World" the lawns are watered, the rivers kept

in check by dikes, the mountains opened up to winter

sports. It is no wonder that we regard nature as picturesque,

appealing, tamed. However, we cannot make

the mistake of considering this nature natural.

FROM SOCOTRA TO STATE OF NATURE

In State of Nature, Claudius Schulze reveals the image

of picturesque nature as exactly that: an image. This

drone pilots were chasing alleged Al-Qaida members

in an undeclared war. In the midst of this turmoil

lies the stunning beauty of Socotra's desert roses and

star-spangled night sky that Schulze shows us. His

photos present a nearly magical island in a lawless

region of the world, or so one might think.

Yet next to each photograph in Socotra: An Island there

is a caption that disturbs the romantic, naïve reception.

For example, under a photograph of elderly

men sitting around a pot over an open fire one can

read: "Savages, enjoying the rude feast." A bibliographical

note reveals that the coarse judgement was not

penned by Claudius Schulze, but rather taken from

the memoirs of a British adventurer who reported

from numerous journeys to the African continent

and was knighted by Queen Victoria at the height

of British imperialism.

What does the caption have to do with the photo?

In an essay accompanying the book, Claudius Schulze

writes that our view of exotic islands is framed by

the stories of those Europeans who set out before us

to discover, conquer, and exploit these islands. That

is why a truly naïve or unprejudiced view of the non-

THE PICTURESQUE IS THE DOMESTICATION OF

NATURE INTO A LANDSCAPED PARK. THE PICTUR-

ESQUE REDUCES NATURE TO THE PLEASANT.

AT THE MOMENT WE STILL PROFIT FROM THE

FACT THAT WE DRIVE GLOBAL CHANGE WITH

OUR CONSUMPTION AND LIFESTYLE.

show us very clearly how much the two spheres penetrate

each other, at least in affluent European countries.

This is because protective structures are the precondition

of these European landscapes: The sunshine only

sparkles on the surface of Lac de Moiry because the

lake was constructed artificially. And many of the craggy

and seemingly natural cliffs that we see along the

coastlines would have long been eroded away or have

collapsed had they not been protected against storm

surges and coastal erosion by manmade structures.

Similar to these views, the other landscapes in this

book are not refuges of untouched nature, but rather

products of modernity. They did not come about

naturally, but are designed. While the landscapes

might appear to be intact and scenes of carefree life,

their very existence depends on the hard work of

geologists, engineers, and laborers. This is the dialectic

of protective structures: they fortify the idyllic and

simultaneously reveal its fragility.

The picturesque landscape is staged, and if anyone

falls for it, it would probably flatter its creators. If

Claudius Schulze's photographs tell us something

about ethics rather than being merely aesthetically

pleasing, then their one demand is this: do not trust

the picturesque!

Not only nature changed during this time, but also

man's image of nature. For centuries, people in Europe

avoided the wilderness of the mountains and forests

because they believed that Satan or evil spirits dwelled

there. However, in the eighteenth century artists and

philosophers emerged who turned to nature. 3 One of

them was the British landscape painter William Gilpin.

In his book Observations on the River Wye, an early

Romantic travelogue published in London in 1770,

he introduces a new concept of beauty. 4

It had long been held that what was smooth, slight,

delicate, or well-balanced was beautiful—this was the

definition of the philosopher Edmund Burke. 5 He

differentiated between the Beautiful and its de facto

opposite, the Sublime: something that does not cause

pleasure, but rather fright. According to Burke, beauty

provokes affection, but the sublime a feeling of helplessness

in the face of the force of the sea, the mass

of the mountains, or the expanse of the starry night

sky. With Burke, one has the sense that beauty is often

(but not always) man made. The sublime often (but

not always) emerges from nature.

William Gilpin added a third concept to the pairing of

the beautiful and the sublime. He contrasted Edmund

Burke's notion of beauty with the beauty of the un-

nature. The Germans even have a magazine, called

Landlust, that is dedicated to nostalgic depictions of

country life, and it is the magazine with the largest

circulation in Germany. 6 The picturesque is almost

omnipresent today: on postcards and travel brochures,

in advertisements for cars and for outdoor clothing,

in front lawns and in decorative art, in children's

books and romance novels, on the labels of groceries

in discount supermarkets and in organic stores, on

television and in music videos, in lullabies, and in

German battle rap.

When Berlin-based rapper Kool Savas dissed his enemies

in the track Fehdehandschuh, he said, "I step to

the mike and sucker MCs fall still as trees." Seriously?

"Still as trees?" It is possible that Kool Savas is referencing

a line from the poem by Matthias Claudius

("Der Wald steht schwarz und schweiget," or The wood

stands black and silent), but it is more likely that he

is simply a city boy who has no clue about nature. Anyone

who has spent time in the forest (at night, during

a storm, off the hiking trails) knows how loud, powerful,

and menacing trees can be. And yet, this nature,

the sublime kind of nature, has largely disappeared

from our everyday lives and has been replaced by

picturesque depictions.

this region for animals—raccoons, deer, and even the

occasional armadillo—to be run over and left to rot

on the edge of the road. But now, in the summer of

2005, several days after Hurricane Katrina, the bodies

of dogs were strewn along the way—dogs that looked

well-fed and wore collars. For Sullivan it was the first

indication that civilization had failed, long before he

saw the destroyed trailers and yachts, the houses reduced

to a few wooden beams. The stench of rot and

decay lay over everything. "I'd smelled it before,"

Sullivan wrote, "but never in the First World." 7

Sullivan was born in Louisville in 1979, five years before

Claudius Schulze in Munich. Both are inhabitants

of the so-called First World. Natural catastrophes of

unbelievable scope and with hundreds of thousands

of victims, such as the tsunami in the Indian Ocean

in 2003 and the earthquake in Haiti in 2010, have

occurred during their lifetimes. There were countless

other floods, storms, and avalanches taking thousands

of lives almost all around the world.

The fact that Europe has largely been spared from

such catastrophes during the last couple of decades

is not only due to the topography and climatic zones.

More than 250 people died in the Alps during the

"avalanche winter" of 1951, and more than 300 people

image may be true for certain parts of the highly developed

world, but it is certainly not for the whole

planet. The opening and closing pages of the book

consist of shots of flooded landscapes in Kashmir and

the Philippines. These photographs are not in the

stunning color of the landscapes photographed by

Claudius Schulze, but rather in sober black and white.

Here the focus is no longer directed at horizontal

panoramas, but a vertical perspective.

It is the view as from a satellite or helicopter, not the

vision of a hiker or landscape painter, but rather that

of a disaster-relief worker who is asking: Where are

people surrounded by water? Where are the dikes

threatening to break? Where do we have to intervene?

In these photographs all that is picturesque is gone.

It is not the first time that Claudius Schulze used preexisting

material in his artistic work in order to comment

on his photographs. In his first book, Socotra: An

Island, self-published in 2011, Schulze used external

sources to give his photographs a contextual framework

without which they cannot be understood. 8 The

book is ostensibly about Socotra, an island located

in the Indian Ocean between the coasts of Somalia

and Yemen. On one coast, off the Horn of Africa,

there were pirates. On the other, in Yemen, American

European islands is not possible—and a fair view

only becomes possible when we became aware of

our socialization that is influenced by colonialist

propaganda. State of Nature repeats what was begun in

Socotra: Claudius Schulze offers us gorgeous landscape

shots and simultaneously challenges us to distrust them.

Or rather: not to distrust the photographs themselves,

but what we believe we see when we look at them.

THE PHOTOGRAPH AND

ITS COMMENTARY

What is it that a photograph shows us? It is commonly

accepted that in visual fine art, be it ancient, modernist,

or contemporary, we need some comment or

explanation to fully grasp what we are seeing. Photographs,

on the other hand, usually appear to be selfevident.

The cultural scholar Helmut Lethen warns

of such (self-) deception. In his book, Der Schatten des

Fotografen (The Photographer's Shadow), Lethen

presents the photograph of a woman who is wading

through a river on a sunny day, moving diagonally

from the lower left to the upper right corner. 9 She

wears a scarf around her head, has her skirt hiked

up, and is moving toward the bank. "A picturesque

subject," Lethen writes. So it seems.
---
But then he reveals the background of the photo: it

is from an album made by a German infantryman on

the Eastern front of World War II. What is actually

being seen in the photograph is only revealed by the

caption on the reverse side: "The mine test." Lethen

explains that water crossings were suspected of being

mined. That is why a German commander had ordered

Jews and prisoners to be used to detonate the mines.

Once aware of this, one is never again able to recognize

a picturesque situation in the photograph.

The photograph of the woman was not taken with the

intent to inform or accuse, but as a cynical souvenir

from war. Nevertheless, it shows us "the pain of others,"

as Susan Sontag likely would have said: it documents

the cruelty with which people have treated each

other. 10 In order to understand that, however, it is not

enough to merely observe the motif. Commentary

is necessary to understand the photograph.

VACATION AND MISERY

The photographs in the series of the State of Nature

also have depths that are not grasped with the initial,

naive viewing of their motifs. It is true: they show

vacationers catching some sun, joggers doing their

rounds, and snowboarders dashing through powder

snow—picturesque landscapes. Yet they simultaneously

reveal the supposed naturalness of this landscape

as elaborate staging and remind us of global

inequality.

The builders of the protective structures do not have

to care about the question whether global change is

caused by humans or not—it is enough for them to

know that the earth's systems have become irritated,

that the sea level is rising, and that the likelihood of

extreme weather has increased. For them, the prevention

of catastrophes is not a political but rather a

technical question. 11

We cannot retreat to the same position as long as there

is only the slightest suspicion that our lifestyle could

produce risks that in other parts of the world befalls

largely unprotected people.

At the moment we still profit from the fact that we drive

global change with our consumption and lifestyle.

At the moment the catastrophes we have equipped

ourselves for in our European enclaves of affluence,

and which are at least partially the consequences of

our actions, are largely felt elsewhere and not with

us, not in the "First World." At the moment we are

still living carefree—in the belief in the picturesque

beauty of the nature surrounding us.

1 Will Steffen et al., Global Change and the Earth System: A Planet under Pressure

(Berlin, 2004).

2 Stephen Emmott, Ten Billion (London, 2013).

3 Roderick Nash, Wilderness and the American Mind (New Haven, 1967).

4 See also Gilpin's Three Essays: On Picturesque Beauty; on Picturesque Travel;

and on Sketching Landscape (London, 1792).

5 Edmund Burke, A Philosophical Enquiry into the Origin of Our Ideas of the

Sublime and Beautiful (London, 1757).

6 On the average, the print run of Landlust is 939,016 sold copies per issue

in the third quarter of 2016. The only publications that sell more copies in

Germany are TV guides, but not journalistic publications. In comparison,

Der Spiegel sold 789,062 copies in the same time period. In its heyday, Landlust

sold over one million copies. Up-to-date statistics are available at www.ivw.eu

(accessed March 26, 2017).

7 John Jeremiah Sullivan, "At a Shelter (After Katrina)," in Pulphead (New

York, 2011).

8 Claudius Schulze, Socotra: An Island (Munich, 2011).

9 Helmut Lethen, Der Schatten des Fotografen: Bilder und ihre Wirklichkeit

(Berlin, 2014).

10 Susan Sontag, Regarding the Pain of Others (New York, 2003).

11 For more on the distinction between political and technical problems,

see Isaiah Berlin, "Two Concepts of Liberty," in Four Essays on Liberty

(Oxford, 1969).
---
MISST

RAUT D

EM MAL

ERISC

HEN!

Oskar Piegsa
---
Schafe grasen auf Elbdeichen. Eine Serpentinenstraße

führt durch die Alpen vom Berner

Oberland ins Wallis. Schneebedeckte Gipfel

spiegeln sich im Lac de Moiry, einem Bergsee in mehr

als 2000 Metern Höhe. In vielen der Fotos seiner

Serie Naturzustand zeigt Claudius Schulze malerische

Landschaften. Manche wirken verlassen, andere sind

bevölkert: Dann sehen wir Urlauber an Nordseestränden,

Jogger auf Uferbänken und Wintersportler

im Pulverschnee.

Doch jede dieser vermeintlichen Idyllen hat einen

Makel, der mal mehr, mal weniger deutlich ins Auge

springt: Alpenpanoramen werden von Lawinenwänden

zerschnitten, die Nordseeküste wird zerfurcht von

Wellenbrechern und Palisadenzäunen. Ungeschickt

gewählte Bildausschnitte? Selbstverständlich nicht.

Gerade diese Schutzbauten sind es, die Schulze zu

seinen Motiven geführt haben, auf seinen Reisen mit

Großformatkamera und Kranwagen, unterwegs durch

Deutschland, England, die Niederlande und ein

Dutzend anderer europäische Länder.

Es geht dem Fotografen nicht darum, die Grenze

zwischen Kultur und Natur auszuloten. Im Gegenteil:

Die Fotos verdeutlichen, wie sehr sich beide Sphären

durchdringen, zumindest in den wohlhabenden

DIE ERFINDUNG DES MALERISCHEN

Die Vorgeschichte dessen, was wir in Naturzustand

sehen, begann vor rund 250 Jahren: Gerade hatte

James Cook mit seinem Segelschiff, der Endeavour,

losgemacht, um neue Kontinente im Süden zu entdecken;

bald sollten im Norden Polarmissionen

starten. Mit bis dato ungekannter Geschwindigkeit

und Ausdauer wurde die Erde erkundet, erobert und

vermessen. Und: Sie wurde verändert. Die Städte

wuchsen, Schornsteine schossen aus dem Boden,

Sägewerke dezimierten die Wälder.

Damals, Mitte des 18. Jahrhunderts, hat etwas begonnen,

das Wissenschaftler heute als Globalen Wandel

bezeichnen. Dieser Begriff umfasst jenen des Klimawandels

und geht darüber hinaus. Er bündelt Veränderungen

im planetaren Maßstab: Erwärmung,

Entwaldung, Bodenerosion, Versauerung der Meere,

Artensterben und mehr. 1 Erdgeschichtlich betrachtet

sind 250 Jahre zwar ein lächerlich kurzer Zeitraum,

doch einige Wissenschaftler sprechen bereits vom

Anthropozän, also von einem neuen Erdzeitalter,

dessen maßgeblicher Faktor der Mensch ist. Scheinbar

unaufhaltsam wächst die menschliche Bevölkerung

und mit ihr die Beeinflussung der Erdsysteme: Um

1700 gab es schätzungsweise eine Milliarde Menschen,

oft (aber nicht immer) von Menschen gemacht. Das

Erhabene ist oft (aber nicht immer) naturwüchsig.

William Gilpin ergänzte diese beiden ästhetischen

Kategorien um eine dritte. Er setzte dem »Schönen«

im Sinne Edmund Burkes die Schönheit des Ungeschliffenen

und des leicht Windschiefen entgegen.

Gilpin war kein Freund der unbeherrschbaren,

schrecklichen Natur, wie sie im Begriff des »Erhabenen«

anklingt. Er war auch niemand, der sich im

heutigen Sinne nach ursprünglicher Natur sehnte.

Die Landschaften entlang des Flusses Wye lobte er in

seinem Reisebericht als »harmonisch« und »komponiert«.

Kleine Dörfer oder Gehöfte erhöhten ihren

Reiz. Ungnädig wurde William Gilpin aber, wo die

beginnende Industrialisierung die Natur deutlich

formte, etwa bei einem zum Kanal begradigten Fluss.

Damit eine Landschaft dem Auge des Malers

schmeichle, so Gilpin, dürfe sie nicht zu gleichförmig

sein, aber auch nicht wild. Sie dürfe nicht menschenfeindlich

sein, aber auch nicht ganz und gar dem

Menschen unterworfen. William Gilpin suchte das

Unartifizielle, das aber dennoch artifiziell war, nämlich

gezähmt, nicht unberührt oder wild. Er bezeichnete

Landschaften, die seinen Vorlieben entsprachen,

als »malerisch«.

DAS MALERISCHE IST DIE VERHARMLOSUNG DER

NATUR ZUM LANDSCHAFTSPARK. IM MALERISCHEN

DARF NATUR NUR GEFÄLLIG SEIN.

wege), der weiß, wie laut, mächtig und bedrohlich

Bäume sein können. Doch diese Natur, die erhabene

Natur, ist aus unserem Alltag weitgehend verschwunden

und durch malerische Darstellungen ersetzt worden.

Das Malerische ist die Verharmlosung der Natur zum

Landschaftspark. Im Malerischen darf Natur nur

gefällig sein und konsumierbar. Es ist kein Zufall, dass

William Gilpin diesen Begriff in einem Reisebericht

prägte, der die höhere englische Gesellschaft zur Landpartie

einlud. Schon der Begriff des »Malerischen«

(im Original: »the picturesque«) ist dabei bezeichnend:

Natur wird durch ihn zweidimensional, ist nicht mehr

ein Raum, in dem wir leben oder ums Überleben

ringen, sondern ein Bild, das sich vor uns ausbreitet.

Das »Schöne« und das »Erhabene«, so wie Edmund

Burke sie deutete, erreichten uns, berührten uns in

unserem Innersten. Das Erhabene erschüttert die

menschliche Gewissheit, als Spezies Krone der Schöpfung

und als Individuum Zentrum der Welt zu sein.

Das »Malerische« schmeichelt bloß. Doch manchmal

entzieht sich die Natur dem Bild des Malerischen, fällt

aus dem Rahmen und bricht sich Bahn in unsere Welt.

Wir nennen das: Katastrophe.

mit hunderttausenden Toten. Und unzählige weitere

Fluten, Stürme und Lawinen, die tausenden Menschen

das Leben nahmen, fast überall auf der Welt.

Dass Europa in derselben Zeit von solchen Katastrophen

verschont geblieben ist, ist nicht nur der Erdoberfläche

und der Klimazone zu verdanken. Im

Lawinenwinter 1951 wurden in den Alpen noch mehr

als 250 Menschen getötet, in der Nordsee-Sturmflut

von 1962 mehr als 300 Menschen. Die Flutkatastrophe

von 1953, die in den Niederlanden auch kurz »de

Ramp« genannt wird, »die Katastrophe«, kostete mehr

als 2000 Menschen das Leben. Es waren die letzten

Naturkatastrophen dieses Ausmaßes in Zentraleuropa.

Sie waren Anlass für gigantische Schutzbautenprojekte,

von denen nicht wenige in diesem Buch zu sehen sind.

Seitdem hat es auch in Europa Stürme gegeben,

Lawinen und Überschwemmungen, darunter das

sogenannte Jahrhunderthochwasser im Jahr 2013.

Die Zahl der Toten blieb dabei meist im niedrigen

zweistelligen Bereich. Ungleich mehr Menschen

sterben jedes Jahr im Straßenverkehr, aufgrund von

Überernährung, Bewegungsmangel, Stress oder durch

Drogen. Die Zivilisation ist in Europa heute tödlicher

als die Natur. In der »Ersten Welt« sind die Rasen

gewässert, die Flüsse von Deichen eingehegt, die Berge

Es ist nicht das erste Mal, dass Claudius Schulze in

seiner künstlerischen Arbeit fremde Materialien nutzt,

um seine Fotografien damit zu kommentieren. Bereits

in seinem ersten, im Eigenverlag veröffentlichten Buch

Socotra. An Island aus dem Jahr 2011 nutzte er externe

Quellen, um seinen Fotografien einen inhaltlichen

Rahmen zu geben, ohne den sie nicht zu verstehen

wären. 8 Vordergründig geht es in dem Buch um Sokotra,

eine Insel, die zwischen Somalia und dem Jemen

im Indischen Ozean liegt. An der einen Küste, vor

dem Horn von Afrika, kreuzten damals Piraten. An

der anderen Küste, derjenigen des Jemen, jagten

amerikanische Drohnenpiloten in einem unerklärten

Krieg mutmaßliche Al-Qaida-Mitglieder. Aus dem

Boden der Insel, so ist es auf Schulzes Fotografien

zu sehen, sprießen Wüstenrosen von betörender

Schönheit. Und über den einfachen Hütten der

Bewohner erstreckt sich ein Himmel, an dem nachts

mit unwirklicher Intensität die Sterne leuchten. Die

Fotos zeigen eine fast magische Insel in einer gesetzlosen

Weltregion, so könnte man denken.

Doch neben jeder der Fotografien in Socotra. An Island

steht eine Bildunterschrift, die diese romantisch-naive

Rezeption stört. Unter einem Foto mehrerer älterer

Männer, die abends um ein offenes Feuer mit einem

NOCH PROFITIEREN WIR DAVON, DASS WIR

DURCH UNSEREN KONSUM UND LEBENSSTIL

DEN GLOBALEN WANDEL VORANTREIBEN.

Ländern Europas. Denn die Schutzbauten sind die

Vorbedingung für diese europäischen Landschaften:

Im Lac de Moiry etwa glitzert nur deshalb das Sonnenlicht

auf der Wasseroberfläche, weil der See künstlich

aufgestaut wird. Und manche schroff und natürlich

scheinende Steilküste, die wir hier sehen, wäre ohne

den künstlichen Schutz längst unterspült und eingestürzt.

Auch die anderen Landschaften in diesem Buch sind

keine Refugien der Ursprünglichkeit, sondern Produkte

der Moderne. Sie sind nicht natürlich entstanden,

sondern geformt worden. Diese Landschaften

sehen nach heiler Welt und unbeschwertem Leben

aus, doch es bedarf des Einsatzes von Geologen, Ingenieuren

und Arbeitern, um sie zu erhalten. Das ist die

Dialektik der Schutzbauten: Sie fortifizieren das Idyll

und entlarven zugleich seine Zerbrechlichkeit.

Die malerische Landschaft ist eine Inszenierung, der

zu verfallen ihren Schöpfern vermutlich schmeichelt.

Wenn die vorliegenden Fotos jedoch mehr sind als

bloße Form, wenn von ihnen neben ästhetischen

auch ethische Impulse ausgehen, dann ist ihre Forderung

diese: Misstraut der malerischen Schönheit!

heute sind es sieben Milliarden, bald werden es noch

mehr sein. 2

Nicht nur die Natur veränderte sich in dieser Zeit,

sondern auch das Bild der Natur. Jahrhundertelang

hatten die Menschen Europas die Wildnis der Berge

und Wälder gemieden, weil sie dort den Satan oder

andere unheilvolle Kräfte vermuteten. Doch mit dem

18. Jahrhundert traten Künstler und Philosophen

auf, die sich der Natur zuwendeten 3 – so auch der

britische Landschaftsmaler William Gilpin. Im Jahr

1770 veröffentlichte er in London sein Buch Observations

on the River Wye, einen frühromantischen

Reisebericht, in dem er einen neuen Begriff der

Schönheit prägte. 4

Lange galt als schön, was glatt, zierlich, zerbrechlich

oder wohlproportioniert war – so definierte es der

Philosoph Edmund Burke. 5 Er unterschied das

»Schöne« vom »Erhabenen«, das in gewisser Weise

sein Gegenteil ist: ein Anblick, der kein Wohlbefinden

auslöst, sondern Schaudern. Das Schöne weckt demnach

unsere Zuneigung, das Erhabene ein Gefühl von

Ausgeliefertsein angesichts der Gewalt des Meeres,

der Masse der Berge oder der Weite des Sternenhimmels.

Das Schöne, so klingt es bei Burke an, ist

DAS MALERISCHE UND SEINE IDEOLOGIE

In Europa ist das Malerische heute die wohl vorherrschende

Darstellungsform der Natur. Demografisch

und weltanschaulich disparate Gruppen verbindet

ein Glaube – der Glaube an die malerische Natur. Ein

Medium dieser Ästhetik ist Landlust, die auflagenstärkste

Zeitschrift in Deutschland. 6 Auch darüber

hinaus ist das Malerische heute fast überall anzutreffen:

auf Postkarten und in Reiseprospekten, in der Werbung

für Autos und für Outdoor-Kleidung, in Vorgärten und

in der Dekokunst, in Kinderbüchern und Kitschromanen,

auf den Etiketten der Lebensmittel in Discountern

und in Bioläden, im Musikantenstadl und

in Musikvideos von Rockbands wie Frei.Wild, in

Wiegenliedern und im Battle-Rap.

Denn, so formuliert es der Berliner Rapper Kool Savas

in dem Track Fehdehandschuh: »Ich step ans Mic, und

schwule Bitches werden still wie Bäume.« Ernsthaft?

»Still wie Bäume«? Womöglich zitiert Kool Savas hier

Matthias Claudius (»Der Wald steht schwarz und

schweiget«), wahrscheinlicher ist aber, dass er sich

schlicht als Großstädter offenbart, der von der Natur

keine Ahnung hat. Wer jemals Zeit in Wäldern verbracht

hat (nachts, bei Unwetter, abseits der Wander-

»NEVER IN THE FIRST WORLD«

Zuerst fielen ihm die Kadaver auf. Das schreibt der

Reporter John Jeremiah Sullivan in einem Bericht

über seine Reise zum Golf von Mexiko. Dass Tiere

totgefahren werden und am Straßenrand vermodern,

sei in dieser Gegend nicht unüblich, notiert Sullivan:

Waschbären, Rehe, gelegentlich auch Gürteltiere.

Doch nun, im Sommer 2005, einige Tage nach dem

Hurrikan Katrina, säumten Hundekadaver seinen Weg.

Hunde, die wohlgenährt aussahen und Halsbänder

trugen. Sie waren für Sullivan die ersten Hinweise

darauf, dass die Zivilisation versagt hatte, lange bevor

er die zerstörten Wohnwagen und Yachten sah, die

Häuser, von denen nicht mehr übrig war als ein paar

Balken. Über allem lag der Gestank von Fäulnis und

Verwesung. »I'd smelled it before«, schreibt Sullivan –

»but never in the First World.« 7

»Never in the First World«: Das schreibt Sullivan, 1979

in Louisville geboren und damit fünf Jahre vor Claudius

Schulze, der in München auf die Welt gekommen ist.

Es sind zwei Bewohner der »Ersten Welt«, zu deren

Lebzeiten es Naturkatastrophen unvorstellbaren Ausmaßes

gegeben hat: den Tsunami im Indischen Ozean

2004 und das Erdbeben auf Haiti 2010 – Katastrophen

zum Wintersport freigegeben. Kein Wunder, dass uns

die Natur malerisch, schmeichelhaft, zahm erscheint.

Wir dürfen jedoch nicht den Fehler machen, diese

Natur für natürlich zu halten.

VON SOCOTRA ZU NATURZUSTAND

Claudius Schulze entlarvt in Naturzustand den globalen

Ausnahmezustand der malerischen Natur: Wenn

wir dieses Buch aufschlagen und ehe wir es schließen,

sehen wir Aufnahmen überschwemmter Landschaften

in Kaschmir und auf den Philippinen. Diese Aufnahmen

sind nicht von betörender Farbigkeit wie die sich

anschließenden Landschaftsfotografien, sondern in

sachlichem Schwarz-Weiß gehalten. Der Blick ist hier

auch nicht mehr auf das horizontale Panorama gerichtet,

sondern eröffnet eine senkrechte Draufsicht.

Es ist ein Blick wie aus einem Satelliten oder Hubschrauber,

nicht der Blick des Wanderers oder Landschaftsmalers,

sondern jener des Katastrophenhelfers,

der fragt: Wo sind Menschen vom Wasser eingeschlossen?

Wo drohen Deiche zu brechen? Wo müssen wir

eingreifen? In diesen Aufnahmen ist alles Malerische

dahin.

Topf sitzen, heißt es zum Beispiel: »Savages, enjoying the

rude feast« – »Wilde, vergnügt beim rohen Gelage«.

Ein Quellenverweis am Ende des Buches offenbart,

dass der grobe Satz nicht aus der Feder von Claudius

Schulze stammt, sondern aus den Memoiren eines

britischen Abenteurers, der – in der Hochphase des

britischen Imperialismus – von zahlreichen Reisen

auf dem afrikanischen Kontinent berichtete und unter

Königin Victoria zum Ritter geschlagen wurde.

Was hat der Satz mit dem Bild zu tun? Unser Blick

auf exotische Inseln werde durch die Erzählungen

jener Europäer geformt, die vor uns losfuhren, um sie

zu entdecken, zu erobern und auszubeuten, schreibt

Claudius Schulze in einem Essay, der das Buch begleitet.

Ein naiver, vorurteilsfreier Blick auf außereuropäische

Inseln sei daher nicht möglich – und ein

fairer Blick erst dann, wenn wir unserer Sozialisation

gewahr werden, die von kolonialistischer Propaganda

geprägt ist. In Naturzustand wiederholt sich, was in

Socotra begonnen hat: Schulze zeigt uns prächtige

Landschaftsaufnahmen und fordert uns zugleich

auf, ihnen zu misstrauen. Oder: nicht ihnen, also

den Fotos selbst, aber dem, was wir zu sehen glauben,

wenn wir sie betrachten.
---
DAS FOTO UND SEIN KOMMENTAR

Was ist es, das Fotografien uns zeigen? An die Kommentarbedürftigkeit

historischer, avantgardistischer

und zeitgenössischer bildender Kunst haben wir uns

längst gewöhnt. Fotos jedoch erscheinen uns in der

Regel als selbstevident und nicht weiter erklärungsbedürftig.

Der Kulturwissenschaftler Helmut Lethen

warnt vor solchen durch die Fotografie ausgelösten

(Selbst-)Täuschungen. In seinem Buch Der Schatten des

Fotografen präsentiert er das Foto einer Frau, die an

einem sonnigen Tag durch eine Furt watet, diagonal

von der linken unteren zur rechten oberen Bildecke. 9

Sie hat ein Tuch um den Kopf gewunden, den Rock

gerafft und schreitet dem Ufer entgegen. »Ein Malersujet«,

schreibt Lethen. So scheint es.

Doch dann offenbart er den Hintergrund des Bildes:

Es stammt aus einem Album mit Landserfotos von

der Ostfront. Was auf dem Foto tatsächlich zu sehen

ist, erschließt sich erst durch die rückseitige Beschriftung.

»Die Minenprobe«, ist da zu lesen. »Die Frau

wurde als Minensuchgerät eingesetzt«, erklärt Lethen.

Flussübergänge standen unter dem Verdacht, vermint

zu sein. Ein deutscher Befehlshaber hatte angeordnet,

Juden und Gefangene einzusetzen, um die Minen

zum Auslösen zu bringen. Weiß man das, wird man

in dem Foto nie wieder eine malerische Situation

erkennen können.

Das Foto von der Frau in der Furt wurde nicht mit

aufklärerischer oder mit anklagender Absicht aufgenommen,

sondern als zynisches Souvenir von der

Front. Dennoch zeigt es uns »the pain of others«, wie

Susan Sontag es wohl formuliert hätte: Es dokumentiert

die Grausamkeit, die Menschen anderen Menschen

angetan haben. 10 Doch um das zu begreifen, reicht

es nicht, nur das Motiv zu betrachten. Es bedarf des

Kommentars, um das Foto zu verstehen.

Lebensstil könnte Risiken produzieren, die abzuwenden

uns leichtfällt, die anderswo auf der Welt aber

über weitgehend schutzlose Menschen hereinbrechen.

Noch profitieren wir davon, dass wir durch unseren

Konsum und Lebensstil den Globalen Wandel vorantreiben.

Noch sind die Katastrophen, gegen die wir

uns in unserer europäischen Wohlstandsenklave eingerüstet

haben und die mindestens zum Teil auch

Konsequenzen unseres Handelns sind, vor allem anderswo

zu spüren, nicht bei uns, nicht in der »Ersten

Welt«. Noch leben wir sorglos – und im Glauben an

die malerische Schönheit der Natur, die uns umgibt.

1 Vgl. Will Steffen u. a., Global Change and the Earth System. A Planet under

Pressure, Berlin 2004.

2 Vgl. Stephen Emmott, 10 Milliarden, Berlin 2013.

3 Vgl. Roderick Nash, Wilderness and the American Mind, New Haven 1967.

4 Vgl. auch William Gilpin, Three Essays. On Picturesque Beauty; on Picturesque

Travel; and on Sketching Landscape, London 1792.

5 Edmund Burke, Philosophische Untersuchung über den Ursprung unserer Ideen

vom Erhabenen und Schönen, Hamburg 1989.

6 Die Auflage von Landlust betrug durchschnittlich 939 016 verkaufte Exemplare

pro Ausgabe im dritten Quartal 2016. Bessere Ergebnisse erzielten

am Kiosk nur Fernsehprogrammzeitschriften, aber keine im engeren

Sinne journalistischen Publikationen. Zum Vergleich: Der Spiegel kam im

selben Zeitraum auf 789 062 Exemplare. Zu Bestzeiten verkaufte Landlust

mehr als eine Million Exemplare. Aktuellere Zahlen unter www.ivw.eu

(26.3.2017).

7 John Jeremiah Sullivan, »Nach Katrina«, in: ders., Pulphead, Berlin 2012.

8 Claudius Schulze, Socotra. An Island, München 2011.

9 Helmut Lethen, Der Schatten des Fotografen. Bilder und ihre Wirklichkeit,

Berlin 2014.

10 Susan Sontag, Das Leiden anderer betrachten, Frankfurt am Main 2005.

11 Zu dieser Unterscheidung siehe Isaiah Berlin, »Zwei Freiheitsbegriffe«,

in: ders., Freiheit. Vier Versuche, Frankfurt am Main 2006.

URLAUB UND ELEND

Die Fotografien der Reihe Naturzustand haben ebenfalls

Untiefen, die sich beim ersten, naiven Betrachten

ihrer Motive nicht vermitteln. Es stimmt: Sie zeigen

Urlauber an Nordseestränden, Jogger auf Uferbänken

und Wintersportler im Pulverschnee. Malerische

Landschaften. Doch im Kontext dieses Buches entlarven

sie zugleich die vermeintliche Natürlichkeit

dieser Landschaft als aufwendige Inszenierungen

und erinnern uns an die globale Ungleichheit, die

von der Inszenierung zugedeckt wird.

Den Bauherrn der Schutzbauwerke braucht es nicht

zu kümmern, welche Konsequenzen des Globalen

Wandels im Einzelnen menschengemacht sind und

welche nicht – es reicht ihm der Fakt, dass die Erdsysteme

in Unruhe geraten, dass die Meeresspiegel

steigen und dass die Wahrscheinlichkeit von Extremwetterphänomenen

in Teilen der Welt zugenommen

hat. Die Verhinderung von Katastrophen ist für ihn

keine politische, sondern ein technische Frage. 11

Wir können uns nicht auf dieselbe Haltung zurückziehen,

solange auch nur der Verdacht besteht, unser
---
THE D

EVELOP

MENT OF

LANDSC

APE

Prof. Thomas Glade
---
The landscapes on the earth are the results of

processes that have been forming the surface

of the planet for millions of years. For more

than four billion years, rock formations have been

appearing and disappearing; thus, looking at landscape

now is like looking at a snapshot of this development.

Each picture of a landscape shows the current state

of ongoing processes. The shape of the earth's surface

is the result of tectonic plate movements around

the globe, immense forces that can create mountains,

deform solid stone, and produce new ones. In some

places these mountains are eroded by external forces

(such as strong rainfall), while in other places the

materials from these mountains are accumulated and

stored (for example, in large, flat rivers). While it can

take millions of years to form a mountain, they can

be removed within seconds or minutes—in just a few

moments several tons of stone can come loose from

a rock face and thunder down into a valley. Many of

these processes occur simultaneously. It might be

different the next minute. Landscapes are always

changing.

The aesthetic landscape as such, however, is always

initially created in the eye of the beholder. From a geomorphological

perspective, on the other hand, it is always

about one specific formation of the earth's surface.

A paradisiacal sandy beach lined with palm trees can

the potential to turn disastrous, only when people fail

to adjust or adapt their activities significantly enough

to them, whether as a result of a deliberate, wrong

decision or unintentionally because not enough was

known about the situation and potential hazard beforehand.

1 Or, as Max Frisch put it, "Only human

beings can recognize catastrophes, provided they can

survive them; Nature recognizes no catastrophes." 2

How landscapes will continue to develop in various

regions has been the topic of many investigations. 3

This transformation is one aspect of global change,

meaning, the transformations that occur in the natural

and social environments. Among these are global

environmental changes in particular, such as deforestation,

the spread of deserts, species extinction, and

the acidification of the ocean, to name only a few

transformations. Within this overall global change,

climate change is a specific driving force that has

received high attention within the different science

communities, but also with the public at large and

politics. 4 Indeed, there have been numerous changes

in our weather events: Extreme is becoming more

extreme, rainfall totals (such as decadal, annual, or

monthly totals) increase or decrease, and over the

course of the years its appearance is becoming massively

irregular. Avalanches of previously unknown dimensions

affect totally unprepared regions. In high

overgrown with bushes, forests would spread, valley

floodplains would turn into swampland, and coasts

would erode on a massive scale, to mention just a few

changes. This kind of natural development is often

in conflict with human interests and is therefore

generally not desirable, which is why we intervene.

Passive options are based on the concept of "getting

out of the way." For instance, planners could identify

certain potentially dangerous areas where no construction

at all would be permitted, or only under strict

conditions. Even though this kind of planning is very

important, there are often immense conflicts over

utilization, and contradictory claims and expectations

arise. This is observed frequently in regions where

there is great demand for housing—for instance, in

the valleys of the European Alps or on islands where

there are few options for action. Therefore, technical

measures for risk reduction are often utilized in these

areas. For example, slopes in urban areas are sealed in

concrete to stabilize them, coasts are built up to minimize

erosion, levees are constructed along rivers to protect

valley meadows, snow sheds are erected high in

the mountains to protect the valleys from avalanches.

PROTECTIVE STRUCTURES

These kinds of structures can be divided into different

types that perform different tasks. Property pro-

The channels of torrents are modified to reduce the

speed at which the water flows. This can involve low,

built-in weirs, stone terracing, and dams made of

wood, stone, or reinforced concrete. Check dams

remove the large components or sediment freight

from debris flows, so that when a slide hits a structure,

its impact is not as destructive. If there is enough

room at the beginning of an alluvial fan, sediment

traps are often built in it; these separate the water

from the drift and keep back the sediments including

large rock boulders, debris, and fine, sandy, and

marly materials.

Natural phenomena can also take on this kind of

protective function; for instance, a stand of trees can

protect buildings beneath it from being hit by boulders,

or from small rockfalls originating from rock faces

above them. Alpine forests in fracture zones prevent

snow avalanches from being triggered at all, although

they may not be able to stop a snow avalanche that

originates above the tree line. 6 Forests around torrents

prevent erosion and thus the mobilization of materials

that could cause soil- and mudslides.

When there is heavy rain, small retention basins high

up in the drainage areas of river systems reduce the

peak discharge during floods further down. These

could be added to existing structures, such as reservoirs

and retaining lakes of hydroelectric facilities.

Implementing the design event in the construction

and technology of protective structures, however, is

not simply based on technological or economic ideas,

but must also often do justice to the "sensibilities" of

the population. Here, it is crucial to recall that every

protective structure only provides protection to a

certain degree of magnitude, meaning, to the magnitude

of the event that is the basis for calculating the

so-called anticipated damage impact. When events

of even greater force occur, the structures will no

longer provide adequate protection. Consequently,

the concept acknowledges the fact that societies

cannot prevent all natural processes from occurring.

Every dam, every retention basin, every groin, every

retaining wall has been built with a certain magnitude

of events in mind—but greater ones will occur. Certainly,

they will be rare and we do not know when they

will occur, but they will happen.

This often stands in contrast to the public's perception,

which often equates the construction of protective

structures with safety, because the public is not aware

of the underlying assumptions. Another fact that is

overlooked is that protective structures, like any other

construction, can fail, whether due to inferior building

methods or aging in general (for example, when

the steel of snow sheds rusts or when levees sag). At

the same time, where protective structures are present,

1 Terminology used in this text refers to the definitions explained in the following

publications: Carsten Felgentreff and Thomas Glade, eds., Naturrisiken

und Sozialkatastrophen (Heidelberg, 2008); Susanne Krings and Thomas Glade,

"Terminologische Normierungen und Diskussionen." in Harald Karutz,

Wolfram Geier, and Thomas Mitschke, eds., Bevölkerungsschutz: Notfallvorsorge

und Krisenmanagement in Theorie und Praxis (Berlin and Heidelberg, 2017),

pp. 30–53; UNISD, ed., United Nations International Strategy for Disaster Reduction

(UNISDR) Secretariat Evaluation (2009), www.unisdr.org/files/12659

_UNISDRevaluation2009finalreport.pdf (accessed 29.3.2017).

2 Max Frisch, Der Mensch erscheint im Holozän (Frankfurt am Main, 1979),

p. 103; published in English in The New Yorker, May 19, 1980, trans. Geoffrey

Skelton, p. 77.

3 See, among others, Rajendra K. Pachauri and Leo A. Meyer, eds., IPCC 2014

Synthesis Report: Contribution of Working Groups I, II and III to the Fifth Assessment

Report of the Intergovernmental Panel on Climate Change (Geneva, 2014), p. 151.

4 lbid.

5 See Thomas Glade et al., "Der Einfluss des Klimawandels auf die Reliefsphäre,"

in Helga Kromp-Kolb et al., eds., Österreichischer Sachstandsbericht

Klimawandel 2014 / Austrian Panel on Climate Change (APCC) (Vienna, 2014),

pp. 557–600.

6 It must, however, be mentioned that these kinds of forests or other general,

biological protective functions require a great deal of maintenance, as

even the smallest change in the number of trees, for instance, can cause

the greatest changes in its protective function.

7 For further reading: Gabi Hufschmidt, Michael Crozier, and Thomas

Glade, "Evolution of Natural Risk: Research Framework and Perspectives,"

in Natural Hazards and Earth System Sciences 5 (2005), pp. 375–87,

www.nat-hazards-earth-syst-sci.net/5/375/2005/nhess-5-375-2005.pdf

(accessed March 20, 2017); UNISDR, eds., United Nations International

Strategy for Disaster Reduction (UNISDR) Secretariat Evaluation (2009),

http://www.unisdr.org/files/12659_UNISDRevaluation2009finalreport

.pdf (accessed March 20, 2017); UNISDR, eds., 2009 UNISDR Terminology

EVERY MANIFESTATION OF LANDSCAPE IS ALSO

TIED TO DANGERS, POTENTIAL CATASTROPHES,

AND DESTRUCTION.

"ONLY HUMAN BEINGS CAN RECOGNIZE CATAS-

TROPHES, PROVIDED THEY CAN SURVIVE THEM;

NATURE RECOGNIZES NO CATASTROPHES."

be destroyed by a tsunami, a gorgeous Alpine valley

suddenly be buried in an avalanche of boulders or

snow, a mudslide can transform a peaceful mountain

stream into a deadly hazard, a dust storm can turn

painterly desert dunes into an inescapable trap with

no way out. Consequently, landscapes contain two

things: On one hand, landscapes are settled; they are

places to relax, or they can be used for agriculture and

as sources of raw materials. On the other hand, every

manifestation of landscape is also tied to dangers,

potential catastrophes, and destruction.

Landscapes, therefore, are already very strongly modified—far

more than we are aware of today. It is considered

normal for dikes to be built along coastlines,

for levees to flank our rivers, for retention basins to

be constructed to catch debris or large amounts of

water, for rivers to be dredged to enable shipping,

or for sand from the ocean to be replenished onto

the beach in order to reduce erosion along coasts.

Human influence and direct impact are visible everywhere

on the earth's surface.

CLIMATE CHANGE AND GLOBAL CHANGE

Some historical developments have been documented

very well. Comparing historical paintings, photographs,

or maps with today's situations enables us to gather

some information about changes in landscape. These

transformations become dangerous or risky, or have

alpine regions it might be much drier, with fewer

frosty days and more days with higher temperatures,

just as more storms along the coasts have been observed.

All this is an expression of climate change.

According to the latest IPCC research, this development

of change will continue in the future, or even

intensify. Some of these changes bring about direct

and massive reactions in altered landscapes, while

others are barely visible. In addition, the potential

changes to the earth's surface caused by weather and

climate overlap with those caused by humans. 5 This

makes it often difficult to separate the different causes

and related effects of changes in landscape.

One fundamental question here is: what kind of

landscape should be retained? Is it the "climax landscape"—the

kind of landscape that is most optimally

adjusted to natural phenomena such as the availability

of water, types of rock, the existence of soil, and the

spread of vegetation? Or should certain types of cultivated

landscapes be maintained, such as vineyards,

mountain pastureland, or coastland marshes? These

questions must be answered by all of society.

OPTIONS FOR ACTION

The simplest way of behaving toward the landscape

would be to do nothing—in other words, leave the

normal, natural processes alone. Yet, that would lead

to too many changes—mountain pastures would be

tection is supposed to ensure that the building that

needs structural support can withstand a certain force

of impact. For avalanches or mudslides, for example,

walls facing slopes are built several meters thick, with

steel skeletons, but without windows. In areas where

there are creeping landslides, houses are placed on

very strong concrete bases, often more than one meter

thick. As a result, the buildings will not crack even if

the earth below shifts several centimeters per year;

instead, structures simply move slowly downhill. They

might slightly tilt, but they still remain intact. For

rockfalls, nets are installed along roadways, or dams are

constructed to control localized flooding. Buildings

in flood plains can be designed so that every opening

is at a certain height, thus preventing water from

getting in.

Alternatively and additionally, protective structures

can be erected in front of areas worth protecting,

hindering anticipated natural hazards from reaching

the endangered structures at all, or at least ensuring

that their impact is strongly reduced. Some examples

of these structures are detour dams and wedges placed

in front of buildings and settlements, or along roadways

to protect against avalanches. Around avalanche

starting zones, for instance, support structures made

of steel, wood, or nets prevent snowpack from moving

at all. Protective structures, such as wooden blocks

or poles driven into the ground, prevent snowslides.

Today, many dams at hydroelectric plants are part of

civil protection measures and are used to prevent

disasters, because the institutions responsible have

lowered the standard water level and keep constant

watch over inflow and outflow, while appropriate

changes to the regulations governing water standards

were made.

In many coastal areas large protection systems of dikes,

barriers, breakwaters, groins, embankments made of

boulders, broken stone, or sand, and suitable reinforced

walls protect from extremely heavy seas, high

water, or even flooding. The goal here is to break up

the swell, thus reduce energy and prevent dangerously

high water levels in areas prone to flooding. Furthermore,

the coasts themselves are protected from erosion

and coastline retreat. In some regions, a combination

of coastal barriers and pumping stations can drain

large areas of land for reclamation.

Nevertheless, each and every structure, whether on

the coast, on plains, or in the mountains, can only

provide protection from the so-called design events—

a term that describes the threshold for the level of

protection—they are designed for. The criteria for

this threshold are either the "intensity" of the impact

or the "frequency" of a particular kind of natural event.

Such a design event can, for instance, be a flood that

happens in one-hundred-year cycles, or an avalanche

of snow that occurs every three hundred years.

the general sense of security felt is obviously greater—

with the result that (additional) exposure occurs, because

there will be more construction in areas that

were previously excluded from any sort of development.

And when a protective structure fails—say, a dike or a

dam, an avalanche barrier or a retention basin—then

the catastrophe is of an exponentially greater magnitude,

due to the greater exposure that has occurred.

Therefore, we must consider that a protective structure

will not solve all problems, and that there are certain

conditions that must be taken into account. Add to

that the fact that every protective structure has to be

cared for and maintained at great cost after it is built.

The questions that must be answered regarding the

sustainable protection of landscape are: What is worth

protecting? Which changes are acceptable, and which

are not? How safe does our environment have to be?

What is tolerable, what is acceptable, and what is not?

What level of safety has to be achieved?

It is evident that these thoughts, as well as what our

landscapes will look like, are of major importance to

our future. There are few natural, untouched landscapes

left in the world. We have to be clear about

how we want to view our natural world, what we want

to keep, what we will alter, and when. It is up to us

to design our environment—and hence, the surface

of the earth—and to allow landscapes as such

to manifest. 7

on Disaster Risk Reduction (Geneva, 2009), www.unisdr.org/files/7817

_UNISDRTerminologyEnglish.pdf (accessed March 20, 2017); and Stefan

Greiving and Thomas Glade, "Risk Governance," in Peter T. Bobrowsky,

ed., Encyclopedia of Natural Hazards (Dordrecht, 2013), pp. 863–70.

DIAGRAM SOURCES

W. Steffen, W. Broadgate, L. Deutsch, O. Gaffney, and C. Ludwig,

"The Trajectory of the Anthropocene: The Great Acceleration," The

Anthropocene Review, 2015.

Münchener Rückversicherungs-Gesellschaft, Geo Risks, Research,

NatCatSERVICE–01/2015.
---
LOSS

EVENTS

WORLDWIDE

1980–2014

WELTWEITE SCHADENSFÄLLE

LOSS

EVENTS

WORLDWIDE

2014

WELTWEITE SCHADENSFÄLLE

WINTER DAMAGE

Winterschäden

SEVERE STORMS

Schwere Stürme

FLOODS

Überschwemmungen

FLOODS

Überschwemmungen

TYPHOON RAMMASUN

Taifun Rammasun

1000

800

600

DROUGHT

Dürre

SEVERE STORMS

Schwere Stürme

WINTER DAMAGE

Winterschäden

400

HURRICANE ODILE

Hurrikan Odile

FLASH FLOODS

Sturzfluten

TYPHOON KALMAEGI

Taifun Kalmaegi

200

1980

1982

1984

1986

1988

1990

1992

1994

1996

1998

2000

2002

2004

2006

2008

2010

2012

2014

SEVERE STORMS

Schwere Stürme

SEVERE STORMS

Schwere Stürme

DROUGHT

Dürre

CYCLONE

HUDHUD

Wirbelsturm

Hudhud

YEAR

JAHR

SEVERE STORMS

Schwere Stürme

FLOODS

Überschwemmungen

EARTHQUAKE

Erdbeben

METEOROLOGICAL EVENTS

METEOROLOGISCHE EREIGNISSE

Tropical storm | Tropischer Sturm

Extratropical storm | Außertropischer Sturm

Convective storm | Konvektiver Sturm

Local storm | Lokaler Sturm

HYDROLOGICAL EVENTS

HYDROLOGISCHE EREIGNISSE

Flood | Überschwemmung

Mass movement | Erdrutsche

CLIMATOLOGICAL EVENTS

KLIMATISCH BEDINGTE EREIGNISSE

Extreme temperature | Extremtemperaturen

Drought | Dürre

Wildfire | Waldbrände

GEOPHYSICAL EVENTS

GEOPHYSIKALISCHE EREIGNISSE

Earthquake | Erdbeben

Tsunami | Tsunami

Volcanic activity | Vulkanismus

METEOROLOGICAL EVENTS

METEOROLOGISCHE EREIGNISSE

Tropical storm | Tropischer Sturm

Extratropical storm | Außertropischer Sturm

Convective storm | Konvektiver Sturm

Local storm | Lokaler Sturm

HYDROLOGICAL EVENTS

HYDROLOGISCHE EREIGNISSE

Flood | Überschwemmung

Mass movement | Erdrutsche

CLIMATOLOGICAL EVENTS

KLIMATISCH BEDINGTE EREIGNISSE

Extreme temperature | Extremtemperaturen

Drought | Dürre

Wildfire | Waldbrände
---
SOCIO-

ECONOMIC

TRENDS

SOZIOÖKONOMISCHE

ENTWICKLUNGEN

EARTH

SYSTEM

TRENDS

ENTWICKLUNGEN

DES ERDSYSTEMS

BILLION

EXA JOULE (EJ)

MILLION TONS

MILLION MOTOR VEHICLES

8

7

6

5

4

3

2

1

0

600

500

400

300

200

100

0

200

160

120

80

40

0

2000

1000

800

700

600

400

200

0

1750

1750

1750

WORLD

POPULATION

Weltbevölkerung

Milliarden

1800

1800

1850

1850

1900

PRIMARY

ENERGY USE

Primärenergienutzung

Exajoule (EJ)

1900

FERTILIZER

CONSUMPTION

Düngemittelverbrauch

Millionen Tonnen

1800

1850

1900

TRANSPORTATION

Transportwesen

Millionen Verkehrsmittel

1950

1950

1950

2010

2010

2010

TRILLION US DOLLARS

THOUSAND DAMS

MILLION TONS

BILLION PHONE

SUBSCRIPTIONS

70

60

50

40

30

20

10

35

30

25

20

15

10

5

0

0

400

300

200

100

0

7

6

5

4

3

2

1

0

1750

1750

1750

REAL GDP

Reales BIP

Billionen US-$

1800

1800

1800

1850

LARGE DAMS

Großstaudämme

Tausend

1850

PAPER

PRODUCTION

Papierproduktion

Millionen Tonnen

1850

1900

1900

1900

TELE-

COMMUNICATIONS

Telefonanschlüsse

Milliarden

1950

1950

1950

2010

2010

2010

MILLION ARRIVALS BILLION

THOUSAND KM 3

TRILLION US DOLLARS

2.5

2.0

1.5

1.0

0.5

0

4

3

2

1

0

4

3

2

1

0

1000

800

600

400

200

0

1750

1750

1750

FOREIGN

DIRECT

INVESTMENT

Auslandsdirektinvestitionen

Billionen US-$

1800

1850

WATER USE

Wasserverbrauch

Tausend km 3

1800

1800

1850

URBAN

POPULATION

Stadtbevölkerung

Milliarden

1850

1900

1900

1900

INTERNATIONAL

TOURISM

Internationaler Tourismus

Millionen Ankünfte

1950

1950

1950

2010

2010

2010

% LOSS (AREA)

MILLION TONS

% LOSS

ATMOSPHERIC CONC. PPM

390

360

330

300

270

100

80

60

40

20

0

80

70

60

50

40

30

20

10

0

30

25

20

15

10

5

0

1750

1750

1750

CARBON

DIOXIDE

Kohlendioxid

Luftkonzentration ppm

1800

1800

1850

1850

1900

STRATOSHPERIC

OZONE

Ozonschicht

%Verlust

MARINE FISH

CAPTURE

Meeresfischfang

Millionen Tonnen

1800

1850

TROPICAL

FOREST LOSS

Regenwaldverlust

% der Gesamtfläche

1900

1750

1900

1800

1950

1850

1950

1900

1950

1950

2010

2010

2010

2010

ATMOSPHERIC CONC. PPB

TEMPERATURE ANOMALY 0 C

MILLION TONS

% OF TOTAL LAND AREA

320

300

280

260

0.6

0.4

0.2

0

-0.2

-0.4

-0.6

4

3

2

1

0

50

25

0

1750

1800

1750

1850

1750

1900

1750

1950

1800

2010

1800

1750

1800

1800

1850

1850

1850

1900

1900

1900

1950

1950

1950

2010

1850

1900

1950

2010

2010

2010

ATMOSPHERIC CONC. PPB

8.0

7.5

7.0

6.5

1750

1750

1750

1800

1800

1850

1750

1850

1800

1850

1900

1950

2010

1900

1950

2010

1900

1950

2010

1750

1800

1800

1850

1850

1900

1900

1950

1950

2010

2010

1750

1800

1850

1900

1950

2010

NITROUS

OXIDE

Distickstoffoxid

Luftkonzentration ppb

SURFACE

TEMPERATURE

Erdoberflächentemperatur

Temperaturabweichung °C

SHRIMP

AQUACULTURE

Garnelenzucht

Millionen Tonnen

DOMESTICATED

LAND

Flächenverbrauch

% der globalen Landmasse

HYDROGEN ION.NMOL KG -1

HUMAN N FLUX MTON YR -1

% LOSS MEAN SPECIES

ABUNDANCE

1800

1600

1400

1200

1000

800

600

100

80

60

40

20

0

40

30

20

10

0

METHANE

Methan

Luftkonzentration ppb

OCEAN

ACIDIFICATION

Meeresübersäuerung

Hydrogen Ion.nmol kg -1

COASTAL

NITROGEN

Stickstoffeinbringung

Human n flux mton yr -1

TERRESTRIAL

BIOSPHERE

DEGRADATION

Verschlechterung der Biosphäre

% Verlust der Artenvielfalt
---
DIE EN

TWICKLU

NG DER LA

NDSCH

AFT

Prof. Thomas Glade
---
Die Landschaften auf unserer Erde sind Ergebnisse

von Prozessen, die schon seit Millionen

von Jahren die Erdoberfläche formen. Seit

über vier Milliarden Jahren entstehen und verschwinden

Gesteinsformationen, und so bietet sich dem

Blick auf die gegenwärtige Landschaft gleichsam nur

eine Momentaufnahme in dieser Entwicklung. Jedes

Landschaftsbild zeigt den Ist-Zustand andauernder

Prozesse. Die Oberflächenformen sind Resultat von

globalen Plattenbewegungen, von immensen Kräften,

die wirken, indem sie beispielsweise Gebirge erschaffen,

feste Gesteine deformieren und neue hervorbringen.

An anderer Stelle werden diese Gebirge durch

von außen einwirkende Kräfte (etwa durch Starkniederschläge)

wieder erodiert, und die abgetragenen

Sedimente werden andernorts (zum Beispiel in großen

flachen Flüssen) erneut abgelagert und angehäuft.

Während die Gebirgsbildung sich über Jahrmillionen

hinzieht, können sich die Abtragungen innerhalb von

Sekunden oder Minuten ereignen – in wenigen

Augenblicken können sich mehrere Tonnen Gestein

aus einer Felswand lösen und donnernd zu Tal stürzen.

Viele dieser Prozesse passieren gleichzeitig. Im

nächsten Moment mag es anders sein, Landschaften

befinden sich in stetem Wandel. Die ästhetische Landschaft

als solche entsteht dabei aber immer erst im

Auge des Betrachters, aus geomorphologischer Sicht

KLIMAWANDEL UND GLOBALER WANDEL

Manche der vergangenen Entwicklungen sind sehr

gut dokumentiert. Ein Vergleich von Gemälden, Fotografien

oder Karten aus früheren Zeiten mit der

heutigen Situation gestattet es, einige Aussagen zu

Landschaftsveränderungen zu treffen. Diese Veränderungen

werden nur dann zur Gefahr und zum Risiko

und schließlich auch zur potenziellen Katastrophe,

wenn der Mensch sich nicht genug angepasst hat –

sei es infolge einer bewussten, fehlerhaften Entscheidung

oder aufgrund von Unkenntnis hinsichtlich der

Gefahrensituation. 1 Oder wie Max Frisch es formulierte:

»Die Natur kennt keine Katastrophe, Katastrophen

kennt allein der Mensch, sofern er sie überlebt.« 2

Gegenstand zahlreicher Untersuchungen ist, wie sich

die Landschaften in den verschiedenen Regionen

weiter entwickeln werden. 3 Dieser Wandel ist ein

Aspekt des Globalen Wandels, also der Veränderungen

in der natürlichen und der gesellschaftlichen

Umwelt. Dazu gehören insbesondere globale Umweltveränderungen

wie zum Beispiel die Entwaldung und

Ausbreitung von Wüsten, das Artensterben, die Versauerung

der Meere. Nicht zuletzt der Klimawandel

stellt hier einen spezifischen Treiber dar. 4 Die Veränderungen

in unserem Wettergeschehen sind zahlreich:

Extreme werden extremer, die Gesamtmengen der

dekadischen, jährlichen oder monatlichen Nieder-

Küsten? Diese Fragen müssen gesamtgesellschaftlich

beantwortet werden.

DIE UMGANGSOPTIONEN

Die einfachste Option, sich gegenüber der Landschaftsveränderung

zu verhalten, wäre, nichts zu

machen – sprich: die normalen, natürlichen Prozesse

an der Erdoberfläche so zuzulassen, wie sie sind. Das

würde aber zu vielen Veränderungen führen – Almen

in Hochgebirgen würden verbuschen, Wälder würden

sich ausbreiten, Talauen würden versumpfen, Küsten

würden massiv erodieren, um nur einige der Änderungen

aufzuzählen. Eine solche Naturentwicklung

entspricht häufig nicht dem menschlichen Interesse

und ist meist deshalb nicht gewünscht, weshalb interveniert

wird.

Passive Optionen basieren auf dem Konzept »aus dem

Weg gehen«. Beispielsweise können in der Raumplanung

bestimmte potenziell gefährdete Gebiete

ausgewiesen werden, in denen dann entweder gar

nicht mehr gebaut werden darf oder nur unter erheblichen

Auflagen. Obwohl solche Raumplanungen

von großer Bedeutung sind, bestehen häufig immense

Nutzungskonflikte und werden widersprüchliche

Ansprüche und Erwartungen formuliert. Dies ist

besonders häufig in den Regionen mit einem hohen

Siedlungsdruck zu beobachten, zum Beispiel in den

von Felsstürzen werden Steinschlagnetze entlang der

Verkehrswege installiert oder gegen Überschwemmungen

lokale Dämme gebaut. In Überschwemmungsgebieten

könnten Gebäude so konzipiert werden,

dass sich alle Öffnungen in einer bestimmten Höhe

befinden und das Wasser nicht in die Gebäude eindringen

kann.

Alternativ und ergänzend können vor dem schützenswerten

Bereich technische Strukturen – eben Schutzbauwerke

– errichtet werden, die verhindern sollen,

dass die zu erwartenden Naturgefahren die gefährdeten

Strukturen überhaupt erreichen, oder zumindest

dafür sorgen, dass dies nur mit einer sehr verminderten

Stärke geschieht. Hierzu gehören beispielsweise

Umlenkdämme und Spaltkeile vor Gebäuden und

Siedlungen oder auch Galerien entlang von Verkehrswegen

als Schutzmaßnahmen gegen Lawinen. In den

Quellgebieten verhindern bei Schneelawinen beispielsweise

Stützverbauungen aus Stahl, Holz oder

Netze, dass die Schneemassen überhaupt in Bewegung

geraten. Schutzvorrichtungen wie Holzblöcke oder

Verpfählungen im Boden verhindern Gleitschnee.

In den Wildbächen der Gebirge werden die Abflussrinnen

modifiziert, um die Fließgeschwindigkeit zu

verringern. Hierzu gehört der Einbau von sogenannten

Treppen, Sohlgurten und -schwellen sowie Dämmen

aus Holz, Stein oder Stahlbeton. Geröllsperren ent-

Eingriffe in die Wasserstandsregelung werden heute

zahlreiche Staudämme von Wasserkraftwerken für

den Katastrophenschutz mitgenutzt.

In vielen Küstenbereichen schützen große Deichanlagen,

Sperrwerke, vorgelagerte Wellenbrecher,

Buhnen, künstliche Aufschüttungen mit Geröll

beziehungsweise Schotter oder Sand und entsprechend

Schutzmauern vor extremen Wellengängen,

hohen Wasserständen oder gar Sturmfluten. Diese

Schutzbauwerke dienen dem Ziel, die Wellenenergie

zu brechen und überflutungsgefährdete Gebiete vor

möglichen hohen Wasserständen zu schützen. Weiterhin

schützt man die Küsten selbst auch vor Landverlust

und Uferrückgang. In manchen Regionen ermöglicht

ein Küstenschutz, gekoppelt mit Schöpfwerken, auch

die Entwässerung von großen Gebieten mit entsprechender

Neulandgewinnung.

Allerdings schützt jedes Bauwerk, egal ob an Küsten,

im Flachland oder Hochgebirge gebaut, immer nur

vor dem sogenannten Bemessungsereignis. Dieses

definiert einen Schwellenwert, der notwendig ist, um

ein bestimmtes Schutzniveau zu erreichen. Kriterium

ist hierbei entweder die »Schwere« der Einwirkung

oder die »Häufigkeit« des Auftretens. Ein Bemessungsereignis

kann beispielsweise eine Überschwemmung

mit einem 100-jährlichen Wiederkehrsintervall ebenso

sein wie eine Schneelawine, die alle 300 Jahre auftritt.

von rostenden Stahlträgern beim Lawinenschutz oder

Sackungen bei Deichen). Gleichzeitig wird das Sicherheitsempfinden

der Allgemeinheit durch die Präsenz

von Schutzbauwerken deutlich erhöht, was zur Folge

hat, dass eine (zusätzliche) Exponierung durch bauliche

Ausweitung in Gebiete stattfindet, die zuvor von

jeder Nutzung ausgenommen waren. Und wenn dann

ein Schutzbauwerk versagt, sprich: ein Deich, ein

Damm, eine Schneelawinenverbauung oder ein Retentionsbecken

bricht, dann hat die Katastrophe aufgrund

der größeren Exponiertheit auch ein exponentiell

größeres Ausmaß.

Es muss deshalb immer berücksichtigt werden, dass

mit dem Bau eines Schutzbauwerks nicht alle Probleme

gelöst sind, sondern dass es auch hierbei bestimmte

Rahmenbedingungen zu beachten gilt. Und

auch, dass jedes Schutzbauwerk nach seiner Errichtung

zumeist kostenintensiv gepflegt und unterhalten

werden muss.

Einige der zu klärenden Fragen eines auch nachhaltigen

Landschaftschutzes beinhalten folglich: Was ist

schützenswert? Welche Veränderungen sind akzeptabel

und welche nicht? Wie sicher muss unser Lebensraum

sein? Was ist tolerabel, was ist akzeptabel und was

nicht? Welches Schutzniveau muss erreicht werden?

Evident ist, dass diese Überlegungen von zentraler

Bedeutung für unsere Zukunft sind – und dafür, mit

JEDE ERSCHEINUNGSFORM VON LANDSCHAFT

IST AUCH MIT GEFAHREN, POTENZIELLEN KATA-

STROPHEN UND ZERSTÖRUNG VERBUNDEN.

»DIE NATUR KENNT KEINE KATASTROPHE,

KATASTROPHEN KENNT ALLEIN DER MENSCH,

SOFERN ER SIE ÜBERLEBT.«

hingegen handelt es sich immer nur um eine spezifische

Ausformung der Erdoberfläche zu einem bestimmten

Zeitpunkt.

Ein traumhafter, von Palmen gesäumter Sandstrand

am Meer kann durch einen Tsunami verwüstet werden,

ein wunderschönes alpines Tal kann durch

Bergstürze oder Schneelawinen plötzlich verschüttet

sein, ein friedlicher Gebirgsbach kann durch eine

Mure zu einer tödlichen Gefahr, eine malerische

Dünenlandschaft in der Wüste durch einen Staubsturm

zur ausweglosen Falle werden. Folglich bergen

Landschaften beides: Einerseits wird in Landschaften

gesiedelt, sie sind Orte der Erholung, werden durch

die Landwirtschaft oder als Rohstoffquelle genutzt,

andererseits ist jede Erscheinungsform von Landschaft

auch mit Bedrohung, potenziellen Katastrophen

und Zerstörung verknüpft.

Landschaften werden deshalb sehr stark überprägt –

viel mehr, als uns dies heute noch bewusst ist. Es

wird als normal empfunden, dass Deiche an Küsten

stehen, dass Dämme unsere Flüsse flankieren, dass

Retentionsbecken gebaut werden, um Gerölle oder

Wassermassen aufzufangen, dass Flüsse ausgebaggert

werden, um Schifffahrt zu ermöglichen, oder Sandbänke

im Meer wieder an den Strand gepumpt werden,

um die Küstenerosion zu verringern. Der menschliche

Einfluss auf die Erdoberfläche ist allgegenwärtig.

schläge nehmen zu oder ab, ihr Auftreten unterliegt

im Jahresverlauf massiven Schwankungen, Schneeeinbrüche

bisher unbekannten Ausmaßes treffen

völlig unvorbereitete Regionen, größere Trockenheit

oder weniger Frosttage und mehr Tage mit positiven

Temperaturen in Hochgebirgen sind ebenso zu beobachten

wie mehr Stürme an den Küsten. All dies

ist Ausdruck des Klimawandels. Nach den neuesten

IPCC-Forschungen wird dies auch in Zukunft so

bleiben oder sich noch verstärken. Manche dieser

Veränderungen zeitigen direkte und massive Reaktionen

in veränderten Landschaften, andere sind kaum

sichtbar. Darüber hinaus überlagern sich diese potenziellen

wetter- und klimabedingten Veränderungen an

den Erdoberflächen mit den damit einhergehenden

menschengemachten Veränderungen. 5 Dadurch wird

eine Trennung zwischen den verschiedenen Ursachen

und den entsprechenden Wirkungen einer Landschaftsveränderung

schwierig.

Eine grundlegende Frage ist dabei, welche Art von

Landschaft denn überhaupt erhalten werden soll. Ist

es die Klimaxlandschaft – also diejenige Landschaft,

die am optimalsten an die natürlichen Gegebenheiten

wie Wasserverfügbarkeit, Gesteinstypen, das Vorhandensein

von Böden, Vegetationsverbreitungen angepasst

ist? Oder sind es bestimmte Kulturlandschaften,

die erhalten werden sollen – beispielsweise Weinbaugebiete,

Almen in Hochgebirgen, Marschen an

Tallagen der europäischen Alpen oder auf Inseln, wo

die Handlungsoptionen überschaubar sind. Deshalb

wird in solchen Gebieten vielfach auf die technischen

Maßnahmen der Risikoreduktion zurückgegriffen.

So werden Hänge in Siedlungen betoniert, um die

Hangstabilität zu vergrößern, Küsten werden verbaut,

um die Erosion zu minimieren, Deiche entlang von

Flüssen werden zum Schutz der Talauen errichtet,

Lawinengalerien werden im Hochgebirge angelegt,

um die Tallagen zu sichern.

SCHUTZBAUWERKE

Solche Baumaßnamen lassen sich in unterschiedliche

Typen mit jeweils verschiedenen Aufgaben differenzieren.

Der Objektschutz soll gewährleisten, dass

das zu schützende Bauwerk einer bestimmten Stärke

von Prozessimpakt widersteht. Angesichts drohender

Schneelawinen oder Muren werden beispielsweise die

hangseitigen Mauern ohne Fenster und in Stahlbeton-

Bauweise mit einer Mauerdicke von bis zu mehreren

Metern ausgeführt. In Gebieten mit langsam kriechenden

Rutschmassen werden die Häuser auf eine sehr

starke, teilweise über einen Meter mächtige Betonplatte

gestellt, wodurch die Gebäude auch angesichts

einer Untergrundbewegung von mehreren Zentimetern

pro Jahr nicht mehr zerbrechen, sondern sich

langsam und möglicherweise kippend, dabei aber in

sich intakt, hangabwärts bewegen. Zur Vorbeugung

nehmen den Muren die groben Komponenten der

Sedimentfracht, sodass diese beim Auftreffen auf Bauwerke

nicht mehr eine so zerstörerische Kraft entfalten

kann. Bei Platzverfügbarkeit werden häufig am Anfang

von Schwemmfächern Geschiebesammler eingebaut,

die das Wasser vom Geschiebe trennen und so Felsschutt,

Geröll und Feinsedimente zurückhalten.

Auch natürliche Gegebenheiten können solche

Schutzfunktionen übernehmen; so schützt zum

Beispiel ein Bergwald-Bestand unterhalb liegende

Gebäude vor Steinschlag oder kleinen Felsstürzen,

die in der Felswand darüber ausgelöst worden sind.

Im Falle von Schneelawinen verhindert der Gebirgswald-Bestand

im Anrissgebiet, dass eine Schneelawine

überhaupt ausgelöst wird, er vermag aber eine oberhalb

der Waldgrenze initiierte Lawine nicht aufzuhalten.

6 In Wildbächen verhindern Aufforstungen die

Erosion und damit die Mobilisierung des murfähigen

Materials.

Bei Starkregen reduzieren in den Einzugsgebieten

der Flusssysteme kleine Wasserrückhaltebecken die

Abflussspitze bei Hochwasser in den flussabwärts gelegenen

Gebieten. Dazu können auch bestehende

Bauwerke, etwa Retentionsbecken und Speicherseen

von Wasserkraftwerken, herangezogen werden. Mittels

einer Absenkung des Regelpegels, laufender Überwachung

der Zu- und Abflussmengen durch die

verantwortlichen Institutionen und entsprechender

Die baulich-technische Umsetzung solcher Bemessungsereignisse

in Schutzbauwerke basiert jedoch nicht

nur auf technisch-wirtschaftlichen Überlegungen,

sondern trägt auch häufig dem »Empfinden« der

Bevölkerung Rechnung. Entscheidend ist hierbei, dass

jedes Schutzbauwerk immer nur bis zum »Design-

Event« schützt, das heißt bis zu jenem Ereignis, das

die Grundlage zur Berechnung des Bemessungsereignisses

bildete. Bei Ereignissen größeren Ausmaßes

kann das Bauwerk keine Schutzfunktion mehr erfüllen.

Das Konzept beinhaltet folglich die Anerkennung

des Umstands, dass die Gesellschaften natürliche

Prozesse nicht komplett verhindern können. Jeder

Damm, jedes Retentionsbecken, jede Buhne, jede

Stützmauer ist nur im Hinblick auf eine bestimmte

Größenordnung von Ereignissen gebaut worden –

es werden aber auch größere eintreten. Sicherlich

viel seltener und zu einem unbekannten Zeitpunkt,

aber sie werden passieren.

Dies steht im Kontrast zur verbreiteten öffentlichen

Wahrnehmung, in der die Errichtung von Schutzbauwerken

sehr häufig mit Sicherheit gleichgesetzt wird,

ohne dass man sich noch die zugrunde liegenden

Annahmen bewusst macht. Zudem wird häufig außer

Acht gelassen, dass auch Schutzbauwerke, wie jede

bautechnische Anlage, versagen können, sei es aufgrund

einer mangelhaften baulichen Durchführung

oder allmählicher Alterung (zum Beispiel in Form

welchem Erscheinungsbild sich unsere Landschaften

präsentieren werden. Natürliche, vom Menschen

unbeeinflusste Landschaften existieren global fast

nicht mehr, das heißt, wir müssen uns darüber klar

werden, wie wir unsere natürliche Welt sehen

möchten, was wir erhalten möchten und was wir

wie wann verändern werden. Es liegt an uns, unsere

Umwelt – und damit auch die Erdoberflächen – zu

gestalten und die Landschaften als solche in Erscheinung

treten zu lassen. 7
---
1 Die in diesem Text verwendeten Begrifflichkeiten beziehen sich auf die in

der folgenden Literatur dargelegten Definitionen: Carsten Felgentreff und

Thomas Glade (Hrsg.), Naturrisiken und Sozialkatastrophen, Heidelberg 2008;

Susanne Krings und Thomas Glade, »Terminologische Normierungen und

Diskussionen«, in: Harald Karutz, Wolfram Geier und Thomas Mitschke

(Hrsg.), Bevölkerungsschutz. Notfallvorsorge und Krisenmanagement in Theorie und

Praxis, Berlin und Heidelberg 2017, S. 30–53; UNISDR (Hrsg.), United Nations

International Strategy for Disaster Reduction (UNISDR) Secretariat Evaluation, 2009,

www.unisdr.org/files/12659_UNISDRevaluation2009finalreport.pdf

(29.3.2017).

2 Max Frisch, Der Mensch erscheint im Holozän, Frankfurt am Main 1979, S. 103.

3 Vgl. u. a. Rajendra K. Pachauri und Leo A. Meyer (Hrsg.), IPCC 2014 Synthesis

Report. Contribution of Working Groups I, II and III to the Fifth Assessment Report

of the Intergovernmental Panel on Climate Change, Genf 2014, S. 151.

4 Ebd.

5 Vgl. Thomas Glade u. a., »Der Einfluss des Klimawandels auf die Reliefsphäre«,

in: Helga Kromp-Kolb u. a. (Hrsg.), Österreichischer Sachstandsbericht

Klimawandel 2014 / Austrian Panel on Climate Change (APCC), Wien

2014, S. 557–600.

6 Es muss jedoch auch erwähnt werden, dass solche forstlichen oder noch

generell biologischen Schutzfunktionen einer sehr großen Pflege bedürfen,

da jede kleinste Änderung, beispielsweise im Waldbestand, größte Änderungen

in der Schutzfunktion nach sich zieht.

7 Weiterführende Literatur: Gabi Hufschmidt, Michael Crozier und Thomas

Glade, »Evolution of Natural Risk: Research Framework and Perspectives«,

in: Natural Hazards and Earth System Sciences, 5, 2005, S. 375–387;

www.nat-hazards-earth-syst-sci.net/5/375/2005/nhess-5-375-2005.pdf

(6.2.2017). – UNISDR (Hrsg.), 2009 UNISDR Terminology on Disaster Risk

Reduction, Genf 2009; www.unisdr.org/files/7817_UNISDRTerminology-

English.pdf (6.2.2017). – Stefan Greiving und Thomas Glade, »Risk

Governance«, in: Peter T. Bobrowsky (Hrsg.), Encyclopedia of Natural Hazards,

Dordrecht 2013, S. 863–870.

QUELLE GRAFIKEN

W. Steffen, W. Broadgate, L. Deutsch, O. Gaffney, and C. Ludwig,

"The Trajectory of the Anthropocene: The Great Acceleration," The

Anthropocene Review, 2015.

Münchener Rückversicherungs-Gesellschaft, Geo Risks, Research,

NatCatSERVICE–01/2015.
---
FOLKESTONE 01

ENGLAND

During a lazy day at the beach, the sea may

seem totally safe. But the sheer massiveness

of the breakwater suggests the potential

force of nature. Without this barrier and similar

bulwarks elsewhere, people would not

be able to enjoy nature as they do today.

An einem geruhsamen Strandtag scheint das

Meer vollkommen ungefährlich zu sein. Aber

die Ausmaße der Mole lassen das Gefahrenpotenzial

der Natur erahnen. Ohne dieses

und ähnliche Bollwerke andernorts könnten

die Menschen die Natur nicht so genießen,

wie sie es heutzutage tun.

OOSTENDE 02

BELGIUM | BELGIEN

The sixty-five-kilometer Belgian coastline is

almost completely developed, which is why

it is dubbed "the longest city in the world."

Accordingly, the sea defense is integrated

into the real estate and recreation areas,

making it the least visible of all constructions

in this scene.

Die 65 Kilometer lange belgische Küste ist

nahezu vollständig bebaut, weshalb sie auch

»die längste Stadt der Welt« genannt wird.

Dementsprechend sind die Küstenschutzbauten

so in die Häuser und Erholungszonen

integriert, dass sie in dieser Szenerie kaum

sichtbar sind.

SAN SEBASTIÁN 03

SPAIN | SPANIEN

At the city beach of San Sebastián, the sea

defense is integrated into the historic promenade.

The Bay of Biscay is dreaded for its

rough sea, and some of the fiercest weather

conditions of the Atlantic Ocean can be observed

here.

Am Stadtstrand von San Sebastián ist der

Küstenschutz in die historische Promenade

integriert. Die Biskaya ist berüchtigt für ihre

raue See. Man kann hier mit die heftigsten

Stürme des Atlantiks beobachten.

MUTRIKU 04

SPAIN | SPANIEN

The breakwater of this Basque fishing town

might look historic, but it was built recently.

It is also one of the world's most advanced,

including the first multi-turbine-wave power

station creating electricity from the power of

the sea.

Die Wellenbrecher dieses baskischen Fischerdorfs

mögen historisch anmuten, sie sind jedoch

neu errichtet. Tatsächlich gehören sie zu den

modernsten ihrer Art, denn das in sie integrierte

Wellenkraftwerk erzeugt Strom aus

der Energie des Meeres.

BLACKPOOL 05

ENGLAND

Blackpool's rise as the sea resort of the

working class is closely linked to its proximity

to the cotton-mill towns of Lancashire and the

heavy industry of Manchester and Liverpool.

While the northern sea defenses were recently

modernized, Pleasure Beach looks derelict,

as does most of the town today.

Blackpools Aufstieg zum Badeort der Arbeiterklasse

ist aufgrund seiner räumlichen Nähe eng

mit den Textilfabriken von Lancashire und der

Schwerindustrie Manchesters und Liverpools

verbunden. Während die nördlich gelegenen

Schutzbauten kürzlich modernisiert wurden, sind

die Anlagen am Pleasure Beach heruntergekommen,

wie heute auch größere Teile der Stadt.

WISSANT 06

FRANCE | FRANKREICH

FOLKSTONE 07

ENGLAND

What looks like a promenade from the distance

is actually a large wave-breaking sea defense.

The difference in vegetation along the slopes

demonstrates the effectiveness of the structure.

Was aus der Ferne wie eine Strandpromenade

aussieht, ist eigentlich ein großer wellenbrechender

Schutzbau. Die unterschiedliche

Vegetation des Abhangs verdeutlicht die

Wirksamkeit dieser Baumaßnahme.

CROMER 08

ENGLAND

Civil engineering against natural disasters is

not only expensive to build but also to maintain.

If public funding is not sufficient, protective

structures quickly disintegrate, as is

the case with these partly defunct costal defenses.

The effects are striking, and the

coastal erosion is massive.

Bauwerke zum Schutz vor Naturkatastrophen

sind nicht nur teuer in der Konstruktion, sondern

auch im Unterhalt. Reichen die öffentlichen

Mittel für die Instandhaltung nicht aus, verfallen

die Anlagen, wie auch diese teilweise

kaputten Küstenwälle. Die Auswirkungen

sind offensichtlich, und die Küstenerosion ist

entsprechend ausgeprägt.

LYME REGIS 09

ENGLAND

The Jurassic Coast in southern England is

famous for its ragged shoreline caused by

constant erosion. It was designated a UNESCO

World Heritage Site for the fossils that are

regularly uncovered there. Conservation

management struggles to allow erosion while

protecting people and property nonetheless.

Die Juraküste in Südengland ist berühmt für

ihre zerklüftete, durch starke Erosion geformte

Küstenlinie. Aufgrund häufiger Fossilienfunde

wurde sie zum UNESCO-Weltkulturerbe erklärt.

Die Küstenschützer sind mit der Herausforderung

konfrontiert, einerseits diese natürliche

Erosion zuzulassen, andererseits die Menschen

und deren Besitz zu schützen.

LØNSTRUP 10

DENMARK | DÄNEMARK

Just south of the town stood the medieval

Mårup church, which was built one kilometer

from the coast but had to be abandoned and

was dismantled in 2008 as it was about to be

washed away. On the average around 1.5

meters are lost to the sea every year.

Ursprünglich einen Kilometer von der Küste

entfernt errichtet, stand die mittelalterliche

Mårup-Kirche etwas südlich der Stadt. 2008

musste sie aufgegeben werden, da sie ins Meer

zu stürzen drohte. Anderthalb Meter Küste

werden hier jährlich im Schnitt weggespült.

The tidal range on the channel coast is so

great and the water rises so quickly that

tourists on the beach are caught off guard

day after day. Within a couple of minutes,

several hundred meters of beach are inundated.

The algae on the sea defense give an

idea of the water level at high tide.

Der Tidenhub an der Kanalküste ist so groß, und

das Wasser steigt so schnell, dass Touristen

am Strand täglich neu von der Flut überrascht

werden. Innerhalb weniger Minuten werden

mehrere hundert Meter Strand überschwemmt.

Der Algenbewuchs an der Deichwand deutet

die Hochwasserlinie an.

SIDMOUTH 11

ENGLAND

Southwest England is famed for its rugged

coastline caused by constant erosion, and

Sidmouth is struggling to protect itself

against the forces of the sea that cause

those craggy cliffs.

Südwestengland ist berühmt für die schroffe

Küstenlinie, die durch ständige Erosion entsteht;

und so ist es ein beständiger Kampf,

den die Küstenstadt Sidmouth gegen die Kraft

des Meeres führen muss, die aber auch für

die malerische Klippenlandschaft sorgt.

LØNSTRUP 12

DENMARK | DÄNEMARK

To protect the town of Lønstrup against the

erosive forces of the Skagerrak's currents, large

breakwaters were built. This measure is proving

to be quite successful. The beach grass that

now covers the side of the dunes is evidence

of the now limited erosion.

Um das Dorf Lønstrup gegen die Erosion der

Skagerrak-Strömung zu schützen, wurden

große Wellenbrecher errichtet. Diese Maßnahmen

waren erfolgreich: Der Strandhafer,

der jetzt auf den Dünen wächst, ist sichtbarer

Beweis für die gebremste Erosion.

OOSTERSCHELDEKERING 13

HOLLAND

The Netherlands is in an unfortunate situation:

not only are large parts of the country below

sea level. The vast river delta of the Rhine, the

Maas, and the Schelde also make it impossible

to completely close off the coastline. Stormsurge

barriers, which allow free drainage of

river water during normal conditions, can be

shut to create a continuous line of sea defense.

Die Niederlande sind in einer schwierigen Lage:

Zum einen liegen große Teile des Landes unterhalb

des Meeresspiegels, zum anderen

machen es die riesigen Flussdeltas von Rhein,

Maas und Schelde unmöglich, die Küste

komplett abzuriegeln. Sturmflutwehre, die

den freien Abfluss unter Normalbedingungen

gewährleisten, können bei Bedarf geschlossen

werden, um eine durchgehende Hochwasser-

Verteidigungslinie zu schaffen.

NORDSTRAND 14

GERMANY | DEUTSCHLAND

It is not enough to design and construct bulwarks

against the forces of nature. Expensive

maintenance and reinforcement work also have

to be undertaken constantly to keep up the

level of desired protection, in a never-ending

struggle.

Es genügt nicht, Bollwerke gegen die Naturgewalten

zu entwerfen und zu bauen. Es ist

ein nie endender Kampf: Um den Schutz

aufrechtzuerhalten, sind ständige und teure

Instandhaltungsmaßnahmen nötig.

DUNKERQUE 15

FRANCE | FRANKREICH

A major obstacle to my work along the coast

was the lack of elevated vantage points.

I acquired a used aerial work platform to

make the impossible possible. Elevated to a

height of eleven meters, it gave me the right

point of view wherever I was.

Eine große Herausforderung für meine Arbeit

entlang der Küsten war, dass es dort nur wenige

erhöhte Aussichtspunkte gibt. Ich kaufte eine

alte Hubarbeitsbühne, um das Unmögliche

möglich zu machen: Aus bis zu elf Metern

hatte ich so immer die perfekte Aussicht.
---
HARINGVLIETDAM 16

HOLLAND

The Haringvlietdam sluices regulate the drainage

of the Rhine and the Maas, while simultaneously

serving as a storm-surge barrier. The

sluices normally remain closed and the Rhine

flows through the port of Rotterdam, but at

high stream gauge water is rerouted to the

sea through this alternate estuary.

Das Haringvlietdam-Sperrwerk regelt die Entwässerung

des Rheins und der Maas und dient

dem Schutz vor Sturmfluten. Das Sperrwerk

ist normalerweise geschlossen, und der Rhein

fließt durch den Hafen von Rotterdam ab, bei

Rhein-Hochwasser jedoch wird das Wasser

dann durch diese alternative Mündung ins

Meer geleitet.

NEELTJE JANS 17

HOLLAND

In the middle of the Oosterscheldedam, the

artificial island of Neeltje Jans was built to

facilitate the construction of the dam. Many

of the lagoons created in Zeeland by the

coastal defenses are now used for oyster and

mussel farming.

Für den Bau des Oosterscheldedamms wurde

die künstliche Insel Neeltje Jans aufgeschüttet.

Viele der Lagunen, die in Zeeland vom Küstenschutz

geschaffen wurden, werden jetzt

für die Austern- und Muschelzucht genutzt.

HAMBURG 18

GERMANY | DEUTSCHLAND

Despite being about one hundred kilometers

inland from the North Sea, Hamburg needs

levees and sea walls of around nine meters in

height to protect against storm surges. Architect

Zaha Hadid designed the last reinforcement

of the city's sea defense.

Obwohl Hamburg etwa hundert Kilometer von

der Nordsee landeinwärts liegt, benötigt die

Stadt bis zu neun Meter hohe Deiche und

Schutzwände, um sich vor Sturmfluten zu

schützen. Die Architektin Zaha Hadid entwarf

die jüngste Ausbaustufe.

VROUWENPOLDER 19

HOLLAND

Dunes may appear natural, even when they are

not. Here, a concrete or rock core turns manmade

dunes into a protective structure. Often,

the careful observer can find traces of the

artificiality.

Die Dünen mögen aussehen wie von der Natur

geschaffen, sind es aber nicht immer. Ein Betonkern

macht aus dieser menschengemachten

Düne eine Schutzkonstruktion. Dem aufmerksamen

Betrachter werden die Spuren von

Künstlichkeit nicht entgehen.

LONDON 20

ENGLAND

Operational since 1982, the Thames Barrier

can close off the Thames to protect the floodplains

of London against tidal and fluvial floods.

It is halfway through its projected lifespan, and

discussions about replacement constructions

have started.

Seit 1982 schützt die Thames Barrier die

Überflutungsgebiete von London vor Flusshochwasser

und Sturmfluten. Die Hälfte der

erwarteten Lebensdauer ist bereits erreicht, und

die Diskussionen über Nachfolgekonstruktionen

haben schon begonnen.

KÖLN 21

GERMANY | DEUTSCHLAND

PHILIPSDAM 22

HOLLAND

Situated in the estuaries of the Rhine, the Maas,

and the Schelde, the Philipsdam is part of the

Delta Works. Its locks are highly sophisticated

to prevent the exchange between the freshwater

of the Volkerak and the brackish water

of the Oosterschelde.

Der Philipsdam im Mündungsdelta von Rhein,

Maas und Schelde ist Teil der Deltawerke. Um

den Austausch zwischen dem Süßwasser des

Volkerak auf der einen und dem Brackwasser

der Oosterschelde auf der anderen Seite zu

verhindern, bedarf es einer komplexen

Schleusentechnik.

DUISBURG 23

GERMANY | DEUTSCHLAND

In cities in particular, space is rare, and protective

structures are space intensive. Further

expansions to accommodate higher risk levels

will need even more space. Accordingly, compromises

have to be made—such as this levee

that is cut in half by a street.

In Städten ist Raum besonders knapp, doch

Hochwasserschutzanlagen haben einen erheblichen

Platzbedarf. Erweiterungen, die aufgrund

steigenden Risikos erforderlich werden,

beanspruchen weiteren Platz. Folglich müssen

Kompromisse – wie bei diesem durch die Straße

angeschnittenen Deich – gemacht werden.

SANKT PETER-ORDING 24

GERMANY | DEUTSCHLAND

Around 100 million euros are spent every

year on maintaining levees in Germany. One

kilometer of new levee costs around three to

four million euros. The investment is necessary

to keep the land safe—and so far the project

has been successful: 1976 was the last time

a German North Sea levee broke.

Etwa 100 Millionen Euro werden jährlich für

den Erhalt von Deichen in Deutschland ausgegeben.

Ein Kilometer Deichneubau kostet rund

drei bis vier Millionen Euro. Diese Investitionen

sind notwendig, um das Festland abzusichern –

bisher ist das Unterfangen erfolgreich: 1976

brach zum letzten Mal ein deutscher Nordseedeich.

ROTTERDAM 25

HOLLAND

Rendered theoretically obsolete by the new

Maeslantkering storm-surge barrier, the

Hollandse IJssel storm-surge barrier's function

today is to serve as a second line of defense

to protect the fresh water supply of large parts

of South Holland by preventing salt water from

reaching inland.

Das neue Maeslantkering-Sturmflutsperrwerk

machte das Hollandse-Ijssel-Sperrwerk eigentlich

überflüssig, doch dient dieses heute als

zweite Verteidigungslinie, um die Frischwasserversorgung

großer Teile Südhollands zu schützen,

indem es auch bei Deichbruch verhindert,

dass Salzwasser ins Landesinnere vordringen

kann.

Today, the floodplains of the Rhine and its levees

provide precious green space for recreation

in the large urban centers that flank the river,

like Cologne in this image.

Die Überschwemmungsgebiete des Rheins und

seine Deiche sind wertvolle Grünflächen und

Naherholungsgebiete in den Großstädten

entlang des Flusslaufs.

RUHRTALBRÜCKE 26

GERMANY | DEUTSCHLAND

The bridge spanning the Ruhr Valley, known as

the Ruhrtalbrücke, is one of the most famous

images by photographer Andreas Gursky. This

is another take on the bridge, photographed a

few hundred meters downstream.

Seine Fotografie der Ruhrtalbrücke ist eine der

bekanntesten Arbeiten des Fotografen Andreas

Gursky. Diese andere Aufnahme der Brücke

habe ich ein paar hundert Meter stromabwärts

gemacht.

DAGEBÜLL 27

GERMANY | DEUTSCHLAND

My father is railway fan and photographer. It

was through him and his hobby that I got into

photography. As a small boy, I spent many

weekends with him out along the tracks. Later,

I used his darkroom to develop my film and

print my first photographs. These IC destination

coaches at Dagebüll Mole Station are

an homage to him.

Mein Vater ist Eisenbahnfan und -fotograf.

Durch ihn und sein Hobby bin ich zur Fotografie

gekommen. Als kleiner Junge verbrachte

ich viele Wochenenden mit ihm an den Gleisen.

Später habe ich seine Dunkelkammer genutzt,

um Filme zu entwickeln und meine ersten Fotos

zu vergrößern. Diese IC-Kurswagen am Bahnhof

Dagebüll Mole sind eine Hommage an ihn.

AFSLUITDIJK 28

HOLLAND

The Afsluitdijk, which dammed off the Zuiderzee,

is the oldest of all protective structures in

this book. It was built in the 1930s and is more

important than ever, going through regular

upgrades in its height.

Der Abschlussdeich, der die Zuiderzee von der

Nordsee abtrennte, ist das älteste aller Schutzbauwerke

in diesem Buch. Er wurde in den

1930er-Jahren gebaut, ist heute wichtiger

denn je, und seine Deichkrone wird kontinuierlich

erhöht.

SCHENKENSCHANZ 29

GERMANY | DEUTSCHLAND

Near the German-Dutch border, the river Rhine

starts to split into various distributaries forming

the Rhine Delta. The ferry between Düffelward

and Schenkenschanz crosses one of the many

meander rivers of the Rhine.

Nahe der deutsch-niederländischen Grenze

teilt sich der Rhein in verschiedene Arme auf,

die dann das Rheindelta bilden. Die Fähre

zwischen Düffelward und Schenkenschanz

kreuzt einen der vielen Mäander des Altrheins.

SŁUBICE 30

POLAND | POLEN

After several serious flood events in recent

years, the flood protection was reinforced and

improved on the German side of the river Oder.

Soon, construction work will begin to also increase

the level of protection on the pictured

Polish side.

Nach wiederholten schweren Überschwemmungen

in den letzten Jahren wurde der Hochwasserschutz

auf der deutschen Seite der Oder

verstärkt und verbessert. Demnächst beginnen

Bauarbeiten auf der polnischen Seite, um auch

hier den Hochwasserschutz zu erhöhen.
---
ZURICH 31

HOLLAND

Sheep keep the grass on levees short and

dense, protecting it against erosion from wind

and water. The trampling of their hooves

compresses the soil, which increases the

strength of the levee.

Schafe halten das Gras auf den Deichen kurz

und dicht und schützen so vor Erosion durch

Wind und Wasser. Mit ihren Hufen verdichten

sie den Boden, was die Festigkeit der Deiche

erhöht.

DÖMITZ 32

GERMANY | DEUTSCHLAND

The main Elbe levee visible in the background

is flanked by a so-called sleeper dike, the remains

of an old levee that are kept to serve

as a backup if the main levee ever happens

to break.

Der im Hintergrund sichtbare Hauptdeich der

Elbe wird von einem sogenannten Schlafdeich

flankiert. Reste eines alten Damms dienen

als Sicherheit, falls der Hauptdamm doch

einmal brechen sollte.

WIELKI LUBIEN 33

POLAND | POLEN

Population density along vast stretches of the

Vistula river is so low that the levees often

follow the shortest path rather than the flow of

the river. Accordingly, there are long distances

between the levee and the actual river,

creating wide floodplains.

Die Bevölkerungsdichte entlang der Weichsel

ist in weiten Bereichen so gering, dass die

Deiche auf dem kürzesten Weg gebaut werden,

statt dem Flusslauf zu folgen. Daher verlaufen

sie sich oft weit entfernt vom Flussbett, und

es entstehen weite Flussauen.

DANNENBERG 34

GERMANY | DEUTSCHLAND

In parts of the Elbe Urstromtal the levees are

built back from the river. The large meadows

and floodplains allow for a more natural habitat

and improve flood protection.

In Teilen des Elbe-Urstromtals wurden die

Dämme vom Flussbett rückgebaut. Die so

entstehende Auenlandschaft mit ihren Wiesen

bildet einen naturnahen Lebensraum und

verbessert zusätzlich den Hochwasserschutz.

REMOULINS 35

FRANCE | FRANKREICH

Low weirs have the function of protecting

the river bed against erosion and slowing

the flow velocity of the river. Depending on

the water gauge, they are barriers for fish

and other water fauna, which is why they

are often combined with a fish ladder as

seen on the left.

Sohlschwellen schützen ein Flussbett vor

Tiefenerosion und reduzieren die Fließgeschwindigkeit.

Je nach Wasserstand werden sie

zu unüberwindbaren Hindernissen für Fische

und andere Flusstiere. Darum werden sie oft

durch Fischtreppen, wie am linken Bildrand

zu sehen, ergänzt.

MUTRIKU 36

SPAIN | SPANIEN

A row of breakwaters protect the fishing port

of Mutriku against the aggressive gales of

the Bay of Biscay, creating ponds used for

swimming.

Gestaffelte Wellenbrecher schützen den

Fischereihafen von Mutriku gegen die aggressiven

Stürme der Biskaya. Dadurch entstehen

Becken, die als Schwimmbäder genutzt werden.

BALZERS 37

LIECHTENSTEIN

One of Europe's tiniest countries, Liechtenstein

is wedged between the upper Rhine and mountains.

It has to heavily defend its scarce land

against river flooding.

Liechtenstein, einer der kleinsten Staaten

Europas, ist eingekeilt zwischen den Alpen und

dem Oberrhein. Die kleine Landesfläche muss

entsprechend stark gegen die Bedrohung durch

Rheinfluten geschützt werden.

BORT-LES-ORGUES 38

FRANCE | FRANKREICH

While built for a hydro-electric power plant,

the dam in Bort-les-Orgues successfully prevents

flooding along the downstream Dordogne.

Eigentlich als Rückhaltebecken eines Wasserkraftwerks

gebaut, bewahrt die Staumauer

in Bort-les-Orgues das Dordogne-Tal vor

Hochwassern.

JULIERPASS 39

SWITZERLAND | SCHWEIZ

I often used a second-hand aerial work platform

that I acquired for the work on this project. It

did not only create better vantage points, but

also safer ones: the pictured road crosses just

outside the bottom of the frame. With the cherry

picker, I could photograph across the street

from a safe parking lot instead of the roadside.

Für dieses Projekt habe ich eine alte Hubarbeitsbühne

gekauft, die mir nicht nur bessere,

sondern auch sicherere Standpunkte ermöglichte:

Die Passstraße verläuft direkt außerhalb

des unteren Bildrands. Mit meiner Hebebühne

konnte ich statt von der Straße von einem

Parkplatz nebenan fotografieren.

SCHWARZACH IM PONGAU 40

AUSTRIA | ÖSTERREICH

A fairly substantial threat in the Alps is posed

by rock falls and slope failures caused by

thawing permafrost at high altitudes. Rock

netting to catch falling debris is a common

sight along roads and train tracks.

Durch den tauenden Höhenpermafrost steigen

die Gefahren durch Steinschläge und Bergrutsche.

Die Fangnetze zum Schutz der Straßen

und Eisenbahntrassen vor abgehendem Steinschlag

sind schon ein vertrauter Anblick.

BAD GASTEIN 41

AUSTRIA | ÖSTERREICH

The straight river flow, created by construction,

results in a very high flow velocity with according

erosion to the river banks. To prevent this,

the banks had to be built out of concrete and

heavy stones.

Durch Flussbegradigungen steigt die Strömungsgeschwindigkeit

mit entsprechend erhöhter

Ufererosion. Um diese zu verhindern, müssen

die Ufer betoniert und mit schweren Steinen

befestigt werden.

SENGBACHTALSPERRE 42

GERMANY | DEUTSCHLAND

Germany's Central Uplands are the source of

many rivers. To protect against flooding, but

even more importantly for storage of fresh

water against draughts, many valley are

closed off by barrages.

In den deutschen Mittelgebirgen entspringen

zahlreiche Flüsse. Zum Schutz vor Hochwasser

und, wichtiger noch, als Trinkwasserreservoir

für Trockenperioden wurden viele der Täler

mit Staudämmen abgeriegelt.

LIVIGNO 43

ITALY | ITALIEN

It takes a conscious decision to convert a tract

of land into a landscape. We decide what is

deemed a landscape and what is mundane

countryside. A massive construction like this

dam is thus an intervention in nature but not in

the landscape.

Es ist eine bewusste Entscheidung, ein Stück

Natur in eine Landschaft zu verwandeln. Denn

es liegt am Menschen, darüber zu befinden,

was Landschaft ist und was profane Szenerie.

So gesehen, ist ein massives Bauwerk wie

dieser Staudamm ein Eingriff in die Natur,

nicht aber in die Landschaft.

SILVRETTAPASS 44

AUSTRIA | ÖSTERREICH

When we go out to enjoy nature, we rely on

manmade "changes": roads to get there and

marked and secured walkways at the very

least. Often, the attraction itself is artificial

in some way: manicured gardens, meadows

and pastures, or reservoir lakes.

Wenn wir die Natur genießen wollen, verlassen

wir uns auf menschliche »Eingriffe« wie zum

Beispiel Straßen, um dorthin zu gelangen, oder

auch markierte, gesicherte Wanderwege.

Aber oft ist das Ziel selbst auf irgendeine

Art künstlich – gepflegte Parks, Wiesen oder

auch Stauseen.

MALOJA 45

SWITZERLAND | SCHWEIZ

This detention basin protects against downstream

floods utilizing a very simple principle:

the pipes through which the river crosses the

dam only allow as much water to pass as can

be handled without risk. If the inflow increases,

the water level in the basin rises, minimizing

the risk of floods.

Dieses Hochwasserrückhaltebecken nutzt ein

einfaches Prinzip, um flussabwärts gelegene

Gebiete zu schützen: Die Rohre, durch die der

Gebirgsbach abfließt, beschränken die Abflussmenge.

Erhöht sich der Zufluss, steigt der

Pegel im Rückhaltebecken und minimiert so

das Hochwasserrisiko flussabwärts.
---
LAC D'EMOSSON 46

SWITZERLAND | SCHWEIZ

This reservoir is fairly remote in the Mont Blanc

massif. Despite the strenuous journey, I traveled

there several times to catch the cable car in

the foreground in operation. But I had bad

luck every time. Today, I am convinced that

the photograph is actually better without it.

Dieser Stausee liegt relativ abgeschieden im

Montblanc-Massiv. Trotz der mühsamen Anreise

fuhr ich mehrmals dorthin, um die Standseilbahn

im Vordergrund zu fotografieren, aber ich

hatte jedes Mal Pech, und sie war außer Betrieb.

Mittlerweile bin ich überzeugt, dass die Aufnahme

ohne die Seilbahn tatsächlich besser ist.

TAUERNMOOS 47

AUSTRIA | ÖSTERREICH

One of the longest curved retaining walls in

Europe, the dam functions both as a conventional

reservoir lake as well as a pump storage,

leading to a very high fluctuation in water

levels. Nonetheless, it protects the High Tauern

valleys well against floods.

Dieser Stausee mit einer der längsten geschwungenen

Staumauern Europas dient

sowohl als Rückhaltebecken als auch als

Pumpspeicherwerk, was zu stark schwankenden

Pegeln führt. Trotzdem leistet er einen erheblichen

Beitrag zum Hochwasserschutz in den

Hohen Tauern.

LAC DE MIGOUÉLOU 48

FRANCE | FRANKREICH

There is a refuge nearby with a gorgeous

view of the lake, but without the dam there

wouldn't be a mountain lake glittering in the

sun—which is an inseparable part of our

picturesque view of mountains.

Am See gibt es eine Schutzhütte mit einer wunderbaren

Aussicht, aber ohne den Staudamm

gäbe es überhaupt keinen Bergsee, der in der

Sonne glitzert – ein Umstand, der zwingend zu

unserer Idealvorstellung von einer pittoresken

Alpenlandschaft gehört.

LAC DE MOIRY 49

SWITZERLAND | SCHWEIZ

Sometimes the protective structures become

tourist attractions in their own regards, complete

with visitor centers, restaurants, and

parking lots. This is hardly surprising due to

their impressive appearance.

Manchmal werden aus Schutzbauten auch

selbst Touristenattraktionen, mit Besucherzentrum,

Restaurants und Parkplatz – kein

Wunder angesichts dieser erhabenen

Berglandschaft.

KEMATEN 50

AUSTRIA | ÖSTERREICH

An avalanche and rockfall barrier is supposed

to protect the Karwendel railway between

Innsbruck and Mittenwald, but a high-speed

ICE train traveling from Berlin to Innsbruck

derailed here in 2011 when a mud slide penetrated

the barrier.

Die Murengalerie soll die Karwendelbahnstrecke

zwischen Innsbruck und Mittenwald

schützen. Dennoch entgleiste 2011 ein ICE

auf dem Weg von Berlin nach Innsbruck, als

eine Mure in die Galerie eindrang.

GRIMSEL PASS 51 | 52

SWITZERLAND | SCHWEIZ

PASSO SELLA 53

ITALY | ITALIEN

Civil protection agencies make their decision

to step up risk-mitigation efforts independent

of the political discussion on man-made climate

change, and structures are built wherever

deemed necessary. While climate change might

increase the risk of natural catastrophes, the

public's acceptance of risks tends to decrease.

Die Katastrophenschutzbehörden treffen Entscheidungen

hinsichtlich Baumaßnahmen zur

Risikoreduzierung unabhängig von politischen

Diskussionen über den von Menschen verursachten

Klimawandel. Der Klimawandel erhöht

die Katastrophenrisiken, während die Bereitschaft,

diese zu akzeptieren, sinkt.

MONTAFON 54

AUSTRIA | ÖSTERREICH

While many defensive structures are constructed

to directly secure life or assets, some are

built to protect tourism in high-risk terrain.

Tourism is so essential to many of the most

critically climate change affected regions,

that ever-increasing investment is necessary

to keep the business running.

Viele der Schutzbauwerke werden errichtet, um

Leben und Besitz zu schützen. Manche jedoch

dienen dazu, Tourismus in Hochrisikogebieten

zu ermöglichen. Der Fremdenverkehr ist für

viele der Gegenden, die vom Klimawandel

unmittelbar betroffen sind, von so zentraler

Bedeutung, dass immer mehr investiert werden

muss, um das Geschäft am Laufen zu halten.

ARLBERG 55

AUSTRIA | ÖSTERREICH

Snow sheds and other barriers in fracture

zones of avalanches can prevent the snow

pack from movement or reduce its force and

velocity to protect low lying settlements and

infrastructure.

Lawinenverbauungen in Anrisszonen können

die Wucht und Geschwindigkeit von Schneeabgängen

bremsen, um die darunterliegenden

Siedlungen und Straßen zu schützen.

ANDERMATT 56

SWITZERLAND | SCHWEIZ

Scientists estimate that the temperature in

the Alps will rise by up to six degrees Celsius

before the end of the century. In mountains,

altitude permafrost and ice act like glue, solidifying

boulders and soil, keeping the surfaces

stable—even in steep terrain. Thawing permafrost

will soften these slopes, increasing the

risks of rockfalls and landslides.

Wissenschaftler schätzen, dass die Durchschnittstemperatur

in den Alpen bis Ende

dieses Jahrhunderts um bis zu sechs Grad

ansteigen kann. Permafrost und Eis sind ein

wichtiges Bindemittel, das Felsen und Grund

in steilen Lagen stabilisiert. Tauender Permafrost

weicht diese Hänge auf und erhöht das

Risiko von Steinschlag und Bergrutschen.

To counter the loss of natural seasonal regulation

of water flow, through the disappearance

of large parts of glaciers, combined with a

higher frequency of extreme weather phenomena

and changed risk patterns, civil protection

agencies mandated constant reporting of inflow

and outflow, as well as remaining water

capacities.

Um dem Abschmelzen von Gletschern, die

den jährlichen Wasserhaushalt auf natürliche

Weise regulieren, immer häufigeren Extremwettersituationen

und sich ändernden Risikomustern

entgegenzuwirken, verlangen Zivil- und

Katastrophenschützer laufende Berichte über

Zu- und Abfluss von Stauseen wie auch über

verbleibende Staukapazitäten.

BAD GASTEIN 57

AUSTRIA | ÖSTERREICH

While pristine nature is what the Alps are

famous for, its population density reaches

urban levels with an increase of about thirty

percent over the last fifty years alone. But

because of its terrain, settlements, industries,

and infrastructure are concentrated in the

valleys below mountainous risk zones including

slope failures, rockfalls, and avalanches.

Auch wenn die Alpen für ihre unberührte Natur

berühmt sind, erreicht die Besiedlungsdichte

mit einer Zunahme um 30 Prozent allein in

den letzten 50 Jahren vielerorts Stadtniveau.

Aufgrund der Geländebeschaffenheit ballen

sich Wohn- ebenso wie Gewerbegebiete und

Infrastrukturen in den Tallagen und sind dort

zunehmenden Risiken durch Hangversagen,

Bergstürze und Lawinen ausgesetzt.

FIONNAY 58

SWITZERLAND | SCHWEIZ

Reservoirs balance river-water gauge so well

that some creeks lose their torrents, making

artificial floods necessary to keep their flora

and fauna abundant. However, sudden releases

of high amounts of water in the day-to-day

operation of the hydroelectric power plants

can be dangerous to hikers and fishers, and

are mitigated by small balance reservoirs.

Durch Stauseen büßen Bergbäche ihre normale

Strömung so weit ein, dass sie immer

wieder künstlich geflutet werden müssen,

um Flora und Fauna zu erhalten. Plötzliche

Flutwellen, verursacht durch den täglichen

Betrieb der Wasserkraftwerke, sind jedoch

eine Gefahr für Wanderer und Angler. Ausgleichsbecken

sollen dieses Risiko verringern.

SILVRETTA 59

AUSTRIA | ÖSTERREICH

Many alpine reservoirs were built until the late

1970s, mostly for hydroelectric power plants,

and the flood protection was a welcomed side

effect. Today, many dams are being upgraded

to pump storage to make them fit for renewable

energy power grids. When this is done,

the volume of the reservoirs is often increased

to improve its protective potential.

Zahlreiche alpine Stauseen wurden bis Ende

der 1970er-Jahre angelegt, überwiegend für

die Stromgewinnung – der Hochwasserschutz

war ein willkommener Nebeneffekt. Heute

werden viele Staudämme zu Pumpspeicherwerken

ausgebaut, um sie in die Stromnetze

für erneuerbare Energien einzubinden; dabei

wird oft auch das Volumen der Stauseen erhöht

und damit gleichermaßen ihr Hochwasserschutzpotenzial.

GROSSARL 60

AUSTRIA | ÖSTERREICH

Especially during flash floods, mountain torrents

carry large amounts of debris that can

wreak havoc downstream. Large sediment traps

are supposed to collect rocks and debris.

Gerade während Sturzfluten können Bergbäche

große Mengen Schlamm und Geröll mit sich

führen und schwere Schäden anrichten. Die

großen Geröllsperren sollen dieses Geschiebe

zurückhalten.

LIVIGNO 61

ITALY | ITALIEN

Protective forests are of great importance for

the mitigation of landslides and avalanches.

Whether by logging or natural disaster, where

deforestation has destroyed the natural

defense, the forest must be replaced.

Schutzwälder sind von wesentlicher Bedeutung,

um Erdrutsche und Lawinen zu entschärfen. Wo

dieser natürliche Schutz zerstört wurde, sei es

durch Holzeinschlag oder vorangegangene

Naturkatastrophen, müssen die Wälder wieder

aufgeforstet werden.
---
Satellite images Satellitenaufnahmen

Opening sequence Eröffnungssequenz

Kashmir Flood (2014) | Srinagar | India

Satellite Satellit: GeoEye

Closing sequence Schlusssequenz

Typhoon Haiyan (2013) | Tacloban | Philippines

Satellite Satellit: Pléiades-1A/B

Concept and photography Konzept und Fotografie

Claudius Schulze, 2011–2017

Texts Texte

Thomas Glade, Oskar Piegsa

Translation Übersetzung

Allison Moseley, Bradley Schmidt

Copyediting Lektorat

Tas Skorupa (English)

Holger Steinemann (Deutsch)

Design & book concept Design und Buchkonzept

-SYB-

Picture editing Bildbearbeitung

Gloss Postproduction

Paper Papier

LC3, 85 g/m 2

Tauro Offset Natural, 190 g/m 2

Printing Druck

Offsetdruckerei Karl Grammlich GmbH, Pliezhausen

Binding Bindung

Buchbinderei Lachenmaier GmbH, Reutlingen

I am grateful to the countless people who made this project

possible, who supported my work with their advice, help, and

creativity, and in particular Sybren Kuiper, Robert Morat, Oskar

Piegsa, and Simon Roberts.

Mein Dank gilt all den Menschen, die dieses Projekt ermöglicht

haben und die meine Arbeit mit Rat, Hilfe und Kreativität unterstützt

haben, und im Besonderen Sybren Kuiper, Robert Morat,

Oskar Piegsa und Simon Roberts.

I want to thank my black cat (who traveled with me throughout

the project) for her patience. Ich danke meiner schwarzen Katze

(die während des gesamten Projekts mit mir gereist ist) für

ihre Geduld.

This project would not have been possible without the many

mechanics who got my crane running again whenever it broke

down. Dieses Projekt wäre nicht möglich gewesen ohne die

vielen Mechaniker, die meinen Kran immer wieder zum

Laufen brachten, wenn er erneut irgendwo liegen blieb.

The publication of this book was financed in a crowdfunding

campaign through generous contributions. Particular gratitude

is due to: Die Veröffentlichung dieses Buches wurde mit großzügiger

Unterstützung durch eine Crowdfunding-Kampagne

finanziert. Mein besonderer Dank geht an:

Lisa Beese | Werner Breitling | Toon van Camp | Vincent Carrey |

Sebastian Christ | Arnaud van Cutsem | Isabelle Darrigrand &

Association Galaxie Photos | Florian Diekmann | Michiel van

Duijvendijk | Lorenzo Dutto | Nicola Egert | Ruth Eichhorn |

Klaus & Kathrin Entenmann | Zeljko Gataric | Kemal Gazioglu |

Stefan Grieger | Per Anders Grotle | Anna Hanke | Oliver

Heinemann | Erik de Jong | Louisa Kurz | Hanno Mackowitz |

Diane van der Marel | Jashan Martin | Yvonne & Andreas

Mutsch | Jonas Paul | Marc-Olivier Paux | Matthias Petroschke |

Markus Raede | Stephan Raeder | Olivier Robin | David J.

Rodriguez | Manuel Sarrazin | Barbara & Claus-Jürgen Schulze |

Adam Tinworth | Narda van 't Veer | Andreas Weisz | Anneliese

Wiedorn | Michael Wiedorn | Werner Wiedorn | and all other

backers und alle anderen Unterstützer.

Crafted and published by Hartmann Projects, a company

promoting artists, curating and organizing exhibitions, and

publishing books under their imprint Hartmann Books.

Verlegt und produziert von Hartmann Projects; einem Unternehmen,

das Künstler fördert, Ausstellungen organisiert und

kuratiert und unter Hartmann Books Bücher verlegt.

www.hartmannprojects.com

Rulfingerstrasse 18

70567 Stuttgart

Germany Deutschland

© 2017 Artist, authors, and Hartmann Books

© 2017 Künstler, Autoren und Hartmann Books

First edition Erste Auflage 06/2017

ISBN 978-3-96070-10-4