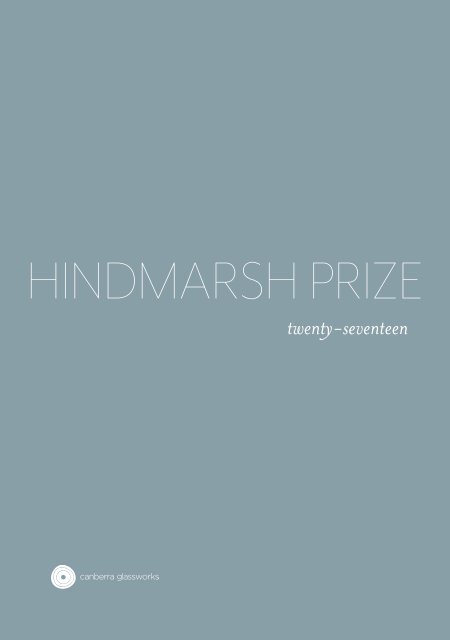 Hindmarsh Prize 2017
The Hindmarsh Prize recognises and promotes excellence and appreciation of the world-class artists working in glass who live and practice in the ACT and region
The Hindmarsh Prize recognises and promotes excellence and appreciation of the world-class artists working in glass who live and practice in the ACT and region
SHOW MORE
SHOW LESS
You also want an ePaper? Increase the reach of your titles
YUMPU automatically turns print PDFs into web optimized ePapers that Google loves.
HINDMARSH PRIZE

twenty-seventeen
---
Hindmarsh Prize exhibition

Saturday 10 June to Sunday 18 June

10am to 4pm daily in the Fitters' Workshop, adjacent Canberra Glassworks

Sponsors

Major Sponsor

Exhibition Partners

Edited by Yolande Norris

Designed by Wendy Dawes

Printed by Canprint

© Canberra Glassworks 2017

Please note, all references to the ANU School of Art &

Design (its current name) have been standardized to

avoid confusion.The school has also been known as

ANU School of Art and the Canberra School of Art.
---
Contents

Introduction 5

About the Hindmarsh Prize 6

Judging Panel 7

SELECTED ARTISTS

Annette Blair 10

Lisa Cahill 12

Alexandra Chambers 14

Scott Chaseling 16

Erin Conron 18

Brian Corr 20

Mel Douglas 22

Rose-Mary Faulkner 24

Hannah Gason 26

Jeremy Lepisto 28

Jennifer Kemarre Martiniello 30

Catherine Newton 32

Peter Nilsson 34

Kirstie Rea 36

Tom Rowney 38

Harriet Schwarzrock 40

Yusuke Takemura 42

John White 44

Richard Whiteley 46

3
---
Introduction

With our strong commitment to and interest in the arts,

Hindmarsh worked with the Canberra Glassworks to

initiate the annual Hindmarsh Prize in 2016.

The Hindmarsh Prize recognises and promotes

excellence and appreciation of the world-class

artists working in glass who live and practice in the

ACT and region. From the quality of the shortlisted

contestants this year, there is every reason to

believe that this will be even more successful than

the inaugural event, won by Masahiro Asaka for

his outstanding work [Surge 19, pictured] which

has been purchased by the Canberra Museum and

Gallery, holding pride of place in its Canberra City

gallery.

Many artists who regularly work through Canberra

Glassworks have established significant national

and international reputations and are showing in

major collections all around the world, with strong

representation in the United States. Of particular

note for this year's Prize is that in June, works by

two emerging artists in this exhibition will be shown

in Berlin, under the auspices of the Department

of Foreign Affairs and Trade and its 'Made in

Australia' program for displaying the cultural

capability of Australia's glass artists, including those

from the Canberra region.

We encourage investment in our local artists and

it is pleasing to have the Tall Foundation and

International Art Services Fine Art Logistics as

supporters, with the hope that we will be able to

progressively enhance the sponsorship support for

the Prize in the future.

To all those artists who have entered this year's

Hindmarsh Prize, I thank them for their interest and

commitment in giving their support through their

artistic contributions to this event.

Arts and culture enrich our lives and are integral

to our cultural identity. We hope to share the

Hindmarsh Prize with other communities, nationally

and internationally, in future years.

John Hindmarsh AM

Chairman, Hindmarsh

5
---
About the Hindmarsh Prize

Canberra is well-known as one of the world's

leading centres of contemporary glass art. Due to

the tuition offered through the Glass Workshop at

the Australian National University's School of Art

& Design as well as the sophisticated facilities at

the Canberra Glassworks, local glass artists are

uniquely positioned to hone their craft amongst

a supportive and skilled artistic community. It is

not surprising, therefore, that they are producing

cutting-edge works that explore the possibilities

of glass.

The Hindmarsh Prize 2017 provides the opportunity

to see some of the best examples of contemporary

artworks produced by glass artists from the

Canberra region. This includes artists who have

national and international profiles, as well as recent

graduates whose work attests to the enduring

legacy of pioneers such as Klaus Moje. The variety

of techniques and sources of inspiration seen in the

19 works on display demonstrates the calibre and

diversity of artists in the region.

Now in its second year, the Prize plays a key role

in recognising talent and supporting artistic

growth. Through it Canberra Glassworks – with the

generous support of Hindmarsh – are showing their

commitment to the future of glass art in Canberra.

Grace Blakeley-Carroll

Curator

6
---
Judging Panel

Dr Gerard Vaughan AM

Director, National Gallery of Australia

Dr Vaughan's long and

distinguished professional career

has been divided between academia and the

world of museums and galleries in both Australia

and the United Kingdom. As an art historian his

interests are broad, concentrating on the social

history of art and specialising in the study of taste

and art collecting, both private and institutional.

After graduating from the University of Melbourne,

he undertook a doctorate at Oxford University,

specialising in Neo-classical taste and art collecting

in late 18th century Europe. He then became a

Research Fellow of Wolfson College and was

appointed Private Secretary to the Vice-Chancellor

of the University of Oxford in 1989.

In 1994, he was appointed Director of the British

Museum Development Trust in London, where

he was closely involved in planning the rebuild of

the British Museum. He returned to Melbourne in

1999 to become director of the National Gallery

of Victoria with a brief to oversee the Gallery's

complete redevelopment, from reorganising and

enlarging the interior spaces of the existing building

on St Kilda Road to constructing the new building in

Federation Square. A major program of Australian

and international exhibitions was launched and

the NGV soon became the most visited museum in

Australia.

Dr Vaughan has returned to the gallery and

museum sector and follows in the prestigious

footsteps of James Mollison AO, Betty Churcher

AO, Brian Kennedy and Ron Radford AM in

becoming the fifth director of the National Gallery

of Australia.

Eva Czernis-Ryl

Curator, Museum of Applied Arts

and Sciences

Eva is a design historian, author

and award-winning curator of decorative arts

and design at the Museum of Applied Arts and

Sciences in Sydney. She has published and curated

exhibitions in areas ranging from 18th century

porcelain and Australian colonial gold, to Italian

design and Australian and international studio

glass, metalwork, textiles and jewellery.

Eva was co-curator of Inspired! Design Across

Time. Among major exhibitions she curated were

Contemporary Silver: Made In Italy and the critically

acclaimed A Fine Possession: Jewellery and Identity.

Eva has particular interest in revealing connections

between the allied fields of decorative and fine arts,

design, craft, science and technology.

Rebecca Evans

Curator of Decorative Arts, Art

Gallery of South Australia

In February 2016, Rebecca Evans

commenced at the Art Gallery of

South Australia as the Curator of Decorative Arts

previously Assistant Curator, Museum of Applied

Arts and Sciences, Sydney (2009-2016). Evans

looks after the Gallery's extensive collection of

Australian and International decorative arts. AGSA

holds the largest and most significant collection of

William Morris material outside the UK and has

significant holdings of South Australian colonial

silverwork and furniture and contemporary

Australian craft. In May, 2016 she curated the first

survey of the work of contemporary jewellery and

artist Catherine Truman and is currently working

on a significant contemporary fashion exhibition in

collaboration with the Adelaide Fashion Festival

for 2017.

7
---
Judging Panel (cont)

Ewan McEoin

The Hugh Williamson Senior

Curator of Contemporary Design

and Architecture, National Gallery of

Victoria

Ewan McEoin is the Senior Curator of the newly

formed Department of Contemporary Design and

Architecture at the National Gallery of Victoria.

This department, the first of its kind in Australia,

bringing contemporary design into the sphere of a

major art institution, collects, exhibits and considers

the most interesting trajectories of design today.

Ewan has two decades of experience at the

forefront of the Australian design industry working

in design strategy, curating and publishing.

Ewan was long standing Editor of (inside) Australia

Design Review; and Creative Director of the

Victorian Government's State of Design Festival in

2008 and 2009 and Unlimited, the Queensland

Government backed Asia Pacific Design Triennial

in 2010.

He published the Sydney and Melbourne Design

Guides and recently edited a Monograph on the

architecture of 2015 AIA gold medalist Peter

Stutchbury.

Jane Cush

Artistic Director, Canberra Glassworks

Jane Cush graduated from

Canberra School of Art in 1997,

with first class honours in Sculpture.

She was Director of Goulburn Regional Art Gallery

from 2008-2017, and in that time developed

the gallery as a leading regional institution for

contemporary art and provided regional, national

and international artists with an exciting regional

platform to exhibit their work.

In 2009 she received a M&GNSW Fellowship

to study at the Boston Childrens' Museum. Jane

is currently a PhD candidate at the Australian

National University, Canberra, ACT.

Through professional affiliations and board

appointments, she has held a variety of roles as

Chair of Southern Tablelands Arts; Chair of the

Visual Arts Reference Committee for M&GNSW

and held the office of Public Officer for Regional

and Public Galleries of NSW for 8 years.

Jane's enthusiasm and drive as both a practicing

artist and creative director, to bring relevant

contemporary art to her region and beyond, is

evident in her advocacy for artists and her ongoing

commitment to developing audiences through

deepening the connection between the general

public, the regional and national community

and their experience of dynamic contemporary

Australian art.

8
---
SELECTED

ARTISTS

9
---
ANNETTE BLAIR NURTURED

I am fascinated by the textures, colours, smells and

sounds held within objects and their ability to arouse

memories or capture a sense of a place, a time or person.

Annette Blair employs blown, hot-sculpted and

hand-painted glass to illustrate personal narratives

and explore ideas of character and identity.

Nurtured expands on these interests – preserving

memories from the domestic setting to evoke a

common or shared nostalgia.

Annette chooses familiar, utilitarian glass forms as

a starting point to express these associations. Using

found or sourced glassware releases the massproduced

objects from their primary function whilst

reinforcing their simple purpose. She is fascinated

by the ability of objects, textures, colours, smells and

sounds to arouse memories or capture a sense of a

place, a time or person.

In 2011 Annette attended Pilchuck Glass School,

where she began to focus on expanding her skillset

into hot-sculpted glass. This enabled her to

reinterpret familiar household objects, creating

and preserving domestic tableaux as precious

reminders of the hands that held them. In 2015, as

Artist-in-Residence at the Canberra Glassworks,

Annette began to explore the use of high-fire

enamels, painting between layers of hot glass.

Various applications of glass enamels throughout

the glassblowing process allow Annette to build

depth through line, pattern and imagery in order to

translate various domestic textures into what is an

innately rigid material.

Annette studied glass at the ANU School of Art

& Design receiving a Bachelor of Visual Arts with

Honours in 2004. In 2005, she began a twoyear

traineeship in the hot glass studio at the Jam

Factory Craft and Design Centre in Adelaide. After

completion, she became a Jam Factory studio

tenant. In 2008 Annette returned to Canberra

to make work at the Canberra Glassworks, and

currently has a studio in Burra, NSW. She divides

her practice between the design and manufacture

of several production lines, as well as spending

time working on exhibition pieces for various

national and international exhibitions. These

works investigate combinations of portraiture and

glass and focus on ideas of identity and personal

narrative, as seen here in Nurtured and other recent

works.

Annette is represented by Beaver Galleries.

10
---
Annette Blair, Nurtured, 2017, blown and coldworked glass, 25 x 32 x 32 cm. Photos: Adam McGrath.

11
---
LISA CAHILL NOCTURNAL

My dreamlike images allow viewers to draw associations

with their own remembered landscapes, resulting in a

meditative and emotional response.

For over 15 years Lisa Cahill has explored land and

seascapes though carved, kiln formed and painted

glass. With this new work she seeks to explore the

reality behind the visible and to find the quiet within.

Inspired by both the natural world and the transitory

nature of the urban experience, Lisa's dreamlike

images allow viewers to draw associations with

their own remembered landscapes, resulting in a

meditative and emotional response.

Having spent many years living and travelling the

world, much of this time spent in Denmark, my mother's

homeland, my kiln formed glassworks connect structures

of urban architecture, the associations and memories

they invoke, and my innate respect for the natural

landscape.

Lisa works across a variety of scales and techniques.

Developing a distinctive style since completing a BA

in Ceramic Design at Monash University in 2000,

her work ranges from kiln-formed and wheel-carved

wall panels and sculptures to large-scale public

artworks and series of jewellery and plates.

For Lisa, Nocturnal is an investigation of her sense

of place and her infinitesimal position within this

universe. The piece is part of a new body of work

in which she aims to explore the quiet and stillness

of the night and with it create a space for quiet

contemplation.

Lisa has exhibited extensively both nationally and

internationally and has been awarded numerous

grants and prizes, including several Australia

Council for the Arts new work grants and the 2001

Bullseye By Design Award. She established studios

in Sydney and Melbourne before relocating to

Canberra in 2011, where she now practices full-time

from her studio in Pialligo. Represented by Sabbia

Gallery in Sydney, Kirra Galleries in Melbourne and

several Galleries in the USA, Lisa's work can be

found in The National Art Glass Collection, Wagga

Wagga Regional Art Gallery, NSW, Palm Springs

Art Museum, California, USA and The Ebeltoft

Glass Museum, Denmark.

12
---
Lisa Cahill

Nocturnal

2017

kiln formed and enameled glass

48 x 130 x 2 cm

Photos: Greg Piper.

13
---
ALEXANDRA CHAMBERS BOBBY PINS

Glass is always a challenging and technical

material; I like to make multiples as an exercise

in practice and technique.

Originally from the United States, Alexandra

Chambers has been working in glass for 21 years.

She graduated with an undergraduate degree from

the ANU School of Art & Design glass workshop in

2001.

Residing in Captains Flat with her partner,

glassblower Tom Rowney, and their two children,

Alexandra works out of her home studio and at the

Canberra Glassworks. She regularly works with

blown glass and assists artists in the hotshop, and is

also a skilled flameworker.

Alexandra's work consists of sculptural and

humorous concepts, focusing on the idea of

capturing moments in time with the rapid

advancement of technology in our generation.

This particular work is about the lone bobby-pin

and its adept way of finding itself almost everywhere

humans roam. Shopping centres, the gym, change

rooms, parking lots. Bobby-pins can be quite

a dismissed, discarded, disposable item. Here

Alexandra has made 100 of them to preserve the

lost and found bobby-pins of the world.

I enjoy making glass on my torch, a meditative process I

can enjoy on my own. Glass is always a challenging and

technical material, I like to make multiples as an exercise

in practice and technique.

Alexandra teaches glass blowing both nationally

and internationally. She has worked as a teaching

assistant at Pilchuck Glass School, and Northlands

Creative Glass; co-taught with Tom Rowney over

the last 15 years at Vetroricerca Glas and Modern,

Eugene Glass School, and the Jam Factory. She has

also taught at the ANU School of Art & Design,

the Canberra Glassworks, and is currently teaching

glassblowing at Sydney College of the Arts.

14
---
Alexandra Chambers, Bobby Pins, 2017, flameworked glass, 80 cm (group). Photos: Adam McGrath.

15
---
SCOTT CHASELING ADRIFT

This work is an attempt to represent a sense

of no place and no belonging.

Scott Chaseling is an artist who has been using

glass as his primary medium for over 30 years.

Scott studied sculpture at the South Australian

College of the Arts and then studied as an associate

at the Jam Factory Craft and Design, Adelaide.

He then travelled widely, developing new works

in new locations through teaching, residencies

and workshops. Scott lived and worked in Japan,

England, France and Germany, along with many

short stints internationally giving workshops,

lectures and attending artist in residencies, such as

the Leverhulme Research Fellowship UK, Wheaton

Fellowship, USA and the Cite des International des

Arts, France.

Scott aims to use glass as a material for the

construction of contemporary sculpture. Adrift's

formal outline reveals a maritime buoy, similar to

the buoys that one may find whilst beachcombing

– a way marker unmoored and displaced. This

sculpture, now as flotsam and jetsam, represents

a liminal space between a sense of place and one

of being lost. The landlocked marker functions no

more within its original premise but rather now it

serves a carrier for new narratives. It has no cultural

certainty.

Through utilising specific materials such as glass and

mirrors, Adrift creates a liminal space that consists

only of a state of becomingness and not defined by the

tangiblity of the object. This temporal shift of perception,

along with a change in material expectations, will

allow the viewer to participate with the sculpture via the

introduction of their own reading/s.

Scott is currently a PhD candidate at the ANU

School of Art & Design in the sculpture workshop.

He has been awarded numerous prizes and awards

such as the Gold Medal of the Bavarian State

Prize, Germany, the Queen Elizabeth Silver Jubilee

Award. His artwork is represented in many national

and international public collections, including

Museum Kunst Palast, Germany, the National

Gallery of Australia and the 21st Century Museum

of Contemporary Art, Japan.

Recent solo exhibitions have been in the European

Museum of Contemporary Glass, Germany, the

Musee du Verre, France and Canberra Museum and

Gallery.

16
---
Scott Chaseling, Adrift, 2017, cut glass construction, 300 x 300 x 300 cm. Photos: Scott Chaseling.

17
---
ERIN CONRON GLANCE #2

I am interested in the simple daily actions of life, and the

way these build up through repetition to create the structure

of our identity and complexities of our personal stories.

Erin Conron is a Canberra-born artist who has

been working with glass for over 10 years. Her

work explores relationships between the dualities

of interior and exterior, collective and personal,

organic and geometric. She is interested in the

personal memories and experiences that build up

through out a life, defining character and identity.

I am interested in the simple daily actions of life, and the

way these build through repetition to create the structure

of our identity and complexities of our personal stories.

Each individual is affected differently by the common

experiences of our shared external world.

Erin uses repetitive linear mark making and the

transparency of glass to create vessels with complex

layered patterns. These patterns wrap around the

vessel, creating a moiré effect, which causes the

viewer to see shape and movement in addition to

the line work and the form of the vessel itself. The

vessel is painted with an enamel which Erin then

scratches back into using hand held implements

over many hours of repetitive mark-making. The

work seeks to find a balance between pattern and

form, to invite contemplation and reflection.

Erin's working style was initially developed through

using a graal technique – an extremely labour

intensive process involving multiple hotshop

sessions and firings. Since becoming mother to her

two young daughters she has evolved her practice

to suit her changed lifestyle, now utilising markmaking

techniques that do not require any special

equipment and can be accomplished in her home

studio in Queanbeyan.

Painting on glass in this way, which I consider to be

a developing style of work in my practice, is a very

deliberate decision to spend extended time working with

my hands in close contact with the glass.

Erin studied glass at the ANU School of Art &

Design, where she received her Honours degree

in 2008. Erin is represented locally by Beaver

Galleries, and had her first solo exhibition there in

2013.

18
---
Erin Conron, Glance #2, 2017, blown and enameled glass, 42 x 36 x 32 cm. Photo: Adam McGrath.

19
---
BRIAN CORR LUX MANDALA

... my work seeks to embody a sense of the

profound and the transcendent.

Brian Corr creates sculpture and large-scale

installations, facilitating contemplation through

explorations of perception, activations of light and

shadow, volume and void. Lux Mandala explores

the translation of a rare optical phenomenon into

a mechanism for contemplative experience. What

follows is an evolution from the application of glass

to create an aesthetic object to the application of

glass to serve purely as a vehicle for the transmission

of light, embodying a sense of the profound and the

transcendent.

Originally from Colorado, USA, Brian received his

degree from Hastings College, majoring in Studio

Arts with an emphasis in glass. He subsequently

worked, studied and taught throughout the US

and abroad, including three years at the Corning

Museum of Glass.

He moved to Australia in 2005 to pursue his

Masters degree from the ANU School of Art &

Design in Canberra. Since completing his Masters

in 2007, Brian has exhibited nationally and

internationally, and was recently included in the

Modern Masters exhibition in Munich.

Brian's work has been included in numerous public

and private collections throughout the world,

including the National Gallery of Australia and the

Toledo Museum of Art. Brian was also awarded the

prestigious Tom Malone Prize by the Art Gallery of

Western Australia in 2012. He has recently been

an instructor at the Pilchuck Glass School and the

Penland School of Crafts in America.

This new work represents a significant advancement

in Corr's studio practice and PhD research, which

investigates the elements of contemplative space

and experience in Japanese architecture.

20
---
Brian Corr, Lux Mandala, 2017 , glass microspheres, aluminium composite panel, LED light, 150 x 150 x 1 cm. Photo: Adam McGrath.

21
---
MEL DOUGLAS LIMINAL I, LIMINIAL II, LIMINAL III

... I am using line as a way to inform, define and enable,

three-dimensional space.

The delicate subtlety of Mel Douglas' work comes

from the slow and considered process of engraved

mark-making. Objects and drawings are often

thought of as two separate disciplines. With this

work Mel is exploring and interweaving the creative

possibilities of this liminal space, where the glass

form is not just a substrate for drawing, but a threedimensional

drawing itself.

The triptych liminal I, liminal II, liminal III explores the

notion of a liminal period which consists of three

stages: the separation, or detachment of a subject

from its stabilised environment; the margin, which

is an ambiguous state for the subject; and the

aggregation, in which the passage has completed

and the subject has crossed the threshold into a new

fixed, stabilised state.

Using the unique qualities of the material, and the

rich potential of mark-making on and with glass, I am

using line as a way to inform, define and enable threedimensional

space.

Mel is a graduate from the glass workshop of the

ANU School of Art & Design. She has exhibited in

many group and solo exhibitions both nationally

and internationally, including the US, Singapore

and Italy. Mel has been featured in numerous

publications and her work is held in permanent

collections such as the National Gallery of Australia

and the Corning Museum of Glass.

Mel's mastery of her craft is highly regarded and

has earned her many awards including the 2014

Tom Malone Prize, 2007 International Young Glass

Award, Ebeltolft, as well as the 2002 Ranamok

Glass Prize.

Mel is represented by Beaver Galleries.

22
---
Mel Douglas

liminal I, liminal II, liminal III

2017

fused glass, paper

60 x 60 cm

Photos: David Paterson.

23
---
ROSE-MARY FAULKNER OF SURFACE AND FORM

The body is simultaneously familiar and foreign to use

– it is with us always, yet we only ever have a restricted

personal viewpoint of ourselves.

Rose-Mary Faulkner investigates ways to observe

and experience the body, and ways of visually

expressing feeling and sensation.

The body is simultaneously familiar and foreign to use

– it is with us always, yet we only ever have a restricted

personal viewpoint of ourselves.

Rose-Mary graduated from the ANU School of

Art & Design with a Bachelor of Visual Arts (glass)

with Honours in 2016. Her honours year saw her

conducting tests and explorations combining bodily

imagery with the materiality of glass surfaces to

observe and map her own figure. Of Surface and

Form was one of her final works from this time.

Rose's practice primarily explores decal imagery on

glass. She photographs sections of the body and

abstract these images through digital manipulation.

After transferring this imagery to glass using

decals she further manipulate the surface and form

through multiple fusings or coldworking.

These works, activated by light, represent bodily

form through simple but visually engaging shapes.

Their organic shape mimics the smooth curve of

24
---
Rose-Mary Faulkner

Of Surface and Form

2016

blown glass, decals and enamel

variable up to 32cm

Photo: David Paterson.

the female figure. The rondel surface is made up

of two conjoining images that are both ambiguous

and soft, displaying curves and creases that

appear as parts of a body. The slightly slumped

surface activates the imagery into a sculptural form

evocative of the movement and gesture.

Rose-Mary was a finalist in the 2016 Wagga

Wagga National Emerging Glass Art Prize and

exhibited her work in Fresh Glass at Canberra

Glassworks. Rose-Mary's undergraduate work

received honourable mention in the Glass Arts

Society International Student Online Catalogue

in 2016. As part of the School of Art & Design

Emerging Artist Support Scheme she received

a residency at Canberra Glassworks where she

explored different ways of combining glass, surface

variation and photographic imagery within her

practice.

25
---
HANNAH GASON WATCHING, WAITING

I am fascinated by visual energy and structure and

finding a harmonious balance between them. My art

works explore this inherent tension and the unique

materiality of glass.

Hannah Gason's creative process is reflective and

intuitive, often inspired by her experiences in the

Australian landscape. Watching, waiting evokes the

sense of calm found through natural movement and

linear structure, and relates to Gason's observations

and visual experiments while at a river.

One day, I sat alongside the river, waiting for low tide

so that I could cross. Hours passed. As I waited, I began

to more keenly sense and observe my surroundings.

The urgency I had felt to cross the river dissipated. I

intently watched the slowly receding water line. I was

drawn to create a line of grass fronds from the beach,

and continued methodically until I reached the edge of

the water.

Fascinated by visual energy and structure Gason

seeks to find a harmonious balance between the

two. She explores this inherent tension through

glass, experimenting with the fluid materiality of

the medium, employing kiln forming techniques to

interact with colour, line and pictorial form. The

coloured glass strands of Watching, waiting mimic

grass fronds – catching the light they seem to gently

sway and overlap. By expressing a visual balance of

contrasts, Gason seeks to recreate fleeting moments

of truly contemplative experience.

Canberra-based, Hannah graduated from the ANU

School of Art & Design in 2015 with a Bachelor

of Visual Arts (Glass) with First Class Honours

and a University Medal. Hannah has undertaken

residencies at the Bullseye Glass Company (US)

and the Canberra Glassworks, and was recently a

visiting artist at Berlin Glas. Hannah has received

scholarships and grants to travel to the Pilchuck

Glass School (US), the Corning Museum of Glass

(US), and North Lands Creative Glass (UK),

as well as assisting at the Studio at the Corning

Museum of Glass and the Penland School of Crafts

(US). Her work has been exhibited nationally and

internationally, and is housed in the Australian

Parliament House Art Collection, the Australian

National Art Glass Collection, the ANU Art

Collection, and private collections.

26
---
Hannah Gason, Watching, waiting, 2017, hot formed glass, wood, 120 x 480 x 70 cm. Photos: Wendy Dawes.

27
---
JEREMY LEPISTO THE PARCEL

My most current work is inspired from a personal

experience ... I dispatched an 18 cubic meter-shipping

container filled with ... my life's belongings from

America to Australia.

Jeremy Lepisto makes artwork that incorporates and

is inspired by the forms and images of his everyday

surroundings. By exploring and utilising purposeconstructed

elements of the built environment,

Jeremy looks to transliterate the duality of connected

and developing narratives that involve both

individuals and place into form.

The Parcel takes the form of a modern shipping

container, and draws on Jeremy's personal

experience of dispatching an 18 cubic metre

shipping container filled with a carefully considered

and condensed collection of his life's belongings

from America to Australia.

With the availability and aid of a shipping container,

I internationally transported my goods safely and

efficiently. In the same act, I also exchanged the

epicentre of my life. This shift altered my personal

timeline and connections to both people and places.

Jeremy received his Bachelor of Fine Arts from

Alfred University (in Alfred, New York, USA) in 1997,

majoring in glass and metals. Following graduation,

he went on to become Production Manager

Apprentice at the Bullseye Glass Company in

Portland, Oregon – an experience that formed the

basis of his glass kiln forming knowledge.

In 2001 he left Bullseye and started an independent

studio – Studio Ramp LLC, which ran for eight

years. After re-locating to Canberra, Jeremy

established an independent glass studio –

Workshop Level in Queanbeyan, where he is again

making kiln formed works for other people as well

as working on a body of practice-led research for a

PhD degree in Sculpture from the ANU School of

Art & Design.

Jeremy is represented by Beaver Galleries.

28
---
Jeremy Lepisto, The Parcel (from the Shipping Container Series), 2016, kiln formed glass, steel, wood, 76.2l x 25.4 x 28 cm. Photos: Adam McGrath.

29
---
JENNIFER KEMARRE MARTINIELLO

BUSH FLOWERS & SEEDPODS BICORNUAL #1

My intention is to appropriate the contemporary medium

of glass to become a vehicle for cultural expression.

A graduate of the ANU School of Art & Design,

Jenni Kemarre Martiniello is a prolific artist and

writer who has relatively recently taken up glass

as a medium. Bush Flowers & Seedpods Bicornual

#1 is a work inspired by the unique and beautiful

forms and colours of native blossoms and seedpods

distinct to Australian flora – in particular those of

Jenni's grandmother's country in Central Australia

and from places she herself has lived. Created

with murrine made by recycling complex triple and

double glass canes – sometimes recombined and

pulled multiple times – this work pays tribute to the

traditional bicornual form of woven baskets used

by women to collect medicine plants in far North

Queensland, and the larger men's bicornuals used

in Southern Australia to carry large curved hunting

weapons.

As an Aboriginal (Arrernte) artist I seek to invoke the

organic 'weaves' and forms of traditional woven objects

such as eel traps, fish traps and dillibags in my hot blown

glass works, and pay tribute to the survival of the oldest

living weaving practices in the world. My intention is

to appropriate the contemporary medium of glass to

become a vehicle for cultural expression.

Jenni's introduction to glass came during a group

residency at the Canberra Glassworks in 2008.

The residency program IndigiGlass08: Postcards

from the Referendum was created to mark the 40th

anniversary of the 1967 Referendum on Aboriginal

rights. Jenni was one of four artists involved who had

been working together as part of the Indigenous

Textile Artists Group. Following her move into

glass work Martiniello was a finalist in the 2011

Ranamok Glass Prize with her Eel Traps series. Her

works are now held in significant public and private

collections.

30
---
Jennifer Kemarre Martiniello, Bush Flowers & Seedpods Bicornual #1, 2017, blown glass, 22 x 23 x 14 cm.

Gaffer: Annette Blair. Photo: Jennifer Kemarre Martiniello.

31
---
CATHERINE NEWTON

MUM'S HUG 3588, 21290, 11098, 11505

My current practice investigates the phenomenology

of glass and how this medium can embody a sense of

maternal love and intimacy.

Catherine Newton's current practice investigates

the phenomenology of glass and how this medium

can embody a sense of maternal love and intimacy.

Largely biographical, her work focuses on her

relationship with her four children, as well as

celebrating and promoting the important role

mothers have in society.

The Mum's Hug series represents the physical

and emotional connection of a mother and child

through touch, specifically the act of hugging.

Exploiting the fluidity of hot glass at temperatures of

between 700 and 800 degrees celsius, Catherine

wears layers of heat resistant fabric -including a

fireman's suit- to perform the act of a hot glass hug.

An analogy is drawn between hugging hot glass –

intimidating and invigorating – and that of being a

mum, which is also daunting and stimulating. The

resultant textured, transparent sculptural forms are

the artefact of the act. The placement of each form

on the wall highlights the various ages and sizes of

her children.

In the area of glass art, there are few works about the

mother-child relationship… Initial stages of my research

focused on the importance of maternal touch where I

explored ways of conveying the motherly connection

through gesture and the idea of my hands nurturing

my children. As the year progressed I considered the

importance of hugging my children and how I could give

substance to this intangible act.

Informed by psychology and theories of 'nature

versus nurture' and influenced by artists Mary

Kelly and Louise Bourgeois, Catherine delves into

the formal and metaphorical potential of glass to

convey the complex connection of mother and child.

In 2016 she graduated from the ANU School of Art

& Design with a Bachelor of Visual Arts (Honours)

and was awarded the Emerging Artist Support

Scheme Peter and Lena Karmel Anniversary Award

for best graduating student. Newton was Graduate

in Residence at the Canberra Glassworks in March

2017, during which time she began to fulfil her

ambition of involving mothers from the Canberra

community in her work.

32
---
Catherine Newton, Mum's Hug 3588, 21290, 11098, 11505, 2016, blown glass, timber, stainless steel, photograph,

38 x 28 x 16cm (glass) and 25.5 x 20.5 cm (photo). Photo: Monica Styles.

33
---
PETER NILSSON WHAT ONCE WAS

In Siberia in the year 1909, a hunter who went looking for

his dog found a completely preserved woolly mammoth

in the permafrost. I read this story when I was nine years

old, and it has fascinated me ever since.

Peter Nilsson began his working life as an engraver

in the glass industry in Sweden. Besides working as

a designer, engraving and figurative expression has

always been his language of choice. What once was

shows Peter's technique of enclosing engravings

in laminated glass sculptures, creating pictures

that have neither a front or a back side. The viewer

is given a chance to see the pieces from different

angles and to read new stories when they look at

them, into them and through them.

Peter grew up in rural Sweden in the neighbourhood

of the Orrefors Glassworks and village. Surrounded

by workshops where he was allowed to play as a

child, glass seemed the most natural material to

use and Peter decided at the age of seven he would

become a glass engraver.

What once was is inspired by Peter's roots in the far

north, and a story that fascinated him as a child.

In Siberia in the year 1909, a hunter who went looking

for his dog found a completely preserved woolly

mammoth in the permafrost. I read this story when I was

nine years old, and it has fascinated me ever since. In

1990 I was lucky to see this remarkable animal with my

own eyes in an exhibition.

The mammoth is an iconic representative of the mega

fauna. With Africa (where we first appeared) as an

exception, the mega fauna has disappeared on every

continent that the humans have moved to. Now we are

occupied by scoring easy political points at the expense

of the environment. The result might be our own

extinction. Will the world miss us?

After graduation from the senior high school

program at the National Glass School in Orrefors,

Peter was hired as a glass engraver at Pukebergs

glassworks, where he stayed for seven years

assisting a range of designers. After university, Peter

spent nine years at the Swedish National Glass

School as a teacher in coldworking techniques,

sketching techniques and art history.

Peter relocated to Australia with his partner in 2010,

where he continues to work as a freelance artist.

34
---
Peter Nilsson, What once was, laminated and engraved float glass, LED light, 2017, 42 x 42 x 20 cm. Photos: Anthony Basheer.

35
---
KIRSTIE REA THE GURGLE IN MY GUT

We live under an ocean of air. That ocean has volume,

it lives and breathes as we breathe it. It is charged with

place, imbued with what lies below, tainted and tinged,

tasting of what's been and what is to come.

Kirstie Rea established her studio in 1987, and over

the past 27 years has devloped her practice to

become internationally recognised and respected

for her works in glass.

For many years Kirstie's work has explored

intervention and attachment to place. Bringing

together the external and the internal Kirstie is

investigating how we have shaped and marked

place and in turn how place shapes our navigation

both physically and mentally across and into it. She

is drawn to places distant from built environments to

continue this exploration and cites the importance

of silence and solitude in the field to 'filter and

ferment ideas'. This work, The gurgle in my gut,

relates to this working process.

We live under an ocean of air. That ocean has volume,

it lives and breathes as we breathe it. It is charged with

place, imbued with what lies below, tainted and tinged,

tasting of what's been and what is to come. I ingest

it, I digest it, filter and ferment it. That digestion is like

a conversation with myself, with my gut, it feeds and

nourishes my thinking towards making.

Kirstie was a staff member of the glass workshop

at the ANU School of Art & Design from 1987

-2003, and was the inaugural Creative Director

at the Canberra Glassworks. She has taught in

her field of kiln formed glass and coldworking

techniques across the world since 1987. She

has exhibited widely internationally and her

work has been included in numerous Australian

Glass survey shows. In 2009 Kirstie received the

Ausglass Honorary Life Membership Award for her

contribution to the education of glass in Australia,

and in 2014 was awarded the 2015 CAPO Fellow

Award (Canberra Arts Patrons' Organisation). She

was the recipient of the 2016 Canberra Glassworks

Fellowship.

36
---
Kirstie Rea, The gurgle in my gut, 2017, kiln formed glass, 200 x 120 x 11 cm. Photo: David Paterson.

37
---
TOM ROWNEY RED POOL

In this form I aimed to capture the essence of water in its

liquid state, a drip, a drop, into a still pool and the elastic

forms the water creates when disturbed on the surface.

The Venetian-style of working hot glass has

been a strong and steady influence throughout

Tom Rowney's artistic practice. He utilises these

techniques from a contemporary viewpoint, aiming

for detail and accuracy to create a precise piece

of glass. A sense of flow and timing dictate Tom's

working style, evident in the line work and intricate

patterns in his pieces. Red pool is based on the fluid

nature of blowing molten glass, and the relationship

to the visual, water-like qualities of the solid state of

blown glass.

I aimed to capture the essence of water in its liquid state,

a drip, a drop, into a still pool and the elastic forms the

water creates when disturbed on the surface. Through

the use of canes as graphic line work both on and below

the glass surface, I reference the eddying and swirling

effects of a rippling body of water.

Tom began his glassmaking career at the Budgeree

Glass Factory in Port Adelaide, South Australia

with a traineeship with Australian glass artist, Nick

Mount. Tom has gone on to teach and assist at

an extensive variety of international schools and

studios. Tom received an undergraduate degree

from the ANU School of Art & Design in 1996,

and since this time his work has featured widely in

exhibitions in Australia and overseas.

He is currently employed at the Canberra

Glassworks as the Technical Manager, as well as

teaching part-time and continuing with his practice

as a professional artist.

Tom is represented by Beaver Galleries.

38
---
Tom Rowney, Red Pool, 2017, blown glass incalmo and merletto technique, 23 x 37 x 37cm. Photo: Adam McGrath.

39
---
HARRIET SCHWARZROCK LIMITLESS

These blown glass tendrils loosely scribe the word

limitless – ascribing a sense of the expansive nature of

human experience, whilst referencing the temporal and

shifting passage of matter in the world.

Harriet Schwarzrock has exhibited nationally

and internationally, and for the last several years

has been working consistently with hot glass

and sculptural forms. limitless is a continuum

of her recent studio explorations, researching

and exploring organic and asymmetrical forms,

interconnectivity and themes of tactile and implicit

human experiences. The components within

her work are most often derived from biological

forms, referencing organic systems as she seeks to

understand how structures and experiences 'fit'

together.

The mirrored, fluid forms of limitless casts light and

shade. They bend and lean into the surrounding

space. Blown glass tendrils loosely scribe the word

'limitless', suggesting a sense of the expansive

nature of human experience whilst referencing the

temporal and shifting passage of matter in world.

Another piece from this body of work, breathe,

won the sculpture prize in the Waterhouse Natural

Science Art Prize in 2014.

Harriet graduated from Sydney College of the Arts

in 1999 with Honours in visual arts, majoring in

glass, after transferring from a science degree. Prior

to graduating, she travelled through North America

visiting renowned workshops and studios, assisting

artists including Laura Donefer and Steven Rolfe

Powell. On her return to Australia, Harriet began

assisting at Denizen Studio, Sydney, working with

many of Australia's best glassblowers, developing

her skill and technique and finding inspiration and

influence for her own work.

Harriet's practice is currently based in her backyard,

where she and her partner, glass artist Matthew

Curtis, run a hot glass studio together.

40
---
Harriet Schwarzrock, Limitless, 2017, blown, hot sculpted and mirrored glass, 64 x 110 x 18 cm. Photos: Harriet Schwarzrock.

41
---
YUSUKE TAKEMURA MORI NO MIZU

Rain falls on the mountains and grows the forest.

The mountains filter the rain and feed us clear water.

What do we return to the sky...

Yusuke Takemura was born in Japan and currently

lives and works in Australia. Yusuke's intriguing,

poetic forms – which he describes as 'complicated

and mysterious objects' are subtle investigations

of making the invisible world visible. The sculptural

objects are intentionally fragile in structure. Yusuke

cuts holes into the thin surface of his glass forms

before laboriously fine grinding and polishing all

the hole's edges. The boundaries between void

and transparent surface blur to create an optical

illusion.

Yusuke's innovative methods are a daring fusion of

traditional technique with contemporary knowledge

that he has developed to translate ideas concerning

human experience, history and place. He developed

his technique of glass surface treatment and cutting

whilst in Japan under the guidance and training of

internationally renowned glass artist Toshio Iezumi,

having completed his Bachelor Degree in glass

from Kurashiki University of Science and the Arts.

In 2009 Yusuke continued his studies in Australia,

completing a Masters Degree from The University

of Sydney. During this concentrated period of studio

research Yusuke honed his highly specialised skill of

cutting precarious organic shapes through fragile

glass forms into a strong, highly individualistic visual

language.

Yusuke has been awarded several major prizes,

most recently in 2011 The Ausglass Vicky Torr

Memorial Prize, The Ausglass Sabbia Gallery

Solo Exhibition Prize and was shortlisted for the

prestigious Ranamok Glass Prize.

42
---
Yusuke Takemura

Mori no Mizu (Water from the mountains)

2016

blown, hot sculpted and mirrored glass

62 x 48 x 15 cm

Photos: Yusuke Takemura.

43
---
JOHN WHITE BETWEEN WALLS

Looking at the world through the wonders of the

industrial revolution, this piece extracts the simplicity of

the RSJ or I-beam to reveal the corner stone of world's

most impressive constructions...

John White is an artist whose practice is infused by

the wonders of discovery and history – that which

has shaped and influenced our world. He likens

this diverse subject matter to how his life has taken

many paths, and believes that his heritage, working

career and education have all stemmed from his

relationship as an artisan with the tools of his trades

and practices.

This piece evokes my personal experience working

in the construction industry. We think of our walls as

structural identities with a simplistic purpose. This work

explores the sculptural and architectural splendour of a

construction material visually hidden between our walls.

Looking at the world through the wonders of

the industrial revolution, Between Walls extracts

the simplicity of the RSJ or I-beam to reveal

the cornerstone of the world's most impressive

constructions, that have emerged from the ground

to unbelievable heights. John threads these

ideas through his sculptural works and artistic

practice, both of which encompass his passion for

craftsmanship and making.

Graduating with a BVA in glass with Honours

from ANU School of Art & Design, John maintains

a studio at the Canberra Glassworks. His

accomplishments since graduating have been

significant; include being awarded the 2015

Ausglass Vicki Torr prize for a solo exhibition at

Sabbia Gallery in 2017; being a finalist both in 2016

National Emerging Art Glass Prize and Hindmarsh

Prize; and in 2016 being awarded the first Asialink

reciprocal residency between Canberra Glassworks

and Toyama Japan, which included a solo exhibition

at the Toyama Museum of Glass.

44
---
John White

Between Walls

2016

kiln formed and hot fused glass

200 x 11 x 9cm each

Photos: David Paterson.

45
---
RICHARD WHITELEY PUSH – PULL

... light shudders through the material, bringing with

it an ambiguity regarding what is solid and what

is void, provoking us to lose sight of what we are

viewing as we look into these corporeal forms.

Richard Whiteley's studio-based practice uses cast

glass to explore negative structures and suggested

forms in glass solids. He employs voids as a primary

compositional element, allowing the architecture

to be shaped by the unique material properties of

glass, which invites an overlaying of form and light.

The phenomena of light, concepts of illumination

and ways of seeing are constant sources of

inspiration that Richard considers and explores

through the act of making.

I strive to create works that evoke concepts of space

and elicit a sense of wonder within the viewer. I see glass

as a substrate that is activated and animated by light.

Its qualities of transparency and translucency are the

agents within the work that create the dialogue between

these positive forms and negative spaces.

Richard began working in glass at the age of 16, as

an apprentice within a stained glass workshop. He

obtained an undergraduate degree from the ANU

School of Art & Design, majoring in glass, followed

by an MFA from the University of Illinois, majoring

in Sculpture. After several years of teaching and

studio-based work, Richard is again in Canberra

as Head of the glass workshop at the ANU School

of Art & Design, running his practice from his

Queanbeyan based studio.

In Richard's latest works, the geometry and the

language of architecture has lessened, and the

body has become an increasingly important point

of reference and departure. His most recent works

emerged in response to the deciphering of MRI

imagery, following a series of family illnesses.

The translucency of glass, allowing the overlaying of

exterior structures and internal forms, provides the

perfect foil for me to contemplate consciousness,

embodiment, existence and loss; light shudders through

the material, bringing with it an ambiguity regarding

what is solid and what is void, provoking us to lose sight

of what we are viewing as we look into these corporeal

forms.

46
---
Richard Whiteley, Push – Pull, 2017, cast and coldworked glass, 28 x 28 x 12.5 cm. Photos: Greg Piper.

47
---
canberraglassworks.com

11 Wentworth Ave, Kingston ACT 2604

T 02 6260 7005

E contactus@canberraglassworks.com

Hindmarsh Prize exhibition

Saturday 10 June to Sunday 18 June

10am to 4pm daily in the Fitters' Workshop,

adjacent Canberra Glassworks