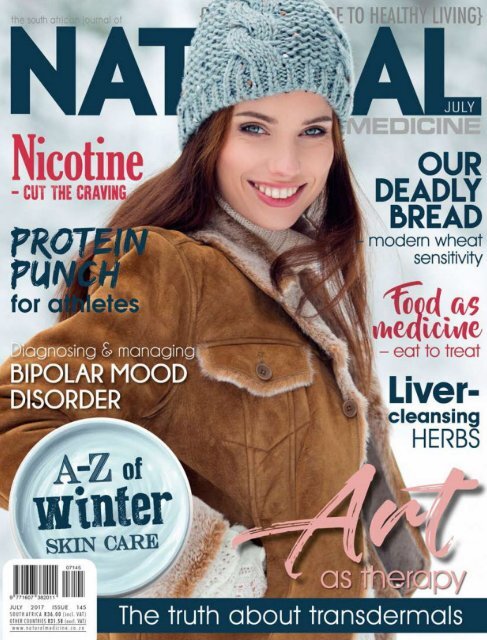 Natural_Medicine_Magazine_Issue_145_July_2017
Create successful ePaper yourself
Turn your PDF publications into a flip-book with our unique Google optimized e-Paper software.
naturalmedicine.co.za
---
contents

regulars

natural

nutrition

family

health

improving

health

4 EDITOR'S LETTER

6 MEET OUR EXPERTS

8 AUTHOR GIFTS

10 LETTERS

14 NEWS & NOTES

20 ASK OUR EXPERTS

24 BOOK REVIEWS

68 SUBSCRIPTIONS

26 OUR DEADLY BREAD

By Patrick Holford

32 WHICH MILK?

By Glenn Ashton

37 FOOD AS MEDICINE –

CAN WE EAT TO

TREAT?

By Andrea du Plessis

44 UNDERSTANDING

BIPOLAR MOOD

DISORDER

By Ilse Watson

ANIMAL CORNER

48 KEEP YOUR DOG FIT

IN WINTER

By Andrew Freemantle

CHILDREN'S CORNER

50 ADVERSE CHILDHOOD

EXPERIENCES – what

are they and how do they

affect us?

By Veronica Haupt

56 NICOTINE – how to cut

your cravings

By Patrick Holford

62 THE MICROBIOME &

INTERNAL BALANCE

By Dr Arien van der Merwe

FITNESS CORNER

70 PROTEIN–theforgotten

nutrient

By Ian Craig

002 | NATURALMEDICINE.CO.ZA
---
contents

natural

remedies

natural

living

natural

therapies

mind, body

and soul

76 LIVER-CLEANSING HERBS

By Dr Bernard Brom

86 YOUTH IN

PERMACULTURE IS

HERE

By Tony Rollinson

90 ART & HEALTH

ByDrFrancesleRoux

YOGA CORNER

96 BAD&GOOD

By Dr John Demartini

BEAUTY CORNER

82 A-Z FOR HEALTHY

WINTER SKIN

By Dr Leila Sadien

92 PREGNANCY YOGA –

for healthy mothers and

babies

By Sharni Quinn

on our cover

56

70

26

37

44

76

82

90

22

JULY 2017 | 003
---
EDITOR'S LETTER

HAWAII

~ my healing island

It is 6 am and I awake to loud bird song

outside my door. I open the mozzie screen

and step outside into a hot tub fi lled with 75 litres

of food grade hydrogen peroxide. Above me, a canopy

of palm trees and next to me is Tom Pace, still

inspiring me as he did 25 years ago when he was

instrumental to my career in health. He makes my

morning superfood smoothie and feeds me supplements

and talks about (now banned) effective

ultraviolet therapies he used in his clinic. Gratefully

I absorb the information and allow myself to be

re-inspired over a cup of Kona coffee with honey

and cinnamon.

Twenty-fi ve years ago, I found myself in Hawaii

mainland, fondly known as 'the big island'. I was

employed to assist Tom, the owner of Hokukano

Ranch, in the development of a golf course. After

an introductory seminar by reforestation and agriculture

on the impact of a golf course on the ozone

layer, I secretly hoped that the golf course would

not be developed. I am so happy to say that Tom

decided against it and instead donated a large piece

of his land as a nature reserve. Tom introduced magnetic

therapy into South Africa in the early 80s, way

ahead of his time. He remained interested in health

and had a health clinic/retreat on the ocean front

where medical doctors offered various modalities

and therapies such as ozone treatments and energy

medicine, together with state-of-the-art technology.

It was only natural for me to fi nd my way back there

and reconnect with Tom, learn more about the clinic

he had and the treatments he invited me to try.

NEW EXPERIENCES

Two days after my arrival those many moons ago,

Tom assisted with the birth of his brother's son in the

house I stayed in. Homebirth was a new concept for

me and a far cry from the then standard hospital birth

and ceasarean section practised so commonly in

South Africa. I wanted to have a home birth one day!

I looked after the siblings of little baby Hardy, Catherine

and Vanessa. There was something different

about Catherine and she crawled into my heart – so

much so that one of my daughters is named after

her. It was during this trip, now, that I learnt about

the extent of little Catherine's struggle with a brain

tumour that will be with her for the rest of her life. She

was diagnosed when Hardy was barely two years old.

Catherine survived and is an artist now. You can support

her by purchasing her art and keep her motivated

to continue painting.

Visit www.etsy.com/people/catherinepaceart

Catherine

The children ate muesli for breakfast with fruit juice

(instead of milk), and snacked on organic fruit off the

trees. Tom took me to my fi rst ever health food store

and I felt like a child in a sweet shop! I left with Acidophilus

and spirulina and various other remedies I had

no idea what they were for; and, I just wanted to learn

004 | NATURALMEDICINE.CO.ZA
---
more. I experienced Lomi-Lomi massage, chewed on

raw ginger root, blessed a Buddhist temple, chanted,

meditated and sat in a circle playing with singing

bowls. It was a strange but wonderful experience that

inspired me to seek out natural health practitioners,

natural medicine and therapies upon my return to

South Africa.

Ultimately, Hawaii was the birthplace of my inspiration

for Natural Medicine magazine that I co-founded

with my integrative doctor, Dr Bernard Brom, seven

years later.

Don't miss out on my travel journey by subscribing

to our newsletter and like us on Facebook. I will post

links to our Natural Medicine channel where I will be

sharing interviews conducted during my trip, smoothie

recipes and articles about various therapies such as

IV treatment I received. Dr Margaret Dexter requested

various blood tests and then ordered high dose nutritional

supplements to be administered intravenously

at her practice.

I interviewed 'Dolphin Girl', learned how to communicate

with dolphins, and was so blessed to swim with

her and dolphins on two occasions. Thank you Tom,

Hardy senior, Margaret, Dove, Shawna, Gretchen, Sasha

and all of you who made my experience unforgettable.

Mahalo.

I l

ve it

Dr. Hauschka Almond

Soothing Body Wash

I am always looking for a natural beauty

product to deeply nourish, moisturise and

protect my skin – Dr Hauschka's Almond

Soothing Body Wash does this and I simply

love it!

This is a soap-free product with a

delicate almond scent to soothe

the senses. The almond tree is

one of the core plants used in the

Dr Hauschka skin care range. Almond

oil contains vitamin E, the

potent antioxidant that enhances

the skin's elasticity. A little of this

product goes a long way, so it is a

worthwhile investment.

Follow me on

Twitter @DaleenTotten
---
about us

www.naturalmedicine.co.za

EXPERTS PANEL

PUBLISHER Natural Medicine ® is published monthly by

DREAMCATCHER PUBLICATIONS (Pty) Ltd

+ 27 21 880 1444 | dt@dreamcatcher.team

PRINT

www.ctpprinters.co.za

RETAIL DISTRIBUTION

Call centre 087 741 3137

IfyoucannotfindNatural Medicine ® on the shelf,

please email accounts@dreamcatcher.team

or call 021 880 1444.

VIDEO&RICHMEDIA

+ 27 21 880 1446 | dt@dreamcatcher.team

SUBSCRIPTIONS

For subscriptions, renewals and gift subscriptions, please

refertopage68.Specialsubscriptionofferon12issues

for delivery within South Africa. This offer expires on 25

July 2017. Neighbouring and overseas subscribers: Please

refertoourwebsite:

www.naturalmedicine.co.za

Available on

For queries, e-mail: maylene@dreamcatcher.team

DISCLAIMER

The views expressed in this publication are those of the authors

and not necessarily those of the editor, sponsors or publisher.

While every effort has been made to ensure that the contents

of this publication are both accurate and truthful, the publisher

and editor accept no responsibility for inaccurate or

misleading information that may be contained herein. The

publisher and editor do not endorse any of the products

or services advertised in this publication. Advertisers are

responsible for their own advertisements. Be sure to consult

your doctor before you embark on any self-medication

programme. Holistic remedies can be potent.

COPYRIGHT

Natural Medicine ® is protected under the Copyright Act.

All rights reserved. No part of this publication may be

reproduced by any means without permission in writing from

the publisher.

ü

006 | NATURALMEDICINE.CO.ZA
---
about us

www.naturalmedicine.co.za

phone 021 880 1444

email info@dreamcatcher.team

EDITOR AND PUBLISHER DALEEN TOTTEN

daleen@dreamcatcher.team

@DaleenTotten

PUBLISHER'S ASSISTANT

FRANCOIS PRINS-MANNING

francois@dreamcatcher.team

GENERAL MANAGER KITCH MACKINTOSH

COPY EDITOR NATASHA BOLOGNESI

PROOFREADER ANNE HAHN

CONTENT ASSISTANT MAYLENE LOUIS

DISTRIBUTION AND ACCOUNTS

YOLANDA ROSSOUW

accounts@dreamcatcher.team

SUBSCRIPTIONS MAYLENE LOUIS

maylene@dreamcatcher.team

CREATIVE TEAM

CREATIVE DIRECTOR DALEEN TOTTEN

Contributors in this issue

ART DIRECTOR AND DIGITAL MANAGER

OLGA BOTHA

GRAPHIC DESIGNER MIA GIBBS

SALES

NATIONAL ADVERTISING SALES MANAGER

ELEANOR VAN DER MERWE

eleanor@dreamcatcher.team

ASSISTANT INGE VAN DER MERWE

SALES REPRESENTATIVES GAVIN BLACKSTOCK AND

ANGELIQUE MARAIS

EDITORIAL BOARD

Dr Ameet Aggarwal, Prof Majid Ali, Paul Bergner, Prof Rashid Bhikha,

Jacky Bloemraad-De Boer, Arjan Bogaers, Dr Bernard Brom, Lise Bryer,

Christiaan Campbell, Ian Craig, Sally-Ann Creed, Chantal Deacon

Daniel, Dr Melodie de Jager, Dr John Demartini,Andrea du Plessis,

Heidi du Preez, Dr Les Emdin, Klaus Ferlow, Ann Gadd, Dr Raoul

Goldberg, Patrick Holford, Aimee Hughes, Hannah Kaye, Dr Frances

le Roux, Stefan Maritz, Dr Linda Mayer, Kath Megaw, Dr Frank Müller,

Rev. Dr Alex Niven, Dr David Nye, Dr Sandi Nye, Sharni Quinn,

Robyn Sheldon, Dr Lynette Steele, Dr Michael Tierra, Mark Timon,

Jason Vale, Dr Arien van der Merwe, Jeanne van Zyl and David Wolfe

Natural Medicine ® is dedicated to providing information to

practitioners and the general public interested in all aspects of

healthy living. Articles are written objectively by professionals with

practical experience in their subjects. Although advertisements

are placed within articles, the authors do not necessarily endorse

those products.

MISSION STATEMENT

Our aim at Natural Medicine ® is to integrate the most successful

approaches to health maintenance, disease prevention and the

treatment of chronic ill health. Health maintenance and disease

prevention must include care of the environment, the land, the water

and the air.

JULY 2017 | 007
---
AUTHOR GIFTS

Our authors do not receive any fi nancial reward for their

considerable efforts in contributing to Natural Medicine ® . They

are motivated solely by generosity of spirit and a passion

to further the cause of healthy living. A warm thanks to the

companies listed below, for sponsoring gifts for our authors.

ARMIÉN DETOX TEA

armién Detox Energise tea

ombines buchu, hoodia, guarana

nd raspberry rooibos to aid with

ater retention and fl ush toxins

from the body. Carmien Detox

Cleanse tea is a blend of natural

herbs, senna, lemongrass, ginger,

spearmint and green rooibos and

aids digestion and elimination.

Drink one cup of Energise in the

morning and one of Cleanse in the

evening.

www.carmientea.co.za

BIOLIFE

Biolife Biotin contributes to a healthy body and an attractive

appearance. It plays a major role in maintaining healthy hair,

strong nails and clear skin while assisting in the metabolism of fats,

carbohydrates and protein.

www.biolifevitamins.co.za

ELLI MARULA OIL

ELLI's indigenous and natural

cold-pressed Marula Oil is

comprised of natural fatty acids,

antioxidants and minerals that

hydrate the skin and boost

cellular activity. Marula oil is pH

balanced with anti-infl ammatory

and antimicrobial properties. Elli

products are organic and grown

and crafted in Africa.

www.elli.co.za

DOWN TO EARTH REVIVE MOISTURISER

Revive Moisturiser is formulated to protect and restore weakened,

sensitised or mature skin. The powerful plant extracts work

harmoniously to soothe sensitive skin, and to minimise

blemishes.

www.downtoearthcare.co.za

PENPHARM - LINCTOMED ®

Keep colds and fl u away this winter with

PenPharm - Linctomed ® . Linctomed ® offers

an extensive range of self-medicating cold

and fl u products to suit every household's

needs.

Stockists: Dis-Chem, Pick 'n Pay

Pharmacy, MediRite Pharmacy, Clicks, and

all community pharmacies.

www.penpharm.co.za

HERBATINT REPAIR SHAMPOO AND CONDITIONER

Herbatint Moringa Repair Shampoo gently cleans

your hair while restoring the fi bres and protecting

the scalp. Herbatint Moringa Repair Conditioner

nourishes and revitalises the hair, restoring natural

balance. Both products are certifi ed organic.

www.naturescolours.com

008 | NATURALMEDICINE.CO.ZA
---
Advertorial

CHIROPRACTIC

Chiropractic is a health profession specialising in the diagnosis, treatment and prevention of mechanical disorders of the musculoskel-

Chiropractic practitioners essentially rely upon non-invasive treatment methods and will refer patients to medical practitioners should

medication or surgery be indicated. This approach is further reinforced by chiropractors in their promotion of healthy lifestyles such as

the avoidance of smoking and excess stress, proper diet and exercise.

Chiropractic education and training is extensive and in South Africa a Masters Degree in Chiropractic is

awarded at two South African Universities after a six-year programme.

PRIMARY CONDITIONS TREATED

Back pain, neck pain and headaches are extremely common and can be very debilitating symptoms. They

are also the primary reason patients seek chiropractic care. The distinguishing features of chiropractic care

that has allowed patient and public acceptance has been the ability to provide a readily available, caring and

sympathetic, low cost, low risk, non-invasive and natural healing approach to relieving symptoms of back

pain, neck pain and certain types of headache.

medical schemes make provision for reimbursement of chiropractic services. The Compensation for Occupational

Injuries and Diseases Act provides for complete reimbursement of cases treated by registered chiropractors. The

the care to a few treatments per episode. Using this level of restraint, chiropractic care is less expensive

than other treatment options where a series of examinations, medication and diagnostic procedures are

often routinely utilised.

COST EFFECTIVE CARE

Considering the high costs of medical care in the case of back-related problems – more often resulting

in extensive diagnostic procedures, medication, surgery and hospitalisation – it makes economical

of Rands annually.

It is interesting to note that the Ministry of Health in Ontario – Canada – commissioned a study by three

health economists led by Professor Pran Manga to investigate the cost of back-related problems to the

ly $7 billion) annually by utilising chiropractic services. Professor Manga stated, 'There is an overwhelming

medical management.'

LOW BACK PAIN

Low back pain has reached epidemic proportions in virtually all industrialised nations and is ranked second

only to headaches as the most frequently reported cause of pain. Several studies estimate that up to 90% of

all people will experience back pain at some stage of their lives, and treatment has become, in turn, the single

biggest headache for the medical profession. The British orthopaedic surgeon, Gordon Waddel in his acclaimed

new text 'The Back Pain Revolution' states back pain is a 20th Century medical disaster.

In national health care systems throughout the world back pain is common, poorly managed and very expensive

– both in terms of direct treatment costs and the indirect costs of disability and lost productivity.

Several professions share the responsibility of health care and each should be considered equally in respect

CHIROPRACTIC ASSOCIATION of SOUTH AFRICA

www.chiropractic.co.za

+27 (086) 188 7772 / info@chiropractic.co.za
---
KEEPING IN TOUCH

letters@naturalmedicine.co.za

BUG OFF, NATURALLY

We are travelling up north into

Africa this holiday and I am

concerned about travel bugs! Please

give me some natural tips on how to

deal with anything from mosquitoes to

tummy bugs. H.R.

THE EDITOR REPLIES: For insect bites, holistic

doctor and herbalist Dr Lois Johnson

recommends keeping the following herbs on

hand: pure lavender oil for mosquito bites to

reduce swelling and itching; tea tree oil to prevent

topical infection; and Aloe vera pure gel

for mosquito bites.

Natural products such as citronella, cedarwood

and eucalyptus stop mosquitoes from

biting, even though they may land on you.

Other ways to make yourself repellent are to

take 100 mg of vitamin B 1

or two to three garlic

capsules (undeodorised) every four hours

if you're going to be in a heavily infested area.

Strategically arrayed bouquets of pennyroyal

can ward off mosquitoes.

I know of a brilliant repellent stick that will be

coming to South Africa soon, so watch this space.

On a high-stress trip – one that, say, has

you changing time zones or spending lots of

time in a plane's pressurised cabin (a perfect

breeding ground for germs) – taking antioxidants

can help you stay healthy. Haas recommends

vitamins C (1 to 3 g) and E (400 to

800 IU), beta-carotene (15 000 to 30 000

IU), selenium (100 to 200 mcg) and lipoic

acid (100 to 200 mg).

When it comes to catching nasty bugs, prevention

is better than cure. I use Echinaforce

daily, just during the holiday season.

Importantly, remember to wash your hands

often on land and in the air – this helps prevent

the transmission of respiratory and gastrointestinal

diseases.

After the trip, stay alert. Problems can surface

after you return. It can be weeks before parasitic

infections show up, and malaria can hide

for up to a year. The most important symptom

to be aware of is fever, particularly fever with

chills. Depending on your itinerary, your doctor

may need to rule out malaria, typhoid fever

or other problematic 'souvenirs'.

Homeopathic creams may relieve itching and

inflammation from mosquito bites. Try cantharis

to relieve the burn and/or sting of a bite

and hypericum for puncture wounds and bites

and stings.

Invite the good bugs. Pack probiotics! 'These

good bacteria can help you fight off any new

bugs that might invade your digestive system,'

says our expert Dr Elson Haas. Take capsules

of hydrochloric acid with meals – it's a 'good'

acid that acidifies the digestive tract, making it

harder for the bad bugs to gain hold.

010 | NATURALMEDICINE.CO.ZA
---
THE HEALING BENEFITS OF CURCUMIN

I was so impressed with your interview

in your June issue with

Professor Dan Burke on curcumin and

the role it may play in lessening the

chances of resistance to anticancer

drugs. Please could you tell me more

about curcumin and its other health

benefits? With thanks. G.V.

THE EDITOR REPLIES: Curcumin, along with

two other related compounds (collectively

called curcuminoids), is present in the curry

spice turmeric (Curcuma longa). The plant

itself – originating in South Asian countries,

especially India – is a knobbly root that looks

rather like fresh ginger. Tumeric comes from

the powdered rhizomes of this plant and gets

its bright yellow colour from the polyphenol

curcumin. It is this substance which has the

power and the potential to address a variety

of diseases.

MODE OF ACTION

Curcumin is a fascinating substance which

has multiple beneficial interactions with cell

tissue. This means that it is able to inhibit the

action of various enzymes and cell signalling

pathways of importance in major illnesses

ranging from inflammatory-related diseases

to cancer.

FIRST-CLASS MINERALS

Minerals are essential constituents of all cells. They regulate numerous

bodily functions and each mineral is essential in maintaining proper

equilibrium within cells. Although minerals comprise only 4-5 percent

of our body weight, without them life itself would be impossible.

Why Fithealth Minerals?

Chelation

Minerals combined with an Amino Acid carrier molecule,

are more easily transported across the intestinal wall.

Fithealth minerals are uniquely Amino Acid Chelated (AAC)

resulting in improved absorption and utilisation.

Elemental minerals

The elemental value of a mineral supplement is the active

ingredient. Fithealth Minerals highlight the elemental (active)

mineral value so avoiding confusion in establishing the real

mineral content.

• FithealthAmino Acid Chelated Minerals contain no sugar, salt,

yeast, gluten, artificial colouring, flavouring, preservatives.

• Suitable for diabetics when used as part of a balanced

eating plan

• Suitable for vegetarians

SUGAR

BALANCE

MUSCLES

& NERVES

HEART &

WATER

BALANCE

IMMUNITY

& FERTILITY

Available from: Dis-Chem and Independent Pharmacies

Tel: 011 886 2932; queries@fithealth.co.za; www.fithealth.co.za

Member of the

Health Products

Association
---
KEEPING IN TOUCH

References

1. Anand P., Sundaram

C., et al. Curcumin and

cancer: an 'old-age'

disease with an 'ageold'

solution. Cancer Lett

Aug 2008; 267(1):133-

164.

2. Jurenka JS Antiinflammatory

properties

of curcumin, a major

constituent of Curcuma

longa: a review of

preclinical and clinical

research. Altern Med

Rev June 2009;

14(2):141-153.

3. Menon VP, Sudheer

AR. Antioxidant and

anti-inflammatory

properties of curcumin.

Adv Exp Med Biol 2007;

595:105-125.

4. Zhang L, Fiala M, et al.

Curcuminoids enhance

amyloid-beta uptake

by macrophages of

Alzheimer's disease

patients. J Alzheimers

Dis Sep 2006; 10(1):1-7.

THERAPEUTIC BENEFITS

Curcumin and cancer

As discussed in my interview with Professor

Dan Burke in our last issue, curcumin has

distinct anti-cancer mechanisms. Research

shows that curcumin can inhibit the growth

and spread of cancer at a molecular level. 1

These tests in the laboratory are encouraging

although further study is needed to verify

whether or not high doses of curcumin can

help to treat people with cancer or prevent it.

A powerful anti-inflammatory

Although short-term inflammation is necessary

for the repair and healing of damaged tissue,

long-term, low-level inflammation plays a

major part in the onset of many serious Western

diseases such as diabetes, heart disease

and Alzheimer's disease.

Curcumin is a highly effective anti-inflammatory,

as effective in fact as some anti-inflammatory

drugs. 2 Its efficacy lies in its ability to

block a molecule that activates genes related

to inflammation.

Further study is however necessary to determine

whether or not curcumin can slow down

or reverse Alzheimer's disease.

Curcumin as an immunomodulatory agent

At low doses curcumin enhances antibody responses.

This ability to modulate the immune

system would be an added benefit curcumin

gives to the healing process. Here cancer patients

in particular could benefit as most anticancer

drugs have immunosuppressive side

effects.

Curcumin has absolutely no immunosuppressive

effects and laboratory tests show that it

also restores the immune system.

ENHANCING CURCUMIN'S

BIOAVAILABILITY

Curcumin presents a challenge when it comes

to its poor bioavailability, in other words the

amount that is successfully absorbed in order

for it to be effective. High oral doses of the substance

to counteract this poor bioavailability are

not an option because of concerns of toxicity.

Turmeric has been used as an anti-inflammatory

in India for thousands of years.

A powerful antioxidant

Antioxidants protect the body from free radicals.

Curcumin is far more effective an antioxidant

than -tocopherol: It neutralises free radicals

directly and then stimulates the body's

own antioxidant enzymes. 3

Traditionally turmeric is mixed with milk or

butter and eaten. It can be combined with oil

and applied topically to injured areas to reduce

swelling, pain and infection.

A solution to the problem of poor bioavailability

can be found in a powerful curcumin

extract that encourages curcumin's absorption

and beneficial effects.

A reduction in oxidative stress protects against

heart disease and Alzheimer's disease. Curcumin

inhibits LDL-cholesterol oxidation, which

is thought to mark the start of the hardening of

the arteries. Studies have also shown that curcumin

also clears plaque build-up, or protein

tangles, which are indicative of Alzheimer's. 4

To sum up: Enjoy turmeric as a healthy spice

in your cooking and invest in a worthwhile

curcumin supplement to assist you along your

path to good health.

The references listed here are for additional

information and interest.

012 | NATURALMEDICINE.CO.ZA
---
700%

PROVEN

FAST

RELIEF

ANTI-

OXIDANT

ANTI-AGEING

GMO

SUGAR

GLUTEN

SOY

Bio-Curcumin may help alleviate aches, pains and inflammatory discomfort caused by

arthritis, rheumatoid arthritis, fibromyalgia and inflammatory digestive disorders such as

IBS and Crohn's Disease. Bio-Curcumin's effect may be felt after just three days. If you

are not satisfied, contact us and we'll consult with you. If you are still not satisfied after

this consultation, we will refund the purchase price.
---
NEWS & NOTES

PLANT

OF THE

MONTH

Indoor

plants CAN

PURIFY THE AIR

ORNAMENTAL RUBBER PLANT

Ficus elastica

This plant is another powerful toxin eliminator and air

purifi er that can grow easily indoors. It is especially effi cient

at removing formaldehyde from the air, and also eliminates

carbon monoxide, so placing it near a garage or area near a

despatch where vehicles are emitting fumes can be highly

benefi cial.

It prefers full, or bright, fi ltered light and thrives in wet,

tropical conditions. Water it moderately and use a highnitrogen

fertiliser once a month. Trim the plant regularly to

maintain its size. To keep the broad, deep green leaves shiny

and absorbing the air toxins and transpiring oxygen, wipe

them gently with a damp, soft cloth every few months. You

can use this small tree as a centrepiece on a table or on a

shelf or windowsill. You can even place it on the fl oor near a

heater/fi replace or near entrances.

* Note: Avoid contact with the milky latex of the rubber

plant, as it can cause skin irritation.

Dr Adele Pelteret, BComp Med – Naturopathy and BSc CHSc (summa cum

laude), FLT-LE, Dip CN, HDE

'Natural forces within us

are the true healers of

disease.' ~ Hippocrates

MEN NEED REGULAR

medical checkups

A survey carried out by Orlando Health shows that men make

short-sighted excuses for not having regular medical checkups.

Among the top excuses are that they are too busy; scared of fi nding

out that something may be wrong with them; and that they are

uncomfortable with body examinations, such as prostate checks.

Urologist and men's health activist Dr Jamin Brahmbhatt says,

'Men can spend three to four hours golfi ng or watching a ball game

every week, or fi nd the time to take a trip to Vegas with their buddies,

but they can't spare 90 minutes a year to get a checkup?

That's inexcusable.'

Life expectancy for men is at least fi ve years less than it is for

women and men are more likely than women to die from nine out

of the top 10 causes of death in the US. 'One of the biggest reasons

for those statistics, is that women are much more proactive

about their health than men,' says Brahmbhatt.

Sources

Orlando Health

South Lake Hospital

This month's

ARITY

CH FOCUS

The Lucky Lucy Foundation

The motto of this worthwhile, non-profi t, animal help organisation

is: 'Don't confi scate and euthanise; educate and

sterilise!'

The Lucky Lucy Foundation fi ghts daily to curb overpopulation,

abuse, neglect and lack of knowledge while upholding

the values of pro-life and pro-quality of life for animals. They

focus on the no-hope-left cases, fi nding good homes for the

dogs and cats in their shelter and providing support to many

'furkids' in impoverished communities.

For as little as R100/month become a special Guardian

Angel: Email guardianangel@luckylucy.org or sms LUCY to

48899 to donate R10.

www.luckylucy.org

014 | NATURALMEDICINE.CO.ZA
---
Switzerland may

ban DEODORANTS

CONTAINING

ALUMINIUM SALTS

Last September Swiss scientists found that antiperspirants

containing aluminium may cause cancer.

Based on this fi nding, the Swiss National Council has

passed a bill that could ban the use of aluminium

salts in deodorants and provide funding to study its

role in the onset of breast cancer.

'Healing is an

aspect of letting

go of perceived

self so that true

self may emerge

free of disease.'

Dr Ameet Aggarwal

As an antiperspirant ingredient, aluminium salts curb

sweat and body odour by temporarily blocking sweat

glands. The downside is that they may build up in

breast tissue with some oestrogen-like effects.

The research that highlighted the potential problem

was carried out at the University of Geneva and studied

isolated human breast cells that were later replicated

in studies on mice.

While the study showed that long-term exposure to

the aluminium salts caused tumours that spread,

there has been criticism from the charity Breast Cancer

Now and Cancer Research UK that the study is

fl awed as it focused on the effects of aluminium salts

in breast tissue in mice and not humans. According

to professor of cancer epidemiology at the University

of Cambridge, Paul Pharoah, 'This study looked only

at the effects of aluminium in mice – but the largest

study of all the evidence in humans found no link.'

Source

Dunne D. Mailonline

JULY 2017 | 015
---
NEWS & NOTES

Protection against

Parkinson's BEGINS IN

THE GUT

Exciting new research from the University of Iowa shows that

the intestine may play a key role in preventing Parkinson's

disease.

Parkinson's disease occurs when neurons (nerve cells) in the

brain that control movement become damaged or die. This

cell death results in the lack of motor control associated with

the disease.

The University of Iowa researchers have located cells in the

intestine that spark an immune response that protects the

nerve cells against damage connected with Parkinson's. Like

'detectives', the immune intestinal cells identify damaged

machinery within neurons and discard the defective parts.

This prevents neuron impairment or death known to cause

the disease.

Source

The University of Iowa

FIND

of the month

EOS Vanilla Mint Lip Balm

This is a real fi nd. Savour a little sweetness on your lips as you

soak up the natural goodness of EOS Vanilla Mint Lip Balm.

Natural stevia extract and vanilla oil have been blended into

a plant-derived, moisturising base of shea butter, olive oil and

jojoba. The balm is enriched with beeswax, which is protective

and packed with vitamins. This lip balm is one of several in a

cute and sassy range, making your daily beauty routine fun.

EOS (Evolution of Smooth) is well known worldwide for its delightful

range of natural lipcare products and skincare goodies,

made with delicious botanical ingredients. With EOS there is a

lot to smile about!

www.faithful-to-nature.co.za

www.evolutionofsmooth.com

Friends better

than family FOR

GOOD HEALTH

A recent study shows that friendships may be more

benefi cial than family relationships for health and

happiness, especially as we age.

Head researcher, William Chopik, assistant professor

of psychology at Michigan State University, conducted

two studies involving nearly 280 000 people. His

fi ndings indicate that friendships gain importance

in later life and that good friendships amongst

older adults are a stronger guarantee of health and

happiness than relationships with family members.

Interestingly, relationships between friends are not

widely researched, but they should be as they play a

key role in happiness and health.

Says Chopik: 'Keeping a few really good friends

around can make a world of difference for our

health and well-being. So it's smart to invest in the

friendships that make you happiest.'

Source

Michigan State University

016 | NATURALMEDICINE.CO.ZA
---
Cannabis

ingredient MAY

SHRINK BRAIN

TUMOURS IN

CHILDREN

Cannabidiol (CBD) is the non-psychoative ingredient

in marijuana and British researchers are investigating

whether or not this compound may shrink

brain tumours in children.

The study, the fi rst of its type in the world, is being

carried out at Nottingham University's children's

brain tumour centre. According to lead researcher

Professor Richard Grundy, there has been a surge

in parents administering CBD to children without

medical advice in the hopes that it may help.

'New ways to treat childhood brain tumours are

urgently needed to extend and improve the quality

of life in malignant brain tumour patients, so

we are excited at the prospect of testing the effect

of cannabidiol on brain tumour cells,' said Grundy.

The research into this potential treatment is at its

initial stages and is being conducted in the laboratory,

not on children. Grundy explains: 'We expect

the cells – brain tumour and normal brain – grown

in our standard conditions to be healthy and actively

dividing. We expect that normal brain cells

grown in cannabidiol will remain healthy. However,

we expect the brain tumour cells grown in cannabidiol

to stop growing and die.'

Katie Sheen, of the Astro Brain Tumour Fund,

which is co-funding the study, said that if the research

was successful CBD could be a gentler, less

toxic way of treating cancer than chemotherapy or

radiotherapy.

Source

Marsh S. Study looks at cannabis ingredient's ability to help children's

tumours. The Guardian. 2 May 2017.

PLAYING A MUSICAL

INSTRUMENT enhances

brain health

In recent research, knowing how to play a musical instrument

has been shown to help older adults maintain their listening

skills and protect cognitive health.

'Music has been known to have benefi cial effects on the brain,

but there has been limited understanding into what about

music makes a difference,' says Dr Bernhard Ross, senior

scientist at Baycrest's Rotman Research Institute (RRI) and

lead author of the study.

The study at Baycrest Health Sciences, an academic health

sciences centre fully affi liated with the University of Toronto,

used Tibetan singing bowls to discover why playing a musical

instrument can protect brain health. Results showed that

mastering the ability to play a sound on a musical instrument

alters brain waves in such a way as to improve a person's

listening and hearing skills and ward off age-related cognitive

declines.

'It has been hypothesised that the act of playing music requires

many brain systems to work together, such as the hearing,

motor and perception systems,' says Ross, who is also a

medical biophysics professor at the University of Toronto. 'This

study was the fi rst time we saw direct changes in the brain

after one session, demonstrating that the action of creating

music leads to a strong change in brain activity.'

Source

Baycrest Centre for Geriatric Care

JULY 2017| 017
---
NEWS & NOTES

NEW!

'Mindfulness is a state of active,

open attention on the present.

When you're mindful, you observe

your thoughts and feelings from

a distance, without judging them

good or bad. Instead of letting your

life pass you by, mindfulness means

living in the moment and awakening

to experience.'

Source

Psychology Today

INVERSION TABLE MODEL 75303 PRO

"GOODBYE"

back pain and

posture problems.

This month's

TEAM'S CHOICE

O'live Rooibos and

Honey Citrus Scrub

Our team absolutely loved O'live's Rooibos and

Honey Citrus Scrub, a blend of raw honey and essential

oils of lemon, lime, bergamot, a smidgen

of organic rosemary, and a touch of lemongrass.

This soap soothes and moisturises the skin and

its delicate scent carries refreshing citrusy overtones

that uplift the senses. O'live's soap bars are

wonders in craftsmanship with artistic variations

in their individual designs – for example, the Rooibos

and Honey Scrub bar bears a honeycomb

imprint down one side – which makes these

products attractive bathroom adornments.

The soaps are available from O

studio at 196 Victoria Road

Woodstock, or you can cont

olivehandmadesoaps@gmail.co

www.facebook.com/oliven

ural/timeline

http://tofo.me/olivehandmadesoaps

Gravity is our enemy! Why? Because of compression. Invert to

reverse gravity and decompress naturally. Inversion stretches

the spine taking away the pressure on discs, joints and nerves.

BENEFITS OF INVERSION

Spinal Column: realignment

of the vertebrae to restore

posture.

Intervertebral discs:

decompresses the discs to

regain elasticity.

Muscles: relaxes muscles &

promotes tissue perfusion.

Backache: relieves pain, spasm

& discomfort.

Circulation: oxygenation of the

cells of the tissues.

Lymph Drainage: decreases

lymph stagnation,enhances

lymph flow.

Cerebral function: improves

mental function & balances

awareness.

Stress and tension: relieves

the pain and stiffness in the

neck, shoulders and back.

Probiotics may relieve symptoms

of depression, as well as help

gastrointestinal upset.

McMaster University

the simple solution

to back pain and poor posture

www.inversion.co.za

inversion@iafrica.com

082 658 0077 / 083 733 6116

INT020

018 | NATURALMEDICINE.CO.ZA
---
PRODUCT NEWS

BIOGEN B-COMPLEX BURST

We could all use some extra energy, especially

during these colder winter months! Biogen B-

Complex BURST is a vitamin B supplement that

contains guarana. It is used to boost energy, naturally.

B-vitamins have various functions in the body,

including assisting with energy-yielding metabolism,

maintaining healthy skin, hair and mucous

membranes, preventing memory loss and migraines,

as well as supporting nervous system

function. The eight B-vitamins — B 1

, B 2

, B 3

, B 5

, B 6

,

B 7

, B 9

and B 12

— play an important role in keeping

our bodies functioning optimally.

Although these vitamins are chemically distinct,

they are grouped together because they are

found together in the same foods. As they are

water soluble, most are not stored for any length

of time and must be replenished daily. Biogen B-

Complex BURST is formulated to assist the body

by supplying it with all the B-vitamins that are

lacking in your diet.

The new effervescent tablet solution comes

in a delicious and refreshing tangerine fl a-

vour and is affordable at the reasonable price

of R169,95.* Simply drop a tablet into a glass

of water and wait a few minutes for it to dissolve,

then enjoy a tasty, convenient energy

solution. Use daily or as recommended by your

healthcare practitioner. For more information,

visit: www.biogen.co.za

*Price correct at time of publishing. Prices may fl uctuate.
---
ASK OUR EXPERTS

UNDERSTANDING PERIOD PAIN

JEANNE VAN ZYL

www.beautifulbalance.co.za

Jeanne practises as a Wellness Coach

and NLP Practitioner in Brooklyn, Pretoria.

She is currently completing a

Master's degree in Personalised NutritionthroughMiddlesexUniversity(London,UK)andhasalso

studied in the field of clinical psycho-neuro-immunology. She

is passionate about women's health in all its complexity and

beauty and aims to inspire women to live a meaningful and

balanced life.

QMy 20-year-old daughter suffers

from the most terrible periodpain.Itissobadthatshecannot

getoutofbedforthefirsttwodays.I

have tried giving her painkillers but although

they sometimes take the edge

offIcan'thelpfeelingthereismorewe

couldbedoing.Doyouhaveanyadvice?Withthanks.C.M.

AJEANNE VAN ZYL REPLIES: When it

comes to reproductive health, there are

many factors to take into consideration that

may support overall balance between the

multiple hormones and messengers involved

in this system.

Disruption in hormone functioning or a particular

nutrient deficiency can have widespread

effects on regulation of the hormonal

cycle. The reproductive system is often

regarded as a 'delicate dance' between all the

mechanisms, messengers, hormones and nutrients

involved, which emphasises the complexity

of this system as a whole. Therefore, I

will provide general guidelines that may be useful

to support hormone balance and reduce

period pains; however, if your daughter's

symptoms persist or deteriorate, I suggest

that she sees a healthcare professional

who can develop a tailored intervention programme

for her.

Period pains can be caused by constriction of

the ducts that carry blood from the uterus out

of the body. This constriction may cause the

blood and blood clots travelling through these

ducts to contribute to pain. If this is the cause

of her period pains, applying warmth to that

area might help to relax the muscles that induce

the constriction and thereby reduce the

pain. A popular way to apply warmth is placing

a hotwater bottle or 'beanie' bag on the lower

abdomen area. Period pains are often worse

in the winter seasons due to the constrictive

effect that cold weather has.

020 | NATURALMEDICINE.CO.ZA
---
Magnesium is essential for muscle relaxation,

as well as dilation of arteries and ducts.

In the standard Western diet, magnesium intake

tends to be low and may therefore promote

constriction and worsen the pain. My

preferred form of magnesium intake (over

and above diet) is magnesium bath salts or

a magnesium spray, as it has been suggested

that magnesium is absorbed more effectively

transdermally (through the skin). She can

spray magnesium directly onto the abdominal

area or take a 20-minute bath in magnesiumrich

bath salts on a regular basis to support

adequate magnesium stores.

Period pains can also be caused by an imbalance

between pro- and anti-infl ammatory

messages in the body. In other words, proinfl

ammatory messages may contribute to

blood clotting and thereby increase the size

of the blood clots that are to be cleared from

the body during menstruation. The standard

Western diet tends to be higher in pro-infl ammatory

foods relative to anti-infl ammatory

foods, which may add insult to injury if hormonal

regulation is already out of sorts.

Pro-infl ammatory foods include: red meat (especially

beef), processed foods, sugar, refi ned

carbohydrate foods, dairy, coffee, alcohol,

nightshade vegetables (eggplant, tomatoes,

peppers, etc.), omega-6 rich foods (plant oils,

nuts, seeds, etc.), soda drinks and take-away

meals. Anti-infl ammatory foods and spices

include: dark-green leafy vegetables, oily fi sh

(excellent source of anti-infl ammatory compounds),

avocados, most vegetables, most

fruit, garlic, turmeric, ginger root, walnuts,

legumes, cayenne pepper and cacao. Many

women report success with evening primrose

oil supplements, which contains high amounts

of anti-infl ammatory compounds and may

therefore be soothing for period pains.

A generally healthy, nutrient-dense, wholefood

diet that contains the above-mentioned antiinfl

ammatory foods and suffi cient amounts of

magnesium may therefore be useful to support

hormonal regulation and reduce period pains.

JULY 2017 | 021
---
ASK OUR EXPERTS

DR SANDI NYE, ND

www.greenhousehealth.com

drsnye@bucknet.co.za

She is a naturopath with a special interest

in aromatic and integrative medicine,

and is dual-registered with the

Allied Health Professions Council of South Africa (AHPCSA).

Sandi serves as editorial board member and/or consultant for

various national and international publications, and is in private

practice in Pinelands, Cape Town.

TRANSDERMALS

ADR SANDI NYE REPLIES: A high absorption

rate, directly into the bloodstream, can be

achieved with many substances that are delivered

transdermally, without the risk of gastrointestinal

degradation or other common oral-medicine-related

side effects. 'Patch-treatment', which is becoming

more and more popular, appears to be a safe, effective

and convenient substance delivery option, for a wide

range of disorders and conditions, demonstrating

good patient acceptability and compliance.

Q

I am tired of the side effects of oral

medications. Please tell me a bit

more about transdermal patch treatment

and what it can be used for. N.I.

Transdermal patches allow application of a substance,

such as a natural remedy or a medicinal drug, through

the skin, with the aim of allowing sustained release

and slow absorption of the active ingredients. Patches

are generally designed to release their active components

in two ways – either the ingredients are stored

within a porous membrane, which allows slow absorption

when applied to skin; or the actives are embedded

in thin layers within the actual adhesive part of

the patch, which melts through body heat and is subsequently

absorbed through the skin.

There are basically fi ve different types of medicinal

transdermal patches:

Single-layer drug in adhesive patch

Multi-layer drug in adhesive patch

Reservoir patch (unlike the fi rst two types,

the reservoir system has a separate drug

layer)

Matrix patch (considered the safest)

Vapour patch (relatively new patches that

release volatile essential oil vapours for up

to six hours).

THE PROS AND CONS OF TRANSDERMALS

On the up-side: Transdermals have the advantage of

providing a controlled release of the active substance,

often at specifi c sites or areas of injury or pain. So if

you have a back-ache, a patch on the specifi c area of

discomfort can deliver a dose of the treatment directly

where it's needed, rather than having to go through

other body processes before reaching the target area.

This targeted delivery also allows for more accurate

delivery of the actives into the bloodstream, unlike

022 | NATURALMEDICINE.CO.ZA
---
topical creams, gels or lotions, where dosage can be

difficult to control. The risk of systemic side effects is

also considerably reduced, and patches are usually a

pain-free method of administration.

On the down-side: The main disadvantage to transdermal

delivery systems is the innate barrier function

of the skin. There's also a molecular weight issue, since

many molecules are simply too large to pass through

intact skin. Although there are new technologies being

investigated to allow transdermal delivery of larger

molecules, insulin for example, cannot pass through

the skin without modification, as the molecules are

too big. Other factors such as the thickness of the stratum

corneum, the hydration level of the skin, body

temperature, existing or underlying skin disease or injuries,

as well as ethnic differences can all affect the

absorption rate of transdermal medications.

Some patch-drug ingredients need to be combined

with alcohol or other permeation enhancers to increase

skin penetration ability, which can cause skin

irritation. Constant application of a patch, to the same

site, can also cause irritation or in the case of nitroglycerin

patches, overwhelm the body. Despite these

considerations, a wide variety of pharmaceuticals are

now available in transdermal patch form.

TREATMENT

Some of the well-known medicated patches include:

the nicotine patch; pain-control patches; anaesthetic

patches; hormone patches; angina pectoris patches;

hypertension patches; anti-inflammatory patches; motion

sickness patches; vitamin B 12

patches; various vitamin,

mineral and herbal patches; antidepression patch;

ADHD patch for hyperactivity; Alzheimer's patch; and osteoarthritis

patches.

Patches with aromatic essential oil-releasing vapours

are available for the following conditions: respiratory

congestion, insomnia, addiction, beauty/aesthetic,

health and wellness, stress-reduction, libido enhancement.

I hope this helps.

JULY 2017 |

Trade enquiries:

Sui Hing Hong Wholesale

Contact: King Pon

Tel: 011 838 7708

Cell: 083 2662 330
---
BOOK REVIEWS by the editor

BOOK

OF THE

MONTH

IMPROVE YOUR DIGESTION

By Patrick Holford

The human gut is the hub of health and as such needs to be nurtured and nourished

correctly. In this book Patrick Holford unravels the complex workings of the digestive

system and shows you how to tune up your gut by offering an easy-to-follow road map

that helps you achieve perfect digestion, absorption and elimination. As a result, you will

enjoy improved health, greater disease resilience, and a new level of vitality. This book also

guides you in the art of 'gutstronomy' – the preparation of delicious, gut-friendly meals.

www.hachette.co.uk

www.jonathanball.co.za

UNPLUG

By Suze Yalof Schwartz

Unplug is the modern, minimalist guide to meditation for busy people. Whether you're a

Fortune 500 CEO or someone bogged down with a never-ending to-do list, the author

shows you that you can get more done – and do it better – by consciously unplugging for

just a few minutes each day. This book simplifi es the art of meditation and reveals the lifechanging

benefi ts you will experience from improved memory to a reduction in anxiety and

stress. The techniques and tips are easy to incorporate into your daily life.

www.hachette.co.uk

www.jonathanball.co.za

THE AGE OF GENIUS

– THE SEVENTEENTH CENTURY AND THE BIRTH OF THE MODERN MIND

By A.C. Grayling

The 17th century was a period of progress and discovery that witnessed 'the greatest ever

change in the mental outlook of humanity': Amid war and injustice, an intellectual revolution

took place which established the mindset of modern times. The author looks back into the

16th century and forward into the 18th to provide context for the Age of Enlightenment's key

changes in scientifi c and philosophical thought that were fundamental in creating the world

we know today.

www.bloomsbury.com

www.jonathanball.co.za

024 | NATURALMEDICINE.CO.ZA
---
Natural

nutrition

26 OUR DEADLY BREAD

32 WHICH MILK?

37 FOOD AS MEDICINE – CAN WE EAT TO TREAT?
---
Our

deadly

The wheat you eat today bears little resemblance to the wheat

mankind has eaten for thousands of years. Not surprisingly,

many of us do badly on this food, with varying degrees of

intolerance.

COELIAC DISEASE – A GROWING

PROBLEM

It is now clear that coeliac disease, which can

be fatal, is much more common than previously

thought, and is on the increase, affecting as

many as one in 100 people.

Coeliac disease leads to severe malabsorption

of nutrients, which can result in serious complications

in later life, such as infertility, psychiatric

disorders, osteoporosis and cancer. The condition

does not always present with classic symptoms,

which leaves many sufferers undiagnosed.

SYMPTOMS OF WHEAT GLUTEN

SENSITIVITY

You don't have to have coeliac disease to be

sensitive to wheat. The most common symptoms

of wheat sensitivity are constipation, diarrhoea,

abdominal bloating or pain; however,

many other symptoms have also been reported

in those found to be sensitive to wheat. These

include: acne and boils; anxiety and paranoia;

apathy and confusion; cramps; depression; fatigue;

fl atulence; migraine; nausea; skin rashes;

sweating; throat trouble.

If you suffer from any of the above, you should

take the possibility of wheat intolerance seriously.

This might affect between one in fi ve and one

in 10 people (10 to 20%).

Recent research has found distinct evidence that

non-coeliacs with wheat sensitivity actually do have

immune reactions to wheat, with increased antibodies

against wheat in their gut and bloodstream.

PATRICK HOLFORD

www.holforddirect.com

Twitter @holforddirect

He, together with his

team, carried out Britain's

biggest-ever health and

diet survey, the 100%

Health Survey, which has

now been completed by

over 60 000 people. His

book, The10Secretsof

100% Healthy People,

portrays the fascinating

insights provided by the

survey and his 30 years

studyofgoodhealthand

howtoachieveit.

JULY 2017 | 027
---
nutrition

One very likely reason for this ever-growing

problem, which I estimate affects at least one

in 10 people, is that the wheat we eat today,

which in some products has a higher glycemic

index (GI) than white sugar, bears little

resemblance to the wheat mankind has eaten

for thousands of years. Modern wheat has a

higher concentration of gluten. This is because

a high level of gluten makes a lighter loaf. Baked

products then look bigger and sell better. This

kind of baking increases the amount of gluten

available to react with the gut wall. So, although

high-gluten wheat might be good for the baking

industry, it's bad for your digestion.

THE HISTORY OF WHEAT

One of the fi rst wheat varieties our ancestors

ate, going back to 3300 BC, was called einkorn.

It's in a very simple category of wheat, genetically

speaking. Shortly after it began to be cultivated,

it crossed with goat grass, giving rise to

a more complex wheat category called tetraploid.

In this category we fi nd durum (normally

used for pasta) and the ancient grains, known

as emmer and khorasan (Triticum turgidum)

wheat, now sold under the trademark Kamut

Khorosan ® . That is what mankind basically ate

for the next few thousand years; for example,

einkorn has been found in pharaohs' tombs

whereas emmer and khorasan were eaten by

ancient civilisations in Mesopotamia.

The ancient Kamut khorasan is the only wheat I

like to eat and it comes down to us unchanged

from ancient times.

Modern wheat has undergone thousands of hybridisations

to increase yield (making the wheat

plentiful and cheap), and also to increase and

change the quality of gluten content, which enables

the loaf size to rise to a larger size.

Imagine the chemical differences between

modern and ancient wheat now. It has been

extremely modifi ed or changed for reasons of

profi t rather than health. This madness continues

at a new level as biotech companies strive

to create and then produce strains of GMO

wheat that can be patented and is compatible

with specifi c pesticides and chemical treatments.

The net result, even before GMO wheat

is perfected and introduced, is that the gluten

proteins in today's wheat are substantially different

from the gluten proteins, as well as other

compounds, found in the earliest forms of

wheat, such as Kamut khorasan.

THE PROBLEMS WITH GLIADINS AND

GLUTENINS

The two main families of gluten proteins are

called 'gliadins' and 'glutenins'. Oats, for example,

contain no gliadins and, probably consequently,

are a much less allergenic food. Gliadin

is now recognised as the offending gluten, so

oats are now considered gluten-free, unless

contaminated with wheat in storage or production.

Old wheats tend to have fewer, and different,

gliadins. 1 A particular form of gliadin, called

alpha-gliadin, infl ames the intestine, causing abdominal

cramps and diarrhoea. Gliadin is particularly

tricky because it has a unique ability to get

through the intestinal wall. It triggers the release

of a protein called zonulin, which literally opens

up gaps between the intestinal cells, increasing

gastrointestinal permeability. This, in turn, means

that whole food proteins can cross the gut barrier,

triggering the immune system to react, which

is the basis for developing food intolerances. It

also damages the villi in the gut wall.

Durum wheat (at least the original form, now

itself hybridised beyond recognition) is used to

make pasta. It is also a genetically simpler form

of wheat (tetraploid), although I prefer to eat

Kamut pasta.

WHEAT MESSES WITH YOUR MIND – AND

YOUR MIDDLE

Wheat intolerance can be the cause of schizophrenia

symptoms.

028 |
---
Wheat can also exacerbate symptoms of ADHD (attention

defi cit hyperactivity disorder) and autism.

Modern wheat, during its digestion, generates peptides

(combinations of amino acids) that mimic

opioids (heroin and morphine are opioids) called

gluteomorphins, which occupy the same receptors

in the brain as heroin. 2 Gluteomorphins are commonly

found in the urine of children diagnosed

with autism.

The effect of these gluteomorphins, created when

you digest modern wheat, is that you want more.

Wheat literally becomes addictive. Combined with

the sugar load created by yeast-activated bakery

products, and the subsequent blood sugar low,

which stimulates appetite, modern wheat is literally

an appetite stimulant. This is, of course, great

news for the food industry and one of the reasons

why wheat-eating nations have a big problem with

ever-increasing belly fat.

I have had so many clients who have reported

massive weight loss, and a cessation of abdominal

bloating, by excluding modern wheat.

WHEAT PROMOTES INFLAMMATION

When you gain abdominal fat, visceral fat, it triggers

part of the body's infl ammatory response

mechanism. This, in turn, makes you both more

likely to become intolerant or allergic and to develop

infl ammatory symptoms, the classics being

headaches, eczema or dermatitis, asthma, irritable

bowel diseases such as Crohn's and ulcerative colitis,

rhinitis, arthritis – and just about any other '-itis'.

Although the general view is that gluten is the culprit,

I am beginning to revise this simplistic opinion

after a series of experiments that have been carried

out on Kamut khorasan wheat. 3 Technically,

Kamut does contain gluten proteins and, as such,

should promote infl ammation; however, it doesn't.

A series of well-conducted studies have shown

that Kamut grain is not only anti-infl ammatory but
---
nutrition

References

1. Van den Broeck H, et al.

Presence of celiac disease

epitopes in modern and old

hexaploid wheat varieties:

Wheat breeding may have

contributed to increased

prevalence of celiac

disease. Theor Appl Genet.

2010 Nov; 121(8):1527-

39.

2. Zioudrou C, et al. Opioid

peptides derived from food

proteins: The exorphins. J

Biol Chem. 1979, Apr 10;

254(7):2446-9.

3. Whittaker A, et al. A

khorasan wheat-based

replacement diet improves

risk profile of patients with

type-2 diabetes mellitus

(T2DM): A randomized

crossover trial. Eur J Nutr.

2016, Feb 8.

Source

Holford P. Improve Your

Digestion. Piatkus Books,

2017.

it also has a powerful antioxidant effect. In addition,

although regular wheat causes atrophy

(damage) to the villi in the digestive tract, the

Kamut does not.

ANCIENT KAMUT BRAND WHEAT IS ANTI-

INFLAMMATORY

I am starting to think that the main problem

with wheat is not gluten or gliadin per se, but

the fact that we are eating a food that is considerably

different genetically and chemically

to that which we may have become adapted

to eat in reasonable quantities. The solution

for wheat-intolerant people might not always

be strict avoidance of wheat or other gluten

or gliadin grains, but rather the avoidance of

modern wheat.

Gluten is present in wheat, rye, barley and

oats, although, as we have seen, oats contain

no gliadin. Spelt is probably a less adulterated

form of modern wheat, but it is quite different

and genetically much more complex than the

original ancient grain, such as Kamut. Spelt is a

hexaploid wheat, as is modern wheat.

Kamut is higher than modern wheat in antioxidants

and polyphenols, which are generally

anti-inflammatory, as well as magnesium, potassium,

selenium, iron, zinc and other important

minerals. Kamut is only grown organically.

GLUTEN-FREE GRAINS

Although it is clear that many people react

differently to ancient wheat than to modern

wheat, for those with coeliac disease it is wise

to avoid all gluten-containing grains and choose

gluten-free grains instead, as shown below:

Gluten-containing grains

Wheat

Rye

Spelt

Barley

Gluten-free grains

Corn (maize)

Rice

Oats

Buckwheat

Gram (chickpea flour)

Quinoa

Often, as part of the digestive healing programme,

it is wise to go on a no-wheat, lowgluten

diet for a month. Fortunately, there are

many wheat-free and gluten-free options to

choose from in health-food shops and supermarkets

these days:

Breads: Cornbread, rice cakes, oatcakes

Pasta: Buckwheat spaghetti, soba noodles

(buckwheat), rice noodles, quinoa pasta,

corn pasta, polenta (cornmeal)

Cereals: Cornflakes, oatmeal, rice cereal,

millet flakes.

If you do not have coeliac disease, however,

it is well worth experimenting with Kamut

khorasan breads, pastas and bulgar.

CONCLUSION

Generally speaking, to avoid the problems discussed:

Don't eat wheat every day; choose glutenfree,

Kamut khorasan or low-gluten grains

instead. Also choose wholegrain.

When you eat breads, choose heavier,

lower-gluten breads.

Vary the grains you eat – have rye, oats,

rice, barley, buckwheat, quinoa, corn.

Limit grains to no more than a quarter of

your total dietary intake.

If you have a digestive problem or inflammatory

bowel problem, investigate whether

you are wheat- or gluten-sensitive with an

IgG food intolerance test and a coeliac test

to measure IgATT.

| NATURALMEDICINE.CO.ZA
---
TM

What's a burger without the bun? Or a pizza minus that crispy base?

What about your favourite toasted sarmie, without… the toast?

Fear not – because now, going gluten-free can taste great!

For rusks as good as Ouma bakes, moreish muffins that melt in your mouth,

crunchy cookies that call for compliments or simply a slice of warm, fresh bread,

discover the Fresh Earth Bake House range at Dis-Chem,

delicious and nutritious and

FREE FROM GLUTEN!

Go Advertising 77729
---
nutrition

Which

?

While milk, or more accurately lactose, intolerance

has recently increased in prominence

as a problem in the Western diet, things are

never as simple as they appear.

A recent conversation threw an interesting light on a preconceived

idea. A colleague and I were chatting about cow's

milk as part of a human diet, and I expressed the opinion that this

milk was meant for cows, not for people. My stance echoed what I

had read and learned about milk from both the scientifi c literature

and so-called conventional wisdom on milk in the modern diet.

My colleague remarked that her husband, a Sudanese Dinka tribesman,

had lived on nothing but milk until he was fi ve years old. Breastfed

for the fi rst few years, he was gradually weaned to cow's milk. He

is now a healthy man in middle age, showing no ill effects from his

fi rst half-decade of a pure milk diet. Similarly, the Masai of Kenya rely

heavily on milk, which they mix with blood tapped from the veins of

their cattle. They, too, are a statuesque and healthy people.

Both of these examples demonstrate that we can never generalise

about individual dietary preferences.

032 | NATURALMEDICINE.CO.ZA
---
The cattle upon which the Masai and Dinka

rely are under far lower production pressure

than modern dairy herds. Today dairy production,

driven more by market demand than

common sense, relies heavily on the use of

genetically modifi ed and chemically derived

hormones, antibiotics and drug regimens,

pasteurisation, UHT processes, homogenisation

and other industrial interference in the

natural milk production cycle.

Accordingly, we have milk and 'milk' – one the

product of an industrial process, the other a

natural product. It is almost certain that production

methods play as much of a role in the

health effects of the fi nal product as do inherent

physiological problems related to the consumption

of dairy products.

Besides milk from cows, goats and sheep,

there is a whole range of so-called 'milks' made

from grains and beans, such as soy, rice and

oat milk, which are little more than vegetablecoloured

and fl avoured waters. Most have little

in common with cow's milk and would more

accurately be called imitation milk beverages.

There are other milk substitutes, such as almond

and coconut milk, which do provide

some useful nutrients and advantages.

Let's start at the beginning. The conversation

that started this article arose out of the

intense debate around milk and milk substitutes.

Perhaps we should condense this milk

matter once and for all.

al proportions of fats, proteins, carbohydrates,

vitamins, and antibodies – all the goodness a

baby needs. Yet, in our commodifi ed world,

unscrupulous milk formula companies continue

to claim that their products are comparable

with breastmilk!

ANIMAL-BASED MILK

Few humans consume breastmilk much beyond

the fi rst two years, despite recent articles

highlighting extended breastfeeding.

However, as discussed, there are several

cultures that have evolved along with their

domesticated animals, who utilise the milk

from these animals as part of a balanced

diet. Populations accustomed to milk are

less likely to exhibit lactose or other dairy

intolerances than those in cultures that

had little historical reliance on dairy products,

such as in West Africa, Asia and the

Americas. Lactose intolerance is largely the

product of genetics, manifested through individual

metabolic tendencies.

Lactose intolerance is the result of a defi

ciency of the enzyme lactase. It rarely

manifests in young children and becomes

more marked in adulthood. It is not lifethreatening,

but can affect the quality of life

of sufferers. In terms of lactose sufferers,

milk is worst (especially powdered), cream

less so and butter least. Some hard cheeses

have reduced lactose levels. Lactose is also

hidden in many products, such as those

containing whey or its derivatives. Yoghurt

is more easily digested, as the bacterial processes

break lactose down into more readily

digestible components. This increased recognition

of lactose intolerance is a primary

reason for the shift towards dairy milk substitutes.

L NN A H ON

ekogaia@iafrica.com

www.ekogaia.wordpress.com

Whenever we talk about milk, comparisons inevitably

arise between breast and the rest. We

all know that breast is best – the only milk produced

by humans for humans. It provides ide-

Glennisawriterandresearcher

working on health,

food safety and security and

environmental issues. He

haswrittenextensivelyon

the topic of genetically modifiedfoodsandisconsidered

anauthorityonthesubject.

He contributed a chapter

toandeditedtherecent

book A Patented World?

The Privatisation of Life and

Nature, published by Jacana.

Viewhiswebsiteformoreof

his writing on this and many

other subjects.

JULY 2017 | 033
---
nutrition

Goat's milk is generally the most readily

available and closest analogue to cow's milk.

Like all milks, it does contain lactose, but at

levels marginally lower than in cow's milk. It

has different properties to cow's or human

milk, providing lower levels of folic acid and

vitamins C and B 12

. On the other hand, it has

higher levels of vitamins B 2

, potassium and

protein than human milk. It is more easily

digested than cow's milk because of its different

varieties of casein, a milk protein.

None of the alternative 'milks', either animal

or vegetable, are recommended as breastmilk

replacements during the first year, 1 but can be

used with care and moderation after this time.

SOY, RICE AND OAT MILK

Soy 'milk' is sometimes recommended for

babies, but this most widely used and marketed

milk substitute should only be used as a

breastmilk replacement when specifically formulated,

and then under closely supervised

conditions. In many developed nations, soy

formula is only issued under medical supervision

and prescription. It has a noted oestrogenic

effect, so can potentially cause disruption

of sexual development. It may also affect

thyroid function in infants. Soy milk should

also be supplemented with complete fatty

acids, including the correct proportions of

omega-3 and -6 fatty acids. Fish, starflower

and linseed oils are ideal.

An additional shortcoming of soy products

is the fact that they are very likely to be derived

from genetically modified (GM) soy. To

add to the inherent risks of soy, GM soy has

higher levels of trypsin inhibitor, a known allergen.

Even more worryingly, increased residues

of dangerous agricultural chemicals like

Roundup are likely to be present in GM soy

products. GM soy is specifically developed to

be resistant to a herbicide linked to hormone

disruption, genetic damage and disruption,

metabolic disruption, an increased incidence

of Hodgkin's lymphoma and liver damage. 2

This herbicide, Roundup (with glyphosate as

the active ingredient), is even worse for amphibians

and soil health. So, if you use soy

beverages (or soy anything, for that matter),

ensure that they are GM-free and even then

use this substitute sparingly and with caution.

Local soy and rice milks are expensive, luxury

commodities. They are not actually milks and

are more accurately being defined as beanor

grain-based beverages. Rice milk is sometimes

prescribed for infants and children, as

rice has extremely low allergenicity. Oat milk

powder is also available and has a better taste

than soy or rice drinks. It also has the beneficial

effect of lowering cholesterol levels.

MAKE YOUR OWN

ALL-NATURAL ALMOND MILK 3

Blend 1½ cups of raw almonds that

have been soaked overnight in 4 cups

of filtered or spring water. Blend well

- add 3 to 5 dates if you like your milk

with a hint of sweetness. Strain once

to remove the granules. The result is a

delicious, creamy milk that is free of

harmful vegetable oil, concentrated

sweeteners, and the problems associated

with cow's milk and soy. It can be

stored safely for 3 to 4 days in the refrigerator,

but is best used fresh.

034 | NATURALMEDICINE.CO.ZA
---
Most of these beverages, in both ready-to-drink

and powdered forms, contain lists of chemicals

that make even industrial milk seem appealing.

Most health-conscious consumers would foreswear

most of these ingredients, like sucrose,

fructose, fl avourants and vegetable oils, not to

mention other supposedly harmless but unappetising-sounding

chemicals.

None of these other milk substitutes besides soy

are genetically modifi ed – yet. If they are used

as a milk substitute, supplementation with complete

fats should be considered. These milks

should also contribute only a small proportion of

the total dietary component, keeping an eye on

the maintenance of a well-balanced food intake.

The main dietary difference between natural

and plant-based 'milk' is that the former provides

much of its energy through fats, the latter

through carbohydrates.

NUT-BASED MILKS

The fi nal alternative to dairy milk is nut-based milk

substitutes, generally made from almonds or coconut.

These are sometimes available as a manufactured

product, but are better when freshly made,

as the goodness is not degraded through storage,

sterilisation or chemical processing. Almond milk

is a healthy alternative, but is a bad idea for those

suffering from nut allergy. It provides high levels of

calcium, whereas other plant-based milks do not.

A recipe is included below.

Coconut allergies are less common. Given a

choice, I would personally take almond or coconut

milk every time, purely for reasons of taste,

but they are generally an expensive option. Coconut

milk makes an ideal replacement for cream

or milk, but given its fairly high levels of saturated

fat, excessive consumption is not advised. Do

not use the 'lite' versions of coconut milk, as

much of the benefi t is stripped out of the product

by chemical processing.

CONCLUSION

To summarise, unless you are lactose intolerant,

a limited amount of dairy products can form a

useful part of a balanced diet. If you are lactose

intolerant, there are alternatives that can provide

useful choices, but their production methods

and ingredients must be considered when

contemplating your choice.

Milk, like all foods, should be consumed in moderation,

especially if you have passed your fi fth

birthday!

References

1. Infant formula milk – goat's milk based infant formulas.

Available from: http://www.dh.gov.uk/PolicyAndGuidance/

HealthAndSocialCareTopics/MaternalAndInfantNutrition/

MaternalAndInfantNutritionGeneralArticle/fs/en?CONTENT_

ID=4099143&chk=gVT9%2Bl

2. Ho MW and Cummins J. Glyphosate toxic & Roundup worse. ISIS

press release, 7 March 2005. Available from: http://www.i-sis.

org.uk/GTARW.php

3. Health & Beyond Online. http://chetday.com/soymilk.html

Kabrita Goatie Goodness

Kabrita instant goat milk powder offers gentle nutrition

and is easily digested, making it an excellent dairy milk

alternative for adults and children.

Kabrita is GMO free and has added Vitamin D for your

extra health boost you need per day.

Enjoy it dissolved in water or add it to hot chocolate or

hearty bobotie – recipes on our nutrition blog.

Retails

from R157

Available from

Dis-Chem

Pharmacies and

Wellness Warehouse

nationwide or you

can buy online as

well.

JULY 2017 | 035

www.kabrita.co.za
---
Homeopathic

care kit for WINTER AILMENTS

Boiron brings you a comprehensive range of

homeopathic medicines to assist you and your

family with the treatment of winter ailments,

sore throat and laryngitis.

Homeopathic Care Kit for Winter Ailments

These products are prepared according to homeopathic principals,

have no know side effects and can be used by everybody in the family.

Non habit forming

No drug interaction

No drowsiness

Contains no stimulants

The Boiron Homeopathic Range is available at leading pharmacies and health shops countrywide. For more information, e-mail

marketing@lebron.co.za.

OSCILLOCOCCINUM ® FLU GRANULES

STODAL ® SYRUP

HOMEOVOX ® TABLETS

CORYZALIA ® TABLETS

www.facebook.com/LeBronHealth

www.lebron.co.za

Applicant: V.J. Bartlett; Distributed by: LeBron Health (Pty) Ltd

1 st Floor Convention Tower, Cnr. Heerengracht & Walter Sisulu Avenue,
---
Food as medicine

can we eat

to treat?

With winter taking its toll on our health, can we rely on food

to fight colds and fl u? The first most important step is to always

consult your doctor. However, in cases where prescription

medication is not required, there are some foods and nutrients

that can support the immune system in fighting colds and fl u.

The desire for self-improvement and

the growing access to online healthcare

information has fueled the health trend

of self-diagnosis and self-treatment globally. In

the UK, health searches online have increased

by 13.5% 1 and, according to Vitafoods Insights,

NMI research shows that more than a

quarter of Americans believe functional foods

and beverages can be used in place of some

medicines. 2 The second most desired functional

benefi t is immune support. 3

CAN FOOD FIGHT COLDS AND FLU?

We've been told to feed a cold and starve a

fever, and that chicken soup is the best meal

during illness. While there is no known cure

for the common cold, we do know that certain

natural remedies and even foods can help

bring relief from certain symptoms.

FLU-FIGHTING FOODS

Chillies

Chillies (Capsicum frutescens) are rich in a

component called capsaicin, which is responsible

for the burning sensation when you eat

them. It's this very same characteristic of chillies

that contributes to their role in the management

of colds and fl u. Eating chillies can

cause a runny nose, which thins mucous secretions,

potentially helping to relieve mucous

congestion. Chillies may also support the immune

system. 4

The antiviral potential of capsaicin was shown

in animal studies, where it offered protection

against the herpes simplex virus. Other

laboratory studies have shown changes in immune

cell activity and increased immune cell

production in the presence of capsicum. 5

ANDREA DU PLESSIS,

BSC DIETETICS, MPHIL

EXERCISE SCIENCE.

andrea@vhf.co.za

Twitter@andreaduplessis

Andrea is a registered

dietician. Following her initial

career as a consulting

nutritionist, she furthered

her studies in the field

of sports nutrition with a

Master's degree in Sports

Science. She is currently

responsible for the consumer

care and education

portfolioinoneofSouth

Africa's leading vitamin

andhealthcompanies.

JULY 2017 | 037
---
nutrition

Ginger

Ginger is known to have expectorant properties,

helping to expel mucus from the respiratory

system. When eaten, ginger's aromatic

properties open your sinuses, an action attributed

to constituents called shogaols and

gingerols, which also have circulatory stimulant

properties. 8

Despite its hot taste, ginger has anti-inflammatory

properties, which combat the paincausing

inflammation of sore throats, colds

and sinus congestion. With ginger's stimulating

effects on blood circulation, it also supports

toxin removal and increased oxygen

supply to the tissues, further assisting with

healing. What's more, ginger has febrifuge or

antipyretic properties – thus helping to bring

down fevers.

FOR BAD BREATH

If you love garlic,

this will take your breath away.

Garlict odour-fighting capsules have just launched in South Africa - now you can enjoy

garlic and onions and still smell like a dream! Garlict's peppermint infused capsules embrace

four powerful odour-fighting ingredients to ensure fresh breath. Pop two capsules in your

mouth after a meal and swallow with some liquid. Repeat dose after six hours if necessary.

Peppermint Oil

M

Garlic

Garlic is probably the most well-known of all

flu-fighting foods. It contains healing components

of which the most well-known is allicin,

which is also responsible for garlic's characteristic

pungent odour. 9

Preliminary research shows that taking a garlic

supplement can help prevent and also shorten

the duration of a cold. 10,11 This is believed

to be because of garlic's antimicrobial, and

particularly antiviral, properties. 12 Antiviral activity

against a variety of well-known influenza,

rhinovirus and herpes simplex viruses effects

have been linked to garlic compounds, including

ajoene, allicin, allyl methyl thiosulfinate

and methyl allyl thiosulfinate. 13

In addition to garlic's direct antiviral effects, it

is also believed to help fight infections through

its stimulating effects on the immune system.

Research suggests that garlic oil enhances the

production and activity of lymphocytes and

other immune cells and factors. 14 The garlic

constituent allicin appears to increase the

phagocytic function of key immune cells such

as leukocytes and monocytes. 15

Honey

The antimicrobial properties of honey are well

known in the support of wound healing. It is

also believed that raw unadulterated honey

has immune-stimulating properties. Interestingly,

honey has received some attention

because it seems to have a soothing effect

on sore throats and may even help reduce

coughs. Preliminary research has shown that

honey can help to reduce coughing in children

by soothing an irritated throat, more effectively

than cough medicine. 16,17

Parsley Seed Oil

Chia Seed Oil

Green Tea Extract

IMMUNE SUPPORT NUTRIENTS

In addition to the active components found in

foods, certain vitamins and minerals are also

well known for their immune support benefits.

Available at Dis-Chem, PnP Pharmacies, Medirite Pharmacies and Independent pharmacies nationwide.

Facebook/Instagram: GarlictSA | www.neutrapharm.co.za

| NATURALMEDICINE.CO.ZA
---
Vitamin C

A meta-analysis of studies have concluded

that vitamin C supplementation reduced the

duration and severity of cold and fl u symptoms.

18 In fact, the majority of evidence shows

that taking high doses of vitamin C orally might

decrease the duration of cold symptoms by

one to one and a half days. 19

Since our immune system is responsible for

protecting our bodies against invading viruses

and bacteria, it comes as no surprise that vitamin

C's actions are directly focused on the immune

cells. According to test results published

in Advances in Experimental Medicine and Biology,

there is up to 100 times more vitamin

C in our white blood cells, compared to the

plasma (the fl uid component) of our blood. 20

Vitamin C has also been shown to increase

the numbers and activity of our immune cells,

as well as protecting our immune cells against

premature degeneration. 21

Zinc

Zinc is known to stimulate the immune system

through increasing immune cell production,

as well as immune cell activity. Zinc is

particularly important for neutrophils (natural

killer cells) and T-lymphocyte function. 22 Even

mild zinc defi ciency may adversely affect immune

T-cell functions. 23

Even though there is limited evidence, zinc

has been shown to help fi ght the common

cold. A dose of 9 to 24 mg zinc per day is

recommended to help reduce cold duration. 24

Select studies show reduced incidence in

colds in children and adults. 25

The mechanism of action is believed to be

through the antimicrobial effects of zinc. As an

antiviral agent, zinc helps to reduce viral load

and prevents viral absorption to body cells. 26

Zinc also shows antibacterial effects by reducing

bacterial replication. 27

JULY 2017 | 039
---
nutrition

Vitamin D

Epidemiological evidence suggests that vitamin

D levels are associated with respiratory function.

People with higher levels seem to have greater

pulmonary function compared to people with

lower levels. It is even believed that vitamin D

may be involved in repair of lung tissue. 28 Vitamin

D may also decrease immune-mediated

infl ammation in the respiratory system. 29 Population-based

study results suggest patients with

low vitamin D levels are 27 to 55% more likely

to have upper respiratory tract infections compared

to patients with normal levels. 30

Table 1. Vitamin C content of well-known food sources. 7

Food source (per 100 g of item)

Guavas

347 mg

Red peppers, uncooked

190 mg

Chillies, uncooked

Lemons

Oranges

132 mg

77 mg

53 mg

Table 2. Food sources of immune support nutrients

Nutrient

Vitamin C

Vitamin D

Selenium

Zinc

3 food sources

Guavas

Red peppers (raw)

Citrus fruit

Fish liver

Tinned oily fish

Eggs

Brazil nuts

Mushrooms

Seeds

Oysters & mussels

Pumpkin

Sunflower seeds
---
nutrition

Selenium

Selenium is needed for the proper functioning

of neutrophils, macrophages, NK cells,

T-lymphocytes, and other immune mechanisms,

mainly as a constituent of selenoproteins.

31 Selenium may support immune

function through improved T-lymphocyte responsiveness.

32 In human research, selenium

supplementation has been shown to increase

immunecellactivity. 33

CONCLUSION

It is always best to consult your doctor first

to find out if medical treatment is required.

However, in cases where medical treatment

is not required, it would be wise to indulge in

the knowledge and pleasure of immune support

foods.

A list of references is available from the Natural Medicine ® offi ce.

Tel: 021 8801444.

FLAVOURFUL

FLU SHOTS

These fl avourful fl u shots are packed with immune-boosting

nutrients, antimicrobial properties, and pain-relieving

and decongestant effects.

Red hot flu-fighting shot

INGREDIENTS

1 crushed garlic clove

30 ml fresh lemon juice

1 tsp honey

½ tsp lemon zest

1 level tsp fi nely grated or chopped fresh ginger

1 red chilli, fi nely chopped

METHOD

Combine all the ingredients in a small glass and drink it all

in one go.

Did you

know?

Uncookedchillies,aswellassweetred

peppers, are also among the foods with

thehighestconcentrationofvitaminC.

VitaminCisknowntohelpinthefight

against flu by supporting the immune

system,aswellashelpingtoreducethe

severity and possibly also the duration

of the common cold. 6

If you have a very sore throat, you may want to try the

milder version:

Soothing flu shot

INGREDIENTS

1 crushed garlic clove

25 ml fresh orange juice

1 tsp honey

1 tsp fi nely grated or chopped fresh ginger

METHOD

Combine all the ingredients in a small glass and drink it all

in one go.
---
Family

HEALTH

44 UNDERSTANDING BIPOLAR MOOD DISORDER

48 KEEP YOUR DOG FIT IN WINTER

50 ADVERSE CHILDHOOD EXPERIENCES – what are they and how do they affect us?
---
health

044 | NATURALMEDICINE.CO.ZA
---
UNDERSTANDING

BIPOLAR MOOD

DISORDER

Bipolar mood disorder is a serious and chronic condition that

requires recognition, understanding and empathy. By coming

to terms with and managing this mental illness the sufferer and

their loved ones will enjoy a better quality of life.

Imagine spinning in and out of severe

moodshifts,fromthehighsofmania

to the extreme lows of depression, multiple

timesoveraperiodofdaystoseveralweeks.

These are not the normal up-and-down

moods a mentally healthy person experiences.

The severity of the mood changes are so

intense that they interfere with the ability to

function normally. One thing to bear in mind

is that this kind of mental illness has a profoundeffectnotonlyonthepersonbutalso

on those close to him or her.

Yvette Beneke, a 47-year-old artist from Cape

Town,was,afterafailedsuicideattemptin

2015, wrongly diagnosed with depression.

She says: 'I accepted the diagnosis, but then

one moment I would be very happy and the

next very depressed. This happened to me

manytimesaday.Ifelthopelessanddidn't

want to carry on with life.' In July 2016 she

was diagnosed with bipolar disorder.

Yvetteisnotaloneinsufferingfrombipolar

disorder.AccordingtotheSouthAfricanDe-

pression and Anxiety Group (SADAG), bipolar

affects 4 to 6% of the population in South Africa

and is the sixth leading cause of disability

in the world.

SYMPTOMS AND SIGNS

The main difference between bipolar types I

and II is that those suffering from bipolar type

I experience manic symptoms, and a person

suffering from bipolar type II experiences hypomanic

and depressive symptoms.

WHAT ARE MANIC SYMPTOMS?

Manic symptoms include increased physical

and mental activity such as: speaking too fast

and incoherently, excessive irritability, aggressive

behaviour, infl ated self-esteem to levels

of grandiosity (for example, believing they

have special powers to be the chosen leader

of the world or universe), a decreased need

for sleep, as well as reckless behaviour such

as spending sprees, sexual indiscretions, and

reckless driving.

In order for the mood to be considered manic,

these symptoms must cause a 'marked impairment

in functioning'. The symptoms may

ILSE WATSON,

www.goodcontentweb.

wordpress.com

She is an experienced journalist,

editor, content writer,

blogger and public speaker

on bipolar disorder and

depression. She completed a

course in magazine journalism

with distinction and now

writes extensively on mental

health across several media

platforms. Ilse also writes

onGeneralTips&Advice

(for healthy and productive

living), Mindfulness,

Recovering from Trauma and

more. She is co-editor of the

mental health blog Our Lived

Experience (which focuses

onbipolarmooddisorder):

https://ourlivedexperience.

wordpress.com/).

JULY 2017 | 045
---
health

necessitate hospitalisation to prevent harm

to self or others.

WHAT ARE HYPOMANIC SYMPTOMS?

Hypomanic symptoms are the same

as those for a person who experiences

the manic symptoms but are not severe

enough to cause marked impairment. In

this phase, a person suffering from bipolar

type II gets a break from the depressive

episodes.

'It is a common misconception that bipolar

type II is "less severe" than bipolar type

I – it is simply not true when considering

the long-term course of both conditions.

A person diagnosed with bipolar disorder

type II experiences the same symptoms

but less severely,' explains Dr Mike West,

a Cape Town psychiatrist whose fields of

interest include addictions, anxiety, and

psychotic and trauma-related disorders.

People in the hypomanic phase will buy

fi ve CDs and people in the manic phase

will buy 50 CDs.

Although Yvette was relieved when she

was diagnosed with bipolar disorder,

because many things in her life and behaviour

now made more sense, she still

finds it difficult to handle the severe mood

swings. These days, she is often quite anxious

and she doesn't cope very well with

big crowds. She says: 'I become irritated

and anxious so I try to avoid situations like

this.'

HOW IS BIPOLAR DISORDER TREATED?

There is no cure for bipolar disorder but it is

of utmost importance to see a psychiatrist

in order to get the correct medication. A

psychiatrist plays a critical role in assessing,

diagnosing and treating the illness.

Mood stabilisers

The condition is treated with mood stabilisers

and most people suffering from the

disorder will need more than one medication

through the course of the illness.

'Finding the correct medication is quite often

a trial-and-error process and may require adjustments

at certain times, for example during

pregnancy and breastfeeding. However, with

the correct treatments, many patients with bipolar

disorder are able to live a full and happy

life,' explains Dr West.

It is also common for a person with bipolar disorder

to experience bouts of anxiety. 'In some

patients, the medications prescribed for bipolar

disorder may precipitate this as a side effect.

Despite this, patients should not make rapid

changes to their medications without consulting

their doctor fi rst,' says Dr West.

Therapy

Many patients suffering from bipolar disorder

have several therapeutic options for treatment.

Liane Lurie, a clinical psychologist from Johannesburg,

explains: 'An important aspect, which

forms part of a patient's treatment option, is

providing them with information about the disease.

Individual and group therapy are just as

important.'

Friends and family

Cindy van Wyk, a clinical psychologist from Johannesburg,

who specialises in neuropsychology,

says: 'It is always helpful to include family

and close friends. Their support is of tremendous

value.'

046 | NATURALMEDICINE.CO.ZA
---
Yvette Hess,anartist,spendshertimecreating

original paintings and writing biographies. She

studied full-time and was a single parent struggling

fi nancially. 'I took on part-time work. I was

also a student leader of a number of organisations

andIjustcouldn'tstoptakingonnew

projects,' she says.

Yvette would jump from relationship to relationship.

She drove recklessly – everything in

her life was fast. 'Somehow I managed to juggle

it all. Butsoon,afterboutsoflowenergy,

constant negative thinking would overwhelm

me. I would skip classes and switch my phone

off for days,' she confesses.

She says: "The bad days can be difficult to get

through, especially when I can't read or write.

When I'm well,Icantrustmyselftodoanything.'

Yvette explains: 'It took so long to accept my

illness. I cannot do it alone; it is one of the biggest

lessonsI'velearnt.Ineedsupportfrom

my family and friends to achieve my goals. I

need regular sessions with my psychologist

and psychiatrist.Iamill,justlikesomeonewith

diabetes or cancer. It is important to remember

there's always help. There's always hope.'

CONCLUSION

Running in circles around the severe mood

shifts can leaveapersonsufferingfrombipolar

disorder exhausted.Whethertheywanttopull

their hair out or whether they want to hide in

a dark closet, they must manage their illness.

They have no choice but to gather their weapons

and fi ght their moods.

SADAG's tips on self-help

for bipolar disorder

Keepamooddiary:It can help track your moods and things

that happen to affect your mood.

Don't use alcohol and drugs: It may be tempting to use alcohol

and drugs to cope with your illness, but this almost always makes

matters worse.

Other medicine: Any other over-the-counter medications, such

as for colds, allergies and pain, can interfere with your mood and

prescribed medicines for bipolar disorder. It is best to discuss

other medications with your psychiatrist before you decide to

take them.

Exercise: Take care not to be over-active or push yourself too

hard. Maintain a regular pattern of activity.

Sleep: Maintain a routine here. Go to bed every night at the

same time and wake up at the same time every morning. If your

sleep patterns are disturbed, it can affect your mood.

Try to avoid too much stress.

Find out if there are any support groups in your area. Contact

SADAG on 0800 567 567 or 011-262-6396. Sharing fears,

worries and feelings with other people who are in the same

position can help hugely.

SADAG'S fast facts and

statistics on bipolar disorder

62.9% of those in the bipolar spectrum have an anxiety disorder.

The average age of onset for bipolar disorder is 25 years.

When one patient is affected, the risk to a child is 15 to 30%.

69% of patients with bipolar disorder reported an initial

misdiagnosis.

30% of individuals with bipolar disorder will attempt suicide

during their lives.

Psychiatric care and medication reduce the risk of suicide to less

than 3%.

JULY 2017 | 047

JULY is

Mental Illness

Awareness

Month
---
Keep your dog fit

in winter

ANDREW FREEMANTLE

Andrew deals with all things

design and advertising at

Cube Route and has had a

lifelong affair with various

pets over the years. He grew

up surrounded by many

exotic bird species, fi sh,

cats, dogs and tortoises. He

currently has two boisterous

puppies and his old-timer

cross-breed of 14 years.

Andrew is pragmatic in his

approach to pet care and

draws on his more than 17

years' experience within the

veterinary industry.

It's cold and damp outside and a walk or run is the last thing on

your or Fido's mind. But exercise for the mind and body is as

important for your dog as it is for you during the chilly months.

Like it or hate it, winter is the season

that makes us move a little slower, eat

a little more and generally puts a damper on

the mood. This doesn't only apply to us but to

our favourite furkids as well. Here are some

tips to keep your dog a lean, mean and adorable

machine during winter.

INDOOR PLAYTIME

You can just hear your mother's voice saying:

'No playing inside the house!' Well, this

is the time that phrase goes out the window.

Grab an old tennis ball, or your dog's favourite

squeaky toy, for a game of fetch; a rope toy for

tug-of-war; laser pointers (they're not just for

cats); even bubbles; and let loose.

Important: Vary the activity and the duration

to keep your dog interested and keep all

breakables out of the way.

HIDE AND SEEK

There are a number of ways to play this, but

the simplest way is to grab your partner, or the

kids, show the pooch the treat they are searching

for, hold him at one end of the house, have

048 | NATURALMEDICINE.CO.ZA
---
Animal

CORNER

your partner/kids go to the other end of the

house with the treat and hide from the dog.

Important: Make it easy, so that the dog understands

the game and the end goal. Increase

the diffi culty of the hiding spot once

they have the hang of it.

AGILITY CLASS

Build your very own indoor agility course and

get your athletic dog moving. Small hurdles,

weaving posts and even hula hoops for them

to jump through are a great way to get them

up and about.

Important: Repetition will improve their times

and always reward with a healthy treat. You

don't want to undo all the good work from the

exercise they've just performed.

WALK OUTDOORS

As South Africans, we're lucky we don't have

snow as a deterrent and our worst day is

equivalent to that of a balmy day in the UK.

Get your buddy on the leash, take it slowly to

warm up, and then work up to a brisk jog to

get them moving.

Important: If your dog isn't used to long walks

in general, keep the outings short and increase

the frequency. It's great for their muscles and

even better for their brains.

STIMULATING MEALTIMES

This is the perfect time to increase your dog's

mental stimulation and make mealtimes fun.

Put food and treats into interactive toys, where

they have to play with the toy to get the food.

Important: Grab your camera and watch as

they try fi gure out the quickest way to the food.

PRACTISE NEW TRICKS

What better time than a cold, lazy day to spend

a couple of minutes teaching your pooch new

tricks. With as little as 15 minutes a time, you

could teach them to shake your hand, retrieve

a ball, sit or roll over.

Important: Remember the healthy treats again

to reward good behaviour. This is a great way

to bond with your pet and everyone likes treats.

THE TREADMILL

Not everyone is in a position to have a treadmill

on hand, least of all a pet treadmill, but,

if you do have one (a human one), get your

buddy onto the treadmill for a short canter.

Important: Start off slowly and increase speed

gradually, allowing your dog to adjust. This is

unnatural and will take some practice to get

them used to this moving road, so patience

and persistence is the key here.

WATCH THE ADDITIONAL FEEDING

As with humans, so it is with our pets. Our

natural instinct to add extra meals/snacks is

more of a mental requirement than a physical

one. Boredom is generally the driver for most

of the extra meals/snacks that we opt for, so

don't let your dog trick you into getting more

food.

Important: Pets will be less active in the winter

months and any additional food or treats

will have a negative impact on their waistline,

as with us.

ARRANGE A PLAY DATE

What better way to beat the winter blues

than having a couple of doggy mates come

through for a play date. This could be at your

house or the local park.

Important: Ensure that all dogs are well socialised;

otherwise like 'that guy' at a braai

with his Klippies and Cola, there could be bigger

trouble than you anticipated.

JULY 2017 | 049
---
ADVERSE

Childhood

Experiences

– what are they and

how do they affect us?

Distressing childhood events don't remain in our past; they can

impact heavily on us during adulthood, causing both physical

and mental ill health.

VERONICA HAUPT

www.recode.co.za

veronica@recode.co.za

Veronica is the founder of

ReCode © , a form of energy

psychology that helps

people heal from everything

from disease to depression.

She has recently established

the Depression Healing Centre,

which treats depression

and anxiety without drugs.

She loves raw vegan cooking,

running, the sea and

bushveld and lives with her

partner and 4 animals next

to a river in Johannesburg,

South Africa.

'When I was twelve, I was coming

home from swimming at my neighbour's

dock when I saw an ambulance's fl ashing

lights in our driveway. I still remember the

asphalt burning my feet as I stood, paralysed,

and watched the paramedics take away my

father. It was as if I knew those fl ashing lights

were a harbinger that my childhood was over.

'At the hospital, a surgeon performed "minor"

elective bowel surgery on my young dad. The

surgeon made an error, and instead of my father

coming home to the "welcome home"

banners we'd painted, he died.' ~ Donna

Jackson Nakazawa, author of Childhood disrupted

– how your biography becomes your

biology, and how you can heal.

Donna goes on to recount how she began

developing strange physical symptoms shortly

after this, and ultimately an autoimmune

disease in her 20s that caused full-body paralysis.

It was only in her 50s that an aware

doctor asked her one of the most important

questions of her life: 'Were there any childhood

traumas or stressors that might have

contributed to the extreme level of infl ammation

you're experiencing as an adult?'

CHILDHOOD ADVERSITY/ILL HEALTH

LINK DISCOVERY

In the mid 1980s, Dr Vincent J. Felitti, head

of a preventative care initiative at the Kaiser

Permanente Medical Program in San Diego,

US, started to notice a startling pattern in

patients in their obesity programme: Adult

patients who were obese almost all alluded

to traumatic incidents in their childhood. On

further investigation, these patients revealed

that for them, eating soothed the anxiety, fear

and depression that they had secreted away

inside for decades.

050 |NATURALMEDICINE.CO.ZA
---
Childrens

CORNER

Felitti's studies started to reveal a pattern that

other physicians were just not seeing. Obesity

was not the core problem to be treated,

'any more than smoke is the core problem to

be treated in house fi res'. His fi ndings led to

the setting up of a study 1 with thousands of

patients suffering from all types of diseases,

not just obesity. The results were astounding

– and the link between many types of childhood

adversity and the likelihood of developing

a range of serious adult health problems

confi rmed.

'Our fi ndings exceeded anything we had conceived.

The correlation between having a diffi

cult childhood and facing illness as an adult

offered a whole new lens through which we

could view human health and disease. Here

was the missing piece as to what was causing

so much of our unspoken suffering as human

beings,' said Felitti.

One of the doctors working with him on the

study, Dr Robert Anda, said, 'When I saw how

much people had suffered . . . I wept.'

ADVERSE CHILDHOOD EXPERIENCES/

DISEASE CORRELATION

How many categories of what they named

Adverse Childhood Experiences (ACES) patients

had endured could by and large predict

how much medical care they would require in

adulthood – the higher their ACES score, the

higher the number of doctor visits they'd had

in the past year, and the higher their number

of unexplained physical symptoms.

According to the study, adversity in childhood

is often the precursor to deep depression and

anxiety later in life. ACES also have a marked

correlation to pain, mental disorders, suicide

attempts, autoimmune disease, addiction and

all sorts of chronic illnesses from asthma to

cancer. Cellular biologist, renowned author

and one of the pioneers in his fi eld, Dr Bruce

Lipton, estimates that as much as 95% of disease

can be traced back to ACES.

WHY AND HOW

The question of course is why this happens,

and how. Not every 'bump and scrape' that

happens to us in childhood has a negative effect

in adulthood – in fact, the normal childhood

stressors we all face build resilience.

The problem, it turns out, is when ACES cause

stress that is chronic (ongoing for a period)

and unpredictable (the child never knows

when the stress-event is going to occur).

Chronic stress effect

Our stress (fi ght or fl ight) response is designed

to cope with sudden stressors that appear and

then go away – like a lion unexpectedly leaping

out of the veld. Adrenaline pumps, blood

rushes to our muscles, and we either fi ght or

fl ee. What we are not good at coping with is

when the proverbial lion is constantly prowling

around our house. We never know where it is

or when it is going to pounce. For example, if

we had an alcoholic parent: One day they are

sober and available, the next they're lying on

the couch, unable to respond to our needs. Or

a hyper-critical parent with anger issues: One

minute they are calm, the next they are jumping

down our throat for something that didn't

bother them the day before.

To cope with this, children develop a constant

state of hypervigilance. But this creates a continual

'wash' of cortisol and other stress hormones

coursing throughout the body. Even

babies exposed to unpredictable stress suffer

intensely. Take for example a mother who is

not able to respond to her baby's needs because

she's suffering from post-natal depression.

A needy, neglected baby cannot respond

to this 'stressor' by fi ghting or fl eeing, so their

stress response becomes 'freeze' – giving

up and shutting down – which appears as

lethargy and a non-responsive state. And it's

JULY 2017 | 051
---
Childrens

CORNER

the same wash of stress hormones running

through their little bodies, playing havoc with

their infl ammatory response.

We also now know that our bodies never forget.

As with the patients on the obesity study,

the pain is always there – we just fi nd different

ways of medicating it.

Chronic stress and neuro-inflammation

When we are chronically stressed, the brain

creates a state of neuro-infl ammation. The

result is impaired growth of neurons in the

hippocampus and impaired emotional wellbeing

(decision-making abilities, emotional

regulation, thoughts and behaviour) as

adults. This means a higher propensity for

depression, bipolar disorder, eating disorders,

anxiety disorders and poor decisionmaking

– all of which can lead to substance

abuse.

Worse, as we get older (and women suffer

in far greater numbers than men), we develop

illnesses like fi bromyalgia, autoimmune

diseases, chronic fatigue syndrome, obesity,

irritable bowel syndrome, migraines, bowel

disorders, cancers, heart disease and chronic

pain.

EXAMPLES OF ACES

In the gamut of experiences we go through as

children, it turns out that quite specifi c ones

(always, the ones that give us chronic, unpredictable

stress) have measurable, detrimental

effects on us as adults. These include:

In the family

Being regularly verbally put down or

humiliated

Emotional or physical neglect

Physical or sexual abuse

Having a depressed parent (or other mental

illness)

Having a chronically ill parent for a signifi cant

period

Having a parent who was addicted to

alcohol or other substances

Witnessing a mother/father/sibling being

abused

Losing a parent to separation/divorce

Losing a parent to death

Disliked by a sibling/favouritism by parents

A forced, unwanted separation from family

A strained or cold relationship with either or

both parents

Non-family

Being bullied by a classmate or teacher

Undergoing a personal extended medical

trauma

Experiencing violence in one's community

Growing up noticeably different from your

peers

Any other stressors that happen to us that

cause intense levels of fear on a regular

basis

SOME ACE STATISTICS

Here are more alarming statistics that

came out of the ACES study. People with

an ACE score of 4 were twice as likely to

be diagnosed with cancer than someone

with an ACE score of 0. For each ACE

score, the chance of being hospitalised

with an autoimmune disease in adulthood

rose 20%. Someone with an ACE score of

4 was 460% more likely to be facing depression

than someone with a score of 0.

An ACE score of 6 and higher shortened

an individual's lifespan by almost 20

years. The loss of a parent in childhood

triples the chances of depression in adulthood.

Being raised by a mother with depression

puts you at a higher risk of living

with chronic pain as an adult.

052 |NATURALMEDICINE.CO.ZA
---
HOPE

Fortunately, there is light at the end of the tunnel.

Studies show that the brain has great plasticity

right through our lives. This means that

we can reset our stress response and stop

and even reverse the damage done. There

are thousands of case studies of people being

cured of 'incurable' illnesses; and not only

that, they've gone on to live lives of success,

happiness and peace.

TREATMENTS

Once you have identifi ed your ACES, there

are several modalities that are known to have

helped people to heal, such as: writing or

drawing; mindfulness meditation; the martial

arts practices of t'ai-chi and qigong (moving

meditation); forgiveness; yoga; trauma release

exercises through to bodywork; improving

our gut fl ora; and developing deep and

connected relationships.

Therapy work that has shown good results includes:

traditional talk therapy, Somatic Experiencing

(SE), Emotional Freedom Technique

(EFT), hypnosis, guided imagery, EEG Neurofeedback,

EMDR (Eye Movement Desensitisation

and Reprocessing), PSTEC, Psych-K and

ReCode, an energy psychology technique that

combines a number of modalities (EFT, NLP,

Matrix Reimprinting, EMDR and the Healing

Code).

CONCLUSION

Luckily for us, healing and lasting change is

possible. Our ACES don't have to become the

script for our adult lives. And we can go on

to overcome, fl ourish and live normal, happy

lives, no matter how many ACES we experienced.

Reference

Felitti VJ, Anda RF, et al. Relationship of childhood abuse and

household dysfunction to many of the leading causes of death in

adults. The Adverse Childhood Experiences (ACE) Study. Am J

Prev Med. 1998 May;14(4):245-58.

JULY 2017 | 053

Depression is labelled a mental illness

and there is a huge stigma attached to it

– as you would know if you or a loved one

is suffering with this condition. It is also

labelled 'hereditary' and 'incurable' by

much of the medical industry.

The problem with these labels is that we

believe them. So we take medication,

tolerate the side effects, accept that we

are 'sick' and try not to think about the

'fact' that this is a sentence for life. Or we

live with the dark cloud hovering over us

all the time.

The Depression Healing Centre is for

you if you don't want to accept that you

have an incurable condition. If you are

not prepared to accept that you will have

side effects from medication for the rest

of your life. And if you hold out the hope

that your mind and body CAN heal itself

– no matter what anybody says.

At the Depression Healing Centre, we

use a very specific methodology called

ReCode © to heal depression and anxiety,

which has a truly remarkable success rate.

For more information contact us:

www.depressionhealingcentre.co.za

veronica@recode.co.za
---
Enjoy reading

Natural Medicine

magazine on all your devices

SUBSCRIBE via

PAY ONLY

R180

for a 1 year

digital (online)

subscription

Single copies +

back issues

available

STAY CONNECTED
---
improving

Health

56 NICOTINE – how to cut your cravings

62 THE MICROBIOME & INTERNAL BALANCE

70 PROTEIN – the forgotten nutrient
---
health

- HOWTOCUT YOURCRAVINGS

by PATRICK HOLFORD

Once you've started smoking, it's very hard to quit. Nicotene is

addictive stuff. In fact, it's more addictive than heroin. But you can

cut your cravings – Patrick Holford tells you how.

Nicotine produces a stimulating effect, even in small

doses, and in large amounts acts as a sedative. This

is its attraction: on the one hand, it can give you a lift; on

the other, it can calm you down. Before a meal it can stop

you feeling hungry; after a meal it can stop you from feeling

drowsy. These effects are mainly down to nicotine's action on

adrenal hormones and blood sugar balance.

HOW YOU MIGHT FEEL WHEN YOU QUIT

If all you do is quit nicotine without correcting the biochemical

imbalance it creates in your brain and body's chemistry, the

chances are you'll be climbing the walls – feeling agitated, irritable,

moody, hungry, spacey and desperate for a cigarette

and the whole ritual of smoking.

056 | NATURALMEDICINE.CO.ZA
---
BIOCHEMICALLY THERE'S A CLOSE

LINK BETWEEN NICOTINE ADDICTION

AND ALCOHOL ADDICTION. YOU NEED

TO QUIT BOTH OTHERWISE YOU WILL

KEEP CRAVING.

JULY 2017 | 057
---
health

Many people feel nauseous, have headaches

and fl u-like symptoms, feel lethargic, depressed,

have blood sugar lows where they

crave something sweet and, consequently,

gain weight.

For many people these symptoms last a

week. The bad news is that, for some people,

these symptoms are still there weeks, and

even months, later. The good news is that this

need not happen if you get your brain chemistry

back into balance with our nutrition programme.

HOW TO QUIT NICOTINE

Before you even begin to try to give up cigarettes,

we recommend you take the Basic

Supplements and the Stimulant Prescription

for one month. At the end of this period you

should no longer be consuming any other

stimulants (such as tea, coffee and chocolate)

or sugar. Instead you'll be eating small,

frequent meals, with an emphasis on foods

containing slow-releasing carbohydrates combined

with foods rich in proteins. Your background

blood sugar balance will be much

better, which means you'll experience less

withdrawal symptoms on quitting.

Four basic supplements: our Basic Supplement

Pack

1. An optimum nutrition multivitamin and

mineral

2. Additional vitamin C, ideally with berry extracts

(biofl avonoids)

3. Essential omega-3 and -6 fats (ideally providing

GLA, DHA, DPA and EPA)

4. Phospholipid complex (ideally providing

phosphatidyl choline, serine, DMAE, TMG

and either glutamine or pyroglutamate).

You will need specifi c amino acids as well, depending

on your abstinence symptoms and

on the substance you are quitting.

General guidelines for taking amino acid

supplements

When you are feeling anxious, stressed or

tense, take GABA, tryptophan, 5-HTP or

taurine.

When you have low energy, or feel apathetic,

take tyrosine.

When you are having diffi culty concentrating,

or you have memory problems or feel

mentally 'fuzzy', take tyrosine.

When you are feeling hypersensitive to

noise, lights, touch or pain, take DL-phenylalanine

(this is a combination of D- and

L- phenylalanine).

When you are having trouble sleeping,

take tryptophan or 5-HTP, GABA, and/or

taurine.

When you are irritable, take tryptophan or

5-HTP.

To offset cravings, take glutamine or GABA.

When you are depressed and apathetic,

take tyrosine. When depressed, tense and

agitated, take 5-HTP or tryptophan.

Break all the associated habits.

The average smoker is addicted

not only to nicotine, but also to

smoking when tired, hungry or

upset, on waking, after a meal,

with a drink, and so on.

At fi rst don't try to change your

smoking habits. Just keep a diary

for a week, writing down every

situation in which you smoke,

how you feel before, and how

you feel after smoking. When

your week is up, add up how many cigarettes

you smoke in each situation. Your list might

look something like this:

With a hot drink: 16

After a meal: 6

With alcohol: 4

Diffi cult situation: 4

After sex: 3

058 | NATURALMEDICINE.CO.ZA
---
Now set yourself weekly targets. For

the fi rst week, smoke as much as you

like whenever you like but not when

you drink a hot drink or within 30 minutes

of fi nishing a meal. Continue like

this until, when you smoke, all you do

is smoke, without the associated habits. Set

yourself a maximum of six weeks to complete

this phase. This will be tremendously helpful

for when you quit. Most people start again

because someone phones them with a problem,

a work colleague brings in a coffee, offers

them a cigarette . . . and before you know it

they're smoking.

Put your cigarette butts in a big glass jar

with a sealing lid. Fill it half with water.

You will begin to associate cigarettes

with the nasty stuff in your jar.

Now it's time to reduce your nicotine

load gradually. Week by week, switch

to a cigarette brand that contains less

nicotine, until what you smoke contains

no more than 2 mg per cigarette.

Now reduce the number of cigarettes

you are smoking until you smoke no

more than fi ve cigarettes a day, each with a

nicotine content of 2 mg or less. If you wish,

stop smoking and replace it with nicotine gum

(in two strengths: 4 mg and 2 mg) as an intermediate

step.

You want to be down to a maximum

of 10 mg of nicotine a day before

quitting – that is, fi ve pieces of 2 mg

nicotine gum, or fi ve 2 mg nicotine

cigarettes.

For the fi rst week of quitting also take

an extra 8 g of vitamin C. Magnesium

is a calming mineral. Put 8 g worth of it

in a bottle of half water and half juice.

Drink it throughout the day.

Also take chromium 200 mcg:

one with breakfast and one

with lunch to help stabilise your

blood sugar level.

Take 50 mg of niacin (nicotinic

acid) twice a day. You will experience

a harmless blushing sensation

when fi rst taking niacin.

Nicotine and niacin occupy the same receptors

in the brain – so giving yourself more niacin

is likely to reduce your cravings. 1

Eat an alkaline-forming diet:

one that is high in fruit, vegetables

and seeds. Also,

make sure you are supplementing

a total of 850 mg of

magnesium and calcium combined. A good

multivitamin will provide 200 mg calcium and

QUIT SMOKING

FOR THE LAST TIME!

Vice Breaker is an oral capsule

formulated entirely from natural

ingredients designed to:

Considerably Reduce Your Desire to Smoke

Cleanse your Lungs – Fast!

Reduce Stress and Anxiety

Why choose this

smoking cessation aid?

No Nicotine or Nasty Chemicals

Your Best Chance to Quit for Good

SPECIAL

OFFER!

Mention this advert and get

10% off your purchase

Offer valid until 31 July 2017

www.quitsmokingnaturally.co.za

Order online or email lynne@quitsmokingnaturally.co.za

or contact us on 042 243 0339 / 084 531 0786

Free door–to–door delivery within South Africa

Manufactured by Nutratec Life Sciences in Canada. Imported and Distributed by

The Orchards Nutrition Centre, Eastern Cape.
---
health

150 mg magnesium, and there will be at least 500 mg in

the magnesium ascorbate powder noted above. Whenever

you feel the need for nicotine, fi rst drink a glass of water and

eat an apple or a pear. This will raise your low blood sugar

level, which is often the factor that triggers such a craving.

Improve your breathing. Your lungs are damaged

by smoking and it's really important to

do something that stimulates breathing and

their recovery. Any exercise that focuses on the

breath, such as some forms of yoga and psychocalisthenics,

is ideal. At least go for a walk.

If you have diffi culty sleeping, or are irritable

or depressed, supplement 200 mg of 5-HTP

– an amino acid that the body converts into

serotonin, an important brain chemical that

controls mood. Nicotine withdrawal tends to

lower serotonin levels. The best time to take

your 5-HTP is one hour before bed.

Keys to unaddicting

your brain

Rebalance your brain with amino acids.

Raise your methyl IQ with vitamins and

minerals – check your homocysteine level

to find out your ideal level of B-vitamins.

Smoking definitely raises it.

Balance your blood sugar to gain energy

and reduce cravings.

Repair your brain with antioxidants.

Find new pleasure in life by raising endorphins

– exercise really helps to get your

lungs back into shape (but start gently).

Another useful aid during the fi rst month is

sugar-free liquorice, which promotes the action

of adrenal hormones. Liquorice is either

available as a supplement or as a bar. Supplement

with either 1 to 2 mg powdered root, or

2 to 4 ml fl uid extract, three times a day.

Caution: Liquorice should be avoided by people with high

blood pressure.

WHAT TO EXPECT IN THE 30 DAYS LATER

It takes, on average, about 30 days to recover and normalise

your brain's chemistry and blood sugar balance, depending

on whether nicotine is your only vice. If you've been using a

variety of addictive substances for years, stick to this kind of

recovery programme for at least 90 days.

Alternatively, stop the Stimulant Prescription, but keep taking

the Basic Supplements. By now you'll know the effects

of the other temporary supplements – niacin, chromium

and 5-HTP. Reduce or stop these according to your need.

Reference

1. Prousky JE.Vitamin B 3

for nicotine addiction.Journal of Orthomolecular Medicine.

2004;19(1):56-7.

Source

Holford P, How to quit without feeling s**t. Piatkus Books: London, 2008.

060 | NATURALMEDICINE.CO.ZA
---
Addiction Prescriptions

SUPPLEMENT

DAILY

AMOUNT

TAKEN AS

WITH/WITHOUT

FOOD

Tyrosine 2 000 mg 1 000 mg X 2 Empty stomach or

with carbohydrate

snack

NAC

(N-acetyl cysteine)

Ginseng

(American, Korean,

Siberian)

B-VITAMINS:

B 5

(pantothenic acid)

NOTES

1 500 mg 500 mg X 3 As above Optional but

recommended for

cocaine.

1 000 mg 500 mg X 2 With or without

food

Best taken

morning and

afternoon, not

evening. Must

be standardised

to guarantee

potency.

200 mg 100 mg X 2 With food Assumes 50 mg

with Basic

Supplement Pack.

B 6

40 mg 20 mg X 2 With food Assumes 20 mg

with Basic

Supplement Pack.

Folic acid 400 mcg 200 mcg X 2 With food Assumes

200 mcg with

Basic Supplement

Pack.

B 12

20 mcg 10 mcg X 2 With food Assumes

10 mcg with Basic

Supplement Pack.

Chromium 400 mcg 200 mcg X 2 With food

NADH 10 mg 5 mg X 2 With or without

food

JULY 2017 | 061
---
health

DR ARIEN VAN DER

MERWE, MBCHB NHA

MISMA

www.DrArien.co.za

Twitter @DrArien

Arien is a medical doctor,

an experienced public

speaker, bestselling author

and has developed several

online health courses.

Arien specialises in natural

integrative medicine,

stress management and

workplace wellness. She

is a registered trainer with

the NHA and a member of

the International Stress

Management Association.

Her latest book is Managing

Diabetes and Related

Health Challenges. Other

books include Health &

Happiness and Stress

Solutions.

The

micr bi me

& internal balance

The human microbiome, which is comprised of all the microorganisms

(the microbiota) that live on and in humans, plays

an essential role in determining good health.

Microbes cover every surface of our

bodies, inside and out. They're on our

skin, inside our noses, mouths, whole respiratory

tract, plentiful in our digestive tract, reproductive

system, and so on. These microscopic

life forms consist of thousands of species and

outnumber our own 50 trillion cells by about

10 to one.

OUR MICROBIOME PROTECTS US

Our microbiome can be considered as a newly

discovered, still largely unexplored system,

with numerous functions essential to human

life. Very few microbes actually cause disease

and, in fact, many are essential for homeostasis

(internal balance) which is important

for good health. They are key to a healthy immune

and digestive system.

062 | NATURALMEDICINE.CO.ZA
---
As a society, we have become too clean, overly

conscious of hygiene! For example, forgetting

that babies do require some exposure to

various organisms to develop immunity, we

over sterilise their bottles and toys, thereby

killing the beneficial flora or microbes, leading

to Candida overgrowth (thrush).

We also misuse antibiotics, killing our own microbiome,

once again causing overgrowth of

Candida and leading to yeast infection. Candida

albicans is also a normal part of our

pointing to the microbiome and imbalance in

gut microbes as well as an imbalance in lifestyle,

with chronically high levels of stress as

a trigger for IBD. Instead of crippling immune

systems with immunosuppressive drugs, I

recommend prescribing an improved set of bugs

(gut microbes or probiotics) to patients with IBD!

GUT HEALTH, PRE- AND PROBIOTICS

Most of the micro-organisms living in and on

us are beneficial, with only some potential

pathogens.

The regular use of probiotics is important in

healing many chronic gastrointestinal

problems and allergies

microbiome, but needs to be kept in check,

and in balance, by our innate intestinal flora

or gut microbes. Antibiotics (meaning against

life) kill our normal flora, leaving fungi, yeasts,

parasites and viruses flourishing, while disturbing

our inner balance and immune system

health.

THE MICROBIOME/DISEASE LINK

More and more research shows the possible

connections to the human microbiome, dysbiosis

(microbial imbalances) and chronic Western

diseases, including arthritis, gum disease,

obesity and cardiovascular (heart and blood

vessel) disease – all of which have renegade

inflammation at their core. Inflammatory bowel

diseases (IBD), from irritable bowel syndrome

(IBS or spastic colon), to Crohn's disease and

ulcerative colitis, are directly linked to dysbiosis

inside the digestive tract. Evidence is

Probiotics

The beneficial ones are called probiotic microorganisms.

Lactobacillus acidophilus bacteria

reside mostly in the small intestine, and Bifidobacterium

bifidum bacteria are found in the

large intestine (colon).

Probiotics improve the environment of the

intestinal tract. The regular use of probiotics

is important in healing many chronic gastrointestinal

problems and allergies. Some experts

feel that children with allergic tendencies.

need several times the amount of probiotics

than those without GI problems, due

to the frequency of dysbiosis (overgrowth of

yeast, harmful bacteria, etc.) and 'leaky gut

syndrome' (increased intestinal permeability).

Well-known probiotics include Saccharomyces

boulardii, Lactobacillus acidodiphilus and

JULY 2017 | 063
---
health

Bifidobacterium bifidus. These restore normal

gut flora, improve immune system function,

and assist in digestion and absorption of food.

Prebiotics

Also helpful are the prebiotics, inulin and

fructo-oligosaccharides (or FOS, found in

artichokes, onions, garlic, bananas, and

specific supplements). FOS and inulin are

non-digestible oligosaccharides that help

promote the growth and activity of friendly

bacteria in the intestinal tract. These are

called 'prebiotics' because they are thought

to help promote probiotic colonisation and

growth. Research has shown that both FOS

and inulin enhance the growth of lactic bacteria,

especially Bifidobacteria, and inhibit

the growth of a variety of undesirable organisms.

MAIN BENEFITS OF PROBIOTICS

The major benefits of adding probiotic organisms

to the diet:

Support of the immune system.

Improved resistance to allergies.

Reduction in yeast and other infections.

Inhibition of disease-causing organisms.

Improved digestion, increased nutrient

absorption and vitamin synthesis.

Reintroduction of healthy bacteria into

the digestive system. This is especially

helpful to restore balance where Helicobacter

pylori plays a role in peptic ulcers.

Detoxification and protection from toxins.

Prevention of diarrhoea from various

causes.

Reduction in the risk of irritable bowel

syndromes.

Cancer-protective effects.

Probiotics act in various ways to restore and

maintain gut health:

Microbial antagonism – keeping the microbiome

in balance by working against potential

disease-causing organisms or microbes.

Anti-toxigenic effect – neutralising toxins.

Increase in the activity of the intestinal disaccharidases

– enzymes promoting carbohydrate

digestion.

Support of the immune system.

Digestive enzymes are also very helpful in

restoring balance to the intestinal flora population.

These can be found in supplement

combinations containing pancreatic enzymes

(amylase, protease, sucrase, malt diastase,

lipase, cellulose, lactase), papain form pawpaw,

bromelain from pineapple stem and cultured

moulds from the Aspergillus species.

Probiotics are helpful in restoring balance

inside the digestive system. If anyone does

need an antibiotic for severe bacterial infection

(e.g. pneumonia or meningitis) or suffer

from any allergies, be sure to include probiotics

to improve gut and immune system health.

SUPPLEMENTS AND REMEDIES FOR

DIGESTIVE BALANCE

The 4 Rs

To restore the internal balance (homeostasis) of

your microbiome apply the principle of the 4 Rs:

1. Remove

Treat dysbiosis: No yeast/fermented foods

for three months; investigate food intolerances

and cut out: refined carbs, sugars, wheat

and dairy proteins for three months; no decaffeinated

or caffeinated coffee, no alcohol, no

NSAIDS, no antibiotics.

Use citrus seed extract, caprilic acid, garlic,

Echinacea, oregano, barberry, golden seal,

Calendula, berberine and bromelain.

2. Replace

Digestive enzymes and factors to lower levels

of Helicobacter pylori (pathogenic bacteria

found in those with peptic ulcers) and to manage

pancreatitis and damage to the mucosal

064 | NATURALMEDICINE.CO.ZA
---
One of the greatest challenges for human

well-being in the 21st century will be to focus

on the advantage of having a healthy colon and

therefore a good immune system – this is where

probiotics can play a significant role.

Probiotics are critical for normal digestion

and for defence against infection.

Bacteria in the gut are known to:

Stimulate the immune system

Enhance the mucosal barrier

Aid digestion and break down toxins

Inhibit adherence of pathogens

A good probiotic can be beneficial for the

following ailments:

Diarrhoea or constipation

Bad breath, gas and bloating

Irritable bowel and lactose intolerance

Gastroenteritis and playschool diseases in

young children

Bifidobacterium, BB-12 ® , Lactobacillus acidophilus, LA-5 ® ,

Lactobacillus bulgaricus, LBY-27, Streptococcus thermophilus, STY-31
---
health

layer of the digestive tract. Digestive enzymes that

can be used: proteases, amylases, lipases and cellulases.

3. Re-inoculate

Pro- and prebiotics: Lactobacillus acidophilus, Bifidobacterium

bifidus and bulgaricus: live cultures.

Therapeutic: 5 to 10 billion organisms two to

three times a day.

Fructo-oligosaccharides (FOS): artichokes, onions,

garlic, bananas, supplements.

4. Repair

Nutraceutical food supplements and herbal

remedies

Eat rice protein basis food.

L-glutamine: barrier function, immune support,

fuel for intestinal bacteria.

Vitamins: A, Bs, C, E, mixed carotenes, bioflavonoids.

Minerals: zinc, magnesium, calcium, chromium.

Essential fatty acids: GLA (omega-6 – evening

primrose or starflower oil), EPA (omega-3 – cold

water fish oil).

Glutathione (cysteine, lysine), N-acetyl-cystein

– liver support, antioxidant.

Inulin: as substrate for intestinal flora that use

the short-chain fatty acids for fuel.

Ginger, mint, chamomile, bromelain (enzyme

found in pineapple) to assist digestion.

Milk thistle (Silybum marianum) for liver support.

For Helicobacter pylori use: probiotics, FOS, vitamins

A, C, E, zinc, glutathione, EFAs, garlic, berberine

(found in the herbs: golden seal, barberry,

oregon grape), Aloe vera, cabbage juice.

Fresh ginger (2 cm crushed) and peppermint

leaves (about 10, crushed), steeped in hot

water, will help for nausea. Take it 15 minutes

before meals to improve digestion.

PROBIOTIC WITH FIBRE & PEPPERMINT

www.iconopharma.com
---
LIFESTYLE BALANCE

Stress management and relaxation

The digestive system is often called the second brain because

of the many receptors for serotonin found there.

Digestion and absorption of food should occur in a relaxed

atmosphere. Deep relaxation exercises and meditation

help you and your gut relax. Yoga refreshes your

body, gives you energy and strength, and calms your

mind and soul.

Drink water and a herbal mixture

Drink at least eight glasses of water and at least three cups of

a cleansing herbal tea mixture every day.

Balanced diet

Follow a healthy wholesome and balanced diet with plenty

of fresh fruit and vegetables, wholegrain products, beans,

seeds, pulses and nuts, and garlic, onion, and ginger to prepare

tasty and healthy food. Increase your intake of fibre by

sprinkling psyllium seeds, linseeds, digestive or oat bran over

your porridge, or adding them to salads and other food every

day.

Fasting

Try to fast one day a week. Drink at least 12 glasses of water,

above herbal teas and fruit juices such as apple or grape

juice. If you get very hungry, eat an apple or a bunch of

grapes. Fasting once a week does wonders for your health

and state of mind and restores balance to the microbiome.

Exercise

Try to exercise for 15 minutes every day or for 20 to 30 minutes

three or four times a week. It is not necessary to exhaust

yourself. Choose an activity that you enjoy.

Beneficial bacteria

Increase the population of 'friendly' bacteria in your intestines

by eating asparagus (fructo-oligosaccharides), fresh,

full-cream yoghurt with live A and B cultures, or taking the

friendly bacteria in food supplement form: Saccahromyces,

Lactobacillus and Bifidobacterium are good examples.

The most important thing is to realise that there must not

only be a balance in gut bacteria or flora (microbiome), but

also in mind, body and soul!

JULY 2017 | 067
---
Subscribe & Win

SUBSCRIBE and stand a chance to WIN ONE OF 10 AFRICA

ORGANICS HAMPERS WORTH R1 500 EACH.

Each hamper contains the 1 L Marula Shampoo, 1 L Marula Conditioner,

Kalahari Melon Body Lotion, Two Marula Hair Treatment Oils,

210 ml Mongongo Shampoo and 200 ml Mongongo Conditioner.

Africa Organics is an advanced hair and body care range with precious African active ingredients.

Southern Africa is home to a quarter of the world's plant species and is one of the four biodiversity

hotspots of the world. Africa Organics offers sustainably wild-harvested African plant

extracts in certifi ed organic daily-use products. African Organics uses mild foaming agents

and plant oils to replace the hair's natural oils. The instant feel isn't the same as conventional

products but over time the hair is healthier. The focus is on real effi cacy and not immediate

perception.

Certifi ed organic and 100% natural. Accredited by the Vegan Society. Accredited by Beauty

Without Cruelty. Listed with PETA. Accredited Partner of PhytoTrade Africa.

www.africaorganics.co.za

068 | NATURALMEDICINE.CO.ZA
---
PAY ONLY

R180

for a 1 year

digital (online)

subscription

Single copies

available

Digital

subscriptions

6 ways to stay connected

@naturalmedicinemagazineSA

@Natmedmagazine

The Africa Organics competition is valid until 25 July 2017 and is open to all in RSA who subscribe to our

printed or digital magazine, give a gift subscription, or renew within the competition period.

For printed subscriptions, gift subscriptions or renewals, please contact Maylene on

tel: 021 880 1444 or email maylene@dreamcatcher.team

JULY 2017 | 069
---
PROTEI

– THE FORGOTTE

NUTRIEN

It's not just about carbs – protein is important too. Ian Craig

explains why.

Howmuchhaveweheardaboutthe

benefits of carbohydrates in an endurance

athlete's eating armoury? We need to eat

morethanhalfofourfoodinapalestarchyform

in order to excel at our chosen sport according

to the world's leading nutritional authorities:

brown rice, wholemeal bread, corn, pasta, cereals,

potatoes and not forgetting sports drinks,

which are mostly just sugar mixed with water

with added colours and flavours.

Expressed in this way, a carb-dominant diet

perhaps doesn't look so nutritious (although

some of you may look at the above menu

and get excited!). The carb-dominant athletic

menu is but a paradigm*, a paradigm that is

thankfully starting to pass through, making

way for other theories that might nourish our

athletic bodies.

*A paradigm pertains to the currently accepted practices

within science, whereas a paradigm shift means a deviation

from the current theories as science evolves.

INDIVIDUAL NEEDS

Professor Tim Noakes caused an eno

stir within dietetic circles due to his

ence that we should all be eating g

protein, high-fat diet that is almost devoid of

carbohydratessources.Inessence,hehas

challenged the carbohydrate paradigm in a

big way – something he prides himself in

doing, considering one of his books is entitled

Challenging Beliefs. In my mind, his

provoking thoughts have been very healthy

for South African nutrition simply because

he has questioned the status quo. But, he

has gone too far the other way. I've writtenbeforeongeneticsofnutritionandone

thing that we do know when it comes to

nutrition is that we're all very different in

the way that we thrive. Professor Noakes

may genetically be a 'carb-resistance' type,

meaning that he certainly would be better

onalow-carbdiet.Butthatisnotthecase

for all of us.

070 | NATURALMEDICINE.CO.ZA
---
Fitness

CORNER

ESSENTIAL PROTEIN

So, nutrition is not so simple one way or

another. But, what we do know is that we all

need protein in decent quantities in order

to optimise our health and to optimise our

performance. For example, did you know

that protein is required to make: several

hormones in our bodies; cell membranes;

muscle and all connective tissue; a large

chunk of our immune system; our gut lining;

neurotransmitters (brain chemicals) and detoxifi

cation chemicals? Protein, along with

certain fats, vitamins and minerals, is essential

in our body. Essential means that we

will eventually die without it. Carbohydrates

don't actually carry that status. However,

considering that a large number of carbs are

wrapped up within fruit and vegetables and

their wide array of nutrient contributions,

we would be extremely unwise to try and

exclude them.

One of the best books on this subject is the Paleo

Diet for Athletes by Loren Cordain and renowned

triathlon coach Joe Friel. The Paleo diet supposedly

represents the way we used to eat about

20 000 years ago, well before the appearance

of the agricultural revolution – we were simple

hunter-gatherers back then. And guess what? We

didn't eat dairy and legumes (beans and lentils),

nor did we eat any kind of grains – we certainly

didn't have a pasta party the night before chasing

an antelope for fi ve hours straight (as has been

studied in the Kalahari Bushmen). But Joe Friel

recognised that endurance athletes did need a

decent dose of carbs when putting in a big mileage

– these would mostly come from fruit and

starchy vegetables (potatoes, sweet potatoes,

butternut, pumpkin etc), but some grains would

be consumed as required. The emphasis was still

on good sources of protein (and essential fats)

plus lots of vegetable matter (the gathering part):

a pretty simple and nutritious diet.

IAN CRAIG, MSC,

DIPCNE, INLPTA.

Twitter @ian_fsn

www.thenutritionalinstitute.

com

www.intsportsnutrition.com

He is an exercise physiologist,

nutritional therapist,

NLP practitioner, an

endurance coach and

specialises in Integrative

Sports Nutrition. Ian is the

editor of the Functional

Sports Nutrition magazine

and has just launched

the Centre for Integrative

Sports Nutrition, which

trains nutrition and exercise

practitioners. He also runs a

busy nutrition practice in the

Johannesburg Morningside

Chiropractic Sports Injury

Clinic. He recently released

his fi rst book, Wholesome

Nutrition, with co-author

Rachel Jesson. Ian offers an

educational online course:

12 Steps to Wholesome

Nutrition.

JULY 2017 | 071
---
GENETICS

Back to genetics: The Paleo diet represents

a simple and nutrient-dense diet that many

peoplewilldoverywellon.But,wehaveto

recognise that some people have moved

on genetically from this 20 000-year-old

model and some individuals may actually

do quite well on a vegetarian or vegan diet.

Some people can eat large amounts of

grains and legumes and be very healthy,

although they are probably the minority of

our population. Research will come in time

to answer these questions; up until now,

research has focused more on the best diet

for everybody, which of course is impossibletodetermine.

PROTEIN FOR THE ATHLETE

When I construct a diet for an athlete,

whether I think they are more of a Paleo or

avegantype,Ifocusfirstlyonproteinbefore

fats and carbs. According to scientific

theory,athletesrequireabout1.4gofproteinperkgbodymassperdayforessential

functions, although this convention is open

to some serious questioning. That amount,

for example, equates to around 110 g proteinperdayforan80kgathlete.

What does this mean in real terms though?

Ifyoutakealookatthetable,ittellsyou

how many grams of certain foods you'll

needfor20gofprotein–fromthisyoucan

work out how many grams you get from

breakfast, lunch, dinner, snacks and sports

nutrition supplements. As you can see, all

youneedisaverytinychickenbreastor

piece of meat or fish or three small eggs

to get 20 g, whereas you'll need a whole

blockoftofu,over½litreofmilk,100g

cashewnuts,alargetinofbakedbeansor

more than ½ kg of brown rice from nonanimal

sources. As an aside here, if you are

vegan, there are only a small number of

non-animal foods that will provide you with

a complete protein. However, you can also

combine a legume and a grain (e.g. lentils

and brown rice or baked beans on toast)

and the combination will ensure a complete

protein source, although as you can

see from this table, the quantities required

in theory may be unattainable. So, being a

vegan athlete is tough, although, for some,

a possibility (read Thrive Diet by Brendon

Brazier).

PROTEIN QUANTITIES

OF CERTAIN FOODS

Food

Turkey breast

Chicken breast

Beef fillet steak

Canned tuna

Salmon, grilled

Eggs

Cottage cheese

Milk

Fromage frais

Natural yoghurt

Peanut butter

Pumpkin seeds

Cashew nuts

Quorn mince

Hummus

Tofu

Soy burger

Baked beans

Wholemeal bread

Pasta, boiled

Brown rice, boiled

Quantity for

20 g protein

61 g

62 g

70 g

83 g

83 g

3 whole eggs

154 g

571 ml

400 g

417 g

5 tbsp

6 tbsp

100 g nuts

170 g (7 tbsp)

240 g (1 large pack)

250 g (1 pack)

240 g (4 burgers)

400 g (1 large tin)

217 g (6 slices)

285 g

670 g

072 | NATURALMEDICINE.CO.ZA
---
Fitness

CORNER

A PROTEIN DIET OUTLINE

An example of a diet in which our 80 kg

athlete achieves 110 g of protein might be:

Post-exercise: smoothie with 20 g protein

powder, 50 g yoghurt and 2 pieces fruit

(25 g)

Breakfast: 2 to 3 eggs scrambled with wholegrain

toast and tomatoes (20 to 25 g)

Snack: a palmful of cashews (10 g)

Dinner: 80 g grilled salmon plus steamed

greens and a portion of mashed butternut

(20 g).

Lunch: a small 80 g chicken breast with a

large, colourful salad plus some brown rice

or quinoa (20 to 25 g)

Snack: peanut butter (2 tbsp) on 2 to 3

oatcakes (10 g)
---
Ever read something

that made you healthy?

Be health curious

www.naturalmedicine.co.za
---
REMEDIES

76 LIVER-CLEANSING HERBS
---
emedies

LIVER-

CLEANSING HERBS

The liver is the largest organ in the body and functions as an

enormous filter and detoxification centre. It is also involved in the

metabolism of a range of essential nutrients required by the body

such as specific proteins and bile acids.

The liver has several important roles to play

and although it is a very forgiving organ, it

requires nurturing in order for us to enjoy optimal

health.

entering the body today is truly an astonishing feat.

However, this biotransformation can be overloaded

or malfunction, leading to tissue injury or interference

with other organs and systems in the body.

DR BERNARD BROM,

MB CHB (UCT), CEDH

(HOMEOPATHY,

FRANCE), DIP ACUP

(SINGAPORE),

www.naturalhealthalliance.

co.za

www.creatinghealth.co.za

Dr Brom started his practice

in 1976 using a holistic

approach incorporating

natural medicines, homeopathy,

herbal medicine,

nutritional medicine and

lifestyle management. His

special interests include

energy medicine, integration

of the art and science

of medicine, development

of intuition, questioning

the nature of health and

healing, and a deeper understanding

of the nature

of Spirit in the practice of

medicine. He has recently

released his book, Healthy

Medicine – the Philosophy

and principles of Natural

Medicine.

SEVEN MAIN FUNCTIONS

1. Storage of carbohydrates, vitamins and

minerals

2. Metabolism of hormones, endogenous wastes

and foreign chemicals

3. Synthesis of blood proteins

4. Formation of urea

5. Metabolism of fats, proteins and carbohydrates

6. Formation of bile and gamma globulins

7. Assimilation and storage of fat-soluble vitamins.

Because of its size and multiple functions, the liver

requires a good supply of oxygen carried by the red

blood cells and nutrients brought to the liver in the

blood. It also constantly receives the products of digestion

passing from the gastro-intestinal tract.

The liver has the remarkable ability to remove chemicals

absorbed into the blood. This function is essential

and ongoing. The body is constantly producing

poisons as a result of metabolism and these

poisons must be removed. Poisonous substances

are also constantly entering the body from the environment

or are even ingested in the food eaten

or from drugs taken orally or inhaled. That the liver

can do this despite the enormous load of chemicals

DETOXIFICATION PROCESS

The detoxifi cation process in the liver has two phases.

During the first phase some very reactive intermediate

metabolites are formed which may be even

more reactive and toxic than the original poisonous

substance the body is trying to eliminate. It is important

therefore that substances activating phase one

also enhance phase two clearance of the reactive

intermediates.

Functional liver stress is an enormous problem today

due to poor diet, alcohol consumption and

general toxic overload. Because of the central role

of the liver in so many functions it is essential that

optimum function be maintained. If one lives in a

toxic environment or subjects the liver to a heavy

burden, either because of poor food choices or

excessive alcohol intake, then it is even more essential

to support the liver. One of the ways of

doing this is with herbs that infl uence and support

the liver.

REASONS FOR TAKING LIVER-CLEANSING AND

SUPPORTING HERBS

1. Excess alcohol intake: Clearly one should reduce

consumption but anyone taking more than two

076 | NATURALMEDICINE.CO.ZA
---
REDUCE YOUR RISK!

Mobile technology enhancement chip

remedies

glasses of wine per day needs a liver herb. Alcohol is

to the liver what smoking is to the lungs.

2. Following any acute liver disease such as acute hepatitis.

3. If there is continuous exposure to industrial pollutants.

4. In those with chronic liver disorders.

5. In those taking any powerful medication (e.g. contraceptives)

requiring detox through the liver.

6. At some point during a detox diet.

HERBS TO USE

The principal herbs to use are milk thistle (Silybum marianum/Carduus

marianus), globe artichoke (Cynara

scolymus), dandelion root (Taraxicum officinale) and

Schisandra chinensis. Herbs with stronger action on the

gall bladder include goldenseal (Hydrastis canadensis),

barberry (Berberis vulgaris), greater celandine (Chelidonium)

and bitter herbs.

Unique technology

that makes mobile

communication easier

for our bodies to

tolerate – especially

for our children.

Scientifically verified facts

WAVEEX levels out the gradients of magnetic fields

WAVEEX prevents changes in one's blood profile

WAVEEX lowers the body's stress levels

Waveex takes good care of you.

For more information

email support@waveex.co.za

or call +27 21 880 1446

Milk thistle

This is perhaps the most popular and best-known Western

herb for liver problems and supporting liver function.

It is often thought of as a liver adaptogen, i.e. a

herb that has neither stimulating nor sedating functions

but just supports the liver and can be given long term.

It does this by stabilising the liver cells against injury;

it also helps to regulate the permeability of liver cells

and assists in cellular regeneration. Several reviews have

discussed the use of milk thistle as a hepatoprotectant.

It has been shown to improve liver function in patients

with various aetiologies of liver disease, including those

exposed to toxic levels of industrial pollutants. 1,2

Globe artichoke

This herb has been known since antiquity for its beneficial

medicinal properties. The leaves have a well-established

reputation for stimulating bile and urine flow,

restoring the liver and lowering cholesterol. It is another

excellent liver protector and contains several bioactive

ingredients that have antioxidant properties and protect

the liver from toxic insult.

Dandelion root

This is a good herb to enhance the flow of bile from

the liver and gall bladder. It also has a diuretic function.

078 | NATURALMEDICINE.CO.ZA
---
Schisandra chinensis

This has become an increasingly popular herb for

supporting liver function. It is another liver protector

and adaptogenic herb with antioxidant properties. It

has a positive effect on both phase one and two liver

detoxification which is essential for any liver protector.

It also combines well with the other liver herbs. 3

CONCLUSION

Today the liver has to deal with a toxic load unsurpassed

in human history. It is a good idea to take a

liver adaptogenic herb alone or in combination for

some months each year, as well as at any time one

is subject to an increasing toxic load. This is especially

true in the case of the conditions mentioned above.

The process may be necessary even in the country if

the area is being heavily sprayed, or if one lives close

to an airport or highway with constant toxic fumes.

A CLEANSING

LIVER HERB FORMULA

In Principles and Practice of Phytotherapy 4 the

authors give the following formula to a woman

experiencing side effects from the contraceptive

pill and with a past history of some liver

damage:

Silybum marianum tincture (1:1)30ml

Taraxicum tincture (1:2) 35ml

Schisandra chinensis tincture (1:2) 35ml

Total: 100 ml

Dose: 5mlwithwatertwiceaday

References

1. Wellington K and Jarvis B. Silymarin: A review of its clinical properties

in the management of hepatic disorders. BioDrugs. 2001; (15):465-89.

2. Saller R, et al. The use of silymarin in the treatment of liver diseases.

Drugs. 2001; (61): 2035-2063.

3. Bone K. Schisandra – the complete liver herb. Townsend Letter for

Doctors and Patients. 2003; (245):108-12.

4. Mills S and Bone K. Principles and Practice of Phytotherapy. Churchill

Livingstone, 2000: 195.

JULY 2017 | 079
---
DOWNLOAD THE APP NOW

Available on

6 ways to stay connected
---
Natural

LIVING

82 A-Z FOR HEALTHY WINTER SKIN

86 YOUTH IN PERMACULTURE IS HERE
---
082 | NATURALMEDICINE.CO.ZA
---
Beauty

CORNER

for healthy

winter skin

It's winter time and, believe it or not, your skin needs just as

much care, if not more, as during the summer. Dr Leila Sadien

offers comprehensive advice on how to keep your skin glowing

and healthy throughout the chilly months ahead.

Think of your skin as a coat that protects

you from head to toe – it is your

largest organ and keeps everything on the inside

in and all the nasties out! Not only is it

your very personal shield but it is your unique

expression of external beauty. Return the favour

and nurture and nourish your skin with

the following A – Z care tips.

Applied topically and taken orally, antioxidants

protect our bodies from the harmful effects

of oxidation, such as cancer, infl ammation and

general ageing, caused by poor lifestyle choices.

Vitamins A, C and E are great antioxidants,

and winter is a wonderful time to provide

nourishment to sun-damaged skin.

Winter is a great time to treat cellulite, especially

as it takes a few months before signs

of improvement become evident. Nettle root

and DHEA gel is a wonderful cellulite-busting

treatment that a compounding pharmacy can

make up for you.

A chemical peel is essentially the application of

acids to help treat skin problems. These acids

can be made in a lab or extracted from natural

botanicals, they can even be made with fruit

and veg at home! Winter is ideal for peels because

it's much easier to stay out of the sun

while the skin heals.

The lack of sunlight in winter means that less

vitamin D is manufactured by the body as

there is less skin exposure to UVB rays. We

are also more covered, so less of our skin is

exposed to the sun. Winter also often means

less outdoor activity. All of this triggers low vitamin

D levels, which can result in acne, rosacea,

ageing and delayed healing and repair.

DR LEILA SADIEN,

MBChB

www.renascenthealth.

co.za

Instagram: drleilasadien /

renascenthealth

Leila is as passionate about

wellness as she is about

beauty. She practises

integrative medicine and

integrative aesthetics

and is the director of the

wellness clinic Renascent

Health in Pinelands, Cape

Town. She is dedicated

to making integrative

medicine accessible and

acceptable in South Africa.

As the Vice Chairman of

the SA Society of Integrative

Medicine, Leila is one

of SA's top authorities on

natural health and beauty.

JULY 2017 | 083
---
Dry skin is often disastrous for people who

suffer from eczema, as is exposure to seasonal

allergens. Among other great treatments, a

good omega-3 taken orally is very helpful for

this, as is a lipid-based moisturiser.

Hair follicle infl ammation is more common

in winter as usually women allow their hair

to grow longer in certain areas, or they shave

instead of waxing. Dry skin can also provoke

folliculitis, as can wearing tights, stockings or

restrictive clothing.

Keeping your skin protected from very cold

weather is vital in winter. Dry hands and feet

and chilblains can be avoided simply by keeping

these extremities warm.

Keeping a humidifi er to moisten dry air has a

myriad of benefi ts for healthy including keeping

the skin glowing and hydrated throughout

winter.

We all know winter comes with depressed

immunity, but how does this affect your

skin? The skin is in fact the fi rst line of defence

against harmful disease-causing bacteria

and other pathogens. If this barrier is

compromised, by being extremely dry for

example, our skin is at risk of becoming

infected. This is especially important with

regard to eczema, rosacea and dry cracked

heels.

Juicing is such a great, easy way of getting in

lots of nutrients quickly. A healthy, balanced nutritional

intake plays a huge role in preventing

or easing the effects of almost all winter-related

skin conditions. Try to juice with all the colours of

the rainbow to get a good mix of plant nutrients.

Don't forget that your children's skin also

changes in winter. Make sure they eat well,

use a good nourishing moisturiser, and please

don't forget the sunscreen!

Lips can take the worst beating when it comes

to dry skin. Besides being really thin, the skin

of the lips doesn't have any oil glands to protect

it. Drink lots of water and make sure to

use a good lip balm throughout winter, and

don't lick your lips!

This goes without saying. Moisturising is even

more important in winter. I love using hyaluronic

serum in winter as an added moisture step.

Many women tend to skip their night-time

skin routine in winter because of the cold.

This is criminal. Now more than ever your

skin needs that second dose of moisturiser,

and many night-time products are particularly

good for winter.

It's no surprise that nature provided us with

the exact thing that treats almost all winter

skin problems – oranges! Whether applying

the fruit topically or eating it, oranges

help with antioxidants (vitamin C), pigmentation,

anti-ageing, acne and dull skin.

Oranges are even an excellent conditioner.

084 | NATURALMEDICINE.CO.ZA
---
Beauty

CORNER

The cold, dry air and decreased sunlight all

contribute to worsening psoriasis. Keep warm

and moist with humidifi ers and moisturisers

to keep the condition under control.

If you notice that your skin has changed in any

way with the change of season, be sure to

discuss this with your skin care practitioner.

We often have to tweak doses or change the

frequency of certain products and see what

needs to be added or removed from your

regular routine.

Also known as vitamin A; many people apply

retinoids topically to encourage skin turnover

and keep the skin healthy and smooth. Please

contact your skin care practitioner for instructions

on how to change your routine in winter

as retinoids could leave you feeling drier and

more sensitive.

Sensitive skin always gets worse in winter. In

my practice I have often witnessed how hydrating

with a lipid-based moisturiser with anti-infl

ammatory properties often completely

cures sensitive skin.

Change of season is always a good time to

detox. We build up so many toxins throughout

the year, which all contribute to dull skin,

puffy dark eyes, acne, pigmentation and many

other ailments. Detoxing twice a year is the

least we can do to give our livers a break.

Many people don't realise that most UV rays

travel right through clouds and cause the

same damage they would do in summer.

Don't neglect a daily sunscreen in winter!

Every vitamin has some benefi t for skin

changes of winter. Be sure to be on a good,

naturally- sourced, comprehensive multivitamin

throughout the year.

The best way to beat dehydration is to drink

pure water! Natural spring water is best but

bottled water will do if that isn't accessible.

The recommendation is still eight glasses

a day of pure water, and no, coffee doesn't

count!

The stellar summer exercise routine often

takes a knock as the temperature plummets,

but did you know that your skin suffers

from too little exercise too? Increased

circulation and oxygen delivery to cells ensures

cell detoxifi cation and a healthy glow,

and by reducing stress hormones, many infl

ammatory skin conditions can be treated

with exercise.

Yoga is a great way to exercise indoors in winter

and has so many benefi ts for skin. Specifi

c poses assist with increased circulation

to the face, promoting healing and collagen

synthesis. Yoga also helps to detox the entire

body and, don't forget, being toned helps us

look good too!

Acne can defi nitely worsen during winter

because, as discussed, skin is drier and less

able to act as a defence against bad bugs.

People often think that moisturisers worsen

acne but in winter they are immensely helpful

in treating acne and preventing scarring.

JULY 2017 | 085
---
living

Youth in

permaculture

is here

– you can join!

'Get more out of life by using less': This is the essence of

permaculture – an ecologically sound way of living that can be

applied to households, gardens, communities and businesses. It

is created by cooperating with nature and caring for the earth

and its people. Today's youth are embracing this concept and

spreading the word.

Over the last few years a group of

youths and young adults have been

busy practising permaculture on Mallorca, the

largest of Spain's Balearic Islands. They have

planted and harvested forest gardens, built

pallet structures, designed demonstration

sites and raised funds through work exchange.

The group are using Permacultura Mediterranea's

(permamed.org) Permaculture Pathway

Program to skill-up, employing what permaculture

teacher and author, Rosemary Morrow,

refers to as 'the freedom and responsibility

offered through self-directed non-formal

education.'

TONY ROLLINSON

tony@permaculture.co.uk

www.permaculture.co.uk

Tony writes for Permaculture

Magazine (www.

permaculture.co.uk) and

Permanent Publications

(http://permanentpublications.co.uk),

spreading

the word about permaculture

(Earth Care, People

Care, Fair Shares). They

operate out of the 55-acre

The Sustainability Centre

(http://www.sustainability-centre.org)

and the

magazine is celebrating its

25th anniversary this year.

Members of the group used crowdfunding

to pay for their Permaculture Design Courses

(PDCs) and teacher training, and they've gone

on to teach workshops in their local schools.

They have interviewed their own mentors and

are documenting all of their design and work

in a portfolio.

INTERNATIONAL YOUTH PERMACULTURE

NETWORK

The youths have also made a little money

and have ensured that they are all having

fun too. While doing all of this they have

identifi ed the importance of including youth

in the permaculture movement and now

wish to build an international network to facilitate

this.

The network hopes to offer: opportunities for

eager young people to learn permaculture

skills through experience, access to mentors

interested in supporting young people, and

a community that recognises the value of including

youth.

THE IMPORTANCE OF MENTORING

Having access to resources and mentors can

play a key role in empowering youths. One

of the network's participants, Elias Robson,

points out: 'Fortunately on Mallorca, we've

had access to many great local and visiting

mentors who have encouraged our participation

in their workshops, including: Rosemary

Morrow, Alfred Decker, Robina McCurdy,

Robin Clayfi eld, Satish Kumar, Rob Hopkins,

086 |NATURALMEDICINE.CO.ZA
---
JULY 2017 | 087
---
living

Darren Doherty and more. Locally Julio Cantos

of PermaMed, Miquel Ramis of Artifex Balear

and the Escola Kumar (a project inspired by

Satish Kumar) have all provided experiential

permaculture learning opportunities and have

encouraged us to create our own projects

and learning pathways. Each one of them has

been an inspiration.'

YOUTH TO YOUTH INSPIRATION

Again, taking inspiration from Rosemary Morrow,

whose teachings underscore the value of empowering

young people, not only with the experience

of working at sites, but also through teaching

their own peers, the youths in Mallorca, invited by

their local mentors, have thus begun going into

local schools and assisting teachers in introducing

permaculture into public secondary schools.

However, many youths don't know about the

opportunities permaculture offers and it is this

that the group wishes to address in order to

engage other youths.

During the 2016 European Permaculture Convergence

in Bolsena, Italy, several young participants

noticed the near absence of other

youths at the event. They discussed the importance

of including youths in the permaculture

movement with members of the Children in

Permaculture (CiP) project. These discussions

inspired a new project to build an international

network engaging youths in permaculture.

ENSURING VISION AND MISSION

The formative group – Rakesh Rootsman Rak

(CiP), Lusi Alders-lowe (Permaculture Association),

Mandy Merklein, Elias Robson (age 15),

and Victor Pla (age 21) (all PermaMed.org/

Escola Kumar) and Anna Gurney (Boodaville)

– have created an initial vision and mission for

the group, and have sent out a survey to attract

people to form a core partnership.

'Permaculture, originally "Permanent Agriculture",

is often viewed as a set of gardening

techniques, but it has in fact developed

into a whole design philosophy, and for

somepeopleaphilosophyforlife.Itscentral

theme is the creation of human systems

whichprovideforhumanneeds,butusing

many natural elements and drawing inspiration

from natural ecosystems. Its goals

and priorities coincide with what many

people see as the core requirements for

sustainability.' Emma Chapman

'We are impressed with how much interest

the initiative has attracted. We plan to meet in

spring 2017 to form the core group, learn how

to use sociocracy as a governance tool, and cocreate

the project's design.'

Youths will be a growing part of the decisionmaking

team, providing a vital voice throughout

the project. Ideally this will become a youth-run

programme, designed by young people, with

mentors acting in an advisory capacity.

If you would like to become part of the Youth in

Permaculture movement and support this effort

you can begin by contacting the initial team at:

www.yip.childreninpermaculture.com

CONCLUSION

This is a great opportunity to open doors and

include more young people in the permaculture

movement. As Robina McCurdy told the youths

in Mallorca, 'Youths are the future. Take the tools

and knowledge and power and go for it . . . make

a difference for yourselves and the world.'

Source

This article fi rst appeared in the Summer 2017

(Issue 92) edition of Permaculture Magazine

(https://www.permaculture.co.uk/), an awardwinning,

authoritative publication that educates

and informs on the importance of sustainable

living.

For further details, contact Tony Rollinson: tony@

permaculture.co.uk

To subscribe: https://www.permaculture.co.uk/

subscribe

088 |NATURALMEDICINE.CO.ZA
---
Natural

THERAPIES

90 ART & HEALTH

92 PREGNANCY YOGA – for healthy mothers and babies
---
therapies

ART

HEALTH

For thousands of years, people have searched

for the meaning and beauty of life in music,

painting, poetry and other arts. Now scientists

are finding that the arts can benefit both your

mental and physical health.

Visiting a gallery is not simply about experiencing those

things that make us feel better. It helps people to work

through their emotions, and leads to an enhanced sense of wellbeing.

This means it helps us to develop emotional resilience. Art

is everyday therapy for the soul.

BENEFITS OF VISITING AN ART GALLERY

A study showed that, on average, students who visited an art

museum performed 9% of a standard deviation higher in

their ability to reason critically. These included the students'

observations, interpretations, evaluations, associations, instances

of problem fi ndings, comparisons and instances of

fl exible thinking. 1

Art is communication and therapy. Art makes us more human, it

helps us to communicate in a different, personal language. The

stimulus of the creative mind allows people to positively isolate

from reality, which provides a mental rest that lowers stress and

generates relaxation and happiness. This helps for aggression

and nervousness.

Measurement of the steroid stress hormone cortisol is increasingly

employed as an objective biomarker of stress. It takes about

15 minutes for a stressor to elicit increased cortisol secretion.

Research has explored the impact of positive experiences within

a naturalistic setting on cortisol levels. Visiting an art gallery for a

brief lunchtime visit substantially influences both the subjective

experience of stress, as well as levels of the stress hormone cortisol.

It is well known that males are more responsive to stressful

events, and those that entered the gallery with high levels of

cortisol had a more signifi cant drop in cortisol and stress.

090 | NATURALMEDICINE.CO.ZA
---
THE BRAIN AND ART

Descriptive reviews of studies to date have indicated

that aesthetic experience in response to viewing artworks

is indeed a function of a distributed set of brain

areas, each of which is hypothesised to underlie a different

component process modulated by task demands.

It is almost universally assumed that a primary objective

of art is to evoke affective responses in the viewer.

This includes activating the nucleus accumbens, a key

brain region mediating a variety of behaviours. An aesthetic

experience associated with exposure to works of

art can improve perceptual, cognitive and emotional

processes of the brain. 2

People underwent brain scans while being shown a

series of 30 paintings by some of the world's greatest

artists. The artworks they considered most beautiful

increased the blood fl ow in a certain part of the brain

by as much as 10%. What was found is that when you

look at art – whether it is a landscape, a still life, an

abstract or a portrait – there is strong activity in the part

of the brain related to pleasure.

PAINTING AND HEALTH

People who immerse themselves for several hours

painting or creating something enter a purer area, a

very strong state of concentration. They abstract themselves

from their surroundings. Physical pains fade

away. Painting also benefi ts mental health. It not only

distracts us from our problems, but it helps us to transform

anguish into something pleasant – this is useful

in times of emotional imbalance. Adults who learn to

paint overcome the fear to confront themselves and

learn to persevere and are encouraged to create something

that belongs only to them – a personal project,

unique and enormously satisfying. When the emotions

fl ow while painting, it creates harmony between the

heart and mind – which leads us to experience happiness,

love, empathy and peace. Painting is a tool that

in the long run benefi ts our emotional, energetic and

spiritual well-being.

PAINTING AND HEALTH/TRAUMA

When traumatic memories are stored in the brain,

they're not stored as words, but as images. Art therapy

is uniquely suited to access these memories. After

the image has been drawn, you can then progress to

forming words to describe them. This externalises the

trauma – moves it out of isolation, onto the page and

into a positive exchange. This is an active involvement

in your own healing.

VIEW ART IN A GALLERY NOT ON THE INTERNET

Art must be experienced to truly appreciate a sense of

its magnitude. Viewing artwork on the Internet is like

walking by a gallery on a rainy night and wiping the

fog from the window to get a peek. You think you can

see the art, but there is a barrier obscuring your vision

– distance from the actual art work can distract your

perception. There is a big difference between being

the most connected person and being the best connected

person. The same with being at an art gallery,

like meeting a friend in person.

As Picasso said, 'Art washes from the soul the dust of

everyday life.' Both viewing and creating art has a positive

effect on health and well-being.

ARTS AND CREATIVITY WITH AGEING

Why should a sense of control have a positive effect on

health with ageing? Because the mind infl uences the

body. The field of behavioural neuroscience has revolutionised

the way we understand the brain's ability to

adapt and keep itself vital. This is referred to as brain

plasticity. This work has changed our understanding

of what we ourselves can do to keep our brains and

minds healthy through creatively challenging ourselves

in a sustained manner. This means our brain plasticity

improves, so when you are doing art, your brain is running

at full speed.

CONCLUSION

Enjoying great art is not just uplifting for the soul, but

benefi cial to health. Art experiences can help improve

health and well-being and can result in benefi ts that

range from the physiological to the emotional. Close

encounters with art can offer a time-out from the pressure

of modern living by providing a space within which

to refl ect. Art enables us to learn, connect, take notice

and delight in the world around us. It helps us to see

things from a different perspective. At its best it can

remind us that life is curious and joyful.

References

1. Bowen DH, Greene JP, et al.

Learning to think critically.

Educational Researcher.

2014;Vol 43(1):37-44.

2. Leder H, Belke B, et al.

A model of aesthetic

appreciation and aesthetic

judgement. British

Journal of Psychology.

2004;95:489-508.

DR FRANCES LE

ROUX, BSC, MSC, PHD.

adagio.frances@absamail.

co.za

www.fhleroux.co.za

She is a registered physiotherapist

in Fish Hoek,

Cape Town, South Africa.

She has a special interest

in music/medicine based

on her research regarding

music and pain, immune

systems and spiritual wellbeing.

She is a member

of the International Music

in Medicine Association

and is on the International

Editorial Board of Music

and Medicine Interdisciplinary

Journal. Her books

Music is Healing and

recently published Music

and Babies are available

from: adagio.frances@

absamail.co.za

JULY 2017 | 091
---
y

mothers and babies

Today motherhood is more complex than ever, with women

attempting to juggle children, career, relationships and their own

health, often even without the support of family or community.

Yoga, however, can restore peace of mind and keep the body

supple and toned, ready to welcome that important new little

being into the world.

SHARNI QUINN

www.followthesun.co.za

Instagram: @sunshine_

yoga_angel

sharni@followthesun.co.za

As founder of Follow the

Sun, a yogi, life coach,

speaker, writer, and a lover

of wooded Chardonnay,

Sharni's passion is to

inspire balance, health,

wholeness and happiness

in others in a light-hearted,

yetprofoundway.Sharni

focuses on personal transformation

and inspires

otherstolivearadiantlife

through her 'Create your

own Sunshine' Program

incorporating yoga, food,

life coaching and travel.

With the go-go-go attitude of modernday

women and our busy lifestyles, it

makes it extremely difficult for mothers-to-be

totaketimeofftorest,enjoyandfocuson

thepregnancy.Oneofthebestwaystoease

mood swings, fatigue, painful leg cramps,

and breathing problems, aid a smoother and

easier labour delivery, assist with post-natal

recovery,aswellastocreatealittlepeace

and space while you are pregnant, is pregnancy

yoga.

In general, Hatha yoga teaches us to reconnect

to our body and calm the body and

mind with emotional stress relief. So, by

practising yoga when pregnant you will get

allthesebenefitsaswellaslearnhowtouse

your breathing during labour, connect with

your baby growing within, and release happy

hormones and endorphins to keep you energetic

and positive. The aim of pregnancy

yoga is to help the mother bring the baby

into the world with minimum hassle and no

health complications.

YOGA TIPS FOR EACH TRIMESTER

First trimester

Ifyouarenewtoyoga,itisadvisablenotto

startyouryogajourneyinthefirsttrimester

ofyourpregnancy.Giveyourbodyachance

to re-adjust before you start anything new.

Utmost caution is paramount during this

time.

Ifyouarearegularyogi,beawareandaccept

that your practice will be very different, so

makeallowancestomodifyalongtheway.

092 | NATURALMEDICINE.CO.ZA
---
Yoga

CORNER

Second trimester

Strong core work and deep twists are not advisable

during pregnancy, so stick to gentle twists and focus

on twisting from the middle and upper back rather

than from your abdomen.

Move slowly and carefully as your joints are beginning

to loosen up. You are at more risk now for

strains, pulls and other injuries because of the pregnancy

hormone relaxin.

Accept that your balance will be off due to your centre

of gravity changing.

Don't push yourself or overextend yourself. Remember

that you are doing yoga for its positive benefi ts

and the calming effect that it has for you and your

baby – you are not using your yoga for a workout.

Avoid Hot Yoga classes when pregnant.

Third trimester

You will notice huge changes in your body, so coming

to a place of acceptance and focusing on taking it

easy for your sake and your baby is very important.

Adapt and modify your practice accordingly and use a

block, straps and props where necessary.

Don't hold postures for a long time and listen carefully

to your body. If you feel any discomfort then stop.

Yoga postures that are

safe during pregnancy

(Look online for examples):

Butterfly pose

Cat-Cow pose

Warrior pose

Squatting

Child's pose

Side-lyingposition–thisisagoodalternativeto

Savasana and is a great resting pose at the end of the

class.

Avoid these postures:

Headstands

Handstands

Intense backbends such as Camel

Savasana – lying on your back at the end of class.

JULY 2017 | 093
---
Yoga

CORNER

YOGA AFTER CHILDBIRTH

Doing yoga after childbirth can be a great

bonding exercise for mother and baby. It is

relaxing, eases indigestion or wind for the

baby, and tones your body after childbirth.

It rebalances and grounds you and aids recovery.

Kimberley Johnson, yoga teacher, women's

care advocate, mother, doula and author

of The Fourth Trimester writes about holistic,

practical tools to help support women

through post-partum healing on the physical,

emotional, relational and spiritual levels.

POST-PARTUM NEEDS

Kimberley suggests that all around the world

there are fi ve universal post-partum needs for

a new mother:

1. Rest – it is imperative that a woman rests

for 30 to 45 days after she has a baby,

even if delivery was smooth or easy, and

especially if it wasn't. A new mom needs to

be in her home environment, being taken

care of, being relieved of the worries of

daily chores with as much help as possible.

2. Eating mineral-rich food

During birth a lot of blood and life force is

lost and so eating mineral-rich foods that

are easily digestible aids recovery.

3. Wise women and companionship

It is important to have someone around that

you can talk to about what you are going

through. This is not the time to be alone.

4. Loving touch

In India ladies that have just been through

childbirth receive daily oil massage and

herb treatments. Anything the new baby is

getting the post-partum mom also needs

to receive.

5. Contact with nature.

Kimberley also says that she sees women

in her offi ce all the time with back pain, prolapsed

organs and various other traumas

caused by not taking a break and from not

taking it easy when they are pregnant as well

as just after childbirth. She suggests not being

Superwoman when you are pregnant and

even to take four or fi ve months off from all

exercise, including physical yoga asanas. She

suggests perhaps exploring the other aspects

of yoga and practising meditation and pranayama

(breathing exercises) or going to an expert

in prenatal yoga. This is so that you can

develop the yin space in pregnancy so that

when you need the yang space for delivery

it is accessible to you. Seeing your pregnancy

as a space of refl ection and a 'being' space

rather than 'doing' time is an important distinction

to make.

SEE THE EXPERTS

Pregnancy yoga has many benefi ts; however,

it isn't just about yoga – it's about doing it

under expert supervision and a favourable

environment.

In my opinion, rather go and see the experts

and practise yoga with teachers who specifi -

cally focus on pre- and post-natal yoga classes.

They will then work specifi cally to help

new moms to feel fulfi lled and supported as

well as giving you the occasional glimpse of

an inner calmness and an outer glow in the

midstofyourbusylives.

CONTACTS FOR PREGNANCY

YOGA TEACHERS AND STUDIOS ARE:

Cape Town:

Bloom Yoga – Harriet Came

www.bloomyoga.co.za

Email: harriet@bloomyoga.co.za

Call: 078 1075 070

Sunshine health – Gayle Friedman

www.sunshinecolouracademy.com/Yoga.html

Call: 082 958 4801

Johannesburg:

YogaMama

www.yogamama.co.za

Email: janaki@yogamama.co.za

Call: (011) 100 4849

ISHTA Studio of Yoga & Health

www.yoga-sa.com

Email: info@yoga-sa.com

Call: (011) 887 2027

094 | NATURALMEDICINE.CO.ZA
---
Mind

body & soul

96 BAD & GOOD
---
& soul

Divine is the

with perfection, order, and

effort with gratitude for our

Divine action.

096 | NATURALMEDICINE.CO.ZA
---
Bad &

good

'Bad' and 'good' are measure marks on the same ruler. A stone rolling down

ahillwillcontinuedownward.Acloudrisingupwardwillcontinueup.Is

the one good and the other bad? Thoughts moving away from Divine order are

increasingly chaotic over time and distance, introducing elements of disorder to our

lives. Thoughts moving toward Love enjoy stability and calm, as one nears the centre

of Being. A hurricane is turbulent at its rim, while peaceful in its eye. Both conditions

existsimultaneously.Wechoosethedirectionwetravel,inoroutofthestorm.

Our perceptions of 'good' and 'bad' are arbitrary. Illusion often leads us to believe

thatwecanplantcornandexpectwheat,butitisnotso.Goodandbadaredistorted

interpretations of what is, in Life. Divinity is the seed of Truth, filled with perfection,

order, and Love, planted by Soul, and nourished by conscious effort with gratitude

for our Creator, resulting in Divine action. An Olympic athlete trains body, mind, and

spirit for a lifetime, in quest of a single victorious moment. Inspired thought and wise

actionguideustothecentre,thewinner'scircle.Badandgoodarebutthenecessary

training steps along the journey.

Source

Demartini JF. The Wisdom of the Oracle. 1st Books Library TM ; 2001.

DR JOHN DEMARTINI,

BSC, DC.

www.drdemartini.com

info@DrDemartini.co.za

Heisaleadinginspirational

speaker, authority on

human behaviour, teacher

andauthor.Hisknowledge

and experience are a

culminationof35years

of research and study of

more than 28 000 texts

in over 200 disciplines

ranging from psychology,

philosophy, metaphysics

and theology to neurology

and physiology.

JULY 2017 | 097
---
Reduce your risk. Waveex is a small chip

that makes a big difference!

EMF gradients irritate our organism, causing

stress on the body.

By smoothing the peaks a natural magnetic

fi eld is simulated – one that our bodies can

assimilate.

www.waveex.co.za

support@waveex.co.za

+27 21 880 1446

Brought to you by Dreamcatcher Trade