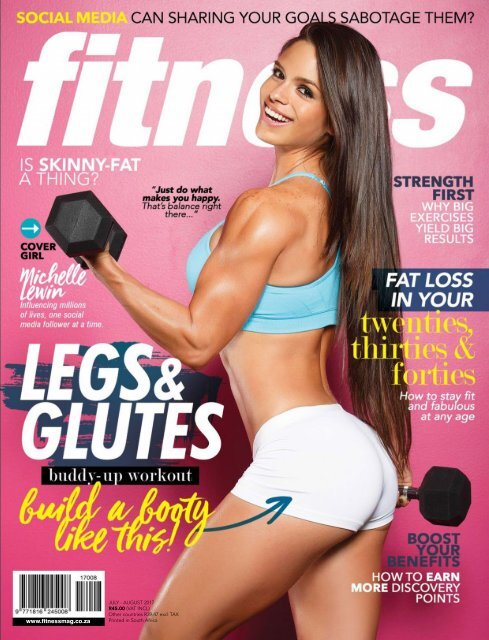 Fitness_South_Africa_JulyAugust_2017
Create successful ePaper yourself
Turn your PDF publications into a flip-book with our unique Google optimized e-Paper software.
www.fitnessmag.co.za

JULY - AUGUST 2017

R45.00 (VAT INCL)

Other countries R39.47 excl TAX

Printed in South Africa
---
guilt free

indulg ence

LOW

Carbs

HIGH

Prote

LOW

sugar

NOW AVAILABLE IN-STORE & ONLINE

YOU CAN ALSO

SHOP ONLINE

USN.CO.ZA

MANUFACTURED IN ACCREDITED FACILITIES, WHERE RELEVANT:
---
VANILLA CUPCAKE

PEANUT BUTTER

CHOCOLATE COCONUT

What

You Eat

USN.CO.ZA USN SA @USNSA @USNSA
---
BUDDY UP AND MAKE

LEG AND GLUTE

WORKOUTS TWICE AS

36MUCH FUN!

24 Michelle Lewin

30

32

36

48

50

54

58

contents

JULY / AUGUST 2017

24

MICHELLE

LEWIN

THE ADORED AND

INSPIRATIONAL

FITNESS FUNDI

CHATS TO US

IN EVERY ISSUE

EDITOR'S LETTER 8

EVENTS 12

BEAUTY BAG 14

DIGITAL NEWS 17

MY WEEK 18

GYM BAG 20

ASK THE EXPERTS 22

FITNESS NEWS 34

LIVE STRONG 44

FORM FIRST 46

SUPPLEMENT NEWS 70

NUTRITION NEWS 78

NUTRI TALK 80

WORK-

OUT WITH

YOUR

BFF!

ON THE COVER

PHOTO BY

64

68

74

82

86

90

95
---
®
---
editor'snote

Dylan does

a bit of

everything

Pedro runs (The

Comrades!)

Defrost

your mojo,

it's almost

summer

Tanja does

MTB trail riding

Victoria & Karien compete and

are personal trainers

Cindy is a

CrossFitter!

#theTeam

The power of passion:

When you connect with a

passionate about, you'll

make sure to allocate time

to train for it. Whether

it's running, CrossFit,

physique competitions or

squatting a personal best,

OKAY, MAYBE IT'S NOT

ALMOST SUMMER JUST

YET, BUT SPRING IS AROUND

THE CORNER. By the time you

read this, there might be another

6-8 weeks at most left of the

cold. That means you have to

come out of hibernation now...

Panicking yet?

If, like me, you've struggled a

little with the cold this season (or

maybe you were just too busy, or

got sick) you might have missed

one, two or ten sessions in the

gym (or outdoors).

Whatever the reason that led

you to slip back into a comfort

zone of warm lattes and sleeping

in, it's now time to get back on

Here's what I've been doing to

get over the winter blues...

1. CREATE A POWER PLAYLIST

Pick powerful and meaningful

tunes and compile a playlist of

the songs that get you amped.

Sometimes all you need is that

little 'vooma' of motivation.

MINE: Currently listening to the

album Prisoner by The Jezabels.

2. REMEMBER WHY YOU

STARTED

Revisit your goals and why

you wanted to do this in the

you've made a vision board or

documented your goals properly,

even if it's just a collection of

inspirational pins on Pintrest or

a stack of magazines. Make a

visual connection to your goals

that serve as a reminder in tough

times.

MINE: Currently have RedBull TV

and PinkBike YouTube channels

on repeat.

3. COLLECT CLICHÉD

MOTIVATIONAL QUOTES

"The hardest part of starting, is

indeed putting your shoes on."

I've memorised all the cheesy

sayings and have them on repeat

in my head when I want to skip a

workout.

"You can have results or excuses,

not both..."

"Results don't work unless you

do."

MY FAVOURITE:

"Don't be upset by the

results you didn't get

with the work you

didn't do!"

4. GET A COMMITMENT

DEVICE

Use a platform like social media,

get a regular group workout

together with friends, or get a

ways and means to keep you

accountable when motivation

levels are a little low.

Buddy Up: To help you get over

the winter hump and build a butt for

spring, check out our workout on page

36 that you and your bestie can do

together.

Or check out our 'Boost your

article on how to earn more

Discovery Vitality points (page 61).

MINE: I've committed to WattBike

sessions indoors, and a group that

I ride with on weekends.

5. REORGANISE YOUR TIME

rather than abandoning your

commitments so that you

make time for everything. We

sometimes place pressure on

ourselves to conform to what

people perceive as 'normal'

schedules or working times. If it

works for you to wake up early to

get some work done, and then hit

the gym or get outdoors when it's

warmer, it's worth giving it a try.

MINE: I've shifted 2 hours of work

time around, 2 days a week, to

make space for riding my bike

when it's warmer outside. (It's

amazing how much you get done

between 5-7am when nobody is

around to bug you at work)

6. CHANGE IT UP

If you're not training for

on stage or competing in a

race, then it's maybe time to

work towards. Setting new goals,

especially strength-building or

endurance goals, might just be

what you need to reignite your

mojo.

MINE: I'm training to race! My

aim is to reach a podium in the

sub-vet category that I compete

in. (See what I did there, I'm using

you as my 'commitment device'!)

So, get cracking, refocus and

re-prioritise – summer will be

here before you know it!

tanja

life_as_tanja

PG

24

Michelle Lewin

ON THE COVER...

10,800,000 (IG followers); 8,672,415

(Facebook followers); 8,672,415 (Facebook

likes); 403,000 (Twitter followers); 283,811

(YouTube channel subscribers) – these are the

insane numbers that help to quantify Michelle

Lewin's global popularity and appeal.

We feature your

nominations...

STRONGWOMEN

PG

58

8

JULY - AUGUST 2017 |
---
#STRONGWOMEN

fitness

EDITOR & CO-PUBLISHER

Tanja Schmitz

PROOFREADING

Irene Stotko

LAETITIA DEE, Life Coach

CEO & founder of Laetus

Life, Life Coach, weight

management coach (HFPA),

motivational speaker, and

Supashape ambassador. Holds

a BA Psychology Degree.

www.laetuslife.com

LIL BIANCHI KIMBLE,

Head coach & owner of OTG Athletic

World Champion powerlifter,

deadlift world record holder

and addict of defying the

human condition.

CO-PUBLISHER

Andrew Carruthers

MANAGING EDITOR

Pedro van Gaalen

DEPUTY EDITOR

Werner Beukes

ADMINISTRATION

Leoni Needham

SENIOR DESIGNERS

Teya Esterhuizen

Christian Nel

ADVERTISING SALES

Andrew Carruthers

andrew@maverickpublishing.co.za

011 791 3646

PHOTOGRAPHY

Cindy Ellis, Soulby

Jackson, James Patrick,

Ben Myburgh

CONTRIBUTORS &

ADVISORY

Laetitia Dee, Nicole

Warburg, Vanessa

Ascencao, Julia Lamberti,

Giorgina Slotar, Cara Lisa,

Lil Bianchi

fitness magazine is an alternative monthly

magazine distributed nationwide.

ABC Certified sales: 23,158

Period Jul - Dec 2016

CINDY ELLIS, Photographer

athlete and an active CrossFit

competitor, Cindy's ability to

capture the human body and

movement is unrivalled.

www.cindyphoto.co.za

GIORGINA SLOTAR, Clinical

Nutritionist (Intl. Grad. Dip. Clinical

Nutrition, Australia). Giorgina

is also a pre- and post-natal

exercise specialist, and is

through HFPA.

fitness Magazine South Africa

THE PUBLISHER

The Maverick Publishing

Postnet suite 99, Private Bag X8

North Riding, 2162

Unit 7, Ground Floor, Boskruin View

181 Girdwood road, RandparkRidge, 2169

DISTRIBUTION & PRODUCTION

(031) 714 4700

3 EASY WAYS TO SUBSCRIBE:

SMS "SUB FITNESS" to 40439

with your name, contact number & postal address

PHONE Call us on 011 7913646

EMAIL

with your name, contact number & postal address

NICOLE WARBURG,

Coach and trainer

champion, CrossFit competitor

– 2014 Africa Regionals runnerup

– and coach at The Yard

Athletic. @nicolewarburg

CARA-LISA,

Wellness coach

enthusiast, wellness coach

and founder of the

Caralishious brand

@caralishiious

g+

FOLLOW US ON TWITTER @FITNESSMAG

HASHTAG YOUR PHOTOS ON INSTAGRAM #FITNESSMAGSA

AND #FITNESSMAGSELFIE

BEHIND THE SCENES ON INSTAGRAM @FITNESSMAGSA

VIDEOS ON YOUTUBE: FITNESSMAGAZINESA

You

Tube

No liability is assumed by The Maverick Publishing

Corporation, Muscle Evolution (and M.E's Fitness)

nor any of the authors of the information provided

in this publication. The Maverick Publishing Corporation

cannot be held liable for any advice provided

in this publication. The information published in

this magazine should not be considered as medical

advice, please consult a registered doctor. The

Maverick Publishing Corporation shall not be liable

for any unsolicited material, nor photographs or

The Maverick Publishing Corporation reserve the

and will not publish any editorial material nor

advertising that we feel does not comply with our

readership audience.

All Stock photography via www.shutterstock.com
---
3D RESET has been scientifically designed to provide a

3-Dimensional approach to stimulant effectiveness and

removal. 3D RESET is designed to cleanse your system of

stimulants in order to reset your adenosine receptors by

expelling any remaining stimulants. 3D RESET is perfect

for those late afternoon stimulant lovers and allows you

to enjoy that stimulant surge and still sleep easy.

3D RESET uses a powerful natural extract to assist in the

metabolism of stimulants, theophylline, theobromine,

and paraxanthine by inducing CYP1A2 and CYP2E1

enzymes. These enzymes work quick to break stimulants

down, making it more effective and removing it from the

system further. This leads to less adenosine receptors

being created, and making further stimulant consumption

much more effective.

3D NUTRITION

@3DNUTRITIONSA

@3DNUTRITIONSA

FOR MORE INFORMATION ON OUR FULL RANGE GO TO 3DNUTRITION.CO.ZA

NOW AVAILABLE AT
---
fitnessevents

IMPI

CHALLENGE

DAY-NIGHT

SERIES EVENT

#6

The new Impi

Day-Night series

is a 5km obstacle

trail run where athletes can compete against

the leaderboard for the event and ultimate

series win.

DATE: 7 July 2017

VENUE: Jackal Creek Golf Club,

Roodepoort, Gauteng

To enter, visit www.impichallenge.co.za

Images by Zoon Cronje www.zcmc.co.za

happening?

29

ASHBURTON

INVESTMENTS

NATIONAL MTB

VAN GAALEN'S

Van Gaalen's

shows off what

the Magaliesberg

area has to offer,

along with handbuilt

single track that meanders through

ravines and gorges, and along river banks

and over bridges. The trails switch between

varied terrain and include river crossings,

bush tunnels and spectacular views, with

occasional tough climbs.

DATE: 29 July 2017

VENUE: Van Gaalen's Cheese Farm,

Magaliesberg

www.advendurance.com/nationalmtbseries

for more info.

19

A U G

TOYOTA

WARRIOR EVENT

#5

The Warrior Race

is South Africa's

largest obstacle

course race series.

It incorporates

trail running with

various physical challenges in the form of

obstacles. The Toyota Warrior powered by

Reebok series offers athletes from different

sporting codes the opportunity to compete

against one another over three different

race distances.

DATE: 19 & 20 August 2017

VENUE: Blythedale Coastal Estate,

Kwazulu-Natal

Visit www.warrior.co.za to enter or for info.

S E P T

SANLAM

CAPE TOWN

MARATHON

WEEKEND

Gold Labelaccredited

marathon will form

part of a multievent

running festival that is set to attract

over 20,000 athletes. Events include the

Sanlam Cape Town 10km Peace Run, the

12km and 22km Sanlam Cape Town Peace

Trail Runs, and the Sanlam Cape Town

Marathon (42.2km).

DATES: 16 & 17 September 2017

VENUE: Cape Town

www.sanlamcapetownmarathon.com

J U L Y

16

12

JULY - AUGUST
---
15

J U L Y

NISSAN

TRAILSEEKER

LIONMAN

Brave the

Highveld cold

and head to

Mabalingwe

– a mere 90

minutes from

Pretoria – for the Lionman leg of the Nissan

TrailSeeker series. The route boasts some

of Mabalingwe's most exciting routes, with

no overlaps or bottle necks. It's the perfect

opportunity for families to join in the fun

and make it an exciting weekend away in

the bush.

DATE: 15 July 2017

VENUE: Mabalingwe Nature Reserve,

Limpopo

www.advendurance.com/trailseekerseries

for more info.

COURSE DATES

JOHANNESBURG

1, 2 July - Bootcamp Workshop

3 July

7 July - Exercise is Medicine 2

8 July - Functional Training

8 July - Boxing Level 3

15 July - Sports Conditioning

28 July - Exercise is Medicine 3

29 July - Group Fitness Instructor

29, 30 July - Exercise & Pregnancy

29, 30 July - Johnny G® Spinning

5 August - Sports massage course

12, 13 August - Aqua Instructor course

26 August - Event Periodization

30 August - Personal Fitness Trainer

CAPE TOWN

Online - Exercise Science

Blended - Personal Fitness Trainer Course

1 July - Athlete Assessment

12, 13 August - Exercise and Pregnancy

BIKINI, PHYSIQUE

AND

BODYBUILDING

CONTESTS

IFBB MUSCLE MULISHA GRAND PRIX 2

This IFBB-sanctioned show is an Arnold

athletes an opportunity to earn IFBB

Platinum League points.

DATE: 8 July 2017

VENUE: The Alexander Theatre, 36

Stiemens Street, Braamfontein

Contact garron@musclemulisha.co.za or

candice@musclemulisha.co.za for further info.

RISE OF THE PHOENIX 3.0

Presented in partnership with Body Building

and Fitness South Africa (BBFSA), this

popular show serves as the ideal platform

for athletes from all federations to compete

in front of a professional panel of judges

bodybuilding organisation.

DATE: 7-8 July 2017

VENUE: The Abbotsford Christian Centre,

28 Wyse Avenue, Abbotsford, East London

Contact Everett Hand on

everett@ppnonline.co.za for more info.

IFBB BOKSBURG CLASSIC

A qualifying event for the 2018 Arnold

Classic Africa. Athletes can also earn IFBB

Platinum League points to compete in

the Gentle Giant Classic at the end of the

year. Will include a special guest posing

appearance by Meghan Hennessy.

DATE: 22 July 2017

VENUE: Kaleideo Auditorium, Kempton

Park

Contact Helena at Helena@xtyle.co.za

MARCELLE

WAS AWARDED

HER PRO CARD

Marcelle Collision

MS. DIVA EXTRAVAGANZA

An independent show owned and produced

by Kevin Schwartz, with fantastic prizes

and trophies for winners. Registration takes

place on 28 July, with the pre-judging and

the main show happening on 29 July.

DATE: 28-29 July 2017

VENUE: HS Durbanville Auditorium,

Langenhoven Street, Durbanville

Contact Kevin Schwartz at kevin@bbfsa.co.za

OVE

ERALL

LADIES

FITNESS

BIKINI

SHOW RESULTS

PAGE 92

IFBB ARNOLD

CLASSIC AFRICA

BATTLE OF

THE TITANS V

NABBA/WFF

PRETORIA CLASSIC

PRO AM

NABBA/WFF

BIKINI MODEL PRO

Logan Coleman

BATTLE OF THE TITANS V

FITNESS BIKINI UP TO 1.63M

Roxanne McLachlan

IBFF WELKOM CLASSIC

This International Bodybuilding and

Fitness Federation (IBFF) event will

offer an opportunity to athletes to be

selected to compete at the South African

Championships.

DATE: 29 July 2017

VENUE: Ferdie Meyer Hall, Welkom CBD,

Free State

For info, contact Kiewiet Prinsloo on

057 396 4302

NELSON MANDELA BAY BODY BUILDING

AND FITNESS CHAMPIONSHIP

The competition is held in conjunction with

the BBFSA and offers a platform for athletes

from all federations to show off the results

of their hard work and commitment.

DATE: 5 August 2017

VENUE: Nelson Mandela Bay (Port

Elizabeth)

Contact Kevin Schwartz on kevin@bbfsa.

co.za

IFBB H&H CLASSIC

Another opportunity for IFBB athletes to

earn points to qualify to compete at the

Gentle Giant Classic in September. Athletes

can also qualify to go through to the Arnold

Classic Africa in 2018.

DATE: 5 August 2017

VENUE: Pretoria

www.ifbbsa.co.za for more info.

BUTTERWORTH CLASSIC BODY

BUILDING COMPETITION

This competition will be presented in

partnership with the BBFSA.

DATE: 19 August 2017

VENUE: TBA

Contact Kevin Schwartz at kevin@bbfsa.co.za

PRO

CARD

AWARDED

13
---
eauty

bag

Bioeffect® EGF

Serum

A hypoallergenic

cell-activating

serum that

delivers dramatic

improvements to

skin.

R1,585

STEPS TO

SUPPLE,

HEALTHY

4WINTER SKIN

As the temperature drops and

our skin is exposed to dry, cold

conditions, moisture is stripped

away, which often leaves us with dry,

dull complexions and sensitive skin.

4 ways to win the war on

winter skin:

Aromatherapy treatments:

1 Use essential oils and other

aromatic plant compounds to restore

skin health. Focus on products and

treatments that include, among

others, lavender oil, camomile, tea

tree oil, and ylang-ylang.

Exfoliate regularly – at least

2 twice a week – to remove dry,

dead skin cells, as this will enable

your moisturiser to penetrate

deeper.

Cleanse your face with a

3 product that has a creamy

formula during winter to help soften

and soothe sensitive skin.

Apply moisturiser to your

4 face and body directly after

showering, on damp skin. Keep

the bathroom door closed

humidity, which will

help the moisturiser

penetrate deeper.

Beat the winter blues by

making sure your skin is

nourished, supple and glowing

Placecol Vitamin C

Radiance Therapy

An intensive serum

specially formulated to

assist with improving

skin radiance. R305

Dermagen

Skin Care

Contains

glutathione,

collagen and coenzyme

Q10 to

stimulate the body's

circulatory system.

www.fusionlabsonline.com.

R428

SOiL Organic Shea Butter

Ugandan organic raw shea

butter hydrates, restores

and protects skin.

www.soil.co.za

R120

B.O.N

Liquid Gold

Pure Tissue

Oil

Unique blend of

vitamin E, avocado,

grape seed and rose

hip oils.

Available from

pharmacies.

www.bonnaturaloils.co.za.

R24.95 (15ml) –

R139.95 (200ml)

RVB SkinLab diego dalla palma

Repair Oil Complex

An elasticising oil containing

99.4% natural oils.

Available at skincare

clinics and spas.

R575

14

JULY - AUGUST 2017 |
---
digi

GREAT APP

FOR BEGINNERS

WHO ENJOY

STEP-BY-STEP

GUIDANCE

THE PROS:

Easy to use

Good community

support

#what's hot

app

THE CONS:

content

After you discontinue subscription

programme and no reference data

SWEAT

SWEAT delivers a personal

trainer, nutritionist and

app. Sweat with Kayla Itsines' BBG

programme to fast track your journey to bikini-

Sjana Elise Earp's

Kelsey

Wells

resistance workouts designed to increase core

- Professional nutrition and coaching provided with daily

meal plans and menus including customisable recipes for

a variety of vegan eating preferences.

- Also allows users to track and measure progress by

comparing weekly pictures side-by-side, either privately

or with friends and the BBG community, to keep users

accountable.

- Over 300 pages of educational content also provided.

7-Day Free Trial

$19,99 p/month or $54,99 3 months

Available via the App Store or Google Play

#STRONGWOMEN

We asked...

Do you wear a device?

Which

modality

would you

like to try?

YES 77% NO 23%

OCR 10%

Tag us to your

recipe and you

could win a

year's supply

of USN Whey

protein.

PAGE 72

CHECK

PAGE

58

WE ASKED YOU...

We wanted your

#StrongWomen

Through nominations and

reader recommendations we

1

3

1. Sportpods Vision: R1,299

3. Sportspods Race: R799

2

Boompods

The latest on-the-go

earphones and

portable speaker

available in South

Africa through

GET SOCIAL

What you've been up to

& share your story

Share your jouney, challenges and

success. Just lifted a PB? We want

to know!

@caroline_pule, @sunellie9sikloonb,

@kayayogact

17
---
trainerchat

monday

03 55

Wake up, drink

an Ensure shake

on route to

AMPT SA

05:00

Class at AMPT,

then run

15-20km

07:30

Eat breakfast

– mix of muesli

and FutureLife

08:00

BounceFit

class – a form

of rebound

exercise that

includes

bouncing on a

trampoline

09:30

Private group

training session

at FTSA

Constantia

12:30

Lunch: 2 eggs

with avo and

cheese

16:45

Adventure Boot

Camp classes

– an outdoor

training session

for ladies only

20:00

Dinner: Roast

veg and pork

DANA-BIANCA VAN ZYL

"I'm g c in the work I do on a daily

and weekly basis. However, while my day is extremely varied,

it is also well structured. I'm inspired by everyone I train,

every day. They all have such colourful stories to share."

420

Alarm goes off.

Eat a banana

& Weetbix on

route to class

5:00

Back-to-back

Ride classes

at Honeydew

Virgin Active

7:30

Pump class &

another Ride

class.

09:30

Workout

with my own

personal trainer,

Seyan Rateau.

12:30

AMPT class

at Dimension

Data Campus,

Bryanston.

13:45

Lunch: Egg,

spinach and

tomato wrap.

16:30

Personal

training client

session

17:30

Another AMPT

class.

19:00

Dinner:

Vegetable soup.

05 15

Scoff a banana

on route to a

Ride & then a

Step class at

Randburg Virgin

Active

07:00

Fight the

while

sipping

on an

Ensure

shake as

I head to

my next

classes

08:00

BounceFit class

at Fourways

Mall.

10:00

My mid-week

long run, which

is 20-25km

12:00

Post-run

recovery

Ensure shake

& L-glutamine,

plus The

Real Thing

Wheatgrass

powder

16:30

Ride class,

followed by a

Kick class

19:30

Dinner: Yay, it's

treat night! That

means sushi

as a health &

fitness professional

04:15

Up and at 'em

for an early

morning run

06:30

Workday starts

with a Ride class

at Honeydew

Virgin Active

07:30

A Step & then

a Ride class at

Little Falls Virgin

Active

09:20

Mid-morning

boost with a

protein shake

9:30

Gym time with

my personal

trainer.

Thursdays are

for calisthenics

12:30

Wattbike class

at AMPT SA

13:45

Time for catching

up on emails

18:00

Two hours of

classes

20:45

A late dinner

of chicken and

roast veg

friday

04:30

Grab a coffee

and rusks as I

head out the

door – at this

point in the

week, this is a

cheat

05:15

Ride class at

Honeydew

Virgin Active

06:15

1 hour treadmill

run session

07:30

A Grid and a

Kick class at

Honeydew

Virgin Active

09:45

Personal

training session

with an 85-yearold

client. I learn

so much from

her in this hour

11:00

I take the

afternoon

off for some

pampering

and

shopping,

or some

relaxing at

home

"I don't think there are many

peoplep who wake up with

enthusiasm and joy about the

day ahead, but I'm one of the

lucky few who get to do what

fuels my soul.."

saturday

04:30

Meet up with

the running

group I started

4 years ago

to give gym

members a little

extra. In 2017,

six members in

the group ran

Comrades on 4

June

7:00

A day packed

with classes at

Virgin Active!

I give a Ride

class, then a

Grid session,

with a Step

class. Saturdays

are actionpacked

11:00

Lectures at

Fitpro. These

up-and-coming

young students

are the new

leaders in the

sunday

07:0

0

I end my week

off with classes

at Wattlab

& AMPT SA,

situated at

Dimension Data

in Bryanston

11:00

The rest of my

day is spent

rejuvenating

with friends

Why we

think

Bianca

kicks ass!

Bianca's

achievements &

qaulifications...

AMPT SA

instructor

WattLab instructor

at AMPT SA

Virgin Active

SA: Ride, Step,

Kick, Pump & Grid

instructor

Adventure Boot

Camp for Women

Aerobics lecturer for

Fitpro

BounceFit

instructor

Little Falls running

group founder

3-time Comrades

finisher

18

JULY - AUGUST 2017 |
---
gymbag

Fit Gym Wear

Blackjack

jacket - zip

up jacket with

mesh detail -

R999

leggings -

white medium

rise Capri with

mesh detail

under knee -

R650

Wam Bam

p - front

mesh insert

back - R490

skinny - high

legging with

mesh detail -

R800

NetFit Wn

R2899

Hot Mess

sweater

with ripped

back detail

R400

leggings

black medium

rise Capri with

mesh detail

under the knee

R650

W nter

orkouts

Zi ce up -

sh

Rock your winter

workout in style....

Dazzle

bomber

jacket - zip

printed lining

- R750

Cheeky rouge

shorts - hot

pants with

rouging on

sides - R380

GP vest-

vest - R300

Fitbit Alta HR

R2,499

Under Armour

Project Rock

Training

Collection

Bull women's

graphic T-shirt

R850.22

Rock Crossback

women's sports bra

R850.22

www.garmin.co.za

R10,499

(mineral glass)

or R11,999

(Sapphire)

Sport Swing

women's

graphic T-shirt

R1,062.82

Respect HeatGear®

ankle women's

capris

R1,169.13

20

JULY - AUGUST 2017 |
---
Adidas Parley

running footwear

Reusing an average of 11 plastic

webbing, heel lining, and sock liner

material. Primeknit wraps the foot to

Plastic.

Available at select

adidas stores

R2,999

1

2 3

Thule Chariot Lite

4

5

6

7 8

1. Cotton On Body Knit hoodie R599

2. Adidas Parley running footwear R2,999

R399

4.a Cotton On Body Booty tight R399

R599

R749

6. Thule Chariot multi-functional child carriers

Priced from R13,499 (Thule Chariot Lite 1) to

R28,999 (Thule Chariot Sport 2)

R1,999

Training Collection The Under Armour (UA)

SuperVent Project Rock Training Collection and

head-to-toe performance training collection,

and online at Totalsports.co.za.

21
---
ask

Q A

occurrence in modern society.

I recently had an

assessment done at

the gym and was

told by the personal

trainer that I'm

"skinny-fat". What

does that even

mean?

Patricia, via email

you can be skinny

The term 'skinny-fat'

may be one of the

stranger oxymorons

in use, but it's

becoming an all-too-common

Your best bet is to therefore

clean up your diet – cut out all

forms of added sugar, eat as

close to nature as possible, and

manipulate your carb intake

to improve insulin sensitivity –

and get active.

IS SKINNY-FAT A THING?

22 JULY - AUGUST 2017 |
---
PICK

YOUR

PROTEIN

I recently decided to give my training and dieting efforts a boost

with some help from supplements, but I'm a bit confused as to

the differences between meal replacement shakes and protein

powders. Could you suggest which is best to aid my efforts aimed

at improving my body?

Sandra, via email

Q

AThe sheer

number of

supplements

available on the

shelves of your specialist

retailer or pharmacy can

certainly be bewildering,

'in addition to'

PACKING IN MORE

PROTEIN

directly

after training

MEAL REPLACEMENTS

replace a

meal

PICK YOUR PURPOSE

Your aim

should always be to revert

to a predominantly wholefood

diet

fitness magazine reserves the right to edit any questions submitted.
---
coverfeature

INFLUENCING

MILLIONS OF

LIVES,

one social media

follower at a time.

win

(IG followers); 8,672,415 (Facebook followers); 8,672,415 (Facebook likes);

10,800,000 403,000 (Twitter followers); 283,811 (YouTube channel subscribers) – these are the

insane numbers that help to quantify Michelle Lewin's global popularity and appeal.

COVER IMAGE BY LHGFX Photography www.lhgfx.com IMAGES BY Salomon Urraca @Surraca.

REACH OUT TO MICHELLE ON MICHELLE_LEWIN OR FITNESSMICHELLE
---
Having overcome health issues as a teenager, as she

was underweight and undernourished while living in

difficult economic conditions in her home country of

Venezuela, and then a less-than-ideal start to runway modelling

(she was told she's too short), Michelle turned her focus to the

world of fitness, under the guidance of her husband, Jimmy.

Having crafted the quintessential Latin American physique – loads of curves and glorious glutes

and business success.

You're renowned for your

social media savvy which

has been an important

catalyst for your success.

What are a few of the

most important strategies

and considerations for any

model or athlete who hopes

to emulate your approach?

In my case, no one taught

me what to do and how to

do it. I had to do everything

myself, calculating, testing

and observing the response I

got. Success, in many cases,

is considered as the number

of followers you have, but I

understood after a while that

the number itself doesn't

really matter. It is the quality

of the followers that you must

strive for. Showing your butt

in every picture, and making

tacky and plainly stupid videos

might get you more followers,

but they'll be the wrong ones.

I'm balancing the limit of what

still attractive. I aim to be an

inspiration and a motivator. I

use the pictures and videos

to show a reachable goal in

everyday situations.

Was your passion for

Venezuela, or did your path

in life change its trajectory

when you moved to Europe

and then to the US?

My passion for working out

born in Venezuela as I had

extremely skinny legs. I

wanted them to grow, so I

trained legs three times per

week for years. It was only

years later, when I travelled

around the world that I started

with upper body training

If a reader

only had one

hour a day

to dedicate

to improving

their health

and fitness,

what would

you suggest

they focus on?

I wish I could say diet,

which is the most

important, but that is not

solved in an hour per day.

So... high-intensity training.

Yes, that's my tip. Don't

use the phone between

sets, don't speak to others

too much. Have an hour

of a concentrated, intense

workout.

to compensate. When I

moved to the US I was

already working out using

a full-body approach, but

I suppose it was only once

I moved to the US that I

started to really implement

proper dieting as well.

At what point in your

life did you realise you

could make a successful

model? What was it that

led to that realisation?

It was probably after my

Instagram. That was a huge

number back then since

Instagram was pretty new.

So, I went all in on social

media from that point.

What has been one of the

biggest challenges on your

path to success and how

did you overcome it?

In the beginning the haters

really got to me. I had

days that were really bad.

I couldn't understand all

the comments and all the

backstabbing from other

harm to anyone. It took me

quite some time to get over

that, but then I decided to

look into what comments

other highly respected icons

got, and it was then that I

understood that no matter

what you do, you can't

please everyone. Today

haters are a part of the

daily routine, and I rather

consider them valuable

because if I don't have

haters then I must be

doing something wrong.

her training

What does your average week of

training look like?

Right now I have let go a bit of the

traditional lifting, and am more into

high-intensity workouts. Everyone should

do something different once in a while. I

have also started Strong by Zumba, and

might do a world tour where finally my

fans can work out with me.

How is your training structured?

I train five days per week, sometimes six,

for one hour per day. I target my lower

body and abs twice per week. My other

body parts only get one day per week –

that's enough.

What's the best way to build a

booty like yours?

I did a lot of squats, leg presses and leg

extensions in the beginning. Everything

grew – the booty and the quads – but my

booty never popped, until I understood

why. It was because my legs were so big

– they looked massive – which made the

glutes look small in comparison. It took

me more than a year of concentrating

on glute exercises and no leg extensions

to slim down the legs and develop better

balance. And then, boom! My glutes

looked much bigger.

You're well-known for your insanely

low body fat levels and those

abs that seem to always 'pop'.

What's your secret to getting so

shredded?

It's no secret, it's all about discipline. I

have a responsibility towards my fans.

I am where I am thanks to them, and I

cannot relax and stop being their role

model. They push me every day. It's

thanks to them that I keep myself in

shape.

What does 'balance' mean to you

in the context of your lifestyle?

Most things in life, when

ON A SCALE OF

1 TO 10, HOW

OBSESSED ARE

YOU WITH

EXERCISE?

10

done to extremes, are

bad, even in religions.

Just do what makes

you happy. That's

balance right there.

25
---
her nutrition

Your website bio states that

your fans span those "from

anyone considering swapping

What, in your opinion,

constitutes a healthful diet for

someone who wants to build a

There are many different diets out

there and everyone has to check what

is good for them. In some cases your

body might respond well, but your

mind doesn't. It is really important

to first feel happy mentally about

yourself. If you are not happy, then

why are you doing it? At the end of

the day, happiness is what we all

strive for, right?

Give us a peek into your fridge

and grocery cupboard. What

are the foods you eat most

often and why?

I eat a lot of bison since it's the

healthiest meat. I also eat a lot

of chicken, and I'm addicted to

salad and broccoli, but it has to

be drenched with fresh lemon

juice – it's my addiction. I eat two

tablespoons of peanut butter daily to

deal with the cravings.

Where do you see the role

of technology going in terms

are you leveraging the trend

to grow your brand and

business globally?

At the moment, I'm pretty

upset that a lot of the

been operated on. While I

understand why we get breast

implants – they're pure fat

which disappears along with

the rest of your body fat when

you train and diet – but the

butt is muscle and shouldn't be

medically enhanced. Also, the

new ab shaping that surgeons

are doing makes me so

disappointed. They should all

be called out for giving people

false hope. I respect all those

athletes and models who are

honest about it, but the ones

who aren't are really destroying

the industry.

What are your interests apart

from the gym?

Travel. I love to travel. Nine

years ago I had never seen

anything outside of Venezuela.

Now I can travel the world. That

is such a privilege.

What tips would you share

want to advance their careers?

If you want to grow you have to

make something special. Don't

look at what others are doing,

thing.

break in the industry?

I used to model more glamour

style, but the abs and big legs

made me change career. With

no followers I got magazine

covers and supplement

sponsors. It was thanks to

the photographers I was

working with. They made the

connections.

appearance at an NPC show.

Oh god... well, I was working

out like crazy as always. I was

really going all in on legs, but

without much dieting. I thought

my husband what he thought I

should do just days before the

competition, he sent me to the

treadmill. I got so upset that I

went home crying, but I guess

he was right because I placed

dead last at that show.

What do you wish you knew

before stepping out on stage

That the best girls normally

don't win due to the extreme

will therefore never set my foot

on stage again. It's not a sport

any more, it's all about who

knows who and who pays and

trains who. I wasn't playing the

dirty game, because it's dirtier

than you can ever imagine.

I made that clear, so the

federation wanted me out and

the head judge put me in last

place in my last competition.

I didn't care, though. I was

prepared for it, but the funny

thing is how the other judges

after the show came and

apologised and said that was

not the score they put. The

head judge didn't even collect

their points. The head judge

had the scores ready even

before the show. So whenever

someone wants to start

competing and asks for advice,

I tell them to "do it for yourself

and the challenge, and not to

win". But do I wish I knew this?

Probably not. It was a good

lesson to learn.

In your opinion, what is it

models that makes them (and

you) so globally appealing?

Latin is in fashion. Pamela

Anderson paved the way for

fantastic contemporary Latin

how Latin music is spreading,

and how we dance. And that

mix of white and black that

created Latin turned out to be a

winning concept when it comes

to curves!

What are some of the key

trends you're aware of that

South African ladies should

look out for?

From Latin America come all

kinds of operations. The ab

shaping and butt injections...

stay away! It's so not worth it.

What has been the best

investment you've made into

improving your health or

physique?

Buying high quality food.

Really, it's what you live on, and

should only be the best. Invest

invest in material things.

How do you prefer to cook

when preparing healthy meals?

It depends on how much time I have.

If I have time, I can cook for hours

to really give it that special taste. I'm

pretty good in the kitchen. If I don't

have so much time, it's a quick cook

with some ready blended spices. I

mostly cook carb free.

What role do supplements play

in your lifestyle?

I take vitamin C, a multi-vitamin,

magnesium, GABA, omega-3, whey

isolate, a pre-workout, and a fat

burner.

WHAT'S

IN YOUR

GYM

BAG?

"JUST DO

WHAT MAKES

YOU HAPPY.

That's balance right

there."

A towel, a shaker, protein, ankle straps and money.

QUICK

FACTS:

Favourite music to train to?

Electronic or Reggaeton

Favourite exercise? Lunges

Favourite cheat meal? Thai,

with a huge amount of rice.

I prefer to eat a lot of real

food than cake or candy.

What do you do to relax?

Watch a movie. I have a TV,

but it's never on. So when I

have a moment to relax, a

movie goes on.

26

JULY - AUGUST 2017 |
---
IT'S FRUSTRATING, ISN'T IT? WORKING

SO HARD BUT THERE ARE STILL AREAS

THAT WON'T DROP THAT EXTRA FAT?

Shred Thermo Gel has been scientifically formulated

to shred that extra fat away, using patented ingredient

formulations, and our revolutionary 3D Thermo

Technology. L-Carnitine, Caffeine, and Raspberry Ketones

are potent fat burning compounds, but many factors

can reduce oral absorption. The combination of these

trusted fat burning compounds with Tetrahydropiperine

(THP) allows up to 90% absorption rate by penetrating

deep into the dermis layer, where most fat is stored. The

addition of Benzyl Nicotinate will improve circulation to

the area, a crucial factor in losing stubborn fat, along

with Oleoresin Capsicum to heat up the local area. Area

specific fat loss, increased absorption rates, and improved

circulation provide a truly 3-dimensional approach to fat

loss. Take back control and burn fat in the places YOU

want with Shred Thermo Gel!

3D NUTRITION

@3DNUTRITIONSA

@3DNUTRITIONSA

FOR MORE INFORMATION ON OUR FULL RANGE GO TO 3DNUTRITION.CO.ZA

NOW AVAILABLE AT
---
fit

FLU-FIGHTING

TOOLKIT

Y

STEP 1:

Get defensive

Often the best defense

in winter is a proactive

offensive effort.

where there is a high concentration of

STEP 2:

RESEARCH SHOWS: 6 WEEKS

OF 6-MINUTE COLD WATER

IMMERSIONS REPEATED THREE

TIMES A WEEK IMPROVED

THE IMMUNE SYSTEM

STEP 3:

30

JULY - AUGUST
---
CHOOSE YOUR IDEAL DIET SHAKE

DIET WHEY ISOLEAN

ULTRA-LOW CARB,

HIGH PROTEIN SHAKE

PREMIUM FORMULATION:

CONTAINS TOLERASE L pH-STABLE LACTASE

FOR LEAN MUSCLE GROWTH & RECOVERY

35G SERVING

3.2g

CARBS

PER SERVING*

22.8g

PROTEIN

PER SERVING*

HIGH

IN DIETARY

FIBRE

WHEY PROCESS

SHOP ONLINE

USN.CO.ZA

DIET FUEL ULTRALEAN

LOW-GI, HIGH PROTEIN MEAL

REPLACEMENT SHAKE

PREMIUM FORMULATION:

SLIM DOWN & STOP CRAVINGS

INCLUDES N-ACETYL-LCARNITINE,

HCA (HYDROXYCITRIC ACID) AND CHROMIUM

PACKED WITH ESSENTIAL NUTRIENTS

55G SERVING

14.1g1

CARBS

PER SERVING**

25g

PROTEIN

PER SERVING**

HIGH

IN DIETARY

FIBRE

WHEY PROCESS

GLOBAL MANUFACTURING IS

ERTIFIED BY THE FOLLOWING QUALITY CONTROL ENTITIES, WHERE RELEVANT.

INDIVIDUAL RESULTS MAY VARY. ONLY EFFECTIVE AS PART OF A WEIGHT MANAGEMENT PROGRAMME WHEN COMBINED WITH A BALANCED, ENERGY-RESTRICTED EATING PLAN AND REGULAR EXERCISE.

* BASED ON WHEYTELLA FLAVOUR. ** BASED ON VANILLA FLAVOUR.

USN.CO.ZA USN SA @USNSA @USNSA
---
healthinfo

Biohack

BY Gemma Oberholzer

YOUR HORMONES

As females, we

know exactly what

it's like to feel at

the mercy of our

menstrual cycle

and the subsequent

hormonal roller

coaster.

One day we feel in charge

and on top of the world,

STAGE 1: THE FOLLICULAR PHASE

This phase marks the start of your cycle

This is the

perfect opportunity to ramp up the intensity

of your workouts and strategically focus on

higher carbohydrate meals, or re-feeds to

replenish depleted glycogen stores.

r a metabolic

Grid at Virgin

Be sure to focus on high-quality

carbohydrates such as whole grains, sweet

potato, oats, quinoa and basmati rice.

STAGE 2: THE OVULATION PHASE

Approximately 14 days into your

cycle, the growing follicle bursts

and ovulation occurs.

Training hard and lifting heavy

should be your modus

operandi and it's the

opportune time to go for

that 'PB' or one-rep max.

Always remember,

32

JULY - AUGUST 2017 |
---
1 2 3 4 5 6 7

FOLLICULAR

phase

BANANA OAT

PROTEIN

PANCAKES

HIIT

TREADMILL

SPRINTS

LUTEAL

phase

STAGE 3: THE LUTEAL PHASE

We all know that time of the

month – we're tired, bloated,

irritable and uncomfortable,

and often the thought of a

chocolate-induced food coma

seems far more appealing

than heading in the direction

of gym.

Both

progesterone and oestrogen

levels peak during this time.

ACAI

SMOOTHIE

BOWL

SWEET

POTATO HASH

BROWNS

ULTIMATE BOOTY

BURNOUT

This aerobicallydependent

approach will tap

into your now readily available

fat stores, helping enhance

your fat-loss goals.

8AM

SWITCH

CLASS

8 9 10 11 12 13 14

OVULATION

phase

15 16 17 18 19 20 21

LOW CARB

CHICKEN AND

AVOCADO SALAD

LOW CARB

PEANUT BUTTER

PROTEIN BALLS

PARK

WALK

22 23 24 25 26 27 28

LOW CARB

GRILLED SALMON

WITH WASABI

CAULI MASH

BLOOD HORMONE LEVELS

YOGA CLASS

MENSTRUATION

phase

COCONUT

CHICKEN CURRY

PR SQUAT

ATTEMPT

70 KG

WILDNERNESS

HIKE

The Oestrogen-Progesterone Wave

On top of the world.

Highest verbal,

intimacy & sex dr

Oestrogen

Testosterone/

Androgen

OESTROGEN PHASE

Ovulation

Progesterone

PROGESTERONE PHASE

Pit of dispair

lowest

verbal self

esteem, coping

With a

planning

Try to see

your hormonal

as

a female-only

opportunity to

refocus, strategise

and use them to

your advantage

by enhancing

the effects of

targeted nutrition

and

approaches.

STAGE 4:

THE MENSTRUATION

PHASE

Finally the cramping,

bloating and general

moodiness slowly subsides

and you start to feel

like a half-normal human

again.

diet and training approach

'in-between'

period, focusing on exercise

that makes you feel good

and leaves you energised.

1 5 15 29 (period starts)

33
---
fitnessnews

10 AS GOOD AS 50

A10-minute workout that consists

of three 20-second all-out

intervals to exhaustion, followed

by brief recoveries, can be just as

effective as a typical 50-minute

session according to new research from

Martin Gibala, an exercise physiologist

at McMaster University in Ontario.

Both workouts resulted in identical

improvements in heart function and

blood-sugar control, even though one

other.

15 000

– the new target for steps

per day that researchers at the

University of Warwick in England (in

conjunction with other institutions)

determined was required to

improve our health,

based on reference

to a foundational

Transit Workers

used to determine

the 10,000 steps-aday

guideline. The team then advanced and

expanded on these results by examining other

groups of employees whose workdays involve

mostly walking or sitting, including postal

were published in The International Journal of

Obesity.

TRAIN HARD, REST HARD

A new study by researchers from

Brock University in Canada suggests

that extended, high-intensity training

sessions (in this case elite rowers)

bone mineral density that

are usually associated

with exercise,

without adequate

rest. Regular exercise

should be an important

protective mechanism

against bone fractures

and osteoporosis,

particularly

among women.

fitness

s

b y

G-FORCE

The forces imparted

by walking have been

shown to improve blood

supply to the brain as the

resultant pressure waves

travel through arteries

and significantly modify

blood circulation to the

brain. Researchers at

New Mexico Highlands

University determined this

was a contributing factor

to the brain-health benefits

of exercise, with running

causing similar, yet

significantly greater impact

forces of up to 4-5G that

boosted cerebral blood flow.

The research was presented

at the APS annual meeting

at Experimental Biology

2017 in Chicago.

34

JULY - AUGUST 2017 |
---
A new study found

that long periods of

physiological stress

from exercise can

change the composition

of your microbiome

– the diversity and

composition of

microorganisms

residing in the intestines

(intestinal microbiota)

– which could increase

health risks in

endurance athletes and

those who participate in

military-style bootcamp

training.

ARE YOU

LOOKING FOR

A CAREER IN

THE HEALTH

& FITNESS

INDUSTRY?

the number of extra calories burnt

per day for every pound (453g) of

50muscle gained.

SPRAY PAIN AWAY!

are extremely common, and can

put a damper on your workout

routine, as well as your everyday

life. Temporarily reduce pain and

new Joint Support Spray, which

contains peppermint oil to

generate an intense cold sensation

when topically applied to affected

areas, and effectively reduces

swelling, relieves muscular pain,

contains wintergreen

oil, an essential oil

extracted from the

leaves of the plant

that has analgesic

properties and also

stimulates blood and

lymph circulation

to aid recovery and

healing, and menthol

crystals that impart

a cooling sensation

to the skin, and has

effective analgesic

properties. Available

at Shoprite, Checkers

and Medirite.

R79.99

LINCTOMED®

NASAL SPRAY

Use Linctomed Nasal

Spray daily for nasal

hygiene to prevent

infection and assist with

hay fever and blocked

noses this winter. R49.95

Global market research company

Euromonitor International

released new health and wellness

industry data that shows that

foods and beverages offering health

products that do not contain allergens or ingredients

known to cause a reaction in people with food

intolerances – and organic properties, drove value sales

in 2016, with organic increasing by 6.8% to reach US$36

billion, and free-from increasing by 7% to reach US$32

billion. Free-from is set to become the fastest growing

America, with an average of 5.4% growth.

For more info, visit www.euromonitor.com

REGISTRATIONS

FOR THE 2ND

HALF OF THE YEAR

NOW OPEN!

NEW

COURSES AVAILABLE

EXERCISE SCIENCE:

FITNESS INSTRUCTOR COURSE

(Self-study/online and part time)

NATIONAL CERTIFICATE IN FITNESS

(Full-time)

PERSONAL FITNESS TRAINING

(Full-time / Part-time)

CONTINUED EDUCATION COURSES

ONLINE COURSES

All courses available right across SA.

Internationally recognised

WHERE SCIENCE & PASSION FOR FITNESS MEET

WWW.FITPRO.CO.ZA

The Gym, Dimension Data Campus,

Cnr Sloane Street and Main Road

Why wait? Register –NOW!

Tel: +27 11 463 5329 | Fax: 086 552 0533

e-mail: info@fitpro.co.za

Institute of Fitness Professionals

fitpro_institute

FitPro_SA
---
Make leg and glute

workouts twice as fun!

D

Let's be honest, as

much as we love

training, working

out is more fun

when you hit the

weights with your

bestie.

WHEN IT COMES TO TRAINING

WITH A FRIEND, IT PAYS TO BE

PICKY ABOUT WHO YOU BUDDY

UP WITH.

It's not just about who'll make your

time in the gym more enjoyable, you

also want someone who will push you

and challenge you along the way.

It's therefore worth choosing your

partner based on their attitude –

those who are committed and

have a good work ethic will help you

achieve your goals by getting the

most out of each session.

Also, a training partner who's in tune

with what you're trying to accomplish

can also be invaluable, because

they'll hold you accountable each

step of the way.

36

JULY - AUGUST 2017 |
---
OUR MODELS 2016 USN FACE OF FITNESS TOP 6 FINALISTS

Victoria Sethabela & Karien van der Wal

@_toria717 @karienvanderwal

WORKOUT SHOT AT VIVA Gym, Fourways.

www.vivagym.co.za @vivagymsa

Photography by Cindy Ellis www.cindyphoto.co.za

Y
---
day 1

QUADS &

GLUTES

form check:

Are you keeping

your chest and

head up?

WORKOUT

STRUCTURE

1. Set up a workout station with

the equipment you'll need for

each superset.

2. While you complete one

exercise, your training partner does

the other move in the superset.

3. Swap around after each set

without resting. Take a break of

30 seconds between sets, and no

more than 90 seconds between

supersets.

SUPERSET 1

HIGH STEP-UP

THE MOVE: Place one foot on a high,

sturdy box or step. Push your hips back

and then stand up. Squeeze the glute

of your supporting leg at the top of the

move. Lower yourself back down and

repeat with the other leg in an alternating

fashion.

GOBLET SQUAT

THE MOVE: Hold the kettlebell by the

horns, positioned close to your chest. Slip

your elbows between your knees as you

drop down into the deep squat position.

Ensure your knees extend out in the same

direction as your toes, which should be

pointed out slightly.

38

JULY - AUGUST 2017 |
---
SUPERSET 2

form check:

Are you stabilising your body by

contracting your core and engaging

the glute of your stabilising leg as you

kick back?

form check:

Is the foot of the lifted

leg pointing down

throughout the leg lift?

day 1

THE WORKOUT

SUPERSET 1

A. High step-up

B. Goblet squats

SUPERSET 2

A. Cable kickback

B. Side-lying leg lifts

SETS / REPS

3 / 1 minute

3 / 15 per leg

SUPERSET 3

A. Goblet reverse 3 / 15 per leg

lunge

B. Single-leg leg extensions

Takeabreak of 30 seconds between

sets, and

no more than 90 seconds

between

supersets.

CABLE KICKBACK

THE MOVE: Attach an ankle cuff to a low pulley

and strap it to one ankle. Extend that leg straight

back by engaging your glute on that side.

Complete the reps on one side before swapping.

GOBLET REVERSE LUNGE

THE MOVE: Hold the kettlebell by the horns,

positioned close to your chest. Take a big step back

with one leg while bending the supporting leg.

Descend until the knee of your rear leg is just above

with the other leg in an alternating fashion.

SIDE-LYING LEG LIFT

THE MOVE: Lie on your side and support

your head – keep your spine and neck

aligned. Lift your top leg up and down for the

required reps, then swap sides and repeat.

SINGLE-LEG LEG EXTENSION

THE MOVE: Place both legs under the

padded lever, with your knees aligned to the

pivot point. Extend the knee of one leg to

raise the padded support upward. Complete

all the reps on that leg before swapping over.

KARIEN

VAN DER WAL

OUT OF THE

GYM:

I believe being

fit has to be a

lifestyle choice.

It's not only about

looking good in a

bikini, it's about enjoying life to

the full and improving your quality

of life. It's about appreciating your

body and what it's capable of doing by

taking care of it and respecting it.

form check:

Is your torso upright and your head

facing forward in the deep lunge

position?

CLEAN EATING FAVOURITES:

I love my 'oats-and-egg' breakfast

flapjacks. Mix 2 eggs and half a cup

of raw oats together and cook them

like a normal flapjack. Sometimes I

add a scoop of whey and a bit of milk

for flavour.

CHEAT MEAL FAVES:

A Woolies tub of ice-cream with

Astros and chocolate sauce.

form check:

Keep the tension on the muscle by

not allowing the plates in the stack to

touch at the lowest point of the lift.

SUPERSET 3

FITNESS PHILOSOPHY:

Keep your heart big,

your soul bright, and

your ass tight!

FAVOURITE WORKOUT

FINISHER:

Walking lunges across the length

of the gym. Do them at a fast pace,

carrying two 10kg plates. It's an

amazing finisher to help shape

glutes, hammies and quads!

39
---
day 2

HAMSTRINGS

& GLUTES

SUPERSET 1

STABILITY BALL LEG CURLS

THE MOVE: Lie on your back, with both heels

towards you by bending your knees and pulling the

ball in toward your body.

hile the fun factor is

Wcertainly important,

you also want someone

who gets serious when it's

time to get the work done.

partner are also backed by

research, with new evidence

suggesting that a competitive

training environment is more

conducive to goal attainment

than one where social support

is the dominant group

dynamic.

The study, which was

published in the journal

put almost 800 students at

the University of Pennsylvania

through an 11-week exercise

programme that included

running, spinning, yoga,

BULGARIAN SPLIT SQUATS

THE MOVE: Extend one leg back and place that foot on the

bench to assume a split stance position. Lower your hips until the

and hip to return to the upright position.

Pilates and weightlifting.

In the groups where the

dynamic was competitive,

participants worked out more

across the board, attending

90% more classes than those

in social groups, or those

who trained in isolation.

Interestingly, participants also

tended to exercise far less

while in the social groups than

form check:

Is your knee extending forward in

the same direction as your toes?

Don't allow your leg to fall inward

as you descend.

they did while in competitive

groups or alone.

And don't forget, knowing

there's someone waiting for

you at the gym also means

you'll be less likely to skip out

on training, especially those

hard high-intensity sessions

that deliver the best results,

like this glutes and legs

workout!

40

JULY - AUGUST 2017 |
---
form check:

Are you using your hips to propel the

kettlebell up? Don't allow your arms to

lead the movement.

day 2

THE WORKOUT

SAFETY TIP:

IF YOU LACK

THE MOBILITY

A DEFICIT

DEADLIFT WITH

STIFF-LEGGED

DEADLIFT.

SUPERSET 1

SETS / REPS

A. Stability ball leg curls 3/20reps

B. Bulgarian split squats 3 / 10 reps per side

SUPERSET 2

A.

B. Kettlebell swings

3 / 1 minute

SUPERSET 3

A. Bird-dog

B. Floor jacks

3 / 1 minute

SUPERSET 2

Take a break of 30 seconds between sets, and

no more than 90 seconds between supersets.

ROMANIAN DEADLIFTS

FROM DEFICIT

THE MOVE: Stand on a step holding

the barbell. Lower the weight down

Lower the weight as low as you can while

maintaining a slight bend in your knees.

Contract your glutes forcefully to return

to starting position and repeat.

WHY USE A

DEFICIT?

Working from a

KETTLEBELL SWING

THE MOVE: Contract your glutes and

hamstrings forcefully to drive your

hips forward and use this momentum

to drive the kettlebell up and forward

into the swing. Let the kettlebell

glide up naturally, then let it fall back

between your legs before repeating

the movement.

a competitive

training

environment is

more conducive

to goal

attainment

BIRD-DOG

THE MOVE: Kneel on a mat and

place your hands directly beneath your

shoulders to form a table-top starting

position. Extend one leg behind you

while reaching the opposite arm forward,

ensuring that your hips and shoulders

remain square and that your lower back

doesn't arch. Hold for a count, then

return to the starting position and repeat

the move on the opposite side.

form check:

Are your legs straight and

knees extended?

SUPERSET 3

FLOOR JACKS

THE MOVE: Lie face down on a mat with

your arms extended in front of you and

your legs outstretched. Simultaneously

lift your legs and arms up and out to form

jack (but without the jump). As your legs

move apart, contract your glutes. Lower

your legs and arms back down, but don't

allow them to touch the ground until all

the reps have been completed.

41
---
day 3

THE WORKOUT

SUPERSET 1 SETS / REPS

A. Kneeling squats

B. Pause back squat 3/12reps

SUPERSET 2

A. Barbell hip thrust

with calf raises

B. Band seated hip

abduction

3/15reps

SUPERSET 1

form check:

Is your chest up and open

with your head, neck and

back in alignment?

KNEELING SQUATS

THE MOVE: With a loaded bar on your shoulders,

kneel down until your glutes touch your calves.

return to the upright position.

form check:

Does your head

remain up, with

your gaze looking

forward during the

exercise?

SUPERSET 3

A. Standing calf

raises

B. Seated calf raises

3/15reps

Take a break of 30 seconds

between sets, and no more

than 90 seconds between

supersets.

VICTORI

IA

SETHAB

ELA

OUT OF THE

GYM:

There's so much that can be done

outside the gym. Going for occasional

walks, eating healthily, playing

sports... The gym shouldn't be the

only place you maintain the fitness

lifestyle. I play field hockey on

weekends to keep fit and in shape

when I'm outside the gym.

CLEAN EATING FAVOURITES:

Oats, fish, sodium-free and sugar-free

peanut butter.

CHEAT MEAL FAVES:

Sushi, pizza, cheesecake, malva

pudding, jelly babies, chips, ribs,

bread with 'normal' crunchy peanut

butter.

FITNESS PHILOSOPHY:

Success is about hard

work, dedication,

discipline and

consistency.

FAVOURITE WORKOUT

FINISHER:

I love ending off a workout with

incline walking on the treadmill and

a good power ab workout.

BARBELL HIP

THRUST WITH

CALF RAISES

THE MOVE: Lie on a

mat with a loaded barbell

placed across your hips.

Bend your knees and

place your feet close to

your glutes. Engage your

glutes as you thrust your

hips upwards. Pause in the

top position, then raise

perform a calf raise.

SUPERSET 2

PAUSE BACK SQUAT

THE MOVE: Perform a normal weighted back squat by

hinging at your hips and pushing your glutes back to descend

down. At the bottom position pause for a count of two

seconds before extending back up.

BAND SEATED

HIP ABDUCTION

THE MOVE: While sitting

on a chair or bench,

place both feet inside a

looped band. Position

the band just below your

knees. Extend your legs

out to the side in a slow

and controlled motion.

to the starting position

under control and repeat

for the required reps.

form check:

Are you driving through your

heels as you raise your hips

42

JULY - AUGUST 2017 |
---
day 3

GLUTES &

CALVES

SUPERSET 3

STANDING CALF RAISES

THE MOVE: Stand upright with a

possible by extending your ankles.

Hold for a count before lowering your

SEATED CALF RAISES

THE MOVE: Sit in the chair

and place your knees under the

padded supports. Lower your

heels below the platform and then

extend your ankles to raise your

heels up high.

m

eky

LIQUIDSALT's trend forecast for

a surge toward individualisation as

ladies seek ways to further enhance

their own unique identity. Social

media is the driving force behind this

trend as individuals build themselves

as a brand.

Ladies therefore need to align

themselves with the appropriate

brands that will keep their

followers engaged on a daily basis.

This unique

brand recognises the importance

of aligning closely with their clients'

needs and their desire to express

quality, durability and affordability

are paramount to the success of

the LIQUIDSALT brand. To this end,

Cheeky Bum is a diverse design and

It's fashionably suitable for any and

all daily activities. When living a fastpaced,

active lifestyle there's no time

to change between work, shopping

and exercise. Cheeky Bum will get

you through your entire routine in

style and comfort.

www.liquidsalt.co.za

training with a

partner removes the

monotony of regular

training sessions
---
livestrong

Ladies, don't be

intimidated by

barbell squats,

deadlifts and heavy

lunges.

These bad boys of

the gym room are

what will get your

legs screaming for

a pair of hot pants.

THE REAL

THIGH MASTER

In my experience, the subject of leg training has to become an

inquisition that is cross examined, researched, studied and debated

more regularly than any other training and exercise related topic. So

Ten out

of 10 women

are unhappy

with their

physiques.

Ten out of 10 women

are unhappy with

their physiques.

More importantly, most, if

not all, are morose about

the current state of their

legs. As a coach, day in and

day out, I'm confronted

with the challenge of 'shape

shifting the shanks', because

our limbs are either too big,

too shapeless or too skinny.

Men will agree with me

here – women are hard to

please. Try telling a woman

that in order to make a

positive physical change, we

need to at least fondle with

the idea of lifting weights.

The majority of women will

admit that shapely, strong

legs are the way forward,

especially in our quest for

that enticing ITC (inner

thigh clearance), which

seems so engrossing to the

Instagram-crazed cohort of

the female population at

present.

Unfortunately the common

denominator among South

African women tends to be,

statistically speaking, bulky

legs, which aren't conducive

to the attainment of ITC.

These 'hefty' legs are a

result of numerous factors,

the most important of

which is diet. However, this

article is not about nutrition,

despite the fact that 80%

of the changes you hope

to make in this regard will

be predicated on what you

put into your mouth. The

other factors affecting your

leg size include oestrogen

retention, your genes, and

exercise (or lack thereof).

While these factors may

be the cause of your leg

dilemma, we can certainly

do something to adjust

the ultimate outcome. This

article will therefore focus

on the factor that we have

the most control over –

exercise. Ninety percent of

the women I train naturally

lack any discernible leg

development, which is why

we need to acknowledge

that lower body training

can have a dramatic effect

on our overall physiques.

Power, after all, is

developed from the ground

up.

IMAGE BY GIANCARLO BIANCHI PHOTOGRAPHY

LIVE STRONG, By Lil Bianchi Kimble,

head coach & owner of OTG Athletic.

World Champion powerlifter, deadlift

world record holder and addict of

defying the human condition.

squat variations for shapelier legs

THE DUMBBELL

BOX SQUAT

THE HACK

SQUAT

THE GOBLET

SQUAT

THE FRONT

SQUAT

THE OVERHEAD

SQUAT

THE DUMBBELL

FARMER'S SQUAT

THE SINGLE LEG/

PISTOL SQUAT

44

JULY - AUGUST 2017 |
---
BIG EXERCISES

YIELD BIG

RESULTS

EXERCISES SUCH

AS SQUATS AND

DEADLIFTS WILL

GENERATE MORE

OVERALL BODY

STRENGTH THAN

ANY OTHER

EXERCISE THERE

IS. Not only do

they build a strong

foundation of

strength, but they

also develop a

powerful base for

unilateral training,

which includes

exercises such as

lunges and singleleg

variations

that are key to

developing shapely

legs.

To make the

changes you seek,

your body must

also be 'stressed'.

Muscle demands

intensive hard

work. This level of

work requires you

to challenge your

legs and overcome

your physical

strength limitations

to drive adaptation.

These core

exercises (squats

and deadlifts),

including their

various variations

such as front

squats, Zercher

squats, split squats,

and stiff-legged

deadlifts, should

constitute the meat

of your lowerbody

sessions,

with auxiliary work

from single-leg

exercises like the

lunge and all its

variations, singleleg

deadlifts and

its equivalents, and

step-ups and skater

squats. These are

just a few of the

exercises and their

alternatives that will

lay the groundwork

for building great

legs.

So step off the

machines, select

heavier weights,

and start pushing

your boundaries.

Basically, look

around you and

notice what

everyone else is

doing in your local

gym, then do the

opposite. If you

want to change

your body, you

need to challenge

it. Simple! Coupling

your cardio with

some high kicks,

hamstring curls

and the formidable

'yes-no' machine

is going to get

you that ITC in the

same way a glass

of sand will quench

your thirst.

Ladies, don't

be intimidated

by barbell squats,

deadlifts and heavy

lunges. These

bad boys of the

gym room are

what will get your

legs screaming

for a pair of hot

pants. Including

these big lifts

into your training,

and adding some

high-intensity

conditioning in the

form of hill sprints,

stair sprints or sled

pushes will not only

build lean muscle,

but will also strip

away fat faster than

you can say "lifting

big makes me

bulky".

I'm not

suggesting you

load up that bar

and attack it with

reckless abandon,

though. Start small,

coach and test

your limits safely.

Deadlifting,

squatting, and

lunging with heavy

kettlebells in a low

rep range is a great

start. Build up from

there and advance

your repertoire

under the correct

guidance.

Ultimately your

rate and degree

of progress will lie

in the improved

strength capacity

you create, which

will enable you to

train at a higher

intensity as your

neural drive and

nervous system

adapt in response

to the increased

workload.

Women should

no longer be

subjected to

the 'yes-no'

machines, ab

classes, stomach

crunches and

butt blasters.

Shapely legs,

whatever that

may mean to you,

are crafted using

the fundamental

exercises I have

mentioned and

by sticking to the

basics that have

always worked.
---
form

SINGLE-SIDE BIRD DOG

Have you mastered the plank?

What about the 3-point plank? Well then,

we've got the next core-busting move that

will improve your strength and stability,

and build even better abs.

HIPS: Keep your hips

square and level – do not allow

them to rotate to one side to

compensate.

BACK: Keep your

spine and neck in a

neutral position. Do

not arch your lower

back.

SHOULDERS: Keep

your shoulders square

and parallel to the

Do not allow the

shoulders to tilt up to

one side (usually the

side of the

raised arm).

LEFT ARM: Reach

your left arm up

and forward, until

it is at or near

HEAD AND NECK:

Maintain alignment in

your head, neck and

spine, with your gaze

LEFT LEG: Extend

your left leg straight back

and up behind

you, until it is at or near

the leg above hip height.

ABDOMINALS:

Throughout the

exercise, keep your core

muscles braced.

RIGHT ARM: Keep the

supporting arm extended

and directly underneath the

shoulder.

WHAT IT WORKS:

This exercise targets the

core stabiliser muscles,

which include the muscles

in your lower back

(erectors), glutes, transverse

abdominis, external

obliques, and

psoas muscles.

RIGHT LEG: Maintain a 90-degree

bend in the supporting leg at

the knee, while keeping your knee

directly underneath your hip.

Performed by Nicole Warburg Dressed by Puma

functional muscle activation during all

movements, rotary stability, improved

spinal alignment, reduced low-back

pain, postural control, shoulder

stability, hip alignment, shoulder

mobility and spinal stabilisation.

TO START: Drop

down onto your

hands and knees

in the quadruped

position. Ensure that

your knees are under

your hips and your

hands are under your

shoulders.

TO FINISH: Hold the pose

for 5-10 seconds once

you're in the extended

single-side bird dog

position, then slowly return

to the start and repeat the

exercise sequence on the

opposite side. Complete 5 to

10 repetitions on each side.

CAUTION: Executing this

exercise correctly requires

above-average levels of

core strength. It is therefore

advisable to progress to this

the plank and its other

variations, as well as the

standard bird dog.

46

JULY - AUGUST 2017 |
---
Cristina Silva

USN AMBASSADOR. WBFF FITNESS PRO.

NAARTJIE

BLUE RASPBERRY

VERY BERRY

GREAT FLAVOURS TO TURN FAT INTO FUEL

BURN MORE FAT AND BOOST

YOUR WORKOUT INTENSITY

2400mg

L-CARNITINE

LIQUID BASE

VEGETARIAN

FRIENDLY

STIMULANT

& SUGAR

FREE

USN GLOBAL MANUFACTURING IS CERTIFIED BY THE FOLLOWING QUALITY CONTROL ENTITIES, WHERE RELEVANT.

USN.CO.ZA USN SA @USNSA @USNSA

INDIVIDUAL RESULTS MAY VARY. FOR OPTIMAL RESULTS, COMBINE WITH A MUSCLE-BUILDING EATING PLAN AND TRAINING PROGRAMME.
---
AN EXCLUSIVE INTERVIEW WITH

AFRICA'S FITTEST WOMAN

CELESTE'S

CROSSFIT

COMEBACK

HSPU:

Africa's Fittest Woman, Celeste MacIntosh was

fresh off the plane after CrossFit Regionals, held

in Madrid, Spain, when we caught up with her at

Jo'burg's iconic strength and conditioning facility, The Yard

Athletic.

She had just competed in what is arguably the most

competitive CrossFit region – Meridian Regionals – thanks to

the sheer number of countries it encompasses and the high

calibre of athletes who compete, particularly those from Europe.

And despite the many challenges she faced on route to

placing 18th overall. "That's a seven-place improvement over

last year, which I'm happy with," said Celeste.

second since the new regional structure was implemented,

though, which made it all the more rewarding," she adds.

An acronym for the 'hand

stand push-up' BW exercise.

48

OVERCOMING

ADVERSITY

However, while the result

itself is worth celebrating,

Celeste was more elated at the

fact that her development and

progress now seems to be back

on track after taking a serious

knock in 2015.

at the CrossFit Games in 2015,

which is the pinnacle of the sport,

so I put everything I had into my

preparation," recalls Celeste.

"While my build-up went well and

I was feeling strong, on the day I

perform anywhere near my peak.

I realise now that when the stress

of competing kicked in, my body

shut down."

Bitterly disappointed at her

result, Celeste returned home to

assess what had gone wrong. "I

began consulting with US-based

homeopath, Dr Drobot, who

suggested I have a full blood

panel."

JULY - AUGUST

When the diagnoses came

back, the reason for her underperformance

was clear – she was

suffering from adrenal failure. "It

was more severe than adrenal

fatigue, or what many athletes

term overtraining syndrome or

burnout. My hormone levels were

all over the place... the doctor

said I had the oestrogen levels

of a post-menopausal woman,

for example. I had also failed to

pick up on an important health

indicator, as I'd lost my period. I

initially thought this was normal

for female athletes who train at

my level, but I now know that

it's not, and that it should set off

alarm bells."

UNDER-RECOVERY

When Celeste and her medical

team delved deeper into

the cause of her condition a

multifactorial picture emerged.

"It was clear that I wasn't

eating enough to support

the metabolic and anabolic
---
demands of my workouts,

as I was training up to

six hours a day. I was

also pushing too hard in

training and getting back

to full-on training too soon

after competitions. In my

case, my adrenal failure was

more about under-recovery,

rather than overtraining," she

explains.

Following her diagnosis

and based on the results

step towards recovery was

complete rest. "It was strange

because, other than the

underperformance at The

once I stopped and rested

I realised how hectic my

condition was and just how

tired and rundown I had

become. That's when I started

to feel terrible and my health

spiralled. I was chronically

fatigued, I had no appetite,

wildly – I lost between 3-5

kilos some weeks." It was a

says she didn't feel like herself

throughout most of 2016.

HITTING RESET

However, under the

guidance of Dr Drobot,

she started seeing

improvements in her

condition. "He prescribed

a few homeopathic

treatments to assist my

recovery.

sceptical, but I followed his

regimen, which included

different plant extracts and

a detox where I had to cut

meat from my diet for three

weeks."

She also had blood panels

done every second month to

monitor her hormone levels

was returning to normal.

"This is the best indicator of

progress with a condition like

this."

By November 2016 Celeste

says that she was starting to

get back to normal health. "I

had my energy back and felt

I could push my conditioning

ahead of the CrossFit

Throwdown in Dubai.

However, in the lead-up to

what is arguably the second

biggest CrossFit competition

in the world, my training

consisted of shorter interval

sessions, which wasn't

enough to prepare me to

compete at the highest level.

I also arrived there sick. So,

if I'm honest, I wasn't ready.

I knew I was working hard,

but we weren't seeing the

results."

That's when Celeste

decided to part ways with

her then coach, Robin Lyons

from Opex Fitness. "It wasn't

for any other reason than

I felt she was being too

conservative following my

adrenal issues, which is totally

understandable as she didn't

want me to relapse. However,

someone who could push me

beyond my limits, and I soon

found that person in John

Singleton, founder of The

Progrm."

Since joining John's team,

Celeste has been making

great gains, which culminated

in her recent achievement at

Meridian Regionals. "Athletes

need to realise that coaching

is highly individualised. If

you aren't seeing results

it may not be a matter of

bad methods, but rather

a misalignment of coach

and athlete. In John I've

found someone who knows

how to push me past what

I previously thought was

possible."

NEW APPROACH

In addition to her new

training regimen, Celeste

has also overhauled her

diet, which has given her

more energy and strength.

"I'm eating more now. In

fact, I now eat almost as

much as my husband! I'm

now recovering faster and

my conditioning is better

than ever. I actually have a

lower body fat percentage

now than I did when I was

eating less. My moods have

also improved and are more

stable, and I have better skin

and hair."

Her new diet consists of

more carbs, mostly from

vegetables, with additional

sources like oats, sweet

potatoes, basmati rice, rye

bread, and fruits like bananas.

She's also eating slightly less

protein, but more healthy

natural fats. "I've starting

eating a lot of salads, too,

especially after my time

in Spain, on camp in Gran

Canaria and then in Madrid.

The Spanish make the most

amazing salads, with most of

the ingredients still raw which

is so much more nutritious."

In addition, she now uses

Athletes need to realise that

coaching is highly individualised

USN PureFit Recover twice

a day after every training

session to replenish glycogen,

aid recovery with fast-acting

whey protein, and electrolytes

also take USN BCAA Amino

amazing – during workouts,

and USN BlueLab Wheytella

after training. I use USN

Beta-Alanine before workouts

as it's a lactic acid buffer that

helps boost performance."

She has also reduced

her caffeine intake and has

cut pre-workouts from her

supplement plan to reduce

the impact that stimulants

have on her adrenals. "I also

visit JirehClinic for weekly PRP

and vitamin-enriched drips

with Karel de Haas."

FUTURE

PLANS

Celeste is back to training

six to seven hours a day,

and aims for a top 10

major weakness, which is my

endurance. This seems to be

the direction that competitive

CrossFit is taking. With a solid

strength base, our focus will

be on building my endurance

with John's high-volume

training approach. It really is

another level for me, but it's

already delivering the results I

know I'm capable of."

Celeste also plans to tackle

a few local CrossFit comps,

including the Battle of Jukskei

and African Champs. A

place on the Commonwealth

Championships team headed

for Brisbane is also in her

crosshairs, having already met

the qualifying standards in

weightlifting – she just needs

to be selected for the team.

As for The Games, Celeste

says that's a longer-term

goal. "While the Games carry

great prestige, getting there

is a massive challenge, as

is the level of competition

when you get there. I want

to achieve that goal at some

stage, but that's a few years

off, I think. Right now I'm just

happy to be moving in the

right direction again," she

concludes.

Images By Ruby Wolff http://rubywolff.photoshelter.

49
---
fit

SLIDE IT

OUT!

SLIP AND SLIDE YOUR

WAY TO SHAPELY

LEGS AND ABS,

WHEREVER YOU ARE

Photography by James Patrick | jamespatrickphotography.com

Performed by Joy Kushner joykushner

HOW TO DO IT:

Perform this

workout in a circuit

fashion.

Complete 20 reps of each

exercise before moving to

the next exercise. Repeat

3-5 times to complete the

workout.

Rest for

60 seconds

between

rounds.

1. Skater lunges

2. Double knee tucks

3. Reverse lunges

4. Plank mountain climbers

5. Side lunges

6. Plank jacks

7. Posterior plank to L-sit slides

9. Spiderman plank slides

10. Elbow kneeling plank circles

11. Glute bridge single-leg slide outs

50

Commercially

he Valslide

slide.com), developed

brity trainer Valerie

Waters of Los Angeles,

these discs have a slippery

side made of plastic and

a foam-padded grip side.

This design lets your hands

or feet glide over a carpet

while you perform a variety

of variations to standard

strength exercises, often

with little or no impact forces

on joints.

JULY - AUGUST 2017 |

1

SKATER LUNGES

The setup: Stand with your hands on your hips

and your left foot on a slider.

How to do it: Slide your left foot back and to the

side, behind your right leg. Slide out as far as possible

while simultaneously bending your right (supporting)

g. Slide your left foot back as you return to the

starting position. Repeat for the required reps before

pe

erforming on the other side.
---
2

DOUBLE KNEE

TUCKS

The setup: Start in the

extended plank position,

directly under your shoulders

and both your feet on sliders.

How to do it: Pull your

knees in and under your torso

towards your chest. Push your

feet back out to the extended

plank position and repeat for

the required reps.

FORM TIP: Keep your core

engaged and don't lift your

hips too high.

3

REVERSE

LUNGES

The setup: Stand with

your feet together and

one foot on a slider.

How to do it: Slide your

foot behind you as you

bend your supporting leg

to 90 degrees. Slide your

foot back to the starting

position and repeat for

the required reps before

swapping sides.

4

PLANK

MOUNTAIN

CLIMBERS

The setup: Start in the

extended plank position

with your arms under

your shoulders and each

foot on a slider.

How to do it: Slide

one leg in and under

your torso towards

your chest. Extend it

back to the starting

position, then repeat

the movement with the

other leg. Continue in

this fashion with a rapid

tempo.

FORM TIP:

Focus on pulling

the trailing

leg back up

by contracting

your glutes on

the same side.

HACK

YOUR

SLIDE

There are a number

of alternatives, and

hacks, that will deliver a

similar effect. The most

popular alternative is

conventional furniture

sliders (also known as

furniture gliders), but

enterprising exercise

addicts have also

successfully used:

paper and plastic

plates,

tupperware lids,

socks

and, in a pinch, towels.

WHY

SLIDERS

WORK

atever form of slider

you select, this type

of training works by

enabling your body

to work unilaterally

(one side at a time),

which creates instability

to improve core and

stabiliser strength, while

also ensuring you work

against a bit of friction

for some resistance.

FORM TIP: Keep your core

engaged and don't lift your hips

too high.

Sliders are small

and portable,

which means you can

conveniently pop them

in a suitcase, travel bag

or even a work bag to

take your workout with

you wherever you go.

A

51
---
working

unilaterally

creates

instability to

improve core

and stabiliser

strength

5

SIDE LUNGES

The setup: Stand with

one foot on a slider.

How to do it: Slide your

foot out to the side while

sitting back into a semisquat

by bending your

supporting leg. Slide your

foot back in to return to the

starting position. Perform all

the reps on one side before

swapping over.

FORM TIP: Keep

your sliding leg

straight, maintaining

a slight bend in

the knee, and your

weight on your

supporting leg.

FORM TIP: Do not allow your

hips to drop, and keep your

core engaged throughout the

movement.

6

PLANK JACKS

The setup: Start in the

extended plank position with your

arms under your shoulders and

each foot on a slider.

How to do it: Slide both legs out

to the sides, until at least hipwidth

apart, then slide them back

together to complete one rep.

Repeat as quickly as possible.

7

POSTERIOR PLANK

TO L-SIT SLIDES

The setup: Sit on the ground

and place both your heels on the

sliders, with your legs extended

in front of you. Place your hands

on the ground behind your hips.

How to do it: Drive through your

hands and heels as you extend

your hips up toward the ceiling

to move into the posterior plank.

Press your chest out and squeeze

your glutes as you bridge up.

Lower your hips back down until

they're a few centimetres off

the ground and slide your hips

back between your hands into

the L-sit position, keeping your

legs straight. Hold this position

for a count before sliding your

legs back out and bridging up to

repeat the movement sequence.

52

Note: The closer you bring

your feet in toward your torso,

the more mobility you need to

execute the bridge.

JULY - AUGUST 2017 |

FORM TIP: Relax your head back as you bridge

up into the posterior plank.

FORM TIP: Keep your hips

elevated throughout the exercise.

8

BUTTERFLY GLUTE

BRIDGE SLIDES

The setup: Lie face up on the

ground. Place the bottoms of

your feet together, with the outer

sides of your feet on the sliders.

Let your knees fall open into the

How to do it: Engage your core

as you drive through the outsides

of your feet to extend your hips

and bridge up. Slide both feet

away from you, keeping your

hips in the same position. Pull

your feet back in. Repeat for the

required reps.
---
9

SPIDERMAN PLANK

SLIDES

The setup: Start in the extended

plank position with your arms

under your shoulders and each

foot on a slider.

How to do it: Slide your right

leg out and up to the outside of

your right arm. Slide your right

leg back to the starting position,

then repeat the movement on

your left side.

FORM TIP: Focus on engaging

your core and using this move to

open the hips.

FORM TIP: Keep your core engaged, and

maintain the position of your shoulders and hips

throughout the movement.

10

ELBOW KNEELING

PLANK CIRCLES

The setup: Start in a kneeling

position and place both your

elbows on the sliders.

How to do it: Slide one arm

forward and then out to the slide,

before sliding it back in toward

your chest to return to the starting

position. Repeat the circular

sliding pattern on the other side.

11

GLUTE

BRIDGE

SINGLE-LEG

SLIDE OUTS

The setup: Lie face

up on the ground,

with your knees

bent and both feet

on the sliders.

How to do it:

Engage your

core, glutes and

hamstrings as you

drive through your

feet to extend your

hips and bridge

up. Slide one foot

away from you until

your leg is almost

straight. Slide

your foot back in,

keeping your hips

elevated. Repeat

on the other side.

FORM TIP: Keep your hips in the

same elevated position throughout

the exercise.

53
---
mind

muscle

SHOULD YOU

SHARE YOUR

goals?

BY Pedro van Gaalen

Do you want to lose 10kg?

Do you want to run your

Great!

Write your goal down, put it

somewhere where you can see it,

but before you tell anyone about

it, consider this...

THERE IS ALSO

PSYCHOLOGICAL

RESEARCH THAT

SUGGESTS THAT A

PUBLIC STATEMENT

OF YOUR INTENTIONS

MAY IN FACT HINDER,

NOT HELP, YOUR

CAUSE

I

This, say many

behavioural economists, is

often enough of an incentive

to drive people to stick

to their plans and see the

process through to the end.

However, there is also

psychological research

available that suggests that

a public statement of your

intentions may in fact hinder,

not help, your cause.

THIS... IS OFTEN

ENOUGH OF AN

INCENTIVE TO DRIVE

PEOPLE TO STICK TO

THEIR PLANS AND

SEE THE PROCESS

THROUGH TO THE END.

54

JULY - AUGUST 2017 |
---
SOCIAL REALITY

The theory of social reality was proposed

in 1933 by W. Mahler, who found that

if a person announced the solution to a

problem, and it was acknowledged by

others, it then become a concept in the

brain, even if the solution hadn't actually

been achieved.

More contemporary research has since

emerged, most notably from New York

University psychology professor Peter

Gollwitzer, author of the book Symbolic

Self-Completion, and a team of researchers

including Paschal Sheeran, Verena Michalski,

and Andrea Siefert.

Published in the journal Psychological

Science (May, 2009), the multifaceted study

titled "When Intentions Go Public: Does

Social Reality Widen the Intention-Behavior

Gap?", found that those participants who

kept their intentions private were more

likely to achieve their goals than those who

THOSE WHO

ANNOUNCED THEIR

GOALS ONLY WORKED

FOR AN AVERAGE

OF 41 MINUTES AND

REPORTED FEELING

SATISFIED WITH

THEIR WORK.

made their intentions

public and were

acknowledged by

others.

Conducting four

different tests on

students enrolled in different faculties and

studying different professions, including

psychology and law, the team asked

participants to state their career-related

goals via a questionaire or by writing them

down. Some were kept secret while others

were shared and discussed with researchers

or in groups.

One group of participants, which consisted

of law students, was later asked to assist with

They were given 45 minutes to conduct

research on case work. Participants were told

to write down a personal goal for the project,

with half of the students announcing to the

group their commitment to the goal, while

the others kept their goal secret.

The students were told to work as

hard as they could, but that they were

able to quit whenever they wanted. The

psychologists measured the actual work

done by those who 'went public' and those

who kept their goals to themselves.

whereas those who didn't share their

goals before starting worked for the full

45 minutes and reported feeling like they

still had work to do, but were nevertheless

motivated by it.

Participants who

were more

to their

goals than those who

made their

and were

55
---
SELF-IDENTITY

The mental process of

... may

even release some of the same

that come

with actually achieving a goal.

I FEEL GOOD

A similar effect was witnessed

when researchers followed up

with another group – psychology

students – two weeks after they

were asked to state their careerrelated

intentions. Those who had

kept them secret had done more

work since the initial interaction

than those who had shared

their intentions with the

experimenters.

suggest that our need to create a particular

identity is an important motivator when

Gollwitzer believes that declaring our

intentions to work hard is a symbolic act

and contributes to the goal of completing

our self-identity.

However, when other people know of

the identity goal we're chasing, we often

substitute actually doing work toward

achieving that goal with the intent of

doing the work. This is what psychologists

commonly refer to as self-completion

theory:

While we all need to put in the hard

work toward becoming, say, a competitive

bikini athlete, the fact that we already told

everyone we want to compete on stage can

end up being the rationalisation we need

to not work as hard as we should to achieve

that goal. This mental substitution happens

when we communicate our self-image to

others using words rather than actions. In

the case of sharing your goal to step on

stage, your motivation to work hard won't

be as strong if you've already created this

self-image through a new social reality,

according to this psychological theory.

This, they explained, happens

because we all have 'identity

symbols' in our mind that shape our

self-image. Since both actions and

talk create symbols in your brain,

that it "neglects the pursuit of

further symbols."

Stated more simply, the mental

process of visualising future success

has the ability to convince our

subconscious mind that it's already

happened, and may even release

some of the same feel-good

hormones that come with actually

achieving a goal. In short, telling

someone about your big plans

and ambitions can be almost as

emotionally rewarding as actually

achieving it.

SO, SHOULD YOU BLAB?

In the Gollwitzer-led study, the

researchers concluded that "the effect is

limited to committed individuals - those

who are most eager to reach their identity

goals". It is also important to consider that

the goals used to motivate in the study

were established by the researchers, not the

individuals themselves, and it's the goals

we establish for ourselves that are the most

powerful for motivation.

declaration of your intent may outweigh

the potential drawbacks. For instance,

when it comes to achieving goals such

making better food choices when you eat

out at a restaurant, having shared your

goal with someone you trust and who is

willing to hold you accountable can be very

powerful. In these instances, the potential

consequences of your actions – or lack

thereof – can also be a powerful social

motivator and, therefore, an effective

commitment device.

In these instances, when you embark on

a big undertaking, it is probably better to

share your sub-goals – like train six times a

within the next 6 months – instead of the

overarching goal.

Accordingly, considering when to share

your goals and when to keep them secret

is not always an easy either-or decision.

The answer will depend on a myriad

factors, including the nature of your goal,

the people who you plan to tell, and your

preferences in relation to social pressure.

What you do need to keep in mind, though,

is that if you're going to tell people, then

you'll need to ensure that this approach

doesn't rob you of the incentive to achieve

your goal.

56

JULY - AUGUST 2017 |
---
AVAILABLE ON

freddy.co.za

or at the following stores:

JHB | Bryanston

Shop 45

Bryanston Shopping Centre

Cnr William Nicol

and Ballyclare Drive

JHB | Dainfern

Shop 26

Dainfern Square,

Cnr William Nicol

and Broadacres Avenue

JHB | Kyalami

Shop 18

Kyalami Corner

Cnr R55 & Main Road

PTA | Menlyn Maine

Shop 64B

Menlyn Maine

Central Square

Cnr Corobay

& Aramist Street

CPT | Greenpoint

Shop 30

Cape Quarter Square

27 Somerset Road

KZN | Ballito

Shop 636A

Ballito Junction,

Leonora Drive,

Dolphin Coast

FreddySouthAfrica

FreddySA
---
#STRONGWOMEN

Inspiring stories of

transformation and

success from 4 everyday

strong women

If you take a moment to look around

may be. It's not just your fave celebrity,

powerful businesswoman, that sporting icon,

what it means to be #StrongWomen.

They're all around us. They're everyday

moms, wives, daughters, sisters, and

businesswomen, just like us... just like these

strong fitness magazine readers...

58

JULY - AUGUST 2017 |
---
Mariaan van Zyl

Mariaan has always been

tough; a bit stronger

physically than most women,

and this is what enabled her

to follow her passion and

pursue a competitive career

as a real strong woman.

HER CHALLENGES

Mariaan required surgery when

she tore off all the ligaments in

her knee. As a result, she still

suffers from tendinitis, but she

refuses to let this stop her.

Finding the correct equipment

to train with is another

challenge, since you can't just

right tools to condition yourself

for her chosen sport. Being

strong and having good skills

go hand in hand in strongman

competitions.

#STRONGWOMEN MOMENT

Mariaan won the SA u/75kg

strong woman championship

title at the Rand Easter show

this year. "This is a great honour

to defend my title next year.

I'm planning to compete in

other strongman competitions

throughout the year, and as

a supplement to my training

I will compete in powerlifting

competitions, too", she said.

HER INSPIRATION

Marius Pudzianowski, Nicole

Wilkins, Lauren Fischer, and

Dane Lin Baily, among many

others.

Patience Mushaya

Patience ditched the yo-yo diet

lifestyle and hit the weight room

to get results. Today she's an

inspiration to many women and

helps others achieve their goals

through her bootcamp classes.

HER CHALLENGES

Finding time to exercise. She's

realised that one doesn't need

to visit the gym all the time to

minutes, do a home workout, or

even dance while your chicken is

in the oven, it's enough to keep

amazes her) seeing how her body

responds to her routines, from the

simplest thing like being able to

do more burpees weekly, to losing

the mummy tummy, of course.

#STRONGWOMEN MOMENT

is a wife, a mom to two, and a

businesswoman. A year ago she

decided that she was fed up with

yo-yo dieting, so she jointed a

gym that specialises in fat loss.

weights). With her dedication to

unwanted fat for good and started

building a strong body. Since

then she's been getting women

together for bootcamp classes, to

encourage each other and excel in

their exercise goals together.

HER INSPIRATION

"I follow Monika Human on

amazingly strong and inspires me

daily!" says Patience.

FAVOURITE #STRONGWOMEN

QUOTE

"I can do anything

through Christ who

strengthens me".

"I psych myself with this quote

before I up my weight game each

week..."

Tsholofelo Leballo

Looking at Tsholofelo, you

would never say that she

was ever frail and ill. Today,

stronger than ever before, her

goal is to create awareness

around health and inspire

others to live healthily.

HER CHALLENGES

Tsholofelo has overcome

tuberculosis and Stevens-Johnson

syndrome. After her diagnosis,

and numerous stints in healthcare

facilities, she focused on the one

thing she could change – her

from doing the most basic things

like walking at pace, she's built up

her overall health and helped her

overcome serious illness.

HER FAVOURITE

#STRONGWOMEN QUOTE

From a quote by Andrew Jackson

"She is as gentle as a

Dove and as brave as a

Lioness."

#STRONGWOMEN MOMENT

She now uses her newfound

to

create awareness and help other

women and youth to strengthen

themselves through her initiative

''. She fell ill

used the challenge of improving

function and capacity, while

also rebuilding her body and

regaining her strength.

Candice Whitehead

From overweight mom to

competitor and show promoter,

the word 'go-getter'.

HER CHALLENGES

Candice had bariatric surgery in

of her body weight. She then

went on to dedicate herself to

her training to improve her health

and achieve her ideal physique.

She weighed 92kg when she

healthy meals and exercising on a

regular basis.

#STRONGWOMEN MOMENT

In May this year Candice stepped

competing in the Novice Provincials

and placed 2nd in her Bikini

line-up.

FAVOURITE #STRONGWOMEN

QUOTES

"This is a marathon, not

a sprint!"

"Don't tell me I can't! I

will show you I can!"

"Be your own success

story!"

HER INSPIRATION

"You owe it to yourself and your

loved ones to take back your

chronic illnesses along with the

extra weight." Candice is inspired

by her family and those who

have helped her succeed in this

journey.

week transformation challenge.

"Take before and after photos,

even if the changes are small –

forward is forward! Keep a food

diary and set training goals. Hire

a coach or personal trainer... just

HER FAVOURITE

#STRONGWOMEN QUOTE?

"Do better than

yesterday, be better than

yesterday, rise above

them all."

HER INSPIRATION

Letshego Zulu. "She is a perfect

combination of strength and

grace. Her resilience and

ability to keep going is hugely

inspirational," she says.
---
HOW TO

EARN MORE

DISCOVERY

VITALITY ACTIVE

POINTS TO

BOOST YOUR

HEALTH AND

YOUR REWARDS

HOW TO...

BOOST YOUR

BENEFITS

South Africa's leading medical aid

service provider, Discovery Health,

incorporates the Vitality Active Rewards

programme to encourage members

to stay active by rewarding them with

Are you a

member? Here's your guide on how to

Fitness trackers also measure

steps taken and award points

9,999 steps a day you earn

50 points

steps will get you 100

points

The weekly maximum goal is 900

You can earn more points by:

1GET A FITNESS

TRACKING DEVICE

Earn up to 300 points for

every workout. Vitality

active points are awarded

to measurable parameters,

such as steps taken, heart

rate training zones, or

speed work (a calculation of

average distance over time

These can only be effectively

measured by using a

In

addition, if you're looking to

have this sync up with your

Discovery Vitality points,

the device needs to belong

to the partner network.

The following devices are

recognised by Discovery

Health and sync to the

rewards system.

100

POINTS

200

POINTS

300

POINTS

HOW MUCH WILL YOU EARN:

30+ minutes of a light workout at

30-59 min of a moderate workout

60+ min of a moderate workout at

30+ min of a vigorous workout at

SUPPORTED DEVICES

APPLE

WATCH

SAMSUNG

GEAR

WATCH

POLAR GARMIN FITBIT HEALTH

APP

SUUNTO TOMTOM S-HEALTH

APP

iHEALTH MISFIT WITHINGS JAWBONE

Step Tracking Speed Tracking Heart Rate Tracking
---
Why do I need

to earn more

points?

The more points

you earn, the

greater the

rewards and

you receive from

Discovery and

meeting weekly

targets you get

rewarded with

free coffees and

food discounts,

and by reaching

multiple weekly

goals you're

eligible for cash

bookings, gym

fees and even

Basically you're

unlocking cash

back and added

rewards just by

* The rewards

programme is

constantly expanding,

so visit www.discovery.

co.za for an up-to-date

list of reward partners.

3GET

MOVING

By attending a park

run or Run/Walk for

Life 5km+ you'll earn

points aren't based

on your heart rate

or activity level, just

on your attendance

Attending a partner

health club, Run/Walk

for Life, or Preggi

Bellies earns you

points

4FIND OUT

YOUR

VITALITY AGE

By completing

various online

questions to establish

your Vitality Age, you

will earn

2GET

COMPETITIVE

Your workouts can

earn as much as

points* by upgrading

to the endurance or

high performance

is designed for

members who train

in peak performance

it you are required

to apply online and

complete an eligibility

5KNOW YOUR

HEALTH STATUS

This can earn you anywhere

between

points towards your annual

(Note: Service provider fees

priced separately as you're

making use of specialists

within the Vitality Wellness

Examples are:

Vitality health check: Up to

Vitality high performance

points

Giving electronic consent

race event attendance

or previous device

recorded vigorous

This category earns

more points per active

session, calculated on

your HR and training

Performance category

has a weekly limit of

* Check www.

discovery.co.za for the points

allocations vs workout activities

300

POINTS

600

POINTS

1200

POINTS

3000

POINTS

6EAT HEALTHILY

cash back at Pick 'n Pay or

Woolworths on a range of

HealthyFood items, activate

every HealthyFood item

you purchase, you receive

, uptoa

dietician to consult on your

You don't 'need' a heart rate monitor.

Event attendance also scores you points

Unlock rewards

and benefits

The rewards programme

will set a weekly

personalised goal for you,

based on your activity

the goal increases in

small increments on a

weekly basis to keep you

Maximum targets per

week:

Standard Vitality

High

race events points

*requires proof of race completion

5 – 9km walking/running event

0,5 – 1km swimming event

25 – 49km cycling event

10 – 20km walking/running event

1,1 – 3km swimming event

50 – 99km cycling event

21 – 41km walking/running event

3,1 – 5,9km swimming event

100 – 179km cycling event

42km+ walking/running event

6km+ swimming event

180km+ cycling event

up by just being healthy. And it's not just scoring

on savings or rewards – we feel their reward

you more incentive to push harder as it monitors

weekly activity. And after all, who doesn't like

hitting their goals every day?

62

JULY - AUGUST 2017 |
---
Not for Sale to Persons Under the Age of 18
---
fat

FAT LOSS

and healthy through

the prime decades of

your life

IN YOUR 20s, 30s & 40s

Oh, to be twenty-two years

old again... Back then we

could get away with midnight

takeout stops after a night on the

town with the girls, without worrying

too much about the impact on our

waistlines. And if we did put on a few

kilos during a weekend away, some

fasted cardio could quickly get us back

in shape.

Unfortunately, though, the metabolic

superpowers possessed by your 20-something

self don't last forever, especially the closer

you are to the age of 35. This happens for

a variety of reasons – some lifestyle related

and others as part of the natural physiological

changes that our bodies experience as we

age.

HORMONAL CHANGES

to the age-related decline in our ability to

lose weight, or keep it off, is a shift in our

hormones.

Due mainly to changes in our productive

systems, we experience shifts in the natural

release of powerful hormones that affect our

metabolism, and our ability to lose weight or

keep our appetites under control.

Our lifestyles also change. We enter

the workplace and are exposed to greater

levels of stress. We also work longer hours,

with less time to exercise or prepare healthful

meals. Then we start a family, and pregnancy

wreaks havoc with our hormones once again.

And then we have even less time to dedicate

to looking after ourselves, and, yes, don't

forget about all the additional stress that

comes with motherhood!

Combine these factors with poor eating

habits and we create a hormonal cascade

that tends to send our weight spiralling

out of control in our 30s. Many of us are

therefore often left trying to pick up the

pieces in our 40s to regain some semblance

of health and vitality.

However, this need not be the case. By

simply being aware of the factors that affect

us in our 20s, 30s and 40s, we can take the

fabulous at any age.

BY SIMPLY BEING AWARE

OF THE FACTORS THAT

AFFECT US IN OUR 20s, 30s

AND 40s, WE CAN TAKE THE

APPROPRIATE STEPS TO

ENSURE WE STAY FIT AND

FABULOUS AT ANY AGE.

64

JULY - AUGUST 2017 |
---
IN YOUR20s

There's a reason why 20-somethings seem

care-free – they can generally get away

with a lot more when it comes to their

dietary and lifestyle choices.

You're in your prime reproductive years,

which means powerful hormones are

coursing through your veins, which stoke your

metabolism. You're therefore less likely to add

weight if your diet is a bit off.

you'll be able to tackle many physical

challenges without too much fuss, or effort.

And don't forget that this is also the time in

your life when you'll have the most 'me time',

which gives you the freedom to train as often

and as much as you want.

Just don't let this fool you into thinking you

can overeat and overtrain to keep your weight

in check. The truth is that your 20s are a

crucial time because the habits you create

during this decade will hopefully set you up

for success in your 30s and 40s.

With that in mind, use your

20s to kick common unhealthy

practices such as yo-yo dieting,

extreme calorie restriction, fad diets,

and excessive or extreme exercise

practices, and rather focus on

establishing the healthy habits that

will serve you well throughout the

rest of your life.

Another habit to nip in the bud

in your 20s is the mindlessness that

accompanies our attachment

to smartphones and tablets.

checking social media or

responding to email is a

Practise mindfulness in everything you do

– modern society is already too distracted.

You'll derive greater joy from your time in the

gym and the nourishment of the healthful

food you eat if you do.

Always remember, what you do, and how and

what you eat during every decade will have an

impact on the next phase of your life. It is therefore

establish during your 20s the

foundation

A Spot Of Trouble

A study conducted by the

American Academy of

Dermatology found that 45% of

American women between the

ages of 21 and 26 will experience

adult acne, which is generally

attributed to hormonal changes,

as well as stress, poor eating

habits, smoking, and the use of

cosmetics that block pores.

do...

do 't...

Follow a healthy, balanced diet that you can

maintain for the rest of your life. Focus on eating

predominantly whole, natural foods such as fruits

and vegetables, and healthy sources of animal

protein.

Make more informed decisions when eating

out or when drinking alcohol (avoid soft

drinks or sodas and fruit juice as mixers). Always

choose the best of the less

healthy options available.

Drink mostly water.

Move more, and

more often, whether

it's walking, dancing

it up, or exercising.

Be mindful of your

total calorie intake.

Follow fa and restrictive eating

regimens.

Consume processed foods, synthetic

and sugar.

Exclude entire food groups. Rather

understand the impact and role of each

macronutrient and make educ

about what, how much and w

eat them, especially carbs.

Believe that you can abuse

your body in your 20s and

reverse the damage in your

30s and 40s! This is the time

to build a solid foundation,

not start your slide into a

lifetime of illness, injury and

poor health.

65
---
IN YOUR30s

It's not uncommon to see the number on

the scale start to creep up once you hit

your 30s as the changes to your body and

lifestyle become more pronounced.

Usually, in our late 20s and early 30s, our

to hold on to, or even build muscle. This

effectively lowers our metabolism as we lose

this important metabolically-active tissue.

It is also around this time that many

women today decide to start a family.

It can often be a struggle to lose the

baby weight gained during pregnancy,

especially amid this metabolic slowdown

and hormonal shift.

However, it's by no means

impossible, especially

if you remain within the

healthy recommended

weight ranges during

your pregnancy by eating

properly and remaining as

active as possible.

By the age of 35,

fertility levels also start

to naturally decrease

and you may even begin

entering early-stage perimenopause,

which can

cause mood swings, sleep

do...

disturbances, or even anxiety.

Managing stress also becomes more

important. You have more commitments in

life, be it at work or at home, and when

stress levels spin out of control, powerful

hormones that impact our health and

waistline start to dominate our endocrine

system. When these hormones, such

as cortisol and adrenalin are released in

excess, our body reacts by entering survival

mode. This generally leads to excess

fat storage and rampant cravings, and,

eventually, lethargy, chronic tiredness and

mood swings as our metabolism slows.

Eventually, in severe cases, we start

to experience adrenal fatigue, which

can then lead to thyroid dysfunction – a

condition that is becoming increasingly

more prominent among 30-something

females these days.

In our late 20s

early 30s, our hormonal

making it

harder to hold on to, or

even build muscle. This

effectively lowers our

metabolism

don't...

WEIGHT WATCH

According to the BMI

Calculator website, a 30-yearold

woman who weighs

68kg will burn

approximately 47

fewer calories each

day than a 20-yearold

woman of the

same weight.

Evolve from the

cardio queen of your

20s into a lean, mean

weight-lifting diva

in your 30s to build

more muscle.

Add more protein to your iet to help increase

the anabolic effect of your weight training and build more muscle

tissue. Whey protein is always a great addition to any diet!

Become a carb connoisseur. There is still no reason to go

no-carb, but eat the right type and amount of complex, natural

carbohydrates to aid your metabolism and maintain optimal

hormonal function.

De-stress, however you can. Exercise is a great stress reliever,

and also helps to shift the hormonal balance back to normal

by releasing more feel-good hormones and reducing stress

hormones.

Get your hormonal function checked, at least every few years,

especially after the age of 35. Prevention will always be easier,

and better than trying to treat hormonal dysfunction.

Be too hard on

yourself.

Swing from one

extreme to the other,

be it with regard to your

diet or your exercise routines. Consistency is the key to a healthy,

balanced lifestyle in your 30s.

Restrict yourself – it can be unhealthy, both mentally and

physically.

Consume processed foods, synthetic hydrogenated and trans

Treat your training time

as expendable when

things get busy. Your

gym session needs to

be as important as your

work meetings or family

commitments, so keep it

in your diary as a recurring

appointment.

66

JULY - AUGUST 2017 |
---
IN YOUR40s

After the celebrations for your big 4–0

die down, you'll soon realise that you

are losing muscle mass at a more rapid

rate. In fact, by the age of 40 you'd have

likely lost up to 10% of your muscle mass

(especially if you didn't follow our advice

for your 30s), which means you may be

burning around 100 fewer calories per day

than you were 10 years ago.

You also need to start paying careful

attention to your bone health as

osteoporosis becomes a bigger concern,

especially as you approach menopause.

Accordingly, at this age, your efforts in

the gym need to be taken up a notch, with

more work against resistance and added

load-bearing exercises to maintain muscle

tissue and strengthen bones, cartilage and

tendons and ligaments.

However, you also want to start adding in

more cardio to strengthen the cardiovascular

system, particularly the heart, to maintain

optimal function as you age.

It's also time to make a dietary shift to

fortify your body with more vitamins and

minerals, particularly vitamin D, calcium and

magnesium. For these reasons, a greater

focus on supplementation during this period

of your life may be warranted – just consult

your doctor to determine exactly what is

lacking from your diet and which products

Your 40s are also an important time to

start considering your mobility and functional

everyday strength, to ensure you age well

years. For these reasons, adding workouts

such as yoga, Pilates and mobility work

to your weekly training regimen is highly

recommended, if you haven't already

done so in your 30s.

No matter your current age, always

remember that the lifestyle choices you

make today will either slow down or speed

up the physiological changes associated with

ageing. Consider what your actions today

will mean for you, your health and your

longevity in years to come. Ultimately,

the better the choices you make now, the

well into your 50s, 60s and 70s.

sarcopenia

total

muscle mass decreases

by nearly 50% between

the ages of 20 and 90. In

general, a person will lose

between 1 3% of their

lean muscle mass per

year after the age of 40.

USE IT OR LOSE IT!

Sarcopenia: Age-related muscle

begin to shrink and reduce in

number. The cells responsible

for building new muscle also

dwindle, especially if we don't

exercise or move against

resistance.

on't...

healthful, balanced

diet

Adjust down your daily

calorie intake based on your daily

energy expenditure, slowing

metabolism and changing body

composition.

Get regular endocrine

function tests to pre-empt any

of the conditions that become more

prevalent during this period in your life.

Consume more healthy, natural fats in your diet

and reduce slightly the amount

of carbohydrates you eat to

meet changing macronutrient

requirements as you age.

he cardio and mobility or

hing. Your exercise habits need to

change to meet the physical demands of

a changing body.

Rely solely on popping pills

and mixing powders to

maintain your health and

vitality. Stick to a programme

of regular movement, with

lots of exercise and a natural

whole food diet.

67
---
mindmuscle

THE MIND'S

ROLE IN

recovery

BY Laetitia Dee, Life Coach | www.laetuslife.com

WWhen I was 11 years old I was

involved in a major car accident...

it's funny how your whole life can

change in an instant. On that day, while we

were standing next to the road waiting for

the towing service to arrive I had no way

of knowing that the trajectory of my life

would experience a tectonic shift because

of what had just happened.

From that moment on living with back pain

and drinking pain killers became part of my

life. While I was still in school I visited the

physiotherapist numerous times for treatment,

but as I got older these sessions became less

effective over time.

In adulthood I became overweight and,

in 2006, one of the reasons I wanted to lose

weight was to alleviate the chronic back pain

I had been living with for nearly a decade. I

subsequently lost 30 kilos after completely

changing my lifestyle and starting to exercise.

Making these changes and the resultant

weight loss provided some relief, at least for

a few years, but I was yet to realise the full

extent and severity of my back problems.

From 2007 to 2014 I lifted incrementally

heavier weights and started doing highimpact

exercises such as sprints and box

jumps. I was, however, completely oblivious to

the impact that these choices and behaviours

had on my injury and it subsequently got

much worse.

By the start of 2016, I had reached a

point where nothing worked any more and

my symptoms had become progressively

more severe. I was experiencing numbness

in my left leg, which was an indication of

possible nerve impingement, so I went for

decreased the amount of exercise I did, all in

the hope of alleviating the pain, but nothing

worked.

I then made an appointment with a

neurosurgeon and he sent me for an MRI,

herniated and that I had a nerve impingement

options: we could take the conservative route,

namely treatment by a biokineticist for six

weeks, or surgery. However, he made it clear

that if my condition didn't improve following

the physiotherapy, I would then require

surgery.

subjects that I needed to pass with distinction

to gain admission to an Honours degree in

was not on my side, so even though the

doctor had given me two options, it felt as

if life only gave me one. I knew that surgery

would be inevitable.

It was on 18 July 2016 that I consequently

received a two-level lumbar fusion. While the

operation was a success, I knew immediately

that my life would never be the same again.

many of my daily routines would need to

change, and that I would need to consider my

back with regard to everything I did from that

day on.

Despite being informed about the many

things that would change and the many

adjustments I would need to make in life, I

soon realised that there are things that you go

through after a big operation that no one can

prepare you for.

68

JULY - AUGUST 2017 |
---
THESE ARE THE

EMOTIONAL

AND PHYSICAL

ADJUSTMENTS I HAD

TO MAKE FOLLOWING

SURGERY, AND WHAT

I LEARNT ABOUT

OVERCOMING INJURY

FROM A MENTAL

PERSPECTIVE:

1BEING

DEPENDENT

ON PEOPLE IS

HARD

I'm a very independent person

and I love taking care of myself.

Accordingly, one of the hardest

things after my surgery was the

excessive dependence on other

people. I wasn't allowed to drive

my car or even drive in a car with

someone else. I was therefore

home-bound for about nine

weeks.

We often think that it would be

nice to stay at home and to not

be expected to go anywhere.

Well, I can guarantee you that

as soon as you're not allowed

to go anywhere, your home can

seem like a prison and becomes

a source of frustration.

following my surgery I even

needed (and was fortunate

enough to have) a dedicated

person who washed me in my

bed every day. I'll be honest and

admit that on more than one

occasion I cried because the

thought of being so dependent

on someone else affected me

following quote in my head every

day: "This too shall pass."

2MY BODY

WILL NEVER

BE THE SAME

AGAIN

In my opinion, one of the

hardest things after surgery

is making peace with the fact

that your body will never be

the same again. Even though

even though the surgery was a

success, your body will never

again be in the state it was

before it was so badly damaged.

with on an emotional level

as you still want to do all the

things you were previously

capable of, but your body just

can't do them, or at least not

to the same degree or level.

unsettling.

During this stage of recovery

I found that it is crucial to

focus on the positives and

all the things that you can still

do, instead of only focusing

on the things you no longer

can. I always tell my clients that

mindset is everything and that

how you choose to see life is

crucial to determining your

happiness.

I know this can be challenging,

though, as even I struggled to

apply my own advice during my

recovery. On a daily basis I had

to make a conscious decision

to rather focus on all the things

that I could still do and all the

things that I could be grateful

for, instead of focusing on the

negatives or my limitations.

However, choosing positivity

over negativity is not something

that comes naturally.

3LETTING GO

OF WHAT

WAS

During my recovery I realised

that the thing that screws us

up most in life is the picture

we have in our head of how

our life was supposed to be.

Following my surgery I soon

realised that if I wasn't willing to

let go of the idealised concept

of what I thought my life should

be, I would simply prolong the

recovery process as I expended

my limited mental energy, which

I needed to accept my new

reality.

Complete recovery required

that I let go of some of the

things that I used to do

and love. One of the biggest

challenges was letting go of

traditional weight training,

because my doctor told me that

after surgery I could no longer,

under any circumstances, lift

heavy weights like I used to as

this could lead to further injury

which may require more surgery.

After hearing this news I had

to make a choice: Would I focus

on the fact that I can't train with

weights any more, or would

training, as I had to remain

active, and rather see it as a new

challenge and as an opportunity

to broaden my horizons?

I know from personal

experience that you

can't accept something

new in your life if

you are using all your

available mental

energy to hold on to

the past.

4

Therewillbe

good days

and bad

days

One of the hardest

things that I had

to get used to

after my surgery

was the fact that

some days were

still going to be

tougher than

others. From

my experience I

can attest to the

fact that physical

healing is a threesteps-forwardtwo-steps-back

process. I realised

that the sooner

I allow myself

to embrace and

enjoy the good

days, and accept

and deal with the

bad days, the less

emotional stress I

would experience.

5CREATING

A NEW

REALITY

healing process, though, was

creating a new reality for myself.

I needed to create a new life and

new habits that took my physical

limitations into consideration.

I want to emphasise that the

creation of a new reality is

a process that starts in your

mind. I realised that if I can't

ways of training and new ways

of enjoying my life, I will forever

be stuck in the reality of what

I thought my life should have

looked like.

I therefore wanted to

write this article to provide

encouragement to those who

have gone through a life-altering

event or surgery. While your life

might never be the same again,

I want you to know that you can

create a new reality, and that this

new reality can be even better

than your previous one.

At the end of the day it all

comes down to your mindset

and your perspective. A lifealtering

event or surgery can

either create stagnation in your

life or it can help you to grow as

a person. I eventually chose to

grow by allowing my surgery to

push my perceived limits as part

of my quest to create a better

version of myself. Whether you

choose to use your situation as

a springboard to a new, positive

mindset, or a crutch to dwell

on the past and lament your

situation, is, at the end of the day,

entirely your choice.

69
---
suppnews

NEW!

The USN Trust Bar is now

available in South Africa.

This low-carb, high-protein,

low-sugar bar is the ultimate

indulgent treat. Available in

Vanilla Cupcake,

Chocolate Coconut, and

TITAN NITE TIME

Micellar casein (native milk protein isolate)

is a biologically-unique grade of protein

derived from milk, which is low in fat,

lactose and sodium. Micellar casein is the purest

and, nutritionally-speaking, the most effective

form of casein due to the sophistication of its intact

micelle structures. It also boasts an impressive

nutritional profile that's naturally rich in amino

acids, protein and calcium.

The extraordinary flavour

and texture of Nite Time is

created using high-quality

ingredients, nature-sourced

flavours, expertly balanced

blends of soluble prebiotics and

non-soluble fibre, the purest

separated caseins and, above all,

Titan's proprietary Cold Fold

Technology.

fitness

files

supplements

USN TRUST BAR

Grenade supplements

now in SA

DS International, importers of

PharmaFreak, Ripped Femme, Cellucor

and FitMark products, has secured

exclusive distribution rights in South Africa

for the Grenade® supplement range.

This innovative and trusted sports

performance and energy brand has

grown rapidly since its launch in 2010

and now sells its products in over 100

countries. Today Grenade® has a huge

following, ranging from professional

personnel worldwide. Grenade®,

supported by its 'Team Grenade' athletes,

are renowned for unique branding

and marketing strategies. As a result,

Grenade® is not only widely regarded

as one of the world's fastest-growing

sports performance and weight

management brands, but also as one

of the most exciting sports nutrition

companies in the market today. For more

info, visit www.grenade.com, or www.

dsinternational.co.za for resale queries.

HOT STUFF!

SUPASHAPE COCOALEAN

Fat burning hot chocolate?

Sounds almost too good to be

true, but Supashape's CocoaLean

is just that – a rich, chocolatey

indulgence formulated with a synergistic blend

of metabolism-supporting ingredients to help

satisfy your tastebuds, without any added sugar,

or guilt. It's the ideal any day, anytime drink that

curbs cravings while simultaneously supporting

your efforts to get into supa-shape.

SUPASHAPE CINOLEAN

CinoLean combines all the energising effects

of your daily 'cuppa' with the added fatburning

properties of Green Tea Extract, to

give you a delicious, lowcalorie

café drink with that

extra boost. A great way to

start your day, or as your

go-to pick-me-up when

the winter weather has got

you down. Available in easy and

convenient sachets to take with

you wherever you go – just add 150ml of hot

water, stir and enjoy.

SUPASHAPE CAFÉ INFUSION

Living lean doesn't need to be bland or

boring anymore. Supashape's Rich Hazelnut

and Rich Caramel Café Flavour Infusions are

the perfect way to spice up your

diet without all the added sugar and

calories. All it takes is a few drops

in your coffee, protein shake, oats

or protein pancakes to provide the

ultimate guilt-free indulgence.

GO AMPLIFIED CAFFEINATED WATER

designed for consumers seeking an energyboosting

product that provides a muchneeded

kick, but without the inevitable

crash. The product falls into the 'functional

water category', competing alongside other

water products that provide a purpose beyond

essential hydration. Contains zero sugar, and no

calories or preservatives, but each bottle delivers

50mg of caffeine, 10mg of potassium, 10mg

magnesium, and 10mg of calcium.

70

JULY - AUGUST 2017 |
---
eaderrecipe

#FitnessReaderRecipe

Winning recipe supplied by By Elize Marie

WHAT SHE USED:

PROTEIN

CLOUD

CAKES

A GREAT GUILT-FREE RICE

CAKE REPLACEMENT

WIN!

WIN A YEAR'S

SUPPLY OF YOUR

FAVOURITE WHEY

PROTEIN!

One tablespoon of full-cream cream cheese contains

50 calories and 6g of saturated fat.

The calcium and phosphorous content of cream

cheese also make it an ideal healthful food to help

Submit your reader's recipe and you

could win a year's supply of USN

Whey Protein. Email

FitnessmagSA and

USNSA

recipe and food photo! Simple as

that! #FitnessReaderRecipe

Did you know?

3 large eggs

3 tbsp cream cheese

Pinch of cream of tartar (or ¼ tsp)

1 stick of Canderel sweetener (2g)

1 scoop Wheytella USN Protein Powder

(1 loose level scoop - no more)

1 tsp cocoa powder (optional) of gluten-

2 scoops USN Vanilla Protein

½ tsp baking powder

1 tbsp cinnamon

HOW SHE MADE THEM:

1 Pre-heat oven to 150°C

and move your oven rack

2 Get all your equipment

and utensils ready to work

as quickly as possible

once you fold in the two

mixtures and get it onto

your baking sheet and

into the oven before the

mixture starts to melt or

3 Spray your baking sheets

with Spray & Cook and

4 Separate the 3 egg

whites and yokes into two

separate mixing bowls

(make sure there is no yolk

in your egg whites)

5

until soft, then add to the

stick of Canderel, scoop

of Wheytella protein

powder and teaspoon of

Mix with a stick blender

or electric mixer until a

6 Add the cream of tartar to

the egg whites until they

7 Take your egg yolk protein

mixture and gently fold it

Stop immediately when

your two mixtures are

folded in together with the

Take care not to over mix

and loosen the stiffness

let this mixture stand or it

8 Take the spoon and

quickly and carefully

onto the prepared baking

sheets, in 10-12cm

circles that are 1-2cm

high (makes roughly 10

with the mixture too long

9 Carefully place onto the

middle rack of the oven

and bake undisturbed for

20 minutes, until golden

10 Remove from the oven

and carefully lift with a

broad spatula onto the

cakes will now be fragile,

like a baked meringue,

11 Once completely cooled

(+/- 30 minutes), place

in an air-tight container

overnight as this

changes the texture to a

more chewy bread-like

consistency

12 Add your preferred

Prep time 10 minutes | Baking time 20 minutes

Cooling time 30 minutes | "Curing" time overnight

Serving size: 10 protein cloud cakes

Following rigorous consumer taste testing

performed in South Africa's leading

supplement retailers, USN released

BLUELAB 100% Whey Protein – a

whey protein product that still includes

the premium ingredients sourced from

the world's best suppliers, with the added
---
Check out my favourites

PRODUCT REVIEW

BY SHELBY JESSICA NEVES, 2016 USN Face of Fitness

TRUST BAR

Guilt-free indulgence is here, all the

way from America! USN's new Trust

Bar is high in quality protein, low in

impact carbs and sugar, and with 0g

of unhealthy trans fats. It's available in

3 delicious flavours – Vanilla Cupcake

(with real cake sprinkles inside!),

Chocolate Coconut and Peanut Butter

flavours. The protein content per bar

is 22g and it contains a mere 2 to 3g

of sugar, which makes it the perfect

on-the-go low-carb protein fix. It is

a good source of prebiotic fibre as

well. When you struggle to stick to

healthier choices this winter and the

carb craving struggle is real, rather opt

for the USN Trust Bar as the ideal cheat

as part of your healthy lifestyle! It's the

best tasting protein bar yet!

BCAA AMINO+

Amino acids are crucial to

enhance the performance and

stamina of your muscles during

training sessions, and for recovery

afterwards. BCAA Amino+

contains the optimal BCAA ratio

of 2:1:1 in relation to its L-Leucine,

L-Isoleucine and L-Valine content,

offering a total of 5g of BCAAs per

serving. In addition, it includes 2g of

L-Glutamine and 500mg L-Citrulline

Malate, with vitamins, phosphates

and electrolytes also added to the

formulation to further enhance

muscle recovery. BCAA Amino+ can

be taken before, during and after

training sessions to give your body

what it needs to train harder and

recover faster!

BLUELAB 100%

PREMIUM WHEY

Since the launch of the BlueLab 100%

Premium Whey it has become a firm

favourite in my daily regimen to boost

muscle support and recovery, and

deliver optimal nitrogen retention and

amino acid conversion. The protein

content is derived from cross flow

ultra-filtrated whey protein isolate,

hydrolysate and concentrate, and it

is soy-free. It also includes ToleraseL

for easy digestion. The flavours are

amazing! My favourite is the Caramel

Popcorn with real protein crisps. It's

also available in Choc-Peanut, Double

Choc Rocky Road, Wheytella and the

ever-popular Chocolate, Strawberry,

and Vanilla flavours. I use it before and

after training, and in the evenings

for optimal muscle recovery.
---
supplement

WHEY

FLAVOUR

BY Pedro van Gaalen

ltin

category in the supplement

market. That means margins are tight as

manufacturers compete on price, and on

protein content and quality.

Consumers therefore tend to fall into one

of two categories – those who are willing to

pay a premium for products that offer the

best quality whey protein with the highest

protein content, and the price-sensitive

terms of quality to afford this supplement

staple.

According to Gareth Powell, Technical

Manager for Ascendis Sports Nutrition, whey

is and always will be a cornerstone in the

that practically any consumer can make use

of it, irrespective of their goal."

FRONTLINE BATTLEGROUND

However, a new frontier in the battle for

the hearts and minds (and share of pocket)

of supplement consumers has emerged,

t,

with manufacturers introducing

major innovations in product

to capture market share

and gain a market-leading

position in what is

generally considered the

'gateway' product to all

other supplements.

caught up to and, in some

cases, is now leading the

international sports nutrition market, offering

a wide range of supplements as an everyday

regard to whey, this is predominantly in the

a dynamic that keeps retailers and consumers

interested. This ultimately ensures that

brands are spending money on innovation to

push the boundaries on product quality and

the organoleptic properties of the products

they manufacture."

This view is echoed by Matthew Haldenby,

founder of Titan Nutraceutical Technologies

(TNT), which manufacturers the TNT Mercury

competitive local whey market now offers

"To maintain our unique position as

a brand we reviewed consumer buying

"South Africa has

caught up to and, in some cases,

is now leading the international

sports nutrition market."

- GARETH POWELL, TECHNICAL MANAGER FOR ASCENDIS SPORTS NUTRITION

purchase frequency directed towards

to not go for the generic options available

to us locally, preferring rather to look at the

three delicious dessert variants sourced

from Holland that we are proud to put our

name to, in the form of Cream Toffee, Vanilla

Caramel and Chocnut Butter whey options,"

explains Matthew.

And while it is physique athletes, and

consumers that form the core of the

supplement industry, Gareth suggests that

innovations like these have helped grow

the market by creating broader appeal to

attract people such as business professionals,

Flavour options have

helped grow the market

by creating broader appeal

to attract people such as

business professionals,

housewives,

young moms

and active retirees.
---
housewives, young moms and active retirees.

add in an easier to reach global supply chain

materials, and enhanced technology around

the blending process, and supplement

brands, irrespective of their size, are now

offering a broader range of gourmet, food-

spectrum of consumers."

LOCAL INNOVATION

A supplement company at the forefront

undoubtedly Ultimate Sports Nutrition

(USN). The company recently introduced

a consumer-based research programme

used to develop a new pre-workout

product.

give consumers what they want," explains

Donato Colangelo, Marketing Director at

we can grow the industry and therefore the

brand, too."

Having said that, Donato explains that

brands often go wrong by assuming they

forcing them to take what you offer, and

that requires clear two-way communication

Caramel Popcorn is

one of USN's most

is part of four unique

have been developed

by the consumer, for

the consumer.

between a brand and th

To open these channe

communication, USN use

product development plat

consumers with a number

tactile changes the brand w

introduce to their whey prot

This consisted of rigorous

taste testing performed in S

Africa's leading supplement

which helped USN to develo

r customers."

f

of products that include the p

ingredients sourced from the

best suppliers, with the added a

the BlueLab

m to engage

new taste and

planning to

n range.

consumer

a range

ium

d's

peal of

supplement market as there have been

few breakthrough developments in the

sector over the last few years. However,

as a market leader, USN always aims to

set the trend, which is why we chose to

focus on putting a spin on an old category

by innovating whey supplements with a

explains Donato.

expansion, USN was able to leverage

connections with global ingredient

suppliers and manufacturers, and food

scientists to come up with a number

supplement-buying public and really disrupt

"It's important to

determine if you're

really giving your

consumers what they

want, or if you're

forcing them to take

what you offer."

- DONATO COLANGELO, MARKETING DIRECTOR AT USN

the market status quo.

crisps made from milk solids, which actually

added to the total protein content of

supplements a new spin with the addition of

that led to the creation of one of our most

continues Donato.

Cellucor recently launched a new Peanut

product in South Africa.

innovations that emerged from the USN

BlueLab programme include Chocolate

have been developed by the consumer,

for the consumer. And the reception from

supplement buyers around the globe has

been nothing short of phenomenal," he

states.

Other innovations helping to spur on the

latest entrant into the local supplement

market, 3D Nutrition. The company uses

what it calls 3D Taste Technology to

combination of expertise, experience,

science, and innovation."

75
---
the mouth. By giving careful consideration

known as salt, sweet, sour, bitter,

develop and successfully apply our

proprietary 3D Taste Technology to

all 3D Nutrition protein powders,"

of Chrome Supplements

and Accessories, the local

manufacturer of the 3D Nutrition

range. The range includes Choc

Mint, Cookies and Cream, and

Chocolate, Vanilla, and Strawberry.

"All our proteins are sourced from major

suppliers in Europe and the US, and many

aroma houses.

CATERING TO MARKETS

Ascendis Sports Nutrition, which

manufactures and distributes a range

of brands including Evox, SSN, Scitec,

Supashape, and Muscle Junkie, also bases

company's ranges on the preferences of

consumers.

suppliers in Europe and the US, and many

and aroma houses. Delivering something

new is all about asking consumers what

they're looking for. Once we have a sound

understanding of their needs, we start the

expectations. This is not as straight forward

therefore work with them to ascertain which

would be best, or we simply develop a

Gareth also suggests that it is foolhardy to

the aim of selling across all global markets

without some degree of customisation.

"We're very conscious of who our

consumer is and the differences in

their preferences. As such, during the

development of products, various tastetesting

panels and sensory services are

engaged to critically analyse and gain

feedback on the development of the

Flavours are highly

concentrated, and

they make up a very

small component of

item with,

in many cases, the

comprising just 2% of

the total product.

- GARETH POWELL, TECHNICAL MANAGER FOR

ASCENDIS SPORTS NUTRITION

product and to aid in improving the

To this end, Ascendis operates two

local manufacturing facilities that produce

products for the South African, African

and Middle East markets, two facilities

in Australia that cater to the Australian

and Asian markets, and a manufacturing

facility in Europe that delivers product

exclusively to the European and American

marketplaces.

76

JULY - AUGUST 2017 |
---
DELIVERING

SOMETHING NEW IS

ALL ABOUT ASKING

CONSUMERS WHAT

THEY'RE LOOKING FOR.

- DONATO COLANGELO, MARKETING DIRECTOR AT USN

WIDER APPLICATION

Through these advances, supplemen

manufacturers have also been able

to innovate with other protein-based

supplements. For example, Donato

elaborates that product categories such as

based makeover.

great-tasting low-calorie whey protein

low sugar content, which means you wouldn't

and Pink Jelly Bean. However, our research

and development team has worked hard to

deliver a low-calorie source of sweetness by

without any harmful preservatives, dyes or

allergens. This has made these products

the preferred indulgent 'treat' for the week

among many health- and physique-conscious

individuals."

used in whey products are no longer simple

we have a selection of powders, aromas,

that offer diversity and uniqueness in their

are spray-dried before use, there needs to

be a carrier compound to ensure a universal

highly concentrated, and they make up a

comprising just 2% of the total product. This

brings little in the way of added calories,

which means you end up with a highly

Gareth explains that they are commonly used

LIMITED EDITION FLAVOURS

Birthday Cake

Cake Donut

Caramel Frappe

Chocolate Coconut

Cinnamon Graham Cracker

Coffee

Key Lime Pie

Orange

Root Beer Float

Red Velvet Cake

Ginger Bread

Strawberry Banana

Tropical Punch

Salted Caramel

White Chocolate

Pumpkin Pie

Egg Nog

adds sugar to their whey formulations to

achieve a sweetness level, especially since

commercially available, safe sweeteners have

between 200 to 600 times the sweetness

of table sugar. As a manufacturer, we keep

calorie levels in check."

WHAT'S NEXT?

on the horizon for the supplement

industry, Donato believes that this is where

supplement innovation will continue to

happen. "The science is established, and

global standards dictate what a product

needs to deliver quality and value for

money to consumers. Our goal now is to

continue innovating by addressing the

user experience without compromising on

the integrity and quality of our products.

In so doing, we aim to remain the market

leader, at the forefront of setting the trend

concludes.

Gareth agrees, stating that innovation

in the supplement industry will hinge on

the process of reworking what is already

available to offer something new.

OPTIMUM NUTRITION

WHEY FLAVOURS

ONGOING FLAVOURS:

Banana

Cake Batter

Caramel Toffee Fudge

Chocolate Malt

Chocolate Mint

Chocolate Peanut Butter

Cookies & Cream

Double Rich Chocolate

Extreme Chocolate

French Vanilla

Mocha Cappuccino

Rocky Road

Strawberry

Vanilla Ice Cream

NO BRAND THAT I

CAN THINK OF IN

SOUTH AFRICA ADDS

SUGAR TO THEIR WHEY

FORMULATIONS...

ESPECIALLY SINCE

SWEETENERS HAVE

BETWEEN 200 TO 600

TIMES THE SWEETNESS OF

TABLE SUGAR

- GARETH POWELL,

TECHNICAL MANAGER

FOR ASCENDIS SPORTS

NUTRITION

or a new combination that may offer a marginal

the same." However, he adds that there are

promising advancements on the horizon that

could change this view in the future.

77
---
nutritionnews

Add an Avo...

TO FIGHT HYPERTENSION

It's widely recognised that diet

plays a vital role in addressing

high blood pressure, also known

as hypertension, which is a leading

cause of heart attacks, strokes,

kidney failure and premature

death.

Africans (or one in three people) suffer from

"The DASH diet – the Dietary Approach

to Stop Hypertension – is an eating plan

Avocados meet all

the criteria for this diet, in that they are

naturally free from sodium, contribute to

increased fruit and vegetable intake, and

are a source of potassium – just half an

avocado provides 420mg of potassium.

In addition, their high monounsaturated fat

content helps to reduce blood cholesterol

levels and lowers the risk for heart disease

when used to replace saturated and trans

fats," explains registered dietitian Jane

The SA Avocado Growers'

Association (SAAGA) is therefore

encouraging all South Africans to 'add

an avo' to their meals, particularly as the

2017 local avo season has begun.

Snack ti

Vital Health Foods has

developed a range of

snacking

options, including Vital bars

and bites

vitamins at 100% Nutrient

Reference Values (NRV), and

are available in cashew and

coconut; almond and cocoa;

and seed, almond

and

fitness

files

SCORE

SPARKLING

APPLE...

is a new energy drink

that contains a double

shot of guarana for a

natural energy boost.

The newly formulated

sweet apple taste also

delivers a dose of B

vitamins. It's also taurine

free, which means a

great aftertaste.

www.drinkscore.co.za

5 WAYS

CUTTING SUGAR

WILL IMPROVE

YOUR HEALTH

1. Improve skin health:

According to research,

cutting your sugar intake can

improve skin elasticity and

2. Reduce visceral

body fat: Higher sugar

intakes, particularly from

sugar-sweetened beverages,

is associated with greater

visceral (organ) fat, which is

the most deleterious to your

3. Reduce your risk of

lifestyle disease and

obesity: Sugar has been

linked to increased rates of

both conditions in numerous

4. Live longer: Research

shows that those who

consume the highest amount

of sugar – up to 21 percent

of total daily calorie intake

– doubled their risk of

death due to cardiovascular

5. Regulate your

appetite: Regular or

high sugar consumption

can inhibit dopamine

transporters, which leads

constantly spiking blood

sugar leads to drops in

MANAGE PAIN WITH COFFEE

Ateam of researchers from the Boston Children's Hospital have

found

that caffeine can be better at reducing feelings of pain

than painkillers or additional sleep. The study, conducted on

mice, found that it was the dopamine released after swigging a

morning cuppa that was more effective at alleviating pain.

78

JULY - AUGUST 2017 |
---
These chewy crunchies are perfect for snack time, and they

help to boost your immune system and energy levels.

Makes 20 crunchies

INGREDIENTS:

1 cup oats

½ cup desiccated coconut

¾ cup Montagu Immune

Mix

150g butter

2 tbsp golden syrup

½ cup brown sugar

½ tsp bicarb

50g carob chunks

METHOD:

brownie tin and line the

coconut and Immune

Mix in a bowl and mix to

Place the butter, syrup

and sugar in a small

heat until the butter has

melted and everything

butter starts to bubble

remove the saucepan

from the heat and stir in

Pour the butter mixture

Mix well until everything

mixture into the prepared

Bake the crunchies for 20

before removing from

the tin and cutting into

Melt the carob in the

microwave and use a

spoon or small piping

bag to drizzle over the

Leave to set before

TOP 5 GOOGLED

DIETS IN 2016

1. GOLO DIET

2. TACO DIET

3. MILITARY DIET

4. ATKINS 40

5. KETOGENIC DIET

It's winter, which means

it's time to stock up on the

following seasonal fruits and

vegetables...

Fruits: Apples, avos, dates,

grapefruits, lemons and limes,

melons, naartjies, oranges,

pawpaws and papayas, pears,

Vegetables: Asparagus,

beetroots, broad beans,

broccoli, Brussels sprouts,

fennel, Jerusalem artichokes,

kale and spinach, parsnips,

pumpkins, radishes, turnips,

FROM ONE EXTREME TO THE NEXT...

One of 2017's biggest diet trends is shaping up to

be the 80/10/10 Eating Plan – the polar opposite

to low-carb or Banting diets as it advocates that 80

percent of calories come from carbohydrates,

predominantly from raw fruits and vegetables,

while only 10% of calories are derived from

protein and from This low-fat, raw food diet

was created by a retired
---
nutritalk

JUST

GO!

BEAT

WINTER

BLUES,

LIKE A BAD ASS!

Motivating yourself to

get moving in winter

can be quite the task,

especially when the

days are short and the weather

is chilly.

One way to manage is to take

comfort in the fact that some good

quality, vigorous exercise, coupled

with loads of nourishing healthy

improving your mood, focus, vitality,

the winter months when energy

levels tend to wane.

Trust me, I know how easy it can

be to go into hibernation mode,

opting for a cosy blanket, the couch,

a movie and bowl of popcorn,

instead of a sweaty workout.

Unfortunately, though, making this

choice every time will inevitably

catch up with us, and quickly too!

It's easy to hide under all the

coats, jerseys and jackets, thinking

"I'll start again in the spring", but

the truth is, letting yourself go and

much for your self-esteem, your

body, or your mind, for that matter.

CONSISTENCY

IS KEY!

The combination of

'heavy', calorie-dense

foods and a lack of

exercise will simply make

you feel more tired, more

lethargic and downright

lousy!

The way to keep that

toned aesthetic and remain

these all go hand in hand)

is to be consistent. You

can't just stop doing it to

hibernate through winter.

It has to become a way

of life, and those colder,

unpleasant months should

be no exception!

Maintaining your healthy

habits all year round keeps

you in check, and that way

there is absolutely no need

to go to extremes with

major detoxes or crash

diets come spring, which

we all know don't work

anyway!

Winter certainly makes it a little more

challenging to stick to a good routine, so to

help you conquer the season I'm sharing with

you a few of my favourite tips and tricks:

POWER

BREAKFAST

WITH PROTEIN

Devour a high-sugar impact

start down a slippery slope

towards ravenous hunger,

cravings, and overeating for

the rest of the day. My most

effective needle-mover for fast,

lasting fat loss keeps you full for

healthly fat content) and takes less

time to make than placing your

coffee shop order: Blend some

pea or hemp protein powder with

frozen raspberries, avocado, leafy

and unsweetened coconut or

almond milk and drink up. Healthy

fats such as avocado will also help

generate body heat to keep you

nice and warm.

SMART

UP YOUR

ENERGY

Eating sugar-rich foods will

spike and crash your blood

sugar levels like crazy,

creating hunger, cravings, and

crankiness, even for hours

after you've eaten. Create

stable day-long blood sugar

and energy levels with clean,

lean protein, healthy fats, tons

of leafy greens, cruciferous

veggies, and slow-release,

one of my favourite winter

go-to grains because they

are both low GI and rich in

protein. There characteristics

make it a great lunch base to

add to your favourite salad or

to enjoy alongside a hearty

vegetable stew.

Nutritalk by Cara-Lisa. Cara-Lisa is a health blogger, fitness enthusiast, wellness coach, and founder of the Caralishious brand. With 17 years of dance

experience behind her, Cara-Lisa has first-hand experience in sports nutrition, body conditioning, Pilates, healthy eating and holistic living. After overcoming

years of struggle in her relationship with food and body image, it is now her passion to help heal others. You can find Cara-Lisa's online coaching services and

meal plan options at www.caralishious.com. Her blog includes healthy recipes, nutrition advice, exercise tips and offers simple and sustainable ways to obtain

and maintain lasting health. You can also subscribe to Cara's newsletter for regular updates, recipes, and nutrition tips delivered straight to your email.

@caralishious caralishious @caralishious

80

JULY - AUGUST 2017 |
---
EAT BY

THE CLOCK

Meal timing becomes

crucial for stabilising your

appetite and reducing

cravings. Have a protein

shake within an hour of

waking up, since breakfast

sets up your metabolic

rate for the day. This way

you'll better regulate your

appetite, quashing hunger

signals every four to six

hours. Be sure to stop eating

three hours before bed as

this allows your body enough

time to use up your fuel

while you are still awake,

and also maximises the

amount of time your body

has to clean out completely.

Skipping meals, spacing

meals too far apart, or

otherwise erratically pacing

meals practically makes a

large tub of ice-cream

inevitable!

JUST GO!

When it comes to exercise,

much of the struggle is

mental – getting to the

gym is often the hardest

part. Once you're actually

there you end up enjoying

yourself, especially the

feeling afterwards! So don't

think about it – don't allow

yourself to get into the

mental debate about why

you shouldn't go, or how

cold it is, or how you should

really reply to the rest of your

emails – just get into the

car and go! Have a gym bag

packed and ready in your

car at all times, so that after

work you head straight to the

reason not to head back out

to hit the gym. So just do it!

TAKE IT DAY

BY DAY

Trick yourself! Don't tell

yourself that you're going

to go to the gym every day,

forever and ever – It just

sounds too daunting and

scary. Thinking this way will

likely cause you to give up

before even reaching the end

commit to something smaller

and more achievable, such as

working out for a month. This

is a perfect way to redevelop

the exercise habit, and once

end, you'll probably be keen

for more! It's all about baby

steps… just take it one day

at a time.

KEEP IT REAL

There have been so many

times in the past when I

decided to get a little too

enthusiastic about working

out. In my head I had said

to myself: "Right! I'm going

to train for two hours every

single day. Then I'm going to

barre class or practise yoga

for an hour before bed and

also make time for boxing,

and dancing, and… and…

and…"

And how many times

do you think this actually

happens? That's right, none!

That's because, although my

intentions are honourable, it's

just too extreme. Don't make

the same mistake.

Don't expect yourself to

go from couch potato to

schedule a punishing workout

to show the world you're

serious about getting healthy.

All of that will come in good

manageable and you'll be far

more likely to stick to it.

CHECK

PAGE 36

BE KIND TO

YOURSELF

Don't get tough on

yourself for falling off the

bandwagon. Rather reward

yourself for the times you

show up to work out. It

doesn't matter if you manage

to do tons of exercise or

Showing up is half the battle

won!

MAKE IT FUN!

There's no chance in hell

you'll want to show up

if your workout is dull,

repetitive and generally

uninspiring. So get out there

instead. There are so many

ways you can get active and

get the exercise your body

needs, and that doesn't have

to include hitting the gym. Go

dancing, try out netball, try

your game out on the soccer

park... do want you love and it

will love you right back!

LOVE

YOURSELF

Most importantly, though,

don't let diet and exercise

become something you do

to punish yourself or to

make yourself deserving of

love. You're already deserving

of love and you haven't done

anything wrong.

Instead, appreciate yourself

for exactly who you are, love

every bit of yourself and move

towards regular workouts as a

way of showing yourself that

love. Exercising from a place

of self love is a way to really

show yourself some care! You

deserve it, and don't ever

forget that!

PAIR UP!

There's no need to exercise

alone. Take your best buddy

along with you to up the

fun and frolics. You will

also act as each other's

personal motivators and

provide a gentle yet

effective form of peer

pressure by holding each

other accountable to show up

for every session and reach

your goals.

because a healthy, balanced

diet is only effective if your

body is able to process the

food you eat and absorb the

nutrients you feed it.

snack

PICK THIS

Instead of melted cheese toppings over

bakes, use and or

together and

add as a topping after baking.

Choose , , ,

and

Use , , ,

, or instead of

SMART-

SWAP YOUR

WEAKNESSES

Deprivation only exacerbates

cravings. We all know how it

goes… you always want what

you can't have! So quit all the

deprivation nonsense! Instead

of abstaining, make lateral

shifts by enjoying healthier

alternatives of your favourite

foods.

If you love white potatoes, sub

them with cauli mash instead. If

death by pasta is your vice then

try out zucchini noodles instead.

If your co-worker's hot walnut

brownies become irresistible,

keep a little 'emergency'

stevia dark chocolate nearby.

you will soon see

just how many indulgent foods

can be smart-swapped for their

healthier counterpart.

DITCH THIS

81
---
fresheating

Healthy

HERO

Bland and boring were

often the adjectives

that sprung to mind

the menu - that's until

Paleo and Banting diets

changed the game.

Since these eating plans

hit the mainstream

Thanks to the swathes of

Banting and other low-carb

cookbooks that now pack

store bookshelves, terms like

cauli rice, cauli mash, cauli

wraps and cauli pizza bases are

commonplace in modern-day

healthful eating discourse.

NUTRITIONAL CONTENT

For every 100g serving of

CALORIES 25

PROTEIN 1.9g

CARBS

5g

DIETARY FIBRE 2g

TOTAL FAT 0.3g

SATURATED FAT 0.1g

POTASSIUM

SODIUM

299mg

30mg

SUGAR 1.9g

WHY NOT TRY...

you may not be able to

afford it –

WASHINGTON POST

GOOD TO

KNOW...

Cauliflower

ranks as low on

the glycaemic

index (GI).

82

JULY - A
---
CAULI BASE

VEGETARIAN

PIZZA

INGREDIENTS:

1 large egg

¼ cup parmesan cheese, shredded

1 tsp herbs of choice

A handful of baby spinach

1 zucchini, sliced or shaved

1 bunch of fresh asparagus stems

Himalayan rock salt and freshly

ground black pepper

INSTRUCTIONS:

the cut head into a blender or a

food processor. Pulse until you

Microwave cauli rice in a covered

container to steam for 3-4

minutes.

Pour into clean kitchen towel

and let cool for several minutes.

a dish towel and squeeze out as

bowl. Add in the egg, parmesan

cheese and herbs, and season

with salt and pepper to taste,

Form the pizza base on a baking

sheet using your hands to

make your desired shape. The

crust should be about half a

centimetre thick.

Pre-heat the oven to 230°C.

Bake for 10 to 12 minutes or

until it looks slightly browned.

Prepare your pizza toppings as

desired.

Remove the pizza base from the

oven, add toppings as desired

and return to the oven for

another 5 minutes.

Remove, allow to cool, then slice

and enjoy.

GOOD TO

KNOW

When selecting a head of

cauliflower, look for thick, compact

white florets. The head should be

heavy for its size and the leaves

surrounding it should be bright green.

Wilted leaves,

or blemished or brown florets should be a

warning sign of sub-standard freshness. If

the florets have

started to flower, they

are overripe.

CAULIFLOWER IS

RICH IN NUTRIENTS

It contains

amounts of vitamins

B6, A and K. It is also a

rich source of

It is also

a food that is low in

83
---
CAULI RICE AND

SCRAMBLED

EGGS

INGREDIENTS:

1 medium to large head of

1 tbsp olive oil or butter

Himalayan rock salt and

black pepper

2-3 large eggs

INSTRUCTIONS:

pieces and trim away inner

processor. Pulse until

completely broken down into

rice-sized granules.

Remove any large pieces

before adding pulsed

with olive oil or butter, preheated

over medium heat.

Stir and sprinkle with salt.

Cover skillet and cook for 5 to

8 minutes, until the cauli rice

is tender.

CAULIFLOWER GARLIC MASH

INGREDIENTS:

1 tbsp olive oil

1 clove garlic, smashed

¼ cup parmesan cheese, grated

1 tsp cream cheese

Himalayan rock salt and freshly

ground black pepper

INSTRUCTIONS:

Heat olive oil in a skillet over medium heat.

Add garlic and cook for 2 minutes until soft, stirring regularly.

Remove from heat.

vegetables are creamy.

Blend in garlic, parmesan cheese, and cream cheese.

Add salt and black pepper to taste.

Crack eggs into a bowl.

Add a pinch of salt and

ground black pepper.

Beat or whisk eggs until yolks

Drop butter into a frying pan

and melt.

Add beaten eggs and slowly

stir continuously until desired

achieved.

Remove from heat and serve

over cauli rice.

DID YOU

KNOW?

are made using

JULY
---
healthy

ROASTED CAULIFLOWER STEAK WITH

SPICY PEANUT DIP

INGREDIENTS:

Coconut oil

1/ 3 cup natural peanut butter

3 tbsp coconut milk

1 tbsp lemon juice

½ tbsp ginger, grated

2 garlic cloves, minced

1 tsp honey

Himalayan rock salt

Handful parsley, chopped

1 chilli, chopped

SPOILER

ALERT!

Store cauliflower in the

refrigerator, unwashed and

with the stem side down, in

an open container to avoid

moisture build up, which

will cause the cauliflower to

degrade faster. Individual

florets will also spoil faster

than a whole head.

INSTRUCTIONS:

Combine peanut butter, ginger, garlic, coconut milk,

lemon juice, and honey in a bowl.

Whisk until combined and smooth.

Add salt to taste.

Pre-heat oven to 175°C.

Heat coconut oil in a griddle pan on high heat.

Fry the steaks until outsides brown.

Remove from pan, rub on oil and salt, then bake in

the oven for about 10 minutes until tender.

Serve the steaks with the peanut dip, and fresh

parsley and chopped chili.

BEST WAYS TO COOK

Thankfully we now know that

are

we can prepare this

hero ingredient. As a standalone

item on the plate,

seems to have become the

of cooking

also serve as a

ingredient or

for wraps, certain types of

confectionary, rice, couscous, mash

and purees.

The and can

also be eaten , either on their

own with a dip or cut up and

added to

PERFECT PAIRINGS

generally has a

making it ideal for pairing with red

meat and certain

GROW YOUR OWN

but efforts

are during the

in spring and

in the right climates.

It does to

especially

It but

transplanting is often the most

method to expand a

It is to in

that has a pH

of where it

can get at least

sun

ADDITIONAL HEALTH

BENEFITS

This cruciferous vegetable is

said to reduce the risk of

developing various forms

of cancer thanks to its

which

is a sulfur compound that has

been shown to kill cancer stem

thereby potentially slowing

tumour growth. Sulforaphane

has also been found to

pressure and

It is also packed full of

making it a great

food to aid in the

and associated

conditions such as

and

others.

85
---
fitpregnancy

BY Giorgina Slotar, clinical nutritionist | www.tonedandtru.com

FIVE REASONS TO

DEVELOP

BASE FITNESS

before pregnancy

Many women are completely

unaware of the importance of

requirement to creating the platform for a

partum recovery, which will get you back

1

YOU INCREASE YOUR CHANCES OF

CONCEIVING

improve your health before trying to

Our

bodies are primarily concerned with survival,

which means that if you're unwell, or simply

becomes dealing with whatever stress it is

under, be it illness, or fatigue because of

poor nutrition or a lack of sleep, t n e a

few.

and well rested, f

ing pregnant naturally

will beco easier, provided there are no

med

l complications, of course.

A

ING PRE NT NATURALLY

WI

E

ME EASIER WHEN

YO BODY

IS HEALTHY AND FIT

86

JULY - AUGUST 2017 |
---
YOUR BODY BOUNCES BACK

2 AFTER PREGNANCY

Establishing

lays the foundation of a healthy nutritional

history and 'banks' that all-important muscle

memory… think of getting into shape before

pregnancy like a post-baby body savings

account! When you develop a history

manageable as you get back into exercise

postpartum, and you'll bounce back in no

time.

4

YOU'LL BE ABLE TO TRAIN

DURING PREGNANCY

It often

happens that ladies who were relatively inactive before

falling pregnant suddenly get a bee in their bonnet to 'hit

the gym' now that they're expecting. This generally stems

from the sudden concern that they'll gain too much weight

during pregnancy.

train at the level you were training at before falling

Therefore, if you were not training before pregnancy,

you won't suddenly be able to hit the gym and start doing

exercises that your body is unaccustomed to. This doesn't

mean that you can't do low-key exercise such as walking, yoga

professional, but you need to be extremely cautious.

On the other hand, if you have established a healthy

exercise routine before pregnancy, providing you have no

complications, you can train at a maintenance level (the level

you were training before pregnancy and no harder) right up

to the day before your little one arrives.

In fact, not only will you bounce back,

This

sweat 'equity' you invest upfront builds

a cardiovascular and strength base that

compounds over time to deliver exponential

returns much faster when you eventually

get back to training. You'll also be less

prone to soreness and injury on your return

to exercise than someone who lived a

sedentary life before pregnancy.

WHEN YOU DEVELOP A HISTORY

OF FITNESS, YOUR PAIN WILL BE

A LOT MORE MANAGEABLE AS

YOU GET BACK INTO EXERCISE

POSTPARTUM, AND YOU'LL

BOUNCE BACK IN NO TIME.

YOU CREATE THE PERFECT

3 ENVIRONMENT FOR DEVELOPMENT

Creating a healthy home for your

months of their development is crucial.

Therefore, even if getting into shape and

improving your health isn't high up on

your list of personal priorities, it should

be number one on the priority list for your

little one.

If you have

established a

healthy exercise

routine before

pregnancy,

providing you have

no complications,

you can train at a

maintenance level

right up to the

day your little one

arrives.

DECREASE YOUR CHANCES OF

5 POSTPARTUM DEPRESSION

Being able to train throughout

The ability to train through your

pregnancy will also make you feel better

about yourself, and you'll be less likely

to gain more weight than is necessary.

This, of course, will make it easier to

get your body back after you've given

birth, thereby reducing your chances of

postpartum depression, which is often

linked to a mother's lack of self-esteem

after pregnancy as a result of the

changes to her body – especially if she

has gained excessive weight.

WRITTEN BY Giorgina Slotar,

clinical nutritionist (Intl. Grad.

Dip. Clinical Nutrition, Australia),

pre- and post-natal exercise

specialist (American Fitness

Professionals Association),

weight management specialist

trainer (HFPA)

For more information on how to nourish a

healthy pregnancy, please visit

www.tonedandtru.com to stay updated on the

Nourishing a Healthy Pregnancy.

87
---
advertorial

WHEN SPORTS

SCIENCE AND

TECHNOLOGY

COLLIDE...

AMAZING OUTCOMES

ARE POSSIBLE

As a Sports Science graduate,

and an athlete, Pretoria-based

personal trainer Stephanie

to deliver top-level athletic

performance.

That's why, when she

"I was in my third year of study

at the University of Pretoria (Tuks)

when I injured my back. My doctor

suggested that I use EMS to recover

and rehabilitate, and the results

were amazing. I knew then that I

had found a training modality that

industry," she recalls.

Stephanie originally went for

an interview to work for an EMS

franchise, but soon realised that she

didn't want to work for someone

else. "I knew that I could use the

Stephanie then took the decision

to skip enrolling for an honours

degree and rather focused her

efforts on launching her personal

training business, which she called

Muscle Contouring. "I launched in

September 2014 after completing

my EMS training through Miha

Bodytec. I then got a loan from

88

JULY - AUGUST 2017 |

industry as the owner of Rogue

Kickboxing Gym in Centurion,

Pretoria, which is also where I base

my business from," she continues.

This was synergistic for both

Stephanie and her father, as Rogue

expanded its offering with the

addition of EMS training, while

Stephanie was able to keep her

overheads low as she built her client

base. She was, and still is, the only

"This meant I had an immediate

pool of potential clients to tap

into to build a client base and it

wasn't long before they started

experiencing and seeing the

amazing results that EMS training

delivers, and word quickly spread,"

she explains. In fact, Stephanie says

she has built her business purely

on client referrals.

"Word of mouth is

really powerful, so with

clients telling their

friends, and my friends

and I working to build

my network through

Facebook, I have built

a sustainable business,

with 37 clients a week

on average."

With the income

Stephanie was soon

generating she was

also able to pay

I knew

that I could

use the

technology

and the

it delivers

to build

my own

successful

business

back the loan earlier than initially

planned. "The agreement I made

with my father was to pay it off

monthly over a period of three

years, but within 24 months I was

off the debt while still meeting all of

she explains.

The ability to see effective results

in a 30-minute session when using

EMS means that Stephanie also has

more time to train for the sports

she participates in. "Even though

I'm generally busy from 5am until

own training sessions to improve

my motocross, horse riding and

kickboxing. I also incorporate EMS

into my programmes to improve

my performance in each of these

sporting codes. I actually like to use

myself as the guinea

pig for the workouts

I'll use with clients

during the week."

This means that

Stephanie has honed

her EMS training into

something unique that

incorporates elements

of kickboxing, whether

she sees clients in the

gym or during at-home

sessions, as she offers

both.

Her sporting

endeavours have also opened up

other business opportunities, with

Stephanie picking up a number of

competing against her. "I now have

a number of Roof of Africa bike

riders and swimmers as clients.

We do a lot more strength work,

combining TRX suspension rigs,

kickboxing, medicine ball work, and

Swiss balls with EMS to get an even

greater training effect."

No matter who she trains,

though, Stephanie knows that when

EMS is part of the equation, the

outcome will be successful. "I still

offer personal training without using

EMS, but these clients don't always

get the results they want. With EMS,

though, I have never had a client

who hasn't achieved their goals. As

far as I'm concerned, it's nothing

short of a revolutionary innovation,

be it for weight loss, improved

aesthetics or sporting performance.

There is no doubt in my mind that

it has been the key to my business

she concludes.
---
transformation

REALISING HAPPINESS CAN'T BE FOUND

AT THE BOTTOM OF A BOWL IS THE FIRST

STEP TO WEIGHT-LOSS SUCCESS

Judy

MANZ

I

Way back when

humans were less

evolved, eating was

purely an act of sustenance.

However, as our brains

developed and food became

available in abundance, and

in forms that stimulate the

pleasure centres of the brain,

the act of eating transformed.

We now eat for enjoyment,

to be social and to celebrate.

However, in certain instances, we

also eat in response to stress, to

appease a psychological craving,

or to suppress emotions. And

when we do so more for the

latter, our eating habits often

become detrimental to our

health.

That's the situation Judy

Manzetti found herself in. "I've

been an emotional eater for as

long as I can remember," she

recalls. Psychologists generally

classify emotional eating as

occasions when we consume

food for reasons other than

satisfying actual physical

hunger. This can range from

occasional binges during times

of stress, or even boredom, to

serious compulsive eating that

can be severely damaging.

The fact that she lacked

other coping mechanisms

to deal with her emotions,

preferring to visit the fridge to

escape meant that Judy was

always one of the biggest kids

at school. "As I got older, I

also tended to be one of the

biggest ladies in my social

circles," explains Judy.

GIVING

EMOTIONAL

EATING

THE BOOT

Photography by Soulby Jackson

Before

After

After multiple failed attempts, Judy started to realise that her

diet efforts were futile as they simply targeted the symptoms

of her condition – her ability to effectively process and deal

with her emotions

A REALISATION STARTS

Being overweight for the

greater part of her life seriously

which simply added to her

woes as she would suppress

her negativity and growing

sense of self-loathing with food.

She obviously made numerous

attempts to improve her situation

by following various diets over

the years, but nothing ever

seemed to work for very long,

or at all. "I would generally lose

a few kilos in the beginning, but

would put it all back on again."

After multiple failed attempts,

Judy started to realise that her

diet efforts were futile as they

simply targeted the symptoms

of her condition, namely the

eating, but without addressing

the underlying cause of her

eating – her ability to effectively

process and deal with her

emotions – she would never

succeed.

After this realisation she

decided enough was enough

and began working hard at

making both a psychological

and a physical transformation.

It was roughly three years ago

when Judy began to reconstruct

her relationship with food, while

she also worked to rebuild her

body, and it was when she used

this combined approach that her

transformation began to stick.

TASTING SUCCESS

"I managed to drop 10

kilos over a period of eight

months, and I kept it off, which

I was obviously delighted with.

However, then my progress

stalled," she recalls. At the

time, Judy's husband had also

90

JULY - AUGUST
---
Quick FACTS

Weight before: 64kg

Weight after: 53.5kg

Measurements: Judy lost

21.5cm from her buttocks,

thighs and arms, resulting in

10kg overall.

TRAINING SPLIT

Day 1: Glutes and shoulders

Day 2: Back

Day 3: Hamstrings and calves

Day 4: Arms and chest

Day 5: Glutes and calves

It just takes patience – a lot of

patience – consistency, and a lot

of support from our loved ones.

DAILY EATING PLAN

Meal 1: Eggs

Meal 2: Chicken and carb source

Meal 3: Chicken and carb source.

Whey shake before gym.

Meal 4: Steak and carb source

Meal 5: Tuna

committed to changing his

lifestyle and his physique and

was working with personal

trainer and coach Vic Alley.

"His results were nothing

short of amazing. I was also

helping to prepare his meals

and pack his lunches, which

is what entrenched 'clean

eating' into our lifestyles."

Judy explains that her

husband's success inspired

her to change her approach,

which is when she decided

to go 'all in' one last time in

body of her dreams – one

similar to those she had

magazines, but never felt

was attainable for her. "It

was September 2016 when

I signed up with Vic as my

coach, and I haven't looked

back since."

MEALTIME MAKEOVER

Judy was soon eating six

small meals a day, with each

meal consisting of a source

of high-quality protein. "I

only had carbs a few times

a day in the form of rice,

potatoes and oats, and ate

lots of veggies. I also cut out

all sugar and dairy."

Soon after this lifestyle

shift Judy came to a startling

taught myself not to eat out

of emotion, but rather to

fuel my body." By reframing

food in this manner, Judy has

developed a more balanced

approach to eating and can

even enjoy a weekly cheat

meal without feeling the

need to overindulge each

time.

"I simply view my cheat

meal each week for what it

is – a rewarding way to boost

my glycogen levels so that

these periodic re-feeds."

FINE-TUNING TIME

IN THE GYM

Vic also changed the way

Judy trained by including

fasted cardio sessions in

her programme at least

morning before work, with

week, normally done in the

evenings after work.

"I started training legs

twice a week and then

jumped it up to three times

a week as I felt this was my

weak spot," says Judy. She

also included supplements

into her nutrition plan,

drinking a protein shake

each day with some oats,

and taking a multivitamin,

CLA, omega oils, and a good

calcium supplement as she

had cut dairy from her diet.

The most valuable outcome of this

experience is that I no longer eat to deal

with my emotions, but rather to feed

and fuel my body.

comfortable in my own skin.

"If I'm honest, it isn't as

easy as it sounds when you

put it down on paper like

this. At times it was hard...

really hard, but it was

she

states. "I have learnt so much

through this experience.

Most importantly, though, it

has taught me discipline in

every aspect of my life, not

just in terms of my approach

to eating. Yes, there were

days when I craved sugar,

but I knew that a cheat meal

was around the corner and

because I was indulging for

the right reason it no longer

felt like a vice."

Judy adds that she never

thought she would get this

far, "but with commitment,

with Vic as my coach, and

with my husband's amazing

support, I did it! It just takes

patience – a lot of patience

– consistency, and a lot of

support from our loved ones.

My husband has really played

a big role in motivating me

and for that I'll be forever

thankful! I feel so proud of

myself, knowing how far I

have come and how hard I

have worked to get where I

am now, and I now want to

share my story with others

in the hope that it will help

to inspire someone else to

achieve their dreams." In

fact, Judy says that she

now gets all excited

when people ask her

for help or advice. "It's

extremely humbling

and rewarding to help

and inspire others," she

concludes.
---
IFBB

ARNOLD

CLASSIC

AFRICA

WHEN: 5-7 May 2017

WHERE: Sandton Convention Centre,

Johannesburg

PHOTOGRAPHY BY: Soulby Jackson

www.skjphotography.co.za

ACA 2017 IFBB

PRO RESULTS:

PRO FITNESS:

1. Regiane

da Silva

2. Derina Wilson

3. Diana

Monteiro

4. Kristine Duba

5. Nicolette

Spencer

6. Missy Farrell

7. Tiffany

Chandler

8. Holly

Semanoff

9. Caroly

Botha

10. Sally Williams

1ST PLACE

Regiane da Silva

2ND PLACE

Derina Wilson

3RD PLACE

Diana Monteiro

2017 ARNOLD CLASSIC AFRICA AMATEUR

PRO CARD

AWARDED

JUNIOR FITNESS BIKINI

& WINNER OF WOMEN'S

BIKINI FITNESS UP TO 1.63M

1. Micaela Markides (South Africa)

BODY

FITNESS

OVERALL

WINNER

WOMEN'S BODY FITNESS OVER 1.63M & BODY FITNESS

OVERALL WINNER 1. Marcelle Collison (South Africa)

WOMEN'S BIKINI FITNESS

UP TO 1.63M

2. Tiana Alves Pereira (South Africa)

WOMEN'S BIKINI FITNESS

OVER 1.69M

2. Stephany Delatour (South Africa)
---
show

WOMEN'S BIKINI FITNESS

UP TO 1.69M

1. Jenna de Leon (Trinidad & Tobago)

MASTER WOMEN'S

BIKINI FITNESS

1. Nicole Tovey (Bermuda)

MASTER WOMEN'S

BIKINI FITNESS

2. Firdous Asmodien (South Africa)

WOMEN'S BODY FITNESS

UP TO 1.63M

1. Hellen Costa (Zimbabwe)

RESULTS

MASTER

WOMEN'S

BIKINI FITNESS

1. Nicole Tovey

(Bermuda)

2. Firdous

Asmodien (South

Africa)

3. Angela

Howden (South

Africa)

WOMEN'S

BIKINI FITNESS

UP TO 1.63M

1. Micaela

Markides (South

Africa)

2. Tiana Alves

Pereira (South

Africa)

3. Rachel Brun

(South Africa)

WOMEN'S BIKINI FITNESS

UP TO 1.66M

1. Shelby Jessica Neves (South

Africa)

WOMEN'S BIKINI FITNESS

OVER 1.69M

1.

Chanel Erwee (South Africa)

WOMEN'S BIKINI FITNESS

UP TO 1.66M

2. Bianca Daiubinet (South Africa)

JUNIOR

FITNESS BIKINI

1. Micaela

Markides (South

Africa)

2. Chanel Erwee

(South Africa)

3. Savanah-Jay

Prenzler (South

Africa)

WOMEN'S

PHYSIQUE

1. Regina Jonga

(South Africa)

2. Lee

Chaldecott

(South Africa)

3. Amanda

Strydom (South

Africa)

WOMEN'S

BODY FITNESS

UP TO 1.63M

1. Hellen Costa

(Zimbabwe)

2. Marelize

Stander (South

Africa)

3. Karen de Beer

(South Africa)

WOMEN'S

BODY FITNESS

OVER 1.63M

1. Marcelle

Collison (South

Africa)

2. Nicola Murphy

(South Africa)

3. Sonia van

Heerden (South

Africa)

WOMEN'S

BIKINI FITNESS

UP TO 1.66M

1. Shelby Jessica

Neves (South

Africa)

2. Bianca

Daiubinet (South

Africa)

3. Savannah-Jay

Prenzler (South

Africa)

WOMEN'S

BIKINI FITNESS

UP TO 1.69M

1. Jenna de

Leon (Trinidad &

Tobago)

2. Nicole Tovey

(Bermuda)

3. Caroline

Deveaux (France/

Reunion)

WOMEN'S

BIKINI FITNESS

OVER 1.69M

1. Chanel Erwee

(South Africa)

2. Stephany

Delatour (South

Africa)

(South Africa)

WOMEN'S

WELLNESS

FITNESS

1. Aurea Ferreira

(Angola)

2. Quenita Breet

(South Africa)

3. Carol Brooks

(South Africa)

WOMEN'S PHYSIQUE

1. Regina Jonga (South Africa)

WOMEN'S WELLNESS

FITNESS

1. Aurea Ferreira (Angola)
---
TRAINER

Immediate 24/7 access to specialist

trainers to help you achieve your

fitness goals.

PROGR

Log your pr

while training

instant feedbac

your trainer.

y.

PR

Multi-d

Detailed

Programm

fitness level

THE TWENTY FOUR SEVEN, THREE SIXTY DEGREE, PERSONAL TRAINING APP.

COMING SOON

info@fiyre.co.za

© 2017 Fiyre. All Rights Reserved. Terms and conditions.
---
BATTLE OF THE TITANS V

WHEN: 2-3 June 2017

WHERE: Durbanville, Western Cape

PHOTOGRAPHY BY Stehan Schoeman

LADIES PHYSIQUE

1. Annamari Barnard

LADIES FITNESS BIKINI 35+

1. Pamela Stead

LADIES BODY FITNESS

1. Fazilin Pillay

RESULTS

LADIES PHYSIQUE

1. Annamari Barnard

LADIES BEACH BIKINI UP TO

1.63M

1. Rachelle Havenga

2. Melissa Jansen van Nieuwenhuizen

3. Jessica Wolhurter

FITNESS BIKINI OVER 1.63

1. Antonina Vorobyova

LADIES BEACH BIKINI OVER

1.63M

1. Alethea Cusens

2. Yessica Fitzermann

3. Nicole Anne Halvey

LADIES BEACH BIKINI 35+

1. Theresa Schoeman

2. Marisa Jordaan

3. Anastacia Groenewald

COUPLES

1. Bernadette Beyer and Riaan Heinse

2. Nerissa and Ryan Ventura

3. Deidre Very and Oelof Bergh

FITNESS BIKINI UP TO 1.63M

1. Roxanne McLachlan

2. Nadine Wales-Smith

3. Vanessa Ferreira

FITNESS BIKINI OVER 1.63M

1. Antonina Vorobyova

2. Bianca Koekemoer

LADIES FITNESS BIKINI 35+

1. Pamela Stead

2. Annelie de Jager

3. Annebel Barrett

LADIES BODY FITNESS

1. Fazilin Pillay

2. Gretha Geldenhuys

3. Kholeka Xintolo

OVERALL

LADIES

FITNESS

BIKINI

OVERALL LADIES FITNESS

BIKINI: Roxanne McLachlan

LADIES BEACH BIKINI

UP TO 1.63M

1 Rachelle Havenga

LADIES BEACH BIKINI

OVER 1.63M

1 Alethea Cusens

FITNESS BIKINI UP TO 1.63M

1. Roxanne McLachlan
---
NABBA/WFF PRETORIA

CLASSIC PRO AM

WHEN: 13 May 2017

WHERE: Unisa Muckleneuk Campus,

Pretoria

PHOTOGRAPHY BY Soulby Jackson,

www.skjphotography.co.za

PRO

CARD

AWARDED

PRO

CARD

AWARDED

PRO

CARD

AWARDED

WOMEN OVER 45 YRS

1. Jill Justus

FEMALE SPORTSMODEL

UNDER 24 YRS

1. Inka Van Rhyn

BIKINI MODEL OVER 1.63M

1. Thato Seopa

PRO

CARD

AWARDED

FEMALE SPORTSMODEL

OVER 1.63M

1. Tamsyn Janse van Rensburg

PRO

CARD

AWARDED

BIKINI MODEL UNDER 24 YRS

1. Logan Coleman

RESULTS

JUNIOR

WOMEN

UNDER 24 YRS

1. Chandre Jeppe

WOMEN OVER

45 YRS

1. Jill Justus

2. Dalene

Sonnekus

3. Rita Pieterse

WOMEN'S

PERFORMANCE

1. Chantelle

Labuschagne

2. Julie Carletti

WOMEN'S

ATHLETIC

1. Riaana Cahill

2. Belinda de

Jong

3. Liesl Damstra

WOMEN'S

SUPERBODY

1. Irena Dorey

AEROBIC

FITNESS

1. Robyn Rose

Schoeman

2. Sandra Bosman

FEMALE

SPORTSMODEL

PRO

1. Inka van Rhyn

2. Michelle

Maynier

3. Tamsyn Janse

van Rensburg

WOMEN'S

EXTREME

1 Chelese Hubner

WOMEN'S

EXTREME PRO

1. Michelle van

Straaten

2. Riaana Cahill

BIKINI MODEL

UNDER 24 YRS

1. Logan

Coleman

2. Robyn Rose

Schoeman

3. Elme Mostert

BIKINI MODEL

OVER 30 YRS

1. Shona van der

Merwe

2. Amy Zinserling

3. Janice

Pondicas

WOMEN'S SUPERBODY

1. Irena Dorey

WOMEN'S PERFORMANCE

1. Chantelle Labuschagne

PRO

CARD

AWARDED

FEMALE SPORTSMODEL

OVER 30 YRS

1. Michelle Maynier

WOMEN'S

EXTREME

1. Chelese

Hubner

FEMALE SPORTSMODEL

UNDER 1.63M

1. Le Che Hendry

PRO

CARD

AWARDED

FEMALE

SPORTSMODEL

UNDER 24 YRS

1. Inka Van Rhyn

2. Anel Coetzee

3. Sabrina Ferrari

FEMALE

SPORTSMODEL

OVER 30 YRS

1. Michelle

Maynier

2. Emmerentia

Rautenbach

3. Cristi Theron

FEMALE

SPORTSMODEL

UNDER 1.63M

1. Le Che

Hendry

2. Louise du Preez

3. Tanya Lombard

FEMALE

SPORTSMODEL

OVER 1.63M

1. Tamsyn Janse

van Rensburg

2. Meghan

Hennessy

BIKINI MODEL

UNDER 1.63M

1. Jessica Brits

2. Rachel Chlup

BIKINI MODEL

OVER 1.63M

1. Thato Seopa

2. Mikaela de Vaal

3. Talitha Jacobs

BIKINI MODEL

PRO

1. Logan

Coleman

2. Thato Seopa

3. Shona van der

Merwe

(Pro Card

awarded)

* All results and

spelling as supplied

by the event

organisers. fitness

magazine accepts

no responsibility

for any errors or

omissions
---
TRUE STRENGTH GETS

YOU LEAN AND FIT
---
HARDCORE

REIENGINEER EVERY

ASPECT OF YOUR BODY.

IN CONTEST. NO CONTEST.

BOOSTS

THERMOGENESIS

EXTREME CUTS

& DEFINITION

INCREASED

METABOLISM

THE ULTIMATE MAN RElMADE

PRO ATHLETE

EXPERIENCE

2017

BUY ANY USN HARDCORE PRODUCT AND WIN

THE ULTIMATE MANIREMADE PRO ATHLETE LIFESTYLE EXPERIENCE

WITH RYAN TERRY & WILLIAM BONAC.

PLUS INSTANTLY WIN YOUR SHARE OF EXCLUSIVE NEW USN MERCHANDISE.

ENTER YOUR TILL SLIP / INVOICE # AT WWW.USN.CO.ZA

THE MOST EXTREME SHREDDING AGENT WITH 8 RESEARCHED INGREDIENTS. NO CONTEST.

INGREDIENTS

Per Serving

INGREDIENTS

FULLY

DISCLOSED

ADVANTRA Z ® PHYSICOR TM ZINC PHYTOFARE TM CAFFEINE ENXTRA TM VITAMIN B6

Boosts

Thermogenesis

Burns fat

while protecting

muscle mass

Boosts

metabolism

Improve function of

the fat burning

hormone adiponectin

Boosts energy

levels

For mental

alertness

& energy

Reduces tiredness

& fatigue

PANTOTHENIC

ACID

Boosts energy

& metal focus

LAVA X 167mg 250mg 2mg 50mg Phytofare TM 250mg 150mg 0.4mg 0.75mg

Competitor 1

X

400mg

Proprietary

X X X UNKNOWN UNKNOWN X X X

Blend

Competitor 2

X X X UNKNOWN 135mg X X X

MANUFACTURED IN ACCREDITED FACILITIES, WHERE RELEVANT: