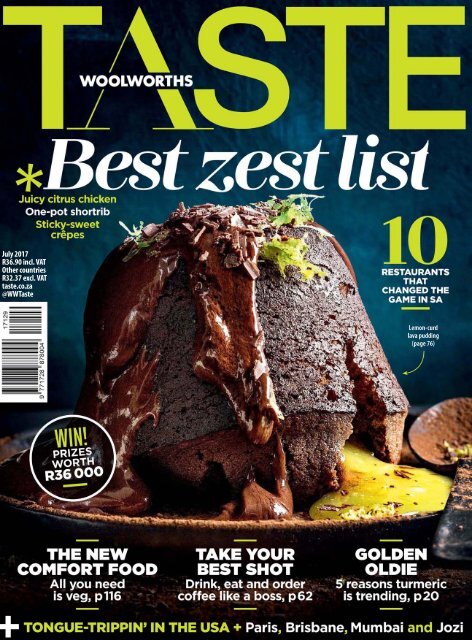 Woolworths_Taste_July_2017
Create successful ePaper yourself
Turn your PDF publications into a flip-book with our unique Google optimized e-Paper software.
July 2017

R36.90 incl. VAT

Other countries

R32.37 excl. VAT

taste.co.za

@WWTaste

Lemon-curd

lava pudding

(page 76)
---
Nothing beats the rich

of Parmigiano Reggiano,

the only authentic

Parmesan.
---
Masterfully made in Italy with the same passion, expertise and

dedication as in the 12th century, Parmigiano Reggiano remains

true to its heritage and taste.

Artisan cheese makers use traditional methods of

production distinctive to the area of origin, to create the

only authentic Parmesan cheese.

www.parmigianoreggiano.com
---
TIMELESS FURNITURE AND HOMEWARE AVAILABLE AT

BROOKLYN, DURBANVILLE, FOURWAYS, GREEN POINT,

KNYSNA, KRAMERVILLE, NELSPRUIT, UMHLANGA
---
WEYLANDTS/1467B/E/SA

TASTE NEVER GOES OUT OF STYLE

WEYLANDTS.CO.ZA
---
THERE'S

TASTE

AND THEN

THERE'S US

Cafe Bugatti

Caffé Frescatti

Cafe Rossini

Cappuccino's

(New Look - Re-opening July)

Cofi

Col'cacchio

Foodlovers Café

Lucky Bread

Moo Moo

Mugg & Bean

Mythos

Ocean Basket

Phoenix Spur

Seattle Coffee Co.

Simply Asia

Starbucks

(Opening Soon)

Steers

Tasha's

Tribeca

Wellness Warehouse

Wimpy

Woolworths Café

DINING | FASHION | LUXURY | LIFESTYLE

SHOPPING HOURS: WEEKDAYS 9AM - 7PM & WEEKENDS 9AM - 5PM

Tel: 012 346 1063 | www.brooklynmall.co.za | Cnr Veale and Fehrsen Streets, New Muckleneuk, Pretoria
---
JULY 2017

CONTENTS

● FEATURES ●

PASS THE PERI-PERI

An insider reveals where

FLIGHTS OF FLAVOUR

Hop on a plane to discover

GO FOR GOLD

to find the best prego

why Iberian ham and

Turmeric has come a long

rolls, rissoles and pastéis

authentic Parmigiano-

way since your mom's

de nata in the tight-knit

Reggiano are sought after

Sunday-lunch yellow

Portuguese community

by top chefs, and why

rice. Add it to everything

of Joburg's spicy south. 80

doughnuts in New York

from one-pot chicken

and ramen in Brisbane

to a golden latte. 20

SA'S TOP 10 GAME-

are so worth the visas. 103

CHANGERS

COVER PHOTOGRAPH TOBY MURPHY PRODUCTION ABIGAIL DONNELLY

FOOD ASSISTANT JACQUELINE BURGESS

ESPRESS-O YOURSELF

Get the most from your

favourite roast … in fillet

with café au lait sauce and

a coffee risotto you'll want

to eat for breakfast. 62

MAIN SQUEEZE

When life gives you

lemons … and oranges,

limes and clementines,

make your best-ever roast

chicken, shortrib, tacos and

lava pudding. And that's

just for starters. 72

From the winelands

restaurant that put SA food

on the map, to a groundbreaking

Joburg bistro,

these are some of SA's

most iconic restaurants,

past and present. 86

MASTERS OF

STREETFOOD

Now you can make global

streetfood at home thanks

to the easy recipes in

MasterChef: Street Food

of the World. 94

● FIRST TASTE ●

29 Trend: coffee jelly

32 Pantry: Asian staples

34 3 ways with:

sweet potato

36 5 minutes with:

Jan-Hendrik van

der Westhuizen

38 Anatomy of a dish:

bibimbap at Soju, Sea Point

40 What I know now:

Ben Shewry

46 Scene stealer: the

Robertson wine valley
---
● RAISE THE BAR ●

51 So many reasons to love

sake this winter

52 Two famous French wine

styles that are being made

just right on SA soil

54 What to drink with … citrus

56 Meet the sommelier and

former banker who make their

own small-batch wines

58 Try a ClemenGold sake

toddy. You won't regret it

● TASTE KITCHEN ●

113 Here's how to get sushi

rice right, every time

116 Starter cook:

Mouthwatering new reasons

to stock up on winter veg

(the smoky, garlicky baked

cannellini beans on toast

will change your life)

● REGULARS ●

10 Editor's letter

12 Feedback: our winning

letter receives 12 bottles of

Van Loveren wines worth

R712, plus a R500 Woolworths

gift card

14 Visit taste.co.za for recipes,

community conversation,

tips and competitions

16 Subscribe to TASTE for

R28 per issue and you could

win a hamper of wine from

Weltevrede worth R1 758

18 Win a stay at Tintswalo

Atlantic worth R23 060

60 Win a Smeg espresso

coffee machine worth R6 500

122 Foodstuff: your

shopping guide

126 Recipe index

128 Back page: sesame

banana spring rolls

● COLUMNS ●

42 TASTES THAT BIND

Pumpkin fritters connect Seb

with his heritage and are also

one of his favourite things to

make, says Sam Woulidge.

44 #TASTESLIKEMORE

Former chef Ilana Sharlin-

Stone has happy memories

of long hours spent in the

kitchens of Los Angeles

page 72

page 86

page 76

page 18, 60

page 116

page 62

page 20

page 80, 94, 103
---
EDITOR'S LETTER

MY TRIP DOWN MEMORY LANE

10

For me, food and memory are always

entwined, and sometimes I'll find

myself making a dish at home with a

simple ingredient that sparks a happy

recollection, which is what happened last

night while cooking dinner. After

picking up a bag of the season's first

parsnips, I decided to make a pot of

creamy parsnip mash using lashings

of butter and cream and a sprinkling of

freshly ground nutmeg. It's so simple and

always top of my winter comfort-food list

south in my old 'hood in Jozi for the

"Pass the peri-peri" food and Portuguese

community story on page 80. Back in

the day at Forest High in Forest Hill,

I used to choose my friends based on

the quality of the chorizo they ate for

lunch after school – we'd take turns

going to each other's houses and

I absolutely loved eating fried chorizo

with scrambled egg on the side. I could

never have guessed that, all these years

later, the same shop where their parents

stocked up – Rio Douro Fisheries –

would still be going strong!

Walking into Bembom on this trip

was also a revelation. Just one look at

their legendary pastéis de nata – egg

custard nestled in crispy pastry – and

I knew I had to order a box to cradle

on my lap on the flight back to Cape

Town. I also couldn't resist stuffing

a bag of real-deal Portuguese rolls into

my hand luggage, so that I could relive

my down-south memories with my

family. That night I made a big pot of

cavolo nero and told my husband and

sons that, while kale might be trendy

now, it was simple playground fare

when I grew up – I used to swap my

cheese-and-tomato sarmies for the

other incredible game-changers in the

local restaurant biz (page 86).

While I'm feeling nostalgic about

the past this month, I'm also feeling

sentimental about the future following

the birth of Kate's baby girl, Holly. Kate

will be at home spending time with her

daughter for the next few months and,

on behalf of the TASTE team, I'd like

to congratulate her and the famous Salad

Dodger. Wishing you so much happiness

(and boa comida, always!)

Follow me

on Instagram

@donnellyabi

"IF I WASN'T EATING CHORIZO AT

SOMEONE'S HOUSE, I WAS PLAYING PAC-MAN

AT THE CORNER CAFÉ WHILE WAITING FOR

A PERI-PERI PREGO ROLL"

because it brings back fond childhood

memories of my gran, who would add

parsnips to all sorts of mouthwatering

stews she conjured up in her pressure

cooker. I absolutely loved them for their

sweet robustness, but the same definitely

didn't apply to my brother, who used to

hunt them down between the potatoes

and turnips and place them in a neat

circle around his plate.

As you can tell, I get really sentimental

about the past, and working on this

issue of TASTE gave me plenty of time

to do just that when I spent time down

garlicky-oniony kale my friends brought

in their lunchboxes (once a foodie,

always a foodie!). And no trip down my

memory lane would be complete without

revisiting one of my first (and very

special) fine-dining experiences, which

took place at The Three Ships upstairs

in the Carlton Centre when I was 16. It

was the first time I ate duck l'orange and,

oh, the novelty of seeing a Caesar salad

tossed right in front of me! It will always

be an iconic restaurant to those who were

lucky enough to dine there, which is why

we've paid tribute to it along with some

ABI'S PERI-PERI SAUCE

When I wasn't eating chorizo at

someone's house, I was playing Pac-

Man at the corner café while waiting

for a peri-peri prego roll. This is my best

version of that sauce: slightly sweet, sour

and a touch salty. Eat it with chicken

livers or with minute steaks packed into

the softest Portuguese rolls you can find.

Blend 1 cup oil, 6 chopped garlic

cloves, the juice of 2 lemons, 12

chopped red chillies (bird's-eye are

best), 2 T smoked paprika,1 t salt,

¼ cup red wine vinegar, 1 roast onion

and 2 roast red peppers until smooth.

PORTRAIT JAN RAS FOOD PHOTOGRAPH GALLO IMAGES/GETTYIMAGES.COM
---
12

"… a big cappuccino,

any time of day, but

I'm especially partial

to one at 9 am."

– Yvette Samaai

"… a cortado: a

double espresso with

a little bit of milk."

– Jacqueline Burgess

"… the one my

husband brings me in

bed first thing every

morning, made using

our espresso machine.

It's a double-shot flat

white in a small cup."

– Lynda Ingham-

Brown

THE TEAM SAYS:

My favourite type of coffee is…

EDITOR-IN-CHIEF Kate Wilson

kate.wilson@newmediapub.co.za

FOOD EDITOR Abigail Donnelly

abigail.donnelly@newmediapub.co.za

HEAD OF CREATIVE: CONSUMER DIVISION Mark Serra

GROUP MANAGING EDITOR Liesl Nicholson

liesl.nicholson@newmediapub.co.za

ASSISTANT EDITOR Lee-Anne Spurdens

FEATURES EDITOR Michelle Coburn

michelle.coburn@newmediapub.co.za

SENIOR COPY EDITOR Lynda Ingham-Brown

FEATURES WRITER Annette Klinger

ART DIRECTOR Lené Roux

ART DIRECTOR (CONSUMER DIVISION) Alistair Fester

ONLINE EDITOR Amy Ebedes

ONLINE CONTENT PRODUCER Melissa Scheepers

FOOD ASSISTANT Jacqueline Burgess

CONTRIBUTING FOOD EDITOR Phillippa Cheifitz

CONTRIBUTING FOOD EDITOR Hannah Lewry

WINE CONSULTANT Allan Mullins

CONSULTING DIETICIAN Mariza van Zyl

WOOLWORTHS EDITORIAL BOARD

Head of Brand Communications: Glenda Philp

Brand Manager Foods: Hieba Solomon

ADVERTISING & MARKETING

Head of Advertising and Sales: Jeanine Boshoff

+27 21 417 1104 jeanine.boshoff@newmediapub.co.za

Key Account Manager: Yvette Samaai

+27 21 417 1156 yvette.samaai@newmediapub.co.za

Senior Sales Executive: Tharien Nel

+27 21 417 5168 tharien.nel@newmediapub.co.za

Advertising Co-ordinator: Julian Petersen +27 021 417 1220

Sales Designer: Marcus Viljoen

"… a double espresso

with hot milk on the

side, enjoyed at the

Woolies café at the

Cape Town airport

before a flight."

– Abigail Donnelly

"… if I'm out,

a double-shot flat

white at Rosetta

Roastery, made with

their single-origin

Ethiopian beans.

At home, siphon

coffee." – Jan Ras,

photographer

"… a skinny flat

white in a small

takeaway cup on

a really cold day."

– Lené Roux

SUBSCRIPTIONS & DISTRIBUTION

Subscriptions hotline: 087 405 2005

Contact centre team leader: +27 21 530 3179

PUBLISHING TEAM

Group Account Director: Kelly Cloete

Account Manager: Cecilia du Plessis

Production Manager: Shirley Quinlan

ABC Manager: Roxanne Holman 021 417 1218

EXECUTIVE TEAM

Managing Director: Aileen Lamb

Commercial Director: Maria Tiganis

Content Director: Andrew Nunneley

Chief Financial Officer: Mark Oaten

Chief Executive Officer: Bridget McCarney

Executive Director: John Psillos

Non-Executive Director: Irna van Zyl

Repro by: New Media Publishing

Printed by: Paarl Media Paarl

Published on behalf of Woolworths

by New Media Publishing Pty Ltd,

New Media House,

19 Bree Street, Cape Town, 8001.

PO Box 440, Green Point, Cape Town, 8051.

Telephone: +27 (021) 417-1111

info@newmediapub.co.za

newmediapub.co.za

30 150

Jan-March 2017

FEEDBACK Email taste@newmediapub.co.za, tweet @WWTaste, or visit facebook.com/wwTASTE.

WINNING LETTER

My friend grows guavas and from time to time

gives me a generous bag of them. Not knowing

how to deal with a whole lot at once, I looked

on your website and found food editor Abigail

Donnelly's recipe for chilli-and-spice stewed

guavas and meringue. I would never have

thought chilli, rosemary and meringue even

remotely synonymous with guava, but I trusted

TASTE's opinion and gave it a go. Instead of the

soft meringues the recipe called for, I dried mine

out, and also drizzled over a bit of balsamic

vanilla glaze and added a sprig of fresh rosemary

before serving. They tasted amazing and my

guests were blown away. Who would've thought

you could make such a brag-worthy dessert

using humble guavas? – Gail Gunston

The writer of this month's winning letter wins

six bottles each of Van Loveren's African

Java Pinotage and Blackberry Cabernet

Sauvignon/Shiraz blend to the value

of R712, plus a R500 Woolworths gift

voucher. Enjoy your next dinner party, Gail!

TW-EAT, TW-EAT

@Nigella_Lawson: "Good Morning!

#RecipeOfTheDay is Tequila and Lime Chicken."

We see your tequila-lime chicken, Nigella Lawson, and

we raise you our ClemenGold-glazed chicken on page 76.
---
taste.co.za

What's happening online?

@WWTaste

WATCH OUR RECIPES COME TO LIFE!

Visit facebook.com/wwTASTE/videos to indulge your senses. Entice your

friends by hitting that share button.

14

WIN ONE OF TWO

HAMPERS FROM

HARTENBERG WINES

Ah, winter. It's the perfect time of year

to curl up next to a fire while sipping

a glass of great wine. Ensure that your

supplies are topped up with one

of two hampers from Hartenberg

Wines worth R500 each. Visit taste.

co.za/win to enter now.

DO YOU HAVE A PRESSING QUESTION?

ARE YOU A WHIZ IN THE KITCHEN? VISIT TASTE.CO.ZA/

COMMUNITY-QUESTIONS TO ASK Ð AND

ANSWER Ð ANYTHING!

HOW LONG DO YOU

SPEND PREPPING AND

COOKING AN AVERAGE

WEEKNIGHT DINNER?

Less than 30 minutes 19%

30 minutes to 1 hour 63%

Over an hour 15%

I generally default to takeaways

or eating out 3%

FOOD PHOTOGRAPH TOBY MURPHY PRODUCTION HANNAH LEWRY
---
Perfect, sharp, long-lasting.

Perfect ergonomics and functionality. The special bolster

shape ensures optimum balance and allows the entire

blade to be used and sharpened. Forged from a single

piece of high-alloy chromium-molybdenum-vanadium

steel and hardened to 58° Rockwell. Optimum sharpness

thanks to the laser-controlled PEtec sharpening process.

A tool for life.

wusthof.co.za

Empfohlen vom Verband

der Köche Deutschlands e.V.
---
SUBSCRIBER'S OFFER

SUBSCRIBE & WIN

Three TASTE readers will make a significant addition to their wine collections

with three cases (that's 18 bottles!) of wine from Weltevrede Wine Estate

worth R1 758 when subscribing to TASTE for just R28 an issue

16

T

here's

no doubt that

terroir and climate

play large roles in making

a good wine. But the

people at Weltevrede

Wine Estate in Bonnievale

believe that the human

element is just as

important. After the

estate recently reached

its centenary, the fourth

generation of the Jonker

family, winemaker Philip

Jonker, bottled the

Weltevrede 1912 collection

to mark this momentous

occasion. And instead of

putting his signature on

the label, he decided to

record the names of every

person living and working

in the vineyards and winery

at Weltevrede to celebrate

their legacy. The result is

a full-bodied Chardonnay

that's light golden in colour

and displays an intense

mixture of dried mango,

ripe pear and ginger on

the nose, with ripe lemons

and marmalade on the

palate. The Weltevrede

1912 Cabernet Sauvignon

bears spice on the nose,

with complex flavours of

blueberries, blackberries,

pomegranate, white

pepper and cedar on the

palate. Says Philip, "The

Weltevrede 1912 wines

are a culmination of more

than 100 years of family

heritage." weltevrede.com

Three easy

ways to

subscribe

1. Call 087 405 2005

2. SMS "Subs Taste" to 40573 (R1 per SMS)

3. EMAIL subs@magsathome.co.za

For digital subscriptions, visit mysubs.co.za

* Offer limited to SA. Please

allow time for processing and

delivery. Please call 021 045 1809

for international subscription

rates. Offer ends 23 July 2017.
---
COMPETITION

WIN

Talk about a room with a view. One lucky TASTE reader and a partner

will win a two-night stay at Tintswalo Atlantic in Cape Town's Table Mountain

National Park to the value of R23 060

18

Right on the edge of

the ocean, with views of

Chapman's Peak's infinitely

Instagrammable Sentinel,

Tintswalo Atlantic is one

of the Mother City's most

spectacular hidden gems.

Comprising just 11 oceanfacing

suites, the boutique

hotel is situated in the

Table Mountain National

Park, making it the stuff

of secluded weekend

breakaway fantasies. Treat

yourself to a fine-dining

experience courtesy of

newly appointed executive

chef Guy Clark, commence

the pampering with a

massage, or simply sit on

your own private deck with

a bottle of wine and take

in the amazing view.

There's no rush.

tintswalo.com/atlantic

THE PRIZE A two-night

stay for two guests in

a sea-facing island suite,

including breakfast and

one dinner, to the value

of R23 060. The prize does

not include beverages,

other meals, gratuities,

spa treatments, curio store

purchases and transport

to and from Tintswalo

Atlantic. See taste.co.za

for additional terms and

conditions. TO ENTER,

visit taste.co.za or turn to

page 126 for SMS entry

instructions. QUESTION:

In which national park is

Tintswalo Atlantic situated?

KEYWORD: Tintswalo.
---
INGREDIENT: TURMERIC

20

Gofor

Gold

THE IMPOSSIBLE CUSTARD TART

R10 PER SERVING
---
Ground or fresh, aromatic turmeric

(a.k.a. borrie in SA) is one of the trendiest spices

of the year. Make like ABIGAIL DONNELLY and add it to

everything from a crustless cauliflower tart inspired

by Yotam Ottolenghi, to a golden latte

(move over, hot chocolate!)

PHOTOGRAPHS ROBBERT KOENE

RECIPES AND PRODUCTION ABIGAIL DONNELLY

FOOD ASSISTANT JACQUELINE BURGESS
---
INGREDIENT: TURMERIC

102

THE IMPOSSIBLE

CUSTARD TART

"This dessert is impossibly delicious to eat and

(bonus!) so easy it's impossible to fail at making

it. Simply blend all the ingredients, bake, serve

and surrender."

Serves 6

EASY

GREAT VALUE

Preparation: 5 minutes

Baking: 45 minutes

milk 1½ cups

desiccated coconut 60 g

butter 50 g, melted

vanilla pod ½, seeds scraped

free-range egg 1

flour 40 g

caster or coconut sugar 110 g

lime 1, zested and juiced

turmeric 1 t

ground cardamom 1 t

fresh coconut 1 t, finely grated, to garnish

1 Preheat the oven to 160°C and grease an

18 cm tart tin. 2 Place all the ingredients into

a blender and blend until smooth. Pour the

mixture into the greased tin and bake

for 45 minutes, or until cooked through.

3 Sprinkle over the coconut and serve.

WINE: Nederburg Special Late

Harvest 2016

ONE-POT CHICKEN

BAKED ON DHAL

"The ginger, turmeric and chilli in this easy,

comforting supper will warm you up from

the inside."

Serves 4

EASY

GREAT VALUE

Preparation: 15 minutes

Cooking: 1½ hours

olive oil 1 T

butter 2 T

free-range whole chicken 1.3 kg,

spatchcocked

red or yellow split lentils 300 g, cooked

according to package instructions

TURMERIC IS A GOOD

MATCH WITH…

almond, black pepper, cardamom,

cinnamon, chilli powder, coconut,

coriander, cumin, garlic, ginger.

Woolworths organic chicken stock 2 cups

red chillies 2, roughly chopped

green chillies 2, roughly chopped

garlic 3 cloves, finely grated

fresh ginger 1 T, finely grated

fresh turmeric 1 T, finely grated

curry leaves 12

sea salt and freshly ground black pepper,

to taste

1 Preheat the oven to 200°C. Heat a large

wok or nonstick pan over a high heat.

Add the olive oil and butter and sear the

chicken on both sides until golden. Remove

from the wok. 2 Place the cooked lentils

and remaining ingredients into a large

ovenproof dish. Place the chicken on top

of the lentils and roast for 1½ hours, or until

cooked through. Brush the chicken with

melted butter every 20 minutes to keep

the skin golden. Season to taste.

FAT-CONSCIOUS, WHEAT- AND

GLUTEN-FREE

WINE: Woolworths DMZ Chenin

Blanc 2016

CAULIFLOWER-AND-

BRINJAL TART

"This moreish crustless tart, inspired by

Yotam Ottolenghi's in Plenty More, makes

a substantial lunch served with a simple salad

of leaves dressed with pomegranate molasses."

Serves 6

EASY

GREAT VALUE

Preparation: 15 minutes

Cooking: 30 minutes

olive oil 3 T

brinjals 2, diced

cauliflower 1, leaves removed and broken

into florets

free-range eggs 8, lightly whisked

flour 60 g, sifted

baking powder 1 t

ground turmeric 1 t (or 1 T fresh)

ground coriander ½ t

ground cumin ½ t

goat's cheese or feta 100 g, crumbled

coriander 2 T, roughly chopped, to garnish

pine nuts 30 g, lightly toasted, to garnish

1 Preheat the oven to 180°C and generously

grease a 20 cm tart tin. 2 Heat a little oil

in a nonstick pan over a high heat. Fry the

brinjals, in batches, until golden. Remove

and drain on kitchen paper. 3 Add more

oil to the pan and fry the cauliflower
---
"We'll always love yellow rice and bobotie (thanks mom!),

but I love the inventive new ways that turmeric is being used to show off

its beautiful pungency and earthy flavour" – Abigail Donnelly

ONE-POT CHICKEN BAKED ON DHAL

R29 PER SERVING
---
INGREDIENT: TURMERIC

florets until golden. Remove from the pan

and roast for 10 minutes. 4 Combine the

remaining ingredients in a large bowl.

Fold through the fried brinjal and

cauliflower. Pour the mixture into the

greased tart tin and top with the goat's

cheese or feta. 5 Bake for 15 minutes,

or until golden and cooked through.

Garnish with the coriander and pine nuts.

CARB-CONSCIOUS, HEALTH-CONSCIOUS,

MEAT-FREE

WINE: Woolworths Porcupine Ridge

Sauvignon Blanc-Semillon 2016

STICKY ROAST CARROTS

IN BARLEY BROTH

"A hearty, warming home-made broth full

of flavour thanks to gratings of fresh turmeric

and ginger, and a squeeze of lemon. You won't

stop at just one bowl."

Serves 4

EASY

GREAT VALUE

Preparation: 15 minutes

Cooking: 45 minutes

large carrots 4, halved lengthways

butter 2 T

brown sugar 2 T

lemon juice a squeeze

beef stock 2 cups

fresh turmeric 1 t finely grated

fresh ginger 1 t finely grated

celery 2 sticks, washed and sliced

red onion 1, cut into 8 wedges

bay leaves 4

Woolworths ready-to-eat barley 250 g

sea salt and freshly ground black pepper,

to taste

1 Preheat the oven to 180°C. Place the

carrots on a baking tray, dot with butter and

sprinkle over the sugar. Roast for 35 minutes,

or until tender and caramelised. 2 Place

the remaining ingredients into a saucepan

and bring to the boil. Reduce the heat and

simmer until the celery and onion are soft.

Stir through the barley and simmer for

2 minutes. 3 Serve the barley broth with

the glazed carrots. Season to taste.

FAT-CONSCIOUS, MEAT-FREE

WINE: Ashbourne Sauvignon Blanc-

Chardonnay 2016

120

CAULIFLOWER-AND-

BRINJAL TART

R25 PER SERVING

SPICE UP YOUR LIFE

Turmeric is an ingredient in curry powder

blends, as well as chutneys, pickles and

mustards. Bill Granger uses it in everything

from chicken dishes to his popular Indian

spiced potatoes with fried eggs. And

Nigella's Happiness Soup is pure bliss in

a bowl thanks to the yellow spice. Want

to up your intake? Try these fast ideas.

(Turmeric is extremely pungent, so go

slow and add according to taste.)

● Add a pinch of ground turmeric

to scrambled eggs.

● Make golden spiced roast potatoes

by tossing parboiled potatoes in

ground turmeric before roasting.

● Stir ground turmeric to taste

into plain yoghurt as a topping

for baked potatoes.

● Add a little ground turmeric to

cauliflower soup to turn it a beautiful

golden colour.

● Blend fresh turmeric into

a smoothie of coconut milk,

ClemenGold segments, rolled oats,

fresh ginger, honey and vanilla extract.

● Make a pot of spicy turmeric tea:

bring four cups water to the boil, add

1 t ground turmeric and reduce to

a simmer for 10 minutes. Strain into

a cup, add a pinch of black pepper

and honey and lemon juice to taste.

● Make a dressing for salads and

roast veg by combining chopped fresh

turmeric with fresh coriander, honey,

apple cider vinegar and olive oil.

● Dust toasted coconut chips

in ground turmeric.
---
STICKY ROAST CARROTS

IN BARLEY BROTH

R23 PER SERVING

25

SILWOOD STUDENT ASSISTANT HELLA BOROCHOWITZ
---
BEST EVER: INGREDIENT: PHILIPPA CHEIFITZ TURMERICRECIPES

120

CAN YOU SWAP

FRESH AND GROUND

TURMERIC?

Yes, you can! The general rule of

thumb for converting dried herbs

or spices to fresh in a recipe is 1: 3

(1 t dried spice = 1 T fresh).

AND IT WAS

ALL YELLOW …

So you've peeled and chopped a

piece of fresh turmeric and now your

chopping board and hands match

your recipe! Fresh or dried, it'll stain

just about anything. Here's how

to clean up

COUNTERTOPS AND

CHOPPING BOARDS: Generally,

a paste of equal parts water and

bicarbonate of soda left on the

yellow stain for about 15 minutes,

then washed with warm, soapy

water, will remove the marks.

HANDS AND FINGERNAILS:

Soak your hands in a small, shallow

bowl of white vinegar and water,

or rub your hands and nails with

lemon juice, then wash in hot,

soapy water.

THE ROOT CAUSE

Here's how to grow, store and

prepare fresh turmeric

PLANT a piece of fresh turmeric

root in a pot of wet, sandy soil to

propagate your own turmeric plant.

PREPARE it for cooking by

washing and scrubbing the root.

You don't have to peel it but can

if you want to. Grate the root using

a Microplane or cheese grater,

or smash it with a garlic press

or in a pestle and mortar.

STORE fresh turmeric root in the

fridge in a sealed Ziploc bag. You

can also freeze it and grate it from

frozen, as needed, directly into

your dishes.

Keep warm this

winter by drinking

one golden latte

after another.

It's the hot

chocolate of 2017!"

– Abigail

Donnelly

GOLDEN LATTE WITH

BLACK PEPPER AND

MAPLE SYRUP

"Turmeric adds slight bitterness to

the warm coconut milk, which is

balanced by the spice of the black

pepper. Sweetness comes from the

maple syrup, while rose rounds

it all off with a subtle floral note.

It's practically dessert!"

Serves 4

EASY

GREAT VALUE

Preparation: 5 minutes

Cooking: 10 minutes

coconut milk 1 x 400 ml can

milk 1 cup

fresh turmeric 1 t finely grated

rose-water 1 T (optional)

nutmeg ½ t freshly grated

maple syrup 1 T

black pepper, to taste

dried rose petals, to garnish (optional)

Place all the ingredients into a

saucepan and bring to the boil.

Pour into mug, crack over some

black pepper and garnish with dried

rose petals, if using. Serve warm.

CARB-CONSCIOUS, WHEAT- AND

GLUTEN-FREE
---
GOLDEN LATTE WITH BLACK PEPPER AND MAPLE SYRUP

R23 PER SERVING

27
---
A D V E R T I S I N G P R O M O T I O N

GET YOUR FRIKKADEL ON

Dinner's always on a roll when there are Woolies frikkadels in the fridge. Made with coarsely

minced, succulent meat and flavoured with a blend of herbs and spices, the range includes

lamb, beef, chicken and a beef-and-lamb combination. Simply serve with your favourite side.

Beef or chicken frikkadels with tomato-and-basil pasta

Beef frikkadels with sosatie spices, paneer and flatbreads

Beef, lamb or chicken frikkadels with baby spinach-and-pecorino soup

Beef-and-lamb frikkadels with Malay spices and sweet potato mash

PHOTOGRAPH JAN RAS PRODUCTION FOODLOOSE PRODUCTIONS FOOD ASSISTANT CLAIRE GOODERSON

woolworths.co.za
---
PHOTOGRAPH JAN RAS PRODUCTION HANNAH LEWRY FOOD ASSISTANT CAMILLA REINHOLD

EDITED BY ANNETTE KLINGER

First

Taste

WHAT TO EAT,

KNOW, DO

AND BUY NOW

ARE YOU READY FOR THIS JELLY?

Remember mizu shingen mochi, Japan's internetbreaking

raindrop dessert? Well, the land of the rising

sun's affections have moved on to a new wobbly

wonder: kohi zeri, or coffee jelly. Even though the

dessert has been around for yonks, it became an instant

Instagram obsession when Starbucks Japan launched

its coffee jelly frappuccino last year. Cue mass hysteria

and a host of copycats worldwide. Turn the page

to check out some of the new mash-ups on social

media and learn how to whip up some yourself.
---
COFFEE JELLY

Throwing a wobbly

Slightly sweet, lightly whipped cream is the traditional accompaniment to coffee jelly in Japan,

but, wouldn't you know it, Instagram is all a-jiggle with personal takes on the trend

30

COFFEE JELLY

In a medium-sized heatproof

bowl, melt 4 softened gelatine

leaves in 2 cups hot, strong

filter coffee, sweetened to

taste. Stir until completely

dissolved. Pour the mixture

into a baking tray about 3 cm

deep, then chill until set. Cut

into 2 x 2 cm cubes using

a hot knife, place in a bowl

and top with cream.

Got milk? Latte up like Kannon Coffee in Japan.

Italian blogger Giorgio Russo of Le Torte di Gio's

deconstructed tiramisu tart = genius.

WHAT GOES

GREAT WITH

COFFEE JELLY?

EQUALLY TRENDY

MATCHA FROZEN

YOGHURT,

ACCORDING TO

FRO-YO CHAIN

YOGEN FRÜZ IN

VIETNAM

Coffee jelly instead of ice cream on your root beer

float? Why not says Bröm Café Buri Ram in Thailand.

You say coffee jelly frappuccino, The Green Coffee

in the Philippines says coffee jelly freeziccino.

"Coffee jelly, a refreshing Japanese dessert liked

by geishas and samurais both," says Kayo's Ramen

Bar in Portland, Oregon, which serves theirs

espresso-style.

PHOTOGRAPHS JAN RAS, THEGREENCOFFEE.PH, KANNONCOFFEE.COM, KAYOSRAMEN.COM, FACEBOOK.COM/PG/BROMCAFE, YOGENFRUZ.COM,

FACEBOOK.COM/LEMIETORTEDIGIO PRODUCTION HANNAH LEWRY
---
A D V E R T I S I N G P R O M O T I O N

PHOTOGRAPH JAN RAS PRODUCTION FOODLOOSE PRODUCTIONS FOOD ASSISTANT CLAIRE GOODERSON

UMAMI-BOMBS AWAY!

When you need a hit of savoury flavour, reach for Kikkoman soy sauce, made the traditional

way by fermenting water, wheat, soy beans and salt. Moreish and umami rich, its layers of

flavour reveal themselves with every taste Ñ whether used as a dipping sauce for sushi, tempura

or veggie fritters, or seasoning for stirfries, noodle bowls or stews. The range also includes

Kikkoman less salt soy sauce and teriyaki sauce. Just a dash does the trick!

Serving suggestion

CABBAGE-AND-SPINACH FRITTERS

Combine 2½ cups (200 g) each shredded cabbage

and spinach, 4 chopped spring onions and

4 cloves grated garlic in a large bowl. Combine

175 g flour, 2 T rice flour and 1 t sugar and mix

with 1 cup water, 1 free-range egg and 1 T teriyaki

sauce to form a batter. Stir the batter through the

vegetables. Fry large spoonfuls of the batter in hot

oil until crisp. Serve with a dipping bowl of teriyaki

sauce, chilli and finely chopped roasted peanuts.

kikkoman.co.uk
---
PANTRY ESSENTIALS

Continental drift

With an arsenal of Asian store-cupboard ingredients, you can go from parathas

on Monday and pad Thai on Wednesday to pho on Friday and Korean shortribs

on Sunday. Who needs takeaways, right?

FISH SAUCE*

Detonate this umami bomb at will to give almost

any Asian dish savoury depth. Its funky base note

makes kimchi irresistible, it intensifies the meaty

flavours of sticky Korean shortribs and instantly

transforms a batch of pan-fried tofu.

32

PALM SUGAR

It adds caramel complexity

to everything from pad Thai

(mashed into a curry paste

with tamarind, lime, fish

sauce, shrimp paste, garlic

and chilli) and Gujarati dhal

(it's the sweet counterpart

to the tamarind that gives

the dish its signature

sourness) to Vietnamese

ca kho to (fish caramelised

in a marinade of palm

sugar, garlic, chillies and

fish sauce).

TAMARIND*

Giving local Cape Malay denningvleis its

unmistakable tartness, its flavour plays well with

fishy ingredients (think Cambodian sweet-and-sour

soup), peanuts and coconut milk (no satay sauce

is complete without it) and aromatic spices such

as cinnamon, cardamom and turmeric.

DRIED CHILLIES*

Run out of fresh chillies? The

flavour of dried ones is slightly

sweeter and milder than fresh,

but when rehydrated can be

transformed into just about

any Asian chilli paste: Chinese

la jiao jiang, Korean gochujang,

Malaysian sambal tumis, Thai

nam prik pao…
---
"GOING TO

SOUTHEAST

ASIA FOR THE

FIRST TIME AND

TASTING THE

SPECTRUM OF

FLAVOURS –

THAT CHANGED

MY WHOLE

PALATE, THE

KIND OF FOODS

I CRAVE"

– ANTHONY

BOURDAIN

GALANGAL

Muskier and more peppery

than its kissing cousin

ginger, it's essential to Thai

curry pastes (Red! Green!

Massaman!), Singaporean

laksa and Indonesian

rendang. Fresh galangal isn't

readily available in SA; you

can find the dried version at

Asian supermarkets. To use,

soak in boiled water until

soft, about 30 minutes.

PHOTOGRAPH JAN RAS PRODUCTION HANNAH LEWRY FOOD ASSISTANT CAMILLA REINHOLD

SESAME OIL*

A little of this

seedy operator

adds nuttiness and

body to dressings,

marinades, stirfries

and soups. How

do we love thee

Chinese sesame

noodles? Just

about as much as

we love Korean

bulgogi (marinated

barbequed meat),

Japanese ramen

bowls and Burmese

sesame beef.

THAI LIME LEAVES*

Name a southeast Asian dish and we bet you

it'll star these perfumed leaves. Indonesian

beef rendang? Check. Thai tom yum goong

soup? Yep. Malaysian laksa? Right again.

Filipino chicken adobo? You're starting

to get the picture.

RICE VINEGAR*

A key ingredient in

Japanese sushi rice and

pickled ginger, Chinese

potato salad (you'll

never want to make

yours with mayo again)

and Indonesian nasi

goreng, it's much milder

than Western vinegar,

with a hint of sweetness.

*Available at selected Woolies stores.
---
3 WAYS WITH...

… sweet potato

Can you hear that? They're playing your yam! Stay tuned for everybody's favourite 'tater – smothered

in butter and cream, topped with a spicy salsa and fried with a fragrant masala

2

1

Sweet potato gratin

1. Preheat the oven to 180°C. Layer

3 large thinly sliced sweet potatoes

on an ovenproof plate or baking tray

with 2 finely chopped garlic cloves,

2 finely chopped shallots, 50 g butter

and ½ cup cream, seasoning with salt

and pepper between each layer.

2. Sprinkle over 50 g grated Parmesan

and bake for 25 minutes, or until

the sweet potato is cooked and

the cheese is melted.

3

Potato aloo sarmies

1. Boil 3 peeled and halved

sweet potatoes in salted water

until tender. Drain and set

aside. 2. Heat 2 T butter and

1 T coconut oil in a pan over

a medium heat and fry

1 chopped red onion, 2 t

cumin, 1 t dried chilli flakes,

6 dried curry leaves, 2 t curry

powder and 2 T mustard

seeds. Drizzle over the juice

of 1 lemon and season to taste.

3. Cube the sweet potatoes and

toss with the onion and spices.

Divide the mixture between

4 slices wholewheat or rye

bread, top with another slice

and toast in a sandwich maker.

Mexican-style sweet potatoes

1. Preheat the oven to 180°C. Rub 4 whole sweet

potatoes with olive oil and salt, then roast for

30 minutes. 2. Slice the sweet potatoes in half

and top with cubed avocado, sour cream,

sliced red onion, fresh coriander, halved cherry

tomatoes and fresh, chopped chilli to taste.

PHOTOGRAPHS JAN RAS, DONNA LEWIS, SADIQAH ASSUR-ISMAIL AND CHRISTOPH HEIERLI

PRODUCTION ABIGAIL DONNELLY AND HANNAH LEWRY
---
A D V E R T I S I N G P R O M O T I O N

THE GOOD AND THE GRATE

There's hard cheese, and then there's Parmigiano Reggiano, made the same way it was

nine centuries ago, abiding by rigorous centuries-old techniques, natural fermentation

and an ageing process lasting a minimum of 12 months. The result is a firm, nutty cheese

with a granular texture that takes cheeseboards, risottos, pastas and salads to new

heights. Look out for the PDO and Parmigiano Reggiano dotted marks on the cheese's

rind for your guarantee of authenticity.

woolworths.co.za

Serving suggestion

MUSHROOM RISOTTO

Fry 250 g chopped mushrooms in 2 T butter until

soft. Reserve half the mushrooms and add 2 sliced

shallots and more butter to the pan and fry until

softened. Stir in 200 g arborio rice and simmer

for 3 minutes. Add 1 cup white wine and stir until

absorbed. Add 4–5 cups hot vegetable stock,

1 cup at a time, stirring until absorbed and the

grains are al dente. Stir through a generous handful

of grated Parmigiano Reggiano and extra butter.

Top with the reserved mushrooms, 100 g artichoke

hearts and extra cheese.

PHOTOGRAPH JAN RAS PRODUCTION FOODLOOSE

PRODUCTIONS FOOD ASSISTANT CLAIRE GOODERSON
---
MY FAVOURITE TABLE

minutes with

Jan-Hendrik van der Westhuizen

It was go, go, go for SA's own Michelin man when he was recently in Cape Town for the Good Food & Wine

Show. That's why TASTE was stoked to tag along to the Olive Branch Deli where he stocked

up on homegrown goodies for Restaurant JAN

36

You've just come from visiting your

folks on their farm in Mpumalanga.

What did you eat?

We braaied every evening. Also, my Ouma

Hessie knows that everytime I visit she has

to make her green beans, so she made

that: beans with cream and white pepper.

I just wanted to eat beef during this trip,

good South African beef. France's beef

doesn't compare, and it's really expensive.

What else … we ate preserved guavas

with Ideal milk. Just lekker plaaskos.

Nothing fancy.

You recently got married. Did you

do the menu?

No, Maranda Engelbrecht did. She sent

it through, I made some tweaks, but I

just felt that this is the one day I'm gonna

stand back and drink Champagne. The

highlight was definitely the suckling

spit-roasted pigs with pomegranates

in their mouths. She served it with

a kapokbos-and-apple sauce, the waiters

carried them around the tables and

carved as they went.

Do you remember, back in 2012, you

sent in a recipe for naartjie crêpes

with salted caramel sauce for the

TASTE reader's issue?

I do! At that stage of my life I was working

on a yacht as a private chef, two years

before I opened JAN. I cooked for

a Swedish family. It's actually thanks

to them that I opened the restaurant.

They constantly pushed me, saying

I really needed to share my food with

other people. Frederick and Jenny, nice

people. They were at our wedding.

So, JAN's Michelin star has been

renewed. How did you celebrate

this time around?

All the chefs gathered on Monday, our

off-day, and we pretty much watched

the social feed. And then we just basically

all shouted and opened Graham Beck

bubbly and drank the whole day, just

having a really good time.

You're in Cape Town for the Good

Food & Wine Show. What else is on

your to-do list, food wise?

There's not really a lot of time outside the

show, but I'm trying to eat at as many

restaurants as I can. Tonight I'm going

to try Foxcroft, the other day we ate at

Thali, which was amazing, and where

else … Willoughby's. It's my one-stop

shop, in and out for a quick plate of

sushi. Sushi is really rare in France. And it's

expensive. €70 for a couple of pieces.

Are you worried about not being

at your restaurant?

I usually am, but I'm getting better. You

have to learn to let go and trust. That

bunch is so geared up. There's almost

150 steps in place just for the front

of house. Everyone knows exactly

what to do.

CATCH JAN-HENDRIK AT THE GOOD FOOD & WINE

SHOW IN JOHANNESBURG FROM 28–30 JULY;

GOODFOODANDWINESHOW.CO.ZA

What's currently on the menu?

It's spring over there, going slightly

into summer. We have artichoke with

mieliepap and sunflower seeds; a tuna

dish with chakalaka, onion panna cotta

and deep-fried onion rings, just like we

enjoy eating them in South Africa – I'm

actually going to dem that dish at the

show. Our amuse bouche is bobotie

inside an egg. Kind of like a Scotch egg,

but we fill it with guinea fowl bobotie,

and the custard sets in the egg. It's kind

of conceptual, you see this egg coming

to the table and don't really know what

you're getting. There's also an edible

candle of kaaiings and pork fat with our

famous mosbolletjies. The French love

them. For mains there's a Bresse chicken

served with mustard-and-buchu jus,

with the foot still attached.

We actually saw that on Instagram…

Ja, the South Africans really had a go

at me for it. And I was quite surprised

because, come on, this is a runaway!

PHOTOGRAPH JAN RAS INTERVIEW ANNETTE KLINGER
---
Olive Branch Deli, Shop G5-2, Lifestyle

on Kloof Centre, 50 Kloof Street,

Gardens, Cape Town; tel: 073 847 5499;

olivebranchdeli.com.
---
ANATOMY OF A DISH

Bibim-bopping

Ordering bibimbap at Korean restaurant Soju is a revelation. A piping-hot, custom-made

stone bowl, filled to the brim, arrives at your table, just waiting for you to get to the best

bit. Spoiler alert: it's at the bottom

1

2

7

8

6

4

3

5
---
1. THE BOWL: Called a dolsot in Korean, Soju

heats up this special stone bowl on a gas stove

until red hot. The residual heat keeps cooking the

rice, so that by the time you get to the bottom,

it has formed an addictively delicious crust.

"It's a happy, happy smell," says co-owner Rota Yi,

affectionately known as Soju Mama.

2. THE RICE: Plain white rice grains are

cooked in an electric steamer with just

a sprinkling of salt until sticky.

3. THE MINCE: "The steak mince is top

quality, so we want to keep its flavour pure,"

says Soju Mama. "We fry it over a gas flame,

then drain it of oil, and fry it again with only

garlic and salt."

4. THE VEGETABLES: The veggies change

according to season, but you'll usually find baby

marrow, carrots and shiitake mushrooms –

stirfried separately – putting in an appearance.

5. THE SAUCE: Soju Mama is pretty secretive

about the exact contents of the hot sauce

she makes, saying it'll take hours to explain …

She is willing to concede that she uses traditional

Korean chilli paste, or gochujang, to give it

its heat. A small amount is folded through

the dish at the end.

PHOTOGRAPH JAN RAS PRODUCTION HANNAH LEWRY FOOD ASSISTANT CAMILLA REINHOLD

6. THE EGG: Sunny side up, with crispy edges,

the egg is a great foil for the heat of the chilli.

If you're lucky, Soju Mama will step in and show

you how to fold it into the rest of the dish using

your chopsticks (she takes the liberty of doing

it for you).

7. THE FINISHING TOUCHES: A dash

of sesame oil, a sprinkling of sesame seeds and

a last drizzle of hot sauce does the trick.

8. THE SIDES: Many of the ingredients for

the sides come from Soju Mama's own vegetable

garden, so also vary with the seasons. Pickled

beetroot, carrots and green beans, radish and

cabbage kimchis, bean sprouts, seaweed and

sticky-sweet fermented yellow soya beans are

all regular accompaniments.

Korean Soju Restaurant, 265A Main Road, Sea Point, Cape Town;

Tel: 072 736 7845.

You

Tube
---
WHAT I KNOW NOW

Ben Shewry

The head chef and owner of Melbourne's Attica – recently ranked number 32 on the World's 50 Best

Restaurants list – on incorporating Australian Aboriginal ingredients on his menu, the importance

of kindness and how he spends his Sundays (it involves kangaroos)

I decided to be a chef at age five. My mother,

Kaye Shewry, agrees. I didn't do cooking in

high school until the last year because it wasn't

complicated enough. I was already well ahead

of anything that they could teach me. I had

worked in professional kitchens from around

the age of 10 – and it was very intoxicating,

exciting. Overall, I think it's my mum's influence.

It was 1982 and it's not like there were TV chefs

around. We didn't even have TV.

36

As young children, we had amazing

freedom. My parents had a sheep farm

in Taranaki, New Zealand. It was a hard land

to farm and money was short. My mother

had a huge vegetable garden; at the time

I didn't realise that was because of our

financial situation.

I had a fascination with Thai cooking.

That's also why I moved to Australia. I had

exhausted my learning options in New Zealand.

I was inspired by Australian chefs such as

Neil Perry, Maggie Beer and Cheong Liew.

My wife, Natalia, and I moved in 2002. I'd been

to Sydney, but I didn't like it as a place to live –

it's too full on. I heard about Melbourne being

lovely, so I came here to learn to cook Thai food.

But when I arrived, there was no good Thai

food. So, it was a bit of a funny situation.

[Attica started as a Thai restaurant.]

Independence is what makes Attica, Attica.

It's a standalone business owned by my wife

and I for the past two years. There are no

backers. There is no influence other than myself

and my staff and the country, of course.

For a city restaurant, we have a huge

garden – about 15 acres. We rent it from the

National Trust and grow 100 different types of

plants. The chefs do it though, no gardeners. We

grow plants dating back 50 000 years that were

important sources for the Australian Aboriginal

people. This garden carries the history of the

First Australians, the European settlement and

the first Chinese settlers, who arrived just six

years after. I wanted the chefs to be in there

because it's good for their mental wellbeing.

PHOTOGRAPHS ATTICA INTERVIEW ISHAY GOVENDER-YPMA
---
Selecting who you work with is crucial.

I underestimated this in the beginning. By choosing kindhearted

souls, we create a positive environment. At Attica,

we choose based on the quality of the human being, in

terms of their personality and their kindness. The team

gathers in a circle at 4 pm every day. There's a roster and

each member has a turn at a prepared speech.

People put in massive effort – they do PowerPoint

presentations, they do projects and bring the results,

they do tastings, we watch films. It's a way to connect

chefs and front of house, too.

I've been through depression. It's an issue that strikes

our industry as much as anybody else's, but we never, ever

talk about it. I realised it's important to have a true mentor,

somebody outside the restaurant and family who you

can confide in regularly. You can get trapped in a bit

of a tunnel and small things can build up. Lance Wiffin

(a fisherman) is a mentor who helped me when I was

struggling. New Zealand chef Mark Limacher has also

been a constant mentor and sounding board for many

years. He's an excellent chef and a very smart businessman.

I like competitive sport. That's why I enjoy basketball.

I like to push myself, my body. My son, Kobe, showed huge

passion for it from five, and so I've coached him and his

team for years. I have sports that I share with my daughters

as well, like mountain-biking with Ella. Every Sunday we

ride in the forest or the bush with the kangaroos.

Follow @benshewry on Twitter and Instagram.

C

M

Y

CM

MY

CY

CMY

K

This spread, clockwise from far left: Ben in Attica's 15-acre vegetable

garden; a dramatic interior sets the stage; whipped emu egg sabayon and

sugar bag-bee honey; "An imperfect history of Ripponlea as told by tarts"

recreates moments of Ripponlea, the suburb where Attica is located.
---
TASTES THAT BIND

PUMPKIN PATCH

A little sugar and a dash of cinnamon can keep a small boy busy in the kitchen,

and turn pumpkin into one of his favourite foods, says SAM WOULIDGE

PHOTOGRAPH JAN RAS PRODUCTION HANNAH LEWRY

42

My mom's attitude to children and

vegetables alternated between

encouragement ("If you eat all your

pumpkin your hair will grow out nice

and curly") and punishment ("If you don't

eat your pumpkin then you're not leaving

this table").

I hated pumpkin, mostly because my

ma did not adhere to the old-fashioned

Afrikaans school of culinary philosophical

thought, namely that life was bitter, so

vegetables should be sweet. There was

never any sugar sprinkled on our pumpkin.

Or on our carrots. Nor on our gem

squash. And definitely not on our mielies.

Vegetables were steamed and lightly salted.

Buttered if we were being indulged. Even

sweet potatoes – the very name insists on

them being served sweet – were served

in their skins with only blobs of butter for

company. But on very rare, very special

occasions, pumpkin became party fare

when it was fried into plump fritters and

sprinkled with cinnamon sugar. I remember

these pampoenkoekies well because when

they did make their sweet appearance,

I ate them without complaining, focusing

instead on the cinnamon sugar-topumpkin

ratio and imagining them to be

a sort of vegetable consolation prize, since

pancakes were obviously not on offer.

My husband, Jacques, whose Afrikaans

mother had married the eldest son of an

Afrikaans Free State farmer, grew up eating

pampoenkoekies on a regular basis. He

recalls a childhood of sweet vegetables.

My Afrikaans mother had married an

English-speaking South African, so perhaps

it was for this reason that her cooking style

wasn't as traditionally Afrikaans as it might

have otherwise been. Growing up, my

identity was complex. "But what am I?"

I would ask my parents, when the taunts

of other children became too much; when

the English kids called me a "rock spider"

and the Afrikaans kids called me a "soutie".

"You are South African," my ma and dad

insisted time and time again.

Now I have a son with an identity even

more complex than mine. He has an

Afrikaans father, a partly English mother

and, by birth, his heritage is Xhosa.

As parents, Jacques and I are determined

that he be proud of all parts of his identity,

but, just as my parents did for me, we will

also teach him that he is, above all, a South

African. And that means an amalgamation

of languages and stories and flavours.

With this in mind, I learned how

to make pampoenkoekies the way my

mother-in-law makes them. I made them

for Jacques, because he loves them and

because they remind him of his childhood

and of his Free State Ouma Phoebe. And

I made them for Seb, so that he too can

one day have childhood taste memories

that are similar to those of his father. As I

sprinkled the cinnamon sugar on the puffy

fritters, I smiled in memory of my own ma,

turned to my son, whose beautiful crop

of dreadlocked curls proudly proclaim his

blackness, and said to him, "If you eat these

pampoenkoekies, your hair will stay curly."

Then we ate those sweet pumpkin fritters

in memory of those who had gone before.

Because we are all the sum of our parts. W

confessionsofahungrywoman.com;

@samwoulidge

PUMPKIN FRITTERS

This is one of Seb's favourite things to

make, the mushing and mixing appeals

to him as much as the sprinkling of the

cinnamon sugar does. In our family we

believe pampoenkoekies are best eaten

piping hot, while standing around the

kitchen table.

Makes 12

EASY

GREAT VALUE

Preparation: 20 minutes

Cooking: 20 minutes

pumpkin 500 g, steamed, drained

and cooled

free-range eggs 2, beaten

cake flour 60 g

baking powder 1 heaped t

salt a pinch

butter and oil, for frying

cinnamon sugar, for sprinkling

1 Mash the cooled, steamed pumpkin

with a fork once. (I'm lazy so I buy the

ready-cubed pumpkin in packets and

steam it in the microwave according

to package instructions). 2 Add the

beaten eggs and mix. Sift in the cake

flour, baking powder and salt. 3 Melt

a little butter in a pan and add a little

oil. When it starts sizzling, drop in

heaped teaspoons of batter, making

sure that they are nicely spaced

apart, and fry each side until lightly

browned. 4 Remove from pan and

drain on kitchen paper. 5 Sprinkle

with cinnamon sugar and eat warm.

HEALTH-CONSCIOUS, MEAT-FREE

WINE: Woolworths Shannon

Sauvignon Blanc 2016

PORTRAIT MICHAEL LE GRANGE
---
"I MADE

PAMPOENKOEKIES FOR

SEB, SO THAT ONE DAY

HE CAN HAVE CHILDHOOD

TASTE MEMORIES THAT

ARE SIMILAR TO THOSE

OF HIS FATHER"
---
#TASTESLIKEMORE

CALIFORNIA DREAMIN'

Food always brings people together says former chef Ilana

Sharlin Stone, feeling a pang of nostalgia for the staff breakfasts she

shared in LA kitchens with her Latino "family" of waiters and chefs

PHOTOGRAPH JAN RAS PRODUCTION HANNAH LEWRY

44

Recently, I've become a morning

coffee fly at Foxcroft Bakery, located

inside Foxcroft Restaurant in Constantia.

You'll often find me there before 10 am,

drinking my Americano (my country

of origin and drink of choice) at a table

with a view of the restaurant's inner

workings, a view that's slightly obscured

by the hanging chorizos and bresaolas

in the glassed-in charcuterie room,

and shelves of Foxcroft-made merch:

flavoured salts, poached quinces and

other edible goodies.

Sure, I love the coffee (Tribe) and

the occasional flaky pastry I give myself

permission to devour, but to me the

greatest attraction is the morning

restaurant kitchen vibe, which injects me

Find Ilana's recipe for transformative LA kitchen

huevos at taste.co.za.

with a dose of pure sunshine nostalgia.

The sounds and smells of prep work,

charcuterie and patisserie in progress,

and the sight of smiling chefs balancing

whole fish on trays as they make their

way upstairs from the basement to the

line, really peel away the layers. They take

me back to before I left the chef business,

and long before I moved from one CA

(California) to another: Cape Town. Back to

what was my happy place for many years.

In a kitchen, the beginning of the day

shift is the magic hour. Before the pressure

of service. While everybody is quietly

doing their thing. When the only sounds

are the happy buzz of knifework, mixers,

food processors, occasional chit-chat and

a distant espresso machine; and in some

kitchens, music. In Californian kitchens,

Latin music from local Spanish-language

radio stations was blasted before service

by food-speckled, beat-up tinny

radios. The songs, mostly from

south of the border, were a mix

of guitar-driven, wrist-slashing

ballads and get-up-and-party

salsa, and they were interspersed

with cheesy adverts for hit-andrun

accident lawyers and the

news, delivered en Español

at la velocidad de la luz (the

speed of light).

In the LA and San Francisco

restaurants where I worked, many

employees were Latino. This

meant predominantly Mexican,

but also Guatemalan, Ecuadorian

and Salvadoran. All spoke

Spanish, and anywhere from very

little to fluent English. Working

side by side, I tried to expand my

command of Español, which was

limited to one year of high-school

Spanish and the kitchen Spanish

I'd picked up on the job. I could

say lechuga for lettuce, ostras for

oysters, bien cocido for well done

(as in steak), caserolas limpias,

por favor for "Clean pans, please",

"THESE HUEVOS

(EGGS) ARE A KICK-

ASS BREAKFAST AND

WAY TO START THE

DAY. IT'S ALSO A DISH

THAT MAKES ME BRIM

WITH GRATITUDE"

and chingadera, a too-rude-to-be-literallytranslated

word for whatchamacallit, used

when a word or name of an item eludes you.

Besides this useful vocabulary, I learned

the proper method for shaping and

wrapping tamales in corn husks, that the

inner translucent skin of an onion, when

applied to a hectic finger cut, could stop

the bleeding, and that the Latino men

I worked with were sending much of their

earnings back to their wives and children

in their home countries.

In the morning, this mix of cultures all

regularly converged into a Latino hybrid

staff breakfast concoction of scrambled

eggs with sautéed onion, tomato, cilantro

(coriander), avocado and hot sauce,

piled into fresh corn tortillas, consumed

communally an hour or two after the shift

started. It was a no-brainer to make, yet

transformative to eat.

Just as it's impossible to be unhappy

when you're working in the kitchen doing

something you love, there's no way you

can't have a big smile on your face when

eating these huevos (eggs). A kick-ass

breakfast and way to start the day, it's also

a dish that makes me brim with gratitude,

to have experienced the commitment,

camaraderie and teamwork of chefs from

many places. We've shared so much more

than huevos. W

Ilana Sharlin Stone is a Cape-based freelance writer.

Find her online at findingumami.capetown

PORTRAIT SIMONA STONE FOOD ASSISTANT CAMILLA REINHOLD
---
life cover

premium

Karabo, 36

R3 million

R403 p.m.

Unforgettable moments like these are what make life special.

Make sure they have more than memories if something should happen to you. Join more than 135 000

South Africans who put their trust in OUTsurance Life to care for them and their families.

Life insurance that's there if you need it and

all your premiums back if you don't.

Call us on 08 600 60 000 or sms "taste" to 44498 for a quote.

You always get

something out.

Life

OUTL/0137/E

OUTsurance is an authorised financial services provider. Premium quoted is risk profile dependent. The life OUTbonus is optional and if selected comprises on

average one third of your premium. Premiums are guaranteed for five years and increase on average at only 6% per annum. Ts, Cs and standard sms rates apply.
---
SCENE STEALER

7 BIG LITTLE

REASONS TO VISIT

ROBERTSON

Beyond the buzz of its popular festivals and famous wine estates, there's

another story to the Robertson Wine Valley – a tale of big personalities

who love celebrating the small things in life

PHOTOGRAPHS JAN RAS TEXT ANNETTE KLINGER

46

The Robertson Wine Valley's unique aspect and climate result in exceptional wines.

Once a year, as winter approaches, the inevitable question on Capetonians' minds is: "Are we doing Wacky this year?" You see, there

are no half measures when it comes to the Wacky Wine Weekend (1–4 June) when the valley – including Robertson, Ashton,

Bonnievale and McGregor – welcomes a deluge of visitors who shuttle from farm to farm, making the most of their six tasting

coupons per winery. There's so much more to this neck of the woods, though. For folks keen on enjoying Robertson closer to its

natural laid-back state, the Slow Festival (4–6 August 2017) offers leisurely estate lunches and food and wine masterclasses. And,

if you entertain fantasies of drinking champers on a boat (who doesn't?), Wine on the River (20–22 October) lets you catch a cruise

on the Breede River between all your sipping and snacking. But one of the best times to visit is when there's nothing scheduled,

locals are going about their business, and you can have this beautiful destination more or less to yourself.

robertsonwinevalley.com; wackywineweekend.com; robertsonslow.com; wineonriver.com
---
1. STAY IN THE LITTLE

HOTEL THAT COULD

All architectural greys and crisp white

broekielace, the Robertson Small Hotel might

look like an old-world sophisticate from the

outside, but inside this Victorian gal beats

the heart of a hipster. Because, for all her 116

years, the building's new contempo-quirky

interior suits her perfectly. The revamp,

driven by owner Abigail Rands, has played

up The Small's friendlier, more humorous

side. "While the level of luxury is high, I didn't

want the surroundings to intimidate or

show off," says interior designer Sophie

Ashby from Studio Ashby in London. Sophie,

who is a childhood friend of Abigail's,

collaborated with local young creatives

including textile designer Alexis Barrell,

ceramicist Michael Chandler and SMITH

studio curator Amy Ellenbogen to breathe

new life into the space, which includes ten

en-suite rooms, a spa, a bar and a restaurant.

"It's now full of art, design, colour and soul."

Abigail wanted the food to follow suit

and steered the menu away from fiddly

foams and gels. She asked Sophie's sister,

Rose, who is a chef at Skye Gyngell's

Spring restaurant in London, to consult

and the result is food that leans heavily on

seasonal produce and ingredients from the

valley, including olive oil and tapenades

from award-winning Marbrin Olives, rose

geranium cordial from Owl's Rest lavender

and olive farm, and wines from local estates.

Since March 2017, local chef Mariska

Hennig has headed up the kitchen,

incorporating a modern bistro spin: hearty

classics such as five-spice duck breast with

celeriac mash, and beef fillet with garlicand-onion

purée, are elevated with refined,

playful plating. It's a yin and yang echoed in,

and complemented by, the décor. Tables are

set with starched linen and silverware … and

quirky ceramic cow, pig or horse sculptures

(custom made for The Small by local

ceramicists Rialheim Studios) to play real-life

Farmville with. There are masculine custommade

leather-and-wood dining chairs,

whimsical free-form ceramic lampshades,

and a revolving collection of original art that

appeals to fans of abstract minimalism and

offbeat illustrations alike.

This is a place where painstaking

attention has been paid to the details. Not

the least of which is The Small Guide, a

carefully curated mini-compendium of food

and drink experiences that extend beyond

wine tasting. The only catch? You have to

check in to check out the whole guide.

therobertsonsmallhotel.com

1

45
---
2

4. EAT ALL THE

CHARCUTERIE

(AND STOCK UP ON

BREAKFAST WINE)

Businessman turned viticulturalist

Theunis de Jongh is what you might

call an autodidact in the field of winemaking,

but that didn't stop him from

bagging a Michelangelo gold award for

Kleinhoekkloof's first ever Shiraz (the 2011

vintage), made to a soundtrack of Pink

Floyd, no less. After completing a course

under charcuterie king Neil Jewel (of Bread

& Wine restaurant fame), reading up and

"watching a lot of YouTube videos", Theunis

started making his own bresaola, culatello,

prosciutto, Italian-style salami, coppa and

Spanish ham using Glen Oakes' free-range

pork to serve with the estate's seven wines

at the tasting room. Theunis's daughter

Danielle has subsequently joined him in the

cellar, and maintains their Merlot rosé is the

perfect partner for bacon (preferably theirs)

and eggs. Breakfast wine? Genius.

kleinhoekkloof.co.za

48

2. UNLEASH YOUR INNER BEEKEEPER

Farmer Redbeard – or Albertus van Zyl as he's known to his friends – is one of the area's

best-kept secrets. Along with his wife, Pat, he lives for offering city slickers a slice of farm

life. Whether this entails picking fruit in his orchard, harvesting and stomping grapes, or

collecting honey from his hives (there are beekeeper suits to keep you sting free), depends

on the season. If you're more of a sit-back-and-watch type, take a tractor ride through the

vineyards and up into a eucalyptus forest where you can chill out, sip on the farm's smallbatch

wines or moerkoffie (brewed in an enamel pot on a camp fire) and enjoy a traditional

bush braai. There's even a converted red bus to crash in (things can get wild up there).

farmerredbeard.co.za

3. GET BEER FROM

A STONE

The reason why the beers at

3 4

Saggy Stone microbrewery are

so chuggable, according to

their maker Adrian Robinson:

spring water, from the top of the

Langeberg mountains, filtered

through moss and over granite.

Of course it helps that Adrian

knows his way around a brewery.

And that the brewery is set in

one of the most beautiful areas in

the Nuy Valley. If you're in a hurry,

simply stop by to fill your car boot

with California Steam, Big Red Ale,

Desert Lager and Dark Horse (but

don't be, because you'll miss the

wood-fired pizza). saggystone.co.za
---
SCENE STEALER

6. MEET SA'S ANSWER

TO COINTREAU

While Tanagra Private Cellar has no

shortage of wines, you'll want to stick

around for the hard tack. Owner and

distiller Robert Rosenbach has quite a

knack for crafting delicious single-variety

grappas using grape skins from nearby

Springfield Estate. When it's not harvest

time, he distills eau de vie from the

peaches, apricots, quinces and lemons

grown on the farm. He's also turned his

talents to making an orange liqueur that's

just begging to be flambéed in your next

stack of crêpes Suzette. tanagra-wines.co.za

5 6

5. CHANNEL QUEEN ELIZABETH I

Word is, QE1 thought no breakfast was royal enough unless there was some lavender

conserve on the table. Knowing little tidbits like this comes with the territory if you happen

to buy a lavender and olive farm, as Hedley and Patricia Manicorn did when they retired

from the rat race. While Owl's Rest's main claim to fame is its essential oils and eco-friendly

beauty and household products (all made by Hedley, a chemical engineer), there's also

a teeny-tiny café among the groves where you can make like a monarch and enjoy your

lavender marmalade on freshly baked muffins (both made by Trish) with a cuppa. Oh, and

their rose geranium cordial? Great with sparkling water; even better with gin. owlsrest.co.za

49

7

7. STRIKE OIL

Robertson has a couple of great olive oil producers worth a visit and Marbrin Olive Growers is a good place to start. The estate's intense extra

virgin olive oil was recently named one of Absa's top five in the country. Farmer and olive-oil maker Clive Heymans is happy to take you

through a tasting of the collection, which includes delicate, medium and intense extra virgin olive oils (all cold extracted from a blend of

Mission, Coratina, Frantoio and Leccino olives), infused truffle, chilli and saffron oils, tapenades and honey. With enough of his home-made

focaccia for dipping and a shot of his limoncello if you're brave enough. marbrin.co.za
---
SO, WHAT

WILL YOU BE

DRINKING

THIS MONTH?

EDITED BY MICHELLE COBURN

Raise

the

Bar

PHOTOGRAPH JAN RAS PRODUCTION ABIGAIL DONNELLY

FOR THE SAKE OF SAKE

Smooth, easy-drinking sake will save you this winter. It's lower in acidity than wine, making it a versatile

drink to match with anything from sushi to ramen, and it loves dishes using acidic ingredients such as citrus

(sometimes difficult for wine – see page 54). Styles can be sweet or dry, aromas range from fruity to earthy,

and flavours can include rice, herbs and nuts. Sparkling versions are light and refreshing but, best of all, sake

can be enjoyed chilled or warm, as in the ClemenGold hot toddy on page 58. (You might want to make extra:

tradition dictates that once a sake glass is empty, the host is obliged to refill it without asking. No problem!)
---
RAISE THE BAR

Vive la France!

France has inspired so many top wines made in the Cape that, in honour of Bastille Day on 14 July,

ALLAN MULLINS says merci for the blended styles made famous by two famous French regions

52

"Match the Ken Forrester

SGM with daube Provençal

– a rich stew of beef slowly

braised with red wine,

onions, herbs and garlic"

THE RHÔNE VALLEY

The rocky, stony soils and hot, dry climate

of the Rhône Valley are echoed in certain

regions of the Cape, especially the Swartland.

There are diverse styles in the Rhône, where

the main red grapes are Syrah, Grenache,

Mourvèdre and Cinsaut, while the whites are

Viognier and Roussanne.

KLOOF STREET SWARTLAND

ROUGE 2014, R99,95

Chris and Andrea Mullineux launched

Mullineux Family Wines in Riebeek

Kasteel in 2007 and partnered with luxury

accommodation entrepreneur Analjit

Singh in 2013 to form the award-winning

Mullineux & Leeu Family Wines. This Syrahled

blend demonstrates their mastery

of Rhône varieties and Swartland soils.

Tasting notes: The wine gets its plush texture

and seductive spice from 86% Syrah. Smaller

additions of Grenache, Cinsaut, Carignan,

Mourvèdre and Tinta Barocca contribute

fruitiness, perfume, freshness, light

earthiness and firm tannins respectively.

Match with: Slow-cooked lamb knuckles in red

wine, black pepper, rosemary and garlic.

KEN FORRESTER SGM 2014, R79.95

Ken Forrester is known as the king of Chenin

Blanc but he is just as passionate about

Rhône varieties. This SGM blend exhibits

Old World style with New World fruit.

Tasting notes: Shiraz gives spiciness, white

pepper and nutmeg; Grenache adds red

fruits; Mourvèdre gives mid-palate depth.

Match with: Daube Provençal – a rich stew of

beef slowly braised with red wine, onions,

herbs and garlic.

FAIRVIEW ROAMING GOAT

2015, R69.95

Fairview is known for its wine and goats,

so feels entitled to take a cheeky dig at the

French Rhône blend, Côtes du Rhône, by

calling its Rhône varietal blend Goats

Do Roam. Roaming Goat is an exclusive

Woolies blend of Rhône varieties with

extra 50-year-old Grenache to add spice,

fruit and complexity.

Tasting notes: Plums and red berries, cloves

and cinnamon on the nose. A smooth

palate with inviting fruit and ripe tannins.

Match with: Spicy meat dishes such as

Moroccan lamb, chicken tagine or bobotie.

DMZ CONCERTO WHITE 2016, R69.95

At Stellenbosch winery De Morgenzon,

Wendy and Hilton Applebaum play baroque

music to specific vines. It must work as

the awards keep rolling in. The Concerto

White has the Rhône varieties Roussanne,

Grenache Blanc and Viognier leading the

ensemble, with Chardonnay and Chenin

Blanc playing back-up.

Tasting notes: Opulence meets elegance

with white peach, ripe pear and tropical

fruit aromas on the nose, and honey,

minerals and spice on the palate.

Match with: Crayfish, prawns or scallops

with a spicy Asian sauce.

BORDEAUX

Bordeaux is the largest fine-wine area in the

world. Reds account for 90% of production

and are made from blends of two or more of

Cabernet Sauvignon, Merlot, Cabernet Franc,

Malbec and Petit Verdot, while white blends

are made from Sauvignon Blanc and Semillon.

All these grapes are grown in the Cape where

similar terroir conditions exist in certain regions.

JORDAN COBBLERS HILL

2012, R299.95

Cobblers Hill is named in honour of the

Jordan shoe company, started by Alfred

Jordan who arrived from England in 1890.

Third-generation shoemaker Ted Jordan

bought a Stellenbosch wine farm in 1982,

PORTRAIT ROBBERT KOENE STILL PHOTOGRAPHS JAN RAS ILLUSTRATIONS GETTY IMAGES
---
where his son and daugher-in-law, Gary

and Kathy Jordan, released the first Jordan

wines in 1993.

Tasting notes: Cabernet Sauvignon (43%) is

the backbone of the blend with its dense

blackcurrant and black cherry flavours;

Merlot (38%) lifts the red fruit characters

and adds to the acidity; Cabernet Franc

(12%) adds a spicy note; Petit Verdot (7%)

emphasises the intensity of the fruit.

Match with: Steak with Hollandaise sauce

and roast potatoes.

DELAIRE GRAFF REDSTONE

2015, R129.95

Delaire Graff, perched high in the

Helshoogte mountains, is a luxury hotel

catering to the world's rich and famous.

It also produces outstanding wine. Redstone

is an exclusive five-way Bordeaux blend

that gets its name from the red, nutrientrich

Tukulu and Oakleaf soils of the

Stellenbosch hillside.

Tasting notes: The base of the wine is 69%

Cabernet Sauvignon, which provides

blackcurrant and cassis; Malbec ensures

the palate is firm yet supple; Petit Verdot

adds spice and perfume; Cabernet Franc

is responsible for leafy notes, and the Merlot

ensures freshness and acidity.

Match with: Boeuf bourguignon with brown

rice, roast potatoes and hearty vegetables.

PORCUPINE RIDGE CABERNET

SAUVIGNON MERLOT 2015, R59.95

The Boekenhoutskloof wine team is

responsible for the Porcupine Ridge range,

and this Bordeaux-style blend is an exclusive

collaboration with Woolies. The Cabernet

Sauvignon and the Merlot come from

Stellenbosch's acclaimed red wine area,

the Helderberg.

Tasting notes: The 84% Cabernet

Sauvignon provides dark wild berry

and cherry notes, tempered by the

Merlot's lighter red fruit profile. The

velvety palate has hints of hazelnut,

chocolate and liquorice with perfectly

integrated tannins.

Match with: Panfried venison steak with

blackberry sauce.

NITIDA SAUVIGNON BLANC

SEMILLON 2016, R79.95

Nitida is a small farm in Durbanville and

prides itself on its hands-on approach.

The grapes for this blend come from

Durbanville and Darling, both cool areas

where slow ripening allows for good

flavour development.

Tasting notes: A fusion of two contrasting

but complementary cultivars – the

crispness of Sauvignon Blanc meets the

creaminess of Semillon. Their stone-fruit

flavours overlap and there is yellow

plum, white peach, green apples and

a hint of white pepper.

Match with: Winemaker Daniel Keuler

suggests East Coast sole and a beurre

blanc sauce with a salad of freshly

sprouted microgreens.

Cape Wine Master

Allan Mullins has

selected wines for

Woolies for more

than two decades.

Find him on Twitter

@AllanMullinsSA.

Say cheese

(and wine)!

Grasping the fundamentals of good flavour

combos and picking the best wine

to accompany your favourite French

cheese is really quite easy

FRESH AND SOFT CHEESES

Flavours range from tangy to mild,

matching well with crisp, fruity, light-bodied

wines with citrusy or tropical flavours. Avoid

wines that are high in tannins. The cheese:

Brie, Camembert, chèvre (goat's cheese),

Brillat-Savarin, crottin. The wine: Riesling,

Sauvignon Blanc, Chardonnay, Champagne.

SEMI-HARD AND

MEDIUM-AGED CHEESE

Firm in texture and strong in flavour,

these cheeses need medium-bodied,

well-balanced wines. Try sparkling

whites, apéritif whites and fruity reds.

The cheese: Cantal, Comté and French

Emmenthal. The wine: Chardonnay, white

Burgundy, white Bordeaux, Champagne,

red Burgundy, Pinot Noir.

53

ASIAN

PERSUASION

Spice and heat can be

difficult to match with wine.

Try these tips the next time

you're choosing a bottle

NO Oaky Chardonnays

will dull spicy flavours

and red wines with

tannins will taste bitter.

YES Aromatic wines have

fruity flavours that marry

well with aromatic dishes.

Light sweetness tames

excessive heat and snappy

acidity lifts Asian flavours.

Choose Sauvignon Blanc,

low-tannin juicy reds,

an off-dry sparkling

wine, Riesling or

Gewürztraminer:

Paul Cluver Ferricrete Riesling

2016 has bright acidity

and hints of lemongrass.

Perfect for Thai curries.

The Gewürztraminer 2016

has lively freshness and

a delicate spicy flavour

great for . lightly spiced

Indian curries such as

butter chicken.

BLUE CHEESE

Bold, full-flavoured cheeses with prominent

salty and savoury flavours like these need

bold, slightly sweet wines to match.

The cheese: Roquefort and Cambozola.

The wine: White Burgundy or Bordeaux,

Viognier, white Rhône blends,

Zinfandel, red Port.

HARD, AGED CHEESE

Nutty, salty flavours are complemented by

full-bodied whites, tannic reds and sweet

Ports. The cheese: Aged Cantal, tomme de

Savoie, French raclette. The wine: Aged

white Burgundy or Bordeaux, Riesling,

Champagne, red Burgundy, red Port.
---
RAISE THE BAR

What to drink with … citrus

Zesty flavours in sweet and savoury dishes can be tricky to pair with wine but not when Allan

Mullins is on the job – he's even thrown in a Shiraz surprise

DANIE DE WET LIMESTONE HILL CHARDONNAY

UNWOODED 2017, R79.95

… fish tacos with one-minute lime mayo and pink grapefruit

on page 76

Both the tacos and wine contribute grapefruit, lime and citrus. The

result is a palate-pleasing citrus explosion – and a vitamin C boost,

making this a good-for-you combo. The wine has been aged on its

lees (the yeast cells after fermentation), which gives it an appealing

richness, balancing out the lavish citrus without losing any of its

impact. The outcome is racy, refreshing, zesty and zippy.

If you like this, also try: Boschendal 1685 Chardonnay 2016.

54

NEIL ELLIS BUSH VINE SHIRAZ GROENEKLOOF

2014, R99.95

… with citrus-braised shortrib with green chilli, lime

and green tomato salsa on page 74

This luscious Shiraz from a selected vineyard in the Darling

wine area is a perfect partner for the braised shortrib with

its flavour-rich, invigorating sauce. Clove and cinnamon,

black fruit, pepper and the sultry savouriness of the Shiraz

are flavours that boost the lipsmacking flavours of the

salsa. The wine's richly textured body matches the juicy

succulence of the braised shortrib.

If you like this, also try: Saronsberg Provenance Shiraz 2015.

SPRINGFIELD ESTATE MISS LUCY 2016, R109.95

… with orange-and-fennel mussels on page 79

The Bruwer family created Springfield Miss Lucy as "an ode to

the bounty of the sea", so it's a natural partner for this orangeand-fennel

mussel indulgence. The citrus/aniseed elements

of the dish complement the wine perfectly, with the Semillon

(32%) bringing a beautiful waxy lemon rind roundness

and fresh citrus notes, the spiciness of the Pinot Gris (30%)

picking up with the fennel, and the partially barrel-fermented

Sauvignon Blanc (38%) giving the weight and body to stand

up to the fuller flavours.

If you like this, also try: Groot Constantia Sauvignon Blanc

Semillon 2016.

FOOD PHOTOGRAPHS TOBY MURPHY WINE PHOTOGRAPHS JAN RAS
---
A D V E R T I S I N G P R O M O T I O N

PHOTOGRAPH SADIQAH ASSUR-ISMAIL

PRODUCTION JACQUELINE BURGESS

PLAIN TRUTH

Fact: a swirl of Woolies' Ayrshire double-cream plain yoghurt through soups, stews, curries

or sauces gives them decadently delicious hero status. Named the top plain double-cream

yoghurt at the recent SA Dairy championships, it's thick and velvety, enriched with millions of

good-for-your-gut bifidobacterium cultures and contains no preservatives. What's not to love?

woolworths.co.za

Serving suggestion

ROAST LAMB WITH

GARLIC-YOGHURT SAUCE

Gently heat 2 cups

Ayrshire double-cream

plain yoghurt with

2 crushed garlic cloves.

Cook Woolworths Easy

to Cook free-range leg

of lamb according to

package instructions.

Swirl 1 x 180 g tub

hummus through the

sauce and top with sliced

lamb, roast beetroot,

toasted pine nuts, and the

meat juices. Garnish with

chopped coriander.
---
RAISE THE BAR

The mavericks

Meet two wine-making entrepreneurs: the sommelier who makes his own wine and

a banker who gave it all up for life in the vineyards

58

MPHUMELELI NDLANGISA

Maker of Magna Carta natural wines

Mphumi left the world of finance to start his

own wine label after "spending a lot of time

hanging out in wine bars" and developing

a love for wines by makers who do it differently

I LEFT MY CAREER IN

INVESTMENTS because I wanted

to create a legacy that reflected a

philosophy I believe in: taking a chance

by venturing into the unknown to

achieve something greater.

MANY WINE DRINKERS ARE

RISK AVERSE when it comes to trying

something new. I think education is key.

I host monthly tasting sessions organised

through the Facebook group "Magna

Carta Wine Day" where I single out a single

varietal and explore its different styles

and origins.

MY FAVOURITE GRAPE VARIETY

TO WORK WITH is Muscat d'Alexandrie.

It's a challenging grape prone to mildew

and botrytis in the vineyard. I love its effusive

floral notes on the nose. This year I have

produced two Muscat skin-contact wines

from single vineyards in Sir Lowry's Pass

and Franschhoek.

PRICE DOES NOT EQUAL QUALITY.

A surefire way to unearthing some gems

for a bargain is to start by knowing which

varietals perform better for which region.

For a start, you're safe with a Syrah or

Chenin Blanc from the Swartland, Pinot

Noir or Chardonnay from the Overberg

and Cabernet Franc or Cabernet Sauvignon

from Stellenbosch.

DEVELOP YOUR PALATE by tasting

and smelling everything. I often taste raw

ingredients and smell random plants.

Don't limit your senses. For example,

I've seen wine tasting notes that included

"smells like freshly cut hosepipe" –

presumably by an ardent gardener!

magnacartawines.com

PORTRAITS JAN RAS AND ANITA NEL INTERVIEWS MICHELLE COBURN

JOSEPH DHAFANA

La Colombe sommelier and maker

of Mosi wines

Joseph is a leading wine steward who only

drank his first glass of wine seven years ago –

a glass of MCC on his birthday in the town of

Riebeek-Kasteel, where he'd worked his way

from gardener to barman at a local restaurant

MY LABEL IS NAMED FOR Mosi-oatunya,

meaning "the smoke that thunders"

(better known as Victoria Falls), as I am from

Zimbabwe. Mosi was born in 2014 with the

guidance of Roger Clayton of Clayton Wines.

I started with small batches of Syrah and

Chenin and now a Merlot.

WINE LISTS AT FINE-DINING

RESTAURANTS CAN BE DAUNTING.

My advice is: tell the somm what you like

to drink and ask for recommendations.

It's so much better than ordering something

you might not enjoy.

NEWCOMERS TO WINE should

start with lighter styles, then move on

to medium- and full-bodied wines.

DEVELOP YOUR PALATE by tasting

as many wines as possible and memorising

what you taste. Do lots of blind tastings and

be okay with making mistakes.

MY FAVOURITE GRAPE VARIETY

IS CHENIN BLANC. It's versatile and

can be used for sparkling wine, still wine,

brandy, sherry and dessert wine.

THE MOST MEMORABLE PAIRING

I'VE EVER HAD was at Creation in the

Hemel-en-Aarde Valley. Springbok paired

with The Art of Pinot Noir 2015. It was

matchless!

MY FAVOURITE WINE-PRODUCING

COUNTRY IS SPAIN for its seductive,

juicy, full-bodied reds from Rioja and Ribera

del Duero. And nothing beats a bottle

of Cava in Barcelona!

Follow @wine_poet on Instagram
---
PHOTOGRAPH JAN RAS PRODUCTION FOODLOOSE PRODUCTIONS

FOOD ASSISTANT CLAIRE GOODERSON

A D V E R T I S I N G P R O M O T I O N

THE GOLDEN TOUCH

Whether you prefer yours subtle or intense, peppery or grassy, local or imported Ñ Woolies

will hook you up with your favourite olive oil. For that big monthly shop, stock up on your

favourite 1-litre bottle of South African extra virgin olive oil or Cook's Essential olive oil, and

for a taste of the exotic, choose between imported Mediterranean and Italian olive oils.

woolworths.co.za

Serving suggestion

CRISPY SPRING ONIONS

AND INFUSED OLIVE OIL

Finely slice 2 bunches spring

onions. Gently heat 1 cup

Woolies Cook's Essential

olive oil and gently fry the

onions until they smell toasty.

Remove the spring onions

using a slotted spoon and

drain on kitchen paper.

Use the reserved oil to liven

up any Asian broth, noodle

dish or dipping sauce and

finish Asian dishes with

the crispy onion bits.
---
RAISE THE BAR

Sake to me, baby

Rice: good for eating, great for drinking. Just ask Japan, Korea (north and south) and China,

who each have their own answers to transforming the humble grain into satisfying sips

CLEMENGOLD SAKE TODDY

Combine 2 shots sake and 1 shot ClemenGold juice in a Consol

jar and screw on the lid. Submerge the bottle in a heatproof

jug or bowl of just boiled water until warmed through, about

3 minutes. Meanwhile, sprinkle a bit of sugar over two slices

of ClemenGold and caramelise with a blowtorch or under the

grill until slightly charred. Divide the hot sake-and-juice toddy

between two heatproof tumblers and garnish each with

a caramelised ClemenGold slice. Serves 2.

JAPAN: SAKE

Made with polished saka mai (sake rice), water, yeast

and koji mould, sake is created through a two-stage

fermentation process, making its production closer

to that of beer than wine. There are two main styles

of sake: one made only with rice, and one fortified

with brewer's alcohol. Plum sake, made by infusing

plums with sake, is also popular. Generally, premium

sakes should be served chilled, while less expensive

versions benefit from being heated. If it's the good

stuff, it should be smooth with subtle sweet, bitter,

acidic and even umami notes.

KOREA: SOJU

With an alcohol percentage of around 20%, this spirit

doesn't pack quite the wallop its moniker "Korean

vodka" would imply, but because it's customary

to finish a whole bottle (usually around 360 ml) in

one sitting, its potency is said to sneak up on you.

Traditionally distilled from rice (although wheat and

barley versions are also common), soju is slightly

sweet and viscous. It's commonly served straight up

in a shot glass, but can also be mixed with fruit juice

(a popular drink at Korean barbeques) or beer.

CHINA: SHAOXING JIU

Shaoxing jiu hails from the Zhejiang province of

China and is the oldest type of yellow rice wine in

the country (we're talking between 770 BC and

476 BC ). Made by fermenting rice with water before

being pressed, filtered and aged, it's available in

dry, semi-dry and sweet varieties, and amber in

colour. It's traditionally served at 38°C (warm it up

by putting the bottle in a jug of hot water), so it's

perfect for getting nice and toasty. It also doubles

as a pantry staple, adding flavour to stirfries.

PHOTOGRAPHS JAN RAS PRODUCTION HANNAH LEWRY FOOD ASSISTANT CAMILLA REINHOLD TEXT ANNETTE KLINGER

EXTRA SOURCES CHILLEDMAGAZINE.COM; SLATE.COM; 1STFOREVERYTHING.COM; GOGHISM.COM; HAPPIEBB.COM; STONYBROOK.EDU; CITS.NET; SHANGHAIDAILY.COM; LEAF.TV; BONAPPETIT.COM
---
A D V E R T I S I N G P R O M O T I O N

EASTERN FEASTIN'

PHOTOGRAPH MICHAEL LE GRANGE PRODUCTION HANNAH LEWRY FOOD ASSISTANT ANDREA MASKEW

Authentic Asian flavours don't only live at the takeaway

down the road. Woolworths stocks all the pantry essentials

you need to whip up everything from tempura veg to

sweet-and-sour chicken, quick-sticks. It's all there: noodles,

panko crumbs and tempura flour; sauce essentials

including sweet-and-sour, Chinese BBQ, Indonesian soya

and tamarind paste. All you need are chopsticks!

woolworths.co.za
---
COMPETITION

WIN

Two lucky TASTE readers will win a Smeg 50s retro-style espresso coffee machine,

plus a hamper of Woolworths ground coffee, each worth R6 500. Bellissima!

Bring the magic of an authentic

Italian café into your own kitchen

with Smeg's traditional espresso

machine. Don't be fooled by its

good looks, under that beautifully

curvaceous exterior beats the

heart of an Italian stallion. Smeg's

Thermoblock heating technology

ensures faster prep and precise

water temperature control for

producing coffee, steam or hot

water, and the 15-bar operating

pressure means you'll always get

the best results. The drip tray even

has a clever indicator to tell

you when it's full.

smeg.co.za

THE PRIZE:

Two lucky readers will win a Smeg

espresso coffee machine in the

colour of their choice – cream,

black, fiery red or pastel blue – plus

a hamper of Woolworths ground

coffee, worth R6 500.

TO ENTER:

Turn to page 126 for SMS entry

instructions, or visit taste.co.za.

QUESTION:

What is the name of the coffee

machine's heating system?

KEYWORD: Smeg.
---
BROOKLYN

MALL OF AFRICA

Kream is a trendy upmarket restaurant which strives to provide only the best food and service,

bringing this together to create an unforgettable dining experience. Founded in 2007 by Tufan

Yerebakan, Kream has established and developed itself into a trendy, one-of-a-kind experience

for many. Serving delicious modern cuisine in an artistic environment, Kream combines the two

to provide a great sensory experience. The restaurant's setting provides private dining, closed

booths and terrace seating options utilised by many clients for their business and leisure needs.

Kream offers a wide array of wines from all over the world – a hand-picked selection of only the

best wines from only the best estates.

Coined the 'Wolfpack', the Kream team is committed to providing guests with the ultimate

eating experience through exceptional service and value for money. We invite you to come and

experience Kream Kulture.

Brooklyn, Brooklyn Bridge, 570 Fehrsen Street, Brooklyn | +27 12 346 4642 /4

Mall of Africa, Waterfall City, Magwa Cres, Midrand, Johannesburg, 1686 | +27 10 591 0023
---
You don't think twice about starting your day

with your favourite brew or grabbing a cup to go.

And what would tiramisu be without espresso?

But there are even more delicious ways to get the

most from your favourite roast – like a creamy

sauce for fillet, or a dreamy risotto for dessert

COFFEE RISOTTO

R19 PER SERVING
---
COFFEE CULTURE

ESPRESS

YOURSELF

63

COFFEE ÎLES

FLOTTANTES

R6 PER SERVING

PHOTOGRAPHS TOBY MURPHY AND JAN RAS RECIPES AND PRODUCTION ABIGAIL DONNELLY

TEXT ANNETTE KLINGER AND MICHELLE COBURN FOOD ASSISTANT JACQUELINE BURGESS
---
COFFEE CULTURE

64

COFFEE RISOTTO

"Sure, it's dessert, but you're going to want to eat it

for breakfast. Served hot or cold, it's spectacular."

Serves 4

EASY

GREAT VALUE

Preparation: 10 minutes

Cooking: 35 minutes

instant coffee granules 1½ T

vanilla pod 1, split

risotto rice 100 g

milk 2 cups

brown sugar 50 g

butter 2 T

cream 1 cup, plus extra for serving

Woolworths espresso, for serving

white chocolate 25 g, finely grated, for serving

1 Place the instant coffee in a nonstick pan with

1 cup water and the vanilla pod. Bring to the boil.

2 Add the rice, turn off the heat and soak for

5 minutes. 3 Return the rice to a low heat,

add the milk and cook very gently, stirring

occasionally, until the rice is tender. 4 Add the

sugar, butter and cream and cook over a low

heat, stirring for a further 5 minutes. Remove the

vanilla pod. 5 Serve with extra cream, a shot

of espresso and finely grated white chocolate.

WHEAT- AND GLUTEN-FREE

WINE: Woolworths Porcupine Ridge Cabernet

Sauvignon-Merlot 2016

COFFEE ÎLES FLOTTANTES

"The traditional French floating island consists

of meringue floating on crème anglaise. This

turns a double cappuccino into a treat to die for."

Serves 4

EASY

GREAT VALUE

Preparation: 20 minutes

Cooking: 1½ hours

GET PERCOLATING

We've all got our favourite way to make the perfect brew.

These are the most popular

The coffee plunger

(French press)

One of the simplest

ways to make a great

cup of joe: add a

heaped tablespoon

of ground coffee per

200 ml water to the

beaker, pour over hot

(not quite boiling)

water and stir. Insert

the plunger, stopping

just above the coffee

level, and brew for

3–4 minutes before

plunging and serving

immediately.

The coffee

(and tea) maker

Equal rights for coffee

and tea lovers! Add

ground coffee or tea

leaves to the filter,

pour over hot (not

boiling) water and

3–4 minutes later

you'll have a steaming

cuppa in hand.

(Woolies stocks

this stainless-steel,

bamboo and

borosilicate glass

coffee and tea

maker, R599).

The coffee dripper

The hourglass-shaped

Chemex dripper with

its distinctive wooden

collar brews coffee by

means of a paper filter

inserted into the neck

of the flask. Add

ground coffee and

"bloom" it by

moistening with

a little hot water. Then

pour over the desired

quantity of water (for

your number of cups)

and let it percolate

into the flask.

"THE ROASTED FLAVOURS,

BITTERNESS AND ACIDITY

OF COFFEE MAKE IT A

PERFECT MATCH FOR SWEET,

BOLD, EARTHY AND NUTTY

INGREDIENTS" – ABIGAIL DONNELLY

free-range egg whites 4

caster sugar 220 g

double cappuccinos, for serving

1 Preheat the oven to 120°C and line a baking

tray with a silicone mat or baking paper. 2 Beat

the egg whites until stiff peaks form. Gradually

add the sugar and continue beating until stiff

and glossy. Spoon the mixture into a piping

bag and pipe onto the baking tray. 3 Bake for

1½ hours, or until slightly golden and a little

gooey in the middle. Allow to cool and serve

with a double cappuccino.

FAT-CONSCIOUS, WHEAT- AND GLUTEN-FREE

The Moka pot

A one-cup wonder

– this one invented

in 1933 – has had

a resurgence in

popularity thanks

to the ease with

which it brews

a perfect espresso

under pressure

on the stovetop.

The Aeropress

Compact and easy

to transport, this is

the perfect one-cup

coffee maker and,

thanks to its immersion

brewing process and

use of gentle air

pressure, can brew

a range of styles in

around two minutes.

The espresso

coffee machine

Make authentic

espresso, latte

macchiato and

cappuccino at home

(the system makes

the perfect mix of

steam, air and milk

for an impeccable

foam). smeg.co.za
---
COFFEE CULTURE

CINNAMON

DOUGHNUTS WITH

COFFEE ROYAL ICING

"I'd fly across the world for a great

doughnut (see page 105 for the

best in New York) – or I'll make

them at home just like this!"

Serves 6

EASY

GREAT VALUE

Preparation: 10 minutes

Woolworths royal icing mix

1 x 190 g box

Woolworths fresh cinnamon

doughnuts 6

espresso 1 shot

double espresso, for serving

1 Make the royal icing according

to package instructions using

the espresso shot instead of water.

2 Generously spread the coffee

icing over the doughnuts and

serve with a double espresso.

65

CINNAMON DOUGHNUTS

WITH COFFEE ROYAL ICING

R9 PER SERVING
---
COFFEE CULTURE

SMOKY MAPLE-

ESPRESSO BAKED

BEANS

"All winter's comforting flavours –

smoky, spicy and rich espresso – in

the simplest and most filling of dishes."

Serves 4

EASY

GREAT VALUE

Preparation: 5 minutes

Cooking: 25 minutes

oil, for frying

pork rashers 400 g, sliced into thirds

leeks 4, washed and roughly chopped

garlic 4 cloves, finely grated

smoked paprika 1 t

chilli flakes 1 t

Woolworths Lazy Kettle hickory liquid

smoke 1 T

espresso 2 shots

maple syrup 1 T

tomato paste 2 T

Italian whole peeled tomatoes

1 x 400 g can

butter beans 2 x 400 g cans, drained

salt, to taste

ciabatta, sliced and toasted, for serving

1 Heat a little oil in a saucepan over

a medium to high heat. Fry the pork

rashers until golden and the fat has

rendered. Remove from the pan.

2 Add the leeks to the same pan

and fry until golden. Add the garlic,

paprika and chilli flakes and cook for

a few seconds. Add the remaining

ingredients, along with the pork

rashers, and simmer for 10–15 minutes.

3 Season with salt and serve with

slices of toasted ciabatta.

DAIRY-FREE

WINE: Fairview Pinotage 2016

66

SMOKY

MAPLE-ESPRESSO

BAKED BEANS

R39 PER SERVING
---
COFFEE CULTURE

GLOBAL COFFEE

CULTURE

From the simple Italian

espresso to traditional Turkish

coffee ceremonies, here's

how people around the

world enjoy their java

ETHIOPIA: Buna

In the birthplace of

coffee, traditional buna

ceremonies last for several

hours and involve roasting

and grinding the beans, then

brewing, straining and serving

the coffee – sometimes with

sugar, butter or salt.

IT'S A SIPHON-OFF

Coffee with a side of physics sound good? You need a siphon –

a.k.a. a vacuum coffee-maker – stat. While it doesn't offer the pack-up-and-go

convenience of an Aeropress (see page 64), it does make for a theatrical coffeemaking

ritual, and a well-balanced brew with body

1

2

3

FINLAND:

Kaffeeost

A cheese called juustoleipä

is cut into chunks and placed

at the bottom of the cup,

then coffee is poured on top.

After you drink the coffee,

eat the cheese. Mmm.

FRANCE:

Café au lait

There's nothing like starting

your day as the French do:

dunking a croissant in a café

au lait – coffee with hot milk.

4

5

6

67

ITALY: Espresso

The average barista in

New York takes three minutes

to serve an espresso. By then,

an Italian would have left in

a huff. From Milano to Roma,

espresso is the local version

of coffee to go – one shot

consumed standing at the bar

around 30 seconds after

you've placed your order.

SILWOOD STUDENT ASSISTANT HELLA BOROCHOWITZ

SHOT ON LOCATION AT HARD PRESSED CAFÉ, 1 BREE STREET, CAPE TOWN

MEXICO:

Café de olla

Spiced café de olla is brewed

with cinnamon sticks in

handmade clay pots, which

Mexicans say enhances the

flavour of the coffee.

TURKEY:

Türk kahvesi

UNESCO declared Turkish

coffee an Intangible Cultural

Heritage drink for the role it

plays in traditional culture –

roasted and finely ground

coffee beans are simmered

in a pot and served in a cup

with sugar or a piece of

Turkish delight on the side

to offset the bitterness.

STEP 1: Pour hot water into the bottom

glass chamber or bulb. Sink the discshaped

filter and its attached chain by

lowering it through the opening of the

top chamber or hopper, securing the

chain to the bottom of the funnel

with a clip.

STEP 2: Insert the top chamber into

the bottom chamber, ensuring that

the bulb is dry (moisture can cause

cracking). Light the burner below

it and turn the flame up high.

STEP 3: While you're waiting for the

water to boil, measure out your ground

coffee. When the water approaches

boiling point, water vapour forces

it into the top chamber.

STEP 4: Turn down the flame of the

burner. While there's still a bit of water

in the bottom chamber, add the coffee

grounds to the top chamber.

STEP 5: Stir the coffee grounds into the

water until they're completely saturated,

then brew for 45 seconds to 1 minute.

Extinguish the flame of the burner.

STEP 6: Gravity pulls the coffee and

water mixture through the filter,

creating a vacuum, and the bulb

fills with filtered coffee.
---
COFFEE CULTURE

FLAT WHITE VS CAPPUCCINO:

WHAT'S THE DIFFS?

Some aficionados insist a flat white should always be made with two shots of espresso. Others say the only

difference is that it's made with less foam than a cappuccino. We asked the pros for their verdict

68

THE DEFINITION:

"Traditionally, a cappuccino

is made with a third espresso,

a third steamed milk and

a third froth, but nothing

is strictly a cappuccino or flat

white anymore," says Seb

Schneider from Motherland

Coffee in Joburg. Lee Venter,

barista trainer at Truth Barista

Academy, adds, "In terms

of espresso to milk, the

ratio is the same. It's the

temperature of the milk

and the way it's textured

that determines whether

it's a cap or a flat white."

THE ESPRESSO: "A flat white

is made with a double

ristretto, a more concentrated

type of shot than a regular

espresso," says Matt Carter

from Tribeca Coffee

Company, exclusive coffee

supplier to Woolworths.

"A cappuccino is made with

only one shot of espresso."

THE MILK:

"The milk in a cappuccino

has more texture because

more air is incorporated

during the frothing process,"

says Seb. "In a flat white, the

milk has a finer, silkier texture."

Rosetta Roastery barista

Ollie Teddy weighs in,

"To create microtextured

foam (with very fine bubbles)

in a flat white, you steam

the milk less than you do

for a cappuccino."

THE FOAM:

"A cappuccino will generally

have about a centimetre of

foam, as opposed to a flat

white, which has about half

a centimetre," says Matt. "With

cappuccinos, the milk tends

to separate, making a thick

bubbly foam on top and hot,

slightly flat milk below,

resulting in two different

textures," says Mike

McDonald, head roaster

at Origin in Cape Town.

THE TEMPERATURE:

According to Winston

Thomas, head barista and

trainer at Origin, the milk

of a traditional cappuccino

is steamed to around 75°C,

while a flat white's milk

is steamed at 65°C. "By

texuring the milk less,

it also preserves its

natural sweetness, which

complements the flavour of

the coffee better," says Mike.

THE CUP SIZE:

The jury's still out. According

to Matt, a flat white always

has to be in a small cup,

about 180 ml. "As soon as

you get a big cup, it's no

longer a flat white. It's a large

cappuccino." Mike, again,

says, "Cup size is a bit of

grey area, it differs

between countries."

COOL BEANS Tribeca Coffee Company's Matt Carter says sourcing the best beans for the

coffee you buy at Woolies stores and enjoy at WCafés involves so much more than just great taste

"Socially responsibly sourced coffee not only

ensures a better deal for the farmer, but also the

environment and customer," explains Matt, Tribeca's

sustainability manager, who helps to train and

develop coffee farmers in Tanzania and Ethiopia by

partnering with local trade organisations. And he's

not afraid to go the extra mile. "Recently, we funded

and helped build a dairy for a female farmer in

Ethiopia so that she could be organically certified,"

he says. "We carried logs and rocks up a mountain

and built it by hand with the community. We're

business partners. If we can help farmers produce

a higher quality coffee, our business thrives, their

business thrives, and everyone wins." tribeca.co.za
---
ARTISANAL SAUSAGES

BEEF FILLET WITH

CAFÉ AU LAIT SAUCE

"Do as the French do and start

your day with a café au lait – then

end it with this coffee-mushroom

sauce (inspired by the famous sauce

at The Pot Luck Club in Cape Town)

over steak for dinner."

Serves 6

EASY

Preparation: 25 minutes,

plus 3 hours' soaking time

Cooking: 35 minutes

For the café au lait sauce:

cream 2 cups

coffee beans 50 g

butter 1 T

baby portabellini mushrooms

150 g, halved

Woolworths organic

beef stock ½ cup

sea salt and freshly ground

black pepper, to taste

olive oil 1 T

whole beef fillet 1.9 kg

butter 30 g

fresh thyme 1 t

1 Bring the cream and coffee beans

to the boil, then remove from the

heat. Allow to infuse for 3 hours,

stirring occasionally. 2 Preheat the

oven to 200°C and heat a large,

nonstick pan over a high heat until

smoking hot. 3 Sear the fillet in the

olive oil on both sides until browned.

Remove from the pan and place

onto a baking tray. Place a few knobs

of butter and the thyme on the meat

and roast for 15–20 minutes, or until

cooked to your liking. Allow to rest

for 10 minutes before slicing.

4 To finish the sauce, fry the

mushrooms in a little butter over

a very high heat until golden. Remove

from the pan. 5 Strain the coffeeinfused

cream into the pan and bring

to the boil. Return the mushrooms to

the pan, add the stock and reduce for

a few minutes. Season to taste. Pour

the sauce over the fillet and serve.

CARB-CONSCIOUS, WHEAT- AND

GLUTEN-FREE

WINE: Vergelegen Shiraz 2015

BEEF FILLET WITH

CAFÉ AU LAIT SAUCE
---
MOCHA

IN A CONE

"This recipe is just as

delicious with hot

chocolate insead

of coffee."

70

Serves 6

EASY

GREAT VALUE

Preparation: 25 minutes

Cooking: 5 minutes

dark chocolate

200 g, melted

large sugar cones 6

Woolworths chocolateflavoured

ground coffee

6 shots

1 Using a teaspoon, drizzle

the melted chocolate into

the cones. Rotate the cones

as you work, allowing

the chocolate to spread

evenly. Place the cones into

shallow cups and chill to

set, about 10 minutes.

2 Add another layer

of chocolate in the same

way as you did the first.

Chill to set. Prepare

the coffee. 3 Pour the

coffee into the cones and

serve immediately.

MOCHA IN A CONE

R20 PER SERVING
---
COFFEE CULTURE

ROASTERY ROUND-UP

All coffee beans have an optimal roast: the point where the aroma, body, acidity and flavour meet perfectly.

These are just some of the talented folks getting it right in SA

CAPE TOWN

Bean There

With roasteries in Cape Town and

Johannesburg, Bean There roasts

single-origin, unblended coffee

beans from Africa. Their Rwanda

Musasa has a light fruity aroma

and creamy toffee flavours.

beanthere.co.za

Origin

Started in Cape Town in 2006, Origin

is widely seen as the pioneer of the

new coffee culture in the Mother City.

It offers quality roasts from around

the world and can also be found in

Joburg at Arts on Main in Maboneng.

orginroasting.com

SILWOOD STUDENT ASSISTANT HELLA BOROCHOWITZ; SHOT ON LOCATION AT HARD-PRESSED CAFÉ, 1 BREE STREET, CAPE TOWN

Rosetta Roastery

Rosetta micro-roasts single-origin

coffees from Asia, South and Central

America and Africa. The Ethiopian

Biloya Yirgacheff boasts ripe citrus

flavours and the Costa Rican La Luisa

has sweet caramel notes and a

creamy mouthfeel. rosettaroastery.com

Tribe

Visit the Woodstock café for a great

cup of coffee and go home with

perfect single-origin beans. The

espresso blend boasts aromas and

flavours from chocolate and truffle oil

to candied red cherries. tribecoffee.co.za

DURBAN

Bean Green Coffee Roastery

Bean Green prides itself on stocking

only Ethiopian beans and its awardwinning

Bluff Bru house blend

consists of three premium beans:

the medium-roasted Harrar and

Yirgacheffe, with some dark-roasted

Sidamo bean. beangreen.co.za

Colombo Coffee and Factory Café

Colombo sources green (unroasted)

beans in Africa, Central and South

America and Indonesia and roasts them

to bring out their unique properties.

Try the Gitwe from Burundi, which

has orange marmalade and honey

notes. colombo.co.za; factorycafe.co.za

JOHANNESBURG

Doubleshot Coffee and Tea

The folks at this Braamfontein hotspot

hand-select the best beans and roast

them in small batches. The Brasil from

Serra Negra estate has a hazelnut

flavour with malty and milk chocolate

notes. doubleshot.co.za

Father Coffee

The trendy Father Coffee espresso

bars in Braamfontein and Rosebank

(also home to the roastery) serve

house-roasted coffee sourced from

Central America and Africa. The

signature Heirloom blend boasts

flavours of raspberry, lime, nut and

dark chocolate. fathercoffee.co.za

Tribeca

Woolies partner Tribeca deals directly

with coffee farmers and co-ops in

Africa, Central and South America

and Indonesia. It invests in its

suppliers and sources sustainably

grown beans (see page 68) roasted

at the Centurion headquarters. The

speciality coffees are distributed

throughout SA, including to the five

Tribeca cafes in Joburg and Pretoria.

tribeca.co.za

TAKE A LOAD OFF AT WCAFÉ

All WCafé baristas undergo training with some of the best in the business.

Don't miss these flagship stores in Joburg, Durban and Cape Town

CROWTHORNE

SHOPPING

CENTRE

Corner Main Road

and Arthur Avenue,

Kyalami; tel: 011

840 8914

BALLITO

LIFESTYLE

CENTRE

445 Ballito Drive,

Ballito; tel: 032 946

8440

WATERSTONE

VILLAGE

SHOPPING

CENTRE

Corner R44 and Main

Road, Somerset West;

tel: 021 851 8333.

71
---
IN SEASON: CITRUS

Main

squeeze

Nothing zests up your life in the chilly season

quite like a glass of lip-puckeringly fresh citrus juice.

But the season's most versatile fruit

is just as delicious squeezed into a creamy seafood sauce,

grated into a comforting pudding,

or roasted with the juiciest chicken

you'll eat

this winter

72

PHOTOGRAPHS TOBY MURPHY

RECIPES AND PRODUCTION HANNAH LEWRY

FOOD ASSISTANT CAMILLA REINHOLD
---
BUTTERMILK RYE CRÊPES SUZETTE

WITH CLEMENTINES

R7 PER SERVING

INGREDIENT SWAP

Use amasi instead of milk or cream to add delicious tang to the batter

– a perfect match with the clementines.
---
IN SEASON: CITRUS

102

BUTTERMILK RYE

CRÊPES SUZETTE

WITH CLEMENTINES

"Crêpes Suzette is an oldie but a goodie. I find

such comfort in the soft texture and stickysweet

flavours, and flambéeing them is great

fun when you've got guests for dinner."

Serves 6

EASY

GREAT VALUE

Preparation: 25 minutes

Cooking: 30 minutes

large free-range eggs 3

amasi or buttermilk ¾ cup

milk ½ cup

rye flour 50 g

cake flour 35 g

butter 65 g, melted

canola oil, for frying

For the clementine sauce:

clementines 7 (4 juiced and 3 sliced)

lemon 1, juiced

sugar 50 g

brandy 3 T

butter 2 t

CITRUS-BRAISED SHORTRIB WITH CHILLI, LIME AND

GREEN TOMATO SALSA R34 PER SERVING

COOK'S TIP

Oranges and limes star in this moreish crowd-pleaser. Serve it

with creamy diced avo for even bigger happiness.

1 Blend the eggs, amasi or buttermilk and

milk until smooth. Add the flour and blend

again. Steadily pour in the melted butter

while blending, then strain the mixture

through a sieve. 2 Heat a swipe of canola

oil in a nonstick pan, then pour in enough

batter to just cover the base of the pan.

As it starts to bubble and the edges begin

to lift, carefully flip over and cook for another

minute or so. Repeat with the remaining

batter. 3 Meanwhile, heat the clementine

and lemon juice, sugar and 1 T brandy in

a saucepan, whisking until the sugar has

dissolved. Add the sliced clementines and

caramelise, then reduce the sauce until

syrupy. Warm the remaining brandy, add to

the sauce and flambé, then stir in the butter.

Pour the sauce over the crêpes and serve

immediately.

WINE: Woolworths Jordan Unwooded

Chardonnay 2016

CITRUS-BRAISED

SHORTRIB WITH CHILLI,

LIME AND GREEN

TOMATO SALSA

"Eating lots and lots of spicy shortrib is how

you will survive winter 2017! The zesty lime and

tomato salsa brings all the flavours to life."

Serves 8

EASY

GREAT VALUE

Preparation: 30 minutes

Cooking: 3½ hours

beef shortrib 2 kg

olive oil 2 T

cumin seeds 1 T, crushed

whole dried chillies 2–4

cherry tomatoes 550 g, blended

red wine vinegar 1 T

oranges 2, zested and juiced

garlic 2 cloves, crushed

fresh thyme 1 t

water ½ cup

sea salt and freshly ground black pepper,

to taste

For the chilli, lime and tomato salsa, mix:

coriander 30 g chopped

garlic 2 cloves, crushed

green chillies 2–3, sliced

green or exotic tomatoes 200 g, sliced

limes 4, zested and juiced

olive oil 2 T

sea salt and freshly ground black pepper,

to taste
---
LEMON CURD

LAVA PUDDINGS

75

EASY PEASY,

LEMON SQUEEZY

To make the chocolate-chip sauce

on our cover, melt 1 x 200 g packet

Woolworths chocolate chips,

½ cup cream and 1 T butter in a pan,

then whisk until smooth. To serve,

pour the sauce over the puddings

and garnish with grated chocolate

and lime zest. See recipe overleaf.
---
IN SEASON: CITRUS

76

1 Preheat the oven to 160°C. Brown the

shortrib in the olive oil in a cast-iron pan.

Add the cumin seeds and chillies and toast

until fragrant, then add the tomatoes, red

wine vinegar, orange juice and zest, garlic,

thyme and water. Season, cover and braise

in the oven for 3 hours, or until tender,

uncovering for the last 30 minutes.

2 Serve drizzled with the salsa.

CARB-CONSCIOUS, HEALTH-CONSCIOUS,

DAIRY-FREE, WHEAT- AND GLUTEN-FREE

WINE: Woolworths Neil Ellis Shiraz 2014

LEMON-CURD

LAVA PUDDINGS

"Lemon curd is so easy to make yourself and

I love using it in this citrusy take on a chocolate

fondant. Simply double the quantity of batter

if you have more guests.

Serves 6

EASY

Preparation: 45 mintues

Cooking: 35 minutes

For the lemon curd:

large free-range eggs 4

large free-range egg yolk 1

caster sugar 350 g

butter 225 g

large lemons 4, juiced and zested

good-quality cocoa 1 T, plus extra

for dusting

dark chocolate 200 g, chopped

butter 200 g, chopped

free-range eggs 4

free-range egg yolks 4

vanilla extract 1 T

caster sugar 100 g

flour 50 g

1 To make the lemon curd, place a

saucepan over a medium to low heat. Whisk

together the eggs and egg yolk and place in

the saucepan. Add the sugar, butter, lemon

juice and zest. Whisk continually for 10–15

minutes, or until smooth and thick. Remove

from the heat. Allow to cool and thicken

further. Spoon 1 T lemon curd into 6 cavities

of an ice tray and freeze. 2 Preheat the oven

to 200°C. Grease 6 metal dariole moulds

or tea cups and dust with cocoa powder.

Melt the chocolate and butter in a glass

bowl over a pan of simmering water. Cool

for 10 minutes. 3 Whisk the eggs and sugar

until creamy. Stir in the vanilla extract and

the chocolate mixture. Sift in the flour and

cocoa and fold in. 4 Half-fill the moulds with

batter, then add a cube of frozen lemon

curd to each mould and add more batter

until they are two-thirds full. Bake for 15–20

minutes, or until the tops spring back when

gently touched. Run a knife around the

edges of the cakes and turn out onto plates.

WINE: Woolworths Spier Natural

Sweet White 2016

STICKY CLEMENGOLD-

GLAZED ROAST CHICKEN

WITH PUMPKIN WEDGES

Serves 4

EASY

GREAT VALUE

Preparation: 30 minutes, plus

10 minutes' brining time

Cooking: 1½ hours, plus overnight

brining

fine salt 160 g

brown sugar 55 g

red wine vinegar 2 T

water 1 litre

oranges 3, juiced (keep the skins)

lemon 1, juiced (keep the skin)

whole free-range chicken 1

ClemenGolds 6

garlic 1 head, halved

pumpkin ½, cut into large wedges

fresh sage 2 t

olive oil 4 T

butter 100 g

sea salt and freshly ground black pepper,

to taste

mixed seeds 50 g, roasted

1 To make the brine, mix the salt, sugar,

vinegar and water and bring to a simmer.

Add the orange and lemon juice and skins

and cook until the salt and sugar have

dissolved. 2 Place the chicken in a large

container and pour over 2½ litres water

and the brine. Cover and chill overnight.

3 Preheat the oven to 220°C. Rinse the

chicken under cold water and pat dry

using kitchen paper. Stuff with 1 halved

ClemenGold and the garlic. Tie the legs

together with string. 4 Arrange on a large

baking tray with 3 sliced ClemenGolds, the

pumpkin and sage. Drizzle over the juice of

2 ClemenGolds and the olive oil, dot with

butter, season and roast for 1–1½ hours,

basting regularly with juices until the

chicken is cooked through. Serve warm

with the roasted seeds.

HEALTH-CONSCIOUS, WHEAT- AND

GLUTEN-FREE

WINE: Woolworths Hartenberg

Chardonnay 2016

FISH TACOS WITH

ONE-MINUTE LIME

MAYONNAISE AND

PINK GRAPEFRUIT

"After making this one-minute (no fake

promises here!) mayo, you will never look back."

Serves 6

EASY

GREAT VALUE

Preparation: 30 minutes

Cooking: 10 minutes

For the one-minute lime mayonnaise:

sea salt a pinch

lemon ½, juiced

garlic 8 cloves, roasted

large free-range egg 1

canola oil 1 cup, plus 3 T

limes 1–2, zested and juiced

canola oil 1 cup

wraps 6

hake 2 x 450 g fillets, cut into small squares

olive oil 2 T

butter 1 T

sea salt and freshly ground black pepper,

to taste

fresh coriander 2 t

small cucumbers 6, sliced

grapefruit 2, segmented

fresh green chillies 4, sliced

spring onions 2, sliced

black salt, to taste

1 To make the mayonnaise, place the salt,

lemon juice, garlic, egg (take care not to

break the yolk) and canola oil into the jug

of a stick blender. Lower the stick blender

into the jug, making sure the basket of the

blender is directly over the yolk and start

blending. Once ribbons start to appear, pull

the blender up to emuslify the remaining

mayonnaise. Fold in the lime zest and

juice to taste. Set aside. 2 To make the fish

tacos, heat the canola oil in a saucepan.

Cut 2 circles out of each wrap, then fry on

both sides until golden and crisp. Drain

on kitchen paper. 3 Heat the olive oil and

butter in a nonstick pan and gently fry the

fish for 1–2 minutes on each side, or until

tender but cooked through. Season to taste.

4 To assemble the tacos, spoon 1 t lime

mayo onto each taco, top with coriander,

cucumber, fish, a segment or two of

grapefruit, green chilli, spring onion

and black salt.

WINE: Woolworths Danie de Wet

Limestone Hill Chardonnay 2017
---
THE SECRET'S IN THE CITRUS BRINE!

Brining a whole chicken adds flavour and tenderness to the meat. Add orange and lemon skins (see recipe opposite), plus an overnight session in the fridge

(patience, people!), and you'll have the juiciest, tastiest roast chicken you've ever eaten.

STICKY CLEMENGOLD-GLAZED ROAST CHICKEN WITH PUMPKIN WEDGES

R43 PER SERVING

77

"One of the things I love about winter is Woolies' sun-ripened

ClemenGolds. They're zesty-sweet, virtually seedless and turn everyone's

favourite roast chicken into a next-level supper" – Hannah Lewry
---
78

FISH TACOS WITH

ONE-MINUTE LIME

MAYONNAISE AND

PINK GRAPEFRUIT

R35 PER SERVING

COOK'S TIP

Lime intensifies the flavour

of the delicious garlicky mayo

and the grapefruit segments

add vibrant colour to the

finished tacos.
---
IN SEASON: CITRUS

CARAMELISED ORANGE-

AND-FENNEL MUSSELS

"We all love mussels in a good cream sauce

but this one will blow you away – it might

take a little time but it's worth the wait."

Serves 4

EASY

GREAT VALUE

Preparation: 20 minutes

Cooking: 1 hour

fennel 3 large bulbs or 6 small, sliced

oranges 4

garlic 4 cloves

olive oil 2 T

butter 1 T

chicken stock 3 cups

mussels 1 kg, cleaned

cream 1 cup

sea salt and freshly ground black pepper,

to taste

1 Preheat the oven to 180°C. Arrange the

fennel, the rind of 1 orange, 2 oranges,

halved, and the garlic on a baking tray.

Drizzle with olive oil, dot with butter and

roast for 30 minutes, or until caramelised.

2 Transfer the fennel and garlic to a large

saucepan, add the stock and squeeze in

the juice of the oranges. Bring to a simmer,

uncovered, until the fennel is very tender,

about 20 minutes. 3 Add the mussels and

simmer until opened. Remove the mussels

and set aside. Blend the sauce until smoth,

return to a low heat, add the cream and the

mussels and simmer until warmed through.

Season to taste and serve warm with fennel

fronds, diced orange segments and lots

of black pepper.

CARB-CONSCIOUS, HEALTH-CONSCIOUS,

WHEAT- AND GLUTEN-FREE

CARAMELISED ORANGE-AND-

FENNEL MUSSELS

R37 PER SERVING

FLAVOUR NOTE

Fresh orange juice, fennel and garlic –

the secret to a truly knockout

(easy!) cream sauce.
---
PEOPLE AND FOOD

Manny's original

prego – dripping in

secret sauce.

80

Pass

the

peri-peri

PHOTOGRAPHS JAN RAS PRODUCTION ABIGAIL DONNELLY TEXT KATE ELS
---
PEOPLE AND FOOD

Slap chips at Manny's and prawns at Parreirinha are a sure sign

you've gone just far enough into Joburg's southern suburbs to

discover a handful of no-frills eateries – institutions where the rich

Portuguese influence has been drawing locals for decades

A family affair – Ylisabete, José,

Gloria and matriarch, Maria

da Cunha, of Parreirinha.
---
PEOPLE AND FOOD

Above, from left: Freshly baked each morning, Bembom offers traditional Portuguese pastries; sardines at Rio Douro Fisheries; thousands of ties hang from the rafters

of Parreirinha in Rosettenville – testament to many a boisterous business lunch.

82

TRYING TO GAIN

a sense of place while standing on a corner

of Rosettenville's Main Street is a bit like

going for a spin in a hurricane. Colour,

scent, grime and chaos merge against

a backdrop that's distinctly from the 1950s,

but that's mostly been updated with newer,

brighter signage.

Amid the sensory overload, I'm

transported back 25 years to the time

when my mother owned a small shop

in this community, a time when the

Portuguese influence of this place settled

into my cultural tapestry.

For those who grew up around here, fish

and chips from Manny's, an icy caipirinha at

Lusito Land and the legend of Nando's are

points of pride. Families that settled here

between 1930 and 1970 are seeing in their

third generation, passing on ritual and fiery

spirit, and keeping the Portuguese flavour

integral to Rosettenville alive.

Eateries, cafés, bakeries and fishmongers

dotted throughout the suburb and its

surrounds form an inseparable community

that has been responsible for countless

fond food memories for Johannesburg's

diners. From the first taste of a rissole,

to the sweet flesh of bacalhau (cod) and

the zing of garlicky peri-peri sauce, this

is the epicentre of that community.

This is not a fine-dining experience.

It's a melting pot of distinct flavour and

tradition that often ends in diners ignoring

the cutlery to dig in with their hands.

Welcome to Johannesburg's spicy south…

A PLACE FOR PEIXE

While it might be the chilli, paprika

and bay leaves that define Portuguese

fare, the foundation is great seafood.

There are obviously other options, but

Rio Douro Fisheries is the predominant

Mediterranean deli for shoppers and

restaurants around here.

"JUICY PREGO

ROLLS, GARLICKY

TRINCHADO AND

THE BEST SLAP

CHIPS IN JOBURG.

THIS IS WHERE

TO GO IF YOU

NEED A QUICK

PORTUGUESE

FOOD FIX"

Memories of strong-handed women

scraping the scales off fish, while

Mediterranean mothers bickered over

salted bacalhau flood my brain as Manny

Sequeira, one of the four siblings who now

own Rio Douro, says nostalgically: "This

is where I grew up and now my kids are

growing up here, too. We have staff who

remember me running around here as a

little boy and they're now seeing my own

kids in the shop."

With its beginnings as a humble

fish-and-chip shop on a nearby block,

the four siblings' father, Artur David

Sequeira, started selling fresh fish to

regulars. Over time, the operation

expanded and eventually became a

Portuguese deli that bustles every Saturday.

"We have become a destination for

continental delicacies; generations have

shopped here." Manny laughs when

I suggest that his family is famous in

these parts. But, in a sense, it's the truth.

In a good year, Rio Douro imports and

sells 72 tonnes of bacalhau. This sustainably

caught speciality cod is salted, dried and

shipped to South Africa from Norway,

right to the doors of this fishmonger. From

Rio Douro, it's sold on to traditionalists

who shop here and dispatched in big

batches to restaurants to be presented

in stews, rissoles, fresh off the flames,

or in a multitude of other dishes.

Rio Douro is not only a stop for those

with a Portuguese heritage, though. It has

also become one of the most reliable delis

in Johannesburg for ingredients not found

elsewhere. In recent years, there has also

been a growing clientele of immigrants

longing for a taste of home, especially

those from former Portuguese colonies

such as Angola and Mozambique.

This is a deli filled with memories.

The siblings laugh over one of the
---
PEOPLE AND FOOD

"ALL THAT REALLY MATTERS IS

THAT GREAT PASTÉIS DE NATA

COULD BRING ABOUT WORLD

PEACE IF CONSUMED BY WORLD

LEADERS SIMULTANEOUSLY,

FRESH OUT OF THE OVEN"

Clockwise, from above left: Sergio de Andrade, Fernando Domingues and Suzy's husband, Manuel Farinha, shoot the breeze café-style at Bembom; perfect pastéis de nata;

Filomena Jardin with a display of local chorizo at Rio Douro Fisheries; chicken livers and bacalhau – staples at Parreirinha.
---
PEOPLE AND FOOD

OTHER PORTUGUESE

SPOTS TO TRY

MADEIRA BAR

Cheap and cheerful

56 Winnie Street, Regents Park,

La Rochelle, Johannesburg

011 435 2477

A CHURRASQUEIRA

Moved from Rosettenville,

still great for families

37 Webb Street, Brackendowns,

Johannesburg 011 867 5914

BELEM BAKERY

A prominent Portuguese bakery

57 Augusta Road, Regents Park,

Johannesburg 011 435 1004

Parreinrinha. Each day, she spends most

of her time in the kitchen, making sure

every dish is prepared to her standard.

"I get bored on Sundays when we close

the restaurant. My children say I need

rest, but I love it here too much."

9 6th Street, La Rochelle, Johannesburg;

tel: 011 435 3809

Above: A stop at Rio Douro Fisheries can turn into a major shopping spree. Portuguese pottery, salted bacalhau,

and traditional sausage can be found among other imported fare.

most prominent of these in their mind:

portioning hundreds of pieces of bacalhau

through the night around Easter, when the

dish becomes even more popular during Lent.

In just one memory the siblings capture

the essence of what has made Rio Douro

a destination: its loyal community who

travel from even further than Johannesburg's

boundaries to buy their favourite produce.

155 Main Street, Kenilworth, Johannesburg;

tel: 011 683 3617

THE MOTHER OF ROSETTENVILLE

Joburg allows very little to remain the

same, but some corners remain unchanged.

One of these is Parreirinha (say Pa-rey-ringhere),

the Portuguese restaurant that most

residents of the City of Gold will know.

Here, matriarch Maria da Cunha oversees

her kitchen, family and an army of ties

strung from the rafters left behind after

raucous business meetings.

Meaning "little grapevine", Parreirinha

first opened its doors in 1975 in what

had previously housed the Sixth Street

police station. The original cell bars are still

visible, but these days patrons are fighting

to get in rather than out.

"It doesn't feel like I've been here for

42 years," Maria says with honest disbelief.

Describing her regular customers, she

seems to recall the details of each person's

life. She's watched little boys grow into

doctors and, in turn, bring their own

families to the restaurant.

Maria's three children are entrenched

in Parreirinha, overseeing the front of

house, admin and the kitchen. Patrons

return for the food, but also the incredible

family welcome.

Each year, Parreirinha pushes itself

to capacity during its birthday celebrations,

selling prawn platters at way below

their regular price as a thank you to

loyal customers. Within just three days,

bookings are snapped up.

If anything, the past four decades have

only made Maria more dedicated to

THE (ALMOST) 200-YEAR-

OLD PASTRY

"This is the Portuguese club," laughs

Suzy Farinha as she sits in her bakery

in Oakdene (just outside Rosettenville),

surrounded by loyal patrons. "My family

owns the group of Bembom bakeries

but this is the one with the largest

Portuguese community. And it's the

original Bembom."

With a surname that literally translates

to "flour" in English, it's a natural fit for

her to be surrounded by it. Suzy moved to

South Africa from Portugal after spending

three months in Johannesburg looking

after the bakery for her sister. "I fell in

love with Bembom, and my husband fell

in love with the weather here."

Suzy likens Bembom to a soap opera,

with a close-knit community that shares its

joys, sorrows and gossip. It's a favourite for

pensioners and young families, ladies who

lunch and men who want to shoot the

breeze. And on Saturdays, the queues can

sometimes be out the door when people

wait in line to get their pastéis de nata.

These bite-sized custard tarts stake their

origins in Lisbon in the 18th century, the
---
85

Clockwise, from top left: Manny, Fatima and Artur Sequeira of Rio Douro Fisheries; trinchado with bread so that no sauce is left behind at Hillside Fish & Chips; Beauty

Vieira-Correia and Chris Retief share a meal at Hillside Fish & Chips; daily specials at Bembom; prawn rissoles seasoned with white pepper at Parreirinha.

product of excess egg yolks in a monastery

that knew what to do with them when the

egg whites were all being used to starch

nuns' habits. To me, all that really matters is

that great pastéis de nata could bring about

world peace if consumed by world leaders

simultaneously, fresh out of the oven.

Comaro Crossing Centre, Oakdene, Johannesburg;

tel: 011 435 3618

PREGO DAYDREAMS

Fondly known as Manny's after its former

owner, Hillside Fish & Chips is an

institution. Whether it was an after-school

lunch, a Saturday morning hangover cure,

or family dinner, Manny's covered it all.

When Manny Frade, the original

owner, passed away in 2014, longstanding

patrons of Hillside Fish & Chips who

have supported the establishment since it

opened in 1966, were terrified it would

close its doors.

"FROM THE FIRST

TASTE OF A

RISSOLE, TO THE

SWEET FLESH

OF BACALHAU

AND THE ZING OF

GARLICKY PERI-

PERI SAUCE, THIS

IS THE EPICENTRE

OF THAT

COMMUNITY"

Fortunately Hillside Fish & Chips was

taken over by Manny's neighbour, Beauty

Vieira-Correia, who vowed to keep it

exactly the same. The original menu,

specials and staff are waiting when you

walk through the door. Chris Retief, who

now helps manage the shop, was himself

a long-term patron and takes pride in the

fact that the same recipes are used and the

original dishes that Manny made famous

are still available to this day.

Hillside Fish & Chips is a nostalgic trip

for anybody who grew up in Joburg's south.

The sharp tang of garlic hangs in the air, the

sizzle of chips hitting the fryer is constant,

and the trickle of prego sauce down your

hands are what you'll remember from here.

Regulars pop in and discuss their lives,

teenagers hang around outside sipping

on cooldrinks and elderly couples wait

patiently for their midweek meals.

From juicy prego rolls and garlicky

trinchado to what I think are the best

slap chips in Joburg, this is where to go

if you need a quick Portuguese food fix.

It's café food at its best, and you'll feel at

home almost immediately with the banter

between staff and customers.

76 Petunia Street, The Hill, Johannesburg;

tel: 011 435 3759
---
RESTAURANTS

SA'S TOP

10

86

La Colombe's Asian-style scallops and

pork belly with kimchi, corn, miso brinjal,

crackling, lemongrass and ginger velouté.

GAME-CHANGERS

PHOTOGRAPHS EAT OUT, CRAIG FRASER, MICHAEL LE GRANGE, MICKY HOYLE, DONNA LEWIS,

VANESSA LEWIS AND JAN RAS TEXT MICHELLE COBURN AND ABIGAIL DONNELLY
---
The Tasting Room at Le Quartier Français

The Tasting Room has closed, The Test Kitchen has run pop-ups in Langa, and

Reuben's and The Leopard have moved! 2017 is shaping up to be big in the

The Test Kitchen

restaurant biz. There's no better time to look back at some of our most iconic

restaurants, so here (in no particular order) are TASTE's top 10 trailblazers

The Leopard
---
88

1.

THE TEST KITCHEN

FOR CONSISTENT INNOVATION AND REINVENTION

"My mantra is 'taste, taste, taste,' " says chef-proprietor Luke Dale-Roberts, and it's this mantra that underpins his bold experimentation

with layers of flavour, first at La Colombe, where he joined the team in 2006, then at the now legendary The Test Kitchen, which

Luke opened in November 2010 in Woodstock. Here he had free rein to innovate – the sum of his prior experience in London

and Switzerland, as well as a five-year stint in Asia – in a way that captured the imaginations and taste buds of local diners and

international luminaries alike (Heston Blumenthal described Luke as having the ability to "put seemingly incongruent ingredients

together in such a way that they work amazingly well – something close to my heart"). The Test Kitchen has won countless South

African and continental awards, including best restaurant at the Eat Out awards five times, and moved swiftly up the World's Best

Restaurants list, from 74 in 2012 to 22 in 2016 (unfortunately losing its spot in 2017 following a temporary closure to accommodate

a redesign). And, in an unprecedented step by a South African high-end restaurant, The Test Kitchen recently took fine-dining to

Langa in Cape Town for two pop-up charity lunches (see the story in next month's TASTE). In a mere seven years, Luke has added The

Shortmarket Club and The Pot Luck Club (breaking news: there's a pop-up running from July to September at Hallmark House in the

Maboneng Precinct in Joburg ) to his portfolio. And he now has a permanent home in Joburg at LDR at The Saxon.

We can't help but ask: what in the world will Luke do next? We can't wait to find out. thetestkitchen.co.za

Above, from left: Luke Dale-Roberts; carob mousse, roast banana butter, meringue,

rum foam, coffee and Tanariva cremeux. Left: Tandoori lamb chops at Bukhara.

2.

BUKHARA

FOR BRINGING INDIAN FINE-DINING TO SA

Cape Town's city centre in the mid-nineties was an unlikely place to open

a restaurant – the area was practically empty of businesses, many of which had

moved to the Foreshore. But Indian-born Sabi Sabarwhal wanted to share his

passion for the food of his homeland and had identified a gap for a restaurant

serving premium north Indian cuisine. He decided to take a chance on a space

in Church Street and, in 1995, opened what would become one of the city's

longest-standing restaurants – an institution that played its part in the CBD's

revival. From day one, Capetonians and tourists flocked through its doors

to feast on Punjabi cuisine – his dhal makhani is legendary – from a menu that

has evolved to include dishes from other regions in India – always using authentic

ingredients and techniques. The collection also includes Haiku, which opened in

2005 to offer authentic multi-Asian cuisine (another first for Capetonians); while Del

Mar in Camps Bay serves genuine contemporary Mexican food (a departure from

the Tex-Mex style South Africans know and love). And to think it all started as a

way for Sabi – a trained particle physicist with a passion for great food – to remain

connected to his Indian roots! bukhara.com; haikurestaurant.com; delmar.restaurant
---
3.

LA COLOMBE

FOR PIONEERING

GOURMET WINE-

ESTATE DINING

The Western Cape winelands

today are renowned for

their high-end destination

restaurants. But it was muchloved

French-born chef and

cookbook author Franck

Dangereux who led the way

in wine-estate fine-dining

when he joined legendary

Constantia Uitsig chef Frank

Swainston at the estate in

1996 to start La Colombe.

A gastronomic revolution

was underway in SA and

La Colombe won multiple

awards in recognition of

Franck's cooking, which he

described as dishes "simplified

to the perfect combinations".

Luke Dale-Roberts (see #1),

took the reins as executive

chef in late 2006 when Franck

left to open the more informal

Foodbarn in Noordhoek. And

today under Scot Kirton –

at the restaurant's new

location on the picture-perfect

Silvermist organic wine

estate – La Colombe holds

73rd position on 2017's San

Pellegrino Best Restaurants of

the World list. Scot was also

the Eat Out S. Pellegrino Chef

of the Year in 2015, recognised

for his food integrating classic

and modern French cuisine

with Asian influences (a

favourite is the "tinned tuna":

seared tuna tataki with avo

purée, ginger and a poached

quail's egg). And now, with

his position in the Constantia

Valley secure (Scot's also

making waves at Foxcroft

at High Constantia), the

La Colombe team has taken

over the space at Le Quartier

Français in Franschhoek (see

#5) to open La Petite Colombe

in August. lacolombe.co.za

RESTAURANTS

Above, from left: Springbok loin, roast fig, potato fondant, smoked onion and truffle at La Colombe; La Colombe's new location

at Constantia's Silvermist Estate. Below: Cleopatra Mountain Farmhouse.

4.

CLEOPATRA MOUNTAIN FARMHOUSE

FOR AWARD-WINNING GOURMET COUNTRY CUISINE

Country-chic doesn't get more spectacular than this KwaZulu-Natal gem, where Richard and Mouse

Poynton have created an award-winning gourmet escape in the Drakensberg. Widely regarded as being

among the originators of the country house movement in the 1980s with their much-loved Granny

Mouse Country House, they left for a stint overseas and returned from their food-and-wine escapades

in Europe and the UK inspired to start a gourmet destination hotel amid the peace and magnificent beauty

of their family farm. Cleopatra Mountain Farmhouse has since earned an international reputation for its fine

country fare, including a seven-course dinner and a three-course breakfast like none you've ever eaten. The

underground wine cellar specialises in South African gins, brandies and wines (including Cleopatra's very

own hand-crafted Copper Pot wines made under the Thorne & Daughters label by Richard's son-in-law,

John Seccombe). Book for dinner, or stay over to enjoy the incredible breakfast, too. cleopatramountain.com
---
120

5.

THE TASTING ROOM AT

LE QUARTIER FRANÇAIS

FOR PUTTING SA FOOD ON THE

WORLD MAP

Sometimes it takes a newcomer to offer

a fresh perspective on produce that locals

might regard as, well, everyday. In the case of

SA cuisine, this newcomer came in the shape

of Dutch-born chef Margot Janse, who joined

the award-winning team at Le Quartier Français

in Franschhoek as executive chef in 1995. Her

passion for seasonal local produce and indigenous

ingredients, combined with a playful imagination

and experimental approach to textures, flavours

and aromas, saw her telling stories through her

African-inspired menu – described by some as

a gourmet safari. "For me it has a lot to do with

origins: the origin of an animal, what it did when it

was alive, what it ate and where it grew up. What

is happening on my plate has to make sense and

reveal these origins," she once said. "If someone

walks away from the experience saying 'Wow, I've

learnt so much about South Africa, the people, the

food', then I know I have succeeded." The world

took note of her approach. The restaurant made

the World's 50 Best Restaurants list in 2002, and

countless local and international awards followed

over the years. Margot left in April to pursue

something new and there's a fresh era ahead

as the team from La Colombe (see #3) takes over

at Le Quartier. leeucollection.com

Left, clockwise from top: The Tasting Room's Pepe Charlot

bûche affinée, fermented turnip, linseed cracker and

smoked honey; beetroot, buttermilk labneh, buchu and

cucumber granita; preserved lime and onion crisps.

6.

Right: The duck-and-cherry

pie at 96 Winery Road.

GATRILE'S

FOR BREAKING THE MOULD

OF MODERN BISTRO FARE IN JOBURG

The stats for Gatrile's famous duck-and-cherry pie tell a story that

lives on beyond the 2003 closure of this popular Joburg restaurant.

Established in Joubert Park in the mid-seventies, it moved to

Sandown in 1988 and reportedly sold more than 250 000 pies, using

22 tons of duck and 12 tons of cherries. A legendary pie like that

can never die (think rich duck meat, sweet-tart cherries in Port

sauce under crispy puff pastry) and it lives on at 96 Winery Road

in Somerset West, which was started 21 years ago by Gatrile's

co-founder Ken Forrester (the maker of some of SA's finest Chenin

Blancs). A look at some of the earlier menus from Gatrile's tells quite

a tale, too: the popular Kate and Sydney (steak-and-kidney) pie set

diners back a whopping R2.55 and lobster cost all of R5. And the

famous crème brûlée? Well, that also made its way down south

to 96 Winery Road. The recipe remains the same (why change

what's perfect?). The price, of course, has kept up with inflation.

But it's so worth it. 96wineryroad.co.za; kenforresterwines.com
---
RESTAURANTS

7.

8.

Above, from left: Andrea Burgener; cilbir – poached eggs with garlic yoghurt and paprika sage butter.

Below, from left: Reuben Riffel; Reuben's at the One&Only hotel at Cape Town's V&A Waterfront.

REUBEN'S RESTAURANT AND BAR

FOR CREATING A SOPHISTICATED BRASSERIE IN THE WINELANDS

When Reuben Riffel won both the Eat Out Johnnie Walker Restaurant of the Year and Chef of the Year

awards in 2004 not long after opening his first restaurant at 19 Huguenot Street in Franschhoek, it

affirmed that a culinary star had been born in the valley. And this despite Reuben's humble beginnings in

the nearby suburb of Groendal, as well as his lack of formal chef training. It was as a waiter at Chamonix

under Christoph Dehosse that Reuben learnt the art of food preparation (he later became sous chef

under Richard Carstens). A stint overseas followed, and the next step was an eatery to call his own.

For well over a decade, loyal patrons flocked to the flagship restaurant (he also has branches at the

One&Only hotel in the V&A Waterfront and Abalone House in Paternoster) for the likes of steak and

frites with sauce Béarnaise, chilli-salted squid and Szechuan duck pie, and a host of popular chalkboard

specials. After closing at 19 Huguenot Street in May this year, the MasterChef SA judge and TV celeb

recently opened at a brand-new space at 2 Daniel Hugo Road, where signature dishes include springbok

steak with butternut honey, bacon candy, walnuts and pickled cabbage, and pork belly with fynbos

honey, pineapple atchar and sweet potato. reubens.co.za

THE LEOPARD

FOR CHAMPIONING

FREE-RANGE

INGREDIENTS

IN JOBURG

"Food producers of the world

unite! We're always looking to

meet producers of well-farmed

and ethically reared produce.

If you know someone who's

got the happiest, healthiest

pigs running around, let us

know." This request on The

Leopard's website says it all.

Before closing in Melville in May

this year, Andrea Burgener's

restaurant (Joburg diners will

also remember her early days at

Superbonbon in Richmond and

Deluxe in Parktown North) was

renowned for supporting the

likes of Braeside Butchery and

The Free Range Food Co. on a

small, adventurous menu. She's

always attributed her creative

approach to the fact that she

never went to chef school.

"I never knew I was breaking

rules – I didn't know what the

rules were!" The Leopard has

now changed its format and

location: no longer a sit-down

restaurant, it's a free-range

larder and takeaway venue

(rillettes, chop-chop salads),

as well as a great stop-off for

top-quality, ready-to-heat

and cook-at-home dishes

(marinated pork ribs, chicken

and leek pie) situated at 44

Stanley. leopardfoodcompany.com

91
---
9.

120

CARNE SA

FOR PIONEERING THE FINE-DINING STEAKHOUSE IN SA

Award-winning chef-proprietor Giorgio Nava's name is synonymous with the

celebration of premium-quality meat cooked to perfection. For the past nine years,

Capetonians have enjoyed the very best beef, lamb and venison at his flagship

fine-dining steakhouse in Keerom Street, just a stone's throw from the Cape Town

High Court. With signature dishes such as the 1.2 kg La Florentina T-bone (definitely

intended to share – as long as you agree on how you like your meat done!), and the

likes of bresaola with lemon juice and olive oil, and Karoo lamb with sautéed spinach,

carnivores are truly spoilt for choice. Here, and at the newer branch on Kloof Street,

patrons can rely on staff to be well-informed about everything from where the animal

was raised, to ageing techniques and the flavour of the meat. This attention to detail

saw Carne SA winning the Eat Out DStv Food Network Restaurant Award for Best

Steakhouse in SA in 2014. (Giorgio's Italian fine-dining restaurant,

95 Keerom, took the award for Best Italian Restaurant in 2013). So when

you come to Keerom Street, come hungry! carne-sa.com

Carne SA

10.

WILLOUGHBY AND CO.

FOR MAKING AUTHENTIC

SUSHI ACCESSIBLE

Queuing in a mall? For sushi? Well

yes, for 21 years Capetonians (who,

let's face it, are spoilt for choice when

it comes to restaurants with views),

have willingly been doing exactly

that for sushi chef Sammy's famous

creations. Since opening in the

Victoria Wharf at the V&A Waterfront

in 1996, Willoughby's (as it's fondly

known to devotees) has consistently

created new mouthwatering seafood

platters and fusion-style Japanese

cuisine, but it's the sushi that has

locals and tourists standing in line

(there's a no-reservations policy – but

you are welcome to sip a glass of

wine while you wait). You won't regret

the chance to build up an appetite for

the chilli-seared tuna sashimi and

Rainbow Reloaded rolls dressed with

soya sauce, seven spice and sesame

oil. willoughbyandco.co.za
---
RESTAURANTS

Emily's

Linger Longer

PORTRAITS JAC DE VILLIERS, STEPHEN INGGS, MICHAEL LE GRANGE AND ADRIAAN OOSTHUIZEN

EXTRA SOURCES EATOUT.CO.ZA; JOBURG.ORG.ZA; 10AND5.COM; TIMESLIVE.CO.ZA; DESIGNINDABA.CO.ZA; MG.CO.ZA

GONE BUT NEVER

FORGOTTEN

These four institutions – open for decades

before finally closing their doors – will never

be forgotten by the generations lucky enough

to dine at one of their tables

EMILY'S The legendary Peter Veldsman

served his signature heritage food to

Capetonians for 23 years, from the early

nineties in Woodstock, to a new location

in the Waterfront and then Kloof Street

in Gardens. It finally closed its doors

in 2015 when Peter chose to retire.

GRAMADOELAS Famed for giving

a platform to local cuisine and later dishes

from the rest of Africa, this institution

opened in 1967 in Hillbrow before moving

to Joubert Park and finally the Market

Theatre in Newtown. Founders Eduan

Naude and the late Brian Shalkoff were

honoured with the Lannice Snyman Lifetime

Achievement Award at the 2014 Eat Out

Mercedes-Benz Restaurant Awards, following

the restaurant's closure in 2013.

LINGER LONGER A much-loved

Sandton special-occasions restaurant where

the late Walter Ulz was chef-patron for more

than 30 years. We'll never forget the apricotglazed

duck and that crème brûlée. Walter

was awarded the Lannice Snyman Lifetime

Achievement Award at the 2010 Eat Out

Restaurant Awards.

THE THREE SHIPS This premier Joburg

restaurant was located at the five-star

Carlton Hotel in the CBD in the eighties and

hosted international politicians and celebs.

The Carlton venue has been closed since

the late nineties, but was a prime example

of hotel dining in its heyday. It moved to

Gold Reef City in the 2000s, but it's the

original that regulars remember.

THE PIONEERS

A comprehensive list of trailblazers in the local food and hospitality industry would fill all the pages of this mag,

but these four are people who deserve a mention right now

THE FORAGER:

KOBUS VAN

DER MERWE

The foraging West Coast

chef put Strandveld

ingredients on the map,

originally at his family

restaurant Oep ve Koep in

Paternoster and now on

the seasonal tasting menu

at recently opened Wolfgat.

wolfgat.co.za

THE BAKER:

MARKUS FARBINGER

Artisanal loaves are a dime

a baker's dozen these days

but this baker paved the

way at Knysna's Île de Pain.

Markus built the first woodfired

oven for baking bread

in SA and his rustic breads

produced through slow

fermentation are the stuff

of legend. iledepain.co.za

THE COUNTRY VILLAGE

RESTAURATEURS:

PETER AND MARIANA

ESTERHUIZEN

For the past two decades,

Mariana's in Stanford has been

renowned for its country-style

home cooking using seasonal

ingredients from the on-site

garden. Book well in advance.

stanfordvillage.co.za/homedeli-bistro/

THE HOTELIER:

LIZ MCGRATH

Mrs M changed hotel finedining

in South Africa with

her iconic hotel collection

(The Marine, The Plettenberg

and The Cellars-Hohenort),

where the restaurants are

currently headed up by

award-winning executive

chef Peter Tempelhoff.

collectionmcgrath.com

93
---
NEW COOKBOOK

MASTERS OF

All hungry travellers know that the best way to connect

with a new culture is to join the throngs at the sidewalk stalls

and festival food trucks of the world. But when all you want is tamales

in Mexico City or hot dogs in NYC and the exchange rate won't play

ball, the recipes in the new MasterChef: Street Food of the World

cookbook will satisfy your wanderlust (and your taste buds) at home

STREETFOOD

PHOTOGRAPHS DAVID LOFTUS

TEXT GENEVIEVE TAYLOR
---
BIKSEMAD

Upgrade it by adding cubes of fried bacon, slices

of fried sausage or home-made Béarnaise sauce.
---
NEW COOKBOOK

96

BIKSEMAD

" Biksemad is a traditional Danish dish created

from leftover meat and boiled potatoes –

typically meat from a beef or pork roast – and

served with fried eggs, pickled vegetables

and condiments such as ketchup, HP sauce

and Worcestershire sauce. Traditionally, the

dish is made by cutting meat and potatoes

into bite-sized cubes and frying them with

onions before serving, but I prefer to cook

the ingredients individually and combine

them afterwards." – Anders Halskov-Jensen,

MasterChef Denmark 2015 champion

Serves 4

EASY

GREAT VALUE

Preparation: 15 minutes

Cooking: 25 minutes

olive oil 2 T

boiled and cooled potatoes

600 g, cut into 2–3 cm cubes

sea salt and freshly ground black pepper,

to taste

butter 50 g

onions 200 g, thinly sliced

cooked cold roast pork or beef

400 g, cut into 2–3 cm cubes

fresh thyme

free-range eggs 4, fried

1 Place the oil in a frying pan over a high

heat and fry the potato cubes until they have

a nice golden crust. Season with salt and

pepper and set aside. 2 Place half the butter

in the pan and fry the onions over a medium

heat until they soften and start to brown

a little. The idea is to bring out the sweetness

in the onions without frying too much. Set

aside. 3 Fry the meat gently in the remaining

butter. Since the meat is already cooked,

it should just be warmed through. Add the

potatoes and the onions, mix everything

together and season with thyme leaves and

salt and pepper, to taste. 4 Serve the biksemad

with 1 fried egg per person with condiments

and pickled vegetables such as beetroot and

gherkins. If you can get it, Danish rye bread

with butter is a nice side dish.

WHEAT- AND GLUTEN-FREE

WINE: Kleine Zalze Cellar Selection

Cinsault 2016

PAV BHAJI

"Said to have originated as a cheap fast food

for the mill workers of Mumbai in the midnineteenth

century, this simply translates as

"bread" (pav, a soft white roll) and "mashed

vegetables" (bhaji). However, the generous

quantity of butter, along with the exquisite spice

blend, elevates this dish beyond the humble.

The spice blend makes double the quantity

needed for the recipe; store it in an airtight

container for 3–4 weeks and use in place

of garam masala." – Genevieve Taylor

Serves 4 to 6

EASY

GREAT VALUE

Preparation: 30 minutes

Cooking: 1 hour

For the pav masala spice blend:

dried Kashmiri chillies (or dried

red chillies) 5

coriander seeds 4 T

cumin seeds 2 T

black peppercorns 1 T

fennel seeds 1 T

cloves 8

black or green cardamom 2 pods

amchur (dry mango) powder 1 T

(or 6 t lemon juice)

potatoes 400 g, peeled and cut into

1 cm cubes

butternut 400 g, peeled and cut into

1 cm cubes

cumin seeds 1 T

unsalted butter 75 g

medium red onion 1, finely chopped,

plus an extra ½ red onion, thinly sliced,

to garnish

green chillies 2, chopped

fresh ginger 1 x 25 g piece, grated

garlic 3 cloves, crushed

tomatoes 400 g, finely chopped

soft white rolls 6, halved and buttered

salt, to taste

chopped coriander, to garnish

lemon wedges, to serve

1 To make the spice blend, place all the

ingredients except the amchur powder

or lemon juice in a dry pan over a medium

heat. Toast for a minute or two, until a deep,

toasty aroma rises from the pan. Tip into a

spice mill or pestle and mortar and grind to

a powder, then transfer to a bowl and stir

through the amchur powder or lemon juice

while the spices are still warm. Set aside.

2 Place the potato and butternut in

a saucepan and cover generously with

boiling water. Place over a high heat, bring

to the boil and cook until tender, around

15 minutes. Drain well and set aside.

3 Place the cumin seeds in a saucepan over

a medium heat and toast for 1 minute. Once

you can smell their aroma wafting up from

the pan, add the butter and allow it to sizzle

and melt, then add the red onion and cook,

stirring often, for 10 minutes. 4 Stir through

the chilli, ginger and garlic and fry for a

further 5 minutes, then add the tomatoes

and 3 T pav masala spice mix. Fry for a

further 5 minutes until thick and fragrant,

then add the cooked potato and butternut

with 1½ cups water. Simmer steadily for 20

minutes until thick and rich, mashing with

a potato masher as it cooks. Season to taste

with salt. 5 Heat a large frying pan until hot

and toast the rolls, butter side down, until

crisp. Spoon the bhaji into bowls, scatter

over the red onion slices and coriander and

serve with a wedge of lemon to squeeze

over and a roll to dunk in and scoop it up.

DAIRY-FREE

WINE: Villiera Jasmine 2016

DAIGAKU IMO

" Daigaku imo is a classic Japanese dish that

literally means 'university potato', because

its inexpensive but wholesome and calorific

ingredients have made it a perennial favourite

among cash-strapped students." – Tim

Anderson MasterChef UK 2011 champion

Serves 2 to 4

EASY

GREAT VALUE

Preparation: 15 minutes, plus 30 minutes'

soaking time

Cooking: 30 minutes

sweet potatoes (ideally the purpleskinned,

yellow-fleshed variety) 1 large

or 2 small

vegetable oil 3 T

caster sugar 5 T

soya sauce ¼ t

lime 1, zested, plus the juice of ½ lime

black sesame seeds 1 t

1 Wash the sweet potato thoroughly (don't

peel it) and cut it into irregular wedges no

larger than 3 cm thick. Soak the wedges in

cold water for 20–30 minutes to remove the

excess starch, then dry completely using

kitchen paper or a clean tea towel. 2 Place

the oil, sugar, soya sauce, lime zest and juice

in a deep frying pan over a low heat and stir.

Add the potatoes to the pan, toss to coat

in the sugar mixture, and increase the heat

to medium. 3 Place a lid on the pan and

leave to heat until you hear it sizzling. Turn

the heat down to medium-low and cook

for a further 2–3 minutes, then remove the

lid and cook for another 10 minutes or so,

turning the potatoes frequently to ensure

they brown lightly on all sides. The potatoes

are done when you can pierce them easily

with a chopstick or butter knife. 4 When the
---
PAV BHAJI

97
---
NEW COOKBOOK

The flavour is sweet, but not overly so, which means it can

be enjoyed both as a dessert or as an afternoon snack.

DAIGAKU IMO
---
THE GATSBY

99
---
NEW COOKBOOK

100

potatoes are tender and browned, turn off

the heat and stir through the sesame seeds.

Cool slightly, then enjoy on its own or with

vanilla ice cream.

DAIRY-FREE, MEAT-FREE

WINE: Woolworths Nitida Sauvignon

Blanc-Semillon 2016

THE GATSBY

"Meet the amazing South African gatsby –

an Indian-spiced barbequed steak, chip and

cheese concoction, all squished into a long

baguette made for sharing. I've made this

with a home-made fragrant spice powder for

maximum taste, but if you need to eat fast use

ready-made garam masala." – Genevieve Taylor

Serves 4 (depending on hunger!)

EASY

GREAT VALUE

Preparation: 20 minutes, plus 1 hour's

marinating time

Cooking: 30 minutes

For the garam masala:

cumin seeds 1 T

coriander seeds 1 T

fennel seeds 1 t

celery seeds 1 t

black peppercorns 1 t

ground turmeric 1 t

vegetable oil 1 T

beef skirt steak or sirloin 500 g

baguette 1 (50–60 cm long), sliced

through, but with top and bottom

still hinged together

oven fries 250 g

extra mature Cheddar 2 handfuls grated

(about 150 g)

sea salt flakes, to taste

1 To make the garam masala, place the

cumin, coriander, fennel and celery seeds

and peppercorns in a small frying pan over

a medium-high heat to toast. As soon as you

can smell their aroma wafting up from the

pan, turn off the heat and tip into a spice mill

or pestle and mortar. Add the turmeric and

grind to a powder. 2 Brush the vegetable oil

over both sides of the steak and sprinkle over

1–2 T garam masala, rubbing it in well. Set

aside to marinate at room temperature for

30 minutes to an hour. Sprinkle a little

sea salt over both sides of the steak just

before grilling. 3 Fire up your barbeque

if you prefer. Once hot, grill the steak to your

liking – about 3 minutes each side for a

medium-rare, depending on the thickness.

4 Once the steak is cooked, transfer to a

plate, cover loosely with foil and leave to rest

for 10 minutes. Slice into thin strips across

the grain for maximum tenderness and

spread out along the length of the opened

baguette. Sprinkle over the hot chips and

cheese, season and hinge the baguette

shut, squeezing together as best you can.

Slice into chunks and tuck in while hot.

WINE: Le Riche Cabernet Sauvignon 2015

JERK CHICKEN,

RICE AND PEAS

"Jerk chicken is always cooked outside, often in

old oil barrels converted to grills, and it's always

served with rice and peas – although the 'peas'

are actually black beans. This is a recipe to save

for a barbeque as it just won't taste the same

if cooked in the oven." – Genevieve Taylor

Serves 6

EASY

GREAT VALUE

Preparation: 30 minutes, plus overnight

marinating time

Cooking: 1½ hours

For the jerk spice paste:

fresh ginger 1 x 4 cm piece, finely grated

garlic 3 cloves, crushed

Scotch bonnet chillies 2, finely chopped

(seeds removed for less heat)

vegetable oil 2 T

ground allspice 2 T

ground cinnamon 2 T

paprika 2 T

dried thyme 2 T

soft brown sugar 2 T

sea salt and freshly ground black pepper,

to taste

large free-range chicken legs 6

rice 300 g

coconut milk 1 x 400ml can

allspice berries 1 t, bruised

(or ½ t ground allspice)

dried thyme 1 T

dried oregano 1 t

chilli flakes 1 t

black beans 1 x 400 g can, drained

sea salt and freshly ground black pepper,

to taste

lime 1, cut into wedges

1 To make the jerk spice paste, place the

ginger, garlic, chillies and oil in a small bowl

and stir to combine. Add the remaining

ingredients and stir well. Rub the spice paste

all over the chicken legs – you may want to

wear gloves for this as the chillies are mighty

hot! Cover and marinate in the fridge for

2 hours, or preferably overnight. 2 When

you are ready to cook the chicken, light the

barbeque. If you're using a gas barbeque,

fire up one side to get it really hot; if you're

using charcoal, heap the coals to one

side to give you a hot side and a cool side.

3 Place the chicken on the hot side and cook

for 10–15 minutes, turning regularly, until

lightly charred all over. Move to the cool side

of the grill and shut the lid. Leave for 20–30

minutes, until cooked through, turning

occasionally – the cooking time depends on

the temperature of the grill and the size of

the chicken legs. It's better to cook low and

slow than end up with a charred outside and

a raw inside. 4 Place the rice in a mediumsized

saucepan with a snug-fitting lid. Pour in

the coconut milk and ¾ cup water and add

the allspice, thyme, oregano and chilli. Stir

well and soak for 30 minutes. 5 Stir the black

beans through the rice and place over a

medium heat. Bring to the boil, clamp on the

lid and boil for 1 minute. Turn off the heat

but do not remove the lid. Allow to steam

for 13 minutes. Remove the lid and fluff with

a fork. Season to taste. Serve the chicken

with the rice and peas and lime wedges.

DAIRY-FREE, WHEAT- AND GLUTEN-FREE

WINE: Bellingham The Bernard Series

Chenin Blanc 2016

WIN A COPY

In MasterChef Street Food of the World,

British food writer and TV presenter Genevieve

Taylor teamed up with 13 MasterChef

champions, including Adam Liaw, to collect

mouthwatering recipes from the Americas,

Europe, the Middle East and Africa, the Indian

subcontinent, Asia and Australia. Dishes range

from the familiar (classic British fish 'n' chips) to

the surprising (midye dolma – spicy rice-stuffed

mussels from Turkey). To win one of two copies

(R660 each, Absolute Press, available at all

good book stores), turn to page 126 for SMS

entry instructions or enter at taste.co.za.

Keyword: MasterChef.

THIS EXTRACT HAS BEEN TAKEN FROM MASTERCHEF STREET FOOD OF THE WORLD BY GENEVIEVE TAYLOR, PUBLISHED BY ABSOLUTE PRESS TEXT © GENEVIEVE TAYLOR, 2017 PHOTOGRAPHY © DAVID LOFTUS, 2017
---
Great for a winter braai! Start it several hours before you want to eat, or even the day before, to give the chicken time to marinate.

101

JERK CHICKEN, RICE AND PEAS
---
TALENT & TERROIR

OUR WINE CELEBRATES THE WINEMAKER WHO HAS DEDICATED HIS TIME TO PERFECTING

A SPECIAL VARIETAL

Unlocking the gifts of nature to better understand the terroir, producing a varietal even more exceptional than the previous vintages.

Through this pursuit of perfection, the winemaker demonstrates what nature can achieve: a creation he can be proud to call his own.

www.bolandcellar.co.za

info@bolandkelder.co.za

021 862 6190

facebook.com/BolandCellar

@BolandCellar

#BetterTogether
---
FLIGHTS OF

FLAVOUR

Got a craving for the Champagne of Spanish ham, the best doughnuts in the

world, or an incredible bowl of ramen in an unexpected place? These are just

a few of the mouthwatering dishes and authentic ingredients your next holiday

itinerary must include
---
TRAVEL

JAMÓN

JAMÓN!

The area around the Spanish

town of Guijuelo has produced

delicately flavoured jamon

Iberico de bellota for centuries.

NARINA EXELBY took a road

trip from Madrid to find out

why it's so highly prized by

the world's chefs

PHOTOGRAPHS AND TEXT

NARINA EXELBY

104

"HOW DO YOU SAY, 'Can I please

have a Parma ham sandwich?' in Spanish?"

I asked my partner, Mark, as we drove west

across Spain from Madrid towards Portugal.

He threw me a worried look. "Don't even

joke," he cautioned. "That's like asking for

Italian wine in Stellenbosch. They might

throw us out of town."

In Guijuelo, where we're headed,

ham is serious business. While it's been

produced here since the Middle Ages, over

the past 100 years or so the industry has

exploded and now drives the economy

of the region. There are odes to pigs and

ham everywhere you look, from statues

to posters, hand-painted signs to fridge

"IT'S THE ACORNS

OF HOLM OAK AND

CORK TREES THAT

FORM THE PRIMARY

DIET FOR IBERIAN

PIGS, GIVING THEIR

MEAT A DELICATE

NUTTY FLAVOUR"

magnets and keyrings; and behind the

counter of almost every bar and café hang

plump, black-hooved hams. Black, because

one of the hams this town produces is the

sweet, delicately nutty-flavoured jamón

Ibérico de bellota – the Champagne of

Spanish ham – that can fetch more

than 1 000 euros apiece, and the reason

for our road trip.

Locals will tell you it's patience that

makes this ham so special. They're partly

right – it can take four or five years to

produce – but it also comes down to this:

the intricate relationship between the

black Iberian pig, the climate and the wild

woodland of ancient Spain.

JAMÓN IBÉRICO, OR IBERIAN HAM,

comes from pigs that are at least 75%

Iberian breed, a rare variety found only on

the Iberian Peninsula, and mostly along

the western fringe of Spain. Iberian pigs

have the capacity to store fat within muscle

tissue – and it's this fat that makes the ham

so tasty. Also, this breed's ability to pack on

epidermal fat means the ham can be cured

for much longer than others, allowing

the characteristic sweet, intense flavour

of jamón Ibérico to develop fully.

Guijuelo is where the ham is produced,

not where the pigs are farmed, so to find

the dehesa we drove even further west,

searching for oak trees. Dehesa are the

wild, natural ancient foraging grounds for

Iberian pigs, and they provide the crucial

ingredient for jamón Ibérico de bellota.

"Bellota" means acorn, and it's the acorns

of holm oak and cork trees that form the

primary diet for Iberian pigs, giving their

meat a delicate nutty flavour.

Vincente Martin Perez's family has

farmed Ibérico pigs for decades, and his

land close to the Portuguese border is

more like a luxury getaway for the animals

than a pig farm. Here, Ibérico pigs roam

PHOTOGRAPHS (OPENING SPREAD)

MARTINA GARDINER, GETTY IMAGES

EXTRA SOURCES JAMON.COM
---
TRAVEL

WHET YOUR APPETITE

A matcha doughnut moment in Manhattan, a crêpe

escape in Paris and a gourmet kale salad in New York…

six food-obsessed travellers reveal the dish they would

board a plane for right now

Clockwise

from top

left: Peanut

butter and

banana cream;

cinnamon

sugar,

strawberry

and cream,

coconut

cream.

Clockwise from top left: Cafés and delis with hams

painted on them are everywhere in Guijuelo; ham is

best served at room temperature to allow the oils to

release their flavour into the meat; odes to pigs are

found in the streets; queuing for the Champagne

of Spanish ham; jamón Iberico is sliced paperthin.

freely, feasting on the acorns that drop

to the ground during the montanera,

the acorn season, between October

and December each year.

"When our pigs weigh 80 kg they're

set free into the dehesa," explained Martin

as his pigs snorted and foraged around us.

"During the montanera each animal eats up

to 10 kg of acorns a day, putting on 800 g

DOUGHNUTS

IN MANHATTAN

"Doughnuts have always

been my guilty pleasure

and, wherever I go in

the world, I have to try the best.

So when my plane ticket to NYC

landed in my hands last year, I had

a sugar rush just thinking about

Doughnut Plant, which had been

on my must-visit list forever.

On our first day my brother-inlaw,

who is a chef in the city (lucky

me), took our family on a foodie

walk – we munched on steamed

buns while exploring Chinatown,

slices of crack pie at Momufuku

and pickles picked up at Katz's

Delicatessen. And then … dessert

on the Lower East Side.

Nothing I'd heard had prepared

me for the mouthwatering gems

in the glass display cabinet at

Doughnut Plant. There were round

doughnuts, square doughnuts,

some oozing home-made jams

and custards, others inspired by

crème brulée with a caramelised,

crisp golden crust.

These babies are handcrafted

every day using ingredients that

are as natural and organic as

possible – a happy thought

when you're about to bite into

round two!

We ordered ten (I blame my

sons), including the iconic tres

leches, blueberry-glazed, coconut

and lime, matcha tea, peanut

butter and banana, and cinnamon

sugar doughnuts, all wrapped up

in a twist of brown paper.

The featherlight texture and

heady flavour of yeast sent me

into a state of sweet utopia.

I went on to devour many other

doughnuts on that trip but these

were simply unforgettable."

– Abigail Donnelly, TASTE food editor;

doughnutplant.com

"THE FEATHERLIGHT TEXTURE

AND HEADY FLAVOUR OF YEAST SENT

ME INTO A STATE OF SWEET UTOPIA"
---
TRAVEL

106

Above, from left: Iberian pigs roam free in the dehesa, where they forage on the acorns of holm oak and cork trees removed from the trees by the vareado using a long stick;

jamón is literally everywhere in Guijuelo – the town is definitely proud of its heritage.

GOURMET KALE

SALAD ON A US

ROAD TRIP

"Every week seems to

bring a new health fad

or superfood these days. Case in

point: kale – that ubiquitous leafy

green powerhouse and elixir of life for

all who are fending off Old Man Time.

Of course this frilliest of veggies has

been around for millennia as a staple

in the Mediterranean but, as is the

wont of contemporary culture, we've

only recently started catching on to

its benefits, including a potent mix

of antioxidant, anti-inflammatory

and nutrient-dense properties.

On a recent rip-roaring road trip in

the USA, I was treated to what turned

out to be a surprising kale trifecta

served in a gourmet context – not

a green juice or smoothie in sight

(oh, the relief!). Soho House in Malibu,

a celebrity haunt known for its Pacific

panorama and faultless food, offered

up a curly kale, red walnut, apple,

radish, sprout, ginger and miso

salad, which set the bar for what

was to be my slow, yet complete,

kale conversion.

The American west coast is the

home of celeb-endorsed health food

crazes that sweep the globe, and

maverick self-taught chef Travis Lett

of Gjelina (right) in Venice Beach,

Los Angeles – the next stop on my

journey – is a dedicated disciple of

all things organic. When confronted

with his perfectly plated Tuscan

kale, shaved fennel and ricotta salad

with breadcrumbs, I was rendered

defenseless against this humble

green and its myriad culinary

interpretations.

Hitting the final home run, Il Buco

in New York City presented a timeless

Mediterranean tribute in the form of

a cavolo nero Tuscan black kale,

garlic-anchovy-lemon vinaigrette,

house-made filone croutons and

Parmigiano Reggiano salad that

proved to be the crowning glory

on my kale campaign trail for 2017.

Conversion well and truly completed."

– Seth Shezi, independent content creator

sohohouse.com; gjelina.com; ilbuco.com

"A MOREISH CURLY

KALE, RED WALNUT,

APPLE, RADISH,

SPROUT, GINGER

AND MISO SALAD SET

THE BAR FOR WHAT

WAS TO BE MY SLOW,

YET COMPLETE KALE

CONVERSION"
---
TRAVEL

PHOTOGRAPH ART GRAY

in 24 hours." Because the pigs are free

to roam, oil from the acorns works

its way through the animals' bodies,

marbling the meat.

Pockets of dehesa are what's left of a vast

Mediterranean forest that once stretched

across southwestern Spain and, along

with the pigs, they are home to fighting

bulls, Merino sheep, foxes, deer, wild

"NEARLY

EVERYWHERE YOU

LOOK THERE ARE

ODES TO PIGS:

STATUES OF PIGS,

POSTERS OF HAMS,

HAND-PAINTED HAM

SIGNS, PIG FRIDGE

MAGNETS AND

KEYRINGS"

boar and lynx, all of which contribute to

the maintenance of a unique ecosystem.

As long as there is a demand for jamón

Ibérico de bellota, the remaining dehesa will

be preserved because having terrain that

contains both holm oak and cork trees

is vital to the production of "acorn ham":

the cork trees drop their acorns after the

holms do, extending the montanera for

the pigs. Wild mushrooms and aromatic

plants such as rosemary and thyme add to

the pigs' balanced diet. At the end of the

montanera, once the pigs have more than

doubled their weight, they're transported

to Guijuelo for slaughter, or what the

Spanish respectfully call el sacraficio.

GUIJUELO IS AT THE CROSSROADS

of medieval trade routes, a busy little

town with an industrial feel and curing

"warehouses" scattered around the

outskirts. Close to the centre is the head

office for Denominación de Origen Guijuelo,

the regulatory body that oversees quality

control of certified Ibérico products from

Guijuelo. It was here that veterinarian

Fermin Sanchez talked us through the

intricate certification and production

processes. When Spanish people buy jamón

and want the absolute top quality, they'll

often ask for pata negra – with black feet

– because most Iberian pigs have black

hooves, which remain on the ham during

the curing process. At the Denominacion

de Origen Guijuelo, achieving a mark of

quality is not simple. Certified hams are

graded either black (the ultimate), red

or green, and these grades are determined

by stringent monitoring of breeding

practices, feeding strategies, the quality

of the dehesa and the curing process.

The village is 1 000 metres above sea

level and the winters up here are cold,

dry and windy. "This climate is perfect

for curing," explained Antonio Gómez

Robles, whose family founded Patabrava,

Guijuelo's first modern curing plant, in

1886. "Because of the climate, less salt

is needed and the hams can dry for longer

than other hams, allowing the flavour

to intensify."

The details of the process are a closely

guarded secret but Antonio will say this:

the hams are salted for about one day for

every kilogram they weigh. They are then

washed and hung to cure for up to a year

in rooms that are ventilated naturally; after

that they're stored in an underground cellar

for another two years. "We could fastforward

with force-fed pigs and artificial

chilling rooms, but the final product would

never live up to the quality of traditional

methods," Antonio says.

At the end of a four- to five-year

process, you have a leg of ham that is

regarded as the finest in the world. Sliced

into pieces thinner than a page of this

magazine, served at room temperature to

bring out the full flavour of the oil, and

enjoyed with a glass of red wine, the sweet

melt-in-your-mouth nuttiness of jamón

Ibérico del ballota really is a taste of history.

So what is

jamón Serrano?

This is also a dry-cured Spanish

ham but it's made from several

breeds of white pig, rather than

black. It has TSG (traditional

specialities guaranteed) status,

certifying that it has specific

characteristics that differentiate

it from all others in its category,

and that its raw materials,

composition or method of

production have been consistent

for a minimum of 30 years. You'll

find jamón Serrano (mountain

ham) at selected Woolies stores.

(Woolworths sources 90% of its

food products from South Africa

and Africa and sources only

a small percentage of authentic

ingredients from other parts

of the world.)

VEGETARIAN

FARE IN ZURICH

"I'm not a fan of buffetstyle

anything – and

am these days more of

a flexitarian – but for Hiltl, I make

an exception. As a vegetarian

living in Zurich and speaking

barely a word of German, Hiltl

was a haven: endless fresh, tasty,

creative veggie options in an

expat-friendly environment,

thanks to its location in the heart

of the city's banking district (also:

men in suits). The land of cheese

and chocolate is hardly known

for its gourmet food and like

most of its European neighbours,

is partial to a bit of meat (it

took me a while to get over the

fillets of horse right next to the

beef in the grocery store). So,

you might be surprised to learn

that Switzerland is home to the

world's oldest fully vegetarian

restaurant – Hiltl has been

around since 1898 and even has

a veggie 'butcher'. 119 years later,

there are several branches

and they're always full. I think

I ate from the buffet every week

for almost 10 years. Which is

probably also why I didn't get

rich earning Swiss francs – a plate

piled high can cost around 25–

30 CHF depending on weight,

which is, um, upward of R330.

Time to start saving for my next

visit!" – Lee-Anne Spurdens, TASTE

assistant editor; hiltl.ch

"HILTL WAS A

HAVEN: ENDLESS

FRESH, TASTY,

CREATIVE VEGGIE

OPTIONS IN AN

EXPAT–FRIENDLY

ENVIRONMENT"
---
TRAVEL

108

GALETTES

ON A PARISIAN

PAVEMENT

"If I could fly in a time

machine instead of

a plane, I'd travel to 7 October

2015, just after 1 pm, to a

restaurant in Paris called Crêperie

Beaubourg. Here, my brand-new

husband of four days, Jan, and

I were sitting at a tiny pavement

table, grinning like idiots while

devouring our respective

galettes – pancakes made with

buckwheat flour, eggs, milk, salt

and rum, folded into a signature

square shape around savoury

fillings. Jan had the compléte,

filled with ham and cheese and

topped with a fried egg, while

I had the celte, filled with crispy

lardons, onions, mushrooms,

cheese and cream. Washed down

with cider, and followed by crêpes

sucrette (sweet pancakes), it's

easily the best meal I've ever

had. But, then again, I'm biased."

– Annette Klinger, TASTE features

writer; creperiebeaubourg.com

THE KING

OF CHEESES

Time, patience and

craftsmanship are

required to craft

a perfect wheel

of Parmesan.

On her travels through Emilia-Romagna, NIKKI WERNER

discovered why making Parmigiano Reggiano is both a calling and

a lifelong commitment for the region's artisanal cheesemakers

PHOTOGRAPHS BRANDON DE KOCK TEXT NIKKI WERNER

"WASHED DOWN

WITH CIDER,

AND FOLLOWED

BY CRÊPES

SUCRETTE,

IT'S EASILY THE

BEST MEAL I'VE

EVER HAD"

IN THE NORTHERN ITALIAN

PROVINCE OF EMILIA-ROMAGNA,

Parmigiano Reggiano is referred to

simply as formaggio (cheese), as if it's

universally accepted that there is only

one. The choice comes with how long

you like it aged: 24, 36 or 48 months. In

this part of the world, Parmesan is what's

sandwiched in a standard cheese toastie,

broken into hunks to pick at with fizzy

wine or crumbled into risottos. Here,

aged Parmesan is one of the first foods

fed to babies because it's so easy digest.

The wheels of Parmesan that the

Consortium of Parmigiano Reggiano

Cheese deem worthy of bearing their

mark are made only in Parma, Reggio

Emilia, Modena, Mantua (on the east

bank of the Po River) and Bologna (on

the west bank of the Reno River). The
---
TRAVEL

cows eat the grasses that grow here

(no grains) and the cheese is aged for

a minimum of 12 months. Ancient breeds

like the vacche rosse or "red cows" produce

superior milk with a good structure

for longer ageing, which means a more

complex flavour.

Parmesan is made by hand and those

who know how to make it never take

a day off in their lives – they are fully

dedicated to their craft. This is why

husband-and-wife teams are common and

why a cheese master's son told me that he

had vowed to never follow in his father's

footsteps. Making Parmigiano Reggiano

truly is a vocation. To understand why,

I contacted the consortium and met

professional taster Igino Morini and head

of the foreign office, Simone Ficarelli.

We started at the dairy Caseificio Notari

to observe the cheese-making process and

a tutored tasting followed at their HQ

in Reggio Emilia. And after spending

a day with these two, no-one would ever

hesitate again in the supermarket aisle

when weighing up Parmesan versus

a cheaper option. Here's what Simon said

on being asked why it's worth paying for

the authentic product.

IT TAKES 600 LITRES OF MILK TO

MAKE ONE WHEEL OF CHEESE.

We fill the cauldrons with 1 200 litres of milk

and from that we will get two cheeses, so

already you begin to understand the price.

IT'S STILL MADE IN COPPER

CAULDRONS.

Copper is a good heat conductor and a

catalyst for the enzymes that help develop

flavour. The copper vats differentiate it from

industrial production and make it artisanal.

IT'S MADE BY SOMEONE WHO HAS

DEDICATED THEIR LIFE TO THE ART.

The most amazing thing I heard during

my career came from an 80-year-old

cheese master. He said, "I still haven't

learnt enough because each day the cheese

teaches me something." For us the milk

looks all the same – white and liquid – but

the cheese master has to understand the

milk because the level of fat or foaming

differs, depending on whether conditions

are sunny and dry or cold and humid. This

changes the way the microelements behave,

so it is a job that requires a high level of

understanding and experience. Once the

milk starts coagulating, the cheese master

will increase the temperature and break up

the curds into corn-sized pieces. At that

point the most delicate phase begins. Using

his hand, the cheese master assesses when

the cheese is right and if he misses it, if

it's 30 seconds more or less or one degree

more or less, it will compromise the quality

of the cheese.

"IN THIS PART

OF THE WORLD,

PARMESAN

IS WHAT'S

SANDWICHED

IN A STANDARD

CHEESE TOASTIE

OR BROKEN INTO

HUNKS TO PICK AT

WITH FIZZY WINE"

THE STARTER CAN BE UP TO

900 YEARS OLD.

The real heritage of our production is the

whey starter. It's left over from the previous

day's production – like the mother starter

in sourdough. There are only two or three

cheeses in the world that still use the

naked lactiflora, all the other cheeses buy

109

PHOTOGRAPHS MARTINA GARDINER AND JAN CRONJE

WHITEBAIT

AT AN IRISH

BEACH

SHACK

"A cone of newspaper

filled with crispy

deep-fried spiced

whitebait – a bowl of

sweet-spicy marie rose

sauce on the side for

dunking – the simplest

of starters in the most

casual of settings, but a

mouthwatering highlight

on a memorable

foodie journey around

Northern Ireland. Just

looking at the photo

of that whitebait (page

103) takes me straight

back to lunch at Harry's

Shack, a weather-beaten,

no-frills eatery located

in a renovated former

National Trust info office

right on the beach at

Portstewart Strand.

Massive windows offer

unrivalled views across

the beach to County

Donegal, and it's while

taking in that vista that

diners are treated to

simple fare from the

sea, field and garden,

all prepared by awardwinning

chef Derek

Creagh. Formerly of

legendary restaurants

including the Fat Duck,

he and Harry's owner

Donal Doherty have

created a legendary

spot of their own based

on local ingredients,

freshness and clean

flavours. Simple and

spectacular at the same

time. I'd go back in

a heartbeat."

– Michelle Coburn, TASTE

features editor; facebook.com/

HarrysShack

"IT'S WHILE TAKING IN THAT VISTA

THAT DINERS ARE TREATED TO

SIMPLE FARE FROM THE SEA,

FIELD AND GARDEN"
---
TRAVEL

110

Above, clockwise from left: These newly formed cheeses will still have to pass the hammer test; Igino Morini's most

memorable Parmesan was a wheel from this cellar; Simone (left) and Igino (right) taste different ages of Parmesan.

selective ferment from multinationals. So

the microelements have been living for

hundreds of years. If we stopped for three

days we would lose this important heritage.

EVERY CHEESE IS CHECKED.

Since we do not use any additives, after

one year our expert from the Consortium

checks every cheese with a hammer. We

make three million cheeses every year and

each of those is checked. If it does not

What's in a name?

Within the European Union the

word "Parmesan" only refers

to real Parmigiano Reggiano

(it is classified as a Protected

Designation of Origin, or PDO,

product) but the same does not

necessarily apply outside EU

borders, where Parmesan can

be used to label various similar

cheeses. Authentic Parmigiano

Reggiano is available at selected

Woolworths stores.

meet the standards, it will be discarded.

On average we discard something like

eight percent of production. Those

that don't pass the test will be sold to

companies making sliced cheese, mixed

and grated cheese. And if the cheese is

good enough to be considered Parmigiano

Reggiano but not perfect enough to face

long ageing, we call it mezzano because

it must be cut and eaten very young.

IT TAKES TIME AND PATIENCE.

At a glance our cheese looks the same

as most industrialised products. So people

say it's expensive. If you want to annoy

a producer, tell him that it's expensive!

You cannot compare an industrial

product, which is ready in five minutes,

with an artisanal product that takes two

years. When we talk about industrialised

products we can talk about costs. When we

talk about the artisanal product we have to

talk about value. If you think about it, to

carry out this kind of production you need

to have maybe 900 cows, from 1 ton of

milk you get two cheeses and you have to

wait two years to get your money back! W

RAMEN IN

BRISBANE

"I make pretty damn

sure I have a bowl

of ramen at Hakataya

Ramen every time I'm in

Brisbane, which is at least once

a year when I visit my sister.

The dish has an emotional

connection for me because we

always eat it together; it's a ritual

for us. It goes something like this:

'So we have to fit in the ramen

sometime, when should we do

it?' An exchange about timing

breakfast and lunch usually

follows, we plan our days around

what and when we're going to

eat, as one should on holiday.

We always have the charsiumen

– Japanese pork noodle

soup with extra pork (that's

important). We join the queue,

take a number and wait. If we get

a seat at the small bar, we watch

as the chef assembles our bowls:

a ladleful of a secret ingredient

goes in first, then the noodles

with a deft flick of the wrist, then

it's topped up with the tonkotsu,

the pork bone broth that's been

cooking all night, the sliced pork

and spring onions. It's served

with spicy pickled seaweed on

the side. Slurping and silence

ensues. And sisterly bonding,

the most important part."

– Lynda Ingham-Brown, TASTE senior

copy editor; hakatayaramen.com

"WE ALWAYS

HAVE THE

CHARSIU-MEN –

JAPANESE PORK

NOODLE SOUP

WITH EXTRA

PORK (THAT'S

IMPORTANT)"
---
A D V E R T I S I N G P R O M O T I O N

FROMAGE, WITH LOVE

PHOTOGRAPH JAN RAS PRODUCTION FOODLOOSE PRODUCTIONS FOOD ASSISTANT CLAIRE GOODERSON

Soft, spreadable goat's-milk Chavroux; mellow, soft, ripened Chaumes; rich, oozy

Le Pié d'Angloys Ñ Woolies takes your French cheeseboard experience beyond Brie

and Camembert with a host of authentic fromages straight from the source. To enjoy,

Serving suggestion

allow the creamy beauties to come to room temperature, then let each cheese's

FRENCH CHEESES AND PRESERVES

Arrange Woolies' Chavroux, Chaumes,

Le Pié d'Angloys, St André, Caprice des

Dieux, Etorki, Fol Epi, Le Rustique Brie,

Le Rustique Camembert and St Albray on

a cheeseboard and allow to come to room

temperature. Meanwhile, stir 1 cup frozen

or fresh pitted cherries through 1 cup

Woolies mixed berry preserve. Heat until

jammy. Fry wafer-thin slices of celeriac in

hot oil until crisp. Serve with the cheese.

unique flavour profile do the talking. Oui, oui, we say!

woolworths.co.za
---
A D V E R T I S I N G P R O M O T I O N

IT'S CHAI TIME

The antioxidants of green tea and the warming flavours of chai? Yes please! Higher Living

Infusions knows a thing or two about crafting top-notch teas (bonus: it uses only organic

ingredients!), so you'd better believe that its green tea chai ticks all the boxes for a truly

delicious cup. Offering a carefully balanced blend of green tea leaves, cardamom,

cinnamon, clove and orange peel, it's the perfect sip to start Ñ or end Ñ the day.

Available exclusively at Woolworths.

higherlivingherbs.com

PHOTOGRAPH JAN RAS PRODUCTION FOODLOOSE PRODUCTIONS

FOOD ASSISTANT CLAIRE GOODERSON
---
EDITED BY LYNDA INGHAM-BROWN

Taste

Kitchen

TIPS AND

TECHNIQUES

FOR THE

MASTER COOK

PHOTOGRAPH JAN RAS PRODUCTION HANNAH LEWRY FOOD ASSISTANT CAMILLA REINHOLD

RICE,

RICE BABY

We've all tried to make our own sushi,

and mostly failed. Come on now, be honest. The basis

of good sushi is good rice, which is not as terrifying as you

might think. Turn the page for our definitive guide to making

perfectly sticky sushi rice and you'll soon be rolling

rainbow rolls like a pro.
---
It's all rice now

Follow these easy steps for cooking sushi rice (no shortcuts!) and we can guarantee you'll

be hosting sushi nights at your house in no time

1

4 Cover and bring to a boil over

a high heat. Watch the pot so that

it doesn't boil over. Reduce the heat

to low as soon as it comes to a boil,

and leave it to simmer for exactly

20 minutes. Turn off the heat

and uncover the rice.

6

114

1 Place the uncooked rice into a large

bowl. Fill the bowl with cold water,

swish it around, then drain. Repeat this

process until the water runs clear. This

could take around ten rinses.

2

4

6 Pour over the vinegar mixture

(see opposite) and toss the rice

by gently cutting into it vertically

with your rice paddle (or spatula),

and then lifting the rice and

turning it over. As you do this,

fan the rice with a fan or piece

of cardboard.

2 Fill the bowl one last time, then

soak the rice for 30 minutes before

draining it again.

3 Place the rice and

1½ cups cold water for

every cup of uncooked

rice in a large saucepan.

3

5

5 Transfer the rice to a bamboo

steamer or a large, wide glass or

unvarnished wooden bowl (do not

use an aluminium bowl as this will

retain heat and continue cooking

the rice, and can also impart

a metallic taste to the rice). Use

a paddle or wooden spoon to

gently spread and separate the

grains to help them cool.

7

7 Allow the rice to cool a little before

starting to make your sushi. Ideally, sushi

rice should be at room temperature

when it is time to make your rolls.

Prepared sushi rice can be stored

covered with clingwrap or a moist cloth

for up to 12 hours. Do not refrigerate it

as this will destroy its texture.

ILLUSTRATIONS ADRIAN OWEN SOURCES LAFUJIMAMA.COM, SUSHIFAQ.COM, WIKIPEDIA.COM
---
TASTE KITCHEN

THE VINEGAR

The vinegar mixture, or sushi-su,

is an integral part of making sushi.

It imparts a balanced sweet-sour

flavour to the rice. Use ¼ to 1⁄3 cup

sushi-su for 3 cups of cooked rice.

rice vinegar 1 cup

sugar 3 T

salt 2 ½ t

kombu 1 piece, about 1.5 cm square

(optional)

1 Combine the vinegar, sugar, salt

and kombu in a small saucepan.

Place the saucepan over a mediumhigh

heat and cook, stirring, until

the sugar and salt have dissolved.

2 When the mixture is clear, remove

the saucepan from the heat and set

it aside to cool. Discard the kombu.

3 Sushi-su can be stored in an

airtight container in the refrigerator

for up to 1 month.

SUSHI ETIQUETTE

You really shouldn't be drowning your sushi in soya sauce or draping

it with pickled ginger. But no judging … Traditionally, etiquette

suggests that nigiri is turned over so that only the topping is dipped;

this is because the soya sauce is for flavouring the topping, not the

rice, and because the rice will absorb too much soya sauce and fall

apart. If it's difficult to turn the nigiri upside down, you can baste the

sushi in soya sauce using gari (sliced ginger) as a brush. Toppings

that have their own sauce (such as eel) should not be eaten with soya

sauce. The sushi chef will add an appropriate amount of wasabi to the

sushi while preparing it, and etiquette suggests eating the sushi as is,

since the chef knows the proper amount of wasabi to use.

115

READY TO ROLL

Woolworths sells sushi rice

and everything you need

to make sushi, including

rolling mats, pickled ginger and

nori. Sushi rice, R64.95 for 1 kg.

SAY WHAT?

NETA

THE PIECE OF FISH

THAT IS PLACED ON

TOP OF THE SUSHI RICE

FOR NIGIRI. "SUSHI"

TECHNICALLY REFERS

ONLY TO THE

SEASONED RICE.
---
STARTER COOK

Take your veggies from bland to brilliant and you (and your

family) will love them even more. Think broccoli spiked with Asian

flavours, smoky beans on toast and cauliflower in a cheesy frittata

that'll trump your gran's Sunday lunch version any day

Veg out,

man

PHOTOGRAPHS JAN RAS RECIPES AND PRODUCTION HANNAH LEWRY

FOOD ASSISTANT CAMILLA REINHOLD
---
STARTER COOK

117

SPICY FRIED POTATO

SHAKSHUKA WITH

NAAN BREAD

R40 PER SERVING

WEEKEND LUNCH

SPICY FRIED POTATO SHAKSHUKA

WITH NAAN BREAD

Peel, cube and parboil 500 g potatoes. Soften 2 small

chopped red onions, 2 green chillies and 1 clove

chopped garlic in 50–100 g butter. When caramelised,

add 1 t mustard seeds. Add the potatoes and fry until

golden. Add 2 x 400 g cans tomatoes, bring to a simmer

and cook for 20 minutes. Reduce the heat to low and

make 4 small wells in the sauce. Place a kale leaf into

each well, then break 1 free-range egg into each well.

Simmer for 10 minutes, or until the eggs are set. Serve

with toasted naan bread. Serves 4 HEALTH-CONSCIOUS

WINE: Creation Viognier 2016
---
STARTER COOK

FUSS-FREE SIDE

MAPLE-ROASTED POTATO-AND-SAGE

OPEN TART

Preheat the oven to 200°C. Slice 800 g assorted sweet

potatoes very thinly, then toss with a handful of fresh sage,

3 T olive oil and season to taste. Lay on a baking tray and

bake for 15–20 minutes. Score a 2 cm border around a sheet

of puff pastry, generously grate over 150 g smoked

provolone or Boerenkaas and arrange the sliced potatoes

on top. Scatter with fresh sage and drizzle with maple syrup.

Bake for a further 30–35 minutes, or until golden and puffed

up. Drizzle with a little more maple syrup to serve if you like.

Serves 4 MEAT-FREE

WINE: Woolworths Bellevue Pinotage 2015

118

VEGGIE SWAP

This tart is delicious

with tomato or pea

soup. Swap the sweet

potato for thinly sliced

butternut or pumpkin

if you like.

MAPLE-ROASTED

POTATO-AND-SAGE

OPEN TART

R26 PER SERVING
---
STARTER COOK

STOCK UP ON

THESE WINTER

VEGGIES

There's nothing more

comforting than creamy

mashed potato on a cold

night. And the beautiful

bright green of steamed

(still crunchy) Tenderstem

broccoli is an instant

mood-lifter. First rule

of winter: don't run out

of these veggie drawer

staples from Woolies

MIDWEEK DINNER

ASIAN-BRAISED CHICKEN AND

TENDERSTEM BROCCOLI WITH RICE NOODLES

Preheat the oven to 180°C. Fry 500 g Woolworths free-range chicken mince in 2 T

canola oil for 5 minutes. Add 2 T grated ginger, 2 cloves grated garlic, 1 T ground

black pepper and fry for a further 2 minutes. Remove from the heat. Add 2–3 cups

chicken stock, 2 T soya sauce and 1 T rice wine vinegar. Return to the heat and braise

for 10 minutes. Add 230 g blanched Tenderstem broccoli and braise for a further

5 minutes, or until the broccoli is cooked to your liking. Serve with rice noodles,

topped with sliced red chilli, fresh basil and sliced spring onions. Serves 4 FAT-

CONSCIOUS, DAIRY-FREE WINE: Eagle's Nest Viognier 2016

BABY MARROWS

Versatile and delicate in

flavour, try them sautéed

in butter or olive oil with

garlic or fresh herbs.

Also delicious steamed,

boiled or grilled.

CAULIFLOWER

Roast a whole head of

cauliflower in the oven,

or buy the bags of florets

to roast, steam, grill or

boil. Chopped cauliflower

rice is a great low-carb

alternative to regular rice.

POTATOES

Take your pick from

washed Everyday

medium and large

potatoes, to baby

Mediterranean potatoes

– ideal for baking,

boiling, mashing

or roasting.

SWEET POTATOES

The range includes

regular sweet potatoes

and Beauregard orangeflesh

sweet potatoes,

plus convenient diced

sweet potatoes ready to

boil and mash with

butter and cinnamon,

and sweet potato chips

ready to roast and serve

with home-made aïoli.

TENDERSTEM BROCCOLI

Available as Tenderstem

broccoli stems and

Tenderstem broccoli

tips – lightly steam

them as a crunchy side

for meaty dishes. Also

delicious in stir-fries.

"TENDERSTEM BROCCOLI REALLY

BRIGHTENS UP A DISH, ADDING

WONDERFUL FRESH COLOUR AND

CRUNCH" – HANNAH LEWRY

ASIAN-BRAISED

CHICKEN AND

TENDERSTEM

BROCCOLI WITH

RICE NOODLES

R30 PER SERVING
---
STARTER COOK

BRUNCH IS SERVED

Add a fresh green

salad or dressed

green beans on

the side and you're

good to go.

CAULIFLOWER-AND-

GOAT'S CHEESE

FRITTATA

R34 PER SERVING

120

MOREISH BRUNCH

CAULIFLOWER-AND-GOAT'S

CHEESE FRITTATA

Preheat the oven to 200°C. Mix 6 t fennel seeds, 3 t dried chilli

flakes, 1 t ground black pepper, the juice and zest of 2 lemons

and ¼ cup olive oil. Cut 2 heads cauliflower into steaks and

coat in the marinade. Season and roast for 15 minutes until

tender but still firm. Whisk 8 free-range eggs, add 1 cup cream,

1 cup milk, 100 g grated Boerenkaas or Parmesan and season

to taste. Place the cauliflower into an ovenproof dish, then

pour over the egg mixture. Dot 150 g Boursin soft goat's

cheese or chevin onto the mixture and bake for 40 minutes

at 160°C. Serves 6 CARB-CONSCIOUS, MEAT-FREE, WHEAT-

AND GLUTEN-FREE WINE: Cederberg Bukettraube 2016
---
STARTER COOK

FRIDAY SUPPER

SMOKY BABY

MARROWS

WITH GARLICKY

CANNELLINI

BEANS ON TOAST

Roast 1 head garlic under the

grill, turning often until

evenly charred and soft.

Remove from the oven and

cool slightly. Soften 2 thinly

sliced large leeks in 50 g

butter and 1 T olive oil.

Squeeze out 4–6 cloves of

the roast garlic into the leeks

and pour in 1 cup cream. Add

1 sprig rosemary, 1 x 400 g

can drained cannellini beans

and simmer until thick, about

15 minutes. Toss 350 g sliced

baby marrows in 2 T olive oil

and season. Pan-fry on one

side in a hot, dry pan until

browned. Serve the beans on

charred slices of ciabatta with

the baby marrow ribbons

and a squeeze of lemon juice.

Serves 4 MEAT-FREE

WINE: Woolworths Italian

Pinot Grigio 2016

FLAVOUR TIP

Char baby marrows

on one side to add

delicious flavour.

Roast the garlic in its

skin for a smoky yet

sweet taste that'll

elevate your dish.

FARMING WITH TOMORROW IN MIND

Ever wondered what the Farming for the Future

logo you've seen in Woolies is all about? It shows

that the fruit and veg you buy are farmed using

methods that use water responsibly, improve soil

quality and encourage biodiversity, which means

you're getting the best without it costing the Earth.

SMOKY BABY MARROWS WITH

GARLICKY CANNELLINI BEANS

ON TOAST

R29 PER SERVING
---
FOODSTUFF

SHOPPING • INGREDIENTS • GIFTS • IDEAS

SUPPER SORTED

Who says midweek meals have to be uninspired? Whether it's dinner for one or your

turn to feed the family, whipping up something slightly fancier than a baked potato

needn't be a mission (or require hours of cleaning up on a school night … or any

night, in fact). Woolies' Easy to Cook range puts dinner on the table with minimal

fuss and maximum flavour – and right now we're a little obsessed with the new

Easy to Cook seafood mix. A plateful of prawns, kingklip, squid and mussels in

a fresh oregano and basil tomato cream sauce that's ready in 20 minutes? Please

and thank you. From R129.99. Available at selected stores.
---
WINTER, WHAT WINTER?

There's a new kid on the juice block and

it's so full of tropical, fruity goodness,

it's enough to kick the worst winter blues

to the kerb. The latest addition to Woolies'

100% fruit juice blend range – mango,

passion fruit and pineapple – is loaded

with vitamins and contains zero added

preservatives. Bottoms up! From R16.99

for 500 ml and R39.99 for 1.5 litres.

Available at selected stores.

PHOTOGRAPHS JAN RAS PRODUCTION HANNAH LEWRY TEXT LEE-ANNE SPURDENS

YOGHURT, RELOADED

Getting a little bored with the usual plain yoghurt routine?

Woolies' new full-cream Ayrshire vegetable-and-fruit yoghurts

are guaranteed to keep things interesting, especially with

flavour combos such as beetroot and strawberry, butternut

and mango, and sweet potato, date and pear. They've got

all the thick creaminess you love about Woolies' yoghurt,

are high in good-for-your-gut bifidobacterium cultures and,

thanks to the veg content, all that colour is 100% natural.

From R10.95. Available at selected stores.
---
MEAL PLANNER

ON THE MENU TODAY …

Warm yourself up with three comfort-food menus starring juicy

roast chicken, smoky beans on toast and coffee risotto

124

COSY SUNDAY LUNCH

Sweet potato gratin, p 34

ClemenGold-glazed roast chicken, p 76

Sesame banana spring rolls, p 128

SUPERFOOD MENU

Golden latte, p 26

Smoky cannellini beans on toast, p 121

Buttermilk rye crêpes Suzette, p 74

WINTER BRUNCH

Coffee risotto, p 64

Potato-and-sage open tart, p 118

Biksemad, p 96
---
A D V E R T I S I N G P R O M O T I O N

PHOTOGRAPH WILLEM LOURENS PRODUCTION

HANNAH LEWRY ASSISTANT JALAUN BEUKES

PERFECT PORK

Succulent, tender and versatile, Woolworths' top-quality South African pork comes into

its own in a sosatie spread featuring three delectable flavour combinations

woolworths.co.za

Serving suggestion

PORK SOSATIES

THREE WAYS

STICKY CURRY

Marinate cubed pork leg or

shoulder in 3 T mild curry

powder, ¼ cup olive oil, 3 T

fruit chutney, 2 sprigs rosemary

and 1 clove crushed garlic.

Thread onto soaked skewers,

alternating with dried apricots,

butternut and streaky bacon,

before braaiing or roasting.

ASIAN

Marinate cubed pork leg or

shoulder in 3 T oyster sauce,

2 T soya sauce, 1 T canola oil,

2 cloves crushed garlic and

2 finely chopped spring

onions. Thread onto soaked

skewers, alternating with

yellow peppers and baby

marrow ribbons before

braaiing.

HONEY AND MUSTARD

Marinate cubed pork leg or

shoulder in 6 T wholegrain

mustard, 2 T runny honey,

3 T white wine and a few sprigs

of thyme. Thread onto soaked

skewers, alternating with exotic

mushrooms and mixed onions

such as red and spring onions,

before braaiing or roasting.

Available at selected Woolworths

stores – ask your Woolworths

butcher to cut 2.5-cm cubes from

pork leg or shoulder.
---
INDEX

126

STARTERS AND LIGHT MEALS

Biksemad ........................................................................96

Cauliflower-and-brinjal tart ...............................22

Cauliflower-and-goat's cheese frittata ...120

Potato aloo sarmies ................................................34

Pav bhaji .........................................................................96

Pumpkin fritters ........................................................42

Smoky baby marrows with garlicky

cannellini beans on toast ................................121

Smoky maple-espresso baked beans ........66

Spicy fried potato shakshuka with naan

bread .............................................................................117

MAIN MEALS

Asian-braised chicken and Tenderstem

broccoli with rice noodles ..............................119

Beef fillet with café au lait sauce ...................69

Caramelised orange-and-fennel

mussels ..........................................................................79

Citrus-braised shortrib with chilli, lime and

green tomato salsa ...............................................74

Fish tacos with one-minute lime

mayonnaise and pink grapefruit ..................76

Jerk chicken, rice and peas .............................100

Maple-roasted potato-and-sage

open tart .....................................................................118

One-pot chicken baked on dhal ...................22

Sticky ClemenGold-glazed roast chicken

with pumpkin wedges .......................................76

The gatsby .................................................................100

DESSERTS AND BAKING

Buttermilk rye crêpes Suzette with

clementines .................................................................74

Cinnamon doughnuts with coffee royal

icing .................................................................................65

Coffee îles flottantes ................................................64

Coffee jelly ....................................................................30

Coffee risotto................................................................64

Daigaku imo ................................................................96

Lemon-curd lava puddings ..................................

..............................................................................................76

Mocha in a cone ......................................................70

Sesame banana spring rolls with salted

caramel sauce ........................................................128

The impossible custard tart ..............................22

SIDE SERVINGS

Mexican-style sweet potatoes .......................34

Sticky roast carrots in barley broth ..............24

Sweet potato gratin .............................................34

BEVERAGES

ClemenGold sake toddy ....................................58

Golden latte with black pepper

and maple syrup .....................................................26

COMPETITION TERMS AND CONDITIONS

The winners will be the first correct entries drawn after the closing date. In the event of the judges not being able to get hold of the selected

winner on contact details supplied, an alternative winner will be selected. The judges' decision is final and no correspondence will be entered

into. The prize is not transferable and may not be converted into cash. Employees of Woolworths, New Media Publishing and the prize

sponsor company, their families, agencies or any other parties associated with the competition may not enter. All details correct at time

of going to print. Note that some expenses may not be included in the prize. Visit taste.co.za for prize-specific information and terms and

conditions. Entry is limited to South African residents over the age of 18.

COMPETITION AND GIVEAWAY ENTRY DETAILS

To enter, SMS the word "TASTE" followed by the keyword on the giveaway or competition page (and the answer, if applicable), your name,

surname, email address, physical address and telephone number to 45606 (R1.50 per SMS), or enter online at taste.co.za. Unless otherwise

specified, the closing date for all giveaways and competitions in this issue is 23 July 2017. Terms and conditions apply, see above.

CONVERSION CHART

250 ml = 1 cup

190 ml = ¾ cup

125 ml = ½ cup

85 ml = ¹⁄3 cup

65 ml = ¼ cup

5 ml = 1 teaspoon

15 ml = 1 tablespoon

30 ml = 2 tablespoons

45 ml = 3 tablespoons

60 ml = 4 tablespoons

* Woolworths products featured are subject to availability and may not be available at all stores. All prices include VAT and were correct at the time of going to press.

Offers available while stocks last. Not all products and ingredients featured are available from Woolworths. While all precautions have been taken to ensure the accuracy

of information, neither the publisher and editor, nor New Media Publishing, can be held liable for any inaccuracies, injuries or damages that may arise.
---
One of the greatest challenges for human

wellbeing in the 21st century will be to focus

on the advantage of having a healthy colon and

therefore a good immune system – this is where

probiotics can play a significant role.

Probiotics are critical for normal digestion

and for defence against infection.

Bacteria in the gut are known to:

• Stimulate the immune system

• Enhance the mucosal barrier

• Aid digestion and break down toxins

• Inhibit adherence of pathogens

A good probiotic can be beneficial in the

following ailments:

• Diarrhoea or constipation

• Bad breath, gas and bloating

• Irritable bowel and lactose intolerance

• Gastroenteritis and playschool diseases in

young children
---
SIMPLE PLEASURES

GO BA-NA-NAS!

Try this sweet twist on the classic spring roll – bananas deep-fried

in crispy pastry, then drizzled in a rich salted caramel sauce (add Madagascan

vanilla ice cream on the side … if you dare!)

PHOTOGRAPH JAN RAS RECIPE AND PRODUCTION HANNAH LEWRY

FOOD ASSISTANT CAMILLA REINHOLD

SESAME BANANA

SPRING ROLLS

WITH SALTED

CARAMEL SAUCE

Serves 8

A LITTLE EFFORT

GREAT VALUE

Preparation: 30 minutes

Cooking: 20 minutes

128

canola oil 2 cups

small bananas 8, halved

spring roll wrappers 8, halved

desiccated coconut 100 g

sesame seeds 2 T, toasted

For the caramel sauce:

sugar 200 g

butter 100 g

cream ¼ cup

black salt or sea salt flakes, to taste

1 Heat the oil in a saucepan, then

wrap the bananas in the pastry. Fry

until golden brown on one side,

then turn and cook on the other

side. Remove from the oil using

a slotted spoon, drain on kitchen

paper and sprinkle with the coconut

and sesame seeds. 2 To make the

caramel sauce, place the sugar into

a pan over a medium heat and melt.

When slightly caramelised, add the

butter and mix until melted and

combined. Bring to a gentle simmer,

then remove from the heat and stir

in the cream. Sprinkle over the salt.

Set aside to cool slightly and drizzle

over the spring rolls.

WINE: Hilton Viognier 2016

WORD ON THE STREET

Turon are a Filipino street-food snack of sliced bananas and a slice of jackfruit sprinkled

with brown sugar and deep-fried in a spring roll wrapper, sometimes drizzled with syrup

and served with a coconut sauce. Trying this at home? Use mango instead of jackfruit.
---
Y&R1507992

Financially

wholesome

Our financial expertise is blended differently. With an

international flavour and distinctive approach, we help

create and manage your wealth through Specialist

Banking, Asset Management and Wealth & Investment.

www.investec.com

Specialist Banking Asset Management Wealth & Investment

Investec Limited and its subsidiaries, including Investec Bank Limited - 1969/004763/06, registered credit providers and authorised financial service providers. Johannesburg 011 286 7000

Cape Town 021 416 1000 Durban 031 575 4000 Pretoria 012 427 8300 Port Elizabeth 041 396 6700.
---
BRUTEST NE

Calacatta

Cape Town : 2 Highway Park, Northgate Estate • Tel: 021 510 8130

Midrand: 324 Old Pretoria Road, Halfway House • Tel: 011 312 4060

Sandton / Randburg: 20 Rhodes Street • Tel: 011 781 4888

Umhlanga: Urban Park Hotel, 60 Meridian Drive • Tel: 031 566 3412

Durban: 1322 South Coast Rd, Mobeni • Tel: 031 462 7722

Pinetown: Cnr. Old Main Rd & St John's Avenue • Tel: 031 709 6263

Ghana: 34 Spintex Rd, Accra • Tel: +233 207 591 313