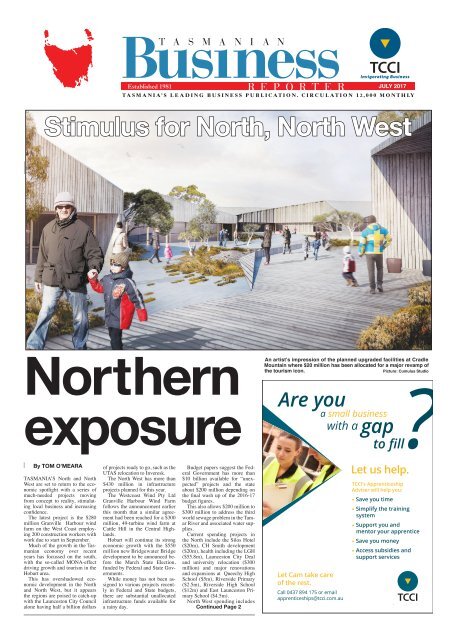 Tasmanian Business Reporter July 2017
With Granville Harbour Wind Farm and the Cradle Mountain Master Plan dominating the headlines this month, we discuss the investments driving an economic resurgence in the north and north west of the state. You'll also find news of the innovative post-natal service coming to Launceston, steps forward in the Macquarie Point Development and TCCI CEO, Michael Bailey's call for leadership in Tasmanian health.
With Granville Harbour Wind Farm and the Cradle Mountain Master Plan dominating the headlines this month, we discuss the investments driving an economic resurgence in the north and north west of the state.

You'll also find news of the innovative post-natal service coming to Launceston, steps forward in the Macquarie Point Development and TCCI CEO, Michael Bailey's call for leadership in Tasmanian health.

SHOW MORE
SHOW LESS
Create successful ePaper yourself
Turn your PDF publications into a flip-book with our unique Google optimized e-Paper software.
JULY 2017

T A S M A N I A' S L E A D I N G B U S I N E S S P U B L I C A T I O N . C I R C U L A T I O N 1 2 , 0 0 0 M O N T H LY

Stimulus for North, North West

Northern

exposure

An artist's impression of the planned upgraded facilities at Cradle

Mountain where $20 million has been allocated for a major revamp of

the tourism icon.

Picture: Cumulus Studio

Are you

a small business

with a

gap

to fill

By TOM O'MEARA

TASMANIA'S North and North

West are set to return to the economic

spotlight with a series of

much-needed projects moving

from concept to reality, stimulating

local business and increasing

confidence.

The latest project is the $280

million Granville Harbour wind

farm on the West Coast employing

200 construction workers with

work due to start in September.

Much of the growth in the Tasmanian

economy over recent

years has focussed on the south,

with the so-called MONA-effect

driving growth and tourism in the

Hobart area.

This has overshadowed economic

development in the North

and North West, but it appears

the regions are poised to catch-up

with the Launceston City Council

alone having half a billion dollars

of projects ready to go, such as the

UTAS relocation to Inveresk.

The North West has more than

$430 million in infrastructure

projects planned for this year.

The Westcoast Wind Pty Ltd

Granville Harbour Wind Farm

follows the announcement earlier

this month that a similar agreement

had been reached for a $300

million, 49-turbine wind farm at

Cattle Hill in the Central Highlands.

Hobart will continue its strong

economic growth with the $550

million new Bridgewater Bridge

development to be announced before

the March State Election,

funded by Federal and State Governments.

While money has not been assigned

to various projects recently

in Federal and State budgets,

there are substantial unallocated

infrastructure funds available for

a rainy day.

Budget papers suggest the Federal

Government has more than

$10 billion available for "unexpected"

projects and the state

about $200 million depending on

the final wash up of the 2016-17

budget figures.

This also allows $200 million to

$300 million to address the third

world sewage problem in the Tamar

River and associated water supplies.

Current spending projects in

the North include the Silos Hotel

($20m), CH Smith development

($20m), health including the LGH

($55.8m), Launceston City Deal

and university relocation ($300

million) and major renovations

and expansions at Queechy High

School ($5m), Riverside Primary

($2.5m), Riverside High School

($12m) and East Launceston Primary

School ($4.5m).

North West spending includes

Continued Page 2

Let Cam take care

of the rest.

Call 0437 894 175 or email

apprenticeships@tcci.com.au

Let us help.

TCCI's Apprenticeship

Adviser will help you:

• Save you time

• Simplify the training

system

• Support you and

mentor your apprentice

• Save you money

• Access subsidies and

support services
---
2 Tasmanian Business Reporter - JULY 2017

NEWS

StLukes' unique post-natal service

First resort for mums

NEW arrivals will be given

special treatment in a

first for St.LukesHealth,

following a major shakeup

to maternity services

for private health patients.

In partnership with the

Mantra Charles Hotel,

St.LukesHealth will now

offer eligible members

a personalised postnatal

care service – new mothers

will have the opportunity

to rest and relax in a

supportive environment

at the Mantra Charles

for up to three days after

being discharged from

the Launceston General

Hospital.

In recent months,

Launceston private patients'

only option post

delivery has been staying

in private rooms at the

LGH – after the closure

of the post-natal ward at

Calvary's St Vincent's

Hospital.

New mums insured

through St.LukesHealth

will now have access to

experienced midwives,

Midwife Dianne Haworth, left, and new mum Jess Panoff with baby Seth

Trevan at the Mantra Charles.

lactation consultants

and other health professionals

at the hotel opposite

the LGH, said St.

LukesHealth Chairman

Chris Dockray.

"The new post-natal

care service includes car

transfer from the LGH ...

where the new mum will

be met by a nurse to help

e dition

T A S M A N I A' S L E A D I N G B U S I N E S S P U B L I C A T I O N . C I R C U L A T I O N 1 2 , 0 0 0 M O N T H LY

Tasmanian Business Reporter can now be delivered directly to your inbox. With our 30,000-strong monthly print

readership, our new up-to-date digital distribution will keep Tasmanians abreast of the all latest in local business

news. From this month we will distribute electronic editions of the Tasmanian Business Reporter as we go to print.

To confirm your copy sign up to our mailing list via

tbreditorial@fontpr.com.au

Tasmania's business newspaper is published monthly by the

Tasmanian Chamber of Commerce and Industry. It is distributed

to businesses in Tasmania as well as key decision-makers.

Circulation: 12,000

Managing Editor: Tom O'Meara

0418 135 822

Editor: Becher Townshend

0418 370 661

Advertising and Special Projects

Gil Sellars 0448 901 361

gil@thetrustedmediaco.com

Kerri Guardia 0419 750 267

kerri@thetrustedmediaco.com

Editorial & Advertising

TBReditorial@fontpr.com.au

www.tasmanianbusinessreporter.com.au

Publisher:

Tasmanian Chamber of Commerce and Industry

309 Liverpool St, Hobart, TAS 7000

Ph: 6236 3600 Fax: 6231 1278 admin@tcci.com.au

TFGA House, 194-196 Cimitiere St, Launceston TAS 7250

Ph: 6331 1144 laun@tcci.com.au

Production:

aldridge.media

Ph: 0431 241 775

aldridge.media@iinet.net.au

Printer: Mercury

Level 1, 2 Salamanca Square, Hobart, 7000

settle everyone into their

room," said Mr Dockray.

"Here, mum can enjoy

all the benefits of a

well-appointed hotel,

while being supported by

health professionals and

their partner, who are

encouraged to stay with

mum and baby."

St.LukesHealth Nursing

Services Manager

James Harrison said

members had already expressed

they would utilise

the service.

"These first few days

when a newborn is

brought home, particularly

if it your first child,

can be a daunting experience

for some," said Mr

Architects await

people's choice

THE work of 12 practices

have been recognised

from a record field of

28 entries in the annual

Tasmanian Architecture

Awards.

All entries are on

show at Hobart's Brooke

Street Pier until July 10

with voting under way

for the annual people's

choice prize.

Core Collective Architects

took home three

awards for their Sunnybanks

House at Middleton

on the D'Entrecasteaux

Channel, including

an award for New Houses,

Steel Architecture and

Sustainable Architecture.

Taylor and Hinds

won the pinnacle Esmond

Dorney Award for

Residential Architecture

for Cross House at

Franklin and the Edith

Emery Award for Residential

Architecture for

Longview Ave Garden

Room.

Room11 also took

home a swag of awards,

including for Residential

Architecture, Commercial

Architecture and

the new Barry McNeill

Award for Sustainable

Architecture.

Room11 director

Thomas Bailey also won

the 2017 Emerging Architect

Prize.

Other big winners include

Cumulus Studio,

who won the Sydney

Blythe Award for Educational

Architecture

Harrison.

"This service aims to

alleviate some of that

stress and ensure a happy

and healthy start for all."

Mr Harrison said the

initiative does not make

the hotel an extension of

the LGH.

"Mum and baby are

only discharged from

hospital when they're

ready and well enough

to go home, but instead

of going home, they will

spend the first few days

at the hotel, being supported

by relevant health

professionals."

Mantra Charles Hotel

general manager Paul

Seaman said the hotel

was excited to work

in partnership with

St.LukesHealth to deliver

this service to the

Launceston community.

"We will ensure the

rooms are specially prepared

with a comfortable

bed, easy chair for feeding,

all with a kitchenette

and spacious bathroom,"

he said.

for Lady Gowrie Tasmania

and Preston Lane

won for Milkman's Cottage

in the hotly contested

Small Project Architecture

category.

Infrastructure,

growth schemes

boost to North

From Page 1

$50 million for the NW

Regional Hospital and

Mersey Community Hospital,

$27m for school

developments with $10m

for Latrobe High School

and $9.1 million for Parklands,

$40 million for the

UTAS campus, $9.5m

the restart of the Mt Lyell

mine and $20 million for

the much needed revamp

of facilities at Cradle

Mountain.

In parallel with the infrastructure

growth are

the State Government's

incentive schemes, introduced

on

July 1 to

encourage

The youth

employment

strategy is an

additional

assistance

business

to employ

apprentices,

trainees

and young

people.

The major

package costing $17.1

million is now available

to about 2500 businesses

employing about half of

Tasmania's workforce.

Businesses employing

a new apprentice or trainee

will now be exempt

from paying payroll tax

for them for two years.

If the employee is aged

between 15 and 25 and

isn't a trainee or an apprentice,

the employer

will be eligible for payroll

tax for 12 months.

Businesses with a payroll

under $1.25m – that

don't pay payroll tax –

Thinking of selling or

buying a business?

Australia's largest specialist

business broker network is

now in Tasmania.

Call Dean Demeyer on

0419 382 359 for a FREE, no

obligation assessment

of your business.

www.finnbusinesssales.com.au

will be eligible for grants

of up to $4000 to employ

a trainee or apprentice.

Treasurer Peter Gutwein

said the incentives

were expected to create

up to 7000 jobs.

The youth employment

strategy is an additional

assistance and involves

support programs

such as the $4.1million

TasCOSS-TCCI project

to remove barriers limiting

job opportunities for

young people.

Workforce for Now

and the Future will also

help young people get

a driver

licence

by blending

driver

training

with education

and

training.

TCCI

Chief Executive

Michael Bailey said the

chamber had been advocating

on behalf of members

for payroll tax relief

from the government.

"The approach by the

State Government is

unique when you consider

the Tasmanian economic

environment,'' he

said.

"Normally such relief

is introduced during

tough economic times.

"The government is

introducing incentives

during an economic and

employment growth period."
---
TASMANIA'S LEADING BUSINESS PUBLICATION. CIRCULATION 17,000 MONTHLY

Tasmanian Business Reporter - JULY 2017 3

NEWS

Bold vision for Point

KEY stakeholders, including

the Tasmanian

business, tourism and

creative sectors, have

been briefed by the Macquarie

Point Development

Corporation on the

bold new vision for the

site.

Over two-weeks Interim

CEO Mary Massina

held 10 briefings

with groups that included

members of the property

industry, tenants and

neighbours, consultants

and contractors, utilities,

Antarctic and science

sectors, arts and culture,

media and members of

parliament.

The focus of the briefings

was to update stakeholders

on amendments

to the Sullivans Cove

Planning Scheme to support

development of the

Macquarie Point site under

the reset.

The discussion concentrated

on the new

masterplan (the 2017-

2030 Reset Masterplan)

and the planning scheme

amendments the corporation

has created since

the State Government reset

the vision for the site

in December last year in

alignment with MONA's

plans.

Amendments to the

planning scheme must be

Wind helps turn around state's energy sector

IN stark contrast to last

year's costly energy crisis,

Tasmania was in

an excellent position to

manage energy requirements

into the future, Energy

Minister Matthew

Groom told the Committee

for the Economic Development

of Australia.

Mr Groom delivered

the keynote speech at last

month's CEDA conference

in Hobart, outlining

approved via the public

exhibition and hearing

processes of the Hobart

City Council and the Tasmanian

Planning Commission.

The former masterplan

was very prescriptive

about where and what

buildings and developments

were going to be.

As the nature of the site

has changed from commercial

and residential

to civic and institutional

the new masterplan sets

out use zones. There are

three zones –open space

(which accounts for

more than 50 per cent

of the site), arts and institutional

(such as research

and development

centres, educational facilities,

art and cultural

spaces), and mixed use

(such as hotels, retail, cafes

and restaurants, museums

and art galleries,

and office space).

Permitted height limits

under the new masterplan

are slightly more

conservative than the

former plan, to preserve

sight lines to and from

the site.

The corporation expects

the amendments to

be through the planning

process by April, 2018

and will put a floor under

investment certainty.

the measures the state

had taken to protect Tasmanians

from the high

wholesale prices being

experienced nationally.

"We have acted decisively

to intervene and

cap power price increases

for regulated customers,

which will result in

a saving of around $300

for the average Tasmanian

household," he said.

So in Tasmania, while

regulated prices will increase

by around two per

cent from July 1, mainland

customers in the

ACT, SA and NSW will

experience price increases

of about 16 to 20 per

cent.

"This is an important

outcome in mitigating

cost of living pressures

for Tasmanians."

Just a month after the

Federal Government

...the new cycleway

will allow Hobartians

to use a site that was

previously locked up

announced studies into

Tasmania's future as

the "battery" to power

the nation with new

pumped Hydro projects,

Mr Groom said the government

was committed

to seeing the state cement

its reputation as

the country's renewable

energy powerhouse.

"We recently announced

the $300 million

Wild Cattle Hill

wind farm that will add

nearly 50 per cent to the

existing wind generation

in Tasmania.

Further wind projects

such as the Granville

Harbour proposal

are currently being progressed.

Aurora Energy and

Goldwind have reached

an in-principle agreement

for the 49-turbine

wind farm in the Central

Macquarie Point Development Corporation Interim

CEO Mary Massina, left, Site Management

Officer Christoph Speers and Project Manager,

Planning and Procurement, Kim Perkins.

Also discussed during

the briefings was the

proposal for the River

to Cove Cycleway to

improve linkages to and

through the site.

In conjunction with the

Hobart City Council, the

corporation is proposing

an extension to the existing

Intercity Cycleway,

joining up where it now

ends on the Domain and

traversing Macquarie Pt.

The new cycleway will

allow Hobartians to use a

site, that was previously

locked up due to its industrial

history, through

cycling and walking and

Highlands, with work

expected to start as early

as September. The

government expects the

wind farm to be complete

by 2020 and would

generate 144 MW –

enough to power more

than 60,000 homes.

Hydro Tasmania

has announced it has

reached in-principle

agreement with Westcoast

Wind Pty Ltd in

for the first time it integrates

Macquarie Pt into

the link from Glenorchy

to Salamanca safely.

Other items raised included

retaining the rail

corridor and working

with TasWater on noise

and odour modelling for

the treatment plant.

relation to a power purchase

agreement for the

$280 million Granville

Harbour Wind Farm on

the West Coast.

The development has

all of the required development

approvals

and will consist of 33

turbines providing 112

megawatts of capacity

- enough to generate

enough power for more

than 40,000 homes.

WE'LL BEAT ANY QUOTE *

& creative

Call Richard 0427 337 118

richard@devdesign.com.au

With over 20 years

experience in marketing,

advertising and graphic

design, Dev Design provide

high quality design at a rate

that won't break the bank!

• Logo creation, branding

and corporate identity

• Magazines, catalogues

and corporate reports

• Website design

and development

• Social media and

digital graphics

...big or small, we design it all!

• QUALITY DESIGN

• FRIENDLY SERVICE

• AFFORDABLE RATES

• FAST TURNAROUND

devdesign.com.au

* Written quotes supplied by registered design companies

or similar obtained in 2017

WANTED

Business

movers and

shakers

• Promotions

• Appointments

• Awards

• Celebrating

success

Share the news

with the

Tasmanian

business

community

Send your news

snippets, with a

high quality photo,

to TBReditorial@

fontpr.com.au

SOLUTIONS

IN PRINT

your print specialist for over 90 years

6391 8481

www.woolstonprinting.com.au

Full Off-Set,

Digital and

Wide Format

Capabilities

Binding and

Finishing

Variable Data

and Mailing

sales@paperstat.com.au

Warehousing

and Distribution

Online Ordering

and Inventory

Management

WP - Advert Mar17.indd 3

4/04/2017 1:15:49 PM
---
4 Tasmanian Business Reporter - JULY 2017

THOUGHT LEADERSHIP

Time for health leadership

Michael

Bailey

TCCI Chief Executive

WE all need to take responsibility

for our own

actions.

As children, most of us

are taught that there are

consequences from bad

decisions and rewards

for positive behaviour.

It seems as a society

we have forgotten these

basic principles when it

comes to health.

You need only look

at the recently-released

report reviewing Ambulance

Tasmania's operational

services to realise

there is a real issue within

the community.

Tasmanians actually

rang our over-stretched

paramedic service for

trivial matters including

itchy eyes and a bleeding

finger, 140 people called

Triple Zero for their sore

throats and colds while

one person even had the

audacity to ring because

they wanted help with

their dog.

If some of the revelations

weren't so serious

you would be forgiven

for having a chuckle.

When you add in statistics

about Tasmania

having the second highest

rate of smoking in the

country and significant

obesity rates – it's easy

to see why our health

system is under increasing

pressure.

Something has to be

done.

The State Government

is spending significant

amounts on health over

the forward estimates.

The centrepiece for its

'17/18 Budget was an

additional $650 million

for health over the next

four years, with 106 extra

beds, more doctors,

nurses and health professionals,

while medical

facilities will be upgraded

in Kingston, Hobart,

The RHH redevelopment is part of the Government's commitment to

health but more needs to be done to promote a healthy lifestyle.

Glenorchy, St Helens

and Latrobe.

In addition, we'll see a

second rescue helicopter

in the skies, while child

support funding will see

a $27.5 million increase

and NDIS commitments

will total some $270 million.

But, real, lasting preventative

health measures

are needed – currently

we invest just

1.8% of our total health

spend on preventative

health. The globally recognised

figure is 5% of

total health budget.

This has to change.

We must redirect some

of our huge health budget

(over $7 billion in

the forward estimates)

to keeping Tasmanians

healthier for longer.

Don't get me wrong, I

understand the need for

acute care, but we have

a preoccupation in this

state with hospitals rather

than health.

www.tcci.com.au

nated focus or serious

investment in trying to

improve the health and

wellbeing of Tasmanians.

We need strategic

programs supporting

the wellness of communities

across the

state.

We also need to quit

the peculiar Tasmanian

belief that every region

must have a hospital –

let alone a hospital that

mirrors the Royal Hobart.

With a new air ambulance

helicopter,

does St Helens really

need a new hospital?

And can we afford to

staff it into the future?

The onus needs to

be put back on the patient

to improve their

situations where possible

before they require

hospital treatment.

There are many businesses

out there who

assist staff on their

health journey and that

is to be celebrated and

possibly rewarded.

The more leadership

we can take in this

space the better our

state will be.

World's

best

business

leaders

to meet

It's much sexier for

the media to focus on the

"poor old lady desperately

needing surgery" rather

than look at the range

of preventable illnesses

that put her there in the

first place.

While it may not be

palatable to some, the

reality is that the vast

majority of people in

Tasmanian hospitals

are there with preventable

illnesses.

There is no coordi-

TASMANIAN business

leaders are being

encouraged to join

world-renowned experts

at the 10th World Chambers

Congress in Sydney

this September.

The Tasmanian Chamber

of Commerce and

Industry is a partner of

the biennial congress

that will host more than

1000 chamber leaders,

many with trade delegations.

The TCCI says business

leaders can tap into

unique global trade, investment

and business

opportunities and learn

from internationally renowned

speakers and

experts and gain insight

into emerging trends.

A full program is

available via www.

worldchambers

congress.org

The event will be held

from September 19 to

21, 2017 at the International

Convention

Centre.

Getting behind and backing small business

All your business

needs in one place

At Business Tasmania, our mission is to help you start, run and

grow a small business in the state.

Our service is easy to access, free and confidential. We provide:

• free business advice through Enterprise Centres Tasmania and

personal development opportunities through a range of initiatives,

such as Mentoring for Businesses in Growth

• the latest news about workshops, events and initiatives

to help you and your business grow

• a range of tools, tips and information about running a small

business in Tasmania

• referrals to other relevant support services or government

agencies.

Do you have a question? Email us anytime at ask@business.tas.gov.au

Or call us on 1800 440 026 or contact us

via Facebook @BusinessTasmania or Twitter @businesstas

Department of State Growth
---
THOUGHT LEADERSHIP

Structural

safety by

design

By CRAIG HORTLE

SAFE design means the integration of control

measures early in the design process to eliminate

or, if this is not reasonable practicable, minimise

risks to health and safety throughout the

life of the structure being designed.

Safe design needs to be considered for the

construction, demolition and use of a workplace

or commercial building and the construction and

demolition of a residential building.

The safe design of a structure will always be

part of a wider set of design objectives, including

practicability, aesthetics, cost and functionality.

These sometimes competing objectives need

to be balanced in a manner that does not compromise

the health and safety of those who work

on or use the structure over its life.

Safe design begins at the concept development

phase of a structure when making decisions

about:

• the design and its intended purpose;

• materials to be used;

• possible methods of construction, maintenance,

operation, demolition or dismantling and

disposal;

• what legislation, codes of practice and standards

need to be considered and complied with.

A person conducting a business or undertaking

has the primary duty under the WHS Act to

ensure, so far as is reasonably practicable, that

workers and other persons are not exposed to

health and safety risks arising from the business

or undertaking.

A person conducting a business or undertaking

that designs a structure that will be used, or

could reasonably be expected to be used, as a

workplace must ensure, so far as is reasonably

practicable, that the structure is without risks to

health and safety. This duty includes carrying

out testing and analysis and providing specific

information about the structure.

A person conducting a business or undertaking

who commissions a design or construction

work or a construction project is referred to in

this Code as the "client".

The principal contractor has duties to ensure

the construction work is planned and managed

in a way that eliminates or minimises health and

safety risks so far as is reasonably practicable.

Further guidance on managing risks for construction

projects and principal contractor duties

is available in the Code of Practice: Construction

Work.

For information more please contact Craig

Hortle or Janelle Whitehouse at the TCCI

on 1300 559 122 or safety@TCCI.com.au

Tasmanian Business Reporter - JULY 2017 5

www.tcci.com.au

Island appeals as world turns faster

Ridicule turns to envy

Brett

Charlton

Agility Logistics

TASMANIA is in an enviable

position.

Couple our amazing

products (from amazing

producers) with our lack

of traffic, clean air and

pristine wilderness and

compare it to the congestion,

strain on infrastructure

and tainted air and

you quickly understand

that Tasmania is paradise

and the envy is justified.

I have just returned

from a journey of some

10,000 kms after competing

in the Sh*tbox

Rally cancer research

fundraiser.

The rally was from

Adelaide to Cairns via

Roxby Downs, Alice

Springs, Burke and Wills

and ending in Cairns.

After completing the

rally I took two weeks to

meander down the East

Coast of Australia and

found Tasmania, once

ridiculed, is very much

looked upon with envy.

We have come off the

back of a successful first

half of 2017 from my

point of view.

A lot of exporters

and importers have increased

their volumes

(from an Agility Logistics

point of view).

Some have taken advantage

of the TFES

export rebates for the

domestic aspect of the

Bass Strait component

and while the figures

look low in the statistical

reporting (returns

for TFES), the confidence

in exporters in

investing in new equipment

or property or exploring

new markets

and even value adding

to their product is encouraging.

Sally

Chandler

Tradestart Adviser

One of the unknowns facing Tasmanian shipping is whether DP World

continue with their planned expansion and introduction of a direct

Asia-calling vessel in Burnie later in the year.

Importers of raw materials

that go into various

industries in Tasmania

have confidence and

volumes have increased

here as well – indicating

that output of these industries

is up.

The competition in

shipping circles is interesting

with some trade

lanes being competitively

chased by the lines

but also coupled with

space restrictions and

equipment challenges

(especially with the

grain exports from the

eastern seaboard in the

early months of 2017).

Some areas on the radar

for the second part

of 2017 are:

• Will all the shipping

lines currently servicing

Tasmania still retain

their services (especially

now the reefer season

has ended)?

• Will DP World continue

with their planned

expansion and introduction

of a direct Asia-calling

vessel in Burnie later

in the year?

• Will a suitable solution

for King Island

present itself soon?

Watch this space.

Export experts to be rewarded

APPLICATIONS are

now open for the prestigious

Australian Export

Awards.

In their 55th year, the

awards honour and reward

our hard-working,

risk-taking exporters

who employ so many

people around Tasmania,

Australia and the world.

The Australian Export

Awards are open to

companies engaged in

international business

who have achieved sustainable

growth through

innovation and commitment.

The awards measure

businesses against

their peers based on the

strength of their international

growth, marketing

and financial strategies.

The two-tier awards

process commences with

the Tasmanian Export

Awards administered

every year by Fransina

Kennedy at the Department

of State Growth.

The categories are

Agribusiness, Business

Services, Creative Industries,

Digital Technologies,

E-commerce,

Education and Training,

Environmental Solutions,

Health and Biotechnology,

Manufacturing,

Minerals Energy

and Related Services,

Regional Exporter, and,

Small Business.

The overall Tasmanian

Exporter of the Year will

be selected from the winners

of these categories.

Exporters can enter

more than one category

to maximise their chance

of success, but can only

win one category.

I strongly encourage

exporters to enter the

awards.

The closing date is

August 15 and applications

are online at www.

exportaward.com.au/tas/

newentry/index.php.

The awards ceremony

will be held in Hobart on

October 13.

Award winners then go

on to be category finalists

in the Australian Export

Awards which will be

held on December 5.

Each national finalist

receives an Australian

Export Awards National

Finalist Certificate

and can use the national

Australian Export Award

Finalist logo for their

corporate marketing material.

National category

winners receive an Australian

Export Awards

National Winner trophy

and Certificate and are

entitled to use the national

Australian Export

Awards Winner logo for

their corporate marketing

material.

They also have the opportunity

to win the ultimate

award – The Australian

Exporter of the

Year.

For international trade

and investment assistance

contact the

TCCI's TradeStart Adviser,

Sally Chandler,

at sally.chandler@tcci.

com.au or

phone 1300 559 122.
---
6 Tasmanian Business Reporter - JULY 2017

THOUGHT LEADERSHIP

Spice up the workplace

to stay healthy in winter

By PENNI LAMPREY

Director Happy

Healthy Staff

THESE rapidly cooling nights

and frost covered cars briskly

reinforce that winter has set

in and as an organisation, it's

time to consider winter strategies

to support your workplace

health and wellbeing.

The cold and flu season can

begin as early as March and

usually ends sometime in October

or November.

The currently available

flu shot is to fight the four

flu strains expected this winter.

Four – because one isn't

enough.

These vicious strains can

strike people down for days if

not weeks on end, and if your

staff do manage to make it to

work, what condition are they

in?

Perhaps flat, lethargic, contagious?

You may be familiar with

the term absenteeism: "not at

work – not working", however

a more alarming "teeism"

is emerging within the workplace

- presenteeism: "at work

– not working" (or "I'm not

at home in recovery mode but

here when I really shouldn't

Enjoy the therapeutic benefits of an infusion made from fresh spices.

be"). Both absenteeism and

presenteeism present huge

issues and costs to your business,

with estimates suggesting

one fifth of employee

work time is not generating an

outcome for the organisation.

If either "teeism" is because

of sickness, just like dominoes,

others around start falling

as the business costs rise.

The best way to address illness

is head-on with the therapeutic

power of spices.

It is largely anecdotal, but

the health benefits of spices

have a strong tradition in

complimentary medicine and

are well worth enjoying on a

cold winters day to help alleviate

winter lurgies – or at the

very least relieve some of the

symptoms.

Having a constant spice

supply on hand in the cooler

months to prepare for you

and staff will help when ill by

decreasing nausea and diarrhoea,

and can also ward off

dehydration which could possibly

mask any physical improvement.

I would encourage you to

grab the collection of spices

today and then train your entire

workforce in the preparation

of this soothing elixir.

For each person pop one to

two teaspoons each of coriander

seed, fenugreek and fennel

seed, one cinnamon quill,

two star anise, some fresh

ginger and lemon slices with

a dash of honey into a tea pot

or infuser and steep in boiling

water – simply topping up

with fresh water throughout

the day.

The communal nature of

sharing a pot of "tea" will see

communication, wellbeing

and self care flourish in your

work place and is just one

way to encourage your staff

to engage in their health and

wellbeing.

And while these attributes

are important, so is keeping

the germs away

Apart from a healthy fresh

diet and hydration, two other

very important things you

can do to assist your body in

the assault which a virus can

present, is to wash your hands

and manage stress.

Remember, if you are sick,

stay home so you don't infect

others.

www.tcci.com.au

Competition in

industrial sector

By IAN REED and DAVID WEBSTER

of Knight Frank

OVER the last six years,

the long established traditional

industrial areas

in the northern suburbs

of Hobart, including Glenorchy

and Derwent Park,

have experienced competition

from the two emerging

industrial areas of the

Brighton/ Bridgewater

corridor, which includes

the Hobart road and rail

transport hub, and the second

area adjacent to Hobart

Airport at Cambridge.

Broad acres

Both these new areas

feature broad acres being

converted to new industrial

showrooms, workshops,

warehousing, and

subdivisions of varying

sizes.

In the more recently

developing industrial

precincts of Hobart, the

market indicates soft demand

for the Brighton

and Bridgewater industrial

areas, while the Cambridge

industrial precinct

is showing good levels

of demand predominantly

from owner-occupiers

seeking to locate to the

area given its geographically

convenient location

and good links to transport

and highways.

Activity in the Launceston

industrial market

remains soft, reflecting

minimal development and

growth in this sector.

The traditional industrial

locations of Invermay,

Inveresk, Mowbray, and

Rocherlea are now facing

competition from industrial

subdivision developments

in the southern

regions of greater Launceston

such as Translink

Industrial Estate, nearby

Launceston Airport, and

Connector Park at Kings

Meadows. Translink Industrial

Estate is the base

for several substantial

operations including the

distribution centre for

Statewide Independent

Wholesalers, Tasmania's

largest industrial building

under one roof with improvements

in excess of

40,000sqm.

Connector Park

Developments at Connector

Park feature more

customer interface operators

such as Bunnings,

Laminex, and Webster

Trucks service centre.

The industrial investment

sector of the Tasmanian

real estate market

has been generally strong,

however with limited activity

and transactions

recorded of major investment

assets.

Compression

In both the north and

south of the state, overall

yield compression has occurred

in line with national

markets for high quality

assets with strong lease

covenants.

The industrial sector is

typically the last sector to

move in the cycle following

economic growth.

On the back of improving

economic drivers, this

sector is anticipated to

strengthen.

BUSINESS

2

BUSINESS

YOUR QUICK GUIDE TO SERVICES AND PRODUCTS FOR YOUR BUSINESS

SPECIALISTS IN OFFICE

FURNITURE SINCE 2001

At Flair Office Furniture, we've specialised in

keeping Tasmania's Businesses well stocked in

office furniture since 2001.

FOR SALE OR FOR HIRE - THROUGHOUT TASMANIA

Phone 6234 1127

260 Argyle Street,

North Hobart

www.flairofficefurniture.com.au

Printing Technology

and Tradition.

Here's just some of the things we do regularly...

• Books • Magazines • Newsletters • Catalogues • Annual Reports • Business Cards • Letterheads

• Posters • Flyers • Corporate Branding • Logo Design • Packaging • Wine Labels • Stickers

• Swing Tags • Mail-Outs • Folders • Forms & Invoices • Variable Data Printing • Copywriting

• Language Translation • Web Design • Proof Reading • Large Format Signage & Display

Whatever your needs, get in touch. We're here to help.

p. 03 6332 1400

www.footandplaysted.com.au

99-109 charles street launceston tasmania 7250

To see your business here, call Kerri on 0419 750 267 or email kerri@thetrustedmediaco.com
---
Tasmanian Business Reporter - JULY 2017 7

THOUGHT LEADERSHIP

Forums show off

business service

LABOR

RECENT reports tell us

there is strong growth

and confidence in the

Tasmanian small business

sector.

But we also know this

confidence isn't being

felt the same way everywhere

and will not

spread unless we keep

providing the conditions

and support that respond

to business needs.

There is more work to

do.

That's why, despite

positive trends in retail,

investment and employment,

the Hodgman Government

has continued

to target business in the

State Budget with a $25

million package including

support for businesses

of all sizes to employ

apprentices and trainees.

This new investment

will complement existing

support programs

and services available to

start-up and established

business across the state

under the banner of Business

Tasmania.

In the week of July

10-14 the Department

of State Growth's Small

Business Roadshow will

visit seven locations

around Tasmania, showcasing

the tools and services

available to support

small business, new

budget initiatives and the

findings of research undertaken

to inform the

future direction of business

support programs.

If you need assistance

with your small business,

have a look at the Business

Tasmania website or

contact your local Enterprise

Centre.

I encourage all business

to participate in

their local forum. They

are a great opportunity to

network with other businesses

and learn about

I encourage all business

to participate in their

local forum.

the services Business

Tasmania offers, including

how to access business

advisors and mentors.

The small business

forums will be held at

St. Helens and Burnie

on Monday, July 10;

Devonport and Launceston

on July 11; Huonville

on July 12; Sorell on July

13, and Hobart on July

14.

Check times and venues

on the Business

Tasmania website and

register via www.business.tas.gov.au

Award support for an

innovative flying start

responded to

this year's State Budget

by presenting a serious

alternative vision for

Tasmania.

Our Economic Direction

Statement clearly

sets out our priorities and

how we will pay for them

from the first year of a

majority Labor Government.

It acknowledges the

positive parts of the Liberal

Government's budget

and addresses the

gaps.

W e

make no

apologies

for

making

health our

number

one priority

and

we have

demonstrated

that commitment

with $88 million

on top of the funding

already allocated in the

Budget.

But it's not just health

where we think the current

government could

be doing a lot more.

Labor would properly

invest in public infrastructure

and take

on projects the Liberals

have failed to address.

Water and sewerage is

a prime example. While

the Treasurer picks a

fight with TasWater,

three significant projects

are not even on the Gov-

www.tcci.com.au

Labor's alternative

economic direction

ernment's radar.

Labor would move the

treatment plant at Macquarie

Point to allow the

development to proceed,

address the water and

sewerage problems at

Cameron Bay for MONA

stage two and fix Launceston's

archaic storm

water system.

The completion of

these three projects will

unlock enormous economic

opportunities.

Rather than waiting,

we are prepared to partner

with superannuation

funds to get the work

started immediately.

Labor will also invest

in make-ready works

along the Hobart rail corridor

in preparation for

future passenger rail.

As part of this we will

address zoning requirements

to allow for medium

density residential

development.

The infrastructure investment

in our Economic

Direction Statement

also focuses on education,

tourism and renewable

energy.

Building six new child

and family centres across

Tasmania will improve

education and health

outcomes while creating

jobs in the construction

phase.

Labor is backing-in the

Tourism Industry Council's

$41 million Future

Proofing Our Icons report.

We are committed to

projects like the Richmond

Village Streetscape,

the Three Capes

Track and upgrading infrastructure

on Maria

Island.

We are

prepared

to be innovative

and

invest in

new energy

storage

technologies

and

alternative

fuel transport.

We also recognise the

need for Budget constraint

and have identified

a number of savings

measures to offset our investments.

We have proposed diverting

money allocated

for abolishing suspended

sentences to employ

much needed child protection

workers.

The end result are

modest projected surpluses

over the forward

estimates and increased

investment in essential

services.

WANTED: TASMANIA'S

BEST INNOVATORS &

INNOVATIONS

YOU ARE INVITED TO NOMINATE FOR...

Van Diemen Project co-owners Chris Davis, Dermott McElduff and Adam Mostogl.

THE 2016 Innovative

Start Up Award was

awarded to the Van Diemen

Project, an accelerator

empowering Tasmanian

entrepreneurs to do

great things globally.

When they received

this award, their business

was only one month

old and since then it has

grown and progressed

rapidly.

As deliverers of the

Entrepreneurship Fa-

cilitators Program, an

Australian Government

Initiative, and the Enterprise

Centres Tasmania

program for Launceston

and North-East Tasmania,

Van Diemen Project has

already helped over 200

clients to start or grow

their own businesses.

In July, they will launch

Tasmania's first business

incubator, Emerge, which

will be specifically targeted

at 18 to 24-year-olds

with an innovative start

up idea.

Result? Their first financial

year sales more

than $500,000 from a

zero start.

Co-founders Adam

Mostogl and Chris Davis

said the annual Innovative

Tasmania Awards

were a great opportunity.

"Receiving this award

had many benefits to our

growing business, but

mostly it reinforced that

what we are doing matters,'

Mr Mostogl said.

"It illustrated that the

Tasmanian community

was behind us.

"We'd encourage anyone

who is an innovator

or has a great innovation

to enter the awards," Mr

Mostogl said.

Nominations for the

Innovative Tasmania

Awards are open until

July 23. Entry is free.

• Innovator of the Year, presented by Eaglecrest Technologies

• Young Innovator of the Year, presented by University Of Tasmania

• Innovative Start-Up Award, presented by Startup Tasmania and TasICT

• Innovative Product Award, presented by Dept Industry, Innovation and Science

• Innovative Service Award, presented by Tasmanian Broadcasters

• Innovative Process Award, presented by Bell Bay Aluminium

• Innovative Region Award,presented by TCCI

• Innovative Community Award, presented by Anglicare Tasmania

• Innovative Learning Award, presented by University of Tasmania

• Innovative Government Award, presented by Dept of State Growth.

WIN a professionally produced video vignette

that will be screened on SCTV news plus a trophy,

certificate and laurels.

ENTRY IS SHORT,

SIMPLE AND FREE.

visit

bofa.com.au
---
8 Tasmanian Business Reporter - JULY 2017

NEWS

Building for the future

Sustainability

earns six stars

THE Sustainability

Learning Centre at Mt

Nelson, pictured, has officially

become Tasmania's

first 6 Green Star

commercial building.

The learning centre,

situated in 65 hectares

of threatened

bushland adjacent

to prominent

reserves

near the Hobart

College,

was jointly developed

by the

State Government,

Greening

Australia,

Catholic Education

Office

and Independent

Schools

Tasmania.

Greening Australia's,

Brendan Foran said

achieving the 6 Green

Star energy rating acknowledged

and celebrated

moving toward

more sustainable ways of

working and the way we

conduct our education,

community and business

activities.

"The receipt of a Six

Green Star energy rating

for this facility recognises

not only the design,

construction and materials

used, but more importantly

our approach to

sustainability generally,

and the actions and behaviours

we undertake

on a daily basis.

"This building generates

so much electricity

it is revenue positive,

it provides a case study

into how commercial

buildings can enhance a

business's bottom line.

"The building includes

active and passive solar

technology, low carbon

footings and extensive

use of recycled materials.

"At Greening Australia

we are passionate

about addressing some

of the world's

most pressing

sustainability

problems, from

taking action

to halt loss of

biodiversity

and reducing

the impacts of

climate change,

to better equipping

young

people and the

community

to meet these

challenges through our

education and community

engagement programs."

Mr Foran said.

Greening Australia invested

more than half a

million dollars toward s

the centre's construction,

much of which was generously

given by private

donations.

Anytime right to work out

WHEN Hobart's newest

fitness centre opened

in the CBD on June 3,

Speaker of the House of

Assembly Elise Archer

stepped up to cut the

ribbon.

Anytime Fitness

Hobart is the fourth of

the brand to open in the

state.

"This is a locally-owned

and operated

business in the heart

of my electorate and I

wish co-owners Shea

Siddall and local cricket

star Ben Hilfenhaus all

the very best with their

new venture," said Ms

Archer.

Anytime Fitness Club

members can train anytime

in any of the clubs

around the world.

Anytime Fitness

first opened in the US

in 2002 and now has

3,300 clubs worldwide.

Hobart is the 450th

club to open in Australia

with over 500,000

members nationwide,

the largest fitness chain

the nation.

"As an Anytime

Fitness franchisee

since 2009, the next

logical place to open a

club was in the Hobart

CBD," said co-owner

Shea Siddall. "It took

Speaker Elise Archer opens Anytime Fitness Hobart CBD with partners

Ben Hilfenhaus, left, and Shea Sidall.

nearly two years to find

the best location that

was the most accessible.

"Although we are

part of a worldwide

franchise, each club

is locally owned and

operated which allows

us to better serve our

members and the freedom

to adapt to the

local market."

Anytime Fitness Hobart

has invested more

than $1 million into

the local economy and

will create at least 10

new jobs for Tasmanians.

"Our Hobart club

has been well received

and we are already in

the planning stages of

more clubs across Tasmania,"

Mr Shea said.

Ms Archer said the

state had recorded

an unprecedented 30

consecutive months of

retail trade growth.

"This is great news

for the Tasmanian

economy, which has

seen renewed business

and consumer confidence

under the State

Government– rated the

best State Government

in Australia in terms of

its policies that support

small business," Ms

Archer said.

ABS figures showed

the nominal value of

retail trade in Tasmania

was estimated to be

$510.6 million in trend

terms for April, up 2.4

per cent compared to

the same time last year

and up 11.1 per cent

since the Government

was elected.

Are you paying the

Medicare Levy

Surcharge?

If you are, take out private hospital cover

today and take control of your health care!

St.LukesHealth have a number of different hospital and

packaged cover options for you.

Contact us today to join, switch, or have a cover comparison.

We can also come to you, just ask us how. It's Easy!

stlukes.com.au 1300 651 988 St.LukesHealth

† The Medicare Levy Surcharge is levied on Australian taxpayers who earn above the income tiers and do not hold an appropriate level of private hospital insurance. Other conditions may apply. See website for details.

* #1 Roy Morgan Customer Satisfaction Awards: Private Health Insurer of the Year - 2016. St.LukesHealth ABN 81 009 479 618

170401
---
Tasmanian Business Reporter - JULY 2017 9

Waterfront boasts new

'multi-story' luxury hotel

FIFTEEN

NEWS

Awards

a nod

to best

bosses

HOBART's newest hotel, the $45

million MACq 01, has opened its

doors as Australia's first storytelling

hotel, sharing the tales of Tasmanian

characters, past and present.

Each of the hotel's 114 rooms represent

distinct characters of the Tasmania

spirit and remarkable Tasmanians

who have influenced the state

– from the fighting believers and the

hearty and resilient, to the colourful

and quirky, curious and creative and

grounded yet exceptional.

To delve deeper into the tale,

MACq 01 Hotel's Master Storyteller

and team of full-time storytellers

take guests on an engaging journey

at every touchpoint through the

hotel, connecting them with various

design elements and incredible

display of historical artefacts that

punctuate the hallways and common

areas. The MACq 01 storytellers also

take guests on a journey throughout

Hobart's waterfront, discovering the

dark secrets and triumphant tales of

Sullivan's Cove, Salamanca Place

and beyond.

The ground floor of MACq 01 is

home to The Story Bar, Old Wharf

Restaurant and an atmospheric

Lounge. The Story Bar is inspired by

the egalitarian nature of Tasmanian

society where class divisions are

less obvious and offers a drinks list

ranging from local draught beer to

the very best of wine and spirits. Old

Wharf Restaurant draws inspiration

from the island's early industries of

farming and fishing with an open

kitchen serving local seafood and

seasonal produce.

The Lounge showcases extraordinary

indigenous artefacts celebrating

the rich story of Tasmania's first

people.

It's the latest development from

Federal Group following the successful

world-renowned Saffire at

Freycinet and rooms start at $305 per

night.

Tasmanian

organisations have been

recognised at the 10th

annual Employers of

Choice gala event in Hobart.

The awards recognise

organisations that

demonstrate contemporary

workplace practices

and outstanding support

for their staff.

Over the decade, 84

winners from across

the state have been recognised,

which collectively

employ about

15,000 Tasmanians.

Award winners demonstrate

a commitment to

supporting work-life balance,

employee engagement,

communication,

leadership and continuous

improvement.

The winning organisations

and new Employers

of Choice awardees are:

• Access Solutions

Tasmania Pty Ltd

• Aurora Energy Pty

Ltd

• Blundstone Australia

Pty Ltd

• Bridgepro Engineering

Pty Ltd

• Community Based

Support Inc

• Grant Chugg Plumbing

Pty Ltd

• Hobart Airport Pty

Ltd

• Lady Gowrie Tasmania

Inc

• Learning Partners

Pty Ltd

• Network Gaming

• Onroad Offroad

Training

• Prospect Medical

Centre

• The District Nurses

• The Salvation Army

Bridge Program

• Total Eyecare Optometrists

Ageing innovation in the right spirit

SANDY Bay resident

John Hyslop has taken

out first place for his

innovative business idea,

Deviant Distillery, after

pitching against four

other Tasmanian finalists

at the Australia Post

Regional Pitchfest state

final in Launceston.

An innovative new

technology that produces

a product identical to

a 10-year-old whiskey

in just 10 weeks, Mr

Hyslop was awarded the

$5,000 first prize and the

opportunity to represent

Tasmania in August at

the national final gala

event in Wagga Wagga.

"This has been such

John Hyslop of

Deviant

Distillery

accepts his

Regional

Pitchfest

award from

Brinsley Saw,

Australia Post

Innovation

Associate and

Pitchfest judge.

an incredible opportunity

to make great new

contacts, gain practical

experience and build

momentum to keep my

business moving forward,"

Mr Hyslop said.

Launceston's Bronwyn

Kidd, with her business

Sustomi, an innovative

resuable storage

solution using Beeswax,

finished second and was

voted as the winner of

the Community Choice

Award.

Rebecca Burrows,

Australia Post's General

Manager Small Business,

said the calibre of

entries was exceptional

and great examples of

how regional entrepreneurs

are making the

most of eCommerce

opportunities.

"All five business

pitches were innovative,

forward-thinking

and demonstrated

commercial potential

to meet a real need

in their respective

markets," said Ms

Burrows.

"John's pitch was inspired

and a wonderful

reflection of what people

from regional areas

can accomplish when

given the opportunity.

"I think we've attracted

some outstanding

examples of regional

innovation, and I

can't wait to see all of

our winners pitch their

ideas at the national

final in August."
---
10 Tasmanian Business Reporter - JULY 2017

APPOINTMENTS and ANNOUNCEMENTS

E-magination

with no limits

ARTAS National Director Scott Curran and Launceston Mayor Albert

van Zetten switching on the Blue Ocean Gigabit on the NBN

connection - just one new internet initiative launched recently.

THE second phase of Tasmania's

LoRaWAN wireless internet pilot in

Launceston has been launched.

The LoRaWAN network enables

computer sensors embedded in everyday

objects to interact with each

other via the internet.

The internet platform is known as

the "Internet of Things" (IoT) as its

usage is limited only by imagination.

"It is a sign of the Government's

commitment to innovation that

Launceston has the first city wide Internet

of Things LoRaWAN network

in Australia," Technology Minister

Michael Ferguson said.

"The project is covering about 40

per cent of Launceston at the moment

and is using single channel

LoRa network base stations."

Phase two of the LoRaWAN pilot

project will involve upgrading the

network using gateways manufactured

by local company, Definium

Technologies.

Over the coming two months new

sites will go live increasing the footprint

of the network and increasing

accessibility.

"The expansion of the network

will provide more opportunities for

local businesses and start-ups to take

up the technology to enhance efficiency,

and improve business processes,

transportation monitoring,

inventory control, and healthcare to

name a few," Mr Ferguson said.

Meanwhile, architecture firm AR-

TAS switched on the Blue Ocean

Gigabit on the NBN connection at

its EXAhouse office – meaning the

city is now part of an elite group of

global cities known as a Gigacity.

ARTAS is the first company in

Australia to use the high-speed connection,

provided by launtel.

The technology speeds up the

transmission of big files.

"One small step for the ARTAS

Group, one giant step for Launceston,"

ARTAS national director Scott

Curran said.

APPOINTMENTS

St.Lukes replaces

long-serving CEO

PAUL Lupo has replaced Chris Williams

as Chief Executive Officer of

St.LukesHealth.

Chairman Chris Dockray paid

tribute to Mr Williams who has

worked for the organisation for 40

years, of which four were as CEO,

and announced last year he would

retire once a suitable replacement

had been found for his position.

"The Board and I give thanks to

Chris Williams for his 40 years of

service," Mr Dockray said.

"During his time as CEO,

Mr Williams cemented

St.LukesHealth's reputation as an

award-winning

organisation

for customer

satisfaction and

innovation and

we wish him

all the best for

his retirement,"

Mr Dockray

said.

Mr Lupo,

pictured right,

has an extensive background in

Tasmanian business, having worked

with leading accounting firm

KPMG for 12 years before taking

roles as CEO with Petuna Seafood

Group and Houston's Farm.

Mr Dockray said Mr Lupo

brought a great depth of skill in

strategic and business planning to

St.LukesHealth.

"The Board and I are extremely

confident in his capacity to strengthen

the culture of St.LukesHealth

and lead the business into the future,"

Mr Dockray said.

IN BRIEF

UTAS rates well

THE University of Tasmania has

climbed to 313 from 370 in the QS

World University Rankings released

recently.

It is usually accepted that there are

20,000 universities globally and the

University of Tasmania now ranks at

313th according to QS, 292nd in the

Academic Ranking of World Universities

and 317th under the Times

Higher Education World University

Rankings.

Mr Lupo said he was excited to

join St.LukesHealth and looked forward

to working closely with the

Board and the highly dedicated

staff of the organisation."

Circular Head

jobs assistance

THE Government has announced

funding for nine projects as part of

its $1.5 million jobs and re-training

package after Murray Goulburn's

decision to close its Edith Creek facility.

Recommended by the Circular

Head Regional Economic Development

Working Group, the nine projects

include a program to increase

B&E benefits from

lifetime in banking

B&E Personal Banking has welcomed

Jill Jetson-Shumbusho as

Chief Sales and Marketing Officer.

Ms Jetson-Shumbusho has more

than 30 years' experience in mutual

and listed banks and corporate senior

executive roles.

Most recently, Ms Jetson-Shumbusho,

pictured

right,

drove significant

organisational

change

as Head of

Sales and Distribution

with

QT Mutual

and with P&N

Bank as Chief

Operating Officer

and Head

of Member Services.

B&E's Chief Executive Officer,

Paul Ranson said Ms Jetson-Shumbusho

brought an exceptional mix

of leadership, strategic, business

and operational planning and management

skills and experience to the

position of CSMO.

Mr Ranson said she would play a

vital part in the future direction of

the company's growth and capability

strategy.

"Jill is a highly experienced

banking professional, who brings a

wealth of financial services knowledge

to B&E," he said.

"Her proven record of achievements

in both the mutual and listed

banking sector will be a key asset to

B&E as we continue to enhance our

position as the financial institution

of choice in the Tasmanian market."

New Mosaic COO

led a big field

MOSAIC Support Services has announced

Karen Jabbour as the new

Chief Operating Officer to oversee

all of the services provided to people

with disabilities.

Searson Buck facilitated the

recruitment process, with a large

number of qualified candidates

screened and interviewed.

"Karen will be starting with

Mosaic at a very exciting time as

the rollout of the NDIS hits full

steam over the next two years with

all of its opportunities and challenges,"

said Mosaic CEO Ralph

Doedens.

Utas transformation

Rathjen's legacy

UNIVERSITY of Tasmania Vice-

Chancellor Professor Peter Rathjen

has been appointed Vice-Chancellor

and President of the University of

Adelaide.

University of Tasmania Chancellor

Michael Field said the transition

in leadership would be undertaken

with an emphasis on the principles

of stability and continuity.

"Without doubt, Professor Rathjen

has led a transformative phase for

the university and we face the future

built on a set of foundations which

will serve us well in the years, if not

decades, ahead," he said.

Professor Rathjen leaves at the

end of 2018.

the profitability and competitiveness

of small businesses in the region by

developing a network of small businesses

and a digital ready program.

A $30,000 Circular Head Contractors

Program will deliver a combination

of workshops and one-on-one

assistance while $200,000 will be

spent to help enterprises seek new

opportunities and markets.

Funding will also assist with a Circular

Head Business Expo and Jobs

Fair.

Rapid Response

Reduced Risk

Our Business

Is People

Right Experience
---
TASMANIA'S LEADING BUSINESS PUBLICATION. CIRCULATION 17,000 MONTHLY

Tasmanian Business Reporter - JULY 2017 11

EVENTS NEWS

EVENT:

Worksafe Tasmania Leaders

Forum

LOCATION:

Wrest Point Hotel Casino

Hobart

DATE:

Thursday June 23, 2017

ABOVE: Kym Wolter-Saler of Occupational Health,

left, and Jason Hall of Disability Services.

ABOVE: Ros Cornish, left, and

Annette Barwick of Lady Gowrie.

LEFT: Frankie

Forsyth of

Business

Enterprise

Services, left,

Deb Fast of

Baptcare and

Alison Keleher

of Independent

Health Care

Service.

ABOVE: Alayne Baker of DJ Motors, left, Louisa Vanderkruk of

Peoplepie and Nic Stephen of Advance Workforce.

LEFT:

Nikki Krushka of

Skills Tasmania,

left, Tanya

Geddes of

Avidity Training,

Ingrid Anderson

of Skills

Tasmania and

Gayle Quin of

Avidity Training.

ABOVE: John Furness from the Department of State Growth

and Brett Smith of Caterpillar Underground Mining.

WANTED

Business

movers and

shakers

• Promotions

• Appointments

• Awards

• Celebrating

success

Share the news

with the

Tasmanian

business

community

ABOVE: Fiona Hamilton, left and Kellie Wilkie of Bodysystem

Physiotherapy.

Send your news

snippets, with a

high quality photo,

to TBReditorial@

fontpr.com.au
---
a great deal better

Knight Frank's national and international reach combined with a market leading database

gives our clients a market winning edge resulting in $275 million worth of transactions

across Tasmania in the last twelve months. Exciting times, indeed!

5-7 Sandy Bay Rd, Sandy Bay

Purchaser: International Developer

Sale Method: EOI

23 Forbes St, Devonport

Purchaser: Local Investor

Sale Method: EOI

85-87 Salamanca Pl, Battery Point

Purchaser: International Investor

Sale Method: EOI

21-23 Salamanca Pl, Battery Point

Purchaser: Local Investor

Sale Method: Auction

City Park Grand, Launceston

Purchaser: International Investor

Sale Method: Private Treaty

35 Murray St, Hobart

Purchaser: Local Investor

Sale Method: Private Sale

Unit 1, 5 Bayfield St, Rosny Park

Purchaser: Local Investor

Sale Method: EOI

11 Oldaker St, Devonport

Purchaser: Local Investor

Sale Method: Private Treaty

73-75 Albert Rd, Moonah

Purchaser: Owner-Occupier

Sale Method: Private Treaty

10 Derwent Park Rd, Derwent Park

Purchaser: Owner-Occupier

Sale Method: EOI

52 Melville St, Hobart

Purchaser: Local Investor

Sale Method: Private Treaty

10 Wellington St, South Burnie

Purchaser: Owner-Occupier

Sale Method: Private Treaty

57 Elizabeth St, Hobart

Purchaser: International Investor

Sale Method: EOI

162 Macquarie St, Hobart

Purchaser: National Investor

Sale Method: EOI

234-250 Elizabeth St, Hobart

Purchaser: International Developer

Sale Method: EOI

2-6 Collins St, Hobart

Purchaser: International Investor

Sale Method: Private Treaty

180-184 Collins St, Hobart

Purchaser: Owner-Occupier

Sale Method: EOI

SOLD

$275 million

1/481 Main Rd, Montrose

Purchaser: Local Investor

Sale Method: Private Treaty

13 Derwent Park Rd, Derwent Park

Purchaser: Local Investor

Sale Method: EOI

16-18 Wellington St, South Burnie

Purchaser: Owner-Occupier

Sale Method: Private Treaty

175-177 Charles St, Launceston

Purchaser: Investor

Sale Method: EOI

15-19 Elizabeth St, Hobart

Purchaser: Local Investors

Sale Method: EOI

99-101 St. John St, Launceston

Purchaser: Local Investor

Sale Method: EOI

19 Beach St, Bellerive

Purchaser: Local Investor

Sale Method: EOI

L1-4, 21-23 Best St, Devonport

Purchaser: Local Investor

Sale Method: EOI

1 Blight St, Rosny Park

Purchaser: Local Investor

Sale Method: EOI

2-4 Gladstone St, Battery Point

Purchaser: Local Investor

Sale Method: EOI

1-3 Rooke St, Devonport

Purchaser: Local Developer

Sale Method: Private Treaty

84 & 86 Liverpool St, Hobart

Purchaser: Local Investor

Sale Method: EOI

168 Collins St, Hobart

Purchaser: International Investor

Sale Method: Private Treaty

29 & 30 Faulkner Dr, Latrobe

Purchaser: Owner-Occupier

Sale Method: EOI

54-56 Caroline St, East Devonport

Purchaser: Local Developer

Sale Method: Private Treaty

17254 Bass Hwy, Boat Harbour

Purchaser: Owner-Occupier

Sale Method: EOI

118-124 Brisbane St, Launceston

Purchaser: Interstate Investor

Sale Method: EOI

5 Victoria Street, Hobart

03 6220 6999

Scott Newton Matthew Wright

Ian Reed Hayden Peck

John Blacklow

Richard Steedman

Shop 6a, 48-54 Oldaker Street, Devonport

03 6424 3568

Nicholas Bond

KnightFrank.com.au

41 York Street, Launceston

03 6333 7888

Rob Dixon David Webster

Rodney Rawlings Jack Schaeche