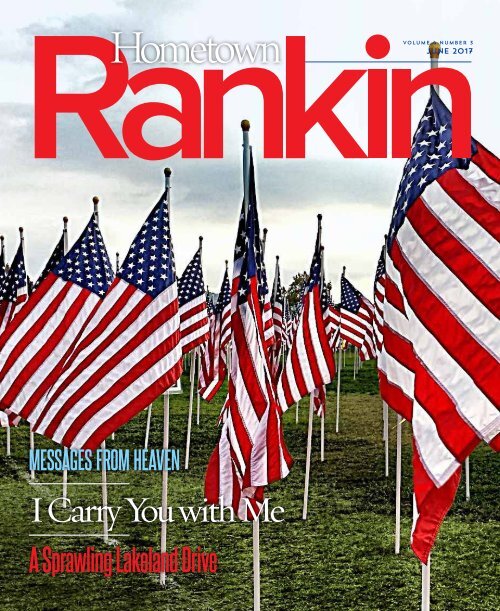 Hometown Rankin - June & July 2017
You also want an ePaper? Increase the reach of your titles
YUMPU automatically turns print PDFs into web optimized ePapers that Google loves.
volume 4 number 3

June 2017

messages from heaven

____________________

I Carry You with Me

____________________

A Sprawling Lakeland Drive
---
If something

happened to

the two of us,

who would

be responsible

for him?

WE HELP MOMS AND DADS PLAN FOR LIFE'S CURVE BALLS.

12 Woodgate Drive, Suite F • Brandon, MS • 601.724.1870 • palmerslay.com

Christopher P. Palmer chris.palmer@palmerslay.com / Craig L. Slay craig.slay@palmerslay.com

2 • June 2017
---
Hometown Rankin • 3
---
4 • June 2017
---
publisher & Editor

Tahya A. Dobbs

CFO

Kevin W. Dobbs

Consulting Editor

Mary Ann Kirby

Account Executives

Dacia Durr Amis

Contributing Writers

Camille Anding

Beth Bowman

Mary Ann Kirby

Susan Marquez

Jennifer Milner

Leah Mitchener

staff Photographer

Othel Anding

Administrative

Assistants

Alisha Floyd

Brenda McCall

Layout Design

Daniel Thomas - 3dt

Advertising Design

Leah Mitchener

• • •

I flip the calendar to June and before I see the highlights attached to

that month, I immediately think of Father's Day. These men represent

people holding powerful influence over their children. Hometown

Rankin salutes all those special fathers who have invested their most

precious gift in their children—the gift of time.

Right behind Father's Day comes VBS. What wonderful memories

I have of Kool-Aid, cookies, and getting my turn to carry the Bible or

flag during the processional. My thoughts and prayers go with all those

volunteers and young hearts being molded.

June also heeds vacation days and sunburns at the pool. Add snow

cones and lots of watermelon to finish off a full month.

July is flag-waving month, and it's our honor to highlight the

Crossgates Exchange Club's special patriotic flag weekend. Mark your

calendars to visit this red, white, and blue experience. Then grill some

burgers or hotdogs and celebrate our nation's freedom. What a

blessing!

The calendar turns quickly for those of us working with deadlines,

but we at Hometown Magazines treasure our opportunity to journal those

events that fill our pages.

Thank you, readers and advertisers. We celebrate you, too!

www.facebook.com

/hometownrankinmagazine

For subscription information

visit www.htmags.com

Contact us at info@HTMags.com

601.706.4059

26 Eastgate Drive, Suite F

Brandon MS 39042

• • •

All rights reserved. No portion of Hometown Rankin

may be reproduced without written permission from

the publisher. The management of Hometown Rankin

is not responsible for opinions expressed by its

writers or editors. Hometown Rankin maintains the

unrestricted right to edit or refuse all submitted

material. All advertisements are subject to approval by

the publisher. The production of Hometown Rankin

is funded by advertising.

In this issue Hometown Neighbors 10

Home of the Free Because of the Brave 23

Messages from Heaven 46

I Carry You with Me 58

A Field & Club of Heroes 68

A Sprawling Lakeland Drive 74

The Best Day 84

Hometown Rankin • 5
---
What does it mean to you

when you see the American Flag?

Mark Baker

It reminds me of the sacrifices

of those that preceded us and

of the sacrifices that we

should be willing to make

to preserve, protect, and

defend our freedom.

Chance Easterling

It means pride.

It's something that

represents everything

that we live for in

the United States.

Irl Dean Rhodes

The flag represents

patriotism. It is a symbol of

the pride and strength of our

great country.

Catherine Spann

It means peace to me.

Kitty Thompson

Freedom!

I think it's for the

people, and how far

America has come.

6 • June 2017
---
Jason Herrington

It means patriotism

and service.

Hugh Strebeck

Sacrifice!

It's for the people

who stood for that flag.

Judge Kent McDaniel

It represents everything our

country stands for that is

good. It also represents some

things that are bad. But I've

learned we have to take the

bad with the good.

Rosie Collins

It represents the

United States of America…

our freedom!

Troy Odom

It means reflecting on

sacrifices my grandfather, my

father, and other

veterans have made.

SFC Keither Dennis

Heritage, the history of

this country. It means more

to me as a soldier because

I support and defend the flag.

Dimitri Ellison

Pride. The flag means a lot

to me. I've been overseas;

I've seen the flag during

Desert Storm. It's a hallow

feeling I have and sense of

honor when I see the flag.

Katie Humphreys

I feel such a sense

of pride in my country.

Hometown Rankin • 7
---
Check out the

MBA that checks every box.

Mississippi College is the only college in the state that enables you to

earn your MBA entirely on campus, exclusively online—or through a

combination of both. Our MBA program is fully accredited by AACSB,

which places ours among the top 5% of business programs worldwide.

Plus, it's the lowest-cost accredited online MBA in the state.

Achieve anything with the MBA that has everything—the MC MBA.

Learn more today at mc.edu/mba.

On Campus or Online—or Both

AACSB Accredited

Lowest Cost Accredited Online MBA in MS

8 • June 2017
---
dine-in . take-out

catering

Pit Smoked Barbecue

visit dickeys.com

Brandon

1323 W Government St

769.241.5151

Flowood

268 Dogwood Blvd

601.992.4200

Madison

175 Grandview Blvd

601.605.4025

Richland

1201 Hwy 49 S #5

601.487.8139

Hometown Rankin • 9
---
Hometown

Neighbors

Camille Anding

10 • June 2017
---
"When you say, 'I'm from Brandon, people know where it is!'"

Georgia Grubbs said with noticeable pride and total agreement by her husband, Truitt.

Jackson had been their home where they had planned to raise their three children,

but school uncertainties forced them to move.

After being told the fifth time that their children would

have to change schools one more time because of

consolidations, they pulled up roots and planted their

lives in Rankin County. It was a good plant for the

Grubbs as well as the citizens of the county.

As for the Brandon school system, Georgia says, "It couldn't

have been better." Truitt credits Dr. Mike Vinson, their superintendent

of education, for turning the schools around.

Truitt and Georgia have always been faithful public school

supporters. Truitt was the "baby" of six children, and when all of

his siblings boarded the school bus, he cried to go to school with

them. The next year was too long for him to wait. When his

crying wouldn't stop, Truitt's mother visited the principal and

convinced him that Truitt needed to be in school. He started

"primer," as it was called, six months early.

When thinking back over the positive growth of their beloved

county, Truitt, an active Republican, believes that his party has

played a major role in Rankin County progress. "I believe this

county (Rankin) carried the heaviest Republican vote in the state

and has influenced state-wide elections," he says with a politician's

pride. He added that Rankin County is the home of Governor

Phil Bryant (before the governor's mansion), Tate Reeves, Dick

Hall, and Gregg Harper.

Representative Harper is a Republican that recognizes the

influence that the Grubbs wield. He refers to Truitt as his adopted

daddy and has spoken publicly about believing that Georgia and

Truitt have had more influence on his election than any others.

The Grubbs are not your "front-porch-rocking" neighbors.

Truitt began his career as a 4-H county agent in Lawrence County

and moved on to Lincoln County for eleven more years. After a

break to earn his master's degree from Mississippi State, he

returned to work as the southwestern district director of the

cooperative extension service for twenty years.

He recalls traveling to Brandon to buy calves for his 4-H

clubs from J.W. Underwood. His farm was located on acreage

that was to become Crossgates Subdivision. Truitt credits

Underwood for quality development of Brandon in those early

stages of city planning.

After the Grubbs' sons had begun and operated Green Tree

Landscape and Maintenance for ten years, Truitt retired after

his thirty-two years with the extension service and joined his

sons for the next ten years.

Georgia added amid her contagious laugh, "The boys told

him if he behaved, they'd give him a riding lawn mower!" She

joined the family business as the financial operator after retiring

from six years as director of Kinder-Gates, a children's day care.

Hometown Rankin • 11
---
12 • June 2017
---
After the family invested the twenty years of time plus

hard work in the Mississippi heat, they sold the landscaping

business that had grown to be the largest landscaping business

in Mississippi.

In 1998, after selling out and making it Truitt's second

retirement, he chose an inside job with Community Bank in

charge of Golden Advantage which covers senior deposits and

group travels.

Here they made more friends and got their first real taste

of travel. The Community Bank employment lasted eighteen

years with a busload of travel miles and great memories.

Rocking chairs still don't interest the Grubbs. At 82, Truitt

enjoys tending his 125-acre long-leaf pine farm in Simpson

County where he and Georgia have additional roots. They

purchased and combined two log cabins (1867 and 1890

versions) to make a spacious retreat for family gatherings and

events. Truitt is also active in restoration of his Simpson County

Pinola High School.

When these two notable Brandonites reminisce about earlier

days, Truitt remembers speaking with a person years ago

concerning Rankin County. The man told Truitt, "When I think

of Rankin County, I think of an old farmer, an old truck with a

gun rack and three hound dogs in the back." Not anymore!

"It's a county of great law enforcement, good schools –

thanks to good, strong judges. The highways and byways have

been other major accomplishments," Truitt believes.

Georgia looks back to the safety of raising their children in

the Crossgates neighborhood, but the lake carried its fear of fish

hooks and drownings. When the city drained the lake, she saw that

it was only two feet deep. "If I had known that, I wouldn't have

worried so much," she said as she and Truitt laughed together.

"In Brandon, you seem to know everybody and trying matters

here," Truitt continued. He remembers Carl Lofton whose life

Truitt tries to model. "He was my Vo-Ag teacher with high

principles. I tried to catch him doing wrong but never did."

The Grubbs three children, with their families, live within

twelve miles of Truitt and Georgia. Candice Perkins, their

daughter, is a school teacher in Flowood. Roe Grubbs, a former

mayor of Brandon, is the director of Capital Properties, and

Matt is regional sales manager for Taylor Power Generators.

The Grubbs are counting on their seven grandchildren to

continue their legacy. Truitt's mother helped define that legacy

when she gave him these instructions: Be the best, and be the

leader in your community.

Truitt has always remembered those instructions, and his

companion of sixty years affirms, "And he is the best!" n

Hometown Rankin • 13
---
• New Pools & Spas

• Pool Renovations

• Service & Cleaning

• Jackson 601-372-0500

• Ridgeland 601-605-0500

• www.cpspoolsandspas.com

Family owned since 1957

14 • June 2017
---
Hometown Rankin • 15
---
16 • June 2017

All donors will be registered for a chance to win a new

Ram 1500 Big Horn 4x4 valued at over $45,000

from Mac Haik & Mississippi Blood Services. Download our free

mobile app to find a location or blood drive near you TODAY!
---
Urgent Ortho-Care

is expanding to Madison

for sprains, strains, and breaks!

Jackson

Fortification St. @ I-55

Monday - Friday

8am - 7pm

Healthplex @ I-55

Monday - Friday 4pm - 8pm

Saturday 8am - Noon

Walk-in. We've Got You Covered.

www.mississippisportsmedicine.com/urgent-ortho-care

Hometown Rankin • 17
---
18 • June 2017

April 27

Mirror Lake
---
Hometown Rankin • 19
---
CITY OF FLOWOOD

Mayor's

Prayer

Breakfast

May 12

Northwest Rankin High School

Performing Arts Center

20 • June 2017
---
Hometown Rankin • 21
---
IS YOUR

INSURANCE AGENT

TIED DOWN

TO ONE COMPANY?

INDEPENDENT AGENTS

HAVE FREEDOM OF CHOICE.

Trusted Choice ® Independent Agents have the freedom to shop many reputable

companies at once. You get the benefit of competitive pricing with the convenience

of a one-stop shop. The only one they're tied to is you.

Find your independent agent. Find a better deal at trustedchoice.com

Free to do what's right for you ṢM

LET'S TALK ABOUT WHAT

FREEDOM OF CHOICE CAN DO FOR YOU.

Insurance Associates

of Rankin County

Steven Wallace | 601-825-5242

1301 West Government Street, Suite 105

Brandon, Mississippi

22 • June 2017
---
Home

of the

Free

Because

of the

Brave

Beth S. Bowman

According to AARP, there are 18 million veterans living in the

United States. It was my privilege and honor to interview six

of those amazing men. Four are residents of Plain View Living

in Richland and two live at The Blake in Flowood.

Their stories were diverse, funny, heart breaking, and dauntless.

They each told their stories without any personal glory or honor,

instead with humility and a pride in the United States and their

particular military branch.

Together, these brave and determined men served a total of 52

years. Many times during the interviews I felt like an outsider as

they spat out military acronyms, ranks and abbreviations. They

recounted world changing events with the ease that most of us

tell the weather or directions to a new place. These men may

forget details of recent events such as the name of a new great

grandchild or the address of their favorite cousin but they can

remember with vivid accuracy the details surrounding the years

spent in military service.

On the following pages are some of the

courageous, brave men i met ➣➣➣➣

Hometown Rankin • 23
---
Columbus Laverne Roberts

Hometown: Mt. Olive, MS

Branch of Service: U.S. Navy

Howard Don McCoy

Hometown: Forest, LA

Branch of Service: U.S. Air Force

John Robert Goodman

Hometown: Morton, MS

Branch of service: U.S. Navy

Mr. Roberts' brother had joined the U.S. Navy

two years earlier so his mom was agreeable

for him to do the same. As he left for basic

training in Camp Perry, Virginia, his brother

told him about a girl named Polly who wanted

to write to a military "boy". Laverne wrote the

first letter to Polly and she wrote back. Each

time he came home on leave, he and Polly

spent time together and fell in love. Later they

married and he still keeps the first picture of

Polly he ever had in his wallet, along with a

$2 bill from his first Navy pay. With amazing

clarity, Laverne Roberts shared details from

his years in the military. He enlisted during

WWII and ended up in combat in Northern

Africa. His tour of duty found him in 17

different countries in three years. King

George VI and President Franklin D.

Roosevelt once visited his ship, the USS

Catoctin. The Catoctin was the most successful

of all amphibious assaults of the war because

her antennae relayed the signals for all of the

communications on shore and in the water

during the invasion of Southern France.

Mr. McCoy served in the military between

the Korean conflict and Vietnam. He served

for 2 years then received word that his daddy

had died. Mr. Don said that he wished he

would have been able to stay a lot longer but

his family needed him. As a cook at the Air

Force base, he was responsible for making

sure the men had enough to eat and that

meant potatoes were served three times

a day, every single day. He has not peeled

a potato since leaving the Air Force.

When Mr. Goodman signed up at age 17,

his dad had to sign papers agreeing for

him to enter military service. Although

his leaving for basic training broke the hearts

of several "sweethearts" back home, he found

a wife while on a bus during leave one

weekend. He refused to get off the bus until

he got her address. She reluctantly gave

her address and later she gave him her

hand in marriage. Although the Naval base

in Millington, Tennessee, was home for

John four different times during his

career, he also saw a lot of the world.

His electronics and aviation training

enabled him to spot enemy submarines

as he flew in the Anti-Submarine Warfare

(ASW) planes all over the world.

He completed his service after 28 years

of faithfully serving our country.

24 • June 2017
---
William Simmie Honea, Jr.

Hometown: Copiah County

Branch of Service: U.S. Marines

Burt Matheny

Hometown: Purvis, MS

Branch of Service: National Guard

Clois Moree

Hometown: Sumrall, MS

Branch of Service: U.S. Air Force

Mr. Bill left for the Marines on his

birthday, March 8, 1945. His high school

released him early so he could go to

boot camp. After training on Paris Island,

South Carolina he was stationed in North

Carolina when the news was announced

that the war was over. Bill recalls that

the excitement about the end of the war

tingled with great apprehension and

a myriad of questions about the

future for those in military service.

After basic training, Mr. Burt served

during the civil rights demonstrations at

Jackson State. He remembers it being a

terrible time as people was divided over

the issues. He can remember that time

being very difficult for the military as

they tried to keep the riots from escalating.

Most frightening for him was having to point

his gun and keep peace among relatives

and friends who attended the riots.

Mr. Clois signed up when he was around

18 years old and served 4 years. His nickname,

Clem stuck with him all of his life. He recalled

that you could not call the standard issue gun,

the M1, a "gun". You were required to call it

a "weapon". If you didn't call your gun a

"weapon", your commanding officer ensured

that you would remember the second time.

Courage.

Sacrifice.

Loyalty.

These six men represent our men and women in uniform well.

Their stories blessed me and their dedication challenged me.

Thank you, Laverne, Don, John, Bill, Burt, & Clois.

We are grateful for you.

Hometown Rankin • 25
---
26 • June 2017

Ladies' Night Out
---
April 6 - Pelahatchie Baptist Church

Hometown Rankin • 27
---
1

print

2

graphic design

• Booklets • Color Copies, Flyers • Trade Show Displays

• Brochures • Stationery • Event Printed Materials

• Business Cards • Mailing Services • Banners, Posters

• Business Plans • Post Cards • Promotional Items

1

1

2

2

3 4

+

print print graphic design graphic design

marketing

3 3 4 4

+ +

601.933.9550

marketing marketing signs signs

signs

115 METROPLEX BLVD

PEARL MS 39208

www.us646.alphagraphics.com

28 • June 2017
---
Anh Giang Edwards, OD

Melissa R asmussen, OD • Michael Phillips, OD

Julie Dawson, OD • Jimbo Bearden, OD

• LASIK VISION

CORRECTION

• COMPLETE EYE HEALTH

• DISEASES OF THE EYE

• EYE INJURIES

• DRY EYE THER APY

• CATAR ACT SURGERY

• DIABETIC EYE CARE

Brandon Office: (601) 825-8300

Canton Office: (601) 859-3464

Madison Office: (601) 605-2259

Ridgeland Office: (601) 957-9292

Yazoo City Office: (662) 746-4312

— WWW.OPTICAL2000.COM —

Hometown Rankin • 29
---
Aubrey Norman

A bigger house and

a basketball goal.

Maddie Williams

Chocolate, balloons,

and a teddy bear.

Tanner Bryant

I'd get him a gun because

we like to go hunting.

If you could give your daddy

anything for Father's Day,

what would it be?

Paxton Prisock

A house with lots of land.

Ramsey Hill

I'd get him some new bait

for his tackle box.

Lindsay Winford

A new camera because

he's a photographer and he

needs a new one.

Jett White

Some new baseballs

for his baseball bucket.

30 • June 2017
---
Vihaan Mahajan

I love that he plays games

with me, mostly UNO.

Halei Jones

He plays games

with me like kickball.

Robert Minuve

He plays basketball with me

and makes me do my best

at everything I do.

What's your

favorite thing

about your

daddy?

Dr. Amanda Stocks

I love his big heart. My dad has

always shown me an example

of helping people in need.

Brooks Willoughby

He plays basketball with me.

Tinsley McCain

He plays baseball with me.

Tally Taylor

When I have swim meets, he's

always there for me, even when

I have long distance meets.

Shelby Smith

I like that he's tough with me

and that's because he was

in the Marine Corp. He's so

glad I don't have a baby sister

so he doesn't have to

change more diapers.

Hometown Rankin • 31
---
What's your dream

ROAD TRIP

destination?

Let Members Exchange take you on a

road trip of your dreams. When you

finance a new or used auto or recreational

vehicle with Members Exchange, you will

be entered to win monthly prizes and a

grand prize valued at $2,200!

Grand Prize:

$1,200 travel credit, $300 spending

money, YETI® Roadie, YETI® Ramblers,

gift cards and swag items.

MECUanywhere.com

This offer applies to qualified borrowers on new and used

auto and recreational loans financed and refinanced from

other financial institutions. Loan rates are based on your

credit worthiness. Members Exchange will match other

financial institution's rates (verified) and reduce the rate by

0.10%, not to go below established floors in place. The

amount financed must be $5,000 or higher. The promotion is

scheduled to end August 31, 2017 and it can be modified or

cancelled at any time without prior notice. Restrictions and

limitations may apply.

32 • June 2017
---
Serving our county

Phillip Sandifer

Rankin County Emergency Communications Officer

Why did you decide to pursue law

enforcement?

As long as I can remember I have wanted to be in

law enforcement. My original plan was to join the

Army as a military policeman just to gain some

experience. Twenty years later I retired from the Army

and, after a few different jobs and a long battle with

the disease of alcoholism, I got sober and, by the

grace of God, was given the opportunity to re-enter

law enforcement serving the citizens of Rankin

County as an emergency communications officer.

I thank Him each and every day for that privilege.

How long have you served in your

current position?

I have worked here for a little over two years and

I love it. The camaraderie, brotherhood, and

compassion for others that my co-workers show

every day reminds me why I have continued to

serve this county, state, and nation.

Tell us about your family.

I am a divorced father of 3 young adults, one of

which has been a Marine for the last 8 years. I could

not be more proud. I also have 3 siblings that live in

Rankin County and a sibling in Simpson County.

What is the toughest thing you have

experienced in your job?

Seeing families and young adults being torn apart by

violence and substance abuse is just heartbreaking.

However, if I can get through to just one person it

eases the burden.

Share some things you enjoy doing in

your spare time.

I love to cook, garden, and do something nice for

at least one person every day. That's a personal goal

I set for myself at the beginning of my recovery.

What are three things on your bucket list?

Although I enjoyed the movie, I've never been a

bucket list person. If I had to make a list at this point

in my life it would be to: Enjoy my family and tell

them I love them as much as I can; be kind and

compassionate as much as I can; and try to help

people in any way I can.

Who is someone you admire and why?

In 1988 during my first tour in Germany I had a unit

first sergeant named Jackie B. Irwin. He had been

an infantryman during the height of the Vietnam

War. His leadership and dedication to taking care

of soldiers was the model that I based my career on.

I still think of him often to this day.

Where do you see yourself in ten years?

Living, hopefully. And still serving the citizens of

Rankin County with the Sheriff's Dept. The

professionalism and compassion I found here has

helped me refocus on the goodness in people and

a strong desire to help as many as I can.

If you could give one piece of advice to

a young person, what would it be?

I believe every able-bodied citizen should serve their

country for at least one tour. It instills self-discipline,

a sense of pride, and a sense accomplishment.

It also makes you a more marketable member of

the workforce—in some ways as good as a college

education, depending on your chosen field.

What is a favorite childhood memory?

Working in the garden with my daddy and papaw.

What is the biggest mistake you think

young people make today?

Not working in the garden with their parents. There

is a lot to be learned in between the rows of dirt

that can't be found in an electronic device.

What is your favorite thing about

Rankin County?

Not to be redundant, but the members of our

profession. They take great pride in their duties

and go above and beyond every chance they get.

It motivates you to want to do more. Although we

deal with a lot of people at their worst, they are

not bad people and we show compassion to all.

That's a job to be proud of.

Hometown Rankin • 33
---
Multi .Chamber

Business

After

Hours

May 11

34 • June 2017
---
Hometown Rankin • 35
---
36 • June 2017
---
: architects

: engineers

: interior design

J. Guadalupe Arellano, AIA

Principal Architect

118 Service Drive, Suite 9

Brandon, Mississippi

601.829.6915

jarellano@pryor-morrow.com

pryormorrow.com

Calling all Leaders!

Interested in Leadership?

Apply now for the 2017-2018 Leadership Rankin Program

Application Deadline: June 30, 2017

Rankin County Chamber of Commerce

101 Service Drive ■ Brandon MS 39042

601.825.2268 www.rankinchamber.com

Invest in your future and become a leader in Rankin County!

PROGRAM

HISTORY

WHO SHOULD

APPLY

PROGRAM

REQUIREMENTS

PROGRAM

OVERVIEW

Established in 1994 and

provides a behind the

scenes look at Rankin

County.

Anyone with an interest

in furthering their

knowledge about

Rankin County.

Must live or work in

Rankin County and be at

least 24 years of age.

This is a nine-month

program & participants

are chosen through an

application and selection

process. Tuition: $750

Find out more at www.rankinchamber.com

Hometown Rankin • 37
---
Clay Shoot

March 30 • providence Hill farms

38 • June 2017
---
Hometown Rankin • 39
---
Reunite

for Life

May 4

On May 4, 2017, Mississippi Blood Services celebrated their annual Reunite

for Life event. This gathering of blood donors and patients celebrates life and

embodies the importance of being a blood donor. During the event patients were

able to meet some of the donors whose blood helped save their lives. This year's

honorees were four very special patients whose lifesaving treatments depended

on volunteer blood donations.

Chandler Norman was in an ATV accident in January 2016. Chandler sustained

multiple injuries including a shattered left leg, torn femoral artery, fractured skull,

broken jaw, and a lacerated liver and spleen. Chandler received more than 40 units

of blood throughout his treatments, which included eleven different surgeries.

Chandler ultimately lost his left leg above the knee, but thanks to volunteer blood

donors, Chandler is wrapping up his junior year of high school and is back to

doing the things he did before his accident.

Josh Sexton was diagnosed with osteosarcoma of the right humerus in January

2016. Due to the nature of his cancer, Josh underwent the amputation of his right

arm, collar bone, and shoulder blade. Throughout his treatments, Josh needed

several units of both whole blood and platelets. Now a healthy and active 9-year

old, Josh want's others to know just how important donating blood is.

Blake Sebren was in a serious vehicle accident with his sister and girlfriend in

March 2016. During the accident, Blake sustained several life threatening injuries

including a crushed pelvis, and bruised kidneys and lungs. Blake lost his right

kidney due to the damage from the impact. During his treatments, Blake used

more than 75 units of platelets and whole blood. Although he still has more

surgeries ahead of him, Blake is here today thanks to the kindness of those who

selflessly donated blood.

Nicole Jones is no stranger to the need for blood. In 2014 Nicole was diagnosed

with TTP, a rare blood disease, and required hundreds of units of platelets to

survive. In January of 2016 the unthinkable happened, and Nicole once again

was diagnosed with TTP. Nicole needed AB platelets–nearly 200 units. MBS put

out the call for help, and it was answered! MBS was able to get Nicole the

lifesaving units she needed.

40 • June 2017
---
Mississippi Blood

Services offers a

variety of donation

opportunities.

For more info

on blood and

platelet donation,

visit msblood.com

Hometown Rankin • 41
---
Spring Lake

Garden Club

Tablescapes Luncheon

April 1 • Pearl community Center

42 • June 2017
---
Hometown Rankin • 43
---
Why take your business or your skills anywhere

else? As the leading independent staffing agency

in the market, we consistently attract the

finest candidates and match them with the best

companies in the area. And because we've always

been locally owned, you'll be dealing with staffing

experts who are invested in, and responsive to, the

local business community.

STAY LOCAL. SEE RESULTS.

As the largest independently owned

staffing service in Mississippi, we

can customize a wide range of

solutions for our clients and provide

a plethora of opportunities for our

employees. We're large enough to

provide services to big corporations

but just the right size for smaller

companies, too.

Whether you're looking

for work or need

employees, we can

assist you with a variety

of positions, including:

- forklift

- assembly

- warehouse

- janitorial

- administrative

- call center

- accounting & finance

- marketing & sales

and much more...

IF YOU'RE

READY TO GET ON

BOARD, CONTACT

US TODAY!

JACKSON 601-353-4200 | CANTON 601-859-8860 | MCCOMB 601-250-0800

www.tempstaff.net

44 • June 2017
---
"Every single person on staff is so caring!

I highly recommend this office!" - Stephanie

Call today for a free consultation!

Jackson | Ridgeland | 601.856.3054 | BVOrtho.com

A creative bank makes all the difference when

you're ready to make your dreams a reality.

• Comprehensive loan options

are available to help with your

personal or business needs.

• A strong record of helping

businesses and start-ups with

the capital needed to grow.

• Ranked #1 in Small Business

Administration (SBA) loan

volume in our largest market.

SPILLWAY RD / 601-203-2500

W. GOVERNMENT ST / 601-825-4323

FLOWOOD / 601-919-4200

PEARL / 601-939-7979

Hometown Rankin • 45
---
Messages

Heaven

from

Mary Ann Kirby

46 • June 2017
---
Anyone that has ever lost a loved one

knows of the longing that comes with

wanting to somehow reconnect. In our

minds, we know they're gone but we

still need to feel them to know that

they're ok--- and neither time nor

distance can change that desire.

There's an old saying that goes,

"When cardinals appear, angels are near."

I've always been enchanted by that idea

as the red cardinal has played many

prominent roles throughout our history.

The notion that cardinals are messengers

of spirits exists across numerous

cultures and beliefs--- just ask anyone

that's seen one when they

needed it most.

But truth be known, redbirds

are pretty common in this area.

They thrive in this habitat and while

I'd love to think that every time

I see one it's a spirit-come-to-visit,

it's just as easy for me to

imagine that it's not.

In 2012, my grandmother died at the

age of 96. When it was time to clean

out her house, her youngest son from

California (and the sibling-declared

family-favorite among the four of her

children and two grandchildren) came

to Mississippi for a week to help with

the overwhelming task ahead. She had

lived in the same house in Yazoo City

for over 80 years.

There was stuff everywhere–in the

attic, in the garage, in drawers, and in

closets stacked from floor-to-ceiling.

Much of it I had meticulously sorted

over the course of several weeks and

months but when it came time to do

the final clearing, a lot of it was taken

to the curb. We worked for days to

ultimately prepare the house to be sold.

I called the waste management

company to arrange for a special pick-up

since it was just too much to leave until

the regular trash day. They needed a

heads up–it was a lot. Besides, I needed

to get back to Jackson and wanted to

know that it would be taken care of.

Early the next morning, as promised,

the garbage truck ran and around

mid-day I called my uncle to verify that

it had, in-fact, all been cleared away. He

walked outside and was just astounded

at what had previously been an absolute

massive amount of rubbish. The

mountain had been reduced to a single

random Christmas ball. Every bit of it

was gone.

As he leaned over to scoop up the

old faded ornament, he noticed

something shining in the grass. He

reached down to find a little gold heart

charm. The irony was not lost on him

that it was all that was left–and that he

had found it. He stuck it in his pocket

and went back inside.

His wife was in the kitchen at the

stove fixing a late breakfast. They were

still on California time and were slow

to get going, not to mention worn out

from the several days of hard labor,

prior. He reached in his pocket and

showed her the heart-shaped trinket

and when she flipped it over, she

noticed right away that it was engraved

with the name John. That was his name

–my grandmother's youngest son–the

declared family favorite, which now

seemed somehow divinely confirmed.

Coincidence? Maybe.

Hometown Rankin • 47
---
Several years before her death, my grandmother gave me an

enamel-coated steel colander. It had belonged to her, seen decades of

usage, and was the only "strainer" I had. I used it regularly and often.

It had long-since begun to rust where some of the enamel had

chipped away, but I continued to use it anyway. I eventually purchased

a new one–coincidently, after she passed. The one she gave me was

just too rusty. So one day I decided to throw it away.

I put it in the garbage. I took it out of the garbage. I put it back in the

garbage and before I even closed the lid I reached back in to rescue it.

It was not just a rusted colander but a piece of my past–and a piece of

someone important to me. I thought to myself, "This is ridiculous!"

And after wrangling with it for almost an hour, I proceeded to shove

it down into the trash bag and tie it shut, once and for all.

The weather on the morning of "trash-day" was bleak. It was

already drizzling and the forecast called for the possibility of severe

conditions later that afternoon. By the time I got home from work,

dark had fallen. It was storming with 30-mile-per-hour winds, and

my garbage can had blown clear to the end of the cul-de-sac. I had

no choice but to battle it out and go get it.

The rain was blowing sideways and I was soaking wet and dragging

the garbage can behind me. I noticed what appeared to be some type

of helmet in the grass next to the curb–dome shaped and glistening

under the streetlight in the pouring down rain. Maybe it was my son's.

I'd grab it as I dashed up the driveway.

But it was no helmet. It was that colander, turned upside down and

sitting there all by itself. How did it get out of the bag that I had so

painstakingly and reluctantly tied together? I was stunned–and still

am to this day.

Coincidence? Maybe.

48 • June 2017
---
So a few weeks ago, I was in our backyard building a fire in our fire

pit. I had decided to dispose of some sensitive paperwork that really

should have been shredded, but burning was simply more convenient

and certainly more fun. In the closing of my grandmother's estate, I

had stored countless banking statements and papers that needed to

be discarded but were too sensitive to just put in the trash–and still

held value in my heart. So I poured a glass of wine and my husband

and son helped load up the fire pit. I recalled funny stories about my

beloved grandmother as they continued to crumple up papers and

put them below the logs. Then we lit them.

The fire struggled to catch. My wood was wet. I decided to add

some kindling from a pot we keep nearby. That's when I saw the

blooms. For 30 or 40 years, my grandmother had a pot of succulents

on her back porch that stood year-round on a little dime-store plant

stand in the rain, sun, sleet and occasional snow. She was a master

gardener and yet these succulents were the only plant-life I brought

home with me after her death. I'd had them now for four years and

they live on my back patio next to a big fat pot of kindling. I looked

down and they were in full bloom–and they hadn't been the day before.

I've never seen them bloom. Ever. I didn't even know they would.

So, I've decided they were blooming just for me. As if to say, it's ok to

let go–just never forget.

Coincidence? Maybe. But it serves as a wonderful reminder that we're

never far apart. The truth is that the bond we share with those we

love is a bond never lost or broken–not even by death. Death just

changes the dimensions–like water, evaporating into steam.

Or like a redbird sitting on a window ledge singing, "My spirit will

live on forever there within your heart." n

Hometown Rankin • 49
---
Purses & Pearls

Muse Center • April 19

50 • June 2017
---
Hometown Rankin • 51
---
ankin

Recipes

Strawberry

Cheesecake Salad

• 16 oz. cream cheese, softened

• 1 c. powdered sugar

• 2 tsp. pure vanilla extract

• 16 oz. Cool Whip

• 16 oz. strawberries, sliced

• 2 ripe bananas, sliced

• 12 oz. raspberries

• 3 tbsp. crushed graham crackers

In a large bowl using a hand mixer, beat together

cream cheese, powdered sugar, and vanilla until

light and fluffy. Beat in Cool Whip until combined.

Fold in strawberries, bananas, and raspberries.

Transfer to serving bowl and sprinkle top with

graham cracker crumbs.

Frozen

Hot Chocolate

Cheesecake

CRUST

• 24 oreos

• 6 tbsp. melted butter

• 1/4 c. sugar

CHEESECAKE

• 2 blocks cream cheese, softened

• 1/2 c. powdered sugar

• 1/4 c. chocolate sauce

• 2-3 hot cocoa packs

• pinch of salt

• 2 c. heavy cream

• 1 c. mini marshmallows

In a food processor, pulse Oreos until they are

fine crumbs. Transfer crumbs to a bowl, then

add butter and sugar and stir until combined.

The texture should be similar to wet sand.

Grease a 9" pie plate and press in the crust

mixture. In a large bowl using a hand mixer, beat

cream cheese until light and fluffy. Add powdered

sugar, chocolate sauce, cocoa packets and salt and

mix until smooth.

Add about half of the heavy cream and beat

until smooth. Add the rest of the heavy cream

and beat until very fluffy.

Fold in mini marshmallows. Pour cheesecake

mixture into the prepared crust.

Freeze until solid, about 4 hours.

Peaches n' Cream

Lasagna

• 8 small peaches, sliced

• 1/4 c. sugar

• 1/4 c. brown sugar

• 1 tsp. cinnamon

• 15 graham crackers

• 2 c. heavy cream

• 1/4 c. powdered sugar

• 1 tsp. vanilla extract

• 1/4 c. sliced almonds

Macerate peaches: In a large bowl, combine

peaches, brown sugar, sugar and cinnamon. Toss

until the peaches are evenly coated in the sugar.

Refrigerate for 30 minutes.

Make whipped cream: In a large bowl, combine

heavy cream, powdered sugar and vanilla. Beat

mixture with a hand mixer until stiff peaks form.

Assemble lasagna. In a 8" square baking pan,

place graham crackers in an even layer. Spread an

even layer of whipped cream over the graham

crackers, top with macerated peaches then sprinkle

some almonds on top. Repeat three more times.

Chill in refrigerated until the graham crackers

have softened, about 2 hours.

Serve cold.

52 • June 2017
---
ankin

Recipes

Drunk & Dirty

Beef Tenderloin

Marinade

• 1 cup low sodium soy sauce

• ½ cup bourbon, or other sour mash whiskey

• ¼ cup Worcestershire sauce

• 2 tablespoon packed brown sugar

• ½ teaspoon ground ginger

• 4 cloves garlic, cut in half

• ½ cup water

Main Course

• 2 pound beef tenderloin (feeds 4-5 easily)

• 2 tablespoon coarsely ground black pepper

• 1 teaspoon ground white pepper

• ¼ cup vegetable oil

Prepare the smoker for an indirect cook at

225-275 degree dome temperature. Add wood

chunks and/or chips (oak, pecan, or hickory -

don't overdo it).

Combine ingredients down to the garlic with

1/2 cup water and marinate beef for 2-4 hours.

Remove beef from the fridge, reserve marinade

and cover beef with ground pepper. I don't measure,

I just completely cover both sides with black pepper

and then add the white pepper not quite as liberally.

Put half the marinade in the refrigerator and add

the vegetable oil to the other half, if planning to baste.

If not basting put all the marinade in the fridge.

Heat the basting sauce to a boil for a few minutes

and keep warm on low.

Put the roast on the smoker and cook until

almost done–1½ to 2 hours, mopping every 20

minutes.

When almost done (120 degree internal temp)

remove from the grill and bring it up to sear temps

(500-600 degrees).

Holding with tongs, place the roast back on

when grill is 500 degrees or so for about 1 minute

per each of the four sides. You're just trying to get a

nice char but not too much.

Remove from the grill, tent with foil, and let sit at

least 5 minutes (closer to 10 is fine). While resting,

bring reserved marinade to a boil for a few minutes

then lower to low and reduce by about one quarter.

Slice and either drizzle marinade over the slices

or serve on the side for guests to drizzle themselves.

Flat Iron Steak

• 1.5 pound flat iron steak

• Cluck and Squeal 'Beef Specific' Rub;

Cavendar's Greek Seasoning; Montreal Steak

rub; or your favorite steak seasoning

Coat steak liberally with the rub and allow it to

"melt in" for 45 minutes to an hour, while the

steak is coming to room temp.

Prepare the grill for a direct cook at 600+ degrees.

Sear for 60 seconds per side, then remove

while bringing the temp down.

Close the vents down and get the temp close to

400 degrees.

Finish, flipping as needed to prevent

overcooking on any side.

Remove when the internal temp reaches

125 degrees (for medium rare).

Rest for 10 minutes before thinly slicing against

the grain.

Simple Salmon

• 1 12 oz. skin-on salmon fillet, center-cut

• Dizzy Pig Raging River Rub

• Dizzy Pig Shaking the Tree Rub

• Olive Oil

• Big Green Egg Kodiak River Rub

Pat the filet dry then liberally coat salmon with

the Raging River or BGE Kodiak River rub. Allow

to "melt in" for 45 minutes to an hour.

Prepare the grill for a 400* direct cook (on an

Egg, the grid can be elevated or at the fire ring

level). Add any chips (alder, apple, etc.) just before

putting the salmon on the grill.

If using "Shaking the Tree" rub, add just prior to

placing on the grill.

Oil the grill surface generously with a rag (or

paper towel) soaked in vegetable oil, then place the

salmon flesh down (skin up) on the grid.

Grill with the dome closed for 2 minutes, then

using a thin spatula, flip the filet to skin down and

insert a temp probe, if using.

Grill for another 5-8 minutes or so - until the

internal temp is 120 degrees or until white protein

starts to ooze onto the surface of the fish.

Remove, cover with foil and rest for 5 minutes

before serving.

Hometown Rankin • 53
---
54 • June 2017

Richland Economic

Development Association
---
Annual Luncheon

march 30 • Richland Community Center

Hometown Rankin • 55
---
1/2 PRICE WING TUESDAYS® • 21 SIGNATURE SAUCES & SEASONINGS • BONELESS THURSDAYS®

BIG SCREEN HD TVS • ALL THE SPORTS ACTION • DINE-IN OR TAKEOUT • KIDS MEALS • HAPPY HOUR

808 LAKE HARBOUR DRIVE // RIDGELAND // 601.856.0789

COMING SOON TO 766 MACKENZIE LANE // FLOWOOD

©2016 BUFFALO WILD WINGS, INC. BWW2016-4063

56 • June 2017
---
From nose to toes

we've got you covered.

Illness & Injury

Abscess Incision

& Drainage

Allergic Reactions

Allergies

Asthma

Athlete's Foot

Bronchitis

Burns

Chemical Exposure

Congestion

Contusions

Diaper Rash

Ear Infection

Earache

Eye Infection

Fever

Flu Symptoms

Foreign Body Removal

Gastrointestinal Disorders

Insect Bites

Itchy Skin

Our Services Include

Migraine

Nausea

Rashes

Runny Nose

Scrapes & Lacerations

Sinus Infection

Skin Allergy

Skin Infections

Sore Throat

Sprains & Strains

Std Testing & Treatment

Stomach Pain & Aches

Urinary Tract Infection

Wound Infection

Pediatrics

Acute Illness

Minor Injury

Physicals

Camp Physicals

Employment Physicals

School Physicals

Sports Physicals

Dot Physicals

Wellness

Tb Skin Testing

Tetanus

Seasonal

Allergies

Ear, Nose & Throat

Infections

Sinus Infection

Occupational

Chemical Exposure

Drug Screens

Foreign Body Removal

Dot Physicals

Worker's Comp Injury

Lab & X-Ray Onsite

Jenny Wright, NP-C Leslie Houston, NP-C

OPEN 7 DAYS A WEEK WALK-INS WELCOME

MOST INSURANCE ACCEPTED

www.cornerclinicurgentcare.com

601.992.0004 132 Lakeland Heights Blvd. Flowood

Monday-Friday 8am-8pm Saturday 9am-6pm Sunday 1pm-6pm

Hometown Rankin • 57
---
I

Carry

You

with

Me

Leah Mitchener

58 • June 2017
---
Love is an incredible

& powerful force.

It tests your courage, strength,

dedication, patience, kindness,

perseverance, and a million

other little things.

The people we shower with our affections will put that love through a lot

— sometimes by their actions, or sometimes by their circumstances. But of all

the different people you love, the love for your child is perhaps one of the purest

and strongest. When they hurt, you hurt, and you'd give anything to make them

better — even give a part of yourself. That is precisely the decision Matt and Ashley

Dykman made when they learned that their beloved son would be born in need

of a kidney transplant.

When Ashley was 17 weeks pregnant, she and her husband Matt made the trip

to the doctor that everyone looks forward to when they are expecting: the one

where they would learn the sex of their baby-to-be. Unfortunately, along with that,

came news no new parent hopes to hear — that their son was suffering from a rare

birth defect called Eagle-Barrett, better-known as "Prune-Belly Syndrome". His

abdominal wall was not forming correctly and affected the development of his

organs, particularly his kidneys.

When he was born, Sawyer's kidneys did not function at all and his parents were

forced to put him on dialysis. Many surgeries were performed to help him with

different issues that commonly arise with his type of syndrome. Seeing the stress

that the Dykmans were going through, their hometown community of Florence

banded together and held several fundraisers to help ease the financial burden of

hospital bills for the family.

Hometown Rankin • 59
---
60 • June 2017
---
Knowing that being placed on a transplant list and then waiting for a kidney to

become available would likely be a long and arduous process, Matt and Ashley

decided that each of them would get tested to see if they were a match. Miraculously,

they both were great candidates to donate to Sawyer! Matt decided that he would

take the lead and proceed with the additional preparations to give one of his kidneys

to Sawyer. There were seemingly infinite visits to every kind of doctor that tested

and evaluated Matt from head to toe, but in the end, he was deemed a worthy

donor. In order for a small child like Sawyer to receive an adult organ, however,

he had to reach a certain weight (22 pounds to be exact). At 18 months old, Sawyer

had finally grown big enough, and father and son went into the operating rooms

where their lives changed forever.

"I was blessed to be able to be a kidney match and give Sawyer a chance at a

better and healthier life. There was no hesitation when I heard I was a match.

I immediately said yes. We are thankful it has given Sawyer a chance to thrive and

love life like he does. He is the greatest little boy and I am thankful to be his dad,"

said Matt.

Today, Sawyer is a six-year-old social butterfly. He never meets a stranger, and

sings and dances to his heart's desire. He is doing well in school, though he has a

few developmental delays due to spending the first 2 years of his life in the hospital.

He runs and plays just like any other kid, but does so just a little more carefully than

most. Ashley explained, "His life has made us stronger in our faith and taught us, as

a family, just to roll with life. It's hard to have a disabled child, but he is so loving and

energetic and fun that you forget he's disabled all the time."

Along with his 3-year-old sister Sadie and 9-month-old sister Frannie, Sawyer

continues to approach everything with an excitement and fervor reflective of the

second chance he's been given through the immense love and generosity of his father.

E.E. Cummings once wrote, "I carry your heart with me (I carry it in my heart).

I am never without it (anywhere I go you go, my dear)". It may not have been a

heart that was donated, but it is clear that Matt's kidney was given in an abundance

of love. Sawyer will forever carry his father with him, both in body and spirit. His

journey proves that love truly does triumph over all. n

Hometown Rankin • 61
---
62 • June 2017

The Crown Club

Junior Auxiliary of Rankin County Mother-Daughter Social

Tuesday, April 25 | Pelahatchie Community Center
---
Hometown Rankin • 63
---
JUNE

4

5

6

7

8

MISSISSIPPI

BRAVES

SPONSORS: YOGI ON THE LAKE, DENTAL SOLUTIONS OF CLINTON

& FOX 40

YOGI'S FAMILYFEST SUNDAY, KIDS RUN THE BASES

SPORTCLIPS MILITARY MONDAY

SPONSORS: WJTV 12 GETTING YOU ANSWERS & Z106.7

2 FOR TUESDAY

AMR FIRST RESPONDERS WEDNESDAY

SPONSORS: WATERVIEW CASINO & HOTEL

THIRSTY THURSDAY, CHICK-FIL-A GIVEAWAY, COMMUNITY

COLLEGE NIGHT, NFL NIGHT

AMR FIRST RESPONDERS WEDNESDAY

14

15

THIRSTY THURSDAY, SWAC NIGHT, 80'S NIGHT

SPONSORS: ENTERGY, WLBT 3 ON YOUR SIDE & MISS 103

16 FRIDAY NIGHT FIREWORKS, ENTERGY POWER TO CARE NIGHT

Tickets start

as low as $6

17

18

SPONSORS: DOMINO'S & XFINITY

TRUSTMARK SUPER SENSATIONAL SATURDAY, SCI-FI NIGHT

SPONSORS: YOGI ON THE LAKE, SOUTH JACKSON FAMILY DENTAL,

FOX 40 & HALLELUJAH 95.5

FATHER'S DAY CATCH ON THE FIELD FROM 11:30AM - 12:30PM,

YOGI'S FAMILYFEST SUNDAY, KIDS RUN THE BASES

SPONSOR: 105.1 THE RIVER

28 AMR FIRST RESPONDERS WEDNESDAY

SPONSORS: PATTY PECK HONDA

29 THIRSTY THURSDAY, DELTA STATEUNIVERSITY NIGHT, BEACH

NIGHT, BC POWDER GIVEAWAY UPON EXIT

SPONSORS: ST. JOSEPH HOSPICE, WLBT 3 ON YOUR SIDE

30 FRIDAY NIGHT FIREWORKS, DANSBY SWANSON BOBBLEHEAD

(FIRST 2,000 FANS), REGGY THE PURPLE PARTY DUDE

APPEARANCE

STAY CONNECTED

LISTEN ALL SEASON

LONG ON 103.9 WYAB FM

64 • June 2017
---
Hometown Rankin • 65
---
66 • June 2017

Rankin

Chamber

Health Fair

Brandon Municipal Center

May 10
---
Hometown Rankin • 67
---
A Field & Club of Heroes

Camille Anding

Betsy Ross, a seamstress in Philadelphia

in 1776, made it into the history books

as the maker of the first American flag.

However, her actual involvement in its

development is highly debated.

No official records or documents

place her with the first American flag

across her lap, but there's ample

evidence that the Exchange Club of

Crossgates has honored and celebrated

our national flag and the patriots who

gave their lives for the freedom Ole

Glory represents.

Let me introduce this special club.

The National Exchange Club is the only

service organization that exclusively

serves communities in the United States

and Puerto Rico. Volunteers use their

talents and time to benefit their local

communities and their country. Their

core values are basic: family, community,

and country.

Exchange members are involved in

activities and programs that benefit youth,

promote pride in our country, and honor

military and public service providers.

The Exchange's National Project is the

prevention of child abuse.

The Exchange Club of Crossgates is

our local chapter and carries out

enormous accomplishments with their

small band of twelve members, men

and women.

Their first major goal was to provide a

park for children close to the community.

They purchased 12.5 acres of land from

Tom Underwood in 1978 to create a

youth sports complex. It is adjacent to

I-20 at Woodgate Drive South. It's been

the home park for the Brandon Soccer

Organization since its inception and was

named after the club's first president,

Frank Bridges.

68 • June 2017
---
Updates to the park over the years

have included a sprinkler system

covering ten acres, field lighting,

a concession building, and several

additional buildings on the property.

To fund these major expenses, the

Club constructed a 50' long BBQ pit

and have cooked many thousands of

chicken halves to sell to the public.

They eventually turned to the annual

October Haunted House for their main

fundraiser which the club members

begin work on in March. With help from

the Boy Scouts and the First Baptist

Church Youth Group, the Club raises

thousands of dollars to give toward

and fund their various projects.

The project that Hometown Magazines

wishes to spotlight is their Memorial Flag

Field. This July 1-3, they will display 500

full-size American flags that originally

flew on the Exchange Club's first 9/11

Memorial Flag Field.

This Club has hosted two 9/11 Memorial

Flag Fields on their park with over 4,000

full-size flags standing in a uniform grid

that Mayor Butch Lee and Sheriff Brian

Bailey, along with other volunteers,

helped implement and complete.

The flags were displayed with names

and information of those who died in

the attack of 9/11 plus soldiers who were

killed in the following war.

This July 1st, 2nd, and 3rd, the 500

flags will be waving on the soccer field

park, reminding I-20 travelers of the

price of freedom. The entrance to the

parking lot is on Woodgate Drive South,

next to the Enterprise Building, for those

who want to walk through the flags.

The memorialized flags will be for

sale with pole and the original yellow

ribbon and a name tag that identified

the fallen soldier associated with the

flag. The cost is only $10. There is no

set program planned, but a concession

stand will be open for visitors.

Louise Pipitone, a forty-year member

along with husband Pat, said about the

flag display, "It's the most rewarding

thing our Club has ever done. Truckers

have pulled off the interstate all hours

of the night to walk through the lighted

flag field, the largest in the nation. Others

have brought flowers and teddy bears

to leave by the flags."

A special salute and thank you go out

to this band of patriotic, hard workers.

They need our participation in community

projects and "new blood in memberships,"

Mrs. Pipitone expressed. "We

need parents to teach their children to

volunteer and become active."

Community involvement in an

organization that promotes Americanism,

patriotism, and youth, would be an

excellent means of commemorating all

the fallen on this July's Memorial Flag

Field. The Exchange Club members urge

us all to, "Come and show respect."

Hometown Rankin • 69
---
70 • June 2017

St. Mark's

United Methodist Church

Tablescapes

April 1
---
Hometown Rankin • 71
---
©2014 Ergon, Inc. All rights reserved.

ergon.com

72 • June 2017
---
Hometown Rankin • 73
---
A Sprawling

Lakeland Drive

Susan Marquez

As told by Jessica Lay

With close to 60,000

vehicles driving on Lakeland

Drive each day, it's hard to

believe that it was once beautiful

pastureland for dairy cows. Jessica

Lay remembers, because her father

ran the dairy farm that once stood

where River Oaks Hospital is

today. "We moved there when

I was five-years-old," Lay recalls.

"I was entering the first grade.

I went to school in Pearl."

Her father purchased the land in

1944 for $35 an acre – a pretty hefty

sum in those days. "People told my father he'd never be able to

afford that land, but he said that he'd pay for it selling milk.

And he did just that." The family moved to Rankin County

from the Forest Hill area of Jackson. At that time, Lay's father

was delivering milk in glass bottles on the doorsteps of families

all over South Jackson. "People would put their milk money in

a jar for my father to pick up when he delivered the milk. It was

a different time back then. People were honest."

The first idea that something

would happen where Lakeland

Drive is today is when Leland

Speed was fishing with Lay's

uncle. "Mr. Speed told my uncle

that a road was going through

the area. He said the land would

be worth a million dollars

someday." Gus Primos did a

good bit of the work, partnering

with the Lay family to sell

and develop some of the land. "Gus had the

money and we had the land. It was a great partnership!"

At the time, Lakeland Drive ended just shy of the Pearl River.

"The Stocketts had a horse barn there," Lay recalls. When the

road was brought through, Gus Primos wanted to build a

school. "Jackson Prep now sits on the site where our hayfield

used to be." Lay recalls there was an old tenant house with a

cistern behind it on the back of the property. "I used to ride my

horse back there, and all the way to the Pearl River."

74 • June 2017
---
Hometown Rankin • 75
---
76 • June 2017
---
Moving to Rankin County was a wonderful thing for Lay,

who said she recalls that that the family's home in Forest Hill

didn't have running water. "The commodes didn't flush and we

had to bathe in a number two wash tub. In the house out in the

country, we had a real bathroom with a real bathtub. It was like

having my own indoor swimming pool! The first day we were in

the house I got in the tub and stayed in it all day until I was

shriveled up like a prune and my mother made me get out."

She loved living in the country. "Our house and dairy barn

were near where River Oaks is today. The hospital sits on what

was once our cow pasture." The family went through

the Easter flood of 1979, and unfortunately, many

family photos were lost in the disaster.

Today, Lay lives with her husband outside of Brandon. The

family continues to have business interests on Lakeland Drive.

Folks who drive in the area frequently are familiar with

Layfair Drive, named after the Lay family, and they own Layfair

Shopping Center. "I still drive up and down Lakeland Drive all

the time. It's still so unreal to me that there has been so much

change in the area during my lifetime!" n

Hometown Rankin • 77
---
Pearl Mayor's

Prayer Breakfast

May 5 • Pearl Community Center

78 • June 2017
---
Hometown Rankin • 79
---
Hunks & Heels

The 3rd Annual Womanless Beauty Pageant benefitting the MS Burn Foundation

Thursday, April 27, 2017 at Jaco's Tacos in Jackson

80 • June 2017
---
Hometown Rankin • 81
---
RANKIN COUNTY'S NEWEST VENUE IS NOW OPEN!

Open House • 5pm-7pm • Thursday, July 6th

Please join us • Light refreshments will be served

202 North College Street • Brandon, MS

To schedule a tour or to make reservations, call 601.706.4059

82 • June 2017
---
Call us to schedule

your next visit.

(601) 825-3368

Sarah Langston, DMD

14 Woodgate Drive

Brandon, Mississippi 39042

Hometown Rankin • 83
---
The

Best Day

Camille Anding

84 • June 2017
---
It certainly felt like Matt Withrow's

best day when he was drafted by the

Atlanta Braves as a pitcher in the 6th

round in 2015. Since baseball had become

a major part of his life while growing up

in Odessa, Texas, it was like waking up

from a dream and seeing it was reality.

In the oil field town of Odessa, there

wasn't much extra-curricular to enjoy

– other than sports. Matt, with his two

older brothers, spent free time in athletics

along with seasonal hunting and fishing.

Matt played his first baseball in the

9th grade, but in a short time the pitching

mound became his favorite spot on the

field. He credits his dad, who played with

the Chicago White Sox, and older brothers

with part of his baseball success. Some

really good coaches, one that played with

the Yankees, are others that taught him

basic skills and command on the pitching

mound. One brother presently plays with

the Kansas City Royals.

Texas Tech University in Lubbock,

Texas, was where he pursued his college

education and baseball dream. He also

renewed his friendship with Kristin, a

young lady he had known since elementary

school. "She didn't like me then," he says

with a laugh, but times change and so did

their relationship. They were married in

November of 2016 and live with their host

family, the Wilsons, in Clinton, Mississippi.

The 6'5" pitcher starts every fifth day

of the Braves' schedule. The conditioning,

practices and weight room fill Matt's

days before and after all ballgames. It's

a demanding schedule with only two

off-days a month.

One baseball report said of Matt:

"Withrow's attitude on the mound is

notable and a definite positive." A scouting

report describes Matt this way: "Withrow's

listed at 6'5" and 235 pounds, and he looks

that, for sure. He strikes an imposing pose

on the mound, pulling his cap over his

brow to give the hitter no real view of his

eyes as he focuses on the plate."

Matt says that he's learned to block

out fan noise when he's pitching. It's a key

part of focus that his dad taught him.

For Rankin fans of the Mississippi

Braves, here's a bit of trivia about Withrow,

#40. Roger Clemens is his favorite, all-time

baseball player, and if you consider

wearing the same shirt for every game a

superstition, Matt has at least one game

superstition.

Matt continues to play hard and

perfect his pitching skills. All the workouts,

pre-game and practice drills are the hard

parts to playing professional baseball,

according to this pitcher. He chooses not

to focus on the "what ifs" associated with

his future in baseball but enjoy the dream

of being on the pitching roster. Matt says,

"When you're on the mound, that's your

best day!"

Hometown Rankin • 85
---
Keep The Rez Beautiful

Sixth Annual Project Rezway - Reservoir's Recycle Fashion Show and Rezzy Awards

April 27 • MS Craft Center

86 • June 2017
---
Hometown Rankin • 87
---
Becca's

Project

How One Girl

is Changing

Her Community

for the Better

Jennifer Milner

''E

ven though you're small, you can make

a difference," is the advice Becca Blair

gives when talking with groups of

preschoolers and elementary school kids.

Becca, age 9, has taken these encouraging

words to heart with her own recent efforts to

promote and grow recycling in her community.

"Help Me Go Green & Recycle"

88 • June 2017
---
From a very young age, Becca's family instilled in her

the importance of conserving our natural resources and

being good stewards of the environment. Along with her

family, Becca is a faithful volunteer with Keep the Reservoir

Beautiful, the local Keep Mississippi Beautiful affiliate. Since

she was only 3 years old Becca has been picking up litter and participating

in other clean-up activities in and around the Ross Barnett Reservoir,

helping her fellow volunteers maintain the natural beauty of this popular

recreational destination for residents and visitors alike to enjoy.

Becca's interest in recycling, however, was sparked just last spring

by an article on landfills she read as part of a school assignment. Becca,

a homeschool student in 3rd grade at the time, learned from the article

that 70% of the materials sent to landfills can be recycled. This statistic

grabbed Becca's attention prompting her to ask her mom if they could start

recycling at their home, and see how much material they could save from

the landfill. While this idea seems simple enough, the Blair family live in

Rankin County; and recycling here is no easy task for residents compared

to other counties and cities in the Jackson area. The County does not offer

curbside recycling services, and only operates two recycling drop off

locations in a County of nearly 150,000 residents.

Despite these challenges Becca's mom, Michelle, agreed that their

family should start recycling, and encouraged Becca to turn her idea into

a school project by keeping track of how much material their

household collects for recycling. After getting the hang of

recycling at their house, Becca and her mom noticed that the

family trash had been reduced from 2 bags of trash a day to

1 bag every four days. "Once I saw how much recycling helped

us, I wanted to help my neighbors," recalls Becca. And with that thought

in mind, Becca, supported by her family and neighbors, began collecting

recyclables in her neighborhood for transport to the nearest county recycling

drop-off center located at the Reservoir Fire Station. She developed

a slogan "Help Me Go Green and Recycle" and started advertising her

"recycling services" by distributing flyers around her neighborhood. She

also asked her friends at Keep the Reservoir Beautiful to get involved.

The organization happily answered the call by donating reusable

recycling tote bags. These bright orange repurposed potato sacks are

used to hold collected recyclables. Becca gives a bag or bag(s) out to

anyone in the neighborhood who asks to participate. Bags are also offered

as a welcome to folks just moving in along with Becca's flyer and a tasty

homemade treat. Initially Becca collected from only a few neighbors, but

as word spread of Becca's expanded school project, more and more

neighbors asked to be added to her "route". According to Michelle,

75-80% of their neighbors put their bags out once a week. To keep this

enthusiasm going, Becca conducts contests periodically to encourage

Hometown Rankin • 89
---
90 • June 2017
---
her neighbors to recycle as much as they can. For example, she awards

restaurant gift cards or similar items to the family who puts out the most

recyclables that week. Also, Becca is working with her friends to plan

a neighborhood recycling fair. The fair will include a cookout as well as

games and activities designed to educate and encourage recycling and

waste reduction. These incentives encourage her neighbors and motivate

Becca to honor her commitment. "They are expecting me to come by, and

I can't let them down," says Becca of her weekly recycling pick-up. Every

Monday, rain or shine, Becca hops in the back of her grandfather's truck

and picks up the potato sacks full of recyclables, records the weight, and

takes the materials to the drop off center. Since starting the project, Becca

has collected over 3,000 lbs. of recyclables from her neighbors!

In addition, to helping her neighbors recycle, Becca conducts and

participates in several activities to promote and educate the residents

of Rankin County on the many benefits of recycling and other waste

reduction practices. She speaks to groups of all ages including preschool

classes, high school green clubs, and homeowners' associations; and

manages Instagram and YouTube pages to share what she has learned

and encourage others to recycle in their local area.

Also, Becca has participated for the past two years in the "Project

Rezway" fashion show, an event sponsored by Keep the Reservoir

Beautiful, modeling her homemade fashions made from recycled materials.

This year's entry, designed with the help of Becca's grandmother, Kathy,

consisted of a "Steampunk" style outfit made from the fabric of a broken

trampoline, playing cards, coffee filters and other recycled items. The

ensemble was a big hit with the fashion show audience and contest

judges, snagging the Project Rezway first-place prize.

Given these efforts, it's no wonder local, state, and national organizations

are taking notice of Becca. Recently, she was recognized nationally by Keep

America Beautiful with their 2016 Individual Youth Award. In addition, she

has won awards on the state level from Keep Mississippi Beautiful and was

named "Recycling Star" by the Mississippi Recycling Coalition (MRC).

The "Recycling Star" award was presented on March 2, 2017, at

the state capitol as part of MRC's annual Recycling Awareness

Day co-sponsored this year by Keep Mississippi Beautiful.

Becca's efforts have also shined a light on the important issue of

recycling and the desire of residents in Rankin County and across the

state to have better access to recycling services. In addition to the many

environmental benefits, recycling has a significant economic impact in

Mississippi. Recent studies conducted by the Southeastern Recycling

Development Council (SERDC) identified 11 manufacturing facilities

in the state reliant upon recycled material. These factories generate

$2 billion annually and employ nearly 2,000 people. As Becca read in

the article that inspired her efforts, many of the materials these industries

need to develop new consumer goods are being thrown away. Recovered

materials are supporting our local economy, yet Mississippians annually

spend an estimated $70 million to dispose of recyclables worth approximately

$200 million.

For example, KW Plastics, the largest HDPE plastics (milk jugs and

detergent bottles) recovery plant in the world, is just across the state line

in Troy, Alabama. The amount of HDPE plastics currently collected and

delivered from the states of Alabama and Mississippi combined to the

plant for recycling only supply the plant for approximately 2 days. This

means that the plant must go outside of the Southeastern U.S. for its

recovered plastics supply. Despite the value of these recovered materials

to companies like KW Plastics, many residents of our state don't have the

option of recycling; or as is the case in Rankin County, have very limited

options, making recycling difficult for busy families.

An estimated 60% of Mississippians have access to recycling services

(including both drop-off and curbside recycling programs). Comparing

this percentage with the national average of 96%, it shows that our

state has tremendous potential for growth in the recycling industry

through increased collection of materials. Recycling just 1% of the

4 million tons of residential solid waste disposed of each year in the

state can create 100 new jobs for Mississippians!

Sadly, many of us see the issue of recycling and the lack of access in

Mississippi and the Southeast as a problem too big for the average citizen

to solve. Perhaps we should look at the example set by Miss Becca

Blair and heed her advice: "Even though you're small, you can

make a difference." n

Hometown Rankin • 91
---
92 • June 2017
---
Hometown Rankin • 93
---
94 • June 2017

Daddy/Daughter Dance

April 22nd • Richland Community Center
---
Hometown Rankin • 95
---
The CHALKBOARD

RANKIN COUNTY SCHOOLS

Discovery Christian

The preschoolers at Discovery Christian School had an exciting time finding eggs that

the 4th grade class hid for them. They also enjoyed the candy that they found inside!

Brandon High

How do you go from Great to Best? Brandon High School does

it by establishing a culture of excellence where "we" comes before

"me." The mission is to cultivate a culture where all students, faculty,

and community can achieve greatness. DOGS – "Developing Our

Gifts to Serve" is not just a slogan – it is the foundation for

everything BHS does, both inside and outside of the classroom.

As the 8th largest high school in state, Brandon High prides itself

on growing leaders, growing stewards, and growing world changers.

This school year alone, 19 seniors scored a 30 or higher on the ACT.

Brandon High School also has two National Merit Finalists and a

Legion of Valor Award recipient for the 2016-2017 school year. The

news/media class was nominated for three Mississippi Scholastic

Press Association awards for their cutting-edge broadcasting

contributions. The majority of athletic teams made it to postregular

season play, and the student athletes are top contenders in

the state, both academically and athletically. 24 of 26 teams qualified

as All Academic teams for the year. BHS was also the winner of the

2016 Southern Elite Sports Spirit Award and is home of the award

winning show- choir, Brio.

Participation in the 7 career technical academies is growing

rapidly, and ACT preparation and PSAT courses offered have been

expanded and enhanced. In order to foster longitudinal

relationships and build cohesion, BHS is integrating the concept of

looping in some of our academic courses where a teacher remains

with the same group of students for more than one school year.

The 107 highly qualified teachers are fostering authentic

collaboration among their departments and across the curricular

disciplines in order to effectively prepare students to achieve their

college and career goals.

Growth and excitement at Brandon High School is never ending.

A spirit of community is felt by all who enter the doors! It is truly a

place like no other.

96 • June 2017
---
Highland Bluff Elementary

Each year in Mississippi, third grade

students, their parents, and their

teachers can't help but get a little

nervous when it comes to the literacy

exam that, by law, all third graders have

to pass to be promoted to fourth grade.

At Highland Bluff Elementary School,

109 students took the exam this spring.

On May 10, the long anticipated score

reports were sent to the schools and

were ready to be sent home. Upon

realizing that 100% of all third graders at

Highland Bluff had met the promotion

requirements, a special reveal

celebration was in order!

For the reveal celebration, staff

members dressed like Star Wars

characters since, leading up to the test,

the third grade hall had been decorated

like a galaxy with each child's name on a

star and light sabers at the entry to the

hallway near a blow up Yoda who's sign

said, "May the force be with you."

Following with the Star Wars theme,

the reveal celebration began with an

image of Star Wars visible on the

stage screen and Star Wars

soundtrack music was playing while

students entered the cafeteria for

what they thought was another book

club meeting. Green Yoda juice

(Sonic slushies) were set out for each

student. A letter with each student's

name was folded and sealed for them

to open. Each student's letter had

Yoda holding a green light saber and

had the following words written,

"Congratulations! The Force was with

YOU! You passed. HBE was 100%."

Then, students were told

congratulations on behalf of Dr.

Townsend, RCSD Superintendent,

Dr. Crain, Asst. Superintendent, and

all of their HBE family! As expected,

there were cheers of joy, tears of relief,

and a special moment the staff and

students of HBE shared that will be a

cherished memory for years to come.

Florence High

8th grade students were honored with a special

program, "The Tassel is Worth the Hassle", which

recognizes the students for all of their hard work while

at the middle school. The program also portrayed the

importance of graduating from high school and

encouraged them to work hard towards graduation.

The students are provided a breakfast, a special t-shirt

with their graduation year, and a tassel. As the students

enjoyed breakfast, special guest speaker, Dr. Sue

Townsend, inspired them by sharing her personal

struggles and successes that she faced along her college

and career journey. As the students leave the program,

they carry their mock graduation certificate and a

brochure with information on how to be successful in

high school and thoughts to consider as they plan for

their future once graduating high school.

Submissions provided by local officials from each individual district and not to be considered editorial opinion.

Hometown Rankin • 97
---
The CHALKBOARD

RANKIN COUNTY SCHOOLS

McLaurin Elementary

McLaurin Elementary School is a PBIS model site. The PBIS

committee meets throughout the year to discuss ideas for fundraisers

and events. Everyone at the school is part of the PBIS team,

however, several small committees are set in place to handle the array

of duties that has to happen in order to be successful. For example, to

be able to have the appropriate activities scheduled for such a large

variety of ages, it takes a lot of people to volunteer and be involved.

All the different grades have incentives put in place to encourage the

best behavior throughout all grades. All students have the

opportunity to earn Tiger Tickets to purchase rewards from the

Tiger Cart. Also, each class can earn golden tickets to be used at the

end of the year for whole class rewards, such as class party or pizza

party. These all are efforts to help the maximum number of students

be successful and able to attend the Big Event and Big Big Event.

The Big Event at McLaurin Elementary happens at the end of

each nine weeks. The big event is for all the students that do not

receive discipline referrals for that nine weeks. It has various

activities every time such as blackout dances, popcorn or ice cream

Puckett High

It's that time of the year, banquets, awards day, graduation, state

tests, field day, and final exams. On Saturday, May 13th, the Puckett

High School Football team held their annual Spring Fling. The

festivities began at 8:00 am with a 5K fun run/walk. Over 80

runners and walkers, from all over the State, participated in the 5K

race. There were winners in each age division. After the race

younger children participated in a half-mile fun run.

Later that morning we held an antique car show. Over 20 cars

were entered in the event. There were some really nice muscle cars

and trucks on display. The owners, of the cars, had a good time

sharing stories of how they rebuilt their vehicles from scratch.

Spectators took pictures and chatted with the owners for the

remainder of the day.

Next, the fun times began. We had a dunking booth where the

youth took turns dunking each other. There was a free jumping tent

for the smaller children. We had a silent auction; vendor tents and a

concession stand full of your favorite foods and drinks. There was a

hot dog eating contest, Mark Smith was crowned the champion in

this event. In the pet parade Natalie Brady and her black lab "super

Dog" captured the first prize. Later in the evening we had the Mess

Puckett Beauty Pageant. It was a real "Mess". David Williams, was

crowned the Mess winner. The crowd was entertained and had a

parties, and even Tiger Rock Martial Arts, just to name a few. The

teachers and office keep a list of eligible students.

At the end of every year, the Big Big Event happens for the kids

that have not received any discipline referrals the entire year. It has

activities including water slides, bounce castle, and blow up obstacle

courses. These students are identified by wearing a special bracelet.

McLaurin Elementary feels that it is important to reward students

for their hard work and effort to be the best student and have the

best character possible.

At these events, the school can decide to sell bottled water, snow

cones, or other approved snacks or items. The money that is raised is

used by our school to fund the Big Event committee for the

following year.

Every year, every student has a fresh start and new opportunity to

work as hard as they can to be able to attend all their favorite Big

Event activities. Also, the students complete a survey each year to

help the committee plan activities that the students have suggested.

great time. The Spring Fling was a success and we hope to improve

on it next year. This annual fundraiser helps Puckett HS football

with their expenses.

98 • June 2017
---
Pisgah High

Before we complete final exams, before we mail report cards,

before we say goodbye for the summer, we celebrate the recent

achievements and awards of our students and faculty.

Various teams and student athletes demonstrated athletic prowess

at the state level. The Pisgah Boys Track Team brought home both

the District 6-2A and 3-2A Region track titles along with winning

1st place in the Small School Division at the Rankin County Track

Meet. At the MS State Meet, Ken Story won 2nd in the 300 hurdles

and 3rd in the 110 hurdles. 9th grader Ben Arnold finished 7th in the

300 hurdles. In pole vault, Colton Pierce finished 7th, and Trevor

Hallett finished 5th. For the girls, Savannah Dillard placed 6th in the

long jump, and Kirby King placed 7th in the triple jump at the State

Meet.

The Golf Team, District 6 / Region 3 Champions, placed 5th

at the state tournament. Kaleb Hayman was District 6 / Region 3

Runner Up.

The Tennis Team, Region 5-2A Runner Up, sent four players to

state. Corey Jones and Paige Oster participated in singles while

Courtney Buffington and Madison Crapps, Girls Doubles District

Champs, advanced to the State Quarterfinals.

In academics, 12th grader Kameron Wilson and 11th grader Izzy

Woodford participated and placed in the Hinds Community

College Literary Festival. Kameron's essay "Living a Quality Life"

won second place, and Izzy's poem "Shape of Me" received first place

and won her a full tuition scholarship.

Behind successful students, you will find dedicated teachers. In his

first year at Pisgah, STEM teacher Joseph Oster received the Rankin

County School District Certified Staff Member of the Month

Award. Before joining the Pisgah faculty, Mr. Oster pastored a local

church, volunteered with FCA, and drove a school bus.

As the school year closes, we celebrate the successes of our

students and faculty and look forward to an even better 2017-2018.

Submissions provided by local officials from each individual district and not to be considered editorial opinion.

Hometown Rankin • 99
---
The CHALKBOARD

RANKIN COUNTY SCHOOLS

Richland High

Richland High School and the Richland Fire Department have

developed a working partnership to give students an opportunity to

learn valuable lifesaving skills and to develop the ability to work as a

team.Participants will also be provided with leadership abilities and

the capability to become confident, productive outstanding citizens

in our community. This unique strategy enables high school students

to have the experience and preparation necessary for them to earn a

professional firefighter certification.

This program takes the student from cadet level through

certification at the NFPA 1001-firefighter II level. It covers all

aspects of firefighting including fire behavior, protective equipment,

forcible entry, ventilation, salvage/overhaul, and fire attack. It also

includes CPR and first aid, incident command, hazardous materials

operations, auto extrication, rescue the rescuer, and physical fitness

training. Successful students will be certified as Firefighter I and II

by the Richland Fire Department within their jurisdiction.

In addition, daily hands-on activities are conducted in order to build

skill and enhance the knowledge gained. Near the end of the course,

students participate in comprehensive activities which require team

and individual efforts to accomplish their assigned "mission." The

top graduates are recommended for employment with the Richland

Fire Department once they reach the age of eighteen. The other

graduates are allowed to become reserves within the department.

The program helps in developing the attitudes and skills necessary to

establish satisfying relationships and sets and achieves personal goals

while producing self-esteem and confidence. The main purpose of

the cadet program is to change the lives of our students, so that they

may change the lives of others in times of need.

Richland High School serves nearly 850 students from grades

seven through twelve. We are a Title I school with free and reduced

lunch ratio of about 63%. Many of the students from Richland

graduate and immediately enter the workforce. To prepare students

for this transition, RHS has continually sought assistance from

members of the community to have our student's career or college

ready. As a result the graduation rate has increased from 60% to

nearly 90%. A key factor was the development of career interest

surveys, which led to the growth of curriculum that made a pathway

for students to graduate in order to pursue the career of their choice.

The Richland Fire Department indicated that they were interested

in developing potential candidates for the fire department and

approached RHS with a plan to develop an internal pool of

applicant who would be trained and available after graduation.

For students who had expressed an interest in becoming a fire

fighter, the timing was impeccable. The initial program for juniors

and seniors and has grown from eight to fifteen participates

since its implementation.

100 • June 2017
---
Pelahatchie High

Partnered with Get2College, Pelahatchie High School held their

first Academic Signing Day on May 5, 2017. With gracious donations

from sponsors, seniors received backpacks filled with useful items for

college. Signing with one of thirteen colleges represented, seniors

proudly revealed which college they would be heading to this fall. For

the finale, names were drawn for a limited selection of additional

gifts. As guest speaker, along with Representative John L. Moore,

Representative Tom Miles posted the following comment on

Facebook: "This is a great thing that the school and parents did to

encourage the students to continue their education by going to

college and stressing the importance of academics." With the help of

parents, principals, teachers, counselors, guest speakers, and

especially Get2College, Academic Signing Day was a success.

A nonprofit organization, Get2College provides free services that

help students and their families plan, prepare, and pay for college.

Counselors of the Jackson Get2College Center have worked

throughout the year with the Pelahatchie High School seniors to

prepare them for the next step in their education. They assisted

students with applying to and visiting local colleges, completing

scholarships, and housing and state aid applications, including the

Federal Application for Federal Student Aid (FAFSA).

The culmination of this school year was the Academic Signing Day,

which honored 43 students who made the commitment to attend a

college or military academy. Get2College, a program of the

Woodward Hines Education Foundation (WHEF), helps

Mississippi students obtain post-secondary credentials, college

certifications, and degrees that lead to meaningful employment.

Learn more about Get2College and WHEF at get2college.org.

Eighty-two percent of Pelahatchie's graduating seniors will attend

a post-secondary institution. The Chieftain community is thrilled to

celebrate the success of this year's graduating Class of 2017.

Submissions provided by local officials from each individual district and not to be considered editorial opinion.

Hometown Rankin • 101
---
HOMETOWN

Sponsored by

For ten weeks, Renasant Bank and Hometown Rankin Magazine honors school

personnel throughout Rankin County for outstanding work in their fields.

Nominations were accepted through Facebook each week and those receiving

the most nominations were awarded gift baskets from our sponsor. We are

pleased to have been able to celebrate with these amazing school employees

that were voted on by their peers. Thank you to all who participated and

congratulations to our last seven winners.

102 • June 2015
---
C

M

Y

CM

MY

CY

CMY

K

Hometown Rankin • 103
---
Come see why there are

Reasons

to

choose

Fall classes start Aug. 14

1.800.HINDSCC • www.hindscc.edu

In compliance with the following: Title VI of the Civil Rights Act of 1964, Title IX, Education Amendments of 1972 of the Higher Education Act, Section 504 of the Rehabilitation Act of 1973, the Americans with Disabilities Act of 1990 and other applicable Federal and State Acts, Hinds Community College offers equal

education and employment opportunities and does not discriminate on the basis of race, color, national origin, religion, sex, age, disability or veteran status in its educational programs and activities. The following persons have been designated to handle inquiries regarding the non-discrimination policies: Dr. Debra

Mays-Jackson, Vice President for Administrative Services, 34175 Hwy. 18, Utica, MS 39175, 601.885.7002. Dr. Tyrone Jackson, Associate Vice President for Student Services & Title IX Coordinator, Box 1100 Raymond Campus (Denton Hall 221), Raymond, MS 39154, 601.857.3232, titleIX@hindscc.edu

104 • June 2017
---
Retirement,

Assisted Living,

Memory Care,

& Respite Care

Community

__________________

CALL NOW TO SCHEDULE A TOUR

601-345-2202

Every day of life is a blessing

350 TOWN CENTER WAY ~ FLOWOOD, MS ~ BLAKELIVING.COM

Anita Davis, Executive Director

Hometown Rankin • 105
---
Jackson Jewelers

14k White Gold

1 Carat Diamond Wedding Band

Polk's Drugs

Orca Rocket $44.99 – Orca Chasers $49.99

Father's Day

Frederick's

Stihl BG 50 Handheld Blower

Mockingbird Marketplace

Picnic Plus Wine & Beverage Carrier

106 • June 2017
---
KD's Furniture

Great Selection of Leather Recliners

Professional EyeCare

Associates

Ray Ban Sunglasses with Blue Mirrored Lenses

gift guide

rankin county Co-op

Case Hand-Crafted Pocket Knife

Van's

Yeti Drinkware

Hometown Rankin • 107
---
108 • June 2017
---
Hometown Rankin • 109
---
Hometown Rankin

READER

SPOTLIGHT

Kathy Deer

Why did you decide to make Rankin

County your home?

I moved to Pearl 32-years ago with the intentions

of it being temporary. I enrolled my daughter in

first grade at Pearl, but still thinking that I would

probably move to Clinton or Madison. In the

meantime I became very involved in the Pearl

Jaycees, a fun close-knit bunko group, and a

wonderful local church. Within no time, my

daughter was fully immersed in Girl Scouts,

Sunday school, pee-wee cheerleading, softball, and

dance. It quickly became home and in a few years I

met the love of my life and we got married and

joined our families. The rest is history. God worked

every detail of it out for me.

Tell us about your family.

I am married to Kirby Deer who is an SAP

manager at Ergon. Together we have three

daughters: Jennifer, who is married to Ethan

Mayeu and they have one beautiful daughter Cavie

that we call "The Princess"; Kelsey, who is married

to Justin Lancaster and they have one son, Shaw;

and Emily, who is married to Brian McGairty and

they have one son, Jon Davis who is almost three,

and identical twin boys, Tatum and Tucker, who

will be two in August. We are members of

Crossgates United Methodist Church and we love

sports, hunting and fishing and just spending time

with our family.

What is your favorite memory of living

in Rankin County?

Living here as long as I have I really struggle with

naming just one memory a favorite. My mind is

flooded with memories of family, friends and

good times.

Where are your 3 favorite places to eat

in Rankin County?

We have so many great restaurants in Rankin

County that it would be hard to only pick three, so

I will narrow it down to Pearl, and give you a few

of my favorites: Moss Creek Fish House, Little

Willie's BBQ, Jose's Mexican Restaurant, Darwell's

To Go, and Frisco Deli.

What are some fun things to do in Rankin

County on the weekends?

Attend a Mississippi Braves baseball game, go to a

movie at Tinseltown Theatre, play a round of golf

at Patrick Farms Golf Club or, the best kept secret

in town, the Pearl Municipal Golf Course. The city

of Pearl has three city parks that have playground

equipment, walking trails, pavilions, picnic tables

and big gorgeous oak trees that shade the parks.

We have a lot of family-friendly events in Rankin

County such as festivals, car shows and concerts.

Share some things you enjoy doing in your

spare time.

With five grandchildren that live close, spare time

is not always available. They are my heart and

doing things with them is what I treasure the most.

Outside of family gatherings, sports is my

passion—primarily football, basketball and

baseball. We attend our grandson's games and we

also love high school and college level sports as well

as minor and major league games.

What are three things on your bucket list?

When I think of a bucket list I think of places that

would like to go, like Washington State, New York

City, and Hawaii. But I would mainly like to watch

our grandchildren grow up and be happy and

well-adjusted adults.

Who is someone you admire and why?

I admire all of the people that work with shelters

like the Center for Violence Prevention. Sandy

Middleton and Paula Vaughn and their staff work

tirelessly for those that need help the most. I

personally could not deal with the violence and

tragedy that they see on a daily basis. God has truly

called them to their profession.

Where do you see yourself ten years

from now?

I would like to be retired or semi-retired and

working on my bucket list!

What is your favorite childhood memory?

My parents gave me the opportunity to do all kinds

of things like Girl Scouts, piano lessons, art lessons,

sports, summer camps, and other fun things.

My favorite memory is just playing outside, riding

my bike and climbing trees.

If you could give us one encouraging

quote, what would it be?

"For I know the plans I have for you, says the Lord,

plans to prosper you, not to harm you, plans to give

you hope and a future." Jer. 29:11

What is your favorite thing about

Hometown Magazines?

I've never seen a magazine that I will grab up as

soon as they are delivered and read from cover to

cover. It is always full of interesting articles and I

love all of the pictures of events that are held in

Rankin County.

110 • June 2017
---
Hometown Rankin • 111
---
American Legion, Brandon Post 68

Boys & Girls State

Recognition Dinner

May 11 • Brandon municipal Center

112 • June 2017
---
Hometown Rankin • 113
---
Camille Anding

The Time Coin

The church grounds were still

shaded by the giant oaks decked

in Spanish moss. The peaceful

bay still rippled along the street that circled

the property, but the newly constructed

worship center dwarfed the original

building that Dan and Evelyn had called

their church home so many years ago.

This day was their yearly visit with the Kratts. Evelyn could hardly

contain her excitement.

The visiting couple pulled into a crowded parking lot and found a

single, vacant visitor's spot. They waited in the welcome center for

familiar faces and saw a large-framed gentleman, slightly stooped,

walk through the corridor. The years had etched into his frame and

face, but they remembered his servant heart when he worked with

the youth. Dan greeted him and their old friend sorted through the

hundreds of former military families he had known, and he recalled

Dan and Evelyn's friendships. His broad, contagious smile was the same

that the couple remembered almost forty years ago.

In the midst of their conversation, Mr. Kratt's kind face caught their

attention as he made his way toward the visitors. Their dear friend

who had provided affordable rent along with godly mentoring in the

couple's first year of marriage was still smiling and involved in his

church ministry. His ninety-two years weren't a crutch or excuse but

a reason to give thanks to God.

His eyes still twinkled when he smiled,

and his gentle voice brought back a tidal wave

of wonderful, loving memories. The foyer

traffic was picking up as the first service

emptied through the large doors, but their

reunion wasn't hampered. They talked about

their families and listened as he shared about

his and the new church facilities.

Mrs. Kratt soon joined them, and their fellowship was sweet

and amazingly close to where Dan and Evelyn had left off a year ago.

As the sanctuary music reminded them of the worship hour, they

followed the elderly couple into the worship center. Mr. Kratt's steps

were slower, and time was attacking his body, but it hadn't made a dent

in his spirit. Evelyn's heart hurt to see how the years were aging his

once-strong frame, but she rejoiced that his faithfulness and servant

heart were continuing to flourish.

As they stood to sing hymns of praise, Evelyn looked to her left at

this ninety-two-year-old friend and his sweet wife. She looked in front

to see a young couple – military looking – a lot like she and Dan were

almost four decades ago. Now, Dan and Evelyn were close to the age

of the Kratts when they first met.

Time is fleeting, "like a snowflake on a river." It marches on

– sometimes runs, seldom crawls, but it's always moving. As the hymn

of praise made heavenly background music, Evelyn whispered a prayer

from Psalms: "Lord, teach us to number our days that we may gain a

heart of wisdom." n

114 • June 2017
---
NEW YEAR

NEW LOCATION

NEW EQUIPMENT

We are ready to hit the new year with

greater efficiency coupled with the same high quality and

customer service you have come to expect from Hederman

Brothers. Give us a call and let us help you with the latest

technology for all your printing needs.

PRINT

DIRECT DIGITAL GREEN CROSS MEDIA DESIGN

OUR NEW LOCATION

247 Industrial Drive N

Madison, MS 39110

601.853.7300 • 1.800.844.7301

www.hederman.com

Voted Best

Printing

Company

2016 by the

Clarion-Ledger

People's

Choice Awards.

Hometown Rankin • 115
---
More than 30 practices.

Quick appointments.

One number: 844-MSMERIT.

Because there's Merit in convenient care.

With more than 30 primary care and specialty practices in four counties across the Jackson and Vicksburg metropolitan

areas, Merit Health Medical Group providers offer quality care for your family with your schedule in mind. From sore

throats and fever to annual wellness visits and more specialized care, we've got you covered.

To see all locations and specialties, please visit MyMeritDoctor.com

Call 844-MSMERIT for a provider near you.

Walk-ins are welcome at all primary care practices,

or ask about same-day and next-day appointments.