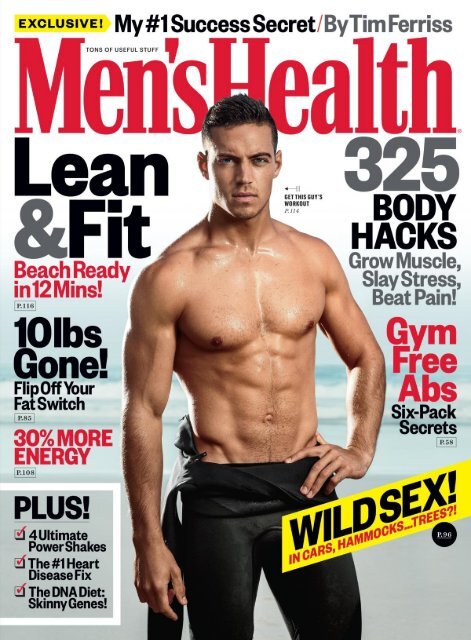 Mens_Health_USA_JulyAugust_2017
You also want an ePaper? Increase the reach of your titles
YUMPU automatically turns print PDFs into web optimized ePapers that Google loves.
©2017 FCA US LLC. All Rights Reserved. Jeep is a registered trademark of FCA US LLC.
---
FIND YOUR

TRUE NORTH

YOUR ALL NEW 2017 COMPASS
---
MEN'S HEALTH

JULY/AUG 2017

A = THE ADVENTURE

ISSUE

MensHealth.com

@MensHealthMag

@MensHealthMag

STRENGTH

WEIGHT LOSS

FORGE BIG BICEPS

5 pro tips for a

beach-worthy body.

BY MARK ANDERS

47 A

BUILD MUSCLE

AT THE PARK

Pullup bars, monkey

bars—same diff.

BY MIGUEL

ARAGONCILLO, C.S.C.S.

50 A

GYM-FREE ABS

6 surprising secrets

for a six-pack.

BY EBENEZER SAMUEL

58

FOOD

GRILL THE

PERFECT BURGER

Our test kitchen

totally nailed it.

63

#1 HEART FIX

And all your essential

nutrition news.

66

10 POUNDS GONE!

Your 5-step plan.

Plus: the DNA diet—

disinherit Dad's belly

(no luck yet with the

dance moves).

BY SARAH WATTS

85

HEALTH

FIX HIP PAIN

4 ways to strengthen

these troubled joints.

BY DEVON SCHUYLER

89

STAY COOL

Pit stains, body

odor, hydration—

don't sweat it.

BY JERILYN COVERT

AND JUNO DEMELO

92

DON'T LET THESE

RUIN SUMMER

Seasonal health

traps you didn't know

existed—until now.

BY AIMEE SWARTZ

94

Lean & Fit!

Your adventure awaits, just outside: Have hammock

sex (p. 100), survive anything (p. 128), get beach ready

in 12 minutes (p. 116), and boost your energy (108). A

FEATURES

THE ULTIMATE

MH DOG

Nearly 900 competitors.

8 finalists. 1 top

dog. Countless belly

rubs. And tons of tips

for you and your pup.

120 A

THE EXCHANGE

YOU ASKED

We answered: How

much should I spend

on sunscreen?

Should I schedule

sex? Why do I get

colds in summer?

18

USEFUL STUFF

6 FITNESS TRIPS

Say farewell to flab,

once and for all.

29 A

BINGE TRAINING

Lift with Daenerys.

34

Get ripped!

Obstacle racer

Hunter McIntyre

shows you how.

SIZZLIN' CAMP-

FIRE NACHOS

Smokier. Manlier.

Delicious-er.

36 A

YOUR NO. 1

SUCCESS SECRET

Let fear fuel you.

BY TIM FERRISS

44

4 SHAKES FOR

MORE POWER

Drink to your health.

Plus: The best blender

for your buck.

70

STYLE

LOOK GREAT!

The rules of casual

cool, from Asheville,

North Carolina.

BY SANDRA NYGAARD

73 A

TAKE YOUR

CLOTHES OFF

And put these swim

trunks on.

BY DAN MICHEL

80

RELATIONSHIPS

WILD SEX!

In 5 minutes or less.

BY ANNA BRESLAW

96 A

ON THE COVER

Du Toit Botha, photo graphed

by Sean Laurenz; inset photo

(subscriber cover) by Amy

Lombard. Quicksilver wetsuit.

PHOTOGRAPH BY PETER YANG

MensHealth.com / JulyAugust 2017

5
---
Chris Peel

VP/PUBLISHER

Your guide to

the expanding

empire of Men's

Health, the

world's largest

men's brand.

2

MENSHEALTH.COM/APP

Load This App, Load Your Bar

Muscles respond well to new workouts,

so make our app your source.

You'll find exclusive routines, like

Kettlebell Shred and Unleash Your

Alpha, from such influential trainers

as Keoni Hudoba of Barry's

Bootcamp in New York City and

MH Mexico cover guy Brian Mazza.

Eric Hunter Associate Publisher,

Integrated Marketing; Cory Rotkel

VP/Digital Advertising Director

ADVERTISING SALES

New York (212) 697-2040: Leanne

LoCastro Senior Fashion & Watch

Director; Doug Zimmerman Senior

Grooming Director; Gil Tiamsic

Advertising Sales Director; Jaime

Miller Advertising Sales Manager;

Chicago (312) 726-0365: Autumn

Jenks Midwest Sales Director;

Bridget McGuire Midwest Account

Manager; Detroit (248) 930-8091:

Stephanie Schultz Advertising

Sales Director; Los Angeles (310)

615-4567: Patti Lange Western

Ad Director (310) 252-7528; San

Francisco Office (415) 439-4601:

Andrew Kramer Kramer Media;

France Representative 011 33 1 47

30 71 80: Fabio Lancellotti Def &

Communication; Italy Representative

011 39 02 874543: Angelo

Careddu Oberon Media S.R.L.

Katherine Louie Publisher's

Assistant; Kelsey Cotter, Zoe

Fritz, Sarah Greer, Pilar Silva,

Challen Stadler Sales Assistants

Karen Ferber Business Manager;

Karen Stinner Production

Account Manager; Cindy Wenrich

Production Account Specialist

MARKETING SERVICES

Stephanie Block Associate Integrated

Marketing Director; Hilary

Kelley Senior Integrated Marketing

Manager; Josh Feigenbaum, Jackie

Lebowitz, Daria Meoli Pietras

Integrated Marketing Managers;

Jennifer Levin Integrated Marketing

Coordinator; Delisha Fields

Senior Special Events Manager; Jiri

Seger Creative Director, Marketing;

Robert Slagle Senior Art Director

1

MENSHEALTH.COM/

GAINZ

3

MENSHEALTH.COM/BATTLEQS

Duel in the Office

We call it Battle Questions: Visitors

like Neil deGrasse-Tyson vs. our

Matt Bean in air hockey. If Matt

scores, he asks Neil a real profound

question. If Neil scores, he shamelessly

plugs his new book. Win-win.

Big Laughs! Big Gainz!

Serious muscle doesn't have to be totally

serious. Enter Gainz, our new comedy video

series starring BJ Gaddour. (That's BJ above,

doing his part to help build our office deck.)

Shove a meat-and-bean burrito into a blender

and call it a protein shake? No rules, man.

Let other guys get swole—you want Gainz.

4

MENSHEALTH.COM/CHEFD

Power Meals, Delivered!

Here's your combo plate: our

expertise and the know-how of

Chef'd, the meal delivery folks.

Try the Soba Shrimp Pad Thai.

It's impressive and easy: Unbox,

cook, eat. That last step's the best.

5

INCONVENIENTSEQUEL.COM

An Inconvenient Sequel:

Truth to Power

Follow-ups to An Inconvenient

Truth—the action-plan book from

MH parent Rodale, and the movie—

arrive in July. Why not speak at a

town hall? Rehearse; bring a prop.

MENSHEALTH.COM

Colleen Duke Senior Manager,

Sales Planning & Strategy; Eileen

Becker Account Manager; Lexy

Ball, Harry Gaffney, Jessica

Miller Digital Sales Planners;

Allison Ackerman Executive

Director, Consumer Marketing;

Joanne Ferenczi Finance Direc tor;

Lynn Canning VP, Group

Research Director; Brunetta

Cathers Research Director

RODALE INTERNATIONAL

Kevin LaBonge Executive Director,

Business Development and Global

Licensing; Angela Kim Director,

Business Development and Global

Licensing; Tara Swansen Director,

Global Marketing; John Ville Editorial

Director, Rodale International; Laura

Ongaro Editorial Director, Men's

Health & Women's Health; Samantha

Quisgard Associate Editor; Karl

Rozemeyer Senior Content Manager;

Natanya Spies International

Editorial & Content Coordinator

RODALE

Maria Rodale Chairman of the

Board & CEO; Paul McGinley

EVP, General Counsel & Chief

Administrative Officer; Stephen

Twilliger EVP, Chief Financial

Officer; Beth Buehler EVP/Chief

Operating Officer; Adam Campbell

Chief Content Officer; Ronan

Gardiner Chief Advertising Officer;

Miranda DeSantis SVP, Human

Resources; Bill Strickland Group

Editorial Director; Joyceann Shirer

SVP, Marketing; Heidi Cho VP,

Digital Content; Gail Gonzales

VP/Publisher, Rodale Books

J.I. Rodale

Founder, 1942–1971

Michael Friberg/Contour by Getty Images (Gore)

6 MensHealth.com / JulyAugust 2017

PHOTOGRAPH BY MITCH MANDEL
---
LETTER FROM THE

Let's Take

This Outside

EDITOR

Matt Bean

EDITOR-IN-CHIEF

Bill Stump Executive Editor

Mike Schnaidt Creative Director

EDITORIAL

Bill Stieg Deputy Editor;

Ben Court Features Editor;

Melissa Jewsbury Managing

Editor; Dean Stattmann Brand

Editor; BJ Gaddour Fitness

Director; Joe Kita, Paul Kita,

Dan Simmons Senior Editors;

Julie Stewart Health Editor;

Ebenezer Samuel Fitness Editor;

Jerilyn Covert Associate Editor;

Tyler Daswick, Brielle Gregory

Assistant Editors; Andrew

Dawson, Danielle Fox Interns;

Gregg Stebben Contributing Editor;

Denis Boyles Editor at Large;

Shoi Greaves Executive Assistant

Fresh air is a hell of a drug. I'm not just

riffing here: For decades, selfless scientists

have toiled on tropical beaches and in

sun-dappled forests to prove this fundamental

fact. We are fitter, happier, and more

productive among trees—not in office cubicles,

and definitely not among fake plastic

trees. This is a truth plainly obvious to even

a child. Especially a child being called in

from the backyard after a long summer day.

Still, inspecting the research is instructive.

Consider this finding from Norwegian

scientists, whose tans I'd bet are as well maintained

as their foraged box lunches: People

who exercise outdoors are 160 percent

more motivated to keep working out than

those sullen souls trapped indoors on treadmills

or other medieval torture devices.

Another study, this one in the Journal

of Stating the Obvious (sorry, the Journal of

Experimental Psychology), found that walking

and thinking outdoors can lead to a 75 percent

uptick in "creative ideation." It's true:

Our staff brainstorms always go better when

the door's open. (Until the pages blow away.)

In short, when you're outside, you're happier

and better at everything you do.

So welcome to our adventure issue, a guide

to pursuing everything you know and love

from MH—outside. Not one photo, not one

article, is hemmed in by a building. Everything

on these pages—like the fun starting

on page 100—can be done outdoors.

By the way, what are you up to in July?

We're taking intrepid trekkers on hikes

near our East Coast digs, one at Breakneck

Ridge just north of Manhattan and the other

in Pennsylvania's Lehigh Valley. Email us at

adventure@rodale.com.

Happy trails!

Instagram

@mattbean

Twitter

@mattbean1

Snapchat

mbean_10

Our staff on our

new deck (thanks,

Trex!), where

fresh air and

sunshine (and a

beer or two) help

us stay creative

and motivated.

ART

Pete Sucheski Senior Art Director;

Hitomi Sato Art Director;

Raymond Ho Deputy Art Director;

Patty Alvarez Contrib uting

Art Director; Robert Dominguez

Contrib uting Designer

PHOTOGRAPHY

Jeanne Graves Director of

Photography; Sally Berman

Deputy Director of Photography;

Sinikiwe Dhliwayo Photo

Production Coordinator; Melanie

Skrzek Contributing Photo Editor

FASHION &

ENTERTAINMENT

Brian Boyé Executive Fashion

Director; Sandra Nygaard

Fashion Director; Dan Michel

Fashion Editor; Danielle Nussbaum

Contributing Editor, Entertainment

COPYEDIT, RESEARCH,

PRODUCTION

Susan West Copy Chief; Mike

Wilson Copy Editor; Jennifer

Messimer Research Chief; Alex

Gardner Researcher; Janna Ojeda

Senior Production Manager; Ana

Zapata Contributing Production

Manager; Jennifer Giandomenico

Digital Production Leader

MENSHEALTH.COM

Sean Evans Digital Director;

Gus Turner Social Trends

Editor; Christa Sgobba Senior

Associate Editor; Ashleigh

Morley Branded Con tent Editor;

Paige Carlotti Social Media

Editor; Alisa Hrustic Assistant

Editor; Dan Revitte Creative

Director; Amanda Becker Web

Designer; Michael Sneeden

Senior Video Pro ducer; Danny

O'Halloran Video Producer;

Ryan Bird, Jessica Paholsky

Assistant Video Producers; Kris

Lynds Online Media Producer;

Barry Knoblach Producer;

James Nosek Junior Producer

PUBLIC RELATIONS

Jourdann Lubliner Associate

Director, Public Relations

HOW TO REACH US

Customer Care To change your

address, pay your bill, renew a

subscription, and more, go online

to menshealth.com/customerservice,

email HLHcustserv@

rodale.com, call (800) 666-2303,

or write Men's Health Customer

Care, P.O. Box 3064, Harlan, IA

51593-0128. Editorial Offices

400 South 10th Street, Emmaus,

PA 18098; Story Feedback &

Questions MHLetters@rodale.

com; Licensing & Reprints

Contact Wyndell Hamilton, Wright's

Media, (281) 419-5725 ext. 152,

whamilton@wrightsmedia.com

Absolute satisfaction guaranteed.

Scent-free subscription available

on request. We occasionally make

our subscribers' names available

to companies whose products or

services may be of interest to

them. You may request that

your name be removed from

these promotion lists; call (800)

666-2303 or go to rodale.com/

privacy-policy. Printed in USA

8 MensHealth.com / JulyAugust 2017 PHOTOGRAPHS BY PHILIP FRIEDMAN
---
CLASSIC

DISTANCE

1/2 MI. SWIM

18 MI. BIKE

4 MI. RUN

INTERNATIONAL

DISTANCE

1.5K SWIM

40K BIKE

10K RUN

SEPT 16 & 17

2017

NAUTICAMALIBUTRI.COM
---
JULY/AUGUST

Your guide to

what's happening

and how to make

the most of it.

By Mike

Zimmerman

AUGUST 21

TOTAL SOLAR ECLIPSE:

THE GAME!

When a 70-mile-wide swath of

moon-made darkness sweeps

across the land, it'll be freaky

and geeky. Let's have some fun.

Buy eclipse sunglasses,

or use

welders' goggles

with No. 14 glass.

Drive to a fullshadow

spot, like

in Grand Teton

National Park.

Luck into

cloudless

weather.

Path of eclipse

Convince a

child that

you made the

sun go away.

Have sex

during the 2-

minute event.

Last longer

than the event.

Visit eclipse2017.

nasa.gov to

sound smart.

THREE STRIKES AGAINST THE ALL-STAR GAME

1. Miami in July does not qualify as Midsummer Classic. There's nothing

classic or summery about a sliding-roof stadium with A/C.

2. Spend hundreds of dollars to watch millionaires play in a jillion-dollar

stadium? Pass. (We will watch the Home Run Derby though.)

3. We'd rather catch the Chatham Anglers vs. the Harwich Mariners in the

Cape Cod League. Or any Little League game at dusk. That's classic.

WHY WE'LL

CONTINUE

TO LET

CHARLIZE

THERON

PUNCH US

ANYWHERE

SHE WANTS

ATOMIC BLONDE

HITS THEATERS

JULY 28

YOUR NATIONAL DESSERT DAY TIMELINE, AUGUST 2017

BOOM!

Americans celebrated their first

Fourth of July 240 years ago, in

1777, with fireworks and bell ringing.

Even with the Brits eyeing

Philadelphia and George booking

a winter in Valley Forge. This

summer, have a blast at the new

Museum of the American Revolution

in Philly. Cause we won.

GRATUITOUSLY VIOLENT BOOK OF THE MONTH BY A FORMER MH EDITOR THAT ALSO HAS PRETTY PICTURES

THE BLACK HOOD, VOL ONE: THE BULLET'S KISS BY DUANE SWIERCZYNSKI (JULY 11)

50TH ANNIVERSARY

YOUR SUMMER OF

LOVING VINYL

Mark the half century

since the Summer

of Love by blissing

out to a 1967 gem

from start to finish,

as they did back then.

And ride the snake.

Are You

Experienced

The Jimi Hendrix

Experience

The Doors

The Doors

Big Brother & the

Holding Company

Big Brother & the

Holding Company

Buffalo Springfield

Again

Buffalo Springfield

Mellow Yellow

Donovan

Flowers

Rolling Stones

Younger Than

Yesterday

The Byrds

Grateful Dead

Grateful Dead

Sgt. Pepper's Lonely

Hearts Club Band

The Beatles

AUG 2 AUG 3 AUG 9 AUG 10 AUG 14

AUG 24 AUG 25 AUG 28 AUG 30

AUG 31

Ice Cream

Sandwich

Day

POINTS

5

10

20

75

5

100

3

Watermelon

Day

Rice

Pudding

Day

JULY 11 AT MARLINS PARK

S'mores

Day

Creamsicle

Day

Peach

Pie Day

Banana

Split

Day

Cherry

Turnover

Day

Toasted

Marshmallow

Day

Trail

Mix Day

Getty Images (10), Getty Images plus (9), Shutterstock (1), Alamy (1)

10 MensHealth.com / JulyAugust 2017
---
All

that's

within

you

is

all

that

you

need.

WHAT'S INSIDE IS EVERYTHING

When you're true to your nature, that's powerful beyond measure. ZICO's coconut water comes from the core

of the coconut. No sugar added. † Naturally occurring electrolytes to support hydration. Perfect just the way it is.

†

Not a reduced calorie food. See nutrition facts for sugar and calorie content. ©2017 ZICO Beverages LLC. All Rights Reserved.
---
UNFILTERED

PHOTOGRAPHS

The Thrill of

Letting Go

At Tuck Fest, adventure athletes

compete against regular Joes,

seeking glory in the water, on trails,

and up walls. / BY ANDREW DAWSON

Boosh! One by one the climbers fall. Ka-koosh! This is the deep water solo, the main

event at Tuck Fest, three days of crazy adventure games at the U.S. National Whitewater Center in

Charlotte, North Carolina. Climbers go head-to-head in this knockout competition, racing up a

45-foot wall that arcs over a pool. It requires muscle, dexterity, and smarts. "It's about strength but

also trusting your instincts," says Nathaniel Coleman, 20, of Murray, Utah, who finished second. He

says climbing is a great workout; try strengthening your grip with forearm trainers ($7, blackdiamond

equipment.com). At Tuck Fest, mountain bikers charge up trails, paddleboarders and kayakers ride

whitewater, and runners dash through the woods. Sweat, beer, and adrenaline flow freely. We had to

find out: What does adventure mean to these guys, and how do they scratch the primal itch?

Push and Pull

When deep water

soloing, "you've got

to push with your feet

as much as you pull

with your arms," says

Coleman. "If you don't,

your upper body will

tire. Rushing too hard

can lead to slipups that

land you in the water."

EVENT

TUCK FEST

APRIL 21

BY

APRIL 23

Nils Ericson

C H A R L O T T E , N C
---
MensHealth.com / JulyAugust 2017 13
---
UNFILTERED

Notice the Grin

"When you're outside,

look around. No one

is mad. That's the

power of nature," says

Adriene Levknecht,

29, of Greenville, SC.

Turn Off the GPS

"I like to get lost a lot

in the woods," says

Taylor McNeill (far

right), 26, of Vilas, NC.

"Somehow it helps

me feel more alive."
---
PROFILES IN POWER

For a deeper dive into our

Tuck Fest experience, go to

MensHealth.com/tuckfest.

Chase Change

"To pursue adventure

is to pursue transformation,"

says

Jeffrey Yancey, 29, of

Charleston, SC. "With

risk comes growth."

Embrace the Filth

"Being outdoors is

about getting dirty

and having fun," says

Alan Neronski, 34,

of Virginia Beach, VA.

MensHealth.com / JulyAugust 2017

15
---
Your Trainer

Ian Creighton,

coach and

general manager,

Brick New York

in Manhattan

Six Simple Moves for Total-Body Strength

MOBILITY

Complete 3 rounds of this warmup

circuit. After each round, perform

jumping jacks for 30 seconds to help

elevate your heart rate.

STRENGTH

Do 4 sets of this circuit. You'll work

your legs on the front squats and

challenge your shoulders and core

with the single-arm Arnold press.

THE BENCHMARK

Do 2 reps of each move and add 2 reps

per round (2, then 4, then 6, and

so on). See how many rounds you can

do in 10 minutes. Then check your

result against our scorecard below.

Sumo Squat Stretch

Stand with feet shoulder-width apart. Squat

deeply. When you're as deep as you can comfortably

go, put your elbows inside your knees

and push out, opening your hips. Hold for 3 seconds.

Return to standing. That's 1 rep. Do 10.

Dumbbell Front Squat

Hold two dumbbells at your shoulders. Squat,

keeping your knees over your toes. Take 3

seconds to descend until your hips are below

your knees. Explode back to a standing position.

That's 1 rep. Do 8 to 10. Rest 60 seconds.

Dumbbell Thruster

Hold dumbbells at your shoulders, palms facing

each other. Squat until your hips are below

your knees; then explode up to a standing position,

pressing the dumbbells overhead. Lower

the weights back to your shoulders. That's 1 rep.

Vertical Dumbbell Strict Press

Hold a single dumbbell at your shoulder, grasping

it by the end. Quickly press the dumbbell

up, pause, and then take 2 seconds to lower it.

That's 1 rep. Do 5. Switch arms and repeat.

Single-Arm Arnold Press

Stand with a dumbbell at one shoulder, palm

facing in. Press the weight up, rotating your palm

180 degrees. Pause. Take 3 seconds to lower it.

That's 1 rep. Do 6 to 8 per arm. Rest 90 seconds.

Dumbbell-Facing Burpee

Stand facing a pair of dumbbells placed on

the floor in front of you. Do a burpee; then hop

over the dumbbells and turn to face them.

That's 1 rep. Begin your next rep from there.

SCORECARD

HOW MANY ROUNDS CAN YOU

FINISH IN 10 MINUTES?

8 rounds

Superstar!

Post your time to social media:

#MHBenchmarkAMRAP

16 MensHealth.com / JulyAugust 2017 ILLUSTRATIONS BY +ISM
---
Pre-Collision 1 with Pedestrian

Detection 2 standard.

Pedestrians can come out of nowhere. So Pre-Collision with Pedestrian Detection can help spot them and brake

for you. It's just one of the standard Toyota Safety Sense P (TSS-P) 3 features that give you more peace of mind.

Options shown. Dramatization. 1. The TSS Pre-Collision System is designed to help avoid or reduce the crash speed and damage in certain frontal collisions only. It is not a substitute for safe and attentive driving. System effectiveness is

dependent on road, weather and vehicle conditions. See Owner's Manual for additional limitations and details. 2. The Pedestrian Detection system is designed to detect a pedestrian ahead of the vehicle, determine if impact is imminent and

help reduce impact speed. It is not a substitute for safe and attentive driving. System effectiveness depends on many factors, such as speed, size and position of pedestrians, and weather, light and road conditions. See Owner's Manual for

additional limitations and details. 3. Drivers are responsible for their own safe driving. Always pay attention to your surroundings and drive safely. Depending on the conditions of roads, weather and the vehicle, the system(s) may not work as

intended. See Owner's Manual for additional limitations and details. ©2017 Toyota Motor Sales, U.S.A., Inc.
---
THE

JULY/AUGUST

Your biggest,

strangest,

and most

embarrassing

questions—

answered!

HEALTH

I've grilled steaks

without cleaning

the grill first. Gross,

or no biggie?

George, Carthage, MO

Your filthy grill may

make your T-bones

taste nasty, but it

won't kill you. The heat

and closed environment

keep you safe,

says Mark Etzel, Ph.D.,

a professor of food

science at the University

of Wisconsin.

"Harmful bacteria will

die, and since there's

no moisture, bacteria

won't be able to thrive

and multiply." You're

way more likely to

get sick from handling

steaks improperly,

he says. If you touch

raw meat, wash your

hands afterward to

annihilate the bugs.

FITNESS

MY SWIMMING IS AN EPIC FLAIL. HOW

CAN I STREAMLINE MY TECHNIQUE?

Roy, Los Angeles, CA

The trick is to feel weightless and to relax both physically and emotionally.

That concept, taught by Terry Laughlin of Total Immersion

Swimming based in New Paltz, New York, has turned thousands of bad swimmers

into pool fish. Push off and glide in the "Superman position," he says—arms

stretched forward and shoulder-width apart, eyes down as you scan Metropolis.

"Start with your head down and eyes looking at the bottom of the pool. That should

be the foundation of all the swimming you do," Laughlin says. If you relax your

head on the water, he points out, your spine will align naturally. Lightly press your

legs together and do a few unhurried strokes, gliding as much as you can.

I'm training for a

half marathon, but

the more miles I

do, the worse my

ankles feel. Help?

Luke, Arlington, VA

Work on strengthening

your ankle

tendons. And your

calves. And your core.

All of these play a role

in ankle pain. "The

latter stages of longer

distances is when you

can irritate the body

and get injuries," says

Sameer Dixit, M.D.,

a sports medicine

physician with Johns

Hopkins Medicine.

Overuse causes irritation

and discomfort

if your ankles aren't

strong enough. Try

exercises on an unstable

surface, like this

one: Stand on a pillow

and bend your leg

behind you, holding

for 10 seconds. Do this

10 times. Swap legs.

18 MensHealth.com / JulyAugust 2017

ILLUSTRATIONS BY ZOHAR LAZAR
---
THE EXCHANGE

FITNESS

When I hike, I just

grab a stick. Works

as well as trekking

poles, right?

Yuri, Raleigh, NC

We admire an oldschool

hiker who finds

new uses for fallen

wood. If you're not

stumbling or feeling

joint pain, you're

probably in the "heck,

can't hurt" camp.

But think again: Using

a single stick or two

uneven sticks can

put your gait out of

balance and set you

up for injury, warns

orthopedic surgeon

Matthew Panzarella,

M.D. Lightweight,

adjustable poles help

your posture and take

strain off your knees

and ankles, especially

if your pack is heavy.

"Sticks are heavier

and less secure than

trekking poles, which

have contoured grips

and straps," Dr. Panzarella

says. You can

shorten them for

uphill and lengthen

them for downhill.

The tips grab the

ground better than

your branch. Try Black

Diamond Trail Pro

Shock poles ($140,

rei.com) and hike on!

TINDER COACH

NUTRITION

What the heck is

monk fruit? Should

I be eating it?

Walter, Macon, GA

Buddha has been on

our case forever with

his buzz phrase: "To

keep the body in good

health is a duty." So

we're intrigued by

this Chinese fruit with

mystical-sounding

properties (sweet,

no calories!) and an

origin myth featuring

actual monks.

For centuries monk

fruit has been used

in Eastern medicine

for colds and tummy

troubles. Now, its

extract is used as a

FACT-CHECK MOM

Bee sting? Rub some deodorant on it.

LET OUR STYLE TEAM EDIT YOUR PROFILE

sweetener that's 100

to 250 times sweeter

than table sugar, with

zero calories. That

sweetness comes

from antioxidants

called mogrosides,

says Jeffrey Blumberg,

Ph.D., a senior

scientist at the Tufts

University Antioxidants

Research Lab.

It's sold at natural

food stores in liquid,

granule, and powder

forms. Try it if you

want to cut calories

without fake sweeteners.

The FDA lists

monk fruit extracts

in its "generally recognized

as safe"

category. That's not

exactly enlightening,

but good enough.

It's not reliable. Everyone reacts differently to home remedies,

so not everyone will feel relief with a swipe after the stinger's out,

says Matthew Levy, D.O., of Johns Hopkins School of Medicine.

Worry more about an allergic reaction—even if you've never had

one before. Leave the area; other bees can sense a sting and may

attack. Scrape at the stinger until it comes out. Don't squeeze—

that releases more venom. Use a cold compress to relieve pain.

FOCUS,

MAN!

FACE Hey, sunshine! Your

bright smile conveys warmth

and positivity. But try to

find a photo with fewer shadows

so she can see all your

features. Better lighting or

a filter could fix that.

BODY Marathon backdrop,

athletic clothing, strong

posture: A swiping woman

will know you are fit and

determined and that you have

the legs for tights.

PROFILE Easy with the promises.

Let her decide if this

adjective fits. That guy who

brags often turns out to be

the one who took his cousin

to the prom. Share your

interests ( music, books,

movies), not just an interest

in yourself.

FITNESS

Can a waist trimmer

belt help me get abs?

Gary, Des Moines, IA

About as much as

drinking a six-pack

will. We've all seen

the claims: Strap the

belt onto a flabby

stomach and finally

see washboard abs.

Maybe it'll make you

sweat, but losing

water weight means

nothing. "Six-packs

are mostly determined

by diet and

genetics," says MH

advisor Alex Koch,

Ph.D., C.S.C.S., of Lenoir-

Rhyne University.

Obviously, exercise

can help burn off

that belly and reveal

the abs you (and all

of us) have. Save your

money, Gary.

QUICK

CHANGE

Is there a law against tucking

a polo into your shorts? When I

do it, my wife calls me Mr. Old.

Bill, Birmingham, MI

Old or nerdy or both. Steve Urkel

was a tucker. Just saying. The

standard today is to wear polos

untucked, especially with jeans

or shorts. Most brands, including

Lacoste, Uniqlo, and J.Crew, cut

their shirts on the shorter side.

There are exceptions: If your polo

hangs long, tuck. Golfers: Tuck

it, especially at a private club. And

if you're dressing up a polo with a

sport coat or trousers for the office,

tucked looks best.

I wear a baseball cap in the

summer. I'm 42, so flat-brim

isn't for me. Any guidance?

Henry, Atlanta, GA

You're right so far. For flat brims,

trucker hats, and foil stickers, I'm

capping the age limit at 30, plus

or minus depending on maturity

level and location. (Anything

goes in Vegas.) Logos still make

sense for a young guy. I get my caps

at gentsco.com. (So have Chris

and Liam Hemsworth and Mr.

Timberlake.) These are simple,

curved-brim caps you can customize

with initials or symbols.

Do I really need moisturizer

when it's humid out?

Rodney, St. Joseph, MO

Yes. Your skin may not feel dry,

but washing can strip vital oils. A

moisturizer locks those in. Look

for oil-free prod ucts with humectants,

which keep moisture in.

Try Peter Thomas Roth Water

Drench Hyaluronic Cloud Cream,

and see page 82 for more tips.

KYLE HILTON (Boyé portrait), courtesy Apple Inc. (phone)

20 MensHealth.com / JulyAugust 2017
---
SM7012 ©2017 fairlife, LLC

50 %

more

PROTEIN *

50 %

less

SUGAR *

*As compared to regular milk
---
THE EXCHANGE

BELLY OFF! CLUB

TRAGEDY TURNED MY LIFE AROUND

AM I NORMAL?

Why do I wonder

what it'd be like to

jump when I'm up

somewhere high?

Jones, Findlay, OH

This has a name,

which means you're

not alone and probably

normal. It's called

"high place phenomenon,"

says Jennifer

Hames, Ph.D., who

teaches clinical psychology

at Notre

Dame. About half of

people likely experience

some variation

of this, she says.

"Some people

might start to notice

their heart racing or

feel dizzy," Hames

says. "In response

to that, their bodies

react and they back

away from the ledge

HOW-TO HAIKU

"After the Shower"

Droplets glistening

No towel touches the face

Whiskers remain soft

or grasp a railing

tightly to keep themselves

safe. When

they realize that they

were actually safe the

entire time, they conclude

that they must

have wanted to jump."

This all happens

in a split second.

Most people who

experience this phenomenon

are feeling

their body's survival

instinct kick in.

DAVID STEELE

WILLOWBROOK,

IL

OCCUPATION

Juvenile

detention

officer

AGE 35

HEIGHT 6'4"

BEFORE

257 pounds

AFTER

215 pounds

TIME

1 year

ASK A BOY SCOUT

THE SETBACK

My wife delivered Aubrey early on May 28, 2015. But there

was a problem: Our baby's lungs were not developing properly.

The following day, Aubrey took her last breath. It was

tough. I was angry and frustrated and eventually stopped

caring about working out. To cope I turned to comfort food—

pizza, hot dogs, cheese fries, cheeseburgers, gyros.

THE WAKE-UP CALL

I was in the car with my wife when the song "By Your Side"

came on. I thought of Aubrey and broke down crying. It was

one of the few times I'd ever teared up in front of my wife.

When she told me she was pregnant again, I decided to be

healthy for her, for Aubrey, and for our new baby, Madelyn.

THE FOOD

In the past, we'd stop at the Cheesecake Factory at night

to get a slice of cheesecake. Now I'll have a glass of chocolate

milk at the end of the night instead. I also swapped fast

food for wraps, and instead of french fries I'll get vegetables

or rice. For dinner we mainly eat chicken or fish with vegetables.

The biggest thing for me is knowing what we have in

our cabinet and sticking to it.

THE FITNESS

I started at a moderate treadmill pace for 30 minutes.

I noticed I burned 500 or so calories. Now I work out four

days a week for three hours each time. I try to burn 528

calories during those workouts in honor of Aubrey's May 28

birthday, and usually do 28 reps when I'm lifting.

BELLY OFF! CLUB Tell us your weight loss story

at transformation@rodale.com.

Boy Scout Emmett Jaworski, 10, answers your questions.

WHAT IS THE KEY TO

HAPPINESS?

"If you are talking with someone who is sad, then you

should tell them to do what makes them happy. If

someone doesn't know what makes them happy, then

I would ask them if they would like to play."

D. W. JOHNSON (Steele), courtesy David Steele (Steele before)

22 MensHealth.com / JulyAugust 2017
---
JOCKEY.COM ©2017 Jockey International, Inc. All Rights Reserved.

REMI ADELEKE

Former Navy SEAL shows

that with resilience, you

can accomplish anything

SHOW 'EM

WHAT'S

UNDERNEATH

#ShowEm your Jockey
---
THE EXCHANGE

OH, JULIE!

OUR HEALTH EDITOR HARSHES OUR MELLOW ON...

EATING ANCIENT

LEFTOVERS

HEALTH

Just before the start

of a triathlon, I go

in the water and pee

in my wetsuit. Any

health risks?

Karl, Jacksonville, FL

Go ahead, Karl, it'll be

our secret. "Urine is

mostly water and not

a toxic byproduct,"

says dermatologist

Tsippora Shainhouse,

M.D. "It is a sterile,

filtered fluid that

contains water and

excess nutrients that

your body has discarded."

So you're

probably not risking

any severe health

consequences.

But you're peeing

in your padded triathlon

trunks, right?

Which double as

your bike shorts?

Sure, they get a rinse

during the swimming

leg, but you should

still be on the lookout

for any nasty rashes

that might pop up.

If you notice any

skin irritation, prolonged

exposure to

the water and urea

in urine could be

the reason. And the

friction of that bicycle

seat jamming up

against your nethers

doesn't help. Apply

some lube, such as

Trislide or Body Glide.

Put it on prior to wiggling

into your trunks

and you're good to go.

WHAT'S THE DIFF?

Cholesterol:

LDL versus HDL

Mack, Dallas, TX

That "lousy" LDL

(low-density lipoprotein)

sticks to

artery walls to cause

harder and narrower

arteries. The "helpful"

HDL (high-density

lipoprotein) carries

some LDL gunk to

your liver for removal.

FOOD COURT

Dairy Queen Large

Cookie Dough Blizzard

THE CRIME: 1,330 calories

THE PUNISHMENT: 4.9 hours of painting

the house. Breaks not included.

Dude, please: Toss it. Yes, I know that chicken was cooked.

A week ago. You guys seem to think that once food's been

cooked, it's pristine. I guarantee there are lots of bacteria

on that. Not all bacteria die in a hot oven. There

might still be germs, and if you leave your leftovers in

the fridge too long, they'll proliferate. According to a

survey in the journal Foods, 12 percent of Americans think

meat leftovers last a week in the fridge. Wrong! Three to

four days, max, says the USDA. If you must eat it, heat it

to piping hot. That's the only way to make it safe. The USDA

recommends 165°F; time to buy a thermometer.

GEAR

Mountain streams

look so pure. Do I

need filters or tablets?

What do hardcore

hikers do?

Shawn, Provo, UT

If they want to avoid

beaver fever (also

known as giardiasis,

a parasitic infection),

they carry a filter.

Remember, animals

poop everywhere,

spreading such bugs

as Cryptosporidium,

Shigella, Giardia, and

E. coli. An infection

can cause diarrhea,

vomiting, and dehydration,

and could

ruin not only your trip

but also the week (or

weeks) that follow. "It's

a horrible nightmare,"

says Creek Stewart,

a survival instructor

who learned this the

hard way. "Unless it's

life or death, I play it

safe with a filter." He

carries LifeStraw and

Sawyer Mini filters.

If a filter breaks or

clogs, boil water for

a full minute, which

should kill 100 percent

of pathogens. A

filter is typically 99.9

percent effective.

THE GIRL

NEXT DOOR

I like to fool around on the

living room couch, but she

just rolls her eyes. It's the bed

or nowhere. How come?

Rick, Hartford, CT

Maybe your timing's off. She's

probably focused on something

important, like House of Cards or

Ben & Jerry's. Distractions can

ruin sex for women; we require

concentration to get off. (And we

can't concentrate on pleasure

when Kevin Spacey is doing his

slow burn.) Let her finish the episode

and her snack, kill the TV,

and give her your own look.

I went over to her place on the

fly and didn't have a condom.

What's my game plan?

Nate, Brentwood, TN

Um, ask her if she has one? A

responsible woman probably has

some in her drawer. Otherwise,

you have two options: Go out on

that romantic run to 7-Eleven

or make out like high schoolers.

Option two is highly underrated,

says every single woman ever.

Here's the thing: We love the bases,

all three. A night spent lingering

on them is the hottest form of

torture she's ever experienced.

I know couples who schedule

date-and-sex nights. Seems

unromantic. Am I wrong?

Konrad, Erie, PA

Do you enjoy your vacations less

because you schedule them in

advance? Look, spontaneous,

take-me-now sex is awesome, but

so is pretty much every other kind

of sex. Putting it on the calendar

just means you're being realistic

about busy adult life.

KYLE HILTON (Eaves portrait)

24 MensHealth.com / JulyAugust 2017
---
THE EXCHANGE

TEXT A DOCTOR

Q: Got a bad cold, doc.

I feel like hell. Why do colds

always hit me in summer

when I want to have fun?

A: A cold is a viral infection,

and viruses can

thrive in both winter and

summer. Are you sure the

problem isn't allergies?

Q: Oh, is that a possibility?

How can I tell the difference

between the two?

A: Allergies don't cause

fever and that general

weak feeling. Also, the

symptoms tend to linger.

Q: Can I come see you?

A: If it's longer than a week

or two, yes. Meanwhile,

stay indoors, get rest, and

drink plenty of liquids.

Thanks, doc!

Jeremiah Alt, M.D., is codirector of

the Sinus and Skull Base Program

at the University of Utah.

FITNESS

I'm taking a 10-hour

road trip this summer.

Any exercises

or stretches I can

do during pit stops?

Simon, Bethesda, MD

After the bathroom

sprint, try these three

moves from Charlie

Merrill, a Colorado

physical therapist.

1. Leg swings With

one hand on your car,

swing a leg front and

back, keeping your

core engaged. This

will lengthen your

quads, anterior hip

muscles, and hamstrings,

which shorten

during the drive. Aah

factor: Lengthening

those muscles will

make your lower back

feel better.

2. Calf and ankle

stretch Extended

sitting can make

your calves tight and

ankles swollen. Worstcase

scenario: blood

clots in your calves.

So put your hands on

your car, place one

foot forward (a slight

bend in your front

knee) and one back

(toes pointed forward,

heel on ground). Aah

factor: It keeps your

lower legs from swelling

and becoming

stiff, says Merrill.

3. Pectoral stretch

Raise one hand, arm

bent 90 degrees,

and place it on your

open car door. Now

step forward while

leaning into the

stretch. Aah factor:

Merrill says opening

up your chest and the

front of your shoulders

eases neck pain

and stress on the

nerves and blood

vessels that feed your

arms and upper back.

GROOMING

Is that $40 sunscreen

any better

than a $15 one?

Dmitri, Norwalk, CT

Not really, if merely

blocking rays is your

goal. It's fine to go

cheap on sunscreen,

especially if it means

you'll use more of it

and reapply regularly,

which is crucial.

If you want more

from your goop—like

easier application or

antioxidants for skin

repair—that's where

costs can creep up.

"The price may have

to do with packaging,

marketing, and

ACTUALLY DELICIOUS!

Watermelon + Feta

If you've ever eaten chocolate-covered

pretzels, you know salt helps sweet taste

sweeter. Same goes for the sweetness in

watermelon and the salt in the feta.

possibly the active

ingredients," says

MH dermatology

advisor Adnan Nasir,

M.D., Ph.D. Just make

sure your sunscreen

is waterproof and

broad-spectrum,

meaning it protects

you from UVA and

UVB rays, he says.

The American

Academy of Dermatology

recommends

a minimum of 30 SPF,

but it's never a bad

idea to go higher—

like 40 and above.

That's because more

than 40 percent of

the sunscreens tested

by Consumer Reports

came in below the

SPF on the label.

Two brands Dr. Nasir

recommends: Up &

Up from Target and

No-Ad from Walmart.

HEALTH

My new doctor is

fat. How can I take

him seriously?

Gerald, Ames, IA

How's your six-pack,

Mr. Judgy? We understand:

Skepticism is a

good thing. One survey

found that about

half of doctors are

suffering from burnout,

and that could

lead to worse health

care for you. But we

liked the reminder

we got from Steven

Lamm, M.D., medical

director of NYU Langone's

Preston Robert

Tisch Center for

Men's Health. Doctors

are patients too, he

says, and a physician

with a health problem

may actually be more

empathetic about

yours. That's never a

bad thing. Then Dr.

Lamm pointed out

some telltale signs of

good doctoring:

If the doctor focuses

on your sleep, sex

drive, and weight

gain, you're probably

in good hands.

THROW A LEGENDARY PARTY

How can I amp up my backyard bash so it's not like every other one? Thom, Memphis, TN

Do like the Outside Lands organizers: Hire Gorillaz and alt-J. Or just follow their suggestions.

FOR THE

VIBE

FOR THE

FOOD

FOR THE

DRINKS

FOR THE

MUSIC

A big picnic table has underrated party power. "A large community

table encourages people to get to know each other,"

says Jonathan Mayers of the Bay Area festival (August 11–13).

Focus on one surprising thing, like grilled cheese cooked on

the grill. Lay out condiments: bacon, roasted peppers, tomatoes,

pickles, green apples. Also works for pizza or tacos.

A Sazerac batch is easy: Dissolve ⅔ cup sugar in ⅔ cup water

over medium heat. Cool. Combine with 6 cups rye whiskey, 2 Tbsp

absinthe, 3 tsp Angostura bitters, and the juice of a lemon.

Sit with Spotify and add every song that makes you feel good,

says one festival booker, Allen Scott. "I arrange it to start

out vibey and build to a dance party as the sun goes down."

26 MensHealth.com / JulyAugust 2017
---
It's where all the day's worries

disappear the minute you walk

in the door. It's home.

Find your way home.

Search millions of homes for sale and for rent.

©2017 Zillow Group. All rights reserved.
---
YOU DON'T HAVE TO GO TO EXTREMES TO ENJOY THE

OUTDOORS. YOU JUST NEED A RUGGED COOLER TO

MAKE THEM YOUR OWN. THE NEW OTTERBOX VENTURE.

DESIGNED IN COLORADO. BUILT IN DETROIT .

OTTERBOX.COM
---
For a killer core challenge, do Erwan Le Corre's

jaguar plank. Balance on something low to start;

hold as long as you can. Control your breath.

EDITED BY

PAUL KITA

U S E F U L

The Manual

FOR

Enlightened

Living

S T U F F

Let Daenerys

Targaryen show

you how to press

Make nachos

even better—

with fire

Learn the limbo

from Instagram's

Emily Skye

Get Ripped on

These 6 Trips

A BOOK AND A BEACH WORK WONDERS

FOR YOUR MIND. BUT WHAT ABOUT

YOUR BODY? / BY TYLER GRAHAM

Say you're a hotel owner. Try to guess which aspect of

your establishment will likely lose you the most cash this year. Free

Wi-Fi? A concierge staff? The pool? Nope. It's the gym. Guests rarely

use the pricey equipment even if they plan to do so, a recent Cornell

survey found. So why not make fitness the focus of your next vacation?

We've got a dozen great ideas to send you home tired and happy.

MensHealth.com / JulyAugust 2017

29
---
USEFUL STUFF

CATEGORIES STRENGTH MOBILITY WEIGHT LOSS RELAX SPEED

PRIMAL MOVEMENT

MovNat (Nationwide)

KETTLEBELL CERTIFICATION

Strong First (Global)

Erwan Le Corre founded this school nearly a decade ago,

basing it on the principle that real fitness is practical fitness.

MovNat replaces treadmills and weights with ocean

waves and fallen trees. Le Corre's course will help you

relearn squatting, crawling, jumping, and swimming—

and your definition of fit. From $200, movnat.com

DIY DRILL Learn the bear crawl: Get down on your hands

and feet, your knees nearly touching the ground. Keeping

your core tight, crawl forward 20 yards. Repeat twice.

Not just any dumbbell can coach kettlebells. Here it takes

three nine-hour days of training to cover six moves. Pavel

Tsatsouline, the Russian special forces instructor who

introduced the kettlebell to the West, handpicks your

teachers. $1,600 for a three-day seminar, strongfirst.com

DIY DRILL Strengthen your kettlebell swing with the

300-rep workout: Perform 50 two-arm swings, then 25

single-arm swings per arm. Repeat 3 times. Focus on

exploding through your hips, as if you're trying to leap.

FITNESS BOOT CAMP

EXOS (Phoenix, AZ)

CROSSFIT EXPEDITION

Anywhere Fit (Western U.S.)

Train like an NFL star at the EXOS Performance Lab.

The program features personalized meal plans and nutrition

guidance; morning plyometrics, speed, and agility

drills followed by compression recovery; and afternoon

strength, power, and endurance training. Return home

with new PRs and a 12-month individualized strength

training program. $3,500 for five days, teamexos.com

DIY DRILL The Farmer's Walk Challenge: Grab two dumbbells

totaling half your weight. Walk 100 meters. Or try.

You'll book this 10-day trek, but you won't know where

you're going or what you're doing. Except this: Each day

includes one or two workouts of the day (WODs) and a

challenging expedition, such as hiking or rafting. It's

great for testing your intestinal fortitude, but admittedly

not for control freaks. $2,500, anywherefit.com

DIY DRILL Try the grueling WOD known as Invisible Fran:

Do 21 body-weight squats followed by 21 pushups. Then

do 15 of each, and then 9 of each. Don't say it sounds easy.

Kai Muellenhoff (Erwan Le Corre, this page and previous)

30 MensHealth.com / JulyAugust 2017
---
THE ALLEY OOP JULY/AUGUST

FEEL THE CONNECTION

Welcome to the Alley Oop, a chained, page-by-page list

of recommendations from recommenders. First up...

TRIATHLON TRAINING

HITS Tri-Camp (Nationwide)

6 MORE LIFE-CHANGING TRIPS

If you need a vacation (you do, by the way), the

real question is: Which kind? These adventures

aim to fix what's nagging you. Your souvenirs:

energy and serenity. BY JEN MURPHY

YOU COULD USE LESS SCREEN TIME

Prairie Mountain Folk School,

Joseph, OR

Stow the phone and hone your

skills. The school brings in blacksmiths,

woodworkers, and other

artisans to teach one- to 11-day

classes on everything from forging

steel to building cabins. From $40,

prairiemountainschool.com

NICK SLATER (illustrations, icons, and Alley Oop illustrations throughout), Andy Smith/Offset (cyclists)

RUNNING CAMP

Experts study video of your running, pedaling, and paddling

and even conduct a motion-capture bike fitting.

"Often, swim stroke analysis is the 'aha' moment for

athletes, because they feel like they're doing one thing in

the water, but it's not actually happening," says organizer

Nick Gough. $1,500 for five days, hitsendurance.com

DIY DRILL Get a friend to film your swim. Your whole body

should be close to the surface. Doing 15 minutes of kicking

drills will help you raise your legs and increase your speed.

Eric Orton Academy (Jackson, WY)

The top of every morning starts at the bottom of a mountain.

Don't worry: You'll start slow with mobility and

conditioning work. "Foot strength sets the foundation

for everything you do as a runner," says Orton, author of

The Cool Impossible. Make this the backbone of your own

training, even if you can't partake in Orton's programs.

$600 for a three-day camp, runningwitheric.com

DIY DRILL Stand barefoot on one foot for 30-second intervals

daily. Work up to the balls of your feet, heels elevated.

YOU TWO DESERVE A DIRTY WEEKEND

Twin Farms, Barnard, VT

Escape to this hotel set on 300

acres. Splurge on a cottage for the

fireplace. Plan a picnic for the trails

or a twilight canoe. Then it's drinks

by the fire, a private dinner, and a

late-night skinny dip. From $1,500/

night, all inclusive; twinfarms.com

YOU'RE STUCK IN THE BREAKUP BLUES

DuVine Cycling + Adventure

Co. Napa + Sonoma Wine

Country Bike Tour

Sweat out the heartbreak on quadtaxing

Cali roads. You'll ride 18 to

58 miles a day along the coast.

Then enjoy insanely great food and

the best wines in the country. What

ex? From $3,595, duvine.com

YOU HAVEN'T SEEN OLD FRIENDS

Sailing in Maine

A weeklong charter lets you and

a few friends live the seafaring life

while exploring Maine's pristine

coastline. Captain Marshall Frye, a

native Mainer, and his crew do the

heavy lifting (and cooking) while

you sip Dark 'n' Stormys on deck.

$7,000, sailingcollective.com

YOU NEED SOME PEACE AND QUIET

Cumberland Island, GA

Hop a ferry from St. Mary's to Cumberland

Island National Seashore,

where you can clear your head on

50 miles of hiking trails. Reserve

a campsite and shop in advance;

nothing is sold on the island. From

$12, cumberlandislandferry.com

YOU WANT SOME FAMILY BONDING

Multisport trip to Costa Rica

Monkeys, sloths, toucans, iguanas,

frogs? Check. Cartoon-bright

colors? Check. Rainforest. Ocean.

Biking, ziplining, surfing, whitewater

rafting. Plus, kid-friendly guides.

From $3,000/person, all inclusive

for five nights; backroads.com

MensHealth.com / JulyAugust 2017

31
---
USEFUL STUFF

1. LISTEN TO THIS

We suggest Kevin Morby's album City

Music, out June 16, if you dig folksy

rock that feels like being outdoors.

TOOLS OF MY TRADE

The Outdoorsman's Essentials

STEVEN RINELLA HUNTS, FISHES, AND HOSTS MEATEATER ON NETFLIX. HE'S ALSO THE AUTHOR OF THE

SCAVENGER'S GUIDE TO HAUTE CUISINE. THE STRATEGY: PACK WHAT YOU NEED, NOT WHAT YOU WANT.

STEVEN RINELLA

Gear up like this

wild man on your

next expedition.

1

2

1. FHF Bino Harness

My binoculars stay

bounce-free, and my

lens wipes, compass,

lighter, and ammo

are handy when I'm

stalking game.

4

2. Bison Designs

Last Chance Belt

I've had this belt for

seven years. That's

over 2,000 days of use

with no sign of wear.

3

4

3. Vortex Razor

HD Binoculars

They deliver searing

clarity and can handle

plenty of abuse.

4. Benchmade

Griptilian Knife

I've used this blade

for everything from

extracting splinters to

dispatching piranhas.

5. Dark Energy

Poseidon Charger

This portable device

brings my phone from

dead to 100 percent a

few times per charge.

6. Costa Caballito

Sunglasses

They're so light and

comfortable. I've paid

to have the same pair

repaired three times.

7. Surefire

Minimus Headlamp

Indestructible, submersible,

and bright.

8. Outdoor

Research Backcountry

Organizer

It holds not only my

first-aid and survival

kits but also a dozen

other micro-essentials.

5

6

8

7

Prop styling: Ariana Salvato/Apostrophe, WONG CHI LUI (illustration)

32 MensHealth.com / JulyAugust 2017 PHOTOGRAPH BY LEVI BROWN
---
You can do this.

Minneapolis

7.08

Miami

9.24

New York City

7.16

San Diego

10.15

Chicago

Tempe

8.27

9.17

South Beach

Austin

4.01

(2018)

5.28

(2018)

We are America's Premier Triathlon Series.

0ijȄdƈ­úƟǽɦádzɲƟƈúď

The Life Time Tri Series is a collection of short course

triathlons held in iconic, top tier U.S destinations.

Produced with unparalleled sophistication, these events

integrate best in class race experiences, savvy customer

service and leading technology initiatives. Formed in

2001, the Life Time Tri Series has enhanced the lives of

more than 500,000 finishers.

Learn more and register at:

LIFETIMETRI.COM

Event Distances

SuperSprint

Sprint

International

Swim

.25mi

375m

.47mi

750m

.93mi

1.5k

Bike

6.2mi

10k

12.4mi

20k

24.8mi

40k

Run

1.5mi

2.5k

3.1mi

5k

6.2mi

10k
---
USEFUL STUFF

2. EAT HERE

Morby likes Duckfat in Portland,

Maine, for the meatloaf panini and salads

in bowls that "look like hats."

BINGE TRAINING

Gains of Thrones

SEASON 7 OF GAME OF THRONES DEBUTS JULY 16. GET READY WITH THESE UPPER-BODY WORKOUTS.

REMEMBER, A LANNISTER ALWAYS FINISHES HIS SETS. / BY SER BJ GADDOUR, MH FITNESS DIRECTOR

WORKOUT A

YOU'LL NEED: A PAIR OF

MEDIUM-WEIGHT DUMBBELLS

(START WITH 25-POUNDERS)

1. Bent-Over Row

Holding dumbbells, bend at your hips until your

torso is nearly parallel to the floor. Raise the

weights until they reach your pits. Pause and

reverse the move. That's 1 rep; do 15 to 20.

2. Overhead Press

Hold dumbbells at shoulder level, your palms

facing each other. Clench your glutes and brace

your abs as you press the weights up. Pause

and slowly lower them. That's 1 rep; do 15 to 20.

3. Overhead Carry

Hold weights at the top of the overhead press

position and walk back and forth. You're done

when your elbows begin to buckle. That's 1 round;

do 3 to 5, resting 2 minutes between each.

WORKOUT B

YOU'LL NEED: A PULLUP BAR, A

PAIR OF HEAVY DUMBBELLS (50S

ARE A GOOD START), AND A BENCH.

1. Chest Press

Lie on an incline bench holding dumbbells

above your chest, your arms straight and palms

facing forward. Lower the weights to your chest,

pause, and reverse. That's 1 rep; do 15 to 20.

2. Chinup

Using an underhand grip, hang at arm's length

from a bar. Pull up, bracing your abs and tucking

your elbows to your ribs, until your neck touches

the bar; pause and lower. Repeat till failure.

3. Farmer's Walk

Stand holding dumbbells at your sides. Keep

your shoulders pulled down and don't let

the weights rest on your thighs. Walk as far as

you can until your grip or posture starts to fail.

METASHRED EXTREME Get the MetaShred Diet book when you buy the MetaShred Ultimate Extreme Package at metashredextreme.com.

34 MensHealth.com / JulyAugust 2017 ILLUSTRATIONS BY BRANDON LOVING
---
©2017 glacéau. glacéau ® , smartwater ® and label are registered trademarks of glacéau.

spotlight

sidekick.

vapor-distilled for purity,

electrolytes for taste.
---
USEFUL STUFF

3. VISIT THIS PLACE

Nancy Pugh and Rob Evans, owners

of Duckfat, escape to Utah for

camping and off-road motorcycling.

A MAN, A PAN, A PLAN

Sizzlin' Campfire Nachos

ROASTING WEENIES OVER AN OPEN FLAME IS FOR WEBELOS. ELEVATE YOUR NEXT FIREPIT FEAST. / BY PAUL KITA

WHAT YOU'LL NEED

½ BAG TORTILLA CHIPS

1 PACKAGE GRILLED CHICKEN

STRIPS, CHOPPED (ABOUT 2 CUPS)

1 CAN (4.5 OZ) DICED GREEN CHILES

½ CAN (15 OZ) BLACK BEANS, RINSED

½ CAN (15 OZ) WHOLE KERNEL CORN,

DRAINED

½ CUP CHERRY TOMATOES, HALVED

1 CUP SHREDDED CHEESE

(CHEDDAR OR PEPPER JACK)

JUICE OF ½ LIME

¼ CUP SOUR CREAM

1 AVOCADO, DICED

2 SCALLIONS, THINLY SLICED

½ CUP CHOPPED CILANTRO

1 3

2 4

1. Preheat a grill over

direct, high heat or set

a grate over a lit firepit.

Put a long sheet of

foil in a large cast-iron

pan, letting the ends

hang over the edge.

Repeat with another

sheet, crossing it over

the first one.

2. Layer in the chips,

chicken, chiles, beans,

corn, tomatoes, and

cheese. Fold the foil

over to make a packet;

#AManAPanAPlan

set the pan on the grill.

Cook till the cheese

melts, 15 minutes or so.

3. Meanwhile, in a

bowl, mix the lime

juice and sour cream.

4. With oven mitts,

remove the pan. Peel

back the foil. Top with

avocado, scallions,

cilantro, and the lime

sour cream. Feeds 4.

495 calories, 35g

protein, 38g carbs

(9g fiber), 24g fat

Food styling: Chris Lanier/Apostrophe, prop styling: Kaitlyn DuRoss/Honey Artists; STEVE SANFORD (illustrations)

36 MensHealth.com / JulyAugust 2017

PHOTOGRAPH BY CHRISTINA HOLMES
---
USEFUL STUFF

4. KICK BACK WITH THIS BOOK

Mike Nelson, manager at Utah's Anasazi

State Park, pushes H Is for Hawk, about

the "demon raptor," the goshawk.

T I M F E R R I S S

SCIENCE-BACKED STRATEGIES YOU NEED TO LIVE BETTER RIGHT NOW.

Turn Fear

into Fuel

TIM FERRISS, AUTHOR OF TOOLS OF

TITANS AND CREATOR OF THE TIM

FERRISS SHOW (TIM.BLOG/PODCAST),

HELPS YOU FIND THE POWER.

In 2004, I was doing better

than ever financially, and

my company, BrainQuicken,

was distributed in a dozen or

so countries. The problem?

I was running on caffeine,

working 15-hour days, and

on the verge of meltdown. I

realized I had to restructure

the business or shut it down—it was killing me

and my sense of adventure.

That's when I began journaling on a few

questions: "What would I want to do, have,

and be if I had $10 million in the bank?" and

"What's my real target monthly income?"

For the latter, in other words, how much

would my dream life really cost if I paid on a

monthly basis? (See fourhourworkweek.com/

tmi.) After running the numbers, I found that

FIVE THINGS ON MY RADAR

What Ferriss finds super useful right now

Stories of Your

Life and Others

Author Ted Chiang is

the equivalent of Martin

Scorsese or Wayne

Gretzky in science

fiction. He's just that

good at the craft.

Square

This water bottle

unscrews on both

ends for easy cleaning,

doesn't roll if you

drop it, and won't

leave a metallic taste.

$15, cleanbottle.com

most of my fantasies were more affordable

than I'd expected. Perhaps I needed more

time and mobility, not more income. Maybe

I could afford to be successful and happy.

As the cliché goes, life is an adventure.

What you choose doesn't matter. What matters

is approach. Reinvention comes down to

asking better questions about yourself, your

direction, and your objectives.

The Eagle

Huntress

This documentary

follows Aisholpan,

a Kazakh girl, as she

trains to be the first

female eagle hunter

in 12 generations.

Rubz

Think of it as a golf

ball that won't shoot

across the floor when

you step on it. Roll it

under your feet or

on hand muscles. $7,

rubzmassage.com

Quote I'm Reflecting On

"The best way to complain is to make things."—James Murphy

When I interviewed Arnold Schwarzenegger,

I mentioned a photo of him taken before

he won his first big competition, Junior Mr.

Europe. I said, "Your face was so confident

compared to every other competitor's. Where

did that confidence come from?" His answer:

"My confidence came from my vision ... I

wasn't there to compete. I was there to win."

In my talk with Stanley McChrystal,

the retired U.S. Army general said, "Do you

push yourself harder than you believe you're

capable of? Do you put yourself in groups

that share difficulties and discomfort? Do

you create some fear and then overcome it?"

It's the last part—the fear—that holds

most people back from adventure. To overcome

self-doubt, do a fear-setting exercise.

On the top of a page, write whatever quandary

you are facing, and then create three columns

below it. In the first column, spell out

the worst-case scenario preventing you from

taking action. In the second, list the things

you could do to minimize the likelihood of

damage. Finally, in the third, write down the

things that could repair the situation if it goes

badly. More often than not you realize that

your worst fears really aren't that bad. When

that happens, you can embrace adventure

and tackle your goals and ambitions.

KYLE HILTON (Ferriss portrait), BROWN BIRD DESIGN (product illustrations)

38 MensHealth.com / JulyAugust 2017

ILLUSTRATION BY MAX TEMESCU
---
USEFUL STUFF

5. HEAR THIS OUT

Helen MacDonald, author of H Is for

Hawk, shares Homecoming, a podcast

thriller about veterans and PTSD.

WHAT SHE KNOWS

Emily Skye

TWO MILLION PEOPLE FOLLOW HER ON

INSTAGRAM FOR FITNESS INSPIRATION.

NOW LET HER SHOW YOU THE WAY TO

LIMBO. / INTERVIEW BY PAUL KITA

1

Prep Your Legs

"Start with body

squats and lunges.

You need to warm

up your quads, hamstrings,

and knees,"

says Skye. Doing

shots of tequila is not

a warmup.

2

Set the Stance

Kick off your shoes for

better balance. Walk

toward the limbo bar

until you're a foot or

two away. "Then set

your feet slightly wider

than shoulder-width

apart," Skye says.

3

Tighten Up

For firmer footing,

tighten your core.

Squeeze your legs

and glutes. If you're

too loose, you'll fall

backward. Put your

hands at your sides,

out of the way.

4

Work Your Feet

As you lean back,

shuffle your feet forward.

Transfer your

weight to your insteps

and then, gradually,

to your toes. "Your

muscles will be shaking

at this point."

5

Claim Victory!

You're there! Good

thing your chin didn't

hit the bar (rookie

mistake)! Do a celebratory

dance of your

choice. Maybe hula

hands to match your

Hawaiian shirt?

EMILY SKYE

THE SOCIAL

@emilyskyefit

on Instagram,

@missemilyskye

on Twitter

THE SKILL

See how low you

really can go.

THE PLUGS

Emilyskye.com;

she's on the cover

of this month's

Women's Health.

Photograph by Juan Algarin, styling: Jacqueline Azria, hair: Aaron Light/Honest Beauty/The Wall Group, makeup: Mai Quynh/Lancôme Monsieur Big Mascara/Starworks Artists, manicure: Emi Kudo/Dior Vernis/Opus Beauty,

prop styling: Abraham Latham/Art Department; Duskii bikini, Alex Woo and Gabriel & Co. necklaces, Jennifer Meyer and Pandora bracelets, Jennifer Meyer earrings, Pamela Love ring; STEVE SANFORD (illustrations)

40 MensHealth.com / JulyAugust 2017
---
USEFUL STUFF

6. HAVE FUN WITH WORDPLAY

Eli Horowitz, creator of Homecoming,

plays Bananagrams, a Scrabble-type

game that comes in a yellow pouch.

METROGRADES

America's Most Adventurous Cities

HOW THE NATION'S TOP OUTDOORSY TOWNS GET WILD. / RESEARCH BY JENNIFER MESSIMER

THE TOP 10

1. ANCHORAGE, AK

2. AUSTIN, TX

3. MADISON, WI

4. MINNEAPOLIS, MN

5. SAN DIEGO, CA

6. RALEIGH, NC

7. VIRGINIA BEACH, VA

8. BOSTON, MA

9. SEATTLE, WA

10. FARGO, ND

THE BOTTOM 10

91. BATON ROUGE, LA

92. BUFFALO, NY

93. NEWARK, NJ

94. MIAMI, FL

95. CLEVELAND, OH

96. WILMINGTON, DE

97. MEMPHIS, TN

98. DETROIT, MI

99. JACKSON, MS

100. BIRMINGHAM, AL

METHODOLOGY Percentage of people participating in various sports in the past

12 months (GfK MRI); percentage of people meeting activity guidelines, percentage

of people who engage in vigorous activity five or more days a week (CDC); ratio of

parkland to city size (The Trust for Public Land); recreational business counts percentage

(U.S. Census Bureau); recreational household expenditure percentage, recreational

Consumer Price Index (U.S. Bureau of Labor Statistics)

To see where your city ranks, go to

MensHealth.com/adventurecities

TREK WITH PURPOSE

Anchorage, AK

Anchorage is truly wild, with resident bears

and almost a million acres of parkland. People

here can hike, fish, kayak, and mountain bike

in their backyard. Get to know your own environment

better by booking a specialized guide,

suggests James Minton of Visit Anchorage.

You'll enjoy any area a bit more if you hike with a

historian, photographer, or biologist, he says.

RIDE STRESS-FREE

Detroit, MI

Many Detroiters commute to work

on two wheels. To make your own

ride a relaxing experience, ask

Google Maps to route you through

as much green space as possible,

says Alex Stchekine of Shinola in

Detroit. You'll burn 550 calories an

hour—before you open your email!

THE BAG

Stow your laptop,

lunch, and

gear in the

Transit Waterproof

($265,

showerspass.com)

84%

Portion

of Anchorage that

is parkland

AQUA-SOCIALIZE

Austin, TX

Lake Travis and Lake Austin attract

crowds of kayakers and party

barges for liquid lounging, says

Regina Kubelka of Hills Outdoor

Country, an outfitter in the city.

Take inspiration from those party

animals: Find a lake near you (for

coordinates, see lakepedia.com).

THE ESSENTIALS

Lip balm with SPF

Sunglasses that float. Test

'em first, or get a Croakies

cord ($5, rei.com).

To make a buoyant key chain,

cut a piece of pool noodle.

Hagephoto/Image Source/Getty Images (Anchorage), Ben Sklar (Austin), David Baum for Shinola (Detroit)

42 MensHealth.com / JulyAugust 2017
---
THE NEW

V-TRAIL

THE NEW

V-TRAIN

We believe in the barefoot approach. We believe that an articulated toe shoe is the best

training tool for athletes, fitness professionals, weekend warriors – anyone interested

in achieving their peak human physical potential. We believe You Are The Technology.

View the new V-Train and V-Trail at VIBRAM.COM |
---
USEFUL STUFF

7. GO BANANAS IN THE BIG APPLE

Rena Nathanson, coinventor of

Bananagrams, stays at the Walker Hotel

in NYC for its staff and hip restaurant.

J I M M Y T H E B A R T E N D E R

STRAIGHT-UP ADVICE ON WOMEN, WORK, AND THINGS THAT DRIVE MEN CRAZY.

I'll admit that I can't stand

camping. Does that make

me less of a man? MICHAEL, JUNEAU, AK

I'm with you. I'd much rather be surrounded by creature

comforts than by actual creatures. But my wife and kids loved

roughing it out there—even with the lack of a comfortable

recliner and modern plumbing. It made them happy, and that

was enough for me. Sometimes, when it comes to others, doing

what you don't want to do is what helps define you as a man.

The ingredient list for

s'mores doesn't

include lighter fluid.

JIMMY

CALLS

BS ON

METAL

AT ALL

HOURS

It's early,

I'm getting

a cup of

black, and

"Enter

Sandman"

starts blaring

over the

speakers.

Almost

blew my

bacon.

No morning

metal!

It could

kill a guy

like me.

My stubborn son

has made it clear:

No Little League.

Can I sway him?

Aaron, Portland, OR

Baseball is the kale

of sports—you either

love it or you don't.

But can you get him

to play catch? Sure.

Just keep lobbing the

ball at him. Eventually

he'll get sick of

getting beaned and

catch the damn thing.

When he throws it

back over your head,

you've learned your

lesson: Let him pick

the sport.

I'm tight with my

female coworker

and my girlfriend's

all weird, calling

her my "work wife."

It bugs me because

nothing's going on.

Richard, Evanston, IL

Maybe she begrudges

your coworker's time

in your 9-to-5 world.

(Or does it last way

past 5? If so, I'd say

your girlfriend's radar

is spot-on.) Look,

healthy camaraderie

is great. If there's

nothing there, then

there's nothing there.

If there's more, get a

work divorce.

Jim, just moved.

No friends. Fix me!

Danny, Boise, ID

Something wrong

with you? Making

friends is like putting

on weight: It happens

when you stop paying

attention to yourself.

If you want friends,

BAR TRICK OF THE MONTH

Perfect the lemon peel

Twist the lemon around the tool,

not the tool around the lemon.

This affords more control. —Drink

Like a Bartender, out August 8

act like a friend from

the first howdy. Buy

the next guy a brew.

Crack a friendly joke

about the job. Make

the sympatico "oh,

wow" noise to show

you're listening. A

friend is somebody

you're always glad to

see. Be that guy.

My wife binges on

shows I don't like, so

we end up watching

TV in separate

rooms. Is that okay?

John, Chicago, IL

Nope, sorry. I know

couples who don't

share meals and

hardly spend time

together—but they're

busy! They'd love to

camp out in front of

the tube as a couple.

Watching TV in separate

spaces is a sure

sign that something's

decomposing in the

living room. So next

time she grabs the

remote, join her. But

here's the thing: You

don't have to watch

the show. Just hang

on the couch. Read

a book. Whatever.

You might even start

enjoying what's on.

But even if you don't,

it's time well spent.

With her.

Give me an oldschool

page-turner

for the beach, Jim.

Ron, San Diego, CA

No problem, Ron.

Take along a copy

of How to Survive a

Tsunami. The suspense

can kill you.

KYLE HILTON (Jimmy illustration), Brian Bailey/Getty Images (campers), Jeff Kravitz/FilmMagic/Getty Images (James Hetfield), ANTHONY CALVERT (lemon illustration)

44 MensHealth.com / JulyAugust 2017
---
®

©2017 Wm. Wrigley Jr. Company. SKITTLES and all affiliated designs are trademarks of Wm. Wrigley Jr. Company or its affiliates.
---
Savings that stack up.

You could get a multi-policy discount when you insure more than your car

with GEICO. Get a free quote and see how much you could save.

JHLFRFRP_$872_/RFDO2IĆFH

Some discounts, coverages, payment plans and features are not available in all states or all GEICO companies. Motorcycle and ATV coverages are underwritten by GEICO Indemnity Company. Homeowners, renters and condo coverages are written through non-affiliated insurance companies and are secured through

the GEICO Insurance Agency, Inc. Boat and PWC coverages are underwritten by GEICO Marine Insurance Company. GEICO is a registered service mark of Government Employees Insurance Company, Washington, D.C. 20076; a Berkshire Hathaway Inc. subsidiary. GEICO Gecko image © 1999-2017. © 2017 GEICO
---
Practice deep breathing to perform better. Put

one hand on your belly and the other on your

chest. Inhale. Your belly rises; your chest doesn't.

STRENGTH

Three balance moves

No-gym adventure workout

Secrets of the abs guru

8 Beach-Body

Secrets from

the Life of Kai

Whatever your beach

or ocean pursuits,

world-class waterman

Kai Lenny can help.

BY MARK ANDERS

In the Molokai 2 Oahu Paddleboard

World Championships, competitors cross the 32-mile

Channel of Bones in a salty test of balance, muscle, and

grit. Last year's M2O saw Kai Lenny power across in

4:07:41, a world record. Lenny, 24, eschews energy bars for

slower-burning fare. "Every world title I've ever won was

fueled by Taco Bell's Bean Burrito Grande Meal," he says.

MensHealth.com / JulyAugust 2017

47
---
STRENGTH

The Hawaiian, a multiple-time

champ, has a unique race plan:

five 380-calorie burritos before

the event, and five during. He also

uses creative fitness strategies,

and they work: He's the world's

fastest stand-up paddleboarder

and a demon big-wave surfer,

kitesurfer, windsurfer, freediver,

and outrigger canoe paddler.

1

BREATHE BETTER

With big waves come big

wipeouts. That means

Lenny needs strong lungs in

case he's submerged for minutes.

"Breathing correctly is more

essential to fitness than being

particular about what you eat,"

he says. Proper breathing helps

deliver more oxygen to muscles

and calms nerves. That means

deep diaphragmatic belly breathing,

not shallow chest breathing.

Lenny uses this freediving technique:

Stand or lie down comfortably.

Place one hand on your

belly and the other on your chest.

As you inhale, draw your breath

deep into your belly. If you're

doing it correctly, your chest (and

top hand) should not be moving.

Once you have the hang of it, do

a 2- to 3-minute breathing drill,

inhaling for 3 to 4 seconds and

exhaling for 6 to 8 seconds.

2

POKE YOUR DIET

Lenny doesn't always eat

Taco Bell. His go-to meal

is poke (poh-keh), a traditional

Hawaiian raw fish salad. Cube

6 ounces of ahi tuna and toss it

with 3 tablespoons of soy sauce,

a diced green onion, and 2 tablespoons

of sesame seeds. Serve

over brown rice. Tuna delivers

protein and omega-3s; brown rice

provides fiber.

3

BLAST YOUR BODY

You're not likely to replicate

Lenny's winning

M2O strategy, which involved

30-minute intervals of near-max

effort followed by 4- to 6-minute

recovery intervals. But you can

practice this stand-up paddle-

boarding drill: Sprint all-out on a

flat body of water for 60 seconds.

Take a 2-minute slow-paddling

rest before sprinting again.

Repeat this 10 times.

4

TRUST YOUR HEART

Each morning, Lenny

dons a heart rate monitor.

His resting heart rate determines

his workout's intensity. If

it's around 45 beats per minute,

his body is rested. If it's around

56, his body is telling him to be

aware. Try it: Within five minutes

of waking, check your pulse

using a monitor or by pressing

two fingers on the carotid artery

in your neck and counting the

beats. Do this daily for two weeks

to establish a baseline.

5

FIND BALANCE

"When I'm at home on

Maui I try to do as many

sports as possible," says Lenny.

"I'm always on the water, changing

it up, and I might do five or

six different water sports in a

day." Shaking up your routine is

a surefire way to avoid boredom

and prevent overuse injuries.

Skip biceps and back lifting

day and take a rock climbing

class. Spinning class regular?

Try mountain biking. Lenny

also hits a brick-and-mortar

gym three days a week, doing

strength training and working

on his mobility. Most moves are

dynamic, using 8- to 45-pound

weights. Lenny focuses on high

reps while honing his balance.

(See the exercises below.)

BALANCE YOUR POWER

Kai Lenny uses a Bosu balance trainer (bosu.com) to fine-tune his skills. His coach,

Scott Sanchez of Maui-based World Class Sports Consulting, suggests these moves.

Single-Leg Dumbbell Deadlift

TARGETS Hamstrings, calf area

With a dumbbell in each hand, step onto a flatside-up

Bosu with one leg. Hinge forward at

your hips. Pause when parallel to the floor, and

explode back up. Do 3 sets of 6 to 8 reps per leg.

Pistol Squat

TARGETS Glutes, quads, core

Start with your nondominant leg on the Bosu

soft side up. Take 5 seconds to descend into

your squat, pause, and explode back up. Repeat

3 to 10 times. Do 3 sets per leg.

Ankle Around-the-World

TARGETS Calf area and shins

Step onto a flat-side-up Bosu with one leg.

Using only your toes and heel, make the Bosu's

perimeter circle the floor. Do 3 sets (5 reps

clockwise, 5 reps counterclockwise) per leg.

Tom Servais (this page and previous), + ISM (illustrations)

48 MensHealth.com / JulyAugust 2017
---
STRENGTH

A3

B3

B1

A1

Welcome to the Jungle Gym

To finish each workout,

pick the running option

below that best suits your

mood or ability.

Directions Do this workout 1

to 3 days a week. It can be your

primary training program

for 4 weeks, a convenient way to

work out while on the road, or

simply an occasional break from

your typical gym routine.

A park that has equipment for

body-weight exercises is ideal,

but any playground with swings,

bars, and benches will work.

First, warm up by walking,

running, or doing some calisthenics.

Then perform the

same-letter exercises (A1, A2,

A3; B1, B2, B3) as mini-circuits

with little rest between moves.

Rest 90 seconds after each circuit,

and then repeat. You can

also swap out or add in any of the

exercises shown on page 52.

Run 100 yards;

walk back. Do 5 reps.

Run 40 to 50 yards;

walk back. Do 8 reps.

Sprint 20 yards;

jog back. Do 10 reps.

Grooming: Holly Gowers/Chanel

Les Beiges/Atelier Management

50 MensHealth.com / JulyAugust 2017

PHOTOGRAPHS BY BEN GOLDSTEIN
---
A2

B2

A1 Explosive

Pushup

Assume a pushup

position. Lower your

chest to the ground;

then push up explosively.

If your hands

come off the ground

(they don't have to),

land with soft elbows

and wrists, and move

on to the next rep.

3 sets of 5

A2 Parallel Bar

Leg Raise

Grab the parallel

bars (or one end of

the monkey bars) so

you can raise your

legs with your arms

straight. Raise your

legs until they form

a 90-degree angle

with your torso. Pause

and lower them.

3 sets of up to 10

A3 Sprinter

Stepup on Bench

Place your right foot

on a bench. Push

through your right

heel and drive your

left knee up until it's

higher than your hips;

then lower your left

leg to the ground. Do

8 reps and repeat with

your left foot on the

bench. 3 sets

B1 Pullup with

10-Second Hold

Grab a bar using an

overhand grip. Pull

yourself up and hold

for 10 seconds. Then

take 5 seconds to

lower yourself. That's

1 rep. (As an alternative,

do the inverted

row using a towel grip

described on the next

page.) 3 sets of 3

B2 Plank Climb

Against a Pole

Set your hands on a

pole. Adjust your feet

until your body, the

pole, and the ground

form a triangle. Walk

your hands down

the pole as far as you

can while staying as

straight as possible.

Walk back up. That's

1 rep. 3 sets of 5

B3 Bulgarian

Split Squat

Lift your left foot

behind you and rest

your toes or instep

on a swing, bar, or

bench. Lower yourself

until your right

knee bends about

90 degrees. Then

push back up. Do 6

reps, switch legs, and

repeat. 3 sets
---
STRENGTH

OPTIONAL

EXERCISES

You can substitute

any or all of these

exercises for a similar

move on the

previous pages. You

can also combine

two or more of these

moves into your

circuit to make your

workout harder.

1. Chinup option

Inverted Row with Towel Grip

Wrap a towel around a bar so you can grip the ends with your

hands about shoulder-width apart. Hang below the bar from

the towel with your arms straight. Pull yourself up, keeping

your body straight from head to heels. Pause and return to

the starting position. 3 sets of 10

3. Lower-body option

Self-Assisted Pistol Squat

Stand next to a pole with your right hand resting on it for

support. Lift your right foot off the ground. Squat on your

left leg while extending your right leg forward, keeping it

as straight as you can. Return to the starting position and

repeat. 3 sets of 5 reps per leg

2. Core option

Dead Bug with Towel

Loop the towel around a pole and lie on your back with your

head near the pole. Grab the ends of the towel. Lift your legs

and bend your knees 90 degrees. Pull the towel and tighten

your abs. Extend your right leg straight out, pause, and pull it

back. Repeat with your left leg. That's 1 rep. 3 sets of 4

4. Pushup option

One-Arm Pushup with Nonworking Arm Extended

Assume a pushup position but with your left arm farther out

to the side, your right hand on the ground with fingers pointing

forward. Lower your chest toward the ground in a slow,

controlled movement; then push back up, doing most of the

work with your right arm. 3 sets of 4 reps per arm

1

2

3

4

PREVIOUS PAGES:

RHONE SHORTS,

NIKE SHOES; THIS

PAGE: ASICS SHIRT,

HPE SHORTS, NEW

BALANCE SHOES

BULLETIN

STRENGTH

GET FITTER WITH TWITTER

The next performance

enhancer: social media.

Twitter discussion about

your workouts may help you

stay in shape. Tweeters in

a six-week study from Japan

averaged 2,557 more steps

per day and reduced their

waistlines by nearly 1 inch

more than non-tweeters did.

A MAN, A PLAN. DAMN!

"Until failure" isn't always

the best option. In a European

Journal of Applied

Physiology study, gymgoers

contracted their muscles

more forcefully when told to

hold the contraction for 30

seconds than when they were

given no duration. So plan

your reps, sets, or time.

HIIT IT WEEKLY

It doesn't take much

training to teach an old

dog a new HIIT trick.

Researchers in Scotland

put lifelong sedentary men

ages 56 to 65 through HIIT

workouts every five days.

Six weeks later, despite no

other training, the group

had more leg power.

52 MensHealth.com / JulyAugust 2017
---
GO WAITLESS

DON'T GET HELD DOWN BY AN OUTDATED MORTGAGE PROCESS.

GO COMPLETELY ONLINE FOR A FAST, CONVENIENT APPROVAL.

QUICKENLOANS.COM

Quicken Loans Inc.; NMLS#3030; www.NMLSConsumerAccess.org. Equal Housing Lender. Licensed in 50 states. AR, TX: 1050 Woodward Ave., Detroit, MI 48226-1906, (888) 474-0404; AZ: 16425 North Pima, Ste. 200,

Scottsdale, AZ 85260, Mortgage Banker License #BK-0902939; CA: Licensed by Dept. of Business Oversight, under the CA Residential Mortgage Lending Act and Finance Lenders Law; CO: Regulated by the Division of Real

Estate; GA: Residential Mortgage Licensee #11704; IL: Residential Mortgage Licensee #4127 – Dept. of Financial and Professional Regulation; KS: Licensed Mortgage Company MC.0025309; MA: Mortgage Lender License

#ML 3030; ME: Supervised Lender License; MN: Not an offer for a rate lock agreement; MS: Licensed by the MS Dept. of Banking and Consumer Finance; NH: Licensed by the NH Banking Dept., #6743MB; NV: License #626;

NJ: Licensed Mortgage Banker – NJ Dept. of Banking, 1st (and/or 2nd) mortgages only; NY: Licensed Mortgage Banker – NYS Banking Dept.; OH: MB 850076; OR: License #ML-1387; PA: Licensed as a 1st Mortgage Banker

by the Dept. of Banking and licensed pursuant to the PA Secondary Mortgage Loan Act; RI: Licensed Lender; WA: Consumer Loan Company License CL-3030. Rates subject to change. Restrictions may apply. ©2000 – 2016

Quicken Loans Inc. All rights reserved. Lending services provided by Quicken Loans Inc., a subsidiary of Rock Holdings Inc. "Quicken Loans" is a registered service mark of Intuit Inc., used under license.
---
INSIDEOUT EVENTS &

PROMOTIONS

NAUTICA - METAMUCIL - EDGE - ULTIMATE MH GUY SEARCH

SEPTEMBER 16 & 17, 2017

VIP PACKAGE

• VIP Parking Pass

• $250 Nautica Gift Card

• Race Packet Sent In Advance

FEELING HUNGRY

BETWEEN MEALS?

Some of us have mastered the

art of curbing our appetites, but

is there anything for those of us

who haven't?

Meta Appetite Control is

clinically proven to help you feel

less hungry between meals.*

From the makers of Metamucil,

the #1 Doctor Recommended

Fiber Brand.

www.metawellness.com

NauticaMalibuTri.com

* This statement has not been evaluated by the Food and Drug Administration.

This product is not intended to diagnose, treat, cure, or prevent any disease.

GET YOUR EDGE®

Edge® Sensitive Skin

Shave Gel gets you ready

for whatever your day has

in store. Our lubricating

molecules create a soothing

layer between the blade

and the skin to enhance

razor glide and closeness,

help reduce friction and

moisturize your skin for

a smooth shave with less

irritation. Get your Edge®

www.edgeshave.com

THIS COULD

BE YOU

TOP 100

QUARTERFINALISTS

REVEALED

Look for our TOP 100

at Menshealth.com

on July 19th.

ENTER BY

6/20
---
STRENGTH

Reinventing

the Wheels

A TWO-WHEEL REVOLUTION HAS SPUN OFF A WIDER RANGE OF BIKES

THAN EVER BEFORE. SO SADDLE UP: SUMMER IS THE PERFECT

TIME TO EMBRACE THIS LOW-IMPACT, HIGH-BENEFIT FORM OF CARDIO.

BY THE EDITORS OF MEN'S HEALTH AND BICYCLING MAGAZINES

Adventure / Specialized Sequoia Expert

With wide tires, disc brakes, and a steel frame,

this 22-pound hybrid bike can handle just

about any escapade on tarmac or gravel. It's

designed to carry up to nine bags in Specialized's

Burra Burra line, so you can pack for your

daily commute or a cross-country epic.

E-Cargo / Benno Boost E

Yes, it weighs 61 pounds, but a Bosch pedalassist

power system and a range of up to 75

miles mean you'll never get tired. Two reasons

(at least) why it's ideal for commuting: You won't

hit the office in a lather, and you can carry

your groceries home on the rear cargo rack.

Road / Canyon Endurace CF SL Disc 8.0

This 18.5-pound road bike blends speed wizardry

(carbon frame and aero tubes) and endurance

features (wider tires and disc brakes). It's

fast and comfortable whether you're racing

in a crit or to work. This German brand will sell

directly to U.S. consumers beginning in August.

FROM $3,500, SPECIALIZED.COM

FROM $4,299, BENNOBIKES.COM FROM $2,000, CANYON.COM

HUBERT TERESZKIEWICZ (icons), +ISM (helmet illustration), MITCH MANDEL (helmets)

Mountain Bike / Santa Cruz Tallboy

Shod with plus-size tires that are midway

between normal trail width and fatties, the

30-pound Tallboy gives you extra traction and

control—ideal if you have more enthusiasm

than experience. Dual suspension adds to its

forgiving spirit, especially on steep descents.

$2,700, SANTACRUZBICYCLES.COM

Urban / State Matte Black 6

Single-speed bikes are easy to maintain and

help you develop a consistent pedal stroke.

State's 20-pound steel version has a range of

customizable options—flat, drop, or riser handlebar,

various pedal types, a choice of four

saddles—and chatter-absorbing carbon forks.

Triathlon / Cervélo P5X

To design the most aerodynamic triathlon

bike in its class, Cervélo eliminated the rear triangle

on this 22-pound flying machine. Fancy

carbon wheels, hydraulic brakes, and top-end

components drive the price up, but expect

the radical frame design to trickle down—fast.

FROM $449, STATEBICYCLE.COM FROM $11,000, P5X.CERVELO.COM

BRAIN DAMAGE CONTROL

A new innovation protects

your most important asset.

Bike helmets may be ugly, but not

as ugly as brains on asphalt. The

multidirectional impact protection

system (MIPS) can reduce your risk

of brain and neck injury. In a crash,

the MIPS liner rotates separately

from the helmet shell to help dissipate

rotational force.

FINE

Bell Draft,

MIPS-Equipped

BELLHELMETS.COM

$60 $100 $320

FINER

Giro

Sutton MIPS

GIRO.COM

FINEST

Poc Octal

AVIP MIPS

POCSPORTS.COM

MensHealth.com / JulyAugust 2017

57
---
STRENGTH

Jump your way to abs? That's what Andy Speer

(left) has fitness editor Ebenezer Samuel doing.

HOLLOW HOLDS MOLD ABS

Conventional wisdom tells us to push our

shoulder blades down and in during most

traditional gym exercises. It's a way of countering

the hunch associated with desk jobs.

But in the gym, this posture causes your abs

to relax, allowing your rib cage to expand and

limiting oxygen intake.

Enter Speer and the hollow-body hold: A

textbook gymnastics move, it's a key part of

his abs-and-cardio routine. Lie on your back

with feet together, arms overhead, and entire

body tight. Now raise your arms; keep your

shoulder blades, head, and legs a few inches

off the floor and your lower back pressed into

the floor. This forces your abs to contract

deeply, pulling your rib cage downward.

SMALL MOVES EQUAL BIG GAINS

Over the course of our workout, Speer finds

other ways to make the hollow-body hold,

a challenging move in its own right, even

harder. First I'm rocking back and forth while

maintaining the position, then kicking my

feet in and out, and then flaring my arms out

to my sides while remaining in the hold.

Each tiny adjustment challenges your

already stressed core to counterbalance the

movement and stabilize your body.

Add a challenge to your own workout: The

next time you do, say, a plank, lift one foot off

the floor and contract your glutes. Different

feeling in your core, right?

Jumpstart Your Abs

A SIX-PACK OF CORE SECRETS FROM ANDY SPEER, THE TRAINER WHO CREATED

THE ANARCHY ABS WORKOUT. / BY EBENEZER SAMUEL

This isn't what I expected: It's early in the morning in

Brooklyn Bridge Park and I'm getting worked over by

trainer Andy Speer in an odd abs-and-cardio session.

First I'm learning to jump all over again; then I'm doing

a reverse plank. It's 30 minutes of surprises from The

Anarchy Abs Workout, Speer's new DVD and streaming

program (anarchyabsworkout.com). The plan blends

metabolic training with strength work and gymnastics to

fry your core. And it taught me a six-pack of lessons.

HEART RATE FUELS RESULTS

Speer's routine mostly alternates between

hollow-body hold variations and a series of

jumps—basic vertical jumps, 180-degree

jumps, side-to-side bounds, and more. Everything

is done against the clock. We perform

the hollow-body hold for 45 seconds, rest

briefly, and then immediately begin the next

45-second set of jumps.

The purpose is simple: It's a creative way

to raise my heart rate between sets of hollowbody

work, adding to the challenge of the

core training while also honing athleticism.

"You can do a plank or hollow-body hold when

you're fresh," he says. "But maintaining those

positions with an elevated heart rate is a

really athletic way to train."

PROGRESSION IS A WORKOUT

I've probably jumped a million times in my

lifetime, but this morning we're starting

58 MensHealth.com / JulyAugust 2017 PHOTOGRAPHS BY JUSTIN STEELE
---
NAME

OCCUPATION

Pure is where passion meets purpose. Where

head meets heart meets hustle. Pure is why we

keep out lactose, gluten, and preservatives. And

pack it with protein from 100% Whey Protein

Isolate. For those who choose a life that doesn't

just match their drive for fitness, it demands it.

WE'RE ALL MORE THAN MUSCLE

WATCH HIS STORY AT THEISOPURECOMPANY.COM
---
STRENGTH

from square one. I explode onto my tiptoes

but never leave the ground during

my first set of "jumps."

But this is by design. Speer is guiding

me through the often-overlooked

technique of a jump, learning to load

my hamstrings correctly before eventually

leaping side to side. And it all

combines to nudge my heart rate

upward. "Sometimes it seems a little

like, 'All right, when are we getting

to the workout?' " Speer says. "But if

you do the steps properly, you're going

to get a workout from the technique

work." It's a way to turn any complex

athletic motion into its own workout.

Try working through the phases of a

running motion the next time you're

planning to run.

TIME COUNTS MORE THAN REPS

It's incredibly easy to fall into a habit

of counting reps and sets in the gym,

especially if you train alone. But a

separate 15-minute arm workout

with Speer, which he puts me through

after the abs-and-cardio routine, is a

reminder that there's another way.

Every Anarchy workout pits you

against time—working 40 to 50 seconds

and resting 10 to 20 seconds.

Speer adapts that same formula for

the arm session as I battle the clock

in JM presses for triceps and curl-topresses

for biceps. Incorporate this

into your next arm workout, banging

out curls for 40 seconds and resting for

20 during a 4-minute set. You'll want to

use a lighter weight than usual, but the

change in the pace of your workout will

leave your biceps crying.

SPIDER LUNGES ARE SCARY GOOD

Speer introduces a variety of stretches

throughout the Anarchy workout, but

today he has me performing just one:

a variation of the spider lunge. To do it,

start by assuming a pushup position;

then, keeping your left glute tight,

move your right foot just outside your

right hand. Finally, reach your right

arm overhead.

This is the one stretch you should do

daily, says Speer, whether you're working

out or not. Do 5 to 8 reps per side,

2 or 3 times a day. "You get a whole lot

of bang for your buck with the spider

lunge," he says. "It's a commonly used

stretch drill for a reason."

CUT TO YOUR CORE

Torch fat fast

and make your abs

pop with The

Anarchy Abs Workout,

available

on DVD and to

stream at anarchy

absworkout.com.

Grooming: Marco Campos/Oribe Hair Care/Giorgio Armani Maestro, MITCH MANDEL (DVD)
---
WELCOME TO THE TEA HOUSE.

PREMIUM ORGANIC TEA. EXQUISITE INGREDIENTS. EXTRAORDINARY TASTE.

Also available in these flavors: Fuji Apple & Ginger • Valencia Orange Peel • Wild Blackberry & Sage

© 2017 PURE LEAF and TEA HOUSE COLLECTION are trademarks of the Unilever Group of Companies used under license.
---
The best time to flip your burger is

when the spatula meets no resistance

as it slides between patty and grate.

FOOD

Conquer the cookout

Mix DIY trail fuel

Power up your shakes

MH MEAL WORKSHOP

The Burger,

Perfectly Done

Everyone swears by

a different method.

To find the best way,

we put 12 pounds

of meat through a

trial by fire. / BY THE

RODALE TEST KITCHEN

A palate-altering burger must possess

three vital traits. First, it must be grilled. Obviously.

Second, it must have a chin-drippingly juicy interior and

a satisfying crust. Last, it must be simple. You can futz

with flavors when you top your burger, but first master

the basics—choosing the beef and forming the patty. We

spent weeks perfecting the craft. Here are the results.

PHOTOGRAPHS BY CHRISTINA HOLMES

MensHealth.com / JulyAugust 2017 63
---
FOOD

DEPEND ON CHUCK

STEP 1 STEP 4

GRILL WITH

PATIENCE

Every butcher we

consulted for this

project pointed us to

100 percent ground

chuck—specifically

from a boneless

blade roast. This is

because the blade

roast tends to be

more marbled with

delectable intramuscular

fat than,

say, a shoulder roast

would. You're going

to need 2½ pounds of

chuck blade roast to

make eight burgers.

Order accordingly.

WHAT'S THE DIFFERENCE?

Grass-Fed Beef

It's inherently

leaner, giving

your burger a

crumbly texture.

Grain-Fed Beef

Its fat helps

hold the ground

beef muscle

together.

Marbled meat

is tastiest...

...and boneless

blade roast has

great marbling.

Too many well-made

burgers are ruined by

being manhandled

on the grill. The secret

to a meaty burger

with a good bite:

doing nothing. Put

the patties on a hot

grill and then step

back. Don't press on

them with a spatula.

1

Don't shuffle them

around the grate.

Don't close the grill

lid. Our repeated

tests showed that

the burger patties

we flipped just once

developed a better

outer crust and juicier

center than burgers

we flipped frequently.

STEP 2

Grinding your own

meat lets you control

what goes into your

burger. You can have

a butcher grind it, you

can grind it yourself

using a food processor,

or—for the juiciest

burger with the best

bite—you can use a

real grinder. Try the

sturdy, durable STX

International STX-

1800-MG Magnum

($190, amazon.com)

or the KitchenAid

food grinder attachment

for your mixer

($65, kitchenaid.com).

GRIND IT OUT

1

Cut the beef

into 1" cubes,

place them on a

baking sheet,

and freeze them

for 25 minutes.

That way the

meat won't turn

all gummy in

the grinder.

START CRANKING

2

Attach a fine

grinder plate to

the hopper. Fill

a bowl with 2 tsp

each of kosher

salt, ground black

pepper, and dried

minced onion;

these reinforce

the beefy flavor.

3

Feed a few

cubes through

the grinder,

followed by a

pinch of the

spices. Repeat.

Our tasters preferred

burgers

with the spices

ground in.

Wipe the grate with an oiled paper

towel. Place the meat over direct mediumhigh

heat. Set a timer for 5 minutes.

2

After 5 minutes, flip. Wait 3 more,

or until done to your specs (140°F for

medium, 145°F to satisfy the USDA).

3

STEP 3

The key is minimal

handling; too much

packing yields a

tough burger. Gently

form the meat into a

5-ounce ball (think

tennis ball) and then

THE DATA

BEHIND

THE METHOD

SHAPE THE PATTIES

flatten it to slightly

wider than your bun.

(It'll shrink.) Do this

shortly before grilling.

Room-temp patties

are juicier and contract

less than cold ones.

12

POUNDS OF BEEF

USED IN TESTING

Don't overpack

it!

BEST PALATE CLEANSER

EDWARDS & SONS BROWN

RICE SNAPS (BLACK SESAME)

NUMBER OF GROSSED-OUT VEGETARIAN

1 TEST KITCHEN EMPLOYEES

A burger will tell you when it's done.

See the blood and juice seeping through

the surface? Translation: "Eat me!"

$6

AVERAGE COST

PATTIES

PER POUND

OF CHUCK ROAST

43

MADE

Food styling: Chris Lanier/Apostrophe, prop styling: Kaitlyn DuRoss/Honey Artists

64 MensHealth.com / JulyAugust 2017 ILLUSTRATIONS BY ANTHONY CALVERT
---
CHRISTIAN TAYLOR

2 x WORLD CHAMPION

2 x OLYMPIC GOLD MEDALIST
---
FOOD

@guygourmet

BULLETIN

FOOD

JOLT YOUR DNA

Coffee drinkers are more

likely to have longer chains of

DNA than coffee abstainers.

(Short DNA chains have

been linked to cancer.) The

phenols—not caffeine—

may prevent DNA damage.

Brigham Young University

28%

Drop in cardiovascular disease

risk when people ate 10 daily

servings of produce rather than

little to none. International

Journal of Epidemiology

THE EARLY BIRD DIET

STEP 5

PILE ON THE

TOPPINGS

First, toast the buns to reinforce structural integrity. Next

spread a protective fat layer on the bun (butter, mayo) to

prevent sogginess. Finally, build within reason. Try to hit as

many textures and flavors as possible. We like these combos.

Early risers eat fewer calories,

less sugar, and more protein

than night owls, the journal

Obesity reports. Scientists

speculate that people have

an easier time making healthy

decisions in the morning,

when the brain is fresher and

willpower stronger.

Creamy Mayo

×

Salty

Bacon

AMERICAN FRENCH BBQ CAPRESE PESTO

Chopped

cornichons

Coleslaw

Potato chips Pesto

Red onion, dill

Tangy Dijon mustard ×

Tomato slice

pickle slices

Caramelized

Sweet Ketchup

BBQ sauce

×

onions

Fresh Romaine

×

×

Baby arugula

Gooey American cheese Gruyère Cheddar cheese

×

Mozzarella

slice

7.8%

Reduction in hospitalizations

for heart attack in New York

counties with trans fat restrictions

versus those without.

JAMA Cardiology

NICK SLATER (icons)

66 MensHealth.com / JulyAugust 2017
---
FOOD

Your Adventure Fuel Formula

HIKING ISN'T A HALL PASS TO MAINLINE ADDED SUGAR, BUT PLENTY OF COMPANIES SELLING GLORIFIED CANDY

BARS SEND THAT MESSAGE. TURN TO A SMARTER SNACK FOR YOUR TREK (OR BRISK LUNCHTIME WALK).

THE DIY TRAIL MIX GENERATOR

TRAIL BARS,

RATED

First pre-hike stop:

the supermarket bulk

aisle. This candy-free

mix will fuel one guy

through about 90

minutes of activity,

says Valerie Berkowitz,

R.D., author of The

Stubborn Fat Fix.

NUTS

2 to 3 ounces

SALTED OR UNSALTED

almonds

peanuts

cashews

pecans

walnuts

DRIED FRUIT

½ ounce

IDEALLY UNSWEETENED

apples

apricots

bananas

blueberries

cranberries

raisins

SEEDS

1 ounce

UNSALTED AND HULLED

pumpkin seeds

sunflower seeds

BONUS

½ ounce

FOR MORE CRUNCH

bagel chips

wasabi peas

mini pretzels

goldfish crackers

pita chips

Stay under 6 grams

of sugar (some have

up to 29) and as close

to a 1:1:1 ratio of carbs,

fat, and protein as you

can, Berkowitz says.

GOOD

Kashi Peanut

Peanut Butter

Chewy Granola Bar

20G CARBS (5G SUGAR),

5G FAT, 6G PROTEIN

This 140-calorie bar

isn't heavy on sugar,

and it doesn't skimp

on the peanuts either.

It does contain soy.

BETTER

Kind Chipotle

Honey Mustard

Almond Bar

16G CARBS (6G SUGAR),

16G FAT, 10G PROTEIN

It's sweet and savory

and builds its base

from pea protein. One

bar has 230 calories.

BEST

Power Crunch

Original Chocolate

10G CARBS (5G SUGAR),

13G FAT, 13G PROTEIN

For a whey-based bar,

it's 205 calories of

awesome. It's sweetened

with stevia.

Prop styling: Ariana Salvato/Apostrophe; BROWN BIRD DESIGN (illustrations)

68 MensHealth.com / JulyAugust 2017 PHOTOGRAPH BY LEVI BROWN
---
ADVERTISEMENT

Smarten

Up To

Shrink

Your Gut

Protein Shake

Can Help You

Break Through

Your Weight

Loss Plateau

By Chris Hansen

Being a trainer, bodybuilder, and nutrition

expert means that companies frequently send

me their products and ask for my stamp of

approval. Most of the time I dive into research,

test the product out, and send the company

honest feedback. Sometimes, however, I refuse

to give the product a try, because frankly, the

ingredients inside aren't real food. And I'd rather

drink diesel fuel than torture my body with a

chemical concoction.

Like my father always said, "What you

put inside your body always shows up on the

outside."

One protein shake that I received, that

will remain nameless, was touted as 'the new

shake' but really had a list of gut destroying

ingredients. Everywhere I read I saw harmful

artificial ingredients, added sugars, synthetic

dyes, preservatives and cheap proteins; the kind

of proteins that keep you fat no matter how hard

you hit the gym, sap your energy and do nothing

for your muscles.

Disappointed after reviewing this "new"

shake, I hit the gym and bumped into my favorite

bodybuilding coach. This guy is pushing 50, has

the energy of a college kid, and is ripped. So are

his clients.

While I firmly believe that the gym is a notalk

focus zone, I had to ask, "Hey Zee, what

protein shake are you recommending to your

clients these days?"

Zee looked at me, and shook his head.

"Protein shakes are old news and loaded with

junk. I don't recommend protein shakes, I tell

my clients to drink INVIGOR8 Superfood

Shake because it's the only all natural meal

replacement that works and has a taste so good

that it's addicting."

Being sceptical of what Zee told me, I decided

to investigate this shake called INVIGOR8.

Turns out INVIGOR8 Superfood Shake has

a near 5-star rating on Amazon. The creators

are actual scientists and personal trainers who

set out to create a complete meal replacement

shake chocked full of superfoods that—get this—

actually accelerate how quickly and easily you

lose belly fat and builds even more lean, calorie

burning muscle.

We all know that the more muscle you build,

the more calories you burn. The more fat you

melt away the more definition you get in your

arms, pecs and abs.

The makers of INVIGOR8 were determined

to make the first 100% natural, non-GMO

superfood shake that helps you lose fat and build

lean muscle. The result is a shake that contains

100% grass-fed whey that has a superior nutrient

profile to the grain-fed whey found in most

shakes, metabolism boosting raw coconut oil,

hormone free colostrum to promote a healthy

immune system, Omega 3, 6, 9-rich chia and

flaxseeds, superfood greens like kale, spinach,

broccoli, alfalfa, and chlorella, and clinically

tested cognitive enhancers for improved mood

and brain function. The company even went a

step further by including a balance of pre and

probiotics for optimal digestive health, uptake,

and regularity and digestive enzymes so your

body absorbs the high-caliber nutrition you get

from INVIGOR8.

While there are over 500 testimonials on

Amazon about how INVIGOR8 "gave me more

energy and stamina" and "melts away abdominal

fat like butter on a hot sidewalk", what really

impressed me was how many customers raved

about the taste. So I had to give it a try.

When it arrived I gave it the sniff test. Unlike

most meal replacement shakes it smelled like

whole food, not a chemical factory. So far so good.

Still INVIGOR8 had to pass the most important

test, the taste test.

And INVIGOR8 was good. Better than good.

I could see what Zee meant when he said his

clients found the taste addicting.

I also wanted to see if Invigor8 would help

me burn that body fat I'd tried to shave off for

years to achieve total definition.

Just a few weeks later I'm pleased to

say shaving that last abdominal fat from my

midsection wasn't just easy. It was delicious.

Considering all the shakes I've tried I can

honestly say that the results I've experienced

from INVIGOR8 are nothing short of

astonishing.

A company spokesperson confirmed an

exclusive offer for Men's Health readers: if

you order Invigor8 this month, you'll receive

$10 off your first order by using promo code

"MEN" at checkout. If you're in a rush to

burn fat, restore lean muscle and boost your

stamina and energy you can order INVIGOR8

today at www.DrinkInvigor8.com or by calling

1-800-958-3392.
---
FOOD

The Four Best Power Shakes for Men

IT'S THE SEASON OF FRESH. IF YOU'RE STILL GUZZLING BOTTLED JUICES, HAVE MERCY ON YOUR TASTEBUDS.

THE PEACH-

AND-PROTEIN

468 CALORIES

42G PROTEIN

50G CARBS (6G FIBER)

13G FAT

Experts say you need at least 30 grams of protein

for muscle growth. That amount also helps

you stay satiated. The 42 in this mix go down

easy. Blend 2 peaches (pitted and chopped), ½

cup plain Greek yogurt, ¾ cup whole milk, ¼ cup

mint leaves, and 1 scoop vanilla protein powder.

THE WATERMELON

KICK

170 CALORIES

2G PROTEIN

42G CARBS (3G FIBER)

1G FAT

Need something sweet? Juicy produce brings

it, but the tingle of the cayenne's heat will

encourage you to sip and enjoy, not guzzle and

glug. In a blender, puree 2 cups cubed watermelon,

1 cup frozen strawberry halves, 1 Tbsp

lemon juice, and ⅛ tsp ground cayenne.

THE OAT BERRY

326 CALORIES

14G PROTEIN

58G CARBS (9G FIBER)

7G FAT

THE GREEN BEAST

229 CALORIES

12G PROTEIN

32G CARBS (5G FIBER)

8G FAT

Vegetable-free weekend? This shake will get you back in the game. Blend

till smooth: 2 cups baby spinach, 15 green grapes, ½ cup plain Greek yogurt,

½ cup lightly sweetened bottled green tea (like Honest Tea Honey Green

Tea), ¼ avocado, the juice of ½ lime, and 1 tsp agave nectar (optional).

Whole grains, antioxidants, and good fats deliver

an artery scrub-and-lube. Plus, more fiber than

a large apple! Throw all this in a blender and give

it a whirl: 1½ cups mixed frozen berries, 1 cup

1% milk, ¼ cup rolled oats, 1 tsp honey, and 1 tsp

almond butter. All shakes serve 1.

THE BEST BLENDER

FOR YOUR BUDGET

Because some men don't want to

blow $800 on a fruit whacker.

The Ninja Professional

Blender

NJ600 costs $80

and boasts 1,000

watts of power.

(That's 8 cents per

watt.) Watch it

churn even the

pulpiest produce

into liquid gold.

Food styling: Chris Lanier/Apostrophe, prop styling: Kaitlyn DuRoss/Honey Artists; NICK SLATER (icons)

70 MensHealth.com / JulyAugust 2017 PHOTOGRAPH BY CHRISTINA HOLMES
---
NAME

OCCUPATION

Pure is where passion meets purpose. Where

head meets heart meets hustle. Pure is why we

keep out lactose, gluten, and preservatives. And

pack it with protein from 100% Whey Protein

Isolate. For those who choose a life that doesn't

just match their drive for fitness, it demands it.

WE'RE ALL MORE THAN MUSCLE

WATCH HIS STORY AT THEISOPURECOMPANY.COM
---
Make the Asheville tuxedo work for you—

chambray shirt with dark jeans (BBQ pitmaster

Elliott Moss's porcine scarf optional).

STYLE

Look like you live

Do denim right

Find a swimsuit

Style Adventure

ASHEVILLE, NC

Road Trip

The Secrets

of Southern

Comfort

In Asheville,

casual is a

state of mind

and style.

BY SANDRA

NYGAARD

People breathe differently in Asheville. Maybe it's the

calming effect of the Blue Ridge Mountains, like a painted backdrop

for this haven in western North Carolina. Or the area's rivers, waterfalls,

and open spaces that host hikers, bikers, kayakers, and anyone

who loves fresh air. With more breweries per capita than anywhere

in the country, a sense of ease flows through the city. And an unfussy

style—denim, tees, and outdoor gear—keeps that vibe intact. Here's

how the locals kick back, unwind, and look as relaxed as they feel.

PHOTOGRAPHS BY DUSTIN AKSLAND

MensHealth.com / JulyAugust 2017

73
---
STYLE

BELT OUT

YOUR STYLE

ELLIOTT MOSS

WHO

WEAR

TRAVEL

TIP

DRINK

Sovereign

Remedies

This cocktail bar in

a 1920s-era medical

building serves up

old-world libations

ROCK YOUR

WEEKEND

Using pops of

bright color isn't

the only way to

show your summer

attitude. Bold,

tonal patterns

add flavor.

Pitmaster and partner at

Buxton Hall, one of the nation's

top barbecue joints. Whole

hogs are regularly smoked, so

order the Pulled Pork Plate.

"I build my outfit around my

belt. My pal Billy makes them

by hand. I wear the same Iron

Heart jeans every day and

add work shirts I find in vintage

shops." Don't know Billy?

Try Will Leather Goods belts.

with a modern twist.

The mixologists use

old and new recipes

and incorporate

fresh botanicals from

nearby herb farms.

The Root Daiquiri, a

Moss favorite, is made

with rum, lime, sarsaparilla,

burdock, and

dandelion. (828)

919-9518, sovereign

remedies.com

LOOK SHARP IN SHORTS

WHO

WEAR

WALT & LUKE DICKINSON

The guys behind Wicked Weed Brewing.

The bustling craft brewery, which also

includes a pub and taproom, is a premium

producer of sour beer. The two offer

roughly 200 packaged and experimental

brews combined, ranging from hoppy IPAs

to blond Belgians to tart sours.

WALT "I'm tall and lean, so fit is crucial.

I like printed button-front shirts with

small patterns, as long as they're slim-cut.

I wear mostly Vans sneakers. If you're

going to wear a basic outfit, you need an

interesting pair of shoes in the summer."

LUKE "I like mixing colors and texture

with my shorts but keeping my shirts simple.

I'm in management, so a solid-color

Henley shirt seems more professional."

TRAVEL

TIP

STAY

The Omni

Grove Park Inn

Budget-friendly hotels

abound in Asheville,

but for a really memorable

stay, book the

100-year-old Omni

Grove Park Inn. The

stone exterior is rustic,

but the amenities—

like a subterranean

spa—are luxe. Plus,

Instagram-worthy

views! From $260;

(800) 438-5800, omni

groveparkinn.com

VANS, $45 KRAMMER & STOUDT, $200 SMITH, $129 VANS, $60

Styling: Sandra Nygaard, grooming: Brie Reeder/Peridot Management; RYAN OLSZEWSKI and MITCH MANDEL (products)

74 MensHealth.com / JulyAugust 2017
---
HEALTH AND SEX BELONG TOGETHER

Healthysexuals

LOVE

SHARING

Talk about your sexual health. #NoFilter

VISIT

AND TALK TO A HEALTHCARE PROVIDER
---
STYLE

UPGRADE YOUR

WORKWEAR

To create your own authentic

patina on bags, belts, or

boots, go with brown leathers

and suedes, which always

look better with time.

LEVI'S, $70; UNITED BY BLUE (TEE), $36

RALEIGH DENIM WORKSHOP, $265

DISTRESS YOUR OWN DENIM

WHO

WEAR

IAN COCHRANE

Owner of Balsam Mountain Leather

Co., which specializes in handmade

leather goods, including wallets and tote

bags made from full-grain cowhide.

"I like functional clothing influenced

by Americana, heritage, and bohemian

1960s styles. Gitman Vintage shirts and

Raleigh Denim are among my favorites.

Breaking in my jeans takes me about three

years. I try to wash them just once a year."

TRAVEL

TIP

SHOP

Old North

Stray from the popular

Pack Square to

this Lexington Avenue

shop for expertly

curated clothing and

accessories for men

and women alike. "If

you're searching for

that rare pair of sel-

vedge denim jeans

or a locally made belt,

this is the place to

go," says Cochrane,

whose goods are

sold there. Heritage

brands like Carhartt

Work in Progress,

Red Wing Heritage,

Filson, and North

Carolina's Raleigh

Denim Workshop

can be found among

Japanese jeans that

delight the purists.

(828) 505-6495,

oldnorthclothing.com

BILLYKIRK, $396

RED WING HERITAGE, $230

AMY MORGAN/Noun Project (bag icons), LIPI/Noun Project (shirt icons)
---
BE SCRUFFY

AND SMOOTH

RYAN MARTIN

WHO

WEAR

Baker and owner of Hole

Doughnuts. The small bakery

makes yeast-raised, fried-toorder

hot doughnuts in classic

and creatively spiced flavors.

"Asheville is not what you might

call manicured. Expect lots

of beards, grown-out hair, and

a general state of scruffiness.

I often don't shave until I can

twirl my mustache." Try American

Crew Beard Serum.

ADAPT, RELAX

TRAVEL

TIP

WHO

WEAR

PAT KELLER

Pro kayaker and boat designer at the kayak

company Liquidlogic. The North Carolina

native is also the winner of the 2014 Rey

del Rio Waterfall World Championship.

"I'm active outdoors almost every day,

whether it's mountain biking, hiking, or

kayaking. And because conditions can

change, I dress with quick transitions in

mind. I like lightweight, dry-fit pieces

that work in water and on land. My Astral

flip-flops have special rubber outsoles and

footbeds to help prevent slipping."

HIKE

Whitewater Falls

Hundreds of waterfalls

can be found in

the Asheville area.

Keller likes 411-foot

Whitewater Falls, the

highest cascade east

of the Rockies. "The

lesser-known Lower

Whitewater Falls is

more of an adventure,"

Keller says. "At

one point, the falls

drop 80 feet onto a

bedrock shelf, and

the way the light hits

is just incredible."

"I choose my outfits for function—jeans and Doc

Martens because my shoes have to be oil resistant."

Olive is a safe place to start with colored

jeans—it goes with everything except green.

GET SPORTY

AND SHARP

Technical pieces

don't always have

to look it. These

fabrics perform,

but the neutral

colors keep them

versatile.

VUORI, $45

ARC'TERYX, $89 UNITED BY BLUE, $28 ASTRAL, $75

MensHealth.com / JulyAugust 2017

77
---
ADVERTISEMENT

PRESENTED BY PEDIGREE ®

PETS

I Adopted

My Best Friend

Jonathan loves to kick around the

soccer ball and practice his skills

with his best friend Luna.

Photos By: AJ Sartor

MEET JON & LUNA

Growing up Jonathan always wanted a dog, but he was one of four boys and his parents

didn't want to add to their already chaotic household. After his professional soccer career

was cut short due to an ankle injury, Jonathan applied to the NJ State Police, a career he

knew would be ultra challenging.

With a demanding schedule that kept him away from home for long stretches, he

thought it was the perfect time to adopt a dog from his local shelter to keep his girlfriend

company – and she agreed. There they met Luna, an energetic mixed-breed 2 year

old eager for a family. It didn't take

long before all three of them were

inseparable, from hiking and kicking

the soccer ball to Luna sitting front

row when Jon proposed.

Jonathan's dream of

owning a dog finally

comes true.Here he

is pictured with his

energetic mixedbreed,

Luna.

Jonathan and his fiancée Steph love enjoying

quiet moments in their backyard with their

energetic pup, Luna. Since the moment they

brought her home, Luna has managed to find

herself in the center of the action, whether

that is when Jon is training or when they are

casually sitting in their living room.

HELPING DOGS

Every year in this country, more than 4 million

dogs enter shelters. Millions more wander alone

and hungry. By working together, we can solve

this problem.

The PEDIGREE® Foundation supports the

people and organizations that work to ensure

better outcomes for all dogs in need.

ADOPTION PREP GUIDE

Try, Try Again.

Visit your local shelter as many times as it takes

to find "your" dog.

Try not to go in expecting to find him the first

time, because you may not—although it is

difficult to leave without a new family member

once you're there. It's important to find the right

dog for you; and for you to be the right owner

for him.

Bring a notepad and pen so you can write down

pertinent answers to the important questions

you'll surely want to ask. And if you can, bring

along a digital camera. Some shelters may not let

you take shots of their dogs, but most will.

Adopting a dog is a serious years-long

commitment. That's why the process is so

involved. If you're having second thoughts

at any point, listen to your instincts.

Learn More at

Pedigreefoundation.org
---
Feed the good.

Dogs bring out the good in us.

Pedigree brings out the good in them.

Pedigree.com
---
STYLE

Look Good Half Naked

TO MAKE A SPLASH AT THE BEACH, YOU'LL HAVE TO FIND

THE PERFECT TRUNKS. TIP: BIG AND BRIGHT SHOUT YOU OUT;

DARK AND SUBTLE SLIM YOU DOWN. / BY DAN MICHEL

SUNSPEL

$210

ZACHARY

PRELL

$158

ORIGINAL

PENGUIN

$79

LANDS' END

$40

SATURDAYS

NYC

$85

BIRDWELL FOR

TODD SNYDER

$138

ORLEBAR

BROWN

$245

OUTERKNOWN

$85

NAUTICA

$70

GAP

$45

ASOS

$29

DAN WARD

$200

FAHERTY

$128

BURTON

$45

ORLEBAR

BROWN

$265

EVEREST

ISLES

$225

AETHER

APPAREL

$125

MICHAEL

KORS

$98

PATAGONIA

$69

PANGEA

$92

KIT AND ACE

$88

2(X)IST

$75

J.CREW

$70

VUORI

$69

BONOBOS

$150

RYAN O

80 MensHealth.com / JulyAugust 2017
---
FROM AMERICA'S #1 SELLING BODY BUILDING SUPPLEMENT BRAND

Giancarlo Stanton

ALL-STAR OUTFIELDER

@giancarlo818

Rob Gronkowski

ALL-PRO TIGHT END

@gronk

Russell Westbrook

ALL-STAR POINT GUARD

@russwest44

Build more muscle and increase strength with

Six Star ® 100% Whey Protein Plus – enhanced

with core ingredients to deliver results better than

regular whey. The choice of elite athletes, this

premium shake's protein is ultra-filtered to reduce

fat, lactose and impurities. Plus, it's from the makers

of MuscleTech ® – America's #1 Selling Body Building

Supplement Brand – so you know it's a formula you

can trust. Try it in one of four flavors awarded the

Gold Medal from the American Masters of Taste.

100% WHEY

PROTEIN PLUS

Our best ever flavors

60g of premium whey

protein – ideal for flexible

dosing (per 2 scoops)

FAST-ABSORBING, HIGHER PURITY

Delivers 100% instantized, microfiltered

whey protein with zero

trans fat that is easy to mix, digest

and absorb.

8-HOUR SUSTAINED-RELEASE PROTEIN

Delivers premium protein and

sustained-release casein, which

helps feed your muscles with a

continued flow of amino acids.

Ultra-filtered to reduce fat,

lactose & impurities

70% more muscle with

clinically studied core

ingredients 1

1

In a 6-week study, subjects using the

core ingredients in Six Star ® 100% Whey

Protein Plus with a training program

gained 70% more muscle than subjects

using regular whey protein (8.8 vs. 5.1 lbs.).

PREMIUM SUPPLEMENTS. SMART PRICE.

Learn more about our latest initiative!

SixStarPro.com/scholarship

#GreatnessIsEarned SixStarPro.com

facebook.com/SixStar @SixStarPro sixstarpronutrition

MuscleTech ® is America's #1 Selling Body Building Supplement Brand based on cumulative wholesale dollar sales

2001 to present. Facebook logo is owned by Facebook Inc. Read the entire label and follow directions. © 2017

FROM THE MAKERS OF
---
STYLE

You: Weatherproofed!

INVESTING IN YOUR HAIR AND SKIN CARE IS ALL ABOUT

LOCATION, LOCATION, LOCATION. / BY DAN MICHEL

Step outside and soak in the weather. Okay, research is over. The climate

you live in should determine which products you buy and how

you use them. Heat, humidity, elevation—even minerals in your

water—should affect your routine, says Stanford Health Care dermatologist

S. Tyler Hollmig, M.D. Pick a product for your environment.

1. STICKY 2. ARID 3. TEMPERATE 4. HIGH COUNTRY 5. COASTAL

Pit stains are the least of

your woes. Humidity slows

the evaporation of sweat,

which can cause acne and

clogged pores if left to

build up. Clear your face by

using a glycolic acid product

at night. Try: Malin +

Goetz Resurfacing Glycolic

Pads ($50, malinandgoetz.

com). Quash humidity's

attack on hair with a clay

or paste styler—more hold,

no shine. Try: Baxter of California

Clay Pomade ($22,

baxterofcalifornia.com).

Two steps can keep your

skin hydrated. First, limit

showers to 10 minutes; too

much cleansing removes

your skin's natural oils,

which help preserve

hydration, says Dr. Hollmig.

Second, slather on a longlasting

cream moisturizer

after showering. Try:

Cetaphil Dry Sensitive

Skin Moisturizing Cream

($11, walmart.com) or, for

extreme conditions, oilbased

Aquaphor Healing

Ointment ($4, target.com).

Hard water could be

sabotaging your routine

by clogging your pores.

Minerals in H 2

0, including

calcium, make cleansing

difficult, says Dr. Hollmig.

Clarifying shampoos and

face cleansers that contain

lactic acid can help.

Try: Bumble and Bumble

Sunday Shampoo ($25,

bumbleandbumble.

com) and Ole Henriksen

Find Your Balance Oil

Control Cleanser ($25,

olehenriksen.com).

For every kilometer of

elevation, UV intensity

increases about 6 percent.

"And the SPF you need

rises dramatically," says Dr.

Hollmig. Apply a high-SPF

lotion at least twice daily.

Try: Kiehl's Facial Fuel UV

Guard SPF 50+ ($38, kiehls.

com). Using a vitamin C

serum at night will nourish

your skin and negate ultraviolet

rays. Try: Anthony

High Performance Vitamin

C Facial Serum ($46,

anthony.com).

Sun, surf, and wind can

wreak havoc on your body.

If you spend a lot of time

in a pool or salt water

(which dries skin and hair),

be sure to wash right after

with a gentle cleanser. Try:

Every Man Jack 2-in-1 body

+ face wash ($12, every

manjack.com). Afterward,

be sure to apply a rich

hand cream for important

meetings—and for date

night. Try: Jack Black Industrial

Strength Hand Healer

($15, getjackblack.com).

REMIE GEOFFROI (product illustrations), ERIC HEINTZ (photo-illustration), donatas1205/Shutterstock (gauge)

82
---
INTRODUCING Astroglide O Personal Lubricant and Massage Oil

astroglide.com/try-o
---
VALUE

WORTH ITS WEIGHT IN

GOLD

Discover superior recovery and

experience more muscle growth with

Premium Gold 100% Whey Protein.

This premium blend features 24g of

high-quality whey protein including

whey peptides for superior amino acid

uptake. Scientific studies show that

whey peptides can create an insulin

spike that delivers nutrients to hungry

muscles, and unlike inferior formulas,

there is no denaturation from heat or

harsh chemicals. Get more protein for

less with the 2.2 lb. bonus size!

24g

Protein

5.5g

BCAAs

4g

Glutamine &

Precursor

30

Servings

(Approx.)

Compare

& Save

$

$24 97

for

2.2 lbs.

vs. 29 99 for 2.0 lbs. 1

24% Savings!

CUTTING-EDGE FORMULA

Features whey peptides for

superior amino acid uptake

BETTER TASTE

Instant mixing and

superior taste

Double Rich

Chocolate

French Vanilla

Crème

2.2 LB. BONUS

10% FREE

Premium protein at a value price.

AMAZING PRICE

Get 2.2 lbs. for 24% less

than other premium 2 lbs.

MUSCLETECH.COM

1 Compared to other whey protein products at specialty sports nutrition retailers.

MuscleTech ® is America's #1 Selling Bodybuilding Supplement Brand based on cumulative wholesale dollar sales 2001 to present.

Facebook logo is owned by Facebook Inc. Read the entire label and follow directions. © 2017
---
Set a calorie max for a.m. eating:

Count the hours between breakfast

and lunch and multiply by 100.

WEIGHT LOSS

Hack your DNA Go green (tea) Eat smart

Turn Off Your

Fat Switch

We found five ways

you can hack your

genes to help achieve

your weight loss goals.

BY SARAH WATTS

If your father is more Dad Bod than Dad

God, you might assume you'll eventually grow portly

yourself. After all, nearly 100 gene variants are linked

to obesity. The good news: Some genes can turn on and

off depending on your habits and environment. You

could plunk down a few hundred on a DNA test, but why?

Instead, try these smart strategies to flip your fat switch.

ILLUSTRATIONS BY ARCADE

MensHealth.com / JulyAugust 2017

85
---
WEIGHT LOSS

DEPEND ON PROTEIN

Chicken, eggs, and other protein-rich

1

foods are more than just muscle builders.

A 2014 study published in the American

Journal of Clinical Nutrition found that

people who carry a variant of the FTO gene

linked with higher obesity risk had less

appetite and fewer cravings when they ate a

low-calorie diet with 25 percent protein. Protein

fills you up and requires more energy

to digest than other nutrients do, says study

author George Bray, M.D., of Pennington Biomedical

Research Center.

HIT THE SWITCH Include at least one proteinrich

component, like turkey, shrimp, or peanuts,

in every meal and snack. "Spreading protein

intake throughout the day helps your body best

utilize it for function and rebuilding after exercise,"

says dietitian Rebecca Clyde, M.S., R.D.N.

EAT EARLY IN THE DAY

Your body runs on an internal clock,

2

which is why you feel like crap when

you wake up at the wrong time. This clock

ticks in every cell of your body and influences

your metabolism as well as your sleep

habits. A 2016 study in the American Journal

of Clinical Nutrition found that overweight

people who carried a certain variant

of the PLIN1 gene associated with obesity

lost more weight when they ate lunch earlier

in the day. And the earlier they took that

midday meal, the better the results.

HIT THE SWITCH Eat breakfast and don't work

through lunch. There's a simple way to determine

how many calories to consume for breakfast

and a.m. snacks, says Dina D'Alessandro,

R.D.N.: Count the hours between breakfast and

lunch on a typical day and multiply by 100.

INCREASE YOUR WORKLOAD

Take a cue from the Amish on this

3

one. In a landmark study of an Old

Order Amish community, researchers from

the University of Maryland concluded that a

lifestyle with abundant physical work may

help offset the impact of carrying risky

variants of the FTO gene. The most active

men in this community burn about an extra

900 calories a day, thanks to several hours

of farming, carpentry, blacksmithing, and

other activities—and this basically overrides

that genetic demerit.

HIT THE SWITCH You don't have to live on a

farm to be as active as the Amish. There are

many ways to log an extra 900 calories a

day. For example, walk briskly for 8 miles over

about two hours. Or try to run 7 miles in an

hour. Or bike to work for 50 minutes each way.

BAD

OUTWIT

YOUR FAT

GENES

Bad genes do

matter, but

not as much

as you think.

Here's how each

bad habit can

raise the BMI

of someone

who falls in the

top 10 percent

of people with

genetic obesity

risk. (A normal

BMI is between

18.5 and 24.9.)

+0.52

Eating fried food

every day

Say you're a 6-foot

guy with a french

fry habit. Bad genes

make you about 4

pounds heavier than

a genetically gifted

guy with the same

vice. Bake potato

slices in your oven for

a less oily treat, says

Marisa Moore, R.D.N.

+0.79

Drinking soda

on the daily

Frequent fizz fixes

can cost a 6-foot guy

with bad genes 6 extra

pounds. Instead of

soda with ice, try seltzer

with frozen fruit,

says Danielle Battram,

Ph.D., R.D., who teaches

food and nutritional

sciences at Brescia

University College.

+1.02

Eating a typical

American diet

In other words, too

much processed

junk and not enough

produce. Try to ease

into three servings

each of leafy greens

and fruit a day, says

Robert Ostfeld, M.D.,

director of preventive

cardiology at Montefiore

Health System.

+1.05

Doing just an hour

(or less) of hard

exercise a week

Start hard immediately

after your

warmup, says Iowa

State kinesiologist

Panteleimon Ekkekakis,

Ph.D. Then gradually

turn down the

intensity over 10 to 15

minutes until you hit

your cooldown pace.

+1.32

Doing less than 7

hours of moderate

exercise a week

Every Sunday, set

aside a few minutes

to schedule a week's

worth of workouts on

your calendar. "Prioritize

it like you would a

dentist appointment,"

says University of Minnesota

kinesiologist

Beth Lewis, Ph.D.

86 MensHealth.com / JulyAugust 2017
---
BULLETIN

WEIGHT

LOSS

GO MEDITERRANEAN

A variant of a gene called MC4R

4

predisposes its carriers to obesity

and type 2 diabetes. But there's hope:

A Mediterranean-style diet may cancel

out that increased genetic risk, recent

research suggests. This famously healthy

(and delicious!) diet is rich in olive oil, fish,

poultry, fruits, vegetables, legumes, and

nuts. An occasional glass of red wine is

perfectly okay. The fiber and antioxidants

prevalent in the diet seem to fight fat and

improve glucose metabolism. Ciao bella!

HIT THE SWITCH As you eat more Mediterranean

foods, think about the tasty stuff you're adding,

not what you're missing (like processed foods).

When you begin, focus on eating quality meals,

not counting calories. Log your food for the first

few weeks to stick to it, says Erin Peisach, R.D.N.

WORST

GUZZLE GREEN TEA

This beverage might boost the activity

of several genes that regulate

5

metabolism, like one known as GLUT4. In

a 12-week study period, rats fed a high-fat

diet plus green tea showed greater GLUT4

expression than rats fed the same diet with

water. In humans, green tea antioxidants

have been shown to improve blood sugar control.

But take note: Researchers who study

tea typically don't add sugar or cream. We're

not talking about the 430-calorie Starbucks

Green Tea Creme Frappucino here.

HIT THE SWITCH Drink a glass a day. Try regular

Lipton Pure Green Tea ($12 for 100 bags),

which had the most anti oxidants per bag in a

ConsumerLab test. Steep green tea at 185ºF for

three minutes. This maximizes both flavor and

antioxidant content, a Turkish study suggests.

THE STAT

ONE

SQUEEZE OUT

MORE CALORIES

People who swapped in

whole grains for the same

amount of refined grains

(207 grams) pooped 57

extra calories a day in a

recent study. A fiber-filled

gut may use more calories

in digestion. For the deuceinducing

dose, choose

high-fiber grains like oats,

brown rice, and quinoa.

WALK TOWARD

A SIX-PACK

Replacing 30 minutes of

sedentary time with walking

every day for a week

can reduce your waist by a

half inch, Dutch research

suggests. One theory:

Moving activates production

of a fat-burning

enzyme called lipoprotein

lipase, which is reduced

when you're seated.

+1.97

Watching 4-plus

hours of TV a day

It's tough to resist a

steady stream of Netflix

and Hulu, but all

that time on your butt

isn't doing your butt

(and the rest of your

body) any favors. Grab

dumbbells, turn to

page 34, and do Workout

A to build muscle

during TV time.

+2.13

Spending 5-plus

hours a day sitting

This costs 15 extra

pounds for a 6-foot

guy who's cursed

with bad genes. Each

time you hit "send"

on an email, stand

up and stretch, says

Emily Mailey, Ph.D., an

assistant professor

of kinesiology at Kansas

State University.

Number of daily cups

of coffee that, when

exceeded, diminishes

the influence of gene

variants linked to

obesity, according

to research from

Harvard and Tulane

BMC Medicine

PHONE IT IN

People at risk for diabetes

who used tech tools to

follow diet and exercise

plans lost an average of 8

pounds in a one- to fouryear

period in a recent

study. Try Omada (itunes.

com). It costs $140 a month

for four months and $20 a

month afterward, but many

insurance plans cover it.

MensHealth.com / JulyAugust 2017

87
---
To test your hips, lie on your back and raise

your right knee toward your left shoulder. If your

groin hurts, you could have a problem. See a PT.

HEALTH

Hips don't lie

Summer can suck

Sweat the details

A Scary

New Hip

Trend

More young

guys than

ever are being

sidelined

by hip pain.

BY DEVON

SCHUYLER

Kyle O'Flaherty used to be stoked by his weekly workout routine,

a heavy rotation of cycling, boxing, jiu-jitsu, and running. But even at age 20, his

hips started to ache, and not just during exercise. He's not unusual. "I've seen a

tremendous spike in young, active men with hip pain in my practice in the past

five to 10 years," says orthopedic surgeon Benjamin Domb, M.D. In fact, more 45- to

54-year-olds are opting for hip replacement, according to a National Hospital Discharge

Survey. Follow our guide to stay out of the OR and keep your hips pain-free.

PHOTOGRAPHS BY JUSTIN STEELE MensHealth.com / JulyAugust 2017 89
---
HEALTH

4

1

5

3

THE

HIP

WRECKERS

6

Healthy guys can get

achy hips too. Here are

four possible causes.

2

3

1

1. Muscle Strain

This happens when

your muscle fibers

stretch or rip, often

during a sudden turn

or jump—common

movements in soccer

or hockey. The typical

remedy is rest and

alternating ice and

heat therapy to relieve

the pain as it heals.

2. Tendinopathy

Muscle weakness or

overuse can damage

the tendons that link

your glutes to your

hip bones. You might

feel sore when walking,

climbing stairs, or

lying on the affected

side. Train your hip

abductor muscles—

see the next page.

2

HIP CHECK

Diagnose

trouble with

our quick

self-test.

HOW YOUR HIPS GO HAYWIRE

Each thighbone attaches to a socket in your pelvis. A cartilage

coating allows for smooth movement. Ligaments, tendons,

and muscles provide stability and range of motion. But things

can go awry. Watch for these common problems.

3. Bursitis

Bursae are like mini

pillows that cushion

your hips; the average

hip has six of them.

Bursitis occurs when

these sacs become

irritated. Your risk

goes up if you run on

hard surfaces, so go

with a track or grass.

4. Torn Labrum

The labrum is the

gasket-like ring of

cartilage that lines

each hip joint. Squats

and lunges, which

require deep bending,

can wear it down

until it tears. This may

require surgical repair.

If these moves cause

hip pain during your

workout, avoid them.

5. Arthritis

The cartilage in your

joints can deteriorate

over time from wear

and tear, injuries,

deformities, and too

much body weight. To

stay active, try Nordic

walking, that kooky

style of striding with

poles. It can help you

strengthen arthritic

hips without irritating

them, Scandinavian

research suggests.

6. Genetic Issues

Exercise can cause

pain in people who

have an underlying

hip abnormality. Dysplasia

is when a hip

is slightly dislocated

because the socket is

too shallow. Doctors

try to detect this in

babies, but it's often

missed and lingers into

adulthood. Impingement

is when extra

bone in a hip makes

the thighbone crush

the socket. Surgery

may be needed.

7. Stress Fracture

If you do the same

motion too often, a hip

bone can crack. Training

for a marathon, for

example, may cause

a stress fracture. Your

risk spikes if you suddenly

amp up the

intensity, so follow a

gradual training plan.

Pick one from Runner's

World magazine:

rw.runnersworld.com/

training-plan-finder.

Do your hips seem stiff? Try this at-home test: Lie on

your back and bring your right knee up toward your left

shoulder as far as comfortably possible. Then repeat

on the other side. If you feel pain in your groin during

these motions, then you may have impingement (see #6

above). See a physical therapist for targeted exercises.

Even adjusting your favorite activities could make

a big difference. Running could be okay as long as you

avoid hills or take shorter strides, for example.

7

ALL THOSE TWO-A-DAYS

YOU DID BACK IN SCHOOL

Serious sports training for kids

who haven't finished growing

may change the shape of their

hip bones, leading to problems

that could show up in adulthood.

Boys who play ice hockey, basketball,

or soccer three or more

times a week in adolescence have

an increased risk of hip trouble, a

recent study review revealed.

YOUR JOB

The average guy spends nearly

eight hours a day on his keister.

All that sitting weakens your

hip flexors, IT bands, and other

important hip-supporting structures.

Gentle exercises that

stretch and strengthen the muscles

can help you counteract this.

(See the next page.)

YOUR EXTRA POUNDAGE

Obesity is tough on hips. Each

pound of weight adds 6 pounds of

force on each side. (See page 85 for

weight loss strategies.)

YOUR OVERTRAINING HABIT

People nowadays know that they

need to be active in their spare

time, says Rafael Sierra, M.D., a

professor of orthopedics at the

Mayo Clinic. Exercise is healthy,

but many signature moves of

CrossFit-type programs (squats,

lunges, box jumps) can be pretty

stressful on hips. O'Flaherty, an

avid exerciser, had underlying

bone deformities and then tore

his hip cartilage. He needed surgery

and physical therapy.

Grooming: Marco Campos/Oribe Hair Care/Giorgio Armani Maestro; GRAHAM HUTCHINGS (photo-illustrations), +ISM (illustration)
---
Opening page: Eysom tank, Lululemon shorts, Adidas shoes (man on left); Vuori tank and shorts, Nike shoes (man with ball). This page: Vuori tank, Rhone shorts, Asics shoes, New Balance watch

4

HOW BAD HIPS

HURT YOUR BODY

Stiff Hips

BACK PAIN

You may overcompensate

for stiffness

by rotating from your

lower back instead

of your hips, says Joe

Eischen, P.T., of the

Mayo Clinic. This can

lead to back pain.

BULLETIN

HEALTH

Impingement

TORN ACL

People with limited

internal hip rotation

may have a greater

risk of tearing an ACL.

When you have trouble

twisting from your

hips, your legs take

some of the work.

TASTY TOOTH CARE

The muscles and joints in your hips

form a bridge between your upper

and lower body, so when they're messed

up, your whole body pays the price.

Hip Pain

ACHY FEET

Hip pain can make

you walk funny, which

inflames the tissue

that supports your

soles. Treating the

hip problem often

helps the foot problem,

says Dr. Domb.

A healthy mouth doesn't have to be

minty fresh: Research from India

suggests that clove oil fights cavities.

A compound called eugenol

(plus oleic acid and lipids) might

deserve the credit. Find it in Jāsön

Healthy Mouth cinnamon clove

mouthwash ($8, amazon.com).

Labrum Tear

GROIN PAIN

Impingement and

labrum tears can

show up as groin

pain, especially if your

workouts are intense

or require cutting or

jumping, as with basketball

and tennis.

HANDY PAIN RELIEF

The next time you feel achy,

have your mate rub your body

down tenderly. Slow, gentle

stroking may help reduce pain

signals to the brain, Swedish

research suggests. It activates

special nerves in skin that

transmit pleasant sensations.

5THE HIP PAIN

PREVENTION PLAN

To keep your hips strong and

supple, do these moves by

David Reavy, D.P.T.. Hold each

for 3 seconds; repeat 20 times.

KNEELING HIP THRUST

Place a resistance band just below

your butt. Anchor the other end to

something secure in front of you.

Kneel and push your hips forward

as you tighten your glutes.

KNEELING HIP THRUST, PART 2

Loop the band around your

hips. Anchor the other end to

something secure behind you.

Kneel and push your hips forward

as you tighten your glutes.

HIP FOLD

Place the band around one thigh;

anchor it on the same side. Kneel

and drop that hip inward, toward

the opposite knee.

HIP SLIDE

Lie on your back. Wrap the band

around one leg, by your groin.

Anchor it to something secure on

the same side. Raise your leg and

pull the band across your body.

A BITTER PILL

A scrip for allergies could cause

more trouble. Corticosteroids

like prednisone may hike your

risk of a bone fracture, blood

clot, or serious infection, a BMJ

study found. Ask your doctor if

the drug is truly necessary and

whether there's an alternative.

MensHealth.com / JulyAugust 2017

91
---
HEALTH

Sweat: The Details

STAY COOL AND STINK-FREE THIS SUMMER WITH

OUR PRIMER ON PERSPIRATION.

BY JERILYN COVERT AND JUNO DEMELO

Sweat gets a bad rap, but it's a finely calibrated fluid with many vital functions.

It cools you off, moisturizes your skin, and contains antibacterial compounds to

ward off infection. Each of your sweat glands is surrounded by a web of nerves.

When your body heats up, those nerves set off a chain of signals to turn on the hose.

2 TO 5 MILLION

Number of sweat

glands found

on the surface

of your body

Hands

Your palms

are among

your biggest

sweat faucets.

If they're constantly

moist,

you may need

Botox injections

to block

nerve signals

that stimulate

sweating.

STAY COOL

REDUCE YOUR SWEAT

Armpits

Aluminum-based antiperspirants plug your

pores to curb sweat. Apply it at night, when your

sweat rate is at its lowest. If your pits are really

hairy, a spray or roll-on may work best, says Bruce

Brod, M.D., a dermatologist with Penn Medicine.

Groin

Wear loose

shorts to let air

in. Going out

after the gym?

Dust your boys

with Bálla for Men

Body Powder ($17,

birchbox.com).

1. Chill Your Palms

Hold a frozen water

bottle. Switch hands

every five minutes.

The chilled tissue will

cool the blood that

flows into it, says

Stanford biologist

Craig Heller, Ph.D.

Feet

Each foot makes

a pint of sweat

a day. Sprinkle on

some Desenex

Athlete's Foot

Antifungal Shake

Powder ($5,

walmart.com).

Try bioceramic

socks, like the

Asics Rally Crew

($8, asics.com);

they regulate

heat better than

cotton, reducing

sweat, a study in

Textile Research

Journal confirms.

THE STINK STORY

Perspiration alone doesn't make

you reek. Regular sweat is essentially

odorless, but when bacteria

go to town on sweat, they form

odiferous molecules. Here's what

those germs have on their menu.

UP TO 2 LITERS

Hourly sweat

output during

exer cise. Glug 16

ounces of H 2 O for

each pound lost.

0.6 TO

2.3 LITERS

Average amount

of sweat a person

produces daily

1%

The rest: urea,

uric acid, lactic

acid, ammonia,

vitamin C, electrolytes,

and more

about 760

+ different

skin proteins

These hacks will chill your workouts. (But stop if you feel faint, queasy, or weak.)

2. Swish Up

Carry travel-size

mouthwash. The

menthol makes you

perceive the air as

cooler, says Christopher

Stevens, Ph.D., a

researcher at Southern

Cross University.

1. Stress Sweat

Under duress, you

also leak from scent

glands, which secrete

a thick fluid that typically

produces a

strong, acrid odor.

2. Oil

This flows from sebaceous

glands, which

are plentiful on your

scalp and in your pits.

Then the greasy stuff

mixes with sweat.

3. Diet

Some food molecules

(like those from garlic

and curry) can end

up in your bloodstream

and migrate

into sweat glands.

4. Dead Skin

It's more like a garnish

than a main course

for germs. In areas

with folds that rub

together, dead skin

can slough off and

feed bacteria.

3. Ice Your Neck

A neck-cooling collar

can trick your body

and brain into feel ing

cooler. Ultramarathoner

Pete Kostelnick

swears by an

ice-filled bandana

around his neck.

WHAT'S IN

YOUR SWEAT?

99%

Water

BROWN BIRD DESIGNS (illustrations), Catherine Harbour/thelicensingproject.com (sweat background) WARD SUTTON ("Gross!" type)

92

MensHealth.com / JulyAugust 2017
---
AMERICA'S # 1 SELLING

WEIGHT LOSS SUPPLEMENT BRAND

I lost 34 lbs.

and ran my first marathon

"

At age 45, I achieved my goal to finish a marathon in under 4 hours.

I'm in the best shape of my life. Hydroxycut® really works!

―Shawn

"

SHAWN FROM NEW YORK LOST 34 LBS.

BEFORE

AFTER

17 WEEKS

SHAWN AMROSE

MARATHON

RESULTS

3:53:13

To learn more about Shawn's story, visit hydroxycut.com/ShawnStory

Shawn used the key ingredient in Hydroxycut ® (C. canephora robusta) with diet and exercise, and was

remunerated. People using the key ingredient in a 60-day study lost an average of 10.95 lbs. with a lowcalorie

diet, and an average of 3.7 lbs. in a separate 8-week study with a calorie-reduced diet and

moderate exercise.

ALSO

LOOK FOR

NEW APP! Get the Hydroxycut ® app now!

TOOLS, TRACKING, NUTRITION AND MORE!

HYDROXYCUT.COM

Based on sales of Hydroxycut ® -branded products 1995 to present.

Based on AC Nielsen xAOC unit sales for Hydroxycut ® caplets.

Read the entire label. © 2017

WEIGHT LOSS

SCIENTIFICALLY

RESEARCHED

KEY INGREDIENT

®
---
HEALTH

8 Ways

to Ruin Your

Summer

ARM YOURSELF AGAINST THESE

SNEAKY SEASONAL HEALTH THREATS.

BY AIMEE SWARTZ

1

SUFFOCATION!

Drowning in the Comfort

of Your Own Bed

No, really: "Dry

drowning" or "delayed

drowning" can happen

hours after you

accidentally gulp

water. In dry drowning,

muscles in your

larynx tighten and

close the airway. In

delayed drowning,

water enters the lungs,

impairing breathing.

SMART FIX Don't

play rough. Getting

splashed in the face

can make you gulp

more water, research

shows. If you have

unusual fatigue,

coughing, pale or

blue-tinged lips, and

breathing difficulties

in the hours after

swimming, seek help.

2

BLOTCHINESS!

White Spots on Your Chest,

Back, and Shoulders

This is a sign of tinea

versicolor, caused

by yeast that can live

on skin all year but

isn't always visible.

"It's most noticeable

when your skin is

tan because those

patches are unable

to darken," says dermatologist

Tsippora

Shainhouse, M.D.

SMART FIX Use

dandruff shampoo

as body wash for

a month to kill the

yeast. Check the

fine print: You want

selenium sulfate or

ketocona zole. If the

color doesn't come

back in six weeks, see

a dermatologist for a

stronger remedy.

GASPING!

3 4

An Asthma Cluster Bomb That

Can Make Breathing Difficult

THE RUNS!

A Few Days After Swimming,

Intestinal Rebellion

During a summer

thunderstorm, grains

of pollen can rupture,

releasing tiny

particles into the air.

When inhaled, these

can lead to "thunderstorm

asthma,"

a sudden, extreme

asthma outbreak that

can strike thousands

of people at once.

SMART FIX If you're

worried, avoid outdoor

activities up to

24 hours after a storm.

If you do go outside

and have trouble

breathing (a warning

sign is not being able

to finish sentences),

seek immediate medical

help, says allergist

Purvi Parikh, M.D.

Community pools

are not immune to

microscopic parasites

such as Giardia and

Cryptosporidium, and

just one swallow of

contaminated water

is enough to sicken

you. The aftermath—

vomiting, diarrhea

that feels like pool

water—can be ugly.

SMART FIX Don't

spout pool water,

and don't let your

kids swim if they had

diarrhea anytime in

the past two weeks.

Even if the pool is well

maintained, "chlorine

does not kill everything,"

says environmental

scientist Laura

Suppes, Ph.D., M.P.H.

94 MensHealth.com / JulyAugust 2017

ILLUSTRATION BY JAMESON SIMPSON
---
THE DEETS ON ZIKA

Zika hasn't gone anywhere—infected skeeters

will likely buzz parts of the nation again this

year. Buy repellent with 30 percent DEET;

that's the concentration most likely to ward

off Zika-infected mosquitoes, according to a

UC Davis study. Try Repel Insect Repellent

Mosquito Wipes 30% DEET ($6.30, amazon.com).

5

EXCRUCIATING PAIN!

Kidney Stones—and

the Painful Way They Roll

6

FATIGUE!

A Fungal Invasion

That Feels Like the Flu

The sweaty summer

is prime stone season

because dehydration

concentrates your

urine. Reduced fluid

levels can cause

calcium and a compound

called oxalate

to clump in your

kidneys, resulting in

a common type of

kidney stone.

SMART FIX Get in

the habit of drinking

enough water to keep

your urine clear. And

let your doctor know

if you take supplements.

One study

found that men who

consumed more than

800 milligrams of

vitamin C daily had a

higher risk of stones.

Histoplasmosis, a.k.a.

spelunker's lung, is

caused by a fungus

found in soil that harbors

a lot of bat and

bird droppings. Then

there's valley fever, a

lung infection from

Coccidioides, another

soil fungus. Severe

weather can kick up

dust and carry it.

SMART FIX If you

wander around any

caves this summer,

keep your hands to

yourself so you don't

disturb pockets of

poop. For DIY projects

at home, wear an

N95 respirator—this

may reduce your

odds of inhaling any

funky fungi.

7

UPCHUCKING!

Gut-Churning Bacteria

Lurking in the Ocean

The ocean is teeming

with bacteria called

Vibrio, and if you run

into the wrong species

while swimming,

a tiny cut could turn

into a nasty skin infection.

The bacteria

can also arrive at your

table in undercooked

shellfish, putting

your gut at risk.

SMART FIX Stay out

of the ocean if you

have any kind of skin

wound that hasn't

yet healed. If you get

injured in the water,

flush the wound

with saline ASAP. At

dinner, order oysters

thoroughly steamed,

roasted, or grilled—

anything but raw.

8

CHILLS!

A Bloodsucking Tick That

Leaves a Disease Behind

EUGENE DOBRIK/THE NOUN PROJECT (mosquito icon)

Each year, Lyme

disease and other

tickborne conditions

sicken tens of thousands

of people—

maybe more. These

illnesses are often

missed because the

symptoms (fever,

chills, headache,

fatigue) mimic those

of other conditions.

SMART FIX Forget

fashion: Tuck your

pants into your socks.

Once you're indoors,

check your body thoroughly.

Your upper

torso is a hot spot,

says Steven Callister,

Ph.D., who researches

tickborne diseases. If

you think you've been

bitten, get tested.
---
RELATIONSHIPS

Touch her Take her Turn her on
---
Build an "intimacy fort" outside

the bedroom by rearranging

furniture and then covering it with

sheets. Cable is optional.

Hotter Sex

in Just

Minutes!

BEEN TOO LONG? GUESS WHAT—

SHE FEELS THE SAME WAY. HERE

ARE EIGHT SUMMER QUICKIES SHE

CRAVES. / BY ANNA BRESLAW

She opened the door for him as he got in from work. She'd barely

kissed him hello before he turned her around, bent her over the

kitchen counter, and pulled her tights down. Minutes later, it was

all over but the panting. That was no fantasy—it was me and my

boyfriend, just a typical Netflix-and-sweatpants kind of couple.

But we like to have fun. We went out to eat that night, laughing

over inside jokes. I'm sure his mind drifted back to our quickie.

I know mine did. Done right, quickies can be a thrill. See how.

FANTASY

Hotel room

REALITY

Living room

FANTASY

Shower sex!

REALITY

Not so easy!

FANTASY

Perfect moment

REALITY

Anytime

FANTASY

It's spontaneous

REALITY

Foreplay helps

Or anyplace you don't consider

sexy. "Novelty is associated

with hotter sex and greater

desire," says L.A. sex therapist

Shannon Chavez, Psy.D. "Make

an 'intimacy fort' in the living

room, closet, laundry room ...

anywhere but the bedroom."

Use the shower for foreplay (a

good place for oral, both ways)

and then move to the countertop.

(There's a mirror!) Or surprise

her as she exits the shower,

says Joel Block, Ph.D., author of

The Art of the Quickie. Take her

towel and start kissing her neck.

Quickies solve a big obstacle to

having sex—finding the time.

For me, evenings at home are

sacred. Sure I want an orgasm—

but I also want to do an eightstep

skin-care regimen and read

the thriller that's been on my

nightstand for months.

She can't go from zero to boner

like you can, so give her a head

start. Kiss, hold hands, whisper

in her ear. I've never been more

turned on than when my boyfriend

leaned over at a crowded

party and whispered exactly

what he wanted to do to me.

It's great outdoors: Sex without

walls engages the senses and

heightens arousal, as does the

risk of getting caught. Do it on your

back deck—or in the car before

walking into a party. You'll have a

shared secret while you're there.

If you insist: The best way to

have shower sex (or bathroom stall

sex, you freaks) is for her to stand

with her back to you, legs spread,

her hands against the wall. Shallow

thrusts let you hit the first third of

the vagina, the most sensitive part.

Rise early: "Mornings are great.

That's when testosterone, the hormone

behind sexual desire, is highest

for both sexes," Chavez says.

"It improves my mood for the rest

of the day," says Carol, 43. "Daily

frustrations seem less annoying."

Work out together: "Endorphins

are high; your natural scent comes

out. It's the perfect jumping-off

point, even at the gym if you can,"

says Chavez. Kiss her where her

arm and armpit meet—it's a sensory

region loaded with pheromones.

FANTASY

It's pure sex

REALITY

It's a connection

FANTASY

She's into it

REALITY

It's true!

FANTASY

It's full-on sex

REALITY

Doesn't have to be

FANTASY

She has an orgasm

REALITY

Yeah, maybe

Stephanie Rausser/Trunk Archive (hammock), MICHAEL BRANDON MYERS (icons)

Animals love quickies: "Chimps

don't want to be interrupted by

the next guy in line," says anthropologist

Helen Fisher, Ph.D. "For

humans, any genital stimulation

drives dopamine to the brain

and can push people over the

threshold into romantic love."

Touch her all over: "Quickies are

all about physical embrace, touch,

and connection," says Chavez.

That leads to trust and closeness.

Focus on her body. Afterward, ask

what she liked and take mental

notes. Communication bonds you.

That need-you-now urgency is

hot, plus brevity keeps us in the

moment. No drifting off, thinking

about work or snacks. "And

when silly things happen, like

the chair falling over or bumping

heads, it's easier to laugh with

someone I trust," says Emily, 23.

Make it happen (again): Bring up

the last quickie, Chavez suggests.

"Memories can evoke desire." Just

one steamy sex session can have a

huge impact on her brain's memory,

emotion, and reward centers.

Result: She'll be wired to want more.

A quickie doesn't have to

mean full-blown intercourse.

"Don't restrict yourselves to

just penetration," says Claire

Cavanah, coauthor of Moregasm:

Babeland's Guide to

Mind-Blowing Sex. "Mouths,

hands, and fingers count too."

Keep your clothes on: It's hot;

plus, the clothing offers new sensations.

Emily Morse of the podcast

Sex with Emily suggests softly

stroking and touching over her

underwear. "The fabric provides

extra friction, amplifying the feel."

The key to mutual orgasms is

switching it up—something

that's often lacking during

quickies. "Orgasm is a release of

sexual tension," says Cavanah.

"To get there, you have to build

that tension." Take a few precious

minutes to warm her up.

Just do it: That said, she doesn't

always expect to finish. "Even if I

don't climax, I've still had fun and

satisfied my partner," says Rachael,

25. "I know he'll get me next time."

Orgasmic zenith or no, she sometimes

prefers a sprint to a marathon.

MensHealth.com / JulyAugust 2017

97
---
NEW

FLAVOR!

advocare.com

R E D E F I N I N G

R E H Y D R A T I O N

E L E C T R O L Y T E S S E Q U E N T I A L C A R B O H Y D R A T E S

A N T I O X I D A N T S A & C V I T A M I N S & M I N E R A L S

Product shown as prepared
---
INSIDE

It's summer—

let's do this

right! Here's

your simple formula:

Act like

a school's-out

sixth grader

and go a little

crazy until the

fireflies come

out. Turn your

exercise into

play and your

backyard into

a playground.

Add a dog—or

two. Now you're

good to go. Find

your inspiration

on the following

pages.

100 BE A BACK-

YARD BADASS!

Rock salt + ice

water = colder

beer. Then: sex

in a hammock!

108 TAP YOUR

ENERGY RESERVE

Write "Crush It"

on your fist.

And more!

114 MAKE THE

WORLD YOUR GYM

Lift rocks

during pushups;

do burpees on

the beach!

120 DOGS WE LOVE

Get a Dalmatian

for weight loss.

We introduce the

Ultimate MH Dog.

128 I SURVIVED!

In a lightning

storm, squat

like a catcher.

Plus: hungry

bears and angry

alligators.

PHOTOGRAPH BY CHRISTINA HOLMES

MensHealth.com / JulyAugust 2017 99
---
Fend off wild animals! Keep

killa bees! Serve killa beers!

Have sex in trees! Build a

bazooka! Blast rockets! Raise

a ruckus this summer!

BE A

BACKYARD

BADASS

BY JEFF CSATARI

PHOTOGRAPHS BY

PETER YANG

When he's not mowing down

opponents on obstacle

courses, Hunter McIntyre

is kicking some backyard

butt. Tips inside.

P.100
---
RACE A

RIDING

MOWER

The world speed record for a

lawnmower on a dirt track is

96.529 mph. With a few gearing

tweaks, your Snapper could

break 30. That's plenty fast for

racing, says Bruce Kaufman,

president of the U.S. Lawn

Mower Racing Association and

a self-proclaimed "Sod father."

Here's how to kick some grass.

Go to letsmow.com to find

a nearby racing club, plus dates of

upcoming build clinics.

Remove the blades—it's a rule.

Also, your ride must have a residential

lawnmower engine block.

No pro landscaping mower or

motorcycle engines are allowed.

Enter a Governor-Prepared

Class race, the easiest for rookies

who don't want to modify their

mowers. Races consist of a 10-lap

qualifier and a 20-lap final on a

1 / -mile clay, dirt, or grass oval.

10

If you're a tinkerer, remove the

governor and modify the pulley to

boost speed. With good air intake,

fuel burns faster. Then you can

enter the Single-Cylinder-Prepared

Class and set your sights on the

STA-BIL National Lawn Mower

Racing Series. Check the brakes!

MARK

TURF!

First, cut the lawn. Mark your

design in green water-based

paint; then hose down the grass

inside the lines. Now grab a broom

and darken that wet grass by

sweeping it toward your house.

Outside the lines, sweep the

grass in the opposite direction to

make your design pop. —Grant

Trenbeath, head groundskeeper,

Arizona Diamondbacks

RAISE KILLA BEES!

The Italian honeybee is the most

popular species for U.S. beekeeping.

Raise some and enjoy delicious raw

honey—and newfound respect!

Take a class at a community college

or beekeepers' club. A hive needs two

brood boxes for a queen to lay eggs

in, plus others for storing honey. Buy

local bees (hardier!), gloves, and a veil.

Only female bees have stingers.

Drones (males) don't. Open the hive

and find a drone (larger, with bigger

eyes). Pick up the drone, order it to

behave, and lay it on your bare arm or

palm (not your tongue like some

crazy guys do). Post the selfie: You the

man. Don't attempt if you're allergic!

Backyard Body Builder #1 Hunter McIntyre and his Malibu training buds (the Yard

Dogs) enjoy this outdoor muscle sculpter: Hang a kettlebell by its handle from a sturdy

tree limb. Squeeze the bell between both hands and do as many pullups as possible.

Rest 90 seconds; repeat twice more. Can't do even one? Just use the branch.

FILM STAR!

ILLO TK

Build a Backyard Theater

Buy or rent a projector with

4,000-plus lumens so you

don't have to wait for total

darkness, says John Sullivan

of the online retailer Projector

People. Recommended:

Optoma EH416 ($900).

Buy or rent a portable wall

blackout screen that hangs

from hooks on your house.

Find one for about $125.

Put two 8-inch speakers

with built-in amplifiers on

tripods on either side of the

screen, up to 5 feet in front.

Stream Netflix or Hulu

with a Wi-Fi-enabled Blu-ray,

Roku, Google Chromecast,

or Amazon Fire TV device.

Or hook up your Xbox and

play some late-night Halo!

SUBURBAN WARFARE

Tame backyard terrorists—organically!

Menace

Aphids

Raccoons

Cougars

Mosquitoes

Solution

Order some ladybugs

($15 for 1,500) or green

lacewings ($18 for

1,000 eggs) from Buglogical

Control Systems

at buglogical.com.

Boil habanero peppers,

an onion, and 2 Tbsp

ground cayenne in 2 qt

water. Cool, strain into

a spray bottle, and

squirt what they like.

Peeing around the perimeter

may not work. Try

Havahart Elite Hoseless

Motion-Activated Sprinklers

to deter both cats

and divorcées next door.

Order some praying

mantises ($19 for 3 egg

cases, buglogical.com).

Bonus: They also eat

crickets, in case that

infernal chirping is

keeping you up at night.

Styling: Brian Boyé, grooming: Andrea Pezzillo/Kate Somerville/Exclusive Artists, prop styling: David Ross/Art Department, production:

Barbie Duarte/MJ68 Productions; previous page: Vintage Nascar T-shirt, Abercrombie & Fitch shorts, Teva sandals, Smith Optics sunglasses
---
Royal Silk boxer shorts

HAVE SEX IN TREES!

Making like the birds and the bees in the great outdoors is especially titillating—it's all about

the risk of getting caught by neighbors or Google Earth. The danger heightens awareness and

possibly arousal (or so we're told by the experts). But how to safely pull it off? In a hammock

slung from two trees, of course. Try the Bear Butt double hammock ($36, bearbuttteam.com)

or the Mayan hammock from Haiku Hammock Swings ($139, e-hammockswings.com). Both

fit two (or more) comfortably. Best sex positions? See right.

THE DEEP She's on her back with her heels

on your shoulders. Bonus: She can use her

feet to smash skeeters on your back!

THE SPOON Lie on your sides, you behind

her. Swing the hammock with each thrust.

THE TIGRESS Lie on your back; she straddles

your lap (either seated or kneeling)

with her back to you. She'll see stars!

MensHealth.com / JulyAugust 2017 103
---
THE MANLY ARTS

BACKYARD GAMES

B

A

FRISBEENER

(A) Plant 4-foot stakes about 20 feet apart and place an empty bottle

atop each one. Split into teams of two and grab a frisbee. (B) Scoring:

Hit the bottle with the disc (1 point); knock it to the ground (2 points);

hit the bottle and knock it to the ground (3 points); knock the bottle

off but the other team catches it (1 point for them, 2 for you). By the

way, the defending team must catch the disc each time; if they miss,

that's 1 point for the offense. First team to 11 (or 21) points wins.

A

B

C

D

STUMP

(A) Find a stump about knee height. Each player taps in a 4- to 5-inch

nail. Taking turns, try to hammer an opponent's nail into the stump

after flipping the hammer 360 degrees and catching it. (B) The flip-tohit

must be seamless; plus, you have to swing from where it's caught.

(C) Hit a player's nail (D) and that player drinks. If you drop the hammer

or miss, you guzzle. When a player's nail is totally embedded, he's out.

Last nail standing wins. Oh, and it's okay to straighten bent nails.

A

B

C

D

FROZEN T-SHIRT RACE

Play this with your kids on a really hot day. Grab some T-shirts and

big zip-top bags. (A) Soak the shirts in water and wring them out so

they're damp. Seal the crumpled shirts in the bags and freeze them

overnight. (B) For game time: Distribute the bags among the players.

(C) On "go," each person removes the shirt from the bag and tries to

put it on. (No blow dryers allowed!) (D) First person to get the shirt on

wins. It's also fun as a relay. Give the XS to your portly brother-in-law.

MASTER

THE

CLASSICS

HORSESHOES Accuracy is about balance. If you lean to one side, you miss, says Alan Francis, 21-time

U.S. horseshoes champ. WIFFLE BALL Your secret weapon: the riser pitch. Be sure to bend your knees to

lower the release, says Dave Mullany, president of Wiffle Ball Inc. CORNHOLE The bag should fly flat with

a little spin. Your arm is a pendulum, says Frank Geers, president of the American Cornhole Organization.

Game instructions courtesy Harpoon Brewery and MH intern Andrew Dawson.
---
DAZZLE KIDS!

Open

Multi Grain Cheerios have

45% of the daily value for iron.

Mix

Plop some Os into a clear

plastic bottle filled a third of

the way with water. Shake

until the Os are broken and

way soggy. (This is critical.)

TODD DETWILLER (black and white illustrations), MUTI (color illustrations), MICHAEL BRANDON MYERS (icons); this page:

Bonobos golf polo shirt, shorts, and belt, Ecco golf shoes; next page: Birdwell Beach Britches for Todd Snyder board shorts

LAND A

LUNKER

BASS!

BUILD A SPUD MISSILE LAUNCHER!

The potato cannon is legendary (and loud). "You can't help but be overwhelmed by

its power. But beware, there is real potential for danger," says William Gurstelle,

author of Backyard Ballistics and Absinthe & Flamethrowers. The spud gun blasts

a potato into the air using the aerosol propellant in a can of hairspray, which is

ignited with a spark. Check local ordinances—you don't want Johnny Law callin'.

See the demo and learn how to make your own at menshealth.com/spud.

Sparker

assembly

Hook fish, not tee shots. Bass and bluegills can grow huge

in golf-course water hazards. Here's how to snag 'em.

MOST FUN "Keep a rod in your bag and make a few casts

while you're 'searching for dunked balls,'" says Chicago

fishing expert Ross Gordon. "Have a lure already tied on."

MOST SNEAKY Befriend (or bribe) the guy whose house

backs up to the course near that beautiful pond.

MOST HONEST Ask the greenskeeper for permission.

MOST PRODUCTIVE Fish when there are no golfers—at

dawn or dusk or, even better, under cover of darkness.

14" length of

3"-diameter PVC

3" of 2"-diameter

reducing bushing

36" length of

2"-diameter PVC

Amaze!

Grab a strong magnet—

preferably a neodymium

model from a hardware store

or online. Hold it against

the bottle until shards of

black iron move to it. Ask

if anyone wants a bowl.

Backyard Body

Builder #2

McIntyre loves doing

sled drags with the

Rouge S-35E ($95,

roguefitness.com).

Load a sled with

weights, bags of topsoil,

and the neighbor

kid. Drag it down

your lawn. Rest for 90

seconds; do it again.

MensHealth.com / JulyAugust 2017 105
---
POUR

KILLA

BEER!

Warm, flat beer is death to a

backyard party. To keep a keg

cold immerse it in a tub or garbage

can filled with ice and

water, says Justin Frost of the

beer supplies site KegWorks. Ice

water is better than plain ice.

Then add a few shovelfuls of rock

salt to the ice bath. Salt lowers

the freezing point of water. The

downside of this method is that

a hand pump is still needed to get

the beer out of the keg. "Pumps

add air, which ages the beer," says

Frost. So consider building yourself

a "jockey box." You'll need a

large Coleman-type cooler, coils

of stainless-steel tubing, a faucet

connection, and a CO 2 tank. The

CO 2 will provide the pressure.

Buy a kit with a single faucet

tap, couplers, and a 50-foot coil

of stainless-steel tubing. $139,

kegworks.com

Drill two holes through the walls

of the cooler: one in front to fit the

faucet knob, one in back to connect

to the keg and CO 2 tank.

Put the coil in the cooler and

connect all the parts. (There's

a great video at kegworks.com.)

Fill the cooler with ice cubes

and water, making sure the ice

bath covers the coils completely.

No rock salt required. Keep

the keg cold in a shady spot. Enjoy

a smooth, cold pour.

Large

cooler

Tubing

CO 2

tank

Beer

keg
---
EAT WEIRD

50'Rope

RIG AN AWESOME

ROPE SWING

Buy at least 50 feet of ¾- to

1-inch-diameter three-strand

twisted synthetic rope, says John

Hartenburg of Knot & Rope Supply.

Make sure one end is pre-spliced

into a loop. Toss the looped end over

a good branch (horizontal, about a

foot in diameter) and slip the other

end through the loop. Pull. The

loop will expand as the tree grows,

preventing branch damage.

Attach a wooden disk for the seat.

Drill a hole in the center to pass the

rope through and tie overhand

knots in the end to hold. Geronimo!

Backyard Body Builder #3 McIntyre likes pool

kicks for hot-weather fat burning. Grab the side of a

pool, make your body horizontal, and kick all-out for

30 seconds. Recover; repeat for 5 to 10 sets.

Cook a Ton of Weenies!

When you have a hungry

pack of in-laws to feed, forget

about spending your hardearned

dough on fancy gourmet

takeout. Grab a rust-free

metal rake and insert a hot

dog on each clean tine. Roast

'em over a campfire.

Roast Starbursts!

First, buy a bag of

Starburst candies.

Impale one square on the

end of a sharp stick.

Roast until it's crispy

on the outside, warm

and gooey on the inside.

Eat. (But have some

patience—let it cool first.)

BEST FIREWORKS FOR YOUR JULY 4 BLAST!

Rockets

Mortars

Repeaters

Fountains

Novelties

Skyrockets

are built to

explode at

apogee in an

awe-inspiring

burst of color

and a huge

boom. Try Redneck

Rockets.

Close to pro

pyrotechnics.

A reusable

tube is loaded

with a selfpropelled

shell that

shoots skyward

and bursts.

Lit by a single

fuse, they

shoot multiple

colorful

bursts and

other effects

like whistles,

crackles, and

loud reports.

Stationary

fireworks that

shoot sparks,

stars, and

streamers. Try

Brew-Ha-Ha,

Tropic Thunder,

and

Havana Heat.

Poppers,

sparklers,

snakes: The

Pooping Dog is

a real crowd

pleaser, says

pyrotechnics

expert William

Gurstelle.

MensHealth.com / JulyAugust 2017 107
---
M O R E

N O W !
---
HOW CAN

YOU TAP

YOUR ENERGY

RESERVES

AND PUSH ON

WHEN OTHER

GUYS QUIT?

THE NEW

PSYCHOLOGY

OF PEAK

PERFORMANCE

EXPLAINS

THE POWER

OF MIND OVER

MUSCLE.

E N E R G Y

By JONAH

LEHRER

Photographs

By DYLAN

COULTER

P.109
---
ARL MELTZER HAD RUN MORE THAN 1,300 MILES ON THE APPALACHIAN TRAIL

before he thought about giving up. He was in a maple forest near McAfee

Knob in Virginia. He'd camped on the trail the night before but woke up

exhausted, dreading another 50-mile slog. He'd already run almost two

marathons a day for 32 days. He'd scampered over the White Mountains

of New Hampshire and chop-stepped through the rock gardens of Pennsylvania.

"It was one of those mornings when my body just wasn't working,"

he says. "I had no energy left." He set off alone anyway, before dawn.

If he was going to break the AT speed record, running 2,190 miles in

under 46 days, he couldn't rest. Not even for a morning. He didn't get

far. After a few miles, exhaustion overwhelmed him. He lay down in the

dirt and fell asleep. It wasn't a long nap—"Maybe 20 minutes?" Meltzer

Ksays—but it gave him the strength to make it a few more miles to his
---
Grooming: Claudia Andreatta/Halley Resources; Rapha jersey,

gloves, and socks; Specialized bike, helmet, and cycling shoes

support van, where he had a sleeping bag and mattress. He woke up

three hours later, still feeling weak. He was sick of eating peanut butter

and jelly sandwiches from his fanny pack and dealing with ticks.

Meltzer lay there in his hot van, thinking of the hundreds of miles he

still had to run. For the first time, he began to doubt whether he could

make it. "When your muscles are junk is when you start wondering,

'Why am I doing this? What's the point?'" Although he did pull off two

more sections of 7 and 10 miles each that afternoon, fueled by a pint

of ice cream and some fried chicken, he collapsed in bed before 7 p.m.

It was his worst day on the trail.

The next morning wasn't much better. "I was in such a shitty

mood," Meltzer says. "And it's like 5 a.m., and I'm a couple of miles

in, and I'm just not feeling it." Meltzer had failed to break the AT

record twice; maybe he just couldn't do it at all. Maybe at 48, he was too

old. Maybe he wasn't tough enough. "I'm thinking all these negative

thoughts, how I'm super fatigued and I still had so far to go," Meltzer

says. "Honestly, going on didn't seem possible."

PSYCH

YOURSELF

OUT OF

FAILURE

Seven ways

to overcome

obstacles you

believe are

blocking your

progress.

1

"Prefatigue"

Your Brain

Time your workout

to come after

a taxing day. This

helps you build

mental resilience,

says Holden

MacRae, Ph.D., of

Pepperdine University.

When you

remove that preworkout

mental

strain, you'll perform

even better.

2

Risk the Reward

of Failure

Don't settle into

the 70 percent

groove, MacRae

says. Build up your

energy level by

seeking new kinds

of pain instead

of relying on routine

workouts. "If

there's no possibility

of failure, you

aren't really pushing

yourself."

3

Apply A/V

Strategy

On your highintensity

days,

work out to music

videos. A sightsound

combo

is better than

music alone for

reducing your

perceived level

of exertion. Celebrate

your gains

with a moonwalk.

BACK IN THE EARLY 1920S, THE

British physiologist and Nobel

laureate Archibald Hill and his

colleagues began running around

a grass track while exhaling into

rubberized canvas bags strapped

to their backs. The objective was to measure

the oxygen consumed at various speeds.

It's at this point that Hill, a serious middledistance

runner, found that running creates

an "oxygen debt" as muscles demand far more

oxygen than your lungs can provide. Although

your body tries to erase this debt—that's why

respiration and heart rate increase—it's never

enough. When you run fast, you're denying

your body the air it needs to create energy.

Hill's insight was that this oxygen debt had

far-reaching consequences. Based on some

previous experiments on frog legs by Frederick

Hopkins (another Nobel laureate) and physiologist

Walter Fletcher, Hill concluded that

muscles forced to generate energy without sufficient

oxygen produced a toxic byproduct: lactic

acid. If the muscles continued to contract,

then the acid accumulated in cells, causing a

distinct burning sensation.

This chemistry set a hard limit on performance.

It doesn't matter how determined

you are to keep going; the acid always wins. In

his Nobel speech, Hill made this clear: "Ultimately

the muscle is a chemical mechanism,"

he said. "If we were aware of all the chemical

events, we should know all that was necessary

about the machine which we are studying."

It's hard to overstate the influence of Hill's

science. It was written into countless textbooks,

a chemical explanation for athletic

performance. Over time, lactic acid became

a scapegoat for gym rats, exercise buffs, and

Olympic announcers. When your body gives

out or your muscles ache the day after a workout,

this compound is typically cited. Lactic

acid is what stole your energy, making your

body stop when your mind wanted it to go on.

This is what Meltzer seemed to be up

against on his 33rd morning on the AT.

Although he'd won more 100-mile trail

races than any other runner in the world, he

couldn't outrun the laws of chemistry. After

1,000 miles without a day off, his muscles

must have been acidic jelly. It's no wonder he

found himself napping in the dirt.

But here's the thing: Karl Meltzer didn't

stop. He kept going.

MensHealth.com / JulyAugust 2017 111
---
FIRST MET HOLDEN MACRAE, PH.D., A

professor of sports medicine at Pepperdine

University, at a mall in Malibu,

California. MacRae is 61, but his sinewy

body is a testament to his lifelong

interest in athletic performance. When

MacRae talks about his research, which

has transformed the science of energy,

he inevitably brings it back to his own

mountain biking. "That's part of the

test," he says. "Can I use these ideas to

understand and maybe improve my own

performance?"

When MacRae started out as a scientist,

conducting experiments on athletes in the lab of

Timothy Noakes, M.D., at the University of Cape Town, the

science of human energy seemed mostly settled. Peak performance

was about staving off inadequate oxygen delivery

and avoiding the buildup of acid for as long as possible.

That's why trainers were obsessed with such stats as VO 2

max, a measure of the maximum amount of oxygen that

can be consumed and utilized by an athlete. According to

this model, endurance freaks like Lance Armstrong—with

his VO 2 max of 84, about 46 percent higher than normal—

owed their success to their highly efficient cardiovascular

systems. They didn't run out of energy because their muscles

didn't run out of oxygen.

It didn't take long for MacRae to realize that the existing

paradigm was terribly oversimplified. Take the so-called

lactate threshold, that chemical point past which lactic

acid levels rapidly increase and muscles shut down. Mac-

Rae concluded that the threshold was largely a statistical

illusion, a byproduct of scientists failing to collect enough

blood samples during difficult workouts. "The theory had

been that once you get past 2 to 4 millimoles of lactate,

you're going to feel real fatigued," he says, citing a standard

blood measure of lactic acid. "But what we found is that if

you actually measure lactate levels in people competing in

half marathons or long bike races, their lactate levels can

get up around 6 or 7 millimoles and their performance is

not degraded. If you're saying that they're stopping due to

the lactate accumulation, then those levels should lead to

contractile failure [in the muscles]. But that's not what we

saw at all. They were still going strong."

How was this possible? One of the first clues came from

the research of Håkan Westerblad at Sweden's Karolinska

Institute. In the mid-1990s, Westerblad began using mouse

muscle to replicate those frog leg studies that led Hopkins

and Hill to blame lactic acid for muscle failure. Westerblad

made one other crucial change to the protocol. Instead of

doing the studies at room temperature, he conducted them

at the rodents' body temperature, which is about 25 degrees

higher. This change made all the difference: The muscles

now continued to function even when they were saturated

4

Motivate

Your Muscles

Raise the psychological

stakes—

find what makes

suffering worth

it for you. It could

be bragging

rights, a perceived

slight, or (a classic

military training

trick) not wanting

to let your family

or team down.

5

Push the

Positive Turbo

Messaging can

enhance performance.

So write

"Crush It" on your

fist or get that

lightning bolt tattoo.

Or create a

mantra. Be brief,

positive, and

instructive: "Brace

for benefits" or

"Focus on form."

6

Tap the Power

of the Pack

Competition

forges resolve. To

harden your mental

muscle, note

your results in a

group and then try

to replicate them

solo. The goal is

to constantly raise

the bar on your

perceived level

of exertion.

7

Ice Your

Quit Button

Athletes tend to

obsess over diet

while neglecting

the effect of overheating

on their

performance. Sip

ice-slurry drinks

during hot workouts

and splash

cool water on

your face during

races.

with acid. More recently, scientists have shown that lactic

acid can actually benefit fatigued muscles, making it easier

for cells to contract. The chemical that once stole our

energy is now being described in scientific literature as a

performance enhancing drug.

Perhaps the greatest refutation of Hill's chemical

model didn't even require a lab. In many competitions,

athletes often experience a phenomenon known as the end

spurt, a speed burst near the finish line when they're most

fatigued. Such spurts are a defining feature of many great

performances, whether it's LeBron James chasing down

Andre Iguodala in game 7 of the NBA Finals, or Mo Farah,

whose last 100-meter push in the 10,000-meter final at the

Rio Olympics was four seconds (and change) faster than

his first 100. For the chemical model, these spurts are a

paradox, since fatigued athletes should have little energy

left. The body should be falling apart, not speeding up.

These phenomena led MacRae and Dr. Noakes and their

fellow renegades to conclude that the science of athletic

performance was all wrong. "For nearly 100 years, people

have been told that they get tired because their muscles get

tired," Dr. Noakes wrote. "That's in all the textbooks on

exercise physiology and athletic coaching. Students everywhere

around the world are still being taught this. But it's

not true." This raises the obvious question: If the acid in

your muscles isn't slowing you down, then why do you think

you've run out of energy? What's holding you back?

For MacRae, the answer is simple. "What stops you is

up here," he says as he taps his head. "It's all between the

ears." Take the end spurt: According to MacRae, this is

proof that athletes have a tremendous reserve capacity.

"Most of the time people don't tap into this reserve," he

says. "We're scared of the challenge. If you really want to

understand top athletes, you have to study that reserve.

You have to ask yourself: How do I tap into that? How do I

hack my brain so I can perform at the highest level?"

This is the dilemma Karl Meltzer was wrestling with in

that Virginia forest. It didn't matter how many calories he

consumed or how much Red Bull he chugged; he still had

no energy. But then he started thinking about his family,

how his wife and his father had been supporting him on the

trail, and he realized that he needed to change his attitude.

"I just told myself, 'Karl, you've got to turn off that negativity

switch,'" he says. "'You came out here to be successful.

Shut up and do it.' That was what I needed to hear. I knew

then that I didn't need to stop." Meltzer ended up running

more than 50 miles that day, finishing the last miles in the

dark, the bobbing light of his headlamp showing the way.

TOO OFTEN YOU

YOU ASS
---
TIMOTHY NOAKES, M.D., NOW AN EMERITUS PROFESSOR

at the University of Cape Town, became curious about

human energy during medical school, when he decided

to run the 54-mile Comrades Marathon in South Africa.

On his third attempt, Dr. Noakes ran into a physiological

wall: He was 13 miles from the finish when his muscles

rebelled, utterly "depleted of energy, their connective tissues coming

apart." He assumed he would quit the race. But then something

strange happened: He kept running, energized by the spectators along

the road. Their cheers pulled him through.

This experience led Dr. Noakes to become interested in the psychological

side of energy. When he was suffering through those last miles,

it wasn't a sugary drink that saved him, or a brief rest to suck up some

oxygen. Rather, it was the sight of those other people. This was a run

that chemistry could not explain.

It took decades of research, but Dr. Noakes would eventually develop

a theory of energy regulation that he calls the "central governor." In

essence, the central governor is a software script in your brain that controls

your physical performance, generating a feeling of fatigue to preserve

your body. While Hill thought human energy levels were reducible

to the laws of chemistry, Dr. Noakes argued that the reality is more complicated

and that your sense of energy is a subjective mental construct

based on countless variables from skin temperature to the cheers of

the crowd. "I am not saying that what takes place physiologically in the

muscles is irrelevant," Dr. Noakes wrote. "What I

am saying is that what takes place physiologically

in the muscles is not what causes fatigue."

As evidence, Dr. Noakes cites his studies of

cyclists during a 100-kilometer time trial. When

the cyclists were in the midst of a sprint, Dr. Noakes

found a steady decrease in electrical activity in

their quadriceps muscles. This suggests that the

brain was reducing the overall number of muscle

fibers it was trying to activate; the central governor

was systematically shutting down the body. While

the cyclists thought their legs were running out of

energy, the reality was that they had stopped asking

their quads to contract.

The big challenge for an athlete, then, is to

reprogram the central governor, to train the mind

to get more out of the body. As Dr. Noakes points

out, in the final stages of a marathon only a third

of muscle fibers in the leg are active. Plus, levels

of ATP—the molecule used to transport energy

within cells—almost never fall below 60 to 80 percent

of their resting value. This suggests that we

still have plenty of energy left. The central governor

is just too clever to use it.

The good news is that scientists have come up with tricks and

treatments you can use to reliably increase your sense of energy

and perform at higher levels. Some are simple, such as cooling your

skin during exercise. (Your brain measures exertion by monitoring

changes in body temperature, so a cooler body leads to lower levels of

perceived effort.) Others are mischievous and involve giving athletes

false information about their performance by slowing down the clock,

doctoring the odometer, or having them compete against a "previous"

performance that was subtly improved.

Your brain can also be influenced by motivational cues. In one

recent study, researchers at Bangor University asked people to pedal to

exhaustion, going at 65 percent of peak power for as long as they could.

While the study participants were sweating, the scientists exposed

them to either a smiling face or a frowning face for 16 milliseconds—

far too brief for conscious awareness. Despite the fact that the cyclists

couldn't discern the face—let alone its expression—the ones exposed

to the smile stayed on the bike for 178 seconds longer, or 12 percent

of the total time. The smiling face made exercise feel easier, so those

cyclists were able to go a few extra laps.

And then there are the chemical fixes. Giving athletes acetaminophen

before a race makes them go faster—this mild pain reliever

numbs the central governor. A variety of stimulants, from amphetamine

to caffeine, have a similar effect. Because energy is a state

of mind, waking up your brain can make you CONTINUED ON P. 134

QUIT ON YOUR BODY BECAUSE

UME YOUR BODY HAS QUIT ON YOU.

MensHealth.com / JulyAugust 2017 113
---
THE

WORLD

IS

YOUR

GYM

By ANTHONY

M C CARRON,

LARA ROSENBAUM,

and EBENEZER

SAMUEL

P.115

TREES

BOULDERS

HILLS

SAND

WATER

STAIRS
---
THE LAND

4

3

1

2

5

TREES

The equipment in your great outdoor gym.

BOULDERS

1. Flip Out

This takes guts. Hang

from a slim branch

that supports your

weight. In succession,

pull your knees to

your chest and lower

them; swing your

feet chest-high (legs

straight) and lower

them; swing your feet

to your shoulders.

Eventually you'll flip

over the branch like a

gymnast. Try to do 5.

2. Barks and Wreck

Find a downed tree

or branch that's

sturdy enough to

hold your weight and

long enough for your

body. Balance on it

to do a side plank,

your bottom hand

beneath your shoulder.

Lift your top leg

and extend your top

arm. Hold the position

for 30 seconds;

then switch sides.

3. Have a (Half) Seat

Find a tree with bark

that won't cut you

or rip from the trunk,

and reinvent the wall

sit. With your back

against the tree (as in

a wall sit), lower into

a squat, your knees

at 90 degrees. Then

straighten your right

leg and hold for 30 to

60 seconds. Repeat

with your left leg.

That's 1 rep; do 15.

4. Backward Climb

Meet nature's military

press. Start in a

pushup position less

than a body's length

away from a sturdy

tree trunk, facing

away. Keeping your

chin tucked, walk

your hands toward

the tree while walking

your feet up the trunk.

Finish in a handstand

position. Walk back

down. Aim for 10 reps.

5. Rock Pushups

Find two rocks you

can grip. Holding one

in each hand, assume

a pushup position. Do

a rep, and as you press

up, pull the rocks off

the ground. Land

with the rocks farther

apart. Repeat, landing

wider on the next 2

reps; then do 3 pushups

to return to the

start. Work for 20 to

60 seconds for 3 sets.

6. Pick Things Up

Stand with a large

rock between your

feet. Drop your hips

as with a deadlift,

and slide your hands

under the rock. Push

from your heels and

stand, curling the

rock up and bringing

it toward your left

shoulder. Repeat,

this time toward your

right shoulder. Aim

for 20 to 30 reps.

Previous page: photograph by SEAN LAURENZ,

Puma shorts, Nike shoes

116 MensHealth.com / JulyAugust 2017 ILLUSTRATIONS BY STEVE SANFORD
---
WELCOME

TO THE FREE

GYM THAT'S

EVERYWHERE

DIRECTIONS

Think of these

moves as an exercise

buffet for

use in infinite

circuits.

QUICK WORKOUT EXAMPLES

12-minute burner: Do 30 seconds

on, 30 seconds off for

4 exercises. Do 3 rounds.

Campout: Do all 4 moves from

1 section for 3 minutes each.

TOTAL-BODY FITNESS

Do 1 set for all 24 exercises,

resting as needed. For each

move, do 10 reps, 30 yards,

or 45 seconds per set unless

otherwise directed.

10

12

7

11

9

8

6

Free weights that rock!

HILLS Nature's clinic for fixing your running form.

DANIEL TING CHONG (icons)

7. Walk the Walk

One of life's most

practical actions is

also the most natural

workout with a rock.

Simply squat and pick

up the heaviest boulder

you can. Then,

holding it in front of

you with both hands,

walk as far as you can

for 30 to 60 seconds.

Too easy for you?

Walk uphill to feel like

the ultimate badass.

8. Throw Stones

All you need to shock

your cardiovascular

system is a rock and

a hill. At the top of the

hill, squat and pick

up the rock, raise it

overhead, and throw

it down the hill. Run

after it, squat, then

underhand toss it

uphill with both arms.

Continue with underhand

tosses until

you're back to the top.

9. Be Crabby

It's total-body claw

and order—if you

make it. The reverse

crab walk hits your

glutes, quads, back,

and triceps. Face

away from the hill

and sit on your butt,

feet flat. Then lift your

body off the ground

and walk uphill on

your hands and feet.

Start with 3 or 4 sets

of 50-yard crab walks.

10. Just Lunge

Weighted lunges in

the gym can't prepare

you for uphill lunges.

"The hill creates your

resistance," says Matt

Krause, strength and

conditioning coach

with the New York Yankees.

Start by alternating

legs as you

lunge upward. Progress

to right-leg-only

lunges for 30 yards;

then switch legs.

11. Back It Up

Running up a hill is

one thing (and not

easy). But can you

walk up a hill backward?

That's a great

quad workout. Bonus:

You won't have to

worry about wrecking

your knees. (Just for

fun, kick your playlist

into reverse too.)

Start with 5 sets of 20

yards. Then work up

to 40 yards, then 60.

12. Get Creative

Your hill workouts

should never be the

same. Try what MH

training advisor David

Jack calls "an organic

obstacle course." Jack

plans a 20-minute

uphill walk with stops

to do exercises. "I'll put

together 200 pushups

before I get to the

top," he says. Other

circuit options: squats

and jumping jacks.
---
THE WATER

10

2

1

9

5

6

SAND

It shifts—and challenges your stabilizers.

WATER

1. Pecs on the Beach

Only Mr. Miyagi

could dream up this

pushup. Once you've

pushed up, make a

"wax on" motion with

one hand before lowering

again. Alternate

the motion between

arms. Survive 3 or 4

sets, aiming for half

as many reps as you

do in a regular set of

pushups, and you're

ready for Cobra Kai.

2. Burp's Up

If you think burpees

aren't challenging

enough, do them in

the sand, which cushions

your landing but

makes pushing off

more difficult. Stabilizing

muscles end

up working overtime.

Bonus: You'll displace

so much sand that by

the time you've done a

set of 5 reps, you can

build a sand castle.

3. Tuck the Plank

The sand can be your

core's best friend.

First, assume a plank

position. Now hold

that position and slide

your feet along the

sand until your knees

are tucked toward

your chest. Slide back

out. Do this for half

as many reps as you

would for a regular set

of mountain climbers,

aiming for 2 or 3 sets.

4. Happy Feet

The most basic sand

exercise is best: Run

barefoot. Normally,

your foot momentarily

relaxes to take the

shape of the surface,

then gets rigid to

propel your body forward.

But the sand's

giving surface forces

foot muscles to be

more responsive.

Don't run far: Think of

a quarter mile as 1 set.

5. Current Event

Running in the ocean

is a good workout

because of the resistance

of the water.

Here's a challenge

from David Jack: Run

into the water to chest

height. Turn around;

run back into the wake

you just created, fighting

the waves without

falling. The path back

to shore winds up

being even harder.

6. Get a Jump

To perfect your box

jump, you might not

even need a box.

Instead, get waist

deep in water and try

to jump as high as you

can. Suddenly your

muscles must overcome

the drag of the

water if you hope to

gain any height. Jump

for 20 seconds; then

rest for 20 seconds.

Aim for 3 to 5 sets.

118 MensHealth.com / JulyAugust 2017
---
ARE YOU

KING OF

THE BEACH?

THE TEST

Set a timer for 10

minutes. Perform

the exercises in

order, resting

when necessary.

THE MOVES

Stair in-out (#9): 3 sets, 15

steps, walk down to recover

Wax-on pushup (#1): 15 reps

Shoulder-tap knee tuck

(#11): Until time expires

THE RESULTS

Your score is your total

shoulder-tap knee tucks:

6–10 Not bad

11–15 Prince of the beach!

>15 Tarzan can't touch you

4

12

3

11

8

7

Resistance from the H 2 O is key.

STAIRS They force you to train explosively.

7. High-Knee Deep

How do you develop

hip strength in water?

Get bellybutton deep

and work through

high-knee drills. You

essentially run in place

in the water, lifting

each knee as high

as you can on each

stride. Do 20 seconds

on, 20 off; repeat 3

times. Also do butt

kicks, focusing on pulling

heel to hamstring.

8.Before You Walk...

You may be a fish out

of water, but can you

be a bear in it? Even

the finest swimmers

can struggle to do

bear crawls in the

surf, but the exercise

develops coordination.

Start in shallow

water—6 inches max.

Build up to shoulder

height; at this point,

you'll face considerable

resistance.

9. Many Tiny Leaps

Stair in-outs provide

a stiff challenge for

your glutes. Start at

the bottom of the

stairs in a squat, your

feet slightly beyond

shoulder width. Jump

to the next stair, landing

with your feet

10 to 12 inches closer

together. Alternate

that pattern for 15

steps. Then jog back

down. Try for 3 rounds.

10. Hands and Feet

Want to ascend stairs

without walking? This

one's tough: Stand

facing the stairs and

put your hands on the

fourth step. Explosively

jump your feet to land

on the closest possible

step to your hands.

Repeat by moving

your hands up three

steps. If 3 sets of 10 to

15 gets too easy, add

a burpee to each rep.

11. One Small Step

You need one step for

the shoulder-tap knee

tuck. Face the front of

the step in a pushup

position. Lift one arm

and tap the opposite

shoulder. Tap each

arm three times, then

move both hands

onto the step. Do a

pushup; then tuck

your knees into your

chest. Aim to do 3

sets to failure.

12. Push Hour

Train your upper body

with the traveling

decline pushup. Start

with your hands on

the ground, slightly

beyond shoulder

width, and your feet

three or four stairs up.

Do a pushup. Next,

move your hands up

one step and your

feet up one step. Do

another pushup. Aim

for 3 sets of 10 to 15.

Sources: Dan Bailey, Reebok trainer; Jeff Cavaliere, M.S.P.T., C.S.C.S., Athlean-X program; Jeremy Cheung, N.A.S.M., C.P.T.; Andy Dooley, Reebok trainer; Darryl Edwards, author of Paleo Fitness;

Anthony Gustin, D.C., C.S.C.S.; David Jack, Men's Health training advisor; Matt Krause, New York Yankees strength and conditioning coach; Kenton Whitman, N.A.S.M., cofounder of ReWild University.
---
T H E U L T I M A T E

MEN'S HEALTH

DOG

We scoured the country

for a hound of renown.

Meet Falco–and find your

own ultimate companion.

What makes an ultimate dog? Does he lead a

pack of men rather than a pack of mutts? Does he

exhibit bravery in war zones where even soldiers

shake? Or does he simply wait by the screen door every

night for you to come home? In this special section, you'll

meet dogs doing all these things and more—the best stories

from nearly 900 entries in our Ultimate Dog contest.

We'll also take you into the canine mind, show you how

to find the best breed for your lifestyle, and prove beyond

a shadow of a doubt that a dog can make you a better man.

INSIDE

1. LEADERSHIP

Falco finds bodies.

2. BRAVERY

Fred stood tall in

Afghanistan.

3. COMPANIONSHIP

Sparky connects

the parents with

the kids.

PLUS

Meet our contest

runners-up.

The "dog-ter"

is in and answers

your questions.

Find the dog that

suits you best.

P.120 / PHOTOGRAPHS BY AMY LOMBARD
---
1

LEADERSHIP / BY TYLER DASWICK

THIS HERO

WEARS FUR

A rescued dog returns the favor by rescuing people.

FOR TWO WEEKS, THE DETECTIVES' BEST EFFORTS YIELDED NOTHING.

The young man who left a suicide note remained missing. Authorities thought

perhaps the man had simply left town. Enter a bright, motivated, German

shepherd, partner of Florida FEMA task force member Aaron Tucker.

Falco has been trained to smell human decomposition. He can sniff a Q-tip's

amount of blood in 5 acres, and he's been locating missing people since 2013.

He's often brought in for all-hope-is-lost missions like this one.

On this day, Falco's first instinct was to sprint west. The detectives shook

their heads. They'd been focusing their search efforts in the opposite direction.

The dense forest was tricky to navigate, but the dog charged right into a

mass of brush and thorny vines. Three minutes later he gave his silent alert:

seated, rigid body, nose down. Falco had

located the dead man.

"Most police dogs sniff out drugs or bombs,"

says Tucker, Falco's owner and handler. "But

our skill set makes it possible to close a chapter

by bringing the missing home. We can

bring peace to the soul and the family."

Falco stands out for his valor and leadership.

When they're not in the field, Falco

and Tucker teach search tactics to other K9

teams. They have a special bond. During

one search mission, a man jumped out of the

woods and came at Tucker. He ignored commands

to show his hands until Falco intervened,

barking and growling until backup

arrived and took the man into custody.

Falco got his favorite snack—a ham hock—

as a reward.

PREVIOUS SPREAD: Falco with

his handler, Aaron Tucker.

ABOVE: The pair trains for a

search-and-recover mission.

168 STUDIO (badge design and icons)
---
ULTIMATE DOGS

TOP DOGS

Almost 900 entries came in for the Ultimate

Men's Health Dog contest. Meet the runners-up.

Hugo

Tim Denning

ARLINGTON, VA

Though he lost his

hearing to infection,

Hugo persevered

through several

surgeries and now

volunteers at nursing

homes and children's

hospitals.

Captain America

Paul Tadalan

CHICAGO, IL

Cap gets around:

He is a registered

emotional support

dog, rides in Paul's

motorcycle sidecar,

and uses his

booming bark to

scare off burglars.

Lucy

Jason Kharman

DALLAS, TX

When a fire was

raging through their

condo complex,

Lucy was able to

alert Jason of the

danger: "She ran

into my room and

woke me up."

Teddy

Bridgewater

Trenton Bottorff

FREMONT, NE

Teddy accompanies

Trenton on

visits to fifth- and

sixth-grade special

education classrooms,

helping

hyperactive kids.

pawmazing.com (Ricochet), Jim Dukes/JJDPhoto2art.com (Gunner)

THE WORLD'S

FIRST PETS

Scientists still

debate the origins

of domesticated

dogs. For years, the

human-canine bond was

thought to have begun

about 30,000 years ago

with a Paleolithic clan

that adopted wolf puppies.

But a recent analysis suggests

that domestication

occurred at two different

times, around 15,000 and

12,500 years ago. The current

theory: Wolves would

follow hunting parties to

scavenge a kill, eventually

following the hunters home

to beg for scraps. Over

the years, they developed

relationships with those

humans. The upshot? "Feed

me" became "I love you."

Gunner

Andrew Einstein

RIVERTON, NJ

Gunner helped

Andrew through a

depressive episode.

In 2014, the two

walked from Philly

to Ground Zero.

They've also run two

Tough Mudders.

Achilles

John Krupa

COLORADO SPRINGS, CO

This search-andrescue

dog in training

shows his heroism

by breaking

up fights involving

other dogs. He's

known as "the sheriff"

of his dog park.

READERS'

PICK

CANINE WISDOM

Ricochet

Judy Fridono

ESCONDIDO, CA

Used for therapy

as a surfing service

dog, Ricochet rides

the waves with all

kinds of people:

special-needs kids,

vets with PTSD, and

wounded warriors.

Max

JD Miller

RADFORD, VA

Max is a veteran—

he was a military K9

in Afghanistan but

lost two teeth in a

training exercise.

Now he's a certified

police dog working

alongside JD.

" If a dog will not come to you after having looked

you in the face, you should go home and examine your

conscience." —WOODROW WILSON

MensHealth.com / JulyAugust 2017 123
---
2

BRAVERY / BY CHRIS COLIN

LOVE IN A

WAR ZONE

Afghanistan connects a Marine with a cuddly mutt.

THE AFGHAN COMMANDO HAD

no particular reason for kicking

the dog, a stray picked up by U.S.

Marine Craig Grossi. The dog—

Fred by name—was just lying

around with Grossi and some

other heavily armed guys waiting out the

heat when the commando turned rabid and

booted the pooch, no reason. When the man

lunged at the animal again, one of Grossi's
---
ULTIMATE DOGS

Craig Grossi and Fred on safe

ground in the United States.

fellow Marines sorted him out—with a swift

kick to the chest.

"Okay," the commando said, recovering.

"Now I shoot him." He meant the dog, not the

Marine. He aimed his AK-47; the Americans

shouldered their M4s. The day went from

warm to hot that fast. In Helmand Province,

a Taliban stronghold, the mercury regularly

closes in on 115°F. That's dog-kicking weather

anywhere, but not around Grossi and his fellow

Marines, guys who strip down to flak

vests and underwear to fight when the heat

begins to brutalize.

Man kicks dog: It explains how an elite

unit at war got into a standoff over a mutt.

With longish hair and sad, thoughtful

eyes, Grossi, a Virginia native, looks more

like a puppy dog than a jarhead. But when he

arrived at Camp Leatherneck in 2010, the

27-year-old was assigned to a recon unit—a

hardcore, tip-of-the-spear group trained to

drop into dangerous spots in the dead of night.

Before long, he was on a helicopter headed

through predawn darkness to the Sangin Valley,

one of the most hostile parts of generally

hostile Afghanistan. He landed in shit that

smelled like 200 crazy warriors: "They hit us

all day and didn't let up for a week."

Between artillery battles, Grossi noticed

a funny-looking little dog trotting around,

sniffing and poking. Afghanistan had no

shortage of strays, but usually those dogs

came out at night in snarling packs; the soldiers

had no problem complying with the

Pentagon rule that you may not touch a stray

dog, even to kick it. But Grossi felt that this

good boy was different. With a large head and

thick chest, he carried himself like a big dog,

but on stubby stems. "His front legs and paws

were like a basset hound's and his back ones

like a rabbit's, but he made it work," Grossi

says. "I've never seen a dog so comfortable in

his own skin. He had a show dog trot."

Grossi watched as the animal navigated

the compound "like he was mayor of the

place." Maybe it was the animal's spirit, or

maybe the monotony of war, but one inevitable

day, man met dog. "As I got closer, he

started to wag his tail. That blew me away.

What does this dog have to wag his tail about?

It's hot, he's covered in CONTINUED ON P. 135

ASK the DOG-TER

Canines and vets answer your questions.

How do I teach an

old dog new tricks?

THE DOG SAYS...

At this stage of life,

I'm only leaving the

couch for the thickest

pork chop on the

table. You'd better

show some appreciation

for my years of

service to the family.

Can you tell when

we're sad?

THE DOG SAYS...

We're dogs, we're not

stupid. We care about

you, but your mood

also dictates how you

treat us. A big smile

and a scratch behind

the ears signals to us

that it's all systems go.

What's up with

the head tilt?

THE DOG SAYS...

Because you thought

it was cute when I did

it in '06. Remember,

when the parakeet

screeched? I moved

my head a little, and

you fell over yourself

at my cuteness.

Why do you scoot

your butt across

the floor?

THE DOG SAYS...

We all gotta poop,

amigo. But scooting

is different. It's more

pressing because

our anal sacs are bugging

us, and it hurts

like hemorrhoids.

Why do you hang

your head out the

window in the car?

THE DOG SAYS...

We're just smelling the

sights. In fact, I don't

know how you can

even tell where you

are, the way you keep

your nose behind

the wheel. So weird!

THE HUMAN SAYS...

Your gray-muzzled

pal can still make new

associations even

if he's no longer a

fuzzy pup. Just make

the rewards befit your

lifelong relationship,

says dog behavior

researcher Katherine

Miller, Ph.D.

THE HUMAN SAYS...

"There's no conclusive

evidence that dogs

can feel empathy,"

says Bradley Phifer

of the Certification

Council for Professional

Dog Trainers.

"But dogs' whole

lives are spent learning

to read us."

THE HUMAN SAYS...

When a dog cocks

its head at a sound,

it is trying to more

clearly figure out

where the sound is

coming from, says

Phifer. Over time, this

can become a trained

(and thoroughly

endearing) behavior.

THE HUMAN SAYS...

Have Fido checked

to make sure his anal

sacs aren't impacted.

The sacs—they're

on either side of your

dog's rectum—release

pheromones that

help serve as their

doggy identification

to other canines.

THE HUMAN SAYS...

"We know that

dogs become more

familiar with their

environment through

sniffing," Phifer says.

"That's how they

gain the information

they need to know

to become settled

and relaxed."

ILLUSTRATIONS BY +ISM

MensHealth.com / JulyAugust 2017 125
---
The BEST DOG for YOU

FOR A FULL LIST OF DOGS TO MATCH YOUR LIFESTYLE, VISIT MENSHEALTH.COM/BESTDOGBREEDS

/
---
ULTIMATE DOGS

THE MAKING OF

A FRIENDSHIP

Old Drum barked his

last bark the night of

October 28, 1869. Convinced

that the Missouri hunting

dog was killing his sheep, a

neighbor shot him to death—

and was promptly sued. Representing

Old Drum's owner was

attorney George Graham Vest,

who would go on to become a

U.S. senator. Vest's wonderfully

overwrought closing remarks

earned him immortality: "The

one absolutely unselfish friend

that a man can have in this selfish

world, the one that never

deserts him, the one that never

proves ungrateful or treacherous,

is the dog," Vest declared

at one of several crescendos.

His client got $50 and

the world got its "man's best

friend" label.

3

COMPANIONSHIP / BY BILL STUMP

OUR FAMILY'S

TOP DOG

A pet skeptic is won over by an 18-pound spitfire.

W

E'VE HAD SPARKY FOR

nearly 16 years, a fact that's hard

for me to believe today.

Sparky is deaf now, and he's

night blind so we can no longer

take him around the block in the evenings.

He had cancer surgery two years ago to

remove the lower half of his jaw. They got

the cancer, but now his tongue hangs lower

than it used to, and he drools a bit, so my wife

made him a supply of bandanas to keep the

fur on his chest dry. They add cuteness too.

Like a lot of guys, I consider my dog my best

friend. I never thought I'd say that. I never

wanted a pet. But then my father-in-law, a

tough Serbian guy with a shock of white hair

who was a beer distributor and carried a gun

After surviving cancer, Sparky

is put on a pedestal by his family.

in a shoulder holster, got involved.

"Do you have a dog?" he asked my daughter,

Kelley, who was 7 years old at the time.

"No," she replied.

"Why the hell not?" he asked.

"My dad says they're messy," replied my

4-year-old son, Kevin.

My father-in-law's gaze shifted to me. I

saw a weird mix of disappointment and dismissal

on his face. "What the hell is wrong

with you?" he asked.

RUFF THOUGHTS

A few weeks later I was out of town and hustling

into a hotel room when my phone rang.

It was my wife. It sounded like she was in a

car. "Where are you going?" I asked.

"To Pittsburgh," she said. "My dad got

us a dog." When I arrived back home, I met

Sparky, half Yorkie and half Shih Tzu. He

wasn't the yellow Lab type that all our neighbors

had, but I loved him instantly.

The years since have flown past; I don't

remember ever not having Sparky sitting by

the fireplace on a cold night or hanging under

my lawn chair by the pool to escape the sun.

I used to love watching him sprint around

the yard, bouncing a ball on his nose, mauling

a stuffed animal to reveal the squeaker,

and enjoying a Wendy's cheeseburger and a

Frosty on his birthday each year. We've done

that birthday routine 15 times and will again

in a couple of months.

Not a day goes by when my wife and I don't

snapchat, instagram, or CONTINUED ON P. 135

" I've seen a look in dogs' eyes, a quickly vanishing look

of amazed contempt, and I am convinced that basically

dogs think humans are nuts." —JOHN STEINBECK

MensHealth.com / JulyAugust 2017 127
---
These guys

went out

looking for

adventure and

almost lost

their lives.

I S U R
---
Think about your biggest fear, the kind of nightmare that

leaves you in a cold sweat. A charging bear? A twister headed

straight toward you? A crash that leaves you paralyzed?

These eight men faced those nightmares and lived to tell the tale. For

some, preparation and quick thinking kept them alive; others were

just plain lucky. Learn their keys to survival, and what you should do

if you ever find yourself in a similarly harrowing situation.

P 129

BY DEVON O'NEIL, WITH

ADDITIONAL REPORTING BY

ANDREW DAWSON

ILLUSTRATIONS BY

PAUL POPE

WITH CHRIS HUNT

V I V E D
---
CAUGHT IN

A TORNADO

WHEN THUNDER CRACKED, LARRY

Krznarich and his wife were lounging at their

campsite on an island in a northern Wisconsin

lake. It was July 2010. Krznarich turned

on his weather radio and heard an urgent

message from the National Weather Service:

"Severe storm hitting the Turtle Flambeau

Flowage. Take cover immediately."

Krznarich sprinted to warn another couple

and raced back with them. All four huddled

under a picnic table. Within 30 seconds,

the first 60-foot tree fell. Four trees landed

on the table; Krznarich was crushed by a red

pine; his pelvis was fractured in three places.

It was an EF1 tornado, with winds up

to 110 miles an hour. "The destruction was

unbelievable," Krznarich says. "Big trees

were shattering and tumbling like tinker

toys all around us." He says he and the others

would be dead if they hadn't heard the radio

warning and used the table as a shield.

SURVIVAL

SKILLS

You can't outrun a

twister, so if you're in

the open, seek the

lowest spot around,

like a ditch, says Paul

Auerbach, M.D., an

emergency medicine

physician with Stanford

University. Nothing

suitable? You might

be okay in your car.

"A car should be

able to withstand a

certain amount of

wind, but it can be

lifted and tossed and

penetrated by flying

objects," says Dr.

Auerbach. An EF1 or

EF2 twister will leave

most cars intact, but

an EF3 or EF4 will

move most vehicles, a

new study suggests.

A BEAR ATTACK

MIKE WILSON COULD TELL

a bear was nearby. He was

hunting with 20 friends and

20 dogs in North Carolina's

Black Mountains last December

when the dogs started

barking. Usually that meant

a bear had climbed a tree, but

nothing was up in the branches. By the time

he saw the 390-pound black bear charging

at him, it was 10 feet away. He raised his .44

Thompson Center Contender and fired. The

bullet hit the bear and made it angrier. Before

Wilson could reload, the bear was on him.

"It knocked me plum down the hill, got me

in my neck with one paw, and nearly got my

jugular vein," says Wilson. "I had to get 26

stitches. The doctor told me if it'd been a half

inch deeper, I'd have had about five minutes

to live." The bear ran away. Wilson's hunting

partners bandaged his neck and rushed him

to the nearest emergency room.

SURVIVAL SKILLS

If you encounter a bear, make noise

to scare it. If a grizzly attacks you, curl

up and play dead, Dr. Auerbach says.

With a black bear, do the opposite:

Push out your chest and make yourself

tall. Avoid eye contact with polar bears.

LOST IN

THE WILD

IN AUGUST 2014, CALIFORNIA MAN MIKE VILHAUER

headed into the High Sierra to camp and fish for trout.

After little luck with lures, he went looking for grasshoppers

to use as bait. He headed downstream from his campsite

at Lower Sunset Lake carrying a pink butterfly net,

a small knife, a compass watch, and a map of the area.

After a few hours, Vilhauer tried to find his way back.

He climbed a ridge to get a view of the lake, but it wasn't

where his map showed it. So began a five-day odyssey

that would involve 300 search-and-rescue personnel,

plus dogs, horses, and helicopters. Vilhauer didn't sleep

or eat for those five days. He stared down a wolverine

and a bear. When he heard a helicopter on day five, he

remembered a trick from the movie Castaway and built a

10-by-15-foot H-E-L-P sign out of tree branches. The pilot

saw it, and a rescue team arrived soon after. Vilhauer

found out later that his compass was off by 88 degrees.
---
A BIKE

CRASH

BYRON SWEZY HAD JUST BROUGHT HIS WIFE

and newborn daughter home from the hospital

when he went for a mountain-bike ride with a friend in

2004. About a mile from his home in Frisco, Colorado,

Swezy lost control of his front wheel, vaulted over his

handlebar, and struck a boulder, shattering his C4 vertebra.

If he hadn't been wearing a helmet, Swezy says,

"there's no question in my mind that I would've died."

As Swezy lay temporarily paralyzed, he focused on his

daughter and wife. He used his cellphone to give rescuers

his precise location while his friend held the receiver.

Three and a half hours after his crash, Swezy regained

feeling in his toes. Doctors fused his C3, C4, and C5 vertebrae,

which restricts his movement—but he still rides.

SURVIVAL SKILLS

Most crashes happen so quickly that it's impossible

to react. If you can, try to curl up in a ball to protect

your neck and spine. This is when a helmet can save

you. Find our favorites on page 57.

THE RESCUER

SURVIVAL

SKILLS

Raise your survival

odds before you

leave: Prep for any trek

or trip by packing a

map, compass, sunglasses,

sunscreen,

extra clothes, an LED

headlamp or flashlight,

first-aid kit, firestarter,

matches, knife,

a Mylar emergency

blanket, and extra

food and water, says

Tom Vogl, outdoorsman

and CEO of The

Mountaineers. He

keeps these supplies

in a stuff sack so he

can grab it and go.

Christopher Van Tilburg,

M.D., of the Hood River

Crag Rats, responds to a

dozen search-and-rescue

calls every year. At 5'7"

and 145 pounds, Dr. Van

Tilburg, 50, doesn't look

like a mountain man. But

when a mission can involve

15 miles of night hiking

while managing a 200-

pound victim, his build

is an advantage. So is a

six-day-a-week training

regimen that includes

biking, skiing, trail

running, and kitesurfing.

"The universal trait that

connects us," he says,

"is that everybody on our

team is really fit."

MensHealth.com / JulyAugust 2017 131
---
CAST

AWAY

DARRELL AND HEATHER EMANUELSON HAD

been looking forward to the first outing in their

new Blue Jay sailboat. Last August they loaded up their

kids, ages 7 and 4, and set sail toward Long Island Sound.

It wasn't long before the waves picked up. Darrell tried to

tack into the 3-foot chop but water crashed into the boat,

filling the hull. "We were in over our heads," he says.

Eventually the boat capsized, tossing all four into the

open water. Everyone had life jackets, but the quarter-mile

swim to land might as well have been 10; the current and

waves were too strong. "I had our son and my wife had our

daughter, but trying to swim while pulling kids is nearly

impossible," Emanuelson says. They treaded water and

then decided that Heather, who'd been a lifeguard back

in high school, should try to swim to land and fetch help.

After about an hour and a half of floating and kicking

toward shore, Emanuelson flagged down a passing fishing

boat. He and the kids, tired and cold, got to shore just

as the rescue boats started searching for them. Heather

had caught a ride during her swim and alerted authorities.

A FLASH FLOOD

IN A SLOT CANYON

IT WAS SUPPOSED TO BE A GETaway.

In 2010, David Frankhouser,

Jason Fico, and Joe Cain went to Zion

National Park to rappel down Spry

Canyon. A storm hit and water rushed

through the 3-foot-wide slot where

they stood. They braced their legs

against the walls as debris and foamy

brown water pushed them toward a cliff.

The water rose until they had no choice: Let

go or drown. All three shot off the cliff. Cain

shattered his tailbone and was pulled to safety

by onlookers. Then Frankhouser and Fico

were thrust over a second cliff. Frankhouser

didn't break a bone. Fico's femur punched a

hole in his hip when he landed. Park rescuers

evacuated the two injured men by helicopter;

Frankhouser hiked out. "Before the flood, it

was bone-dry," Frankhouser says.

SURVIVAL

SKILLS

Before you venture

into a slot canyon,

check the weather

forecast for not only

your area but also a

few miles upstream.

"A storm hits miles

away and then the

water rushes down

and you have no idea

what is coming," says

Dr. Auerbach. During

your climb, if you

spot unusual debris,

muddy water, or rising

water levels, seek

high ground immediately.

"Get as high up

a bank as you can and

as soon as possible,"

Dr. Auerbach says.

SURVIVAL SKILLS

Have a life jacket designed for sailing, made to

keep you afloat in an upright position, Dr. Auerbach

says. And bring a waterproof two-way radio. If you

capsize alone, bring your knees in, wrap your arms

around your legs, and lean back to float. In a group,

form a circle with your arms around each other like

a team huddle. Then bring your legs to the center.

THE TOUGHEST SAVE

When a cliff jumper leaped from an

80-foot waterfall along Oregon's

Eagle Creek Trail and broke his

ILLO

back upon landing, Dr. Van Tilburg

was the first rescuer on the scene.

He swam 40 feet through the plunge

pool's 50-degree water to reach the victim. Dr.

Van Tilburg immobilized the man's spine with

towels and clothing and waited,shivering,

until his colleagues arrived with a floating

stretcher. The rescue team swam the man back

across the pool and walked him down the trail to

a waiting ambulance. "I think he eventually did

fine," Dr. Van Tilburg says. "We don't often

get the follow-up." More than a decade later,

the scenario still ranks as one of the most complex

of his career.
---
A LIGHTNING STRIKE

WHEN JAIME SANTANA

went for a horseback ride

west of Phoenix in April

2016, the sky was blue. He

rode with his brother-inlaw,

a friend, and his friend's

daughter. The group saw

a storm coming, so they

decided to head home. A bolt of lightning soon

speared the earth next to them.

The voltage knocked all four riders to the

ground. Santana's horse died instantly, likely

sparing Santana a fatal jolt. Still, he lay on

the ground in cardiac arrest. None of them

remember seeing a flash or hearing a sound.

By chance, an off-duty paramedic saw the

strike from his porch and resuscitated Santana

with CPR. Santana suffered a stroke and

traumatic brain injury from the lightning

strike, and spent four and a half months in

the hospital. Nearly a year later, he is learning

how to walk all over again.

SURVIVAL

SKILLS

During a storm with

lightning, squat down

on the balls of your

feet to lower your

profile and minimize

your contact with

the ground. Or seek

shelter in a fully

enclosed hard top

vehicle or a building,

says Dr. Auerbach. If

someone else is hit?

Try to help the victim

breathe. Lightning

strike victims often

appear dead and get

temporary paralysis

that stops breathing

for up to 30 minutes.

Call 911 and start

CPR. Push hard and

fast in the center of

the victim's chest 100

to 120 times a minute

until help arrives.

THE JAWS OF A GATOR

ON BLACK FRIDAY LAST NOVEMBER, KRIT

Krutchaiyan and his friend Roberto Gautier

went duck hunting in the Everglades. Pushing

their kayaks across a marsh with sawgrass up

to their eyes, Krutchaiyan kicked what looked

like a log. It turned out to be a 10-foot alligator,

which then clamped on his thigh. He beat

the gator's head with his paddle; it let go and

then snapped again. Krutchaiyan, bleeding

from a wound under his waders, tried to

backpedal but fell as the alligator rolled three

times. Then the gator started swimming back

toward him, mouth open.

Gautier shoved a kayak between his friend

and the reptile and they scrambled out of the

water. Krutchaiyan was airlifted to a hospital

40 minutes away. The 50-year-old used his

belt as a tourniquet and slowed his breathing

to slow his heart rate and reduce bloodflow.

SURVIVAL SKILLS

Pack a tourniquet, like the SOF Tactical

Tourniquet ($27, tacmedsolutions.

com) and a blood-stopping wound

dressing, such as QuikClot Gauze ($20,

adventuremedicalkits.com). They work

better than jerry-rigged versions.

MensHealth.com / JulyAugust 2017 133
---
ENERGY, FROM P. 113

less sensitive to the tired state of your body.

(Unfortunately, the opposite is also true:

Doing a tedious cognitive task before a workout

can dramatically impair endurance.)

Interestingly, many of these treatments

also work as placebos. In other words, coaches

don't need to dose athletes with stimulants

or painkillers to improve their performance;

merely convincing them that they did so is

enough. In one study, rinsing endurance

cyclists' mouths with a sugary beverage

helped them go faster during a time trial, even

though they didn't swallow any. Subsequent

research showed that the rinse turned on the

brain's reward regions, thus tricking it into

believing that calories had been ingested.

The question, of course, is how you can

translate this research into performance.

It's one thing to know that energy is largely a

state of mind. It's something else entirely to

not feel so tired you need to stop. Karl Meltzer

doesn't have all the answers. "I've been

saying it's all in your head for 20 years," he

says. "Doesn't mean I understand it, though."

T

HEY CALL IT THE BEAST. FOR

new cadets at West Point, the

Beast is basic training, that arduous

introduction to military life.

A typical day during the Beast

begins in the dark, with a zero

dark thirty wakeup, followed by 90 minutes of

running and calisthenics. Then it's a shower

and a quick breakfast followed by a morning

of classroom lectures. After lunch it's training

time, when cadets learn to assemble and

fire their M4s, march in formation, and complete

difficult obstacle courses. Evening is for

homework and something called "mass athletics."

It's lights out around midnight.

This challenging routine goes on for six

weeks, culminating in what's known as the

Graduate March Back, a 12-mile slog in the

August heat with a heavy pack. "Basic training

is designed to stress the cadets," says West

Point's Mike Matthews, Ph.D., a professor of

engineering psychology. "We have six weeks to

turn them into soldiers. That means teaching

them that they're tougher than they think."

It's easy to overlook the remarkable nature

of this transformation. Before these cadets

showed up at West Point, they were typical

American teenagers. They slept in, played

video games, and struggled to do 50 pushups.

But in just over a month, the academy resets

their central governors. The cadets are able

to handle tests of endurance that only a few

weeks before would have been unimaginable.

The Army does this by consistently

emphasizing the mental side of performance.

The hardest parts of the Beast—like the long

marches or sleeping alone in the woods in

a wet uniform—are framed as tests of will

and grit. Nate Zinsser, Ph.D., director of West

Point's performance psychology program, is

tasked with training cadets in the psychological

principles of elite performance. "People

think it's all about doing more at the gym,"

Zinsser says. "But the hardest part is often

changing the way you think about yourself.

When the crap hits the fan, what ends up limiting

you is usually not your body. It's that voice

in your head telling you that you can't do it."

Zinsser tells the story of Dan Browne,

the first West Point cadet to run a sub-fourminute

mile. To prepare for the race, Zinsser

had Browne do a relaxation exercise followed

by a guided visualization in which he ran the

entire mile in his head. "I wanted him to

think about how he would react when his legs

got heavy and fatigue set in," Zinsser says. "Is

he going to tell himself he's in trouble? Or is

he going to say, 'I can do this, I can do this,

I just need to hang on.'" In the imagination

exercise, Browne ran a 3:58 mile. Two days

later, when he stepped onto the actual track,

he ran the exact same time.

The Army takes sports psychology quite

seriously. This is for a simple reason: As Zinsser

points out, every soldier is a "tactical athlete,"

forced to push his or her physical limits

on the battlefield. For soldiers, mustering

energy isn't just a matter of finishing first or

second—it can mean life or death. In recent

years, the Army has implemented Zinsser's

sports psychology training at 20 posts worldwide,

building it into the military training of

more than 40,000 soldiers.

What can the rest of us learn from West

Point? First off is the importance of making

exercise social. It doesn't matter if it's

CrossFit or a running club—you're much

more likely to push your limits when you're

surrounded by other sweaty people. That's

because your central governor isn't just monitoring

the chemistry and mechanics of the

muscles—it's also keeping track of the athletes

around you.

The second lesson involves changing the

way cadets think about fatigue. "If these

cadets get six hours of sleep, that's a miraculous

accomplishment," Zinsser says. "And it's

easy to feel that exhaustion and just say, 'I'm

done.'" But West Point teaches cadets how to

push past the exhaustion and thus wring more

out of their bodies. "I can lecture them about

the psychology, how their thoughts determine

what their muscles are capable of," he says.

"But it's better to have them experience it for

themselves. They need their own narrative of,

'I went through hell but made it.'"

On the one hand, the shift from the chemistry

model of energy to the psychological

one is liberating because it means you can

exceed your known physical limits. Your

muscles are stronger than you think. But it

also means you are responsible for your own

athletic failures. Too often you quit on your

body because you assume your body has quit

on you. However, the latest science suggests

that people tend to misread their own flesh—

there's almost certainly plenty of fuel left in

the tank. Does knowing that fatigue is just a

feeling make the fatigue any less real? Probably

not. But it does offer you a chance to push

back against the central governor, finding a

form of self-talk that might let you tap into

that secret reserve of energy.

As Karl Meltzer likes to remind himself,

"It doesn't always get worse."

M

ELTZER'S LAST DAY ON THE

Appalachian Trail began, as

usual, with a mug of coffee and

heavy cream, chugged in the

dark. He'd already been on the

trail for 45 days; he didn't want

to sleep in his van again. The only problem

was that the finish line was 85 miles away.

It took him 23 hours of straight trail running,

but he ran those last miles in an end

spurt for the ages, coming down Springer

Mountain at 3:38 a.m. He broke the record set

by Scott Jurek by nearly a half day. Meltzer

celebrated with a cold pizza and a warm beer.

When I ask him why he wanted to run the

trail faster than anyone else, I was hoping for

some thoughts on the nature of human possibility.

But Meltzer is no philosopher. "The

bottom line is I do these things because I want

to talk about them later," he says. "The faster

you go, the sooner it's all over."

134 MensHealth.com / JulyAugust 2017
---
ULTIMATE MEN'S HEALTH DOG, FROM P. 127

LOVE IN A WAR ZONE, FROM P. 125 OUR FAMILY'S TOP DOG, FROM P. 127

fleas, and he's clearly never been treated

well by a person. He's in Afghanistan. But

he's wagging his tail."

Grossi offered up some beef jerky and the

dog accepted it with elegant caution. The

Marine reached out to rub its ears, which, to

a dog, is the equivalent of planting a kiss on

the lips four minutes into a first date. To his

surprise, the dog leaned fully into his hand.

Oops. Grossi felt a jolt of responsibility kick

in. "I remembered where I was and started

walking away. I got a few feet and felt this

poke at my heel. I looked down and Fred had

this expression like, 'Where ya goin'?'"

"Looks like you made a friend," a fellow

Marine called. Grossi thought he'd said

"Fred." And Fred worked.

Soon Fred was living the good life, guzzling

bottled water and feasting on jerky.

Grossi and a friend plucked bugs from his

coat, universal mammal friendship behavior.

That night Fred slept in Grossi's tent.

By lunch the next day, Fred had chosen.

He didn't just become a loyal companion—

he became a Marine. One morning, the soldiers

went on a patrol on a rocky ridge above

the green zone. He silently trotted beside the

men for hours, swimming across a canal when

required. It wasn't long afterward that Fred

met the Afghan commando's boot. The standoff

ended peacefully, but one fact had become

clear: Fred was family, a brother. Soon Grossi

was pondering canine-exit strategies.

On such matters, the U.S. military leaves

little ambiguity: If Grossi is caught smuggling

him home, Fred will be put down and Grossi

will be court-martialed. Lose-lose. When the

last morning came, the unit trekked 5 miles

to the desert to meet their helicopter. To Grossi's

sadness and relief, Fred was nowhere to

be found. It was just before sunrise when the

guys noticed a puff of dust in the distance, and

a distinctive trot at the center of it. Fred.

What followed was a blur of love and

insubordination. The helicopters arrived

and Fred was thrown into a bag and carried

aboard. Back at Leatherneck, some guys at

the DHL office agreed to watch him while

Grossi was called out for one last mission.

The fighting got intense—really intense—

and at one point Grossi decided to take a rest

in the breezeway of the compound he and his

unit were occupying, his head against a wall.

He never saw the 107mm rocket coming. It

screamed in from god-knows-where and

slammed into the other side of the wall, collapsing

it on top of him.

When he was pulled from the rubble, he

had no idea what had happened. He was asked

how old he was; he couldn't really say. After a

hellish extraction during which two friends

were killed, Grossi woke up in a recovery tent

back at Camp Leatherneck. He'd sustained a

traumatic brain injury. When he could think,

all he thought about was Fred. Where was

Fred, and was he safe?

That was seven years ago. Grossi is now

out of the Marines and living the civilian life

in Washington, D.C. The saga of getting Fred

stateside should be a book in itself. Actually, it

is: Grossi's memoir, Craig & Fred: A Marine, a

Stray Dog, and How They Rescued Each Other,

is coming out in November. Grossi spends his

days writing and processing everything that

happened. That Fred is central to his recovery

goes without saying.

"Fred reminds me to unplug, to get outside,

to connect with people if I've been on

the computer too long," Grossi says. "And if I

have a night when I can't stop thinking about

the friends who died, or what happened to me,

Fred's never far from me. I grab one of his toys

and we start a tug-of-war, and whatever bad

thought I had goes away."

Had the two never met, Grossi says he

might've descended into another lifestyle

after getting home—more isolation, more

drinking. "But Fred practically throws my

running shoes at me. He's busy, he's got stuff

to pee on, squirrels to chase." So off they go,

and in the process Grossi connected with the

younger version of himself, the one that was

always outdoors and active.

"That's who I was as a kid, so Fred has kind

of kept me honest about who I really am," he

says. "He's like a little version of myself."

In Grossi's time with Fred, a larger realization

has crept into the frame—a truth

about himself and the world that he might

have missed had that mangy creature not

trotted into his compound seven years and

7,000 miles ago.

"You get let down a lot in life, especially

the older you get. People disappoint you, but a

dog is always there," Grossi says. "And they're

stubbornly positive, they'll always find a

reason to be excited. All he wants is to just be

there. I really value that."

tweet a photo or video to our kids of him doing

one of our favorite things: sprinting for the

neighbor's mailbox as the first stop on his

walk, digging up his blankets so he can cuddle

under them for a nap, or zonked out on

our bed. As empty nesters, we need a way of

connecting the kids back to us at home—and

as it turns out, Sparky is the conduit through

which we share our affection for one another.

That dog has been the one constant for us

through the years and all the changes that

come with a growing family. I often think

of my father-in-law when I'm hanging with

Sparky, and I'm thankful for the gift he gave

us—whether I was a willing recipient at the

time or not. He knew something I have come

to learn: The right dog, well loved, bonds a

family like nothing else can.

Every night, I let Sparky out, and he stands

on the patio looking into the dark distance,

his silver coat rinsed white by moonlight, the

wind ruffling the fur on top of his head.

Lately, in spite of the toll aging has taken,

Sparky looks more thoughtful and happy,

like he's running through his memories of

the past, wondering as I do what the kids

are doing and where the time has gone. He's

begun to stay out there longer, and sometimes

I have to go bring him back inside to go to bed.

"Do you think he's confused?" my wife

asks me. "Not a bit," I tell her.

WHERE TO BUY

Aether Apparel

aetherapparel.com

Arc'teryx

arcteryx.com

ASOS

asos.com

Astral

astraldesigns.com

Billykirk

billykirk.com

Birdwell Beech

Britchesfor Todd

Snyder

toddsnyder.com

Bonobos

bonobos.com

Burton

burton.com

Dan Ward

danwardwear.com

Everest Isles

everestisles.com

Faherty

fahertybrand.com

Gap

gap.com

J.Crew

jcrew.com

Kit and Ace

kitandace.com

Krammer & Stoudt

krammer-stoudt.

com

Lands' End

landsend.com

Levi's

levi.com

Michael Kors

michaelkors.com

Moore & Giles

mooreandgiles.com

Nautica

nautica.com

Original Penguin

originalpenguin.

com

Orlebar Brown

orlebarbrown.com

Outerknown

outerknown.com

Pangea

pangeaman.com

Patagonia

patagonia.com

Raleigh Denim

Workshop

raleighdenim

workshop.com

Red Wing Heritage

redwingheritage.

com

Saturdays NYC

saturdaysnyc.com

Smith

smithoptics.com

Sunspel

sunspel.com

2(X)ist

2xist.com

United By Blue

unitedbyblue.com

Vans

vans.com

Vuori

vuoriclothing.com

Zachary Prell

zacharyprell.com

MEN'S HEALTH Vol. 32, No. 6 (ISSN 1054-4836), is published 10 times per

year (monthly except for January and July) by Rodale Inc., 400 South 10th

St., Emmaus, PA 18098–0099; (800) 666-2303. Copyright 2017 by Rodale

Inc. All rights reserved. In U.S.: Periodicals postage paid at Emmaus, PA,

and at additional mailing offices. Postmaster (U.S.): Send address changes

to Men's Health Customer Care, P.O. Box 3064, Harlan, IA 51593-0128. IN

CANADA: Postage paid at Gateway, Mississauga, Ontario; Canada Post

International Publication Mail (Canadian Distribution) Sales Agreement

No. 40063752. Postmaster (Canada): Send returns and address changes

to Men's Health magazine, P.O. Box 927, Stn Main, Markham ON L3P 9Z9

(GST# R122988611). Subscribers: If the postal authorities alert us that

your magazine is undeliverable, we have no further obligation unless we

receive a corrected address within one year.

MensHealth.com / JulyAugust 2017 135
---
MEN'S HEALTH

I C O N

Cory Richards

THE RENOWNED CLIMBER LOOKS BACK—NOT DOWN!—

ON HIS WILD LIFE SO FAR. / BY TOM FOSTER

M

ountaineer, National

Geographic

photographer, and

Eddie Bauer athlete

Cory Richards, 35,

is celebrated for such

exploits as summiting a 26,000-foot peak

in the dead of winter and Snapchatting an

Everest ascent (without extra oxygen). He's

endured homelessness, an avalanche, and

more. We caught up with him at sea level.

MEN'S HEALTH: Tell us a lesson

from the mountains that

helps back in civilization.

CORY RICHARDS: I learned this

from an alpinist named Barry

Blanchard when I started to do

bigger climbs: "Look at each

piece of the climb as something

else you've already done." So

walking up from base camp on

the Tibet side to advanced base

camp—that's your first backpacking

trip. Just little things

you keep building on. Then

you're not focusing on getting

to the goal. Break down the

expectation that you're going

into business to be a billionaire

and start Uber. It should be: "I

have an idea, but first I need to

learn what an app really is."

Does that work for fitness?

All you can do, all any of us

could do, is what's on the schedule

right now. That's how people

get fit. They go to the gym today.

Through the aggregation of that

action, they transform their

bodies. Stop hoping to be better

than you are. If you go to the

gym every day, you will change

with time.

You survived an avalanche

but suffered from PTSD, drank

heavily, and then wrecked

a marriage, a sponsorship,

and a business. Lessons?

No amount of success or money

or desperation or depravity will

allow you an escape from your

issues. No amount of drugs,

sex, affection. All of the issues

remain with you. All of it is a

mask. The harder you try to

cover up your issues with ego,

with clothing, with money, the

more vacuous you feel in the

absence of those things, because

those issues are fighting—

fighting so hard to be dealt with.

What can a guy do?

If you say, "I'm insecure," that's

actually confidence. If you say,

"I'm nowhere on this path,"

you're actually getting there. It's

not that putting yourself down

means you're somehow good,

but that humble acknowledgment

of your place in this path

is indicative of engaging with it

and being on that journey.

On your expeditions, you

like to immerse yourself in

the local culture.

The big lesson is to be exposed

to otherness. Make an effort to

go meet a transgender person.

Actually engage with something

that scares you. So many people

have this vitriolic hatred of

Islam. Sit down with a Muslim

person, what happens? Oh—

they want to feed their families,

they want a good job. The god

stuff goes out the door.

So stop being afraid?

Flipping fear into curiosity

is a gift. And curiosity feeds

education and answers questions.

There are many amazing

animals, and we're just one of

them. The human primate is

one of the craziest, coolest, most

magnificent animals on the

planet. We're so fascinating.

You were homeless as a teen.

How did that affect you?

I challenge people to stop the

next time they see somebody

picking out of a garbage can and

change their perspective from

"addict, failure, misfit, homeless,

scary" to "human animal,

primate, scavenging, foraging,

survival." When you see it from

a pragmatic stance, it will incite

empathy. They are an animal

foraging. Suddenly you're like,

"Oh. I don't have to judge them

anymore. I can let that go."

Mark Stone/Stone Photography

136 MensHealth.com / JulyAugust 2017
---
IS THIS WHERE YOU

USUALLY SHOP?

With typical airline credit cards, you only earn

double miles on stuff you buy from that airline.

Switch to the Capital One ® Venture ® card and

earn unlimited double miles on every

purchase, everywhere, every day.

Comparisons are based on major airline credit card rewards terms published online as of April 20, 2016.

Credit approval required. Offered by Capital One Bank (USA), N.A. © 2016 Capital One.
---
TRAILBLAZER

The light beer that launched the category. Brewed for more taste. Just 96 calories.

MILLER LITE. HOLD TRUE.

©2017 MILLER BREWING CO., MILWAUKEE, WI

av. analysis (12 fl. oz.): 96 cals, 3.2g carbs,