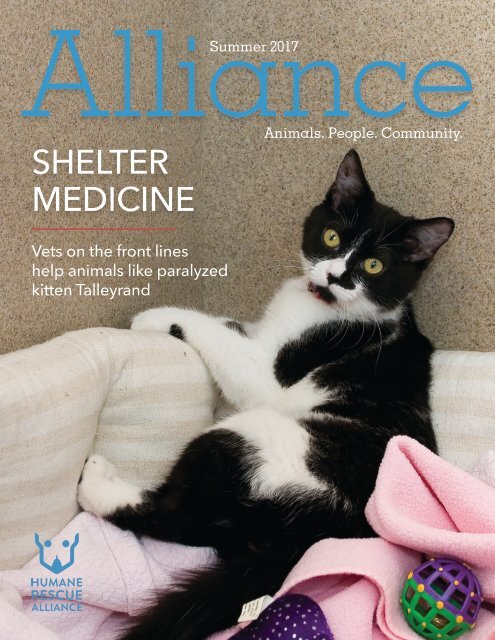 Alliance Magazine Summer 2017
Create successful ePaper yourself
Turn your PDF publications into a flip-book with our unique Google optimized e-Paper software.
Alliance

Animals. People. Community.

SHELTER

MEDICINE

Summer 2017

Vets on the front lines

help animals like paralyzed

kitten Talleyrand

ALLIANCE

1
---
LETTER FROM THE PRESIDENT AND CEO

Dear Friends,

Editor: Pam Townsend

Cruelty/Neglect Reports:

202-723-5730, press 1

Cruelty reports accepted 24 hours a day.

Animal-Related Emergencies:

202-576-6664, press 1

Main Number: 202-723-5730

Adoptions (New York Ave.):

202-727-5494

Adoptions (Oglethorpe): Ext. 503

Behavior and Training: Ext. 236

Development: Ext. 315

Finance: Ext. 326

Media Inquiries: Ext. 267

Special Events: Ext 325

HOURS AND LOCATIONS

71 Oglethorpe Street, NW

Washington, DC 20011

Adoption Hours: 12 p.m. – 7 p.m. daily

Closed for adoptions on Mondays.

1201 New York Avenue, NE

Washington, DC 20002

Adoption Hours: 12 p.m. – 7 p.m. daily

Closed for adoptions on Mondays.

Stray animals are accepted

24 hours a day at New York Ave.

BOARD OF DIRECTORS

Roger Marmet...................Chair

Jay Timmons......................First Vice President

Lisa LaFontaine................President and CEO

Amy Meadows..................Second Vice President

Gwyn Whittaker..............Secretary

Hon. Mary Schapiro......Treasurer

Theresa Fariello...............Vice President

William Herman..............Vice President

Gregory Riegle.................Vice President

Shelter medicine is a unique profession that is quickly becoming

one of the most exciting and desirable destinations for

veterinarians. While most veterinarians are following a life-long

dream to care for animals, shelter veterinarians have unique

opportunities to practice in a broad range of areas above and

beyond typical medicine and surgery. From preventive medicine

and infectious disease control to veterinary forensics, emergency

care, and public health, shelter veterinarians must be able to

adapt to the ever-changing needs of a shelter environment and

provide innovative solutions to challenges not seen in most

private practices.

Veterinarians who choose to work in animal shelters are often on

the forefront of animal care, and tackle the difficult challenges

faced when treating animals from many different backgrounds, geographic locations,

and varying levels of socialization. I am honored to work with such a talented, caring, and

compassionate group of professionals.

Nowhere is that more evident than at the Humane Rescue Alliance (HRA). We currently

have a chief medical officer, four staff veterinarians, two part-time relief veterinarians, 10

veterinary technicians, and three client services representatives. They touch—and often

save—the lives of more than 16,000 animals a year. Yes, they administer vaccines. Yes,

they treat routine parasite infections. And, yes, they prevent a new generation of homeless

animals from being born by conducting spay and neuter surgeries on an almost daily basis.

But that is just the tip of the proverbial iceberg.

As in any veterinary practice, our medical professionals diagnose and treat a wide range of

health issues, from eye and ear infections to arthritis and cancer. They set broken bones,

amputate limbs that cannot be repaired, pull decayed teeth, and remove foreign objects

from stomachs. Unlike their colleagues in private practice, they sometimes face outbreaks

of life-threatening diseases such as parvovirus. They provide intensive, round-the-clock

care for the victims—saving an incredibly high percentage of them—while helping prevent

spread of the disease among other shelter residents.

HRA veterinarians employ both cutting-edge technologies and ancient approaches to

medicine, as in the case of a paralyzed kitten named Talleyrand, who can now walk thanks to

acupuncture treatments. And they are often presented with unique challenges that require

creative solutions to unusual problems. Take the example of Free Willie, a three-toed box

turtle surrendered to HRA when his owner could no longer care for him. Our veterinary staff

discovered that Willie had two complete fractures of his bottom shell. They stabilized the

fractures (which can take 3 to 4 months to fully heal) with flat picture frame hangers and

super glue and later added hooks and wires, making sure the hardware was thin enough to

not drag on the ground. Treated with antibiotics and pain medication, Willie stayed with us

until he was ready for transfer to a rescue organization.

Nina Benton

Steven Bralove

Priscilla Clapp

Saone Crocker

Pamela DeLoach-Jupiter

Jackie Dobranski, DVM

Louie Dweck

Colleen Girouard

Anissa Grossman

Leslie Harris

William Harrop

Joseph Howe

Kenton Keith

Erika Kelton

Betsy Marmet

Matthew Parker, MD

Laird Patterson

Susan Ridge

Robert Rosenfeld

Hon. Carol Schwartz

Andrew Weinstein

Charles Weir

Jean Whiddon

Drew Willison

Jeff Wilson

Lois Godfrey Wye

Shelter medicine involves more than just veterinary staff. These professionals share their

expertise with and serve as role models for many animal caregivers, who also contribute to

animal health through their dedicated care of shelter residents and may aspire to become

vet techs. They are fundamental to the shelter medicine program.

All of us who care about animals owe a great debt of gratitude to the men and women who

pursue careers in shelter medicine. They do it not for the glory or the easy hours. They do it

because they care so deeply – particularly for the animals who are temporarily homeless,

and to whom we therefore bear an extraordinary responsibility.

2 ALLIANCE
---
PARALYZED KITTEN

WALKS AGAIN

By Dr. Meg Hamilton

One day in early December, a Good Samaritan heard noises

coming from a storm drain and called the Humane Rescue

Alliance (HRA). There, one of our Animal Control Officers

discovered a tiny 1.8-pound kitten who seemed unable

to move her hind legs. X-rays revealed that her back had

been broken by her fall, causing paralysis of her lower body.

Not only was the kitten, who we named Talleyrand, unable

to move or even feel her hind legs, she also was unable to

urinate on her own, requiring that her bladder be manually

expressed several times daily.

At first glance, her future seemed bleak. A phone consult

with a veterinary neurologist gave Talleyrand a guarded

to poor prognosis for return to function. But because she

was otherwise healthy and we were managing her pain

associated with the fracture, I decided that she would be a

good candidate for veterinary acupuncture.

Veterinary acupuncture has been shown to be successful—

sometimes even more successful than surgery—in returning

a paralyzed animal's function after a traumatic injury. And not

only is it a non-invasive and far less expensive option than

surgery, acupuncture can be started up to two months after

the injury and still reverse the paralysis while surgery must be

performed within a much shorter period of time.

Continued on Page 4

ALLIANCE

3
---
As a graduate of the Chi Institute of Chinese Medicine in Reddick, Florida,

where I completed the Small Animal Acupuncture Training Program, I have

experienced firsthand the benefits of treating patients with both Western

and Eastern medicine. While at HRA, I have used acupuncture to treat many

shelter residents with a variety of medical conditions, including torn ligaments,

allergies/itchiness, anxiety, prolapses, arthritis, and various paralytic injuries.

My hope for Talleyrand was to help her regain feeling and movement in her

hind end and her ability to urinate and defecate on her own with full continence.

Treatment involved frequent acupuncture sessions (almost daily in the

beginning) and electro-acupuncture treatment featuring introduction of a mild

electric current to stimulate the nerves and muscles, increase circulation and

blood flow, and manage pain. Each treatment lasted about 30 to 40 minutes.

Talleyrand responded immediately and could feel her hind toes after one

to two acupuncture sessions although she still could not move them. After

about 10 days she was able to urinate on her own and was responding with

small movements when we squeezed her toes. After a month she was kicking

her hind legs and spreading her toes. From there it was all uphill in terms of

her continued improvement, including flicking her tail, standing, walking, and

then eventually running. The day she stood up on her own was a cause for

celebration! And with each successive accomplishment we knew Talleyrand

would live a happy life.

"

Veterinary

acupuncture has

been shown to be

successful—

sometimes even

more successful than

surgery—in returning

a paralyzed animal's

function after a

traumatic injury."

"

4 ALLIANCE
---
Talleyrand's prognosis is excellent. She has a permanent curvature to

her spine and the balance in her hind end is not 100 percent due to her

vertebral fracture and spinal cord injury, but she is a happy and healthy

kitten with a big personality!

Talleyrand was recently adopted by a veterinary technician who

can follow up with her future care, including periodic acupuncture

treatments. She may experience intermittent setbacks in her comfort

and mobility throughout life, but with continued acupuncture and

pain medication if/when needed, those setbacks should be limited

and fixable. She is truly a testament to the healing power of veterinary

acupuncture!

ALLIANCE 5
---
VETERINARIANS' NOTEBOOK

When most people think about shelter medicine, they think of vaccinations, treatment of parasites, and spay/

neuter surgery. And it's true that veterinarians at the Humane Rescue Alliance (HRA) give a lot of vaccinations—

some 9,000 a year—and treat hundreds of animals for coccidia; giardiasis; and a variety of worms, including

potentially deadly heartworms. They also spay and neuter nearly 7,000 animals a year.

But while "routine" care takes up the largest percentage of their time, HRA veterinary staff—are faced with much

more unusual cases. Our four staff veterinarians share some recent interesting examples below.

hernia through his diaphragm was about four centimeters

wide and that most of his liver, his gall bladder, and all of

his small intestines were herniated into the chest. We gently

placed these organs back into their normal positions in the

abdomen, closed the hernia, and made sure the rest of his

abdomen was free of abnormalities.

Nick recovered from surgery well. While most patients

require oxygen support for at least 24 hours, his respiratory

rates returned to near normal almost immediately, even

while breathing room air! Follow-up radiographs confirmed

the surgery's success, revealing clearly in black and white

that Nick's lungs now had room to expand normally.

Nick spent the next week recovering in the Medical Center,

receiving post-op medications and good old TLC. And just 10

days after surgery, he was medically cleared, adopted and

moved to his forever home.

Dr. Julia Petrovitch

HERNIA REPAIR LETS CAT BREATHE EASILY

Nick Furry was surrendered to the Humane Rescue Alliance

in early February 2017. During his first few days with us,

animal care staff noted that the 1-year-old tabby had

an increased respiratory rate and his breathing seemed

labored at times. Our medical team was alerted and

arranged for diagnostic radiographs (X-rays), which revealed

a severe diaphragmatic hernia, which is a hole in the

diaphragm (the muscle separating the chest and abdomen).

Larger hernias can allow multiple abdominal organs to

move into the chest cavity. This organ "relocation" interferes

with lung expansion, preventing the afflicted animal from

taking a full breath and getting sufficient oxygen to the

blood.

It was clear to us that we had only two options: to humanely

euthanize Nick (which is commonly done in such situations)

or attempt to fix the hernia via surgery. Since Nick's clinical

signs were relatively mild in comparison to other patients in

the same predicament, we elected to attempt surgery. We

knew that it would be risky but wanted to give this young cat

a chance at a healthy life.

So, on Valentine's Day, Dr. Baker and I scrubbed in and got

to work. Upon opening Nick's abdomen, we noted that the

FAST ACTION SAVES PUPPY'S LIFE

Dublin's story—at least what we know of it—began on the

streets of DC in early March, when he was found running at

large wearing a cone of shame and with a bandage dangling

from his left front leg. The Animal Control Officer scooped

up the friendly 6-month-old puppy and transported him to

the Humane Rescue Alliance's New York Avenue Adoption

Center.

There, Dr. Baker conducted an initial examination of Dublin.

The most obvious issue was his severely swollen left front

paw, which was about three times the size of the right one!

He also had a deep laceration above the back of his left

"wrist" and multiple small cuts on both the top and bottom

of the paw. Dr. Baker cleaned and rewrapped Dublin's paw

and started him on antibiotics and pain medication. Given

the severity of his injury, she then had him transferred to our

Medical Center for continued treatment.

I checked Dublin the following day and found that his injury

had worsened significantly. The paw, which had a strong,

unpleasant odor, had become even more swollen and the

tissue was now a very unhealthy grey/lavender color. While

palpating the paw and forelimb, I found that the tissue above

the laceration on the back of his leg was extremely hot to

6 ALLIANCE
---
the touch; however, the paw and tissue below the laceration

was ice cold. I checked Dublin's neurological reflexes on the

affected limb and noted that he did not react at all when I

pinched his toes. This neurological deficit, combined with

the rapid worsening of the paw's appearance, made me very

concerned that Dublin was at high risk of developing a life

threatening systemic infection (septicemia). I consulted with

colleague Dr. Hathaway and we decided that amputation

of his left forelimb, while extreme, would save his life by

stopping the spread of the infection. Dr. Hathaway then came

in on her day off and performed the procedure.

Dublin recovered from his surgery without any issue and,

thanks to his wonderful personality, he quickly found his

forever home where he has adjusted easily to life as a "tripawd."

Dr. Elysia-Marie Branson

GIVING THE GIFT OF PAIN-FREE EARS

Fiona, a 3-year-old female dog came to the Humane Rescue

Alliance in January from a partner shelter in Florida. While

conducting her initial examination, I discovered that not only

was an active infection in both ears causing Fiona pain, but

both her ear canals were completely occluded with tissue,

which occurs when infections go untreated for an extended

period of time.

In cases like Fiona's, when ear infections have gone on for so

long, standard medication is no longer a possibility because

the drops or ointment cannot penetrate past the overgrown

ear canal. Her only option for pain- and itch-free ears was a

surgical procedure called a total ear canal ablation, or TECA

for short, which involves removing the entire ear canal and

bulla (aka the inner ear).

Donations from generous donors enabled us to arrange

for a board certified surgeon to perform this procedure.

An unavoidable side effect was the loss of Fiona's hearing;

however, it was likely already compromised prior to the

surgery. The procedure was successful and Fiona was

adopted shortly after! Today, she's enjoying an itch- and

pain-free life with her adoring human companions—and a

new name (Mollie).

Dr. Kendra Baker

NEW YEAR BRINGS SECOND CHANCE TO

EMACIATED DOG

In late December, on a cold and snowy night, two Good

Samaritans found a 10-month-old American bulldog

abandoned in a dog crate in Northeast DC. He was little

more than a pile of skin and bones, lying in a giant puddle

of urine and feces, and as close to frozen as a living dog

could possibly be. The dog's rescuers immediately called DC

Animal Care and Control, and an officer was dispatched to

the location.

When he arrived at our New York Avenue Adoption Center,

the dog, who we named Sparky (in the hope, perhaps, that

the spark of life in him was strong enough to help him survive)

tipped the scales at an astonishingly low weight of just 54

pounds. His internal body temperature was too low to even

register on a rectal thermometer. He required intense medical

care in the form of heat support, IV fluids to rehabilitate him

from shock, and various blood tests to measure his blood

sugar, level of anemia, and level of dehydration. Uncertain of

his chances, our overnight staff nevertheless watched over

him and tended to him all night during his sleepover in our

makeshift ICU.

These efforts paid off, and the next morning Sparky finally

had a "readable" body temperature and stood on his own for

the first time since his arrival! He received round-the-clock

care for 2 straight days, followed by 7 more on an intensive

re-feeding diet and TLC regimen.

On January 6, a volunteer for American Bulldog Rescue

picked Sparky to transport him to his new foster home in

Pittsburgh, where he would continue his recovery. We were

thrilled to learn that Sparky now weighs 85 pounds!

Sparky is currently available for adoption through American

Bulldog Rescue and is looking forward to a happy life in

a forever home! You can learn more about him on their

website, americanbulldogrescue.org.

Dr. Jackie Hathaway

ALLIANCE

7
---
ENTROPIAN SURGERY GAVE MINIMIS A WHOLE

NEW LOOK--AND OUTLOOK--ON LIFE.

FOCUSING ON EYE ISSUES

By Pam Townsend, Media Coordinator

If you've ever had an eyelash, a grain of

sand, or a speck of dust caught in your

eye, you know how painful even such

tiny, temporary, objects can be. A variety

of chronic conditions can also cause

discomfort and even blindness. Animals,

too, can suffer from painful and potentially

vision-destroying eye problems.

Take the case of Minimis, for example. This

4-month-old puppy arrived at the Humane

Rescue Alliance (HRA) last October

following the eviction of her owner.

When veterinary staff examined Minimis,

they discovered that she had entropion,

a fairly common condition in which an

animal's eyelids roll inward, allowing the

eyelashes to rub against the cornea and

irritate it. At the very least, the condition is

uncomfortable and in some cases it can

cause painful corneal ulcers and even

permanent scarring.

After ruling out any underlying causes

or irritants, HRA veterinarians contacted

veterinary ophthalmologist Dr. Nancy

Bromberg, who performed surgery on

Minimis in late December. Less than 2

weeks later, Minimis's eyes were bright and

shiny for perhaps the first time in her life!

Given a clean bill of health, Minimis was

enrolled in HRA's Prison Pups Program at

Patuxent Institution, where she lived with —

and learned basic manners from — inmates

under the guidance of HRA Behavior and

Training staff. Minimis graduated from the

program in March and was adopted shortly

thereafter.

8 ALLIANCE
---
MING & BAMBINA

Ming and Bambina arrived at the Humane Rescue

Alliance in the spring of 2016. Although they were

each found separately by different people on

different dates, they both faced similar challenges.

They were very young—about 4 weeks old—when

they were found and they had a common congenital

condition called eyelid agenisis. One or both eyelids

of cats with this condition fail to develop properly

and are therefore unable to close completely; this

causes the eyes to become dried out, leading to

irritation and possibly infection. Sometimes the eyes

themselves are abnormally small. Depending on

the severity of the condition, surgical correction is

typically advised to prevent continual eye irritation.

Ming and Bambina were too young for surgery

of any kind when they came to HRA but, like all

very young kittens, they needed the care of an

experienced foster guardian until they were. Ashley

Young, HRA transfer coordinator, was happy to take

on that responsibility.

"I was immediately drawn to Bambina," Ashley

explains. "She was so dirty and crusty and just so

little when she arrived. I had her scheduled to go to

a rescue but when she tested positive for FIV, they

declined to take her. I was so sad; I went back to the

shelter the next day and took her home myself to

foster. Soon afterward, I found out about Ming and

thought wouldn't it be great for Bambina to have

a sibling! They ended up being the best of pals.

Bambina was shy and introverted while Ming was

rambunctious and fearless. They were perfect for

each other!"

In addition to providing basic kitten care, Ashley

regularly applied warm compresses to sooth their

eyes and remove any ocular discharge.

When they were each about 6 months old,

Bambina and Ming had the first of several surgeries

to reconstruct their eyelids. One of Ming's eyes

required three surgeries while the other was

declared a success after just one. Bambina needed

three procedures on each of her eyes.

While Ming and Bambina will never look "ordinary,"

their unique appearance didn't stop them from

finding a forever home—together! Today, they are

happily enjoying life in a loving home with two other

feline companions.

"

Bambina was shy and introverted

while Ming was rambunctious

and fearless. They were perfect

for each other!"

"

Ashley Young, HRA transfer coordinator

ALLIANCE

9
---
FASHION FOR

11TH A N N UA L RU N WAY SHOW

Photo by Vithaya Phongsavan Photo by Moshe Zusman

Photo by Moshe Zusman

Photo by Vithaya Phongsavan

Photo by Moshe Zusman

RAISES

DOGSROCKED

theCATWALK

On Saturday, April 8, more than 60 Humane Rescue Alliance

(HRA) ambassadors and their four-legged companions took to the

runway sporting this season's hottest trends at the Fashion for

Paws 11th Annual Runway Show. With more than 900 guests in

attendance, the event brought in $400,000 to support the more

than 60,000 animals HRA cares for each year. The 2017 event

was held at the Grand Hyatt Washington, and we welcomed

celebrity host Carson Kressley to reign over the festivities.

Joining Carson and our ambassadors on the runway were a few

adoptable dogs who soaked up attention from event guests.

HRA ambassadors competed in a friendly, 12-week fundraising

campaign, raising a minimum of $3,000 each to secure their

spot on the runway. The 2017 Model Washingtonian of the Year,

Jessica Abrahams, raised an impressive $26,315; the Model First

Runner-Up, Natalie Kahla, raised $21,905; and the Model Second

Runner-Up, Deb Sengupta, raised $13,980. We are truly grateful

for the support of these incredible individuals, and all of our

fundraising ambassadors. We cannot thank them enough for

their commitment and dedication to HRA.

Aram, Katya Avdeev, Lilly Pulitzer, Lynn/Louisa, Studio D'Maxsi,

and Undeniable Boutique were our women's clothing sponsors,

while our male models were dressed by CityCenterDC's luxury

retailers Arc'teryx, Paul Stuart, and Zadig & Voltaire. Ambassadors

had perfect hair and makeup, graciously provided by PR at

Partners. All of the pups looked stunning in signature doggie

couture by Mallory DeBenedetto, Anthony Rubio, and Emily Abril.

They were well taken care of thanks to the team from Anytime K9,

Spot On Training, Power City Pups, and HRA's own volunteers.

The always creative Design Foundry once again wowed us,

this time with a modern geometric-inspired theme. Thanks to

Quince Imaging, John Farr Lighting, and Maryland Sound, all of

which donated a portion of their services, the hotel ballroom was

transformed into a spectacular space. We were honored to have

Audi return as a Top Dog sponsor. EVP and COO Mark Del Rosso

provided remarks and guests enjoyed exploring a luxury car on

display during the reception.

Thanks to our Co-Chairs, Steering Committee, ambassadors,

and the more than 100 volunteers who spent their

evening helping us make the Fashion for Paws

11th Annual Runway Show the best one yet!

PAWS

$400,000

Photo by Vithaya Phongsavan Photo by Moshe Zusman

Photo by Moshe Zusman

Photo by Vithaya Phongsavan

Photo by Moshe Zusman

www.fashionforpaws.org

F4P_2017_full_page_ad.indd 1

4/17/2017 12:08:54 PM

10 ALLIANCE
---
IN HONOR AND MEMORY

Tributes listed here were received January 1, 2017 through April 15, 2017.

HONORS

Abby

Kendall Toniatti

Alexa and Pepe

Rosemarie McManus

Alli Schultz and Greg Matlesky

Kathy Matlesky

Allie Swislocki

Kate Bukowski

Amy Fauth

Hannah Lantos

Anissa Grossman

Michelle Cooper

Benjamin Szczurowski

Kristen Zarenko

Betsy Holler

Margaret Hobbs

Bev O'Free

Anthony, Patti, Governo,

and Marcello

Brian and Sarah

Hilary Waldron

Buster and Luch

Scott Englert

Charles D. Weir

Gregg Weir

Charlotte Farrell

Corey Farrell

Chris Colwell and Carianne

Vanhoozer

Shikha Parikh

Clare Searby

Emma Zayer

Corey Williams

Janice McLean

Craig Doheny

Fulcrum Properties Group, LLC

Daniela Portnoy

Alexander Avanesyan

Diane Liebman's 70th Birthday

Sharon Bates

Reina Lerner

Gay Pirozzi

Ellen Pollack

Sharona Sapoznikow

Dorothy Webb

William Wright

Eli Podell

Arden Hellmann

Eliot Bilski

Ann Kete

Ella Berry Joshi

Kelly Abramson

Petya Koeva

Ellie

Joelle Seligson

Eve Murdock

Rebecca Gross

The Gattuso Family

Sigrid Hepp-Dax

George, Maurice and Lucy

Corey Henry

Greg and Ann Kutrow

Eric Eversmann

Harley and Rizzo

The Sportman Family

Henry Patrick

Stewart Patrick

Jake and Hallie Munsat

Richard and Lori Alonso

Michael Casson

Ashley Chertkof

Neil Cowie

Jordan Elias

Jack Finglass

Irene Gutierrez

Alexander Hirtle

Myer Krestnbaum

Lloyd and Rori Malech

Dana and Parker Margulis

Lisa Morenoff

Steve Munsat

Jill Rosenstock

Judith Selis

Jamie Matthews

Jerry Tan

Jane Kortan

Alison Knickerbocker

Janet McGrath

Peter McGrath

Jen Kast

Benjamin Freas

Jill Sayenga

Gary Bowden

John C. Christiano

Priya Chatterjee

Dr. Joyce Schantz

Alice Miri

Julie Conway

David Hawkings and

Betsy Wright Hawkings

Julie Widra

Lauren Brown

Kai Castillo

Monique Sanfuetes

Karen Tustin

FINRA

Kathleen Gregory

Judy Frels

Kathryn McCullough

Brenda Freeman

Doreen Lucas

Clara C. McCullough

Kevin Dolliver and Lawrence Coig IV

Stacey Barton

Kim Katzenbarger

Scott Katzenbarger

Kim Nelson and Kevin Cadden

Linda Miller

Kim Walker

Ana Guardado

Kimberly Katzenbarger

Douglas Katzenbarger

Kelly Katzenbarger

Lainie and Noah

William Mallison

Laura Elmore Hale

Rebekah Smith

Lauren Facemire

Cassidy Jones

Lauren Rarick and Spencer

Heggers

The Frizzell-Leiderman Family

Leshu Torchin

Evan Torchin

Liberty Kessler

Janet Hodur

Sydney Swesnik

Lindsay Donahue

Alena Geffner-Mihlsten

Lindsey Folden

Sandra George

Lisa and Mary Verikios

Christopher Hensley

Louie Dweck

Harlan Levine

Lucky and Ashley

Karen Durkine

Makiya McCall Donohue

Chester McCoy

Marc Shepanek

Covert Beach

Marli Pasternak

Alex Pasternak

Martha Birdseye

Kimberly Brown

Matt Qureshi

Shauna Smith

May

Michael and Linda Foxworth

Melissa Smith

Christopher Hensley

Michele Wolin

Jessica Abrahams

Missy

Harry Teter, Jr.

Nick and Eduardo

James Fletcher

Nick Galbraith and Eduardo

Labanca

Meghan McGowan

Molly Polen

Nickleby and Chuzzelwitt

Thayer Scott

Oliver

Constance and Alan Burke

Rebecca Stauber

Rebecca Sneddon

Roberta Youmans

Jessica Abrahams

Roger and Betsy Marmet

Robert and Kathleen Marmet

Rosa Zielinski's Bat Mitzvah

Kavita Berger

Rachel and Steven Braun

Richard and Anne Brown

Melissa Kahn

Victoria Kahn

Judith Meschel

Dona Teplitz

Eric Thiel

Roy and Pat Ruhe

Christopher Hensley

Saks

Gloria Warren

Sarah Blackwood

Stephen Schembs

Sarah Kliff and Daniel Fried

Jia Lynn Yang

Sarah Stec and Brian Hollan

Amy Hirakis

Shira Pilarsky

Regina Moore

Skates Katz

Rebecca Katz

Naomi House

Jennifer Halbert

Sophie Abrahams

Jessica Abrahams

Sophie Greenstein

Amanda Cherrin

Stuart Schooler

Rachel Davis

Layne Weiss

Susan Smith

Kimberly Brown

Tallyrand

Susan Roehmer

Tony Harris

Melissa Harris

Travis and Olive

Lauren Becker

Ty and Domino

Peter Shiller

Vicki Shteir-Dunn

Ursula Banzhaf

Wonder

Thomas and Anne Whalen

MEMORIALS

Alan Teitzman

John Angueira

Alan Teitzman

Martin Baldessari

Gary Regan

Herbert Russell

John Seal

Craig Ziskin

Albert J. Dobson and Larry Francis

Gina Dobson

Alice

Jonathan McIntyre

Amber, Squirt, Ellie, Sweetie, and

Jackson

Gary Sikora

Andre Suena

Richard Nelson

John Schnitker

Vera Kurlantzick

Sarah Prosser

Jacqueline Ratner

Anne T. Phillips

Omar Bashir

Sandra S. Jackson

Robert and Brenda Sandler

Judy Siegelman

Julie Ziegler

Ash

Patricia Gross

B.J. Andrews

Celia Gainer

John Kester

Mary Lee Wilson

Donald and Jody Atha

Barnabas

Yonette Thomas

Beelzebub

Jen, Sarah, Erica, Erin, and April

Bertie

Christine Condon

Bonnie

Mary Lou Lou Soller

Bonnie's Beloved Dog

Delores Bushong

Brisco

Elaine Lamirande

Buford

Rhonda Carter

Caesar

Michael Buckley

Calie

Valerie Barton

Continued on Page 12

ALLIANCE

11
---
IN HONOR AND MEMORY Continued

from Page 11

Camellia

Jane Diven

Casey Eisman

Margery and Mel Elfin

Catherine Kady Beauchamp

Louis Davis

Chewy

Jody Magowitz

Cheyenne and Sushi

Judy and Gordon Marks

Chili Dog

Charlotte Lekakos

Chip

Margaret Pacy

Clancy

Caroline Whiteman

Clara

Robert and Hazel Kreinheder

Cleo

Lisa Kahalley

Coco

Heidi and Nate Johnson

Joe and Jodi McCarthy

Cupid and Pepper

Julius Genachowski

Dalai Lhasa Egeland Jorgenson

Alpa Davis

Daphne

Mary Lou Soller

Darby Farrell

Charlotte Lekakos

Dash

Gail Joice

Don Wright

Lee Monsein

Donna P. Thomas

Kristen Kornfeld

Robert Kurtz

Pamela Kurtz

Kathleen Smith

Lillie Tobash

Dooley

Kimberly Daniels

Douglas

Tina Conway

Dudley Yuknis

Christina Yuknis

Elby

Lynn Karcich

Eli Markman

Joshua White

Ellie

Amanda Hungerford

Richard Patch

Elvis

Megan Lewis

Emerson Laukhuf-Fitch

Maria Paula Elizondo

Emma

Sit-a-Pet

Debra Holing

Esther and Sam Pollack

Ilene Pollack

Esther Orr

Kimberlie Orr

Felix Santorineos

Karine Mauprivez

Ginger Kiefel

Lara Beasley

Gompers

The Cornell Family

Gracie Hickey

Karen Hamrick

Harden Everhar

April Linton

Helen T. Farr

Joel Popkin

Henry D'Casta

Amy Mazur-Liberman

Hillary Ann Harvey

Peggy Luebs

Holly

Phillis Payne

Honey Abrams

Adrienne Metil

Jack

Georgia Abrahams

Ken Haltenhof

James Werner

Janet Weed

Cecelia Greenspan

Sarah Pickrell

Marcy and Ed Berger

Ed and Deb Bloom

Hilary and Dough Durante

Martha Liggett

Jennifer Peterson

Carla Schraub

Janet Jacobs

Laidler Campbell

Jessica Cowan

David Wise

Lori Cooper

Jeff Ajulini

Katherine Gordon

Jet Scarborough

Chip and Linda Heartfield

Joan Colbert

Nancy Benco

Joan M. Ledbetter

Chiquita Briley

Jolie

Ruth Henderson

Joseph A. Wells

Carl Skillman

Juno

Carly Kostakos

Kailey

Elyse and Tim Force

Katie Foeman

Meryl and Leonard Levitz

Cathy McVey Palmer

Michael Newmuis

Wanda Daniels Paul

Kent Rogers

Rachel and Steven Smidt

Kimball

Susan and Jim Blumenthal

Kumeni

Kristin Caspar

Layla

Mimi Shieh

Lily Staffier

Charlotte Lekakos

Linda Burka

Lester and Georganne Needle

Thomas Ruple

Linnea Crouch

Diana Greenwood

Ms. Lloyd

Stacy Fraser

Louise

Michelle Bazie

Lucky

Lynn Darcich

Lucky and Boots

Naomi Garner

Lucy

Shanna Devoy

Lyle

Jody Magowitz

Madeline Galaso-Schwartz

Catherine Galasso-Schwartz

Magee

Darcy Lane

Maggie and Toby

Pamela Sorensen

Dr. Marjorie Hogan

Randy Angel

Matilda Fauth

Hannah Lantos

Matt Pomeranz

Marvin Bloom

Michael Roth

Katie Oakley

Minnie Haha

Elizabeth Emes

Molly

Christine Condon

Morgan

Krissi Jimroglou

Michael Travis

Nelli

Joseph Handelman

Nola

Dana Sullivan

Oren

John Jorgenson

Owen

Rachel Shorey

Paco

Steven Dean

Patricia Witt

Robin Witt

Patton

Meg Thompson

Patty Loyd

Jennifer Loyd

Paul Slater

Patti Ouellette

Piccolino

Sophia and Theo Allison

Pie Chart

Jody Magowitz

Polly

Sharon Bradley

Princess

Ronald Herbert

Radar

Delores Bushong

Raja

Deena Loeffler

"Rex" Moyer

Judy and Greg Lyons

Riggs

Amy Kawazoe

Robert and Alan Cruickshank

Nancy Hueper

Robert Emmett Byrne

Alexis Arieff

Paula Choate

Shannon Lewis

Constance and Troy Yesh

Shelly Livingston

Rocket, Xander, and Cyrus

Lynda Wright

Rosie

Andrea Hirsch

TICKETS

Rusty

Marlene Debole

Saba Calandra

Nancie Kondo

Sally

Melissa Aoyagi

Sassy

Era Dabla

Scout Swanner

Christina Benson

Seth Rich

Andrew Godinich

Hilary Keller

Seymour

S.L. Mills

Shantih

Charles Martel

Sheldon Fielman

Janet and Bill Dobbs

Victoria Duncan

Rick Morstein

William and Laura McManus

Shana Potash

Gene Roberts

Simon and Major

Deborah Jeffrey

Spike

Judith Hecht

ON SALENOW

Stan

Jordan Konig

Sweet Pea aka Nurse Cat

Mary Jane Cox

Tabitha

Christine Kurtz

Tae "Birdman" Bennett

Kathryn von Rautenfeld

Teaghan

Stacy Neidoff

Tess

Mary Bird

Timmy

Tina Conway

Patrick and Rosalinda Raher

Vader

Jill Goebel

Vicki's Dogs

Ursula Banzhaf

Virginia Honea

June Allen

William Wallace Hale

Keith Smith

Willie Stone Meinhard

Amy Jo Mazur-Liberman

Woodley

Jay Timmons

BENEFITING

THE

30th Annual

BARK

BALL

Masquerade

Saturday, June 17, 2017

Washington Hilton

1919 Connecticut Ave. NW

Washington DC

www.barkball.org

WEBSITE

FACEBOOK

BB_4.25_5.5_HRA_newsletter_NOW.indd 1

www.humanerescuealliance.org

www.facebook.com/humanerescuealliance

INSTAGRAM

TWITTER

1/10/2017 8:55:17 A

www.instagram.com/humanerescue

www.twitter.com/humane_rescue

15-WHSDC-0517-N