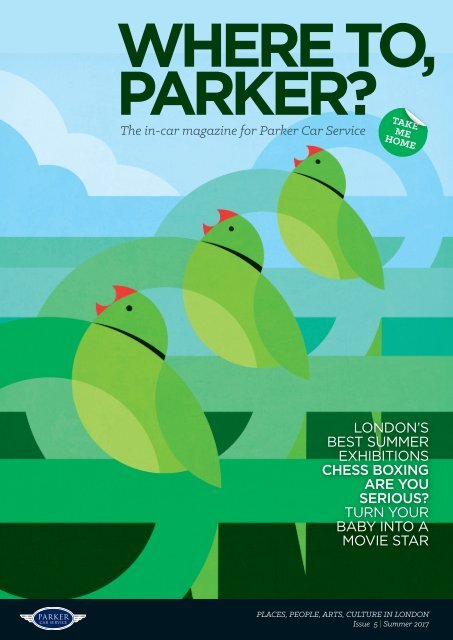 Where to, Parker. Issue 5 | Summer 2017
Issue 5: Summer edition of Where to, Parker, the in-car magazine for Parker cars. Showcasing the best of London
Issue 5: Summer edition of Where to, Parker, the in-car magazine for Parker cars. Showcasing the best of London
SHOW MORE
SHOW LESS
You also want an ePaper? Increase the reach of your titles
YUMPU automatically turns print PDFs into web optimized ePapers that Google loves.
WHERE TO,

PARKER?

The in-car magazine for Parker Car Service

TAKE

ME

HOME

lonDon's

Best summer

eXhIBItIons

CHESS BOXING

ARE YOU

SERIOUS?

turn Your

BaBY Into a

moVIe star

PLACES, PEOPLE, ARTS, CULTURE IN LONDON

Issue 5 | Summer 2017

Parker_Issue_5_Book.indb 2 29/06/2017 12:22
---
Book online, by app,

by phone or by email.

With 30 years of experience, we are the

simple, cost effective solution to all your

travel needs in and around London.

PARKER CARS

LONDON'S PREMIER

COMPANY

Saloon | VIP | Chauffeur | Estate | MPV | 5-8 seaters

16-seater minibuses | Wheelchair accessible | Hybrids

Fully electric | Airport shuttle

Parker Car Service

T: 020 8560 0000 | E: admin@parkercarservice.com

www.parkercarservice.co.uk

Parker_Issue_5_Book.indb 2 29/06/2017 12:23
---
welcome

On the cover: Surprise City Sounds

by Julia Allum, a winner in the

Prize for Illustration 2017 awards,

on display at the London Transport

Museum, WC2E 7BB, until Sept 3.

Editorial

Editor: Dominic Bliss

Twitter: @DominicBliss

Welcome

Art editor: Anthony Collins

www.antcollins.com

Printed by: 47g Print Consultants

19 Catherine Place, London SW1E 6DX

In these uncertain times it's

reassuring to know you can

rely on a great London minicab

service. There are now more

Parker Cars than ever serving

this great city, all staffed by some

of the very best and most polite

drivers you'll ever come across.

In this issue we have the

amazing story of Levi Roots, the

brains and the charm behind the

famous Reggae Reggae Sauce.

Levi started his business years

ago in his own kitchen and now

heads up a food and restaurant

empire worth well over £35

million. On page 24 you can see

an interview with him.

Also in this issue we have

articles on design (London's new

Design Museum), photography

(animals and humans, both

unclothed), sport (the bizarre

hybrid known as chess boxing),

art (babies in film posters), and

weird museums. Something for

everyone, then.

Enjoy your journey with

us today, and please take the

magazine home with you if you

like it.

Joe Polley

Partner, Parker Car Service

parker cars

Partner: Joe Polley

Operations manager: Ian Lowe

Where to, Parker? is published by

Parker Car Service.

Unit 3, Victory Business Centre,

Fleming Way, Isleworth,

Middlesex TW7 6DB

T: 020 8560 0000

E: admin@parkercarservice.com

www.parkercarservice.co.uk

Parker Car Service makes every effort to ensure

that editorial is factually correct at the time of

going to press, but cannot accept responsibility

for any subsequent errors.

Parker Car Service is not responsible for

unsolicited material.

Copyright Parker Car Service. No part of this

publication may be reproduced without the

written permission of the publishers.

Views expressed and products appearing in

Where to, Parker? are not necessarily endorsed

by Parker Car Service.

For more information regarding Parker Car

Service, visit: www.parkercarservice.co.uk

where to, parker? 3

Parker_Issue_5_Book.indb 3 29/06/2017 12:23
---
18

In this issue

6 London by day

New shops, shows, galleries and events.

8 London by night

New restaurants, bars, concerts and nightlife.

10 London news

18 Form and function

You need both of these attributes to design a

brilliant product. As evidenced by these wonderful

devices – at once beautiful and practical – on show

at London's new Design Museum.

24 The man behind the sauce

From prison to Dragon's Den to multi-millionaire

food magnate, Levi Roots is the ultimate rags-toriches

businessman. In this interview he reveals his

motivation.

28 Boxing clever

Discover the hybrid sport known as chess boxing

– a bizarre combination of cerebral tactics and

aggressive pugilism.

24

32 Catch your death of cold

The dancers who have posed naked on London's

nighttime streets.

4 where to, parker?

Parker_Issue_5_Book.indb 4 29/06/2017 12:23
---
Contents

"It was frequently very cold; it was usually

late; it was dangerous, illegal, exhausting,

and, of course, they're naked. Yet they still

said yes." P.32

28

32

36 Here, Kitty Kitty

The Natural History Museum's Wildlife Photographer

of the Year exhibition offers a glimpse into the secret

world of wild animals.

36

42 Stealing the show

Meet the baby who has now starred in E.T., Jurassic

Park, King Kong and Singin' in the Rain.

46 London villages

Where Auntie used to live – White City.

48 Meet the chauffeur

We talk to one of Parker Cars' lovely drivers.

50 Six of the best…

Weird museums in London.

42

where to, parker? 5

Parker_Issue_5_Book.indb 5 29/06/2017 12:23
---
GEt oUt MorE

London by day

All the best stuff to do

during daylight hours.

W14 9sd

One of West

Kensington's cutest

pubs has had a

makeover. The muchloved

Colton Arms

offers all-day food in

its cosy bar area, its

outdoor terrace, or its

glass conservatory.

Expect classic pub

grub alongside more

cosmopolitan cuisine.

Beware of tennis

balls flying over from

neighbouring Queen's

Club.

NW1 2BE

Discover how we humans connect with

nature through a new exhibition at the

Wellcome Collection called A Museum

of Modern Nature. Curators include

a shaman, a dairy farmer and a plant

scientist. Until Oct 8.

E20 2st

Blink and you'll miss it. Usain Bolt makes

his last international appearance when

the IAAF World Athletics Champs come

to the Queen Elizabeth Olympic Park

in Stratford between Aug 4 and 13. The

World Para Athletics Champs take place

just before, July 14 to 23.

W14 8UX

Quaff over 900 lovely beers, ciders and

perries (plus a few English wines) at the

Great British Beer Festival at Olympia

London, Aug 8 to 12. Expect to jostle

for space with lots of large bellies and

beards.

sE1 9tG

Even skinny art lovers

will feel well-upholstered

after viewing the Alberto

Giacometti retrospective

at the Tate Modern. Until

Sept 10.

6 where to, parker?

Parker_Issue_5_Book.indb 6 29/06/2017 12:23
---
lonDon DaYlIFe

E20 3Bs

Fans of Pac-Man, Asteroids and Space

Invaders should head for Four Quarters

East, the new retro video games bar that

has just opened alongside the canal in

Hackney Wick.

E16 1Xl

Over 200 different

breeds of dog will be

pawing and panting

at Eukanuba Discover

Dogs, a two-day dog

show at Excel London

from Oct 21 to 22.

Under 12s go free.

(Children, not dogs.)

Ec2a 4BH

It will be Nobu's first European hotel. A

new 150-room, five-storey building is set

to open any day now on Shoreditch's

Willow Street. Look out for the

cantilevered steel beams protruding from

the northern façade, giving the hotel "a

seemingly frayed edge".

Ec2r 8aJ

Nine restaurants, 252 bedrooms, a club,

a rooftop pool, a spa, a barbershop and

an "all-hours cocktail lounge"…

The Ned is a very cool hotel in the

former Midland Bank building in the City.

And that cocktail lounge is deep in the

former vault.

sE16 7pJ

Printworks is a new 6,000-capacity

music and arts venue. There are six

events spaces "arranged over multiple

levels with a maze of corridors and

rooms throughout which retain all

the original machinery and industrial

features". Expect some exciting shows

but don't be put off by the Rotherhithe

address.

where to, parker? 7

Parker_Issue_5_Book.indb 7 29/06/2017 12:23
---
GEt oUt MorE

London by night

All the best stuff to do after

the sun has gone down.

Ec1r 4tN

"An adrenalin-fuelled journey through

the sizzling world of tango," is how

Sadler's Wells describe their 30-strong

Argentinian dance show Tanguera. From

£12, Jul 19 to Aug 6.

sE1 7dU

Are you man (or woman) enough to

take on the ostrich egg at Florentine,

the new restaurant and bar in Lambeth?

Priced £90 it will easily feed six hungry

diners and comes either scrambled or

fried. Other great menu items include ox

cheek, the one-kg Tomahawk beef steak,

and British sparkling wine. DJs and live

music too.

W1F 8ZH

Celebrity nightclub

Paper returns to

Wardour Street,

on the site of Peter

Stringfellow's Angels

club, at number 201. In

its previous incarnation

it welcomed the likes

of Beyoncé and Kiera

Knightley, so expect

some A-list names.

kt8 9aU

Sword fighting, courtly games, music

and jousting all vie for your attention at

Hampton Court Palace's Tudor Joust,

July 15 to 16.

sE1 1tE

It's no secret that London's live music

venues are suffering. What a joy, then,

to hear about a new opening in the

form of Omeara, a 9,000-square foot,

350-capacity space beneath railway

arches in Southwark. There's pedigree

here, too, since the venue owner is

Mumford & Sons' Ben Lovett.

8 where to, parker?

Parker_Issue_5_Book.indb 8 29/06/2017 12:24
---
lonDon nIghtlIFe

N5 1rd

Islington's legendary gig venue The

Garage has relaunched after an extensive

re-fit which includes a live music venue,

nightclub, café and bar. Rock and indie

acts still dominate.

E1 6Ql

One of London's lesser known but very

important contemporary art fairs is the

Moniker International Art Fair in the Old

Truman Brewery in Spitalfields. Urban art

and huge installations play an important

role. Oct 5 to 8.

E8 2pB

Savour your cocktails

while listening to

DJs spinning vinyl

downstairs at Ray's

Bar in Dalston. It's like

something out of the

disco era.

sE10 0dX

Fancy going out? Out

out? Lucky then that

Cockney comedian

Mickey Flanagan

is doing a 10-night

residency at The O2

between Sept 14 and

Oct 14. It's called An'

Another Fing…

sE1 7tJ

A spaghetti junction of bus lanes,

tunnels, dual carriageways, railways lines

and MI5 security cameras… Vauxhall

Cross can seem soulless at the best of

times. One place trying to inject a bit of

flavour into the area is Chino Latino, a

totally refurbished pan-Asian restaurant

and accompanying Latin American

cocktail bar within the Park Plaza London

Riverbank hotel. Enjoy the wonderful

wagyu beef, monkfish tail and duck

breast while gazing across the Thames.

W1d 4JB

Soho's much-loved alternative live music

venue The Borderline has been totally

revamped with a new sound system and

bar area. Open until 4am on Fridays and

Saturdays.

where to, parker? 9

Parker_Issue_5_Book.indb 9 29/06/2017 12:24
---
topIcal lonDon

Return to slender

There are few sculptural styles as instantly

recognisable as Alberto Giacometti's stick-men.

Even passing admirers of the Swiss sculptor's work

will feel right at home (if a little overweight) at the

Tate Modern's new retrospective.

Working in the years after World War II,

Giacometti tried through his work to make sense

of the human cruelty displayed during that period.

As Frances Morris, curator and director of Tate

Modern, explains: "Many artists found it very difficult

to depict mankind after the atrocities of Auschwitz,

after the atomic bomb, after man's inhumanity to

man. This depiction of a very fragile, thin, extended

figure – almost the skeletal remains of a man –

was seen by many of the critics as epitomising a

feeling of exhaustion and failure and guilt on the

part of humanity."

Giacometti, Tate Modern, SE1 9TG, £18.50, until

September 10.

As a child, Alexandra Llewellyn remembers walking

through the markets of Cairo with her Egyptian

grandfather, hearing the constant rattle of dice on

wooden backgammon boards. Now a designer

based in London, she has created a whole range of

luxury boards. The boldest of them all is a limitededition

ebony board made in collaboration with

photographer Terry O'Neill whose photos of 1960s

actresses and models adorn it. There's Brigitte

Bardot, Raquel Welch, Ursula Andress, Goldie

Hawn, Audrey Hepburn and Twiggy. Each board is

signed by O'Neill, and priced at £5,800.

www.alexandralldesign.com

10 where to, parker?

Parker_Issue_5_Book.indb 10 29/06/2017 12:24
---
topIcal lonDon

here's something for the seriously deficient of

attention. a new book called 30-second london

brings together the events, architectural styles and

cultural ideas that have shaped our city, each entry

explained in 300 words or less. the diversity of

material is astounding, with entries on everything

from Boudica, the Fire of london, christopher

wren and the suburbs to the tube, nightclubs,

sherlock holmes and punk music (pictured).

30-Second London, Ivy Press, £14.99.

where to, parker? 11

Parker_Issue_5_Book.indb 11 29/06/2017 12:24
---
Book online, by app,

by phone or by email.

16-seater luxury

minibuses

Parties - Conferences - Day trips

At Parkers we aim to cater for every

occasion. Our 16-seater luxury minibuses

are perfect for large corporate events

and parties, and are popular for shuttle

services. It's a comfortable and convenient

way to move large numbers of people yet

retain the intimacy whilst travelling in a

group. Always more cost effective, and

with an event management team available

to help for every function, it is the ideal

solution for any group booking.

Travel in comfort, luxury and style. The

Parker 16-seater minibuses provide all

this and more. Perfect for group bookings,

parties, conferences, day trips and shuttles,

this service is made for you! It's ideal for

leisure and corporate clients.

Let us make your life easier.

Parker Car Service

T: 020 8560 0000 | E: admin@parkercarservice.com

www.parkercarservice.co.uk

12 where to, parker?

Parker_Issue_5_Book.indb 12 29/06/2017 12:24
---
topical london

Green fingers

David Attenborough has cuddled gorillas. He's

swum with dolphins. He's been spat at by a cobra.

He's been moved to tears by birds of paradise.

During his decades as a naturalist and broadcaster

he has travelled all over this amazing planet of

ours. Yet he says London's wildlife – admittedly

rather pedestrian by comparison – gives him just

as much pleasure.

"I've got a pond which has dragonflies in it,

which gives me joy every spring," he says of his

back garden in Richmond. "We have wild English

flowers and we get not only butterflies but all

sorts of insects."

The capital's wildlife is much healthier now

than it was when Attenborough first arrived

in London in the early 1950s. "When I moved

here, the River Thames was a sewer," he tells the

Evening Standard. "If you fell into it you'd get a

disease. They sorted out the problems of sewage

disposal. Now there are all sorts of birds. Where I

live I can see kingfishers."

Attenborough's love of urban wildlife was

celebrated in his recent BBC series, Planet Earth

II, which included an episode on animals thriving

in cities. In it he encouraged us to look out for the

wild animals sharing our environment. "In cities,

a lot of people don't see anything of the natural

world unless it's a rat or a pigeon," he adds. "Since

we depend on it, understanding and sympathy for

wildlife is absolutely paramount to our future."

where to, parker? 13

Parker_Issue_5_Book.indb 13 29/06/2017 12:24
---
topIcal lonDon

Anyone for

crickets?

Insects on the menu is always going to be a tough

call. (Unless you're a Burmese peasant, that is.) So

spare a thought for bold French chefs Clement

Scellier and Bastien Rabastens who are doing their

utmost to persuade us Brits that dining on creepy

crawlies is the height of sophistication. Their range

of snacks includes whole grasshoppers, mealworms

and crickets, as well as fruit bars with cricket flour, all

under the branding of Jimini's. (Get it?)

"European and British consumers are not used to

eating insects but it does not mean they will never

do it," says Scellier whose products are available in

Fortnum & Mason, Selfridges, Planet Organic and

Partridges. "Fifteen years ago, raw fish was not a

tradition in Europe. Nowadays, people eat sushi

regularly and it is no longer considered adventurous.

It shows that tradition can be changed."

Scellier, whose insects are reared in Holland,

stresses how insect farming is so much more

environmentally-friendly than meat farming. "It uses

way less food and water than any other livestock.

Plus it generates 99 times less greenhouse gas."

But what do they taste like? In their natural form,

Scellier says they are rather nutty. Jimini's products

are strongly flavoured with the likes of smoked

onion, paprika, soy sauce, garlic, cumin, mango and

curry, however, so that not much of the nut shines

through.

What does shine through are the legs and

the wings which you can remove if you're a tad

squeamish. Just make sure you have plenty of

toothpicks handy.

Post apocalypse

It's not a dangerous job being a postman. apart

from the odd cantankerous dog. But, back in

the old days, Britain's couriers rode horse-drawn

coaches and were armed so they could fight

off highwaymen and pirates. as you'll discover

if you visit london's new postal museum, due

to open this summer in clerkenwell. Included in

the entry price is a 15-minute railway ride along

the mail rail – deserted tunnels that were once

used to transport mail beneath the congested

capital. there used to be over six miles of these

passages, criss-crossing the tube lines, linking

various sorting offices, and facilitating the delivery

of more than four million letters a day. so cut

off were they from the city above that, during

the First world war, they were used to hide the

rosetta stone.

The Postal Museum, WC1X 0DA, opens in July.

14 where to, parker?

Parker_Issue_5_Book.indb 14 29/06/2017 12:24
---
Following its phenomenally successful David Bowie

exhibition in 2013, the V&a has joined forces with

another British rock treasure for its latest exhibition

pink Floyd: their mortal remains. the band's music,

design and stagecraft are all examined in detail.

however, in a museum dedicated to design and the

arts, what stands out head and shoulders above

the rest is Floyd's album cover artwork. a bemused

cow (atom heart mother), a flaming businessman

(wish You were here), a pig flying above Battersea

power station (animals), hospital beds on a beach

(a momentary lapse of reason), and of course the

prism on the Dark side of the moon… the images

are almost as famous as the music.

Pink Floyd: Their Mortal Remains, V&A, SW7 2RL,

from £22, until Oct 1.

where to, parker? 15

Parker_Issue_5_Book.indb 15 29/06/2017 12:24
---
Very long play

It all started with a 1960s LP record called Brixton

Cat. On the cover, with her back to the camera, is a

black lady in knee-length boots, a mini-skirt dress

and a beehive haircut. In front of her is Brixton

market, in south London.

When photographer Alex Bartsch randomly

bought the LP from his local record store in Brixton,

nearly half a century later, he decided to reshoot the

album cover in its exact original location.

What followed became a slightly obsessive but

intriguing photography project that saw Bartsch

shoot album covers, holding them at arm's length,

in exactly the correct perspective, against the

London backgrounds in which they were originally

shot. There are 42 covers altogether, all reggae,

dating from 1967 to 1987, shot in locations all over

the capital. The results are to be published in a new

book this summer called Covers: Retracing Reggae

Record Sleeves in London (One Love Books).

Bartsch, originally from the French city of

Strasbourg but now living in Brixton, spent months

pursuing his mission, contacting photographers from

the period, researching old press articles, looking

on Google Street View, and stubbornly cycling the

streets of London in search of the original locations.

"It was detective work. I photographed more and

more until it eventually took over my life."

What made his job all the more tricky is that

so many of his chosen covers were shot in non-

16 where to, parker?

Parker_Issue_5_Book.indb 16 29/06/2017 12:24
---
topical london

descript suburban locations: a park in Hackney

Downs, a railway bridge in Battersea, a back garden

in Wembley, stone steps in Holland Park, a church in

Kensal Green.

"I realised that for many records they didn't put

much effort into the cover. They shot them very

close to the recording studio or the record label.

Some literally just outside the back door."

There is one record cover that has still eluded

Bartsch: a 1969 album called Liquidator by the

Harry J Allstars which shows two gangsters with

machine guns on a roof fire escape – one lying dead,

the other, a woman, looking calmly into the middle

distance. Bartsch is desperate to know where it was

taken.

www.alexbartsch.com

where to, parker? 17

Parker_Issue_5_Book.indb 17 29/06/2017 12:24
---
product design

form and

function

Anglepoise lamp

Developed by

automotive engineer

George Carwardine

and Herbert Terry

& Sons, this multidirectional

lamp

seems almost human

in its form. Indeed,

film company

Pixar have used an

anthropomorphic

cartoon version of

a similar lamp in

their opening film

credits. And if you

need proof of its

practicality, consider

this: Anglepoise

Navigator lamps were

deployed on British

bombers during World

War II. Decades after

the war, a crashed

Wellington bomber

was discovered

submerged in the mud

of Loch Ness. The lamp

still worked.

You need both of these

attributes to design a

brilliant product. As

evidenced by these

wonderful devices –

at once beautiful and

practical – on show at

London's new Design

Museum.

18 where to, parker?

Parker_Issue_5_Book.indb 18 29/06/2017 12:24
---
Vespa scooter

Who hasn't wanted

to glide around

Rome on a Vespa one

summer's evening

with a bellissima (or

bellissimo) friend

clinging to their

back? This gorgeous

machine was designed

for Piaggio by

aeronautical engineer

Corradino d'Ascanio.

It was named Vespa

(Italian for wasp) after

the company boss

said it resembled the

annoying insect. In

Rome at rush hour it

can sound like the city

has been invaded by a

million wasps.

Barack Obama

Progress poster

Artist Shepard Fairey

created this image

of the American

president in a single

day and first sold

posters of it on the

streets of America

before it came to

represent Obama's

2008 presidential

campaign. He was later

fined after legal battles

with the agency which

owned copyright for

the original image.

where to, parker? 19

Parker_Issue_5_Book.indb 19 29/06/2017 12:25
---
Xbox controller

Nicknamed 'Fatty'

and later 'The Duke',

the original version

of the Xbox video

game controller was

considered clumsy and

unwieldy. Updated

versions were much

more practical.

Interestingly, plans to

include odour-emitting

functions were

shelved.

Braun SK4

record player

Among product

designers, Braun's

Dieter Rams is

considered god-like

thanks to his use of

smooth, good-looking,

durable materials

and simple, selfexplanatory

functions.

The SK4 record player,

from 1956, is a perfect

example of this. It

was nicknamed 'Snow

White's coffin' since

you could see through

the lid when it was

closed.

20 where to, parker?

Parker_Issue_5_Book.indb 20 29/06/2017 12:25
---
proDuct DesIgn

British road signs

So simple and easy to use, British road signs have

become models for modern road signage all

over the planet. They were developed by graphic

designers Jock Kinneir and Margaret Calvert in the

late 1950s and 1960s. Before then our roads were

populated with a confusing mishmash of different

styles, typefaces, symbols and colours. Kinneir and

Calvert first tested their designs in Knightsbridge

and Hyde Park, before unveiling them in 1958 on

the Preston bypass in Lancashire.

Apple iMac G3

The egg-shaped, transparent, coloured-plastic

design of Apple's iMac G3 was so popular that

it revitalised the Apple brand in the late 1990s

and saved the company from financial ruin. There

was controversy on its launch since there was no

receptacle for floppy disks.

where to, parker? 21

Parker_Issue_5_Book.indb 21 29/06/2017 12:25
---
proDuct DesIgn

Moulton folding

bicycle

Dr Alex Moulton

set up his bicycle

manufacturing

business in Wiltshire in

1962, producing bikes

noted for their small

wheels and suspension.

Moultoneers (yes,

that's what they're

called) ride them with

pride. Designers love

their unconventional

look.

Murphy colour

televsion

With spindly legs like

a baby giraffe, this TV

defied gravity. But it

also produced amazing

colour pictures in an

era when broadcasting

was finally turning

its back on black and

white. "Television

that turns you on.

Do it Murphy style,"

claimed the adverts.

Consumers did it

Murphy style in their

hordes.

22 where to, parker?

Parker_Issue_5_Book.indb 22 29/06/2017 12:25
---
Plumen lightbulb

We curse low-energy

lightbulbs as they

struggle to warm up.

We gaze at them,

willing them to burn

into life. This, from

British manufacturer

Plumen, is one of the

prettiest you could

gaze at.

Sony Walkman

The original version

of this portable music

device, invented

in the late 1970s,

revolutionised the

music industry,

enabling human beings

to listen to tunes on

the move. Commuting

to work, jogging and

roller skating would

never be the same

again.

Barcelona chair

Some of the coolest bottoms in history have

parked themselves on the Barcelona chair.

Originally created by German designer Ludwig

Mies van der Rohe in the late 1920s, this piece of

furniture became de rigueur in stylish households.

The author Tom Wolfe described it as "the Platonic

ideal of chair. When you saw the holy object you

knew you were in a household where a fledgling

architect and his young wife had sacrificed

everything to bring the symbol of the godly

mission into their home."

where to, parker? 23

Parker_Issue_5_Book.indb 23 29/06/2017 12:25
---
usiness

the man behind

the sauce

From prison to Dragon's Den to multi-millionnaire

food magnate, Levi Roots is the ultimate rags-toriches

businessman. Was it luck that got him there,

or shrewd planning? Dominic Bliss finds out.

When Levi Roots first came to the UK, aged

11, he could neither read nor write. As a

young man he did two stretches in prison,

one for assaulting a police officer, the other

for a drugs offence. Now aged 58, he owns a

£35 million food business, built on the back

of his famous Reggae Reggae Sauce. A late

developer, you might say.

And there's more to come. Levi is currently in the

throes of launching a Caribbean restaurant chain,

with plans to open 35 venues around the UK over

the next five years, all under the brand of Levi Roots

Caribbean Smokehouse. He also records music, has

a regular DJ slot on BBC Radio 2 (both reggae, of

course), and there's a new TV show coming in the

summer.

"I'm quite a busy man," he says, seated in his

maiden restaurant, in east London's Westfield

Stratford City, smiling at his good fortune.

Dreadlocks tied back, he's wearing a navy blue

Ozwald Boateng suit (one of three dozen he owns)

and enough silver jewellery on his hands to choke a

werewolf.

None of this would have happened if Levi hadn't

been invited, back in 2007, to appear on Dragons'

Den, the BBC show for budding entrepreneurs.

Sporting a black suit, his trademark dreadlocks, and

singing to his guitar, he charmed the pants off the

dragons, eventually securing a £50,000 investment

in his sauce from Peter Jones and Richard Farleigh.

(The former is still his business partner while the

latter, rather foolishly, allowed himself to be bought

out.) Within weeks the product was on the shelves

of Sainsbury's, outselling Heinz Tomato Ketchup

after just a year.

"Levi Roots? What a great name. Is that your

real name?" asked Theo Paphitis, one of the other

dragons, after Levi had delivered his pitch. "No, it's

my pseudonym. My real name is Keith," he replied to

all-round mirth.

Keith Valentine Graham, to be precise, born

in Jamaica in 1958, the youngest of five kids. His

parents emigrated to the UK, leaving Keith with his

grandparents. Aged 11, he then crossed the Atlantic

to join them, moving to the family home in Tulse Hill,

in south London. Until then he hadn't even attended

school. "I could only write five letters, to spell my

first name," he remembers. "But I had this sort of

photographic memory, I was surprised how quickly I

caught up."

That part of south London in the 1970s was

rough, to say the least. Levi was a bad boy, often

in trouble with the law, and twice detained at Her

Majesty's Leisure. It was during the second stretch

(on the Isle of Sheppey) that he met someone who

would help turn his life around.

Her name was Theresa, a drama teacher from

New Zealand, brought in to inspire the convicts. Levi

was inspired more than most.

"If I met her now I'd probably have to give her

half my fortune," he says, his voice starting to break

with emotion. "When I think about her I feel I'm

welling up with tears. She was an absolute angel.

After I left prison I never saw her again."

24 where to, parker?

Parker_Issue_5_Book.indb 24 29/06/2017 12:25
---
where to, parker? 25

Parker_Issue_5_Book.indb 25 29/06/2017 12:25
---
BusIness

Levi couldn't read or

write when he came to

the UK as an 11-yearold

kid. Now he's

worth £35 million.

Theresa was the catalyst Levi needed to

abandon his old life of crime and bad behaviour.

"One day she looked at me and said: 'You're not

Keith Graham. You're Levi Roots. Don't be Keith.

Keith is what got you into prison in the first place.'

She started teaching me the right books to read,

she gave me elocution lessons, because at the time

I was very patois. She taught me Shakespeare, and

When I got out of prison I

became a totally different

person. I wasn't Keith Graham

any more. I was now Levi

Roots."

acting, and how to be a better person. Thanks to her

tutelage, when I got out of prison I became a totally

different person. I wasn't Keith any more. I was now

Levi Roots."

In the 1970s Levi had been immersed in the

Brixton music scene, performing as part of a

Jamaican-style sound system. Later he recorded

reggae albums, even once performing on stage with

James Brown. All the while, in the kitchen of his

Brixton flat, he was mixing up his special Caribbean

sauce, following a recipe handed down to him by

his grandmother. Every summer the sauce proved

immensely popular with revellers at Notting Hill

Carnival. So popular that Levi thought he might

launch it commercially. But he needed investment.

"I went to all the banks in southwest London –

HSBC, Barclays, Lloyds, all of them. And I took my

guitar along, just like on Dragons' Den. But none

26 where to, parker?

Parker_Issue_5_Book.indb 26 29/06/2017 12:25
---
I went to all the banks in

southwest London. And I

took my guitar along, just like

on Dragons' Den. But none

invested."

invested. Some of them got quite fed up with me

coming in and serenading them with my guitar."

Then, by chance, while promoting his sauce at a

food fair, Levi was approached by a producer from

Dragons' Den. "I think they thought, 'He is going

to be the worst loser ever on that show. Everyone

will laugh at him.' It was an Eddie the Eagle type of

situation."

But they didn't laugh at him. They gave him

£50,000 and provided a stepping stone to his

eventual £35 million business empire.

Not that he comes across as a multi-millionaire.

Aside from the expensive suits, Levi claims not

to enjoy a flash lifestyle at all. He still lives in the

same Brixton flat he has occupied for decades and,

despite his fame, he steers clear of what he calls

"that boiling soup of celebrities in north London".

"Where I am in Brixton has given me everything,"

he adds. "I've grown up my kids there. The sauce

was born there. It turned me into the man I am.

Everything I've got is because I've stayed grounded

where I am. Why would I leave that now?"

This down-to-earth attitude makes him sound

like one of those hackneyed lottery winners who

banks the millions, eschews the new car, and loyally

returns to the factory job on the Monday morning.

"I didn't get famous or lucky in business until I

was 48 years old," Levi says by way of explanation.

"Because I got money later in life, I know the value of

it now, and how to use it. If I'd got my money when I

was young, I doubt I would be the Levi Roots people

see now. I definitely would have been really flash

with the cash."

Being father of eight kids has certainly kept

him grounded. That's eight kids by seven different

women. The eldest is now 38 years old, the youngest

just four. "I was very popular in my younger days but

very careless," he says contritely. It seems he was

quite the local celebrity when he was performing

with the sound system band.

However, he attributes much of his business

success to the responsibility of having to raise so

many children. And, despite problems in the early

days, especially when he was in prison and unable to

provide for his offspring, he claims now to be friends

with all seven mothers. He was never married to any

of them. "In the past we weren't close. But we've

pulled everyone in and this has created a reason for

everyone to be united. And perhaps forget about

the problems of the past that I caused. Because it

wasn't a happy place when I was in prison."

Apparently all seven mothers attended the

opening of Levi's new restaurant. That must have

called for a certain diplomacy and charm. But then,

this is the man who entered the Dragons' Den and,

with just a guitar and a bottle of hot sauce, charmed

£50,000 out of them.

caribbeansmokehouse.com

where to, parker? 27

Parker_Issue_5_Book.indb 27 29/06/2017 12:25
---
sport

boxing clever

The hybrid sport known as chess boxing is a

bizarre combination of cerebral tactics and

aggressive pugilism. Thanks to a London

promoter now staging regular contests,

you can see it to believe it.

28 where to, parker?

Parker_Issue_5_Book.indb 28 29/06/2017 12:25
---
sport

where to, parker? 29

Parker_Issue_5_Book.indb 29 29/06/2017 12:25
---
sport

Chess boxing

competitors fight each

other in alternating

rounds of chess and

boxing.

This must surely be the ultimate combination of

brains and brawn. Right now, their chests heaving,

their upper bodies dripping with sweat, Greg Drach

and Danny 'Boy' Bent are seated in the centre of a

boxing ring, hunched over a chess board, their faces

clenched in concentration. Two minutes earlier they

had been punching seven bells out of each other in

the very same ring during a bout of boxing.

The unlikely duo – Drach, a digital product

manager, and Bent, a writer, both from London –

are the headline bout at the London Chessboxing

season finale, staged at York Hall in east London's

Bethnal Green. Chess boxing is a little known but

intriguing hybrid sport that sees two contenders

alternating rounds of boxing and chess, with just a

few seconds' break between each round. Winners

are normally declared through checkmate or time

penalty in the chess, or through stoppage or points

in the boxing. It's rare that a knockout occurs.

To the uninitiated it looks surreal; like a Little

Britain sketch about eccentric British sports, perhaps.

But once you tune in to the unusual juxtaposition of

chess tactics and boxing aggression, it all starts to

make sense. As a spectator sport it's entrancing.

Winners are normally declared

through checkmate or time

penalty in the chess, or

through stoppage or points in

the boxing.

30 where to, parker?

Parker_Issue_5_Book.indb 30 29/06/2017 12:25
---
The promoter of tonight's show is Tim Woolgar.

From a boxing club in Crouch End, he runs chess

boxing classes and, at various venues around

London, stages a handful of events every year. There

are plans to expand the sport nationwide.

"It has started to take off big style," he says,

pointing to the 700 or so fans present at his season

finale. "I fully expect sponsors to be knocking on my

door in the near future."

The fact that over 100,000 viewers streamed

his event live through the internet is bound to help.

As is a future deal to put the sport on one of the

Freeview channels. Woolgar is also involved in a

London-based governing body called the World

Chessboxing Association.

He claims the sport first started in 1978 at a

youth centre called Samuel Montagu Boys' Club

in Kidbrooke, in southeast London. But there's

a rival governing body, the World Chess Boxing

Organisation, in Berlin, which points to more recent

origins. Its president, Iepe Rubingh, claims he

invented the sport after reading a fictitious account

of it in an early 1990s comic book.

Whatever the truth, one thing is certain: chess

boxing is growing internationally. Woolgar has

affiliated members in six nations, while Rubingh has

them in 11. The latter has over 1,000 members, stages

around 1,500 fights a year, and is in the throes of

establishing a professional league.

Back at York Hall, Drach and Bent are still

going hell for leather. During the boxing rounds,

it's Bent, sporting a mullet and a skimpy pair of red

running shorts, who looks far more confident. In the

intervening chess rounds both players struggle to

calm their bodies after the exertion of the boxing.

Wearing headphones to block out the noise of the

spectators and the chatter of the commentator, they

breathe deeply to steady their heart rates and focus

on tactics. They have already exchanged their queens

but, soon, Drach finds himself in a very vulnerable

position, with fewer pieces to call upon. Eventually,

in round seven, he's forced to resign, reluctantly

knocking over his king to concede the match.

It was brains rather than brawn that won the

match this time.

London Chessboxing events are staged at York

Hall, E2 9PJ.

www.londonchessboxing.com

where to, parker? 31

Parker_Issue_5_Book.indb 31 29/06/2017 12:25
---
catch your

death of cold

Didn't your mother warn you not to go out in the

cold under-dressed? These dancers appear to have

ignored all maternal advice as they display their

finest moves at various locations around London.

"It was frequently very cold; it was usually late; it was

dangerous, illegal, exhausting, and, of course, they're

naked. Yet they still said yes. Why? Because they

shared my belief that if we leap, the net will appear."

So writes photographer Jordan Matter, whose

new book, Dancers After Dark, features dancers

strutting their stuff across the cities of London,

New York, Paris, Amsterdam, Berlin, Stockholm,

Washington DC, Chicago and Los Angeles, among

others. Crucially, all dancers are wearing just their

birthday suits.

"These images represent our willingness to throw

ourselves into the streets without fear of failure.

Doing so led to beauty and exhilaration we could

not have imagined."

Dancers After Dark by Jordan Matter

[Workman Publishing].

32 where to, parker?

Parker_Issue_5_Book.indb 32 29/06/2017 12:25
---
performance art

Left top: Kipat

Kahumbu across the

Thames from the

Palace of Westminster.

Left below: Sam

Baskett at Covent

Garden.

Below left: Stephen

Williams in east

London. Below right:

Sophie Zucchini and

Stephen Williams on

Tower Bridge.

where to, parker? 33

Parker_Issue_5_Book.indb 33 29/06/2017 12:25
---
Your journey is

JUST A

CLICK AWAY

Our booking app is the fastest and cheapest way to book

with Parker Cars and comes with tons of great features.

• Fixed Price Quotes • ETA • Vehicle Tracking • Favourite Places

• Voucher Codes • Buddy Feature and much more...

www.parkercarservice.com

Search "Parker Car Service" in the app.

play store or scan the QR code.

DOWNLOAD YOUR FREEDOM

Parker_Issue_5_Book.indb 34 29/06/2017 12:25
---
Parker_Issue_5_Book.indb 35 29/06/2017 12:25
---
feature

here,

kitty kitty

Glimpse into the secret world of wild

animals at the latest Wildlife Photographer

of the Year exhibition, at the Natural

History Museum.

36 where to, parker?

Parker_Issue_5_Book.indb 36 29/06/2017 12:25
---
photography

The alley cat by Nayan

Khanolkar. Every

night in the suburbs

of Mumbai leopards

slip ghost-like through

the maze of alleys,

in search of food. A

particular favourite are

the stray dogs. Even

humans have been

attacked, yet still most

of the Mumbai locals

accept their unusual

neighbours.

where to, parker? 37

Parker_Issue_5_Book.indb 37 29/06/2017 12:25
---
photography

Eviction attempt by

Ganesh H Shankar.

Returning to its

nesting hole in India's

Keoladeo National

Park, this rose-ringed

parakeet discovered

an uninvited guest – a

monitor lizard. For two

days it attempted to

evict the reptile but to

no avail.

38 where to, parker?

Parker_Issue_5_Book.indb 38 29/06/2017 12:25
---
Left: The moon and

the crow by Gideon

Knight. This photo of a

crow in east London's

Valentines Park won

Knight the Young

Wildlife Photographer

of the Year award.

Below: Entwined

lives by Tim Laman.

After three days of

tree climbing, Laman

managed to position

the GoPro cameras

that eventually

captured this image

of an orang-utan in

Indonesian Borneo.

It won him the overall

prize.

where to, parker? 39

Parker_Issue_5_Book.indb 39 29/06/2017 12:25
---
feature

40 where to, parker?

Parker_Issue_5_Book.indb 40 29/06/2017 12:25
---
photography

Wild West stand-off

by Charlie Hamilton

James. A camera

trap and five patient

months eventually

rewarded this British

photographer with an

image of a grizzly bear

and ravens feeding on

a dead bison in Grand

Teton National Park in

Wyoming, USA.

where to, parker? 41

Parker_Issue_5_Book.indb 41 29/06/2017 12:26
---
stealing

the show

An intrepid London artist has devised

a way to immortalise babies in famous

movie backdrops. The result is startlingly

effective.

Grayson Ainsworth had better grow up to be a film

buff. He's only 18 months old and already he's been

immortalised against dozens of famous Hollywood

movie backdrops.

He's got his mother Fee to thank for that.

Pregnant and facing a long spell of unemployment,

this actress realised she needed to diversify. So

42 where to, parker?

Parker_Issue_5_Book.indb 42 29/06/2017 12:26
---
aby photos

where to, parker? 43

Parker_Issue_5_Book.indb 43 29/06/2017 12:26
---
aby photos

she came up with the novel idea of drawing famous

movie scenes in charcoal, before placing her baby

son on top of them. Her husband Glen then takes

the photos.

At first the Ainsworth family team produced

just 12 images, enough to create a calendar for

the grandparents. But then, thanks to publicity on

Instagram, commissions started flooding in from

parents desiring a bit of Hollywood sparkle for their

own babies. So Fee, now 33 years old, launched

a commercial business, calling it Grayson on

Hollywood.

"I'm busy drawing commissioned pieces of

their favorite movie scenes, purchasing wardrobe,

and arranging studio shoots," she says. "Basically,

a business has been born when I never actually

intended to start one in the first place."

So far her favourite image of all is the Jurassic

Park one. "The film scared me witless as a kid and,

if I think of the movie, this is the scene that instantly

pops to mind," she says. "It was an enjoyable draw,

and the shooting of it happened so right. Grayson's

hand is perfectly placed on the corner edge of the

kitchen unit and his little face is just so spot on. We

literally had the shot within seconds."

Fee says there are plenty more pictures to

come. "My husband feels I am severely lacking in the

Stallone/ Schwarzenegger department. So if he is

happy to forego his dining room table, I am happy to

keep drawing away."

Fee Ainsworth accepts commissions.

www.graysononhollywood.com

44 where to, parker?

Parker_Issue_5_Book.indb 44 29/06/2017 12:26
---
feature

where to, parker? 45

Parker_Issue_5_Book.indb 45 29/06/2017 12:26
---
Where Auntie used to live

the bit where we spotlight one of london's lesser-known but

very wonderful quarters.

White City, the area north of Shepherd's Bush, is

soon to become a thriving new residential area

thanks in part to the apartments being carved out

of the old BBC TV Centre. Yes, of course they're

expensive (what did you expect?) but hopefully

they will catalyse the grubby area surrounding

them when residents start moving in, in late 2017.

Next door there's already the gargantuan Westfield

London shopping centre with all its bling. Soon to

come to Television Centre (as the quarter is being

marketed) is a cinema, restaurants, a Soho House

members' club and new campuses for both the

Royal College of Art and Imperial College London.

The future looks bright.

Great pubs

The big Daddy of the drinking spots is the pub

known as The Defector's Weld. Here you'll mix with

locals as well as music-lovers on their way to gigs

at Shepherd's Bush Empire. Across Wood Lane

is The Green, with both a ground-floor bar and a

cute basement section called The Green Room.

Further south on the Goldhawk Road are craft beer

specialists BrewDog Shepherd's Bush.

Great football club

QPR might resent being called small. Well, at least

they would if they weren't perfectly formed. Their

Loftus Road stadium has a capacity of just 18,000

which means fans have to chant loudly to be heard.

But it also means they're much closer to the action

on the pitch.

46 where to, parker?

Parker_Issue_5_Book.indb 46 29/06/2017 12:26
---
lonDon VIllages

Left page top: new

apartments in the old

BBC TV Centre. Left

page below: Burgista

burger bar. Right page,

clockwise from top

left: Bush Hall Dining

Rooms; The Green

Room; Nut Case.

Great restaurants

Next to the gorgeous music venue Bush Hall is

Bush Hall Dining Rooms, a rare gem on the strip

of fast-food joints that comprises the Uxbridge

Road. North of Shepherd's Bush Green you'll

find a more than decent burger restaurant called

Burgista. But best of all is Albertine, a wine bar at

the base of Wood Lane. It recently opened under

new management, with a wine bar, a restaurant

and a private dining and party space. Another

new restaurant is Pergola on the Roof, an open-air

offering on top of Television Centre.

Great music venues

Shepherd's Bush Empire is the big one, with

household names regularly taking up residence here.

But far more intriguing is the much smaller Bush

Hall, a former Victorian dance hall where you'll often

find folk and Americana bands rocking the house.

There can't be many live music venues in London

where you can drink out of real glass and stand on a

plush carpet while listening to the gig.

Great shopping

It's difficult to look beyond Westfield London. And

why would you? This 150,000-square metre (and

growing!) behemoth of a shopping centre is home

to everyone from Apple, Ann Summers and Nike to

Gucci, Jimmy Choo and Prada. But if you can brave

the grotty Uxbridge Road you'll stumble upon the

occasional independent gem: Stuart's London, for

example, has been dressing football casuals since

1967, and is now a mecca for men's street fashion.

If you're feeling peckish try Nut Case which stocks

every nut you ever knew existed (plus a few more).

Did you know?

The now demolished White City Stadium was home

to the 1908 Olympic Games, back when athletes

wore white trousers, cravats and moustaches the

size of small mammals. It was at these games that

the standard marathon distance of 26 miles and 385

yards was first established. Factory scenes in the

1988 movie Who Framed Roger Rabbit? were filmed

close to the current site of Westfield London.

where to, parker? 47

Parker_Issue_5_Book.indb 47 29/06/2017 12:26
---
parker DrIVer

Meet your chauffeur

the bit where we talk to one of parker's lovely drivers.

Amar Saggar started driving for

Parker Cars in April this year. He

lives in Slough with his wife and

three grown-up kids.

Where do you most love driving

in London?

Westminster, especially the wide

roads around Parliament Square.

There's always a buzz to that part

of town. I'm not very political

but I studied a bit of politics at

university, and I have an interest

in how government works. We're

not supposed to talk about

politics to Parker passengers,

though.

If money was no object, what car

would you drive?

A Bentley Mulsanne Extended

Wheelbase.

What qualities do minicab

drivers need?

Patience and the confidence to

drive in new areas, as you never

know where you'll be going. It's

important to research the route

online before picking up a new

passenger. Then you can give the

passenger an idea of which roads

you plan to take.

Favourite radio station while

driving?

LBC. I like to keep up with current

affairs. There's a dance-music

station called Kisstory which I

listen to every now and then.

Your top five driving songs?

Smooth Operator by Sade; Billie

Jean by Michael Jackson; Eye of

the Tiger by Survivor; Don't Stop

Me Now by Queen; Bat Out of

Hell by Meat Loaf.

If you could be a professional

driver in another domain?

I'd like to drive in the Gumball

3000 rally. And I'd fancy my

chances in the Dakar Rally.

Getting close to a reasonable

time would be a bonus.

What's your best advice for new

London drivers?

Be alert at all times. There's a

lot happening around you so it's

crucial to stay on top of this in

order to ensure your own safety

is not compromised. Check

websites and apps for traffic

updates.

If you were the transport

secretary, what London traffic

rules would you change?

I'd eliminate the unnecessary

speed cameras. I'd enforce stricter

rules on cyclists and pedestrians.

The one place in London you'd

avoid driving?

Near Harrods, in Knightsbridge.

The traffic congestion there may

as well be permanent. It doesn't

make for a pleasant driving

experience, and it's not good for

one's sanity.

I picked up Joe Launchbury and Joe

Marler, from the England rugby team.

They were both big guys with a lot of kit.

Lucky I had a large MPV to get them in."

The most famous person you've

had in the back of your minicab?

Joe Launchbury and Joe Marler,

from the England rugby team.

They were both big guys with a

lot of kit. Lucky I had a large MPV

to get them in.

48 where to, parker?

Parker_Issue_5_Book.indb 48 29/06/2017 12:26
---
parker vehicles

Meet your mobile office

Within the huge Parker fleet there are several Mercedes V-Class

vehicles available for private hire. You could call them 'mobile

offices'.

As far as the mobile office goes,

you can't beat the Mercedes

Viano. These multi-purpose

vehicles combine all the comfort

and luxury you'd expect from a

Mercedes with some mod cons

you'd normally find only in an

office. Parker's extensive fleet

now includes several Mercedes

Vianos available for private hire.

They're designed expressly for

busy corporate customers with

features such as Wi-Fi, a table

work-station, iPads for browsing

on the move, phone chargers,

240V mains power, and (on one

of Parker's vehicles) a printer

which scans and copies – ideal

for printing last-minute reports or

airport boarding passes. There are

even well-stocked drinks fridges

on board.

Parker is offering these

vehicles to passengers for whom

time is a premium. As well as

providing luxury comfort, they

allow them to continue working

while on the move.

where to, parker? 49

Parker_Issue_5_Book.indb 49 29/06/2017 12:26
---
london's finest

Six of the best

The bit where we bring you the very greatest of London life.

Be astounded by the capital's weirdest museums.

Hunterian Museum

Not for the faint-hearted,

the utterly original Hunterian

Museum, within the Royal College

of Surgeons, in Holborn, features

some truly bizarre displays such

as the thyroid of a dromedary,

the gall bladder of a puffer fish,

and the skeletons of a 7ft 10in

Irishman and a 1ft 10in Sicilian.

You've been warned.

35-43 Lincoln's Inn Fields,

WC2A 3PE

rcseng.ac.uk

Old Operating Theatre

Museum & Herb Garret

Up in the roof of an old Baroque

church in Southwark, this

operating theatre is from a

pre-anaesthetic age when any

surgical procedure meant a lot

of pain as well as a lot of blood.

Listen carefully and you can still

hear the echoing screams of the

patients (all of them female since

this was a woman's ward) whose

limbs were amputated here.

Utterly gruesome but thoroughly

intriguing.

9a St. Thomas St, SE1 9RY

oldoperatingtheatre.com

The Clink Prison Museum

Thieves, debtors, prostitutes,

heretics and all manner of

scumbags. In the old days, if

you found yourself in the Clink

(the prison built on this site in

Southwark in 1144), you knew

you were in grim company. Fast

forward to the present day and

you can see how said scumbags

were tortured. Not for little kids,

this one.

1 Clink St, SE1 9DG

clink.co.uk

The Viktor Wynd Museum

of Curiosities, Fine Art &

Natural History

If you like very curious but very

random objects, you'll love this

quirky museum in Hackney. Dodo

bones, two-headed kittens and

occulist paintings are displayed

alongside McDonalds Happy Meal

toys and the doodles of mad

women. "Everything that has

glittered and caught the eye of its

founder," the owners explain.

11 Mare St, E8 4RP

thelasttuesdaysociety.org/

museum-curiosities

Grant Museum of Zoology

Make no bones about it, this

museum in Bloomsbury's

University College London

features a huge number of dead

animals. 68,000, to be precise –

more, they claim, than the Natural

History Museum. And since it was

founded as a teaching collection,

you can get very close to the

specimens, be they stuffed or

stripped to the bone.

21 University St, WC1E 6DE

ucl.ac.uk/museums/zoology

The Viktor Wynd Museum

Pollock's Toy Museum

What is it about dolls that is so

exceptionally creepy? If you don't

know now, you certainly will after

a visit to this museum in Fitzrovia

which houses a vast array of

antique ones. Also on display are

board games, model soldiers, toy

theatres and the world's oldest

surviving teddy bear.

1 Scala St, W1T 2HL

pollockstoys.com

Pollock's Toy Museum

50 where to, parker?

Parker_Issue_5_Book.indb 50 29/06/2017 12:26
---
Book online, by app,

by phone or by email.

parker cars

The airport experts,

providing seamless

transfers

When you arrive at Heathrow

let us make your life easier. By

choosing Parker Cars you are

guaranteed a seamless transfer.

With our distinctive green jacket

representatives in each terminal

to take the stress out of your

transfer and introduce you to

your waiting driver.

We are able to monitor your

flights, adjusting arrival times

where necessary, so you do not

have to worry, with the peace

of mind provided knowing the

professional people of Parker

Cars are taking care of your

every need.

With Parker Cars you know you

are in safe hands.

Parker Car Service

T: 020 8560 0000 | E: admin@parkercarservice.com

www.parkercarservice.co.uk

Parker_Issue_5_Book.indb 2 29/06/2017 12:26
---
Andrew Cole

Head Chef

A SLICE OF THE

COUNTRYSIDE

RICHMOND'S DINING AND DRINKING

DESTINATION FOR EVERYDAY

OCCASIONS AND SPECIAL AFFAIRS.

Bingham, 61-63 Petersham Road, Richmond, Surrey TW10 6UT | www.thebingham.co.uk | +44 (0)208 940 0902

@thebingham

thebingham

binghamrichmond

Parker_Issue_5_Book.indb 2 29/06/2017 12:26