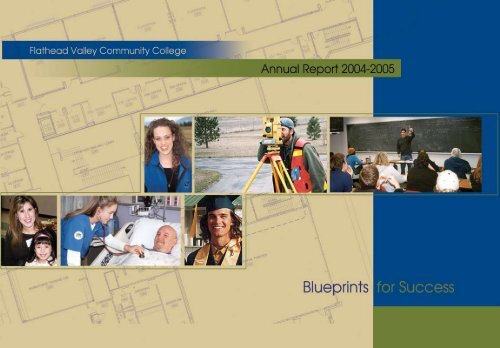 Institutional Goals A MESSAGE FROM THE PRESIDENT
Institutional Goals A MESSAGE FROM THE PRESIDENT
Institutional Goals A MESSAGE FROM THE PRESIDENT
SHOW MORE
SHOW LESS
Create successful ePaper yourself
Turn your PDF publications into a flip-book with our unique Google optimized e-Paper software.
Mission

Flathead Valley

Community College

promotes excellence in

lifelong learning, focused

on student success and

community needs.

Institutional Goals

Goal #1

We will provide educational

programs and courses that

prepare our students for

transfer to other postsecondary

institutions, for the workforce

and for citizenship.

Goal #2

We will increase lifelonglearning

opportunities

for our students and our

community.

Goal #3

We will be responsive to the

community's economic and

workforce training needs.

Goal #4

We will promote programs and

activities that enhance the

cultural and social well-being of

our students and communities.

Goal #5

We will foster a positive learning

and working environment and

provide support services for

student success.

A MESSAGE FROM THE PRESIDENT

Dear Friends:

It is my privilege to present the 2005 Annual Report for Flathead Valley Community College. As you

study our report, I think you will agree that 2005 was a year that highlighted exciting successes for

our students, faculty and community. From record-sized graduating classes on both the Kalispell and

Lincoln County campuses to an esteemed Best Practices Award honoring the College's innovation

and leadership in establishing the Flathead Business and Economic Council, the College continues

to achieve our community mission to promote excellence in lifelong learning, focused on student

success and community needs.

Every day, I meet new and returning students. Although a diverse group, these Montanans have

one thing in common: they share a vision and a commitment to live and work in Montana. They seek

education, support and training to achieve those goals for themselves and for their families.

Last year the College's annual graduate survey reported that 98 percent of our graduating class, who wanted a job, were able

to secure employment and are working today locally in Flathead, Lake and Lincoln counties. That is the sixth consecutive year

that more than 95 percent of all FVCC job-seeking graduates successfully secured employment. Another remarkable fact is that

more than half of FVCC graduates plan to transfer to four year colleges, and many of them will invest in Montana colleges.

FVCC students' perspectives on the benefits of higher education are the most obvious, but as they join and rejoin our local

workforce, their expanded skills translate to higher salaries for themselves and higher standards of living for their families and

a more robust local economy for Northwest Montana. I hope you will join me in my enthusiasm and pride for another year of

outstanding achievement by our students and the communities who support them.

Strategic Initiatives

Sincerely,

Dr. Jane A. Karas

At FVCC, we will:

• Add value to students' lives;

• Provide meaningful learning experiences;

KALISPELL & LIBBY MONTANA

• Excel as a preferred community resource and regional resource;

• Increase resources to support continuous growth and improvement;

• Foster a climate that enhances the well-being and productivity of college employees;

• Continue to serve as an accountable steward of public funds and trust; and

• Maintain facilities and infrastructure to meet changing community needs.

ADMINISTRATION

Jane A. Karas, Ph.D.

President

Kathy Hughes, M.Ed.

Vice-President of Instruction

Sheila Gestring, C.P.A.

Chief Financial Officer

Faith Hodges, M.B.A.

Director, Enrollment Planning and Research

Ruth Ackroyd, CFRE

Director, College Relations

Warren Tolley,

Director, Human Resources

Bill Bond, M.S.

Director, Management Information Services

Patrick Pezzelle, M.A.

Director, Lincoln County Campus

BOARD OF TRUSTEES

Robert A. Nystuen, Chair – Kalispell, MT

John D. Engebretson, Vice-Chair – Kalispell, MT

Thomas K. Harding – Whitefish, MT

Mark Holston – Kalispell, MT

Jeanne Tallman – Whitefish, MT

Alison Young – Whitefish, MT

Kathleen Young – Kalispell, MT

FOUNDATION EXECUTIVE BOARD

Nancy Gordley, Board Chair

Whitefish, MT

Russell Barnes, Vice Chair

Libby, MT

Paul Williams, Treasurer

Kalispell, MT

Kathy Barkus – Kalispell, MT

Lynn Bauer – Whitefish, MT

Steve Becker – Libby, MT

Carol Blake – Kalispell, MT

John Bowdish – Kalispell, MT

Henry Brown – Whitefish, MT

Sally Elliman – Whitefish, MT

Ed Jasmin – Bigfork, MT

Patrice LaTourelle – Whitefish, MT

Donna Lawson – Bigfork, MT

Leslie Mercord – Kalispell, MT

Andy Miller – Kalispell, MT

Frank Morrison – Whitefish, MT

Kathleen Redman – Marion, MT

Henry K. Ricklefs – Whitefish, MT

Margie Simpson – Kalispell, MT

Ralene Sliter – Kalispell, MT

Ellie Stimpson – Lakeside, MT

Cheryl Wilson – Kalispell, MT

Pat Winkel – Kalispell, MT

Darrell Worm – Bigfork, MT

ASSOCIATE MEMBERS

Lin Akey – Whitefish, MT

Allan Aronson – Kalispell, MT

Lee Berger – Kalispell, MT

Jerry Brobst – Kalispell, MT

Mary B. Gibson – Kalispell, MT

Megan Gordley – Whitefish, MT

Chris Hyatt – Whitefish, MT

Lil Laidlaw – Rollins, MT

Dorothy Laird – Whitefish, MT

Roger Somerville – Kalispell, MT

EX-OFFICIO, NON-VOTING DIRECTORS

Jane A. Karas, President

John D. Engebretson, Board of Trustees

Kalispell, MT

STAFF

Ruth Ackroyd, CFRE

Director of College Relations

Susan Evans

Advancement Services and

Communications Specialist

Flathead Valley Community College does not discriminate on the basis of

race, color, national origin, sex, age or handicap in admission or access

to, or treatment or employment in its educational programs or activities.
---
STEPS TO SUCCESS

Board of Trustees Chair John Engebretson and

President Jane Karas present Ivan Lorentzen

with the 2004/2005 Eagle Award.

Eagle Award

This year, FVCC presented

Psychology Instructor Ivan

Lorentzen with the 2005 Eagle

Award for his outstanding

contributions to the college.

Graduates and FVCC employees Melanie Settle, Debbie

Struck, Connee Greig and Leslie Rogers celebrate after

the May 2005 Commencement.

Now in his 33 rd year of teaching psychology at the college, Lorentzen's

contributions include developing the successful Honors Symposium, faculty

leadership, innovation in education, mastery in the classroom and providing

excellence in education for students of all ages. Lorentzen is the fifteenth

recipient of the award. He has served FVCC as division chair, faculty

senate president, union president, member of the building committee

and also is a member of School District 5 Board of Trustees.

Best Practice Award

Record Graduation

Flathead Valley Community College was awarded the Association of

Community College Trustees (ACCT) Community Economic 2004 Best

Practice Award for the Western Region for its role in creating the Flathead

Business and Education Council (FBEC). Among those present to accept

the award at the October ACCT Annual Community College Leadership

Congress 2004 were FVCC Board of Trustees Chair Robert Nystuen, Vice

President John Engebretson and Secretary Mark Holston.

Commencement, held May 13, 2005, saw the largest graduation class in FVCC's history. A total of 320 students from both the

Kalispell and Lincoln County campuses applied for degrees or certificates.

Four FVCC employees received their college degrees during the Spring 2005 Commencement. Non-traditional-aged students,

Connee Greig, Debbie Struck, Melanie Settle and Leslie Rogers entered the workforce out of high school and later went back to

college to obtain their degrees. Greig and Rogers began working on their degrees

in the fall of 1990, while Struck began taking classes in the fall of 1989 and Settle in

the spring of 1988. These four women are typical of many non--traditional

students at FVCC

National Attention

In the January 3, 2005 issue of Community College Week ® , FVCC was featured

in an article entitled, "From Surviving to Thriving." The article focused on the

challenges of serving as a rural community college and the impact community

partnerships have on the college's success.

© Community College Week

FVCC was featured in

the January 3, 2005 issue

of Community College

Week.

U.S. Senator Max Baucus visited

FVCC September 17, 2004 to promote

the Enzi-Baucus Higher Education

Affordability, Access and Opportunity

Act of 2004. While on campus, Senator

Baucus visited with students, toured

the First Interstate Workforce Training

Computer Lab and discussed his

proposed legislation with faculty, staff,

students and community members.

steps to Success

1

U.S. Senator Max

Baucus speaks to

FVCC faculty, staff,

students and

community members.
---
2

Steps to Success

Steps to Success continued.

Faculty Accomplishments

• Education Instructor and Early Childhood Program

Coordinator Marlyn James, M.A., co-authored a

textbook and training video entitled, "Focused

Observations: How to Observe Children for

Assessment and Curriculum Planning."

• Economics Instructor Gregg Davis, Ph.D., published

a "Wage and Benefits Survey," conducted by one

of his classes. Davis and two of his students

presented survey results at the State Economic

Outlook Conference in Kalispell in February 2005.

Student Spotlight

After a successful summer season, Flathead Valley

Community Theatre (FVCT) took "The Compleat Works

of Wllm Shkspr" to over 1,000 junior and senior high

school students touring December through

February.

For more student achievements, see page 5.

• Library Director Michael Ober, M.L.S., authored an

article entitled, "Icy Reconnaissance: The Discovery

of Pumpelly Glacier" in the winter 2004 issue of

Montana: The Magazine of Western History.

• Allied Health Instructor and Director of Project THEO,

Linda Hunt, Ph.D., was selected to serve on the

American Occupational Therapy Association's Driver

Rehabilitation and Community Mobility Panel. The panel

will establish curriculum and practice guidelines for

occupational therapists to become certified

practitioners in driver rehabilitation and community

mobility.

PROUDLY PRESENTING...

New Vice President of Instruction Kathy Hughes!

Kathy Hughes, M.Ed., brings 30 years of experience in education and more

than 20 years of administrative experience to the position at FVCC. Prior to serving

as interim vice president , Hughes served as director of continuing education at

FVCC from 1986-2004.

Hughes represents FVCC's partnership with the Flathead Regional Business

Center, and she serves on theFlathead Business and Education Council and

Montana Economic Developers Association.

Hughes also serves as an evaluator for the Northwest Commission on Colleges

and Universities.

She received a Master of Education and Counseling from North Texas State

University and a Bachelor of Arts in Social Science from Southern Methodist University.

Shown left to right are faculty members Linda Hunt,

Marlyn James, Gregg Davis (seated) and Michael Ober.

Kathy Hughes, Vice

President of Instruction
---
GRANTS ELEVATE CAREER PROGRAMS

FVCC Receives Grants to Strengthen Occupational

Programs and Expand Transfer Opportunities

In the fall of 2004, Flathead Valley Community College was

awarded a $100,000 Perkins Leadership Grant from the Montana

University System Office of the Commissioner of Higher Education.

The Career Pathways Initiative grant funded the Montana Career

Clusters in Manufacturing, Focusing Education on the Future project.

The project developed a Model Career Cluster in Manufacturing

with focused pathways in six areas: production; manufacturing

production process development; maintenance, installation

and repair; quality assurance; logistics and inventory control;

and health, safety and environmental assurances.

In May 2005, the college successfully completed and

received approval of funds for equipment totaling $693,577

from a Montana Board of Regents grant. The grant will provide

new and updated equipment for the Heavy Equipment

Operators program, Surveying and Natural Resources

Management AAS degree programs, Construction Trades

certificate and associate degree programs and HVAC

certificate programs in the fall of 2006.

The funding was part of the $3 million allocated by

the 2005 Montana Legislature to update equipment at

two-year colleges throughout the state.

FVCC also continues to offer a variety of strong

transfer programs, enabling students to obtain their first

two years of study at FVCC at an affordable cost. FVCC

works with four-year colleges and universities in the state

and across the country to ensure students can transfer

their credits seamlessly.

Other Credit Program Highlights

FVCC hosted its 11 th annual Senior Institute program

in the spring of 2005 offering a series of credit classes for

senior citizens ages 62 and older. Classes involved a

variety of subjects including jewelry making, health and

fitness and computers. The college saw a 29 percent

increase in participation from the previous spring with a

total enrollment of 155 seniors.

Flathead Valley Community College and Montana

State University-Bozeman recognized MSU's first upper

division nursing class graduates in the Flathead Valley

in December 2004. MSU began to offer their program

to students in the Valley in January 2003. The program

provides an opportunity to earn a Bachelor of

Science in Nursing without leaving the Flathead

Valley.

Coordinated through MSU-Bozeman's nursing

program, this effort is a collaboration with Kalispell

Regional Medical Center and North Valley Hospital.

Many of the students fulfilled their general education

requirements at FVCC and earned associate

degrees before enrolling in the MSU-Bozeman

nursing program.

Student Built House #8 was exhibited in the

Parade of Homes September 10-12, 2004.

Constructed by FVCC Building Trades and

Flathead High School students, the project was

part of the Student Built House program

founded in 1996 by the Flathead Building

Association and Flathead Valley Community

College.

Grants Elevate Programs

3
---
4

Creating Windows of Opporunity

CREATING WINDOWS OF OPPORTUNITY FOR THE COMMUNITY

Community Conversations

FVCC President Jane Karas hosted two types of public forums during the

fiscal year.

• In fall of 2004,14 legislators and candidates

attended FVCC forums held in Kalispell and

Libby. The forums provided the opportunity to

have a dialogue with the college about its

students, programs, plans and the role it plays

in the community.

• In the spring of 2005, President Karas hosted

12 community conversations, traveling from

Polson to Eureka. A total of 85 participants

attended to share their views about the

college's strengths and areas of opportunity.

Participants identified strengths including:

quality faculty and staff; transferability of

credits; strong academic and non-credit

programs; growth of online learning; valuing

community partnerships; and responding to

the needs of area businesses.

Multicultural Experiences

In the spring of 2005, FVCC began expanding

its multicultural awareness outreach by providing

Lincoln County residents with the opportunity to participate in various multicultural

lectures, films and events held at the college's Kalispell campus via interactive

television at no cost.

FVCC hosted its 12th Annual Native American Thanksgiving Celebration for Kids

November 22, 2004. Approximately 500 teachers, assistants and children in

kindergarten through fourth grade from area public elementary schools attended

the event. Local artist Jack Gladstone educated the children about Native

American culture through performances of songs and historical presentations.

On March 16, 2005, FVCC invited the community to celebrate a "Festival of

Cultures." The event consisted of music performances, ethnic foods and clothing

vendors from various cultures around the world including Nepal, Peru, India

and Guatemala.

Giving Back

FVCC Elderhostel volunteers participated in the Glacier National Park Restoration

Program, in partnership with FVCC and Glacier National Park, in September 2004.

Seventeen volunteers from all over the United States

spent a week working on a variety of projects to

preserve the park and its awe-inspiring beauty.

Elderhostelers worked on various projects including

planting over 1,000 plants, collecting seeds and

restoring a historic cabin to its original structure.

President Karas and Vice-President of Instruction

Kathy Hughes pitched in to help with the revegetation

project behind Lake McDonald Lodge.

Expanding Education

FVCC hosted an address to the Montana

Legislature by Montana's U.S. Senator Max Baucus

from Helena via interactive television giving FVCC

employees, students and area residents the

opportunity to view the address. The college was

one of three participating sites in Montana. Following

the address, Baucus responded to questions from

viewers at the participating sites.

FVCC, in conjunction with The Big Sky Astronomy

Club, celebrated Astronomy Day 2005 on the Kalispell

campus on April 16. The club provided numerous

astronomy-related activities and displays including sun

viewing through telescopes and presentations focusing on our universe and Robonaut:

NASA's Humanoid Robot.

In the spring of 2005, usage of interactive television for distance education of FVCC

classes in Lincoln County doubled from its debut in the fall of 2004.

Community Connections

In the fall of 2004, FVCC introduced a new job service, "CONNECT." The state-ofthe-art

student employment software system helps provide employers and potential

student employees with better opportunities to connect for job opportunities. The

free service allows employers to post positions online and to search for students and

alumni by degrees, skill levels or majors and also allows students to search, view and

apply for jobs posted by local employers and internship providers online.
---
A FIXTURE IN THE COMMUNITY

Service Learning

The Service Learning program at FVCC provided students with valuable hands-on volunteer

experiences. The projects reinforce academic learning, improve leadership skills and create a sense

of community awareness and civic responsibility. The program requires students complete 15 hours of

volunteer work throughout the semester.

During the 2004-2005 academic year, 309 FVCC students participated in Service Learning projects

providing more than 5,190 hours of community service throughout the Flathead Valley.

• In fall 2004, the Service Learning Office celebrated Make a

Difference Day by cleaning, organizing and landscaping a

Habitat for Humanity home in Whitefish.

• Service Learning teamed up with Student Senate to sponsor

two holiday giving trees to collect toys for the children of Court

Appointed Special Advocates (CASA). The drive exceeded

its goal of 75 toys by nearly 300 percent.

• Toni Cancilla's Advanced American Sign Language students

used their skills to interpret Kalispell Community Theatre's

production of The Importance of Being Earnest for the hearingimpaired

patrons.

Students in Laurie Murphy's IT Project

Management class pose with

representatives of the Teens-N-Crisis

organization.

Jesse Doran and Janaya Okerlund assist a

Habitat for Humanity homeowner with

landscaping on Make a Difference Day in

October 2004.

Jessica Jones stands by an angel tree

and donated gifts for the CASA holiday

toy drive.

Korrie Williamson, Rodrigo DeAlverado,

Larame Smith, Richard Gross, and Luke

Wisher spend the day in the Montana state

capitol meeting with elected officials.

HONORS SYMPOSIUM 2005

The 2005 Honors Symposium entitled, "Public Policies and Private

Interests: Whose Rights at What Costs?" featured nine national,

regional and state speakers, including T.R. Reid of the Washington

Post Rocky Mountain Bureau and Harry Zeeve of The Concord

Coalition. The lectures attracted more than 1,000 students and

community members.

Free to the public, the symposium

sought to inform attendees of the

dilemmas our country is faced with

as America prepares to be

reinvented for the fourth time in its

history. The symposium addressed

the role technology plays in our

society as well as the challenges it

brings. Symposium participants heard

from speakers who addressed various

issues such as the politics of health

care, defense spending, public

education and the media.

For the first time, Lincoln County

students were able to view the

lectures at the Libby campus via

interactive television.

Bob Brown, senior fellow at the

University of Montana's

O'Connor Center for the Rocky

Mountain West in Missoula,

addresses, "The Role of Public

Education in a Free Society."

• Laurie Murphy and students in her Information Technology Project

Management class got involved by developing and managing a

Web site for Teens N Crisis, a local community agency that serves

as a support group for parents with children in crisis.

• FVCC hosted over 200 local third grade students November 17, 2004,

for "Seussville University," a day-long celebration of children's author

Dr. Seuss that encourages local children to read.

• Five FVCC students attended "Day at the Statehouse" hosted by the

Montana Campus Compact's Raise Your Voice campaign February

7, 2005. The campaign was designed to increase student voice in

higher education while encouraging student participation in service

and politics.

A Fixture in the Community

5
---
6

A Cornerstone of Lifelong Learning

A CORNERSTONE OF LIFELONG LEARNING

Continuing Education Center

During fiscal year 2005, the Continuing

Education Center built on the resources of

the area communities to create success for

individuals of all ages, organizations and

businesses.

Kid's College introduces young students to

college life at FVCC. During the summer of

2004, approximately 350 youngsters were

enrolled in classes that explored cultures from

around the world, prepared food delicacies,

experimented with science, and let their

artistic creativity shine. Qualified instructional

staff developed half-day, week-long classes

to provide educational experiences for this

summer program.

The Continuing Education Center

continues to offer a diverse selection of

online non-credit classes. Students find the

convenience of the classes a great

alternative to the traditional classroom

setting.

FVCC's Elderhostel program celebrated its 23 rd anniversary this year by

offering 20 programs, enrolling close to 600 hostelers from across the United

States. Participants could choose from a variety of educational experiences

and accommodations ranging from a rustic ski lodge to Glacier National Park's

classic Many Glacier Hotel.

FVCC's Continuing Education Center

sponsored the following activities for

employers:

• 700 participants attended a variety of business

workshops from real estate to leadership

training.

• 23 businesses received 57 customized training

sessions involving a total of 646 employees.

• 1,050 individuals, statewide, participated in

Montana Superhost! gaining knowledge of

Montana's tourism industry.

The FVCC Continuing Education Center

participated in panel presentations on its

involvement in economic development and

business partnerships. These presentations took place at the Two-Year

Colleges Conference, Montana Workforce Conference and at a number of

sessions for statewide workforce and economic development representatives.

The Business Expansion and Retention Program (BEAR) kicked off in January

2004 with FVCC as an active founding partner. As part of the program, the

Continuing Education Center solicited opinions from local businesses on various

services and amenities with the goal of connecting them with appropriate

business resources. BEAR focused on rapidly growing businesses and revealed

that recruiting and retaining qualified workers is the number one challenge

facing area businesses.

The Continuing Education Center's involvement with both the Flathead

Regional Business Center and the BEAR program continues to enhance the

college's ability to deliver relevant services for maximum economic

development by increasing the college's knowledge the specific needs of

area businesses.
---
FINANCIAL AID ANNUAL REPORT 2004/2005

Four Flathead Valley Community College surveying

students were named recipients of Montana Association

of Registered Land Surveyors (MARLS) 2004 Scholarships.

Out of five awards statewide, four of the $2,000

scholarships went to FVCC students. The recipients

include Eric Konop of Rice Lake, Wis.; William Morrison of

Whitefish; Wayne Lockman of Kalispell; and Richard

Harrison of Whitefish.

Foundation representative Ed Jasmin and Kelly

Chapman, programs director of the Student Assistant

Foundation, presented a check in the amount of

$20,043.29 to the FVCC Board of Trustees on June 27,

2005. The grant was generated through the foundation's

Acce$$ Grant program to help FVCC students whose

unmet needs create barriers that prevent them from

continuing their education.

For many students and families, the cost of a college education or even a few courses is more than what

their discretionary income can accommodate. As a result, the availability of financial assistance is extremely

important. During the 2004/2005 academic year the Financial Aid Office made awards to and/or processed

assistance for 1,220 students, 60% of our degree/certificate-seeking students. Assistance to these students

totaled $ 3,922,086. The table below shows the breakdown and distribution of aid.

Number of

UnduplicatedType of Assistance Dollars Students by Program

(Duplicated)

Pell Grants $1,488,464 672

Stafford Student Loans 674,808 249

Montana Tuition Assistance Grants 77,122 181

Federal College Work-Study 52,535 48

SEOG Grants 46,529 106

State College Work-Study 46,325 56

ARC/TRIO Grant 38,000 105

SSIG/MHEG Grants 11,877 41

Access Grant 16,880 19

MGSLP Grant 7,099 15

PLUS (Parent) Loans 0 0

Subtotal – Federal and State Aid (Unduplicated) $ 2,459,639 764

Job Service, Project Challenge, Vocational

Rehabilitation, and other agencies 539,939 317

Veterans' Benefits 450,548 78

Scholarships 198,568 208

Tuition Waivers/Stipends (excluding Employee

and Senior Citizen waivers) 256,029 272

Perkins' Retention Grants 12,830 44

Emergency Student Loans 2,090 42

Bureau of Indian Affairs Grants 2,149 1

VA Work-Study 294 1

Grand Total (Unduplicated) $ 3,922,086 1,220

The availability and continuation of assistance is an important factor for our students to be able to

continue their coursework semester to semester and eventually complete their program of studies at

FVCC. Of the 296 students who earned a degree or certificate during the 2004/2005 academic year,

256, or 87%, received some type of aid processed through this office.

Financial Aid Annual Report

7
---
8

Financial Activity Report

FINANCIAL ACTIVITY REPORT FOR FISCAL YEAR 2005

BUDGETED REVENUES FOR OPERATIONS & MAINTENANCE

TOTAL BOTH CAMPUSES

STATE APPROPRIATIONS $ 3,765,330

LOCAL APPROPRIATIONS 1,897,016

TUITION 2,651,692

LOAN FEES 16,104

TRANSCRIPT FEES 6,465

INTEREST EARNINGS 25,000

APPLICATION & TESTING FEES 18,765

INDIRECT COSTS RECOVERED 81,113

LEGISLATIVE REVENUES 239,865

MISCELLANEOUS REVENUES 394,421

TOTALS $ 9,095,771

BUDGETED EXPENDITURES FOR OPERATION & MAINTENANCE

GENERAL ACADEMIC INSTRUCTION $ 3,912,678

LIBRARIES 203,432

ACADEMIC SUPPORT 558,330

STUDENT SERVICES 898,551

INSTITUTIONAL SUPPORT 2,265,275

PHYSICAL PLANT 541,259

UTILITIES 410,966

SCHOLARSHIPS 305,280

TOTALS $ 9,095,771

GRANT/CONTRACT FUNDS EXPENDED THROUGH 6/30/2005

TOTAL BOTH CAMPUSES

ARC STUDENT SUPPORT SERVICES $ 303,924

UPWARD BOUND PROGRAM 284,236

ADULT BASIC LITERACY & EDUCATION -

HEALTH OCCUPATIONS 8,521

ADULT BASIC EDUCATION 109,400

ABE-EL CIVICS 19,602

EVEN START 129,849

FIE EARMARK - REACHING ACROSS THE DIVIDE 93,937

TECH PREP 100,319

DEPARTMENT OF COMMERCE - SUPERHOST 72,028

MENTOR LINKS - AACC 5,344

BEST BEGINNINGS 26,389

FVCC HANDICAPPED VOCATIONAL 108,431

MT CAMPUS CORPS 15,150

SOLID WASTE PROGRAM 8,172

CONSTRUCTION TRADES PROGRAM 4,386

USDA - RURAL UTILITIES SERVICE 1,115

HAVA - CBO GRANT 1,685

DOL - PROJECT THEO 289,276

STRENGTHENING ACADEMIC ACHIEVEMENT 2,171

SUMMER FOOD SERVICE GRANT 7,816

LCC - BRIDGING THE DIVIDE 22,255

PERKINS - CAREER CLUSTERS 91,529

PERKINS - EDUCATIONAL TECHNOLOGY 43,340

TOTALS $ 1,748,875
---
A STRONG FOUNDATION

Dear Friends:

It has been an honor to serve for five years as chair of

the Flathead Valley Community College Foundation Board

of Directors. Our board of directors is a dedicated and

hard working group of community leaders, each committed

to improving lives through learning. These board members

volunteer their time and talents to positively impact the lives

of students and their families, area businesses and industries,

and the communities served by FVCC.

Philanthropy is a hallmark of our nation, and it is heartwarming to reflect on the

generosity and support of alumni, friends, corporate partners, foundations, and

the employees of the College. As we reflect on the highlights for 2004-2005, I want

to express my gratitude to each donor, volunteer, and friend of FVCC. You are

making a difference. Your contributions change lives, educating students for the

workforce and for promising careers, as well as preparing them for their roles as

responsible and caring citizens.

At FVCC, we see students ages 16 to 80 plus, and their stories are remarkable.

There are stories of overcoming barriers to learning, courage, persistence, hope,

and success. You are a part of each success story.

I thank each one of you listed in this Honor Roll of Donors for 2004-2005. Your

support has made this very successful year possible.

Sincerely,

Nancy Gordley, Chair

FVCC Foundation

Foundation Highlights for 2004-2005

• The FVCC Foundation reaches the $5 million benchmark in total assets;

• The FVCC Foundation funded $500 in scholarships for twelve students to join

Phi Theta Kappa, the international honor society for two year colleges;

• The Whitefish Credit Union's Community Pride Scholarship Program awards

$45,730 to 149 students over ten years;

• Springtime in the Rockies Great Chefs and Grand Wine Tasting, held

June 6-9, raises $19,086.42 for the professional chef's training program;

• The Annual Fall Fund Drive, our traditional fall fundraising event, raises

$38,437.99;

• Private scholarships totaling $134,000 were awarded to 194 students, and

110 scholarship donors and recipients attended the 10th annual Scholarship

Luncheon on October 28;

• The Running Start program will benefit from funds raised from Albertsons

Community Partners shoppers program;

• The FVCC Foundation funded the purchase of math calculators for the

Lincoln County Campus with an award of $1,400;

• The 2005 Honors Symposium: Public Policies and Private Interests: Whose

Right's at What Costs? is funded in part from donations from AAUW and the

Theodore Chase Honors Symposium Endowment Fund, an endowment

created to encourage support of the Honors Symposium;

• The Alumni & Ambassadors of FVCC, a volunteer membership support group

for the college chaired by Suzy Williams, hosts its first coffee and

conversation at the Bibler Home on April 26;

• FVCC Foundation volunteers host the spring Bibler Gardens and Home Tour

event, May 7 and 8, raising over $1,600 for student scholarships;

• Foundation members were recognized for their volunteer service during

National Volunteer Week, April 17-23;

• The FVCC Foundation awards Foundation scholarships to 15 students

ranging from $125 to $2,200.

The FVCC Foundation

9
---
10

Honor Roll of Donors

2004-2005 Honor Roll of Donors

Gifts and pledges received between July 1, 2004, and June 30, 2005

We gratefully acknowledge the following friends and businesses for their confidence and investment in the students and programs at Flathead Valley

Community College. The Honor Roll of Donors includes donors who have contributed from July 1, 2004, to June 30, 2005.

Every effort has been made to ensure this report is correct. If you have any revisions to the information in this report,

please allow us to correct our records by contacting Susan Evans at 406-756-3963.

The Heritage Society

The Heritage Society is composed of friends who have remembered Flathead Valley Community College through

establishment of an FVCC endowment fund, bequest, will, or other planned gift – establishing a lasting legacy.

AAUW

ARC Endowed Scholarship Fund

Kathy and Greg Barkus

Founding President, Dr. Larry J. Blake, Sr., Endowed Scholarship Fund

Kim and Mick Blodnick

William M. Boehme, M.D.

John Bowdish

Jerome and Rebecca Broussard Family Endowed Scholarship Fund

Theodore Chase Honors Symposium Endowment Fund

Diamond Marketing Inc./Diamond Auto Glass

Selma Dodge Memorial Endowed Scholarship Fund

Mary Fetter Endowed Scholarship Fund

Flathead County Tavern Association Endowed Scholarship Fund

Flathead Electric Cooperative, Inc. Endowed Scholarship Fund

Flathead Valley Community Theatre Endowment Fund

Marion Foley

Glacier Bank Endowed Scholarship Fund

Jim Gordley Endowed Scholarship Fund

Lawrence A. Goroski Endowed Memorial Scholarship Fund

Ora and Stanley Halvorson Endowed Scholarship Fund

Ella Hanley and Jacobson Family Endowed Scholarship Fund

Thelma Hetland

Mark Hodgson and Dorothy Jaquette Hodgson Memorial Scholarship Fund

Marjory E. Jacobson Memorial Art Scholarship

Charlotte Kempf Johnson Endowed Scholarship Fund

Viola Jore Memorial Scholarship Fund

Junkermier, Clark, Campanella, and Stevens

Lil and Jim Laidlaw

Marcia and Tom Laux

C. K. Logue Endowed Scholarship Fund

Mattson Memorial Scholarship Fund

Perry and Luella Melton Memorial Scholarship Fund

Kathryn and Chuck Mercord

Meredith Construction Co. Endowment for Building and Construction Trades

Dustin Petersen Memorial Endowed Scholarship Fund

Pointer Scenic Cruises Endowed Scholarship Fund

Red Lion Hotels Endowed Scholarship Fund

Rhoades Family Endowed Scholarship Fund

Mel Ruder – Ruder Educational Fund

Christopher Savage Memorial Endowed Scholarship Fund

Owen E. Sowerwine and Alton Pearce Scholarship Fund

Sullivan Family Endowed Scholarship Fund

Mary Treloar Memorial Scholarship Fund

Dick Uhde Memorial Scholarship Fund

Paul D. Wachholz

Suzy and Paul Williams

Winter Sports, Inc.

One Anonymous Member
---
Golden Circle: $1,000 and Above

AAUW

American State Bank and Trust

Bethlehem Lutheran Church

Dr. David N. Beyer

The Bibler Foundation

Bigfork Lady Lions

Cindy and Howard Blake

Boeing Employees Credit Union

Rebecca and Jerome Broussard

CenturyTel

Citizens Scholarship Foundation

The Clemens Foundation

The Cobb Foundation

Coca-Cola Scholars Foundation

Anne and John Collins

Columbia Falls School District #6

Don "K" Chevrolet

Ila B. Dousman Fund, Inc.

Mary and Bill Eisenlohr

Eisinger Motors

Eureka Public Schools

First Interstate Bank of Polson

First National Bank of Montana

First Presbyterian Church

Flathead Electric Cooperative, Inc.

Flathead Farm Mutual Insurance Co.

Flathead Valley Community College

FVCC Adjunct Faculty Union

Flathead Youth Foundation

Glacier Bancorp, Inc./Glacier Bank

Nancy Gordley

Richard Gordon and Cheryl Watkins

Stephen L. Grobel, LTD

Fay Harwood

Charlene Herron

Thelma Hetland Trust

E. A. Hinderman Memorial Scholarship, Inc.

Holy Trinity Episcopal Church

Heather and Derek Houseworth

Jackola Engineering and Architecture, PC

Jordahl & Sliter

Junkermier, Clark, Campanella, & Stevens

Kalispell Lions Club

President's Club

This is a special group of friends of FVCC with great dedication. Their generosity

provides strength, educational excellence, and funding for the future.

Among the 120 guests at the 10th Annual President's Donor

dinner were Brian Clark, Board of Trustees Vice-chair Robert

Nystuen andhis wife Kim,...

Jane Karas and John Goroski

Carol and Kurt Larson

Dorsey and Eugenie Lenz Scholarship Fund

Libby High School Educational Trust

C. K. Logue Trust

Kathryn and Chuck Mercord

Montana Association for the Blind

Nadeau/Senft Scholarship Fund

New Hampshire Charitable Foundation

North End Forest Service

North Valley Hospital Auxiliary

Northwest Imaging, PC

Jennet and Edith Orr Scholarship Fund

Plains Drug

Plum Creek Timber Co.

President's Student Service Scholarship Fund

Provident Financial

Red Lion Hotels

Grace Ritzman Scholarship Fund

Char Rygg

Rygg Memorial Roping Association

Sands Surveying

Patricia and Simmons B. Savage, III

Scholarship America/Dollars for Scholars

Donna M. Scholl

Margie and Larry Simpson

Nikki and Everit Sliter

Ralene and Tom Sliter

Tom Laird, Dorothy Laird, Doug Morton, Patsi Morton,

Mary Gibson, Board of Trustees Chair John Engebretson,...

Soroptimist Club of Kalispell

Owen E. Sowerwine Endowment Fund

Sports Car Club of America/

Rocky Mountain Chapter

Shirley and Ed Sullivan

The Sustainability Fund

Swank Enterprises

Sherry and Peter Tracy

Valley Bank

Faye and Neil Van Sickle

Dennis and Phyllis Washington Foundation

Whitefish Credit Union

Suzy and Paul Williams

Winter Sports, Inc.

Mary and Melvyn Yokan

Alison Young

One Anonymous Donor

SILVER CIRCLE: $500 TO $999

Altrusa International Inc. of Missoula

Anna Marie Bailey

Lynn and Rick Bauer

Bigfork High School

Dr. William M. Boehme

Suzanne and Jay Brown

Byrd Memorial Scholarship Fund

Mary Ann Carlson

David Cooley

and Anne and Andy Miller.

Honor Roll of Donors

Flathead County Sheriff's Posse

Flathead Extension Homemakers Council

Flathead Society of Radiologic Technicians

Flathead Valley Community Theatre

Glacier Bank of Eureka

Glacier Pilot Club of the Flathead Valley

& Pilot International Foundation

Pearl (Pat) Hagel

Bobbi and Ed Jasmin

Kalispell Farmers Market

Kalispell Regional Medical Center

Darla and Tim Lindsey

Marathon Oil Company Matching Gifts Program

Patricia and Perry Melton, Jr.

Montana Health Information

Management Association

Mission Valley Lodge #78

Montana Bowling Proprietors Association

Gary Norby Junior Golf Foundation

Owens & Hurst Lumber Company

Piper Jaffray & Co.

Polson Kiwanis Club

Faye and Mark Schoknecht

Soroptimists International

Stoken Logging

Stumptown Art Studio

Swan Chapel

United Way

Wells Fargo Bank

11
---
12

Honor Roll of Donors

BENEFACTORS: $250 to $499

Bresnan Communications

Sue and Bob Brown

Janet and C. M. Clark

Sue and Steve Cummings

FVCC Physical Plant Staff

Fortine School District #14

Rich Jacobson

Johnson, Berg, McEvoy, and Bostock, PLLP

K-M Management, Inc.

Patrice LaTourelle

Emily Melton

Anne and Andy Miller

Kim and Bob Nystuen

PEO Chapter AB

PEO Chapter BM

PEO Chapter C

Plum Creek Foundation

Kathleen and Jim Redman

Sue and Hank Ricklefs

Mary Catherine and Frederick Savage

Dick Schaus

Deanna Shaw-Berget

George Shryock

Ellie and Joe Stimpson

Melanie and Tom Stout

Sunrise Business Group

Tioga Area Dollars for Scholars

Whitefish School District #44

Wilson Chiropractic Clinic

Darrell Worm

One Anonymous Donor

PARTNERS: $100 to $249

Ruth and David Ackroyd

Bev and Allan Aronson

Laurie and Dan Averill

Back Room Restaurant

Diane and Bob Balding

Kathy and Greg Barkus

Sandra and Russell Barnes

Brian Bechtold

Big Mountain Real Estate

Kathleen Blake

Margaret and Larry Blake, Jr.

Bruce Boody

Bud Bower

Kathleen Brown

Business Resource and Training

Company

Dorothy and Luther Campbell

Dr. Theodore Chase, Jr.

Columbia Falls Aluminum Company

Columbia Falls Lions Club

Roger Combs

Rennie and Chuck Corrigan

DePratu's

Bobbi and Hank Deyerle

John D. Engebretson

Epworth United Methodist Church

Five Star Rentals & Prop. Mgmt.

Flathead Area Central Labor Council

FVCC Learning Center Staff

Helen and Kenneth Ford

Sheila and Keith Gestring

Mary and Hi Gibson

Margaret Girkins

Glacier Line Logging

Megan Gordley

Grouse Mountain Lodge

Leslie and Reed Gunlikson

Toni and John Gunnerson

Jean and James Hagan

Russell Hall

Lois and John Hammett

Sue and Tom Harding

Kay and Robert Hedger

Wanda and James Hollensteiner

Marcy and Mark Holston

Linda Hunt

Connie Keltner

Kila School Scholarship Fund

Patty and Joe Kogutek

Richard Kolden

L C Staffing Service

Launa and Jim Lackey

Julie and Joe Legate

Les Schwab Tire Center

Gerene and Tom Little

Lynette and Marc Lorenzen

Jeannie and Steve Luckey

M & M Communications

Lawrence J. McCarthy and Associates

Tom McFarlane

Beverly McGuire

Leslie Mercord

Montana Logging Association

Mooses Saloon

Georgianna Morgan

Emmett Myhre

Pam and Bob Nadvornick

Barbara and Douglas Nelson

Carol and Peter Nelson

Peggy Newman

Alayne and William Noble

North Valley Hospital

Northwest Healthcare

Jeanette Oliver

Chuck Olson Real Estate of Whitefish

Ivan O'Neil

Agnes and Donald Petersen

Marilyn Petersen

Marilyn Reynolds

Julianna and William Robbins

Rocky Mountain Contractors

Jana and Rex Rupp

Bud Sather

Shear Perfection

Smith Logging

Mrs. Peter G. Smith

Roger Somerville

Phyllis Sprunger

Betty and Jim Thompson

Three Rivers Bank

Triple W Equipment

Colleen and Joe Unterreiner

Upward Bound

Paul D. Wachholz

Bethany and Steve Weber

Fay White

Bonnie Whitehouse

Cheryl and Steve Wilson

Pat and Denny Winkel

Pamela and Glenn Woodson

Two Anonymous Donors

FRIENDS: Up To $100

Able Body Shop

LaVonne Aikin

Tamara Akimova

Albertson's

Scott Alexander

Amsterdam Lumber

Donald Andree

Sheila Applekamp

Janice Ashley

Marlene Barnes

Gary Barron

Fred Bauer

Travis Beauvalis

Caryl and Robert Bennett

Sharon and Lee Berger

Brian Berkner

Katherine Bernstein

Paula Betthauser

Carol Bibler

Big Sky Exxon

Stan Billheimer

Joanne Blake

Lex Blood

Debra Bond

Gail and Oystein Boveng

John Bowdish

Eugene Boyle

Dee Brown

Char Brown

Cheri Brown

Debbie Brown

Kevin Buettner

Violet Campos

Eileen Carney

Ray Center

Mette Cephers

Chain Saw Sales and Service

Clayton Chambliss

Nancy Clawson

Irene and John Cole

Connie and George Colonius

Helen Conrad

Sue and Ed Corrigan

Jessica Cripe

Cron Automotive

Linda Cusick

Julie Darling

Darryl's Auto Tech

Dorothea Darwall

Charlie Davis

Kay DeMeritt

Susan Dennis

Laura Dickerson

Dave Dorsett

Faith and Jeff Dyksterhouse

John Emerson

Irene and William Engle

Frances Evans

Michael Evans

Irene and Robert Evans
---
Harmon Fahland

Dan Fairbank

Lynn Farris

Terri Fehlhaber

John Ficken

Arlene Field

Jolie Fish

Judy and Fred Flanders

Flathead Credit Union

Flathead Valley Orthopedic Center

Myrna Fopp

Judy Fosbery

Sandra and Allan Fredrickson

Mel Fretheim Farms, Inc.

Fun Beverage

Mary and Don Gatzke

Christy and John Ghekiere

Beverly Gordon

Roberta and Bill Gould

David Gray and Lynne Beauclair-Gray

Joan and John Greene

Winnie Greenshields

Susan Groverman

Karen Gunderson

Ed Hagen

Doris Hall

Nancy Hanchett

John Hardin

Georganne Hart

Karen Haven

Sherry Heis

Mike Hensler

Eloise Hill

Shannon Hill

Faith and Dale Hodges

Peter Hoveland

Kathy and John Hughes

Elizabeth Hunt

Jennifer and Peter Isler

Dick Jakob

George Jenkins

Kaaren and Wayne Jensen

John Johnson

Rita and Ed Johnson

Jason Jury

Sue Justis

Sue Kelly

Venetta and Louis Kimbrell

Tracie and A. J. King

Loree Klein

Janet Knauss

Donna and Terry Korman

Lil and Jim Laidlaw

Dorothy and Tom Laird

Danette Lale

Kimberly Lalley

Willa Langel

Bev and Duane Larson

Ronnie Laudati

Margaret Lekander

Lila and Clint Leuning

Carol Lindsay

Marlene and Rex Linstead

Tami Linstead

Gordon Lister

Mary and Don Lloyd

Laura Long

Jennifer Lund

Ted Lund

Patsy Lumpus

M & C Tire

Kelly and Chad Magness

Bo Maiuri

Linda and Joe Malingo

Darrell Martin

Mark Martinson

Shirley and Charles Marvin

Daniel McCormick

Connie McCubbins

Glen McDonald

Hilda McGaugh

Carol McGuire

Anita and Paul Menssen

Lauretta and Dwight Milne

Harriet and Robert Mize

Montana Forest Products

Montana Society of Radiologic Technologists

Michael Moore

Sylvia Moran

Carolynn and Chris Moritz

Manford Morris

Gisela Morton

Mountain West Bank

Laurie Murphy

Wilma Myers

Kenichi Nagai

Jim Neal

Carrie Nelson

Adrienne Newlon

Shawna and Roger Noble

Orthopedic Rehab, Inc.

Sharron Parmer

Parsons Tractor and Implement Co.

Charline Payne

Sharilee Payne

David Peterson

Jennifer Petry

Carolyn and Bruce Pfrimmer

Beverly and Larry Pippin

David Pittsley

Brenda Probert

Jo-Em Purdy

Souheir and John Rawlings

Sherrill and Sam Richardson

Riebe's Machine Works, Inc.

Kim Riel

F. A. Riley

Marla and James Roberts

Peter Robinson

Jean Roe

Sandee Rogers

Aspen Rose

Brenda Rudolph

Alan Satterlee

Audrey Savage

John Scott

Jamie Secor

Judy Sheafer

Maria Shelko

Carolyn Shriver

Martha Shurtz

Sisters of Mercy/Kalispell, MT

Sisters of Mercy/Hiawatha, IA

Snappy Sport Senter

Cynthia Snider

Lucille Sorensen

Marlene Stoltz

Susan and Craig Strandberg

Naomi Streich

Debbie Struck

Robbie and Mark Sullivan

Sharon and James Sutherland

Dorthe Swinehart

Paula and Tom Symmes

Evelyn Syth

Kim Taasevigen

Jeanne Tallman

Marilyn Taylor

Delores Theis

Kelly and John Thies

Sue Thompson

Wendy and Warren Tolley

Sharon Torgerson

Barbara Truckner

Kathy and Jack Truzzolino

Valley Motor Carquest

Florine and John Van

Victor Verkuehlen

Tracy Vranizan

Colleen and Pete Wade

Kathy Watters

Sally and Terry Welder

Roberta and Renn White

Jackie Wildgen

Karen and Charles Williams

Dorothy and Daniel Williams

Jim Williamson

Virginia Wiscovich

Betty Wise

Jean and Jim Wix

Audrey Wolf

Patrice and Andrew Young

One Anonymous Donor

GIFTS-IN-KIND AND

PROFESSIONAL SERVICES

Deanna and Bob Conley

Priscilla French

Barbara Hendrickson

International Design

Jordahl & Sliter, PLLP

Junkermier, Clark, Campanella, & Stevens

Krazee Reds

Alberta Lister

Dan Nelson

Alice and Dick Nelson

Nutrition Research, Inc.

Park Side Federal Credit Union

Regis Salon

Julie Schelling

Soucie, Soucie

Staples, The Office Supply Store

Patricia Stephan

Target

Tidymans

Chris Yunker

Honor Roll of Donors

13
---
14

Scholarship Recipients

2004-2005 Scholarship Recipients

Scholarship Recipient

ARC Scholarship Kimberly House

David Ritter

Robin Treat

Altrusa High School Scholarship Jennifer Hals

Barce Family Memorial Scholarship Jaline Macdonald

Bethlehem Lutheran Church Brian Fredenberg

Justin Taylo

Brianne Ward

Bigfork Lady Lions Hilary von Limbach

Founding President, Dr. Larry J. Blake, Sr. Anastasia Plympton

Boeing Employees' Credit Union Foundation Hilary von Limbach

Jerome and Rebecca Broussard Family Scholarship Amy Elletso

Nikki Fisher

Jim Byrd Memorial Scholarship Andrew Ladenburg

Phil Caperton Memorial Katrina Vacura

Certainty Scholarship Kari Allen

Dacey Barber

Shannon Martin

Class of '61, Inc. Megan Christiansen

Clemens Foundation Tressa Cooper

The Cobb Foundation Rodrigo DeAlvarado

Lisa Hazen

Cobb Hill Construction, Inc. Eric Dimond

Coca-Cola Scholars Foundation Deborah Miller

Columbia Falls School District #6 Melissa Farrell

Rachel Golden

Steve and Sue Cummings Heather Pewitt

Selma Dodge Memorial Amber Loughlin

Dollars for Scholars Tonya Gardner

Don K Chevrolet Rachel Golden

Epworth United Methodist Church Jody Miller

Eureka Public Schools Meghan Flanary

Express Personnel Services Freda Pomeroy

Mary Fetter Memorial Jeannette Parks

First Presbyterian Church Melissa Berdimurat

Sarah Main

Rick Fister Memorial Toni Gervais

Flathead County Sheriff's Posse Rachel Golden

Flathead Extension Homemakers Council Alisa Settera

Serra Valentine

Flathead Farm Mutual Insurance Co. Christopher Gloschat

Alexandria Tobiason

Scholarship Recipient

FVCC Adjunct Faculty Union Zella Bogg

Krista Booher

Delcy Brisbo

Matthew Davi

Harmon Fahland

Paul Franchini

Amanda Fredericks

Gabriel Guinard

Shannon Howard

Brittany Johnson

Victoria Lahti

Brenda Lamb

Diane Lee

Mary Malloy

Danielle McClenahan

Delme Mundell-Watson

Bill Murray

Lesa Normandeau

William Orr

Paula Paasch

Kimberly Schwartzmiller

Scott Seaford

Alisa Settera

Rhonda Shotwell

Steven Stewart

Sky Vernon

Benjamin Wandruff

Jerrile Zachreson

FVCC Employee Sponsored Scholarship Rodrigo DeAlvarado

Rebecca Hefty

Patti Miles

FVCC Foundation Delcy Brisbo

Colette Cohen

Kathy Conat

Susan Cushman

Pamela Fischer

Meghan Flanary

Chelsea Glantz-Thramer

Alicia Johnson

Jennifer Lee

Shannon Martin

Diane Rice

Andrea Smith

Jessica Tremba

Lynn Wilson
---
Scholarship Recipient

FVCC Merit Award Anne Marie Freeborn

Kristin Johnson

Eric Konop

Marie LeMoyne-Rhodes

Flathead Valley Community Theatre Jessica Dumke

Erin Lamb

Jillian Vashro

Doreen Williams-Freeman

Flathead Valley Community Theatre

Incoming Freshman Morgan Fife

Torrey McLean

Flathead Youth Foundation David Doney

Jamie French

Jamie Spaulding

Glenn Ford Memorial (Family) Lisa Hazen

Glenn Ford Memorial and Recycling Scholarship Aaron Nelson

Glacier Bank Endowed Neza Kurnik

Richard Newbury

Kimberly Pettit

Brian Rogers

Glacier Bank of Eureka Raymond Flanagan

Glacier Pilot Club of the Flathead Valley &

Pilot International Foundation Tiffany Tyree

Jim Gordley Memorial Brianne Corpron

Lawrence A. Goroski Memorial Dennis Smith

Barbara P. Graf Memorial Kara Matteson

Grobel Scholarship Trust Mystel McKinley

Ora and Stanley Halvorson Sara Stafford

Ella Hanley and Jacobson Family Ferrial Roloff

Hawkins Scholarship Richard Gross

Katie Schabel

Ian Wargo

E. A. Hinderman Memorial Scholarship, Inc. Christopher Clark

Mark Hodgson and Dorothy Jaquette Hodgson Jacklyn Elgin

Jennifer Lee

Jean Houseworth Memorial Art Scholarship Larry Friar

Huntsinger Scholarship Angie Hagadone

Interbel Telephone Cooperative Raymond Flanagan

Marjory and Alvin Jacobson Katy Thompson

Charlotte Kempf Johnson Memorial Amy Mergenthaler

Merlin Johnson Trust Mandy Gleave

Kalispell Church of Christ Joanna Crawford

Kalispell Farmers Market Rebecca Hefty

Kalispell Lions Club Nathan Bain

Christopher Gloschat

Justin Taylor

Scholarship Recipient

Kila School Scholarship Shawn Linne'

Dorsey and Eugenie Lenz Danielle Potts

Libby High School Educational Trust Jennifer Paulsen

T & D Lindsey Scholarship John Bower

Allison Nagode

C. K. Logue Scholarship Kari Allen

Joel Baller

Roger Diller

Harmon Fahland

Steven Fahland

Jennifer Lee

Jaline Macdonald

Shannon Martin

Chaille McKinley

Patti Miles

Betty Norris

Heather Peacock

Chad Reed

Brian Rogers

Alta Thuesen

Amber Townsley

Danielle McClenahan

Susan Wise

Marias Medical Center Auxiliary Alicia Hecock

Perry and Luella Melton Amanda Fredericks

Mission Valley Lodge #78 Brittany Scott

Montana Association for the Blind Cindy Letcher

Montana Association of Registered Land Surveyors Richard Harrison

Eric Konop

Wayne Lockman

Bill Morrison

Montana Bowling Proprietors Association Caleb Stanton

Montana Health Information Management Association Anne Marie Freeborn

Montana State Fund Scholarship Chaille McKinleyMystel

McKinley

Irving and Esther Nad Chelsea Glantz-Thramer

New Hampshire Charitable Foundation Eric Dimond

Gary Norby Junior Golf Foundation Shane Moore

North End Forest Service Lance Pluid

Sara Stafford

North Valley Hospital Auxiliary Casey Baumgartner

Northern Rockies Hotshot Program Michael Millay

Chad Reed

Scholarship Recipients

15
---
16

Scholarship Recipients

Scholarship Recipient

Jennet and Edith Orr Melissa Berdimurat

Megan Christensen

Christopher Gloschat

Shelby Gove

Amanda Guy

Nicole Peiffer

Naomi Taylor

Tiffany Tyree

Emily Williams

Rose Osler Raymond Flanagan

Owens & Hurst Lumber Co. Keely Parrish

Alton Pearce Steven Fahland

Tom Pederson/Provident Financial Justin Taylor

PEO Chapter BM Rebecca Hefty

PEO Chapter C Rebecca Hefty

Piper Jaffray Caleb Stanton

Plum Creek Cealie Brumwell

Kristin Johnson

Pointer Scenic Cruises Rodrigo DeAlvarado

Rob DeGolier

Rebecca Hefty

Richard Newbury

Polson Bay Grocery Kristin Johnson

Presidential Freedom Scholarship Alisa Emmert

Kristin Johnson

Rhoades Family Mystel McKinley

Grace Ritzman Scholarship Richard Gross

Mars and Verna Rolfson Kristin Johnson

Brittany Scott

Ruder Educational Fund Casey Eggum

Mandie Hanson

Andrea Klug

Andrew Ladenburg

Ian Wargo

Philip J. Rygg Memorial Scholarship Brianne Bennett

Danny Cooper

Christopher Savage Memorial Robert Gross

Shelby Public Schools Alicia Hecock

Heather Smith Memorial Alta Thueson

Soroptimist Club of Kalispell Jessica Dumke

Soroptimists International Carolyn Biolo

Owen E. Sowerwine Randy Bain

Tracie Belsey

Shannon Martin

Sports Car Club of America/Rocky Mountain Chapter Raymond Flanagan

Dennis Smith

Scholarship Recipient

Stoken Logging Raymond Flanagan

Stumptown Art Studio Kelly Ruffatto

Sullivan Family Endowed David Sturzen

Sunrise Business Group Chelsea Lineberry

Sustainability Fund Chelsea Luce

Swan Chapel Danielle Potts

Tioga Area Dollars for Scholars Mandy Gleave

Toole County Junior Miss Alicia Hecock

Mary Treloar Memorial Shyla Goodell

UPS Foundation Tonya Gardner

Dick Uhde Memorial Randy Bain

United Way Rob DeGolier

Upward Bound Angie Hagadone

Danielle Potts

Dennis & Phyllis Washington Foundation Jesse Klang

Anna Korchmar

Krista Martens

Kara Matteson

Denise Pankratz

Whitefish Credit Union Rae Baker

Delcy Brisbo

Tashina Cleland

Amy Elletson

Teresa Geelan

Toni Gervais

Svetlana Korchmar

Amber Loughlin

Serra Valentine

Matt Williams

Linda Wilson

Whitefish School District #44 Max Kutzman

Foundation Board members Ralene Sliter

and Kathy Barkus stand with scholarship

recipient Suzanne Wright and her son Rhett

at the student Awards Reception in

April 2005.

Alumni and Ambassadors of FVCC Chairperson

Suzy Williams poses with her husband and

FVCC Foundation Board Treasurer Paul Williams

at the 10th Annual President's Donor Dinner.