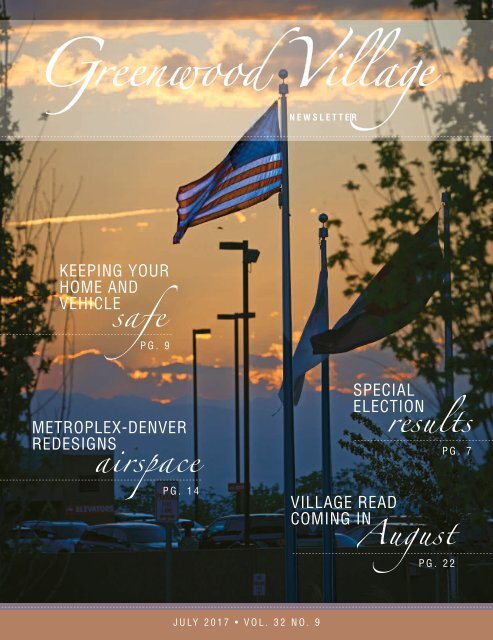 GV Newsletter 7-17 website
Create successful ePaper yourself
Turn your PDF publications into a flip-book with our unique Google optimized e-Paper software.
Greenwood Village

N EEW S LLE ET TTE ER

HEADLINE GOES

here P G . X

KEEPING YOUR

HOME AND

HEADLINE

VEHICLE safe

HERE P G . X

P G . 9

METROPLEX-DENVER

REDESIGNS

airspace

P G . 1 4

HEADLINE

HERE

SPECIAL

ELECTION

P G . X

results

HEADLINE

here P G . X

VILLAGE READ

COMING IN

August

P G . 7

P G . 2 2

J U LY M O 2N 0T 1H 7 Y• EVA OR L I. S3S 2U E N O #. 9
---
GOVERNMENT

MAYOR RON

reports

LETTER TO RESIDENTS

FROM MAYOR RON

REGARDING SPECIAL ELECTION

At 7 p.m. on

Tuesday, June 6,

while we awaited

the outcome of the

Special Election

(see page 7 for a

summary of the

results), the

following letter to

residents from me was posted to social media and our

Website in case you missed it.

Ron Rakowsky

rrakowsky@

greenwoodvillage.com

303-486-5741

June 6, 2017

Fellow Neighbors,

We all chose to live in Greenwood Village for a

litany of reasons I do not have to enumerate.

The most important reason is because this

community is comprised of wonderful people

which you must admit even if you did not

necessarily agree with them on Referendum 1.

Our neighbors, voting in significant numbers,

have spoken with a clear message. I have no

doubt that the City Council will respect the

message you sent.

The passion displayed by both the supporters of

a "Yes" vote and a "No" vote clearly indicates to me that

everyone involved has a deep and abiding love for our

Village. This is the commonality upon which I want all

citizens to recognize and have that commonality become the

basis of a renewed respect for each other no matter which

side an individual supported.

We have already scheduled a day for the entire Village to

come together: Saturday, July 29th. Our Village Day will take

place at Village Greens Park from 2 p.m. until nightfall, at

which time we will have our traditional fireworks

presentation.

I pledge to each of you I will work with everyone to bring us

together to have a Village which continues to be the "Best

Location in the Nation" in which to live.

Respectfully,

Your Mayor,

Ron Rakowsky

FUEL TRUCK CRASH

AND FIRE RESPONSE —

A REGIONAL SUCCESS

As I was about to leave the side door at City Hall at 1150 for

a lunch appointment on May 31, I saw a large black cloud

and decided to turn around and head back to my office.

Enroute I encountered Chief of Police John Jackson who

advised me that he activated the Emergency Operations

Center in the Community Room at City Hall. What ensued

in the next five hours was extraordinary!

Having been through many Air Force Disaster Exercises there

was a real déjà vu element to that afternoon. From that

perspective let me sum up the incident. Everyone at

Greenwood Village knew their role and immediately executed

it. All our resources, including several Public Works dump

trucks filled with sand and dirt which promptly arrived, came

together right on cue. Could our operation have been done

better? I seriously doubt it. While tens of thousands of

citizens were inconvenienced, when we have one of the two

major economic lifelines bisecting our city, incidents such as

this one come with the territory.

I salute our GV staff, our partners Arapahoe County Sheriff's

Office, Colorado Department of Transportation, Colorado

State Patrol, and South Metro Fire Rescue for their

extraordinary performance with only one injury. I am

exceedingly proud of everyone involved and I hope you are,

too.

PG. 2 GV NEWSLETTER | JULY 2017
---
GOVERNMENT

CITY council

NOT SURE WHO YOUR

ELECTED OFFICIALS ARE?

Obtain a list of your state and national government

representatives at www.arapahoevotes.com

DISTRICT 1 DISTRICT 2 DISTRICT 3 DISTRICT 4

Freda Miklin

fmiklin@

greenwoodvillage.com

303-804-4138

Leslie Schluter

lschluter@

greenwoodvillage.com

303-804-4135

Steve Moran

smoran@

greenwoodvillage.com

303-804-4133

T.J. Gordon

tgordon@

greenwoodvillage.com

303-804-4132

Dave Bullock

dbullock@

greenwoodvillage.com

303-804-4137

Darryl Jones

djones@

greenwoodvillage.com

303-804-4136

George Lantz

glantz@

greenwoodvillage.com

303-804-4134

Tom Bishop

tbishop@

greenwoodvillage.com

303-804-4131

HELP US FIGHT HUNGER IN

THE DENVER METRO AREA

No child deserves to go hungry. The Metro Mayors Caucus

and Hunger Free Colorado have partnered to help raise

awareness of the Summer Food Service Program which

provides free meals to hungry children age 18 and under in

communities nationwide throughout the summertime. Kids

can eat free all summer long through this program.

This program is an important and underutilized resource for

struggling families who rely on free or reduced-price meals

during the school year. However, it is estimated that an

average of less than 11 percent of children who eat free and

reduced-price lunch during the school year receive summer

lunch. The resources of local food banks and charities are

strained – further exacerbating the economic impacts of

poverty in the metro Denver area including Arapahoe County.

I call attention to this program to ensure that parents are

aware of this program and to ask for your help in spreading

the word about the

availability of the

Summer Food Service

Program in our regional

community. If you know

of a school-aged child in

need of breakfast and

lunch this summer,

simply text "FOOD" to

877877. You will receive

a message back with the

closest location that they

can get free summer

meals. Text "COMIDA"

for a reply in Spanish. This is a national program so anyone

can benefit no matter where you are located.

To find out more information or to locate a site nearest you,

visit www.summerfoodcolorado.org, call 855-855-4626, or

text "FOOD" to 720-HFC-EAT5.

continued on page 4

JULY 2017 | GV NEWSLETTER PG. 3
---
GOVERNMENT

continued from page 3

RTD LAUNCHES

MYRIDE SMART

CARDS FOR BUS

AND RAIL FARES

The Regional Transportation District

(RTD) has made travel more

convenient with the launch of MyRide

smart cards, enabling patrons to preload

cards with up to $200 in cash value,

pay bus or rail fare with a quick tap

and save money on each trip they take.

New MyRide cards are available for

purchase online and at each of RTD's

five regional sales outlets, including

Civic Center Station and Union

Station Bus Concourse, both in

downtown Denver; Boulder Junction

at Depot Square Station; Downtown

Boulder Station; and Denver

International Airport Station, located

within the new transit facility.

Creating an online MyRide account

allows patrons to order new MyRide

cards, check their MyRide balance and

view their transaction history. Riders

can log in anytime from a desktop or

mobile device to track their balance

and add cash value with a debit or

credit card.

MyRide is valid on all regular bus,

Call-n-Ride, SkyRide and rail services.

It is not valid on Access-a-Ride and

RTD special services routes that

include BroncosRide, RockiesRide,

RunRide and SeniorRide. For more

information, please visit

rtd-denver.com or call RTD at

303-299-6000. GV

RAMBLE WITH RON

IN JULY

Have some ideas or suggestions to

share about living or working in

Greenwood Village? Walk and talk with

Mayor Ron Rakowsky from 7:30 to

8:30 a.m. (weather permitting) on:

Wednesday, July 26 — Westlands

Park, 5701 S. Quebec Street

Monday, July 31 — Tommy Davis

Park, Swim Club Lot, 9200 E. Orchard

Road.

Registration is not required. For more

information, please call the Mayor's

Office at 303-486-5745. Check for

updates of the monthly schedule for

Ramble with Ron at

www.greenwoodvillage.com.

IMPORTANT NUMBERS

DEPARTMENTS

Mayor and City Council 303-486-5745

City Manager's Office 303-486-5745

Community Outreach/ 303-486-5749

Public Information

City Prosecutor 303-486-1598

Administrative Services

Liquor Licenses 303-486-5755

Voter Registration 303-486-5752

Municipal Court 303-773-6033

Human Resources 303-486-1579

Employment 303-486-1579

Community Development

Building Permits 303-486-5783

Building Inspection 303-694-5023

Requests

Planning and Zoning 303-486-5783

Zoning and 303-486-5783

Nuisance Complaints

Finance

Accounts Payable 303-486-1597

Accounts Receivable 303-486-8282

Budget Information 303-486-8290

Tax Assistance 303-486-8299

and Information

Conservation/Open 303-708-6142

Space Easements

Park Planning 303-486-5743

and Development

Park Permits 303-486-5773

Recreation and 303-486-5766

Special Events

Reimbursement Program 303-486-5773

Parks and 303-708-6100

Trail Maintenance

Police Department

Emergency 9-1-1

Animal Control 303-773-2525

Parking 303-773-2525

Police Records 303-773-2525

School Resource Officers 303-773-2525

Traffic Information 303-773-2525

Victim Assistance 303-486-8211

Public Works

Environment 303-708-6100

(Drainage/Water Quality)

Roadways 303-708-6100

Traffic 303-708-6100

Residential Trash 303-708-6100

and Hazardous Waste

Greenwood Village City Hall

6060 South Quebec Street

Greenwood Village, CO 80111

Phone: 303-773-0252

Fax: 303-290-0631

After Hours Phone: 303-773-2525

(for questions or service requests

outside normal business hours)

E-mail: thevillage@greenwoodvillage.com

Website: www.greenwoodvillage.com

An after-hours drop box is available by the

flagpole in front of City Hall and is

checked Monday through Friday. The drop

box can be used to deliver customer

comment cards, recreation registration

and reimbursement forms, employment

applications, and municipal court fines

and documents.

GV Website

Parks, Trails & Recreation

Art Activities 303-797-1779

and Programs

PG. 4 GV NEWSLETTER | JULY 2017
---
VILLAGE CALENDAR

Visit

WWW.GREENWOODVILLAGE.COM

for more information

Information is subject to change

august

2017

SUNDAY MONDAY TUESDAY WEDNESDAY THURSDAY FRIDAY SATURDAY

30 31 1

2 3

4 5

P&Z Commission

7 p.m.

City Hall

6 7

8

City Council

Study Session

6 p.m.

Meeting

7 p.m.

City Hall

PTR Commission

7 p.m.

City Hall

9 10 11 12

★ SINGLE FAMILY HOUSEHOLD RECYCLING ★

13 14 15

16

17

18 19

P&Z Commission

7 p.m.

City Hall

GVAHC Meeting

6:30 p.m.

Curtis Center

20 21

22

23 24

City Council

Study Session

6 p.m.

City Hall

PTR Commission

7 p.m.

City Hall

BOAA Meeting

6:30 p.m.

City Hall

25 26

27

★ SINGLE FAMILY HOUSEHOLD RECYCLING ★

28 29 30

31

1 2

JULY 2017 | GV NEWSLETTER PG. 5
---
GOVERNMENT

Greenwood Village

Don't have Comcast cable?

You can watch GVTV 8 programs on the

Village Website at greenwoodvillage.com

or on The City of Greenwood

Village Channel on YouTube.

NEW ON GVTV 8 – PREMIERES JULY 30

Summer

Restaurant

Romp

Check out

some of the

new dining

spots in

Greenwood

Village.

Parks – Now Airing

Parks in the Village

attract many users

year-round for sports

and leisure activities.

Find out what goes

in to keeping the parks

in tip top shape and

how the Village

protects users from

inclement weather.

AVAILABLE ON COMCAST

CABLE IN GREENWOOD

VILLAGE, GVTV CHANNEL 8 IS

AVAILABLE 24 HOURS A DAY,

SEVEN DAYS A WEEK

PROVIDING PROGRAMMING

REGARDING IMPORTANT

LOCAL, STATE AND

NATIONAL TOPICS.

Catch Me

If You Can

Burglaries and

car thefts are

happening in Village

neighborhoods.

Learn how to

protect your home

and belongings

once and for all.

GVTV 8 PROGRAMS

Village Showcase

Join Mayor Ron Rakowsky as he showcases

all the latest happenings and greatest events

taking place in Greenwood Village.

Beyond The Green

A program highlighting the parks, trails and

open space system in the Village.

Over 50 And Loving It!

A program focused on issues and events

affecting people 50+ years of age.

Safety Matters In Greenwood Village

Learn about safety issues in Greenwood

Village and techniques to help keep you and

your family safe.

GV Business Connections

Get an inside look at the business

community of Greenwood Village and learn

about some important business topics.

GV Kids, Ink! ® News

Hosted by youth news reporters, this

program features youth activities and events

in the community.

The Village Insider

Get a glimpse of the people and projects

behind the doors at City Hall.

Colorado Connected

Produced by the Colorado Communications

and Utility Alliance (CCUA), the program

features programs on regional issues.

NASA 360

Produced by the National Institute of

Aerospace for NASA, this program examines

how technologies developed by and for

NASA are used in everything from space

exploration to everyday consumer products.

Graceful Aging

Enjoy this program to learn about elder care

needs. You'll laugh, think and be inspired to

improve your life.

Denver Press Club

Hosted by the Denver Press Club, this

program features discussions with members

of the press and community.

Jazz Cardio Strength Stretch

A powerfully fun and effective workout that

will lift your spirits, strengthen your heart,

muscles, and core. You'll get a healthy dose

of cardio, strength and stretch moves and

finish up feeling energized for the start and

end of your day.

PG. 6 GV NEWSLETTER | JULY 2017
---
GOVERNMENT

MAKING A difference

2017 SPECIAL

ELECTION RESULTS

BALLOT QUESTION FAILS

On June 6, 2017, Greenwood Village

held a Special Election for citizens to

vote on the following ballot question:

Shall Ordinance No. 04, Series of

2017, amending the Greenwood

Village Comprehensive Plan by

adopting the Orchard Station Subarea

Plan, as recommended by the

Planning and Zoning Commission on

October 18, 2016, and as amended by

City Council on March 20, 2017, be

adopted?

Yes

No

The following are the official results of

the June 6, 2017 Special Election. as

canvassed and certified on June 14,

2017.

For more information about the 2017

Special Election, please call City Clerk

Susan Ortiz at 303-486.5752 or email

sortiz@greenwoodvillage.com. GV

ELECTION RESULTS

Question No. 1 District 1 District 2 District 3 District 4 TOTAL

Yes 417 418 217 431 1488

No 1519 728 1373 996 4616

VOTER TURNOUT BY DISTRICT

District 1 District 2 District 3 District 4 TOTAL

# of Active Voters 3165 2868 2639 2623 11295

# of Ballots Voted 1936 1146 1590 1427 6099

Turnout 61.17% 39.96% 60.25% 54.40% 53.997%

GOLDSMITH GULCH

TRAIL EXTENSION AND

CALEY AVENUE UNDERCROSSING

RIBBON CUTTING RESCHEDULED, JULY 18

Citizens are invited to celebrate the completion of the Goldsmith

Gulch Trail Extension and Caley Avenue Undercrossing project at

a ribbon cutting on Tuesday, July 18 from 6 p.m. to 7 p.m. The

extension of the trail provides added safety for pedestrians by

allowing users to access the RTD bus and light rail station and the

Village Center from the north without crossing traffic. Funding of

the project was provided through a partnership between

Greenwood Village, Arapahoe County Open Spaces, and the

Transportation Improvement Program (TIP).

Light refreshments will be served at the ribbon cutting and parking

will be available at the RTD parking structure at East Caley

Avenue and South Yosemite Street. Attendees are also encouraged

to access the event through the newly connected trail system.

For more information, please call Julie Liggett, Administrative

Supervisor, at 303-486-5750 or email

jliggett@greenwoodvillage.com. GV JULY 2017 | GV NEWSLETTER PG. 7
---
GOVERNMENT

2017 MUNICIPAL

election

GREENWOOD

VILLAGE REGULAR

MUNICIPAL

ELECTION

NOVEMBER 7, 2017

This year, the City Council designated

the Village's Regular Municipal

Election to be a coordinated election

with Arapahoe County. Arapahoe

County is conducting the November

7, 2017 Coordinated Election as a

Mail Ballot Election.

Ballots will be mailed beginning

October 16 to active registered voters

who live in Greenwood Village. If you

have not received a ballot by October

30, please call Arapahoe County

Elections at 303-795-4511 to update

your registration and request one be

mailed to you. Ballots will not be

mailed after October 30. Ballots are

not forwarded by the U.S. Postal

Service.

REGISTER TO VOTE

ONLINE

If you have a Colorado State driver's

license or ID card issued by the

Department of Revenue you may

register to vote, change your address,

update your current registration or

check the status of your registration

online at www.govotecolorado.com.

The last day to register to vote online

for the coordinated election is October

30, 2017.

REGISTER TO VOTE

IN-PERSON

You may also request and submit a

Voter Registration Form at any office

of the County Clerk and Recorder,

City of Greenwood Village, Cherry

Creek or Littleton High School, or at

any Colorado Driver's License office.

You may also register to vote in-person

through a voter registration drive in

your community. You may also register

to vote in-person at any one of

Arapahoe County's Voter Service and

Polling Centers through 7 p.m. on

Election Day.

A Voter Confirmation Card will be

mailed to you approximately 2-3

weeks after your application form is

processed.

In order to register to vote in

Greenwood Village, you must be:

• At least 16 years of age. (You must

be 18 years of age by the date of

the election in order to vote.)

• A citizen of the United States;

• A resident of the State of Colorado

for 22 days prior to the election.

VOTER SERVICE AND

POLLING CENTERS

Voter Service and Polling Centers will

open eight days (October 30, 2017)

prior to and including Election Day,

except for Sunday November 5, 2017.

Voters will be able to drop off their

mail ballots, register to vote or cast

their vote in person at a Voter Service

and Polling Center. Greenwood

Village City Hall has a 24 hour/7 day

drop off box in the east parking lot to

accept mail ballots.

ABSENTEE MAIL BALLOTS

If you will be out of town and unable

to receive your ballot at your registered

address you may change your address

by completing the "Change in Voter

Registration Information" form from

Arapahoe County. The form is online

at www.arapahoevotes.com or you may

vote early at a Voter Service and

Polling Center beginning October 30,

2017.

CITY COUNCIL

CANDIDATE

INFORMATION

The nomination petition process is the

first step in becoming a candidate.

Nomination petition forms will be

available in the City Clerk's Office

Monday, July 10, 2017. A candidate

must possess the following

qualifications to run for office: be a

United States Citizen; be a registered

elector; be 18 years of age by Election

Day; and have lived in the Village and

the specific District for one year

immediately preceding the election.

Candidates for the office of City

Council must be nominated by at least

twenty (20) registered electors from

such district.

Greenwood Village has prepared its

comprehensive Election information

and Candidate Guide to help ensure

that Village residents are informed

regarding Council candidates and the

Village's 2017 Election. This

Information Guide will be available

beginning Friday, July 7, 2017,

from the City Clerk's office at City

Hall.

WRITE-IN CANDIDATES

If you desire to be a write-in candidate

for this election, an affidavit of intent

must be filed with the City Clerk by

the person whose name is written in

by the close of business on September

5, 2017. No write-in vote for any

municipal office shall be counted

unless an affidavit of intent of the

write-in candidate has been filed.

Village Residency and age

requirements to hold any municipal

office must still be met.

For additional information regarding

candidacy, election forms and filing

requirements, please call the Election

line at 303-804-4113. GV

PG. 8 GV NEWSLETTER | JULY 2017
---
GOVERNMENT

ENSURING A SAFE

community

NEIGHBORHOOD SAFETY TIPS

KEEPING YOUR HOME

AND VEHICLE SAFE

The Greenwood Village Police Department has seen an

increase in vehicle break-ins and residential burglaries

(especially through open garages). The priority of the Police

Department is to protect residents and businesses from

crime, but to effectively sustain a crime-free environment

requires an active, engaged, and aware community.

Remember — the most important single act you can do is

to be aware of your surroundings at all times and call the

Police to report crimes or suspicious activities! As an

observer, if the situation doesn't look or feel right, it probably

is not. By going with your instincts, your actions could help

deter a crime in progress.

Provided below are some important tips to ensure your safety

in your home and neighborhood:

HOME SAFETY

• Always keep your doors locked — even if you are home.

• Never let anyone know you are alone in the house.

• Never let strangers inside your home.

• Always close and lock windows when leaving the house.

OPEN GARAGE DOORS

AND GARAGE DOOR OPENERS

Garage

doors left

open or

stolen garage

door openers

are often an

entry point

for burglars.

Always

remember to

close your

garage doors when you are not in the garage or close enough

to see inside the garage. Also, especially at night it is

important to close all outside doors and lock them. Most

homeowners fail to realize that many thieves drive around

looking for open garage doors from which they can help

themselves to the contents.

• Do not leave the garage remote inside your vehicle.

• Install motion sensor lights on sheds and garages.

• Keep bushes/trees around garage and sheds pruned to

improve natural surveillance.

VEHICLE

SECURITY

• Always keep

your vehicle

locked up (even

when parked in

front of your

home or in

your driveway).

• Do not leave anything of value in the vehicle; take them with

you or lock in the trunk. This is especially true for a purse,

IPad, GPS, cell phones, computers, or money.

• Remove your garage door opener from your vehicle when

parked in your driveway or on the street.

• Do not warm up your vehicle in the morning without being

in it.

• Park your vehicle in areas that are highly visible and well lit.

• Never hide a second set of keys inside your vehicle.

GOING OUT OF TOWN OR ON VACATION

• Do not leave messages indicating that you are out of town

on your mailbox, phone or voice mail.

• Suspend paper and mail deliveries when going out of

town; or have a friend or neighbor pick up newspapers,

mail, and flyers from your yard or door.

• Call the Police Department at 303-773-2525 or request a

Vacation House Watch or online at greenwoodvillage.com.

Officers will increase patrols around your home while you

are away.

LIGHTING AND ELECTRIC TIMERS

• Use electric timers inside your home to turn on lights,

T.V. or radios during your absence.

• At night or if away, lower window shades, keep lights on

in at least two locations.

• Motion detector lights are very effective in deterring

crime. They also light up your driveway or entry doors

when you are leaving or coming home.

• Dusk to dawn lighting is a strong deterrent against

criminal activity, and it constantly lights up your entry

doors and possible obstacles that would otherwise be

unseen.

As always, we are here to help you feel safe and secure in

your homes and businesses. For more information about

home or business safety, please call the Greenwood Village

Police Department at 303-773-2525. For emergencies, please

call 9-1-1. GV

JULY 2017 | GV NEWSLETTER PG. 9
---
GOVERNMENT

OUR NATURAL

environment

CONSERVE WATER AND SAVE MONEY ON YOUR WATER BILLS

Greenwood Village is partnering once again with Denver Water as part of the Water Saver Partnership to educate residents

on ways to save water and money on their water bills while maintaining the beauty found in Village neighborhoods.

TRAIN YOUR BRAIN TO

WATER WISELY DURING

SMART IRRIGATION MONTH

July is a busy time for watering, which is why the Irrigation

Association deemed it Smart Irrigation Month — an annual

reminder to use water wisely.

Smart irrigation means keeping your system in shape. Do a

walk-through of each watering zone once a week to check

for:

• Leaks and broken or clogged heads

• Filters that need to be cleaned

• Wet areas indicating leaks or low-head drainage

• Dry spots showing a need to adjust sprinkler heads

Adjustments that can keep sprinkler heads in the efficiency

game include:

• Changing spray patterns or positions to water plants, not

sidewalks or asphalt

• Removing obstructions that prevent even water

distribution

• Moving head height as plants grow taller

By planting carefully, watering efficiently and maintaining

your irrigation system, you can save water and see better

results.

Learn how to water wisely by following the rules at

denverwater.org/SummerWatering.

BENEFITS OF MULCH

As we head into summer, temperatures are rising and plants

are getting thirsty. One way to conserve water during these

hot and dry days is to apply mulch around shrubs and in

flower beds to keep the soil moist and cool. Mulch that is

high in organic material (think wood chips) holds moisture

in the soil and around the plants meaning you won't have to

water as much.

Here are five good reasons to use organic mulch around your

trees, shrubs and other plants according to the Associated

Landscape Contractors of Colorado (ALCC)*:

• Seasonal mulching decreases evaporation rates from the

soil by as much as 35 percent, which makes for efficient

water use.

• Mulching also suppresses weed growth. If there are fewer

weeds in your yard, there are fewer plants competing with

your landscape plants for nutrients and moisture. That's

another water savings.

• A healthy layer of mulch insulates plants and helps protect

their roots from the extreme temperature shifts we

experience in Colorado.

• As mulch breaks down, it becomes nutritious organic

matter, which promotes future healthy growth.

• Like frosting on a cake, mulch creates an even appearance

across the landscape and provides year-round color,

texture and interest.

ALCC's tips about mulch:

• Mulches recycled from local pruning debris can be put

back into the landscape as a healthy amendment. Locallysourced

mulch is a sustainable option by supporting the

local economy and lessening the carbon footprint.

• Because it is derived from organic material, it settles onto

the soil and does not blow away like mulch that has been

recycled from treated wood products such as pallets. It

must, however, first be watered in so that it settles.

• Over time, organic mulch breaks down and completes the

cycle of returning to the earth from which it came.

*(c) 2016 Associated Landscape Contractors of Colorado. All

rights reserved. June 10, 2016.

PG. 10 GV NEWSLETTER | JULY 2017
---
GOVERNMENT

HOW TO TELL IF

WE'VE HAD A GOOD

RUNOFF SEASON

Most of the Denver area's water

supply comes from mountain

snowpack that melts and runs

downstream into our system of

storage reservoirs. This process is

aptly called "runoff."

Denver Water captures runoff from

snowpack in the Upper Colorado

River and Upper South Platte River

basins. This year, the snowpack

there was 100 percent of the

normal amount and 108 percent of

normal, respectively.

Hurray! This must mean it's been a

good runoff season, right?

Not so fast said Cindy Brady, water

resource engineer for Denver Water.

"While it all starts with a solid

snowpack season — which we

fortunately had this year — there's

much more factored into the

equation when determining what it

will mean for water supply," she

said.

It starts with the type of snow.

Believe it or not, Brady said not all

snow is created equal, as this

infographic illustrates. (Hint: We

prefer the wet stuff.)

Beyond that, weather and

environmental conditions play an

important part in filling our

reservoirs.

Let's take a closer look at those

factors and how they're affecting

snowmelt this year: (see attached

graphic)

Learn more about how clouds,

wind and soaked soil affect runoff

at denverwaterTAP.org. GV

Weather and environmental

conditions, like sun, clouds,

wind and soil moisture affect

how much mountain snow

makes it to rivers and

streams, and ultimately,

Denver Water's reservoirs.

SIGN UP

FOR

LONG ROAD

TEXT

NOTIFICATIONS

TO YOUR

CELL PHONE

Do you live

in the

neighborhood

and want to stay

informed on

updates related

to the Long

Road closure?

Text LONGROAD

to 888-777.

After you text,

you will

receive a text

confirming your

registration.

JULY 2017 | GV NEWSLETTER PG. 11
---
GOVERNMENT

ENHANCING OUR

community

MUSIC TO OUR EARS

MUSICAL INSTRUMENT

PLAYGROUND NOW OPEN

AT WESTLANDS PARK

On June 12, the Village celebrated the

grand opening of its first musical

instrument playground at Westlands

Park. Approximately 60 attendees braved

a windy June evening to listen to Pan

Generations and try out the new

musical instruments at the park.

The idea of placing outdoor musical

instruments at Westlands Park stemmed

from Village resident Lita Saltzman who

championed the Parks, Trails and

Recreation Commission's desire to bring

music to Village parks. A steering

committee comprised of local school teachers,

members of the PTR Commission, the Arts and

Humanities Council, PTR staff, and the resident

who proposed the project was formed. The

committee reviewed many types of outdoor

musical instruments and proposed a grouping

based on the sound produced, playability, size,

and cost while ensuring a well-rounded mix of

instruments with a wide public appeal. Funding

for the project was included in the 2016 Capital

Improvement Program.

At the grand opening, Mayor Rakowsky along

with members of the Parks, Trails and Recreation

Commission, Vice Chair Kathy McClintock and

Arts and Humanities Councilmember Catherine

Huggins delivered remarks about the excellent

outcome of the project and the importance of

bringing the community together through

amenities such as music in the parks.

If you haven't had a chance to try these unusual

and beautiful instruments, stop by Westlands

Park at 5701 South Quebec Street. The musical

instrument playground is located between the

water feature and dolphin pond.

For more information, please call Suzanne

Moore, Director of Parks, Trails, and Recreation

at 303-708-6142 or email at

smoore@greenwoodvillage.com. GV

PG. 12 GV NEWSLETTER | JULY 2017
---
GOVERNMENT

JULY 2017 | GV NEWSLETTER PG. 13
---
GOVERNMENT

CENTENNIAL

airport

GREENWOOD VILLAGE

WILL FOLLOW THE

ENVIRONMENTAL ASSESSMENT

OF METROPLEX-DENVER

TO COMPLETION

In 1998, Centennial Airport began a FAR Part 150, which is

a voluntary program that looked at noise compatibility

around Centennial Airport. Two elements were covered

within this study: Noise Exposure Map and a Noise

Compatibility Program. In 2008, the Federal Aviation

Administration (FAA) published the Record of Approval,

which evaluated 12 recommended procedures. However, not

all procedures were approved. Currently the Noise Exposure

Map is being updated using a series of noise contours daynight

sound levels (DNL) depicting 75 through 50 DNL.

These day-night sound levels are an average noise level over a

24-hour period. When we compare these noise exposure

contours over a period of time, we can see if noise has grown

in a specific area. However, the redesigns of Denver airspace

no longer use DNL noise contours.

Several years ago, the FAA introduced RNAV or Area

Navigation. It worked to redesign airspace in the Denver

Metropolitan Area between Denver International Airport,

Centennial and Rocky Mountain Airports. Because of new

technologies, RNAV sought to modernize the national

airspace system. The RNAV process was a collaborative

process between airports, users, FAA, and residents. However,

the Environmental Assessment (EA) of RNAV used

population centroids in order to evaluate noise impacts

closest to Denver airports. Instead of using DNL Noise

Contours as in the FAR Part 150, the new measurement was

not compatible with DNL Noise Contours. This fact has

been discussed with the FAA and it is paramount that,

moving forward, the FAA uses many means of measure so

that the public has a clear understanding of aircraft noise

impacts on residential areas. DNL 65-50 noise contours

should be among them. The public must be able to

determine if there was a flight tract change over a property

and if the impact is substantial. The units of measure should

be consistent from one FAA report to another.

Without explanation to communities, the FAA introduced

Metroplex-Denver, another redesign of the metropolitan

airspace. It is not clear at this time, what routes into or out of

Centennial Airport the FAA proposes. Are they the same or

different than RNAV? If they are the same or different, the

FAA should evaluate the cumulative effect the

implementation of both redesigns create as far as noise

impacts on citizens. The FAA assured us that there would be

no additional impacts. As the redesign process proceeds,

Greenwood Village continues to comment regarding the EA

to the FAA, the Village needs to see modeled effects of both

redesigns together not independent of each other.

When RNAV's environmental noise impacts were studied,

alternatives were evaluated at low-level altitudes allowing

routes to be analyzed for potential impacts over residential

homes. Metroplex-Denver proposes only to evaluate impacts

at high altitudes in their Environmental Assessment (EA). Its

Environmental Assessment (EA) may not follow potential

routes all the way to the ground, where most disruption

occurs to residential communities. As the EA moves forward,

Greenwood Village will want to see low-altitude impacts

analyzed.

At the public meeting on April 18, 2017, the FAA stated that

no additional noise would be created for citizens of

Greenwood Village. As this study evolves time will tell. More

information about this redesign is coming forward. The FAA

needs to be upfront with the Environmental Assessments of

its Denver airports. It needs to make sure all redesigns of

airspace are evaluated together for the cumulative effect of

noise and it needs to ensure that low-altitude landings and

take-offs are assessed, not just aircraft noise at high altitudes,

which affect few people of the ground. Units of measure

clearly need consistency from studies to redesigns.

Back in 1998 during the creation of the FAR Part 150,

Greenwood Village proposed a flight track known as 010

degree heading, one of 12 recommendations. As planes took

off from Centennial Airport to the north, they would turn

and fly over the Cherry Creek Reservoir while gaining

altitude over the water. Although not exactly "010 degree

heading" today, this northern track is being tested at night

involving planes using Instrument Flight Rules (IFR). This

route is a product of RNAV, and Greenwood Village, in

written comments, encourages the FAA through Metroplex-

Denver to expand this route to IFR daytime traffic. GV

Information for this article was provided by former

Councilmember and Centennial Airport Community Noise

Roundtable Member Karen Blilie.

PG. 14 GV NEWSLETTER | JULY 2017
---
GOVERNMENT

ENSURING A SAFE

community

2017 GVPD YOUTH ACADEMY

JULY 2017 | GV NEWSLETTER PG. 15
---
GOVERNMENT

TAKEnote

SMOKE FREE FACILITY

Out of respect for all patrons, Fiddler's Green

Amphitheatre is a smoke free facility. Smoking is only

allowed in designated areas outside of the venue.

Attendees are also reminded that Colorado State law

prohibits smoking marijuana in public. For more

information, visit goodtoknowcolorado.com. GV

CONCERT NOISE COMPLAINT LINE

If you have a complaint about the noise from shows

conducted at Fiddler's Green Amphitheatre, please call the

Greenwood Village Noise Complaint Line at 303-486-8275.

GOLDSMITH METROPOLITAN DISTRICT

PRESENTS THE 21ST ANNUAL FREE

CONCERTS AT

THE CRESCENT

ALL SHOWS ARE ON TUESDAYS,

7-8:30 p.m. The park opens at 5 p.m.

Concerts to be held at the Crescent Ampitheater, DTC Blvd. at

Belleview Ave., located east of YaYa's Euro Bistro.

Bring your friends, family and a picnic dinner and enjoy

eight exciting evenings of fun and entertainment.

Crescent Park is a smoke-free environment,

and please plan to leave your pets at home.

Don't forget:

There will be a designated area for all lawn chairs.

July 11 — Mr. Majestyk's Track Revival

July 18 — Premium Diesel

July 25 — New Sensation

August 1 — Legends Lost Tribute

Concerts are open to the public and free parking is available

in designated surface lots. There will be NO scheduled rain

dates this year.

For more information: 720-244-0722,

www.ConcertsAtTheCrescent.com.

PG. 16 GV NEWSLETTER | JULY 2017
---
BUSINESS

ParkDIA Standard Rates & Special Offers

Parking Uncovered Covered Valet

Standard Rates $6.85/day $13.85/day $16.85/day

GV Resident Rates $6.17/day $12.47/day $15.17/day

GV Corporate Rates $5.83/day $11.78/day $14.33/day

Contact Benjamin Ray, 303-501-8838, bray@forumre.com;

or Joe Liggett, 970-988-8077, jliggett@forumre.com.

The Greenwood Village Chamber of Commerce is proud to

announce its partnership with ParkDIA. In March 2017

ParkDIA joined the Chamber in support of the local

community to increase the offerings provided to all residents

of Greenwood Village.

Founded in 2015, ParkDIA is the closest, fastest and least

expensive parking near DIA. Of the new partnership,

Benjamin Ray, ParkDIA's Vice President of Marketing and

Sales says, "We are excited to join the Greenwood Village

Chamber board to increase the Chamber's reach within the

community.

Benjamin Ray and Joe Liggett will assist in community

outreach via effective marketing and communication

strategies. "Our strategic role in the Chamber will give back

to a community that plays an important role in the larger

Denver-Metro area. We believe that there are a vast number

of ways to increase the focus on upcoming philanthropic

initiatives and community-building opportunities," says Joe

Liggett, Director of Operations for ParkDIA.

ParkDIA is extending special pricing to Greenwood Village

residents, businesses and Chamber members. Greenwood

Village residents can receive 10% off at ParkDIA through

2017 (use promo code GREENWOOD). In order to take

advantage of this opportunity, residents will need to make a

parking reservation at www.parkdia.com.

For businesses and Chamber members looking to add a

benefit for their employee base, ParkDIA will be offering

15% off. Please contact Joe Liggett (information below) to

sign your business up for a corporate membership at no cost

to you.

Please download the ParkDIA Mobile Application and

create an account to get started today. Visit

www.parkdia.com for more information on the facility.

Visit our Web site at: ww.dtcchamber.com

E-mail us: admin@gvchamber.com

Phone: 303-290-9922

7600 Landmark Way

Suite 1615

Greenwood Village

CO 80111

Fax: 303-962-4640

JULY 2017 | GV NEWSLETTER PG. 17
---
BUSINESS

BUSINESSspotlight

JV&V GOLDMASTERS

8933 East Union Avenue, Suite 208 • 720-242-6504, 720-469-6138 (c)

jvvgoldmasters@gmail.com • Tuesday-Friday 9 a.m.-5 p.m., Saturday 9:30 a.m.-1:30 p.m.

Do you enjoy the experience of

wearing, seeing, and owning exquisite

custom made jewelry? Are you looking

to create a totally unique look to your

jewelry collection? Have you always

wanted to craft a piece of jewelry that

speaks to your heart, but wasn't sure

where to begin? If so, then Juan Vargas

of locally owned and operated JV&V

Goldmasters in the Village will bring

his craftsmanship and passion to create

just the perfect custom jewelry that

you envision!

Juan Vargas' personal mission with

JV&V has always been to make people

happy with his custom jewelry and

watch repair business. His newly

established location in the Village in

early 2016 is accessible to the DTC

community and beyond. Juan will

gladden you beyond all you desire

with distinctive "one of a kind" pieces.

Customers locally and world-wide

have been dazzled with his signature

work. "I want to be proud of what my

customers receive," said Juan. "It

makes me happy when I can create

just the look and expression that my

customers desire."

Juan is now celebrating his 40th year

as a jeweler, starting out in the L.A.

area, having been rooted within a

close-knit family of accomplished

jewelers. He learned the trade at a very

young age along with his seven

brothers and two sisters. He molded

his knowledge and experience with all

facets of jewelry design; from gold

repair to polishing, to learning the

entire trade. His creativity and skill in

jewelry design is matched with an

extremely strong inner work ethic to

be the best at what he does ... giving

each and every piece of work a unique

design that captures the unique vision

of the customer.

From the moment you walk into his

showroom you will see a complete

display of a variety of creations. The

modeling of your design will be

fashioned with a CAD (Computer-

Aided Design). Juan will be open to

changes and enhancements throughout

the process. His work area is open and

accessible so you can partner in his

design and repair work. Repair,

polishing, design, diamond setting

stones, and recreating new pieces from

old pieces are routinely performed.

Juan's wife Norma assists him in the

creative process from the initial

consultation to the final production.

From engagement rings and wedding

rings to men's jewelry he will provide a

custom experience from beginning to

end. Verbal appraisals will also be

made on all items of jewelry, in

addition to designing class rings,

pendants, earrings, religious items, etc.

No matter what the work is, their

continued on page 19

PG. 18 GV NEWSLETTER | JULY 2017
---
BUSINESS

NEW GV businesses

CLOUD SERVICES DISTRIBUTOR

Pax8, Incorporated

6400 South Fiddlers Green Circle,

Suite 1500

720-500-3835

COUNSELING SERVICES

Anew Counseling for

Individuals & Relationships

5650 Greenwood Plaza

Boulevard, Suite 200

303-503-9140

DENTISTRY

Z Dental Professionals P.C.

8200 East Belleview Avenue,

Suite 460-E

303-929-0886

ESCAPE ROOMS

Epic Escape Game

9600 East Arapahoe Road,

Suite 212

303-284-9610

FILM FINANCING

Argent Media Group, LLC

8000 East Prentice Avenue,

Suite C-5

303-952-2581

HEALTH AND WELLNESS

Onus IV Hydration

5425 Landmark Place,

Suite 103-D

720-417-9590

INVESTMENT MANAGEMENT

Private Retirement Benefits

Consultants, LLC

6312 South Fiddlers Green Circle

303-995-5026

IT CONSULTING SERVICES

T4S Partners, Incorporated

5619 DTC Parkway, Suite 105

720-379-4070

MEDIATION AND

ARBITRATION SERVICES

Rose-Anne Landau, P.C.

5460 South Quebec Street,

Suite 330

303-221-4748

MORTGAGE COMPANY

CHL Mortgage,

Citywide Home Loans

5900 South University Boulevard,

Suite C-7

720-506-2719

Colten Mortgage

6021 South Syracuse Way,

Suite 104

303-835-9928

Diamond Residential

Mortgage Corporation

7730 East Belleview Avenue,

Suite A-105

303-407-4090

NUTRITIONAL SUPPLEMENTS

Belleview Spine and Wellness

5191 South Yosemite Street,

Suite A

303-771-3102

PHYSICAL THERAPY

A Personalized

Physical Therapist

6021 South Syracuse Way,

Suite 105

720-810-3743

REAL ESTATE BROKER

Bolsinger Real Estate,

Incorporated

9250 East Costilla Avenue,

Suite 655

303-748-2722

Weichert Realtors Professionals

9250 East Costilla Avenue,

Suite 655

303-302-4000

SCIENTIFIC SERVICES

AECOM Field Services, LLC

6200 South Quebec Street

303-694-2770

TRADE SHOW PRODUCTS

VIP Exhibits, Incorporated

6835 South Dayton Street

303-979-2500

BUSINESSES

UNDER NEW

MANAGEMENT

GAS STATION

Conoco

9171 East Arapahoe Road

303-790-9470

PUBLIC ACCOUNTING FIRM

Lippa Beers & Associates P.C.

8101 East Prentice Avenue,

Suite 750

303-771-1040

SKIN CARE

7e Fit Spa

9555 East Arapahoe Road,

Suite 16

303-862-6859

VETERINARIAN HOSPITAL

Cherry Hills Animal

Hospital, LLC

5910 South University Boulevard

303-730-3248

business spotlight

continued from page 18

focus is being competitively priced and honest.

From the stone(s) to the setting, to the type, color and finish

of the metal, you will have a say in every element of the

design process. The selection of diamonds and/or gemstones

curated will have your specific needs in mind. Juan is adept

at translating a customer's verbal request into material reality.

Juan is extremely skilled in repair and he also enjoys

challenging assignments. Their showroom also has a selection

of one of a kind original designs as well, which are available

for immediate sale. Alterations for earring attachments,

converting rings to pendants or pendants to rings, earrings to

cufflinks, and pendants to brooches, no job is too small.

Special orders and all kinds of repair are also performed. He

will perform sizing, stone replacement, reconstruction, and

polishing as well. The combination of unique gems and years

of experience result in objects and jewelry that will stand the

test of time.

JV&V is open Tuesday-Friday from 9 a.m. to 5 p.m. and

Saturday from 9:30 a.m.-1:30 p.m. If you have a great idea

for a unique piece of custom jewelry, schedule an initial

consultation today. Mention the article in the month of July

and receive a free personal jewelry cleaning while you wait.

Creating personal items for wear or display in styles that are

traditional, commercial, original artistic, or functional is now

a reality. Bring your story to life with a visit to JV&V, where

professionalism and craftsmanship shine! GV

JULY 2017 | GV NEWSLETTER PG. 19
---
ARTS AND RECREATION

GREENWOOD VILLAGE DAY

JULY 29, 2017

Village Greens Park • 2-9:30 p.m.

EVENT HIGHLIGHTS

2-7 p.m.

Paddle boarding, rock climbing, foosball, soccer darts,

trampolines, golf, inflatables, carnival rides,

carnival games, dodgeball, hands-on art, baseball,

face painting, preschool fun and more . . .

Hamburgers, hot dogs, chicken sandwiches, grilled cheese,

fries, salads, and gelato available for purchase.

Free snow cones and water.

CONCERTS

DOTSERO Jazz Band • 6:30-7:45 p.m.

WASH PARK Band • Begins at 8:15 p.m.

Fireworks directly following concerts.

Tickets and parking passes available at City Hall

July 5 - 27 • Monday-Friday 8 a.m.-5 p.m.

A special event for the residents of Greenwood Village

303-486-5773

PG. 20 GV NEWSLETTER | JULY 2017
---
ARTS AND RECREATION

ART events

GALLERY HOURS

Monday-Friday 8:30 a.m.-4:30 p.m.

Saturday 10 a.m.-4 p.m.

CURTIS CENTER FOR THE ARTS • 2349 EAST ORCHARD ROAD, GREENWOOD VILLAGE, CO 80121 • 303-797-1779

GV ARTS & HUMANITIES COUNCIL SCHOLARSHIP WINNERS

1ST PLACE WINNER $4,000 – DIANNA LINK – LITTLETON HIGH SCHOOL – MUSIC

American composer Dianna Link (b. 1999) grew up in Denver, Colorado and

is a graduate of Littleton High School. Dianna's musical experiences began at

age three, when she sang in a choir at church. Piano lessons began for her in

third grade, and Dianna discovered a love of the flute at age 10. Her flute

playing has brought her to Hawaii, Boston, and Germany, and has played in

the Colorado All-State Orchestra, the Continental League Honor Orchestra,

and the University of Colorado Honor Band. In 2016, Dianna was awarded

the Colorado Flute Association's High School Flute Solo Competition. She

currently studies with the principal flute of the Colorado Symphony, Brook

Ferguson, and Katy Wherry.

Dianna's composing started in earnest during her junior year of high school,

resulting in her writing several chamber music and orchestral pieces before

graduating with honors in May of 2017. Her accolades include being chosen

by the Denver Young Artists Orchestra as their inaugural Composition

Competition winner, which resulted in the orchestra premiering her piece

Ebullient at Boettcher Concert Hall and winning the University of Colorado

High School Composition Competition. Dianna premiered her flute concerto with the Littleton High School orchestra in spring

2017. In addition, she has been featured recently on the Colorado spotlight on CPR Classical for both her orchestral and

chamber works. Dianna currently studies with New York City-based composer Stephanie Ann Boyd and will attend University of

Colorado at Boulder in autumn 2017.

2ND PLACE WINNER $2,000 – SAM THEOBALD, GREENWOOD VILLAGE RESIDENT –

DENVER SCHOOL OF THE ARTS – THEATER

When I was young, my mother was faced with the task of finding something to do

with her extroverted, energized, and electrified son. She put me through soccer,

tennis, and hip hop classes, all of which I had trouble finding a passion for.

Eventually, on a last straw, she signed me up for Shakespeare Club at Belleview

Elementary School, and I fell in love. From the first day, I was excited to learn about

the bard and the techniques I could use on stage. Enthused that she was finally able

to entertain the son that she had attempted to amuse with a vast assortment of

hobbies, my mother quickly signed me up for acting classes, where I learned a

spectrum of theatrical styles, from pantomime to improvisation. In seventh grade, I

was accepted into Denver School of the Arts, where I was exposed to more

concentrations besides acting such as: sound design, lighting design, and directing.

Now, as a graduate of DSA, I am continuing my pursuit by studying Theatre Arts at

Boston University. It is there that I will be able to learn as much as I can about what

goes in to building a beautiful and creative show. I hope to emphasize my degree in

directing and potentially get a masters in the field. I am comfortable with many

outcomes that my life may have, but my current goal is to own a theatre company

with my friends where I would have the ability to create art based off of sparks of

inspiration. The Greenwood Village Arts Scholarship provides a stepping stone for

me to pursue those interests further, something that I am forever grateful for.

JULY 2017 | GV NEWSLETTER PG. 21
---
ARTS AND RECREATION

THE VILLAGE READ

COMING THIS SUMMER

This summer the Greenwood Village Cultural Arts Program

has partnered with the Arapahoe Libraries to present the first

ever "Village Read." The program is modeled

after Chicago's successful "One Book, One

Chicago" project. The idea encourages adults

of all ages to read one book and participate in

thought-provoking discussions and activities

derived from the chosen book.

Credit for the original idea is given to

Nancy Pearl, a Seattle librarian. "It's based

on the idea of community. My idea was

that people would come together who

would never come together any other way.

Literature brings them together because a

book touches them," she said.

Goals of the program include:

• To encourage leisure reading.

• To encourage community collaboration

throughout the region.

• To provide a variety of means of participation through

book discussions and other activities.

• To provide resources for book discussion groups.

The group has chosen the book "Lake of Fire" by Colorado

author Mark Stevens as this year's "Village Read" book. Set in

Colorado, the story follows hunting guide Allison

Coil as she tries to find out what happened to

a body found after a wildfire ravages the

Colorado Flat Tops. Many activities are being

planned around the themes from the book.

Keep your eye out this summer for more

information and a complete listing of activities.

The book is available for purchase at The Friends

of Arapahoe Libraries Bookstore at the Koelbel

Library and the Curtis Center for the Arts.

Arapahoe Libraries will also have extra copies

available to check out. We look forward to seeing

you at the many activities planned for August.

Information and reviews of the book can be found at

www.goodreads.com, keyword: Lake Of Fire.

VILLAGE READ

THESE EVENTS ARE FREE

AND OPEN TO THE PUBLIC.

VILLAGE READ MAYOR'S KICK-OFF

Wednesday, August 2 • 7 p.m.

Koelbel Library

Join Greenwood Village Mayor Ron

Rakowsky as he kicks off a month of

Village Read activities. Mayor Rakowsky

will discuss his take on the book and

author Mark Stevens will be on hand for

the discussion and to answer any

questions.

AUTHOR TALK WITH FOCUS 50+

Monday, August 7 • 9 a.m.

Koelbel Library Room A — Free and open

to anyone over the age of 50

This is an opportunity to get up close and

personal with author Mark Stevens. Mark

will lead a small group discussion on the

book, answer questions and share his

inspiration for this and his many other

books.

SURVIVING OFF THE LAND

IN COLORADO

Tuesday, August 8 • 6:30 p.m.

GV City Hall, Community Room

Erica Marciniec, aka Wild Food Girl, has

been foraging on and off since she was a

child. She has great enthusiasm for

finding, studying, identifying, tasting,

experimenting with, and creating delicious

meals with edible wild plants. Erica will

help you learn where to search for, how to

identify, and ways to eat various wild

foods that can be found in Colorado.

DONNELLE JOHNSON –

HUNTING GUIDE

Thursday, August 10 • 7 p.m.

Koelbel Library

Donnelle Johnson is a hunter,

fisherwoman, CPA, photographer and a

musician. She and her husband David are

co-founders of HuntData, a

comprehensive mapping site for hunters.

Donnelle spends much of her time

promoting women and youth in the

outdoors. Come hear about her

experiences as a woman hunter and her

adventures in the Colorado Flat Tops.

WRITERS WORKSHOP

WITH MARK STEVENS

Saturday, August 12 • 2 p.m.

Koelbel Library

Acclaimed author Mark Stevens will lead a

workshop and discuss his writing style,

his inspiration and the business of

writing.

FIGHTING WILDFIRES IN COLORADO

Monday, August 14 • 7 p.m.

Koelbel Library

Come hear real fire fighters discuss their

experience battling wildfires across

Colorado.

WRITERS WORKSHOP

WITH MARK STEVENS

Thursday, August 17 • 7 p.m.

Koelbel Library

Acclaimed author Mark Stevens will lead a

workshop and discuss his writing style,

his inspiration and the business of

writing.

CLOSING CELEBRATION

Free Concert and Ice Cream Social

with "Let Them Roar" and

special guest "The Cody Sisters"

Thursday, August 31 • 6 p.m.

Curtis Park

Join us as we celebrate the closing of the

first ever Village Read program and the

month of activities with a party in the

park. Bring a blanket and enjoy the music

from Let Them Roar and The Cody Sisters.

We will have free ice cream for all

courtesy of Nugs Ice Cream and a tequila

tasting inside the Curtis Center for the

Arts courtesy of Bouzy Wine and Spirits.

Plus we will have food trucks on hand.

PG. 22 GV NEWSLETTER | JULY 2017
---
ARTS AND RECREATION

FROM THE AUTHOR —

What's the right

word —

honored,

thrilled,

excited? All of

the above?

Thanks to all

the people

behind the

"Village Read"

project who

selected Lake of

Fire for this

group

experience and

who have

developed such

Mark Stevens

imaginative

ideas for related events and presentations. The evening

of sampling tequilas, which just happens to be Allison

Coil's favorite campfire sipping beverage, is particularly

inspired. Lake of Fire takes place, as do all the books in

the Allison Coil Mystery Series, on the Flat Tops

Wilderness in Western Colorado. The events in Lake of

Fire take place during a massive wildfire and the story

revolves around themes of climate change and a band of

violent anti-government terrorists, with a dollop of

devolution to go with it. Scenes in the wilderness are

mixed with action in Glenwood Springs, Meeker and the

tiny town of Buford (which just happens to be located

on the western end of one of the most scenic byways in

the state of Colorado).

When I wrote Lake of Fire, I was inspired by a terrific

non-fiction called Dead Run by Dan Schultz. That book

explored the trio of killers who provoked the largest

manhunt in Colorado history, which took place in 1998

outside Cortez in the southwestern corner of the state.

Schultz looked at these individuals, who considered

themselves "sovereigns," people who need nothing from

government and want nothing from government. Anyone

who followed the recent siege at the Malheur National

Wildlife Refuge knows that this movement is still

around, if not growing.

I hope readers enjoy getting to know Allison Coil and the

other major characters including Allison's boyfriend

Colin McKee, her neighbor Trudy Heath, newspaper

reporter Duncan Bloom, and a devolutionist named

(what else?) Devo. Again, many thanks to Arapahoe

Libraries, Greenwood Village and the Curtis Center for

the Arts for featuring Lake of Fire. I am really looking

forward to August.

JULY 2017 | GV NEWSLETTER PG. 23
---
6060 South Quebec Street

Greenwood Village, Colorado 80111-4591

PRSRT STD

US POSTAGE

PAID

ENGLEWOOD, CO

PERMIT #799

ARTS AND RECREATION

ART events

GALLERY HOURS

Monday-Friday 8:30 a.m.-4:30 p.m.

Saturday 10 a.m.-4 p.m.

CURTIS CENTER FOR THE ARTS • 2349 EAST ORCHARD ROAD, GREENWOOD VILLAGE, CO 80121 • 303-797-1779

CURTIS CENTER OPENING DELAYED

Curtis Center for the Arts is under construction to deliver an even better experience to our patrons.

As all good things take time, we will be closed until October 14 when we reopen for the Opening Reception of the All Colorado Show.

CHALK WALL CREATED AT

CURTIS CENTER BY SCOUTS

Greenwood Village Eagle Scout Trent Fowler needed to

find a project to complete another badge. With a little help

from Parks, Trails and Recreation commission member

Brent Neiser and Greenwood Village Cultural Arts

Coordinator Chris Stevens, he found one. A couple of walls

outside Curtis had been graffitied over the year and had

become quite an eyesore. That's where the idea was born to

create a chalk wall and give kids (and adults) the chance to

create their own temporary artwork.

After three days of hard work, sandblasting, sandpapering,

two undercoats of paint, and two coats of blackboard paint

the chalk wall was born. Now a box full of chalk is waiting

for the community to create their own temporary "graffiti"

at the Curtis Center for the Arts.

PG. 24 GV NEWSLETTER | JULY 2017