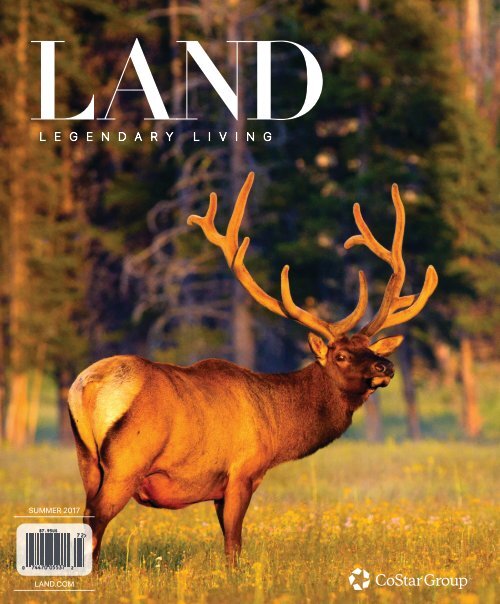 Do you know the secret to free website traffic?
Use this trick to increase the number of new potential customers.
SUMMER 2017

LAND.COM
---
ON THE INSIDE COVER

Wood River Ranch

4,000-acre ranch just 10 miles south of the small

ranching community of Meeteetse, Wyoming. Meeteetse

is an Indian term meaning "meeting place," and the

Wood River Ranch lives up to that billing as the ultimate

recreational meeting place to stay and play.

ON THE INSIDE

The Art of Buying a Vineyard

A San Juan Trout Stream is Reborn

Why You Should Never Buy Land Without an ALC

Chip Laughton's Gallery of Sporting Photography

Hunting Wild Quail with the Owner of Boss & Co. Guns

Pristine Fly Fishing in Crested Butte, Colorado

AND MUCH MORE...
---
COVER STORY

WYOMING

Wood

THE MODIFICATION OF

RURAL PROPERTIES TO BECOME

River

FINANCIALLY SUSTAINABLE

Lands of yesterday may not, or will not, be the lands of tomorrow.

Ranch

It is important for all of us to work towards this balance of wildlife

and production. Many times we see these two collide and not

work together. This, however, does not have to be the case. It is

important to always leave the land better than you found it. That

A legacy property is whether which you embodies own it or are just visiting it.

spectacular scenery, amazing fly fishing and

READ THE FULL STORY ON PAGE 28

trophy hunting with excellent improvements

all within a working ranch operation

FIND OUT MORE ON PAGE 30
---
CONTENTS

SUMMER 2017

ON THE INSIDE COVER

30

WOOD RIVER RANCH

30

28

Situated near the end of the Wood River valley and nestled up against the Shoshone

National Forest, Wood River Ranch enjoys a quiet private setting along the Wood River.

Some of the most untamed natural lands in the United States lie just out the back gate of

the ranch leading through National Forest and eventually Yellowstone National Park.

24

BROCHURE

MIDDLE FORK RANCH

The historic Middle Fork Ranch is a cattle

ranch and recreational gem located in

Central Colorado on the Middle Fork

of the South Platte River, consisting of

approximately 3,330 acres. (Following page 24)

192

INSIDE BACK COVER

940 EAST PLATTE

940 East Platte is a gem tucked in a private

community located directly on a two-mile

stretch of the South Platte River. Luxury with

Contemporary Style—a new look for the

Rocky Mountains.

4
---
CONTENTS

BUYING & SELLING LIFESTYLE IN EVERY ISSUE

146 142

68

16

126

MARKET

THE ART OF BUYING A VINEYARD

Vineyard land or vineyard potential land is not

all the same.

146

WATER

ALONG CAME A HERO

A San Juan trout stream is reborn.

174

MARKET

FOUR REASONS WHY YOU SHOULD

NEVER BUY LAND WITHOUT AN ALC

The value an Accredited Land Consultant

(ALC) can bring when purchasing or selling

a property is becoming increasingly more

substantial.

68

GALLERY

EVERY PICTURE TELLS A STORY

Chip Laughton is a full-time freelance sporting

lifestyle photographer, specializing in hunting,

fishing and sporting dogs.

88

SPORT

HUNTING WILD QUAIL

Arthur S. DeMoulas discusses his dedication

to preserve the values and workmanship at

gunmaker Boss & Co.

114

EXCURSION

PRISTINE FLY FISHING ON THE EAST

RIVER, CRESTED BUTTE, COLORADO

There is a wide variety of special water in the

Crested Butte area especially on the East

River at The Reserve.

14

LAND TRENDS

Our snapshot of what's trending in the land

industry and lifestyle.

20

LANDSCAPE

Our selection of intriguing properties featured

on LandsofAmerica.com.

133

THE WILD SIDE OF BUSINESS

Greg Simons' quarterly column principally

focusing on the enterprise aspects of

wildlife-based recreation that takes place on

private lands across the country.

LAND.COM • LEGENDARY LIVING

5
---
A LETTER FROM THE EDITOR

I'm gonna soak up the sun

I'm gonna tell everyone

To lighten up —Sheryl Crow

'm not going to lie. As I write this, I have summer anthems blasting from my

speakers and I'm working at my desk looking longingly outside. It's taking all of my resolve to be a grown

up and meet my deadlines. Summer makes me want to be a kid again.

My childhood summers were spent in playing on a carpet of thick green grass in the shade of

sprawling magnolia trees. I was a Mississippi girl. Today, my backyard is the Rocky Mountains. They are

beckoning me to come play.

And my husband isn't helping anything. He, too, is a kid at heart, so he's packed our fly rods, mountain

bikes and dirt bikes in our toy hauler. Instead of asking, "Are we there yet?", he periodically wanders into

my office and asks, "Are you done yet?"

Like so many people, I find myself at the intersection of responsibility and relaxation. While I absolutely

love my job, I crave a respite from technology, stress and the constant demands that come with modern

life. I don't think I'm alone.

My sanctuary is the outdoors. Again, I don't think I'm alone.

So here's the deal. Get yourself outside, soak up the sun (with plenty of SPF 50) and recharge your

batteries. It's scientifically proven—or at least it should be—that we humans are solar-powered.

As your stress evaporates in a cloud of fun, hold on to that feeling.

Then, when you get home flip through this magazine and find your

special place that allows you to feel like a kid year-round. Life is too short.

to be a grown up all of the time.

Lauret Jarvis

Editor-in-Chief

ljarvis@land.com

Follow me on Instagram—@LAURETLAND

6
---
THE MAGAZINE FOR PEOPLE WHO LOVE LAND

LAND.COM/MAGAZINES

LANDSOFAMERICAMAGAZINES.COM

7
---
CONTRIBUTORS

IRWIN GREENSTEIN is the

publisher of Shotgun Life,

the first online magazine

dedicated to the best in

wing and clays shooting.

CHRIS KOPF has over 30

years of sales and marketing

experience and is a top real

estate agent in the mountain

town of Crested Butte,

Colorado, representing

affluent clients who are

buying and selling their

dream homes and ranch

properties in the mountains.

Chris is among the top 2% of

the 87,000 Coldwell Banker

Sales Associates worldwide.

Chris is an author, speaker

and real estate agent coach.

Chris has written two books

and is also the creator of the

Resort Real Estate System for

Success - How to Become

a Top Real Estate Agent in

your Resort Market. Find out

more at ChrisKopf.com and

ResortRealEstateCoach.com.

DAN MURPHY has called

southwestern Colorado

home his entire adult life. His

dedication to understanding

issues at the heart of

western Colorado has been

exemplified through his

service in numerous arenas.

Dan's work commitment,

positive outlook and

approach on wildlife and

domestic issues have

brought forth progressive,

positive and life-altering

changes. He has spent

a lifetime understanding

rivers, western lands,

wildlife and the issues

they face. He is currently

the Owner/Broker of Team

Murphy Realty and M4

Ranch Group, a division

of Team Murphy Realty,

specializing in ranch and

recreational properties in

Colorado and New Mexico.

THE REALTORS® LAND

INSTITUTE (RLI) is a

membership organization

created for land experts

and by land experts. Our

organization is dedicated

to building knowledge,

building relationships

and building business

for our members—the

extraordinary real estate

professionals—who broker,

lease, sell, develop and

manage our most precious

resource: the land. Find out

more at RLILand.com.

SHOTGUN LIFE is the first

online magazine devoted

to the great people who

participate in the shotgun

sports. Their goal is to

provide you with the best

coverage in wing and clays

shooting. That includes

places to shoot, ways to

improve your shooting and

the latest new products.

Everything you need to

know about the shotgun

sports is a mouse-click

away. That's because

Shotgun Life is your

dynamic resource for the

most current and useful

information as it becomes

available. Shotgun Life is

free and you can see it at

ShotgunLife.com.

GREG SIMONS received

a B.S. degree in Wildlife

and Fisheries Sciences

in 1987 from Texas A&M

University and soon after

formed Wildlife Systems,

Inc., a company that

currently manages hunting

operations on over 800,000

acres of private land in

Texas and New Mexico.

He is also co-owner of

Wildlife Consultants,

LLC, providing technical

assistance to landowners

and other entities on habitat

management and other

wildlife-related issues. Greg

®

served as President of Texas

Wildlife Association through

July 2015.

FLORENCE "FLO" SAYRE,

ALC, has been active in the

land business for over forty

years and licensed in the

real estate industry for over

twenty. A member of the

REALTORS® Land Institute

since 2008, she is their

current Pacific Northwest

Chapter President and the

Chair of their Accredited

Land Consultant (ALC)

Designation Committee

which allows her to also

serve on the organization's

Board of Directors.

LORIE A. WOODWARD

has worked as a writer and

public relations practitioner

exploring the intersection

of agriculture, natural

resources and public policy

for almost 30 years. Her

career, which has included

stints in the public and

private sector, has taken

her across the country and

around the world, where

she has been enthralled

by the people of the land

and their stories. She is

the president of Woodward

Communications and

co-owner of The Round

Top Register, a regional

magazine focused on life

in the rolling bluebonnet

hills of central Texas

where country meets city.

Woodward was reared on

a ranch near Lexington,

Texas, but now makes her

home in Brenham, Texas,

with her two children, Kate

and Will.

LUKE WORRELL, ALC, is a

Broker and Accredited Farm

Manager for Worrell Land

Services in Jacksonville,

Illinois. He specializes in

agricultural real estate

and land management in

west central Illinois. Luke

enjoys all things sports

and traveling. He resides in

Springfield, Illinois, with his

wife Allison and two sons

Kale and Benson.

Lead the

Conversation!

Become a

contributor

on LAND.com

and in LAND

Magazines

Share your expertise

and brand yourself as a

thought leader.

Reach Land.com

Network's audience of

3.8 million users.

Foster learning,

inspiration and love

of land and the land

business.

Topics we cover

include advice for

land buyers and

sellers, land-related

taxes and easements,

land improvements,

habitat and wildlife

management, land

investing, new

technology for brokers

and more!

Contact

Lauret Jarvis

Editor-in-Chief

ljarvis@land.com

© Copyright 2017 CoStar Group. All rights reserved. No part of this publication may be reproduced without written permission from the publisher. LAND Magazine is published by CoStar Group, 100 Congress Ave, Suite 1500, Austin, TX

78701. Information provided to CoStar Group is deemed reliable but not guaranteed. The publisher will not be responsible for any omissions, errors, typographical mistakes or misinformation within this publication. Measurements and

figures are approximate. Properties are subject to errors, omissions, prior change or prior sale. The real estate advertised in this magazine is subject to the Federal Fair Housing Act of 1968 and it's amendments. This magazine will not

knowingly accept any advertising for real estate which is in violation of the law. Dwellings advertised in this magazine are available on an equal opportunity basis. Printed in the USA.

TOM ALEXANDER

Publisher

LAURET JARVIS

Editor-in-Chief & Creative Director

BRITTANY GILLEN

Production Manager

KATIE GORDON

Designer

LAUREN CARSWELL

Designer

ERIC BRODNAX President

JOE VOLLARO National Sales Director

ANDREW CAMPBELL Director of Sales Operations

JUSTIN SIMONS Regional Sales Manager

NICK VRABEL Regional Sales Manager

JASON ADAME Sales

NATHAN ARCHER Sales

KYRAN BAKER Field Sales

DON BARKS Advertising Sales

MICHELE BLUM Field Sales

NICK BOONE Field Sales

ANTHONY CHAPPELLE Field Sales

BRUCE CRAIG Field Sales

CARL EBERT Field Sales

CHAD ELTING Field Sales

SAM HAGEY Sales

EDWARD MILLS Field Sales

TODD POWERS Sales

JASON SMITH Sales

TREY WERNER Field Sales

SHAWNA ADKINS Account Manager

KELLY BAILEY Account Manager

DELAINE DOMMEL Account Manager

MELANIE RICHMAN Account Manager

KERSTAN TURMAN Account Manager

LYNNE ZAROSKY Account Manager

ZACHARY BROWN Client Services

GREG ELAM Client Services

DIANE MULKEY Client Services

LANDSOFAMERICA

LANDMAGS

@LANDMAGAZINES

LAND.COM

8
---
10
---
ASSOCIATIONS

REALTORS ®

LAND

INSTITUTE

Colorado RLI Chapter

The Colorado Chapter of the Realtors Land Institute recently had another successful Farm &

Ranch Tour. This year's tour took place in the beautiful mountains of Ridgeway and Montrose in

Southwest Colorado, only 40 miles from Telluride. The inventory for this year's tour ranged from

irrigated farms starting at $895,000, to large, high country ranches listed at $29,975,000. With

fabulous weather, and approximately 35 brokers in attendance, this years tour was certainly one

of our best ever.

One of the highlights in my mind was the first night of the event when Black Canyon Wing and

Clay allowed our members and guests a private shoot on their wonderful shooting deck at their

5-stand course. We had two boys with us ages 9 and 12, and it was quite a site to see the

excitement of those two young men bust their first clays. It's certainly good to see fathers passing

on good values and ethics in their children in a safe and fun manner.

On July 20th & 21st our Chapter will be in Greeley Colorado for our annual Ag Tour. We are

pleased to announce that the Colorado Real Estate Commission approved this year's tour for

6 hours of continuing education for Colorado brokers. What

better way to get continuing education than by attending a tour

that visits livestock, dairy, and crop farms and facilities, as wells

as barley farms, hops farms, an industrial hemp farm, and the

Weldwerks Brewery?

If you're a seller that is looking to sell your property in Colorado,

or a buyer that is wanting to make sure you are properly educated

on all the current available inventory, I highly recommend

that you get in touch with one of our Colorado RLI members. I

guarantee you will not be disappointed with the level of service

they'll provide you throughout your real estate transaction.

Justin Osborn, REALTOR®

The Wells Group

(970) 946-3935

2017 Chapter Meetings & Other Important Dates

July 20 & 21

CO/KS/NE Joint Agricultural Meeting

Greeley, Colorado

September 7 & 8

Marketing & Education Session

Courtyard by Marriott

Grand Junction, Colorado

12
---
Enduring investments have timeless value, a legacy that can be shared and passed on.

For more than 30 years, U.S. Coins has been one of the nation's leading wholesalers

of rare and unique coins. Add a piece of history to your estate — contact us today.
---
Barrel Band

BarrelBand.com

The Barrel Band was created by two guys who love the outdoors.

Each had a desire to create a ring that was different from everything

else out there. They wanted something that was functional, stylish

and represented who they are and what they loved to do. They

wanted something that wasn't flashy or trendy, but they knew it

had to have value because of what a wedding ring actually stands

for. Most jewelry today is made overseas in order to save money

on production costs. Barrel Band wanted to make it a point to keep

everything here in the United States regardless of monetary loss.

They are based out of Lakeland, Florida, where the majority of all

the work is done. Each Barrel Band is meticulously handcrafted

by metalsmiths who not only boast a combined experience of

over 70 years in the industry, but are also known by the quality

of craftsmanship they produce. The Barrel Band comes in three

variations—Silver Platinum Classic, White Gold Classic and Yellow

Gold Classic—and it's available in both 14kt white and yellow gold.

REI Outessa

Outessa.com

REI, the outdoor co-op and national specialty retailer, announced its 2017

REI Outessa retreats with three immersive, outdoor adventures designed to

connect women with the outdoors in a supportive learning environment. Now

in its second year, the getaways are filled with activities and inspiration, offer

access to coveted gear and products, serve up great food and wine and create

the environment for making new friends and lasting memories. Find your

tribe, do what you love and try something new in some of the country's most

beautiful outdoor playgrounds. During their three-day retreats you can choose

from hundreds of activities, from rock climbing and mountain biking to yoga

and hiking. All gear for activities, instruction and chef-prepared meals included.

2017 REI OUTESSA RETREATS

KIRKWOOD, CALIFORNIA

July 14–16, 2017

This picturesque, high-alpine playground is

located just 35 miles from South Lake Tahoe.

Its scenic peaks, valleys, lakes and rivers offer

world-class opportunities for rock climbing,

hiking, mountain biking and paddling.

MT. HOOD, OREGON

August 18–20, 2017

Experience the legendary beauty of the

Pacific Northwest. Mt. Hood Skibowl is located

in Government Camp, Oregon. The area's

mountain lakes, thick forests and many miles of

trails make it a year-round destination.

WATERVILLE VALLEY, NEW HAMPSHIRE

September 22–24, 2017

New England's famous fall foliage will be in

full effect at the Waterville Valley Resort. Set in

the White Mountain National Forest, this resort

offers miles of hiking and mountain bike trails,

plus a stream-fed pond for activities.

14
---
Hipcamp

Hipcamp.com

Hipcamp is a company that empowers landowners to share their

property with campers to create sustainable revenue and

support in the conservation of land. From public parks to private

land, Hipcamp is the most comprehensive guide to camping in

the nation. Search, discover and book ranches, farms,

vineyards, nature preserves and public sites for camping

across the U.S. Find yourself outside at Hipcamp.com.

Hipcamp offers a referral bonus for anyone who refers a

landowner that lists on Hipcamp. The landowner and their

referral both receive $100 cash when they take their first

booking! Hipcamp has graciously provided LAND Magazines

with a discount code to get your camping adventures started.

Mathews Archery

MathewsInc.com

You dream it, they build it. Mathews Archery allows you to

customize your perfect bow in just a few steps! Through

their website you'll customize your bow, then share it or print

it to order through an Authorized Mathews Retailer. Aside

from bows, Mathews has a wide selection of accessories

and apparel. Mathews Genuine accessories are designed to

enhance your experience and maximize the performance of

your Mathews bow. After an extremely successful year with the

2016 HALON®, Mathews introduced its 2017 hunting line with

three new offerings featuring the highly efficient and powerful

CROSSCENTRIC cam: HALON® 32, AVAIL and STOKE. Go

to Mathewsinc.com for full specifications, finish options, and

more information on the 2017 hunting line, and experience them

at your local Mathews Retailer.

Wacaco

Wacaco.com

Founded in 2013, Wacaco is a startup company based in Hong Kong.

The Minipresso, crafted with reinforced materials to withstand shocks,

is a small, light and convenient handheld espresso machine. An

innovative creation, durable, built to prepare authentic coffee drinks.

The portable espresso machine allows users to brew their own drink

on the go—perfect for your outdoor adventures! Gear up for your next

big adventure. Whether you're camping, fishing or road tripping, the

Minipresso is the perfect travel companion.

16
---
Happily Ever Antlers

Etsy.com/shop/HappilyEverAntlers

Happily Ever Antlers creates one-of-a-kind, high-end, beautifully customized antler jewelry,

each with their own story, background and mileage of places that most can only visit in their

dreams. Each of their pieces are handmade from deer sheds. Every piece is different so each

one is truly unique and beautiful in its very own way.

KUKACARES Foundation

KUKACARESFoundation.org

Dine for a cause with the KUKACARES Foundation! Enjoy a Wild Game Dinner, while contributing to a great cause. The event will feature many

great auction items for the outdoor enthusiast, along with an open bar included in the ticket price. All proceeds go directly to the KUKACARES

Foundation, the charitable organization that's dedicated to supporting those in need within our community. The mission of the KUKACARES

Foundation remains to directly support the well-being of the families in our community and those families serving in our community. The

KUKACARES Foundation is a 501(c)3 charitable organization. All proceeds go to the foundation. Administrative costs are provided by KUKA

Systems North America and their Foundation Partners.

WILD GAME DINNER 2017

EVENT DATES

October 27, 2017 at 5:30 pm

ORGANIZER DETAILS

Katie Juneau

Connect@KUKACARESFoundation.org

(586) 722-8359

VENUE DETAILS

The Palazzo Grande

54660 Van Dyke Road

Shelby Charter Township, Michigan 48316

(586) 731-2100

ThePalazzoGrande.com

LAND.COM • LEGENDARY LIVING

17
---
Sportswomen United

SportsWomenUnited.com

Sportswomen United was created with encouragement in mind.

Although we have seen a rise in the number of women in the

outdoor industry, founder Courtney Riser fears beginners may get

discouraged early on. It is still very common to see women put

one another down online with the rise in social media platforms

such as Instagram and Facebook. Riser knows everyone has been

guilty of judging others at least once, but hopes that Sportswomen

United can help women come together and support each other.

Sportswomen United provides reviews and honest feedback on

products they have used before, letting others know what has

or has not worked for them. They share their hunting, fishing or

outdoor stories and experiences, whether they are good or bad.

With these reviews and stories posted to their blog, they hope

to provide tips and support that will ultimately encourage more

women to get involved in the outdoors.

Wilderness Babes

WildernessBabes.com

With more than 400 national park areas, including 58 national parks,

encompassing 84 million acres across the United States, outdoor

enthusiasts have a plethora of options for exploration and adventure.

However, maintaining these treasured landscapes, ecosystems,

and historical sites comes at a high cost. Three areas of focus are

necessary for supporting the national parks—Protect. Connect.

Inspire. Wilderness Babes is an adventure collective that supports

the National Park Foundation through inspiration, community and

outreach. A nationwide ambassador team of inspiring, empowering,

outdoor women lead the way in spreading our message of the

importance of protecting our national parks by inspiring Americans

to connect with their natural landscapes. Wilderness Babes

operations are currently based in Portland, Oregon.

KOR Instincts

KORInstincts.com

T​he KOR team is dedicated to bringing you the most relevant survival

information available in the world. At KOR Instincts they are always

discussing survival strategies, reviewing survival gear and improvising to

make equipment that the average survivalist can use at any given time so

that you and your family are prepared. Their mission is to bring together

children and adults to build a healthy relationship with mother earth to

learn to respect her gifts—air, water, fire and land. They also provide a

variety of courses, presentations and programs to meet the needs of the

KOR community. The goal is to create a community of awareness which

educates, prepares you with valuable nature skills.

Listed below are courses that KOR provides:

• Purifying Water

Without Containers

• Traps and Snares

• Building Shelters

• Primitive Tools

• CPR and First Aid/AED

• Wilderness Bootcamp

• Survival Cordage/Knots

• Youth Programs

• Firemaking Skills Course

18
---
OUR SELECTION OF INTRIGUING PROPERTIES

FEATURED ON LANDSOFAMERICA.COM

20
---
HOOD COUNTY

TEXAS

An exquisite ranch laced with two flowing creeks, stunning hardwood trees and a five+ acre

lake. Pulling through the ranch entry, you will begin your journey down the drive flanked

with Kentucky Derby board fencing, welcoming you into the scenic ranch and onwards

towards the main home. Be sure to take note of the beauty of the flowing creeks lined with

hardwood trees that have been magnificently manicured. As you pass the lovely French

country main home, your eyes will be enlightened to see the sparking blue waters of the

five+ acre lake—the largest of the four water reservoirs on the property. The property is

also appointed with a nice cabin and a boat ramp. There are multiple locations where you

can gaze across the most spectacular views of this magnificent ranch.

$4,500,000 | PROPERTY ID: 3759674

CLARK REAL ESTATE GROUP

LAND.COM • LEGENDARY LIVING

21
---
SHERMAN COUNTY

OREGON

The Maurer Ranch, in Eastern Oregon, consists of approximately 47,120 acres. This

property has been in the same family for over 90 years. The business operation has

been in cattle, sheep, grain, hay and recreation. With over eight miles of deeded river

frontage on the lower John Day River, fishing for bass, trout and steelhead is exceptional.

Within the deeded acreage are nine large, fenced pastures with good stock water.

The stock water is provided from springs that have been developed throughout the

ranch. The balance of the ranch is native range land and the topography provides good

shelter from the elements. The ground cover is a mixture of native grasses, shrubs and

juniper trees. The ranch is about 70 miles southeast of The Dalles, Oregon, which is

75 miles east of Portland, Oregon. There is a paved state highway all the way to the

ranch, which is located within the counties of Gilliam, Sherman, Wasco and Wheeler.

$19,750,000 | PROPERTY ID: 2950385

WHITNEY LAND COMPANY

22
---
LAND.COM • LEGENDARY LIVING

23
---
HAWAII COUNTY

HAWAII

Located between Whittington Beach Park and Na'alehu

Village, the Kaunamano Ranch offers approximately

four miles of ocean frontage including a small,

rocky beach. Incredible ocean sunrise and coastal

views all the way to Volcano National Park. Property

currently provides excellent pasture for livestock. The

ranch consists of nine separate Lots of Record, has

subdivision potential and county water commitments.

$11,500,000 | PROPERTY ID: 2841961

HAWAII PACIFIC BROKERS, LLC

24
---
BAKER COUNTY

OREGON

The 57 Ranch is a beautiful 262-acre working

cattle ranch. The property sits on the way to the

Eagle Cap Wilderness Area and offers unlimited

recreational opportunities on and off the ranch.

Currently the ranch is self-contained, running a

60 cow-calf pair operation on irrigated pasture

and rangeland that includes BLM permits.

An impressive irrigation water right allows for

pumping directly from the Powder River. The

2,720-square-foot home overlooks a stocked twoand-a-half-acre

pond and the grassy meadows

below. A 5,000-square-foot shop houses an

office as well as a kitchen, bedroom and large

living area. One of the four bays of the shop is

a finished workshop with roll-up doors and a

heated dog kennel system out back. The property

is fenced and cross fenced, all in good repair. A

variety of wildlife utilizes the property, including

deer, game birds and water fowl. Bass fishing a

few steps from the home is an added bonus.

$1,550,000 | PROPERTY ID: 3352803

WHITNEY LAND COMPANY

LAND.COM • LEGENDARY LIVING

25
---
NEWAYGO COUNTY

MICHIGAN

This one-of-a-kind estate is ideal for those wishing to get away from it all. This

early American replica displays true craftsmanship. The use of rare woods only

compliments how much attention was put into the smallest detail. The estate

includes 30 acres with the availability of a 70-acre parcel to the east and a 50-

acre parcel to the west adjoing the main 30 acres. These parcels have lake

frontage to a no public access, non-wake lake. From the all natural split rail fence

to the replica old barn, this property is a peaceful reminder of the simple life.

$983,062 | PROPERTY ID: 2572944

RANDY MCDONALD

26
---
LAND.COM • LEGENDARY LIVING

27
---
TEHAMA COUNTY

CALIFORNIA

Exceptionally beautiful ranch consisting of 5,918± acres. The ranch

is very private, with views of Mount Lassen and Mount Shasta, at an

elevation of approximately 1,000 feet. Lots of year-round live water on

the property and abundant wildlife. This ranch would make a great allnatural

cattle operation, hunting retreat, or just build your dream home

and enjoy the privacy, gentle terrain and spectacular views.

$6,500,000 | PROPERTY ID: 2979551

CALIFORNIA OUTDOOR PROPERTIES, LAND LEADER

28
---
LAND.COM • LEGENDARY LIVING

29
---
ON THE INSIDE COVER

30
---
ON THE INSIDE COVER

Wood River

Ranch

A legacy property which embodies spectacular scenery, amazing fly fishing and trophy

hunting with excellent improvements all within a working ranch operation

4,000± Acres in Park County, Wyoming

Property ID: 3402913

Offered at $14,500,000

Located in northwestern Wyoming in

one of the west's most spectacular

and natural backdrops along the east

front of the Absaroka Mountain Range

lies Wood River Ranch, a legacy

property which embodies spectacular scenery,

amazing fly fishing, trophy hunting and excellent

improvements all within a working ranch operation.

Situated near the end of the Wood River valley and

nestled up against the Shoshone National Forest,

Wood River Ranch enjoys a quiet private setting

along the Wood River. Some of the most untamed

natural lands in the United States lie just out the

back gate of the ranch leading through national

forest and eventually Yellowstone National Park.

LAND.COM • LEGENDARY LIVING

31
---
ON THE INSIDE COVER

Wood River Ranch operates on about

4,000 acres with approximately 1,000 acres

of deeded land securing both sides of the

Wood River, 1,000 acres of landlocked state

leased lands and 2,000 acres of private

and public lease land. The ranch backs up

to some of the grandest and most remote

backcountry within the Greater Yellowstone

Ecosystem. Many places talk about having

a big back yard but only a select few places

can claim a backyard this big!

Wood River Ranch is offered turnkey and

move-in ready with all the real property as

well as the business assets. Additionally, in

place one will find an exceptional General

Manager and Executive Chef as the married

management team. The ranch currently is

operated catering to the owner's desire for

hunting and fishing as well as raising hay and

cattle. The ranch operates its various units

to make money and reduce overall overhead

by providing private lodging and outfitting

services for hunting and fishing without

compromising the owner's use.

The ranch has excellent water rights,

which are used to irrigate approximately

400 acres of hay meadow and irrigated

bottomland pasture. It is, in fact, the

last irrigated hay meadow going up

the Wood River Valley, and as such,

it is a magnet for the wildlife. It is a

common site to see herds of elk and

deer grazing in the meadows after the

hay has been harvested. The upland

mountain acreage is incredibly private

and provides interspersed open parks,

beautiful mountain lakes, springs, aspen

groves, and pine/spruce forests. There

is a wonderful trail system that takes you

to a beautiful lakeside rustic cabin with

the mountains rising up to the north that

is arguably the most charming spot one

can encounter in the entire valley. The

diversity of land encompasses all that one

can hope for. Ranging from the Wood River

and its lush Cottonwood-lined river bottom

hay meadows that transition to aspen

groves and parks filled with wildlife and

then ascending into evergreen forested

lands that give way to the surrounding

mountains and alpine terrain that protects

32
---
ON THE INSIDE COVER

the Wood River Valley from the strong winds that affect other parts

of the State. The scenery is pristine and breathtaking.

Historically, Wood River Ranch has ran an all-natural beef program,

high quality haying operation and extends its capabilities as a private

first class outfitting/fishing/guest ranch. Directly bordering the 2.5

million-acre Shoshone National Forest outside of Meeteetse, Wyoming,

the ranch operating involves grazing and haying the natural forage

produced on the lands. The ranch is a mecca for wild Yellowstone

Cutthroat trout stream fishing with private access to over two miles

of the spectacular Wood River on the deeded land and another

two miles on private lease. Wood River Ranch offers a multitude of

exceptional hunting choices for many big game animals and game

birds unparalleled in Wyoming. Landowner tags are essentially assured

and available for most species.

The backdrop of the Wood River area includes the Shoshone

National Forest and Washakie Wilderness, which possess nearly every

big game wildlife species present in the Rocky Mountain ecosystem.

The ranch offers elite guided trophy hunts for elk, mule deer, whitetail,

pronghorn, Merriam turkey, mountain lion, Shiras moose and big horn

sheep. With five-star accommodations at the ranch and a licensed

Wilderness Camp in the Shoshone National Forest, Wood River Ranch

offers the best of both worlds. Located at the upper end of the Wood

River valley, the hay fields, as mentioned earlier, are the highest

irrigated ground in the valley, making the ranch a natural hotspot for

the wildlife.

Fishing on the ranch is its best-kept secret. For those fishermen

in pursuit of the Cutthroat Slam, the Wood River is a renowned

Yellowstone Cutthroat fishery. Wood River Ranch has fenced its

riparian areas and restricted them to foot travel, allowing the river

bottom to flourish. With no grazing on the riverbanks, the river has

become the best possible habitat for insects, and the trout reap the

benefits. All of the river fishing is barbless, catch and release, fly

LAND.COM • LEGENDARY LIVING

33
---
ON THE INSIDE COVER

fishing only. For the novice fishermen, there are two ponds stocked

with Yellowstone Cutthroats which are catch and keep if you like

and can be prepared by the executive chef for you that day!

Improvements include many new and remodeled buildings, which

include a main lodge, private owners home, caretaker's house, two

"bunk houses," two outpost cabins, barn, livestock facilities, bridges,

fences, ditches and roads. Turnkey assets include everything onsite

from the machinery and equipment to linens and utensils excepting

only the owners personal effects. Lodging capacity is rated at 26

persons; however, 18–20 is more comfortable.

Wood River Ranch is 10 miles south of the small ranching

community of Meeteetse, Wyoming, and an hour south of worldfamous

Cody, Wyoming. Meeteetse is an Indian term meaning

"meeting place," and the Wood River Ranch lives up to that billing

as the ultimate recreational meeting place to stay and play.

Daily commercial air service is located in Cody along with great

shops, restaurants, bars and galleries. The world famous Buffalo

Bill Historical Center is also found in Cody, which is known as the

eastern gateway to Yellowstone National Park.

Wood River Ranch is an amazing offering with exceptional

views and a peaceful setting in a very special location. With

a perfect operational design and large deeded holding, the

ranch has profitable unit operations and offers the very best

in the way of hunting and fishing with exceptional lodging and

management in place. The property offers easy access to the

remote Shoshone National Forest as well as the untampered

waters of a very unique fishery. The sustainable nature of the

land, improvements and operational management make this a

very special property offering. °

John Stratman—john@ranchland.com • 303-912-8807

RANCHLAND.COM

34
---
Each Office is Independently Owned and Operated. Operated by Sotheby's International Realty, Inc.
---
8,500 DEEDED ACRES.

FENCED & CROSS-FENCED.

HORSE TRAINER WANTED.

We are Farm & Ranch specialists with a network of 880 full-service, global offices.

We have more local boots on the ground than any other Farm and Ranch brokerage.

LOCAL ROOTS. GLOBAL REACH.
---
FARM & RANCH PROPERTIES

CLEAR FORK RANCH

$6,700,000 #161274 3,400 ACRES

CRAWFORD, COLORADO – Historic ranch

bordered by USNF, BLM lease. Diverse habitat for

elk, deer, bear and wild turkey populations. Six

hunting cabins, water, five miles of private roads,

fenced and cross-fenced.

ren martyn

HIGH MEADOWS RANCH

$1,900,000 #171003 100 ACRES

STAGECOACH, COLORADO – Located 30 minutes

from Steamboat Springs, this unique ranch features

a main house, two guest cabins, large custom barn

with apartment and stocked pond. The improvements

are perfectly situated for a commercial operation,

and Morrison Creek flows through the ranch.

ren martyn

YAMPA RIVER RANCH

$1,850,000 #161479 95 ACRES

STEAMBOAT SPRINGS, COLORADO – Over one

mile of Yampa River with large cottonwoods and

two-acre lake. Existing home, barn and fenced for

livestock. Close proximity to Steamboat Springs.

ren martyn

DUNCKLEY PEAK RANCH

$1,595,000 #161254 160 ACRES

HAYDEN, COLORADO – Irreplaceable retreat

surrounded by millions of USFS acres. Lodge, cabin,

shop and trout-filled three-acre lake. Excellent big

game hunting. Hunting outfitters or group retreat.

ren martyn

REN MARTYN, RANCH BROKER

970.846.3118 | REN.MARTYN@SIR.COM

HIGHMOUNTAINLAND.COM
---
FARM & RANCH PROPERTIES

SLATER CREEK RANCH

$5,950,000 #161219 1,500 ACRES

SLATER, COLORADO – Bordering USFS with

over two miles of Slater Creek! Ranch offers fivebedroom

lodge, big game hunting, native cutthroat

trout, livestock production, 1,400-acre USFS

grazing lease and minerals.

pam vanatta & ren martyn

ELK RIVER RANCH

$16,000,000 #161373 350 ACRES

STEAMBOAT SPRINGS, COLORADO – Historic

Elk River Valley ranch with one-and-a-half miles

of the river. Luxury home, caretaker home, barn,

equestrian facilities, fenced pastures, hay production

and plentiful water rights.

pam vanatta

SNOWY MOUNTIAN RANCH

$8,975,000 #138737 210 ACRES

CLARK, COLORADO – Extraordinary custom log

home overlooking Steamboat Lake. 14,000-squarefoot

main home, guest house, ponds, creek,

maintained trails, epic views and borders 20,000+

acres of USFS land.

pam vanatta

LAZY K RANCH

$7,400,000 #160989 271 ACRES

STEAMBOAT SPRINGS, COLORADO – A private

playground just minutes to Steamboat Ski Resort.

A luxury 11,100-square-foot log home, four ponds,

beautiful landscaping, miles of maintained trails and

abundant wildlife.

pam vanatta

REN MARTYN, RANCH BROKER

970.846.3118 | REN.MARTYN@SIR.COM

HIGHMOUNTAINLAND.COM

PAM VANATTA, BROKER/OWNER

970.291.8100 | PAM.VANATTA@SIR.COM

PAMVANATTA.COM
---
FARM & RANCH PROPERTIES

SON HI RANCH

$9,400,000 #161858 1,046 ACRES

YAMPA, COLORADO – Magnificent ranch adjacent to

the 235,000-acre Flat Tops Wilderness. 6,269-squarefoot

ranch house, big game hunting, fishing, ranching,

lakes, creeks, two guest homes, three cabins, log barn,

three steel ag. buildings, irrigated/natural meadows,

extensive water rights and trail system. 45 minutes to

Steamboat and 75 minutes to Vail. sonhiranch.com

douglas labor

DOUGLAS LABOR, ASSOCIATE BROKER

970.846.0661 | DLABOR@BUYSTEAMBOAT.COM

BUYSTEAMBOAT.COM
---
FARM & RANCH PROPERTIES

FOUR SEASONS PRESERVE

FROM $299,000 #126534

35 ACRES

STEAMBOAT SPRINGS, COLORADO – Secluded

group of 35-acre home sites only eight miles from

downtown Steamboat Springs. This 12-lot, 427-acre

ranch-style subdivision offers 360-degree views and

privacy. Roads and water installed, community fire pit

and internal trail system. fourseasonspreserve.com

david baldinger jr.

ELK MOUNTAIN ACREAGE

$459,000 #141352 121.05 ACRES

STEAMBOAT SPRINGS, COLORADO – Opportunity

to own one-of-a-kind acreage right at the base of the

head of Sleeping Giant (Elk Mountain). Borders BLM

land and State Wildlife Area. Teeming with wildlife!

david baldinger jr.

DAVID BALDINGER JR., BROKER/OWNER

970.846.2560 | DAVID.BALDINGER@STEAMBOATSIR.COM

STEAMBOATPROPERTIES.COM
---
FARM & RANCH PROPERTIES

R&B RANCH

$24,000,000 #201608213 507.86 ACRES

SISTERS, OREGON – Encompassing 507 acres, the

Central Oregon ranch located just five minutes from

the charming town of Sisters, is a diverse mixture

of productive pasture for livestock, high desert pine

forest and an irrigated oasis of manicured grounds.

randbranch-sistersoregon.com

pam mayo-phillips & brook havens

BROOK HAVENS, PRINCIPAL BROKER

541.604.0788

BROOK.HAVENS@SOTHEBYSREALTY.COM

PAM MAYO-PHILLIPS, PRINCIPAL BROKER

541.480.1513

PAM.MAYO-PHILLIPS@SOTHEBYSREALTY.COM
---
FARM & RANCH PROPERTIES

MAHOGANY BUTTE RANCH

$10,000,000 #201703558 6,867 ACRES

PRINEVILLE, OREGON – Mill Creek runs through

the property which borders the Ochoco National

Forest. The beautiful 4,010-square-foot main home

features a saltwater swimming pool overlooking the

Mill Creek Valley. Two additional homes, private

setting. mahoganybutteranch-prinevilleoregon.com

pam mayo-phillips & brook havens

BOX S RANCH

$5,875,000 #291702356 280 ACRES

BEND, OREGON – Recreational lifestyle property

with 4,416-square-foot main estate, four bedrooms,

five-and-a-half bathrooms, Cascade Mountain views,

guest home, barn, stocked ponds, 90 acres irrigated

fields, two canyons. boxsranch-bendoregon.com

pam mayo-phillips & brook havens

MCKAY ROAD RANCH

$1,700,000 #201606715 106.55 ACRES

PRINEVILLE, OREGON – Spectacular Cascade

Mountain and valley views from private hilltop

estate features 4,456-square-foot home with three

bedrooms, two-and-a-half baths. Outdoor swimming

pool, beautiful landscaped yard and gardens.

mckayroadranch-prinevilleoregon.com

pam mayo-phillips & brook havens

TOM MCCALL RIVER RANCH

$5,500,000 #201607141 579 ACRES

REDMOND, OREGON – Productive ranch with 461

acres including water rights. 6,168-square-foot home

with four bedrooms and four baths. Indoor arena,

barn with 30 stalls, two shops and additional homes.

Cascade Mountain views and Crooked River frontage.

tommccallriverranch-centraloregon.com

pam mayo-phillips & brook havens

BROOK HAVENS, PRINCIPAL BROKER

541.604.0788

BROOK.HAVENS@SOTHEBYSREALTY.COM

PAM MAYO-PHILLIPS, PRINCIPAL BROKER

541.480.1513

PAM.MAYO-PHILLIPS@SOTHEBYSREALTY.COM
---
FARM & RANCH PROPERTIES

PAULSON WILD RIVER RANCH

$5,000,000 #201704514 578 ACRES

TIDEWATER, OREGON – A recreationalist's

dream, three miles of the Alsea River runs through

the Wild River Ranch, offering world-class salmon

and steelhead fishing. Pasture for livestock, two

barns and shop. Produces income with a cell tower

lease and timber harvesting. Pristine river views

from the secluded 3,070-square-foot custom home.

wildriverranch-tidewateroregon.com

michelle white & russ white

MICHELLE WHITE, BROKER

541.390.5286

MICHELLE.WHITE@CASCADESIR.COM

RUSS WHITE, BROKER

5 41 . 279. 3674

RUSS.WHITE@CASCADESIR.COM
---
FARM & RANCH PROPERTIES

SNAKE RIVER SANCTUARY

$16,000,000 #17-1236 70.88 ACRES

JACKSON, WYOMING – Living just north of the

town of Jackson Hole is a bit like living in the middle

of a national park. From these two parcels, enjoy big

mountain views in every direction; look west and

you'll see the Tetons spiking into the sky; look east

and you'll take in the Gros Ventre Mountain Range

with its famous Sleeping Indian. Private, yet close to

the mountain town of Jackson Hole and its amenities.

spackmans & associates

SPACKMANS & ASSOCIATES

307.739.8156 | SPACKMANS@JHSIR.COM

SPACKMANSINJH.COM
---
FARM & RANCH PROPERTIES

MAJO RANCH

$9,500,000 #17-1428 648 ACRES

CODY, WYOMING – An exceptional end-of-theroad

ranch set on the banks of the Shoshone River

with sweeping lawns and meadows, numerous

classic cabins and unparalleled views. Surrounded

by the national forest giving way to Yellowstone

National Park, this is the seminal ranch of the

highly-sought-after South Fork Valley. Offered

turnkey with livestock and equipment.

john pierce

JOHN PIERCE, ASSOCIATE BROKER

307.733.9009 | JOHN.PIERCE@JHSIR.COM

JOHNPIERCE.JHSIR.COM
---
FARM & RANCH PROPERTIES

WOOD RIVER RANCH

$14,500,000 #16-2026 1,000 ACRES

MEETEETSE, WYOMING – Cattle and outfitting

ranch in a gorgeous valley one hour from Cody,

Wyoming, along the banks of the Wood River.

Custom owner's home, guest accommodations and

lodge make this one of the finest outfitting ranches

in Wyoming. Miles of exceptional private cutthroat

fishing and record elk and deer hunting come

together in a stunning setting.

john pierce

JOHN PIERCE, ASSOCIATE BROKER

307.733.9009 | JOHN.PIERCE@JHSIR.COM

JOHNPIERCE.JHSIR.COM
---
FARM & RANCH PROPERTIES

TAYLOR CANYON RANCH

$16,500,000 2,215 ACRES

PAGOSA SPRINGS, COLORADO – A rare and

spectacular 2,215-acre recreational ranch within 15

minutes of Pagosa Springs. The ranch is being offered

for sale for the first time in over 25 years. The land has

been groomed and manicured meticulously over the

years, creating a sanctuary for wildlife.

zach morse

VEGA VERDE RANCH

$8,500,000 #710131 80 ACRES

DURANGO, COLORADO – Vega Verde Ranch is

in the heart of the North Animas River Valley and

is considered by many to be the crown jewel of the

valley. Graced with 80 fertile acres, exceptional

water rights and river frontage, Vega Verde Ranch is

truly a rare offering.

zach morse

ELK POINTE ESTATE

$6,997,000 #717184 45.21 ACRES

PAGOSA SPRINGS, COLORADO – 1,971 feet of

lake frontage surrounded by lakeshore, right in the

middle of a peninsula in the center of a 55-acre lake.

Features world-class trout and bass fishing, stunning

views of Pagosa Peak and the surrounding San Juan

Mountains and a 7,595-square-foot main home.

zach morse

GRAY HACKLE RANCH

$6,950,000 #730186 175 ACRES

BAYFIELD, COLORADO – The Pine River, Gray

Hackle Lake and Cottage Pond provide water views

from every window in the residence and ensure

opportunities for world-class trout fishing. This

is one of the most soothing properties you'll find

in the area, offering year-round recreation and

abundant wildlife.

zach morse

ZACH MORSE

970.391.2600 | ZACH@LPWSIR.COM

LEGACYPROPERTIESWESTSIR.COM
---
FARM & RANCH PROPERTIES

RANCHO MILAGRO

$4,970,000 #731693 273 ACRES

HESPERUS, COLORADO – One of the most

meticulously cared for and luxurious equestrian

properties you will find! Located just outside Durango

with spectacular views of the La Plata Mountains,

this exclusive, private ranch offers a buyer a once-ina-lifetime

opportunity with extensive amenities.

zach morse

OLD PONDEROSA

$3,495,000 #714874 246.31 ACRES

BAYFIELD, COLORADO – This ranch has some of

the most beautiful rolling and naturally irrigated

meadows you'll find in the Pine River Valley. The

fenced property includes several year-round ponds,

varied topography including pine forest with aspen

groves, meadows and beautiful rock outcroppings.

zach morse

MONTAGNA

$3,950,000 7#30852 76.72 ACRES

DURANGO, COLORADO – One of the rarest land

offerings in the upper Animas Valley, due to its

exceptional privacy, ease of access, towering aspen

forests, lush rolling meadows and dramatic mountain

views. The parcel borders the San Juan National

Forest and features multiple home sites of rare beauty.

zach morse

ELKHORN RANCH

$4,999,000 #700049 880 ACRES

BAYFIELD, COLORADO – Sportsman's paradise

with a peaceful and serene landscape, yet still

rugged and wild with frontier spirit. End-of-the-road

privacy. The ranch lies just to the north and east

of town, between the Pine River and Florida River

drainages. Buffered by 1,800 acres of BLM..

zach morse

ZACH MORSE

970.391.2600 | ZACH@LPWSIR.COM

LEGACYPROPERTIESWESTSIR.COM
---
FARM & RANCH PROPERTIES

RANCHO SAN CARLOS

$85,000,000 #15-524 237 ACRES

MONTECITO, CALIFORNIA – The historical

Rancho San Carlos is a 237± acre Reginald Johnson

estate built in 1931 and approximately 29,483 square

feet comprised of over 30 rooms. Additional features

include 10 residential cottages, an office, producing

orchards and extensive equestrian facilities.

suzanne perkins

OCEAN VIEW VINEYARD PARCEL

$7,000,000 #16-3922 56 ACRES

MONTECITO, CALIFORNIA – Vacant land with

360-degree panoramic coastline and mountain

views. A stunning knoll-top building site exists with

no designated building envelope. Any future home

would boast stunning views. There are approximately

four acres planted in Syrah and Grenache grapes.

suzanne perkins

ITALIAN-STYLE VINEYARD ESTATE

$12,500,000 #16-335 55.89 ACRES

MONTECITO, CALIFORNIA – Ocean views abound

from this 6,598-square-foot Italian villa-style home

featuring four bedrooms and five-and-a-half baths.

The vineyard is planted with five acres of Grenache

and Syrah grapes.

suzanne perkins

RARE HOPE RANCH BLUFF ESTATE

$16,950,000 #15-2450 12.99 ACRES

SANTA BARBARA, CALIFORNIA – Oceanfront bluff

top with an approximately 4,900-square-foot adobestyle

home offers five bedrooms and four-and-a-half

baths. An entertainment pavilion and cabana look over

the pool towards the ocean and acres of avocado and

citrus trees.

suzanne perkins

SUZANNE PERKINS, BROKER

805.895.2138 | SUZANNE@SUZANNEPERKINS.COM

SUZANNEPERKINS.COM
---
FARM & RANCH PROPERTIES
---
54
---
GALLERY

68
---
GALLERY

Every Picture

Tells a Story

Chip Laughton is a full-time freelance sporting

lifestyle photographer, specializing in hunting,

fishing and sporting dogs. His images are

regularly featured in some of the world's finest

outdoor publications.

LAND.COM • LEGENDARY LIVING

69
---
GALLERY

70
---
GALLERY

Days Afield Photography was born in 2005 to provide the

outdoor industry with the finest in sporting lifestyle imagery.

Chip lives in western North Carolina with his wife Kelly, Labs

Zach and Charlie and English Cocker Bodie. You can usually

find him in the fall and winter tangled up in some thicket

shooting up close and personal shots of bird dogs; or laying

in the mud getting that shot of a retriever crawling through

the flooded timber or swamp to bring back a fat greenhead. When spring finally arrives

he will be up to his chest in a river somewhere shooting your backcast while you are

casting to rising rainbows and browns. His travels take him from Florida to Alaska; from

the Gulfcoast salt marshes up to the prairies of the Dakotas; and from the white sands

of the islands to the mountains. Chip is doing what he loves capturing images of your

Days Afield.

LAND.COM • LEGENDARY LIVING

71
---
GALLERY

His images are regularly featured in some of the worlds finest outdoor publications.

His work appears in Retriever Journal, Pointing Dog Journal, Just Labs, Covey Rise,

Shooting Sportsman, Grays Sporting Journal, Sporting Classics, Ducks Unlimited,

Pheasants Forever, Quail Forever, Ruffed Grouse Society, Woodcock Limited,

Gundog, Wildfowl, Wildlife in North Carolina, Trout Unlimited, American Angler and

Click Magazine. His work has appeared in calendars by Wildwood Press, Intermedia

Outdoors, Pheasants, Forever, Quail Forever and Ruffed Grouse Society.

His work has also been used to illustrate books, such as "Sporting Dog and Retriever

Training the Wildrose Way" by Mike Stewart, "The Complete Outdoors Encyclopedia"

by Vin T. Spurano, "The Hunting Dog Reference Book" by Vickie Lamb, "Smoke on the

Wind" by Doug Deats and The Orvis Company's "The Great Hunting Lodges of

North America."

The list of corporate clients continues to grow and includes: Mud River Dog Products,

Boyt Harness Company, Bob Allen Shooting apparel, Nestle' Purina, Wildrose Kennels,

Ryglen Gundogs, Sunshine Mills, Northwind Enterprises, Doyon Industries, Gumleaf

USA and Harris Springs Sportsman's club. The Orvis Company use his images in their

Hunting, Fly-Fishing, and Men's catalogs and Lion Country Supply use his images as

cover art for their Dog Supply catalog. °

72
---
LAND.COM • LEGENDARY LIVING

73
---
GALLERY

Photographer's Note, June 18, 2017

"On the first two pages is my dog, Zach. I

had to put him down about a week ago.

He'd spent his entire life 24/7/365 with me

almost everywhere I went. Almost 14 years, a

quarter of a million miles as my copilot riding

in the backseat of my truck on photo shoots,

hunting, fishing or just going to the post office.

Closest thing I have ever had to a son. You

could take him anywhere—bars, restaurants,

never needed a leash, always a gentleman.

He was not my first and certainly not my last

but he was a little special. The greatest gift my

wife has ever given me." —Chip

Chip is available for assignments, corporate

shoots, website imagery, product shots and

private commissions. He also has a large stock

library of images available to meet your editorial

and commercial needs. Prints are also available

for your lodge, cabin, study or office.

daysafieldphotography.com

74
---
Cross Mountain Ranch

56,050± Acres in Routt, Rio Blanco, Moffat & Garfield Counties, Colorado

Located in northwest Colorado, the 56,050± deeded-acre Cross Mountain Ranch represents one of the largest and most diverse recreational and operating ranches on the

market today. A wildlife preserve stretching over four counties and 168,000± acres of leased national forest, BLM, state and park service lands, the ranch is home to North America's

largest elk herd. It is an ecologically diverse landscape with several miles of river frontage on the Yampa, Little Snake and Williams Fork Rivers and numerous other streams, lakes

and ponds. With valuable and historic water rights and within one hour from the resort town of Steamboat Springs and twenty minutes from a commercial airport, Cross Mountain

Ranch is an incredible investment opportunity. Contact Ken Mirr.

$100,000,000

Property ID: 4286257

Marton Ranch

69,550± Acres in

Natrona & Carbon Counties, Wyoming

The Marton Ranch is a working livestock ranch that includes an approximate eight

miles of incredible river frontage on the North Platte River. The balance of the

ranch consists of native grass and sage/grass flats, foothills and coulees, with limited

coniferous and deciduous trees at the higher elevations. Contact Duffy Brown.

$28,000,000

Property ID: 3267923

Pearl Ranch

110± acres in Gunnison County, Colorado

Pearl Ranch is the recreational mountain property that everyone is looking for,

with a 3,900-square-foot, three-bedroom, two-bath log home and big views of

dramatic peaks in the surrounding Raggeds Wilderness Area, terrific private

trout fishing on-property in Anthracite Creek, irrigated pasture for horses and

surrounded by public land. 45 minutes from Carbondale and Crested Butte, 90

minutes from Aspen and 15 minutes from Paonia on the West Elk Loop Scenic

Byway. Contact Tommy Latousek.

$1,600,000

Property ID: 3604079

76

Info@MirrRanchGroup.com

Office: (303) 623-4545 • Toll Free: (877) 623-4545
---
Moonshine Ranch

6,200± Acres in Huerfano County, Colorado

Moonshine Ranch, at 6,200 deeded acres, is one of the finest mountain hunting properties in the western United States. With elevations ranging from 7,500–10,000 feet, this property

boasts an incredibly diverse and stunning landscape with irrigated meadows, high mountain lakes and ponds, seeps, springs, seasonal creeks and old-growth aspen and timber stands.

The ranch is home to high numbers of elk and mule deer and easily accommodates 200 mother cows year-round. Contact Jeff Hubbard or Pat Lancaster.

$19,500,000

Property ID: 4215221

Brees Ranch

5,507± Acres in Albany County, Wyoming

The Brees Ranch, located a few miles west of Laramie, Wyoming, is a highly-soughtafter

grass ranch consisting of approximately 5,507 deeded acres and 1,280 leased

acres in one large contiguous parcel. Directly adjacent to the Laramie Regional

Airport, the property is a well-sodded parcel with impressive access and close

proximity to town. Contact Jared Souza.

$2,300,000

Property ID: 4286292

Thorpe Mountain Ranch

971± Acres in Routt County, Colorado

Thorpe Mountain Ranch is a pristine Colorado ranch that has been owned

by the same family for nearly 100 years. The ranch has supported both cattle

and sheep with summer grazing on mountain grasses and natural spring water

resources. Premier hunting, scenic views, good year-round access, nearby fishing,

public lands and proximity to a world-renowned ski area. Contact Daniel Carter.

$3,000,000

Property ID: 3445768

915 South Pearl Street

Denver, Colorado 80209

www.MirrRanchGroup.com

View All Properties: LandsofAmerica.com/member/11912

LANDSOFAMERICAMAGAZINES.COM

77
---
Price Reduced

Wasatch Peaks Ranch

12,740± Acres in Morgan County, Utah

Stretching 11 miles along the ridge of Utah's Wasatch Mountains lies 20 square

miles of the most spectacularly pristine recreational property in the West. Wasatch

Peaks Ranch is only 35 minutes from Salt Lake City, controls a continuous

ridgeline of 24 peaks and 15 bowls and adjoins national forest. Recreation includes

fly fishing along 1.75 miles of the Weber River and many other recreational

pursuits on 80+ miles of trails. Enjoy a private sanctuary, exclusive mountain club

or consider the development potential. Contact Ken Mirr.

$39,000,000

Property ID: 2690397

Double R Ranch

5,815± Acres in Jackson County, Colorado

A historic working ranch with miles of trophy fly fishing and extraordinary

water rights, the Double R Ranch consists of approximately 5,815± deeded

acres, with 10,550± acres of adjoining public land leases. Double R Ranch has

a carrying capacity of 925 cow/calf pairs and valuable water rights that irrigate

3,150 acres of hay ground. Fly-fishermen will enjoy private frontage on 4.3 miles

of the North Platte River and 6.3 miles of additional rivers and creeks. Double R

includes numerous well-maintained improvements that fit the scale and needs of

an operating cattle ranch. Contact Ken Mirr.

$13,600,000

Property ID: 3772246

Singing Elk Ranch

423± Acres in Routt County, Colorado

Singing Elk Ranch is a pristine, high alpine retreat located in the Upper Yampa

River Valley of northwest Colorado. The ranch is situated atop an elevated

plateau, boasts 360-degree mountain views and numerous recreational

opportunities and borders the Routt National Forest. Trails link the ranch to

over one million acres of forest lands, leading to countless high alpine lakes and

landmarks and the famous Flat Tops Wilderness Area. Contact Daniel Carter.

$3,750,000

Property ID: 3773068

Eagle Canyon Ranch

2,308± Acres in Custer County, Colorado

The 2,308-acre Eagle Canyon Ranch is a ruggedly beautiful piece of Colorado

wildland. Immediately adjacent to the 22,000± acre federally-designated Grape

Creek Canyon roadless area, this graciously forested property offers a unique

opportunity to own a private wildlife reserve, controlling access to a diverse

piece of remote and private mountain canyon. With the spectacular Sangre de

Christo Range as backdrop, the property spans three separate drainages, Seven

Mile Gulch, Dead Mule Gulch and Democrat Creek, all three of which drain

into nearby Grape Creek. Contact Woody Beardsley.

$4,500,000

Property ID: 3851396

78

Info@MirrRanchGroup.com

Office: (303) 623-4545 • Toll Free: (877) 623-4545
---
Sandstone Ranch

2,038± Acres in Douglas County, Colorado

With its brilliantly-colored red rock formations rising from the lush green

meadows, the 2,038-acre Sandstone Ranch is quite simply one of the most iconic

and scenic properties available in the Front Range of Colorado. Situated at the

end of a private lane, the property opens to rolling pastures lined by meandering

creeks and ponds that rise to the forested hillsides of the adjoining national

forest. The property includes a balance of historic and modern ranch facilities

as well as entitlements in place for a future equestrian-anchored, large-lot,

residential development. Contact Ken Mirr.

$27,600,000

Property ID: 3772709

Beaver Creek Ranch

9,966± Acres in Sublette County, Wyoming

Less than one hour from Jackson Hole, the extraordinary Beaver Creek Ranch is

centered on the confluence of the beautiful Green River with the historic three

forks of Beaver Creek. Comprised of approximately 9,966 deeded acres, the

meandering waters of the ranch include about eight miles along the Green River

and about 30 miles on the three forks of Beaver Creek. Trophy trout abound in

these cold mountain waters, where elk, antelope, moose and mule deer are also

plentiful. The ranch carries about 4,000 yearlings. Contact Ken Mirr.

$28,000,000

Property ID: 4286368

Genesee Mountain Ranch

151± acres in Jefferson County, Colorado

The 151-acre Genesee Mountain Ranch boasts expansive Front Range views, a

diverse topography with multiple homesites and a convenient location less than

two miles from Interstate 70. With its mix of open meadows, healthy timber,

woody draws, rocky outcroppings and scenic overlooks, the ranch has the feel of

a much larger property. The ranch adjoins Genesee Mountain Park, the largest

park in the Denver Mountain Parks system, allowing for a myriad of recreational

opportunities. Contact Ed Roberson.

$2,820,000

Property ID: 3614313

Jartop West Ranch

3,268± Acres in Lincoln County, Nebraska

Formerly known and operated as Jay Novacek's Upper 84 Ranch, the Jartop

West Ranch is as well-rounded of a recreational property as you will find on the

market. Totaling 3,268 deeded acres plus leased ground, the ranch offers big

game hunting and great fishing for the distinguished sportsman. The property

features a recently remodeled, luxurious 7,875-square-foot custom home that

could be used for a lodge, and the property is equipped as a working cow ranch

with high-end working facilities. Contact Robb Nelson.

$4,000,000

Property ID: 3781230

915 South Pearl Street

Denver, Colorado 80209

www.MirrRanchGroup.com

View All Properties: LandsofAmerica.com/member/11912

LANDSOFAMERICAMAGAZINES.COM

79
---
Price Reduced

Price Reduced

Elk Creek Ranch

2,850± Acres in Rio Blanco County, Colorado

This private sporting club is one of the most exclusive fly fishing and hunting

communities in the world. Tucked away in northwestern Colorado and along the

banks of the legendary White River, Elk Creek Ranch is comprised of 2,850 total

deeded acres and has access to more than 25 miles of pristine and private trout

water. Membership is included with unparalleled luxury and club amenities.

Offering four distinct properties. Contact Ken Mirr or Daniel Carter.

STARTING AT

$795,000

Property ID: 2686583, 2686276, 4286316 & 2686553

Mydland Ranch

373± Acres in Sheridan County, Wyoming

The Mydland Ranch is a beautiful and diverse ranch property located within

minutes of the famous western town of Sheridan, Wyoming. The property is

approximately 373 deeded acres with Soldier Creek running through the entire

length of the ranch. Offering a great combination of irrigated meadows, wooded

riparian habitat and cedar breaks, this is fantastic habitat for a diversity of wildlife

including upland birds, whitetail deer, mule deer and pronghorn.

Contact Duffy Brown.

$1,500,000

Property ID: 2806000

YO Equine Ranch

103.5± Acres in Sheridan County, Wyoming

With state-of-the-art barn and training facilities, extraordinary custom home,

manicured grounds and irrigated hay meadows, the YO Equine Ranch has it all for

the equine enthusiast. The property includes approximately 0.35 miles of beautiful

Little Goose Creek, providing remarkable stream fishing and wildlife habitat for

upland game and trophy white-tailed deer. Contact Duffy Brown.

$6,250,000

Property ID: 3980657

Strawberry Fields Ranch

37.5± Acres in Eagle County, Colorado

Strawberry Fields Ranch is an easily-accessible, immaculately-maintained 37.5-acre

equestrian and fishing retreat. Situated on the banks of the famed Eagle River,

the ranch is fully equipped as a turnkey horse operation and is being sold with

everything required to begin immediately enjoying the equestrian lifestyle. Between

its extensive improvements, water rights, private fishing and close proximity to

Vail and Beaver Creek, the ranch is a perfect fit for those looking to enjoy all that

Colorado has to offer. Contact Ed Roberson.

$2,395,000

Property ID: 3981049

80

Info@MirrRanchGroup.com

Office: (303) 623-4545 • Toll Free: (877) 623-4545
---
Price Reduced

Kaess Ranch

370± Acres in Chaffee County, Colorado

The 370-acre Kaess Ranch is a remarkably well-sited property just outside

the progressive mountain community of Salida, Colorado. This year-round

operation affords a unique opportunity to live in town on a ranch. The property

is graced with a lovely, well-appointed home, as well as a number of wellequipped

barns, work sheds and outbuildings. With senior rights on both the

Kennedy and Harrington ditches, the ranch has 170 acres of productive irrigated

hay ground, the balance in upland pasture (ideal winter cover), three ponds, a

perennial stream and riding arena. Contact Woody Beardsley.

$4,800,000

Property ID: 3504449

Buck Point Ranch

960± Acres in Garfield County, Colorado

Buck Point Ranch is a 960± acre property located in one of the last pristine

valleys in close proximity to world-class Aspen, Colorado. With senior water

rights and irrigated meadows, sweeping, south-facing Elk Range views, a halfmile

portion of West Coulter Creek and adjacency to two-and-a-half miles

of BLM lands, this property showcases western Colorado at its best. Contact

Tommy Latousek.

$7,300,000

Property ID: 3447637

Price Reduced

Elk Haven

80± Acres in Platte County, Wyoming

Within a scenic mountain setting nearly surrounded by BLM land lies Elk

Haven, an 80-acre private hunting paradise. It's a completely private, end-ofthe-road

sanctuary surrounded by dense pine and granite rock outcroppings.

Located approximately 12 miles southwest of Wheatland and just a few miles

off the pavement, Elk Haven is a very rare, easily-accessible, pristine mountain

parcel. Contact Jared Souza.

$425,000

Property ID: 3772930

Luera Ranch

7,651± Acres in Catron County, New Mexico

Luera Ranch features exceptional trophy big game hunting along with a solid

large-scale cattle operation. Situated about 40 miles southwest of Magdalena,

Luera Ranch lies along the northern and eastern sides of the imposing Luera

Peak (elevation 9,420 feet). The ranch is currently running 500 cow-calf pairs

year-round, and is well-known for its outstanding trophy elk and antelope

hunting. Generally receives 15 landowner elk permits and two antelope permits

per year. Contact Ken Mirr.

$7,495,000

Property ID: 3442853

915 South Pearl Street

Denver, Colorado 80209

www.MirrRanchGroup.com

View All Properties: LandsofAmerica.com/member/11912

LANDSOFAMERICAMAGAZINES.COM

81
---
BEAR BONES RANCH

215± ACRES • CUSTER COUNTY, COLORADO • $949,900

A beautiful outpost in the Wet Mountain Valley, this is an ultimate Colorado ranch to live or bring family and friends to retreat on thousands of acres with amazing

affordability. The headquarters hosts two homes and a barn as a base to access the 640-acre grazing lease, 2,250 acres of private recreation access and 858 acres of

BLM for nearly 4,000 acres of mountains and trails right from the property. Visit BearBonesRanch.com for information. Property ID: 3286149

RIVER'S RUN

14.42± ACRES • JEFFERSON COUNTY, COLORADO • $275,000

Nestled along the North Fork of the South Platte River, this picturesque gated

community borders 1.1 acres of Pike National Forest as well as the 800-acre

Pine Valley Open Space which provides outdoor enthusiasts easy access to

exploring, hiking and mountain biking on miles of trails. Secluded building sites

offer a perfect blend of privacy, wildlife, scenic views and endless recreational

opportunities in addition to world-class fishing! Each lot owner receives a

homeowner membership in the Perfect Drift Flyfishing Club with nearly a mile of

private river access. Visit LotsAtRiversRun.com for information.

Property ID: 2100353

RUSTY K RANCH

35± ACRES • JEFFERSON COUNTY, COLORADO • $1,350,000

30 minutes from Denver lies this stellar equestrian property on 35 acres of

gorgeous pasture, trees and beautiful rock outcroppings. Turnkey, ready for a

boarding/training facility or just to enjoy as your private home. Improvements

include two barns, indoor dressage arena, outdoor dressage arena, outdoor

jumping arena and cross country jumping course. Multiple paddocks, creek and

small pond round out this rare foothills property. The home is main-floor living in

a 3,900-square-foot California ranch-style home with great floor plan and home

theater. Beautifully landscaped for outdoor living and entertaining. Visit

RustyKRanch.com for tour. Property ID: 3789165

YOUR COLORADO RESOURCE

KELLER WILLIAMS FOOTHILLS REALTY, LLC – WHEN REPRESENTATION AND EXCEPTIONAL SERVICE MATTER

BILL DAVIS • (970) 390-8617 • BILLDAVISPROPERTIES@GMAIL.COM

SALLY BALL • (303) 506-7405 • SBALL@KW.COM

84
---
TRAVIS RANCH

216± ACRES • SANTA FE COUNTY, NEW MEXICO • $9,900,000

A luxury home with all the amenities imaginable on 216± fenced acres, 15

minutes from the Santa Fe Plaza with great views of the Sangre de Cristo and

Jemez mountains! Enter this amazing property through a towering adobe arch and

experience the main house, guest house, TV production studio/gymnasium with

attached bowling alley and shooting range, stables with 12 stalls, foreman's living

quarters, workshop, RV bus garage, plus a green house and a caretaker's office.

The 8,750± square-foot all-adobe main house, designed to resemble a northern

New Mexico chapel with interior courtyard and pool, has a large living room, a

country kitchen, formal dining room, media room/library, gracious master suite,

office and three bathrooms all on the main floor. The second floor has a full guest

suite, studio and walk-in vault. The house is rich with hand-carved doors, corbels,

inlaid details, stitched leather ceilings, vigas, 10 fireplaces, two heated oversized

three-car garages and so much more. MLS# 201702786

GR ASSIE FARM

60± ACRES • SAN MIGUEL COUNTY, NEW MEXICO • $1,150,000

Fabulous irrigated farmland on the Pecos River. Renovated adobe main house. Two

bedrooms, two baths, plaster finish, fireplace, courtyard and patio. Includes horse

facilities, pipe rail animal pens and storage buildings. Excellent irrigation water

rights. MLS# 201702533

CRAIG HUITFELDT • WWW.BELLTOWERSANTAFE.COM

CRAIGSANTAFE@GMAIL.COM • OFFICE: (505) 988-2428 • CELL: (505) 660-1108

VIEW ALL PROPERTIES: LANDSOFAMERICA.COM/MEMBER/81551

NORTH AMERICA'S MOST INFLUENTIAL GROUP OF LAND PROFESSIONALS.

KW Farm and Ranch is the rural land division of Keller Williams Realty with a nationwide network of land brokers working together for you. KW Farm and

Ranch agents are local, accomplished experts in land sales and acquisitions, including: agricultural land, timber land, ranch land, recreational land, equestrian

estates, land development, hunting land and other specialties. The land specialist at KW Farm and Ranch are the clear choice when buying or selling rural

property in North America.

LAND.COM • LEGENDARY LIVING

85
---
WESTERN HILLS RANCH

145.52± ACRES • TAYLOR COUNTY, TEXAS • $2,650,000

Ranch estate on 145 Irrigated acres. Turnkey stock farm built to last. Fivebedroom,

seven-bath main home with a gourmet kitchen, spa room, wet

bar, steam room and sauna. There is also a manager's house, saddle house,

office, horse facility and show barn on the property. Two wells provide water

and irrigation to the ranch. West Jim Ned Creek and Little Jim Ned Creek

converge on the property and run all year. The main well does 275 GPM and

is used to irrigate the ranch and water all livestock. This is the one of the

best stock farms ever offered in Taylor County and is in the Jim Ned School

District. Co-listed with Tonya Harbin, Agent. Property ID: 3672338

KEMP RANCH CUTTING

HORSE FACILITY

173± ACRES • EASTLAND COUNTY, TEXAS • $2,650,000

Exquisite custom equine training/breeding facility. Features a 2001 brick,

2,400-square-foot, three-bedroom, three-bath home. There are five trailer

houses protected by a detached metal roof. Two large water wells with

pressure tanks and pump house supply water to the entire ranch. Large

insulated shop with concrete floor. Two large hay/feed barns. Insulated show

barn, indoor arena, outdoor roping arena and metal sheds in all turnout

pastures. Two Priefert six-horse hot walkers and a round pen. This property

has everything you would need to have a full-scale breeding operation, training

operation and veterinary clinic all on one property. Property ID: 2224635

CLAY MCCULLAR • (325) 665-4037 • CLAYS4M@KW.COM

WWW.MCCULLARREALESTATE.COM • VIEW ALL PROPERTIES: LANDSOFAMERICA.COM/MEMBER/232860

86
---
MASTODON WAY RANCHETTES

5 LOTS AVAILABLE • PARKER COUNTY, TEXAS

Build your dream home on one of the five gorgeous lots featured below. The ranchettes are located in a quiet and serene location with a private gated entry. Ag. exempt.

LOT 3

15± ACRES • $229,000

This 15-acre lot features an absolutely beautiful view.

LOT 4

10± ACRES • $159,000

This 10-acre lot features an absolutely beautiful view.

LOT 5

12± ACRES • $182,000

This 12-acre lot features beautiful hilltop views,

an abundance of trees and nice pastures.

LOT 6

19± ACRES • $293,000

This 19-acre lot is perfect for your horses and cows to

graze on. A creek runs through the back of the lot.

LOT 7

12± ACRES • $184,000

This 12-acre lot is perfect for your horses and cows to

graze on. A creek runs through the back of the lot.

DENISE FERRILL • (817) 980-9782 • DENISEFERRILL@KW.COM

DENISEFERRILL.COM • VIEW ALL PROPERTIES: LANDSOFAMERICA.COM/MEMBER/450425

NORTH AMERICA'S MOST INFLUENTIAL GROUP OF LAND PROFESSIONALS.

KW Farm and Ranch is the rural land division of Keller Williams Realty with a nationwide network of land brokers working together for you. KW Farm and

Ranch agents are local, accomplished experts in land sales and acquisitions, including: agricultural land, timber land, ranch land, recreational land, equestrian

estates, land development, hunting land and other specialties. The land specialist at KW Farm and Ranch are the clear choice when buying or selling rural

property in North America.

LAND.COM • LEGENDARY LIVING

87
---
SPORT

HUNTING

WILD QUAIL

with Arthur S. DeMoulas

88
---
The mule-drawn bird wagon trundled

through Chokee Plantation in Leesburg,

Georgia—a 5,800-acre homage to the

vanishing wild-quail hunts that for

generations put meat on the table and

tendered sporting birds by the good

graces of the land.

Morning temperatures were rising to

the low 70s—a bit warm for the

eager bird dogs confined to the kennels

behind us—heating the blonde grasses

and needles of the soaring pine trees to

sweeten the balmy air. The southern

sun soothed our bones as we ambled

along to the rhythm of the wagon's

sway—a hymnal of shod hooves on soft

dirt, chiming harnesses and a chorus

of dogs.

Reverence for our wingshooting

traditions was also playing out in my

conversation with Arthur S. DeMoulas,

the Massachusetts business executive

who purchased arguably the greatest

gunmaker, Boss & Co. of London,

in November 2015. He now serves

as Chairman of the privately owned

English company committed to making

the finest shotguns and rifles in their

London workshop at 110 Kew Green,

Richmond, London.

WRITTEN BY IRWIN GREENSTEIN

LAND.COM • LEGENDARY LIVING

89
---
SPORT

During the course of a three-and-a-half-hour

morning hunt, led by Chokee Manager Wendell

Arrington, Mr. DeMoulas discussed his dedication

to preserve the values and workmanship that have

separated Boss & Co. from the other London gunmakers as the

sole remaining hand-crafted London bespoke gunmaker.

Compared with the other two top London gun makers—James

Purdey and Sons and Holland & Holland—Boss & Co. is the

remaining independently owned concern. As sole proprietor of

Boss & Co. Mr. DeMoulas is free from the directives of quarterly

reporting and the like.

"A company that's one-hundred-percent privately owned doesn't

have to go through the same procedures and steps as one owned by

a conglomerate, and that's an advantage for us," he explained.

That's because he values the long view of preserving Boss &

Co.'s 205-year-old approach to producing

meticulous shotguns and double rifles.

"We're not deviating from our tradition,"

he noted. "We're embracing the tradition."

Case in point, Mr. DeMoulas continues

to look at hiring apprentices at Boss & Co.

to sustain the endangered art of making

best guns by hand.

"Apprentices are the lifeblood of this

business," he told me. "We pair them up

with our craftsmen" in a course of training

that could take some five years for the

apprentice to become proficient at the

bench. "We can still do it the old fashioned

way because we're small."

As we talked the wagon followed two

guides on horseback who monitored

dogs that ranged the cover for wild quail.

When a dog locked on-point, the guides

waved their hats and dismounted. Our

conversation stopped and we immediately stepped down off the

wagon, Mr. Arrington with his SKB and Mr. DeMoulas with his prewar,

28-gauge, sidelock, Boss over/under. A guide followed the

dogs' cues and slashed at the brush with a leather whip. Suddenly

20 or 30 quail burst up in a froth of feathers scattering between

trees, racing through the strobed sunlight, as Mr. DeMoulas

swiveled with the covey, the Boss rising to his shoulder when shots

repeated and a bird dropped.

In those moments you saw an extraordinary flashback to

our Southern quail heritage. Chokee Plantation, owned by the

Taylor family since 1997, has never released a penned quail on

the property, with its mission of preserving wild quail habitat and

hunts. And Mr. DeMoulas' pre-war Boss, performing as its artisans

intended, captured the historical exultation that the Taylors and

Mr. DeMoulas are working so hard to achieve: picture-perfect

wingshooting moments isolated from the perils of modernity.

ARTHUR S. DEMOULAS (LEFT) WITH CHOKEE

PLANTATION MANAGER, WENDELL ARRINGTON

For Mr. DeMoulas, the idea of a "vintage Boss" is manifested

in new guns that are barely indistinguishable from the Bosses

made in the 19th and 20th centuries. Under the ownership of Mr.

DeMoulas "vintage" is woven into the fabric of the Boss culture

rather than a serial number in the company ledgers.

"Boss has a two-hundred-years-plus history of making best

guns only, that allows us to go back in our archives and build any

of those guns again," he explained as we continued underway

on the wagon. "We have the ability, for example, regarding a

side-lever side-by-side that the company made in the late 1800s

through 1941, to make them now. We can start with the 12 gauge

and scale everything down proportionally to the .410. We are able

to build an over/under double rifle that hasn't been built since 1913.

It's not as though we're coming out with a new model. Our guns

are as beautiful now as they were in the 1800s and early 1900s.

If you come to our company and see how

our guns are made you'll think you were

back 100 years in time. The customer

can specify a long bead, short bead, high

bead, single or double bead, round body,

whatever shape of action they like and all

of that bespoke work is done by hand in

our shop."

Mr. DeMoulas believes Boss is the only

gunmaker in London doing that.

He frequently travels to London as he

unrelentingly embraces the ideal of the

British "best gun"—a bespoke shotgun or

rifle of utmost workmanship, quality and

aesthetics, which stands on finish and

handling over price.

Boss is thought to be the best among

the best, and Mr. DeMoulas remains

steadfast in safeguarding the Boss brand.

"I bought Boss because it's an iconic,

world-known brand," he said as the wagon slowly moved to the

next covey. "You hardly ever see a Boss gun wherever you go to

shoot. Boss made the fewest of the London best gunmakers. Case

in point, after 205 years Boss & Co. is still in the 10,000 serial

number range."

Mr. DeMoulas also takes enormous pride in Boss' history

of innovation. The tenure of Scottish gunmaking genius John

Robertson, who joined Boss in 1891 as a partner, was prophetic

for the company. Mr. Robertson's arrival was arranged by a Boss

nephew, Edward Paddison, who had assumed management of

the company after the death of Thomas Boss in 1857. Edward and

his brother James, who died prematurely, were unable to sustain

production and profitability—although gun quality remained a

priority.

With Mr. Robertson now at the helm, Boss & Co. departed

from the Paddison methodology of archaic, pragmatic designs

90
---
SPORT

Boss is thought to be the

best among the best, and Mr.

DeMoulas remains steadfast in

safeguarding the Boss brand.

"I bought Boss because it's an

iconic, world-known brand."

to reach for a higher form of modern aesthetics and innovation.

Mr. Robertson's determination to combine beauty and function

led to the introduction of technical breakthroughs embodied in a

remarkable elegance and vision that endures today.

Driven by Mr. Robertson's artistry and foresight, Boss &

Co. introduced to the shotgun industry reliable single triggers

(allowing one trigger to fire both barrels), mechanical ejectors

with coil springs housed in the forend (for slimmer action

profiles) and the sturdy bifurcated-lump locking system that

lowered the gun's profile for superior balance and the roundedbody

action for lithe ergonomics.

But it was the Boss & Co. over/under introduced in 1909 that

upended the industry. In the 2nd edition of his seminal book

Boss & Co., Best Gunmakers, Donald Dallas wrote "Robertson's

over and under gun is regarded by many to be the finest of

British O/Us and represented for Robertson the culmination of a

career as a gunmaker."

LAND.COM • LEGENDARY LIVING

91
---
SPORT

By merging his innovations, Mr. Robertson's Boss over/under

weighed a sprightly 6½ pounds with its 29-inch barrels. The new

Boss stacked-barrel sidelock design shattered all preconceived

biases of Gilded Age sportsmen who believed it would be

ungainly and sluggish versus earlier, dominant over/unders from

Germany and even the side-by-side, breech loaders of the day.

Mr. Dallas cites in his book a passage from The Country

Gentleman about the new Boss over/under: "A Striking Innovation

in Modern Gunnery. We have seen the same design in German

weapons, but so bulky and clumsy that there was no advantage

shown in them to the user. The neatness of the action and the

barrels together is very marked, the workmanship being in the

usual Boss superior style and finish."

Mr. Robertson's

ingenuity made him

a so-called disrupter

in today's jargon.

His Boss over/under,

single trigger and

locking system have

become the defacto

configuration for

nearly every target

and field gun made

since. The Boss shop

is ground zero for the

modern sporting gun.

Our Chokee guides

signaled again. We

hurried from the

wagon, into the field—

Mr. DeMoulas angling

at a quick pace to the

pointer. He loaded,

watchful, advancing,

following the guide

into the grasses and

shrubs. The birds were on the run and we soon lost them for

good in the understory. The guides watered the dogs. Our break

over, the wagon rolled again.

Our discussion kept pace with the rhythm of the Chokee

Plantation wild quail hunt. Mr. DeMoulas would talk passionately

about his classical vision for Boss until a dog pointed. We'd

rush to the spot with Mr. DeMoulas and Mr. Arrington taking

the ready position. Most flushes showcased abundant coveys

intermingled with singles and doubles. Clearly, the Boss shined

in pursuing quick, acrobatic birds hard-wired for evasion across

their native terrain.

Although our conversation largely concerned the guns and

their heritage, it did turn to the reason why Mr. DeMoulas actually

bought Boss & Co.

"I was over there in 1998 or 1999," he said. "I went there to

buy a pair of guns. I had some old Boss guns from the 1920s and

knew how rare and beautiful they are. I went into their shop on

Dover Street. It was almost like they couldn't be bothered. And I

was surprised, as a customer who flew over there, I wasn't taken

care of in the manner that I thought the customer should. It was

amazing to me. I left, ended up buying two pairs of guns from

one of their competitors, but I thought that company shouldn't

be run like that. That company could be so much greater if they

took care of their customers. That led me to want to buy the

company. That brand and that name is much greater than that

and they deserve more than that. I said to my friend, I'm going to

buy that company some day, and that's how I felt every day until

I bought it. I worked

on that for the next

several years. The

passion and the brand

of what Boss needs

and deserves hasn't

changed for me. And

that's my whole goal

and mission. Boss

has a lot of potential,

enormous potential,

and it's only going to

realize that with a lot

of hard work."

In that vein, Guy

Bignell, CEO of Griffin

& Howe, said of Mr.

DeMoulas "Boss & Co.

now has somebody

who is incredibly

passionate about their

brand and products,

and I believe Arthur

will bring a new

proactive energy and life to the company." As it turns out, Griffin

& Howe, now located on Hudson Farm in Andover, New Jersey,

has been representing and supporting Boss & Co. in the United

States since 1927.

Lunch time was growing near. We would have soup and

grilled cheese sandwiches with sweet tea on the lodge

verandah. Maybe we had one or two more hunts left when Mr.

DeMoulas asked if I wanted to shoot his Boss. I was hesitant. I

felt reluctant to shoot one of his coveys. But he insisted and of

course I accepted.

The wagon stopped. Mr. DeMoulas handed me his gun. The

guide thrashed the bush when a whopping covey of wild quail

erupted. I comfortably shouldered the Boss and it easily swung

until I triggered the shot. Bird down. It was timeless. °

92
---
THE ONLINE MAGAZINE DEVOTED TO THE GREAT PEOPLE WHO PARTICIPATE IN THE SHOTGUN SPORTS
---
(707) 455-4444 | INFO@CAOUTDOORPROPERTIES.COM

View All Properties: LandsofAmerica.com/member/41000

3,243± ACRES $5,500,000

Tehama County, California ID# 3877688

Diamond Back Ranch

This turnkey property is a hunter's paradise with first-class

improvements. Features include an updated 3,600-square-foot

home with five bedrooms and four-and-a-half bathrooms, a new

caretaker's house and excellent fencing and alleys for cattle.

There are four year-round creeks, ponds and reservoirs loaded

with fish, a four-stall horse barn, shop and an arena. Zoned

EAAP and currently enrolled in the Williamson Act. Contact

Todd Renfrew at (707) 455-4444.

$4,900,000 1,312± ACRES

ID# 3869887

Yolo County, California

This property offers both tranquility and recreational appeal.

Features an expansive home with multiple entertainment spaces,

a guesthouse and quality outbuildings and corrals for ranch

equipment and livestock. The ranch is flanked by nearly 1.3 miles

of Cache Creek River frontage and offers an incredible array

of outdoor sporting pursuits. The majority of the ranch is in the

Williamson Act. Contact Charlie Engs at (415) 601-6330 and

John Ward at (415) 215-8728.

River Ranch

205± ACRES $3,800,000

Stanislaus County, California ID# 2995578

White Diamond Ranch

Premier equestrian center that has produced world champion

horses in various disciplines and styles for 20+ years.

3,800-square-foot ranch home with in-ground pool, a 33,000+

square-foot main barn with indoor arena, 21 oversized stalls,

covered hay storage, a mare barn, breeding facility with 21

extra-large foaling stalls, mounting dummy, automatic fly control,

refrigerated storage, attached apartment, a quarantine barn with

eight stalls, a 2,800+ square-foot shop with four 15'x15' roll-up

doors and two manufactured homes/offices. Contact Todd Renfrew

at (707) 455-4444 and Sandy Ballou at (916) 261-8192.

$2,400,000 642± ACRES

ID# 3877690

Glenn County, California

First-class turnkey ranch set up for privacy. Features include

an incredible 2,312-square-foot, fully-furnished log cabin home,

an indoor lap pool and pool house, a caretaker's home, barns,

a large shop and a new 1,000-yard shooting range and pistol

range. Exceptional water aspect, with over 1,600-feet of Salt

Creek, and three of the four ponds are year-round. Equipment

included. Contact Todd Renfrew at (707) 455-4444.

100

B&L Long Shot Ranch
---
707 MERCHANT STREET, SUITE 100 | VACAVILLE, CALIFORNIA 95688

Over 180 listings available at www.CaliforniaOutdoorProperties.com

$2,500,000 91.79± ACRES

ID# 3885197

San Luis Obispo County, California

This private and serene compound is ideally situated and

has been family-owned for the last 20 years. It features an

adobe-inspired California cabin, a modern main home and a

handcrafted, well-designed studio building hidden beneath the

oaks on the ranch. The ranch is just a three-hour drive from

either greater Los Angeles or the San Francisco Bay Area.

The recreational opportunities are endless here. Enjoy hiking,

riding, hunting, swimming, fishing, boating or just relaxing.

Contact Chris Bailey at (831) 277-8344.

Dragon Claw Ranch Retreat

511± ACRES $1,500,000

Lassen County, California ID# 3885198

Fox Ranch

Located in the Honey Lake Valley, the ranch is adjacent to Fish and Game

property and has panoramic views in every direction. With excellent alfalfa

production and fall cattle grazing, the ranch offers a good living and

lifestyle for those lucky enough to live there and call it home! Absolutely

lovely and comfortable 2,560-square-foot ranch home features fourbedrooms

and three bathrooms, plus a two-car garage that has every

amenity for the good life. Contact Marlene Boggs at (530) 412-2897 and

Scott Ulch at (775) 240-3668.

$1,579,000 343± ACRES

ID# 3571150

Mariposa County, California

Developed with an expert cattleman's eye, this ranch's history

is rich, located just a half hour from Yosemite. Ag. wells

provide stock water on the pastures, and a year-round spring

keeps the pond green and full. A 2,000-square-foot home

with three bedrooms and two full bathrooms sits at the end of

a tree-lined drive, surrounded by lawns and patios for outdoor

comfort. Contact Sandy Ballou at (916) 261-8192 and

Bruce Renfrew at (650) 773-1863.

Penon Blanco Ranch

646± ACRES $780,000

Modoc County, California ID# 3369719

Eastern Warner

Mountain Ranch

This magnificent deeded-acre property is located 20 miles north of

Cedarville, California. The views of Surprise Valley will take your breath

away. Two year-round creeks, timbered forests, groves of aspen and

endless miles of hiking. Tucked into the eastern slope of the Warner

Mountains and Modoc National Forest, the property is only 2,000

feet away from Surprise Valley Electric and Frontier Communications

telephone service. Put in a water system and septic and you are ready to

build your dream lodge. Contact Todd Renfrew at (707) 455-4444.

LAND.COM • LEGENDARY LIVING

101
---
102
---
LANDMAGAZINES.COM

103
---
104
---
LANDMAGAZINES.COM

105
---
106

LAS PILETAS RANCH
---
www.CLARKCOMPANY.com

INFO@CLARKCOMPANY.COM | 1031 PINE STREET PASO ROBLES, CALIFORNIA 93446 | (805) 238-7110

13,570± ACRES IN SAN LUIS OBISPO COUNTY | CARIZZO PLAINS, CALIFORNIA | PROPERTY ID: 4206571 | $17,250,000

Licensed in California & Nevada: CA BRE# 00656930, NV RED# B.41551 LAND.COM • LEGENDARY LIVING 107
---
RANCHO EL TORO

12,221± ACRES IN SANTA CLARA & MERCED COUNTIES | GILROY, CALIFORNIA | PROPERTY ID: 3393596 | $21,000,000

108
---
www.CLARKCOMPANY.com

INFO@CLARKCOMPANY.COM | 1031 PINE STREET PASO ROBLES, CALIFORNIA 93446 | (805) 238-7110

NORTH FORK CATTLE COMPANY HEADQUARTERS

3,065± ACRES IN SANTA BARBARA COUNTY | CUYAMA, CALIFORNIA | PROPERTY ID: 2619453 | $6,000,000

CALIENTE RANCH

7,297± ACRES IN KERN COUNTY | TWIN OAKS, CALIFORNIA | PROPERTY ID: 2728067 | $1,899,000

Licensed in California & Nevada: CA BRE# 00656930, NV RED# B.41551 LAND.COM • LEGENDARY LIVING 109
---
FRESH WATER RANCH

3,669± ACRES | NEWCASTLE, WYOMING

A top quality Black Hills recreational holding with live water, highway frontage, excellent wildlife habitat, privacy and incredible mountain scenery. Encompasses 3,669 deeded acres in one contiguous

block. It ranges from the creek banks where Salt Creek and Sweetwater Creek converge to the valleys of the Fresh Water Creek drainage and the higher-timbered country on Mount Pisgah. In the late

1880s, the Historic Cambria Salt Mine was on the ranch. Over 14 miles of new fences and several miles of new ranch roads. The wildlife habitat for elk and mule deer is tremendous and has been

greatly improved with the addition of new water sources, restricted hunting and limited grazing. This ranch borders the ElBarBee Ranch (see below). Price Reduced: $7,300,000

ELBARBEE RANCH

1,074± ACRES | NEWCASTLE, WYOMING

Distinctive ranch with 1,074 acres in a picturesque Black Hills setting with extensive

improvements. The custom-crafted log home is masterfully placed at the end of the road in

a private valley surrounded by timbered hills. The well-kept set of support buildings include a

horse barn with guest apartment, shop, equipment shed and machine shed. Varied topography

extending from the rolling hay meadows along Stockade Beaver Creek to steep mountainous

terrain. Come experience the welcoming ambiance of an attractive log lodge in an incredible

western scene. This ranch borders the Fresh Water Ranch (see above). Price: $3,800,000

BEAVER CREEK ACREAGE

136± ACRES | ALADDIN, WYOMING

Amazing Black Hills setting, west on Beaver Creek. 136 acres on the northeastern side of the

Bear Lodge Mountains fronting Highway 24 and bordering a wide expanse of national forest.

Beaver Creek flows through the valley for over one-quarter of a mile. Picturesque terrain with

winding creek bottoms, open meadows and wooded hills. Pine, aspen and bur oak trees along

with a variety of deciduous trees and bushes make for a remarkable landscape. Live water,

varied terrain and lots of feed makes for excellent wildlife habitat, with elk, deer and turkey in

the area. This recreational haven has it all. Price: $598,000

JIM PEDERSON, BROKER | (307) 746-2083

110

View All Properties: LandsofAmerica.com/member/11659
---
BELLE FOURCHE RIVER RETREAT

106± ACRES | ALVA, WYOMING

A premier setting with live water, a newer home and beautiful views. 106 acres on the Belle

Fourche River with rolling fields and wide vistas. This inviting custom home has comfort and

quality throughout with open living spaces and many custom amenities. Features include

hickory cabinets, cathedral ceiling, blue knotty pine ceilings and walls, two covered porches,

laminate wood flooring and French doors. The cheerful kitchen is open to the dining and living

areas. The main level has one bedroom and one bath. The full basement has a three-quarter

bath and space for more bedrooms and a family room. Oversized two-car garage with an

insulated workshop. Imagine a day spent relaxing on the banks of the river with a picnic and

a fishing pole. Price: $549,000

KARA CREEK DIVIDE RANCH

2,019± ACRES | SUNDANCE, WYOMING

Picturesque western Black Hills ranch along Inyan Kara Creek. 2,019 deeded acres and 80

acres of adjoining BLM lease. The striking combination of topographical features provide for

spectacular scenery and an excellent environment for wildlife. The creek bottoms, expansive

valleys and hidden meadows combine with wooded hills, deep draws, open grasslands and

high plateaus with wide-ranging views. Miles of trails throughout the property for horseback

riding, hiking, mountain biking, ATVs, snowmobiling or cross-country skiing. Premier setting

with live water. Price: $3,450,000

LYTLE CREEK RANCH

1,160± ACRES | HULETT, WYOMING

One of the most picturesque and private settings available in the Bear Lodge Mountains.

1,160 acres with the entire eastern boundary being adjacent to national forest and nearly two

miles of Lytle Creek running through the ranch. A mixture of pine-covered hills, canyons, high

meadows and creek bottoms provide an exquisite landscape. The combination of majestic

vistas, mountain scenery, live water and access to public lands make the Lytle Creek Ranch a

place to enjoy for a lifetime. Price: $3,480,000

TOWER VIEW RANCH

1,008± ACRES | DEVILS TOWER, WYOMING

Premier Black Hills setting with an unobstructed view of Devils Tower and the Missouri Buttes.

This 1,008-acre ranch is a once-in-a-lifetime opportunity to own one of the best views

of Devils Tower and have excellent highway frontage in a naturally picturesque landscape.

Remarkable scenery with wide plateaus, incredible vistas, rolling fields, rugged canyons and

wooded hills. Three reservoirs, two water wells and a spring development. Many choice

building sites are offered. One of the most unique land holdings available in Crook County.

Price: $4,679,000. Parcels offered.

BLACK HILLS AREA PROPERTIES | WWW.ARNOLDREALTY.COM

505 West Main Street, Newcastle, Wyoming 82701
---
ROCKY ELK RANCH

7,361± DEEDED ACRES | NEWCASTLE, WYOMING

Rocky Elk Ranch is located in the heart of Black Hills elk country. The ranch has 7,361 deeded acres, 360-acre State lease and an 80-acre BLM permit. The property extends from the valleys

along Oil Creek to the mountainous country at Case Hill with top-of-the-world views, then north to Skull Creek. Water for livestock and wildlife is abundant with five wells, four springs, two

creeks and several reservoirs. 300+ class bull elk are frequently seen on the ranch. The headquarters includes a modest three-bedroom ranch home, shop, historic hip roof barn and several

open front sheds. Since 2012, when a wildfire went through the ranch, the owner made major improvements including new fences, new tire tanks, new corrals, planting trees and much more.

A great Black Hills recreational location with trophy bull elk, live water and privacy. Price: $8,100,000

BUCKHORN TRAIL RETREAT

40± ACRES | FOUR CORNERS, WYOMING

Black Hills retreat on 40 acres with live water. Custom two-level home with four bedrooms and

six baths. Many extras including custom cabinets, hardwood floors, two gas fireplaces, tile patio,

decks on both levels and immaculate landscaping. The open main level areas include a sitting

room, living room, formal dining, breakfast nook and galley-style kitchen. The master retreat

has a corner gas fireplace, private bath and glass door to the deck. The walk-out lower level

offers privacy for guests plus an office area, family room and huge craft room. Two-car attached

garage and shop. A truly beautiful home in a pristine Black Hills backdrop. Price: $625,000

WALLACE DRAW

1,439± ACRES | HULETT, WYOMING

Secluded foothills ranch consisting of 1,439± total acres, which includes 629± deeded acres,

640± acres of State lease and a 170± acre BLM grazing permit. There is a cow camp with a

water well, electricity, mobile home hookup, a shop and corrals. Other water resources on the

deeded land include five reservoirs and an intermittent creek. The property has a rugged and

picturesque landscape offering awesome views and privacy. High plateaus with hay meadows

lead to secluded draws and timbered hills. Both mule deer and whitetail deer, along with

merriam turkey, frequent the property. This ranch presents all of the characteristics necessary

for a prime recreational holding, hunting camp or private retreat. Price: $1,200,000

JIM PEDERSON, BROKER | (307) 746-2083

112

View All Properties: LandsofAmerica.com/member/11659
---
BEAR LODGE RANCH

880± ACRES | SUNDANCE, WYOMING

An iconic Black Hills ranch with 880 acres in a scenic and remote setting on the west side of the Bear Lodge Mountains. A high-country property with landowner elk tags and an incredible mountain

landscape. The ranch is a well-known landmark which has been in the same family for many years. Diverse terrain ranging from higher plateaus and hay meadows to rough timbered canyons.

Panoramic views with Devils Tower on the horizon. This secluded mountain getaway borders a section of State land and three parcels of national forest. Reduced Price: $2,288,000

PINEY MEADOWS RANCH

263± ACRES | SUNDANCE, WYOMING

Private Black Hills setting with 263 acres between Sundance and Devils Tower. Custom brick

home built with comfort and low-maintenance living in mind. The three-level design has an

open floor plan and offers three bedrooms and four bathrooms. Exceptional quality throughout

with many extras including cherry cabinets, hardwood floors, jetted tub, French doors and lots

of storage. Insulated workshop attached to a 48'x96' equipment shop; also has an open front

shed. A pristine setting at the end of the road, yet less than a mile from paved highway.

Reduced Price: $1,750,000

OAK CREEK RETREAT

186± ACRES | ALADDIN, WYOMING

Impressive 186-acre Black Hills property with a one-of-a-kind home that combines maximum

efficiency with detailed elegance. From the time you enter this one-level home you will feel a

grand sense of spoiled luxury. It has an inviting atmosphere and an open floor plan designed

for entertaining guests. Many custom features including a deluxe kitchen, custom cabinetry,

solid Caesarstone countertops, formal dining, private den, spacious master suite, spa tub, gas

fireplace, hardwood flooring, French doors and a wraparound covered porch. Also includes a

bunkhouse, horse barn and 40'x120' shop. This handsome country estate is an exceptional find.

Price: $1,387,000

BLACK HILLS AREA PROPERTIES | WWW.ARNOLDREALTY.COM

505 West Main Street, Newcastle, Wyoming 82701
---
EXCURSION

Fly

Fishing

PRISTINE

ON THE

EAST RIVER, CRESTED BUTTE COLORADO

Standing in the East River on a warm summer day. I feel the cool river flowing past me, I

listen to the sound of the rushing water. The scent of the wildflowers is in the air. I scan

the river and detect the slight change in the water color noting the deep dark runs that

hold large trout. Behind nearly every rock there is smooth water and a trout waiting for their next

meal. There is an afternoon hatch, and I see rising trout break the surface.

I search my fly box and select a dry fly—small tan caddis that matches the hatch, and I tie it

onto my 5x tippet. I measure the distance with a few false casts, and land my fly just upstream

from the rising trout. I mend my line to reduce the drag of the current on the line, and watch my

little fly float right over my target. There is a rise, a take, and I react. The water erupts as a wild

brown trout breaks the surface, then runs upstream. The fight is strong, I keep the line taught,

as I slowly retrieve my catch. Soon I have this beautiful fish in my net, and marvel at the neon

orange spots on the buttery brown body and the blue coloration around the gills and head.

As I gently release this trout I watch as he swims away and blends into the surrounding and

disappears back to the depths of his river.

114
---
EXCURSION

WRITTEN BY

CHRIS KOPF

COLDWELL BANKER BIGHORN REALTY

LAND.COM • LEGENDARY LIVING

115
---
EXCURSION

The majority of the high-altitude rivers and streams are frozen

over for months at a time—yet, the trout survive and flourish in this

environment. At the peak of the Spring run-off the waters rise to fill

the banks and flows increase nearly ten-fold, yet the trout hold their

positions in the river finding cover down low and behind structure. In

late summer, I have caught large trout in the shallows as they seek

the oxygen that the tumbling water provides. I have caught trout

at night when it was pitch black, slowly retrieving a wooly bugger

through the water. There is a serenity in this

experience, and in this creation.

I watched for nearly an hour one afternoon

as neon blue dragonflies were swarming above

the surface of one of The Reserve home site's

private lakes. I approached the water's edge

to get a closer look. The flight pattern of a

dragonfly is erratic as they zig and zag above

the water. Every few minutes a brown trout

would leap completely out of the water and

catch one of these dragonflies. The skill of the

trout to be able to focus in on one dragonfly

from beneath the water, track the movement

and launch into the air and then snatch the dragonfly in mid-flight is

an amazing spectacle.

The four main trout species are found here in the Crested Butte area

along with a number of local variants—rainbow, brown, cutthroat and

brook trout (actually a member of the char family).

The East River starts as a trickle out of Emerald Lake high in the

"There is a wide variety of special

water in the Crested Butte area,

but some of my best days have

been fishing or guiding clients on

the East River at The Reserve."

– Rod Cessario

Elk Mountains at over 10,400 feet in elevation. Many small creeks and

drainages flow into the East River including Rustlers Gulch Copper Creek,

Deer Creek, Perry Creek, and Brush Creek. The water meanders through

meadows, and tumbles down sheer cliffs including a section below the

historic town of Gothic nicknamed "stupid falls" (even the crazy creekboating

kayakers don't dare to challenge this section of the river). After

flowing 20 miles behind the back side of Crested Butte Mountain, the East

meets the Slate River, and the confluence doubles the volume of water.

A few miles downstream from the confluence,

the East gently flows for two miles through The

Reserve on the East River.

Local guide and long-time owner of Dragonfly

Angler Rod Cessario has told me: "There is a wide

variety of special water in the Crested Butte area,

but some of my best days have been fishing or

guiding clients on the East River at The Reserve."

The Reserve on the East River is a discreet

development intent on providing a retreat for

those who cherish nature. In addition to the two

miles of private access to crystal-clear East River,

small streams, and lakes holding trophy trout, this

coveted ranchland includes aspen groves, wildflower meadows, mountain

panoramas, miles of hiking and mountain biking trails, and is adjacent to

thousands of acres of national forest. This land has full-time ranch and

property management for the owners. There is a lodge for socializing, a

guest house, an equestrian facility, and some beautiful mountain homes

that have been built.

116
---
EXCURSION

For owners at The Reserve, the day may start waking early to a crisp

morning ready to make some hard decisions... which section of this

crystalline river to fish, whether to tie a #12 Elk Hair Caddis, or a "Bob

Kray special" at the end of their 5x or 6x tippet? Whether to cast into a

deep pool just shy of the overhanging bank to the waiting wild brown

trout, or the seam of the faster water where the rainbow trout rise from

the deep to sip the dancing bugs from the surface? How long to fish

before joining the rest of the family on

the deck of the lodge for lunch, then a

hike or horseback ride...? Yes, these are

some tough decisions.

The 1,500+ acres of land at The

Reserve could support 45 home

sites. But instead with a focus on

environmental stewardship, there are

only 24 secluded home sites nestled

among the wilderness. These home

sites offer the opportunity for the

dream luxury mountain vacation home

to be built and where years of family

memories can be created.

The home sites could have been

located close together to reduce the

cost of infrastructure and road work, but instead each has its own

private meadow of wildflowers or exclusive private lake complete

with cascading water, blue dragonflies, and rising trophy Rocky

Mountain trout.

This shared ranch includes a conservation easement with hundreds

of acres of a hay meadow, an aspen forest home to a migrating herd

of elk, deer, moose, bear, fox, grouse, wild turkey and soaring eagles.

There could have been homes that lined the banks of the East

River on both sides, but the vision was to protect the serenity of

the fly-fishing experience and preserve the natural unspoiled river

environment for all.

The Reserve on the East river presents a rare opportunity to own

a piece of paradise, or like owning a piece of your own private,

Yellowstone National Park. There is a peace of mind, and serenity when

being surrounded by nature and an abundance of wildlife. There is the

luxury of having a managed ranch, lodge, guesthouse and equestrian

facility. Owners understand the benefit of two miles of private pristine

fly fishing, and the close proximity to downtown Crested Butte.

The Reserve on the East River is a special place—within a special

place (Crested Butte). The Reserve on the East River is 25 miles North

of the Gunnison airport, and 10 minutes South of historical downtown

Crested Butte with access to a host of quality restaurants, shopping,

the arts, events, a championship Robert Trent Jones II golf course at

The Club at Crested Butte, tennis, fitness and more. The winter offers

unmatched alpine skiing, over 30 miles of groomed Nordic skiing

and all this is wrapped in a vibe that is

uniquely Crested Butte.

Most who are familiar with

champagne powder and extreme

skiing are also aware of the reputation

of Crested Butte as "The last great

Colorado Ski Town." In January 2017,

Crested Butte was blessed with more

than fifteen feet of snow in fifteen

days—and the ski area closed because

there was too much snow!

Crested Butte was originally a coal

mining town and has been a ski resort

town since the early 1960s. Crested

Butte has a vibe all its own as a quaint

mountain town, filled with happy people

excited to be here. Crested Butte is set high in the Elk Mountain

range and with tall peaks and a wide valley floor provides spectacular

panorama mountain views, and endless recreational opportunities.

If you spend any time in the Crested Butte area you will hear many

permanent residents, second-homeowners and visitors say that they

found Crested Butte in the winter, but fell in love in the summer.

I have had the opportunity to speak with many of the existing owners

in The Reserve and the common thread that seems to run through this

diverse group of families is their love of nature, the preservation of

their land, and their giddiness about the opportunity of a ride or a hike

that is rewarded with a herd of elk, or experiencing a trout rise to their

perfectly presented fly. Couple this with the proximity to Crested Butte

and all the surrounding adventures and the result are the experiences

that become part of the best family memories and stories that will be

shared for generations.

To arrange a private showing and experience the magic of

Crested Butte and The Reserve on the East River, contact Chris Kopf

(970) 209-5405. ChrisKopf@BighornRealty.com. °

LAND.COM • LEGENDARY LIVING

117
---
Quigley Springs Ranch

Choteau, Montana

$12,000,000 - 7,700± Acres

Hereford Valley Ranch

Baker City, Oregon

$3,250,000 - 1,328± Acres

Hat Springs Ranch

Malta, Idaho

$3,700,000 - 1,590± Acres

www.FayRanches.com • Info@FayRanches.com • (800) 238-8616

122
---
Latitude 35 Farm

Somerville, Tennessee

$8,475,000 - 1,227± Acres

Continental Divide Ranch

Rawlins, Wyoming

$9,950,000 - 96,447± Acres

Engwis Ranch

Big Timber, Montana

$19,500,000 - 5,546± Acres

Whether you are investing in land or divesting an existing land asset, choosing

a brokerage company to work with is an important decision.

With offices from Oregon to North Carolina, Fay Ranches provides the most

comprehensive team of trusted land professionals available.

For all listing information and a complimentary subscription to Land Investor magazine visit us here

www.FayRanches.com • Info@FayRanches.com • (800) 238-8616

LANDMAGAZINES.COM

123
---
Riverview Ranch

Fossil, Oregon

$5,700,000 - 3,250± Acres

Rainbow Rock Farm at Station Camp

Oneida, Tennessee

$975,000 - 212± Acres

Black Bear Creek Ranch

Garden Valley, Idaho

$2,190,000 - 160± Acres

www.FayRanches.com • Info@FayRanches.com • (800) 238-8616

124
---
Yellowstone Basin Ranch

West Yellowstone, Montana

$4,850,000 - 294± Acres

Bellinger Lane Vineyard Estate

Jacksonville, Oregon

$12,995,000 - 182.04± Acres

TRC Ranch

Stone, Idaho

$2,249,000 - 409± Acres

Whether you are investing in land or divesting an existing land asset, choosing

a brokerage company to work with is an important decision.

With offices from Oregon to North Carolina, Fay Ranches provides the most

comprehensive team of trusted land professionals available.

For all listing information and a complimentary subscription to Land Investor magazine visit us here

www.FayRanches.com • Info@FayRanches.com • (800) 238-8616

LANDMAGAZINES.COM

125
---
BUYING LAND / MARKET

The Art of

Buying a Vineyard

WRITTEN BY FLORENCE "FLO" SAYRE, ALC

SO YOU THINK YOU WANT TO OWN A VINEYARD, DO YOU?

THERE IS MUCH ROMANTICISM IN BUYING AND/OR OWNING

A VINEYARD. HOWEVER, LET'S TAKE A LOOK AT THE FACTS

SO WE CAN PUT SOME SENSE INTO THE PROCESS.

126
---
BUYING LAND / MARKET

ineyard land or vineyard potential land is not all the

same. First, one must get some questions answered.

What type of grapes is the buyer interested in growing:

table grapes, juice grapes or wine grapes? If it is wine grapes,

of which variety? Does it have irrigation water, and is there

enough water for a sustainable crop? Which way does the air

drain? By that, I mean, is there a slope or is it flat land? If the

land is flat, then one needs to do substantially more research

before committing. Land with a slope (even in any direction)

allows for natural air drainage—either up or down the hillside.

If there are undulations in the land (hills and valleys) there could

be cold pockets subjecting spring bloom to potential frost. In

the industry, these are referred to as "frost pockets."

Juice grapes are hardier than wine grapes or table grapes.

Their growing season is short enough to allow them to be grown

in nearly every northern state in the U.S. Table grapes have both

a longer growing season and a tender blossom. They are grown

a bit mid-line across the US to the more southern areas—

usually in the foothills to valley floors in the eastern and western

coastal inland areas of the U.S. like California or the Carolinas

and Georgia. Both of these varieties strive for high production

and quantity, needing substantial water for finishing.

Wine grapes, on the other hand, are much more

temperamental. They need some water, but not too much.

There is a very fine line between not enough and too much

water for irrigation. A smaller berry, starved slightly for water,

produces a better quality wine in the end. Slopes are nearly

always preferred for wine grapes, regardless of variety. Red

varietals can take colder winters than the whites and are more

susceptible to some diseases.

One should make note of the local weather patterns, spring

and fall freeze dates and frost-free growing days. Also, take

note of the types of crops grown in the surrounding area.

Know the standards of practice for spray application to the

neighboring lands. Grapes are very much negatively affected

by certain sprays, causing bloom drop and loss of production.

Bees are an important factor to consider as well. Grapes do very

well in areas where orchards and nut groves are prevalent for

pollination. The bees tend to linger longer where there is ample

blossom time and fresh nectar.

Take a look at the soils. Vines do not like to have wet feet,

so, well-drained soils are a major factor. Have the soils tested

for nutrients as a part of your 'due diligence' prior to closing

the sale. Know and understand the nutritional needs of your

chosen varieties, and if the soils need amending to reach the

plant requirements, find out what the cost will be to reach that

goal. You may determine that a nicer looking property may

cost you more than your second choice if the cost to get the

soils amended to optimum levels is cost prohibitive. Find a crop

consultant in the area who specializes in grape production to

help you with your research. You may also find a Land Grant

University with agricultural specialties in the area that has a

team or department with ties to the vineyard industry. Always

look for local, regional or state grower associations for advice

and/or assistance.

Have a financial plan! This is one of the most frequently

miscalculated and misguided parts of the farming business

in general. Vineyards do not produce the first year, or the

second year, and possibly not even the third year. Know the

cost of trellising, planting, pruning and training the vines before

production. Determine if hand picking or mechanical harvest

will be done. If you are not sure, plan for both. Height, row

spacing and end-row turnaround space are critical.

Plan out plantings in phases so that you can optimize the

land and the expense calendar. Order the vines from a reputable

nursery. ALWAYS ask for the patent and copyright certificate

for the vines you purchase! If the nursery says they don't have

one or that you don't need one, go elsewhere. Permanent

plants are patented and copyrighted just like photographs,

parts and paintings, and there are substantial fines and

penalties associated with 'patent infringement' in America.

It is also against the law to make cuttings of patented plants

for expanding your own growing area. Just be aware! Most

of all…plan for disaster years; they will happen in agriculture,

regardless of the crop. One cannot control Mother Nature!

Next, know the varieties and the demand. Remember, the

'sipping public' changes flavor trends often and suddenly. Reds

are always popular; however, popular taste may vary from light

to heavy, oaky to clear, and whatever other flavors can arise in

the process of fermentation, or whatever the marketing ploy

is at the time. Whites can vary widely from dry to sweet; there

are cooking varieties, sipping varieties, and dessert and aperitif

whites. It is important to know the market, the demand, and

watch the industry trends before getting financially buried in the

vineyard business.

Get to know the other growers and vintners in the area. They

will be your biggest resource and greatest fans. Wine growers,

unlike hop growers, are extremely generous with sharing

information about practices, operations and what's new. Plus,

they'll give you advice—solicited or not!

You have done your research, completed your due diligence,

developed a master plan, and found a circle of friends,

consultants and advisers… Now, you must have a passion in

order for your plans to meld into your life and future. If you don't

have passion, one can give up or give in and the project can

easily fizzle at the first bump in the road. °

LAND.COM • LEGENDARY LIVING

127
---
WHITETAIL

ROW CROP + CRP

We are the fastest growing brokerage

in the midwest with options from small

turnkey to large investment tracts.

CALL TODAY TO DISCUSS

HOW TO ADD LAND TO YOUR

INVESTMENT PORTFOLIO.

WATERFOWL

LODGES + CABINS

www.LandGuys.net • 217.899.1240

2925 South Meadowbrook Road, Suite G, Springfield, Illinois 62711

LandGuys, LLC
---
LANDMAGAZINES.COM

129
---
130
---
LANDMAGAZINES.COM

131
---
132
---
THE ENTERPRISE ASPECTS OF WILDLIFE

BASED RECREATION TAKING PLACE ON

PRIVATE LAND ACROSS THE COUNTRY

WRITTEN BY GREG SIMMONS

Note from Columnist—Though I've been a regular contributor

to LAND publications for a few years, I'm excited that this

piece represents the first of a new column, The Wild Side

of Business. This column will principally focus on the

enterprise aspects of wildlife-based recreation that

takes place on private lands across the country.

Though emphasis will often tend to focus on

hunting programs, which happen to be

reflective of my 30 years in the hunting

and wildlife management profession,

much of the information will also

relate to other wildlife-based

recreational programs,

such as fishing, wildlife

photography and

wildlife-watching.

LAND.COM • LEGENDARY LIVING 133
---
So, You

Want to

Play the

Wildlife

Game?

Through his respected research and work, sociobiologist

E.O. Wilson claims that humans are

hard-wired to want to connect to nature

and to other living systems. This innate part of our

DNA in undeniable, and even though our highly

urbanized society has grown more distantly

connected to wild things and wild places,

us Americans value wildlife in deeper

and broader ways than most other

international cultures. The time

and money that Americans

invest in pursuit of wildlifebased

recreation create

huge economies and these

values have also shaped

the financial engine that fuels

our country's successful wildlife

conservation model. These societal

values also present opportunities for

enterprising individuals to capitalize on the

natural resource base that is found on private

lands across the U.S. Wildlife-based recreation, for

the spirit of this discussion, is often broken into two

general categories, consumptive and non-consumptive.

Consumptive

Wildlife-Based Recreation

Hunting—Though the percentage of Americans that hunt have

dwindled to less than 10 percent of our total population, hunting

continues to create huge economies across many areas of the

country.

Relatively

inexpensive

hunting options

exist on state and

federal lands, but for

those hunters who are

willing to spend the extra

money, some of the higher

quality hunting opportunities

are to be found on private lands,

where wildlife resources can often

be managed a bit tighter than on public

lands. Free-enterprise markets often

incentivize private landowners to re-invest into

their natural resource base which translates into

healthy private lands stewardship. Game species vary

across the country and this often shapes the options

that are available to the landowner.

Fishing—The percentage of fishermen in the U.S. exceed

hunter numbers by almost 300 percent, making this a huge

market for business people in the fishing industry. Historically,

most of the fishing participation in this country have taken place

on public waters, but recent years have seen more emphasis

being placed on pond and stream management on private lands,

which in turn helps foster an increased appetite from fishermen

134
---
THE WILDSIDE OF BUSINESS

who are seeking opportunities for quality fishing that's not

always conveniently available on the more crowded public

waters. Certain degrees of catch and release requirements allow

landowners "re-cycle" the resource, which reduces the risk of

over-utilization of their fisheries, while still being able to provide

robust user-opportunity. Though fishing is simply the aquatic

form of hunting, fishing does seem to be more broadly accepted

and supported by society than hunting, which partially explains

the greater participation in fishing, as opposed to hunting.

Further, with less costs often associated with fishing, this

recreational option often appeals to a larger market than hunting.

Non-Consumption

Wildlife-Based Recreation

For the sake of this discussion, we'll simply lump nonconsumptive

wildlife-based recreation into categories described

as wildlife-watching and wildlife photography. The number

of participants that fall into both categories is huge, with an

estimated 72 million Americans who consider themselves to be

wildlife-watchers; this is almost double the number of hunters

and fishermen. Wildlife photography is somewhat of a subset

of wildlife-watching and this market of outdoor enthusiasts

tend to be more inclined to spend greater sums of money in

pursuing their recreational pleasure than those who are simply

wildlife-watchers. Like fishing, wildlife-watching and wildlife

photography has historically been a popular recreational activity

on public lands, and though there is a growing industry where

these recreationalists are paying to have access to private lands

for these non-consumptive outdoor activities, these markets

simply have not developed to the extent that is found with similar

hunting and fishing markets. The few private landowners who

have done well with these types of fee-based programs are

often those who offer extra-ordinary circumstances such as an

opportunity to view an endangered species, as well as some

operations that offer nice amenities and full-service features.

Only time will tell if wildlife-watchers and wildlife photographers

will someday be willing to pay similar fees that hunters and

fishermen are willing to pay in order to gain access to private

lands for such recreation.

Treat it Like a Business

Outdoor enterprises tend to attract proprietors who get into the

business to simply gain a fix for their own pleasure. Though

there's something to be said for a person's vocation and

avocation being one-in-the-same, this can and often does lead

to people getting into these type of businesses for the wrong

reason. Consequently, these wildlife-based trades can lead

to lack of professionalism, characterized by sloppy business

practices at best, and in some cases, may even be placing their

clients' well-being at risk.

Like other objective business ventures, wildlife-based

recreational enterprises should be founded on a solid

business plan. Such business plans should include various

features such as basic financial tools and cash management

plans; resource (natural and otherwise) inventory

assessments; risk managements strategies, marketing

plans; human resource needs; customer service strategies;

natural resource conservation plans, as applicable; and other

planning considerations that provide a sound platform to

help ensure success.

There are many possible perils in the wildlife-based

recreational business. These risk exposures may include

venomous snakes and bugs, lakes and rivers, sharp tools,

broken terrain, influence of alcohol, ATVs, horses, food safety,

elevated hunting blinds, gas leaks in cabins, gun safety, errant

hooks, etc. So, it's paramount that the proprietor approaches

these matters in a serious fashion with a sound risk management

plan, which include standard operational procedures which proactively

safeguard against such risks. As an additional hedge,

the proprietor should have appropriate insurance and rely on

reasonably written release of liability documents.

As my mentor and veteran outdoor entrepreneur, Dick Laros,

used to remind me as long ago as almost 30 years ago and up

until the time that he passed away a few years ago, "There's

no business like the hunting business," and I've learned to

have a great deal of appreciation for that philosophy. I could

write a thesis on this one topic, and rather than elaborate now

in detail, let me simply say that there are many unique and

frustrating challenges that lurk in this business. Nature is adept

at throwing curve balls, while man is often not well-prepared at

hitting those pitches. You take a multi-day program where you

are providing lodging, meals, guides, safety measures, dealing

with unpredictable weather and unpredictable wildlife activity,

inept client capabilities, testy personalities, bad luck, and

varied expectations, these combinations of things create some

challenges that will sometimes test one's patience and resolve.

So, be prepared to be adaptive, with a willingness to use the "F"

word on a regular basis; "F" for flexibility! And, very importantly,

focus on the things that you can control. Most importantly, as

a wildlife-based proprietor, treat your venture as a business, as

opposed to a hobby.

Treat it With Love and Respect

Also, please understand that proprietors and tradesmen who

are working in the wildlife-based recreational business, should

take it upon themselves to be stewards of the natural resources

that are part of their bailiwick. They should approach the use

of these resources with a conservation-minded approach,

while also serving as ambassadors for hunting, fishing, and

outdoor recreation. Fish, wildlife, and the great outdoors are true

treasures of this country that should never be taken for granted.

Also, the fish and wildlife of the U.S. are largely classified a

public trust resource, meaning we all have a dog in the fight

when it comes to the sustainable health of these precious

resources. These natural pleasures are here today for our

benefit, but even more importantly, it's our civic duties to ensure

that these resources are perpetuated for the benefit of future

generations, as well. °

LAND.COM • LEGENDARY LIVING

135
---
www.CraterLakeRealtyInc.com

Linda Long, Principal Broker/Owner | (541) 891-5562 | Linda@CraterLakeRealtyInc.com

33550 Highway 97 North, Chiloquin, Oregon 97624 | (541) 783-2759 | (541) 783-2724 Fax

BLACK DRAKE RANCH

420± ACRES IN KLAMATH COUNTY, OREGON

Black Drake Ranch offers 420 acres of privacy and miles of year-round

streams with native wild redband and brown trout and prolific insect

hatches—thrilling for the fly fishing enthusiast! Overlooking stream step

pools, Gearhart Mountain, timber, meadows and sage sits the one-of-akind

ranch house. Full-view windows, pine beam ceiling, hickory, granite

and barn wood finishes, fireplace, wraparound deck and three-car garage.

Plus, The Fish Camp cabin, bunk house and three-bedroom, two-bath

manufactured home tucked in next to a waterfall and 75-acre pasture.

PROPERTY ID: 3423070 | OFFERED AT $1,760,000

SWAN LAKE RANCH

5,514± ACRES IN KLAMATH COUNTY, OREGON

As far as the eye can see, this ranch offers some of the most secure water

rights in Klamath County. The seven irrigation wells, excellent sandy soils

and 22 pivots create an efficient operation for alfalfa, grain, orchard and

timothy hay. Two lovely newer homes built in 2012 have a bird's eye view

of the ranch. 150 pair of cattle graze the ranch and the adjacent 10,000-

acre BLM permit. Excellent cattle handling facilities include welded steel

feedlot, corrals, covered working and loading chute and 30,000-pound

scale. Seven hay barns, huge shops, equipment storage and multi-use

buildings and grain bins, along with excellent cattle handling equipment.

PROPERTY ID: 3513698 | OFFERED AT $17,000,000

SOUTH POE VALLEY FARM

346± ACRES IN KLAMATH COUNTY, OREGON

346 acres, 325 irrigated, plus a drought well! Lovely 3,141-square-foot

country home and garage, three hay barns and one steel construction

sized for indoor arena! Amazing shop with heated floor, office, laundry/

restroom, storage loft and three tall doors. Feedlot with electronic scale,

irrigation pond and equipment, fenced and cross-fenced for cattle and

crop rotation. Immaculate, productive, ease of management!

OFFERED AT $1,950,000

FISHHOLE CREEK RANCH

3,598± ACRES IN KLAMATH & LAKE COUNTIES, OREGON

A true slice of heaven, this is a beautiful and historic piece of property

located in Oregon's southeastern corner and operated for more than

150 years. 14,000 total acres: just under 4,000 are deeded, the rest is a

long-standing, adjacent U.S. Forest Service permit with rich feed for 800

pair of cows-calves. A log lodge and five log cabins, Aspen Ridge Resort,

could be used as a private family or group retreat complex.

PROPERTY ID: 3630912 | OFFERED AT $10,600,000

136

View All Properties: LandsofAmerica.com/member/15114
---
Jesse LAner, Co-Founder | Broker

(970) 672-7212 | JLaner@C3-RE.COM

John Simmons, Co-Founder | Broker

(970) 481-1250 | JSIMMONS@C3-RE.COM

7225 Streamside Drive • Fort Collins

$1,200,000 | 0.78± acres in Larimer County, Colorado

Grand estate on 0.78-acre lot with central location and backing to trails.

Over 7,000 finished square feet with four beds, six baths, four fireplaces and

an oversized luxury garage. Family room, great room, office, music room,

formal dining, gourmet kitchen, master suite, in-law or guest suite, billiard

room, theater, gym, music parlor and a basement kitchenette. Iron, marble, tile,

stainless steel, granite, stucco and high-end upgrades throughout property.

MLS #819069

3054 Suri Trail • Bellvue

$1,850,000 | 36± acres in Larimer County, Colorado

Magnificent estate and spectacular design in a gated community. 11.75-acre

building enveloped by 24.77± additional deeded acres. This ranch home

features a walk-out basement, five bedrooms, four-plus baths, main floor

office, fitness or craft room, formal dining, gourmet kitchen, great room,

recreation room, master with five-piece bath, guest or in-law retreat and

thousands in upgrades. 6,000 finished square feet with a 1,077-square-foot

attached garage and a 2,177-square-foot detached garage with an office.

MLS #821611

2318 Hidden Valley Drive • Loveland

$2,250,000 | 5± acres in Larimer County, Colorado

Private gated community with 2,500 acres of open space. Minutes to

shopping, schools, Estes Park, Rocky Mountain National Park, trails, lakes

and golf. Turnkey five-acre Colorado ranch-style estate with tremendous

architecture, over 9,000 square feet, eight-car heated garage, bedrooms

with private baths and balconies, theater, gym, wine cellar, billiard room,

bonus rec room, loft, library, office, formal dining, great and family room,

gourmet kitchen, master with retreat, five-piece bath with steam shower,

patios, water feature, fire pits, play area and more. MLS #820333

8236 County Road 74 • Windsor

$2,095,000 | 32.43± acres in Weld County, Colorado

Beautiful gated 9,575-square-foot ranch home situated on 32 acres with

walk-out lower level. Resort-style living with in-ground pool, basketball and

volleyball court, horseshoe and fire pit, covered and uncovered outdoor

spaces, water feature and more. Spectacular interior with seven beds,

seven baths, three laundry rooms, five fireplaces, home gym, theater room,

library, fun/game room, gourmet kitchen, butler pantry and so much more.

A personal viewing is the only way to truly appreciate this one-of-a-kind

Colorado-style home. Pre-Inspected and NO HOA! MLS #821809

WE ARE YOUR COLORADO RANCH, EQUESTRIAN & LUXURY HOME EXPERTS | WWW.MYCOLOHOME.COM

LAND.COM • LEGENDARY LIVING

137
---
138

WWW.MYCOLOHOME.COM
---
Christine Allard-Doble | Broker Associate, CRS, CLHMS

(970) 685-0538 | cadoble@c3-re.com

Tom Hoffner | Broker Associate, CNE, CMRS

(308) 520-8578 | thoffner@c3-re.com

McGraw Ranch Properties

$11,700,000 | 780± acres in Larimer County, Colorado

McGraw Ranch Properties is a 780-acre working farm/ranch located

in Northern Colorado along the front range of the Rocky Mountains.

This beautiful one-of-a-kind ranch has an abundance of water with four

irrigation wells and four center pivots that support the irrigated alfalfa and

grass pasture, as well as a private 11-acre reservoir. The property offers

five residences with the main home recently remodeled with Colorado

custom finishes. There is a 60'x80' machine shop, a 40'x80' calving shed, vet

shed, 250-head feedlot, loafing sheds and an impressive lighted arena. This

amazing ranch can be sold individually in one of four tracts or purchased

as an entire unit. www.McGrawRanch.com | Property ID: 4266512

LAND.COM • LEGENDARY LIVING

139
---
140
---
LANDMAGAZINES.COM

141
---
142
---
developing a

lifetime of memories

A PRISTINE ROCKY MOUNTAIN RIVER. Aspen groves. Wildflower meadows.

Mountain panoramas. A setting perfect for all types of outdoor recreation yearround:

exceptional fly-fishing, equestrian facilities, hiking, and cross country

skiing. An exclusive development of 24 home sites nestled among 1,500 acres

of mountain beauty. Approximately two miles of private access to the crystal

clear East River. Full-time property management. A lodge for socializing. Miles

of trails winding to adjacent national forest land. Convenient to skiing, golf,

restaurants, and shopping in nearby Crested Butte. An opportunity to build a

lifetime of memories. Unspoiled. Unforgettable. The Reserve on the East River.

Home sites Starting at $1.6 MilloN. For more info, videos & a free brochure visit: ChrisKopf.com/Reserve

CHRIS KOPF, SPECIALIST | GLOBAL LUXURY PROPERTY

www.ChrisKopf.com | 970.209.5405 | ChrisKopf@BighornRealty.com

LAND.COM • LEGENDARY LIVING

143
---
Along

Came a

Hero

A SAN JUAN TROUT

STREAM IS REBORN

WRITTEN BY DAN MURPHY, M4 RANCH GROUP

High in the San Juan Mountains, nestled

under 14,000-foot peaks, lies one of the

most picturesque, clear-running trout

streams you could ever imagine. Sadly,

the upper Lake Fork of the Gunnison is

poor trout habitat with few trout. Mining,

manmade structures, and failed water

impoundments from the late 1800s

changed the face of history for this

spectacular alpine fishery.

146
---
OWNING LAND / WATER

As an owner and broker of M4 Ranch Group, I have been blessed in

so many ways, including getting to work with clients who can see

past what is to what was, or—even better—what could be. This

stretch of stream in the San Juans is a perfect example of what was

and what could be.

DEATH OF A STREAM

At the heart of this success story is a 160-acre placer claim, staked

out in the late 1800s. In subsequent years, following the path of

so many similar parcels in the West, it was subdivided into eight

different tracts of land, each bought and sold numerous times.

Mining development and water impoundments built to supply hydro

power to what was hoped would be one of the San Juan's premier

ore processing locations, contributed to the stream's loss of habitat.

Typical of the time, the mining build-up was merely an

opportunity for salesmen to hawk investments, stocks or options

back east. Few of the regions ever saw real gold production or

profits other than through the fleecing of long-distance investors.

At the turn of the twentieth century, this locale was heavily

improved with mill houses, hydro power, and a mining camp, but

little to no ore was processed. With depleting investments and no

significant gold strikes, the buildings slowly disappeared, board

by board. The large water impoundment upstream held back water

and gathered sediment year after year. Eventually the dam failed,

cascading thousands upon thousands of cubic feet of water and

accumulated years of sediment onto the valley floor.

With the instant deposit of decades of aggregate, the stream

lost its ability to maintain bank stability and deep water habitat.

Huge deposits of sediment allowed the stream to move anywhere

it desired with each and every high water event. Although it still

flowed through a spectacularly beautiful location, the stream

suffered from the ailments of the era's mining history, loss of

habitat and failed continuity of land ownership. Over the decades, it

seemed impossible that this fishery would ever recover.

ALONG COMES A HERO!

Rarely are land investors willing to envision change and work

overtime to make that vision happen. Fortunately, such was not

the case in this instance. More than eight years and numerous

transactions later, the new owner (who admirably desires anonymity

regarding this project) has reinstated sole ownership of the 160-

acre placer claim and added two additional contiguous mining

claims. Now, with continuity of land ownership, the dream of stream

restoration work has begun.

The challenges are great. With a tract of land containing over

2.5 miles of private stream, a waterfall, three lakes and timbered

bottoms, the owner is facing the hurdles of no stream stability, a

heavy bedload situation and elevated aluminum levels in the water.

RIVER RESTORATION MAGIC

The biggest part of a successful river project is to build the right

team, beginning with the vital role of the hydrologist—what I like to

call the river architect. Along with the hydrologist comes a reputable

wetlands delineation team, several permitting agencies and perhaps

the single most important aspect of the team, an able construction

crew. You can design and permit the best river plans in the world,

but if you don't find the right "artist on an excavator," your dream

restoration project is likely to fall far short of the desired outcome.

River restoration is literally comparable to the whispering voice

heard in the famous movie, Field of Dreams: "If you build it, they

will come." When you stabilize a stream, you allow it to maintain

an incised channel. By building structures like self-cleaning holes,

point breaks, W's and fish houses, you provide places for fish to live

out the cold winter temperatures, places to spawn, places to grow

older and thus bigger. You allow the necessary stream vegetation to

grow and insects to thrive, both above and below the water line. "If

you build it, they will come."

Many alpine streams have a high percentage of slope and see

very high water events; spring melt and heavy rain can create

dramatic flow variations. Building for these 100- or even 500-year

events is a feat in itself. These conditions require a great deal of

engineering and significant amount of structure to maintain the

stream's viability in heavy water events.

Large rocks and stumps are often used to build interwoven

structures that control stream width and bank stabilization. On this

particular project, over 3,000 rocks, each measuring over three

feet square, will be the building blocks of habitat. Moving many

thousands of yards of aggregate, the design and build team will

restructure the historic stream channel, stabilize its banks and

confine the river's bank full width, thus providing the necessary

deep water habitat, new growth on the banks and improved overall

stream health.

THE COST OF HABITAT

While these types of projects are not cheap, neither is buying land

with a premier river. In today's world, it truly is less expensive to

build a better river than to find the elusive existing strip of "perfect"

trout stream. While history has greatly changed the channels and

viability of many of the streams in the San Juans, the passionate

commitment to proper stewardship by a growing number of today's

landowners is making tremendous strides toward improvement.

Stream improvements on one parcel of private land benefits not

only the improved land, but the entire river system. A quality river

project is like building a fish hatchery. Biologists have documented

trout migrating many miles in river systems in the West. With

improved habitat comes increased populations and with increased

populations comes migration, as smaller fish eventually relocate to

other areas with less competition.

M4 Ranch Group has been proud to work with such buyers who

define the phrase Along Comes a Hero. When private or public

funds restore depleted fisheries, mile upon mile of stream benefits

from those efforts. When you see these projects, realize the benefit

to all: the habitat, the fish species, and the sportsman. So if you ever

run across a stream project's land owner, a hydrologist, a wetlandmitigation

team or even a rough and tough 'Artist on an Excavator,"

you might just stop and give them a hug! °

LAND.COM • LEGENDARY LIVING

147
---
148
---
LANDMAGAZINES.COM

149
---
Dave Harrigan

Dave@HarriganLand.com

Hunter Harrigan

Hunter@HarriganLand.com

Monument Butte Ranch

MOFFAT COUNTY | COLORADO

21,793± ACRES

Monument Butte Ranch is without question one of the largest, contiguous mountain ranches remaining in the state of Colorado, having escaped for

generations the slicing up of once-magnificent properties into lesser parcels. This expansive spread covers over 34 square miles on the north flank of

the Flat Tops. $28,500,000

Cañones Creek Ranch

RIO ARRIBA COUNTY | NEW MEXICO

LK Mountain Ranch

RIO BLANCO COUNTY | COLORADO

518± ACRES | PROPERTY ID: 3442825

Don't tell a soul, but one of New Mexico's best trout fishing secrets lies

in the heart of the Chama Valley between Santa Fe and Pagosa Springs,

Colorado. Cañones Creek Ranch is 518 acres brimming with trout fishing

possibilities in five lunker-filled ponds and 1.25 miles of the productive

Chama River. $5,995,000

7,100± ACRES | PROPERTY ID: 3268119

Overlooking the famed White River Valley, this 7,100-acre ranch sits in

the heart of territory known for exceptional trout and exceptional big

game hunting. Any hunter with an eye towards quality will find it as

abundant as the trophy mule deer on LK Mountain Ranch. $10,000,000

Big Iron Ranch

MESA COUNTY | COLORADO

Canada del Oso Ranch

MORA COUNTY | NEW MEXICO

1,720± ACRES | PROPERTY ID: 3127246

Located at the end of the road, this remarkably private 1,720-acre refuge

adjoins Grand Mesa National Forest for two-and-a-half miles, giving it

a rare edge-of-the-wilderness feel, yet is readily accessible year-round

to Interstate 70 and the Western Slope metropolis of Grand Junction.

$7,500,000

4,878± ACRES | PROPERTY ID: 2239785

Privacy that is second to none, mountain canyons that teem with big

game, several live streams and a spectacular new home/lodge make the

4,878-acre Canada del Oso (Canyon of the Bear) Ranch between Angel

Fire and Taos one of the premier mountain hunting properties in northern

New Mexico. NOW OFFERED IN THREE CONFIGURATIONS. $8,400,000

150
---
Matheson Ranch

GRAND COUNTY | COLORADO

Broken Butt Ranch

RIO ARRIBA COUNTY | NEW MEXICO

1,928± ACRES

Hidden in the heart of one of Colorado's last unspoiled mountain valleys,

the 1,928-acre Matheson Ranch is tailor-made for hunting and fishing

of exceptional quality. Located only two hours from Denver in the

Troublesome Creek Valley, the Matheson Ranch features nearly a mile of

the brown and rainbow trout-rich Troublesome Creek and some of the

most significant water rights in the area. $7,500,000

16,309± ACRES | PROPERTY ID: 3393551

Never before offered on the market, the 16,309-acre Broken Butt Ranch

in northern New Mexico easily qualifies as one of the largest remaining

elk-rich mountain ranches in the state. Named for a rifle with a broken

stock found on the ranch in the early 1900s, Broken Butt Ranch has a

long history of careful management as a joint cattle and hunting property.

$32,000,000

Coyote Creek Ranch

MORA COUNTY | NEW MEXICO

Broken Bone Ranch

ROUTT COUNTY | COLORADO

878± ACRES | PROPERTY ID: 2447565

A very private retreat for wild trout and big game, Coyote Creek Ranch

near Angel Fire, New Mexico, is nonetheless located adjacent to a paved

highway and within a hour's drive of three major ski resorts. Situated at

an elevation of about 8,500 feet, Coyote Creek Ranch holds 878 acres of

ponderosa pine forest and meadows in the uplands and healthy riparian

habitat along Coyote Creek. $4,200,000

1,388± ACRES

Located only 40 minutes from Steamboat Springs and one hour

from Vail, lies a Colorado recreational ranch of exceptional quality.

Containing 1,388 acres of an ideal blend of mountain irrigated hay

meadows, creek bottom and quaking aspens, Broken Bone Ranch has

long been prime habitat for elk, mule deer, black bear and small game

species. $6,950,000

Muddy Creek Ranch

PUEBLO COUNTY | COLORADO

Red Hawk Ranch

GUNNISON COUNTY | COLORADO

4,144± ACRES | PROPERTY ID: 2239789

Almost unbelievably, in the midst of one of the fastest-growing sections

of the Rockies, the Muddy Creek Ranch remains an undisturbed refuge

of pines, streams and wildlife. Comprising 3,504 deeded acres, and

4,144 total acres, Muddy Creek Ranch is a prime candidate for those

seeking a private hunting and/or wildlife retreat or a ranch with excellent

development potential. $5,900,000

923± ACRES | PROPERTY ID: 2239797

At Red Hawk Ranch, high in the West Elk Mountains near Crested

Butte, Colorado, you'll not only be away from it all, but also above it

all. This 923-acre wilderness ranch for sale boasts sweeping views of

the magnificent Ohio Creek Valley that will be shared only by you and

the eagles. $3,950,000

HARRIGANLAND.COM | (800) 524-1818 | View All Properties: LandsofAmerica.com/member/14957
---
123 Sisterdale

River Ranch

$5,998,000

Texas Hill Country

Guadalupe River Ranch

with great entertainment

home and extras in the

fast-growing area north of

San Antonio.

123± Acres

Kendall County, Texas

Property ID: 2031978

Elliott Ranch

$4,878,780

Premium development

property or estate home

site just north of Houston.

Minutes to Lake Conroe and

Woodlands shopping and

dining, and the new Exxon

headquarters.

147± Acres

Montgomery County, Texas

Property ID: 3610471

www.LandInvesTex.com | Jim Fuchs, Broker

(210) 901-1000 | info@landinvestex.com

152
---
Harwood

Retreat

Unique turnkey

opportunity to own the

friendliest-feeling premium

Central Texas ranch on

the market. Finest custom

finish-out and appliances,

almost-new deer and

cattle pens and terrain

characteristics that give

the feel of a much larger

ranch. Off-the-chart nice

ranch! Call for price.

373± Acres

Caldwell and Gonzalez

Counties, Texas

Property ID: 3866486

200 Northcrest Drive, San Antonio, Texas 78213 | View All Properties: LandsofAmerica.com/member/60408

LAND.COM • LEGENDARY LIVING

153
---
154
---
LANDMAGAZINES.COM

155
---
JIB FELTER

AGENT

DICK STEPHENS

AGENT

JOHN STACY

BROKER

Corporate Estate

103± ACRES IN JOHNSON COUNTY, KANSAS

This property was constructed in 2010, and no

detail was too small to leave out. This estate is like a

blank canvas with all of its possibilities—it could become

a corporate retreat, an event center, college campus,

security safe haven, medical treatment facility or kept

as the beautiful home it is. Located in the center of the

country with close proximity to all amenities, this estate is

ready to be your perfect getaway. The property includes 103

acres of rolling hills and is surrounded by a six-foot wrought

iron fence. The main barn is 354'x115', and it is heated and air

conditioned. This building has a wide variety of options for an

easy conversion. The grounds are nothing short of a five-star

resort. Every detail has been considered in this magnificent

property. The home is handicap accessible, and the attention

to detail in each room is readily apparent. To schedule a

showing or receive additional information, please contact

Jib.Felter@Reececommercial.com.

Property 156 ID: 3643144 | Price: $12,995,000

www.ReeceCommercial.com/listings/68468
---
GLOBAL KNOWLEDGE. REGIONAL EXPERTISE. LOCAL RESULTS.

REECECOMMERCIAL.COM | (913) 491-3366 | JIB.FELTER@REECECOMMERCIAL.COM

8005 COLLEGE BLVD, OVERLAND PARK, KANSAS 66210 | VIEW ALL PROPERTIES: LANDSOFAMERICA.COM/MEMBER/6336
---
mossyoak properties.com

Stacy Turney, Qualifying Broker | 575.808.0144

Paul Turney, Associate Broker & Owner | 575.808.0134

Kyla Bannon, Associate Broker | 575.808.9765

575.336.1316 | nmranchandhome.com

DURAN RANCH

5,765± ACRES IN TORRANCE COUNTY, NEW MEXICO

This ranch is located immediately east of Duran, New Mexico, and consists

of native pasture which has a good variety of grasses and evergreens.

The elevation ranges from 6,120–6,250 feet. Improvements include a

three-bedroom, two-bath, double-wide mobile home, airplane hangar,

airstrip, RV storage area, additional mobile home and four water wells.

It is made up of 5,125 contiguous deeded acres and 640 state lease.

Property ID: 3800221 • Price: $2,000,000

THE HEADQUARTERS

2,300± ACRES IN LINCOLN COUNTY, NEW MEXICO

This is a high-fenced game park and is one of the oldest in the state

with spring-fed water and water rights. Improvements include a fourbedroom

lodge and a large metal barn. It is situated at the base of

the Capitan mountains and is neighboring thousands of acres of

National Forest for a panoramic setting with inspiring views.

Property ID: 3817445 • Price: $4,600,000

BLACK DOG RANCH

314± ACRES IN LINCOLN COUNTY, NEW MEXICO

This is a unique property situated on the east side of Red Cloud

Mountain. Fully fenced with access to the National Forest. It currently

has one bull elk permit and two cow elk permits. Improvements include

a two-bedroom, two-bath home and metal barn as well as a greenhouse.

Wildlife includes elk, mule deer, turkey, mountain lion and bear.

Property ID: 3902143 • Price: $550,000

NOGAL ACREAGE

428± ACRES IN LINCOLN COUNTY, NEW MEXICO

Spectacular panoramic mountain views. This historic acreage is part of the

working ranch once owned by the legendary Fern Sawyer, a New Mexico

icon. The property has easy-access with over three-quarters of a mile of

Highway 37 frontage. Its scenic rolling hills are home to native wildlife such

as elk, deer and turkey. There is one water well and a set of pens.

Property ID: 3806027 • Price: $1,399,000

EL CAPITAN RANCH

24,442± ACRES IN LINCOLN COUNTY, NEW MEXICO

Big game hunting at its finest with 24 bull elk permits. The deeded acreage is

approximately 11,700 acres with the balance being a Natioal Forest grazing

allotment. This property has abundant water rights, water wells and springs.

The natural beauty of the ponderosa pine, pinon and juniper create a dramatic

setting backing up to the north face of the Capitan Mountain. Wildlife

includes elk, mule deer, turkey, dove, bobcat, mountain lion and bear.

Property ID: 3800219 • Price: $14,245,000

HIDDEN VALLEY RANCH

160± ACRES IN LINCOLN COUNTY, NEW MEXICO

COMING SOON! This five-bedroom, three-and-a-half bath, fullyfurnished

luxury home with huge massive vigas sits on 160 acres which

also has a spring for your enjoyment. Enjoy viewing the wildlife as

they come in to water at the spring from the upper and lower porch as

well as enjoying the beautiful mountain views. Improvements include

a large enclosed metal barn with RV storage and horse facilities. This

property is located near the mountain village of Ruidoso, New Mexico.

491 Fort Stanton Road, Alto, New Mexico 88312 • View All Properties: LandsofAmerica.com/member/495749
---
mossyoak properties.com

Julie Mansfield Smith, Broker & Owner | 541.934.2946

CupperCreekLandCo@gmail.com

41909 Cupper Creek Road, Kimberly, Oregon 97848

GIRDS CREEK RANCH

79± ACRES IN WHEELER COUNTY, OREGON

View natures garden and wildlife at its best from the deck of this recreational

retreat between Fossil and Mitchell. Off-grid cattle and hay ranch has one

mile of Girds Creek frontage. Property features very nice manufactured

home and 62'x48' barn with covered cattle working facility. 42 acres of flood

irrigation, two ponds, gravity-fed domestic spring water and out-the-gate

BLM permit on Sutton Mountain for grazing and recreation at its finest.

Close drive to Service Creek for rafting/fishing on John Day River. Power

lines pending. Terms OAC!

Property ID: 3473160 • Price: $389,500

3 CROW RANCH

604± ACRES IN WHEELER COUNTY, OREGON

This working ranch in Spray, Oregon, has been managed with dedication

and stewardship of the land for the past several decades. Picturesque

dry land farm and pasture ranch includes a manufactured home and

has prolific springs! Hay shed, shop with walk-in cooler, and meat

cutting room. Root cellar, smokehouse, barns, loafing and storage

sheds, corrals and cattle working facilities. Property borders BLM.

Property ID: 3250344 • $750,000

RIVER BEND RANCH

276± ACRES IN GRANT COUNTY, OREGON

View property with stunning backdrop of mountains, river and valley

in Kimberly. 44± acres of water rights on half a mile of North Fork

John Day River frontage. Unique rock outcroppings bordered by BLM.

Premiere property boasts some of the finest hunting, steel head and bass

fishing, hiking and prime recreation in eastern Oregon. 1,900+ feet of

elevation, two wells, fruit orchard shade trees. Surveyed, DEQ approved

with zoning permit in place for new dwelling. Small shop, hay cover,

garden area and well house. Zoned EFU in farm deferral. Terms OAC!

Property ID: 4287646 • Price: $425,000

TWICKENHAM RETREAT

20± ACRES IN WHEELER COUNTY, OREGON

Pride of ownership is evident in this well-cared-for recreational

haven along the banks of the legendary John Day River. This can

be an executive think tank or private retreat with immaculate home

and quaint guest cabin. Enjoy the stark beauty of this scenic vista

from the wraparound deck that offers fishing, hunting and wildlife

viewing at its finest. Home furnishings can be purchased outside of

escrow. Property has a few acres in CREP program. Terms OAC!

Property ID: 3670189 • $625,000

541.934.2946 | cuppercreeklandcompany.com

Photography by Sue Stovall • 41909 Cupper Creek Road, Kimberly, Oregon 97848 • View All Properties: LandsofAmerica.com/member/16993
---
WWW.NMRANCHPROPERTIES.COM

PO BOX 987, BERTHOUD, COLORADO 80513 | VIEW ALL PROPERTIES: LANDSOFAMERICA.COM/MEMBER/48491

EAGLE RIDGE RANCH

10,237± ACRES IN UTAH COUNTY, UTAH

A spectacular property with two-and-a-half miles of Spanish Fork River

frontage and an eastern boundary adjoined by Thistle Creek, one lake,

three active streams, over 100 springs and a variety of vegetation and

wildlife, Eagle Ridge Ranch consists of 10,237 contiguous deeded acres

in diverse topography. Two planning assessments have been prepared

for the property, which cover several aspects of development including

a private golf and ski club, a high-end housing development and the

substantial tax benefits of a conservation easement. The water rights

transferring with Eagle Ridge Ranch are sufficient for 350 homes.

A diverse wildlife population makes itself at home at Eagle Ridge Ranch,

which is encompassed, for the most part, by national forest and state

wildlife management areas, providing a cushion around the ranch and

protecting its wildlife. An advantageous location that provides easy and

immediate access to the Wasatch Valley, with considerable development

potential, while still remaining a remote hunting and wildlife sanctuary,

the future prospects for Eagle Ridge Ranch are unlimited.

$35,000,000 | Property ID: 3658663

SAWMILL CREEK RANCH

1,514± ACRES IN GRANT COUNTY, NEW MEXICO

Rolling hillsides carpeted in grama grass and canyons lined in black

walnut and oak with seasonal creeks make up the 1,514 deeded acres

of Sawmill Creek Ranch. Panoramic views of the Gila and the Apache

National Forest, a myriad of hunting opportunities, supporting

40–45 cows, in an area of widespread recreational activity and places of interest

and Sawmill Creek's remarkable location within one hour of Silver City, New

Mexico, and Safford, Arizona, bring together a genuine southwestern treasure.

$5,000,000 | Property ID: 3589463

TWIN PEAKS RANCH

15,900± ACRES IN RIO ARRIBA COUNTY, NEW MEXICO

Twin Peaks Ranch is an ideal winter range cattle ranch with the perk of worldclass

mule deer hunting. Twin Peaks consists of 15,900 acres, 960 deeded acres

and 14,940 leased acres. The ranch runs 275 pair for seven months, November

through June. Rio Arriba county is one of the top-producing counties for Boone

and Crockett bucks in the west. Twin Peaks is situated in some of the best

country within that county. Sandstone rims blanketed in pinon, juniper forests

that are broken up by sage flats and gramma grass draws and amazing vistas of

the Colorado mountains add to the distinction of Twin Peaks Ranch.

$2,000,000 | Property ID: 4194759

160
---
SUSAN JOHNSON & JAY PLATT, BROKERS

SUSAN JOHNSON, BROKER (505) 469-4303 | SUSANJOHNSONNM@GMAIL.COM | JAY PLATT, BROKER (575) 740-3243 | OFFICE (844) 363-0520

GALLO MOUNTAIN RANCH

39,273± ACRES IN CATRON COUNTY, NEW MEXICO

Nestled within the Apache National Forest lies the Gallo Mountain Ranch.

Consisting of 640 deeded acres along with 38,633 forest leased acres, Gallo

Mountain Ranch is encompassed by a unique recreational dreamland that

embraces trophy big-game hunting, fishing and endless recreational activities.

Situated at a cool-summer 7,500 feet within an expanse of forested timber, open

meadows and a myriad of springs and creeks, Gallo Mountain Ranch is a seasonal

yearling ranch running up to 700+ head from mid-May through mid-October.

$2,750,000 | Property ID: 2088792

HEAVENLY ACRES RANCH

2,880± ACRES IN CATRON COUNTY, NEW MEXICO

Reduced from $3,800,000, the 2,880 acres of the Heavenly Acres Ranch,

1,760 deeded acres and 1,120 leased acres, sits within the majestic beauty of the

Apache National Forest, a picturesque setting of lush green meadows surrounded by

mountaintops of ponderosa pine and skies that reach to eternity. An ideal horse property

or cattle ranch, the lush green meadows and leased acres of the ranch currently support

140–160 yearlings. Located in some of New Mexico's finest country for big game

hunting, the ranch is in a fantastic location for an outfitting business and/or summer

dude ranch with improvements in place, and it is only 45 minutes from Alpine, Arizona.

$3,300,000 | Property ID: 3031026

BLUE HILLS ELK RANCH

6,000± ACRES IN CATRON COUNTY, NEW MEXICO

6,000 acres of magnificent country, 5,430 deeded acres and 640 state leased

acres, with scenic views in all directions, terrain that ranges from grassy meadows

to rocky bluffs and rolling pinon juniper-covered mountains, Blue Hills Elk Ranch

receives five rifle elk tags in an excellent hunting area and has the capacity to

run a minimum of 70–80 cows year-round—a fantastic ranch with a multitude

of surrounding beauty and recreational opportunity. Price is negotiable, seller

will finance.

$4,300,000 | Property ID: 2838378

TROTTER RANCH

3,200± ACRES IN CATRON COUNTY, NEW MEXICO

Distant views of the Sawtooth Mountains to the east and Mariano Mesa to the

west along with a blend of rolling hills and mesas flowing into meadows of grama

grass and wildflowers capture the essence of the 3,200-acre Trotter Ranch,

consisting of 2,640 deeded acres and 560 BLM leased acres. Quality elk and

mule deer hunting and a close proximity to the White Mountains of Arizona,

where numerous lakes, streams and ski resort provide year-round recreational

activity, combine to enhance the numerous attributes of the Trotter Ranch.

$2,100,000 | Property ID: 2931602

HONESTLY REPRESENTING WESTERN RANCHERS WITH THE VALUES OF YESTERDAY & THE TECHNOLOGY OF TODAY
---
162
---
Paul Taylor III, Broker

(866) 323-3111 | PAUL@RANCHLINE.COM

720 East College Boulevard Roswell, New Mexico 88201

San Francisco Creek Ranch

5,025± ACRES IN LAS ANIMAS COUNTY

COLORADO | $9,450,000

Minutes from Trinidad, this ranch offers 5,025 beautiful acres. The San

Francisco Creek flows through the property and provides water to the

agricultural enterprises below. The majestic mountains and rock face

outcroppings tower over the wide-open vistas to the north. San Miguel

Creek also flows through the property, providing an ample supply of

spring-fed water to the wildlife. A system of access roads and trails

allow access to the meadows and ponds hidden away in the dense

vegetation rarely visited in years. Don't be surprised if you see a bear

getting a quick drink or elk meandering through the tall pines. Wildlife

is abundant, as some of the most sought-after mule deer and elk can be

found on the ranch. Property can be divided, and financing is available.

Now is the time to invest in this legacy property! Property ID: 3455405

164
---
anchline.com

NEW MEXICO, TEXAS & COLORADO RANCH REAL ESTATE

View All Properties: LandsofAmerica.com/member/7539

Hot Springs Ranch

1,040± ACRES IN SAN MIGUEL COUNTY

NEW MEXICO | $2,600,000

Minutes from Las Vegas, New Mexico, with paved road

access via State Highway 65, this heavily forested ranch

overlooks the United World College. The hot springs and

Montezuma Castle are within walking distance of the ranch.

With a network of newly created roadways throughout

the ranch, it is easy to traverse. The 1,040± acres have all

the conveniences, even city water service, and vistas that

allow you to see for miles. Property ID: 3368780

Gordon Lake Ranch

973± ACRES IN PALO PINTO COUNTY

TEXAS | $3,850,000

As the Dallas/Fort Worth Metroplex expands, fewer large

tracts are available. Approximately 40 minutes west of

Fort Worth, adjacent to I-20, this 973-acre property is of

historical significance. The Thurber Ranch Headquarters of

205 acres can be sold separately or with additional acreage.

Financing is available on tracts as small as 35 acres while

they last. Take advantage of the flexible terms and make an

appointment to preview today! Property ID: 3934231

Gold Springs Ranch

5,000± ACRES IN SANTA FE COUNTY

NEW MEXICO | $10,000,000

This ranch consists of 5,000± acres, minutes from the

historic Santa Fe Plaza and Madrid with 40+ shops and

galleries, restaurants, spa and museum. A couple of miles

north, Cerrillos includes a state park with hiking paths and

horseback riding. A 1,600-acre tract can be purchased with

available financing. Buy all or part of this magnificent ranch

along the historic Turquoise Trail. Property ID: 2441826

Chosas Ranch

375± ACRES IN LINCOLN COUNTY

NEW MEXICO | $1,900,000

In the Hondo Valley, Chosas Ranch offers access to the

best New Mexico offers, including horse racing, skiing,

golfing, some of the best hunting in the Southwest and

more. This 375-acre ranch has hill country, terrace, river

bottom and live water. There is a steel building with

two-story apartment, barn and storage building and

domestic wells. Offered in a single tract or multi-parcel

combinations. Will finance! Property ID: 2970229

LAND.COM • LEGENDARY LIVING

165
---
NEW YORK STATE LAND BARGAINS

ADIRONDACK & TUG HILL PLATEAU

TOOLEY POND CAMP

— 159± ACRES | $179,900 | PROPERTY ID: 3882092 —

UPSTATE NEW YORK

LAND & CABIN

— 22± ACRES | $49,995 | PROPERTY ID: 2052067 —

MORE SPORTSMEN'S

BARGAINS

7.2± ACRES • BORDERS STATE

— $17,900 —

89± ACRES • DEER WOODS

— $55,900 —

336± ACRES • ADIRONDACKS

MOOSE CREEK MOUNTAIN

— $179,900 —

ADIRONDACK

MOUNTAIN VIEWS

— 90± ACRES | $59,900 | PROPERTY ID: 4241047 —

10± ACRES • RIVERFRONT

HUNTERS'/TRAPPERS' PARADISE

— $34,995 —

166

| VIEW ALL PROPERTIES: LANDSOFAMERICA.COM/MEMBER/21043
---
FOR MORE INFORMATION VISIT

LANDANDCAMPS.COM OR CALL (800) 229-7843

ALL IN-HOUSE FINANCING, LOW PAYMENTS, TAXES INCLUDED.

LAKEFRONT CABIN

— 12± ACRES | $139,900 | PROPERTY ID: 3755740 —

BORDERS LITTLE JOHN

STATE FOREST

— 45± ACRES | $59,995 | PROPERTY ID: 4223869 —

DEER RIVERFRONT

ADIRONDACK MOUNTAINS

— 8± ACRES | $24,900 | PROPERTY ID: 3095560 —

NORTHERN ADIRONDACK

TIMBER COMPANY LANDS

— 86± ACRES FOR $55,900 | 175± ACRES FOR $99,900 —

PROPERTY ID: 4241223

INFO@LANDANDCAMPS.COM | 23 MAIN STREET, CAMDEN, NEW YORK 13316 LAND.COM • LEGENDARY LIVING 167
---
168
---
LAND.COM • LEGENDARY LIVING

169
---
COMMERCIAL REAL ESTATE INVESTMENTS | MANAGEMENT | BROKERAGE | DEVELOPMENT | LAND

Suwannee River Ag Land

241± ACRES

HAMILTON COUNTY, FLORIDA

PROPERTY ID: 2950037

Gorgeous property with pine, oaks and other

natural habitats. Deer, turkey and other Florida

wildlife species call this property home. Includes

1.25± miles of frontage on the Suwannee River,

a major river in southern Georgia and northern

Florida that is a total of 266± miles long.

$795,000 or $3,300 per acre

Deep Creek Ranch

566± ACRES

VOLUSIA COUNTY, FLORIDA

PROPERTY ID: 2917335

One of the best properties in Florida based on

quality, character and aesthetics. 1.36 miles of

lake frontage on two spring-fed, sand bottom

lakes. 96 percent uplands. Hunting and fishing

galore. Barns, office, cattle pens, improved

pasture, pine stands, oak hammocks. Four lots

still available in Winona Tract

REDUCED: $3,950,000 or $6,978 per acre

Bull Creek Ranch

1,129± ACRES OR 524.5± ACRES

OSCEOLA COUNTY, FLORIDA

PROPERTY ID: 2916699

Enjoy waterfront, recreation and old Florida

scenery. Cattle grazing land with two miles of

creek frontage on Bull Creek and Tracy Branch.

Rare land in Osceola's ranching/citrus ag.

belt. Recent remodeling has left this a turnkey

ranching/cattle operation. 15 minutes to US

192, one hour to Orlando.

REDUCED: $4,906,157 or $4,344 per acre

Cypress Lake Plantation

494± ACRES

VOLUSIA COUNTY, FLORIDA

PROPERTY ID: 2917320

Water and wildlife, a great combination. Farmers,

ranchers, outdoorsmen take notice. Managed with

strict emphasis on conservation and stewardship,

resulting in healthy ecosystems and wildlife

populations (deer, turkey). Certified tree farm with

long-leaf pines, flatwoods, cypress ecosystems,

scrub and live oak hammocks. Superb fishing,

swimming, boating on spring-fed, sand bottom

lake. Two mobile homes, large barn.

MAJOR PRICE REDUCTION—BRING OFFERS!

$1,232,530 or $2,495 per acre

Residential Development Land

1,494± ACRES

LAKE COUNTY, FLORIDA

PROPERTY ID: 2917314

Two parcels with a yield potential of 1,140 to

1,340 total residential units. Land has been

annexed into the City of Mascotte. Parcel 1:

412 acres, ideal for mixed-use. Parcel 2: 1,082

acres, rural residential with one unit per acre

(900–1,000 units for the property).

$9,711,000 or $6,500 per acre for both

Parcel 1: $2,678,000; Parcel 2: $7,033,000

Headwaters Ranch

180± ACRES

LAKE COUNTY, FLORIDA

PROPERTY ID: 2770997

Easy access to Orlando, Sanford and east coast

beaches. Ranching, ag. opportunities, hunting

and fishing opportunities galore. Small lake and

mobile homes. Borders thousands of acres of

government-owned lands.

$810,000 or $4,500 per acre

MAURY L. CARTER & ASSOCIATES, INC.

has sold over 200,000 acres of land and has closed over $1 billion in transactions over the past 35+ years. Since

January 1, 2012, we've sold over 32,800± acres and closed over $292.7 million in transactions (over 16,300± acres

and $126,985,000 in 2016). Our core competencies include brokerage, land investments and land management.

(407) 422-3144 | WWW.MAURYCARTER.COM | VIEW ALL PROPERTIES: LANDSOFAMERICA.COM/MEMBER/228462

170
---
50 Years of Guiding you Home

www.FridrichAndClark.com

Panorama Farm

302± Acres in Williamson County, Tennessee

A rare opportunity for a key property! 302 acres located in a

highly desirable area known as Leiper's Fork. Only seven miles

south of downtown Franklin and 30 miles south of Nashville. A

paved drive leads to a charming 1900s four-bedroom farmhouse

and guesthouse/farm manager's house. This equestrian dream

property is fenced and cross-fenced with run-in sheds, riding ring,

round pen and paddocks with water. A 12-stall masonry barn has

an office, great tack room and everything you'd expect. A 20-stall

barn sits beside the main barn and offers sweeping views over the

gorgeous rolling pasture and hills beyond. It also has a chicken

coop and equipment storage. Water features on the property

include a pond and 2,000 feet of creek frontage with rock beaches,

a deep swimming hole and ledges. Photos and video available at

PanoramaFranklin.com.

$8,900,000 | Property ID: 3504584

Travis Robeson, Broker (615) 263-4800 | TWRobeson@gmail.com

5200 Maryland Way, Brentwood, Tennessee 37027 | View All Properties: LandsofAmerica.com/member/228033
---
RIVER VALLEY RANCH

1,562± ACRES IN BLANCO COUNTY, TEXAS

This conservation-focused ranch's 1.3 miles of unspoiled river frontage has a 20-acre natural lake.

Price: $15,000,000 • Property ID: 3851755

BTU STEAMBOAT RANCH

13,935± ACRES IN STEAMBOAT SPRINGS, COLORADO

This four-season recreational ranch has some of the best big game hunting available in the U.S.

Price: $25,000,000 • Property ID: 3787067 • Co-listed with Fay Ranches, Inc.

REPUBLICRANCHES.COM

INFO@REPUBLICRANCHES.COM | 888-726-2481

VIEW ALL PROPERTIES: LANDSOFAMERICA.COM/MEMBER/50158
---
BAY VIEW RANCH – SONOMA WINE COUNTRY

199.5± ACRES IN SONOMA COUNTY, CALIFORNIA | PROPERTY ID: 2504589

Spectacular Views • Vineyard Potential • Springs • $5,500,000

PREMIER CALIFORNIA RANCHES

California is home to some of the most spectacular

ranch and recreational properties in the West, and we

know the landscape well.

From the Sierra Nevada to the Pacific Coast, The

Chickering Company has spent over 35 years

brokering California ranches, mountain hideaways,

coastal retreats, fishing and hunting lodges and

more. In addition, we locate and evaluate properties

throughout the West.

Our clients count on our specialized knowledge,

experience and discretion to guide them to

exceptional properties and represent their interests

in real estate transactions.

WEST YOSEMITE RANCH

900± ACRES IN MARIPOSA COUNTY, CALIFORNIA | PROPERTY ID: 2765138

Cabin, Views, Springs, Forest • Recreation Paradise • $2,000,000

Visit All Our California Ranches at

www.chickeringco.com/lands

(530) 265-5774 • ranches@chickeringco.com

View All Properties: LandsofAmerica.com/member/33430

RIVER FRONT ESTATE – SIERRA NEVADA FOOTHILLS

41± ACRES IN EL DORADO COUNTY, CALIFORNIA | PROPERTY ID: 3639430

Italian-Style Villa • 1,000 feet of Consumnes River • Vineyard • $2,700,000

PRIVATE ALPINE LAKE ESTATE

210± ACRES IN NEVADA COUNTY, CALIFORNIA | PROPERTY ID: 3530529

Near Tahoe/Truckee • Five-Bedroom Lodge • Endless Recreation • $4,900,000

LAND.COM • LEGENDARY LIVING

173
---
BUYING LAND / MARKET

Four Reasons Why

You Should Never Buy

Land Without an ALC

WRITTEN BY LUKE WORRELL, ALC

Let's face it, buying or selling real estate can

be terrifying. There have been countless times

I have noticed visible anxiety on people as they

contemplate a transaction. We live in an era where

one "bad apple" can spoil the whole bunch. The

news of bad real estate experiences travels fast.

The value an Accredited Land Consultant (ALC)

can bring when purchasing or selling a property is

becoming increasingly more substantial. There are

many reasons to never buy land without an ALC,

but let's focus on four.

TRUST

This is kind of like hitting a baseball on a tee, but

it can't be said enough. Society tends to hear the

horror stories and it can be hard for people to feel

a sense of trust from a real estate agent. Right or

wrong, sometimes us agents get lumped into the

over-generalized stigma of used car salesmen and

attorneys (comment not intended

for the fantastic attorneys with

whom I work!). There are far more

honorable agents than bad ones,

and that is distinctly the case

within the REALTORS® Land

Institute. Someone who has

taken the time to obtain the

ALC designation learns through education and

experience that you are often only as good as

your reputation. The backbone of becoming an

ALC is defining yourself as a trusted professional

with high moral character.

SKILL

When it comes to selling land, I am absolutely

convinced that ALCs are the best in the

business. For starters, you can only become a

designated ALC after you have proven yourself in

the field. ALCs are given countless opportunities

to hone their craft in negotiations and property

presentation. Through the National Land

Conference, Summer Education Week,

Online courses, Webinars, ALC to ALC

teleconferences and the top-notch staff

at the national office, ALCs are given

the tools to grow. A rookie coming

into the major leagues for the first

time doesn't stop practicing, and

likewise an ALC doesn't rest

on the three letters of the

designation. We are all a work

in progress who uses the

tools available to get better

every day.

174
---
BUYING LAND / MARKET

KNOWLEDGE

I am not a self-proclaimed intellectual genius by a

long shot, but I can tell a client without a shadow

of a doubt that I am smarter in my field and better

equipped because of my ongoing ALC status. The

diversity of knowledge I have obtained through my

involvement with the REALTORS® Land Institute is

impressive to be honest. That statement has nothing

to do with my IQ or ability to retain information; it has

everything to do with what is offered to each and

every ALC. What about your competitor at John Doe

Reality down the street whose staff hasn't pursued

the ALC and LANDU's education? Do they know

about Delaware Statutory Trusts, 1033 involuntary

conversion exchanges, Timber REITS, current

legislation challenges, natural resource negotiations,

etc., etc.? I am confident that an ALC is much betterrounded

in knowledge than your typical non-ALC

agent. I don't see any avenue that would lead me to

achieving this vast knowledge without being an ALC.

CONNECTIONS

When I attended the 2011 National Land Conference

in Nashville, I was green as grass and very new to

the real estate game. I remember hearing people

talk about the networking and being able to swing

all of these deals because of the platform being an

ALC provided them. I have to be honest, that part of

me wanted to think these comments were "fluff" or

"humble bragging." Time and experience corrected

me. Just this year, I was able to help close on one

of the largest deals I've had the privilege of working

on. The ONLY reason it happened is because of a

friendship through RLI. The large farm wasn't even

being advertised, but my sellers had mentioned that

if the right investor came along with a lease back

possibility, they would listen. I made one call. It was

a winding road from there, but it got done and only

because of RLI and our bond as ALCs. Similarly, I

have a client moving out to Wyoming. I have been

to Wyoming a couple times, but my knowledge of

Wyoming begins and ends with knowing it is out West

When it comes to selling

land, I am absolutely

convinced that ALCs are

the best in the business.

For starters, you can only

become a designated ALC

after you have proven

yourself in the field.

and is gorgeous. With that said, I can confidently

refer him to several ALCs from the Wyoming chapter.

This is a people business. Knowing like-minded

professionals throughout the country is a huge asset

that not many agents can provide.

These reasons all sound so simple and in some

ways they are. But, you could delve further into

each of these reasons and find sub categories (and

sub categories of those sub categories!) on how

valuable an ALC can be in this industry. I shudder

to think about how my quality of service would be

if I hadn't made the decision to give it my all within

the REALTORS® Land Institute. Maybe I would be

oblivious to my shortcomings, but knowing what I

know now, I can't possibly recommend someone

buy a property without the help of an ALC.

Find a Land Consultant to help with your property

purchase at RLILand.com/find-a-land-consultant. °

LAND.COM • LEGENDARY LIVING

175
---
EL RANCHO ESCONDIDO

600± ACRES IN SAN BENITO COUNTY, CALIFORNIA

El Rancho Escondido is 600 acres of central California ranch

within 50 minutes of Carmel and San Jose. Huge potential and

great income, adjacent to city limits, just minutes from town.

$5,944,444 • Property ID: 983300

CASILLAS BROTHER COMPLEX

66± ACRES IN SAN BENITO COUNTY, CALIFORNIA

Three parcels adjacent to Highway 25 bypass. Two houses

on the McCloskey side. Houses, packing house, office and

storage on the Santa Ana side. Class I soil, good water and

great climate. $4,999,994 • Property ID: 983330

Providing

Comprehensive

Real Estate

Services to

Home Buyers

and Sellers

THE SANTOS FARM

18± ACRES IN SANTA CLARA COUNTY, CALIFORNIA

Class I soil with two exceptional updated homes, two good

wells and three character dairy barns. You can grow almost

any vegetable, grapes, olives, or lavender, just five minutes

east of Gilroy. $1,498,894 • Property ID: 3107026

THE ROBBA FARM

33± ACRES IN SANTA CLARA COUNTY, CALIFORNIA

Currently used for row crops, corn, peppers and tomatoes,

but could also be used for vines or an orchard. Adjacent to

Highway 101 and about 30 minutes south of San Jose, this

farm is in a great location. $1,388,883 • Property ID: 1173299

PAGE WELTON

(408) 857-6075

PageWelton@ColdwellBanker.com

PAGEWELTON.COM

950 Tennant Station,

Morgan Hill, California 95037

View All Properties:

LandsofAmerica.com/member/21910

JUST SOUTH OF TOWN

18± ACRES IN SANTA CLARA COUNTY, CALIFORNIA

This 18-acre parcel has been blessed with class I soil and

plentiful water in a Mediterranean climate. Electricity is on

the property, and telephone is in the street. Many potential

uses. $999,999 • Property ID: 983454

JUST WEST OF HOLLISTER

52± ACRES IN SAN BENITO COUNTY, CALIFORNIA

The views are incredible. Almost level on the bottom and

raised just enough on the ridge to have views of the valley

and Fremont's Peak. Paved county road. Water and electricity

are on the property. $649,946 • Property ID: 3899522

176
---
ChaseBrothersProperties.com

844-WYO-LAND

PRICE REDUCED

NEW LISTING

BEAVER CREEK RANCH

1,945± ACRES IN SHERIDAN COUNTY, WYOMING • $18,500,000

An improbable oasis with executive home and first-rate improvements tucked

in an extremely private valley in the coveted foothills of the Big Horn Mountains.

This sporting ranch is the best of lifestyle, agriculture, wildlife and conservation; a

perfect blend of sophistication, practicality and quality of life. Property ID: 1078372

C BAR B RANCH

1,043± ACRES IN JOHNSON COUNTY, WYOMING • $6,400,000

Exceptional sporting, equestrian and production ranch with 3.75± miles of

trophy trout fishing, excellent bird hunting, skeet range, 32,000-square-foot

indoor arena with 19 stalls and dog kennels, executive home, excellent water

rights and irrigation for premium alfalfa hay production. Property ID: 4264653

PRICE REDUCED

BRINKERHOFF RANCH

11,071± ACRES IN SHERIDAN COUNTY, WYOMING • $9,500,000

Investment-grade working ranch offering 600 AU carrying capacity, a 500-head

feeding facility, excellent water rights with tremendous production, outstanding

deer and elk hunting, plus pheasant and upland bird hunting. It's all in one block

with minimal leased land, plus it's extremely private. Property ID: 3282187

BECKTON HALL RANCH

320± ACRES IN SHERIDAN COUNTY, WYOMING • $5,250,000

With an exquisite custom home blended into the landscape offering

breathtaking views of the Big Horn Mountains from living spaces inside and

out, Beckton Hall Ranch is a rare sporting ranch that's just the right size to

enjoy the tranquility and quality of life in pure privacy. Property ID: 3755062

PRICE REDUCED

RED PRONG RANCH

11,118± ACRES IN POWDER RIVER COUNTY, MONTANA • $3,999,500

This excellent 245–300 AU ranch offers outstanding livestock production and

exceptional trophy mule deer and elk hunting, plus there's good upland bird

hunting as well. Appreciate where Frederick Remington found inspiration for

some of his paintings. Property ID: 3285969

WILLIAMS RANCH

2,587± ACRES IN SHERIDAN COUNTY, WYOMING • $1,800,000

The Williams Ranch is a perfect low-overhead grass ranch near Clearmont,

Wyoming. With multiple pastures and a stock water pipeline system, it offers

ease of management for livestock grazing and a recreation amenity for deer,

antelope and upland bird hunting. Property ID: 3519864

VIEW ALL PROPERTIES: LANDSOFAMERICA.COM/MEMBER/52616
---
Cheyenne River Ranch

10,384± Acres in Niobrara & Weston Counties, Wyoming

9,944 deeded acres and 440 BLM lease acres.

One mile of the Cheyenne River.

Property ID: 3866338 | $4,600,000

Mills Home Ranch

35,973± Acres in Natrona County, Wyoming

Consists of 25,428± deeded, 4,125± State and 6,420 BLM

acres. 500± acres are irrigated.

Property ID: 3357507 | $12,000,000

Cory Clark, 307.334.2025 or Scott Leach, 307.331.9095 Clark & Associates Land Brokers, LLC, 307.334.2025

OX Ranch

9,040± Acres in Platte County, Wyoming

5,000 deeded acres, 3,400 BLM, 640 State lease, four miles

live water, reservoirs, springs. Excellent wildlife habitat.

Property ID: 3789090 | $5,750,000

Jon Keil, 307.331.2833

Schaak Production Farm

2,598± Acres in Big Horn County, Montana

Irrigated row-crop, dryland crop and pasture. Nice set of

improvements with shop, feedlot and more.

Property ID: 3866339 | $3,300,000

Colter DeVries, 406.425.1027 or Denver Gilbert, 406.697.3961

www.ClarkLandBrokers.com

Cory Clark, Broker | 307.334.2025 | Clark@ClarkLandBrokers.com

736 South Main Street, Lusk, Wyoming 82225

View All Properties: LandsofAmerica.com/member/4068
---
PRIVATE SOUTHERN OREGON RETREAT

Legacy Pines

417.62± ACRES IN KLAMATH COUNTY, OREGON | $2,400,000 | PROPERTY ID: 3708718

Sited on 417.62 magnificent acres and featuring a 4,226-square-foot, custom-built, four-bedroom, four-bath home with garage, shops,

covered front and back porches, pole barn, gun range, wood shed, pavilion entertainment area, zip line, venue support buildings, exterior

baths, dog kennel and custom hunting or recreation cabin on upper acreage.

Ryan Weider (541) 885-4400 (541) 891-4343 ryanweider@windermere.com www.legacypines.info

519 Main Street, Klamath Falls, Oregon, 97601 View All Properties: LandsofAmerica.com/member/438323

LAND.COM • LEGENDARY LIVING

179
---
Moreau River Ranch

$1,400,000

2,389± ACRES IN MEADE COUNTY, SOUTH DAKOTA

The Moreau River Ranch is a rare find in western South Dakota, boasting over threeand-a-half

miles of the Moreau River which offers live water and natural protection

throughout the ranch. The River Break Hills are loaded with native grasses and

occasional sage brush, providing the perfect blend for range calving a set of cows

or enjoying your own private hunting ground. Improvements include a modest threebedroom

home, shop, barn and corrals. Property ID: 3177238

Tres Crosses Ranch

$2,750,000

130± ACRES IN LAWRENCE COUNTY, SOUTH DAKOTA

Located just off I-90 exit 17, the Tres Crosses Ranch consists of 130 acres ranging

in topography from level lowlands to pine and oak-covered ridges with expansive

views of the Black Hills from the Elkhorn Ridge, across Centennial Valley to Crow

Peak and beyond. This property lies adjacent to The Elkhorn Ridge front nine and has

no covenants! Adjacent to the St. Onge Road and just off I-90, the possibilities are

limitless. Property ID: 3753065

Bennett County Farmland

$3,000,000

1,739± ACRES IN BENNETT COUNTY, SOUTH DAKOTA

The property consists of 1,739 acres, of which 1,636 acres are tillable (94% tillable).

The property is currently being operated by the owner. Crop history has been a

combination, with corn, wheat, sunflowers and grain sorghum in the rotation. With

about a 110-day growing season, the grower has an opportunity to plant a wide variety

of crops with positive expectations. The soil is adequate for nearly all plant life to

flourish given favorable conditions. Property ID: 3769809

Sully County Feeders

$1,600,000

160± ACRES IN SULLY COUNTY, SOUTH DAKOTA

Sully County Feeders includes 160 acres, with 3,800-head permitted. This feedlot is

within minutes of Onida, South Dakota, and a new ethanol plant is potentially coming

in 2018. The operation is fully functional with 4,000 feet of concrete bunks and

apron, cement working alleys, shops, sheds, processing barn and a 3,500-squarefoot

residence. This excellent opportunity is priced in its entirety at $1,600,000.

Property ID: 3620832

Butte County Grassland

$566,950

782± ACRES IN BUTTE COUNTY, SOUTH DAKOTA

782 deeded acres. These highly productive acres could be just the right size to add

to your grazing operation. Situated along South Dakota Highway 79, this grassland

is close to town with power, Butte-Meade rural water and exceptional views of the

Black Hills and Bear Butte. Truly a rare opportunity as a versatile ranch property.

Property ID: 3816608

HewittLandCompany.com • J.D. Hewitt • JD@HewittLandCompany.com • (605) 791-2300

180

VIEW ALL PROPERTIES: LANDSOFAMERICA.COM/MEMBER/64528 • 13167 ARAPAHOE DRIVE, PIEDMONT, SOUTH DAKOTA 57769
---
LAND.COM • LEGENDARY LIVING

181
---
BARN/ARENAS

TENNIS COURT

SPORT AREA

HOMESITE

STEAMBOAT SPRINGS, COLORADO | $2,895,000

WWW.57ON14.NET | TO SEE THE VIDEO

AN UNPARALLELED MOUNTAIN ESTATE OPPORTUNITY! Less than two miles

from the base of the famed Steamboat Ski Area, this one-of-a-kind,

57+ acre property sits on its own promontory, featuring 360-degree

jaw-dropping views. Accessed via a private drive and with no confining

associations, covenants or subdivision restrictions, the new owner will

be afforded virtually unlimited creativity to develop their own dream

mountain or equestrian estate. This is a true legacy property with

world-class fishing, championship golf, tennis, hiking, concerts and

fine dining only minutes away. Commercial flights and private jets are

accommodated at two local airports (HDN, SBS).

BO STEMPEL | (970) 819-1123 | MLS# 170492 | WEB ID: NAKB88

509 LINCOLN AVENUE, STEAMBOAT SPRINGS, COLORADO 80487
---
Within an hour to Yellowstone and the Grand Teton National Parks!

This stunning mountain refuge is situated on 8.5 acres in the hills above the quaint, western mountain town of Duboise, Wyoming. To say

this is a recreational paradise is a major understatement! This magnificently handcrafted, log home offers over 4,000 square feet of luxury

living and high-end finishes throughout.

The main floor is open and spacious, perfect for entertaining. The great room's

main focal point is a native, moss rock, floor to ceiling fireplace with hearth seating,

an eight-foot solid rock mantle, wood storage and a decorative rock shelf! This

room's center log is a hand carved log with three dimensional imagery of two trees,

a fawn, raccoons, an eagle and an owl. It is amazing, and a great conversation piece!

From the prowl front floor to ceiling windows to the back sunroom, the views are

astounding of the Painted Hills, Ramshorn Peak and Whiskey Mountain, which is

the National Forest to the south and home to a large herd of big horn sheep.

There is a beautiful master suite with gorgeous designer finishes and a five-piece

bath on the main floor; two additional bedroom suites and loft sitting room upstairs

make this a sanctuary you will never want to leave!

A chef's delight is a perfect description for this gourmet kitchen that offers

everything you need to thoroughly enjoy cooking. Attention to details have not been

overlooked here; from the buffalo artwork inset in the stone wall above the WB stove, to the hand carved chandelier above the dining room

table. Finishing off the main floor into a gorgeous sunroom with captivating views and a hot tub!

The property is a private compound with the main house, a guest house boasting all high-end finishes and built over the 25'x40' barn, two

green houses, a hay barn, a 60-foot round pen, two 80'x80' corrals, a cadillac chicken coop and a private easement down to the Wind River!

Fully fenced with Buck and Rail fencing and cedar split rail around the main house. There are many more details, but just not enough space

to list here. Call now—won't last at $1,650,000!

CALL CAROL GAMES TODAY FOR PRIVATE VIEWING

HOMES-CABINS-LAND-RANCHES

Carol D. Games • Broker/Owner

970-846-5368 or 719-539-1900

Carolg@WesternMtn.com

www.WesternMtn.com
---
FLORIDA RANCHES

MILLION DOLLAR PRICE REDUCTION

377± Acres in Alachua County, Florida | Custom Home & Barn

$5,504,000 | Property ID: 3353091

Working cattle ranch with high development potential.

Just minutes from the University of Florida.

A TASTE OF OLD FLORIDA

192± Acres in Alachua County, Florida | $960,000 | Property ID: 3419529

Beautiful pastures and hunting areas with highway frontage.

FLORIDA RANCH ON THE GULF OF MEXICO

225± Acres in Levy County, Florida | $1,550,000 | Property ID: 3418486

Two homes and income-producing cell tower with highway frontage.

ADDITIONAL LISTINGS

56± Acres in Gainesville, Florida | $21,430 per acre

136± Acres in Gainesville Florida | Ranch/Development Property | $12,500 per acre

245± Acres in Alachua County, Florida | Cattle Ranch | $5,500 per acre | Property ID: 3718782

225± Acres in Inglis, Florida | $4,440 per acre | Property ID: 4255287

184

Marilyn Deas, Realtor | Bill Deas, Esq., Land Specialist | (352) 443-0219 | DeasRealEstate@gmail.com

View All Properties: LandsofAmerica.com/member/424437 | Southern Homes & Farms
---
DEBRA DODD, AGENT • (931) 243-6401

www.No1QualityRealty.com • DebraDodd@No1QualityRealty.com • (931) 397-1660

SHAGINAW RETREAT

266± ACRES IN MONROE COUNTY, KENTUCKY • $1,150,000 • PROPERTY ID: 4283676

Nature abounds on this country retreat with its custom contemporary brick home. It is situated to take advantage of the

panoramic views of the three-acre fish-stocked pond, surrounding hills, hollows and pastures with abundant deer, turkey and

other wildlife. Other features include a guest lodge, pole barn, pond shack and additional outbuildings.

BAKER MOUNTAIN LOG HOME

23.4± ACRES IN VAN BUREN COUNTY, TENNESSEE • $699,000 • PROPERTY ID: 4278797

Custom log home with the most incredible mountain and valley bluff views. 2,739-square-foot, three-bedroom, two-and-a-halfbath,

two-story home. Attached two-car garage, 30'x36' pole barn and workshop, chicken coop, shed and gazebo. Professional

landscaping, sidewalks, garden pond and flower gardens. Make this dream home yours.

SCOTT HOLLOW FARM

108± ACRES IN CLAY COUNTY, TENNESSEE • $575,000 • PROPERTY ID: 3704027

The split-level, two-story main home is 2,500 square feet with a finished basement. It has four bedrooms, two-and-a-half baths, a

covered front porch and covered back patio, open patio, attached carport and a detached 30'x46' two-car garage workshop with

electric and wood burning stove. 720-square-foot, one bedroom, one bath cabin. Year-round creek. Fenced pasture. Ideal for horses.

VIEW ALL PROPERTIES: LANDSOFAMERICA.COM/MEMBER/5386 LAND.COM • LEGENDARY LIVING 185
---
SALZMAN FARM & RANCH

42,131± Acres

Cochise County, Arizona

8,381 fee acres with approximately 33,750

grazing lease acres located north of Elfrida.

Working ranch and farm, 1,100-cow-calf

operation with capacity for additional 1,000

head of stockers, with 2,450 acres under center

pivots farming corn, cotton and pasture. Main

residence, three labor homes, 320,000-bushel

grain handling, seven hay barns, cattle pens for

feeding, working and shipping livestock.

$23,750,000

ThreeRiversAG.com

Jack M. Doughty

jdoughty@threeriversag.com | (480) 802-2305

View All Properties: LandsofAmerica.com/member/64317

186
---
WINN RANCH

l u x u r y l a k e t r a v i s a c r e a g e

w i n n r a n c h . c o m

LAGO VISTA • TRAVIS COUNTY, TEXAS • 514± ACRES • $50,000,000

The 514-acre Winn Ranch is the finest Lake Travis waterfront ranch to come on the market

in many years. The land has historically been used for livestock grazing—currently supports

a longhorn herd—and has no significant land improvements. However, it has not gone

untended, and the majority of the property has been cleared of cedars and other high wateruse

trees, producing open areas of grassland with native oaks.

The Lake Travis frontage is on the deep main body of the lake and runs about 4,000

feet. This is in addition to waterfront along the cove of about another 3,000 feet. The whole

property is relatively level with no significant topographical features other than the lake

and cove front cliffs. However, it does include a boat ramp usable at almost all lake levels.

The potential for this property is virtually limitless, with options for creating a one-of-a-kind

chateau estate, with or without vineyards, which have been and are so very successful in

the Lake Travis area. Alternatively, sections of the property might be subdivided as high-end

residential developments

Conveniently located just 49 minutes from downtown Austin, 42 minutes from The Domain

shopping center, 57 minutes from Austin-Bergstrom International Airport and 27 minutes

from the heart of Cedar Park, the Winn Ranch retains an unequaled level of privacy and

seclusion—the ultimate retreat. Property ID: 4264583

LISA SISEMORE, AGENT, CRS • LSISEMORE@ATT.NET • (512) 797-8901

JERRY SISEMORE, AGENT • ROCKMARINA@ATT.NET • (512) 217-3839

CLIVE RUTHERFORD, BROKER • CLIVERUTHERFORD@ATT.NET • (512) 589-7635

VIEW ALL PROPERTIES: LANDSOFAMERICA.COM/MEMBER/102844

188
---
WWW.BEAVERHEADHOMEANDRANCH.COM

VIEW ALL PROPERTIES: LANDSOFAMERICA.COM/MEMBER/125092

COLD SPRING RANCH

3,350± ACRES IN MADISON COUNTY

MONTANA

RIVER VALLEY RANCH

7,493± ACRES IN BEAVERHEAD COUNTY

MONTANA

MUSSIGBROD LAKE RANCH

1,280± ACRES IN BEAVERHEAD COUNTY

MONTANA

This property offers something for buyers of

all criteria by being a fine elk property, having

solid consideration to agriculture and being a

stone's throw from the famed Madison River.

Modest improvements include a log home, indoor

arena and nostalgic barn. Property ID: 3980422

$4,999,000

Located just east of Lima, the perfect location

for outdoor activities, including some of the best

fishing and hunting around, and also an established

location to run your ranching operation. Beautiful

location and several amenities. 450± yearround

carrying capacity. Property ID: 1699759

$5,990,000

Land of 10,000 Haystacks—in the renowned Big

Hole Valley. The same family has run the ranch

since 1962. It has 1,280± contiguous deeded acres,

850–900 irrigated acres, with as much as 600 acres

in past hay production. Carrying capacity of 450± for

the summer grazing season. Property ID: 3438226

$3,995,000

CHANCE BERNALL, BROKER | (406) 683-2234 | INFO@BEAVERHEADHOMEANDRANCH.COM

SCOTT MCNALLY, BROKER

(575) 420-1237 cell | (575) 622-5867 office | SamMMcNally@msn.com

BAR-M REAL ESTATE

FARM & RANCH SALES

The Turkey Track Ranch

256,000± ACRES IN CHAVES, EDDY & LEA COUNTIES, NEW MEXICO

$18,500,000 ($6,065 PER ANIMAL UNIT) | PROPERTY ID: 3727062

First time offering of one of the largest cattle ranches within the state of New

Mexico. The ranch is situated in three southeastern New Mexico counties. The

grazing capacity is set by the BLM at over 3,000 AUYL. The ranch is operated from

a headquarters located above the Caprock in Lea County and from three additional

cow camps, all complete with living facilities and working pens. The headquarter's

improvements have all been constructed new within the past five years and include

two modular homes, pipe corrals and barns. The pasture design includes 17 larger

pastures and numerous smaller pastures and traps. Livestock water is provided by

approximately 30 serviceable wells and approximately 45 miles of buried pipeline.

RanchesNM.com | View All Properties: www.LandsofAmerica.com/member/32625 LAND.COM • LEGENDARY LIVING

189
---
EL RANCHO CUCHARA

CARRICA RANCH

3,617± ACRES IN MITCHELL COUNTY, TEXAS | PROPERTY ID: 3835029

This unique property is located 17 miles south of Colorado City, Texas, on Highway 208.

Surrounded by a high fence, the ranch contains exceptional game. The whitetail

deer population, with incorporated trophy genetics, has been carefully

managed through purchases as well as through breeding on the property.

42,000± ACRES IN CIBOLA COUNTY, NEW MEXICO

Hunting and cattle ranch just south of Grants, New Mexico. Permitted for 1,300 head

yearlings 6 months. Log home, manager's home, old log cabin, four elk permits,

good wells and miles of water lines and drinkers. Good traps and corrals

for shipping livestock. County road through ranch. Great large permit

ranch with great hunting. Co-Listed with Fallon-Cortese Land.

DALTON MADDOX, AGENT | (325) 242-1708

DALTONMADDOX@HUGHES.NET

VIEW ALL PROPERTIES: LANDSOFAMERICA.COM/MEMBER/4029

BROKER INDEX

PG#

BROKER/COMPANY

188 1431 REAL ESTATE

55 AMERICAN FARM & RANCH

110 ARNOLD REALTY

189 BAR M REAL ESTATE

189 BEAVERHEAD HOME & RANCH

190 BENNETT & ASSOCIATES

181 BHHS ELEVATED LIVING REAL ESTATE

137 C3 REAL ESTATE SOLUTIONS–JOHN SIMMONS

138 C3 REAL ESTATE SOLUTIONS–TOM HOFFNER

100 CALIFORNIA OUTDOOR PROPERTIES

44 CASCADE–SOTHEBY'S

60 CENTURY 21 HARVEY PROPERTIES

177 CHASE BROTHERS PROPERTIES

166 CHRISTMAS & ASSOCIATES

178 CLARK & ASSOCIATES LAND BROKERS

106 CLARK COMPANY

162 CLARK REAL ESTATE GROUP

143 COLDWELL BANKER–BIGHORN REALTY

129 COLDWELL BANKER–MASON MORSE

176 COLDWELL BANKER–PAGE WELTON

182 COLORADO GROUP REALTY

136 CRATER LAKE REALTY

122 FAY RANCHES

171 FRIDRICH & CLARK REALTY, LLC

102 HALL & HALL

150 HARRIGAN LAND COMPANY

94 HAYDEN OUTDOORS

180 HEWITT LAND COMPANY

47 JACKSON HOLE–SOTHEBY'S

118 JOAN PLETCHER, REALTOR

86 KELLER WILLIAMS–CLAY MCCULLAR

85 KELLER WILLIAMS–CRAIG HUITFELDT

87 KELLER WILLIAMS–DENISE FERRILL

84 KELLER WILLIAMS–SALLY BALL & BILL DAVIS

152 LAND INVESTEX

96 LAND LEADER

50 LEGACY PROPERTIES WEST–SOTHEBY'S

64 LONE EAGLE LAND BROKERAGE

35 MASON MORSE RANCH COMPANY

170 MAURY L. CARTER & ASSOCIATES, INC.

75 MIRR RANCH GROUP

159 MOSSY OAK PROPERTIES–CUPPER CREEK LAND

158 MOSSY OAK PROPERTIES–NM RANCH & LUXURY

140 MYERS JACKSON AUCTIONEER

168 NEVASCA REALTY

185 NO.1 QUALITY REALTY

154 PEOPLES COMPANY

160 PREMIER RANCH PROPERTIES

164 RANCHLINE

184 RANCH FINDERS

62 RANCH MARKETING ASSOCIATES

156 REECE COMMERCIAL REAL ESTATE

172 REPUBLIC RANCHES

52 SOTHEBY'S–SUZANNE PERKINS

40 STEAMBOAT–SOTHEBY'S

59 SUPERIOR FARM & RANCH REALTY LLC

148 SWAN LAND COMPANY

144 TEAM MURPHY REALTY

173 THE CHICKERING COMPANY

187 THE GRAVES GROUP

186 THREE RIVERS AG INVESTMENT

183 WESTERN MOUNTAIN REAL ESTATE

179 WINDERMERE REAL ESTATE–KLAMATH FALLS

190
---
The Antique Barn Company

See our inventory of old barns we have

available at www.AntiqueBarns.net

The

Antique Barn Company

Our company specializes in the preservation

of antique timber frames. These structures can

be used as homes, great rooms, horse stables,

swimming pool houses, wedding halls, hunting

lodges, restaurants, etc. Have a piece of our

heritage relocated to your homestead.

Our Inventory Includes:

• True Round Barns

• New World Dutch Barns

• Center Aisle Gable

Entrance Barns

• German Fore Bay Barns

• English Threshing

Hay Barns

• Bull Beam Barns

• Monitor Barns

• Traditional Churches

• Japanese Minkas

• New Timber Frame

Structures

• Yurts

donald@antiquebarns.net

Tel: (603) 218-6768

LANDSOFAMERICAMAGAZINES.COM 191

P.O. Box 21, Orford, New Hampshire 03777
---
940 EAST PLATTE

LUXURY, MEET COMFORT

940 EAST PLATTE IS A GEM TUCKED IN A PRIVATE

COMMUNITY LOCATED DIRECTLY ON A TWO-MILE STRETCH

OF THE SOUTH PLATTE RIVER. LUXURY WITH CONTEMPORARY

STYLE—A NEW LOOK FOR THE ROCKY MOUNTAINS.

OFFERED AT $1,970,000
---
719.839.0888 • 940EASTPLATTE.COM
---
Enduring investments have timeless value, a legacy that can be shared and passed on.

For more than 30 years, U.S. Coins has been one of the nation's leading wholesalers

of rare and unique coins. Add a piece of history to your estate — contact us today.