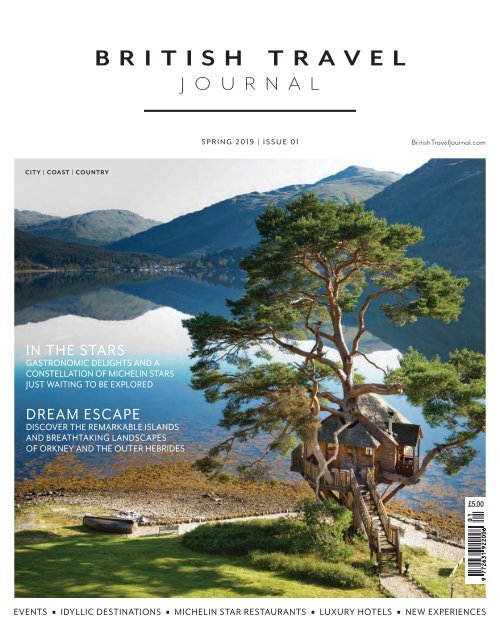 British Travel Journal | Spring 2019
British Travel Journal is your indispensable 'go-to' for all your upcoming UK travel plans. Inside this issue we have a dreamy selection of seasonal holiday ideas, unique experiences, and wondrous days out. Highlights include the breathtaking landscapes of Orkney and the Outer and Inner Hebrides, discovering unique experiences, such as jumping into a hot tub as you sail down the River Thames, and our holy trinity of gastronomy 'In The Stars'. So, whether you're reading this from a far-flung airport lounge, a sumptuous hotel suite, or with your feet up at home on the sofa, we urge you to stop dreaming and to start treating yourself. Subscribe to our UK print edition and receive a luxurious Newby Teas loose-leaf selection box - and 4 issues - All for just £19! https://britishtraveljournal.com/subscribe/
British Travel Journal is your indispensable 'go-to' for all your upcoming UK travel plans. Inside this issue we have a dreamy selection of seasonal holiday ideas, unique experiences, and wondrous days out. Highlights include the breathtaking landscapes of Orkney and the Outer and Inner Hebrides, discovering unique experiences, such as jumping into a hot tub as you sail down the River Thames, and our holy trinity of gastronomy 'In The Stars'. So, whether you're reading this from a far-flung airport lounge, a sumptuous hotel suite, or with your feet up at home on the sofa, we urge you to stop dreaming and to start treating yourself. Subscribe to our UK print edition and receive a luxurious Newby Teas loose-leaf selection box - and 4 issues - All for just £19! https://britishtraveljournal.com/subscribe/
SHOW MORE
SHOW LESS
Create successful ePaper yourself
Turn your PDF publications into a flip-book with our unique Google optimized e-Paper software.
BRITISH TRAVEL

JOURNAL

SPRING 2019 | ISSUE 01

BritishTravelJournal.com

CITY | COAST | COUNTRY

IN THE STARS

GASTRONOMIC DELIGHTS AND A

CONSTELLATION OF MICHELIN STARS

JUST WAITING TO BE EXPLORED

DREAM ESCAPE

DISCOVER THE REMARKABLE ISLANDS

AND BREATHTAKING LANDSCAPES

OF ORKNEY AND THE OUTER HEBRIDES

£5.00

EVENTS ■ IDYLLIC DESTINATIONS ■ MICHELIN STAR RESTAURANTS ■ LUXURY HOTELS ■ NEW EXPERIENCES
---
WHICH IS THE MOST ICONIC

HOTEL IN THE UK?

#Siblingrivalry

CHEWTON GLEN, HAMPSHIRE

CLIVEDEN HOUSE, BERKSHIRE

THE LYGON ARMS, COTSWOLDS

11 CADOGAN GARDENS, LONDON

ICONICLUXURYHOTELS.COM
---
EDITOR'S LETTER

C O N T R I B U T I O N S

BRITISH TRAVEL

JOURNAL

BritishTravelJournal.com

EDITORS

EDITOR-IN-CHIEF Jessica Way

FEATURES EDITOR Samantha Rutherford

CHIEF SUB-EDITOR Angela Harding

EXPERT CONTRIBUTORS

SHOPPING & LIFESTYLE Emma Johnson

ARTS & CULTURE Melanie Abrams

FOOD & DRINK Chantal Borciani

TRAVEL & HISTORY Robin Glover

EXPERIENCE & ADVENTURE Adrian Mourby

SPECIAL THANKS TO

Robert Nightingale

Dream Escape

David Brown Automotive

FRONT COVER IMAGE

The Lodge on Loch Goil, Scotland

PUBLISHED BY

CONTISTA MEDIA

Mitchell House, Brook Avenue, Warsash,

Southampton, SO31 9HP

MAIN SWITCHBOARD 01489 660680

Ücontistamedia.co.uk

KEEP IN TOUCH

BritishTravelJournal

BTravelJournal

WELCOME

SPRING 2019 | ISSUE 01

WELCOME TO THE FIRST

edition of British Travel

Journal, which we hope will

become your indispensable

'go-to' for all your upcoming

travel plans - inspiring your

year ahead, with a dreamy

selection of seasonal holiday

ideas, unique experiences, and

wondrous days out.

And while we can't always guarantee the sunshine, I'm sure you'll

agree, that for a relatively small island, Britain packs a pretty good

punch! Whether it is the city, country, or coast you enjoy best, there is

simply so much within our beautiful and varied landscape to explore.

Join in the fun with annual events, culture, history, shopping - not to

mention enjoying some of the world's finest Michelin star restaurants,

hotels and spas.

As Editor here at British Travel Journal my bucket list is forever

growing, I did however manage to tick one off this season, with a

rock-climbing adventure to Jersey, which I hope you enjoy reading

(p48). I've discovered unique experiences I didn't even know were

possible, such as jumping into a hot tub as you sail down the River

Thames (p26), and if, like me, you are an avid foodie, then you will

love our holy trinity of gastronomy 'In The Stars' (p72).

From days out to great long journeys and one-off adventures,

please remember while making your new discoveries to snap some

photos along the way, as we would love you to enter our British

Travel Journal Landscape Photography Competition - for your

chance to win a night of London luxury in Mayfair (p14).

So, whether you're reading this from a far-flung airport lounge, a

sumptious hotel suite, or with your feet up at home on the sofa, we urge

you to stop dreaming and to start treating yourself. u

PROUD TO BE IN PARTNERSHIP WITH

Contista Media Ltd cannot accept responsibility for

unsolicited submissions, manuscripts and photographs.

While every care is taken prices and details are subject to

change and Contista Media Ltd take no responsibility for

omissions or errors. We reserve the right to publish

and edit any letters. All rights reserved.

PICTURED ABOVE:

JESSICA VISITS BATH, SOMERSET

Jessica x

Jessica Way, Editor-In-Chief

Jessica@britishtraveljournal.com

BritishTravelJournal.com 3
---
THE CRAFT of FINE TEA

Delight in the flavour of premium tea every day with Newby's Classic Tea Bag Collection.

Showcasing a private collection of vintage Indian textiles, each box contains a sublime blend

crafted and preserved with the greatest care for an exceptional taste experience.

Choose from classic black and green teas, aromatic oolongs and flavourful tisanes.

Find us at Sainsbury's and newbyteas.com

@NewbyTeas
---
26

CONTENTS

SPRING 2019 | ISSUE 01

32

36

S T Y L E E D I T S

12

98

11

JOTTINGS

11

TRAVEL NEWS

A look at what's new with

on-trend destinations, renovations,

product launches and celebrations.

14

MOMENTS

Annual Landscape Photography

Competition - win a luxury overnight stay

at JW Marriott Grosvenor House London.

CULTURAL AGENDA

17 Exhibitions, museums, galleries and

shows hot this season.

26

10 UNIQUE EXPERIENCES

Feel inspired with our seasonal

choice, including an awe-inspiring flying

lesson to a six course gourmet dining

experience on a luxury double-decker bus!

ITINERARIES

32

IDYLLIC ISLANDS

Discover this dreamy escape with

breathtaking landscapes of Orkney and

the Outer and Inner Hebrides.

INTERVIEW WITH ROBERT

36 NIGHTINGALE

Founder of adventure accessories brand

Malle London tells us about his five day

Great Malle Rally journey, 1250 beautiful

miles filled with stunning landscapes.

IN FOCUS: NEWMARKET

44 Go behind the scenes at the home

of British horseracing.

48 HOURS IN JERSEY

48 Be invigorated with a revitalising

adventure in the Channel Islands.à

BritishTravelJournal.com 5
---
E D I T O R B U Y S

Anna Maria Restoring

Anti-oxidant Body Oil, £63

clivedenhouse.co.uk

Ormer Pendant, £270

catherinebest.com

80

LIFESTYLE

54 GINAISSANCE

We take a look at the irresistible

rise of gin, artisan brands, and gin

distilleries offering memorable tour and

tasting experiences.

MINI REMASTERED

58 Behind the scenes at David Brown

Automotive, celebrating the iconic Mini in

its 60th year of production.

63 CRAFTED

We meet Roger W Smith, Bronze

Medallist of the British Horological

Institute, recently honoured with an OBE,

and the subject of a Netflix film, to discuss

the skill of British watchmaking.

67 INVESTOR

Investing in books can be lucrative

but it is not quite as simple as plain old

buying and selling.

GIFT TO ALL SUBSCRIBERS!

Subscribe to British Travel Journal

and read your next issue while

enjoying an English Breakfast, Earl

Grey, Jasmine Blossom or Moroccan

Mint loose-blend tea,

courtesy of Newby Teas!

britishtraveljournal.com

/subscribe

CONNOISSEUR

72

IN THE STARS

The snug villages and bottle-green

fells of Lancashire, Cumbria and Yorkshire

have created a holy trinity of gastronomy

and a veritable constellation of Michelin

stars just waiting to be explored.

79 VICTUALS

Discover what's new in the scene

of British hospitality, Michelin-star chefs,

restaurants, hotels and spas.

ESCAPE TO NATURE

80 Stay in a beautiful log cabin

or treehouse, from remote, windswept

locations to cosy clusters of cabins with

all the latest technology and mod cons.

FARMER, BUTCHER, CHEF

82 Discover a countryside gem in West

Sussex, and get the taste for a perfect

Sunday roast.

MIDDLETHORPE HALL

87 With superb surroundings and

closeness to central York, Middlethorpe Hall

offers the best of rural and city escapes.

DAY TRIPPER

90

BLETCHLEY PARK

In a sleepy Buckinghamshire town

a window opens on this history-changing,

high-security WW2 operation centre, kept

secret for decades.

MIGHTY HIKES

94 Take part in a one-day hiking

marathon and experience some of the

UK's most breathtaking scenery, while

raising much-needed funds for Macmillan.

FOR YOUR JOURNEY

98 Latest books, travel gadgets and

our first British travel inspired crossword.

6 BritishTravelJournal.com
---
EXPERIENCE MORE

WITH PRIDE OF BRITAIN HOTELS

MORGAN CAR HIRE

DISCOVER ALL OUR EXPERIENCES ONLINE TODAY

www.prideofbritainhotels.com/experiences

THE ART OF GREAT HOSPITALITY

Independently Owned | Luxury & Boutique Hotels | 50 Member Hotel Limit

0808 250 3121 • prideofbritainhotels.com
---
place of luxury

A place of luxury

with wealth of history.

with A a place wealth of of luxury history.

with A a place wealth of luxury of history.

with A place a wealth of of luxury history.

with a wealth of history.

Welcome to JW Marriott Grosvenor House London. Ideally situated on Park Lane and overlooking

Welcome

Royal Hyde

to JW

Park,

Marriott

our hotel

Grosvenor

offers

House

truly authentic

London. Ideally

experiences

situated

inspired

on Park

by

Lane

a unique

and

location.

overlooking

From Royal the thriving Hyde Park, designer our hotel shopping offers district truly authentic of Mayfair experiences to the world's inspired most by renowned a unique art location. collections

From

and

the

museums

thriving

with

designer

outstanding

shopping

cultural

district

attractions.

of Mayfair

We

to

offer

the world's

exceptional

most

guest

renowned

rooms,

art

a

collections

tranquil

Park Welcome to JW Marriott Grosvenor House London. Ideally situated on Park Lane and overlooking

and museums

Room serving

with

the

outstanding

British tradition

cultural

of

attractions.

Afternoon

We

Tea,

offer

with

exceptional

JW Steakhouse,

guest

Corrigan's

rooms, a tranquil

Mayfair

Royal Hyde Park, our hotel offers truly authentic experiences inspired by a unique location.

Park

or Ruya

Room

London for exceptional culinary experiences. Every detail of your stay with us is designed

Welcome serving to JW the Marriott British Grosvenor tradition House of Afternoon London. Ideally Tea, with situated JW on Steakhouse, Park Lane and Corrigan's overlooking Mayfair

From or Ruya the thriving London designer to shopping nurture and district celebrate of Mayfair your to personal the world's passions.

Royal Hyde for Park, exceptional our hotel culinary offers truly experiences. authentic experiences Every detail inspired of most your by a stay renowned unique with location. us art is collections

designed

and museums with outstanding cultural attractions. We offer exceptional guest rooms, a tranquil

Welcome From the to JW thriving We Marriott look designer forward to Grosvenor nurture

shopping to providing and House district

celebrate London. of you Mayfair with your Ideally to an personal

the unforgettable situated world's

passions.

most Park renowned experience Lane art and collections overlooking

Park Room serving the British tradition of Afternoon Tea, with JW Steakhouse, Corrigan's Mayfair

Royal and Hyde museums Park, We with look our outstanding forward hotel offers to cultural providing truly attractions. authentic you with experiences We an offer unforgettable exceptional inspired guest experience by rooms, a unique a tranquil location.

or Ruya Park London Room serving for exceptional the British culinary tradition experiences. of Afternoon Tea, Every with detail JW Steakhouse, of your stay Corrigan's with us Mayfair is designed

From the or Ruya thriving London designer for exceptional to shopping nurture culinary and district celebrate experiences. of Mayfair your Every to personal the detail world's passions. of your most stay renowned with us is designed art collections

and museums with outstanding To make to nurture a reservation cultural and attractions. celebrate visit: londongrosvenorhouse.com

your We personal offer exceptional passions. guest rooms, a tranquil

We look forward to providing you with an unforgettable experience

Park Room serving the British tradition of Afternoon Tea, with JW Steakhouse, Corrigan's Mayfair

We To look make forward a reservation to providing visit: you londongrosvenorhouse.com

with an unforgettable experience

or Ruya London for exceptional culinary experiences. Every detail of your stay with us is designed

to nurture and celebrate your personal passions.

We look To forward make a reservation to providing visit: you londongrosvenorhouse.com

with an unforgettable experience

To make a reservation visit: londongrosvenorhouse.com
---
JOTTINGS

Travel News p11 | Moments p14 | Cultural Agenda p17 |

Bright Lights, Big City! p24 | 10 of the Best Unique Experiences p26

T R E N D I N G

HECKFIELD PLACE

This charming new hotel has evoked much

interest, a lovingly restored Georgian family

home, rewoven into 400 acres of secluded

Hampshire landscape. heckfieldplace.com

THE PAINTED HALL

The Painted Hall at The Old Royal

Naval College, Greenwich reopens to

the public 23 March after a two-year

conservation project. ornc.org

à

SINGING CABBIE

Professional singer come black-cab driver,

Aiden Kent, has followed his dreams, offering

extraordinary performances while zipping

past London's sights! singingcabbie.com

BritishTravelJournal.com 9
---
Tresco: 28 miles off the Cornish coast.

Somewhere else altogether.

FOR A GLIMPSE OF ISLAND

LIFE, REQUEST YOUR

COMPLIMENTARY TRESCO

TIMES YEARBOOK:

TRESCO.CO.UK/BTJ

AWAR D-WINNING ACCOMMODATION | DINING | WELLBEING
---
TRAVEL NEWS

W H A T ' S N E W

Destinations | Renovations | Launches | Celebrations

HISTORIC MILESTONE

This year Leeds Castle, Kent, once home

to King Edward I, and then subsequently to

six of England's queens, is celebrating its

900th anniversary. leeds-castle.com

BE ONE OF THE FIRST TO THE UK'S ONLY VINEYARD HOTEL!

A £4m project is under way at Denbies Wine Estate, Surrey (England's largest single-estate

vineyard, denbies.co.uk) to create the UK's first ever vineyard hotel. The project will see

the current bed and breakfast transformed into a 17-bedroom hotel with bar and orangery

restaurant, set on the Denbies estate in the Surrey Hills Area of Outstanding Natural Beauty

offering panoramic views across the vineyard and North Downs Way. The new hotel will have

an Orangery-style garden restaurant, outdoor dining cabanas and even its own 'Enomatic

wine-dispensing machine' – meaning guests can taste and purchase Denbies wine by the

glass. Plus, there'll be complimentary wine tasting tutorials. Well we're saying cheers to that!

MAKE WAY FOR PRIORY BAY

The Isle of Wight's most luxurious holiday

destination, and 60 acre estate, is currently

undergoing a magnificent restoration project

to its secluded beach, swimming pool, hotel

and restaurant. ariaresorts.co.uk/priory-bay

LEICA SAFARI CAMERA

FLOATING LUXURY

Luxury floating hotel, Fingal, Edinburgh, is

now open, with 23 beautifully styled cabins, an

exquisite development which cost £3.5 million.

Ü fingal.co.uk

BUXTON'S REVIVAL

Buxton Crescent's 80 bedroom 5* Hotel,

Spa and Pump Room is due to open in 2019

following a massive £46 million investment!

Ü buxtoncrescent.com

WE L O V E

Limited Edition - £6,900

Ü leicastore-uk.co.uk

BritishTravelJournal.com 11
---
© ISABELLE PLASSCHAERT

TRAVEL NEWS

MORE HOTELS OPENING!

B O U T I Q U E C I N E M A

Cinema has been re-classified by the likes of TIVOLI - whose latest

home-from-home studio to open in Bath boasts luxuriously wide

sofas, excellent sight and sound, and your food and drink orders

served to you at your seat prior to the feature. tivolicinemas.com

/ ALAMY

STOCK PHOTO

YOU'VE HEARD ABOUT HECKFIELD PLACE, HAMPSHIRE,

now travel a little further east and two more beautiful hotels are also

opening (pictured above left-right) Monkey Island in Berkshire opens in

February and The Langley in Buckinghamshire opens in June 2019 - watch

this space! marriott.com / monkeyislandestate.co.uk

STYLE EDITS

what we love now

Smalls' natural merino

wool base layers, perfect

for international flights,

they're super soft and

breathable,

cool when

it's warm and

warm

when it's cool!

smallsmerino.co.uk

F O R H I M

COAL DROPS YARD AT KINGS CROSS

If you are fed up of cookie cutter shopping, discover Coal Drops

Yard where there's a raft of indie shops and eateries. Design rules too

including a Tom Dixon emporium and sweeping architecture by hotshot,

Thomas Heatherwick. coaldropsyard.com

T R A V E L A P P

C65 Trident

Automatic, £695,

christopherward.co.uk

B R I T I S H

TRAVEL

JOURNAL

Editor wears

F O R H E R

Centenary Bowling

BagToscana, £1,025

globe-trotter.com

From London to Los Angeles, New York City to Singapore

and hundreds of other cities, ONDA is a new travel app that

enables you to discover interesting members' clubs, creative

workspaces and health clubs from around the world.

Ü ondalife.com

Silhouette Accent

Shades, from £200

pretavoir.co.uk

The Luxury Travel Wrap, £295

willowcashmere.com

Manhabis classic

slippers, £69

mahabis.com

12 BritishTravelJournal.com
---
www.thewalesway.com

This is Wales.

The Wales Way is a family of three national routes

that lead you along the coast, across castle country,

and through our mountainous heartland.

Our routes are crossed by loops and links so that you

can head off-piste and create your own custom-built

Welsh road trip.

In Welsh we call it going igam ogam – 'step-to-step',

or 'zig-zagging' – discovering your own secret places.

Aren't they always the best ones?
---
Moments

Photography competitions, such as the National Trust's

annual search for their Handbook front cover, and The

Landscape Photographer of the Year exhibition, hosted by

Network Rail, have helped to encourage a nation of budding

photography enthusiasts - and here at British Travel Journal

we are joining the fun with our own search for the most

inspiring UK destinations

" I ' D V I S I T E D T H I S L O C A T I O N

M A N Y T I M E S I N D I F F E R I N G

WEATHER CONDITIONS.

FORSAKING THE WELL-

KNOWN SHOW AT THE FALLS

N E A R B Y, I H A D S E T O U T T O

S H O O T S U N R I S E U P R I V E R

AND SAW THIS UNUSUAL

A N D D R A M A T I C F O R M A T I O N

O F I C E A R O U N D T H E R O C K S ;

R I G H T T H E N I K N E W I H A D

M Y S P O T . T H E P R O B L E M W A S

T H A T W H E N S H O O T I N G F R O M

A B O V E , T H E I C E S P I K E S ,

A L T H O U G H V I S I B L E , W E R E

G E T T I N G L O S T I N T H E S C E N E .

T H E O N LY S O L U T I O N W A S

T O G O V E R Y L O W ; T H E S A M E

LEVEL AS THE ICE."

For further information about the 2019

National Trust handbook competition

please visit nationaltrust.org.uk

PICTURE CREDITS: © PETE ROWBOTTOM/ANDREW JONES

For further information about Landscape Photographer of the Year Awards visit take-a-view.co.uk

14 BritishTravelJournal.com
---
COMPETITION

Have you captured an amazing moment?

B R I T I S H T R A V E L J O U R N A L | 2 0 1 9

P H O T O G R A P H Y C O M P E T I T I O N

Share your amazing landscape photography,

email photos@britishtraveljournal.com or tag

us on Instagram #britishtraveljournal

One lucky reader will win...

î A N O V E R N I G H T S T A Y F O R T W O I N L U X U R Y

J W M A R R I O T T G R O S V E N O R H O U S E L O N D O N

î A Y E A R ' S S U P P L Y O F N E W B Y T E A S !

î A S U B S C R I P T I O N ( O R G I F T S U B S C R I P T I O N )

TO BRITISH TRAVEL JOURNAL

Find out more:

britishtraveljournal.com/competitions

B R I T I S H

TRAVEL

JOURNAL

Competition!

BritishTravelJournal.com 15
---
CULTURAL AGENDA

H O T T H I S S E A S O N

Exhibitions | Museums | Galleries | Shows

Words | Melanie Abrams

PICTURE CREDIT © JOHAN PERSSON

Matthew Bourne updates Romeo and Juliet, see next page for more details...

BritishTravelJournal.com 17
---
W E ' R E S E E I N G

ARTS & THEATRE

Man of La Mancha

26 APRIL-8 JUNE

It's time to "dream the impossible dream"

as musical, Man of La Mancha, hits the

West End after 50 years. At the London

Coliseum, this tale of legendary adventurer,

Don Quixote stars Kelsey Grammer and

Danielle de Niese - pictured right (courtesy

of Decca).

Ü eno.org

William Shakespeare's Richard III

13-31 MARCH

Medieval mischief comes to Alexandra

Palace. Famed for murdering the princes

in the Tower for his crown, the hunchback

king is one of Shakespeare's most dastardly

figures (and there are a few). The £27

million theatre is newly restored after 80

years. Just don't expect bright lights or

gleaming metallic finishes. Instead, Ally

Pally revels in its Victorian faded glory.

Ü alexandrapalace.com

PICTURE CREDIT © JOHAN PERSSON

GLYNDEBOURNE FESTIVAL

OPENS 18 MAY WITH A

NEW PRODUCTION OF THE

DAMNATION OF FAUST BY

HECTOR BERLIOZ. ALONGSIDE

THIS RARELY STAGED OPERA,

THE SCHEDULE IS PACKED

WITH FAVOURITES FROM

ROSSINI'S BARBER OF SEVILLE

TO MOZART'S MAGIC FLUTE.

Ü GLYNDEBOURNE.COM

18 BritishTravelJournal.com
---
Romeo and Juliet

13-18 MAY

He turned swans male and Cinderella into

a wartime siren, now innovative British

choreographer, Matthew Bourne updates

Romeo and Juliet. Leicester's Curve Theatre

hosts the star crossed lovers' world premiere

in May before a nationwide tour

Ü new-adventures.net/romeo-juliet

PICTURE CREDITS: © BILL COOPER

GREGORY PORTER HEADLINES

THIS YEAR'S CHELTENHAM

JAZZ FESTIVAL FROM 1-6 MAY.

GRAB YOUR SPOT EARLY IN

MONTPELLIER GARDENS FOR

AVANT GARDE TRIO, THE BAD

PLUS'S EVENT DEBUT. GET

READY TO DANCE TO SERGIO

MENDES' BOSSA NOVA BEATS.

Ü CHELTENHAMFESTIVALS.

COM/JAZZ

BritishTravelJournal.com 19
---
PICTURE CREDIT © MARSHA ARNOLD

W E ' R E G O I N G

FESTIVALS AND SHOWS

The Hay Festival

23 MAY-02 JUNE

Rub shoulders with the literati at the Hay Festival on the Welsh

River Wye. Hear your favourite author talk about their work or

be surprised which celeb is reading an excerpt in Diaries Live!

Ü hayfestival.com

All Points East music festival

24 MAY-02 JUNE

Indie music is the sound at the All Points East music festival in

London's Victoria Park.

This second year sees the eclectic line-up include the Chemical

Brothers, Primal Scream and Bon Iver.

Ü allpointseastfestival.com

Chelsea Flower Show

21-25 MAY

The Royal Hospital Chelsea blooms as the Chelsea Flower Show

kicks off the summer season. Take a whistle-stop tour around

Britain's best current and future gardens, discovering local

specialities from Yorkshire vegetables to Manchester plants.

Ü rhs.org.uk

AUCTIONS

Christie's, Books and Manuscripts

05 JUNE

Taking place in London this summer, one of the

upcoming highlights is this striking map of the

world surrounded by allegorical scenes of the four

seasons, part of the Beyond The Horizon - The

Mopelia Collection Of Fine Atlases And Travel Books

collection. (Pictured left)

Ü christies.com

W E ' R E L I S T E N I N G

DIDO'S NEW ALBUM

Still on My Mind

We've missed Dido's lyrical vocals. Now she's back

on 8 March with a first new album in six years, Still

on My Mind, including the haunting Hurricanes.

Ü didomusic.com

Pictured left:

VALK , Gerard

(1652-1726)

and Leonard

VALK (1675-

1746). Orbis

Terrarum Nova et

Accurata Tabula.

Amsterdam:

[c.1700].

Pictured top-left:

Lady at The Hay

Festival enjoys

reading a book,

Pictured above:

Dido promoting

her new album.

20 BritishTravelJournal.com
---
8 February — 6 May 2019

Open daily

The Holburne Museum

Great Pulteney Street

Bath BA2 4DB

'an astonishing body of work'

★★★★★ The Guardian

George Shaw, Ash Wednesday: 8.30 am, 2004–5 © George Shaw /

Image courtesy Anthony Wilkinson Gallery, London / Photo: Peter White

Tours & Experiences | Ancient Towns | Stunning Countryside | Hidden Gems | Gourmet Dining

For bookings & more information

www.aroundandaboutbath.com

08000 747949

Proudly partnered with

AAAB_HPH_TravelJournal_AW.indd 1 15/02/2019 09:58
---
PICTURE CREDIT: © VICTORIA AND ALBERT MUSEUM LONDON PICTURE CREDITS: ROYAL COLLECTION TRUST / © HER MAJESTY QUEEN ELIZABETH II 2018

W E ' R E V I S I T I N G

EXHIBITIONS & GALLERIES

Hew Locke: Here's the Thing

8 MARCH-2 JUNE

Caribbean and British cultures fuse at

Birmingham's Ikon Gallery as Hew Locke

presents multi-media work.

Ü ikon-gallery.org

Painting Childhood and

Childhood Now

16 MARCH-16 JUNE

Renaissance to royal children are the focus of

two art shows at Compton Verney.

Ü comptonverney.org

THE SWINGING SIXTIES ARE BACK

AS THE V&A SPOTLIGHTS THE ERA'S

FASHION DESIGNER, MARY QUANT

FROM 6 APRIL 2019-16 FEBRUARY

2020. SEE THE MINIS, HOT PANTS AND

PVC RAINCOATS THAT REVOLUTIONISED

BRITISH FASHION ALONGSIDE RARE

DESIGNS FROM A PUBLIC SHOUT-OUT.

Ü VAM.AC.UK

BritishTravelJournal.com 23
---
ADVERTORIAL

WAITRESS

COME FROM AWAY

BRIGHT LIGHTS, BIG CITY!

No visit to London is complete without seeing a show, check out

some of the capital's world-class theatre venues

FIND YOUR NEW FAVOURITE West End musical, dramatic

play or incredible opera. Enjoy a Shakespeare play at

the Globe or treat yourself to a ballet at the Royal Opera

House. You can experience a long-running hit or one of the

plethora of new London theatres shows such as;

A LONDON TRANSFER FOR A WARM AND TOUCHING

BROADWAY HIT… The big sleeper hit Broadway musical of the

last few years, 'COME FROM AWAY'tells the unlikely true story

of a sleepy Newfoundland town that took in strangers from around

the world when their planes were grounded at the local airport

in the wake of 9/11. A hit in Canada and the States, 'Come from

Away' is written by Irene Sankoff and David Hein and is directed by

Christopher Ashley, with musical staging by Kelly Devine. Expect to

be very charmed.

You'll also be blown away by another Broadway hit 'WAITRESS'

a musical brought to life by a ground-breaking all-female creative

team. This irresistible new hit features original music and lyrics

by 6-time Grammy® nominee Sara Bareilles (Brave, Love Song),

a book by acclaimed screenwriter Jessie Nelson (I Am Sam) and

direction by Tony Award® winner Diane Paulus. (Pippin, Finding

Neverland).

'WAITRESS' tells the story of Jenna, a waitress and expert pie

maker who dreams of a way out of her small town and loveless

marriage. A baking contest and the town's new doctor may offer

her a chance at a fresh start, while her fellow waitresses offer their

own recipes for happiness. But Jenna must summon the strength

and courage to rebuild her own life.

Don't miss this uplifting musical celebrating friendship,

motherhood, and the magic of a well-made pie..!

24 BritishTravelJournal.com
---
PICTURE CREDITS: MAMMA MIA! PHOTOS © BRINKHOFF/MÖGENBURG; WAITRESS PHOTOS OF ORIGINAL BROADWAY

CAST; COME FROM AWAY PHOTOS © MATT MURPHY; THE PHANTOM OF THE OPERA PHOTOS © JOHAN PERSSON

MAMMA MIA!

THE PHANTOM OF THE OPERA

AND THE CLASSICS CONTINUE TO

ENTERTAIN…

More than just a jukebox musical Judy

Craymer's bold idea of turning the insanely

catchy songs of ABBA into a musical has

paid off splendidly, in every sense – box office

figures for 'MAMMA MIA!' are as eyewatering

as its outfits.

The original production of 'MAMMA

MIA!' opened in 1999 and since then, this

ultimate feel-good musical has been seen

by over eight million people in the West End,

where it continues to break box office records

at the Novello Theatre, its third London

home.

Set on a Greek island paradise, a story

of love, friendship and identity is cleverly

told through the timeless songs of ABBA,

including "Dancing Queen", "Take A Chance

On Me" and "Super Trouper". Sophie's quest

to discover the father she's never known

brings her mother face to face with three men

from her distant romantic past on the eve of a

wedding they'll never forget!

A stone's throw from Novello Theatre is

Her Majesty's Theatre home of the original

production of 'THE PHANTOM OF THE

OPERA'.

I'm not sure any show deserves to be the

most successful entertainment event of all

time, but I'll hand it to the current holder of

that title, 'THE PHANTOM OF THE OPERA'

as it still continues to thrill its audience.

'Phantom…' remains strong because its

high production values haven't been allowed

to sag. The late Maria Björnson's design is

a heady barrage of ravishing costumes and

lavish sets that change frequently, working in

everything from pastoral jollity to an ancient

Carthaginian theme on the way to the

Phantom's stunning underground lair.

It's totally OTT – in one scene the

Phantom zaps at his nemesis Raul with a staff

that fires actual fireballs, its ridiculousness

and campy story are entirely thrilling when

realised with the show's enormous budget.

And while Hal Prince's production may

have been hailed as rather gauche back in

the day, in 2019 it all comes across as rather

more tasteful than the average jukebox

musical.

Andrew Lloyd Webber's gothic

spectacular 'THE PHANTOM OF OPERA' is

totally '80s in the best possible way.

By Jonathan Mountford

Jonathan is a successful entrepreneur and

businessman who has worked in the live

entertainment industry for over 20 years

and also sits on the British Tourism Industry

Group at VisitBritain.

DON'T WAIT!

B O O K L O N D O N T H E A T R E

TICKETS ONLINE AND YOU

COULD SAVE UP TO 60% O N

UNFORGETTABLE WORLD-

C L A S S P E R F O R M A N C E S .

Ü THEATRE.LONDON

BritishTravelJournal.com 25
---
E D I T O R ' S P I C K

ON THE WATER

PADDLEBOARDING

1Paddleboarding, or 'SUPing' as it's now called, (Stand-Up

Paddleboarding) is not only a brilliant experience by itself – it's

also a fabulous way to tour a city! This new UK travel trend has seen

SUP experiences cropping up across our UK cities, to include seeing

the exciting waterways of Bristol Harbourside, gliding along the Backs

past historic Cambridge colleges, through the heart of Bath, to a

summer's evening trip over to the weir at Stratford-Upon-Avon.

There's also pub-to-pub cruises to awesome offshore adventures in

various locations across the UK.

Ü supbristol.com

26 BritishTravelJournal.com
---
10of the best

H I D D E N G E M

3

EXPERIENCES

You have probably read about Thermae Bath Spa's world-famous rooftop pool, with

35 degree natural thermal springs - but did you know that just across the road is the

historical Cross Bath, an intimate hidden gem, on street-level, with open-air thermal bath

available for individual bookings or small groups? Ü thermaebathspa.com/the-spa

UNIQUE

EXPERIENCES

Feel inspired by an awe-inspiring

flying lesson to a six course

gourmet dining experience on a

luxury double-decker bus!

O N C E I N A L I F E T I M E

2The Goodwood Flying School in West Sussex launched an exciting new Stearman Flight

Experience in September last year, making the most of their beautifully crafted Boeing Stearman

N2S3 biplane and breathtaking Sussex coastline and countryside. The experience costs £449 for a

half-hour flight for one, or £549 for a 40 minute flight for one, followed by a champagne lunch for

two at the exclusive members-only clubhouse, The Kennels.

Ü goodwood.com

I N T H E C I T Y

4

Be made to feel like a local and enjoy the

experience of being driven around London

in a Classic Mini Cooper - local guides show you

the capital through their own eyes as a Londoner.

Ü smallcarbigcity.com

5

Relax in the freshwater hot tub as you sail

down London's River Thames, passing by

some of the capital's most iconic sights! The

90-minute experience sets sail from two different

locations; Angel, north London, taking you

through the cute and calm waterways of Regent's

Canal and, more recently launched, around

Canary Wharf/West India Quay. Book the VIP

Experience and receive sailors' hats, robe and

towel and an essential ice bucket to keep drinks cool.

Ü hottuguk.com

BritishTravelJournal.com 27
---
Tulip Festival Mid

April to early May

Ancient Castle, Stately Home & Gardens

for more details, call 01903 882173

or visit www.arundelcastle.org
---
EXPERIENCES

F O O D I E S

6What a brilliant way to see

the iconic sights of London

through a 360° panoramic

terrace - while enjoying the views

from the warmth and comfort of

your table, savouring a French

inspired six course dinner menu

with paired wines, and listening

to soft ambient music. This new

concept, of fine dining while on

the move, has been launched in

London following success with

the concept in Paris. There's

even audiopens so you can

select attractions from the icons

on the route map to listen and

learn more about their history

and learn some of London's best

kept secrets. You join the bus at

Victoria Embankment and they

offer options of lunch, afternoon

tea or dinner experiences.

Ü bustronome.com

A R C H I T E C T U R E

8

Discover the architecture of London with

this series of walking tours designed to

interrogate the past, present and future of the

many areas undergoing massive transformation

within London - including Greenwich Peninsula,

Modern Camden Housing Tour and Portland

Place to Primrose Hill.

Ü architecturefoundation.org.uk

I N S T A G R A M M A B L E

7If you are looking for an off grid experience then Secret Adventures is a fantastic option -

describing their adventures as 'bringing a sense of exploration and wonder' - they like water,

fire and to explore! Adventures include swimming over to a secret island to wild camp around a fire,

kayaking at night under Tower Bridge and Husky sledding in the Arctic Circle. Their daytime (they also

offer nighttime) Kayak experiences from Greenwich to Battersea (or vice-versa) offer you a fabulous

two hour river view tour of London in stable double kayaks - an 'oar' inspiring adventure!

Ü secretadventures.org

A N I M A L L O V E R S

9

Get 'hands on' with magnificent birds of

prey, including owls, hawks and eagles for

a truly incredible flying experience with Cheshire

Falconry, Cheshire.

Ü cheshirefalconry.com

10

Stay at the new luxurious Lion Lodge, set

within the lions' enclosure at Port Lympne

in Kent. A loft-style lodge with floor-to-ceiling

windows, open plan living, with cosy fireplace,

underfloor heating, monsoon shower and wet

room and even a Scandinavian outdoor bath,

overlooking the sea and 600-acre wildlife reserve.

Ü aspinallfoundation.org/lionlodge

BritishTravelJournal.com 29
---
A superb selection of special self-catering holiday properties in North Norfolk, ranging

from romantic hideaways to luxurious barn conversions with coastal views

www.blakeneycottagecompany.co.uk - bookings@blakeneycottagecompany.co.uk - 01263 741777

Celebrate Summer

Create your own island story

in Alderney... escape the

ordinary and fall in love with

this special island.

visitalderney.com
---
itineraries

Idyllic Islands p32 | Interview with Robert Nightingale p36

In Focus: Newmarket p44 | 48 Hours in Jersey p48

PICTURE CREDIT: FAIRY POOLS © KENNY LAM VISIT SCOTLAND

I N N E R H E B R I D E S

Fairy Pools, Isle of Skye

These beautifully crystal clear blue

pools on the River Brittle entice

visitors from all over the world

à

BritishTravelJournal.com 31
---
S C O T L A N D

IDYLLIC ISLANDS

Shrouded in legend and mystery, Orkney and the Outer

and Inner Hebrides are remarkable parts of Scotland, with

breathtaking landscapes and a rich abundance of history

HOME TO UNESCO WORLD HERITAGE SITES, some older than the

Pyramids, traces of Viking legacies, Neolithic sites, haunting wartime

remains, and beaches and seascapes to rival the very best in the world, this

has to be one of the must-do trips of a lifetime.

Dream Escape, a leading luxury destination specialist to England, Scotland and Ireland

has masterfully crafted a week-long itinerary to capture the spirit of these islands,

journeying through their mysterious lands.

The Orkney Islands hold some of the finest examples of Neolithic craftsmanship

and earliest stone circles in Britain, dating back to at least 3100BC. Known as the "Big

Four", these riveting displays of an ancient time are treasured at the Neolithic Orkney

World Heritage Site where our journey begins. Most impressive and striking is the

settlement known as Skara Brae, Europe's most complete Neolithic village, with its eight

clustered houses dating back to a time before Stonehenge was built.

Thanks to Dream Escape, the trip allows for a very special, private twilight tour of the

settlement as well as the rare chance to enter one of the delicate houses, not ordinarily

open to the public. A truly enthralling experience, this is a special moment to reflect

upon its inhabitants whilst listening to its haunting stories from an expert guide.

From an ancient past to more recent history, we visit Scapa Flow, a great natural

harbour that was a vital naval base during both World Wars. From here, it's on to the

uninhabited island of Lamb Holm, with its remarkable Italian Chapel, built by Italian

prisoners of war during World War II. The chapel was lovingly restored in 1960 by the

artist Domenico Chiocchetti, who was responsible for the original design, and it remains

a touching token of the triumph of the human spirit over adversity.

Orkney's capital – Kirkwall – is another fascinating stop and home to Britain's most

northerly Cathedral, dating from the 12th century. It has a violent Viking past, and still

houses some wonderful ancient buildings including the Bishop's Palace, which was built

around the same time as the Cathedral, and the Earl's Palace, built around 1600 for Earl

Robert Stewart, an illegitimate son of King James V of Scotland. à

Picture Credit: Sunset over the Neist Point Lighthouse, Isle of Skye, Scotland © Istockphoto/Marcello Land

32 BritishTravelJournal.com
---
Creative | Connected | | People | Exclusive Travel Experiences in in the the UK UK && Ireland

www.dreamescape.co.uk

enquiries@dreamescape.co.uk | 0845 | 0845 260 260 1085 1085
---
"Island hopping in The Outer Hebrides

captures the unique spirit of each island

and offers an introduction into this

unique island life"

C O O R D I N A T E S

LATITUDE 57.7599N

LONGITUDE 7.0 1 9 4 W

The Islands are also famous for their

numerous distilleries, from the smallest

in the world, Valhalla Brewery, to a string

of brand-new haunts. For true whisky

aficionados, Dream Escape arranges an

exclusive behind the scenes visit to the most

northerly of Scotland's distilleries, visiting

parts that are usually off-limits, and that

have been opened for a tutored tasting of

four spectacular vintages – 1968, 1970, 1971

and 1976 – and the chance to sample from

an exclusive single cask bottling in front of

a crackling fire. We also loved the option

to take a private jet to reach these far-flung

stills for private whisky tasting and long

lunches in hidden bothies – what could be

better!

Island hopping in The Outer Hebrides

captures the unique spirit of each island and

offers an introduction into this unique island

life. Lewis is the largest and northernmost

island of the archipelago and is home to the

awe-inspiring stones at Calanais, another

famed prehistoric site dating from around

3000 BC. Blackhouse Museum is also a

'must' for those truly wanting to understand

the crofting way of life once widespread on

these isles.

Thankfully Dream Escape guests will rest

in a rather more contemporary take on one

of these traditional island houses!

Think Scandi-style interiors, complete with

floor to ceiling windows and panoramic

views of the Atlantic Ocean.

Famed for its white beaches, clear

waters and coastline, there is nowhere

better than the Isle of Harris for a bracing

walk along the beach before stopping to

pick up some world-famous Harris Tweed,

and finally heading off to the most remote

part of the British Isles, St Kilda. St Kilda's

islands, with their exceptional cliffs and sea

stacks, form the most important seabird

breeding station in northwest Europe. The

earliest written records of island life here

date from the late-Middle Ages and since

then, the population has probably never

exceeded 180.

The remaining population, some 36

residents that were known as St Kildans,

were evacuated on 29 August 1930 from

Hirta, the only inhabited island, to the

Scottish mainland – at their own request.

Today, the island is a World Heritage Site

and is one of only 24 global locations to be

awarded "mixed" World Heritage Status

for its natural and cultural significance.

Currently, the only year-round residents

are military personnel; and a variety of

conservation workers, volunteers and

scientists spend time there in the summer

months.

This fascinating look at St Kilda marks

the end of our seven-day journey through

the Orkney Islands, the Inner and Outer

Hebrides; a journey packed with history,

inspirational stories of old and new, and

raw Scottish beauty all washed down with

a little water of life. It is time to step back

into the present and leave the past and this

bygone era behind. u

PICTURE THE MOMENT

ABOVE: ISLE OF SKYE

Here you will find some of

Scotland's most iconic landscapes:

rugged mountains, sparkling lochs,

dramatic sea cliffs and stunning moors.

The island is also a treasure trove of

history with prehistoric sites, castles and

crofting museums, and cosy pubs and

superb restaurants.

BELOW: ISLE OF LEWIS

One of the largest and

northernmost of the 200 islands that

make up the Outer Hebrides, the Isle of

Lewis is steeped in history and culture,

home to the awe-inspiring ancient stone

circles at Calanais, Dun Caroloway and

Arnol Blackhouse.

D R E A M E S C A P E H A S

E X P E R T K N O W L E D G E O F

S C O T L A N D , E N G L A N D ,

I R E L A N D A N D L O N D O N

A N D S P E C I A L I S E S I N

C R E A T I N G I N S P I R A T I O N A L

A N D E X C I T I N G

I T I N E R A R I E S T O E A C H O F

THESE DESTINATIONS.

Ü DREAMESCAPE.CO.UK

BritishTravelJournal.com 35
---
I N T E R V I E W W I T H

ROBERT NIGHTINGALE

Malle London founder talks to us about The Great Malle Rally,

5 days, 1250 beautiful miles, stunning landscapes, breaking down,

wild cooked hearty breakfasts, Tug of War – and much more!

Photographs | Amy Shore

FOUNDER OF adventure accessories

brand Malle London, Robert

Nightingale has been on an epic

journey, taking part himself in their

annual motorcycle rally for the very first time

(usually he's in the background helping!)

The Great Malle Rally is the longest

motorcycle rally ever attempted in the UK -

1250 beautiful miles from the very northern

tip of Scotland to the southern tip of England.

Now held over five stages/

days, the 1250 mile rally route

carves a unique path across

beautiful landscapes,

mountains, coasts

and valleys in

Great Britain,

mainly on tiny

B-Roads.

Pictured Left-

Right: Robert

Nightingale and

Calum Pryce-

Tidd of deBolex

Engineering and

lead engineer of

the rally.

What are you riding in the rally?

Against the advice of many, I decided to ride my late

father's 1957 custom Triumph Thunderbird, which I got

working earlier this year, and it turned out to be the oldest

motorcycle in the 2018 rally!

Why is this the first time you've entered the rally?

Over the last three years I've helped the Malle team

research the rally route, normally from the back of a

support vehicle, but as my first time riding in the rally

with a team, it was a completely different experience.

Tell us about your rally preparation

The day before the rally, like most of the riders I was

scrambling to complete the bike in time, finding last

minute spare parts that might break or rattle off. On

the forecourt of The Classic Car Club in London, bits

of the Thunderbird were littered around the bike, more

and more custom/classic rally bikes were being dropped

off every hour, which only added more pressure to the

impending deadline. I managed to fit a new oil-feed

pipe, "new" custom California handlebars, bent the

mud-guards out a bit to accommodate the larger offroad

trials tyres, fitted race plates and gave it a fresh

oil change. After a quick lap around the backstreets of

Shoreditch past the BikeShed to test the brakes and the

oil flow - the bike was pretty much ready to go. First thing

the next morning we helped the professionals load the

bikes into crates at The Classic Car Club and onto the à

36 BritishTravelJournal.com
---
"Against the

advice of many,

I decided

to ride my

late father's

1957 custom

Triumph

Thunderbird,

which I got

working earlier

this year, and it

turned out to

be the oldest

motorcycle in

the 2018 rally!"

BritishTravelJournal.com 37
---
ally trucks. Strapped in tight, for the long and

slow journey up to the Castle of Mey, located at

the very northern tip of mainland Britain.

What happens at the start line?

After 24 hours of driving north from London,

we finally reached the top of the country in the

support vehicles and set up the rally camp at

the northern tip. Overlooking the North Sea

from the Castle of Mey, with the glow of the

refineries on the horizon behind the islands of

Stroma and Orkney, seals playing in the bay

beneath camp. The team from the Nomadic

Kitchen (Tom & Will) arrived riding a pair of

borrowed Royal Enfield Himalayans, got out

their knives, lit the fires and prepared the first

nights wild cooking feast - fire roasted pork

loin and mouth watering roasted salads. 70+

riders descended on the Castle of Mey from all

over the world (mainly Europe) for the Riders'

Check-In.

After all riders had checked in, we rode five

miles along the coast up to the lighthouse,

perched on a slab of rock 250m above the

lashing sea. Seventy completely unique classic/

café/custom motorcycles made up the pack,

as we snaked back and forth up the hill to

the lighthouse. I turned to see all the bikes

behind me meandering up the hill in single

file, moving as one continuous machine, the

headlamps lighting up the hill in the dusk - it

was a beautiful sight. We rode back along the

coast and the local villagers had come out of

their house to wave the rally past, very sweet.

The feeling that the rally was about to begin

was building.

Back at camp, we had the first and most

detailed riders' briefing, describing the next

day's route, with riders from last year's rally

joining in with local tips on the route and their

thoughts on the rally experience and team

riding. The briefing was followed by the now

customary whisky pairing; local single-malt

with locally caught/smoked salmon. There was

a toast, a cheer, a gulp of whisky and it was

back to the bikes!

What happened on the first day in stage 1?

I don't know if Tom and Will from the

Nomadic Kitchen made it to bed that

night, I woke at 5am and they were slaving

away over the fire, knocking out a hearty

wild cooked breakfast for everyone. Rally

mornings are always the most rushed and

the first day was the most chaotic, bikes and

kit everywhere - riders running from tents to

bikes, half dressed in leathers, toothbrush in

one hand, with a coffee and spanner in the

other, trying to find some odd component

that they were sure they packed. We had a

quick briefing with the rally marshals at 6am,

minutes later they tore off on bikes, which in

that moment felt like we were about to play

the largest game of hide and seek in the land.

With a two hour head start, the marshals

headed out to set up check-points and report

back of any route problems. We threw our

rally duffels into the support vehicles and

headed to the start-line at the Castle.

With all the planning in the world, some

things you can't predict. After I and half of

the bikes had reached the start line, with not

a soul in sight, the local farmer, not realising

there were another 40 bikes behind us,

closed the in-road with a JCB, acting as a

blockade for his cows. As we soon learned

the "Royal Cows" take priority and the big

herd ran boisterously down the castle track.

You don't want to put a motorcycle in the

way of that stampede.

Minutes later, everyone was assembled in

front of the Castle, the first time some of the

teams had really met each other. Log books

out, stamped, the flag dropped - the rally

had begun. Teams departed in five minute

intervals. My plan was to ride out as soon

as the last team had left and catch up with

them. Second hitch of the morning, a modern

street-scrambler suddenly wouldn't start.

Calum from deBolex Engineering who heads

up the engineering team can fix anything. He

38 BritishTravelJournal.com
---
INTERVIEW

"I turned to see all the bikes behind me meandering

up the hill in single file, moving as one continuous

machine, the headlamps lighting up the hill in the dusk

- it was a beautiful sight."

got the King-Dick tool chest out, with jump

leads, meters...he found a serious charging

issue.

My team departed an hour or so behind

schedule, but it felt so good finally to be out

on the road, after the months of planning,

logistics and comms we were in it. I was

riding with Team-7, two couples on a mix of

modern Triumphs and Bobbers. We barely

saw another vehicle for the first few hours

of the day, hugging the coastline that rises

and twists along the hilly coast, one of the

best parts of the North Coast 500 route. The

Thunderbird was pulling strong and running

like clockwork, we made great time, across

the Tongue Bridge, through Checkpoint 2,

onto Checkpoint 3 - stage 1 was pretty easy

going. We only needed to turn right about

twice, the rest the of the day was following

one gorgeous yet tiny B-road down the

entire western side of the Scottish Highlands,

through truly wild countryside. In places the

sea was a turquoise blue, if it wasn't for the

fact that you were in Scotland, the white sand

beaches could be in the Caribbean

By the 4th checkpoint we had caught

up with a few more teams and met up with

the BMW Motorrad team, lead by Ralf and

Lucas with photographer Amy Shore who

was documenting the rally. That day Amy

was flying along in a vintage Mini with the

top down, shooting riders out of the back

with her cameras.

Faster than we released, the seven hour ride

was soon ending and the signs for Torridon

started to appear. As we came across the

small pass from Kinlochewe, we reached Loch

Torridon and rode along it until we reached the

rally camp at the grand Torridon Estate. I kept

an eye on the edge of the loch as we rode, the

last time we were up here on the research trip

we spent an hour watching a family of otters

fishing for trout along the bank. Torridon did

not disappoint, the estate is run by a wonderful

Scottish/German couple that served up

'Tartan Tapas' with local scallops and fish

from the sealoch. After the rally briefing and

the whisky pairing, the instruments were out,

Scottish music started and somehow ended

up in an impromptu Highland Games. After

we were thrashed at a Tug of War... I turned

to something I was slightly better at, bike

tinkering. The bike seemed to be doing well, it

was keeping up with the modern BMW's and

she was in her element on these tiny twisty

roads, much lighter than most modern bikes

I've ridden, it's quite easy to steer the nimble

bike with your knees, keeping the bars straight

and pushing the back end around corners.

What was the riding like in Scotland?

On day two of Scotland we had an early start

and after a Scottish breakfast served amongst

the trees, the morning rally ritual of oil/coffee/

briefing - with the marshal-dash and then

pack and suit up - ready for the day. Suddenly

the midges decided to make an appearance,

within minutes riders may not have had their

jackets on, but most of us had helmets on with

visors down - midges are a hellish event - this

sped up our departure, log-books stamped,

flag down - off we rode. Another gorgeous

day of sunshine as we headed straight over to

the highest pass in Scotland and the steepest

legal road in the UK, for the Applecross

Pass. The roads around there are beautifully

smooth and seem to have been laid out by a

roller-coaster engineer, with a good sense of

humour, twisting up and down over endless

hills, perfect.

First engineering hiccup of the day - Ravi's

Moto Guzzi had arrived at Checkpoint 2

at the start of the pass and then decided to

throw up all over the road. A big black pool

of fresh oil beneath the bike - a leaky hose

or a faulty clip. After 30 minutes of fettling,

our new friends in the BMW team arrived. He

looked at the hose and said "I've got just ze

thing", we thought he was going to come à

BritishTravelJournal.com 39
---
ack with a brochure for a modern BWM, but

came back with some very smart white plastic

gloves, tools and spare hoses. Ten minutes

later, both teams were back on the road, and

what a road the Applecross Pass is. Getting

to the top is one thing, but the view down into

the valley with the Isle of Skye in the distance

is amazing. The road boasts a dozen hair-pin

bends as it progresses down the valley - as

soon as I reached the bottom I just wanted

to ride back up and do it all again. But there

were more mountain passes to come.

Stage 2 was definitely a longer day, about

eight hours of riding in total. We arrived at

Checkpoint 3 at the start of Glencoe - the

Great Glen. A breath-taking ride through

that monstrous valley, imposing mountains

on every side, the stags were grazing up on

the heather/granite foothills - you're riding

through a whisky advert! As we came to

Checkpoint 4, I parked the bike up and

something smelled bad. With an old bike,

there's no warning light if something's

starting to go wrong, you have to use all of

your senses, touch, listen and in this case

smell the motorcycle - normally the bike has

a gorgeous hot-oil aroma to it - something

didn't smell right.

We carried on the ride through Loch

Lomond and the Trossachs and down the

coast to the extremely bizarre and beautiful

Kelburn Castle where our rally camp was

based for the night (the castle was painted by

a group of Brazilian street artists).

As I turned up the drive to the castle, I

wasn't getting as much power as I normally

would, or was it just my imagination, when

you've been riding all day, 280+ miles, you're

tired and your mind can play tricks on you,

maybe it's me not the bike? The Nomadic

Kitchen team were already at the fire when

we arrived, roasting butterfly lamb. Dinner

that night was a well lubricated affair, after

a walk around the grounds of the castle,

back at camp we were greeted by a fantastic

sunset over the bay. Calum and I had a look

over the bike and realised the throttle was

misbehaving, sticking slightly...but nothing

major it seemed, nothing to explain the

smell or the power loss. At this point I should

probably have taken that pre-rally advice and

maybe given the bike a day's rest.

Tell us about Stage 3 in the Lake District

Another early start and the good weather

was still on our side. I knew this was going

to be a long day, 300+ miles on the route

card, I joined the last team to leave who

were enjoying a leisurely start, but then it

appeared that the old Police issue Moto

Guzzi had snapped an alternator belt. After

some quick calling around, we located a

shop 20 miles down the road where we might

get one. Our team headed out on a brief

detour to source belts and parts, adding an

hour off course. After we crossed the border

and left Scotland for the Lake District, we

"With an old bike, there's no warning light if something's

starting to go wrong, you have to use all of your senses,

touch, listen, and in this case smell the motorcycle"

were happily cruising for a few hours as a

team, when I felt power suddenly drop on

the Thunderbird. I limped along to the next

turning, two minutes down a country lane. I

found a safe spot to park up, for some reason

the bike was only getting full power when in

high or low revs, but nothing in the middle. I

searched the electrics, then got word that the

support vehicle was only five minutes away.

We looked over the bike, stripped the carb,

gave it a clean and then the bike seemed to

be running fine, strange.

I caught up with my team at Checkpoint

3 and we rode as a team down in to the Lake

District, across the two highest mountain

passes in the Lakes - from Buttermere across

the Hardknot Pass. The Thunderbird was

back in her element, throwing it from side

to side up the mountain roads. The sun was

shining, a fantastic afternoon of riding over

the passes and along the lakes, dodging

stray sheep, cows and tractors. Unbeknown

to us, late that afternoon a lorry driver had

fallen asleep on the M6, knocking out an

entire motorway bridge, he was completely

fine, but it shut down the entire motorway

for 24 hours (the local newspaper the next

morning called him the most unpopular

man in Lancashire). Which meant that all

that traffic spilled onto every other nearby

route, bumper to bumper traffic for 50 miles

in every direction - exactly in the area we

were all trying to ride through. Luckily we

were on bikes and could filter through the

bad patches of traffic. We should have been

back at camp by 6pm, we arrived starving at

around 9pm, at the very quirky and eccentric

Heskin Hall. Our support crew weren't quite

as lucky, the Malle-Rover turned up at the

Manor gates just after midnight, with a

Commando in the back (the Norton had

fallen off its centre stand and snapped a

small, yet vital lever).

What were the highlights in Wales?

By day four you could start to feel the toll

of three solid days of riding, 750'ish miles,

two countries behind us as we crossed over

into Wales. I started that day with the BMW

Motorrad team and the thunderstorm clouds

kept threatening to break. A couple of times

we stopped, threw on wet weather gear, but

most patches were just light showers, so we

rode as a pack through the winding roads

of Snowdonia National Park, down the

infamous A470 (voted the most beautiful

road in the country) around the back of Mt

Snowdon and down through the valley. By

Checkpoint 3 we were joined by another

team with a very fast Triumph Thruxton

leading the pack. To keep up with them all I

really had to press my chin on the tank, tuck

elbows in and try to get another 10mph or

so out of the bike. Somewhere in Snowdonia

my key must have rattled out, so I borrowed a

small teaspoon from the café which seemed

to do the trick of starting the bike. The

weather still held but as we left the Brecon

Beacons the wind was picking up, bringing

with it a new energy that you feel before

storms. Riding with three teams now, 12 or so

bikes together, we crossed the Severn Bridge

at a furious rate. Riding in all three lanes, I'm

not sure if we were actually going that fast, or

if it was the head on wind that was bashing

the bikes about as we rode across the huge

suspension bridge - quite a departure from

the quiet tracks of the Scottish Highlands, but

40 BritishTravelJournal.com
---
INTERVIEW

riding in a fast pack like that is so much fun. I

think the BMW's were politely humouring my

attempt at keeping up the pace, through my

wildly vibrating side mirror I could just make

out the image of Jochen grinning and riding

along side-saddle on his café racer BMW and

then occasionally wheeling past me. I didn't

think being overtaken would be a highlight...

but it was a great memory of that stage.

We were chasing each other down the

lanes of the Mendip Hills, when we saw the

welcome site of two rally flags up ahead.

The guys from Sinroja motorcycles lead

the marshal team that day and waved us

in smiling. The landscape was completely

different around there, the camp was

perched on top of the Cheddar Gorge on a

large flat plain, with gorges surrounding the

area on three sides. Word spread that night

that there was a full lunar eclipse, with a

blood moon - unfortunately the storm clouds

had descended on the dark camp - so instead

we hosted a motorcycle race.

The boys wheeled out the Mini Malle Moto,

a half thrashed monkey bike from The

Malle Mile, I pushed the Thunderbird out

into the middle of the long grass a hundred

metres away, they turned all the support

vehicles around with full beams to light

up the "track". One at a time every rider

and marshal took a timed lap around the

marker-bike and back. 10% didn't make it

across the start-line and then the Belgian

rally team proved that it was actually faster

to run the route by foot and beat the monkey

bike. After the race finished and the winners

were awarded a cold beer, I was walking

the Thunderbird back across to camp and

realised the tank badges must have rattled

off somewhere in Wales. Steadily it seemed, I

was leaving bits of the Triumph on roadsides

up and down the country.

How was the final stretch to the finish line?

The last day of the rally was supposed to be

the shortest day, but the motorcycle gods had

other plans....We woke to good news that the

storm hadn't broken yet, but big dark clouds

hung menacingly on the horizon, full of water

- I guess on the last stage of the rally, you need

a little drama - you don't want everything to

be too easy. For the last day we had arranged

for the press-marshal Rachel Billings - who

was writing about the rally - to ride with our à

BritishTravelJournal.com 41
---
INTERVIEW

team to shoot 35mm film from my bike....

slight problem... the bike wouldn't start. After

30 minutes of tinkering and some kind words

whispered to the bike, she suddenly roared

into life. By that time all of the teams were

now 30 minutes ahead of us. We jumped on

and headed down into the Gorge. Ok it's not

the Grand Canyon, but it's a great ride. In the

rough words of Bill Bryson "England doesn't

have the biggest or the highest or the deepest

of anything, but it does a lot with what it's got"

and the country here is unique, varied and

very pretty. Tiny postcard villages and castles

connect the dots all the way from Wales to

Devon and on to Cornwall.

En route to Exmoor, it poured with rain,

black skies above, the sort of downpour where

immediately there are deep pools of water on

the lanes, mini rivers at the sides. Somehow

water gets into your boots, soaks your socks

and you hunch your shoulders and neck to try

and close any gaps between helmet and jacket

and soldier on. I remember shouting to Rachel

"shall we take shelter" as we sped through the

driving rain, but she shouted back "just keep

going" - she's got grit!

The rain was relentless, but then the rain

ended and there was a faint hint of blue sky up

ahead, things were looking up... and then the

bike died. We rolled to a silent stop in an old

school house drive.

Out with the tools, so much for Rachel's

rally team photos which was the photo-brief

for the day. I was pretty sure we were miles

behind the other teams. By sheer coincidence

Calum and the support Land Rover drove

by only ten minutes later. We went over the

obvious things, then took out the battery, only

to discover that the two new lithium batteries

had fused together in some horrible hotmolten-mess.

The bike might be out of the rally

and only 150 miles from the finish line.

Luckily we weren't in the wilds of Mongolia,

it's midday on a Saturday in England. We start

calling up all local bike garages trying to find

a classic 6V battery. After ten no-goes we find

one en route that thinks he has some in stock,

we quickly stick the bike in the trailer and as

we did four of the rally teams roared past us,

beeping. So we weren't last after all at that

stage.

We found the old motorcycle shop, owned

by a young guy who specialises in vintage

42 BritishTravelJournal.com
---
PICTURE CREDIT © RACHEL BILLINGS

Japanese imports from the 1980's...quite

niche, but he has the battery! £6.50 later it's

installed, the sun's shining and we're back

on track. We headed for Checkpoint 2, we're

still in the running and things look good. As

we reached Exmoor, the landscape changed

completely, a wild open moor, with animals

running across the roads. We crossed the top

and the bike seems to be struggling again, fine

in high revs, but no power below max revs, it

coughs, spluttering, then just the sound of air

rushing past you, as the bike free-wheels in

neutral down a very long hill into the deepest

valley in Exmoor.

We rolled to a silent stop outside an old

garage that looks like it has been closed for

decades. No network connection, Rachel

walked up the valley, still nothing, I started

going over the bike, no joy, the battery was

completely dead. After 20 minutes or so a little

voice popped up from the hedge behind the

garage "need some 'elp?".

A small older gentleman, in a blue baseball

cap came through the gate smiling. I explain

the bike problem, the man, in his late 70's, tells

us he used to get a lot of these bikes here back

in the day and he owned a similar model once.

He rubbed his big mechanic's hands over the

engine and says "well let's try and fix it". He

heaves open the sliding doors of the ancient

petrol station. I notice the faded paint on the

inside walls 'The Black Cat Garage'. Inside

he had a load of old bike parts, some possibly

working, some hanging from the ceiling, but

he has a workbench of old tools - this might

be the best place we could have broken down

in the whole of England! He had an industrial

battery charger, but after no success with the

old 6V, Fred says "I have an idea", he pulls

something out of an old scooter "this might

work", it still has charge. We put it next to the

Thunderbird and with makeshift copper wires

from something else, we hooked it up. The

Thunderbird kicked over first time!

Fred wouldn't accept a penny for the

battery, we wrangle it into the battery box

on its end, holding it in place with gaffa

tape. We thanked him again, loaded up and

headed off down the green tree lined tunnels

of Exmoor - and the rain had stopped. To

make it up to Rachel for that last five hours

of riding in the rain, three dead batteries,

two garages, four pairs of soaking gloves, I

suggested we stop on Dartmoor for a quick

bite to warm up. We rode in to the oldest pub

on Dartmoor. There was a wedding going on

in the back of the pub, the bride walked out

head to toe in white lace, looking radiant - we

met at the door of the pub - I'm dressed head

to toe in Black waxed canvas, covered in black

oil and dirt, hungry and looking angry "I think

we're complete opposites" I mentioned. We

went to start the bike, nothing, silence. The

rain started spitting, I reluctantly called the

support vehicle, Calum's two hours south

almost in Cornwall.

A rowdy group of young male wedding

guests came out of the back of the pub, half

cut, they all have an opinion on how we can

start the bike. Moments later they're taking

turns to help me push the Triumph to the top

of the hill, across the bridge and bump starting

me across the river.

watching the odometer count down the last

17 miles, shouting out at each mile marker for

a morale boost "15....14....13". Finally the sign

for 'Mile End' appeared, the last mile south on

mainland Britain. I arrived at Lizard Point just

after sunset, 9pm, four hours late to the final

checkpoint and the finish line. Noone in sight,

the rally flags had long since been cleared

away, but so good to be there, gazing over the

sea at Lizard Point.

I turn to get back on the bike, the

lighthouse lighting up the horizon and the

silhouette of the Thunderbird, reminding me

of the view north from the lighthouse at the

northern tip of Scotland, just a few days ago,

but it seems like an age away.

The poor bike, bits missing, smelling

bad, no lights, exhausted and in dire need

of lubrication - the bike and I had a lot in

common at that moment.

"I'm not giving up now, keeping the bike at full revs,

I hammered it down the lanes, taking all of the

roundabouts in third gear."

On the 15th go, it roared back to life, they

cheer, Rachel downs the last of her drink and

we're back in the game.

A few hours later as we crossed into

Cornwall, the rain started again. I saw a

familiar Land Rover in a country lay-by. After

nine hours on the bike, six of them in the rain,

Rachel wisely swapped her seat on the bike for

a drier one in the support vehicle.

As I pulled away - with determination to

complete this rally on the Thunderbird - the

rain really set in, it was already raining but

now it's pouring, my last pair of gloves are

soaked, the bike then started to misbehave.

Again it only ran at full revs, then I realised

I'd lost the lights and then the front brake

gave up. I saw the sign for Helston and The

Lizard...only 17 miles.

I'm not giving up now, keeping the bike

at full revs, I hammered it down the lanes,

taking all of the roundabouts in third gear. I

considered taking the more direct route across

the middle of a roundabout, rather than

around it, but thought better of it. Hunched

on the saddle, trying to keep the water out,

Any last words about the rally experience?

When I got back to the rally camp from the

finish line at The Lizard, the afterparty was in

full swing, fires lit, drinks flowing, with a gail

still howling across the Cornish peninsula - I

walked into the food tent like a half-drowned

cowboy. I was the last to leave Scotland and

the last to arrive at the finish line, but once

I started riding those roads with my team,

there was no way I was going to miss out and

take a rest day. Things went wrong, bits fell

off, but I wouldn't change it one bit, that was

the adventure. u

I N T E R E S T E D I N J O I N I N G T H E

G R E A T M A L L E R A L LY 2 0 1 9

A D V E N T U R E W H I C H T A K E S

PLACE JUNE 24-30?

R A L LY P L A C E S A R E V E R Y

L I M I T E D , T O S I G N - U P O R F I N D

OUT MORE EMAIL THE TEAM:

Ü RALLY@MALLELONDON.COM

BritishTravelJournal.com 43
---
I N F O C U S

NEWMARKET

At the heart of East Anglia is Newmarket,

the international magnet at the centre of

Britain's flat-racing industry

FOREMOST AMONG THE MANY reasons

for today's tourists to explore the fascinating

region of East Anglia, with its rich and

absorbing history, ancient and modern, is the

chance to visit the birthplace of 'The Sport of Kings',

Newmarket. This unassuming, small market town,

just 15 miles to the east of Cambridge, was the historic

birthplace, and has become the epicentre, of the

world's thoroughbred horseracing.

The connection with British royalty can be traced

back to 1609, when James I had a small palace built

here, but it was the influence of the post-Restoration

Charles II which transformed the fortunes of

Newmarket, laying the foundations for what is now a

multi-billion pound industry. After the 13 austere years

of Oliver Cromwell's 'protectorship', this hedonist king

took great pleasure in sporting pursuits, particularly

horse-racing, and established his own, modest stables

in the grounds of his palace. He saw the potential

of the town's surrounding 2500 acres of, mostly,

flat grassland for the training of horses and this vast

tract, since 1750 in the care of the Jockey Club and

not ploughed for at least 400 years, now provides

the equivalent of 50 miles of unrivalled natural turf

gallops (in narrow strips, regularly changed) and

14 miles of all-weather track. Now, the town boasts

over 70 registered trainers, with stable-yards housing

more than 3500 horses, most of whom can be seen,

every day, taking their turn at exercise on the famous

Warren Hill. The racing itself has also developed.

From the long-distance challenge matches of the 17th

century (origin of the name of the village 'Six Mile

Bottom') have come two modern courses, the 'Rowley

Mile' for the early-season Classic races and the July

Course, used later in the calendar. With so much topclass

horseflesh in the vicinity, many breeding units,

known as 'studs', have been established where owners

offer the services of known winners, both stallions and

mares, in carefully-controlled circumstances, ensuring

the purity and sustainability of the 'bloodline'. The

wonderhorse 'Frankel', retired to stud after a stellar,

unbeaten racing career, now stands available to

'serve', but his owners will expect £175,000 for every

foal produced as a result!

Newmarket is now UK's largest horse-breeding

centre, home to the magnificent National Stud

operation, the only commercial property of its kind

offering public tours – which resume in February

2019 - in the UK, and several other world-leading stud

farms. To guarantee the best of medical attention,

three veterinary practices and two world-class horse

hospitals are available, all staffed by an army of

equine specialists. To complete the commercial

cycle, the town is also the sales-base for the oldest

bloodstock auctioneers in the world, Tattersalls

through whose hands pass the finest young horses in the

world. Some are 'yearlings' and, with no track record,

are for sale solely on the basis of their appearance à

PICTURE CREDITS: © NATIONAL HORSERACING MUSEUM BY MARC ATKINS / ART FUND 2017

44 BritishTravelJournal.com
---
and the racing performance of their parents

and antecedents. Huge sums may be 'invested'

on this basis – the highest price in 2018 was £3.7

million pounds!

The gallops and racecourses are owned

by The Jockey Club, a non-profit organisation

ensuring horseracing's posterity, as is the

National Stud opened by HM the Queen,

Elizabeth II in 1967 and the temporary home

to hundreds of mares from around the world,

brought to Newmarket for access to the best

stallions in the breeding season in the hope

of producing a champion of the future. The

tourism organisation 'Discover Newmarket'

offers an excellent range of informative

guided tours of the showplaces, including the

gallops, fabled training-yards (we visited Ed

Dunlop, studs and surrounding countryside).

From a central meeting point, the Discover

Newmarket guides drive visitors around to

the various attractions.

No visit to Newmarket could be considered

complete without a serious look at 'where

it all started'. Near the town centre was the

site of Charles II's palace and, after a huge

financial and physical commitment, it was

here that, just four years ago, our current

Queen opened 'Palace House'. On a five-acre

site, three complementary attractions make

up the superbly-presented National Heritage

Centre for Horseracing and Sporting Art.

In a beautifully-restored surviving part of

the old palace are the fabulous Museum &

Galleries of British Sporting Art, featuring

priceless works by masters such as Stubbs,

Munnings, Singer Sargent and many more,

bringing together images of all manner of

traditional British sporting pursuits, perfectly

displayed. Nearby, across the street, is the

National Horseracing Museum, handsomely

telling the rich story of the origins, and

development, of 'the sport of kings' through

exhibits of historic silverware, racing silks

and caps and photographs, films and stories

of optimistic owners and the many famous

jockeys who rode their horses to glory. You will

gain a fascinating insight into the scientific

development of the 'ideal' horse, through

the ages, tour the original 1903 Rothschild

Yard, where you can meet former racehorses

and find out how retired thoroughbreds are

retrained after their racing days are over.

A good day at the museum deserves some

'downtime' and the excellent 'Tack Room'

café is the place to rest and refresh, with

immaculate service, an extensive bill-of-fare

"On a five-acre site,

three complementary

attractions make up

the superbly-presented

National Heritage Centre

for Horseracing and

Sporting Art."

and comfortable surroundings. A buzzy

ambience, throughout the day, only adds to

the pleasure of the experience.

Take your time, breathe in the rarefied

atmosphere and appreciate what all the

centuries of human commitment (and

equestrian effort) have achieved – the 'Turf'

will get to you and you'll never treat the

racing results with disdain, ever again. u

WHERE TO STAY

î QUY MILL HOTEL & SPA

10 miles from Newmarket is this 4* hotel,

bright, modern and welcoming. Its 51 clean

and well-furnished guestrooms are either

in the mill-house or in attractive, singlestorey

additions. The Mill House Restaurant

provides top-quality dining and there is a

popular Spa and Wellness Centre

Ü bestwestern.co.uk

î WEEPING WILLOW

10 miles east of Newmarket is Barrow

where a run-down pub, housed in an

early 16th century property, has been

transformed into an amazing gastropub.

The restaurant is sophisticated, with a

winning combination, of great atmosphere,

superb food and splendid comfort.

Ü theweepingwillow.co.uk

î BEDFORD LODGE HOTEL & SPA

A Four Red Star boutique hotel and spa

located in Newmarket. Originally built as

a Georgian hunting lodge for the Sixth

Duke of Bedford in the 18th Century, the

building was converted into a hotel in

the 1940s. This luxurious hotel and 2 AA

Rosette restaurant blends old and new

in a pretty countryside garden setting.

Ü bedfordlodgehotel.co.uk

F O R T H E O P P O R T U N I T Y T O

G O B E H I N D T H E S C E N E S A T

T H E H I S T O R I C H O M E O F

HORSERACING, VISIT

Ü DISCOVERNEWMARKET.CO.UK

46 BritishTravelJournal.com
---
&

The Luxury British Experience

LUXURY COTSWOLDS RETREAT

Based in the Cotswolds in the heart of England, Jones

& Campbell specialise in creating tailor made luxury

getaways for small groups of friends or family, or as

individual couples wishing to experience the breathtaking

heritage and beauty of Great Britain.

it is history, golf, gardens, walking, cycling, Stately Homes or

indulging in gourmet meals you enjoy best, our bespoke

itineraries assure an exceptional service and an unforgettable

experience.

Mention British Travel Journal - readers can redeem a

15% discount on packages taken in Summer 2019.

With two luxurious properties, and a private staff of four,

The Manor (Cotswolds) and The Castle (Scotland) are the

perfect base for our bespoke six night itineraries.

A talented private chef prepares your gourmet meals, your

chauffeur/guide leads daily sightseeing excursions and two

hostesses provide fi ve star service at all times.

We offer an exceptionally unique opportunity to unpack

once and indulge in the Luxury British Experience.Whether

Visit: JONESANDCAMPBELL.COM

Plus NEW for 2020... a six night itinerary in the secluded Scottish

countryside, staying in a magnificent, fortified 16th Century tower

located just 20 miles east of Edinburgh. Please ask for further details.
---
4 8 H O U R S I N

JERSEY

Jessica Way sets off to Jersey in search of a

revitalising adventure, with unspoilt beaches,

clean and pure air and a relaxed pace of life

IF YOU ARE YOU LONGING for a weekend

break in the British Isles, Jersey, the largest of the

Channel Islands, has much to offer. An idyllic

destination, with wonderful coastal hot spots,

delicious restaurants and so many varied tourism

attractions and activities to choose from.

Top on our agenda – a morning rock-climbing

session, a visit to the Jersey War Tunnels, a session

of crazy golf and a family park run! I hope you'll

enjoy the highlights.

DAY ONE

We arrived at Jersey airport, late-afternoon, picked

up our hire car from Hertz, and drove a 20-minute

journey to our hotel. As far as a holiday commute

overseas goes this was by far the smoothest

transition from home to hotel I've ever experienced.

Almost effortless.

Our accommodation, St Brelade's Bay Hotel,

was situated directly on the beach front, and

as its name suggests, looks out across the bay.

The hotel is divine, a luxuriously refurbished 19th

century hotel, with 74 guest rooms and suites, an

enormous Spa and Health Club complete with two

swimming pools - set within five acres of awardwinning

gardens.

Despite the size and grandeur, the character

and ambience of the hotel still managed to offer

a home-from-home warmth where you are made

to feel extremely welcome, and at ease. The

beautifully decorated hotel lobby and lounge

areas are hugely inviting and relaxing – and the

bedrooms are just as beautiful. We opted for a

Sea View Balcony room with unspoiled views of

the Atlantic Ocean. There are a variety of rooms

including Penthouse and Bay Suites, with many

family options.

After checking in and marvelling over our

wonderful view, we could see there was the most

stunning sunset on the horizon, that had just

started to fill the sky with beautiful red tones.

The weather was mild – and having been tipped

off that one of the best places on the island to

enjoy the magnificent Jersey sunset was just a few

minutes drive away we headed out in search of the

La Corbière Lighthouse.

The lighthouse is set on a tidal island out at

sea, surrounded by dark rocks and reached by a

causeway. At low tide, you can walk the causeway

out to the lighthouse, past rock pools and sandy

beaches to discover a part of the island only

revealed at low tide. You must stay alert though –

there's an alarm which warns visitors when the tide

is returning and it's time to leave the causeway.

We found it just in time to relax and enjoy the

famous view before it got too dark - with the most

48 BritishTravelJournal.com
---
magnificent silhouette by the vibrant colours of a

sunset sky lighting up the striking white architecture

of this iconic lighthouse – it was a great moment,

enjoyed, in-between taking to the camera in search

of a few memorable Instagram shots.

Driving back along the coast to our hotel gave us

an opportunity to get our bearings of our location

on the island. The hotel in St Brelade's Bay was

on the south west corner of the island, in-between

St Ouen's Bay (west coast) and St Aubin's Bay

(south coast). And from La Corbière we just about

drove past our meeting point for our rock-climbing

session the following morning. It is fantastic having

everything so close together (the island is just nine

miles by five miles), so nowhere is far away, and

although you do ideally need a car, it is certainly one

of the pleasantries of island life.

Before bedding down for the night we stopped

at The Crab Shack, a real gem of a seafood

restaurant nestled in St Brelade's Bay just across

the road from our hotel. With two other locations

in Jersey, St Helier and Gorey, The Crab Shack is a

perfect choice for sampling some of the fresh fish

Jersey is known for – I opted for seafood linguine

and it was delicious.

DAY TWO

Saturday morning at 9am is, for us, a family ritual

to run parkrun (for those who don't know this is

a 5k free timed run, managed by volunteers in

various locations across the UK, and now the

globe). With a parkrun location just a few minutes'

drive away it was an opportunity not to be missed

and a great way to start the new day and meet

some of the locals.

Continuing with the theme of sport and

adventure next on our packed itinerary - Rock

Climbing with John, owner of Jersey Adventures, and

Panda, his adorable long haired Jack Russell, who

seemed highly experienced and confident on the

rocks (if only the same could have been said for me)!

I think I did a pretty good job as I managed

to get to the top of some fairly daunting cliff

faces, although not quite as quickly as my nimble

daughters did. They made it look easy and it was an

unforgettable experience for the family. John told

us about the summer-time Coasteering, a must for

another warm day. à

BritishTravelJournal.com 49
---
The beauty of a small island is that it's easy to

be spontaneous. Just nine miles by five miles,

nowhere's far away. However you spend your

island time, you'll be creating memories that last.

50 BritishTravelJournal.com
---
PICTURE CREDITS: © ANDY LE GRESLEY PHOTOGRAPHY/VISIT JERSEY

On getting back to the hotel, we were told there was a hidden gem

right on our doorstep. Across the road from the hotel is St Brelade's

Church. This picturesque church and graveyard with stunning views

across St Brelades Bay dates back to Norman times. The adjacent

Fishermen's Chapel is thought to have been built in the 12th century,

its ceiling is adorned with 14th and 15th century murals and has a

beautiful stained glass window. Well worth a quick visit.

I am so pleased we headed off to Rocco's crazy golf course at

St Ouen's Bay. With competitive family in tow, there was fierce

competition, and I knew I stood very little chance of winning, but we

all thoroughly enjoyed the game, and I managed a hole in one.

We headed south-east into St Helier next, the capital of the

island, which was the longest car journey we had taken so far, but

still only about 20 minutes. A completely different feel to the island

we had experienced so far but the contrast still came as a bit of a

surprise. More difficult to park, and busy – very busy.

There's a pretty modern harbour where land has been reclaimed,

Hong Kong style, from the sea and modern office-blocks line the

seafront Esplanade. You can feel the level of business and leisure

activity within the buzzing capital, with a vibrant day, and nightlife.

The pedestrianised, King Street/Queen Street precinct is the

busiest area of all; we enjoyed exploring the sleepier cobbled

sidestreets and squares which offered bars, cafes and plenty of

stylish shops. Personal favourites included the beautiful handcrafted

jewellery from local designers in Jersey Pearl and Aurum of

Jersey. There was a plethora of leading international brands too like

Rolex, Patek Philippe, Breitling, Cartier and Chopard.

After an adventurous day it was time for a well-earned refuel.

We headed for the uber trendy JB's Brewhouse, a couple of rounds

of ping pong followed by a delicious burger and session of craft beer

tasting – fabulous!

DAY THREE

With limited time before heading back to the airport we made a

decision to find out what life was like in Jersey during WWII with a

visit to the Jersey War Tunnels and I am so pleased we did. It was

fascinating, and I would highly recommend paying the extra £10

for the audio guides, and wrapping up warm as it was quite cold

once on the trail. It's a good idea taking a trip to the toilet prior to

your tour as there are no facilities in the tunnels themselves, and you

could easily become lost in them for a few hours! The only toilets are

in the adjacent Visitor Centre which is also a fabulous stopping point

for a drink and cake at the end of the tour.

To be honest a long-weekend is not quite long enough for

exploring this wonderful picturesque island. We certainly still

managed to make the most of our time, with an appetite to see

more, a return trip is definitely on the cards. I would head next time

to the rugged north-coast, perhaps coupled with a visit to La Mare

Wine Estate, Tamba Park and the world renowned Jersey Zoo. u

C O O R D I N A T E S

LATITUDE 4 9 . 1 8 5 3 7 9

LONGITUDE - 2 . 2 0 0 4 3 0

S P R I N G M U S T D O S :

STARGAZING:

Take advantage of the clear island skies and

unpolluted air. For spectacular stargazing

discover a favourite astronomy spot at

Grosnez, St Ouen. The castle ruins create an

eerie silhouette for star-studded night skies

and clear views of the Milky Way.

SPOTTING DOLPHINS IN THE WILD:

Take a Jersey Seafari RIB trip to Les

Ecrehous. The panoramic views of the sea

and coastline will not disappoint and you

might spot wild dolphins swimming beside

the boat for an unforgettable experience.

LA HOUGUE BIE:

Discover Jersey's Neolithic history at this

tranquil and spiritual heritage site, it's one

of the ten oldest buildings in the world.

Experience the awe-inspiring spring equinox

when the sunrise aligns with the passageway,

and sunlight illuminates the passage grave.

GET ON YOUR BIKE:

Spring is a great time to explore the island.

Find a seaside route and enjoy the many

sights, stopping off for food along the way.

We chose Cyle Route One which is one of the

most exhilarating ways to explore the west

of the island; bayside routes and woodland

trails lead to a panoramic finish at La

Corbière Lighthouse.

GETTING THERE:

L E S S T H A N 1 H O U R A W A Y

FROM UK AIRPORTS

4 . 5 H O U R S B Y S E A O N

C O N D O R F E R R I E S F R O M

PORTSMOUTH OR POOLE

Ü JERSEY.COM

BritishTravelJournal.com 51
---
THE NEW

ARRIVAL

SLINGSBY

GOOSEBERRY

GIN

Only the freshest Yorkshire gooseberries bring that unmistakable

tangy sharpness, tempered with a sweet, fruity finish.

facebook.com/slingsbysocial

spiritofharrogate.co.uk

@slingsbysocial
---
LIFESTYLE

Ginaissance p54 | Mini Remastered p58 | Crafted p63 | Investor p67

N E W L Y D I S C O V E R E D

VIRTUO CAR HIRE

This new mobile car rental app allows

its users to book, locate, unlock and drive

away in a premium, freshly valeted car, using

only their smartphone. govirtuo.com

THIRDHOME

This exclusive luxury property and travel

club has a new exchange programme,

opening doors to stunning homes around

the world for its members. thirdhome.com

B O AT A F FA I R

First home swapping, and now there's

boat swapping, a concept that has been

made popular following the launch of this

boat sharing platform. boataffair.com

à

BritishTravelJournal.com 53
---
I R R E S I S T I B L E R I S E

GINAISSANCE

In recent years gin has become one of the

great British success stories

GIN HAS A LONG relationship with our island's

history. It originated in the Low Countries as

genever, a juniper-based spirit. In the 17th

century, soldiers returning from fighting with the

Dutch in the Eighty Years' War brought with them a drink

that emboldened their allies. They called the phenomenon

"Dutch Courage" and the people of London enthusiastically

adopted it.

Very soon genever stills were operating all over London.

By the 18th century "gin" was a cheap but very dangerous

way to get drunk. The fact that it was often laced with

turpentine, sulphuric acid or worse only added to its

horrendous effects. City aldermen worried that a Gin

Craze was sweeping Britain and destroying families. In 1751

William Hogarth created a famous etching called Gin Lane

showing (among other gin-induced misfortunes) a baby

falling to its death from the arms of its inebriated mother.

In an attempt to regulate what people were imbibing, the

Gin Act of that same year established and regulated what

would come to be called London Dry Gin. The drink that

today is a benchmark for sophisticated living began as a

way to stop poor miserable people intoxicating themselves

to death.

In the 19th century London Dry Gin achieved a new

role in the maintenance of the British Empire. Quinine

was a useful chemical that could mitigate the symptoms

of malaria but its bitter flavour was detested even when

diluted as tonic water. By mixing quinine with gin however,

the British found they could encourage their colonial staff to

swallow the medication and a drink was born that became

quintessentially British: the gin and tonic.

Later, at the beginning of the 20th century the USA gave

a new life to gin with the invention of the martini, an

acceptable way of drinking the spirit, undiluted, with just

a hint of vermouth. The writer H. L. Mencken called the

martini "the only American invention as perfect as the

sonnet".

Nevertheless gin became a staid drink in the dull years

after World War II. G&T (gin and tonic) invariably meant

Gordon's gin, Schweppes tonic water and an ice cube.

Gin and It (Italian Vermouth) was an alternative, a

popular sweetened version of the martini. And martinis

themselves became literally diluted by the James Bondinspired

fashion for "shaken not stirred" which just made the

cocktail unpleasantly watery.

The time was ripe for a gin renaissance – or "ginaissance"

as it is often talked of these days.

Bombay Sapphire led the way in 1987 when the British

company IDV created a gin that was flavoured with an

unprecedented number of botanicals: almond, lemon peel,

liquorice, juniper berries, orris root, angelica, coriander,

cassia, cubeb, and grains of paradise.

Not only did this gin have a much more complex taste,

but it was marketed in a flat-sided, pale-blue bottle bearing

a picture of Queen Victoria. Bombay Sapphire both

harkened back to the days of empire but also gave the

impression – to a generation new to drinking gin – that this

tasty, intoxicating liquor was actually blue.

In the thirty years since Bombay Sapphire told the world

that gin was exciting again the number of high-quality

British distillers has shot up into triple figures. The makes

and varieties of tonics have also greatly increased. London

Dry Gin is now made all round the world and not all the best

producers are British. Gin Mare from Spain and Monkey 47

from Germany are two that not only hold their own against

Bombay Sapphire but have excelled it in complexity. à

EAST LONDON LIQUOR COMPANY

54 BritishTravelJournal.com
---
Fuelled by the

cocktail craze,

and boasting

a diversity and

provenance

story that

taps into the

new trend

for artisan

produce,

British gin has

seen a massive

resurgence.

BritishTravelJournal.com 55
---
"In 2016 – known in the trade as the Year of Gin - 40 new distilleries opened in

Britain. It was estimated that British drinkers alone had bought 40 million bottles"

These days 10 botanicals is quite a modest tally. Because of the

relative speed at which gin can be produced – drinkable in a few

months rather than many years – many Scotch whisky distillers have

also begun producing gin (like Grants, the famous whisky distiller

who now manufactures Hendricks). Gin certainly improves cash flow

when you have to wait years for a return on your whisky investment.

In 2016 – known in the trade as the Year of Gin - 40 new

distilleries opened in Britain. It was estimated that British drinkers

alone had bought 40 million bottles. That's enough to have made

28 gin and tonics for every adult member of the British population,

never mind the inexorable rise of the export market.

Recent years have also seen the rise of the artisanal distiller

producing relatively small batches of high-quality gin in premises in

which they welcome visitors, offering distillery tours, gin history and

masterclasses. Here's our choice of some of the best you can visit in

celebration of this quintessentially British spirit:

LONDON

City of London Distillery

In a basement by St Bride's Church lurks the only distillery producing

London Dry Gin within the City of London. Two German stills,

Clarissa and Jennifer (the Fat Ladies) can be seen at work and the

company's four plain gins in their distinctive bottles (modelled on

the dome of St Paul's Cathedral) can be bought over the counter.

The company's Square Mile Gin is super fresh, dry and yet fruity

with hints of lemon balm. Prices from £35pp. 22-24 Bride Lane,

London EC4Y 8DT, 020 7936 3636, cityoflondondistillery.com

The Ginstitute

Head along to the Portobello Star for a lesson in the history and

production of gin and enjoy a tutored tasting before crafting your

own gin using a completely unique recipe exactly to your tastes.

Masterclass prices from £60pp/Experiences £120pp. 186 Portobello

Road, London, W11 1LA, 020 3034 2234, theginstitute.com

Beefeater Gin Distillery

Beefeater is the only historic dry gin to be distilled in London today.

The distillery tour tells the history of the production of gin in London

with extraordinary stories. The experience culminates with a

complimentary cocktail - the classic Beefeater Gin and Tonic. Prices

from £15pp, or £45pp for a VIP experience. 20 Montford Place,

London, SE11 5DE, 020 7587 0034, beefeaterdistillery.com

SOUTH ENGLAND

TOAD (The Oxford Artisanal Distillery)

TOAD has an unusually intensive production even by British

artisanal standards. It produces its own neat alcohol for the stills

using grains sourced by an archaeo-botanist who has recreated

medieval crops in fields within Oxfordshire. The two stills, Nautilus

and Nemo, were designed by the master distiller himself and were

welded together by a firm that builds steam-powered railway

engines. An exceptionally good value gin given how much handcrafting

goes into the process. Hints of aromatic cardamom,

toasted peppercorns and orange. Prices from £38.76pp.

The Old Depot, Cheney Lane, Oxford OX3 7QJ, 01865 767918,

spiritoftoad.com

Silent Pool Distillers

Silent Pool Distillery is located alongside a large pond in the Surrey

countryside that's known as Silent Pool. The distillery itself is in an

unremarkable agricultural building, but the Silent Pool's distinctive

turquoise and copper-coloured bottles more than make up for any

visual paucity in the location. A complex floral gin featuring 24

botanicals including chamomile, rose, elderflower, Kaffir lime leaf,

pear, bergamot and local honey. Prices from £39.50pp. Shere Rd,

Albury, Guildford GU5 9BW, 01483 229136, silentpooldistillers.com

Bombay Sapphire Distillery

A Mecca for gin lovers, Laverstoke Mill was painstakingly renovated

and opened as a state-of-the-art distillery by Bombay Sapphire in

September 2014, as the gin's first permanent UK home. Choose

from self-discovery tours, hosted tours and taking a gin cocktail

masterclass. Prices from £16pp (tickets must be bought in advance).

Laverstoke Mill, London Road, Laverstoke, Whitchurch, Hampshire

RG28 7NR, 01256 890090, distillery.bombaysapphire.com

Salcombe Gin, Devon

Though it only opened in summer of 2016, its illustrious location and

impressively sleek and modern design, in the heart of the coastal town

of Salcombe, has put this purpose-built distillery firmly on the map for

all budding gin enthusiasts. Complete with tasting bar and gin school

where visitors can craft their own unique gin - distilled using pure

Dartmoor water - and take it home. Gin School prices from £100pp.

The Boathouse, 28 Island Street, Salcombe, Devon TQ8 8DP,

01548 288 180, salcombegin.com

56 BritishTravelJournal.com
---
LAVERSTOKE COCKTAIL

NORTH ENGLAND

Edinburgh Gin Distillery

Learn how gin is distilled in the Edinburgh Distillery's two stills,

curiously named Flora and Caledonia in a 45-minute discovery tour

or 75-minute "Connoisseur Tour", or join a three-hour gin-making

class and become your own distiller. And watch this space, as

plans have been made for a multi-million pound third distillery in

Edinburgh city centre, large enough to welcome 100,000 visitors

through its doors each year. Prices from £10pp-£100pp depending

on the experience. Distillery & Visitor Centre, Westend, 1A Rutland

Place, Edinburgh, EH1 2AD/The Biscuit Factory Distillery, Leith, 4-6

Anderson Place, Edinburgh EH6 5NP, edinburghgindistillery.co.uk

Gin Journey

If you would prefer to have your own Gin Guardian taking you on a

tour of your chosen city's finest gin endeavours, then Gin Journey is

a great option. Guests are whisked around by gin carriage to world

class cocktails bars and era-defining distilleries in Manchester,

Liverpool, Leeds and London. The chauffeur-driven tours of each

city's finest cocktail bars are educational and fun — participants

learn about the history of gin and its present-day incarnations, as well

as taste cocktails along the way. Prices from £50pp, ginjourney.com

Spirit of Harrogate – home of Slingsby Gin

The masterminds behind Yorkshire's finest award-winning Gin

brand – Slingsby have launched an exciting new gin experience

where you not only learn about which type of gin you should choose

to suit your palate, you also have the opportunity to make your own

bespoke bottle of gin from scratch! As pretty as gin bottles might

be, it's important to know whether the gin inside, is to your personal

taste and preference, and this new experience demystifies the

gin category and allows guests to explore the core gin categories

and profiles from Juniper, Citrus, Spice, Floral, Herbal and Fruit

flavours. Taste a variety of gins, pick your own botanicals, distil on

your very own traditional mini copper still and bottle with your own

personalised label. Prices from £90pp, gift vouchers available. 5-7

Montpellier Parade, Harrogate, North Yorkshire,

HG1 2TJ, 01423 541279, spiritofharrogate.co.uk/experiences

SPIRIT OF HARROGATE

BARS TO DRINK GIN

510 Below, London

This subterranean bar, just five minutes' walk from Fulham

Broadway, stocks 40 different gins and hosts gin tasting evenings.

510 Fulham Road, SW6 5NJ, 510below.com

The Merchant House, London

Sip gin from a selection of more than 300 while listening to live

jazz, or join a gin masterclass that includes a nip of a vintage gin

from the 1950s. 13 Well Court, off Bow Lane, EC4M 9DN,

merchanthouselondon.com

The Old Bell Inn, Lancashire

Proprietor Philip Whiteman holds a Guinness World Record for

stocking the most gins on a commercial premises - 600 from all

over the world at the last count. A gin masterclass is held on the

last Thursday of every month. Huddersfield Road, Saddleworth

OL3 5EG, theoldbellinn.co.uk

The Gin Parlour (Gorilla), Manchester

On the mezzanine level of Manchester's Gorilla, this bar is

dedicated to gin and stocked with small batch, hand-crafted

distillations — including its home-produced buttered gin and

homemade tonic syrups. A wide cocktail list. 54-56 Whitworth

Street, M1 5WW, thisisgorilla.com

The Canary Gin Bar, Bath

Two floors of gin with a martini bar on the first floor in the city

where Jane Austen penned her most famous books. More than 250

bottles to choose from but closed on Sundays. 2/3 Queen Street,

BA1 1HE, thebathgincompany.co.uk

Heads and Tales, Edinburgh

Stocks around 70 gins, 35-40 of which are from the UK. 1a

Rutland Place, EH1 2AD, headsandtalesbar.com

East London Liquor Company Bar, London

Offering a comprehensive list of cocktails, not only featuring their

own spirits but also acknowledging the rich heritage of spirits

production around the world. Distillery and brewery tours are also

available. Unit GF1, Bow Wharf, 221 Grove Road, London, E3

5SN, eastlondonliquorcompany.com

BritishTravelJournal.com 57
---
58 BritishTravelJournal.com
---
S M A L L , B U T P E R F E C T L Y F O R M E D

MINI REMASTERED

This year the iconic Mini celebrates its 60th year in

production. Emma Johnson looks back at its

illustrious history and one of its newest and most

beautiful iterations, the Mini Remastered, and meets

the skilled experts behind it, David Brown Automotive

Words | Emma Johnson

WHAT GOES THROUGH your mind when you start looking at remastering one

of the most iconic cars of the last century? How do you decide to pay homage

to the considerable craft and skill put into designing and creating something

that is beloved by so many? Where do you start?

You start, says David Brown, with love. "Mini Remastered was born out of a love for the

styling of the classic Mini," says Brown, founder of David Brown Automotive – a British car

manufacturing company renowned for combining precision engineering with a flair for retro,

classic design. "We wanted to combine that style with what we are so good at - engineering,

handcraftsmanship and luxury."

Founded in 2013, out of a love of retro styling and modern engineering, David Brown

Automotive's first model to launch was the Speedback GT - a 1960's inspired grand tourer. A

lookalike Aston Martin DB5, the Speedback is a beautiful car, offering modern performance

and convenience, alongside a beautifully, hand-rolled aluminium body and handcrafted

interior. It was launched in 2014 to considerable critical acclaim. "It's handcrafted throughout

in the best materials a man can get, looking a little like a throwback from a distant age but

feeling a lot like a premium cabin that's bang up to date…it has a standard of finish and detail

that puts it in the highest echelons of the modern car market," said Evening Standard motoring

editor John Calne.

Each car takes over 8,000 man hours and eight months to make, meaning less than 20

have been sold so far, and David Brown only intends 100 ever to be made. "We are really

pleased with the reception we got to the model," says Brown. "But we are only able to create

them in very small, exclusive numbers, so we wanted our second model to be offered in much

larger, albeit still very small, quantities."

Enter Mini Remastered, with all the features a classic Mini would, or should, have if it were

to have been built in the modern day, but with the added bonus of cleaner lines and a à

BritishTravelJournal.com 59
---
smoother silhouette - thanks to a de-seamed

body, a hand-painted finish and an interior

that offers considerable luxury, by way of

knurled aluminium switchgear, handcrafted

leathers and premium fabrics and

conveniences, such as power steering, push

button start/stop, USB charging and much

more. "Our inspiration came from a desire

to add modern functionality and reliability,

alongside luxury, into what is an iconic and

much-loved design from the 1960's," says

Brown, recalling the Mini's inaugural decade

when it completely revolutionised the small

car concept and changed modern motoring

for good.

60 BritishTravelJournal.com

Created by Sir Alec Issigonis for the British

Motor Corporation in 1959, the Mini started

out life as the Austin Mini Minor, before

becoming the Austin Mini, and then finally

simply, the Mini. It was celebrated because

its compact features and front-wheel drive

mechanism made it attractive to a host of

drivers, and it soon became the best-selling

British car in history. The Mini was produced

in various factories over the years before it

eventually ended up under BMW in 2000.

As the 21st century dawned, BMW sought to

reimagine the Mini, and over the following

decade the sportier Mini Cooper was

launched, followed by the five door, fourwheel

drive Countryman in 2010.

In designing their Mini Remastered,

David Brown Automotive were clear that

this version had to both echo and pay

homage to its roots, but also to be reflective

of its contemporary origins. "We asked

ourselves what they would have done

in the 1950's and 1960's had they had

the technology and skills to do what we

were proposing. We then combined those

responses along with our brand's ethos of the

finest handcraftsmanship, beautiful British

materials and luxurious and exclusive finishes

to create what we think is a true re-imagined

icon that meets the demands of modern life."

The Mini Remastered, available in an

enviable array of bespoke options, has also

been created in two limited editions: 'Inspired
---
"For the British people, it was a car of the people and for other markets it's an

admired and much-loved British icon," says Brown."

by Monte Carlo' – a vintage competition rally

style which offers a higher level of exclusivity,

with beluga and perforated poppy leathers,

dark chromed interior details and an

exclusive metallic exterior paint finish – and

'Inspired by Café Racers' which features a

vintage biker style, signature painted twin

fender stripes, brogue leather bonnet straps

and twin driving lights.

"As a company, we do 'bespoke' really

well, our customers truly can have whatever

they please, so every week there are really

exciting configurations being worked on,"

says Brown.

Working on such an iconic car could be

considered something of a risky move - the

British have very much taken the Mini to its

heart, and it stands as a very strong emblem

of national identity. But in David Brown's

careful, considered and loving hands, the

Mini Remastered has become a striking,

memorable and evocative piece of history,

and modernity. "For the British people, it was

a car of the people and for other markets it's

an admired and much-loved British icon,"

says Brown. "So many people have stories

and memories of classic Minis, it brings a real

feeling of nostalgia and is emotive in a way

that a lot of cars available today never could

be," he adds u

S P E C I A L E D I T I O N

Celebrating 60 years of the MINI

brand, the special edition model is

finished in British Racing Green,

(limited to 500), priced £29,990.

BritishTravelJournal.com 61
---
OVER 40

AREAS AND

COUNTIES

AVAILABLE

FREE

DELIVERY

ANYWHERE

IN THE UK

.CO.UK

+44 (0)7900 496465 INFO@FADEDGRANDEUR.CO.UK
---
CRAFTED

A M A R K O F T I M E

Words | Emma Johnson

Bronze Medallist of the British Horological Institute, the subject of a Netflix film and honoured in 2018 with

an OBE, no-one has done more for British watchmaking than Roger W Smith. Emma Johnson meets him à

BritishTravelJournal.com 63
---
Watchmaking itself is an ultimately British

endeavour. Over 75 per cent of the mechanical

innovations in any watch are British inventions

by some of the great British watchmakers of

the 17th and 18th centuries

JUST BEFORE CHRISTMAS last year, a quiet,

unassuming man walked into Buckingham Palace

and stood proudly in front of Prince Charles to

receive an OBE for Services to British

Watchmaking. Later that day, via social media,

he told people that, rather than it being a culmination

of a life's work, this great honour merely reminded him

how much more there was to do.

"It's now 30 years since I first picked up a filing tool

and embarked on making a handmade pocket watch,"

wrote Roger W Smith. "I had no idea that it would lead

to so many other steps towards the rebirth of British

watchmaking. However, my work is not done and there

are many more goals for me to achieve. The honour

of this OBE for Services to British Watchmaking is

wonderful recognition of all that has been achieved

to date – but your comments have reminded me

just how important the appreciation and support of

friends from all over the world is to me." This response

is entirely typical of a man who has dedicated his

life to perfecting and protecting the intricate craft of

watchmaking, and in doing so, changed the face of the

British horological landscape forever.

Roger W Smith entered the Manchester College

of Horology aged just 16 years old. A year later, a

visit from watchmaker George Daniels to show his

iconic Space Traveller pocket-watch was to change

everything. Daniels was a British horologist, based in

the Isle of Man, whose watches took over 2,500 hours

to make and sold for hundreds of thousands of pounds

– he made just 37 watches in his entire lifetime.

Smith was so inspired by Daniels' visit that he made

it his life's mission to study and replicate Daniels' work.

"We measure time, but we're defined by its moments,"

says Smith. "A visit by George Daniels…was my

moment. Suddenly, my life's purpose was crystal clear."

"I make no

apology for

being a purist.

Ours is the

purest of

mechanical

arts. Our

design

process is

a continual

quest for

optimum

performance"

Roger

W Smith

Smith embarked on a seven-year journey to learn

The Daniels Method of watchmaking, which included

mastering 34 different, and incredibly complex,

techniques and skills. After successfully making a

watch to Daniels' exacting standards – a process which

took nearly eight years – Smith was invited to move

to the Isle of Man and work with George Daniels for

a further three years, designing and creating watches

with him, before establishing the Roger W Smith studio

in 2001.

The work Daniels and Smith did together was

to become so important to the history of British

watchmaking that a documentary made on their

relationship, entitled, The Watchmaker's Apprentice,

gained the attention of Netflix, who bought the feature

in 2015. The documentary, in which Smith shared some

of his early experiences of working with Daniels, is still

available to buy through Amazon.

Today, Smith's studio and home is still in the Isle

of Man and he retains a deep connection with both

the place and his time with Daniels. "The Isle of Man

has given us a beautiful and life-affirming place

to be horologists. This tranquil setting assures few

distractions and complete focus. I am also proud to

display the Isle of Man's unique 'triskelion' symbol on

each of our watches as a way of identifying us with

the Island. I gather this harks back to an ancient sunsymbol

and so, in a way, it also reflects our earliest

observations of the passing of time."

Working in his peaceful studio, Smith and his

team create just ten watches a year – made to Smith's

exacting designs. These series 1,2,3 and 4, are

designed to reflect Smith's journey in watchmaking, as

well as an open dial version, which puts the functional

art of the watches front and centre, and several limited

edition or anniversary designs, each with their own

PICTURE CREDITS: © SIMON PARK PHOTOGRAPHY

64 BritishTravelJournal.com
---
CRAFTED

Pictured Left-Right:

Watchmaker Roger W Smith

in his studio, Isle of Man;

Watchmaker George Daniels;

The Watchmaker 's Apprentice

Netflix documentary

distinct qualities, including the GREAT Britain watch, one of his

most technically-advanced watches to date. All of his watches

are still the only truly handmade British watches in production.

And, while the techniques used to make these watches are

traditional at their core, the design and the functionality of the

watches is anything but. Smith's ethos is all about pushing the

performance boundaries of mechanical timekeeping. "When

you talk about 'handmade' there is a tendency to think about

watchmaking purely as craft," he says. "This couldn't be

further from the reality of our pieces, and our design process is

a continual quest for optimum performance." Working in this

way has lead to the development of the most advanced singlewheel

co-axial escapement in modern horology. Smith takes

great pride in the fact that his British-designed mechanisms

now completely outperform any factory-made mechanical

watch in everything from efficiency and longevity to service

intervals and, most importantly, timekeeping.

For Smith, though - as he reflected on receiving his

OBE - there is always more to do. Mechanical research and

development, and the overall design of his range of watches

is ongoing; and with each watch taking nearly two years to

create - due to the absolutely uncompromising approach he

takes to the Daniels Method - there is always a level of striving

for perfection. "I make no apology for being a purist. Ours is

the purest of mechanical arts," he says.

And while, over time, Smith begins to share his considerable

expertise with his small team of watchmakers, there is no

denying that, due to his patient and skilled instruction, and

the years of experience and technique he has acquired, each

and every watch is still his own, making them a considerable,

and very valuable, rarity. "For me, still being a watchmaker

and being able to stick to my guns, thanks to support of our

collectors, is ultimately what gives me greatest pride."u

B U Y T H E N E T F L I X D O C U M E N T A R Y

The Watchmaker's Apprentice: Collector's Edition, in which

Smith shared some of his early experiences of working with

Daniels (pictured above) is available on Amazon, priced

around £19.amazon.co.uk

BritishTravelJournal.com 65
---
Do sEThiG

MigT

A fantastic series of fully supported, one-day hiking marathons all

over the UK. Every Mighty Hike is easily accessible and will take

you to some of the most beautiful and unspoiled parts of our country.

Bring your family, bring your friends and take a step forward for people

living with cancer.

Find out more and sign up at

macmillan.org.uk/mightyhikes

Macmillan Cancer Support, registered charity in England and

Wales (261017), Scotland (SC039907) and the Isle of Man (604).

Also operating in Northern Ireland.
---
INVESTOR

F I R S T E D I T I O N

Words | Emma Johnson

Whether for personal enjoyment or as a financial hobby, with prices of rare books rising by

nearly nine per cent year on year, investing in books, to sell, or to keep as a family heirloom, can

prove lucrative. But the world of books is not quite as simple as plain old buying and selling. à

BritishTravelJournal.com 67
---
F I R S T F O L I O WILLIAM SHAKESPEARE'S COMEDIES, HISTORIES, &

T R A G E D I E S 1 6 2 3 I S C O N S I D E R E D O N E O F T H E M O S T I N F L U E N T I A L

BOOKS EVER PUBLISHED IN THE ENGLISH LANGUAGE.

"Books on the Rare Book Index include

the likes of Tolkein's Lord of the Rings, T.S.

Eliot's The Wasteland, Ian Fleming's Casino

Royale, James Joyce's Ulysses and Ernest

Hemingway's In Our Time. "

IN NEW YORK, just before Christmas last year, a first edition of a book

about stock markets sold for a staggering $300,000. Confusion of

Confusions, written by José Penso de la Vega, was published in 1688 in

Spanish and is an account of the workings of the Amsterdam stock

exchange. A relatively dry subject, all told. But what makes this book so

special is that it was one of only ten first edition copies of the historically

significant text to have survived. The last time a first edition of this book

sold was over 30 years ago in London, for just £16,500 – meaning this

latest sale represents a 900 per cent increase.

And while this is a pretty unprecedented level of growth on a piece of

literature, it does show how lucrative investing in books can be. However,

as any expert will tell you, there are some key factors at play for anyone

wanting to put their money where the words are. If you want to start

buying and selling books, there are a few vital things to bear in mind –

not least the rarity of a book, its condition and its USP.

GOOD CONDITION

The state of any book you are buying or selling is vital – and the

difference in value between a battered copy and a pristine first edition

can reach into the thousands. While ordinary wear and tear is to be

expected, the better condition a book is in, the more it will fetch. "Even

colours faded by sunlight can hugely affect the value of a first edition,"

explains Pom Harrington, owner of Peter Harrington Rare Books. When

buying books you're looking for all the pages, minimal dog ears and

turned down corners, no damage to the cover, no dents or discolouration

from age or sunlight and no margin pen marks or annotations.

But more on that later. When it comes to condition, the most

important thing, especially with books from the last couple of hundred

years, are dust jackets. Because they are often seen by readers are

surplus to requirements and taken off and thrown away, they have

become increasingly rare.

They also protect the book's hardcover underneath from signs

of aging, and often come in very limited editions – the hard copy

underneath stays the same, but over the years the dust jacket has

changed and been redesigned. Anyone in the know will tell you that the

difference between a book with and without a dustjacket can be as much

as £70,000.

A RARE GEM

There is, of course a caveat to this. While condition is all-important, the

rarer a book is, the less important condition becomes. "You can't expect

a 16th century book to be in the same condition as a 20th century book,"

says Matthew Haley, head of books and manuscripts at Bonhams. "So,

essentially, look for things that make a copy exceptional - the condition

of the dust-jacket if it's a modern book, a deluxe binding, signs of

previous ownership by a noted collector."

In most cases, rare books are also first editions. These are usually

printed in very small print runs – 250 or 500 copies – before they

became bestsellers, and, although not intended as such, they are in

effect limited editions. Following this, the age of a book can also have

a huge impact on it, especially as the older a book gets, the harder it

is to find. In fact, some books are so rare they have become the veritable

holy grail of the book world. "The 1623 Shakespeare First Folio should

be the cornerstone of any world-class book collection," says Matthew

Haley. When Shakespeare's First Folio appears in auctions – which

happens almost never - a good condition copy can fetch millions of

pounds.

Keith Heddle, managing director of investments at Stanley Gibbons

which specialises in buying and selling stamps, coins, books and

manuscripts, agrees, calling this edition, "the literary equivalent of a

Lafite 1952". With books, rarity is so important, that in 2015 Stanley

Gibbons launched the Rare Book Index – a collection of 30 of the most

desirable books for investors and collectors, which looks at their growth

over the past 20 years, as well as comparing them with other assets.

When matched against gold, property and the FTSE 100 RTI, books

are the only asset that has continually risen in value since 1995. Books

on the Rare Book Index include the likes of Tolkien's Lord of the Rings, T.S.

Eliot's The Wasteland, Ian Fleming's Casino Royale, James Joyce's Ulysses and

Ernest Hemingway's In Our Time.

68 BritishTravelJournal.com
---
ASK THE EXPERT

THE USP

Other highly sought-after editions

include the 1865 Alice in Wonderland, of

which there are only 22 known copies,

and only five in private hands, as well

as numerous copies of books inscribed

by one author to another - Nabokov's

Lolita inscribed to Graham Greene,

Orwell's Animal Farm inscribed to

Anthony Powell; Joyce's Ulysses given to

his wife Nora.

These little details are what

makes a book really desirable. Other

factors that also have this affect,

can include books being made into

films, anniversaries of author births

and deaths, or original publication

dates, or the author winning or being

shortlisted for a book prize. "How

important an author is contextually

to the world at the time can have

also have a huge impact," says Pom

Harrington. "Films based on the works

of authors, or on their own lives, can

renew interest in certain books, for

instance. J.K. Rowling and Tolkien have

both benefitted considerably from the

'Hollywood effect."

It's also worth considering the

little details that set one book apart

from another. Things like interesting

illustrations done by a renowned artist,

a first use of colour, a foreword from

a well-known figure, or a dedication

by the author can be all-important.

As can the provenance of a book

- did it belong to someone special,

was it relevant to their work, did

it accompany them on a famous

expedition, was it part of a valued

collection? A book belonging to an

American president, for instance,

can make a book worth upwards of

$80,000.

Crucially though, if you are thinking

about entering the world of book

investment, make sure you follow the

advice of experts and get into it with

a passion for, and love of, books.

"Everyone has a book inside them,"

says Heddle. "Even if it was something

you read as a child or studied at

school. Just one book is enough. They

resonate with everybody." u

N E X T I S S U E W E T A K E A L O O K

A T M O D E R N B R I T I S H A R T . I F

Y O U H A V E A Q U E S T I O N F O R

OUR EXPERT PLEASE EMAIL

Ü words@britishtraveljournal.com

M A R K W I L T S H I R E ,

A S S O C I A T E S P E C I A L I S T ,

B O O K S A N D M A N U S C R I P T S ,

CHRISTIE'S LONDON

The market for rare books is exciting,

evolving and entirely free of white gloves....

here's how you can join in.

î FIND WHERE YOUR PASSION LIES

Attend a free auction preview. Handle

the books. Pick out the signs of previous

ownership in a book from the 15th century.

See how maps have tracked shifting borders

across the centuries. Work out what appeals

to you. It will be an investment you can enjoy

before it moves on to somebody who loves it

as much as you do.

î SEEK OUT A SPECIALIST WHO

S H A R E S Y O U R I N T E R E S T S A N D

HEED THEIR ADVICE

We can point you towards rare and important

books in your area of interest, and advise

what distinguishes one copy from another.

As you begin to expand your collection, your

specialist is your friend and guide.

î NEVER COMPROMISE ON QUALITY

The value of a book depends on several

factors. How rare is it? Is it complete?

What's the condition like? Who has owned

it previously? Is it a first edition? With these

factors in mind, focus on acquiring the best

obtainable copies within your budget.

DON'T MISS

5 June Christie's upcoming auction Beyond

the Horizon - The Mopelia Collection of

Fine Atlases and Travel Books in London.

For more information visit christies.com

BritishTravelJournal.com 69
---
The The Great British Escape

Stoke Stoke Park Park is is a is a luxury a luxury 5 5 AA AA Red Red Star Hotel, Spa and Country Club Club

set Stoke set set within within

Park 300 is

300

a acres luxury acres of of beautiful AA Red Star parkland Hotel, and Spa offers and Country world-class

Club

set within 300 acres sporting of beautiful and leisure parkland facilities.

and offers world-class

sporting and leisure facilities.

Facilities include:

•

Facilities 49 Bedrooms

include:

and Suites

• Award winning Spa

• • 27 49 hole

49 49 Bedrooms Championship and and Suites Golf Course

• • 3 Award Restaurants winning and Spa Bars, Spaincluding

• •

Humphry's 27 27 hole hole Championship

(3 AA Rosette, fine Golf Golf

dining)

Course

• 13 Tennis Courts (indoor, grass and

• • 3 Restaurants 3 and and Bars, Bars, including

artificial clay)

Humphry's (3 (3 AA AA Rosette, fine fine dining)

• Indoor Pool

•

• •

State

13 13 Tennis of the

Courts

art Gym (indoor,

with Fitness,

grass grass and and

Hot artificial Yoga and clay)

clay) Spinning Studios

• • hosting Indoor up Pool

to Pool 50 classes per week

• • Crèche State State of of the the art art Gym Gym with with Fitness,

• Games Hot Hot Yoga Room Yoga and and Spinning Studios

• Playground hosting up up to to 50 50 classes per per week week

• • Crèche

• • Games Room

• • Playground

35 minutes from London, 7 miles from Heathrow Airport and a short drive from Windsor

makes Stoke Park an ideal location and perfect setting for stopovers and luxury breaks.

35 35 35 minutes minutes from from 7 miles from and a For more London, information 7 miles or from to book, Heathrow please Airport contact and our Reservations a short drive Team from Windsor

makes makes Stoke Stoke Park Park an an ideal and for for and on ideal 01753 location 717172 and or email perfect reservations@stokepark.com

setting for stopovers and luxury breaks.

www.stokepark.com

For For For more more information information or or or to to to book, book, please please contact contact our our our Reservations Team

on on

on

01753 01753

717172

717172 or

or

or email

email reservations@stokepark.com

www.stokepark.com

www.stokepark.com
---
connoisseur

In The Stars p72 | Victuals p79 | Escape to Nature p80

Farmer, Butcher, Chef p82 | Take time out for you p85 | Middlethorpe Hall p83

T H E L A K E D I S T R I C T

HRiSHi, Gilpin Hotel

Enjoy Afternoon Tea for Two at this

Michelin Starred restaurant, priced

£45 or with Champagne £77

à

BritishTravelJournal.com 71
---
T H E H O L Y G R A I L

IN THE STARS

The snug villages and bottle-green fells of Lancashire, Cumbria and

Yorkshire have created a holy trinity of gastronomy and a veritable

constellation of Michelin stars just waiting to be explored

Words | Chantal Borciani

HISTORICALLY, THE PEAKS, dales and shimmering

lakes of the north west have been the muse of artists,

poets, writers and ramblers but now these bewilderingly

beautiful regions boast some of Britain's best restaurants

and producers. Their internationally revered chefs and exquisite

homegrown talent haven't gone unnoticed, of course; Michelin

has bestowed its coveted stars in all three counties and reviews

have been glowing. The region's top dining rooms have even been

immortalised in BBC 1's The Trip, which saw Steve Coogan and Rob

Brydon tour the north west's finest restaurants in satirical splendour.

72 BritishTravelJournal.com
---
Whether your budget is

Michelin or modest, this

corner of England is

brimming with local

delicacies and culinary

creations fit for a gourmet

road trip like no other…

LANCASHIRE HOTSPOTS

The north is often considered the pulsating heartland of

England. Here, you can chart the industrial – and musical

– revolutions in vibrant, earthy cities such as Manchester,

Leeds and Liverpool before striking out to the vast

moorlands and quaint villages to the north.

Two Michelin-star Moor Hall in Aughton, boasts

one of Lancashire's most notable dining rooms and is a

stone's throw from Merseyside. Opened in 2017 following

a complete renovation of the 16th century manor house,

chef patron Mark Birchall combines local produce with

modern techniques. Executive chef for nine years at

world-renowned L'Enclume, which lies just up the road

in the Lake District, it's little surprise Mark has achieved

such acclaim. While history imbues its design – cutlery

rests on knife blocks made from medieval timber pegs

discovered on the site – the seasons rule the kitchen

pass; a working garden grows herbs and vegetables

year-round, all meat is locally sourced where possible,

and Moor Hall's cheese room houses a vast selection of

British and Irish varieties. à

BritishTravelJournal.com 73
---
YORKSHIRE'S FINEST

North east of Lancashire, the vast watercolour

vistas of the Yorkshire Dales beckon. This is Bronte

country; epic, moody and bewilderingly beautiful in

equal measure, where mounding hillsides give way to

wooded meadows and icy waterfalls.

After a hearty hike around Aysgarth Falls, take the

weight off at Mill Race tea shop, where great hunks

of homemade cake can be enjoyed near the rushing

waters. The cosy tea room occupies Yore Mill, which

was originally built in 1784, and overlooks the river by

the Upper Falls.

If a more formal afternoon tea is preferred, familyrun

Yorebridge House serves scrumptious homemade

delicacies in its cosy lounges and is a stone's throw

from Wensleydale's famous creamery. Alongside its

individually styled, uber-romantic rooms, Yorebridge

has also opened the only Laurent-Perrier Grand Siècle

Tasting Room in the UK, perfect for private dinners

and champagne tastings.

It's a short drive – or a more challenging cycle – to

the historic town of Sedbergh at the foot of the mighty

Howgill Fells. Once described by fell walker and

author Alfred Wainwright MBE "like velvet curtains

in sunlight and like silken drapes at sunset", the fells

dwarf the pretty town and are a magnet for walkers.

The Black Bull, a recently renovated 17th century

coaching inn, has 18 stylish rooms – each named after

a local fell – while its restaurant is run by owner Nina

Matsunaga and serves nose-to-tail dishes infused with

her Japanese heritage.

Further south, on the border between Lancashire

and Yorkshire, 350-year-old Hipping Hall holds

a coveted Michelin star and is one of the The Trip's

famed alumni. Providing a perfect last stop before

venturing into the UNESCO-listed Lake District,

Hipping nestles at the foot of Gragareth, Lancashire's

highest peak. The restaurant's devotion to local

produce and seasonal dishes is astonishingly good,

with head chef Oli Martin's tasting menus almost

solely championing produce from the hall's three

surrounding counties: Lancashire, Yorkshire and

Cumbria. The fluffy homemade morning crumpets

are enough to warrant your stay alone. Local through

and through; even the walls of the 15th century dining

room are painted with bespoke pigments created by

local artists using minerals from within 15 miles of the

property.

74 BritishTravelJournal.com
---
TOP OF THE LAKES

The Lake District's reputation as a

gastronomic hub is hardly surprising,

given its ingrained farming culture,

bountiful fresh produce and artisanal

producers. On the edge of the national

park and with a list of 'top restaurant'

awards that could fill Coniston Water,

L'Enclume in the pretty village of Cartmel

is one of the world's most revered

restaurants. The two Michelin star

establishment, which also starred in The

Trip, is run by Simon Rogan who serves

a 20-course tasting menu, with much of

the produce grown in the 12-acre farm

nearby. One Michelin-star Rogan & Co,

its more relaxed sibling restaurant, is one

road away and continues the celebration

of Cumbrian ingredients. The charming

village is also the home of the sticky

toffee pudding – head to the Village

Shop for a pudding as good as it sounds.

Or for more savoury tastes, head for the

micro brewery and Cartmel Cheeses. à

BritishTravelJournal.com 75
---
Near the shimmering waters of Lake Windermere, Gilpin

Hotel & Lake House's Michelin starred HRiSHi serves Lake

District and British produce with a difference, an Asian twist

and flair for creativity. After dinner, guests can sink into

cedarwood hot tubs, sleep in self-contained spa lodges, or

plump for the Lake House where six luxury suites enjoy 100

private acres, including a lake, boat-house, hot tubs, pool

and jetty spa.

Hug Windermere's winding waterside road and head

north to the picturesque village of Grasmere where more

76 BritishTravelJournal.com
---
scenic trails crisscross the sage and auburn-flecked fells

and independent cafés pleasing hungry hikers. Kick

off the walking boots at Lake View Country House, a

boutique B&B overlooking restful Grasmere Lake. The

B&B has private access to the lake and owners Paul

and Beth Abbott have recently opened their Grasmere

Brewery, housed in the farm buildings a stone's throw

from the water's edge. The Good Sport gastro pub just

along the lane serves as the brewery's taproom where

visitors can sample the ales and chat with Paul about his

unique brewing process.

A great base to explore the northern reaches,

Lodore Falls sits in 40 tranquil acres on the shores of

Derwentwater. The hotel's lake view dining room is

popular for Sunday lunch and the new spa bedrooms

offer total relaxation teamed with spectacular views

across Derwentwater and the Catbells Mountain range.

Replete and relaxed, whether you're a keen rambler,

cyclist or simply a fanatical foodie, the north west is a

pick n' mix trail of chocolate-box villages, bewitching

landscapes and awesome scenery with no wrong turns. u

BritishTravelJournal.com 77
---
CarltonCourtMayfair

10 Down Street, Mayfair, London

EXCLUSIVE UNIQUE SERVICED HOTEL APARTMENTS IN MAYFAIR

Stay in home-from-home luxury, from 2 nights onwards, extremely spacious, fully

serviced apartments in the heart of Mayfair, the most exclusive address in London!

Unwind in the comfort of your own self-contained spacious apartment, enjoy fully inclusive

seamless wifi, satellite and sky, 7-days-a-week on-site concierge, daily maid service,

air conditioning, stunning en-suite bedrooms, beautifully equipped kitchens, luxurious

living spaces, and 24 hour security, offering you peace of mind throughout the duration

of your stay. Our selection of newly furnished 1-3 bedroom apartments, and 5 bedroom

Town House are also just a short walk from London's Piccadilly, Park Lane, Oxford Street

and Bond Street. Excellent value - enjoy all this from a better price than a small hotel room!

+44 20 7493 0597 | WWW.CARLTONCOURT.COM
---
VICTUALS

W H A T ' S N E W

Restaurants | Hotels | Chefs | Spas

VIVI BAR

VIVI is a lively and bustling, all-day Brasserie

serving delicious British favourites. Set in the

heart of London's iconic Centre Point redevelopment

and square. vivirestaurant.co.uk.

NEW GLASS ROOM REINVENTS DINING ON THE THAMES

Get a whole new perspective on the city and set sail with Bateaux London's brand new boat,

Glass Room, with chic yet contemporary nautical-themed stylish interiors from Tom Dixon,

and an impressive all-glass structure (bateauxlondon.com). Hop aboard at Embankment

Pier and sail along the Thames while enjoying fine British cuisine, such as Severn and

Wye smoked salmon with celeriac remoulade, listening to live music, with uninterrupted,

unparalleled views of London's most recognisable structures, from the London Eye to the

Tower of London and Houses of Parliament. Plus, don't miss the small balcony towards the

front of the boat which allows for a more intimate view, or a romantic moment as you sail.

BRASSERIE OF LIGHT

SELFRIDGES

Contemporary, artistic and elegant, and

we love the 24ft crystal encrusted Pegasus

centrepiece created especially by Damien

Hirst, his largest scale artwork in London.

SOUTH LODGE SPA

Set into the natural contours of the land,

head down to this 5-star hotel in Sussex

to visit the new state-of-the-art spa,

and hydrotherapy pools. exclusive.co.uk

THE BEDFORD

First built in 1931 located in Balham, this magnificent

venue has recently undergone a multi-million

pound refurbishment to create an unrivalled pub,

club and restaurant, with 15 boutique bedrooms.

Ü thebedford.com

BELMOND CADOGAN

Adam Handling is proud Chef Patron of the

Adam Handling Chelsea restaurant at the new

Belmond Cadogan Hotel in Chelsea, serving

'Best of British' cuisine with modern flair.

Ü cadogan.co.uk

BritishTravelJournal.com 79
---
of the best

ESCAPE TO

10NATURE

Connect with the countryside,

staying overnight in a cosy log

cabin or trendy treehouse

COTSWOLDS Little Lodge at Dryhill Think countryside, quintessentially English

villages with honey-coloured golden stone and rolling hills, and the Cotswolds are likely to come to

mind. This romantic retreat has it all. Priced from £1040 per week dryhill.co.uk/little-lodge

FERMANAGH Finn Lough (Northern

Ireland) The perfect escape to get back to

nature, recharge, refocus and remember life's

simple pleasures. Prices from £195. fi nnlough.com

SOMERSET The Treehouse at Harptree

Court A magnificent copper bath tub and wraparound

stargazer's balcony, all half-way up a tree!

Prices from £245 per night. canopyandstars.co.uk

OXFORDSHIRE

Soho Farmhouse

The members' club, set in 100

acres of countryside, has 40

wooden cabins of different

sizes, a farmshop and deli,

boathouse with pool and

boating lake, country pub,

central restaurant, kitchen

garden, children's play barn

and cinema. Cabins from

£325 for non-members.

sohofarmhouse.com

CUMBRIA

Brimstone, Lake

District National Park

A collection of sixteen

luxury suites and rooms,

with spa, a haven of

tranquillity in relaxed yet

opulent surroundings

within a UNESCO

World Heritage Site.

Suites priced from

£420 per night,

brimstonehotel.co.uk

80 BritishTravelJournal.com
---
HAMPSHIRE

The Yews Treehouse

Chewton Glen,

New Forest

Immerse yourself in earthy

tranquillity in this beautifully

exclusive retreat. Take a digital

detox and relax by the wood

burner while your private chef

prepares a delicious meal

to order. Enjoy the idyllic

surroundings from the outdoor

hot tub. There's also underfloor

heating, mood lighting,

and even a hatch where

delicious deliveries (such as

your breakfast hamper) can

be made in the most discreet

way possible, combining

unparalleled privacy with

ultimate indulgence. Prices

from £2,850 per night, Sunday

- Thursday, £3,000 Friday &

Saturday. chewtonglen.com

B R I T I S H

TRAVEL

JOURNAL

Loves...

INVERNESS-SHIRE

Eagle Brae, Scottish

Highlands Hand-built log

cabins nestled between

the magnificent Glen Affric

and Glen Strathfarrar, set

among some of the wildest

glens, mountains and lochs

of this idyllic location.

Cabins sleep between

two-six people. Priced from

£683 for a short break,

eaglebrae.co.uk

ARGYLL

The Lodge on Loch

Goil, Scotland

One of the finest 5-star

venues in Scotland, and

this issue's front cover

feature, The Lodge on

Loch Goil is a

first-class dining venue,

'restaurant with rooms',

with magnificent

mountain views.

thelodge-scotland.com

HAMPSHIRE The Pig Cabin, Brockenhurst

A rustic romantic hideaway deep in the New Forest.

Priced from £250 per night thepighotel.com

KENT Tiger Lodge, Port Lympne

Sleep in a luxury cabin within a whisker of tigers!

Priced £1,000 per night aspinallfoundation.org

BritishTravelJournal.com 81
---
R E S T A U R A N T R E V I E W

FARMER , BUTCHER , CHEF

With much enthusiasm Jessica Way heads to the West Sussex coutryside, in

search of the holy grail of epicurean contentment, the perfect Sunday roast

GOODWOOD, WORLD-FAMOUS for its flagship events,

Festival of Speed, Goodwood Revival and the Quatar

Goodwood Festival, brings together thousands of

visitors from across the globe each year. Mostly, this is to

enjoy socialising within the fashionable country estate grounds – an

unrivalled location, set in almost 12,000 acres of woodland, gardens,

fields and farming. In the heart of the estate is Goodwood House, the

glamorously restored 300-year old home to the Duke and Duchess of

Richmond offering tours and afternoon teas.

A walk (or drive) around the estate and there's also 'The Kennels'

a clubhouse for the Estate's Sporting Members, 'Hound Lodge'

a 10-bedroom country retreat, a motor circuit, racecourse, golf

courses, farm, aerodrome and 'The Goodwood Hotel', complete with

Health Club and adjacent to this 'Farmer, Butcher, Chef', Goodwood's

sustainable restaurant - where we have a lunchtime booking.

Farmer, Butcher, Chef is one of Europe's few self-sustaining organic

farms/restuarants, producing their organic meat just yards away

at Goodwood's Home Farm. The restaurant champions seasonal

English fare using local suppliers and embracing the field to fork

ideology, serving up some of the country's very finest cuts of organic

beef, pork and lamb to locals and visitors alike.

Although adjoined to the hotel, the restaurant, a converted barn, also

has its own private entrance, easily accessible from the main road,

with plenty of parking shared with the hotel guests. With exposed

traditional wooden beams counterbalancing the white washed walls,

large open fire place, and authentic countryside chic décor, inside is

extremely warm and welcoming – it really does have a home-fromhome

feel, further enforced by the lovely welcoming, relaxed staff.

For starters I went for the hand-caught Scallops with Samphire,

Salsify, Wild Mushroom with Coral sauce, followed by a main of Slow

Roasted Whole Rump of Beef with crispy beef shin, onion pressing,

and roasted cauliflower. The meat was succulent and melted in the

mouth, washed down with a lovely glass of Rioja Reserva. The closing

scene was a warm pear and fennel cake with fennel ice cream. A

surprising and delightful ending to sumptuous meal.

As the Sunday lunch clientele thinned out we spent some time

browsing the many quirky objects adorning the walls, an eclectic

mix of Goodwood's racing and farming heritage. Artefacts included

radiator grills, badges, maps, horse harnesses and shearing scissors.

This gave a real connection with the Goodwood Estate and brought

the working element of the farm history to life.

Tour over, we then enjoyed a coffee by the roaring fire in the cosy

snug room adjacent to the bar. It was a chance to reflect on our meal

and an afternoon well spent. We all agreed. Contentment had been

found in this rural Sussex countryside gem. •

Ü Goodwood Hotel, Chichester, West Sussex, PO18 0QB

82 BritishTravelJournal.com
---
May – August

Escape to Glyndebourne this summer.

World-class opera, picnicking, dressing-up and precious time with family and friends

in the glorious gardens, making memories that last long after the curtain comes down.

Painted collage by Shadric Toop with source images from Sam Stephenson, James Bellorini, Leigh Simpson and Wikimedia Commons

La damnation de Faust

BERLIOZ

Die Zauberflöte

MOZART

Rusalka Il barbiere di Siviglia

DVOŘÁK

ROSSINI

Cendrillon Rinaldo

MASSENET

Public booking opens 3 March

glyndebourne.com

HANDEL
---
Experience Rudding Park Hotel and Spa

Voted Best Hotel in England, Visit England Awards for Excellence

Perfectly located to explore Harrogate and the Yorkshire Dales,

The Spa features the UK's first Roof To Spa and Garden

Book online at ruddingpark.co.uk

RUDDING PARK FOLLIFOOT HARROGATE NORTH YORKSHIRE HG3 1JH
---
ADVERTORIAL

S P A & W E L L N E S S

T A K E T I M E O U T

FOR YOU

North Devon's newest and finest coastal spa has opened at

the luxurious Saunton Sands Hotel overlooking the beach

SOURCE SPA AND WELLNESS, set atop the cliffs on the

North Devon coast, overlooking the breathtaking Saunton

Sands beach and World Heritage Braunton Burrows, is now

open. Spanning three floors, the space has been beautifully

designed to make the most of the magnificent, unrivalled views of the

vast expanse of beach and sea below. It's a breathtaking experience

and one which undoubtedly sets the spa apart.

The ground floor comprises a lounge where clients first ease

themselves into relaxation with a drink from the well-stocked bar (trying

one of the four very healthy smoothie shots is well recommended),

an indoor heated pool (good-sized, with plenty of natural light), a gym

with daily fitness classes and a thermal suite that comes complete with

a salt inhalation steam room, a Finnish aroma sauna, a contrast shower

and a marine vitality pool positioned right next to a huge window

overlooking Saunton Sands beach.

The bubbles automatically turn on as you step in – requiring only the

effort of lying back whilst the warm water, gentle pummelling and

fabulous seascape perform their therapeutic magic.

When you do emerge there's an ice fountain available. If that

seems counter-intuitive when you're feeling all mellow and toasty, it's

because the sudden contrast between heat and cold is said to help you

live longer. There are six large treatment rooms on level two of the spa,

the biggest being a double that enjoys another epic vista.

The relaxation room on the top floor of Source is the perfect way to

end a spa journey. Comfortable beds in the lounge or on the sun deck

face the ever-changing ocean, offering more mindful, tranquil moments

of serenity. It's the perfect spot for soaking up the sun, watching one of

the north coast's incredible sunsets or, enjoying candle-lit reverie. •

Ü Saunton Sands Hotel, Saunton, Nr Braunton EX33 1LQ

sourcespa.co.uk, 01271 892003

BritishTravelJournal.com 85
---
Scotland's Best Visitor Attraction

Follow in the footsteps of Royalty when you step aboard Her Majesty The Queen's former floating palace,

an exclusive use five-star evening events venue and visitor attraction in Edinburgh.

Explore where the Royal Family plus 220 crew lived and worked on board. See where Prince William and

Prince Harry spent their summer holidays every year. Discover where kings and queens, world leaders and

celebrities were wined and dined.

Royal Deck Tea Room | Gift Shop | Free Parking | Fully Accessible

Free Audio Tour Available in 30 Languages

Ocean Terminal, Leith, Edinburgh, EH6 6JJ

0131 555 5566 | royalyachtbritannia.co.uk

enquiries@tryb.co.uk
---
I N S P I R I N G V E N U E

MIDDLETHORPE HALL

With superb surroundings and closeness to central York, Middlethorpe Hall is a

29-bedroom country house offering the best of both rural and city worlds

LOCATED TWO MILES SOUTH of York, Middlethorpe Hall is

a stunning hotel that's well over 300 years old, set in 20 acres

of garden and parkland. The hall was built during the time of

William III at the end of the seventeenth century for prosperous

master cutler Thomas Barlow and the former home of renowned

diarist Mary Wortley Montagu. The hotel is best known today for its

imaginative menu, elegant accommodation and spa, and is a great

destination for any northern travel adventures.

You feel more like you are staying in a grand private house than

a hotel, it is as if you have stepped back in time, but still with all the

modern amenities and faultless service we have come to expect.

A number of architectural features, such as white sash windows and

red brick patterns, show the indirect influence of the famous architect

Sir Christopher Wren. In fact there are few country houses with as

much charm and historic interest as Middlethorpe Hall, and for this

reason, in September 2008, the National Trust acquired and restored

the hotel, combining its impressive history, with modern day luxury for

guests to enjoy. There are three 'Historic House Hotels' in the National

Trust collection, "luxury hotels, proud of their past and careful of their

present" explains Simon Jenkins, Chairman of the National Trust.

The other two properties are Hartwell House in Buckinghamshire

and Bodysgallen Hall in North Wales (historichousehotels.com).

Middlethorpe offers country house fare at its best and has two AA

rosettes while also being a two-time recipient of the Visit York Restaurant

of the Year award. Eat in the panelled dining room with its view over the

grounds, or enjoy an al fresco meal on the south-facing terrace. From

starting the day with a sumptuous Yorkshire breakfast through to lunch,

afternoon tea and a gourmet dinner, you can expect superlative cuisine

and impeccable service. Enjoy a la carte and private dining options - and

if you are lucky you might also enjoy watching the roe deer grazing on

the parkland in the beautiful gardens.

Stay in the main house or courtyard, in a suite or room, and look

forward to luxury and comfort throughout. While the main house

suites overlook the south lawn from their sizeable sash windows, some

bedrooms also overlook the beech avenue and have fine paintings and

antique furnishings. The charming suites offer both the comfort of a

luxury hotel and a greater degree of privacy.

From a secluded base in a private garden, behind the façade of a

couple of Edwardian cottages, Middlethorpe's boutique spa offers a full

portfolio of health and beauty treatments to ease away the strains of

modern life and pamper you from head to toe. Enjoy an indulgent spa

day or half day, or build in a visit to your weekend break. •

Ü Middlethorpe Hall & Spa, Bishopthorpe Rd, York YO23 2GB

01904 641241, middlethorpe.com

BritishTravelJournal.com 87
---
day tripper

Bletchley Park p90 | Mighty Hikes p94 | For your Journey p98

B U C K I N G H A M S H I R E

Waddesdon Manor

Home to the Rothschild

Collections of paintings, sculpture

and decorative arts.

à

BritishTravelJournal.com 89
---
C O D E B R E A K I N G

BLETCHLEY PARK

In a sleepy Buckinghamshire town a window opens

on this history-changing, high-security WW2

operation centre, kept secret for decades

IT'S 1938 AND A WEALTHY ENGLISH family's 581-acre country estate, 50 miles

north of London, comes on the market. Swiftly purchased by a housing developer

with an eye on its potential, given its excellent transport links, the chance to recoup

much of the cost, by selling on the 58 acres immediately surrounding the mansion,

proved irresistible. Little did he, or anyone else, know that the mansion would become

the hub of the most closely-kept secret operation of the following seven years, home

of the Government Code & Cypher School, the code-breaking heroes and heroines of

Bletchley Park.

The GC&CS was formed, soon after WW1 by a pragmatic merger of two armed forces

departments, the Royal Navy's NID25 and the Army's MIiB, and based in Central

London, therefore at risk if the anticipated second conflict were to happen. With the

War Office unwilling to find the funds, the head of GC&CS, Admiral Sinclair, convinced

that hostilities were inevitable, seized the initiative and purchased Bletchley Park in May

1938, confident of its suitability, being comfortably distant from the capital and on both

the main north-south railway line and another line, which ran east-west, taking in the

university cities of Cambridge and Oxford. In September of that year, as tensions with

Germany increased, Commander Alastair Denniston moved the London-based office

of GC&CS and MI6 to Bletchley, as a real-time evacuation in the face of imminent war.

Today known as 'Captain Ridley's Shooting Party', lessons learnt from the three-week

deployment gave the Codebreakers a huge advantage come 1939, including the need

to recruit more of the eclectic mix of specialist staff needed to make it work. For over 10

years, Nazi Germany had been communicating enciphered messages and Denniston

needed both extremely clever, 'professor' types as crypto-analysts and, because of

the electromechanical devices employed by the enemy, formally-trained advanced

mathematicians. Naturally, linguists versed in German, Italian, Japanese and, later,

Russian were of paramount importance. Above all, whether in senior or junior positions,

all members of staff were obliged to maintain absolute secrecy, not simply about their

own duties but even the very existence of 'BP'. It is a true miracle that, overall up to à

90 BritishTravelJournal.com
---
"To join any

of the free

walking tours

around the site

is advisable,

to fill in some

of the gaps in

knowledge,

and the guides

are informative

and hugely

entertaining"

BritishTravelJournal.com 91
---
HATFIELD HOUSE, GARDENS AND PARK.

THE PERFECT PLACE TO VISIT.

Visitors can enjoy the state rooms rich in paintings, fine furniture and tapestries along with a picture perfect garden which dates from the early 17th century.

Beautifully designed gifts, jewellery, toys and much more can be found in the Stable Yard shops. Visitors can also enjoy relaxing at River Cottage & Deli which

serves a variety of delicious foods throughout the day.

Hatfield Park Farm covers an area of approximately 25 acres on the West side of Hatfield House. The farm shows the animals in a natural countryside setting.

STABLE YARD SHOPS

THE HOUSE PARK & GARDENS HATFIELD PARK FARM

& RIVER COTTAGE KITCHEN

& DELI

WWW.HATFIELD-HOUSE.CO.UK

VISITORS@HATFIELD-HOUSE.CO.UK

Explore the glorious historic

West Dean Gardens

Enjoy every season at West Dean in the heart of

the South Downs. Relax and unwind with beautiful

Lavant Valley views.

LEGO ®

West Dean Gardens, Chichester, West Sussex, PO18 0RX

Tel: 01243 818210

www.westdeangardens.org.uk
---
DAY-TRIPPER

"To join any of the free walking tours

around the site is advisable, to fill in some

of the gaps in knowledge, and the guides

are informative and hugely entertaining"

C O O R D I N A T E S

LATITUDE 51.9833

LONGITUDE 0.7333

10,000 individuals (three-quarters of whom

were female) involved, the true function

of BP was not publicly revealed until many

decades later, sadly too late for many to

receive due recognition in their lifetime.

Cracking the 'Enigma' (a generic name

for a series of increasingly complicated

cipher machines) code was a priority and

was greatly facilitated by the pre-war work

of a number of Polish code-breakers who,

although never engaged at BP, provided

vital information. With Enigma machines,

and others such as Lorenz, becoming ever

more complex, the burden on the human

mind became intolerable and led to the

development of the 'Bombe', the first

electromechanical calculator, designed

by Alan Turing and Gordon Welchman to

eliminate a high proportion of the many

billions of possible coding combinations.

Subsequently, over 200 'Bombes' were

manufactured, for use around the clock,

but, to decode the messages enciphered

by the Lorenz, another, more powerful

machine had to be devised, brought into

service in 1943. Its name, fittingly given

its size, was 'Colossus' and it was the

world's first semi-programmable electronic

computer. It was built by a UK Post Office

team under the leadership of the brilliant,

but sadly unrecognised, Tommy Flowers.

Only a visit to Bletchley Park, first opened

to the public in 1994 and improved in

every succeeding year, can do justice

to the dedication and stoicism of the

people involved and their single-minded

determination to contribute to the war

effort in the best way they could. To join

any of the free walking tours around

the site is advisable, to fill in some of the

gaps in knowledge, and the guides are

informative and hugely entertaining.

Once left to their own devices, some may

simply retire for refreshments but, for me,

the mansion displays make it a mustvisit

and, with many of the original huts

remaining in situ, furnished and decorated

as they would have been, the whole park

'sings' of the invaluable work carried out

there. You will be awed by the collection

of different cipher machines and the

'techies' will be fascinated by the radio

communication exhibits in the National

Radio Centre. Annually, visitor numbers

are 2-300,000 and the Park is open all

year round. Bletchley Park is, at the same

time, enjoyable, enlightening and inspiring,

telling an emotional and little-known true

story of obstinate dedication. u

B L E T C H L E Y P A R K I S O P E N

E V E R Y D A Y T O V I S I T O R S

E X C E P T 2 4 , 2 5 , 2 6

D E C E M B E R A N D 1 J A N U A R Y .

B L E T C H L E Y P A R K , S H E R W O O D

D R I V E , B L E T C H L E Y, M I L T O N

KEYNES, MK3 6EB.

Ü BLETCHLEYPARK.ORG.UK

B E Y O N D B L E T C H L E Y

WONDERFUL WADDESDON

Built in the classical French-

Renaissance style for Ferdinand de

Rothschild in the late-19th century,

Waddesdon Manor, near Aylesbury, is a

treasure-house for the family's fabulous

collections of paintings, sculpture and

decorative artistry and the gardens are

picturesque perfection.

Ü waddesdon.org.uk

AMAZING ASCOTT

Originally a 17th century, Jacobean halftimbered

farmhouse, Ascott, near Leighton

Buzzard, was remodelled and enlarged for

Leopold de Rothschild.

The result was described by Mary Gladstone

as 'a palace-like cottage, the loveliest thing'.

Form your own opinion as the house, its art

collections and blissful gardens are now in

the care of The National Trust.

Ü nationaltrust.org.uk/ascott

WILD WOBURN

Close by the architectural splendour of

Woburn Abbey, is the Safari Park, whose

360 acres offer unrivalled opportunities to

experience wildlife in a natural environment.

For the comfort and safety of both the

animals and visitors, the Road Safari

takes in gentler areas before reaching the

71-acre Kingdom of the Carnivores – do

not leave the car! The Foot Safari, which

follows, allows animal-lovers a more tactile

encounter!

Ü woburnsafari.co.uk

For more visit britishtraveljournal.com

BritishTravelJournal.com 93
---
J O I N T H E F U N

MIGHTY HIKES

Mighty Hikes, organised by Macmillan Cancer

Support, are a fantastic series of one-day hiking

marathons across the UK. Experience some of the

UK's most breathtaking scenery, while also raising

much-needed funds for Macmillan

FROM NORTHERN LANDSCAPES along the Ullswater Way from Dalemain to

Lowther Castle to the magnificent Jurassic Coast from Weymouth to Wareham,

past the iconic Durdle Door and Lulworth Cove, Mighty Hikes take you to some

of the most beautiful and unspoiled parts of the UK.

There are eight different events taking place in 2019 in various locations from the South

Coast to Rob Roy in Scotland. Each event takes place over a day, covering around 26

miles, and offering you the opportunity to enjoy a guided route along coastlines and

off the beaten track which you might not have had the confidence to otherwise attempt

independently.

To take part and help Macmillan continue to support people living with cancer, and

their families, you're asked to pledge to raise a minimum of £250. There is just a £25

registration fee to pay for taking part in a Mighty Hike, and you will receive a branded

t-shirt, drinks and snacks along the way, a buffet lunch and a hot dinner at the end

of the event. All walks include professional organisation and the provision of medical

assistance.

On the day, you set off in a group of similar walking ability. Waves of around 250

hikers start walking 20 minutes apart from around 7-8.30am. You are given the

opportunity to choose your preferred start time as part of the registration process.

With all the organisation being taken care of, you can simply put one foot in front of

the other, enjoy the beautiful views of some of the best walking routes in the country, while

taking in the electric atmosphere and meeting people along the way.

Both amateur and professional photography enthusiasts love Mighty Hikes as

they cover many iconic British landmarks at a leisurely pace - there's plenty of time to

compose the perfect shot and create even more lasting memories from your trip. à

94 BritishTravelJournal.com
---
"Thank you so

much again for

everything you

do - you truly

are an amazing

organisation."

"Do it for

yourself, do it

for Macmillan,

do it for

someone you

love, but don't

not do it"

"It was a

tremendous

event and the

memories will

stay with us

forever."
---
Where the mighty events are taking place...

South Coast - 8 June 2019

With this beautiful hike along the South Downs Way from Brighton

to Eastbourne, you can cover a 'marathon' distance while

experiencing unspoilt views of the English Channel. The white

cliffs of Seven Sisters Country Park provide many photographic

opportunities of the variety of seabirds that can be found in the

area around the lagoon and salt marshes.

Thames Path - 20 July 2019

Following what is probably one of the world's most iconic rivers,

the Thames Path Mighty Hike runs from Royal Windsor to

Henley. Not only is this route perfect for boating enthusiasts

(remember that Henley is home to the world-famous regatta),

but it also provides some great shots of Windsor Castle at the

beginning, along with All Saints Church in Bisham.

Jurassic Coast - 15 June 2019

The Mighty Hike along the Jurassic Coast is the perfect way to

see the first-ever area of England to be designated as a World

Heritage Site. The walk meanders from Weymouth to Wareham,

and it is well worth bearing in mind that the route becomes

rather steep in places - it is one of the more challenging hikes in

the programme.

Peak District - 27 July 2019

This part of the United Kingdom has breathtaking mountain

scenery, and the Peak District Mighty Hike runs from Darley

Moor to Bakewell. The walk includes beautiful views of the River

Wye and rolling forest landscapes before the route ends in the

Derbyshire market town of Bakewell - 26 miles should work up

plenty of appetite to try the local tart of the same name!

96 BritishTravelJournal.com
---
Northumberland Coast - 6 July 2019

It is 'a tale of two castles' as this route takes you from Alnwick

Castle to Bamburgh Castle. If the former venue looks familiar,

that is because Alnwick Castle was used for a number of scenes

in the first two Harry Potter movies. The route ends at Bamburgh

Castle, known as the 'King Of Castles', with its imposing walls

and enchanting tales of royal hauntings.

Rob Roy - 31 August and 1 September 2019

The Rob Roy Way has proved to be so popular that this Mighty

Hike will be run on two dates, and it is easy to see why participants

love this route from Callander to Killin in Scotland. The

Trossachs National Park has numerous glens and lochs, making

this hike perfect for both wildlife and landscape photography.

There's a reason why this area is referred to as 'wee hills with big

views' - it isn't too challenging for hikers of all abilities.

Lake District - 13 July 2019

This is another fantastic opportunity to explore breathtaking

northern landscapes along the Ullswater Way from Dalemain to

Lowther Castle. The hike begins in the shadow of one of Cumbria's

most impressive stately homes, parts of which date back

to the 14th Century, and finishes at the impressive castle and

gardens in Lowther.

Wye Valley - 7 September 2019

Running from Chepstow to Monmouth, the Wye Valley route

takes hikers through a stunning countryside beginning right at

the English and Welsh border. Tintern Abbey is the main highlight

along the way, and this 12th Century landmark has recently

undergone two years of painstaking restoration work. This gives

visitors a fascinating insight into the daily lives of the monks who

lived there many hundreds of years ago.

M A C M I L L A N C A N N O T S U P P O R T P E O P L E L I V I N G

W I T H C A N C E R W I T H O U T Y O U R H E L P . T O F I N D

O U T M O R E A N D S I G N U P F O R A M I G H T Y H I K E I N

Y O U R C H O S E N R E G I O N , S I M P LY V I S I T

Ü MACMILLAN.ORG.UK/MIGHTYHIKES

BritishTravelJournal.com 97
---
BRITISH TRAVEL JOURNAL CROSSWORD 01

Answers will be printed in our summer issue published 29 May

Luckily Prestel's new £14.99 Great

Pubs of London slips into the pocket.

What better way to visit London

than through its historic pubs?

prestelpublishing.randomhouse.de

W E ' R E R E A D I N G

ACROSS

1 Metalworker (5)

4 Beaters assert HRH is off-target (9)

10 North Cornish Arthurian

attraction (8)

11 Nottinghamshire castle (6)

12 With Loch Lomond, they form

a National Park (9)

13 In need of rehab, perhaps (5)

15 Luminous paint (3-3)

17 Welsh Wye Valley tourist spot (8)

19 Hymn-singing (8)

21 Major East of England crop

vegetable (6)

22 Murdered Dickens heroine (5)

24 Striking (9)

27 Beginning stage (6)

28 Kind of crisis (8)

29 Leaf-eating flying insect (5,4)

30 Lowest deck (5)

Send by post or email the answers to

crossword@britishtraveljournal.com

F O R Y O U R

JOURNEY

Books, maps, apps, travel

gadgets and crossword

DOWN

2 Principal thoroughfares (4,5)

3 Large bags (5)

5 Coastal Norfolk Hall (7)

6 Favourite Queen? (4)

7 Baroque architect (9)

8 Aired again (5)

9 Dinosaur with large thumb spikes (9)

14 Laughed disrespectfully (9)

16 Gleaming ways to pay? (4,5)

18 "... the sin that ye do by --- ye must

pay for one by one." (Kipling) (3,3,3)

20 Wars of the Roses combatant (7)

23 Location of Game of Thrones'

Kingsroad (5)

25 One-on-one teacher (5)

26 Island could be Flat or Steep in the

Bristol Channel (4)

The sender of the first correct

crossword will receive a Faded Grandeur

(fadedgrandeur.co.uk) typographic

map gift worth £300!

B R I T I S H

TRAVEL

JOURNAL

Competition!

PICTURE CREDIT: © CHARLIE DAILEY 2014

G E T O U R A P P

Download and read on your

tablet or mobile device anytime,

and anywhere. Available on

apple, google play, and amazon.

britishtraveljournal/subscribe

PRESS

IMAGES

Bowers & Wilkins

C5 Series 2 in-ear

Strumpshaw, Tincleton headphones, £119.99

& Giggleswick's bowerswilkins.com

Scent To Sleep

Marvellous Map, £14.99

Range, £20

marvellousmaps.com

neomorganics.com

98 BritishTravelJournal.com

GREAT PUBS OF LONDON

by George Dailey with Photographs by WCharlie R I TDailey

E T O U S

(New Updated and Expanded Edition)

British Travel Journal, Mitchell House, Brook Avenue, Warsash Southampton, Hampshire, SO31 9HP

ISBN: 978-3-7913-8395-8 | £24.99

Publication date: 7 th August 2017

• Email publicity@prestel-uk.co.uk to request your Press Image selection.
---
DESIGNED & MADE IN ORKNEY, SCOTLAND

Seasons

NEW

SPRING ENAMEL

Rich colours and happy memories...

Inspired by a relaxing walk through

falling leaves in Inverewe Gardens

Also in Summer, Autumn & Winter colours

in silver & enamel and with gold leaves

Every piece is made just for you...

Order early for Special Occasions!

ORKNEY | EDINBURGH | GLASGOW | LOCH LOMOND

01856 861 203 | sheilafleet.com