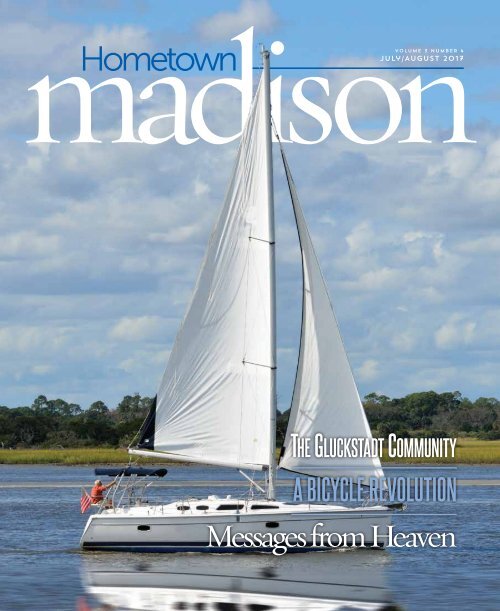 Hometown Madison - July & August 2017
Create successful ePaper yourself
Turn your PDF publications into a flip-book with our unique Google optimized e-Paper software.
Volume 3 Number 4

July/August 2017

The Gluckstadt Community

___________________________

a Bicycle Revolution

___________________________

Messages from Heaven
---
2 • July/August 2017
---
Hometown madison • 3
---
4 • July/August 2017
---
publisher & Editor

Tahya A. Dobbs

CFO

Kevin W. Dobbs

Consulting editor

Mary Ann Kirby

Account Executives

Dacia Durr Amis

Carson Dobbs

Contributing Writers

Camille Anding

Mary Ann Kirby

Susan Marquez

Karleigh Wagner

Abbie Walker

staff Photographer

Othel Anding

Contributing Photographer

Lea Anne Culp

Administrative Assistants

Alisha Floyd

Brenda McCall

Layout Design

Daniel Thomas - 3dt

If there's a certain spot on your kitchen floor that has a pattern of stickiness

during July, we are probably faithful members of the same club–Watermelon

Enthusiasts. Isn't it a southern treat to find bins of watermelons in our grocery

stores and farmers markets and keep that tasty treat in our refrigerators?

I love that about July.

It's another treat to see the giant fireworks tents going up around our

hometowns. Even though my days of shooting fireworks on the front lawn

have passed, I still celebrate the noise and heavenly display of colors in July.

Freedoms that we enjoy are worthy to celebrate with noise and light parades

in the night skies.

There's much to celebrate in July. In this issue, we highlight a married

couple and the sacrifices they are making for our freedoms. We are also

featuring some of the entrepreneurs in Gluckstadt who are helping put that

community in the news.

Celebrating the people in our hometowns and the freedoms we embrace

as a nation should make very month notable–but especially the month of July.

We thank our advertisers for helping make this magazine possible and wish

each of you a Happy 4th!

Advertising Design

Leah Mitchener

• • •

www.facebook.com

/hometownmadisonmagazine

For subscription information

visit www.htmags.com

Contact us at info@HTMags.com

601.706.4059

26 Eastgate Drive, Suite F

Brandon MS 39042

• • •

All rights reserved. No portion of Hometown Madison

may be reproduced without written permission from

the publisher. The management of Hometown Madison

is not responsible for opinions expressed by its

writers or editors. Hometown Madison maintains the

unrestricted right to edit or refuse all submitted

material. All advertisements are subject to approval by

the publisher. The production of Hometown Madison

is funded by advertising.

In this issue The Gluckstadt Community 14

Young, Local, and Ready for Business 18

The Herb Doctor 24

A Bicycle Revolution 28

Game Day Ready! 32

Messages from Heaven 42

A Military Marriage . . . . . . . . . . . . . 54

Doe's Eat Place 62

The Chalkboard 70

Hometown madison • 5
---
Check out the

MBA that checks every box.

Mississippi College is the only college in the state that enables you to

earn your MBA entirely on campus, exclusively online—or through a

combination of both. Our MBA program is fully accredited by AACSB,

which places ours among the top 5% of business programs worldwide.

Plus, it's the lowest-cost accredited online MBA in the state.

Achieve anything with the MBA that has everything—the MC MBA.

Learn more today at mc.edu/mba.

On Campus or Online—or Both

AACSB Accredited

Lowest Cost Accredited Online MBA in MS

What's your dream

ROAD TRIP

destination?

Let Members Exchange take you on a

road trip of your dreams. When you

finance a new or used auto or recreational

vehicle with Members Exchange, you will

be entered to win monthly prizes and a

grand prize valued at $2,200!

Grand Prize:

$1,200 travel credit, $300 spending

money, YETI® Roadie, YETI® Ramblers,

gift cards and swag items.

MECUanywhere.com

This offer applies to qualified borrowers on new and used

auto and recreational loans financed and refinanced from

other financial institutions. Loan rates are based on your

credit worthiness. Members Exchange will match other

financial institution's rates (verified) and reduce the rate by

0.10%, not to go below established floors in place. The

amount financed must be $5,000 or higher. The promotion is

scheduled to end August 31, 2017 and it can be modified or

cancelled at any time without prior notice. Restrictions and

limitations may apply.

6 • July/August 2017
---
Sunnybrook's 2nd Annual

Champions for Children Dinner

In 1963, Alonzo Welch, once a foster-child himself, began a ministry in Jackson, Mississippi.

Fifty-four years later, children continue to find home and healing at Sunnybrook Children's

Home. As society continues to change, Sunnybrook is committed to providing programs and

hope for the young lives around us all. On August 12th at 7:00 p.m., you are invited to join the

Sunnybrook family on their campus for the 2nd Annual Champions for Children Dinner as

they celebrate and look forward to what God is doing in the lives of children in our state. Jill

Freeze, a champion for children with the Freeze Foundation, will speak as the Sunnybrook

family honors house-parents, as well as local adoptive and foster family heroes.

With thousands of young people in the foster-care system of Mississippi, Sunnybrook is

anxious to provide ways to fight for children in need. Come be a part of the movement by

hearing how Sunnybrook specifically plans to empower and encourage children and fosterfamilies.

Dinner tickets are $75 and can be purchased at www.sunnych.net. Those who prefer

to purchase by mail may send a check to Sunnybrook Children's Home at P.O. Box 4871,

Jackson, MS, 39296 marked for the Champions Dinner.

Hometown madison • 7
---
8 • July/August 2017

Keep Flora

Beautiful

Great American Clean-Up

Keep Mississippi Beautiful

May 19, 2017
---
Hometown madison • 9
---
serving our community

Captain Dustin Perry

Gluckstadt Fire Department

Why did you decide to be a firefighter?

I decided to become a firefighter because of my

dad. My dad has been a fireman my entire life.

How long have you been with the

Gluckstadt Fire Department?

For a total of 10 years now. I have been a

career fireman for seven years.

Tell us about your family.

I have an amazing and very supportive family.

My dad, brother, and uncle are all firefighters.

My wife is an emergency room nurse and is

very supportive of what I do.

What is the toughest thing you have

experienced in your job?

I would have to say the toughest part of my

job is any emergency call involving children.

Share some things you enjoy doing in

your spare time.

I love vacationing with my wife and spending

time with my family.

What are three things on your

bucket list?

I would love to go to New York City to visit

their fire stations and the 9/11 memorial.

I would also love to visit Europe and see all of

the history over there. And since I have no

children yet, I would definitely want to see

myself having children with my wife and

starting our own family.

Where do you see yourself ten years

from now?

I see myself having a couple kids and still

working at Gluckstadt FD doing what I've

always loved to do.

Who is someone you admire and why?

My dad is and has always been my role model.

He has always worked so hard to provide for

my family, and has always been there for me in

any time of need. He is now a captain at

another local fire department, and I admire

how he has worked so hard to get to where he

is in life. Another person I admire is my fire

chief. He has always been a great role model

for me and has always supported me in

everything I have chosen to do.

If you could give one piece of advice

to a young person, what would it be?

I would say to always do the right thing no

matter if anyone is watching or not. Because

someone is always watching and it will pay off

in the end.

What is a favorite childhood memory?

My favorite childhood memories are going to

the fire station to visit my dad and climbing all

over the fire trucks—and running around the

house in my play turnouts spraying the house

with the water hose pretending the house was

on fire!

What is the biggest mistake you think

young people make today?

I think young people could start trying to listen

to older and more experienced people in their

life or profession. The older and the more

experienced people have lived through more

things and have good advice to give.

What is your favorite thing about the

city of Gluckstadt?

My favorite thing about Gluckstadt is that it has

grown and is continuing to grow. Everyone is

Gluckstadt, in my experience, is very nice and

always willing to lend a helping hand.

10 • July/August 2017
---
idgeland's finest

Officer Justin Crawford

ridgeland police Department

Why did you decide to be a policeman?

Since I was five-years-old, I wanted to be a

police officer. I was prophesied over twice as

a child and both of the evangelists said that

I would grow up to be a mighty warrior for

God. Also, most of my father's friends, when

I was a child, were in law enforcement and I

always looked up to them. I come from a

military family, so serving and protecting the

innocent has always been in my family in one

way or the other.

How long have you been with the

Ridgeland Police Department?

I worked as a dispatcher for 2 years before

transferring to the patrol division and have

been there for 6 years.

Tell us about your family.

I have been married for five years to Jennifer

Crawford and we have a 4-year-old little girl

named Henley. My parents live in Flora,

Mississippi, and I have one sister who lives

in Knoxville, Tennessee.

What is the toughest thing you have

experienced in your job?

Becoming a field training officer. It does not

seem like it would be a "tough thing" to deal

with but when you are one of the people

responsible for ensuring that the police

department continues to have excellent

officers, it can be a challenging task. But

that's why I love the challenge.

Share some things you enjoy doing in

your spare time.

My favorite off-duty hobby is spending time

with my wife and daughter. When I'm not

doing that, I'm either hunting or fishing.

What are three things on your

bucket list?

First, I want to be able to watch my daughter

grow up and have happiness in her life, and

grow old with my wife. Second, I want to

attend a Minnesota Vikings game, in Minnesota,

with my dad. He's from Minnesota and I grew

up watching the Vikings. Third, I want to go on

an antelope hunt with my bow.

Who is someone you admire and why?

I admire my father and grandfather. My

grandfather has gone on to be with the Lord,

but during his time here on earth, he was the

hardest working man that I have ever known.

He passed away when he was 70 and he

worked until the day he died. My father is the

second hardest working man I know. He has

always provided for us even when the finances

were not there. I never went a day without

food or clothes and he raised me in a way

that few too many people are now raised.

I owe everything to my father for what I have

become and hope to become in the future.

Where do you see yourself ten years

from now?

I hope to be in some type of supervisor role.

I have always had a passion for leading and as

a field training officer I have already assumed

that role in some manner. Hopefully within ten

years I will be either a sergeant or lieutenant.

If you could give one piece of advice

to a young person, what would it be?

Be confident. It's that simple. You might not

have any idea what you're doing but don't let

people know that. Always keep your head up

and have the mindset that you are the best

person at what you're doing. You will fail but

as long as you learn from your mistakes and

do not accept the "I can't do it mentality," you

will succeed in life. When people tell you that

you can't do something, simply respond,

"Watch!"

Hometown madison • 11
---
NOW OPEN

GLUCKSTADT

ANY PIZZA, PANINI, OR SALAD FOR $7.99

ON THE CORNER OF CHURCH RD & CALHOUN STATION PKWY | ACROSS FROM GERMANTOWN HS

12 • July/August 2017
---
• New Pools & Spas

• Pool Renovations

• Service & Cleaning

• Jackson 601-372-0500

• Ridgeland 601-605-0500

• www.cpspoolsandspas.com

Family owned since 1957

Hometown madison • 13
---
Preserving Heritage

Susan Marquez

When Henry Klass, John Kehle, Valentine

Fitsch, Peter Schmidt and Joseph Weilandt

purchased farmland from the Highland Colony

Company in Calhoun, Mississippi, in 1905,

they probably never dreamed it would be a

burgeoning community a century or so later.

Yet, that's exactly what Gluckstadt has become.

The German descendants from Klaasville,

Indiana purchased the land for $22,000 and

with great optimism, they changed the name of

the community to Gluckstadt, which in

German means "Lucky City." Nine families

moved their belongings to the area, working

over the winter to build homes and clear land in

preparation for the spring planting.

"My grandfather, Anthony Weisenberger,

was one of the other German-American families

to join the growing community," said life-long

Gluckstadt resident Bill Weisenburger. He was

joined by Henry Aulenbrook, John A. Minninger,

Peter Miller, Joseph Haas, Peter Endris, and

Peter Minninger. Kerry Minninger, another

lifelong resident, is a descendant from one of

those original families as well. "There have been

Minningers in Gluckstadt for over 100 years,"

said Kerry Minninger.

Minninger was born in South Louisiana

and lived in Jackson for a while, but when he

was young he lived with his grandparents on

their dairy farm in Gluckstadt. "My grandparents

migrated down from Indiana with other

German immigrants to make a new life in this

area. The land speculators with the Highland

Colony Land Corporation found land in

Gluckstadt that belonged to the three widowed

daughters of a judge. The speculator took an

option on the land. Three years after settling in

the area, the immigrants learned that the land

deal wasn't a proper transaction and the land

wasn't legally theirs, so they ended up having to

buy the land twice. They went to a Catholic

priest who got in contact with a law firm in

Jackson and they worked out a payment

schedule to pay for the land again."

Minninger explained that the first building

in Gluckstadt was a church that had a kitchen

attached to a parish hall. "It was actually a

schoolhouse built in 1910," Minninger said.

"My daddy went to school there."

Weisenberger said he's enjoyed watching

the growth of the area. "This used to be nothing

but cattle pastures and cornfields," he recalled.

"There were probably more dairy farms here

than anywhere else in the South. German

heritage of this community is so strong. What

many people don't realize is that many of our

dads and uncles fought against the Germans

during WWII. It is entirely possible that they

were fighting their own relatives. During the

war, the name of the community reverted back

to Calhoun Station for a time."

Those who have lived in the community for

generations understand and appreciate the

heritage of Gluckstadt. "There are residents

who moved here as the area developed and they

had no idea of the rich German heritage," said

14 • July/August 2017
---
The Gluckstadt Community

Weisenburger. "As they've learned about it,

they have joined with those of us who were

raised here to protect that heritage."

The annual Germanfest at St. Joseph

Catholic Church has certainly helped to raise

awareness of that heritage, while also helping

to preserve it. The fall festival features German

food, including the famous sauerkraut made by

members of the church.

"It's important that we do all we can to not

only preserve our heritage, but to protect our

community," Weisenburger said. "We want

controlled growth for our community. I think

the growth is wonderful. Who doesn't like the

convenience and all the wonderful new

neighbors? But there's a place for everything,

and we want some say in how the community

grows."

To that end, the community has tried a few

times in the past to incorporate. The attempts

have failed, but this time, a larger group of

residents have joined forces to work in earnest

to make Gluckstadt an official city. Lisa Williams

is one of those residents who was appointed to

the board after being carefully vetted by other

board members. "I want Gluckstadt to be a

prosperous community," Williams said. "Issues

came out a few years ago and I knew Kerry

(Minninger) had been involved. I looked to

him for mentoring, support, and to teach me a

lot of the history of the area. I knew about the

previous incorporation attempts, and I became

determined to make this work."

Williams moved to Gluckstadt eleven

years ago. "I wanted a place where my

father-in-law would be comfortable. I've

watched the community develop around us

and I want to be a part of its future growth."

The legal petition to become incorporated

was filed January 3 of this year, with all the

signatures required. "It took a lot of long days

for us to confirm all the physical signatures."

A summons process will be done, with

Canton and Madison named as defendants.

"That has to be done by law," Williams

explained. A jurisdictional hearing will take

place September 5 through 15.

If it goes through, the new City of

Gluckstadt will cover an 11 square mile area.

According to the census, there are 2,500

residents, although Williams believes there are

more than that. It's been a grassroots effort to

get this far. "Kerry told me early-on to get a

good pair of tennis shoes," laughed Williams.

"So far, I've worn out three pairs, but I've made

a lot of new friends in the process." There are

many folks hoping the incorporation goes

through this time. "There are more residents

here now than ever," said Weisenburger.

"They want a good quality of life, and they

don't want to be swallowed up by neighboring

cities with their high taxes."

If all goes well in September, with no

delays or appeals, it's possible we can be a city

by January 18," said Minninger.

Hometown madison • 15
---
State of

Insurance.

Covington Insurance Agcy Inc

Robin Covington, Agent

118 Weisenberger Rd.

Madison, MS 39110

Bus: 601-898-8110

I deliver both.

Take the guesswork out of your

insurance. Whether it's your car,

home, life, or more, I can help you

feel good about your coverage, as

well as the price you're paying.

GET TO A BETTER STATE .

CALL ME TODAY.

State Farm Mutual Automobile Insurance Company, State Farm Indemnity

Company, State Farm Fire and Casualty Company, State Farm General Insurance

Company, Bloomington, IL • State Farm Life Insurance Company (Not licensed

in MA, NY or WI), State Farm Life and Accident Assurance Company (Licensed in

1101258.1

NY and WI), Bloomington, IL

16 • July/August 2017
---
Hometown madison • 17
---
Young, Local,

& Ready for

Business

Susan Marquez

They're young, energetic, creative and driven.

Many of the newest businesses in Gluckstadt are owned and

operated by young adults who grew up in Madison County,

and when it was time to decide where to locate their businesses,

they chose the fastest growing area in the county.

Hunter Sartain

Hunter Sartain was born and raised in Madison County, moving to the

Gluckstadt area when he as in the fifth grade. He began looking around the

area and saw a need that he could fill. "This is something I've wanted to do for

four or five years, and when the opportunity presented itself, I chose to locate

in Gluckstadt. There are no other gun shops in this area." Sartain opened

Guns-N-Gear in September 2016 and business has been good from the start.

While Sartain is quick to say it's not a hunting store, Guns-N-Gear does

carry hunting rifles and ammo. "But we carry so much more. We have the

right gun for every person and every need. The big trend these days is women

shooters. That's really up-and-coming. We work to find the right gun that will

suit every woman and man's needs. If it goes 'bang' we most likely have it."

Sartain is a big proponent of the 'shop local' concept and believes the more

Gluckstadt grows, the more residents will be able to find all they need without

leaving town.

18 • July/August 2017
---
Austin LaSource

Another young Gluckstadt entrepreneur is Austin LaSource, who has

a business that prints and installs vinyl signs. Called It's Vinyl Y'all, the company

can make signs, banners, decals, vehicle graphics, vehicle wraps, business

signage, window signage, construction signage and even customizable

tumblers. They evolved from an internet business to a brick-and-mortar

store in Gluckstadt in October 2016.

"Why Gluckstadt?, asks LaSource. "Why not? This is an untapped market

for this kind of business. We cater to real estate agents, fleet vehicles and

network cabling companies as well as to the new businesses that are

growing like crazy in this market." The LaSources live in Ashbrook subdivision

in Gluckstadt. "I love that we are close to home, and we have such strong

neighbors, friends and business. Our goal is to bring service with a more

personalized feel, and to go above and beyond, integrating marketing and

thinking through the most strategic way to impact our clients' businesses."

Dr. Delta Stark

Dr. Delta Stark grew up in Madison and felt like Gluckstadt would be the

ideal place to open her own chiropractic clinic. "My family is close by, and

I saw a real need for my services here. My husband and I lived in Atlanta,

and could have moved pretty much anywhere, but Gluckstadt feels like home."

The Germantown Family Chiropractic Clinic is focused on family wellness.

"We want to be sure that all families are healthy and happy", said Stark.

From pregnant moms to kids and families, the clinic began serving clients

on March 1. "We are picking up more and more clients each week."

Paul Hopper

Of course, none of the businesses mentioned would be in Gluckstadt

without the residents to do business with them. Paul Hopper saw that there

was a wonderful residential real estate market in Gluckstadt, and because of

that, he expanded his company, Hopper Properties Real Estate, LLC, to open

a second office. "We have had an office in Brandon, but the Gluckstadt

market demanded that we open one here. I saw the growth each day, because

I live in Gluckstadt."

Hopper grew up in Madison and attended Ridgeland High School. He

opened his Brandon office in the summer of 2014, and since then, the

company has grown to over 38 agents. He opened the Gluckstadt office the

first of June and has been busy ever since. "We did $55 million in sales last

year and we are on pace to do more this year." The company handles both

land and residential sales. "I think this is the best place in Mississippi to sell

real estate. Anything under $250,000 won't last more than a day or two here."

Hometown madison • 19
---
20 • July/August 2017
---
Hometown madison • 21
---
22 • July/August 2017
---
PERSONAL

SERVICE

IN PERSON

What does it mean to be IN good hands? SM It means you get me, a

local expert agent to help you whenever you need it. I'll use my local

knowledge to help protect you based on your specific needs. Call or

stop in for a free Personalized

Insurance Proposal today.

protection to you and your family.

Steven James

601-853-8999

1048 Gluckstadt Rd., Ste. B

Madison

stevenjames2@allstate.com

Subject to terms, conditions and availability. Allstate Vehicle and Property Insurance Co., Allstate Insurance Co., Allstate Indemnity Co., Allstate Property and Casualty Insurance Co.

© 2016 Allstate Insurance Co.

218187

Hometown madison • 23
---
24 • July/August 2017
---
When Caroline Warner

needs a casserole dish

or pot, she has to go to

her guest bedroom for it.

100%

chemical-free

100%

organic

That's because her kitchen cabinets overflow with shower bombs,

essential oils, herbal teas, body creams, and herbal bug sprays.

In fact, most of the cooking done in her kitchen revolves around her

"made from scratch" creations using only organic products. "Everything

that I make is for medicinal and holistic purposes and is 100% chemicalfree

and 100% organic," the innovative herbalist affirms.

If anyone could earn a degree as an herbalist, Caroline would

qualify. She has been a student of herbs, roots, spices, oils and any

other naturally growing flower or plant for a large part of her life.

She's digested stacks of books about herbs and roots and taken

on-line classes about them.

She's a firm believer that God's world contains natural products

that are medicinal, restorative, and life-enhancing. It just takes an

herbalist to blend the key ingredients for specific needs, and that's

what she's been doing from her kitchen – fulltime – since she left her

former employment two years ago.

The latest creation to come from her kitchen is a cream for babies

that repels mosquitoes. She developed that after creating an herbal

bug spray for adults and children. It's all perfectly safe because it's

100% organic.

Her shower bombs are the relaxing answer to stressed, busy

adults who don't have time for leisure baths. They simply add a shower

bomb to their steamy shower and inhale medicinal, relaxing aromas.

She and her husband, Jack, lived in Baltimore for ten years after

migrating from the south. When their daughter, Addison, was born,

they agreed to move back south before she reached school age so

they could teach her southern values. And they did. Caroline said,

"When Addison turned five, we were in a U-Haul headed south!"

Caroline's vision is to have a production area outside of her

"wanna-be" kitchen with ample office space to share with clients

and give advice on medicinal products and oils. "My husband and

I have never had flu, flu shots, or strep throat," she testifies under

her herbalist shingle.

Her products are available on-line at cwbodyorganics.com as

well as updated information on her Facebook page – CW Body

Organics. She also sells her products every Thursday at Livingston

Farmers Market, and in some area spas.

Caroline's enthusiasm about her career choice surrounds her

like the sweet aroma of her medicinal steeped teas. Her client list is

growing daily. In fact she describes some days as overwhelming with

the orders to fill. "But I'm not complaining," she adds. "Just be careful

what you pray for!"

Hometown madison • 25
---
26 • July/August 2017
---
Hometown madison • 27
---
A Bicycle Revolution

Susan Marquez

Jeremy and Paula Polk have created

a bit of a revolution in Gluckstadt.

They've been running their

Gluckstadt-based business, Bicycle

Revolution, for ten years out of a large

panel truck, picking up, fixing, and

dropping off bicycles. "We were the

first mobile service in Mississippi, and

when we started, we were one of just

five in the country," said Polk. "And we

were certainly the first in the South. Now

they are more common and you'll see

franchises of them."

The company now has a storefront in

Gluckstadt, which opened March 1st.

"Paula and I work together in this

business," said Jeremy, "along with

our business partner, Jayce Powell.

We all live in Gluckstadt. I have lived

here since 1998, so it makes sense to

locate our business here. Besides, there

was a wide-open market for this here."

The mobile repair business initially

started in 2007 in a truck parked outside

of the Storage Max. Jayce had worked

at a bike store in Ridgeland for ten

years, and he liked the idea of being

closer to home. "I liked the idea of being

out here, and I liked the idea of a café.

It was something new and fresh."

Bicycle Revolution not only repairs

bikes but sells them. "We literally

started out as a rolling bike shop," said

Paula. "Convenience was our niche.

We would go into someone's home or

office, showing up like little elves, do

the repair work and leave, sending

them an invoice through Quick Books

28 • July/August 2017
---
via email. So often we never saw

about 15 years since I have been

avid cyclists, and they wanted to

organization for the past eleven

our customers, but we knew their

in a kitchen, and it was something

create a business that had

years. "We have had a big hand

garage door codes, their dog's

I was itching to do."

something to do with their

in building the trail station off of

names, and what kind of furniture

The café serves up lunch daily,

passion for cycling. "We pretty

Livingston Road. Our Fat Tire

they had! We knew many of our

Tuesday through Saturday. Jeremy

much invented this business for

Festival is turning ten this year.

customers through the cycling

kicks off the week with Taco

ourselves," said Paula. And even

It's a family friendly event."

community." Paula said if they

Tuesdays, which features a

though there is a brick-and-

Always offering personalized

didn't have something a customer

different variety of taco each

mortar store now, the truck will

service, Bicycle Revolution is

wanted, they'd order it and have

week, such as Thai, Indian and

continue to roll. "We will always

adding to the growing business

it to them within a day or two.

even traditional Mexican tacos.

have the mobile repair service."

landscape in Gluckstadt in a most

The company started selling

"We serve pressed paninis Tuesday

The business is involved in many

creative and innovative way.

bikes eight years ago. In addition

through Saturday," said Jeremy.

charity and community events,

to buying bikes, shoppers in the

"We also do a great Saturday

including providing SAG (support

store can also get a bite to eat at

brunch." The café sells craft beers

and gear) support for cyclists

the in-house café. Again, a first,

as well. "We have over twenty

participating in races. Jason has

the store is the only bike shop in

craft beers in stock." Coffee from

also served as president of the

the Deep South to house a café.

a local roaster, Beanfruit Coffee,

Tri-County Mountain Biking

"I spent many years in a kitchen

is offered, but as a cold nitro coffee."

Association for the past five years,

as a chef," said Jeremy. It's been

The Polks have always been

and has been involved with the

Hometown madison • 29
---
30 • July/August 2017
---
,

Hometown madison • 31
---
Game Day

Ready!

32 • July/August 2017
---
The Ole Miss stadium will

have two less fans for some of the

football games this fall. They'll be

Kathryn and Sessions Roland,

and their new outdoor structure

will be to blame. It's the Rolands'

new happy place for family time

and entertaining. All the football

replays will be as close as their

remote–minus the crowds and

parking hassle.

The grill and kitchen amenities

are steps away from their cozy

sofa and chairs, and there's no

dealing with cumbersome coolers

before or after the games. The

half-wall separating the driveway

from the outdoor kitchen serves

as a privacy partition and firewood

storage. Stained and scored concrete

flooring means easy upkeep, and

the impressive beams are just

that–impressive!

While the Rolands were in the

process of purchasing their new

Madison home in January of this

year, they already knew that the

grassy spot outside their den was

wasted space for their family

that loves the outdoors. Kathryn

contacted John Hertel with

Provision Design after seeing his

ad in Hometown Madison Magazine.

By late March, the Rolands

and John had worked out a

design, and John's crew began

construction. Within one-anda-half

months, the family was

enjoying their new space

christened the "playroom".

Kathryn says, "It greatly exceeded

our expectations." Her favorite

parts of the whole space are the

fireplace and kitchen. "John was

so easy to work with and was

able to put our visions in the

construction."

So now the Rolands are game

day ready–and all from the

comfort of their own backyard. n

Hometown madison • 33
---
34 • July/August 2017
---
1/2 PRICE WING TUESDAYS® • 21 SIGNATURE SAUCES & SEASONINGS • BONELESS THURSDAYS®

BIG SCREEN HD TVS • ALL THE SPORTS ACTION • DINE-IN OR TAKEOUT • KIDS MEALS • HAPPY HOUR

808 LAKE HARBOUR DRIVE // RIDGELAND // 601.856.0789

COMING SOON TO 766 MACKENZIE LANE // FLOWOOD

©2016 BUFFALO WILD WINGS, INC. BWW2016-4063

Hometown madison • 35
---
Metro Jackson

Go Red

for Women

Luncheon

__________________

May 4

Jackson

Convention

Complex

36 • July/August 2017
---
Hometown madison • 37
---
PROPERTIES

• PAULA RICKS •

PAULA RICKS

Owner/Broker

ALLISON BOHON

Sales Associate

TINSLEY BRASHER

Sales Associate

RONALD CUENCA

Sales Associate

MELISSA ELLIS

Broker Associate

BARBARA HICKS PARRISH MALOUF MICHELE PARKER-JUDY JOHN SKELTON

Sales Associate Sales Associate Sales Associate

Sales Associate

Best Real Estate Company

LINDSEY STALLINGS

Sales Associate

LESLY TOOHEY

Broker Associate

CANDY WHITEHEAD

Sales Associate

Tanya Brieger Best Real Estate Agent

Steven Smith Best Home Builder

www.KeyTrustProperties.com

Ridgeland Office: 601-956-4944 Covington, LA office: 985-502-1629

220 W Jackson St, Suite 200, Ridgeland 312 S Jefferson Ave, Covington, LA 70433

'17HomeTwnMag Horz5x8B.indd 1

6/12/17 11:48 AM

38 • July/August 2017
---
madison

Recipes

Strawberry

Cheesecake Salad

• 16 oz. cream cheese, softened

• 1 c. powdered sugar

• 2 tsp. pure vanilla extract

• 16 oz. Cool Whip

• 16 oz. strawberries, sliced

• 2 ripe bananas, sliced

• 12 oz. raspberries

• 3 tbsp. crushed graham crackers

In a large bowl using a hand mixer, beat together

cream cheese, powdered sugar, and vanilla until

light and fluffy. Beat in Cool Whip until combined.

Fold in strawberries, bananas, and raspberries.

Transfer to serving bowl and sprinkle top with

graham cracker crumbs.

Frozen

Hot Chocolate

Cheesecake

CRUST

• 24 oreos

• 6 tbsp. melted butter

• 1/4 c. sugar

CHEESECAKE

• 2 blocks cream cheese, softened

• 1/2 c. powdered sugar

• 1/4 c. chocolate sauce

• 2-3 hot cocoa packs

• pinch of salt

• 2 c. heavy cream

• 1 c. mini marshmallows

In a food processor, pulse Oreos until they are

fine crumbs. Transfer crumbs to a bowl, then

add butter and sugar and stir until combined.

The texture should be similar to wet sand.

Grease a 9" pie plate and press in the crust

mixture. In a large bowl using a hand mixer, beat

cream cheese until light and fluffy. Add powdered

sugar, chocolate sauce, cocoa packets and salt and

mix until smooth.

Add about half of the heavy cream and beat

until smooth. Add the rest of the heavy cream

and beat until very fluffy.

Fold in mini marshmallows. Pour cheesecake

mixture into the prepared crust.

Freeze until solid, about 4 hours.

Peaches n' Cream

Lasagna

• 8 small peaches, sliced

• 1/4 c. sugar

• 1/4 c. brown sugar

• 1 tsp. cinnamon

• 15 graham crackers

• 2 c. heavy cream

• 1/4 c. powdered sugar

• 1 tsp. vanilla extract

• 1/4 c. sliced almonds

Macerate peaches: In a large bowl, combine

peaches, brown sugar, sugar and cinnamon. Toss

until the peaches are evenly coated in the sugar.

Refrigerate for 30 minutes.

Make whipped cream: In a large bowl, combine

heavy cream, powdered sugar and vanilla. Beat

mixture with a hand mixer until stiff peaks form.

Assemble lasagna. In a 8" square baking pan,

place graham crackers in an even layer. Spread an

even layer of whipped cream over the graham

crackers, top with macerated peaches then sprinkle

some almonds on top. Repeat three more times.

Chill in refrigerated until the graham crackers

have softened, about 2 hours.

Serve cold.

Hometown madison • 39
---
Urgent Ortho-Care

is expanding to Madison

for sprains, strains, and breaks!

Jackson

Fortification St. @ I-55

Monday - Friday

8am - 7pm

Healthplex @ I-55

Monday - Friday 4pm - 8pm

Saturday 8am - Noon

Walk-in. We've Got You Covered.

www.mississippisportsmedicine.com/urgent-ortho-care

Finding

HER voice.

Jackson Academy student Sydney Thaxton

is part of a creative family with a television

producer dad, an English teacher mom,

and a brother who is first chair in the 2017

Lions All-State Band.

She dabbled in writing short stories

before coming to JA. But it was JA teacher

Grace Simmons' fifth-grade English class

that inspired Sydney to complete her

first book, Dusk. Simmons focuses a lot

on writing, encouraging students to find

their voice and use writing as a means

of developing critical thinking skills.

Excited about Sydney's success, the

school held a book signing to celebrate.

ALL FOR ONE. That's the JA Way.

Sydney Thaxton, JA Student

40 • July/August 2017
---
Y O UR LIF E O U T DOOR S

We specialize in the construction and modernization of decks, patios, pergolas,

cabanas, outdoor fireplaces and kitchens. Fresh air never looked so good.

PRO VISIO NDESIGNS .COM | 601 -57 3-1 9 7 1

Hometown madison • 41
---
Messages

Heaven

from

Mary Ann Kirby

42 • July/August 2017
---
Anyone that has ever lost a loved one

knows of the longing that comes with

wanting to somehow reconnect. In our

minds, we know they're gone but we

still need to feel them to know that

they're ok--- and neither time nor

distance can change that desire.

There's an old saying that goes,

"When cardinals appear, angels are near."

I've always been enchanted by that idea

as the red cardinal has played many

prominent roles throughout our history.

The notion that cardinals are messengers

of spirits exists across numerous

cultures and beliefs--- just ask anyone

that's seen one when they

needed it most.

But truth be known, redbirds

are pretty common in this area.

They thrive in this habitat and while

I'd love to think that every time

I see one it's a spirit-come-to-visit,

it's just as easy for me to

imagine that it's not.

In 2012, my grandmother died at the

age of 96. When it was time to clean

out her house, her youngest son from

California (and the sibling-declared

family-favorite among the four of her

children and two grandchildren) came

to Mississippi for a week to help with

the overwhelming task ahead. She had

lived in the same house in Yazoo City

for over 80 years.

There was stuff everywhere–in the

attic, in the garage, in drawers, and in

closets stacked from floor-to-ceiling.

Much of it I had meticulously sorted

over the course of several weeks and

months but when it came time to do

the final clearing, a lot of it was taken

to the curb. We worked for days to

ultimately prepare the house to be sold.

I called the waste management

company to arrange for a special pick-up

since it was just too much to leave until

the regular trash day. They needed a

heads up–it was a lot. Besides, I needed

to get back to Jackson and wanted to

know that it would be taken care of.

Early the next morning, as promised,

the garbage truck ran and around

mid-day I called my uncle to verify that

it had, in-fact, all been cleared away. He

walked outside and was just astounded

at what had previously been an absolute

massive amount of rubbish. The

mountain had been reduced to a single

random Christmas ball. Every bit of it

was gone.

As he leaned over to scoop up the

old faded ornament, he noticed

something shining in the grass. He

reached down to find a little gold heart

charm. The irony was not lost on him

that it was all that was left–and that he

had found it. He stuck it in his pocket

and went back inside.

His wife was in the kitchen at the

stove fixing a late breakfast. They were

still on California time and were slow

to get going, not to mention worn out

from the several days of hard labor,

prior. He reached in his pocket and

showed her the heart-shaped trinket

and when she flipped it over, she

noticed right away that it was engraved

with the name John. That was his name

–my grandmother's youngest son–the

declared family favorite, which now

seemed somehow divinely confirmed.

Coincidence? Maybe.

Hometown madison • 43
---
Several years before her death, my grandmother gave me an

enamel-coated steel colander. It had belonged to her, seen decades of

usage, and was the only "strainer" I had. I used it regularly and often.

It had long-since begun to rust where some of the enamel had

chipped away, but I continued to use it anyway. I eventually purchased

a new one–coincidently, after she passed. The one she gave me was

just too rusty. So one day I decided to throw it away.

I put it in the garbage. I took it out of the garbage. I put it back in the

garbage and before I even closed the lid I reached back in to rescue it.

It was not just a rusted colander but a piece of my past–and a piece of

someone important to me. I thought to myself, "This is ridiculous!"

And after wrangling with it for almost an hour, I proceeded to shove

it down into the trash bag and tie it shut, once and for all.

The weather on the morning of "trash-day" was bleak. It was

already drizzling and the forecast called for the possibility of severe

conditions later that afternoon. By the time I got home from work,

dark had fallen. It was storming with 30-mile-per-hour winds, and

my garbage can had blown clear to the end of the cul-de-sac. I had

no choice but to battle it out and go get it.

The rain was blowing sideways and I was soaking wet and dragging

the garbage can behind me. I noticed what appeared to be some type

of helmet in the grass next to the curb–dome shaped and glistening

under the streetlight in the pouring down rain. Maybe it was my son's.

I'd grab it as I dashed up the driveway.

But it was no helmet. It was that colander, turned upside down and

sitting there all by itself. How did it get out of the bag that I had so

painstakingly and reluctantly tied together? I was stunned–and still

am to this day.

Coincidence? Maybe.

44 • July/August 2017
---
So a few weeks ago, I was in our backyard building a fire in our fire

pit. I had decided to dispose of some sensitive paperwork that really

should have been shredded, but burning was simply more convenient

and certainly more fun. In the closing of my grandmother's estate, I

had stored countless banking statements and papers that needed to

be discarded but were too sensitive to just put in the trash–and still

held value in my heart. So I poured a glass of wine and my husband

and son helped load up the fire pit. I recalled funny stories about my

beloved grandmother as they continued to crumple up papers and

put them below the logs. Then we lit them.

The fire struggled to catch. My wood was wet. I decided to add

some kindling from a pot we keep nearby. That's when I saw the

blooms. For 30 or 40 years, my grandmother had a pot of succulents

on her back porch that stood year-round on a little dime-store plant

stand in the rain, sun, sleet and occasional snow. She was a master

gardener and yet these succulents were the only plant-life I brought

home with me after her death. I'd had them now for four years and

they live on my back patio next to a big fat pot of kindling. I looked

down and they were in full bloom–and they hadn't been the day before.

I've never seen them bloom. Ever. I didn't even know they would.

So, I've decided they were blooming just for me. As if to say, it's ok to

let go–just never forget.

Coincidence? Maybe. But it serves as a wonderful reminder that we're

never far apart. The truth is that the bond we share with those we

love is a bond never lost or broken–not even by death. Death just

changes the dimensions–like water, evaporating into steam.

Or like a redbird sitting on a window ledge singing, "My spirit will

live on forever there within your heart." n

Hometown madison • 45
---
46 • July/August 2017
---
Hometown Madison

Reader

SPOTLIGHT

Pamela

Hancock

Why did you decide to make Madison

your home?

There is no better place to live, work and raise

a family! There is a strong sense of community,

safety, and integrity.

Tell us about your family.

I am married to John MacLennan and have a

14-year-old son and a 17-year-old step-son.

What is your favorite memory of living in

Madison?

I remember how welcoming everyone was when

I moved to Madison twenty years ago. No other

county can compare to Madison County in terms

of combining a sense of community, pride in

property, and opportunities for fun activities.

Where are your 3 favorite places to eat

in Madison?

Georgia Blue, County Seat, and Angelo's.

What are some fun things to do in

Madison on the weekends?

Shopping, golfing, and parks.

Share some things you enjoy doing in

your spare time.

Boating, concerts, and grilling with friends.

What are three things on your bucket list?

Write a bestselling book; attend a silence retreat;

and master a second language.

Who is someone you admire and why?

I have the opportunity to work closely with the

various law enforcement agencies that serve

Madison County and we are incredibly blessed to

be served and protected by these men and women

in law enforcement. I admire their dedication to

their profession and to the citizens of this county.

They take their jobs incredibly seriously and spend

long hours training, working and attending court

to see that justice is served.

Where do you see yourself ten years

from now?

I hope to still be living and working in Madison

County. I am enjoying serving in my role as

Madison County Prosecuting Attorney, and

feel that I am making a positive difference in

our county.

If you could give us one encouraging

quote, what would it be?

Follow your dreams, passions and calling in every

possible way. Give back to your community as often

as you are able. These are the things that make

our community a great place to live and provide

inspiration to our youth. Anything positive counts

and can make a difference in someone's life.

What is your favorite thing about

Hometown Magazines?

It focuses on people and places relevant to

Madison County. n

Hometown madison • 47
---
What does it mean to you

when you see the American flag?

Tredina Davis

Patriotism.

Ansley Jones

America. Freedom.

Blaine Jones

Home. What this country

was built on—

morals and values.

Mike Jensen

History.

48 • July/August 2017
---
Gavin Callahan

Safety, freedom, and

democracy. White – purity and

innocence; Red – hardiness

and valor; Blue – vigilance,

perseverance & justice.

Rickey Dismuke

Justice, peace, and

the American way.

Molli Grace Amis

Being from a military family,

it makes me think of our

freedom and the sacrifices

they were willing to make.

Avy Akin

Freedom. A battle that we

had to fight to be able to

do what we do today. A long

and painful journey, but in

the end it gave us freedom

and independence.

Teri Gleason

I think about my Revolutionary War

patriot ancestor and his bravery and

courage to fight for our freedom.

Also, my gratitude for every one

who is serving or has served our

country to preserve that freedom.

Donald Foster

Patriotism, soldiers,

and veterans.

Hometown madison • 49
---
19th

madison county

Annual

BAR-B-Q

contest

june 10th

courthouse square • Canton

50 • July/August 2017
---
Hometown madison • 51
---
Life doesn't

stop at 5:00 PM

Your clinic shouldn't

either. We're open late

seven days a week.

Now Open After Hours:

Monday – Friday:

8:00 AM – 7:00 PM

Saturday:

9:00 AM – 6:00 PM

Sunday:

12:00 PM – 6:00 PM

601-605-3858

2173 Main Street

For a same day appointment any time of day, call 1-855-733-8863.

52 • July/August 2017

The Following Is Not For Print/For Information Only
---
A TRUE BANKING ORIGINAL

Why take your business or your skills anywhere

else? As the leading independent staffing agency

in the market, we consistently attract the

finest candidates and match them with the best

companies in the area. And because we've always

been locally owned, you'll be dealing with staffing

experts who are invested in, and responsive to, the

local business community.

STAY LOCAL. SEE RESULTS.

As the largest independently owned

staffing service in Mississippi, we

can customize a wide range of

solutions for our clients and provide

a plethora of opportunities for our

employees. We're large enough to

provide services to big corporations

but just the right size for smaller

companies, too.

Whether you're looking

for work or need

employees, we can

assist you with a variety

of positions, including:

- forklift

- assembly

- warehouse

- janitorial

IF YOU'RE

READY TO GET ON

BOARD, CONTACT

US TODAY!

- administrative

- call center

- accounting & finance

- marketing & sales

and much more...

JACKSON 601-353-4200 | CANTON 601-859-8860 | MCCOMB 601-250-0800

www.tempstaff.net

NMLS# 642317

Welcoming Matt Wilson

With his genuine dedication to homebuyers,

Matt brings years of experience to our already

strong Mortgage Lending team.

Contact him today!

www.Origin.bank/MattWilson

mwilson@origin.bank

office: 601.856.1244 ∙ cell: 601.500.1783

Origin Bank NMLS# 455990

MEMBER FDIC

17ORIGIN050_WelcomeMattWilson_4x10.indd 1

3/31/17 2:27 PM

Hometown madison • 53
---
54 • July/August 2017
---
A Military

Marriage

Abigail Walker

First Lieutenant Jacob Carpenter and

his wife, Captain Becky Carpenter,

are no strangers to the long-distance

relationship. But they don't let distance

keep them from serving their country,

and each other, to the fullest.

Jacob and Becky knew each

other growing up in the Memphis

area and became good friends

in high school. In 2002, Jacob

decided he wanted to try and take

their relationship to the next level.

"He asked me out the night before he was to be deployed,"

Becky says. "He figured it was a win-win for him. Either he had

a girlfriend when he left or he didn't have to see me again if I

said no." Thankfully for him, she said yes.

Jacob was on active duty when they married in 2004. In 2010,

Jacob left active duty to go to school full time. While earning his

bachelor's degree in kinesiology at Mississippi College, he was also

teaching in their ROTC program. He then attended PA school

through the military. Since 2015, he's been working full time as

a special forces medic. Becky received a bachelor's degree in

business administration from Crichton College. In 2011, she and

Jacob made the decision that Becky would also join the military.

She works as an intelligence officer for the special forces.

Jacob and Becky's mission is service, both in their careers and

in their marriage. "We focus on serving others, our state, and our

country together," Becky says. They joke that they have a

3-person marriage: "It's Jacob, me, and the army."

With both spouses being moved around the country and

overseas, time together is precious. The longest the Carpenters

have gone without seeing each other is 13 months. But Becky says

if you add up all the time she and Jacob have spent apart over the

years, it's half of their 13-year marriage. "We make it work," she

says. "It's all about quality over quantity." Becky adds that they

make an effort to touch base every day, whether that's a call, text,

or email.

When they were dating in the early 2000s, Jacob would send

Becky text messages that just said, "49." After three months of

the cryptic note, he explained that if you added up all the numbers

it took to text "I love you," it was 49. Becky said these simple

reminders of love have been an integral part of their relationship.

Hometown madison • 55
---
The uncertainty that comes with being a

service member can be stressful, but the

Carpenters choose to remain joyful. "The only

constant thing is change," Becky says. "Our

marriage has to be a priority." When opportunities

present themselves, they sit down and

discuss them as a couple, talking out the pros

and cons. That's what they did when Becky

joined the military and that's what they continue

to do in each phase of their careers.

But what ultimately keeps them going is their

foundation in Christ. "It's challenging," Becky

says. "But there's a peace because we know we

are doing what we are supposed to be doing."

Becky says that it is important for them as a

military couple, and for military spouses in

general, to grow even while they are apart. "It's

not healthy to stay stagnant while the other is

continuing to mature and develop. It's been our

goal to grow individually so that it's also

reflected in our marriage." She says their

relationship is based on encouraging each other

to reach their full potential. "I wouldn't be the

soldier and the person I am if Jacob hadn't

pushed for that passion in me," says Becky.

They serve in different ways, but they both

have a heart for what they do. "Jacob has a

passion for meeting people's needs and

explaining complicated medical concepts,"

Becky says. "He loves the comradery of the

community he works with." As an intelligence

officer, Becky directs teams to gather and

process data that help determine what actions

need to be taken. "I truly love working with a

puzzle, putting raw data in a way that helps

drive decisions." Becky is the only woman in her

unit, as well as the only woman in the state with

active jump status.

Becky says she and Jacob don't try to compete

with each other. "We look at things differently,"

she says. "but it's broadened our views." She adds

that they have to be able to call each other out,

while remaining constant supports. "I try to be

his cheerleader." They stay connected by

working toward a common goal and are all

56 • July/August 2017
---
about pushing each other to succeed. "We may

not be physically together," says Becky, "but goalsetting

helps us grow. It helps us move forward."

One of the memories that sticks out the most

in their marriage was in August 2008, when

Becky received a phone call that Jacob had been

injured. It was a terrifying experience, but Becky

said they were able to grow closer together

through it. She also saw the love of the military

community, especially the Christians in the

military. "Since we have no family in the

Jackson area, the military is our family," she

says. It's also helped her to "walk alongside

other military couples."

Becky's advice for military spouses: "Understand

what it takes to serve. A service member

can't be successful at their job if they don't feel

supported. One of the most dangerous things is

for a service member to be distracted by issues

happening at home. It doesn't have to be happy

all the time, but support is essential." Becky adds

she's had to learn to trust the Lord with her

husband. "When you know that God has a great

plan, it's easier to trust and go with the flow."

Right now, Jacob is stationed in Kuwait, and

by the time this article is published, Becky will

be deployed to the same base. "It really worked

out," she says. The two will be stationed there

until early next year and will get to spend some

time together between their jobs. "It's a new

adventure," Becky says. "It doesn't fit the mold,

but it's our story. God has already given us some

pretty cool opportunities to serve, and we are

excited for what he has next." n

"When you know that God has a great plan,

it's easier to trust and go with the flow."

Hometown madison • 57
---
58 • July/August 2017

2017 Dragon Boat Regatta

Paddlers Party

May 11th - Madison Landing - Ridgeland
---
Hometown madison • 59
---
60 • July/August 2017
---
NEW YEAR

NEW LOCATION

NEW EQUIPMENT

We are ready to hit the new year with

greater efficiency coupled with the same high quality and

customer service you have come to expect from Hederman

Brothers. Give us a call and let us help you with the latest

technology for all your printing needs.

PRINT

DIRECT DIGITAL GREEN CROSS MEDIA DESIGN

OUR NEW LOCATION

247 Industrial Drive N

Madison, MS 39110

601.853.7300 • 1.800.844.7301

www.hederman.com

Voted Best

Printing

Company

2016 by the

Clarion-Ledger

People's

Choice Awards.

Hometown madison • 61
---
Doe's

_______________

Eat Place

Blending the New

and the Old

Susan Marquez

The Beagle Family: Steve, Rachael Ann, Sarah Beth, & Lisa

The Signa Family: Dominic, Salvatore, Lena, Carmelo & Jack

steve and Lisa Beagles are astute business folks who have

worked in the corporate world for many years. While

they've been involved in many different aspects of

business, one thing they've never done is run a restaurant. Yet today,

they are the proud owners of Ridgeland's newest dining establishment,

one that has brought a taste of the Delta to central Mississippi.

Doe's Eat Place opened in the spring and enthusiastic diners

have already become repeat customers. The original Doe's Eat Place

was established in Greenville, Mississippi, in 1941 by Dominick

"Doe" Signa and his wife, Mamie. The business went through a

few incarnations before becoming a respected restaurant, including

a grocery store and a honkey tonk. In 1974, Doe turned the

restaurant over to his two sons, Charles and Little Doe. They began

franchising the restaurant and today you can find Doe's Eat Place

in several locations in Arkansas, as well as Baton Rouge and inside

Margaritaville in Biloxi. "We are the ninth Doe's Eat Place to open,"

said Steve. "Each location has its own personality."

After contacting the Mayor's office in Ridgeland and expressing

a desire to open a business in the city, it was suggested to the Beagles

that they look into opening a Doe's Eat Place. "It's technically a

franchise," explained Steve, "but we have control over what we want

our restaurant to be." After eating at Doe's in Greenville a few times

and getting to know the Signa family, Steve and Lisa decided they

wanted to honor the family's reputation. "Their values simply

aligned with ours," said Steve. "We were driven from the moment

we met them. What we were buying wasn't an Applebee's – it was

a family's name. We wanted to recreate the same atmosphere as

the original, a place where people could come and relax and enjoy

a delicious meal."

The Beagles took that family concept to heart, hiring a staff

and explaining to them that they were, first and foremost, family.

"No one leaves here without telling 'Mama Lisa' goodbye," asserts

Lisa. "We have a grounded foundation of family here, both among

our staff and among our customers. We are learning their names

and we strive to make them feel welcomed when they come to

dine with us."

The menu at Doe's in Ridgeland is the closest to the original as

any of the other locations. "We have added a few items to the menu,

but our core is still steaks and tamales," explained Steve. "We cut

our own meat for service here, as the steaks are ordered. All steaks

are cut two inches thick and we cook them like no other place does."

The steaks are broiled at a very high temperature which gives the

meat a great charring for a very unique flavor. "You simply can't

62 • July/August 2017
---
cook them this way at home," Steve said. Steak choices range from

a 10-ounce filet to ribeye, porterhouse, and sirloin, all large

enough to feed a very hungry man or to split with others.

The Delta Hot Tamales are the same recipe that's been served

at the original Doe's since the beginning. "The chili we put over

the tamales is exceptional," said Steve. "I also love our spaghetti."

Steve, who had triple bypass surgery a few years ago, said he and

Lisa eat in the restaurant every day. "It's really a healthy way of

eating." One reason they dine in the restaurant daily is to assure

consistent quality. "That's the magic," Steve explained. "We want

to provide the same great experience each and every time someone

dines with us." Some of the modifications they made to the original

menu include the addition of salmon and tuna, both of which are

Steve's recipes that harken back to his days of living in Miami. The

Signas encouraged the Beagles to add a baked potato to the menu,

and Steve added his special grilled vegetables. There are also some

salad additions, including a spring salad with artichokes and

tomatoes, roasted in-house.

One of the new menu items Steve is most proud of is Lisa's

pecan pie. "It was my grandmother's recipe," said Lisa. "I was

raised by my grandmother, and she had two large pecan trees in

her yard. We'd gather the pecans and she'd bake them into pies

she gave as gifts. She became known for her delicious pecan pies.

On her deathbed at age 96, she handed me an old recipe card,

stained with butter." It was the recipe for the pecan pie, and Lisa

has been making them ever since for gifts. The pie served in the

restaurant is about six inches in diameter, and can be served ala

mode. Other deserts include rustic apple tarts, rustic berry tarts,

and chocolate fudge lava cake, all made in-house.

The Beagles settled on opening a restaurant because they

wanted to run a business that connected with the community.

"We wanted that for our girls," said Steve. The couple has two

daughters, ages nine and twelve, who attend school in Madison.

"We want them to have roots here, and we already introduce

them to our guests as the future owners of Doe's." Lisa said that

they are fueled by the atmosphere and energy of the restaurant's

guests. "We get great joy from serving folks in our restaurant.

It's like being in a big Italian family's kitchen."

______________________________________________________

Doe's Eat Place is located in the former

Beagle Bagel location on 898 Avery Boulevard.

Call 601-487-8954 For reservations.

Hometown madison • 63
---
Doe's

_______________

Eat Place

Grand Opening

april 19

64 • July/August 2017
---
Hometown madison • 65
---
66 • July/August 2017

June 3, 2017

Ridgeland Recreation & Parks
---
Hometown madison • 67
---
68 • July/August 2017
---
Medical & Laser Skincare | Injectables | Coolsculpting | Facials

**Virtually Painless Laser Hair Removal Available In Madison.**

For Consult Call:

601.790.9821

The non-invasive way

to lose unwanted bulges...

No surgery. No anesthesia.

No downtime.

Performing Coolsculpting since 2012

Over 2,000 treated at Mon Ami Spa to date

FREEZE YOUR

FAT AWAY

TREATABLE AREAS:

BEFORE

AFTER

PHOTO OF ACTUAL MON AMI SPA CLIENT

Love Handles | Muffin Tops

Flanks | Abdomen | Double Chin

Inner & Outer Thighs

Madison Location:

Mon Ami – The Sculpting Center

501 Baptist Drive, Suite #140

Madison, MS 39110

Jackson Location:

Mon Ami Spa & Laser Center

Highland Village

4500 I-55 North, Suite #128

601.366.7721

601.790.9821

www.MonAmiSpa.com

Hometown madison • 69
---
The CHALKBOARD

MADISON COUNTY SCHOOLS

Madison Central

Hall of Fame Members from the Class of 2017

(L-R) Harrison McKinnis, Nathan Yin, Emily Zhang, Mason Joyner, Reyna Dixit,

Katie Christy, Abby Johnston, Connor P. Jones

Principal's Leadership Award Winners

(L-R) Kate Russell Snopek, Emily Seiss, Anna Hill, Jesse Li.

Pawprint Yearbook Production members

(L-R) Social Media Managers Courtney Ragsdale and

Taylor Dancer; Production Editors Kaitlin Joshua and Sarah Bartley; Copy

Editor Caroline Lewis, Production Staff Member of the Year Haley Green.

Jaguar Spirit Award Winners

Back row is Tommie Gooden. Third row left to right are: Brenden Lyall, Morgan Partrick,

Evan Slay and Dawson Davis. Second row left to right are: Reggie Martin, Amelia Jarvis,

Mary Catherine Lee, Carter Griffin, Quentin Euell. Front row left to right are: Sydney

Brady, Parker Lick, Cheyenne Barker, Blake Collins, Sarah Weicks.

2016-2017 National Merit

Commended Scholars Amelia McKee,

Bradley Stokes, Hannah Gibbs.

70 • July/August 2017

Madison Central High School

Pawprint Yearbook Business

Managers Mason Joyner, Amelia Jarvis.

2016-2017 National Merit Finalists

(Back row L-R) Nathan Yin, Emily Zhang.

(Third row L-R)Riley Street, Alex Smith, Sydney Taylor, Sumner Thomas.

(Second row L-R) Paige Kessler, Jesse Li, Harrison McKinnis,

Sean Sawaya.

(Front row L-R) Reyna Dixit, Anna Hill, Kaitlin Joshua, Mason Joyner.
---
Blue and Orange Award Winners

(Back row L-R) Alex Dunn, Ben Jones, Preston McMillin, McKenzie Wilbourne,

Sydney Taylor.

(Middle row L-R) Danny Williams, Cole Kelly, Stephen Fowler, Sydney Brown.

(Front row L-R) Thomas Mozingo, Sean Sawaya, Lawson Stewart, Sarah Bartley.

2017 Star Student and Star Teachers

(Back row L-R) Jesse Li, Susan Shivers, Mason Joyner

(Front row L-R) Harrison McKinnis, Kristy Partrick, Reyna Dixit,

Emily Zhang.

Seniors who received all A's for seven semesters in high school

(Back row) Thomas Morrison.

(Fourth row L-R) Denton Garvey, Reyna Dixit, Sydney Brown, Evan Slay.

(Third row L-R) Reggie Martin, Abby Johnston, Anna Hill, Tommie Gooden.

(Second row L-R)Harrison McKinnis, Jesse Li, Amanda Kim, Mason Joyner,

Katie Christy.

(Front row L-R) Emily Zhang, Lily Turnbull, Sean Sawaya, Rehma Siddiqui,

Thomas Mozingo.

(Left) Valedictorian for the class of 2017 is Emily Zhang. Emily is

the daughter of Yi Quian and Zhao Zhang. She will be attending

the Massachusetts Institute of Technology in the fall.

(Right) Salutatorian for the class of 2017 is Harrison McKinnis.

Harrison is the son of Danelle and Patrick McKinnis. He will be

attending the University of Mississippi in the fall.

Submissions provided by local officials from each individual district and not to be considered editorial opinion.

Hometown madison • 71
---
The CHALKBOARD

MADISON COUNTY SCHOOLS

Germantown

The highest honor that can be bestowed

upon a graduate of Germantown High

School is to be selected to the Hall of Fame.

Those who will be honored must have made

a good and prudent academic effort, have a

respectful attitude, cooperative spirit, good

character, demonstrate good citizenship and

be a positive role model. The students must

also have been active in co-curricular and

extracurricular activities and have made a

positive contribution to Germantown

High School with a true love for the school.

The seniors selected to the Hall of Fame

by the faculty and staff truly possess all

these characteristics.

Owen Ivan is the son of Kirk and Ginger

Ivan. He has been a part of our SGA for

multiple years while participating in Beta

Club, National Honor Society and St. Jude

Steering Committee. He has earned a

plethora of subject awards while maintaining

honor roll status. Owen was also named a

National Merit Finalist this school year.

He plans to attend the University of

Notre Dame in the fall.

Amber Young is the daughter of Keith and

Camille Young. Amber has been a part of

student government for multiple years while

contributing to Beta Club, Yearbook Staff

and National Honor Society to mention a

few. Amber has also been named Student of

the Month multiple times and named Miss

GHS this school year. She plans to attend

Mississippi State University in the fall.

The goal of the Germantown MAVS

Booster Club is for our student athletes to

be ambassadors for the Mavericks not only

on the field but also in the classroom.

(L-R) Josiah Thomas, Larry Taylor, President

of the MAVS Booster Club, Emma Simpson.

Germantown High School is fortunate to

have support from our community.

St. Dominic Hospital has been particularly

instrumental in helping to build a strong

foundation for Germantown High School.

They have gone above and beyond with

their support by establishing a scholarship

for GHS seniors.

(L-R) Erin Kight, Owen Ivan, Breana Pigott.

The GHS Ted Poore Distinguished

Maverick Scholarship in recognition of

Mr. Ted Poore, the very first principal of

Germantown High School, recognizes

seniors who have distinguished themselves

as true Mavericks.

(L-R) Laurel Lee, Miles Murphy, Torri Duckworth.

72 • July/August 2017
---
Shelby D'Amico is the daughter of Dan and

Martha D'Amico. She has been a vital part

of Student Government for numerous years

and served as executive co-president this

year. She has earned an abundance of

subject awards and maintained honor roll

throughout high school while participating

with various clubs such as Yearbook, Beta

Club, Interact Club and St. Jude Steering

Committee. She plans to attend the

University of Mississippi in the fall.

Anna Shepard is the daughter of Rob and

Sue Ellen Shepard. Anna has been an officer

with SGA for many years and served as

executive co-president this year.

She represented GHS with Madison

County Youth Leadership and was an

important part of our Beta Club, Yearbook

Staff, FCA and National Honor Society.

She has been named Student of the Month

and won the Citizenship Award. She plans

to attend Mississippi State University

in the fall.

Brantley Hudnall is the daughter of Kristof

and Amy Edgar and Thomas Hudnall.

She has been a massive part of the Speech

and Debate Team, Beta Club and St. Jude

Steering Committee. She has earned the

Citizenship Award, been named Student of

the Month and earned an abundant of

subject awards. Brantley was named a

National Merit Commended Scholar

this year and she plans to attend the

University of Mississippi in the fall.

Consumers shopping for a new or used car in Mississippi have been

choosing Mac Haik as their dealership of choice for many years.

Their ability to meet and exceed every car shopper's expectations is

what helps them succeed as the premier car dealership in Mississippi.

With 3 locations to choose from and their newest location to open

soon in Gluckstadt, GHS is pleased to partner with them and offer

several scholarships for students.

(L-R) Laurel Lee, Natilyn Hasty, Shelby D'Amico, Louis Jones, Director of Operations

for Mac Haik Mississippi, Brantley Hudnall, Torri Duckworth, Madeleine Case.

The GHS PTO is always ready, willing and there when needed.

(L-R) Josiah Thomas, Laurel Mahaffey, PTO President Kim Magoun,

Cameron Petermann, Emma Simpson.

Hometown madison • 73
---
The Time Coin

Things I learned at the beach:

• God's greatness becomes more

real to me when I see the

vastness of the ocean.

• The sun will always find that portion of

the body that missed the sunscreen.

• Peanut butter sandwiches taste ten times

better on the beach, even if they include a few grains of sand.

• Seagulls are like gossipers – news travels rapidly among them.

• The roll of the ocean waves is far more effective than Tylenol PM.

• Sand shovels never dig deep enough to find the end of the sand.

• Watches and clocks lose their power to dictate.

• The waves are like God's love; they never stop.

• Children's abilities to withstand and tolerate the brisk water

temperatures far exceed mine.

• Aloe lotion is an essential item for beach vacations.

• Reading God's Word on the beach only enhances its power.

• We should all learn the contentment that a pail and shovel gives a child.

• Regardless of what the extended family eats, it's fine dining when we

do it together.

• A full moon shining through the trees at our home doesn't carry the

same impact that the moon's reflection on the ocean carries.

• Swimsuits come in ALL sizes.

• The ancient practice of sun worship

still exists.

• Even rainy days are pretty on the beach.

• Infants cannot enjoy the beach.

• Mothers of infants learn that quickly.

• A heavy fog can obscure the beach but can

never muffle the waves' symphonies.

• Krispy Kreme Donuts were conceived for vacationers.

• Diets were designed for donut-eating vacationers.

• Teenagers can survive on minimal sleep during beach vacations.

• Parents should always chaperone teenagers on beach trips.

• Forget the policy of jean Fridays. Make it pajama day every day.

• The volume of portable electronic music should never be allowed

to mute the sound of the waves.

• Families love each other more and are more considerate of one

another when they are on the beach.

• Some gulls have learned the practice of freeloading.

• An early morning walk on the beach will inspire you to save

for the next beach vacation.

• The last walk on the beach before heading for home is never

long enough. n

74 • July/August 2017
---
I choose Merit.

Phillip Ley, M.D., FACS

Board-Certified Surgeon

Specialist in Cancer Surgery

Because there's Merit

in providing specialized care.

Surgical oncologist Phillip Ley, M.D., FACS, has joined the team at Merit Health. With more than 20 years of experience, Dr. Ley

has special expertise in breast cancer surgery. He provides minimally invasive biopsy, breast cancer management, hereditary

cancer risk assessment, and oncoplastic breast cancer surgery. An advocate for breast cancer prevention and research, he is

continually exploring new options for patients, such as genetic testing and clinical research for those with a family history of

breast cancer. Dr. Ley is also experienced in treating melanoma, soft tissue sarcoma, and thyroid and parathyroid disease.

Dr. Ley brings his patients the benefits of advanced research,

training and techniques. For more information, call 601-326-2175.

Talk with your physician about a referral to Dr. Ley.

Member of the Medical Staff at Merit Health River Oaks and Merit Health Woman's Hospital.

1030 N. Flowood Dr.

Suite C • Flowood, MS

MyMeritDoctor.com

Hometown madison • 75
---
RUNNELS

C E N T E R

just got even better!

Announcing

William North, M.D.

has joined Runnels Center

There's a reason Runnels Center

has been voted "Best" for the last two years.

It's our commitment to bringing only the best

to Mississippi. So we're pleased William North,

Jackson native and graduate of UMMC, returned

to his medical home and chose to practice

with us. Dr. North brings the latest techniques

and unparalleled experience from the

prestigious University of Kentucky

Albert B. Chandler Hospital in Lexington.

voted

The Clarion-Ledger's

Best of 2015 and 2016

Call for Appointment

601.939.2457

RUNNELS

CENTER

skin ∆¬e Spa

laser & aesthetics

L-R: William North, MD • Scott Runnels, MD, FAC, Diplomat, American Board of Plastic Surgery

River Oaks Dr. • Metro Jackson • www.runnelscenter.com