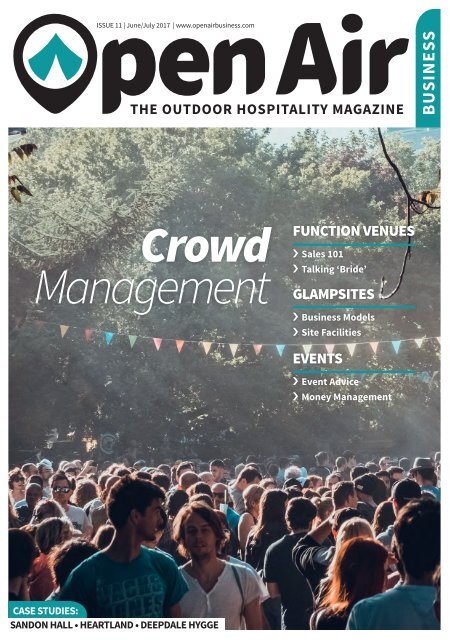 Open Air Business June/July 2017
The UK's outdoor hospitality business magazine for function venues, glampsites, festivals and outdoor events
The UK's outdoor hospitality business magazine for function venues, glampsites, festivals and outdoor events
SHOW MORE
SHOW LESS
Create successful ePaper yourself
Turn your PDF publications into a flip-book with our unique Google optimized e-Paper software.
ISSUE 11 | June/July 2017 | www.openairbusiness.com

BUSINESS

Crowd

Management

FUNCTION VENUES

› Sales 101

› Talking 'Bride'

GLAMPSITES

› Business Models

› Site Facilities

EVENTS

› Event Advice

› Money Management

CASE STUDIES:

SANDON HALL • HEARTLAND • DEEPDALE HYGGE
---
Visit

...and see where it leads you

21 st - 23 rd

September 2017

NAEC, Warwickshire

Register now to visit

www.theglampingshow.com
---
ISSUE 11 | June/July 2017 | www.openairbusiness.com

WELCOME

Welcome

WE ARE IN full swing of summer and the weather has so far been

kind to most of the country; I hope this has impacted well on your

outdoor businesses.

If you are still in the data gathering stage of setting up a

glampsite on your land then regular contributor Kate Morel's

overview of the different business models available to you is very

comprehensive. Equally, if you are planning to offer, or are already

offering, weddings then Kelly Chandler and Isabel Smiths' words

of wisdom will get you a head start in selling your venue to couples in the most effective

ways.

Our case studies are a great source of inspiration and I applaud Jason Borthwick and

the team at Deepdale Farm for their entrepreneurial spirit and their successful addition of

events to an already thriving campsite and backpacking hostel. Read about the inaugural

Deepdale Hygge in the Events section.

I thank everyone who has taken the time to complete our reader's survey – the results

are very enlightening and an important guide to the team here. We will be making the

called for tweaks from the next issue. You still have until 1 August to complete the short

survey online and make it into the draw for one of 10 bottles of champagne –

visit www.openairbusiness.com/survey

Tally Wade

Editor / Publisher

Not a subscriber? Sign up for FREE at www.openairbusiness.com/subscribe-free

to make sure you continue to receive the magazine.

PUBLISHERS

Steve Rix - steve@openairbusiness.com

Tally Wade - tally@openairbusiness.com

EDITOR

Tally Wade - tally@openairbusiness.com

ADVERTISING SALES

Marney Whyte - 01892 677740

marney@openairbusiness.com

DESIGN

James English -

www.jamesenglishdesign.co.uk

PUBLISHED BY

Coffee Shop Media - 01580 848555

www.coffeeshopmedia.com

The House on the Hill, Friezley Lane,

Cranbrook, Kent, TN17 2LL

t: 01580 848555

Contents ISSUE #11 | June/July 2017 2017

FOLLOW US ON

TWITTER

@openairbusiness

FOLLOW US ON

FACEBOOK

www.facebook.com/

openairbusiness

UP FRONT

4 News

6 Product News

FUNCTION VENUES

10 Sandon Hall – a stately home where

couples can be Lord and Lady of the

Manor

14 Sales 101 – the sales funnel explained

for wedding venues

16 Do you Talk Bride? – what to say and

not say

18 OAB Loves… Power! – products to

power your marquee events

GLAMPSITES

22 Heartland – a unique glampsite in the

mountains of Italy

27 Business Models – how are you going

to make money from yours?

32 Woodland Wonders – why hanging

out in the trees is good for our health

35 OAB Loves… Site Facilities! – what

we love about these glampsite

products

EVENTS

42 The Deepdale Hygge – finding

happiness on the North Norfolk coast

46 Crowd Management Consultants – a

guest comment warning of so called

'experts'

49 Control of the Cash – financial

planning is crucial, says Nick Eade

52 Event Advice – suppliers share their

tips

40 Industry Legend – Carwyn Lloyd

Jones, creator of the Dragon's Eye

55 Spotlight

57 Classifieds

58 Periwinkle

Find more expert advice online:

www.openairbusiness.com

NOW

LIVE

ISSUE 11 | JUNE/JULY 2017 | www.openairbusiness.com

Crowd

Management

CASE STUDIES:

SANDON HALL • HEARTLAND • DEEPDALE HYGGE

FUNCTION VENUES

› Sales 101

› Talking 'Bride'

GLAMPSITES

› Business Models

› Site Facilities

EVENTS

› Event Advice

› Money Management

COVER PHOTO

Beware crowd management 'experts' -

turn to pages 46-47.

Photo courtesy of Getty Images

BUSINESS

WWW.OPENAIRBUSINESS.COM 3
---
The latest news from the world of outdoor hospitality

Straw Bale Glamping Pod

THE OWNERS OF Remarkable East Yorkshire Tourism award winner

Butt Farm Caravan and Campsite, East Yorkshire, have joined forces

with carpenter Sam Atkinson to offer a new concept in sustainable

glamping. Atkinson specialises in making buildings from locally

grown wheat straw and has built his first glamping pod which will be

showcased at Driffield Show before being installed at Butt Farm for

the rest of the summer.

Owner Oly White said, "When Sam first approached us about

making a glamping pod out of straw we thought it was a fantastic

idea. We had previously considered offering glamping on our

campsite but wanted something different, and this is exactly

that. Having seen Sam's other buildings, including his own four

bedroom house, we knew that it would work. Straw is one of the

best insulations you can buy so this pod really does offer year-round

luxury glamping which differs from many other glamping pods. And

to think the straw comes from the farm; well you can't get any more

local than that!''

The pod sleeps up to four and contains a fitted kitchen, bathroom

with shower and toilet, double bed and pull out sofa bed. It also

features handmade oak detailing and sheep's wool insulation.

To book a stay, visit www.buttfarm.co.uk. To enquire about a pod

on your site, visit www.sacarpentry.co.uk

IN BRIEF

WEDDING VENUE TRAINING

Consultant and Open Air Business contributor Kelly Chandler has

launched an autumn training series for wedding venues with dates

from 20 Sep to 17 November. She is offering an early bird discount

until 11 August. www.kellychandlerconsulting.co.uk

£4 MILLION GLAMPSITE OPENS IN SHROPSHIRE

A 22 acre leisure resort has opened in Shrewsbury, with 11 six birth

glamping lodges and 122 fully serviced caravan pitches. Love2Stay

is located behind caravan dealer Salop Leisure, and has been

created with a focus on 'getting back to nature'. The site features

a natural swimming pool, 'Cinedrome', spa, woodland hideout,

adventure playground, and barefoot sensory walk.

n The Showman's Show

A Greener Festival

Expands to Assess

all Events

THE TEAM BEHIND the internationally acclaimed Greener

Festival Award has launched the Greener Event Award,

as part of an expansion of services to the broader events

industry, conferences, venues and sport. The first of its

kind, the award involves independent site assessment,

verification and certification of environmental actions

at events and venues. Participants in the award receive

tailored recommendations to make improvements year on

year.

Since 2007, A Greener Festival has assessed over 400

festivals across five continents. Assessments are carried

out by a team of 65 assessors from environmental and

event management backgrounds, and this wealth of

experience is now being brought to the wider events

industry to help reduce environmental impact and

improve sustainability in the live sector.

"There are very tangible opportunities for events and

venues to save resources and money through actions

that benefit the environment," says Claire O'Neill,

co founder of A Greener Festival. "There has been an

overwhelming response from events that want to act on

these opportunities and share best practice. That is where

we can help."

The expansion of the award has received a welcoming

reception from event organisers, with 10 already signed

up for assessment including Confex and Event Production

Show (UK), Doolin Festival (IE), Wildscreen (UK), the

Moscow Flower Show (RS), Festival and Outdoor Events

Show (UK), Eurosonic Noordeslag (NL) and the Showman's

Show (UK).

Johnny Lance, of Lance Show and Publications,

explained that, "As the organiser of the Showman's Show

we are delighted to be participating in the new Greener

Event Award. It is an excellent opportunity to recognise

and build on our existing sustainability policies. We are

always looking at ways to improve on the environmental

impact of our event, as well as find some potential cost

savings along the way".

The Greener Event Award assessment is open to all

kinds of events. For more information visit

www.agreenerfestival.com/award

4 WWW.OPENAIRBUSINESS.COM
---
ADVERTORIAL

Glamping – What's

Been Putting You Off?

Call Kate Morel for a free, no obligation

telephone consultation on starting or

growing your glamping business

SEREN WAGON, JUBILEE BARN GLAMPING

Glamping Show 2017

THE GLAMPING SHOW is now in its third year and will return to

Stoneleigh Park on Thursday 21 to Saturday 23 September. The

only event of its kind that caters purely for the glamping sector,

it has grown and evolved since its inception in 2015. It's not

just a great source for glamping products and services but also

industry intelligence. Whether you are in the throes of planning

a new glampsite, an established operator or an event organiser

planning temporary event accommodation, you can access

expert advice free of charge.

The popular seminar series will feature industry experts

giving tips and advice on how to enhance your business, the

latest legislation (including data protection and seasonal

employment law), and technology and services.

Visitors can expect to see glamping suppliers from all

corners of the world showcasing an extensive range of different

structures, from luxury

tents, pods and shepherd

huts to floating lodges and

treehouses, as well as a

wide range of accessories

and services. www.

theglampingshow.com

'Glamping' - a lot of people

in this industry don't like the

word (there, I've said it!) but we

are rather stuck with it, thanks

to current marketing, which

is predominantly online and

mostly at the mercy of Google's

keywords and algorithms. Dire

warnings about neglecting

search engine optimisation

and social media engagement

are everywhere, and certainly,

we do need an effective online

presence. Ultimately however,

the product on offer behind all

that digital marketing needs to

deliver.

With some businesses, and

glamping is one of them, online

marketing becomes more

intensive and expensive if the

product was poorly thought

out or presented, because it

becomes harder to convert page

visits into bookings, and to gain

repeat year on year occupancy.

Amid the digital marketing

hype, we sometimes forget

the importance of the product

itself - and glamping is all about

the product - the experience

that our guests are buying into.

We can put the cart before the

horse, but it's so much harder

to push something uphill, than

tow it.

As time ticks on, creating a

profitable glamping business

requires more consideration

and originality because it's

becoming more competitive,

but glamping still represents a

good business opportunity in

the right locations. The ultimate

key to success? Close attention

to ROI figures and originality,

resulting in healthy rental fees,

high occupancy, and lower

marketing costs. That's it in a

nutshell, easy, right?! OK, it's not

that simple but if we get those

five things right, we've got a

very successful business.

A QUESTION FOR YOU

If you're still reading this, I

am guessing you have some

interest in the industry, so I have

a question for you – have you

been thinking about getting

into glamping but have held

off because you don't know if

it's worth the effort, will make

enough money, where to start,

or even if your land is suitable?

Drop me a line and let's have

a chat about the potential

your land or estate might hold.

There's no fee for an initial

telephone consultation, and

no obligation. If you're already

in the process of setting up, it

might just save you pushing a

cart uphill for years to come.

Kate Morel is an independent

consultant in the glamping and

ecotourism industries. Get in

touch for a free, no obligation

consultation on

07800 800 199 or visit

www.katemorel.com

WWW.OPENAIRBUSINESS.COM 5
---
PRODUCT

Zoos get into Glamping as Durrell Wildlife

Camp Scoops First AA Glamping Award

The Durrell Wildlife Camp, Jersey, is the first

recipient of the new AA Glamping Site of

the Year award. A canvas Clubhouse, Lemur

Lodge, serves as reception, meeting place

and function area, whilst accommodation is

in futuristic geo domes, both from Boldscan's

Albion Canvas range. Set on wooden decking,

interiors feature a king-size bed, two singles

and a wood-burning stove, plus an additional

pod with high quality toilet, wash basin

and shower, and a spacious fully equipped

kitchen. The AA commented: "The Durrell

Wildlife Camp offers quality accommodation,

excellent customer service and a unique

holiday experience."

Last year Boldscan set up Chessington

World of Adventures' new 'Explorer Glamping'

site with 31 bespoke khaki bell tents and four

safari-style Amboseli tents. The site is situated

next to the Wild Asia section, home to the

lorikeets. Interiors have a subtle Asian theme

and include proper beds, duvets, a clothes

rail, free Wi-Fi, power sockets and tea and

coffee making facilities.

Chester Zoo, Avon Valley Adventure and

Durrell Wildlife Camp, Jersey

Wildlife Park, and Camp Hill Estate have

recently installed Boldscan's clear span

(no poles) Clubhouse. Camp Hill Estate's

owner, Robert Ropner, toyed with the idea

of redeveloping existing buildings or putting

up a wooden cabin to house the café. "A

wooden cabin would have been extortionately

expensive in comparison. As well as winning

on price, the canvas Clubhouse offered

flexibility and the muted colours blended in

with the landscape. The Clubhouse will be

a café in high season and then a venue for

weddings or corporate events. It can even

be moved to a new site if necessary." 01823

665849 / www.albioncanvas.co.uk

Next Generation Tree Tents Have Landed

It began with a sketch, was brought to life on 'George Clarke's Amazing Spaces' and

now Tree Tents has launched the next generation design of its namesake structure the

Tree Tent – the world's first flat-pack, suspended tree house –

on a Swedish island dedicated to outdoor adventure.

"Staying true to our vision of creating the world's greatest

outdoor hideaways, we've honed the Tree Tent design,

rigorously testing materials and tracking their lifecycle

to ensure the structure performs to the high standards

we expect for owners, guests and the environment," says

Jason Thawley, innovation and design director at Tree

Tents. "I can't think of a better place to launch the new design

than in Askersund Outdoor's idyllic Scandinavian woodland.

The owners' philosophy of encouraging enjoyment of the

outdoors, while doing good business that doesn't cost the earth, aligns perfectly with

our own," he adds.

Tree Tents is also proving a hit closer to home with the team busy installing across

the UK for this summer. But thanks to a clever prefabricated design that promises

painless installation in around two to three days, there's still time to add the world's

greatest escape to your site for this season. 01273 973 937 / www.treetents.co.uk

Design Your Own Glamping Domes

F.Domes is a global manufacturer and supplier of DIY geodesic dome kits.

Portable and en-suite, the products from F.Domes allow you to free your

creativity and choose from dozens of colour combinations for the dome's

membrane, insulation, curtains and bathroom module coverings. There

is also a plethora of additional equipment. If you wish, you can make your

dome blend with the landscape; useful in locations where this is obligatory

such as national parks and nature reserves.

The company states that its domes have extreme longevity and durability,

and that maintenance is minimal. 020 8133 2588 / www.fdomes.com

Sanitation for Off

Grid and Temporary

Glampsites

New to the glamping market is a

product allowing flushing toilets to

the most remote, temporary or off

grid glampsites. Initially developed

for the construction industry, the Tuff

Tank waste storage tank from Plastic

Solutions can be positioned under a

shepherds hut or other glamping unit,

wash or WC cabin to collect waste for

removal by local septic tank emptying

services.

"Although

the adverts

for glamping

tend to

concentrate on

the provision

of decent beds,

heating and

lighting, in the

background there is often another

important feature – decent sanitation,"

says Jon Trelfa, general manager at

Plastic Solutions. "That means hot and

cold running water and, in particular,

private and preferably flushing toilets.

"That immediately causes many

permanent and event-specific

glampsites a problem. While mains

water is a possibility, mains sewers are

probably not. One approach might be

to invest in some major groundwork

development but this is likely to incur

planning permission and expense.

A Tuff Tank can be easily installed to

capture waste and allow all the home

comforts guests expect."

The portable sanitation products

from Plastic Solutions include water

tanks in a variety of sizes, pumps

to transport the water, portable

recirculating flush toilets and effluent

tanks to support the use of flush

lavatories. These can be bought by

site owners for permanent or semipermanent

installation and are also

available from hire companies to cater

for the needs of one off or irregular

events. 0800 334 5742 /

www.plasticsol.com

6 WWW.OPENAIRBUSINESS.COM
---
POWERING EVENTS

AROUND THE WORLD

LIGHTING & GENERATORS

morrismachinery.co.uk

0345 409 0277
---
ADVERTORIAL

Protecting

Your Assets

If you own rural land and property, these are often

your most valuable assets. Learn how the CLA can help

protect and enhance them

Whether you make a living from

your land or simply own it

for pleasure, your rights and

responsibilities over your own

land are varied and can change.

The Country Land and Business

Association (CLA) supports anyone who

owns rural land in England and Wales. It

does not exist purely for larger landowners

– around a quarter of members own fewer

than 25 acres.

The CLA gives specialist advice

and practical support that will help

you to understand your landowning

responsibilities and make the most of

what your land and property has to offer.

Membership also gives you a connection

with the major landowning and rural

communities and it can help cut your costs

through selected services.

If you run a smallholding, access to

the CLA's specialist landowning and rural

business advice means you can run it more

effectively and efficiently. For instance,

the CLA can help you understand the laws

affecting boundaries and rights of way,

whether you comply as a working farmer

for inheritance tax, and if there are other

businesses you could be running on your

land.

Alternatively, you may have bought a

house in the country with land around it.

Like many people, you may not be aware

of the responsibilities you have taken on,

as well as your rights as a landowner. For

example, the CLA could explain your legal

responsibility regarding trees on your land,

what you can do to avoid trespassing and

how can you protect your land against

claims that it is a village green.

Here are five key areas in which the CLA

can help you.

KNOWLEDGE – Insight on issues that

1 affect your land and business

Regardless of the number of acres you

own, it is vital that you are aware of the

issues that affect landowners. The CLA's

professional advisers keep members

informed giving relevant and practical

guidance via regular emails, a monthly

magazine and the CLA website.

This exclusive knowledge is highly

valuable and gives you the inside track to

help you to understand and comply with

rural legislation, to be aware of your rights
---
selected to support you in managing your

land and rural business interests.

› CLA Insurance – protects all your assets

from your land, your home and its

contents to any rural enterprises you are

running on your land

› CLA Healthcare – provides the right

healthcare options for you, your family

and your employees

› CLA Foreign Exchange – allows you to

get the best out of your foreign currency

exchange transactions, such as property

payments or foreign investments

› CLA Utilities – provides support and

advice on energy efficiency measures

THE CLA'S PROFESSIONAL ADVISERS KEEP

MEMBERS INFORMED GIVING RELEVANT AND

PRACTICAL GUIDANCE VIA REGULAR EMAILS,

A MONTHLY MAGAZINE AND THE CLA WEBSITE.

and responsibilities as a rural landowner,

to gain technical information relating to

owning small acreages, and to obtain new

ideas for generating income from your

land.

ADVICE – Expert guidance to help

2 manage your land and business

Advice from the CLA's national experts can

help protect the investment value of your

rural land and property. Direct access to

their expertise will help you manage your

land and business. Typical issues include:

› How do I stop neighbours encroaching?

› What are my legal responsibilities for

animals straying off my land?

› Who can explain the tax rules regarding

land ownership?

› What do I need to bear in mind when

applying for planning permission?

› What rights do utility companies have to

come on to my land?

› Where can I access grants to create a

wildflower meadow?

COMMUNITY – Valuable connections

3 to extend your contacts

CLA members make up a significant rural

group and their unique member events

give you the chance to make valuable

connections. As part of their exclusive

community you will be able to:

› Socialise with fellow land and property

owners

› Acquire local knowledge

› Gain access to the specialist rural

suppliers and services landowners need

› Enjoy country pursuits

› Share ideas with other members to help

you succeed with your own projects

› Be seen as an intrinsic part of the rural

community

INFLUENCE – Ability to influence

4 decision-makers

Anyone who owns rural land, even just a

few acres, needs an influential voice to

help protect its value; the CLA can be that

highly effective voice. Using its members'

experiences and concerns enables the CLA

to:

› Lobby to overturn poorly considered

regulations

› Improve legislation that will benefit

members

› Resist the introduction of laws that

will have unintended consequences for

landowners

› Ensure decision-makers consider the

implications of legislation for rural areas

The CLA's specialist lobbying can help

you protect the value of the land and

property you have invested in and your

ability to enjoy your land as you wish.

MEMBER SERVICES – Support from

5 partners who understand your needs

The CLA's member services are carefully

What CLA members say

"It is good to know that the CLA

with all its useful contacts is there to

help me through when I need expert

advice. Best decision I have made for

a long time." Norfolk member

"Thank you very much for all your

help as I literally did not know where

to start." Yorkshire member

"Thanks to you and the CLA I am

probably better informed than many

might be. God bless the CLA once

again!" Devon member

"Knowing very little about land

management, I asked for assistance. I

have been hugely impressed. Efficient,

helpful, supportive and enthusiastic.

My subscription to the CLA has been

amply rewarded and I am a very

satisfied member." Essex member

To find out more about how the CLA can

help you protect your land and property,

please visit www.cla.org.uk or

call 020 7460 7935.

WWW.OPENAIRBUSINESS.COM 9
---
FUNCTION VENUES

CASE STUDY

Sandon

Hall

A neo-Jacobean stately home that allows couples

to be Lord and Lady of the Manor for their big day

Sandon Hall has been the ancestral home of the Harrowby

family since 1776 and has been open for weddings for the last 15 years. With 50 acres

of formal gardens and 400 acres of parkland, the estate is considered the jewel in

Staffordshire's crown. We talk to team member Emma Clarke.

What is your venue's history?

Sandon Hall is a neo-Jacobean hall

built in 1854 after a fire burnt down

the original house built in 1776.

So, you could say we have been in

the business of hosting parties and

events since the 18th century.

Sandon Hall has been the

ancestral home of the Harrowby

family since 1776, when Nathaniel,

first Baron Harrowby, bought

a shooting lodge and had it

transformed by the architect

Samuel Wyatt into a Georgian

house.

The present Lord and Lady

Harrowby chose to open their

house up to the public 15 years ago.

They haven't changed much of the

interior; in the drawing room, you

will see hand painted wallpaper,

preferring to make anyone using

the hall feel like Lord and Lady of

the Manor for their special day.

"OUR NEXT

FIVE-YEAR

PLAN IS

TO DRIVE

WEDDINGS

TO OVER 50

A YEAR AND

ATTRACT

MORE

MID-WEEK

CORPORATE

BOOKINGS"

Set in 400 acres of parkland with

50 acres of ornamental gardens,

many brides choose to erect tipis

and marquees in the grounds.

We have been very successful

with weddings, averaging 35

weddings a year. Our next five-year

plan is to drive weddings to over 50

a year and attract more mid-week

corporate bookings.

Tell us about your location and site

Set in the very heart of the country,

Sandon Hall is just 10 mins from

J14 of the M6 motorway, but you

wouldn't have thought it. Guests

turn off the A51 and on to the onemile

private drive which takes them

through part of the parkland, much

of which is used for sheep and

pheasants.

Once guests arrive at the hall they

get to appreciate the tranquillity

Sandon has to offer, the peace and

open space.

One of our challenges is the

livestock on the parkland. The

estate rents large areas out to local

farmers and we are aware of the

need to remove livestock from the

fields we use for a period of time

before events are held. However,

we are lucky to have the 50 acres

of formal gardens, designed by

William Eames, immediately

encircling the Hall which tends to

cover all our guests' needs.

We even have a church on the

estate, which many wedding guests

choose to walk back from, through

the parkland to the Hall, for the

wedding breakfast.

Every booking has exclusive use

of the Hall, even when we allocate

a specific room for their event.

Guests are free to wander the six

ground floor rooms and out into the

gardens during they stay.

What facilities for outdoor

functions do you offer?

We pride ourselves in flexibility;

we are not one of these venues

governed by budgets and

shareholders, we want our guests

to have the experience they aspire

to (within reason). We therefore

welcome any form of marquee, tipi

or circus tent - yes, we have one

lined up for a wedding next year on

the gardens right outside the hall.

For civil marriages, we can offer the

use of the temple garden, which

10 WWW.OPENAIRBUSINESS.COM
---
is fully licensed and allows our

couples and their guests to enjoy

the serenity of their surroundings.

There is a small structure which will

keep the bride and groom dry but

their guests might have to fend off

the unpredictability of the British

weather. We have taken this into

account and we even provide colour

co-ordinated umbrellas for guests.

At the moment, we do not offer

accommodation on site, however,

we have planning to convert a

house on the estate into two, threebedroom

self-catering units. We are

also in talks with event companies

who may be interested in hosting

events with bell tents for guests to

sleep in.

What services do you offer?

Our team are here to hold couples'

hands throughout their whole event

and includes general manager

Cheryl Millward, who previously

ran her own events management

company, and Beckie Dufton, who

is the wedding co-ordinator with

over 10 years event experience.

Both love creating unique and

special days for all guests.

We do not cook ourselves,

but we have two inhouse

caters we

recommend,

chosen through

"FLEXIBILITY

IS KEY - THE

SPACE WE

CAN OFFER,

THE SERVICES

WE CAN

PROVIDE AND

TIMELINES WE

CAN WORK

TOO"

extensive taste testing (which we

thoroughly enjoyed). Both offer

the highest standards and match

the quality we represent. We also

have an in-house florist, who uses

many estate-grown flowers in

her displays. She has many years'

experience dressing the hall and

can impart her knowledge to help

embellish the tables and rooms

to a couples' taste. Our resident

DJ helps guests dance the night

away and the bar is managed by a

local brewery, providing local ales,

prosecco and a large range of gins

(we are working our way through

them) as well as wine, spirits and

beers on tap.

Our rooms inside and the

temple garden outside are

licensed for wedding ceremonies;

the ornamental gardens provide

a stunning backdrop to the

photographs.

We have worked with a number

of outdoor entertainers, who amuse

guests during drinks receptions or

photographs - only last month we

had a carnival-themed corporate

event with stilt walkers, jugglers

and magicians milling around with

guests.

Describe how you researched and

sourced your marquee

We don't buy our marquees as we

are aware most guests want to

make their event unique, we have

therefore searched and interviewed

many marquee companies for

recommendation. We use the same

company for events we run on site

as well as recommending them to

our customers; they had to meet

our high standard and mirror the

quality of the hall itself.

How do you work with your

customers to make their event

unique?

Flexibility is key - the space we can

offer, the services we can provide

and timelines we can work too;

we will work with every guest to

structure their event according to

their specific requirements.

We have just taken on a new

online management system to

work more efficiently as a team

and with our customers, called

Planning Pod. This system allows us

as a team to communicate through

one portal, only giving each other

the relevant information, rather

than telling everyone everything.

The best thing about it is that

we can communicate with the

customer through it – seating plan

templates, timings, menus etc. can

be uploaded so they can control the

detail.

WWW.OPENAIRBUSINESS.COM 11
---
FUNCTION VENUES

How do you publicise yourself?

We have actually just changed our

marketing plans. Previously, you

would have found us in all kinds of

wedding-focused media, but not

too much focused on the corporate

market. We know once a bride visits

the hall she will fall in love with it,

so we do not require high volumes

of marketing for weddings, but we

need to promote ourselves open

for business during the week. We

have just signed ourselves up for a

national online conference booking

directory. Hopefully, we will be seen

by over 50 agents and many more

conference bookers.

We are also planning a number

of familiarisation visits for local

businesses so they can see what

we can offer. But our largest tool is

our new website www.sandonhall.

co.uk and social media; Twitter,

Facebook and Instagram give us

real time interaction with a large

volume of potential customers. We

also use e-newsletters to numerous

databases for constant updates.

How would you describe your

'style' or unique selling point?

We are a private stately home

which allows our guests to

feel like Lord and Lady of the

Manor, promenading around the

ornamental gardens. We stand out

from our competitors because we

offer exclusivity to all our guests so

we can focus on their event. With

over 400 acres of parkland available

the estate is crying out for outdoor

events and team building sessions.

What challenges have you faced?

Getting potential guests to know we

are open. The estate is the country

home to Lord and Lady Harrowby;

they do not want people just

wondering around the estate so we

cannot have large signs saying we

are open to all and we have to find

other ways of attracting people to

the estate.

What are your plans for next

season?

We are looking for outdoor team

building companies who are

interested in working with us

to attract a whole new market.

We will also be building new

accommodation on site which

will hopefully grow our wedding

market.

Why do you enjoy the business?

I absolutely love it, I have been in

the business for over 20 years and

there is no other business I would

like to be in. I love standing at the

back of a wedding breakfast during

the speeches when everyone is

smiling and saying how much they

have enjoyed their day, that's when

you know you have done your job

well.

What other outdoor hospitality

sectors do you operate in?

We run a number of festivals and

garden fêtes throughout the year,

linking with partners across the

area. Last year we held a drive-in

movie night; it was fantastic having

the screen up with the Hall lit up in

the background. For most of these

events we will open up the Hall

for guided tours. We also provide

the catering for these events, but

it varies in how we provide it;

sometimes it's afternoon tea on the

lawns, sometimes it's milkshake

bars and popcorn out with the

event.

We are so excited about our new

cater Catherine Skate. Last month,

we hosted a pop up restaurant and

over 80 guests booked tables. It was

a lovely night and we are currently

looking for dates for the next one.

With so much open space we

facilitate team building events,

from small group work to motorised

sports and anything in-between.

With any of these events we provide

catering facilities back in the Hall.

We are considering glamping but

need to understand all the costs

and requirements for facilities, but

if someone would like to work with

us we are happy to look into it.

What advice could you give

to someone coming into the

industry?

Be prepared not to sleep much and

keep smiling; the good points far

outweigh the bad.

ADDRESS BOOK

DETAILS

Sandon Hall, Sandon, Stafford,

ST18 0BZ

01889 508004

www.sandonhall.co.uk

12 WWW.OPENAIRBUSINESS.COM
---
Bressingham Wedding Venue

TURNING A SOW'S EAR

Barn Conversions and new build dwellings

in the open Countryside

INTO A SILK PURSE

If you have a project in mind, Bidwells Rural Development and

Diversification Team can help

From initial strategy right through to completion, we identify viable options for

brown or greenfield sites, as well as listed and heritage properties, to release

value from your underperforming assets.

Call us now for your full Rural Development and Diversification service

Daniel Jones | 01223 633 127 | 07770 607466

bidwells.co.uk/RDD

Strategy Consultants | Architects | Heritage Specialists | Planners | Building Surveyors | Project Managers

WELL INFORMED
---
FUNCTION VENUES

BUSINESS

CUSTOMERS

ATTRACT

ATTRACT

ENGAGE

ENGAGE

NURTURE

SELL AND DELIVER

SELL AND DELIVER

Marketing activities

Marketing Activities

Looks at website

Looks at Website

Makes enquiry

Makes Enquiry

Conducts showround

Conducts Showround

Signs Contract

Signs contract

Nails Wedding

Nails the wedding!

AWARENESS

AWARENESS

EDUCATION

EDUCATION

CONSIDERATION

CONSIDERATION

PURCHASE

PURCHASE

ADVOCATE

ADVOCATE

Sales 101

Taking the traditional 'sales funnel' model, Isabel Smith guides us through

how to make selling your venue to couples natural and sincere

AS OPEN AIR Business readers,

many of you will be small venue

and farm owners just breaking

into the wedding industry and you

may not have much experience of

business to customer (B2C) selling

as yet, so let me introduce you to

the process.

No doubt you've heard of the

'sales funnel' – the description

of the customer's journey from

becoming aware of your business,

becoming more familiar with it,

researching alternatives and finally

selecting the best option for them

and making a booking (hopefully

with you). It sounds so simple

doesn't it? But in truth you need to

not only have familiarity with the

customer's journey, but also (more

importantly) understand your

role in guiding them through the

funnel to your benefit. This takes a

lot more than just throwing a few

"THIS TAKES

A LOT MORE

THAN JUST

THROWING A

FEW WORDS

AROUND AND

HOPING FOR

THE BEST"

words around and hoping for the

best. There is a skill and technique

to learn and master here.

To make this all a little clearer,

I have re-worked the traditional

sales funnel model above so

you can compare your client's

experience with your role. The

stages of your role (attract, engage,

nurture, sell and deliver) correlate

with those of the customer's

journey, and at every stage you

are selling yourself and your

venue. You must learn to attract

new customers and engage them

through your marketing. Build

their confidence in you through

nurturing them and taking care

of their enquiries sincerely, and

then exceed their expectations and

prove they made the right choice.

It all begins with your marketing.

Through consistently presenting

your message in a variety of

marketing methods, potential

clients will find you (AWARENESS).

Your marketing should lead them

to your website, which should have

all the information a client might

need to engage and begin getting

to know you and what you offer

(EDUCATION).

From here you receive an

enquiry. This is your opportunity

to begin nurturing their interest

and let me tell you, selling starts

from the moment you answer the

phone. It can be daunting dealing

with brides for the first time and

making a good impression is vital.

NURTURE, NURTURE, NURTURE

Have an enquiry form prepared to

ensure you are always asking the

right questions. Without sounding

too robotic in tone, get names and

contact details, find out the date

of the wedding, what their needs

14 WWW.OPENAIRBUSINESS.COM
---
FUNCTION VENUES

are in terms of space (ceremony,

daytime reception, evening event?)

and the number of guests they

want to invite. From here, think

'nurture, nurture, nurture'. Show

interest in their individual wedding

plans, passion about your venue

and ask open questions like: 'What

are you looking for in your wedding

venue?' or 'What are your priorities

for the day?' so that the enquirer

can expand on their thoughts.

The idea is to start finding out

what they want, so that you can

showcase how your venue meets

their needs.

After the initial enquiry and the

phone has been put down, you

can email or post your venue's

brochure to them. There's no

telling when they will be in contact

again, so the next stage is chasing,

but give it three days - you don't

want to come across as pushy! Give

them a call or send a kind email

a few days later asking whether

they have received the brochure,

offering to answer any queries they

might have and inviting them to

your venue for a showround. If you

don't receive an answer straight

away, wait two weeks until you

chase again. Remember, most

couples can only research and

venue hunt in the evening and at

the weekends so working through

the shortlisting process takes time.

SHOWING OFF

Hopefully by now you have

had the opportunity to paint a

picture for the client of what their

wedding will look like and they

want to come and see the venue

for themselves. This showround

is your best opportunity to make

the sale. You know the couple

has made a certain commitment

to the property by being there

so it is important to return that

investment and get it right. Here

are my top tips for the perfect

guided tour:

› Don't go rushing into the tour as

soon as they step onto the site; the

key is in making your clients feel

comfortable and welcome

› Ask how long they have to see

you. Not only might this indicate

their overall interest level in your

property, but it means you can

tweak your technique to suit their

needs

› Walk the spaces as their guests

would see them: 'This is where you

park, this is the view the guests

would have as they walk to the

main event space, this is where

your drinks reception would take

place' etc. This allows clients to

build up a visual of their day

› Have an iPad with you to show

how the spaces look all set up.

You're trying to mentally render

each client's individual wedding

for them but not everyone is good

at imagining the final look so

having a few visual clues will really

help you 'sell'

› Refer back to the notes you have

taken so far. If they have already

indicated that food is a priority,

show where the catering tent sits,

how easily the caterers can get

access or just wax lyrical about

the great food and service your

preferred suppliers list caterers

offer

› Show enthusiasm for your own

property and be sure to point

out key features such as how the

lighting is perfect for the afternoon

ceremony or how the scale of the

space is perfect for any number

of flexible seating arrangements.

Couples want to feel like you have

their best interests at heart and

your passion will be infectious!

› Advise as accurately as you

can what the wedding will cost.

Not just your own costs, but

approximately what your marquee

and caterer suppliers charge. You

want to do this towards the end of

the showround (after the couple

has already fallen in love with your

venue) but you also want to be

accurate and realistic – there is

nothing worse for a consumer than

sheepishly having to admit you

just can't afford what you want

› Always finish with a close.

Without being pushy, ask the

couple what they think of your

property, how many venues

they still have to see and when

they think they might make a

decision. Offer to follow up with

any information they might have

requested during the meeting or to

provisionally hold a date for them.

Remember, wedding sales is

all about building a personal

relationship so show excitement

over a couple's engagement and

proposal story and congratulate

them. This shows that you are

genuinely interested in them as a

couple.

The showround is the best

GETTY IMAGES

ABOUT THE AUTHOR

Isabel Smith has 10

years in the wedding

industry behind her

as one of the UK's top

wedding planners and

business consultant

to venues and other

suppliers. Isabel's

expertise spans

marketing, sales and

operations as she

helps new vendors

launch as well as

assisting established

businesses should

they find their

sales falling. www.

isabelsmithconsulting.

co.uk / www.

isabelsmithweddings.

co.uk

opportunity to talk up your venue

but also to listen to what a couple

expects from a wedding venue.

Getting a better understanding

of their needs will help you to

sell your venue's best features

in response to their needs. This

nurturing approach builds their

confidence in you.

After the showround, follow up

with the couple as soon as you

can with any information you

promised, telling them how lovely

it was to meet them and of course

inviting them to come back to you

with any queries they might have.

When it comes to chasing, wedding

clients need to be treated with

extra care so keep a light, helpful

and consistent tone. At the end of

the day, this is their wedding so

you can't expect a quick decision

(CONSIDERATION). Be patient, not

pushy!

As you can see, selling is

all about personality and

professionalism. It's not always

smooth sailing but it doesn't have

to be difficult either. If you can

master the technique, follow the

sales pipeline and the showround

method outlined, you'll continually

be improving your own selling

skills and securing those bookings

in no time (PURCHASE).

Then you just have to nail the

wedding itself so that your clients

are blown away and becomes

spokespeople for your venue

(ADVOCATE). But that's another

story…

WWW.OPENAIRBUSINESS.COM 15
---
FUNCTION VENUES

GETTY IMAGES

IT'S COMMONLY AGREED that

people do business with companies

and people they like and key to

liking them is often in feeling

that their own desires and needs

are understood. In the arena

of weddings this is never truer

– couples want and deserve to

feel special at every step of the

way in what is such a unique and

unparalleled life event. You need

to speak their language and give

couples what they need before they

even know they need it. So, do you

speak bride?

Remember your audience is

inexperienced, excited, yes, but

nervous and sometimes worried,

emotional and overwhelmed.

You therefore, as a venue and the

biggest and most pivotal wedding

supplier they will hire, need to fill

them with confidence and guide

them from the start.

Here are some tips on how you

can speak a couples' language

and tap into what they are really

thinking. You might think this

comes later on in the co-ordination

and detail and that you don't

need it in the initial sale but that

would be wrong – today's bride

and groom expect to be able to see

and experience big parts of their

wedding day before it all actually

takes shape. Remember today's

couples have been using Pinterest

for ideas and inspiration gathering

for years, they are very savvy and

very regular readers of wedding

blogs and are sponges for soaking

up wedding ideas and creativity.

Do you

Speak

Bride?

Kelly Chandler explains how to win over

couples by speaking their language

TELL THE WEDDING STORY

Whilst you would be right to

encourage couples to make their

own mark on personalising their

wedding day, make sure that

in a bid to mark yourselves as

bespoke and flexible, you don't

forget to share your knowledge

and experience. Tell them

in a storytelling, logical

manner how things can

work on their wedding

day.

The best websites

and marketing

materials I see tell

the story in a clear

and easy way showing

typical wedding day

options and possibilities both

in text and in photos. Make sure

you cover the entire story, not just

the parts that directly impact

you. Whilst you may well

only host receptions

and parties in a

tented structure

in your grounds,

before a couple

will book with you

they need to work

out how their entire

celebration will flow.

This will mean working

out details that as a minimum

will involve bridal preparations,

the wedding ceremony, overnight

accommodation and, in most

cases, pre-wedding day activities.

Most weddings attract a very

international guest list these days

and often the direct bridal party

are not local to the venue either

so the logistics of a wedding day

go beyond purely a meal and a

party. Make sure you showcase

what's available by yourselves

and also locally, whether it's an

awareness of your local church, the

civil ceremony route or outdoor

symbolic ceremonies. Detail local

options for a late night after-party,

group accommodation and next

day brunch. Work hard to paint the

entire picture to make it very easy

for a couple to see that you speak

their language!

ANTICIPATE THEIR NEEDS

As an extension of that, make

sure you pay attention to the

little things which make all the

difference in the wedding market

and set you apart. Brides (and

grooms to a certain extent!) like

16 WWW.OPENAIRBUSINESS.COM
---
FUNCTION VENUES

detail so while you may not want

to cover all details on your website,

make sure that in your brochures/

PDFs or showround materials you

give them a 'little white book' or

equivalent showcasing some of the

special touches you have installed

and can make happen. This will

put you a step above the rest and

in weddings the small details really

are the big ones!

Here are some of my addons

I think you should either be

including as standard or have

available in your venue as extra

paid for services:

› Microphone and PA system for

speeches and Ipod and dock for

ceremony or dinner background

music

› Availability of Wi-Fi and frames/

chalkboards/plasmas for

displaying wedding hashtags,

names of couples or some

personalisation

› Selection of garden games such

as Jenga, score four, quoits etc.

› Basic uplighting package of

key features (columns, pillars

if inside or key shrubbery and

trees, buildings if outside) for the

evening

› Bridal party lunch options

(with champagne!) for the all

important getting ready part of

the day

› Attractive easel and board for

seating plan

› Options for hire of upgraded

tabletop items such as linens,

glassware, crockery and cutlery

› Options for hire of alternative

furnishings such as dining chairs

and bar units.

Don't wait to be asked for these

things; produce an e-brochure that

you send out early in the enquiry or

planning process so couples know

you can help (or that your excellent

tried and trusted suppliers can

help) with these valued extras. Give

them a shopping list with images;

the detail really matters with

weddings. A bride/groom and/or

wedding planner really cares how

the easel looks, so good quality

products and good images are key.

BE PART OF THE WEDDING

COMMUNITY

Increasingly couples really do their

homework before they buy. I used

to show couples a portfolio of my

wedding work when I first met

them to talk about my wedding

planning services. These days

they know more about me than I

know about myself! Social media

is huge in the world of weddings

and young couples marrying now

see your presence on social media

as a very vital extension of your

website and look into this heavily

before they get in touch. Make sure

that what you are putting out there

is reflective of the efforts you put

into your website, your printed

marketing materials and more.

It's not just about putting your

content out there either, it's how

you interact with others in the

wedding community. Modern

couples want their venue to be

highly regarded among wedding

professionals whose style and

opinion they rate (remember they

may have selected their perfect

cake designer or their stationer

before your venue), so make sure

that you interact both on and off

line with wedding professionals

in your area and that you're

supportive of their creations in

your venue and elsewhere. Make

"SOCIAL MEDIA IS HUGE IN THE WORLD

OF WEDDINGS AND YOUNG COUPLES

MARRYING NOW SEE YOUR PRESENCE

ON SOCIAL MEDIA AS A VERY VITAL

EXTENSION OF YOUR WEBSITE AND

LOOK INTO THIS HEAVILY BEFORE THEY

GET IN TOUCH"

ABOUT THE AUTHOR

Kelly Chandler is a longterm

preferred service

provider for exclusive

venues such as Syon

Park, Highclere Castle,

Spencer House and

Stoke Park Club. Kelly's

consulting services to

wedding venues draw

on prior experience in

international conference

and event planning,

over 13 years of business

management, and

working directly with

discerning couples

planning their weddings

in diverse locations

and forging successful

relationships with all

components of the

wedding industry. A

former director of trade

body, the Alliance of

Wedding Planners,

Kelly is a well-regarded

innovator, mentor,

trainer and industry

spokesperson on and in

the wedding business.

www. kellychandler

consulting.co.uk

sure you are a genuine part of

the wedding community; this is

incredibly important to many

couples choosing their wedding

location.

WATCH YOUR WORDS

A final recommendation is more

along the lines of words and

expressions to avoid with the bridal

market, and speaking the wrong

language! This is especially relevant

for those venues and locations that

serve other markets in events.

Any mention of 'sales', 'revenue',

commercial' or similar words,

whether in terms of job titles,

functions or anything else, is

a major no-no in the wedding

world. While your couple might

themselves work in a commercial

world, nobody wants to think of

their wedding in business terms

or in terms of generating revenue

even though that is the reality.

Avoid these terms where possible.

Similarly pay attention to things

like 'theatre style', 'breakout

rooms', 'function suites' and so

on - all terms borrowed from the

conference and corporate events

market. They might be understood

by events professionals but

they often don't mean a thing

to a couple or have negative

associations. Instead, focus on

talking about 'bride's boudoirs'

or 'dressing rooms', 'crèche areas',

'after-party chill out areas' and

'ceremony set-ups'.

Last but not least, show your

friendliness and approachability at

every opportunity – it goes a long

way.

REFINE AND SHINE

If you're an established wedding venue looking to

improve both the quality and quantity of your weddings,

you may like Kelly's signature three month 'Refine and

Shine' consulting programme. Details can be found at

www.kellychandlerconsulting.co.uk/consulting-services/

refine-and-shine-service

WWW.OPENAIRBUSINESS.COM 17
---
FUNCTION VENUES

P ow

OAB Loves…

er

Top products from our advertisers

to help power your functions

WE LOVE...

The Powerpack 300+

from Portable Power

Technology

WHY?

Got an off-grid venue? This fab

all in one power pack is fully

solar adaptable, lightweight

and portable. Charge it from

the mains or connect it to a

folding solar panel. It delivers

AC and DC power, and is perfect

for running lights, fridges and

more. It provides 465 watthours

of energy capacity in a

unit weighing just 3.7Kg. The

pure sinewave 230V inverter

powers all AC appliances and

loads up to 300W. An integrated

transfer switch makes it an

ideal power back up too,

automatically transferring from

grid to internal battery in only a

few milliseconds.

The powerpack also features

two USB ports for charging or

powering mobile devices and

an integral 2W LED lamp. A 110V

output version is also available

and options for metal housing

and a waterproof, rugged case.

FROM

Portable Power Technology

01474 761051

www.portablepowertech.com

WE LOVE THE...

Denyo range of super quiet generators

from Morris Site Machinery

WHY?

Worried about noise pollution or just want to keep

equipment noise to a minimum for guests? The

Denyo range of highly efficient diesel generators from

Morris Site Machinery range from 6kVA to 100kVA and

offer up to 26 hours of uninterrupted operation. The

EVENTA and RENTA ranges are super silent and road

towable. The EVENTA's 20kVA constant rated diesel

generator is perfect for where noise must be kept to

a minimum – it operates at just 55dB(A) at 7m – the

same as normal conversation at 3m.

The British company supplies specialist event

hire companies across the UK which can be found

at events of all scales from weddings to the largest

festival.

FROM

Morris Site Machinery

0345 409 0280

www.morrismachinery.co.uk

GETTY IMAGES

18 WWW.OPENAIRBUSINESS.COM
---
FUNCTION VENUES

WE LOVE THE…

Marquee power, lighting and sound products

from Essential Supplies and Titan Power

WHY?

Pretty much everything technical you need to

run events from a marquee. If you are a venue

with your own structure then Essential Supplies

is your one-stop-shop for power distribution,

audio and lighting, as well as marquee rigging

and accessories. You can order online or over the

phone, and next day delivery is free for orders

over £150.

For power, this company has a large range of

temporary power supplies using components

from Mennekes and Eaton. As well as a range

of stock power distribution boards, it can

create boards to any specification, from 16A to

800A. They are lightweight, weatherproof and

feature a unique stacking system with sunken

components.

FROM

Essential Supplies

0800 0432 123 / 01752 817 140

www.essentialsupplies.co.uk

ITA ROBUST Models

• 45 Kw and 75 Kw outputs

• Fuel tank for 16 hours burning duration

• Large ball bearing wheels

• Fork lift slots

• Fuel Gauge

• Optional lifting hook

IMA Series

• High efficiency heat exchangers

• Radial fans for powerful heat distribution

• Protection bars all around

• Lifting hooks & fork truck slots

• Tigerloop standard

• Burner with rain cover and lower tray for oil

containment during servicing

• Available with 1 and 3 phase radial fans

• Outputs of 65kw, 110kw, 150kw & 200kw

IMAC Series

• High efficiency heat exchangers

• Stainless steel frame on box girders with

fork truck slots & lifting hooks

• Lockable door panels for control box and

burner area with feed through glands for

cable and fuel hoses

• Return air flanges are optional

• 120kw, 145kw, 200kw & 220kw models

with options of 2 stage burner and 2

speed fan on the 200Kw & 220 Kw

models

• IMAC 4000E model has a 2 stage burner

& 2 speed fan wth heat outputs of 261kw

or 383kw and heated air outputs up to

24,000 cubic metres per hour

11 & 12 Buckingham Close, Bermuda Industrial Estate, Nuneaton, Warwickshire, CV10 7JT

Andy Wallis 07850 988382 • Steve Jones 07810 805935 • John Hall 07775 635527

Tel: 02476 357960 Email: sales@thermobile.co.uk www.thermobile.co.uk

WWW.OPENAIRBUSINESS.COM 19
---
FUNCTION VENUES | PRODUCT FOCUS

Heat and Power

WHISPER QUIET

TOWABLE GENERATORS

Fourth Generation

020 8450 2943 / 01582

562162

www.fourthgenerationltd.com

Fourth Generation provides

temporary power for the

event and entertainment

industries worldwide. Its

fleet of 'whisper' quiet,

towable generators are

custom designed and ideally

COOLING & HEATING SOLUTI

placed for the corporate

and private event market.

They range from 60 to 150

kVA and offer a unique 55/56

dB at 7 meters - arguably

the quietest on the rental

market. In addition, their non

branded livery ensures that

they offer a discreet presence

at any event. The company

also supplies 500 kVA and

440 kVA Twinpak generators,

alongside cable, distribution,

crew and fuel management.

temperature control specialists

CREATING THE RIGHT

'ATMOSPHERE'

Cooling and Heating

Solutions

01590 681434

www.coolingandheating

solutions.com

For weddings, parties,

corporate events, sporting

events and more…

Whatever the event, we

at Cooling and Heating

Solutions can provide

a perfectly designed

and controlled internal

environment. We specialise

in cooling and heating

solutions and the control of

temperature, 'Creating the

Right Atmosphere' in both

temporary and permanent

structures. We provide a a

huge range of cooling and

heating systems and, of

course, great service all the

way!

hire

sales

portable units

temporary systems

sales@candhs.co.uk – coolingandheatingsolutions.com – 01590 681

Marlwood House, Silver Street, Lymington, Hampshire SO41 6DG, UK

EASYGRID

Energy Solutions

01634 290772

www.energy-solutions.

co.uk/products/easygrid

If your site isn't connected

to the main grid but you

want to run electrical power,

what do you do? EasyGrid

utilises solar energy, stores

it in a battery bank and can

have a generator as a back

up if needed. EasyGrid is

an off-grid power range

delivering an affordable

option to campsites,

glampsites and outdoor

events - anywhere without a

mains grid connection.

SOLAR POWERED

GENERATOR

Solar Shed

0808 126 1289

www.solar-power.co.uk

The Yeti range from

American outdoor

specialists Goal Zero

really is a monster of

silent power generators.

The Yeti 1250, is fuelled by

the sun and designed to

bring high quality, mains

power to outdoor events.

With a 1.2kW pure sine

wave inverter, 2 x 3 pin

sockets, 3 x USB outlets

and 1 x 12v socket, you

can bring light, sound and

effects to any outdoor

event.

20 WWW.OPENAIRBUSINESS.COM
---
LIGHTING

AUDIO

RIGGING

ACCESSORIES

ELECTRICAL

ESSENTIAL SUPPLIES

essentialsupplies.co.uk 0800 0432 123

Beautiful stretch tents

for any occasion

Comprehensive selection of free style Stretch Tent

marquees for hire and sale throughout the UK.

01403 333135 email enquiries@tentstyle.co.uk

www.tentstyle.co.uk

TOUGH SUPREMACY

RELIABLE POWER SOLUTIONS

titanpower.co.uk

Remember when canvas

was all you had to protect

your big event?

Earn

15%

commission

by joining our

Introducer

scheme

w e d d i n g s . s t a l l h o l d e r s . f e s t i v a l s . p a r t i e s

If you have an important event coming up, we have a policy to keep

you, or your clients, protected. And since Event Insurance Services have

been exceeding clients expectations for over 20 years, you know we're

a company you can trust. But don't just take our word for it, check

out our Trust Pilot reviews too. Our policies offer affordable, reliable

insurance, tailored to fit the scale and style of the occasion – from

festivals and events to high profile weddings, small ceremonies, school

fetes and parties. Plus, with our Introducer scheme, venue owners or

event organisers can earn 15% commission simply by introducing clients

to Event Insurance Services. To join our Introducer scheme, please email

Lucy Minns on lucye@events-insurance.co.uk or call 01425 470360.

Alternatively, to get a quotation

for an event, please visit

events-insurance.co.uk

WWW.OPENAIRBUSINESS.COM 21
---
GLAMPSITES

CASE STUDY

Heartland

The team behind UK tent making company

Spirits Intent has introduced the concept of glamping to

Central Italy through a live-in event centre with a difference

Lucy Friedlander and Nitsan Morag host transformational events and live-in

seminars on topics including yurt making, healing arts and green building, with

accommodation in a variety of glamping units. Their aim is to bring 'Man', awareness

and the environment into one on a 12 hectare site in Central Italy, and to offer the area's

farmers a model by which they can diversify into eco tourism themselves. We talk to Lucy.

What made you decide to

start offering glamping

accommodation?

We looked for a place for many

years to be our home and open a

campsite. Central Italy is relatively

new to glamping, but is ready for

a glamping explosion. We opened

with our first event in March 2015.

How did you research the

business before entering it?

We have a UK tent making business

called Spirits Intent, and have

worked in the glamping industry for

"THE PLACE IS

STUNNINGLY

BEAUTIFUL,

AND IN AN

AREA OF ITALY

WHERE YOU

CAN BE IN THE

MOUNTAINS

THEN 20

MINUTES

LATER ON THE

BEACH"

12+ years. We have wide experience

in this market, in the UK and other

European countries, and saw Italy

as a good place for a campsite

as land is relatively inexpensive

and it's a popular destination for

tourists. Abruzzo is uncharted.

Tell us about your location

and site

Our site is in the mountains of

Central Italy with a magnificent

view of the Majella Mountain. It

is not a traditional glamping site

because we hold events at the site

and don't currently open to the

public for vacations, although we

are working towards it. The place is

stunningly beautiful, and in an area

of Italy where you can be in the

mountains then 20 minutes later

on the beach. Abruzzo is a relatively

undiscovered part of Italy and has

preserved its ancient traditions

of agriculture, food, festivals and

religion. There are endless hiking

paths in the mountains and the

Majella National Park and Abruzzo

National Park are not far away.

The Heartland site is on 12

hectares of wild mountain land.

It was previously cultivated but

abandoned for 50 years and

we have gradually cleared and

landscaped the land. It is in wild

nature – oak forests, fruit orchards,

rolling hills, olives, wild roses, deer,

wild boar, wolves, fireflies, loads

22 WWW.OPENAIRBUSINESS.COM
---
of butterflies, and two rivers with

pools for swimming. If you come at

the right time the trees are literally

dripping with figs, mulberries,

persimmons, apples, and pears.

How did you tackle getting

planning?

As the land was previously

agricultural land we have had to

apply for a change of use. As Italy

is relatively new to glamping,

especially in Central and Southern

Italy, there aren't many precedents

so we have had to carve our own

way. The challenge, as foreigners,

was to bring the idea of our project

to the local, very traditional village

but the local people have been

incredibly welcoming and our local

commune is very supportive.

The villages in the area have

experienced an exodus as the

youth leave and mass agriculture

undercuts the local farmers. The

case is the same for much of the

rural mountain area in Southern

Europe. We have set up an

association to create a movement

of sustainable tourism in Abruzzo,

where the idea of glamping is

being introduced to help local

farmers diversify and supplement

their income and bring energy and

income to the area.
---
GLAMPSITES

How would you describe your

'style' or unique selling point?

We have mainly opened for group

events so far and offer cooperation

with event organisers on any level,

from renting the whole site, with

or without us providing food, to

collaborating on the vision, design,

organisation and marketing of the

event.

What challenges have you faced?

Mice eating the woollen mattresses

and blankets and even the canvas

of the tents. Wasps building nests

under the tent skirts. Weather of

course, what with high winds and

summer heat. The road down to

the site has also needed a lot of

work to make it drivable.

What glamping accommodation

do you offer and why did you

choose it?

We make our own units and

currently have four yurts and

one sibley tent (a hanging tipi), a

kitchen tent, a covered workshop

area and are working on a

shepherds hut. The tipi is more

wild and close to the Earth, and

generally used for ceremonies and

circle work. The yurts are more

comfortable – and everyone loves

yurts; that feeling of 'wow' when

you step in. The shepherds hut

is a recent project for something

new in GlampItalia - the growing

glamping world in Italy.

How do you publicise yourself?

We have a website for the site

"WE ALSO USE FACEBOOK AND HAVE

PUT OURSELVES OUT THERE ON

VARIOUS GLAMPING AND GREEN

TOURISM PLATFORMS IN ITALY,

AND HAVE JOINED LOCAL TOURISM

INITIATIVES"

and link to it through our UK tent

making website. We also use

Facebook and have put ourselves

out there on various glamping and

green tourism platforms in Italy,

and have joined local tourism

initiatives. As we mainly host

events we are known as an event

location so often get publicised by

word of mouth.

ADDRESS BOOK

DETAILS

Abruzzo, Italy

+39 3388 622686 / 07895 019028

www.spiritsheartlandofintent.com

www.spiritsintent.com

What are your plans for next

season?

To complete our Zodiac tent, which

is a large structure comprising 12

yurts in a circle connected by a

large 'zome' in the centre. This will

be used as a unique event space.

Why do you enjoy the business?

It is our life and we love being able

to share this beautiful place with

others. Italy is amazing - warm

hearted people, great food, rich

history and beautiful climate.

24 WWW.OPENAIRBUSINESS.COM
---
THE

WORLD' S

GREATEST

ESCAPE...

JOIN the woodland revolution

The Tree Tent is a unique suspended tree house

creatively engineered to transform the deepest,

darkest woodland into a breath-taking glamping

escape. With sustainability and good business

sense at the heart of what we do, our low-impact

structures will help you revolutionise your free land,

but not at the expense of the environment.

www.treetents.co.uk

Get in touch... 01273 973937 | info@treetents.co.uk
---
30 DAY

MONEYBACK

GUARANTEE

Getting fast and reliable WiFi to

rural areas

We help parks of all sizes get a reliable WiFi

connection in their area and pride ourselves on

offering the best customer service to our

customers and their guests.

WiFi that's fully secure and legally compliant.

Guest WiFi queries handled 7 days a week.

Grow your online presence and attract new guests.

Unmatched 2 year WiFi warranty.

Exclusive Camping Connect support guarantee.

Getting great WiFi couldn't be easier

get in touch with us today

Pods

by Future Rooms

01792 277 230

www.campingconnect.co.uk

Tel: 01452 501455

Email: info@podsbyfuturerooms.co.uk

Web: www.podsbyfuturerooms.co.uk

brosterfieldshepherdhuts.co.uk

Luxurious, bespoke, Shepherd Huts,

handcrafted in the Peak District

01433 630312

stephen@brosterfieldshepherdhuts.co.uk

Self contained Portable or

Static Solar Charging Station

Pods by Future Rooms are proud to offer a range of quality Pods

that are versatile, affordable and are perfect to generate new or

additional income for camping, event and accommodation

businesses.

We design and build all of our Pods in our workshop and they are

delivered as one complete unit to your site.

We have a range of different

styles and sizes, which can

all be upgraded or designed

to meet your exact needs,

such as en-suite shower

rooms, kitchenettes,

furniture and equipment.

Full Bespoke Service

available

• All components stored and moved in Drum

• 5v-12v power, WiFi, Lighting, CCTV

Call 01935 825914 or visit www.solarchargingcan.com

26 WWW.OPENAIRBUSINESS.COM
---
GLAMPSITES

Business Models

Kate Morel investigates the various ways to set up a glamping business. From a 28-day

pop-up site to a multi-million-pound resort, read on to find out which would suit you

GETTY IMAGES

ONE OF THE subjects that Tally wanted me

to cover this year was 'glamping business

models', and I agreed that it would be a

good topic, because it certainly attracts

a lot of interest. The seminars I gave on

this subject last year were incredibly well

attended and I was asked for more copies of

the presentation than any other (or maybe

that says something about the rest of my

presentations?).

Glamping, like any other business can,

in essence, be divided into franchise,

corporate, and private ownership, all of

which can operate to one or more of several

models, but boundaries can be blurred.

Since my 2016 presentations, I've spotted

a couple of variations, a totally new model,

and even come up with one of my own

(which I'm hoping to trial next year, so stay

tuned). Writing this has been rather like

herding cats, but I believe the resulting

piece covers at least the most commonly

employed, and viable, glamping business

formats.

FRANCHISE

As you're probably already aware, this

business arrangement involves an existing

established brand selling a license to a third

party - person or company. This third party

then trades and operates under their brand

name and logo, employing their prescribed

model of operation. It's a very common

model and our high streets, shopping

centres and motorway service

stations are full of them.

1 One such glamping franchise model

operates to the standard format – it

requires the landowner to pay an initial

fee, to buy a minimum number of their

structures, and pay an ongoing monthly

commission. In return, the franchisee

landowner can operate under the

company's trademarked name and

logo, is provided with a website and

booking system, and receives ongoing

support from the franchisor. For example,

Wigwam Holidays.

2 Another franchise model offers the

same, however it doesn't require an

initial fee or the compulsory purchase

of structures, but there is a trade-off

in commission. If the landowner buys

the structures they pay the franchisor

a much lower commission than if the

franchisor had provided them. To be

considered for this kind of franchise, both

land and landowner must meet a strict

list of qualifying criteria. For example,

Featherdown Farms, Lanterns & Larks

In all cases the landowner is responsible

for on-site operations and change overs.

A franchise is a good option for those who

want to set up glamping but don't have the

time or resources to go through the whole

process, or don't want to invest in structures

and glamping outright. Terms and a

minimum lease period will apply.

RESORT DEVELOPMENTS

These are usually owned by very large

businesses or corporations, and involve

high numbers of units, with the same (or

very similar) design scheme throughout.

Features such as club houses, restaurants,

pools, activities, gyms and spa facilities,

are essential to this model. Given the

multi-million pound level of investment

in these developments, a high unit count

plus strong ancillary revenues are the

only way to ensure viability and deliver a

sufficient return. For example: Love2Stay in

Shropshire.

PRIVATE SME

The majority of dedicated glampsites in

the UK are privately owned by individuals,

couples or families who had land and

decided to diversify, or have purposely

bought land to start a glampsite. This is the

original small-scale, grass-roots glamping

format, and can obviously incorporate any

number of the models of operation as listed

below.

Both resort and private glampsites can

incorporate one or more of the following

models of operation, (for franchises, not so

much, it depends on the lease agreement):

WWW.OPENAIRBUSINESS.COM 27
---
GLAMPSITES

› Lifestyle - Most small, privately-owned

sites offer this, where guests are immersed

in an experience that is unique to that

site, and the owners themselves play a

big part of this. They are usually carefully

and thoughtfully created by owners

who are passionate about their location

and whatever it is they do there – be it a

craft, farming or other vocation. Can also

include other models in this list.

› Events - festivals and wedding receptions

are ever popular, some sites are also

obtaining licenses to conduct the wedding

ceremony itself. Events require planning

applications and licensing according to

party size, entertainment etc.

› Wellness - as I've mentioned in previous

pieces, health and wellbeing is a fastgrowing

leisure sector. From yoga to raw

food workshops, it's the perfect partner to

glamping.

› Sports and activities - again, another

growing leisure sector providing ample

opportunity to add a USP or additional

revenue streams to the business.

› Learning and education - the rural

locations of glampsites lend themselves

perfectly to hosting and running courses

and workshops on a variety of related

subjects.

› Corporate hospitality - more suited

to larger developments perhaps, but

some smaller operators also cater to

the corporate market, offering team

building and stress management

courses. Standards need to be high, and

each delegate will usually want private

accommodation and facilities.

› Service - this type of glamping takes

hospitality to another level, providing a

service-focussed offer usually only found

in exclusive hotels.

› Boutique - this glamping model can

include some of the above, but its primary

focus is to provide a highly individual and

specialised offer to its guests.

› Adults only - something of a niche, but I

am seeing more glamping that does not

accommodate children. While some sites

cater predominately to families, I'm not

sure that's a model as such (most accept

small groups or couples as well) although

the 'family safari tent' set-up is getting

close.

SUPPLEMENTARY ACCOMMODATION

This is where an existing hospitality

business diversifies its accommodation mix

by adding glamping ie. campsites, holiday

parks, public houses, B&Bs, hotels, resorts.

For example, Hoseasons Pods, Haselbury

Mill Hotel Somerset, The Camping &

Caravanning Club's 'Ready Camp' and the

YHA.

I've advised owners of hotels and public

houses on adding glamping to their existing

accommodation and it always works well.

They can accommodate more guests for

events and weddings, and attract guests

who wouldn't otherwise have stayed. If you

own such a business with suitable adjoining

land, but haven't added glamping yet - why

not?

ATTRACTIONS

I was tempted to include 'attractions' in

'supplementary accommodation' but I think

they should stand alone because their core

business isn't accommodation. In my head,

historic properties and theme parks have

a category of their own too, but then the

principle of adding glamping to an existing

attraction is the same whether it's 500, or

15 years old. Glamping is a natural addition

to these attractions, creating an enriched

experience for visitors, encouraging longer

stays and boosting revenue. The glamping

should ideally have a design connection

with the nature of the attraction and

add interest – rather than a 'bolt-on'. For

example, Alton Towers' Woodland Lodges

and Warwick Castle.

LEASEHOLD

Leasehold isn't a new concept in holiday

accommodation; many parks and caravan

sites have been selling chalets and statics

on long term leases for a long time. It is

however new to glamping, where until

now accommodation has been let for short

breaks only. I'm not sure if this will catch

on in the UK, but it's already happening in

Europe. What will it be next, time share?

Remember you read it in Open Air Business

first!

POP-UP SITES

Unlike sited holiday glamping, this isn't

something I work on every day so there are

better qualified people out there to expand

on this. However, within an article on

glamping business models they do require

a mention. Under this header you'll find:

› Pre-ordered glamping, usually bell tents,

erected at regular campsites by a thirdparty

operator for guests, taken down

at the end of their stay, and sometimes

re-erected at another site for them. I've

seen a few such operators come and go

› Event glamping, where a village of

glamping is erected for hire at events

such as festivals and sports. For example,

'Pop Up Hotel' at Glastonbury Festival

› Temporary event tipi and /or

accommodations for weddings and

guests, usually on private land

› 28-day pop-up glamping, where

landowners are permitted to hold

camping on their land for up to 28

consecutive days.

VARIATIONS

Before I sign off I want to mention a few

of the alternative set-up options that can

apply to some of the above-mentioned

models.

› Site licence exemption certificate: Sites

operating with an exemption certificate are

usually run by private SMEs, and operate

in the same way as any other site with

one exception - they did not have to apply

for planning permission or a camping

and caravan certificate from their local

28 WWW.OPENAIRBUSINESS.COM
---
GLAMPSITES

authority. This is because they

have joined an organisation that

has been set up in accordance with

specific legislation, and operates

to accepted responsibilities

to promote rural leisure and

recreation.

There are strict limitations on

the number and type of structures

(non-permanent) that can be

used, and visiting guests usually

also need to be members of the

organisation. Usual planning rules

will apply for additional facilities

and groundworks. The traditional

camping and caravan clubs are

such organisations but they don't

support glamping sites, there are

however a couple of 'new kids

on the block' that are glamping

friendly. For example, The Freedom

Camping Club.

› Hire options: Rather than own

the land I have also seen people

lease it, and know operators who

run successful glamping sites on

this basis. However, I have also

seen this model fail for various

reasons – unreasonable lease

agreements, excessive rental fees,

inappropriate marketing platforms,

poor communication/relationship

with the landowner, to name a

few. Most of these failures boil

down to the absence of a business

plan, particularly the financial

forecast, which results in poor lease

negotiations.

Also, one doesn't need to buy

the structures outright these days,

because some suppliers now offer

their tents and pods on a hire basis.

Obviously, there are terms and

a minimum lease period, but for

those who don't have the capital

to invest, this does provide an

alternative way to get going.

› Supplier support: Another set

up variation is where an owner

obtains their structures from a

supplier who offers a consultancy or

support service. Depending on the

level required it may be included

in the structure price, or charged

as an additional service. The most

comprehensive one I know of is

provided by Eco Tents Australia –

it's quite fantastic. There are UK

suppliers who offer some of these

levels of support, but here I'm going

ABOUT THE AUTHOR

Kate Morel provides

a completely

independent advice

and design service to

individuals, estates

and companies

looking to create a

successful glamping

business. She is

well qualified and

connected to provide

advice on every aspect

of creating, operating,

marketing and

upgrading glamping

accommodations or

developments. www.

katemorel.com / info@

katemorel.com / www.

facebook.com/groups/

glampingbusinesslink

to use Eco Tents as an example

because its sales tools clearly

demonstrate the levels of support.

So, there you have it, I trust that I

managed to herd the cats into some

form of comprehensible legibility

for you. As you can see, glamping

is a fabulously flexible business

option; we can create any number

of types and styles to suit just about

any hospitality enterprise.

This can make it a little confusing

I suppose, but for me it's part of

the attraction because there are so

many options to explore - no two

need be the same. There's nothing

more exciting than creating a

glamping development, be it one

unit or 50, and slowly but surely

turning people's visions and ideas

into something viable as well as

original.

As always, if you have any

questions (or suggestions of things

I missed) or might be interested

in engaging my support for your

glamping project, please do drop

me a line. It's always great to hear

from you and get your feedback.

Till next time, Kate

WWW.OPENAIRBUSINESS.COM 29
---
Self-Assembly Geodesic Dome Kits Kits

F.Domes F.Domes Geodesic Dome Dome Kits Kits are are designed

a leading a leading global global manufacturer and and supplier supplier of of

and and manufactured by Freedomes by – – geodesic geodesic dome dome structures for temporary for and and

permanent applications.
---
Design your your own own deluxe outdoor lodging

Choose from from over over 100 100 dome dome variations.

Pick Pick your your perfect size, size, colour colour & entryway. & Enrich Enrich your your dome dome with with a wide a wide range range of additional of equipment.

Configure in real in real time time your your perfect 3D 3D glamaping dome. dome.

Design Design your your own own Glamping Dome Dome today! today! Complete glamping dome dome kits, kits,

EMAIL: EMAIL: info@fdomes.com

www.fdomes.com/glamping TELEPHONE: +44 +44 20 3695 20 3695 4246 4246

now now starting at: at: £ 2,850.00 £ / unit / unit ! !
---
GLAMPSITES

The Wonder

of Woodland

Jason Thawley discusses the healing power of woodland,

forests and green spaces, and how low-impact structures

can open up opportunities for people to enjoy their wellbeing

benefits

TREES CAN HAVE a restorative and

therapeutic effect on the mind; research

has shown that recovery rates improve

if patients can view trees from a hospital

window. Additionally, the health of

patients, staff and local communities can

be dramatically improved by providing

opportunities to exercise outdoors and

access green spaces, including woodland.

According to NHS Forest a project

coordinated by charity the Centre for

Sustainable Healthcare (CSH), less than 10

per cent of the population has access to

local woodland within 500m of their home.

However, with mounting evidence to show

the health benefits of spending time outside

in nature, the appeal of getting away from it

all and escaping to a forest hideaway is high.

In Japan, forest therapy is standard

preventive medicine. The Japanese term

shinrin-yoku means taking in the forest

atmosphere or 'forest bathing,' and people

are encouraged to visit forests to relieve

stress and improve health. Based on ancient

Shinto and Buddhist practice, research has

found that the practice has measurable

health benefits, which include lower blood

pressure, reduced stress, lower blood

sugar, improved concentration, diminished

pain, improved immunity, less depression,

increased vitality, better concentration, and

increased creativity.

Research has also shown how exposure

to forests boosts our immune system. While

we breathe in the fresh air, we breathe

in phytoncides - airborne chemicals that

plants give off to protect themselves from

insects. Phytoncides have antibacterial and

antifungal qualities that help plants fight

disease. When we breathe in these chemicals

our bodies respond by increasing the

number and activity of a type of white blood

cell that has been found to kill tumours and

virus infected cells in our bodies. In one

study, increased cell activity from a three

day, two night forest bathing trip lasted for

more than 30 days. Japanese researchers

are currently exploring whether exposure

to forests can help prevent certain kinds of

cancer.

The evidence section of the NHS Forest

website features a host of research resources

that outline the well-being benefits of

contact with nature, but there are still

organisational and cultural barriers that

prevent these benefits from being realised.

"Natural England recently published a

report on social prescription that further

demonstrates the positive impact of naturebased

interventions in a range of mental

health scenarios," says Ben Williams, NHS

Forest and Green Space project lead at CSH.

Last year, CSH organised (on behalf of the

National Outdoors for All Working Group)

a conference on Transforming Mental

Health and Dementia Provision with the

Natural Environment, which showcased

a range of work successfully delivering

clinical outcomes across the country. "In

Scotland, nature-based interventions

are being drawn into mainstream clinical

practice for a range of health aspects,"

he says. "However, there is a great deal

of inertia in the clinical system, with the

biomedical mindset deeply ingrained not

only in clinicians but also in patients, who

often fail to recognise the potential impact

of some of these therapies".

IT'S IN OUR BIOLOGY

Sleep deprivation is always a hot topic, with

many of us regularly complaining that we

don't get enough, but a US study has found

that camping can help us sleep better and

reset our internal clock to a natural sleep

cycle. A group of five people spent six days

in the mountains with no gadgets, not even

torches. The campers racked up nearly 10

hours sleep each night, almost three hours

more than they were used to getting at

home.

Our bodies keep time using our

internal clock, releasing the 'sleep

hormone' melatonin when it's time to

rest and cortisol when it's time to wake.

Traditionally, the sun has controlled our

waking and sleeping system – as the sun

rises melatonin production drops off

and cortisol production increases - but

less natural light and more artificial light

confuses the body's circadian rhythm (our

biological clock) and adversely affects our

sleep.

32 WWW.OPENAIRBUSINESS.COM
---
GLAMPSITES

But it's not just getting more natural light

that makes being outdoors beneficial. The

biophilia hypothesis suggests humans have

an innate tendency to seek connections

with nature and other forms of life. It's

believed that the deep affiliations we have

with other life forms and nature as a whole

are in our biology. So, sleeping in a natural

environment surrounded by vegetation

really can help us recharge our batteries

and take rest and relaxation to a whole new

level.

To enhance the beauty and benefits of

the natural environment, structures that are

made using natural materials should blend

seamlessly with their surroundings and

mimic shapes found in nature, making us

feel part of the natural world.

Forested areas provide a unique and

magical environment, but when choosing

woodland structures it is important to

consider that you will often be dealing

with difficult ground that can range from

flat to sloping. Choosing a structure that is

suspended between the trees, such as our

Tree Tent, can be a solution - flexible design

allows installation in areas that were once

believed to be economically unviable.

Our suspended tree house is positioned

among the branches of a tree and actively

moves with it mimicking the structures

that animals and insects may make for

themselves. Other eco-friendly options

include timber structures made from

sustainable ash. Integrated clear skylight

panels bring in natural light and allow

for stargazing at night. In our Firma Shell

structure, a fully glazed front entrance

affords uninterrupted views of the

surrounding environment.

Spending time around trees and looking

at trees reduces stress, lowers blood

pressure and improves mood. Numerous

studies show that both exercising in forests

and simply sitting looking at trees reduces

blood pressure as well as the stress-related

hormones cortisol and adrenaline. Looking

at pictures of trees has a similar, but less

dramatic, effect. Studies examining the

same activities in urban, unplanted areas

showed no reduction in stress-related

effects. Using the Profile of Mood States

test, researchers found that forest bathing

trips significantly decreased the scores

for anxiety, depression, anger, confusion

and fatigue, and because stress inhibits

the immune system, the stress-reduction

benefits of forests are further magnified.

A SENSE OF FREEDOM

Trees and green space encourage

healthy lifestyles, improving public

health. An ageing population is putting

pressure on health and care services. An

increasing proportion of the population

is obese, most worryingly particularly in

the young. International evidence has

demonstrated the critical impact trees

have in encouraging more active lifestyles

and alleviating the symptoms of some

of our most debilitating conditions such

as dementia, obesity, heart disease and

mental health problems.

"When you are outdoors you feel different

– most people, young or old feel a sense of

freedom, space and find it easier to relax,"

says Marina Robb, director of Circle of Life

Rediscovery CIC - a provider of nature based

experiences and courses that are described

as educational, fun and life changing

including woodland days, camps and

forest school sessions for schools, holiday

woodland days, CPD days and forest school

training for adults.

"The science says that our cortisol levels

reduce, so we are more open to learn and

feel at ease in a group. We have evolved in

the outdoors, coming inside more and more

over the last few decades," she continues.

"We speak about resilience a lot, the

ability to 'bounce back' – and we can't learn

this if we try and make everything safe and

'nice'. Then there is the living world in its

magnificence and profound beauty and

all the relationships that exist beyond the

human; the trees being one of the great

living beings on the planet; slow to grow

and move but all with their medicines and

characters as well as providing wood for

warmth and cooking. Climbing up high

gives a different perspective, and what

is needed in our world is the ability to

empathise and see many perspectives," she

concludes.

It's clear to see that an escape into the

outdoors, even just for the night, can

work wonders on our health. At Tree Tents

we're passionate about connecting people

with the great outdoors and creating

opportunities to disconnect from the pace

of modern life. Our glamping structures

are inspired by nature, designed to blend

seamlessly with their environment and

enhance the freedom that comes from

camping in the wild.

SPECIAL OFFER

Get in touch to discuss your

ideas for a world away from it all

and quote 'Open Air Business'

to receive £1,000 worth of free

upgrades. 01273 973 937

www.treetents.co.uk

info@treetents.co.uk

ABOUT THE AUTHOR

Jason Thawley is innovation and design director and founder of Tree Tents International, a company specialising in the design,

building and installation of sustainable structures and equipment for outdoor living. His range of outdoor hideaways are designed

and engineered to meet the ever-changing environmental conditions of the world's wild and natural places, giving their owners and

guests a chance to escape into the great outdoors in a way that enhances well-being and benefits the environment.

Tree Tents International began life with the creation of the spherical Tree Tent, a lightweight ash and aluminium structure that can

be assembled on-site and suspended between the trees. Since then the company has gone on to create more unique structures and

outdoor accessories incorporating local and sustainable materials along with hand-made manufacturing processes.

WWW.OPENAIRBUSINESS.COM 33
---
ABOVE GROUND, LOW ENVIRONMENTAL IMPACT, LIQUID WASTE COLLECTION TANKS

500 GALLON

TUFF TANK

Photo reproduced by kind permission of www.boundaryfarmcottages.co.uk/glamping

0800 334 5742

www.plasticsol.com

34 WWW.OPENAIRBUSINESS.COM
---
GLAMPSITES

OAB Loves…

Site

Facilities

What the Open Air Business team

loves about these facilities for glampsites

WE LOVE…

The Clubhouse

from Albion Canvas

(Boldscan)

WHY?

The Clubhouse is a multiuse

safari tent based on an

aluminium frame, available

in 6m or 9m span to any

length in 3m bays – perfect

for use as a communal

space.

We love its unique

look and have seen it

used on sites as an event

space (for weddings and

other gatherings), cafe

and shop, including at

Yorkshire Wildlife Park,

Knowsley Safari Park and

Twycross Zoo. The Safari

style Clubhouse offers the

convenience of the clear

span structure (no poles

getting in the way) with a

more rustic look, while the

new Contemporary version

(in white with a slate blue

roof) is more striking.

FROM

Albion Canvas (Boldscan)

01823 665849

www.albioncanvas.co.uk

WE LOVE...

Eco friendly shower and toilet facilities

from Ecotoilets

WHY?

A shower and toilet you can install pretty much anywhere –

what's not to love? The team behind the popular Ecotoilets

composting loo has launched washrooms with a pumped or

mains water shower and Separett toilet, available in a traditional

wooden 'cottage' or a more contemporary natural resin pod –

the Egloo.

The units benefit from a gas water heater, which is locked

away in a cupboard for instant hot showers any time. Showers

are low water use so great for your green credentials too.

FROM

Ecotoilets

01327 844442

www.eco-toilets.co.uk

WWW.OPENAIRBUSINESS.COM 35
---
GLAMPSITES

WE LOVE…

Glamping in the trees

from Cheeky Monkey Treehouses

WHY?

Taking us back to our childhood, the

charm of tree house living is captured by

the team at Cheeky Monkey Treehouses.

Bespoke glamping structures can be

situated in and around trees or on raised

platforms should trees be in short supply.

Builds can incorporate utility supply

and disabled access, and are building

regulations compliant. Towers and rope

bridges can also be added to make

design truly personal. Of course, 'play'

treehouses are also available – a fantastic

add on for family friendly sites.

We love the attention to detail and

personal consultation service with handdrawn,

three-dimensional drawings

allowing you to visualise and tweak

your grand design before the build

commences.

FROM

Cheeky Monkey Treehouses

01403 732452

www.cheekymonkeytreehouses.com

WE LOVE...

Wood fired hot tubs

from Ashwood Shepherd Huts

WHY?

Naked Flame hot tubs were added

to the product range from Ashwood

Shepherd Huts three years ago,

and are a perfect fit in our opinion.

This brand is wood fired and, with

no need for electricity, can be

located nearly anywhere. Available

in spruce, larch, red western cedar

and Thermowood, these tubs are

very efficient to heat. Both cedar

and Thermowood will not shrink,

swell or warp excessively, even when

subjected to changing degrees of

temperature and moisture. Tubs are

expected to last for over 20 years

without the need for additional wood

protectant.

What nicer way to add to

your glampsite than with a low

maintenance, off-grid, luxury tub?

FROM

Ashwood Shepherd Huts

01823 461638

www.ashwoodshepherdhuts.co.uk

WE LOVE...

Portable sanitation for off-grid sites

from Plastic Solutions

WHY?

A solution for off-grid and temporary

glampsites that want to offer flushing

toilets and luxury wash facilities

without the cost and planning hassle

of installing mains water and sewers.

Plastic Solutions provides portable

sanitation products including water

tanks in a variety of sizes, pumps

to transport the water, portable

recirculating flush toilets and effluent

tanks to support the use of flush

lavatories. These are available to buy

for permanent or semi-permanent

installation or from hire companies

for one off or irregular events.

The range has been expanded

to include a variety of waste and

water tanks and accessories, spares

and consumables available online.

The company also has an excellent

customer service reputation.

FROM

Plastic

Solutions

0800 334 5742

www.plasticsol.com

36 WWW.OPENAIRBUSINESS.COM
---
Your hut your way...x

01823 461638 jamie@ashwoodshepherdhuts.co.uk www.ashwoodshepherdhuts.co.uk

WWW.OPENAIRBUSINESS.COM 37
---
GLAMPSITES | PRODUCT FOCUS

Site Facilities

RELIABLE WI-FI PROVIDERS

Camping Connect

01792 277230

www.campingconnect.co.uk

Camping Connect has helped

over 250 accommodation

providers and outdoor events

offer great guest Wi-Fi. We are

experts in delivering robust

and supported Wi-Fi that is

perfect for rural locations

and we pride ourselves on

offering the best customer

service to our customers and

their guests. Our exclusive

Camping Connect support

guarantee includes seven day

a week UK based support and

proactive system monitoring.

All our systems come with an

unmatched two year Wi-Fi

warranty and family friendly

filters to protect your younger

guests and visitors. If you're

interested in getting reliable

Wi-Fi then look no further than

Camping Connect.

MOOD LIGHTING

Solar Technology

0800 7747755 / 01684

774000

www.solartechnology.co.uk

LED's are perfect for bright

illumination but can be often

too harsh when a softer

ambient light is needed. Solar

Technology has developed

two filament style antique

bulbs to work in conjunction

with its renowned micro

solar and battery range;

the SolarHub. Available

with ceiling light fittings,

table and floor lights, the

SolarHub 'Antique' range is

perfect for use in all glamping

applications, is simple to

install and very low cost.

Launching at the Glamping

Show in Stoneleigh (21-

23 September) this is one

product you must see! For

more info contact hello@

solartechnology.co.uk

HANDCRAFTED TREEHOUSES

Smallwood Treehouses

0800 044 3869

www.smallwoodtreehouses.co.uk

We build stunning treehouses

for private individuals and

businesses across the UK. Using

the finest quality, sustainablysourced

materials, we handcraft

the finest treehouse structures.

Capturing the very essence of

traditional British craftsmanship,

our experienced joiners will

deliver you a stunning

centrepiece, creating memories

that will last a lifetime. We pride

ourselves on our commitment

to excellent customer care.

From the initial stages of your

project, we'll guide you through

the design and installation, and

provide a full aftercare package.

We'd love to show you some of

our recent treehouse projects,

so get in touch today for a

complimentary at home survey,

design and estimate.

ECO-FRIENDLY WASTE

SOLUTIONS

The Septic Tank Store

0845 0945 603

www.theseptictankstore.co.uk

With many years' experience,

UK-based family firm The Septic

Tank Store offers a wealth of

experience in planning, supplying

and installing sewage systems.

Using the newest eco-friendly

products where possible, our

systems take foul effluent and

put it through a natural process

to leave water with reduced

pollutant levels for discharge

to the appropriate point. Each

client and venue has a different

requirement, therefore each

solution is carefully planned to

optimise capacity and minimise

ongoing running costs, hence the

use of eco-friendly compressors.

The team specialises in providing

the most practical system at the

most competitive price, from

initial concept to completed works.

38 WWW.OPENAIRBUSINESS.COM
---
Sewage Treatment Systems

including Electric

Free Biomatic Systems

For all residential,

commercial and

industrial

applications

Visit us on

Stand 72 at The Glamping

Show 21-23 Sept 2017,

NAEC Stoneleigh

Park, CV8 2LZ

SolarHub 16

• Instant off grid lighting & power

• Illuminates an indoor area of up to 16 sq m

• Perfect for yurts, tipis, safari tents, cabins,

eco pods...

• Simple to install & exempt from Part P of building regulations

SolarMate Arena Light

• Powerful outdoor off grid floodlight

• Simple & quick to install on scaffold pole or wall brackets

• Perfect for glampsites, festivals, arenas, sports fields

and car parks

• Motion activated PIR or via remote control

01295 236101 • info@theseptictankstore.co.uk

www.theseptictankstore.co.uk

01684 774000

www.solartechnology.co.uk

WWW.OPENAIRBUSINESS.COM 39
---
GLAMPSITES

CARWYN LLOYD JONES

An interview with the winner of Channel 4's Cabins in the Wild, a television series following

the eight finalists of the Epic Retreats project in which designers created

accommodation for a Welsh pop up glamping hotel

Industry Legends

CAT

PROFILE

Carwyn was one of the eight Epic

Retreat project finalists. Designs were

chosen through a competition tender

part funded by Visit Wales to support

its Year of Legends 2017 campaign

(see May issue of Open Air Business).

The eight cabins form a unique pop up

glamping hotel in three Welsh locations

this summer. The building and siting

of the cabins was made into a Channel

4 television programme that aired in

May, presented by Dick Strawbridge

and Will Hardie. Carwyn's Dragon's

Eye was chosen as the programme's

overall winner. For more information or

to book a stay in one of these amazing

structures visit www.epicretreats.wales

Name: Carwyn Lloyd Jones

Role: Carpenter

Company: Timber Design Wales

Contact: 07974 596872, carwynljones@

aol.com, www.timberdesignwales.co.uk

Favourite tipple: I am usually a lager

drinker, but now and then cider

Last holiday destination: Holiday...

what's that?!

Cats or dogs? Neither

Current boxset / TV must watch:

Anything building related, even better if

it's timber/ woodworking

Something people may not know

about you: I was lost at sea

How did you get started in timber frame

design?

I've always had an interest in using timber

since primary school. I wanted to be an

architect but didn't want to spend more time

in school and then university, so went to

college to learn carpentry and joinery. Getting

to design and build things was my main goal,

and it's really good fun. I may not have gone

about it in the conventional way but learnt an

awful lot on the way and am still learning.

What is the history of your relationship

with the Centre for Alternative Technology

(CAT)?

I've known about the centre since I was in

school and visited a few times. If ever I had

time I would pop in to see what was going

on and almost definitely buy a book or two.

In 2011, I applied to be the maintenance

manager, in which I was successful. After

three amazing years I decided to go back on

my own, which was a really hard decision.

However, in those three years we had come

up with a few courses which I still run today

and I have also built a few of the display

buildings on site.

How did you get involved with the Epic

Retreats project?

I found out about the project online through

the Sell to Wales website. The tendering

process was set as a competition and I was

chosen as one of eight to go on to build a

cabin.

What did the competition brief call for,

and what was your approach to it with the

design of Dragon's Eye?

We were given maximum dimensions and

the unit had to be portable, contain a king

size bed, shower room, compost toilet, wash

basin, kitchen sink, boiler and woodburner.

The main feature of my design is the 'eye'

which is the window and allows you to see

the whole view. I wanted to make the people

staying in the cabin feel they were part of

the Welsh countryside, as if they were in the

middle of the field but safe inside a cabin. I

also wanted the eye to give the impression

that a huge dragon was hiding in the

mountain.

How did you find the televised part of the

competition, and how did it feel to win?

It was a great experience being filmed, I

just had to make sure I had enough things

planned for when they arrived. Being able to

build the design did it for me. I have pushed

everything I've got and know to the limit.

Finding out I won was quite surreal as it had

been a long month and I was getting back into

a normal routine. I might not have any design

qualifications but experience and building

knowledge to me is more important; a mix of

both is even better.

Explain your passion for timber and

creating with it

This is where I struggle - trying to explain

in words something I like doing. I guess it's

getting the idea and then creating it, and

everything that comes in between.

Any plans to create more glamping

structures?

I'm always on the lookout for commissions

creating something better. I would love to

create glamping structures full time... one day

maybe.

How can readers learn more and get

creating timber structures themselves?

Visit our shop or come on one of the courses

at The Centre for Alternative Technology

(www.cat.org.uk / courses@cat.org.uk). The

Tiny House course, recently featured in the

Guardian, is hugely popular.

EPIC RETREATS

40 WWW.OPENAIRBUSINESS.COM
---
Glamping & Safari Tents

Our tents are designed around hidden galvanised steel

frames and have a full Structural Engineers Report for wind

and snow loading. All structures are handmade at our

Gloucestershire factory using the highest quality and

technical performance materials.

With almost 30 years designing & manufacturing bespoke

marquees and Glamping structures, Bond can also create

something unique to suit your own site. Please give us a call

to discuss how we can help you enter the rapidly growing

market of Luxury Camping and join us at The Glamping Show.

0 1 4 5 3 7 6 7 1 7 1

www.bondfabrications.co.uk

enquiries@bondfabrications.co.uk

Courses for glampsite owners and developers

Courses from just £60, or book two or more courses

and get 10% discount. Quote: OAB17 when you book.

Saturday 26 Aug 2017

Sat 31 Mar 2018

Sun 27 Aug 2017

Sun 1 Apr 2018

Sun 3 Sept 2017

Sun 1 Oct 2017

Sun 4 Feb 2018

Sat 9 Sept 2017

Sat 4 Nov 2017

Fri 10 - Mon 13 Nov 2017

Sat 18 – Sun 19 Nov 2017

Fri 23 – Mon 26 Feb 2018

Mon 26 Feb – Fri 2 March 2018

Mon 5 – Fri 9 Nov 2018

Compost Toilets

Reedbeds and Waste

Water Management

Solar P.V. Off-grid Systems

Earth Oven Building

Wood Fire Guru

CHECK

OUR WEBSITE

more courses are

being added all

the time.

How to create a 'One Planet'

Development Management Plan

Self-Build Project Management

Build a Tiny House (more dates

coming soon!)

Sustainable Woodland Management

We can create a bespoke set of courses for your organisation: call us for

more details 01654 704966, or email courses@cat.org.uk

WWW.OPENAIRBUSINESS.COM 41
---
EVENTS

CASE STUDY

Deepdale

Hygge

Finding 'happiness' on the

North Norfolk coast

Jason Borthwick has returned to Deepdale Farm having leased it

out for 10 years. Along with Chris Hancock, the pair have created a series of events which

complement the site's facilities, including March's inaugural Deepdale Hygge. We talk to

Jason about running public events from the farm, which is home to a celebrated campsite

and backpackers hostel.

Describe your event and how

many people it attracts

We have four key events, taking

place on three different weekends:

Deepdale Hygge and Deepdale

Spring Market at the end of

March; Deepdale Festival at the

end of September; and Deepdale

Christmas Market at the beginning

of December.

2017 was the inaugural Hygge,

our celebration of the things

our crew love here on the North

Norfolk Coast, including the great

outdoors, live music, barbecue,

fire pits, food, drink, cycling,

walking, running, big skies, and

star gazing… Over 200 people

"CHRIS AND

SHEILA ARE

HEAVILY

INVOLVED IN

THE LOCAL

MUSIC SCENE,

AND KNOW

MANY BANDS

AND ARTISTS"

joined us for the first Hygge at

the end of March, most of them

staying on our campsite and in our

backpackers hostel.

The festival is new this year and

plans are being developed. We are

likely to have two stages, one fully

amped and another acoustic.

The Christmas Market is in its

9th year and now attracts over

15,000 visitors in three days, and

over 120 stall holders. It's grown

massively from the first year with

10 stalls, which mostly blew away

on the Saturday night. We now

have marquees, a huge regular

following and massive interest

from stall holders.

What made you decide to run

events at Deepdale?

When Chris and I took back the

tourism facilities at Deepdale

in October, we wanted to make

a major step change from the

tenants who'd been the running

the place previously. Deepdale is

now about finding your 'Hygge' (a

Danish word roughly translated

as happiness), and our team

enjoys helping everyone find their

particular North Norfolk coast

Hygge. Our event was all about

showing people some of the great

aspects of the local area. We put

on our favourite thing - live music

- and took people on guided cycle

rides, walks, runs, scavenger hunts

and did some star gazing.

The Christmas Market has

been around longer, but it is

now lovely to have the tourism

accommodation working with the

shops and stalls for the market,

something that sadly hasn't

happened in the past.

42 WWW.OPENAIRBUSINESS.COM
---
GLAMPSITES

How did you find applying for

permission to run the event?

We've run events before, and

simply apply for an event licence

from the local council. It's a simple

process and pretty painless.

from meeting buskers to gigs

we've been to, so it's a lovely

cooperative effort. Some of the

best performers are guys that play

on the streets in Norwich and the

like.

How have you planned the

layout of the event and what

structures do you use?

We develop our events around the

buildings and spaces we already

have, and year on year we add

extra bits. We have a good local

marquee company who are happy

to develop events with us.

How did you research and source

your marquees, bars, other

infrastructure etc?

We've built up relationships with

a wide group of local businesses

who believe in what we are doing

and are happy to experiment

with us. I'm a great believer in

cooperative working, as it benefits

"THE

CHRISTMAS

MARKET IS IN

ITS 9TH YEAR

AND NOW

ATTRACTS

OVER 15,000

VISITORS IN

THREE DAYS"

everyone in the long run and

makes it possible to develop ideas

and projects.

What entertainment do you offer

and how did you choose and

source it?

Chris is heavily involved in the

local music scene, and knows

many bands and artists. We all

suggest other acts we've seen,

What provisions do you make for

power, lights and sound?

We have our very own in-house

hero, called Tim, who is a sparky

and electronic engineer. He loves

nothing more than playing with

sound, lights and the like. We

make him a lot of cups of tea, feed

him cake and generally tell him a

lot how much we love him, and he

seems to enjoy providing the most

incredible sound. Everyone needs

a Tim!

How do you manage admissions

and visitor safety?

For the Hygge, visitor safety is not

really any different from when

people are staying generally; if it's

safe for someone staying then it's
---
EVENTS

safe for someone visiting for a gig

or other event. The team manage

the door, but we like to keep it

pretty low key. For the Deepdale

Hygge we went for wrist bands,

partly as a collector's item, partly as

security and tickets.

What ground protection do you

use for cars and footfall?

Being a farm, we have quite a few

hard-standing areas, so don't worry

too much about ground protection.

However, we do note what others

do in case of very inclement

weather. We make sure that one

of the team is available to tow cars

out if there are any issues, which is

a lot cheaper than hiring acres of

temporary road ways.

How do you publicise the event?

Facebook and Twitter are massively

important to us. The interaction

from customers, performers and

local businesses really helps too.

Our own website is vital and we use

other specific websites depending

on the nature of the event, eg. gig

guides for gigs, craft sites for our

markets, etc.

What challenges have you faced?

Being at the end of a road, we

have to draw people to us, so have

to make ourselves a destination.

One of the biggest issues though is

with our county council highways

department. They say no to most

signage, won't cone for busy

events and generally are hugely

obstructive, which makes planning

and running the events so much

harder. Bearing in mind the huge

"THE HYGGE

WILL BE

ESTABLISHED

AND BEGIN

TO GROW,

AND THE

FESTIVAL

WILL

HOPEFULLY

FIND ITS

PLACE IN THE

CALENDAR

AND BECOME

SOMETHING

MAJOR"

positive impact we have on the

local businesses, bringing in

hundreds and thousands of extra

visitors, I would have expected the

council to be supportive, but the

officers are just obstructive all the

way.

What are your plans for next

year?

The Christmas Market will be a

little bigger, but with new traffic

management. The Hygge will be

established and begin to grow, and

the festival will hopefully find its

place in the calendar and become

something major. We have a whole

series of gigs planned and there are

other ideas up our sleeve.

What other outdoor hospitality

sectors do you operate in?

We offer camping for tents,

campervans and motorhomes, a

backpackers hostel with private

en-suite rooms and dorms, and a

groups hostel. We offer bike hire

too, and often guided walks and

cycle rides.

What advice could you give

to someone coming into the

outdoor event industry?

Think carefully about customer

flow; don't make it too easy, but

likewise don't obstruct. You want

people to discover and explore.

Ask yourself, is the event adding

to your existing facilities or is it a

detriment? I am a great believer

that all events, unless they are

hugely profitable in themselves,

should work in harmony with

existing facilities.

ADDRESS BOOK

MARQUEES

Abacus Marquees - 01328 701331

www.abacusmarquees.co.uk

LIGHTING

Abacus Marquees (as above)

HEAT AND POWER

In house (Tim Murrell)

SOUND AND STAGE

In house (Tim Murrell)

BARS AND CATERING

Wide and varied depending on event

- Norfolk Brewhouse, Hushwing Café,

Travelling Bluebird, Proper Pizza Co,

Pie Central, Duck Truck, Squilla &

Squidge

TICKETING SYSTEMS

Yapsody - www.yapsody.com

INSURANCE

NFU Mutual - www.nfumutual.co.uk

DETAILS

Deepdale Farm, Burnham Deepdale,

Norfolk, PE31 8DD

01485 210256

www.deepdalebackpackers.co.uk

44 WWW.OPENAIRBUSINESS.COM
---
SIMPLY PUT…

WE COMPLETE THE PICTURE

Services we offer include:

• Event Management and Production

• Creative Event Solutions

• Technical and Site design and Procurement

• Event Safety

• Event Safety Training

• Licensing & Stakeholder Liaison

Tel: 01275 406760

www.jreventservices.co.uk

Email: info@jreventservices.co.uk

You can also find us on

• GigLoo showers use less gas and less water

• GigLoo showers weigh less - saving fuel, saving money

• GigLoo showers are the most environmentally friendly units on the market

Tough, Green and Easy to Clean

The only brand with a 10 year guarantee

sales@getgigloo.com | sales 0330 333 8778 | hire 0330 333 8777 | www.getgigloo.com

WWW.OPENAIRBUSINESS.COM 45
---
EVENTS

GUEST COMMENT

Beware the Crowd

Safety 'Expert'

Chris Hannam of Stagesafe warns of inexperienced crowd

management practitioners and how to spot one

THE DEFINITION OF crowd

management is the systematic

planning for, and supervision of,

orderly movement, assembly and

dispersal of people. It involves the

assessment of the people handling

capabilities of a space prior to its

use and includes:

› evaluation of projected levels of

occupancy

› means of ingress and egress

› processing procedures, such as

assisting and directing members

of the public

› expected types of activities and

group behaviour

› the assessment of the artist or

attraction profile

› the assessment of audience

demographic

› evaluation of crowd dynamics

and crowd safety.

A crowd safety manager must

have the ability to conduct a

crowd risk analysis and design a

crowd management plan based on

knowledge of crowd dynamics and

crowd psychology.

The police usually use the

term 'crowd control' - what you

do after a crowd has gone out

of control (shutting the stable

door after the horse has bolted)

and often use heavy-handed

'contain and control' techniques

- not what is required at most

events, and definitely not 'crowd

management'!

"THE POLICE

USUALLY USE

THE TERM

'CROWD

CONTROL' -

WHAT YOU

DO AFTER A

CROWD HAS

GONE OUT

OF CONTROL

(SHUTTING THE

STABLE DOOR

AFTER THE

HORSE HAS

BOLTED)..."

GETTY IMAGES
---
EVENTS

and crowd safety managers.

They may go for the lowest

quote without understanding the

dangers and consequences of that

option, or simply be willing to take

the risk.

Local authority officers, Safety

Advisory Group representatives

and many others often think

that H&S advisors and crowd

safety managers are one and the

same; the truth is they are totally

different roles and most events

need both.

THE PROBLEM

Within the live events industry

many people (including Safety

Advisory Group members,

event industry press and the

ill-informed) think the terms

health and safety (H&S), crowd

management, crowd control and

security are interchangeable

terms. They are not - they are

all very different and are all very

important.

Many people are now entering

the event safety industry (usually

as self-employed advisors) in both

the health and safety management

and crowd safety management

sectors, with no professional

indemnity insurance, insufficient

qualifications and inadequate

event experience. These people

often work at incredibly low rates;

sometimes less than the minimum

living wage. Some can only survive

on such low rates because they

live at home with mum and dad.

They work at these rates simply

in order to get work experience.

ABOUT THE AUTHOR

Chris Hannam runs

Stagesafe, offering

health and safety

consultancy and

training for the live

music and event

production industries.

With over 35 years'

experience he advises

event organisers,

production and tour

managers, promoters,

freelancers, service

companies and

businesses at every

level on all H&S

documentation, site

planning, crowd

management, CDM

compliance, steward

safety training,

contractor safety

management and

more.

In the crowd management sector,

there are many retired police

officers who think they know all

there is about crowd management

(the usual way of identifying they

know nothing is by their use of the

term crowd control and not crowd

management).

The simple truth is there is not

enough work to go around in many

areas. Some of us have a continual

struggle to get enough work to

survive, this includes pioneers

in the event safety sector who

have paid their dues and gained

years of industry experience, all

the relevant safety qualifications,

and have, for a long time, been

involved with event safety

education and setting industry

standards that previously did not

exist.

The other problem is that

production managers, promoters

and event organisers do not

know what to look for and what

the required qualifications and

standards are for H&S consultants

GETTY IMAGES

WHAT THE INDUSTRY NEEDS

The event industry has many

specialist areas such as structures,

plant, work at height, rigging,

power etc. that need to be fully

understood by safety consultants.

The best event health and

safety consultants spent years

working in production, tour and

site management to gain the

experience before turning to

event safety and gaining health

and safety qualifications – it is a

similar story with the best crowd

safety professionals; there are no

fast track systems for quality and

competency.

The whole situation is

exasperated by the event industry

press who do not understand the

whole situation outlined above,

and use incorrect terminology

and run articles, press releases

and other information submitted

to them from companies and

individuals who do not meet the

best industry standards.

Crowd management guru

Mick Upton has long advised

licensing for event safety advisers

and crowd safety managers - a

great idea but who will run and

administrate such a scheme?

Answers on a postcard please!

PRICE PROMISE

STAGESAFE endeavours to

match or beat any 'like for

like' quote from an equally

qualified safety advisor.

Visit www.stagesafe.co.uk

or call 07831 437062 for

more.

WWW.OPENAIRBUSINESS.COM 47
---
The organiser of Event Production Show and publisher

of Access All Areas is delighted to bring you the...

27 - 28 SEPTEMBER 2017, SANDOWN PARK

Attend to discover venues, creative event suppliers and

innovative solutions for your next festival or outdoor event

Register now for free!

festivalandoutdoorshow.co.uk

@festoutshow

Media Partners

Content Partner
---
EVENTS

Control

of the

Cash

Having a sound overview of an

event's finances is crucial for its

success says Nick Eade, who also

warns about cutting corners

AT FIRST GLANCE event finance is a

dreary topic for an article, but as one of

the largest considerations you will have

as an organiser, it is a very important one.

Often event costs increase dramatically,

especially in larger events, and cost

overruns are going to be one of your

biggest concerns.

The importance of budgeting is crucial

at every stage of an event's life, from

initial idea to implementation to finally

BLADEN, 2016

Financial

management

for events

establishing what profit (or not) has been

made. Many of my industry friends have,

with the best intentions, tried not to over

spend resulting in their events being

cancelled, which is ultimately the worst

possible outcome. Managing expectations

behind the scene can be complex. All

organisations within the event industry,

even charities, need to keep a close eye on

what is going in and out of their balance

sheets; financial decisions are almost

always the reason for an event not making

it to a second year.

Even at the concept stage, the numbers

need to add up. Take a look at the flow

diagram to see how financial management

can be incorporated into your event and

the areas to consider.

ADDING UP

Given that some of the more complex

festivals within the UK take around 10

months of continual planning, there

should be continuous attempts to

establish whether or not things simply add

up. The smaller, more niche events, such

as incentive days or food festivals, should

focus harder on their finance simply

because there is generally no back up.

Huge companies such as Live Nation can

move capital around whereas the smaller,

more independent event does not have

this option.

If your finances can stretch to employing

someone to overview this, it should be

given consideration. To find out earlier

rather than later that there is simply no

money left can at least bring an organiser

back to reality so they can decide against

delivering the event or, better still, allow

themselves time to seek further revenue

streams.

My advice is to review an event's

finances at least weekly. Identify where

you can save money, check you are where

your forecasts say you should be, and

prepare the following week's expectations.

Interestingly, almost all 'event theory'

neglects to examine the finances of event

organisers. Some of the many items that

should be taken into consideration around

the budget include:

WWW.OPENAIRBUSINESS.COM 49
---
EVENTS

Capital

Grants

Fundraising

Income

Ticket sales

Merchandising

Special programmes

Sponsorships

In-kind arrangements

Costs

Venue hire

Entertainment hire

Security

Special equipment/

facilities

Staff costs

Catering

Transport

Advertising

Broadcast rights

KEY CONSIDERATIONS

The best price

As for all things, you need to shop around. Get

at least five quotes if possible from reputable

companies for each element of your event that you

have to buy in. Thankfully, those operating within

the industry are aware, in the main, of others'

performances. Especially those companies that

are of a poor quality or that have a reputation for

delivering poor standards as word gets around very

quickly.

Getting a recommendation is a beneficial way

of finding a competitive quote. As with many areas

in life, you will be surprised at the difference in the

prices quoted between companies. The leg work will

be worth it in the long run.

Boundaries

One consideration you may not have thought about

is defining your event's 'boundary' and where your

responsibilities for it start and finish. These should be

set, agreed and then stuck to right at the very start

of your event planning. This is likely to be specific to

the venue you are using and should be evidenced in

writing. The main photo indicates where this may be

problematic...

Knowing your boundary is essential knowledge as

you may end up paying for more than you thought

you would. This should be very detailed within the

site plan. Staying on budget as briefly mentioned

above, is crucial. You need to know what you have,

what you are spending and anything that is expected

to come from your budget. No surprises are an

important way of performing business.

Staff costs

One of the most expensive areas, if not the most

expensive, is staff. Volunteers can be a good cost

saving idea, but are especially complex to work with,

motivate and keep focussed. A considerable number

of academics have attempted to write about this area

with few results.

Many smaller events rely so heavily on volunteers

that without them the event would not be possible.

Village fêtes are an example of this. The communities

make these events and they would not run without

local help. However, it is worth bearing in mind the

need for competent staff. The photo above was taken

during an occurring event and demonstrates how

the actions of inexperienced (or unthinking) staff can

lead to deadly situations - you can draw your own

conclusions! Competent staff must be utilised; lives

may be lost if you do not invest here.

Contingency

Contingencies are extremely important – unexpected

occurrences take place. My advice is to always hold

back 10 per cent of your final budget. This can

then help you if the unexpected does take place.

Events have an abundance of, mainly negative,

surprises where finances are concerned. As the event

management industry continues to professionalise

more and more, written agreements are appearing;

something that has not always been part of the

industry. When dealing with financial management

this is important as it gives a clear understanding of

costs and minimises misunderstandings.

ABOUT THE AUTHOR

Nick Eade MA, MSc,

BA (Hons) (FHEA) has

worked in the event

management industry

for over 20 years and

has been involved

in every aspect from

early conversations

of initial ideas to

successful delivery.

His experience covers

festivals (music and

other), the Olympics,

corporate events,

weddings and

incentive days. In

later years, he has

delivered international

consultancy to

medium and large

event owners.

Nick has been

employed at

Buckinghamshire New

University for 13 years

where he co-wrote the

Event Management

BA (Hons) course. He

is the course leader for

Event Management

and a senior lecturer.

Nick is well known

within the industry

both in educational

and on-site at events,

and continues to enjoy

working in this fast

paced industry. www.

bucks.ac.uk / 01494

522141 ext. 3007 /

linkedin.com/in/nickeade-7b147629

CUTTING CORNERS

As we are all aware, incorrect budgeting can lead, for example, to the hiring

of substandard workers. In extreme cases, this can result to all manner

of problems including serious safety issues. A friend organising a large

international festival just a couple of years ago hired a substandard number

of staff and the result can be seen opposite.

This escape route consists of 75 steps going uphill. The barrier to the right

of the stairs hindered the other escape route. Additionally, the signage at

the top of the wall provides conflicting visual and written information - the

arrows point in one direction, yet the image suggests that the crowd should

go in the opposite direction! This was not thought out and could have

cost lives. Over 200,000 guests were expected at this event. The signs were

rectified prior to this event taking place.

50 WWW.OPENAIRBUSINESS.COM
---
The Showman's

Show 2017

The outdoor event services exhibition

18 & 19 October, Newbury Showground, Berkshire, RG18 9QZ

The UK's original and most comprehensive exhibition

of products and services for the outdoor event industry

Where exhibiting means business

For visitor & exhibitor Information:

email.info@showmans-directory.co.uk or t.01747854099

www.showmans-directory.co.uk

Supporting

Great Festivals

Temporary Structures, Tiered Seating, Total Overlay

and the Freedom to be Truly Creative.

Bringing People Together for over 150 years.

GL events UK | Station Road | Castle Donington | DE74 2NL

01332 850 000 | info@glevents.co.uk

www.glevents.co.uk
---
EVENTS

LEFT Sidmouth

Folk Week

Event

Advice

Event industry experts share their

knowledge and how they can help

Advice from: John

Radford, owner, JR

Event Services

Specialism: Event

service consultant

Contact: 01275 406760

info@jreventservices.co.uk

How can an event organiser turn

their vision into a reality?

Early engagement and

communication with the event

suppliers, local agencies and

local residents is key to ensuring

that everyone understands

what you are trying to achieve.

Lack of information - or the

wrong information - can lead to

misunderstandings and objections

based on rumour and perception;

get those facts out there and be

happy to discuss and engage. Quite

often this communication can

lead to previously unseen benefits

through great relations with these

stakeholders.

How can your services help?

Every event is unique and every

vision is different. Our core ethos is

to listen first and then take those

ideas and help turn them into

reality. We believe that there is

no such thing as an 'off the shelf'

solution, so we work hard to ensure

that our clients' reality matches

their original vision and not our

version. We don't simply provide

what suits us rather we look at

what is truly needed to make the

event the success it deserves.

This can mean searching out new

suppliers or solutions to problems

that haven't been encountered

before - but that's part of the service

we pride ourselves in offering. We

also believe in not over committing

to work, thereby allowing the

right amount of time to our clients

to create those truly amazing

experiences.

Things to avoid?

Try not to lose sight of the reasons

you wanted to put an event on in

the first place. Invariably it's led by a

passion and creative vision – don't

forget those primary reasons and

maybe even make them part of your

overall ethos for the event or your

business.

Guests want great memories to

take away with them so don't focus

purely on a single aspect but look

at the whole experience you are

creating – from the very first point of

contact to the post event follow up.

Where you have helped before?

Sidmouth Folk Week has been

running for over 60 years but

every year we work hard to move

the event forward; be it through

environmental sustainability or

recreating a well-loved event

space. Local engagement with

the authorities, landowners and

residents has allowed us to develop

future plans that work hand in

hand with the stakeholders across

the venues. Having multiple

sites across the valley from town

centre parks and agricultural land

through to community halls and

pubs means we have to work hard

to get the right information out

to everyone involved throughout

the planning process. All this while

ensuring that the fundamentals of

the festival remain and it retains

its position as a much loved and

creative event.

Advice from: Scott Jameson,

GL events UK Group MD

Specialism: Temporary structures

Contact: 01332 850000

www.glevents.co.uk

What temporary event structures might

organisers consider?

The variety of temporary structures on offer these

days is amazing. At GL events, we provide everything

from compact pagodas: boutique, stylish and

more intimate; to the huge, multi-level temporary

venues seen gracing major horse racing meets, golf

tournaments and international sporting events.

Temporary structures are highly scalable and

versatile. For start-up and growing events, it helps to

think smaller and, as events grow in success, think

about increasing the space. Equally, depending on the

desired guest experience, consider hiring premium

options for hospitality and fine dining.

What advice can you offer organisers on selecting

a supplier?

First things first, give suppliers as much detail on

your event as possible. The number of people,

information on different areas and spaces; right down

to entertainment, content and catering. Like us,

many of your suppliers will have a lot of experience

working across many different events. Ensure they are

consulting you, not just answering your brief.

Utilise suppliers' experience as much as possible.

Find out what worked for other events and see how

structures have been used before. You'll benefit from

different ideas and genuine input into your event, as

well as advice on the structure and temporary event

infrastructure.

What options do you have for small, medium and

large budgets?

Temporary structures needn't be hugely expensive;

however, if you want top of the range hospitality there

are some fantastic options to delight your guests. For

smaller, more relaxed festivals there are more basic,

well put together builds too. The cost is as scalable

52 WWW.OPENAIRBUSINESS.COM
---
EVENTS

as the structures themselves so make sure

you obtain quotes for the most appropriate

structures, those that will add value to your

event.

Please mention a case study where your

units have been used

We're really proud of our relationship with

Hay Festival and, last year, were delighted

to sign a five-year agreement to supply its

temporary event village. This is great for

both sides of the partnership; our longterm

commitment allows us to be more of

a partner in the development of the event.

Equally, it means the best possible deal for

Hay, allowing organisers to budget and plan

with certainty.

In this case, the structures are very,

very good; but not overly elaborate or

luxurious. They're perfect for creating and

contributing to the festival's immersive,

intimate atmosphere of sharing, discussing,

learning and celebration. We install seven

'stages' - temporary theatres, hosting all

kinds of speakers - along with restaurants,

bars, activity tents, a giant bookshop, pretty

reading marquees and expansive food halls

across the festival. Each individual space

is brought to life by the creative event

professionals at Hay. It's a great festival and

one we're delighted to support.

Professional Live Event Support

• Stages & stage canopies • Lighting, good stocks

• AV systems • Power & mains distribution

• Skilled operators • Dry hire or supply and instal

www.mosaicfx.co.uk | 01462 85 1234

WWW.OPENAIRBUSINESS.COM 53
---
AWESOME

INSTALlATIONS

CREATIVE BAR

SOLUTIONS

EVENT

PRODUCTION

IMMERSIVE

EXPERIENCES

HOUSE

of

UNIQUE

VENUES

EPIC

SPECTACLES

PROP

HIRE

BRAND

CONSULTANCY

Over the last decade, we have created a huge catalogue of beautifully crafted handmade

furniture, easy-install mobile bars and micro-venues. We have some truly unique pieces you

won't fi nd for hire anywhere else, and our crack team can create bespoke installations or

breath taking brand activations to your specifi cation. So, if you're searching for something

with character and want to create an impact, you should be talking to House of Bestival.

HOUSEOFBESTIVAL.NET

HOUSEOFBESTIVAL
---
ADVERTISING FEATURE

Spot light

A roundup of products for the outdoor hospitality industry

WATERLESS TOILET

OPTIONS FOR GLAMPSITES

WooWoo Waterless Toilets

02030 510738

www.waterlesstoilets.co.uk

Environmentally friendly

toilet solutions for a wide

range of applications. Ideal

for glamping, if you're short

on space the Air Head is the

most compact composting

toilet. It uses no chemicals

and the waste is 100%

environmentally friendly and

can easily be disposed of.

For larger more permanent

solutions we have the

Kazuba toilet which dries the

waste using only wind and

sun, and requires very little

maintenance.

Don't like changing habits?

You'll love the ceramic feel

of the Envirolet, a low water

toilet that uses a vacuum

flush to move the waste to a

composting unit.

GLAMPING POD

ACCOMMODATION

Pods by Future Rooms

01452 501455

www.podsbyfuturerooms.co.uk

We design, manufacture and supply

high quality, insulated timber

framed pod accommodation across

a variety of markets, with styles

and sizes to cater for all needs and

budgets. Pods can be supplied as

open plan shells with LED lighting,

twin power sockets, USB charging

points and an electric wall heater

as standard. Upgrades include ensuite

shower rooms, kitchenettes,

fitted bed frames, underfloor

heating, right the way through

to our new Full Specification

range that provides the highest

quality and luxury, fully furnished

glamping pods on the market. All

that's left to do is to connect your

pod up to mains services and start

taking bookings!

COMFORT AND TRADITION

Plain Huts

07903 313922

www.plainhuts.co.uk

Plain Huts supplies luxurious

contemporary shepherd huts

perfect for the glamping and

bed and breakfast industries.

Our huts have a contemporary

feel while being grounded

in tradition. We have

developed kits that provide

a waterproof shell and can

be three dimensional within

a day, or bespoke turnkey

solutions for your specific

requirements. Bespoke builds

often include en-suite wet

rooms, underfloor heating

and kitchens, and all huts

can be customised to have a

choice of cladding inside and

out. To discuss your ideas

further, speak to the founder

Cath Caesar who will happily

explore potential solutions

with you.

EVENT KITCHENS AND CATERING

EQUIPMENT

PKL Group

01242 663000 | www.pkl.co.uk

PKL Group is the UK's leading

supplier of modular commercial

kitchens. With 27 years in the

industry, we have hundreds of

temporary kitchens and 10,000

items of catering equipment

available to hire. We work on

around 500 events each year,

including festivals, sporting

events and pop-up restaurants in

all sorts of weird and wonderful

places!

From stand-alone catering

equipment for use in marquees

or existing buildings, to

complete modular kitchens

and coldrooms, we supply

events of all sizes. We are CDM

Regulations compliant and offer

a complete turnkey service, from

design and project management

to installation and 24-hour

technical support.

WWW.OPENAIRBUSINESS.COM 55
---
Event Kitchens

Busy planning your summer events?

dontforgetthekitchen.com

Whether you need to hire temporary kitchens or stand-alone catering

equipment for use in a marquee or existing building, we can help.

Choose from our range of over 10,000 items of catering equipment and

600 temporary kitchen units to make your event kitchen amazing!

Give us a call for a chat with our events team, or visit our website for an

instant online kitchen estimate!

Have fun planning your events this summer, but

whatever you do… Don't forget the kitchen!

• Event kitchens

• Catering equipment

• Pop-up restaurants

• Marquee kitchens

• Crockery, cutlery and glassware

• Instant online estimate

@PKLEvents

www.DontForgetTheKitchen.com
---
CLASSIFIED DIRECTORY

Classified Directory

FOR SALE Suffolk shepherd hut

available from the end of September

Made by Riverside Shepherd Huts, the quality is simply

excellent and has a steel frame. Clad in cedar wood, with an

electric heater, hot water, electric towel rail and shower.

Offers IRO £17,000

Tel: 01502 713152

LEADING LIGHT

AND POWER

FOR THE EVENTS

INDUSTRY

0345 409 0280

mobile cookery theatre

demonstration kitchens for hire

01462 43 44 45

www.onstagekitchens.com

TIMBER INTENT

Tensile structures:

facilities, camp, glamp & event

Architecture:

design & planning application

01297 444416 timberintent.co.uk

InPartyTentsCo.

HIRING ALL OVER KENT & SUSSEX, NO VAT

AND FREE DELIVERY WITHIN 30 MILE RADIUS

O7917 457 820 | inpartytentsco@aol.com

STYLISH & UNIQUE MARQUEES

FOR WEDDINGS & PARTIES

Simply the Best Events own and operate over 350

different attractions in house for Corporate Fun Days

and It's A Knockout events throughout the UK.

Speak to one of our Event Managers

on 0800 019 3908

www.simplythebestevents.co.uk

Sewage Treatment Systems

For all residential, commercial

and industrial applications

01295 236101 • info@theseptictankstore.co.uk

www.theseptictankstore.co.uk

WWW.OPENAIRBUSINESS.COM 57
---
PERIWINKLE

PERIWINKLE GOES OFF-PISTE

Back in the lounge of the Glamper's Retreat after the show, Periwinkle, Chuffer, Tubby and Twistleton-Penge

all agreed that Ms Meadow Flowers was to blame. For everything. Including Brexit.

To admit otherwise would have been to face the fact that none of them knew the first thing about

outdoor hospitality. And since outdoor hospitality was their raison d'être such an admission would

have made them all look as embarrassed as a politician who'd just lost his deposit.

MONDAY

For some time, our consultancy

business has been making

slower progress than a

hungover tortoise in the teeth

of a gale. Called Ms Flowers at

her small-business ashram in

Tooting for advice on shaking

things up a bit. The trade show

circuit got a tad crowded in the

autumn with big shows racking

up footfall figures capable of

making a Debenhams' area

sales manager slaver like one of

Pavlov's dogs. What, we wanted

to know, could our band of

merry entrepreneurs do to stand

out from the crowd?

"You need profile, darling.

Oodles of the stuff," Meadow

trilled. She proposed a highprofile

visit to a low-profile

show. One of those woebegone

unaffiliated shows held during

the summer, on the periphery of

the industry, over on the edge of

the county.

"There's more chance of

getting noticed at a small,

off-piste show," she said. "You

might even get your photo in

the local papers. It's a chance to

make a statement too. To wear

something that catches the eye

of a future client. Your unspoken

message should be clear: We are

out-of-county hospitality gurus

with a soupçon of the avantgarde."

Ms Flowers rang off, but

not before leaving a fashion

tip and promising to dangle

an amethyst or two over a

mandrake root to woo the gods

of fortune over to our side.

SATURDAY

Chuffer, who'd been scouring

the trade press for a show

"WE ARE OUT-OF-COUNTY HOSPITALITY

GURUS WITH A SOUPÇON OF THE AVANT-

GARDE"

matching Meadow's blueprint,

eventually came up with 'Small

Holdings A-Go-Go 2017'. We

set off in Twistleton-Penge's

Bentley.

We arrived at the show

ground in time for lunch. Within

minutes of parking the car, we

discovered why Chuffer's chosen

show wasn't mainstream. On

a day hot enough to cause

hedgerows to spontaneously

combust, the show's promoters

were trying to sell a range of

ludicrously unseasonal goods:

Snow globes, old single bar

electric fires, donkey jackets

with incongruous messages

on the back like 'Phew! It's a

scorcher,' and 'I'm having a

heatwave, are you?'

In addition to the Yuletide

paraphernalia, fridge magnets

were to be found across the

site, their twee rustic slogans

shouting 'Squirrels rule, OK!'

and 'Beware of the Chaffinch!'

A couple of bikini-clad girls

worked the thin crowd, giving

away snow shovels. There

wasn't a pizza oven, safari tent

or wood fired hot tub to be

spotted as far as the eye could

see.

A girl appeared on a makeshift

stage, wearing a Laura Ashleystyle

chemise. She had a ballet

pump on one foot and a Doc

Marten with a rose-coloured

ribbon instead of a bootlace on

the other.

The event manager

announced through a

megaphone, that Hermione had

come up from the big smoke

to enact the history of outdoor

leisure through the combined

media of modern dance,

mime and Feng Shui. It was an

impressive gig, but she lost her

footing when the rose-coloured

ribbon came undone and she

flew bottom over ballet shoe

into Twistleton-Penge's lap. The

Twistle hadn't been this close

to a filly (other than Mrs Twistle)

since he blagged his way into

the winner's enclosure at Ascot

in 1979.

Was Ms Flowers' ploy to raise

our profile a success? Not really.

We were noticed all right. Given

that Meadow had made us wear

our trousers at half-mast and

put on unmatched hiking socks,

this was hardly surprising.

We bought stuff, though we

did not fare well in doing so.

Chuffer purchased a herd of

Alpaca selectively bred to grow

wool with camouflage markings.

Unfortunately, on the day of

delivery, Chuffer's sheepdog,

Taffy, lost the plot and the alpha

alpaca led the herd deep into

the forest. So effective was their

subsequent concealment that

over the ensuing weeks and

months, although often heard,

the alpacas were never actually

seen again.

In another major retailing

faux pas, Tubby rented an

artificial maze and schlepped

it home in the Bentley's boot.

But he failed to memorise

the sequence of left and right

turnings guaranteeing escape.

As a result, during trials, he was

unable to find the exit before

the contract hire expired. All in

all, with penalty payments for

the late off-hiring of the maze

and the 100% loss on the alpaca

deal, Tubby and Chuffer were

collectively ten-grand out of

pocket.

Granted, this loss was partly

mitigated by the free snow

shovels which probably cost less

than £1.50 wholesale. Ironically,

strapped to the roof rack for the

return journey round the M25

the blades of the snow shovels

melted in the roasting July heat

before we'd got half way home.

Periwinkle

58 WWW.OPENAIRBUSINESS.COM
---
KEYNOTE SPEAKERS INCLUDE...

INSPIRING RURAL ENTREPRENEURS

7

The event for farmers, land owners and rural business

entrepreneurs to gain inspiration, resources and advice

8 & 9

NOV 2017

NEC

BIRMINGHAM

A WORLD OF IDEAS

TO MAKE YOUR LAND

MORE PROFITABLE

Register for FREE TICKETS via www.farmbusinessshow.co.uk

200

EXPERT-LED

SEMINARS

9,000

VISITORS

OVER 2 DAYS

450

WORLD-CLASS

SUPPLIERS

MICHAEL EAVIS

WORTHY FARM & GLASTONBURY FESTIVAL

"The Farm and

the Festival -

How They Work

Together"

TRADE SHOW

OF THE YEAR

RUNNING

ALONGSIDE

INNOVATION 2017

FAMILY

ATTRACTION EXPO

INNOVATING THE VISITOR ATTRACTION INDUSTRY

COUNTRY HOUSE

BUSINESS INNOVATION 2017

PARTNERED WITH