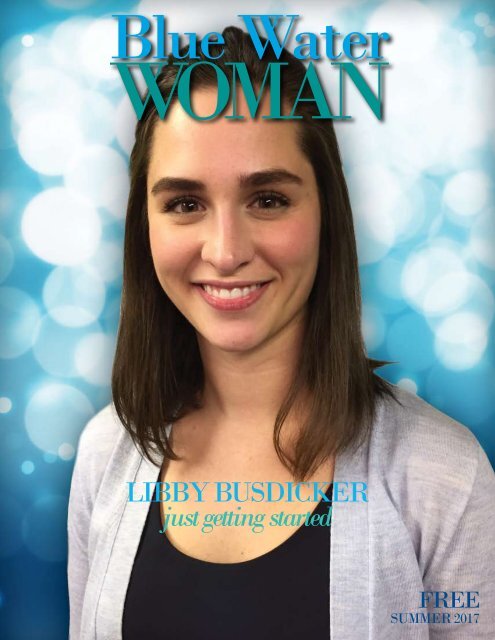 blue water woman--summer 2017--yumpu
Create successful ePaper yourself
Turn your PDF publications into a flip-book with our unique Google optimized e-Paper software.
libby busdicker

just getting started

FREE

SUMMER 2017
---
Summer 2017 BlueWaterWoman.com 1
---
from the editor

join the club:

become a blue water woman patron

"You like me, right now, you like me!"

-- Sally Field, in 1985, upon winning her second Academy Award for Best Actress

I recently experienced my own Sally Field moment when I received some very special

and much needed emotional and financial support for Blue Water Woman magazine.

Thank you to our loyal and ever-so-supportive advertisers

Blue Water Woman magazine has been blessed with a very loyal group of advertisers.

They. Make. This. Publication. Happen. I cannot express that sentiment – and profound

thankfulness – enough.

Charter advertisers who have been with the publication since the first year include

McLaren Port Huron; Blue Water Counseling; Curves; Edward Jones—Cathy Wilkinson;

Farm Bureau Insurance – Kim Judge and Tammy Hutchinson; Port Huron ENT;

Regency on the Lake; Silk's Flowers; Smith Family Funeral Home; and Sonja's Hair

Salon.

All of them believe in the power of sharing women's stories and, without explanation,

they understand why that is important.

Support women in our community: Become a patron of Blue Water Woman magazine!

Visit our new and improved website (www.BlueWaterWoman.com) and click on the

"Individual Sponsorships" page or visit our

Facebook page and click on the blue "Shop Now"

tab on the right just below the cover photo.

Both will take you to our new Patreon.com

page. Patreon is a safe, secure subscription service

that helps us collect income so we can keep doing

what we love to do: writing stories about the

awesome women in the Blue Water Area!

editor patti samar, fourth from left,

& 2017 Blue Water Woman of the Year

Why become a sponsor/patron of Blue Water

Woman?

The obvious reason is rather altruistic: you

just believe in supporting a local business that is

written and designed to support the women in

this community.

Additionally, depending on the level of support

Award Recipients

you wish to provide on a monthly basis, patrons will receive a number of benefits. Visit our

Patreon page at www.patreon.com/BlueWaterWoman to learn more about them!

Thank you to the first charter member of our Blue Water Woman Patreon Club!

I set up the Blue Water Woman Patreon page in late March of this year. I set it up, told

my husband about it, linked it to the Blue Water Woman website and Facebook page, but

didn't tell another soul about it. I decided to write about it in this issue of the magazine and

officially "unveil" it here.

And then, out of the blue, just this week, I received an email from Patreon telling me

that someone had become a patron!

I burst into tears as I shared this news with my husband. "Why are you crying?" he

asked. This was my "You like me, right now, you like me!" moment.

"Because I really didn't think anyone would ever pay for me to do this," I sobbed.

I do not know and have never met Dayle Ann Farrimond of St. Clair. But she stumbled

upon our Patreon page while exploring the Blue Water Woman Facebook page and website.

And she decided to offer her support. And why?

"I'm all about women supporting women," she said.

And it really is that simple.

If you are so inclined to become a patron, I will be forever in your debt. If you would

rather just continue to read the magazine, that is another form of support. We need

readers, advertisers and patrons and I appreciate each and every one of you.

Peace,

CONTENT

libby busdicker 4

anita ashford 6

renee barr 8

advertise

in Blue Water Woman!

it works!

just ask our advertisers!

The ad deadline for the next issue

of Blue Water Woman is August 1, 2017.

Prices start at just $125 for a business card sized ad!

Our most popular ad size is a quarter page at just $250;

sign a one-year contract and it becomes just $225 a quarter!

What a deal!

For more information, contact Patti Samar

at 810-300-2176 or email her at pjsamar@aol.com

volume 7, number 2 Summer 2017

Blue Water Woman is published quarterly by The Write Company,

511 La Salle Blvd., Port Huron, MI 48060. Circulation 5,000.

Editor & Publisher:

Patti Samar, owner, The Write Company

Advertising:

Patti Samar at pjsamar@aol.com

Questions, comments or story ideas?

Contact Patti Samar at pjsamar@aol.com

Mission:

Blue Water Woman is the premiere publication

for women living, working and playing in the Blue Water Area of Michigan.

Its stories and features are written and designed

to be inspriational, motivational and encouraging.

www.BlueWaterWoman.com

© Blue Water Woman is the property

of Patti Samar of The Write Company

The Write Company is a writing, graphic design

and marketing consultation firm.

View our online portfolio at: www.TheWriteCompany.net

Patti Samar

Editor & Publisher

Blue Water Woman

2 Summer 2017 BlueWaterWoman.com
---
Protect your world

Auto • Home • Life • Retirement

Let us cook

so you can enjoy the party

Insurance subject to terms, qualifications and availability. Allstate Property and Casualty Insurance Co., Allstate

Indemnity Co., Allstate Vehicle and Property Insurance Co., Allstate Fire and Casualty Insurance Co. Life insurance

offered through Allstate Life Ins. Co. & Allstate Assurance Co. Northbrook, IL; Lincoln Benefit Life Co., Lincoln, NE;

and American Heritage Life Insurance Co., Jacksonville, FL . Securities offered by Personal Financial Representatives

through Allstate Financial Services, LLC (LSA Securities in LA and PA). Registered Broker-Dealer. Member FINRA,

SIPC. Main Office: 2920 South 84th Street, Lincoln, NE 68506. (877) 525-5727. © 2010 Allstate Insurance Co.

173533

Catering services that satisfy all palates

Not just Italian...we offer a wide variety of menu choices!

Weddings • Showers • Parties • Wine Tastings

~ Reserve the restaurant & serve up to 75. ~

~ Off-site at venue of your choice & serve up to 200! ~

~ We can create a completely custom menu for any group, big or small ~

Contact us today to reserve your date!

(810) 216-6565

www.GreatLakesItalian.com

3822 Pine Grove Ave • Fort Gratiot

Summer 2017 BlueWaterWoman.com 3
---
JUST GETTING

started

by Patti Samar

LIBBY BUSDICKER

4 Summer 2017 BlueWaterWoman.com

Libby Busdicker is the quintessential young professional in the Blue

Water Area.

At 26 years old, the young attorney is what many elders in the

community want to see more of: a home-grown young professional

who left the community to pursue a college degree -- and then a law

degree -- who has returned to the area to pursue her career and enjoy

the experience of living in the middle of the rebirth of the Port Huron

area.

Busdicker, who grew up in Fort Gratiot, is in her second year serving

as a law clerk in the 31st circuit court, working for the Honorable

Michael West and the Honorable Cynthia Lane.

"The job I have right now is almost exclusively research and

writing," said Busdicker, who noted that those were the tasks that

drew her to law school in the first place. "I get to do the research and

write the opinions."

She has learned a lot working in the courthouse and credits the

expansion of her legal knowledge to the judges she serves.

"They both teach me different things and I learn how they think

through different issues."

She said she also works closely with the law clerk who serves

Circuit Court Chief Judge Daniel Kelly. "We work through problems

together," she said. "It's a really good working environment."

During her off-hours, Busdicker can be found riding her bicycle

to-and-from various locations around town. And although she was not

interested in politics while an undergraduate in college, she has more

recently been attending the monthly meetings of the St. Clair County

Democrats and the Blue Water Progressives.

"A lot of my hobbies are really nerdy," she said with a laugh. "I went

to college and had no political engagement at all." Therefore, she didn't

exactly follow in the footsteps of her parents, both of whom were very

involved in politics in college, and both of whom are conservatives,

with her father campaigning for Ronald Reagan and her mother a

founder of the college Republicans at Michigan State University.

"But, then I came home and it's typical for kids to go away to college

and come back and see things differently," she said. And though all are

respectful of one another, "We disagree on a lot of things now," she

said with a laugh.

Though she and her college girlfriends didn't talk about politics then,

she keeps in touch with them and has discovered that they share her

political beliefs, as well. And even though they are all living in different

places, the group decided to head to Washington, D.C. this past

January for the Women's March.

"After the election last fall, it energized us all independently,"

Busdicker said. "We all simultaneously decided we wanted to do this

women's march together and we had never really talked about politics

before. One friend wants to run for office and another one is interested

in international development.

"I just learn so much from them. I'm in awe of them and I want to

make myself better because of them."

Busdicker said her attendance and participation at political gatherings

came about because she was surprised by the election last fall.

"I fall into this group of people who were shocked by this election,"

she said. "I've been trying to go to meetings and local events. The idea

that we could go another decade without a woman president is like the

Twilight Zone to me.

"I support policies that affect all women. I'm really just getting

started. I'm really critically thinking about what I want my role to be."
---
Summer 2017 BlueWaterWoman.com 5
---
EMPOWERING

people

by PATTI SAMAR

Anita ashford

6 Summer 2017 BlueWaterWoman.com

There isn't much about life in Port Huron that Mayor Pro-Tem Anita

Ashford hasn't experienced and doesn't love. Her passion for helping

people and a desire to make a positive impact on the community and

its residents led her, years ago, to a life of service to God, her family and

her city.

The lifelong city resident is proud to represent her hometown on the

city council in her second go-around as a politician, having first served

on the council for 10 years from 1989 to 1999.

"The third time is the charm," she said with a laugh, noting that it

originally took her three attempts to win a seat on city council.

Ashford views her service on the city council as a way to give back to

the community while also helping people learn how to make positive

change in their own lives.

"That's part of my destiny, to care about people and to empower

people," she said. "I try to be a catalyst to change lives. I try to help

people get a little bit closer to their dreams in life."

The Port Huron Catholic High School graduate – public school

officials asked her mother if she could be transferred there in order to

help eliminate racial segregation at a time when segregation had been

common – she went on to earn an associate degree in criminal justice

at St. Clair County Community College and then a bachelor's degree in

human resources administration from Concordia University.

Initially, she worked multiple jobs to make ends meet but eventually

earned a position at Detroit Edison – now known as DTE – working in

the security department. She is still employed by DTE, having served

the company for 40 years. She now works at the company's China

Township location as a continuous improvement expert, where she

oversees special projects and deals with human resources issues.

Ashford has long been involved in numerous community projects,

organizations and endeavors, including the Southside Coalition, Citizens

Against Crime and the Blue Water Transit Authority. She has also

served on committees for the Michigan Municipal League and the

Southeastern Michigan Council of Governments.

For many years she has been active in the NAACP, where she served

as a national officer and she has been active in the local chapter. "I was

a member of the national VIP security team," she said, noting that the

NAACP offers security services to members or supporters all over the

country.

She served on the VIP security team for 23 years, beginning in

1978. Among those she was honored to serve was Rosa Parks, a civil

rights icon who resided in Detroit in her later life. The NAACP offered

continuous security services to Mrs. Parks after she was robbed and

beaten in her Detroit home in 1994 when Parks was 81 years old.

Others Ashford met during her time on NAACP VIP security detail

included poet Maya Angelou, former president of South Africa Nelson

Mandela, Oprah Winfrey and Hillary Clinton.

"They (NAACP) flew us everywhere," to help cover VIP security

detail, Ashford said. "Wherever we went, I always made sure I

visited a church there and I visited the neighborhoods to see how the

residents were living so I could bring ideas back here," she said. "Those

experiences made me a better public servant."

Ashford's experiences observing big city neighborhoods over the years

have helped her better understand some of the big city problems that

have come to Port Huron, as well as opportunities that the community

could undertake, as well.

"I think the marketing of downtown is important," she said. "And

strategically, our neighborhoods need to be different. We have home

owners and we have renters and we need to be able to service all of them.

"Some of our residents need to be empowered to change their

circumstances and learn what is available to them and help them

contribute to the city. We need to do more to help these people climb

out of poverty. We need to lead in such a way so they feel they can do it

themselves."
---
Every day is the perfect day

to send flowers.

Love reading this magazine? Want to see it continue?

become a sponsor of Blue Water Woman magazine!

SponSorShipS Start at juSt $1 per month!

Businesses and individuals are welcome to become sponsors!

Visit the "Individual Sponsorship" page on our website today!

BlueWaterWoman.com

Summer 2017 BlueWaterWoman.com 7
---
ig

dreams

by patti samar

renee barr

8 SPRING Summer 2017 2017 BlueWaterWoman.com

Renee Barr helps kids make their dreams come true.

Barr, theater coordinator at McMorran Place and director of theatrical

productions for a number of local theater organizations, has served as a

mentor, teacher and theatrical director to youth throughout the Port Huron

area for more than 20 years.

And as a wife, mother of four and theatrical director for several

generations of students, Barr knows it is important to nurture the dreams

of her students because she has been allowed to dream big herself.

A graduate of Port Huron High School, Barr didn't get bitten by the

theater bug until she was a student at St. Clair County Community College.

"I had a job working in the (SC4) theater and that's when I really got

interested," she said. "But what I really wanted was to become a famous

actress."

Throughout her college career – she later transferred to Oakland

University where she obtained a bachelor's degree in communications with

a minor in theater – she dabbled in theater and similar pursuits. She entered

pageants to earn scholarship money and was the 1989 Miss Blue Water,

which sent her to Muskegon to vie for the Miss Michigan crown.

"They must have said, 'We've got to give that gal a crown…she keeps

coming back!'" she said with a laugh about her win in the Miss Blue Water

pageant.

During that time she also worked in a position of honor at the North

American International Auto Show in Detroit. "I was a spokesmodel for

the auto show," she said. "It was a way to put myself through college and

be seen. I was hoping that maybe someone would see me and put me in a

commercial."

After college, Barr chose to return to her hometown where she eventually

married a local resident and began teaching theater at SC4. That led

to opportunities to teach drama for the Port Huron Schools where she

continues to direct plays at Thomas Edison Elementary School, Fort

Gratiot Middle School and Port Huron Northern High School. She also

teaches theater camps throughout the year for the city of Port Huron

recreation department.

At McMorran Place, she serves as the theater coordinator for events. "I

help with anything our clients need when they use the theater."

And while Barr works closely with McMorran's clients to ensure great

customer service, it is clear that her passion lies in working with young

people and watching them grow through their theatrical experiences.

"I'm really lucky," she said of the students with whom she has had the

opportunity to work throughout the years. "Some of them I lose to sports

and jobs, but some of them I've had from the time they were eight years old

all the way through high school graduation."

Most of the productions Barr directs – with children of all ages – are

musical productions. "I work with them on acting, theory and character

development," she said. She noted that the community has been very

supportive and that is appreciated.

"If we don't have audiences, we don't have revenue and then it is harder

to continue," she said.

The theatrical experience is not just about being or becoming a star, Barr

noted. "It's more than just about being on stage. It's the triumph of being

on stage after being so shy to begin with."

Additionally, students learn leadership, organizational and people skills.

"My high school kids will help with middle school or elementary school

productions and they become the mentors," she said. "Not only do they

help the younger students, but they are teaching the parents who are

volunteers but non-theater people, how to do their jobs backstage. It's a

great experience."

Barr remembers her early experiences acting, performing in pageants and

working as a spokesmodel and what a profound influence they all had on

her and the way that mentoring adults encouraged her along the way.

"All of those things helped me and when I'm working with kids, I

always tell them the sky is the limit and it is amazing how that fuels them,

especially when they hear that from an adult who is not their parent," she

said.
---
Agents protecting

all your life's moments

Providing complimentary lodging

for families of hospitalized patients

Two locations conveniently located within steps

of both McLaren Port Huron & Lake Huron Medical Center.

To make reservations, call:

810-824-3679

www.HunterHospitalityHouse.com

Kim Judge

kjudge@fbinsmi.com

(810) 385-8800 | 7147 Lakeshore Road, Lakeport

FarmBureauInsurance.com

Tammy Hutchinson

thutchi@fbinsmi.com

Summer 2017 BlueWaterWoman.com 9