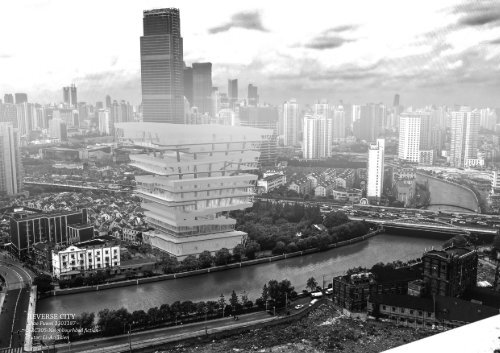 Shao Fuwei, XJTLU, ARC305, semester 1, 2016-17
Portfolio of Shao Fuwei's ARC305 studio project, semester 1, 2016-17, Xi'an Jiaotong-Liverpool University, Department of Architecture. Tutor: Li-An Tsien.
Portfolio of Shao Fuwei's ARC305 studio project, semester 1, 2016-17, Xi'an Jiaotong-Liverpool University, Department of Architecture. Tutor: Li-An Tsien.
SHOW MORE
SHOW LESS
You also want an ePaper? Increase the reach of your titles
YUMPU automatically turns print PDFs into web optimized ePapers that Google loves.
REVERSE CITY

Shao Fuwei 1301187

ARC305-Neighbourhood fiction

Tutor: Li-An Tsien
---
In collaborative society, commercial is the focus instead humanity. We still live in a world where things are clearly delineated or separated from each other especially groups of people

with various social status. Migrants- a very distinctive social group in Modern Shanghai plays crucial roles in city construction, however, with relatively low social status, isolation, lack

of respect and passiveness are often found among them.

Boundaries should start to blur between the different domains, and in which collaboration and interaction becomes far more important than keeping separations. As a result, I wanted

to think of a giant machine, a building that would tear apart the boundaries that separate migrants from approaching the life of Shanghai and orchestrate various domains allowing them

to interact and collaborate. Thus it helps them set up their own position among the locals.

-1-
---
URBAN ANALYSIS_ Two-Side City

Suzhou river as a series of nutrient cultivated the area on both part. The city pattern grew organically alongside the river. Shanghai Lilong house was one of the most fascinating outcome of

it which used to be habitat for the local.

As the rapid economic growth, these houses are being rented to the migrants with low income. At the same time, the tribal form of city is under the threat of deconstruction and

reconstruction of high-rise towers, especially the northern part of the river.

Although a few of Lilong House were kept at this point on the southern part, a lot of high rise towers have been growing up day by day which are expect to eat up rest of the houses.

-2-
---
URBAN ANALYSIS_ Two-Side Wall

self-organization

self-creation

losing control

-high towers

-high speed roads

-huge city scales

-selfish preservation of historical buildings

have become great obstacle of migrants accessing the outside world, limited resources

from the surrounding areas resulting in self-creation and self-organization which further

contributes to the chaos in their living space preventing the local from getting in.

disordered

-3-
---
1978-1994

-reform and openness

-socialist modernization

More and more people paoured into Shanghai since

1980

1995-2004

-reform of household registration system

-period of confliction between local residents and

migrants in terms of housing and jobs

Too many migrants brought great pressure into urban

space, and caused the unemployment of local residents.

Government started to control the migrants' activities

in the city by reducing their rights.

2005-2010

-differentiation of locals and migrants in living

condition

-the comprehensive plan of shanghai (1999-2020)

Building new and high building blocks on some of

original living sites became a major solution to solve the

problem of high pressure of living for locals. Relocation

and moving to new apartments became popular among

locals. Low rent price of traditional Lilong houses turns

into the first choice of migrants.

2011-20??

-lower social status of migrants

-dramatic difference of locals and migrants in terms of

income -unfair treatment

With the limitation of migrants' education background

and unequal treatment in Shanghai, disconnection

between locals and migrants become particular obvious.

Huge pressure of survive in Shanghai for migrants has

reached to a peak which results in the first decline of

the number of migrants according to an investigation

conducted at the end of 2015.

-4-
---
-coming from rural area

-comparativly low education background

1978-1994

-5-
---
-unfair social rights compared wtih locals

1995-2004

-maximum utilization of limited space spontaneously

-results in disorder

-6-
---
-the local gradually been relocated

-the migrant are squeezed to smaller zones due to the period of seeking for rapid economic development

-high towers and high speed constitute an enormous city enviroment

2005-2010

-tiny living space of the migrants unimpressive

-7-
---
-life is work, work is life

2010-20??

-the migrant are easy to form an introverted society with strong cohesion

-unwillingness of getting in touch to the outside

-monotonous life and not creative

-8-
---
PROPOSE SOLUTIONS_Start from site analysis

CREATIVE CITY

Government's methodologies of preserving historical industrial buildings for artists'

creation is not the same notion of creative city or active society. The city will be activated

only when the creation started to happen on the normal people. The solid and stubborn

brick building really stop this from happening. The most walkable street along the river

should be accessible to those migrants.

The current site area should be stretched up and becoming a exposed, transparent,

penetrable and well-organized into an inverted city for migrants' living.

-9-
---
CONCEPT DEVELOPMENT

-10-
---
REVERSE CITY CONCEPT

Facing the issue of lack of social care of migrant workers in contemporary Shanghai, the

proposed design concept was a plan that could possibly improve current condition.

By doing so, I proposed:

1. A LIFT-UP city-maintain the active use of the ground by migrants and connect

them to the context.

2. An overlapped system-allow 3D interaction including parallel and vertical

circulations for creating ample relations.

3. A self-organized society- self-development and creation of living environment

are the natural instinct of migrants' reaction to their living context, the same

accessibility of their surroundings should be maintained

4. A relatively high building structure should be fulfilled so that we set up our own

position in the environment, to be not afraid to show and able to be seen.

5. Transparent building system allowing the expression of identity of migrants

living inside.

-11-
---
EXPLODED ISOMETRIC DIAGRAM

Different levels separated by intermediate roof gardens works as parallel neighborhoods with its distinctive characteristics formed

by it habitants. Each neighborhood shares similar program with residence, commerce, study and work (see the top two level plans

as a sample). The space for users especially the migrants are more or less the reinterpretation of their life in lilong houses thus

maintain its flexibility of self-development and possibilities to create a lively living space.

MAIN CONCEPT

1.Integration of multifold social background people

Corridors as an open space allow people meeting with each other (inspired by traditional Lilong Houses)

2.Improvement of personal education level

An open library as a crucial part at the ground level where can be easily accessed.

3.Flexibility and restriction of proper spontaneous reaction and action to living context

Truss system of the envelop resembles as timbers made structures which migrants used to build their own

spaces. The open corridor with open air also allows certain spontaneous reactions to their living space.

However, the activities are under the structure itself which create a balance of being flexible and wellorganized

space.

4.Distinctive division of locals and migrant forming introverted world

Fragmental spaces disturb the stable city structure formed by social states and reorganize the group of

users not only the migrants but also the locals to create a unified world. And different levels of spaces

being connected by roof gardens and atriums reconnecting the fragments into a whole piece.

6.Small mass of living spaces weakens the feeling of existence

Using larger scale buildings to wake the senses of essence

7.Relationships between work and life

Live in a city-like building contains the daily life activities.

-12-
---
'Life should be lived on the edge of life. You have to exercise rebellion: to refuse to tape yourself

to rules, to refuse your own success, to refuse to repeat yourself, to see every day, every

year, every idea as a true challenge - and then you are going to live your life on a tightrope''

Philippe Petit

-13-
---
SITE PLAN-ROOF GARDEN PLAN ON TOP LEVEL 1:500

PROPOSED SITE PLAN OF THE RELATIONSHIP

THE ORIGINAL LILONG LIFE AND NEW BUILDING 1:2000

The current Lilong house near site area was abnormal in this case, although it has a very wide street between two Lilong house district which should function as a main Long tang transits the circulation in between. In cater to fulfill the

development of economy, transportation was developed for faster speed, the main Longtang was connected to the main road which now currently dominantly by cars. It is no longer functioning as a human scale to the inhabitants and locals. In

addition, due to the damage of the system, the inhabitants have to build the walls and fences to separate themselves from bothering. And due to the original planning, the inside circulations were all secondary circulation. With the self-creativity of

the inhabitants, the internal space becomes more and more messy. No more locals are able to access the inside world and the introvert society never want to get in touch with the outside. And that's where I think the problems starts.

To address this issue, I want to re-activate the communities again by cooperating the existing houses and proposed projects. Start with re-creating the transitional system in the Lilong area by create a main Long tang in the middle and extend it

to both end of the road. And several secondary Long tang will be re-attached to the main walking zones and basically organized by themselves. Pedestrian from locals are re-directed to the Lilong space from the proposed project thus bring more

chances of communication of migrants and locals.

-14-
---
ARCHITECTURE FLOOR PLAN 1:300

First Floor

1. toilet and wash room

2. retail store

3. barber shop

4. coffee shop

5. food market

6,11,13. family units

7,8,12,15. shared department

9,10,14. single unit

16. outdoor gym

outdoor space

(ciculation, communication,

ventilation and selfdevelopment)

-15-
---
NEIGHBOURHOOD ON TOP OF

THE BUILDING

Ground Floor

1. toilet

2-6. team office

7. shared department

8. single unit

9. family units

10. theatre/ lecture room

11. projection room

12. bar

13. roof garden

14. storage

-16-
---
First Floor

1. workshop

2-3, 5-6, 11-12, 14,15. Private study

room

4,13. Rest room

7,10. Discuss room

16. library/ open study space

-17-
---
Ground Floor

1. street facing side (back) the

entrance corridor

2-3, 5-6. Private study room

4,13. Rest room

7. discuss room

8. toilet

9. front side (facing to migrants' houses),

entrance hall, gathering node of migrants

10. toilet

11,12,15. Meeting room

16. library/ open study space

-18-
---
BUILDING SERVES MIGRGANTS

NORTHWEST VIEW

OF THE BACKSIDE

OF THE BUILDING

(facing to the main

street)

-19-
---
SOUTHEAST VIEW

OF THE FRONTSIDE

OF THE BUILDING

(facing to the Lilong

house)

-20-
---
SECTIONAL DIAGRAM 2-2

The experience of home is structured by distinct activities – cooking, eating, socializing, reading, storing, sleeping, intimate acts – not by visual elements. A building is

encountered; it is approached, confronted, related to one's body, moved through, utilized as a condition for other things. It can function as a corridor, has daylight, has

ventilation. It can be glazed over and turned into a giant exhibitional performance space.

-21-
---
A REVERSE CITY differs from normal high-rise towers with pyramid form representing social hierarchies and isolation. The reverse city breaks the rules that restrict the activities and selfdevelopment

and helps them explore themselves with no differences in terms of social status. It recreates the relations of groups and individuals, helping break the original social groups

into fragments and reshaping the social relationships of them into a unified word. The higher the space goes, the more communitive the spaces are. It adapts the most original lifestyles of

Lilong life with a brand new existence where neighborhoods are formed and the hierarchy vanishes.

-22-
---
CEILING/FLOOR SLAB

Façade finishing 10mm

Water proof membrane

Insulation 50mm

Vapor barrier

Reinforced concrete 203mm

ROOF GARDERN

Paving 45mm

Soil 120mm

Filter 15mm

Retention, drainage layer 30mm

Water proof membrane

Insulation 80mm

Vapor barrier

Composite decking 205mm

Space frame depth 2m

Gutter

Pipe

TECTONIC MODEL

Steel truss 200*200mm

Steel I beam 600*600mm, 520*520mm

-23-
---
REFLECTION OF THE FINAL CRIT

From the initial concept to the final proposal, transparency and highrise

of building structure allowing to express the identity both of the

migrants and the architecture itself, overlapping system that allows

3D neighborhood interaction both horizontally and vertically and selforganization

inside the building system allowing the development of

themselves spontaneously.

However, there are a few aspects requiring more thoughts which

reduces possibility of improving migrants' lives including:

1. The high and large building structure is non-corresponding to its

context resembling like a monster tearing the migrants' houses apart.

2. The atrium is so deep that limited light can penetrate into the

bottom part of the building which brings trouble of inviting nature

light.

3. The huge platform is another issue that reduces the accessibility

of migrants who live behind the building approaching to the riverside

or park.

4. The initial intended circulation for both migrants and locals

require the movements through the ground floor which is a library.

Its initial intention was to create communication and encounter by

forcing them going through the public library. It is a bit arbitrary that

assume that will happen.

-24-
---
underground courtyard

underground courtyard

PROPOSED SITE PLAN-REVISED

The ground level of the library is moved to the

underground so that generating a fluent flow of traffic

on both sides of the buildings and provided a free

platform or plaza (roof ceiling of ground floor) for

creative activities or communication.

Circulation of people on the ground to the underground

could be the stairs in a courtyard on the street side

mainly serves the locals. In addition, a double height

courtyard on the southern part where migrants live

providing another approach for the migrants.

-25-
---
SECTION1-REVISED

MOVE DOWN THE WHOLE BUILDING

REMOVE ONE LEVE TO CREATE OPEN SPACE

-26-
---
underground courtyard

underground courtyard

SECTION1 DETAIL-REVISED

Solve the problem of lack of natural light in the lower floor.

Balance the architecture and its context without causing troubles for the circulation of neighborhood.

Dramatically reduce the height of the building to decrease the side effect of high-rise buildings to its context.

-27-
---
COURTYARD AND OPEN PLAZA-REVISED

Active the lives of migrants live on the southern part of the building by providing an open plaza for social gathering.

-28-
---
UNDERGOURNDCOURTYARD-REVISED

Moving the library to the underground provides a quiet and peaceful atmosphere.

-29-