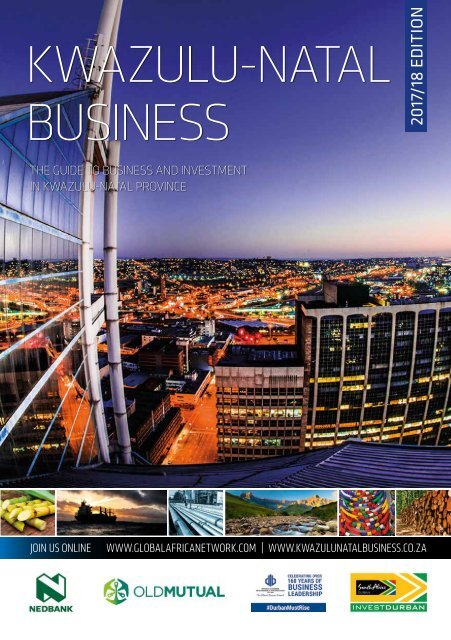 KwaZulu-Natal Business 2017-18 edition
KwaZulu-Natal Business 2017/18 is the ninth edition of this highly successful publication that has, since its launch in 2008, established itself as the premier business and investment guide to the KwaZulu-Natal Province. The 2017/18 edition includes special features on the Richards Bay area and its increasingly important Industrial Development Zone, the investment appeal of Durban and the growing maritime economy. Up-to-date overviews on the province's economic sectors provide unique insights. Global Africa Network Media (www.gan.co.za), the publisher of KwaZulu-Natal Business, specialises in business-to-business print and electronic publications, producing a series of region-specific, annual print journals. Every province in South Africa is covered by this unique range of journals and websites, complemented by a national business guidebook, South African Business.
KwaZulu-Natal Business 2017/18 is the ninth edition of this highly successful publication that has, since its launch in 2008, established itself as the premier business and investment guide to the KwaZulu-Natal Province.
The 2017/18 edition includes special features on the Richards Bay area and its increasingly important Industrial Development Zone, the investment appeal of Durban and the growing maritime economy. Up-to-date overviews on the province's economic sectors provide unique insights.
Global Africa Network Media (www.gan.co.za), the publisher of KwaZulu-Natal Business, specialises in business-to-business print and electronic publications, producing a series of region-specific, annual print journals. Every province in South Africa is covered by this unique range of journals and websites, complemented by a national business guidebook, South African Business.
SHOW MORE
SHOW LESS
You also want an ePaper? Increase the reach of your titles
YUMPU automatically turns print PDFs into web optimized ePapers that Google loves.
KWAZULU-NATAL

BUSINESS

2017/18 EDITION

THE GUIDE TO BUSINESS AND INVESTMENT

IN KWAZULU-NATAL PROVINCE

JOIN JOIN US ONLINE US ONLINE

WWW.GLOBALAFRICANETWORK.COM | WWW.KWAZULUNATALBUSINESS.CO.ZA

WWW.NORTHWESTBUSINESS.CO.ZA
---
Welcome

to Durban!

A lifestyle of business and pleasure together.

Facilitating sustainable investment in Durban

for the benefit of all

Invest Durban (previously DIPA) is an

entity of the eThekwini Municipality,

recommended by the Durban City Council

and organised private business as the

most appropriate vehicle to promote and

facilitate new investment into the Durban

metropolitan area.

Invest Durban's primary objective is to

accelerate sustainable investment in

Durban for the benefit of all through the:

• Proactive investment promotion

and marketing of Durban Metro as a

premium investment destination

• Proactive communication and

marketing of the City's large investment

projects and core strategies

• Identification and development of new

investment opportunities, especially

for previously disadvantaged groups

• Attraction, support and facilitation

for prospective foreign investors

in Durban

• Improvement in the investment and

economic development environment,

in partnership with National, Provincial,

City and Business Authorities.

Invest Durban offers FREE:

• Investment Information and

Facilitation Services

• Immigration, Import and Legal Services

• Business Establishment and Incentives

• Investor Administration Services
---
Doing business in Durban

Durban has been developed around a

natural ocean port, major industrial base

and scenic tourism assets which play key

roles in the city, plus across Africa.

Strategic location

The port of Durban is modern and wellequipped.

It offers investors a range of

competitive and strategic advantages. The

city has emerged as the de facto coastal

trade 'gateway' to Southern Africa. It boasts

the largest port in Africa, as regards value of

cargo, and is South Africa's premier general

cargo and container port. It is positioned

to access international shipping links to the

Americas, Europe, the Persian Gulf, South

East Asia, the Pacific Rim and Australia/New

Zealand and perfectly located for the transshipment

of cargoes between Eastern,

Middle-Eastern and Western economies.

Infrastructure and business

Durban offers established and advanced

road, rail, sea, air and ICT network

infrastructure. This underpins the second

largest industrial base in SA.

Quality logistics systems include:

• Port operation facilities

• Rail network – cargo and passenger

• International airport with air cargo

facilities

• Extensive road network with national and

regional linkages

• Oil/petroleum pipeline to Gauteng and

Free State Provinces

• Gas pipeline emanating from Sasol, in

Mpumalanga province

• Metro-wide fibre-optic systems.

Durban provides a number of new

opportunity areas for investors, both large

and small.

Investment opportunities may be

categorised into the following fields:

• Agri-processing

• Auto and allied manufacturing

• ICT, BPO and shared service centres

• Medical devices, health services and

pharmaceutical manufacturing

• Logistics and maritime

All of the above driven by world-class

innovation and holistic sustainability

Invest Durban, eThekwini Municipality

11th Floor, 41 Margaret Mncadi Avenue (old Vic. Embankment),

Durban, 4001 South Africa

Tel: +27 31 311 4227 | Email: invest@durban.gov.za

Website: www.durban.gov.za
---
#DurbanMustRise
---
The Durban Chamber of Commerce and Industry (DCCI) has mushroomed, from its

small beginnings in 1856 to a substantial association, respected by its sister

chambers throughout the country. Currently the oldest and largest metropolitan

chamber in Africa, we add value to our chamber members through our robust

interactions and partnerships with both the private and public sector.

These initiatives are in addition to the many great services offered, such as the

business information we distribute to our members and the entire Durban business

community, as well as the system of standing committees, also known as forums,

that meet regularly to consider relevant issues within the sectors that the various

committees represent.

DCCI Vision:

To be recognised as a world-class business chamber and a united voice of business

in the eThekwini Municipal area and beyond.

DCCI Mission:

To contribute towards creating a conducive economic and business environment

in eThekwini Municipal area and beyond, as well as providing services specifically

relevant to small and large businesses operating in the region.

Services offered by the Durban Chamber of Commerce and Industry

1. Enterprise Development Beneficiary Status

2. Fully equipped Conference Centre

3. CIPC services

4. Durban Chamber Procurement Portal

5. Certificates of Origin

6. ATA Carnet

7. Carnet de Commerce

8. Credit Reference Checks

9. First line HR/IR advice and support

10. Seminars and Workshops

11. Policy and Advocacy Department providing reliable and relevant policy

perspective

12. Employee Health, Wellness, Safety Advice and Support
---
CONTENTS

CONTENTS

KwaZulu-Natal Business 2017/18 Edition.

Introduction

Foreword10

KwaZulu-Natal's unique guide to business and investment.

Special features

Regional overview 12

KwaZulu-Natal is wooing investors in a wide range of sectors,

from liquid gas and titanium dioxide to pharmaceuticals and

pipe manufacturing.

South African economy at a glance 18

Insight into the performance of the South African

economy is provided through these graphical

representations of key statistics.

Investing in Durban 22

Strong policy frameworks and priority projects are

attracting investors to Africa's biggest port city.

Richards Bay 29

Richards Bay holds great promise for growth.

KWAZULU-NATAL BUSINESS 2017/18

4
---
UIF SAVING JOBS

THROUGH SOCIALLY

RESPONSIBLE INVESTMENTS

The National Development Plan is a blueprint serving as

a guideline to government departments and state entities

on how they can play a role in government wide efforts

of creating decent work, reducing unemployment and

poverty. The Unemployment Insurance Fund is among

the leading state entities in the implementation of the

provisions of the NDP to address the slow economic

growth, unemployment and poverty in South Africa.

The UIF social investment mandate ensures that,

additional to earning good financial returns, investments

must be supportive of long term economic, social and

adhere to sustainable environmental outcomes. The

investments must also yield a good social return for the

country. These investments have sustained 6 860 jobs of

which 3 024 are permanent, 3 836 are temporary/seasonal

and 195 are new jobs created during the financial year

ending in March 2016.

UIF INVESTMENTS IN RENEWABLE ENERGY

The UIF investments are contributing to the energy

requirements of South Africa and the investments in the

renewable energy sector provides a total capacity of 192

megawatt of electricity of which 117 megawatt is solar

energy and 27 megawatt is wind generated electricity.

The De Aar project is a shining example of the UIF energy

investments and this project produces 90 megawatt of

electricity and was completed in April 2016. The solar plant

in the area generates enough electricity to power 15 000

houses. Another mainstay project is the Phakwe Group ran

projects undertaken in the Northern and Eastern Cape.

INVESTMENT IN FOOD SECURITY

The UIF investments in this regard are undertaken under

the banner of the UIF Agri-Fund in partnership with

Futuregrowth and Day Breaker Poultry Project. The UIF

Agri-Fund has invested in 4 farms situated in Mable Hall

in Limpopo. One of the farms is a cash crop farm spanning

450 hectares. The farm in the last financial year produced

235 hectares of white maize, and cotton was planted in an

area covering 28 hectares.

A further three farms are located in the Saron area in the

Western Cape. In this project a total of 178 hectares has

been used to plant grapes, 37 hectares has been used to

pant citrus fruit. Furthermore, there is potential to plant an

additional 92 hectares of grapes. The Daybreaker Poultry

project operates in Gauteng, Limpopo and Mpumalanga

and the combined projects have facilities to grow 1.6

million broiler chickens.

INVESTMENTS IN HEALTH CARE FACILITIES

The UIF concluded two investments in this regard that

include a BEE hospital manager, Busamed to build a

private hospital in Modderfontein and Fund Manager

Razorite Heatlhcare that focus on the provision of

affordable heathcare facilities that include rehabilitation

and sub-acute centres.

The Modderfontein hospital is a 220 hospital bed with subacute

facilities. This hospital is under construction. While

the RH Fund Manager has concluded seven investments

that include:

• Busamed with four hospital facilities

• HealthMed with two facilities

INVESTMENTS IN EDUCATION

UIF has invested in three investments that play a role

to unlock access to education. The investments were

concluded with Eduloan – an organisation that provides

financial support to tertiary students and South Point and

Educor organisations that provide student accommodation.

By March 2016, Eduloan had disbursed about R446 986.64

benefiting 34 047 students, whiles South Point provided

about 10 000 student with accommodation.

UIF INVESTMENTS IN ENTERPRISE DEVELOPMENT

The UIF has concluded two investments with the aim of

supporting small and medium enterprises. In this regard

the PIC on behalf of UIF has concluded investment deals

with Musa Capital and TOSACO.

The investments will support more than 250 SMMEs across

various sectors inclusive of agriculture and affordable

housing. Musa Capital for example has a supply chain of

over 250 SMME's that have facilitated the creation of 2 500

jobs.

TOSACO investments is planning to advance capital to

young black entrepreneurs who aspire to own and manage

Total Filling stations around the country.

For more information:

Call: 0800 843 843 or

visit: www.labour.gov.za
---
CONTENTS

Growing the maritime economy 40

Building a Smart Port City at Durban.

Economic sectors

Mining60

Miners and processors are investing in new mines

and plants.

Agriculture62

Heavy rains have returned to boost agricultural

production.

Sugar64

A British company has bought Illovo.

Manufacturing65

Big new plants are opening in KwaZulu-Natal.

Forestry and paper 72

Companies are investing heavily in processing capacity.

Agriprocessing 74

Food and beverages are produced on a large scale.

Automotive75

Durban hosts the first NAACAM Show.

Oil and gas 76

Richards Bay is set to become an energy hub.

Water78

New dams and water pipelines are under construction.

Energy80

Alternative energy sources are being rolled out.

KWAZULU-NATAL BUSINESS 2017/18

6
---
CONTENTS

Tourism82

KwaZulu-Natal is targeting conferences as a

priority sector.

Education and training 84

KwaZulu-Natal has 30% of South Africa's schoolchildren.

Banking and financial services 86

Three new banks are set to join the sector.

Development finance and SMME support 88

Small businesses have multiple financing options.

Government

South Africanl Government 92

A guide toSouth Africa's national government

departments.

KwaZulu-Natal Provincial Government 96

A guide to KwaZulu-Natal's provincial government

departments.

KwaZulu-Natal Local Government 97

A guide to metropolitan, district and local municipalities

in KwaZulu-Natal.

References

Sector contents 58

ZIMBABWE

Index100

NAMIBIA

BOTSWANA

North West

Limpopo

Mpumalanga

Gauteng

SWAZI-

LAND

MOZAMBIQUE

Maps

KwaZulu-Natal regional map. 17

Northern Cape

Western Cape

Free State

KWAZULU-

KwaZulu-

Natal

LESOTHO NATAL

Eastern Cape

KWAZULU-NATAL BUSINESS 2017/18

8
---
CREDITS

KwaZulu-Natal

Business

A unique business and investment guide.

KwaZulu-Natal Business 2017/18 is the ninth edition of this highly

successful publication that has, since its launch in 2008, established

itself as the premier business and investment guide to

the KwaZulu-Natal Province.

The 2017/18 edition includes special features on the Richards Bay area

and its increasingly important Industrial Development Zone, the investment

appeal of Durban and the growing maritime economy. Up-to-date

overviews on the province's economic sectors provide unique insights.

Global Africa Network Media (www.gan.co.za), the publisher of

KwaZulu-Natal Business, specialises in business-to-business print and

electronic publications, producing a series of region-specific, annual

print journals. Every province in South Africa is covered by this unique

range of journals and websites, complemented by a national business

guidebook, South African Business.

Chris Whales

Publisher, Global Africa Network Media

Email: chris@gan.co.za

ABOUT THE COVER

The cover photograph was shot by Brad Hunter

(www.bradhuntermedia.co.za) from the top of 88 Joe Slovo

Street in Durban. The building was designed by German-born

American architect Helmut Jahn and is a landmark and external

focus for the CBD of Durban. It has also contributed towards

the City Council's rejuvenation plans for the "new-look" Durban.

CREDITS

Publisher: Chris Whales

Publishing director:

Robert Arendse

Editor: John Young

Online editor: Christoff Scholtz

Art director: Brent Meder

Design: Colin Carter

Production: Lizel Olivier

Ad sales: Sydwell Adonis, Nigel

Williams, Gavin van der Merwe,

Sam Oliver, Gabriel Venter,

Siyawamkela Sthunda and

Jeremy Petersen

Managing director: Clive During

Administration & accounts:

Charlene Steynberg and

Natalie Koopman

Distribution & circulation

manager: Edward MacDonald

Printing: FA Print

DISTRIBUTION

KwaZulu-Natal Business is distributed internationally on outgoing

and incoming trade missions; to foreign offices in South

Africa's main trading partners; at top national and international

events; through the offices of foreign representatives in South

Africa; as well as nationally and regionally via chambers of

commerce, tourism offices, trade and investment agencies,

provincial government departments, municipalities, airport

lounges and companies.

COPYRIGHT | KwaZulu-Natal Business is an independent publication

published by Global Africa Network Media (Pty) Ltd. Full copyright to

the publication vests with Global Africa Network Media (Pty) Ltd. No part

of the publication may be reproduced in any form without the written

permission of Global Africa Network Media (Pty) Ltd.

PHOTO CREDITS | Pictures supplied by: Wikimedia Commons, BHP

Billiton, Pexels, Ngage Media, Berea Mail, Roy Reed, Khanyisa Projects,

The Misty Blue Group, South African Tourism, Paul Chinn, KZN Provincial

Legislature, Durban Chamber of Commerece and Industry and iStock.

PUBLISHED BY

Global Africa Network Media (Pty) Ltd

Company Registration No: 2004/004982/07

Directors: Clive During, Chris Whales

Physical address: 28 Main Road, Rondebosch 7700

Postal address: PO Box 292, Newlands 7701

Tel: +27 21 657 6200 | Fax: +27 21 674 6943

Email: info@gan.co.za | Website: www.gan.co.za

ISSN 1993-0127

DISCLAIMER | While the publisher, Global Africa Network Media (Pty)

Ltd, has used all reasonable efforts to ensure that the information contained

in KwaZulu-Natal Business is accurate and up-to-date, the publishers

make no representations as to the accuracy, quality, timeliness, or

completeness of the information. Global Africa Network will not accept

responsibility for any loss or damage suffered as a result of the use of or

any reliance placed on such information.

KWAZULU-NATAL BUSINESS 2017/18

10
---
Alfred Duma

Local Municipality

"Service Delivery Beyond Expectation"

An Attractive Investment Destination

Central Location

The Alfred Duma Local Municipality is known for its history

in the promotion of industrial development since the early

19th century. It is home to the largest tyre and appliances

manufacturing companies in the world, Sumitomo Rubber

Industries and Defy. To further promote industrial activity

in the town, the Municipality adopted an Incentives

Policy for new and expanding businesses, and a Business

Retention and Expansion Programme.

Alfred Duma Local Municipality offers several industrial

areas, such as Acaciavale and between the towns Danskraal

and Colenso, with the largest being the Ithala Industrial

Estate, a short distance from the CBD. Factories, industrial

sites and skilled labour are readily available since the town

is home to three TVET Colleges serving the Northern KZN

Region. The industrial stand sizes vary from 2000 to 8000

square metres. Subdivisions and stand sizes can be negotiated

to meet your particular requirements. Assistance is

also provided with rezoning and EIA applications.

Alfred Duma Local Municipality has a well-established

commercial and social infrastructure. Its residential areas

are situated away from the commercial and industrial

centres to ensure quiet and pleasant living conditions. It

has an array of top schools and higher education institutions

which includes TVET Colleges and nursing schools.

All these sites are easily accessible by road and rail.

The town has a mini airport which is designed to serve

goods and small passenger planes.

Alfred Duma Local Municipality is a major agricultural

zone for dry crops and livestock, and has abundant water

resources with the large UThukela River running through

the town.

Alfred Duma Local Municipality

is situated halfway between

South Africa's key domestic

markets in Gauteng,

Bloemfontein and the major

export harbour in Durban. The

N3 and the N11 National Roads

provide easy access to neighbouring

towns, provinces and

countries.

Tourism Attractions

Mayor: Alfred Duma

Local Municipality

Cllr MV Madlala

Alfred Duma Local Municipality rests on the open flood

plains of the Klip River in the foothills of the mighty

Drakensberg. It forms a natural gateway to many mountain

resorts and the Okhahlamba Drakensberg World

Heritage Site, set in some of the most scenic areas

in the country. Alfred Duma Local Municipality forms

part of the heart of the KwaZulu-Natal, "The Kingdom

of the Zulus".

The town is known as the "City of Music" because

it's the birthplace of the multi Grammy Award winning

Isicathamiya Group, Ladysmith Black Mambazo.

It has several attractions like the Long Tom Cannon

in front of the majestic and historical Town Hall, the

Soofie Mosque, Battlefields Route and Siege Museum.

It also hosts major events like the Ladysmith Show, the

Arthur Creswell Marathon, Battlefields Festival and

many more.

CONTACT DETAILS

Ladysmith Office: Mr T B Xaba • Tel: 036 637 2104/2090 • Cell: 082 317 2857

Email: tbxaba@alfredduma.gov.za • Website: www.ladysmith.co.za

Drakensberg

To Johannesburg

N

2

SPIOENKOP

N

R

74

2

DAM

Alfred

Bergville Duma

R

Winterton

74

To Newcastle

Ladysmith

To

Durban

TUGELA

RIVER
---
A REGIONAL OVERVIEW OF

KWAZULU-NATAL

KwaZulu-Natal is wooing investors in a wide range of sectors, from liquid gas and titanium dioxide

to pharmaceuticals and pipe manufacturing.

By John Young

In November 2017, the KwaZulu-Natal Investment Conference will outline to a wide

range of potential investors all the benefits that the coastal province, the secondbiggest

contributor to South Africa's gross domestic product (GDP), has to offer. The

province's existing infrastructure, good soils and fine weather provide a solid base for
---
SPECIAL FEATURE

future growth. KwaZulu-Natal already has significant

capacity in heavy and light manufacturing, agriprocessing

and mineral beneficiation, all of which

is supported by South Africa's two busiest ports

(Richards Bay and Durban), the country's busiest

highway (the N3), a modern international airport

(King Shaka International) and pipelines that carry

liquids of all types to and from the economic stronghold

of Gauteng province in the interior. Toyota and

Bell Equipment play a big role in the automotive sector

while the Engen Oil Refinery is a strategic asset.

Sugar, tourism and forestry and paper are the other

important sectors driving growth and employment

in KwaZulu-Natal.

A number of bodies support investment into the

province. Chief among these is Trade & Investment

KwaZulu-Natal (TIKZN), which offers expert advice

and support in every aspect that potential investors

might need. Support is also offered to existing

investors who might want to expand their business

or start exporting products.

A Provincial One-Stop-Shop is being established

to facilitate getting all the paperwork done as fast as

possible for new investors. Bodies such as the South

African Revenue Service (SARS) and Home Affairs will

be involved in this process.

Three entities that work hard to attract investment

in their own right are Richards Bay Industrial

Development Zone (RBIDZ), Dube TradePort

and eThekwini Municipality. The latter body's

dedicated unit is called Durban Investment

Promotion (DIP), which in turn works with bodies

such as the Durban Chamber of Commerce

and Industry and TIKZN.

In his 2016 State of the Province address, Premier

Mchunu announced these investments in the

RBIDZ: titanium plant (R4.5-billion); biomass plant

(R2-billion); pipe manufacturing plant (R300-

million); paint manufacturing (R16-million);

logistics services (R20-million).

A number of big projects have been undertaken

in recent years in the province, or have

been approved for implementation in the near

future. These so-called "catalytic projects" are

big enough to stimulate other sectors of the

economy and to contribute significantly to

regional GDP.

Perhaps the biggest recent announcement

was the decision by the national Department of

Energy (DoE) that one of the country's first two

gas-to-power plants to be constructed under the

Independent Power Producer Programme, is to

be allocated to Richards Bay. A private partner

will invest in and run the plant which will be

located within the RBIDZ.

This is not only big news in terms of the amount

of money being invested and the number of jobs

that will be created, it has the potential to create

a whole string of downstream businesses supplying

gas, servicing gas and fired by gas.

KWAZULU-NATAL BUSINESS 2017/18

14
---
SPECIAL FEATURE

The variety of sectors into which these catalytic

projects are taking place shows that KwaZulu-

Natal has a diverse economy. Three examples

illustrate this:

• Colenso Smelter Park Project (R39-billion in first

phase, power generation)

• Point Waterfront Development (luxury apartments,

hospitality, offices, retail)

• Cipla at Dube TradePort (R1.3-billion, bio-similar

pharmaceutical manufacturing plant).

New sectors

Two new sectors are catching the eye of investors

in KwaZulu-Natal. One relates to the ocean, and the

other is energy generation.

KwaZulu-Natal has a long coastline that stretches

from Port Shepstone in the south to Kosi Bay Nature

Reserve in the north. The province's contact with

the sea has brought obvious benefits: fishing, fine

beaches enjoyed by millions of tourists, and two

great ports – the ports of Durban and Richards

Bay. These ports export vast quantities of minerals

(mostly through Richards Bay) and manufactured

goods (Durban) and serve as an important conduit

for imports of all sorts. The Richards Bay Coal

Terminal exports massive quantities of coal while the

Port of Durban is the busiest port in Africa.

However, planners want to massively increase

the economic benefits that the ocean can bring.

An Oceans Economy Review Workshop has come

up with a range of subsectors that can help grow

the provincial economy and invite foreign direct

investment:

• Marine Transport and Manufacturing

• Offshore Oil and Gas Exploration

• Aquaculture

• Marine Protection and Ocean Governance

• Small Harbours

• Coastal and Marine Tourism.

Strategies to grow the so-called Oceans Economy

will easily dovetail with any and all of the plans to

boost the capacity of ports at Durban and Richards

Bay and to explore for gas and oil in the Indian Ocean.

Ship-building and ship repairs is an existing industry

but it is currently not very big. If oil rigs were

to start visiting the KZN coastline on a regular basis,

this industry would grow exponentially.

The Oceans Economy is one of the focus areas

that has been chosen by national government to

be part of Operation Phakisa, a focused, goal-driven

attempt to jump-start a specific economic sector.

Overall, Phakisa intends creating a million jobs by

2033 and injecting R177-billion into national GDP.

The decision to build a cruise-ship terminal at

the Port of Durban is a good example of the kind

of decision that is nicely in line with an "Oceans

Economy" approach.

The KwaZulu-Natal Maritime Institute is part of

a restructured Sharks Board offering training programmes

with national ports and logistics operator,

Transnet. Since 2012, 800 students have been

studying maritime-related courses.

The other big potential growth area in KwaZulu-

Natal is energy. Several licences have been granted

for offshore exploration and the

hope exists that something will

be found, a hope partly based

on the close vicinity of the

vast gas fields off the coast of

Mozambique.

If energy does not come from

the sea through offshore drilling

for oil or gas, there is plenty of

potential on land. So far KwaZulu-

Natal has trailed the rest of South

Africa when it comes to the innovative

and exciting REIPPPP. Tens

of billions of rands and hundreds

15 KWAZULU-NATAL BUSINESS 2017/18
---
SPECIAL FEATURE

of megawatt hours have been allocated to dozens

of projects (some of which are already connected

to the grid) but these have mostly been solar projects

in the Northern Cape and wind farms in the

Eastern Cape.

KwaZulu-Natal is anxious to get with the programme

and is targeting the forestry sector (waste

and pulp) and sugar sector (cane and beet) to provide

feedstock for biomass energy generation. One

project that is part of the national programme is

under way using these materials, but many more

are planned.

The forestry and sugar sectors in the province

actually generate enough of their own power that

they could be selling power to the grid, but the

framework does not yet exist for that to happen.

The creation of that legislation or regulation must

be a priority.

Although the forestry and paper sector and the

sugar sector are grounded in the agricultural sector,

the leading companies' processing plants and

downstream beneficiation also make them major

components of the manufacturing sector and big

contributors to the province's export basket.

Geography

The mixed topography of the province allows for varied

agriculture, animal husbandry and horticulture.

The lowland area along the Indian Ocean coastline

is made up of subtropical thickets and Afromontane

Forest. High humidity is experienced, especially in

the far north and this is a summer rainfall area. The

centrally located Midlands is on a grassland plateau

among rolling hills. Temperatures generally

get colder in the far west and northern reaches of

the province.

The mountainous area in the west – the

Drakensberg – comprises solid walls of basalt and

is the source of the region's many strongly running

rivers. Regular and heavy winter snowfalls support

tourist enterprises. The Lubombo mountains in the

north are granite formations that run in parallel.

Regions

KwaZulu-Natal has 10 district municipalities, the

most of any province in South Africa. In economic

terms, the province offers diverse opportunities.

Southern region

This area is the province's most populous. The city of

Durban has experienced booms in sectors such as

automotive, ICT, film and call centres. Major investments

are taking place at the Port of Durban and there

is a possibility that the old airport south of the city

becomes another port, if the money can be found

to dig it up and let the sea in. Durban's conference

facilities are well utilised but many opportunities still

exist in chemicals and industrial chemicals, food and

KWAZULU-NATAL BUSINESS 2017/18

16
---
everages, infrastructure development and tourism.

Further south, plans are in place to upgrade Margate's

airport and Port Shepstone's beachfront.

Western region

Also known as the Midlands, this is a fertile agricultural

region, producing sugar cane, fruit, animal products,

forestry and dairy products. Pietermaritzburg is the

provincial capital and home to a major aluminium

producer along with several manufacturing concerns,

including textiles, furniture, leather goods

and food. The city has good transport links along

the N3 national highway, excellent schools and a

lively arts scene. The Midlands Meander is a popular

tourist destination.

Standerton

N5

Vrede

Harrismith

Volksrust

Newcastle

Glencoe

N11

Paulpietersburg

Utrecht

Dundee

Vryheid

uLundi

Pongola

Nongoma

Hlabisa

Mtubatuba

SPECIAL FEATURE

Eastern region

Although most of this area is very rural, Richards

Bay is one of the country's industrial hotspots because

of its coal terminal and port and aluminium

smelters. The Richards Bay Industrial Development

Zone (RBIDZ) is a major economic node in itself:

the 62-hectare first phase is almost fully subscribed

with the investment value of the two phases (some

having already been secured for phase two) at R6.8-

billion. Mining is an important sector in this region.

The other major urban centre is Empangeni which

has several educational institutions. King Shaka

International Airport and associated Dube TradePort

is kick-starting massive new investment in the area.

The Ilembe District Municipality is particularly active

in seeking out new investors.

Mkuze

Hluhluwe

Ladysmith

R74

Melmoth

Bergville

N3 Colenso

eMpangeni

R74

Winterton

Kranskop

Richards Bay

Estcourt

Greytown

Gingindlovu

Mooi River

R33

Stanger Darnall

Howick

N2

Tongaat

Ballito

PIETERMARITZBURG

N3

uMhlanga

Underberg

Pinetown

LESOTHO

Free State

DRAKENSBERG

Kokstad

N2

N17

Bethal

Eastern Cape

Ermelo

Mpumalanga

iXopo

N17

KWAZULU-NATAL PROVINCE

N3

N11

R56

Piet Retief

R34

R33

uMzinto

R33

R68

N2

Harding

Hibberdene

uMtentweni

Port Shepstone

Margate

Southbroom

Port Edward

N2

R34

DURBAN

aManzimtoti

uMkomaas

SWAZILAND

R69

R65

R66

INDIAN OCEAN

N2

Motorway

Main Road

Railway

MOZAMBIQUE

St Lucia

N

Northern region

The economic powerhouse is

Newcastle in the north-west:

coal-mining, steel processing

and manufacturing are major

activities. Some old coal mines

are being reopened by new coal

companies to cater for the country's

power stations' demand

for the fuel. Game farms, trout

fishing and hiking are part of an

attractive package for tourists,

and Zululand is a popular destination

for cultural experiences.

The whole region is rich in Anglo-

Boer War history.

17 KWAZULU-NATAL BUSINESS 2017/18
---
SPECIAL FEATURE

South African economy at a glance

Insight into the performance of the South African economy is provided through these

graphical representations of key statistics.

ZIMBABWE

NAMIBIA

BOTSWANA

Limpopo

0.9% (7.1%)

MOZAMBIQUE

North West

-3.6% (6.5%)

Gauteng

2.1%

(34.3%)

Mpumalanga

2.7%

(7.5%)

SWAZI-

LAND

Northern Cape

2.8% (2.1%)

Free State

1.8%

(5%)

LESOTHO

KwaZulu-

Natal

2.3%

(16.1%)

Western Cape

2.0% (13.6%)

Eastern Cape

1.0% (7.6%)

SA GDP: Percentage of growth per province (2014) and percentage

contribution to national GDP (figures in brackets).

SOURCE: STATS SA WWW.STATSSA.GOV.ZA

PROVINCE CAPITAL PREMIER POPULATION (2015) AREA GRP BILLION RAND

Eastern Cape Bhisho

Phumulo

Masualle

6 916 200 168 966km 2 R289.9

Free State Bloemfontein

Elias Sekgobelo

"Ace" Magashule

2 817 900 129 825km 2 R189.1

Gauteng Johannesburg David Makhura 13 200 300 18 178km 2 R1 305.6

KwaZulu-

Natal

Pietermaritzburg Willies Mchunu 10 919 100 94 361km 2 R610.1

Limpopo Polokwane

Stanley

Mathabatha

5 726 800 125 754km 2 R271.5

Mpumalanga Mbombela David Mabuza 4 283 900 76 495km 2 R284.2

North West Mahikeng

Supra

Mahumapelo

3 707 000 104 882km 2 R249.5

Northern Cape Kimberley Sylvia Lucas 1 185 600 372 889km 2 R79.9

Western Cape Cape Town Helen Zille 6 200 100 129 462km ² R518.1

Snapshot of South Africa's provinces

SOURCE: INSTITUTE OF RACE RELATION'S SOUTH AFRICA SURVEY 2016 AS REPORTED ON BUSINESSTECH.CO.ZA

KWAZULU-NATAL BUSINESS 2017/18

18
---
SPECIAL FEATURE

How South Africa's economy performed in 2015. *

* PRELIMINARY RESULTS | SOURCE: GROSS DOMESTIC PRODUCT, 4TH QUARTER 2015 | WWW.STATSSA.GOV.ZA

Agriculture 2.5 2.8 0.4 2.1 3.8 4.3 6.0 7.5 3.5

Mining 29.4 24.9 3.3 33.6 1.9 13.3 26.7 0.2 0.3

Manufacturing 2.5 11.5 13.5 4.4 15.8 8.5 2.1 12.2 11.8

Electricity 2.8 5.4 2.4 1.4 2.5 3.1 3.0 1.4 2.0

Construction 2.5 3.3 4.3 2.6 3.0 2.0 1.6 2.1 4.3

Wholesale 10.8 10.3 14.2 9.3 15.5 12.3 9.9 14.7 17.0

Transport 5.4 5.8 8.3 6.1 11.9 7.1 7.8 7.9 9.1

Finances 14.0 10.9 22.8 11.1 16.5 14.2 11.6 18.6 26.6

Personal

Services

Government

Services

3.8 4.3 3.6 7.0 5.8 10.2 8.1 9.1 5.1

16.0 10.5 17.0 12.1 13.3 14.7 12.8 22.0 10.2

Taxes 10.3 10.3 10.1 10.3 10.0 10.3 10.2 10.2 10.0

Gross Domestic Product by province, percentage contribution.

SOURCE: STATS SA WWW.STATSSA.GOV.ZA/?PAGE_ID=735&ID=1

19 KWAZULU-NATAL BUSINESS 2017/18
---
SPECIAL FEATURE

7%

6%

5%

4%

3%

2%

1%

0

2011 2012 2013 2014 2015 2016

CPI (percentages in order from 2011 to 2016)

PPI (percentages in order from 2011 to 2016)

denotes data for September 2016 rather than the average for the full year.

**

Inflation rate 2011 to 2016

SOURCE: WWW.STATSSA.GOV.ZA

Mineral products 20.41%

Precious metals 18.24%

Vehicles, aircraft and vessels 12.57%

Products iron and steel 12.02%

Machinery 9.69%

Chemicals 6.47%

Vegetables (including fruit, nuts and cereals) 4.96%

Prepared foodstuff (including beverages) 4.29%

Plastic and rubber 2.11%

Wood pulp and paper 1.92%

South Africa's top 10 export commodity categories: 2015

SOURCE: SOUTH AFRICAN REVENUE SERVICE WWW.SARS.GOV.ZA

Machinery 25.02%

Mineral products 16.12%

Vehicles, aircraft and vessels 10.4%

Chemicals 10.37%

Equipment components 7.3%

Products iron and steel 5.54%

Plastic and rubber 4.13%

Textiles 3.72%

Prepared foodstuff (including beverages) 2.93%

Photographic, medical equipment 2.71%

South Africa's top 10 import commodity categories: 2015

SOURCE: SOUTH AFRICAN REVENUE SERVICE WWW.SARS.GOV.ZA

KWAZULU-NATAL BUSINESS 2017/18

20
---
SPECIAL FEATURE

Million Rand

R600 000

R400 000

R200 000

R0

Africa

Europe

America

Asia

Oceania

Other

unclassified

2010 2011 2012 2013 2014 2015 2016

Exports year on year world zone comparison (Including BLNS) 2010 to 2016

PRELIMINARY RESULTS | SOURCE: GROSS DOMESTIC PRODUCT, 4TH QUARTER 2015 | WWW.STATSSA.GOV.ZA

Million Rand

R600 000

R400 000

R200 000

R0

Africa

Europe

America

Asia

Oceania

Other

unclassified

2010 2011 2012 2013 2014 2015 2016

Imports year on year world zone comparison (Including BLNS) 2010 to 2016

PRELIMINARY RESULTS | SOURCE: GROSS DOMESTIC PRODUCT, 4TH QUARTER 2015 | WWW.STATSSA.GOV.ZA

21 KWAZULU-NATAL BUSINESS 2017/18
---
Investing in Durban

Strong policy frameworks and priority projects are attracting investors to

Africa's biggest port city.

The business case for Durban is a strong one. The

continent's busiest port serves a city with excellent

infrastructure and a varied and sophisticated

economy while excellent schools, superb beaches,

a warm climate and well-organised sports, leisure and

cultural programmes contribute to making the eastcoast

city a destination of choice for investors.

A modern fibre optic network enables good

telecommunications and the Dube TradePort at

King Shaka International Airport supports imports

and exports. The University of KwaZulu-Natal is a

well-established institution and several campuses

of Technical and Vocational Education and Training

(TVET) colleges also contribute to a skilled potential

workforce. The city is also a leading tourism destination

and the Inkosi Albert Luthuli International Convention

Centre Complex in the heart of Durban is at the core

of a strong Meetings, Incentives, Conferences and

Events (MICE) sector. The manufacturing sector is varied,

ranging from an oil refinery and a large automotive

manufacturing plant to chemicals and textiles.

Durban Investment Promotion (DIP) is a collaboration

between the private sector and the eThekwini

Municipality which offers assistance to potential investors

and actively promotes the city. It works together

with organisations such as the Durban Chamber

of Commerce and Industry and TIKZN (Trade and

Investment KZN).

The thrust of Durban's pitch to attract investors

can be put into two broad categories:

• Catalytic Projects, which have the potential to shift

the socio-economic landscape and trigger a series

of investments across several sectors

• Key Sectors, which receive the focus of planners in

a variety of ways, including the creation of Special

Purpose Vehicles (SPVs), clusters and the development

of value chains to promote new ventures

and investment opportunities.

Catalytic projects

Durban is working on a number of large-scale projects

that have the potential to make a regional

KWAZULU-NATAL BUSINESS 2017/18

22
---
Get in touch with Sareeka I E: Brijlals@durbanchamber.co.za I T: 031 335 1000
---
SPECIAL FEATURE

impact. The location of these projects is vital. They

must either be on national trade routes or they should

help to break down the old apartheid living/working

dynamics. Projects are selected for their scale in

terms of job creation, investment size and potential

revenue creation. Ideally, the projects should include

a combination of functions (retail, commercial and

housing, for example) and they should fit in with the

UNO's Sustainable Development Goals.

The Point Waterfront Development fits very

well into the category of a catalytic project. Some

projections put the potential investment value at

R40-billion and the number of permanent jobs to

be created at 6 750. It is an ambitious plan that is

already linking the city's beach promenade and

the harbour. It offers a property use mix of office

space, retail shops, residential dwellings and leisure

options. The 55ha site has already seen significant

investment. A proposed cruise terminal in the harbour

backing on to the Point will dovetail well with

the new atmosphere of the precinct.

Other major projects include:

• the Warwick Junction transport interchange

which has already received road upgrades but

could be an even greater enabler of trade

• the Centrum Government Precinct which would

formalise the relationship between buildings

such as the International Convention Centre

(and extensions) and a related hotel, the library,

council chambers and the redevelopment of

Gugu Dlamini Park

• the Cornubia integrated human settlement development

north of Durban, on 1 300ha, a partnership

between Tongaat Hulett Development,

the human settlement departments at national

and provincial level and eThekwini municipality

• Dube TradePort, the multi-modal facility at King

Shaka International Airport.

Key sectors

Durban already has a very diverse economic landscape,

within which there are some large-scale enterprises.

Cooperation between the public and private

sectors is illustrated by the large number of cluster

initiatives which aim to draw to together experience

and expertise from commerce and industry, labour

organisations, government and academia.

Research aims to find out how best to grow

particular economic sectors, and in-depth discussions

are held about how to develop and grow

value chains. The mineral and agricultural wealth

of KwaZulu-Natal is mostly consumed or exported

in its raw state – much more could be done to add

wealth through processing.

The three broad focus categories are manufacturing,

services and the green economy. Some of

these initiatives play to the existing strengths of

the regional economy, some seek to exploit newer

avenues as in the emphasis on the environment

and a growing interest in the Oceans Economy.

Under manufacturing, the following clusters or

programmes are active:

• KZN Clothing and Textile Cluster (KZN CTC)

• Durban Automotive Cluster (DAC)

• Durban Chemical Cluster (DCC)

• eThekwini Maritime Cluster (EMC)

• KZN Furniture Incubator

• Agro-processing (Edamame Development

Programme).

In services the focus areas are Business

Processing Outsourcing (BPO) and ICT. The

SmartXchange is an SPV to develop skills in the

ICT sector and to help small businesses to get

started, 50 of which are already using the service.

The creation of a more skilled workforce

and a larger number of ICT companies will create

a smarter province which will make it more

attractive to investors.

Green economy:

• a variety of projects linking tourism, environmental

clean-ups and alien eradication, recycling

and job creation

• eThekwini Waste Materials Recovery Industry

Development Cluster (USE-IT).

There are various other broader programmes

which have their own goals but there will be

positive spin-offs for the targeted sectors. These

schemes include the drive to increase local content,

boosting metal fabrication across sectors,

the promotion of black industrialists, promoting

exports and the over-arching eThekwini Industrial

Development Policy Action Plan.

KWAZULU-NATAL BUSINESS 2017/18

24
---
PROFILE

Msunduzi Municipality:

City of Pietermaritzburg

Msunduzi Municipality incorporates Pietermaritzburg,

the capital city of the province of KwaZulu-Natal.

Geography and location

Msunduszi Municipality is situated strategically on

the N3 highway, 80km inland from Durban – the

biggest port in Africa. The N3 corridor is the busiest

development corridor in South Africa, linking Durban

through Pietermaritzburg to Johannesburg and the

rest of Africa. The Municipality is also the economic

hub for the central part of the Province.

Main industries/business sectors

Msunduzi has a diverse economy with a robust manufacturing

sector including an aluminium rolling mill

and downstream aluminium products, automotive

components, leather-ware and shoes, carpets, furniture,

forestry and timber, as well as one of the largest

fresh produce markets in the country and a thriving

agricultural sector. Emerging sectors include business

process outsourcing, the private health care

sector with two new hospitals under construction,

food processing and the creative arts sectors. As

the main commercial hub for the KwaZulu-Natal

Midlands it serves a population base of approximately

one-million in the city and surrounding smaller

towns. It has the benefit of being the seat of the

Provincial Parliament and the Provincial High Court,

which facilitates easy access to all government departments.

Main resources/attractions

Enjoying a warm, subtropical climate, Pietermaritzburg

is a green and attractive city with numerous parks,

pleasant residential suburbs and is within easy reach

of both beaches and the Drakensberg mountains.

It is renowned for its excellent schools and health

facilities, and has campuses for two universities plus

several colleges, ensuring the availability of a highly

skilled workforce. It has excellent road networks and

an airport with five flights daily to Johannesburg plus

one to Cape Town. Having numerous restaurants,

museums, shopping centres and social amenities,

it also hosts major events such as the Comrades

Marathon, Dusi Canoe Marathon, Edendale and

Mandela Marathons, the Midmar Mile swim, the

Royal Agricultural Show, and it is also known as the

Bike City of Africa, hosting international BMX and

mountain-biking championships.

Key development objectives

and strategies

The Municipality aims to promote investment that

will take advantage of its strategic location on the

N3 development corridor and close to the proposed

freight dry port halfway between Durban and

Pietermaritzburg in Cato Ridge. Its key sector plans are

around aluminium beneficiation, the implementation

KWAZULU-NATAL BUSINESS 2017/18

26
---
PROFILE

of an airport precinct plan and an airport technology

hub including an innovation centre. The rejuvenation

of Imbali and Edendale township centres and

a new leather hub in Plessislaer, being driven by the

KwaZulu-Natal Provincial Department of Economic

Development, will open up further opportunities to

the west of the city. Massive new commercial, residential

and light industrial centres being planned

alongside the N3 to the east will bring the city closer

to the planned freight / logistics centre. Further commercial

developments alongside the N3 are planned

around the new Brookside Mall and polocrosse fields

in the central area.

An Integrated Rapid Passenger Transport Network

is at an advanced planning and early implementation

stage which, in addition to the Pietermaritzburg

Urban Renewal Programme of beautification, will

revitalise the city centre and connect economic

zones. The sale of industrial and commercial land

is being driven by a new Land Management Office,

and an Investment Facilitation Committee provides

a Local Government "one-stop-shop" for investors

and developers.

Tourism

Msunduzi has something for everyone. For those interested

in our complex history, major tourist attractions

include several museums, the Tatham Art Gallery and

historical buildings, including links with former icons

President Nelson Mandela and Mahatma Gandhi. It is

a hub for several tourist routes including the Freedom

Route, Midlands Meander, Albert Falls Amble and

Boston-Bulwer Beat, where recreational activities, arts

and craft outlets and fine dining restaurants abound.

It has a beautiful National Botanical Garden, parks,

and numerous entertainment and sporting events

throughout the year, including Cars in the Park and Art

in the Park, along with the nearby Hilton Arts Festival.

With its Victorian architecture, township tours and rich

heritage of South African Indian and Zulu culture, it

exemplifies a warm, friendly, diverse yet integrated

South African city.

Key facts and figures

District municipality:

Umgungundlovu District Municipality

Population: 670 000

Area covered: 650km²

Key infrastructure

Main roads: Excellent national, provincial and local

road network

Railways: On the main line between Durban and

Johannesburg

Airports: Pietermaritzburg Airport, with five daily

flights between the city and OR Tambo Airport,

Johannesburg, and one daily flight to Cape Town

Ports: 45 minutes drive from the Port of Durban

Contact details

Key personnel

Mayor: Councillor Themba Njilo

Municipal Manager: Mr Sizwe Hadebe

Key contact people

Senior Manager: Local Economic Development

(acting), Ms Nombuso Hlophe

General Manager: Development Services,

Dr Ray Ngcobo

Tel: +27 33 392 2600 | Fax: +27 33 392 2726

Email: nombuso.hlophe@msunduzi.gov.za

Physical address: Professor Nyembezi Building,

341 Church Street, Pietermaritzburg 3200

Postal address: PO Box 85, Pietermaritzburg 3200

Website: www.msunduzi.gov.za

27 KWAZULU-NATAL BUSINESS 2017/18
---
INTERVIEW

Msunduzi Municipality:

City of Pietermaritzburg

Executive Mayor of the Msunduzi Municipality, Councillor

Themba Njilo, explains why investors are heading for this

well-resourced city.

Cllr Themba Njilo

What are the goals of your municipality?

We aim to be a safe, vibrant city in which to live, learn, raise a family,

work, play and do business. Our goal is to have a well serviced city with

the necessary infrastructure, accessibility and connectivity to attract

investment and development that will result in jobs being created to

reduce poverty and unemployment. Our goal is make the city safe, clean

and friendly, and to strive for financial viability and good governance.

Do you have specific projects under way to improve the city?

One of the biggest projects is the Integrated Rapid Passenger Transport

Network (IRPTN) which is going to revolutionise public transport. Other

planned projects include the Youth Enterprise Park in Imbali, a Light

Industrial Park, a Technology Hub and a huge project in Edendale, the

Town Centre development. The project includes rezoning for business,

land acquisition, road improvements and landscaping.

BIOGRAPHY

Councillor Themba Njilo is a

reputable businessman and

passionate community activist

who is the founder of Themba

Njilo Foundation that is involved

in developing the community

and assisting the underprivileged.

The institution runs many

drug rehabilitation programmes.

He is the owner of Induduzo

Funeral Homes and the founder

of UHOLOGO Productions that

manages many recording artists.

Councillor Njilo holds a

Diploma in Marketing and Sales

Management.

What are the economic strengths of the area?

The services and government sectors remain very strong but the manufacturing

sector is robust, with a number of big manufacturing enterprises,

and retail and wholesale also contribute substantially to the city's GDP.

The city is home to the KZN Provincial Government, the

Umgungundlovu District government, the provincial Deeds Office

and the Supreme Court, all of which makes investment and development

easier. Pietermaritzburg is a centre of educational excellence.

How important is the municipality's location on the N3?

The N3 is the key transportation corridor connecting Gauteng with

the Durban harbour. We have already seen major investments and

development along the N3 including Motor City and two new hotels.

Please tell us about other recent investments.

The city has attracted large scale investments from the private sector

and national government. Liberty Midlands Mall is now expanding

and further down the N3 the Phase 1 of the Ibhubesi Industrial Park is

now complete, both multi-million rand investments.

KWAZULU-NATAL BUSINESS 2017/18

28
---
Richards Bay holds great promise

for growth in multiple sectors

Richards Bay plays a vital role in South Africa's

economy as a port, a mining destination and

as a growing centre of large-scale industrial

development, but it also a hub for tourism

and leisure serving the Zululand tourism region, with

the St Lucia wetlands and the Elephant Coast just a

short distance away to the north.

The City of uMhlathuze encompasses the two main

centres of Richards Bay and Empangeni as well as a

number of smaller settlements and traditional councils.

With a population of about 350 000, the area has

good communications (the Port of Richards Bay, the

N2 highway and an airport), the headquarters of the

University of Zululand and several campuses of the

uMfolozi TVET College.

Richards Bay has its own tourism attractions, which

include the Tuzi Gazi Waterfront and game fishing.

The hills of Zululand host many cultural villages where

traditional culture can be experienced, and where the

sites can be seen of old battles between Zulu, Boer

and Brit. Wonderful safaris are on offer at Thanda,

Thula Thula, Hluhluwe-Imfolozi, Ithala, Opathe and

the Zululand Rhino Reserve.

The Umfolozi Hotel Convention Resort will host

the Pan-African Health Tourism Congress, the first of

its kind, in June 2017. The congress will investigate how

this growing sector can develop even further with

sessions on investment, destinations and education.

Port of opportunity

The Port of Richards Bay has been expanding its capacity

at a fast rate. In dealing with 80-million tons of

cargo annually (60% of South Africa's seaborne cargo),

it is not only the leading port in terms of volume, it is

also the largest port in South Africa.

A strong selling point for the port is its deepwater

infrastructure, encompassing a maximum permissible

draught of 17.5 metres. Together with excellent terminal

infrastructure and professional management, this

allows for quick turnarounds.

The Port has six cargo handling terminals and

covers 2 174ha of land.

The Richards Bay Coal Terminal (RBCT) has the

capacity to export 91-million tons of coal in a year. In

November 2016 a new monthly record of over 8 000Mt

was set. If that rate of export was extended over a year,

97Mt/a could be handled through the RBCT.

The Port of Richards Bay is also associated with the

Richards Bay Industrial Development Zone (RBIDZ).

Recent developments at RBIDZ have seen an investment

in an oil and gas facility and it is hoped that

the ocean will yield finds of gas to provide cheap

feedstock. Mozambique has very strong reserves of

offshore gas.

The decision by the national Department of

Energy to allocate to Richards Bay a 2 000MW power

29 KWAZULU-NATAL BUSINESS 2017/18
---
SPECIAL FEATURE

plant to be fired by Liquefied Natural Gas (LNG) is

a potential game-changer. Investors still have to be

found, but the potential spin-offs of such a plant

are obvious, and would make the RBIDZ even more

attractive to processors of minerals and manufacturers

of every sort.

The RBIDZ has secured or is working on an investment

pipeline in sectors that include titanium

processing, paint manufacturing, machinery and

equipment assembling (for example, pipes), solar

water heater manufacturing and services such

as logistics.

Construction on the R3-billion titanium pigment

plant will begin in 2018. A number of incentives were

helpful in persuading the investors (Nyanza Light

Metals and Avertana) to choose RBIDZ, including

accelerated depreciation, an investment allowance

and a tax allowance. Excellent rail infrastructure linking

the port to the mining areas of Mpumalanga

and the proximity of the plant of phosphoric acid

producer Foskor also contributed to the positive

investment decision. The project will create about

550 permanent jobs and between 800 and 1 200

temporary jobs during the construction phase.

The RBIDZ has been working for some time on

positioning itself to take advantage of the opportunities

in the Oceans Economy. RBIDZ sees itself

getting involved in ship and rig repair, boat building

and other opportunities such as aquaculture.

INDABA LODGE RICHARDS BAY

Catering to both business and leisure travellers,

the Indaba Lodge Richards Bay is situated

in the leafy suburb of Meerensee. The

66-bedroom Indaba Lodge is ideally located for

both the corporate and leisure traveller within

easy reach of the CBD, airport, harbour and

waterfront, and it's only a five-minute walk

to Alkantsrand Blue Flag Beach.

This vibrant Lagoon City encourages visitors to

combine business with pleasure as they enjoy

the lush beauty of this subtropical paradise

combined with tranquil walks on miles of pristine

beaches along the TuziGazi Coast. Richards

Bay is the gateway to the famous Elephant

Coast, Hluhluwe Umfolozi Big 5 Game Reserve

and the Isimangaliso Wetland Park, a World

Heritage Site.

Towering Leopard Trees frame the modern

facade of the hotel and give a deep shade

appreciated by guests as they arrive at the

Indaba Lodge Richards Bay. Fully air-conditioned

rooms ensure that guests stay cool even

in the summer months. The Lodge's popular

Trevally's Restaurant offers a seasonal dinner

buffet or a bistro-style à la carte menu. For a

more informal option, light meals are offered

on the deck or a craft beer or a sundowner

cocktail can be enjoyed at the ice-top bar. Braai

facilities are available on the pool deck.

KWAZULU-NATAL BUSINESS 2017/18

30
---
Make UNIZULU your University of choice

The University of Zululand (UNIZULU) prides itself in having produced academic

excellence since its inception in 1960. The University has produced leaders in

government, community development, education, science, law, commerce and

industry.

UNIZULU offers a variety of degree and diploma programmes across its Science

and Agriculture; Commerce, Administration and Law; Humanities and Social

Sciences and Education faculties. All programmes offered at the University's

KwaDlangezwa and Richards Bay campuses are internationally recognised and

students have access to state-of-the-art academic and sports and recreational

facilities. Through its International Linkages Office (ILO), UNIZULU students

can also benefit from intercontinental collaborative projects, partnerships,

scholarships, exchange programmes and experiental learning programmes.

RESTRUCTURED FOR RELEVANCE

Reasons to Study @UNIZULU

• It is the only comprehensive university north of the uThukela River

• It aspires to be a leading comprehensive university providing quality education

• It has the best Science Centre in Africa

• It undertakes research relevant to local communities

• It is responsive to the developmental needs of local communities

• It recognises academic excellence through scholarships

• It is internationally recognised

UNIZULU also recognises academic excellence through scholarships to deserving students.

Furthermore, financial aid is also available to qualifying students.

Want career advice? Call us!

Faculty of Commerce, Administration and Law: (035) 902 6172

Faculty of Arts: (035) 902 6087

Faculty of Science and Agriculture: (035) 902 6282

Faculty of Education: (035) 902 6348

KwaDlangezwa Campus: (035) 902 6051

Richards Bay Campus: (035) 902 6923

Admissions contact details

Tel: (+27) 035 902 6030

Fax: (+27) 086 631 7922

Central Applications Office

Share Call: 086 086 0226

International Calls: (+27) 031 268 4444

Fax: (+27) 031 268 4422

Website: www.unizulu.ac.za

Join our Facebook page and follow us on Twitter
---
The Richards Bay Industrial

Development Zone

Company (SOC) Ltd (RBIDZ)

The Richards Bay Industrial Development

Zone Company (SOC) Ltd (RBIDZ) is a purposebuilt

and secure industrial estate on the northeastern

coast of KwaZulu-Natal, linked to the international

deep-water port of Richards Bay. It is tailored for

the manufacturing of goods and production of services

to boost beneficiation, investment, economic growth

and the development of skills and employment.

The RBIDZ is deemed to be a Special Economic

Zone (SEZ) that aims to encourage international

competitiveness through world-class infrastructure

as well as tax, VAT and duty-free incentives to qualifying

investors.

The RBIDZ strategy is geared to provide significant

contribution to the country's economic growth

through creation of employment opportunities, upgrading

the skills, technology transfer, deepening

economic empowerment of historically disadvantaged

individuals and broadening of South Africa's

basket of export products.

The RBIDZ's objectives:

• To attract local and foreign direct investment;

• To attract advanced foreign production and technology

methods in order to gain experience in

global manufacturing and production networks;

• To develop linkages between domestic and zonebased

industries;

• To provide world–class industrial infrastructure.

The RBIDZ's key focus sectors:

• Metals Beneficiation (Aluminium, Iron Ore,

Titanium)

• ICT (Techno–parks , Innovation Hubs)

• Renewable Energy (Solar , Fuel Cells, Biomass)

• Agro-Processing

• Marine Industry Development

Incentives provided by RBIDZ to investors

• Reduction in corporate income tax from 28%

to 15%.

• VAT exemption for supplies procured in South

Africa.

• Duty-free on imports for production-related raw

materials including machinery and assets used in

production.

• Location in a secured and Customs Controlled

Area (CCA)

• World–class industrial infrastructure.

Physical address: 150A Pioneer Road, Captains Walk Building, Tuzi Gazi, Waterfront,

Richards Bay, 3900 | Postal address: Private Bag x 1005, Richards Bay 3900
---
Gateway to World Markets

Vision

To be the preferred Special Economic Zone for

quality investments while delivering value to our

stakeholders.

Mission

To utilise the competitive advantage of the Richards

Bay area to attract sustainable investments that stimulate

economic growth, job creation, beneficiation of

resources and the empowerment of people.

Company profile

Company Name: Richards Bay Industrial

Development Zone SOC

Ltd (RBIDZ)

Industry sector : Manufacturing

Date established: Year – 2002

Key personnel: CEO – Pumi Motsoahae

Telephone: +27 35 788 0571 | Fax: +27 35 788 0578

Email: info@rbidz.co.za | Website: www.rbidz.co.za
---
INTERVIEW

An energy hub for the

country

Pumi Motsoahae, CEO of Richards Bay Industrial

Development Zone, explains why the allocation of a gas

plant could be a game-changer.

Pumi Motsoahae

BIOGRAPHY

Pumi Motsoahae has extensive

experience in ports, shipping,

logistics, freight transportation,

infrastructure, property acquisition

and project management.

He began his studies at the

National University of Lesotho

(BA Administration), gained his

Masters in Town and Regional

Planning from the University of

Natal (1993 – 1994) and studied

in the Netherlands for a Post-

Graduate Diploma in Shipping,

Transportation and Logistics.

He has also completed an

Executive Development Programme

(Supply-chain Management)

at the Gordon Institute

of Business Science.

Does the RBIDZ have a role in promoting industrialisation?

We are at the heart of the government's programme of industrialisation.

At the onset of the democratic dispensation, there were enduring

questions on the economic side. Empowerment and enterprise

development arose out of that, and then there was a programme to

promote industrialisation.

What are your focus sectors?

While investigating the features that would attract investors we

looked at metals beneficiation, given the heritage of the area with

Richards Bay being the home to the largest aluminium smelter in the

Southern Hemisphere (South32) and two heavy sands mines (Rio Tinto

and Tronox).

We are very strong in the ICT sector. We are spearheading an effort

to create a pilot TechnoPark. Hosting the Maritime Academy, together

with a focus on ICT, affords the opportunity for innovation and for

creative young minds to flourish.

The Richards Bay area is surrounded by high-yielding agricultural

lands. We can harness that potential through agro-processing. We have

set aside a notional 10ha area for a processing plant.

Are you looking at renewable energy?

Absolutely. We want Richards Bay to be the energy hub of the country.

In April 2015, we signed Byromate (Ptd) Ltd to produce 60MW from

biomass. We are targeting companies to manufacture solar panels

here. There is a phenomenal opportunity to become an energy hub

because of our geographic location near offshore gas fields. Last year

we were awarded the production of 2 000MW from gas by the IPP

office of the Department of Energy. We are quite excited about that.

Please tell us about your most recent inward investments?

We have quite a healthy investment pipeline. A total of R11.9-billion

has been approved since 2013. Recent investments include Nyanza

Light Metals (titanium dioxide plant, R4.5-billion), Sizabantu Piping

System – SPS Molecor (comprehensive range of high-pressure PVC -O

pipes, R300-million) and in other sectors such as logistics (Lovemore

Brothers) and paint manufacturer (Prostar Paints).

KWAZULU-NATAL BUSINESS 2017/18

34
---
RICHARDS BAY

A unique and inviting retreat just two hours north of Durban, come and experience the

relaxed hospitality and convenience of this centrally situated hotel. Indaba Lodge

Richards Bay combines the beauty of this warm, lush, subtropical region with the rolling

savannah of the many game reserves. Take in the experience of Zulu traditionalism along

with tranquil walks on miles of pristine beaches along the TuziGazi Coast.

BOARDROOM

À LA CARTE MENU

DELUXE ROOMS

. 66 en-suite Bedrooms . Fully Airconditioned .

. Secure on Site Parking .

. Trevallys Restaurant .

. Pool & Pool Deck . Cocktail Bar .

. Wi-Fi throughout .

. 18 Hour Room Service .

. Walking distance from Alkantstrand Beach .

WE LOOK FORWARD TO WELCOMING YOU TO YOUR

Home Away from Home

INDABA LODGE, RICHARDS BAY І C/O LAUNDER & DAVIDSON LANE, MEERENSEE, RICHARDS BAY

Phone: +27 35 753 1350 | Email: gm@indabarichardsbay.co.za | Website: www.indabarichardsbay.co.za
---
PROFILE

Moving forward

"Coal to the world, growth to the nation"

Richards Bay Coal Terminal

(RBCT) is one of the leading

coal export terminals

in the world. RBCT celebrated

its 40th anniversary

in 2016. This export

coal terminal opened on

1 April 1976 and has grown

into an advanced 24-hour

Alan Waller, CEO

operation that has expanded

from an original

capacity of 12-million tons per annum to a design

capacity of 91-million tons per annum. To date the

terminal has moved over two-billion tons of coal.

Positioned at one of the world's deep-sea ports,

RBCT is able to handle large ships and large volumes.

As such, the terminal has gained a reputation for

operating efficiently as well as reliably. The 276-hectare

site currently boasts a 2.2km-long quay with six

berths and four ship loaders, and has a stockyard

capacity of 8.2-million tons. RBCT shares a strong cooperative

relationship with South Africa's national

utility Transnet, which provides the railway services

linking the coal mines to the port, and the shipping

coordination of more than 900 ships per annum.

New Record

The November 2016 export tonnage of 8,023Mt

broke the previous record of 7,556Mt (2015) by 466

218-tons, demonstrating that the terminal remains

RELIABLE. This performance once again reaffirms

the RBCT's capacity to handle 91Mt/a. The new

KWAZULU-NATAL BUSINESS 2017/18

36
---
PROFILE

monthly record translated to an

annualised rate of 97.62Mt/a.

Providing a safe

working environment

Moving coal in a safe, costeffective

and efficient manner,

safeguarding the environment and stakeholders

is RBCT's mission. RBCT's coal logistics activities

are conducted within the framework of ISO

14001:2004 and a site-specific Environmental

Management Programme. Compliance with ISO

14001:2004 is audited annually and re-certified

every three years. Protection of the environment

and compliance to environmental legislation

remains paramount to RBCT.

RBCT has a strong focus on safety, health and wellbeing

of employees as well as on environmental

stewardship. On 19 May 2016, RBCT achieved a

significant milestone in safety performance, with the

landmark of five-million LTI-free man hours.

Excellence Awards

RBCT was honoured as the most-awarded business

in Richards Bay in the 2016 Zululand Chamber of

Commerce and Industry Business Excellence Awards.

RBCT not only excelled in four critical areas of the

business but also was awarded the Premium Award

– for achievements across the supply chain, operations,

people and safety.

RBCT was the winner in the following categories:

• Logistics Business of the Year

• Safety Awareness, and

• SABCOHA Wellness Award

RBCT was a runner-up in the following:

• Employer of the Year

• Corporate Social Responsibility Award

Servicing the mining houses

The terminal provides mining houses with a worldclass

logistics service to export coal efficiently to

Asian and European markets, among others. RBCT

throughputs are directly impacted by the upstream

logistics infrastructure and continue to fully utilise the

terminal's design capacity. RBCT prides itself on being

an efficiently run and reliable export coal terminal.

RBCT people

Over 90% of RBCT staff took part in the 2016

Organisational Health Survey. This is a survey

aimed at assessing the organisational health as

felt, perceived and experienced by all employees.

The results improved from 2015 by 5.8%. Over 75%

of respondents said they believe strongly in RBCT's

strategic direction, leadership, are motivated to

work for RBCT, and are willing to go the extra mile to

make RBCT sustainable. RBCT continuously aims to

engage, nurture and develop its people to enable

the terminal to perform at its best.

Community development

RBCT continues to plan and participate in a number

of social economic development programmes. In

year 2016, a total of R3.1-million was invested in the

Community Social Investment (CSI) projects. CSI projects

are integral to RBCT as they live out our slogan:

"Coal to the world, growth to the nation".

CONTACT INFO

Physical address: Richards Bay Coal Terminal

(Pty) Ltd., South Dunes, Richards Bay Harbour

Postal address: PO Box 56, Richards Bay

3900

Tel: +27 35 904 4911

Website: www.rbct.co.za

37 KWAZULU-NATAL BUSINESS 2017/18
---
KAEFER holds a worldwide leading position as provider for plant integrity services and solutions,

specialising in Insulation, Access, Surface Protection, Passive Fire Protection, as well as Interior Outfitting.

With an annual turnover of around €1.5 billion, KAEFER's business is carried out in its Industry, Marine &

Offshore and Construction divisions. Headquartered in Bremen, in the north of Germany, the company has

operations in over 40 countries, a current workforce of 28,000 and is led by Peter Edelmann (CEO). Further

information can be found on www.kaefer.co.za

Tel: 011 974 8123 | Fax: 011 974 4628 | E-mail: info@kaefer.co.za | Website: www.kaefer.co.za
---
KAEFER

Your partner in Industry solutions

While we are a global player, we adopt a very strong local focus and ensure that we make an indelible footprint in all the

locations where we are active.

KAEFER team with their 3rd

consecutive award for Painting

Contractor of the Year at RBCT.

Since its inception in 1918 in Bremen, a small town in

Germany, KAEFER has developed into a market leader for

plant integrity services and solutions in Industry, Marine &

Offshore and Construction. With over 28,000 employees in

40 countries at 2000 locations, we are a true global player

– there for you all over the world

In addition to insulation, we offer access solutions, surface

protection, passive fire protection & asbestos removal to

the South African and Sub-Saharan market. In everything

we do, the client takes centre stage and we take pride

in our efficient and innovative approach to overcoming

challenges and providing services and solutions.

"Our mission is to support our clients' success by

delivering highly professional plant integrity services

and solutions for the Industry, Marine & Offshore, and

Construction business worldwide."

We also pride ourselves in doing things the KAEFER way.

It's what makes us Recognised, Efficient and Different

(RED) and is seen clearly in our consistent safety record,

cutting-edge technical expertise and strong ethical values

that guide us in everything we do. Furthermore, we're

driven by innovation and by doing things differently. We

develop new and tailored solutions that benefit our clients

and are frontrunners in digitalisation in our industry. We

also assure quality, safety, cost-efficiency and continuous

improvement with our substantial in-house expertise and

fully integrated services.

We have the pleasure to work with and contribute to the

success of projects and maintenance contracts for clients

such as SAPREF and Richard's Bay Coal Terminal (RBCT)

in the KZN region as well as Eskom power stations in

Mpumalanga and Limpopo, namely Tutuka, Majuba &

Matimba and Medupi power station amongst others.

"Increasing our competitive strength by being

recognised, more efficient and different."

As part of our commitment to corporate social

responsibility, we have completed several community

projects in the KZN, Mpumalanga and Limpopo provinces

where we operate. We strongly believe that sustainable

empowerment is achieved through education; children are

the leaders of tomorrow. With this focus on impacting

South Africa's future through education, KAEFER has,

among other community projects:

› Partnered with SAPREF by contributing towards a

project that saw the building of two science labs at

the Ogwini and Menzi High schools in Umlazi. The

project, owned and driven by SAPREF, involved

converting a classroom at both schools into a fully

equipped science laboratory complete with

workbenches, cupboards, Bunsen burners, science kits

and chemicals. Other teaching aids were also donated

to the schools.

› Given Phegelelo High School in Lephalale a much

needed facelift to their facilities including classroom

blocks, toilets and sports grounds.

At KAEFER, we rely on our long history and business

continuity which gives us stability and orientation. Our

successful track record speaks for itself. And it also serves

as a testament to the strength of our strategy, and our

vision – to eliminate the energy waste.
---
FOCUS

Sappi

Evolving into the new future.

Sappi Saiccor Mill.

Sappi is a global leader in dissolving wood pulp, paper

and paper pulp solutions. Sappi Limited (listed and in the

Top 40 on the JSE) is headquartered in Johannesburg,

South Africa; has over 12 000 employees; manufacturing

operations on three continents, in seven countries (seven mills in

Europe, three mills in America and four mills in South Africa) and

customers in over 150 countries worldwide.

Sappi has continued to deliver solid results driven by strong

global demand on the back of strategic shifts in business focus.

Coupled with strong cash generation and cost management initiatives

to reduce variable costs, Sappi is well positioned to achieve its

2020 targets.

2020Vision

The company has repositioned itself with the 2020Vision as a diversified

woodfibre group targeting US$1-billion in EBITDA through

an expanded product portfolio with increased margins, providing

enhanced rewards to all its stakeholders. Optimising woodfibre is at

the core of this new vision and the group is leveraging its existing

strengths to realise opportunities

and guide investments. The

change in strategy has shifted

focus from Graphic paper to

Specialised Cellulose (Dissolving

pulp) and Speciality Packaging

grades.

Sustainability

Sustainability is probably the biggest

driver of business change

around the globe. Sappi's business

relies on natural capital, particularly

on woodfibre, land and

water. Accordingly, the company

focuses closely on responsible

management of these resources.

Sappi owns or manages hundreds

of thousands of hectares of

KWAZULU-NATAL BUSINESS 2017/18

40
---
FOCUS

commercial plantations, many of

which are based in the KwaZulu-

Natal area that are constantly

repopulated, thereby ensuring

that its renewable raw material is

inherently sustainable. These forest

plantations are actively managed

to enhance biodiversity

and restrict harmful processes

like pests and disease and 100%

of our owned and leased plantations

are FSC®-certified.

Value adding products

KwaZulu-Natal is home to SAPPI

SAICCOR MILL which manufactures

dissolving wood pulp, a

growth area, resulting in investments

made to increase capacity

and output. Dissolving wood

pulp products are used worldwide

by converters to create viscose

fibre for fashionable clothing

and textiles, acetate tow,

pharmaceutical products as well as a wide range of consumer and

household products. Unlike synthetic fabrics derived from nonrenewable

fossil fuels, cellulosic fabrics made from dissolving wood

pulp breathe like natural fibres, have a soft natural feel and offer

high levels of absorbency. Our competitive cost position provides

Sappi with the platform to build the business further with our key

strategic partners, while providing our customers with unmatched

quality, consistency and scale.

Sappi has also invested in its Speciality Packaging portfolio. SAPPI

TUGELA MILL, situated in Mandeni near the Tugela River in KwaZulu-

Natal, produces pulp for its own consumption, containerboard and

lignosulphonate for export. The mill is located near the ports of

Richards Bay and Durban, allowing for easy access to global markets.

Containerboard is used for agricultural and industrial packaging.

Agricultural uses include packaging for citrus and subtropical fruits,

frozen foods and long stem flowers; industrial uses include packaging

for electronics, household goods, car parts and other heavy-duty

applications. The Tugela Mill plays a major role in leading packaging innovation

in South Africa that allows customers to develop lightweight

boxes which will retain their strength in cold-storage conditions. In

doing so we contribute to GDP as the exports from South Africa

increase into the world markets.

Tugela Mill's lignosulphonate product is an exciting addition to the

product range and we supply to the concrete admixture manufacturing,

clay brick/ceramic tile manufacturing and road dust suppression

markets. This forms part of Sappi's new business segment of

Biomaterials with an exciting future.

KwaZulu-Natal also houses SAPPI STANGER MILL, unique in

South Africa in that it uses bagasse as its basic raw material in the

manufacture of office paper and tissue wadding. Situated along

the North Coast of KwaZulu-Natal, the mill is ideally situated to take

advantage of the ready supply of bagasse from the neighbouring

Gledhow Sugar Company.

The well-known consumer office paper brand Typek, with its distinctive

red and white packaging, is manufactured

at Stanger. A R100-million strategic investment in

sheeting and finishing equipment upgrades has

ensured a quality product which is used in offices,

schools and other business environments. Paper

made from renewable resources remains an important

communication and creative medium that will

continue to support office workers and children in

a fast-paced world.

Sappi remains relevant in a changing world set

to deliver value-adding products to its customers.

Website: www.sappi.com

41 KWAZULU-NATAL BUSINESS 2017/18
---
KwaZulu-Natal is ideally

situated to grow its

maritime economy

Building a Smart Port City at Durban.

National government wants to see the

Oceans Economy contribute R29-billion

to the national gross domestic product by

2019 and a possible R177-billion by 2033.

This is part of the broader National Development

Plan (NDP).

Important sectors that could contribute to economic

growth and increased employment are shipbuilding

(something that KwaZulu-Natal already does),

the creation of a merchant fleet and the development

of South Africa's small harbours into engines of economic

growth and opportunity. The last-named idea

is the subject of a major project being driven by the

national Department of Public Works. An important

element in securing all of this growth will be the creation

of reliable marine governance and security.

Other important sectors that fall under the Oceans

Economy are the oil and gas sector (including the servicing

of rigs and vessels) and aquaculture. Several

fish-farming projects are planned for KwaZulu-Natal

(mostly with kob) and a catfish feasibility study is

under way.

Advantages

With its two important ports, KwaZulu-Natal is ideally

located to take advantage of the focus on the maritime

economy. Between them, Durban and Richards

Bay handle 78% of South Africa's cargo tonnage.

The Dube TradePort located inland expands the

capacity of the province to import and export goods.

KWAZULU-NATAL BUSINESS 2017/18

42
---
SPECIAL FEATURE

The principal component of the Dube TradePort is a

new international passenger and cargo airport but

rail and road links up and down the coast to the

two major sea ports make it easy to switch cargo

between different modes of transport. Large quantities

that arrive by sea can be dispersed in smaller

volumes at speed by air.

Durban's annual throughput of containers is

about one-million, more than 60% of the country's

total. A priority is to improve loading and unloading

times: there is a Back-of-Port Interface Local Area

Plan which would turn much of the area south of

the port into a logistics section.

As part of the national plan that aims to get

things done in a targeted way (Operation Phakisa)

the Port of Durban is upgrading its dry dock and

buying new cranes to speed up operations.

There is also an ambitious plan to dig out the

old airport south of the city, connect the big hole

to the sea and make it a harbour – this would allow

Toyota to roll their new vehicles directly from the

factory floor to the hold of a ship.

The Port of Durban is already home to a variety of

maritime companies. South African Shipyards (SAS)

is an experienced manufacturer of ship hulls. To

improve their competitiveness, three South African

shipbuilders (SAS, Damen Shipyards Cape Town and

Nautic Africa) have agreed to pool their resources

on contracts. Luxury boat-builder Austral Marine

has been acquired by Nautic Africa which is known

for its military boats.

Cooperation pacts like this one might be a good

template for the nation's ports and the rig/boat

repair and servicing sector. With the Angolan and

Mozambique oil and gas industries growing bigger

every day, it is unlikely that one port could cope

with demand anyway. The creation of a marine

manufacturing and repair cluster at Richards Bay is

being considered.

Richards Bay, apart from being the country's

main site for the export of coal, is also a registered

Industrial Development Zone (IDZ) and consequently

attracts a range of investors. The fact that

port IDZs are a key plank in national energy policy

(which links to the Oceans Economy plan) was emphasised

in late 2016 with the allocation by the

Department of Energy of two Liquefied Natural

Gas (LNG) plants: one option for private investors

to build and operate such a plant is at the Port

of Richards Bay in KwaZulu-Natal. The other option

has been allocated to the Coega Industrial

Development Zone.

The Port of Richards Bay has added a new

berth on average every second year. A strong

selling point for the port is its deep-water infrastructure,

encompassing a maximum permissible

draught of 17.5 metres and the huge Richards Bay

Coal Terminal, which is the country's primary site

of export for coal. The Port of Richards Bay has

six cargo-handling terminals and handles 60% of

South Africa's seaborne cargo.

Planning ahead

Delegates to the second annual Durban Maritime

Summit in 2017 came from a wide variety of sectors

including government, academia, shipping,

logistics companies, port management, project

financing, insurance and international maritime

organisations.

The topics covered at the first such event in

2016 illustrate how all-encompassing is the relatively

new field of the "Oceans Economy", and what great

potential there is for economic growth and job creation

through maritime activity. Subjects included:

maritime skills development and training, maritime

security, maritime enterprise development, making

the marine manufacturing and the transport sectors

more competitive.

The development of the cruise-liner industry is

also under the spotlight. The conference is a joint

venture between the eThekwini Maritime Cluster

and the eThekwini Municipality. The annual conference

is intended to position Durban as a Smart Port

City in line with the National Government Growth

Plan (NGP) 2030.

The Maritime School of Excellence trains students

for the Sharks Board, Transnet Port Terminals

(TPT), Transnet National Ports Authority (TNPA) and

for the wider field of maritime and logistics employers.

More than 250 students graduated in 2016 as

cargo coordinators, marine pilots, tug masters and

operators of lifting equipment.

43 KWAZULU-NATAL BUSINESS 2017/18
---
PROFILE

A global leader

in bather protection

Keeping bathers safer for five decades.

The KwaZulu-Natal Sharks Board is a public entity

(under the auspices of the KwaZulu-Natal

Department of Economic Development, Tourism &

Environmental Affairs). The KwaZulu-Natal Sharks

Board Maritime Centre of Excellence (KZNSB) is a

global leader in bather protection against sharks

while minimising environmental impact.

The KZNSB with over 50 years of experience, is

the oldest and only organisation in South Africa

dedicated to providing bather protection against

sharks. Key supporting activities include educational

outreach and marine tourism programmes

to create awareness about safe bathing and the

marine environment.

The KZN Sharks Board Maritime Centre of Excellence:

• Protects bathers against shark attacks

• Conducts biological research on sharks

• Educates the public about the activities of the

KZN Sharks Board

• Informs the public about the role of sharks in the

marine environment

• Facilitates skills development, enterprise development

and community engagement.

Triple Helix Model

Skills Development

The KZNSB has achieved multiple accreditations.

Accreditation is an affirmation of KZNSB's

highest standards of teaching and learning

and bestows our graduates with internationally

recognised certificates.

The student and graduate placement remains a

key differentiator between KZNSB and other institutions.

The Co-operative Education Unit has

successfully gained industry recognition resulting

in a high percentage of students and graduates

attaining work placements.

Community Engagement

Community Engagement remains central to the

"Triple Helix" model and several key projects have

been delivered including boatbuilding projects

at Enkovukeni and EMdlebeni. Careers expos have

been held in almost every district in the province.

The Umfolozi River project funded to the tune of

R6.1-million demonstrates our leading position of

being a community-oriented organisation.

Enterprise Development

The Maritime Centre of Excellence's Enterprise

Development's overall objective is to contribute

towards the creation, growth and sustainability

of small businesses in the maritime sector thereby

creating jobs and resulting in the growth of

the maritime sector's contribution towards the

province and country's GDP.

CONTACT INFO

Address: 1a Herrwood Drive, Umhlanga,

KwaZulu-Natal, South Africa

Tel: +27 31 566 0400 | Fax: +27 31 566 0493

Website: www.shark.co.za

KWAZULU-NATAL BUSINESS 2017/18

44
---
INTERVIEW

Mthokozisi Radebe

BIOGRAPHY

Keeping bathers safe

and promoting skills

development for the

Oceans Economy

The CEO of the KwaZulu-Natal Sharks Board Maritime

Centre of Excellence, Mr Mthokozisi Radebe, shares insights

into how the role of his organisation is expanding to meet

new demands.

Please tell us about the training function of the KZNSB.

The initial focus of Maritime Centre of Excellence was on maritime skills

development. The evolution of national priorities such as Operation

Phakisa – Oceans Economy has seen its operating model reshaped

into the "Triple Helix" of Skills Development, Enterprise Development

and Community Engagement.

Skills Development centres on the enrolment into maritime occupations,

graduate placements and the development of maritime

teaching practitioners. The enrolments into maritime have topped 1

500 since 2012. KZNSB has achieved multiple accreditations from the

Transport Education Training Authority (TETA), ICDL Foundation, ETDP

SETA, and (merSETA) among other training quality assurance bodies.

Student and graduate placement remains a key differentiator between

MCoE and other institutions. The Co-operative Education

Mthokozisi "Mthoko" Radebe

is the current CEO of the

KwaZulu-Natal Sharks Board

Maritime Centre of Excellence,

and the first black person to

occupy this office. He oversaw

the establishment of the Maritime

Centre of Excellence Unit.

Mthoko earned an LLB degree

from the University of KwaZulu-

Natal and is currently studying

towards a Master's in Maritime

Law. He has served as Director

and Partner at Norton Rose

Fulbright and been a director,

CEO or chairman of several

regulatory and business bodies.

KWAZULU-NATAL BUSINESS 2017/18

46
---
INTERVIEW

Unit within MCoE has achieved successes in

gaining industry recognition. The ongoing

National Skills Fund (NSF) Graduate and Student

Placement Project is one of many placement

projects underway. Graduate and Learner placements

for students with commercial diving and

boatbuilding (both hearing and deaf) stands at an

unprecedented 100%.

Community Engagement remains central to the

"Triple Helix" model and several key projects have

been delivered including boatbuilding projects at

Enkovukeni and Emdlebeni. Career expos have been

held in almost every district in the province.

In terms of Enterprise Development, a funded

project to build 21 boats for use for business purposes

has been approved. Furthermore, KZNSB will

be staging an Ocean Festival in September 2017. An

incubation programme especially for women- and

youth-owned businesses is being designed.

How do you maintain safe swimming while

at the same time reducing fatality rates of

fish and dolphins?

In October 2015 the KZNSB Operations Division

rolled out the mixed gear concept of reducing the

number of nets at a protected beach and replacing

them with drumlines.

This has reduced the capture of non-target species

by up to 50% during the nine years that it has

been in place at 20 beaches. The latest change

resulted in the total length of netting along the KZN

coast being reduced from 23.27km to 22.12km. The

number of drumlines deployed increased from 79

to 107. The division is currently in discussions in an

effort to reduce the capture of humpback dolphins.

What are some of the achievements of the

KZNSB?

The last shark attack/incident to take place off a protected

beach in KZN occurred in 1999. This incident

was not fatal. There have not been any fatal shark

attacks off KZN's protected beaches since shark

safety gear was first introduced in the late 1950s.

We reached a significant milestone in August 2014

when we celebrated 50 years of bather protection

in KwaZulu-Natal.

How important is research in the business

of the KZNSB?

The Research Division is one of the most important

divisions as it conducts and facilitates various

scientific activities, which include monitoring,

documenting and dissecting all catches, collecting

biological samples, investigating shark attacks and

investigating new non-lethal alternatives to the current

shark safety gear. The research results address

bather protection, recording of catches, reduction

in environmental impact and biological research.

Please expand on the value of partnerships

to the KZNSB.

The Transport Education Training Authority

(TETA) funded Freight and Customs Compliance

learnerships and the training of 30 deaf students

that KZNSB is undertaking in

collaboration with Whisper

Boatbuilding Academy for the

Deaf. A community development

programme is underway

at Enkovukeni in partnership

with SA Maritime Safety

Authority (SAMSA). There are

many other strategic partnerships

including the Commercial

Diver Programme in partnership

with the Sub-tech Group

and KwaDukuza Municipality,

Maritime Programme with

EThekwini TVET College.

47 KWAZULU-NATAL BUSINESS 2017/18
---
INTERVIEW

Member-oriented

scheme strengthened

by high reserves

Christo Becker, Principal Officer of Selfmed, shares some

insights on the medical insurance industry.

Christo Becker

BIOGRAPHY

After completing his studies in

1996, Christo worked as a paramedic

in Cape Town and Port

Elizabeth (where he was seconded

to run the Eastern Cape

operation for Netcare911). He

furthered his career in healthcare

when he was appointed as

hospital manager for a hospital

in the Netcare Group. Christo

went on to manage a number

of other hospitals before joining

Selfmed Medical Scheme as the

Principal Officer in 2014.

Please provide an overview of Selfmed, including the

history and size of the organisation.

Selfmed Medical Scheme was established more than 50 years ago and

it is one of the older schemes in South Africa.

Providing coverage for about 8 000 principal members and 13 500

beneficiaries, we are one of the smaller schemes and we focus on providing

individual attention to our members. Our size allows us to do this.

Could you outline the different options?

Members are able to choose one of five medical aid options:

SelfNET – this entry-level product is our most affordable as it covers

a narrow band of benefits.

MedXX1 – a hospital plan that extends beyond the prescribed minimum

benefits and pays out at 100% of scheme rates for covered

in-hospital treatment and in-hospital doctor's consultations.

Selfsure – an option that provides in-hospital and out-of-hospital

benefits and is a great choice for a family with young children.

Med Elite – a broader hospital plan that covers additional conditions

including greater coverage for oncology expenses, hip, knee and

back operations.

Selfmed 80% – 80% of bills relating to a wide range of conditions

are covered.

What is the solvency ratio of Selfmed and how does this

compare to other medical aid schemes?

Selfmed has a solvency ratio of 100.37%, which is way more than the

25% mandatory requirement. We are one of the top schemes in the

country in terms of our reserves.

What differentiates your offerings from those of your

competitors?

Selfmed has a very strong member focus. As someone who has

previously worked as a paramedic and a hospital manager, I'm

passionate about healthcare. All of us share the passion and want

KWAZULU-NATAL BUSINESS 2017/18

48
---
INTERVIEW

to ensure our Selfmed members

receive good healthcare.

We are able to attend to requests

for ex-gratia payments

on a case-by-case basis and our

members appreciate knowing

that their health conditions are

not compared to other people's,

but are evaluated individually.

Furthermore, because our

cash reserves are so high and

our systems (administration, call

centre and marketing, etc) are

managed internally, members

feel confident about the level of

service we can provide.

What is your view of the

National Health Insurance

(NHI) scheme and how do

you think it will impact private

healthcare in South

Africa?

We all support the idea that

healthcare should be accessible

to all, however, a number of issues

weren't addressed in the White

Paper. These include what the basket of care will

look like and who will provide the care.

This is the first phase of a 14-year implementation

period and it is likely that the parameters of the NHI

will change during its implementation.

A specific risk for private healthcare providers

relates to the introduction of a one-payer system.

I don't think people are going to be happy to take

the money they usually pay into a medical aid and

pay it into a centralised state-run system.

Given that the UK, with its lower unemployment

rate and higher number of taxpayers and health

professionals, struggles to deliver the desired level of

care via its National Health Service, it is unlikely that

that South Africa will have the reserves to roll out a

system that will rival private healthcare.

How does the South African healthcare

system compare internationally?

I believe that the private healthcare system in South

Africa – private medical care and medical insurance –

is equal to the best in the world. Many of our doctors

and medical professionals go overseas for training or

to attend medical conferences and we have some of

the most advanced medical equipment in the world

in our private hospitals. Furthermore, in countries like

the USA, medical care is far more expensive than it

generally is in South Africa.

Ideally, representatives of the entire healthcare

industry here should get together to discuss challenges

and collaborate on viable ways to solve

these so that quality healthcare can be made

accessible to more people.

Increased legislation, particularly legislation

relating to prescribed minimum benefits, has

meant that medical schemes are under increased

pressure though.

www.selfmed.co.za

49 KWAZULU-NATAL BUSINESS 2017/18
---
ADVERTORIAL

ADVERTORIAL

Nedbank's new brand promise focuses on client

engagement Nedbank's that new will brand create a promise better understanding

across focuses clients' on personal client engagement and business banking thatneeds

will create a better understanding

Siphamandla Ndhlovu, Provincial General Manager in KwaZulu-

Natal, Kevin explains de Beer, how Nedbank Nedbank Provincial works General with communities Manager in the to deliver

banking Free State solutions. and Northern Cape, explains how Nedbank

works with communities to deliver banking solutions.

Our expertise will help clients navigate

challenges and meet their goals

Nedbank continues to build on its clientcentred

strategy aimed at delivering

distinctive experiences and channels

of choice for businesses and clients in

KwaZulu-Natal. This has seen the bank

simplify and enhance its product offering

in line with its value-banking philosophy

based on simplicity, transparency and

affordability. Innovation and technological

advancements, as well as training and

development of staff, have been key pillars

in achieving the bank's objectives.

Since 2012 Nedbank has launched several first-tomarket

innovations, such as the award-winning

Nedbank App Suite, the home loans online

digital channel and Market Edge, as well as New

Image outlets concept in communities locally and

nationally. "Working with communities is entrenched

in our values through community development, skills

development, education and job creation, as well as

environmental conservation. These play a vital role in

building a sustainable economy and vibrant society.

We believe our fast-growing presence in communities

goes a long way towards enabling greater financial

inclusion while contributing towards economic

growth," concludes Ndhlovu.

Nedbank also leverages its strong market positioning

with businesses and the public sector, encouraging

them to bank their employees through its employee

banking offering. This forms part of Nedbank's

Banking and Beyond philosophy, which is aimed

at supporting business owners to make informed

decisions that will enable them to grow and take their

businesses to the next level.

This is a unique service for clients, with financial

fitness training a key aspect of the offering. Our

wide range of products and services include the

Nedbank Ke Yona Plus transactional account, which

comprises funeral cover, a personal loan facility, the

JustSave Account and the Send-iMali money transfer

solution, enabling clients to transact, borrow, save

and take out cover.

To encourage the youth to save and build their

financial fitness from an early age the Nedbank 4me

offering enables the youth to transact and save with

the benefit of earning preferential interest. Nedbank

4me comprises a full transactional banking account

with no monthly fees, free initial transactions and

thereafter reduced pay-as-you-use pricing, free

eNotes and self-service banking.

This wide range of offerings from Nedbank makes

banking more accessible to all.

Nedbank has also invested in innovative alternative

distribution outlets through its strategic partnership

with Boxer stores. These partnerships, which span

over 15 years, enable communities to get access to

financial services every day of the week, even Sundays

and public holidays.

Should you be interested in learning more about how

Nedbank can assist you grow your wealth and see money

differently, for more information call Siphamandla

Ndhlovu on +27 83 637 8552 or visit

www.nedbank.co.za.
---
ADVERTORIAL

ADVERTORIAL

Making Nedbank's it easier new to brand do business promise with Nedbank

Business focuses Banking on client engagement that

Siphamandla Ndhlovu, KwaZulu-Natal Provincial Business Banking

will create a better understanding

Manager, explains how Nedbank can help business owners see money

differently. Kevin de Beer, Nedbank Provincial General Manager in the

Free State and Northern Cape, explains how Nedbank

works with communities to deliver banking helps solutions. with continuity in case there is a change of

relationship from a Business Manager point of view.

Our approach is to understand the client's business

holistically and from that understanding, design tailormade

banking solutions to suit the business needs

of the client. Our "Wholeview Banking" approach

enables us to understand the client's cash receipts and

payment cycle, their global trade transactions, foreign

exchange hedging transactions and transactional

banking needs which include cash handling. From this

information, we are able to provide banking, payment

and funding solutions that meet the client's needs. We

are therefore seen as a trusted partner by the business

we serve as our banking solutions match the client's

needs and means.

"At Nedbank Business Banking we

believe that you need a financial

partner who not only understands your

circumstances and aspirations, but also

provides you with relevant solutions

and a banking experience that is hasslefree.

This allows you to concentrate on

what's most important to you – running

your business," says Ndhlovu.

At the core of our Business Banking offering in

KwaZulu-Natal is a relationship-based model. We

believe in building a relationship with our client

which helps elevate trust which becomes the solid

foundation on which our banking decisions are made.

A Business Manager is the key entry point into the

bank. The Business Manager is supported by a Client

Service team who ensure delivery of the facilities

the client is afforded. The Client Service team also

becomes a repository of client information where

the client history and track record are held. This

Our banking offering covers a broad range of financial

and advisory services to small and medium businesses

in all sectors of the economy including Agriculture.

We pride ourselves in our ability to make quick credit

decisions as our Credit teams are located in the

markets that we serve as opposed to being at a central

location that is removed from the local market.

Furthermore, based on the relationship foundation

and our understanding of the client's needs, we are

able to extend our offering to the business owner

in their personal capacity, their family and staff. In

doing this, we answer Nedbank's call to use our

financial expertise to do good for individuals, families,

businesses and communities within which we operate.

Should you be interested in taking your business to its

next level and improving staff engagement, and for more

information about Nedbank's specialised service offering

please call Siphamandla Ndhlovu on +27 83 637 8552

or visit www.nedbank.co.za.
---
ADVERTORIAL

ADVERTORIAL

Nedbank's new brand promise

focuses Expertise on in small client business engagement aimed at that stimulating

will growth create a better understanding

Kevin de Beer, Nedbank Provincial General Manager in the

Nedbank's Melanie Reddy, Provincial Retail Relationship Banking Manager,

Free

explains

State

how

and

Nedbank

Northern

is committed

Cape, explains

to partnering

how Nedbank

with small businesses

works for growth. with communities to deliver banking solutions.

For example, the Small Business Friday initiative, in

association with the National Small Business Chamber,

seeks to encourage everyone in South Africa to rally

behind and support small businesses. The initiative

calls on everyone to make a conscious decision to

vote for small businesses through their hearts, feet

and wallets; not only on Small Business Friday which is

one particular Friday in a year, but every day.

"Small businesses are the mainstay of the

economy. Nedbank has, over the years,

instituted various interventions aimed at

giving support to the small-business sector.

Over and above our small-business services

solutions, we provide small-business

owners with support that goes beyond

banking, freeing up their time to truly focus

on running their businesses," says Reddy.

Nedbank has built a solid reputation as a bank for

small businesses through initiatives such as Small

Business Friday, free small-business seminars and

the SimplyBiz.co.za platform – all geared to support

the small- and medium-sized enterprises sector.

Our offering expands to the Professional Banking

segment of the market. In Professional Banking we

realise that time is of the essence in your professions

and hence we offer you a dedicated banker with a

strong support team to take care of the needs of you,

your business and your household.

SimplyBiz.co.za is a free-to-join value networking

portal designed especially for small businesses. The

online portal helps small businesses improve their

business administration skills, keep up with the latest

trends, network with other small businesses and

share ideas.

Should you wish to tap into our small business expertise

to help your business goals, why not get in touch with

Nedbank's Small Business Services. Call Melanie Reddy

on +27 31 364 2045 or send an email to

Melanier@nedbank.co.za.
---
ADVERTORIAL

ADVERTORIAL

Nedbank's new brand promise

Making focuses banking on client accessible engagement to all that

will create a better understanding

At Nedbank we believe in delivering a choice of distinctive clientcentred

Kevin de banking Beer, Nedbank experiences Provincial that create General deep, enduring Manager relationships

in the

with Free our State clients, and Northern says Sean John, Cape, Provincial explains Sales how Nedbank Manager, KwaZulu-

Natal works Branch with communities Networks. to deliver banking solutions.

Our distribution presence in KZN sees us with 85

traditional branches, 32 kiosks in Boxer stores and 33

New Image branches. Nedbank has embarked on a

distribution strategy to convert all our branches to

New Image outlets. We have also increased our ATM

distribution to 630 and Intelligent Depositors to 90 in

the province for your convenience.

To make banking convenient we have eight Sundaytrading

branches in key centres in the province.

Nedbank's client-centred approach has seen the bank

intensify its efforts in delivering a distinctive client

experience through innovation.

Our clients are engaged by skilled, enabled

and productive staff who, through

meaningful conversations, ensure we

deliver to our clients' needs and aspirations.

As a bank for all, Nedbank realises that, if

it wants to make banking more accessible

to all in South Africa, it has to start working

with the communities in which it operates.

"Since 2012 Nedbank has launched several firstto-market

innovations, such as the award-winning

Nedbank App Suite, the home loans online digital

channel and Market Edge, as well as New Image

branch outlets," adds John.

For more information on our offerings please contact

Sean John at SeanJ@nedbank.co.za,

+27 31 364 1933.

As such the bank's strong relations with government,

organised business and communities remain a key focus

in growing its client base.

Our presence in the KZN community goes a long way in

allowing for greater financial inclusion while contributing

to social upliftment and economic development.

Nedbank Ltd Reg No 1951/000009/06. Authorised financial

services and registered credit provider (NCRCP16).
---
OLD MUTUAL ENABLING

POSITIVE FUTURES

IN KWAZULU-NATAL (KZN)

Old Mutual South Africa (OMSA) is a significant participant in the South African economy and committed to enabling

positive futures for all our stakeholders, especially our customers. We offer a range of financial services that span

investment, life assurance, asset management, banking, healthcare and general insurance.

To ensure that we have our fingers on the pulse of each of our nine provinces, Old Mutual has established leadership

boards in each province to serve as links between the province and our business. These Provincial Management

Boards, or PMBs, are your primary point of contact with us. Together we can ensure that Old Mutual makes a

positive impact on the future of this province and its people.

MEET AJ DLAMINI

KZN Provincial Management Board, Chairperson

" People don't care how much you know until they know how

much you care" by Dr John C Maxwell

As the KZN chairperson, I undertake to:

• Ensure that collaboration is driven in the true sense of its meaning, outside of boardroom discussions.

• Working toward a unified Old Mutual with multiple business units working toward the common goal

of providing financial solutions to individuals.

• Ensure that the KZN province gets even more involved in the communities in which we work.

GET IN TOUCH: email KZNPMB@oldmutual.com

ombds 4.17.10479.02

INVESTMENTS I SAVINGS I PROTECTION

Old Mutual is a Licensed Financial Services Provider
---
OUR BEST ADVICE TO YOU IS:

ADVICE MATTERS

As custodians of the savings and

investments of millions of South

Africans, we know that ADVICE

MATTERS when making financial

decisions.

How to choose the right financial adviser

A good financial adviser is a professional who

considers all your financial needs and goals, and has

the knowledge, experience and support to give you

Advice That Matters.

1. Ask to see the adviser's training credentials and FAIS

accreditation.

2. Choose a financial adviser who represents a

respected financial institution.

3. Look for a financial adviser who has access to a

range of specialist support services.

NEED HELP WITH RETIREMENT AND RISK

COVER OPTIONS FOR YOUR EMPLOYEES?

Old Mutual Corporate provides

industry-leading retirement fund

solutions, pre- and post-retirement

investments, group death, disability,

critical illness and funeral cover

as well as financial education and

consulting services to a broad range

of public and private businesses and

institutions, from small businesses to

large corporates.

This can also be accessed via

Old Mutual SuperFund, which provides a comprehensive

employee benefit solution that is flexible enough to meet

the needs of all types of businesses and their employees.

NEED A ONE-STOP-SHOP INTEGRATED

FINANCIAL SERVICE?

The Old Mutual Mass Foundation Cluster (MFC) has an

integrated approach to financial services and offers

customers solutions to meet their needs. This spans a

transactional account called the Old Mutual Money

Account, savings products, life and disability cover, as

well as funeral cover, debt management solutions and

short-term insurance. Our aim is to

help our customers manage their

finances and to plan and provide

a better future for themselves and

their loved ones.

NEED DIRECT CAR & HOME INSURANCE?

Old Mutual iWYZE offers affordable and reliable

insurance cover to protect everything you've worked

for. The wide range includes car insurance, home

insurance as well as value-added products

such as iWYZE Scratch

& Dent and iWYZE

Tyre & Rim Cover.

iWYZE, the wise

insurance choice.

NEED FUNERAL COVER?

With Old Mutual's range of

Funeral Plans (Care, Standard and

Comprehensive+) customers can cover

themselves, their spouse/partner,

children, parents, parents-in-law and

extended family members. We also

have a plan for single parents to

cover themselves and their dependent

children without having to pay for a spouse they do not

have.

You can choose the amount of cover you need, who

you'd like to cover and whether you'd like to add

additional benefits. You can get funeral cover for up to

R70 000.

NEED HELP WITH SAVING FOR BOTH

LONG AND SHORT TERM?

To make it easy for customers to

save from as little as R170 a month,

Old Mutual offers the innovative

2-IN-ONE SAVINGS PLANS.

This product with its two pockets allows customers

to save for their long-term goals, like their children's

tertiary education, while they have access to their funds

in emergencies.
---
NEED HELP WITH HOLISTIC FINANCIAL

PLANNING AND SAVING?

Old Mutual Personal Finance specialises in providing

holistic financial planning - Advice That Matters. We

offer a wide range of wealth creation and protection

products. For example:

Old Mutual Invest Tax-Free Savings Plan, which offers

a low, entry-level premium and refunds you 50%

of admin charges when you reach your maximum

premium limit in a year.

NEED LIFE AND DISABILITY COVER?

Old Mutual Personal Finance marketleading

risk protection range offers

the most comprehensive illness range

with clear claim definitions, including

GREENLIGHT.

NEED TO PROTECT YOUR BUSINESS?

Old Mutual Insure are experts in agriculture,

engineering and marine insurance. We

offer a range of insurance solutions to

protect your business against everything

from fire and theft to business interruption and legal

liability costs.

NEED DEBT CONSOLIDATION AND

TRANSACTIONAL BANKING?

Through Old Mutual Finance you can gain access to:

• My Money Plan, which enables

you to consolidate your debt, and

choose from a range of personal

loans at a fixed interest rate.

• Money Account, which links a

transactional (SWIPE) account and an investment

(SAVE) account so you automatically invest a

set amount into a unit trust every time you make

a purchase with your card. *(In association with

Bidvest Bank Ltd)

NEED HELP WITH INVESTING?

Old Mutual Wealth is a fully integrated, advice-led

wealth management business. We

have a personalised and integrated

approach to grow and preserve

your wealth over time. Our specialist

capabilities include Private Client

Securities, Old Mutual Multi-Managers, Fiduciary

Services and Offshore Investing.

We partner with leading financial planners to provide

you with a tailored lifetime wealth plan to help you

achieve the best outcome in line with your objectives,

goals and aspirations.

NEED A FINANCIAL PARTNER THAT

MAKES A POSITIVE IMPACT ON SOCIETY?

Old Mutual is deeply committed to playing a significant

role in building a strong and financially inclusive South

Africa.

As a responsible business committed to caring for our

communities, the Old Mutual Foundation

addresses socio-economic challenges

through investing in:

• Small business development and

entrepreneurship

• Youth unemployment through skills training

• Strategic education initiatives

• Caring for vulnerable communities

In 2016 alone the Old Mutual Foundation invested

R25 686 172 in various community projects across our

nation (actual grant funding payments made during

2016).

In KZN the Old Mutual Foundation invested a

total of R5 304 869 across its various community

empowering portfolios in the region.

Our staff are the hearts and hands of Old Mutual

in the communities we operate in, and we support

our staff volunteers through various programmes.

In KZN, 36 organisations have received a total

R1 411 520 as a result of staff volunteering efforts.

INVESTMENTS I SAVINGS I PROTECTION

ombds 4.17.10479.02

Old Mutual is a Licensed Financial Services Provider
---
OLD MUTUAL FOUNDATION CASE STUDIES IN KZN

The Clothing Bank (TCB), a non-profit organisation started in 2010, has

quickly grown into one of the most successful social enterprises in South

Africa, winning international awards and recognition for their work. Their

straightforward business model recruits unemployed mothers and teaches

them to set up and manage their own small micro-enterprises using donated

clothing and accessories from major retailers as start-up stock. Not only

does their enterprise training cover core business principles, but more

importantly most women are supported out of debt and deep personal

crisis with counselling and critical life skills. The Old Mutual Foundation has

assisted The Clothing Bank to set up branches in Paarl, Gauteng and most

recently provided R500 000 to open up a successful branch in Durban.

The MASISIZANE FUND focuses on enterprise

development and job creation to help alleviate poverty

and improve food security in South Africa. This is

achieved through encouraging entrepreneurship and

capacity development and financing of micro, small

and medium enterprises (SMMEs). Preference is given

to SMMEs with 51% plus ownership by women, youth

or people with disabilities.

Masisizane Fund disbursed R147m worth of funds

in 2016 through soft loans in the three high-impact

sectors and facilitated the creation of 862 jobs against

a target of 625 jobs.

In KZN Masisizane disbursed funds of R26m across

7 clients creating 227 new jobs.

MASISIZANE CASE STUDY IN KZN

LHL Engineering Natal (Pty) Ltd is a 100% black owned

steel engineering company. The operations are based

in New Germany industrial area, KwaZulu-Natal. The

business was acquired by the current owner in May

2015 which has transformed the company to a level 1

B-BBEE company.

LHL was established in 1969 with a focus on the

manufacturing of steel tanks, pressure vessels, reactors,

condense columns and heat exchangers. Since the

business was acquired, there has been a move towards

structural and general steel fabrication.

The company is 100% black owned. One of the owners

is a chemical engineer with 30 years' experience in the

chemical industry. The other is the managing director

and has been with LHL since 1981 when he started as

a design draughtsman.

Masisizane Fund Loan - R4.98 m

Number of Jobs - 49 Jobs Facilitated

Geographic Location - Urban

Sector - Supply Chain

WANT TO HELP BUILD THE PLATFORM

FOR FINANCIAL INCLUSION?

Financial education is the gateway to financial

inclusion.

The Old Mutual Financial Wellbeing programme

promotes financial literacy and awareness across

market segments in line with the Financial Sector

Charter. We offer highly effective financial education

and support programmes to help South Africans take

control of their finances.

Between 2007 and end of 2016 more than 589 808

people were reached through face-to-face workshops

held for communities as well as employees in the public

and private sector.

In 2016 more than 88 000 individuals participated in

our On the Money workshops nationally, with 24 674

participating in our Fin360 programmes.

In KZN, 18 569 individuals were trained in our

Old Mutual On the Money programmes.

For more information, contact AJ Dlamini at

email KZNPMB@oldmutual.com
---
KEY SECTORS

Overview of the main economic

sectors of KwaZulu-Natal

Mining 60

Agriculture 62

Sugar 64

Manufacturing 65

Forestry and paper 72

Agriprocessing 74

Automotive 75

Oil and gas 76

Water 78

Energy 80

Tourism 82

Education and training 84

Banking and financial services 86

Development finance and

SMME support 88
---
OVERVIEW

Mining

Miners and processors are investing in new mines and plants.

SECTOR INSIGHT

A R4.5-billion titanium dioxide

pigment plant will open

in the Richards Bay Industrial

Development Zone.

• Tronox has launched a

multi-billion-rand mine.

• A provincial Mining

Beneficiation Strategy is

being finalised.

KwaZulu-Natal's mining sector is concentrated near Richards

Bay where mineral sands are mined and in the north-west of

the province where coal is found around towns like Dundee

and the aptly named Newcastle.

The Port of Richards Bay also plays a major role in the national

mineral sector in that the Richards Bay Coal Terminal is the country's

main export portal.

The development of a titanium dioxide pigment plant was announced

in 2017 by Nyanza Light Metals and its technology partner,

Avertana of New Zealand. The use of stockpiled waste slag (from mines

in Mpumalanga) sets this R4.5-billion project apart. Normally the process

requires feedstock made up of high-grade rutile and ilmenite, but

the new technology works with a much lower grade of titanium dioxide

pigment content. Other products will include gypsum, aluminium

sulphate and magnesium sulphate. Construction will begin in 2018.

Tronox, which is listed on the New York Stock Exchange, officially

opened its new KZN Sands Fairbreeze Mine south-west of Richards

Bay in April 2016 with the Premier of the province in attendance.

Tronox makes pigment which is used in paint and plastics. Fairbreeze

and the associated Central Processing Complex in Empangeni will

produce titanium dioxide. South African resources company Exxaro is

a 45% shareholder in Tronox. The

initial value of the investment is

R3.3-billion but further monies

may be committed to the

processing plant.

Since the deal to develop

the Fairbreeze mine and smelter

was signed between Canadian

company Tronox and South

African resources company

Exxaro in 2012, $225-million has

been spent on the project. The

mine came on line in the fourth

quarter of 2015, on budget and

ahead of schedule, replacing the

closed-down Hillendale mine.

Feedstock for the slag furnaces

near Empangeni is ilmenite and

it produces zircon and pig iron,

among other mineral products.

China is an enthusiastic buyer of

zircon but growth in that country

has slowed.

A new name appeared in the

mining environment in 2015, but

KWAZULU-NATAL BUSINESS 2017/18

60
---
OVERVIEW

South32 is simply an offshoot of

BHP Billiton, so the Hillside aluminium

smelter at Richards Bay

run by South Africa Aluminium is

now a 100% South32 asset. Most

of the product (high-quality primary

aluminium ingot) is exported

but some liquid metal form

is sent to Isizinda Aluminium

which supplies Hulamin, a

company that has had a rolling

mill in Pietermaritzburg since

1949. Hulamin is the only major

aluminium rolling operator in

the region and it makes rolled

products and extrusions.

The provincial government

has developed a KwaZulu-Natal

Mineral Beneficiation Strategy

which will be presented to provincial

government departments

in the course of 2017. Coal and

phosphate are thought to be the

first areas of focus.

Other processing facilities in

the province include the steel

plant owned by Arcelor Mittal in

Newcastle and Safa Steel's metalcoating

factory in Cato Manor.

Tata Steel KZN's high-carbon

ferrochrome plant at Richards

Bay went into business rescue

and then liquidation before

being bought by Luxembourgbased

Traxys Africa in the middle

of 2016, after a court ruled in its

favour. Traxys has chrome mines

in Mpumalanga and Limpopo

provinces. Tata Steel did not have

its own mines.

RBM mines the mineral

sands of the northern KwaZulu-

Natal coast and operates out of

Richards Bay. The main products

of the RBM mine are zircon, rutile,

titania slag, titanium dioxide

feedstock and high-purity iron.

Of the approximately two-million tons of product that RBM has the

capacity to produce annually, 95% is exported.

Coal

Some of the coalfields of the province have been revived and the

export facilities at Richards Bay make a massive contribution to the

functioning of the country's mining sector.

Petmin's Somkhele Anthracite Mine, north of Richards Bay, has

one of the biggest reserves of open-pit anthracite in South Africa,

with measured and indicated reserves of more than 51-million tons

across its four areas.

In 2015 the local community of about 175 000 became 20% shareholders

in the mine. The Petmin holding company is already "empowered"

(ie, 26% black ownership).

Buffalo Coal Corporation (which used to be called Forbes Coal) has

Canadian roots and has two assets near Dundee: Magdalena Colliery

and Aviemore Colliery. The company has two processing plants.

Other minerals

Idwala Industrial Holdings quarries and mills white calcitic and dolomitic

limestone near Port Shepstone, where NPC Cimpor also runs a

quarry which produces sand, shale and limestone.

Umzimkhulu Industrial Holdings obtained new mining rights in the

course of 2015, from the national Department of Mineral Resources.

The company has the rights to mine near Port Shepstone and the

provincial government put the value of the investment at R187-million,

with the creation of 48 jobs.

The northern region has deposits of aluminium and calcitic marble.

Some low-grade bauxite is found. Vein gold mining is undertaken

near the northern border with Mozambique. The Umzinto goldfield

has several sites, but mining has only ever been on a small scale. Sand

and aggregate are produced by Vryheid-based WH Lemmon-Warde

Holdings, Lafarge and Afrisam. Corobrik has several facilities in and

around Durban.

CONTACT INFO

Chamber of Mines South Africa: www.bullion.org.za

Council for Geoscience: www.geoscience.org.za

Geological Sciences, University of KZN: www.geology.ukzn.ac.za

National Department of Mineral Resources: www.dmr.gov.za

Southern African Institute of Mining and Metallurgy:

www.saimm.co.za

61 KWAZULU-NATAL BUSINESS 2017/18
---
OVERVIEW

Agriculture

Heavy rains have returned to boost agricultural production.

The long-term drought which came to a very wet end in KwaZulu-

Natal nevertheless had very serious effects on the agricultural

sector. The provincial government reported that 6.3% fewer

households were directly involved in agriculture in 2016 compared

to 2011, and this was largely attributed to drought conditions.

Despite this setback, the KwaZulu-Natal's agricultural sector is

very strong, taking advantage as it does of the province's fertile and

varied soils. Eighteen percent of KwaZulu-Natal's 6.5-million hectares

of agricultural land is arable and the balance is suitable for the rearing

of livestock.

Vegetables grow well in most areas, and some maize is grown in

the north-west. Nuts such as pecan and macadamia thrive. The province's

forests occur mostly in the southern and northern edges of the

province. The sugar sector is dealt with separately in this publication.

TWK is a R6-billion operation that originated in forestry (as Transvaal

Wattlegrowers Co-operative) but which is now a diverse agricultural

company with seven operating divisions. It has 19 trade outlets in the

province and 21 in Swaziland and Mpumalanga.

The coastal areas lend themselves to sugar production and fruit

growing, with subtropical fruits doing particularly well in the north.

KwaZulu-Natal produces 7% of South Africa's citrus fruit. The Coastal

Farmers Co-operative represents 1 400 farmers.

Beef originates mainly in the Highveld and Midlands areas, with

dairy production being undertaken in the Midlands and south. The

province produces 18% of South Africa's milk. The Orange Grove Dairy

SECTOR INSIGHT

Agri-villages and agri-parks

are planned to boost rural

economies.

• 18% of South Africa's milk

comes from KwaZulu-

Natal.

Farm near Dundee has one of the

biggest pedigree Jersey herds in

the country.

KwaZulu-Natal's subsistence

farmers hold 1.5-million cattle,

which represents 55% of the provincial

beef herd, and their goat

herds account for 74% of the province's

stock. The Midlands is also

home to some of the country's

finest racehorse stud farms. The

area around Camperdown is one

of the country's most important

areas for pig farming.

Enterprise iLembe, the development

arm of the iLembe

KWAZULU-NATAL BUSINESS 2017/18

62
---
OVERVIEW

District Municipality, is looking

for investors to further develop

an agri-processing hub near the

King Shaka International Airport

and Dube TradePort.

KwaZulu-Natal has two colleges

offering higher qualifications

in agriculture, Cedara in

the Midlands and the Owen

Sitole College of Agriculture near

Empangeni.

Plans to grow

Five co-operatives in the

Mzimkhulu area have received

R34-million to help them plant

and work soya beans on 1 500ha.

The money was made available

by the Masisizane Fund and the

KZN Department of Agriculture

and Rural Development. There

are plans to double the size of the

land to be planted.

Masisizane has an agribusiness

development unit that not only

loans money to small farmers but

also provides research and sets up

agricultural clusters so that farmers,

processors and traders can

benefit from being in proximity

to one another.

The national Department of

Rural Development and Land

Reform (DRDLR) has launched an

Agri-parks programme to support

small-scale farmers and to boost

other businesses related to agriculture

such as abattoirs and transport

operators. KwaZulu-Natal is

one of four provinces where pilot

projects have been carried out.

The plan is to have an agri-park in

each of South Africa's 44 district

municipalities with ownership

vesting at least 70% with farmers.

There are three components to the fully realised agri-park concept:

• The Farmer Production Support Unit: links farmers with markets,

collection and short-term storage, local processing, mechanisation

• The Agri-hub: equipment hire, processing, packaging,

logistics, training

• The Rural Urban Market Centre: contract-based links to local and

international markets, long-term storage, market intelligence.

The Kwa-Zulu-Natal Provincial Government allocated R1.2-billion

to its Agri-villages programme in 2016/17 which has resulted in some

investment into previously ignored areas.

Good news on the land claims front came in the form of a 50/50

voluntary land share programme between the Muden community and

the local farmer. Delays in the implementation of the Upgrade of Land

Tenure Programme have been the cause of some frustration. Without

title deeds it is very difficult, if not impossible, to get loans, and without

loans it is very difficult for farmers to buy the sort of machinery or storage

facilities that would allow them to expand and enter the formal economy.

A KwaZulu-Natal Department of Agriculture and Rural Development

(KDARD) initiative to help small farmers become commercial farmers has

3 483 participants and 122 communal estates have been registered as

legal entities. Another upliftment project will see R14-million spent on

assisting five small-grower collectives to become effective sugar-cane

farmers at Qoloqolo (uMzumbe Local Municipality).

Massmart, the retail group that has been bought by US giant Walmart,

will invest R15-million to 2017 in creating opportunities in its food chain

for emerging farmers. TechnoServe, a non-governmental organisation,

will oversee the programme.

The Premier of KwaZulu-Natal, Willies Mchunu, has committed his

government to Operation Vula which aims to create economic opportunities

for social enterprises and co-operatives, led by African

people in particular. They are to benefit from state-led infrastructure

programmes, as well as from the buying power of the state through

the supply chain.

CONTACT INFO

Coastal Farmers Co-operative: www.coastals.co.za

Fresh Produce Exporters Forum: www.fpef.co.za

KwaZulu-Natal Agricultural Union: www.kwanalu.co.za

KwaZulu-Natal Department of Agriculture and Rural

Development: www.kzndard.gov.za

Milk Producers Organisation: www.mpo.co.za

National Department of Agriculture, Forestry and Fisheries:

www.daff.gov.za

Royal Agricultural Society of Natal: www.royalshow.co.za

TWK: www.twkagri.com

63 KWAZULU-NATAL BUSINESS 2017/18
---
OVERVIEW

Sugar

A British company has bought Illovo.

In 2016 there was a change in ownership of a well-known South

African brand. ABF, which used to be Associated British Foods,

purchased the sugar company Illovo. ABF bought the remainder

of shares that it did not already own in Illovo in April 2016 for

R5.6-billion. ABF has big operations in Europe (sugar and bioethanol)

and a huge production stream of sugar from beet from two plants

in China (180 000tpa).

Illovo Sugar Limited has a presence in six African countries and is

the continent's biggest sugar producer. The group's head office is in

Umhlanga Rocks.

Another major player in the South African market is Tongaat Hulett

whose headquarters are about 50km north of Umhlanga. After a slow

2015, the company's sugar divisions turned an operating profit of

R1.3-billion for 2016/17. This was partly because of better import protection

in the countries where Tongaat Hulett operates and because of

higher export prices generated into the EU and other Africancountries.

Tongaat Hullet Sugar has agreed to a R52-million sugar cane growing

project which will see co-operatives and contract farmers plant

cane on 3 000ha at Felixton, Maidstone and Darnall.

Neither of the Big Two companies relies exclusively on South

African sugar earnings: Tongaat Hulett has a big property portfolio

and Illovo draws most of its profit from operations elsewhere in Africa.

Overall production volumes have been down in recent years

because of the severe drought. Total saleable sugar in the South

African market (for domestic use and export) was over two-million

tons in the 2013/14 and 2014/15 seasons. The figure for 2016/17 was

1.54-million tons.

CONTACT INFO

South African Cane Growers' Association:

www.sacanegrowers.co.za

South African Sugar Association: www.sasa.org.za

South African Sugar Technologists Association:

www.sasta.co.za

Sugar Milling Research Institute: www.smri.org

SECTOR INSIGHT

Tongaat Hullet Sugar has set

aside 3 000ha for emerging

growers.

About 40% of local production

is exported. The South African

Cane Growers' Association represents

about 24 000 growers

who produce about 20-million

tons of cane.

Illovo and Tongaat Hulett are

the major operators of sugar mills.

Twelve of South Africa's 14 mills

are located in KwaZulu-Natal.

Other millers are Gledhow, ULC,

Umfolozi and Tsb (which has a

further two mills in Mpumalanga).

Illovo has four mills, three

sugar-cane estates, four sugar

factories, a refinery and three

downstream operations that

make products such as furfural,

furfuryl alcohol, ethyl alcohol

and lactulose.

The four mills run by Tongaat

Hulett are located on the North

Coast while the central refinery

is in Durban and the animal feed

plant, Voermol, is near Tongaat.

The Sugar Terminal at Maydon

Wharf, Durban, serves 11 mills and

can store more than half a million

tons of sugar. It also has a

molasses mixing plant.

KWAZULU-NATAL BUSINESS 2017/18

64
---
Manufacturing

Big new plants are opening in KwaZulu-Natal.

OVERVIEW

SECTOR INSIGHT

Hulamin's production of

rolled products increased by

19%.

• A Halaal Manufacturing

Park is planned.

In order to take advantage of the existing strengths of cities and districts

in the province, a network of Industrial Economic Hubs (IEHs) is being

developed in KwaZulu-Natal by the provincial government.

Leading the process is the Department of Economic Development,

Tourism & Environmental Affairs (DEDTEA). The plan links sectors and

local economies as follows:

• Clothing and Textiles: Amajuba District

• Leather Processing: uMgungundlovu District

• Renewable Energy: iLembe District

• Auto Supplier Park: eThekwini Metro

• Agri-processing: Zululand District

• Electronics: uThukela District

• Perishables Processing: Ugu District

• Wood Processing: Harry Gwala District.

The focus sectors for the municipalities of uMzinyathi and

uMkhanyakude are still under discussion. A Halaal Manufacturing Park

is being considered by DEDTEA, finance institution Ithala, the South

African National Halaal Authority and business leaders. A location near

a good road or national highway and within easy reach of the Port of

Durban would be ideal. It is expected that investors will find this an

attractive proposition.

Another provincial effort to boost manufacturing is the KwaZulu-

Natal Mineral Beneficiation Strategy. The plan is to ensure that business

opportunities and jobs can be created along the value chain.

A new smelter park project at Colenso and various titanium dioxide

plants in the Richards Bay Industrial Development Zone (RBIDZ) reflect

this thinking.

Overall, the manufacturing sector contributes 17.7% to the provincial

gross domestic product (GDP). The

strongest export sectors are base

metals (32% including aluminium),

mineral products such as ores,

vehicles and chemical products.

An area of anticipated growth

and a focus of policy interventions

is the marine manufacturing

sector. The RBIDZ has already

welcomed SPS Manufacturing,

a pipe manufacturer which

will invest R300-million in

uMhlathuze, creating 87

permanent jobs.

Dube TradePort has attracted

several new investments:

Samsung Electronics South Africa

(televisions) and Cipla (biosimilar

pharmaceuticals).

Hulamin is a leader in aluminium

finished products. The

company makes rolled products

at Edendale, Pietermaritzburg

and Camps Drift while its

Pietermaritzburg facility for making

extrusions is one of the three

in the country. Rolled product

production increased in 2016

65 KWAZULU-NATAL BUSINESS 2017/18
---
OVERVIEW

by 19% and revenue from the

same source went up by 23%.

These products make up 91% of

the company's output. Extruded

products make up the remainder.

Previous problems that the company

experienced in getting LPG

have been resolved and exports

to the automotive industry in the

USA are on the increase.

Two large oil refineries and a

sophisticated sugar milling and

refining industry underpin provincial

chemical manufacturing.

The chemicals and petrochemicals

subsector makes up 17%

of the manufacturing output

of KwaZulu-Natal, with industrial

chemicals accounting for

nearly a third.

The group headquarters of

Africa's biggest pharmaceutical

manufacturer, Aspen, are located

in La Lucia Ridge.

German chemicals group

Lanxess has built a carbon dioxide

concentration unit at its existing

plant in Newcastle. The company

makes tanning raw materials at

Merebank in Durban and rubber

chemicals in Isithebe north of

Durban.

Newcastle is a chemical manufacturing

hub. The big steel

works of Arcelor Mittal produce

by-products such as ammonium

sulphate, and large companies

such as Karbochem, Bayer, African

Amines and SA Calcium Carbide

also operate in the area.

AECI has a big presence

in the province under the

Chemical Services banner.

Chemical Initiatives runs an

elemental-nutrient sulphur

plant in Umbogintwini. SA Paper

Chemicals operates a big plant at

Isithebe. Protea Chemicals, has a large manufacturing plant at Mobeni.

Sappi Saiccor's Umkomaas plant is the biggest producer of specialised

cellulose in the world with production edging upwards every year

towards full capacity of 800 000 tons per annum. Illovo Sugar manufactures

downstream products such furfural (used in lubrication oil),

furfuryl alcohol, diacetyl (a flavouring in margarine) and ethyl alcohol.

Kynoch makes fertilizer at plants in Durban and Richards Bay. Foskor's

acid division manufactures sulphuric acid, phosphoric acid and granular

fertilizer in Richards Bay. ChemSpec makes paint at Canelands.

KwaZulu-Natal produces nearly a third of South Africa's plastic

requirements. Nampak has several packaging facilities in the province

and MPact's Pinetown facility specialises in FMCG containers. Mcbean

Beier Plastics and PCI also operate out of Pinetown.

Textiles

Shanghai, with which KwaZulu-Natal has signed a new memorandum

of understanding, has agreed to run an exchange programmes focussing

on clothing and textiles. Thirty local students will study in Shanghai

in the first phase of the project.

Canvas and Tent Manufacturing has more than 400 employees in

Ladysmith. There are 219 clothing companies in the province (Coface).

Ninian & Lester has about 1 500 employees.

The footwear sector is showing good recovery after taking a battering

from Chinese imports. The purchase of 39% of Eddels Shoes by

management and staff has paid off, with 385 staff employed in making

2 700 leather shoes every day.

Two international safety footwear firms operate out of Pinetown:

Bata Industrial and Beier. The latter company joined forces with three

other South African safety footwear manufacturers in 2014 to form

the BBF Safety Group.

Carpet manufacturers Belgotex Floorcoverings and Ulster Carpets

have facilities in Pietermaritzburg and Durban respectively. Home appliance

manufacturer Defy, which became part of Turkish group Arçelik

in 2011, employs about 2 600 people. Böhler Uddeholm in Pinetown

produces tooling materials and welding consumables.

CONTACT INFO

Aluminium Federation of South Africa: www.afsa.org.za

Chemical and Allied Industries' Association: www.caia.co.za

Manufacturing Circle: www. manufacturingcircle.co.za

National Association of Pharmaceutical Manufacturers:

www.napm.org.za

National Department of Trade and Industry: www.thedti.gov.za

Plastics SA: www.plasticsinfo.co.za

KWAZULU-NATAL BUSINESS 2017/18

66
---
In touch every day

FOCUS

At Mondi, our products protect

and preserve the things that matter.

Mondi is an international

packaging

and paper Group,

employing around

25 000 people across more

than 30 countries. Our key operations

are located in central

Europe, Russia, North America

and South Africa. We offer over

100 packaging and paper products,

customised into more than

100 000 different solutions for

customers, end consumers and

industrial end uses—touching

the lives of millions of people

every day. In 2016, Mondi had

revenues of €6.6-billion and

a return on capital employed

of 20.3%.

The Mondi Group is fully integrated

across the packaging

and paper value chain – from

managing forests and producing

pulp, paper and compound

plastics, to developing effective

and innovative industrial and

consumer packaging solutions.

Our innovative technologies

and products can be found in a

variety of applications including

hygiene components, stand-up

pouches, super-strong cement

bags, clever retail boxes and office

paper. Our key customers are

in industries such as automotive;

building and construction; chemicals;

food and beverage; home

and personal care; medical and

Richards Bay mill.

pharmaceutical; packaging and paper converting; pet care; and office

and professional printing.

Mondi has a dual listed company structure, with a primary listing on

the JSE Limited for Mondi Limited under the ticker code MND and a

premium listing on the London Stock Exchange for Mondi plc, under

the ticker code MNDI.

For us, acting sustainably makes good business sense and is part of

the way we work every day. We have been included in the FTSE4Good

Index Series since 2008 and the JSE's Socially Responsible Investment

(SRI) Index since 2007.

Mondi South Africa

Our South African business sustainably manages plantation forests and

manufactures and sells pulp, virgin containerboard and uncoated fine

paper. We own and manage one of the largest Forestry Stewardship

FSC®-certified plantation units in the world.

We have 1 700 employees working across three divisions: Forestry

operations, a pulp and linerboard mill, and an uncoated fine paper

and newsprint mill.

CONTACT INFO

Physical address: Travancore Drive, Merebank 4052

Postal address: PO Box 31024, Merebank 4059

Tel: +27 31 451 2111 | Website: www.mondigroup.com

67 KWAZULU-NATAL BUSINESS 2017/18
---
PROFILE

Mondi Group

South Africa

Operational excellence boosted by Richards Bay mill upgrade.

Business priorities

We are focused on leveraging our strong domestic

market position and the global competitiveness of

our Richards Bay mill. With a history spanning 50

years, we understand the value of being efficient,

cost-competitive and customer-focused.

There are three strategic value drivers for our business

in Mondi South Africa. Maintaining a high-quality,

low-cost asset base, keeping a strong focus on

performance and the development of our people.

We have a philosophy of continuous improvement

and a constant focus on operational excellence.

The fundamental principle behind operational excellence

at Mondi is the desire to do more with less.

We continue to invest in and manage our business

to ensure that our manufacturing operations

maintain their high-quality and low-cost

advantages and are well-positioned for

growth opportunities.

Towards the end of 2016 we completed the investment

project to upgrade our woodyard at

our Richards Bay mill, allowing for improved

efficiencies in wood handling processes in

our forests and providing higher-quality fibre.

Additional benefits include reduced maintenance

costs, improved reliability, and some

energy savings.

Our investment to expand our product range by

producing unbleached kraftliner in addition to

white-top kraftliner at our Richards Bay mill gives

us the opportunity to supply our customers with

this specialised product.

We manage about 250,000 hectares of plantation

forests in South Africa and maintain 100% FSC certification

of our forests – including the identification

and protection of high conservation value areas.

In addition to certification and sustainable procurement

practices, we focus on the proactive and

responsible stewardship of forests and freshwater

ecosystems, and the maintenance of biodiversity

and important habitats.

New woodyard at Richards Bay mill.

Partnering with our customers to

develop innovative solutions

At our Merebank operation, we have made the

decision to restart our second uncoated fine

paper machine to meet domestic demand

for reels and, at the same time, reduce our

KWAZULU-NATAL BUSINESS 2017/18

68
---
PROFILE

production of newsprint in response to declining

demand.

We conducted a customer survey during 2016, and

we remain the supplier of choice to our domestic

customers who appreciate our reliable products,

long-term relationships, and the value we add to

their businesses. We have worked closely with our

newsprint customers to enhance the quality of

our product.

Uncoated fine paper machine, Merebank.

Growing responsibly and inspiring

our people for long-term success

The extended drought in South Africa remains a

significant challenge. We are working with government

and other industries in the region to find

potential solutions to this challenge. Plans include

reducing total water consumption, the municipality

increasing the volume of water piped from the

Tugela River to the supply dam, and investigating

further recycling of water.

We continue to focus on the efficient use of water

at all our operations, and have reduced freshwater

consumption by 12% compared to 2015. We

place great importance on proactive and responsible

stewardship of forests as well as freshwater

ecosystems and maintaining biodiversity

and habitats.

Responsible forest management involves increasing

long-term productivity and preserving ecosystem

values in rural landscapes, and protecting

high conservation value areas such as wetlands.

The Mondi Group is also a long-standing supporter

of the WWF-Mondi Wetlands Programme

(WWF-MWP), which celebrates its 25th anniversary

in 2016. The programme focuses on managing

and rehabilitating wetlands with different groups

of land-users (including Mondi) where we have

improved wetland management on our forestry

land while removing commercial trees from riparian

zones and wetlands. The programme's focus is shifting

to catalysing water stewardship at the landscape

scale, ensuring collaboration and action by different

land-users in the uMngeni and Mvoti River catchments,

both of which are strategically important

water-supply areas for KZN's economic hubs.

Mondi Zimele, our local enterprise initiative, has an

excellent track record of creating sustainable businesses

and jobs. In addition, it helps to maintain a

steady supply of high-quality fibre from a network

of small forest enterprises, and this has continued

to make a positive impact on the lives of people in

our rural communities.

Health and education are key community investment

priorities. Through the REAP (Rural Educational

Access Programme) we supported 59 bursaries as

well as access to tertiary education in rural forestry

areas. Our mobile clinics operate in partnership with

local NGOs and the Department of Health, and these

continue to provide high-quality healthcare for our

contractors and communities. In 2016, the six clinics

received 80 709 visits by forestry contractors and

local communities.

Our wider community investments continue to

assist and empower schools, university students,

forest smallholders and entrepreneurs, as well as

provide healthcare and support.

69 KWAZULU-NATAL BUSINESS 2017/18
---
Mondi Rotatrim:

Celebrating over 30 years

of office paper excellence

Mondi Rotatrim is celebrating

more than 30 years in the South

African market.

A distinguished leader among

office paper brands, Mondi

Rotatrim is known as a superior

multi-functional office paper that

runs smoothly through photocopiers,

laser and inkjet printers.

Mondi Rotatrim is produced at

the Merebank mill in Durban

and supplied country wide and

into Africa. Our brand carries

the Forest Stewardship Council

Chain-Of-Custody certification,

an independent international

accreditation providing assurance

to customers that Mondi

Rotatrim is produced from responsibly

managed forests.

Made from Elemental Chlorine

Free (ECF) pulp, Mondi Rotatrim

is the only locally manufactured

paper with a 160CIE rating for superior

whiteness. It is a product

that delivers better office performance,

better quality and better

environmental performance.

At the heart of the production

process is our 6-meter-wide

Voith Paper Machine – one of the

most technologically advanced

in the southern hemisphere –

which enables optimum process

control and analysis.

Equipped with state of the art

technology, Paper Machine

31 produces high quality uncoated

wood-free grades with

copy paper forming the bulk of

production. This production line

is supported by modern converting

equipment.

To support our high-quality

and well invested operations,

the right skills are essential. We

maintain a consistently high level

of training in our operations and

in 2017 seven of our papermakers

successfully completed their

international Pulp and Paper

Craftsman qualification in

Europe, becoming the second

group on the African continent

to hold this top internationally

accepted qualification in papermaking.

Our unrelenting drive to deliver

the highest quality in everything

we do, from managing our forests

www.mondigroup.com
---
Sustainable development makes good business sense. We don't

just talk about it; we make it part of the way we work every day

Our long-standing working relationship with

WWF through our sponsorship and support

(since 2001) of the WWF-Mondi Wetlands

Programme (WWF-MWP) and direct participation

in its activities is testament to our commitment

to addressing sustainability challenges.

The programme celebrated its 25 year anniversary

in 2016 and has catalyzed wetlands

conservation in South Africa through effective

partnerships with government, nongovernment

organisations and companies.

As a result we have improved wetland management

on our forestry land while removing

commercial trees from riparian zones and wetlands.

The WWF-MWP is now part of our global

partnership with WWF.

SUSTAINING

ECOSYSTEMS

THROUGH

RESPONSIBLE

BUSINESS PRACTICES

Mondi Rotatrim: Progress through the Years

1970's

1980's

1990's

Mondi Rotatrim registered

Moved away from guillotine cutting

to precision rotary cutting

Changed from acid-based to alkalinebased

formulation, setting the benchmark

for a new environmentally

friendly production process

2000's

ISO accreditation achieved in

Environment, Quality and Safety.

At a cost of R1,53 billion Paper

Machine 31 was commissioned,

delivering consistently excellent quality

Brand new Cut Size 5 line was installed

at a cost of R177 million Multi-fuel

boiler installed at a cost of R470 million

Continued investment ensures our top quality product into the future ...

to producing quality pulp and paper

products for our customers

has enabled us to make products

that are household names today.

Mondi Group's consistent and

focused long-term strategy has

positioned us as a leading international

packaging and paper

group, with a strong platform

for growth.

With this backing, it is little wonder

that Mondi Rotatrim has

become a market leader among

office paper brands over the past

30 years.

Looking forward to the next 30 years ...

www.mondigroup.com
---
FOCUS

Forestry and paper

Companies are investing heavily in processing capacity.

KwaZulu-Natal is a national leader in the forestry and paper sector.

The forest-product export sector in South Africa is made

up of paper (45.2%), solid wood (23.3%) and pulp (28.9%).

The KwaZulu-Natal Provincial Government's strategy

of creating Industrial Economic Hubs (IEHs) includes the development

and expansion of wood processing in the Harry Gwala District

Municipality. This is in the wooded south-western part of the

province and contains the main towns of Kokstad, Harding, Ixopo

and Underberg.

Processing

KwaZulu-Natal is a major centre for the beneficiation of timber

products, with more than half the country's timber coming from

the province.

Mondi's Richards Bay facilities produce pulp, linerboard and wood

chips and its paper mill at Merebank, south of Durban. It produces

SECTOR INSIGHT

In 2016 Mondi completed

the investment project to

upgrade the woodyard at

its Richards Bay mill.

258 000 tons of uncoated, woodfree

paper per year.

Nampak produces crêpe paper

at Verulam and Rafalo produces

tissue paper. SA Paper Mills

is another paper producer.

A business rescue plan was

put into operation in 2016 to

try to save a hardboard manufacturer

in Estcourt. Masonite SA

was renamed Evowood when

KWAZULU-NATAL BUSINESS 2017/18 72
---
OVERVIEW

investors bought the company

out of business rescue in August

2016. The plant comprises a coating

plant, softboard line, wood

yard, chipping operation, refining

department and four hardboard

production presses. The mill had

an annual capacity of 30-million

m² of hardboard and softboard

but at the time of writing a labour

dispute had brought production

to a halt. The new investors and

the workers could not agree on

what steps were needed to make

the mill profitable again.

Mpact's upgrade of its

Felixton mill will be completed

in 2017 which will increase capacity

and improve efficiency. The

R765-million upgrade will

take overall production up to

215 000 tons (from 60 000) and

include for the first time a lightweight

containerboard option.

This is in response to market

demand for lighter packaging.

The first phase of the upgrade

began in 2015 with the development

of a recycled fibre (RCF)

plant and improvements to the

paper machine.

Mpact has plastics and paper

operations, with the paper section

divided into three divisions:

paper manufacturing, corrugated

and converted paper products,

and recycling.

The Merensky Group operates

one softwood sawmill and

a panel-processing plant in

Kokstad that is geared to manufacture

according to customers'

needs in any sector. Export is

done through the Port of Durban.

NCT Forestry Co-op Limited

is a key timber-marketing entity

with more than 2 000 members

and three wood-chipping mills. R&B Timber Group has three pole

treatment plants and is headquartered in Harding. Flaxton Timbers

operates out of Ixopo and Natal Forest Products is in Richmond.

Dissolving wood pulp is sold as a raw material to converters around

the world who produce from it a range of products such as textiles,

cellophane wrap and pharmaceuticals.

The Sappi mill at KwaDukuza produces 110 000 tons of paper and

60 000 tons of pulp annually, and is the only producer of coated graphic

paper in the country. Its Tugela Mill, at Mandeni, is the only one in the

country to manufacture high-performance containerboard packaging.

The giant Sappi Saiccor mill 50km south of Durban is the world's

biggest manufacturer of dissolving wood pulp. The mill's capacity is

800 000 tons.

Timber

Timber plantations are found in five parts of the province: northern

KwaZulu-Natal, Midlands, southern KwaZulu-Natal, Zululand and

Maputaland. Close to half a million hectares – 38.5% of the land in South

Africa devoted to forestry – is allocated to timber plantations. Of this

area, 70% is devoted to hardwoods and the balance to pine, the only

softwood grown in large quantities in South Africa.

The percentage of privately owned forest land is 93.4%. Merensky

has plantations in the Dargle forest while Sappi and Mondi have holdings

across the province. Mondi has 220 000 plantation hectares on

330 000ha of land, while Sappi manages and owns about 230 000ha.

The South African forestry industry is valued at R40-billion per year.

The National Department of Agriculture, Forestry and Fisheries reports

that South Africa has a shortage of sawn timber and that this problem

is set to get worse.

CONTACT INFO

Forestry South Africa: www.forestry.co.za

KwaZulu-Natal Department of Agriculture and Rural

Development: www.kzndard.gov.za

National Department of Agriculture, Forestry and Fisheries:

www.daff.gov.za

Paper Manufacturers of South Africa:

www.thepaperstory.co.za

South African Institute of Forestry: www.saif.org.za

Technical Association of the Pulp and Paper Industry of South

Africa: www.tappsa.co.za

73 KWAZULU-NATAL BUSINESS 2017/18
---
OVERVIEW

Agriprocessing

Food and beverages are produced on a large scale in KwaZulu-Natal.

Turning agricultural products into tasty food and beverages is

done on a large scale in KwaZulu-Natal.

Dairy company Clover SA is one of several big brands that

originated in KwaZulu-Natal. In Pinetown, Clover has a long-life

UHT milk processing and packaging facility; a Queensburgh factory

makes fresh pasteurised milk, juice, dairy mix and fermented products;

in Estcourt, milk powder is manufactured. Clover buys nearly 30% of

all milk produced by South Africa's farmers. Dairybelle makes milk and

milk products at Pinetown.

International giant Unilever is strongly associated with KwaZulu-

Natal. The South African company's headquarters are in La Lucia.

In 2016, Nestlé South Africa invested R1.2-billion in adding instant

coffee to the products made at its plant in Estcourt. The company

makes infant formula at Harrismith.

Two of RCL's four processing plants (dealing with four-million chickens

per week) are in KwaZulu-Natal. RCL used to be Rainbow Chickens

but the base of the new company is still in Westville, about 12km west

of Durban. The Remgro Group is a 75.9% shareholder in RCL Foods.

KwaZulu-Natal has a large number of food and beverage producers,

but there are countless opportunities that still remain in the

agri-processing sector. Agri-processing will no longer be the preserve

of big companies, thanks to a provincial government initiative in

Ngwanase in the uMkhanyakude District Municipality. R30-million

has been invested in a marula processing plant, designed to produce

jams and oils. Most of the money came from the KZN Department

of Agriculture and Rural Development (KDARD) with the national

Department of Rural Development and Land Reform contributing a

R5-million de-stoner machine. Forty-nine local farmers will provide

feedstock to the plant.

CONTACT INFO

Agricultural Research Council: www.arc.agric.za

Food & Beverage Reporter: www.fbreporter.com

Milk Producers Organisation: www.mpo.co.za

National Agricultural Marketing Council: www.namc.co.za

SECTOR INSIGHT

Nestlé South Africa has a

new instant coffee plant in

Estcourt.

Edible oil products are made

by the Willowton Group at its

national headquarters and plant

in Pietermaritzburg. Other wellknown

food producers include:

Sasko (Estcourt and Durban),

Beacon (Jacobs), Nature's Source

and National Brands (both

Durban) and Snackworks biscuits

(Westmead, Pinetown).

The South African Breweries

plant at Prospecton is one of

the biggest producers in the

region. Bergville subsistence

farmers have contracts to supply

SAB with yellow maize, an arrangement

that will allow them

to plan ahead and to invest in

production.

Coca-Cola has a plant in

Durban and a large bottling

plant, run by Amalgamated

Beverage Industries, at Phoenix.

The Ceres Beverage Company

has a plant in Durban and bottled-water

company aQuelle is

based at Kranskop.

KWAZULU-NATAL BUSINESS 2017/18

74
---
Automotive

Durban hosts the first NAACAM Show.

OVERVIEW

As part of attempts to boost the city of Durban as a destination

for automotive investment, the first National Association

of Automotive Components and Allied Manufactures

(NAACAM) Show was held in Durban in April 2017. Future

events will rotate between other major centres in South Africa.

In line with the policy of developing Industrial Economic Hubs,

the Durban Automotive Supplier Park is being built at Illovo, south of

Durban and near to the Toyota plant.

An amount of R11.5-billion will be invested in three phases, with

the first allocation amounting to R4.3-billion. The Dube TradePort

Corporation will manage the project, which covers 1 013ha. Other

partners are the eThekwini Municipality, Toyota and the provincial

government. The aim is to attract car assembly and component

manufacturing companies.

Thirty-nine companies are currently members of the Durban

Automotive Cluster which is funded by the municipality. Together,

these firms have about 17 000 employees.

In 2016, Toyota invested a further R6.1-billion into its already large

plant at Prospecton. The company regularly sells about a quarter of

the vehicles sold in South Africa, and the same proportion of exports

volumes. The Corolla car, the Hilux bakkie and the Fortuner SUV are

manufactured at the plant.

KwaZulu-Natal's other automotive giant is Bell Equipment. Between

the Toyota plant at Prospecton south of Durban and the Richards Bay

facility of heavy-equipment manufacturer Bell Equipment, upwards of

11 000 people are employed: both companies are market leaders. The

sector accounts for 17.7% of the province's export basket.

The province also has a substantial and varied automotive-supply

sector. Trade and Investment KwaZulu-Natal (TIKZN) estimates that

CONTACT INFO

Automotive Industry Export Council: www.aiec.co.za

National Association of Automotive Component and Allied

Manufacturers (NAACAM): www.naacam.co.za

National Association of Automobile Manufacturers of South

Africa (NAAMSA): www.naamsa.co.za

SECTOR INSIGHT

An Automotive Supplier Park

is to be built south of Durban.

the province's component automotive

manufacturers enjoy a

combined turnover approaching

R10-billion.

Powerstar trucks assembled

in Pietermaritzburg on a site

formerly used by Super Group.

China North Vehicle Corporation

(Norinco Motors) and BEIBEN

produce about 60 000 heavyduty

commercial duty vehicles

every year at their plant in Inner

Mongolia.

Two other global truck

marques have assembly plants in

the province: Volvo in Durban, and

MAN Truck and Bus South Africa in

Pinetown. MAN's assembly plant

makes front-engine bus chassis.

Keeping MAN and Toyota

supplied is the R300-million operation,

Duys Engineering Group.

International company GUD Filters

has a big presence in the province.

Indian-owned Apollo Tyres

SA makes Dunlop products at

two large factories in the province.

The Behr Group makes airconditioning

and cooling systems

in Durban. Ramsay Engineering

supplies cross-car beams for BMW

and Ford.

75 KWAZULU-NATAL BUSINESS 2017/18
---
OVERVIEW

Oil and gas

Richards Bay is set to become an energy hub.

National government's allocation of 3 126MW to natural gas

in its medium-term energy policy to 2030 could set Richards

Bay on the path to becoming an energy hub.

In 2016 it was decided by the national Department of

Energy (DoE) that one of the first two gas-to-power plants to be constructed

under the Independent Power Producer Programme (IPPP),

would be allocated to Richards Bay. A private partner will invest in and

run the plant. To produce its allocation of 2 000MW, the plant would

have to use a million tons a year of liquid natural gas (LNG).

A new unit within the national Department of Trade and Industry

(dti) will focus on importing LNG, with Mozambique and Botswana

being the most likely initial sources. Local demand for LNG is expected

to increase to more than 10-million tons per annum.

The fact that neighbouring Mozambique has significant offshore

deposits is relevant in the view of the CEO of the Richards Bay Industrial

Development Zone (RBIDZ), Pumi Motsoahae. As he says, "We recognise

that Richards Bay is geographically well advantaged, located as it

is on the east coast. Richards Bay possesses a phenomenal opportunity

to become an energy hub."

SECTOR INSIGHT

Liquid natural gas is the next

big thing.

• 75% of Chevron has been

sold for R12.6-billion.

The RBIDZ signed an agreement

in 2015 with Byromate to

produce 60MW from a biomass

plant, and manufacturing in the

solar sector is another option

within the broader energy field.

The regulator and promoter of

oil and gas exploration in South

Africa, Petroleum Agency South

Africa, has awarded coalbedmethane-gas

exploration rights

in KwaZulu-Natal to NT Energy

KWAZULU-NATAL BUSINESS 2017/18

76
---
OVERVIEW

Africa, which has a partnership

with the Central Energy Fund.

These awards are for onshore

exploration.

The Petroleum Agency SA

is an agency of the national

Department of Energy.

Sinopec of China has bought a

75% share in Chevron South Africa

for R12.6-billion. Assets include a

lubricants plant in Durban, an oil

refinery in Cape Town and 820

petrol stations across South Africa

and Botswana.

Assets

KwaZulu-Natal is home to two

major oil refineries, and is the first

link in the pipeline chain that links

Gauteng province, the industrial

heartland of South Africa, with

vital fuels. The Port of Durban

handles 80% of South Africa's fuel

imports. KwaZulu-Natal is thus a

key player in the country's oil and

gas industry.

KwaZulu-Natal's two oil refineries

are important regional and

national assets as their joint production

accounts for more than

300 000 of the 700 000 barrels of

refined crude oil that South Africa

produces.

South Africa's biggest refinery

is Sapref. Owned jointly by Shell SA

Refining (25%), Thebe Investments

(25%) and BP Southern Africa (50%),

it has the capacity to produce

180 000 barrels per day. The refinery

also makes propylene feedstock,

solvents, sulphur, asphalt,

industrial-processing oils and

liquefied petroleum gas.

Sapref has started a clean-fuels

project, aiming to reduce sulphur

and benzene levels, among other things, in fuel products. The modifications

to the refinery will bring it into line with the tougher legislation

regarding fuel production that is in the pipeline.

The Enref refinery owned by Engen can produce 135 000 barrels

per day. This sophisticated refinery can convert light and heavy crude

oil into high-value products that include jet and diesel fuel, solvents,

bitumen, sulphur, bunker oil and aviation gasoline.

Safor is a base-oil production facility (jointly owned by Engen,

Caltex and Total but operated by Engen) that produces 45% of

Southern Africa's base oils. Engen also owns the adjoining Lube Oil

Blend Plant, which produces more than 72-million litres of finished

lubricants annually.

KwaZulu-Natal has the second-highest consumption of diesel fuel

of South Africa's provinces (17.8%) and the third-highest consumption

of petrol (15.4%).

Royal Vopak, which runs a large terminal at the Port of Durban,

has expanded capacity to 174 000m³ and is planning to grow its ability

to store fuel still further. It is also planning a new storage facility

at Heidelberg that will cater for petroleum and chemicals. Towns

along the N3 highway are increasingly receiving investments in the

logistics sector.

Getting fuel to the province of Gauteng is the key mission of the

new multi-purpose pipeline (NMPP) which started delivering fluids in

2012. The NMPP terminals allow for greater flexibility in supply. Refined

products such as jet fuel, sulphur diesel and both kinds of octane petrol

are carried. The infrastructure of Transnet Pipelines apparently reduces

the number of fuel tankers on South African roads by about 60%.

The liquid fuels and gas networks of Transnet Pipelines traverses

KwaZulu-Natal from west to east and north to south. The petroleum

network has intake stations at both Durban refineries, while the gas

pipeline runs from Secunda to Durban, with diversions to the manufacturing

hubs of Newcastle and Richards Bay, and along the coast

between Durban and Empangeni. Transnet Pipelines employs 658

staff, with about 200 located at the head office in Anton Lembede

Street in downtown Durban.

CONTACT INFO

Independent Power Producer Programme:

www.ipp-projects.co.za

National Department of Trade and Industry: www.thedti.gov.za

National Energy Regulator of South Africa: www.nersa.org.za

Petroleum Agency SA: www.petroleumagencysa.com

South African National Energy Association: www.sanea.org.za

South African Petroleum Industry Association:

www.sapia.co.za

Transnet Pipelines: www.transnetpipelines.net

77 KWAZULU-NATAL BUSINESS 2017/18
---
OVERVIEW

Water

New dams and water pipelines are under construction.

SECTOR INSIGHT

KwaZulu-Natal will host the

AfriWater Conference in

2017.

• Nedbank is sponsoring

water conservation

efforts.

• Groundwater is becoming

more important to

planners.

Heavy rains fell in KwaZulu-Natal in 2017, finally breaking a long

drought. Over two years, the national Department of Water

and Sanitation spent R1.2-billion on drought alleviation in

the province. The KwaZulu-Natal Department of Agriculture

and Rural Development found R220-million in the most recent budget

to provide lifelines to affected farmers and communities.

Interventions included the drilling of new boreholes, the installation

of mobile packaged plants, the purchase of new water tankers and the

creation of off-channel water storage to supplement raw water supply.

One of the many challenges faced by the South African water sector

is a shortage of engineers. A study jointly commissioned by the

Water Research Commission and the SA Local Government Association

(SALGA) found that the country's four-in-a-million ratio of engineers is

a long way from the required 50 per million.

One response at national level was the importation of Cuban engineers

to assist in the short term. The Danish government has an

agreement to help the South African government with water management

and water efficiency. Companies such as smart-meter specialist

Kamstrup are already active in the country. A local solution was put in

place in September 2015 when the first batch of young people started

training to become Water Agents, Plumbers and Artisans. The goal for

the first phase is to train 15 000

young people.

Umgeni Water, the province's

biggest water utility, has launched

the Adopt-a-River Project, which

aims to keep rivers clean, raise

awareness and create jobs. On the

Ncandu River that runs through

Newcastle, 49 people received

training in various skills such as

first aid, herbicide application and

alien plant identification.

About 34% of the country's water

is lost due to leakage and water

to the value of R7-billion is lost

every year (National Department

of Water and Sanitation).

South Africa has adopted a

National Water Resource Strategy

which takes into account groundwater

to a far greater degree than

previous plans. This despite many

rural settlements depending almost

entirely on this resource.

KWAZULU-NATAL BUSINESS 2017/18

78
---
OVERVIEW

South Africa is using something

between 2-4-million m³ every

year, against a potential resource

of 7-10-million m³. Extracting

groundwater takes skill and money,

so it has mostly been neglected

but with persistent droughts

afflicting the country it is likely to

become a much higher priority in

water planning.

Water harvesting (including

installing tanks to collect rain

water from roofs) is another area

that has not been comprehensively

exploited. Innovators and

investors in the sector have a lot

of scope to develop products

and systems to help South Africa

secure better water supplies

in future.

Infrastructure

The first phase of the Spring

Grove Dam in the Mooi River area

was completed on schedule and

increased water supply in the

Umgeni River catchment area.

Spring Grove takes to five the

number of dams in the Mooi-

Mgeni system (including Midmar,

Albert Falls, Nagle and Inanda

dam), which serve more than

five-million people in Durban,

Pietermaritzburg and surrounding

towns. When Spring Grove is

complete, the total system yield

will rise to 394-million m 3 /year.

A new dam is being built at

Smithfield and the wall of the

Hazelmere Dam is being raised to

increase capacity. A new reservoir

(Waterloo) near the King Shaka

International Airport, and serving

this northern area, has been

constructed as part of the master

plan that will see water delivered to this reservoir from the Northern

Aqueduct Augmentation Project.

The Western Aqueduct project (valued at R864-million) and the

associated Northern Aqueduct Augmentation Project will inject water

into the rapidly developing area north of Durban. The Tugela Bulk

Water Scheme (valued at R1.4-billion) will supply water to KwaZulu-

Natal's North Coast.

Water boards

Talks have begun to rationalise the province's water boards into one

body. The aim is to achieve economies of scale and efficiency and to

make it easier to raise funds for large projects.

Umgeni Water currently supplies potable water to its six large

municipal customers: eThekwini Metropolitan Municipality, iLembe

District Municipality, Sisonke District Municipality, Umgungundlovu

District Municipality, Ugu District Municipality and Msunduzi Local

Municipality. The company has five dams, 10 waterworks, five watertreatment

plants and two waste-water works.

Large parts of the northern part of the province are served by

Mhlathuze Water. The utility has assets valued at more than R3-billion

and its area of supply covers 37 000m².

The Bill & Melinda Gates Foundation has made a difference in the

lives of 200 households in the uThungulu District by making clean

water available. This project was facilitated by Trade & Investment

KwaZulu-Natal.

Nedbank is putting R9-million over five years into clearing alien

vegetation in the country's water-catchment areas, including

in KwaZulu-Natal. The Nedbank sponsorship of the WWF's Water

Balance Programme has seen water flowing more freely in the Umgeni

catchment area.

The WWF Nedbank Green Trust is one of the major sponsors behind

the Dusi Umnengi Conservation Trust, which works for the environmental

health of the Umnengi and uMsunduzi Rivers. A Green Corridor

initiative is one of the projects.

CONTACT INFO

Duzi Umngeni Conservation Trust: www.duct.org.za

Mhlathuze Water: www.mhlathuze.co.za

National Department of Water and Sanitation: www.dwa.gov.za

Umgeni Water: www.umgeni.co.za

Water Balance Programme: www.wwf.org.za

Water Institute of Southern Africa: www.ewisa.org.za

Water Research Commission: www.wrc.org.za

79 KWAZULU-NATAL BUSINESS 2017/18
---
OVERVIEW

Energy

Alternative energy sources are being rolled out.

SECTOR INSIGHT

Biodigesters are working well

in rural areas.

• Durban is running a pilot

solar panel project.

As part of the provincial government's strategy to boost regional

development, the iLembe District has been named

as an Industrial Economic Hub (IEH) for the renewable

energy sector.

With the King Shaka International Airport (KSIA) and the Dube

TradePort lying just south of the iLembe District in the eThekwini

Municipality, a partnership has been created between the two municipalities

and the provincial government to develop a renewable energy

technology innovation hub. Technical input from Korean and German

companies will occur in a phased development. In the first phase, the

Durban University of Technology (DUT) will assist in the establishment

of an International Academy for Renewable Energy, Research and

Development. A technology park will comprise the second phase,

with research and development, manufacturing, technical support

and a training centre specific to the renewable energy sector being

developed. The third and final phase will see power plants built within

the zone capable of generating 260MW.

Enterprise iLembe is a private company which is wholly owned by

the municipal entity of the iLembe District Municipality and which

seeks to drive investment into the area.

Ndwedwe in the iLembe district is where Khanyisa Projects has

set up 26 biodigesters which produce gas for cooking. The project

forms part of the Working for Energy programme of the South African

National Energy Development

Institute (SANEDI) which targets

the use of sustainable clean

energy in rural areas.

The other area attracting energy

investors is the Richards Bay

Industrial Development Zone

(RBIDZ) which has been named

as the site for 2 000MW liquefied

natural gas (LNG) plant in

terms of national government's

gas-to-power plan. The initiative

was only announced in late 2016

so an investor is still to be found

for the project, but the move to

support the LNG sector has been

very positively received as South

Africa moves to diversify its energy

sources. RBIDZ is also the site of a

new biomass plant. Forestry waste,

sugar cane and agricultural waste

will provide the feedstock for a

R2-billion facility that will largely

supply the tenants of the Richards

Bay Industrial Development Zone

with power. The investing company

Byromate, which has wind

and solar projects elsewhere in

South Africa, expects to start

delivering power in 2018.

KWAZULU-NATAL BUSINESS 2017/18

80
---
OVERVIEW

The provincial government

wants to see the RBIDZ become

a hub for renewable energy, and

this bio-gas project is expected to

be the first of many in solar power,

wind and other types of renewable

energy. The huge forestry, timber,

paper and pulp industries of the

province carry with them the potential

to provide feedstock for the

renewable energy sector.

KwaZulu-Natal's most widely

grown crops, sugar cane and sugar

beet, are among the most efficient

and cost-effective feedstock for the

creation of biofuel. A R1.8-billion

project is planned for the northern

area of Makhathini. The Industrial

Development Corporation (IDC) is

the major investor in this scheme

which is intended to produce

72-million litres of ethanol and

34MW of electricity.

Sugar grower and producer

Tongaat Hulett believes that the

national sugar industry could

generate between 700MW

and 900MW.

Biomass technology is at the

centre of the conversion scheme

of South African Breweries at its

Prospecton plant south of Durban.

Methane-gas emissions from a

nearby effluent plant are piped to

the plant where they are converted

to electricity.

The eThekwini Municipality is

spending R140-million on a plant

that will convert methane gas

from its major landfill sites. Lanele

Resources and Amatala Resources

have plans to produce fuel from

municipal waste.

The Provincial Planning

Commission is investigating wind

channels and sunlight intensity

levels in KwaZulu-Natal.

Thirty-seven turbines are proposed for a wind farm to be run by St

Lucia Wind Farms Ltd near Hluhluwe. The premier's office calculates this

will carry an investment value of R150-million and have the potential for

creating 100 jobs.

Solar

Municipal buildings in the eThekwini metro are being fitted with solar

panels. The Ushaka Marine World Theme Park is one of several facilities

to receive solar PV panels intended to reduce demand from the grid.

Altogether, the pilot programme should save the city 426.75MWh, or

about R330 000 in its first year of operation.

The growing popularity of solar water heaters has encouraged

Durban manufacturer Solar Beam to spend R2.5-million on expanding

its premises.

A Solar Energy Institute is to be established in the province, a joint initiative

between the University of KwaZulu-Natal and the Georgia Technology

Institute of the USA.

Cogeneration

Cogeneration (combining heat and power) is gaining in popularity,

especially in the sugar milling industry. Calcium carbide producer SA

Calcium Carbide has launched its R115-million plant, with the help of the

Green Industries Strategic Business Unit of the Industrial Development

Corporation (IDC). The plant will generate 8MW and reduce by 20% SACC's

dependence on the national grid.

Zest WEG Group is targeting the cogeneration sector in the province

because of the company's special skills in this area, acquired when WEG

bought Zest in 2010. WEG has been active in Brazil in turning pulp, paper

and sugar into fuel.

CONTACT INFO

National Department of Energy: www.energy.gov.za

National Energy Regulator: www.nersa.org.za

Renewable Energy Center of Research and Development:

www.record.org.za

South African National Energy Association: www.sanea.org.za

South African National Energy Development Institute:

www.sanedi.org.za

South African Wind Energy Association: www.sawea.org.za

Southern African Bioenergy Association: www.saba.za.org

Southern African Energy Efficiency Confederation:

www.saee.org.za

81 KWAZULU-NATAL BUSINESS 2017/18
---
OVERVIEW

Tourism

KwaZulu-Natal is targeting conferences as a priority sector.

SECTOR INSIGHT

Investors are sought for

the Drakensberg Cable Car

project.

• Durban will host the

Tourism Indaba until 2022.

The province of KwaZulu-Natal has some of the most attractive

and varied tourist destinations imaginable, from superb beaches

and towering mountains to black rhinos and acclaimed wetlands.

The province's fine beaches stretch from the popular South

Coast, through the perfect surfing spots in Durban to the wetlands

of the north. The combined contribution of retail and tourism to the

province's GDP is 14%.

The iSimangaliso Wetland and the uKhahlamba Drakensberg Park

are World Heritage Sites. The province has six Ramsar wetlands and

more than 100 nature reserves controlled by the provincial authority.

The province is also famous for its luxurious private game reserves

and lodges. In 2016, a further 18 872ha at two sites was added to

the province's formal nature conservation holdings, at two sites. The

province's conservation agency is Ezemvelo KZN Wildlife.

Airbnb is a fast-growing option in South Africa. The Airbnb visitors

to South Africa in 2016 engaged in R2.4-billion worth of economic

activity. Durban had the largest increase in Airbnb bookings from

the previous year.

MICE

The meetings, incentives, conference and exhibition sector (MICE) is

one where KwaZulu-Natal excels. It has been declared a priority sector

by the provincial government.

A dedicated unit within the

KZN Tourism Authority, the

Convention Bureau, has booked

more than 50 events and conferences

since 2012, bringing about

R3-billion into the provincial

economy.

Durban's hosting of the

Tourism Indaba further supports

the idea that the province is a

major conference destination.

More than 7 000 delegates are

annually attracted to the Durban

International Convention Centre

to exhibit South Africa's assets

to international tour operators.

The city has secured the Tourism

Indaba until 2022.

The range of topics covered

by recent conferences held in

KwaZulu-Natal is wide and includes

the World Economic Forum,

the World News Media Congress,

the Pan-African Health Tourism

Congress, the National Association

of Automotive Components and

Allied Manufactures (NAACAM)

Show and the Durban Maritime

Summit.

International conferences

held in the 2016/17 financial year

include:

KWAZULU-NATAL BUSINESS 2017/18

82
---
OVERVIEW

• 2016 International HIV and

AIDS Conference

• World Leisure Congress

• International Society of

City and Regional Planners

(ISOCARP) Summit

• 5th African Internet

Governance Forum

• World Federation of Trade

Unions Congress

• General Assembly of the

International Association for

the Prevention of Blindness

• World Hospital Congress.

A more local focussed conference

took place in June 2016. The

aim was to find investors for the

Drakensberg Cable Car project.

Thirteen technical reports have

been completed and the project

has now reached the stage where

the private sector can invest.

Many thousands of visitors

to KwaZulu-Natal arrive by road,

and the Mooi River toll plaza

is one of the major transport

intersections in the country, but

an important arrival method for

tourists at the high-end of the

market is by cruise liner. The Port

of Durban envisages a 32 000m²

area that will cater for two ships

and at least 5 000 passengers.

South Africa attracts 0.5% of the

world's cruise-ship market which

comprises about 15.4-million passengers

annually.

Another potential growth

area is health tourism. Upwards

of seven-million people travel the

world annually for procedures,

and South Africa is well placed to

receive a percentage of this market.

A conference held in Richards

Bay in 2017 put the focus on issues

such as investment, training and

the development of products.

Hotels

Research by Tourism KwaZulu-Natal shows that the coastal province

consistently has the best hotel occupancies in the country.

Tsogo Sun runs 14 hotels in KwaZulu-Natal, five of which are

Garden Courts. Six hotels are in Durban with a further four in nearby

Umhlanga, where one of the group's most luxurious hotels, the

89-room Beverly Hills, is located.

A new "mega-hotel" has been created by Tsogo Sun, with the

amalgamation of the Southern Sun North Beach and Southern Sun

Elangeni hotels. Protea Hotels has 18 properties in the province, with

seven in Durban including the Protea Hotel Edward.

The upgrading of the Point area between the beach and the Port

of Durban has resulted in major investments. The Docklands Hotel

at the Durban Waterfront is a four-star Signature development that

cost about R100-million to develop.

The iconic Royal Hotel in the heart of Durban is one of eight Three

Cities Group hotels in the province. The Golden Horse Casino Hotel is

a Three Cities property, and the Group administers the International

Hotel School in Westville that is also home to the Christine Martin

School of Food and Wine.

IFA Hotels & Resorts runs several luxury properties including the

Zimbali Coastal Resort and Zimbali Lakes Resort. Signature Life Hotels

has 13 properties and Gooderson Leisure has a varied portfolio.

Sibaya Casino and Entertainment Kingdom, a Sun International

property, is north of Durban between Umdloti and Umhlanga. The

casinos in Newcastle (Century City), Empangeni (Tusk Umfolozi

Casino) and Pietermaritzburg (Golden Horse Casino) are run by

Century Casinos Newcastle, Peermont Global and Akani Msunduzi

Management respectively. Durban's Golden Mile is the site of the

province's biggest casino complex: the Sun Coast Casino and

Entertainment World (Tsogo Sun).

CONTACT INFO

Amafa/Heritage KwaZulu-Natal: www.emakhosini.co.za

Ezemvelo KZN Wildlife: www.kznwildlife.com

Hospitality Investment Conference Africa: www.hica.co.za

Inkosi Albert Luthuli International Convention Centre

Complex: www.icc.co.za

KwaZulu-Natal Tourism Authority: www.zulu.org.za

KZN Gambling Board: www.kzngambling.co.za

South African National Parks: www.sanparks.co.za

South African Tourism: www.southafrica.net

Tourism KwaZulu-Natal: www.zulu.org.za

83 KWAZULU-NATAL BUSINESS 2017/18
---
OVERVIEW

Education and training

KwaZulu-Natal has 30% of South Africa's schoolchildren.

SECTOR INSIGHT

Curro plans a tertiary listing

on the JSE.

• The KZN Provincial

Government has paid out

R1.5-billion in bursaries.

Education faces big challenges in South Africa. KwaZulu-Natal,

with a population of more than 10-million, more than half of

whom live in rural areas which suffered decades of neglect,

has made significant strides in providing access to education.

With 30% of South Africa's pupils in its schools, the province's results

have a big bearing on how the nation fares in annual examinations.

There is now near universal access to primary and secondary

schooling and a new drive to enrol pre-school children in Grade R has

achieved a 70% success rate. The province has 1 689 early childhood

development centres.

Access to tertiary education has also increased exponentially in

South Africa in the last two decades. There were some alarming

scenes on South African university campuses in 2016, with students

organising under the banner of #FeesMustFall. There are some serious

issues that South Africa's educational planners need to tackle, not least

the issue of funding, but this should not obscure the fact that access

has improved. Before the end of January 2017, the National Student

Financial Aid Scheme (NSFAS) had paid R1.3-billion to 26 public universities

to advance payment of registration fees for poor students.

The provincial government of KwaZulu-Natal bursary programme

paid out R1.5-billion in the three years to 2016 and more than 5 000

graduate interns obtained jobs at provincial government departments

at a cost to government of more than R100-million.

For the 2016 academic year,

the University of KwaZulu-Natal

(UKZN) received more than

84 000 applications for the 8 770

spaces available in its first-year

undergraduate programmes.

In this context, educational analyst

Nic Spaull put some myths to

bed in an important article in the

Mail & Guardian in 2016. Despite

being highly critical of the education

system and arguing strongly

that "meaningful reform" is

needed, he tackled the false idea

that somehow "black youths are

regressing educationally". Spaull

pulled together a series of studies

to show that:

• between 1986 and 2012 the

number of black university

graduates increased sixteenfold

• between 2004 and 2014 the

number increased by 137%

(against a black population

rise of 16%)

• graduate unemployment is

low at 6% (although worse for

blacks than whites).

KWAZULU-NATAL BUSINESS 2017/18

84
---
OVERVIEW

There are two universities and

two universities of technology in

KwaZulu-Natal, and the national

distance university, the University

of South Africa (Unisa), has a

presence in five locations. USB

Executive Development offers

business courses for executives.

UKZN has close to 40 000 students

studying on five campuses

in two cities. Greater Durban

hosts Howard College, Berea (environment,

engineering, law, humanities)

and the Nelson Mandela

School of Medicine at Congella.

The UKZN administration and the

Graduate School of Business are

based at Westville (also science,

engineering, health) whereas the

Edgewood, Pinetown, campus

focusses on education.

The Pietermaritzburg campus

offers a broad academic programme

but its specialities are

fine art, theology and agriculture.

UKZN also hosts the National

Research Foundation.

The Durban University of

Technology (DUT) has six faculties

operating in seven campuses

in Durban and the Midlands. DUT

is well known for its outstanding

graphic-design school and offers

one of only two chiropractic

programmes in South Africa.

The University of Zululand offers

diploma and degree courses

on two campuses at Empangeni

and Richards Bay.

Private

There has been a strong trend in

recent years towards the opening

of private or independent

schools, and not necessarily in the

very expensive bracket. Curro believes it will be running 200 schools

in South Africa by 2020, double its current number. There are six Curro

schools in KwaZulu-Natal.

Curro's purchase of Embury, the teacher-training college in Durban,

launched the company's entry into the tertiary sector. It is now planning

to list its tertiary division on the Johannesburg Stock Exchange (JSE).

Advtech, the other big private company, already has 27 tertiary

campuses nationally, in addition to its 78 schools operating under a

variety of labels. Advtech operates 10 educational sites in KwaZulu-

Natal, including schools such as Crawford and Trinity House, a chefs'

school (Capsicum), three Varsity Colleges and the Design School for

Southern Africa.

Training

National and provincial government are investing heavily in training.

Various provincial government departments awarded about R316-

million in support and bursaries for more then 5 000 students across

the province in 2016.

What for several years were known as Further Education and

Training Colleges (FET) have now been re-branded as Technical and

Vocational Education and Training (TVET) Colleges. KwaZulu-Natal has

nine such colleges with a total enrolment of about 80 000.

Coastal KZN TVET College gives students practical experience

through facilities such as the Nongalo Industrial Park, where school

furniture is repaired and burglar bars and computer tables are made.

The college has several sites on the South Coast and caters for

15 400 students.

Majuba TVET College has a focus on engineering as the coal and

steel industries are prominent in Newcastle. Some of their engineering

students have done apprenticeships on Sibanye gold mines in

Gauteng. The Mnambithi TVFET College is located in the Battlefields

Route tourism area and offers National Diploma courses in tourism,

among other qualifications.

CONTACT INFO

Council of Higher Education: www.che.ac.za

Independent Schools Association of Southern Africa:

www.isasa.org

KwaZulu-Natal Department of Education:

www.kzneducation.gov.za

National Department of Basic Education: www.education.gov.za

National Department of Higher Education and Training:

www.dhet.gov.za

National Research Foundation: www.nrf.ac.za

85 KWAZULU-NATAL BUSINESS 2017/18
---
OVERVIEW

Banking and financial services

Three new banks are set to join the sector.

SECTOR INSIGHT

Gap insurance is an innovative

new product.

• KZN banks are financing

mega-projects.

No fewer than three new banks are set to make their debuts

on the South African market in the near future, with one of

them based in KwaZulu-Natal.

All are state-related enterprises: Ithala, Postbank and a

Human Settlements Development Bank. The Ithala Development

Finance Corporation has functioned for many years in the province

as the provider of funds for small enterprises, especially in areas where

infrastructure is poor and access to traditional banking services is not

good. The provincial government, which runs Ithala, aims to have a

banking licence for the entity by the end of 2017.

In 2016, Postbank (part of the South African Post Office, SAPO)

received a first-level licence. Once a board of directors has been appointed

and a company formed, the Reserve Bank is likely to grant

the full licence. The current Postbank focusses on taking deposits and

savings accounts. Postbank has secured a R3.7-billion loan to enable

it to open its own loan book.

Three state entities are merging

to create the new Human

Settlements Development Bank:

the National Housing Finance

Corporation, the Housing Loan

Fund and the National Urban

Reconstruction and Housing

Agency.

The focus will be on financing

housing for poorer households

and for large state-funded housing

projects. Part of the drive is to

integrate cities better and to combat

the legacy of the spatial divide

that apartheid left behind. Privatesector

investment will be sought.

For many decades South

Africa had a retail banking Big

Four – Standard Bank, Nedbank,

Absa/Barclays and First National

Bank. All of them have a strong

presence in the province, but the

big news in the retail sector since

2001 has been the emergence of

Capitec Bank. Based on Capitec's

results for 2015/16, BusinessTech

published a chart giving Capitec

the fourth-most customers.

Merchant banking and investment

banking are the most com-

KWAZULU-NATAL BUSINESS 2017/18

86
---
OVERVIEW

petitive sectors within banking. In

KwaZulu-Natal, banks have been

vital in getting big infrastructure

projects under way, a trend that

is set to continue for some time

to come, with provincial and

national government committed

to a continuing infrastructure

upgrades.

The European Investment

Bank extended a €50m long-term

loan through Rand Merchant

Bank to fund the massive

water systems upgrade being

undertaken by the eThekwini

Municipality. The investment

programme encompasses two

new aqueducts and the replacement

of 1 600km of old asbestos

water mains.

RMB was also involved in several

Tongaat Hulett and Richards

Bay Coal Terminal projects, two

major players in the provincial

economy. Nedbank Capital supported

Seacom's R240-million

undersea-cable project, and

has signed a three-year funding

agreement with healthcare

group Netcare to the value of

R1-billion.

Finscope's 2014 survey of

South African banking and financial

surveys shows that between

2004 and 2014 a remarkable

eight-million people were connected

to the financial system.

Overall, the "financially included"

reached 31.4-million (up from

17.7-million in 2004). In a category

called "formally served" which

includes services other than

formal banks with branch networks,

the percentage of South

Africans grew from 50% to 80%;

in the "banked'"category (more

traditional but including new devices),

the percentage grew from 46% to 75%. This is partly because

South Africa's formal banking sector has such excellent infrastructure.

Nedbank has Approve-it, which allows customers to accept or

reject an Internet transaction by cellphone. Nedbank also has partnerships

with shops such as Boxer Stores and Pick n Pay where customers

can have access to financial services in previously unserviced areas

and also on all days of the week such as public holidays and Sundays.

Some of Nedbank's other innovations include Home Loans Online

Digital Channel and Market Edge, together with the Nedbank App

Suite. The Nedbank@Work product offers targeted service to employees

of companies that bank with Nedbank, including free advice.

The Keyona Plus account includes funeral cover, a loan facility and a

method of transferring money. The Nedbank4me account is tailored

to the youth market.

Financial services group Old Mutual (a 54% stakeholder in Nedbank)

is set to create four stand-alone businesses out of the Old Mutual Group.

This will allow the UK-based wealth management business and the New

York-based asset manager to be free of linkages to the rand, while the

South African businesses, Nedbank and Old Mutual Emerging Markets,

can focus on their specialities.

With business size and nature being so complex, flexibility is vital

for financial service providers. Old Mutual has an employee retirement

scheme called the Old Mutual Super Fund which is able to cater for

different levels of retirement funding and risk cover. Linked employee

benefits make it possible for employers to integrate the scheme with

the company's payroll.

The insurance market has become more varied over time, with a

greater variety of products now available to more market segments,

including middle-income earners. A typical example of a specific product

that is responding to new realities is Old Mutual's iWYZE medical

gap cover, designed to pay the difference between what medical aid

scheme is willing to pay and what the hospital or doctor is charging.

CONTACT INFO

Auditor-General South Africa: www.agsa.co.za

Association for Savings and Investment South Africa:

www.asisa.org.za

Financial Services Board: www.fsb.co.za

Insurance Institute of South Africa: www.iisa.co.za

Insurance South Africa: www.insurance.za.org

JSE Limited: www.jse.co.za

Post Bank: www.postbank.co.za

South African Institute for Chartered Accountants:

www.saica.co.za

South African Reserve Bank: www.resbank.co.za

87 KWAZULU-NATAL BUSINESS 2017/18
---
OVERVIEW

Development finance and

SMME support

Small businesses have multiple financing options.

SECTOR INSIGHT

Seda's incubators assist

entrepreneurs in six sectors.

• Ithala is building storage

hubs to help SMMEs.

Operation Vula is a provincial government initiative to ensure

that co-operatives and small businesses get a leg up

into the formal economy through state-led infrastructure

programmes that assist them, and through procurement

policies that favour them.

The Coastal KZN TVET College has been training members of

co-operatives and people working in small, medium and micro-enterprises

(SMMEs) in the skills that will help them do well in business.

Training young people is an important part of the plan to boost

SMMEs. A provincial Youth Economic Empowerment plan allocates

R94-million over three years to training 3 425 young people in technical

skills such as brick-laying, working with concrete, diesel mechanics,

boiler-making, fitter and turning, and plumbing. Trainees are given

placements after the training is

complete. In 2015, 1 050 young

people were trained; the figure

in 2016 was 1 125.

An active national agency in

supporting entrepreneurs is the

Small Enterprise Development

Agency (Seda). Seda gives nonfinancial

support through training,

assistance with filling in

forms, marketing and creating

business plans.

In KwaZulu-Natal, Seda runs

12 incubators which either help

new businesses get started or

with the rehabilitation of existing

enterprises. Three models are

used: Technology Demonstration

Centres (demonstration and

training); Technology Incubators

(where the focus is rehabilitation);

Hybrid Centres, which combine

elements of the other two models.

The incubators in KwaZulu-

Natal include ICT and construction

(three centres each), furniture

and hi-tech (two each), chemicals

and essential oils.

The provincial government

controls two important develop-

KWAZULU-NATAL BUSINESS 2017/18

88
---
OVERVIEW

ment funding institutions, both of

which report to the Department

of Economic Development,

Tourism and Environmental

Affairs (DEDTEA):

• Ithala Development Finance

Corporation

• KZN Growth Fund.

Ithala is in the process of applying

for a full banking licence. In

2015/16 Ithala financed 336 businesses

and co-operatives, which

led to an estimated 2 618 jobs being

created. The agricultural sector

was a particular focus area for

the corporation. As of December

2016, a total of 129 businesses had

been financed by Ithala, which

also has a home-loan offering.

Ithala's commercial and industrial

property portfolio of over onemillion

square metres of lettable

space makes it one of the biggest

operators in the province.

As a way of boosting township

and rural communities,

district warehousing facilities

are being built using municipal

and Ithala properties around the

province. Small farmers and traders

often struggle with storage

so this solution will go a long

way to assisting them to buy in

bulk and consequently get some

discounts on their purchases.

The Small Business Growth

Enterprise (SBGE) will run a pilot

project, which will also contain a

bulk-buying component, further

assisting small enterprises.

Another initiative aims to get

small traders organised through

the establishment of a provincial

small traders' association.

The KZN Growth Fund Trust

operates as a Debt Fund and

an Equity Fund with a total of

R1.1-billion worth of assets under management. Among the Growth

Fund's most recent funding projects funded are:

• SA Shipyards expansion, R42.8-million (150 jobs)

• Dark Fibre Africa telecoms cabling installation, R193-million

(4 201 jobs)

• Link Africa telecoms, R65-million (500 jobs)

• Mpact plant expansion, R200-million (1 760 jobs).

The IDC provides finance across a range of sectors from agriculture

to tourism. It has holdings in several companies with a presence in

KwaZulu-Natal: 42.6% in Hans Merensky, a plantation and timber mill

operator; 100% in Prilla 2000, a cotton-milling operation; and 85% in

Foskor, which has a phosphoric acid plant in Richards Bay. The IDC

also funds local development agencies such as the Hibiscus Coast

Development Agency.

All of the major banks have SMME offerings. Nedbank has an

enterprise-development product that supports businesses with a

turnover up to R35-million with at least 25% black ownership.

Absa Bank's SME Fund is driven by its Small Business Division and

the Enterprise Development unit. Absa's SME fund is available to fund

projects from R5 000 to R3-million, and it can be given to start-ups

or existing businesses. The target market is black-owned businesses

which don't have access to normal lending or banking channels. The

Absa Development Credit Fund, a partnership with the United States

Development Credit Authority, is another avenue for entrepreneurs.

Standard Bank's Community Investment Fund (CIF) initiative extends

loans to informal businesses. The CIF has distributed more

than R7-million to more than 630 businesses through its six funds in

three provinces.

The Masisizane Fund makes loan financing available in sectors

such as agriculture and agri-processing, commercial, supply chain

and manufacturing. It also offers training and technical support and

funding to help businesses to comply with legislation.

CONTACT INFO

Business Partners: www.businesspartners.co.za

Department of Small Business Development: www.dsbd.gov.za

Development Bank of Southern Africa: www.dbsa.org

Industrial Development Corporation: www.idc.co.za

Ithala Development Finance Corporation: www.ithala.co.za

KZN Growth Fund: www.kzngrowthfund.co.za

KwaZulu-Natal Department of Economic Development and

Tourism: www.kznded.gov.za

National Empowerment Fund: www.nefcorp.co.za

Small Enterprise Development Agency: www.seda.co.za

Small Enterprise Finance Agency: www.sefa.org.za

89 KWAZULU-NATAL BUSINESS 2017/18
---
MASISIZANE FUND

A JOURNEY TO SUSTAINABLE

LIVELIHOODS FOR UMZIMKULU

SMALLHOLDER FARMERS

The Masisizane Fund was established in

2007 as an initiative of the Old Mutual

Group with a mandate to contribute

measurably to job creation which in turn

helps eradicate poverty in South Africa. Its

success is driven by a focused approach on

high impact industry sectors, coupled with

a comprehensive SMME finance solution

that includes business support and loan

finance in the following sectors:

Agribusiness

Franchising

Supply Chain

Cluster Development Flagship initiative

in KwaZulu-Natal and Eastern Cape

In 2015/16 more than just a new planting

season started for five co-operatives in

uMzimkulu, in the Harry Gwala Municipal

district. This season was different as they

worked in partnership with the Masisizane

Fund, adopting a cluster development

approach in order to address the agricultural

challenges faced in the rural areas and to

ensure socio-economic transformation.

With 76% of the 180 302 people in

uMzimkulu living below the poverty line,

Masisizane together with KZN Department

of Agriculture and Rural Development

were prompted to address the challenge

and have been working systematically

toward changing this shocking statistic.

This initiative is funded on a 50% grant,

50% loan basis and co-operatives are

responsible for repaying the loans once

they have harvested.

During the first phase of the initiative soya

and dry beans were planted, the next phase

was to bring about mechanisation. Each

co-operative received one mechanisation

combo comprising a tractor, planter,

trailer, boom sprayer disc, and plough. A

single harvester was bought to be shared

by the five co-operatives.

As this initative grows, Silos will be

installed in a central place to support grain

production in the district. Drak Oil Mill, the

off-taker and processor of soybean for all

the farmers involved is a valued partner in

this cluster development initiative.

Old Mutual is a Licensed Financial Services Provider
---
"Success can be interpreted in

different ways but when you see

optimal use of rural infrastructure to

support production, more people

employed, learning opportunities,

dignity, pride and harmony restored

in a community, it is worth working

through all the daily challenges"

Newly planted land

Sifiso Myeni,

Provincial Manager, KwaZulu-Natal.

Beans growing well

Mechanisation in action

Final produce ready for market

Masisizane provides non-financial, value

adding, post investment services including

capacity development, business management

and technical support, financial education,

market development as well as product/

service quality standards and compliance.

Masisizane has its head office in Gauteng (011 217 1746) with regional offices in:

Eastern Cape 043 704 0116

KwaZulu-Natal 031 335 0402

Limpopo 015 287 4279

Western Cape 021 509 5074

A flagship office has been established in Kokstad (039 727 3100) to oversee all activities

in the Eastern Cape Flagship Programme.

More information on Masisizane can also be accessed from our

website: www.masisizane.co.za

An initiative of the

Group
---
LISTING

South African National Government

An overview of South Africa's national government departments.

President

Address: Union Buildings, Government Avenue, Arcadia, Pretoria 0001

Postal address: Private Bag X1000, Pretoria 0001

Tel: +27 12 300 5200

Fax: +27 12 323 8246

Website: www.thepresidency.gov.za

Website: www.economic.gov.za

Deputy President

Address: Union Buildings, Government Avenue, East Wing,

1st Floor, Arcadia, Pretoria 0001

Postal address: Private Bag X1000, Pretoria 0001

Tel: +27 12 300 5200

Fax: +27 12 323 8246

Website: www.thepresidency.gov.za

Minister in the Presidency

Address: Union Buildings, Government Avenue, East Wing,

1st Floor, Arcadia, Pretoria 0001

Postal address: Private Bag X1000, Pretoria 0001

Tel: +27 12 300 5200

Fax: +27 12 300 5795

Website: www.thepresidency.gov.za

Dept of Agriculture, Forestry and Fisheries

Address: No 20, Agriculture Place, Block DA, 1st Floor, cnr Beatrix Street

and Soutpansberg Road, Arcadia, Pretoria

Postal address: Private Bag X250, Pretoria

Tel: +27 12 319 7319

Fax: +27 12 319 6681

Website: www.daff.gov.za

Department of Arts and Culture

Address: 10th Floor, Kingsley Centre, 481 corner Steve Biko & Stanza

Bopape streets, Arcadia, Pretoria 0001

Postal address: Private Bag X899, Pretoria 0001

Tel: +27 12 441 3000 | Fax: +27 12 440 4485

Website: www.dac.gov.za

Department of Basic Education

Address: Sol Plaatje House, 222 Struben Street, Pretoria 0001

Postal address: Private Bag X9034, 8000

Tel: +27 12 357 3000

Fax: +27 12 323 5989

Website: www.education.gov.za

Department of Communications

Address: Tshedimosetso House, 1035 Frances Baard (Cnr Festival Street),

Hatfield, Pretoria 0001

Postal address: Private Bag X745, Pretoria 0001

Tel: +27 12 473 0000

Fax: +27 12 462 1646

Website: www.doc.gov.za

Department of Cooperative Governance and

Traditional Affairs

Address: 87 Hamilton Street, Arcadia, Pretoria 0083

Postal address: Private Bag X802, Pretoria 0001

Tel: +27 12 334 0705

Fax: +27 12 326 4478

Website: www.cogta.gov.za

Department of Correctional Services

Address: 123 Poyntons Building, West Block,

cnr Schubart and Church streets, Pretoria 0001

Postal address: Private Bag X136, Pretoria 0001

Tel: +27 12 307 2934/2884

Fax: +27 12 323 4111

Website: www.dcs.gov.za

Department of Economic Development

Address: Block A, 3rd Floor, 77 the dti Campus, cnr Meintjies &

Esselen streets, Sunnyside, Pretoria 0001

Postal address: Private Bag X149, Pretoria 0001

Tel: +27 12 394 1006

Fax: +27 12 394 0255

Website: www.economic.gov.za

KWAZULU-NATAL BUSINESS 2017/18

92
---
LISTING

Department of Defence

Address: cnr Delmas Avenue & Nossob St, Erasmuskloof, Pretoria 0001

Postal address: Private Bag X427, Pretoria 0001

Tel: +27 12 355 6101 | F ax: +27 12 347 0118

Website: www.dod.mil.za

Department of Energy

Address: 192 cnr Visagie and Paul Kruger St, Pretoria 0001

Postal address: Private Bag X96, Pretoria 0001

Tel: +27 12 406 8000

Fax: +27 12 319 6681

Website: www.energy.gov.za

Department of Environmental Affairs

Address: Environment House, 473 Steve Biko and Soutpansberg Road,

Arcadia, 0083

Postal address: Private Bag X447, Pretoria 0001

Tel: +27 12 310 3537 | Fax: +27 086 593 6526

Website: www.environment.gov.za

Department of Finance (National Treasury)

Address: 40 WF Nkomo Street,

Old Reserve Bank Building, 2nd Floor, Pretoria

Postal address: Private Bag X115, Pretoria 0001

Tel: +27 12 323 8911 | Fax: +27 12 323 3262

Website: www.treasury.gov.za

Department of Health

Address: 20th Floor, Civitas Building, cnr Struben and Andries Streets,

Pretoria 0001

Postal address: Private Bag X399, Pretoria 0001

Tel: +27 12 395 8086/80 | Fax: +27 12 395 9165

Website: www.doh.gov.za

Department of Higher Education

and Training

Address: 123 Francis Baard Street, Pretoria 0001

Postal address: Private Bag X893, Pretoria 0001

Tel: +27 12 312 5555

Fax: +27 12 323 5618

Website: www.dhet.gov.za

Department of Home Affairs

Address: 909 Arcadia Street, Hatfield 0083

Postal address: Private Bag X114, Pretoria 0001

Tel: +27 12 432 6648 | Fax: +27 12 432 6675

Website: www.dha.gov.za

Department of Human Settlements

Address: Govan Mbeki House, 240 Justice Mahomed, Sunnyside, Pretoria 0001

Postal address: Private Bag X644, Pretoria 0001

Tel: +27 12 421 1310 | Fax: +27 12 341 8513

Website: www.dhs.gov.za

Department of International Relations and

Cooperation

Address: OR Tambo Building, 460 Soutpansberg Road, Rietondale, Pretoria

0001

Postal address: Private Bag X152, Pretoria 0001

Tel: +27 12 351 1000 | Fax: +27 12 329 1000

Website: www.dirco.gov.za

Department of Justice and Constitutional

Development

Address: Salu Building, 316 cnr Thabo Sehume and Francis Baard

Streets, Pretoria 0001

Postal address: Private Bag X276, Pretoria 0001

Tel: +27 12 406 4669 | Fax: +27 12 406 4680

Website: www.doj.gov.za

Department of Labour

Address: 215 Laboria House, cnr Francis Baard and

Paul Kruger Streets, Pretoria 0001

Postal address: Private Bag X499, Pretoria 0001

Tel: +27 12 392 9620 | Fax: +27 12 320 1942

Website: www.labour.gov.za

Department of Military Veterans

Address: 328 Festival Street, Hatfield, Pretoria 0001

Postal address: Private Bag X943, Pretoria 0001

Tel: 080 232 3244 (SA only)

Website: www.dmv.gov.za

Department of Mineral Resources

Address: 70 Meintje Street, Trevenna Campus, Sunnyside 0007

Postal address: Private Bag X59, Pretoria 0001

Tel: +27 12 444 3000 | Fax: +27 86 624 5509

Website: www.dmr.gov.za

Department of Police (Civilian Secretariat for

Police Service)

Address: Wachthuis Building, 7th Floor, 231 Pretorius Street, Pretoria 0001

Postal address: Private Bag X463, Pretoria 0001

Tel: +27 12 393 2800 | Fax: +27 12 393 2812

Website: www.saps.gov.za

93 KWAZULU-NATAL BUSINESS 2017/18
---
LISTING

Department of Public Enterprises

Address: Infotech Building, 1090 Arcadia Street, Hatfield,

Pretoria 0001

Postal address: Private Bag X15, Hatfield 0028

Tel: +27 12 431 1000 | Fax: +27 12 431 1039

Website: www.dpe.gov.za

Department of Public Service and

Administration

Address: Batho Pele House, 116 Johannes Ramakhoase Street, Pretoria

Postal address: Private Bag X884, Pretoria 0001

Tel: +27 12 336 1700

Fax: +27 12 336 1809

Website: www.dpsa.gov.za

Department of Public Works

Address: 7th Floor, CGO Building, cnr Bosman and Madiba Streets,

Pretoria Central

Postal address: Private Bag X65, Pretoria 0001

Tel: +27 12 406 21978

Fax: +27 086 276 8757

Website: www.publicworks.gov.za

Department of Rural Development and

Land Reform

Address: 184 Old Building, cnr Jeff Masemola

and Paul Kruger Streets, Pretoria 0001

Postal address: Private Bag X833, Pretoria 0001

Tel: +27 12 312 9300

Fax: +27 12 323 3306

Website: www.ruraldevelopment.gov.za

Department of Science and Technology

Address: DST Building, Building No 53, CSIR South Gate Entrance, Meiring

Naude Road, Brummeria, Pretoria 0001

Postal address: Private Bag X727, Pretoria 0001

Tel: +27 12 843 6300

Fax: +27 12 349 1041/8

Website: www.dst.gov.za

Department of Small Business Development

Address: The dti, Block A, 3rd Floor, 77 Meintjies Street, Sunnyside,

Pretoria 0001

Postal address: Private Bag X84, Pretoria 0001

Tel: +27 12 394 1006

Fax: +27 12 394 1006

Website: www.dsbd.gov.za

Department of Social Development

Address: HSRC Building, North Wing, 134 Pretorius Street, Pretoria 0001

Postal address: Private Bag X904, Pretoria 0001

Tel: +27 12 312 7479 | Fax: +27 086 715 0829

Website: www.dsd.gov.za

Department of State Security

Address: Bogare Building, 2 Atterbury Road, Menlyn, Pretoria 0001

Postal address: PO Box 1037, Menlyn 0077

Tel: +27 12 367 0700 | Fax: +27 12 367 0749

Website: www.ssa.gov.za

Department of Sport and Recreation

South Africa

Address: Regent Place, 66 cnr Madiba and Florence Ribeiro Street,

Pretoria 0001

Postal address: Private Bag X896, Pretoria 0001

Tel: +27 12 304 5000 | Fax: +27 12 323 7196 / 086 644 9583

Website: www.srsa.gov.za

Department of Tourism

Address: 17 Trevena Street, Tourism House, Sunnyside, Pretoria 0001

Postal address: Private Bag X424, Pretoria 0001

Tel: +27 12 444 6780 | Fax: +27 12 444 7027

Website: www.tourism.gov.za

Department of Trade and Industry

Address: The dti, 77 Meintjie Street, Block A, Floor 3,

Sunnyside, Pretoria 0001

Postal address: Private Bag X274, Pretoria 0001

Tel: +27 12 394 1568 | Fax: +27 12 394 0337

Website: www.thedti.gov.za

Department of Transport

Address: Forum Building, 159 Struben Street,

Room 4111, Pretoria 0001

Postal address: Private Bag X193, Pretoria 0001

Tel: +27 12 309 3131 | Fax: +27 12 328 3194

Website: www.transport.gov.za

Department of Telecommunications and

Postal Services

Address: Iparioli Office Park, 399 Jan Shoba Street,

Hatfield, Pretoria 0001

Postal address: Private Bag X860, Pretoria 0001

Tel: +27 12 427 8000 | Fax: +27 12 427 8016

Website: www.dtps.gov.za

KWAZULU-NATAL BUSINESS 2017/18

94
---
LISTING

Department of Water and Sanitation

Address: Sedibang Building, 185 Frances Baard Street,

Pretoria 0001

Postal address: Private Bag X313, Pretoria 0001

Tel: +27 12 336 8733

Fax: +27 12 336 8850

Website: www.dwa.gov.za

Department of Women

Address: 36 Hamilton Street, Arcadia Pretoria 0001

Postal address: Private Bag X931, Pretoria 0001

Tel: +27 12 359 0000

Fax: 086 765 3365

Website: www.women.gov.za

National coat of arms

The national coat of arms was adopted on 27 April 2000. It is constructed in two circles, which

are described as the circle of foundation and the circle of ascendance.

Circle of foundation

Shield – The two Khoisan figures on the shield are taken from a Bushman rock

painting known as the Linton stone, and represent the common humanity and

heritage of South Africans. Depicted in an attitude of greeting, the figures

symbolise unity. Spear and knobkierie – Together, these objects symbolise

defence and authority, but the flat angle at which they lie symbolises peace.

Wheat – The ears of wheat, as emblems of fertility, represent germination,

growth and the development of potential, as well as nourishment

and agriculture. Elephant tusks – Elephants symbolise wisdom, strength,

power, authority, moderation and eternity, and the use of tusks is a tribute

to the world's largest land mammal, Loxodonta Africana, which is found in

South Africa. Motto – Taken from the language of the now extinct /Xam

Bushmen, the motto translated means 'people who are different come

together' or 'diverse people unite'.

Circle of ascendance

Protea – Protea cynaroides is the national flower of South Africa and is symbolic of the beauty of

the country and flowering of the nation's potential. Secretary bird – Characterised in flight, the

secretary bird represents growth and speed, and is a symbol of divine majesty and protection.

Rising sun – The sun is an emblem of energy and rebirth, a source of light and life appropriate for

a country characterised by sunshine and warmth.

95 KWAZULU-NATAL BUSINESS 2017/18
---
LISTING

KwaZulu-Natal Provincial

Government

A guide to KwaZulu-Natal's provincial government departments. All addresses are located

in Pietermaritzburg (code 3201) unless stated otherwise. Visit www.kwazulunatal.gov.za.

Office of the Premier

Premier: Dr ZL Mkhize

5th Floor, Telkom Building, 300 Langalibalele Street

Tel: +27 33 341 3300

Fax: +27 33 341 3442

Website: www.kwazulunatal.gov.za

Agriculture and Rural Development

MEC: Mr Thembu Mthembu

Cedara College, Cedara Road

Tel: +27 33 343 8240

Fax: +27 33 343 8255

Website: www.kzndard.gov.za

Arts and Culture

MEC: Bongiwe Sithole-Moloi

222 Jabu Ndlovu Street

Tel: +27 33 264 3400

Fax: +27 33 394 2237

Website: www.kzndac.gov.za

Community Safety and Liaison

MEC: Thomas Mxolisi Kaunda

179 Jabu Ndlovu Street

Tel: + 27 33 341 9300

Fax: + 27 33 342 6345

Website: www.kzncomsafety.gov.za

Cooperative Governance and Traditional

Affairs

MEC: Nomsa Dube-Ncube

330 Langalibalele Street

Tel: +27 33 264 2500

Fax: +27 33 264 6672

Website: www.kzncogta.gov.za

Economic Development, Tourism and

Land Affairs

MEC: Sihle Zikalala

270 Jabu Ndlovu Street

Tel: +27 33 264 2500 | Fax: +27 331 310 5416

Website: www.kzndedt.gov.za

Education

MEC: Mthandeni Dlungwane

Anton Lembede Building, 247 Burger Street

Tel: +27 33 392 1004 | Fax: +27 33 392 1203

Website: www.kzneducation.gov.za

Health

MEC: Dr Sibongiseni Maxwell Dhlomo

1st Floor, 330 Langalibalele Street

Tel: +27 33 395 2111

Website: www.kznhealth.gov.za

Human Settlements and Public Works

MEC: Ravi Pillay

Tolaram House, 2 Aliwal Street, Durban 4000

Tel: +27 31 336 5300 | Fax: +27 31 336 5114

Website: www.kznworks.gov.za

Provincial Planning Commission

Chairperson: Prof Bonke Dumisa

Moses Mabhida Building, 300 Langalibalele Street

Tel: +27 33 341 4765

Website: www.kznppc.gov.za

Provincial Treasury

MEC for Finance: Belinda Francis Scott

Treasury House, 145 Chief Albert Luthuli Street,

Tel: +27 33 846 6800 | Fax: +27 33 846 6801

Website: www.kzntreasury.gov.za

KWAZULU-NATAL BUSINESS 2017/18

96
---
LISTING

Social Development

MEC: Weziwe Gcotyelwa Thusi

208 Hoosen Haffejee Street

Tel: +27 33 341 9600

Fax: +27 33 341 9616

Website: www.kzndsd.gov.za

Transport

MEC: Thomas Mxolisi Kaunda

172 Burger Street

Tel: + 27 33 355 8600

Fax: + 27 33 355 8092

Web: www.kzntransport.gov.za

KwaZulu-Natal Local Government

A guide to KwaZulu-Natal's local government.

ETHEKWINI METROPOLITAN MUNICIPALITY

263 Dr Pixley ka Seme Street, Durban 4001

Tel: +27 31 311 1111 | Fax: +27 31 311 2170

Website: www.durban.gov.za

AMAJUBA DISTRICT MUNICIPALITY

Unit B9356, Ithala Building, Section 1, Main Street, Madadeni Township,

Newcastle 2940

Tel: +27 34 329 7200 | Fax: +27 34 314 3785

Website: www.amajuba.gov.za

Dannhauser Municipality

Tel: +27 34 621 2666 | Fax: +27 34 621 3114

Website: www.dannhauser.gov.za

eMadlangeni (Utrecht) Municipality

Tel: +27 34 331 3041 | Fax: +27 34 331 4312

Website: www.emadlangeni.gov.za

Newcastle Municipality

Tel: +27 34 328 7600 | Fax: +27 34 312 1570

Website: www.newcastle.gov.za

ILEMBE DISTRICT MUNICIPALITY

59/61 Mahatma Gandhi St, KwaDukuza 4450

Tel: +27 32 437 9300 | Fax: +27 32 437 9587

Website: www.ilembe.gov.za

KwaDukuza Municipality

Tel: +27 32 437 5000

Fax: +27 32 437 5098

Website: www.kwadukuza.gov.za

Mandeni Municipality

Tel: +27 32 456 8200

Fax: +27 32 456 2504

Website: www.mandeni.gov.za

Maphumulo Municipality

Tel: +27 32 481 4500

Fax: +27 32 481 2053

Website: www.maphumuloonline.gov.za

Ndwedwe Municipality

Tel: +27 32 532 5000

Fax: +27 32 532 5031/2

Website: www.ndwedwe.gov.za

HARRY GWALA DISTRICT MUNICIPALITY

40 Main Street, Ixopo 3276

Tel: +27 39 834 8700

Fax: +27 39 834 1701

Website: www.harrygwaladm.gov.za

Greater Kokstad Municipality

Tel: +27 39 797 6600 | Fax: +27 39 727 5501

Website: www.kokstad.gov.za

Dr Dlamini Zuma Municipality

Tel: + 27 39 833 1038 | Fax: + 27 39 833 1179

Website: www.ndz.gov.za

uBuhlebezwe Municipality

Tel: +27 39 834 7700 | Fax: +27 39 834 1168

Website: www.ubuhlebezwe.gov.za

97 KWAZULU-NATAL BUSINESS 2017/18
---
LISTING

uMzimkhulu Municipality

Tel: +27 39 259 5000 | Fax: +27 39 259 0223

Website: www.umzimkhululm.gov.za

UGU DISTRICT MUNICIPALITY

28 Connor Street, Port Shepstone 4240

Tel: +27 39 688 5700 | Fax: +27 39 682 4820

Website: www.ugu.gov.za

Ray Nkonyeni Municpality

Tel: +27 39 688 2000 | Fax: + 27 39 682 0327

Web: www.hcm.gov.za

Umdoni Municipality

Tel: +27 39 978 4313 | Fax: +27 39 976 2020

Website: www.umdoni.gov.za

uMuziwabantu Muncipality

Tel: +27 39 433 1205 | Fax: +27 39 433 1208

Website: www.umuziwabantu.gov.za

Umzumbe Municipality

Tel: +27 39 972 0005 | Fax: +27 39 972 0099

Website: www.umzumbe.gov.za

UMGUNGUNDLOVU DISTRICT

MUNICIPALITY

242 Longmarket Street, Pietermaritzburg 3201

Tel: +27 33 897 6700

Fax: +27 33 342 5502

Website: www.umdm.gov.za

Impendle Muncipality

Tel: +27 33 996 6000 | Fax: +27 33 996 0852

Website: www.impendle.gov.za

Mkhambathini Municipality

Tel: +27 31 785 9300 | Fax: +27 31 785 2121

Website: www.mkhambathini.gov.za

Mpofana Municipality

Tel: +27 33 263 1221 | Fax: +27 33 263 1127

Website: www.mpofana.gov.za

Msunduzi Municipality

Tel: +27 33 392 3000 | Fax: +27 33 345 2397

Website: www.msunduzi.gov.za

Richmond Municipality

Tel: +27 33 212 2155 | Fax: +27 33 212 2102

Website: www.richmond.gov.za

uMngeni Muncipality

Tel: +27 33 239 9200

Fax: +27 33 330 4183

Website: www.umngeni.gov.za

uMshwathi Municipality

Tel: +27 33 815 2249

Fax: +27 33 502 0286

Website: www.umshwathi.gov.za

UMKHANYAKUDE DISTRICT MUNICIPALITY

Stand 13433, Kingfisher Road, Mkuze 3965

Tel: +27 35 573 8600 | Fax: +27 35 573 1094

Website: www.ukdm.gov.za

Big 5 False Bay Municipality

Tel: +27 35 838 8500 | Fax: +27 35 838 1015

Website: www.bigfive.org.za

Jozini Municipality

Tel: +27 35 572 1292 | Fax: +27 35 572 1266

Website: www.jozini.gov.za

Mtubatuba Municipality

Tel: +27 35 550 0069 | Fax: +27 35 550 0060

Website: www.mtubatuba.org.za

uMhlabuyalingana Muncipality

Tel: +27 35 592 0680 | Fax: +27 35 592 0672

Website: www.umhlabuyalingana.gov.za

UMZINYATHI DISTRICT MUNICIPALITY

Princess Magogo Bld, 39 Victoria St, Dundee 3000

Tel: +27 34 219 1500 | Fax: +27 34 219 1940

Website: www.umzinyathi.gov.za

Endumeni Municipality

Tel: +27 34 212 2121 | Fax: +27 34 212 3856

Website: www.endumeni.gov.za

Nquthu Municipality

Tel: +27 34 271 6100 | Fax: +27 34 271 6111

Website: www.nquthu.gov.za

KWAZULU-NATAL BUSINESS 2017/18

98
---
LISTING

Msinga Municipality

Tel: +27 33 493 0761 | Fax: +27 33 493 0766

Website: www.msinga.org.za

uMvoti Municipality

Tel: +27 33 413 9100 | Fax: +27 33 417 1393

Website: www.umvoti.gov.za

UTHUKELA DISTRICT MUNICIPALITY

Physical address: 33 Forbes Street, Ladysmith 3370

Tel: +27 36 638 5100 / 2400 | Fax: +27 36 637 5608 / 635 5501

Website: www.uthukeladm.co.za

Alfred Duma Municipality

Tel: +27 36 637 2231 | Fax: +27 36 631 1400

Website: www.alfredduma.gov.za

Inkosi Langalibalele Municipality

Tel: +27 36 353 0693/0681/0691 | Fax: +27 36 353 6661

Website: www.umtshezi.co.za

Okhahlamba Municipality

Tel: +27 36 448 8000 | Fax: +27 36 448 1986

Website: www.okhahlamba.org.za

KING CETSHWAYO DISTRICT MUNICIPALITY

Uthungulu House, Kruger Rand Rd, Richards Bay 3900

Tel: +27 35 799 2500

Fax: +27 35 789 1641

Website: www.uthungulu.org.za

uMfolozi Municipality

Tel: +27 35 580 1421 | Fax: +27 35 580 1141

Website: www.umfolozi.gov.za

Mthonjaneni Municipality

Tel: +27 35 450 2082 | Fax: +27 35 450 2056

Website: www.mthonjaneni.org.za

Nkandla Municipality

Tel: +27 35 833 2000 | Fax: +27 35 833 0920

Website: www.nkandla.org.za

City of uMhlathuze Municipality

Tel: +27 35 907 5100 | Fax: +27 35 907 5444

Website: www.umhlathuze.gov.za

uMlalazi Muncipality

Tel: +27 35 473 3300 | Fax: +27 35 474 4733

Website: www.umlalazi.gov.za

ZULULAND DISTRICT MUNICIPALITY

B400 Gagane Street, Ulundi 3838

Tel: +27 35 874 5500

Fax: +27 35 874 5589

Website: www.zululand.org.za

Abaqulusi Municipality

Tel: +27 34 982 2133 | Fax: +27 34 980 9637

Website: www.abaqulusi.gov.za

eDumbe Municipality

Tel: +27 34 995 1650 | Fax: +27 34 995 1192

Website: www.edumbe.gov.za

Nongoma Municipality

Tel: +27 35 831 7500 | Fax: +27 35 831 3152

Website: www.nongoma.org.za

Ulundi Municipality

Tel: +27 35 874 5100 | Fax: +27 35 870 1164

Website: www.ulundi.gov.za

uPhongolo Municipality

Tel: +27 34 413 1223

Fax: +27 34 413 1706

Website: www.uphongoloonline.gov.za

99 KWAZULU-NATAL BUSINESS 2017/18
---
INDEX

INDEX

Alfred Duma Local Municipality ................................................................................................... 11

Durban Chamber of Commerce and Industry ....................................................... 2, 7, 23, 25

Durban International Conference Centre ................................................................................... 9

Durban Investment Promotion (DIP) .................................................................................. IFC, 1

Global Africa Network (GAN).................................................................................................... OBC

Indaba Lodge Richards Bay .......................................................................................................... 35

Kaefer Thermal Contracting Services ........................................................................................ 38

KwaZulu-Natal Sharks Board Maritime Centre of Excellence ................................... 44 - 47

Masisizane Fund............................................................................................................................... 90

Mondi Group South Africa ................................................................................................... 67 - 71

Msunduzi Local Municipality............................................................................................... 26 - 28

Nedbank...................................................................................................................................... 50 - 53

Old Mutual................................................................................................................................. 54 - 57

Richards Bay Coal Terminal........................................................................................................... 36

Richards Bay Industrial Development Zone (RBIDZ)....................................... ........... 32 - 34

Sappi................................................................................................................................. ........... 40 - 41

Selfmed......................................................................................................................................48, OBC

Unemployment Insurance Fund (UIF).......................................................................................... 5

University of Zululand.................................................................................................................... 31

KWAZULU-NATAL BUSINESS 2017/18

100
---
Global Africa Network

Promoting business, trade and investment in SA's nine provinces

www.gan.co.za

www.southafricanbusiness.co.za

www.easterncapebusiness.co.za

www.freestatebusiness.co.za

www.gautengbusinessguide.co.za

www.kwazulunatalbusiness.co.za

www.limpopobusiness.co.za

www.mpumalangabusiness.co.za

www.northerncapebusiness.co.za

www.northwestbusiness.co.za

www.westerncapebusiness.co.za

NETWORK MEDIA

Tel 021 657 6200

Email sales@gan.co.za

Web www.gan.co.za