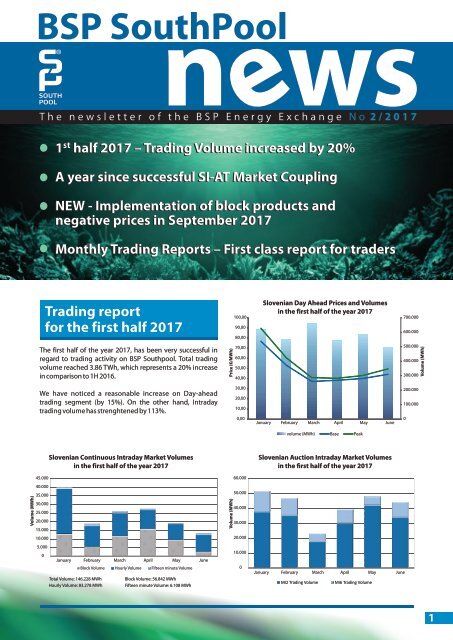 BSP SouthPool News July 2017
The newsletter of the BSP Regional Energy Exchange July 2017
The newsletter of the BSP Regional Energy Exchange July 2017
SHOW MORE
SHOW LESS
You also want an ePaper? Increase the reach of your titles
YUMPU automatically turns print PDFs into web optimized ePapers that Google loves.
BSP SouthPool

n w

T h e n e w s l e t t e r o f t h e B S P E n e r g y E x c h a n g e N o 2 / 2 0 1 7

1 half 2017 – Trading Volume increased by 20%

st

1 half 2017 – Trading Volume increased by 20%

A year since successful SI-AT Market Coupling

NEW - Implementation of block products and

negative prices in September 2017

Monthly Trading Reports – First class report for traders

Trading report

for the first half 2017

100,00

90,00

80,00

Slovenian Day Ahead Prices and Volumes

in the first half of the year 2017

700.000

600.000

The first half of the year 2017, has been very successful in

regard to trading activity on BSP Southpool. Total trading

volume reached 3.86 TWh, which represents a 20% increase

in comparison to 1H 2016.

Price (€/MWh)

70,00

60,00

50,00

40,00

500.000

400.000

300.000

Volume (MWh)

We have noticed a reasonable increase on Day-ahead

trading segment (by 15%). On the other hand, Intraday

trading volume has strenghtened by 113%.

30,00

20,00

10,00

0,00

January February March April May June

200.000

100.000

0

volume (MWh) Base Peak

Slovenian Continuous Intraday Market Volumes

in the first half of the year 2017

Slovenian Auction Intraday Market Volumes

in the rst half of the year 2017

Volume (MWh)

45.000

40.000

35.000

30.000

25.000

20.000

15.000

10.000

5.000

0

January February March April May June

Block Volume Hourly Volume Fifteen minute Volume

Total Volume: 146.228 MWh

Block Volume: 56.842 MWh

Hourly Volume: 83.278 MWh

Fifteen minute Volume: 6.108 MWh

Volume (MWh)

60.000

50.000

40.000

30.000

20.000

10.000

0

January February March April May June

MI2 Trading Volume

Mi6 Trading Volume

1
---
BSP

n

SouthPool

w

One year of successful

Intraday market coupling

on IT-SI Border

st 21 of July – 1 year since

successful AT-SI Market

Coupling

A year ago, Italian and Slovenian power exchanges GME

and BSP SouthPool, together with the transmission

system operators Terna and Eles operationally launched

the Cross Border Intraday Implicit Allocation project (the

"ID-IA project"), which has significantly improved the ID

capacity allocation process on the IT-SI electricity border.

In this respect, the Italian ID sessions of MI2 and MI6 were

coupled with the correspondent sessions of the

Slovenian ID auctions. Market participants accepted the

new ID auction sessions well, which is proved through the

constant growth of traded volume and increasing

number of market participants, which are active during

both relevant ID sessions.

The total traded volume of the BSP Intraday market, for

the time period from June 2016 to June 2017 amounted

to 745.364,921 MWh. The traded volume on the MI

sessions accumulated to 496.652,921 MWh, while on the

Intraday Continuous market resulted to 275.712 MWh.

st

On 21 of July 2017, BSP together with its project parties,

commemorates a first year of successful implementation

of SI-AT DA market coupling enabling market participants

simplify import or export of energy from/to Slovenian

market. Expectations of achieving higher efficiency on

the daily allocation process have been confirmed since

adverse flows have disappeared and hours with

converged prices between Slovenian and Austrian

coupled markets have increased. With making this border

a part of the pan-European Multi-Regional Coupling

(MRC) also the BSP trading volume has grown.

In comparison between period from 21

st

July 2015 to 21st

July 2016 and period between 21

nd

July 2016 to 21

nd

July

2017 the BSP total traded volume rose for 19%, and

number of hours with converged prices between

Slovenian and Austrian markets grew for 682%.

NEW -

Implementation

of block products

and negative prices

in September 2017

Based on the proposal of Members

Chamber, BSP will introduce block

p r o d u c t s a n d n e g a t i v e p r i c e s i n

September 2017. The block orders can be

submitted with no consecutive periods

and executed with restriction all-or-none.

BSP will also open the possibility of

negative prices for orders with minimum

price limit set to -500 €/MWh.

With these new features trading at BSP

becomes more flexible and traders will

have a better opportunity for planning

their portfolio.

32
---
BSP

n

SouthPool

w

FRESH

Monthly

Trading Reports –

First class report

for traders

Traders'

Party 2017 –

News Pub

Portorož

BSP Southpool started preparing

monthly trading reports in order to

enable traders the best possible insight

on their trading opportunities across

different market segments.

The newsletter is published

by BSP Energy Exchange LLC.

Editor in Chief

Anže Predovnik

Completed in July 2017, No 2/2017

Address: BSP Energy Exchange LLC,

Dunajska 156, SI-1000 Ljubljana, Slovenia

Telephone number: + 386 1 620 76 76

Fax number: + 386 1 620 76 77

Website: www.bsp-southpool.com

E-mail: info@bsp-southpool.com

Copyright © 2008 - 2017 – BSP d.o.o.

All rights reserved

BSP Energy Exchange

Your energy choice.

3