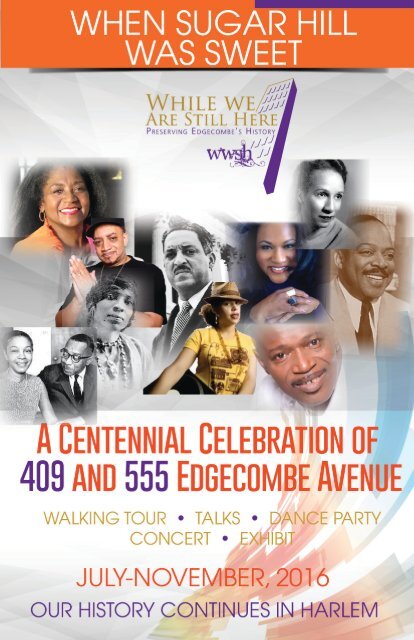 2016 When Sugar Hill Was Sweet Program Booklet
This booklet is an archived copy of the booklet WWSH published for its first year of programming.
This booklet is an archived copy of the booklet WWSH published for its first year of programming.
SHOW MORE
SHOW LESS
You also want an ePaper? Increase the reach of your titles
YUMPU automatically turns print PDFs into web optimized ePapers that Google loves.
1
---
About While We Are

Still Here

Mission

While We Are Still Here (WWSH) ensures

that the "post-gentrification" community of

Harlem and beyond will honor and find a

meaningful connection to the legacy of African

American achievement, and its paramount

importance to world culture.

Vision

Will educate, enshrine, and preserve the extraordinary

legacy of two historical landmark

buildings that were vital to the intellectual, cultural,

social, and political advancements of the

Harlem community and the African Diaspora.

Objective

To create lasting tributes to the movers and

shakers of Edgecombe Avenue and beyond

by erecting, publishing, and presenting: a

monument, a book, and a series of public

events; and to also collect and chronicle an oral

history

Founder and Executive Director

Karen D. Taylor

Board of Directors (

Institutions listed for affiliations only)

June Watson Benjamin, Board Secretary; Union

leader, UAW International

Yvonne Dennis Wakim, Author; Native American

Rights Activist

Marline Martin, Board Treasurer; Executive Director,

LeRoy Neiman Arts Center

Henry L. McCurtis, MD, Private practitioner

Stephanie Renee Payne, Board President; Professor,

Temple University; Life coach; Author

Paulette J. Tabb, Educator, NYC Department of

Education

Karen D. Taylor

Steering Committee Members

Herb Boyd, Scholar-Historian-In-Residence;

Professor, CUNY; Author; Journalist; Activist

Monica L. Gray, Conference and Event Planning Director

National Urban League; National Minority Suppliers

Development

Joseph Harris, MD, Member, Doctors without Borders

Stephen Robinson, MD, MPH, Private Practitioner

Cheryl Scott, MD, MPH, Private Practitioner

Judith Stafford, In Memoriam

Board of Advisors

Alexa Birdsong, Co-founder, Jazz at Lincoln Center

Marie Brown, Literary Agent, Marie Brown Associates

Carmen Cruz, Curator

Professor Jamal Joseph,

Columbia University

Professor Rosemari Mealy,

City University of New York

Professor Mark Naison,

Fordham University

Vera E. Sims, Educator,

NYC Department of Education

Professor Emeritus Michael Thelwell, W.E.B.

Du Bois Afro-American Studies Department, Amherst College

2

…heritage in all its forms must be preserved, enhanced, and handed on to future generations as a record of human experience

and aspirations, so as to foster creativity in all its diversity and to inspire genuine dialogue among cultures...

—From the United Nation's "Universal Declaration on Cultural Diversity and Creativity," Article 7

Cover photos: top row (l-r) Melba Joyce, Shirley Graham-Du Bois; middle row (l-r) DJ Red Alert, Thurgood

Marshall, Angela L. Owens, Count Basie; bottom row (l-r) Mamie and Kenneth Clark, Stephanie St. Clair,

DJ Laylo, Leroy Burgess
---
A Centennial Celebration of 409 and 555 Edgecombe Avenue

Presented By While We Are Still Here

Schedule of Events

JULY

AUGUST

3

Saturday, July 30 10:00-12:00

Three Sisters and Their Parents:

Discussion and Walking Tour

Meet in front of 800 Riverside

Drive

Tour Leader, Michael Henry Adams

The common architectural histories of

409 and 555 Edgecombe Avenue and

800 Riverside Drive are highlighted in

this discussion and walking tour. Also

covered will be the history of Black

ownership of these important structures.

Saturday, July 30 12:30-2:00

Judicial Firsts, Judicial Influence:

Jurists in the House

Meet in front of 409 Edgecombe

Avenue

Panelists, Esmeralda Simmons,

Esq., Jerry Vattamala, Esq., Elizabeth

Yeampierre, Esq.

Moderator, Joan P. Gibbs, Esq.

This important panel about the legal

legacies of 409 Edgecombe Avenue,

including Thurgood Marshall's, takes

place right in the Harlem community, in

front of the building that housed some

of the nation's and city's most significant

legal movers and shakers—all of whom,

during the 20th century, shaped the legal

landscape of the United States.

Leroy Burgess

Friday, August 19, 5:00-8:00

Leroy Burgess Birthday Dance Party

with DJ Red Alert and DJ Laylo

Jackie Robinson Park Bandshell,

145th Street between Edgecombe

and Bradhurst Avenues

There's a chance that Leroy had

something to do with your favorite disco

tune or house music jam. As writer,

producer, arranger, keyboardist, and/or

vocalist, his special touch can be felt on

hits like "Mainline," "Let's Do It," and

"Moment of My Life."

SEPTEMBER

Saturday, September 3, 12:00-6:00

Echoes of the Eras: Music From 409

and 555 Edgecombe—Concert and

Panel Discussion (European classical

music co-producers, Cedric Cannon and

La-Rose Saxon)

Jazz, Spirituals, European Classical

Featuring a SPECIAL GUEST

PERFORMER who will be announced
---
on our website and elsewhere—check

www.wwsh.nyc on August 8th!

We'll Be Closing Out the Day With

A Jam Session!

media partner

Terrance McKnight

Melba Joyce

The Sugar Hill Quartet

The West Village Quartet

Angela L. Owens (soprano) and

Charles David Carter (bassbaritone)—operatic

duo, with

accompaniment by Roy Jennings

Emcee, Daa'iya Lomax of WHCR's

"Gardens of Tranquility and

Contemplation"

Friday, September 16

9:30am-8:30pm

A Day of Panel Discussions and

Performances at Barnard College*

Milbank Hall, Krueger Lecture Hall

Room 405

Daddy Grace

Of the Cloth: Theologians, Ministers,

and Christian Capitalists

4

Melba Joyce

Panelists, Herb Boyd, Terrance

McKnight

Moderator, Felipe Luciano

Many musical innovators called 409

and 555 Edgecombe home: From

Andy Kirk, Jimmie Lunceford, Billy

Strayhorn, Coleman Hawkins, Johnny

Hodges, and Count Basie, through Paul

Robeson, travel the journey with us all

the way through to the era of Cassandra

Wilson. Will also present European

classical music and the contributions

of Henry T. Burleigh and Clarence

Cameron White.

Panelists, Stephen Robinson, MD,

William Seraile, PhD

Moderator, Reverend LaKeesha

Walrond,PhD

From Daddy Grace's enormous property

holdings, including ownership of 555

Edgecombe Avenue, to the Reverend

James Herman Robinson's prototype for

an international-aid organization that

grew into the Peace Corps, the influence

of a few of Sugar Hill's African-American

ministers will be revealed. This talk will

give an overview of the role religion

played in the activism and activities of the

men of the cloth, who lived at 409 and

555, or who owned the dwellings.

*Columbia University—Barnard College, Africana Studies

Department; Institute for Research on Women, Gender,

and Sexuality; and the Heyman Center for Humanities

(co-sponsors)
---
5

Saying Something: Voices of 409 and

555 Edgecombe Avenue

Directed by Barbara Montgomery

With actors from the Harlem

community

If one can describe a building as

"prolific," then it is probable that

409 and 555 may well be two of the

most prolific residences in the modern

world. Dramatic interpretations of

excerpted works by or about the intrepid

Edgecombe Avenue writers, poets,

playwrights, and thinkers.

Pride and Harlem History

Panelists, Rich Blint, PhD, David

Hajdu, Gordon Thompson, PhD

Moderator, TBD

Billy Strayhorn

was one of the

brave. He was gay

and out, during

an era that was far

more unforgiving

Billy Strayhorn

of homosexuality

than the current

period. This panel

will present the gay community's major

influence on the arts and letters of the

African Diaspora.

The "Talented Tenth" and the "Ninety

Percent" On Edgecombe Avenue: The

Power of Community, The Realities of

Dissension

Louise

Thompson-Patterson

Panelists, Jelani Cobb,

PhD, David Levering

Lewis, PhD, Mark

Naison, PhD

Moderator, Herb

Boyd

Describes the broad,

diverse political

tendencies, from

stalwart Communists, such as Marvel

Cooke, to "integrationists" to nationalists,

to anti-Communists. The influence and

importance of Du Bois (William Edward

Burghardt and Shirley Graham), Patterson

(William and Louise Thompson), as well

as Robeson (Paul and Eslanda), will be

part of a comprehensive discussion.

Closing Performance and Reception

For the Love of Sweet Pea, Rudel Drears,

pianist

Thursday, September, 22, 2016

6:30-8:30

Schomburg Center for Research In

Black Culture

515 Malcolm X Boulevard

DOUBLE JEOPARDY: A WOMAN'S WORK IS

NEVER DONE

Panelists,

Rosemari Mealy,

Ph.D. and others

TBA

Moderator, Tina

Campt, Ph.D.

This engaging

discussion will

Mamie Clarke

encapsulate the

dynamic women

of 409 and 555 Edgecombe. These

influential personages include Shirley

Graham Du Bois, Dr. Mamie Phipps

Clarke, Louise Thompson-Patterson,

and Eslanda Goode Robeson.

October

For a Better Life? The Caribbean

Presence in Harlem

Site and Date TBA

Panelists, Marta Moreno Vega, PhD

and others TBA

Moderator, TBA
---
In the early

twentieth

century,

mirroring the

Great Migration

from the

American south,

people from

the Caribbean

Claudia Jones islands migrated

to Harlem

and left an indelible imprint. Panelists

will discuss this population shift and

its effect on the cultural and political

output of Black America, as well as the

significance of figures that included

Marcus Garvey, Hubert Harrison,

Carlos Cooks, Claudia Jones, and

Claude McKay.

November

The Harrises of Harlem: A Photography

and Art Exhibit—The Mildred Harris

Jackson Collection

Leroy Neiman Arts Center

2785 Frederick Douglass Boulevard

November 8-23

Friday, November 11,

Opening Reception

Mildred Harris Jackson was born in

Darlington, South Carolina and raised

in Harlem. She is ninety years old. At

the age of

ten, her

father, Eddy

Early Harris,

bought her

a Kodak

box camera,

which she

The Harris Children 1927

still has.

She began to capture her family and

the streets of the "Black Capital of

the World" through the camera's lens.

During the 1930s, 40s, and 50s, she

took hundreds of photos that are an

important documentation of the social

history of Harlem, including events at

the famed Savoy Ballroom, her sister's

wedding at Mt Olivet Baptist Church,

and family outings in Central Park.

"The Harrises of Harlem" draws from

her archive, which also includes a James

Vanderzee portrait of her baby brother.

Ms. Jackson has photographs of seven

generations of her family, including her

great grandfather, who was born during

the slavery era. Her great grandmother,

Amanda Jackson, was a slave who had

the unusual honor of having an ornate

headstone, which was photographed by

another family member.

A retired educator, Ms. Jackson is also a

painter, and some of her works will be

presented in this show.

6

Presenter and Performer Biographies

Michael Henry Adams was born in Akron, Ohio. He is a writer, lecturer,

historian, tour guide, and activist, living in Harlem. A fine arts graduate of the

University of Akron, Michael trained in Columbia University's graduate historic

preservation program, and studied English country houses at the Attingham

Summer School. His books include Harlem, Lost and Found; An Architectural and Social

History, 1765-1915. Currently he's at work on the forthcoming, Homo Harlem, A

Chronicle of Lesbian and Gay Life in the African-American Cultural Capital, 1915-1995.
---
Tia Allen, violist, has performed at Carnegie Hall, Alice Tully Hall, and the Teatro

Nacional in Santo Domingo, Dominican Republic. As a freelance artist in New York

City, she has performed with Cee-Lo and Nikki Jean on the Late Night Show with

David Letterman. She is a six-summer veteran of the Aspen Music Festival and

school, where she performed Souvenir de Florence with Julia Fisher, in the Benedict

Music Tent. She has also performed at festivals in Graz, Austria and Nice, France.

Tia attended the University of Cincinnati College of Music, where she received her

bachelor's and master's degrees in music, graduating magna cum laude.

Rich Blint is associate director of the Columbia University School of the Arts'

Office of Community Outreach and Education. Prior to joining Columbia, Rich

held positions at New York University's Institute of African-American Affairs; and

the Center for Labor, Community, and Policy Studies at the Murphy Institute. He

holds a BA in English and Honors from Hunter College, the City University of New

York; and earned his PhD in the Program in American Studies at NYU. A frequent

interlocutor with artists across the genres, Rich is research affiliate and adjunct

assistant professor in the Masters Program in African-American Studies at Columbia

and has taught courses and guest lectured at Hunter College, Vassar College, and

NYU.

7

Herb Boyd is a professor, journalist, and author, who has written or edited twentytwo

books, including, Three Centuries of African American History as Told by Those Whole

Lived It (oral histories); Civil Rights: Yesterday and Today; Baldwin's Harlem, a biography of

James Baldwin (finalist for NAACP Image Award); Brotherman—The Odyssey of Black

Men in America, An Anthology (with Robert Allen, received American Book Award); We

Shall Overcome (used in classrooms internationally); Autobiography of a People; and The

Harlem Reader. He has scripted several documentaries on cold cases of martyrs from

the Civil Rights era.

Leroy Burgess is a vocalist, songwriter, arranger, and keyboardist, who is also

known as the "Father of the Boogie." Born and raised in Harlem, Leroy came into

prominence as the lead singer of Black Ivory. He is steeped in the traditions of

various manifestations of Black Music, from jazz to gospel, and received part of his

musical education at the City College of New York with the likes of Herbie Jones, a

colleague of Duke Ellington and Billy Strayhorn. Leroy's music has been recorded

by Bobbi Humphrey, Rick James, and many other prominent artists.

David Caines Burnett is a Harlem-born violinist and violist of Antiguan and

Kittitian parents. He began violin lessons with Galina Heifetz at the Third Street

Music School Settlement, while a student at LaGuardia's High School of Music

and Art. David continued his studies at Oberlin Conservatory and the Boston

Conservatory. He has performed with virtuoso violinist, Liana Iskadadze, at

Carnegie Hall. Other performances include the Harlem Chamber Players and the

New York Housing Authority Orchestra. His vast teaching experience includes the

Harlem School of the Arts, the Langston Hughes Middle School, and Juilliard's

MAP Program.
---
Tina Campt is Ann Whitney Olin Professor of Africana and Women's Gender

and Studies, director of the Barnard Center for Research on Women, and chair of

the Africana Studies Department at Barnard. Tina joined the Barnard faculty in

2010, prior to which she held faculty positions at Duke University, the University of

California-Santa Cruz and the Technical University of Berlin. Her published work

explores gender, racial, and diasporic formation in Black communities in Germany

and, more broadly, in Europe. She is the author of two books: Other Germans:

Black Germans and the Politics of Race, Gender and Memory in the Third Reich

and Image Matters: Archive, Photography and the African Diaspora in Europe. She

holds a PhD and MA in History, from Cornell University; and a BA in History from

Vassar College.

Charles David Carter is a bass-baritone, who has performed on both concert and

operatic stages throughout the U.S. and abroad. He recently appeared in the Lyric

Opera of Chicago's critically acclaimed production of Showboat. Other performances

of note include appearances with Jessye Norman at Carnegie Hall for a presentation

of Duke Ellington's Sacred Works and the Emmy-nominated broadcast of Porgy and

Bess, Live from Lincoln Center, conducted by John DeMain. He has performed the

roles of "Scarpia" in Puccini's Tosca and "Figaro" in Mozart's The Marriage of

Figaro. A graduate of the Harlem School for the Arts, Charles continued his musical

education at Morgan State University. He was influenced by his mother who was a

classically trained mezzo. He aspires to continue in traditions set before him, using

his talents to promote cultural awareness.

Jelani Cobb is an associate professor of History. He is a recipient of fellowships

from the Fulbright and Ford Foundations. His forthcoming book is titled Antidote to

Revolution: African American Anticommunism and the Struggle for Civil Rights, 1931-1957.

He is also the author of The Substance of Hope: Barack Obama & the Paradox of Progress

and To The Break of Dawn: A Freestyle on the Hip Hop Aesthetic, which was a finalist for

the National Award for Arts Writing. His collection, The Devil & Dave Chappelle and

Other Essays, was also published in 2007. He is editor of The Essential Harold Cruse: A

Reader. Jelani was educated at Jamaica High School, Howard University, and Rutgers

University where he received his doctorate in American History. His articles and

essays have appeared in outlets that include the New Yorker, the Washington Post, and

Essence. He has contributed to a number of anthologies including In Defense of Mumia.

8

Rudel Drears is a jazz pianist, composer, and arranger, who received his formal

musical education from the Fiorello LaGuardia High School of Music and Art,

the Manhattan School of Music, and through the jam-session scene of New York

City. A member of a musical family, he is the son of pianist, actor, and playwright,

Marjorie Eliot, and drummer, Al Drears.

Joan P. Gibbs is a long-time activist, writer, and attorney. She was born in Harlem,

but spent most of her growing years in a small town on the coast of North Carolina.

Her writings, poems, essays, and short stories have appeared in a number of

publications, including the Iowa Review and Azalea, the first magazine published by
---
and for lesbians of color in the United States. Joan was also the founding editor. She

was also a founding member of Dykes Against Racism Everywhere (DARE). Joan

has worked for the American Civil Liberties Union (ACLU), the ACLU Women's

Rights Project, the Center for Constitutional Rights, and Center for Law and Social

Justice at Medgar Evers College from which she retired in 2015.

David F. Gibson toured extensively and recorded with the Count Basie Orchestra

under the direction of Frank Foster. David has also performed with a host of artists

and ensembles, including Joe Williams, Clark Terry, the Sun Ra Arkestra, the Diane

Schuur Trio, the Duke Ellington Orchestra, and the Woody Herman Orchestra.

Music critic, Chip Deffa (the New York Post) says that "Gibson's drumming is strong

and fluid and as satisfying as any drummer I heard in years." He is also featured on

recordings that include Diane Schuur's Music is My Life and Harry Sweets Edison's

Live at the Iridium and The Odean Pope's Saxophone Choir's Saxophone Shop. He is an adjunct

faculty member at the New School for Jazz and Contemporary Music. He earned a

bachelor of music degree from Temple University.

9

David Hajdu is the music critic for The Nation and a professor at the Columbia

University Graduate School of Journalism. Before joining The Nation in January

2015, he served for more than ten years as the music critic for The New Republic. He

is currently at work on a "fictional work of nonfiction," a biography of a nonexistent

songwriter. He is also completing the libretto for a music-performance piece about

Orson Welles. David is the author of four books of nonfiction and one collection of

essays: Lush Life: A Biography of Billy Strayhorn, Positively 4th Street: The Lives and Times of

Joan Baez, Bob Dylan, Mimi Baez Fariña and Richard Fariña, The Ten-Cent Plague: The Great

Comic Book Scare and How It Changed America, Heroes and Villains: Essays on Music, Movies,

Comics, and Culture (2009), and Love for Sale: Pop Music in America.

Patience Higgins is the front man for the Sugar Hill Quartet. He has been a

member of the Duke Ellington Orchestra. His other credits include performances

at the White House with Esperanza Spalding and others, as well as tours and

recordings with the Count Basie Orchestra, Lionel Hampton, Ray Charles, Muhal

Richard Abrams, Barry Harris, Stevie Wonder, Hamiet Bluiett's Baritone Group,

the Pointer Sisters, Savion Glover, Bobby Watson & Tailor Made, David Murray,

Jimmy Scott, Paquito D' Rivera, Rodney Kendrick, and Yoko Ono. His Broadway

credits include Dreamgirls, The Wiz, and Chicago. He is also featured on Dee Dee

Bridgewater's double Grammy-Award-winning recording, Dear Ella. He holds a

bachelor of arts degree from New York University.

Roy Jennings, composer and pianist, is the minister of music at the Bronx

Baptist Church. He is also engaged as a performance coach in the post-graduate

studies program at the Graduate Center at the City University of New York.

Upon completion of his graduate studies at the Manhattan School of Music,

Roy embarked on a decade of study of the Viennese classics, Mozart, Beethoven,

and Schubert, with pianist Kurt Appelbaum. During this time, he became pianist

and assistant to Edward Boatner, with whom he studied choral conducting and
---
arrangement, with a concentration on the African-American spiritual. As performer

and lecturer, Roy advocates for the music of African-American composers and

arrangers of spirituals to be included in the canon of American concert repertoire.

David Levering Lewis is a scholar, whose field is comparative history, with

special focus on twentieth-century United States social history, imperialism in

nineteenth-century Africa, twentieth-century France, and Muslim Iberia. In 2003,

Mr. Lewis was named Julius Silver University Professor and professor of History at

New York University. He holds graduate degrees in History from Columbia (MA)

and the London School of Economics and Political Science (PhD). He has taught

at the University of Notre Dame, Howard University, University of California-

San Diego; Rutgers-New Brunswick; and Harvard. He has authored eight books,

including W.E.B. Du Bois: Biography of a Race, 1868-1919 and W.E.B. Du Bois: The

Fight for Equality and the American Century, 1919-1963. He received the Pulitzer Prize

for Biography in 1994 and 2001. In 2010, he was awarded the National Humanities

Medal by President Barack Obama at the White House. The Society of American

Historians awarded him with its Arthur Meier Schlesinger Distinguished Service

Award in May 2015. He retired from New York University in 2013.

Loira "DJ Laylo" Limbal is also a filmmaker, activist, and mother, who serves as

vice-president for the award-winning Firelight Media. For the past decade, she has

dedicated herself to fusing arts and activism. She has worked at various communitybased

organizations in New York City including the Point Community Development

Corporation, the Dominican Women's Development Center, and Sista II Sista. In

2006, she founded the Reel X Project, a social justice and creative filmmaking space

for young women of color in the Bronx. Limbal received a BA in History from

Brown University and is a graduate of the Third World Newsreel's Film and Video

Production Training Program.

10

Felipe Luciano is a news reporter and anchor, poet, writer, activist, lecturer, and

radio personality. He was the first Puerto Rican news anchor of a major media

network in the United States, and is a two-time Emmy recipient. In 1966, he enrolled

in Queens College, where he immediately became involved in the student activism

of the 1960s. Felipe soon became known within activist circles for his membership

in the Last Poets, the group of Black Power era artists mentored by Amiri Baraka,

whose politically charged live-music and spoken-word poetry performances in the

1960s prefigured the emergence of hip hop and rap in the 1970s and 1980s. Felipe

was chairman of the Young Lords Party, which became one of the most influential

Puerto Rican organizations of the 1960s. His radio broadcasting experience includes

influential stints for WRVR, WBLS, WLIB, and WBAI. He is currently a lecturer on

the speakers' circuit.

Jessica McJunkins, violinist, is known for her "dynamic playing" and "fearless

artistry." As a classical musician, she has had concert engagements with the

Charlotte Symphony, Chicago Chamber Orchestra, Harlem Chamber Players, and

Soulful Symphony. As a recording artist, she has collaborated with noted artists
---
Sufjan Stevens, Frankie Rose, and more. She has performed with UK pop sensation

Bastille, and at noted venues such as Carnegie Hall, Trinity Wall Street, Symphony

Space, and the DR2 Theater. Jessica was a featured soloist for Broadway's Becoming

Chaplin. She is a faculty member of the St. Ignatius Loyola School and Sage Music

School of Brooklyn.

Terrance McKnight is the weekday evening host for WQXR 105.9 FM, New

York's only all-classical music station. He's also the host and producer of the station's

audio documentaries on Langston Hughes, Dr. Martin Luther King, Jr., Hazel Scott,

Coleridge-Taylor Perkinson, and Florence Beatrice Price. In 2010, his program All

Ears with Terrance McKnight, a show about musical discovery, was honored with an

ASCAP Deems Taylor Radio Broadcast Award. As a speaker, Terrance has worked

with Chamber Music America, the Mellon Foundation, American Opera Projects,

the Schomburg Center for Research in Black Culture and the Museum of Modern

Art, among others.

11

Rosemari Mealy has taught as an adjunct professor at several City University of

New York (CUNY) schools. She first came to CUNY's Center for Worker Education

(CWE) in 1989. Over the years she has taught numerous courses including: "The

Color Line," "Labor History," "Women and Labor Studies," and "Women and

International Liberation Movements." and Seminar in Labor Studies. She is the

author of Fidel and Malcolm X: Memories of A Meeting. Her works have appeared

in numerous publications, including The Black Scholar and Journal of Social Work.

Rosemari holds a PhD from Capella University, a Juris Doctorate from the City

University of New York School of Law, an MA from Rutgers University, and BA

from Antioch University.

Melba Joyce grew up under the musical influence of her mother and grandparents.

Her father, Melvin Moore, sang jazz and toured and recorded with Dizzy Gillespie's

Big Band. Melba Joyce is a singer's singer, and has opened for artists that include

Miles Davis and Freddie Hubbard. She also enjoyed a stint as a background singer

for Smokey Robinson. Melba appeared on Broadway in Black and Blue as understudy

for all three principals: Linda Hopkins, Ruth Brown and Carrie Smith. She holds

a master's degree from Rutgers University. In service to her art and humanity, she

toured the war-torn fields of Vietnam to entertain the troops at the height of the

war, an experience that raised her social conscience to new heights.

Barbara Montgomery is an actor, writer, and director, whose exceptional career

began in the Off-Off Broadway Movement of the late 1960s, including the Old

Reliable Theatre, Café La MaMa, Joseph Papp's Public Theatre, and the Negro

Ensemble Company. She has also worked in regional theatre, on Broadway, in

television and film, as well as throughout Europe and the Far East. As a result of

her work as an artist and commitment to community, Barbara's professional and

humanitarian interests have come together in her directing. She is the recipient of an

Obie Award and several AUDELCO Awards.
---
Mark Naison is a professor of History and African-American Studies at Fordham

University, and was a collaborator on the Bronx African-American History Project.

He conducted more than 150 interviews with African-American professionals,

community activists, and musicians who grew up in the Bronx. The first product of

this research, It Takes a Village to Raise a Child: Growing Up in the Patterson Houses in the

1950s... was published in the Bronx County Historical Journal. He is also the author of

the award-winning Communists In Harlem During the Depression. Mark earned a PhD in

American History from Columbia University, and a BA and MA—both in American

History—also from Columbia University.

Angela Owens, soprano, has been recognized by the London Times for her "beautifully

musical" performances. She began and ended the 2015-16 season in concert: first at

The American Church in Paris with chef de chant à l'Opéra national de Paris, Morgane

Fauchois-Prado, and later at the Harris Arts Center, presented by the Roland Hayes

Museum. Angela's experience on the concert stage includes the following repertoire:

Handel's Messiah and Dettingen Te Deum, Schubert's Stabat Mater and Mass in G,

Vivaldi's Gloria, Faure's Requiem, Brahms' Liebeslieder Walzer, and Mozart's Coronation

Mass.

Marcus Persiani has performed with artists that include Jerry Gonzalez, the

Impressions, Dizzy Gillespie, Max Roach, Cecil McBee, Tito Puente, Charlie

Persip's Supersound, Vanessa Rubin, and the Apollo Theater Showtime Band.

He's toured and recorded with Mario Bauza, Joseph Bowie's Defunkt, Willie Colon,

and others throughout Europe, Japan, and the United States. His compositions

and arrangements are featured on the brilliant trilogy of albums recorded by

Bauza's legendary Afro-Cuban Jazz Orchestra, one of which—944 Columbus—

was nominated for a Grammy. He received a bachelor of music degree from the

American Conservatory of Music in Chicago.

12

DJ Red Alert is one of the founding fathers of hip hop. He is the only hip hop

deejay honored with a display in the Radio Section of the Rock and Roll Hall of

Fame. He has been appointed by the United Nations as an honorary ambassador to

music. Rolling Stone named him as one of the fifty most influential people in music.

He is also a famed radio personality, whose signature style has been heard over

WKRS, WBLS, and others. Red graduated high school as a top-ranking basketball

prospect, and earned a full athletic scholarship to attend Hampton University in

1976, but dropped out, returned home to Harlem, and became a full-time deejay for

Afrika Bambaataa.

Stephen Robinson is a physician and community advocate, with extensive

experience in academic medicine and public health. His clinical career includes

positions in the City University of New York Medical School and Operation

CrossRoads Africa, founded by the late Reverend James H. Robinson, a former

resident of 409 Edgecombe Avenue. Stephen received his medical degree from the

School of Medicine, University of Washington, Seattle, Washington and an MPH

with a concentration in international health from the School of Hygiene and Public
---
Health, Johns Hopkins University. As a resident of 409 since 1980, he worked with

the Tenants' Association to organize and prevent the building from being sold to real

estate developers. Stephen was president of the 409 Tenants' Association when it

purchased this landmark building from the city in 1995.

William Seraile is professor emeritus of Lehman College. He joined Lehman's

faculty in 1971 and was one of the nation's pioneers in teaching African-

American history in an academic department. He received a bachelor's degree

from Central Washington University; a master's degree from Teachers College,

Columbia University; and a doctorate from the City University of New York. Bill's

honors include the Unsung Historian Award from the Association for the Study

of Afro-American Life and History; and the William Leo Hansberry Award for

Contributions in History. He is the author of many articles, monographs, and books,

including Angels of Mercy: White Women and the History of New York's Colored Orphan

Asylum; and Bruce Grit: The Black Nationalist Writings of John Edward Bruce.

13

Esmeralda Simmons is the founder and executive director of the Center for Law

and Social Justice (the Center), small but effective community-based legal advocacy

and research institution that is a unit of Medgar Evers College of the City University

of New York. Prior to founding the Center, Esmeralda was an accomplished

attorney, who was the first deputy commissioner for human rights for New York

State, a Civil Rights attorney for the United States Department of Education, a New

York State assistant attorney general, and a New York City assistant corporation

counsel. She is a deeply spiritual woman who is grounded in African culture. She

finds constant inspiration from the vision of her ancestors, her belief in peace, and

her respect for life and cultural diversity.

Wayne Smith, cellist, made his recital debut at the Kennedy Center in 1996,

and has appeared as soloist and chamber musician in countries that include Italy,

Hungary, and China. He has played with the New Jersey Chamber Music Society,

the National Chamber Orchestra, the Heidelberg Castle Festival Orchestra in

Heidelberg, Germany, among other groups, and was a featured soloist on the PBS

Series Musical Encounters. He has recorded and performed with artists such as

Joe, Richard Smallwood, the Spin Doctors' Anthony Krizan, and the Moody Blues.

He competed his undergraduate studies at the Eastman School of Music, and his

graduate studies at the University of Massachusetts, Amherst.

The Sugar Hill Quartet is the longest-running house band in New York City, having

performed for more than two decades at St. Nick's Pub, Minton's, Lenox Lounge,

and, now, at Smoke. The members of the quartet have kept the Harlem jam-session

alive, and have laid down the musical foundation for the likes of Stevie Wonder,

Wynton Marsalis, and Bono. (See separate bios for Patience Higgins, Marcus

Persiani, and David F. Gibson.) As of this writing the bass chair is rotating.

Gordon Thompson has had a laudable career spanning more than two decades

of teaching and service at the City College of New York (CCNY), Louisiana State

University, and Stanford University. As a scholar, he has a demonstrated record of
---
peer-reviewed publications and is a frequent participant at national and international

conferences. He is also an editor and co-editor of several books. Selected

publications are The Assimilationist Impulse in Representative African-American Narratives;

and Black Music, Black Poetry: Genre, Performance, and Authenticity. Gordon has also had

articles that appeared in refereed journals. Titles include "Methodism and the

Consolation of Heavenly Bliss in Phillis Wheatley's Funeral Elegies" (CLA Journal).

Gordon received a Ph. D. in American Studies from Yale University; and holds

an MA in American Studies and an MA in Afro-American Studies, also from Yale

University. He received a BA in English from CCNY. Among his other professional

responsibilities, Gordon is the creator, principal investigator, and director of the

RAP-SI project of the Black Male Initiative.

Jerry Vattamala is staff attorney for the Asian-American Legal Defense and

Education Fund.

Marta Moreno Vega is president and founder of the Caribbean Cultural Center

(the Center). She was inspired by a vision to create an international organization to

promote and link communities of African descent. She guided the capital campaign

for the renovation of the landmark firehouse at 120 East 125th Street that will be the

Center's new home. Marta has conducted research on Yoruba belief systems in the

African Diaspora and has organized international conferences focused on expanding

the knowledge and importance of sacred African Diaspora traditions. Her titles

include The Altar of My Soul.

Reverend LaKeesha Walrond is a native of Galveston, Texas. She attended

Spelman College, where she earned a BA in Psychology and Early Childhood

Development. LaKeesha went on to attend the University of North Carolina at

Chapel Hill (UNC-CH), where she earned a master's degree in Education with an

emphasis on Special Education, and a master's degree in School Administration with

an emphasis in Educational Leadership. She also received a PhD from UNC-CH in

Special Education and Literacy. Most recently, she attained an MDiv from Union

Theological Seminary. Reverend Walrond currently serves as the executive pastor of

First Corinthian Baptist Church in Harlem.

14

The West Village Quartet is an African-American string quartet, performing

works from the European classical repertoire. The quartet, which derives its' name as

a result of frequent performances in the West Village, was founded in 1987 by David

Burnett-Caines, who is the group's second violinist and manager. The San Francisco

Chronicle wrote "The West Village Quartet played with vigorous musicality....." (See

separate bios for David Caines Burnett, Jessica McJunkins, Tia Allen, and Wayne

Smith)

Elizabeth Yeampierre is an internationally recognized Puerto Rican attorney

and environmental-justice leader of African and Indigenous ancestry, born and

raised in New York City. She is executive director of UPROSE, Brooklyn's oldest

Latino community-based organization. She was the first Latina chair of the United
---
States Environmental Protection Agency's National Environmental Justice Advisory

Council (NEJAC) and served as member of the National Institute for Environmental

Health Sciences Advisory Council. Last year Vogue named her as one of thirteen

women in the world leading the fight for frontline communities against climate

change.

remembering when now

While We Are Still Here (WWSH) is observing a "Centennial Celebration" to laud

the power of the ancestors and our community. This hundred-year anniversary is

approximate, because 409 and 555 Edgecombe Avenue were built circa 1916-1917,

but WWSH is compelled to collect and share the profoundly significant histories of

these "sister" buildings now. Why now, one may ask? Because time and the erasures

of so-called gentrification threaten community memory. In these two buildings,

one can find people and forces whose presences are resonant, whose work set the

standards for culture, intellectual discourse, and athleticism; whose struggles—legal

and otherwise— were intended to ensure democracy for all.

15

As an island of neighborhoods, Manhattan has changed and changed and changed

some more. How many remember when the area—say from 65th Street to 96th

Street—from Central Park West to Broadway was mixed by race and class, and had

many Puerto Rican and Haitian immigrants, as well as African-Americans? And

going way back, how many remember when the area around Lincoln Center was

San Juan Hill, and many Black folk and Indigenous People lived there, including

Thelonious Monk? And going way, way, way back, how many of us truly understand

how Manahatta became Manhattan, relegating the Native Americans to their current

status of near invisibility in this city? How many know that when the real-estate

developers of the early 20th century could not find enough white people to fill the

dwellings they overproduced in Harlem, those developers allowed Black people to

move in?

There are countless other stories that could be recounted, but While We Are Still

Here came into being to ensure that people remember the legacies of 409 and 555.

Both buildings were socioeconomically mixed. Residents ran the gamut, from the

famous, Black, well-to-do, to Black people who worked as servants. They were joined

in community, for better or worse: New York City-style Jim Crow was in full effect.

Joe Louis, world heavyweight champion; Paul Robeson, first international superstar;

W.E.B. Du Bois, theorist for the ages, and others are among the luminaries, who

could not just live anywhere they wished in Manhattan. Nor could their neighbors

who may have been chauffeurs or maids or number runners or barbers or

bootleggers.

continued on back cover
---
For the poetically prolific Langston Hughes, Harlem and these two buildings were

muses:

…It's Canada Lee's penthouse at Five-Fifty-Five.

…It's 409 Edgecombe or a cold-water walk-up flat—

But it's where I live and it's where my love is at

Deep in the Heart of Harlem!

And, inasmuch as the history of a people is sacred, 409 and 555 were, to quote

Langston again, "brick and stone," but because of what went on inside, these

buildings are revered. For Black people, surely, but, the entire nation derives at least

some of its essence to the contributions that emanated from Harlem. And this is

no mere hyperbole: Think the Jazz Age, named for the music exemplified by Andy

Kirk, Count Basie, Billy Strayhorn. Think Du Bois for his standing as the "father" of

American sociology. Think Paul Robeson for winning the fight—all the way to the

Supreme Court—regarding citizens' rights to travel, regardless of a citizen's political

beliefs.

There are many among us, who say they often feel the spirits of those powerful

souls who lived in 409 and 555 decades ago. WWSH wants to channel the historical

narrative of these enduring wonders before their importance is lost and gone forever.

—And so it is.

Graphic Design

Maurice Cook

Creative Art Director

EM Designs Group, Atlanta GA

www.emdesignsgroup.com

Social Media Manager

Terry Johnson

Governmental Supporters

New York City Council, Ydanis Rodriguez

Office of the Manhattan Borough President,

Gale Brewer

Institutional Supporters

Jumel Mansion Neighborhood Association

New York Council for the Humanities

Individual Supporters

Sam Anderson and Rosemari Mealy

Pam Elam, Odette McNeil

Special thanks to: Jewel Allison, Ellen Baxter,

Victor Edwards, Gregg Hope, Sr., Ana-Ofelia

Rodriguez; the folk at Columbia University—

Tina Campt, Andrea Crow, Alyssa Greene, Eileen

Gillooly, Marianne Hirsch; the people at

the Schomburg Center for Research In Black

Culture—Ladi' Sasha Jones, Novella Ford.

www.wwsh.nyc