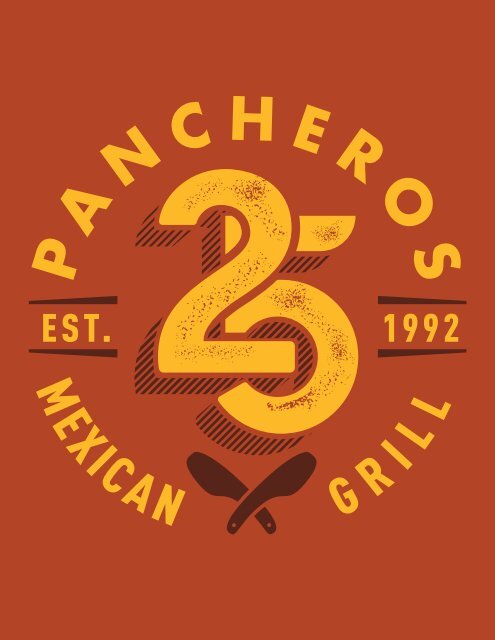 Create successful ePaper yourself
Turn your PDF publications into a flip-book with our unique Google optimized e-Paper software.
PROUD TO PARTNER

WITH PANCHEROS.

Congratulations on

your 25th anniversary!

PROTECT WHAT

MATTERS

Small business is the backbone of the Iowa

economy. As a local independent agency,

UICCU Insurance can review your coverage

with multiple carriers to find the perfect

solution for your business needs. For peaceof-mind

and professional service, look to us.

We'll work to help your business succeed.

CALL 800-397-3790 TODAY FOR A REVIEW.

Scott Freeman

Steve Fishman

Taylor Freeman

Carol Glass

Dyan Kriener

Alexa Homewood

Kyle Stahle

2 www.PANCHEROS.com
---
Rodney Anderson

Founder & President

A Letter from Rodney Anderson

I'd like to thank all the people of the Corridor who supported Pancheros

for the last 25 years.

It starts with thanks to the customers from downtown Iowa City who

came into our first location when we were just learning to serve them.

Their support at that location has paved the way for everything that has

followed. We learned a lot at that corner location, and those lessons

have taken us a long way. The reputation we built there made it easy to

open restaurants in the rest of the Corridor and around the state.

JULY 2017

AN ADVERTISING SUPPLEMENT OF THE

CORRIDOR BUSINESS JOURNAL

DIRECTOR OF MARKETING: ROB MILLER

WRITER: JENNIE MORTON

PHOTOGRAPHER: EMILY BETTRIDGE

DESIGNER: BECKY LYONS

MEDIA CONSULTANT: KRIS LACINA

Thanks to all the employees, vendors, suppliers, landlords, franchisees

and investors who have made it possible to grow from that one location

to more than 70. Many of these groups have come from the Corridor

and we continue to work with them today. We are an Eastern Iowa

company and are proud to educate the rest of the country on what

success can come from Iowa.

We hope to continue to grow from Iowa City to a national brand

that people from the Corridor can be proud of. Thank you for your

continued support as we do so.

Sincerely,

Rodney L. Anderson

Pancheros Mexican Grill

www.PANCHEROS.com 3
---
Look, it's our very first location, downtown Iowa City, 1992. View from Old Capitol Town Center, 1998. The original Doughpro.

Pancheros Celebrates

25 Savory Years

Freshly pressed tortillas, mouth-watering ingredients

and perfectly mixed fillings are the winning recipe for

Pancheros. What started as a local venture in Iowa City

in 1992 has since blossomed into a thriving chain of

franchise restaurants across the United States. Pancheros is

celebrating its 25th anniversary with a full year of special

prizes and social media contests. Take a look at how

the restaurant has grilled the competition by keeping its

business formula as simple as its ingredients list.

Grand opening at the Iowa City Riverside location.

With a line around the corner outside.

4 www.PANCHEROS.com
---
www.PANCHEROS.com 5
---
The Burrito Lift at Kinnick Stadium is an energetic videoboard promotion. The view from Washington Street of downtown Iowa City location, 2017.

A Commitment

To Innovation

Pancheros' roots in Iowa have

been fundamental to its success.

Restaurateurs typically debut a new concept in a large city

before branching out. With a customer base that can be

easily replenished, a metropolitan restaurant has a safety

cushion to experiment with the menu and replace ideas that

fall short. But in a market like Iowa, the stakes are higher to

make a good impression and there is less room for trial and

error to make sure a concept pleases the crowds.

When Pancheros first debuted in the early 1990s, it was

more similar to a traditional taqueria. It was a risky move for

founder Rodney Anderson as Iowa isn't typically celebrated

for having authentic south-of-the-border food. The Mexicaninspired

eatery was nonetheless a success. After a few years

of steady popularity, Mr. Anderson saw an opportunity

in 1998 to pivot Pancheros into a fresh-pressed tortilla

restaurant, which provided customers with a new type of

dining experience.

"Rodney noticed that there were fast-food chains and

sit-down restaurants but nothing in between. Little did he

know that the idea he was experimenting with would soon

dominate the restaurant landscape of fast-casual dining,

which provides customers with quality menu selections at a

lower price point and wait time," explained Barry Nelson,

vice president of operations.

Viva La Bob

the Tool!

With Bob's help, we've torn down the walls that

once stood between meat and rice, between

beans and salsa. Ingredients can now co-conspire

as one. Bob has single-handedly revolutionized

burrito building, and eating, forever.

The line for the Annual Dollar Burrito at the downtown Iowa City location.

6 www.PANCHEROS.com
---
The Mexican-inspired

eatery was nonetheless a

success. After a few years

of steady popularity,

Mr. Anderson saw an

opportunity in 1998 to

pivot Pancheros into

something customers

hadn't experienced before.

Fresh-pressed tortillas.

Congratulations Pancheros On 25 Years!

BUILDTOSUITINC.COM

www.PANCHEROS.com 7
---
All burritos are made with freshly made tortillas.

An employee "bobbing" a burrito by mixing the ingredients with Bob the Tool.

In addition to the early adoption of a new restaurant

category, Mr. Anderson made the decision to abandon much

of the menu people were accustomed to and move to a

streamlined approach while also introducing the brand's staple

product: fresh-pressed tortillas. The revamped menu further

distinguished Pancheros from other rivals and expanded its

customer base despite these drastic changes.

"In the beginning, Pancheros was a new concept that most

people had yet to experience. We discovered that customers

could be turned away if things were overly complex. If the food

was simple to understand, the menu was easy to read, and the

pricing model was uncomplicated, people were more likely to

give it a try because they didn't have to give much thought to

the decision," explained Mr. Anderson. "For example, we had a

lot of opportunities to add additional menu items but then that

meant one more thing for customers to understand about the

experience. We embraced simplicity because it became obvious

to us that it was the best way to get people to try something new."

We embraced simplicity

because it became obvious

to us that it was the best

way to get people to try

something new.

- Rodney

This is why Pancheros' menu has largely remained consistent

over the years. Customers can choose from rice, two types of

beans, veggies, four protein options, five salsas and standard

toppings like cheese and lettuce. Bob the Tool was introduced

in 2007, a spatula that mixes burrito fillings evenly. The move

let customers know that Pancheros took the problem of poorly

mixed burritos seriously. In fall 2016, a vegetarian-based

protein called Tofusada was added.

Behind the scenes, simplicity also dominates the chain's

management philosophy. Everything from menu offerings to

operational needs has been boiled down to only the essentials.

For example, the recipes are confined to a single page and the

entire restaurant can be run with three team members.

"Rodney has a lean point of view when it comes to restaurant

management and avoids anything that is unnecessarily

complicated," Mr. Nelson said. "Every decision Pancheros

makes must preserve the simplicity of our operational model."

8 www.PANCHEROS.com
---
WE COULD HAVE BUILT PYRAMIDS

WE CHOSE

BURRITOS INSTEAD

For their freshly pressed tortillas, customers can choose from rice, two types of beans, veggies, four protein options, five salsas and standard toppings like

cheese and lettuce.

on

years in

corridor!

25the

www.PANCHEROS.com 9
---
An Edge Over

The Competition

Rodney Anderson started franchising Pancheros in 2004. His goal was

take the lessons learned from the restaurant's early days and offer an

approachable concept to other entrepreneurs. The already established

philosophy of simplicity smoothed the transition, enabling franchisees without

a background in the restaurant industry to grow a business. More than 40

franchise units are now located across the United States.

Our location in Des Moines on Ingersoll.

"Rodney understands the importance of being able to teach a restaurant model

to a new owner or someone who has no experience. And the experienced

franchisee sees the value in the simplicity of operations," Mr. Nelson said.

Specific requirements for location has been another consistent part of the

Pancheros strategy. The concept plays well in suburban areas, particularly near

big box retailers, town epicenters and shopping malls. Any location where

people are in a hurry and want to have food in hand within 5 minutes is ideal.

While Pancheros is a favorite near college campuses, the restaurant's goal is to

appeal to everyone, not just students. For example, its original Iowa City location

is positioned so it draws both University of Iowa and downtown business traffic.

"There are two important points that we look at when selecting real estate. The

first and most obvious is to choose an area where we have good representation

from our core demographic. We profile areas for income, daytime population

Interior of Cedar Rapids Edgewood at Westdale.

Congratulations

Pancheros, on

25 years of service.

We look forward

to many more!

CONGRATULATIONS

PANCHEROS

On a successful 25 years in business

FROM YOUR PARTNERS AT

CREATIVE PALETTE, INC.

R

Member FDIC

10 www.PANCHEROS.com
---
Simply Put,

Keep It Simple.

We like it simple. So we said no

to fryers, freezers and all things

involving photons. We just need a

bowl for dough making, a press for

turning that dough into tortillas

and a grill for filling them with the

freshest ingredients.

Congratulations on the past 25 years

Viva La Bob the Tool

When you take burritos as serious as you do, you better have a partner that takes your

business as serious as we do. Proud to deliver the ingredients to help your burritos stand in a

league of their own with your fresh pressed tortillas and Bob doing his magic.

4100 44th Avenue S.W. | Cedar Rapids | 319.396.1300 | rfsdelivers.com

www.PANCHEROS.com 11
---
and education levels," Mr. Anderson explained. "The second element to

this process is choosing a specific spot that will maximize our exposure

to our targeted customer. We want strong nearby tenants, easy access

from the street, adequate parking and steady foot traffic. If we are

diligent about sticking to these requirements, then we set up new

restaurants for success from the beginning."

Pancheros also uses a customizable design for all chain and

franchise locations. The company has an in-house construction staff

and a library of finishes that can be applied to virtually any space.

The team helps owners to optimize kitchen size, line start and finish,

layout and ambiance.

Our customizable flair makes

each Pancheros location feel a

little bit different, which can

give the concept an edge in

existing spaces or tighter real

estate markets.

- Shannon Krauss

"Not many franchisers offer this depth of design work for their

franchisees," noted Shannon Krauss, director of design and

construction. "Our customizable flair makes each Pancheros location

feel a little bit different, which can give the concept an edge in existing

spaces or tighter real estate markets."

The restaurant has also turned to local partnerships to keep the

brand fresh. Pancheros is a proud supporter of Hawkeye Athletics and

collaborated in developing the Pancheros Burrito Lift.

"Our aim is to add value to the lives of our patrons. For more than a

decade, we've partnered with Iowa Athletics on the Pancheros Burrito Lift

promotion inside Kinnick Stadium and Carver-Hawkeye Arena. In 2016,

that relationship extended to serving our signature chips and queso in

those venues for the first time," said Rob Miller, director of marketing.

Pancheros' menu has largely remained consistent over the years.

Offering Tailored Services

to Streamline your HR Functions

Human Resources, Group Benefits &

Payroll Administration Services

u Employee Handbook

u Benefit Administration

u Recruitment Assistance

u New Hire Onboarding

u Management Training

u Payroll Administration

u HR Information Systems

u Timekeeping Systems

u I-9 Audit & Compliance

u ACA Compliance

Brenda LaMarche

We Make Employee Administration

Easy for Small Businesses!

(319) 621-2312

info@BRLhr.com

www.BRLhr.com

2261 Crosspark Road, Suite 211, Coralville, IA 52241

12 www.PANCHEROS.com
---
BURRITO

You better believe it's better built

BURRITO BOWL

In case tortillas are too much to handle

SALAD

Lettuce make you somethin' special

TACO

Our most popular item among twins

QUESADILLA

If you ask us, things taste better in slices

CHIPS AND…

Trust us, you'll want to save some room

CONGRATULATIONS!

Thank you for having Corridor Construction Services

as part of the Pancheros construction team.

CORRIDORCONSTRUCTIONIOWA.COM

www.PANCHEROS.com 13
---
Looking Ahead To

The Next 25 Years

To commemorate its silver anniversary, Pancheros ran a

series of social media campaigns to thank its customers.

Rather than receive presents, the company gave away 25

days of gifts ranging from a whimsical tortilla pillow to a

year of free chips and queso. The celebration culminated

in interstellar franchising rights and $1,000 in "investment

capital." As Pancheros moves into the next 25 years, its

model of fresh ingredients, simple operations and a tonguein-cheek

brand voice will continue to be its signature style.

"I am most proud of watching this concept grow successfully

in other parts of the country. We knew we had something

pretty special in Iowa but we worked very hard in the first

few years to get there. It felt great when we started opening

restaurants in other states and when the success came to

those restaurants much faster," Mr. Anderson said. "With

our most recent locations in Rochester, MN, and Bismark,

ND, we now have over 70 locations. We are excited to be

opening stores in Jacksonville, FL, and Sioux Falls, SD, later

this summer as we work toward our short-term goal of

introducing 10 new locations each year."

We are excited to be opening stores in

Jacksonville, FL, and Sioux Falls, SD,

later this summer as we work toward

our short-term goal of introducing

10 new locations each year.

- Rodney

Everything we do, we do for you.

Thank you for

your support!

Congratulations to

Pancheros on their

continued success!

IT Solutions for Large & Small Restaurants...

Seamless Integrations Using

Interconnect Cloud Technology

Across Multiple Platforms...

RDS. WE DO THAT

Encrypted Transactions for PCI

Compliance...

Skilled Help

Desk Support

24/7/365...

Groundbreaking Installation Projects.

Unmatched Pricing for

Hardware and

Software...

Travis Swanson

Account Manager

(563) 505-8539

tswanson@rdspos.com

14 www.PANCHEROS.com
---
IOWA LOCATIONS

ALTOONA

3580 Eighth St. SW

Altoona, IA 50009

515-967-3833

CEDAR RAPIDS - KIRKWOOD

5350 Kirkwood Blvd.

Cedar Rapids, IA 52404

319-363-1893

DUBUQUE

4840 Asbury Road

Dubuque, IA 52002

563-582-4999

MASON CITY

2261 Fourth St. SW

Mason City, IA 50401

641-424-8070

AMES

1310 S Duff Ave., Ste. 103

Ames, IA 50010

515-233-4600

CEDAR RAPIDS - LINDALE

4701 First Ave. SE, Ste. 1

Cedar Rapids, IA 52403

319-373-8407

FORT DODGE

3024 Fifth Ave. S

Fort Dodge, IA 50501

515-576-0043

NORTH LIBERTY

650 Community Drive

North Liberty, IA 52317

319-459-1008

ANKENY

2310 SE Delaware Ave.

Ankeny, IA 50021

515-289-4173

CEDAR RAPIDS - NORTHEAST

5300 Edgewood Road NE, Ste. 100

Cedar Rapids, IA 52411

319-393-4170

GRIMES

2250 E First St., Ste. 400

Grimes, IA 50111

515-986-4433

SIOUX CITY

2400 Hamilton Blvd.

Sioux City, IA 51103

712-226-8226

BURLINGTON

1035 Lawrence Drive, Ste. 100

Burlington, IA 52601

319-752-7660

CORALVILLE

901 25th Ave.

Coralville, IA 52241

319-248-3256

IOWA CITY - DOWNTOWN

32 S Clinton St.

Iowa City, IA 52240

319-338-6311

URBANDALE

3265 100th St.

Urbandale, IA 50322

515-252-0900

CEDAR FALLS

6421 University Ave., Ste. B

Cedar Falls, IA 50613

319-277-1054

DAVENPORT

4888 Utica Ridge Road

Davenport, IA 52807

563-359-3744

IOWA CITY - RIVERSIDE

965 S Riverside Drive

Iowa City, IA 52246

319-887-2600

WATERLOO

2845 Crossroads Blvd.

Waterloo, IA 50701

319-232-5081

CEDAR RAPIDS - EDGEWOOD

2315 Edgewood Road SW, Ste. 210

Cedar Rapids, IA 52404

319-396-7900

DES MOINES

2708 Ingersoll Ave.

Des Moines, IA 50312

515-777-2898

JOHNSTON

8759 Northpark Drive

Johnston, IA 50131

515-270-9100

WEST DES MOINES

165 S. Jordan Creek Pkwy.

West Des Moines, IA 50266

515-223-4471

www.pancheros.com

CONGRATS ON 25 YEARS!

Call now for your

FREE estimate!

319-545-2270

SW OF TIFFIN, IA

Ask us to handle

your custom job in

our shop or with

our portable truck.

CHARLIE'S

WELDING

charliesweldinginc.com

We are a locally

owned business,

same location

and owner for over

40 years.

www.PANCHEROS.com 15
---
YOU

COMPLETE

US

You keep building better burritos and we'll

keep making sure the world knows about them.

Here's to the next 25 years.

Branding • Advertising • Internet • Media • PR • Social

www.jwmorton.com

319.378.1081

You had us at queso!

16 www.PANCHEROS.com