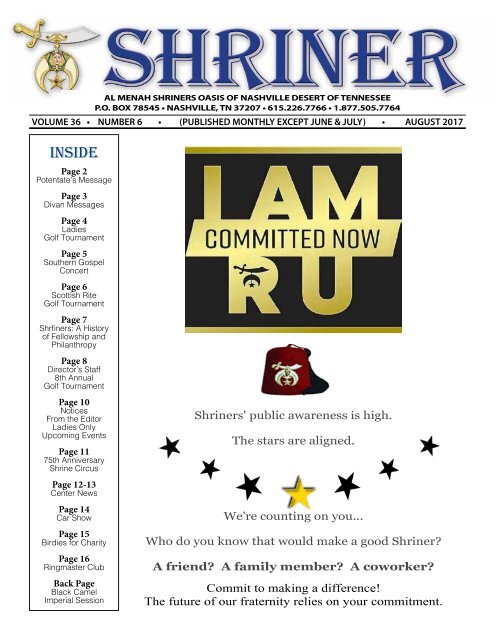 SHRINER AUGUST 2017
Monthly magazine for Al Menah Shriners
Monthly magazine for Al Menah Shriners
SHOW MORE
SHOW LESS
You also want an ePaper? Increase the reach of your titles
YUMPU automatically turns print PDFs into web optimized ePapers that Google loves.
AL MENAH SHRINERS OASIS OF NASHVILLE DESERT OF TENNESSEE

P.O. BOX 78545 • NASHVILLE, TN 37207 • 615.226.7766 • 1.877.505.7764

VOLUME 36 • NUMBER • NUMBER 4 6 • • (PUBLISHED MONTHLY EXCEPT JUNE JUNE & JULY) & JULY) • AUGUST APRIL 2017

INSIDE

THIS

Page 2

ISSUE

Potentate's Message

Page 3

Divan Messages

Page 4

Ladies

Golf Tournament

Page 5

Southern Gospel

Concert

Page 6

Scottish Rite

Golf Tournament

Page 7

Shrfiners: A History

of Fellowship and

Philanthropy

Page 8

Director's Staff

8th Annual

Golf Tournament

Page 10

Notices

From the Editor

Ladies Only

Upcoming Events

Page 11

75th Anniversary

Shrine Circus

Page 12-13

Center News

Page 14

Car Show

Page 15

Birdies for Charity

Page 16

Ringmaster Club

Back Page

Black Camel

Imperial Session

Shriners' public awareness is high.

The stars are aligned.

We're counting on you...

Who do you know that would make a good Shriner?

A friend? A family member? A coworker?

Commit to making a difference!

The future of our fraternity relies on your commitment.
---
Al Menah Temple

Oasis of Nashville

Desert of TennessEE

P.O.Box 78545 •• Nashville, TN 37207

Phones 1.615.226.7766

1.877.505.7766

www.almenahShriners.org

The Publication Committee

The Divan/Board of Directors

Potentate .. ................... Frank Hester

Chief Rabban .. .......... Horace Perkins III III

Assistant Rabban .. .........Randy Williams

High Priest & Prophet .. ......... Scott Jones

Oriental Guide .. .......... Donnie Drayton

Treasurer .. ....................... Wes Frye

Recorder ...................Robert Daniel

Editor ..................... Maurice Smith

Published monthly except June and July

www.almenahShriners.org

PAST POTENTATES

*Charles Barham

*John E. E. Patton

*V. K. K. Stevenson

*John D. D. Whalley

*W. F. F. Hunt

* Jack Norman, Jr. Jr.

*J. *J. Pink Lawrence

*Albert Bennett

*Ed R. R. Burr

*Clyde R. R. Watson

*J. *J. Harry Murphy

*Marshall S. S. Whitley

*Charles N. Rolfe

*James J. J. White

*Paul DeWitt

*G. Cooper Holt

*E. M. Kelly

*J. *J. Coleman Hayes

*Joseph Higgins

*Donald R. R. Dunning

*Ira E. E. Parker

*J. *J. P. P. Foster

*Martin S. S. Roberts

*Gale Robinson

*R. C. C. Derivaux

*C. V. V. Cramb

*Oren A. A. Oliver

*J. *J. Nelson Bryan

*Lee L. L. Gamble

*Robert Battle

*R. R. R. Clark

*Jerry N. Tate

*William Raine

*Fred H. Gay, Jr. Jr.

*Hugh F. F. Smith, Jr. Jr.

James A. A. Campbell

*W. A. A. Bryan

*Claude G. Southall

*Charles L. L. Cornelius

*W. B. B. Lawson

*W. Bush Herbert

*Gale Robinson

*Marshall Hotchkiss J. J. Dudley Phillips

*Jess B. B. Templeton

*M. Norris Jenkins

*T. A. A. Springfield

*James F. F. Scalf, Jr. Jr.

*James G. Stahlman

*William B. B. Jones

*J. *J. Clark Akers

Jack C. C. Phelps

*R. E. E. Baulch

*David P. P. Brumfield

*Thomas E. E. Doss

*Zack S. S. Parrish, Sr.

Kerbela Temple '28

*Robert E. E. Newman

*Maurice Weinberger *George Cook

*S. N. Allen

*R. Parker Graham

*W. B. B. Hager

H. Parker Toler

*O. Lynn Meek

*R. T. T. McNaney

*Jack Norman

James L. L. Ham

*James J. J. Vaughn

Charles H. Williams

*C. H. Smith

William D. D. Jones

*Fred C. C. Laskey

John L. L. Weaver, III

*Ivo A. A. Burton

Gale B. B. Robinson

*T. W. Bray, Jr. Jr.

Joe Bell

*James R. R. Cox

Ronny L. L. Greer

*Paul R. R. Jarratt

Charles E. E. Cardwell

*J. *J. Sumpter Anderson J. J. Franklin "Jay" Scalf, III

*Hugh W. Robertson

Conley Dykes

*M. T. T. Gossett

David Smith

*Joe C. C. Carr

Jim Cain

*James T. T. Hayes

*Mike Martin

*E. Lee Bennett

Johnny Dudley

*Orris E. E. Davis

David Wantland

*Raymond H. Leathers

Melvin Meadows

*Hilry H. Shaffer

Dennis Belford

*James N.

David Vaughn

Stansell

Carl E. E. Barnes

Mike Van Sant

Jeff Head

2

** Deceased

Summer is going by fast and we have been busy representing

Al Menah at many functions and events. We have traveled to several

out of town events and had quite a few functions at Al Menah too.

The Ladies Luncheon was outstanding and the guest speaker

and her daughter, one of our patients, gave a great performance.

Thanks to Debbie Parman and Mary Ann Phelps and their committee

for a job well done.

Another thanks goes to Vernon Blackburn, Geoff King, Ronnie

Brown and James Lampley and all those that work hard to make the

Casino Party a success.

Your Divan and several Nobles and Ladies attended the Imperial

Session in Daytona Beach, Florida last month…the weather was hot

and humid, but we managed to get thru it. Thanks to Billy Cullen and

Everett Vanhoosier for driving us to and from the events all week.

Congratulations to Imperial Sir Jim Cain on being elected

Imperial Chief Rabban!! There were lots of meetings and activities

to attend. Our new Imperial Potentate, Gary Bergenske, has set a

membership goal of 12,000 new Shriners in the next 12 months.

Nobles and Ladies, the Front Cover of this month's Shriner is

Imperial Sir's statement and logo. In order to achieve this goal,

Al Menah will need to create and/or restore 225 nobles in the next

12 months. Your Divan is committed to this challenge, are you???

Our Fall Ceremonial will be September 23 rd , please do your part to

help us achieve this goal. The initiation fee is $100.00 and all you

need to do is "Ask a Master Mason to be a Shriner".

The August Stated Meeting is the 15 th . Come out and enjoy

some good fellowship and learn what is on the agenda for the coming

months.

Nobles and Ladies, again thank you for all you do for Al Menah

and our Shriners Hospitals for Children.

Yours in the Faith,

Frank Hester

Potentate

"Pride, Passion & Purpose"
---
From the desk of...

From the desk of...

CHIEF RABBAN

CHIEF RABBAN

Nobles, thank you for what you do!

Please don't forget to sell your

Circus Ads. The Circus is right

around the corner on October

6th, 7th and 8th. There will be

animals, so bring your children

and grandchildren for a great

show.

The Divan has been very busy…

Hospital Day at Lexington was great.

We have a hospital that we can be proud of. We will

be attending Divan Hospital Days at Lexington and

Cincinnati in the coming weeks. We just got back

from Imperial Session in Daytona Beach, FL. It was

a wonderful time. Please make plans to be there next

year July 15th-July 19th to see your very own Illustrious

Sir Jim Cain be installed as Potentate of Shriners

International. This will be Potentate's Trip.

Again, thank you for letting me serve on your Divan.

ASSISTANT RABBAN

Chief Rabban

Horace Perkins, III

HIGH PRIEST AND PROPHET

A big thank you to everyone

involved with the Easter Egg

Hunt. It was a great crowd

and everyone had a wonderful

time. May is going to be a

busy month and we hope

to see everyone at some

of the following events:

Paper Sale, Dedication of the new

Lexington Hospital and Fun Fest, just

to name a few.

We are off to a great start for 2017 with our membership

drive. We have over 25 new nobles at this

point. If your Shrine Clubs have some candidates,

then just contact the office or any Divan member to

schedule an initiation. Keep up the great work!

High Priest and Prophet

Scott Jones

ORIENTAL GUIDE

News from the land of OGG!

Just got back from the Imperial

Session in Daytona Beach

where I learned how the

ASSISTANT RABBAN ORIENTAL GUIDE

ASSISTANT RABBAN ORIENTAL GUIDE

other half lives. Down there

THEY ARE COMING!

Yes the talk at this year's Imperial

in Daytona was "We Can

Not Wait Till 2019 To Come

To Nashville ". Our 12 Hotels,

outside of the 2 Hotels Imperial

Shrine has, is Over 80% Sold

Out within the 3 days that our

2019 Housing Office was open

at Imperial. I had Temple's

telling me that their Shrine Clubs along

with Units are asking to be a part of this 2019 Imperial

Shrine and the Parade

So Nobles of Al Menah..."LET BE SEEN IN 2019".

It's our time to show what Music City and Al Menah

is ALL ABOUT.

Assistant Rabban

Randy Williams

HIGH PRIEST AND PROPHET

you couldn't swing a dead cat

without hitting a Potentate, Past

Potentate, or an Imperial officer.

We all got on the stage to

announce the Imperial Session

in Nashville 2019 for Imperial Sir Jim Cain and you

needed sunglasses for all the jewels and bling reflecting

off the fezzes the crowd had on - it was great.

If you have the time next year, you really should

plan to go with us to Daytona for Jim's installation. It

will be a great party and we can finally determine if

spitting in the ocean really does raise the water level...

that is if we can find the ocean after the party.

Oriental Guide

Donnie Drayton

3

3

3

3
---
Al Menah Ladies Golf Tournament

In Loving Memory of Lady Patti Ham

Tuesday, September 12 th , 2017

Cheekwood Golf Club (Formerly Spencer Creek)

Four Golfer Scramble--Entry Fee $50.00 per player

Putting Contest, Lunch, Prizes 1 st , 2 nd , 3 rd and Hospitality

9:00am Shot Gun Start

Lunch and Prizes at Finish of Play

PLAYERS

NAME________________________PHONE_______________________

NAME________________________PHONE_______________________

NAME________________________PHONE_______________________

NAME________________________PHONE_______________________

Contacts: James Ham (615) 804-7411 or Al Menah Office 615-226-7766

Entry Deadline Friday September 1 st 2017

Sign up early Maximum players 48 ---12 Teams

Al Menah Ladies Golf Tournament Hole Sponsorship

______Yes, I would like to sponsor a hole, $100.00

Name, Business or information to be displayed on hole sign:

________________________________________________________

________________________________________________________

Purchased By:__________________PHONE____________________

PLEASE MAIL CHECKS TO:

Al Menah Shrine Center

Ladies Golf Tournament

P.O. Box 37207

Nashville, TN 37207

615-226-7766

4
---
To benefit Shriner's Hospitals for Children

Featuring

WORK IN PROGRESS

SON RISE

WHERE: AL MENAH SHRINE CENTER

1354 BRICK CHURCH PIKE

NASHVILLE, TN 37207

WHEN: AUGUST 27, 2017

COME JOIN US FOR SOME

GOOD OLD FASHION CHRISTIAN ENTERTAINMENT

FREE ADMISSION

DOORS OPEN AT 2:30 pm

DONATIONS WILL BE ACCEPTED & APPRECIATED

Proceeds from this event are for the benefit of Shriners Hospitals for Children and are tax deductible.

5
---
Scottish Rite Golf Tournament

October 19 , 2017

12:30 Tee time

Nashboro Golf Club

1101 Nashboro Blvd

Nashville, TN 37217

Tournament package includes:

• Green Fee

• Cart fee

• Range Balls

• BBQ buffet lunch

Registration:

Name

Name

Name

Name

6
---
Shriners: A History of Fellowship and Philanthropy

Introducing a new book that charts the history of the Shriners International fraternity and its

official philanthropy, Shriners Hospitals for Children, from their beginnings to approximately

June 2017.

The history of Shriners International is the story of individuals who, in 1872, came together

in the spirit of Masonic values, fellowship and fun. These inspired, passionate men formed a

worldwide fraternity of brotherhood and later established a globally recognized pediatric health

care system.

Shriners International became an established part of American culture and ultimately spread

its influence and good works across the world. Along the way, an official philanthropy was

created that has helped more than 1.3 million children enjoy healthier, more productive lives.

Thanks to the unwavering determination, dedication and hard work of millions of Shriners

and supporters over the years, two organizations have left a lasting impact on humanity. And

with the help of new generations who share this passion for enjoying life and helping others,

Shriners International and Shriners Hospitals for Children will continue making a difference for

decades to come.

You may purchase this and other interesting Shrine items at the following site (copy and paste

in your browser) :

https://secure2.convio.net/shfc/site/Ecommerce;jsessionid=00000000.app272b?store_id=2281&NONCE_TOK

EN=4D246935F74F01D7DEBCA5C8C942CBA2

7
---
AL MENAH SHRINERS

DIRECTOR'S STAFF

8th ANNUAL GOLF TOURNAMENT

2017

PLACE: NASHBORO VILLAGE (PHONE 615-367-2311)

DATE:

SEPT. 14, 2017 (THURSDAY)

CHECK-IN:

10:00 AM - 11:30 AM

LUNCH:

11:30 AM

TIME:

12:30 PM SHOTGUN START

COST: $80.00 PER PLAYER at golf course pre paid registration-$75.00

INCLUDES LUNCH, GOLF, CART, PUTTING CONTEST,

FREE RANGE BALLS & SPECIAL DOOR PRIZES

FORMAT:

FOUR MAN SCRAMBLE —- 59 & under White Tees

60 to 69 Gold tees —70 up and Ladies Red Tees

PRIZES

* FLIGHTED ( 3 flites 1 & 2) * CLOSEST TO HOLE/ ALL PAR 3'S

PLAYER (1)______________________________

(NAME & PHONE)

PLAYER (2)______________________________

(NAME & PHONE)

PLAYER (3)_______________________________

(NAME & PHONE)

PLAYER (4)_______________________________

(NAME & PHONE)

CONTACTS

JIM BELLAR (615) 330-3343****JAMES HAM (615) 804-7411****EDDIE HILL (615) 973-4789

DON HEATH (615) 642-8694****GARY GRAF (615) 516-1341****DON HILL (615) 394-5962

RANDY WOODARD (615) 943-0704

PLEASE MAKE ALL CHECKS payable to:

AL MENAH Directors Staff

P. O. BOX 78454 — NASHVILLE, TN 37207

(615) 226-7766

Remember to add your $25.00 per team

Mini Hole Sponsorship—-the kids need you

8
---
Paper Sale Donation from Kroger

On Monday, 7/18 Potentate Jeff Head and members of the Williamson

County Shrine Club were with Kroger Management at their Belle

Meade store where they presented a $1,000.00 to us for the Shrine

Hospitals for Children. The Kroger Manager was an acquaintance of

Scotty and Teresa Travis who put this together for the Al Menah Shrine

Hospitals for Children Paper Sale.

This is a portion of a message from Phyllis Berry, wife of this

Kroger Store Manager, Michael Berry.

Let me tell you, our son was a Shrine Hospital patient

and we are forever grateful The experience was an

awakening in humanity. The care was phenomenal. The

friendship my family made. The support from the men in

your fraternity was phenomenal. We thank you for all you

and your members do for children across the country.

Sincerely

Phyllis Berry

Fraternally,

Butch Mayes, WCSC

9
---
Notices..............................................................................

(see yellow arrow).

Ladies Only!

UPCOMING EVENTS

AS OF THIS PUBLICATION

I hope all of you have enjoyed

your summer so far. The Ladies

Luncheon was a wonderful

event and I'm thankful for

all of the ladies that came out

and enjoyed this day with us as

well as our dedicated Nobles

that cooked, served and waited

on us. It was a fantastic day

and what a blessing to have

heard such a great testimony

of one our Shrine Patients.

Our Ladies Golf Tournament

is scheduled for September

12th and it is being

dedicated in honor of Lady

Patti Ham. We would love

for you to get a team

together and join us

10

for a FUN day. A flyer with

the details is included in this

month's Shriner as well as

available at the temple office.

Our next scheduled Ladies

Nite is coming up on August

15th. We hope you will come

out and join us for an evening

of FUN, Fellowship and ICE

CREAM. Stay tuned for details

about our activity planned

and don't forget to bring your

50/50 money! Dinner with

the men will begin at 6:00pm

at the Shrine Center. We look

forward to seeing you soon.

Thank you!

Lady Tracy Hester

615-308-3920

AUGUST 2017

Aug 15 Captain's Meeting/Stated Meeting

Aug 23-26 Southeastern Shrine Association

Aug 27 Gospel Concert

SEPTEMBER 2017

Sept 12 Al Menah Ladies Golf Tournament

Sept 14 Directors Staff Golf Tournament

Sept 19 Captain's Meeting/Stated Meeting

Sept 23 Al Menah Ceremonial

Sept 30 Car Show

OCTOBER 2017

Oct 6-8 Shrine Circus

Oct 14 Clown Paper Sale Auction
---
1943

2017

Coming

soon!

October 6-8,

2017

Municipal

Auditorium

All circus ads must be turned into

the office by September 1st.

*Ads turned in after this date will not be in the

program book.

The deadline for Circus Banners

is September 15th.

Please contact your unit captain/club president if you

need materials to sell circus ads (renewal contracts,

new order forms, pricing, etc)

PLEASE SUPPORT THE CIRCUS

BY PURCHASING YOUR

NOBLE TICKETS

11
---
CeNter

NeWS

Clowns

My how time flies, and from dark

to light it's time to gear back up for

our Shrine Stated meetings. June

and July were busy months with

the Fishing Trip, Casino party, 4th

of July parades, Imperial Sessions,

and the Casino Trip. The memories

made were to last a lifetime.

Now as we move into August

we have the Southeastern Shrine

Association in Warner Robbins

GA on Aug. 23-26. It is sure to be a

great time as we prepare to compete

in the competitions that await

in the peach state.

It's a privilege to be a Shriner,

but it is a honor to serve our goals

as Shriners.

James "Puzzles" Chambers

Secretary

12

Legion of Honor

It has been a long hot summer but

seems like it's going too fast as the

Legion of Honor has been so busy.

We had a successful paper sale in

early May. After that nine of us

went to Fun Fest in Pigeon Forge

and took our van and float for the

parade. It was fantastic, we all enjoyed

it. No trophies but fun and

lots of food and drink. Thanks to

all of you who participated. Onion

sales not as good as in previous

years but not due to lack of participation

or hard work. The onions

were just not as good as usual but

it all went for a good cause.

Several of us went to the new

Lexington Shrine Hospital for the

opening ceremony on 21st of May.

It was great to get to see the new

modern facility which will help

our Shrine patients so much.

On Memorial Day we did the

massing of colors for ceremonies

at two Veterans cemeteries as we

do every year. On Sunday at the

one in Pegram and on Monday at

the one in Madison. We used our

new set of American flags which

looked beautiful and our troops all

looked sharp. Good job guys.

We had a Legion of Honor get

together on 21st of June at Colton's

Steak House in Dickson. This was

also Noble Gene Hunter's birthday

which we celebrated at the event

and surprised him. It was great!

On the 26th of June we posted

colors for Teamsters Union #327 at

Embassy Suites and received a nice

donation for the Shrine Hospitals.

We were in the Greenbrier 4th

of July parade and as always it was

great along with the hospitality

which had good BBQ and fixings.

Thanks to the Greenbrier Lodge

and the Robertson County Shrine

Club.

We posted colors for the Tennessee

Labor Management Conference

on 25th July at Lowe's Vanderbilt

and received another nice

donation for the Shrine Hospitals.

We are all looking forward

to SESA in Warner Robins, GA

on 23rd thru 26th August. We

will have some practice for competition

before that. Watch your

emails for more information.

We have a Ladies Extravaganza

coming up on the 4th of Nov. The

Legion of Honor will be participating

with a booth selling breakfast

foods like donuts, cinnamon rolls,

coffee, etc. Also we will be selling

soft drinks, iced tea, etc. Please

attend and bring your wives. This

is not just for ladies, there's something

for everybody. So come on

down and enjoy it.

Thanks to all of you who do so

much for the Legion, the Shrine

and the children by helping the

hospitals.

Prayers for our military, first

responders, doctors, nurses and

police officers.

May God Bless,

Roy Lindsey

Commander
---
Provost Guard

The Provost Guard Drill Team,

went to Dixie in Panama City and

represented Al Menah Temple really

well. They knew that Al Menah

was there. The Drill Team won

1st place trophy. The Competion

Team won 1st place. At the drawing

at the banquet. Barry Cassetty

won Half gallon Jack Daniel

Whiskey engraved in Gold lettering

with Dixie engraved on it. Ken

Loftis won M&P 9mm Pistol and

Phillip Waynick won a $600.00

Ladies bracelet, so Al Menah Temple

was well recognized. Looking

forword to going back next year.

The Completion Team is now

practicing for S.E.S.A. in August.

Hope everyone has had a good

couple months in the Dark.

Secretary

Ken Loftis

MOTOR CORPS

Well, here we are in midst of the

dog days of Summer.

Although the Temple may have

been dark, we certainly haven't

been idle. Parades, dinners, Imperial

and upcoming Southeastern.

And there is still lots more to do.

We are still focused on Membership,

having fun! BROTHER-

HOOD: Don't call me brother unless

you know it's meaning; Don't

call me brother unless we ARE

brothers: Those that say you can't

choose family do not understand

the meaning of BROTHERHOOD.

I choose to call you my Brother for

life, through the bad and through

the good.

I challenge each one of you to

come out to the events planned,

join us at Stated Meeting to see

what is going on in YOUR Shrine

Center, volunteer to help whenever

and wherever you can without

being asked to, visit a Hospital,

encourage new membership.

Worth repeating… Find the

F-U-N in being a Shriner! I did,

although it sadly seems to be missing

from a few.

"It's a typical American phenomenon

where all the members

have a fine old time.." — Ray

Stevens

'Til Next Time,

"Fat Rabbit," PC

Journalist

SHRINE

CLUB

NEWS

Williamson County Shrine Club

& Motor Division

This summer we had a very successful

Paper Sale and a fantastic

Franklin Rodeo Parade. A great

big thank you goes out to all the

Nobles and ladies who are helping

to make our club successful.

Our Motor Division now has 23

members now. We have been out

there in the parades looking good

and having fun. We are looking

for new members and you may

already own a vehicle that would

qualify! We have Golf Carts, Dune

Buggies and a third Sub-Division

which consists of Antique

Cars – Sports Cars – Hot Rods &

Convertibles. Take a look in your

garage and see if you see a vehicle

there that you might use!

Let's keep on selling those

Plaques for a strong finish for the

year. WCSC is doing our part to

support the Shrine Hospitals for

Children! We are having fun at

the same time. That is why we are

Shriners.

All Shriners and their Ladies

are invited to visit WCSC on the

third Thursday of each Month,

6:00 pm at Logan's Steakhouse.

We think you will like it! We have

great speakers at the meetings and

a good time.

Let's remember to keep those

who have lost loved ones, our sick

list, police, firefighters and our

military in your prayers. Also, to

thank God, every day for this great

Country of ours and the freedom

we enjoy here.

Shriners Help Children!

Butch Mays

Ambassador

13
---
Dash Plates Awarded To All Entries

Trophies To Be Given For All Classes

Special Awards:

Potentate's Trophy

Original Best of Show

Modified Best of Show

Ladies Choice

Farthest Traveled

Oldest or Most Unusual Vehicle

Club Participation

14 Acre Show Site

At

Al Menah Shrine Center

1354 Brick Church Pike

Nashville, TN 37207

Exit 87, Trinity Lane

Call for directions

615-226-7766

Gates open at 7:30am

All vehicles will be classed at registration from 8:00am until 11:00am

Judging will be from 11:30am until 1:30pm / Awards will be presented at 3:00pm

"RAIN or SHINE"

Entry fee per vehicle is: $20.00 at the gate

Vendor space is available for $25.00 / 10' x 10'

Class Sponsorships are available

Kids Model Car Show is $5.00

To be judged, all vehicles must have the hood up, doors open or unlocked and the trunk open. Vehicles failing to be properly displayed

will not be classed or judged. Al Menah Shriners reserve the right to reclassify, add, delete, split or combine classes on the day of the

show based on participation. Al Menah Shriners reserve the right to remove offense, lewd or objectionable material.

All proceeds benefit Al Menah Shrine Center and are not deductible as a charitable donation

Make all checks payable to:

Al Menah Shriners

Attn: Car Show

P.O. Box 78545

Nashville, TN 37207

For More Information:

Shrine Center Office: 615-226-7766

Or

Keary D. Fleenor: 615-289-8272

14

STOP 30 ROAD

HENDERSONVILLE
---
Announcing Birdies for Charity

We are excited to announce the launch of a brand-new initiative, Birdies for Charity — a fun

and friendly golf-themed fundraising competition.

Now through November 1, 2017, golf fans

nationwide can guess the number of birdies that

will be recorded during the 2017 Shriners

Hospitals for Children Open while supporting

life-changing care for kids.

Supporters who guess the correct, or closest,

number of birdies will automatically be entered

to win an ultimate Las Vegas getaway, which

includes: round trip airfare for two (2) to Las

Vegas, Nevada for the 2018 Shriners Hospitals

for Children Open, three (3) nights hotel

accommodations, VIP experience at the

tournament during the 3rd and 4th rounds, two

(2) tickets to a Las Vegas show, and a meet-andgreet

opportunity with the 2018 tournament

champion.

HOW IT WORKS:

• Supporters visit lovetotherescue.org/birdies-for-charity to guess the number of birdies

that will be made during the 2017 tournament and donate to their favorite hospital.

• The individuals with the correct, or closest, guess will automatically be entered to win a

VIP experience at the 2018 tournament in Las Vegas. Other great prizes include

autographed tournament pin flags and tournament apparel packages that will be

awarded to the next closest guesses.

• The hospital that receives the most monetary donations via the Birdies for Charity

program will be awarded the opportunity to host the 2018 Shriners Hospitals for

Children Open Media Day. The event will include an appearance from the 2017

tournament champion, a patient visit, press conference and meet-and-greet

opportunity for local hospital supporters.

• The tournament covers all administrative costs for the program and turns over 100% of

all monies collected to Shriners Hospitals for Children.

HOW YOU CAN HELP:

Spread the word.

Tell your friends, family and anyone else who is interested in helping Shriners Hospitals for

Children that Birdies for Charity is underway!

Raise funds.

Go to https://lovetotherescue.org/birdies-for-charity/

15 16
---
Chief Rabban Horace Perkins

invites you to become an

Elite Member of the 2017 Ringmaster Club

Contact: Horace Perkins 615-943-5913

Randy "Slappy" Slapak 615-474-1610

Dan Clark 615-596-7269

Men's Membership—$150.00

Includes: Ringmaster shirt, Ringmaster cap, 4 Shrine Circus tickets for

VIP Ringmaster seating and 1 entry to the Ringmaster Club Breakfast on October 7th.

Ladies' Membership—$125.00

Includes: Ringmaster Shirt, Ringmaster tote bag, 4 Shrine Circus tickets for

VIP Ringmaster seating and 1 entry to the Ringmaster Club Breakfast on October 7th.

Name________________________________________________________________

Address______________________________________________________________

City_______________________________State___________Zip_______________

Phone_____________________Email____________________________________

Man's Shirt Size: (circle one) Small Med LG XL 2-XL 3-XL 4-XL

Lady's Shirt Size: (circle one) Small Med LG XL 2-XL 3-XL 4-XL

FOR OFFICE USE:

Amount Paid:________________ Method of Payment:__________________ Date Paid:_______________

16

PROCEEDS ARE FOR THE BENEFIT OF AL MENAH SHRINERS AND ARE NOT TAX DEDUCTIBLE AS A CHARITABLE DONATION
---
REMINDER!

NOTICe:

ALL communications

for the Shriner

should be sent to

editor.amsc@gmail.com

17
---
PAG

No

Upcomi

PA

From L

Ded

Cere

PAG

Unit

PA

Member

PA

Messa

PR C

BACK

Black

Imperia

McWhirter, J B

Goodlettsville

1/24/23 - 6/12/17

Nobles Nobles Visited Visited By By

The Black The Black Camel

Cook, George PP

Greenbrier

6/15/30 - 4/28/17

Moorehead, Johnnie R

Winchester

12/18/38 - 5/13/17

AL MENAH TEMPLE

A.A.O.N.M.S.

1354 1354 BRICK BRICK CHURCH CHURCH PIKE PIKE

P. O. P. Box O. 78545 Box 78545

NASHVILLE, TN 37207 TN 37207

www.almenahshriners.org

Nonprofit

Organization

U.S. POSTAGE

PAID

Nashville, TN

Permit No. 1731

Nonprofit

Organization

U.S. POSTAGE

PAID

Nashville, TN

Permit No. 1731

King, Frank S Jr

Brentwood

6/28/24 - 6/12/17

Davis, Howard E

Nashville

1/1/32 - 4/5/17

Sledge, Alvin E

Eagleville

10/7/39 - 7/2/17

VOLUME

Weatherford, John E Jr

Hendersonville

11/28/24 - 5/30/17

Johnson, Carl G

Brentwood

11/28/24 - 5/30/17

Danner, Charles W

Mount Juliet

9/7/27 - 5/19/17

Rainey, Marvin E

Franklin

5/4/28 - 6/16/17

Nolen, W T Jr

Lebanon

11/16/28 - 6/14/17

Ward, Thomas H

Belvidere

10/18/29 - 4/15/17

Head, Billy M

Adams

1/16/34 - 7/9/17

Byrd, William C

Nashville

8/29/34 - 5/20/17

Zimmerlee, Ronald F

Nashville

7/28/36 5/12/17

Willoughby, Robert A

Port Orange, FL

11/9/36 - 6/16/17

Young, Donald L

Madison

9/30/37 - 4/14/17

Loveless, Donald D

Centerville

11/7/38 - 6/4/17

Bishop Clifton D

Brush Creek

11/15/42 - 6/4/17

Hudson, Lawrence M

Joelton

12/24/43 - 4/23/17

Heithcock, John P

Primm Springs

10/9/46 - 5/6/17

Wakefield, Jerry T

Murfreesboro

8/23/48- -6/17/17

Hire, Michael L

Lafayette

7/23/53- -4/12/17

Carver, Tim S

Ridgetop

6/19/66 - 6/23/17

DEADLINE FOR SEPT SHRINER IS AUG 16th

INS

TH

ISS

PA

Pote

Me

PA

D

Mes