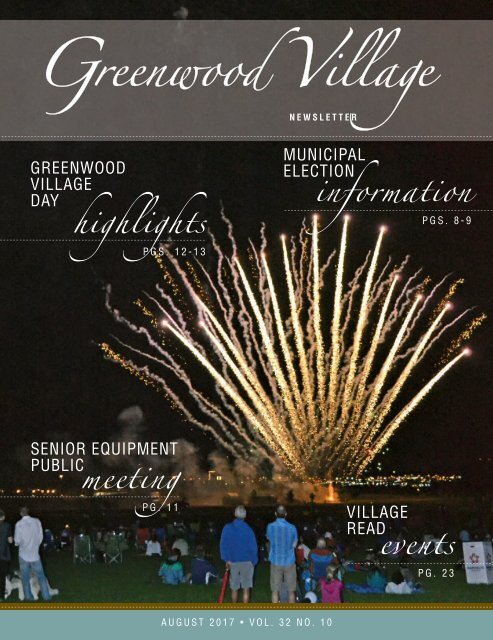 Create successful ePaper yourself
Turn your PDF publications into a flip-book with our unique Google optimized e-Paper software.
Greenwood Village

N EEW S LLE ET TTE ER

GREENWOOD

VILLAGE

DAY

highlights

HEADLINE GOES

hereP G S . 1 2 - 1 3

P G . X

MUNICIPAL

ELECTION

information

P G S . 8 - 9

HEADLINE

HERE P G . X

HEADLINE

HERE

P G . X

SENIOR EQUIPMENT

PUBLIC

meeting

P G . 1 1

HEADLINE

here P G . X

VILLAGE

READ

events

P G . 2 3

A U G UM SOT N2T 0H 1 7 Y E• AVR OIL S. S3 U2 E N#

O . 1 0
---
GOVERNMENT

MAYOR RON

reports

USPIS-DENVER TEAMS

UP WITH VILLAGE TO PREVENT

MAIL/ PACKAGE THEFTS

The United States Postal Inspection Service (USPIS) Denver

is teaming up with Greenwood Village and other select

communities to develop a partnership to

safeguard your mail and valuable packages. As

you may know, the Village is an attraction for

criminals to steal mail and "porch pirates" who

snatch packages off of doorsteps, especially

when no one is home. Unfortunately, this is

happening in our community more often than

we would like. It's critical that neighbors help

each other by actively observing activity in your

neighborhood, ask each other for help picking

up a package when its delivered, or even sharing

Ron Rakowsky

rrakowsky@

greenwoodvillage.com

303-486-5741

surveillance footage to help catch a thief in the

act.

Here are some helpful tips on keeping your mail

and packages safe:

Consider taking control of your mail delivery. Through

myusps.com you can manage package delivery, track the

status of deliveries, schedule a more convenient time for

USPS to deliver your package, and see all the packages en

route to your home before they arrive — all online.

Don't leave your mail or parcels unattended — especially

overnight. Just like you wouldn't leave your wallet or purse

on the front seat of your unlocked car in the driveway, you

shouldn't leave your mail or parcels unprotected for any

length of time. Arrange for someone to be home to receive

your package, or ask a close neighbor if they can pick up

your package and hold it for you until you get home.

Consider an alternate shipping address. If you have a stayat-home

neighbor, reach out to them to enlist their help as an

alternate delivery address. Some employers will allow you to

ship small amounts of personal items to your work location

as well.

It's 3 p.m. — do you know where your package is? You

could! The USPS provides real-time tracking for a wide-range

of products, enabling you to monitor your package's status

from tender to delivery. Registered users of USPS.com can

receive status updates via text alerts delivered to their mobile

devices. Or download the Informed Delivery app. Informed

Delivery provides users with new visibility into their mail and

packages, wherever they are, 24?7. Sign up today for

InformedDelivery.com.

Change of plans? Change your package's delivery address,

even while it's in transit! If you'll be away when your package

is being delivered, try USPS Package Intercept®. Prior to

delivery, you can redirect most domestic package shipments

to the sender, a new address, or the Post Office to be held for

pickup. You can also customize your delivery by providing

personalized instructions on InformedDelivery.com to

establish your package delivery preferences.

Keep thieves at bay while you're away. Hold your mail at

your Post Office. If you're comfortable, notify a neighbor

that you'll be out of town and ask for help keeping an eye

out for your packages to be picked up promptly. If you're

going away for a few days and don't want to risk leaving your

package unattended, take advantage of the Postal Service's

Request Hold Mail service. Your letters and packages will be

held securely at your local Post Office until you're back in

town.

Secure your shipment. The Postal Service's Signature

Services help ensure your package ends up in the right hands,

by requiring a signature at time of delivery. This service is

available with Priority Mail Express and Priority Mail.

Remember, if you ever notice an unfamiliar vehicle following

behind the USPS truck or unknown persons hovering around

neighborhood mailboxes; report the activity to the Police

Department by calling 9-1-1 and Postal Inspectors

immediately by calling 1-877-876-2455 (say "theft"). The

package you save may be your own!

You can learn more about mail theft alerts, prevention tips

and news about USPIS in the Village, by following

Greenwood Village on Facebook, Twitter, Next Door or

visiting our Website at greenwoodvillage.com.

Tips provided by USPIS

PG. 2 GV NEWSLETTER | AUGUST 2017
---
GOVERNMENT

CITY council

NOT SURE WHO YOUR

ELECTED OFFICIALS ARE?

Obtain a list of your state and national government

representatives at www.arapahoevotes.com

DISTRICT 1 DISTRICT 2 DISTRICT 3 DISTRICT 4

Freda Miklin

fmiklin@

greenwoodvillage.com

303-804-4138

Leslie Schluter

lschluter@

greenwoodvillage.com

303-804-4135

Steve Moran

smoran@

greenwoodvillage.com

303-804-4133

T.J. Gordon

tgordon@

greenwoodvillage.com

303-804-4132

Dave Bullock

dbullock@

greenwoodvillage.com

303-804-4137

Darryl Jones

djones@

greenwoodvillage.com

303-804-4136

George Lantz

glantz@

greenwoodvillage.com

303-804-4134

Tom Bishop

tbishop@

greenwoodvillage.com

303-804-4131

POLICE DEPARTMENT

PATROLS ON NEW E-BIKES

The Police Department has recently added two

electric bicycles to their bike unit. The bicycles will

be used by the Bike Unit Officers to conduct patrols

of the Village to include commercial areas, school

campuses, and Fiddler's Green Amphitheater during

concerts. The bicycles will also be a great asset in the

many trails and parks of the Village. Utilizing the

extremely low audio output of the bicycles versus fullsize

police vehicles will preserve the beauty and

serenity of the trails and not disturb trail users.

The two Quiet-Kat QKM750-X all terrain, electric

bicycles operate like a standard mountain bike with

gears but can be switched to electric power. The

bicycle can achieve speeds of up to 30mph with an

average battery life of 3hrs, depending on the use,

distance and speed. The bicycle is extremely versatile

with oversized tires which gives it the ability to

manipulate numerous

terrain to include snow.

For more information,

please call Biagio Burriesci,

Police Recruitment and

Training Coordinator,

at 303-486-8223 or

email bburriesci@

greenwoodvillage.com.

IT TAKES A GROUP OF

TEENS TO CLEAN IT UP

I think teens are the most capable and under-estimated group of

people in our community today. In small or big ways, they can make

a difference in this world that can influence, inspire and improve the

lives of others. I wanted to make mention of a notable example in

which a single person created positive change in Greenwood Village.

continued on page 4

AUGUST 2017 | GV NEWSLETTER PG. 3
---
GOVERNMENT

Mayor Ron

continued from page 3

Greenwood Village extends its appreciation to

Eagle Scout Trent Fowler. Trent, as part of his

Eagle Scout requirements, initiated a project,

with assistance from Parks, Trails, and Recreation

Commission member Brent Neiser to create

chalk walls at the Curtis Center. A few walls

outside the Curtis Center had been a target for graffiti. Trent

and his co-Eagle Scouts committed three days of hard work

sandblasting and sandpapering and applying several coats of

paint to create the chalk wall. The chalk walls allow kids and

adults the chance to create their own temporary artwork,

alleviating the opportunity for future graffiti incidents. If you

are feeling creative and want to doodle on the chalk wall,

stop by the Curtis Center at 2349 E. Orchard Road.

CDOT PLANS PROJECT TO

REDUCE CONGESTION ON

I-225 SOUTHBOUND IN DTC

The Colorado Department of Transportation (CDOT) will

conduct a pilot project,

to reduce congestion on

I-225 southbound in the

Denver Tech Center

(DTC) area. The project

will re-stripe, adding a

lane on I-225

southbound from

Yosemite to I-25,

providing more room for

traffic flow. While the restriping

will convert the

shoulder to a third lane,

a concrete barrier will be

placed to restrict DTC

RAMBLE WITH RON IN AUGUST

Have some ideas or suggestions to share about living or

working in Greenwood Village? Walk and talk with Mayor Ron

Rakowsky from 7:30 to 8:30 a.m. (weather permitting) on:

Wednesday, August 16 —

Westlands Park, 5701 S. Quebec Street

Thursday, August 17 —

Tommy Davis Park, Swim Club Lot, 9200 E. Orchard Road.

Registration is not required. For more information, please call

the Mayor's Office at 303-486-5745. Check for updates of the

monthly schedule for Ramble with Ron at

www.greenwoodvillage.com.

on-ramp traffic to I-25 northbound only. This will prohibit

drivers from weaving across lanes to get to I-25 southbound,

which will make I-225 southbound operate more efficiently.

Construction will take place during the nights only and last

one to two weeks in late September or October. There will be

at least one travel lane open during construction. Watch for

more information on this project in the September

Newsletter. Questions, please call CDOT's Region I

Customer Service at 303-759-2368.

CONNECT WITH US:

FOLLOW US ON SOCIAL MEDIA

Are you already following Greenwood Village on social

media? If not, here are five good reasons to hop on board.

1. Be the first to hear about Greenwood Village issues, events

and activities.

2. Keep yourself up-to-date on what's happening in the

community right now.

3. Learn important safety and life tips.

4. Easily connect with us where and when it's most

convenient for you.

5. Get immediate breaking news and alerts.

There are many other reasons, but I felt compelled to share

these links so you can easily find Greenwood Village on

social media. If you have any questions, please call the City

Manager's Office at 303-486-5745. GV

Twitter

www.twitter.com/greenwoodgov

Facebook

www.facebook.com/greenwoodgov/

Instagram

www.instagram.com/cityofgreenwoodvillage

LinkedIn

www.linkedin.com

YouTube

www.YouTube.com/greenwoodvillage

PG. 4 GV NEWSLETTER | AUGUST 2017
---
VILLAGE CALENDAR

Visit

WWW.GREENWOODVILLAGE.COM

for more information

Information is subject to change

september 2017

SUNDAY MONDAY TUESDAY WEDNESDAY THURSDAY FRIDAY SATURDAY

27 28 29 30 31

1 2

3 4

5

Labor Day

Village Facilities

Closed

★ SINGLE FAMILY HOUSEHOLD RECYCLING ★

P&Z Commission

7 p.m.

City Hall

6 7 8 9

NO TRASH SERVICE

10 11

12

13

14

15 16

City Council

Study Session

6 p.m.

Meeting

7 p.m.

City Hall

PTR Commission

7 p.m.

City Hall

17 18

19

20 21

City Council

Study Session

6 p.m.

City Hall

★ SINGLE FAMILY HOUSEHOLD RECYCLING ★

P&Z Commission

7 p.m.

City Hall

GVAHC Meeting

6:30 p.m.

Curtis Center

22 23

24

25 26

PTR Commission

7 p.m.

City Hall

27

28

BOAA Meeting

6:30 p.m.

City Hall

29 30

★ SINGLE FAMILY HOUSEHOLD RECYCLING ★

AUGUST 2017 | GV NEWSLETTER PG. 5
---
GOVERNMENT

Greenwood Village

Don't have Comcast cable?

You can watch GVTV 8 programs on the

Village Website at greenwoodvillage.com

or on The City of Greenwood

Village Channel on YouTube.

NEW ON GVTV 8 – PREMIERES AUGUST 31

Summer

Restaurant

Romp

Check out

some of the

new dining

spots in

Greenwood

Village.

Protecting Your Pets

From Wildlife

Greenwood Village is home

to many acres of natural

open space, trails and

waterways that attract

various species of wildlife.

Learn how to protect your

pets from having a negative

encounter with wildlife.

AVAILABLE ON COMCAST

CABLE IN GREENWOOD

VILLAGE, GVTV CHANNEL 8 IS

AVAILABLE 24 HOURS A DAY,

SEVEN DAYS A WEEK

PROVIDING PROGRAMMING

REGARDING IMPORTANT

LOCAL, STATE AND

NATIONAL TOPICS.

Catch Me

If You Can

Burglaries and

car thefts are

happening in Village

neighborhoods.

Learn how to

protect your home

and belongings

once and for all.

GVTV 8 PROGRAMS

Village Showcase

Join Mayor Ron Rakowsky as he showcases

all the latest happenings and greatest events

taking place in Greenwood Village.

Beyond The Green

A program highlighting the parks, trails and

open space system in the Village.

Over 50 And Loving It!

A program focused on issues and events

affecting people 50+ years of age.

Safety Matters In Greenwood Village

Learn about safety issues in Greenwood

Village and techniques to help keep you and

your family safe.

GV Business Connections

Get an inside look at the business

community of Greenwood Village and learn

about some important business topics.

GV Kids, Ink! ® News

Hosted by youth news reporters, this

program features youth activities and events

in the community.

The Village Insider

Get a glimpse of the people and projects

behind the doors at City Hall.

Colorado Connected

Produced by the Colorado Communications

and Utility Alliance (CCUA), the program

features programs on regional issues.

NASA 360

Produced by the National Institute of

Aerospace for NASA, this program examines

how technologies developed by and for

NASA are used in everything from space

exploration to everyday consumer products.

Graceful Aging

Enjoy this program to learn about elder care

needs. You'll laugh, think and be inspired to

improve your life.

Denver Press Club

Hosted by the Denver Press Club, this

program features discussions with members

of the press and community.

Jazz Cardio Strength Stretch

A powerfully fun and effective workout that

will lift your spirits, strengthen your heart,

muscles, and core. You'll get a healthy dose

of cardio, strength and stretch moves and

finish up feeling energized for the start and

end of your day.

PG. 6 GV NEWSLETTER | AUGUST 2017
---
GOVERNMENT

ENHANCING OUR

community

GOLDSMITH GULCH TRAIL

EXTENSION AND CALEY AVENUE

UNDERCROSSING COMPLETED

PEDESTRIANS GET SAFER CROSSING

TO LIGHT RAIL STATION

In July, members of the City Council, Parks, Trails, and

Recreation Commission, and residents celebrated the opening

of the Goldsmith Gulch Trail Extension and Caley Avenue

Undercrossing project. The extension of the trail allows for

users to access the Arapahoe at Village Center Station bus

and light rail station and the Village Center from the north

without crossing traffic. Funding for the project was provided

through a partnership between Greenwood Village, Arapahoe

County Open Spaces, and the Transportation Improvement

Program (TIP).

The Goldsmith Gulch Trail Extension and Caley Avenue

Undercrossing Project was the first implemented element of

the Huntington-Caley Mater Plan adopted by City Council

in 2014. The Huntington-Caley corridor consists of 15-acres

of open space east of Yosemite Street at Caley Avenue which

includes the site of the former Onslager and Metro Church

of God properties that was purchased by the Village in 1998

and 1999. The parcels were

rezoned to open space by the

City Council in 2001. The

corridor also consists of

Huntington Park and the

Caley Pond Open Space.

The next phase of

implementation for the

Huntington-Caley Master Plan

is the restoration of Goldsmith

Gulch between Caley Avenue and Fair

Avenue that is planned for construction in

late fall of 2017. The project will include

braided gardens, seating areas, and

exploratory trails along and through the

restored wetlands.

For more information, please call Suzanne

Moore, Director of Parks, Trails and

Recreation, at 303-708-6142 or email at

smoore@greenwoodvillage.com. GV

AUGUST 2017 | GV NEWSLETTER PG. 7
---
GOVERNMENT

2017 MUNICIPAL

election

GREENWOOD VILLAGE MUNICIPAL

ELECTION INFORMATION

ELECTION DAY – NOVEMBER 7, 2017

This year, the City Council

designated the Village

Municipal Election to be

coordinated with Arapahoe

County. This means voters

will see the Greenwood

Village list of candidates for

Council and Mayor on the

ballot they receive from

Arapahoe County. There will

be no Greenwood Village

questions on the ballot this

year.

Arapahoe County is

conducting the November 7,

2017 Coordinated Election

as a Mail Ballot Election.

Greenwood Village Electors will receive their ballot by mail. Mail Ballot

Packets will be mailed to eligible electors between October 16 and October

20, 2017. Residents may mail their completed ballots back to Arapahoe

County or drop them off at Greenwood Village City Hall, 6060 Quebec

Street.

CANDIDATE INFORMATION

Running for office is something everyone can do; yet unexplored by many.

Are you interested in serving your Village? There are countless reasons why

people choose to run for office; however, no matter what your motivation or

background, as a member of the Village's City Council, you will have the

opportunity to make important contributions toward shaping your

community. For this reason, becoming an elected official can be one of the

most rewarding experiences.

The nomination petition process is the first step in becoming a candidate.

Nomination petition forms are available in the City Clerk's Office. A

candidate must possess the following qualifications to run for office: be a

United States Citizen; be a registered elector; be 18 years of age by Election

Day; and have lived in the Village and the specific District for one year

immediately preceding the election.

Candidates for the office of City Council must be nominated by at least

twenty (20) registered electors from such district. Nomination petitions must

be filed with the City Clerk no later than September 1, 2017, at 5:00 p.m.

For additional information regarding candidacy, election forms and filing

requirements, please call the Election Hotline at 303-804-4113. GV

PRIVACY OF

VOTER INFORMATION

Greenwood Village does not maintain a

public list of registered voters. Arapahoe

County and the State of Colorado are

required by law to maintain a variety of

information about registered voters. Some of

this information is considered public record

and must be provided to people who ask for

it.

Voter registration records are public records,

although some personal information

contained in voter registration records

remains private. How you voted remains

private. The contents of ballots are always

secret.

Information that is public on the Voter

Registration list includes the voter's:

• full name

• residential address

• party affiliation

• date of affiliation

• phone number

(if provided by the voter)

• gender

• birth year

• information about whether the voter has

voted in prior elections.

Information that is private includes the

voter's:

• driver's license number

• full date of birth

• email address

• social security number

Even if you are listed on the National Do Not

Call List, political calls to voters are

permitted under Colorado law. This

includes telephone solicitations that are:

• Made for the sole purpose of urging

support for or opposition to a political

candidate or ballot issue; or

• Made for the sole purpose of conducting

political polls or soliciting the expression

of opinions, ideas, or votes.

PG. 8 GV NEWSLETTER | AUGUST 2017
---
GOVERNMENT

Unfortunately, there is no complaint or

removal process established for these types of

calls.

You can contact Arapahoe County at 303-

795-4511 to request that your phone number

be removed from your voter registration

record, but this provides no guarantee that

your phone number will not be obtained

from other sources. For example, this will

remove your phone number from future voter

lists, but will not remove it from past lists

released or from a phone directory.

To reduce the number of political calls, voters

are urged to return their ballot as early as

possible before Election Day. Campaigns and

political parties will see your name on the

County's public turnout list "as voted" and

will remove you from their campaign and 'get

out the vote' lists.

HOW TO REQUEST

CONFIDENTIALITY

If you believe that you or a member of your

household will be exposed to criminal

harassment or bodily harm because your voter

information is publicly available, you may

request to become a confidential voter

(section 24-72-204(3.5)(b), C.R.S.).

Confidential voters' voting information will

not be released to the public. To become a

confidential voter, you must visit the

Arapahoe County Elections Office, 5334

South Prince Street, Littleton, CO 80120, in

person, fill out a voter confidentiality form,

and pay $5 (cash or check only) for the

statutorily required processing fee. This will

remove your information from future lists,

but will not remove it it from past editions

already released.

Survivors of domestic violence, sexual offenses

or stalking may also enroll in

https://www.colorado.gov/pacific/dcs/acp

(sections 24-30-2101 to -2115, C.R.S.)

Voters who are part of this program will not

have any of their voter information released to

the public. GV

Ballot Track is a free service for

Arapahoe County voters that can

send you notifications by text

message, phone call or email when

your ballot has been sent and

received by your Elections Division.

If you prefer not to receive

messages, you can log in to Ballot

Track during any election to check

the status of your ballot.

Sign up for a free account today at

https://arapahoe.ballottrax.net/voter

#/login-auth

Why Use Ballot Track?

All active registered voters in

Colorado will now receive a mail

ballot in every election. You can

return your ballot by mail, or deliver

it to one of our convenient drop-off

locations in Arapahoe County. No

matter how you return your ballot,

Ballot Track will let you know when

it has been mailed to you and safely

received for counting!

How does Ballot Track

know where my ballot is?

Your ballot envelope is printed with

unique bar codes, which are

scanned when the ballot is mailed

to you by the U.S. Postal Service,

picked up by your mail carrier, and

received by our Elections Facility in

Littleton. These intelligent bar codes

allow us to securely track your

ballot each step of the way.

How and when will

Ballot Track notify me?

If you sign up to receive a phone

call, SMS text message or email,

you will receive automated

messages when your ballot is

Track My Ballot

mailed to you, received by the

Postal Service, and received by

Arapahoe County Elections. You

also would receive a message if

your ballot is returned as

undeliverable, or cannot be

processed for some reason that

requires your attention.

If you prefer not to receive

messages, you can log in to Ballot

Track during any election to check

the status of your ballot.

Is there a cost?

Ballot Track is free for Arapahoe

County voters! There's no cost for

your account or messages.

However your phone carrier's

standard text message or voice

rates may apply.

How do I manage my account?

Simply log in to Ballot Track at any

time to change your preferences,

turn off notifications or check the

status of your ballot.

For more information, please

contact Arapahoe County Elections

at 303-795-4511.

AUGUST 2017 | GV NEWSLETTER PG. 9
---
GOVERNMENT

OUR NATURAL

environment

CONSERVE WATER AND SAVE MONEY ON YOUR WATER BILLS

Greenwood Village is partnering once again with Denver Water as part of the Water Saver Partnership to educate residents

on ways to save water and money on their water bills while maintaining the beauty found in Village neighborhoods.

LEAVING TOWN?

SET UP YOUR

SPRINKLERS

BEFORE YOU GO

Taking some time away before

summer's end? Set up your irrigation

system for success — even when

power fails — by asking someone to

keep watch while you're on vacation.

Power outages can reset sprinklers,

wasting water and your money.

You also can combat the disturbance

power failures pose by replacing your

irrigation system's backup battery each

year.

For precipitation-related protection,

install a smart irrigation controller

with a rain sensor to prevent your

system from running in the rain — a

water-wasting violation of our summer

watering rules, which are in effect

through Oct. 1.

Revisit the watering rules at

denverwater.org/SummerWatering.

WATERING YOUR LAWN

Lawns are often a household's largest

water consumer. But by making sure

your sprinkler system is running

efficiently, and only giving your lawn

what it needs, you can have a green,

healthy lawn while cutting down on

your water consumption. Take the

time to learn about your sprinkler

system, your lawn and your water

usage to irrigate efficiently.

Remember, there are no assigned

watering days, but never water more

than three days a week.

Here are some irrigation tips to help

you get the most out of your watering:

• Set your irrigation clock to water

only what each zone needs.

• Looking for an easy way to see if

your lawn needs water? Probe your

lawn with a screwdriver. If it goes

into the soil easily, that indicates

sufficient moisture. If the

screwdriver can't probe the soil,

apply water to that area. Two days

of watering a week should be

enough; if it's dry, add another day.

• Be sure your rain sensor is working

correctly, and replace it if it's not.

• Check irrigation heads after

mowing to be sure they are not

damaged.

• Realign any heads that are spraying

too high in the air, across pavement

or into tall grass.

• Check for system leaks and repair

them as soon as possible to avoid

wasting water and damaging

foundations or landscape features.

• Consider installing soaker hoses,

sub-surface piping or drip irrigation

for your flower beds and shrubs.

Find more lawn-watering tips at

denverwater.org/Lawn.

WATER SAVERS VISIT

GREENWOOD VILLAGE

For Denver Water, summer signals the

season for Water Savers — the friendly

crew of water-efficiency gurus

dispatched each year to cruise

neighborhoods and promote efficient

water use.

continued on page 11

Photo by Ariel Fried

PG. 10 GV NEWSLETTER | AUGUST 2017
---
GOVERNMENT

PUBLIC MEETING: OUTDOOR SENIOR EXERCISE EQUIPMENT

TUESDAY, AUGUST 29 AT 6:30 P.M.

Hosted by Parks, Trails, and Recreation staff, a public meeting will

be held on Tuesday, August 29, 6:30 p.m. at Greenwood Village

City Hall to receive resident input on the installation of outdoor

exercise equipment for seniors in Curtis Park located adjacent to

the Curtis Center for the Arts at 2323 E. Orchard Road.

The Village has long held the desire to increase the number of park

amenities available to seniors in Greenwood Village. This was

brought into focus by a Village resident who advocated for outdoor

exercise equipment accessible to seniors. The Parks, Trails, and

Recreation Commission gave the issue careful consideration and

toured potential installation sites. Curtis Park was selected due to

its proximity to the Curtis Center for the Arts, where many senior

activities are currently held, and the availability of accessible

parking.

A steering committee consisting of Greenwood Village residents,

local experts on senior issues, senior recreation specialists and

Village staff was convened. The committee's preliminary selections

will be presented for the public's input at the August 29 meeting.

On the Commission's recommendation, City Council included

funding for the project in the Capital Improvement Program (CIP)

budget. In addition to CIP funding, the Village received grant

funding of $50,000 from Arapahoe County Open Spaces.

For more information, please call Julie Liggett, Administrative

Specialist, at 303-486-5750 or email

jliggett@greenwoodvillage.com.

continued from page 10

Although they are schooled in our

summer watering rules, Water Savers

aren't out to put the heat on summer

fun. They are eager to share tips and

tools to help you sprinkle efficiency in

your watering routine.

Water Savers come armed with the

knowledge and technology to look up

customers' water consumption history

and review irrigation controller

settings on the spot. And since they

represent just one of the many

resources we offer to help you

conserve, Water Savers can suggest

other programs to help you use only

what you need this summer. GV AUGUST 2017 | GV NEWSLETTER PG. 11
---
GOVERNMENT

AT GREENWOOD

VILLAGE DAY

Thousands of residents came to

Greenwood Village Day wearing yellow

slickers, umbrellas and smiles. Soon after

the party started Mother Nature realized

how much fun the day would be without

rain and cooperated. It was a great

community affair for families of all ages,

sizes and shapes. Along with the traditional

carnival rides, art tents and blow-ups there

were games for everyone to play —

cornhole, kerplunk, badminton, parachute

races, volleyball, dodgeball, pool golf, t-

ball and soccer with the Colorado Rapids.

Monster Grille and Chick-fil-A were on

hand serving sandwiches, burgers, grilled

cheese, wraps and salads. There were

plenty of snowcones and water for

everyone. The night stage played host to

smooth jazz with Dotsero and Wash Park

Band rocked the house prior to the

fireworks. The day ended with a bang —

the fireworks display was everything

expected and more…

Another great Greenwood Village Day

where the residents of Greenwood Village

were given the opportunity to play, enjoy

friends, and socialize in a safe

environment! See you next year. GV

PG. 12 GV NEWSLETTER | AUGUST 2017
---
GOVERNMENT

AUGUST 2017 | GV NEWSLETTER PG. 13
---
GOVERNMENT

ENSURING A SAFE

community

The Greenwood Village Police Department works to protect residents and businesses from crime, but to effectively sustain a crime-free

environment requires an active, engaged, and aware community. Remember — the most important single act you can do is to be aware of

your surroundings at all times and call the Police to report crimes or suspicious activities! As an observer, if the situation doesn't look or

feel right, it probably is not. By going with your instincts, your actions could help deter a crime in progress or save the life of a neighbor.

BACK TO SCHOOL SAFETY

TRAVELING TO AND FROM SCHOOL

School Bus

• If your child's school bus has lap/shoulder seat belts, make

sure your child uses one at all times when in the bus.

• Wait for the bus to stop before approaching it from the

curb.

• Do not move around on the bus.

• Check to see that no other traffic is coming before

crossing the street.

• Make sure to always remain in clear view of the bus driver.

• Tell your child not to bend down in front of the bus to tie

shoes or pick up objects, as the driver may not see him

before starting to move.

• Children should always board and exit the bus at locations

that provide safe access to the bus or to the school

building.

Cars

• All passengers should wear a seat belt and/or use an ageand

size-appropriate car safety seat or booster seat.

• All children younger than 13 years of age should ride in

the rear seat of vehicles. If you must drive more children

than can fit in the rear seat (when carpooling, for

example), move the front-seat passenger's seat as far back

as possible and have the child ride in a booster seat if the

seat belts do not fit properly without it.

• Require seat belt use and limit the number of teen

passengers. Do not allow eating, drinking, cell phone

conversations or texting to prevent driver distraction; and

limit nighttime driving and driving in inclement weather.

Bicycles

• Always wear a bicycle helmet, no matter how short or

long the ride.

• Ride on the right, in the same direction as auto traffic.

• Use appropriate hand signals, and respect traffic lights and

stop signs.

• Wear bright colored clothing to increase visibility.

Walking To School

• Make sure your child's walk to a school is a safe route with

well-trained adult crossing guards at every intersection.

Make sure your child walks to school on a safe route and always

with at least one other child.

• Carefully consider whether or not your child is ready to

walk to school without adult supervision.

• Brightly colored clothing will make your child more

visible to drivers.

• Teach your child never to talk to strangers or accept rides

or gifts from strangers. Remember, a stranger is anyone

you or your children don't know well or don't trust.

• Be sure that your child knows his or her home phone

number and address, your work number, the number of

another trusted adult and how to call 911 for emergencies.

BULLYING

When Your Child Is Bullied

• Help your child learn how to respond by looking the

bully in the eye, stand tall and stay calm, and walk away.

• Teach your child when and how to ask for help and make

friends with others.

• Alert school officials to the problems and work with them

on solutions.

• Make sure an adult who knows about the bullying can

watch out for your child's safety and well-being when you

cannot be there.

PG. 14 GV NEWSLETTER | AUGUST 2017
---
GOVERNMENT

When Your Child Is The Bully

• Be sure your child knows that bullying is never OK.

• Set firm and consistent limits on your child's aggressive

behavior.

• Be a positive role model, and use effective, non-physical

discipline, such as loss of privileges.

• Develop practical solutions with the school principal,

teachers, counselors, and parents of the children your

child has bullied.

DRIVERS IN SCHOOL ZONES

• The Flashing Yellow Light, School Zone areas indicate

that traffic must slow down from the beginning of the

lights until the next speed limit sign or signage that

indicates the school zone has ended. School Zone

times vary, and it is the driver's responsibility to be aware

and drive according to the posted signs and lights.

• Fines are doubled in school zones.

• Stop for school buses. Colorado law dictates a driver of

a vehicle, upon meeting from either direction any school

bus which has stopped and has activated its red flashing

lights, is required to stop the vehicle. Drivers do not

need to stop for a school bus upon meeting or passing a

school bus which is on a different roadway. School bus

drivers are authorized to report violators to the

appropriate law enforcement agency who may issue a

citation on the basis of the information provided.

• Remember that the sun can obscure your vision any

time of the year. Use visors and sunglasses to reduce

glare and make it easier to see pedestrians.

• Pedestrians, once in a crosswalk, have the right of

way. If you maintain a safe speed for conditions and foot

traffic you should have plenty of time to slow down and

stop safely.

• When the traffic lights go to yellow is the time to

slow down and prepare to stop. Please don't drive to

beat the lights. They are timed based on the speed limits

and traffic. When you rush one light you often just get

stopped at the next one.

• Be patient, be aware. Many people are distracted in

these hurried times. Make sure the intersection is clear of

people and traffic before going ahead, even if you do

have a green light.

• Right on Red. Where allowed, and not all intersections

are clear for right on red, the car at the red light does

not have the right of way. Cars turning on arrows, or

going with the flow of traffic always have the right of

way.

For more information on back to school safety tips or rules

for drivers in school zones, please call the Police

Department at 303-773-2525. GV

Drivers should be cautious when driving around schools and obey

all traffic regulations for the safety of students.

ORDINANCE UPDATE

ILLEGAL DUMPING OF TRASH AND GOODS

To protect the health, welfare and safety of the public, the City

Council approved an ordinance regarding illegal dumping of

trash and goods. It is unlawful for any person to place or dump

garbage, trash, litter, or refuse or waste material of any kind in,

under, on or around a private, public or commercial garbage

refuse dumpster, trash container, solid waste container, or

recyclable container belonging to another, without prior written

permission from the owner or person in control of the real

property upon which the dumpster is located. This ordinance

also prohibits dumping anything at a location that accepts used

items for sale, repurposing or gifting to another after hours of

operation or to leave donation outside a donation bin or box.

PARK REGULATIONS

Due to safety concerns, firearms or weapons, including bow and

arrows, bow-fishing devices and harpoons are prohibited in

parks and natural open area, except with prior written

permission of the City Manager.

For more information on Village Codes, please call the City

Clerk's Office at 303-486-5752 or the City Manager's Office

303-486-5745 for information related to this ordinance.

AUGUST 2017 | GV NEWSLETTER PG. 15
---
GOVERNMENT

OUR NATURAL

environment

HIGH LINE CANAL CONSERVANCY

MOVES PLANNING FORWARD

FOR FUTURE PROTECTIONS

AND ENHANCEMENTS OF

THE HIGH LINE CANAL

In April, the High Line Canal Conservancy unveiled its

Community Vision Plan for the High Line Canal, a plan that

outlines a set of

guiding principles

advocating that the

Canal remain a

natural, connected

and continuous,

varied, managed and enhanced resource for the region. To

create the Community Vision Plan, the High Line Canal

Conservancy spoke with thousands of people that were

passionate about preserving the historic 71-mile High Line

Canal.

"It's been gratifying to hear from so many folks from all

along the Canal. It has been your chorus of voices, uniformly

saying that you want the Canal preserved and enhanced as a

natural refuge. The Canal's ribbon touches multiple diverse

communities and it is your common passion and

commitment that built this powerful Vision Plan," said

Harriet Crittenden LaMair, Executive Director of the High

Line Canal Conservancy.

Tackling the challenges of a growing region requires different

ways of thinking, increased collaboration and new types of

partnerships. The Community Vision Plan has been the

critical first step to ensuring the Canal reaches its greatest

potential as an environmental, recreational, social, historic

and economic asset.

COMMUNITY VISION STATEMENT

FOR THE HIGH LINE CANAL

The High Line Canal's 71 meandering miles will be

preserved and enhanced as a cherished greenway that

connects people to nature and binds varied communities

together from the foothills to the plains.

To view the full Vision Plan, visit: highlinecanal.org/vision.

Led by an effective partnership between the High Line Canal

Conservancy and Denver Water, and supported with

representatives from every jurisdiction actively and eagerly at

the table, the development of the vision represents a model of

regional cooperation. In June, the High Line Canal

Conservancy was awarded Arapahoe County Open Space's

Our Project Takes Flight stewardship award. Upon

announcing the award, Arapahoe County Commissioner,

Nancy Sharpe said:

"Across the country, there are examples of abandoned

resources rusting, slipping away under heavy overgrowth and

being forgotten; until an organization or group of citizens

realized the potential, and took action. Our stewardship

award recipient didn't wait for opportunity to be forgotten

and for neglect to set in. They got ahead of the game to

preserve a valued resource and bring vision to its potential."

The Community Vision Plan sheds light on a bright future

for the Canal, but seeing it through will require continued

commitment and support from the public and jurisdictional

partners. With the Canal's uncertain future as Denver Water

gradually moves away from delivering irrigation water in the

Canal, community support is more vital today than ever

before.

Commencing in August, the Conservancy will lead a second

phase of planning, including a framework plan, landscape

design guidelines and a

wayfinding and signage

plan. Additional

immediate next steps for

the Canal include

growing trail system

connections; improving

Canal crossings;

providing tours and

continued on page 17

PG. 16 GV NEWSLETTER | AUGUST 2017
---
BUSINESS

MEMBER spotlight

iRide24

A leading provider of business and event transportation in

Denver, iRide24 believes that local chambers play a heavy

role in connecting communities to local resources.

With their expansion into DTC and new partnership

with the Greenwood Village Chamber of Commerce, they

believe it perfectly aligns with one of their company's focal

points to create local business alliances and community

relationships.

Though the Chamber represents a wide range of

organizations and interest, it is apparent they have all joined

forces in support of community and each other. Co-Founder

of iRide24 Edward Rue says, "Being intertwined with a

community our transportation service means so much more.

Supporting a local company like iRide24 helps clear crowded

highways, alleviates air pollution and creates local jobs. It's a

cornerstone of a strong community and we are proud to be a

part of that."

iRide24's president Jeffery Clint has put together a unique

way to blend luxury and affordability in their services. With

big plans of becoming the standard of transportation

worldwide, their vision for the future of iRide24 includes a

strong focus on the environmental effects of transportation.

Going green is one way the company is looking to achieve

this new goal.

If you would like to know more about iRide24 visit them at

http://www.iride24.com. iRide24 also provides exclusive

discounts for businesses and Chamber members. Please

contact Jeffery Clint, iRide24 President, at 303-214-8688 or

720-984-2190 ext. 700, to set up a corporate membership.

Special savings are offered to Greenwood Village residents as

well and can be obtained by using coupon code "GVR10"

which provides a 10 percent discount on all services through

2017. To take advantage of this opportunity, residents will

need to make a reservation online http://www.iride24.com or

by calling our 24hr customer service at 720-984-2190.

For more information please visit us at

http://www.iride24.com or email us directly at

iridedenver@gmail.com. GV

HIGH LINE CANAL

continued from page 16

programming; implementing signage and wayfinding tools;

creating pedestrian bridges; and growing volunteer,

community and partnership involvement.

Here's how to get involved:

• Be a High Line Hero. joinhighlinecanal.org

• Participate in the upcoming summer walking programs

including mile 0 to 71 with Walk2Connect:

highlinecanal.org/walk2connect

• Sign up for monthly updates through the High Line

Canal newsletter

• Follow the High Line Canal's social media channels

(Facebook, Twitter, and Instagram).

• Visit the High Line Canal Conservancy's website to learn

more: highlinecanal.org GV

Visit our Web site at: www.dtcchamber.com

E-mail us: admin@gvchamber.com

Phone: 303-290-9922

7600 Landmark Way, Suite 1615

Greenwood Village, CO 80111

Fax: 303-962-4640

AUGUST 2017 | GV NEWSLETTER PG. 17
---
BUSINESS

BUSINESSspotlight

CLINICAL NUTRITION CENTER

5995 Greenwood Plaza Boulevard, Suite 150 • Orchard Plaza Building A

303-750-9454 • www.clinicalnutritioncenter.com

ETHAN LAZARUS, M.D.

Are you committed to healthy eating,

but still carrying around extra weight?

Are you concerned with your current

health and perhaps don't know where

to start in achieving sustainable weight

loss? If you are, Clinical Nutrition

Center (CNC), located in the Village

can help you get the results you

deserve. CNC, a medical weight loss

center, can assist you in achieving and

sustaining a healthy weight. From

cutting just a few pounds or a hundred

pounds, you can achieve results with

highly individualized support,

coaching, and medical management.

CNC has been in business for over 40

years and moved from Denver into the

Village in 2015. "Our move into

Greenwood Village was inspired by the

strong sense of community that is

located here," said Ethan Lazarus,

MD. Dr. Lazarus, owner of CNC,

grew up in the Village and longed to

bring his clinic to a location that

mirrors the value he places upon

having an improved quality of life. Dr.

Lazarus is a nationally-recognized

expert in weight management. He is

board-certified both in family

medicine, and by the American Board

of Obesity Medicine. He is skilled in

using all FDA-approved medications

for weight loss, and in evaluating for

other medical conditions and

medications that may be contributing

to weight gain. In addition to helping

patients achieve their weight loss goals,

Dr. Lazarus also conducts frequent

seminars and teaching programs not

only for his patients, but also for other

health care providers in weight-related

topics. These programs have the

distinct goal of letting the community

know that obesity is a treatable disease,

like diabetes or high blood pressure.

CNC is your one stop shop for

everything you need at one convenient

location. The first visit is free, and is

an opportunity to learn all about the

programs and services CNC offers to

make sure it is a good fit. If you'd like

to start, a complete evaluation is

performed at your new patient visit

and includes a medical examination,

lab tests, EKG, body composition

measurement and a visit with a

Registered Dietitian to develop your

individualized plan. Your progress will

be monitored with weekly office visits,

individualized food plans, and

behavior modification lessons. There

are a variety of treatment plans to

choose from including a 20-week

treatment plan or a fee-for service

plan. There are no up-front fees,

contracts or commitments. Plans range

from all store-bought foods to

advanced doctor-prescribed weight loss

meals and medications.

Treatment plans involve

comprehensive medical reviews and an

examination of other weight-related

health issues that may exist. In

addition, their on-staff Registered

Dietitians will ensure that the

appropriate food intake for each

continued on page 19

PG. 18 GV NEWSLETTER | AUGUST 2017
---
BUSINESS

NEW GV businesses

CHRISTIAN MINISTRY

Bible Treks

5101 South Dayton Street

720-273-2371

CLOUD SOFTWARE SERVICES

E-mail On Acid, LLC

5670 Greenwood Plaza

Boulevard, Suite 412

720-242-7633

CONSULTING

Compensation &

Benefit Solutions, LLC

6161 South Syracuse Way,

Suite 240

303-779-2088

CORPORATE DINING

AND CATERING

Paragon Dining Services

7100 East Belleview Avenue

720-323-5109

COUNSELING SERVICES

Bartmann and Associates, LLC

6595 South Dayton Street,

Suite 1300

303-693-2464

EMPLOYMENT AGENCY

Modis E & T, LLC

7935 East Prentice Avenue

303-804-5610

FINANCIAL SERVICES

Aspen Wealth Strategies

6400 South Fiddlers Green Circle,

Suite 1340

720-696-6337

True Wealth Advisors,

Incorporated

8301 East Prentice Avenue,

Suite 403

720-217-9541

FOOD MANUFACTURE

CORPORATE OFFICE

Flagship Food Group, LLC

6455 South Yosemite Street,

Suite 140

844-682-7962

HEALTHCARE SERVICES

East-West Health Centers

8200 East Belleview Avenue,

Suite 202-C

303-694-5757

INTERIOR AND

EXTERIOR DESIGN

Fastwalls, Done Group

And Accord Structures

9250 East Costilla Avenue,

Suite 230

720-577-4507

JAPANESE RESTAURANT

Sukiya

7939 East Arapahoe Road,

Suite 110

720-329-2881

MORTGAGE COMPANY

NFM Lending

6455 South Yosemite Street,

Suite 425

720-930-4240

NAIL SALON

Cherry Hills Day Spa, LLC

5945 South University Boulevard

720-596-4478

ORTHOTIC PRODUCTS

Monarch Medical Products, LLC

5350 DTC Parkway, Suite 203

303-759-7866

PRINTING SERVICES

Rainy Day Printing, LLC

5445 DTC Parkway, Suite PH-4

720-287-0688

PRIVATE INVESTIGATOR

IDOX System, LLC

6535 South Dayton Street,

Suite 2100

303-708-8801

REAL ESTATE

Pinnacle Asset Real Estate

6535 South Dayton Street,

Suite 1700

720-351-9293

Cushman & Wakefield

Of Colorado

8390 East Crescent Parkway,

Suite 450

212-713-6961

ROOFING CONTRACTOR

Global Roofing

6635 South Dayton Street,

Suite 230

303-726-8711

STORM RESTORATION

Colorado Western Construction

6595 South Dayton Street,

Suite 1550

303-909-5188

TRANSPORTATION

OF CRUDE OIL

RMCO

5690 DTC Boulevard,

Suite 510-W

720-625-8502

BUSINESSES

UNDER NEW

MANAGEMENT

BANKING

Bank of Colorado

5201 South Yosemite Street,

Suite 100

720-529-5646

INSURANCE SERVICES

Allmon Insurance, Incorporated

6565 South Dayton Street,

Suite 3500

303-799-8608

PIZZA RESTAURANT

Papa Murphy's

Take N Bake Pizza

8575 East Arapahoe Road,

Suite D

303-221-7070

business spotlight

continued from page 18

specific individual is properly met. "Focusing on the cause of

the problem while following evidence-based and scientifically

sound practices," according to Dr. Lazarus, "leads to better

weight loss and contributes to patients enjoying a high rate of

weight loss success." This success is a function of the

connection and bond that CNC has with every single

patient. At CNC, maximizing the patient's physical and

emotional health is promoted to help patients achieve their

long-term goal of a happy and healthy life.

Come to Clinical Nutrition Center today and let Dr. Lazarus

and his staff share their stories, accomplishments, and answer

any questions about their medical weight loss program. CNC

provides comprehensive treatment that is also affordable. The

knowledgeable staff can help determine if services may be

covered under insurance; HSA or flexible spending accounts.

A special offer will be available with mention of this article in

the month of August. They are located at 5995 Greenwood

Plaza Blvd., Suite 150 within Orchard Place Building A,

right at the Southeast corner of I-25 and Orchard. Schedule

your appointment today by calling Clinical Nutrition Center

at 303-750-9454. For more information or to connect

electronically, also visit their comprehensive website at

www.clinicalnutritioncenter.com.

Being healthy and happy is easily within your reach at

CNC… What do you have to lose!? GV

AUGUST 2017 | GV NEWSLETTER PG. 19
---
ARTS AND RECREATION

Greenwood Village is hosting the

Monster Bash Fall Fest

at

William McKinley Carson Park • 6060 South Quebec Street

Saturday, October 7, 2017 • 11:30 a.m. – 2 p.m.

Tickets are required to attend this event.

The tickets will be available August 28 – October 4

at the Parks, Trails and Recreation counter

at City Hall from 8 a.m. – 5 p.m. ID required.

11:30 a.m. – 2 p.m.:

Music, Art Projects, Inflatables, Face Painters,

Costume Contest, Carnival Games and Live shows

A special event for the residents of Greenwood Village

For more information call 303-486-5773

Come Rain or Shine

PG. 20 GV NEWSLETTER | AUGUST 2017
---
ARTS AND RECREATION

RECREATION

programs

Register online at

www.greenwoodvillage.com/registration

For more information call the Arts and

Recreation Division at 303-486-5773.

SUBMIT YOUR

RECREATION

RECEIPTS

RECREATION

REIMBURSEMENT FORM

INCLUDED IN THIS

NEWSLETTER

Chances are that between swimming

lessons, golf and all the other spring

and summer sports, you have some

receipts that are eligible for

reimbursement through the Village's

Recreation Reimbursement program.

The Recreation Reimbursement

program reimburses residents for a

portion of the cost of activities at

qualifying agencies along the front

range. These include nonprofit youth

sports entities, municipal golf courses,

park and recreation districts and

metropolitan districts that provide

recreation activities.

You will find a Recreation

Reimbursement form in the August

Newsletter. Requests can be submitted

year-round, so beat the end of year

rush and submit your requests now.

The deadline for submitting 2017

receipts is Tuesday, January 16, 2018

(the January 15 deadline is extended

for one day due to Martin Luther King

Day on Monday, January 15). For

more detailed information about the

Recreation Reimbursement program,

please visit www.greenwoodvillage

.com/recreimbursement

or call 303-486-5773.

Registration began July 17!!

AUGUST 2017 | GV NEWSLETTER PG. 21
---
ARTS AND RECREATION

ART

programs

Register online at

www.greenwoodvillage.com/registration

For more information call the the Curtis Center for the Arts at 303-797-1779.

ADULT ART CLASSES

Location: Curtis Center for the Arts, 2349 East Orchard Road, Greenwood Village, CO 80121

FIGURE DRAWING

Days and Dates: Tuesdays, October 10

through November 14 or

November 21 through December 26

(date of last class will be changed

due to the holidays)

Times: 9:30 a.m. to 12:30 p.m.

DRAWING AND SKETCHING

Days and Dates: Wednesdays,

October 25 through December 6

Times: 1 to 4 p.m.

WATERCOLOR

Days and Dates: Fridays,

October 27 through December 8

Times: 9:30 a.m. to 12:30 p.m.

and 1 to 4 p.m.

PLEIN AIR BASICS: AN

INTRODUCTION TO PAINTING

THE LANDSCAPE ON LOCATION

Day and Date: Saturday, October 14

Time: 9 a.m. to 4 p.m.

MODERN CALLIGRAPHY:

LETTERING IN COLORS

Days and Dates: Mondays,

October 9 through November 6

Times: 1 to 3:30 p.m.

BASIC WATERCOLOR AND

LOOSE FLORAL PAINTING

Day and Date: Saturday, November 11

Time: 11 a.m. to 3 p.m.

POURING COLOR

INTO YOUR ART

Days and Dates: Tuesdays,

October 10 and 17

Times: 1 to 3:30 p.m.

MASTER PAINTING CLASS

Days and Dates: Thursdays,

October 12, 2017 through

March 29, 2018

Times: 9 a.m. to 4 p.m.

COFFEE & CANVAS –

SUNFLOWERS

Day and Date: Saturday, October 7

Time: 10 a.m. to 2 p.m.

THE BASICS OF

PRINTMAKING

Day and Date: Saturday, October 21

Time: 10 a.m. to 4 p.m.

THE BASICS OF PAINTING

WITH ACRYLICS

Days and Dates: Tuesdays,

October 24 through December 5

Times: 1 to 4 p.m.

OIL PAINTING:

BEYOND COLOR BASICS

Days and Dates: Wednesdays,

October 25 through December 6

Times: 9:30 a.m. to 12:30 p.m.

SECRETS TO

GLOWING COLORS

Day and Date: Saturday, October 28

Time: 9 a.m. to 4 p.m.

CASUAL WATERCOLOR:

PAINTING NATURE

Days and Dates: Mondays,

November 13 through December 11

Times: 1 to 3:30 p.m.

MODERN CALLIGRAPHY 101

Day and Date: Saturday, November 4

Time: 1 to 4 p.m.

COFFEE & CANVAS –

MIXED MEDIA TREE

Day and Date: Saturday, November 18

Time: 10 a.m. to 1:30 p.m.

COFFEE & CANVAS –

ROCKY MOUNTAIN NIGHT SKY

Day and Date: Saturday, December 9

Time: 10 a.m. to 1:30 p.m.

SILK PAINTING FOR ADULTS

Day and Date: Saturday, December 2

Time: 9 a.m. to 4 p.m.

PG. 22 GV NEWSLETTER | AUGUST 2017
---
ARTS AND RECREATION

THE VILLAGE READ

COMING THIS SUMMER

This summer the Greenwood Village Cultural Arts Program

has partnered with the Arapahoe Libraries to present the first

ever "Village Read." The program is modeled

after Chicago's successful "One Book, One

Chicago" project. The idea encourages adults

of all ages to read one book and participate in

thought-provoking discussions and activities

derived from the chosen book.

Credit for the original idea is given to

Nancy Pearl, a Seattle librarian. "It's based

on the idea of community. My idea was

that people would come together who

would never come together any other way.

Literature brings them together because a

book touches them," she said.

Goals of the program include:

• To encourage leisure reading.

• To encourage community collaboration

throughout the region.

• To provide a variety of means of participation through

book discussions and other activities.

• To provide resources for book discussion groups.

The group has chosen the book "Lake of Fire" by Colorado

author Mark Stevens as this year's "Village Read" book. Set in

Colorado, the story follows hunting guide Allison

Coil as she tries to find out what happened to

a body found after a wildfire ravages the

Colorado Flat Tops. Many activities are being

planned around the themes from the book.

Keep your eye out this summer for more

information and a complete listing of activities.

The book is available for purchase at The Friends

of Arapahoe Libraries Bookstore at the Koelbel

Library and the Curtis Center for the Arts.

Arapahoe Libraries will also have extra copies

available to check out. We look forward to seeing

you at the many activities planned for August.

Information and reviews of the book can be found at

www.goodreads.com, keyword: Lake Of Fire.

VILLAGE READ

THESE EVENTS ARE FREE

AND OPEN TO THE PUBLIC.

VILLAGE READ MAYOR'S KICK-OFF

Wednesday, August 2 • 7 p.m.

Koelbel Library

Join Greenwood Village Mayor Ron

Rakowsky as he kicks off a month of

Village Read activities. Mayor Rakowsky

will discuss his take on the book and

author Mark Stevens will be on hand for

the discussion and to answer any

questions.

AUTHOR TALK WITH FOCUS 50+

Monday, August 7 • 9 a.m.

Koelbel Library Room A — Free and open

to anyone over the age of 50

This is an opportunity to get up close and

personal with author Mark Stevens. Mark

will lead a small group discussion on the

book, answer questions and share his

inspiration for this and his many other

books.

SURVIVING OFF THE LAND

IN COLORADO

Tuesday, August 8 • 6:30 p.m.

GV City Hall, Community Room

Erica Marciniec, aka Wild Food Girl, has

been foraging on and off since she was a

child. She has great enthusiasm for

finding, studying, identifying, tasting,

experimenting with, and creating delicious

meals with edible wild plants. Erica will

help you learn where to search for, how to

identify, and ways to eat various wild

foods that can be found in Colorado.

DONNELLE JOHNSON –

HUNTING GUIDE

Thursday, August 10 • 7 p.m.

Koelbel Library

Donnelle Johnson is a hunter,

fisherwoman, CPA, photographer and a

musician. She and her husband David are

co-founders of HuntData, a

comprehensive mapping site for hunters.

Donnelle spends much of her time

promoting women and youth in the

outdoors. Come hear about her

experiences as a woman hunter and her

adventures in the Colorado Flat Tops.

WRITERS WORKSHOP

WITH MARK STEVENS

Saturday, August 12 • 2 p.m.

Koelbel Library

Acclaimed author Mark Stevens will lead a

workshop and discuss his writing style,

his inspiration and the business of

writing.

FIGHTING WILDFIRES IN COLORADO

Monday, August 14 • 7 p.m.

Koelbel Library

Come hear real fire fighters discuss their

experience battling wildfires across

Colorado.

WRITERS WORKSHOP

WITH MARK STEVENS

Thursday, August 17 • 7 p.m.

Koelbel Library

Acclaimed author Mark Stevens will lead a

workshop and discuss his writing style,

his inspiration and the business of

writing.

CLOSING CELEBRATION

Free Concert and Ice Cream Social

with "Let Them Roar" and

special guest "The Cody Sisters"

Thursday, August 31 • 6 p.m.

Curtis Park

Join us as we celebrate the closing of the

first ever Village Read program and the

month of activities with a party in the

park. Bring a blanket and enjoy the music

from Let Them Roar and The Cody Sisters.

We will have free ice cream for all

courtesy of Nugs Ice Cream and a tequila

tasting inside the Curtis Center for the

Arts courtesy of Bouzy Wine and Spirits.

Plus we will have food trucks on hand.

AUGUST 2017 | GV NEWSLETTER PG. 23
---
6060 South Quebec Street

Greenwood Village, Colorado 80111-4591

PRSRT STD

US POSTAGE

PAID

ENGLEWOOD, CO

PERMIT #799

ARTS AND RECREATION

ART events

CURTIS CENTER FOR THE ARTS • 2349 EAST ORCHARD ROAD, GREENWOOD VILLAGE, CO 80121 • 303-797-1779

CURTIS CENTER OPENING DELAYED

Curtis Center for the Arts is under construction to deliver an even better experience to our patrons.

As all good things take time, we will be closed until October 14 when we reopen for the Opening Reception of the All Colorado Show.

YOUTH ART CLASSES

GAME ON!

Days and Dates: Fridays,

October 13 through

December 1

Times: 4:30 to 6 p.m.

PEE WEE ART

Days and Dates: Mondays,

October 9, 23,

November 6, 20

Times: 4 to 5 p.m.

ARTSY BONES

Days and Dates: Tuesdays,

October 10 through

October 24

Times: 4:30 to 6 p.m.

FALL BREAK

THEATER CAMP

Days and Dates: Monday,

October 23 through

Friday, October 27

Times: Monday-Thursday

10 a.m. to 2 p.m. and

Friday 12 to 4:30 p.m.

TENTACLE

SCULPTURES

Days and Dates:

Wednesdays, November

1 through December 13

Times: 4:30 to 6 p.m.

PRINTMAKING

Days and Dates: Tuesdays,

November 7 through

December 5

(no class November 21)

Times: 4:30 to 6 p.m.

COOKIES

AND CANVAS

Days and Dates: Monday,

December 11; Tuesday,

December 12 and

Friday, December 15

Times: 4:30 to 6 p.m.

PG. 24 GV NEWSLETTER | AUGUST 2017